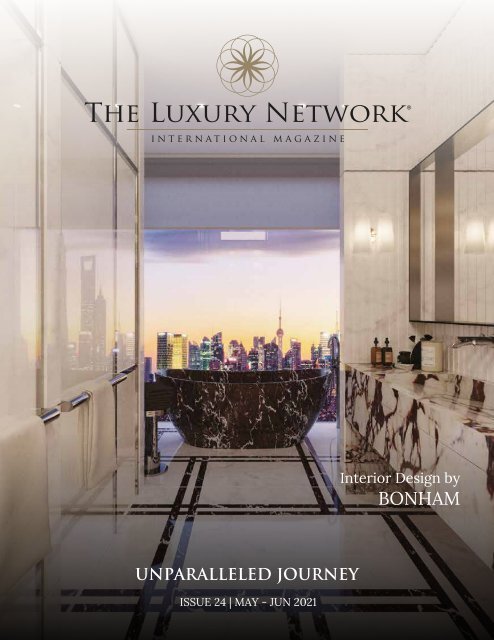 The Luxury Network International Magazine Issue 24
Features Bonham on the cover, America's Cup by Air, the all-new McLaren Arturo, Roger Dubuis, Chaumet, Prada, and events from The Luxury Network offices and our official members around the world.
Features Bonham on the cover, America's Cup by Air, the all-new McLaren Arturo, Roger Dubuis, Chaumet, Prada, and events from The Luxury Network offices and our official members around the world.
SHOW MORE
SHOW LESS
You also want an ePaper? Increase the reach of your titles
YUMPU automatically turns print PDFs into web optimized ePapers that Google loves.
Interior Design by

BONHAM

UNPARALLELED JOURNEY

ISSUE 24 | MAY - JUN 2021
---
Described as "The next generation of marketing for luxury brands" by the British media,

The Luxury Network is the world's leading luxury affinity marketing group. The Luxury

Network is a private membership club, established in luxury capitals or countries

around the world, within which premium companies work closely together

at senior director level for mutual business and client development.
---
The Luxury Network's objective is simple: To facilitate co-operation and exciting new

business development activities between top-end companies. New business partnerships

are created via strategic alignment, joint collaborations, product placements,

endorsements, media sharing, B2B and B2C networking, sales and luxury

showcase events and numerous other affinity marketing activities.
---
A Message

From The Editor

Dear Valued Readers,

We truly hope that this year is starting off well and that you are ready to crush it as the pandemic slows down

globally.

When people label something as 'luxurious,' we automatically equate it as 'too expensive.' That may be true,

however, luxury itself is not defined by 'expense' alone. There are so many more elements that truly and correctly

identify an item as luxury and we will be discussing more of this soon through an online platform and a

series of webinars at The Luxury Network Academy which will be launching this month.

Despite the global difficulties that the current situation has presented to the luxury industry and continues doing

so, Bugatti has successfully delivered more vehicles in the first quarter of 2021 more than ever before in the

first 3 months of any year. Hermès also saw luxury demand recover from the 'pandemic freeze' and returning to

growth, while LVMH shares are also reaching a record recently after the unexpected Louis Vuitton rebound in

fashion and leather sales.

Therefore, no matter what happens, people will still spend on luxury goods and I believe that there will be a

higher growth since people are now more excited to dress up again and enjoy the luxuries of life - from travel,

cars, jewelry, and all different industries, more than ever. I always say we only live once!

Please enjoy our latest edition as we have featured the highlights of some of the exclusive events that our global

offices and official members have hosted.

Sincerely,

Fares Ghattas

Global CEO,

The Luxury Network International

Editor-in-chief,

The Luxury Network International Magazine

@faresghattas

@theluxurynetwork
---
110

AMERICA'S CUP BY AIR

110
---
highlights

ISSUE 24 | May - Jun 2021

14

All-New McLaren Arturo

22

Venice Simplon-Orient-Express: All Aboard to a Luxury Train Journey

26

Branded Residences - the Future of Luxury Living?

35

Jewels can be Man's Best Friend too

36

World Premiere Excalibur Glow Me Up

42

Bvlgari Allegra, the New Personalized Fragrance Experience from Bvlgari

52

Hermès

62

Prada Linea Rossa Reveals Spring / Summer 2021 Collection

70

The New Collection Automobili Lamborghini by Zambaiti Parati

76

These are Hennessy's Must-Try Cocktails

96

An Evening of Precious Stones and Champagne
---
The romantic train made fa

DESTINATIONS

Take the classic route

from London to Venice,

the gateway to the Orient.

This breathtaking

journey through rural

French farmlands and

Swiss Alpine valleys

can be travelled in either

direction or both.

Go further afield with

Paris to Istanbul, an authentic

adventure over

six days to the edge of

Europe. Delve into the

culture with stops in

Budapest and Bucharest

before arriving in

soulful Istanbul.

2021 brings new Grand

Tour routes crisscrossing

through Europe.

Embark on a thrilling

voyage c

of the c

vibrant

Explore

canals

taking

class m

day an

Dutch c

before

train fo

adventu

The Ori

added

routes t

ID sche

current

restrict

Express

their jo

uled in

Visit be

more in

VENICE SIMPLON-

ORIENT-EXPRESS:

ALL ABOARD TO A

LUXURY TRAIN

JOURNEY

S

tep aboard the

historic carriages

of the Venice

Simplon-Orient-Express

and uncover a

hidden jewel, glittering

and timeless.

An uncontested icon

of the rails, this train

has long captured

the hearts and imaginations

of glamorous

guests. Three elegant

dining carriages exude

culinary sophistication,

from Lalique

glass inlays in

Cote d'Azur to black

lacquer panels in

L'Oriental.

A steward in blue and

gold livery waves with

a white-gloved hand,

welcoming you on

board with a knowing

smile. Settle into

your cabin, adorned

with art-deco details

and French-polished

cherry wood, and sit

back as a grand voyage

begins.
---
"Find your special

niche and pursue

your aspiration

wherever

you are."

The Luxury Network Academy is an educational initiative

to individuals who are interested in joining the growing

community of the luxury industry. In times of downsizing,

global unemployment, and never-ending quality pressures,

the need for protecting high standards in marketing

sectors is being compromised.

Therefore, The Luxury Network International is launching

a world-class digital application to bring to its members

and public, training videos from iconic professionals

who contributed to putting standards in their field and

entrepreneurship in all sectors.
---
CONTINENTAL GT SPEED CONVERTIBLE

BREAKS COVER FOR SPRING

• Most driver-focused convertible of the Continental GT range

• Highly advanced chassis – with four new technologies – inspires

confidence through increased grip and accuracy

• All-wheel steering and electronic rear differential enhance vehicle

agility and stability

• New carbon ceramic brakes for incredible stopping power

• Revised version of renowned 6.0-litre W12 TSI engine delivers 659

PS (650 bhp) and 900 Nm (664 lb.ft)

• 0-60 mph in 3.6 seconds (0-100 km/h in 3.7 seconds); top speed 208

mph (335 km/h)

• Unique interior and exterior detailing includes badging, interior colour

splits, forged 22" Speed wheels and sports sills

• New introduction of Dark Tint Engine Turned Aluminium optional

technical finish to the centre console

• Seven roof colours available, including tweed

• Roof improvements deliver a convertible as quiet inside as the previous

generation coupe

Bentley Motors has introduced

a new flagship version

of the ultimate, open-top

Grand Tourer – the Continental

GT Speed Convertible. The performance-orientated

Speed model is

the most powerful, driver-focused

interpretation of the benchmark

convertible Grand Tourer.

The third generation Continental

GT Speed Convertible features an

enhanced version of Bentley's renowned

6.0-litre W12 TSI engine,

delivering an outstanding and increased

659 PS (650 bhp), 0-60

mph in 3.6 seconds (0-100 km/h in

3.7 seconds) and a top speed of 208

mph (335 km/h). The new open-air

Grand Tourer joins its coupe sibling

– the Continental GT Speed,

unveiled last month – at the pinnacle

of the Continental family

Designed, handcrafted and engineered

in Bentley's carbon neutral

luxury automotive factory, the new

GT Speed Convertible offers enhanced

chassis technology, including

All-Wheel Steering, an electronic

rear differential and the option of

carbon ceramic brakes. This helps

deliver superior vehicle agility and

confidence without impacting on

the Continental GT Convertible's

acclaimed ride comfort.

The Continental GT Speed Convertible

is fitted with a tailored,

'Z-fold' roof that can be deployed

or stowed in just 19 seconds, transforming

it from a luxurious coupe

10
---
Need for

Speed

to an open-top Grand Tourer at the

touch of a button.

Distinguishing this Grand Tourer

as a pinnacle performance model,

the Continental GT Speed Convertible

offers unique exterior and

interior detailing, including Speed

sport sills, dark tint grilles and

Speed badging. Customers can also

choose from three finishes to the

unique 22" forged Speed wheels.

Inside a luxuriously-appointed cabin,

the new Continental GT Convertible

model includes Speed badging

on the passenger fascia, an Alcantara

steering wheel and a unique colour

split trim in hide and Alcantara.

Chris Craft, Member of the Board

for Sales and Marketing at Bentley

Motors, comments:

"The new Speed is the most driver-focused

Continental GT Convertible

available and unique in its

ability to offer extremely refined,

all-season open-top Grand Touring

with the added edge of astonishing

performance and dynamism.

"Combined with exquisite, handcrafted

interior details, the Continental

GT Speed Convertible exemplifies

all Bentley knows about

creating the world's most stylish

and elegant cars for roof-down

motoring."

New Technologically -

Advanced Chassis

Cutting-edge chassis technology

gives the third generation GT Speed

Convertible unrivalled control and

accuracy, and inspires confidence

even further.

Maintaining Bentley's philosophy

of the vehicle feeling progressive

and secure, yet still be dynamic,

this approach rewards drivers of all

abilities. To achieve this philosophy

in BENTLEY and COMFORT mode,

overall grip is balanced between

the front and rear wheels, in SPORT

this mode has been calibrated with

a more rear-biased torque–split in

all driving scenarios.

Improved cornering dynamics and

the extra grip provided by the new

systems allows the driver to exit

any corner with an increased level

of precision and confidence. In

turn, the vehicle is able to extract

the maximum performance from

the available traction to deliver

stunning acceleration and composure

from the apex. In SPORT

mode, the traction management

system sends a greater proportion

of power to the rear axle to allow

for even greater on-throttle control

of cornering line.

Working alongside these systems are

the key chassis technologies that deliver

body control and ride comfort

with no compromise to one another

– namely Bentley's three-chamber

active air suspension with adaptive

damping, and Bentley Dynamic Ride

– the 48V active anti-roll control system

that Bentley pioneered on the

Bentayga and third-generation Continental

GT.

This innovative system features

powerful electric motors within

each anti-roll bar to resist body

roll. In their firmest setting, the

motors can deliver 1300 Nm in 0.3

secs to counteract cornering forces

and keep the body level.

A Carbon Ceramic Brake system

has also been introduced as an

option on the Speed. Using the

high-performance material reduces

the brake force required for

high-speed deceleration and lowers

the risk of brake fade.

Featuring Active All-Wheel drive,

the traction control and torque distribution

has been recalibrated in all

driver modes to provide a noticeable

character shift relative to the standard

Continental GT convertible.

11
---
Need for

Speed

THE NEW EQB

ELECTROMOBILITY IN A FAMILY PACKAGE

All-electric compact SUV

with up to seven seats.

Whether a large nuclear family or

a small extended family: as a seven-seater,

the new EQB offers space

for many family configurations and

a wide variety of transport needs.

This gives it an exceptional position

not only in the compact segment,

but especially among electric cars.

The two seats in the third row can

be used by people up to 1.65 metres

tall, and child seats can also be fitted

there. The new EQB will make

its debut at Auto Shanghai 2021.

Following the EQA, it is the second

fully electric compact car from

Mercedes-EQ. The powerful

and efficient electric drive,

clever recuperation and predictive

Navigation with Electric

Intelligence are just some

of the features that link it to

the EQA. The market launch

in China is scheduled for this

year. After Europe, the international

version of the EQB,

produced in Kecskemét,

Hungary, will be launched at

the end of the year, followed

by the US market launch in

2022.

Electro design aesthetics

with corners and edges.

The EQB interprets Mercedes-EQ's

Progressive Luxury in an edgy and

particularly characterful way. It

features the typical Mercedes-EQ

black panel grille with central star.

A further distinctive design feature

of the all-electric world of Mercedes-EQ

vehicles is the continuous

light strip at front and rear. A

horizontal fibre-optic strip connects

the daytime running lights of

12

the full-LED headlamps, ensuring a

high level of recognisability both in

daylight and at night. The inside of

the headlamps is finished to a high

level of quality, detail and precision.

Blue colour highlights within

the headlamp reinforce the signature

Mercedes-EQ appearance.

The function-oriented greenhouse

with upright windscreen makes the

comfortable interior possible. Circumferential

and protective cladding

elements structure the overall

proportion. The muscular and sensuously

modelled vehicle shoulder

dominates the side view, which

is further enhanced by the rise of

the beltline. Outwardly positioned

wheels give the EQB a powerful

character and confident stance on

the road. Exclusive to this model are

light-alloy wheels in a bi- or tri-colour

design, up to 20 inches in size,

in some cases with rosé gold-coloured

or blue decorative trim.

Efficient driving with Electric

Intelligence.

ECO Assist offers a recuperation

process optimised to the particular

situation. It incorporates navigation

data, traffic sign recognition

and information from the vehicle

sensors into its efficiency strategy.

Anticipatory driving saves power,

thereby extending the range.

The standard Navigation with Electric

Intelligence also contributes to

the effortless handling of the EQB

in everyday life. It calculates the

fastest route to the destination,

including any necessary charging

stops. On the basis of continual

range simulations, the system

makes allowance for any necessary

charging stops as well as for numerous

other factors, such as the

topography and the weather.

It is also able to react dynamically

to changes, for instance

in the traffic situation

or personal driving style. In

addition, the Navigation with

Electric Intelligence ensures

that the high-voltage battery

is brought to an optimal

charging temperature before

a planned charging stop, if

required.

Sophisticated charging

technology.

At home or at public charging

stations, the EQB can be conveniently

charged at up to 11 kW with

alternating current (AC) using the

onboard charger. The charging time

required for a full charge depends

on the available infrastructure and

the country-specific vehicle equipment.

Charging at a Mercedes-Benz

Wallbox is considerably faster than

at a household socket.

And it is of course even faster at

direct current (DC) fast-charging
---
stations. Depending on the SoC

(State of Charge) and the temperature

of the high-voltage battery,

the EQB charges at a corresponding

charging station with a maximum

power of up to 100 kW. The

charging time is then just over 30

minutes from 10-80 percent SoC.

For AC and DC charging, the EQB

is equipped as standard in Europe

and the USA with a CCS (Combined

Charging Systems) connector in the

right-hand side panel. In China, a

country-specific charging solution

with sockets on the right and left in

the side wall is used, and charging

times may also vary compared with

the European version.

Mercedes me Charge.

Via Mercedes me Charge, EQB

drivers will be able to use what is

currently the largest charging network

in the world: this currently

comprises more than 500,000 AC

and DC charging stations across

31 countries. Mercedes me Charge

allows Mercedes-EQ customers

convenient use of the charging stations

of various providers, while

they also benefit from an integrated

payment function with simple

billing processes.

By means of high-quality certificates

of origin, Mercedes-Benz

guarantees that energy from renewable

energy sources is fed into the

grid for charging current sourced

via Mercedes me Charge. With Mercedes

me Charge, customers can

charge at more than 200,000 public

charging stations across Europe,

where Mercedes-Benz ensures

subsequent compensation through

green electricity.

Intelligent driving assistance

systems.

The EQB features intelligent driving

assistance systems with cooperative

support for the driver. Active Lane

Keeping Assist and Active Brake Assist

are fitted as standard. In many

critical situations, the latter has the

ability to prevent a collision or reduce

its severity with autonomous

braking. The system is also able to

brake for stationary vehicles and

crossing pedestrians at typical city

speeds. The enhanced functions of

the Driving Assistance Package include,

for example, the turning manoeuvre

function, the emergency

corridor function, the exit warning

function alerting the driver to approaching

cyclists or vehicles, and

a warning when pedestrians are detected

near zebra crossings.

Exceptional crash safety.

The EQB is also a true Mercedes-Benz

when it comes to passive

safety. Building on the robust

bodyshell structure of the GLB, the

body of the EQB was adapted to the

special requirements of an electric

car. The battery sits within a frame

made out of extruded sections.

This takes on a structural function

which until now was maintained by

the cross members in the underfloor.

A battery guard in the front

area of the battery is able to prevent

the energy storage unit from

being pierced by foreign objects.

Of course, the EQB had to pass the

brand's usual extensive crash test

programme. Stringent requirements

for the battery and all components

carrying electrical current

also apply.

13
---
ALL-NEW MCLAREN ARTURA

High-Performance Hybrid powertrain sets new supercar

standards; amplifies McLaren driving experience

• High-Performance Hybrid powertrain

of McLaren Artura sets new

standards for the supercar sector

• All-new, ultra-compact 3.0-litre

twin-turbocharged V6 petrol engine

with unique 120-degree 'hot

vee' configuration

• Lightweight, compact Axial Flux

E-motor enhances driving experience

with torque in-fill, as well

as providing option of zero-emissions,

electric-only running for up

to 30km*

• Compact hybrid battery uses liquid

cooling technologies developed for

the McLaren Speedtail

• Artura acceleration figures now

confirmed as 0-100km/h in 3.0 seconds,

0-200km/h in 8.3 seconds

and 0-300km/h in 21.5 seconds,

with standing ¼ mile in 10.7 seconds

• Artura comes with comprehensive

warranty package of 5-year vehicle

and 6-year hybrid battery as standard,

plus 3-year service plan**

With acceleration

figures now verified,

the all-new

High-Performance Hybrid

powertrain in the McLaren

Artura sets new benchmarks

for performance, building

on the levels of high-performance

hybrid excellence set

by the pioneering McLaren

P1TM – the world's first

hybrid hypercar – and the

Speedtail Hyper-GT.

The Artura's advanced petrol-electric

powertrain delivers

an unrivalled combination

of throttle-response,

acceleration and electric-only,

zero-emissions

capability. It has been engineered

to ensure the all-new

McLaren supercar excels

across the full spectrum of

driving experiences, from

everyday urban journeys to

track day sessions.

"The McLaren Artura's allnew,

super-lightweight electrified

powertrain is at the

cutting-edge of high-performance-hybrid

technology,

engineered to offer all of the

advantages of internal combustion

and electric power

in one package and establish

new benchmarks for combined

performance and efficiency

in the supercar class.

The 'clean-sheet' design of

the Artura has allowed us to

focus on how to make this

power accessible to the driver

and deliver the levels of

engagement expected from

a McLaren."

Geoff Grose, Chief Engineer,

McLaren Automotive

Minimising weight was key

to the design of the all-new

powertrain. This is hugely

important in an electrified

supercar, as well as being

absolutely aligned with

McLaren's philosophy of

super-lightweight engineering

that is fundamental

to the performance,

14
---
Need for

Speed

agility and driver engagement inherent in every

McLaren.

Breaking with the V8 convention established with the

first supercar from McLaren Automotive, the 12C, at

the heart of the Artura is an all-new, 3.0-litre V6 internal

combustion engine. The 120-degree, twin-turbocharged

M630 unit not only delivers unrivalled performance,

it also allows the most compact packaging

possible. A 180-degree angle was considered but dismissed

because it would raise the height of the crankshaft

and therefore the centre of gravity of the car.

The wide angle of the V6 cylinders allows the turbochargers

to sit within the banks in a 'hot vee' configuration,

which also benefits efficiency as they sit within

a straighter - and therefore less restrictive – exhaust

layout. Generating 585PS and 585Nm of torque, the

all-new V6 engine is 190mm shorter and 220mm narrower

than McLaren's twin-turbo 4.0-litre V8 – and

also 50kg lighter.

While the configuration of the all-new engine is key

to the Artura's powertrain packaging, it is the innovative

technology within that provides the biggest gains

in lightweighting and performance. The cylinder head

and block utilise 3D printed cores, allowing uncompromised

precision cooling, including a micro-compact

2mm cooling passage between the cylinders. The

block has directly coated parent bores rather than

separate coated liners, into which fuel is injected at

350bar pressure.

The Artura's V6 engine is designed not just for compact

packaging and efficiency, but also to increase driver

engagement. Shared crank pins enable a very short

and stiff crankshaft that allows the M630 to redline

at a thrilling 8500rpm. It's also a very refined engine,

designed with the chain drive at the rear and with ancillary

noises reduced so that the occupants only hear

the V6's distinctive intake and exhaust note, routed via

Gasoline Particulate Filters to reduce emissions†.

The V6 engine powers the rear wheels via an all-new

eight-speed seamless shift transmission that has also

been design for optimised packaging. The length of

the gear cluster has been reduced by 40mm, helped

by use of a nested clutch rather than a parallel unit

and also the removal of a reverse gear, this function

now achieved by the Artura's E-motor spinning in the

opposite direction. The ultra-compact motor is fully

integrated within the transmission bell-housing, delivering

torque in-fill and linear acceleration via an

E-differential to the rear wheels.

The Axial Flux design of the E-motor is another

Artura benchmark. It is similar in size to a

McLaren brake disc and at just 15.4kg it is only

a little heavier than a conventional iron rotor

component, yet it can generate up to 95PS and

225Nm as well as enable journeys of up to 30

kilometres in near-silent pure EV mode* , attributes

that are ideal for city driving or early-morning

starts.

15
---
Need for

Speed

Providing the electric-only capability is a 7.4kWh

Five-module Lithium Ion energy dense battery pack.

Fully-integrated into the Artura's McLaren Lightweight

Architecture (MCLA) chassis, the battery pack

is positioned low-down in the car behind the driver,

incorporated into the floor and protected on three

sides by the main carbon fibre structure and from behind

by the engine. This positioning also helps to optimise

both centre of gravity and the polar moment of

inertia, benefitting dynamic agility.

The hybrid battery sits on a cooling manifold, which is

shared with the new electric heating, ventilation and

air conditioning system also used to control air temperature

in the cabin. Incorporating technology first

developed for the McLaren Speedtail, the batteries are

thermally controlled using dielectric oil – a technology

also used to keep the E-motor at operating temperatures

that deliver the highest level of performance.

True to the Artura engineers' determination to optimise

packaging and weight, the battery management

unit sits alongside the modules, with the power distribution

unit (PDU) integrated into the battery. An integrated

Power Unit (IPU) acts as a DC/DC converter

for the vehicle's 12v system, further reducing weight

by removing the need for a separate alternator and

on-board battery-charger.

Taking just 2.5 hours to charge from zero to 80% using

an EVSE socket, the battery is carefully managed

so that it never truly runs out of power; there is always

something in reserve for reversing or starting the

engine, even when parked for extended periods. This

management process also ensures that the battery

remains in peak condition and accordingly the unit is

warranted for 6 years or 75,000km.

An Artura driver can adjust how the electric motor is

deployed to prioritise range or power, or choose to

shut off the internal combustion engine for silent running.

Energy harvesting is achieved purely from the

combustion engine in order to maintain brake pedal

feel, yet the battery can be charged from low to 80%

full within minutes under normal driving conditions.

This ensures that the Artura is always ready to switch

to electric-only mode, an option that adds discretion

and enhanced economy to the driving experience, as

well as reduced CO2 emissions at just 129 g/km*.

Additionally, the Artura's High-Performance Hybrid

powertrain contributes to significant ownership

benefits above and beyond the performance and

driving engagement it delivers: a comprehensive

5-year vehicle and 6-year hybrid battery warranty

are standard for Artura customers, as is a 3-year

service plan.

16
---
Winter

Escape

Panorama House. Property QBS11550.
---
As providers of the largest selection of premium holiday

homes, villas and apartments in Queenstown, Luxury Rental

Homes offer you the opportunity to experience unique

accommodation options for your next holiday escape.

Just imagine you and your family relaxing in luxury this Winter.

Sam Skipper

+64 3 450 0489 | luxuryrentals@nzsir.com

www.nzluxuryrentalhomes.com

Each Office is Independently Owned and Operated. Browns Real Estate Limited (licensed under the REAA 2008) MREINZ.
---
TASMAN GLACIER

ICE CAVING

Mount Cook Ski Planes & Helicopters

Aoraki / Mt. Cook, New Zealand

Experience the Breathtaking views of flying over the southern alps & the Aoraki/Mt Cook

National Park with a once in a lifetime experience on New Zealand's Longest Glacier

www.heletranz.co.nz

www.inflite.nz
---
Destination

Unlocked

VENICE SIMPLON-

ORIENT-EXPRESS:

ALL ABOARD TO A

LUXURY TRAIN

JOURNEY

Step aboard the

historic carriages

of the Venice

Simplon-Orient-Express

and uncover a

hidden jewel, glittering

and timeless.

An uncontested icon

of the rails, this train

has long captured

the hearts and imaginations

of glamorous

guests. Three elegant

dining carriages exude

culinary sophistication,

from Lalique

glass inlays in

Cote d'Azur to black

lacquer panels in

L'Oriental.

A steward in blue and

gold livery waves with

a white-gloved hand,

welcoming you on

board with a knowing

smile. Settle into

your cabin, adorned

with art-deco details

and French-polished

cherry wood, and sit

back as a grand voyage

begins.

22
---
DESTINATIONS

Take the classic route

from London to Venice,

the gateway to the Orient.

This breathtaking

journey through rural

French farmlands and

Swiss Alpine valleys

can be travelled in either

direction or both.

Go further afield with

Paris to Istanbul, an authentic

adventure over

six days to the edge of

Europe. Delve into the

culture with stops in

Budapest and Bucharest

before arriving in

soulful Istanbul.

2021 brings new Grand

Tour routes crisscrossing

through Europe.

Embark on a thrilling

voyage connecting some

of the continent's most

vibrant cultural hubs.

Explore the elaborate

canals of Amsterdam—

taking in the worldclass

museums by the

day and sampling the

Dutch cuisine by night—

before boarding the

train for your overnight

adventure.

The Orient Express has

added new five new

routes to its post-COV-

ID schedule. Due to the

current government

restrictions, Orient

Express will not run

their journeys scheduled

in March 2021.

Visit belmond.com for

more information.

Destination

Unlocked

Belmond/Venice Simplon-Orient-Express©

The romantic train made famous by Agatha Christie © Belmond/Venice Simplon-Orient-Express

23
---
Destination

Unlocked

TIEVE TARA: THE SPARKLING JEWEL

IN MOUNT MACEDON'S CROWN

Considered a property of great significance in

the heart of Mount Macedon's Golden Mile yet

only 50 minutes from the Melbourne CBD and

40 minutes from Melbourne's International Airport,

this private oasis set on more than six acres (2.4 ha

approx.) of lush ornamental gardens is on the market

for the first time in 25 years.

Presenting a once-in-a-generation opportunity to

secure one of the great hillside estates known for its

world-class gardens, Tieve Tara, whose name comes

from the Celtic meaning "side of the hill", has evolved

from its 19th-century origins into the illustrious property

that it is today.

Privately located among spectacular gardens, its luxurious,

architect-designed two-storey brick and stone

main residence offers mountain vistas and stunning

outlooks from every room.

Perfectly proportioned spacious interiors include

multiple living areas, two bedrooms with ensuites,

and an upstairs living area with a home office capturing

magnificent treetop and garden vistas. In short,

a perfect "work from home" environment. Featuring

a large conservatory with a heated indoor swimming

pool and a croquet lawn, Tieve Tara offers abundant

opportunities for health and leisure without even

leaving the grounds.

24
---
Destination

Unlocked

In addition, a two-bedroom, self-contained

cottage with a private garden presents exciting

possibilities, including the option of guest

accommodation, a caretaker's /gardener's

cottage, an artist's studio, or potential for additional

income. This compelling property includes

two driveway entrances, multiple garages,

a workshop, and spring-fed mountain

stream frontage.

Highly acclaimed by the media, Tieve Tara's

unique botanical paradise is a treat for nature

and garden lovers alike. It juxtaposes native elements

of towering eucalyptus, ferns, and a creek

with the carefully planned and designed landscape

that allows residents and visitors to meander

along winding paths, admire Monet-like

scenes of bridges and lakes while marvelling at

majestic trees and rare plant specimens.

Offering complete privacy and tranquility,

Tieve Tara is just an easy stroll to Mount Macedon's

township and Hotel, with hiking tracks

and Mount Towong Vineyard nearby, proving

the adage that "having it all" is possible.

For more information, please visit

gardensoftievetara.com.au

25
---
Destination

Unlocked

BRANDED

RESIDENCES – THE

FUTURE OF

LUXURY LIVING?

26
---
Destination

Unlocked

They originated because leading hotel brands

were looking to offer their high-net-worth

(HNW) clients the privacy of having a private residence

with the services and convenience of a

hotel.

Branded residences are becoming ever

more popular. But what are they, how did

they originate – and what will they be like

in the years to come? In this article we look at

all the key aspects of this style of luxury living.

The first branded residence was created in a

New York hotel in the 1920s and in recent years

the number of hotel-based branded residences

has grown apace. But so too have other types

of branded residence. In this article, we'll look

at what's behind this phenomenon, the benefits

these properties can bring, and particular considerations

that go into creating them, especially

in the light of the current pandemic.

What are branded residences?

Today, branded residences generally refer to

residential properties rather than hotels, allowing

investors to buy into the luxury and status

associated with a particular brand. They are essentially

partnerships between the brand and a

developer, working closely in conjunction with a

designer – as, for example, with our work with

Four Seasons on their branded residences in

Kazakhstan.

These residences were created within hotels and

were also useful for quick recouping of some

of the substantial investment involved in hotel

building.

While many of these properties are still set

within hotels, branded residences have now

also developed into stand-alone developments.

Many are still run by hotel groups. However,

non-hospitality brands such as Armani, Baccarat

and Porsche have also branched out into

creating branded residences in order to capitalise

on the strength of their brand and to

forge a deeper connection with their audience.

So, what explains this phenomenon?

The benefits of branded residences

The main reason for the growth of branded residences

is that the developer, the brand and the

owner or occupier all stand to gain in multiple

ways.

A developer can charge a premium price for a

branded residence. The visible brand and its associated

high status also serves to increase trust

in the developer. In some instances, they can

access the existing customer base of the brand

in a way they would otherwise have been unable

to do.

27
---
As for the brand owners, they can generate income

from management fees and short-term sales. The

brand can also generate wider and deeper customer

loyalty by diversifying in this way.

Those who buy or rent the residences love the level

of luxury and convenience they bring. Thanks to high

levels of servicing, they also gain from having almost

everything they may require under one roof. Owners

can also benefit from a no-hassle turnkey service,

whereby they can just move in.

The brand association often appeals to HNW individuals,

who see them as trophy homes. They also appreciate

the increased levels of security that are commonly

associated with branded residences, and the fact that

everything is managed on their behalf.

serviced residence, everything is always there ready

for you, resulting in lower costs and easier logistics.

Must-haves when designing branded

residences

Maintenance, management and staffing aren't the only

issues when it comes to living space for HNWs. Rive

Gauche has been designing their homes for years and

we know how to match both individual expectations

and wider trends.

As well as reflecting the aesthetic , values and ethos of

the brand, we create a sense of place by making sure

that the design is representative of the locality. We engage

local artists and craftsmen, as well as reflect regional

architectural styles and materials throughout.

Global trends in branded residences

Significant numbers of these HNW individuals can now

be found in most of the world's major cities, but some

locations are becoming particularly significant.

For example, while American cities such as Miami and

Los Angeles are seeing more branded residences, the

real growth is coming in Asia. In particular, the UAE

and wider Middle East, plus countries such as Thailand

and Vietnam, are witnessing big increases. Dubai is expected

to become world capital of branded residences,

overtaking New York, with Phuket also becoming a

major destination.

That said, wherever in the world one is or plans to be,

Covid-19 has heralded major changes, with more set to

come. The trend towards working from home has accelerated

and many HNW individuals can now do business

from almost anywhere in the world. All the same,

most will need to travel at some point for work and will

wish to for leisure; once travel restrictions are lifted,

owners will rarely live full-time in one place. Serviced

residences are well-placed to meet this new reality.

Previously, you had to worry about ongoing maintenance

and management. You might also have sent your

staff to your residence overseas a week in advance

to prepare the property for your arrival. But with a

28
---
Destination

Unlocked

Any branded property should also be designed

with service comparable to a luxury hotel in mind.

There would therefore normally be a separate entrance

for services. This would be linked with a utility

area and/or serviced kitchen and staff quarters,

all kept away from the main part of the residence.

Maintenance or emergency visits would also be kept

apart so as not to disturb the occupants.

The audio-visual and smart home system should be

state of the art, not just to control what's within the

residence but to connect with services such as concierge.

It should naturally be operable remotely as

well. Most importantly, security should not be an afterthought

but fully integrated into the overall design.

Moving into a new COVID - influenced

world

Other design trends have been introduced or intensified

in the face of the COVID pandemic. For example,

the adoption of advanced technology for filtering and

treating ambient air. This refreshes the room more often

and filters out germs and pollutants. Technologies

to reduce unnecessary physical contact points are also

more prevalent, including voice recognition, contactless

passes and keys in communal areas.

inside and outside of their living spaces can promote

wellbeing. Spa bathrooms are now commonplace, as

are gyms in the highest-end residences.

All aspects of living are now embraced. That includes

nursery and childcare facilities, both within the residence

and in a safe and secure part of the wider development.

Dedicated personal offices are also the

norm within branded residences, moving far beyond

the days of just having a desk in the corner. And whatever

is being built and wherever it may be, sustainability

is now at its heart, reflecting a genuine desire

to have positive impact on the environment and the

local community. Refreshingly, developers, clients and

brands are generally of one mind on this.

rivegauchelondon.com

In a wider sense, the trend towards health and wellbeing

has accelerated in the face of the pandemic.

People are becoming more conscious of how both the

29
---
Do you remember? when every part of us longed to wander —

born movers, life isn't long enough to stay in the same place.

Remember when we realised we could have it all —

All those little bits we've missed.

When we took life's ever-changing invitation,

picked up our feet, said come on

let's do it

Let's run.
---
slh.com
---
Bits of

Glitz

LVMH WATCH

WEEK 2021:

ZENITH PRESENTS

LATEST TIMEPIECES

Zenith joins Bvlgari and Hublot

for the second edition of

LVMH Watch Week with both

digital presentations and one-toone

meetings in 15 countries to let

watch aficionados discover the latest

creations from the Zenith manufacture.

The Chronomaster Sport,

Chronomaster Revival A385, DEFY

21 Urban Jungle and Pilot Type 20

Chronograph Silver are all emblematic

of Zenith's exceptional expertise

in high-performance timepieces.

For 2021 Zenith is showcasing the

Chronomaster, unveiling an evolved

version of the celebrated El Primero

movement during LVMH Watch

Week, able to measure 1/10th of

a second, with an ultra-readable

display. "The Chronomaster Sport

sets a new standard of precision,

32
---
performance and design for the

Zenith automatic chronograph. We

can't wait to show you this watch

in your markets very soon, so that

you can touch, feel and experience

one of our most significant launches

for 2021 in person," says Zenith

CEO Julien Tornare.

With its signature tri-color dial,

the Chronomaster Sport has a

41mm steel case and a polished

black ceramic bezel. The watch is

powered by the newest version of

the legendary calibre, the El Primero

3600, the fruit of 50 years of

research and perfections. Thanks

to its high frequency of 5Hz (36'000

VpH), the remarkable timepiece offers

precision of 1/10th of a second

in an easy-to-read display, plus

an extended power reserve of 60

hours. Visible through the sapphire

display back, the new architecture

reveals a blue column wheel and an

open rotor marked with the Zenith

star. NFL football star Aaron Rodgers,

named Most Valuable Player in

the league, is the new face of Zenith

and a fitting ambassador for

the Chronomaster Sport.

Other new creations presented

for LVMH Watch Week include the

Chronomaster Revival A385, a reinterpretation

of the original 1969

timepiece with an eye-catching

brown gradient "smoked" dial, a first

in the watch industry. The latest

addition to the DEFY collection of

1/100th of a second chronographs

is the DEFY 21 Urban Jungle, with a

khaki green ceramic case matched

to the exploits of urban explorers.

Lastly, the Pilot Type 20 Chronograph

Silver celebrates the history of

Zenith and its long affinity with the

world of aviation. The limited edition

of 250 pieces has a case sculpted

from sterling silver. The oversized

Arabic numeral hour-markers

and "cathedral" hands feature white

luminescent paint for maximum

legibility. A broad leather strap with

a rivet and polished steel pin buckle

with a distinctive table recall vintage

pilot helmets from the early

20th century.

Guided by innovation, Zenith has

challenged time since 1865. With

its "time to reach your star" philosophy,

Zenith inspires individuals to

excel, accompanied by the watch

on their wrist.

Discover the brand's novelties unveiled

at the LVMH Watch Week on

lvmh.com.

33
---
Bits of

Glitz

SONG HYE KYO CROWNS HER STYLE

WITH JOSÉPHINE BY CHAUMET

A modern-day Empress Joséphine, Chaumet ambassador Song Hye Kyo fearlessly

celebrates the many facets of her femininity and personality.

An inimitable woman of today, true to the Empress' spirit of Grace and Character.

Like Song Hye Kyo, mix and match the emblematic Joséphine creations to create

your own jewellery composition revealing your unique style.

INIMITABLE JOSÉPHINE

From jewels revisiting the collection's iconic pear-cut to High Jewellery pieces infused with

a couture spirit, and a unique watch, discover the multiple facets of the Joséphine collection.

34
---
Bits of

Glitz

JEWELS CAN

BE A MAN'S

BEST FRIEND,

TOO

An elegant man is never as you

expect him to be: sophisticated

on his own time when

he dons an XXL panther ring with

an exceptional sapphire on his pinky

finger. It is an exercise in style for

an open-minded spirit who mixes

Clash and Love with abandon. Always

in touch with both extravagant

and classical sides of his style lexicon,

this is a requirement dictated

by his sense for detail. This is how

his style is defined: inventive both

in the way he looks and his state of

mind. Meet the man of elegance.

35
---
Bits of

Glitz

WORLD PREMIERE

EXCALIBUR GLOW ME UP

36
---
Bits of

Glitz

The Excalibur Glow Me Up is the first timepiece

to feature luminescent diamonds

at night in different hues. The latter

is possible thanks to a patented process

which is to add luminescent material

underneath the diamonds, in the

grooves that are holding the stones

into place. In addition to that, another

patented process allows the

timepiece to have the calibre glow!

The chamfers of the calibre are

painted with luminescent material

enhancing the iconic star-shaped

bridge by night. The Excalibur

Glow Me Up! is also featuring the

new RD512SQ calibre, a reengineered

calibre with improved power

reserve up to 72 hours and increased

durability thanks to a new lube. The

case is made of EON GOLD, a non-tarnishing

alloy of pink gold.

Description

The skeleton calibres manufactured

by Roger Dubuis in Geneva are the

essence of the expressive singularity

of the Excalibur collection.

Complying with one of

the most respected certifications

of Haute Horlogerie,

the Poinçon de Genève, the

Excalibur watches are designed

like contemporary

works of art. Every single

component being finished

by hand, the watches

are symbols of passion.

The work of hyper-skilled

craftsmen is at the forefront

of each watch with a direct

view on the creative mechanics

making these pieces more alive

than ever.

Boutique exclusive

Limited edition of 8 pieces

37
---
Wherever you're Wherever flying you're to, travel flying to, there travel with there confidence. with confidence. Every Every Etihad Etihad Airways

ticket includes ticket COVID-19 includes COVID-19 global wellness global wellness insurance insurance cover cover - just - just one one of the of the

ways we promise ways we to promise keep you to keep protected you protected with Etihad with Etihad Wellness. Wellness.

If you're diagnosed If you're diagnosed with COVID-19 with COVID-19 whilst whilst you're you're away. away. we'll we'll take take care care of of

your medical your expenses medical expenses and quarantine and quarantine costs. costs. You'll You'll be covered be covered from from the the

first day of first your day trip, of giving your trip, you giving extra you peace extra peace of mind of mind as you as travel you travel the the world.

Choose Well. Choose Well.

etihad.com/covid19cover
---
Beauty

Diaries

BVLGARI ALLEGRA, THE NEW

PERSONALIZED FRAGRANCE

EXPERIENCE FROM BVLGARI

Bvlgari creates an Italian sensorial

experience with its new Bvlgari

Allegra fragrance collection. With

five eaux de parfums and five magnifying

essences, Bvlgari Allegra offers myriad

combinations to create a uniquely

personal scent. From the composition

to the bottles inspired by colored gems,

this fragrance collection is both joyful

and precious.

"All roads lead to Rome, all magnificent

ingredients lead to Rome, and all

fragrances lead to Rome," says Jacques

Cavallier about his creations for Bvlgari.

Inspired by the history and lifestyle of

Italy, the master perfumer put his passion

and art into crafting the five Bvlgari

Allegra eaux de parfums and five Magnifying

essences. The multiple combinations

are the fruit of superb creativity.

42
---
Beauty

Diaries

For the fragrances, the citrus notes of

Riva Solare evoke an endless Italian

Riviera holiday, while the roses of Fiori

d'Amore are like kisses in the eternal

city. The gourmand amaretti and orange

blossom in Dolce Estasi are inspired by

the attachment to family and childhood

memories. The cocktail of fruity notes

in Rock'n'Rome echoes a spritz aperitivo

shared at sunset. And the chypre accord

of Fantasia Veneta with patchouli, peach

and vanilla is an invitation to extravagant

Venice masked balls.

The glass bottles are inspired by the

sculptured elegance of Roman columns

and the colors of precious gems, like the

ruby red and purple amethyst of Fantasia

Veneta. Each of the fragrances can

be combined with an essence to create

a truly personal scent. The five Magnifying

essences have white bottles, symbolizing

the purity of the ingredients:

musk, bergamot, rose, patchouli and vanilla.

These natural gems echo Bvlgari's

celebrated jewelry expertise. The Roman

Maison pays the same meticulous

attention to the gems and plants it uses,

and to the planet. The Bvlgari Allegra

collection is made entirely in Europe

and protected by packaging that uses

recycled materials. The glass bottles are

designed to facilitate recycling.

Bvlgari chose artist and model Solange

Smith to embody the different facets

of the new fragrance collection. From a

dip in the Mediterranean in Capri to a

café terrace in Rome, Solange embraces

the eaux de parfums and essences in a

whirlwind of joy, love and exuberance, a

perfect ode to Italian dolce vita.

43
---
Beauty

Diaries

THE NEW FRAGRANCE:

BRIONI EAU DE PARFUM

Brioni Eau de Parfum is

the ultimate signature

of effortless Roman

chic accompanied by an

irresistible temptation. It

is the ideal complement to

Brioni's sartorial universe,

the last, invisible, touch to

the perfect outfit.

A unique formula

Created in collaboration

with the renowned Master

Perfumer Michel Almairac,

the Brioni scent is a perfectly

tailored formula. Accurately

cut from superior

ingredients, both natural

and man-made, the fragrance

is well-balanced and

effortless.

Infused with a sense of quiet

confidence and understated

elegance, the perfect

finishing touch created

with a few ingredients only,

championing ease as the

ultimate sophistication.

An elegantly fresh opening

by a modern ozonic accent –

cool pink peppercorn and

crisp green apple.

The gentle warm heart carries

a soft powdery violet

that contrasts with the silky

warmth of ambroxan.

The sophisticated drydown

bares the clean scent

of naturally grown cedarwood

infused by smooth

tonka bean and cashmere-soft

musk.

The main ingredients, cedarwood,

and hand-picked

peppercorn are both sustainably

sourced.

"Our new fragrance, like

all things Brioni, perfectly

balances between sophistication

and charisma. A per-

fume that does not shout yet

envelops the wearer with an

irresistible presence, a com-

fortable caress, and magical

charm."

Norbert Stumpel,

Brioni Design Director

44
---
• The bottle, a timeless shape, is inspired

by the Brioni navy blue tailored

suits.

• The Italian glass with a curved base is

square-shouldered and slightly slimmer

towards the bottom to adds to its

elegance.

• The label is soft black satin with a

golden cross-stitching, reminiscent

of the one inside the Brioni suits.

• The cap is magnetic with the iconic B

logo on the top, also featured on the

pump and inside the cap as special

hidden detail.

45
---
Beauty

Diaries

LA MER

BEAUTIFULLY HER

A MOTHER'S DAY INDULGENCE

THANK HER WITH A FEW OF OUR RENEWING FAVORITES

46
---
1

Crème de la Mer

1

Beauty

Diaries

This luxuriously rich cream

deeply soothes, moisturizes

and heals away dryness.

Skin looks naturally vibrant,

restored to its healthiest

center. Miracle Broth –

the legendary healing elixir

that flows through all of La

Mer – infuses skin with seasourced

renewing energies.

Ideal for drier skin.

2

2

3

3

The Hand Treatment

Intensely hydrating, this silky

cream helps restore skin's

natural moisture on contact.

The nourishing emollient

touch helps heal even dry,

vulnerable hands while the

proprietary formula improves

radiance.

The Treatment Lotion

This super hydrator preps

skin for the rest of your La

Mer regimen. Like "liquid

energy", this fast-absorbing

treatment delivers an instant

rush of hydration to visibly

soften, nourish, and

improve texture.

4

4

5

The Treatment Lotion

Hydrating Mask

This innovative sheet mask

is infused with almost a full

ounce of The Treatment

Lotion's energizing vitality

in each application. With

Japanese skin-hugging

technology and millions of

micro-fibers that deliver

a concentrated surge of

healing hydration, this mask

visibly plumps and energizes

for a healthy-looking glow in

minutes.

5

The Body Crème

This rich body cream instantly

comforts and renews

by saturating skin with

long-lasting, deep hydration.

Dry skin feels cushioned and

smoothed as it is enveloped

in the therapeutic effects of

the sea.

47
---
Beauty

Diaries

THE LOUIS VUITTON

DUMBBELLS NOT

YOUR AVERAGE

SILICONE WEIGHTS

These Dumbbells have a striking aesthetic and

sporty appeal. They are an ideal gift for those

who wish to exercise in style or elevate their

home gym with exclusive Louis Vuitton details. Each

weight, made from lustrous metal, is finished with an

eye-catching Monogram Eclipse canvas handle and

House signature engravings.

Detailed Features

16 x 16 x 7 cm

(Length x height x width)

• 6.7 lb/3 kg

• Metal

• Monogram Eclipse canvas

• Louis Vuitton signature

48
---
PLATINUM COLLECTION

Revisiting steel, glass, stainless steel and copper through the

eyes of a master craftsman, De Dietrich has transformed raw

materials into breathtaking results, marking this as a uniquely

sophisticated collection at the cutting edge of technology.

www.asia.de-dietrich.com
---
MADE IN NEW ZEALAND — INNOVATION STORY

Waking up

to sleep

Hyoumankind Founder,

Steph Wyborn

It's rarely easy to find good restorative

sleep in the 21st Century, yet it's so

integral to our wellbeing and energy.

Steph Wyborn, the entrepreneurial

founder of Hyoumankind Pillows,

is on a mission to help people harness

the power of their sleep.

Steph was struggling to get a restorative

night's sleep. Determined to find

answers, she studied the science of

sleep, and its impact on physiology,

beauty and wellbeing.

With plenty of scientific evidence

to support the power of sleep – but few

specialised pillow solutions – Steph

knew she would need to design her

own. Ergonomic design and aesthetics

were paramount, as was material

selection – a high-grade, advanced

memory foam for exceptional support

and comfort.

The result of almost 10 years of

R&D, the Hyoumankind range is

now available. A commitment to

manufacture in New Zealand means

quality control meets Steph's exacting

principles. It's these standards that

see Hyoumankind pillows used and

loved by elite sportspeople, aesthetic

specialists, physical therapists and

people who are embracing the luxury

of deep, restorative sleep.

"Our intention is that your

Hyoumankind pillow – like the reusable

water bottle – will become an integral

part of your everyday life, always with

you, offering luxurious support and

comfort wherever you go."

DISCOVER MORE AT

HYOUMANKIND.CO.NZ
---
Advanced memory foam,

patented compact design,

and a comprehensive

range of accessories make

Hyoumankind's Go Pillow

supremely supportive and

luxuriously comfortable.
---
PRÊT-À-PORTER SCARF 70 CM IN VINTAGE SILK
---
HERMES SPRING/SUMMER

2021 COLLECTION

Objets Hermès

Compiled by Narges Raiss

SANDAL IN SUEDE GOATSKIN
---
HARNESS IN SWIFT CALFSKIN AND BIRKIN 30 BAG IN BARÉNIA FAUBOURG CALFSKIN
---
SANDAL IN SUEDE GOATSKIN, MÉDOR STUD HEEL
---
CHEVAL PUNK SCARF 100 CM IN CASHMERE AND SILK
---
ARCEAU SOLEIL WATCH IN DIAMOND-SET STEEL, DIAMOND-SET

GLASS, ENGRAVED AND LACQUERED DIAL, STRAP IN ALLIGATOR
---
CHAÎNE D'ANCRE VERSO DOUBLE RING IN ROSE GOLD AND BLACK CERAMIC
---
NEREUS 24 GLOBE IN SWIFT CALFSKIN AND STEEL
---
Passion for

Fashion

KIM JONES PRESENTS

FIRST READY-TO-WEAR

COLLECTION FOR FENDI

Following his first haute couture show in January, Kim

Jones presented his vision of Fendi women's ready-to-wear

for Fall/Winter 2021 on February 24. Alongside Silvia Venturini

Fendi for accessories and her daughter Delfina

Delettrez Fendi for jewelry, The new Artistic Director

paid homage to the women of the Fendi family. Their allure,

their legacy and their Italian origins all inspired a

collection celebrating family.

60
---
The monochrome silhouettes

imagined by Kim Jones

walked a runway framed

by references to ancient Rome in

F-shaped glass boxes. In this contemporary

museum décor, the

vestiges of antiquity focused a

spotlight on contrasts between

heritage, savoir-faire and ultra-modernity.

Kim Jones found inspiration

in the wardrobes of the five

Fendi sisters, "a powerful dynasty"

that energized the development

of the family house by recruiting

Karl Lagerfeld in 1965. A palette of

camel, powdery pink, taupe, olive

green and marble white referenced

the different generations of Fendi

women. The final silhouettes in

sophisticated black were a nod to

Delfina Delettrez Fendi, who wore

a black tuxedo at her first meeting

with Kim Jones. A fourth generation

member of the family, she

embodies the Maison's creative future.

For the show she introduced a

new range of Fendi O'Lock jewelry,

an update on the iconic logo in the

form of padlocks that can only be

opened by dialing FENDI.

"The Fendi family are women of

intellect who work hard – and

that's what I wanted to celebrate,"

said Kim Jones. In an ongoing dialogue

with them, the artistic director

gave Silvia Venturini Fendi the

idea of reappropriating the family

"F" to create a bag. With its tilted

initial "F", the Fendi First bag was a

highlight accessory, presented in

myriad variations, from a jewelry

micro pouch on a chain to a clutch

in different leathers and exotics.

This new classic joins the Peekaboo

and Sunshine Shopper. Kim Jones'

new Roman empresses showcase

the savoir-faire of the House with

these luxurious accessories.

The spectacular quality of the materials

– from mink and leathers to

silk – impart an exceptional touch

to the women who wear them. Fendi

workshops meticulously embroidered

delicate organza and applied

exquisite embossed Selleria stitching

on leather accessories, as well

as the collars of garbardine trenches

and cashmere coats. Listening to

the needs of women, Kim Jones said

he wanted to create chic and timeless

pieces. The show had an air of

sensuality with plays of bare skin

at the shoulders and midriff. Legs

stood out in Karligraphy stockings

and ankles were lifted by heels with

an inverted Fendi logo inspired by a

Karl Lagerfeld archive sketch.

To cap this first ready-to-wear collection

for Fendi, Kim Jones took a

bow to the captivating song by Carl

Abrahamsson & Genesis Breyer

P-Orridge titled "S/He Is Her/E", a

powerful echo of the artistic director's

vision, exhorting viewers to

"change the world" and "embrace

the future with a kiss".

The runway show and behind the

scenes videos of the décor and

backstage are posted on fendi.com.

61
---
Passion for

Fashion

PRADA LINEA ROSSA

REVEALS SPRING/SUMMER

2021 COLLECTION

DISCOVER THE KINETIC ENERGY OF

PRADA'S LINEA ROSSA SPRING/SUMMER

2021 COLLECTION IDEAL FOR BMX

RIDERS AND SKATERS

Prada's Linea Rossa reveals

its Spring/Summer

2021 activewear collection

inspired by the skate

parks of Los Angeles and

Shanghai.

Prada's iconic "red" line

specializing in modern

metropolitan activewear

launches Spring/Summer

2021 collection designed

for BMX riding and skateboarding.

The brand's

campaign shot by the Los

Angeles-based visual artist

Martine Syms featured

multiple celebrities and

influencers that epitomize

these sports skills.

62
---
The celebrities featured

in the campaign are: Chinese

singer-songwriter

and record producer Cai

Xu Kun; skateboarder,

model, and community

organizer Briana King; actor

and skateboarder Rachelle

Vinberg; and L.A.-

based skater Le'Andre

Sanders.

Linea Rossa as usual

shows the perfect balance

between design and functionality.

The dominance

of whites and greys in the

collection's color palette

adds a futuristic vibe to

the design and the fabric

makes the silhouettes

light-weight and easy for

motion.

Discover the collection on

Prada.com

63
---
LVMH MAISONS REINVENT THE RUNWAY FOR PARIS

FASHION WEEK WOMEN'S FALL-WINTER 2021/2022

Paris Fashion Week and LVMH Maisons once again

amazed and delighted with striking women's readyto-wear

collections for Fall-Winter 2021/2022.

Their reinventions were generous and resolutely positive,

echoing their vision for the future.

This season once again spotlighted exquisite

savoir-faire and excellence.

Loewe: "The Loewe Show Has Been Cancelled"

Jonathan Anderson introduced an entirely new format

for the Loewe Fall-Winter 2021/2022 collection. The

designer reinvented the runway show, presenting a

Patou: la vie en rose

For Fall-Winter 2021/2022, designer

Guillaume Henry created a poetic

universe, inviting virtual visitors into

a winter garden composed of colorful

and blooming silhouettes. A breeze of

70s-flavored freedom infused the Patou

collection, crafted from recycled

materials and imagined as flowers

to compose a flamboyant floral bouquet.

Guillaume Henry proposed elegant

looks in perpetual motion with

exaggerated blooming volumes. The

pieces adapt to our whims, attaching,

detaching and superposed to create

new pop compositions. Versatile silhouettes

for liberating fashion.

64
---
Passion for

Fashion

broadsheet newspaper headlined "The Loewe Show

Has Been Cancelled", with original writing by American

novelist Danielle Steel. Conceived as a knowing

mélange of fashion and culture, the newspaper is a

perfect symbol of the current period. The creative

director wanted fashion with switched on hedonism,

saturated in therapeutic colors, creating an

electric collection with bright hues juxtaposed in

geometric prints for an architectural result. Comfort

is once again celebrated with fluid curves and

draping. Jonathan Anderson's collection is as joyful

as it is generous.

Dior: a modern-day fairy tale

For her new collection, Maria Grazia Chiuri invites

us into a territory where the time-space dimension

has been erased. Dior immerses us into a

dreamlike world straight from fairy tales, and the

Hall of Mirrors in the Château de Versailles provides

the perfect backdrop. The designer revisits

iconic Dior codes with essential black, permeated

by a through line of red, setting the theme for the

season. Colorful evening gowns seem to evaporate

in marvelous colors, transforming women

into modern-day princesses while recalling the

world of childhood with plastrons in broderie

anglaise. The Fall-Winter 2021/2022 collection

celebrates a feminine sensibility that magically

blends memories of past and maturity.

Givenchy: identity wardrobe

Matthew Williams' Givenchy is a striking mix of comfort,

protection and intimacy. The collection by the

designer, who became Givenchy creative director

during the health crisis, reflects the intensity of the

past year. A mix of lavishness and austerity, the silhouettes

are about a constant tension between two

worlds. Micro and macro lines contrast extravagance

and taut cropping, and an architectural approach to

tailoring, creating an urban style with materials that

envelop and cocoon, emphasizing freedom of movement

and the liberation of the body. Matthew William's

dramaturgical show perfectly showcased the

ethos of this Fall-Winter 2021/2022 collection.

Louis Vuitton: time travel

With an empty Louvre providing a stunning set,

Nicolas Ghesquière presented a Women's Fall-Winter

2021/2022 collection teeming with life. To a

soundtrack from duo Daft Punk, Louis Vuitton

embarks us on an extraordinary odyssey. The collection

features a collaboration with Italian design

atelier Fornasetti. Nicolas Ghesquière created a

liberating and bold collection, incorporating Fornasetti's

distinctive visual world. Colorful silhouettes

playing with volumes were matched with antique

motifs drawn by Fornasetti, a subtle blend of

timeless modernity and history. The Louis Vuitton

wardrobe tells a story of body, heart and mind.

65
---
HOW CAN YOU

DRESS FOR SUCCESS?

Your time is precious – if you're going to invest time

in something, you want to come out with a winning

result. So, if you're thinking about visiting a tailor for

the first time, it's great to know ahead of time what

to expect.

So here's what to ask your tailor – so you walk away

with the suit that you really want.

1. Which colours suit me?

Because it's not just about finding a colour you like.

You may love magnolia and it may look great on your

walls, but it might not be such a good match for your

skin tone.

Plus, it isn't just a matter of being dark skinned or

light skinned or somewhere in between. Everyone

has an undertone to their skin, too.

Generally, those with a light complexion should

avoid grey suits as they can be draining. Those with

olive toned or darker skin have a little more flexibility

when it comes to suitable hues. However, it's always

advised to avoid tone-on-tone looks. Just like

pastel shades wash out paler skin, brown won't provide

enough contrast for medium skin tones.

Your tailor will offer a professional colour consultation

to guide you when selecting the final fabric.

2. And what about pattern?

A good tailor will only suggest patterns to complement

or enhance your size and shape.

Shorter guys can look to pinstripes, which help to

elongate the frame. If you're larger or oval shaped,

it's best to stay away from unflattering horizontal

stripes. The windowpane check looks smart and stylish

on most, whilst also helping extra-slim frames look

larger.

If it's your very first suit, we'd recommend starting

classic in a universally flattering colour such as navy.

As your tailored arsenal grows, you can begin to experiment

with herringbone or chalk stripes for a confident

stance.

3. Which style works for my body shape?

This question is imperative so you can walk out of your

tailors feeling confident in a suit you love – that's suited

to your individual height and size.

66
---
Passion for

Fashion

If you're on the shorter side, look to a smaller trouser

break that can help you look a little bit taller. Narrow

shoulders? Peak lapels can help broaden this area.

For tall men, make sure the leg length and sleeves are

long enough so it's clear the suit was professionally tailored

and not bought off the rack. And while the double-breasted

blazer works well on certain body frames,

larger men should usually stick to single-breasted designs

for a slimmer take.

4. And how can I make sure my suit stands out from the

crowd?

Your final question… and one that means your tailor is

intent on creating the very best suit around. Of course,

the cut, fit and the quality of fabrics used all have a

part to play in giving your new suit the 'wow' factor.

You're looking for the perfect blend of your personal

style preferences with something that will stand the

test of time.

Those with a sartorial eye know that it's all in the details.

Nothing gives away bad quality like poor stitching,

for instance. Remember, there's a deep heritage

to tailoring so ask where your tailor trained in his

craft and the background of the company – if you hear

words like 'Mayfair' then you know you're joining distinguished

clientele.

So now it's time to meet your tailor, armed with these

four key questions that are going to result in a superlative

suit.

67
---
Passion for

Fashion

BRAD PITT, LOS ANGELES

THE SPRING/SUMMER

2021 CAMPAIGN

House Ambasador of Brioni Brad pitt is

framed amongst the cinematic interior

of legendary Chateau Marmont in

Hollywood. The softly tinted images and video

evoke a relaxed atmosphere which perfectly

captures his natural energy and charismatic

presence.

It is a laid-back mood in which Brad Pitt portrays

the Brioni man, radiating a modern yet

timeless magnetism and charm, a self-confidence

rooted in being comfortable in one's

own skin. This campaign provides a softer angle

of the Brioni man, in a more intimate setting

beyond the spotlight.

The images feature two present-day icons of

the Brioni wardrobe, the "Vagabond" overshirt

in double splittable cashmere and the feather-light

silk blouson in washed silk. They are

deliberately pure, emblematic of the House's

sophisticated notion of refined simplicity and

style.

68
---
MASTERPIECE by PoMMERy
---
Casa

Goals

THE NEW COLLECTION AUTOMOBILI

LAMBORGHINI BY ZAMBAITI PARATI

The collaboration between Zambaiti Parati, creator

of Italian high-end wallcoverings and Italian

super sports car manufacturer Automobili Lamborghini,

has produced a new collection of wallcoverings

and decorative panels. This second collaboration

also draws on the iconic aesthetic characteristics of

the Sant'Agata Bolognese car manufacturer, to create

an evocative 2021 collection in gray, shades of copper

and different tones of green with a natural effect.

The two brands' relationship is based on the shared

principles of modernity and strong design, reflecting

tastes and trends found in both the furnishing and automotive

industries for new materials, such as carbon

fiber and metals with different finishes. Zambaiti Parati's

study of the aesthetics and lines of the distinctive

Lamborghini super sports cars started in 2017, working

closely with Lamborghini's Centro Stile (design

center), with the first wallpaper collection presented

in January 2019 and the second in February 2021. Both

collections draw on details from Lamborghini models

such as the carbon fiber materials and even specific

car parts: the Centro Stile's idea to scan pieces and

translate their lines into graphic effects on the wallpapers

is a perfect illustration of the competence and

creative teamwork of the two brands' collaboration.

solidity and thickness of its wallpaper products: qualities

that reflect the technical materials used by the

prestigious car brand. The wallpapers are offered in

rolls of seven square meters on a non-woven support

that allows direct gluing and quick and easy replacement.

The materials are fireproof and thus suitable for

dining and hospitality applications. Digitally-printed

decorative panels are also included in the 2021 collection,

featuring decorative motifs on a larger scale

drawn from Lamborghini design, and enhancing the

range's aesthetic dynamism.

As in all collections from Zambaiti Parati, three-dimensional

and tactile effects are distinctive of the

70
---
Zambaiti Parati, like Lamborghini,

embraces the vision of Made in Italy,

standing for the technological innovation

and Italian creativity that

stands out worldwide. Internationally-oriented

collections combine

modern tastes with classic heritage,

appealing to an established clientele

as well as younger consumers. The

project with Automobili Lamborghini

fits perfectly with Zambaiti Parati's

innovative internal culture as well

as helping develop its proposition to

customers.

The first collaborative collection was

chosen for the lounges of Automobili

Lamborghini around the world, appealing to different

cultures as well as a diverse Lamborghini clientele including

younger consumers: visitors to the international

fairs where the collection was presented were

equally intrigued by the presence of a Lamborghini

super sports car on display at Zambaiti Parati booth,

such as at the Mosbuild in Moscow. The new 2021 collection

is created to appeal to markets throughout Europe,

America and Asia with a product equally suitable

for residential and commercial applications, and designed

for a demanding and refined clientele.

zambaitiparati.com

71
---
Reservations +64 9 366 1234 or auckland.park@hyatt.com

99 Halsey Street, Auckland Central, New Zealand, 1010
---
EXPERIENCE A WORLD OF

LUXURY ON THE WATERFRONT.

195 ROOMS & SUITES

4 EATERIES

SPA & HYDROTHERAPY

25M INFINITY POOL & FITNESS CENTRE

5 EVENT SPACES

Overlooking Waitemata Harbour, Park Hyatt Auckland is a sophisticated,

waterfront residence that enriches guests with authentic and intimate

experiences. Stylish and spacious guest rooms incorporate Maori artwork

such as custom designed tukutuku panels and rugs, made from

New Zealand wool.

The hotel's dynamic culinary spaces are purposefully designed for guests to

socialise, dine and relax alongside panoramic water views. After a busy day

of exploring, guests can relax and unwind at the spa and 25m infinity pool

with sweeping views of Auckland Harbour.
---
THESE ARE HENNESSY'S MUST-TRY COCKTAILS

If you are looking for a cocktail that's sure to impress, dive into the world of shaking,

flaring, and pouring by creating one of their most loved ones at home.

The Hennessy Old Fashioned

A cocktail as powerful and complex as flavourful, with rich

aromas of cardamom, clove and bitter orange. It is equally

enjoyable when sipped alone or with company. Created in

1881, this cocktail is the choice for you if you are looking to

encapsulate your old-fashioned nature!

• 50 ml Hennessy V.S.O.P Privilège

• 20 ml simple syrup

• 2 dashes Angostura Bitters

• 1 orange zest

Put bitters into an old-fashioned glass filled with ice cubes.

Add a splash of water and the syrup. Pour in the Hennessy

V.S.O.P Privilège slowly. Garnish with a twist of orange.

The Manhattan Cocktail

If you're looking for an unusual, yet intriguing cocktail combination,

this is the cocktail to have in hand at your next encounter.

The sweet vermouth adds extra depth, making this

beautiful red pop of colour undeniably sophisticated.

• 50 ml Hennessy V.S.O.P Privilège

• 20 ml sweet vermouth

• 2 dashes Angostura Bitters

• 1 orange twist

Combine all ingredients in a mixing glass with 8 ice cubes.

Stir for 10 seconds. Strain into a chilled champagne coupe.

Garnish with an orange twist and serve immediately.

The Hennessy Ginger Cocktail

Awash with ginger, the addition of Hennessy V.S steers this

classic cocktail into one with more flavour – the fusion between

these two great aromas is like the fusion between two

well-suited humans.

• 40 ml Hennessy Very Special

• 100 ml ginger ale

Pour the Hennessy cognac into a highball glass. Add ice cubes

to fill the glass. Top with ginger ale. Garnish with a lime wedge

or slices of fresh ginger.

76
---
Gastro

Gusto

The French 75

A tribute to art de vivre and the French practice of enjoying

life to its fullest, this cocktail is about as French and delightful

as it gets, ideal for a cocktail rendez-vous at home. Blend it

and enjoy the fizzing sound of the bubbles.

• 40 ml Hennessy Very Special

• 15 ml simple syrup

• 25 ml fresh lemon juice

• Top with sparkling wine or champagne

• Garnish: lemon twist

Build directly in a flute glass. Top with champagne and garnish

with a lemon twist.

INTRODUCING HENNESSY'S NUMBER 1

MOST LOVED COCKTAIL

The Mule

Being its biggest hit among cocktail-fans

from all over the world, The

Mule is as easy to make as it is to

drink. Hennessy V.S and ginger beer

form a sought-after alliance, with a

refreshing taste that intensifies with

every sip and that lingers long after

the drink is gone.

• 45 ml Hennessy Very Special

• 100 ml ginger beer

• Garnish: lime wedge and or fresh ginger slices

Pour the Hennessy and ginger ale into a Rocks glass with ice. Garnish with a wedge of lime or fresh ginger slices.

Or both!

Hennessy Very Special (V.S) is one of the most popular cognacs in the world. Matured in new oak

barrels, Hennessy V.S is bold and fragrant. Its beguiling character is uniquely Hennessy, a timeless

choice with an intensity all its own. Hennessy V.S offers toasted and fruit notes, with a rich, clearly

defined palate and a welcoming exuberance.

Hennessy V.S expresses its vibrant and dynamic personality through unique artist partnerships

and annual limited editions. Easy to enjoy, it's a perfect cognac for high-energy occasions and

sharing the moment.

The round and robust flavours of Hennessy V.S make it very versatile and ideal for any cocktail

possibility, from classic recipes and sophisticated cocktail creations to easy mixed drinks.

77
---
Bianco

Statuarietto

Bianco Statuarietto.

Visit Signorino to find your natural stone.

Pamper yourself in luxury. Bianco

Statuarietto is a classic looking

natural stone, perfect for those who

like the finer things in life.

Whether it's in a palatial bathroom,

or a gourmet kitchen, Signorino

stone adds a touch of elegance

to any space.
---
A spectacular platinum and

diamond ring featuring a

square emerald-cut diamond

weighing 25.02 carats.

Sold for AU$1,125,000 IBP

Thinking of Selling?

IMPORTANT

JEWELS

—

NOW CONSIGNING FOR AUCTION

ENQUIRIES | Hamish Sharma, Head of Important Jewels

+61 422 157 497 | hamish.sharma@leonardjoel.com.au

leonardjoel.com.au
---
NEW

Member

THE LUXURY NETWORK

NEW ZEALAND

WELCOMES DES HARRIS

PRIVATE CHEF

The Luxury Network New Zealand is pleased

to announce a new member, Des Harris Private

Chef.

Des's career to date has spanned over 20 years working

in New Zealand's finest restaurants. He was Executive

Chef for almost 9 years at Clooneys, a fine dining

establishment in Auckland which received numerous

accolades and awards during his time. He has been a

Gaggenau Brand Ambassador since 2015 and is currently

Executive Consultant Chef at Tantalus estate,

which is also a member of The Luxury Network New

Zealand.

Des Harris is available as a private chef for any special

events and can be found on desharrischef.co.nz.

82
---
THE LUXURY NETWORK NEW ZEALAND

WELCOMES NEW MEMBER MUSE

Muse is an Auckland-based fashion

boutique and online store

renowned for its curated lineup

of sought-after local and international

brands. From Christopher Esber

and Lee Matthews to Victoria Beckham,

Diane von Furstenberg, and Tibi,

Muse is not only the exclusive stockist

for a number of lauded labels, but has

cultivated a stellar reputation for the

way it works closely with its customers

to carefully build and sustain their

seasonal wardrobes. A bastion of contemporary

fashion, Muse is more than

just a store.

An exclusive viewing and champagne

experience is available to The Luxury

Network members and their guests.

83
---
84
---
NEW

Member

LEONARD JOEL JOINS

THE LUXURY NETWORK

AUSTRALIA

Established in

1919, Leonard

Joel is Australia's

most dynamic auction

house; a marketplace

for the rare,

the beautiful, and the

extraordinary.

Leonard Joel offers

specialist expertise

and regular, curated

auctions in jewels

and timepieces,

fine art, decorative

arts, Asian works of

art, modern design,

prints and multiples,

luxury, and more.

In addition to their

regular curated category

auctions, Leonard

Joel specialises

in the auction of Private

Collections, and

in their 102-year history,

they are proud

to have been entrusted

with some of

the most important

and interesting collections

in Australia.

Leonard Joel is also

renowned for The

Auction Salon; a

long-running and

popular auction offering

over 1,000 lots

of furniture, jewellery,

art, and objects

every week. The Auction

Salon attracts a

broad range of sellers

and buyers, from

interior designers to

seasoned collectors.

Leonard Joel looks

forward to welcoming

you to their Melbourne

or Sydney

salerooms soon.

85
---
NEW

Member

PINDARI CAPITAL JOINS

THE LUXURY NETWORK

AUSTRALIA

Pindari Capital is the

Funds Management

platform of the Mulpha

Group, with substantial experience

and a strong track

record in the management

of complying investments

under the SIV program, as

well as extensive capabilities

in Wealth Management,

Direct Property, Real Estate

Debt, and Equity Funds

(both listed and unlisted) as

well as alternative investment

opportunities.

Mulpha Group is one of Australia's,

most experienced

real estate and hospitality

investors with highly specialised

operational management

and development capability.

The group also has

an extensive portfolio of real

estate, property development,

hospitality, education,

retirement, private equity,

and debt assets and invests in

some of the fastest-growing

and most vibrant economies,

in Australia, New Zealand,

the UK, and Malaysia, and is

part of the international affiliate

group including SHK &

Co in Hong Kong and Tian An

in Mainland China.

In addition to Pindari

Capital, Pindari Private

Wealth provides

Wealth Management

services to high-networth

clients, business

owners, and

family groups. Pindari's

approach ensures

that our client's

goals and objectives

are the cornerstones

of the strategies that

we implement. The

business offers a

broad range of strategies

in a bespoke

package, tailored to

your needs. Services

include Asset Protection,

self-managed

super fund

advice, portfolio

management, retirement

planning, tax

minimisation strategies,

risk management,

Estate Planning,

and succession

planning.

Lead by Managing

Director of Fund

Operations, Edward

Hewitt-Taylor and

Director, Mark Morcos

the Pindari team

collectively has decades

of investment

experience gained

both in Australia and

around the Asia-Pacific

region, including

China, Singapore,

Malaysia, and Hong

Kong. As well as the

United Kingdom, Europe,

and the USA.

86
---
NEW

Member

87
---
*Marine Bean XL and Ottoman in

Marine Fern.

The Original outdoor beanbag TM . Made in New Zealand and designed to last.
---
NEW

Member

THE LUXURY

NETWORK NEW

ZEALAND WELCOMES

NEW MEMBER WEBB'S

Established in 1976, Webb's is New Zealand's longest-running

multi-departmental auction house,

specialising in Decorative Arts, Fine Art, Jewellery,

and Fine and Rare Wines.

For more than 42 years, Webb's name has been a highly

respected and successful brand with an extensive and

loyal client base.

Webb's offers clients high-quality service, unrivaled expertise,

and excellence in marketing and client services.

89
---
Webb's is New Zealand's longest

running multi-departmental auction

house, specialising in Art, Asian

Art, Decorative Arts, Fine Jewels &

Watches, Fine Wines & Whiskies

and Collectors' Cars & Motorcycles.

webbs.co.nz
---
Art

Asian Art

Decorative Arts

Fine Jewels & Watches

Fine Wines & Whiskies

Collectors' Cars & Motorcycles

Auctions

Private Sales

Valuations

+64 9 529 5600

webbs.co.nz

33a Normanby Rd

Mount Eden

Auckland, 1024

Art

Charles Ninow

021 053 6504

charles@webbs.co.nz

Asian Art

Tom Pan

021 045 0118

tom@webbs.co.nz

Collectors' Cars

Caolán McAleer

027 929 5603

caolan@webbs.co.nz

Decorative Arts

Ben Erren

021 191 9660

ben@webbs.co.nz

Fine Jewels & Watches

Kassidy Hsieh

027 929 5607

kassidy@webbs.co.nz

Fine Wines & Whiskies

Marcus Atkinson

027 929 5601

marcus@webbs.co.nz

Defining Luxury Through Narrative
---
TLN

News

ANNUAL HARVEST

WITH LUNCH

AT TANTALUS ESTATE

The Luxury Network New Zealand members

and guests celebrated the annual

harvest with lunch at Tantalus Estate

Vineyard on Waiheke Island.

92
---
18 MAR 2021 - Arriving in style,

courtesy of Heletranz, landing

among the vineyards at Tantalus.

Guests were greeted with

glasses of Tantalus Méthode

Traditionnelle Brut upon arrival

at the helipad where the

Tantalus chief winemaker

talked them through the various

styles of grapes used for

each wine and the unique ecological

landscape of the property,

allowing for sustainable

wine production.

Guests were then treated to

a delicious 3-course harvest

lunch under umbrellas while

admiring the tranquil gardens. A

viewing of the cellar and private

dining room completed this leisurely

afternoon before being

whisked away in the waiting

helicopters for a scenic view of

the Hauraki Gulf.

93
---
TLN

News

A HEALTH LUNCH WITH EDISON AND NEW ZEALAND

SOTHEBY'S INTERNATIONAL REALTY

23 FEB 2021 - The Luxury

Network New Zealand

guests were invited

to a health lunch

presented by Dr. Ula

Heywood and Rich

Tangney of Edison.

They discussed the

importance of living

life to the fullest

through a personalized

approach to healthcare,

including the latest in

DNA testing and NAD+ infusions,

which are the latest power

tool in rejuvenation medicine.

94
---
TLN

News

Guests dined on a delicious

3-course lunch

prepared by private

chef Des Harris in the

private dining room

at the recently completed

and exclusive

apartment building,

The International.

Guests then toured

two of the apartments

on offer in the building

by New Zealand

Sotheby's International

Realty.

95
---
TLN

News

AN EVENING OF

PRECIOUS STONES AND

CHAMPAGNE

30 MAR 2021 - A small group of The Luxury Network guests

attended a precious stones workshop at Sutcliffe Jewellery

being served canapes and Perrier-Jouët Champagne while

Brent Sutcliffe explained the difference between the cut, colour,

and sizes of gemstones, allowing the guests to personally

model the beautiful jewels.

The guests were challenged with guessing which was the "real"

diamond from a box of stones that looked identical to the naked

eye. Guests were then taught how to identify the real from

the fake diamonds and dined together at a local restaurant.

Sutcliffe also has a Blossom Range which is perfect for a smaller

treat for yourself or a daughter's sweet sixteenth.

96
---
TLN

News

MASTERING YOUR

WARDROBE-

ESSENTIALS WITH MUSE

25 FEB 2021 - The Luxury Network New Zealand's latest member, Muse

Boutique, welcomed guests to their first event – An evening of mastering

your wardrobe-essentials.

Olivia Vincent-Healy, the perennially stylish owner of Muse, and her

team showed off key wardrobe-essentials. Guests were treated to

champagne and canapes as they browsed the beautiful clothing and

were educated by the MUSE team who showed how complementary

pieces can transform and elevate a look from smart casual to luxe and

be cross-seasonal.

97
---
TLN

News

AN EVENING AT THE

INTERNATIONAL

23 MAR 2021 - The Luxury Network Members and

Guests experienced "An Evening at The International"

hosted by New Zealand Sotheby's International Realty,

Des Harris Private Chef, and Pyramid Valley Wines.

98
---
TLN

News

Members and guests had a wonderful

interactive evening exploring

the special spaces of The International.

The evening started with

canapés and a Pyramid Valley wine

tasting in the wine cellar, moving

into the private dining room where

chef Des Harris showcased his culinary

skills.

The guests were then transported

back in time when they entered one

of the apartments and had dessert

on the beautiful heritage balcony.

99
---
MEMBERS

Affairs

CARTIER BRINGS ITS INCREDIBLE HIGH JEWELLERY

COLLECTION TO AUSTRALIA FOR A LIMITED TIME

Cartier brought its greatly anticipated High

Jewellery collection to Australia for a limited

time and The Luxury Network Australia

and their guests were fortunate to experience

this one-of-a-kind opportunity to see the stunning

pieces in the Sydney boutique.

Many of the creations from the Parisian Maison

have never travelled to Australia before and are

usually only visible through invitations to international

events.

Brimming with incredible pieces, the impressive

collection boasts vintage jewellery from the last

century which has been brought back and restored

in Cartier workshops under the Maison's

expertise, with most of the pieces coming from

the 1920s, '30s, '40s, and '60s.

TLN and their guests were grateful for this incredible

and exclusive opportunity to see this

stunning collection up close and personal.

102
---
103
---
Members

Affairs

A SPECIAL PENFOLDS EXPERIENCE:

LUNCH AT A PRIVATE RESIDENCE ON THE

MORNINGTON PENINSULA

Penfolds hosted an

exquisite lunch with

award-winning

wines from the

Penfolds 2020

Collection at a

private residence

on the Mornington

Peninsula.

On Friday, April 16th, Fine

Wine Director George Samios

curated a selection

of Penfolds most celebrated

wines including

2016 Grange (scored 100

points by Ken Gargett,

The World of Fine Wine)

and 2017 St Henri Shiraz

(scored 98 points by Tony

Love).

104
---
Guests enjoyed a magnificent lunch

with each course paired by Finesse

Catering Group showcasing local

and seasonal produce.

Thanks to Giannarelli International

and Lusso Event Hire for the superb

styling, and to John and Lisa Zeigler

for hosting the event.

105
---
Members

Affairs

ZENITH LAUNCHES THE

NEW CHRONOMASTER

SPORTS WATCH

Zenith exists to inspire individuals to pursue their

dreams and make them come true – against all

odds. Since its establishment in 1865, Zenith became

the first watch manufacture in the modern sense

of the term, and its watches have accompanied extraordinary

figures that dreamt big and strived to achieve

the impossible – from Louis Blériot's history-making

flight across the English Channel to Felix Baumgartner's

record-setting stratospheric free-fall jump.

Last month, The Luxury Network Australia and their

guests had the privilege of attending the launch of the

new Chronomaster sports collection, capable of measurements

with an accuracy of 1/10 of a second at one

of Sydney's hottest venues, The Cat's Meow. Whisky

tastings, entertainment, and a sport-chic chronograph

collection created the perfect environment for a memorable

and enjoyable evening.

106
---
Our People. Your Property.

Contact us for access to curated professional

and trade service providers for your home

Our suite of service providers includes tradespeople, renovation

project managers, wine consultants, landscape architects, pet

concierges, home lending providers and conveyancers.

+61 (0) 3 9825 2000 | kayburton.com.au/concierge
---
Artex kitchen collection and Westside sofa.

Artex kitchen collection and Westside sofa.

25 Nugent Street, Grafton Auckland 1023

+64 9 523 2105 www.studioitalia.co.nz

25 Nugent Street, Grafton Auckland 1023

+64 9 523 2105 www.studioitalia.co.nz
---
UNDER The

Spotlight

AMERICA'S

CUP BY AIR

10 MAR 2021 - The Luxury Network New Zealand

members and guests enjoyed a wonderful day experiencing

'America's Cup by Air' on the 10th March,

watching the first races of this prestigious event. The

day was hosted by The Luxury Network members

Heletranz, Des Harris Private Chef, and Mumm Champagne.

Guests sipped Mumm Champagne and dined on exquisite

canapes by private chef Des Harris in the new

VIP Hanger at Heletranz. Remy Jaboulet, Champagne

ambassador for Mumm Champagne, impressed guests

with his champagne sabrage skills, toasting the new

VIP hanger and lounge.

Throughout the day, guests were treated to scenic

flights over the Hauraki Gulf taking in the racing action

of the 36th America's Cup between Emirates Team

New Zealand and the Luna Rossa Prada Pirelli Team.

110
---
Under The

Spotlight

111
---
112

Under The

Spotlight
---
Global 7500

The New Industry Flagship

Longest range | Largest cabin | Smoothest ride

Bombardier, Global, Global 7500 and Exceptional by design are registered or unregistered trademarks of Bombardier Inc. or its subsidiaries. All information above is true at the time of publication. © 2019 Bombardier Inc.
---
Why Join The Luxury Network?

The Luxury Network has been recognized by the British media as 'the world's leading luxury affinity marketing group' and one

of the most innovative formulas for the development of new businesses between luxury brands which share the same values,

customers and target audience. We build meaningful business relationships and connections in the HNW and UNHW space

with over 28 global offices and 500 exclusive member brands worldwide.

With over a decade of experience in the international luxury industry facilitating access to new high-net-worth individuals, our

team has developed thousands of strategies for countless companies. The importance of top-end strategic alliances for

financial success is indisputable and yet most companies don't have the time or the resources to create such ongoing business

relationships.

We are armed with the right connections to help you form new business alliances with many other luxury brands, to reach each

other's HNW pre-qualified private clients, and showcase your brand's services and products at our luxury B2C sales or private

client events. You will get the opportunity to entertain your clients and invite your prospects to our of B2C luxury events.

The Luxury Network's team will perform as your extended marketing arm to orchestrate successful collaborations by working

closely with your own personal The Luxury Network account manager to develop your business and identify your targets.

For more reasons to join The Luxury Network, please visit our website testimonials and success stories section. You may join

The Luxury Network by filling in the form at www.tlnint.com/contact-us or email us at info@tlnint.com and we will take care of

the rest for you.

www.tlnint.com
---
Brands Directory

Ascots & Chapels

ascotsandchapels.com

AV One

av1group.com.sg

Bentley Motors

bentleymotors.com

Bombardier

bombardier.com

Bonham

bonham.nz

Brioni

brioni.com

Bvlgari

bulgari.com

Cartier

cartier.com

Champagne Pommery

champagnepommery.com

Chateau Marmont

chateaumarmont.com

Chaumet

chaumet.com

Coast

coastnewzealand.com

De Dietrich

asia.de-dietrich.com

Des Harris Chef

desharrischef.co.nz

Edison

edisonclinic.com

Etihad Airways

etihad.com

Fendi

fendi.com

Finesse Catering Group

finessecateringgroup.com.au

Gaggenau

gaggenau.com

Giannarelli

giannarellievents.com

Haute Horlogerie

hautehorlogerie.org

Heletranz

heletranz.co.nz

Hennessy

hennessy.com

Hermès

hermes.com

Hublot

hublot.com

HyoumandKind

hyoumankind.co.nz

Kay & Burton

kayburton.com.au

Kwanpen

kwanpen.com

La Mer

cremedelamer.com

Lamborghini

lamborghini.com

Leonard Joel

leonardjoel.com.au

LK Group

lkg.com.au

Louis Vuitton

eu.louisvuitton.com

Lusso Event Hire

lussoeventhire.com

LVMH

lvmh.com

Maruia River Retreat

maruia.co.nz

McLaren

cars.mclaren.com

Mercedes-Benz

mercedes-benz.com

Mornington Peninsula

visitmorningtonpeninsula.org

Mumm Champagne

mumm.com

Muse

museboutique.co.nz

Park Hyatt

hyatt.com

Penfolds

penfolds.com

Perrier-Jouët Champagne

perrier-jouet.com

Pindari Capital

pindaricapital.com.au

Porsche

porsche.com

Prada

prada.com

Pyramid Valley

pyramidvalley.co.nz

Rive Gauche

rivegauchelondon.com

Roger Dubuis

rogerdubuis.com

Royal Salute

royalsalute.com

Saxo Bank

home.saxo

Signorino

signorino.com.au

Small Luxury Hotels

slh.com

Sotheby's International Realty

nzsothebysrealty.com

Studio Italia

studioitalia.co.nz

Sutcliffe Jewelry

sutcliffejewellery.com

Tantalus Estate

tantalus.co.nz

The Cat's Meow

thecatsmeow.sydney

Tieve Tara

gardensoftievetara.com.au

Vision Advisory

visionadvisory.sg

Webb's

webbs.co.nz

Zambaiti Parati

zambaitiparati.com

Zenith Watches

zenith-watches.com
---
ISSUE 24 MAY - JUN 2021

Editor-in-Chief

Managing Editor

Creative Director

Creative Assistant

Production Manager

Fares Ghattas

Garz Bumanlag

Reine Nehme

Maryam Bakri

Nour Assi

Print and Production

Printing Group

Jnah, Embassies Street, Amira Building, Beirut - Lebanon

Tel: +961 1 823 720 I info@printingroup.com

The Luxury Network International

12 Hay Hill, Mayfair, London, W1J 8NR

info@tlnint.com

+44 (0) 330 133 1661

www.tlnint.com

In July 2017, The Luxury Network Magazine was published as a bimonthly supplement for The Luxury Network International. All materials are strictly

copyrighted, and all rights are reserved. Reproduction in whole or in part without the prior written permission of The Luxury Network International is

prohibited. All content is believed to be factual at the time of going to print and contributors' views are their own derived opinions and not excessive

that of The Luxury Network International. No responsibility or liability are accepted by the publishers or editorial staff for any loss occasioned to any

individual or company, legally, financially or physically, as a result of any statement, fact, figure or expression of opinion or belief appearing in The

Luxury Network Magazine. The publisher does not officially endorse any advertising or advertorial content for third party products. Photography and

image credits, where not otherwise stated, are those of Getty Images and/or Shutterstock; each of which restrains their individual copyrights.
---
NEW ZEALAND'S

NATURE & WELLBEING DESTINATION

www.maruia.co.nz
---
ESCAPE TO

MARUIA RIVER RETREAT

A secret hideaway in an old forest by the river just steps from the real

world; to breathe, to bathe, to be.

NATURE & ADVENTURE

Explore with on-site river & bird walks,

river rafting cruises, fly-fishing lessons

and scenic tours nearby.

RELAXED PRIVATE VILLAS

Only 7 self-contained villas within our

500-acre nature estate for a truly

tranquil escape.

DELIGHTFUL CUISINE

A culinary experience woven from

the freshest, closest, most nutritious

ingredients, to tantalise your taste buds.

HEALTH & WELL-BEING

Soothe with yoga sessions, the

chromatherapy and Finnish dry saunas,

Stoked hot tub and massage therapies.

EAT. YOGA. LOVE.

29 July - 1 August, 2021

FOOD + HEALTH + HAPPINESS

With Rachel Grunwell | 16 - 19 September, 2021

SPECIAL OFFER FOR

THE LUXURY NETWORK GUESTS

NEW FOOD OFFERINGS

Available Now

Complimentary nightly drink per person at

the Bar & Lounge: choice of local craft beers,

region's best house wines and chilled juices and

Little Biddy Classic Gin & Tonic.