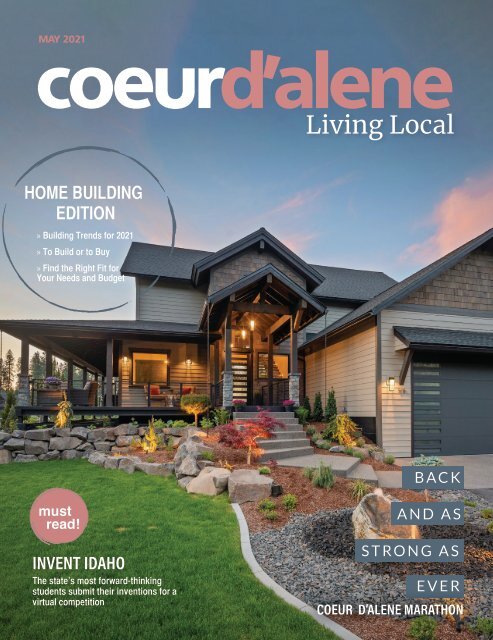 May 2021 Coeur d'Alene Living Local
May 2021 Coeur d'Alene Living Local
May 2021 Coeur d'Alene Living Local
SHOW MORE
SHOW LESS
You also want an ePaper? Increase the reach of your titles
YUMPU automatically turns print PDFs into web optimized ePapers that Google loves.
MAY 2021

coeurd'alene

Living Local

HOME BUILDING

EDITION

» Building Trends for 2021

» To Build or to Buy

» Find the Right Fit for

Your Needs and Budget

BACK

must

read!

INVENT IDAHO

The state's most forward-thinking

students submit their inventions for a

virtual competition

AND AS

STRONG AS

EVER

COEUR D'ALENE MARATHON

COEUR D'ALENE LIVING LOCAL | 1
---
Things Moms Love:

Spoil your Mom at

2

OPEN 7 DAYS A WEEK | 8AM-9PM

1316 N. 4TH STREET, COEUR D'ALENE, ID | (208) 676-9730

CURBSIDE PICKUP AVAILABLE AT PILGRIMSCURBSIDE.COM

| COEUR D'ALENE LIVING LOCAL
---
DEDICATED TO OUR

CLIENTS & COMMUNITY

WINDERMERE COEUR D'ALENE REALTY INC.

WINDERMERE HAYDEN LLC

We are ALL IN FOR YOU since 1922!

We are ALL IN FOR YOU since 1922!

www.cdarealty.com

COEUR D'ALENE

208.664.9221 | 1000 NW. Boulevard

HAYDEN

208.762.4888 | 867 W. Prairie Avenue

POST FALLS

208.777.9900 | 1626 E. Seltice Way

COEUR D'ALENE LIVING LOCAL | 3
---
Whether Building or Remodeling, We Can Help to

Make Your House feel more like a Home.

Your Vision. Our mastery.

Offering Innovative Cabinetry,

Countertops AND Flooring to meet

your needs.

VISIT US AT OUR NEW LOCATION!

CALL TO CONNECT WITH ONE OF OUR DESIGNERS TODAY!

4

6040 N. GOVERNMENT WAY, SUITE 401, DALTON GARDENS, ID | 208.664.8830 | ACCENTCDA.COM

| COEUR D'ALENE LIVING LOCAL
---
Joel Anderson & Shawn Anderson

5097 N. Building Center Dr. | Coeur d'Alene, Idaho

208.772.9333 | www.MonarchCustomHomes.com

COEUR D'ALENE LIVING LOCAL | 5
---
6

| COEUR D'ALENE LIVING LOCAL
---
First -Class

MORTGAGE EXPERIENCE

FINANCING YOUR DREAM HOME BUILD

Home Purchasing • Refinancing • Home Equity

Looking for help getting cash to build your dream home? Here at Loans By Misty, we have

successfully funded over $1 billion in residential mortgage loans of all types! We use our

"outside of the box" thinking to help more clients than our competition!

We assist everyone ranging from first-time homebuyers, our Veterans, the more complex

self-employed clients and everyone in between. We make our clients' loan experience as

stress-free and simple as possible.

LOANS BY

MISTY

Loans by Misty. NMLS 290023; DRE 01404520 https://buff.ly/13bKnJp Funded by: United American Mortgage. Corporate Headquarters: 3198-F Airport Loop Drive, Costa Mesa, CA 92626, NMLS 1942; This testimonial does not

constitute a loan approval or a loan commitment. Loan approval and/or loan commitment is subject to final underwriting review and approval. Rates & Fees are subject to change without notice. Equal Housing Lender.

COEUR D'ALENE LIVING LOCAL | 7
---
coeurd'alene

Living Local

MAY 2021

VOLUME 11 NUMBER 5

inside

Building Trends for 2021

Architecture evolves alongside changes in the

modern lifestyle

To Build or to Buy

What to know when you are looking for a new home

68

72

Find the Right Fit for Your Needs and Budget

A few things to consider when selecting a contractor

78

8

| COEUR D'ALENE LIVING LOCAL
---
ASPEN HOMES

PREMIUM BUILDERS. PREMIUM MATERIALS.

Our home designers, interior designers and project

managers are all cut from the same cloth:

We keep an open dialogue, deliver what we say we will deliver and place the highest priority

on honesty. And the result is always the same: superior quality homes that seamlessly embody

the spirit of the Great Northwest - no matter what your style is.

208.664.9171 | AspenHomes.com | 1831 N.Lakewood Dr., Coeur d'Alene, ID

COEUR D'ALENE LIVING LOCAL | 9
---
ARE YOU HAPPY WITH YOUR

PROPERTY MANAGEMENT?

Renting out your vacation home can be taxing,

stressful, and doesn't always feel worth it. Go

Sandpoint Vacation Homes lets you LIVE BETTER

and rent your home stress free because you know

it will always be taken care of.

coeurd'alene

Living Local

CDALIVINGLOCAL.COM

MARKETING

DIRECTOR OF MARKETING

Allyia Briggs | 208.620.5444

allyia@like-media.com

DIRECTOR OF PRODUCT MARKETING

Jackson Russo | 208.610.4416

jackson@like-media.com

MARKETING COORDINATORS

Morgan Redal | 208.620.5360

morgan.redal@like-media.com

Alyssa Koberstien | 253.363.8830

alyssa@like-media.com

EDITORIAL

EDITOR IN CHIEF

Jillian Chandler | jillian@like-media.com

STAFF WRITERS

Colin Anderson | Abigail Thorpe

Taylor Shillam | Rachel Kelly

DESIGN

CREATIVE DIRECTOR | Maddie Horton

LEAD GRAPHIC DESIGNER | Darbey Russo

GRAPHIC DESIGNER | Kennedy Pew

GRAPHIC DESIGNER | Marisa Inahara

DIGITAL CREATIVE DIRECTOR | Whitney Lebsock

ACCOUNTING/ OPERATIONS

DIRECTOR OF OPERATIONS | Rachel Figgins

EXECUTIVE DIRECTOR | Steve Russo

MANAGING PARTNER | Kim Russo

CONTRIBUTORS

Deann Hammer, Trish Buzzone, Jenny Wiglesworth,

Tom Greene, Molly Radonich, Jennifer Miller, Kristin

Carlson, Marc Stewart, Marguerite Cleveland, Tina

VanDenHeuvel

PHOTOGRAPHY

Brett Wayne Photography, Malia Rose Photography,

Marguerite Cleveland, Tina VanDenHeuvel, Mopsy TV,

Compassion Connect, Coeur d'Alene Marathon,

Negative Split, Neighbors~N~Need

COEUR D'ALENE LIVING LOCAL MAGAZINE

is brought to you by Like-Media.com. If you would like to

advertise with us, please call 208.620.5444 or email

allyia@like-media.com. To submit articles, photos, nominations

and events, email us at info@like-media.com.

Advertising Agency

GO SANDPOINT

vacation homes

For Bookings, Inquiries & Homeowner Information:

GoSandpoint.com | 208.610.4416 | Jackson@GoSandpoint.com

Living Local magazine is published monthly and distributed

freely throughout Coeur d'Alene, Hayden, Post Falls,

Rathdrum, Spokane Valley, Sandpoint, Bonners Ferry and

Dover Bay. Opinions expressed in articles or advertisements

do not necessarily reflect the opinions of the publisher.

Living Local magazine is not responsible for omissions or

information that has been misrepresented to the magazine.

Living Local magazine is produced and published by

Like Media, and no part of this publication may be reproduced

or transmitted without the permission of the publisher.

10

| COEUR D'ALENE LIVING LOCAL
---
HANDCRAFTED LOG & TIMBER HOMES

World-class handcrafted log shells.

Visit CaribouCreek.com to download free floor plans.

800.619.1156

www.CARIBOUCREEK.com

COEUR D'ALENE LIVING LOCAL | 11
---
"

Our flag does not fly

because the wind moves

it. It flies with the last

breath of each soldier

who died protecting it.

"

12

| COEUR D'ALENE LIVING LOCAL
---
COEUR D'ALENE LIVING LOCAL | 13
---
PUBLISHER'S

Note

THE IMPORTANCE OF A

strong foundation

PROVIDING

SOLAR

SERVICES

Going solar has a wide range of

benefits. Whether your focus is

economic, environmental or

personal, solar is a clean

renewable process that uses

the most natural resource – the

sun! – while keeping money in

your pocket.

Our lives are made up of many

important and valuable

components—from our family

and friends, our employers and

co-workers, to our community as a whole.

These people are pillars in our lives, helping

us to sustain a strong foundation in which

we build our lives upon.

Just as a contractor lays out plans before

beginning construction on a new home,

we, ourselves, are the ones who will first lay

down the foundation for which our lives

are built. This requires strategic planning,

the right knowledge and tools, patience and

dedication. There will, of course, be those

situations (some within our control, others

which are not) that throw us from our path,

and we sometimes find ourselves having to

pursue a different route—though with the

same final destination in mind.

As with all things in life, we must start from

the ground up. If our foundation is weak,

we will be unable to support all that relies

on that foundation. If we find ourselves

struggling and questioning ourselves,

weakening our stability, those who lean and

rely on us won't have the support they need,

and soon things begin to shift, become

unstable and crumble.

If the past year has taught us anything,

it is how to adapt to new, ever-changing

situations. If we reflect on ourselves and

our lives, and how much they have changed

in the past year, I am sure that everyone of

us can agree that we found a strength and

perseverance we didn't know we had. Our

foundation has become stronger, we have

become closer—even if from a distance—to

those in our lives. Though what the future

has in store for each one of us is uncertain,

we can—and will—take strength from our

core to create a future that will withstand all

hardship, standing tall, proud and strong.

A Happy Mother's Day to all of those strong

women who are the foundation of their

families, creating homes filled with love,

happiness and stability. And this Memorial

Day, may we remember and honor all of

those men and women who sacrificed their

lives for our country and its people.

Steve Russo

Executive Director | steve@like-media.com

208.765.WIRE(9473)

www.nextgencda.com

3645 N Cederblom St

Coeur d'Alene, ID, 83815

coeurd'alene

coeurd'alene

MAY 2021

HOME BUILDING

EDITION

» Building Trends for 2021

» To Build or to Buy

» Find the Right Fit for

Your Needs and Budget

must

read!

INVENT IDAHO

The state's most forward-thinking

students submit their inventions for a

virtual competition

Living Local

BACK

AND AS

STRONG AS

EVER

COEUR D'ALENE MARATHON

COEUR D'ALENE LIVING LOCAL | 1

ABOUT THE COVER

THIS MONTH IS COEUR D'ALENE LIVING

LOCAL'S HOME BUILDING ISSUE! Our May

cover features a beautiful handcrafted home built

by Coeur d'Alene's own Creekside Construction.

It is truly a work of art, and those who live within

its walls are fortunate to have their own piece of

North Idaho.

Photo Courtesy of Creekside Construction.

Would you like to receive this issue and future

issues in your inbox? Visit CDALivingLocal.com

and sign up for our FREE Digital Edition.

14

| COEUR D'ALENE LIVING LOCAL
---
NORTH IDAHO'S PREMIER CUSTOM HOME BUILDER

The Creekside home philosophy of building is based on achieving superior craftsmanship on all levels.

Our commitment to excellence serves as the foundation on which we build every custom home.

It is our dedication that ensures your new home will meet your highest expectations.

TRADITION - INNOVATION - PERFORMANCE - REPUTATION

www.CreeksideCdA.com // 10075 N. Government Way, Hayden, ID 83835 // 208.666.1111

COEUR D'ALENE LIVING LOCAL | 15
---
DIGITALLY CONNECT WITH COEUR D'ALENE LIVING LOCAL!

traartphotography • via

picsbychelseab • via

morganbruneel • via

#CDALIVING

Your photos will show up on our Get

Social page at CDALIVINGLOCAL.COM

and you'll have the chance to see your

photos in print right here!

facebook.com/cdaliving

instagram.com/cdaliving

pinterest.com/likemedia_

LIFT OFF YOUR DIGITAL MARKETING WITH

Social Media Management | SEO | Branding and Creative | Content Development | Website Building

Reputation Management | Google Optimization | Podcast Production | And More

ALLYIA BRIGGS

Like Media Director of Marketing | allyia@like-media.com | 208.620.5444 | Like-Media.com

16

| COEUR D'ALENE LIVING LOCAL
---
CREATE YOUR

OUTDOOR OASIS

Lounge in comfort, entertain in style. Create the perfect retreat with

timeless, stylish and durable outdoor furnishings. Introducing the 2021

Outdoor Collection—on sale and in-stock for a limited time.

FURNISHINGS + LIGHTING & RUGS + ART & DECOR + DESIGN SERVICE

— SHOP THE TIN ROOF COLLECTION —

Reskued.com

TinRoofFurniture.com

Bideandburgeon.com

@tinroofreskued

@tinrooffurniture

@bideandburgeon

COEUR D'ALENE LIVING LOCAL | 17
---
CONTENTS

22

34

46

38

22

ESSENTIALS

The latest tips and trends in home, garden,

finances and life

27

COACH OF THE MONTH

Tony Prka: Canfield Middle School football and

basketball coach

30

22

LIFE & COMMUNITY

Sensory Experiences for Kids in Need:

Neighbors~n~Need brings love and care to North

Idaho families

32

BUSINESS SPOTLIGHT

Elkins Resort on Priest Lake: Longtime resort offers the

best in accommodations and scenery

34

GOOD NEWS

The Coeur d'Alene Marathon is Back and Strong as

Ever: The trusted Boston qualifier moves forward

for a year to remember

38

IN FOCUS

Invent Idaho: The state's most forward-thinking students

submit their inventions for a virtual competition

42

BUSINESS SPOTLIGHT

TDS Fiber: Commitment to community

44

ATHLETES OF THE MONTH

See who's standing out from the rest and

representing our city!

46

LIVING LOCAL

Mopsy: A children's show right from our hometown

18

| COEUR D'ALENE LIVING LOCAL
---
Strong is

Beautiful.

cdaplasticsurgery.com/the-spa/body-tone

The BodyTone® employs bio-electric energy pulses to "exercise" individual muscle groups. It not only prevents muscle

atrophy, but through muscle re-education, also strengthens, sculpts and tones our weak areas to rebuild muscle mass.

Schedule online @www.cdaplasticsurgery.com or simply call 208 758 0486

1875 N. Lakewood Dr. Suite 103, Coeur d'Alene, ID 83814

Dr. Kate Kuhlman-Wood is a Board-Certified Plastic Surgeon.

COEUR D'ALENE LIVING LOCAL | 19
---
Contents Continued...

86

60

68

2021 BUILDING TRENDS

Architecture evolves alongside changes in the

modern lifestyle

82

68

54

HEALTH & LIFESTYLE

Tips and informational articles about living a

healthy, active lifestyle

60

FEATURE

Local Nonprofit Chooses Unity Over Division:

Compassion Connect

72

TO BUILD OR BUY

What to know when you are looking for a new home

78

THE BUILDING PROCESS

Who to Hire: A few things to consider when

selecting a contractor

82

TRAVEL & LEISURE

Exploring the Nation's Newest Scenic Byway –

Washington's Cascade Loop: The Ultimate Summer

Road Trip, Part I

85

FOOD & DRINK

Your local guide to the tastiest hot spots

around town

86

FEATURED RECIPE

Cooking Delicious but Light: Pan-Seared Halibut

with White Wine Mediterranean Sauce over

Herbed Cauli Rice

92

ARTS & ENTERTAINMENT

Don't miss out on these events and fun

community happenings

20

| COEUR D'ALENE LIVING LOCAL
---
1 Day Installation

4x Stronger than Epoxy

Slip/Skid Resistant

100% UV Stable

Resistant to Salts, Oil, Gas & Grease

SAVE UP TO $300 ON YOUR GARAGE FLOOR PROJECT WITH CODE: LIKE521

*RESTRICTIONS APPLY, ASK FOR DETAILS!

Premium Floor Coatings

Durable & Gorgeous Concrete Coating That's Engineered to Perform & Built to Last

Will Not Chip or Peel | 15-Year Residential Warranty | Easy to Keep Clean

100% Antibacterial & Antimicrobial | Garages | Basements | Patios

CALL TODAY FOR A FREE

DESIGN CONSULTATION!

208-244-0694

CROCCOATINGS.COM

RESIDENTIAL

1016 W. Hayden Ave., Ste. 200, Hayden, ID | 208.244.0694 | MON - FRI: 9AM - 5PM LIC# RCE-56507

COEUR D'ALENE LIVING LOCAL | 21
---
Punch it Up!

THE ART OF DESIGN IS NOT A LINEAR PATH

By Deann Hammer, Interior Designer

With the surge of spec builder housing developments

arising in the Northwest, it is important to make

your mark and captivate design character in your

home.

No two homes are meant to look alike, and the

people who live in them should attempt to let their personality shine

through.

One of the best ways to add personality and warmth to a home is to

wallpaper. I know—it can be scary. But the industry has changed, and

wallpaper options are now limitless. Gone are the printed floral Grandma

papers of yesterday, and here to stay are bold geometrics and natural

textures.

Peel-and-stick papers give homeowners the option of a do-it-yourself

quick transformation, or you can hire a pro to install a more permanent

version. Often homes have too much drywall, and it's a pleasant relief to

cover it up and add texture and pattern to a room.

If you have box-beamed ceilings, papering the ceiling with a textured

paper can also have a dramatic effect.

Patterned carpets are also a fun way to jazz up a space. I love to add

patterns on a staircase runner or a living room carpet. Pattern in carpet

adds life to an often passed by space and hides more dirt from foot traffic

with a pattern underfoot.

False beams are a new trend that makes a huge impact on the feeling of

a room. They are constructed out of Styrofoam, are incredibly light and

easy to install. (Just attach a 2x4 to the ceiling, and the beam attaches to

that.) They look incredibly real and add definition to the "fifth wall" of

a room. Most can easily be purchased online. They look terrific in living

rooms, bedrooms, kitchen and dining areas.

Window treatments were so overdone in the '80s and '90s, it took me

quite a while to bring them back. The current trend is to lose the heavy

fabric "drapery" and add a textured roller shade with a valance on all

windows. Continuity is the name of the game, so create a color/texture

theme—and stick with it. Roller shade valances are made from the same

22

| COEUR D'ALENE LIVING LOCAL
---
Spring Inventory

ARRIVING DAILY

Bedroom Sets

GIVE

thanks for the

HARVEST

Living room Groups

Fall is the time to create a warm and inviting space for

your family. What a blessing it is to gather for a meal

and conversation with friends and loved ones. Now is

the time to visit Sandpoint Furniture for inspiration. It's

all on sale during our Harvest Dining Event.

Dining Room Sets

SEE US AT WWW.SANDPOINTFURNITURE.COM

Working hard to be your hometown furniture and mattress store... for 75 years!

208-263-5138

www.sandpointfurniture.com

401 Bonner Mall Way, Ponderay, Idaho

Mon.-Fri 8am-6pm | Sat. Closed

COEUR D'ALENE LIVING LOCAL | 23
---
Here to stay are bold geometrics

and natural textures.

fabric as the shade, and they soften the window opening, creating a

terrific backdrop for your furnishings.

If you feel you need that extra layering of drapery, keep it light,

fresh and simple with a solid linen or sheer panel in a neutral color.

Typically, each side of most windows will accommodate two panels

from an average retailer.

Accessories should be of the correct scale/size. Larger is often best

with fewer pieces. Stick to a theme and strive for quality.

Large plants (real or faux) in a simple decorative pot that is a

minimum of 30- to 34-inches tall is a terrific way to add dimension

to the corner of a room and add visual appeal. My favorites are

fiddle leaf fig, mother-in-law tongue (a.k.a. snake grass) and any

kind of yucca. Stay away from ficus, as they are messy and drip

sticky droplets onto your floor.

If you need help punching up the look of your home, seek out a local

interior design professional who can help you get to the finish line!

24

| COEUR D'ALENE LIVING LOCAL
---
MAKING YOUR HOUSE DREAMS A REALITY.

Whether you prefer the style of Mountain Contemporary, Western Rancher, Classic

Coeur d'Alene Luxury or Rustic Timber Framed, a custom home built by Affordable Custom

Builders in Coeur d'Alene, Idaho, is guaranteed to express your creativity and style.

208.666.4141 | AffordableCustomBuilders.com | 401 Sherman Ave., Ste. 207 | Coeur d'Alene, ID

COEUR D'ALENE LIVING LOCAL | 25
---
A DRAIN OR A

FOUNTAIN

Every day, with every conversation, we

have the opportunity to elevate each other

By Trish Buzzone

Thinking Partner, Executive Director, The John Maxwell Team

The Anna Schindler Foundation offers

the Inland Northwest's first pediatric

oncology housing, Anna's Homes.

Anna's Homes provide respite housing

for out-of-town families required to

travel to Sacred Heart for their child's

intensive treatment.

• Individual family townhomes

• 6-minute commute to Sacred Heart

• Children's Hospital

• All the comforts of home

• Supports any length of stay

and family size

Sponsor a family's night at

Anna's Homes for $35

Donate Today!

www.AnnaSchindlerFoundation.org/donate

Open your heart and

give a hand to a child.

If you have ever built or remodeled a home, you

know the unique combination of joy, stress,

hope and patience involved in the process.

By investing skilled labor, as well as a lot of trust,

active listening, hope and humor, we bring our

vision to fruition.

Of course, we know that project is just the

beginning. It's the relationships we cultivate in

our homes that really matter: the shared moments

of laughter, love, hope and fear, as well as the

disagreements, misunderstandings, and other

opportunities to grow. All of these conversations

form the relationships that transform a house into

a home.

Like every great house, a healthy relationship needs

a strong foundation. For a home, that might mean

a slab, piers or pilings. While each style is different,

they all work based on the same immutable laws of

physics to produce a stable foundation on which

to build a safe, comfortable home. In the same

way, a foundation of mutual trust and respect gives

us a foundation on which to build strong, healthy

relationships. To this, I would add one more

foundational element: influence. When we trust

someone, we invite the energy of their influence to

work in our lives, and we invest our own influence

to work in theirs. We rub against each other and

we rub off on each other, sharing and transferring

energy, perspectives, and attitudes.

The frame of a home shapes the environment in

which we live, setting the boundaries and giving us

a sense of space and place, privacy and connection.

And, like a framer connecting wall frames and

roof trusses, when we are intentional about

making healthy connections, we create a positive,

aspirational environment. We do this by actively

listening to each other, by practicing aggressive

empathy, and by looking for opportunities to offer

humor, heart, help and hope. These connections,

like the walls and roof of our home, become

boundaries that offer warmth, comfort and safety.

And, like a home build or improvement project,

just because the work has been completed doesn't

mean the job is done. Our relationships require

regular, proactive maintenance. We have to invest

the time and the energy to keep them safe and

healthy. We do this in our homes by checking the

systems for leaks, cracks and wear by changing

filters, cleaning fixtures and taking proactive

action to prevent problems before they happen.

We do this in our relationships by sharing positive

energy and looking for ways to add value and

elevate every experience.

We all know people who, when we're around them,

our energy is drained. We've probably been those

people before. That's a choice. We choose to be a

drain or a fountain, elevating energy or bringing

it down. When we choose to elevate, we're tapping

into positive energy that will lift us as it elevates

others. Even when we feel tired or discouraged or

frustrated, when we just don't "feel it," that positive

energy is there for us. We choose to let it flow

through us … or not.

If you're in a rut, or you're feeling discouraged

or stuck, or you just want more positive energy

in your relationships, try this: Take a moment

and look for an opportunity to lift someone up.

Choose to be a fountain because, when we seek to

elevate others, we tap into energy that lifts us up

as well.

Join me and other local leaders at a Streaming

Leaders Virtual Round Table. Let's make a

difference together. Learn more at TrishBuzzone.

com/streaming-leaders.

Connect with Trish Buzzone at TrishBuzzone.

com, Facebook.com/groups/streamingleaders and

LinkedIn.com/in/trishbuzzone.

26

| COEUR D'ALENE LIVING LOCAL
---
COACH OF THE MONTH

By Abigail Thorpe

Tony Prka

8th Grade Science Teacher;

Basketball, Football Coach

Canfield Middle School

Tony Prka started coaching in the summer

of 1992 with his high school coach in

Calgary, Alberta, while he was home from

college on break, and so began a life-long passion

for coaching and teaching. But the original seeds

were sown while he attended Father Lacombe

High in Calgary in the late '80s, where two main

influences guided him toward his future.

Two teachers/coaches, Bill Mckonkey and Jim

Mckinnon, served as mentors, second fathers

and supporters, scolding Prka when he needed

it and encouraging him when he was down.

And then there was the

movie "Dead Poets Society."

"That movie inspired me,

showing that humor can be

used in education to make

connections with kids and

move the important learning

along in a fun way. If kids

like you and are not bored,

they will learn more," says

Prka.

He began his career teaching

sixth-grade language arts,

reading and science in 1995

in Ririe, Idaho, and moved

to teach in American Falls after marrying his wife

Jessica. In 1999 the family visited Coeur d'Alene

and fell in love with the area.

Prka taught sixth-grade language arts, reading

and science at Woodland Middle School before

moving to Canfield Middle School, and while

he's an eighth-grade science teacher, he has never

stopped coaching throughout his career. He's

coached everything from middle school wrestling

to football teams ranging from 5-year-old flag

"Our goal is not

just creating high

performing athletes,

it's creating good

husbands, fathers

and humans."

all to third- and fourth-grade tackle football,

middle school junior tackle, finally serving as the

assistant JV/Varsity coach at Coeur d'Alene High

School since 2010.

Currently in his 26th year of teaching, Prka has

come to see his fellow teachers as the pillars of

the community, helping to shape and prepare

the leaders of the future. Through his time

coaching with head coach for Coeur d'Alene

High School Shawn Amos, he has come to take

on Amos' motto for his own: "Our goal is not just

creating high performing athletes, it's creating

good husbands, fathers and

humans." For Prka, teaching

is similar. It's about facilitating

kids' intellectual, academic

and behavioral growth so they

can be productive members

of society.

He has been coaching his

own son and his classmates

since they were playing

youth football. "I love those

kids and have gotten to

know most of the families

really well," explains Prka.

"They grew into highly

competitive, outstanding football players and,

more importantly, they grew into outstanding

humans. I am so proud of my son and this group

of young men!"

The greatest reward for the time spent teaching

and coaching is watching his students and

athletes grow into successful, caring and strong

adults, and Prka has had the opportunity to watch

his son and so many more do just that, and to be a

part of shaping the people they become.

Let's connect and

help you find

your perfect home!

S A R A H M C C R A C K E N

LIFELONG COMMUNITY MEMBER, REALTOR

WWW.BLUEDOORIDAHO.COM

sarah@ bluedooridaho.com

208.651.3131

LICENSE #SP49246

COEUR D'ALENE LIVING LOCAL | 27
---
Spring Cleaning

GETTING RID OF THE CLUTTER, SUSTAINABLY

By Jenny Wiglesworth

Spring remains to be one of the only moments where life truly

awakens, in all the ways that are best and cherished. Yellow

daffodils, Kelly-green leaves, pink buds, misty mountains, orange

sunrises, minty grass and purple everywhere shout out, "I'm

alive! I'm here and ready to take on today." It's like every day becomes an

opportunity to smile again. Another great thing about spring is change.

I recently read a phenomenal book that spoke about change as a door.

Change equates to a door, or doors, of endless opportunities, that open

up to the next thing. This change is exactly what spring is. Every year, this

door (or doors) allows for the new: New ideas, challenges, and a favorite

spring activity—purging—are patiently waiting from the side of winter

through the door to spring.

So, what does any of this have to do with sustainability? Absolutely

everything; and it could be argued, "What does it not?" From the purging

of the old, to the planting of the new, to the remarkable experiences of

re-growth everywhere, sustainability reigns.

This brings us to the very point of spring cleaning. These two words mean

a lot of things depending on who you are. For many, it means waging war

against your home. It means going from room to room, purging the guts

out of it, to rid oneself of the unnecessary in hopes of not bringing it back

again. For others, it means re-energizing the yard or garden, exposing old

roots and planting new seeds, dreaming of a more beautiful one this year.

Spring cleaning feels amazing. It's like taking a shower for life. It feels

refreshing, metamorphic-like and most definitely renewing. A simplified

way to do so, sustainably, would be (as mentioned prior) to physically

go through your home, room by room, initially understanding that

what remains may be, and only be, what is needed and/or necessary;

everything else pretty much goes. What remains must be purposeful, and

that which is purged should be donated or repurposed in some fashion.

One of the most beautiful things about sustainably spring cleaning

lies therein the opportunity to give back. Although this euphemism is

abhorred, it's basically like "killing two birds with one stone." Feelings of

good on both sides are present.

In gardening, it works similarly. When spring begins, we prep the ground,

pull the weeds and basically get rid of all that rots. From here, we replant

and regrow, creating new life and refreshing the outside atmosphere.

Continually turning the soil, allowing for new plants to grow from the

old, provides the sustainable practice.

Spring cleaning, in its most simple forms, celebrates the season by renewal

and change. It welcomes the doors of repurpose, reuse and refresh. This

change, or cleaning, allows for more than simple seasonal moments,

but also opportunity to become something else. It symbolizes that door

where possibility begins. Whether through the purging of the home, the

planting of the garden, or simply turning the pages to something fresh,

spring cleaning absolutely means sustainably changing.

So go. Spring clean.

28

| COEUR D'ALENE LIVING LOCAL
---
BUILDING A SENSE OF COMMUNITY

LA VISTA

at Atlas Waterfront | Coming summer 2021!

ActiveWestBuilders.com | 208.667.3619

COEUR D'ALENE LIVING LOCAL | 29
---
Sensory Experiences for Kids in Need

NEIGHBORS~N~NEED BRINGS LOVE AND CARE TO NORTH IDAHO FAMILIES

By Abigail Thorpe

In January of this year, a mother-daughter team brought an entirely

new—and much needed—service to Post Falls and the Coeur

d'Alene area. Sherri Richardson and Tawni Sullivan launched

Neighbors~n~Need as an opportunity to support families by providing

sensory play opportunities for children.

"Sensory play is a vital part of all children's growth and development but

has proven to be extremely beneficial for people with sensory processing

disorders and/or autism," explains Sherri. The pair realized the need for

such a program after Tawni's own daughter was diagnosed with autism

around age 4. In the six years since, they've identified ways to help her

life be more fun, educational and supportive, and Neighbors~n~Need is

the passion project that aims to come alongside other families in need.

"Neighbors~n~Need encourages full-inclusion friendships by hosting

community events and a year-round sensory play center. These activities

deliver growth and development for all children while providing support

for children with autism and sensory processing disorders," adds Sherri.

Neighbors~n~Need isn't just about sensory play. In 2018 the family

suffered a devastating loss with the passing of Tawni's daughter Presley,

and they formed Presley's Program as a way to support other families

experiencing difficulty and need. "Through faith and love, we now offer

Presley's Program to our community. If a family is in need, we want to

know, and we do our best to fulfill what they need to provide for their

family, get through another day, and feel loved and supported," says

Sherri.

It can be a scary time when a child in your family is diagnosed with

autism, and Neighbors~n~Need provides support, love and care both

through the programs and education they offer, and their onsite boutique

and wide-open arms.

The organization is looking forward to some exciting events in May

and June, including free access to the play center starting May 1, where

they provide a safe, fun indoor play area for all children, and will also be

presenting new fun sensory activities weekly in the lobby area. May 15 is

the Family Minute-to-Win-It Event from 9am to 4pm, and June 26 they

will be hosting a Family Water Balloon, Capture the Flag-Harry Potter

Edition event at a local park.

To learn more, volunteer or register for an event or class, visit Facebook.

com/NeighborsNNeed.the Family Minute-to-Win-It Event from 9am to

4pm, and June 26 they will be hosting a Family Water Balloon, Capture

the Flag-Harry Potter Edition event at a local park.

To learn more, volunteer or register for an event or class, scan the QR

Code or visit Facebook.com/NeighborsNNeed.

30

| COEUR D'ALENE LIVING LOCAL
---
new-build construction · remodels · furniture

www.willowcreekcda.com

@willowcreedcda

Enrich

your life.

Free up

your time.

Enjoy

your landscape without hassle.

nic.edu/rbr

6894 DEGAS DRIVE, COEUR D'ALENE PLACE

Over $435,000 in Prizes!

Drawing JULY 14, 2021!

We are a landscape company with highly

qualified staff that will create an outdoor

environment that fits your style and

your needs, and we'll maintain it for you

so it will always be looking beautiful.

• Landscape Design & Install

• Patios, Pavers & Pathways

• Sprinkler Design & Install

• Flowerbed Maintenance

• Weed Maintenance

• Shrub & Ornamental

Tree Pruning

• Plantings, Large & Small

Proudly constructed by NIC Carpentry & Construction

Technology Program. All raffle proceeds support student

success and educational excellence at North Idaho College.

View the Home in June

Stay connected for tour

notifications on our website

and Facebook site.

www.nic.edu/rbr | ReallyBigRaffle

Sponsored in part by

Call, Text or Email us today!

208.964.1621

CountryGirlGarden.com

Insured & Bonded

COEUR D'ALENE LIVING LOCAL | 31
---
Experience

North Idaho on Priest Lake

Longtime resort offers the best in

accommodations and scenery

BY JILLIAN CHANDLER

ELKINS RESORT ON PRIEST LAKE

404 Elkins Road | Nordman, Idaho 83848

208.443.2432 | ElkinsResort.com

"Mike is the driving force behind

Elkins Resort. His sense of vision and

determination is what has made

Elkins Resort what it is today."

First opened by the Elkins family in 1932 as a summer fishing camp,

today, Ekins Resort on Priest Lake is a year-round paradise.

Purchased in 1983 by Bob and Sharon Davis, daughter Tracie began

working for her parents that first summer of operations. Fast forward

four years, and Mike Syzbnski, a soon-to-be senior at Gonzaga University,

decided to take his final summer before focusing on his career and spend

it working at Priest Lake. He was hired on at Ekins Resort, where he and

Tracie would meet—later the two would marry. The couple would become

co-owners of the resort in 1995.

Sitting along the sandy shores of Idaho's Crown Jewel, Priest Lake, Elkins

Resort has earned the reputation as the finest year-round vacation destination

in the Northwest and one of the best resorts in the West!

Guests will be treated to the amazing views of the Selkirk Mountains and

Chimney Rock when visiting the resort. Lodging features individual cabins

that sleep anywhere from two to 14 guests, all with full kitchens, bathrooms,

living areas and satellite TV. "Our individual cabins set us apart from most

resorts, as couples, families or groups enjoy quality time together," says

Tracie.

Moorage and water rentals round out the amenities at Elkins Resort. During

the summer months, explore Priest Lake with any of the boat rentals,

including pontoon boats, runabouts, whalers, stand-up paddle boards,

canoes and kayaks. The summer and early fall months are also ideal for

32

| COEUR D'ALENE LIVING LOCAL
---
hiking or mountain biking the area trails, engaging in a great round of

golf, swimming, fishing or sunbathing. And when in season, don't miss

the opportunity for some huckleberry or mushroom picking.

There is also a full-service restaurant onsite, which focuses on both

quality of food and service. Here, Head Chef Graham Byxbee delivers

delicious cuisine that looks as good as it tastes! In addition to the longtime

favorites of Pepper Steak and Herb-Encrusted Halibut, Graham is in

charge of developing new favorites and ensuring an unforgettable dining

experience in an unbeatable setting. Currently open during weekends,

the restaurant is open daily June through September. The restaurant is

open to not only guests staying at the resort but visitors who are looking

to enjoy an unforgettable meal.

When the Davises first purchased the property nearly four decades ago,

"It was pretty basic," laughs Tracie. All but two of the log cabins on the

resort were originals, built in the late '20s and early '30s. The cabin floors

were covered with parquet linoleum squares, the space heated with oil

stoves, and metal-framed spring beds were the norm. Over the years, and

with Mike leading the way, the cabins would be updated, expanded and

beautified.

"Mike is the driving force behind Elkins Resort," affirms wife Tracie. "His

sense of vision and determination is what has made Elkins Resort what

it is today."

It is seeing the smiles on happy customers' faces that fills Tracie with joy

and fulfillment, knowing that she and her team had a part in creating and

maintaining a wonderful place for friends and families to come together

and spend quality time with one another in this year-round playground.

Tracie is grateful for not only the guests, but the community in which

she lives and works. "The people here are genuinely nice," she says. "Our

community still waves as we drive past each other, stops to say hello and

helps each other out when needed. It doesn't matter if it is an individual,

family or business that needs help."

At the end of the day, Tracie is proud of the service she and her team

provide and the memories they help create. When asked what is most

rewarding to her, she replies, "Making customers happy." And that's what

she's been doing for nearly four decades—and will continue doing for

many more years to come.

If you are looking for a place to disconnect from the busy world and

enjoy the beauty of North Idaho, Elkins Resort is waiting. And if you are

in need of that ideal location to host a larger gathering, such as a family

reunion, wedding or retreat, let Tracie and her team help in creating the

perfect event.

Be sure to call ahead for lodging or dining reservations.

COEUR D'ALENE LIVING LOCAL | 33
---
Back and Strong as Ever

THE TRUSTED BOSTON QUALIFIER MOVES FORWARD FOR A YEAR TO REMEMBER

BY ABIGAIL THORPE

Coeur d'Alene Marathon veterans will be the first to attest to the

fact there are few marathons that rival the beauty of this one.

Incredible lake views, mountain scenery and a quaint hometown

at the center of it all make the Coeur d'Alene Marathon, Half Marathon,

10k and 5k a memorable event that draws people to North Idaho every

year, and 2021 promises to be another year to remember.

"It's hard to overlook the beauty and resort destination of Coeur d'Alene.

The scenery and lake view offered along the run make this a pretty special

event for runners," says Ryan Hite, the owner and CEO of Negative Split,

the company behind the Coeur d'Alene Marathon.

Over the years the race has formed a community of runners, volunteers

and supporters from all over North Idaho and the country—and even

world—who are passionate about running, the Coeur d'Alene Marathon,

and perpetuating an incredible event that delivers the best a race has

to offer: stunning views, incredible support and a memorable route

and stay.

It was voted Best Marathon in Idaho by runners on RaceRaves and is

always a popular race destination for the 50 states marathon crowd,

explains Hite. "Personally, I love hearing all the stories from the different

runners. We have met some very wonderful people traveling to Coeur

d'Alene from all over the country over the years. Aside from the great

people, the whole atmosphere just makes for a great race."

Those of us who live in the area might be accustomed to seeing the view

over Lake Coeur d'Alene every day, but there's something that can't quite

compare to running the route that fronts the lake, heading out from

McEuen Park in the heart of downtown Coeur d'Alene.

Add a friendly and supportive local vibe, great swag and an incredible

34

| COEUR D'ALENE LIVING LOCAL
---
Escape

TO ELKINS RESORT

WE ARE OPENING FOR THE 2021 SEASON!

Join us for a stay at one of our cabins,

rent a boat and have fun on the lake, or sit

down for delicious fine or casual dining at

our restaurant.

We have something for everyone here on

the sandy shores of Reeder Bay!

Fine Dining. Boat Rentals. Cabins. Activities. Weddings.

CALL TODAY TO BOOK YOUR VACATION!

208.443.2432 | elkinsresort.com | 404 Elkins Rd., Nordman, ID

COEUR D'ALENE LIVING LOCAL | 35
---
team of volunteers, supporters, sponsors and event managers, and you've

got one incredible race. Not to mention, it's a USATF-certified course,

making it a Boston Marathon qualifier. The course is fairly flat and fast,

providing plenty of opportunity to achieve a personal best, or even

achieve that negative split—completing the second half of the race faster

than the first.

Unlike last year's event, this year will bring a bit more return to normalcy

in that it will be held on one day, instead of

over three days with only eight runners starting

every five minutes, like last year. "I am happy

that we were able to hold the event in 2020, but

that was a long weekend for runners, staff and

volunteers," says Hite.

COVID precautions will still be observed this

year, with social distancing in place and similar

safe race strategies as those implemented

last year, which allowed the Coeur d'Alene

Marathon to be one of the few races to happen

in the country in 2020.

"Coeur d'Alene Marathon is a trusted race during

the pandemic, when other races around the

region like Missoula Marathon and Bloomsday

have canceled again in 2021," explains Hite.

"Aside from the

great people,

the whole

atmosphere just

makes for a

great race."

The marathon, half marathon, 10k, 5k and kids challenge will take place

on May 30 this year, with small start waves heading out on the course

over the span of a single day. There will be swag, aid stations and finisher

food, but the typical after party will have to wait yet another year.

Race coordinators have been working closely with Panhandle Health and

City officials for the last year in order to be able to hold the race safely,

and while they're excited for a return of the marathon in 2021, public

health and safety is still a central focus.

Runners and spectators are encouraged to stay

current on race information and spectator rules

by checking the website (RunSignUp.com/

Race/ID/CoeurDAlene/nsplit) and social media

channels, and spectators can follow runners by

using the RaceJoy app to track location, reducing

the number of people waiting near the finish

line. "Spectators are encouraged to use the app

and support their runners through app cheers

and along the course rather than congregating at

the finish," adds Hite.

Volunteers are always needed for the event,

and this year is no different despite changes.

Check out the volunteer page on the website

to be a part of the excitement, or reach out to

volunteer@nsplit.com.

36

| COEUR D'ALENE LIVING LOCAL
---
OPEN TO THE PUBLIC!

the

idaho

club

NICKLAUS SIGNATURE GOLF COURSE & PRO SHOP

The Clubhouse Restaurant | Covered Patio Dining

(208)265-2345 | tee times available on www.theidahoclub.com

151 clubhouse way, sandpoint, id 83864

a brighter,

cleaner smile

EXCEPTIONAL GENERAL, COSMETIC & PROSTHODONTIC DENTAL CARE IN COEUR D'ALENE

• Board Certified in Prosthodontic Dentistry

• Cosmetic Dentistry

• Gentle Root Canal Therapy

• Teeth Whitening

• Porcelain Veneer

• Dental Implants

• Sedation Dentistry For Anxious Patients

• Dentures (Full or Partials)

• Restore Your Smile

Call to schedule: 208-664-0884 - www.lakeviewdentalclinic.com - 801 Milwaukee Drive, CDA

Implant Special

$500 OFF

IMPLANT/CROWN (INCLUDES

PLACEMENT & RESTORATION)

(Must present ad at check-in.

Expires May 31, 2021)

COEUR D'ALENE LIVING LOCAL | 37
---
IN

INVENT IDAHO

THE STATE'S MOST FORWARD-THINKING STUDENTS SUBMIT THEIR INVENTIONS

FOR A VIRTUAL COMPETITION

BY TAYLOR SHILLAM

Invent Idaho operates with the future in mind, starting with

today's youth. Its mission is to "inspire, encourage and recognize

students for their inventions, designs and innovations."

North Idaho's premier student invention program began in

1989 and has since impacted countless lives. Invent Idaho provides

a platform to students to form valuable connections, build critical

skills and find out how far their ideas can take them.

Hosted annually at the University of Idaho, Invent Idaho is the state's

only program of its kind. According to its mission statement, Invent

Idaho addresses "dozens of State Science Standards, as well as the

number one Technology and Communication Standard, Creativity

and Innovation."

With Idaho schools' emphasis on STEM education, the organization

hopes they can only continue growing.

As many events have in the last year, the 2021 Invent Idaho

convention took on a different format from years past. Keeping

COVID-19 concerns, restrictions and regulations in mind, Invent

Idaho's regional events were each held and judged virtually. The

change didn't affect its success; in fact, the organization was surprised

to see an increase in numbers.

"Even in the midst of a challenging year, our number of participants

in Invent Idaho held strong and steady, and our number of

participating schools even increased," shared Beth Brubaker, state

director for Invent Idaho.

With the impact of the pandemic affecting the way students learn

and interact, "educators and parents are seeking out fresh, innovative

pathways for students to engage in learning," the organization stated.

In 2021, they saw the participant count increase by over 50 inventors

compared to last year.

The process behind Invent Idaho begins with students identifying a

problem and designing an innovative solution. The student inventors

create blueprints, then a prototype of their invention—all while

logging their progress in a journal and preparing for the big pitch,

38

| COEUR D'ALENE LIVING LOCAL
---
FOCUS

a short presentation to explain what they've

created.

The Inventor's Journal is a requirement for

every participant. In the journal, inventors

thoroughly track the entire invention process,

starting with the idea and following it through

various prototypes to completion.

This year, with all regional events held virtually,

each student was asked to record a continuous

four- to six-minute video pitch to submit

online. Parents were encouraged to let their

young inventors complete all the necessary

work themselves, except those related to safety

and construction. Fresh and innovative only

begins to describe the annual competition. The

only program in Idaho dedicated to celebrating

student creativity and innovation, Invent Idaho

simultaneously develops key problem-solving

skills within its participants. The program

emphasizes an inventive thinking process

designed to hone skills in creative thinking,

construct knowledge and communication

technologies.

In the three events typically held across the

state, students participate in progressive levels

of the competition. First-, second- and thirdplace

regional winners are chosen alongside a

Best of Category and Best of Show, with each

winner advancing to the next round. The

students' hard work culminates at the Invent

Idaho State Finals.

Participants can contribute projects from

a number of categories, with the choice

of entering the competition on either an

individual or team level. Categories include

working models, in which students produce

a full-size or scaled working model of their

invention that works to accomplish a set goal,

and non-working models, for those inventions

that would be too large, technical or costly to

actually build.

Additional categories include adaptations of

inventions already in existence, gadgets and

games, and Jules Verne, the fantasy-driven

category encompassing projects too "futuristic

or fanciful" to be judged amongst the more

practical inventions. The Jules Verne category

focuses most on originality and imagination,

requiring a fully detailed drawing or 3D model

to represent the idea.

Participants are divided by grade, with a newly

added high school division for grades nine

through 12. Invent Idaho focuses on honing

skills like higher order thinking, creative

COEUR D'ALENE LIVING LOCAL | 39
---
empowering a new generation of innovators, critical thinkers and

problem solvers.

The student inventors of Invent Idaho are in no shortage of bold,

creative ideas.

This year, two groups of students advanced to compete on a national

level and earned free patent searches to further develop their

inventions, including Autumn and Julianna Schwam from Hayden

Canyon Charter. Three student inventors were selected to display their

invention at the University of Idaho EXPO alongside the university's

senior engineering design project, including Chelsea Venning with

her invention, the Plant Saver.

The Plant Saver is a device that guides a plant into the sunlight until

it has reached its required time in the sun, when it's then rotated back

into the shade. Her idea was inspired by watching plants of her own

suffer in last summer's wavering temperatures.

"I want inventions like this to help positively impact the environment

and help keep smaller plants alive," Venning shared. She hopes to

continue participating in Invent Idaho throughout high school and

eventually reach the world competition, building on her skills and

experiences as she gets closer to making her ideas a reality.

Additional 2021 winners include Isabelle Meredith from Lakeland

Junior High, who qualified for Nationals with her invention "Famous

Monument," and Ava Shields from Post Falls, Figpickels' Pick Winner

for "Dessert Rush."

Dessert Rush was inspired by Shields' love for board games. The game

works by rolling a dice to move pieces around the board, collecting

recipe ingredients along the way. Creating a game of her own took

time, creativity and precision.

"The hardest part of creating this game was designing the cards,"

Shields recalled. "I had to create them using extremely exact

measurements." She then had to find just the right print shop to

provide color copies of her designs.

The effort invested into creative projects like Ava's builds a strong

foundation for Invent Idaho participants to forge a bright future.

thinking and construct knowledge, encouraging innovation, creative

engagement, research, math and writing. The impact of the event has

reached far beyond the Northwest.

Invent Idaho's website recalls the success of 2012 participant Carson

Magee, who at just 10 years old designed an invention to help those

with Type I diabetes, like himself, manage the disease. His project won

Best of Show that year, inspiring the publicity that led to the national

opportunities.

In 2015, Alex Knoll, a 12-year-old inventor from Post Falls, designed

the AbilityApp, a free resource to help people with disabilities locate

resources, safe services and employment opportunities. The invention

earned him not only multiple awards from Invent Idaho and recognition

from other national competitions, but a guest appearance on "The Ellen

DeGeneres Show."

"The Idaho Invention Convention prepares students for the needs of

the 21st century economy," the organization stated. They are proud of

"My goals for the future focus on working hard and accepting that

change might be needed at times," Shields said, reflecting on her

finished project. "I hope that inventions like mine will impact the

world by giving people everywhere joy and happiness."

For students, parents and educators ready to learn more about Invent

Idaho, the 2020 Invent Idaho Invention Contention State Finals video

recording is available for viewing on YouTube. Those looking to get

involved can visit InventIdaho.com for information on participation,

competition guidelines and sponsorships. Opportunities within Invent

Idaho even include free training workshops that can be arranged for

students to earn university credit.

Creative thinking and innovation are qualities to celebrate, support and

strengthen, especially within the young minds who are preparing to

shape the future with their ideas. Invent Idaho is a unique event doing

just that: celebrating the creative abilities of our youth.

"We hope all schools will continue to provide the Invent Idaho student

invention program for their students, and that new schools, districts and

parents will embrace the opportunity," Brubaker stated. "These young

inventors are the future of this country!"

40

| COEUR D'ALENE LIVING LOCAL
---
Timeless Art

INSPIRED BY TRADITION

SPECIALIZING IN JEWELRY, ART AND ARTIFACTS

208.255.7105 • 100 Cedar Street, Suite B • Sandpoint, ID • BlueLizardNativeGallery.com

COEUR D'ALENE LIVING LOCAL | 41
---
Commitment

TO COMMUNITY

Excellence in telecommunication services

By Jillian Chandler

TDS FIBER

2834 North Ramsey Road, Unit 109

Coeur d'Alene, Idaho 83815

855.259.8577

TDSFiber.com

"We have a long legacy of providing

outstanding telecommunication

services to the areas where we do

business, hiring great people, and

investing in the people and businesses

in our markets."

Serving communities for more than five decades, TDS

Telecommunications LLC provides 1.2 million connections to

high-speed internet, phone, and television entertainment services

in nearly 900 rural, suburban and metropolitan communities. And right

here in Coeur d'Alene and the surrounding communities, TDS offers 1Gig

internet, sophisticated phone services and a new, all-digital TV service in

TDS TV+.

As Anita Parisot, associate manager of field marketing for TDS Fiber, says,

"Our mission is to be of service to the communities where we do business.

Local communities are at our core and will continue to be the foundation

of our success."

Anita was inspired to join the company after hearing her friends,

employees of TDS, continually speak highly of the company's culture

and commitment to the communities they serve. "My parents instilled in

me that I'm on the planet to be of service to others," she shares. "I'm able

to work for a company that allows me to carry their legacy and help the

people in this place I call home."

TDS demonstrates its mission and commitment to communities in various

ways: Annually, every employee is provided 16 hours of paid time off to

volunteer; together, more than 50,000 hours have been donated to help the

42

| COEUR D'ALENE LIVING LOCAL
---
communities they serve; and employees can directly request funds for a

charity of their choice, up to $200 annually.

"There are two things I love most [when it comes to my work through

TDS Fiber]: working with our nonprofit partners and seeing the impact

our partnerships have on the families in North Idaho," shares Anita.

"The trust and autonomy given to me by TDS is something I've not

experienced before. After COVID hit, our leaders reached out to us

asking what was needed in our communities. They asked us to reach out

to local nonprofits, food banks and schools to determine where help was

needed most. They granted us the latitude to contribute, in resources

and people, to those organizations."

Over the past year, the local TDS team has supported, in both people

and resources, The Kootenai County Boys & Girls Club, 3Cs Cancer

Charities, The Children's Village, Camp Journey, Safe Start/NISSA,

Safe Passage, Kootenai Humane Society, Rathdrum Community

Center, Turkeys & More, St. Vincent de Paul Society, Kootenai Health

Foundation and the Post Falls Food Bank.

Last year, TDS was awarded the 2020 Business of the Year by the

Kootenai County Boys & Girls Club.

Anita also finds it rewarding to have the opportunity to work with their

business customers. "Part of my responsibility is to partner with them

to create events and opportunities to grow their businesses," she says.

"This past summer we were able to work alongside the team at Hayden

Cinemas to sponsor a series of drive-in movies." According to Anita,

TDS provided resources for the films, allowing the business to reinvest

and continue serving the community.

When it comes to the continued success of TDS Fiber, it is the

company's deep knowledge of, and commitment to, their local markets

and the communities they serve. "We have a long legacy of providing

outstanding telecommunication services to the areas where we do

business, hiring great people, and investing in the people and businesses

in our markets," affirms Anita.

One of Anita's favorite memories of joining TDS was when she attended

the Post Falls Chamber Awards event. "After watching me reconnect

and hug people I hadn't seen in a long time, my manager, Kari Gray,

said, 'It looks like you're home.' That pretty much sums up how I feel

about this place and these people."

Providing more internet speed, bandwidth and reliability, if you are in

the market for the best internet for how you work, live and play, TDS

Fiber is for you.

COEUR D'ALENE LIVING LOCAL | 43
---
Athletes of the

Month

BY COLIN ANDERSON

Join the ride. Make a difference.

SEPTEMBER 11, 2021

Registration is open!

Learn more at CHAFE150.org

OUR SPONSORS MAKE IT HAPPEN. WE THANK YOU!

PRESENTING SPONSOR: GOLD SPONSORS: SILVER SPONSORS:

AUSTIN HILL, senior

LAKE CITY HIGH SCHOOL

With the demands of being

a teenager, sometimes it's

nice to just get out on the

field and play ball. "My

favorite thing about playing softball is that

it's a place to go escape from life and just

have fun with my team and enjoy playing the

game! You get to take your aggression out

hitting and throwing the ball around!" said

Lake City senior Austin Hill.

Austin's love of softball started at a young age,

and she's been part of the high school team

since she first came to Lake City as a freshman.

That year was particularly challenging for

Austin, as she suffered an injury that derailed

her season—and a special night.

"I was going to my freshman Homecoming

dance that night and had a tournament in

Spokane with my club team that morning.

We had an 8am game, and in the last five

minutes of the game I was going for a fly ball

when my foot caught a hole, and I broke my

ankle in three spots. I had surgery three days

later."

While she wouldn't be able to dance that

evening, Austin set out determined to

rehabilitate her ankle in time for high school

tryouts in February. Through a lot of hours of

hard work, she hit her goal and has been with

the team ever since.

As someone who calls herself an "old soul"

and natural leader, Austin says softball has

taught her to listen and to work well with

others. "The biggest life lesson that softball

has taught me is to be coachable and be

a team player. It has helped me when I get

jobs, or when I am in Student Council at the

school," she said.

Austin plans to enroll at Grand Canyon

University this fall, where she will begin her

studies in biology with the goal of tackling

her pre-med requirements. "My passion has

always been to help people, and what better

way to help them than in the medical field!"

she said.

Austin isn't quite sure what part of the

medical field she wants to focus on but feels

something will most likely light a spark and

help her find her future career path. For

now, she's enjoying her final season with her

teammates—and her last few weeks as a Lake

City student.

ORGANIZED BY:

sandpoint

Living Local

In her words....

"The biggest life lesson that softball has taught me is to be coachable and

be a team player."

44

| COEUR D'ALENE LIVING LOCAL
---
BROUGHT TO YOU BY

Spoil Your Mom This

Mother's Day

NORAH COULSON, senior

COEUR D'ALENE HIGH SCHOOL

Since she first walked into Coeur

d'Alene High School, senior Norah

Coulson has been a fixture on the

sidelines. No matter the season, you'll

find Norah cheering on her fellow athletes

and getting the fans fired up. She is proud to

captain her cheerleading squad for her final

year of high school and loves being with her

teammates.

"My favorite part of cheerleading is when we

are competing. The routines we do are always

fun, and we all grow closer together as a team

throughout our competitions, which makes

the whole experience better when you're

doing what you love with such amazing

teammates," she said.

To be a competition cheerleader, you must

train like any other athlete. Competitors need

to have exceptional endurance and strength

on top of memorizing a challenging routine.

As a "flyer," someone who performs aerial

maneuvers, Norah also has to put trust in

her teammates and work at overcoming the

fear of falling. "We are constantly learning

new and scary things. I, myself, am a flyer;

therefore, I have had to get over the fear of

certain stunts that seemed scary."

Norah learned to push through those fears,

which has helped her in other aspects of her

life. "One life lesson I have learned from being

involved in cheer is that you have to work for

what you want; you have to push your fears

aside and take action."

After graduating this spring, Norah plans

to complete her prerequisites at North

Idaho College, and then attend Boise State

University. There, she plans to pursue nursing

and receive her RN license. "I … am choosing

to go into the medical field because I want to

be able to care for people, and I love kids, so I

would love to specialize in an area where I can

care for kids/babies."

While her studies will take precedence,

Norah also hopes to have a shot at continuing

to cheer once she arrives on campus in Boise.

SUPER1FOODS.NET

In her words....

"You have to work for what you want; you have to push your fears aside and

take action."

RATHDRUM

HAYDEN

COEUR D'ALENE

POST FALLS

ATHOL

COEUR D'ALENE LIVING LOCAL | 45
---
A children's show right from our hometown

BY ABIGAIL THORPE

A

lively character dressed in bright pink and yellow has been

making her way around the parks, businesses and streets of

Coeur d'Alene over the past few months. Perhaps you've seen

her with her signature colors, kat eyeglasses and warm smile?

Her name is Mopsy, and she's the star of a new children's show "Mopsy,"

an educational and fun TV show from husband-and-wife duo Matt and

Lilly Edwards of Hitch N' Go Media.

The inspiration for the show came from the Edwards' own 3-year-old

daughter. She enjoyed a similar character her older brother had grown to

love named Blippi. But while the monster trucks, construction vehicles

and airplanes Blippi highlighted interested her too, she wanted something

less boy-centric ... a "Girl Blippi" so to speak. And so Mopsy was born.

"We really had an opportunity to add value to the variety of content out

there," explains Matt. The husband-and-wife team had long appreciated

the educational and fun content Blippi brought to their children, in

particular their son, and they saw a gap in the industry they had the skills

to fill.

Both had met in Los Angeles while working on a show together, and

Mopsy presented an opportunity to once again combine their skills and

passion for film, while at the same time bringing fun content that would

delight children throughout the country, as well as their own.

"We saw an opportunity here to create similar content that is equally

educational, equally entertaining, but that caters to a female drive, but

can still be enjoyed by both," adds Lilly. The family creates and bases their

content out of the Coeur d'Alene area, where they live. It was the perfect

place to create a production company dedicated to bringing homegrown,

healthy, fun content that focuses on the basics.

Matt and Lilly don't put their kids in front of the TV frequently, and

they've designed Mopsy with that in mind. They watched their kids'

46

| COEUR D'ALENE LIVING LOCAL
---
Concrete Coatings

CONTACT US TODAY FOR A

FREE ESTIMATE!

CABINETS & STORAGE

SOLUTIONS AVAILABLE!

CONCRETE COATING EXPERTS

ON THE CUTTING EDGE OF PRODUCT TECHNOLOGY

OVER 1 MILLION SQ. FT. INSTALLED SINCE 2007!

DURABLE

We apply only commercial-grade

polyureas, polyaspartics, urethanes,

epoxies and related products to ensure

a long-lasting resilient floor coating.

RESISTANT

Our coatings are highly resistant to

spills such as fuels, oil, grease, road

salts and other chemicals. In addition,

it is easy to clean and maintain.

QUALITY

Being on the forefront of product

technology and installation, with

over 1 million square feet installed

locally, we are confident that we offer

unmatched quality.

ULTIMATECONCRETECOATINGS.COM | 208.640.6768 | RICK@ULTIMATECONCRETECOATINGS.COM

COEUR D'ALENE LIVING LOCAL | 47
---
interests and designed content around that as well as the fundamentals of

what 2- to 6-year-olds are learning.

"We look to our kids for a lot of inspiration, just naturally," says Lilly.

"When we come up with an idea that has somewhat been sparked by one

of their interests and carry it through—something that not only makes

them excited but [brings] excitement to those in our community—we

feel like we've done it successfully."

For them, one of the most exciting things is having the opportunity to

innovate and be creative together in an area that really deserves some

homegrown feeling, adds Matt. "We're doing what feels right; we have

a direct connection to our audience. It's so rewarding to ask, 'What do

people want, what do the kids like, and what are the fundamental things?'

It's rewarding not to have to be in that crazy mindset that a lot of the

bigger corporations find themselves stuck in."

Matt and Lilly are a two-person team—they do everything from character

creation, episode brainstorming, writing, filming and acting to editing

and marketing. Why the name Mopsy? The name for the vivacious, fun,

pink-and-yellow-clad character (played by Lilly) came from Lilly's own

great grandmother. It was a family name that was a term of endearment

for her great grandmother, and when Matt and Lilly started searching for

a fun name that was catchy and fit the happy, fun character, it seemed like

the perfect choice.

The decision to base the production company and "Mopsy" out of

North Idaho, and Coeur d'Alene in particular, was strategic. Not only

is it a beautiful place to raise a family, there were less restrictions and

more opportunity for the show to be filmed in a community that still

functioned somewhat normally despite the pandemic. Because while

Mopsy was born during pandemic times, they wanted to create content

that would be evergreen and live on for years to come.

Research and planning for the show—which is available exclusively on

YouTube—began last summer. The show came at a perfect time, as the

pandemic created a need for more entertaining and educational content

as kids were stuck inside at home more during the winter. Mopsy was a

way to educate kids from home, while adding to the world of children's

TV in a positive way.

The first handful of "Mopsy" videos launched at the end of December, and

48

| COEUR D'ALENE LIVING LOCAL
---
Collars

Toys

Treats

Gifts

Clothes

Pillows

www.todayschristiancountry.com

LIKE "KYMS" ON FACEBOOK FOR

COMMUNITY EVENTS & MORE!

A fun, unique and original dog shop.

It is for all dog lovers!

210 E. Sherman Ave., Ste. 143 | Coeur d'Alene

Resort Plaza Shops • 208.664.0414

www.thelabradorstoreandmore.com

Creative Soul Collective

· Workshops

· Classes

· Group & Private Sessions

For schedules & details:

Alison Henslee | Artist & Creative Coach

208.610.8806 | aghenslee@gmail.com

Bonners Ferry | Sandpoint | Coeur d'Alene

COEUR D'ALENE LIVING LOCAL | 49
---
Hitch N' Go Media did a soft grand opening for

the show in January of 2021. The Mopsy YouTube

channel is now live, and new videos are released

on a regular basis, covering a variety of topics that

teach kids how to learn in a fun, creative way while

exploring the world around them.

Mopsy even visits local businesses during some

of the videos—just recently, she visited a local

dance studio to learn ballet, and one of the videos

was even filmed at a local pizza shop. Involving

the businesses, parks and locations that surround

them is important to Matt and Lilly. "We really do

want to be connected to the area," says Matt. "It's

important for us to have that connection here. We

so appreciate being here and being welcomed on a

personal level."

In addition to the videos, Mopsy also has a

storytime. An audio podcast, Mopsy's Storytime,

features Mopsy reading a variety of stories,

folktales and rhymes, some timeless classics and

others long-lost and forgotten stories children will

love. The Edwards' own children love listening to

books on tape during long car rides, and "Mopsy's

Storytime," is a way to bring this joy to other

children, while stimulating a different side of the

brain and providing an alternative for parents who

don't necessarily love the idea of their kids having

screen time. The podcast is available on Spotify,

or everywhere you would get your podcasts,

including YouTube.

Much of the filming for "Mopsy" is done around

town, and Matt and Lilly always encourage people

to come up and say hello if they catch a glimpse

of Mopsy in her signature pink and yellow. As

summer arrives and warmer weather permits,

Mopsy will even head out on some adventures to

nurseries, farms and even the Mudgy and Millie

Trail along Lake Coeur d'Alene.

Down the road, as health conditions permit, Matt

and Lilly look forward to possibly hosting meet

and greets with Mopsy at various locations around

town where they have filmed videos. While this

is still in the works, there are still plenty of other

opportunities to get to know Mopsy—either online

in her videos, or in a chance encounter out and

about town.

To get in touch with Mopsy, stay up to date and

find out what's new, like and subscribe to the

YouTube channel, or follow Mopsy on Instagram

@HeyMopsy.

50

| COEUR D'ALENE LIVING LOCAL
---
Your Idaho Investment

Entrust your property to the very best

Your Property Is Our Priority

Call us today to find out more about our hands-on approach!

208.660.0779

alliedpm5@gmail.com | 35 years of experience

Serving the greater Coeur d'Alene area

COEUR D'ALENE LIVING LOCAL | 51
---
CNA APPRENTICESHIP BREAKS NEW GROUND

BY TOM GREENE, NORTH IDAHO COLLEGE

The practice of apprenticeship has a storied history that goes

back to at least the Code of Hammurabi in ancient Babylon.

The Romans also saw the value of craftsmen passing down their

trades to the next generation, and guilds in the Middle Ages

centered around a master/apprentice model. There's a simple reason this

model has been around for thousands of years.

It works.

"It makes it so employees are earning while learning," said Michelle Stout,

apprenticeship coordinator for Workforce Programs Administration

at the Idaho Department of Labor. "And for the employer, there are

increases in productivity and retention."

The newest addition to apprenticeship programs at North Idaho

College's Workforce Training Center is Certified Nursing Assistant. The

program went online last fall and is recognized as a U.S. Department

of Labor Registered Apprenticeship. It joins a list of more traditional

apprenticeship programs offered through the Workforce Training Center,

such as HVAC (heating, ventilation and air conditioning), electrical and

plumbing.

The NIC Workforce Training Center collaborates with several employers

in the area to offer the apprenticeship program. Grant money is available

from the state labor department for employers, apprentices and NIC.

Employers and NIC receive funding for running the program, and

apprentices can receive money for equipment needs. Apprentices are

also eligible for scholarships through NIC, and the license some earn is a

federal license that is valid all over the country.

Often, employees who are already on the job will begin an NIC

apprenticeship program to learn more about their field, increasing

their value to the company, which can lead to increased pay. Christal

Champagne-Cave and Mariane Bustarde both work at Life Care Center

of Post Falls. Champagne-Cave has been employed there for a year and a

half, and Bustarde began working there in December 2020. They started

taking CNA classes at the Workforce Training Center recently.

"Working at Life Care, I get much more hands-on experience while

taking classes," Champagne-Cave said.

Mark Scroggin, executive director at Life Care Center of Coeur d'Alene,

said he's already seen some success stories since the company partnered

with the NIC Workforce Training Center and the Idaho Department of

Labor. Along with the CNA Apprenticeship program, his company has

developed an apprenticeship program for the activities director position

as well.

"It's not just CNAs," Scroggin said. "It's a group effort. We have lead

CNAs who put them under their wing. Along with a staff coordinator, it

really makes it a supportive environment."

For more information on the NIC apprenticeship, as either a prospective

apprentice or an employer who would like to participate, visit

NIC.edu/WTC or call 208.769.3333.

52

| COEUR D'ALENE LIVING LOCAL
---
State-of-the-Art Ceramic Technologies for Your Grilling Adventures

GRILL WORLD

The Big Green Egg is The Ultimate Cooking Experience. When you

invest in one, you are going to take home the highest-quality outdoor cooker ever

made.The EGG heats up and is ready to cook in minutes. An EGG will never rust, jam

or wear out – and has a lifetime warranty. From appetizers and entrees to desserts,

the Big Green Egg will exceed all of your expectations for culinary perfection.

208.765.5220 | CdaHotTubs.com | 745 West Appleway Ave., Coeur d'Alene, ID

COEUR D'ALENE LIVING LOCAL | 53
---
Stretching 101

The how, the why and the benefits of stretching!

By Molly Radonich, LAT, ATC

How many times has someone told you to stretch after an

activity? How many times have you actually done it? Stretching

is so important to do, but not many of us actually stretch. I

know I skip stretching quite often, and I am fully aware of how

beneficial it is for you. Stretching helps increase our range of motion, but

what exactly does that mean? Range of motion is the amount of mobility in

a joint, and flexibility is the ability to move a joint easily through a range of

motion. Both of these aspects of stretching are important to help maintain

daily activities and be able to do the things you want and need to.

A lack of flexibility can lead to several issues, including neural tightness

(nerve tightness), joint restrictions, muscle atrophy, poor posture and

many other things. If our joints and muscles aren't stretched frequently,

they get tight. This prevents us from doing things like reaching to the top

shelf, bending down to pick up your grandkids, etc. The most dangerous

part of this is if you reach down quickly or when your muscles aren't

prepared, your tight muscles predispose you to straining a muscle because

it is not able to adapt to the demands you are placing on it.

Research has shown that aging and diabetes can lead to decreased shoulder

flexion. As we age, our tissues lose elasticity, so we can't increase our muscle

length as well as we were able to before. As an aging adult, it is vital to work

on your range of motion and flexibility so when you're older you have more

flexibility to lose.

HEALTHY TIP

54

54

|

COEUR

COEUR

D'ALENE

D'ALENE

LIVING

LIVING

LOCAL

LOCAL

THE MOMENT YOU'VE BEEN TRAINING FOR

As the running season has arrived, all of those months of training

are ready to be put to the test! Whether it's your first 5k or your fifth

marathon, be sure you're prepared. Continue to alternate between easy

and hard days, tapering off before the race. Always take the time to

properly warm up and cool down. Hydrate and fuel your body. And most

importantly, listen to your body. If it's telling you it's tired, then it's time to

rest. Adequate sleep is essential—especially while training.
---
e

Authentic

What we leave out of our CBD & CBG products is

just as important as what we put into them.

No junk, no chemicals, no preservatives.

Just authentic relief.

VISIT OUR WEBSITE TO SHOP OUR TOPICALS AND OIL BLENDS

Free Consultations - Call for an appointment!

509.919.0124 | 866 W. Hayden Ave., Hayden, ID | authenticbotanicals.com

Enhance your Natural Beauty

PREMIER HEALTH PARTNERS. PREMIER SERVICES.

Wrinkle Relaxers, Dermal Fillers, Dermaplaning, Microneedling,

Laser Hair Removal and more.

CARLY ADRAIN, RN

CRAIG A. BURNS, MD

RACHAEL VAN VALIN, RN

SCHEDULE YOUR FREE CONSULTATION TODAY!

1450 NW Blvd. STE. 104, Coeur d'Alene, ID| 208.274.4011

www.phphealth.org |

COEUR D'ALENE LIVING LOCAL | 55
---
THE MUSCLE WILL NEED TO BE

PULLED INTO THE OPPOSITE

DIRECTION IN WHICH IT CONTRACTS.

RANGE OF MOTION

IS THE AMOUNT

OF MOBILITY

IN A JOINT, AND

FLEXIBILITY IS THE

ABILITY TO MOVE

A JOINT EASILY

THROUGH A RANGE

OF MOTION.

Here are some ways that stretching is beneficial for

you:

• Increased flexibility

• Increased mobility

• Increased blood flow to the area

• Decreased swelling

• Decreased adhesion formation

• Decreased pain

Stretching is really good for you, but if you don't

know how to stretch on your own, it's not that

helpful. We recommend home stretching to our

patients quite frequently, and we send them home

with information or a demonstration on how to

perform home stretches. We typically follow these

principles to help increase our patients' flexibility:

• Perform stretches one to two times a day.

• Hold for 30 seconds to one minute (the longer

you stretch, the longer the effects of stretching last).

• Repeat each stretch three to four times.

• Maintain deep, even breathing throughout

stretches.

• Do not move into positions that are painful.

In general, to stretch a muscle, the muscle will need

to be pulled into the opposite direction in which

it contracts. For example, the hamstring performs

hip extension, so bringing your leg back. To stretch

the hamstring, we pull the leg into flexion, or up

toward you. There are many resources available to

you to help aid you in stretching. Seek out a local

occupational therapist to learn more about proper

stretching techniques.

56

| COEUR D'ALENE LIVING LOCAL
---
BUILDING YOUR

FOUNDATION

THE IMPORTANCE OF A MORNING ROUTINE

BY JENNIFER MILLER OF THE WELLNESS BAR

According to my husband, a

construction supervisor, the most

important part of the home building

process is pouring the foundation. It

has to be done well and with care. After all, the

foundation of a home supports its weight and

gives it a firm and stable hold. Each home, no

matter if it's built from straw, sticks or bricks,

needs something strong to stand on. Like a home,

we also need a strong foundation. For me, it's a

morning routine. It builds the foundation for my

day, gives me a fresh start, makes the day run a

little smoother and helps me be more productive.

Do your mornings have you feeling perpetually

rushed? Do you finish the day never quite

catching up? We've all been there. Strapped for

time and feeling like there just aren't enough

hours in the day is so common in this day and age

of the hustle culture. Experts say that developing

healthy daily habits can be an indicator of

increased productivity and better leadership.

A good morning routine can also benefit your

emotional health by lowering stress and boosting

that sense of accomplishment at the end of the

day. Not sure where to start? Below are some of

my favorite ways to start my day.

Don't hit snooze.

This one is tough—but it's important. You have

to give yourself the time, so when the alarm goes

off, resist the urge to lay in bed just a little longer.

This doesn't necessarily mean you have to get up

at 4am. Sometimes an extra 30 minutes is all you

need to have a productive start.

Move your body.

Being a working mom with a child in online

school, I am rarely alone, so the 30-minute

walk I take each morning with my dog is my

uninterrupted time to just be. Sometimes I listen

to a podcast or my favorite playlist, while other

days I just enjoy the silence.

Start with stillness.

No matter how hard I try, I am terrible at

meditation. I can't quite figure it out. What I can

do, though, is sit in stillness for just two minutes

while practicing mindful breathing. It helps me

focus my energy and grounds me.

See food as fuel.

I would like to say I start the day with water, but

coffee has my heart. I do, however, make it a point

to eat a healthy breakfast each morning. Even if

it means grabbing my favorite green juice and

protein waffle on the way to work, I make sure

my first meal is nourishing and fueling me for

the morning.

The most important thing to remember when

developing your morning routine is to be flexible.

Adapt and adjust it to what works best for you.

This should not be another added source of stress.

It should be a method of relieving it. It doesn't

have to be perfect. It just needs to be intentional.

Building your day on a strong foundation

can ultimately lead to a more peaceful and

productive life.

CDA • POST FALLS • HAYDEN

HAPPY

MOTHER'S DAY

Don't forget to spoil your

mother in a healthy way...

Gift cards on sale now!

Buy $35 gift card & receive

a FREE branded mason jar!

ACAI BOWLS

SALADS • SMOOTHIES

PROTEIN SHAKES

COLD PRESSED JUICE

BAKED GOODS

ESPRESSO + MORE

Check out our convenient

locations and browse our

amazing menu here:

www.niwellnessbar.com

FOLLOW US @208JUICE

For Specials, Events & Giveaways!

COEUR D'ALENE LIVING LOCAL | 57
---
SPF

WHEN—AND HOW—TO USE IT, AND CHOOSING THE BEST OPTION FOR YEAR-ROUND USE

By Kristin Carlson, Medical Esthetician

As I write this on a sunny Sunday morning in March, we (my

family and friends) had just had one of those picture-perfect,

blue bird days up at Schweitzer. Skiing and snowboarding,

sitting out in the sun at the Outback while the kids played,

celebrating the first glimpses of spring. I applied SPF before I left the

house, like I do every morning, but failed to apply to the kids. My friend

bought sunscreen from one of the stores, saving us all from sunburn and

serious goggle tan.

Remembering to apply sunscreen is a habit I recommend getting into

on the daily. Choosing the right one for your skin type is something you

can plan for ahead of time, assuring you are prepared and protected yearround.

The Difference Between Chemical and Physical SPF

Chemical sunscreens are made of organic, carbon-based compounds

that absorb into the skin. The skin then absorbs UV rays, converting the

rays into heat, and releasing them from the body. The fact that chemical

SPFs are typically thinner allows for smoother application, easy everyday

use, and combination with makeup and other skin-care products. They

also come in sweat and waterproof varieties. Because they need time

to absorb, chemical sunscreen takes time to begin working and should

be applied at least 30 minutes prior to sun exposure. Because of their

lightweight consistency, they are ideal for oily, acne-prone skin types.

Physical sunscreens are made of mineral actives, such as titanium dioxide

or zinc oxide, and sit on top of the skin, reflecting UVA and UVB rays,

rather than absorbing them. Creating a barrier prevents absorption and a

bouncing effect of the sun's rays. Physical sunscreens are thicker and are

rarely sweat or waterproof but begin working as soon as they are applied.

The thicker consistency can leave a white residue on the surface of the

skin. Physical sunscreen is ideal for sensitive skin, including rosacea.

Choosing the Right Product for You

Determine your skin type and read the product labels. Check the active

ingredients, and do your research if you are unsure what they are.

Those who want to avoid chemicals, and keep their products more

natural, a physical sunscreen may be a better option for you. If you are

acne prone, you may want to consider an oil-free chemical sunscreen to

reduce breakouts.

For those who are environmentally conscious, make sure you pay

attention to the ingredients in your SPF products, specifically chemical

compounds like oxybenzone and octinoxate. SPF products can wash off

into our natural bodies of water, affecting the growth and photosynthesis

of green algae, causing damage to coral reefs and other marine life.

Regardless of the type of SPF you choose, it should be worn daily, rain

or shine, to preserve the skin and protect against harmful UV rays. All

SPFs require reapplication to maximize their benefits. Read the label on

your product for recommended reapplication times, but typically every

one to two hours if you are in direct exposure. If you're having a boat day

on the lake, hiking, and even going for a drive on a sunny day, consider

wearing a hat and clothing with UPF (sun protection factor), referring to

the amount of UV rays that can penetrate through fabrics, in addition to

your SPF. Talk to your trusted skin-care provider if you have questions

about the best options for you and your family.

58

| COEUR D'ALENE LIVING LOCAL
---
STANDING ALONGSIDE

Heritage Health's Peer Support Program inspires

BY MARC STEWART, HERITAGE HEALTH

A

good day for Cassey Coleman is

helping a shut-in leave their house

to go for a walk or making someone

smile who normally would never

dream of it.

She stands by people with severe mental

illnesses and substance abuse disorders to help

people emerge from the darkness in their lives.

"I have overcome addiction and homelessness,"

says Coleman, a peer support specialist with

Heritage Health. "I can relate to my clients and

walk alongside them."

The experience has inspired her to continue

helping people. She says she's going to pursue a

degree to become a social worker this fall.

"In the Bible it talks about how without a vision

the people perish," says Coleman. "That has

been something I have always believed and

worked toward since the beginning of my

recovery. Always pursue new goals and bigger

dreams."

Peer support specialists like Coleman play a

critical role in mental health. These individuals

have been successful in the recovery process

who help others experiencing similar situations.

At Heritage Health, each peer support specialist

interacts with about a dozen clients every day.

Through shared understanding, respect and

mutual empowerment, peer support workers

help people become and stay engaged in the

recovery process and reduce the likelihood of

relapse.

"In previous jobs, I had to hide my past because

of shame and guilt," says Coleman. "Here, I told

them I had been in a state hospital and that I

had been addicted to meth. With each thing,

I became more qualified to be a peer support

specialist."

Peer support services can effectively extend the

reach of treatment beyond the clinical setting

into the everyday environment of those seeking

a successful, sustained recovery process, says

Josh Behrens, Community SPMI Program

manager with Heritage Health.

"Peer supports are vital to our Assertive

Community Treatment team because they just

give us a different perspective," says Behrens.

"Each of them has worked through similar

struggles and have found recovery and success

in their lives. They are resilient. Because they've

experienced the things that they have, they're

able to come alongside the client and say, 'I've

been there. I know what you're going through.

Here's what I did when I was in a similar

situation.'"

This develops a strong bond and trust between

patient and provider. Even though peer support

workers are not licensed as therapists or as

social workers, they play an instrumental role.

"We give them another voice to talk to," says

Gordon Cuthbert, a peer support specialist.

"We are their social life. Sometimes taking

them on a drive in the company car can be the

best thing for them."

Cuthbert says he has developed strong working

relationships with his clients, and he draws

inspiration from them.

"It's always a never-ending battle for them," he

says. "They are the strongest people I have ever

known in my life."

If you're struggling with mental illness or

substance abuse disorder, please call for an

appointment at 208.620.5250.

If you're interested in becoming a peer support

specialist, visit MyHeritageHealth.org/careers.

Heritage Health exists for the sole purpose

of delivering a healthcare experience that...

Provides Hope, Inspires Change, and Extends

the Lives of our Patients and Community.

In recognition of National Mental Health

Awareness Month, we are reaching out to

encourage you to BEE the Light in your

home, workplace, and community.

In addition to medical and dental services,

mental health services to all, regardless of

their ability to pay.

Many of these services are made possible

because of your generous contribution to the

Heritage Health Dirne Foundation.

kindly donate today at:

myheritagehealth.org/donate

Thank you in advance

for your continued support.

COEUR D'ALENE LIVING LOCAL | 59
---
CHOOSING UNITY OVER

DIVISION

COMPASSION CONNECT

BY RACHEL KELLY

When asked about the guiding principle of their

work with Compassion Connect, Christine Gilge

and Kawehi Marshall of Compassion Connect

Puget Sound quoted their inspiration from Jesus:

"Let me give you a new command: Love one another. In the

same way I loved you, love one another. This is how you will be

recognized as my disciples, if you love one another." John 13:34-

35 (MSG).

The command to "love on another" is repeated three times.

Apparently, Jesus thought his followers might forget! And it's true,

sometimes they did. Sometimes they do. Compassion Connect

was founded with the intention to combat that apathy through

unity, so that the command to love one another is not forgotten.

In fact, Christine and Kawehi had several answers. They quoted

verses of unity in the church. Oneness in Christ. "God is light.

In him there is no darkness at all." (1 John 1:5). Which they take

to mean that light should be a part of their regular everyday

interactions, infused into their work and their conversation. They

talked about many hands making light work. All their inspiration

seemed to be about devotion to love. Love that they have felt from

God, and love that they were interested in passing along. It is the

kind of love that won't let others feel isolated. Love that inspires

connection.

Simply put, the drive of Compassion Connect is to equip

community members to shine a light into dark corners. To see

those who may feel unseen. To connect with the unconnected. To

choose "unity over division and compassion over complacency."

Their base is in Portland, Oregon, but Compassion Connect

functions in Washington, Idaho and Arizona as well.

Practically, for Compassion Connect, this means bringing

churches together to serve their neighbors in tangible ways. The

idea being that churches, and people as a whole, are united by the

commonality of their ancestry. Churches are united by a belief in

Christ. The community is united behind the intrinsic value of the

human being. No matter where their beginnings, no matter where

those beginnings seem to be headed. While not everyone may

share the same religion, most can agree that people are important.

Compassion is essential. Compassion Connect ignites these

common values to address two common community struggles:

accessible health care and sex trafficking.

Compassion Connect partners with churches, law enforcement,

the FBI, and nonprofits in the area to bring a whole solution to

each community. In this way Compassion Connect is a larger

resource, not just one part of the whole answer. Health care and

sex trafficking require resources from all different corners of the

community, and Compassion Connect works to see that happen.

Organically, by relationship. In this way no one part of the

community is left on its own without support. The community

is the ultimate benefactor of the partnerships that Compassion

Connect creates.

One of the ways in which Compassion Connect helps their

communities serve their neighbors is through community health

care. Several local churches in Washington, Idaho, Oregon and

Arizona unite to offer a free Compassion Health Clinic. They

address a variety of health needs such as dental, physical therapy,

nutrition, optometry, wellness and prayer. They even provide a

tent with games and activities for children whose parents are in

their various appointments. Health-care workers, nurses, social

workers, food pantries and doctors from the churches in the

community come together to offer these services, free of charge.

60

60

| COEUR D'ALENE LIVING LOCAL
---
COEUR D'ALENE LIVING LOCAL | 61
---
The most recent Compassion Clinic was hosted in

Tacoma, Washington. Congolese and Kenyan refugees

were brought by bus from Seattle, and cheerily greeted

by the wide smile of the head social worker for the clinic.

She rode with the refugees up and down from Seattle,

busily occupying herself with connecting to the refugee

individuals and families, bringing comfort. Then she

would begin her rounds with questions such as, "Do

you need a translator?" or "How do you feel today?"

Refugees and community members are then met by the

next round of people who guide them through various

paperwork, signatures and triage, where their overall

health is examined. They then wait to be treated by the

various clinics within the church, according to their

need.

Compassion Connect has several volunteer doctors,

nurses and medical assistants to oversee the various

clinics, as well as a medical team lead. They have

special chairs and tables for physical therapy, and all the

various equipment for fitting their patients with glasses.

Thanks to generous donors, Compassion Connect also

has a large amount of dental equipment, which can be

transported from state to state according to need. An

entire dentistry chair and sanitized tools is rolled up into

one unit the size of a large toolbox. They have several

such "toolboxes" that they unpack for one clinic. It is

quite the event!

At this most recent Washington Compassion Clinic, the

co-founder of Compassion Connect, Milan Homola,

attended along with the director of the Idaho branch,

John McGee. In 2014, in Caldwell, Idaho, area churches

held their first Compassion Connect community health

clinic. Caldwell area churches are now expanding their

resources to additional communities. The director and

staff from the Idaho branch were visiting the Washington

clinic to connect and learn from the providers there. As

the Compassion Connect staff from South Sound in

Washington welcomed the leaders and staff from the

Idaho branch, their camaraderie was apparent. They

wanted to share, to show and to support. Compassion

Connect really does choose unity over division.

The second need that Compassion Connect helps

communities tackle is more difficult to address. Sex

trafficking is a business that flourishes strictly because it

does not often see the light of day. Its victims go unheard.

The missing youth and women of our communities

62

| COEUR D'ALENE LIVING LOCAL

It is the kind of

love that won't

let others feel

isolated. Love

that inspires

connection.
---
SEEING IS BELIEVING

BEFORE CATARACT SURGERY

AFTER CATARACT SURGERY

If you are experiencing changes in the quality of your vision or are due for a general eye exam,

schedule an appointment with any of our board-certified ophthalmologists. (results may vary.)

(208) 208-667-2531

NORTHIDAHOEYE.COM

CD'A

POST FALLS

HAYDEN

Our mission is simple: to provide high-quality services for our valued clients.

At Selkirk Landworks, we strive to improve the health of our forests and reduce

the threat of wildfires through safe and cost-effective forestry mastication,

land clearing, vegetation management, and defensible spaces.

With a focus on personalized service, competitive rates and customer

satisfaction, we're always striving to meet and exceed expectations.

A Veteran and Firefighter-Owned Company Specializing in

Forest Health And Wildland Fire Prevention/Mitigation

www.selkirklandworks.com

208.771.8515

spencer@selkirklandworks.com

@selkirklandworks

COEUR D'ALENE LIVING LOCAL | 63
---
disappear quietly because they are alone. They are

unconnected, with few advocates. Finding them, hearing

them, takes more than just a few people. Addressing

trafficking requires not only the unity of the church, but

the involvement of the whole community. Compassion

Connect seeks to end sex trafficking by doing just that:

spurring involvement. Bringing the unseen and unheard

to the forefront.

The anti-trafficking aspect of the Compassion Connect

ministry is called Adorned In Grace. Each local

Adorned in Grace ministry is run by local directors and

volunteers, and addresses their communities according

to their need. Anti-trafficking can be either preventive

or proactive. This assures for a grass roots approach to

each community; ears and eyes that directly connect to

the present need. Adorned in Grace is then subdivided

into two parts, the bridal boutique and the ministry

center. The Adorned in Grace bridal boutique sells

gently used bridal and formal wear at a discounted

price. The boutique, along with church presentations

and the website, offer opportunities for awareness

and community involvement. All proceeds from the

boutique then go to the larger ministry of prevention

and restoration.

From talking with Christine Gilge and Kawehi Marshall,

who work within Adorned in Grace Puget Sound,

the resources that prevent trafficking are often those

that also offer restoration. Adorned in Grace Puget

Sound works within the G.R.A.C.E. model, which is an

acronym for Gospel, Resources, Activity, Community

and Education/Employment. Each man, woman or

child who comes into the ministry offices are assessed

with a G.R.A.C.E plan, to see where their practical and

spiritual needs lie.

Practical needs are, of course, addressed first. Needs such

as housing, food, safety and medical care are provided for

through a network of larger community partners (such

as community shelters). Unfortunately, these needs are

extremely pressing and present. Christine receives at

least one to two calls a month of rape, a missing child

or suicide that have to do with sexual predators and

violence. Some are more vulnerable than others, but

safety is a concern for every child. Every woman. Every

family.

This is why prevention is so key to the administration of

Adorned in Grace Puget Sound. They do this through a

variety of community efforts, including the arts! They

showcase ballet and painting events that tell the stories

of victims, bringing awareness for its prevention. Art

is not just an effective mode for communication, but a

healing balm for storytellers. They also hold classes and

workshops to teach Power Over Predators, deal with

societal pressures and combat isolation. A specific group,

The Trophies of Grace, works with teenage boys. They

even partner with a ranch to teach survivors practical

life skills for future employment. Being on the ranch

promotes healing, community and involvement. This

brings safety and opens up avenues for conversation.

64

| COEUR D'ALENE LIVING LOCAL
---
Unfortunately, even with prevention, there

are many people who slip through the cracks.

This is where the need for restoration comes

in. As mentioned above, it's the practical first.

But afterward, once the pressing physical

needs are addressed, the trauma done to

the emotions and spirit of the survivor

also need restoration. This part is all about

"trust, connection and conversation." This

is where the tools for prevention also bring

about restoration. Painting, dance, cooking

classes, employment, empowerment classes,

counseling and community involvement.

Simply put, Adorned in Grace connects

women and children with their communities,

with safe professionals and compassionate

care. This promotes a place of safety, allowing

each person an opportunity to process, heal

and move forward.

As our communities deal with an

unprecedented time of isolation, Compassion

Connect has not once closed its doors. If

anything, their call toward action has only

increased. While they have been cautious (the

medical community is always gloved, sanitized

and masked), inaction was simply not an

option. Division is simply not a part of their

mission. In all of their efforts, Compassion

Connect has relied on the passion and the

dedication of their neighbors, volunteers and

community. This has been especially valuable

in the midst of these difficult times.

The gap in quality medical care toward the

unrepresented has only widened throughout

the pandemic. The Compassion Health

Clinics have worked to close that gap this

year, though hampered by fewer resources.

Though

hardships may

grow, access

to hope does

not diminish.

Meanwhile, isolation has agitated the already

pressing problem of sex trafficking. This year,

Adorned in Grace has continued to bring

attention and community action toward

prevention and restoration. Their classes

have not stopped (though some have moved

online), their phones have not been turned

off, and their contact with shelters and other

various community resources have not been

severed.

We are all very aware of this year's hardships,

of the pressure that our communities have

withstood. As we look forward to a future

of promise, we can still look back and be

grateful. Grateful that there are, and always be,

organizations like Compassion Connect that

never cease to shine a light into dark places.

Though hardships may grow, access to hope

does not diminish. Compassion Connect

shows us that we too can find common

ground to choose unity over division. We too

can look into the eyes of others and see the

human. The person. We can, and do, choose

compassion over complacency.

For more information and how you can get

involved, please see CompassionConnect.org.

COEUR D'ALENE LIVING LOCAL | 65
---
66

| COEUR D'ALENE LIVING LOCAL
---
COEUR D'ALENE LIVING LOCAL | 67
---
68

| COEUR D'ALENE LIVING LOCAL
---
Building Trends

for 2021

ARCHITECTURE EVOLVES ALONGSIDE CHANGES IN THE MODERN LIFESTYLE

by TAYLOR SHILLAM

Trends in architecture and design naturally evolve alongside

the lifestyle shifts that dictate how those unique spaces are

used. As times change, the way we build must do the same.

The residential and commercial builds of 2021 have common

qualities rooted in sustainability, open spaces and versatility. This year's

major building influences include a renewed closeness to nature, care for

the environment and lifestyle changes brought on by the pandemic.

Whether you're looking to build, buy or rent property this year, noting

the newest building trends can help refine your search. As you define the

needs for your own living and working spaces, keep an eye out for the

following building trends in 2021:

Multi-purposed spaces

After an emergence of open floor plans replacing the formal dining and

living rooms of the past, multi-purpose rooms are shifting the focus

into bigger, more diverse uses of a single space. Today's homes are being

designed to accommodate lifestyles that are steadily becoming more

fluid, adaptable and open to change.

Multi-purpose spaces are here to stay, with large dens, great rooms and

combined rooms becoming increasingly popular. Unique, customized

combinations will be seen, with trends toward high vaulted ceilings

providing the possibility to enhance the all-encompassing nature of a

great room.

Layered kitchens

Even with the popularity of open and versatile rooms, there remains

value in leaving something to the imagination. New homes are testing

layered kitchens, with an open living and dining zone separated from a

hidden working zone, to encourage a cleaner culinary display.

Layered kitchens can provide a larger, private storage space, while leaving

major food prep and cleanup to be completed out of sight. A clean display

for guests brings the focus to enjoying the dining experience.

Comfortable outdoor spaces

Outdoor gatherings are on the rise, with elaborate outdoor rooms and

patios becoming the new at-home hot spots. Functional outdoor spaces

used for intimate gatherings or solitary moments of serenity are being

created with specialized flooring material, creative enclosures and

carefully chosen lighting to create an oasis experience just outside the

home.

COEUR D'ALENE LIVING LOCAL | 69
---
To get more use from them throughout the changing seasons, patio heaters have taken

many forms, including increasingly stylish and versatile fire pits, heat lamps and more.

Using infrared light, gas, wood-burning fires, propane, electricity and more, outdoor

spaces are more comfortable and common than before.

Natural influences

With technology being an essential component of working and staying connected for

many, more homes will reflect the desire to unplug throughout the day. Touches that

promote a reconnection to nature while staying close to home are becoming more

common, such as small balconies and terraces that make a breath of fresh air easily

accessible. Trending "glass curtains" allow a full opening of a space at any time.

Architectural technology is developing to invite more natural light from the sun, using

carefully chosen layouts, materials and a building's available space in an effort to reduce

the need for artificial lighting.

A focus on sustainability

To respond to changes in the environment, including climate change, environmental

regulations, and how and where people spend their time and resources, architecture is

adapting to increase sustainability.

Climate change continues to be a hot topic with many industries jumping on board to

support more sustainable practices. Architecture is no exception, with the demand for

carbon neutral buildings in both residential and commercial settings on the rise.

Carbon neutrality related to architecture refers to the intention to reduce the carbon

energy used by a building, starting with its construction and continuing through its use.

Using more environmentally friendly materials encourages a variety of materials to be

used within the home. Architects are incorporating sustainable innovation by adopting

new building technologies and new methods of designing environmentally friendly

structures. New strategies include green buildings created of a sustainable material

palette, designed to use local materials and reduce costs related to energy consumption

and transportation.

Minimalism

2021 is seeing designers and architects go back to basics, leaving behind large framing

and heavy detailing to focus back on the simpler, core elements of design. Supporting

the trend toward sustainability, minimalist design takes the essentials and leaves the

rest, with simplicity that uses modern, high-quality materials to promote efficient

heating and insulation.

Inside newer buildings and homes, expect to see more white interiors highlighted with

neutral black and gray tones.

Advanced stay-home amenities

Newer building designs are prioritizing the ability to do more while staying home, with

designated spaces to work and exercise. With restricted access to gyms and studios, the

implementation of home gyms is especially on the rise.

The gyms of 2021 aren't just a tucked away corner of a spare room or garage. Many

will focus on complete wellness—a space to truly prioritize health. This can look like

a complete exercise studio, a home sauna, or a meditation room with carefully chosen

lighting, foliage and décor to match.

70

Architecture continues to evolve alongside changes in the modern lifestyle. This year,

look for the top building trends that focus on values rooted in health, the environment,

and making the most of the space you call home.

| COEUR D'ALENE LIVING LOCAL
---
RESIDENTIAL . COMMERCIAL . VACATION.

YOUR 5-STAR

VACATION RENTAL PARTNERS

Serving Coeur d'Alene and Surrounding Areas

Cleaning - Staging - Re-Stocking

On Time and On Point Every Time

Complete Vacation Rental Management Services Available

208.660.0617 | www.mrscleancda.com | info@mrscleancda.com

COEUR D'ALENE LIVING LOCAL | 71
---
TO BUILD OR TO BUY

WHAT TO KNOW WHEN YOU ARE

LOOKING FOR A NEW HOME

by ABIGAIL THORPE

The current housing market is unprecedented

and fast, to put it mildly. If you're in the market

for a home in Northern Idaho or Eastern or

Western Washington, you've probably had personal

experience of how quickly the market moves, and how

fast expenses can add up. If you're wondering whether

you should build or buy, you're not alone. But there are

some key questions you should ask yourself before you

make the jump.

72

| COEUR D'ALENE LIVING LOCAL

Time, needs and budget in most cases are going to

determine whether you should build or buy. So, before

you make a decision, ask yourself, "What's my timeline?"

"What am I looking for?"and "What is my budget?" At

the end of the day, it's possible to find something that

will work for you, but if you have no idea of what you

really need, it's going to be a difficult process.

Should you build?

"The obvious benefit of building is that everything can

be customized to your liking," says Kristen Madden of

Century 21, Four Season Realty in Bonners Ferry, Idaho.
---
PROFESSIONAL. KIND. CUSTOMER FIRST.

Results that move you

Annette Davis/Realtor

208.771.3942

Annette@EmbraceRealtyGroup.com

3931 North Schreiber Way

Coeur d'Alene, ID 83815

208.660.9176

The Northwest's Leader In

Commercial & Residential Innovation.

• Home Theater Rooms

• Home Audio

• Networking/Wi-Fi

• Home Automation

• Pre-Wire

• Central Vacuum Systems

• Surveillance Cameras

Schedule an Appointment Today!

www.NetConstructCda.com |

F netconstructcda

COEUR D'ALENE LIVING LOCAL | 73
---
EVERYTHING

CAN BE

"It can be very difficult to find a pre-built home that actually

checks off all of the boxes in a buyer's wish list."

As a buyer, you're going to have to prioritize your needs

and wants, and unless you're building your own home (and

sometimes often then based on cost and availability), you're

going to have to settle on some things.

If you have very specific requirements, you're looking to

build an estate on a larger property, or you've inherited

some property and want to build, then building will

naturally be a good fit, explains Dennis Cunningham of

ActiveWest Development and Building in Coeur d'Alene,

Idaho. But be prepared to wait ... and pay.

"The most important question would be your timeline.

New builds are averaging two years start to finish based on

county backlogs and understaffing," says Jennifer Hawkins,

Managing Broker of the Key2See Team with Hawkins-Poe

Realty in Gig Harbor, Washington. "The other question

is budget. Due to COVID, building materials across the

board are massively inflated from closed borders and shutdown

plants."

Building is a commitment, it takes time, money and

patience, especially now with rising building costs, lack of

available contractors and subcontractors, and high market

demand. "We always want to make sure people simply

understand the time commitment," adds Hawkins. "It

really is like taking on another job. Partnering with and

interviewing several builders will help you understand if

it's a good fit."

Do your homework.

CUSTOMIZED

If you decide to build, make sure you do your homework.

Be prepared for it to cost more and take longer than you

expect—if you're looking to save money, building probably

isn't the best option (unless you already own your land or

TO YOUR LIKING.

are a licensed contractor and can do the work yourself).

74

| COEUR D'ALENE LIVING LOCAL
---
"Our goal is to make gardening accessible.

Whether that's sharing our knowledge, passing

on savings to our customers, or by simply

providing a space that inspires; it's our

promise to help you have your most

beautiful yard yet."

-Ben Christen

General Manager, New Leaf Nursery

Garden Store

The best keeps getting better!

Annuals - Veggies/Herbs - Perennials - Trees - Soil/Bark/Rock - Amendments & Fertilizers - Home & Garden Decor

12655 North Government Way, Hayden, ID | 208.762.4825 | www.newleafnurseryhayden.com | f NewLeafNurseryHayden

COEUR D'ALENE LIVING LOCAL | 75
---
"Usually, to go out and build new, it's going to take longer, it's probably

going to have some additional costs that you might not be aware of,"

explains Cunningham. Plus, if you're new to the market, it's going to be

especially difficult to find a contractor, subs and even an architect who's

willing to work with you or has the time.

That's where doing your homework comes in. Make sure you have

reliable, good experts to work with. Check out their references, their

licenses, their previous work and any reviews. In this market, you often

don't want to go with the first person available.

What about buying?

Well, you guessed it, this is a difficult market to purchase your dream

home as well. But it's possible to find a home—you'll just, most likely,

have to make concessions. "Most of the time the buyer has to prioritize

their desires and, unfortunately, must settle or sacrifice on some of

them," says Madden. "Benefits of buying a home include the fact that

it is already set up and hopefully move-in ready," she continues. This

typically means you won't have to get permits, install utilities or drill

for wells and septic.

"If you want what the majority wants, we can likely find it in a resale

with moderate enhancements you can make to personalize [the space],"

adds Hawkins. "However, if your specific design style or layout is not

common ... building may be your best bet!"

The benefits to buying a new or existing home are time and cost, but

you may have to sacrifice something on your wish list. With new builds,

however, there is a chance to determine some custom features—as

long as you get in early enough. If you purchase a new build before

construction, you could have the opportunity to determine things like

countertops, colors and more, explains Cunningham. A lot of builders

are willing to do semi-custom, but you need to contact the developer

before they even start construction to see if they have new builds

available with semi-custom options.

If you're considering an existing or older home, often the best question

to ask yourself is how are the bones of the house. It's much easier to

update and refresh things like paint color, cabinets and flooring than

to change a layout. If you find an older home with a sturdy structure

and potential at the right price, it might be worth considering making

some renovations to achieve your dream home instead of building

from scratch.

76

| COEUR D'ALENE LIVING LOCAL
---
Full-Service Countertops From Start To Finish

Custom Countertops • Residential & Commercial • Fabrication • Installation

Premium Stone Cambria, Dekton, Silestone & More!

Contact us for a free quote today | 208.930.0700 • 1515 Northwest Blvd., Coeur d'Alene, ID • VenturaStone.com/coeur-dalene

achieve

COEUR D'ALENE LIVING LOCAL | 77
---
find the right fit

FOR YOUR NEEDS AND BUDGET

A FEW THINGS TO CONSIDER WHEN SELECTING A CONTRACTOR

by Colin Anderson

For those wary of dipping their toes into a sizzling hot real estate market, improving your existing home can be a

nice alternative to getting into a bidding war for a new home. A new kitchen, bathroom, home office, outdoor patio

or deck can breathe fresh air into your home. There are plenty of contractors out there willing to do the work. Some

are excellent, others not so much. Whether it's a project big or small, it's important to do plenty of research before

hiring someone that will be making changes to your biggest investment.

Multiple Bids

While it can be tempting to just go with the first person you meet, you might end

up overpaying or with someone who might not be the right fit for your project.

A lot of factors go into a contractor's bid for a job like materials, time, crew, and

the quality of the finishes. While one professional might use cabinets from a big

box store, another might only use locally made products. You don't want to get

stuck overpaying for similar work, but if someone comes in quite lower than other

bids, that's a red flag as well. Get several bids, analyze them carefully, and go with

your gut.

Licensed, Bonded,

Insured

Like other professionals that need certifications, there are required licenses

contractors must have in order to run their business. Cities and counties vary in

the permitting process, but your contractor should be familiar with all permits

needed to begin work on your project. If a permit is missed and a building

inspector takes note of the project, it could have to be demolished if it's not up

to code—and you might also be stuck with a large fine. Make sure the contractor

carries insurance that covers themselves and any other workers who will be on

your property.

78

| COEUR D'ALENE LIVING LOCAL
---
www.LattmanGroup.com

208-664-0101

Peter@HardWorkingPeter.com

The most Hardworking and

Fun Agents around!

Serving North Idaho and

Eastern Washington for all

your real estate needs.

TK Custom Builders, LLC.

Let's make your dream a reality!

We are a highly detail-orientated company that strives

to deliver perfection in making your vision a reality.

Trevor Koberstein: 208.290.4413 | Austin Jouppe: 208.661.1711

Coeur d'Alene, ID | Tkcustombuilders@gmail.com | F

COEUR D'ALENE LIVING LOCAL | 79
---
Who is Doing the

Work?

Whether it's a few days, a week or a months-long project, whoever you hire

will be inside your home and interacting with you and your family for an

extended period of time. Will the contractor be working alone? Or do they

have a steady crew of employees who will accompany them? While you might

be comfortable with the contractor, will you be seeing a lot of sub-contractors

in and out of your home? And are you comfortable with that? Make sure the

contractor is clear about exactly who will be entering your home.

Previous Projects/

References

The gold standard for any business is to have a client give a recommendation

and referral to a trusted relative or friend. If you've had people in your life

recently complete a renovation, ask them about the experience and if they

would hire the contractor again. Have the contractor supply photos of jobs

they've recently done so you can see the finished work and that it's up to your

personal standards.

Contract

When it comes time to sign on the dotted line, how big of a hurry is the

contractor in to get started? Is there a reason they can start right away? Also,

be wary of anyone requiring a large down payment or insisting you pay cash.

If they don't offer a contract, walk away. It's important to have everything that

will be done on the job in writing, with pricing clearly laid out for all work

performed. The contract should include a schedule of tasks being performed,

confirmation of the business' address, and all licenses and permits needed for

the job.

Price vs. Quality

For some, price is no object, but for the majority of us, you want the best quality

materials, finishes and craftsmanship your budget will allow. Be upfront about

your budget during the bidding process. A good contractor will be honest when

it comes to wants and expectations but can also find cost-saving measures. If

they give you a quote, ask for a few ways they could cut costs without cutting too

many corners. If doing some of the demolition yourself allows you to upgrade

from laminate to hardwood, perhaps it's worth getting your hands dirty to save

a little extra to re-invest in your project.

80

| COEUR D'ALENE LIVING LOCAL
---
BUILDING CONNECTIONS

IN OUR COMMUNITY

TDSFIBER.COM | 1-855-259-8575

INTERNET | TV | PHONE

FOR HOME & BUSINESS

COEUR D'ALENE LIVING LOCAL | 81

TDS Fiber services not available in all areas. See website for details. TDS® is a registered trademark of Telephone and Data Systems, Inc. Copyright © 2021, TDS Telecommunications LLC, All Rights Reserved. 204974b/4-21/12083
---
THE NATION'S NEWEST SCENIC BYWAY

– WASHINGTON'S CASCADE LOOP

The Ultimate Summer Road Trip, Part I

By Marguerite Cleveland

With the weather warming up, thoughts are turning to summer vacations and what to do with the COVID-19 Pandemic

still holding on. A summer road trip is a great way to travel with plenty of outdoor activities and easier social distancing.

Washington's Cascade Loop is now the nation's newest scenic byway, and it is an epic journey taking you to coastal islands,

highlights of aviation history, the Cascade Mountains, gorgeous lakes and a plethora of charming small towns. This trip is a loop, so it is easy

to access whether you are beginning in Idaho or Washington. So, gas up your vacation vehicle and let's get going.

Your journey begins crossing on to Fidalgo Island and the charming town of Anacortes. Cute shops and restaurants abound. It is also a

gateway to the San Juan Islands. You can take a side trip by walking on a Washington state ferry to spend a day in Friday Harbor on San

Juan Island.

82

| COEUR D'ALENE LIVING LOCAL
---
THE STUNNING LANDSCAPE OVERLOOKING

THE PUGET SOUND OFFERS SOME INCREDIBLE

HIKES ON THE BLUFFS, BEACHES AND

THROUGH HISTORIC FARMLAND.

Whidbey Island

One of the highlights of this area is the Deception Pass bridge. It is a very

scenic drive and one of the most iconic in Washington. Once you cross

the bridge, take time to stop at Deception Pass State Park. Head to the

parking lot by the water, where you can get a great view of the bridge for

a photo opportunity. The park is on both sides of the bridge with some

great hikes.

Next head to the darling town of Coupeville, and make it your base

for a day or two. Stay at the Fort Casey Inn in the historic quarters,

which were built for Army officers before World War I. The cottages

are comfortably furnished while keeping their historic charm. They are

just a short walk to beaches, trails and a bird sanctuary. For a vintage

experience, plan to see a movie at the Blue Fox Drive-in Theater. There

is something about watching a movie under the stars.

If you have been watching CNN's "Stanley Tucci: Searching for Italy,"

this is the stop for you. The first episode focuses mainly on Neapolitan

Pizza and Enzo Coccia. Surprisingly, in Coupeville you can visit Ciao, an

Italian market and restaurant. Chef Mark Laska apprenticed under Enzo

Coccia and is certified by the Italian Minister of Agriculture to make

authentic Neapolitan Pizza. The pizza is good, but the cannoli are to die

for. Laska settled in Coupeville because of its proximity to the Ebey's

Landing National Historical Reserve and access to heritage farms. You

may not be able to go to Italy this summer, but you can replicate the

experience on Whidbey Island.

Take some time to explore the Ebey's Landing National Historical

Reserve. The stunning landscape overlooking the Puget Sound offers

some incredible hikes on the bluffs, beaches and through historic

farmland. Many of these heritage farms are seeing new life with young

families starting farming businesses.

Oak Harbor is a tiny hamlet with a one-block downtown area. The

Pacific Northwest Naval Air Museum tells the story of how this small

island town played an important role in World War II with the building

of the Naval Air Station and the PBY-5A Catalina aircraft, which was

one of the best search-and-rescue bombers of its time.

Langley is a cute waterfront town. My favorite site is the Whale Bell

Park overlooking the Saratoga Passage that has a giant bell. If you see a

whale, you ring the bell, letting everyone in town know there has been

a sighting. You can easily observe gray whales in the spring right from

shore. Orcas and humpbacks are seen throughout the year. It is exciting

to see that telltale spout. In town is the Langley Whale Center, where

you can get more information. Stop into Saltwater Fish House and

Oyster Bar for a great meal, or purchase road trip provisions from their

Seabiscuit bakery and small market.

COEUR D'ALENE LIVING LOCAL | 83
---
The Speci f ics

WHERE TO STAY

The Fort Casey Inn - FortCaseyInn.com

WHERE TO EAT

Ciao - Ciao.store

Saltwater Langley - SaltwaterLangley.com

First and Union Kitchen - FirstandUnionKitchen.com

WHAT TO DO

Blue Fox Drive-in Theater - BlueFoxDrivein.com

Ebey's Landing National Historical Reserve - NPS.gov/ebla

Boeing Future of Flight - BoeingFutureofFlight.com

Flying Heritage & Combat Armor Museum - FlyingHeritage.org

Langley Whale Center - Facebook.com/LangleyWhaleCenter

Pacific Northwest Naval Air Museum - PNWNAM.org

Take the ferry from Clinton to Mukilteo. Stretch your

legs at the Mukilteo Lighthouse Park and check out

some of the waterfront restaurants.

Everett

Much of the history of aerospace technology took

place in Everett, the home of Boeing, a pioneer in

aviation and the birthplace of the 747. The Boeing

Future of Flight will take you on a tour of the

factory—the largest building in the world by volume.

It is fascinating seeing these behemoth planes come

to life. Not far away is the Flying Heritage & Combat

Armor Museum, where you can see a vintage aircraft

from the earliest days of aviation, as well as a great

collection of tanks.

Snohomish

This darling historic town is known as the "Antique

Capital of the Northwest." There are more than 175

antique dealers all within a six-block area. Downtown

is also bustling with visitors checking out the

boutiques and great local restaurants. There are also

six wine tasting rooms all within walking distance of

each other. Take some time to walk along the river

and come back up into the residential area filled with

vintage Victorian and the PNW staple—the Craftsman-style homes.

Make sure to have brunch at the First and Union Kitchen, which also

has a great bakery onsite. The food is Pacific Northwest style, and you

will usually find wild edible mushrooms foraged from local forests.

Grab some bakery treats for snacks on your road trip. They have a lovely

courtyard you can eat in if you are lucky enough to snag a seat. Arrive

early, as it gets terribly busy on weekends.

One of the nice things about a road trip is you can pack more convenience

items in your car. Some road trip essentials include a cooler and picnic

basket with drinks and snacks. Pack lunches for the more isolated legs

of the trip. To reduce plastic waste, bring a refillable water bottle for

each person. Portable chairs are nice to have, especially for stargazing. A

coated tablecloth is essential for covering picnic tables, and you can wipe

off any messes. Don't forget trash bags, as many places require you to pack

your trash out. Plan for the extreme weather changes along the Cascade

Loop. The mountain regions and the coastline can be chilly, even in the

summer while Eastern Washington receives extreme temperature highs.

For more information on the Cascade Loop, visit CascadeLoop.com. You

can order a guide to the Cascade Loop, and the website has maps and

ideas of where to stay, what to do and where to eat. The individual towns

and destinations also have their own sites with more detailed information

listed on the aforementioned website.

84

| COEUR D'ALENE LIVING LOCAL
---
SIZZLE

Eats

PRESENTED BY

www.RealNorthwestLiving.com

RECIPES

LOCAL FLAVOR

COEUR D'ALENE LIVING LOCAL | 85 85
---
PAN-SEARED HALIBUT

WITH WHITE WINE MEDITERRANEAN SAUCE

OVER HERBED CAULI RICE

Recipe Courtesy of Tina VanDenHeuvel, NTP

You can follow Tina @madebetterforyou on Instagram

INGREDIENTS:

For the White Wine Mediterranean Sauce:

3 tbs. avocado oil

1/4 tsp. crushed red pepper flakes

3 large cloves garlic, finely minced

3 cups cherry tomatoes, halved

1/2 cup dry white wine

1/4 cup kalamata olives, pitted and sliced in half

1/2 cup fresh basil, finely chopped

2 tbsp. fresh lemon juice

1 tbsp. fresh lemon zest

1/2 tsp. Himalayan salt

1/4 tsp. fresh ground black pepper

For the Halibut:

1 tbsp. avocado oil

2 tbsp. butter

1 1/2 lbs. fresh halibut, cut into 4 fillets

salt and pepper to taste

For the Cauli Rice:

2 tbsp. olive oil

4 cups frozen cauliflower rice, thawed

2 tbsp. Italian seasoning

1/2 tsp. Himalayan salt

METHOD:

For the Cauli Rice:

• In a medium saucepan over medium heat, add olive oil. Add

cauliflower rice and Italian seasoning and salt. Stir until cauliflower

rice is cooked through, about 7 minutes. Remove pan from heat and

set aside.

For the White Wine Mediterranean Sauce:

• Heat oil in a large sauté pan over medium heat. Add crushed red

pepper flakes and garlic, and sauté for 1 minute, or until garlic is

fragrant. Add the cherry tomatoes and cook, stirring occasionally, until

they're soft and blistering, but still hold their shape, 9 to 12 minutes.

• Add in the white wine, stir, and allow the mixture to come to a gentle

simmer. Reduce heat to low.

• Stir in the kalamata olives, basil, lemon juice, lemon zest, salt and

pepper, and cook for 4 minutes. Remove pan from heat and set aside.

For the Halibut:

• Heat oil and butter in a medium sauté pan over medium heat. Pat the

halibut dry with paper towels. Then season both sides of the halibut

with salt and pepper.

• Place halibut in the oil and butter and cook until golden brown, about

4 minutes. Carefully flip the halibut over and continue cooking for

another 4 to 5 minutes, or until it's cooked through.

To Serve:

• Place 1 cup cauliflower rice in the center of the serving plate, place a

slice of halibut on top of the cauliflower and pour Mediterranean sauce

over the halibut. Repeat for additional servings. (This recipe serves 4.)

86

| COEUR D'ALENE LIVING LOCAL
---
Dine with us or Call for Takeout

Moon Time

1602 E. Sherman Ave. #116

Coeur d'Alene, Idaho

208.667.2331 | WeDontHaveOne.com

the cafe

Treat yourself!

DRINKS · PASTRIES · BREAD

THE KITCHEN - THE CLASSES - THE WINE - THE DELI - THE CAFE - THE EXPERIENCE

2129 Main Street at Riverstone | 208.277.4116 | CulinaryStone.com

COEUR D'ALENE LIVING LOCAL | 87
---
SWEET LOU'S RESTAURANT

AND TAP HOUSE

American fare with a twist. Ribs (pork or bison) smoked in house. Unique

burger menu featuring burgers made from ground top sirloin, topped with

pulled pork, hand-battered onion rings or jalapenos. 32 beers on tap to

enjoy while watching the game on one of their 24, 4K TVs.

601 E. Front St., Ste. 101 | Coeur d'Alene

208.667.1170 | SweetLousIdaho.com

f SweetLousCDA

Coeur d'Alene Favorite Neighborhood Pub

By Jillian Chandler

Offering great food at a reasonable price, paired with

excellent service and a familiar face, has always been

the goal at Moon Time in Coeur d'Alene. And guests

get what they have come to expect.

From the beginning, it has provided the community a warm

and comfortable atmosphere where guests feel at home

and are provided an exceptional experience—every time.

Twenty-five years later, their philosophy has never wavered,

and Moon Time continues to provide their guests with

familiar faces, great service, a comfortable atmosphere, and

great food and drink at a reasonable price.

The menu, from the start, has featured unique and upscale

pub food, bringing a variety of items from many different

cultures together, paired with a carefully selected 19 beer

handles and a wide variety of wines, which complement the

food. From the Grilled Pork Tacos to the Mediterranean

Lamb Burger and famous Roasted Corn Pasta, their food is

sure to satisfy.

When in Coeur d'Alene and looking for a great neighborhood

pub, pull up a chair at Moon Time, where the staff is ready to

serve you the best!

Moon Time

1602 East Sherman Avenue #116

Coeur d'Alene, Idaho

208.667.2331

WeDontHaveOne.com

SEASONS OF COEUR D'ALENE

At Seasons of Coeur d'Alene Fresh Grill, you will find a menu that is

delicious and always fresh! Whether you choose to dine in the intimate

dining room, at the vibrant bar or quiet fireplace lounge, it's sure to be

an unforgettable dining experience. They also offer banquet and meeting

facilities. You can find Seasons in Downtown Coeur d'Alene just one block

off Sherman.

209 Lakeside Ave. | Coeur d'Alene

208.664.8008 | SeasonsofCdA.com

MAX AT MIRABEAU

Join MAX at Mirabeau for an unforgettable experience. You'll be treated

to eclectic cuisine, an award-winning menu with more than 100 items, a

wine list boasting more than 500 labels and 75 eclectic cocktails—a perfect

match for everything on the menu. Enjoy two happy hours daily, a-la-carte

brunch featuring multiple benedicts, mimosas and the area's best Bloody

Mary Bar—starting at only $5.90 per person! There's live music on Friday

and Saturday evenings, and late-night dining with a full menu is offered

until close. Open daily at 6am.

1100 N. Sullivan Rd. | Spokane Valley

509.922.6252 | MAXatMirabeau.com

88

| COEUR D'ALENE LIVING LOCAL
---
FILL YOUR FREEZER TODAY!

Learn more about our packages and specials by visiting our website or speaking with a specialist.

WHOLE, HALVES AND QUARTER CUTS OF YOUR FAVORITE BEEF AND PORK OPTIONS ARE AVAILABLE TODAY!

Stop in for all of your

home cooking essentials

from Wood Chips for Home

Smokers, Select Sauces,

Rubs and everything in

between! Large selection

of American-Made Smokers,

Grills and Locally Made Fire Pits.

Tim's Special Cut Meats, Inc

.

Come see us at our POST FALLS LOCATION!

525 N. Graffiti St. • Post Falls, ID 83854 • 208.772.3327

YOUR OLD-FASHION BUTCHER SHOP...

Sweet Lou's Restaurant & Bar

Hwy 95 N Ponderay | 208.263.1381

Come hungry, Stay late, Eat well!

www.sweetlousidaho.com

Sweet Lou's Restaurant & TAP HOUSE

601 Front Ave. 208.667.1170 | DOWNTOWN Cda

COEUR D'ALENE LIVING LOCAL | 89
---
THE PORCH PUBLIC HOUSE

A beautiful golf-course view without the cost of joining the

country club. They offer a full menu of sandwiches, salads,

soups and specialties prepared from scratch without the

high price of fine dining, and the region's finest cocktails,

microbrews and wines to accompany your meal. Feel at home

in the comfortable pub-style dining room or the fantastic

outdoor dining area. Open daily at 11am year round.

1658 E. Miles Ave. | Hayden Lake

208.772.7711 | WeDontHaveOne.com

MOON TIME

Serving some of the best food around in a comfortable pub-style

atmosphere. The menu offers soups, sandwiches, pastas, salads

and other specialties prepared from scratch daily, along with a

fantastic selection of micro-brewed beers and fine wines by the

glass and bottle. Open daily at 11am, the kitchen is open late

every night. Be sure to stop in Thursday night for live music

featuring national and local artists. For more information

including photos, menu, specials and directions, make sure to

visit their website.

1602 E. Sherman Ave. | Coeur d'Alene

208.667.2331 | WeDontHaveOne.com

FISHERMAN'S MARKET

A local favorite for an array of reasons, including the friendly

staff, unbeatable atmosphere and phenomenal food. Find fresh

fish at Fisherman's on the market side, while the grill offers everything

from fish and chips, specialty tartars, fish tacos, salads,

steamers, catfish, oyster po' boys and more. Check out the sushi

bar and the offerings of beer, wine and sake.

215 W. Kathleen Ave. | Coeur d'Alene

208.664.4800 | FishermansMarketCdA.com

VINE & OLIVE EATERY

AND WINE BAR

Guests will be treated to European-inspired small plates using

simple, seasonal ingredients for simply good food served with

soul, executed with Northwest flair. Choose from the full wine

bar, which serves thoughtful wines by the glass and eight local

brews on tap, to complement your meal. Voted Best of 2019

Wine Bar and Girls Night Out.

2037 N. Main St. | Coeur d'Alene

208.758.7770 | VineAndOliveCdA.com

OPEN FOR DINNER SERVICE.

CALL FOR RESERVATIONS!

208.265.2000

41SouthSandpoint.com

DELICIOUS FOOD & FUN COCKTAILS

41 Lakeshore Drive, Sagle, ID

Next to the Lodge at Sandpoint

FORTY-ONE SOUTH

A beautiful waterfront, fine-dining restaurant in a romantic

lodge setting overlooking Lake Pend Oreille. Whether it

is summer on the patio or cozying up to the fireplace in the

winter, Forty-One South's spectacular sunsets, innovative

cuisine, full bar and extensive wine list are sure to make it a

memorable night out. A variety of delicious food year-round.

Reservations recommended.

41 Lakeshore Dr. | Sagle

208.265.2000 | 41SouthSandpoint.com

90

| COEUR D'ALENE LIVING LOCAL
---
MOONDOLLARS BISTRO

Moondollars Bistro is known for their burgers,

accompanied by scratch-made bread and soups. They

uses only fresh ingredients, which are the backbone

of this customer favorite. With a comfortable, friendly

atmosphere, awesome food, great service, huge patio

and full bar there is always something to keep customers

coming back for more.

5416 W. Village Blvd. | Rathdrum

208.687.5396 | MoondollarsBistro.com

Shopping. Dining. Take-Out.

ANGELO'S RISTORANTE

Angelo's is the local favorite with a taste of homemade,

authentic Italian cuisine! Join them for a fresh, organic,

hand-crafted menu of veal, steak, chicken, seafood, pasta

and gluten-free offerings. They also offer an extensive wine

selection and warm romantic décor. Catering and private

cooking classes available with Chef Angelo.

846 N. Fourth St. | Coeur d'Alene

208.765.2850 | AngelosRistorante.net

MONARCH RAMEN +

NOODLE HOUSE

Monarch Ramen + Noodle House in Coeur d'Alene's

midtown opened in fall 2019 to eager diners. Specializing

in ramen and noodle dishes, as well as a variety of smallplate

options, guests will be treated to incredible cuisine

paired with great brews and service.

1401 N. Fourth St.| Coeur d'Alene

208.966.4230 | MonarchNoodles.com

TIM'S SPECIAL CUT MEATS

Tim's Special Cut Meats is your perfect, old-fashioned

butcher shop. The friendly staff is ready to help you pick out

the perfect cut. Tim's carries only the finest natural meats

and also handles custom orders, with an extensive line

of house-made products from pickled garlic to specialty

sauces, marinades, rubs and salsas. Mobile butchering and

wild game processing are also available.

525 N. Graffiti St. | Post Falls

208.772.3327 | fTimsSpecialCutMeats

TimsSpecialCutMeats.com

Spring is here!

Be a chef at home or dine with us!

• Fresh Fish Market

• Smoked Fish

• 12 different kinds of fish & chips

EAT FRESH

EAT LOCAL

208.664.4800

Tues-Sat 11am-8pm

215 W. Kathleen, Coeur d'Alene

Locally Owned & Operated

t f

COEUR D'ALENE LIVING LOCAL | 91
---
coeur d'alene

COMMUNITY EVENTS

Happy Mother's

Day!

Congrats,

Class of 2020!

SEPTEMBER 2020

What's happening

in May?

92

| COEUR D'ALENE LIVING LOCAL
---
RACE THE

JOEx

x

JET BOATS RETURN TO ACTION

BY COLIN ANDERSON

While the shadowy St. Joe River is more known for its

boating, floating and fishing opportunities, it will soon

play host to some of the fastest and loudest boats you'll

likely ever see. Race the Joe is back on again this spring.

While not an officially sanctioned World Championship Jet Boat Race

as it's been in the past, due to international travel restrictions, racers

from all over the region are excited to put on a show and compete

once again.

Race the Joe will take place May 21 through May 23, with the town

of St. Maries again hosting the jet boat race teams. You can see these

unique, lightweight, ultra-fast boats up close at the Show and Shine,

which runs from 6 to 8pm on Friday evening in downtown. Drivers

are on hand to answer your questions, and there will be food, adult

beverages and race memorabilia for purchase.

The jet engines will start revving up at 10am Saturday morning. The

race takes off from just outside of St. Maries, and racers will navigate

hairpin turns, rapids and floating debris as each looks to be the fastest

to Calder, more than 20 miles upriver from the start. After the first leg

is completed by all competitors, the boats will turn around and race

back to the starting line. This happens again in the afternoon and twice

more on Sunday. The team in each class with the fastest cumulative

time is declared the winner.

With the course covering a long stretch of river, there are plenty of pull

outs for spectators to stop and enjoy. In fact, you can move vantage

points all throughout the weekend in order to get different views of

the race. Organizers ask that all spectators remain at least 50-feet back

from the water's edge for everyone's safety.

Free programs are available at the Idaho Forest Landing, which also is

a great spot to watch the action. Food and beverages are also available

for purchase, or feel free to bring your cooler and portable barbecue

and enjoy a weekend out on the river. For additional information,

search Race the Joe on Facebook.

COEUR D'ALENE LIVING LOCAL | 93
---
FUN & ENTERTAINMENT

May

FOR MORE EVENTS, VISIT CDALIVINGLOCAL.COM.

O8

8,12

& ONGOING

19

NIGHT LIGHTS

Grab some blankets and chairs and head out with family and friends for a

magical experience at the Stateline Speedway on May 8. Night Lights Events is

hosting a lantern release in the stadium, and attendees can release decorated

lanterns into the night sky with messages, wishes, hopes and dreams among

thousands of other lanterns making their way up, evoking a sense of renewal

and inspiration. It will be a profound, memorable experience you'll want

to return to each and every year. S'more kits and portable campfire pits are

available for purchase separately. Get your tickets now at NightLightsEvent.

com/Tour, as they increase in price the day of the event.

COEUR D'ALENE FARMERS MARKET

The summer market is here! Fresh produce and great local vendors are just

around the corner. The annual Saturday and Wednesday farmers market is

starting this month, with over 100 producers and artisans offering everything

from fresh, locally grown produce to crafts, baked goods, meats, cheeses and

more. The market also features vegetables plants, flowers and native plants

for sale for those looking to grow their own fresh produce and goods. While

you wander the market, enjoy live music and food vendors with a selection of

goodies. The market has been going since 1986 and is a favorite weekly event

anticipated by much of the community. Saturday market starts in Hayden May

8, and is every Saturday from 9am to 1:30pm; Wednesday market starts May

12 in downtown Coeur d'Alene, weekly from 4 to 7pm. For additional details,

visit KootenaiFarmersMarkets.org.

SPRING PARTY 2021

Join the Boys & Girls Club of Kootenai County for their 2021 Spring Party

on Wednesday, May 19, at the Hagadone Event Center. One of the most

exciting events of the year, the exclusive event is a fun evening of cocktails and

light appetizers, and mingling with other Boys & Girls Club supporters. The

purpose of the Spring Party is to raise awareness of the programs provided by

the Boys & Girls Club, as well as raise money to provide summer scholarships

for local youth, ensuring all kids have a safe place to belong all summer long.

To purchase tickets, visit BGCKootenai.SchoolAuction.net/springparty21.

* Please note, as of press time, these events were still scheduled to take place

as planned. Due to the current health crisis, there is the possibility that event

schedules may change or events canceled completely. Be sure to visit event

websites to stay up to date with current information.

SUBMIT YOUR EVENTS ONLINE!

Want your event to appear on the largest event site in the Northwest? Submit your

events to us online at Events.DirectoryNorthwest.com 24/7, 365 days a year!

94

| COEUR D'ALENE LIVING LOCAL
---
with Dr. Alan Wolfelt

Hospice of North Idaho in Coeur d'Alene will be hosting two special workshops for community

members and professionals. Dr. Alan Wolfelt, author, educator, and grief counselor of

international reputation, will be the presenter of these programs.

Please register at www.hospicewinetaste.org/news

or by calling (208) 772-7994

MAY 27, 2021

6:30 PM - 8:30 PM

EXPLORING DEATH, GRIEF AND MOURNING:

This compassionate program will be helpful

to anyone who is experiencing grief in

their lives, while learning how to support

themselves and our community.

SUGGESTED $10 DONATION

MAY 28, 2021

9:00 AM - 3:30 PM

EXPLORING THE SPECIAL FEATURES OF

SUDDEN DEATH, SUICIDE AND TRAUMA LOSS:

Gain clinical skills to address the special

features of grief regarding sudden death and

traumatic loss at this in person event.

$150 - 5 CE CREDITS

These workshops are made possible by Schhneidmiller Family Foundation and the Coplin Family Fund.

COEUR D'ALENE LIVING LOCAL | 95
---
Where your office can feel like a

WEEKEND GETAWAY!

PROFESSIONAL BUILDING

Contact Paul Bielec for your tour today!

• 40,000+ SQ. FT. BUILDING

• VARIOUS OFFICE SIZES

NOW LEASING!

• OPEN SEATING AND GAZEBO BY THE RIVER

• LARGE, SURROUNDING PRIVATE PARKING LOT

• 24-HOUR SECURE BUILDING

• SPECTRUM HIGH SPEED INTERNET

• CONFERENCE ROOMS

208.699.9000 | 13403 N. Government Way, Hayden, ID 83835

WE ARE ANNOUNCING NOW!

Check our website and social media frequently to see who is

coming this year, or sign up for our e-newsletter!

THE FESTIVAL AT SANDPOINT ~ JULY 29 - AUGUST 8, 2021

TICKETS AVAILABLE NOW!

f | www.FestivalAtSandpoint.com | 208.265.4554 | info@festivalatsandpoint.com

96

| COEUR D'ALENE LIVING LOCAL
---
www.VixenAndTod.com • 208.518.1346 • 32 W Honeysuckle Ave., Hayden, ID

BRUNCH

AND

MIMOSAS

Starting

MOTHER'S DAY!

Sundays @ 10:30

Bottomless Mimosas

Brunch Boards

All your brunch favorites

served made to share.

We're not serious, but we seriously like wine.

Wine & Craft Beer

Snacks & Appetizers

Flatbread Pizzas

Dessert

Fire Pits & Patio

Wine Club

1621 E Sherman Ave • CDA

M-Th 3-9 • Fri/Sat 3-10 • Sunday 3-8

COEUR D'ALENE LIVING LOCAL | 97
---
AWARD-WINNING TEAM OF

PROFESSIONALS.

CoolSculpting® is FDA-cleared to treat visible fat bulges

in 9 areas of the body. Some common side effects

include temporary numbness, discomfort and swelling.

Discover the power of deciding for yourself. In a world where you're

constantly being told how to look and how to feel if you don't look

that way, nothing is more powerful than getting to decide for yourself

what beauty means. Signature Aesthetics works with you to make

your vision of beauty a reality, from small touch-ups to life-altering

improvements. Call or visit us today for a personal consultation to

determine how we can bring out the beauty you see in yourself.

98

102 S 1st Avenue Suite 202

Sandpoint, ID 83864

| COEUR D'ALENE LIVING LOCAL

208.627.6869

SignatureAesthetics.com

1130 W Prairie Avenue

Coeur d'Alene, ID 83815
---
Free Home Search

All homes, all companies at www.BrendaBurkGroup.com

$1,050,000 | Coeur d'Alene, Idaho

MOTIVATED SELLER, PRICE REDUCED, BRING OFFERS!

Remarkable mountaintop home on 10 acres! This

immaculate 4 bed 3.5 bath home is surrounded by

"Million Dollar Views'' with endless mountain views,

Spokane River, Newman Lake & Hauser Lake. 3 story

home with a large 6 car garage features a walkout

basement perfect for in-law suite ready to add a

kitchen with 1 bedroom 1 bathroom & a living room.

Main level offers an open kitchen with island, new

stainless steel appliances & a large pantry. Spacious

master suite with private bathroom featuring a

relaxing jetted tub. 3rd floor with 2 large bedrooms &

a full bathroom. Many updates throughout the house

including interior paint & flooring, new windows,

updated bathrooms & more!

$140,000 | Post Falls, Idaho

RARE COMMERICAL CONDO OPPORTUNITY!

Stateline Garage Villas is now available. Desirable Post

Falls location just off I-90 with easy access to Spokane,

Coeur d'Alene and all surrounding areas! This brand

new complex is fully fenced with one gated entrance

and a secure exit gate and features two common

bathrooms, one with shower. This 18x40 unit offers

a 14x14 door pre-wired for opener to be installed at

buyers expense if desired, man door, 2 8' LED lights

on each side, 50 amp RV hookup and 7 110 outlets.

All units have gas plumbed to them and are pre-wired

to install your own heater, ceiling is vapor barrier,

exterior walls are sheeted and insulated. Just a few

units left, don't miss this opportunity! Other sizes

are available.

$2,450,000 | Kingston, Idaho

Placed right in the middle of grand forests, this is

a home for every leisurely activity and for every

conceivable guest. Isolation and privacy awaits you!

Enjoy the gated log cabin lifestyle at the lodge at 122

Makridge Lane in the low populated town of Kingston,

ID. Whether you use it for vacation, an Airbnb or live in

it full-time this beauty that sleeps 28 guests needs to

be experienced. Climb the rock wall, play basketball,

ski mountain virtually next door, ATV riding and all on

luscious 9 acres, then relax with a sweet nighttime

elixir at the bar. Entertain your friends and family

in one of two dens, each equipped with a fireplace.

Shoot pool in the loft, or else steam out your worries

in the dry sauna. For seclusion and peace of mind,

here is Makridge Lane.

$1,000,000 | Harrison, Idaho

Stunning Lake Coeur d'Alene and Carlin Bay views

from every room! This 3+ bedroom 2 bathroom home

has over 3,000 sq ft, beautiful gas fireplace in the

living room, kitchen with island and pantry, oversized

master suite with large walk-in closet and spacious

bathroom, expansive covered deck and deck access

from all rooms. Make this home your dream home,

or a rental home for income with great rental history!

Close to Carlin Marina, boat slips, public boat launch

and beach.

$400,000 | Hayden, Idaho

Rare 5 acre parcel off E. Hayden Lake Rd! This beautiful

treed parcel backs up to 39 acres of waterfront forest

land and is ready for you to build your dream home!

Enjoy being moments to Hayden Lake and an easy

commute to Hayden, Coeur d'Alene and surrounding

areas. Possible use of a shared well producing 30 GPM

is negotiable. Don't miss this opportunity to own your

own slice of North Idaho!

$725,000 | Kingston, Idaho

6 fantastic lots tucked away in the pines totaling just

under 15 acres! 3 lots sit on top with stunning views

west of the valley. Great development opportunity or

build your dream home and enjoy the remainder of

the acreage for your own private retreat. Electricity

is in and there are multiple options for water. Option

to purchase individual lots may be available. Come

enjoy all the wildlife you'll see from your own slice of

North Idaho.

$1,150,000 | Coeur d'Alene, Idaho

Highly coveted location. This stunning Silver Beach Home is merely 5 minutes to the charming downtown of

Coeur d'Alene, Idaho. This custom coastal style home features 3 bed/3 bath, an oversized garage, open chef's

kitchen with a gas stove and an immaculate spacious interior. Upon entering the home you will enjoy the expanse

of windows and will be struck by the bright and cozy layout with views, views, views of Lake Coeur d'Alene. The

top level is a private master suite sanctuary to nestle in the incredible setting of sky, lake and beautiful mountains

surrounding a 180° view. Outside you have oversized maintenance free decks with a cozy fire pit to entertain with

both covered and open areas. A rare large yard with open space on both sides and behind the house. Walking

distance to the lake and a private dock. Enjoy biking or walking on Centennial Trail. This can be your personal

dream home or inherit the ratings of a highly rated Superhost Airbnb, the home is being sold turnkey, complete

with perfectly matched furnishings and décor.

Proudly Selling North Idaho & Eastern Washington

208.818.3668 | Brenda@BrendaBurk.com

COEUR D'ALENE LIVING LOCAL | 99
---
Coeur d , Alene,

we made it!

THE LEADER IN TRUST

CREATING CLIENTS FOR LIFE, THROUGH EDUCATION AND TRUST

At Home Trust, we take pride in working closely with our clients on a local level and learning

what's most important to you on your new home loan financing journey. Whether it's buying

your new dream home, taking cash out with a refinance, or simply lowering your monthly

payment, we have a local team here to help 7 days a week.

AARON PAGE | SR. LOAN ORIGINATOR

NMLS #1106524

421 E Lakeside Ave #102, Coeur d'Alene, ID

Cell: 208.219.1988

aaron@hometrustloans.com

100

| COEUR D'ALENE LIVING LOCAL

HOMETRUSTLOANS.COM