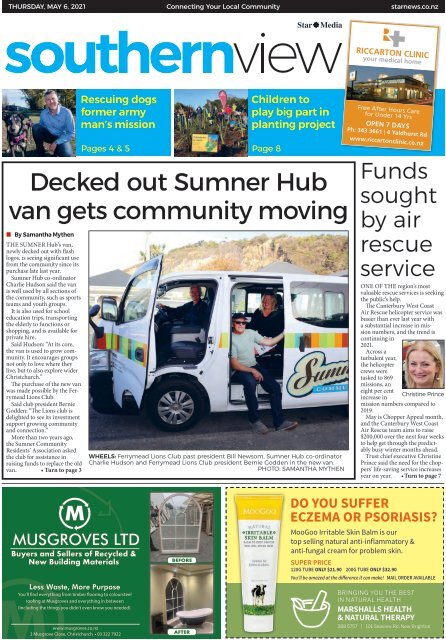 Southern View: May 06, 2021
Do you know the secret to free website traffic?
Use this trick to increase the number of new potential customers.
THURSDAY, MAY 6, 2021

Connecting Your Local Community

starnews.co.nz

Rescuing dogs

former army

man's mission

Children to

play big part in

planting project

Free After Hours Care

for Under 14 Yrs

OPEN 7 DAYS

Ph: 343 3661 | 4 Yaldhurst Rd

Pages 4 & 5

Page 8

Decked out Sumner Hub

van gets community moving

• By Samantha Mythen

THE SUMNER Hub's van,

newly decked out with flash

logos, is seeing significant use

from the community since its

purchase late last year.

Sumner Hub co-ordinator

Charlie Hudson said the van

is well used by all sections of

the community, such as sports

teams and youth groups.

It is also used for school

education trips, transporting

the elderly to functions or

shopping, and is available for

private hire.

Said Hudson: "At its core,

the van is used to grow community.

It encourages groups

not only to love where they

live, but to also explore wider

Christchurch."

The purchase of the new van

was made possible by the Ferrymead

Lions Club.

Said club president Bernie

Godden: "The Lions club is

delighted to see its investment

support growing community

and connection."

More than two years ago,

the Sumner Community

Residents' Association asked

the club for assistance in

raising funds to replace the old

van. • Turn to page 3

WHEELS: Ferrymead Lions Club past president Bill Newsom, Sumner Hub co-ordinator

Charlie Hudson and Ferrymead Lions Club president Bernie Godden in the new van.

PHOTO: SAMANTHA MYTHEN

www.riccartonclinic.co.nz

Funds

sought

by air

rescue

service

ONE OF THE region's most

valuable rescue services is seeking

the public's help.

The Canterbury West Coast

Air Rescue helicopter service was

busier than ever last year with

a substantial increase in mission

numbers, and the trend is

continuing in

2021.

Across a

turbulent year,

the helicopter

crews were

tasked to 869

missions, an

eight per cent

Christine Prince

increase in

mission numbers compared to

2019.

May is Chopper Appeal month,

and the Canterbury West Coast

Air Rescue team aims to raise

$200,000 over the next four weeks

to help get through the predictably

busy winter months ahead.

Trust chief executive Christine

Prince said the need for the choppers'

life-saving service increases

year on year. • Turn to page 7

MUSGROVES LTD

Buyers and Sellers of Recycled &

New Building Materials

Less Waste, More Purpose

You'll find everything from timber flooring to coloursteel

roofing at Musgroves and everything in between

(including the things you didn't even know you needed).

www.musgroves.co.nz

3 Musgrove Close, Christchurch • 03 322 7922

before

after

Do You Suffer

eczema or PSoriaSiS?

MooGoo Irritable Skin Balm is our

top selling natural anti-inflammatory &

anti-fungal cream for problem skin.

super price

120g tube oNLY $21.90 200g tube oNLY $32.90

You'll be amazed at the difference it can make! MAiL OrDer AVAiLAbLe

Bringing You The BesT

in naTural healTh

marSHaLLS HeaLTH

& NaTuraL THeraPY

388 5757 | 101 seaview rd, new Brighton
---
2 Thursday May 6 2021

Latest Canterbury news at starnews.co.nz

SOUTHERN VIEW

GENERAL INQUIRIES Ph 379 7100

CLASSIFIED ADVERTISING Ph 379 1100

Star Media, a division of Allied Press Ltd

PO Box 1467, Christchurch

starmedia.kiwi

NEWS

Bea Gooding

Ph: 021 911 576

bea.gooding@starmedia.kiwi

ADVERTISING

Mark Sinclair

Ph: 364 7461

mark.sinclair@starmedia.kiwi

Your local community news

delivered to 21,586 homes

within The Star each week.

Spreydon • Hoon Hay • Hillmorton • Cracroft

Cashmere • St Martins • Somerfield

Sydenham • Addington • Waltham • Opawa

Beckenham • Huntsbury • Woolston

what's on

this week

​JP Clinics

Thursday, 10.30am-1.30pm, at

Spreydon, Tuesday, 10am-1pm, at

Halswell and South

Halswell, Linwood, South and

Spreydon libraries

A justice of the peace will be available

to members of the community

to witness signatures and documents,

certify document copies, hear oaths,

declarations, affidavits or affirmations

as well as sign citizenship, sponsorship

or rates rebates applications.

Free service.

Knit 'n' Yarn

Thursday, 1-3pm, at Halswell, 1.30-

3.30pm, at South

Halswell and South libraries

Take your knitting, crochet, stitching

or any other handcraft and enjoy

the company of others. Share skills

and be inspired.

Mah-Jong

Thursday, 1-3.30pm

60 Vincent Pl, Opawa

If you are interested in playing

Mah-Jong, go along whether you are

a beginner or an advanced player.

Phone Noel at 322 8636 for more

information.

Rotary Market

Sunday, 8.30am-12.30pm

Woolston Club, 43 Hargood St

A variety of stalls will be available.

Every Sunday. For site inquiries,

phone Vance at 022 382 0086.

English Conversation Club, Te Hāpua: Halswell Centre, Monday

9.30-10.30am. Go along if you want to practice and improve your English

conversation skills in a friendly and relaxed setting. Free, no bookings

required. ​

Toddlertimes

Monday, 10.30-11am

Spreydon Library

Meet others in the community

when you and your pre-schooler go

along for Toddler Times. Join in for

interactive stories, songs and sensory

items. Free, no bookings required.

Scrabble

Monday, 2-4pm

Old Stone House, Shalamar Drive,

Cracroft

Go along for a game with a friendly

and social group. If you do not know

how to play, they will teach you. $2.

Phone Anne at 338 7366.

Risingholme Singers Choir

Monday, 7.30-9.30pm

Risingholme Theatre, 99 Hawford Rd,

Opawa

If you love singing, go along and

join the friendly choir. Reading music

is an advantage but not essential. All

welcome Phone Jill at 388 3235 for

more information.

Technology Help Drop-In

Sessions

Tuesday, 2-3pm

Te Hāpua: Halswell Centre

Need help using your computer,

smartphone, or tablet? Take your

device to the drop-in sessions for help

with general computer and internet

queries. Free, no bookings required.

Tai Chi: Meditation in Motion

Tuesday and Friday, 7-8.30pm

St Anne's School hall, 739 Ferry Rd

Tai Chi is a low impact mind and

body exercise known for its many

physical and mental health benefits.

First class is free. Phone Frances on

027 698 0057 for more information.

Sign up to a contract today for

Special fixed LPG gas prices,

12 months free rental

and Flybuys!

Call us today to find out more!

0800 4 ELGAS 0800 435 427

New Zealand
---
SOUTHERN VIEW Latest Canterbury news at starnews.co.nz

Thursday May 6 2021 3

115 landings in six weeks

on new hospital helipad

• From page 1

"From Saturday, May 1,

to Monday, May 3, the crew

responded to nine missions

across the region, including

cardiac, maternity, several

inter-hospital transfers and

accidents. We anticipate

mission numbers will steadily

increase as we head into

winter," she said.

"Our service watches over

the lives of more than 600,000

people across the South Island.

We are gearing up for the

colder months ahead, as cool

temperatures and outdoor

activities increase the risk of

accident injuries and medical

missions."

A Canterbury West Coast

• From page 1

The club then ran fundraising

events, including pea straw

sales and sausage sizzles, from

which they donated $3500 to

the purchase of the new van.

A further $9500 was donated

from the Lloyd Morgan Trust.

Each Lions member in NZ

makes a small donation to the

trust each year.

The residents' association

raised the remaining funds

needed. After consulting with

the community and community

groups to assess what they

Air Rescue 2020 Impact Report

showed the Christchurchbased

crews attended 627

missions last year, compared

with 545 missions in 2019, an

increase of 13 per cent.

The West Coast Roa Mining

helicopter also had a busy year

in 2020, with the Greymouthbased

crew flying 242

missions.

The majority of callouts for

the Canterbury crew were

responding to accidents (48

per cent), medical events (33

per cent) and inter-hospital

transfers (19 per cent).

The new Christchurch

needed, a vehicle was sourced

for community use in 2020.

Due to delays caused by

Covid-19, the new van was

purchased, delivered and

fitted out just before Christmas

with the help of Paul Kelly

Motors.

Hospital helipad opened in

November, and there were 115

landings in its first six weeks of

operation.

The West Coast crew were

responding to callouts for

mostly medical events (50 per

cent), followed by accidents

(32 per cent) and inter-hospital

transfers (18 per cent).

The Covid-19 pandemic

gave the crews unprecedented

new challenges, and they were

prepared, with specialised

equipment and training, to

transfer Covid-19 patients as part

of the national response team.

"Luckily we were not tasked

to any Covid-19-related events,

but we are highly prepared for

any future events," Prince said.

Many fundraising events contributed to purchase

Said Godden: "The van is

now fully branded with logos

and is a bright, cheerful recognition

to all the people that

contributed to its purchase."

•To hire the van at $1 per

kilometre, email

hub@sumnercommunity.nz

For your special lady

on Mothers Day

Cosy Nightwear by Schrank

Quilted Floral

Robe

Blue or pink

Button through

with tie belt

Cotton &

polyester

Sizes S-XL

V Neck PJ's

Pink & blue

floral

100% cotton

Sizes 10-18

V Neck

Nightie

Pink & blue

floral

100% cotton

Sizes 10-20

Gift suggestions from

our wonderful range

Robes • Nighties • Pyjamas • Bras

Camisoles • Knickers • Bed socks • Hankies

FREE gift wrapping

with exchange card

Shop 48 Barrington, Barrington St

Phone 03 337 6609

www.lingerieonbarrington.co.nz

oN sAle Now!

Winter is Coming...

Come try our fabulous

pies and sausage rolls

Now only

$35.80

Plus $5 P&H per copy

AvAilAble from stAr mediA:

Level One, 359 Lincoln Road

Addington, Christchurch

Phone 379 7100

Open 7 Days | Phone 337 8214

Shop 2, 73 Centaurus Road,

Huntsbury, Christchurch

The service we received from Cameron and his team was first

class. From managing the marketing campaign and putting

together the paperwork, through the open homes and right

through to auction day

the service was gold standard.

- Jacqueline & Richard -

Phone or text 027 555 7079

REINZ Salesperson of the Year across all brands in NZ

cameron.bailey@harcourts.co.nz

No.1 Harcourts Canterbury 2012-2020

No.1 Harcourts New Zealand 2017-2020

www.cameronbailey.harcourts.co.nz No.1 Harcourts International 2017-2020

Licensed Sales Consultant REAA 2008
---
4 Thursday May 6 2021

Latest Canterbury news at starnews.co.nz

SOUTHERN VIEW

From army life to rescuing and

• By Bea Gooding

MARK WEAVER had a lot more

time to spare after concluding

20 years of service with the

army reserve, so that's when he

decided to rescue the abandoned

dogs of Canterbury.

It started with the adoption

of his first dog – Weaver was

training his black labrador collie

cross when he thought to put

those skills to good use at the

Dogwatch Sanctuary Trust.

Four years later, he has pawed

his way to the top, from training,

walking and exercising

the rescued dogs from pounds

across the region, to ensuring the

rehoming process runs smoothly

as the trust's new chairman.

It was a long way from the

tours he served in East Timor

and Egypt, and his current

project management job, but his

affinity with animals meant he

has always been conscious for

ensuring they were treated with

respect.

"I haven't always had a dog, I

grew up with cats," he said

"But I've always had an affinity

with animals, and I've always

been conscious for ensuring

they're treated the right way.

"I've always had that mindset

that you've got to give back to

RESCUE: Dogwatch Sanctuary Trust chairman Mark Weaver with rescue dog Kora. Weaver

helps abandoned dogs from the pound find their new forever homes.

the community, so that's part of

it, the other part is improving

the lives of the dogs – it's just as

important as improving the lives

of the people who adopt [them]."

Dogwatch rescues, cares for,

I SPY VEGETABLE PIE

Small batch made from scratch, Coffee to go!

I Spy Food 78 Barrington Street, Somerfield | Phone: 03 337 0422

and rehomes dogs that have been

abandoned at council pounds in

Christchurch, Selwyn, Rangiora

and Ashburton, for the last 39

years.

The trust rehomes dogs when

SOIL AND

HARDFILL

DUMPING

the pound can no longer keep

them, especially if owners do not

come forward, or if they were

surrendered from private situations,

such as deceased owners.

It operates from a two hectare,

purpose-built adoption centre

in Bromley with large outdoor

yards and exercise paddocks.

It also educated owners about

their moral and legal responsibility

when owning a dog to prevent

dogs from being seized by the

city council in the first place, by

providing advice, food, bedding

and crates.

"We're just trying to be a 'sign'

at the top of the hill rather than

the ambulance at the bottom."

Last year alone, 160 dogs were

rehomed. It was about the average

number of canines that were

adopted out each year since the

trust was established nearly four

decades ago.

The original founders were

not satisfied with the conditions

of the city council's pound back

then, so they started to rescue

and foster the vulnerable dogs

themselves, growing into what it

is today.

Said Weaver: "I think it's

rewarding to see a dog that

comes in that's just terrified of

everything, and over time, with

the right understanding, that

dog turns around and becomes

the quintessential, happy dog.

"It's why you do it – it's why

you're out there, in the rain and

the cold, picking up dog poo and

doing the less glamorous bits."

WE NOW HIRE

LANDSCAPING AND

GARDEN EQUIPMENT

DIGGERS, TRUCKS, WOOD CHIPPERS, POLE SAWS,

BREAKERS, WATER BLASTERS, ETC.

PLUS WE SUPPLY THE BEST

LANDSCAPE & GARDEN SUPPLIES

•BARKS •COMPOSTS

•AGGREGATES - CHIP, ROUND & BASECOURSE

•SCHIST PRODUCTS •PUNGAS

•DECORATIVE STONE & LANDSCAPING ROCKS

•TRAILER HIRE - FIRST HOUR FREE WITH PURCHASE

•BAG & BULK - PICK UP OR DELIVERED

DYERS ROAD LANDSCAPE & HIRE

PHONE: 03 384 6540

183 DYERS RD, BROMLEY ● OPEN 7 DAYS

Weekdays 7.30am-5pm. Weekends 8.30am-3pm

www.dyersroadlandscape.co.nz

The latest in

winter survival

technology.

50% off Sleepyhead

Matrix

Beds*

It's that time of year when you just want to spend more time in bed. So, you may as well invest in a

good one. The Matrix range features the Powerband support system with Kevlar bands in all the right

places to support your back. Choose Firm, Medium or Plush, and let your hibernation commence.

*Discount is off our full retail price. Offer valid until Tuesday 25th May 2021, while stocks last, unless otherwise stated. Some products on display in selected stores only – please call 0800 764 847 to check availability. Personal shoppers only.
---
SOUTHERN VIEW Latest Canterbury news at starnews.co.nz

Thursday May 6 2021 5

rehoming abandoned dogs

From puppies to seniors of a

variety of breeds, there was always

someone for every dog – but

when the time was right.

Weaver said that process was

often a challenge as many dogs

had difficulties adjusting upon

arrival at the trust.

Some had been chained up in

backyards all their life. They were

never exposed to other dogs or

people, so building trust took time.

"One of the most challenging

things is knowing what some of

these dogs have been through

and knowing that sort of thing

happens in our world," he said.

"But you can't dwell on it because

it's not good for you or the

dog. You've just got to put that

behind you and try help the dog

develop other behaviours that

will be better suited in a family

environment."

Weaver, originally from Rotorua,

was one of 80 volunteers for

four years prior to his election as

the trust's new chairman towards

the end of last year.

It was something to do when

his stint in the army reserve

finally came to an end; initially

joining to challenge himself.

Formally known as the Territorial

Force, the reserve is a

component of the New Zealand

CARE: The Dogwatch Sanctuary Trust rescued and rehomed 160 abandoned dogs last year.

Army, and is there to "fill out"

the regular force.

Soldiers train part-time a few

weeks each year to achieve a

standard good enough to join

the regular force in deployments

overseas, including Civil Defence

matters in NZ.

Working full-time as a project

director for large commercial

buildings, Weaver's employer,

Calder Stewart, gave him six

months off work nearly a decade

ago to serve in Sinai, Egypt.

In 2002, he served in East Timor,

during their civil war.

Said Weaver: "I ended up being

the assistant operations officer

working in the battalion headquarters.

Because of my project

management background, I was

also involved in starting the

rebuild of some schools and medical

centres that were destroyed

during the civil war.

"The civil war had pretty much

ended, the problems there was

crime more than anything else –

a lot of extortion, blackmail, that

sort of stuff."

The tour in Sinai saw him as a

chief instructor for the Multinational

Force.

Similar to the United Nations,

14 countries monitor the peace

treaty between Egypt and Israel

and provide troops to support

that mission.

"My job was to organise all the

training and for various troops

coming in from different nations

to get up to the same standard,

to be able to operate the equipment."

A "fair bit of shooting" during

PHOTOS: GEOFF SLOAN

the army reserve training years

influenced his love of long-range

rifle shooting.

Weaver's other love – his first

dog – may have been a labrador

collie cross, but it was the bull

breeds, specifically the staffordshires,

mastiffs and pitbulls that

he cherished the most.

"Those sorts of dogs – they're

just absolute goofballs and they're

incredibly affectionate and playful,"

he said.

"They'll keep running and

playing all day – just fantastic."

BURGER

• COMPUTER

REPAIRS

• WIFI SETUP

• WEBSITES

• BUSINESS IT

SUPPORT

BBQ Beef & Bacon

Beef patty, bacon, onion rings, colby cheese,

wisconsin bbq sauce, salad, mayo, relish.

$17

MAKE IT

A COMBO

fRIeS wITH DIP

PoT & a kaRMa

DRInk foR an

eXTRa

$7.50

0800 487 883

oRDeR BY PHone,

InSToRe oR onLIne aT

burgerwisconsin.co.nz

10 coLoMBo ST, caSHMeRe

P: 337 3577

SUn-THUR 4.30-8.30PM

fRI 12-9PM | SaT 4.30-9PM
---
6 Thursday May 6 2021

Latest Canterbury news at starnews.co.nz

SOUTHERN VIEW

Cooler weather calls for cosy footwear

That noticeable chill in the air we have

been feeling lately signals time to put our

warm-weather footwear away for a few

months and opt for items that will keep

our feet feeling cosy and comfortable in

the coolest of weather, no matter if we

are inside or out.

Podiatrist Charlotte Russell, owner of

The Shoe Room in Riccarton Road at

Church Corner, says they are delighted

to offer customers an exciting new range

of winter footwear for 2021, including

slippers and ankle boots.

Several of the slipper styles on display

have adjustable openings, so not only

do they fit snugly, but they are also very

easy to put on, Charlotte says. Available

for men and women, many also feature

a removeable liner allowing for arch

support to be inserted, and sturdy rubber

soles for maximum warmth and comfort.

The new range of stylish, high-quality

ankle boots come in several designs

and colours, with brands including

the popular Ziera, which has a strong

following in Christchurch, Charlotte

notes.

The Shoe Room has a wide selection of

active flats available – dressy/casual

footwear that is sporty yet smart, adding

that extra touch of pizazz to jeans and

casual trousers. The range includes the

Australian Frankie 4 brand, designed

by podiatrists and incorporating arch

support and cushioned fitting options for

added comfort.

While the majority of footwear at The

Shoe Room is for women, they do cater

for men too, and are currently extending

their range of men's footwear.

The Shoe Room's new online store

is now live, giving customers the

opportunity to browse and purchase

at their convenience. The site includes

photographs of the shoes taken from

every angle as well as information on

the designs and materials used to make

them. A size guide on the website shows

how to measure feet, which Charlotte

encourages people to use so they can be

sure of ordering the right size.

For all your winter footwear, visit the

website www.theshoeroom.co.nz at any

time, or call in at The Shoe Room, Unit 3,

355 Riccarton Road, opposite the Lone

Star. Opening hours are Monday 10am-

5.30pm, Tuesday, Wednesday, Thursday

and Friday 9.30am-5.30pm and Saturday

10am-4pm.

Ankle boots in a

range of styles and

colours on display

at The Shoe Room.

Warm, comfortable

slippers from The

Shoe Room will

keep your feet

cosy this winter.

The Shoe Room is located at Unit 3, 355 Riccarton Road, opposite the Lone Star.

Opening hours are Monday 10am-5.30pm, Tuesday to Friday 9.30am-5.30pm,

Saturday 10am-4pm, Tuesday late night by arrangement. Off street parking available.

P. (03) 929 0927 E. info@theshoeroom.co.nz www.theshoeroom.co.nz

Fashionable • Functional • Footwear

Read local

Winter.

Best enjoyed in 4K.

75" NEW 2021

Panasonic 75" 4K Android TV – JX600

9067950

Yes, it's TV watching season. So, you may as well make the most of it with a

crystal clear picture, and audio to match. This Smart TV has all the bells and

whistles — a 4K colour engine, Hexa Chroma Drive, HDR Bright Panel, and

immersive sound. All you need is a comfy spot to sit, and we sell those, too.

less

$3599 $ than

36

per week for

24 months

interest free*

Some products on display in selected stores only – please call 0800 764 847 to check availability. Personal shoppers only. *Apple, selected computers, game consoles, gift cards, clearance items and some promotional items are not available

in conjunction with interest free offers. Flooring available on a maximum of 18 months interest free. Exclusions, fees, terms, conditions, and credit criteria apply. Available in-store only.
---
SOUTHERN VIEW Latest Canterbury news at starnews.co.nz

Thursday May 6 2021 7

The Avon-Heathcote Estuary Ihutai Trust is a non-profit

organisation formed to protect one of New Zealand's

most important coastal wetlands. Each week, board

members will discuss matters regarding the estuary, its

rich history and what makes it unique. This week Tanya

Jenkins writes about restoration of Thistledown Reserve

ESTUARY MATTERS

Restoration draws wildlife back to reserve

THISTLEDOWN Reserve

is situated in Woolston, at

Thistledown Pl.

It comprises only 2258 sq m of

wetland area and is the source of

the Steam Wharf Stream which

connects with Heathcote River

at the Lyttelton Roundabout in

Ferry Rd.

A small city gem – a true example

of the original Canterbury

wetland with freshwater springs

continuously bubbling up keeping

this pure and clean water

temperature in the steam at a

constant cool 15 deg C.

Thirteen species of native

wetland birds had been recorded

there and 18 species of them have

been non-native.

The most common native

species being the grey warbler,

silvereye and fantail.

Pre-earthquake, it provided

habitat for short-finned eel and

whitebait. The 2010 and 2011

earthquakes caused the creek

banks to collapse, trees to fall

over, bird and fish life disappeared.

Temporary water drainage into

the reserve had been allowed

from local properties resulting in

pollution of this waterway.

Willow trees were left to thrive

to very quickly take over from

the native trees as maintenance

of this reserve by the city council

has been reduced post-earthquake

events.

Some urgency was required to

do something as the paths were

disappearing due to weed growth

and the reserve became a wilderness,

where locals became afraid

to walk through it.

The Estuary Trust stepped in

after we received permission,

support and supervision by city

council park rangers.

In 2016 the trust rounded up

local residents and started the

huge task of restoring this special

little place.

Volunteers, supervised by city

council ranger Karen Smith,

meet every third Saturday of each

month between 10am and noon

where we prune, weed and plant

and are amazed and delighted

with the return of birds, eel and

whitebait.

We would welcome an extra

pair of hand to weed, prune and

plant. We meet at the Thistledown

Pl entrance to the reserve.

No need to book, just turn up.

WILD: A pathway has been

restored at Thistledown

Reserve as part of the Avon-

Heathcote Estuary Ihutai

Trust's restoration projects.

"With over 75 years of combined business

experience, we personalise home and

business loans for Cantabrians."

DELICIOUS & NUTRITIOUS

Barrington

256 Barrington Street

The Colombo

363 Colombo Street

The Crossing

166 Cashel Street

Simon Ward

021 322 109

Sue McKenzie

021 650 758

"Local business supporting local people."

Craig Keenan

0276 085 526

Visit us at 10 Athelstan street, next to the Barrington Medical Centre.

@gre3nsuperfoodjuicebar

Gre3nSuperFoodJuiceBar

Turn the rainy season

into the dry season.

Great prices on a great range of dryers.

As temperatures tumble, it might be time to consider getting yourself a

new dryer. Especially as you'll have a few more layers to launder. It's the

perfect time of year to take advantage of our great deals, on top brand

laundry appliances. If you find the same product cheaper anywhere else,

we're happy to match the price*.

*T&Cs apply, see smithscity.co.nz/price-promise for details.
---
8 Thursday May 6 2021

Latest Canterbury news at starnews.co.nz

Planting project lures kids

MORE THAN 300

students from 16 schools

across the city will be

digging deep to continue

their native planting

regeneration work in the

eastern suburbs.

They are pooling their

resources on May 16 from

10am to plant an area on

the corner of Frosts and

Beach Rds.

It's the fifth in an ambitious

long-term native

regeneration in the area,

spearheaded by Christ's

College head of physics at

David Newton.

Launched in 2019, the

project pools the resources

of students who have so far

planted 5000 native trees

in part of New Brighton's

red zone plan to add another

10,000 this year.

The children are from

Tuahiwi Kura, Burnside

Primary, Christchurch

Boys' High School, St

Michael's Church School,

Rawhiti Primary, Linwood

College, Shirley Boys'

High School, Avonside

Girls' High, Christchurch

Girls' High School, Christ's

College, St Margaret's

College, Rangi Ruru Girls'

School, St Andrew's College,

Heaton Intermediate,

TEAM EFFORT: More than 300 students from 16

schools across the city will soon take part in a

mammoth plant regeneration project. ​

Christchurch South Intermediate

and Cathedral

Grammar.

Three further plantings

are planned in June, August

and September.

Said Newton: "Over the

next four years, we're going

to complete the current

area we're working on,

plant the QE II Adventure

Nature Trail and start

another large block which is

currently under negotiation

with the city council.

"It's an opportunity for

the students to practically

realise the positive impact

they can have on our community

and the planet by

each contributing a little

bit. Our work will grow a

forest that will be a lasting

memorial for their efforts.

Prime Opportunity

15 Flaxwood Lane, Waltham - Auction 13 May

2 bedrooms | 1 bathrooms | 1 car garaging | 1 off street | Listing: BE193707

Your agent, Your home, Your future

LICENSED SALES CONSULTANT REAA 2008

"It demonstrates the

power ordinary people

have to change our city,

country and the planet by

helping mitigate climate

change and increasing

biodiversity."

On May 16 the students

will plant 3000 native

seedlings, all grown from

eco-sourced seed from the

Travis Wetland.

The species include

totara, kahikatea,

akeake, black matipo,

lemonwood, manuka,

kanuka, coprosma robusta,

windgrass, carex secta, and

harakeke.

The replanting work

is being undertaken in

conjunction with city

council parks staff and

Land Information NZ.

This charming two bedroom home offers tremendous value for a smart

buyer. With a north facing aspect, separate dining, sunny living and

two well appointed bedrooms this property is waiting for a new owner.

Internal access single garage, off street parking and a sunny garden

complete the picture. With an eye for detail some enhancement will

only add value to your investment.

This is securely fenced so a safe spot for children to play or perhaps

have a dog.

Within close proximity to all amenities - St Martins New World,

Eastgate Mall, The Tannery and the City Centre. An easy drive to the

Port Hills or the seaside.

Don't miss this opportunity to get on the property ladder!

Open Homes Wed, Sat & Sun 2:00pm - 2:30pm

P 027 777 0411

HOME & HEATING

Get the balance

right this winter

Enviro Master has been helping

Cantabrians get the balance right when it

comes to choosing the perfect heat pump or

air conditioning system for their home or

office since 2002.

Their team of expert sales people, qualified

electricians, heating and refrigeration

engineers, help to supply and install

Christchurch's widest range of heat pumps,

and because they have no affiliation with any

one brand, you can be assured their advice

on the benefits and differences between each

product is unbiased.

They will recommend the most energyefficient

and cost-effective system for your

individual situation, and will have you

regulating the heat in your home or office in

no time.

Nowadays, customers are often wanting

whole home solutions to be able to maintain

even temperatures throughout the home both

in Winter and Summer. This can be achieved

by using ducted systems or multi systems

and Enviro Master are experts in designing,

installing and commissioning these systems.

Help is currently available with a

government subsidy covering 90 per cent of

the cost of a new heat pump up to $3000.

The subsidy is part of the Warmer Kiwi

Homes initiative and is available to Home

owner/occupiers with a Community Services

Card, a SuperGold combo card or who live in

a low-income area as determined by deciles

SOUTHERN VIEW

8-10 on the New Zealand Deprivation Index.

The applicant's home must also have been

built before 2008, have insulation up to code

(insulation subsidies also available) and have

no fixed heating in a living area, such as an

existing operational heat pump or fireplace.

With new regulations coming in for

Landlords to provide heating in rentals,

now is a great time to beat the deadline.

Inadequate heating and ventilation can lead

to mould growth and dampness in your

property, leading to costlier maintenance

and an unhealthy living environment.

Providing a fixed heater with a higher heat

output and lower running costs, like a heat

pump, will enable your tenants to heat the

area effectively. Enviro Master are well

experienced with the Tenancy Services

software to ensure that you are meeting your

requirements.

To ensure you choose the right system for

your home or business, one of Enviro Master's

experts will visit to assess your individual

situation, offer advice and answer any

questions you may have. This consultation

is at no cost to the customer and is always

provided before a heat pump is installed.

Anyone wondering about their eligibility

for a subsidised heat pump are welcome to

get in touch for details and help with the

application process. To find out more, call

Enviro Master on (03) 366 0525 or visit

their website www.enviromaster.co.nz.

Read local
---
SOUTHERN VIEW Latest Canterbury news at starnews.co.nz

Thursday May 6 2021 9

HOME & HEATING

Ground moisture barrier

under low sub-floor

Now with the colder and wetter weather on

its way, home owners are focusing on ways

to make their homes comfortable, warm

and healthy for their families throughout

winter. Rising damp is an issue that affects

many of our older properties which suffer

from poor, or no, ground moisture barrier.

In Canterbury especially, post-quake, many

people have relocated to homes that suffer

from rising damp which can be associated

with health problems. Independent tests have

shown that up to 40 litres of water can rise

from the ground and enter a house every day,

leading to mildew, mould, condensation and

musty smells. Moulds can produce various

allergic reactions and the frail, elderly and

very young are especially vulnerable.

Canterbury Foam Concrete Ltd is a

locally owned and operated firm. The team

understands the problems caused by rising

damp and are there to help. They will come

to your damp home and pump a lightweight,

flowable foam concrete under your timber

floored home.

While insulation is important, it has been

recognised that it is dampness that is the real

villain in the house. The new Healthy Homes

Standards introduced by the government

effective from the 1st July 2019 now has

a requirement to install ground moisture

barriers, a key element in the armory to fight

moisture in the home.

Dr Larry Bellamy BE (hons) PhD in a

report dated 1988: Foam Concrete Under

Timber Floors: An Energy Analysis assessed

the effects of placing Foam Concrete over

damp soil and had this to say: Condensation

on the underside of a timber floor can occur

where the floor is suspended over damp

ground and the inside air temperature falls

close to the crawl space air temperature.

Much energy is required to vaporize moisture

that penetrates the structure. By avoiding

underfloor condensation, foam concrete can

reduce floor heat losses by up to 90%.

• Canterbury Foam Concrete Ltd can in most

cases, install a Ground Moisture Barrier

under the suspended wooden floor of your

home, even when there is no crawl space.

• BRANZ Appraised; Appraisal Number 961

• Members of the Insulation Association of

New Zealand.

• We offer a free measure and quote in the

Canterbury region with no obligations.

• Assessments can be made in all other

regions by arrangement.

Contact Canterbury Foam Concrete

Ltd now for your free, no obligation quote

and complimentary appraisal of your

underfloor ground moisture barrier needs.

Phone 03 376 4608, 0508FOAMCO or www.

foamconcrete.nz for more information.

What makes a great

heat transfer system?

There are a number of Heat Transfer

systems on the market. Smooth-Air

ventilation specialists offer a range of HTU

Heat Transfer Units with carefully selected

components to optimise the system:

They use insulated duct to transfer

the heated air with as little heat loss as

possible. The fan moves sufficient air

for the distance and number of rooms,

without being noisy. The diffusers send

the heat to the floor, not to skim the across

the ceilings. All components are good

quality - designed to operate for years

without problems.

Smooth-Air's HTUs come in a range

of options: One to four rooms, with or

without thermostat and with a choice

of grilles and diffusers. HTUs improve

energy efficiency in your house, as you are

using excess heat. They have low power

consumption - only 80watts for the three

room system. Circulating air

through the house also reduces

the risk of damp.

You can also choose the HTU

version with downjet diffusers,

which throw the warm air

downwards to the floor. These

downjet diffusers can also be

adjusted to regulate which room

receives the most warm air.

An average size living room

requires 2-4 kw of heating, yet

appliances such as log burners

generate heat in the region of 10

-20kw. This leaves an excess of 8

-16kw of heat which sits at high

level in the heated room, usually above

door level.

Heat transfer units work best where very

hot air has 'stratified' into a layer near the

ceiling. So heat pumps, which circulate

warm air around the room with no

layering, are not suitable as a heat source

by themselves. However, if you have both

log burner and a heat pump, heat transfer

systems with thermostat can work very

well: The heat pump stops operating once

the heat from the fire has heated the room,

and the heat transfer kicks in above this

point, once there is a layer of hot air at the

ceiling.

Contact Smooth-Air on 0800

SMOOTH (0800 766 684) to ask how

they can help you with your Heat

Transfer, as well as any other ventilation

requirements.

ATTACK RISING DAMP

Smooth-Air

Ventilation Equipment Suppliers

to

trade

&

retail

Smooth-Air also has a wide range

of ventilation equipment to bring

fresh air into your home.

T. 03 376 4608 E info@foamconcrete.nz

W. www.foamconcrete.nz

Domestic

Commercial

Industrial

HEAT PUMP

SALE NOW ON!

Amazin' autumn Specials!!

90%

SubSidy

Warmer KiWi HomeS

Programme

*Eligibility criteria apply

• We will offer you the best quality brands and

option of heat pump for your home/business

• Providing Heat Pump solutions for over 19 years to Cantabrians

• We personally guarantee all our products & installs for 5 years

(providing annual maintenance has been completed)

Phone us today for your free consultation & quote

41A SHAKESPEARE RD, WALTHAM

PHONE 03 366 0525

www.enviromaster.co.nz

"A local team for local people"

0800 SMOOTH

(0800 766 684)

sales@smooth-air.co.nz

Transfer

the excess

from your

log burner

to your bedrooms

264 Annex Rd

Riccarton

Christchurch

03 343 6184

heat

Monday - Friday

7.30am - 5pm

www.smooth-air.co.nz
---
10 Thursday May 6 2021

Latest Canterbury news at starnews.co.nz

SOUTHERN VIEW

For inquiries: Anne (Sales)

M: 027 727 4770 W: 03 943 6006

E: anneb@archer.org.nz www.archer.org.nz
---
SOUTHERN VIEW Latest Canterbury news at starnews.co.nz

Thursday May 6 2021 11

Classifieds Contact us today Phone our local team 03 379 1100

Food

saitouchofspice.co.nz

82 Barrintgon Street the

best Curry Takeaway,

Open 11.30am to 2.30pm,

4.00pm to 9.30pm, Betoon

murg chicken curry $12 .

Ph Orders 3327885, or text

order to 0212324544

Wanted To Buy

AAA Buying goods

quality furniture, beds,

stoves, washing machines,

fridge freezers. Same day

service. Selwyn Dealers.

Phone 980 5812 or 027

313 8156

TOOLS Garden,

garage, woodworking,

mechanical, engineering,

sawbenches, lathes, cash

buyer, ph 355-2045

TOOLS Garden,

garage, woodworking,

mechanical, engineering,

sawbenches, lathes, cash

buyer, ph 355-2045

Trades & Services

FOR ALL YOUR

★Garden Clean-ups

★Pruning

★Lawn Mowing

★Garden Maintenance

Call us today for a FREE quote

PH 0800 4 546 546

(0800 4 JIMJIM)

Trades & Services

ROOF

PAINTING 24/7

Rope & harness

a speciality,

no scaffolding

required,

30 years of

breathtaking

experience.

FREE QUOTES

20% OFF other

roof quotes

Exterior staining,

exterior painting,

water blasting.

Moss and mould

treatment $300.

Phone Kevin

027 561 4629

BRICKLAYER.

George Lockyer. Over

40 years bricklaying

experience. UK trained.

Insurance work, EQC

repairs. Heritage

brickwork & stonework

a speciality. No job too

small. Governers Bay.

Home 329 9344. Cell

027 684 4046. E mail

georgelockyer@xtra.co.nz

CARPET LAYING

Exp. Repairs, uplifting,

relaying, restretching.

Phone John on 0800

003181, 027 240 7416

jflattery@xtra.co.nz

CARPET LAYING

Exp. Repairs, uplifting,

relaying, restretching.

Phone John on 0800

003181, 027 240 7416

jflattery@xtra.co.nz

Trades & Services

DRIVEWAYS

Exposed Aggregate

Stamped Concrete Plain

Concrete Resurfacing

Things we offer...

Competitive/affordable pricing

Attention to detail

Professional service

free quotes/insurance scopes

Cell 0278 145 848

www.drivecrete.co.nz

Trades & Services

ELECTRICIAN

Prompt & reliable

registered electrician

with 24 years experience

for all residential and

commercial work, new

housing and switch board

replacements. Phone Chris

027 516 0669

PAINTING

Indoor / Outdoor, over 30

yrs exp, same day quotes,

ph Steve 021 255 7968

PROFESSIONAL

GARDEN SERVICES.

Regular garden

maintenance, pruning,

spraying, weeding,

mowing, planting, garden

makeovers. Qualified

with over 40 yrs exp. Ph

Richard 0274 918 234 or

349 4022

Trades & Services

ROOFING REPAIRS

Fully qualified, over 40

yrs experience. Ph John

027 432-3822 or 351-

9147 email johnchmill@

outlook.com

STONEMASON,

BRICK

&

BLOCKLAYER,

Earthquake Repairs, Grind

Out & Repoint, River/

Oamaru stone, Schist,

Volcanic Rock, Paving,

all Alterations new & old,

Quality Workmanship,

visit www.featureworks.

co.nz or ph 027 601-3145

STUMP GRINDING

Best price guarantee Tony

0275 588 895

STUMP GRINDING

Best price guarantee Tony

0275 588 895

FLY IN-STORE TO

ELECTRICIAN

Contact for a free quote

phone 027 331 0400

davewsimpson@windowslive.com

Experienced Domestic Electrician

Quality Workmanship

• New Build

• Renovations

• Fault finding

Trades & Services

VHS VIDEO TAPES

& all camera tapes

converted to DVD or

USB. Video taping

special occasions,

www.grahamsvideo.co.nz

ph 03 338-1655

ADD SOME

COLOUR

TO YOUR ADVERT!

Trades & Services

• Power

• Lighting

• Switchboards

Trades & Services

EXPERIENCED

GARDENER

(Kevin Garnett)

30 Years

Christchurch Botanic

Gardens.

ALL landscape

work done.

Maintenance, pruning,

tidy up, lawn work,

landscape planning

and planting etc.

Free Quotes

Phone 348 3482

ADVERTISE YOUR BUSINESS HERE

Phone for further details

(03) 379 1100

HUNT FOR OUR DEALS

$12.99

EACH

Jim Beam / CC

4.8% 440ml 4pk (inc zero) cans

Effen 330ml 4pk bottles

$21.99

EACH

Cody's (incl zero) 7% 250ml 12pk cans

Woodstock 5% 12pk bottles

$21.99

EACH

Cruiser

7% 12pk can range

$22.99

EACH

Woodstock

250ml 7% cans (incl zero) 12pk

NEW

FLAVOUR

Tui Hard Soda

330ml 10pk cans

$22.99

EACH

$23.99

EACH

Jim Beam Gold/ CC

Premium 7% 250ml 12pk

$23.99

EACH

Smirnoff Ice Double Black

7% 12pk can range (ex guarana)

Gordons G&T, Gin & Soda

(pink/sicilian) 12pk 250ml cans

Long White

10pk bottle range

$25.99

EACH

$25.99

EACH

Part Time Rangers /

JD 4.8% (incl no sugar) 10pk cans

$29.99

EACH

$9.99

EACH

$9.99

EACH

$11.99

EACH

$13.99

EACH

$15.99

EACH

$18.99

EACH

$25.99

EACH

$34.99

EACH

$34.99

EACH

$35.99

EACH

$39.99

EACH

Tui Bourbon

Tui Vodka Soda

7% 18pk range

Wolf Blass

Yellow Label range

(ex PN)

Jacobs Creek (ex Sparkling

range) Five Flax range

Mudhouse

range (ex PN)

Brown Brothers

Moscato range

The Ned Range

(ex PN)

Pasqua

1500ml range

Malibu / Kahlua

700ml (incl flavours)

Ivanov/Seagers

(incl lime) 1L

Larios 1L

JB Honey / Midori 700ml

Jameson

Jameson Cold Brew

Absolut / Beefeater

(flvrd ranges only) all 700ml

Larios Rose/

Citrus / Larios 12 1L

$41.99

EACH

$42.99

EACH

$49.99

EACH

$54.99

EACH

$62.99

EACH

$99.99

EACH

3 FOR

$10.00

$13.99

EACH

$18.99

EACH

$19.99

EACH

Jim Beam 1L

Canadian Club

(incl spiced) 1L

Coruba (incl Gold)

JW Red Label 1L

Bombay Sapphire

1L

Jack Daniels 1L

Woodford Reserve 700ml

Chivas Regal 12yr 1L

The Glenlivet 12yr 700ml

Bruichladdich Classic

Laddie 700ml

Kingfisher Strong

7.2% 500ml cans

Monteiths

6pk bottle range

NEW

FLAVOUR

Fortune Favours

6pk range

Somersby

10pk cans

NEW

FLAVOUR

$21.99

EACH

$29.99

EACH

$36.99

EACH

$39.99

EACH

$39.99

EACH

$21.99

EACH

$23.99

EACH

$24.99

EACH

$26.99

EACH

Orchard Thieves

12pk range

Haagen

15pk bottles

Asahi

12pk bottles

Lion Red, Speights,

Waikato or Summit

15pk bottles

Steinlager

15pk bottles

Heineken

15pk bottles

Tui/Export Gold/Extra

Low Carb/ DB Draught

24pk bottles

Export 33

24pk bottles

Carlsberg

24pk bottles

Promotion period between 1/05/2021 to 31/05/2021. While stocks last. Promotion only available at participating stores – please contact your local store to confirm

whether they are participating in the promotion and check the pricing in-store prior to purchase. Online pricing will vary.

THIRSTY LIQOUR HUNSTBURY

69 CENTAURUS RD, HUNSTBURY

03 332 0233

thirstyliquor.co.nz

ASK ABOUT

LOYALTY CARD

BENEFITS &

GIFT VOUCHERS
---
Advert: FCSV0605 Newspaper: Southern View

12 Thursday May 6 2021

Latest Canterbury news at starnews.co.nz

SOUTHERN VIEW

Unlimited Delivery

Subscription

$25.00 per month

SAVE WITH OUR

UNLIMITED PLANS!

Unlimited Pickup

Subscription

$10.00 per month

Unlimited deliveries or pick ups on every order over $80*

Start saving today & shop online at

FreshChoiceYourWay.co.nz

or download the FreshChoice app.

Mother's Day

GIFT IDEAS

Cadbury

Roses

450g

$

8 90

ea

Nestlé

Scorched

Almonds 240g

$

5 00

ea

Whittaker's

Artisan

Chocolate

Blocks 100g

$

3 70

ea

$

Essano

Candles

300g

15 00

ea

The Ned

750ml

(Excludes Pinot Noir)

Deutz Cuvee Blanc

de Blanc, Rabbit

Ranch Central

Otago Pinot Noir or

Madam Sass Pinot

Noir or Rosé 750ml

Mumm Cordon

Rouge Brut

Champagne

750ml

$

14 00

ea

$

22 00

ea

$

52 00

ea

Mother's Day

Mixed Flower

Bouquet

$

29 99

ea

Barrington

City Market

Open 7am – 10pm, 7 days a week.

barrington.store.freshchoice.co.nz

Open 7am – 9pm, 7 days a week.

citymarket.store.freshchoice.co.nz

Prices apply from Monday 3rd to Sunday 9th May 2021, or while stocks last at FreshChoice City Market & Barrington only. Limits may apply.

* Terms and conditions apply, visit FreshChoice.co.nz for details.

FreshChoiceNZ

OWNED &

OPERATED BY

LOCALS

FCSV0605