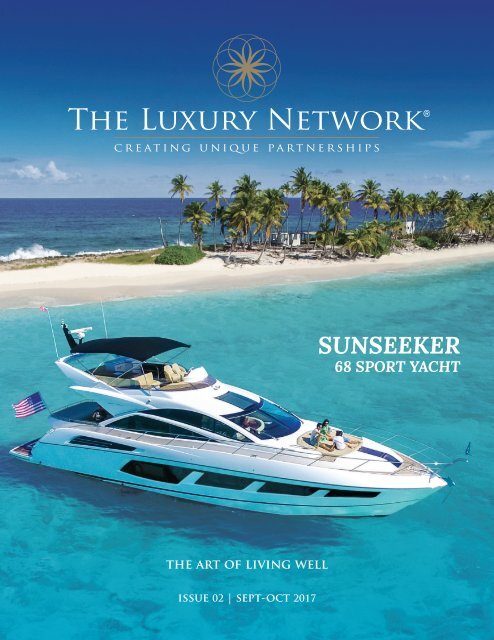 The Luxury Network International Magazine Issue 02
Create successful ePaper yourself
Turn your PDF publications into a flip-book with our unique Google optimized e-Paper software.
SUNSEEKER

68 SPORT YACHT

the art of living well

issue 02 | sept-oct 2017

1
---
2
---
3
---
Editor

NOTE

Dear Valued Reader,

It is our privilege to welcome

you to the latest edition of

TLN Magazine, your gateway

to the latest news in the

world of luxury! Through this

bimonthly publication, you will

be able to stay abreast on the

latest high-end products, services,

and trends globally.

In this edition, you will have an

overview of some of our

international members from

different luxury industries. You

will also witness some high-end

events from

influential brands. Watch out for

the upcoming issues, we are

going to take you in to a deeper

journey to explore more detailed

topics that cover a range of topnotch

brands from the luxury

industry. We will also feature some

of the exciting affinity marketing

projects that The Luxury Network is working on.

You may take this publication as your personal lifestyle guide to the

products and services to live the

lush life and activities you truly deserve.

Ambassador Fares Ghattas

Editor-in-Chief / Global CEO

4
---
HIGHLIGHTS

SEPT - OCT 2017

TLN Germany VIP

Trip to The Champagne

TLN New Zealand

Mid-Winter Treat

Luxury on the Lawn

by TLN Kenya

TLN Russia Summer

Cocktail Event

79

84

86

94

82

85

93

97

TLN Qatar Members

Networking Event

TLN Australia Hosts

Winter Party On Board

Superyacht Vegas

TLN UK Lifestyle

Partnership Event

at McLaren

TLN Nigeria Official

Launch Event

5
---
8
---
9
---
10

BEAUTIFUL IS

TIMELESS.
---
THE NEW ASTON MARTIN DB11 HAS ARRIVED.

DB11.ASTONMARTIN.COM

Official government fuel consumption figures in US mpg for the Aston Martin DB11: urban 15; extra urban 21; combined 17. CO2 emissions 386 g/mile. The mpg/fuel

economy figures quoted are sourced from official regulated test results obtained through laboratory testing. They are for comparability purposes only and may not reflect

your real driving experience, which may vary depending on factors including road conditions, weather, vehicle load and driving style.
---
RIF TRUST

BRIDGE TO A NEW WORLD

Second Passport

The Elevator to Success

Citizenship is something that can not be choosen at

birth. However, nowadays investing in an alternative

passport can be a powerful tool. Nationality can oblige

as well as privilege, and taxation can be a serious cut in

earnings. Therefore a second passport acquisition have

become an indispensable deal for businessmen and

entrepreneurs all around the world.

While some programs offer the possibility of gaining

citizenship in exchange for an approved business or real

estate investment as well as including the whole family

members, some more affordable options are possible by

making a contribution to a government development

fund starting from USD$ 100,000.

Depending on requirements, Caribbean and European

passports can give access to more than 120 countries

including UK, Shengen area, Hong Kong, Singapore.

Traveling, healthcare, education are only some tangible

attributes, the real value of this investment is security.

Citizenship by investment is a way of solving problems

and gaining profits. A deal that allows to obtain a

second nationality in a matter of months and improve

life for the better. It is a purchase of splendor available

for the lucky few.

For more information : contact@riftrust.com

+971 (0) 424 32 0 32 - www.riftrust.com

12
---
13
---
DIOR HOMME X SENNHEISER

AN UNPARALLELED SENSUAL EXPERIENCE

Audio specialist and couture house combine luxury design and high-end audio for special Dior Homme x Sennheiser editions

Legendary couture manufacturer Dior Homme and audio specialist Sennheiser have collaborated to make the ultimate

appeal to the senses: Dior Homme x Sennheiser, a collection of pieces whose sonic performance is every bit as fine as their

streamlined design. The collection includes special editions of the reference class Sennheiser HD 800 S headphones,

the HDVD 800 headphone amplifier, the PXC 550 wireless noise-cancelling travel headphones and the high-end IE 800

ear-canal headphones. Each model features an exclusive finish by Dior Homme – an elegant black and anthracite design

that is thrillingly accentuated with signature red detailing. The special editions are available as part of four solutions

– home, travel, daily and pocket – each of which present Sennheiser's products in an exquisitely crafted range of Dior

Homme storage furniture, leather bags and pouches.

Stemming from the instéternel initiative of German excellence forum Meisterkreis and its French pendant Comité Colbert,

the collaboration between Sennheiser and Dior Homme represents a creative meeting of minds from leaders in the world of

audio and fashion. Through ceaseless innovation to deliver the ultimate audio experience, Sennheiser has become the choice

of the discerning audio connoisseur. Now, the audio specialist's dedication to excellence has found its match in the collaboration

with legendary couture manufacturer Dior, as Oliver Berger, Head of Global Design Management at Sennheiser, explains:

"Like Sennheiser, Dior has a proud seven-decade history of uncompromised craftsmanship and excellence. We have combined

our respective areas of passion and expertise to make the ultimate appeal to the senses. The Dior Homme x Sennheiser collection

combines sophisticated bold aesthetics, exquisite materials and the cutting edge of audio technology."

Commenting on the collaboration, Kris Van Assche, Artistic Director of Dior Homme, explains: "Music has always been an

integral part of my creative process and also an extended journey during my shows. The collaboration with Sennheiser seemed

as a natural and a logical outcome."

The ultimate collection for uncompromised sound and style at home or on the move

The Dior Homme x Sennheiser collection has been tailored without compromise to ensure that connoisseurs of couture and

music can enjoy perfect sound whether at home or traveling. The collection comprises four solution packages – home, travel,

daily and pocket.

14
---
PERFECTION

Combining luxurious appliances with the arts, lifestyle and sustainability.

Explore the entire De Dietrich line on

www.dedietrich-asia.com

Or view them in our De Dietrich show kitchen in Harvey Norman Millennia Walk & selected

kitchen specialists to find out more

15
---
16
---
17
---
Y O U R E X P E R T S

I N C O R P O R A T E

H O S P I T A L I T Y

www.redeyeevents.co.uk

Formula One hospitality specialists | Group travel & incentive organisers

Providers of VIP packages for sporting & cultural events world-wide

T: +44 (0) 207 078 0299 | E: info@redeyeevents.co.uk

The F1 FORMULA 1 logo, F1, FORMULA 1, FIA FORMULA ONE WORLD CHAMPIONSHIP, GRAND PRIX,

FORMULA ONE PADDOCK CLUB Logo, FORMULA ONE PADDOCK CLUB, PADDOCK CLUB and related

marks are trade marks of Formula One Licensing BV, a Formula 1 company. All rights reserved.
---
A CLUB FOR

THE DISCERNING

Join us now to enjoy perks, including tickets to Polo Tournaments, Riding Competitions and lifestyle events

Email: membership@singaporepoloclub.org or Tel: 6854 3999

Established since 1886, The Singapore Polo Club is one of the

oldest sporting and social club in Singapore. Set in acres of lush,

tropical grounds, the Singapore Polo Club is a world apart from the

bustling pace of the city. It is recognized as the premier equestrian

and lifestyle club in Singapore.

19
---
Yulia Smolina, the founder and

director of luxury

Beauty centre DAVIANI beauty&SPA

20
---
In Daviani we have the most advanced technology and

equipment. I have personally attended many different

expositions, conferences to get a sufficient amount of

knowledge for the correct choice of equipment, cosmetics and

technologies. About some exclusive items – certainly, we are

studying the market, trends and in the work we use only the best

and with an already proven reputation.

In our beauty centre there are: multifunctional machine for face

and body Icoone with unique technology of vacuum effect on

the skin of the face and body and the latest epilation laser

Soprano XL Ice in a gold colour which can be found in Moscow

only in a few salons. And also we have rare cosmetic lines, such

as Evidens de beaute'. It is rarely presented for sale and in a

much smaller amount for professional care. We are proud of

this. The result is stunning. All treatments are unique in their

composition and names.

Moscow, Trubnaya Square, 2

www.daviani.ru

+7 999 888 88 82

The motto of the beauty centre – " Place where beauty

becomes a lifestyle"

Beauty. The beauty should be always and in everything. To

dress in good taste is beauty. To have a well-groomed

appearance is beauty. Beauty is both a job and a car and

everything that surrounds us.

Lifestyle. Everyone chooses his/her own lifestyle but with

today's pace of life in the rhythm of the megapolis you need

to have time for everything, saving the beauty and health.

Place. Beauty centre Daviani beauty&SPA is a place where

beauty lives. Each element of interior design is chosen with

great love. All equipment and cosmetics – combine the best

latest trends to maintain the natural beauty of the client.

We always do not have time to devote time to ourselves, and

without this it is difficult to constantly move forward. To look

thoroughly at the painting in the museum you need to stop

and take a few steps back. The same is needed to understand

yourself. To stop, to rest, to analyse emotions and feelings, to

bring intermediate results, to spend time alone with yourself

– this means to open doors in the present and the future. That

is why, the phrase "Place where beauty becomes a lifestyle"

became the Daviani motto. Here is the place where time

slows down and appears an opportunity to devote more

attention to yourself.

DAVIANI is an artwork

Yes, one of my main hobbies is the design, construction,

interiors, design, decor... It's not a design in itself, it is my

vision. Volume, design - how space should sound and merge

into one whole place. I like designing interiors. Entering the

building area, in my mind immediately emerges a picture of

future interiors.

Even the DAVIANI logo was thought and developed as an

art-object. Delicate, soft lines, contours – I wanted to convey

emotion, mood and character of a person. And at the same

time – the promise that is associated with the desire to move

forward, up to the goal.

The uniqueness of Daviani beauty&SPA

Many people ask me in what way Daviani differs from other

premium beauty centres. Certainly, this is not a standard

method of development. Classic back office of any beauty

centre– one manager and one accountant. But knowing how

hard it is to do everything single-handedly in our format of

movement– ambitious, and that does not fit into the usual

framework that is why, our team is big enough.

We have the modern system of business management, we do

regular assessment of client's satisfaction, quick and effective

response to their wishes and expectations.

21
---
22
---
23
---
26
---
27
---
THE UNTOLD BEAUTY

AND WONDERS OFNEW ZEALAND

With dramatic, rugged landscapes giving away to

gentle, ever-lasting horizons and tranquil settings,

luxury in New Zealand is truly unique. Explore this

stunning landscape in ultimate comfort, with sister properties'

Kauri Cliffs, Cape Kidnappers and Matakauri Lodge premium

Best of the Best package.

Nine sumptuous nights in your own private residence at three

magnificent properties in three unique regions of New Zealand,

sets you up for experiencing New Zealand on a truly grand

scale.

Complete with private air transfers for your entire stay in New

Zealand, this experience for four has comfort and luxury in

abundance.

Days 1-3:

The Lodge at Kauri Cliffs, Matauri Bay, Bay of Islands

There's nothing quite like starting your New Zealand experience

with a scenic helicopter flight north over the stunning Northland

coastline from Auckland International Airport to The Lodge at

Kauri Cliffs.

Set atop 6000 acres of rolling farmland in the Bay of Islands this

opulent lodge enjoys panoramic views of the vast Pacific Ocean,

including offshore Cavalli Islands and Cape Brett.

Start your day with a spot of land-based fishing with an exquisite

barbeque on Kauri Cliffs private Pink Beach, before spending the

afternoon touring the vast farmland by quad bike.

Make the most of the incredible Bay of Islands with an all-day

sailing or motor launch cruise through pristine waters around 144

sub-tropical islands; and experience a round of golf on Kauri Cliffs'

Par 72 PGA Championship golf course with the lodge's resident

golf professional. Designed by Dave Harman and with six holes

played alongside cliffs that plunge to the sea, this course is consistently

rated among the best in the world.

28
---
Days 4-6: The Farm at Cape Kidnappers,

Hawke's Bay

Return to Auckland Airport by helicopter,

before transferring to a private aircraft to

continue your journey to Hawke's Bay wine

country and the home of The Farm at Cape

Kidnappers. This luxury lodge at land's end is

set atop rolling pastureland that gives way to

dramatic cliffs and the vast Pacific Ocean.

Travel from the Napier Airport in a mint condition

vintage car through the Art Deco Capital

of the World and onwards for an exclusive

winery tour. Experience some of the world's

best wines in the heart of New Zealand wine

country.

That night, after arriving at The Farm's elegant

Owner's Cottage, indulge in delicious farmto-table

cuisine as the lodge's chefs create

masterful meals using local produce to perfection.

At The Farm, you will also enjoy a Can-Am

Property Exploration, before a round of golf

with the lodge's resident golf professional.

The Cape Kidnappers, Tom Doak-designed

course is ranked No.1 in New Zealand and 19th

in the world. This spectacular course has been

hailed as one of the great modern marvels in

golf.

For your final day at The Farm, board an AirbusAS350

Helicopter for a scenic flight to

White Island – New Zealand's most active volcano.

Explore the stark landscape, peppered with

vibrant sulphur formations and active steam

vents, as well as a vast steaming crater. Return

to The Farm in time for a Kiwi Discovery Walk,

where you will get to see and hold New Zealand's

native kiwi bird. Experience this national

bird like few New Zealanders ever get the

chance to, with naming rights for one special

bird.

Days 7-9: Matakauri Lodge, Queenstown

Your private aircraft will land in Queenstown,

as a luxury car awaits. Travel a short distance

to Kawarau River before boarding a jet boat

transfer that will take you down the river to

Lake Wakatipu, past the centre of Queenstown

and directly to the incredible Matakauri

Lodge, nestled below the Remarkable, Cecil

and Walter Peak mountain ranges.

Settle into the palatial Owner's Cottage and

absorb the truly impressive and imposing

mountain vista. As one of the world's premi-

um wine districts, experience all that Queenstown

and Central Otago has to offer with a

Heli Wine by Invitation Tour.

Accompanied by the patriarch of Otago's Pinot

Noir, reap the benefit of his knowledge as

you do a scenic flight over Queenstown. Stop

in at select vineyards to meet the winemakers,

taste the wine and experience the heart of alpine

viticulture.

On your penultimate day in New Zealand,

take to the air again for a Fiordland Heli Explore.

Enter the heart of this primeval world, a

paradise for photographers, and visit seldom

seen coves and beaches before picnicking on

a mountain peak.

Before your transfer back to Auckland spend

time in the beautiful lakeside Queenstown

with lunch at one of the town's highly regarded

restaurants.

As a country with untold wonders and beauty,

a stay at New Zealand's Kauri Cliffs, Cape

Kidnappers and Matakauri Lodge will magnify

your holiday experience, taking your breath

away and restoring it in a moment.

29
---
30

Lagoona Mall ,1st floor , Doha, Qatar • Tel. +974 4477 0909 • www.kare-design.com
---
A REVOLUTIONARY SINGLE MALT WHISKEY

The Glenfiddich 15 Year Old Solera Reserve

Intriguingly complex aroma and flavour with a lingering

sweetness via the pioneering Solera Vatting process

Find out more about the World's Most Awarded Single Malt Scotch Whisky

at www.Glenfiddich.com
---
32

F O O D I S A R T.
---
R E S P E C T I T.

Superior food

preservation.

Professional cooking

performance.

Craftsmanship and

technology

without equal.

subzero-wolf.com

33
---
HELETRANZ HELICOPTERS NEW ZEALAND

+64 9 415 3550 | WEB: www.heletranz.co.nz

Heletranz Heliport, 234 Rosedale Road, Albany Auckland.
---
EXTRAORDINARY EXPERIENCES, EVERY DAY

Heletranz Helicopters specialize in creating

unique, tailored excursions where anything's

possible. New Zealand is blessed with some of

the world's most stunning scenery—much of

it relatively unpopulated and remote. There is

no better way to see New Zealand than from

the skies.

Unlike many other countries, it is possible to

use a helicopter in New Zealand like a personal

vehicle – travelling where you want, when you

want. The team at Heletranz takes pride in

offering a journey uniquely tailored for you.

We can meet your private jet or land on your

superyacht and take you wherever you would

like to go. New Zealand is home to some of

the most mind-blowingly magnificent golf

courses in the world. Perhaps it's the lure of

these world-class courses and lodges such as

Kauri Cliffs in the Bay of Islands and Cape

Kidnappers in Hawke's Bay that excites you?

Maybe you'd like to step into the movie set at

Hobbiton? We can fly you there by helicopter

for a private tour of The Shire where you can

experience the real Middle Earth and step

inside the Hobbit Holes featured in The Lord

of the Rings and The Hobbit Trilogies directed

by Sir Peter Jackson.

If it's a remote beach or quiet, island escape

that you're after, Heletranz knows the best

spots on both the North and South Islands,

and can fly you there with ease, speed and

discretion.

Whether it's the beaches, the sea, the golf or

the exquisite food and wine that brings you to

New Zealand, Heletranz ensures an effortless,

luxurious and unforgettable experience—

creating memories which will last forever.

For your extraordinary experience, call

+64 9 415 3550 | www.heletranz.co.nz

HELETRANZ HELICOPTERS NEW ZEALAND

+64 9 415 3550 | EMAIL: info@heletranz.co.nz
---
ij

BENEDETTO

H

PRODUCT OF ITALY

,.

,;-, r-,,._ ·--

... __ -

.f.. "r _,_ - ·"'.'\. -

i'

""'

r.-

-·""'

36

San Benedetto is distributed in Qatar by International Foodstuff Group (IFG), info@ifg.com.qa, contact no: +974 4485 8000
---
Exceptional digital marketing for luxury brands

Web Design. Blogging. SEO. Influencer Marketing.

Social Media. Online Advertising. PR.

www.2112.marketing

37
---
38
---
An evening of glamour beginning with a Champagne reception followed by fine

dining and uplifting entertainment. We will be joined by Heather Small from M

People who will be performing all their greatest hits.

With your help we hope to raise enough money to fund seven Macmillan nurses to

help improve the lives of people living with cancer.

Tables available from £3000, to book please call 0207 840 4800

or visit www.macmillan.org.uk/wintergala

Macmillan Cancer Support, registered charity in England and Wales (261017), Scotland (SC039907) and the Isle of Man (604). 39
---
40
---
41
---
Beyond Expectation

Reside in luxury with exceptional service by your St. Regis Butler

at the address of prestige and elegance in the city.

For member exclusive rates, please contact sales.singapore@stregis.com.

The St. Regis Singapore

29 Tanglin Road t. +65 6506 6888 stregis.com/singapore

©2017 Marriott International, Inc. All Rights Reserved. Preferred Guest, SPG, St. Regis and their logos are the trademarks of Marriott International, Inc., or its affiliates.

Stay exquisite at more than 40 St. Regis hotels and resorts worldwide.

@stregishotels
---
DUBAI FUTURE

CHAMPIONS

FESTIVAL

13-14 OCTOBER 2017

Sit back, relax and enjoy

the sensational atmosphere

as the action unfolds

THE CHAMPIONS GALLERY

RESTAURANT

LET US TAKE CARE OF

YOUR EVERY NEED

Call 01638 675 300 to find out more

about this fine dining experience

NEWMARKETRACECOURSES.CO.UK

43
---
Maraca Generalife Gardens candle and diffuser, was inspired

by the historic Jardines del Generalife gardens in Granada,

Spain.

How closely are creating candles and fragrances related?

They are two completely different things, and blending the

fragrance and wax together can be quite complex at times.

It involves vigorous testing to ensure the scent remains the

same in a candle as it does as a pure fragrance. Some fragrances

are just too delicate and don't combine well with wax, so

the formulation needs tweaking to make it work. For instance,

my latest citrus fragrance, Sevillian Neroli, has taken me more

than a year to develop. The citrus notes are usually quite thin

and so the temperature has to be set perfectly when pouring

the wax and fragrance together, or else the fragrance will vanish

quickly during the process.

What are some of your more unusual combinations?

Generalife Gardens! This is definitely the most unusual fragrance

I have created - it's like a green garden in a jar. The

notes consist of green tomato leaf, wild fig, blackcunant,

grapefruit and galbanum.

Any tips on candle care?

Five Minutes With...

Chris Lim

Founder and 'nose' of Maraca

The first time you light your candle, do not trim the wick-this

first bum needs a high hot flame to melt the wax right to the

edge of the vessel, which will encourage even burning. Do not

extinguish the first flame until the entire top layer turns into

liquid wax. This may take up to an hour or more depending on

the size of the candle. After the first burn, try to let the candle

bum for long stretches to encourage the wax to evenly melt

and to prevent wax tunneling. Burn for periods of no more

than three hours at a time. Always trim the wick to a quarter

of an inch before you light the candle again after the first bum.

How did you become a 'nose'?

A 'nose' is a person whose olfactory skill is used to compose

fragrances. I grew up surrounded by fragrance - my mum and

aunt both worked in the industry. I've been working in the industry

since I was 17 and found I had a natural gift for detecting

notes and determining what works well together. Becoming

a nose takes passion and a bit of natural skill. It can take

months or years to come up with a great fragrance.

Do you have to take care of your senses to retain your role?

Everything I see, feel, touch, smell and observe every day is

part of my inspiration. As a nose, I am essentially a designer

and need to understand and know the current trends, fashion

and culture. Memories and visiting new places inspire my

scents - for example, my second latest creation this year, the

Maraca NZ

Natural Soy Wax Candle

in Generalife Gardens

Interview written by: Fairfax Media

44
---
45
---
46
---
Lavazza is distributed in Qatar by International Foodstuff Group (IFG),

email: info@ifg.com.qa, Contact Number: 00974 4485 8000.

47
---
Join a global network

represented by Ambassadors

from all over the world

www.diplomatic-council.org/gold

Inspired by Ms Irene Ho, Head of DC Mission Singapore, CEO The Luxury Network Singapore

Artworks and Graphics by kreativrudel, recommended advertising agency for Diplomatic Council members

Text by euromarcom, recommended public relations agency for Diplomatic Council members

48
---
49
---
______________________

"At any time of the day or night":

Connoisseurs of the sparkling delicacy will

gladly follow this recommendation for

enjoying POMMERY.

POMMERY Champagne is a perfect

accompaniment as an aperitif, complements

every dinner and is also a luxurious

refreshment for every occasion.

In fact, is there anything more tempting than

enjoying the anticipation and getting in the

mood for spring time, the weekend or a mild

summer night with a glass of POMMERY

Rosé Champagne? Discreet apricot shades,

elegant fruity aromas and a delicate perlage:

The POMMERY Rosé Champagnes surprise

even enamoured couples and experts with their

friendly lightness.

Already in 1858 Madame Pommery very aptly

noted that a glass of cooled champagne is the

highlight of any given moment. You would

like to celebrate the feast of your life?

© Denise Schuster | Foodlovin.de

50
---
The champagne house from Reims does not

only stand for refinement and perfection, but

also for innovation.

Madame Pommery opened up "what was the

biggest building site of the century in Reims":

the metamorphosis of the chalk-pits into

cellars. 18 km of galleries were hollowed out

into the chalk that have since housed over 20

million bottles of Champagne 30 metres below

ground with just one legendary staircase

leading down to the POMMERY treasure.

Even if all wines of the POMMERY house are

fully interfused by Madame Pommery´s

creative spirit, it comes to its fullest perfection

in the Cuveé Louise - a characteristic blend of

purity, finesse and elegance.

The Cuvée Louise is a master composition to

fall in love with. It is always different and ever

unique: conserved in the dark, slowly matured

naturally – time and the freshness of the chalk

work their magic. Eight years are required for

its aromas of apricot, brioche and touch of

orange blossoms to reach complete perfection.

Enjoying champagne from the house of

POMMERY in a stylish gathering means

sharing a piece of life. Tchin-tchin!

51
---
Creators of Bespoke Luxury Experiences.

P&L Luxe is a signature events and brand communication company that services high end brands.

Event concept development and execution

Brand and Lifestyle PR

Corporate and Experiential Marketing

Intelligence and Research on Market Trends

Creators of Luxury Bespoke Events | Uniquely Curated | Commercially Beneficial.

_______________________________________________________________________________________

No. 5 Kanjata Road |Off James Gichuru Rd | Email: info@pl-luxe.co.ke | Web: http://pl-luxe.co.ke/

Tel: +254 722 522 000

52
---
PREMIUM LIVE MUSIC AGENCY

vicki@eightraymusic.com

01491 526722

@eightraymusic

53
---
ENHEL

GROUP

COMPANY

Is on the russian market since 2014

The innovative company is an exclusive distributor

of the Enhel Water devices in Russia, the CIS countries,

the European Union, the UAE and premium cosmetics

Enhel Beauty from Japan. Today Enhel Group is

a dynamically developing holding with several business

lines: sports, consulting, cosmetics, health equipment,

hydrogen water, healthy water for beauty and youth.

Partners of the Enhel Group are such reputable

companies as the World Class fitness and spa clubs chain,

MEDSI medical clinics network, EMC European medical center,

Ave luxury pharmacy chain, international dental center

IDC-Skolkovo, Sberbank, Vnukovo International Airport,

Dessange beauty salon network, Aldo Coppola, White fox

and many others.

Among the company's clients are well-known

doctors, scientists, businessmen, politicians,

artists and sportsmen.

Enhel Group works directly with Japanese manufacturers

and has no competition on the Russian market.

Enhel Group Company by directions

Cosmetics Devices for hydrogen Devices for hydrogen

Healthy water

Enhel Group Company – The official importer and distributor

of the Enhel Beauty line cosmetics and water in Russia, the CIS countries, the UAE.
---
Enhel Group, headed by the president

of the company Yulia Enhel, is the winner

of the All-Russian competitions

«100 Best Enterprises and Organizations-2016»

in the nomination «Best Innovative Enterprise»

and «Moscow Entrepreneur-2017»

in the nomination «Innovative Activity».

President of the Enhel Group Company

Yulia Enhel

55
---
A super-slick luxury

travel ad might have

looked great but

it wouldn't have

swayed independent

minds.

56
---
So we didn't do one.

People already know our 500 hotels are unique and luxurious,

so we don't need advertisng trickery.

Make up your own mind at slh.com

57
---
58
---
S H I N

E

DIGITAL CRAF TSMANSHI P

F OR M ODERN LUXUR Y BRANDS

FLORIN E EPPE B EAULOYE
---
SELAMLIQUE ISTANBUL - A VOYAGE OF INDULGENCE

selamlique.com

60

instagram.com/selamliqueistanbul

facebook.com/selamliqueistanbul
---
In Moscow. In London.

In full confidence.

Mayfair Park Residences, Mayfair, London

Mostman, Taganskaya, Moscow

Parc du Cap, Cap d'Antibes, France

Ritz-Carlton Residences, Sunny Isles Beach, USA

Whether you want to buy or sell a property

in Moscow, London, France or other locations,

contact Savills

• Wide choice of properties all over the world

• Support at every stage of property search or sale process

• Premium service

Nelly Trufan

33 Margaret Street

London W1G 0JD

+44 (0) 203 1075 492

ntrufan@savills.com

savills.co.uk

Julia Ovchinnikova

2 Barykovskiy per.,

Moscow, 119034, Russia

+7 (495) 252 0099

jo@savills.ru

savills.ru

61
---
A r e y o u r e a d y t o

h a r n e s s t h e p o w e r o f

l i v e e x p e r i e n c e ?

i n s p i r e d l i v e . c o . u k + 4 4 ( 0 ) 1 2 8 4 3 6 3 0 4 6

62
---
Welcome to the

World's Most

Handcrafted

Single Malt

Scotch Whisky

FIND OUT MORE ABOUT THE BALVENIE'S 5 RARE CRAFTS AT

WWW.THEBALVENIE.COM
---
64

FG REALTY
---
65
---
CELEBRATE IN STYLE

AKARUA BRUT NV

BLUE GOLD - Sydney International

Wine Competition 2017, Australia

GOLD - New York World Wine & Spirits

Competition 2016, USA

GOLD - China Wine & Spirits Awards 2015,

Hong Kong

DOUBLE GOLD - China Wine & Spirit Awards 2014,

Hong Kong

GOLD - Air New Zealand Wine Awards 2013

AKARUA VINTAGE BRUT 2011

GOLD - Champagne & Sparkling Wine World Championships

2015, United Kingdom

AKARUA ROSÉ BRUT NV

GOLD - Decanter World Wine Awards, April 2017 UK

GOLD - Champagne & Sparkling Wine

World Championships 2016

GOLD - China Wine & Spirits Awards 2015,

Hong Kong

GOW LANGSFORD TROPHY - Spiegelau

International Wine Competition 2014, NZ

SPARKLING WINE TROPHY - Romeo Bragato

Wine Awards 2013, NZ

REGIONAL TROPHY - Decanter Wine

Awards Asia, China 2013

Akarua's stunning range of sparkling wines are a must try. Perfect

for any occasion and fantastic with food, these award winning wines

are a taste of pure luxury. Released in 2012, these three wines have

consistently been recognised both internationally and at home for

their style and quality. Now amassing a total of five trophies and

twenty-three gold medals, you are sure to be impressed.

Luxury Network members receive an exclusive rate,

please contact cellardoor@akarua.com more information.

www.akarua.com
---
67
---
MEMBERS

Affairs

Rolls-Royce Sydney Partners

With The Bespoke Corner Tailors

TLN Australia member The Bespoke Corner Tailors have

partnered with Rolls Royce to create a bespoke Rolls Royce

inspired range of exclusive Tuxedo's.

This partnership was celebrated in style with a VIP Gala launch

at the Rolls Royce Sydney Showroom. Luxury Network

members combined to create an exclusive and unforgettable

evening featuring The Balvenie whisky bar, Pommery

Champagne, a Simon Johnson caviar bar, Sushami bar by Elite

Chefs Sydney and a display of ultra luxury and exclusive timepieces

by Vacheron Constantin.

68
---
MEMBERS

Affairs

The Luxury Network UK Members Partner

with Race Festival to Celebrate Style

The Moët & Chandon July Festival at Newmarket is fast becoming one of the country's most stylish

summer events and provided the perfect opportunity for the racecourse to team up with fellow The

Luxury Network members in celebration of style and fashion.

Proving that Newmarket is not just about world-class racing, visitors came in their tens of thousands,

donning their finest attire, to enjoy the unique garden party atmosphere at the July course and to enter

the annual Style Awards competition.

Held over three race days, an amazing array of luxury prizes are up for grabs for the best dressed ladies,

gents and couples respectively. Amongst the superb prize packages on offer this year, Luxury Network

members ITC Luxury Travel in conjunction with the Jumeriah Zabeel Saray Hotel provided a fantastic

short break in Dubai for the Best Dressed Lady, whilst Cornerstone offered a year's supply of grooming

products and their personalised razors for the most dapper gent on Gentlemans Day.

Linn Audio offered all the Style Award winners the opportunity to enjoy an exclusive At Home Linn

Lounge experience. One of their own product specialists will install a top-end Studio Master music

system in their very own home for a weekend, enabling them to enjoy a musical journey from their

chosen legendary artist at the highest possible level available.

Spectacular outfits and hats were seen everywhere amongst the grandstands, immaculate sun-kissed

lawns and around the picturesque Parade Ring, with this year's Style Awards judging panel including

designer to the stars Christian Cowan and top milliner Rosie Olivia.

The stylish Best Dressed Couple Award winners

Film production company the Luxury Marketing House were commissioned to video all the action

throughout the day, including fellow Luxury Network members cheering their winners home and we

look forward to sharing their film very soon.

69
---
MEMBERS

Affairs

The World

Magazine

Presentation

Supported by The

Luxury Network

Russia

.

70
---
MEMBERS

Affairs

TLN Qatar Manages the Official Launch of

Selamlique Istanbul in doha

_______________________________________________________________________________

elamlique Istanbul introduces its selection of high quality Turkish coffee, confectionery & accessories products at

S The St. Regis Doha. Selamlique Istanbul is taking an important step towards expanding the Turkish culture in

to the world through its flagship store in Doha, Qatar. The launch event was officiated by The Luxury Network Qatar.

Capsule Turkish coffee machine marks a new era for Turkish coffee

Selamlique Istanbul sets out with the key mission of making it easier to prepare Turkish coffee, a favorite among Turkish people, and

spread it across the world. With this intention, Selamlique launched the 'Capsule Turkish Coffee Machine' in, marking a new era in the

coffee market.

Same perfect taste anywhere in the world

Selamlique's Capsule Turkish Coffee Machine enables preparing and

drinking Turkish coffee at the same perfect taste anywhere in

the world. Selamlique Istanbul preserves the taste of Turkish coffee

through capsules offered in different flavors that are always fresh and

natural.

Adding a stylish identity to the traditional Turkish coffee ritual

Turkish coffee is one of the rare examples of products that have

direct links to their origins. With a view in spreading Turkish coffee

across the world, Selamlique Istanbul was established in 2009.

Preserving the centuries-old serving and drinking ritual of Turkish

coffee, Selamlique Istanbul adds a tasteful identity to this

traditional ritual that feeds on its original land and appeals to the

whole world from its natural flavors used to the coffee cups and

containers, and preparing and serving methods. Offering a perfectly

refined combination of tradition and modernity, Selamlique Istanbul

has designed single-serving sachet available in seven different flavors:

Traditional, Dark Roast, Decaf, Cardamom, Mastic, Chocolate and Cinnamon.

Unique Turkish flavors offered in exclusive designs

As the first brand to produce world-class Turkish coffee, Selamlique

Istanbul also manufactures products unique to Turkey in exclusive designs

in addition to the coffee blends selection in its factory located

in Izmir. Selamlique Istanbul offers a range of exclusively designed

coffee cups and Turkish coffee accessories that complement the coffee

ritual as well as a fine selection of Turkish delights and confectionery

product

Mr. Michel Medawar, the General Manager of Selamlique Istanbul in

Qatar said during the event, "We are proud to add such

an exclusive and luxurious brand in to our portfolio, targeting

people who love coffee and delights. We look forward to

opening new boutiques in other prominent locations in the region."

Today, Selamlique Istanbul operates in 70 stores and over 20 points

of sale in 12 countries. Introducing the groundbreaking

'Capsule Turkish Coffee Machine,' Selamlique Istanbul

continues to spread the Turkish coffee across the world.

71
---
MEMBERS

Affairs

A Stylish Afternoon of High Tea & Private

Viewing of Fine Jewels and

Watches Auction

On Monday, May 8 th Mossgreen and Ostar International Media Group hosted a stylish

afternoon of High Tea and private viewing of the Fine Jewels and Watches Auction.

Guests met with the Co-Founders and Owners of

Mossgreen, Australia's largest and most innovative

Auction House, Paul Sumner, Chief Executive

Officer and Amanda Swanson, Director of Events

and Sponsorhship.

The private viewing featured highlights of the

auction including an exquisite 1930's diamond

bracelet by Cartier.

72
---
MEMBERS

Affairs

Ferrari Qatar Leads 70th Anniversary Celebrations

in the GCC with First-of-its-kind Parade

he exhilarating sound of Ferrari engines roared through the

streets of Doha, as over 50 "Cavallino Rampante" models

Tcruised together in a spectacular car parade. Organised by

Alfardan Sports Motors, the official dealer of Ferrari in Qatar, in

experiences for Ferrari clients and enthusiasts under the theme of

the core values of technological innovation, performance and style

Aperta made an impressive appearance as the symbol of the

commitment to bring the complete brand experience to Qatar, and

build on its legacy, generation after generation."

played host to an elegantly orchestrated evening composed of a

variety of traditional performances, including a gala dinner

throughout its history.

73
---
MEMBERS

Affairs

Montblanc and CBRE's Pacifica

Celebrate Success

Pacifica building Auckland

T

74
---
MEMBERS

Affairs

The Beau Cut is the perfect combination of organic form, entwined

with the traditional brilliant cut shape – creating exceptional brilliance

and sparkle through both the facets and the fine precision cutting by

Swarovski.

Applying his knowledge as a gemmologist, Beau transposed this perfect

shape of a flawless water droplet onto each facet of a stone, presenting a

water drop faceted diamond shape, repetitively totalling 60+1 facets or

60 facets + 1 culet. So, from the perfect water drop shape, the Beau

Cut was created.

Donna Air modeling Beau Han Xu's jewellery

TLN UK Member, Beau Han

Xu, launches new Couture

Diamond Jewellery

Collections

he was awarded first prize in a fine jewellery design competition

initiated by Susannah Lovis, Burlington Arcade, as well as being

selected as one of the finalists for the International Talent Support

Competition (ITS). He was also selected as a finalist in the Edgard

His new SPLASH! Couture Collection, like his original SPLASH! Bespoke

Collection, captures the preciously beautiful moment as a raindrop

bursts with a splash. Intricately crafted, the diamonds swim in a unique

carrier liquid beneath the specially durable, lead-crystal glass – each

movement harnessing and enhancing the reflective energy of these

precious stones.

This sophisticated jewellery collection of 13 pieces transcends the

constraints of traditional stone setting – marrying the art of finely

crafted, hand blown glass with traditional stones. Each piece – earrings,

pendants, bracelets, rings, brooch and tiara – contains up to 160 mixed

sized Beau Cut diamonds (0.5 to 2.5 carats) to ensure maximum

sparkle. Both pendants and bracelets hang from a simple white-gold,

rose-gold or yellow-gold chain.

Clemence Devaux, Head of Jewellery at William & Son, has selected Beau

Han Xu as the chosen young jewellery brand with a unique aesthetic to

display alongside the William & Son in-house jewellery collection from

June 2017. Clemence comments: "Beau Han Xu is our most wildly

innovative resident to date, following in the footsteps of previous artists

Lily Gabriella, Sarah Ho and Morphée. We have just launched his new,

luxurious SPLASH! Diamond Bespoke collection, to be followed by

SPLASH! Couture in July and new collections in September and

Christmas."

Beau Han Xu adds: "It is such an honour and privilege to be invited by

William & Son to be their Artist in Residence this year. I am incredibly

grateful for their support and look forward to launching my collections

with them in their gorgeous Bruton Street store".

designer, Shaun Leane.

At the GCDC Awards 2016 – the Jewellery

Silver.

transforming splash. These are moments the human eye cannot see

but Beau, collaborating with scientists from Imperial College, has

captured on camera the exquisitely organic shape of a waterdrop,

formed by the force of gravity. These images fired his imagination and

This collection is undeniably

romantic – with delicate drops that appear frozen in time. Each drop

is hand crafted in clear perspex, and cups a Beau Cut diamond,

chain.

75
---
MEMBERS

Affairs

tln qatar member bin faqeeh co. to

start delivering $270m projects in q1

The Treasure by Bin Faqeeh Co.

Bin Faqeeh, a Bahrain-based privately-owned real

estate investment company, has announced that it will

will start delivering $270 million worth of projects

during the first quarter of 2017.

The developer said the projects that will be delivered includes The

Grand, Plus, The Nest, Dar Tower, Forbes Tower, The Treasure,

360° and The Tweet.

Faisal Faqeeh, chairman of Bin Faqeeh, said: "It's our pleasure to

announce to the owners and investors that a number of our

outstanding projects are set to be handed over in the first quarter of

2017, after completion of all luxury finishes, facilities and final

touches.

"With the completion of these eight real estate development

projects, the total number of delivered projects will reach 30

projects, which constitute 80 percent of total projects in the

pipeline," he added.

Faqeeh said the company will "re-emphasise our commitment" to

complete construction works in its remaining real estate projects.

Bin Faqeeh revealed that it has completed 30 percent of the

construction works in its Water Bay project, which is a threeresidential

tower project built in Bahrain Bay and consists of a total

of 588 apartments.

The developer said Hidd Heights, a 13-floor residential tower built

next to Prince Khalifa bin Salman Park, is at a similar stage of

construction.

Construction work in its Alsidra project will start in the end of the

first quarter of 2017 to build 465 villas at Diyar Al Muharraq while

work is also under progress at its Layan project.

This article was originally published on Arabian Business

76
---
Members

Affairs

David Fowkes Launch Men's Gemstone

Range at Classic UK Race Festival

High end jewellery brand David Fowkes partnered with Newmarket Racecourses at the world famous QIPCO

Guineas Festival for the launch of their first Menswear Collection.

Newmarket's exclusive hospitality venue The Winning Post Pavilion, provided the perfect setting to present

the elegant new menswear range focused on exclusive gemstones, cut to perfection. Combining creative,

contemporary designs with quality craftsmanship, the unique new collection includes lapel studs, collar studs,

tie slides and cuff-links with matching rings, all speciality-cut from gemstones mixed with precious metals.

VIP racegoers attending Newmarket's Classic race were given the first taste of the sparkling, hand-crafted

pieces and invited to try them on as the perfect accessory for the dapper gentleman. Whilst David and his

team were on hand to offer expert advice on gemstones as an investment purchase.

For those seeking personal input into designing a special piece for men or women, David Fowkes offer bespoke

commissions and one-off pieces as well as ready-to-wear collections, all handcrafted at their rural studio in

Thoresby Court, North Nottinghamshire.

77
---
TLN

News

Driving The Dream:

Six Tips On Financing Your Next Car

Sometimes a prestige vehicle may seem out of reach,

however financing your purchase can be beneficial. Here

are six pragmatic reasons why:

1. Taking on a vehicle or asset loan means you can spread

out the cost, resulting in better control of your finances,

and less capital instantly sunk.

2. Financing potentially could get you a vehicle that you

otherwise may not afford upfront. For those who could

afford to purchase a car outright, using car finance offers

the opportunity to own, and drive, a better model

than the one that would be affordable via an upfront

payment in full.

3. This does not mean that you should take on a car loan

bigger than you can afford. Utilise Finance Brokers to

shop loans for you, they will stress test the loan, to see if

you can afford the monthly payments.

4. May help to boost your credit standing. Finance provides

a good opportunity to demonstrate the ability to manage

credit well and to meet repayment schedules. So long as

the payments are consistently made on time.

5. Choices. How suitable car finance options are to individuals

are largely dependent on the nature of cash-flow in

their business, or credit score. The variety of different

products/packages means that there is something for

everyone.

6. Know the terms of the loan, additional fees, monthly

payments and penalties associated with making late

payments or even double payments. A finance broker

will be able to assist you with this.

If you would like to discuss car financing opportunities,

Nonpareil Finance can assist with a full range of Vehicle,

Asset, and Commercial loan products, as well as Insurance.

78
---
TLN

News

The Luxury Network Germany Hosts Exclusive VIP

Trip to The Champagne Region in France

This "Money cannot buy" weekend

event from the 5th – 7th May was

designed by The Luxury Network

ultimately for the top customers of its

members. Due to the strictly limited

number of 25 participants it was fully

booked within a short time.

The group of like-minded connoisseurs

met on May 5 after a relaxed pre-extension

at the Villa Kennedy in Frankfurt.

The 5-star Deluxe Hotel is part of The

Luxury Network's membership portfolio

and was the starting point of a special

lifestyle experience. As a prelude and

first taste of future exciting events, each

participant received a wonderful giveaway

with personal greetings from the

event partner Hapag-Lloyd Cruises.

Thanks to the dedicated support of Tesla

Motors and the Dörr Group, also members

of The Luxury Network, guests were

spoiled for choice between a mix of a variety

of new Tesla vehicle models, Lotus,

McLaren and Lamborghinis, all of which

are equally standing for Luxury class and

unlimited driving fun. After each vehicle

had found its temporary new owner, the

guided outing started at best weather

conditions in a convoy heading southwest

in the direction of France, with the

final destination of Reims and the Domaine

Pommery, one of the most beautiful

properties in Champagne.

79
---
TLN

News

The first stage of the journey took us

across the picturesque wine route and

the South Palatinate to Alsace, where

this illustrious crowd checked in at the

romantic hotel "Auberge du Cheval

Blanc". Here, at the foot of the Vosges,

you could let your mind wander or alternatively

take a shot with your favourite

vehicle in the idyllic surroundings.

The participants were then looking forward

to a culinary evening, which after a

get-together champagne reception was

marked by a gourmet dinner created by

the star cook Pascal Bastian, celebrated

in the in-house 2-star Michelin restaurant

"Le Cheval Blanc". At the latest now

every guest felt in fact "Like Heaven on

Earth".

After a relaxing night and a strengthening

breakfast with home-made delicacies,

which did not leave any wishes unfulfilled,

the convoy continued cheerfully

and in the best frame of mind its journey

to The Champagne and the renowned

Domaine Pommery.

At the arrival of this concentrated PS

Power around midday, just like magic the

impressive gate of the Domaine opened

to welcome as the main host all the

guests with great "hello".

The "VIP Pommery Experience" began

like the typical French way of life with

an extended lunch – of course – accompanied

by champagne and followed by a

private tour of the cellars. At the same

time, you could marvel at a collection of

contemporary art that could make some

museums jealous. A short taxi transfer

took the already friendly connected

group to the hotel, where everybody got

ready for the upcoming big Farewell dinner

in the legendary Villa Demoiselle.

80
---
TLN

News

As a final highlight, the Villa Demoiselle

captivated the participants for a glamorous

evening in closed circle. Under

the expert guidance of the host Thomas

Wirz, Managing Director of Vranken-Pommery

Germany & Austria, the

guests first enjoyed insider views into

the history of this outstanding tribute to

the Belle Époque era. In style and in line

with the location, the famous "Demoiselle

Rosé" was served as a cocktail from

Jeroboam bottles as you walked through

the mansions, inspired by the spirit of

the past. Before the dinner, the group

gathered in the flowering garden of the

villa, where everything was prepared for

a "Sabrage". Some guests faced the challenge

and, with the short introduction

of the Master of Ceremonies, skillfully

opened a bottle of champagne with a saber.

Following the French habits, the beheaded

head with cork and date of the ceremony

was handed over to them as a sign

of good luck. At the festive dinner, the

excellent champagne accompaniment

was thoughtfully coordinated with the

menu, including a "Demoiselle La Parisienne

2007" as well as the sensational

"Diamant Brut" and "Diamant Rosé" to

accomplish a perfect finale of this "VIP

Pommery Experience".

All good things come to an end and

therefore after this unforgettable evening

and with many more memorable

new impressions in the luggage, the return

journey to Germany was due the

next day. At the farewell, plans had been

made already to meet up again in the future

and The Luxury Network Deutschland

along with their event partners can

look back on a successful weekend event

with overwhelmingly positive feedback

from the participants.

81
---
TLN

News

The Luxury Network Qatar

Members Networking Event

Ramadan is the ninth month of the Islamic calendar, and

Muslims observe this worldwide as a month of fasting

(Sawm) to commemorate the first revelation of the Quran

to Muhammad according to Islamic belief. This annual observance

is regarded as one of the Five Pillars of Islam. (Wikipedia)

The Luxury Network Qatar celebrated the beginning of this

traditional event through an intimate social gathering at it's office

at the finest address in Qatar, The St. Regis Doha.

The event was co-hosted by the luxury property management

and brokerage firm FG Realty. FG Realty is a full-service professional

property management company that provides integrated

services for all kind of properties interested in creating a

spirit of distinction in the real estate market of the GCC. Other

members joining them to showcase their products and services

during the evening were Lavazza, Selamlique Turkish Coffee,

San Benedetto, and Bin Faqeeh Company.

The representatives of each participating official member

shared some informative and interesting presentations about

their brands during the event. The members indulged in to a

feast of sumptuous light snacks and specialized drinks served

exclusively by Selamlique Turkish Coffee and San Benedetto.

The Luxury Network Qatar and FG Realty would like to thank

all members who attended and contributed in to the success of

this event.

82
---
TLN

News

The Luxury Network

Russia Business Breakfast

at Neva Towers

On the 14th of June, The Luxury Network Russia organized

a business-breakfast dedicated to the latest

tendencies and perspectives of the luxury property

market. The event took place at the office of Neva Towers,

one of the most stylish developer offices of Moscow.

Dmitry Golubkov, head of the Citi Bank investment strategy

showcased analytics of the market and reminded the guests

that property is still one of the most reliable investments.

After him, the managing partner of Savills, Dmitry Khalin,

presented the latest news from Moscow's luxury property

market.

At the end the sales director of Neva Towers Olga Pastushkova

told the success story of their project, which is the most

successful in Moscow City (Skyscraper region of Moscow).

83
---
TLN

News

The Luxury Network New Zealand Invited

Members & Guests to a Mid-Winter Treat

On Thursday 15th June at 5.30pm the first guests arrived

at COAST New Zealand's stunning showroom in Auckland's

fashionable Ponsonby Road—home to some of

the most sophisticated boutiques, luxury homewares and distinctly

different fashion. Within no time at all, the showroom

was thronging with guests mixing, mingling and indulging in a

spot of retail therapy.

On display was COAST's full range of enduring but timeless

marine beanbags, their hand-made, canvas luggage collection

made here in New Zealand and their luxury, natural textiles

including NZ merino wool, linen and cotton throws, blankets

and more. The back of the showroom opened up to a deck and

courtyard which showcased this beautiful collection to perfection—perfect

for indoors, outdoors, on the boat or at the

beach.

Midway through the evening Nicola Webster, founder of

COAST NZ, said a few words about her business and gave away

a beautiful leather-bound folio in the prize draw. A second

lucky winner received an Elle + Riley wrap in the colour of their

choice after a few words from Elle, director of Elle + Riley.

Drinks and delicious canapés were served as time whizzed by;

before we knew it, the evening was over. Another resounding

success for The Luxury Network New Zealand.

The evening was co-hosted by new member Elle + Riley who

currently have a winter pop-up store in part of at the COAST

Showroom.

Elle + Riley are the cashmere experts—they specialise is creating

beautiful cashmere garments for both men and women out

of this sumptuous yarn that has earned the reputation as one

of the most luxurious natural fibres in the world. Members and

guests were able to indulge in the beauty of the modern, simple

cashmere pieces created for every day and every season by

Yolande and Elle—this mother and daughter team. After seeing

and feeling, few left empty-handed.

84
---
TLN

News

The Luxury Network Australia & Aspen Ski Company

Host Winter Party On Board Superyacht Vegas

The Luxury Network Members Pier One Sydney, Pommery

Champagne, Aspen Ski Company and LK Group partnered

for a wonderful celebration of all things winter.

Aspen Snowmass friends and guests joined LK Group and Capitol

Grand for a Welcome to Winter party on board private Superyacht

Vegas. Aspens Ski Company's Australian PR representative

Flip Burn along with Larry Kestleman, Chairman of LK

Group welcomed guests and friends of Aspen on board to celebrate

the Australian Ski Season and talk about the upcoming

Winter season in Aspen Colorado.

There was also a presentation on the new 6 Star Melbourne

Iconic property development Capitol Grand.

85
---
TLN

News

Luxury on the Lawn, The Collectors Edition

Hosted by The Luxury Network Kenya

The Luxury Network Kenya recently held an amazing

evening of opulence bringing together four brands to

create an unprecedented partnership. Themed "Luxury

on the Lawn – The Collectors Edition' the cocktail introduced

HNW guests to bespoke luxury furniture, a range of Mercedes

Benz vehicles and a Whisky mentorship session. The event was

sponsored by Panesars Interiors, DT Dobie, Kenya Breweries

Limited and created by P&L Luxe.

The highlight of the event was the unveiling of a limited edition

Cocktail Table designed by Panesars Kenya. Created from solid

brass and Mahogany from Uganda. Also showcased was the

extremely elegant Eletto. This one of a kind console is also created

from solid mahogany and comes in a matt or gloss finish.

It was offered to the guests alongside the new Mercedes GLE

Coupe in matching colour.

Over 100 guests were able to order vehicles, furniture and a

selection of Whisky from the Diageo Reserve portfolio. The

evening was crowned with a detailed Whisky Mentorship session

by Kenya Breweries Limited's Alexander Kitavi of Diageo

Reserve Brands Portfolio.

86
---
TLN

News

The Luxury Network Germany

B2B Meeting and Business Workshop

On July 19, 2017 The Luxury Network Germany

Summer Meeting was again dominated by intensive

further affinity plans for the coming

half-year 2017. This time new member HEARTHOUSE

was chosen as the location of the get-together of the

members community for a business workshop.

The day ended with a series of exciting new plans. The

Luxury Network will continue to expand along with its

members and the top customers of the members are

already excited!

The private "members only" atmosphere of the co-host

HEARTHOUSE provided the perfect setting to launch

new B2C projects and projects within the member

community.

During the Lunches, networking discussions were intensively

continued followed by a business workshop,

which gave all participants the opportunity to explain

and adopt individual concepts.

87
---
TLN

News

The Luxury Network Russia Hosts Luxurious

Evening in Honour of The World Magazine

On 28 th of June The Luxury Network Russia invited more

than 50 HNW guests to take part in an intellectual discussion

dedicated to the new issue of The World magazine.

The event took place at the huge penthouse of Savills. Its

beautiful interiors, jazz music and an impressive art collection

made the event really special.

The host of the event was The World's chief editor, Lara Lychagina,

who was later joined by famous Russian lawyer, Alexander

Karabanov, who is also columnist of the magazine.

At the end there was a lottery. Many of the guests received

prizes from TLN Members, including: pillows from Estetica

Vison, bottles of French wine, certificates to Daviani Beauty

Salon and an annual check at the Avrora stomatological clinic.

The discussion finished after midnight on the huge 90-meter

terrace of the penthouse.

88
---
TLN

News

TLN New Zealand B2B Working Lunch

at Seafarers, Auckland

On Tuesday 30 th May, The Luxury

Network New Zealand held a working

lunch at Seafarers in Auckland.

Drinks and canapés were served while

members arrived, mingled and networked—this

is the perfect occasion to

circulate and actively pursue new collaborative

opportunities. It is the chance

not only for members to promote their

own business but also to discover what

other members are doing—what is working

for them in the world of luxury so

that we can all win together.

Throughout the lunch, members were

given the opportunity to stand up and

talk for a few minutes about their business,

what they offer and the successful

collaborations they have forged through

membership of The Luxury Network.

We heard from Chris Lim of Maraca, the

fragrance company who has been able

to replace an existing supplier of body

care products at Next Generation Health

Club; Maraca products are also now

available in the gym gift shop.

Carlos King of Next Gen & Tony Terrill

of Mondo Travel spoke of how they have

partnered to offer Health Club members

exclusive travel deals and offers through

their monthly newsletter. In addition to

this, they have created "destination evenings

with guest speakers" where the

travel experts offer their knowledge and

advice as part of Next Gen's annual calendar

of events. A member benefit for

Next Gen and new business opportunity

for Mondo Travel.

Cars as Gold sponsors for their magazine

through introductions made through the

network. Not only this, CBRE provides a

property expert to speak at the Juno Exchange

Investment seminars; this allows

Juno to access potential new customers

and exposes CBRE to a new audience.

These are just a few of the many examples

of successful working relationships

and upcoming opportunities developing

through the network. We look forward to

sharing another collaboration with you at

our next event on 15th June at the Coast

Showroom where Elle+Riley cashmere

currently has a pop-up shop to showcase

their beautiful range of knitwear.

Our thanks to Maraca for the stunning

boxed candle and to Lily&Louis for the

Journal and Pen.

Renei Kingi explained how Pie Funds

were able to make use of the exclusive

member offer at Luxury Lodge Cape

Kidnappers for their Annual Chairman's

Fund retreat. New Business in the quiet

season for the Lodge and a saving for Pie

Funds.

Brenda Ward talked of how Juno Magazine

has secured CBRE and Continental

89
---
TLN

News

The Luxury Network UK Hosts Summer Networking

Event at Big Screen on The Green

The Luxury Network UK hosts Summer Networking Event at Big Screen on The Green. Members indulged in the quintessentially

British tradition of watching Wimbledon Men's Semi Finals whilst enjoying champagne and networking with each other.

It proved to be a highly successful and fun afternoon.

We were also delighted to see that our member, Hapag Lloyd Cruises, was one of the headline sponsors at the event.

An Action Packed Seminar for

The Luxury Network UK Members

Business Day at the historic Home of Horseracing proved to

be an inspiring venue for the recent The Luxury Network

UK members' seminar.

The impressive Rowley Mile at Newmarket Racecourses played

host to 30 luxury brand members who met to network and discuss

potential partnership projects. New members Edge Retreats

and Red Eye Events presented their brands and ways in

which other members could collaborate with them and were

followed by an insightful video shot at Newmarket by The Luxury

Marketing House for Richard Hannon Racing.

Following a splendid lunch in one of the Millennium Stadium

Executive Boxes, members were invited to view the award-winning

range of facilities at Newmarket. They were then able to

soak up the atmosphere and experience a full afternoon programme

of exciting flat racing at the Spring Race Meeting.

The Luxury Network hold quarterly B2B seminars at differing

locations, for decision-making representatives from member

brands to build relationships and plan unique partnerships, as

part of their annual membership.

90
---
TLN

News

The Luxury Network Germany B2B Members

Meeting & Project Workshop

At the end of April, the members of The Luxury

Network Germany met for the second time this

year for an intensive exchange and project workshop,

which took place this time at the Hotel de Rome

in Berlin.

The elegant Hotel de Rome is one of the luxury Rocco

Forte Hotels, one of the founding members of The Luxury

Network. As co-hosts, they also provided the perfect

setting for some inspiring members only meetings.

Before this great historical backdrop, the get-together

started with a lecture by the renowned media expert

and author Prof. Dr. Jo Groebel on the subject of "luxury

consumption in the 21st century: a typology of different

usage groups". Followed by a stimulated discussion of

the topic.

The upcoming "The Luxury Network Magazine" was introduced

as a new added benefit to membership of The

Luxury Network. The magazine will give members the

opportunity to have a media presence in print and online

and will be distributed to the HNW customers of

more than 500 luxury brands within The Luxury Network's

global portfolio, which was greatly appreciated

by the members.

After a networking lunch, the project workshop concentrated

on a series of joint B2C project plans, including

the upcoming VIP outing to the Domaine Pommery.

An outstanding weekend experience conceived by The

Luxury Network for the top customers of their members.

The eventful day concluded with a wonderful concert

evening hosted by Vranken-Pommery.

91
---
TLN

News

The Luxury Network Victoria Hosts An Exclusive

Evening With Brighton Land Rover

On Tuesday June 20 th Brighton Land Rover

hosted an exclusive event with guests of

Ostar International Media Group featuring

a bespoke collection of Range Rover Vogue, Sport

and Evoque on display. Guests were treated to a

wine tasting by Greenstone Vineyards.

92
---
TLN

News

TLN UK Lifestyle Partnership Event at McLaren Knightsbridge

T

he cocktail reception and networking evening featured 7 showcasing brands including; Alexander James

Interiors, Cornerstone, David Fowkes Jewellery, Linn, Hapag Lloyd, Inspired Events and Luxury Marketing

House Guests heard from George Farquhar, head of VIP and Affinity Relations Manager before the luxury prize draw.

Spectacular prizes were on offer especially money can't buy experiences such as; McLaren factory tour and

David Fowkes Jewellery making tour.

This is a just small glimpse of the wide array of members and opportunities that The Luxury Network facilitates.

The Ambassadors of Malaysia, Thailand, Vietnam, The Philippines and Sri Lankas with DC members and invited guests.

The Luxury Network Germany Members Launch

The Diplomatic Council Soirée Events

A

t the beginning of May, The Diplomatic Council Soiree launched a series of exclusive diplomatic events, a

collaboration between the Hotel de Rome (Rocco Forte Hotels) and the Diplomatic Council. As members of The

Luxury Network, both partners have joined forces to create a win-win situation, in order to welcome diplomats

and top representatives from the business community, together with the diplomatic magazine, as a regular exchange.

The invited guests were welcomed in the elegant ambiance of the 5-star hotel to celebrate 50 years of ASEAN. The

Association of Southeast Asian Nations includes Brunei, Indonesia, Laos, Malaysia, Myanmar, Singapore, Thailand,

Vietnam and the Philippines. The ambassadors of Malaysia, Thailand, Vietnam and the Philippines, as well as Sri

Lanka's ambassadors – all members of the Diplomatic Council Organization – were also present and were available as

interlocutors throughout the evening.

93
---
TLN

News

The Luxury

Network

Russia Summer

Cocktail Event

O

n the 20th of July, The Luxury Network Russia hosted

a summer cocktail event for its official members.

CEOs and General Managers from 30 different luxury

companies met to be introduced to new The Luxury

Network members and to discuss joint projects and plans.

The event took place at the beautiful Russian restaurant

Vanil, located in the center of Moscow.

Sub Zero & Wolf were the first to introduce themselves.

Followed by luxury car brand owners club for Rolls-Royce,

Bentley, Ferrari, Aston Martin, Porsche and Mercedes-

Benz, who have recently become a media partners of The

Luxury Network Russia. Finally, the guests were

introduced to new member, Moscow Polo Club.

This exclusive event was made extra special with a private

viewing of works by Andy Warhol and Salvador Dali. Art

expert Alexey Volobaev told the guests the story of the

represented works and explained why they are a good

investment and why the artists became so popular in

Russia.

The main speaker of the evening was Yuliana Gordon, the

head of the board of AIZEL.RU, one of the first and the

biggest online luxury boutiques in Russia. She told the

guests about E-Commerce in the luxury industry and its

latest trends. She presented analytical information of

luxury brands such as Chanel, Dior, and Louboutin.

At the end of the evening, there was a private screening of

the Cannes Lions Festival featuring commercial

masterpieces from all over the world.

94
---
TLN

News

The Luxury Network Partner's

Evening in Queensland

Hosted at Mitchell Fine Art was the first The

Luxury Network Partners Evening of 2017. The

night was an opportunity for luxury brands

across Queensland to meet and to mingle.

This was an intimate evening with high fashion, fine

art, and some exceptional beverages brought to you by

Henschke, Vranken Pommery and Ice Swan Glacial

Water.

Guests were greeted with a red carpet experience and

a stunning Maserati Ghibli, proudly displayed by the

Williams Motor Group which represent other luxury

car brands such as Bentley, Lamborghini and Audi to

name a few. Guests got to enjoy some delicate finger

food which paired nicely with their welcome drinks

before the night got underway.

Dene Harris, Queensland's No.1 MC was on hand to

officiate the night while the newly appointed CEO of

The Luxury Network, Ronnie Yap who spoke of the

importance of partnerships and how Queensland can

benefit from a platform such as The Luxury Network.

He believes Queensland is all about the celebration of

lifestyles, luxury and experiences especially with our

beautiful sunny weather all year round. He was

followed by Managing Director, Paul Treloar, who

talked about some of the captivating events that The

Luxury Network had planned for 2017. The Luxury

Network is not all just about events but rather

creating unique partnership and intimate experiences

for our business-to-business and business-to-clients

relationships.

Guests were then given a moment to truly embrace

the purpose of The Luxury Network; that is to connect

with the one another under the umbrella of affinity

marketing. Gallery owner Mike & Sharon Mitchell and

Henschke representative, Elaine Millar took guests on

a virtual trip to the Hill of Grace, a world renowned

vineyard located in North Adelaide.

A big congratulations to the winners of the night. Karl

Schwantes of Xennox Diamonds walked away with a

Henschke Riedel Glass Gift Pack while the made to

measure suit from Mitchell Ogilvie went to Katelyn

Aslett of Adagold Luxe. Last but certainly not least,

Dracy Woods from Magari Estates walked away with a

one night accommodation at the Marriott AND a

bottle of wine on arrival thanks to Natalia Alexander of

the Brisbane Marriott Hotel.

No one walked away empty handed. At the end of the

night, everyone was a winner thanks to Xennox

Diamonds who included special vouchers in each and

every gift bag that evening. We also had the famous

and luxurious Ice Swan Glacial Water for our guest to

take home too.

Special thanks to the media partners which include

Style Magazines, BNTV, and Primetime Marketing.

Also a very special thanks to our concierge partners

Stylised for our beautiful event styling and lighting.

*Article originally published on Primetime Marketing

95
---
TLN

News

Think Business partners with the Luxury

Network Kenya in banking awards

T

partner at events related to the banking, insurance and

invaluable knowledge to its readers and industry stakeholders.

of the Luxury markets on the continent and as well as offer members

of the Luxury Network a platform to reach many more high

net worth customers that form a large part of its readership.

TLN UK Members

Enjoy Thrill and

Glamour of

Monaco Grand Prix

T

he Luxury Network UK members were invited

to experience the thrill and glamour of the

Monaco Grand Prix from the deck of a

trackside superyacht.

For a networking event like no other, members

enjoyed VIP treatment courtesy of event

management agency and fellow The Luxury

Network members, Red Eye Events. Offering

arguably the best views of the course, their

stunning 45 metre superyacht was moored

literally a few feet from the track action. Guests

enjoyed an all day open bar including Mumm

Champagne and Martini cocktails and were

treated to a lavish gourmet buffet lunch whilst

they viewed the Formula 1 racing.

In the brilliant sunshine, introductions were made

and friendships cemented to the roar of the cars

and the truly awesome array of surrounding multi

million pound superyachts. Surely there is no

more enjoyable way of doing business!

Red Eye Events specialise in the organisation of

exclusive hospitality experiences, incentives and

group travel. Their flagship event is the Monaco

Grand Prix where they have provided trackside

yacht hospitality, terrace viewing and hotel

accommodation for over 12 years.

Featured image courtesy of Shutterbug Media.

96
---
UNDER THE

Spotlight

by the CEO, Cas Ojo. Also in attendance was the Global Head

of Business Development at The Luxury Network International,

Helena Warren, and senior executives from various luxury

sectors.

Cas Ojo (TLN Nigeria CEO)

The Luxury Network

Nigeria Official

Launch Event

We are delighted to announce the official Press launch of

The Luxury Network Nigeria following a fantastic launch

party on the 6th July 2017, hosted by Porsche Centre Lagos.

The evening commenced with an opening speech by John

Woodruffe, Director, West Africa Department for International

Trade, and an introduction of The Luxury Network Nigeria

There was an introduction of the founding members – Porsche,

The Wheatbaker Hotel, Deola Sagoe, and Robert Taylor Media

Inc. and some discussion about the 4-fold vision of The Luxury

Network for the Nigerian market:

1. To set a new standard for the term 'luxury' inside Nigeria.

2. To create a consortium of the finest luxury brands and

high-end service providers within Nigeria, and facilitate

discussion and collaboration between Member Brands for

mutual business and client development.

3. To provide a low-risk market entry strategy for international

brands .

4. To increase brand exposure for Nigerian brands on the

International stage, by enabling dialogue between the finest

'Made in Nigeria' brands and world-renowned luxury

brands.

The proposition of the Nigerian network caters to both luxury

brands inside Nigeria and luxury brands outside Nigeria, who

wish to enter the market. So we are very excited to begin the

journey of creating unique partnerships and to push forward a

new conversation about luxury in Africa.

TLN Nigeria:

Chris Fidelis (Liaison Officer), Liz Ojo (Director), Charles Kenny (Head of Client Engagement)

Cas Ojo (CEO), Samuel Abiola (Director), Alexandra Obiawolo (Liaison Officer)

97
---
UNDER THE

Spotlight

98
---
UNDER THE

Spotlight

Cas Ojo (TLN Nigeria CEO)

Charles Kenny (TLN Nigeria Head of Client Engagement)

Helena Warren (Global Head of Business Development at TLN

International)

99
---
Looking to expand

your investment horizon?

Envestors is the leading private investor network for sophisticated investors, providing

unparalleled access to pre-screened, high growth venture investment opportunities.

Registering to become a member of our network

is straightforward and free of charge.

Contact Jessica Wilson, Investor Relationship Director

E: jessica.wilson@envestors.co.uk

T +44 (0)20 7240 0202 | envestors.envestry.com

Please note that investments of this nature carry risks as well as potential rewards.

Envestors Limited is Authorised and Regulated by the Financial Conduct Authority (FCA) in the UK. Firm Reference Number (FRN) 523592.

100
---
45 TH FLOOR, PALM TOWER, WEST BAY, DOHA, QATAR

at

at

Type A

Type B

Type C

Type D

10,500 QAR

11,500 QAR

14,500 QAR

19,500 QAR

For more info:

Phone: +974 4042 7114

Mobile: +974 3324 4344

Email: office@fgr.qa

Website: www.fgr.qa

101
---
102
---
Editor-In-Chief

Fares Ghattas

Managing Editor

Garz Bumanlag

Creative Department

Phillip Casumpang & Chris Wood

Production Manager

Tala Ghattas

Print and Production

FG Copy House

At 2017, The Luxury Network Magazine was published as a bimonthly supplement for The Luxury Network International. All materials are strictly

copyrighted, and all rights are reserved. Reproduction in whole or in part without the prior written permission of The Luxury Network International is

prohibited. All content is believed to be factual at the time of going to print and contributors' views are their own derived opinions and not excessive

that of The Luxury Network International. No responsibility or liability are accepted by the publishers or editorial staff for any loss occasioned to any

individual or company, legally, financially or physically, as a result of any statement, fact, figure or expression of opinion or belief appearing in The

Luxury Network Magazine. The publisher does not officially endorse any advertising or advertorial content for third party products. Photography and

image credits, where not otherwise stated, are those of Getty Images and/or Shutterstock; each of which restrains their individual copyrights.
---
Members Directory

Champagne Pommery

www.champagnepommery.com

P&L Luxe

www.pl-luxe.co.ke

Mercedes-Benz Kenya

www.mercedes-benz.com

www.cfao-automotive.com/en/

subsidiaries/dt-dobie-kenya

Akarua

www.akarua.com

Cape Kidnappers

www.capekidnappers.com

Heletranz

www.heletranz.co.nz

Kauri Cliffs

www.kauricliffs.com

Maraca

www.maracanewzealand.com

Matakauri Lodges

www.matakaurilodge.com

Montblanc

www.montblanc.com

Bin Faqeeh Co.

www.binfaqeeh.com

FB Artist

www.instagram.com/fbartist

FG Realty

www.fgr.qa

Kare

www.kare-design.com

Lavazza

www.fb.com/lavazzaqatar

San Benedetto

www.sanbenedetto.it

Selamlique

www.instagram.com/selamliqueqatar

Daviani

www.daviani.ru

Enhel Group

www.enhelbeauty.com

Moscow Polo Club

www.moscowpoloclub.com

Neva Towers

www.nevatowers.ru

Savills

www.savills.com

Sky Club

www.sky-club.ru

Sub Zero

www.subzero-wolf.ru

Caratell

www.caratell.com

De Dietrich

www.dedietrich-asia.com

Diplomatic Council

www.diplomatic-council.org

Etihad

www.etihad.com

Glenfiddich

www.glenfiddich.com

Kwanpen

www.kwanpen.com

Monkey Shoulder

www.monkeyshoulder.com

Moonshot

www.moonshotdigital.com

One15 Luxury Yachting

www.one15luxuryyachting.com

Peroni

www.peroniitaly.com

Singapore Polo Club

www.singaporepoloclub.org

Small Luxury Hotels

www.slh.com

St. Regis Singapore

www.stregissingapore.com

The Balvenie

www.thebalvenie.com

Turf Club

www.turfclub.com.sg

W Singapore

www.wsingaporesentosacove.com

William Grant & Sons

www.williamgrant.com

RIF Trust

www.riftrust.com

Eight Ray Music

www.eightraymusic.com

Envestors

www.envestors.envestry.com

Inspired

www.inspiredlive.co.uk

Macmillan

www.macmillan.org.uk

Newmarket Racecourses

newmarket.thejockeyclub.co.uk

Red Eye Events

www.redeyeevents.co.uk

Sunseeker London

www.sunseekerlondon.com

Twenty One Twelve Marketing

www.twenty-one-twelve.com

Aston Martin

www.astonmartin.com
---
ugh Jackman Hugh Jackman and and

e new the TimeWalker new TimeWalker

ronograph Chronograph

The new TimeWalker Chronograph is inspired

new TimeWalker

by performance

Chronograph

and

is

the

inspired

spirit of racing.

erformance and the spirit of racing.

montblanc.com/timewalker

ntblanc.com/timewalker

Crafted for New Heights.

fted for New Heights.

Montblanc Boutique: 87 Queen Street · Auckland · ph (09) 309 5074

Montblanc Boutique: 87 Queen Street · Auckland · ph (09) 309 5074

105
---
-

The Luxury Network International

Level 1, Devonshire House

One Mayfair Place

Mayfair, W1J 8AJ

United Kingdom

info@tlnint.com

+44 (0) 207 268 4959

www.tlnint.com

106