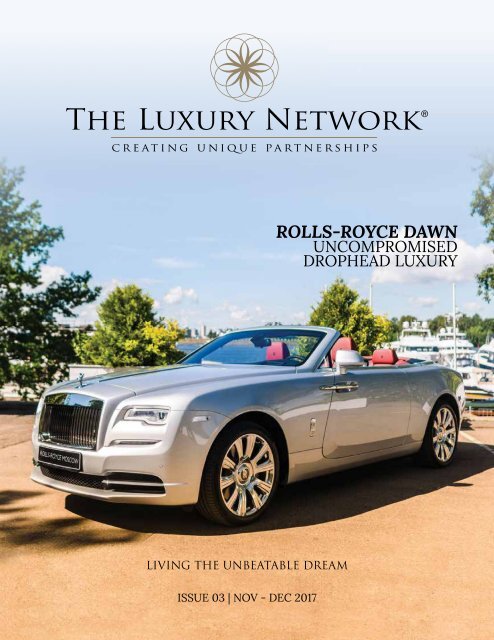 The Luxury Network International Magazine Issue 03
You also want an ePaper? Increase the reach of your titles
YUMPU automatically turns print PDFs into web optimized ePapers that Google loves.
ROLLS-ROYCE DAWN

UNCOMPROMISED

DROPHEAD LUXURY

LIVING THE UNBEATABLE DREAM

ISSUE 03 | NOV - DEC 2017
---
Described as "The next generation of marketing for luxury brands" by the British

media, The Luxury Network is the world's leading luxury affinity marketing group.

The Luxury Network is a private membership club, established in luxury capitals

or countries around the world, within which premium companies work closely

together at senior director level for mutual business and client development.
---
The Luxury Network's objective is simple: To facilitate co-operation and exciting

new business development activities between top-end companies. New business

partnerships are created via strategic alignment, joint collaborations, product

placements, endorsements, media sharing, B2B and B2C networking, sales and

luxury showcase events and numerous other affinity marketing activities.
---
Editor

NOTE

Dear Valued Reader,

It is our privilege to welcome

you to the latest edition of

TLN Magazine, your gateway

to the latest news in the

world of luxury! Through this

bimonthly publication, you will

be able to stay abreast on the

latest high-end products, services,

and trends globally.

In this edition, you will have an

overview of some of our

international members from

different luxury industries. You

will also witness some high-end

events from

influential brands. Watch out for

the upcoming issues, we are

going to take you in to a deeper

journey to explore more detailed

topics that cover a range of topnotch

brands from the luxury

industry. We will also feature some

of the exciting affinity marketing

projects that The Luxury Network is working on.

You may take this publication as your personal lifestyle guide to the

products and services to live the

lush life and activities you truly deserve.

Ambassador A Fares F Ghattas G Editor-in-Chief / Global CEO
---
THE IMPERIAL RANGE

First Class Service at the Touch of a Button

Connect Guests and Staff with our standard and bespoke

call buttons integrated with leading AV solutions

Private Residences

SuperYachts

Private Members Clubs

+44 (0) 20 8381 1338 solutions@call-systems.com www.cstluxury.com
---
Join a global network

represented by Ambassadors

from all over the world

and enjoy the status,

prestige and influence

of an Ambassador

representing the economy

www.diplomatic-council.org/gold

Inspired by Ms Irene Ho, Head of DC Mission Singapore, CEO The Luxury Network Singapore

Artworks and Graphics by kreativrudel, recommended advertising agency for Diplomatic Council members

Text by euromarcom, recommended public relations agency for Diplomatic Council members
---
Representation in Russia

Moscow,

Presnenskaya Embankment, 10С

+7 (921) 915-54-44

Saint-Petersburg,

Sinopskaya Embankment, 22

+7 (921) 797-00-97

www.oneandonlyrealty.com
---
One&Only Realty, the American holding company for the One&Only Realty Group, has been in the real

estate market for more than 20 years. We operate between our offices in New York City and the rest of the

world, providing support to our clients in their international transactions involving premium US real estate,

that is unparalleled in the market.

As well as assisting with the sourcing and transactional elements of our clients' real estate investment needs,

One&Only Realty offers clients a comprehensive and exclusive concierge service as well as legal support.

Our clients include the most discerning high net worth individuals, as well as prestigious corporations and private

offices. The thing that unites all of our clients is that they demand the best tailored service when investing in premium

real estate, and they trust us to provide it.

On the sell side, we benefit from exclusive agreements with some of the most acclaimed developers in New York

City, including Zeckendorff Development whose buildings, including 15 Central Park West and the headquarters of

the United Nations have left their indelible mark on the New York City skyline and have become synonymous with

quality and prestige.

So why invest in real estate? Premium real estate has traditionally been an attractive investment opportunity, as it has

tended to weather financial downturns and other issues that have affected other industries and investments, whilst

also yielding healthy returns on capital investment.

The One&Only Realty expert analytics team takes the view that this traditional model is likely to continue, with anticipated

15-20% of returns for our exclusive offers in particular.

So why invest in the US? From a macroeconomic and geopolitical standpoint, the US is a safe place to invest with a

developed rule of law and property rights, a relatively stable and secure world leading economy, and few material

external influences on economic or political policy. This is not to mention the fact that the US the highest spending

population in the world, a key reason why it is now home to the majority of the largest and most innovative companies

on the globe.

One&Only Realty has an extensive network of premium partners spread across the globe allowing our clients to benefit

from a truly unique and comprehensive platform. Furthermore, we have relationships with a number of the largest

and most reliable banks to assist with any transactional or financing needs that our clients may have, including Bank

of America, GP Morgan, Morgan Stanley, Citigroup, Sberbank private banking and Uralsib private banking.

In order to fulfil our aim of being the ultimate single platform for our clients' lifestyle needs, the One&Only Group has

recently expanded to assisting our clients in investing in yachts, so we have recently secured the exclusive rights to

market The Bugatti Ninitte 66 in Russia and CIS.

During our 21 year history, we are proud of the service that we have provided to our clients. We are even more proud

of the investments and financial security that we have achieved for them. We will continue to take pride in these

achievements and work just as hard to ensure the same for our next generation of clients.

www.oneandonlyrealty.com
---
COVER

Story

Rolls-Royce DAWN

UNCOMPROMISED

DROPHEAD LUXURY

"Our new Rolls-Royce Dawn promises a

striking, seductive encounter like no other

Rolls-Royce to date, and begins a new age

of open-top, super-luxury motoring. Dawn

is a beautiful new motor car that offers the

most uncompromised open-top motoring

experience in the world. It will be the most

social of super-luxury drophead motor cars

for those who wish to bathe in the sunlight of

the world's most exclusive social hotspots.

Quite simply, it is the sexiest Rolls-Royce ever

built.

The name 'Dawn' perfectly suggests the fresh

opportunities that every new day holds – an

awakening, an opening up of one's senses and

a burst of sunshine. In its tentative, inchoate,

anticipatory state, dawn is the world coming

to light from the ethereal dark of the night.

The early-day chill of dawn provides an erotic

tingle on the skin, awakening the senses and

passions as the day begins.

Like Eleanor Thornton, thought by many to

be the inspiration behind the Spirit of Ecstasy,

the Rolls-Royce Dawn will itself prove to be

the muse that leads its owner to believe that

at the start of the day, anything is possible."

Torsten Mueller-Oetvoes, Chief Executive

Officer, Rolls-Royce Motor Cars

18
---
COVER

Story

Rolls-Royce

Motor Cars Moscow

Rolls-Royce Motor Cars Moscow – is an

authorized representative in Russian

Federation of Rolls-Royce Motor Cars Limited.

Rolls-Royce Motor Cars Moscow is the largest Rolls

Royce automobile dealer of Continental Europe.

RRMC-Moscow is the current recipient of the «Best

Dealer Award in Continental Europe» for Leadership

in Sales and Service Satisfaction. Presently RRMC has

three showrooms – Centrally located in Moscow in St.

Petersburg and specialized showroom Provenance

Pre-Owned. Moscow showroom is located in the

center of the city in the Five-star rated Ukraine

Hotel across from the Russian Federation White

House on Kutuzovsky Blvd. The unique features of

the building›s architecture combine perfectly with

the exclusive Rolls-Royce interior, where every

detail emphasizes the elegance and grandeur of

Rolls-Royce cars. The success and growth of RRMC

Moscow made it possible to expand in Russia and

open an additional dealership in St. Petersburg

in 2013. Rolls-Royce Motor Cars St.Petersburg

showroom is located at the «Astoria» Hotel Malaya

Morskaya St.22 and shares the same elegant and

luxury buying experience as RRMC Moscow. We

invite you to visit either showroom and experience

Rolls Royce elegance.

showroom Provenance Pre-Owned, which offers

not only an exposition of unique cars, but also an

innovative service area.

The legendary Rolls-Royce automobile company

specializes in the production of luxury hand assembled

cars. The model range includes Phantom, Ghost,

Wraith Coupe and Dawn convertible. Combining

bold engineering and advanced technology with the

most exquisite materials, these cars are admired for

its luxury, refinement, dynamism and quality.

There has been formed a large fleet of Rolls-Royce

cars is In Russia - today there are more than 1000

vehicles. A growing number of cars, as well as a

changing customer database, requires a special

approach to customers and owners of used cars. This

gave us the opportunity in 2016 to open a specialized

www.rolls-roycemotorcars-moscow.ru

Tatiana Fitzgerald, Managing Director of Rolls Royce

Moscow and Saint -Petersburg

19
---
26
---
Newsletter

Kanry Group is a new format of organizing your holiday.We know exactly how to satisfy all the requests of the most demanding

clients. Private and business events of different formats.

Our mission is creating outstanding, memorable, incredible events. We find suitable methods and optimal tools for solving the

tasks you set. Our young, energetic team works for you, creating unique extra-class events. Our portfolio already contains

successful ones.

We believe that each event should be unique in its own way - to show in individuality and content. We value the time and

money of our customers, and therefore, when starting a new project, we try to hear, see and understand you as much as

possible. When developing the concept of events, we want not only to keep up with the times, but also to get ahead of it. We

want more, and be a part of all the most important events in the life of our clients. After all, we know how to make them

unforgettable. All you need to wish for it, we will do the rest.

www.kanrygroup.com mail@kanrygroup.com @kanryevent +7 905 739 3063

27
---
Please drink resP onsibly
---
San Benedetto is distributed in Qatar by International Foodstuff Group (IFG), info@ifg.com.qa, contact no: +974 4485 8000
---
Proudly recognised as one of the World's Top 100 Interior Designers

in the Andrew Martin Interior Design Awards 2016 and 2017.

www.aji.co.uk

+44 (0)20 7887 7604

alexanderjamesinteriors
---
+961 3 18 28 44

+961 3 51 78 41 laboiteroselb
---
Creators of bespoke luxury experiences.

Lifestyle Events

& PR

Linkages &

Market Entry

Research &

Knowledge Products

Not knowing is bad but…

Not wanting to know is definitely worse.

Be in the know with P&L Luxe

_______________________________________________________________________________________

No. 5 Kanjata Road |Off James Gichuru Rd | Email: info@pl-luxe.co.ke | Web: http://pl-luxe.co.ke/

Tel: +254 722 522 000. 5 Kanjata Road | Off James Gichuru Road | Tel: +254 722 522 000
---
ALL

STOPS

Many people travel the world to go skiing without

ever knowing that it is not skiing they are after.

Skiing is a great excuse to go somewhere, but

maybe it gets a little too much attention?

To travel is to notice the world as it turns. Let

skiing be your guide, but not your master.

Loosen your grip, put down that itinerary,

ignore Google, take a moment to look around,

and don't rush, because the surest way to

catch a train is to miss the one before it.

Chris Booth

51

35
---
ON SAFARI

or finding

JOHNNY CASH

on the Alaskan Frontier

By Chris Booth

Photos Reuben Krabbe

"Me and a couple of buddies, we had

a syndicate for years. Then in 2008 we

won $34.1 million dollars." I'm sitting at

the Bitter Creek café in Stewart, a small

Canadian town on the Alaskan Frontier.

Sitting across from me is Mike, a semibald,

heavy-set guy from Kelowna.

Wearing an old BC Hydro jacket, he

kind of looks like a logger. Mike finishes

his beer, looks at it, then looks at me and

says, "When I found out I tried calling

my parents to tell them, but I couldn't

get through. So I put on a Chuck Berry

record and danced around my house in

my underwear." He orders another pint

of Honey Brown, "I didn't blow it all

though like most people. I still have my

share, I still work, I still have the same

house and everything, but now I can

afford to go heli skiing every year."

36
---
37

53
---
54

Mike is not the kind of guy I expected to meet

at a heli ski operation. But then again, none

of this is what I expected. When I was given

the chance to go on a Heli Safari with Last Frontier

Heli, located up in the far reaches of Northern

BC, Canada, I had figured it would be the classic

Canadian heli/lodge experience, the experience

the Canadian reputation is built on. But from the

moment I arrived in Stewart – the first stop on our

Safari – I had to rethink all of it.

Stewart is a town built to support a mining industry

that no longer exists. Situated at the end of the

Portland Canal, Stewart sits about a half-mile

from the border. A clear-cut through the forest

separates it from neighbouring Hyder, Alaska,

population 87.

The wheels of industry turned here for almost 100

years. There was a time when the town swelled to

many tens of thousands and business was good,

a time when men from all over Canada flocked

to work the silver mines, drink whisky and make

more of themselves. But the landscape was harsh

and unyielding. Giant glacial plateaus plunged

into icy ocean fjords. Avalanches engulfed teams

of men working the valleys below. Man, they must

have tried. They carved tunnels through rock, they

shored up massive slipping hillsides, they cut trails

through deep pine and hemlock forests, and they

laid tracks along the shorefront to set up a goods

line down south. But this was rough country,

nobody got rich, and when the mines closed

down and moved to more profitable locations the

workers left with them.

Today the town is all but dead. But the spirit of

frontier life remains in the buildings that continue

to line Main Street. Some are artfully restored in

Pastel timber, like the Ripley Creek Inn and the

Bitter Creek Café, with their cosy kitsch interiors

and bric-a-brac from the silver rush, others less so.

Down the road an original '57 Chevrolet Bel Air in

jet blue sits in an old warehouse. It looks like it's

been driven once and then just left to sit.

But where most would see only history, two

salty old Swiss skiers and an Englishman saw

something else. Like the miners of the early 20 th

century, George Rossett, Franz Fux and Mike

Watling saw opportunity where others saw nothing

but wilderness. For the miners it was the rich silver

veins in the upper Salmon River Basin, for Rossett,

Fux and Watling, it was the 9,500km 2 of available

tenure, packed with expansive glaciers, steep fallline

forests and epically skiable peaks, making it

the biggest single heli ski operation on Earth. In

the middle of this skiing Nirvana, Last Frontier

Heli was born.

My arrival coincided with an Arctic outflow

causing sub-arctic temperatures starting at minus

25 degrees. Tundra-like conditions made the first

two days unbearable. It was cold, it was dry, and it

was hard. But then it snowed. After being sucked

into the slipstream of the outflow, this low pressure

dropped 50cms of the driest snow imaginable

in a single night, lighter than Utah, lighter than

Hokkaido, lighter than anything. I've never seen

anything like it. I figured being a heli operation

we couldn't fly during a storm system, and that we

would have to wait for the next blue bird to go up,

but that very next morning we were out there in the

field. What we saw was a landscape transformed;

from an empty frostbitten Yukon to a deep winter

wilderness. Pow.

We couldn't believe it. None of us, not even

Watling himself had ever skied snow like that.

It was all there in front of you, but there just

wasn't any resistance, there was no feedback, you

couldn't feel a single flake. It was so deep and yet

so fast that even making simple turns through it

was strange; less like skiing and more like moving

through a medium, like being a ghost.

"Having good tree line skiing is so important for

a heli operation," said Watling as we waited to

drop the next run, "Otherwise you just don't get

to ski days like this." I wasn't at all accustomed

to flying around in a helicopter in the middle of a

ABOVE: IN THE VALLEY ON THE RIGHT IS THE TOWN OF STEWART, BC. IN THE VALLEY ON THE LEFT IS THE TOWN OF HYDER, AK. THAT LINE THROUGH THE MIDDLE IS

THE CANADIAN/US BORDER. OPPOSITE: TO GET SNOW LIKE THIS YOU NEED REALLY DEEP COLD, TONS OF PRECIPITATION, NO WIND, AND MOST OF ALL, ACCESS. LAST

FRONTIER CAN GIVE YOU THE ACCESS, THE REST IS LUCK. PREVIOUS SPREAD: IMAGINE DROPPING IN HERE WITH FIVE OF YOUR MATES. UNFORGETTABLE.

38
---
39

55
---
IN SKIING AS IN LIFE, NATURE'S BEST

GIFTS ARE SAVED FOR THOSE WHO ARE

PREPARED TO SEEK THEM OUT. IF YOU GO

A LITTLE BIT FURTHER THAN EVERYBODY

ELSE YOU WILL GET REWARDED. LAST

FRONTIER ISN'T THE CLOSEST TO THE

AIRPORT, AND THAT'S WHY IT'S WORTH IT.

56

40
---
41

57
---
58

CLOCKWISE FROM TOP LEFT: AFTER THE STORM THE SUN RISES, A RARE MORNING MOMENT IN THE COAST MOUNTAINS. THE GLACIERS ARE HUGE, IT'S NOT HARD TO

IMAGINE YOU'RE ON THE MOON SOMETIMES. THE ROUTE HOME, THE 'IFR' PRINCIPLE IN EFFECT. WHISTLER SKIER SUZ GRAHAM WAS ONE OF THE LUCKY SKIERS TO

SCORE A SEAT IN THE HELI FOR THE WEEK. LUCK PLAYS A BIG PART IN SUZ'S LIFESTYLE – SHE'S ALSO AN AVID BASEJUMPER. THE BELL 2 LODGE BAR, COMPLETE WITH

BAR CHICK FROM MYRTLEFORD ON MANDOLIN.

42
---
We're flying at treetop elevation and the windows are thick with

condensation. It's minus 22 degrees outside and dumping.

storm system, but at Last Frontier you average four

out of five days on the hill. That's an unbelievable

strike-rate for a heli ski operation.

With each lap it seemed we would ski into snow

that was even drier and even deeper than the

last. At one point we skied the left side of a long

bending bowl. I watched as the others dropped

into the bowl and disappeared somewhere into the

tree line, long-veiled ghosts leaving monochrome

vapor trails lingering in the frigid white air before

me. I filled my lungs with cold air, and dropped.

The next part was something I'd never experienced

before. All you could really do was just point

your skis fall line and let the snow – now up

to your chest just below armpit level – engulf

you completely. It was like being at the eye of

your own personal snowstorm, catching only

momentary glimpses of the run before the next

turn washed over you. And with snow so light it

got in everywhere; in the seams of your hood, in

between your goggle lenses, through the powder

skirt in your jacket and up your back and up and

inside your beanie – while you were wearing it. It

was just unbelievable.

"You think you have something to write about

yet?" said Watling as he handed me a sandwich

and a cup of coffee back at the helicopter. I sort

of nodded and smiled. I wasn't settled and didn't

really have anything to say. I had only just stopped

and I hadn't caught my breath. Part of me was still

up in that bowl somewhere. I took the sandwich

into my hands and saw that it was squishy and real.

I spilled some coffee onto my gloves, pulling me

back into the present. "You ready for Bell 2 now?

It's completely different all over again, you'll see,"

Watling said as he piled the backpacks into the ski

box. "The weather's really coming in so it's time to

move." And so it went, feeling like I had only just

returned to Earth, now it was time to leave it again.

We're flying at treetop elevation and the windows

are thick with condensation. It's minus 22 degrees

outside and dumping. Visibility is low. Through

the front window I watch as the Alaska Highway

files out ahead, trucks carrying natural gas and

logs pass underneath. It's our map from Ripley

Creek to Bell 2 Lodge. "We go by the IFR

principle here," yelled Mike over the drum of the

heli, "I Follow Roads." Roads (and rivers) are the

lifelines when the weather gets bad in the area;

they are what the pilots use to stay oriented when

the clouds really come in.

We soon land at Bell 2 Lodge, located 360km

north-west of Smithers and deep into the Canadian

Wilderness. Originally a service station for

travellers of the Stewart-Cassiar Highway on their

way to Alaska and the Yukon, Bell 2 Lodge is now

the beating heart of Last Frontier's Drop City – a

smattering of log chalets surrounding the main

lodge. While I spent the day skiing, the crew at

Last Frontier were busy transporting my luggage

from Stewart to Bell 2, and it was already packed

away in my cabin by the time we landed.

Bell 2 is remote but with satellite communication

and state-of-the-art environmental facilities, it offers

the comforts of a first-class hotel with a rustic touch

of the Canadian wild. The dining room, lounge and

bar act as the focal point for skiing stories to be

shared, while the hot tub, massage rooms and yoga

studio offer all those other modern comforts one

would expect from a fancy hotel.

But it's no hotel. It's much more personal than that.

Because Last Frontier is foremost about skiing, the

lodge looks like it's been tinkered on over time.

There is no overall design scheme, it's not like a

designer rolled out a floor plan and went, "Let's

build a customer experience." Each room in the

lodge is different. When you walk in through the

entrance the first thing you see is a sign that reads,

What would Johnny Cash do? I'm not sure what it

means, but I like it. Bell 2 has something distinctly

personal about it, perhaps a materialisation of who

Watling is as a person. "This has been my life, this

place," he said. "I've put everything into it."

The next day there isn't a cloud in the sky. The

early sun shines bright, blocked only by crisp

white peaks casting soft morning shadows

across the valleys. As the helicopter lifts off from

our first drop it whirs cold snow into a cloud above

us, glittering in the morning sun. We are feeling

humble after yesterday, and today the mood is pure

gratitude. This is a harsh and unrelenting part of

the world, but today the mountains are kind. We

ski bluebird pow till dusk, stopping only to collect

a chunk of glacier ice for the bar – it's Watling's

thing. "It's dense so it lasts incredibly long in the

glass," he says with a grin as he shoves it into the

rear hatch. I guess he who owns the place can do

what he wants. But before we head back, Watling

has one last run he wants to show us.

"This isn't a place we usually take guests," he says,

"but it's the coolest area I've seen around this whole

place." We land atop a long, steep ridge where the

alpine meets the treeline. The early evening light

catches it beautifully, casting everything in a pinkish

alpenglow. "I'd usually let the guide and guests

drop first, but it's my birthday today," says Watling

LEFT TO RIGHT: NORTHERN BC HAS BEEN LABELED 'THE NEW KOOTENAYS' BY SOME FOR ITS CHEAP LIVING AND CORE SKI COMMUNITY. FLYING IN SNOWSTORMS HAS A

REALLY DISTINCT FEEL ABOUT IT. NOT SURE IF IT'S UNNERVING OR JUST REALLY EXCITING. WATLING IN HIS HAPPY PLACE ON HIS BIRTHDAY.

59

43
---
as he pushes off, quickly disappearing over the

rollover. I crank my boots then take a brief moment

to look around. What a place.

I make a few turns into the rollover but can't see much

below, it seems to keep rolling. So I go a little further

and track right around an island of trees. And then it

reveals itself – the full enjoy, a 2000ft apron of pow

that ran steep down off the ridge all the way to the

heli below, bathed in the last light of the day. I ski

a few turns into it then stop, I think to myself, turns

are nice and everything but I'm just going to let go

here. This is the moment you spend all year working

for, the moment you picture in your head at 3pm on

a Wednesday when you're wondering why you are

in an office surrounded by grey plastic electronics

responding to emails. This is the reason you get up

every day and wade through the abrasiveness of life

and all its vicissitudes; the monotony, the subservience,

the inescapability of gravity and the whole stupid,

ridiculous everything. This is the moment you keep

in your head to help you through that. Now that I

was finally there I threw myself into that moment

completely. I put everything on autopilot. I could

feel my skis turning and moving, but relinquished

all control over them. I stopped bothering with pole

plants and let my arms go wherever. Snow was flying

up everywhere around me, terrain was coming at me

quickly, trees were flying by, but in the middle of it

was calm. I started to breath. I became entranced in

my own motion, allowing every movement to occur

naturally, to respond to what the mountain gave me,

but without a single thought as to its existence. And in

that moment, that little moment just there, I began to

discover paradise.

I was on a one-man party-wave of emotion,

ghosting through magical frozen ether on my

orange hover planks. With arms stretched out, I

pointed straight down the mountain and, lifting

my head to the sky, I thanked the Universe. I had

entered a transformational vortex into a visceral

infinity. I had become Pow Jesus.

Later in the Base 2 Lodge bar the mood is lifted. The

guests are at the tail-end of their week and making

the most of it; too early to think of the real world that

awaits them, and still tucked far enough away from

the world to pretend that it doesn't exist, they toast to

a week without compromise. I'm still in my ski boots.

My feet are wet but I don't care. I toast the week with

them. Watling comes over and pours me another glass

of Forty Mile. "You think you have something to

write about yet?" he says again. Watling and I cheers

glasses. There's an Aussie chick behind the bar. She's

from Myrtleford and plays mandolin. When she later

pulls it out and starts playing everyone stops what

they're doing and watches. She's impressive. One of

the guides picks up a guitar and plays along. Watling

pours me another glass of Forty Mile. I notice that the

glacier ice in my glass hasn't melted. "So what's the

deal with this place?" I ask. "Why would you come

here to heli ski instead of other places?" He takes a

sip and gestures closer to me, "Stuff the heli skiing,"

he says, "You know what it's about? It's about F-U-N.

That's what we do."

I finish my drink and gesture my thanks to Watling

across the bar. He's over pouring someone else a

drink and entertaining some guests and doesn't see

me. I let it go. On the way out I pass the Johnny

Cash sign at the entrance. I stop there for a moment.

"What Would Johnny Cash do?" it reads. Now I

think I understand.

60

THE SKIING OUT OF STEWART IS BIG GLACIERS AND MASSIVE BOUNDLESS TERRAIN WHILE BELL 2 IS AN EXPANSE OF

RIDGELINES THAT ARE ALL IN PLAY. SUZ GRAHAM ENJOYING ONE OF THOSE RIDGELINES IN BELL 2.

44
---
What began with a spark... emerges as an icon.

The difference is Gaggenau.

We have been perfecting one oven for 30 years. Our latest

rendition accentuates its distinctive design: the door is now

created from one imposing 90cm wide sheet of 3mm

high-grade stainless steel. It represents one vast entrance

to culinary potential.

This remodelled, hand-crafted work of art is the culmination

of our finest principles, skills and ethos. We've christened

it the EB 333 in recognition of our 333 years of working

in metal. This has always been more than an oven; it is

a promise to create masterpieces.

For more information, please visit www.gaggenau.com
---
TRANSFORM THE ENERGY OF YOUR GENES

INTO THE ENERGY OF YOUR LIFE!

BARANOVA MONACO® is a unique brand in the field of personalised genomics, anti-ageing and health. It brings together the

various original personalised techniques, patents and know-how of Prof. Baranova also as a professional line of food supplements –

REGENE PRODUCTS®.

New GENEration line of REGENE PRODUCTS® a range of unique food supplements for optimisation of gene activity. The

products are specifically designed in line with Prof. Baranova's formulas, have top quality purified ingredients and a direct gene

activation effect, which contributes to rejuvenation and anti-ageing, as well as anti-fatigue/anti-stress.

Personalised capsules and a beautiful design lend the products an exceptionally elegant Monaco touch.

"I would like to promote a totally new concept, where the intake of our products is associated with Pleasure,

Beauty and Health each and every time a box is opened and a capsule is touched. Feel privileged, feel different,

feel powerful." Professor Dr Elena Baranova

BARANOVAMONACO.COM

+ 377 97 98 04 66

VILLA BIANCA, 29 RUE DU PORTIER - 98000, MC, MONACO
---
Selamlique Istanbul is distributed in Qatar by International Foodstuff Group (IFG)

Email: selamlique@ifg.com.qa Mobile: +974 6674 9933 Tel: +974 4037 3287
---
INTRODUCING

THE NEW HALLMARK OF WELLBEING

Welcome to the new private members' wellness club, where your health and wellbeing are our priority.

Come and experience our marketing suite, our team would be delighted to meet you.

3 St James's Square, London SW1Y 4JU

0203 909 7133 | enquiries@3sjs.club | www.3sjs.club
---
TRUST US…

…TO GUIDE YOU TO BUY YOUR NEW YACHT AND MAINTAIN

ITS VALUE WHILST ALSO PROTECTING YOUR MOST VALUABLE

ASSETS ON BOARD.

THE TRUSTED NAME IN YACHTING

FRASERYACHTS.COM
---
A Home Move Like No Other

Are you considering moving house? Home Move Consultants aim to make

your relocation a stress-free experience.
---
The Home Move Consultants

A recent poll stated that 37% of business professionals would be willing to

relocate anywhere in the world in order to chase their professional dream. Some

may also be considering a lifestyle change, moving from bustling city to pastures

green. Home Move Consultants recognise that whilst location change may be

coveted by many individuals, it is also hugely time consuming and stressful. It

doesn't have to be. Home Move Consultants offer a high-end management service

that is more than just a relocation service. Offering bespoke packages that are

tailored to each individual, Home Move Consultants can manage as little or as

much of the process as you'd like. Giving you more time to concentrate on your

personal and professional life – the things that matter. The devil is very much in

the detail and Home Move Consultants offer an extensive personalised package.

The company is the brainchild of Deborah Robinson and Charlotte Hepworth, two

experienced business owners with a passion for delivering bespoke luxury service.

Between them they have many years' experience of building individual client

contracts and project management. Their plethora of connections with high-end

estate agents, interior designers and removalists, provide clients with a secure,

reliable network of professionals that offer complete peace of mind.

The actual act of relocation is separated into three phases - pre-move, moving day

and post-move. Home Move Consultants will assist with the staging of a house

pre-sale. They will also initiate pre-move quotes from removal companies, as well

as acquiring appropriate storage facilities. When the day of the move arrives, a full

house move management, including administration and coordination of

contractors is undertaken. Home Move Consultants take great pride in their

dedicated, service led approach. So much so, that if you and your family wish to

escape the whole moving process and enjoy a weekend away, Home Move

Consultants can guarantee that on your return all furniture will be in place, beds

will be made and there will be a bottle of wine, ready for toasting new beginnings

in your new home. Home Move Consultants want you to relax and actually enjoy

your move under their professional care and attention. Their aim is to make a

stressful experience, a stress-free experience. Maybe that relocation dream is

easier than you first thought?

For more information on the services offered by Home Move Consultants, visit

their website at www.homemoveconsultants.co.uk or call Deborah / Charlotte

on +44 7855 313097 You can also find the Home Move Consultants on Facebook,

Instagram and on Twitter @homemovegurus
---
BECOME PART OF

A WINNING FORMULA

At Newmarket Racecourse we provide excellent partnership experiences

ranging from classic sponsorship to more unique brand exposure opportunities.

Be part of something special.

CONTACT THE PARTNERSHIP TEAM

JONATHAN TEWSON / EMMA WOOD - (0044) 1638 675300

NEWMARKET.SPONSORSHIP@THEJOCKEYCLUB.CO.UK
---
Aram Davidian,

Chief Medical Officer of AVRORACLINIC,

Professor, International Expert in Implantation

and Dental Rehabilitation
---
Luxury Living on the Banks of the Thames

One Tower Bridge offers a five star living experience on the South Bank, with one of the world's most iconic landmarks

as its backdrop. A plethora of exciting new retail and commercial signings including Bridge Theatre, London's largest

new theatre in 40 years and The Ivy restaurant will make One Tower Bridge the most sought after destination in London.

2 and 3 bedroom apartments available. Prices from £3,650,000

For more information or to book your appointment call +44 (0)20 3930 2693 or visit: www.onetowerbridge.co.uk

Prices and details correct at time of going to press.

www.onetowerbridge.co.uk

Proud to be a member of the Berkeley Group of companies

for your future
---
ARTIST IMPRESSION

CAPITOLGRAND.COM

SOUTH YARRA

ELITE LIVING

CONSTRUCTION UNDERWAY

COMPLETION 2019

EARN UP TO 2 MILLION QANTAS POINTS*

*Members who purchases these eligible properties could earn one Qantas Point for every two dollars paid to the vendor or its representative on the deposit and the balance of the purchase price up to a maximum of 2,000,000 Qantas Points.

For example, if you bought a property for $300,000, you could earn 150,000 Qantas Points. *You must be a member of the Qantas Frequent Flyer program to earn points. Membership and the earning and redemption of points are subject to the

terms and conditions of the Qantas Frequent Flyer program available at qantas.com/terms. By purchasing an eligible property through an accredited real estate agent of LK Property Group, members could earn Qantas Points. Points will not be

earned on any government taxes and charges paid, including stamp duty. The Property must be purchased through a real estate agent accredited by LK Property Group. "Eligible property" means a new residential property that: 1. Developed

by LK Property Group and 2. has been identified by LK Property Group or its accredited agents as a property for which purchasers are eligible to earn Qantas Points; and 3. has been purchased from an agent accredited by LK Property Group

(a list of accredited agents is available at www.lkproperty.com.au). You must provide your Qantas Frequent Flyer membership number to the accredited agent prior to the payment of the deposit. Qantas Points will be credited to the nominated

Qantas Frequent Flyer account(s) (a maximum of 20 accounts may be nominated) in two stages. Stage 1: upon the contract becoming unconditional and full deposit being paid. Stage 2: upon settlement of the Property and the balance of the

purchase price being paid. Points will be credited to the Qantas Frequent Flyer account(s) within 6 weeks after payment has been received under each qualifying stage. To find out more, visit www.lkproperty.com.au. Maximum stamp duty savings

are achieved by signing a purchase contract for an apartment prior to the commencement of construction. This offer applies to all contracts signed on or after 01/01/17.
---
AZURE CLUB MEETING ROOM | ARTIST IMPRESSION

A LIFESTYLE LIKE NO OTHER

SUPERIOR KITCHEN | ARTIST IMPRESSION

ROOFTOP GARDEN | ARTIST IMPRESSION

INFINITY POOL | ARTIST IMPRESSION

AUSTRALIA'S MOST ICONIC SIX-STAR RESIDENTIAL

AND LUXURY RETAIL DESTINATION.

Amenities including lounge, Jack Merlo designed rooftop garden, gymnasium,

24-hour concierge & two architecturally designed pools.

CALL CHRISTIAN NUMA +61 434 303 246

SALES SUITE OPEN 7 DAYS | 228 TOORAK ROAD, SOUTH YARRA
---
THE WORLD'S ULTIMATE AUDIO SYSTEM

Music Movies

www.askja-audio.com
---
EXPEDITION CRUISES

HANSEATIC inspiration

THE NEW EXPEDITION CLASS

Worlds of discovery.

Globetrotter.

Make a

non-binding

preebooking now -

catalogue will

be issued in

January 2018

Advice and bookings at your travel agency

or at Hapag-Lloyd Kreuzfahrten GmbH,

Ballindamm 25, 20095 Hamburg, Germany,

hl-cruises.com, service@hl-cruises.com.

Free phone 08000 513829

(English-speaking hotline)
---
FG REALTY

WE HELP YOU

MAKE THE

RIGHT MOVE

Phone:

Mobile:

Email:

Website:

+974 4042 7114

+974 3324 4344

office@fgr.qa

www.fgr.qa
---
SINGAPORE

LONDON

TOKYO

HONG KONG

MACAO

BANGKOK

SEOUL

BUSAN

ISTANBUL

DOHA

DUBAI

The Shoppes at Marina Bay Sands | ION Orchard

The Burlington Arcade

GINZA SIX

Pacific Place | ifc mall | 1881 Heritage | ELEMENTS

Shoppes at Four Seasons | The Promenade Shops at Galaxy Macau

Gaysorn | Siam Paragon

Shinsegae Myeong-dong | Hyundai COEX | Galleria Luxury Hall

Shinsegae Centum City

Zorlu Center

The Pearl

Dubai Festival City
---
Citizenship by Investment

Say Hello to Freedom

Citizenship is something that cannot be chosen at

birth. However, nowadays investing in an alternative

passport can be a powerful tool. Nationality can oblige

as well as privilege, and taxation can be a serious cut in

earnings. Therefore, acquiring a second passport has

become an indispensable deal for businessmen and

entrepreneurs all around the world. While some

programs offer the possibility of gaining citizenship in

exchange for an approved business or real estate

investment as well as including the whole family

members, some more affordable options are possible by

making a contribution to a government development

fund starting from US$ 100,000.

Depending on requirements, Caribbean and European

passports can give access to more than 120 countries

including the UK, EU's Schengen area, Hong Kong,

and Singapore. Traveling, healthcare, education are

only some tangible attributes, the real value of this

investment is security. Citizenship by investment is a

way of solving problems and gaining profits; a deal

that allows to obtain a second nationality in a matter

of months and improve life for the better. It is a

purchase of splendor available for the lucky few.

For more information : contact@riftrust.com

+971 (0) 424 32 0 32 - www.riftrust.com
---
Christm

Destinat

The World`s
---
Top

as

ions

It`s the most wonderful time of the year-celebrating it with family and

friends. The holidays are more festive this year with many activities and

events, ice skating , concerts, window displays, Christmas shows and

shopping. Have we missed any? Plan your holiday with our world`s top

Christmas destinations, for a wishy-washy Christmas, take a sneak peek!

1- New York

Yes, we`re not only talking about the festive holiday events, but we are

also talking about crucial ways to have fun in the city that never sleeps.

Away from work, busy streets, and long hours drive. Holidays represent

Fun…Fun…Fun.

Don`t forget to go ice skating at the Rockefeller Center ring or some

carriage ride in the central park or some New York see-sight or Music

Hall events and concerts.

2- Amsterdam

Speaking of the devil, some of us need a break every once in a while.

Especially for those who are looking for an inspirational travel. The

perfect destination to see the legendary Santa Clause town, where

16th and 17th century houses are strung with lights in early December.

Consider lingering through New Year`s Eve for champagne and fireworks

in the Nieuwmarkt or Dam squares.

3-Munich

December is the perfect season for tourists who are visiting Munich for

the first time. Winter in the Bavarian capital means a hundred-foot-tall

Christmas tree in the Marienplatz, about two dozen Christmas markets with

mulled wine and gingerbread, served on a tram that crosses the old city.

Don`t forget to attend the live holiday music on the balcony of the town

hall. Worth seeing!

4- Provence, France

If you`re looking for a fairy tale Christmas with sparkling trees and

enjoying the cheering Christmas Jingle bells beats, you are in the right

place, The villages have live music from medieval churches that fill the

cobblestoned street, women crowd around market stalls to sniff out the

freshest foie gras. Try to pass by the region`s grand hotels-couvert des

Minims Hotel&Spa, the Terre Blanche Resort, pull out all the stops for

the season.

Don't forget to book at the Chateau d` Estoublon`s Bistrot Mogador which

is a traditional supper.

5- Venice

Why travel the world, when you can travel to Venice? When you dream, try

to dream big, you can have the moonlit Piazza San Marco all for yourself.

Try to book at the opulent Cipriani Hotel that is available during the

holidays. For more intimate experience, consider Ca` Pisani, a boutique

hotel with a vaguely futuristic look.

By: Aline M.Fakhry

Managing Director

The Luxury Network Lebanon

71
---
YEARS OF

EXPERIENCE

DOCTORS

MEDICAL

SPECIALTIES
---
Web: tourismthailand.ru

Email: info@tourismthailand.ru

Phone: +7 499 250-83-45
---
Dine Exquisite

Revel in an exceptional champagne brunch every Sunday at Brasserie Les

Saveurs, the signature dining establishment of The St. Regis Singapore.

From a selection of tantalising seafood to wonderful main courses served à la

minute, rejoice in an afternoon of gastronomic indulgences paired with fine

champagnes and mesmerising live music, made complete with the St. Regis

ritual of champagne sabrage.

29 Tanglin Road t. +65 6506 6888 stregis.com/singapore

©2017 Marriott International, Inc. All Rights Reserved. Preferred Guest, SPG, St. Regis and their logos are the trademarks of Marriott International, Inc., or its affiliates.

For reservations and enquiries, please visit brasserielessaveurs.com

or call +65 6506 6860
---
DON'T DRINK AND DRIVE

www.aboutalcohol.com
---
This brand-new Sunseeker luxury 86 yacht could be your ticket to a new way of life. Fancy taking it for a spin?

A taste of the high life

Ever wondered what it would be like to own a luxury motoryacht?

Well, now you can try one on for size, thanks to the Sunseeker Experience

ACCORDING to the uninitiated,

there are only two types of boat

owner—those who pretend they

enjoy getting cold, wet and sea sick, and

those that are too busy tearing up £50

notes to notice. The reality couldn't be further

from the truth. A modern Sunseeker

motoryacht has more in common with

a top-spec Range Rover or a handcrafted

English shotgun than the crude boats of

yesteryear. Built in the UK by skilled craftsmen

and equipped with everything from

underfloor heating to powerful stabilisers

that keep the boat steady, regardless of sea

conditions, it's a true home from home.

The comparison to a holiday home

becomes ever more apt, as more and

more Sunseeker customers are forsaking

holiday villas and weekend country

cottages in favour of life afloat, either in

the UK or the Mediterranean. And now,

thanks to Sunseeker London, COUNTRY LIFE

readers have the chance to sample that lifestyle

for themselves.

The Sunseeker Experience isn't a conventional

boat charter—it's an opportunity to

put yourself in the shoes of an actual

Sunseeker owner. Whether it's to impress

business clients as you wine and dine your

way around the Isle of Wight on a beautiful

new Sunseeker 86 yacht, or an unforgettable

means of celebrating a special

birthday or anniversary with friends and

family in the Channel Islands, on board the

latest Sunseeker Manhattan 52, perhaps,

the experience can be tailored to your exact

needs. Sunseeker can even organise helicopter

transfers to and from the yacht,

arrange world-class chefs to cook for you

and put the yacht's extensive fleet of jet

tenders and watersports toys at your disposal.

You can have it all. You just have to

decide where and when.

The reason this experience gives such

a unique insight into actual ownership is

because it's the brainchild of Sunseeker

yacht owners Nigel and Gemma Harris.

They had originally planned to by a second

home after years of hard work. The trouble

was that they both had very different ideas

about what to buy and where.

82
---
Above: Farewell, Blighty. From the Isle of

Wight and straight on 'til morning. Right:

Nigel Harris bought his first Sunseeker

yacht last year and has never looked

back. Below right: James Brooke of the

Sunseeker Academy, Lymington. Below:

Sunseeker will even organise a worldclass

chef, so you can give your family

and friends the trip of their lives

'You can have

it all. You just

have to decide

where and when'

'Gemma wanted a classic thatched cottage

and I wanted a modern glass box,'

explains Nigel. 'We couldn't even decide

whether we wanted to be in Cornwall,

Devon or Lymington. But the one thing

we both agreed on is that we wanted to be

near the sea.'

To overcome the impasse, Nigel suggested

they consider buying a boat instead;

that way, they could enjoy an even closer

connection with the sea and explore the

whole of the British coastline rather than

being restricted to one location. After some

research, they ended up at Sunseeker

Poole's office to investigate the options.

'The broker, James Lumley, took us

through the range starting with the

Portofino 40, then moved up to the

Manhattan 55 and 66,' says Nigel. 'I fell in

love with them all. The only one he wouldn't

show us was the 76 yacht, which he said

would be too big for the UK. From that

moment on, I was determined to prove him

wrong, even if it took some convincing just

to show me the 76, let alone sell it!'

Far from being daunted by the prospect

of owning such a large motoryacht, Nigel

threw himself into learning everything

he needed to know to run it safely. Regular

sessions with James Brooke at the

Sunseeker Academy in Lymington brought

him up to speed with driving, handling and

maintaining it so that, by the time their new

76 yacht was delivered, in May 2016, he and

Gemma were able to cruise from Weymouth

to London with confidence.

By that stage, Gemma was pregnant with

their first child, but despite some initial

concerns about how they'd cope with a baby

on board, it soon became apparent their

new daughter was just as happy at sea

as on land.

In fact, their decision to buy a boat

rather than a second home proved so successful

that, before the year was out, they'd

already traded up from the 76 to a brand

new 86 yacht, delivered in May this year.

Now, having enjoyed their own conversion

to boating, they are keen to entice others.

Those interested should discard any

preconceptions they may have had about

owning a boat and give Sunseeker London

a call to discuss a perfect day out on the

water. It could be the start of something

beautiful.

Call today on 020–7355 0980

Email: experience@sunseekerlondon.com

www.sunseekerlondon.com

83
---
TLN

News

TLN

News

Grand Prix Ball 2017

The Luxury Network UK celebrated the British Grand

Prix in style at The Grand Prix Ball, a glamorous black

tie affair at Hurlingham Club. The event was held in

support of Wings for Life, raising tens of thousands of pounds

to support spinal cord research.

Guests were welcomed with a champagne reception followed by a

live demonstration of a Red Bull Racing F1 car and Red Bull's Team

Principle Christian Horner hosting proceedings alongside former F1

racing legends David Coulthard and Tiff Needle.

The night was topped off by a live performance from the Gypsy Kings

and later, DJ Seb Fontaine.

The Luxury Network UK was delighted to support Wings for Life by

purchasing a table as well as donating prizes for the auction.

84
---
TLN

News

85
---
TLN

News

Exclusive wine tasting by The Luxury Network

Germany with the prestigious French vineyard

Barton & Guestier

Lovers of excellent wines gathered in early

October in a strictly limited circle during

the Happy Hour in the palatial ambiance of

the Kameha Suite in Frankfurt to discover the

secrets of the famous French vineyard Barton

& Guestier. Founded in 1725, this wine maker

produces some of the finest wines in France.

To start the event in style, the guests enjoyed

an exquisite glass of Pommery Champagne

before Maxime Hosteing, member of the Barton

& Guestier team, introduced the history and

tradition of the vineyard. His very interesting

insight views were accompanied by tasting

various award-winning whites and reds and

sharing the passion for extraordinary wines.

The evening culminated in a delicious dinner,

which was prepared with the extra touch of

finesse and rounded perfectly the culinary

experience amongst a group of the likeminded.

86
---
TLN

News

The Luxury Network New Zealand

Fashion Evening

The Luxury Network New Zealand in collaboration with CBRE and RJB Design invited members

and guests to an evening of Dress & Design.

Auckland's harbour and twinkling city lights was the perfect backdrop for guests to enjoy the

spectacular views from CBRE's stunning show suite, The Pacifica. The Pacifica will create a vertical

community that will dominate the Auckland Skyline and elevate apartment living as described by

Gavin Lloyd, National Director at CBRE.

Guests enjoyed a range of wines from Akarua, whilst listening to New Zealand top designer Adrian

Hailwood decipher the event dress code for women at a Formal, Cocktail and Black-Tie event.

We learnt that it is never ok to wear white high heels, as that is in his view one of fashions biggest

faux pas.

Ronald from RJB Design followed with advice for the gentlemen on how to dress to ensure you

compliment the lady on your arm – his advice – "you can never be over dressed for an occasion"

and every man should own a black dinner suit as it is not appropriate to wear a business suit to a

night time event.

The evening concluded with 4 lucky guests winning prizes from The Luxury Network Members

Akarua, RJB Design and Montblanc. Adrian also donated backstage passes to his NZ Fashion Week

show.

87
---
TLN

News

White Cup Pro AM Golf

Tournament Supported

by The Luxury Network

Russia

The Luxury Network Russia supported one

of the most memorable golf tournaments

of the year.

The White Cup PRO AM united the best

professional players and golf enthusiasts on

the field of Links National Golf Club.

The tournament lasted four days from the

2nd to the 6th of August. During this time the

tournament members were fighting for the

grand prize of 1,000,000 Rubles (equivalent to

17000$).

At the end of tournament there was a gala

dinner for all the guests. The winners in

different nominations received special gifts

from TLN members: Foster Group, Enhel and

Avrora Clinic.

88
---
The Luxury Network Australia Q&A Evening

With Property Expert Chris Gray

TLN

News

The Luxury Network

Australia members and

guests were treated to

a Q&A evening with Property

Expert Chris Gray who is a

leading Australian property

commentator and the CEO

of Property Buyers agency

Your Empire. The event was

at the exclusive members only

Work Club in Sydney where

our guests were treated to

Archie Rose Gin & Tonics

from Work Clubs Alchemist

Ken, alongside a Cheese and

Charcuterie from Simon

Johnson.

Chris who is a long standing

member of The Luxury

Network Australia and avid

enjoyer of Luxury goods and

services provided a unique

and enjoyable outlook on the

Australian property market

and how you can make

sensible property investment

decisions.

Guest were provided with

a copy of Chris's book the

Effortless Empire, for your

copy and further information

on property investing please

visit Your Empire Learning

Centre

89
---
TLN

News

The Luxury Network Queensland

Partners Evening

The Luxury Network Queensland hosted

their Partners Evening at the stunning

boutique of Xennox Diamonds on

Thursday, 28th September 2017.

Guests were greeted by red carpet stylishness,

with Henschke sparkling wine and Urbane's

premium catering. Guests also got to experience

first-hand education on pink diamonds, a

behind the scene look of the production team

and an educational masterclass. The energy,

atmosphere and calibre of guests at Xennox

Diamonds was quite impressive.

Xennox Diamonds is renowned as Brisbane's

premier bespoke diamond engagement

ring and wedding ring specialists. They are

passionate about helping couples in love to

create their dream ring.

Xennox Diamonds showroom is located on

Queen Street Mall and is designed with an all

encompassing memorable experience from

start to finish. Whatever the occasion maybe,

Xennox Diamonds are dedicated to helping

create special memories.

90
---
TLN

News

The Luxury Network Germany B2B Gettogether

and Workshop

Munich, October 2017 ,12 – The members community came together for their annual Autumn

Meeting to discuss their forthcoming Affinity projects and to join forces with the network

partners.

This time the elegant Villa Kennedy in Frankfurt served as an excellent seminar location. As one of

the founder members of The Luxury Network, The Rocco Forte group was once again the perfect

co-host.

After a first "Hello" with coffee and tea, the

Members Get-together programme was kickedoff

with an inspirational "Leadership" speech by

Carsten Rath. The keynote speaker, entrepreneur

and Grand Hotelier Carsten Rath unites in his

speeches the topics service and leadership to one

unique philosophy and important know-how for

every decision maker. Thereafter the interactive

project workshop was complemented by lunch,

including ongoing intense networking talks.

Given the forthcoming plans and also previews

for the new year, the top clients of the members

may already look forward to further exciting

experiences. The Luxury Network will endeavour

to do their utmost for a continuous successful

realization of the projects together with their

members.

91
---
TLN

News

TLN Australia Members Host

VIP Launch Party For Sydney

International Boat Show

92
---
TLN

News

The Luxury Network was delighted to host our members

and their VIP guests on board Gulf Craft's Majesty 122

Super Yacht Ghost II for the first night of the Sydney

International Boat Show.

Being the largest yacht ever to take part in 50th Anniversary

Sydney International Boat show, Ghost2 held a prominent

and prestigous position and certainly became the "Main

Event" of the show.

Unique Estates and Australian Superyachts have formed

an ongoing partnership across a number of platforms and

this event was one of several that were hosted with these

partners and other The Luxury Network members across

the duration of the boat show.

Guests enjoyed Pommery Champagne, an exclusive Caviar

Bar from Simon Johnson and catering from Elite Chefs

Sydney and a wonderful Chocolate Sculpture from Sisko

Chocolate.

93
---
TLN

News

Hapag Lloyd Cruises Hosts The Luxury Network

UK's Autumn Seminar

The award-winning MS

Europa 2 hosted 30 luxury

brand members who

met to discuss future potential

partnership projects. To give

an insight of it's awards; in the

29th edition of Stern's Guide

to the Cruise Vacation 2018,

the EUROPA 2, Hapag-Lloyd

Cruises' international luxury

ship, took top ranking with the

highest distinction, -6stars-plus

for cruise ships worldwide. The

EUROPA was also honored in

the latest edition with -6stars.

The EUROPA 2 is highlighted on

the cover and back of the 2018

edition.

Members were invited for a tour

of the impressive cruise liner

prior to new members; Beau

Han Xu, Sportgate International,

and HPA Luxury presented their

brands and ways in which other

members could collaborate

with them. Following the

presentations members enjoyed

a 6 course meal lunch at the

French restaurant, Tarragon.

There are seven restaurants

on board that provide the

most pleasurable gourmet

expectations of a wide variety

cuisines.

The Luxury Network holds

quarterly B2B seminars at

differing locations, for decisionmaking

representatives from

member brands to build

relationships and plan unique

partnerships, as part of their

annual membership.

94
---
95
---
MEMBERS

Affairs

Affairs

96
---
MEMBERS

Affairs

Angelo Accardi Exhibition Launch Supported by

The Luxury Network Russia

On 29th of September, Tolstoy Art Gallery opened an exhibition by Italian contemporary artist Angelo Accardi,

at the new exhibition space of OKO Business center. This exclusive event attracted a lot of wealthy guests

from the event partners: Alfa Private Banking and Capital Group. Also, there were many contemporary art

collectors, famous artists and friends of the gallery owner.

The guests were highly impressed by the bright and lively paintings and expressive sculptures of the Italian artist.

Afterwards, Angelo Accardi told the press and the audience about his art and inspiration. The main theme of his

works are magical compositions of contemporary life, including ironic and surreal city scenes.

The Luxury Network members including Rolls-Royce Moscow, Enhel Group, Casa Ricca Club and LisChannel

supported the event.

97
---
MEMBERS

Affairs

The Luxury Network Singapore Member Small

Luxury Hotels of the World Seek Luxury Partners

Small Luxury Hotels of the World offer

a brand of more than 500 hotels in over

80 countries, each independently owned

with an independently spirited way of hosting

guests.

They believe that small hotels really do deliver

bigger experiences, and they want to celebrate

small luxuries at ILTM Cannes with a novel way

of gifting agents, travel industry heavyweights

and international media.

They want to gift their ILTM audience with

small luxuries using a fun, inventive game,

really engaging with the luxury travel market

in a way that is memorable and that breaks up

the monotony of their day of meetings.

So far, they are working with brands such as

Mont Blanc and Ettinger to provide small

luxuries as gifts, and they would love to work

with like-minded brands to offer these small

luxuries to the movers and shakers of the

luxury travel industry.

They will use your company's branding, as well

as have an active social media strategy that

makes the most of their time at ILTM. On top

of this, ILTM has a list of media partners they

work with to ensure global media attend, with

over 170 luxury publications descending upon

Cannes for the week. Here is a list of some of

the publications they work with – http://www.

iltm.com/en/cannes/news/Media-Partners1/.

They would love to hear from brands who

would like to assist them on this marketing

initiative, so please get in touch with the CEO

of The Luxury Network Singapore at irene@

theluxurynetwork.sg if you are interested to

explore.

98
---
MEMBERS

Affairs

The Luxury Network Australia Members Launch The

World's Finest High Resolution Player Piano

On August 31st at Mirvac's Tullamore display suite in Doncaster guests enjoyed a superb

musical experience with the Steinway Spirio, the world's finest high resolution player piano

along with with Champagne and canapés. Mirvac launched their prestigious '8 Edition'

homes, Tullamore's most luxurious development yet.

99
---
MEMBERS

Affairs

Arrive in Style with Qatar Airways' Luxury

Global Chauffeur Service

The Luxury Network Australia member Qatar

Airways has announced a new premium

global chauffeur service offering seamless

door-to-door transfers for customers in all cabin

classes. The convenient new luxury service is

designed to take the stress out of passengers'

travel plans.

This new service provided by Qatar Airways is

bookable for a fee online through qatarairways.

com and the Qatar Airways app. Qatar Airways

passengers, no matter what cabin they are flying

in, can choose from a wide-range of high-end

vehicles, provided by top auto manufacturers

including Audi, BMW, Mercedes-Benz and

Cadillac to take them to and from their chosen

airport.

Qatar Airways Group Chief Executive, His

Excellency Mr. Akbar Al Baker, said: "We

are delighted to launch this new premium

global chauffeur service for all Qatar Airways

passengers, bringing a personal luxury service to

their doorsteps. Our partnership with Blacklane

is an innovation that we know our passengers will

value. Offering luxurious door-to-door transfers

will enhance their overall travel experience when

they fly with Qatar Airways.

100

"We are always looking at ways to improve our

unrivalled five-star service, both on the ground and

in the air. We are confident that this new seamless

chauffeur service will be quick, convenient and

in line with our company ethos to keep our

customers at the heart of everything we do."

The new chauffeur-driven service is available

for passengers at more than 85 Qatar Airways

destinations around the world. Blacklane is

also available in over 500 airports worldwide,

including the majority of destinations served by

the airline's codeshare and interline partners.

Benefits of the new global chauffeur service

include access to Blacklane's modern fleet of

high-end vehicles, and highly professional

drivers, to ensure a safe, comfortable journey.

Customers can choose Business Class, business

vans, SUVs or First Class cars.

The global chauffeur service features allinclusive

highly-competitive rates – including

all taxes, tolls, fees and gratuities – which are

confirmed before booking online. Customers

also receive up-to-date SMS and email updates

and confirmations, which include the driver's

name and phone number.
---
MEMBERS

Affairs

Passengers can take advantage of a generous

complimentary wait time of up to an hour

for airport pickups. Payments are cashless,

which means there's no need to carry cash or

worry about having the correct local currency.

Credit cards are only charged after customers

finish their ride. There is also a free change

and cancellation policy of up to an hour before

for one-way journeys. Customers can reach

Blacklane's customer care team 7/24 over phone,

email and social media for any urgent needs.

Luxurious door-to-door transfers are just the

latest in a range of innovations unveiled by the

airline to enhance it's unrivalled five-star service.

It also recently launched a new bespoke preselect

dining service for premium passengers

flying in First Class and Business Class.

Named 2017 Airline of the Year, as awarded by

Skytrax, Qatar Airways also has a host of exciting

new destinations planned for the remainder of

this year and 2018, including Canberra, Australia;

Chiang Mai, Thailand and Cardiff, U.K, to name

just a few.

Qatar Airways has received a number of major

accolades this year, including Airline of the Year

by the prestigious 2017 Skytrax World Airline

Awards, which was held at the Paris Air Show.

This is the fourth time that Qatar Airways has

been given this global recognition as the world's

best airline.

As well as being voted Best Airline by travellers

from around the world, Qatar's national flag

carrier also won a raft of other major awards

at the ceremony, including Best Airline in the

Middle East, World's Best Business Class and

World's Best First Class Airline Lounge.

Family Collection Will Present Exclusive

Books to New Rolls-Royce Clients

In September Family Collection will be offering

a luxurious gift to new clients of Rolls-

Royce Moscow. An exclusive edition of "The

Interpretation of Dreams" by Sigmund Freud. This

book has remained a best-seller for more than 100

years.

Family Collection recently has become a part

of TLN Russia. The company produces rare and

antique handmade books with the leather covers

or contemporary unique collection editions. The

special features of these books are individual

design, natural leather decoration, gold and silver

lettering and beautiful present boxes.

101
---
MEMBERS

Affairs

IWC Womens Business

Breakfast Supported by

The Luxury Network

Russia

O

th

n 7 of September The Luxury Network

Russia supported the third womens

business breakfast of IWC Schaffhausen.

In the morning IWC invited its women clients

to the first La Duree restaurant in the center

of Moscow. Among the special guests were the

male dietitian from the Swiss Clinique La Praire

and the founder of the diet program GetLean.

During the event the guests made new

acquaintances in the informal atmosphere and

learned useful information from the specialists.

At the end of the event another TLN participant

AVRORACLINIC, which is the only Russian

member of The Leading Dental Centers of the

World, presented gifts to the guests.

102
---
Two Luxury Network

UK Members Celebrate

Partnership with a

Summer Party

MEMBERS

Affairs

The Luxury Network UK members,

Hapag Lloyd Cruises and Envestors,

celebrated their recent partnership with

an exclusive Summer Party held at Cornflake's

award-winning smart apartment. The event

was also partnered with another Luxury

Network Member; Linn Audio. Guests were

treated to a Linn Lounge through the ages

as well as a bespoke Gin tasting bar from the

Liquid Collective.

103
---
MEMBERS

Affairs

Luxury Vitality Spa

Escape Package from

The Reef House Resort

and Spa

The Reef House Resort and Spa is

delighted to offer a 3 day package for

complete detoxification, relaxation and

self rejuvenation – PRICE: 494.00$ per person.

Combined with a special room rate from 11

Oct – 21 Dec 07 & 2017 Jan – 29 Mar 2018 –

Brigadier Room (Twin/Double) 180.00$ AUD

or Verandah Room (Twin/Double) 225.00$ Inc.

Continental Buffet Breakfast

Beginning – Day 1:

Body ritual – full body exfoliation followed by a

detoxifying marine wrap and de-stressing scalp

massage… Followed by a warm vichy shower

to rinse away toxins and stress… Ends with a

delicious effleurage massage… 90 minutes

Balance – Day 2:

Purifying body ritual – revitalising full body

detoxifying massage with combination warm

stones alternating with manual massage using

gentle drainage movements… helps relieve

aches and pain, improves circulation and

metabolism… 75 minutes.

Calm – Day 3:

Visage rejuvenation – a rejuvenating facial (his

& hers) with deep cleansing… This face lifting

massage provides gentle lift of facial muscles,

relieves tension in the jaw and temples with

gentle drainage… Treatment is preceded

by relaxing back massage, includes orange

hair and scalp masque with pressure point

massage… 75 minutes

Each treatment includes relaxing in our lounge

or by the poolside with mineral water and fresh

fruit, sample our daily fresh fruit sorbet.

104
---
MEMBERS

Affairs

Luxury Goods Conference Supported by

The Luxury Network Russia

On 10th of October French Russian

Chamber of Commerce, supported by

The Luxury Network Russia, organized

the 4th Annual Conference of The Luxury

Goods Market.

During this conference famous experts gave

their insights into the luxury market in Russia

and its perspectives.

Among the speakers there were Dmitry

Eremeev (CEO of Richemont Russia), Alexander

Chetverikov (vice-president of LVMH Russia),

Arina Shabanova (head of Longchamp) and

many others.

Many TLN Russia members visited the event

including Sky Club, Foster Group, Acciaro and

Family Collection.

The main topics of the conference were the

global trends in the luxury sector, regional

purchasing power and new luxury brands.

This year the experts expect %11 market growth

with Russia remaining one of the main luxury

regions.

105
---
MEMBERS

Affairs

The Luxury Network Australia Members

preview the $7 million 1955 Jaguar D-Type

On Monday, October 9, The Luxury Network together with Mossgreen and Brighton Jaguar

hosted an exclusive preview of the 1955 Jaguar D – Type which was expected to sell for in

excess of 7$ million at the Motorclassica auction. CEO of Mossgreen, Mr Paul Sumner is an

Ambassador for Brighton Jaguar, a partnership facilitated through The Luxury Network.

Members of The Luxury Network together with VIP clients of Mossgreen, Australia's first combined

Auction House and Art Gallery, and Brighton Jaguar enjoyed Pommery Champagne along with fine

wines and canapés.

106
---
There is more to taste

Lavazza is distributed in Qatar by

International Foodstuff Group (IFG)

Email: lavazza@ifg.com.qa

Phone: +974 4485 8000

107
---
PREMIUM LIVE MUSIC AGENCY

vicki@eightraymusic.com

+44 1491 526 722

@eightraymusic
---
Q & A WITH VISION ADVISORY CEO

TONY CHENG

Why and how did you get into financial industry?

Ever since I graduated from Polytechnic, I aspired to be an

entrepreneur. After assessing my option at age 21, I took my

first step. I decided to take the insurance path back in January

1992 and never looked back. Since then, I am constantly

motivated by my clients' appreciation for my financial advice

and personalized solutions.

Over the years, the financial industry has evolved along with

more stringent regulations to enhance the professionalism of

the financial planning career; I, too, evolved by continuing my

professional education through the Financial Planning

Association of Singapore (FPAS) in the financial planning

industry to achieve the highest professional qualification,

Certified Financial Planners (CFP) qualification in Y2005.

After years of agency building, I have a group of more than 110

Financial Planners and Agency Leaders under the brand name

of Vision Advisory Group providing financial advice and

holistic range of financial solutions to cater to the needs and

wants of our clients for wealth protection, accumulation,

management and distribution at different stages of life.

Vision Advisory CEO Tony Cheng

What is Lifestyle Financial Planning and why it is better to

build a financial plan around the lifestyle that you desire?

Lifestyle Financial Planning is about creating, building,

managing one's wealth over time, and most importantly, the

wealth must be able to sustain the desired lifestyle of one's

choice, for as long as they live by passing on the same lifestyle

to their future generations. My objective is to partner with

Wellness & Lifestyle providers for value-added service to our

clients and to support our valued client's lifestyle desires with

privileges. These profile of the clients are generally the mass

affluent, high net-worth (HNW) or even the Ultra HNW as

they will generally qualify as a target group in lifestyle

financial planning.

How can you help your clients and what makes Vision Advisory

qualified?

Most of our financial planners have been successful in the

industry for many years and attained their professional

qualification to serve the targeted individuals for their

lifestyle financial planning. Our financial planners constantly

progress in their career through our in-house conducive

training and further education so as to ensure their

knowledge and skill competency is ahead of the market

changes to cater to the changing needs of different

individuals.

Vision Advisory

Web: visionadvisory.sg Email: enquiry@visionadvisory.sg Phone: 0288 6807 65+

109
---
UNDER THE

Spotlight

Dubai Marina Yacht Owners Luxury Rally

Season Opening Party and Showcase Event

The Luxury Network UAE with The Emaar

Hospitality Group, hosted The Dubai

Marina Yacht Club Rally Programme

Opening Party.

This prestigious Business to Constumer event,

luxury showcase and Networking evening took

place on the amazing 68m Lotus Super Yacht

last Wednesday, 13th of September 2017, for

VVIP guests.

Over USD 15,000 were given in luxury gifts and

all event partners and their guests enjoyed the

evening in the most luxurious way.

110
---
UNDER THE

Spotlight

111
---
UNDER THE

Spotlight

112
---
UNDER THE

Spotlight

The Luxury Network

Australia Celebrates

6 Years

113
---
UNDER THE

Spotlight

The Luxury Network has enjoyed 6 years in Australia and to celebrate they

hosted an exclusive evening for their members and special guests.

Arriving at Pier One Sydney, they were welcomed into a VIP area courtesy

of Pier One Sydney where the champagne was already flowing.

114
---
UNDER THE

Spotlight

The stage was then set for them to step on board the private

luxury Superyacht Vegas. For this VIP experience, they were

hosted in style by LK Group and Capitol Grand. Members

and guests on-board enjoyed an exclusive Caviar Tasting

with Caviar Ambassador Lisa Downs, an amazing cheese

and charcuterie platter from Simon Johnson, Cocktails from

Archie Rose, Champagne from Pommery Champagne and

wonderful canapés by Matt Bates from Elite Chefs Sydney.

It was an amazing evening and a fitting way to celebrate The

Luxury Network Australia`s 6 th anniversary.

115
---
Dubai's only high-end real estate and interior design company,

setting extraordinary records in the marketing, designing and

selling of the most important residential properties.

116
---
Office 804-806, Arenco Tower, Dubai Media City | 04 432 79 72 | www.luxhabitat.ae

117
---
BEAUTIFUL IS

TIMELESS.
---
ISSUE 03

NOVEMBER - DECEMBER 2017

Editor-In-Chief

Fares Ghattas

Managing Editor

Garz Bumanlag

Creative Department

Hind Hassan and Chris Wood

Production Manager

Tala Ghattas

Print and Production

FG Center

Koreitem, Rue Mme Curie, Street 29, Altaf Building, Beirut, Lebanon

Tel: +961 1 810 650 | Web: www.fg-center.com
---
Members Directory

Capitol Grand

capitolgrand.com

Gaggenau

gaggenau.com

Last Frontier Heliskiing

lastfrontierheli.com

Linneys

linneys.com.au

The Reef House

reefhouse.com.au

Vranken-Pommery

vrankenpommery.com.au

EABL

eabl.com

Mercedes-Benz Kenya

mercedes-benz.com

P&L Luxe

pl-luxe.co.ke

La Boite Rose

laboiteroselb.com

ASKJA

askja-audio.com

Baranova Monaco

baranovamonaco.com

Fraser

fraseryachts.com

Jetpartner

jetpartner.net

FB Artist

instagram.com/fbartist

FG Realty

fgr.qa

FG Business Center

fgr.qa

Kare

kare-design.com

Lavazza

instagram.com/lavazzaqatar

San Benedetto

sanbenedetto.it

Selamlique

instagram.com/selamliqueqatar

Amazing Thailand

tourismthailand.ru

Avrora Clinic

avroraclinic.ru

EMC

emcmos.ru

One & Only Realty

oneandonlyrealty.com

Pozhenimsya.Ru

pozhenimsya.ru

Rolls-Royce Motor Cars

rolls-roycemotorcars-moscow.ru

Sky Club

sky-club.ru

Caratell

caratell.com

De Dietrich

dedietrich-asia.com

Diplomatic Council

diplomatic-council.org/gold

Etihad Airways

etihad.com

Kwanpen

kwanpen.com

One15 Luxury Yachting

one15luxuryyachting.com

Singapore Polo Club

singaporepoloclub.org

Singapore Turf Club

turfclub.com.sg

Small Luxury Hotels

slh.com

St. Regis Singapore

stregis.com/singapore

Vision Advisory

visionadvisory.sg

Luxhabitat

luxhabitat.ae

RIF Trust

riftrust.com

XXII Carat

22carat.ae

3 St James`s Square

3sjs.club

Alexander James Interiors

aji.co.uk

Berkeley Homes

berkeleyhomes.co.uk

CST

cstluxury.com

Eight Ray Music

eightraymusic.com

Hapag Lloyd Cruises

hl-cruises.com

Home Move Consultants

homemoveconsultants.co.uk

HPA Luxury Travel

hpaluxurytravel.co.uk

Newmarket Racecourses

newmarketracecourses.co.uk

Sunseeker

sunseekerlondon.com

Aston Martin

astonmartin.com
---
The Luxury Network International

Level 1, Devonshire House

One Mayfair Place

Mayfair, W1J 8AJ

United Kingdom

info@tlnint.com

+44 (0) 207 268 4959

www.tlnint.com