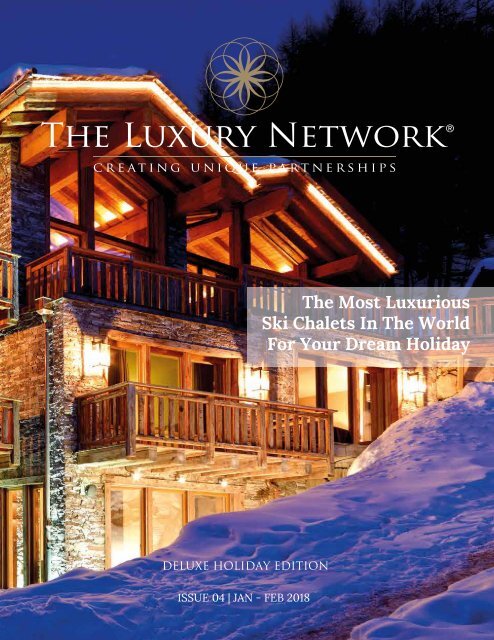 The Luxury Network International Magazine Issue 04
Create successful ePaper yourself
Turn your PDF publications into a flip-book with our unique Google optimized e-Paper software.
The Most Luxurious

Ski Chalets In The World

For Your Dream Holiday

DELUXE HOLIDAY EDITION

ISSUE 04 | JAN - FEB 2018
---
Editor

NOTE

Dear Valued Reader,

It is our privilege to welcome

you to the latest edition of

TLN Magazine, your gateway

to the latest news in the

world of luxury! Through this

bimonthly publication, you will

be able to stay abreast on the

latest high-end products, services,

and trends globally.

In this edition, you will have an

overview of some of our

international members from

different luxury industries. You

will also witness some high-end

events from

influential brands. Watch out for

the upcoming issues, we are

going to take you in to a deeper

journey to explore more detailed

topics that cover a range of topnotch

brands from the luxury

industry. We will also feature some

of the exciting affinity marketing

projects that The Luxury Network is working on.

You may take this publication as your personal lifestyle guide to the

products and services to live the

lush life and activities you truly deserve.

Ambassador Fares Ghattas

Editor-in-Chief / Global CEO
---
HIGHLIGHTS

JAN - FEB 2018

The Pony Club

(Singapore Polo Club)

24

Proshade Kenya

REALTY

FG Realty Qatar

30

HELP YOU

AKE THE

HT MOVE

hone: +974 4042 7114

obile: +974 3324 4344

mail:

bsite:

32

52

The Most Luxurious

Ski Chalets In The World

For Your Dream Holiday

TLN Australia

Travelling in Style

with Mercedes-Benz

81

86

Alexander James

and Sunseeker London

Collaboration

Exclusive Bordeaux Wine Tasting

With TLN New Zealand

Members

90

92

TLN Russia Hosts Directors

New Year Event
---
B U O N N A T A L E
---
The Art of Gifting

Art makes a timeless gift for a loved one and is a perfect opportunity

to buy something that is unique and handmade.

Art makes a timeless gift for a loved one and

is a perfect opportunity to buy something

that is unique and handmade. A collection of

small, beautiful Aboriginal and Contemporary

artworks is beautifully showcased at Mitchell

Fine Art and offers the solution for that hard

to buy person.

With all works under 1m in width and height

the exhibition features art works on a small

scale showcased in a salon style hang.

Large groupings of paintings, watercolours

and ceramics are all presented together in a

visually stimulating display.

Salon-style hanging dates back to 17th

century Paris and involves grouping art

pieces together. With no rules on how to

display works salon hanging offers the

advantage of following simple colour

combinations or a theme for a wall.

The gallery also holds a series of exhibition

openings and artists talks providing the

opportunity to engage with the artists and

learn about their artistic practices and

inspiration.

With an extensive inventory of high-quality

artworks and the business' long-term

expertise in the art world Mitchell Fine Art

delivers a quality experience for anyone

visiting the gallery.

Mitchell Fine Art is located at 86 Arthur St,

Fortitude Valley, Brisbane. The gallery can

be followed on Facebook or Instagram or

sign up to the gallery's mailing list to receive

information on exhibitions and events.

Viewers are inspired to not think big but to

take time to look at the smaller things and

to be encouraged to be adventurous in

displaying art. 'Petite' demonstrates how art

lovers and enthusiasts can start small and

create their own works of art.

Mitchell Fine Art is a modern new gallery

in Fortitude Valley in Brisbane. The gallery

showcases a selection of Australia's leading

Contemporary and Aboriginal artists and

presents an annual calendar of solo and

group exhibitions.

p: +61 7 3254 2297

e: admin@mitchellfineartgallery.com

www.mitchellfineartgallery.com
---
You're

INVITED is the only way to get into a world of instant benefits, available from

your very first stay at any of our 500 hotels around the world. And the best thing?

The more you stay with us, the better it gets!
---
Entertain outdoors this festive

a ...with time Australia's for family... most awarded sma
---
season

rt home company

www.electronicliving.com.au

21 Robinson Road East, Virginia, Queensland

P 1300 764 554

E contact@electronicliving.com.au

Follow us @electronicliving
---
16

professional services and advice concerning business immigration to Spain, Cyprus and

Monaco.

Our clients trust us in solving such cases as residence permit applications, expertise

legal due diligence of real estate objects, execution and support of purchase and sale

transactions and tax advice. All this functions are performed or supported by Russian

speaking staff at all stages.

As a result of years of successful work and individual approach to each of our clients,

we have developed a unique system of legal cooperation among the countries that

permits our clients to legally reside and run successful businesses in the chosen

countries.
---
Our company provides the services mentioned above and also can help by

recommending top real estate agents and developers, educational and medical

establishments and other professionals.

selection and control of the company.

With our help our clients will be able to enjoy their properties without queues and

bureaucratic paperwork.

We provide the best services to ensure your high quality lifestyle abroad.

+7 499 39 40 251

info@almansaabogados.com

www.almansaabogados.ru

17
---
Selamlique Istanbul is distributed in Qatar by International Foodstuff Group (IFG)

Email: selamlique@ifg.com.qa Mobile: +974 6674 9933 Tel: +974 4037 3287
---
24
---
Crafted to perfection, our exquisite

jewellery is the perfect expression

of life's treasured moments.

A halo of brilliant diamonds

highlights the pear shaped

diamonds in this magnificent ring.

Auckland Wellington Christchurch Queenstown

0800 309 8925 www.partridgejewellers.com
---
Designed for the ones who truly

appreciate the value of legacy

You are fully aware of the true value of leaving a lasting legacy

for your family, generation after generation. Let us assist you

in carrying out your plans with our universal life insurance

plan, denominated in US dollars that offers the benefits of

high insurance coverage along with cash value accumulation.

Legacy Planning

Estate Liquidity

Portfolio Diversification

Business Continuity

For more information, contact us at

enquiry@visionadvisory.sg
---
+44 161 507 7488 www.holidayluxury.co.uk

22 Church Road, Cheadle, SK8 7JB, United Kingdom
---
www.de-dietrich.com
---
FG REALTY

WE HELP YOU

MAKE THE

RIGHT MOVE

Phone:

Mobile:

Email:

Website:

+974 4042 7114

+974 3324 4344

office@fgr.qa

www.fgr.qa
---
BEAUTIFUL IS

TIMELESS.
---
THE NEW ASTON MARTIN DB11 HAS ARRIVED.

DB11.ASTONMARTIN.COM

Official government fuel consumption figures in US mpg for the Aston Martin DB11: urban 15; extra urban 21; combined 17. CO2 emissions 386 g/mile. The mpg/fuel

economy figures quoted are sourced from official regulated test results obtained through laboratory testing. They are for comparability purposes only and may not reflect

your real driving experience, which may vary depending on factors including road conditions, weather, vehicle load and driving style.
---
THE WORLD'S ULTIMATE AUDIO SYSTEM

Music Movies

www.askja-audio.com
---
Dubai's only high-end real estate and interior design company,

setting extraordinary records in the marketing, designing and

selling of the most important residential properties.
---
Office 804-806, Arenco Tower, Dubai Media City | 04 432 79 72 | www.luxhabitat.ae
---
ARTIST IMPRESSION

CAPITOLGRAND.COM

SOUTH YARRA

ELITE LIVING

CONSTRUCTION UNDERWAY

COMPLETION 2019

EARN UP TO 2 MILLION QANTAS POINTS*

*Members who purchases these eligible properties could earn one Qantas Point for every two dollars paid to the vendor or its representative on the deposit and the balance of the purchase price up to a maximum of 2,000,000 Qantas Points.

For example, if you bought a property for $300,000, you could earn 150,000 Qantas Points. *You must be a member of the Qantas Frequent Flyer program to earn points. Membership and the earning and redemption of points are subject to the

terms and conditions of the Qantas Frequent Flyer program available at qantas.com/terms. By purchasing an eligible property through an accredited real estate agent of LK Property Group, members could earn Qantas Points. Points will not be

earned on any government taxes and charges paid, including stamp duty. The Property must be purchased through a real estate agent accredited by LK Property Group. "Eligible property" means a new residential property that: 1. Developed

by LK Property Group and 2. has been identified by LK Property Group or its accredited agents as a property for which purchasers are eligible to earn Qantas Points; and 3. has been purchased from an agent accredited by LK Property Group

(a list of accredited agents is available at www.lkproperty.com.au). You must provide your Qantas Frequent Flyer membership number to the accredited agent prior to the payment of the deposit. Qantas Points will be credited to the nominated

Qantas Frequent Flyer account(s) (a maximum of 20 accounts may be nominated) in two stages. Stage 1: upon the contract becoming unconditional and full deposit being paid. Stage 2: upon settlement of the Property and the balance of the

purchase price being paid. Points will be credited to the Qantas Frequent Flyer account(s) within 6 weeks after payment has been received under each qualifying stage. To find out more, visit www.lkproperty.com.au. Maximum stamp duty savings

are achieved by signing a purchase contract for an apartment prior to the commencement of construction. This offer applies to all contracts signed on or after 01/01/17.
---
AZURE CLUB MEETING ROOM | ARTIST IMPRESSION

A LIFESTYLE LIKE NO OTHER

SUPERIOR KITCHEN | ARTIST IMPRESSION

ROOFTOP GARDEN | ARTIST IMPRESSION

INFINITY POOL | ARTIST IMPRESSION

AUSTRALIA'S MOST ICONIC SIX-STAR RESIDENTIAL

AND LUXURY RETAIL DESTINATION.

Amenities including lounge, Jack Merlo designed rooftop garden, gymnasium,

24-hour concierge & two architecturally designed pools.

CALL CHRISTIAN NUMA +61 434 303 246

SALES SUITE OPEN 7 DAYS | 228 TOORAK ROAD, SOUTH YARRA
---
The NEW expedition class:

New state-of-the-art expedition

ships explore remote

destinations of the world

It may seem as though the entire world has been explored, however, genuine voyages of discovery are

still possible. With its two ships, the 5-star HANSEATIC and 4-star BREMEN, Hamburg-based Hapag-Lloyd

Cruises has been operating successfully in the luxury cruise expedition segment for over 25

years.

In 2016, looking to achieve 5-star luxury standards, Hapag-Lloyd Cruises announced news of two newbuild

expedition vessels, HANSEATIC nature and HANSEATIC inspiration, the latter to be operating for

the international, English-speaking marketplace. Following 20 months of construction, these are scheduled

to launch respectively in April of 2019, HANSEATIC inspiration in October of that year.

The 230-guest, state-of-the-art HANSEATIC inspiration will be cruising in untouched, unspoilt polar regions,

not only in the Arctic and Antarctic but also in warmer water destinations such as Cape Verde, the

Great Lakes, South America and Amazon. HANSEATIC inspiration's adventurous guests can look forward

to a choice from short, 4-day cruises to the Frisian Islands, or the longer, 20-day expedition trips to the

Arctic and Antarctic. Expedition Amazon from Belem to Iquitos sails upstream on the Upper and Lower

Amazon with numerous expedition activities and Zodiac landings. After almost a decade, Hapag-Lloyd

Cruises will be returning in the summer of 2020 to the Great Lakes in North America. A retractable bridge

wing, the special design of the HANSEATIC inspiration, makes it possible for the ship to pass through the

narrow locks in this region.

46
---
Alongside the highest ice-class for passenger ships, PC6, the 17 Zodiacs, some of which will have eco-friendly

electric drive systems, will make it possible to land in otherwise inaccessible expedition areas that do

not have landing stages; and there will also be a marina at the stern for warm-water activities such as

kayaking and stand-up paddling.

Relaxing on board after exhilarating outdoor experiences, the spa, beauty and fitness area await; an Observation

Deck and Lounge as well as an interactive Knowledge Studio. HANSEATIC inspiration will boast

three restaurants - with no extra surcharges applying and with flexible dining times and seating. "Inspired

by nature" is the creative concept, which sets the highest standards in interior design with organic materials,

colours and shapes, as well as in the spacious, experience-oriented design of the external deck.

A particularly innovative feature is the extendable glass balconies on the Sun Deck, when guests will feel

like they are floating above the water; and in the 120 spacious, outside suites and cabins - with six different

types to choose from - large panoramic windows and balconies enable guests to be so close to nature.

Guest can even stand on the deck track on the bow of the ship - front row seats for viewing natural wonders,

even closer than the Captain himself.

UK Reservations: 0800 0513829 (English-speaking hotline)

hl-cruises.com

December 2017

47
---
Experience the Extraordinary

Kauri Cliffs

Cape Kidnappers

Heletranz is renowned for creating unique, tailored

excursions where anything's possible—turning your

dreams into a once-in-a-lifetime experience.

We specialise in creating exclusive experiences

for discerning travellers and New Zealand is our

playground. Home to some of the world's finest golf

courses and lodges, the keen golfer will be spoilt for

choice. Let us take you on a stunning scenic helicopter

flight to one or more of these idyllic spots, maybe with

a stop at a vineyard on Waiheke Island.

Man O' War Vinyard

This is the ultimate luxury—there is no better way

to see New Zealand than from the skies and it is our

commitment to quality with a personal touch, that

ensures your experience will be seamless from start to

finish.

Tantalus Estate

HELETRANZ

Web: heletranz.co.nz Email: info@heletranz.co.nz Phone: +64 9 4153550
---
COST EFFECTIVE OFFICES
---
Home and Away

Struggling to commit to that much needed holiday due to a house move?

You can do both, with Home Move Consultants.
---
The Home Move Consultants

As Dorothy from The Wizard of Oz once said, there really is no place like home.

Home Move Consultants understand how important this statement is – it is, after

all, an ethos they associate with. They recognise how important it is to get away

from the day-to-day, and take a break. Understandably, it might be considered

completely reckless to contemplate a holiday while planning a big house move.

These two lifestyle choices do not a happy union make.

Stop there. Don't cancel your dream trip just yet. Home Move Consultants can

make it possible to have your cake and eat it too. Home Move Consultants offer

more than just relocation services. They offer bespoke home moving packages that

are tailored to every individual - managing as little or as much of your home move

as you'd like. From packing and acquiring appropriate storage facilities, to hotel

bookings and the cleaning of all household linen. In fact, if you advise Home

Move Consultants on what you need, then they can offer an extensive personalised

package.

Deborah Robinson and Charlotte Hepworth are the brains behind Home Move

Consultants. They are both experienced business owners with a passion for

delivering a bespoke luxury service. Between them they have many years' of

positive results gained from working with individual clients and managing

projects.

Their 'little black book' of contacts reads like a who's who of relocation

excellence. From local companies to large, well-established businesses, Home

Move Consultants work with the best estate agents, interior designers and

removalists, to ensure clients have access to a secure, reliable network of

professionals that offer complete peace of mind with their home move.

Home Move Consultants take great pride in their dedicated, service led approach.

So, while you kick back and enjoy your sun downers on that much needed

get-away, Home Move Consultants can guarantee that on your return all furniture

will be in place, beds will be made and there will be a bottle of wine, ready for

toasting new beginnings in your new home. Home Move Consultants want you to

relax and enjoy your move under their professional care and attention. Their aim

is to make a stressful experience, a stress-free one. So, what are you waiting for?

Let's get that holiday booked. We'll have your new house ready for you on your

return..

For more information on the services offered by Home Move Consultants, visit

their website at www.homemoveconsultants.co.uk or call Deborah / Charlotte on

+44 7855 313097 You can also find the Home Move Consultants on Facebook,

Instagram and on Twitter @homemovegurus
---
The most luxurious

ski chalets in the world

for your dream holiday

Nothing can beat a luxury

ski chalet vacation: so now

is the time to reserve your

dream chalet for the holidays.

We've hand-selected 4 outstanding

chalets to provide a glimpse

into the most exclusive ski locations

in Europe, designed to inspire

your own dream chalet holiday

for 2017/2018.

4) Chalet Les Anges, Zermatt.

Weekly rental price:$45,000

Chalet Les Anges is an outstanding

and elegantly composed chalet,

designed by the renowned

interior architect Magali de

Tscharner. The chalet features

reclaimed wood throughout and

is spread over three spectacular

floors.

Great care has been taken to create

a warm and cozy ambiance

utilizing the expertise of leading

international lighting consultants.

Its modern contemporary

52

style with the highest quality natural

fabrics is counterbalanced by

the symmetry of the furniture to

enhance the feeling of warmth

and luxury.

Chalet Les Anges in Zermatt

sleeps up to 14 people across 7

luxurious bedrooms and offers

luxury living at its peak.

3) Chalet Marco Polo, Val d'Isère.

Weekly rental price:$55,000

Some say: one of the most beautiful

chalet in the world.

Marco Polo is a world class

uber-luxurious chalet. Situated

in the heart of Val d'Isère yet

set back from the main road, the

chalet gives you privacy plus easy

access to the center of this high
---
altitude resort. A true masterpiece

of style, the Marco Polo has

combined contemporary and traditional

materials to create a chalet

like no other.

Rich and sumptuous, it has a lavish

interior that quite literally

energies with the light from its

chandeliers. Faux fur, engraved

wood and rustic stone features

pervade the main rooms, but the

real hidden treasure is the wellness

suite.

This slope-side chalet even has

its own games room, with a dedicated

snug for wine and cheese

tasting, which makes for an elegant

entertaining space. It's

bound to be love at first site for

guests seeking an intimate, indulgent

break in a luxurious chalet in

Val d'Isere.

2) SHL Lodge, Meribel.

Weekly rental price:$60,000

This is a fabulous choice for a

luxury family ski holiday.

The SHL Lodge in Meribel is the

traditionalist's haven. Though it's

filled with contemporary design

features, the interior feels like

something straight out of a fairytale.

The architecture is reflective

of the classic Savoyard style,

and the fittings, which include

a beautiful stove and expansive

wooded dining table, iterate the

rustic motif that makes this the

perfect alpine retreat.

The living area is a sensation, with

floor-to-ceiling windows providing

spectacular views of the

Chaudanne slopes to be enjoyed

as you congregate around the

roaring fire on the giant leather

sofa.

1) Art Chalet, Courchevel 1850.

Weekly rental price :$190,000

Whomever thought that mixing

Picasso with a French Chalet

would be a good idea is a genius.

Bold, contemporary and ultra-stylish,

it's filled with

avant-garde paintings, sculptures

and designer furniture and

fittings.

The 20,400sq ft chalet, located

above Courchevel 1850, can be

easily described with one word,

extravagance with a weekly rental

price of $190,000 a week. No

wonder the regulars are Prince

William and Kate Middleton, the

Beckhams, George Clooney, Roman

Abramovich and Giorgio Armani.

Nothing less than spectacular, the

chalet offers an expansive waterfall

swimming pool, as well as a

private nightclub, a cinema room,

a gym, a games room and a casino

room. These four full floors of extravagance

will have you cutting

your ski sessions short to come

back and enjoy your spectacular

lodgings. In-house staff will make

your trip unforgettable.

Article written by: Aline Fakhry

53
---
Join the Diplomatic

Council Gala 2018

February, 2nd, 2018,

Frankfurt (Germany)

Please register at

www.diplomatic-council.org/gala2018

Inspired by Ms Irene Ho, Head of DC Mission Singapore, CEO The Luxury Network Singapore

Artworks and Graphics by kreativrudel, recommended advertising agency for Diplomatic Council members

Text by euromarcom, recommended public relations agency for Diplomatic Council members
---
Welcome to the

most exclusive spot

in the Mediterranean.

Executive Double Room with Sea View

IBEROSTAR Grand Hotel Portals Nous *****

Portals Nous, Majorca

A beachfront 5 star 'Adults Only' Grand Boutique hotel where all your dreams will come true. It stands just

a short distance from Puerto Portals, one of the Mediterranean's best-known marinas and next to one of

the top golf clubs, the Real Club de Golf Bendinat. The hotel is the work of Marcel Wander's, one of the

world's leading designers, who has skilfully turned the entire hotel into a work of art. The facilities include

four gastronomy spaces, a magnificent 650 m 2 Biospa, an original range of themed rooms and truly exclusive

amenities such as a butler service, personal shopper or yacht hire. An authentic dream for everyone who

delights in luxury and sheer pleasure.
---
Stargazer Suite

Biospa

Follow us on:

IBEROSTAR Mallorca

@iberostarmca

www.iberostargrandhotelportalsnous.com · +34 971 99 80 60
---
Independently voted as one of the World's Top 100 Interior Designers

in the Andrew Martin Awards 2016 and 2017.

Please contact us to arrange your free design consultation

0800 7887 7604 www.aji.co.uk
---
C

M

Y

CM

MY

CY

CMY

K

+961 3 18 28 44

+961 3 51 78 41 laboiteroselb
---
Boatsters opens world's first

yacht office on a Pershing 88

The company Boatsters.com,

a global rental platform for

yachts & boats is moving

their office from Amsterdam to

the Mediterranean sea working

remotely on a superyacht, the

Pershing 88. They are the first

'startup' company in the world

that has opened an office on a

yacht. By making a deal with one

of their clients, the owner of the

yacht, they now rent out boats,

sleep and have meetings on their

own 'aqua office' while they sail

from harbour to harbour, from

client to client renting out boats.

62

Prestige 88 owner

The owner of the Pershing 88

is Roberto Vazquez. In 2014 he

bought the ship with Lengers

Yachts, a yacht dealer from Europe.

The owner of Lengers is

the uncle of Nick Gelevert, the

founder of Boatsters. The yacht

is being rented out through Boatsters

for a few years now. Based

on the personal and business relationship,

Boatsters was able to

make a deal with Roberto in order

to move their office to the

yacht. Vazquez: 'Boatsters is not

only a charter company, they

have a new life concept which is

about enjoy and improve your life.

When I met the young partners

a while ago, I believed in them.

They charter my yacht with success

so I trust them. If you want

to enjoy your life, you have to be

a Boatster, just like them'.

Yacht office

The Pershing 88 is a perfect yacht
---
to have an office on. It has two

double rooms and two twin cabins

with an already existing office

space available downstairs

at the ship. To make room for the

Boatsters team, they've decided

to combine one double bedroom

with the office space and salon to

make sure the team has enough

room for day to day tasks.

The Pershing 88 can go 38 knots

at maximum speed and has a

cruising speed of 36 knots. Because

Boatsters has a lot partners,

clients and events to attend

to, the Pershing 88 is an ideal

way of transportation. For fun

purposes the ship also has a tender

with water ski facilities and

meetings can be held at the front

and rear deck.

Harbour to harbour

The yacht office is moored in

Mallorca, cruising to all the major

harbors such as Menorca, Ibiza,

and Formentera, as well as all the

coasts of the French and Italian

Riviera. This year the Boatsters

team will remain in the Mediterranean

Sea, afterwards the yacht

is transferred to the Caribbean

Islands. By moving the yacht office

along with the boating seasons

spread over the globe, Boatsters

keeps close to its direct

target audience; the local boat

owners, fleet operators and their

rental clients. The live itinerary

and location of the office yacht

can be found on the website of

Boatsters.

About Boatsters

Boatsters is a world leading rental

platform for yachts and boats,

with a portfolio of over 10,000

rental boats spread across 63

countries. By developing an innovative

solution for the maritime

industry, they made it possible to

rent a boat as simple as booking a

hotel room.

Their hybrid business model provides

owners the possibility to

rent out their boats and yachts

through the platform. Moreover,

with the significant marketing

power of Boatsters, fleet operators

are also being provided with

extra customers by listing their

fleet on the platform. This unique

offering combination gives the

renter the opportunity to experience

the charm of renting with a

local boat owner or take advantage

of the professionalism of the

affiliated partners of Boatsters.

With the recently launched new

label dubbed Boatsters Black,

luxury yachts starting from 60 ft

and upwards are now available for

those clients with high demands

and standards. Both owners and

renters benefit from a global concierge

service that takes care of

all demands and special wishes.

Through its innovative digital

platform and influence, Boatsters

connects customers to any boat,

anywhere, anytime, making boating

fun for everyone.

www.boatsters.com

63
---
THE IMPERIAL RANGE

First Class Service at the Touch of a Button

Connect Guests and Staff with our standard and bespoke

call buttons integrated with leading AV solutions

Private Residences

SuperYachts

Private Members Clubs

Boutique Hotel

Corporate Hospitality

Luxury Accomodations

+44 (0) 20 8381 1338 solutions@call-systems.com www.cstluxury.com
---
I N TROD U C ING

THE N EW H ALLM ARK OF WELLBEING

Welcome to the new private members' wellness club, where your health and wellbeing are our priority.

Come and experience our unique club, our team would be delighted to meet you.

3 St James's Square, London SW1Y 4JU

+44 203 909 7133 | enquiries@3sjs.club | www.3sjs.club
---
summer

MS EUROPA 2 presents

specials

Enjoy attractive savings now!

Only until 28 February 2018!

Win your free trip on MS EUROPA 2!*

Experience the vibe of hip cities. Enjoy life on idyllic

white beaches. Feel nature on a raft or zip line. Come

aboard and enjoy freedom that takes you places on the

EUROPA 2. Plenty of me time and unlimited variety

for your personal summer dream in 2018!

Our tip:

Fascinating diversity.

Fantastic moments.

Mina Khalifa

Khasab

e.g. Abu Dhabi – Dubai

14 May – 22 May 2018, 8 days, cruise EUX1811

Sir Bani Yas/Ver. Arab. Emirate – Mina Khalifa/Menama/Bahrain –

Khasab/Musandam/Oman – Muscat/Oman

Sir Bani Yas

Abu Dhabi

Dubai

Muscat

From £ 3,570 per person

cruise only, double occupancy, in a guaranteed Veranda or Ocean Suite

(category 1 or 2) with a 28m² (301 ft²) living area and 7 m² (75 ft²) veranda

For more information, visit europa2-summer-specials.com

* Simply sign up for our very

special "Time Out" newsletter

at mytimeouts.co.uk

Advice and bookings at your travel agency

or at Hapag-Lloyd Kreuzfahrten GmbH,

Ballindamm 25, 20095 Hamburg, Germany,

hl-cruises.com, service@hl-cruises.com.

Free phone 08000 513829

(English-speaking hotline)
---
Investment opportunities at your

fingertips, at home or abroad.

Envestors is the leading private investor network for sophisticated investors, providing

unparalleled access to pre-screened, high growth venture investment opportunities.

Registering to become a member of our network

is straightforward and free of charge.

Contact Jessica Wilson, Investor Relationship Director

E: jessica.wilson@envestors.co.uk

T +44 (0)20 7240 0202 | envestors.envestry.com

Please note that investments of this nature carry risks as well as potential rewards.

Envestors Limited is Authorised and Regulated by the Financial Conduct Authority (FCA) in the UK. Firm Reference Number (FRN) 523592.
---
People don't

connect to brands,

they connect to the

way brands make

them feel.

In a world of content consumers, it's vital to stand out.

Visual content inspires, engages and holds your attention.

It's shareable, memorable and highly emotive.

Photography S.T. Dupont, Paris

STRATEGIC MARKETING EXPERTS

SPECIALISING IN FILM AND VISUAL CONTENT.

Enquire now for an evaluation.

T: +44 (0) 20 7846 0103

E: jemma@luxurymarketinghouse.com

W: luxurymarketinghouse.com
---
Luxury Living on the Banks of the Thames

One Tower Bridge offers a five star living experience on the South Bank, with one of the world's most iconic landmarks

as its backdrop. A plethora of exciting new retail and commercial signings including Bridge Theatre, London's largest

new theatre in 40 years, The Ivy restaurant and Tom Simmons will make One Tower Bridge the most sought after

destination in London. Our most recent restaurant to open up is the Coal Shed, who are known to use hot coal

cooking for their meat and fish dishes.

2 and 3 bedroom apartments available. Prices from £3,650,000

For more information or to book your appointment call +44 (0)20 3930 2693 or visit: www.onetowerbridge.co.uk

Prices and details correct at time of going to press.

www.onetowerbridge.co.uk

Proud to be a member of the Berkeley Group of companies

for your future
---
LIVE THE LIFE

12–15 APRIL 2018

ONE°15 MARINA SENTOSA COVE

SINGAPORE

EVENT ORGANISER VENUE HOSTS SUPPORTED BY HELD IN
---
TLN

News

The Luxury Network New Zealand

Celebrates Success with Heletranz

and Tantalus

Heletranz Helicopters together with our newest member of The

Luxury Network, Tantalus, held an event at Heletranz HQ in Albany

purpose built hanger

Members and guests were able to have an inside look into how luxury

travellers experience New Zealand whilst enjoying wine and craft beer

from Tantalus Estate.

74
---
TLN

News

During the evening, business cards were collected

as entry into the lucky prize draw which gave ten

the Auckland Sky Tower.Also, one lucky guest

received a VIP heli-dining experience at Tantalus

Waiheke Island and a fabulous lunch in Tantalus

Estate's restaurant.

75
---
TLN

News

A Luxurious Partnership with Mitchell Ogilvie,

Electronic Living, Bird In Hand, Urbane and

Kanga Coaches

The Luxury Network Queensland exclusive

members and clients event was held

Thursday 5th October 2017 at Mitchell

Ogilvie Menswear store located in Brisbane. This

evening was hosted in collaboration with members

Electronic Living, Urbane and Bird in Hand.

Together, it was an evening about the latest

technology, achievements, wine tasting and

upcoming events.

Mitchell Ogilvie showcased their Canali suit. It

wasn't just any kind of suit. This suit was designed

perfect suit. The best part about the suit is that

its water and stain repellent. Best of all the suit is

crease proof. Men can travel in style knowing their

suits can be transported in suitcases versus the

traditional hand-carry method.Electronic Living

featured their TV mirror technology. Disguised

as a mirror and perfectly framed on a wall, this

tv mirror is the perfect prop in any home, retail

or corporate environment. Electronic Living was

for Best Integrated Home Levels I & III and Best

Home Cinema Level III. Damian Cavanagh, Owner

of Electronic Living was also awarded the Golden

the connect technology and systems integration

the emerging and connected technologies market.

76
---
TLN

News

Urbane was on hand serving premium catering to

our guests. Urbane was awarded 2018 Three Hats,

Number 27 Australian Gourmet Traveller Top 100

Restaurant in Australia and number 1 in Queensland.

As part of The Urbane Group and only a few weeks

to go, Urbane announced their annual Melbourne

Cup event would be held this year at The Euro

Restaurant with award-winning hospitality and

all the trackside action live on the big screens. As

part of their successful event, they are proudly

supporting Starlight Children's Foundation to raise

funds for a good cause.

Bird In Hand served up an extensive wine range from

their Blue-Gold Award Winners and Top100Wines,

won at this years 2017 Sydney International Wine

Competition. These included Nest Egg Chardonnay,

Two in a Bush Sauvignon Blanc Semillon, Merlot

Cabernet and Sparkling Pinot Noir.

A surprise shout out went to Paul Treloar, Managing

Director of The Luxury Network Queensland

celebrating his birthday just two days earlier!Guests

were later transported in the Kanga's super-coach

to continue into the evening at Urbane. Creating a

unique experience it was!

77
---
TLN

News

The Luxury Network New Zealand B2B Working

Breakfast at NEXT GEN

The Luxury Network NZ recently held a working breakfast at Next Gen Health and Lifestyle Club, in

Auckland, to discuss digital communications for the luxury sector.

Digital Communication has become integral to reaching consumers globally, but we wanted to look at how

this is achieved with a HNW and UHNW audience and talk to a few experts who can provide us with insight

Leanne Prichard, who has recently joined The Luxury Network to assist with business development.

Leanne has recently returned from 22 years living in London and has over 25 years' experience in the

UHNW clients. Most recently with Coutts Private Bank as their in-house luxury specialist and at Harrods

Personal Shopping as their Business Development Manager.

Leanne talked us through her knowledge of the global luxury consumer; what sets them apart from

other consumers, their expectation levels and how we need to engage with them in order to build trust,

78
---
TLN

News

Leanne also shared with us some digital tools she

developed with her team at Harrods to engage

with a sophisticated, HNW client and build

lasting, productive business relationships. This

focused on everyday digital comms including

text, whatsapp, wechat and email content as well

as the concept of private Instagram accounts

that allow personalisation for a high value client.

Leanne will also be working with The Luxury

Network and offering business consultancy

advice to our members.

Christie Hall, NZ Ernst & Young Law Leader, gave

us valuable insight into the legal implications

behind digital communication and database

management for luxury businesses. With EU legal

changes around data protection requirements

and the introduction of the GDPR in 2018,

which may have implications for NZ companies

in the long run – this information is critical to

compliance and best business practice.

Our last guest was Kris Lal, Director of Social Curator – a new agency specializing in social media

Kris recently won the #AirpointsEscape campaign for Air New Zealand. Kris talked us through the changing

world of Instagram (which apparently moves forward every 7 days!) and how best to maximize engagement

highlighted available metrics and analytical tools in using Instagram and ensuring we are engaging with an

What was evident from all three speakers, is that we need to embrace digital communications in order to

both retain and acquire new luxury clients and be extremely mindful of the characteristics presented by

this unique audience in how we connect and engage with them.

79
---
TLN

News

The Luxury Network Dubai & Abu Dhabi

Luxury Open Day EvenT

Highlights of the latest luxury event organized by The Luxury

Network Dubai & Abu Dhabi in Partnership with Luxhabitat,

Bentley Emirates, Ascots & Chapels, Soneva Resorts and The

Macallan for over 100 HNWI.

Our event partners and their clients enjoyed the finer things in life in

an exclusive luxury villa in Al Barari with a Bentley test drive. They unwound

with a cigar and savored The Macallan Single Malt Whisky and

dressed to impress with Ascots & Chapels.

80
---
TLN

News

The Luxury NetworK

Australia

Travelling in Style

with Mercedes-Benz

On Thursday November 23, Mercedes-Benz

Melbourne Airport Express hosted a superb

event 'Travelling in Style' showcasing luxury

travel by air land and sea.

The event was curated by Richard Bunting from

Luxury Travel Magazine and provided guests with

an overview and insight into why The Luxury Network

Members Qatar Airways, Silversea Cruises and

Abercrombie & Kent are leaders in the luxury travel

industry, their offerings and what makes them

unique.

Over the next few months anyone who purchase

a vehicle from Mercedes-Benz Melbourne Airport

Express will have the opportunity to win two business

class airfares with Qatar Airways to a European

destination of their choice

81
---
TLN

News

The Luxury Network

Queensland Jolly Ol'

Christmas Celebration

On the 29th Nov 2017, The Luxury Network

Queensland hosted a festive Christmas celebration

with their partners and friends at

the Brisbane Marriott Hotel. Ronnie Yap, CEO of

TLN Queensland gave a warm welcome speech and

congratulated all the partners for a spectacular year,

collectively embracing the spirit of Luxury Lifestyle

Experiences. Queensland had tripled the engagement

level, working with partners to create exquisite

and memorable experiences in 2017. The partners are

truly reaping the tangible benefits from these experiences.

Before closing the official part of the evening, MD Paul

Treloar thanked everyone for their support and was

excited that 2018 would be a huge year. With more

than 6 major events earmarked and plenty more already

in the pipeline, it is really exciting to roll out the

luxury experiences right across the state from North

Queensland down to Sunshine Coast, Gold Coast

and the State Capital Brisbane. With Commonwealth

Games on the horizon will be officially launched in

4-15 April 2018 at the Gold Coast, TLN Queensland is

right where the action is, bringing with them some

amazing line-up of ultra luxurious events.

The evening continued on with free flowing champagnes,

wines, delicious food and quality networking

before closing off the function with surprise lucky

draw prizes worth more than $10,000 on the night!

Prizes were donated by our partners which includes

Anna Rubin Fine Artist, Yachtshare, Mitchell Ogilvie,

Brookwater Golf and Country Club, Adagold Luxe,

Brisbane Bullets and DeRucci. It was a truly memorable

evening for the winners of these amazing prizes!
---
There is more to taste

Lavazza is distributed in Qatar by

International Foodstuff Group (IFG)

Email: lavazza@ifg.com.qa

Phone: +974 4485 8000
---
MEMBERS

Affairs

Qatar Airways Continues Asia Expansion

With Additional Frequency To Bangkok

Qatar Airways is continuing its expansion

in Asia by adding an additional

flight to Bangkok, providing

its passengers even more flexibility in

visiting the Thai capital.

The new service to Bangkok, which

commences on 25 March, is part of the

award-winning airline's continued expansion

in Southeast Asia, following

its launch of direct service to Thailand's

Chiang Mai late last year. The airline is

also preparing to launch direct service

to the Thai city of Pattaya later this

month, as well as service to Penang,

Malaysia in February.

Qatar Airways Group Chief Executive,

His Excellency Mr. Akbar Al Baker,

said: "We are delighted to announce

this additional service to Bangkok, one

of Southeast Asia's most popular destinations.

With our recent inauguration

of direct service to Chiang Mai, and

our upcoming launch of direct flights

to Pattaya later this month, we are

pleased to now make it easier than ever

for our passengers to visit the Land of

Smiles."

"Thailand is one of our most popular

destinations, for both leisure and business

travelers alike, and we will continue

our efforts to provide our passengers

even more opportunity to experience

this captivating country."

Qatar Airways currently operates 14

times per week to Phuket, daily to Krabi

and four times per week to Chiang

Mai. The additional service to Bangkok

will take the number of weekly flights

to the Thai capital to 42.

As well as being voted Skytrax 'Airline

of the Year' by travellers from around

the world, Qatar's national flag carrier

also won a raft of other major awards

at the 2017 ceremony, including 'Best

Airline in the Middle East,' 'World's

Best Business Class' and 'World's Best

First Class Airline Lounge.'

Qatar Airways operates a modern fleet

of more than 200 aircraft to a network

of more than 150 key business and

leisure destinations across Europe,

the Middle East, Africa, Asia Pacific,

North America and South America.

The airline is launching a host of exciting

new destinations in 2018, including

Penang, Malaysia; Canberra, Australia;

and Cardiff, U.K, to name just a few.

Doha-Bangkok Additional Flight Schedule:

Doha (DOH) to Bangkok (BKK) QR980

departs: 01:55 arrives: 12:55

Bangkok (BKK) to Doha (DOH) QR981

departs: 20:35 arrives: 23:45

www.qatarairways.com

84
---
MEMBERS

Affairs

Mirvac's Forge Development Showcase Supported by

The Luxury Network Australia

Over two consecutive weeks, The Luxury Network Australia Member Mirvac, together with Ostar

International Media Group showcased their Forge development at Wharf's Entrance. Guests

included clients from The Bank of China and Active Motor Group.The Luxury Network Members

and Chocolate prizes and gifts from Sisko Chocolate.

85
---
MEMBERS

Affairs

Alexander James and Sunseeker:

One of The Luxury Network UK's Most

Successful Collaborations

Before 2015, dressing

Sunseeker's

yachts for display

fell to their factory team,

skilful at yacht-building,

not matching cushions

and china, the team

found the job onerous.

Their answer was to

cobble together 'wicker

baskets of stuff' that

would be left to gather

dust in a lock up between

shows, says Alex

Harrison, Group PR and

Marketing Director. The

boats, Alex admits, didn't

always look their best.

But without dressing,

the yachts look empty

at boat shows, which is

not good for sales when

you're trying to paint a

picture for prospective

owners. "Some people

are great at having

a vision for what their

finished boat will look

like, but most don't.

They need help to see

its potential as a second

home, not a product."

Alex explains, "It adds

the wow factor."

Enter one of The Luxury

Network's most successful

collaborations to

date: Sunseeker's partnership

with Alexander

James Interiors (AJI).

Having originally signed

up to TLN with the goal

of cosying up to Rolls

Royce and inviting them

to showcase their cars

at house launches, Julie

Clifford, AJI's Client Liaison

Manager says she

had never even considered

a collaboration with

Sunseeker. This changed

at TLN's quarterly seminar

when they were introduced

by TLN's Managing

Director, Helena,

and agreed to dip their

toe in the partnership

water by dressing Sunseeker's

VIP lounge at

the London Boat Show.

After seeing the dressing

of the yachts at the

show, they were convinced

their skills in

dressing houses would

transform the boats and

expose AJI to thousands

of potential new clients

in the process.

Alex says AJI's attention

to detail is incredible:

every boat has a bespoke

colour scheme. She was

stunned when she saw

them picking up on a

tiny piece of navy blue in

the ceiling and carrying

it through to everything

from coffee table books

to cushions, semi precious

stones and glassware.

"All inspired from

one detail." Alex says the

designers also take into

account the light, the

target demographic and

whether the boat will be

sailing to the Mediterra-

86
---
MEMBERS

Affairs

nean or Nordic Sea.

And they have nailed

it. When a client saw

the very first boat AJI

dressed at the London

Boat Show in 2015, they

wanted it, but only if

they could buy all of AJI's

interiors. With boats

selling for between £3m

and £5m the collaboration

potential was proven

and this year AJI has

dressed most of Sunseeker's

yachts at boat

shows around the world.

Asked if the partnership

could have happened

without Helena and The

Luxury Network, Julie

and Alex say there's a

chance it could have but

are adamant it wouldn't

have. For one thing, they

say, without an introduction

it's almost impossible

to get to the

right people.

Alex describes Helena as

'charmingly persistent',

which is extraordinarily

helpful when everyone

is so busy, understanding

those pressures and

working around them.

Not only does she have a

gift for visualising when

luxury brands could be

even better together

than they already are,

she identifies people

who will work well together

and she won't

rest until you've met.

Alex jokes that in others

this could be irritating,

but Helena is the

silent hero, the glue that

makes the network so

successful for its members.

"A no brainer" is how Julie

describes her membership

of The Luxury

Network (TLN). "It costs

less than half an advert

in a glossy magazine

and it's for 12 months.

That advert won't help

you collaborate with any

other businesses: maybe

it will help you with B2C

(she doesn't sound convinced),

but collaboration

is the way forward."

Since she joined TLN

3 years ago, Julie has

become something of

an expert in collaboration;

estimating TLN

accounts for 50-60%

of her marketing activity,

for a fraction of her

marketing budget.

So what's next for this

collaboration? AJI has a

double page upcoming

feature in Sunseeker's

magazine, distributed to

Sunseeker's global database

of high net worth

prospects and clients,

and both have been delighted

to showcase the

partnership to their

global audience across

their social media channels.

There is also exciting

talk of of AJI being

Sunseeker's official

interiors consultant,

there at the factory to

be available to clients at

point of purchase.

Finally, what's the partnership

worth to Alexander

James Interiors?

"There are 100,000 people

at the boat show; to

touch that many people?

You can't put a price on

that. And for Sunseeker?

"It gives us such a competitive

advantage – this

year we've been flooded

with comments about

how stunning the boats

look. It also makes the

shows far less stressful,

which is something

that's appreciated

across the group from

all teams. "Without AJI

we'd be back to our sad

little wicker baskets."

87
---
MEMBERS

Affairs

Members of The Luxury Network New Zealand were treated

to a Pre-Christmas Shopping Event at Montblanc

Montblanc warmly welcomed TLN members and guests to their boutique on Queen Street for a

one-off exclusive event leading up to Christmas.

Offering a very generous preferential rate on all products. Montblanc showcased their range of

luxury writing instruments, watches and leather goods.

Guests enjoyed a glass of Perrier Jouet Champagne and nibbles whilst they shopped and purchased their

Christmas gifts.

88
---
MATERNITY

HOSPITAL

EXPERIENCE OF

THE WORLD'S BEST

MATERNITY HOSPITALS

IN MOSCOW

Doctors with work experience in the best

maternity hospitals: Clinique de La Muette,

Paris, France; Cedars-Sinai Medical Center,

Los Angeles, USA.

International team of doctors is coordinated

by a well-known French obstetriciangynecologist

Dr Claude Debache.

World-class maternity care.

State-of-the-art intensive care and neonatal

intensive care unit to meet the special needs

of premature babies.

Comfortable and pleasant stay: deluxe rooms,

studio suites and apartment suites.

EUROPEAN MEDICAL CENTER

+7 (495) 933-66-55

15/1, ul. Pravdy (Maternity Hospital)

emcmos.ru/en roddompravda

License №LО-77-01-014964

ADVERTISEMENT
---
under The

Spotlight

Exclusive Bordeaux Wine Tasting With Tantalus And Uno

Loco Luxury for The Luxury Network New Zealand

Uno Loco Luxury, in collaboration

with TLN and Tantalus

Estate invited members and

guests of the network for an evening

of Bordeaux wine tasting with Ludwig

Vanneron from Oenosmart and

LVCA at The Northern Club.

90
---
under The

Spotlight

91
---
under The

Spotlight

The Luxury Network

Russia Hosts Directors

New Year Event

On the 20th of December, The Luxury Network

Russia hosted a New Year cocktail for

its official members at El Gauchito, one of

the finest restaurants in the heart of Moscow.

Nearly 40 CEOs and brand directors of such companies

as Sunseeker, Damiani, Rolls-Royce, IWC,

and many more, came together to discuss their future

projects.

92
---
under The

Spotlight

93
---
Life-mirroring communications

&

head-spinning events

Everything counts.

Would you like to talk about PR? Suppose, you

would. I'm going to ask, on your behalf, some

questions, and I'm going to give you some answers.

Even if you don't like those answers, or you don't find

them convincing enough, I hope they will encourage

you to think about the subject and form your attitude

to it. Thus, my purpose will be achieved – the dialogue

will commence.

So, what do we actually need PR for? So that

the efficiency and profitability of your business

wouldn't exclusively rely on your advertising budget.

So that you would meet your target audience in

person and know better about it. So that you would

address people themselves instead of quality and

quantitative research.

Advertising is a splendid, and dispendious,

communication tool. It is costly because you pay

for 'blanket mailing' of impersonal messages, unable

to check if they reach the target. Are you willing

to shake hands with 146 million people in order to

randomly find a million of those to whom it really

matters? Probably not. Just think about how much

time, effort, money, and hand lotion it would take.

But that's exactly what you do when you invest

into advertising. You take a sledgehammer to crack

a walnut, as they say.

What's the difference between advertising and

PR? You'll see it when you expand the abbreviation

– it establishes Relations with Public and delivers

your message to those who are really interested in it.

You will pay PR agency, of course, for them to select

your specific one million contacts. But imagine how

much time, effort, money, and, of course, hand lotion,

you would save by not investing into 145 million

pointless and meaningless handshakes. Impressive

assumptions, aren't they?

But let us go back to our Q&A.

Do you know what PR is actually about? I hope

so, but I'll have to challenge that knowledge. Most

people believe that PR is a collateral, but not crucially

important, part of an advertising strategy, despite the

fact that PR and advertising have totally different

mechanisms of influencing the target audience.

In fact, PR serves as a tool that manages public

opinion through individual judgements and reviews.

Advertising, by definition, tends to be rather

impersonal, with a great deal of target uncertainty.

So, who will you prefer to talk to when you invest

your funds into communication channels? To some

impersonal figures of analyses and research, or to an

engaged community of people? You feel confident

enough about the quality of your (put the name of

the desirable product or service here). Are you going

to offer this quality to some figures? It doesn't make

sense. You should communicate with people. And we

will help you in that.

How do we do that? We simply know how to

shape an appropriate answer to a potential question.

Every day, every hour, sometimes even every

minute, a person asks questions. They don't know

'How?', 'Where?', and often even 'What?'. The answers

to these questions can open a gate to your unique

proposal. But you are not a professor of literature

or linguistics. Your task is just to create the best

(once again put the name of the desirable product

or service here). The rest you can leave with us. You

develop a product; we create its value image.

And, finally, why us? Because we know 'how'.

How? We're not going to tell. That is, in fact, the very

substance of our best and unique, but absolutely

non-product, proposal. It's based on the profound

knowledge of popular consciousness, people's

relations psychology, direction of actions and their

consequences, and numerous other things, about

the importance and level of involvement of which

you are most likely unaware. This proposal is truly

the best. It will securely spare your budget from 145

million needless handshakes.

Do you want to talk more about PR? Maybe it's

time to get down to business, without a further ado?

Time is money, after all.

Nikita Shapovalov

PURE Agency Founder
---
+7 (499) 391 75 38

+7 (905) 711 00 30

pureagency.ru

info@pureagency.ru

PURE Agency

Novinsky Boulevard, 7/1

Moscow

RUSSIA
---
Dine Exquisite

At Brasserie Les Saveurs, the signature dining establishment of

The St. Regis Singapore, revel in the perennial St. Regis ritual

of afternoon tea. Relish in a lavish array of savoury and sweet

delights, and savour our selection of fine teas and scones while

enjoying enthralling live music performances.

29 Tanglin Road t. +65 6506 6888 stregis.com/singapore

©2017 Marriott International, Inc. All Rights Reserved. Preferred Guest, SPG, St. Regis and their logos are the trademarks of Marriott International, Inc., or its affiliates.

For reservations and enquiries, please visit brasserielessaveurs.com

or call +65 6506 6860
---
ISSUE 04

JANUARY - FEBRUARY 2018

Editor-In-Chief

Fares Ghattas

Creative Department

Reine Nehme and Chris Wood

Production Manager

Tala Ghattas

Print and Production

FG Center

Koreitem, Rue Mme Curie, Street 29, Altaf Building, Beirut, Lebanon

Tel: +961 1 810 650 I Web: www.fg-center.com

At 2017, The Luxury Network Magazine was published as a bimonthly supplement for The Luxury Network International. All materials are strictly

copyrighted, and all rights are reserved. Reproduction in whole or in part without the prior written permission of The Luxury Network International is

prohibited. All content is believed to be factual at the time of going to print and contributors' views are their own derived opinions and not excessive

that of The Luxury Network International. No responsibility or liability are accepted by the publishers or editorial staff for any loss occasioned to any

individual or company, legally, financially or physically, as a result of any statement, fact, figure or expression of opinion or belief appearing in The

Luxury Network Magazine. The publisher does not officially endorse any advertising or advertorial content for third party products. Photography and

image credits, where not otherwise stated, are those of Getty Images and/or Shutterstock; each of which restrains their individual copyrights.
---
Members Directory

Capitol Grand

capitolgrand.com

Electronic Living

electronicliving.com.au

Mitchell Fine Art

mitchellfineartgallery.com

Maserati

egypt.maserati.com

Mercedes-Benz Kenya

mercedes-benz.com

Proshade Keny

proshade.co.ke

La boite rose

laboiteroselb.com

Heletranz

heletranz.co.nz

Partridge Jewellers

partridgejewellers.com

ASKJA

askja-audio.com

Jetpartner

jetpartner.net

FB Artist

instagram.com/fbartist

FG Business Center

fgr.qa

FG Realty

fgr.qa

Kare

kare-design.com

Lavazza

instagram.com/lavazzaqatar

Selamlique

instagram.com/selamliqueqatar

Almansa & Asociados

almansaabogados.ru

EMC

emcmos.ru

Ferrari Avilon

ferrari-avilon.ru

Pure

pureagency.ru

Sky Club

sky-club.ru

Caratell

caratell.com

De Dietrich

dedietrich-asia.com

Diplomatic Council

diplomatic-council.org/gold

Etihad Airways

etihad.com

Kwanpen

kwanpen.com

Moonshot

moonshotdigital.com

Peroni

peroniitaly.com

Singapore Polo Club

singaporepoloclub.org

Singapore Yacht Show

singaporeyachtshow.com

Small Luxury Hotels

slh.com

St. Regis Singapore

stregis.com/singapore

Vision Advisory

visionadvisory.sg

Luxhabitat

luxhabitat.ae

XXII Carat

22carat.ae

3 St. James's Square

3sjs.club

Alexander James Interiors

aji.co.uk

Berkeley Homes

berkeleyhomes.co.uk

Cornerstone

cornerstone.co.uk

CST Limited

call-systems.com

Envestors

envestors.envestry.com

Hapag-Lloyd Kreuzfahrten GmbH

hl-cruises.com

HPA Luxury Travel

hpaluxurytravel.co.uk

Holiday Luxury

holidayluxury.co.uk

Home Move Consultants

homemoveconsultants.co.uk

Iberostar

iberostar.com

Luxury Marketing House

luxurymarketinghouse.com

Sunseeker London

sunseekerlondon.com

Aston Martin

astonmartin.com
---
Private Jet Charter

For all your private aviation

needs world wide. Jetpartner -

the only dedicated private jet

charter company in Monaco.

Monaco +377 97 98 24 06

www.jetpartner.net