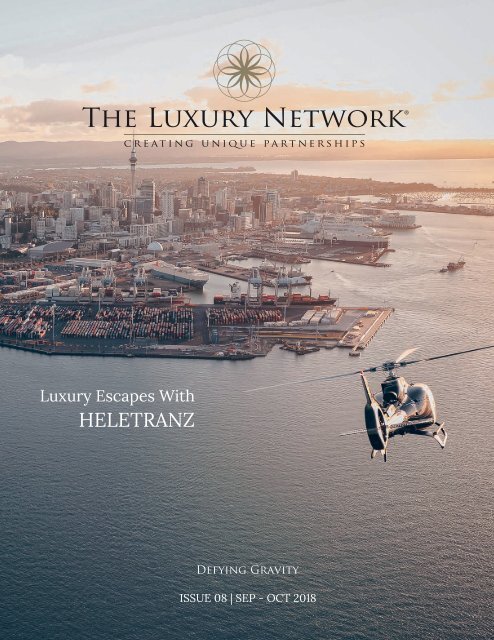 The Luxury Network International Magazine Issue 08
Create successful ePaper yourself
Turn your PDF publications into a flip-book with our unique Google optimized e-Paper software.
Luxury Escapes With

HELETRANZ

Defying Gravity

ISSUE 08 | SEP - OCT 2018
---
Described as "The next generation of marketing for luxury brands" by the British media,

The Luxury Network is the world's leading luxury affinity marketing group.

The Luxury Network is a private membership club, established in luxury capitals or

countries around the world, within which premium companies work closely together at

senior director level for mutual business and client development.
---
The Luxury Network's objective is simple: To facilitate co-operation and exciting new

business development activities between top-end companies. New business partnerships

are created via strategic alignment, joint collaborations, product placements,

endorsements, media sharing, B2B and B2C networking, sales and luxury showcase

events and numerous other affinity marketing activities.

3
---
ditor's NOTE

Dear Valued Readers,

This latest issue features news stories about our new members from

our regional offices in the , New ealand, and ermany. e are

pleased to welcome these esteemed brands to our network, and we

look forward to promoting them worldwide through our publication.

ore exciting news inside this edition are features about the success-

ful events we held with our members globally such as achtshare, o-

theby's ealty, estin risbane, rchie ose, enith atches, e i-

etrich, ranken-ommery, rr roup, Nespresso, and rt of Travel.

e would like to acknowledge our hardworking team in ueensland,

ustralia, for being the major sponsor of the ussie id ala charity

event.

e are a few months away from this year's holidays, and we can't wait

to share with you some of our exclusive holiday lists. n the meantime,

grab your favorite beverage and enjoy the th edition of The Luxury

Network nternational againe.

incerely,

Fares Ghattas

EIC, GCEO, The Luxury Network International
---
London | +44 (0)20 7355 0980

34-36 Davies Street, Mayfair, London W1K 4NF

info@sunseekerlondon.com

Robert Taylor Media

HIGHLIGHTS

Sep - Oct 2018

15

Calculating the ROI on your

2nd Citizenship Investment

38

TLN Germany Exclusive

VIP Champagne Trip

Yachts Cars and Coffee

Experience with

TLN Australia

70

Panerai

18

London

60

SEEK MORE

MS EUROPA 2 presents

79

73

Six cruises, countless experiences and the feeling of summer

from April to December: set sail for your personal summer

special on the EUROPA 2. Whether shopping in Asia's cities

or relaxing in the Caribbean, do whatever you want as you

enjoy selected hotspots around the globe.

Our tip:

Exotic coasts.

The lands of smiles.

Benoa (Bali) – Hong Kong

Rolls-Royce Cullinan

SEA Debut

Luxury Escapes with Heletranz

44

64

91

De Dietrich's

"Savour the Infinite"

Hapag-Lloyd Cruises

Halong Bay

Hong Kong

Da Nang

Sydney Boat Show

Ho Chi

Minh City

Singapore

08 Apr – 23 Apr 2019, 15 days, cruise EUX1907

Semarang/Java/Indonesia – Menyawakan Island – Singapore/Singapore –

Menyawakan

Island
---
CULLINAN

ONE LIFE, MANY LIFESTYLES

EXPLORE EVERY POSSIBILITY

Register your interest at

www.rolls-roycemotorcars.com

or contact us at

asiapacific@rolls-roycemotorcars.com

© Copyright Rolls-Royce Motor Cars Limited 2018. The Rolls-Royce name and logo are registered trademarks.

6
---
7
---
"Every book tells a story, this is about us and how our gardens are the sanctuaries of our

souls." Sir Ray Avery, Scientist, Inventor, Author and Social Entrepreneur, Medicine Mondiale.

We are very excited to finally see our coffee table book Gardens of the Greats: Expressions of

Extraordinary People being released in December 2018. It celebrates philanthropists in New

Zealand and overseas and illustrates how their gardens reflect their stories.

A gift with a different spin for your loved ones and clients for Christmas with some proceeds

going to the Arts Foundation of New Zealand!

Contact info@branchelandscapes.com
---
AUCKLAND ✧ WELLINGTON

CHRISTCHURCH ✧ QUEENSTOWN

0800 309 8925 www.partridgejewellers.com

9
---
15
---
ROLLS-ROYCE CULLINAN MAKES

SOUTH EAST ASIAN DEBUT IN SINGAPORE

The highly anticipated new ulli-

nan from olls-oyce otor ars

made its outh ast sian regional

debut today in ingapore, at a glittering

reception held atop the covered swim-

ming pool of the it arlton illenia.

peaking at the event, aul arris, olls-

oyce otor ars egional irector for

sia acific, said, Today we present allnew

ullinan the olls-oyce of s.

This is a seminal moment in the history

of the brand as we take our place at the

very top of a highly competitive sector,

but we are confident that ullinan will

set a new benchmark and take its oc-

cupants wherever they dare venture in

effortless luxury.

dding on to r. arris' positive remarks

at the reception, enee hua,

anaging irector, olls-oyce otor

ars ingapore said, ullinan is high-

ly-anticipated in ingapore, an all-new

model that also completes a prolific

range of offerings from the marue. in-

gapore's importance as a luxury hub in

18

outh ast sia is once again confirmed

with this premiere, and we are very hap-

py to bring new customers to the brand

with ullinan's broader appeal.

Effortless, Everywhere

Named after the largest diamond ever

to be discovered, which now resides

proudly atop the ritish rown ewels,

ullinan is olls-oyce's first-ever .

The all-wheel drive high-bodied car is

only the second olls-oyce to be un-

derpinned by the marue's proprietary

rchitecture of Luxury, and promises

to redefine luxury travel as ffortless,

verywhere, without sacrificing the

brand's legendary agic arpet ide.

ullinan uses this new architecture in a

wholly different manner to enable limit-

less adventure where the road ends and

the trail begins, with uncompromised

comfort, space, usability and cutting

edge technology.

ullinan is the answer for super-luxury

patrons that accept no compromise

hen ir enry oyce said,

trive for perfection in everything you

do. Take the best that exists and make it

better. hen it does not exist, design it,

he could have had ullinan in mind.

urther, ullinan offers a suite of espoke

features developed specifically

for the increased variance of its intended

patrons' lifestyles, for example the

iewing uite and the ecreation odule.

The olls-oyce espoke ollective

seeks challenges from olls-oyce patrons

as they dream up new and creative

uses for these spaces.

Designing Supreme Luxury

trength and power underline ullinan's

design for supreme luxury. eadlights

and air intakes are deep set into

the front face, with a prominent brow

accentuated by daytime-running Ls.

newly-designed chamfered antheon

grille protrudes forward to denote

strength, combining with defined vertical

and horiontal lines create a powerful

visage.
---
The iconic olls-oyce badge and pirit

of cstasy ride significantly above the

line of the wing on the raised centre

bonnet stack, rising to upright -pillars

before sweeping back into a fast-back

rooine. elow, exuisite brightwork in

the form of a axon pear breaks the

side profile of ullinan with powerful

purpose and tension.

ullinan's bold rear features a profile

that sports a two-part, -ack' format

uniue to the segment, with a bustle'

back inspired by classic s olls-

oyce tourers that reuired luggage to

be mounted at the exterior of the motor

car. The tailgate opens and closes its

two sections automatically at the touch

of the key fob button.

Authentic Luxury

tep inside the coach doors of ullinan

the only to feature this olls-oyce

signature method of entry and egress

and occupants are treated to authentic

olls-oyce luxury and craftsmanship.

ymmetrical lines and luxurious materials

emphasise ullinan's inherent

strength and attention to detail. modern

horseshoe graphic outlines the bolster

of ullinan's newly-designed seat,

and parts of the fascia are clad in a new-

ly developed ox rain' black leather a

rolled and pressed upholstery similar to

that used in high-end couture.

The top pad shields a fully-digitised L

TT display, fashioned like a wing to sug-

gest muscularity and movement. or the

first time in a olls-oyce, touch-screen

entertainment systems at the front and

rear integrate with the traditional pir-

it of cstasy rotary controller to enable

access to a suite of cutting-edge fea-

tures in the driver-focused cockpit.

ullinan boasts some of the best tech-

nology in its segment, including Laser

eadlights m range Night ision

m, ision ssist m - oncom-

ing vehicles, daytime and night-time

edestrian warning lertness ssistant

a -amera system with anoramic

19
---
iew, all-round visibility and helicopter

view ctive ruise ontrol ollision

arning ross-Traffic arning, Lane

eparture and Lane hange arning

an industry leading x igh-esolution

ead-p isplay, i-i hotspot, and

the latest Navigation and ntertainment

ystems.

For those not behind the wheel, the

world's most spectacular scenery can

now be from a privileged position. Those

in the rear sit higher than those in the

front of the car on olls-oyce's avilion

eating, enjoying grandstand views

of their surroundings thanks to the large

glaed area of ullinan's side windows

and industry-leading panoramic glass

roof.

The cabin is euipped with no less than

five - ports, whilst phones can be

wirelessly charged in the front of the

cabin to ensure undisturbed connectivi-

ty, no matter where the adventure leads.

ua onfiuration

ullinan's cabin can be commissioned in

two formats Lounge eats or ndivid-

ual eats. The former caters to families

creating space for three passengers in

the rear, and featuring fold-down seats

for the first time in a olls-oyce.

n this format, the rear compartment

or boot area offers a standard li-

tres of space, growing to litres with

the parcel shelf removed. nce the rear

seats are folded at, an impressive load-

ing length of mm and load capacity

of litres can be accessed, making

ullinan one of the most cavernous of-

ferings in the super luxury segment.

The ndividual eat configuration im-

plies supreme luxury with two individ-

ual rear seats separated by a ixed ear

entre onsole. This incorporates a

drinks cabinet with olls-oyce whisky

glasses and a decanter, as well as champagne

utes and refrigerator. The seats

also move in a number of planes to offer

ultimate comfort whilst travelling in the

rear.

olls-oyce's avilion eating means in

either format, rear passengers sit high-

er than their counterparts at the front.

randstand views are assured by the

high body, large glaed side windows

and panoramic glass roof.

niue to the super luxury sector,

ullinan in ndividual eat format in-

corporates a glass partition that isolates

the passenger cabin from the luggage

compartment, creating a silent sanctu-

ary for ullinan's occupants. erfect for

ingapore's tropical climate, the sealed

cabin also means olls-oyce clients

can remain at the optimum temperature

even when the luggage compartment is

open.

The agic arpet ide - verywhere

t the heart of ullinan sits a .-litre

twin-turbocharged engine, developed

from the ground up to provide

effortless torue at extremely low revs.

eak motivation at Nm is available

from just ,rpm, coupled to an

all-wheel drive system via an -speed

transmission, enabling ullinan to rise

from the get-go with grace and pace.

omplementing the powertrain is ullinan's

four-corner air suspension system,

giving the car unmatched levels of

versatility. The car can be lowered by

mm to make entry effortless through

iconic olls-oyce coach doors, or

raised mm to traverse any terrain.

The new air struts are built tougher with

more compressed air contained inside,

20
---
and provide longer travel so that the

contact patch on any tyre is maintained,

no matter what the terrain.

four-wheel steering system aids urban

drivability, lending nimbleness

when getting around tight turning circles

in the city. n the words of aroline

rismer, ullinan's Total ehicle roject

Leader: ut simply, what makes ullinan

great on-road also makes the car

great off-road.

ffortless, verywhere is available with

the press of a single button on the centre

console. nce engaged, ullinan's

driver can choose from multiple offroad

settings to glide over rough track,

gravel, wet grass, mud, snow or sand

whilst in permanent : front-rear

torue split mode. ullinan can also

negotiate deep snow, sand or streams,

with one of the deepest wading depths

of any super-luxury at mm.

Rolls-Royce is Bespoke

olls-oyce's espoke ollective will

enable ullinan patrons to pursue their

interests through the ecreation odule,

which comprises a motorised drawer

housing specialised euipment specific

to each ullinan owner's pursuits.

hether it be ly fishing, photography,

rock climbing, or simply sitting and taking

in the view ullinan is enhanced

with the imaginations of our patrons, as

their broader lifestyles are thoroughly

expressed through compartments of

the ecreational odule.

lternatively, patrons can also choose

to have the ultimate space from which

to take in a sunset on ast oast beach

with a loved one electronically-deployable

seats and a folding table that

combine to form the iewing uite.

Cullinan in Singapore

The olls-oyce ullinan presented in

ingapore is finished in agma ed,

with a Tan and lack interior. rices

for ullinan in ingapore start at

,,. urther information can be

accessed via the olls-oyce otor ars

ingapore website.

21
---
Lavazza is distributed in Qatar by International Foodstuff Group (IFG),

email: info@ifg.com.qa, Contact Number: 00974 4485 8000.
---
26
---
27
---
sing l e m a lts t h at r ewrit e t h e r ule bo o k

SKILFULLY CRA F TED . EN J O Y R E S P ONSIBLY. Glenfiddich® Single Malt Scotch Whisky is a registered trademark of William Grant & Sons Ltd
---
Fascination. The new oven

from Maison De Dietrich

has just won the prestigious

Red Dot Design Award.

The Fascination collection eloquently symbolises

the high standards of French excellence upheld by

Maison De Dietrich. Imagined and conceived by

engineers and designers at manufacturing plants in

Orléans and Vendôme, this new collection is the

culmination of Maison De Dietrich's expert knowhow,

cutting-edge technology and sophisticated

and expressive use of fine materials such as iron,

copper and cast iron.

Technologically, this oven includes an exciting

range of features - its 'Chef' mode is an automatic

cooking function that offers exceptional accuracy.

What's more, it has a built-in cooking guide, low

temperature mode, drying function for dehydrating

foods and a patisserie menu for home cooks who

wish to try their hand at French pastry classics.

The Red Dot Design Award commended the oven's

integrated technology and superior materials,

perfectly reflecting French hospitality and the

expertise and constant quest for quality for which

Maison De Dietrich is known.

www.asia.de-dietrich.com
---
SINGAPORE

LONDON

TOKYO

HONG KONG

MACAO

BANGKOK

SEOUL

BUSAN

ISTANBUL

DOHA

DUBAI

The Shoppes at Marina Bay Sands

The Burlington Arcade

GINZA SIX

Pacific Place | ELEMENTS

Shoppes at Four Seasons | The Promenade Shops at Galaxy Macau

Gaysorn | Siam Paragon

Galleria Luxury Hall

Shinsegae Centum City

Zorlu Center

The Pearl

Dubai Festival City
---
C

M

Y

CM

MY

CY

CMY

K

Life Should Not Be About Borders.

Invest In European Citizenship.

Next Generation Equity is a world-class provider of second citizenship and residency options tailored

to the individual needs of discerning clients across the globe. Contact us today for details on investor

programs in Portugal, Malta and Cyprus. +971 4 457 8200 | enquiry@nge.ae

www.nge.ae

Less Borders. More Freedom.
---
COMPANY

SET-UP

IN LESS

THAN

1 HOUR

Since 2009, we have helped over 14,000 entrepreneurs start their own businesses

in the UAE. Whether you are looking to set up a company in a free zone, on

mainland or offshore, our more than 100 dedicated employees are here to assist.

FREE ZONE MAINLAND OFFSHORE

For more information visit www.vz.ae

VZAE

8923

Because trust is priceless.
---
A TIMELESS HERITAGE HOTEL, MOMENTS FROM COVENT GARDEN

Arrive at Rosewood London through an archway that opens into a grand Edwardian courtyard.

Combining English heritage with contemporary sophistication, 262 guestrooms and 44 suites include

the Grand Manor House Wing, an exclusive seven-bedroom suite with its own postcode.

+44 20 7781 8888 | london@rosewoodhotels.com | rosewoodhotels.com
---
CALCULATING THE ROI ON YOUR

SECOND CITIZENSHIP INVESTMENT

econd citienship has merits, but

maybe you're not sure how it stacks

up against other investments.

itienship - by - investment programmes

don't mean a leap of faith

you can weigh their worth just as you

would any other investment.

Let's look at the six key areas where you

can find real on second citienship.

1. Global mobility: lobal mobility is one

of the advantages of second citienship

you'll hear most. ut what about the

business perspective hat does global

mobility really mean in terms of

e live in a global world the agility to

move uickly is fundamental to unlocking

new markets and capitalising on op-

portunities, and plays an important role

in skills development. or smart businesspeople,

international mobility isn't

optional.

nfortunately, if your current passport

has restrictions then this has obvious

implications in terms of that mobility.

ay you've got business in hina. Not

unlikely, given hina's pre-eminence

as a business destination. s it stands

only countries allow visa-free travel

to hina, meaning the majority of business

travellers are stuck waiting for visa

clearance before travelling. y way of

contrast, renadian citiens can travel

to hina visa-free. f you invest in renadian

second citienship, you could

conclude your meeting before your

competitors are even cleared to y.

That's just one example of potentially

hundreds, but the point stands: the

of global mobility is less time waiting,

more time seiing time-critical business

opportunities.

2. Trade and investment: lobal mobility

is important to international business,

but global activity has to be considered

too. f you're willing to wait weeks or

more, most countries will eventually

grant a short-stay visa so you can attend

meetings but what if you want to take

a more active role nvestment in second

citienship can entitle you to trade,

create business and invest freely.

or instance, citiens of urope are able

to trade throughout the lucrative uropean

ingle arket. ccounting for

million consumers and million s,

38
---
the uropean ingle arket agreement

makes it easier for uropean citiens

to trade profitably across urope. s an

citien you're free to develop business

across urope, and provide products

and services in every country in

the union. nvestment from only

, into ortugal could secure you

that access. hat could your slice of the

. trillion uropean single market

be That's your .

3. Major tax breaks: Tax breaks and incentives

offer a tangible return on your

investment in second citienship. s a

wealthy citien of tax-heavy countries,

you're sacrificing a potentially huge

proportion of your wealth a proportion

that could be drastically reduced

through astute investment.

rom the tax perspective, the aribbean

remains a popular choice. ominican

citiens, for instance, are exempt

from foreign income and capital gains

tax unless you reside in ominica for

more than half the year. esidents enjoy

personal income tax, and you're also

free from wealth and inheritance tax.

The couldn't be clearer: those tax

benefits can easily outweigh the cost of

securing ominican citienship, which

starts from only ,.

4. Opportunities for posterity: Tax

might play a major role in securing your

wealth for posterity, but other things

are just as important as financial inheritance.

hat about inheritance of

opportunity f ideas e all want our

children to grow up with the best of everything,

and second citienship can facilitate

that.

ducation is particularly worth your attention,

as urope is known for its many

exceptional universities. These include

the niversity of xford, niversity of

ambridge and mperial ollege London

all three of which are top ten global

universities according to the Times

orld niversity ankings .

onsider the niversity of xford the

best university in the world, according

to the orld niversity anking. s of

citiens pay a tuition fee of

, annually, which can be fully funded

by a loan from the government.

n the other hand, international students

must pay up to , plus a

, college fee, without the same

loan offering. n those fees, across a

four-year degree you would save around

, on university fees alone.

Then you've also got the long-term benefit

of having a degree from a top university:

a well-rounded and culturally

rich international education alongside

the world's elite. Not bad, given you can

secure uropean citienship from only

, in ulgaria. The of uropean

citienship could be a uropean

education that sets your children up for

life.

5. Political stability: talk often about

second citienship as an insurance policy.

t's one that hopefully you never need

to use, but sadly we live in a world with

no guarantees. N statistics show that

forced displacement is at an all-time

high, with . million people displaced

in because of conict and persecution,

not including natural disaster

which has displaced . million people

since . itienship in the likes of

ominica th on the lobal olitical

tability ndex offers the closest thing

to a guarantee that the world has to offer.

rguably the biggest you'll get from

second citienship, then, is the ability to

safeguard the future for you and those

you care about. econd citienship can

offer a refuge should you, or your loved

ones, ever need it. ou will struggle to

put a price on that.

6. Standard of living: any second cit-

ienship programmes are set up such

that you needn't travel to, let alone live

in, the country where you're seeking cit-

ienship. Nonetheless, the ability to live

in-country is an advantage of all second

citienship programmes.

The of your investment could be a

peaceful retirement, full of white sand

beaches and turuoise seas for ex-

ample, alta and ortugal are top ten

retirement destinations according

to the nnual lobal etirement n-

dex. t could be a laughter-filled holiday

home, or a second home-from-home.

alta, ortugal and yprus all have

thriving citienship-by-investment pro-

grammes, which entitle you and your

family to live, work, learn, travel and ac-

cess care across urope. t could mean

better amenities, more euality, and

greater acceptance.

Second Citizenship – a worthy investment

The of second citienship makes a

pretty convincing business case.

o what's the investment ignificantly

less than you might think. ome of

the aribbean programmes start from

an initial investment around the

, mark a cost most investors

see back in tax benefits alone. There

are even financing options available that

can bring that cost down further still.

lus, most programmes offer a portfolio

of investment choices, so you're not

necessarily looking at a non-refundable

financial donation. eal estate is a common

investment vehicle, as is business

both of which are feasible investment

opportunities in their own right. n

those instances, citienship is essentially

an added sweetener to an already-attractive

opportunity, which makes the

even more impressive.

n the vast majority of cases, securing

second citienship is simple. s long as

you hold a clean criminal record and can

meet your financial obligations, you're

not facing any restrictions here. nd it's

fast taking only three months, in most

cases. Those things considered, next to

the dramatic potential, it's no won-

der that an estimated billion is

invested in second citienship annually.

out the author ohn anafin at

NGE

With 25 years of experience in the com-

an oration inutr ohn anafin

is well known in the UAE and beyond as

a specialist in corporate services, and

shares a passion for helping others es-

tablish and grow their own businesses

across the UAE and wider region. John

joined Virtugroup in 2017 after spend-

ing 12 years with The Sovereign Group

as their Global Sales Director, and two

years as CEO of Arton Capital.

39
---
42
---
43
---
Luxury escapes with Heletranz

Escape from the city to enjoy some of New ealand's most wildly beautiful and isolated spots with eletran. eletran are

specialists in luxury experiences: whether you're seeking solitude, celebration or simply an excuse to pamper yourself.

epart to one of their handpicked premier destinations in a luxury helicopter. njoy the view, capture frame-worthy

photos and stay in an exclusive retreat for an experience you'll never forget.

eletran is famous for pioneering eli-ishing, eli-ining and eli-golfing in the uckland region. stablished more than

years ago, they are the trusted experts in this field. wners ohn and ofia mbler are passionate about ying and offer a

discreet and dedicated service, imaginative excursions, luxurious destinations and competitive prices.

rom golf at auri liffs, fishing at reat arrier sland, lunch at aiheke, some history in otorua or the aitomo aves, to

a walk at hite sland or a little luxury at uka Lodge they will tailor trips to some of the country's most stunning remote

locations because they know there is no better view of New ealand than from the skies.

44
---
Luxury escapes with Heletranz

45
---
ALBA 1836

Italian Restaurant

since July 2014

ALBA 1836 Restaurant • 28 Duxton Hill, Singapore 089610

www.alba1836.com.sg • +65 6222.2048 • alba@alba1836.com.sg
---
A L

1 8 3 6

B A

Italian Restaurant

fine food & wine

ALBA 1836 is an Italian

Fine Dining Restaurant

located in the

heart of the city, but

nestled away in the

charm and tranquillity

of Duxton Hill.

Situated in an exquisite

white colonial

building, expect to

find the definitive of

elegance coupled with

traditional Italian cuisine

and an innovative

twist.

Car Park: Craig Place at 20 Craig Road, 2 nd level.

Just beside the lift area next to ALBA 1836's main entrance, where you could walk to the restaurant within a few minutes.
---
MASTER THE ART OF EXCEPTIONAL DESIGN

Bespoke handcrafted furniture and interior design services.

Residential . Commercial . Hospitality.

+254 (0)708 555 999 info@panesarinteriors.com www.panesar.co.ke
---
TLN

News

MINUS 181 Joins The Luxury Network Germany

This artesian mineral

water combined with

its excellent water

uality, makes N so

special for the true connois-

seur. t sets new standards

and becomes an indispensable

companion in fine wines

and dining, without modifying

the palate in any way.

specially high uality min-

eral water is very trendy in

today's luxury markets and

more and more appreciated

by gourmets worldwide. ith

N we are now able

to present an increasing cli-

entele of our members in the

sector of ourmet ood

everage, this fantastic new

mineral water that enhances

the enjoyment of our exclu-

sive events, comments ilvia

errmann, The Luxury

Network ermany.

ur mineral water stands

for premium uality and ex-

clusivity. t meets the highest

expectations and brings the

ideal balance between peace

and excitement into daily life

through the artesian foun-

tain where it derives from.

These high standards are

perfectly matching the sustaining

co-operations within

The Luxury Network and

their sophisticated target

group, concludes ndreas

lass, remium ater onsultant

at N and certified

water sommelier.

About MINUS 181

t a depth of meters lies

the clear, pure water of -

N .

iscovered in in the

town of archim the water

comes here to surface

by itself through artesian

pressure, surrounded by extensive

forests and a clear,

Northern erman sky. illed

into a valuable glass bottle,

the water promises an absolute

moment of silence, clarity

and enjoyment.

n co-operation with the ustrian

glass manufacturer iedel

a specific shape of water

glass was created, to enhance

the characteristics of the water

in the most optimal way.

The elegantly curved water

glass is engraved with the

N logo and maintains

the temperature in the

glass for a longer time.

56
---
Edge Retreats joins The Luxury Network UK

TLN

News

e are delighted to welcome dge etreats to The

Luxury Network ith insider access to the

world's best luxury villas, we bring our discerning

international clientele the finest properties in exclusive holiday

locations.

resent in over countries including Thailand, ali, the

aribbean, rance, pain, taly, reece, orocco and ustralia

their range of uniue estates includes lavish designer villas,

chateaux and chalets as well as private islands.

espoke personal concierge services come as standard: private

chefs, nannies and super-yacht are just some examples

of their clients needs, desires and expectations. e're really

excited to have them part of The Luxury Network and to

introduce them to our other embers'.

57
---
TLN

News

Aussie Kidz Charity Gala 2018 Supported

by The Luxury Network Australia

ussie id harity hosted their

inaugural ardy rother's

ussie id harity gala at the

prominent -star risbane on uly

to fundraise purchasing of euip-

ment and services for disabled and un-

derprivileged children all over ustralia.

The Luxury Network ustralia was

proud to be a ajor upporter to this

absolutely wonderful cause and made

a difference to the evening. e were

proud to have old oast ity arina

hipyard as iamond ponsor, itchell

ine rt as latinum ponsor and prie

sponsors including achtshare and

enschke. ther partners attended the

event including dagold, Tracie aton

and hristie o.

ith s to officiate the evening, ofie

ormica from The reat ay ut hannel

even and avid Lutteral Luttsy', radio

host Nova . kept the room lively

and buing throughout the evening

nnounced as ussie id harity's mbassador

this year, the gorgeous harli

obinson was the voice for these kids.

aving previously worked with chil-

dren and the ability to have a significant

social impact in the lives of families in

need, harli was the right fit.

amie ooth, an ussie id harity

recipient and ichelle ooth, mum to

amie was present to present words of

thanks to all ussie ids harity oard

of irectors. amie received a grant to

purchase a manual wheel chair and has

now taken up the challenge of ualifying

for the Tokyo aralympic ames in

swimming. lso, little ooper' presented

a letter of thanks to ason obert,

irector of ussie id harity who recently

received funding for occupational

therapy treatment for low muscle tone

and fatigue.

verall, the event was a success with

supportive business sponsors and generous

contributors, the evening styled

with glit and glamour, paparai on

the red carpet, live music, not to strictly

ballroom dancing, lots of laughter with

comedian cott illiams and a delectable

sit down -course.

58
---
TLN

News

59
---
TLN

News

The Luxury Network Germany Exclusive VIP Champagne Trip

ased on last year's overwhelming

success and the strictly limited

number of participants for this

outstanding oney can't buy week-

end experience, The Luxury Network

organied with their members rank-

en-ommery, rr roup, N

and art of travel for more top clients another

exclusive outing to hampagne.

n the morning of uly , our group

of like-minded connoisseurs and su-

per-sports car owners came togeth-

er in the heart of the alatinate vine-

yards. tarting point of this trip was

the renowned winery ol-eisbrodt,

where after a first big ello on the

terrace rtrium a late breakfast was

served for our private circle. Thereaf-

ter we received some interesting insight

views into the barriue vinification of

the property, including a private tour of

the impressing ultramodern designed

cellars.

ortified and inspired by those first im-

pressions, the prepared road books were

deployed in a short briefing and snacks

and goodie bags stowed away, before the

guided convoy of luxury motorcars went

on tour in fantastic weather towards

ermany's outhwest and with a direction

to rance. The final destination was

eims and the omaine ommery, one

of the most stunning properties in the

hampagne.

The first stage of the journey took us

to the picturesue wine route and the

outh alatinate to lsace, where our

illustrious crowd checked in during the

afternoon at the stylish otel pa La

ource des ens. ere, at the foot of

the osges, one could let their mind go

and relax by the pool and spa area or opt

for a shot with one of the accompany-

ing cLaren or cLaren in

the idyllic surroundings. ll participants

were then looking forward to a culinary

journey, which after the ienvenue

champagne reception in the gardens

60
---
TLN

News

of La ource des ens, was served by

the very talented chef and owner ierre

eller in ichelin start uality delicious

courses. t the latest now every

guest was in heaven on earth. This experience

was rounded off by a Nespresso

aster lass, which was presented by

a famous barista who expressively travelled

to rance to share with us his valuable

insight knowledge of the world's

best coffees. Naturally tasting included

fter a relaxing night and a most enjoyable

breakfast which fulfilled all wishes,

our convoy continued in the best frame

of mind his way to the hampagne and

the famous omaine ommery.

t the arrival of this concentrated horsepower

around midday, just like magic

the impressive gate of the omaine

opened to welcome the guests as

the main hosts.

n line with rench lifestyle our

ommery xperience then was kickedoff

by an extensive lunch and of course

accompanied by champagne, followed

by a private tour of the cellars. ere we

could also admire a collection of tem-

porary art that makes some museums

jealous.

short shuttle transfer took our already

friendly connected group to our hotel,

where everybody got ready for the up-

coming big arewell dinner in the leg-

endary illa emoiselle.

s a final highlight, the illa emoi-

selle captivated us for a glamourous

evening in closed circle. n style we en-

joyed during the cocktail hour owing

champagne from agnum bottles, while

walking in privacy through the man-

sions and getting inspired by this tribute

to the elle poue era and the spirit of

the past.

efore dinner the group gathered in

the villa's blooming gardens, where ev-

erything was prepared for a traditional

abrage. ne of the guests faced the

challenge and opened skilfully under the

professional guidance of the master of

ceremony a bottle of champagne with a

sabre. ollowing the rench habits, the

beheaded head with cork and date of the

ceremony was handed over to him as a

sign of good luck. t the festive dinner,

the excellent champagne accompani-

ment was thoughtfully coordinated with

the menu and included a sensational

iamant rut and iamant os, to

accomplish a perfect finale of this

ommery xperience.

fter this unforgettable evening and

with many new beautiful impressions

in the luggage, the return journey to

ermany was due the next day. t the

farewell, plans had been made already

to meet again soon and The Luxury

Network ermany together with their

event partners can look back to another

successful event.

61
---
TLN

News

Premium Golf New Zealand Joins The Luxury Network

remium olf New ealand N

is a leading golf tourism operator

based in uckland, New ealand

offering premium and luxury golf tours

both to New ealand and select destinations

around the world. N is a

member of the nternational ssociation

of olf Tour perators T and an

allied member of the Travel gents ssociation

of New ealand. TN.

remium olf New ealand works hard

to maintain their position as the leading

golf tourism operator in New ealand,

offering professionally arranged luxury

golf tours for both inbound clients and

outbound New ealand golf travellers.

They curate uniue bespoke and custo-

misable golf tour packages that marvel

and delight their clients.

a proud iwi owned and operated

business that contributes to the success

of their clients, their company and that

of otearoa, New ealand. they have a

strong vision of becoming the leading

62

golf tourism operator not only in New

ealand but in the world. they aspire

to be the company of choice for all golf

travellers, to be innovative and committed

to their mission and to grow the

sport and build a sustainable golf tourism

industry.
---
TLN

News

The Luxury Network New Zealand B2B Dinner

at Huami Restaurant

The Luxury Network hosted a uniue hinese inspired

dinner on the th of une at uami. The evening

was hosted by ob Lu and carlett ood, nternational

irector nternational usiness of otheby's nternational eality

N, a new TLN member.

The Luxury Network members met at the uami estaurant,

by ky ity uckland, for drinks before heading to a private

room for the main event. The Luxury Network N owner ofia

mbler, started the evening by introducing new members

before guests heard the story of uami, why their signature

eking uck is different and an insight into the evening's degustation

menu.

fter the delicious dim sim starter guests heard from carlett

ood of otheby's nternational eality N about what otheby's

are doing for their clients in N and abroad. ighlight's

included recent roadshows, promoting luxury development

The nternational and insights into otheby's hinese customer

profile in New ealand and overseas.

s guests continued to enjoy the delicious -course degustation

menu, carlett and ob Lu touched on what motivates

hinese buyers, how premium products are positioned in the

hinese market, the role of social media and what hinese

buyers look for in New ealand.

The evening concluded with a chance for guests to chat with

new members, discussing exciting upcoming projects, potential

collaborations resulting in new uniue partnerships.

63
---
TLN

News

De Dietrich's "Savour the Infinite"

In Collaboration with Caratell, Kwanpen,

and The Luxury Network Singapore

n ugust , , The Luxury Network ingapore's

brand member e ietrich opened its showroom's

doors to yet another exclusive party of ingapore's

elites. This time in collaboration with luxury brands wanpen

and aratell, the highly-reputed brand of premium kitchen

appliances hosted a private dinner, where guests gained priv-

ileged insights into the productions of crocodile leather bags

and handcrafted jewelry.

ach of the organiations extended the invitation to its utmost

clients, for an intimate dining experience of luxury

enthusiasts.

pon arrival at e ietrich's showroom, guests were greeted

with a glass of rosecco from omaine storia. aired with

subtle classical music in the background, it was an ideal kickoff

to a jubilant networking evening.

mongst the attering display of selected pieces crafted

from auamarine, jade, garnet, tananite, and others the

green emerald necklace from aratell took the spotlight with

64
---
TLN

News

its visual aesthetics and origins. The brand's very own founders

and designer also invited guests over to inspect and identify

their finest uality gemstones.

wanpen's exclusive workshop offered guests a special privilege

to paint the edges of a crocodile leather keychain all to

be kept as souvenirs. This rendered a perfect complement for

the evening, for those with a preference for tangible memories

hen it comes to haute cuisine, you can always count on

a rench chef to whip up dishes that leave an indelible impression.

rench hef lexandre Loachmeur of leur de el

agreed to take charge of the kitchen presenting a -course

menu with classic rench air that paid homage to the

culinary talent's upbringing. nspired by the summertime in

rance, Loachmeur opted for light dishes that were rich in

avor, yet refreshing on the palate.

The gorgeous fusion of eared callops, ushroom ure,

and arma am was an exceptional starter that pleased not

only the palate but also the olfactory and visual senses, such

that all eyes in the house were fixed on the pan of siling

goodness. hef Loachmeur then transported guests right to

gourmet heaven with his main dishes of eared editerranean

ea ream and. e ended on a sweet note of aramelied

pple with resh pple marinated in alvados, rumble,

and anilla ce ream.

The chef simplified his dishes' cooking methods so as to meet

the event's objective: to demonstrate the functions of e ietrich's

innovative collections. lus, this allows amateur home

cooks to recreate these stunning plates using the same kitchen

appliances

65
---
TLN

News

The Luxury Network

Australia and Archie Rose

Host Intimate

Gin Blending Experience

The Luxury Network ustralia hosted an intimate

istillery Tour and in lending asterclass at the

ward winning rchie ose istillery o.

uests were treated to a behind the scenes look at the

osebery distillery along with an entertaining story on

the history of in, followed by a hands on in lending

asterclass where all guests were able to tailor their own

blend.

thoroughly entertaining and uniue experience and great

way to connect with your clients.

66
---
TLN

News

The Luxury Network New Zealand Welcomes

Sotheby's International Realty

The Luxury Network New ealand is delighted to welcome

it's newest member, otheby's nternational ealty.

n , an exceptional real estate company was launched and

created from the same passion that guides the uction ouse.

Today, they are a commanding presence in the representation

of the world's most uniue properties. The otheby's nternational

ealty brand artfully unites extraordinary homes with

extraordinary lives throughout the world.

Their commitment to unparalleled uality has been in place

since the inception of the brand over years ago. ith over

, independent sales associates in approximately offices

and countries and territories, their network members

utilise innovation with relevant reach to present a home in a

most uniue way.

rchestrated by a dedicated team of professionals that direct

thousands of distinguished global connections monthly from

licensee-to-licensee to uction, these placement opportunities

are managed with extreme care and discretion.

New ealand otheby's nternational ealty was founded in

. The company holds the exclusive rights to the otheby's

nternational ealty brand in New ealand.

otheby's nternational ealty founded in , is recognised

as the world's largest and most prestigious luxury real estate

brand and has the ability to expose property locally, nationally

and globally like no other company in New ealand.

67
---
TLN

News

The Luxury Network Australia

Partners Evening with The Westin Brisbane

The Luxury Network ustralia hosted a artners vening

in partnership with The estin risbane to celebrate

the nd of inancial ear.

The evening was a great success with partners joining in on

the celebratory occasion to close off the year onnie ap,

TLN of ueensland said the luxury market is buoyant

and saw an increase in consumption of luxury goods and ex-

periences across the state.

e is excited about the many luxury projects developing in

outh ast ueensland and how The Luxury Network ustralia

can add value to their partners and the luxury market

place.

The event was held at the our oints heraton risbane, sister

hotel to The estin risbane of the same owner.

rad ercer, omplex eneral anager was excited to announced

that the hotel will be the latest addition to the luxury

landscape in the new world risbane ity.

The estin risbane will bring refined luxury experiences to

a whole new level and is scheduled to open on th November

.

68
---
TLN

News

69
---
TLN

News

Yachts Cars and Coffee Experience

with The Luxury Network Australia

The Luxury Network ustralia

hosted in collaboration with their

partner, achtshare their very

first achts ars and offee on pril

.

This eventful day started with bang with

over guests at the prestigious

waterfront of oyal ueensland acht

uadron in anly, ueensland.

s were keen to arrive early to soak up

the sun and view luxury yachts on calm

waters by the marina. ontrasting to it

was a beautiful lined up of over super-

cars from olls oyce, entley, cLar-

en, errari, Lamborghini, orsche, er-

cedes-en, udi and lfa omeo just to

name a few.

t was a fabulous outdoor experience to

70
---
TLN

News

celebrate what ueensland weather

has to offer all year round. The s

were then taken to the waters with

the wind hitting their faces, enjoying

a marvellous view of the bay.

achtshare is a yacht syndication

program that offers you the opportunity

to own a share of a luxury yacht.

y sharing the costs of purchasing

and maintaining a boat, you can enjoy

the freedom of the yachting lifestyle

without all the hassle and financial

burden normally associated with

boat ownership.

71
---
TLN

News

Bont Consulting New Strategic Partner

of The Luxury Network Germany

ont onsulting and The Luxury

Network ermany are entering

a strategic partnership. ith its

outstanding expertise in rt anagement,

ont onsulting enjoys an excellent

reputation far beyond ermany's

borders, which is a valuable enrichment

for the many high class events of The

Luxury Network.

Luxury and rt are gaining more and

more significance in today's markets.

e are very pleased to offer additional

inspiration to the top clients of our elite

members portfolio with the art objects

of ont onsulting. The sophisticated

clientele of ont onsulting will in re-

verse have access to the oney can't

buy experiences of The Luxury Network.

This creates a win-win situation for both

sides, comments ilvia errmann,

of The Luxury Network ermany.

This is closing the circle between peo-

ple with extraordinary standards paired

with their big passion and understanding

of art, adds arald ont, wner and

irector of ont onsulting.

About Bont Consulting

ont onsulting, based in ofheim am

Taunus, is a business specialiing in rt

anagement. ts activities within the art

industry include exhibitions in ermany

and the . n , owner arald

ont opened The irst rt allery t

the orlds ost Luxurious otel

L ubai, to this day the only art

gallery to exist in the world's most famous

building. ince then, several more

galleries have opened in the Emirates

Towers and the hotels l asr and a-

beel aray The alm. urthermore, ar-

ald ont regularly hosts exhibitions at

exclusive locations in ermany. Tradi-

tionally an exhibition takes place at the

ameha uite rankfurt twice a year,

hosting several hundred invited guests.

ther international projects and exhibi-

tions are in the works.

hether it be contemporary art or old

masters, ont onsulting is a competent

and experienced contact and successful

mediator in all areas of the art industry.

The events in the ameha uite provide

the showcased artists with an audience

and are considered an important and

top-class social happening.

72
---
• Share the running costs with fellow owners

• Professional sail training included

• Easy to use online calendar system

• Minimum of 33 days sailing per year

• Standby days available for more sailing

• Fully equiped luxury cruising yacht

• Fully maintained and cleaned

• Worry free yacht ownership

• You own your share of the yacht

• A capital return on exit from the syndicate

Luxury

Your

isn't just about the brands and products.

Services that offer a luxury experience can enhance and

compliment the ownership of luxury products.

Yachtshare helps sailors and their families enjoy the

pleasure and luxury of the nautical lifestyle without all the

hassle usually associated with boat ownership.

The sharing economy is growing with the likes of Airbnb

and Uber and sharing is perfectly suited to leisure

activities like boating and sailing.

Yachtshare's yacht syndication program offers boating

enthusiasts fractional ownership of a luxury yacht.

Whether you are new to boating or an old salt, Yachtshare

makes boating easy, convenient and cost-effective.

yacht is fully managed and maintained to highest

standard. Our service includes berthing, cleaning, repairs,

provisioning and much more. All you have do is enjoy the

adventure!

The Yachtshare fleet is based at the prestigious Royal

Queensland Yacht Squadron, and your playground is the

idyllic Moreton Bay. The world-class boating community

and facilities at RQYS and all year round sailing conditions

of Moreton Bay are perfect combinations for shared

boating. Our fleet of sailing and motor yachts venture north

to exotic destinations like the Whitsunday and Keppel

Islands during the cooler months and spend the summer on

Moreton Bay, the Broadwater and the Gold Coast.

Begin your boating adventures at http://yachtshare.com.au

73
---
Design Beyond Boundaries

ww.aji.co.uk +44 (0)20 7887 7604
---
summer

MS EUROPA 2 presents

specials

Save up to 30 %.

Only until 30 Nov 2018!

Six cruises, countless experiences and the feeling of summer

from April to December: set sail for your personal summer

special on the EUROPA 2. Whether shopping in Asia's cities

or relaxing in the Caribbean, do whatever you want as you

enjoy selected hotspots around the globe.

Our tip:

Exotic coasts.

The lands of smiles.

Benoa (Bali) – Hong Kong

08 Apr – 23 Apr 2019, 15 days, cruise EUX1907

Semarang/Java/Indonesia – Menyawakan Island – Singapore/Singapore –

Ho Chi Minh City/Vietnam – Da Nang – Halong Bay

Halong Bay

Da Nang

Hong Kong

Ho Chi

Minh City

Singapore

Menyawakan

Island

from GBP 5,780 per person

Semarang

Cruise only, double occupancy, in a Guaranteed Veranda or Ocean Suite

(category 1 or 2) with a 28 m 2 (301 ft 2 ) living area and a veranda of 7 m 2 (75 ft 2 )

These offers cannot be combined with any other offer or discount (e.g. early booking discount).

Bali

Advice and bookings at your travel agency

or at Hapag-Lloyd Kreuzfahrten GmbH,

Ballindamm 25, 20095 Hamburg, Germany,

www.hl-cruises.com, service@hl-cruises.com

Free phone 08000 513829 (English-speaking hotline)

Sign up for our newsletter at

www.hl-cruises.com/newsletter
---
LUMINOR SUBMERSIBLE 1950 CARBOTECH TM

3 DAYS AUTOMATIC - 47M M

(REF. 616)

PANERAI BOUTIQUES UAE

DUBAI - THE DUBAI MALL • ABU DHABI - THE GALLERIA MALL, SOWWAH SQUARE

PANERAI.COM • 800 -726 3724

79
---
MEMBERS

Affairs

The Luxury Network Member Linney's Jewellery Releases

its "Sweet Treats" Pendant

Linneys is a family owned manufacturing jewellery established in , with a fully euipped design studio located in

ubiaco, esern ustralia. Linneys specialises in rgyle pink diamonds, ustralian outh ea pearls and ustralian gold.

Linneys recently released a limited edition pink diamond pendant, named the weet Treats endant. andcrafted in ct

rose gold, the weet Treats pendant is set with a .ct round brilliant golden diamond from rgyle and is surrounded by

a double halo of pink diamonds. ach golden diamond is numbered, laser inscribed an accompanied by an rgyle rigins

certificate of provenance. The pendant symbolises love, romance and desire and retails for , .

80
---
MEMBERS

Affairs

Caratell Awarded Best Jewellery in Asia

at The Luxury Network International Awards

igh-end jewellery house aratell won est ewellery in

sia at the Luxury Network nternational wards

ceremony in Lebanon last month.

stablished in , aratell designs bespoke jewellery

pieces with the finest uality gemstones.

The Luxury Network nternational wards took place

at the ilton eirut abtoor rand under the patronage of

r. aad l ariri, resident of the ouncil of inisters of

Lebanon. selected guests from the world of business,

arts and media attended the ceremony.

Through the ceremony, The Luxury Network aimed at enhancing

the economic, commercial and touristic collaboration

between Lebanon and the world.

.. ares hattas, lobal of The Luxury Network,

took the opportunity to provide guests with an update on

the state of the network.

ichael oh, who founded aratell in , was present at

the ceremony to receive the award, together with rene o,

ead of The Luxury Network in ingapore.

81
---
ARTIST IMPRESSION

CAPITOLGRAND.COM

SOUTH YARRA

ELITE LIVING

CONSTRUCTION UNDERWAY

COMPLETION 2019

EARN UP TO 2 MILLION QANTAS POINTS*

*Members who purchases these eligible properties could earn one Qantas Point for every two dollars paid to the vendor or its representative on the deposit and the balance of the purchase price up to a maximum of 2,000,000 Qantas Points.

For example, if you bought a property for $300,000, you could earn 150,000 Qantas Points. *You must be a member of the Qantas Frequent Flyer program to earn points. Membership and the earning and redemption of points are subject to the

terms and conditions of the Qantas Frequent Flyer program available at qantas.com/terms. By purchasing an eligible property through an accredited real estate agent of LK Property Group, members could earn Qantas Points. Points will not be

earned on any government taxes and charges paid, including stamp duty. The Property must be purchased through a real estate agent accredited by LK Property Group. "Eligible property" means a new residential property that: 1. Developed

by LK Property Group and 2. has been identified by LK Property Group or its accredited agents as a property for which purchasers are eligible to earn Qantas Points; and 3. has been purchased from an agent accredited by LK Property Group

(a list of accredited agents is available at www.lkproperty.com.au). You must provide your Qantas Frequent Flyer membership number to the accredited agent prior to the payment of the deposit. Qantas Points will be credited to the nominated

Qantas Frequent Flyer account(s) (a maximum of 20 accounts may be nominated) in two stages. Stage 1: upon the contract becoming unconditional and full deposit being paid. Stage 2: upon settlement of the Property and the balance of the

purchase price being paid. Points will be credited to the Qantas Frequent Flyer account(s) within 6 weeks after payment has been received under each qualifying stage. To find out more, visit www.lkproperty.com.au. Maximum stamp duty savings

are achieved by signing a purchase contract for an apartment prior to the commencement of construction. This offer applies to all contracts signed on or after 01/01/17.
---
AZURE CLUB MEETING ROOM | ARTIST IMPRESSION

A LIFESTYLE LIKE NO OTHER

SUPERIOR KITCHEN | ARTIST IMPRESSION

ROOFTOP GARDEN | ARTIST IMPRESSION

INFINITY POOL | ARTIST IMPRESSION

AUSTRALIA'S MOST ICONIC SIX-STAR RESIDENTIAL

AND LUXURY RETAIL DESTINATION.

Amenities including lounge, Jack Merlo designed rooftop garden, gymnasium,

24-hour concierge & two architecturally designed pools.

CALL CHRISTIAN NUMA +61 434 303 246

SALES SUITE OPEN 7 DAYS | 228 TOORAK ROAD, SOUTH YARRA
---
THE HEARTHOUSE

MUNICH'S FIRST PRIVATE MEMBER CLUB

"Basically it's always connections

between humans that create value of living"

at the hearthouse it's all about networking and

creative exchange – offline. members profit from

confidential recommendations, top conditions

and numerous invitations for exclusive events.

access to a membership is via character reference

of existing members, on site tours through the

hearthouse and application on the website.

members enjoy relaxed workspace solutions at

the hearthouse whose architecture is awarded

with the iconic award and german design award:

modern, upscale interior and inspiring design

allow a relaxed work environment in the social

room, the 'living room' of the hearthouse,

various meeting rooms are available for business

meetings and conferences. furthermore there is

a large network of reciprocal clubs all around

the globe.

the hearthouse is meant to be sustainable

– something classy and ageless, made to reinvent

itself every day and built to stay.

private member club

www.thehearthouse.me

lenbachplatz 2 . 80333 münchen

phone: +49 151 615 150 40 . mail: hello@thehearthouse.me
---
under The

Spotlight

Zenith Launches New Watch Collection

With The Luxury Network Australia

Enthusiastic watch collectors gath-

ered at the new ork lub aran-

garoo to hear from brand manag-

er amuel an ork lub ounder

oren Trampedach on nnovation

and eniths newest collection.

t all began with the efy l rimero ,

the revolutionary hundredth-of-a-sec-

ond chronograph. Then came the first

efy Lab, the world's most accurate me-

chanical watch with an unprecedented

oscillator. t enith today, the future

of watchmaking can be summed up in

four letters: . modern collection

encompassing various degrees of hor-

ological complexity. The efy range is

the showcase for the innovation knowhow

from enith watches, the future of

watchmaking.

86
---
under The

Spotlight

87
---
88

under The

Spotlight
---
under The

Spotlight

89
---
90

under The

Spotlight
---
The Luxury Network and

Australian Superyachts

Steal the Limelight at The

Sydney Boat Show

under The

Spotlight

The Luxury Network and ustralian uperyachts partnered

with several members and their clients to host

clients onboard the luxurious uperyacht neworld

which is the newest ajesty by ulf raft.

ustralian uperyachts is the exclusive distributor for ulf

raft in ustralia and is offering for the first time syndicated

uperyacht ownership in ustralia and the editerranean.

ustralian uperyachts are the only ustralian broker with

the ability to build a uperyacht to ustralian survey standards.

This year's ydney boat show events included Luxury Network

members, imon ohnson, featuring an exclusive aviar

ar hosted by their aviar mbassador and expert, Lisa

owns, along side an impressive cheese and charcuterie display.

uests also enjoyed ommery hampagne and we were

joined by several members and their guests enjoying the

uperyacht lifestyle for the evening.

ichard orris from ustralian uperyachts who has been a

member of The Luxury Network ustralia for over years has

seen the business go from strength to strength, with interest

in uperyacht wnership and yndication at an all time high.

91
---
92

Selamlique Istanbul is distributed in Qatar by International Foodstuff Group (IFG)

Email: selamlique@ifg.com.qa Mobile: +974 6674 9933 Tel: +974 4037 3287
---
Members Directory

apitol rand

capitolgrand.com

ventcepts

eventcepts.com.au

atthew ly

matthewely.com.au

Next eneration uity

nge.ae

ictoriaaude

victoriaandmaude.com

achtshare

yachtshare.com.au

eletran elicopters

heletran.co.n

artridge ewellers

partridgejewellers.com

Deola

houseofdeola.com

obert Taylor edia

roberttaylormedia.com

tihad irways

etihad.com

wanpen

kwanpen.com

Moonshot

moonshotdigital.com

eroni

peroniitaly.com

olls-oyce

rolls-roycemotorcars-singapore.com

mall Luxury otels

slh.com

t. egis ingapore

stregis.comsingapore

iliam rant ons

williamgrant.com

armont laine

elaskaryco.com

Maserati

egypt.maserati.com

The earthouse

thehearthouse.me

ercedes-en enya

mercedes-ben.com

anesar

panesar.co.ke

iplomatic ouncil

www.diplomatic-council.orgmiddle-east

mici i oda

amicidimoda.com

are

kare-design.com

Lavaa

instagram.comlavaaatar

elamliue

instagram.comselamliueatar

errari vilon

ferrari-avilon.ru

lba

alba.com.sg

aig.com.sg

aratell

caratell.com

e ietrich

dedietrich-asia.com

anerai

panerai.com

irtuone

v.ae

lexander ames nteriors

aji.co.uk

laris otel pa

hotelclaris.com

apag-Lloyd reufahrten mb

hl-cruises.com

oliday Luxury

holidayluxury.com

nspiring Travel o

inspiringtravelcompany.co.uk

osewood London

rosewoodhotels.com

unseeker London

sunseekerlondon.com
---
ISSUE 08

SEPTEMBER - OCTOBER 2018

Editor-In-Chief

Fares Ghattas

Managing Editor

Garz Bumanlag

Creative Department

Reine Nehme and Chris Wood

Production Manager

Firas Al Turah

Print and Production

Printing Group

Jnah, Embassies Street, Amira Building, Beirut - Lebanon

Tel: +961 1 823 720 I info@printingroup.com

The Luxury Network International

12 Hay Hill, Mayfair, London, W1J 8NR

info@tlnint.com

+44 (0) 330 133 1661

www.tlnint.com

At 2017, The Luxury Network Magazine was published as a bimonthly supplement for The Luxury Network International. All materials are strictly

copyrighted, and all rights are reserved. Reproduction in whole or in part without the prior written permission of The Luxury Network International is

prohibited. All content is believed to be factual at the time of going to print and contributors' views are their own derived opinions and not excessive

that of The Luxury Network International. No responsibility or liability are accepted by the publishers or editorial staff for any loss occasioned to any

individual or company, legally, financially or physically, as a result of any statement, fact, figure or expression of opinion or belief appearing in The

Luxury Network againe. The publisher does not officially endorse any advertising or advertorial content for third party products. Photography and

image credits, where not otherwise stated, are those of Getty Images and/or Shutterstock; each of which restrains their individual copyrights.
---
Exceptional and bespoke luxury holidays and tailor-made

tours created by an experienced, trusted travel concierge

to your personal, exacting requirements: this is our promise

at the Inspiring Travel Company.

CARIBBEAN • INDIAN OCEAN • EUROPE • ARABIAN GULF • ASIA • AFRICA • LATIN AMERICA

NORTH AMERICA • ARCTIC • AUSTRALASIA & PACIFIC

EXPERTS IN THE EXTRAORDINARY

Visit www.inspiringtravelcompany.co.uk | Email luxurynetwork@itc-uk.com | Call 020 7666 1371
---
Become a Diplomatic Council member

www.diplomatic-council.org/singapore

www.diplomatic-council.org/middle-east

www.diplomatic-council.org