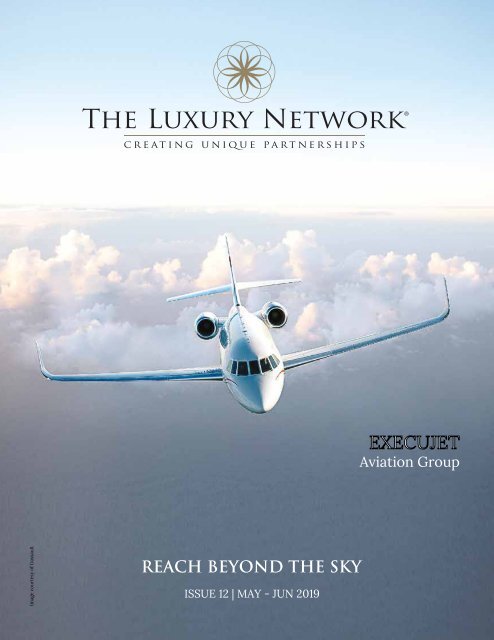 The Luxury Network International Magazine Issue 12
Create successful ePaper yourself
Turn your PDF publications into a flip-book with our unique Google optimized e-Paper software.
EXECUJET

Aviation Group

Image courtesy of Dassault

REACH BEYOND THE SKY

ISSUE 12 | MAY - JUN 2019
---
Described as "The next generation of marketing for luxury brands" by the British media,

The Luxury Network is the world's leading luxury affinity marketing group. The Luxury

Network is a private membership club, established in luxury capitals or countries

around the world, within which premium companies work closely together

at senior director level for mutual business and client development.
---
The Luxury Network's objective is simple: To facilitate co-operation and exciting new

business development activities between top-end companies. New business partnerships

are created via strategic alignment, joint collaborations, product placements,

endorsements, media sharing, B2B and B2C networking, sales and luxury

showcase events and numerous other affinity marketing activities.
---
A Message

From The Editor

Dear Valued Readers,

Please enjoy this edition as we feature The Luxury Network Summit 2019. We look forward to hosting this successful

event once again soon to create and offer exciting experiences that deliver priceless value to our high

net worth clients and members.

Our team is dedicated to serving the luxury business in this changing world and we continuously work on following

through the constant evolution of technology and products.

This issue features various categories of luxury lifestyle which include travel, adventures, fashion, home interiors,

real estate, and technology.

Sincerely,

Fares Ghattas

Global CEO,

The Luxury Network International

Editor-in-chief,

The Luxury Network International Magazine

4

@faresghattas

@theluxurynetwork
---
THE LUXURY

NETWORK

SUMMIT

Page 102
---
THE ART THE OF ART ARI LANKIN OF ARI LANKIN

Heavenly Heavenly Abyss Abyss

by by

Ari LankinAri Lankin

2018, 71 x 2018, 71 inches, 71 x 180 71 inches, x 180 cm, 180 oil, x 180 acrylic cm, on oil, canvas acrylic on canvas

RL Fine RL Arts Fine 39 West Arts 19 39 Street West 19 Suite Street 612 Suite New York 612 New NY 10011 York NY 10011

www.rlfinearts.com www.rlfinearts.com info@rlfinearts.com info@rlfinearts.com
---
CONTEMPORARY CONTEMPORARY AMERICAN AMERICAN ABSTRACTION ABSTRACTION

Paradise Paradise

by by

Ari LankinAri Lankin

2018, 71 x 2018, 71 inches, 71 x 180 71 inches, x 180 cm, 180 oil, x 180 acrylic cm, on oil, canvas acrylic on canvas

RL Fine RL Arts Fine 39 West Arts 19 39 Street West 19 Suite Street 612 Suite New York 612 New NY 10011 York NY 10011

www.rlfinearts.com www.rlfinearts.com info@rlfinearts.com info@rlfinearts.com
---
highlights

ISSUE 12 | May - Jun 2019

18

26

31

36

42

48

58

74

79

97

102

Rolls-Royce 'Spirit of Ecstasy' Fabergé Egg

Buben & Zorweg Grand Connoisseur XL Bar

Shangri-La Bosphorus, Istanbul

Baselworld 2019

Bugatti "La Voiture Noire"

Villas Edenia

Rocco Forte New Italian Hotels

TLN Launches in Saudi Arabia

TLN New Zealand at the Urban Polo

Bella Flora

TLN Summit 2019
---
18 26

31

36

42

48

74

asseria Torre Maizza, Puglia

58

79

97

The Roman sky is the limit

Launching May 23rd, the Hotel d

a Rocco Forte hotel, is the mos

opening of the year in Rome and

the ultimate views over the ete

Indeed the historical structure artfu

over several levels means that the

large terraces are quite unrivalled
---
Delfi Orchard #01-12 T(65) 6736 3383

Takashimaya Department Store Fine Jewellery Level 1 T(65) 8501 5226
---
A l w a y s S o m e t h i n g B e a u t i f u l a t T h e C a n a r y D i a m o n d

thecanarydiamond.com
---
DAWN

Act on inspiration

© Copyright Rolls-Royce Motor Cars Limited 2019. The Rolls-Royce name and logo are registered trademarks.
---
Rolls-Royce Motor Cars Sydney

75-85 O'Riordan Street, Alexandria, NSW 2015, Australia

Tel: +61 (2) 8892 8167

www.rolls-roycemotorcars-sydney.com.au

MD032535

Rolls-Royce Motor Cars Melbourne

420 Swan Street, Richmond, VIC 3121, Australia

Tel: +61 (3) 8866 3188

www.rolls-roycemotorcars-melbourne.com.au

LMCT9479

Rolls-Royce Motor Cars Brisbane

800 Ann Street, Fortitude Valley QLD 4006, Australia

Tel: +61 (7) 3853 0200

www.rolls-roycemotorcars-brisbane.com

LMCT1019745-5

Rolls-Royce Motor Cars Perth

354 Scarborough Beach Road, Osborne Park, WA 6017, Australia

Tel: +61 (8) 9231 5999

www.roll-roycemotorcars-perth.com.au

DL2061

Rolls-Royce Motor Cars Auckland

11-15 Great South Road, Newmarket, Auckland 1051, New Zealand

Tel: +64 9524 3314

www.rolls-roycemotorcars-auckland.com
---
HPA LUXURY TRAVEL

Creators of luxury travel experiences and personalised concierge services

Let our travel

concierge guide

you to your next

destination…

Luxury travel concierge service for private and corporate clients

24/7 concierge support

Award winning agency

0844 809 0917 | +447974 479931

Sandie@HPALuxuryTravel.co.uk

www.HPALuxuryTravel.co.uk
---
The new Ωmega Grill provides a better and more consistent and

homogenous oven to the corner of the cavity.

www.asia.de-dietrich.com

DeDietrichAsia
---
ROLLS-ROYCE DEBUTS

'SPIRIT OF ECSTASY'

FABERGÉ EGG

From Kings and Queens to entrepreneurs, many of the most prominent and wealthy collectors of the 20th

and 21st century have been beguiled by the lure of a Fabergé Egg. With just 50 pre-1917 Imperial Eggs completed,

these exceptionally precious creations are some of the most valuable and coveted objects ever to

have been made. Now, in a contemporary fashion, a new Fabergé Egg has been created. Two of the world's most

esteemed houses of luxury have joined forces to create one unique objet d'art, for one discerning patron. Rolls-

Royce Motor Cars and Fabergé proudly announce the 'Spirit of Ecstasy' Fabergé Egg.

For the first time in history, an iteration of the Spirit of Ecstasy, the enigmatic mascot that has adorned Rolls-

Royce motor cars since 1911, is cocooned in an exquisite, contemporary, Fabergé Egg. The design, conceived by

Rolls-Royce Designer Alex Innes and rendered by Fabergé Lead Designer Liisa Talgren, has been brought to life

by Fabergé workmaster Paul Jones, creating a contemporary interpretation of one of the world's most fabled

and prized possessions.

The commissioning of a Rolls-Royce motor car is often a seminal moment for the patron, so too is the commissioning

of a Fabergé Egg.

Indeed, this 'Spirit of Ecstasy' Fabergé Egg, the second to be commissioned in the 'Imperial Class' since 1917 – a

category reserved only for Fabergé's most illustrious creations – celebrates the history, heritage and legend for

which both Rolls-Royce and Fabergé have been revered for over more than a century. Both brands have navi-

18
---
19
---
gated the vicissitudes of time and continue to produce the apogee of modern, highly sought after, true luxury

items. The Egg is destined for the residence of a great collector of both brands.

The Egg connects the elements that lie at the very core of each marque – the Spirit of Ecstasy, the illustrious

muse that has guided each Rolls-Royce motor car for over a century, and the form of a Fabergé Egg, the pinnacle

of ornamental expression. The masterpiece resulting from this distinguished collaboration reflects the extraordinary

attention to detail and the consummate craftsmanship for which both brands are renowned to this day.

Torsten Müller-Ötvös, Chief Executive Officer, Rolls-Royce Motor Cars, commented, "'The Spirit of Ecstasy'

Fabergé Egg was born from an intrinsic desire to further the realms of Bespoke personalisation. Responding to

the continuing demands of patrons in search of unique and cherished possessions, a designer at the House of

Rolls-Royce sketched an egg, igniting a fascination that will undoubtedly become one of the most collectable

items of modern times."

A team of seven craftspeople from Fabergé undertook the challenge of fabricating the design using the finest

materials married with their extraordinary skill as artist jewellers. At first glance, the Egg is unmistakable in its

character. Design cues from Fabergé's heritage are masterfully woven into the intricate design which stands at

160mm and weighs just 400g, with the Egg harnessing the 'surprise and delight' attributes for which Imperial

Eggs are celebrated.

The Egg rests on an engine-turned, hand-engraved, purple enamel guilloché base of 18 karat white gold. Arms

of rose gold define the shape of the egg, acting as a protective chamber for the Egg's precious inhabitant. Upon

operating the movement via a discreet lever at the base of the stand, a sense of theatre ensues as the boughs

open to present the fine figurine of the Spirit of Ecstasy, hand-sculpted in frosted rock crystal, standing nobly

in her opulent surrounds. The rose gold vanes, embellished with nearly 10 carats of round white diamonds, resolve

into swathes of natural amethyst weighing over 390 carats, specially selected for its colour saturation and

quality. The purple hue of the enamel and amethyst provide a playful nod to the use of colour found in Fabergé's

heritage.

20
---
21
---
The technical mastery of Fabergé prevails. The 'Spirit of Ecstasy' Fabergé Egg adopts a highly complex operating

mechanism, conceived through computer aided design and animation, developed with micro engineering. The

success of this mechanism, and in turn the piece as a whole, can be attributed to the goldsmiths' art as craftspeople

and their ability to meld this skill with technology, creating a work of art that could not be created by

man alone. The piece embodies both the artistic design and engineering skill that one expects from a collaboration

between Rolls-Royce and Fabergé, and has probably the most complicated opening of any Fabergé Egg

to date.

Sean Gilbertson, Chief Executive Officer, Fabergé said, "A unique moment in both our companies' history, the

creation of the 'Spirit of Ecstasy' Egg represents the meeting of two masters of unrivalled quality and design,

showcasing two globally recognised symbols – the Fabergé Egg and the Spirit of Ecstasy."

Josina von dem Bussche-Kessell, Business Development and Global Sales Director, Fabergé added, "Two years in

the making, we are very excited to unveil this special piece to our clients and partners across the globe together

with Rolls-Royce Motor Cars and are proud to continue making history by creating bespoke and unique pieces

such as this. The 'Spirit of Ecstasy' Egg marks a demonstration of the reputation that Fabergé proudly carries

today."

Fifty Imperial Easter eggs were created for the Russian Imperial family between 1885 and 1916. These creations

are inextricably linked to the lives of the Romanov family. Ten eggs were produced from 1885 to 1893 during the

reign of Emperor Alexander III; a further 40 were created during the rule of his dutiful son, Nicholas II, two each

year – one for his mother the dowager, the second for his wife. If we explore the great archives of Rolls-Royce,

we find that Tsar Nicholas II was indeed also a patron of Rolls-Royce Motor Cars.

The 'Spirit of Ecstasy' Fabergé Egg was premiered at the House of Rolls-Royce in Goodwood, West Sussex, England,

to a host of distinguished guests and venerable patrons of the marque on 23 October 2018. The Egg will

be on public display in Fabergé's London window, 1 – 31 December 2018.

22
---
23
---
THE NEW BUBEN & ZORWEG GRAND

CONNOISSEUR XL BAR - THE NEAREST THING

TO A PERFECT WORLD!

In a perfect world, one should be

able to savour the finest things

in life directly at their original

locations. Bars, the drinks they

serve and the flavourful cigars you

can smoke there, should be no exception.

Following the example of the worldclass

writer and "puros" lover, Ernest

Hemingway, the best Daiquiris

have to be flavoured at the Floridita,

in the heart of the Cuban capital

of La Havana, and the best Mojitos,

just a few blocks away, at the

La Bodeguita del Medio. Both these

drinks demand to be accompanied

by an exquisite Arturo Fuente,

Montecristo or Cohiba cigar. A few

thousand miles away, in charming

Paris, the same Hemingway would

have certainly recommended the

fabulous martini served at the bar

of the Ritz Hotel in Paris. The same

drink, so the legend goes, he helped

popularise in the States after the

war.

At Harry´s, in Piazza San Marco, the

best choice could only fall on the

remarkable Bellini cocktail, named

in honour of the work of Venetian

painter Giovanni Bellini.

Not far from the famous canal city,

Ferrara is home to the Al Brindisi

Bar that traces its history back

as far as 1100 AD. Titian and Cellini

drank here in the 15th century,

and Copernicus lived above the bar

while studying at Ferrara University

in the early 1500s.

However, that would be in a perfect

world. In a near perfect world,

the new GRAND CONNOISSEUR XL

BAR is the right alternative. Handcrafted

in Germany with precious

26
---
high-gloss Macassar inlays, the

opening of its doors reveals beautifully

presented holders for wine,

spirits and glasses. A central drawer

acts as a functional humidor for

approximately 60 cigars, and below,

a climatic wine storage cabinet

keeps your best vintages at the correct

temperature.

So, once home from a day full of

meetings, the owner of a BUBEN

& ZORWEG GRAND CONNOIS-

SEUR XL BAR can open its doors,

pour a drink and light up that special

"puro", while enjoying the best

quality sound coming from the inbuilt

HiFi system.

You only have to lean back, close

your eyes and listen to the suavest

Buena Vista Social Club tune you

ever heard, and reflect that in a

near-perfect World, this bar is the

closest to perfection!

The new GRAND CONNOISSEUR

XL BAR from BUEBN & ZORWEG

will be exhibited "live" at the Salone

del Mobile in Milan. Purchasing this

masterpiece will probably represent

the nearest one can come to

having a piece of a perfect world.

27
---
SHANGRI-LA

BOSPHORUS, ISTANBUL

LAUNCHES EXCLUSIVE

CITY EXPERIENCES

WITH THE CITY'S

FIRST HOTEL

ROLLS-ROYCE

30
---
Istanbul, Turkey, April 2019 –

Shangri-La Bosphorus, Istanbul

launches new, exclusive Rolls-

Royce experiences for guests to explore

the dynamic city in complete

luxury.

The first hotel in Istanbul to have its

own Rolls-Royce, Shangri-La Bosphorus,

Istanbul complements the

comfort and style of its Ghost limousine

with a professional chauffeur

and carefully crafted outings

to explore the city.

Highlighting the stunning views of

the Bosphorus from historic sites,

the history and culture of the capital

of empires that spans two continents,

the extraordinary craftsmanship

and elegance of Turkish

design and the centuries-long

tradition of shisha in the city, the

Shangri-La Rolls-Royce experiences

will unlock the best of Istanbul

for both first-time visitors and

travellers returning to the city.

Lunch on the Bosphorus

With a one-hour drive in the Rolls-

Royce Ghost, guests will explore the

beautiful coastline from Beşiktaş to

the medieval Rumelihisarı fortress,

a perfect spot to capture photos of

the famed Bosphorus Strait. Following

the visit to the historic site,

guests will enjoy a traditional seafood

lunch at one of the popular

restaurants in the neighbourhood

offering beautiful water views.

31
---
Tour of Two Continents

Unique to Istanbul, travellers can

drive between continents, crossing

the Bosphorus from Europe to

Asia. In the unparalleled comfort

of a chauffeur-driven Rolls-Royce,

guests will enjoy spectacular scenery

while crossing the 1,704-metre-long

Bosphorus Bridge.Once in

Asia, a stop will be made at Çamlıca

Hill on the Asian side.

On this highest hill in Istanbul,

guests can enjoy a traditional Turkish

coffee or tea. After a drive

along the Asian side of the city,

guests will return to Europe to visit

the 600-year-old Rumelihisari

fortress. A final stop will be made

at the highest hill on the European

side, Ulus, before returning to

Shangri La Bosphorus, Istanbul.

Shop in Comfort

Handwoven textiles, traditional

homeware, exquisite jewellery and

luxury fashion are just some of the

beautiful items that travellers to

Istanbul can shop for during their

time in the city.

Long a centre of trade and commerce,

traditional Turkish craftspeople

are among the best in the

world and their items are sought

after by travellers from around the

globe. Shangri-La Bosphorus, Istanbul's

concierge has created a

bespoke itinerary to let travellers

discover the best of both old and

new Istanbul design. Guests will

travel in the comfort of the Rolls-

Royce to the famed Grand Bazaar

and then on to the newer luxury

shopping districts.

Shisha Hopping Tour

Shisha is a traditional pastime of

Turkey with a history which goes

back 500 years. Istanbul has many

shisha cafés ranging from humble

shops to luxurious settings, and

visiting the best locations in the

comfort of a Rolls-Royce is a truly

exceptional experience. Travellers

will enjoy VIP treatment at three

of the city's best cafes along the

Bosphorus: Huqqa, Ulus Café and

Hezarfen Café.

Special Occasions

For memorable birthday dinners,

anniversary celebrations or other

special occasions, the hotel's concierge

recommends dinner along

the Bosphorus with a stunning view

of the water and city.

32
---
Guests will be picked up by the hotel's

chauffeur-driven Rolls-Royce

and driven to one of the city's best

restaurants. Upon arrival, guests

will be greeted with a complimentary

welcome cocktail followed

by an exquisite meal.

Shangri-La Bosphorus, Istanbul's

Rolls-Royce Ghost limousine awaits

guests who wish to have an unforgettable

experience in Istanbul.

Each package has a 4- to 6-hour

duration, with prices starting from

EUR500.

For more information or for reservations,

guests may contact the hotel

at concierge.slib@shangri-la.com

or call (90 212) 275 8888.

Hong Kong-based Shangri-La Hotels

and Resorts currently operates over

100 hotels with a room inventory of

over 41,000.

Shangri-La hotels are five-star deluxe

properties featuring extensive

luxury facilities and services.

Shangri-La hotels are located in

Australia, Canada, mainland China,

Fiji, France, Hong Kong, India, Indonesia,

Japan, Malaysia, Maldives,

Mauritius, Mongolia, Myanmar,

Philippines, Qatar, Singapore, Sri

Lanka, Sultanate of Oman, Taiwan,

Thailand, Turkey, the United Arab

Emirates and the United Kingdom.

The group has a substantial development

pipeline with upcoming projects

in Australia, Bahrain, mainland

China, Cambodia, Indonesia, Malaysia

and Saudi Arabia. For more

information, visit www.shangri-la.

com.

33
---
Per for m a nce,

style and space.

The Sunseeker Manhattan 66

SUNSEEKER LONDON

36 Davies Street, Mayfair, London, W1K 4NF

Tel: +44 (0) 2073 550 980

Fax: +44 (0) 2073 550 985

Email: info@sunseekerlondon.com

www.sunseekerlondon.com

London

SEEK MORE
---
Travel that

moves you

Wherever your path leads, Niquesa Travel

can take you there. With insider access to the

globe's most exclusive people and places,

we tailor bespoke itineraries for those

seeking enrichment and enlightenment.

Be inspired at niquesatravel.com

or call +44 (0) 203 829 80 80
---
Baselworld is the world's foremost show for watches, jewellery, precious stones and

related industries. It interconnects the industry's top brands (including Rolex, Patek

Philippe, Chopard, TAG Heuer, Hublot and Breitling), the most influential media and

the world's most important buyers. Baselworld is the exclusive platform on which the major

watch and jewellery brands present the year's innovations to an eagerly curious international

audience. Everyone who wants to know what the latest trends are and how 2019 "ticks" will

find the answers live and firsthand at Baselworld.

Baselworld 2019 has opened its doors, find here some of the latest creations that the Swiss

Exhibitors present from March, 21st to 26th.

ZENITH has been showcasing its Defy collection as a platform for

the brand's renewed emphasis on advanced technology and materials,

including its single-piece oscillator that beats at an extremely

high frequency of 18Hz or 129,600 vph, compared to the usual 4 Hz

or 28,800 vph. This year, the watch with the super-oscillator is no

longer a limited edition concept and will be produced in a run of

several hundred pieces. The revolutionary single-piece oscillator

replaces the traditional 30-piece standard regulating organ, and is

made of silicon. The case is made of lightweight titanium and the

textured bezel is made of Aeronith, an aluminium-polymer composite

that is three-times lighter than titanium. The dial is openworked

to resemble a stylised propeller, with blades evoking the ZENITH

star.

PATEK PHILIPPE's manual-wound CH 29-535 PS chronograph calibre,

originally introduced in a ladies' watch in 2009, has been used

in the men's 5170 series since 2010, and the new 5172G-001 is the

fifth iteration. The movement has six patented innovations that optimize

the chronograph function, including refined tooth profiles,

blocking lever and hammers, and an optimized split seconds wheel.

The result is ultimate precision, improved amplitude and a greater

element of self-adjustment. The white gold case of the 5172-001 has

vintage-style three-tier lugs and a sapphire box glass crystal, as well

as guilloched chronograph pushers. The sporty blue dial with large

baton-style luminescent hands has a matching navy calfskin strap

with top-stitching.

36
---
BVLGARI's signature motif is the serpent, and its driving force is a

fearless sense of design. These two elements combine in the Serpenti

Seduttori ("seduction") is a bold new interpretation of the

design. It interprets the iconic drop-shaped watch case, but it is

thinner than previous models, and it is set provocatively with diamonds

on the side bezels. It has a sinewy new bracelet that is flexible,

inspired by the original Serpenti watch, with links that mimic

the shape of the case, and a serpent's head. The crown is topped

by a pink rubellite cabochon, a nod to Bulgari's roots as a jeweller.

There are several options, including rose, yellow, white gold and two

diamond pavé options.

In an elegant nod to the world of GT racing, Hublot's new warhorse,

the Classic Fusion Ferrari GT, was imagined and designed in partnership

with Flavio Manzoni, Head of Design at Ferrari. For the first

time, Hublot and Ferrari decided to combine their passion for aesthetic

creativity and mechanical innovation to create a Classic Fusion

timepiece, which features a watchmaking chassis that is both

classic and contemporary, and perfectly in keeping with the stylistic

codes of 'Gran Turismo' racing. This noble, high-tech watch is

dressed in Carbon 3D fibre, a three-dimensional woven composite

with polymer matrix that is new to the world of fine watchmaking.

The highly resistant Carbon 3D fibre provides unyielding protection

for the Manufacture UNICO HUB 1280 movement with column-wheel

flyback chronograph. The Classic Fusion Ferrari GT is

available with a choice of three cases: Carbon 3D fibre, King Gold

(limited to 500 timepieces) or titanium (limited to 1,000 timepieces).

The Manufacture Slimline 50-Hours Power Reserve contains the new

in-house automatic calibre FC-723, with a 50-hour power reserve.

This new complication represents FREDERIQUE CONSTANT's 28th

in-house caliber. The power reserve indicator is displayed prominently

at the 10 o'clock position on the dial, including a highlighted

red sector that indicates when it is time to either wind or wear

the watch. The watch is being launched in four references, with 40

mm cases made of either stainless steel with a choice of silver, dark

grey or navy blue dials, as well as rose gold plated steel with a silver

dial. The dial is classic and minimalist in design, with elegant Roman

numerals on the centre dial and Arabic numerals on the subdials,

all without hash marks. The hand-polished leaf-shaped hands are

either white or black.

The newest interpretation of the iconic Happy Sport has curvy

oval proportions and a supple, updated version of the original galet

(pebble) bracelet that adorned the first watch in the collection back

in 1993. The bracelet is masterfully constructed using polished

rounded pebble-like links, and while made of steel, it is as flexible

as knitted mesh. It thus follows the curves of the wrist. This combination

of fine construction, along with the use of both steel and

diamonds, makes the watch accessible and wearable in the spirit of

the easy-going charm at the heart of Happy Sport. In addition to the

seven bezel-set diamonds dancing between sapphire crystals over

the dial, there are diamonds set into the curved bezel of the stainless

steel version.

37
---
The Octo Finissimo collection has been the venue for BVLGARI's

expression of modern high watchmaking, with innovation designs,

complications and world records. The latest interpretation is the

Tourbillon Carbon, which combines the world thinnest ultra-thin

flying tourbillon with an innovative case material. The case and

bracelet are made of carbon CTP (Coal Tar Pitch). The movement,

a technical marvel at only 1.95 mm thick, thanks partly to an innovative

peripheral rotor. It is showcased in an openworked dial with

black finishing, and can also be seen through a transparent caseback.

The Octo Finissimo Tourbillon Carbon is the thinnest-ever automatic

carbon watch. It is a limited edition of 50 pieces.

CHOPARD embraces the basics of traditional fine watchmaking with

the classic L.U.C Quattro. The satin-brushed dial is an extraordinary

greyish-green shade, evoking private gentlemen's clubs and a formal

air of elegance, yet with eccentric details, including the dial's

satin-brushed finish, Arabic numerals at 3 and 9 o'clock and the Super-LumiNova

covered Dauphine fusée-type hands. The movement,

caliber L.U.C 98.01-L, has two pairs of stacked barrels for an incredible

216-hour (nine-day) power reserve.

Despite this Quattro mainspring power, the movement is still ultra-thin,

and the case is only 8.84 mm thick. This is a 50-piece limited

edition in 18k white gold, with a 43 mm case. It is finished to

Poinçon de Genève standards.

Now in its 14th year of creating collaborative works of audacious

horological art for the wrist – and sometimes for the tabletop –

MB&F has finally created a timepiece dedicated exclusively to women.

The Legacy Machine FlyingT is a three-dimensional creation,

with a steeply cambered bezel and slender, beveled lugs on a round

case that is fully set with diamonds. The high, convex domed sapphire

crystal hovers over a curved dial plate.

An asymmetric opening frames a raised flying tourbillon escapement,

the carriage of which is topped by a single large diamond. A

dial of white or black lacquer with blued gold hands sits on a 50° tilt

at the 7 o'clock position. The watch is set with either round-brilliant

or baguette diamonds.

This dazzling jewellery version of the Maximus Royal, the world's

largest tourbillon, is now completely set with diamonds. This creation

contains 453 invisibly-set baguette-cut diamonds totalling

18.47 carats. It is part of a 14-piece edition of made-to-order jewellery

versions of the Maximus Royal Tourbillon that will be set with

gems, including emerald, jade, ruby and aventurine. The movement

is a marvel of precision, with an astounding 27 mm tourbillon carriage

made of 73 components that rotates once every 6 minutes instead

of the conventional 60 seconds. In addition to the accuracy

ensured by the tourbillon itself, an 18k gold flyweight was added

to fine-tune the balance of the cage. The use of titanium keeps the

tourbillon cage lightweight, ensuring that despite its size, it can rotate

without losing precision. A fixed balance-spring stud prevents

any changes in position due to shocks, further ensuring precision,

and the balance wheel can be finely adjusted.

38
---
Fen Chiew Chocolate made by

William Curley

William Curley, who has won the title of 'Britain's

Best Chocolatier' four times, has incorporated Fen

Chiew baijiu into his special edition chocolates,

which will be available from luxury department

store Harrods, London.

@ cheng_international

Fen Chiew Classic/Thyme & Honey/Chocoalte

Caramel

39
---
"NOT EVERY DAY IS PLAIN SAILING" !

ORCHID

RISK MANAGEMENT LTD

Covering all aspects of Security

and Risk Management

Orchid Risk Management Ltd

enquiries@orchidrisk.com | +44 (0) 1202 692250

www.orchidrisk.com
---
42
---
BUGATTI

"LA VOITURE NOIRE"

A ONE-OFF CAR FOR

THE ANNIVERSARY

43
---
BUGATTI DEVELOPS UNIQUE HYPER SPORTS

CAR FOR A BUGATTI ENTHUSIAST. The successful

continuation of their heritage poses a challenge

for traditional companies. once again, the french luxury

brand bugatti has shown that it can transform these

challenges into unique models. with its one-off car "la

voiture noire1"bugatti has again proved that it makes

the world's most powerful, most luxurious and most

exclusive hyper sports cars. "the true form of luxury

is individuality. 'la voiture noire' is now at the cutting

edge of automobile production. it is a sculptural beauty

with unique technology, the ideal grand tourisme," says

bugatti president stephan winkelmann. this is a coupé

with the comfort of a luxury limousine and the power of

a hyper sports car.

A pioneering spirit, a passion for perfection and the

desire to continually redefine its limits have been the

key characteristics of Bugatti since the brand was established

110 years ago. "Our history is both a privilege

and a responsibility – the responsibility for continuing

the Bugatti heritage into the future. With "La

Voiture Noire", we are paying homage to our heritage

and bringing speed, technology, luxury and aesthetics

forward to a new era," says Stephan Winkelmann. The

new hyper sports car reflects Bugatti's French heritage

and its French identity – elegance through minimalism

and refinement through intensification. This is

a tailor-made creation only comparable with the haute

couture of exclusive Paris fashion designers.

"La Voiture Noire" - more than a reinterpretation

"La Voiture Noire is a far more than a modern interpretation

of Jean Bugatti's Type 57 SC Atlantic. It is a

feast of aesthetics," says Stephan Winkelmann. With its

extended front end and the distinctive Bugatti C-line,

the "Voiture Noire" creates an elongated impression

with the elegant waistline defining the contours of the

coupé. Purism and elegance are reflected in the surfaces

and the clear lines. The bumpers are smoothly

integrated into the body and the windscreen seems to

flow seamlessly into the windows at the sides like the

visor on a helmet. Without any irritating lines, the surface

is "all of a piece" and there is nothing to disturb

the optical flow. This means that the hyper sports car

has changed its attitude and become a grand tourisme

– ideal for comfortable travel on long trips.

"Every single component has been handcrafted and

the carbon fibre body has a deep black gloss only interrupted

by the ultrafine fibre structure. This is a material

that has been handled perfectly," says Bugatti designer

Etienne Salomé. "We worked long and hard on

this design until was nothing that we could improve.

For us, the coupé represents the perfect form with a

perfect finish.

The heart of the new creation is the iconic 16-cylinder

engine – unique in the automotive world and the peak

of the engineer's art. "This is not only an engine but

the heart of the vehicle and a technical masterpiece.

There is no other car in the world with such an engine.

It is not only extremely powerful but also beautiful to

look at," Stephan Winkelmann enthuses. The 16-cylinder

engine with a displacement of 8 litres develops

1,103 kW/1,500 PS and 1,600 Newton-metres of torque.

Six tailpipes at the rear bear witness to its incredible

power and are also a tribute to the 16 cylinders.

For €11 million (before tax) this unique car has already

been sold to a Bugatti enthusiast. It is the most expensive

new car of all time. The car enthusiast is fascinated

by the Atlantic; with the "Voiture Noire", he has

acquired a vehicle that takes up the legend and carries

the idea forward to the present day. In its exclusiveness,

style, quality and performance, "La Voiture

Noire" is an unprecedented and unique car that continues

a long tradition in the history of the automobile.

A long tradition of coach building

Only a few months after the presentation of the Divo2,

designed for even stronger lateral acceleration, Bugatti

has once again shown that it has a perfect command

of handcrafted coachbuilding and has reached another

pinnacle in the history of the automobile. In the first

few decades of its existence, the French luxury brand

had considerable success not only with the design of

engines and chassis but also with its own bodies installed

on existing chassis. The most famous example

is the Type 57 and the Atlantic GT model which was

based on it – this grand tourisme could already reach

a top speed in excess of 220 km/h over 80 years ago.

Jean Bugatti designed the Type 57 for various body and

engine configurations including the Galibier (fourdoor

saloon), Stelvio (convertible), Ventoux (two-door

saloon), and Atalante (coupé) as well as the Atlantic.

Ettore's son Jean Bugatti was a visionary who was

ahead of his time. He was the eldest son of company

founder Ettore Bugatti, a gifted automobile designer

and natural talent who was only matched by very few

people in his understanding of proportions and aerodynamics.

From the late 1920s onwards, he influenced

44
---
the development of the company with his own ideas

and designs, before assuming responsibility for management

in 1936 at the age of 27. With his pioneering

designs for bodies, engines and chassis, he created

some extraordinary vehicles until his tragic death in

an accident in 1939, securing a place in the history of

the automobile. His most beautiful and most famous

design is the Atlantic. Like the company itself, Jean

would have been 110 years old this year.

The exclusive new "Voiture Noire", the black car, is a

reminiscence of "la Voiture Noire" a Type 57 SC Atlantic

that was Jean Bugatti's most famous creation. The

outstanding design feature was a dorsal seam running

from the hinge in the split bonnet through to the rear

end. The Type 57 SC Atlantic was one of the most extraordinary

grands tourismes and a timeless creation.

Nowadays, it is one of the most valuable classic cars

in the world. Only four Atlantics were made between

1936 and 1938, each of them with detailed differences

created individually for a customer. Three of these

extraordinary coupés are still in existence. The second

car built was used by Jean Bugatti himself as well

as some of the Bugatti grand prix drivers among his

friends. The world has been searching for this Atlantic

for more than 80 years – it is one of the great mysteries

in the history of the automobile. The car probably

disappeared before the German invasion of Alsace,

when it was to be dispatched to a safe region.

The most elegant way of travelling

The new "Voiture Noire", the perfect grand tourisme,

is just as exclusive, powerful and luxurious as Jean

Bugatti's historic car. "Bugatti arouses passion and

emotions throughout the world. Customers expect us

to continually surprise them and to raise the goalposts

beyond the limits of their imagination. We have just

succeeded in doing so with 'La Voiture Noire'," says

Stephan Winkelmann. Bugatti will continue to work

hard to shape the future of the brand. This will be a future

full of beauty, passion and surprises. The "Voiture

Noire" is a modern interpretation of the spirit of gran

turismo vehicles, a tribute to perfect technology and

perfect design. It is also the most elegant and fastest

way to travel with a vehicle. Bugatti President Stephan

Winkelmann: "With our automotive haute couture, we

have shown what Bugatti is capable of." Now and in the

future.

45
---
Recharge + Explore

Recharge and explore with a stay at The Westin Brisbane. This new urban lifestyle retreat spans the city

block between Mary and Margaret Streets in the heart of Brisbane's dynamic CBD, a short stroll from Queen

Street Mall, Eagle Street Pier restaurants and bars and the Brisbane City Botanic Gardens. Escape to one

of our inviting 299 guest rooms and Suites each featuring the signature Westin Heavenly Bed ensuring

restful nights and blissful mornings. To further enrich your stay, experience one of our 80 Westin Club

Rooms or 39 Suites, each including Westin Club benefits and access. Take a dip in the resort style pool and

enjoy cocktails from the swim-up pool bar. Relax and rejuvenate with a treatment at The Heavenly Spa

and be pampered from top to toe.At The Westin Brisbane, we take care of the most important elements of

your stay to ensure each visit leaves you exceptionally well rested, well-nourished and well cared for.

RATES FROM $249

THE WESTIN BRISBANE | 111 MARY ST | BRISBANE, QLD 4000

westinbrisbane.com | 07.3557.8888

@westinbrisbane #westinbrisbane
---
Your own

branded

fundraising

platform

- t he most cost-effective waY

of raising finance

- e liminates risk of 'deal distraction'

on crowdfunding websites

- sYndication across thousands

of investors

- f ullY customisable to Y our own

branding guidelines

" we like the fact the platform

has been developed bY a team

which has invested over

£100m into 200 companies."

John kingdon, bladetec

contact us to discuss your

own envestry platform;

+44 (0)20 7240 0202

enquiries@envestors.co.uk

www.envestry.com

to receive 10%

off set-up fee

promo code:

LuXNetWorK

envestry is wholly owned by envestors limited which is authorised and regulated by the financial conduct authority (fca) in the uk. firm reference number (frn) 523592
---
48
---
49
---
NATURE HAS A LOT TO OFFER. AND SO DO WE.

Setting sail for the first time in October 2019, the HANSEATIC inspiration will take you on fascinating expeditions to

the Polar Regions of the Arctic and Antarctic and to warmer regions like the Amazon, South and Central America

and the Caribbean. The 17 on-board Zodiacs will allow you to come face-to-face with nature and to land on

untouched coasts.

To learn more about our expedition cruises and to receive exclusive offers, sign up for our newsletter at

www.hl-cruises.com/newsletter

Hapag-Lloyd Kreuzfahrten GmbH

Ballindamm 25, 20095 Hamburg, Germany

service@hl-cruises.com

free phone 08000 513829

www.hl-cruises.com
---
Y O U R E X P E R T S

I N C O R P O R A T E

H O S P I T A L I T Y

www.redeyeevents.co.uk

Formula One hospitality specialists, & providers of VIP packages

for sporting & cultural events world-wide.

Join us in Monaco for the jewel in the F1 crown, the Monte Carlo Grand Prix. Experience this unique event in

VIP luxury, from either the deck of a trackside Super Yacht or from one of our exclusive terraces. Enjoy lavish

hospitality including premium Champagne & catering from Lush by Tom Kerridge.

23 rd - 26 th May 2019. Please contact us for further details.

T: +44 (0) 207 078 0299 | E: info@redeyeevents.co.uk

The F1 FORMULA 1 logo, F1, FORMULA 1, FIA FORMULA ONE WORLD CHAMPIONSHIP, GRAND PRIX, FORMULA ONE PADDOCK CLUB Logo, FORMULA ONE PADDOCK CLUB, PADDOCK CLUB

and related marks are trade marks of Formula One Licensing BV, a Formula 1 company. All rights reserved.
---
52
---
53
---
Experience the Traditional Charm

of the Holy Month

at Al Bait Sharjah

Recreating the quintessential charm of a 1950s historic village, The Luxury Network UAE member

Al Bait Sharjah is harmoniously integrated into the historic fabric of the Emirate of Sharjah.

The five-star boutique resort is celebrating its first Ramadan in the Emirate's heritage district

with a special menu, available from the first day of Ramadan 2019.

Ushering in the holy month of Ramadan, the culinary team at Al Bait has created an elaborate menu

that perfectly highlights the significance of the holy month observed across the UAE. Guests at Al

Bait can break their fast with the special Iftar menu, available at The Arabic Restaurant. Just as traditional

heritage harmoniously co-exists with modern luxury at Al Bait, the unique Iftar menu offers a

generous mix of traditional delicacies of the region with culinary masterpieces inspired by international

cultures. Boasting of an impressive open kitchen rolling out a selection of Levantine delights,

international favourites and mouth-watering desserts, the Iftar is priced at AED 235++, while kids

below 10 years dine for free. Also on offer are Iftar bookings for a group of guests as well as Suhoor

at The Arabic Restaurant.

The distinct Arabesque flair and sophisticated ambience set the perfect mood to enjoy an assortment

of Ramadan delicacies at The Arabic Restaurant at Al Bait Sharjah.

54
---
CNR CHAPEL ST & TOORAK RD

SOUTH YARRA . AUSTRALIA

SELECTED 1 & 2

BEDROOM APARTMENTS

NOW AVAILABLE

FOR LEASE

BE PART OF MELBOURNE'S FIRST

6-STAR RESIDENCE

To book your exclusive appointment

call Christian on +61 420 102 208

RENTAL.CAPITOLGRAND.COM

55
---
HENSCHKE.COM.AU
---
Create Unforgettable Memories

at the World's Finest Luxury Villas

edgeretreats.com | London +44 203 355 6077 | New York +1 646 918 8230
---
Th

Masseria Torre Maizza, Puglia

THE FORTE FAMILY IS GROWING :

ROCCO FORTE OPENS TWO NEW ITALIAN HOTELS

Love is the soundtrack of Puglia

Puglia was first associated with ultimate

romance in 1958 when Domenico Modugno,

an Apulian native, won two Grammy Awards

for his timeless global hit "Blu dipinto di

Blu" better known worldwide as "Volare".

Over 50 years later, Masseria Torre Maizza,

a Rocco Forte Hotel launching on May 1st,

embodies the colours, the nature, the charm

and exoticism which inspired Modugno's

famous song.

Set off the beaten track, in Puglia's

picturesque area of Savelletri di Fasano

only minutes away from the Adriatic coast,

Masseria Torre Maizza is a renovated 16th

century farmhouse, typical of the area,

lavishly draped in ivy and surrounded by

centuries old olive trees resembling natural

sculptures.

The intimate 40 rooms and suites resort

has been entirely renovated by Director of

design Olga Polizzi blending her colourful

prints with local white linens and terracotta

for a light and elegant feel with rustic tones.

Heavy carpets and wicker furniture have

been used throughout the suites, many of

which have their own private patios and

original fireplaces for an added touch of

romance on chillier evenings. Typically, Olga

Polizzi has personally sourced the best local

craftsmanship and artefacts giving each suite

and room an entirely personal character and

sense of place.

At the heart of the resort is the local cuisine,

artfully interpreted by Rocco Forte's Creative

Director of Food, Maestro Fulvio Pierangelini,

as if it were a grand local home using a feast

of natural products from the Masseria's own

gardens and orchard. Pierangelini's artful

menus are served by candlelight in the

vaulted dining room or open air, whether in

the gardens or under the stone colonnade

surrounding the 20 metre pool. Gourmet

guests with a particular passion for cooking

will be able to book private lessons and take a

taste of Puglia home with them.

The resort offers a wealth of local tailor

made experiences and excursions to coastal

villages and historical towns, including the

extraordinary Matera which is this year's

European Capital of Culture. The lazier

romantics can stay at the resort and relax

at the spa, play the 9-hole golf course, head

down to the private beach club or simply

enjoy each other and the heady feel of the

Masseria.

The resort may be booked as a whole,

becoming the dream location for a small

wedding, a renewal of vows celebration or

simply a wonderful multi generation family

occasion. For the more frequent individual

bookings of Masseria Torre Maizza's

Celebration Experience, guests will be

treated to Champagne, chocolate truffles and

a romantic breakfast in bed starting from 357

Euro per night.

La

a

op

th

In

ov

lar

of

th

Ar

wi

br

se

Gr

Th

pe

th

th

Th

Si

th

sch

tac

of

fu

an

se

its

th

Th

Ne

lav

ar

siz

wi

co

of

th

Si

58

RFH_Germany_Advertorial_New Rocco Forte Openings_May2019.indd 1
---
Hotel de la Ville, Rome Tommaso Ziffer, Architect

ly

e

e,

ll

or

ly

al

's

e

d

7

The Roman sky is the limit

Launching May 23rd, the Hotel de la Ville,

a Rocco Forte hotel, is the most awaited

opening of the year in Rome and promises

the ultimate views over the eternal city.

Indeed the historical structure artfully spread

over several levels means that the suites and

large terraces are quite unrivalled in town

offering a totally unique high rise angle and

the grandest of panoramas.

Architect Tommaso Ziffer has collaborated

with Director of Design Olga Polizzi in

bringing to life the aesthetics and cultural

sentiments of the 18th and 19th century

Grand Tour of Europe in a contemporary key.

The result is a bold and vibrant feel which

pervades the building offering a sumptuous

theatrical set reflective of Roman intricacies

throughout the ages up to modern days.

The creative atmosphere culminates in the

Signature Suites, soon to be unveiled as

the most panoramic in town. Strong colour

schemes with soft and bright tones are

tactfully combined with an eclectic collection

of local contemporary craftmanship, bold

furniture, large digital representations of

ancient art and rich tapestries. "A room is a

set for people's lives, a true work of art in

itself" states Ziffer whilst commenting on

the suites at the Hotel de la Ville.

The Canova Suite, named after the famous

Neo Classical sculptor, blends high art and

lavish style to elegant effect. Spacious living

areas, featuring a sitting room and a king

sized bedroom combine light colour shades

with luxurious furnishings and a curated

collection of objects of art. The Roma Suite

offers an elegant apartment in the heart of

the city and a perfect solution for families.

Sitting on the 8th floor and reached by private

elevator, the Suite De La Ville is the hotel's

crown jewel, offering extraordinary space, a

curated art collection and antique furniture

presented in contemporary flare. The private

dining room and the two large terraces with

panoramic views over Rome make the Suite

De La Ville ideal for memorable evenings and

entertaining. It is also perfect for families,

with the option to connect with the Roma

and Canova suites on the seventh floor to

make a lavish multi-bedroom residence.

The three Signature Suites at Hotel de la

Ville are fully equipped for entertaining and

are served by a private butler and a dedicated

View to Hotel de la Ville on top of the Spanish steps

concierge who will tailor unique Rocco

Forte Suite Experience benefits and unique

adventures to match the guests' wishes.

Be one of the first to enjoy the newly designed

rooms and suites and receive a 30% discount

on published rates, including breakfast and

"aperitivo" on the spectacular roof top bar.

Guests staying in one of our suites will also

receive complimentary limousine transfer

from the airport or the train station.

For more information please visit our website

www.roccofortehotels.com

59

05.04.2019 09:49:39
---
LUMINOR SUBMERSIBLE 1950 CARBOTECH TM

3 DAYS AUTOMATIC - 47m m

(REF. 616)

PANERAI BOUTIQUES UAE

DUBAI - THE DUBAI MALL • ABU DHABI - THE GALLERIA MALL, SOWWAH SQUARE

PANERAI.COM • 800 -726 3724

60
---
Bombardier and Exceptional by Design are registered or unregistered trademarks of

Bombardier Inc. or its subsidiaries. © 2018 Bombardier Inc. All rights reserved.

A smooth flight experience isn't achieved by chance, it is designed with intention.

Bombardier's relentless pursuit of innovation brings forth a family of aircraft

that meticulously balance performance and ride quality.

The result is one of the smoothest rides in business aviation.

Something only found on a Bombardier business jet.

businessaircraft.bombardier.com
---
NEW

Member

Bagatelle Joins The Luxury Network UK

Bagatelle London contemporary

French restaurant

recently joined the

world's largest affinity marketing

and partnerships group,

The Luxury Network.

It opened its doors in May

2018, bringing the exclusive

New York dining destination

to the heart of Mayfair. Bagatelle

London menu combines

French Mediterranean cuisine

with local ingredients and

taste that takes customers to

the heart of Bagatelle's culinary

identity.

Combining chic and daring

with its classic decor and architecture,

lively music and relaxed

atmosphere, still keeping

a touch of sexy; a combination

that gives you the impression

of having landed in France for

a day.

Full Venue Hire

Bagatelle London boasts an impressive restaurant space set across two floors,

with two fully equipped bars and a large professional kitchen, and a luxurious

basement lounge.

• Seated capacity: 160

• Standing capacity: Varied up to 210

• Hire fee: Minimum spend dependent on group size, time of year and service

requirements

This space houses beautiful chandeliers to create a classic Parisian Bistrot

feel, complete with unique art pieces, classic ceiling patterns, velvet banquette

seating, state of the art LED lighting, and two striking bars & DJ booths

Private Lounge

The Bagatelle Lounge, located on the lower level of the restaurant is adorned

with beautiful pieces of artwork and plush velvet club chairs, a stunning displayed

bar and DJ booth.

• Seated capacity: 50

• Standing capacity: 65

• Hire fee: Minimum spend dependent on group size, time of year and service

requirements

This space houses classic décor with impressive hand painted ceiling patterns,

and features beautiful velvet couches and mood lighting that creates

the ambiance of chandeliers to create a classic Parisian Bistrot feel, complete

with unique art pieces, classic ceiling patterns, velvet banquette seating,

state of the art LED lighting, and two striking bars & DJ booths.

62
---
NEW

Member

Seba Jamal Joins The Luxury Network UAE

Contemporary jewellery designer Seba Jamal is

the latest member of The Luxury Network UAE.

Seba Jamal concept for luxury cars features two

pieces, a ring and a bracelet. Both pieces were created

eyeing the high profile consumers that strive for high

jewellery and status, combined with the life long pursuit

of the fast, the practical, and the new.

The luxury car logo acts as the centre of the design

itself, paved with a diamond on a structure that opens

to incorporate the chip, giving its user the commodity

of not having the constant search of the key.

The pieces will be customised, engraved with the plate

and chassis number. The luxury car logo will be surrounded

by an enamel surface in the colour of the car.

Seba Jamal works stand out because of the designer's

distinctive details in her jewellery collection, crafted

in several complex parts fitted together to form an exquisite

jewellery line inspired by the dynamic life of the

high luxury consumer.

63
---
NEW

Member

Contemporary

Hotels join

The Luxury

Network Australia

Contemporary Hotels curates and manages

over one hundred of Australia's finest

luxury properties for short term holiday

guests and corporate opportunities. Primarily

property focussed Contemporary Hotels also

assists to create bespoke on-ground experiences

for all guests from intimate in-villa dining to

larger multi-day itineraries.

Contemporary Hotels was founded twenty years

ago with the development of the award winning

Medusa and the Kirketon hotels in Darlinghurst

building a pure hospitality based, bespoke experience

on the back of intimate guest service. In

more recent years under the leadership of Romayne

and Matthew Fleming a large focus has

been placed on sourcing luxury homes for short

term accommodation and corporate hire.

Based in Sydney the company manages properties

all over Australia and a select few international

destinations with the largest saturation

around Sydney's East, beaches and Palm Beach

with Byron Bay growing. The company welcomes

thousands of guests each year in the luxury to

ultra-luxury holiday market in properties ranging

from one bedroom apartments to enormous

harbour front mansions.

"We've grown tremendously in the last few years

but I never want to lose touch on what made us

successful. I believe that our 'boutique' hospitality

background, maintaining our service levels

to the highest standard and powerful marketing

engines are a great driver for success. But, most

of all, keeping things fun is vital; we are fortunate

to build lifelong memories for our guests

and welcome them to some of Australia's best

destinations. They're here to enjoy their experiences

and we need to help them do that!". Matthew

Fleming – CEO Contemporary Hotels.

64
---
NEW

Member

Mercedes-Benz Sydney Joins

The Luxury Network Australia

Mercedes-Benz was founded

in 1993. Lei Shing Hong

Limited's Auto division is

a premium automobile group engaged

in the wholesaling and, particularly,

retailing of automobiles.

The purchase of a Mercedes-Benz,

to many of our customers, is both

the realisation and culmination

of a lifelong dream. A dream that

we are delighted to be part of. We

understand that there is very little

that can compare to the feeling of

achievement and pride that comes

with owning the brand that leads

the way for luxury, innovative intelligence,

comfort, quality and

unrivalled performance dynamics.

As the nature of mobility continues

to evolve in today's radically

changing environment, for example

autonomous driving, connectivity,

digital and electric mobility,

we understand that there is one

thing that will never change – the

people. We are in the relationship

business above all else and rely

the on-going support and loyalty

of our customers.

65
---
NEW

Member

Huriya Private Joins as the Latest Member

of The Luxury Network UAE

Huriya Private was established to provide specialist

advisory services to a select number of families and

private individuals. Their team brings decades of

professional financial services experience with an international

network of contacts, and a deep understanding

of the needs of the modern day high net worth client or

international family.

Multi-Family Office

Do you have the correct vehicle to manage your assets?

At Huriya, they understand the importance of protecting

your assets and wealth, not just in this lifetime, but also

for generations to come. Their professional multi-family

office service ensures that the right people benefit from

your wealth through well-planned and carefully designed

succession and inheritance planning methodologies.

They implement detailed preventive measures to ensure

that your personal information is not compromised at any

given time, which facilitates the effective preservation of

your family's legacy.

Residence & Citizenship

Your place of birth should not determine nor limit your ability

to travel

The fundamental principles of Huriya Private revolve

around one simple truth: Borders are not barriers, rather

opportunities waiting to be explored. For an individual to

experience true freedom, the freedom of capital needs to

assimilate with the freedom of movement.

66

Investing in a Second Citizenship or alternate Permanent

Residence has several key attributes such as better tax

management, improved healthcare, education and security

for you and your entire family.

Private Fiduciary

Huriya Private is committed to equipping all their clients to

make financial decisions that will help them achieve their

goals and objectives.

They provide expert counsel on asset management, corporate

structuring, cross-border transactions and international

tax planning.

Having the correct vehicle above your trading or holding

companies is of great importance. However, they do believe

that there is no single formula that applies to fulfil

the requirements of all clients and hence they celebrate

the diversity of each client and provide custom-designed

solutions for each individual.

Trustee Services

The objectives of a Trust are intended to protect, manage &

regulate the succession of your family wealth.

As an independent service provider, Huriya Private work

with your lawyers, bankers and advisors without creating

any conflict of interest or regulatory restrictions.

Huriya Private have a highly qualified team of trustees that

help ensure that your intergenerational wealth and assets

are preserved and protected. Focusing on the long-term

dynastic security for you and your family.
---
NEW

Member

Mastani Joins The Luxury Network Australia

With respect for the past and an eye to the

future, Mastani is melding tradition with

vision for slow fashion with a social conscience

within the luxury market. Mastani is the vision

of Founder and Creative Director, Kudrat Makkar.

Through Mastani, she wants to take customers on a

journey into the world of the hands that made it and

the culture that shaped it. By using hand-made traditional

techniques which are inherited by the artisans

from their ancestors, her aim is to preserve and revitalise

her cultural heritage, while introducing the world

to the ultimate in luxurious, speciality fashion.

With the ideology that embraces cultural heritage and

contemporary fashion influences, Mastani aims to inspire

confidence and empower women to express the

multifaceted modern female identity. The essence of

Mastani is the concoction of age-old craftsmanship

and modern design excellence with a focus on sophistication,

superior quality and uniqueness.

Our artisans are masters in embellishment, hand-looming,

structure and contemporary silhouettes. They

bring to life the design ethos while creating 'forever

pieces' of the finest quality. All garment construction

is performed in-house at our Mastani atelier. Already

featured in ELLE, Vogue Australia, InStyle and Harper's

Bazaar, Kudrat has a bold vision for Mastani with the

brand already showing in Milan and Paris earlier this

year.

67
---
NEW

Member

Wealth-X Joins

The Luxury Network Singapore

Wealth-X provides unique intelligence about

the world's wealthiest individuals, partnering

with prestige brands across the financial

services, luxury, not-for-profit, and higher-education

industries to fuel strategic decision-making in sales,

marketing and compliance.

They have developed the world's most extensive collection

of records on wealthy individuals and produce

unparalleled data analysis to help their clients:

· UNDERSTAND GLOBAL WEALTH – Learn the global

wealth landscape, forecast your target market, and

gain intelligence most relevant to your sector

· UNCOVER QUALIFIED LEADS – Screen your data,

identify relevant prospects, reveal wealthy connections

and identify patterns in your database

· INFORM YOUR ENGAGEMENT STRATEGY – Create a

roadmap, save time and resources and identify wealthy

prospects to attend events that match their interests

· MAXIMIZE EXISTING RELATIONSHIPS – Stay informed

on your clients, personalize your interactions

and enrich existing relationships to maximize client or

donor retention

· MITIGATE CLIENT RISK – Receive a comprehensive

analysis, ensure prospects meet regulations and onboard

clients confidently

The suite of data-driven products and services provide

clients with access to the world's most robust collection

of curated research and intelligence on ultra high

net worth (UHNW) and very high net worth (VHNW)

individuals. Wealth-X provides clients with database

access through three distinct options:

· PROFESSIONAL – Instant online access to the

Wealth-X Database

· SALESFORCE APPLICATION – Seamless access to the

Wealth-X Database through Lightening or Classic experience

68
---
NEW

Member

· API INTEGRATION – Fully customizable access to the

Wealth-X Database within your organization's CRM

In addition, Wealth-X leverages our global database to

provide customized services that inform and empower

development strategies:

· SCREENING – Screen your data more accurately and

with greater results across the globe

· DILIGENCE – Meet regulatory requirements and mitigate

reputational and commercial risk

· ANALYTICS – Bespoke data solutions that inform

strategic decision making

For well over a decade, the world's wealthy population

has experienced exceptional growth. This trend, combined

with the increased globalization of goods and

services, has created intense competition to capture

the interest of individuals in the highest tiers of wealth.

Analyzing the landscape of this highly valuable audience

provides insight into where, when, and how to

engage them most effectively.

To uncover unique insights into this demographic, the

Wealth-X team of global researchers regularly produce

exclusive pieces of content designed to inform and enlighten

those who seek to do business with the wealthy.

Among this content, Wealth-X produces three distinct

flagship reports every year to examine these different

populations.

· The Billionaire Census – analyzing global wealth at its

highest tier, this report focuses on the 2,000+ individuals

who have crossed the billionaire threshold, globally.

The report examines who global issue are driving

wealth creation or reduction among this exclusive

population.

· The World Ultra Wealth Report – analyzes the state

of the world's ultra-wealthy population or those with

$30m or more in net worth. The report reveals information

on the "typical" UHNW individual and compares

this profile to other ultra-wealthy archetypes.

· High New Worth Handbook – provides unique analysis

on the global state of those individuals with between

$1m and $30m in net worth. This unique report

examines the population based on their asset holdings,

gender, industry focus, wealth source, education, and

hobbies with a special breakdown of sports interest by

wealth tier.

69
---
Bring Your Dreams to Life

www.aji.co.uk +44 (0)20 7887 7604 alexanderjamesinteriors
---
TLN

News

The Luxury Network

international Awards

after-party

The Luxury Network International invited all

TLN offices and members to enjoy an afterparty

filled with entertainment and a luxurious

dinner at the Phantom House Dubai following

TLN Awards hosted by TLN Global CEO H.E. Fares

Ghattas.

72
---
TLN

News

73
---
TLN

News

The Luxury Network Launches

in Saudi Arabia

The world's leading luxury affinity marketing and

business networking group, The Luxury Network,

keeps expanding its global growth by officially

opening a new office at the Kingdom of Saudi

Arabia. The expansion agreement was signed between

TLN International Global CEO, H.E. Fares Ghattas and

TLN Saudi CEO, Mr Abdullah Fakeeh today, February

26, 2019. Mr. Abdullah is currently the Managing Director

of Al Taqdeer Co.

The Luxury Network have high hopes with this current

opening since the economy of Saudi Arabia is one of

the top twenty economies in the world. The Saudi Arabia

luxury market reached a value of US$ 13.5 Billion

in 2017. Looking forward, the market value is further

expected to reach US$ 20.8 Billion by 2023, exhibiting

a CAGR of 7.5% during 2017-2023. Driven by rising income

levels, the country's luxury market has exhibited

a continuous growth.

The Luxury Network was launched in London in 2007.

It covers areas of the luxury market such as private

jets, yachting, motor concierge, health & beauty,

wealth management, premium real estate, exclusive

travel, golf, jewellery & watches, entertainment, fashion,

and many more. Having built up quite an impressive

reputation with more than 20 years of experience

and offices across Europe, Australia, Asia, the Middle

East, America, and parts of Africa, their membership

portfolio boasts the world's leading brands including

Ferrari, Bentley, Cartier, Bugatti, Lamborghini, Bvlgari,

Porsche, Bang & Olufsen, Sunseeker, Azimut Yachts,

Panerai, Etihad Airlines, Rolls-Royce, Zenith, Sothebys

Realty, and Tom Ford amongst others.

74
---
TLN

News

The Luxury Network Australia

at the Races with the ATC

What a fabulous day at the Races with the Australian

Turf Club. The ATC hosted The Luxury

Network and some of its members in the

exceptional Moet and Chandon Executive Suite, which

overlooked the racing finish line. With the champagne

flowing and beautiful catering, guests enjoyed creating

relationships, having fun and of course – placing their

bets.

The Luxury Network Australia were lucky enough to

be able to sponsor the final race of the day and showcase

their showreel on the big screen. Before the race

commenced, antendees were given the opportunity to

view the horses with their jockeys, an extremely fun

and unique experience.

After the race had taken place, attendees were able

to enter the Winners Room for celebrations with the

winning horses owners and sponsors. The room was

filled with laughter and appreciation for the winning

teams hard work during the racing season.

Thank you to Luke and the team at the ATC for their

hospitality. It truely was a day to remember.

75
---
TLN

News

An Evening of Opulence

Hosted by The Luxury

Network Singapore

On March 6th, 2019, The Luxury Network Singapore's

valued member brands, KWANPEN, The

Canary Diamonds, and AV One joined forces to

host Mercedes-Benz owners and their friends at a ladies-only

networking evening.

An initiative by Mercedes-Benz, She's Mercedes is a

platform dedicated to connecting and empowering

women to unleash their best. It is where women can

connect and exchange ideas, share experiences and

learn from one another. The event was indeed a great

opportunity for professionals within the luxury industry

to connect with the exclusive database of Mercedes

Benz.

Hosted at the KWANPEN Flagship Boutique in Marina

Bay Sands, the event offered guests an opportunity

to explore the finest collection of KWANPEN crocodile

leather bags with prestigious jewelry collection

showcase from The Canary Diamonds. The party then

kickstarted, where guests immersed themselves in the

vivid ambience of the lounge!

76
---
TLN

News

KWANPEN seized the opportunity to exhibit the meticulous

care and expertise absolutely needed to perfect

their handmade bags. Craftsmen from the KWANPEN

workshop demonstrated the saddle stitch and edge

inking processes that go into making a handbag, and

attendees could try their hand at inking their very own

crocodile leather keychain to bring home with them as

a memento of their experience. This interactive experience

was popular among ladies and gentlemen alike!

The Canary Diamond's enchanting display of bespoke

jewelry was overseen by the brand's very own designer

and founders. Guests had the privilege to admire these

esteemed collection of colored gemstones and they

also gained insight into identifying and valuing these

precious stones.

The spread of food and drinks on offer was a gustatory

pleasure for the palate. Alba 1836 successfully

charmed the guests yet again with their catering effort,

creating stunning Italian-inspired canapés, such

as Basil Ricotta Mousse with Olives Powder; Arancini

with Taleggio Cheese; Homemade Cured Salmon with

sour cream; Parma Ham with Rock Melon and Tiramisu

as dessert, were served up butler-style. And of course,

with the continuous support of our Italian beverage

importer including Peroni, our guests indulged in bottomless

Bisol Belstar Prosecco, Tenute San Guido Le

Difese wine, and chilled Peroni Premium Beers.

AV One made sure to satisfy our auditory senses by

bringing in Burmester sound systems. Burmester traces

its origins back to Germany and is reputed for its

unparalleled sound quality and technological innovation.

With their aesthetic designs, the speakers rendered

the perfect complement to the lounge's deluxe

décor.

We are honored to be part of this She's Mercedes initiative.

We look forward to witnessing this platform

flourish and are thrilled for future collaborations!

77
---
TLN

News

The Luxury Network

Australia Members

Host an Evening of

Fashion, Boating &

Champagne

78

Sydney Harbour was

the perfect backdrop

for The Luxury Network

Australia members,

Victoria & Maude, event

onboard TheLuxury Boat

Syndicate's boat, Riviera

6000.

Guests enjoyed a sunset

cruise whilst sipping on

French Vine's exquisite

artisanal Champagne and

indulged in Simon Johnson's

delicious cheese

platter.

Attendees had the privilege

of meeting with the

talented Victoria Maude,

CEO and designer of Victoria

& Maude, to discover

the new definition of

luxury travel with Ostrich

leather, Merino wool and

certified eco leather travel

goods – handcrafted in

Sydney and Melbourne.

Fashion, Boating and

Champagne was the perfect

recipe for a delightful

sunset event.
---
TLN

News

The Luxury

Network

New Zealand

Attends The

Heineken

Urban Polo

Members of The Luxury Network New

Zealand and their extended guests

recently enjoyed an exclusive experience

at The Heineken Urban Polo on Saturday,

16th March.

With the City of Sails putting on a stunning

weather, guests were amiably greeted upon

arrival with flowing champagne, deliciously

crafted canapes, and the lively Heineken Urban

Polo premium sporting atmosphere.

The Polo itself was played on a significantly

smaller field, which allowed guests to be

as close to the action as possible. Inclusive

of several fast-paced games; guests enjoyed

watching internationally recognised players

in true Luxury Network style.

Members and guests networked underneath

a botanic masterpiece that exhibited floral

genius; in combination with white loungers,

a photo booth station, and a luxurious light

palette of interior styling infused with vibrant

greenery curated Lily and Louis.

Heletranz Helicopters 'Eurocopter EC130' aided

as chosen backdrop of the day with guests

posing for quick snaps aside one of the finest

in the fleet.

As a day to be remembered, The Heineken Urban

Polo doted true style, sophistication and a

premium experience for The Luxury Network

New Zealand.

79
---
TLN

News

The Luxury

Network

Australia X

Ahoy Club

X Ferrari

Australasia

Event

On Thursday night, Ahoy Club,

Ferrari Australasia and The

Luxury Network Australia invited

guests to the Ahoy Clubhouse in

Double Bay to celebrate the start of the

2019 Grand Prix Season.

Whilst Ferrari showcased some of their

exclusive sport cars, including a GT-

C4LUSSO and a Portofino, Ahoy Club

introduced guests to the incredible selection

of yachts available for charter

around the globe.

A prize draw concluded the night

where one lucky attendee won an unforgettable

experience – to watch the

2019 Monaco Grand Prix aboard the

Superyacht, MISCHIEF, and four nights

accommodation at the incredible 5 star

hotel, La Reserve.

What a great evening where guests socialised,

networked and danced well

into the night surrounded by sports

cars and superyachts.

80
---
81
---
TLN

News

Al-Johara:

A Network For

Extraordinary

Saudi Women

On March 27th, two weeks after

the International Women's

Day, Al-Johara hosted its

inaugural event: a formal dinner at

the Four Seasons in Riyadh, Saudi

Arabia. Both the location and timing

of the foundational dinner was central

to its goal of bringing influential

Saudi women together to build a

network where they can share their

expertise on wealth creation, their

experience in bridging wealth and

philanthropy, and their understanding

of how women can make a social

impact globally.

Al-Johara emerged from a need

for international connection. The

founders, Katie Partridge and Nada

Bundakji, recognize the strengths

and value of female leadership in

education and business sectors, and

together, they created Al-Johara to

empower women and address social

issues perpetuated by global gender

imbalances through education

and mediation, philanthropy and

giving, and wealth creation. These

three pillars form the foundation of

the organization, and they were the

principal focus of the event. Founders,

Katie Partridge and Nada Bundakji,

opened the evening by introducing

the Al-Johara concept and

how the three pillars define the organization's

mission. Following the

introduction, inspirational women

from around the world shared their

stories and expertise relating to education,

philanthropy, and wealth

creation.

82

H.H. Princess Noura bint Mohammed

bin Saud Al Saud the Guest of

Honour for the event and Princess

Awatif bint Abdullah Al Sheikh supported

the initiative and was in attendance

for the evening. Princess

Noura applauded Al Johara for all

their efforts and commitment to

inspire Saudi women through this

international initiative which enables

them to become truly global

citizens. She expressed how she was

"very pleased to meet all the initiative

partners and looks forward to a

continuous relationship". Her Highness

is personally an active sponsor

and contributor to initiatives

and programs supporting women's

professional and personal development

and empowerment; the latest

of which has been the event in celebration

of the Saudi National Women's

Day. She has also pioneered

efforts to elevate educational and

cultural support of Saudi women

across growth sectors, particularly

in their early education stages.

The UN Secretary-General's High-

Level Panel on Women's Economic

Empowerment identifies one of

seven drivers of women's economic

empowerment as "strengthening

visibility, collective voice and representation".

Al-Johara's board of

advisors include some of the most

influential women from the UK, US,

and Canada. By growing a network

of inspiring women from the Middle

East, Europe, and North America,

Al-Johara has the transformational

potential to re-write narratives on

international female leadership to

include powerful Saudi women.

Much of the success of this event is

due to Al-Johara's corporate sponsors:

The Luxury Network International,

Irwin Michell, Almacantar,

Saphira Group, Corinthia Hotels,

Lightfoot Travel, and Desert Technologies.

Currently, Al-Johara is

planning its next event, which will

be held in London later this year.

www.aljohara.org

Nada Bundakji:

nada@saudigulf.com

Katie Partridge:

kp@saphiragroup.com

Written by: Riley McNair
---
TLN

News

The Luxury Network

Australia Members and

Guests Experience the New

Silversea Silver Muse

On Monday February 4, Luxury Network

members and their guests

had the unique opportunity to experience

the Silver Muse. Guests enjoyed

canapés and drinks in the Dolce Vita and

Panorama lounges followed by a tour of the

ship.

The Luxury Network

Australia X Aspen

Snomass on board

Superyacht Vegas

On Wednesday February 27 Luxury Network

members and their guests enjoyed a superb

evening on board LK Group's Superyact Vegas.

Guests were treated to Champagne and canapés

whilst sailing to Williamstown and back. Aspen Snowmass

provided an overview of their resort and the

#giveaflake initiative.

83
---
MEMBERS

Affairs

Love and Other Crimes

Maddox Gallery is delighted to present 'Love and Other

Crimes,' an exhibition of love-themed works by some of the

world's most successful and instantly recognisable artists

including Banksy, The Connor Brothers, Damien Hirst, Harland

Miller, Mr Brainwash, Robert Indiana, Tracey Emin and more.

Coinciding with Valentine's Day, 'Love and Other Crimes' celebrates

the raw vibrancy of humanity's most powerful emotion. Expressed

through a variety of different mediums, from painting to

prints to sculpture, the exhibition will be comprised of over forty

arresting works, including Banksy's 'Girl with Balloon,' Tracey Emin's

'Wanting You', Mr Brainwash's 'Love Is The Answer' and Robert

Indiana's 'Four Panel Love.'

Presented at our flagship Mayfair townhouse, the exhibition is a

nuanced meditation on the theme of love and all it signifies, interpreted

by some of the world's greatest artists.

Drawing attention to the sentiment and symbolism of the word

'love,' the abstract conventions of romance, and the impact of

cultural icons and couples, from Charlie Chaplin featured by Mr.

Brainwash to Damien Hirst's Mickey and Minnie Mouse, the exhibition

details our complex relationship to love, both in an historical

sense and also a personal one.

Kick-starting Maddox Gallery's exciting programme of events and

exhibitions for 2019, 'Love and Other Crimes' is a playful examination

of the universal feeling of love, and the joy and wit it injects

into our lives.

84
---
Members

Affairs

Motorclassica – Melbourne's Grand Pageant

For Australia's Automotive Elite

Paul Mathers is one of a small

team which every year brings

together one of Australia's

most prestigious and beautiful

events. As the Director of Motorclassica,

his remit is clear – to bring

to light in Melbourne's iconic, world

heritage-listed Royal Exhibition

Building – the very best and most

covetable examples of "rolling art"

Australia has to offer, for its most

discerning, high end collectors.

The Australian International Concours

d'Elegance, or Motorclassica

for short, is the southern hemisphere's

biggest and most important

beauty pageant for classic,

vintage, veteran and exotic automobiles,

and second only to the

Australian Grand Prix as the glamour,

society event of the year for

Australia's elite.

Celebrating its 10th year in 2019,

it's no mean feat pulling together

the elements of Motorclassica's

annual festival of motoring for its

small team of event professionals

and motoring enthusiasts. Nevertheless,

every year they succeed in

surprising their audience and the

event continues to prove a valuable

soapbox for brands like Mercedes-Benz,

Ferrari, McLaren, TAG

Heuer, Longines, Pommery and

Mitchelton Wines to promote their

brands and entertain new and existing

customers in a unique and

rarified environment.

Over $80 million worth of cars and

motorcycles form a backdrop for a

range of sponsorship and corporate

hospitality options for those

who wish to engage with an Australia-wide

audience of business leaders,

entrepreneurs and captains of

industry all united by a common

love of exquisite design and engineering

marvels. Paul and his team

work very closely with potential

new sponsors to create tailored,

bespoke opportunities which offer

"money can't buy" cache.

"From sponsorship of the popular

opening night cocktail party

for over 500 guests, to the more

intimate 10th anniversary dinner,

our offerings are only limited by

your imagination", he says. "And for

those companies looking for promotional,

lead generating or direct

sales opportunities, our expo provides

an opportunity to meet our

high-value audience face to face.

For destinations, apparel, watches,

antiques and lifestyle brands, exhibiting

is an ideal way of interacting

with this hard-to-get-to consumer

market".

Motorclassica might be seven

months away, but it's all systems

go for Paul and his team. With anniversary

celebrations for Bentley,

Citroen, Alvis, Abarth and Mini, and

with a special first-time tribute

to the history of Japanese sports

cars featuring the $1 million+ Toyota

2000GT, this 10th anniversary

event is sure to be unmissable.

Motorclassica will be held at the

Royal Exhibition Building from 11th

to 13th October with opening night

on Thursday 10th October. For

sponsorship or exhibitor enquiries

please contact Event Director, Paul

Mathers at pmathers@etf.com.au

or visit www.motorclassica.com.au

85
---
86

Members

Affairs
---
Members

Affairs

Luxury Boat Syndicates Provide Cost

Effective, Time Efficient Boat Ownership

Smart People Share..

Introducing luxury boat ownership in the share

economy. Luxury Boat Syndicates provides cost

effective, time efficient boat ownership. Most boat

owners use their boats for an average of 14 days a year

– their boats sit idle for 351 days. They also need to

find a berth and arrange servicing, maintenance, fuelling

and cleaning which all require significant time

and effort.

At Luxury Boat Syndicates you pay an eighth of the

boat purchase price and have 43 days a year (plus

standby days) to enjoy your boat. We look after berthing,

servicing, maintenance, cleaning and fuelling and

your boat is ready for you when you need it. Skippering,

catering and even corporate entertainment can be

arranged to make owning your boat immensely enjoyable

and stress free. Buy a boat with Luxury Boat Syndicates

to minimise the fuss and cost of boat ownership

and maximise the enjoyment!

For more information visit: www.luxuryboatsyndicates.

com.au

87
---
Members

Affairs

The Big Red Group and the Experience Economy:

Trading the Currency of Human Connection

The Big Red Group (BRG) operates

in the experiences industry,

and is parent company to

businesses RedBalloon (Australia

and New Zealand), Adrenaline,

Marketics (Albert AI), and Redii.

com. BRG delivers the framework,

platforms and services to each of

the separate businesses, which allows

us to invest capital in our people,

technology and growth. Each

business benefits directly from the

combined resources of the group,

and this management structure allows

them to focus on delivering

great experiences. It is our shared

sense of purpose that unites our

teams. Our businesses shift the

way people experience life.

Our world is changing, and where

people choose to spend their time,

money and energy is shifting. More

people are doing more experiences

than at any other time in history.

Experiences as a sector of the

economy is talked about in the media

and researched extensively, as

you will see throughout this document.

There is a natural progression to

everything; economies are no exception.

From Agrarian to Industrial,

Service to Experiential – the

global economy is changing. Focus

has shifted from delivering goods

and services, into the space of creating

and staging experiences that

elevate the customer experience

beyond a mere transaction, and

into the realm of true value exchange

between consumers and

business. Similarly, for business:

Cash bonuses and branded stress

balls simply don't create a commu-

88
---
nity or culture – it is connection

that creates engagement and engenders

trust, with both customers

and employees.

This shift to experiences is being

driven by a number of macro factors:

The continued growth of online

retail; an increase in Millennial

purchasing power and Baby Boomer

expenditure on travel and experiences;

consumer expectations of

personalisation and engagement;

the further proliferation of technology,

including a continued shift

from desktop to mobile ecommerce;

alongside the ever-growing

trend to shareable social content.

There are also a number of large

global players who are educating

consumers about the power of experiences,

which is creating a halo

effect – not only on the 'things to do

industry', but as a thread impacting

the very nature of how retailers operate

and engage with consumers.

How does Nike bring its brand to

life? Just do it. Not, 'Just buy it'.

So the notion of an 'experience

economy' urges me to reflect on

the inherent value of doing something

over owning something. The

former being far more valuable.

This is why the Big Red Group has

produced a white paper, looking at

the impact of experiences on the

global and local economy. From everyday

activities to truly luxurious

experiences, there's no doubt that

the progression of economic value

we see manifested in the demand

for experiences is here to stay.

Members

Affairs

"I think of the moment an experience creates – the

memory, the emotional connection. No one recalls

with a thrill the parking, the queues or the soggy

burger in the rain they ate at Disneyland. But they

do remember the parade, the music, the smells,

the sights; that moment on top of the rollercoaster

where everyone was wide eyed and smiling…

Experiences create connections and bonds like

nothing else. And that is what the 'experience economy'

trades – it's the currency of connection,"

David Anderson

Big Red Group CEO and Co-Founder.

89
---
Members

Affairs

Two of The Luxury Network Australia's Members

Celebrate their Partnership

What a truly exceptional

evening on-board the impressive

103ft Superyacht

Oneworld to celebrate the The Luxury

Network's exciting partnership

between Australian Superyachts

and Aspen Ski Company.

Following on from January's successful

winter apres event in snowy

Aspen, guests were invited to enjoy

a summery evening of elegance,

cocktails and canapés onboard Superyahct

Oneworld at the Jones

Bay Wharf dock.

Guests were indulged by Simon

Johnson and Cafe Sydney ex-chef

Matt Bates Grazing Table and Capanes.

The Beluga VodkaMartini

and Pommery Champagne Bar

were also a big success with all who

were onboard.

The seamless and impeccable night

was definitely one to remember.

90
---
Members

Affairs

91
---
92

Members

Affairs
---
Members

Affairs

The Speakeasy Group Launches Crowd

Funding Campaign

In a super exciting announcement

for our loyal guests and

fellow fans of all things cocktail,

whisky and good times you can

now own your very own piece of

The Speakeasy Group!

In this Australian hospitality first,

The Speakeasy Group is selling

off 10% of the company (Incl. the

Groups 6 venues) through a crowdfunding

campaign.

Funds raised will go towards new

exciting venues and collaborations

already in the pipeline for our expanding

boutique hospitality group

including the opening announcement

of Nick and Nora's Melbourne.

Come along for the ride as co owners

with Owners Privileges and

Yearly Dividends for investments

for as little as $500 and up to

$10,000 including a VIP invitation

to Nick and Nora's Opening night in

early 2020.

93
---
Members

Affairs

B2B Networking

Hosted by

Rolls-Royce and

The Luxury

Network UAE

Rolls-Royce Motor Cars AGMC welcomed the official

members of The Luxury Network UAE to

The Rolls-Royce Boutique for an afternoon of

engagement & boutique networking.

Mamdouh Khairallah, General Manager of Rolls-Royce

Motor Cars AGMC, took guests on a tour of the boutique

and showcased some of Rolls-Royce's Bespoke

capabilities.

Some of The Luxury Network members who were

present during the afternoon were XXII Carat, Ascots

& Chapels, Sobha, Masterpiece International, Seba Jamal,

Huriya Private, and Evoke International. An exquisite

choice of canapés and drinks were served to the

attendees. Everyone appreciated the initiative made

by Rolls-Royce Motor Cars AGMC and The Luxury

Network team to present a successful B2B networking

event.

94
---
Members

Affairs

95
---
96

Members

Affairs
---
Members

Affairs

Bella Flora, A world leading Flower supplier and designer for mega events and royal weddings. Mr. Chafik

Noureddine is a Lebanese business man who moved to Qatar in 2004 to establish his business in the field

of flowers and plantation nurseries and growers which is a family business since 1952 in Lebanon till today.

In 2005 Bella Flora shined in the local market of Doha as one of most luxurious

and prestigious flower supplier.

With more than 40 royal and Vip weddings and events on monthly basis, Bella flora is considered the leading

flower importer, distributor and supplier in Qatar.

Working with all Famous wedding organizers and events planners in Qatar, like Le Mariage, The planners and

many more. Bella flora imports more than 250 tones of flowers per year from Holland, Ecuador, Colombia,

Kenya, Sirilanka, and Thailand.

With a strong vision and determination, Mr. Chafik is expending his business to partner in a new market

in Dubai and to establish a new Bella Flora headquarter in Paris by Mid 2019.

97
---
Members

Affairs

Chafik Noureddine, Bella Flora Owner

98
---
A world of options

CORPORATE GIFTING, PERSONALISED & BRANDED,

CHOCOLATE WORKSHOPS & EXPERIENCES.

Sisko Chocolate Studio | 330 Auburn Road Hawthorn VIC Australia

Sisko Chocolate | Eastland Shopping Centre Ringwood VIC Australia

SISKOCHOCOLATE.COM

99
---
The new Continental GT.

Be Extraordinary.

Discover unmatched design, craftsmanship and technology.

EXTRAORDINARY YEARS

Please contact on BOO-BENTLEY [800 236 8539]

or visit us at www.dubai.bentleymotors.com, www.abudhabi.bentleymotors.com for more information

The name 'Bentley' and the 'B' in wings device are registered trademarks. © 2019 Bentley Motors Limited. Model shown: Continental GT.
---
BENTLEY EMIRATES

PART OF AL HABTOOR MOTORS
---
Under The

Spotlight

The Luxury Network Summit 2019

Commenced with Success

The Luxury Network Summit is yet another project

created by The Luxury Network's Global

CEO, H.E. Fares Ghattas. Following the official

launch of the network's Turkish office, the first edition

of the annual summit was victoriously celebrated last

April 26-27 in Istanbul, Turkey.

Ghost courtesy of Shangri-La Bosphorus, Istanbul,

and Maserati Ghibli displayed on-site, a one-of-akind

fashion show by the Moroccan fashion designer

In the morning of April 26th, the first day of the summit

started with a networking breakfast at 8:30 am at

the Çırağan Palace Kempinski Istanbul. After having

their breakfast, all of the lucky guests were taken by a

stunning yacht to Beykoz Kundura.

To sum up the first day of the event, a 6-course menu

private dinner was prepared for the guests by The

Ritz-Carlton, Istanbul, at their elegant meeting room,

Cam, while they got mesmerized with the amazing

view of Bosphorus.

Some of the memorable experiences prepared for

the attendees during the summit were unique B2B

networking activities, private dinner in a historical

mansion, photo opportunities with a Rolls-Royce

102
---
Under The

Spotlight

Meriem Belkhayat, an informative forum presented by

some of the world's most affluent names, and a showcase

of luxury products and services by Mesa Mesken

and Gilan Jewelry. A fragrance workshop was organized

by MG International Fragrance Company for an

olfactory journey for The Luxury Network's guests.

A day prior to The Luxury Network Summit, an exquisite

private dinner was graciously hosted by Demet Sabancı

in her beautiful mansion that was magnificently

built during the 1700s. The whole TLN global executives

were invited to the mansion, together with some of the

esteemed guests of the summit.

During the second day of the summit, the impeccable

fashion talks were hosted at the Sait Halim Paşa Mansion.

Several topics about the latest trends in fashion

and media during this digital era were discussed during

the forum. The Luxury Network did a spectacular job

in putting together a group of powerful forum panelists

that include: Meriem Belkhayat, Amal Almeen, Ezra

and Tuba Çetin, Nihat Odabasi, Sophie Hussein, and

Alia Alhamed.

The agenda of the summit focused on the opportunities

that can arise in the luxury industry in Asia and

Europe. A strong list of high-profile speakers, moderators,

and presenters delivered during the event:

• Adel Aref: Director of Cabinet of the Paris Saint Germain

FC

• Ahmad Sabra: RTS Investments Group, Board Member

103

103
---
Under The

Spotlight

• Ahmad Sulaiman: CEO of AS Hair Experts

• Alia Alhamed: Founder of IT Creative Group

• Amal Ameen: Fashion Tycoon & Buyer

• Anand Vengurlekar: INSEAD Business School CCO

• Andreas Dripke: Diplomatic Council CEO to the United

Nations

• Angelo Bucarelli: Artist

• Anna Kalashnikova: Artist

• Aylin Gözen: Diamond High Council Jewellery Consultant

• Ayşe Ege: Dice Kayek Fashion Designer

• Cemalettin Akgül: Maestro Global, Founder

• Cynthia Wee: Senior Partner of Vision Advisory

• Demet Sabancı Çetindoğan: Demsa Group Chairman

• Diana Verde: Positive Luxury CEO

• Dilek Hanif: Fashion Designer

• Erdem Akcıl: The Luxury Network Turkey CEO

• Erhan Boysanoğlu: Chairman of Mesa Holding

• Esmer Erdem: Design Connection Founder

• Ezra Çetin: Fashion Designer

• Ferhan Geylan: Gilan Jewellery Founder

• Fflur Roberts: Global Luxury Manager for EuroMonitor

UK

• Güvenç Kiliç: Hiref Co-Founder

• H.E Fares Ghattas: The Luxury Network Global CEO

• Karen Boustany: Writer, TV Host, Owner of Eyestrategy

• Leah Tedrow: Evoke Int. CEO

• Marriam Musalli: Niche Arabia Founder

• Meriem Belkhayat: Fashion Designer

• Nihat Odabaşı: Photographer and Director

• Seda Domaniç: Vogue Turkey Editor in Chief

• Sedef Senar: Stratejist Communications Agency Founder

• Simge Fıstıkoğlu Tavukçuoğlu: NTV News Anchor

• Tamer Ceylan: Artist

• Thierry Bayle: Global Fashion Management Founder

• Tuba Çetin: Fashion Designer

When asked about the purpose of the summit, The

Luxury Network Turkey General Director, Erdem Akçıl

said:

"In the new economy of luxury, we create great

opportunities and collaborations, including medium-sized

brands. We are capable of bringing together

a hotel and a car brand, a jewel and a brand

of cosmetics, and many more. We strongly believe

that Istanbul has more share in the cake of luxury

summits globally. Our summit can produce a number

of unique partnerships and it will be the meeting

point of VIPs in various luxury sectors. That's why,

we brought together the giant personalities of fashion,

retail, arts, entertainment, and yachting industries

to Istanbul."

The 2-day summit was wrapped up through a boat

tour around Bosphorus and a dazzling celebratory after-party

especially prepared for the wonderful guests.

104

104
---
According to Mr. Fares:

"Turkey is a nation with a strong and vibrant cultural

heritage. Its most populous city, Istanbul, is

nothing but a perfect destination for The Luxury

Network Summit 2019. Istanbul offers the most

beautiful views of Turkey, finest Turkish cuisine,

and the most upscale experiences. We will always

be thankful to each brand and individuals who supported

us in every new venture we present to the

world, our goal is to maintain the good relationship

we have with our offices, member brands, and collaborative

partners, that believe in our vision and

support us in every possible way. We hope to exceed

the expectations of our valued followers by creating

more unique events in the future such as The Luxury

Network Summit."

Under The

Spotlight

105

105
---
Under The

Spotlight

106

106
---
Under The

Spotlight

107

107
---
INVEST IN YOUR HEALTH FOR YOUR FUTURE

Everyone is unique with different health concerns and lifestyles.

VIMED CELL uses patented cutting edge technology to source your own fresh, healthy

repairing stem cells to address your very specific needs and concerns. With a highly

personalized treatment plan VIMED CELL is targeting the root cause of the issues holding you

back from living your best life.

The Global Leader of non-invasive stem cell treatments

VIMED CELL uses it`s patented technology to draw powerful stem cells out of the bone

marrow without surgery. The procedure is non-invasive and pain-free, comparable to a blood

test, and is only available at the specialized VIMED CELL Health Center on the border to

Switzerland.

Invest in your health for your future

Providing time-saving, safe and pain-free stem cell therapy that addresses the root cause of

long-term health and wellness issues, VIMED CELL is a global leader in cell therapy with the

ethos that, just as it is important to invest in your future financial security, so too should you be

making provisions for your long-term health and wellbeing.

108

VIMED CELL www.vimedcell.com +41-788484701 @vimedcell
---
Members Directory

Capitol Grand

capitolgrand.com

Henschke

henschke.com.au

Sisko Chocolate

siskochocolate.com

The Westin Brisbane

westinbrisbane.com

The Belmonte

belmontenigeria.com

Vimed Cell

vimedcell.com

RL Fine Arts

rlfinearts.com

Rocco Forte Hotels

roccofortehotels.com

AIG

aig.sg

Bombardier

bombardier.com

Canary Diamond

thecanarydiamond.com

De Dietrich

dedietrich-asia.com

I2I

i2icreatives.com

Kwanpen

kwanpen.com

Rolls-Royce Motor Cars

rolls-roycemotorcars-singapore.com

Al Bait Sharjah

albaitsharjah.com

Bentley

bentleymotors.com

ExecuJet

execujet.com

Masterpiece International

masterpieceintl.com

Officine Panerai

panerai.com

12 Hay Hill

12hayhill.com

Alexander James Interiors

aji.co.uk

Cheng International Co. Ltd

chengintl.co.uk

Edge Retreats

edgeretreats.com

Envestors

envestors.envestry.com

Hapag-Lloyd Kreuzfahrten GmbH

hl-cruises.com

Holiday Luxury

hpaluxurytravel.co.uk

London & Capital

londonandcapital.com

Maddox Gallery

maddoxgallery.com

Niquesa Travel

niquesatravel.com

Orchid Risk

orchidrisk.com

Red Eye Events

redeyeevents.co.uk

Sunseeker

sunseekerlondon.com

West Nautical

westnautical.com

Shangri-La Hotels and Resorts

shangri-la.com

109
---
ISSUE 12

MAY - JUNE 2019

Editor-In-Chief

Fares Ghattas

Managing Editor

Garz Bumanlag

Assistant Editor

Nour Ghattas

Creative Department

Reine Nehme and Chris Wood

Production Manager

Firas Al Turah

Print and Production

Printing Group

Jnah, Embassies Street, Amira Building, Beirut - Lebanon

Tel: +961 1 823 720 I info@printingroup.com

The Luxury Network International

12 Hay Hill, Mayfair, London, W1J 8NR

info@tlnint.com

+44 (0) 330 133 1661

www.tlnint.com

At 2017, The Luxury Network Magazine was published as a bimonthly supplement for The Luxury Network International. All materials are strictly

copyrighted, and all rights are reserved. Reproduction in whole or in part without the prior written permission of The Luxury Network International is

prohibited. All content is believed to be factual at the time of going to print and contributors' views are their own derived opinions and not excessive

that of The Luxury Network International. No responsibility or liability are accepted by the publishers or editorial staff for any loss occasioned to any

individual or company, legally, financially or physically, as a result of any statement, fact, figure or expression of opinion or belief appearing in The

Luxury Network Magazine. The publisher does not officially endorse any advertising or advertorial content for third party products. Photography and

image credits, where not otherwise stated, are those of Getty Images and/or Shutterstock; each of which restrains their individual copyrights.
---
Why Join

The Luxury Network?

The Luxury Network has been recognized by the

British media as 'the world's leading luxury affinity

marketing group' and one of the most innovative

formulas for the development of new businesses

between luxury brands which share the same

values, customers and target audience. We build

meaningful business relationships and connections

in the HNW and UNHW space with over 28

global offices and 500 exclusive member brands

worldwide.

With over a decade of experience in the international

luxury industry facilitating access to new

high-net-worth individuals, our team has

developed thousands of strategies for countless

companies. The importance of top-end strategic

alliances for financial success is indisputable and

yet most companies don't have the time or the

resources to create such ongoing business

relationships.

We are armed with the right connections to help

you form new business alliances with many other

luxury brands, to reach each other's HNW

pre-qualified private clients, and showcase your

brand's services and products at our luxury B2C

sales or private client events. You will get the

opportunity to entertain your clients and invite

your prospects to our of B2C luxury events.

The Luxury Network's team will perform as your

extended marketing arm to orchestrate successful

collaborations by working closely with your

own personal The Luxury Network account

manager to develop your business and identify

your targets.

For more reasons to join The Luxury Network,

please visit our website testimonials and success

stories section. You may join The Luxury Network

by filling in the form at www.tlnint.com/contact-us

or email us at info@tlnint.com and we will

take care of the rest for you.

www.tlnint.com
---
WHEN WAS

THE LAST TIME

YOU SPOKE TO

MR GOLDMAN

OR MR SACHS?

At London & Capital, our partners

play a key role in looking after our

clients and their investments.

To speak to a member of

the team please call

T +44 (0) 207 396 3200

or send an email to

invest@londonandcapital.com

londonandcapital.com

Issued by London and Capital Asset Management Limited (LCAM). LCAM is authorised and regulated

by the: Financial Conduct Authority (FCA), 12 Endeavour Square, Stratford, London E20 1JN. FCA firm

reference number: 143286. Registered in England (No. 02112588)