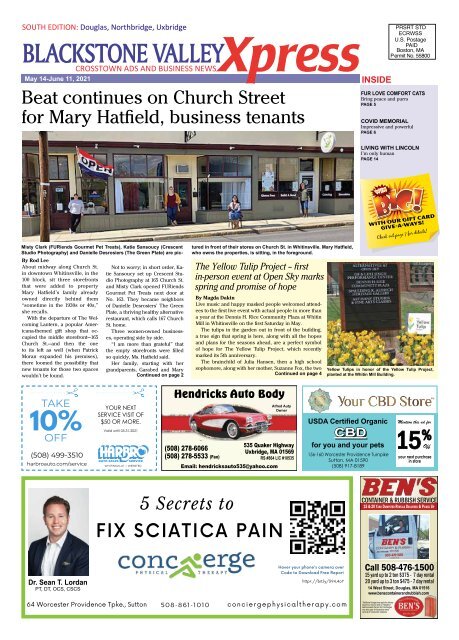 Blackstone Valley May14, 2021 South
Blackstone Valley May14, 2021 South
Blackstone Valley May14, 2021 South
SHOW MORE
SHOW LESS
Create successful ePaper yourself
Turn your PDF publications into a flip-book with our unique Google optimized e-Paper software.
SOUTH EDITION: Douglas, Northbridge, Uxbridge

PRSRT STD

ECRWSS

U.S. Postage

PAID

Boston, MA

Permit No. 55800

May 14-June 11, 2021

Beat continues on Church Street

for Mary Hatfield, business tenants

INSIDE

FUR LOVE COMFORT CATS

Bring peace and purrs

PAGE 5

COVID MEMORIAL

Impressive and powerful

PAGE 6

LIVING WITH LINCOLN

I'm only human

PAGE 14

WITH OUR GIFT CARD

GIVE-A-WAYS!

Check out page 7 for details!

By Rod Lee

About midway along Church St.

in downtown Whitinsville, in the

100 block, sit three storefronts

that were added to property

Mary Hatfield's family already

owned directly behind them

"sometime in the 1930s or 40s,"

she recalls.

With the departure of The Welcoming

Lantern, a popular Americana-themed

gift shop that occupied

the middle storefront—165

Church St.—and then the one

to its left as well (when Patrick

Moran expanded TAKEhis premises),

there loomed the possibility that

new tenants for those two spaces

10%

wouldn't be found.

OFF

YOUR NEXT SERVICE VISIT

OF $50 OR MORE.

Must present coupon at write-up.

TAKE

10%

Valid until 03.31.2021

10% OFF

OFF

YOUR NEXT SERVICE VISIT

OF $50 OR MORE.

WHITINSVILLE | WEBSTER

Must present coupon at write-up.

Valid until 03.31.2021

YOUR (508) NEXT 499-3510 SERVICE VISIT

harbroauto.com/service

OF $50 OR MORE.

Must present coupon at write-up.

Valid until 03.31.2021

Not to worry; in short order, Katie

Sansoucy set up Crescent Studio

Photography at 165 Church St.

and Misty Clark opened FURiends

Gourmet Pet Treats next door at

No. 163. They became neighbors

of Danielle Desrosiers' The Green

Plate, a thriving healthy alternative

restaurant, which calls 167 Church

St. home.

Three women-owned businesses,

operating side by side.

"I am more than grateful" that

the empty storefronts were filled

so quickly, Ms. Hatfield said.

Her family, starting with her

grandparents, Garabed and Mary

Continued on page 2

TAKE

10%

TAKE

10%

YOUR NEXT

SERVICE

OFF

VISIT OF

$50 OR MORE.

YOUR NEXT SERVICE VISIT

OF OFF $50 OR MORE.

Must Valid present until coupon 05.31.2021 at write-up.

Valid until 03.31.2021

YOUR NEXT SERVICE VISIT

OF $50 OR MORE.

Must present coupon at write-up.

Valid until 03.31.2021

WHITINSVILLE | WEBSTER

(508) 499-3510

harbroauto.com/service

Misty Clark (FURiends Gourmet Pet Treats), Katie Sansoucy (Crescent

Studio Photography) and Danielle Desrosiers (The Green Plate) are pictured

in front of their stores on Church St. in Whitinsville. Mary Hatfield,

who owns the properties, is sitting, in the foreground.

Hendricks Auto Body

(508) 278-6066

(508) 278-5533 (Fax)

The Yellow Tulip Project – first

in-person event at Open Sky marks

spring and promise of hope

By Magda Dakin

Live music and happy masked people welcomed attendees

to the first live event with actual people in more than

a year at the Dennis H. Rice Community Plaza at Whitin

Mill in Whitinsville on the first Saturday in May.

The tulips in the garden out in front of the building,

a true sign that spring is here, along with all the hopes

and plans for the seasons ahead, are a perfect symbol

of hope for The Yellow Tulip Project, which recently

marked its 5th anniversary.

The brainchild of Julia Hansen, then a high school

sophomore, along with her mother, Suzanne Fox, the two

Continued on page 4

535 Quaker Highway

Uxbridge, MA 01569

RS #864 LIC #10535

Email: hendricksauto535@yahoo.com

Alfred Auty

Owner

Yellow Tulips in honor of the Yellow Tulip Project,

planted at the Whitin Mill Building.

USDA Certified Organic

CBD

for you and your pets

156-160 Worcester Providence Turnpike

Sutton, MA 01590

(508) 917-8189

Mention this ad for

15 % Off

your next purchase

in store

WHITINSVILLE | WEBSTER

(508) 499-3510

harbroauto.com/service

WHITINSVILLE | WEBSTER

(508) 499-3510

harbroauto.com/service

Dr. Sean T. Lordan

PT, DT, OCS, CSCS

WHITINSVILLE | WEBSTER

(508) 499-3510

harbroauto.com/service

75 Secrets to

7 Secrets to

5 Secrets to

CONTAINER & RUBBISH SERVICE

15 & 20 YARD DUMPSTER RENTALS DELIVERED & PICKED UP

Call 508-476-1500

15 yard up to 2 ton $375 - 7 day rental

20 yard up to 3 ton $475 - 7 day rental

14 West Street, Douglas, MA 01516

www.benscontainerandrubbish.com

*Additional charges may apply for delivery

beyond our service area or if weight of

debris exceeds the ton limit. Surcharges

may also apply for hazardous waste

removal of construction materials.
---
2 The Blackstone Valley Xpress • www.blackstonevalleyxpress.com • May 14, 2021

www.coxelectricri.com

WE ARE A FACTORY CERTIFIED GENERAC POWERPRO DEALER

AUTHORIZED SALES DEALER • AUTOMATIC STANDBY & PORTABLE GENERATORS

217 Main St • Oxford, MA

508-499-0997

We offer sales and service for

all of Generac's Products.

Generac Home Standby Generator

Call us to arrange a

complimentary quote

for a new installation

or upgrade at your

home or business

today!

89 Southbridge St.

Auburn, MA

(across from Sword St.)

Vacuums

always 75 ¢

Everything from

portable generators

to whole home and

business automatic

standby generators!

We have Generac

factory trained

and certified

technicians ready

to work on your

generator ASAP!

$ 50 Off!

ANY NEW SERVICE CONTRACT

MUST PRESENT THIS AD. MAY NOT BE

COMBINED WITH ANY OTHER OFFERS.

EXPIRES 6/30/21 YX

MARY HATFIELD

An original photo of her grandparents' home at 161 Church St., which Mary Hatfield now

owns. Her family has had a presence on Church St. since 1929.

Continued from page 1

Bedrosian, has enjoyed a

continuous presence on

Church St. "since 1929," she

said.

When Garabed Bedrosian

died, the Bedrosian home, at

161 Church St., went to his

wife Mary, and then to Mary

Hatfield's mom, Grace Hatfield,

and now to Mary.

"I'm in the home my

grandfather owned. I own

161-167, three apartments

and three stores," Ms. Hatfield

said. "I was living in

South Carolina. This is all

new to me. I never thought

when I moved here four

years ago this is something

I would consider."

She has a good example

to follow in her mom, the

late Grace M. (Bedrosian)

Hatfield, a world traveler,

cook, longtime member of

the Village Congregational

Church—and a model landlord.

Grace Hatfield died in

2018.

There are already indications

that Mary Hatfield is

picking up where Grace Hatfield

left off.

"She's fantastic," Ms. Sansoucy

and Ms. Clark said on

the afternoon of April 30.

"Mary and my dad went

to high school together,"

Ms. Sansoucy said. "When

we met, she asked 'are you

John's kid?' I had initially

looked at the smaller side.

When Mary called to say

I could have this spot I

was beyond thrilled. She's

great, if I have any question

about the building.

She gave me a digital thermostat

and she has just let

me explode in here."

Ms. Sansoucy isn't alone

in a determination to make

the most of her location.

On a street that has experienced

its share of "misses"

retailing-wise in recent

years, The Green Plate, for

instance, is a notable exception.

This gives Ms. Sansoucy

and Ms. Clark reason

to believe they too can realize

success.

At her address for three

and a half years, Ms. Desrosiers

has grown the operation

step by step. Her menu

keeps expanding. The latest

addition is pizza (caprese,

pepperoni, veggie delight

and meat madness). "The

only additional product I

needed was the pizza crust,"

she said.

Gluten-free, grab n' go,

build-a-bowl, signature bowls,

catering, four-week meal

plans, takeout (it's ninety percent

of The Green Plate's business

"and always has been")

and dine-in: Ms. Desrosiers

keeps pushing in new directions

with food that has "appeal

and flavor for everyone,"

she said.

The Green Plate is open

Monday-Saturday.

A photography enthusiast

from her teens, Ms. Sansoucy

has utilized "a couple

of prop items" Mr. Moran left

her to retool the space for

her own purposes.

"I offer a little bit of everything,"

she said. "Boudoir,

newborn, children, high

school seniors for their yearbook

photos, logos, T-shirts,

videography, motion graphics,

pet portraits."

Crescent Studio Photography

is a first for Ms. Sansoucy.

"I always wanted a

studio of my own," she said.

"I was doing this part-time

as a side gig. I recently lost

my full-time job as a graphic

designer. Last September,

October, November I was

booked out on top of trying

to flip this space. This was

supposed to be full-time

next year and next year

turned into this year.

"The day before I took

this space I was having dinner

with my sister at The

Green Plate."

Like Ms. Sansoucy, who

started Crescent Studio

Photography just before

the pandemic hit full force,

Ms. Clark took a chance by

launching FURiends Gourmet

Pet Treats soon after CO-

VID-19 arrived—in the face of

the threat to sales it posed.

The business's name plays

on her affection for the TV

show "Friends."

She had previously been

working from home for National

Grid.

"This location is perfect,"

she said.

The owner with her husband

Matt Clark of two dogs

and two cats, Ms. Clark offers

"top-quality high-end

boutique products" utilizing,

as Ms. Desrosiers does, "the

Continued on next page

Published on 2nd and 4th Fridays of the month.

Direct mailed to 63,000 unique homes and businesses each month

and available on news stands throughout the region.

Published on Fridays, four times a month. Direct mailed to 68,470 unique homes

and businesses each month and available on news stands throughout the region.

1st Friday SOUTH COUNTY: Charlton, Dudley, Oxford and Webster.

22,600 homes and businesses.

2nd Friday: BLACKSTONE Auburn, Charlton, VALLEY Dudley, South: Douglas, Oxford and Mendon, Webster, Northbridge 1/2 all addresses. and Uxbridge.

2nd Friday BLACKSTONE 18,910 VALLEY homes South: and businesses. Douglas, Northbridge and Uxbridge.

3rd

4th

Friday

Friday:

ROUTES

Auburn,

12

Charlton,

& 20: Auburn,

Dudley,

Oxford

Oxford

and

and

Webster

Webster, other 1/2.

19,270 homes and businesses.

4th 4th Friday Friday BLACKSTONE VALLEY VALLEY North: North: Grafton, Grafton, Millbury, Millbury Sutton, and Sutton. Upton

20,805 homes and businesses.

DIRECTORY

DIRECTORY

Submit business news and community events to news@TheYankeeXpress.com

Request advertising Barbara information: Van Reed, Publisher/Editor

ads@TheYankeeXpress.com

bvanreed@TheYankeeXpress.com

168 Gore Road, Kathy Webster, Benoit, Advertising MA 01570 Director PHONE: kathybenoit@theyankeexpress.com

508-943-8784 FAX: 508-943-8129

Billing and advertising information Laura Gleim lgleim@TheYankeeXpress.com

Tony Discepolo, Submit business Sales (Auburn, news Charlton, and community Dudley, Oxford, events Webster) to news@TheYankeeXpress.com

tdiscepolo@TheYankeeXpress.com

Bill Request Cronan, advertising Sales (Blackstone information: Valley) ads@TheYankeeXpress.com

bcronan@TheYankeeXpress.com

Submit classified ads: ads@TheYankeeXpress.com

General advertising The information: Newspaper Press, Laura LLC Gleim, / contents lgleim@TheYankeeXpress.com

copyright 2021

Sally Patterson, Production Manager Carol Kosth, Graphic Artist

Contributing Tony DiScepolo, writers and Sales columnists: Peter Bill Cronan, Coyle, Tom Sales D'Agostino,

Send Magda letters, Dakin, comments, Christine Galeone, and tips Rod to Lee, news@The Amy Palumbo-Leclaire, Yankee Express.com Janet Stoica

168 Gore Road, The Newspaper Webster, MA Press, 01570 LLC PHONE: Telephone: 508-943-8784 508-943-8784 FAX: 508-943-8129

Sally Patterson, Production Manager Carol Kosth, Graphic Artist

Contributing writers and columnists: Peter Coyle, Tom D'Agostino, Magda Dakin, Christine Galeone

Rod Lee, Amy Palumbo-LeClaire, John Paul, Jason Poquette, Andrew Smith, Janet Stoica

Katie Sansoucy completely revamped a storefront previously occupied by The Welcoming

Lantern to create a home for Crescent Studio Photography, at 165 Church St.
---
Continued

best ingredients. She makes

everything in-house, rolling

out and cutting the cookies

herself, no preservatives,

no additives;" and soon at

FURiends there will be ice

cream.

"I've always baked at

home," she said. Pets literally

"pull their owners across

the street" to get to her store,

she said.

She also sells cat treats

and toys.

She admits to having

made a snap decision in

starting FURiends.

"I told my mom 'I think I

did a thing today,'" she said,

smiling. "It took a while for

that to sink in."

Mary Hatfield is glad to

have her as a tenant, Ms.

Clark said. "She didn't want

another hair or nail salon."

Ms. Hatfield's objective

is to make sure that The

Green Plate, Crescent Studio

Photography and FURiends

Gourmet Pet Treats get all

the help they need from her.

Mr. Moran often commented

about what a good

landlord Grace Hatfield was.

Mary Hatfield is aware of the

relationship they had.

"We loved Patrick," Ms.

Hatfield said. "There was no

written lease, just a handshake."

------------------------------------------

Contact Rod Lee at

rodlee.1963@gmail.com or

774-232-2999.

Misty Clark found what she calls "the perfect space" for her

FURiends Gourmet Pet Treats business at 163 Church St.

MA & ISA Certified Arborist

Full Circle

Insect and disease diagnosis

and treatment #16339

Specimen and

ornamental tree

and shrub care

Since 1989

T∙R∙E∙E C∙A∙R∙E

Dwight A. Bristowe

Office: 508-476-3258

Cell: 508-523-9631

www.FullCircleTreeCare.com

The Blackstone Valley Xpress • www.blackstonevalleyxpress.com • May 14, 2021 3

Dream boldly

with a Home Equity Line of

Credit from UniBank.

Home Equity

Line of Credit

3.25 %*

APR

Connecting all offices: 1.800.578.4270

www.unibank.com

• No closing fees

• Apply at UniBank.com

today!

Scan to

apply!

Blackstone • Douglas • Grafton • Hopkinton

Milford • Shrewsbury • Sutton • Upton

Uxbridge • Whitinsville • Worcester

MEMBER FDIC/MEMBER DIF • UNIBANK NMLS #583135 * Annual Percentage

Rate (APR) effective as of the date of this publication and is subject to

change at any time. Offer of credit is subject to approval. The APR is variable and

based on WSJ Prime Rate minus 0.25%. Prime rate is currently 3.25% as of March

11, 2021. Minimum APR is 3.25%. Maximum APR is 18%. Homeowners and Flood

insurance (where applicable) is required for the life of the loan. Offer available on

primary owner occupied 1-4 family residences only. Other terms, conditions, and

fees may apply.

10

TANK

FILL IS

Get $ 10 KOOPon with purchase

$

BACK!

MAY 24 - MAY 29

At all 6 propane locations

Tank Fill: $ 10*

You Get: $ 10 KOOPon**

Value: $ 28 for $ 10

Limit two tank fills per household.

WHITINSVILLE

665 Church Street

(508) 234-4545

STORE HOURS:

UXBRIDGE

12 Douglas Street

(508) 278-5400

MON - FRI

7 – 7

SAT

7 – 6

N. GRAFTON

82 Worcester Street

(508) 839-6526

SUN

CLOSED

For more details, visit KoopmanLumber.com/tankfill

*Offer good on any 20 LB non-expired tank of any brand. **KOOPon valid June 1 - June 19 for ANY store purchase.

FREE Koopman Advantage membership required to redeem KOOPon. See KoopmanAdvantage.com for details.
---
4 The Blackstone Valley Xpress • www.blackstonevalleyxpress.com • May 14, 2021

YELLOW TULIP

PROJECT

Continued from page 1

created the project as a way

to deal with Julia's depression

and the loss of her two

best friends. Using her firsthand

experience, Julia realized

many teens feel lost,

alone and judged as they are

making their way through

depression, insecurity and

loss.

Showing her peers that

there is light at the end of

the tunnel, or a promise of

hope in a yellow tulip, has

been the driving force for

the teen's efforts. As a result,

many chapters of The Yellow

Tulip Project have been

started all over the country

in high schools and colleges.

During Mental Health Week

in October, groups gather to

plant yellow tulips to bloom

in May during Mental Health

Awareness Month.

In collaboration with The

Yellow Tulip Project, Valley-

CAST hosted the first Hope

Day Celebration on May 1 to

begin Mental Health Awareness

Month. The tulip garden

located on the grounds

at Alternative's Whitin Mill

was in full bloom on the

beautiful sunny Saturday

morning.

ValleyCAST is part of Alternatives/Open

Sky's outreach

program to the community,

which includes

many public events as well

as the Free Summer Concert

Series. "Busting the

stigma surrounding mental

health fits in perfectly with

our mission of fostering an

inclusive and engaged community,

one that accepts all

people with and without

disabilities, including mental

illness. The I Am More

exhibit we have scheduled

for the fall—another collaboration

with YTP-aims

to erase the stigma that surrounds

mental illness by expanding

our perception and

challenging preconceived

notions about what mental

GIFT SHOP

illness 'looks like'," said ValleyCAST

Community Outreach

Director Cristi Collari.

Attendees at The Yellow

Tulip event heard Executive

Director Suzanne Fox tell

the story of her daughter's

depression and the loss of

her two best friends during

her sophomore year in high

school and how that spearheaded

her daughter Julia's

desire to help fellow teenagers

reach out and know they

are not alone, they can get

help. Julia's focus is also on

eliminating the stigma that is

often associated with a diagnosis

of mental illness. The

name of the project honors

her friends' favorite color

and favorite flower.

The Yellow Tulip Project

has gathered "an amazing

group of young people who

jumped in to help," said

Ms. Fox. Proactive school

programs, ambassador programs

in schools, Ted Talks,

blogs, podcasts, Spotify, a

Photographic 'I Am More'

project are some of the

ways "these young people

are causing a ripple effect in

their community."

Music for the event was

provided by The Promise

is Hope, a uniquely talented

duo, Ash and Eric

L'Esperance, spouses and

bandmates who shared their

own experiences with depression.

Held on the Dennis

H. Rice Community Plaza,

the event also featured

Eric and Ash l'Esperance performing as The Promise of

Hope at the Yellow Tulip event.

young people with personal

stories and a mindfulness

meditation lead by WCC Director

of Outreach Monique

Boucher-Adams.

ValleyCAST Director,

Cristi Collari thanked all the

people responsible for making

the event a success and

invited the community to

attend the summer 2021

ValleyCAST Free Summer

Series, including Blackstone

Valley Bluegrass, The

Promise is Hope, Knock on

Wood, Chuck & Mud and

the Hole in the Dam Band,

Super Chief Trio, Far from

Eden, Claflin Hill Symphony

Orchestra's Summer Winds,

Le'Mixx Band, Michelle

Canning Band, and Changes

in Latitudes Band.

https://www.openskycs.org/

news-events/events/i-ammore-facing-stigma-/

https://theyellowtulipproject.org/

Professional Service & Installation

"We provide a quality product and work with our

customers to install a fence that fits their needs."

CHAIN LINK

Galvanized and Vinyl Coated

"Fencing materials

NOW OPEN

always available for

FOR THE

2016 SEASON sale for the Do-It

Get a Head Start Custom on Your Cedar Yourself Install."

SpriNg prOjEct Gates

Call to schedule an appointment.

Visit our Webster for great deals!

Custom Cedar

Ornamental Aluminum/Steel

PVC Vinyl - 100% Virgin Vinyl

Available in:

Classic Series - Color Spectrum - Woodgrain

Galvanized & Vinyl Coated

www.nsfenceri.com

We have been your official

FENCING MATERIALS

Chain Link • Ornamental Eastern Illusions Dealer

Available Terri and for Mike the Do-It Yourself Aluminum & Install Steel

since 2005

Please visit our website at nsfenceri.com

100% Virgin Vinyl

for ideas on your upcoming fence project

Available in: Classic Series - Color Spectrum - Woodgrain

COMPLETE

Complete

LINE OF

Life

RESIDENTIAL

Of Residential & Commercial

& COMMERCIAL

Fencing

FENCING

375 St. Paul St., North Smithfield, RI 02896 5 minutes from MA, off 146A

Phone: (401) 769-2575 Fax: (401) 766-2956

RI Contractor's Reg. #6112•• Fully Insured For Your Protection

Please visit our website for ideas on your upcoming fence project

Terri and Mike

GET THE HELP

YOU NEED

CLOSE TO HOME

World-Class Substance Abuse &

Mental Health Outpatient Treatment

The Counseling Center offers a full range of treatment for adults and

adolescents in a serene and comfortable atmosphere with flexible

scheduling during day and evening hours.

CALL NOW 5088 78554990
---
Fur Love Comfort Cats eager to bring

peace and purrs once more

By Christine Galeone

Earlier this year, Kate Cote,

the owner of Fur Love Comfort

Cats, brought one of her

comfort cats to visit a client.

During the pet therapy appointment,

the young lightweight

Calico nestled against

the man's chest. When it was

time for the cat to go home,

however, she wouldn't

budge. The little cat refused

to willingly leave the man. It

wasn't long before both the

client and Cote realized what

was happening, and both

were brought to tears. The

cat instinctively knew how

much he needed her.

Since most of the work

that Cote does is for people

A therapy cat for Fur Love Comfort Cats

living in long-term care facilities,

the COVID-19 pandemic

has had a major impact on

her small Douglas-based

business. But knowing what

a positive difference her cats

make in people's lives, she's

determined to keep the business

going.

Not surprisingly, Fur

Love Comfort Cats, whose

slogan is "Bringing peace

and purrs," is truly a labor

of love for Cote. She credits

God for helping her – by

blessing her with cherished

feline companionship – to

recover from the trauma of

childhood abuse. With personal

understanding of the

profound effect that cats

can have on people, she

started her unique business

more than 20 years ago. She

and her cats have brought

comfort to the homeless,

people with cognitive disabilities,

children and others

since then. She believes

that, among other things,

comfort cats can support

people by helping them deal

with trauma, lowering their

blood pressure and stress

and anxiety levels, and improving

sensory recognition

in people recovering from a

stroke.

On the Fur Love Comfort

Cats website, www.furlovecomfortcats.com,

Cote explains

that she doesn't consider

her cats to be trained.

"They aren't trained; they

are raised to become traveling

cats, if you will," Cote

notes on the site. "Because

of my own experiences, I

am able to instill confidence

in the kitties, so they aren't

afraid in any circumstance. I

want them to enjoy what we

do too!"

Before the pandemic, the

cats enjoyed the work so

much on their structured,

consistent one-on-one visits

that Cote said the long-term

care facility clients considered

her and her cats to be

their friends. "And sadly,

most of our friends have

passed now – not due to

COVID," Cote said. "It makes

me very sad that we didn't

get to say our last goodbyes.

However, we were able to do

a few visits here and there

over the last year."

Thankfully, Cote has many

Fur Love Comfort Cat success

stories to keep her motivated

in these challenging times.

"We've had three people regain

the ability to speak coherently;

one woman hadn't

The Blackstone Valley Xpress • www.blackstonevalleyxpress.com • May 14, 2021 5

spoken to anyone in eight

years," Cote shared, noting

that others look forward

to their visits so much that

they begin to grasp the days

of the week. "We also do visits

with people who usually

ban visitors. Who wouldn't

want a visit from a big friendly

cat?"

Like that little cat that

wouldn't budge from the client's

chest, Cote knows that

she and her comfort cats

are needed. She's looking

forward to the day when the

long-term care facilities can

welcome them once more.

Cote said, "Our friends call us

regularly to ask when we're

coming back, and we hope to

be back to work soon."

Your family. Your pet.

Your favorite vacation spot.

Open any checking account at Milford Federal Bank, and receive a

personalized debit card on us! Design your card to express what is

important to you. All MFB Checking accounts include:

Online Bill Pay

eStatements

Online & Mobile Banking

Card Management

Kate Cote, the owner of Fur Love Comfort Cats, with one of

her therapy cats.

Stop by any branch to open your account, or visit MilfordFederal.com

508.234.8256

*Provide promo code DC21 at account opening. Offer valid through

6/30/2021 for new checking account customers only.

Terms and conditions apply.

Milford | Whitinsville | Woonsocket
---
6 The Blackstone Valley Xpress • www.blackstonevalleyxpress.com • May 14, 2021

Grafton's COVID memorial impressive and powerful

By Janet Stoica

As of this writing, there are

17,617 American flags fluttering

in the breeze on Keith Hill

Road in Grafton. Each flag a

small but heartfelt dedication

to every Massachusetts resident's

life lost to the COVID-19

pandemic.

It is a strong and moving

tribute to the many who have

succumbed to this dreadful virus

and passed from our families'

lives. The sheer number

of these residents gone from

this world is equivalent to an

entire town being removed

from existence when one

compares each town's population:

Auburn 16,188; Charlton

13,697; Dudley 11,802; Douglas

8,471; Grafton 17,765; Millbury

13,866; Oxford 13,911; Sutton

8,963; and Webster 17,027.

172 Keith Hill Rd., South Grafton.

Michael Labbe and his

daughter felt that this type of

tribute would be a fitting and

appropriate honor to their

fellow residents who passed

away. "My youngest daughter,

Melissa, came up with the

idea," said Mike. "We couldn't

do anything hands-on to help

with COVID. We couldn't volunteer

at hospitals or clinics

or other places like that because

of health regulations.

My family has always been involved

in public service. Paying

it forward while you can is

very important to us."

Every soul who was lost

to this pandemic in Massachusetts

is represented here.

Mike continues, "When we

were in complete lockdown,

we watched the news from

Liberate Your Property

Liberate Your Property

Liberate Your Property

REMOVAL OF BRUSH, BRIARS, BRAMBLES, VINES,

REMOVAL OF BRUSH, BRIARS, BRAMBLES, VINES,

REMOVAL OF BRUSH, BRIARS, BRAMBLES, VINES,

UNWANTED SAPLINGS, DEAD TREES, LOGS, STUMPS,

UNWANTED SAPLINGS, DEAD TREES, LOGS, STUMPS,

OVERGROWN

OVERGROWN WEEDS

WEEDS & GRASS!

GRASS!

• BRUSH CUTTING

• FIELD MOWING

• BRUSH CUTTING

• • FIELD MOWING

• PROPERTY

• PROPERTY

CLEARING

CLEARING

•

•

MATERIAL HAULING

• TRAIL MATERIAL HAULING

• TRAIL GROOMING

GROOMING • • EQUIPMENT TRANSPORT

• STUMP • STUMP GRINDING

• • EQUIPMENT GRAVEL/MULCH TRANSPORT

DELIVERY

• BRUSH CUTTING

• PROPERTY CLEARING

• TRAIL GROOMING

• STUMP GRINDING

Europe and then in our own

country showing the thousands

of people dying without

relatives at their side to

comfort them. Fathers, mothers,

sons, daughters. All these

people dying alone. Their last

vision was of someone in a

hospital gown and facemask.

Our purest and deepest sympathy

went out to them. They

were all so alone before their

passing."

As residents have received

their vaccines, the astounding

numbers of those who have

died has decreased but not

stopped and Mr. Labbe and

his family have not stopped

adding more flags to honor

each of them.

He and his family don't

seek notoriety, he said. "The

• GRAVEL/MULCH DELIVERY

DAN DAN KASANOVICH HAULING & RECOVERY LLC

NORTHBRIDGE, MA

DAN KASANOVICH HAULING & RECOVERY LLC

NORTHBRIDGE, MA

CALL CALL / TEXT: / 774-280-1691 OR VISIT US AT

WWW.DKHAUL.COM

CALL / TEXT: 774-280-1691 OR VISIT US AT

WWW.DKHAUL.COM

display is to serve the community.

Every flag represents

a human soul and there are

hundreds of stories from each

and every visitor who stops

by this memorial. There may

be 10-50 cars daily stopping by

here to honor those represented

here. The visitors have taken

pictures and told me amazing

stories about their family

members who have died from

COVID. It's someone's grandmother,

grandfather, uncle,

aunt, son, or daughter. It's

truly humbling."

Observers to the display

are encouraged to get the

word out to others. There

may be a sense of closure for

some. Your heart and soul

cannot help but be impressed

deeply by this patriotic and

moving display.

"We have to teach our

youth about the need for caring

about others," Mr. Labbe

affirmed. "If two people are

touched by the symbolism of

this, it will have been worth

it. Pay it forward, you never

know when you might need

comfort yourself."

--------------------------------------------------------

Contact Janet: jstoica@

TheYankeeXpress.com

Senior News Line

Lessons learned from buying online

By Matilda Charles

So many things have changed

in how we live our lives in the

time of COVID. It's been a year

since it all began in earnest

and, despite the vaccines,

nothing has really gone back

to normal. Even small tasks

have a layer of "more difficult"

on them ... such as buying

a new handheld vacuum

cleaner.

My little handheld vac began

dying after just a short

time. I tried to baby it along,

but now even with a full overnight

charge, it only runs for

42 seconds before it quits

again and wants another long

charge.

Used to be I'd go off to a

local store, examine several

possibilities and buy one.

This time I went online, where

thousands of selections awaited

me, as well as hundreds

of reviews for each item. I

changed the list to lowest

price first. I changed the list to

most popular. I searched for

only the manufacturer of my

current handheld vac. It didn't

help.

Here are some things I

learned along the way. If

you're faced with making a

purchase online and are hit

with too many choices, call

your local stores and ask

what they recommend. Then

look up the item online. If an

item description (such as for

a big fry pan) says it weighs

5.2 pounds, take your current

fry pan into the bathroom

and weigh it on your scale for

comparison. If you want new

shirts and the sizing chart online

is iffy, order more of what

you already have, but in different

colors.

The end result of this saga

is that I purchased the same

brand and model as my current

vacuum. If nothing else, I

know it will last approximately

2.5 years, which is right after

the warranty expires. But at

least I'll know what to expect

while it works.

Lessons for all of us

I have a new friend. When she

bangs on my door, on a daily

basis now, it's clear that she

wants to come in and visit. So,

being a good neighbor, I open

the door and in she trots. She

now knows where the kitchen

is and that I've laid in a supply

of her favorite foods.

She heads there, leading the

way, talking a mile a minute.

Stuffed after she eats, she'll

sprawl on the couch and

have a long nap, safe from the

world.

My new friend is a cat -- a

grey tabby, age 4, with a tiny

bell on her red collar.

This cat, whose name I'm

told is Missy, is an orphan,

at least right now. Her owner,

a neighbor, is in the hospital

and the prognosis is grim.

The woman was found a few

weeks ago when another

neighbor noticed that Missy

was still sitting on the porch

in the middle of the afternoon,

apparently unfed and upset.

The neighbor investigated

and found Missy's owner on

the floor. An ambulance was

called.

Let this be a lesson to all of

us. If we have pets and we live

alone, we need a backup plan

for the animals' care.

Someone needs to know

we have pets, know what

they eat and where the food

is kept. If it's an older animal

and medicine is required,

somebody needs to know

how to give it, and when. This

someone needs to know the

name of the vet.

The second lesson is about

us: Somebody needs to be

aware enough of our daily

routines that if something is

wrong, they'll know to investigate:

the blinds still closed,

the paper still at the door ...

or the cat still sitting unfed on

the porch. (c) 2021 King Features

Synd., Inc.
---
The Blackstone Valley Xpress • www.blackstonevalleyxpress.com • May 14, 2021 7

Congratulations

to Sharon Sterczala,

the lucky winner of a

$100 Gift Card to

Bentley Pub, and

Kathy Menn wins

the $100 Gift Card

to Harvest Moon

Health Foods.

Thank you to all

who entered.

WITH OUR GIFT CARD GIVE-A-WAYS!

NEW CONTESTS ANNOUNCED EVERY TWO WEEKS!

Explore our new website TheYankeeXpress.com

and enter to win a $100 gift card to either

or

218 Worcester St., Grafton 503 Washington St., Auburn

One entry per day/per person. Contest open April 23 - May 20, 2021

Winners will be chosen at random and posted on facebook.com on May 21.

or

SCAN HERE

TO ENTER!

41 Worcester Road, Webster

270 Sand Dam Road, Thompson, CT

One entry per day/per person. Contest open May 14 - June 10, 2021

Winners will be chosen at random and posted on facebook.com on June 11.

TheYankeeXpress.com
---
8 The Blackstone Valley Xpress • www.blackstonevalleyxpress.com • May 14, 2021

Living well and looking good

Homemade 'foot box' relieves night cramps

By Keith Roach, M.D.

DEAR DR. ROACH: I am a very

healthy 74-year-old male. I am

not on any medications and

enjoy normal blood pressure

and great stats from my regular

bloodwork. I weigh 140

pounds and have been exer-

Formerly Old Time Barber Shop

Touch of Class

cising every day faithfully for

decades.

A couple of years ago, I

started getting cramps in both

legs throughout the night. My

toes would curl down and my

entire leg would get stiff; the

Primitive Goods

146 Mendon Street

Uxbridge, MA

(508) 278-2700

Use Your Gift Cards

From T he Holidays!

13 Mendon 13 Mendon St., Uxbridge, St., MA

Uxbridge, 508-278-5040 MA

Steve 508-278-5040

Guilliani, Master Barber

Steve Guilliani, Master Barber

pain was horrible. I had a terrible

time "walking it off," and

very often when I finally got it

to pass, as soon as I got back

in bed the whole thing would

start all over again. Sometimes

I would go a few nights

Spring

has Sprung!

Time to

spruce up your

home decor.

•Outdoor Items

•Garden •Patriotic

•Furniture •Village Paint

•Antiques to Farmhouse

•Primitive & Country

•Candles • Handmades

Hours: Thurs.-Sun.

10 a.m.-5 p.m.

email us on

SENIOR DAY

Tuesday is

TUESDAYS

Senior Day

$

11 $ 10

Haircuts

Haircuts

HOURS

Tues.-Thurs. Hours: & Fri. 9:30-5

Wed. 12-6; Sat. 7:30-12

Tues.-Thurs. & Fri. 9:30-5

Wed. 12-5; Sat. 8-1

without having a problem, but

there was always the fear that I

would have another episode.

I read online advice to get the

weight of the sheet and covers

off the feet. I took a strong

cardboard box and sleep with

my feet in the open end of

the box. The first time I got

in bed with this rigged up, it

felt very strange not having

anything on my bare feet, but

eventually I got used to it. The

remarkable news is that I have

not had a single episode since

fabricating the box over six

months ago. -- G.K.

ANSWER: I appreciate your

writing in. I have had many patients

use a box during sleep

for acute gout, where even a

sheet on top of the affected toe

can be exquisitely painful, but

I had not heard this used for

nocturnal leg cramps. Some

patients have noticed that

the symptoms do seem to be

started or exacerbated by the

weight of blankets.

Before resorting to that, I recommend

regular exercise, even

a few minutes of riding a stationary

bicycle before bed can

help. Couple that with regular

stretching of the calf and hamstring

muscles and adequate

hydration. Although many

readers ask about it, I do not

recommend quinine for most

people, and it's quite rare for

the cause to be disturbances

of sodium,

potassium, calcium

or other electrolytes.

B complex vitamins

and magnesium are

helpful in some people,

but I restrict iron

to people with proven

iron deficiency.

If all else fails, prescription

medications such as verapamil

may be helpful.

Bladder tumors

DEAR DR. ROACH: I'm getting

low grade tumors in my

bladder. I just had my second

operation after the Bacillus

Calmette-Guerin treatment

didn't work. I read that tumors

can't grow in an alkaline

environment. Should I eat

vegetables, like broccoli and

sprouts? Also, would vitamin

E and selenium be helpful?

-- R.G.

To your

good

health

CHARLTON MANOR

REST HOME / ASSISTED LIVING

12 Town Farm Road, Charlton, MA

Tel. 508-248-5136 • Cell 978-314-2290

Fax 508-248-6445

We can help... We care.

MICHAEL D. TURPIN, President

ANSWER: It is true that having

an acid urine pH is a risk

factor for bladder cancer.

Many fruits and vegetables

make urine pH more alkaline,

whereas meat and dairy make

the urine more acid. Smoking

also makes the

urine more acid.

Eating more fruits

and vegetables

(and abstaining

from smoking) will

help reduce recurrence

of bladder

cancer, though I'm

not sure it's through urine

acidity. Please don't stop

your doctor's recommendations,

though, as diet alone is

not adequate therapy for bladder

cancer.

A 2012 study found no benefit

in selenium and vitamin E

on prevention of bladder cancer.

It's unlikely to be significantly

effective in treatment.

--------------------------------------------------------

Dr. Roach regrets that he is unable to

answer individual questions, but will incorporate

them in the column whenever

possible. Readers may email questions to

ToYourGoodHealth@med.cornell.edu. (c)

2021 North America Synd., Inc. All Rights

Taking Beautiful Call

New First Admissions

Floor Room

Taking Applications today!

Don't overpay for false promises. We will provide the care

your loved one deserves. We are the affordable choice.

Debra Fitts, Manager

DFitts.cmrh@gmail.com

www.charltonmanorresthome.com

Insist on

exceptional.

Post-Acute Rehab • Long-Term Care • Orthopedic Rehab

Wound Care • Pulmonary Care • Cardiac & Stroke Recovery

312 Millbury Ave.

Millbury, MA 01527

www.careonemillbury.com

508.793.0088

1085292

T

T

Healthy Meal Replacement Shakes

Herbal Metabolism-Boosting Tea

May In-store Specials!

"Wake and Shake!"

12 Cross Street, Whitinsville, MA

(774) 737-3547
---
Pro tips for the avid runner

By Dr. Sean T Lordan

1. Hydrate- The importance of

hydration is paramount when

performing at peak capacity

during any endurance sport,

especially running. Considering

that your body is 65% water, any

shift toward dehydration will be

deleterious to your health. My

suggestion is to drink at least

32 oz. of water if you plan on

running for more than 30 minutes

at a time, especially on a

hot summer day. Fruit is also

a great source of water and

simple carbohydrates that acts

as a healthy 'pre' or 'post' run

snack.

2. Stretch these musclescalves,

hamstrings, piriformis.

Yes, and in that order too. I always

advise my clients who run

to perform these three static

stretches daily even if they are

not in pain. These muscles are

part of a tissue system on the

back of your body we call the

"posterior fascial sling." Put into

layman's terms these are the

structures that control propulsion

of gait, especially acceleration.

If you have ever suffered a

hamstring strain you know how

difficult they can be to recover

from. Do these stretches today

and give yourself a competitive

advantage knowing you will be

able to train with improved longevity.

3. Cross Train- It is imperative

for any level of runner,

from novice to advanced, to

cross train. What does it mean

to "cross train?" Cross training

involves working different

body parts and muscle groups

not commonly recruited during

running. I suggest performing

a 30 minute total body

HIIT (High Intensity Interval

Training) workout 3-4 times per

week. These workouts should

target the whole body, not just

the lower extremity. A good

HIIT workout will include core

training, conditioning, lateral

strengthening and heavy lifting

that will work your anaerobic

muscle fibers. Anaerobic fibers

are important for strengthening

and help provide your muscles

resilience against injury and

overtraining.

4. Do this to avoid Shin

Splints, or worse- If you experience

pain in your foot, ankle,

shins, knees, hips or low back

(yes pretty much anywhere in

your lower extremity), reach

out to a local doctor of PT. Especially

if you have redness,

burning or swelling in your

shins, as this can be a sign of

compartment syndrome which

is possible with severe overtraining

and an emergency

room level situation. It is important

to know the difference between

compartment syndrome

and shin splints, though. Shin

splints are micro stress fractures

and micro tears along

the Tibia (on either side) that

can be treated with ice, proper

manual therapy, and stretches

and exercise. Compartment

syndrome is characterized by

severe pain and swelling in a

particular compartment of the

lower leg, with swelling effectively

shutting off its blood supply.

You need to call 911 if this

is happening or immediately go

to an ER. Shin splints are typically

overuse injuries with pain

at the beginning of running and

usually after. Shin splints are

typically due to a combination

of overtraining, improper footwear,

your body's morphology

(bow legs or flat feet), and is

The Blackstone Valley Xpress • www.blackstonevalleyxpress.com • May 14, 2021 9

treated with good effect with

Physical Therapy. If you are unsure

call your local doctor of PT

and they will guide you in the

right direction.

5. Consider Orthotics- Foot

inserts are expensive and controversial,

so let's chat about

them. There are two main types

of orthotics that I prescribe to

patients. One is rigid, providing

the foot with structure and controlling

its motion during the

gait cycle. The other version

of a professional foot insert is

accommodative, or supportive.

The supportive inserts have

a softer core and are more for

those with arthritic feet who

need both support and shock

absorption. The best client

who will benefit from orthotics

is one who has a new onset

of posterior tibialis tendonitis

(pain on the inside of the lower

leg), or plantar fasciitis. These

two conditions are usually due

to a flexible forefoot, which responds

well to a controlling orthotic

device. They don't come

cheap though so do your homework

and find a professional

who knows what they are doing.

6. Get a yearly gait assessment

by a doctor of PT- The most important

assessment any runner

can get is a yearly gait assessment.

Why yearly, you might

ask? Well your body changes

with the demands of everyday

life. At some points in your life

you may be more sedentary

than others (think of COVID and

working from home.) When you

are not as active your body utilizes

its muscles differently and

it can affect your gait. Weight

gain or loss can also affect your

gait pattern. How about a nagging

hip or low back injury?

Injuries will commonly throw

off your gait for an extended period

of time. Luckily, using their

magic, a PT can often diagnose

what is out of alignment and fix

it quickly and easily with some

simply manual techniques and

exercises to get you back in

shape. The PT will also refer

you for orthotics should you

benefit from those as well.

7. Go anti-gravity- If you have

severe arthritis, are overweight,

or suffer from chronic pain but

love to run, what better option

than running with less impact?

In the very least it is worth a try,

right? At Concierge PT in Sutton,

we have an AlterG Via treadmill

which not only will unweight up

to 80% of your bodyweight, but

can also perform a thorough

gait analysis demonstrating

your weight shifting patterns

and strength deficits. If you

love to run but haven't had the

chance due to pain, all hope is

not lost! Call and ask about our

AlterG treadmill.

Dr. Sean T Lordan

Experienced Adult Day Adult Health Day Health Program Program

serving your community since 1985

serving your community

Family Owned and Operated

Family Owned and Operated

Reliable Proven and partner reliable assisting partner families in assisting

families Offering with their Skilled individual Nursing, situations

Personal Offering Skilled Care, Case Nursing, Management, Personal Care,

Case

Recreation,

Management,

Nutrition

Recreational

and Transportation Services.

Programming, and Transportation Services

in a secure facility.

Stay healthy, socialize, make friends!

Homey, Fun, Secure, Safe, Clean

Structured Programming

Cognitive and gross motor CDC/MA recreational programming COVID-19 including: Compliant

Baking Club, Bowling League, Live Entertainment

For Spring/Summer: Ultraviolet Garden Air Club Cleaning System

TESTIMONIAL: "When my mother's dementia progressed to the point that

she was no longer able to live by herself; I was in desperate need of help and

found it with the folks at Accord.

-Marcia T

10 Cudworth Road • Webster, MA 01570

508-949-3598

www.accorddaycenter.com

Fitness. Family. Community.

FREE

Week of

Camp!

MAY MEMBERSHIP

MADNESS EVENT!

FAMILY MEMBERSHIPS ONLY

May 1st-31st

The Blackstone Valley's Most Complete Fitness & Recreation Center!

•Unlimited Fitness Center Access

•50+ Weekly Aerobic Classes

•Spin/TRX/Barre Fusion Studio

•Daily Open Rec Swimming & Basketball

•Friday Night Family Rollerskating

•Family Locker Rooms

In Person

or Online

When you pay for a 1 Adult or 2 Adult Family membership

In Full throughout the month of May, receive a voucher

towards a FREE week of 2021 Camp Whitin!

•Swim Lesson Discounts

•Summer Camp Whitin Discounts

•Splash Party & Gym Rental Discounts

•Kidz Club & Babysitting Services

•FREE Outreach Programs

•7.5 Acre Whitin Park & More!

NOTE: The membership deal listed above cannot be combined with any other discount or promotion. Corporate rates, Tufts Health

insurance discounts, and Black Friday Gift Certificates are not eligible for this membership promotion. The 1 free week voucher of

Camp Whitin will be received after full payment of a 1 Adult or 2 Adult Family membership only. Camp Whitin voucher is only valid

for Summer 2021 Camp Whitin (June 21st-August 20th). Memberships completed at Member Services Desk will receive voucher at

time of purchase. Memberships completed online may pick up their voucher anytime during business hours at the Member Services

Desk. To redeem your 1 free week of Camp Whitin, present voucher at the Member Services Desk with your completed Camp Whitin

Registration Forms. Vouchers are not accepted for online Camp Whitin Registration. Other exclusions may apply.

60 Main St. Whitinsville, MA 01588 | 508.234.8184

www.WhitinCommunityCenter.com

Why Choose Camp Whitin?

Nine weeks of different camps

Over 25 years of experience

Camp coordinators are local

teachers & administrators

FREE Pizza Fridays

NEW! Shark Sprinkler & much more!

Fitness. Family. Community.

FUN!

JUNE 21ST - AUGUST 20TH

FOR CAMPERS AGES 4-13

Sneak Preview of Camps!

NEW! 3...2...1 BLAST OFF! (4-6)

NEW! Mini Warriors (4-6)

NEW! Unleash The Beast (7-13)

NEW! Craft Your Mindset (7-13)

NEW! Space Jam! (7-13)

For a complete listing

please visit our website

Please Register Online

www.WhitinCommunityCenter.com

NOTE: Financial assistance available to those

who qualify. Please see website for details.

Whitin Community Center

60 Main St. Whitinsville, MA 01588

508.234.8184 | www.WhitinCommunityCenter.com

Summer

#1Camp

Camp Whitin is a program of the Whitin Community Center,a 501(c)(3) non-profit organization
---
10 The Blackstone Valley Xpress • www.blackstonevalleyxpress.com • May 14, 2021

Restaurant review

Mykonos Café & Bakery is a dream come true

A & D Pizzeria and Pub kicks it up a notch and renovates

By Janet Stoica

A short trip to Millbury could

be your most rewarding 2021

adventure since we've all

started to wander out of our

homes lately.

The first stop might be the

recently opened Mykonos

Café & Bakery on Elm Street,

possibly the most spectacular

bakery in the area.

This unique, relaxing place

takes you into its arms with

the heavenly aromas of freshly

$5.00 OFF

Orders $30 or more

(one per party, not to be combined)

www.scalesseafood.com

baked croissants, rolls, and muffins

and scores of American,

Greek, and Italian pastries, that

make it difficult to pick just one.

Of course, you cannot and will

not pick just one…please, have

two, or even take some of these

delectable confections home to

your family and friends.

Also look for the spanakopita

(spinach pie), the

baklava, spinach and feta calzones,

cheese pies, koulouria

45 River St., Millbury, MA

(508) 865-3377

Fresh

Seafood

Year Round

Featured

on

(sesame and honey sweets),

kataifi (walnuts served in a

finely stranded pastry), saragli

(rolled baklava with spices

and nuts), sizeable cinnamon

rolls, fruit macaroons, cannolis,

cheese pies, cheesecake

rounds, eclairs, and Danish, altogether

the wonderful display

of an artful bakery at its finest.

Bagel varieties are plentiful

from plain to sesame to French

toast with or without butter or

cream cheese varieties.

For breakfast, try the avocado

toast, which is made with

fresh-sliced avocado, one or two

eggs on your choice of bread

(my choice was a flaky croissant),

and, if you like, bacon or

sausage. The bread is lightly

drizzled with olive oil and sprinkled

with hot pepper flakes, just

enough to give it a kick. You are

in flavor town heaven, make no

mistake about it.

For lunch, try one of the

several daily soups, perhaps

their signature Greek lemon

soup.

Mykonos Café & Bakery

presents a neat, clean, and

charming environment for their

customers to enjoy. Sure, take

your laptop or iPad here to

work, play, or read and settle

into one of the high-back chairs

by the large front windows, the

comfy upholstered chairs, or a

centered table.

I haven't seen a bake shop

like this since the days of

Lederman's and Widoff's on

Water Street in Worcester,

which brings me to Chris

Andrianopoulos, owner of

A & D Pizzeria and Pub, located

across the street from

Mykonos Café & Bakery and

husband of Mykonos' owner,

Sonja Andrianopoulos.

It seems that Chris, who

was born and brought up in

Worcester, used to visit the

Water Street bakeries when

he was a kid. As a tribute to

Chris and Sonja Andrianopoulos

his vivid recollections of those

aromatic and delightful emporiums,

Chris now bakes wonderfully

soft and light bulkie rolls

on the weekends for his wife's

bakery. He also includes rolls,

breads, bagels, spinach pies,

and stuffed grape leaves while

in his baking zone.

But the full-time bakers here

are the rock stars of Mykonos

Bakery: Sonja's parents, Natasha

and George Andrea. They

operated their own bakery in

Greece before emigrating to the

USA. This energetic duo has

combined their exceptional tal-

Continued on next page

Wedding Season

is here!

Beautiful Custom

Buy Gifts 3 starting Small, at $18 1

Topping Pizzas

Toasting Sets, Custom Framed

Invitations, Engraved Hangings,

Ring-Bearer Boxes, Wedding Party

Gifts and MORE ...

for $ 6.00 each

+tax

Barbara Connors'

Art Glass Studio

Custom Designs - Repairs

Gifts - Supplies - Classes

835 Providence Rd

Whitinsville, MA 01588

FAMILY SPECIAL

(2) Large Pizzas

(1cheese &

1 topping)

with choice

508-266-7178

of a $

26 99

Greek salad or

chix wings bcartglass@charter.net

& 2 ltr.

+tax

GREGORY'S

restaurant & pizzaria

ONLY

Location is

Douglas, MA

ORDER ONLINE

at

www.gregorys-restaurant.com

or you could use Gregory's restaurant app

Spend

Father's Day

with us!

303 Main Street, Douglas, MA

508-476-2552

www.bcartglass.com

New England

Steak and Seafood

Casual Elegant Dining and Banquets

PRIME RIB AND STEAKS

-Prepared over our open pit-

FRESH SEAFOOD & LIVE LOBSTERS

CHICKEN & PASTA DISHES

APPETIZERS • SALADS • SOUPS

COMBINATION DINNERS

KIDS VALUE MEALS (12 & UNDER)

TRY OUR FAMOUS Cinnamon Rolls & Chowder

Lunch: Wed-Thurs-Fri Open 11:30am Dinner: Daily 3:00pm to close

Sunday Noon to close - Closed Tuesdays

Serving this area with the finest steak and seafood for over 65 years

508-478-0871 • 11 Uxbridge Rd. ~ Rt. 16 Mendon

See Our Menu on our website

www.nesteakandseafood.com or on Facebook

303 Main Street, Douglas, MA

508-476-2552

CABINET DEPOT

Call Margaret

to get your

Free Measurement

Free Design & Quote

and ask how you

can get

FREE

GRANITE!*

*Does not include install

833 Providence Road

Whitinsville, MA

(Rte. 122)

508-372-9023

KITCHEN AND BATH

Exceptional Price & Great Quality at

CABINETDEPOT.COM SHOWROOM OUTLET

Marscott.CabinetDepot@gmail.com
---
The Blackstone Valley Xpress • www.blackstonevalleyxpress.com • May 14, 2021 11

Continued

ents to bring color, variety, and

flavor to our area and you really

do have to see their creations

to appreciate their art.

Sonja Andrianopoulos is

a financial bank adviser who

works full-time at a Boston

banking institution. She holds

a Bachelor of Science degree

in math and computer science

and an MBA from Clark University.

She is currently working

on her PhD in finance.

Sonja and Chris met at a

dance held by St. Spyridon

Church in Worcester. Married

since 2004, they have two children

in high school.

All along she's had a vision:

"This bakery has been

my goal for the last 10 years. I

grew up in my parents' bakery

in Greece and it is a pleasure

to have my dream realized."

"This used to be a drinking

establishment," Chris

said. "When the former

owner wanted to sell, I knew

this would be a good opportunity

for Sonja. When we

purchased the property last

year, we completely renovated

the building, putting

in floor-to-ceiling windows at

the building front, skylights,

walls, painting, tile work, and

fixtures."

Mykonos has been open

since January 23. "We're still

looking at our menu offerings

and operations," says Sonja.

"Soon we hope to have a

grand opening but not until

we feel it's right. We're letting

our customers decide what

their favorites are, and we will

focus on those choices."

Catering for corporate functions

and parties is on the

menu too.

And the name? Daughter

Sophia picked the bakery

name as it is one of the Greek

islands they all hope to visit

in the near future. Their son,

George, once had the task of

peeling a 50 lb. sack of onions.

George's lesson in hard labor

left an impression on him.

"This bakery is an option

for our children's future."

explained Sonja. "I wanted

to bring something from my

homeland here. This is a passion

for me and my parents

and, frankly, I want to teach

my children work ethics and

want them to see what manual

labor is like." Chris further

stated, "We don't want them

to take everything for granted.

We want them to know where

they came from. Teaching

them life lessons is so important."

Chris also described how

A & D Pizzeria and Pub was

recently renovated. "We updated

and redecorated our

restaurant and bar area., We'll

have a new pub-style menu,

but the bar area is not open

yet. We're waiting for the CO-

VID situation to stabilize and

hope to re-open soon. We finished

putting the final touches

on the bar area a few weeks

ago and will continue to make

a few more updates, including

hiring more staff. We also

have a very nice function

room that can accommodate

75 patrons. Our ideas came

from many sources, including

visits to Boston's North End

and Federal Hill restaurants."

The new bar is u-shaped,

includes a seamless granite

countertop, along with mahogany

wood flairs, and unique

pendant cylinder lighting over

the bar seating area. The pizzeria's

restaurant is bright, orderly,

and well-lit with several

booths available for diners.

Its menu is filled with appetizing

selections, including

cocktails, soups and salads,

calzones, gourmet pizzas, specialty

subs and clubs, burgers

and wraps, beef and chicken,

pasta and seafood, desserts,

plus a kids menu. "We still

serve up our prime rib special

on weekends," says Chris,

"and weather-permitting, our

outside patio is very popular."

The couple has given back

to the town too by sponsoring

local baseball and basketball

teams, and delivered complimentary

pizza and subs to the

local police, fire, and emergency

personnel. They are generous

to many worth causes in

town and the surrounding

area.

Mykonos Café & Bakery, 49

Elm Street, Millbury; phone:

(508) 917-8127. Hours: 7 a.m. –

7 p.m. Mon-Sat; Sunday 7 a.m.

– 3 p.m. www.mykonosbakery.com

FB: Mykonos Café &

Bakery.

A & D Pizzeria and Pub, 60

Elm Street, Millbury. Phone:

(508) 865-9013. Hours: 10 a.m.

– 9 p.m. daily. www.adpizzapub.com

FB: A & D Pizza

and Pub.

-------------------------------------------------------

Contact Janet at jstoica@

TheYankeeXpress.com

Chris Andrianopolous at the newly refurbished pub bar.

COIN SHOW

EVERY 3 RD WEDNESDAY

MONTHLY COIN SHOW

May 19, 2021

3-8 p.m.

FREE APPRAISALS - BRING YOUR COINS

Dealers selling & buying U.S. and Foreign Coins, Currency,

Gold, Silver, Tokens, Medals & Other Collectibles.

At VFW Post 1385, 16 Cross Rd.,

Uxbridge, MA 01569

FREE ADMISSION (door prize)

Contact Mike (774) 280-4333

Customers browse through the bakery's display cases.

The Tole Booth

The Tole Booth

Treasures for the Home from the Heart

The shop Treasures is brimming for the Home with from the everything Heart Spring!

Mother's Berries, Wreaths & Flowers Day

Prints & Signs, Curtains & Linens

Berries, Wreaths & Flowers

Birdhouses

Sunday, May 13th

Home Open Decor 10am-2pm

American Closed Father's Vintage, Day, Black June 17th

Crow

DecOr and Swan fOr yOur Creek hOMe Candles & garDen:

Lanterns & Lamps • Birdhouses

Homemade Candles •Garden Items by

Flags

local artisans

And More • Curtains • Signs

Handmade Items by Local Artisans

Hrs: Wed.-Sat. 10-5; Sun. 12-5

129 Main Main St. St. (Rte. (Rte. 122) 122) • Blackstone, • Blackstone, MA •(508) MA •(508) 876-8900 876-8900

Hrs: Wed.-Sat. 10-5; Sun. Follow 12-5 us onFacebook for updates!

Follow us

on Facebook

for updates!

"An absolute must see

for history lovers!" - Google Review

Explore Over 20 Exhibits

Yankee Express

Readers Save 25%

On Admissions!

Scan QR

or visit

URL.

https://ahmus.me/yankee

568 Main Street, Hudson, MA

www.AmericanHeritageMuseum.org

(978) 562-9182

Good

Until

April 30th.
---
12 The Blackstone Valley Xpress • www.blackstonevalleyxpress.com • May 14, 2021

Library notes: Book and plant sale at Douglas Public Library

Time Fun

Memorial Day Weekend

Book and Plant Sale

The Friends of the Simon Fairfield

Public Library are organizing

a book and plant sale

for Saturday, May 29, from 9

a.m. to noon. Rain date is Sunday,

May 30.

This will be the first inperson

book sale since Oktoberfest

2019, so the number of

books that need new homes

is significant, and not a single

one of the books, DVDs or audio

in this sale has been featured

in any previous sale or

auction.

Prefer plants? Need a pot?

Headed by Kristin Stevens,

the Friends are collecting

seedlings to sell alongside

the books. If you would like

to contribute, there is a giant

collection of pots behind the

Library into which you can

deposit your extra bulbs or

separated perennials. You

can take a pot, put a plant in

Azrael Acres

Join Our Horse Academy

Boarding • Lessons • Shows • Horse Trails

144 Williams Street, Uxbridge, MA • www.azraelacres.com

Please call or text: 508-918-4531

it, label it, and leave it outside

the Library any time in

the week before May 29. For

questions or help with plants,

please email douglasplants@

gmail.com.

The Friends call it a sale,

but you get to take what you

can and donate whatever

you want. Especially when it

comes to the books: please

take as much as you can. They

all have to go. Library Director

Justin Snook says, "I'm not carrying

them back in."

This will be an outdoor

event spread out around the

Library in order to encourage

proper social distancing.

Masks will be required. There

will be nitrile gloves and hand

sanitizer available. Bags will

be provided, and we ask that

everyone browse with their

eyes and not their hands. If it

is interesting enough to touch,

it is interesting enough to take

home and rescue from imminent

recycling.

Friends of the Library to sponsor

home delivery in Douglas

The Friends of the Library

traditionally help the Library

in two major areas: programming

and outreach. There

really have not been many

bills to pay in terms of programming

in recent months,

but outreach has been more

critical than ever. The library

website, the newsletter, the

Zoom account, Wowbrary,

and many more of library's

windows to the world are

funded by the Friends.

Home delivery is yet another

form of outreach--one

that puts a lot of miles on library

staffer Gail's truck as

she delivers books all over

Douglas. The Friends have

graciously committed to paying

that mileage moving forward.

That means the library

will not have to take that

money out of its operational

budget, which means more

books. Thanks, Friends.

Finding Home

The COVID-19 Pandemic has changed a bunch of things

for our business. Fortunately, our family has found a

way to make the changes have a positive impact on our

business, our family, and our staff.

We welcome another

positive impact to our

farm: Diana Whittier is

promoted (officially,

finally) to Farm Store

Manager. Diana recently

graduated from Becker

College with her Bachelor

of Science Degree

in Exercise Science and

Pre-Physical Therapy.

We've been readying

for Diana to join the

team full time for many

months now. Last March,

Diana's part-time job at a

local physical therapy

office was put on hold

due to the pandemic. When Whittier Farms decided to

have our non-family members stay home out of an abundance

of caution, Diana joined her parents Wayne and

Mary, and sister Samantha in the farm store. If you called

in an order last spring, you most likely spoke with Diana;

she offered you comfort and helped you work your way

around the farm store right from your kitchen. Over the

last few months, Diana has worked at the farm store while

completing her studies at Becker and competing in her

final collegiate soccer season. While at the farm, she prioritized

getting to know your families, our products, and

bringing out the best in our farm store. It was these new

found connections with you and your families as well

as a renewed appreciation for her surroundings at the

farm and the responsibility to the animals and land that

showed Diana her future could actually be right here at

Whittier Farms. Diana hopes her role as store manager

allows her to build upon the already good customer service

at Whittier Farms. She is looking forward to showing

current and new staff members how important and

impactful excellent customer service can be and doesn't

want anyone to have a bad experience at the farm. Diana

is also going to balance her passions by working parttime

with personal training clients through a local gym.

Whittier Farms

Summer yard sales

The Helping Hand summer yard sales schedule has been announced.

The time of each sale is 8 am to noon. The dates

include June 5 and June 19, July 10 and July 24, August 7

and August 21, and September 11. The yard sales are held at

Dodge Chapel, 81 Hammond Hill Road, Charlton. To donate

call Deb 508-987-0708, Annette 508-347-7596, or Judy 508-248-

5580.

Chevere

Beads & Boutique

Wednesday,

May 26

Don't

Forget Your

Vets on

Memorial

Day!

Boutique Apparel

Handmade Jewelry

CBD Products

Unique Gifts

Beads, Supplies,

Classes and More!

www.shopchevere.com

508.278.5566 336 N. Main St., Uxbridge

Tues., Wed., Fri. and Sat. 11am-3pm; Thurs. Noon to 6pm
---
Assistance animals webinar

The Central Massachusetts Disaster Animal Response Team is

hosting a live webinar via Zoom on May 19, 6:30 p.m. to 8:45

p.m. on the subject of assistance animals. Attendees will be able

to distinguish between the different types of assistant animals:

emotional support, therapy, working, and service animals and

the levels of public access afforded to each type. Presenters will

review the specialized training required for service dogs, working

dogs, and therapy animals and why registration or certification

is important for the animal and handler. The presenters

will review how the public, businesses, and emergency service

agencies may respond to individuals accompanied by an assistance

animal. The program includes consideration of the current

COVID-19 climate. Continuing Education Credits for Animal Control

Officers have been approved. Please go to https://conta.

cc/3dwwNda for more information and to sign up.

Seeking volunteers

CMDART is seeking volunteer board applicants. Several volunteer

roles are needed including an co-chairman, events coordinator,

a clerk, social media manager, fund-raising, and a logistics

coordinator to help manage response equipment. Individuals

with skills in some form of business management or non-profit

management are desirable. For more information and a volunteer

job description of all positions, contact membership@cmdart.org

or president@cmdart.org or call 508-803-1989. For more

information about CMDART go to www.cmdart.org.

B & M and SONS

AUTO REMOVAL

The Blackstone Valley Xpress • www.blackstonevalleyxpress.com • May 14, 2021 13

"Buyers of ALL Scrap

Cars, Trucks and Catalytic Converters"

HIGHEST PRICES PAID

(508) 873-6112

•Kratom •CBD & Delta 8

•Water Pipes •Vape

Mention this ad for

10% off on

selected water pipes.

5 SOUTH MAIN ST., STE.B, UXBRIDGE, MA 01569

508-779-7655

WWW.JAYSMOKE.US • PSMOKESHOP83@GMAIL.COM

Celebrate Better Hearing and Speech Month

Our super power is helping you hear better!

Have you been putting off

taking care of your hearing,

tinnitus or hearing aids?

Make this Spring a fresh start.

Officer Len Gosselin, resident of Uxbridge and K-9 Police

for Bellingham is a featured presenter in a webinar on assistance

animals. Len will talk about working dogs.

The Chamber now offers a

Job Posting Newsletter

on the 2nd Tuesday of every month.

WE CALL IT

"Jobs in the Valley"

and it features the many job openings

with our wonderful members

throughout the Blackstone Valley.

Members can send us their job

postings for free which we will

include each month until they've

filled the positions. Job seekers

can access the Jobs in the Valley

Newsletter and sign up to receive it

at Blackstonevalley.org

Follow us on Social Media

TOP 10

BENEFITS

Why you should

join the BVCC!

670 Linwood Ave, Suite #5

Whitinsville, MA 01588

508.234.9090

www.blackstonevalley.org

1

2

3

4

5

6

7

8

9

10

We are here to help!

www.hearjoyaudiology.com for online booking

education and training

Brand New for 2021!

As a Chamber member you can attend classes, seminars, and

webinars to help you start, grow, and manage your business.

These opportunities help you learn or improve upon skills that are

The Blackstone Valley Education Hub Online Courses!

Brand New for 2021!

essential for professional We development. are excited to expand our courses through a partnership with ed2go! As

the industry leader in online learning, partnering with ed2go greatly expands

business services the BVEdHub's educational offerings and their ability to reach diverse learners.

Whether you are just starting out, looking to grow, or want to

expand your resources and connections, we can help you with

marketing, public relations advice, notary, financing, certificates

of origin, use of office incubator space, a full service conference

room and smaller meeting rooms.

Our catalog ranges from career and certification training to personal and

professional development, with a focus on teaching transferable skills.

Check out our website at

https://www.bv-edhub.org/online-courses

The Blackstone Valley Education Hub Online Courses!

We are excited to expand our courses through a partnership with ed2go! As

the industry leader in online learning, partnering with ed2go greatly expands

the BVEdHub's educational offerings and their ability to reach diverse learners.

legislative advocate Our catalog ranges from career and certification training to personal and

We will advocate in your behalf of local, state, professional and government development, with a focus on teaching transferable skills.

issues that may affect your business. Our job is to help make your

concerns heard to those who can help and who matters.

Check out our website at

exclusive connection

As a Chamber member, you will make connections with members

and consultants from various professions through increased

visibility on the Chamber's website and member's directory. In

addition, you may be featured in the Chamber's newsletter.

credibility

You increase the positive perception among consumers and

business owners when you're identified as a member of the

Chamber of Commerce. You will be recognized as a viable player in

your industry and community and increase your company's visibility.

industry roundtables

You get opportunities to meet and participate in CEO and industryspecific

roundtable discussions to share ideas, challenges, best

practices and measure results. In addition you learn how to

develop critical and strategic thinking.

advertising

Joining the Chamber provides opportunities to appear on our

broadcast shows which airs 3 times weekly. You have the option

of utilizing 10 free, 30-second ads on WCRN, use our newsletter

free, and distribute your collateral at our events.

networking

As a member, you will discover dozens of opportunities to meet

people, expand your referral and client bases, and connect with

business leaders. You can volunteer to work on programs and

committees. Our virtual introduction process is also a part of

networking via e-mail.

chamber events and programs

Attend innovative and informative events while meeting other

members and potential clients. You may choose to host an event

that spotlight's your company. Another benefit is that the BVCC is

the largest affiliate of the Worcester Chamber of Commerce and

offers access to that market.

business counseling

You will be able to participate in free, one-on-one consultations

with industry specific consultants who provide guidance

and knowledge. Counselors and professionals from various

organizations, including government, hold office hours

regularly at BVCC.

HEAR JOY IS AN INDEPENDENT PRACTICE

The Blackstone Valley

Education Hub Online Courses!

https://www.bv-edhub.org/online-courses

Brand New for 2021!

Dr. Rancourt has over 30 years

of experience as an audiologist,

serving newborns to elders.

We are excited to expand our courses through

a partnership witrh ed2go! As the industry

leader in online learning, partnering with ed2go

greatly expands the BVEdHub's educational

offerings and our ability to reach diverse

learners.

Our catalog ranges from career and certification training

to personal and professional development, with a focus on

teaching transferable skills.

Check out our website at

https://www.bv-edhub.org/online-courses

Visit www.blackstonevalley.org to register for these events and more and to also find out how you can apply for money saving benefits

through our ASSOCIATION HEALTH CARE PLAN and offer affordable retirement benefits to your employees through our ASSOCIATION

RETIREMENT PLAN. Group membership saves money and administrative time and costs. Let us help you do better business!

BVCC AnnuAl Golf TournAmenT

Monday, May 10

Blackstonevalley.org 508.234.9090

administrator@blackstonevalley.org

Pleasant Valley Country Club

95 Armsby Rd., Sutton
---
14 The Blackstone Valley Xpress • www.blackstonevalleyxpress.com • May 14, 2021

Living with Lincoln

I'm only human

By Amy Palumbo-LeClaire

My house is not the same. I

sit out on the deck to write,

to remember him. The birds

chirp and call to each other

beneath a pale blue sky. They

sing songs of spring and life

and new beginnings. A neighborhood

dog barks from a few

houses away. Something is

missing. I sit awkwardly and

wait for Lincoln to lift his nose

to the flutter of life around

us. Satisfied, he'll collapse by

my side to do what he always

does in April—wait for the bunnies

to appear. But he's not

here and, instead, I'm left with

all that's left, his memory. My

heart aches. Simple joys have

been my winning lottery ticket

for the past ten years while

living with Lincoln. Now it's

time to go on living without

him. How did this happen?

His presence, like shreds

of petal swirling through the

air, are close enough to touch.

His passing is a fresh wound. I

want to grab our time together,

clutch it in my hand and bring

it back to life like a genie from

a bottle. I want my dog back.

Alas, I've gone dark. I'm

supposed to honor Lincoln's

spirit and focus only on the

good parts (he and I are optimists)

but I'm human. I know

we've been blessed. I know

he had a good life! "I just

miss you so much," I whisper,

and in my mind's eye, he

faces me with his "professorserious"

expression. Then he

breaks into that easy, boxy

smile. "I'm with you. I'm

okay. But go ahead and tell

your story, Mom."

***

Lincoln defied an ultrasound

report that he only

had one to three months to

live back in October, 2020.

Pardon the male dog expression,

but he chose to grab life

by the balls and live each

day as though it's his last.

All winter long he played outside

like a child on a snow

day. He played Bury & Find

with his ball, lapped up cups

and cups of farm-fresh goat's

milk, and hiked along trails in

Sturbridge. He took his final

swim at Wells State Park during

an exceptionally warm

Saturday in late March. He

sniffed the shoreline, felt the

water with a knowing paw,

and waded in. His best friend,

Bruno, watched him swim

with the indulgence of a dog

whose full name, Lincoln

Veto, means lake and love.

"Look at him go!"

Winter drew to a close and

along came a mild spring. The

days became warmer and

longer while Lincoln's panting

grew more pronounced.

We discussed summer plans

for keeping him cool and

healthy. We would get him a

kid's pool for the yard, make

up an "apartment" for him in

the cool finished basement,

and continue to cook his favorite

beef stews, salmon, and

steak dishes. We arranged

another vet appointment to

discuss more possibilities.

We had plans for Lincoln. He

knew how much we loved him

and he loved us right back

with zero complaint about

his health. The decline in

his breathing (more panting,

more hacking, more discomfort)

seemed overshadowed

by his thirst to go on living.

He still climbed the stairs

to greet us with his human

smile, grabbed our socks,

wiggled with joy when we

came home, and played fetch

in the yard. Then something

happened a few weeks after

Easter Sunday.

We couldn't allow Lincoln

to play ball anymore. Mild

breathing issues worsened.

Small sessions of play led

to heavy panting and, more

recently, wheezing. That's

when we knew. He wouldn't

choose to stop on his own.

Taking away a game of ball felt

like murder. But we had to do

what was best for Lincoln.

My dog

Lincoln's last car ride,

following an April snow storm

Family love.

Largest male of the litter.

Home sweet home.

Happiness

is a ball

Bruno adores his cousin, Lincoln

Soccer

days

Early car ride days with Mom

Lincoln goes camping

Saying good-bye.

Relaxing after my last walk

154 Riverlin St.

Millbury, Ma. 01527

508-865-8155

• Grooming

• Daycare

• Boarding

by Kelly Hauk

BEST OF CENTRAL MASS

Best Pet Groomer 2016 & 2017

SM

PERFECT PAW

46 Providence Road, Northbridge

• Family Owned

• Award Winning Groomer

(508) 779-7448

Theperfectpaw.net

facebook.com/ThePerfectPawMA

www.barknbubblesmillbury.com

F O R Y O U R P E R F E C T P E T
---
The Blackstone Valley Xpress • www.blackstonevalleyxpress.com • May 14, 2021 15

Over 30 years

in

30

Business

years

in Denise business and

Denise Bill Jones and

Bill Jones

Professional Pet Care Since 2012!

Insured/Bonded

Certified Pet First Aid & CPR

A neighborhood walk foreshadowed

all of this. The truth

passed through me like a lump

of cold ice cream midway

through the walk, one that began

as it usually does, with offthe-leash

time followed by my

favorite routine: Lincoln lost

track of time while distracted

by his favorite grassy smells.

Meanwhile, I walked ahead of

him for, say, fifty feet before he

realized that we had been separated.

He lifted his head and

froze to the sight of me. Then,

as though we'd been apart for

an eternity, he raced back to

me, full-speed, to reunite and

sat at my heels, smiling wildly.

We are the greatest team ever!

I've since read The Rainbow

Bridge poem, a replica

of this experience to help explain

to dog owners what it's

like to cross over to heaven

and reunite with our dogs "to

never be separated again."

I felt like I had experienced

heaven on earth every time

we walked the neighborhood.

His final sprint led to the

final stretch of our walk. I

leashed him back up and,

understandably, his pace softened

to a leisurely stroll. We

stopped at the corner of Cedar

Hill Road and McClellan.

"You want to turn around and

go home, Lincoln?" He sat,

thought about it, and tugged

me forward. "Let's go." We

strolled past the field where

the apple orchard used to be.

He paused as he always does,

recalling days past, when he'd

nose through rows and rows

of thick field and fallen apples.

We kept going. But something

was different. The truth hit

me. This would be our last

walk.

A driver appeared behind

us suddenly, shaking his head

in frustration, obviously in

a hurry. I tugged Lincoln to

the side of the road so that

the driver had more space

to pass. The irony that we'd

come full circle to my first column

written (Why I Like Dogs

More than Humans) settled

cruelly in my chest.

I wiped tears from my

cheeks. My thoughts addressed

a driver now gone.

"You don't understand. This

is Lincoln. He sprung from the

ground like a dolphin to catch

a fly ball only weeks ago. He's

just not himself. This is the

dog in the paper. He's just feeling—"

Tears blurred my thoughts.

I pressed on. "You coming?"

Lincoln glanced back to check

on me. "Don't worry about

him. He's human. This walk

is so much fun! Let's just be

happy!"

I unleashed him for a second

time at the edge of our

neighborhood. He visited Sonoma,

a friendly yellow lab,

then found an old faded tennis

ball in the Campbell's

yard, one I didn't have the

heart to throw back. A squirrel

erected itself from a patch

of woods, and stared up at us.

Lincoln froze. A familiar outdoor

friend! Ball in mouth, he

launched forward for a quick,

yet tired chase. "Good boy,

Lincoln!" He trampled back to

me, thoroughly proud of himself.

"Still got it."

More days passed. I fought

with my intuition. Maybe it's

not the end? Maybe there's

something I'm just not seeing.

His love for life, his will to go

on, was so strong. I reached

out to dear Golden friends

and invited them over for a

visit. Please. Just tell me he's

going to be fine. Talk me out of

what's happening. You know

more.

***

The skies produced a rare

snowstorm on Friday, April

16, a mirror to the day he

was born on December 26,

2010. He laid vulnerable in

the foyer upstairs; paws outstretched

amid heavy breathing.

He needed help. Panic

pressed against my forehead

while I made phone calls.

Everyone was busy, booked,

overwhelmed. Everyone except

his former veterinarian,

Dr. Golden of Sutton Animal

Hospital. She was available

at 12:30. Finally. A bright

light.

My husband got the car

started. Lincoln grabbed his

Openings Available for

Daily Dog Walks &

Customized Midday Visits

508-277-1235

www.risingsunpetsitting.com

www.tlcpethaven.com

Dog and Cat

Grooming & Boarding

Luxury Suites Available

Doggie Daycare

In-Home Services Available

PET HAVEN & Mobile Groom-In-Vans

68 US Route 146, Sutton MA • 508-865-3180

ball, waited for me to grab my

pocketbook and tap danced

to the prospect of going for

a ride. His eyes were bright

with enthusiasm. We're going

for a ride! He could hardly

wait.

Due to COVID restrictions,

the office staff banned us from

attending the preliminary

exam. "Please," I begged.

"His condition is critical. He

will get stressed and won't be

able to breathe." My over-thephone

request was declined.

He was led on a short leash

from our backseat. My husband

and I held on. We could

barely breathe ourselves.

Within minutes, Lincoln arrived

back at the car, gasping

for air. He collapsed in a slush

puddle, panting and smiling

like a wolf, paws forward.

"He's far too distressed to

come in," the vet tech said. I

swallowed the bitter taste of

"I knew that" and opened the

back door for Lincoln to jump

back in. Home. He pasted his

eyes to mine and struggled

to calm down. But he was

relieved. That much I was

sure of. We're together again.

Raw, blustery wind and rain

rushed into the car. Dr. Golden

appeared at the passenger

window within minutes. She

told us what to expect.

***

I sit in the backseat beside

Lincoln. He's calmed

down nicely. He lifts a big,

strong paw for me to hold.

Our eyes lock. I cannot find

words. Fresh tears rain and

rain down my face. My dog,

my dog. Why this? Lincoln

licks away a steady stream of

tears. "I'm okay, Mom. I'm so

happy we're together. This is

the right thing."

"I'm not ready, Lincoln.

Please. Please, hold on." My

pain is excruciating, irrational.

"Thank you for loving me

always. Thank you for understanding

me and taking

me for rides and pouring me

goat's milk. I'm okay, Mom.

You are the best. I feel so

UXBRIDGE SPARTANS

HERE'S TO A GREAT SEASON!

WE'VE MOVED!

relieved to be with you right

now." He rests his head on

my lap and calms down to a

peaceful awareness. The dark

of our plight recedes back

like a wave at the shoreline,

breaking then unfolding to

an intense beauty. I pet his

soft head while he rests comfortably

on my lap. "Lincoln

can come too," I speak his

language. I repeat the phrase

over and over again. He listens,

raises a sleepy eye. "Lincoln

can come too. Where do

you want to go next? You are

a good boy." All that's wrong

crumbles around us like a falling

tower while the two of us,

kindred spirits, rest in final

moments of peace and I'm

blessed a thousand times by

my dog's unconditional love.

Lincoln goes to sleep.

***

Lincoln never asked for

much, only to be together.

Like me, he was always up

for adventure. I'm so honored

and proud to have given him

exactly what he needed, over

and over again. I'll go on Living

with Lincoln in my heart

and writing about him in

honor of so many who loved

him and saw their own dogs

through a story told in the

voice of a true Dog Person.

He was the first pick of the

litter, the largest male and

last surviving pup, son of Sox

and Tickles of Twin Beau D

Kennel. I imagine him crossing

over to miles and miles of

glistening lake and baseball

fields of rich greens and golds.

I imagine that someday he'll

freeze to the sight of me, only

this time he'll find me seated

on the ground, arms wide

open. He'll race towards me

until we meet again. Then I'll

fold my arms around him, collapse

and, this time, he'll lick

away tears of joy.

Stay tuned for Lincoln's upcoming

book, a compilation of

columns (first published here!)

that have made you laugh, cry,

and nod your head knowingly.

Please write to me at amyleclaire@hotmail.com.

LINCOLN VETO LECLAIRE

December 26, 2010 – April 16, 2021

"Live Life to the Fullest.

Love Openly. Grab a Ball."

For Amy

When tomorrow starts without me

When tomorrow starts without me,

and I'm not there to see;

The sun will rise and find your eyes

All filled with tears for me.

I know how much you love me,

As much as I love you,

And each time that you think of me,

I know you'll miss me too.

But when tomorrow starts without me,

Please try to understand,

That an angel came and called my name

And petted me with her hand.

I thought about our lives together;

I know you must be sad,

I thought of all the love we shared,

And all the fun we had.

So when tomorrow starts without me,

Don't think we're far apart.

For every time you think of me,

I'm right there in your heart.

-Author unknown

All our love Amy,

from the staff at The Yankee Xpress

and The Blackstone Valley Xpress.

We all love and miss Lincoln.

JOCELYN JOCELYN COWAN, COWAN, DVM DVM

DEBORAH DEBORAH VEO, VEO, DVM DVM

ALYSSA ALYSSA VINCENT, VINCENT, DVM DVM

ALI O'HAGAN, ALI O'HAGAN, DVM DVM

Preventative Preventative Medicine, Medicine, Surgery, Surgery, Dentistry, Dentistry, In-House In-House

Laboratory, Laboratory, Digital Digital Radiography, Radiography, Acupuncture, Acupuncture,

Chiropractic Chiropractic and Laser and Therapy Laser Therapy for Dogs for and Dogs Cats. and Cats.

Ultrasound Ultrasound & Surgical & Surgical Specialists Specialists

Available Available by Consultation. by Consultation.

Specialty Specialty services services available available as well as well as

night and night weekend and weekend appointments. appointments.

555510 Hazel 555 Hartford Street Hazel Street Uxbridge, Ave W, Uxbridge, MA 01569 MA MA 01569 01569

P. 508.278.5869 P. 508.278.5869 | F. 508.278.9384 | F. 508.278.9384 | info@uxbridgeanimalhospital.com

| NORT

HERE'S

P. 5
---
16 The Blackstone Valley Xpress • www.blackstonevalleyxpress.com • May 14, 2021

BVT Practical Nursing Class of 2021 Pinning Ceremony

UPTON – Becoming a nurse

takes dedication and hard

work to obtain the knowledge,

skill, and compassion to care

for patients. The Practical

Nursing (Post-Secondary)

program at Blackstone Valley

Pets

Welcome!

The SADDLE SHED

"Everything For Horse & Rider!"

508-839-3016

Regional Vocational Technical

High School provides its nontraditional

adult student with

life-changing training to succeed

as a practical nurse in a

progressively complex health

care field.

Northbridge High Honor Roll

NORTHBRIDGE - Northbridge High School has announced the

honor roll for the third quarter of 2020-2021.

Highest Honors:

Grade 12: Kristina Brenn, Colin Brody, Asa Flannery, Katelyn

Lombardo, Angela Lovering, Brennan Mahoney, Kiera McMahon,

Alexandra Padula, Jared Wielsma, Michael Wilkes

Grade 11: Caitlyn Mahoney, Dev Patel, Tyler Richards, Aidan

Roy, Colin Tognazzi

Grade 10: Abby Barnatt, Mary Goodrow, Coulton Manning,

Adam Minior, Caroline O'Brien, Kathryn O'Brien, Caitlin Porcelli,

Keira Touhey, Jenny Wagenhoffer, Graham Williams

Grade 09: Sarah Cowen, Madelynne Driscoll, Mia Pellegrino

High Honors:

Grade 12: Afia Aning, Ally Boucher, Vincent Duca, Callie Ellis,

Patrick Gahan, Wendy Gordor, Olivia LeBrasseur, Hannah Lomonaco,

Justine Michaud, Yira Navarro Rodriguez, Emma Paulhus

Grade 11: Angelique Akeley, Sara Bedigian, Samantha Billmyer,

Tyler Bliss, Sydney Boudreau, Adam Chen, Lauren Ferreira,

Charles Garrigan, John Gifford, Claire Green, Hayleigh Hoffman,

Ruby Holtz, Kayla Kamishlian, Mallorie Mercer, Christopher

Rivelli, Jessica Ross, Christopher Smith, Celia Walker, Lindzy

Winslow

Grade 10: Cameron Athanas, Karlee Battista, Brynn Burt,

Meghan Cummiskey, Connor DeCiero, Hannah Direnzo, Elizabeth

Duca, Ian Gahan, Madeleine Lannon, Jenna Malone, Colin

Marino, Kayla Munson, Owen Orlandino, David Rousseau, Nina

Szymanowski, Nathan Williams

Grade 09: Madelyn Andresen, Elizabeth Andrews, Ryan Bedigian,

Evan Carrachino, Rebecca Cleary, Olivia Frabotta, Ainsley

Hogan, Callie Jee, Hannah King, Kayda King, Charlotte Leppamaki,

Joseph Mazzarelli, Charleigh Mitchell, Zachary O'Meara,

Marcus Reilly, Natalie Zborowski

Honors:

Grade 12: Emma Barnatt, Jonathan Cray, Kevin Doherty, Charlotte

French, Mikayla Gallerani, Emma Ganley, Destiny Ingersoll,

Brooke Jackson, Jill Labrie, Emma LaChapelle, Olivia Lavallee,

Ariel Marko, Morgan Mawn, Julia Mezynski, Trevor Moorey, Allison

Ronan, Patrick Rosenlund, Avery Senosk, Kayley Tivnan,

Domenic Trombino, Katharine Tubbs

Grade 11: Makenzie Alicea, Anderson Barnicoat-Sansone, James

Bartlett, Valery Bravo, John Buckley, David Castellon Palma,

Molly Consigli, Haley Cormier, Jared Dermooshegian, Kyla

Dominguez De Los Santos, Emma Donahue, Collin Falconer,

Abigail Fraser, Daniel Fung-A-Fat, Olivia Guest, Maeve Kelly,

Isaac Maynard, Alexander Quaranta, Elizabeth Quimby, Yarelis

Ronda Rivera, Rory Schofer, Zoe Taylor, Brent Turgeon, Timothy

Visbeek, Matthew Wildman

Grade 10: Ian Claudio, Molly Conroy, Breana Ferguson, Kiana

Hardy, Lillian Naylor, James Oatis, Liam Pinoos, Caramia Pozzi,

Jacqueline Roe, Melissa Sabourin, Parker Scott, Kayleigh Silva,

Emily Wheeler

Grade 09: Timmothy Adams Jr, Macie Allen, Samantha Alvarez,

Logan Ballou, Drew Beaudoin, Haily Billmyer, Kiara Bodreau,

Samantha Brody, Gary Bunis, Nicholas D'Alfonso, Charles Dupuis,

Adam Ells, Xavier Falke, Dakota Grazulis, Timothy Guiliani,

Tyrese Holder-Hinds, Lucas Hovsepian, Kayla Hubbard, Dominic

Keddy, Jake LaChapelle, William Leonard, Emily Letendre,

Molly Mawn, Kaydence Melanson, James Potter, Dylan Rouille,

Rachel Sawyer, Anthony Tomasetti, Jack Wallace

237 Providence Road, Rte. 122,

South Grafton, MA 01560

In business

for over 52 years!

English & Western - Farrier Supplies

Western Hats, Boots, Belts, Shirts,

Accessories,Tack, Supplies & Gifts!

www.thesaddleshed.com

COVID Store Hours: Tues., Wed., Fri. & Sat. 11am-4pm

The Practical Nursing Class

of 2021 recently earned their

nursing certificates, awarded

at a pinning ceremony on February

8th. For the 19 graduates,

it marked the culmination

of one and a half years

and over 1,090 hours of instruction

balanced with work

and family obligations.

"The pinning ceremony

is more than a nursing tradition,"

explained Practical

Nursing Coordinator Joann

L. Monks, MBA, MSc, RN-

BC, RMA. "It symbolizes our

students' commitment, hard

work, and dedication to complete

the coursework and clinical

hours required to earn a

practical nursing certificate to

become a Licensed Practical

Nurse."

Superintendent-Director

Dr. Michael F. Fitzpatrick was

proud to sign his name on the

certificates. He said, "Given

the depth and difficulty of this

program, this group of students

demonstrated the talent,

knowledge, and compassion

that has become a hallmark

of our graduates. Well-trained,

they are a valuable resource

for the residents, hospitals,

and health care providers of

the Blackstone Valley."

With pandemic restrictions

in place, Class President Abigail

Angell of Grafton shared

her thoughts in an inspired

open letter to this gifted class

of extraordinary women. She

said, "You're amazing people

who will do great things with

your abilities. I wish you nothing

but success in your future

endeavors." She also thanked

the instructors, "The exceptional

faculty challenged us

and taught values that go beyond

textbooks and Power-

Points. Thank you for holding

us to the highest standards of

excellence and pushing us to

reach our full potential."

The Class of 2021 graduates,

having earned their

practical nursing certificates,

are eligible to test for the

National Council Licensure

Examination-Practical Nurses

(NCLEX-PN). The Practical

Nursing program is currently

accepting applications for

August 2021 enrollment. For

more information, visit www.

valleytech.k12.ma.us/practicalnursing.

The Class of 2021 members

listed alphabetically by their

hometowns:

Bellingham - Lauren Jacobs

Douglas - Courtney Britt and

Michaela Lamy

Dudley - Heather Buduo

Franklin - Molly Malloy

Grafton - Abigail Angell,

Class President

Hopedale -Anastarcia Carlino

Leicester - BrendaO'Neill

Mendon - Susan Giargiari

Marlborough - Auburn Howard

Millbury - Dior Lukos

Millville - Beth Paige

Northbridge - Kathryn Deschene,

Tiffany Salo-LeBlanc

Randolph - Roberta Silva

Westborough - Wendy Consoli

Worcester - Djinara Grier,

Rosemond Damptey,

and Marva Whyte

Whitin Community Center celebrates selection as

beneficiary of Hannaford Community Bag Program

WHITINSVILLE– The Whitin

Community Center

(WCC), a 501(c)(3) nonprofit

organization committed

to enhancing the

health and well-being of individuals

and families and

to building a strong community

in the Blackstone

Valley, has been selected

as a benefiting non-profit of

the Hannaford Helps Community

Bag Program fundraiser

for the month of May

by Hannaford in Uxbridge.

The Whitin Community

Center will receive a $1 donation

every time a $2.50 reusable

Hannaford Bag is sold in

May at the Hannaford store

located at: 158 N. Main St. Uxbridge.

For more information on

the Hannaford Helps Community

Bag Program, visit

https://hannaford.bags4mycause.com.

Please grab your Hannaford

Reusable Bag throughout the

month of May to directly benefit

the Whitin Community

Center's Summer Camp Whitin

Scholarships!

The Whitin Community

Center offers social, recreational,

educational, and outreach

programs that bring

community members of all

ages and backgrounds together.

The Whitin Community

Center is the Blackstone

Valley's most complete family

and recreation center with

two swimming pools, a gym,

fitness center, early learning

programs, summer camps

and a seven and a half acre

park. For more information

call 508.234.8184 or visit

www.WhitinCommunityCenter.com.
---
Melissa Etheridge set to return to Indian Ranch September 6

WEBSTER - Indian Ranch announced

Melissa Etheridge

will perform as part of the

Mike's Hard Lemonade Summer

Concert Series in Webster

on Monday, September 6.

Known for her confessional

lyrics and raspy, smoky vocals,

Melissa Etheridge has

remained one of America's

favorite female singer-songwriters

for more than two

decades. Etheridge stormed

onto the American rock scene

in 1988 with the release of her

critically acclaimed self-titled

debut album, which led to

an appearance on the 1989

Grammy Awards show. For

several years, her popularity

grew around such memorable

originals as "Bring Me Some

Water," "No Souvenirs" and

"Ain't It Heavy," for which

she won a Grammy® in 1992.

Etheridge hit her commercial

and artistic stride with her

fourth album, Yes I Am (1993),

which featured the massive

hits, "I'm the Only One" and

"Come to My Window," a

searing song of longing that

brought Etheridge her second

Grammy® Award for Best

Female Rock Performance.

In 1995, Etheridge issued her

highest charting album, Your

Little Secret, which was distinguished

by the hit single, "I

Want to Come Over."

Celebrating its 75th anniversary

this year, Indian Ranch

offers music lovers a chance

to see some of the greatest

country, classic rock and

pop bands steps from Lake

Chargoggagoggmanchauggagoggchaubunagungamaugg.

Nestled between pine trees,

the amphitheater offers the

ability to see the stage from

anywhere in the audience.

More than a concert venue,

Indian Ranch recently opened

Samuel Slater's Restaurant

and is also home to the Indian

Willard House & Clock Museum hosts Plein Air painters gathering

GRAFTON - Expanding its program,

The Willard House and

Clock Museum will open its

grounds to plein air (outdoor)

painters and landscape artists

on Saturday, May 15, from

10:00 a.m. to 4:00 p.m.

"The first plein air event

was such a success, we've

decided to hold another one

this month," says Program

Coordinator, Beverly Snow.

"This is a free and informal

event. Even though the museum

isn't open yet, the house

and barn; situated on five

rolling acres, offers a wide

variety of subject matter for

artists and plenty of space to

spread out." Participants are

reminded to bring their own

supplies.

To expand the day's appeal,

Massachusetts College of Art

and Design Painting and Art

History grad, Olivia Casello,

will be conducting a plein air

demo during the day.

The museum will also post

the artists' work created that

day on its Facebook, Twitter

and Instagram pages. Participants

can send images of their

masterpieces to beverly@willardhouse.org.

Located at 11 Willard Street

in North Grafton, the Willard

House and Clock Museum

exhibits more than 80 Willard

clocks in the birthplace and

original workshop of the Willard

clockmakers, along with

family portraits, furnishings

and other family heirlooms.

Works by all three generations

of Willard clockmakers,

including famed clockmakers

Simon Willard Jr. and Benjamin

Franklin Willard, are

also displayed. The Museum

tour includes the original Willard

House, built in 1740, the

clock-making workshop, in

addition to the galleries. Visit

the Willard House and Clock

Museum website at www.

willardhouse.org.

See an Expert in Cosmetic Dentistry

Jason R. Tubo, DMD, MAGD - Master of the Academy of General Dentistry

Advanced Cosmetic Bonding | Minimally Invasive Dentistry

Completely Digital Treatment (NO impressions!)

Single-tooth implants | Full-mouth reconstruction

Computer-Guided Surgery | 3D Cone-Beam X-ray

Crowns | Veneers | Advanced Esthetics

The Blackstone Valley Xpress • www.blackstonevalleyxpress.com • May 14, 2021 17

Princess paddlewheeler and

Indian Ranch Campground.

Tickets on sale are Chris

Janson on July 10, Get The

Led Out on July 24, Ziggy Marley

on July 25, Marty Stuart

on July 31, Jamey Johnson

August 1, Justin Moore August

7, Grand Funk Railroad on August

8, ABBA The Concert on

August 13, Tower of Power on

August 15, Yacht Rock Revue

on August 21, Foreigner on

August 26, Josh Turner on August

28, The Ultimate Celebration

of Queen Starring Marc

Martel on September 4, Local

Countryfest on September 11,

The Mavericks on September

12, Los Lobos on September

18, George Thorogood & The

Destroyers on September 19,

the Pike Hair Fest on September

25, Kip Moore on September

26, and 38 Special on

October 9. More shows will be

announced soon.

All shows in the 2021 Summer

Concert Series will follow

state and local guidelines in

place at the time of the event

regarding capacities, social

distancing, and other safety

measures. Indian Ranch continues

to monitor the changing

guidelines and will provide

continuous updates regarding

these policies for each event.

Gates for Melissa Etheridge

open at 11:30 a.m. showtime is

1:00 p.m. Tickets are available

online at www.indianranch.

com, by calling 1-800-514-ETIX

(3849) or at the Indian Ranch

Box Office. The Indian Ranch

Box Office is currently open

Wednesdays and Saturdays

from 10:00 a.m. – 3:00 p.m. All

events are rain or shine. No refunds.

Indian Ranch is located

at 200 Gore Road in Webster.

• FINE CRAFTSMANSHIP • EXPERIENCED DESIGNERS

• CUSTOM FRAMING • OUTSTANDING PRINT SELECTION

Lasting Gifts of Beautiful Art or Create a Keepsake

Ready-made frames & mats

The Framer's Gallery

567 Southbridge St., Rte. 12, Auburn, MA 01501

508-832-6111

WWW.FRAMERSGALLERYMA.COM

(508) 234-8107

12 Prospect Street

Whitinsville, MA

www.DrTubo.com

Real People. Real Results.

See more of Jen's case and more

REAL Before and After cases

actually done by Dr. Jason Tubo at

www.DrTubo.com .

Finding yourself a little addicted

to Dr. Tubo's Before and Afters?

See them when they're brand new

Follow Dr. Tubo on Instagram:

@dr.jasontubo
---
18 The Blackstone Valley Xpress • www.blackstonevalleyxpress.com • May 14, 2021

Cruising scene 2021

Paul Newman's Hole In The Wall Gang Camp Car Show 2021 season launch

By Jim Weicherding

Paul Newman's Hole In The Wall Gang Camp Car Show 2021

season launch was a great success. To write that this car

show had a big turnout would be an understatement.

This new cruisin' season car show, hosted by the Tri-State

Cruisers, was unbelievably busy from 1 p.m. until sunset.

The weather was absolutely gorgeous with bright sunny

skies and warm temperatures for this Saturday car show and

cruise night. It was very windy but that didn't seem to bother

any of the nearly five hundred show vehicle owners and almost

one thousand spectators attending the event. The show

was filled to capacity with classic cars and trucks. So many

show vehicles arrived that the parking volunteers had to direct

drivers over to the adjacent parking lot on the opposite

side of Pizza 101, on Route 101, in Pomfret, Connecticut. The

owner of Pizza 101 fired up the outdoor grills and sold every

single hamburger and hot dog he had available.

I have been a part of the Tri-State Cruisers Car Club car

shows and cruise nights since they first began in Connecticut

twenty-seven years ago.

Dick Salvas and his dedicated crew have been helping to

QUALITY BUILDING MATERIALS

FOR ALL YOUR NEW CONSTRUCTION AND REMODELING NEEDS!

raise funds for many charities including The Hole In The Wall

Gang Camp for very sick kids to give them a place to play and

enjoy themselves while forgetting about their medical conditions

for at least a little while. Their facilities were devastated

by fires last winter and they really could use our help and

support to rebuild their facilities for kids to enjoy again.

The Tri-State Cruisers were able to raise $1,000 with their

very first car show of the season and that's a trend we would

all love to see happen until the end of September. This single

event turnout was the largest vehicle display in the history of

Tri-State Cruisers car shows. Donations are welcome at the

entrance of every one of their car shows this year and the

50/50 helps out also, so please try your luck and support the

cause. If you would like to donate online please visit their

website and make that happen: www.holeinthewallgang.org.

Thank you for your support, it's appreciated.

PROFESSIONAL SERVICE • FREE DELIVERY • ESTIMATING

Lumber & Plywood • Windows • Doors • Millwork • Roofing • Insulation • Decking

Rail Systems • Siding • Hardwood • Fasteners • and Much More!

Licensed & Insured

Free Estimates

Family Owned And Operated Since 1952.

124 Main St., Millbury

cslumberco.com • 508-865-4822

508-865-4288

Mon. - Fri. 7:30 a.m. - 5 p.m. • Sat. 7:30 a.m. - Noon

HOMEOWNERS

WELCOME!

VISIT US FOR YOUR NEXT PROJECT!

SPRING has SPRUNG!

Save

up to

40%

GRILLS

It's

Grilling

Season!

Hanging

Baskets

&

Planters

WHEELBARROWS

Patio

Pots

&

Garden

Bed

Kits

Garden Vegetables

& Annuals

Ray's True Value Hardware

22 Howe Ave., Millbury, MA

(508) 865-9037

Mon. thru Sat. 7:30am-6:00pm

Sunday 10:00am-4:00pm
---
BVT Student Council earns national recognition

UPTON – The Blackstone Valley

Tech Student Council has been

recognized as a 2021 National

Gold Council of Excellence by

the National Student Council for

an exemplary record of leadership,

service, and activities that

improve their school and serve

the community. This national

recognition marks the third year

in a row that the council has

earned this distinction.

The council had to meet various

criteria to earn this award

- crafting a written constitution,

conducting regular meetings,

and adopting a democratic election

process, as well as demonstrate

successful sponsorship

and participation in leadership

development and activities. As a

consecutive recipient of the gold

level of excellence, the council

consistently displays the highest

leadership standards that reflect

its well-rounded program.

"It is an honor for our council

to receive this recognition,"

said Superintendent-Director

Dr. Michael F. Fitzpatrick. "We

are proud of our Student Council

and advisors Danielle Cann

and Megan Potenti, who help

empower our council members

to serve their school and community

on their journey to outstanding

student leadership."

"Our students continue to

amaze me," said Danielle Cann.

"I love advising this club. I am

lucky to work with an incredible

group of students who consistently

come together with creative

ideas and work together

to accomplish their goals. They

often surpass expectations and

successfully create an atmosphere

that unifies our school."

"Our students work hard to

create exciting and meaningful

events for their classmates and

community," said Megan Potenti.

"With distance learning, they

adapted their efforts working in

new ways to keep the community

connected and achieving this

recognition three years in a row. I

am very proud of our students."

"Earning the 2021 National

Gold Council of Excellence

Award requires a team effort,

and we have an incredible

team," said Isabella Caccavelli,

Student Council President. "Student

Council is a rewarding

school activity. We take a great

Call today for your FREE In-Home Consultation

spring

Special

Whole House of

Faux Wood Blinds

Installed $

for 2200

*includes up to 10 window coverings

of Signature Series Cordless

Faux Wood Blinds with wand tilt,

professional measure, delivery, and

installation. Additional windows can

be added for $260 per window.

Cannot be combined with any other coupons or offers.

Offer valid until 5/31/21

Independently Owned & Operated

by Sue Adams

Local: 508-865-9300

The Blackstone Valley Xpress • www.blackstonevalleyxpress.com • May 14, 2021 19

sense of pride in our service

projects and fundraising efforts.

We organize a turkey run to provide

Thanksgiving dinners and

coordinate the holiday drive to

purchase Christmas presents.

Seeing our efforts direct impacting

the families in our school

community is an incredibly

moving experience."

2020 – 2021 Student Council

Executive Board members

•Isabella Caccavelli, President; a senior

in Health Services from Uxbridge

Family Family owned and operated since since 1992 1992

Family owned and operated since 1992

Jim Morrissette's

Oil Burner Service, Inc.

Add 'Call for Burner Cleaning'

to your Spring Cleaning List!

Serving Blackstone Valley for over 27 years

Buderus Boilers Mitsubishi Mini Split Systems

Buderus Boilers Mitsubishi Mini Split Systems

Oil Heating Systems Installed Installation A/C Systems

Oil Heating Systems Installed Installation A/C Systems

24 hr. Emergency Service Automatic Delivery Service

24 hr. Emergency Service Automatic Delivery Service

Affordable Budgets Senior Citizen Discounts

Affordable Budgets

•Emma Conkey, Vice President; a junior

in HVAC&R from Grafton

•Jack Kinsella, Secretary; a senior in

Dental Assisting from Milford

•Hunter Claflin, Treasurer; a sophomore

in HVAC&R from Douglas

•Aysia Parent, Historian; a senior in

Multimedia Communications from

Douglas

•Victoria Lemieux, Events Coordinator;

a senior in Health Services from Blackstone

•Jace Rosado, Publicity Coordinator; a

junior in HVAC&R from Uxbridge

•Elizabeth Howell, Awards Coordinator;

a senior in Health Services from Upton

Senior Citizen Discounts

•Leah Cook, Evaluation Coordinator; a

junior in Engineering & Robotics from

Blackstone

•Jada Jane Chapman, Senior Representative;

a senior in Automotive Technology

from Blackstone

•Samantha Stephens, Junior Representative;

a junior in Culinary Arts from

Mendon

•Bradley Lyon, Sophomore Representative;

a sophomore in Drafting & Design

Technology from Upton

•Haley Fitzgerald-Moore, CDMASC

Liaison/President; a senior in Multimedia

Communications from Blackstone

103 103 Gendron Street, Northbridge, MA MA 01534 01534

www.morrissetteoil.com 508-234-3026 info@morrissetteoil.com

Al's

Al's Rubbish

Provides

• Dumpster Rental

Services 7 Days

• All Rentals Include

Drop Off and Pick Up

• No Hidden Fees

• Estate Clean Outs

• Furniture/Appliance

• We Recycle

FREE DROP

OFF AND

PICK UP!

RUBBISH & CONTAINER

556 Central Turnpike, Sutton, MA 01590

Phone: (508) 865-4193

Website: www.alsrubbish.com

E-Mail: alsrubbish@gmail.com

Serving the Blackstone Valley

and the Surrounding Towns in Worcester County

DUMPSTER

RENTAL SPECIAL!

SUTTON, MILLBURY and GRAFTON

10 yard $300

15 yard $350

20 yard $475

3 DAY RENTAL

ONLY !!

Support

Local Small

Business

508-865-4193 • WWW.ALSRUBBISH.COM
---
20 The Blackstone Valley Xpress • www.blackstonevalleyxpress.com • May 14, 2021

Economy Canvas & Awning Co.

Retractable & Stationary Awnings

Boat & Truck Covers and Related Products

Pool Cover Repairs

Over 34 years of service in the community

508-765-5921

www.EconomyCanvasAndAwning.com

115 Hamilton St., Southbridge, MA

• Full Awning Service - Installation, Removal & Cleaning

• Manufacture & Repair All Canvas Products

From Our Family To Yours

Enjoy The

Whitinsville Social Library opens its doors

On Monday May 10 Whitinsville

Social Library will open

its doors to the public for limited

walk-in service. Hours for

walk-in service are Monday

- Thursday 10 a.m.-7 p.m., Friday

10 a.m.-4 p.m. and Saturday

10 a.m.-2 p.m.

Masks are required to gain

entry. If you cannot wear

a mask please make use of

parking lot pick up. Hand

Taste of Summer

10 WEEKS OF FRESH

FRUITS AND VEGETABLES

JUNE - AUGUST

MULTIPLE COMMITMENT

LEVELS

sanitizer is available. Please

limit your time in the building

to a maximum of 30 minutes.

No tables or seating are available.

Patrons will not have access

to the ground floor. We

are not offering indoor in-person

programs at this time but

outdoor programs are coming

soon. Enter and exit the

building using the Library's

front entrance on Church

Street. The back entrance and

elevator is available to those

who require it.

The Library encourages you

to download and sign into MeeScan,

a free self-check out app,

before you arrive. MeeScan allows

you to check out Library

items with no staff contact and

no lines. This app is available

for iPhone and Android smartphones.

Consider placing items

on hold or looking up their

availability in the online catalog

at http://whitnsvlle.cwmars.org

before arriving.

One public computer is

available by appointment

only. To schedule an appointment

for computer browsing

please call 508-234-2151 during

business hours or go to www.

tinyurl.com/EventsAtWSL.

Computer usage is limited to

30 minutes a day. Use of the

copy machine is on a first

come first serve basis. Black

and white printing is 20 cents

a sheet. Please have exact

change.

No more than two families

or seven people in the Children's

Room. No children

under nine years of age are

allowed to enter the building

without a parent or guardian

present.

Parking lot pick up is available

any time during business

hours. Call 508-234-2151 at

least 15 minutes ahead of your

arrival and your items will be

checked out to you in a brown

paper bag inside the Library's

back door. Once patrons have

access to the building, staff

will no longer be calling to

schedule appointments for

New England's Premier Clean-Out parking Company.

lot pick up.

Generations of stewardship and sustainability to keep agriculture alive and well

New England's Premier Clean-Out Company.

New England's Premier Estate Clean-Out Company.

ESTATE CLEAN-OUT SPECIALISTS

"We buy Comics, Gold, Coins, Jewelry, Artwork,

Collectibles, Cars, Guns, Toys Highest Prices Paid!"

All returns are quarantined for

at least 24 hours before checked

in and removed from your account.

The blue book drop is

located in the library's back parking

lot and is open 24/7. All late

returns are fine free through Labor

Day 2021. Items for children

do not have late fines.

The Library is not accepting

book donations. The next

Friends of the Whitinsville

Rendezvous with

Rachel Revere

Social Library meeting is on

Tuesday, May 25, at 6:30. If you

would like to learn more about

volunteer and fundraising opportunities

email the Friends

at friendswsl2019@gmail.com.

Thank you all for your patience

and kindness this past

year. We look forward to seeing

you soon.

Rebecca Sasseville

Library Director

Join the Friends of Asa Waters Mansion as they host History

at Play, LLC Rendezvous with Rachel Revere on

June 18, 6-8p.m., at the Asa Waters Mansion, 123 Elm St.,

Millbury. Reserved tickets only - $25.00. Please call 508-

865-5528. All COVID restrictions apply and masks are required.

It is May 2, 1775, and Rachel Walker Revere has only

heard from her beloved husband Paul once since his legendary

midnight ride on the 18th of April. Still isolated

from one another due to the siege of Boston, Rachel desperately

creates a plan to safely take her children: six

step-children from Paul's first marriage and a newborn

baby of their own, from the reach of the British Regular

Army in Boston. In this program you will help Rachel, as

she carefully considers the dangers and demands of each

plan. Find out if Rachel is successful in her perilous mission

to unite her famiy, amidst the wake of an American

Revolution.

Northbridge Senior Center

Plummer Place, home of the Northbridge Senior Center

reopened the week of May 10. You may book one-on-one

appointments with staff Monday through Thursday from

9-2:00 pm and Fridays 9-12 pm. The bus schedule will

continue to be open for in town rides.

Unfortunately, the lunch program will remain on hold

until further notice and there will be no congregating in

the building for now.

There will be limited classes offered at Plummer Place

including painting, book club, photography class, writing

workshop, and pokeno. The billiard room will be open,

but you must sign up to use it, no league at this time.

A new exercise/life training class will be offered which

starts on May 18, from 10:30 a.m.-12:00 p.m. meeting two

times a week for six weeks. In this new class you will focus

on overall wellness through journal prompts for goal

setting and then participate in a fitness program to improve

balance, coordination and strength. All other exercise

classes can be accessed through Zoom, call Kelly

for the link or view new exercise programs on channel

194 at 9:00 am Monday through Friday. Please call to

sign up for all classes as we are limited to the amount

of people in each class. The Center will continue to add

programs in the upcoming weeks.

There are also three outdoor concerts being held at

Plummer Place in May and June. Check out the latest

newsletter for details on all the programs being offered.

You are also welcome to use our new patio for lunch or

just meeting friends. We now have two picnic tables with

umbrellas on the patio, feel free to call us to reserve a

time. Can't wait to see you all once again.

Michelle Methe
---
Focus on non-profits

EARTH, Ltd. educates and inspires to

aid animals and the environment

By Christine Galeone

Did you know that there are

five species of rhinoceros

in the world? Did you know

that three of those species

are critically endangered

due to illegal hunting done

through international crime

syndicates? Many people

aren't aware of these kinds

of threats to wildlife. Betsey

Brewer, the founder and executive

director of EARTH,

Limited said, "Wildlife crime

is one of the worst problems

on the planet."

Thankfully, Brewer and her

extremely dedicated team of

educators, staff and volunteers

at the conservation education

nonprofit are working

to combat the problem. But

that's just part of what the

An Endangered White Rhino at Southwick's Zoo. (Courtesy

of EARTH, Ltd. website)

Trumpeter Swan Cygnets at Southwick's Zoo.

(Courtesy of EARTH, Ltd. website)

Reach every home and business in Douglas,

Northbridge and Uxbridge

ads@theyankeexpress.com

Prayer

nonprofit does. Through its

fun, educational programs, it's

helping children and adults

to better understand and appreciate

the great and small

creatures that share this world

with us. And by doing so, it

motivates people to try to protect

and preserve those creatures

and the environment.

Based at Southwick's Zoo

in Mendon, the nonprofit

provides "zoo visitors and

the community with high

quality educational programming."

In addition to presentations

at the zoo's EARTH

Discovery Center and Bird

Show Arena, the programs

include spring and summer

day camps for kids in grades

K-9, rhino encounters with

Our Father, who art in heaven, hallowed be thy

name, thy kingdom come, thy will be done on

earth as it is in Heaven. Give us this day, our

daily bread, and forgive us our trespasses as we

forgive those who trespass against us, and lead

us not into temptation, but deliver us from evil

(intention), Amen.

If you pray three times a day, three consecutive

days, you will receive your intention, no matter

how impossible it may seem. Praise and Thanksgiving please

the Heart of God. Believer

the zoo's two endangered

white rhinos, sloth encounters,

the Junior Zookeeping

Program for kids ages 6-16

and the ZooMobile Outreach

Program. It also partners

with and supports various

environmental and conservation

initiatives throughout

the world – including the

Trumpeter Swan Restoration

Project that strives to

restore the trumpeter swan

to its natural Iowa habitat

and Project Rhino, which

fights poaching and enables

rhino conservation.

Although the nonprofit

has managed to keep raising

awareness and support

for conservation efforts,

the COVID-19 pandemic has

impacted EARTH, Ltd. "It's

been very difficult," Brewer

said. She noted that maintaining

funding for a small

nonprofit has been challenging

during the pandemic,

and the EARTH Discovery

Center had to be closed last

year. But the center will reopen

in a limited capacity

this year. She added, "I have

some amazing educators.

They redesigned everything

in the center. I'm excited for

people to see that."

During the pandemic,

the nonprofit has also done

significantly less in-person

ZooMobile programs for

EARTH, Ltd. educator Diana Waterman gives a presentation

featuring a macaw.

The Blackstone Valley Xpress • www.blackstonevalleyxpress.com • May 14, 2021 21

schools, libraries and other

organizations. Instead, it created

live and pre-recorded

virtual ZooMobile programs

that include animals that

would normally travel with

the EARTH, Ltd. educators.

"It's starting to pick up momentum,

now," Brewer,

who's also a Board member

of the Zoological Association

of America, said of the

virtual programs that might

continue after the pandemic.

"We're moving forward, so

it's a good thing."

And while the nonprofit

moves forward, the kids it

has educated are moving

forward in their desire to

help animals and the environment.

Brewer said that

seeing their passion to protect

animals grow over the

years is very rewarding. "I

can't tell you how many kids

I've seen grow up," Brewer

said. "I've had kids say that

it changed their lives."

When asked how people

can help EARTH, Ltd. during

the pandemic, Brewer said

that one way is by becoming

an EARTH, Ltd. member or

by making a monetary donation.

But she also hopes

that people will share what

they've learned about rhinos

and other endangered/

threatened species, so that

more people will support

the conservationists working

in the field to protect

the animals. "They're the

unsung heroes," she shared.

"No doubt about that."

More information about

the nonprofit is available on

the EARTH, Ltd. website,

www.earthltd.org.

---------------------------------------------------

If you would like to

suggest a Blackstone Valley

nonprofit or initiative for

this series, please contact

Christine at cmgaleone15@

gmail.com.

MFB names mortgage loan specialist

MILFORD - Milford Federal

Bank appoints Alycia McCallum

to the position of Mortgage

Loan Specialist.

McCallum, a native of

Hopedale, is active in the Corridor

9/495 Regional Chamber

of Commerce and the Milford

Area Chamber of Commerce,

where she received the Extra

Step Award for outstanding

initiative.

She brings 22 years of experience

in the residential mortgage

industry and will be responsible

for mortgage sales

in the Metro West area. She

can be reached at the bank's

246 Main Street, Milford office

Alycia McCallum

at 508-381-5242 or 774-462-2158.

Facebook.

Betsey Brewer, Executive Director of EARTH, Ltd. visits an endangered

white rhino at Southwick's Zoo.

MECHANIC WANTED

Pratt Trucking/Little River Recycling Oxford, MA

Job Summary: Pratt Trucking is a family owned and operated

company in Oxford, MA. We are searching for a qualified

mechanic to work on our fleet of Garbage Trucks, Roll Off

Trucks, Hook Lift Trucks, and other equipment. Top Wages

Paid, Weekends Off, and Benefits!

Responsibilities: Performs physical tasks in the shop or field

in support of operations including, but not limited to: inspection,

troubleshooting, repairs, and maintenance of

equipment. Provides unscheduled repairs of equipment; reviews

equipment status with operational personnel and performs

scheduled maintenance of trucks and equipment. Inspects,

repairs, maintains, and makes recommendations and

performs modifications to functional parts of a variety of

equipment and machinery. Diagnoses maintenance requirements

on diesel engines, transmissions, drive lines, differentials,

electrical circuits, hydraulic systems, and chassis

through diagnostic aids, inspections, and interpretation of

equipment reports with assistance. Disassembles, overhauls,

and replaces worn parts on equipment as required.

Reads and interprets work orders to perform required maintenance

and service. Demonstrated commitment to a clean

and safe working environment.

Qualifications and Skills: Knowledge of Mack, Cummins,

GMC, Chevrolet trucks. Knowledge of troubleshooting/diagnostic

tools. Experience as a heavy duty truck mechanic.

Ability to work safely in a shop environment. Mechanical

skills should include, but are not limited to, mechanical,

electrical, pneumatic and hydraulic troubleshooting and repair

of trucks and equipment.

Benefits: Health Insurance, Top Wages! Over-time optional.

Job Type: Full-time. Experience: Driver's License (Required),

Diesel Mechanic: 1 year (Required), Diesel repair certification

(Preferred), Trash industry experience (Preferred), Class

A or B CDL (Preferred), Welding experience (Preferred)

Salary based upon experience (top wages paid)

Apply now in person at Pratt Trucking

22 Town Forest Rd • Oxford MA 01540

(508) 987-1187

or apply online at: www.pratttrucking.com
---
22 The Blackstone Valley Xpress • www.blackstonevalleyxpress.com • May 14, 2021

Tales from beyond

Nineveh Falls

SMALL LOAD

CONCRETE

SERVING WORCESTER COUNTY

WHY SMALL LOAD

CONCRETE?

• Buy ONLY what you need

• Flexibility - according to your schedule

• Custom Mix / Pour on the job...no "Hot-Loads"

• Less Expensive than bagged and large mixers

• No Minimum Quantity to purchase

• Cost Effective • No Waste

• Environmentally Friendly

• No job too small

ADVANCED

Gutter Systems, Inc.

Spring Clean-Up!!

"Did you have water damage to your gutters?"

• Carpentry • Roofing

• Siding Repairs

Installations

• Repairs

• Cleaning

By Thomas D'Agostino

The Hamonassets were a

peaceful tribe that lived along

the shores between the Agiciomock

River and the Connecticut

River in Killingworth,

Connecticut. Their Sachem

PROFESSIONAL CAR CLEANING

MOTORCYCLES & BOATS

vic Catacchio

Owner

Est. 1983

218 Worcester St.

N. Grafton, MA 01536

774-272-0815

shineitup2@yahoo.com

catacchio

34 Providence Road, Sutton, MA

508-770-1200 • www.smallloadconcrete.com

• Aluminum Seamless Gutters

• Copper Gutters

• Gutter Guard

www.gutters-downspouts.com

• Replacement Windows

• House Cleanouts

• Handyman Services

RESIDENTIAL & COMMERCIAL

windowgeniesutton

(508) 278-2202

FULLY INSURED • FREE ESTIMATES

AUTO

DETAIL

CONCRETE APPLICATIONS

Homeowners

• Patios

• Steps

• Fence Posts

• Decks

• Retaining Walls

• Pool Decks

was known as Sebaquanch,

"the man that weeps." Uncas,

the famous Mohegan sachem,

married his daughter, thus

inheriting the Hammonasset

land. He then sold a generous

parcel of real estate to George

Fenwick ESQ. of Saybrook.

On November 26, 1669, Uncas

sold the rest of the land to the

residents of Killingworth. The

remains of an Indian village

are located about a half of a

mile north of Route 80 near

the junction of Roast Meat Hill

Road and Wolf Meadow Road.

The village consists of several

Contractors

• Gas Stations

• Road Work

• Footings

• Curbing

• Sidewalks

• Pre-Cast

Custom-Concrete: Buy only the quantity you need.

NO LOAD TOO SMALL!

Sidewalk & curb repair - concrete finishing services available

Also available for delivery on SATURDAYS...

The only other update is my

website changed to windowgenie.com/sutton

The other website

still routes it over there. If

it doesn't look like too much

either, you could add my facebook

page at facebook.com/

MASS. REG.#128580

CSL #104402

10% OFF ANY JOB *

*With this ad. Cannot be combined with other offers

rock shelters where Indian

artifacts have been found. A

place called Nineveh Falls sits

not too far from the village

within the Killingworth Land

Conservation Trust near Lake

Hammonasset.

The falls have a haunting

legend concerning an Indian

maiden whose betrothed was

a warrior who went to battle

with a promise of marrying

her upon his return. Sometime

after his departure, false

news arrived of his death during

battle. Heartbroken and

distraught over the loss of her

beloved, she went to the falls

and threw herself into the rapids.

The brave returned to find

that his lover was dead and in

an attempt to join her, jumped

into the same rapids as she.

Now, when the full moon

casts a blanket of light upon

the land, witnesses can see

two ghostly figures walking

along the edge of the falls,

hand-in-hand in eternal wedlock.

There is another forlorn tale

of a beautiful young woman

who fell in love with a local

farm boy. The young farmer

was the sole provider and

caretaker for the farm as well

as being in charge of looking

after his aging mother. According

to legend, the young man

did not care for the girl and resisted

her affections towards

him. This caused the jilted

lover to throw herself from

the cliff into the rapids below.

The place has become known

as Lover's Leap.

Another legend associated

with the area involves one of

the early settlers most feared

entities: witches. Yes, even

Killingworth has a history of

those who were in league with

the devil. These old hags were

said to frequent the Nineveh

and Chatfield Hollow areas,

brewing their concoctions and

casting spells on unsuspecting

undertakers passing by the

wicked realm where they held

consort with the most evil

one. A few of these hags were

Goody Wee and her daughter

Betty Wee who traveled back

and forth from Killingworth to

North Madison, casting their

spells on people for goods

and profit.

In a 19th century book

called "The History of Middlesex

County," neighbors

claimed that the Wee witches

had the power to curdle their

finest cream so it could not be

• Siding • Windows • Gutters

Owner

• Siding

Rob

• Windows

Chaille - CSL#

• Gutters

Owner Rob Chaille 69907 - HIC# Visit 160483 our

Owner Rob Chaille - CSL# 69907 - HIC# 160483 Showroom at

NorEasterRoofing.com

1 Providence

172

172 Pond

Pond

Pond Street

Street

Street

508-NOR-EAST

508-NOR-EAST Lane in

Uxbridge,

Uxbridge, Ma 01569

MA Ma 01569 01569 508-677-3278 Whitinsville

508-667-3278

508-NOR-EAST

508-677-3278

CALL TODAY FOR A FREE ESTIMATE

windowgenie.com/sutton

facebook.com/windowgeniesutton

774-262-7383

Window Cleaning

Pressure Washing

Soft Roof Washing

Gutter Clean Out

windowgenie.com/sutton

facebook.com/windowgeniesutton

Our Services Include:

Pressure Washing • Window Cleaning

Concrete Cleaning • Soft Roof Washing

Gutter Clean Out

Mention this ad and receive

10% OFF

your service!

churned into butter. It is written

that no farmer could pass

by these two hideous creatures

without a cessation of

goods from their carts. If they

refused, the carts would mysteriously

topple and all of their

cargo would be lost.

Ghosts also lurk in the

woods around the falls. Who

they actually are is probably

forever lost to antiquity, but

they have been blamed for

many abominable occurrences

that have taken place in the

area over the centuries. One

such tragedy took place at the

end of the 19th century when

a woman was approaching

the falls in her horse drawn

chaise. Something supernatural

suddenly spooked the

steed and he started bucking

before breaking into a sprint

at a Godspeed pace down the

hill towards the bridge. The

woman tried in vain to pull

the reigns and halt the horse

as he dashed straight through

the wooden railing and off the

bridge sending the surrey and

all into the river below. Needless

to say, the woman and

the horse did not survive the

"ghostly" encounter.

-------------------------------------------------------

Thomas D'Agostino and his

wife Arlene Nicholson are seasoned

paranormal investigators,

authors, and co-organizers

of Paranormal United Research

Society. You can find out more

about them by visiting www.

tomdagostino.com.

s
---
The Blackstone Valley Xpress • www.blackstonevalleyxpress.com • May 14, 2021 23

Q & A with The Car Doctor

John Paul is AAA Northeast's Car

Doctor. He has over 40 years' experience

in the automotive business

and is an ASE certified master

technician. He will answer reader's

questions each week You can find

the Car Doctor podcast at www.

johnfpaul.podbean.com or other

popular podcast sites. Email your

car questions to jpaul@aaanortheast.com

Follow John on Twitter @

johnfpaul and friend him on facebook

mrjohnfpaul

Q.

I purchased a 2020 Honda CR-V in February of 2020. I

have just over 2,000 miles on the odometer. Should I

consider having the oil and oil filter replaced? I would

normally be traveling more, but with the pandemic, my

trips have all been short.

A.

Honda, like many newer vehicles today, uses a computer

to remind owners when to perform maintenance.

These calculations are based on a variety of items such

as time, mileage, and temperature. Even with this computer

calculation, Honda and some other vehicle manufactures

recommends changing engine oil at least once per year. If this

was my CR-V I would change the oil, it is money well spent.

Q.

I'm looking to replace my sedan with a small SUV.

My car is a 2009 Nissan Maxima sport model which

is a beautiful car and only has 63,000 miles on it. I'm

thinking a smaller SUV would be easier to get in and

out of as I age. My thoughts are to replace my car now because

I don't think vehicle prices are coming down. My real question

is: any thoughts on selling my car privately? Or do I just trade it

and take the hit. I really don't want strangers coming over. I do

think I answered my own question.

A.

Certainly, you will get less for your car as a trade-in

than selling it privately. There are some things to keep

in mind. Your trade-in will be applied to the purchase

price which will reduce sales tax costs. In addition to meeting

strangers at your home, you also need to accept that people will

make appointments and never show up. Also, in this day and age,

there is fraud to worry about. I have heard of people taking counterfeit

bank checks, only to have no car and a worthless check.

Q.

I look forward to your column every week, I hope

it never ends. I need your advice on an upgrade I

am contemplating for my 1977 Plymouth Fury. It was

born with a 318 engine (I did some performance upgrades,

nothing radical). It has a 727 three-speed transmission,

an 8.25-inch differential with 3.55 gear ratio. The car also has

headers, dual exhaust, and a four-barrel carburetor to complete

the package. What I am thinking about is to upgrade to a fourspeed

automatic transmission. There are two options I am aware

of. One is to replace my three-speed 727 with a four-speed 727.

The other option is to add a Gear Vendors under/overdrive

transmission. I, of course, would have it done by a professional.

I would like to reduce the engine speed by about 20 percent on

the highway. Whatever I do, my primary goal is to do it right and

not cut any corners. What would you advise?

A.

My first thought was to go with a Chrysler A-518. It is

based on the 727-transmission (perhaps one of the best

transmissions made) and is a close match to the original.

You will need to cut the driveshaft and modify the transmission

mount, linkage and since this transmission is about three inches

longer than the 727, using this transmission should drop the engine

speed at least six hundred RPM and improve fuel economy.

I spoke with AAA Approved Shop owner Junior Damato who

has a reputation for building performance cars. His suggestion

was the Gear Vendor under/overdrive unit. Junior felt the overall

installation is simpler. This will essentially turn your threespeed

automatic into a six-speed transmission. He recently put a

Gear Vendor unit in a 700-horsepower car and it easily handled

the power. Both options are pricey and will require some modifications,

but both will also get the results you want.

Q.

• Red Cedar • Hemlock Blend

• Dark Pine • Black • Screened loam

• Compost loam / Compost

Pickup or Delivery • CALL FOR PRICInG

Annuals • Vegetables

Hanging Plants

508-476-1129

169 Davis St. (Rte. 16), E. Douglas, MA

MUlCH and MOre!

rentals

CHAMBERLAIN CONSTRUCTION

I have a seven-year-old Subaru Outback. It has one

AM and two FM settings on the radio. One day I

pushed the AM button like I do every Saturday and I

did not get any AM stations, including the one that I listen to you

OPen

Mon.-Fri. 8 a.m. to 5 p.m.

Sat. 8 a.m. to 2 p.m.

Propane

tanks filled here

every day

on in the morning. Because of this I haven't been able to listen to

your radio program for at least a year. The FM stations are perfect

and working properly, what is wrong and how can I rectify it?

A.

If the radio is staticky then the problem is with the antenna

or antenna booster. If there is no sound at all then

the radio has failed internally. If this is the case, then

you can either take the radio out and have it repaired or replace

it with a new radio that has features such as Bluetooth, Android

Auto or Apple CarPlay. By the way, my radio program moved to

Northshore 104.9 FM about a year ago.

Complete Auto

GlAss speCiAlists

• Chip & Crack Repair

• Windshield Replacement

• FREE Mobile Service

moBile Auto GlAss speCiAlist

Insurance Company Preferred Shop.

• Certified technicians to your location

• Foreign & domestic auto, truck, bus,

motor home, windows & sunroofs

• Construction equipment, heavy duty vehicles

• Fabrication of flat glass

• Vehicles equipped with convertible or vinyl roof

TRANSMISSION SPECIALISTS

& AUTOMOTIVE SERVICES

(508) 476-3926

Classic Car Service

and Repair

151 Davis St,

Douglas MA

(508) 476-3926

KEARNS

K

COLLISION

Repair

FREE ESTIMATES • QUALITY SERVICE

1734 Providence Rd., Northbridge, MA • 508-234-5211

Thomas F. Colonair Jr.

www.kearnscollision.com

• In-shop service • Free mobile service

• Saturday service

• Free pick-up and delivery within a 10 mile radius

• Quality workmanship guaranteed

• Customer safety and satisfaction is our first priority

• Servicing customers for over 25 years

201 W. Main Street, Dudley, MA 01571

800-479-7697 • 508-949-1327

Monday-Friday 8am to 5pm • Saturday 8am to 12pm

• Brakes

• Tires

• Shocks

• Exhaust

Visit Us at roysautoglass.net

• Alignments

• Tune-Ups

• All General

Repairs

Specializing in Transmissions

Located 1.5 miles off of Route 146

exit 3 on Route 16 in Douglas

Bloem's Auto Repair

Diagnostics • Tires • Brakes • Batteries • Oil Changes • Tune-Ups

Quality Pre-Owned Vehicles Now Available!

WE DO IT ALL

Total Car Care!

194 N. Main St.

Uxbridge, MA 01569

508-278-4302

2014 Chevrolet Silverado 1500

Work truck, 4x4, 2 dr.

Regular Cab 6.5 ft.

SB w/2WT, Black,

5.3L V8, 121,028 miles

$17,995 $11,995

AND MOVING

SUPPLIES DEALER

2013 BMW 3 Series

328i xDrive AWD

2 dr. coupe, 98,222 mi.

White with brown

leather interior

We Have Vehicles starting at $2,500 and up!!

PROPANE AVAILABLE

We handle everything from Gas Grills to Motorhomes.

$15.00 Gas Grill Fill Ups!!

1164 Main St., Whitinsville, MA (Exit 5 off Rte. 146)

508-266-0370 • www.cappysautomotive.com
---
24 The Blackstone Valley Xpress • www.blackstonevalleyxpress.com • May 14, 2021

The 15 nursing assistant students, seniors in the Health Services program at BVT, who assisted

at the vaccination clinic: Emery Amtmann, Northbridge; Melanie Bisbee, Northbridge;

Jessica Brown, Douglas; Isabella Caccavelli, Uxbridge; *Owen Cunningham, Sutton; Abby

Kelly, Hopedale; Camryn Krusz, Bellingham; Victoria Lemieux, Blackstone; Kaitlyn Manzi,

Milford; Kristin Ouellette, Uxbridge; Hannah Parath, Millbury; Khushi Patel, Uxbridge; Nicole

Rannikko, Millbury; Lauren Testa, Mendon; and Abigail Weagle, Millbury stand with

their Health Services Instructors Amy Ferrandino-Bedard, Georgette LeMay, and Justine

Naper. *Student not photographed

20% OFF

DELIVERY FEE

BVT's Certified Nursing Assistants help

at Uxbridge Vaccine Clinic

UPTON – Translating classroom

knowledge into realworld

experiences is an essential

step for high school

students. For 15 seniors in

the Health Services program

at Blackstone Valley Tech,

an opportunity to assist at

a regional collaborative vaccination

clinic held at the

former McCloskey Middle

School, 62 Capron Street Uxbridge,

on March 31, fulfilled

a need beyond a valuable

life experience.

"Our nursing assistant students

are eager to assist their

community in the fight against

COVID-19," said Justine Naper,

MSN, RN, Health Services

Instructor, and Team Leader

at BVT. "With most of our seniors

already vaccinated, we

were interested in working at

a clinic. When I heard about

the vaccination clinics starting

in Uxbridge, I reached

out to the clinic coordinator,

expressing our interest and offering

assistance."

"The vaccine rollout is

still relatively new, and the

undertaking is enormous. Being

a part of a project of this

magnitude has required a lot

of planning," said Shane Keville-Wagner,

the Clinic Coordinator

of the Uxbridge site.

"We have been coordinating

what everybody can bring to

the table. Having BVT Health

Services staff and their group

of certified nursing assistants

volunteer to help is fantastic.

It is exciting to collaborate

with our regional vocational

technical high school and

others to increase community

involvement and volunteerism."

BVT Health Services Instructor

Amy Ferrandino-Bedard

worked closely with this

group of seniors to prepare for

this clinic, reviewing coursework

connected to their curriculum.

She said, "They

learned how to store, prepare,

and draw up the vaccine into

syringes, reviewing various

vaccination administration

techniques. Reviewed the

screening questions required,

the monitoring period, and

why it is needed. It was truly

a culmination of all they have

learned."

"It was a wonderful opportunity

to attend the clinic

and observe Melissa Blodgett,

Captain/Paramedic of the

Uxbridge Fire Department

skillfully demonstrate various

techniques," said Jessica

Brown of Douglas, a senior

in Health Services at BVT. "I

had previously watched instructional

videos about how

the Pfizer vaccine is mixed

before being administered,

but seeing Captain Blodgett, a

BVT alum, mix the two parts

of the vaccine right in front

of me was a fascinating and

compelling experience. My

vocational-technical education

is paving the way for me

to help others and give back to

the community too."

"This clinic is a fine example

of how our vocationaltechnical

students use their

career training to help their

community," said Superintendent-Director

Dr. Michael

F. Fitzpatrick. "While the pandemic

has presented many

unique challenges, we are

proud of our students and

staff who are embracing new

learning opportunities to help

our neighboring towns."

Health Services seniors Jessica Brown of Douglas, Hannah

Parath of Millbury, and Kaitlyn Manzi of Milford observe

Melissa Blodgett, Captain/Paramedic-Uxbridge Fire Department,

draw the vaccine up into a syringe.

to

BACK

BUSINESS

Coming July 9 & 23, 2021

Space reservation: June 1

The landscape of business as we know it

has dramatically changed, but now we are

starting to shift gears and build back up.

The Yankee Xpress and Blackstone Valley

Xpress are offering an outlet for business

owners with Back to Business - a cost

effective and strategic way to place your

business back in the mind of consumers.

Reach more than 60,000 homes this July!

Reserve your space today by contacting

Bill Cronan at 774-289-5564 or by email at

bcronan@theyankeexpress.com
---
Uxbridge Senior Center news

UXBRIDGE - The Uxbridge Senior

Cente, 36 South Main St.,

has listed its calendar for May.

Director's message

The month of May represents

"Older Americans Month"

(aka: OAM). The theme for this

year's event is "Communities

of Strength."

Older adults have built resilience

and strength over

their lives through successes,

failures, joys, and difficulties.

Their stories and contributions

help to support and inspire

others. This OAM, we will celebrate

the strength of older

adults and the Aging Network,

with special emphasis on the

power of connection and engagement

in building strong

communities.

There are many things we

all can do to nurture ourselves,

reinforce our strength, and

continue to thrive. Connecting

with others is one of the most

important—it plays a vital role

in our health and well-being,

and in that of our communities.

From finding joy in small things

and sharing our stories, to looking

at the big picture and giving

to others, join us in promoting

the ways we are connected and

strong.

Here, at the Uxbridge Senior

Center, we try to focus our activities

and events on improving

our seniors lives. Please

consider joining in on a virtual

exercise class, or join in on our

walking club, come for a nutritious

curbside lunch pick-up,

or socialize with your peers

at our outdoor craft activity

program, or participate in our

Pen Pal program. The Center

provides our seniors the opportunity

to make a difference

in our community by sharing

their talents, wisdom and time.

Check our monthly Activity

Calendar and join in to make

our Center stronger through

your experience, knowledge,

and willingness to share with

others. We are blessed to have

your presence, your love, and

your unmatched perspective.

You deserve and we owe you

nothing less.

The Spring Town Meeting

is scheduled for Saturday,

May 15, at 2 p.m. at McCloskey

School located at 62 Capron

Street. Please plan on attending

to participate in this important

civic event.

Our Walking Club is back.

Sally resumed the Walking

Club on Wednesday, May 5,

and every Wednesday morning

at 10 a.m. Sally will also

be holding additional outdoor

activities including the Knitting

Group on Thursdays and

a new program with BINGO on

Friday, May 14. Masks and social

distancing will be required.

Check out the Activities Calendar

for more info. Please

call the senior center to RSVP.

Lisa Bernard, Director

Virtual programs will be

aired on local cable channel

192 Tuesday – Thursdays, 9:30

am and 5:30 pm also 10:00 am

nd 6:00 pm (times may vary).

You can also check out our

Facebook page and YouTube

channel.

MCOA Walk Massachusetts

Challenge – Lace up your

sneakers – Walk the Mass Challenge

is Back. Program runs

from May 1 – Sept. 30. This year

features more prizes and will

be incorporated with Sally's

Walking Club Every Wednesday

at 10 am. Meeting at the

Blackstone Valley Greenway

on Adams St., South Uxbridge.

10 lucky people will win a $50

Visa gift card, 25 people a $25

Amazon gift card, and 50 people

a $10 Dunkin' gift card. The

first 500 people who participate

will receive a handy reflective

wrist band and sports pack,

perfect for carrying your water

bottle, keys and phone. To sign

up, go to www.mcoaonline.

com/walkma or call 508-278-

8622.

Friday, May 14, 1:00 pm –

outdoor bingo. This will be

held in our parking lot (weather

permitting) and prizes will be

awarded. Must call 508-278-

8622 to sign up as space Is limited.

Social distancing & masks

are required.

Saturday, May 15, 2:00 pm –

Uxbridge Spring Annual Town

meeting will be at the McCloskey

School.

Friday, May 21, 12:00 pm

- baked fish curbside pickup

sponsored by ERA Key Realty

Charitable Trust Fund. RSVP

is required. Please Call 508-278-

The Blackstone Valley Xpress • www.blackstonevalleyxpress.com • May 14, 2021 25

8622 to reserve your meal.

Friday, May 28 and Monday,

May 31, the Senior Center will

be closed in observance of Memorial

Day. We will re-open on

Tuesday, June 1.

Uxbridge Senior Center On

The Move - Videos will be posted

every Monday at 10:00 am.

Get ready to join Sally and Gail

on virtual trips in and around

Uxbridge.

Hannaford grocery shopping

every Tuesday. Pick up begins

at 8:30 am. Please sign up in

advance by calling us at 508-

278-8622 to reserve your seat

on the van. Masks are required

and seating is limited.

Every Tuesday – Virtual

Chair exercises with Sally

posted on the Uxbridge Senior

Center Facebook page and You-

Tube after 2:30 pm.

1st and 3rd Wednesdays –

May 19, 10:00 am – bank and

pharmacy rides. Please call

at least 24 hours in advance if

you need a ride. Masks must be

worn as well.

2nd and 4th Wednesday,

May 26, 9:30 am – shopping trip

to Walmart. There will only be

4 people allowed on the van

per visit. Call ahead to sign up.

Night Warehouse

up to $18.00/hr. + incentives

Sunday – Thursday

Full-Time, Part-Time

and Seasonal

Core-Mark New England

355 Main St. | Whitinsville, MA 01588

Direct: 207.588.3066

Unleash your new career at Core-Mark,

Text CORE to 97211 to learn more

NEW ENGLAND WOOD PELLETS - READY FOR DELIVERY OR PICK UP

PELLETS ARE AVAILABLE BY THE BAG OR THE TON

DELIVERIES ARE AVAILABLE IN RI, MASS., AND CT

ALL WOOD COMPRESSED LOGS

STANDARD SIZE AND XL SIZE AVAILABLE PER PACK OR TONS

NOW DELIVERING

CORONA RAKES FOR THOSE FALLING LEAVES

GRASS SEED AND FERTILIZER

PAVERS AND RETAINING WALLS

BRICKS AND CEMENT BLOCKS

MORTAR AND CEMENT BAGS

CHIMNEY INSTALL AND REPAIR MATERIALS

DRAIN AND SEWER SCHED 35 PIPE/ FITTINGS

Masks must be worn.

2nd and 4th Thursdays May

27, 9:30 am, Shaws/Ocean State

shopping rides. Please call at

least 24 hours in advance if you

need a ride. Masks must be

worn and limited to 4 people

on the van.

Welcome back knitters. Knitters

can meet every Thursday,

1:30 pm in the senior center

parking lot. Masks and social

distancing required (weather

permitting). Please bring your

own chair and water bottle. You

must RSVP 508-278-8622.

Every Thursday – virtual

crafts with Sally posted on the

Uxbridge Senior Center Facebook

page and YouTube after

2:30 pm.

Every 1st and 3rd Friday,

1:00 pm – Live Facebook Pictionary

with Sally & Gail! Tune

in to the Uxbridge Senior Center

Facebook page. Prize given

to first place participant.

Medical Transportation is

accepting appointments. Call

508-278-8622 to schedule your

rides.

The Uxbridge Senior Center

Donation Funds are used to

pay for services, programs, and

activities for Uxbridge older

adults and are not considered

part of the Town's operating

budget for the Center. Anyone

wishing to donate may do so

by making checks payable to

the "Uxbridge Senior Center."

Donations may also be made

in honor of, in memory of, or in

appreciation of. Contributions

are greatly appreciated. Our seniors

thank you.

63 LEDOUX DRIVE, NASONVILLE, RI

HOURS: MON.-FRI. 7-4; SAT. 7-12

401-769-4286 • DAN@VICTORYSUPPLYRI.COM
---
26 The Blackstone Valley Xpress • www.blackstonevalleyxpress.com • May 14, 2021

BVT second trimester Commendation List, recognizing academic achievements

UPTON – Superintendent-

Director Dr. Michael F. Fitzpatrick

has released the following

Commendation List

for the second trimester of the

2020–2021 academic school

year at Blackstone Valley Regional

Vocational Technical

High School.

To be named to the Commendation

List, students must

meet rigorous standards that

include maintaining a grade

point average of 88 percent

or above in each technical,

related, and academic course

for the trimester. Students are

listed by grade level, hometown,

and alphabetically by

Resource directory

MARK SARKISIAN, JR.

markjr@capitolsiding.com

www.capitolsiding.com

home

their last name. To view the

entire Commendation List for

the second trimester, please

visit www.valleytech.k12.

ma.us/2tcommendationlist.

SENIORS (Class of 2021)

Douglas - Giannah Dowen,

Health Services; Kayla Drew,

Culinary Arts; Ryleigh Flansburg,

Dental Assisting; Krista

Helstrom, Multimedia Communications;

Madison Mathieu,

Electrical; and Luke Morrison,

Electronics & Engineering

Technology.

Northbridge - Kevin Downing,

Electronics & Engineering

Technology; Meghan Griggs,

Engineering & Robotics; Grant

CAPITOL SIDING &

HOME IMPROVEMENT

COMPANY, INC.

Custom Exteriors • Vinyl Siding

Replacement Windows

Roofing • Seamless Gutters

CLEAN OUTS

DONE BY

MrCleanest.com

WE DO EvERYThING!!

"Better than the rest" - vERY REASONABLE PRICES TOO!

Estate / Cellar / Attic / Garage

Carpets / Floors / Upholstery

RESIDENTIAL & COMMERCIAL SNOW PLOWING

DOUGLAS

MASS.

508-740-1883

30 Auburn Street

Auburn, MA 01501

Tel 508-832-5981

Fax (508) 832-0464

Houatchanthara, Information

Technology; Victoria Lopez,

Heating, Ventilation, Air Conditioning

& Refrigeration; Kaitlyn

McPherson, Cosmetology;

Donna Ross, Health Services;

Kevin Sawyer, Automotive

Collision Repair & Refinishing;

Matthew Trenholm, Engineering

& Robotics; Evelyn

Williams, Painting & Design

Technology.

Uxbridge - Nicholas Boisvert,

Electronics & Engineering

Technology; Thomas Breau,

Information Technology; Jacob

Constable, Electronics

& Engineering Technology;

Molly Curley, Health Services;

TAX PREPARATION

& FINANCIAL SERVICES

for Individuals, Small Businesses & Corporations

Tax Preparation • Tax Planning • Life Insurance • Annuities • Notary Public Services

As your trusted partner in success, CTSF CTFS is

large enough to offer a full range of professional

services at a fair price, but small enough to give

you the individual attention that you deserve.

Call us today for more information.

(508)381-3715 381-3715 • www.ctandfs.com

www.ctandfs.com

32 Hastings St, Ste 201 • Mendon, MA 01756

Mention this ad & save $25

THINKING ABOUT PAINTING YOUR CABINETS?

More affordable, less disruptive than you may think

with AMAZING results

Fine Interior Finishes

econnor117@gmail.com

207.779.7142

290 Providence Rd.

S. Grafton, MA

automotive

WE WILL BUY YOUR VEHICLE

CAR - TRUCK - SUV

AT THE BEST PRICE!!

2010 - 2019 MODELS

Perro's

PRE-OWNED AUTOS Since 1965

Madison Gannon, Engineering

& Robotics; Casey Goyette, Engineering

& Robotics; Khushi

Patel, Health Services; and

Caroline Sanford, Engineering

& Robotics.

JUNIORS (Class of 2022)

Douglas Sophia Aquilino,

Health Services; Zoey Beahn,

Construction Technology;

Joshua Chrul, Automotive

Collision Repair & Refinishing;

Gabrielle Gallant, Construction

Technology; Alexis

Levesque, Dental Assisting;

Joshua McCullen, Electrical;

Sophia Payson, Advanced

Manufacturing & Fabrication;

Lindsey Provost, Health Services;

Alyssa Schilling, Cosmetology;

Tatiana Tyra, Construction

Technology; and

Bryan Wheeler, Engineering

& Robotics.

Northbridge - Katelyn Barrows,

Culinary Arts; Kai DePaula,

Advanced Manufacturing &

Fabrication; Kaia Dziekiewicz,

Dental Assisting; Carmen

Gray, Engineering & Robotics;

Cullen Jacene, Engineering &

Robotics; Ansha Khan, Culinary

Arts; Olivia Lange, Dental

Assisting; Brendan McIntyre,

Construction Technology;

Nicolas Petone, Drafting & Design

Technology; and Bianca

Silveira, Painting & Design

Technology.

Uxbridge - Amber Ells, Painting

& Design Technology; Nolan

Holt, Culinary Arts; Riley

Holt, Engineering & Robotics;

Abigail Lane, Engineering &

ASK FOR JOHN or

MICHAEL

508-641-8195

508-641-8197

772 Southbridge St., Rt. 12, Auburn, MA 01501

772 Southbridge www.PerroAuto.com

Street - Rt. 12, Auburn, MA 01501

B & M and SONS

AUTO REMOVAL

Kris Sutton

kris@streetcarsolutions.com

"Buyers of ALL Scrap

Cars, Trucks and Catalytic Converters"

HIGHEST PRICES PAID

(508) 873-6112

Robotics; Aisha Lutwama,

Culinary Arts; Robert Mellen,

Engineering & Robotics; Abril

Sanchez, Multimedia Communications;

Ines Taipina, Business

& Entrepreneurship; Emily

Warner, Culinary Arts; and

Lia Zajas, Multimedia Communications.

SOPHOMORES (Class of 2023)

Douglas - Katelin Carlson,

Health Services; Brooke Lukasevicz,

Health Services; Murphy

Potter, Painting & Design

Technology; Brett Staples,

Electronics & Engineering

Technology; and Julia White,

Cosmetology.

Northbridge - Vanessa Calles,

Drafting & Design Technology;

Riley Driver, Electrical; Sam

Grilli, Drafting & Design Technology;

and Emily Wildfeuer,

Drafting & Design Technology.

Uxbridge - Isabel Cahill, Multimedia

Communications; Maxwell

Guyton, Engineering &

Robotics; Autumn Herrick,

Electrical; Jack Moscatelli, Cosmetology;

and Jayda Paxton,

Painting & Design Technology.

FRESHMEN (Class of 2024)

Douglas - Laney Beahn, Engineering

& Robotics; Cameron

Burdick, Heating, Ventilation,

Air Conditioning & Refrigeration;

Mary Chrul, Health Services;

Jack Dooner, Electronics

& Engineering Technology;

Matthew Phelps, Plumbing;

Kendra Rowe, Cosmetology;

Sorcha Twohig-Mann, Health

Services; Maia Tyra, Electronics

& Engineering Technolo-

ads@TheYankeeXpress.com

Serving Southeastern MA and Surrounding Areas

Customer Satisfaction Guaranteed

A.P. Mandella Landscaping

STUMP GRINDING

Chip Removal

LOAM & SEED

Small Backhoe services

Call Anthony @ 508-340-1640

Auburn, MA

13 Cook Street

E. Douglas, MA

508-476-2278

FUEL OIL - PROPANE - KEROSENE

SALES • SERVICE • INSTALLATION

Serving: WHITINSVILLE, UXBRIDGE, DOUGLAS, SUTTON,

MILLVILLE, MENDON, UPTON, MILLBURY, WEBSTER,

GRAFTON, OXFORD, DUDLEY, HOPEDALE

gy; Chloe Vescio, Engineering

& Robotics; and Logan Visser,

Heating, Ventilation, Air Conditioning

& Refrigeration.

Northbridge - Riley Austin,

Painting & Design Technology;

Giovanni Biagioni, Electronics

& Engineering Technology; Hailey

Feehan, Painting & Design

Technology; Logan Feehan,

Painting & Design Technology;

Landry Fitzgerald, Plumbing;

Yaliz Jimenez, Health Services;

Izamar Laboy Villegas, Information

Technology; Trysta Lamarche,

Dental Assisting; Emily

Legge, Health Services; Kayla

Leppamaki, Engineering & Robotics;

Lily Marshall, Dental

Assisting; Ella Rogozenski, Engineering

& Robotics; Bridget

Roy, Culinary Arts; Mikaela

Sadik, Multimedia Communications;

Sophia Schuster, Health

Services; Adriana Tillison, Engineering

& Robotics; and Emma

Vaughan, Culinary Arts.

Uxbridge - Yara Alomar, Health

Services; Noah Cahill, Engineering

& Robotics; Caitlyn

DeLuca, Cosmetology; Avery

Herrick, Multimedia Communications;

Makaylah Holzman,

Engineering & Robotics;

Trevor Horgan, Electronics &

Engineering Technology; Sean

Knox, Advanced Manufacturing

& Fabrication; Jillian Lutton,

Heating, Ventilation, Air

Conditioning & Refrigeration;

Grace Mathieu, Engineering &

Robotics; Olivia Stefanick, Electrical;

and Joshua Thompson,

Multimedia Communications.

♦ Driveways

♦ Parking Lots

♦ Pressure Washing

♦ Crack Filling

♦ Asphalt Repair

Fully Insured

Free Estimates

www.SochiasOil.com

Heating - Air Conditioning

24 Hour Burner Service
---
RE: Real Estate

Mark Marzeotti

Not only does the house you're

selling have a fresh coat of paint

you changed out the light fixtures

in the bathroom and upgraded the

stove. But is it enough to impress

the home appraiser who's come

to assess your house's value?

There are quite a few factors that

go into a home appraisal.

What does a home appraiser look

for?

A home appraiser's role is to determine

a home's value by investigating

the property's location,

square footage, condition, number

of rooms and any renovations

or additions. They'll also look at

recent sales of similar homes in

the neighborhood.

So, what are some of the key external

factors they'll consider?

Like many parts of a home appraisal,

much of this is beyond

your control:

• The location. Everything from

the quality of the school district to

the proximity to employment opportunities

gets factored in here.

An appraiser will also consider

things like entertainment (is there

a movie theater or restaurants

nearby?) as well as likelihood of

any impact from a natural disaster

(say, if it's in a flood zone).

• Land use. If you look at the

neighborhood, is it suburban,

rural or urban? What percentage

of the land is used for homes vs.

businesses? Are there a lot of

wide open spaces (parks, etc.) or

is it very dense?

• The size of your lot. Do you

have space to expand? A backyard?

Room to grow? This can affect

your appraisal amount.

• Access to public utilities. Everything

from water to sewage—a

home appraiser will want to know

if hookups are available.

• Parking. This applies to the

quality of the driveway (is it

paved? dirt? something else?) to

the size of your garage (or lack of

one, if that's the case).

• The year your property was

built. The age of your property is

something a home appraiser considers,

but his or her assessment

can be affected by maintenance.

• The roof and foundation type.

Newer homes typically utilize

newer materials. Same applies to

your home's siding, windows and

doors (anything that's more energy-efficient

will give your home an

automatic uptick in value).

What hurts a home appraisal? 6 common factors to consider

• Square footage. Also, the number

of bedrooms and bathrooms.

• Basement and attic features.

Do you have a finished basement

and attic? Can it be turned into a

playroom? Or is it more of a crawl

space?

• Recent renovations. They'll

particularly look at kitchens and

bathrooms.

While the buyer's bank typically

chooses the home appraiser,

it's worth noting that the person

they select is someone who has

to be certified in your state, which

means they have to adhere to the

Appraisal Foundation's Uniform

Standards of Professional Appraisal

Practice. Your REALTOR

can guide you on this. A good way

to think of a home appraiser is to

consider them a neutral party.

Their number one goal is to confirm

that the price of the home is

fair to everyone—the buyer, the

seller and the bank.

The appraisal happens after

an offer is made, but before that

deal has closed. And if the home

appraisal comes in and the price

is off the mark? If the appraised

value is higher than the offer, then

there's typically no issue in terms

of the loan, but if the appraisal

is lower, this can be tricky since

the lender will only loan money

up to the appraised amount. The

impact for the seller is that the

buyer could pull their offer. This

is where your REALTOR can help

you with the additional negotiation

to keep this deal on track.

Home appraisal factors you can

control

There are quite a few factors that

you have the power to change

ahead of an assessment by a

home appraiser. Yes, things like

your home's location or recent

sales in the neighborhood play a

part, but you can control any renovations

you've done or will do to

your home. For instance, if you've

built an addition like another bedroom

or turned a dingy basement

into a gorgeous rec room, this

should raise your home's value.

Make sure you hold onto any

records of renovations you've

done and keep in mind that what

you paid for these renovations

may not boost your home's value

dollar for dollar.

Other factors you can control:

1. A leaky roof.

One of the worst things you can

do is delay on necessary maintenance.

It's that leaky roof or the

deck repair you've neglected for

years—over time they'll become

much more costly or extensive

problems.

2. Dated finishes or appliances.

Things like worn-out countertops

or bathroom tiles that need to be

re-grouted all have an impact on

the final assessment of your home

before a sale. So take the time,

and put in the money to fix these

things before putting your home

on the market.

Just be mindful that you don't

over-improve (go too fancy or too

niche with your design choices on

hardware or bathtubs, etc.) since

you want a look that will appeal to

the maximum number of buyers.

(One man's walk-in wine cellar is

another man's giant headache.)

3. Obvious repairs.

Let's say you had someone in to

assess that roof repair and you're

on it—your REALTOR will make it

clear to your home appraiser that

this will be done by the time of

the sale, so that they don't take

that amount off the final value of

the home.

Make sure to also honestly consider

any renovations or changes

you've made for the worse—particularly

any amenities you've

removed. For instance, if you've

torn down a wall to prioritize an

open floor plan, but eliminated

a bedroom in the process or removed

a jacuzzi from the backyard,

this could detract from your

home's appraised value. Think

long and hard before you remove

any features from your home.

OK, so how about the things

you can't control? Most of this

comes down to your home's location:

1. The value of nearby listings.

Like we said, it's not just the internal

factors of your home that

make a difference—a lot is tied

to how your home measures up

against other listings in your area.

(In the real estate world, this is

MULCH • WOOD CHIPS • COMPOST

SAND • STONE • LOAM

605 Quaker Highway (Rt. 146A)

Uxbridge, MA

508.278.2628

P.O. Box 77

Uxbridge, MA

01569

The Blackstone Valley Xpress • www.blackstonevalleyxpress.com • May 14, 2021 27

referred to an assessment of comparable

sales.)

In this sense, an appraiser will

consider your house's square

footage and number of stories in

comparison to similar models.

This applies to amenities, too.

Let's say your home has a twocar

garage. What are other homes Real Estate Consultant

Maureen Cimoch

with these types of features selling

for nearby?

Cell 508.769.9211

A good appraiser will consider

111 East Main Street, Webster

multiple properties and be weary www.LakeRealty.net

of outliers. (Say, that bargain listing

right across the street from the

www.WebsterLake.com or .net

highway off-ramp.)

2. Market conditions.

This is about supply and demand. Mark Marzeotti

If your home is in an area with

Realtor

decreasing prices or vacancies

ADVANTAGE 1

and foreclosures, this could negatively

affect your home's value.

But if sales are on the rise and

the future trajectory of your area

looks positive (growing employment

ops, for example), this all

25 Union Street, 4th Floor

affects the price.

Worcester, MA 01608

That said, if you're fielding multiple

offers on your property, your

Mark

617-519-1871

REALTOR will let your appraiser

Marzeotti MLMarzeotti@gmail.com

know. (That could be a testament to

Realtor www.MarzeottiGroup.com

not just value and future value, but

also improving market conditions.)

3. A busy street.

"I look forward to

If your home is off a freeway or near

Sandi Grzyb

serving you in all of your

a bustling shopping district with

real estate ventures!"

loads of outdoor restaurants, that has joined

can lower the final appraisal. Bottom

Line: Consult your agent—and a

EXIT Beacon Pointe Realty!

•Buying

home inspector—ahead of time

A REALTOR is trained to foresee •Selling

potential problem areas. Have a •Investing

conversation with them about any

anxieties you have, but also do a

CONTACT INFO:

walk-through to talk through the 774-230-3500 | 508-943-6960

obvious changes you can make

Text Sandi @ 85377

ahead of a home appraisal—all to

sandigrzyb@aol.com

ensure you get the top dollar you

deserve. EXIT Beacon Pointe Realty - 435 Shrewsbury St., Worcester, MA 01604

Commercial /Industrial

lease opportunity

21 Pearl St.,

Webster, MA 01570

Description:

57k sf. Building.

Wet Sprinkler system.

3 Phase Electrical.

New Zoned High Efficiency Gas Heat.

New Electrical Lighting.

Freight Elevator (3500lbs Capacity)

Rate $8.00 /sf./yr.

Available

June 1, 2021

430 Main St., Oxford, MA

We repair all makes and

models of Garage Doors and

Electric Openers

- Commercial and Residential -

Visit our display by appointment

Sales • Service • Installation

Renew your home's appeal

with a new garage door.

Many new styles and colors

to choose from.

800-605-9030 508-987-8600

www.countrysidedoors.com email: countrysidedoors@aol.com

Usable space:

First floor 21,978 sf. with 11½ ft ceiling height.

Second floor 22,784 sf. with 11½ ceiling height.

Third floor 5,244 sf. with 12 ft. ceiling height.

Drive in Bay with dock leveler (1)

Exterior Dock Doors (2) First Floor. (2) second Floor.

Parking private gated and public street plus two bay

commercial garage 20x30x12.

Robert Warehouse LLC

Contact: Pete Coppola

at 508-640-5813
---
28 The Blackstone Valley Xpress • www.blackstonevalleyxpress.com • May 14, 2021

Don't spend

another summer

sweating!

Don't spend

another summer

sweating!

HURRY!

Limited time

only!

hot

buy

GET RECLINING & GET SAVING! Don't spend

Choose from an amazing selection of our greatest

recliner styles and features including

massage, leather, high legs and more… another summer

GET

all

RECLINING

sale priced to fit comfortably

& GET SAVING!

into your budget! sweating!

Choose from an amazing selection of our greatest

FROM recliner styles and features including

massage, leather, high legs and more…

$

349 399

HURRY!

Limited time 0% INTEREST - FOR all 1 sale FULL priced YEAR! to fit comfortably

only!

into your budget!

www.sundeenfurnitureinc.com

0% INTEREST - FOR FROM 1 FULL YEAR!

Sundeen Furniture $

349

241 Providence Rd Whitinsville, MA 508-234-8777

hot

buy

www.sundeenfurnitureinc.com

FREE LAYAWAY • FREE DELIVERY

0% INTEREST - FOR 1 FULL YEAR!

Sundeen M.T.W. 9:30-6:00; TH., FRI. 9:30-8:00; Furniture

SAT. 9:30-6:00; SUN 11-5

www.sundeenfurnitureinc.com

241 PROVIDENCE ROAD, WHITINSVILLE, MA

Sundeen

508-234-8777

Furniture

FREE LAYAWAY / FREE DELIVERY

M.T.W. 9:30-6:00; TH., FRI. 9:30-8:00; SAT. 9:30-6:00; SUN. 11-5

241 Providence Rd Whitinsville, MA 508-234-8777

FREE LAYAWAY • FREE DELIVERY

M.T.W. 9:30-6:00; TH., FRI. 9:30-8:00; SAT. 9:30-6:00; SUN 11-5

FOR ALL YOUR FUEL NEEDS

NEW BOILER INSTALLS

• Crown Boilers

• Williamson Furnaces

• Oil Tank Installs

Central air conditioning

and ductless mini splits

ALL NEW

INSTALLS COME WITH

A 3 YEAR PARTS

AND LABOR WARRANTY,

AS WELL AS THE

MANUFACTURERS

WARRANTY.

We do NOT

Sell Biofuel!

Which will help prevent

less system breakdowns.

In the ceiling, on the wall, ductwork or no ductwork. We

provide energy-efficient heating & air conditioning.

In the ceiling, on the wall, ductwork or no ductwork. We

provide energy-efficient heating & air conditioning.

© 2021 Mitsubishi Electric Trane HVAC US LLC. All rights reserved.

In the ceiling, on the wall, ductwork or no ductwork. We

provide energy-efficient heating & air conditioning.

© 2021 Mitsubishi Electric Trane HVAC US LLC. All rights reserved.

© 2021 Mitsubishi Electric Trane HVAC US LLC. All rights reserved.

Choose Morriss

Choose Morrissette & Son - Upgraded as your installer, Diamond and

Choose Morrissette & Son

(from stan

- Upgraded Diamond Dealer Parts & Compressor Warranty

as your installer, (from standard 5 receive:

years parts/7 years compresso

- Finan

- Financing through the MassSave

- Rebates

HeatLoan

throu

-Upgraded- Rebates Diamond through Dealer MassSave, Parts with & processing on your

- Ex

Compressor Warranty - Extended for 12-years

Labor Warranty Available

(from standard - Highly 5 years trained parts/7 technicians years with Installation - Highly train & Ser

compressor) - Maintenance Contracts Available

- M

-Financing through the MassSave

Choose Morrissette & Son HeatLoan as your installer, and receive:

- Rebates through MassSave,

(from with standard processing 5 years parts/7 on years your compressor) behalf

-Extended

- Financing through

Labor

the

Warranty

MassSave HeatLoan

Available

- Rebates

-Highly

through MassSave,

trained

with

technicians

processing on your

with

behalf

- Extended Labor Warranty Available

Installation & Service

- Highly trained technicians with Installation & Service

-Maintenance Contracts Available

- Upgraded Diamond Dealer Parts & Compressor Warranty to 12-years

- Maintenance Contracts Available

TOW IT - DRIVE IT - DRAG IT

WE WANT YOUR VEHICLE

WANTS

YOUR

SCRAP METALS

Cash Money For Your Scrap

A Full Service Oil Company

24-Hour Emergency Service

WWW.LMTOIL.COM • WE DO ONLINE ORDERING