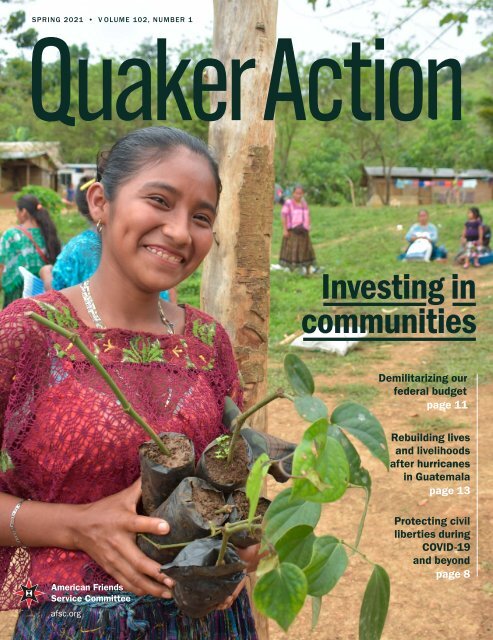 Quaker Action: Investing in Communities (Spring 2021)
The COVID-19 pandemic has devastated communities in the U.S. and around the globe. While it has magnified racism, poverty, and other injustices of our world, it has also reminded us that we are all interconnected—and that our health and well-being are dependent on how we treat each other. In this issue of Quaker Action, you'll read about some of the ways AFSC is supporting communities responding to the world's most pressing problems—including advocating for COVID-19 vaccines to be free and available to all and pushing back on government restrictions on civil liberties. In the U.S., we are mobilizing with communities to demand a moral federal budget—one that meets real needs instead of further militarizing our communities.
The COVID-19 pandemic has devastated communities in the U.S. and around the globe. While it has magnified racism, poverty, and other injustices of our world, it has also reminded us that we are all interconnected—and that our health and well-being are dependent on how we treat each other.

In this issue of Quaker Action, you'll read about some of the ways AFSC is supporting communities responding to the world's most pressing problems—including advocating for COVID-19 vaccines to be free and available to all and pushing back on government restrictions on civil liberties. In the U.S., we are mobilizing with communities to demand a moral federal budget—one that meets real needs instead of further militarizing our communities.
SHOW MORE
SHOW LESS
Create successful ePaper yourself
Turn your PDF publications into a flip-book with our unique Google optimized e-Paper software.
SPRING 2021 • V OLUME 102, NUMBER 1

Investing in

communities

Demilitarizing our

federal budget

page 11

Rebuilding lives

and livelihoods

after hurricanes

in Guatemala

page 13

Protecting civil

liberties during

COVID-19

and beyond

page 8

afsc.org
---
Quaker Action

Published by the American Friends

Service Committee

afsc.org

WHO WE ARE

The American Friends Service

Committee (AFSC) is a Quaker

organization that promotes lasting

peace with justice as a practical

expression of faith in action.

Drawing on continuing spiritual

insights and working with people

of many backgrounds, we nurture

the seeds of change and respect

for human life that transform social

relations and systems.

MANAGING EDITOR

Ronna Bolante

EDITORS

Mark Graham

Theresa Kirby

Melissa Lee

Ralph Medley

Layne Mullett

DESIGN

Aija Suuta

Carl Roose

COVER PHOTO

Communities rebuild after

hurricanes in Guatemala.

Photo: Luis Ochoa/Awal

Photography

Contents

FE ATURES

8 Protecting civil liberties during

COVID-19 and beyond

AFSC's Under the Mask project

offers civil society organizations,

peacebuilders, and others tools for

resisting authoritarian policies.

11 Demilitarizing our federal budget

It's time for Congress to stop funding

weapons and war—and invest in our

communities.

13 Rebuilding lives and livelihoods

after hurricanes in Guatemala

Thanks to your support, AFSC

provided emergency food and other

necessities to hundreds of people in

Guatemala—and is now helping them

rebuild for the long term.

DEPARTMENTS

3 Letter from our general secretary

4 Alumni news & notes

5 News from around AFSC

7 Q+A: Aura Kanegis, director of

public policy and advocacy

15 Snapshot

E-MAIL ADDRESS

quakeraction@afsc.org

AMERICAN FRIENDS

SERVICE COMMITTEE

1501 Cherry Street

Philadelphia, PA 19102

Tel: 215-241-7000

Toll-free: 888-588-2372

Photo:Abdel Kareem Al Reefi

Support steadfast work for peace

When you support AFSC, you join a global community of people who believe we

can build a world with lasting peace and justice.

Every day, our programs work to end inequity, oppression, and violence.

Gifts to AFSC help us respond to immediate needs in communities we serve—and

keep working for transformative change to create a peaceful future for us all.

To donate today, visit afsc.org/QAspring21,

or contact our Donor Services team at 888-588-2372.
---
LETTER FROM OUR GENERAL SECRETARY

Now is the time

to dream boldly

BY JOYCE AJLOUNY

AFSC staff and volunteers

provide food and other

essentials to community

members in Florida.

Photo: Adam Barkan

It's been hard for a lot of us to keep track of time over

the past year. Sometimes things that happened yesterday

can feel like they happened a week ago.

But I do know one thing about the time we're in

today: This is the time to be bold and to hope loudly.

It is a time to invest in things that bring life and

joy and promote the health and well-being of all—

instead of in systems that oppress, kill, and keep us

from creating the world we all deserve. This is a time

to recognize the many ways our safety depends on

caring for each other—not on weapons, prisons, or

hoarding resources from those who need them.

All around the world, I see my AFSC colleagues

and partners being as bold and hopeful as ever, amid

these most difficult times.

It is a privilege to work with people courageously

calling for COVID-19 vaccines to be free and

available to all, since we cannot overcome the

pandemic until all people in the U.S., Palestine,

Africa, and all corners of the world can access

vaccines and health care. We are also pushing back on

restrictions on civil liberties through our Under the

Mask project, by helping activists and organizations

hold governments accountable for exploiting this

crisis to enact authoritarian measures. And, in the

U.S., we are mobilizing with communities to demand

a moral federal budget—one that strengthens

our communities and meets real needs instead of

enriching defense contractors.

Thank you for your support of AFSC. Thank you

for sharing our dreams for a world free of violence,

oppression, and inequality, where all people can

thrive. By joining your voice with ours, we are working

together to bring these bold

hopes to fruition in communities

worldwide.

I hope you enjoy this issue of

Quaker Action, which shares examples

of this work and much more.

QUAKER ACTION ▪ SPRING 2021 3
---
ALUMNI NEWS

& NOTES

Get Alumni Network updates

and join our Facebook group!

afsc.org/alumni

Tarana Burke worked for AFSC as a grant writer but is best

known as the founder of the #MeToo movement. She recently

signed a deal with CBS studios to help produce documentaries

that tell the stories of people who have long been underrepresented.

After the end of the Vietnam War, Jacqui Chagnon worked in

Laos with AFSC as part of the organization's effort to educate

Americans about the devastation of U.S. cluster munitions.

Today she sits on the board of the War Legacies Project,

which documents the long-term effects of Agent Orange and

provides humanitarian aid to its victims—work that was recently

profiled in The New York Times magazine.

This spring, longtime human rights activist and organizer

Masaru Edmund Nakawatase (pictured below) will serve

as a Friend in Residence at Haverford College. For over

30 years, Ed was the national representative for Native American

Affairs for AFSC. The Friend in Residence program brings

experienced Quakers to campus for extended interactions with

students, staff faculty, and the community to stimulate reflection

on the connections between academic pursuits and "letting

one's life speak."

María Jiménez (below left) directed AFSC's Immigration Law

Enforcement Monitoring Project from 1987 until 2003 and

dedicated her life to advocating for immigrant rights. She died in

December in Houston.

Photo: James Wasserman

Last year, Christian Ramirez, who served as national coordinator

for AFSC's immigrant rights programs, started a mutual aid

stand in his front yard to distribute produce from his garden.

Now, with the help of volunteers, the "Table of Hope and Justice"

operates seven days a week and provides produce, canned goods,

and personal protective equipment to about 300 families a week.

Olivia Zink worked for AFSC's Governing Under the Influence

project in New Hampshire and served on the New Hampshire

Program Committee. Recently she was appointed as

interim mayor for the city of Franklin, New Hampshire.

Photo: AFSC archives

Do you have news to share? Email us at alumni@afsc.org

4 AMERICAN FRIENDS SERVICE COMMITTEE ▪ AFSC.ORG
---
IN BRIEF

News from around AFSC

Advocating for vaccines

for all

In this pandemic, we've seen how people

of color in the U.S. and marginalized people

around the world have received fewer

protections and less medical care. But

making vaccines available to all people—

wherever they live—is vital to ending this

crisis.

Formerly incarcerated people, loved ones, and other advocates call for the closure of Edna

Mahan prison. Photo: Bonnie Kerness/AFSC

Speaking out against prison abuses

In January, women incarcerated at Edna Mahan Correctional Facility in New

Jersey came forward to speak out against brutal beatings by officers.

They shared their stories in letters to Bonnie Kerness, who directs AFSC's

Prison Watch Program in New Jersey. Bonnie has monitored and worked to end

human rights abuses in prisons for decades, working with a team of volunteers to

answer thousands of letters each year. She helped the women bring their stories

to light by sharing their letters with the governor, legislators, advocates, and the

media.

"Torture in New Jersey prisons and jails has escalated, cruelty happens with

impunity, and it appears that no one is accountable," Bonnie says. "We must

change the culture that not only permits such abuse but accepts it."

The reports of these beatings came less than a year after the U.S. Department of

Justice issued a scathing report on sexual abuse by officers at the same facility

and criticized the prison system's response.

The bravery of the women in reporting the abuse is making a big impact.

Since the women spoke out, more than 30 staff have been placed on leave, and

the governor launched an independent investigation. Several lawmakers are

calling for the resignation of the state's top corrections official and other steps to

protect women at the prison.

AFSC has stood with communities worldwide

in demanding vaccines for all:

• In the U.S., thousands of people took

action with AFSC to urge governors and

other public officials to prioritize

incarcerated people for vaccinations as

the virus surged in prisons, jails, and

detention centers.

• While Israel has been praised for quickly

inoculating Israeli citizens, it has left out

millions of Palestinians living under

Israeli control. AFSC supporters have

spoken out, urging Congress to demand

vaccinations for Palestinians in Gaza

and the West Bank.

• When President Biden took office, we

joined with leaders from faith-based

groups, public health, and other sectors

to urge him to commit to a "people's

vaccine" to provide protection as a

global public good, free and fairly

available to all, in coordination with the

Advocacy Network for Africa's COVID-19

response group.

We hope you join us in advocating for a

global response to the pandemic that

recognizes the inherent worth and dignity of

every person—and the ways in which our

future depends on caring for one another.

Photo: Jon Krieg /AFSC

QUAKER ACTION ▪ SPRING 2021 5
---
IN BRIEF

IN THE NEWS

AFSC in the media

Staff from around the country are working

hard to make change on the ground—and

in the news. Here are some of the highlights:

On the Biden administration

and Palestine

"As a Quaker, I believe deeply that there

is a divine light in every person. As an

American Palestinian woman, I believe

that we must engage in a lifelong struggle

to overcome injustice. I believe that a

just and lasting peace, one that brings

freedom and security to Palestinians and

Israelis alike, is possible."

Photo: Wisam Hashlamoun/No Way to Treat a Child

Ending the military detention of

Palestinian children

Since 2000, more than 10,000 Palestinian children in the West Bank have been arrested

and held in Israeli military detention. Palestinian children are denied basic

rights in a way that is "widespread, systematic, and institutionalized," says UNICEF.

They have no right to legal counsel during interrogation and can be held for months

without being charged with a crime. And they often give confessions after verbal or

physical abuse that can amount to torture.

For the past six years, AFSC has partnered with Defense for Children International-

Palestine to expose this abuse. The effort is part of our ongoing work to end the Israeli

occupation of the Palestinian territory.

Our No Way to Treat a Child campaign calls on Congress to use their funding

and influence to end Palestinian child detention. That means prohibiting U.S. tax

dollars from funding the military detention or abuse of children. Over the past year,

our campaign has mobilized 16,000 people to contact representatives, take part in

online advocacy training, and engage their congregations.

And we're making progress. Every year since 2017, members of Congress have

introduced legislation to hold Israel accountable for human rights violations against

Palestinian children. While the legislation has yet to pass, congressional support has

been growing.

We're determined to keep this issue front and center with Congress for as long

as Palestinian children are being detained, and we hope you'll help us. For resources

to take action, visit nowaytotreatachild.org.

—Jennifer Bing, Palestine Activism Program

—Joyce Ajlouny, general secretary,

for Truthout

On economic activism

"[AFSC] likely recognized this problem

too when they created Investigate ...

Currently, the tool lists 9,225 publicly

available funds and ranks them by what

AFSC has determined to be exposure

to the prison industry, as well as

border militarization and unjust land

occupation-supporting companies.

With more accessible transparency ...

investors may find it easier to make

socially responsible investment

decisions for their portfolios."

—Forbes

On AFSC's "White Flag" COVID-19

memorial exhibition

"As we approach a time in Georgia

where almost everybody knows somebody

who has passed, the emotional

impact is heavy. We're trying to create

a real visual demonstration of the

human and economic impact of the

pandemic, but also to create a mourning

experience, a public mourning

space that is safe and outdoors."

—Tim Franzen, Georgia Program director,

Atlanta Journal Constitution

6 AMERICAN FRIENDS SERVICE COMMITTEE ▪ AFSC.ORG
---
PEOPLE

Photo: Don Davis/AFSC

Aura Kanegis

Director of public policy and advocacy, Washington D.C.

Photo: Don Davis/AFSC

Q: What is AFSC's approach to advocacy

for policy change?

A: AFSC brings our experience working

with communities worldwide to policymakers,

amplifying the voices of those

often left out of decisions on issues impacting

their lives. We must make sure

policies aren't just shaped by consultants

and pundits in Washington, but by people

whose lives, well-being, and tax dollars are

at stake.

As a Quaker, I grew up on my grandfather's

stories about integrating lunch

counters before the civil rights movement

became widespread, and about earlier

Quakers like John Woolman who were

part of the century of organizing that

went into the movement to abolish slavery.

AFSC's approach deeply embodies these

Quaker values—working not toward what

is possible now, but toward what must be

made possible to bring forth a more just

and compassionate world.

We don't shy away from bold positions,

rooted in these values and the realities

of impacted communities rather than

political expedience. In talking about

immigration, for example, we challenge

others to move beyond talking points

about "hard-working" immigrants and to

resist the temptation to only advocate for

certain groups to the exclusion of others,

particularly those who've been involved in

the criminal legal system. Those messages

may test well with focus groups, but in the

long run they undermine the principle

that all people have human rights and deserve

protection.

Q: With the start of a new presidential administration

and Congress, what do you see as opportunities

in advocating for social change?

A: We see important initial steps from the

Biden administration and the new Congress.

But one thing that many advocates

learned the hard way during the Obama

administration is that we can't relax just

because officials have been elected whose

positions better align with ours. It takes

ongoing advocacy and organizing to create

conditions for policymakers to follow

through on their campaign promises.

There is a huge space between what

a majority of people in the U.S. want and

what may be politically feasible this year.

It will be hard to move senators worried

about being challenged in a primary. But

though some in Congress are more responsive

to far-right media than to their

constituents, I still see ways that human

connections and personal stories can motivate

politicians to take bold action.

Q: What are some of the policy issues AFSC

is prioritizing now?

A: AFSC has long advocated for cutting

military spending and investing in human

well-being. Now is a crucial time to bring

that call to the forefront. When so many

face economic hardship, when a pandemic

and disasters fueled by climate change

have made clear that the greatest threats

to humanity worldwide cannot be met

with military might, how can we spend

most of our discretionary budget on the

military? Congress must shift federal budget

priorities toward human needs and

engage peacefully with the global community

toward shared well-being.

We also need Congress to address

this economic crisis with structural reforms

that build long-term human security

globally. We're expanding our call

for immigration policies that respect the

rights and dignity of all, including creating

a pathway to citizenship for all undocumented

people in the U.S. And we must

act to protect voting rights, ensuring the

voices of long-marginalized communities

are counted as we work for change.

Q: What can people do to advocate on the

issues they care about?

A: We want people to keep up their work

as citizen activists. Exercise your sense of

ownership over your elected officials—they

are accountable to you. Even if they're not

aligned with you, their job is to represent

you, and they need to be reminded of that by

your presence in their offices, inboxes, and

town halls.

The ways that the arc of history has bent

toward justice are the result of millions of

people standing up again and again in the

name of what is right. Their courage is the

force that opens the way for new possibilities.

When I step back from the daily frustrations

of this work, I see that breathtakingly

huge changes have taken place just over

the course of my quarter-century career. It

makes me hopeful for what we can make

possible when we keep showing up to make

the case for the world we need, even when it

seems out of reach.

QUAKER ACTION ▪ SPRING 2021 7
---
Protecting

civil liberties

during COVID-19

and beyond

AFSC's Under the Mask project offers

civil society organizations, peacebuilders, and

others tools for resisting authoritarian policies.

8 AMERICAN FRIENDS SERVICE COMMITTEE ▪ AFSC.ORG
---
The pandemic has prompted governments around

the world to enact measures to contain the virus.

But some have also used COVID-19 as an

opening to expand surveillance of everyday citizens and

restrict free speech and other civil liberties.

"There is no doubt it was critical for governments to act swiftly to

respond to the public health crisis," says Kerri Kennedy, associate

general secretary of international programs. "At the same time, it

immediately became clear to AFSC and our partners around the

world that we needed to monitor and resist the misuse of measures

that restrict civic space and nonviolent action—authoritarian

measures that had the potential to far outlast the pandemic."

AFSC launched the Under the Mask project to track governmental

abuses of power in the context of the pandemic. In the

summer of 2020, as international travel came to a standstill, AFSC

brought together activists and civil society organizations from 32

countries for online discussions about their experiences and ways

to counter oppressive state measures.

"Governments using crises

to pass harmful policies

is not new, but COVID-19

has given them the

opportunity to do it

with little international

attention—and reduced

ability for communities

to mobilize."

—SAHAR VARDI, ISRAEL PROGRAM

COORDINATOR

In addition to suppressing

free speech

and other civil liberties,

some governments have

used aggressive tactics

to deny the rights of minorities,

migrants, and

others—from police

brutality to the demolition

of homes and marketplaces.

Others have

used "shock and awe"

tactics and smear campaigns

to stoke fears

and divisions, stop elections,

and silence dissenting voices. Such measures accelerate a global

shift toward authoritarianism over the past decade that has led to the

shrinking of civic space.

"Governments using crises to pass harmful policies is not

new, but COVID-19 has given them the opportunity to do it with

little international attention—and reduced ability for communities

to mobilize," says Sahar Vardi, Israel Program coordinator.

AFSC's Under the Mask project is providing civil society organizations,

peacebuilders, the media, and others with tools, trainings,

and other resources to monitor government abuses—and push

back against dangerous policies that infringe on human rights

and civil liberties.

Government restrictions around the world

There are many examples of government responses to COVID-19

that have had little do with protecting public health—and, in

some cases, further endangered residents.

In Kenya, police have used heavy-handed enforcement to enforce

lockdowns. In March 2020, dozens of people were injured by

police as they scrambled to get home from work before curfew in

the coastal city of Mombasa. Africa Regional Director Kennedy

Akolo says: "We saw the police using very big sticks to beat up

people who were trying to cross by ferry, when not everybody can

get on the ferry at the same time. Some people were beaten up or

rounded up. There was excessive violence and total mistreatment

where people were beaten for absolutely nothing."

Tear gas and arrests as Kenyans protest police brutality in Nairobi, Kenya, July 2020

Photo: Dennis Sigwe/​SOPA Images

In the United States, the Trump administration had long

worked to reduce migration and dismantle the U.S. asylum system.

At the start of the pandemic, the administration closed the

southern border to asylum seekers—violating both U.S. and international

law as well as contradicting the advice of public health

experts who found the draconian decision had no public health

justification.

QUAKER ACTION ▪ SPRING 2021 9
---
The order resulted in rapid-fire deportations of tens of thousands

of migrants—including children—at the border, stranding

many in unsanitary conditions without access to support services.

As of this writing, the border remained closed to most asylum

seekers under the Biden administration—just one example of how

measures implemented during crises can be difficult to reverse.

In Israel, one of the first countries to impose a nationwide

lockdown, the government imposed extreme restrictions on the

right to protest in Jerusalem—amid growing demonstrations demanding

an end to the current administration. The government

also expanded surveillance technology using cell phone data—ostensibly

to track people suspected or confirmed to have the virus

but raising privacy concerns among activists.

"It was alarming to see how quickly Israeli security services

were able to put something like that in place," Sahar says. "And

the moment those technologies are in place, they're normalized.

The moment security services become used to the fact they can

have access to all this information, they're not going to let go of

that."

The past year has shown the many ways that governments

can exploit crises to enact policies that would be unacceptable in

normal times. But it has also shown us countless examples of individuals,

communities, and civil society organizations that have

courageously stood up

to resist authoritarianism—and

defend human

rights and civil

liberties for all.

Our Under the Mask

project is one contribution

to that courageous

resistance. In the coming

year, AFSC will host

more opportunities for

U.S.-Mexico border. Photo: AFSC San Diego

activists and civil society organizations to come together and support

each other's efforts.

"We know that a free civil society is an essential element of a

healthy society," Kerri says. "Those in positions of power have an

important role to play in the current crisis. And civil society has a

critical voice, as well. It's imperative for all people to work together

to grow justice and equality, while protecting public health."

Under

the Mask

An action

in front of

Elizabeth

Detention

Center

in New

Jersey.

Photo:

Ester Jove

Visit our site for:

• Reports and resources on government

restrictions during COVID-19

• Our limited series "Under the Mask" podcast

• Upcoming trainings and webinars

VISIT: underthemask.afsc.org

10 AMERICAN FRIENDS SERVICE COMMITTEE ▪ AFSC.ORG
---
Tori Bateman, AFSC policy

coordinator, at a protest

in Washington, D.C. Photo:

Carl Roose/AFSC

Demilitarizing

our federal

budget

It's time for Congress to stop

funding weapons and war—

and invest in our communities.

This year, the United States will spend more than $740 billion on

weapons and war. That price tag doesn't even include other ways

our taxpayer dollars fund militarized responses in the U.S, like

immigration enforcement and mass incarceration.

These misguided budget priorities come at a huge cost, and

every day we see that cost firsthand. When our government

wastes our tax dollars on war and militarism instead of keeping

our communities healthy, we all suffer.

Take F-35 war planes. This year, our representatives in

Washington allocated enough money for 96 of them. That's 17

more than the Pentagon had even asked for. And with each warplane

costing an estimated $100 million, the money spent on

just one aircraft could have instead paid for:

• Rent for an entire year for more than 73,000 people facing

eviction.

• Annual food assistance for nearly 60,000 people.

• Face masks for 100 million people who didn't have access to

protection.

That amount would also cover three years of operating expenses

for AFSC's work in communities worldwide.

The start of a new presidential administration and a new

Congress is a critical opportunity for the U.S. to reverse this

gross misallocation of our resources—and pass a moral budget

to improve the health and well-being of all people. Across the

U.S. and around the world, AFSC is working closely with communities

and partners on a range of initiatives that demonstrate

the difference we can make when we invest in human needs

instead of militarism.

QUAKER ACTION ▪ SPRING 2021 11
---
Instead of funding war, immigration enforcement, and prisons, we could:

Keep people in their homes.

In Georgia, residents began to face evictions and foreclosures

when unemployment skyrocketed last year. We worked with local

partners to launch a statewide COVID-19 Housing Emergency

hotline, training 100 volunteers to help people negotiate arrangements

to stay in their homes. Our efforts will help protect tenants'

rights and make sure people have access to stable housing.

Help farmworkers stay safe and healthy.

Although farmworkers are designated "essential workers," they are

often left behind when it comes to health protections and economic

relief. To help meet critical needs in this pandemic, AFSC distributed

food, personal protective equipment, and health information

to farmworkers in Homestead, Florida. We also partnered with the

state health department to bring mobile clinics to farmworker housing

villages to provide free COVID-19 testing—reaching more than

2,000 farmworkers.

Improve access to safety net programs.

AFSC has worked for years to make critical benefits like SNAP

(food assistance), Medicaid, and unemployment insurance more

widely available. In West Virginia, we have successfully advocated

for the state to remove time limits, work requirements, and other

obstacles to assistance. As this public health crisis continues and

after it ends, we will keep working until each person in our country

can meet basic needs.

Keep families and communities together.

In immigration proceedings, there is no right to counsel—even

for people in detention. Since 1997, AFSC has provided free legal

representation to low-income immigrants detained and facing

deportation in New Jersey—helping to keep hundreds of families

together and protecting due process. As COVID-19 spread

through detention centers, our efforts became more urgent than

ever to secure the release of as many people as possible. While our

ultimate goal is to end detention, the impact of our legal work is

clear: We've demonstrated that detained immigrants represented

by an attorney are more likely to be released and win their case.

And we've used what we've learned to successfully advocate for

public funding for universal representation and improved detention

conditions.

Create a pathway to citizenship for

all immigrants in the U.S.

There are an estimated 11 million undocumented people in the

U.S. who are vital parts of our communities—but are denied

the opportunity to obtain citizenship in the country they call

home. From California to Florida, AFSC has provided support to

immigrant-led organizing and advocacy to preserve Temporary

Protected Status (TPS) and Deferred Action for Childhood Arrivals

(DACA) programs—while calling for a pathway to citizenship

for all immigrants. We have helped immigrants and their loved

ones bring their stories to elected officials and the media and

engage others in demanding a lasting solution for all.

Support restorative justice initiatives to disrupt

the school-to-prison pipeline.

In St. Louis, Missouri, AFSC works with Northwest Academy high

school to provide alternatives to suspension or expulsion—as part

of our work to interrupt the school-to-prison pipeline. Since 2013,

we have helped students lead a peer mediation program, which

trains students to help their peers resolve conflicts peacefully. We

also provide support with other restorative practices that foster an

environment where students are empowered and cared for—and if

discipline is required, focuses on addressing harms and restoring

the student to the community, instead of removing them.

Strengthen communities working to build

conditions for peace around the world.

In Somalia, which has faced more than two decades of armed

conflict, young people must overcome enormous barriers to support

themselves and their families. Since 2015, AFSC has worked

with local partners in Somalia to teach young people vocational

skills—including carpentry, electrical work, and tailoring—as

well as conflict resolution. More than 1,400 people who graduated

from our program are now employed or self-employed, and many

more are prepared to join the workforce and use their knowledge

of peacebuilding and conflict resolution to act as agents of change

among their peers.

Your support for AFSC has helped us show how much is possible

with the right kind of investment, grounded in respect for human

rights and dignity. Thank you for supporting our work with

communities around the world.

12 AMERICAN FRIENDS SERVICE COMMITTEE ▪ AFSC.ORG
---
Irma Pá (left) was among the hundreds of people who

received food, water containers, and other vital aid after

the hurricanes. Photo: Luis Ochoa/Awal Photography

Rebuilding lives and livelihoods after

hurricanes in Guatemala

BY LUIS PAIZ BEKKER

REGIONAL DIRECTOR, LATIN AMERICA AND THE CARIBBEAN

In November of last year, thousands of

people lost their homes and crops to catastrophic

flooding when Hurricane Eta

struck Guatemala. Just two weeks later, a

second storm, Hurricane Iota, made landfall

in the same area—further devastating communities.

Among the hardest hit were Indigenous

communities in Alta Verapaz and

Quiché, regions in North and Northwest

Guatemala where AFSC has long-standing

partnerships, but where few other organizations

work.

When we put out a call for donations, the

AFSC community responded generously,

raising more than $56,000 for emergency

relief efforts. These funds brought critical

support to our grassroots community partners,

whose efforts to recover were compounded

by the dangers posed by armed

groups in the area as well as COVID-19.

Irma Pá's family was one 200 Q'eqchi

Indigenous families in Alta Verapaz to receive

food assistance. Her family was also

one of those who received a water container

as a result of our partnership with a community

group, the Committee of Peasant

Unity - CUC (Comité de Unidad Campesina).

The water containers helped ensure safe

drinking water in communities where water

catchment systems had been destroyed by

the storms.

She told us, "I feel very happy because

of the water tank we received. Now we

can store water, and we can also wash our

clothes in our new sink. We also receive

food, which we are going to prepare to feed

QUAKER ACTION ▪ SPRING 2021 13
---
our children. We are very happy to receive

this support from AFSC."

We were also able to provide Alta Verapaz

residents with temporary housing, hygiene,

kits, and materials to rebuild their homes.

In addition, we delivered pigs for breeding

and compost production and 40,000 seedlings—including

cabbage, onion, broccoli,

and celery—that will help families put food

on the table for years to come.

In the Ixil Indigenous of Quiché, another

200 families received support at a critical time.

In addition to providing food assistance, we

worked in close partnership with a community

group, the Ixil Youth Network Chemol

Txumb'al, to deliver water containers to guarantee

access to safe drinking water in four

communities.

We are deeply grateful to the AFSC

community for helping communities in

Guatemala not only meet their immediate

needs, but also rebuild for a safer, more sustainable

future. Without this kind of assistance,

many impacted by the storms would

have been forced to migrate. As Guatemala

recovers, we hope our efforts will help make

it possible and sustainable for community

members who wish to do so to remain in their

communities. And that we can keep up our

work together toward a more just, peaceful

future where everyone has the resources they

need to thrive.

With the support of the AFSC community, we provided food staples, hygiene kits, building materials,

and other critical assistance in Guatemala. Photos: Luis Ochoa/Awal Photography

14 AMERICAN FRIENDS SERVICE COMMITTEE ▪ AFSC.ORG
---
SNAPSHOT

A look at AFSC around the world

In Burundi, AFSC and Global Peace Chain organized a conference of

intergenerational dialogue for peace and sustainable development.

Photo: GPC Partner

Left to right, top to bottom:

1. "White Flag" COVID-19 memorial;

Atlanta, Georgia

2. Relief efforts in Beirut, Lebanon

3. Housing Justice League;

Atlanta, Georgia

4. Black Lives Matter protest;

Des Moines, Iowa

5. Protest against prison abuse;

Clinton, New Jersey

6. COVID-19 outreach;

Florida City, Florida

7. Livelihoods training;

Caledonia, Zimbabwe

8. Boycott Pillsbury campaign;

Oakland, California

9. Posada Sin Fronteras;

San Ysidro, California

10. Free Them All action;

Miami, Florida

11. Free Them All action;

Manchester, New Hampshire

12. Hurricane relief;

San Pascual, Guatemala

Photos: Tim Franzen/AFSC; Ralph Azar; Tim Franzen/AFSC; Jon Krieg; Bonnie Kerness/AFSC; Adam Barkan; Jaraad

Hassim; AFSC; AFSC San Diego; Adam Barkan; Felipe Salas-Ogilvie; Luis Ochoa/Awal Photography

QUAKER ACTION ▪ SPRING 2021 15
---
Non-Profit Org.

U.S. Postage

PAID

American Friends

Service Committee

1501 Cherry Street

Philadelphia, PA 19102-1403

afsc.org

SPRING 2021

VOLUME 102, NUMBER 1

Photo: Rubén Barrera

Including a simple line in your estate plans can

help ensure AFSC's future for years to come.

Thank you for your support!

To learn more, download our estate planning kit at

afsc.org/future, email us at GiftPlanning@afsc.org,

or call Alyssa Chatten at 888-588-2372 ext. 2.