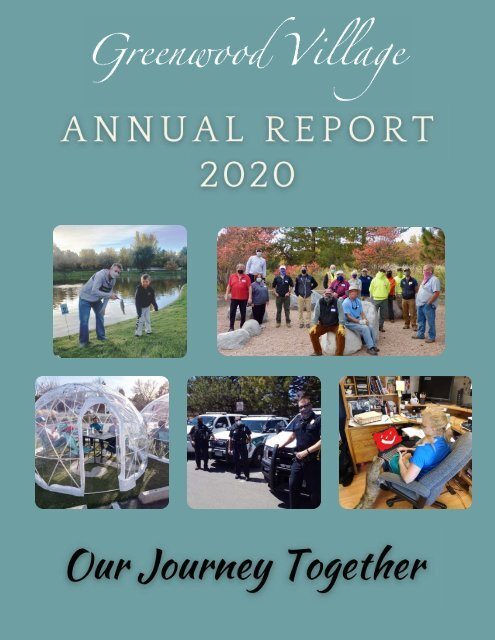 Greenwood Village Annual Report 2020
A report of the activities and highlights of the 2020 year in the City of Greenwood Village
A report of the activities and highlights of the 2020 year in the City of Greenwood Village
SHOW MORE
SHOW LESS
Create successful ePaper yourself
Turn your PDF publications into a flip-book with our unique Google optimized e-Paper software.
Left to right: Front: Jerry Presley, Libby Barnacle, George Lantz,

Judy Hilton, Donna Johnston

Back: Dave Bullock, Dave Kerber, Anne Ingebretsen, Tom Dougherty

"2020 presented some difficult challenges to Village residents,

businesses, and staff. Regardless of the issues, we tackled them together.

The resilience of our community and the support that was leant to each

other is helping us to recover. I am proud of all of you."

- George Lantz, Mayor

"2020 was a challenging year with massive social disruptions to our

society. In the Village, our approach was to provide a place where we

could count on as much normalcy as possible. We highlighted our

parks and open spaces for peace and recreation and kept our services

and operations to the levels that our citizens have historically come

to expect in order to create some form of stability that our society craves."

- Dave Kerber, Mayor Pro tem and District 2 Councilmember

"The challenges of 2020 were both significant and complex, which makes

me very proud of how everyone worked so diligently to keep service

levels at the height of what residents expect. We came together,

community and staff, to achieve the highest possible performance

outcome levels, which in turn maintained a high quality of life in the

Village."

- John Jackson, City Manager
---
Relationships, Outcomes and Improvements (ROI)

Are our guiding principles that provide the basis for employee

behavior and decision making.
---
Community Donations of

Food for Police

Hosted Four Public Input

Meetings at Parks; Two Virtual

261 Take-Home Art

Kits Distributed

Online Building and Code Inspections Were Made Available

10 Recreation

Contests

Hosted on

Facebook

Virtual Tour

of Four Art

Exhibits

17 Art

Classes Held

Online
---
Playgrounds Sanitized Weekly

Trail Sweeping and Trash Removal

Dog Bag Usage Up 35%

Village Greens Park Vehicle

Traffic Up 65%

Autumn Hills Pedestrian

Traffic Up 75%

Implementation of New Technology

New Phone System and Laptops to

Support Remote Work for

Employees

Conducted Remote/Hybrid

City Council Meetings

Electronic Court

Paging System to

Facilitate Efficient Check-In and

Maintain Social Distancing Efforts
---
Keeping Our Businesses Open

$6 million CARES Act Funding and Assistance went to

256 businesses

Extended Patio

Outdoor Eating Areas

Outreach and Social

Media Campaigns

Relaxed Enforcement of Sign Code

Partnered with Arapahoe

County to Implement

5-Star Program for

48 businesses
---
Major Highlights

Body-Worn Camera and Dash Cams

Provided for 67 Police Officers and

4 Code Enforcement Officers

* As required by State Law to build public

trust and transparency and to accurately

document police interactions

High Line Canal Trail Undercrossing

at Belleview Avenue to Install

Concrete Riding Surface and

Improve Lighting

Belleview and Steele Street

Traffic Signal Installed for

Safe Crossing of Drivers

and Pedestrians

Monaco Street Traffic Circle

Improvements to Reduce

Speeding and Enhance

Appearance
---
Major Highlights

Traffic Circle at Orchard

Drive and Ivy Street to

Reduce Speeding

Annual Shredding Event to

Protect Resident Safety of

Personal Information

Sundance Hills Speed

Humps to Reduce Speeding

Other Notable Accomplishments

Implemented Automated License Plate Reader System (ALPR)

Hosted Prescription Drug Take Back Day
---
Major Highlights

760 Street Lights Purchased

from Xcel Energy to Allow

the Village to Improve

Maintenance and Appearance

Belleview Avenue Median

Improvements Installed to

Enhance Aesthetics

Orchard Road Median

Landscaping at Colorado

Boulevard to Enhance Aesthetics
---
Major Highlights

High Line Canal

Volunteer Clean-Up

to Remove Debris

from the Channel

Other Notable Accomplishments

Implementation of Village Noise Wall Repairs

Residential Code Enforcement Policy Amended

Long Road and Long Lane Corner Landscape Improvements

Greenwood Estates Trail Landscape Improvements

Dayton Street Landscape Improvements at Orchard Hills

Landscaping at Orchard Hills Park Entrance at East Berry Avenue
---
Major Highlights

Two Pickleball Courts

Constructed at

Westlands Park

Art Sculpture, led by Arts Council,

Installed at Running Fox Park

Fun in the Sun

and Art in the Park

Expanded Programs With More

Sessions Each Day
---
Major Highlights

Outdoor Senior Fitness

Sessions Held at Curtis Park

New Features Installed at

Village Greens North

Mountain Bike Course

Six Exhibits Offered at

Curtis Center for the Arts

Other Notable Accomplishments

Elf on the Shelf Activity at Silo Park

Fall Recreation Activities

Outdoor Holiday Sports

Virtual Egg Hunt and Decorating Contest

Virtual Recreation Challenges

Virtual Pumpkin Decorating and Costume Contest
---
Major Highlights

Two Redevelopment Projects Approved in

Arapahoe Entertainment District (AED)

The (AED) is an overlay zoning district, to

revitalize and encourage redevelopment along

the Arapahoe Road Corridor

Grange Hall

Multi-restaurant food hall and brewery

Pindustry

Blend of food, entertainment and

games

Goldsmith Gulch Improvements

Channel Improvements; Restored

Conveyance Capacity and Functionality

Bridgwater Pond Improvements

Restored Functionality,

Increased Channel Capacity and

Removed Building Structures

from the Floodplain
---
Major Highlights

Orchard Road and Dayton Street Improvements

Completed to Better Accommodate Westbound Traffic

Flow and Reduce Traffic Back-Ups

Orchard Road and Holly Street Modifications

Completed to Improve Southbound Traffic Flow and

Reduce Traffic Back-Ups
---
Major Highlights

Fall Fishing Derby Attracted

150 Participants

Winter's Glow

(Pre-COVID)

Virtual Mayor's

Lighting of City Hall

6,000 Pairs of Socks

Collected for Annual Sock

Campaign
---
Virtual Waddle Race

With 300 Rubber Ducks

Major Highlights

Arapahoe Philharmonic Concert

(Pre-COVID)

Virtual GV 500

Remote Control Car Race

Art on the Green

Attended by 1700 people; 48 booths, 53 artists

Other Notable Accomplishments

Village Read

Arts Scholarship Recipients Performed at Carson Park

Local High School Students Played at Curtis Center for Social Media
---
Major Highlights

Real-Time Locations of the Village's Snow Plows Made

Available on the City's Website for Residents to Follow

Their Status During Storm Events

Other Notable Accomplishments

Award for Maintenance Facility Design

Implemented ArcGis Urban to model different developments and

impacts to the Village

GPS/Laser Rangefinder for Improved Pavement Inventory Process

Implementation of Tri-Tech Records Management System (RMS)

Certificate of Achievement for Excellence in Financial Reporting

Distinguished Budget Presentation Award

Implemented Purchasing Card Rebate Program for Cost Savings

Second Accreditation from International Association for Property

and Evidence (IAPE)