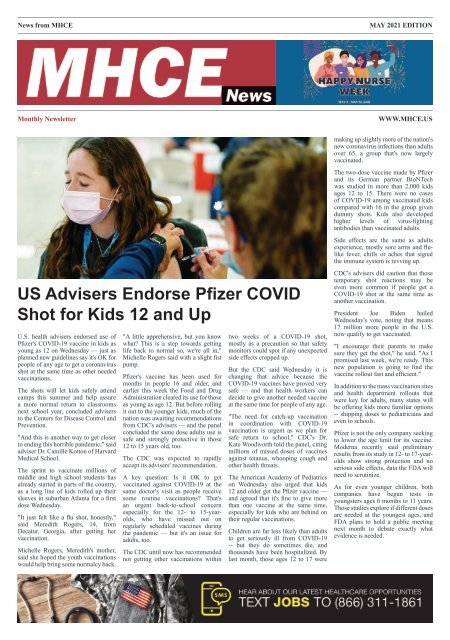 You also want an ePaper? Increase the reach of your titles
YUMPU automatically turns print PDFs into web optimized ePapers that Google loves.
News from MHCE

MAY 2021 EDITION

Monthly Newsletter

WWW.MHCE.US

making up slightly more of the nation's

new coronavirus infections than adults

over 65, a group that's now largely

vaccinated.

The two-dose vaccine made by Pfizer

and its German partner BioNTech

was studied in more than 2,000 kids

ages 12 to 15. There were no cases

of COVID-19 among vaccinated kids

compared with 16 in the group given

dummy shots. Kids also developed

higher levels of virus-fighting

antibodies than vaccinated adults.

Side effects are the same as adults

experience, mostly sore arms and flulike

fever, chills or aches that signal

the immune system is revving up.

US Advisers Endorse Pfizer COVID

Shot for Kids 12 and Up

U.S. health advisers endorsed use of

Pfizer's COVID-19 vaccine in kids as

young as 12 on Wednesday — just as

planned new guidelines say it's OK for

people of any age to get a coronavirus

shot at the same time as other needed

vaccinations.

The shots will let kids safely attend

camps this summer and help assure

a more normal return to classrooms

next school year, concluded advisers

to the Centers for Disease Control and

Prevention.

"And this is another way to get closer

to ending this horrible pandemic," said

adviser Dr. Camille Kotton of Harvard

Medical School.

The sprint to vaccinate millions of

middle and high school students has

already started in parts of the country,

as a long line of kids rolled up their

sleeves in suburban Atlanta for a first

dose Wednesday.

"It just felt like a flu shot, honestly,"

said Meredith Rogers, 14, from

Decatur, Georgia, after getting her

vaccination.

Michelle Rogers, Meredith's mother,

said she hoped the youth vaccinations

would help bring some normalcy back.

"A little apprehensive, but you know

what? This is a step towards getting

life back to normal so, we're all in,"

Michelle Rogers said with a slight fist

pump.

Pfizer's vaccine has been used for

months in people 16 and older, and

earlier this week the Food and Drug

Administration cleared its use for those

as young as age 12. But before rolling

it out to the younger kids, much of the

nation was awaiting recommendations

from CDC's advisers — and the panel

concluded the same dose adults use is

safe and strongly protective in those

12 to 15 years old, too.

The CDC was expected to rapidly

accept its advisers' recommendation.

A key question: Is it OK to get

vaccinated against COVID-19 at the

same doctor's visit as people receive

some routine vaccinations? That's

an urgent back-to-school concern

especially for the 12- to 15-yearolds,

who have missed out on

regularly scheduled vaccines during

the pandemic — but it's an issue for

adults, too.

The CDC until now has recommended

not getting other vaccinations within

two weeks of a COVID-19 shot,

mostly as a precaution so that safety

monitors could spot if any unexpected

side effects cropped up.

But the CDC said Wednesday it is

changing that advice because the

COVID-19 vaccines have proved very

safe — and that health workers can

decide to give another needed vaccine

at the same time for people of any age.

"The need for catch-up vaccination

in coordination with COVID-19

vaccination is urgent as we plan for

safe return to school," CDC's Dr.

Kate Woodworth told the panel, citing

millions of missed doses of vaccines

against tetanus, whooping cough and

other health threats.

The American Academy of Pediatrics

on Wednesday also urged that kids

12 and older get the Pfizer vaccine —

and agreed that it's fine to give more

than one vaccine at the same time,

especially for kids who are behind on

their regular vaccinations.

Children are far less likely than adults

to get seriously ill from COVID-19

-- but they do sometimes die, and

thousands have been hospitalized. By

last month, those ages 12 to 17 were

CDC's advisers did caution that those

temporary shot reactions may be

even more common if people get a

COVID-19 shot at the same time as

another vaccination.

President Joe Biden hailed

Wednesday's vote, noting that means

17 million more people in the U.S.

now qualify to get vaccinated.

"I encourage their parents to make

sure they get the shot," he said. "As I

promised last week, we're ready. This

new population is going to find the

vaccine rollout fast and efficient."

In addition to the mass vaccination sites

and health department rollouts that

were key for adults, many states will

be offering kids more familiar options

-- shipping doses to pediatricians and

even to schools.

Pfizer is not the only company seeking

to lower the age limit for its vaccine.

Moderna recently said preliminary

results from its study in 12- to 17-yearolds

show strong protection and no

serious side effects, data the FDA will

need to scrutinize.

As for even younger children, both

companies have begun tests in

youngsters ages 6 months to 11 years.

Those studies explore if different doses

are needed at the youngest ages, and

FDA plans to hold a public meeting

next month to debate exactly what

evidence is needed.
---
2 | MHCE - News www.mhce.us MAY 2021 EDITION

DoD Drops Mask

Requirement for Fully

Vaccinated Troops,

Staff

The Defense Department on

Thursday lifted its mandate

requiring staff and service

members to wear masks

following new coronavirus

guidelines from the Centers for

Disease Control and Prevention.

"Fully vaccinated DoD

personnel (who are at least two

weeks beyond their final dose)

are no longer required to wear

a mask indoors or outdoors at

DoD facilities," Kathleen Hicks,

the deputy secretary of defense,

wrote in a memo.

The move was announced after

federal health officials lifted

mask mandates for all fully

vaccinated Americans. It follows

a year of troops having to wear

masks during both typical office

work and physically demanding

training events.

As of Friday, 614,330 service

members and 258,476 DoD

civilians, beneficiaries and

family members have been

fully vaccinated, according to

Pentagon data.

Pentagon officials have said they

will not require service members

to get the vaccine as long as it

is being administered under an

emergency use authorization.

The DoD has had 291,757

cases of COVID-19 among its

personnel, including 192,464

service members. Of those,

4,040 have been hospitalized; 26

service members have died.

Biden set a goal of at least

70% of Americans receiving

at least one vaccine dose and

returning to relative normalcy by

Independence Day. Thursday's

announcement marks the most

sweeping easing of pandemic

restrictions in a year. However,

some states and municipalities

are maintaining stricter rules.

VISIT OUR

WEBSITE AT MHCE.US
---
WWW.MHCE.US Monthly Newsletter | 3
---
4 | MHCE - News www.mhce.us MAY 2021 EDITION

Jabbing and Jumping: 82nd

Airborne Paratroopers Get

Fully Vaccinated Ahead of

Baltic Jump

Before hundreds of 82nd Airborne Division paratroopers stand up,

hook up and shuffle to the door for an airborne jump over Estonia, they

sat down, rolled up their sleeves and got the coronavirus vaccination.

Two battalion-sized task forces of the division's 3rd Brigade Combat

Team are scheduled to parachute into the Baltic country this week for

Swift Response 2021, part of the U.S. Army-led Defender Europe-21

exercises running through June. They've all had two doses of the

Pfizer vaccine and are being tested for the virus before departure.

TO ADVERTISE

contact Nathan.Stiles@mhce.us

Even the Opportunities are Sunnier

The region's most comprehensive and preferred health system, located in one of the nation's

most sought-after destinations, is seeking physicians in the following specialties:

OBGYN • Family and Internal Medicine • General Cardiology • Interventional Cardiology

Inpatient Medical Oncology • Neuromuscular • Orthopedics • Geriatrics

Ideal Place to Practice

n

n

n

n

Structurally and financially strong

organization

Work-life balance

High-caliber, physician-led teams

Extensive support from the

region's largest and most

comprehensive clinically

integrated network

World Class Quality of Life

n Northeast Florida is alive with over 1,100 miles of beaches and

waterways, 80,000 acres of parks and trails, a strong and prosperous

economy, multiple professional sports teams, renowned golf courses

and diverse cultural experiences

n The area serves as home to some of the Sunshine State's best cost of

living and the nation's most sought after quality of life

n Jacksonville was recently ranked by Forbes Magazine

as the second most desirable city for

relocation in the United States

n No state income tax

Please contact us at 904.202.5124, or email your

CV to PhysicianCareers@bmcjax.com

BH 33518 Specialties Recruitment Practice Link Ad_v04.indd 1

2/3/20 2:08 PM
---
WWW.MHCE.US Monthly Newsletter | 5

Most sailors aboard the U.S. Navy guided-missile destroyer Chafee have

been placed under quarantine in San Diego hotel rooms following a CO-

VID-19 outbreak among the crew, according to Navy officials.

An unspecified number of sailors assigned to the Hawaii-based ship have

tested positive and have been isolating off the ship, according to Third Fleet

spokesman Cmdr. Sean Robertson. Earlier, officials had said about a dozen

personnel had tested positive.

The rest of the crew received tests on Friday in response to the outbreak.

"In order to ensure the health of the force and guarantee mission readiness,

most of the crew members assigned to USS Chafee have been placed in a

Restriction-of-Movement (ROM) status in hotels in the local San Diego

area," Robertson said. "A caretaker crew will remain aboard in order to support

the ship's operational and material readiness, and execute necessary support

functions."

The ship will also be cleaned, he said.

None of the infected sailors have required hospitalization, Robertson said.

The ship has been in San Diego for training exercises.

START YOUR CIVILIAN CAREER WITH US:

• Proud employer of US Veterans

• 17 years providing superior care to our residents

• 21 locations and growing

• Post-acute care, skilled nursing, long-term

care, & assisted living facilities

• Excellent opportunities for growth

• Competitive Pay

• Comprehensive Benefits

OPENINGS IN THE FOLLOWING AREAS:

• CNA, LPN, RN's

• Nursing Management

• Therapy Professionals

• Full Time, Part Time, and

Per Diem positions available

MISSOURI FACILITIES LOCATED IN

Poplar Bluff

ILLINOIS FACILITIES LOCATED IN

Mt. Vernon • Taylorville • Aviston

TO ADVERTISE contact Kyle.Stephens@mhce.us
---
6 | MHCE - News www.mhce.us MAY 2021 EDITION

Moving Forward

But she pushed through that pain and continued living her life. When Chad was

dying, he told his wife he wanted her to be happy after he was gone, and to find

a partner who would be a good role model for Savannah.

She found exactly that in her now-fiancé, Mike Brewer, whom she met a little

more than a year after her husband's death.

Mike was also in the Army and lost friends of his own in battle, she said, so

he understands what Chad's memory means to her and Savannah. He wears his

dress uniform to visit Chad's grave with the Wriglesworths, and sits down with

Savannah to watch videos of her late father, so she remembers her dad.

Savannah even calls Brewer "bonus dad," Wriglesworth said.

Gold Star Spouses

Describe Pain of

Losing Bereavement

Benefits in Remarriage

For Gold Star spouses, the pain of losing their husbands in the line of duty can

be almost unbearable.

But sometimes, after widows and widowers of fallen service members have

grieved and moved forward with their lives to find love again, they find

themselves facing a difficult choice: whether to marry and lose the survivor

benefits the government granted them to compensate for the loss of their spouses.

Gold Star spouses now lose their Survivor Benefit Plan, or SBP, benefits if

they remarry before turning 55, as well as their Dependency and Indemnity

Compensation benefits if they remarry before 57.

Last month, two veterans in Congress, Reps. Seth Moulton, D-Mass., and

Michael Waltz, R-Fla., introduced a bill -- the Captain James C. Edge Gold Star

Spouse Equity Act -- that would remove these age limits.

In interviews with Military.com, spouses whose husbands died in the line of

duty described the pain the risk of losing their survivor benefits causes them.

"My husband fought for our country twice, and he died because of it," said

Gold Star wife Aimee Wriglesworth, whose husband died of melanoma in 2013

caused by exposure to burn pits in Iraq. "He's the one ... who did all those things

for those benefits. But ... I was his caregiver for a year. And taking that away, if

I choose to get married again, takes away everything I did as well. It says that

all the things I did as a military spouse don't matter. And I feel that is a big deal."

But though she longs to marry Mike, the loss of benefits that would come with

that would upend their lives -- and jeopardize the steps they've taken to heal

since Chad's death.

Wriglesworth worked as an EMT until her husband's 2013 death, after which

she went back to school to become a social worker. Her survivor benefits pay

for her schooling but would go away if she remarried now.

Savannah receives Social Security benefits, but those alone wouldn't be enough

to pay for everything she needs, Wriglesworth said.

"Life shouldn't be about money, but let's be honest: Money is what allows me

to put clothes on my kid's back and feed her and make sure she lives in a good

neighborhood and [goes] to a good school and [has] good quality child care,"

Wriglesworth said.

Wriglesworth also has a medical condition that Tricare now covers, but if she

lost those benefits, her treatments would become very expensive. Her fiancé's

insurance would not cover her condition as well as Tricare does if they got

married.

The benefits also make it easier for both Wriglesworth and her daughter to go to

therapy to deal with the pain of losing Chad. As Savannah neared middle school

age, Wriglesworth said, the weight of her loss started to hit her, and she needed

to talk to a therapist about it.

And, Wriglesworth said, getting remarried wouldn't erase her own depression,

anxiety and post-traumatic stress she has suffered since losing her husband and

for which she requires treatment.

"No amount of money makes this not hurt," Wriglesworth said. "But it helps

a lot to be able to take my daughter to therapy or to be able to take myself to

therapy, and have insurance to cover that. It helps a lot to know that I can go to

school to better my life. And that security is something I feel my husband gave

me, because my whole world was taken from me when he died. Everything."

'Absolutely Devastating'

Emily Feeks, who lost her Navy SEAL husband, Special Warfare Operator

1st Class Patrick Feeks, in the August 2012 crash of a Black Hawk helicopter

The SBP pays the surviving spouse of a service member who dies on active

duty 55% of what the service member's retirement pay would have been, if

he or she had retired at 100% disability at the time of death. The Dependency

and Indemnity Compensation benefit pays $1,357.56 each month to eligible

survivors of active-duty service members who died in the line of duty, and

survivors of veterans whose deaths are deemed service-related.

Wriglesworth began dating her late husband, Army Maj. Chad Wriglesworth,

when she was 18. She fell in love with his kindness and dry sense of humor,

she said. They married on her 20th birthday and soon had a daughter named

Savannah.

Chad Wriglesworth deployed to Joint Base Balad in Iraq in 2008 and 2009,

and to Afghanistan in 2011 and 2012. He received the Bronze Star and Combat

Action Badge during his Afghanistan deployment.

But he also developed melanoma, which Wriglesworth said was confirmed to

have been caused by the burn pits he was exposed to in Iraq. His Nov. 20, 2013,

death is officially listed as having occurred in the line of duty, she said.

Not only had she, at 27, lost the man she had known almost her entire life. But

Savannah -- at the time, just two weeks away from turning five -- had also lost

the father who doted on her, who she snuggled with on his hospital bed and

during his treatments, and didn't flinch from when he lost his hair and started

looking sicker.

"And that's still the hardest thing today," Wriglesworth, her voice breaking, said

in an interview. "I miss him, but what it took from my kid is the worst thing. It

altered her life in a way that can't be fixed."
---
WWW.MHCE.US Monthly Newsletter | 7

in Afghanistan during a firefight with insurgents, is also facing the choice of

whether to give up benefits in order to get married.

Feeks remembers her late husband as kind, jovial and larger than life. He had

wanted to become a SEAL since he was eight years old and got LASIK surgery

to make that dream a reality.

Her husband's death was "absolutely devastating," she said.

"You have this world with someone, and you have this plan," she explained.

"And everything was destroyed in one second."

Feeks was also in the Navy when she and Patrick met at Naval Amphibious

Base Coronado, California, in 2010, right after she returned from Afghanistan

and he got back from Iraq. She stayed in the service for eight more years after

Patrick's death so she could retire with full benefits.

Feeks is planning to get remarried in October. She'll keep the benefits she earned

from her own service, but is prepared to lose the indemnity pay she has received

since Patrick's death.

"People that have never been in our place tend to say things [like], 'You should

lose that [survivor benefits] when you get remarried; it should be your new

husband's [or spouse's] responsibility,'" Feeks said. "That's not how that should

work. That doesn't negate that that person has lost their life for this nation."

As for Wriglesworth, it will probably be several more years before she can get

remarried. She said she will likely wait until she's finished her master's degree,

found a good job and Savannah has gone off to college, so when the benefits go

away it won't be as much of a blow.

But now, because Aimee and Mike live together in Texas but aren't married, she

said, "I feel judged all the time" by people who don't understand her situation

and reach their own conclusions.

"It's hard to go to church," Wriglesworth said. "How do you explain that to

people? On top of being a widow -- people actually respect that. They go, 'Oh

wow, you're a widow. Thank you for your sacrifice.' And then, 'Oh, but you're

not married.'"

Wriglesworth hopes Congress passes the law to repeal the age limits on

remarriage, so she can live her life the way she wants.

"I still carry my husband with me," she said. "It doesn't mean that I'm not a

Gold Star widow, if I love somebody else as well. ... No person, man or woman,

should have to answer for getting married."

Join Our Team!

Embark on a new career

with Central New York

Psychiatric Center!

Our Team Promotes

Hope, Resilience and Recovery!

Central New York Psychiatric Center is seeking

candidates to fill the following positions;

Psychiatrists, Psychiatric Nurse Practitioners,

Psychologists, and Registered Nurses.

These positions are available at our Inpatient

Forensic Hospital in Marcy, New York, as

well as our Corrections Based Satellite Units

across the State.

Benefits Include:

• NYS Pension

• Competitive Salaries

• Comprehensive Health Insurance

• Flexible Spending Accounts for

Healthcare & Dependent Care

• Generous Paid Time Off

Contact Us:

315-765-3375 or by e-mail

CNpersonnel@omh.ny.gov
---
8 | MHCE - News www.mhce.us MAY 2021 EDITION

Auburn's Harbert College of

Business to Offer Master's

Degree in Supply Chain

Management

Graduate-level supply chain management education will be offered at

Auburn University's Harbert College of Business beginning this fall.

"Our undergraduate Supply Chain Management Program has been

stellar for some time, and the creation of a graduate program is a natural

transition," said Glenn Richey, Harbert Eminent Scholar and Department

of Supply Chain Management chair, who oversees an undergraduate

program ranked No. 7 in North America by Gartner. "The new graduate

program will further allow us to improve working professionals'

skillsets and meet the needs of a rapidly changing world of supply chain

management.

"The addition of a Master of Science in supply chain management builds

on the continuing reputation of the Harbert College as an elite school of

business. Coming on the heels of Supply Chain Management becoming

its own department, our new graduate program builds on the incredible

momentum we are experiencing."

Offered in-person or remotely, the program comes with a four-course

certificate option or the full 10-course, 30-hour Master of Science in

supply chain management.

Geared toward working professionals looking to prepare for managerial

roles that will accelerate their careers, Harbert College's Master of

Science in supply chain management offers courses dedicated to the

essential components, backgrounds, practices and fundamentals of an

organization's supply chain practice—and how they interact with one

another.

Rafay Ishfaq, the W. Allen Reed Associate Professor and Supply Chain

Management Graduate Programs coordinator at the Harbert College, said,

"The pillars of Auburn's new graduate supply chain degree which will

distinguish itself from other degree programs include: the breadth of our

curriculum, professional diversity of our faculty and close engagement

with industry through the Center for Supply Chain Innovation.

"The new graduate program offers courses that cover strategy, planning

and operations. It's based on a holistic approach to supply chain education.

Another highlight of Auburn's M.S. in supply chain management degree

is the professional diversity of our faculty that allows us to provide a

broad curricular coverage of the supply chain discipline from sourcing to

manufacturing, distribution, transportation and order fulfillment."

Ishfaq noted that Auburn's graduate supply chain education goes beyond

the basic understanding of the principles and fundamentals of the

discipline. It exposes students to complexities often faced by mid-level

and senior managers beyond the daily grind of running a company.

"It's about strategizing," he said. "It's about planning and getting a feel

for how one would handle these complexities. Not just for today's supply

chain but for the future supply chains as well."
---
WWW.MHCE.US Monthly Newsletter | 9

When the practice of medicine

becomes the business of medicine.

You spent years studying medicine.

But what about the business side of

your practice?

It's easy to get started.

Take the next step toward a

Physicians Executive MBA

and contact us:

auburn-military.mba

334-844-4060

Auburn MBA
---
10 | MHCE - News www.mhce.us MAY 2021 EDITION

Marine Corps Base in Japan Offers Pfizer COVID-19

Vaccine to Adolescents

TOKYO – A Marine Corps air station in western Japan announced

Wednesday it would soon give COVID-19 vaccinations to adolescents

as young as 12 years old.

In South Korea, the one-day count climbed Tuesday to 635 new

COVID-19 patients, with 220 in Seoul and 184 in Gyeonggi province,

home of Camp Humphreys and Osan Air Base.

Meanwhile, three people at U.S. military bases in the country have

contracted the coronavirus respiratory disease over the past week,

according to updates as of 6 p.m. Wednesday.

Marine Corps Air Station Iwakuni has opened its coronavirus

vaccination appointments for a May 20 shot clinic to eligible adolescents

ages 12 to 17, according to the base Facebook page Wednesday.

MCAS Iwakuni appeared to be the only installation in Japan making

appointments for adolescents to receive the Pfizer vaccine. The U.S.

Food and Drug Administration approved the vaccine Monday for

emergency use for recipients ages 12 to 15. It had been approved in

December for recipients 16 and older.

VISIT OUR WEBSITE AT MHCE.US

Now that the Pfizer vaccine is approved for emergency use, the Defense

Health Agency is working to make it available to that age group, Maj.

Joshua Diddams, spokesman for MCAS Iwakuni, told Stars and Stripes

by phone Wednesday. The air station clinic is a branch of Yokosuka

Naval Hospital, south of Tokyo, which asked the clinic how many

doses it would need, he said.

To find out, the Iwakuni clinic on May 4 asked interested parents to

register their children for appointments in anticipation of the vaccine

becoming available, according to the base Facebook page.

On Wednesday, the clinic added slots to its May 20 vaccination clinic

at the IronWorks gym in further anticipation. Interested parents should

register by noon Friday, according to the Facebook post.

Two people on Okinawa have tested positive for COVID-19 since

May 5, according to a U.S. Army Japan news release Wednesday. The

Army last reported four new cases on April 28. Six people with the

Army contracted the virus in April.

Naval Air Facility Atsugi had one person contract the virus through

close contact with a previously infected individual, according to an

official Facebook post Wednesday. The air base 26 miles southwest of

Tokyo is monitoring three COVID-19 patients.

Elsewhere in Japan, the capital city reported 969 new infections

Wednesday, according to public broadcaster NHK. Another five people

became severely ill with COVID-19, for a total of 86, NHK reported.
---
WWW.MHCE.US Monthly Newsletter | 11

needs

you!

View current jobs

or apply online at

JOBS.LA.GOV

For more info

contact Katie Gaulden at

(225) 634-4303 or katheryn.gaulden@la.gov

EQUAL OPPORTUNITY EMPLOYER | JOINT COMMISSION ACCREDITED
---
12 | MHCE - News www.mhce.us MAY 2021 EDITION

Bill Would Expand Paid Parental Leave

for All New Military Parents

House and Senate lawmakers have introduced

legislation that would give military parents 12

weeks of family leave after the birth or adoption of

a child -- a move that would provide flexibility and

standardize benefits across the services.

The proposed Servicemember Parental Leave Equity

Act, introduced Tuesday by Sen. Tammy Duckworth,

D-Ill., and Rep. Jackie Speier, D-Calif., would give

both the designated primary caregiver and secondary

caregiver up to 12 weeks of paid parental leave.

The lawmakers said the legislation would align

military benefits with those offered by many federal

agencies, and would not only improve the quality of

life for military families but improve readiness and

retention.

"Parental leave for military service members is

absurdly out of touch and outdated when compared

to federal benefits and options provided by many

private, large employers," said Speier, who chairs

the House Armed Services subcommittee for

military personnel. "New parents need time to bond

with their children after birth, adoption or foster

placement; service members are no exception."

Currently, service members who give birth can take

up to six weeks of maternity convalescent leave,

while the family's designated primary caregiver has

access to an additional six weeks of leave, taken at

the caregiver's discretion.

Secondary caregivers get up to three weeks in the

Army and the Air Force, and two weeks in the Navy

and Marine Corps.

The bill would increase primary caregiver leave to 12

weeks -- in addition to the six weeks of convalescent

leave following a birth or adoption -- giving a new

service member mom who also is the designated

primary caregiver more than four months of leave.

The bill would, for the first time, authorize the full 12

weeks of primary and secondary caregiver leave for

foster children and require the Defense Department

to establish policies that define caregiver leave for

long-term fosters.

And it would require the DoD to implement uniform

policies to allow for additional leave in the case of a

stillbirth, miscarriage or infant death for primary and

secondary caregivers.

Currently, DoD policies call for parental leave to

terminate on the death of a child.

"My wife and I welcomed into our family a beautiful

baby girl, Elaine Marie Checketts. However, our joy

turned to despair when Elaine passed away two days

after birth. In the midst of my family's grief, I was

shocked and devastated to learn that my parental

leave was revoked per Defense Department policy,"

wrote Air Force Maj. Matthew Checketts in an oped

for Military.com, supporting the legislation. "I

was in no condition to return to work, and my family

needed me then more than ever."

The bill has the support of 31 cosponsors, including

five Republicans. Earlier this year, Duckworth and

Sen. John Cornyn, R-Texas, introduced legislation

named for Checketts' baby that would give troops

leave to mourn infants who die.

The legislation is likely to be considered during the

National Defense Authorization Act deliberations

process later this year.

Also on Tuesday, Speier and Duckworth introduced

a bill that would allow the DoD to expand an inhome

child care subsidy pilot program established

in last year's national defense policy bill; it would

also direct the Pentagon to conduct a pilot to expand

partnerships between the DoD and private providers.

Duckworth said the bill recognizes that accessible

child care is a "necessity -- not a luxury."

"Our military's recruitment, retention and overall

readiness are harmed when a military family can't

find quality child care for their children," she said.
---
WWW.MHCE.US Monthly Newsletter | 13

TO ADVERTISE

contact Susan.Keller@mhce.us
---
14 | MHCE - News www.mhce.us MAY 2021 EDITION

Gallagher Claims SEAL Platoon Agreed to Practice

Medical Procedures on Dying Prisoner

Retired Navy SEAL Eddie Gallagher, who was

acquitted of murdering an Islamic State prisoner

in a highly public and controversial war crimes

trial, said in a new podcast that his entire platoon

intended to kill the man and agreed to practice

medical procedures on him until he died.

At one point in the podcast, Gallagher appears to

say that the medical treatments the platoon provided

led to the prisoner's death.

"I didn't stab that dude," Gallagher said in the final

episode of the Apple podcast "The Line," which

was released Tuesday. "That dude died from all

the medical treatments that were done. And there

was plenty of medical treatments that were done to

him."

In an interview with Military.com, Gallagher's

attorney Timothy Parlatore said that nothing he said

on the podcast changed the facts of the case as they

have been known.

"This information was always there, was always

just beneath the surface," Parlatore said. "It was in

the open. But nobody really noticed it, or nobody

wanted to notice it."

Gallagher was accused of stabbing the wounded

ISIS fighter in Mosul, Iraq, in 2017 and charged

with premeditated murder. He was also charged with

attempted murder over allegations he unlawfully

shot at civilians during that deployment.

He faced a court-martial in 2019, where he was

ultimately found not guilty of premeditated murder

and attempted murder. Gallagher was convicted of

unlawfully posing for a picture with the prisoner's

dead body.

Former President Trump repeatedly intervened

in Gallagher's case, ordering the Navy to release

him from pretrial confinement, allow him to retire

with his SEAL Trident. He also ordered the Navy to

rescind medals awarded to his prosecutors.

In the podcast, Gallagher said that the other

members of the platoon -- including some who

testified against him -- openly discussed performing

medical treatments on the prisoner until he died.

"Everybody knew what was going on," he said.

"The grain of truth in the whole thing is that that

ISIS fighter was killed by us, and that nobody at

that time had a problem with it. We killed that guy.

Our intention was to kill him. Everybody was on

board."

The host then interjected to ask, "Your intention

was to kill him?"

Gallagher responded that they intended to "do

medical scenarios on him until he died."

When asked by the podcast host whether that

amounted to "nursing [the prisoner] to death,"

Gallagher said, "Yeah, if you want to put it in a nice

way. Nursing him to death, or just killing him -- he

was going to die regardless. We weren't taking any

prisoners. That wasn't our job."
---
WWW.MHCE.US Monthly Newsletter | 15

In Wednesday's interview, Parlatore said the SEALs

"did not intend to kill an unarmed prisoner using

medical treatment," and that Gallagher's statements

have been misinterpreted.

Gallagher and the rest of the SEALs did intend to

kill members of ISIS, Parlatore said, but did so by

calling in a Hellfire missile strike on their building.

That strike killed all the ISIS members except the

prisoner, who was badly wounded and, they believed,

likely to die, he added.

After the strike, the SEALs conducted medical

treatment on the prisoner to practice their skills,

Parlatore said.

"By the time he got to them, he was dying," the

lawyer said. "There was no way to save him. They

made a decision, and they agreed they would perform

medical treatment on him until he expired. They

did that for training purposes; they did it to prevent

[the Emergency Response Division, an Iraqi special

forces unit accused of torture and other abuses] from

torturing him. It was not done with the intent of

using medical procedures to hasten his death."

When asked about Gallagher's statement that the

prisoner "died from all the medical treatments that

were done," Parlatore said, "That may have been an

inartful way of saying it.

"Eddie's an operator, he's not an orator," he added.

Parlatore said the medical treatments may have

prolonged the prisoner's life, including a treatment

Gallagher administered that he said cleared the

prisoner's airway and allowed him to breathe again.

Gallagher's court-martial was upended by the

shocking testimony of one of his platoon mates,

Special Operator 1st Class Corey Scott, who changed

his story on the stand and testified that he himself

killed the prisoner by asphyxiating him.

Parlatore said that practicing medical treatments on

a dying patient who was beyond saving is legal and

commonly done by doctors in emergency rooms,

though they typically get the patients' consent before

doing so.

"The ethics opinions ultimately come down to say,

you really should get informed consent from the

patient before doing this," Parlatore said. "Obviously,

they did not get informed consent from the terrorist,

but what they did is not illegal."

When asked whether it was ethical to practice

medical procedures on a prisoner who had not

granted consent, Parlatore said, "According to the

[American Medical Association], they should have

gotten the terrorist's consent. And so maybe Eddie

shouldn't be practicing medicine anymore. But it is

what they did in a combat scenario."

Parlatore said one of the junior members of the

platoon was allowed to insert a chest tube and

conduct a needle decompression on the prisoner.

That junior member had learned how to conduct

those procedures in class, he said, but had never

before performed them on an actual patient.

"It is valuable training," Parlatore said. "He got the

opportunity to get that training, to know how to do

it, so that the first time that he has to actually do it in

real life isn't when one of his buddies is about to die.

It's not pretty, it's not something that we like to talk

about, but that's the truth."

When asked about Gallagher's podcast remarks

during a press briefing Wednesday, Pentagon Press

Secretary John Kirby said, "I'm not sure I'm going to

dignify those comments with a response."
---
16 | MHCE - News www.mhce.us MAY 2021 EDITION

COVID-19,

Civil Unrest:

Have Too Many

Homeland

Missions

Damaged Trust

in the Military?

More than a year after COVID-19 effectively shut

down the U.S., the Defense Department still has

6,235 active-duty troops and 31,500 National

Guard members across 54 states and U.S. territories

administering vaccines, conducting testing, storing

goods and more.

The military is no stranger to homefront assistance:

from hurricane and wildfire relief to food bank

distribution, uniformed personnel have been called

on for decades to provide domestic support during

crises.

But in a time when Americans seem more divided

than ever, experts say the military is caught in a

difficult balancing act: to lend civil support where

needed without detracting from core strategic

missions so it can remain ready for the next fight.

Pandemic response and other domestic crises over the

last year have made that task even more complicated.

And changing American expectations regarding the

military may heighten the tension.

member's physical fitness grace period to 12 months

postpartum; and ensure that new moms who serve

will have their medical needs met, including access to

pelvic floor physical therapy referrals and increased

postpartum depression and anxiety screening.

Houlahan, who serves on the House Armed Services

Committee and founded the Servicewomen and

Women Veterans Congressional Caucus, told

Military.com that, as a woman in Congress and an

Air Force veteran, she keeps women in uniform in

mind as she crafts legislation.

"There's not a lot of people who are kind of in

positions of legislative ability to be able to think

about what it means to be in uniform, and also to

be a woman in uniform," she said. "And so some of

the experiences that I personally have had informed

the way that I'm trying to be helpful in terms of the

modern military and the women who are currently

serving."

Houlahan, who served for three years in the Air

Force as an active-duty service member and 13 years

in the Air Force Reserve before leaving in 2004, said

that her own pregnancy shaped the bill.

The experience that I had, trying to figure out how to

piece that all together, in some ways was part of the

reason why I separated from the military. It had to do

with a lot of different stressors, including child care.

But 30 or so years later, much of that has not really

changed," she said.

Though some of the service branches have decided

to offer a postpartum grace period of 12 months to

get back in weight and fitness standards, "it hasn't

been codified," Houlahan said. The Army announced

in March that it would double its postpartum physical

standards grace period from six months to 12 months.

"I had the opportunity to meet with National

Guardswomen in Washington, D.C., from

Pennsylvania who were deployed there during the

January 6 timeframe," she said. "They felt as though

their bodies needed more time to be healed before

they had to perform in their next physical fitness test.

Part of this bill is that it increases that time to 12

months, to allow them to be able to fully heal. … And

this, in fact, would codify that."

Looking forward, Houlahan said she will continue

to legislate change for mothers in uniform. She said

that reducing stressors for service members is key to

military readiness.

"Yesterday, I was speaking with a junior enlisted

woman, single mom, who was in tears describing

the fact that she had to be in formation by 6 a.m.,

when child care didn't open until 5:30. … And she

spent every single day white-knuckled trying to drive

as quickly as she could, from her off-post housing,

to drop off her child to get to formation by six,"

Houlahan said. "And these kinds of things are things

that are creating enormous stresses on the individual,

but are also about the readiness of our military."

In addition to contributing to a more inclusive force,

Houlahan said taking care of women in uniform

signals that the military values them and their

families.

"And we need to be working toward having more

women in uniform, rather than fewer. This …

provides the feedback to a person who's looking to

serve that you matter, that your life matters, that your

family matters and that your children matter," she

said. "This is a competitive working environment.

These people are choosing to wear [a] uniform, rather

than choosing to do something else in the civilian

economy. And we need to be taking care of people."

Bill Would

Make Sweeping

Postpartum

Care Changes

for Moms in

Uniform

Legislation introduced last week seeks to improve

postpartum care for women in uniform and their

families through Title 10, the section of the United

States Code on the armed forces.

Rep. Chrissy Houlahan, D-Penn., introduced the

Military Moms Matter Act of 2021 May 7. The

bill would expand paternity leave to 12 weeks for

primary and secondary caregivers; extend the service
---
WWW.MHCE.US Monthly Newsletter | 17

TO ADVERTISE

contact Karen.Scott@mhce.us

TO ADVERTISE contact Paul.Randall@mhce.us
---
18 | MHCE - News www.mhce.us MAY 2021 EDITION

Create a Winning Nursing Resume

The US Department of Labor projects faster-than-average job growth

for nurses through 2025. That means as employers seek to recruit

and retain talented nursing staff, nurses will enjoy improved salaries,

benefits and working conditions.

You might be thinking: "Oh good, since employers will be clamoring

to hire me, I don't have to worry about my resume."

A winning resume will get you noticed for the best positions and can

facilitate a promotion from your current position. A strong resume

can also help you command and negotiate a higher salary. Always put

your best foot forward on your resume to attract the most desirable

job offers. Follow these tips to make your nursing resume shine and

see our sample nurse's resume.

PRESENT YOUR VALUE PROPOSITION IN A

QUALIFICATIONS SUMMARY

Lead your resume with a qualifications summary that provides an

overview of the value you bring to the table. Paint a picture of what

you have to offer by including a narrative statement of your goal,

specialty area, level of experience and any other top credentials. In

the Monster Resume Builder, use the Career Objective field to present

your summary.

ADD AN EXPERTISE SECTION

should provide details of their unpaid work/clinical rotations/

practicums.

DEMONSTRATE YOU'RE A TOP PERFORMER

Your experience will be stronger if you include your contributions

to each of your employers. Think about how you went above and

beyond your job duties to make a positive contribution to your

employer, patients, families and the community. Did you serve on

any boards or committees? Did you help reorganize or launch new

facilities or services? Did you provide training for patients and their

families? Did you promote health and well-being by providing free

community healthcare seminars? Were you known for your strong

patient-advocacy skills? Did you help your employer pass an audit

or achieve accreditation? Did you train and orient new employees?

By providing details about your accomplishments, you're showing

potential employers that you would be a valuable asset to their team.

A bulleted list of your proficiency areas incorporates important

keywords into your resume (so you're found in an electronic

search) and gives hiring managers a snapshot of your capabilities.

Your expertise (or Key Skills if you're an entry-level candidate and

haven't yet developed expertise) could be nursing specialty areas

(e.g., pediatrics, obstetrics) or skills (JCAHO standards/compliance,

medication administration, case management). On your Monster

resume, use the Skills section to present your areas of expertise.

DETAIL YOUR NURSING EXPERIENCE

Hiring managers want to understand the scope of your experience

so they can see if you're a good match for the job opening. When

describing your nursing experience, write about the type of facility

(such as acute care, outpatient, rehabilitation), your caseload and area

of specialization. Entry-level nurses with limited work experience
---
WWW.MHCE.US Monthly Newsletter | 19

VISIT OUR WEBSITE AT MHCE.US
---
20 | MHCE - News www.mhce.us MAY 2021 EDITION

return without being quarantined. Moms were also receiving roses from

staff.

"Residents can feel the energy now that families are coming in," said

Kelley Fulkerson, business office manager at Addington in Northville.

"There is excitement among staff — and tears and excitement among

families waiting to see loved ones."

St. Joseph of Harahan — an assisted living facility in Harahan, Louisiana

— held a parking lot parade Friday with dozens of cars honking and

family members yelling well wishes for Mother's Day.

Residents in masks sat behind caution tape and waved to loved ones

whom they had waited to see for more than a year in some cases. Workers

passed out balloons and flowers.

Tearful Reunions Mark

Second Mother's Day

Under Pandemic

Joyous reunions among vaccinated parents and children across the

country marked this year's Mother's Day, the second one celebrated

during the coronavirus pandemic.

Some families separated by worries of transmitting the virus saw each

other for the first time in over a year, emboldened by their vaccinations.

Jeanie Codianni of Los Angeles flew to New Jersey this weekend to

surprise her 74-year-old mother. It was a marked departure from their

Mother's Day in 2020, when the pair made bacon and eggs over Facetime.

This Sunday, they had bagels and planned brunch in-person instead.

"You forget how your mom smells, how she looks. It's like, she never looks

as beautiful as the last time you saw her," Codianni said. "We understand

how privileged we are, how lucky we are. Hundreds of thousands of

people don't get to celebrate Mother's Day or are celebrating it under a

veil of grief."

For Pam Grimes, Mother's Day last year remains a fuzzy yet "scary and

depressing" memory, blurred together with the rest of the pandemic's

early months. In contrast, when her vaccinated adult grandchildren

gathered at her Panama City, Florida, home to celebrate this year, they

hugged and laughed and teased each other.

"The whole world felt better," Grimes said.

Historian Andy Verhoff didn't see his mother for Thanksgiving,

Christmas or New Year's. But for Mother's Day, he drove from his home

in Columbus, Ohio, to spend a day in rural Putnam County, Ohio with

her, stopping at the first historical marker they'd worked on together.

Both mother and son were vaccinated, giving them the confidence to take

their masks off — which made it feel like a normal, pre-pandemic day,

Verhoff said.

"We never let the mask get in the way of things," Verhoff said. "It was

just nice to not have my glasses fog up."

Some long-term care facilities across the country prepared for the

special day by facilitating in-person visits, especially as some states have

relaxed visitation rules in recent months given rising vaccination rates

and dropping case numbers.

In suburban Detroit, residents with dementia at Addington Place lately

have been allowed to see visitors in person. But the big change Sunday

was their ability to leave for a special meal with family members and

Cathedral Village, a nursing home and rehabilitation center in

Philadelphia, was spacing out weekend visits for Mother's Day, said

supervisor Hannah Han. Social workers were helping some families that

wanted to take people home to celebrate. Visits in private rooms required

masks and gowns.

Mary Daniel, who last year took a job as a dishwasher so she could

see her husband at a long-term care facility in Jacksonville, Florida,

said holidays are important to maintain traditions with family. She said

spouses and others should be recognized as essential caregivers who

offer emotional support and be allowed inside.

"We are seeing progress with people being allowed to see loved ones and

visit or take them home for holidays, but we are still seeing individual

facilities who refuse to follow the federal guidance on allowing visits,"

said Daniel, who started a group called Caregivers for Compromise-

Because Isolation Kills Too.

Still, the virus limited the holiday this year for Winslow Swan, who

served as his 83-year-old mother's primary caretaker in Ellijay, Georgia,

until last year, when health troubles forced him to move her into a nursing

home in town during the middle of the pandemic.

New COVID-19 cases in the past month has led to the facility to tighten

its visitation restrictions, and Swan likely won't see his mother for this

year's holiday, though he has considered an impromptu window visit.

"It's sad," he said. "I know the room that's she's in and there is a possibility

that I can find her and see her through the window."

Creating a Culture

of Caring

Offering master's

and doctoral

degrees for

Registered Nurses

Specialties Offered:

Nurse-Midwife

Family Nurse Practitioner

Women's Health Care NP

Psychiatric-Mental Health NP

Learn more at frontier.edu/military
---
WWW.MHCE.US Monthly Newsletter | 21
---
22 | MHCE - News www.mhce.us MAY 2021 EDITION

Army Wants New Medical Gel that Seals Off

Hemorrhaging Wounds on the Battlefield

Army researchers are eyeing a promising new wound-care technology

that could allow soldiers to seal hemorrhaging trauma wounds on

parts of the body where pressure bandages can't stop bleeding.

The Army Research Laboratory, or ARL, is providing technical

oversight on a new hemostatic gel, known as StatBond, that stops

uncontrolled bleeding in noncompressible areas of the body such as

the groin, armpit, neck and internal organs.

"This technology provides a new capability to stop bleeding under

austere conditions," Robert Mantz, a chemistry branch chief with

ARL, which is an element of Army Combat Capabilities Development

Command, said in a service news release.

If all goes well, StatBond will be in soldiers' hands beginning in 2025,

according to the release.

It is currently undergoing Food and Drug Administration approval

and will likely be packaged into a durable squeeze pack soldiers can

carry in their pockets, according to the release.

A research and development firm known as Hybrid Plastics, along with

the University of Mississippi Medical Center, Vanderbilt University

and Ichor Sciences, developed StatBond through an effort funded

by the Defense Health Agency Small Business Innovation Research

program.

"The breakthrough nature of the [technology] lies in the ability

of the hemostatic gel to flow deeply into penetrating wounds, and

immediately seal against fluid loss, thereby allowing the natural

blood clotting cascade to happen against the surface of the gel," Joe

Lichtenhan, vice president of technology at Hybrid Plastics, said in

the release.

In the past, the Army has issued fast-acting clotting agents such as

QuickClot that have "limited efficacy with arterial bleeds," Mantz

told Military.com in a statement.

StatBond contains Polyhedral Oligomeric Silsesquioxane, or POSS, a

silicon-based material that allows the treatment to be injected into the

wound and "it does not burn," Mantz said in the statement.

"Additionally, so far the research shows that the POSS material

doesn't cause any cell death or any toxicity to the body," he said in

the statement. "The treatment can be left in the body and is naturally

flushed out over time."

StatBond also can be used to treat lung punctures, eye injuries and

burn wounds and to prevent infection, according to the release.

While bleeding is not always associated with these types of injuries,

StatBond seals the damaged tissue against further fluid loss while

retaining oxygen transport to the injury, which helps preserve tissue

and supports the natural healing process and tissue regeneration, it

adds.

The research team is working with the Army to further mature the

technology.

"We are committed to bringing advanced medical technology and

devices to the wounded warfighter," Lichtenhan said in the release.

"We anticipate the technology will become available for use by

physicians in 2022 and potentially carried by soldiers by 2025."
---
WWW.MHCE.US Monthly Newsletter | 23

Tricare Select is a new health insurance plan that replaced Tricare Standard

& Extra.

Who Is Covered By Tricare Select?

Everyone eligible for Tricare with the exception of active-duty members

may enroll in the Tricare Select plan. The program is available worldwide.

Tricare Select Basics

With Tricare Select you can get care from any Tricare-authorized provider,

network or non-network. No referrals are required, but some care may

require prior authorization.

If you see a network provider you won't have to pay anything except your

copay or file any claims. If you visit a non-network provider you may have

to pay the full cost and file a claim with Tricare to be reimbursed.

How To Enroll

For information on how to enroll see the Tricare website at https://www.

tricare.mil/

Or visit our Tricare Select coverage page for more information including

coverage and costs at https://www.military.com/benefits/tricare/tricareselect/tricare-select-details.html.
---
24 | MHCE - News www.mhce.us MAY 2021 EDITION

needed incremental improvement,

it generally kept the status quo.

Because commanders often know

and work with both the victim

and the accused, supporters of

Gillibrand's efforts say victims

frequently shy away from reporting

abuse, adding that commanders'

inherent bias makes it difficult to

trust whether they can properly

prosecute a colleague.

After a Decade of Effort, Big Changes

Could Be Coming to the Way the Military

Handles Sexual Assault

Seven years ago, the military's

top brass argued to Congress that

commanders should retain the

power to prosecute sexual assault

cases to maintain "good order and

discipline."

But now, the idea of stripping

commanders of that responsibility

is advancing quickly both on

Capitol Hill and at the Pentagon.

"I urge that military commanders

remain central to the legal

process," Gen. Martin Dempsey,

then chairman of the Joint Chiefs

of Staff, told lawmakers at a

Senate Armed Services Committee

hearing in 2013. "The commander's

ability to preserve good order and

discipline remains essential to

accomplishing any change within

our profession. Reducing command

responsibility could adversely

affect the ability of the commander

to enforce professional standards

and, ultimately, to accomplish the

mission."

Military law may be on the cusp

of one of its biggest overhauls

ever, with Sen. Kirsten Gillibrand,

D-N.Y., rapidly picking up support

in the Senate for a bill that would

move sexual assault cases out of

the chain of command.

The murder of Spc. Vanessa

Guillen, which rocked the Army,

has seemingly set the stage to

revamp how the military tackles

sex crimes, according to multiple

legal experts and congressional

staff interviewed by Military.com.

Retired Lt. Col. Rachel

VanLandingham, a national

security law expert and former

judge advocate for the U.S. Air

Force, said one of the keys to getting

more lawmakers on board with

the change has been Gillibrand's

willingness to make compromises

in her bill, ceding to commanders

prosecution power over offenses

that are uniquely military crimes.

"That's her big move. ... Some

[military crimes] carry the death

penalty, such as misbehavior before

the enemy," VanLandingham said

in an interview with Military.com.

"She is leaving that to commanders.

To me, that ignores the structural

issues; commanders are not

independent or experienced. But

Gillibrand is an astute politician,

and she'd rather start the move

versus continuing to be stuck. She's

reading the tea leaves, willing to

compromise, so that's why you're

starting to see more and more

people get on board."

When Dempsey gave his testimony

in 2013, there were dueling bills on

Capitol Hill aimed at revamping

how the military tackled sexual

assault invetigations.

But in early 2014, the Senate

rejected Gillibrand's bipartisan

proposal. She had key Republican

allies such as Sens. Ted Cruz of

Texas and Rand Paul of Kentucky,

both of whom were leaders in the

Tea Party movement at the time.

Yet she faced fierce opposition

from the Pentagon and even from

within her own party.

A watered-down bill from Sen.

Claire McCaskill, D-Mo., directly

competed with Gillibrand's and

eventually passed that year.

McCaskill scoffed at the idea of

removing commanders from the

legal process, saying it wouldn't

have an impact on the number of

victims reporting attacks, based

on other countries that had similar

laws already in place.

"There is a theory that if we take this

decision away from any command,

that would magically have victims

come forward. We know this is

not the silver bullet. If it were,

you would've seen an increase in

reporting in other countries who

adopted this," McCaskill said on

the Senate floor in 2013.

McCaskill's bill got rid of the socalled

"good soldier" defense,

making factors such as the accused's

service record irrelevant. It also

made retaliating against a victim

a crime and expanded special

counsel programs for victims.

But some veterans advocates and

lawmakers said at the time that,

while the legislation was a much

In a potentially significant shift at

the Pentagon, Gen. Mark Milley,

the current chairman of the Joint

Chiefs, dropped his opposition to

the proposed changes to military

law.

"I was adamantly opposed to that

for years," he said, according to

The Associated Press.

"But I haven't seen the needle

move," he added, likely referring

to Pentagon data estimating 25,000

service members were sexually

assaulted in 2018, up from 14,900

in 2016.

TO ADVERTISE

contact

Paul.Randall@mhce.us