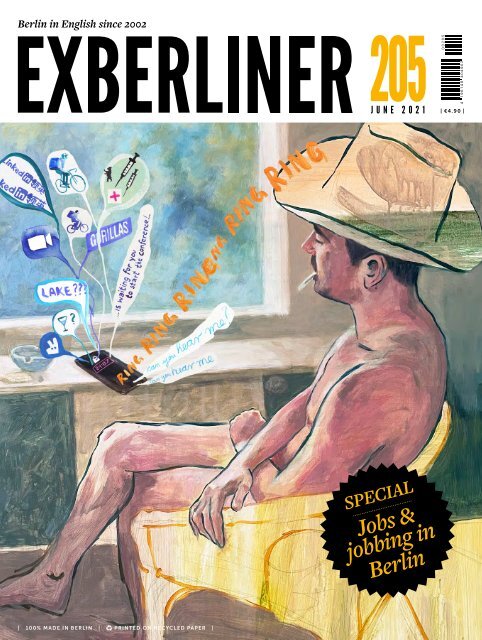 EXB-205_Web
From test-driving delivery gigs to scoring work with corona and delving into the Nazi history of modern management, it's all in a day's work for Exberliner. Our latest issue explores jobs and jobbing in the city. FREE TO OBEY – A historian explains how an SS Oberführer shaped modern management THE CORONA GIG – A new job market grows out of testing and vaccinating – but how long will it last? COVID CAREER SHIFTS – Four hustlers find themselves at a professional crossroads SECURE IN THE SADDLE – Exberliner takes delivery app employers on a test drive "I'M A RIDER MYSELF!" – Gorillas start-up founder Kağan Sümer on how it all began COWORKING GOES CORPORATE – How big brands are warming to the idea of sharing an office THE HOMEOFFICE DEBATE – As the novelty wears off, we hear four different takes on working from home POLITICAL NOTEBOOK – Business as usual with Israel BEST OF BERLIN – A fashion Plattenbau, wine in a can and home-cooked grub to order BOOKS – The absurdity of Heimat, East German diaries and paperback picks BERLIN BITES – Four puffy-crusted gems of the pizza-demic SHORT ESCAPES – Venturing out to the sandy shores of the Müritz
From test-driving delivery gigs to scoring work with corona and delving into the Nazi history of modern management, it's all in a day's work for Exberliner. Our latest issue explores jobs and jobbing in the city.

FREE TO OBEY – A historian explains how an SS Oberführer shaped modern management
THE CORONA GIG – A new job market grows out of testing and vaccinating – but how long will it last?
COVID CAREER SHIFTS – Four hustlers find themselves at a professional crossroads
SECURE IN THE SADDLE – Exberliner takes delivery app employers on a test drive
"I'M A RIDER MYSELF!" – Gorillas start-up founder Kağan Sümer on how it all began
COWORKING GOES CORPORATE – How big brands are warming to the idea of sharing an office
THE HOMEOFFICE DEBATE – As the novelty wears off, we hear four different takes on working from home
POLITICAL NOTEBOOK – Business as usual with Israel
BEST OF BERLIN – A fashion Plattenbau, wine in a can and home-cooked grub to order
BOOKS – The absurdity of Heimat, East German diaries and paperback picks
BERLIN BITES – Four puffy-crusted gems of the pizza-demic
SHORT ESCAPES – Venturing out to the sandy shores of the Müritz

SHOW MORE
SHOW LESS
Create successful ePaper yourself
Turn your PDF publications into a flip-book with our unique Google optimized e-Paper software.
205

J U N E 2 0 2 1

| €4.90 |

SPECIAL

Jobs &

jobbing in

Berlin

| 100% MADE IN BERLIN | PRINTED ON RECYCLED PAPER |
---
#BerlinerFestspiele70

EVERYTHING

IS JUSTFOR

A WHILE

Rediscovering 70 years of the

Festspiele's history

28.5.

17.10.21

Funded by

Partner

Media partners
---
EXB205

June 2021

SPECIAL

—

Berlin at work

Free to obey

A historian explains how an SS Oberführer

08 shaped modern management

11

The corona gig

A new job market grows out of testing and

vaccinating – but how long will it last?

14

Covid career shifts

Four hustlers find themselves at a

professional crossroads

18

Secure in the saddle

Exberliner takes delivery app employers on

a test drive

21

"I'm a rider myself!"

Gorillas delivery start-up founder Kağan

Sümer on how it all began

22

Coworking goes corporate

How big brands are warming to the idea of

sharing an office

26

The Homeoffice debate

As the novelty wears off, we hear four

different takes on working from home

REGULARS

—

05

Political Notebook

Business as usual with Israel

06

Best of Berlin

A fashion Plattenbau, wine in a can and

home-cooked grub to order

28

What's On

Our culture editors preview the month

in film, music, stage and art

44

Books

The absurdity of Heimat, East German

diaries and paperback picks

48

Berlin Bites

Four puffy-crusted gems of the pizza-demic

49

The Gay Berliner

Berlin queers are far from idle in the

pandemic

50

Short Escapes

Venturing out to the sandy shores of the

Müritz

CONTENTS

8

18

14

June / July Programme

2.6. / Access via www.berlinerfestspiele.de

42. Theatertreffen der Jugend Berlin

German

Emojiland!

With students from Hector-Peterson-Schule

/ Houseclub presents:

Kareth Schaffer & Dan Lancea

PERFORMANCE

4.6. / HAU4 / Premiere / Available until 11.6. / German

FUX

Premiere (UA)

THEATRE

8.6. / HAU4 / Premiere / Available until 14.6.

German

Die Figur & Showcase

Beat Le Mot

FANS

PERFORMANCE MUSIC FILM

15.6.* / HAU4 / Premiere /

German

onlinetheater.live

Loulu

GAME NET ART

18.6.* / HAU4 / English

Jota Mombaça

The Birth of Urana Remix

FILM

23.6.* / HAU4 / Premiere / English

Forced

Enter tainment

How the Time Goes – Episode 1–7

PERFORMANCE FILM

29.6. / HAU4 / Premiere / Available until 5.7.

Lee Méir

safe&sound

DANCE FILM

2.7. / HAU4 / Premiere / Available until 9.7.

Kadir "Amigo" Memis

Opferschicht – Narben und Namen

DANCE FILM

9.-27.6. / Display window Friedrichstraße 4

Further information on www.hebbel-am-ufer.de

Werkstatt Mehringplatz

As part of the project "Berlin

bleibt! #3"

SITE-SPECIFIC PROJECT

www.hebbel-am-ufer.de

* Afterwards still available on www.HAU4.de

Further content can be found in the HAUthek on HAU4.

˛
---
PARTNER CONTENT

4 EXBERLINER 205
---
| 100% MADE IN BERLIN | PRINTED ON RECYCLED PAPER |

| €4.90 |

COLUMN— Political Notebook

205

J U N E 2 0 2 1

SPECIAL

Jobs &

jobbing in

Berlin

Cover by Katharina Grossmann-Hensel

Editorial

Editor-in-chief

Nadja Vancauwenberghe

(Verantwortliche im Sinne des Pressegesetzes §7 LPG Berlin)

Film

David Mouriquand

Books

Alexander Wells

Deputy editor

Rachel More

Music

Damien Cummings

Design

Art director

Gustavo del Castillo M.

Art

Duncan Ballantyne-Way

Stage

Lucy Rowan

Food

Jane Silver

Graphic design

Paula Ragucci

Copy editing

Alex Pichaloff, Alexander Wells

Illustration

Katharina

Grossmann-Hensel

Junior contributors

Lucy Rowan, Mark Petrie

Photography

James Huertas,

Paula Ragucci

Online

Matthew Unicomb, Beth Jones, Benjamin Haughton

Local Ads:

Michelle Thiede (thiede@tip-berlin.de)

National Ads:

Juliane Naßhan-Kunert (nasshan-kunert@tip-berlin.de)

To advertise, please contact us:

Tel: +49 (0) 30 - 233 269 600

Fax: +49 (0) 30 - 233 269 899

Email: anzeigen@tip-berlin.de

Distribution / Subscriptions:

Stefanie Gilissen

www.exberliner.com/subscribe

Iomauna Media GmbH

Max-Beer-Straße 48, 10119 Berlin-Mitte

Tel 030 2463 2563, Fax 030 4737 2963

www.exberliner.com, Issn 1610-9015

Exberliner was founded in 2002 by Maurice Frank, Ioana

Veleanu and Nadja Vancauwenberghe.

It is a publication of Tip Berlin Media Group GmbH.

Managing director: Robert Rischke

Business as usual with Israel

As German decision-makers wring their hands and mince

their words on the crisis in the Middle East, the arms

companies keep cashing those cheques.

Amid all the talk of bombs and rockets,

here's a list you might have missed in

the German news:

2018: Combat operation system, all-terrain

vehicles, parts for combat tanks, armoured

vehicles and other military vehicles. Total

value: €101,194,601.

2019: Drones, parts for combat tanks,

engines and parts for helicopters,

ammunition for howitzers,

ammunition for recoil-free

weapons, ammunition for

grenade guns, ammunition

for automatic grenade

launchers, mortar

ammunition, parts for

submarines and warships,

naval mine-clearing

equipment, parts for

torpedoes and missiles,

missile defence systems for

aircraft, parts for infrared

equipment and thermal

imaging equipment (among

other things). Total value: €75,932,282.

January - June 2020: Corvette warships,

parts for submarines and corvettes, airindependent

propulsion systems. Total

value: €533,044,265.

This is the military equipment that

German companies have sold to Israel in

the last three years, as listed in the German

government's arms export reports. Not

that Israel is the only country in that region

Germany has sold arms to. Turns out there

are a lot of good weapons customers in

the Middle East. The Egyptian military

dictatorship is one of the best; like Israel,

Egypt also bought a German submarine last

year. (Germany is often careful to maintain

balance in these arms races.) There's also

good business to be made with Qatar (a

direct funder of Hamas), the Saudi monarchy

(dismemberer of journalists, bomber of

Yemen), the UAE (another bomber of

Yemen), as well as Oman, Jordan and Kuwait.

Last month, as Hamas rockets (courtesy of

Iran and Syria) flew into Jerusalem and Tel

Aviv, and as Gaza City was being flattened by

Israel's (mostly US-made) planes, German

Foreign Minister Heiko Maas wrote a tweet.

Konrad Werner

explains German

politics

It read: "At the moment, ending the violence

in the #MiddleEast is the highest priority.

But we should also talk about how such an

escalation can be avoided in future."

This tweet is irritating on a few levels,

but one of them is grammatical. Making

use of one of German politicians' favourite

tools, you'll notice how Maas slid gently

from the active to the passive voice towards

the end there. How can this horror be

avoided? It suggests that the solution to

the conflict is abstract, in

the air somewhere, like a

balloon floating above all

the belligerents, just out of

reach. If only we could jump

and get it down!

But if you're supplying

arms, you are involved.

You've made a deliberate

decision to help one side

kill people (though you may

also be indirectly helping

the other side through

Qatar, see above). That's an

active choice and could be

described with active grammar. Of course,

the nature of this kind of involvement means

that you can go easy on yourself, confining

your interest to the only thing that matters

to you: the money German companies can

make.

Germany's strongest reaction to the terror

in Gaza and Israel in the last few weeks

has been to obsess over anti-Semitism at

home – namely, in the Arab community of

Neukölln – and to suck its teeth and point

to the nation's historical responsibility to

stand up for Israel. Both of those concerns

are legitimate and important, but they're

just two elements of a cycle of violence

that Germany actively participates in.

They're also just shrugs: it's not us, it's

the immigrants; it's not us, it was our Nazi

granddad. It's very bad. We're very sorry

about it. Now here's the invoice. T

If you're supplying arms,

you are involved. You've

made a deliberate decision

to help one side kill people.

JUNE 2021

5
---
BEST

OF

BERLIN

BERLIN APP

BEST HOME-COOKED GRUB

Lockdown has seen a profusion of passionate

home cooks selling their tantalising concoctions

on Instagram. HomeMealDeal

is an app designed to help them run a bona fide

business from their own kitchen, by connecting

them with Berliners hungry for new and

authentic dishes not available anywhere else

on the foodscape. Against popular belief, it is

not impossible to sell your vegan lasagne or

home-made jollof rice to punters from your

home – provided you have the right paperwork,

that is. After launching trial runs late last year,

Martin Schmidt of Leverkusen and his Slovenian

partner Mario Dugonik officially formed

the Berlin start-up in April to help at-home

chefs get hygiene certificates and the ironically

named "red cards", which give individuals the

green light to set up shop. Popular offerings

include Vivian Liu's 20-set of Chinese dumplings

at €11-13 and Evelyn Ebert's beef, chicken

or veggie waakye, a Ghanaian rice-based dish

cooked with black-eyed peas and covered in a

black chili and tomato sauce (€9.50). And don't

forget Benjamin the Bavarian's home-roasted

Schweinshaxe! Anyone living in the north or

east of the city might struggle to score a homecooked

dinner, since offerings are pick-up only

and concentrated in Tempelhof-Schöneberg,

Friedrichshain-Kreuzberg and Mitte for now.

The roll-out is proceeding at a modest pace,

but it's not for the lack of chefs; Schmidt and

Dugonik are cutting through the red tape district

by district. HomeMealDeal currently supports

40 'kitchenpreneurs', many of them newcomers

to Berlin who are in the process of setting

up a new life here. Another 200 people are on

a waiting list, ready to serve up the authentic

flavours of their home country. — MP

HomeMealDeal, available for Android and

iOS devices

TPSY

HomeMealDeal

HomeMealDeal

SUMMER DRINK

BEST WINE IN A CAN

Berlin isn't exactly a wine city. Blame that on

Berliners' inveterate love for street drinking:

whether in the park or at a protest, a Pilsner

seems a lot more practical than a bottle of Riesling

and a set of glasses. Enter TPSY, which has the perfect

solution for outdoor boozers with palates too

refined for Sterni or Radler: canned wine. That's right

– the handy tipple for the gal on the go has reached

these shores, after taking the Anglophone world by

storm. Putting wine inside a can has always been a

contentious concept, but founders Nico Dierking-

Mihm and Phillip von Gilsa aren't scared to ruffle

some feathers if it means filling a gap in the Berlin

market. "That's why we chose a cat as our mascot,"

Dierking-Mihm says, pointing to the bleary-eyed

cartoon puss sprawled across the packaging. "Not

everyone loves the idea of drinking wine from a can,

but a cat does what it wants – it doesn't give a shit

what other people say." You might not find TPSY

in your local Späti, but that could be by design, as

these wine rebels say they don't want their vino

to-go sold in any old corner shop. Priced at €4 per

250ml-can and available in four different varieties

(Riesling and Rosé Bubbles, and Riesling and Rosé

Schorle), it's more expensive than your average tinnie.

TPSY promises not to falter on quality, sourcing

only from a leading winemaker in Rüdesheim in the

Rhine Valley. "Phillip and I drank a lot of wine to

ensure we didn't compromise on taste!" Dierking-

Mihm chuckles. The pair have reduced their wines'

alcohol content to 7.5 percent, spritzer or not (the

Bubbles option is mixed with non-alcoholic wine).

This is to mitigate the risks that come with canned

booze, Dierking-Mihm explains. "When it's from a

can, you tend to chug a lot faster!" The makers are

also working on reducing their CO2 emissions by

planting a tree for every four-pack sold. Sadly, you

won't be able to sip your TPSY under said tree, since

it's part of a reforestation drive in Madagascar. — LR

Order online at tpsy.wine

6

EXBERLINER 205
---
Illustration und Schrift: Hannah Göppel

Putnoki Photo

BEST OF BERLIN

PREFAB EMPORIUM

BEST FASHION PLATTENBAU

From outside, the grotty cement

block at Memhardstraße 8 looks

no different to any other Plattenbau

on the fringes of Alexanderplatz – but

inside, this prefab relic has had a dramatic

revamp. Funded by the district offices of

Mitte and Pankow, Platte Modehaus

is a collective project led by 80 fashion

stakeholders that aims to serve as the new

home for Berlin's fizzing fashion scene.

The ground floor will house installations,

window displays and pop-ups, while

designers are invited to set up camp in

the lower ground cavern where they can

use fully equipped studios complete with

paper backdrops, natural lighting and

tucked-away hair and makeup booths.

Arne Eberle, publisher of indie fashion

publication ΠMagazine, is among the

hub's handpicked custodians. "I'm just

a tiny part. The name Platte refers to

the idea that the system is modular,

that different blocks come together,"

he says. From mid-June onwards, the

onsite shop opens, offering designers the

opportunity to sell their creations. But

this isn't a glorified gift shop; the space

seeks to be "a hub where things happen".

Talks with Berlin fashion schools are

under way to launch research into the

development of sustainable materials

and there are plans to host panel talks

JUNE 2021

and coaching sessions for designers.

According to Eberle, the project offers a

full 360 degrees of support for creatives,

who can benefit from "a transfer of

knowledge and networking opportunities".

In order to move in, all they have

to do is submit a concept to the pool

of stakeholders. Eberle admits that the

collective nature at times can be chaotic,

but the more actors who get involved,

the more resources and money can be

pumped into Platte, which has barely

got off the ground but already plans to

expand. The space has its eyes on the

800sqm plot next door, a former pharmacy

that has been boarded up for the

past 10 years; next year it will become

home to Platte's "special machines", to

be rented out in time slots. "Designers

don't typically have buttonhole or seam

machines because they are so expensive

no one buys them," Eberle explains. He

even sees the potential in Platte's back

courtyard to host fashion shows. "They

used to do them here in the 1990s!" he

says. Trends may have come and gone

since then, but shabby-chic never goes

out of style in Berlin. Just as well since

the prospective runway is cluttered with

rubbish bins and covered in graffiti. — LR

Platte Modehaus, Memhardstraße 8,

Mitte, instagram.com/platte.berlin

, RLIN

05.06., 48h 05.06., 48h 04.– 04.– | | UKW 05.06., UKW 05.06., 48h 48h 106,4 | 106,4 | UKW 48h UKW 48h | | | VOLKSBÜHNE 106,4 UKW VOLKSBÜHNE 106,4 | 106,4 | | | | VOLKSBÜHNE VOLKSBÜHNE BERLIN

BERLIN

BERLIN

BERLIN

BER

Illustration und Schrift: Hannah Göppel

Illustration und Schrift: Hannah Göppel

04.– 04.– 05.06., 05.06., 48h 48h | | UKW UKW 106,4 106,4 | | VOLKSBÜHNE VOLKSBÜHNE BERLIN

BERLIN

Illustration und Schrift: Hannah Göppel

Illustration und Schrift: Hannah Göppel

Illustration und Schrift: Hannah Göppel

Illustration und Schrift: Hannah Göppel

04.– 05.06., 48h | UKW 106,4 | VOLKSBÜHNE BERLIN

04.– 05.06., 48h | UKW 106,4 | VOLKSBÜHNE BER

04.– 05.06., 48h | UKW 106,4 | VOLKSBÜHNE BERLIN

BERL

VOLKSBÜHNE | 106,4 UKW | 48h 05.06., 04.– Illustration und Schrift: Hannah Göppel

Illustration und Schrift: Hannah Göppel

7

Illustration und Schrift: Hannah Göppel
---
BERLIN AT WORK

| HUMAN RESOURCES |

FREE TO OBEY

In a short, erudite book recently published in German,

French historian Johann Chapoutot explains how a

former SS Oberführer shaped post-war West Germany's

business elite, revealing the surprising modernity of Nazi

Menschenführung, as well as the "fundamental hypocrisy"

of modern liberal management. By Nadja Vancauwenberghe

"Obedience makes you

free, a short history

of management from

Hitler to the present", by

French historian of Nazism

Johann Chapoutot,

came out in German in

late March (Propyläen).

When Reinhard Höhn kicked

the bucket in 2000 at the age

of 95, obituaries mourned

the great theoretician of modern liberal

management, the guru behind post-war

Germany's economic success. Between

1956 and 2000, some 600,000 West

German bosses, managers and other

business leaders, from BMW to Aldi to

Colgate, attended his business school in

the Lower Saxony town of Bad Harzburg

and trained in the fundamentals of

successful management: participation,

delegation, autonomy,

responsibility. In fact, the

famous 'Harzburg model'

was developed by Höhn as

he was working to solve

the Third Reich's organisational

needs at the

Humboldt University's

Institut für Staatsforschung

between 1939 and

1944. Oberführer Höhn

not only escaped post-war

justice and denazification;

he made a seamless career

transition into post-war

Germany, lending his

skills and expertise to the

new economic elite.

Gehorsam macht frei

(obedience makes you

free) reads like a parable:

through the incredible

career of one man whose

influence presided over two systems

often held as ideologically incompatible,

Chapoutot places the Third Reich

into the historical continuity to which

it belongs – within Germany, but also

within the wider context of liberal economic

history. In the end, Chapoutot

isn't so much discrediting management

I was shocked by how

current the language

was. I had a little moment

of doubt. Was l

listening to a rabid Nazi

or was I in a business

school lecture hall?

practices through their potential Nazi

roots as he is exposing the duplicitous

essence of modern management.

What inspired this book about

the Third Reich and modern

management? For my last book, Das

Gesetz des Blutes ('the law of blood'), I

had read the works of Reinhard Höhn

in the 1920s-1930s and come across

his second career. I thought it was

interesting that an SS general could

become a liberal-management guru in

post-war West Germany. It was quite

telling about our world.

But it was a text by Herbert Backe

that really caught my attention [Backe

was the radical Nazi technocrat who,

as minister of food, oversaw the

planning and implementation of the

starvation of millions following the

1941 invasion of the USSR]. It was a

pretty short and abrasive circular in 12

points aimed at the Third Reich's civil

servants in the East. And what does

he say? He speaks of "performance"

and "mission", asking them to show

"flexibility", "agility", "autonomy" and

"decisiveness". I was shocked by how

current the language was. On the one

hand, there was the appalling racism

towards Untermensch Russians, colonial

violence, et cetera – which feels very

alien to us today. But on the other hand,

there was the familiar language of a

modern manager. I had a little moment

of doubt. I was wondering where I was.

Was I listening to a rabid Nazi or was I

in a business school lecture hall?

The French title, Libre d'obéir

('free to obey'), was already

intriguing, but the German

Gehorsam macht frei is a notch

more daring – even provocative.

Was it your decision to use a direct

reference to Arbeit macht frei,

the Nazi slogan at the entrance of

Dachau and Auschwitz? Actually,

it was a German journalist who'd read

the book in French and translated the

title like that. I thought it was very

good. It's true: it's daring and it may

seem a little shocking, but it's relevant

as it translates very well the Nazi idea

of liberating man through work. The

expression "Arbeit macht frei", which

for us has become the height of the

criminal cynicism of the Third Reich,

had a real meaning for the Nazis. In the

Nazis' conception of the Germanic man,

what they call der germanische Mensch,

work realises the individual, creates a

world of civilisation and thus frees man

from nature. It's a very common idea,

since Hegel, to say that man realises

himself through work, but for the Nazis

it only applied to the Germanic man.

Only he works. The other 'races' don't

really work. This is something that is

repeated over and over again in the

newsreels of the time, which show the

populations of Poland or the East as

idle, negligent people who don't work

and don't maintain anything – an old

colonial stereotype that we still find in

attitudes about Africa, for example. So

only the Germanic man works and puts

others to work, and that's part of the

reason why the Nazis were so interested

in the organisation of work and put so

much thinking into management – or

Menschenführung.

One of the surprising aspects

of your book is how modern

and liberal the Nazi approach

to management was – not at all

authoritarian as you'd expect

from a repressive regime. How did

that happen? In practical terms, you

8

EXBERLINER 205
---
BERLIN AT WORK

need to consider that the Third Reich's

ambitions in terms of production

are massive. Take rearmament: an

armoured division must be created, a

navy must be created. It all needs to be

produced – and fast – which involves

an increased Leistung (performance).

The term Leistungsfähigkeit (efficiency)

is a cardinal and recurrent one in Nazi

discourse. They are aware that you can't

increase Leistung by coercion. Coercion

is good for 'slaves', like the inferior

'race' of Slavs who live in the East

under the domination of the Judeo-

Bolsheviks in an open-air gulag. But this

isn't possible for the Germanic man; he

cannot be forced. You have to win his

consent, and his enthusiasm for work

will in turn create more Leistung. To

do this, you don't force him, you don't

hit him, you don't repress him – you

encourage him. This is where the term

Menschenführung comes in. It's a term

that comes from military vocabulary,

which was used a lot in the context of

World War I. The Führer is the leader

who takes his men into battle, the one

who takes you with him.

The polysemy of the term

'Führung' is interesting, isn't it?

The verb führen is 'to lead' and 'to

direct', but it's also 'to guide'. The

Führer is a boss, a leader, but also a

guide. In French or in English you

have different words; in German

it's the same thing. Yes, "führen" is

really "mit sich führen" (to lead with

oneself); there is this idea of solidarity

between the leader and the troop. This

notion of Menschenführung is opposed to

the notion of verwalten (to administrate

or manage), which contains the idea

of Gewalt (violence). It's really the

vertical, pyramidal relationship between

a leader who is totally detached from

his troops and the troops below who

obey mechanically. That's French-style

management conceptualised by Henri

Fayol at the end of the 19th century.

Reinhard Höhn says it very well – and

he's not the only one: there is a total

opposition between the pyramidal,

coercive French-style Verwaltung and

the German-style Menschenführung.

One would also associate that

type of hierarchical/coercive

management style with the

Prussian military tradition... Not

necessarily, because what Reinhard

Höhn shows is that after the defeat

of Napoleon, a new form of military

command was invented, called

Auftragstaktik, which was not at all

vertical but consisted of "auftragen"

(assigning, delegating) to a subordinate.

Like the captain who said to the

lieutenant: "Nimm doch das Dorf"

(Go and take that village) – do as you

please, as you can. In the Nazi context,

Reinhard Höhn and his colleagues,

the head of the Gestapo, Werner Best,

and Staatssekretär Wilhelm Stuckart,

put a lot of thought into the most

efficient way of administrating the

ever-expanding Reich, and they realised

the benefits of that approach: on the

ground, the subordinates are free to

take the necessary steps to fulfil the

objective without bothering the Zentrale

in Berlin, which has other things to

worry about.

So are you saying that the

modern theory of management

'by delegation' was a Prussian

military invention, perfected by

the Nazis? You could say that. And

it's no coincidence that Peter Drucker,

the great US management theorist,

develops a similar model in the US

after 1945. He talks about "management

by objectives" (MBO) and Reinhard

Höhn talks about "management by

delegation of responsibilities". The

idea is the same and the inspiration is

the same. Peter Drucker is an Austrian-

German Jew, of German tradition and

culture, who emigrated to the United

From 1956 to 2000, the business elite of Germany

would flock to the spa town of Bad Harzburg

in Lower Saxony to train in the 'Harzburg model',

the objective-based management approach

conceptualised by Reinhard Höhn during the

Third Reich. Höhn, shown here in 1971, loved

teaching and was praised as a great pedagogue.

States. And so he too was inspired by

the Prussian military model.

That's where it becomes more

uncomfortable. Where you

show a historical continuity of

Nazi management – both theory

and practice – with a Prussian

before and a neo-liberal after.

And Reinhard's career shows

how seamless it was. What Höhn

advocates totally fits the culture of

the time, and that's why Drucker will

say the same thing in the US. Both are

completely relevant in the context of

the 'free world' against the Communist

Bloc. So to be free in the Western,

Atlantic, capitalist world is to be free

as a voter, free as a consumer and as a

producer. And since I have a margin of

initiative, I am free to obey.

Reinhardt Höhn's career is at

the core of this book, and it

seems unreal that a former SS

Oberführer and convinced Nazi –

you call him "the Mengele of the

economy" – could become this

great man of modern management

in post-war Germany, not only

unbothered by justice, but able

to find a flourishing career with

Die Bad-Harzburg-Stiftung

JUNE 2021

9
---
BERLIN AT WORK

his Harzburg School. Yes, it

seems incredible, but what you need

to consider is that Germany went

from one war to the next – the war

against the USSR. It may have been

a cold war, but it was still a war. In

this context, the former Nazis are

seen as experienced professionals

– but they are also trustworthy anticommunists.

The entire civil service,

the entire police force, the entire

judiciary, doctors, university professors

are people recycled from the Third

Reich. There was no denazification in

West Germany – that's a myth! And it

doesn't only affect West Germany. In

France, the Foreign Legion recycles

thousands of former SS men. And let's

not talk about the United States! Latin

America... Now we're getting to know

all that very, very well. It may come

across as surprising, but

historians are no longer

surprised at all. It's been

well documented.

But he was an SS

Oberführer, a highranking

Nazi! And not

only did he escape

Nuremberg, he didn't

even have to flee or

hide under a fake

identity to become the

Reinhard Höhn famous and influential

A devout Nazi, SS man he became. He's

Oberführer and professor

of law at Hum-

had a prosperous career

not the only Nazi who

boldt's Institut für in West Germany. Hans

Staatsforschung during

Globke, Adenauer's

the Third Reich, Höhn

had a prosperous second

career in post-war Staatssekretär at the

main collaborator and

Germany as the founder

of the Bad Harzburg man who wrote the

Chancellery, was the

academy of business commentary on the

leadership. He died in Nuremberg Laws with the

2000, celebrated as author of the Nuremberg

a pioneer of modern Laws himself, Wilhelm

management.

Stuckart! People like

Reinhard Höhn were

needed: he was a hard worker, someone

who had developed important ideas.

He managed to re-position himself

through his lectures on military

history. In doing so, he met the

concerns of the era – the Bundeswehr

was finally established in 1955. He also

met the concerns of the industrial

and business elite of the time as the

German economy had adapted to the

new post-war reality – the shift from

being traditionally Ost-orientiert, which

was no longer possible with the Iron

The former Nazis are

seen as trustworthy

anti-communists...

There was no

denazification in

West Germany, that's

a myth!

Curtain, to becoming 'Atlanticised'.

It is a matter of flows of goods and

materials, but it is also a question of

methods. Reinhard Höhn was the one

who could do this and liberalise the

organisation of work. He became a

Leiter at a think tank for employers,

and from there he developed the idea

of a "Führerschule" (leadership school)

for the German economy – and so Bad

Harzburg was born in 1956. He was

very happy: he was the founder and

director of this school, he taught – and

loved it – and he wrote and theorised.

You say that 600,000 business

executives were trained at Bad

Harzburg – basically the entire

post-war economic elite of West

Germany. You compare it to the

Harvard Business School. Oh

yes, absolutely. The idea is to have

Fortbildung (advanced education

and training) for people who already

have positions of responsibility, like

managers – to train them in even

more efficient methods. They go there

for seminars, to learn the method of

delegation of responsibility – what we

call the 'Harzburg model'.

The Harzburg model became

the dominant model in the

German-speaking world until

it was challenged in the 1970s.

Can you explain why then?

Two things happened. There is an

internal criticism of the Harzburg

method, which is accompanied by

precise rules and very precise controls

on the execution of these rules. This

was contested from the 1970s onwards.

This criticism resonated with the

exposure of Reinhard Höhn's past.

You could tell that it was his own

hubris that lost him. In his desire to

expand his school and make more

money, he started to advocate for his

management model to be applied to

local and federal administrations,

which brings in a lot of money. But

then the step too far: to extend it to

the Bundeswehr. When Willy Brandt

came to power in 1969, it didn't look

too good for a Social Democrat defence

minister to have a contract with a

school run by a former SS general.

Again, it wasn't a secret. Spiegel ran a

whole series on "die alten Kader der SS"

(the old cadres of the SS) in the 1960s

and Reinhard Höhn was mentioned

repeatedly. Under the newly installed

SPD, it became more problematic and

Helmut Schmidt ended the cooperation

between the Bundeswehr and Bad

Harzburg. The school continued to

survive and prosper though. The

Tochterschule [Die Akademie für

Führungskräfte] has just closed down

because of corona. Interestingly, when

you look at the school's website, it

still boasts Reinhard Höhn as one its

great teachers. A few years before his

death, the BDI [Germany's business

federation] held a big jubilee where

they celebrated the man who theorised

management.

What are the traces of Höhn's Bad

Harzburg management model

today? I don't put the problem so

much in terms of filiation. What I

find much more interesting is to ask

what Reinhard Höhn's career and

the good fortune of his management

model reveal about the organisation

of work the way we know it in our

'liberal' system, which aims to make

the relationship of subordination as

acceptable as possible. This is the

essence of management...

…the art of making employees

free to obey? Indeed, and it involves

gifts at Christmas, heating in the

office or the idea that you are free to

choose your means to achieve an end

that was prescribed for you. What I

find interesting is that Reinhard Höhn

allows us to see the aporia, or the

hypocrisy, if you will, of management.

That is to say that you will be made to

believe that you are 'free' because you

have the choice of means, even though

the end has been prescribed to you –

and beware, you must obey. Hence the

title. Reinhard Höhn's career reveals

the fundamental hypocrisy of liberal

management. T

10

EXBERLINER 205
---
BERLIN AT WORK

| PANDEMIC JOBS |

THE CORONA GIG

Over the past year, thousands of Berliners have found

work in the lucrative testing and vaccination industries

that grew out of the pandemic. But how attractive are

these jobs, and how hard are they to get? And what will

happen after the crisis is over? By Rachel More

An eclectic mix of DJs, bouncers and

bar staff mill around on the floor

of the Arena Berlin in Alt-Treptow.

They check visitors' documents and take

their coats, and push less able-bodied guests

around the 30,000sqm vaccination megacentre

on wheelchairs. It's a far cry from the

dance floors they once orbited, but most are

grateful to have found work – and a decent

wage – in this new sector, born of the crisis

that killed their jobs in the first place.

These workers have Jens Quade to thank

for throwing them a lifeline. When the

53-year-old Urberliner found himself in charge

of recruitment for two of Berlin's six Covid-19

vaccination centres, being president of

the German Red Cross's Müggelspree branch,

he turned to one of the industries that was

hurting most. "In December, I had the challenge

of having to hire lots of people in a very

short space of time, so I made a conscious

decision to target the arts, culture and club

scene, to specifically recruit people from

that area," he says during one of his cigarette

breaks. "I turned to the state culture minister

[Klaus Lederer] and got the addresses of

industry associations from this field, and just

started calling them all up." There was a flyer

James Huertas

No one is working in a

test facility for fun or

because it's the best job in

the world. It's because it's

this or nothing.

campaign; job ads were shared on Facebook

and on industry mailing lists. Now, Quade

estimates, around 800 of the one thousand

employees at the Arena and Tegel Impfzentren

are from those creative industries. The

vast majority of the centres' staff require no

medical experience, just the willingness to

wear a mask all day and work with the public.

The "worker bees", as Quade calls them, get

a monthly wage of €2500-2800 for full-time

work on fixed-term contracts, which are

extended depending on how the vaccination

drive is progressing.

Berlin's six vaccination centres, which employ

2100 people between them, are just one

part of the new job market that has arisen

from the pandemic. Thousands more have

found work in the now-ubiquitous field of

coronavirus testing, with around 740 facilities

– and counting – now listed on the state

health department's website. This industry

has boomed following the introduction in

JUNE 2021

11
---
BERLIN AT WORK

It was pretty easy to get

the job here... It's fun and

I'm outside. I have my

schedule so it gets me out

of the house.

Paula Ragucci

March this year of free rapid testing for all,

with subsidies available for savvy businesses

looking to profit. Today, there are test

facilities all across town, from repurposed

sport stadiums to restaurants whose menu

boards have been wiped clean to make way

for Abstand rules and QR-code registration.

The operators require no prior experience

or medical training to register. By simply

filling out an online form, any business can

request to be added to the ministry's list of

test spots; if it gets the go-ahead, staff just

need to complete a short training course

before they can begin poking cotton swabs

up strangers' noses.

Even with these new opportunities,

looking for a job midpandemic

is rough: there are

about a third fewer vacancies

listed on job centre websites in

Berlin than there were a year

ago. The rate of unemployment

in the city has climbed from

7.9 percent in March 2020 –

before the pandemic prompted

struggling employers to start

firing people – to 10.5 percent

this April. Of course, being out

of work doesn't necessarily mean being out

of a job entirely: ask anyone in the Berlin club

scene, where almost everybody is currently

on Kurzarbeit, the state-funded furlough

scheme covering their wages so their broke

employers don't have to.

Inside the Arena

Janosch Marder and Christian Kahl, two

of the DJs now working as vaccination

helpers, both lost their bookings basically

overnight when the pandemic hit last year.

After submitting a CV to Quade's Red Cross

2,100

BERLINERS

staff the city's

six vaccination

centers

branch and taking part in a brief telephone

interview, they were each hired to start at

the Arena centre in January. "There was a

seminar to give you an introduction and

then it's a case of learning by doing," says

38-year-old Marder, once a regular fixture in

some of Berlin's most popular clubs (Sisyphos,

Mensch Meier, Kater Blau) under the

artist name Janoma. "Of course you have to

do everything correctly, not make mistakes,

but it's nothing particularly complicated."

Roughly speaking, the work can be divided

into three areas: registration, not unlike

check-in at an airport; guiding visitors

through the system; and supporting

people who are less

able-bodied.

"You work your eight hours

and get a one-hour lunch break

in the middle," says Kahl, who

is one part of downtempo

duo Kahl & Kæmena and also

used to arrange bookings for

festival stages including the

FKK floor at Fusion. He says

he likes the vaccination centre

work, before correcting himself.

"I appreciate the work,"

he clarifies, "because the team is so nice. If

the chemistry wasn't right, I don't think I'd

stick with the job for as long, because at the

end of the day it's pretty much like being in

a hamster wheel." He found out about the

gig through Booking United, an initiative of

over 150 Berlin agencies that was launched

to support musicians and artists through

the pandemic. Now, rather than getting his

social interactions on the dancefloor, at the

bar or in the queues for the club toilet, Kahl

finds himself making small talk at different

stops throughout the Arena's labyrinth of

registration points, marked walkways and

vaccination booths. "You have lots of these

short conversations – with an elderly gent or

an older lady, then someone else around the

corner – which all tend to be pretty positive,"

he says. "So I guess that's similar to the club

feeling, because you have those feel-good

vibes at least."

The Red Cross is still hiring: as vaccination

capacity increases, Quade says he

needs more people, plus replacements for

the 30 to 40 members of staff each month

who find other gigs and leave. Some might

consider the chance of scoring a quick jab a

good enough reason to apply, since such a

job catapults you into the top priority group

for vaccination. But Quade bristles at the

suggestion that this is a perk, pointing to the

infection risk that his staff expose themselves

to – and adding that not all of them

get vaccinated immediately, since they have

to wait for leftover doses in the evenings.

Kahl lucked out and got his first shot during

his first week on the job, while Marder had to

wait two months.

Minijob swabs

While members of Berlin's club scene were

welcomed with open arms, not everyone

has been able to walk into a job at a Berlin

vaccination centre. Maria, 27, sent numerous

applications for Impfzentrum positions in late

December and early January as a furloughed

flight attendant looking to top up her Kurzarbeit

money. "I never heard back from them,"

she says. "So I thought, well, might as well

try a test centre." That turned out to be "way

easier". She found a test facility provider

website with a link to listed jobs, and sent

them a two-line email briefly introducing

herself. "And that was it. They invited me

to an interview and afterwards I worked a

trial shift, which was paid. Then I got the

job." Maria, who did not want to give her

full name, worked the registration booth on

a Minijob contract for €12 an hour – but she

didn't last long there. "I ended up at a completely

disorganised company where the shift

planning was a disaster," she says, without

wanting to give the name of the company.

"We had no rota for the week, so you would

12

EXBERLINER 205
---
BERLIN AT WORK

find out on the Monday whether you had to

work on the Tuesday." She quit within six

weeks of starting.

Maria suspects that the vaccination gig

would have been less stressful. "Those

centres are led by proper organisations, like

the German Red Cross – but anyone can

open a test site." The Covid job market is a

two-tier economy: on the one hand, there

are publicly funded vaccine jobs offered by

established charities with well-structured HR

departments; and on the other,

there are private-sector gigs

in testing, where the working

conditions are as variable as the

companies involved. Some test

centres have cropped up in locations

like clubs, theatres and

restaurants, as shuttered spaces

try to adapt to the crisis – either

to play their part, to keep their

workers in a job or to cash in on

state subsidies. Entrepreneurs

and adaptable businesses can

choose between over 450 different tests

currently listed by the government's BfArM

institute for drugs to use at their improvised

centre. The state pays non-medical sites €12

per test carried out, plus an additional €6 if

they supply the materials themselves – allowing

for a handsome profit, since some of

the tests can cost as little as €2 a piece.

Benjamin Föckersperger entered the testing

game as an entrepreneur. After launching

a number of different ventures in fields

varying from plastic recycling to esports, he

founded coronatest.de back in November

2020. It now runs 12 sites across the city

and employs around 130 to 150 people. The

company is currently advertising around

a dozen job vacancies, ranging from management

and medical positions to more

entry-level work, like staffing the registration

points and pointing people in the right direction

towards their test. The starting rate for

hourly pay is around €13, Föckersperger says.

"For a lot of people who've lost a job with

their regular employer or are on Kurzarbeit,

it's obviously pretty cool. We've been able to

get them earning again and putting food on

the table."

One of those people was Bruno Epifânio,

who lost his job as manager of Café

Nullpunkt, a slick vegan eatery in Kreuzberg's

Blumengroßmarkt, after the pandemic hit

last year. "It was pretty easy to get the job

here," he says as he clocks off from his shift

at coronatest.de's open-air site at the RAW

Gelände in Friedrichshain. He trained for half

a day at coronatest.de's Friedrichstraße location

before getting the gig near Warschauer

Straße when it opened in mid-February. "It's

fun and I'm outside. I have my schedule so it

740

TEST

FACILITIES

have sprung up

across Berlin

JUNE 2021

gets me out of the house," Epifânio says. He

works daily six-hour shifts, from 7:30 to 14:30,

and has climbed the ladder to become shift

manager for his team, bringing in more cash

from the testing gig – although he refuses to

disclose how much.

Föckersperger is keen to distance his business

from the less regulated side of corona

testing. "Now every Currywurst joint and

chicken grill has opened up its dining room

for testing with the same workers, because

they can't offer the space to diners

anyway," the businessman

says, before adding ominously:

"The quality is what you would

expect."

According to Föckersperger,

his facilities are a cut above the

rest. Firstly, he argues, because

his cotton swab-wielding

employees get more thorough

training: a five-hour induction

followed by a trainee period, as

opposed to the bare minimum

required by the city health authority, which is

a one-hour course provided by the Red Cross.

Aside from that, Föckersperger claims that

there are vast differences in terms of labour

standards: "No one in these Dönerläden has

ever even heard of occupational safety!"

Temping the pandemic

Looking ahead, no member of the new Covid

labour market is expecting – or hoping – to

have a job for life in the pandemic-response

industry. Even those well-paid vaccination

centre workers are itching for Berlin's clubs

and bars to reopen. In the meantime, they

can at least stay socially connected with the

scene. "There's not a whole lot of networking

because I think everyone is still quite

reserved about what the future holds,"

Kahl says. "But sure, I've met some pretty

interesting people with whom I'd like to

collaborate later." He and his colleagues only

recently found out that they will still have

vaccination centre jobs this summer. Their

contracts were due to expire at the end of

this month but have since been extended

until late September.

As for the testing jobs, many of those will

only last as long as the state funding for

Schnelltests does. Föckersperger hopes to stay

in the business for longer by offering PCR

tests, which are expected to stick around longer

as a standard requirement for cross-border

travel. But he understands his workforce

of Covid jobbers are waiting for a way out.

"Most of our employees are looking forward

to being able to do their old job again," he

says. "No one is working in a test facility for

fun or because it's the best job in the world.

It's because it's this or nothing." T

AVAILABLE FOR 24HRS

WEDNESDAYS + FRIDAYS

7:30 PM, ON GORKI.DE

WITH ENGLISH SUBTITLES

MAXIM GORKI THEATER

Am Festungsgraben 2, 10117 Berlin

Box Office: 0049 30/ 20 221 115

www.gorki.de

13
---
BERLIN AT WORK

COVID

CAREER

SHIFTS

As industries

that were once

powerhouses

for jobs began

haemorrhaging

employees during

the Covid crisis,

newly out-ofwork

Berliners

found themselves

at a professional

crossroads.

We speak to

four hustlers

who landed in

completely new

sectors – some

reluctantly, others

less so.

SANDRINO TITTEL

FROM FULL-TIME DJ

TO HOME FURNITURE

FLOGGER

Covid sent many DJs from the club

to the couch when dance floors

closed last year. Sandrino Tittel

was one of them – but for him, it was a

business decision. "Going from eight to 10

gigs a month to suddenly no gigs and no

income – that was so abrupt," he winces.

"I realised how fragile our ecosystem in

the music world is and I don't want to

rely only on that anymore." Now, donning

a coral-coloured flat cap and flamboyant

floral shirt, the new business owner

smiles under his chevron moustache as he

reclines on a stone-grey sofa in einraum.

berlin, the home interior shop he launched

with a friend just around the corner from

Neukölln's Lohmühlenbrücke.

The 40-year-old, who was born in the

Romanian city of Timișoara, moved to

Berlin in 2010 and became a regular on

the club circuit as one part of electronic

duo Frankey & Sandrino. The pair had a

residency at Watergate, regular Sunday

sets at Kater Blau and also took monthly

trips abroad for gigs. But as the reality of

the pandemic set in, he began spit-balling

ideas about how to fulfil a long-held

dream of setting up a furniture showroom

with his friend Andre Henneberg. The

business partners met 10 years ago while

working at Moove, a furniture store on

Yorckstraße, Kreuzberg. "I was the sales

agent for northern Germany. About six

years ago I stopped because it was just too

much work – gigging and doing a normal

job." Tittel gesticulates wildly: "I was

always on fire!"

And so, after the pair stumbled across

the perfect spot for their dream to become

a reality – a 100sqm plot with floor-toceiling

glass panels at Harzer Straße

109 – einraum.berlin was born. You may

think that with retail stores being forced

to close, the second lockdown could have

been a fatal blow for a fledgling company.

But it seems like Tittel and Henneberg

chose the right business: the pandemic

was actually beneficial to the furniture

sector. Having saved on holidays and other

luxuries, many Germans have splashed

out on home improvements. "With

people spending much more time at home

during lockdown, many realised, 'Woah I

really need a new couch,' or maybe they

needed a new chair for their home office,"

explains Tittel. As things slowly return

to normal, Tittel is optimistic business

will boom: the store sells "sophisticated",

hand-upholstered couches made in a

small Karlsruhe factory for about €3000

a pop, as well as office chairs, rugs and

repurposed storage furniture. But the

space also promotes local artists, vase

makers and even vintners. "We have

seven or eight natural wines from German

vineyards. We are our own best customers,

we choose stuff we like," says Tittel. The

store might now be his main source of

income, but that doesn't mean Tittel will

be turning his back on music any time

soon. In fact, he thinks the transition will

boost his music career. Whereas before

he took on gigs that might not have suited

him or his musical style, with more money

in the bank Tittel says he can be pickier

about where he plays. "Decisions can now

be based on the music itself." In a sign

that music is never too far away from their

thoughts, the co-founders are also looking

to invest in some high-quality speakers

for einraum. Playing a set while shoppers

mingle over a glass of fizz is certainly on

the cards post-lockdown, although Tittel

concedes that he might need to adapt his

usual style. "I would love to play for our

guests, but maybe not the weirdest techno

– it would have to be something more

ambient or electronica!" T — Lucy Rowan

James Huertas

14

EXBERLINER 205
---
BERLIN AT WORK

LEA RÖHRIG

FROM CONFLICTED

FLIGHT ATTENDANT

TO GUILT-FREE

ACCOUNTANT

I thought:

'Ok, two

months' paid

holiday isn't

bad.' There

was no way of

knowing what

was about to

happen.

Paula Ragucci

At just a smidge over 1.57 metres in

height, Lea Röhrig nearly didn't

make the cut for a job above the

clouds. "When I was younger, I wanted

to be a pilot," says the 25-year-old, who

moved from her family home in Brandenburg

to Berlin seven years ago. "But

at some point I realised it would be too

tough," she explains, adding that her feet

might barely have been able to reach the

pedals anyway. "So then I thought about

becoming a flight attendant." Again, the

height issue came up, but that extra smidge

meant she could just about reach the

overhead lockers. And so she made the

cut, landing a job with a major European

airline in April 2019, where dealing with

400-500 fliers a day (some people's nightmare)

appealed to her gregarious, outgoing

nature. "Anything can happen!" she

says. "I learned a lot about myself through

interacting with so many different people. I

learned to be more confident."

In February 2020, just as the pandemic

set in, Lea was on a three-week family

holiday touring Thailand and Vietnam.

"We spent the last week stressing over the

news and checking flights. We really didn't

know whether we'd make it back home,"

she says. "In the end, we were able to board

one of the last flights back to Germany via

Russia." Röhrig was less lucky when it came

to her work schedule, though. "I returned

to work to find that my last flights had been

cancelled." She was furloughed a year after

starting the job, which didn't seem so bad

at the time. "I thought: 'OK, two months'

paid holiday isn't bad.' There was no way

of knowing what was about to happen.

Somehow, I just completely couldn't grasp

what was going on."

By the end of the year, Röhrig had lost

her job completely. "Rumours had been

going around that if the Kurzarbeit went

on for much longer, they would have to let

people go." Röhrig checked the company

newsletter in her inbox every week for

news. Eventually, her termination came in

the mail; no one from management reached

out to her beforehand. She was one of the

last ones in and one of the first out; as a

young person with no mouths to feed at

home she fell victim to the company's plan

for "socially responsible redundancies".

"Once the dismissal notice was in my

hands, it really sank in," Röhrig says. She'd

already reorganised her life so as to not

succumb to the ennui of Kurzarbeit. "I'd

started renovating my room and stopped

drinking alcohol." While positive steps for

the short term, Röhrig now had to battle

with a much deeper rut: "I was asking myself,

'What am I doing? And what do I want to

do?'" Thankfully, her post-school Azubi

apprenticeship in business administration

provided her with a fallback. Plus, she had

always looked back fondly on bookkeeping.

"It sounds so boring but it was the part of

my apprenticeship I enjoyed the most!" she

gushes. Through good contacts, she managed

to land a job in March as an accountant at

a dialogue marketing company that works

with clipboard-clutching charities who run

fundraising campaigns on the street.

The philanthropic nature of the firm

has also given her a unique opportunity to

atone for her carbon-guzzling, air-mile sins.

"I was actually really conflicted because

flying is so shit for the environment. I

struggled with that a lot in the beginning."

Now, she's part of an operation that works

with big-name charities like World Vision,

the Norwegian Refugee Council and the

conservationists BUND. "I'm making a

contribution to something good, and that's

definitely a nice feeling. It makes up for all

that flying!" T — Rachel More

JUNE 2021

15
---
BERLIN AT WORK

BRUNO EPIFÂNIO

FROM RESTAURANT

MANAGER TO TEST

SITE GAFFER

Bruno Epifânio stands at the entrance

of an outdoor corona test

facility, hair swept to the side and

donning his signature sunglasses. He swaggers

around what was once a beer garden,

straightening signposts and fist-bumping

colleagues at the site, situated next to

the Astra nightclub on the pre-pandemic

cultural hub of RAW-Gelände. After moving

to Berlin from Barcelona four years ago, the

fast-talking self-starter worked in the local

hospitality industry, but when corona hit, he

followed the money. "They're probably lifting

it up in shovels!" he says of Berlin's new

test providers.

Since mid-February, the 43-year-old has

been working at Haubentaucher, which

like so many Berlin venues has taken the

leap from event space to test site. "It was

pretty easy to get the job here," Epifânio

says, reclining on a bench overlooking the

queue for the swabs. He got a friend from

bouldering to recommend him and has

progressed from regular worker to shift

manager. "I was here from the beginning.

I did all the signage and a bunch of stuff

with my hands. I put plexiglass and locks

in." Epifanio, or Nox, as his friends call

him, is good with his hands. In fact, he's a

bit of a jack of all trades. Growing up broke

in Lisbon, he learned from his father how

to fix anything so the family wouldn't have

to shell out for a handyman. He's been

a photographer, a gardener, a designer

and a teacher. Then came his foray into

hospitality, one that would last almost

two decades before being ended by the

pandemic.

It all started with the launch of Lisbon's

own Hard Rock Cafe in June 2003. As one

inexperienced waiter in a staff of 150, he

learned the tricks of the trade, working

across three floors of the Cadillac-adorned

eatery. Epifânio doesn't stay in one place

for long, though. "I get tired of things. Every

couple of years I'm either moving house or

moving city," he says, twiddling a lighter

between his fingers. "Or changing partner!"

In February 2006, he moved from Portugal

to Barcelona and scored a job at Parco, an

upscale sushi joint on the Passeig de Gràcia.

"The football players from Barcelona

go there, the princess of Spain used to

go there. It's very posh." He started as a

busboy. Within a couple of months, he was

head waiter, and not long after that he was

managing the place.

It was a similar story when he moved to

Berlin. Britta Jürgens and Matthew Griffin

– the architect couple behind the Frizz23

cultural co-ownership project, south of

Checkpoint Charlie – had initially been

looking for a cleaner for their Miniloft

design hotel. "I did, like, two shifts of

cleaning but then they needed somebody

to build." Epifânio ended up doing the

woodwork for the hotel as well as its

ground-floor restaurant, Café Nullpunkt. At

one point, it came up in conversation that

the restaurant needed a manager. Epifânio

dropped the name Parco and got the job.

"Britta and Matthew never looked at my

resume or anything!"

Café Nullpunkt, a plant-based, glutenfree

restaurant with its own garden and

composting system, was up and running for

less than a year when lockdown struck. "We

opened in July 2019 and then everything

went to shit in March 2020," Epifânio says.

"It didn't feel good, because I actually loved

the challenge of opening something. It was

almost my baby as much as theirs. It was

their money but it was my sweat that went

into it!" He was ushered into Kurzarbeit

as the bistro struggled to pivot towards

takeaway and ultimately parted ways with

Jürgens and Griffin – "because of course

I was expensive, and we weren't making

any money". Epifânio had one depressing

winter, watching Netflix and smoking joints,

before he decided to get back to work. He

got interested in restaurant work "because

it's never boring", he says. "You see

different people every day. You're not sitting

at a desk, it's physical." And corona testing,

in a sense, isn't all that different (apart from

one thing: no one tips you).

As his current employers cash in on the

2021 testing boom (see page 22), Epifânio is

already looking for his next gig. He's reduced

his hours at the site from 45 to 30-33 a week

and spends his afternoons at a communal

workshop near Hermannplatz where he's

renting a space. The goal is to turn his knack

for handiwork into a bona fide woodworking

business, Nox Works (@noxworks on

Instagram) – he's already working on

commissioned pieces for friends. And so, the

eclectic career of Bruno Epifânio continues.

He can run a restaurant, build a house, grow

a vegetable garden and take over a test site.

"I like to say that if the world ends – which

might be now – I think I'll be OK," he says

with a laugh. T — Rachel More

James Huertas

16

EXBERLINER 205
---
BERLIN AT WORK

Paula Ragucci

DORIAN PAIC

FROM JET-SETTING DJ TO DESK-BOUND AGENT

Last July, Dorian Paic found himself

alone in Munich Airport, tired and

sweaty. As he scanned the overhead

displays for his departure gate, clutching a

boarding pass for a Lufthansa flight back

to Berlin, the weight of 15kg of house and

techno vinyl cut into his shoulder. It grew

heavier as he weaved between passengers

on the way to the plane, exhausted but

pumped full of adrenalin at the familiar

prospect of a missed flight. He was on his

way home from his first DJ gig since the

pandemic shut the world down in March

2020, and one of just a handful of dates he

would play in the uneasy period between

Europe's first and second coronavirus

waves. "I couldn't believe I'd been doing

that every weekend for more than 10

years," Paic said over coffee in a quiet

Prenzlauer Berg park, almost one year later.

"It seemed completely nuts."

Like the rest of Berlin's DJs, the pandemic

changed the Frankfurt-born Paic's life

almost overnight. The months leading up

to March last year were some of the busiest

of his career, thanks to a six-week South

American tour that took him to countries

like Brazil, Argentina and Peru. But with

a stream of cancellation emails from his

booking agent, it became clear that the

South American jaunt would be his last

tour for a while. "All my gigs until October

disappeared," Paic remembers. "From one

week to the next, I was out of work."

More than 40 job applications later,

Paic started his training on April 20 as a

customer service agent for a well-known US

e-commerce company with several offices

in Berlin. He'd left an industry on its knees

for one of the pandemic's biggest winners:

online shopping. Amazon and eBay are

Germany's most-visited internet retailers,

accounting for 40 percent of online

revenues. Both companies announced

record sales during the pandemic.

(Datenschutz rules mean he's unable to

name his employer.)

It's Paic's first desk job in over 30 years,

a period that was full of constant touring,

digging for records and managing his label,

raum...musik. He now works from home

at the desk that once housed his home

studio; his modest MIDI and drum machine

collection replaced by his new work tools:

a keyboard, monitor and headset. "In the

first three months, I really wanted to die,"

Paic says. "It was so hard. To be able to

really work independently took around three

months, which is when you start to see the

same situations repeat themselves. Until

then, everything was new."

The transition from DJ to office worker

isn't a common one. Most of the music

scene's casualties, whether DJs, booking

agents or bar workers, have ridden out

the pandemic on unemployment benefits,

scraping by on Arbeitslosengeld II and

Soforthilfe. But that wasn't an option for

Paic, whose pre-corona booking fee ranged

between a few hundred euros and €3000.

You could describe his life as comfortably

middle class, paying €850 per month

for his Prenzlauer Berg apartment with

enough money to spare for savings and

a few nice meals per week. He wasn't a

millionaire by the time corona hit, but he

was no starving artist. "I have savings, so I

wasn't completely broke, but it didn't make

sense to just sit around eating kebabs,"

Paic says. "I had it good before, so if life

is a bit stressful at the moment, or I don't

have time to myself, then that's just the

way it is – you have to adapt." In his case,

adapting means five nine-hour shifts per

week, during which he often fields calls

from German-speaking customers deep into

the night. He works in a small team of eight,

all based remotely. And while he hasn't

caught up with any new workmates socially,

at least one of them is a house music fan. "A

colleague recognised my name," Paic laughs.

"He spent about an hour asking me about

DJing and my label."

The last time Paic worked regular hours

was behind the booth in 2008, slinging

records to local DJs at Freebase, Frankfurt's

former temple of house and techno vinyl.

Like standing behind the counter at that

record shop, DJing provided the buzz that

came with connecting with new cultures and

young music geeks, the things Paic misses

most about the touring life. But he says it's

nice to be finished with the constant travel

– at least until his customer service contract

expires next April. "Before corona, I'd been

living off DJing for 12 years," Paic says, "and

living off music for 30 years. I don't know

many people who managed it over such a

long period." T — Matthew Unicomb

In the first three

months, I really

wanted to die. It

was so hard.

JUNE 2021

17
---
BERLIN AT WORK

Wolt

| GIG ECONOMY |

SECURE IN THE SADDLE

The lockdown economy has driven huge growth in

Berlin's tech delivery sector, filling city streets with

legions of bike couriers, most of them expats out for

limited contracts and flexi-hours. In interviews with

Exberliner, workers report on their first-hand experience

of the fast pace of change. By Andrea Birmingham and René Blixer

Arjun arrives five minutes early, at 15:25,

for his evening shift in the main Gorillas

warehouse on Torstraße in Mitte. He

clocks in using an app, greets his colleagues

with fist bumps, then puts on his mask and

goes inside to receive a key from his supervisor

for one of the sleek, black e-bikes out front.

He checks the bike, grabs a helmet and picks

a break time from a sign-up sheet – and with

that, he's ready to take his first order. He will

spend the next seven and a half hours hanging

out with his colleagues at the warehouse, then

cruising along nearby streets when he gets an

order, never straying further than 10 minutes

from his base.

Gorillas is the new kid on the delivery

block. Over the past year, Berlin's homegrown

start-up app has gone from owning

a single warehouse on Danziger Straße in

Prenzlauer Berg to covering 14 different

areas across Berlin and 75 nationwide, as

well as in major cities in the Netherlands,

the UK and France. With one-year contracts

and stylish black attire for its 1000-strong

'rider crew', the newcomer has set itself

apart from other apps. Its image is all about

speed, with the stated aim of delivering groceries

"at retail prices" to customers within

10 minutes of ordering. It pays employees

€10.50 an hour and lets them grab free postshift

fruit and vegetables that are past their

selling point.

"It's really so cool out there, I'm having a

great time," Arjun says about the 20 hours a

week he spends at the Mitte base. A student

from India, he started his courier career with

Wolt, the Finnish takeaway delivery company

that launched in Berlin in August 2020.

Wolt has grown from its launch in Helsinki

in 2014 to operating in more than 170 cities

across 23 countries and employing 40,000

"courier partners". It offers workers a shorter

contract than Gorillas, lasting six months,

with a base hourly rate of €10 that can go up

under a bonus system based on how many

orders you complete and how far you cycle.

According to the company, its couriers earn

on average between €12 and €15 per hour.

Finding your crew

Even though the money with Wolt was

higher, Arjun much prefers Gorillas. At Wolt,

he rented his e-bike for €79 a month from an

external company. There was a lot of time

spent waiting outside on his own and his

only contact with his supervisor was through

an app on his phone. At Gorillas, he gets

to hang out with other riders in an indoor

communal area complete with tea, coffee

and snacks. "They're not colleagues, they're

like my friends!" he says of the like-minded,

young internationals who work with him,

many of whom, he says, come from South

America. "We communicate in English, but

to be honest I should be learning Spanish!"

says the law and politics student, who wears

his Gorillas-branded t-shirt despite not being

on shift. "It just looks cool, so I wear it all

the time." Talking up the social benefits of

the job, he shows a video on his phone of a

birthday celebration for his Gorillas colleague

Carlos, with music blaring and a large

spread of snacks and drinks. "I swear, man,

even if there wasn't any money, I'd still go,"

he says cheerfully. "It's like my home!"

As various employers jostle for pedal

power, Gorillas likes to paint itself as the

coolest delivery app to work for. The ondemand

grocery service puts its riders "at

18

EXBERLINER 205
---
BERLIN AT WORK

the core of what we do", according to its

manifesto, which is peppered with buzzwords

like "community" and "diversity"

and even encourages use of the hashtag

"#riderpride". Gorillas offers occasional bonuses,

like at Christmas or after it attained

"unicorn" start-up status in late March by

raising €245 million in its second round of

financing, leading to a billion-dollar stock

market valuation.

An uphill climb

Delivery app workers don't always have

it this easy. Gorillas has joined a market

fraught with disputes and union battles. Tensions

in the booming sector boiled over during

Berlin's extreme cold snap in February,

when up to 20cm of snow coated the ground

and temperatures lingered far below freezing.

Workers at Lieferando, a Dutch-owned

company that launched in Berlin in 2009 and

has come to dominate the German market as

part of the Just Eat/Takeaway.com conglomerate,

were instructed by their Betriebsrat,

a protected body of employees elected to

represent their colleagues at company level,

to sign in and report that they felt unsafe to

work. The takeaway delivery app's operations

halted in the city for three days as a result.

Lieferando now recognises its workers' right

to determine whether they feel safe to work,

according to a company statement on its

employment practices.

In the same statement, Lieferando claimed

to be against hiring "gig workers". The company

offers a "comprehensive" package to its

10,000 "drivers" internationally as part of

an "employment model that sets standards

in the industry". Employees get a similar

six-month contract and payment structure

to Wolt with a Germany-wide average wage

of €12 an hour, with the rate increasing to as

much as €16.50 in high-demand areas.

Lieferando's workforce was originally

offered e-bikes for free, available to collect

for shifts from local 'hubs', but since the

pandemic this has been phased out in favour

of couriers renting e-bikes from external

companies at monthly rates of €110, according

to delivery workers who have organised

themselves via the Free Workers' Union

(FAU). Lieferando says workers who choose

to rent bikes are compensated for the costs.

The improved conditions that most couriers

can now expect in Berlin, like secure

contracts and winter protection, are a result

of union action like that seen at Lieferando,

according to Reza, a representative of FAU's

Deliverunion who has worked for Lieferando

since late 2019. Couriering was a "relief from

office work" and Reza liked being outside on

a bike for a living. He found the job better

than hospitality work, in which he used to

Paula Ragucci

Riding for a living the lowdown

Want to sculpt those calves? We run through

your options at Berlin's top four bike delivery employers.

GORILLAS The Berlin-born

unicorn grocery

app has a growing legion

of 'riders' thanks to its

cool image, sociable

'crew' and secure contracts.

Wage Average €11.50 per

hour, starts at €10.50

Contract One-year contract,

setting out guaranteed

minimum hours.

Riders can share their

preferences before shifts

are scheduled.

Equipment e-bikes provided

to all riders

Perks Communal space

at each warehouse,

where riders get free tea,

coffee and snacks between

gigs, and where

they have direct contact

to a supervisor. Also 25

percent off all groceries

plus free leftover fruit

and vegetables to take

home.

LIEFERANDO The

veteran Dutch-owned

takeaway behemoth has

improved its working

conditions in recent

years and offers big

(-ish) bucks but only to

its busiest cyclists.

Wage Average €12 an

hour

Contract Six months,

flexi-time. Riders can

choose their own hours,

inputting their chosen

shifts on an app.

Equipment The cost of

renting a bike is covered

by the company and

couriers who use their

own wheels can claim

back 14 cents per kilometre

travelled.

Perks Bonus system

means an extra euro per

order after 100 orders

completed. You could

get you up to €16.50 an

hour over the month, but

that would mean doing a

lot of orders.

KHORA This food delivery

collective started by

a Deliveroo renegade in

2020 (formerly Kolyma2)

is the ultra-local, alternative

option to tech

giants, operating mainly

in Neukölln, Kreuzberg

and Friedrichshain.

Wage €11.50 per hour,

flat rate, just like everyone

else in the company

Contract Employees

are hired by the SMart

eG social enterprise and

given fixed contracts.

Equipment No bike, no

branded apparel

Perks Everybody has a

say in how the company

is run, with decisions

made collectively at

meetings held twice a

week.

WOLT The Finnish giant

crashed the Berlin market

in August 2020 and

is giving Lieferando a run

for its money. It offers

a similar pay model for

busy riders, but with

guaranteed minimum

hours for bringing home

the bacon.

Wage Average €12-15

per hour.

Contract Six months.

Most couriers work parttime

but Wolt offers a

flexible model – you can

work part-time, full-time

or as a working student.

Working hours are

scheduled weekly based

on contractually agreed

hours.

Equipment Couriers

have to use their own

bikes for now.

Perks Couriers can take

it easy and still earn the

minimum of €20 for two

hours, or earn considerably

more under a

lucrative bonus system

depending on how

many orders completed.

You get €160 after completing

150 orders.

JUNE 2021

19
---
BERLIN AT WORK

work nights and be expected to do unpaid

overtime. He became involved in union activity

"more out of a conviction" than a complaint,

he said.

Left in the cold

However, Reza's opinion of the food delivery

company has since gone down, particularly

after a recent rift. While delivering orders, he

received a text message from the company

saying that he had been "standing in one

place too long" and that he would receive a

formal warning. This was due to a persistent

glitch on his work app which was not updating

the GPS. When he called his supervisor

to explain, he was told to email the company,

which responded with a copy-and-paste

warning of the consequences of not working

while on duty. Although the matter was

later resolved, it left Reza thinking that the

company did not value its couriers.

Lieferando was acquired by Takeaway.

com in 2014, which merged in February 2020

with the UK-based Just Eat to form a food

delivery behemoth consisting of several

companies, operating under different names

in different countries

(but just Lieferando in

Germany). The merger

was controversial; the

UK Competitions and

Markets Authority

delayed the merger until

April 2020 due to concerns

that it would result

in "a substantial lessening

of competition".

More seasoned Berliners

may also recall Foodora, which originally

Overall, it wasn't

a bad job except for

two horrible winter

months.

started in Munich in 2014 and was bought

out the following year by Delivery Hero,

which itself was purchased by Takeaway.com

in 2018. Following the finalisation of the deal

in the first half of 2019, the parent company

decided to discontinue the Foodora brand

and merge all businesses under Lieferando.

Next, Deliveroo pulled out of the market, unable

to compete with the Dutch heavyweight,

leaving Lieferando with a quasi-monopoly

on the Berlin market – until last year's Wolt

intrusion.

Noah, a UK expat who moved to Berlin to

work in the music industry, has experienced

this creeping consolidation of the market in

Berlin first hand. Struggling to support himself

solely through music, he started working

for Foodora in 2017 through to their merger

with Lieferando in 2019. "Overall, it wasn't

a bad job except for two horrible winter

months," he says. He was able to work there

while he learned German through podcasts.

The job is less social than among the rider

crew of Gorillas, but not having to deal with a

boss or coworkers "suited me as an introvert",

Noah says. Plus, the job was "very easy

to get".

Noah felt his job change drastically after

Foodora changed hands. Gone was the startup

culture, with the offer of free yoga classes

and a real-life human to talk to when you had

issues. He noticed a new and cold company

environment, where you could receive warning

messages like the one Reza got if you

were deemed to be standing around. Delivery

areas increased dramatically in size, so now

you could be "finishing a shift at 23:30 in

Neukölln then get an order in Wedding". The

flexibility Noah had enjoyed about courier

work was suddenly gone – and with it, his

enthusiasm. He was not offered an e-bike

when they began to be phased into the Lieferando

model and when his Foodora contract

expired he was not rehired.

Bicycle race

Today, the couriers of Berlin are predominantly

tricolored: orange for Lieferando, blue

for Wolt, and black for Gorillas. Things are

set to get more colourful – and more crowded

– as new companies join

the market. Flink, another

Berlin start-up, is positioning

itself as a challenger

to Gorillas, while Uber

Eats has also arrived in the

Hauptstadt. Meanwhile, the

DAX-listed Delivery Hero

is planning its return to

Germany under the name

Foodpanda, two years after

it sold its business here.

CEO Niklas Östberg has said the company

will be delivering takeaways and "everything

else", with a test phase to start this month.

Amazon got the green light from regulators

to take over Deliveroo in April 2020, leading

to an influx in funding and plans to publicly

list the company. As a result, we may soon

see that teal-coloured, beleaguered brand

return to Berlin's streets.

And then there's the grassroots offering

Khora, an underdog by design. This food

delivery collective was founded by former

Deliveroo rider Stefano Lombardo and

promises its riders better conditions as

autonomous freelancers. The takeaways are

more expensive with this local alternative,

which has shirked investment but struggled

to break out of its sparsely covered territories

in Neukölln, Kreuzberg and Friedrichshain

as a result. Digital giants like Lieferando,

Wolt and Gorillas are hardly quaking in their

boots as they focus on their own battles for

dominance. So it's go big or go home in this

highly competitive sector – but the legions of

couriers are here to stay. T

Gorillas

20

EXBERLINER 205
---
BERLIN AT WORK

"I AM A RIDER MYSELF. I HAVE

HUGE RESPECT FOR THE GAME."

Gorillas has been on a roll since Kağan Sümer launched the

groceries app in June 2020 from the living room of a Prenzlauer

Berg flat. We caught the busy 33-year-old between

meetings in London to ask him how it all began.

You founded Gorillas in March 2020.

Thirteen months later, the company

achieved unicorn status (a valuation

of at least $1 billion). That's faster

than any other start-up in Germany.

It's now present in Hamburg, Cologne,

Paris, London, Amsterdam and

a host of other major European cities.

It's a huge success! I know, it's the buzz

[laughs] – too much buzz, if you ask me!

We're just doing something amazing, something

that evolved organically. We didn't try

to force a model or a framework on people.

We just have this basic belief: now we're able

to travel into space, we shouldn't have to

get dressed and stand in a queue to get food.

So my idea was to deliver groceries at retail

prices in under 10 minutes.

Was this your idea? I don't think Gorillas

is my or anyone's idea. It's about fulfilling

basic needs. We humans ought to have two

things: a home and food to fuel us. Those are

the same needs that cavemen had 20,000

years ago. By now we've reached a stage

where we have everything on demand: we

watch TV on demand, get meals on demand...

But one of our most primitive needs,

to shop for food, is not on demand, and we

want to change that.

You're from Istanbul. Why Berlin? Why

not? I love the music, I love the city.

Also, there's a lot of German

influence in our family.

Everyone speaks

German.

My uncle was a professor teaching German

management. My grandfather was the first

employee of Siemens Turkey. These were my

role models and somehow they all intersected

with Germany. I finished studying

engineering after I came to Germany, which

was when I realised, firstly, that I don't actually

like engineering, and secondly, that I had

to do something creative.

Riders are at the core of your business

model, right? There's that #riderpride,

and a lot of the riders we talked to

seemed happy with that chill atmosphere

and the techno… I'm a big techno

fan. Music was keeping us alive in the beginning

when we didn't have that many orders,

with maybe five-hour breaks in between.

Then everyone who opened a warehouse had

their own playlist. Also, I'm a rider myself.

I lived on my bike for six months travelling

around Afghanistan, Iran, Uzbekistan, Turkey,

Kurdistan and finally China. I have huge

respect for the game.

When you reached unicorn status, is

it true you shared some of the money

with your riders as a bonus? Yes, it was

a $1-million bonus and it was distributed

based on how long crew members had stayed

with us. Normally, I don't like giving money

as a gesture but I thought it was right here.

Your riders also look pretty stylish

compared to other delivery companies...

Definitely! I mean, I'm super comfortable

in all black and that's something

that connects me to Berlin. But the most

important thing is making our crew proud of

what they're doing and who they are.

I heard you have the reputation of

jumping on your bike to help out if

necessary. Is that still something you

do? Yes, of course. Each warehouse we open,

I help out there. Our first HQ ever was actually

in the living room of my flat in Prenzlauer

Berg. I was one of our first riders!

So it all started from a Prenzlauer

Berg flat, what, a year and a half ago?

Yes, it was in January/February last year. I

was at minus 3k on my N26 account… and

the year before had been a pretty dark one

for me, I was as low as it gets. I actually

have a funny anecdote I never told anyone

before: you know the Positions art show at

Tempelhofer Feld? I was there in September

2019 and spotted a piece that I was just

crazy about. I said, "You're gonna get this.

You're down 3k but you can find the money

for it." I ended up finding and calling the

artist Maria Wallenstein and telling her, "I

am at rock bottom, I have no money, but

that piece…" She said,"It's as black as it

gets?" and I replied: "Yes!" Then, she told

me the piece was actually called 'As Black

As It Gets'. [laughs] She agreed on installments

and I gave my last bit of money

to buy this piece. I brought it back to my

room. One month later, I'd built the Gorillas

warehouse.

It was Berlin's very first dark store,

in Danziger Str. How many were you

back then? It was Jörg [Kattner] and my

wife, who also helped a lot. It was the three

of us, plus an intern who helped as a rider.

I'd met Jörg through a common friend. He

was the perfect person to bring this vision

to life and help build the business. He's not

involved in the business any more but he's

around. Sometimes we bounce ideas off

each other.

What was your first delivery as a rider,

do you remember? Did you get a tip? It

was Franziskaner beer, some other beer and

one salty and one sweet snack. I did get a

tip, yes! In general, I was getting really good

tips actually!

Unions have been a frequent problem

in the past for other delivery companies.

Are you scared of them at Gorillas?

Actually, no. We support unions big

time! I believe there are things as a society

that need to change and we will act on these

as a company, because we have the power to

change things.

I heard you gave $50,000 to the World

Wildlife Foundation in a nod to your

namesake? Where does the name Gorillas

come from? At first, we called the

company "getgoodys". But I never liked that

name. I asked myself: what characteristics

do we have? We are bold, agile, definitely

strong but also well-intentioned. So I guess

we're gorillas! – N. Vacauwenberghe

JUNE 2021

21
---
BERLIN AT WORK

| OFFICE LIFE |

COWORKING

GOES

CORPORATE

From an underground

hackerspace to flexible

offices on the 10th floor of

Berlin's Hauptbahnhof, the

coworking scene in Berlin

has altered dramatically

over the last 20 years.

Now with Covid changing

the way we work, some big

and unexpected names are

entering this competitive

market. By Mark Petrie

Berlin is a city that exudes freedom and

liberty; Berliners are not the types to be

tied down and stripped of their rights

(unless consented to, of course). This is perhaps

part of the reason why the 'artistic freelancer'

has flourished in the city, bouncing from one

venture to the next, stringing a living together

while enjoying the allure of the city's subcultures.

Over the years, a network of remote workers

has emerged – there were an estimated 260,000

self-employed Berliners in 2019 – and, naturally,

workspaces waiting to accommodate them. With

around 150 spaces – from independent, not-forprofit

spots all the way up to international brand

names – Berlin is home to the third most coworking

locations in Europe, after London and Paris.

While the tech boom has seen coworking

go from strength to strength, corona and

the shift towards working from home have

completely changed the landscape again.

Once strictly the domain of tech start-ups

and creative types, coworking spaces have

now moved into the mainstream, attracting

the attention of big-name corporate players –

both as customers and investors.

WeWork

Hackerspace history

Although in vogue in recent years as a symbol

of Berlin's hip, tech-tinged, neo-liberal

modernity, the practice of communal working

in the city has actually been around much

longer than many might think. In 1999, what

could be seen as the very first coworking

space in the world emerged on Berlin's

Rungestraße at c-base, a 'hackerspace'

established to share knowledge about the

emerging world of computer hardware and

data software. Literally an alien concept at

the time, a myth shared by members purports

that the base was formed in the remnants of

an ancient space station that crashed from

orbit. By 2002, the organisation began to

offer free wi-fi to its guests and in 2006 the

Pirate Party Germany was founded there.

While c-base was a club for those in the

know, the first steps towards what many

today would recognise as a coworking

space came in 2005 with St. Oberholz at

Rosenthaler Platz – the original laptopfriendly

café. Back then, there was no iPhone,

wi-fi was a novelty, laptops were large and

heavy, and remote working was really only

possible for freelancers. Also, unlike today,

buying a cheap coffee at a café, pulling out a

laptop and getting to work was not the done

thing. But St. Oberholz changed this with

the very first space where it was not only

cool to be working in a café, it was strongly

encouraged. "It was definitely the first café

that had work as part of the concept, that was

really providing workspace to people that

was not an office," says co-founder Ansgar

Oberholz. "That was an exciting time and we

saw that something was growing."

St. Oberholz grew into something of a

Berlin success story. Demand for workspace

at the coffee shop was coming from not

only individuals, but companies who had

developed businesses around their coffee

tables. Soundcloud, the music-sharing

platform, was the first growing tech company

to request meeting rooms. After acquiring

more space in the building, it wasn't long

before demand for offices started to emerge.

"We were definitely the first place in Berlin

that kissed alive this coworking, workeverywhere

thing. The word 'coworking'

didn't even exist then," says Oberholz.

Over the next 10 years, expansion continued

with a similar building on Zehdenicker

Straße, and the company now has 15 of its

own coworking and 'flex-office' locations. It

has also advised traditional companies like

Sparda-Bank and Deutsche Bahn on how to

reinvigorate their own office set-ups.

From hot desks to flex-offices

St. Oberholz is a prime example of how

coworking spaces have changed and grown

22

EXBERLINER 205
---
BERLIN AT WORK

St Oberholz

over time. Initially conceived as a lively place

for remote workers to soak up the vibrant

start-up spirit and entrepreneurial vibes,

they offered a solution to those fed up with

being stuck at home. As a result, coworking

spaces were traditionally made up of 'hot

desks' where people could occupy a work

space for the day, paying by the hour or

taking out a membership. This evolved to

include meeting rooms and event spaces for

larger organisations that needed a temporary

solution for company gatherings, as well as

office space for 100-percent digital start-ups

with no physical HQ looking to congregate on

an ad-hoc basis.

As the demand became greater, the needs

of clients started to shift. Companies looking

for a semi-permanent space with all the

amenities of a traditional office could now

expect flexible offices, or 'flex-offices', as

a feature at coworking spaces. This gave

companies looking to anchor their team in an

attractive central location the chance to have

the look and feel of an established company,

without needing to take out a costly 10-year

lease. And with rental prices soaring in recent

years, flex-offices were highly sought after by

start-ups and small companies.

For example, a traditional office for a

typical start-up of 20 people in Kreuzberg,

home to Berlin's 'Silicon Allee', would cost

around €12,000 in monthly rent, plus a

long-term contract with a down payment

and overhead costs. However, a flexible

office arrangement in the same area could

be secured for around €8000 per month,

including a flexible contract for as little

as two months, a reception area, cleaning,

security, kitchen, high-speed internet and all

the required furniture.

For these reasons, over the past five years

around 256,000sqm of office space has been

leased to flexible office providers across

We were definitely the first

place in Berlin that kissed

alive this coworking, workeverywhere

thing. The

word 'coworking' didn't

even exist then.

Berlin, accounting for around eight percent

of the city's annual office space market.

The epicentre of the trend has been Mitte,

followed by Friedrichshain-Kreuzberg and

Charlottenburg-Wilmersdorf. But this is

just the beginning. By 2030, flex-offices are

set to account for around 30 percent of the

office market.

The corona effect

While the coworking ecosystem has

continued to grow over the past decade and

a half, 2020 proved to be a defining year.

With the global pandemic bringing the 9-5,

office-based working week to its knees, the

coworking landscape has shifted dramatically

from a niche product for baseless freelancers

and young start-ups to a competitive flexoffice

industry vying for Berlin real estate and

corporate contracts.

One of the companies looking to cash in on

this shift is WeWork. The global coworking

company, founded by Adam Neumann and

Miguel McKelvey in New York in 2010, has

more than 800 locations worldwide, and

since 2016 has rented around 40 percent of

the entire flexible-office market in Berlin.

In 2019, a $42-billion IPO criticised for its

'yoga babble' was laughed out of Wall Street.

Neumann and McKelvey were sidelined as

the value of the company dropped to below

$10 billion, making way for real estate expert

Sandeep Mathrani to take over as CEO.

Under his leadership, WeWork will soon open

its 10th Berlin location at Alexanderplatz

followed by another on Chausseestraße,

showing that the pandemic, despite bringing

new memberships to a halt, hasn't stopped it

from expanding.

In fact, Covid has led to an increased

appetite for flexibility among workers –

something that coworking spaces stand in

prime position benefit from. Research from

last year found that 47 percent of employees in

Germany now want to decide for themselves

where they work and only four percent want

to work completely from home in the future.

To help sweeten the deal for those

returning to the office after the long

winter of working from home, coworking

spaces have adapted their memberships

to become even more flexible in terms of

price and accessibility. WeWork launched

an 'All Access' membership that allows

members to work from any of the company's

offices around the world – a benefit that

previously cost extra. Meanwhile, it is also

experimenting with an 'On Demand' option

so that anyone can meet at a WeWork

location without becoming a full member.

As employees grow accustomed to their

newfound flexibility, it's clear that it's

not just artsy freelancers and scruffy tech

entrepreneurs who are looking towards

coworking. Many larger companies are trying

to adapt to the new trends in order to retain

staff and remain attractive to new talent by

hiring flex-office spaces for their workers.

"The pandemic has accelerated what had

always been our core business," says Nikolay

Kolev, managing director for northern and

central Europe at WeWork. "When Adam

and Miguel started WeWork in 2010, it was

predominantly meant for freelancers and

start-ups. But we always believed that this

was the future of how people and companies

Techspace

JUNE 2021

23
---
BERLIN AT WORK

Coworking in Berlin A timeline

1999 The world's first "coworking"

space opened on Berlin's Rungestraße

at c-base, a "hackerspace" established

to share knowledge about the emerging

world of computer hardware and

data software.

2005 Berlin's first "coworking café"

was opened at St. Oberholz, Rosenthaler

Platz.

2009 The first official coworking

space in Berlin was opened on

Moritzplatz by betahaus, offering an

unconventional office environment to

the city's freelancers.

2015 Coworking giant WeWork

moves into the Sony Center, its first

location in Berlin.

2020 Deutsche Bahn launches its

everyworks business for professionals

on the move at Hauptbahnhof.​

2021 Today, there are around 150

coworking spaces in Berlin. In terms

of numbers, the city ranks third in

Europe behind London and Paris.

of any size will work." This trend of flexoffices

becoming mainstream has had a

considerable impact on the company's

client list. "It wasn't that easy to bring the

big corporates on board in a pre-pandemic

world," says Kolev. "They said: 'It's nice, very

interesting and creative, but not quite right

for us.' That's why if you look back a couple

of years, we had 12-15 percent enterprise

business, and today it's over 50 percent of

our members who are large enterprises."

Another coworking player picking up on

these post-Covid changes is Techspace.

Established in London in 2012 with a specific

focus on catering to up-and-coming tech

businesses, the company moved into the

Berlin market in 2017, lured by the availability

of disused warehouses that fit nicely with

their industrial aesthetic. Co-founder and

sales and marketing director Philip Ellis said

Berlin was an obvious choice for expansion

due to thriving investment in technology,

the possibility to do business in English, and

Berlin being a "culturally similar but larger

version of East London".

And while the company's first flexible

office space in town – spread over 4200sqm

on Lobeckstraße in Kreuzberg – was made

up of a balance of large and smaller tech

companies before the pandemic, Ellis notes

that the companies they have been working

with over the past year are "much bigger".

Although it can't reveal names, Techspace is

in negotiations with a large corporate brand

that's "well known across the world" about

taking up some of their flex-office space –

something that would have been unthinkable

before corona.

Indeed, many large companies who had

expensive offices sitting vacant during corona

are now on a cost-cutting mission to offset

their losses. Amid restructuring to hybrid

models of working, they are now looking to

swap the traditional office for cheaper, more

flexible space that is also less risky due to the

short notice periods for cancellation.

All aboard the coworking trend

One German business behemoth that has

long known the benefits of coworking – both

as a customer and an owner – is Deutsche

Bahn. The national rail provider might have

more than 200,000 employees and be one of

the country's largest employers, but over the

past few years it has rented desks, offices and

even entire spaces in coworking sites from

various providers in Berlin.

To show that it wasn't just interested in

a hot desk or two, in late 2018, the group

established the DB Digital Base at WeWork's

Potsdamer Platz site, just a stone's throw

from its own headquarters. Explaining the

decision, a spokesperson for the company

Everyworks

said that "suitable office space is not always

available at short notice" and that "coworking

spaces are therefore a good way for DB to

flexibly meet this need for workplaces". DB's

WeWork office is spread over 5000sqm on

nine floors and houses some 250 employees

working on digital innovations.

DB is not just a coworking customer: in

2015, the group set up its own coworking

space, DB mindbox, a 720sqm site under

the arches of Berlin's Jannowitzbrücke

station, where DB employees work together

with start-ups to innovate the digital side

of the business. Then, in August last year,

the company became the latest big name

competitor in Berlin's coworking market.

Sitting pretty on the 10th floor of the city's

central station is everyworks, DB's coworking

space targeting individual travellers and

businesses looking for a flex-office in a

central location. The space is explicitly not

for their own employees, but is a new venture

for DB into the world of coworking and flexoffice

real estate.

The entry of big players like DB into the

coworking and flex-office world doesn't

necessarily mean that the post-corona world

will be a cash cow for the coworking spaces

themselves. For one, the pandemic has made

potential customers more selective when

it comes to finding a space. "One of the

biggest shifts from the last 12 months is that

companies want better quality space and

less of it – they are going after quality, not

volume," says Techspace's Ellis.

Oberholz agrees, saying that corona

has turbo-charged the changes that were

already under way. "Now people really ask

themselves, 'What kind of office and work

environment do I need?'"

Compounding this is the increase in

coworking space on the market. With the

launch of everyworks, WeWork and St.

Oberholz's expansion and Techspace's recent

opening of its second Berlin location in a

renovated ice factory on Köpenicker Straße in

Mitte, there are a lot more hot desks, meeting

rooms and flex-offices to choose from.

"Before corona it was really easy to

rent out office spaces to enterprises –

small, medium and even large – because

everyone was struggling for office space.

That changed; it's really upside down and

today we are only in the beginning of an

oversupply," says Oberholz.

Far from the days of collaborative

hackers in underground space ships and

laptops with lattes, coworking in Berlin is

now a big corporate battlefield that is set

for cut-throat, post-Covid competition.

"It was competitive before, but it's more

competitive now," says Oberholz. "I'm sure

not everyone will make it." T

24

EXBERLINER 205
---
PARTNER CONTENT

GREENER

THAN GREEN,

BIKINI BERLIN!

This green oasis in the

middle of the capital makes

sustainable shopping easy.

BIKINI BERLIN stands for innovation and zeitgeist. Since its

opening, the unique concept mall has offered an exceptional

kind of shopping experience. It fully supports the current shift

in society's values towards a more eco-conscious lifestyle. This

green oasis in the middle of the city focuses on locality, authenticity

and transparency with its tenants. It makes taking a step

towards a more sustainable, eco-conscious lifestyle easier for

its customers than any other shopping mall in Berlin.

The sustainable aspects are already evident in the extraordinary

architecture. Even during the transformation of the

Bikinihaus into today's BIKINI BERLIN, ecological thinking was

at the forefront at all times. Features include concrete walls

mixed with glass fragments from the former building facade,

mirrored windows to reflect sunlight, a skylight front that can

be opened as needed for air-conditioning and even a toilet

flushing system that works with rainwater. In addition, BIKINI

BERLIN saved an incredible 299 tons of resources as well as

nearly 36,000kg of greenhouse gases in 2020.

The long-awaited dream of a green oasis in the capital has

become a reality. This concept shopping mall invites established

Berliners as well as curious tourists from all over the

world to stroll through the unique site and linger in the sun

on the greened 7000sqm roof terrace, inspired by New York's

High Line Park. It nourishes our modern-day desire to be

close to nature in the city and offers a spectacular view over

Berlin Zoo.

Sustainability doesn't stop at dining and enjoyment, and at

the in-house food market KANTINI, it's not only the delicious

dishes and refreshing drinks that are green. With the innovative

design of the furniture, BIKINI BERLIN and design studio

Aisslinger have ensured that recyclable raw materials such

as wood and metal were used, materials that are robust

and very durable. What's more, plastic tableware and

cutlery is, of course, avoided completely. Visitors appreciate

the high-quality tableware, which matches the culinary

style of each individual restaurateur.

BIKINI BERLIN is thinking 'green' in many areas and supports

other innovative sustainable projects. These include the

CityTrees of Green City Solutions, which at first glance look

as if they have come from another planet. However, these

structures absorb the fine dust

in the pedestrian zone in front

of the mall through a patented

biotech air filter. BIKINI BERLIN also has an official

partnership with the Fashion Council Germany and

supports sustainable design talents from the Germanspeaking

realm as part of the German Sustain Concept.

It is easy to see that BIKINI BERLIN is a great place

to shop, stroll and enjoy – all guaranteed without a

guilty conscience.

JUNE 2021

25
---
BERLIN AT WORK

"YOU WORK FASTER

WHEN PEOPLE ARE

SITTING NEXT TO YOU."

Thekla Heineke, founder, CEO and

creative director of advertising

agency Kakoii, is learning the art of

home office the hard way.

When we switched to working from

home last year, we had to create

completely new structures, and

I'm not just talking about hauling our giant

screens into people's homes and hosting kickoff

meetings on Teams. The first lockdown

was extremely exhausting because we hadn't

learned the lessons of home office yet. We'd

work until late at night and still not get all

the creative things done. We couldn't go on

like that. We are a creative agency

and working together as

a group is fundamental.

It wasn't just

difficult for the team;

it impacted the clients

too. The chemistry

with them has to be

right, almost like

dating! We lost

that getting-toknow-you

process,

which led to some

misunderstandings.

You'd show a client a sketch on the

computer – so it looks more final than a

pencil sketch – and they'd take it at face

value and say, 'Oh god, I'm disappointed!'

By the time the second lockdown came

around, we'd switched to a more didactic

approach. Our presentations now are more

lush, like a film, and we show clients more

finished designs so that they're not looking

at a screen thinking, 'Eugh, what's this?!'

As for our 17 employees, they now have

the option of whether they work from

home – which only three have taken us up

on. The rest prefer to come into the office;

they want the dopamine and adrenaline

that comes with working together on

something creative. Plus you work faster

when people are sitting next to you. You

check out what they're doing, do a quick

sketch, have a look at that, someone has

great input and – bang! – you're onto the

next one. If you move that process online,

you have to explain it, then wonder if the

person understood. You take a screenshot,

annotate it, send it back… There's a lot

more effort involved. So creative workers

who choose to stay at home or who have

had to stay at home for health reasons are

at risk of being somewhat excluded. Even if

we try to counteract it. That just happens.

It's like if someone lives in another city;

you just don't think of them as often.

THE HOMEOFFICE

26

For Cat Davis, a 32-year-old project

manager at a FinTech start-up,

endless Zoom calls in the same room

where she sleeps are slowly driving

the Neukölln singleton mad.

"I WORK WHERE

I SLEEP. THERE'S

NO SPACE FOR

OTHER THINGS."

I

wake up in the morning and the first

thing I do is turn on my computer and

immediately I'm at work. I'm still in my

pyjamas, I haven't had a shower, I haven't

done anything – but I'm already switched on.

I work full-time from home in a high-stress

job, and because it's a studio apartment, I

work where I sleep. There's no space for

other things.

Sure, there are aspects of working

from home that are pretty great: I can go

shopping in the middle of the day, run

to the post office, receive parcels. But I

miss the social aspect of going into work.

I'd never live with flatmates again – I'm

too old for that! – but I definitely see

the benefit of having someone there so

that you're not having a conversation

with your cheese in the fridge. I'm

constantly in meetings, but I hate Zoom.

It's expected in my company that you

EXBERLINER 205

turn your camera on, which is just a

nightmare. You're constantly being seen

and it's exhausting. It just mentally drains

you and makes you less efficient. It's

also distracting being on camera. You're

constantly having to be aware: How am I

sitting? Do I look weird right now? God,

I look tired! Plus you miss out on that

jokey, in-the-office, getting-a-coffeetogether

relationship with people.

Locked in your own house with the

walls slowly closing in, you start to get

crazy brain. At the end of the day, I have

so much energy but nowhere to put it.

It's definitely having a detrimental impact

on my mental health. Plus I don't finish

work on time because my computer is

right there. It's a finance company so they

demand long hours. But with home office,

you're always there, so you just keep

working and you don't stop.
---
BERLIN AT WORK

I've been exclusively working from home

since I took over my new job last November

and I love it. When you're a

software engineer, there isn't much interaction

involved: you're mostly sitting at your

computer completing tasks, and to be honest,

I can't stand being interrupted. In fact,

every time this happens, it can take up to 30

minutes to get back into the flow. Working

from home gives me that head space to work

five hours straight without any distraction.

At the office, management can sometimes

interfere with my work, asking questions

about things to be done in the future. I also

hate when some employers see you as their

mercenary to be sent on little side missions.

Home office means no one is on my ass on

a daily basis.

There's also what I call 'dead time' in an

office, which is when you're in-between

tasks or waiting for someone's task to be

completed. When I'm at home, I have that

time to use at my own discretion. I can go

out for a walk, or I can practice playing

music. I've really upped my piano game

now that I can play during my one-hour

lunch breaks. And it's during the day while

my brain's still active. As an office worker,

I might only find an hour or two in the

evenings to practice, but I'd also be pretty

tired. The other plus side of home office

is having the opportunity – and the liberty

– to work from the park when it's sunny.

That's really nice and gets me some

vitamin D. I'll head out with a blanket and

my laptop to find a nice spot under a tree.

I can stay there for a few hours, until my

battery runs out.

"NO ONE IS ON

MY ASS ON A

DAILY BASIS."

For Guillaume Hermet, a 27-yearold

software engineer, working

from home lets him cut through

the noise and stay away from

overbearing bosses.

DEBATE

When

Berliners got sent from the office into

the hygienic bubble of their own homes, many

welcomed the novelty. One year later, opinions

are more ambivalent. We talk to four Berliners

about how working from home has affected them.

This has been the most challenging year

of our lives. All the lines got blurred.

Home office in general works better for

single people, living alone, where they don't

have other roles and tasks to fulfill on a busy

workday. For women with families, it's impossible

to separate home duties from work life.

I get to be a different person at my

company: I make executive decisions, I

lead people, I figure complex things out, I

am respected for my knowledge. This past

year took that other person away, I didn't

get to be her. I found it way harder to work

with my team from a distance. I'm a very

hands-on manager and I liked having the

opportunity to just chat to my colleagues

about everyday stuff and learn more about

them through that. But coordinating

projects from a distance is rough.

My husband has a government job so

he could barely stay at home. We didn't

want to blow half of my salary on childcare

(we also have a huge mortgage to pay).

So I was juggling the work, the kids and

the house. It was not going smoothly. My

daughter just started school last year. Now

I'm responsible for these early educational

milestones. And the team that I manage

at work. And the household and ordering

groceries and taking care of all the meals

because my husband has to go into work

and I am – as he says – "in home office

anyway". I am full of resentment to be

honest. Our marriage has suffered a great

deal. I've often talked to my kids in a way

I despise. On top of it all, some of my

childless co-workers have expressed their

disliking of me having my

children around while we are

doing Zoom meetings. By the

end of last year, I was at my

wits end, close to a nervous

breakdown, so I asked for

mornings off at work and we

decided to hire a babysitter

for the afternoons. I hope

things will get back to normal and I can

find that strong woman in me again who

I used to be at work. We are also starting

couple's counselling next month.

Alexandra Ager, a 44-year-old mother

of two, has been struggling to balance

working from home for a start-up

company with keeping house and taking

care of the kids.

"I WAS JUGGLING THE

WORK, THE KIDS AND

THE HOUSE."

JUNE 2021

27
---
WHAT'S ON — Film

Off to the Freiluft

Berlinale we go!

It's full steam ahead for this year's unprecedented summer

THE

BERLINALE

SPECIAL

June 9-20

edition of the Berlin film festival. With 16 venues and 127 films,

our film editor gives you the lowdown. By David Mouriquand

Cinema is not

only films but

other people;

however, the

quality of the

programme –

especially the

Competition

titles – just

about made

up for the

lack of an

IRL festival

experience.

Courtesy of Sandra Weller

Finally, some good news. The

decision has come down that

the Berlinale's Summer Special

will take place in the previously announced

slot of June 9-20. Hooray for

renewed optimism in the shape of falling

coronavirus infection rates and rising

vaccine numbers, as it's no hyperbole

to say that the 2021 vintage is without

a doubt one of the strongest line-ups

in recent memory.

It was touch and go there for a

while. Last March, the Berlinale

became the first of the 'Big Three'

film festivals (Berlin, Cannes and

Venice) to go down the online

route. The five-day streaming

event, held exclusively for film

industry professionals, was

something of a mixed bag, with

home viewing proving once again

that it was no substitute for the

communion that occurs in theatres.

Cinema is not only films but other

people; however, the quality of

the programme – especially the

Competition titles – just about

made up for the lack of an IRL

festival experience.

Last month, the festival had

warned that it might have to cancel

the second leg of the 71st edition

– what Artistic Director Carlo

Chatrian dubbed "the real moment

of celebration" – citing concerns

over the pandemic restrictions.

And for a festival that always prided

itself on being a public event,

its good reputation was at stake.

The suspense is now over, as the

Berlinale stated Part II will be an

in-person, open-air festival, with

Chatrian confirming what he told

us earlier this year: the Berlinale

had "the desire, but also the duty,

to give something to Berliners,

especially after all the grey

lockdown days". The outdoor June

event is "geared towards re-igniting

the desire to go to the cinema

and contributing to the revival of

cultural activities with an audience".

It will be held at 16 venues scattered

across the city, with hygiene

and security plans coordinated

with the venues (natürlich).

The "Kiez-Kino" screenings will

take place at old favourites like

Freiluftkino Kreuzberg, Freiluftkino

Hasenheide and ARTE Sommerkino

Kulturforum, and will be joined by a

specifically created outdoor cinema

at Museum Island as the main

venue – where the awards ceremony

honouring this year's winners will

be held on June 13.

Audiences will finally get to see

and discuss the winners, including

Radu Jude's 2021 Golden Bearnabbing

Bad Luck Banging or Loony

Porn, as well as unearthing the great

discoveries to be found across all

the sections. It's not every festival

that our coverage is a look-back

void of surprises: the winners have

already been announced and critics

know what's worth seeing. The

plus side is that we can confidently

point you towards the must-sees,

and thankfully, Berliners will be

treated to a significant chunk of

28

EXBERLINER 205
---
WHAT'S ON — Film

the original programme. So while

there might be fewer screening

slots available for certain titles,

at least audiences will not be

robbed of seeing award-winning

films within the context of their

sprawling sections. That said, when

looking at the list of this year's

main winners, the awards were

handed out to the deserving films

and filmmakers. The only two main

sticking points are the Silver Bear

for Best Director – more on that on

page 31 – and the fact that Berlinale

darling Hong Sang-soo won

Best Screenplay for his pleasant

but uninspiring Introduction, a

decision that reeks of an ongoing

love story going stale. It's worth

noting that the 71st edition is an

especially interesting year for

German cinema: I'm Your Man,

Mr Bachmann And His Class and

Georgian-German co-production

What Do We See When We Look At

The Sky? are all standouts, and have

firmly put Maria Schrader, Maria

Speth and Aleksandre Koberidze

on the map as some of the most

exciting home-grown/trained

directorial voices to keep a close

eye on. There are always going

to be disappointments: Christian

Schwochow's timely political

thriller Je Suis Karl starts off

promisingly but gradually devolves

into eye-rollingly silly territory,

ham-fistedly defusing any tension

by spelling-out all tantalizingly

ambiguous beats; as for celebrated

German-Spanish actor Daniel

Brühl, his valiant first-time effort

behind the camera for the hotly

anticipated, Berlin-set Nebenan

(Next Door) would've worked so

much better on stage, and never

truly embraces the promise of

its log line: "A tribute to the

contradiction of Berlin in the 21st

century".

But not even these minor

blemishes spoil this year's vintage.

So, it's off to the Freiluft-Berlinale

we go! Tickets go on sale on June

3. Check out our top picks (pages

30-32) and get ready to watch these

films the way their authors intended

them to be seen: not from home

with your attention divided between

emails, texts, tweets and flagging

wi-fi, but in a shared cinema

experience. Let's hope the weather

is also in a celebratory mood. T

A LOST GENDER CONVERSATION?

The festival's first-ever gender-neutral acting awards were doled out

online this March, without the fanfare they deserved and robbing

the public of an important discussion on how (and if ) the new prizes

champion diversity in cinema.

This year, the Berlinale became the first major

international film festival to go genderneutral

for its acting prizes. However, due to

the lack of an IRL festival, it feels like the desired

conversation around this landmark decision may

have been lost in the white noise of lockdown.

Berlinale directors Mariette Rissenbeek and

Carlo Chatrian announced back in August

that the four acting awards – Best Actor, Best

Supporting Actor, Best Actress

and Best Supporting Actress

– are no more, and that there

would now be just two prizes:

Silver Bear for Best Leading

Performance and Silver Bear for

Best Supporting Performance.

Rissenbeek stated that the

decision to have genderless

awards was intended to spark

further discussions around

gender justice, something

Chatrian confirmed in our

interview with him: "This

decision is in many ways the

result of living in a city like

Berlin which is very much at

the forefront of progressive

elements in our culture. We don't want to get

rid of cultural difference and identities, but it's

good when these things are not barriers."

The decision was welcomed by screen stars

such as Cate Blanchett and Tilda Swinton, with

the latter saying that the Berlinale's decision to

consign gendered acting awards to history was

"eminently sensible" and that it is "inevitable"

that gender-neutral awards will become the

standard across the film industry.

While Swinton's word is gospel for some, I

can't deny I go back and forth on this matter.

When the decision was announced, my first

reaction was to cheer. Too right, I thought,

you wouldn't have a gendered distinction for

directing awards so why should there be one

for acting? If Chloé Zhao and David Fincher can

compete for a directing prize, then logic would

dictate that Carey Mulligan and Riz Ahmed can

do the same for acting. A performance is great

regardless of gender and the Berlinale's decision

can only be a forward-thinking one.

That said, consider the unintended

consequences of doing away with sex-specific

categories. Overarching sections mean fewer

statuettes, reducing the potential for visibility;

fewer worthy performers may get short-listed

and removing barriers may inadvertently

strengthen institutional disadvantages for

women. Gender-neutral awards can be seen as

socially-progressive and may help transgender

and non-binary performers but the issue goes

deeper than awards. The film industry is an

uneven playing field, rife with institutional

sexism, and one which favours cisgender men

for lead roles. This year may have seen Maren

Eggert (pictured above) win the Berlinale's first

ever gender-neutral Best Performance prize

for her role in the ironically titled I'm Your

Man and Lilla Kizlinger win Best Supporting

Performance for Forest – I See You Everywhere,

but with men still having more opportunities to

perform leading roles, it's only a matter of time

before all acting awards in a given year go to

male performers. Just imagine the potential for

justified outcry.

While an important part of the process in

their own right, awards are only the glossy

final step and equal opportunities need to start

earlier in the filmmaking process. If genderneutral

awards can further discussion and lead

to meaningful change (which means more

diverse studios, funding institutions and voting

bodies), then they are to be championed.

Without proper conversation and a decent

amount of fanfare however, we run the risk

of gender-neutral awards becoming a virtuesignalling

cherry on a cake in dire need of

better ingredients. Gender-neutral awards

may be a welcome, well-intentioned start but

filmmaking as an industry has a lot of work

to do before it warrants the applause it so

desperately wants. T — DM

Courtesy of Berlinale

JUNE 2021 29
---
WHAT'S ON — Film

TOP BERLINALE COMPETITION PICKS

You can't go far wrong when it comes to

booking tickets for this year's especially

strong Competition. That said, here are

our top recommendations.

Hot

Berlinale

tickets

Book online

from June 3

BAD LUCK BANGING OR LOONY PORN Dir. R Jude

A well-deserved Golden Bear

The Berlinale has always been fond of radical filmmaking that leads audiences to confront their

prejudices, and this year was no exception: the Golden Bear for Best Film went to Romanian

filmmaker Radu Jude for his biting satire Babardeala cu bucluc sau porno balamuc (Bad Luck

Banging Or Loony Porn). Described as a "sociological sex film", it's a trenchant – if messy

– critique of contemporary Romanian society through the story of a schoolteacher (Katia

Pascariu) who lands in hot water after her sex tape leaks online. Unpredictably constructed

like a triptych, the film touches upon the social hypocrisy societies continue to have against

women and is to be applauded for going beyond mere provocation and actually providing

scathing food for thought. The jury stated that the film has "a rare and essential quality of a

lasting art work", and it's hard to argue. It's also one of those films that needs to be seen with

an audience, as live reactions to the risqué content and its humorous beats will be a vital factor

when it comes to fully appreciating this year's frequently outrageous winner. — DM

WHEEL OF FORTUNE AND FANTASY Dir. R Hamaguchi

The must-see Competition title

Our favourite film of the Competition is without a doubt Ryûsuke Hamaguchi's Guzen To Sozo

(Wheel Of Fortune And Fantasy), and if Radu Jude hadn't provoked with Bad Luck Banging Or

Loony Porn, this surely would have taken the Golden Bear. Instead, it was awarded the Silver Bear

Grand Jury Prize. Billed as a collection of "short films about coincidence and imagination", this

superbly executed Japanese film is split into three unique chapters: a tortuous love triangle, a

'honey trap' seduction that backfires, and a chance encounter set in a world where a computer

virus has disabled most of the internet and sclerosed virtual lives. Equal parts Rohmerian

and Murakamian, with all three dialogue-driven stories revolving around women, the overall

tapestry it weaves brims with understated poetry and explores human dynamics with recurring

motifs of chance, doubles and regret that echo and flow into each other in a remarkable way.

It's unpredictable, oddly tender and nothing short of an absorbing masterpiece, one that will

be tough to avoid when it comes to end-of-year 'best film' lists. — DM

MR BACHMANN AND HIS CLASS Dir. M Speth

German documentary filmmaking at its best

This year's Competition selection was an impressive showcase of quality German films, and

nowhere is this better seen than with the winner of the Jury prize, Maria Speth's Herr Bachman

Und Seine Klasse (Mr Bachmann And His Class). It is an expansive yet intimate observational

documentary that will delight fans of Laurent Cantet's Palme d'Or-winning Entre Les Murs,

and answers the question "What if Frederick Wiseman had directed School Of Rock?" It

looks at the classroom as a microcosm of German society, following a defiant 65-year-old

teacher, Dieter Bachmann, in the small German city of Stadtallendorf in the state of Hesse,

and his work with first- and second-generation immigrant pre-teen pupils. It's a window into

the German educational system, as well as a powerfully moving exercise in empathy that

addresses the essential place of multi-ethnicism in the face of nationalist oppression. Don't

be discouraged by its runtime (it clocks in at nearly four hours): the journey is full of heart

and humanity, and is worth every minute. — DM

30

EXBERLINER 205
---
WWHAT'S WHAT'S ON — Film

I'M YOUR MAN Dir. M Schrader

The German crowd-pleaser to beat

While Mr Bachmann… might not to be everyone's tastes, Ich Bin Dein Mensch (I'm

Your Man) stands as the German crowd-pleaser to beat this year. Maria Schrader,

best known for her Netflix series Unorthodox, gives a twist on the traditional

romcom; the results are delightful, sincere, and yet cheekily wry. Her Berlin-set,

high-concept romantic comedy can be loosely described as a gender-flipped Weird

Science. It sees Alma (Maren Eggert) enter into a trial relationship with an android,

Tom (Dan Stevens). The chipper latter has been designed to be her ideal partner;

the resistant former sees the experiment as a means to professional ends. The script

is sharp, its meditations on longing, satisfaction and individuality ring true, and

both central performances are excellent. British actor Dan Stevens embraces his

role with an uncanny verve, impressing with his physicality and delivery (in perfect

German, no less) and places the viewer in a worrying crawl space between "Hmmm,

powerful manly eyebrows" and "Stranger danger, stranger danger". As for Eggert,

she was awarded the first gender-neutral acting award for Leading Performance, and

deservingly so. — DM

All stills courtesy of Berlinale

PETITE MAMAN Dir. C Sciamma

The Bear that got away

The Silver Bear for Best Director may have been awarded to Dénes Nagy for his

absorbing Hungarian WWII drama Natural Light, but many felt that French

filmmaker Céline Sciamma should have nabbed the prize for the follow-up to her

stunning Portrait Of A Lady On Fire. Petite Maman is a transportive autumnal reverie

that steals your heart in the space of a lean 72 minutes. It tells the story of an eightyear-old

girl (Joséphine Sanz), whose grandmother has just passed away and who

encounters a young version of her mother (Gabrielle Sanz) in the woods outside

of her adult mother's childhood home. Its fantastical premise has hints of magic

realism and translates into a timeless fable that toys with classic fairy tale imagery

to beautifully explore the grieving process and articulate the importance of the

fleeting moment. Sciamma described it as a "time travelling film without the time

travelling machine", and while it's undoubtedly a more low-stakes affair within her

filmography (it was filmed towards the end of 2020 following the lifting of France's

lockdown restrictions), it's by no means less affecting than her previous films. It

certainly deserved better than to leave the Berlinale empty-handed. — DM

WHAT DO WE SEE WHEN WE LOOK AT THE SKY? Dir. A Koberidze

The other uncrowned gem of the Competition

Alongside Petite Maman, another snub by the main awards jury was DFFB-alumnus

Aleksandre Koberidze's stunning Ras vkhedavt rodesac cas vukurebt? (What Do We

See When We Look At The Sky?). The Georgian-German co-production is a gorgeous

fairy tale which explores the magic of chance encounters… and the World Cup. We

witness a Bressonian meet-cute between pharmacist Lisa and footballer Giorgi,

who arrange a date. Disaster strikes when the Evil Eye casts a spell on them and

transforms their physical appearances, meaning that when the two cursed wouldbe

lovers show up to the rendezvous the next day, they no longer recognise each

other. The lush cinematography by Iranian DP Faraz Fesharaki makes the Georgian

town of Kutaisi feel like a timeless bubble through his mix of digital and softgrained

16mm camerawork, creating a dream-like haze which unblurs in a gently

poetic resolution that can be interpreted as an ode to cinema and its transformative

effects. All in all, it's a beautifully romantic, warm and at times mischievous folktale

whose ruminations on identity, perception and the magic of the everyday strike an

invigorating chord. Miss out on letting its magic wash over you on a summer evening

and you too will be deserving of the Evil Eye's dastardly ways. — DM

JUNE 2021 31
---
WHAT'S ON — Film

OUT-OF-COMPETITION GEMS

Ten films in the sidebar sections that should be on your radar.

with its attitude towards First Nations.

Goulet manages to sustain a gripping

mood throughout her mother-daughter

story, crafting a clever parable

about ethnic cleansing and the

destruction of pluralism while avoiding

clumsy exposition dumps and upending

tired 'chosen one' tropes.

All stills courtesy of Berlinale

FESTIVAL

SECTIONS

BERLINALE SPECIAL

The versatile section

is usually famous for

its Gala Premieres

and attracting A-list

stars. The international

productions

remain, even in the

absence of red-carpet

glamour.

PANORAMA

Arthouse gems by

international auteurs,

seen by many

as a Competition

selection that has a

historically involved

theme of LGBTQ+

issues.

GENERATION

Films that are

children and

youth-centric, but

definitely not just for

kids.

ENCOUNTERS

The newest section,

now in its second

year, billed as a

platform to foster

daring works and

support new voices

in cinema.

FORUM

Curatively independent

and part of the

Arsenal (Institute for

Film and Video Art),

the section's films

boast experimental

and risk-taking fare.

BERLINALE SHORTS

Domestic and

international short

films – this year's 20

shorts are of high

quality and are split

up in four sections

which deserve your

attention.

TINA Berlinale Special

Dan Lindsay and TJ Martin's terrific

Tina Turner documentary is an

empowering ride that's tailor-made to

be seen in outdoor settings. The film

doesn't merely dwell on the cursed

shadow that abuse casts on a life; it

celebrates determination and love.

Whether you're a card-carrying Tinaholic

or just up for a rollickingly good

and frequently emotional music doc,

Tina is… excuse us… simply the best.

NORTH BY CURRENT Panorama

Angelo Madsen Minax' skilfully constructed

essay film follows the trans

filmmaker returning to his Michigan

home town after the mysterious death

of his two-year-old niece and the subsequent

arrest of his brother-in-law as

the culprit. By grappling with the fact

that "when you speak the pain's name,

it dissipates", Madsen Minax movingly

delves into themes of childhood, grief,

addiction and transgender masculinity.

CENSOR Panorama

Prano Bailey-Bond's stylish debut

feature is a valentine to Video Nasties.

Set in Thatcher's Britain, it follows a

film censor who becomes obsessed

with uncovering the secrets behind her

sister's disappearance. At times reminiscent

of Peter Strickland's Berberian

Sound Studio, it ingeniously injects

some timely social commentary by

addressing Britain's then tabloid-fuelled

moral panic. A must-see for horror

aficionados, who can champion

Bailey-Bond as a thrilling new voice

in female-led horror, alongside Relic's

Natalie Erika James and Saint Maud's

Rose Glass.

NIGHT RAIDERS Panorama

Executively produced by Taika Waititi,

Danis Goulet's feature debut Night

Raiders is a Canadian film which

would make for a fine double-dill with

Beans (see next column). It's a dystopian,

Children Of Men-echoing feminist

parable that sees Canada grapple

BEANS Generation

The Berlinale made a point of announcing

that younger audiences

would not be left out during the

Summer Special, even if you don't

have to be a young'un to enjoy some

of Generation's excellent line-up. With

this in mind, everyone should rush

to watch Tracy Deer's debut feature,

Beans. Based on true events of the Oka

crisis – the 78-day stand-off between

Mohawk communities and government

forces that took place in 1990s Quebec

– Beans is a big-hearted and beautifully

acted coming-of-age masterpiece.

CRYPTOZOO Generation

American animator Dash Shaw returns

to the Berlinale following his wonderfully

idiosyncratic My Entire High

School Sinking Into The Sea. Co-directed

with Jane Samborski, their latest

animation adventure sees a veterinarian

rescuing fantastical creatures. Trouble

arises when the military schemes

to capture the greatest cryptid, the

dream-devouring chimera Baku, in

order to destroy the dreams of the

ever-growing alternative culture. Inspired

by the psychedelic underground

comics of the 1960s, this is a vibrant

animation film that questions ideas of

preservation and humanity in a trippy

and wonderfully oneiric way.

THE SCARY OF SIXTY-FIRST

Encounters

We weren't exactly bowled over by

the maiden voyage of the Berlinale's

newest section in 2020, but this

year's Encounters selection had us

convinced. Part of the 2021 treasure

trove is The Scary of Sixty-First, a daring

gem directed by Dasha Nekrasova,

who is best known as the co-host of

the Red Scare podcast. It is a giallo

pastiche set in the aftermath of Jeffery

Epstein's suicide (or was it murder?),

which embraces conspiracy theories,

anti-royal family sentiment, and tips

its hat to early Polansky and Kubrick's

Eyes Wide Shut. It sounds like a messy

hodgepodge but ends up being an

invigorating breath of fresh air.

THE GIRL AND THE SPIDER

Encounters

Swiss directing duo Ramon Zürcher

and Silvan Zürcher won the Best

Director award for The Girl And The

Spider, a window into the comings

and goings of lonely souls, who constantly

stare at each other like lunatics

and stumble across each other in

the corridors of a shared flat. It is a

beautifully filmed, claustrophobic gem

that will either strike you as deceptively

profound or exasperatingly hollow.

Love it or loathe it, it's the kind of

unusual work Encounters should be

championing.

SKI Forum

The Forum section can be a bit of

an acquired taste, with its line-up of

challenging and experimental filmmaking

often testing the boundaries of

convention. But patience is rewarded,

especially with Manque La Banca's

ambitious feature-length debut Esqui

(Ski), which won this year's FIPRESCI

Award. Initially a documentary on Bariloche,

whose snowy mountains have

made it Argentina's go-to destination

for ski tourism in the Andes, the film

morphs into a multi-layered thriller

of sorts that blurs fact and fiction. Its

breathtaking landscapes and palpably

disturbing atmosphere make this a

captivating watch.

MY UNCLE TUDOR

Berlinale Shorts

One of our main tips during this

summer Berlinale is to embrace the

festival's oft-overlooked section by

heading to a night of short films. Special

mention goes to Olga Lucovnicova's

devastating Golden Bear winner

My Uncle Tudor, which combines observational

filmmaking with a focus on

the warped poetry of human emotions.

The filmmaker takes an initially idyllic

trip back in time through her childhood

in order to question the past and eventually

confront a family member who is

responsible for her trauma.

32

EXBERLINER 205
---
WHAT'S ON — Stage

Interview

"Let's

try this!"

As theatres make a

return this month, HAU

artistic director Annemie

Vanackere reveals how

she has kept momentum

going. By Lucy Rowan

Congratulations on your first

public/analogue premiere of

2021. How does it feel? As soon as

we got the news we may be able to

play in front of an audience again, we

immediately tried to figure out what

was possible, given the enormous

organisational issues involved – production,

technical and communication

costs, et cetera. So, we're really

pleased we were able to schedule the

premiere of Joy of Life at HAU1. It's

Ersan Mondtag's first dance production!

In addition, the HAU4 programme

announced for June will also

run, which is also very complex, but

so well worth seeing!

As we spoke last September, you

were preparing to reopen to the

public. Two months later, the

theatre had to shut again and

your plans were halted. How did

it feel back then? After months of

lockdown, being able to play for an

audience was just lovely. That was a

good moment for us, to regain our

sense of purpose. Then we injected

that sense of purpose into our online

stage, which is something we've been

taking very seriously. We invested

and researched a lot on how to translate

a performing arts mindset into

an online world, where the contact

with the audience is made remote. Of

course, the yo-yo expectations – will

we re-open? Or half reopen? Or not

at all? – have been quite draining.

But working on new digital propositions

helped a lot to think about

the future. This pandemic moment

showed us how necessary it is to have

a frame change somehow. We didn't

do streams of live shows - Constanza

Macras' Stage of Crisis was an exception.

I'm not against putting a show

on stage and streaming it, but that's

not what we wanted to develop. We

were more interested in working with

a new language, figuring out opportunities

with those able to use the

digital grammar.

How hard was it for your artists

to adapt and 'digitalise' their

practice? Some adapted easily, turning

their work into film for example,

as Kat Valastúr did. She made a very

beautiful film with a collection of

solo pieces, which we will present

in the fall as an analogue piece. For

other artists, it was much more painful,

and they really struggled transforming

what they had created for a

live audience into something online.

So we had the whole spectrum from

artists who were like "let's try this!"

to people who really were not happy

at all. This has made the past year

quite emotional for everyone. It was

a lot of work – it always is! – but this

time without having that catharsis

'Audience'

isn't even

the best

word any

more, because

sometimes

it's

participants

or users.

JUNE 2021 33
---
WHAT'S ON — Stage

DON'T MISS

Hof-Theater

Berliner Ensemble

have launched their

open-air, courtyard

stage with over two

weeks of theatrical

and musical performances.

Schedules

are published a week

in advance online.

May 27-Jun 20

La Fanciulla del West

For the first time since

November, the Staatsoper

welcomes back

Berliners with the

premiere of Giacomo

Puccini's Fanciulla.

Director Lydia Steier

makes her house

debut with this notso-typical-tale,

set in

California during the

gold rush. Live performance

at Staatsoper

Unter den Linden

but also available for

online streaming.

June 13, 16, 19, 24, 27

Krieg und Disco

For 48 hours, Volksbühne

will cover

controversial discussions

about the abuse

of power, racism

and discrimination in

theatre with a series

of German -language

performances, readings

and discussions,

as well as concerts,

including live DJ sets

and a performance

from the VB's house

band.

Jun 4-5

we feel when we finally join in the

theatre with the audience and launch

the piece into the world.

How has it been for you? Was

it hard to keep motivated all

along? I feel it's my damn duty! As a

leader of a state-sponsored cultural

institution, I could not let go. I had

to consider every single person's

situation, which were all so different.

Our private lives became much more

present, the particular situations of

each member of the team, their families,

et cetera. It was a chance for us

to think about how we work, and how

do we want to work? I always spoke

about the holistic approach – it got a

whole new meaning this year!

So what else will stick with HAU

after the pandemic is over? What

we learned from working with digital

tools will not disappear. This whole

idea of more remote working – we

won't go back to 100-percent duty of

presence in the offices for example.

The possibilities offered by digital

art won't disappear either. When the

first lockdown took place, we were already

experimenting with Spy on Me

2, a festival dealing with the digital

present; so it forced us to move further

into exploring the digital field.

Last time we spoke, you were

pretty optimistic about the

advantages of remote or digital

theatre. Are you still? It has

to do with reach and accessibility.

There are people who are not mobile,

who may want to enjoy our theatre.

Maybe they have no babysitter, a

disability, maybe they're sick or just

simply don't want to leave the house.

Then they can choose when they

watch something. It's quite enticing

to think, 'Ooh, I can watch this later.'

We've even discussed the possibility

of branching out internationally,

working with non-German audiences

in mind, for example. So there are

great aspects to that digital reach.

I remember you saying this

forced digitalisation was also a

chance to become more inclusive

of younger generations. Has

this thought materialised? Even

before the pandemic, my wish to invest

in this full industrial revolution

of digitalisation had to do with not

wanting to lose touch with a younger

Even before the pandemic,

my wish to

invest in this full industrial

revolution

of digitalisation had

to do with not losing

touch with the younger

generation.

generation that has grown up with

this digital extension of their bodies.

So it started there: and to thinking

with formats, and with theatre artists

who are interested in that. The

feminist digital collective dgtl fmnsm

is the perfect example - they are not

necessarily theatre people but they

connect with us.

This month, you're also launching

the app-based Loulu, a hybrid

of game and theatre aimed

at teenagers. Right? Yes, it's an

app we developed with onlinetheater.

live and it's aimed at young people, 15

to 17 year olds. You download the app

for free and you're able to follow the

interactive story of a fictional lifestyle

influencer called Loulu who is

investigating research on right-wing

milieus. It's an interactive game that

develops over a few weeks, so you

have to stay tuned. That's another

exciting way of how we can use and

communicate with these digital tools.

How do you see the future of

digital theatre in economic

terms? People aren't necessarily

used or prone to paying for

online content. What has been

your experience so far? Our

first experience with that was Gob

Squad's Show Me A Good Time, it

actually was the first in Berlin with

a paywall, and it got 711 bookings

at the premiere in June 2020. The

three revivals in November 2020

sold between 150 and 215 tickets.

Of the more recent productions,

in March 2021, Kat Válastur's Eye

Lash sold 230 tickets and Adrian

Figueroa's film Proll sold 240. So

it's going pretty well. Meanwhile,

we're still investigating our results

with free-access productions. It is all

so new for us, we need the time to

think things through. Also our ticket

service team was not really prepared

to think through what it means if

people are buying online tickets

only. If it's on demand, then what

does that mean? So it's really about

finding the needs of people and

matching that with what we think

is important. Some people say we

should work like Netflix and upload

more: for example, it would be €10

per month and you can see everything

that HAU is producing. But

we're still investigating options.

In our digitally saturated times,

theatre is also about escapism

and having some time away

from your phone. Aren't you

afraid to go too far down the

digital lane? No, we will keep creating

pieces for our stage, there are

so many artists we love in the city,

and we want to keep working with

them. We have a great new piece by

Gob Squad, which will premiere in

the fall. We're also working on two

big productions with the feminist

singer Christiana Rösinger – we

know this piece only works with a

full house… Meanwhile, we had a

very inspiring talk with our team

about rethinking what analogue

presence means. To be able to come

together again has another resonance.

We can have hybrids – coming

together to look at something digital.

I'm almost afraid we didn't learn

enough from the pandemic. There's

so much to think about!

Do you think theatre will be

moving towards a dual system,

by which there will be analogue

productions catering to

traditional theatre goers, and

digital offerings for younger

audiences? It's not either-or, different

people can be reached through

different channels. In fact, 'audience'

isn't even the best word any more,

because sometimes it's participants

or users. I would not want to miss

the chance for an institution like

HAU to not look further into these

developments, it's important to stay

tuned there! But no matter what, the

theatre should remain a place where

you can switch off from your own

thoughts and get inspired again. T

34

EXBERLINER 205
---
WHAT'S ON — Stage

Preview

Stage under the stars at

Luxurious open-air settings at

Deutsches Theater

Few theatres in Berlin can boast one epidemic-proof

open-air stage – never mind two! After much anticipation

and months of online streaming, Deutsches Theater

revived the squandered season with the premiere of

PeterLicht's Tartuffe or The Wise Men's Pig at their cobbled

Vorplatz stage last month.

In June, there will be two more outdoor performances,

this time in the Innenhof. Both will showcase winners of

the annual Autor:innentheatertage festival, a competition

for budding playwrights to have their script performed

for a month on stage. The full 2021 instalment has been

postponed to September, but Berliner theatregoers will

be given a taste of the talent with Chris Michalski's When

There's Nothing Left To Burn You Have To Set Yourself On

Fire. It tells the story of Petra as she investigates why

Jan L, a former school friend and Bundeswehr soldier in

Afghanistan, decided to self-immolate. The Australianborn,

Leipzig-based Michalski explores issues of loss

and trauma, while asking how we communicate and

process experiences in a fast-paced world. Then there's

Gaia googelt nicht (Gaia doesn't Google), by previous

Autor:innentheatertage winner Nele Stuhler, which

transports the audience to the beginning of time. This is

only the latest adventure with Stuhler's mythical creator

Gaia, who tackles life's most pressing questions and

confronts existential myths: why is the world built the

way it is? Where do things begin? Where do they end?

For those lucky enough to snatch a ticket to either

one of these premieres, remember to pack your FFP2

mask because you'll need it – yes, even during the

performance. – LR

When There's Nothing Left To Burn You Have To Set

Yourself On Fire, June 5; Gaia googelt nicht, June 9, German

with English subtitles, Deutsches Theater, Mitte

Review

Method to meta-madness

Hamlet live stream at Gorki

D: Christian Weise ★ ★★★★

To see or not to see, that is the question. After premiering

in February 2020, Christian Weise's Hamlet

makes a live-stream return this June. Weise effortlessly

breathes life into this classic tragedy with a kooky

cast and comedic rewrite of the familiar script. It's

a stylistically ambitious, playfully post-dramatic and

intellectually compelling approach to Shakespeare's

most performed play – making it a must-see production.

Horatio, an artistically frustrated student

from New York based in Berlin, is directing an avantgarde

Hamlet film in which he hopes to make some

profound statement about Germany. What exactly,

even he's not quite sure. The haunting of Hamlet by

what appears to be the spectre of Karl Marx – played

by Gorki veteran Ruth Reinecke in her last premiere

performance – is just one ironic, cul-de-sac attempt

at enriching this meta-narrative. It's associative, not

definitive, and that plays to the piece's strength.

Then there's the wall: a literal barrier that separates

the action and the audience, as scenes are filmed

on a painted movie set full of distorted perspectives,

before being projected back onto the stage façade

in an IMAX-style experience. Of course, this wall is

broken several times, itself a metatheatrical act, and of

course a historically symbolic one for Berlin. Particular

highlights are Aram Tafreshian's stone-cold, intense

performance as Claudius and Svenja Liesau's Hamlet,

who replaces Shakespearean soliloquies with Gorkistandard,

out-of-character rants, here caricatured

in an exaggerated Berliner dialect with icks and juts

aplenty. Overall, Weise delivers a refreshing, selfreflexive

piece that is both surprisingly faithful and

daringly innovative. Expect cartoon-esque knitted wigs,

a touch of breast-grabbing and a lot of laughter. June

9 with English subtitles - 7:30pm available online for 24 hours

DON'T MISS

How the Time Goes

Forced Entertainment

is back with a

video performance

in seven parts.

Recorded between

March and May

2021, it explores

and pokes fun at

the strangeness of

the pandemic, from

Covid tests to Zoom

quizzes. Each episode

lasts between

25 and 60 minutes.

Episode one kicks

off on June 23,

20:00, free VOD

Pugs in Love 2021

Gorki's annual

Queer Week will

be fully digital this

year, meaning you

can celebrate,

commemorate and

educate yourself

about Berlin's LG-

BTQIA+ community

from the comfort of

your sofa. Podcasts,

workshops, theatre

films and live talks

can all be accessed

from Gorki's website.

Events in English

and German.

Jun 17-19

DEUTSCHES

THEATER

BERLIN

For programme and tickets visit

deutschestheater.de/en
---
WHAT'S ON — Music

More than music and mojitos

Fête de la Musique has always had a special place in the heart of our

music editor. Now Berlin's favourite street party is finding its stride as a

world-leading online event. By Damien Cummings

That the Fête de la Musique is

happening at all this month ought

to be considered some kind of

miracle. Think about it: a free-form

street party, an expulsion of urban

drudgery, a musical manifestation

of the power of community – all of it

accepted, encouraged even, only in

this city. The challenge, of course, is

moving all that online.

When I first moved to Berlin,

some days after unpacking my meagre

selection of ill-fitting jumpers

onto the floor of an unfurnished

room, I saw my flatmates rushing

out the door with a viola, a trombone

and several kilos of limes.

"What are you doing?" I asked. "It's

the Fête, come!" The door slammed

closed, limes hit the deck, and –

bewildered, if not a little excited – I

stumbled into my first experience of

live music in Berlin. My flatmates,

while accomplished musicians, were

there to flog mojitos, get drunk and

play some music in the streets – in

that order. Of course, not all the

Editor's Choice

musicians, venues and institutions

taking part that day had such a

laissez-faire attitude to liquor licensing

laws, but all of them agreed:

summer is unthinkable without the

Fête de la Musique.

So of all the events to be struck by

pandemia, this was the hardest to

take. This year, just like the last, the

event moves online through a series

of partner venues, from the worldrenowned

Friedrichstadt-Palast and

the Deutsche Oper to Kiez initiatives

like Unpluggedival Pankow and

the charming Wendenschloss lido.

Community is at the core of

everything the Fête does. In 2021,

the festival partners with Marzharn-

Hellersdorf, and in doing so, drags

its infectious influence to an underloved

part of our city. Björn Döring,

curator of Fête de la Musique, says,

"We launched the concept of the

partner district three years ago to

show what's happening in districts

that are not usually the centre of

attention when it comes to music.

Marzahn-Hellersdorf will present

itself as a musically diverse and

surprisingly green district with

music at 13 different venues." The

Fête will be live-streaming from

these locations, with plans to host

balcony concerts in the courtyards

of housing estates and bring live

music to the Schlosspark Biesdorf,

Marzahner Bockwindmühle and the

Gärten der Welt.

While it might enjoy the reputation

of being a carnival free-for-all

(which it is), the Fête's organic appearance

is down to an exceptional

The live-stream

concert era has only

improved as these

last two years have

gone by.

36

EXBERLINER 205
---
WHAT'S ON — Music

Album reviews

Fritzi Ernst - Keine Termine

Bitte Freimachen

One half of what was Schnipo Schranke, Fritzi Ernst's

solo debut album Keine Termine stands surprisingly firm.

Like a dusky Kneipe karaoke lock-in, this brave record

wobbles to centre stage all red wine and Pils, tears its

eyes from the floor, and where some might croak, Ernst

belts it out. "Everyone wants to experience something,

I might throw up," goes the opening line, setting the

tone for the whole album. Keine Termine heaves and

swells. Sloshing melancholic ballads and toe-tapping

charmers go hand-in-hand here, and in its dauntless

lyricism, you'd have to be pretty cold not to find a glint

of camaraderie. Whether it leaves you with your head

on the bar or weak at the knees, everyone deserves a

wish in the well, and this, without doubt, is hers. June 6

amount of hard work and political

wrangling. The motto of this year's

celebration is "making music possible".

That applies not only to the

exceptional live-streaming technology

built to accommodate more than

50 channels and hundreds of livestreamed

concerts simultaneously;

but also to the swaths of musicians,

music lovers and concert houses that

have signed up to ensure that this is

no Fête de la Musique-light.

This is a fully-fledged and

fabulous event whose existence

can be seen as one of the pioneering

achievements of the live-stream

concert era, which has only improved

and become more dynamic

as these last two years have gone by.

It is by far the most ambitious and

diverse music-streaming festival in

the city, if not the world. And that

aspiration is vital because the Fête

has always been a space of joyous

encounter. Not just for sounds, but

for cultures and now for a metropolis

in crisis. When people must

stay locked inside, paranoia slowly

creeps as solidarity wanes. Today,

the global happening that is the Fête

de la Musique feels more important

than ever. T

Fête de la Musique, June 21, online at

fetedelamusique.de.

Jim Kroft

VA - No Photos On The Dance

Floor! Berlin Techno 1992-Today

Above Board Projects

Heiko Hoffman's who's who hits all the right notes but

somehow struggles to strike a tune. Yes, there are some

proper cuts on this comp, bona fide crowd melters

even, but the longer it plays, the more you wonder why

it came about in the first place. On the surface of it, a

double album stacked with bangers from Berlin's best

and brightest, past and present, shouldn't go down badly,

but then again, the tracks on this record have already

earned their own plaudits. Crucially, there's a distinct

lack of elbow room here. Where the multimedia project's

photographs and book revelled in the rich vitality

and diversity of Berlin's techno culture, the album itself

falls short. Club culture is culture, it says. There was an

exhibition to prove it and everything. Now, kindly exit

through the gift shop. June 25

Anez - Haze

Self-released

A 10th-anniversary release for Anez, Haze casts its line far

into the inky void. Crank by crank by crank, it becomes

apparent that something far brawnier has its saw-toothed

jaws clamped on the other end of the line. That thing

is what Anez does best. Haze is unsettling, sparse and

uncertain, but always rich in power and theatrics. Make

no mistake: these are the further edges. But out there,

the oddball duo finds the breadth to rewild the genres.

It's one of those records where if you can follow the

thread, you'll never forget it. For most of us, the hope

that we might just catch a glimpse of what lies on the

other side is more than enough for a good few spins.

And a definite reason to dig back through the catalogue

of one of the stalwarts of Berlin's smouldering independent

music scene. June 25

JUNE 2021 37
---
WHAT'S ON — Music

Interview

"We want to reinvent ourselves

with each project."

André De Ridder is the artistic director of Stargaze, an international

orchestra of accomplished musicians that like to do things differently.

Ahead of the eponymous festival, we caught up with him to find out

what makes his institution tick. By Damien Cummings

Everyone

brings skills

to the group

as individuals

but the result

is greater

than the sum

of its parts,

and that's

fascinating.

We've seen Stargaze in so many

settings, from Boiler Rooms

to orchestral halls. What is

Stargaze to you? It's a moving

target, almost chameleon-like, a

system for adapting to different

situations and collaborating with

different musicians or bands. When

we started, Stargaze was more

like a think tank: a group of likeminded

curators and a collective

of primarily classically trained

musicians with a broad mindset.

It then developed quite quickly

into a fixed ensemble of 12 people

and created satellite groups of

musicians, not just in Berlin, but

also Dutch musicians, people in

Italy and London. It's grown into

this European network of musicians

that have grown up with both

classical but also electronic, folk

and indie music.

How important is fluidity in

organising an orchestra? We

want to reinvent ourselves with each

project. This is the third festival

we're doing at the Volksbühne

and each one had a very different

idea behind it. We see ourselves

as both initiators of genre-defying

projects and as interpreters,

collaborators, musicians and multiinstrumentalists.

For example, the

horn player is a superb arranger and

plays the drums brilliantly. We thrive

on that and we enjoy that most.

Why did you create Stargaze?

Before Stargaze, I'd been working

as a conductor in a more classical

career with big institutions. Most of

them are fairly heavy organisms and

heavily subsidized, so it can be quite

bureaucratic. Their plan can run

three or four years in advance, and

I was like, "How do I know what I

want to do musically in four years?"

Maarit Kytöharju

Stargaze is a kind of escapism for

my more instinctive, immediate

creativity. It's also about authorship.

Classical musicians often just get

other people's music put in front

of them and are told what to do.

There's this idea of the composer

in their ivory tower, who writes the

symphony, and then passes it on

to the musicians. We work more

like a band and hear the ideas; we

compose, collaborate, and then we

all own it so much more.

Classical music is often viewed

as a genre in stasis. How does

Stargaze challenge that? We

always keep our ears to the ground

in terms of what's going on and

where there are new voices, like

up-and-coming composers who are

working in more experimental ways.

We build networks of musicians,

composers, venues, promoters and

producers across the world who

share the same passion for these

liminal zones.

And how do you manage to keep

refreshing your work? Over

the years, we've put a lot of effort

and time into honing trust and

developing a particular reputation,

but at the same time we try not to

repeat ourselves. It is hard because

some might say, "Oh, Stargaze,

that's the classical group that works

with bands." Well, we do that

sometimes, but we also created a

dance piece for Irish dance company

[Teaċ Daṁsa], and we toured it to

Australia and New Zealand, and

London. We do so many things

because we are more interested

in the whole creative process and

trying to be active through that.

Is there an issue with rigidity

in classical music? Rigidity in

higher institutions is like a business

model: you become known for doing

something exceptionally well and

get hired for that. And that's okay.

People can make a living from it. But

the symphonic world and the opera

38

EXBERLINER 205
---
houses are relatively rigid.

There's basically a grid that

tells you how many concerts

you do a year. Guest conductors

or soloists get flown in from

week to week, which is very

questionable, especially right

now with the pandemic and the

climate crisis. So there are a lot

of elements questioning that

system.

How is Stargaze different?

Stargaze is about a meeting

of minds. It's about thinking

outside the box and creating

new formats. It's a laboratory

of experimentation, and all

of us have access to that tool.

Everyone brings skills to the

group as individuals but the

result is greater than the sum of

its parts, and that's fascinating.

Is it a question of creating

new juxtapositions? In our

time and decade and century,

it's all about finding new

hybrids of different styles that

create new genres. We enjoy

those clashes that lead you on

a different path from where

you're coming from. Suddenly,

there's something else there,

and you can bounce off those

boundaries, and that's what I

find exciting.

Tell me about the Stargaze

festival. The idea for this came

when the programme for the

250th Beethoven anniversary

was almost wholly cancelled.

For most orchestras, playing all

the symphonies of Beethoven

is the pinnacle. At first, I

thought, "Spare me another

Beethoven cycle!" But then I

realised we're the last group

you would expect to do that.

So, naturally, Stargaze does a

Beethoven cycle – with a twist

of course. Each symphony has

a different collaborator and

artists from various art forms.

We were asking ourselves what's

left of Beethoven in music, of

his thinking, musical influence

and philosophy. Is there pop

culture? Is there a line that we

can find going back to then

from today? We're looking at

Kraftwerk, we're looking at

Stockhausen, and we're looking

at that German electronic

scene around Cologne. There's

something about a culture

in itself with these insistent,

intense, repetitive rhythms,

which is typical of Krautrock

and then Kraftwerk and then the

Neue Deutsche Welle. We have

a project with Boards of Canada

that has never been played in

Germany. When you come to

this festival, you don't need to

understand the context; you

realise right away that it is going

to be a fascinating journey.

How have you gone about

putting the festival online?

What's exciting about our

stream concept is that we're

working with a new pioneering

concert stream provider, zart.

tv. They create different rooms

you can move between. You

can hang out in the lounge or

you can enter another room.

We're going to put the sound

installation based on one of

the movements of Beethoven's

9th in a space you can enter

virtually, so you feel like you are

at a live gig.

Does this city feel like

'home' for Stargaze? Berlin

is an interesting one for us, and

for me personally. Volksbühne

has felt like our natural home

for a while now, even though

we've only done three festivals

there in seven years. With

the classical establishment in

Berlin, it's different: we've tried

to approach them, but they're

not coming towards us. There

is great potential for audiences

in Berlin who like this kind of

music. But we lack production.

There's no independent artistic

director who would have an

open mind for these different

streams of consciousness. I

think Berlin could thrive on

something like that. The city

has the vibe, the subculture,

everything. I just wonder how

– and when – it will be taken

advantage of. T

Stargaze Festival, Volksbühne

Am Rosa-Luxemburg-Platz, June

9-10, 19:00, zart.tv.

BERLIN'S ONLY OPEN-AIR CINEMA

WITH MOVIES IN ORIGINAL VERSION

MOST GERMAN FILMS WITH ENGLISH SUBTITLES

www.freiluftkino-berlin.de

#freiluftkinoberlin

EXB_AZ_FH_115x152_5_04.indd 1 21.0

JUNE 2021
---
WHAT'S ON — Art

Editor's Choice

Beuys

believed that

every time

the human

mouth spoke

and moved

air it was

producing

'real

sculptures'.

Joseph Beuys at 100

A new exhibition celebrates the birth of the

artist by focusing on his unique use of language.

At the opening of his landmark

show at the Schmela Gallery

in 1965, Joseph Beuys could

be seen whispering inaudibly into the

ear of a dead hare that he cradled in

his arms like a Madonna and child.

With honey and gold leaf stuck to his

face, he moved from one picture to

the next, his muffled words drowned

out by the scrape of a metal sole he'd

tied to his right foot. Beuys' seminal

performance, 'How to Explain Pictures

to a Dead Hare', was not meant to be

interpreted by words or linguistic expression.

Instead, it aspired to a more

natural form of communication that

required the viewer to feel their way

into his ideas.

This so-called 'Action' was typical

of the imaginative, complex and

idiosyncratic manner that Beuys

approached communication: to

lead humans beyond the rational

and to expand their potential for

thought and expression. "Even a

dead animal," Beuys later wrote,

"preserves more powers of

intuition than some human beings."

Communication and language is at

the centre of Starting From Language:

By Duncan Ballantyne-Way

Joseph Beuys at 100, a new exhibition

opening mid-June at the Hamburger

Bahnhof that's been timed to

coincide with the centennial

anniversary of the artist's birth.

"Language was very much a

sculptural tool for Beuys," says

Nina Schallenberg, the curator

of the exhibition. "And at the

beginning of his artistic process

was always an idea, which needed

to be expressed through language."

Beuys believed that every time the

human mouth spoke and moved air

it was producing "real sculptures".

It ties in with his most famous and

revolutionary belief that "everyone

can be an artist", says Schallenberg,

"as long as they act in a conscious

way and with conviction then

everyone has the potential to create

and potentially change society".

Beuys was a mercurial figure

in part because of his selfmythologising,

elevating himself

and the role of the artist to a kind

of modern-day shaman with the

power to heal the world's ills and

re-energise spiritual thinking. After

his death in 1986, he left behind an

extraordinarily eclectic body of work

which despite its huge significance

is often considered abstract and

impenetrable to those unfamiliar

with his oeuvre. To address this and

to allow visitors to get a foothold

into his back catalogue, each room in

the exhibition has been thematically

choreographed to bring some

coherence, starting with 'Silence'

until finally reaching 'Speaking' in

the final room of the museum.

This language-focused exhibition,

which brings together sculptures,

drawings, installations, films and

posters from the Nationalgalerie's

own collection, is coming at a

critical moment, according to

Schallenberg: "The discourse on

language can so easily take a polemic

direction. It seems that now you

are either for something or against,

when with Beuys he is always in the

in-betweens! Instead of seeing two

separate positions, we need to think

about what connects them." This

is where Beuys comes in, revealing

language's plastic possibilities,

moving beyond binary oppositions

to connect to a deeper, more

spiritual existence.

Starting From Language: Joseph

Beuys at 100 From June 13 through

September 19 Hamburger Bahnhof,

Mitte.

Winfried Göllner

40

EXBERLINER 205
---
WHAT'S ON — Art

Review

​Berlin goes dotty!

Haven't scored a ticket for the Yayoi

Kusama exhibition? Our art editor fills

you in on what you're missing out on…

Yayoi Kusama is a phenomenon, renowned

for her kaleidoscopic installations filled with

mesmeric polka dots and reality-defying

mirror-rooms. But for all their poppy vitality,

don't think for a second this is just Instagram

cannon fodder. Scratch beneath the surface and

you'll find yourself drawn into a hallucinogenic

cosmos that is unsettling, challenging and often

far from joyful. With this being the first German

retrospective of the Japanese-born artist,

the Gropius Bau has spared no expense and

commissioned a new site-specific installation,

'A Bouquet of Love I Saw in the Universe', for

the central quad of the Gropius Bau. Off limits

until the end of the exhibition, its vast luminous

tentacles extend like poisonous fungi up to the

mezzanine above. It's a taste of what's to come.

The exhibition is arranged chronologically

and kicks off with works the artist made in the

immediate aftermath of World War II. Sombretoned,

with twisted and barbed vines, nothing

you've seen before prepares you for these bleak,

menacing landscapes of postwar Japan in the

1950s. Things begin to change by 1958 with her

move to New York, and the appearance of her

infinity net paintings. 'Pacific Ocean' is a white

apparition made of gently curving white lines

and is the first indication of her self-obliteration

where her obsessive painting often led her to

paint beyond the canvas, spreading out onto

the table, the walls, even onto her own body.

Later, in one gaudy yellow room, identical black

dots cover every available surface like some

visualised psychosis. There's nothing upbeat

about them. You feel this even more in 'Infinity

Nets (TZA)' with its blue lines of interlocking

cells or shattered ice that stretches out across

five canvases. It's so painstakingly put together

it's almost a shock to get up close and see the

brushstrokes.

There are six infinity rooms, filled with either

lights, orbs, pumpkins or phalluses. Some are

more successful than others – but the couple

that are truly transportive somehow make you

feel self-conscious and isolated all at the same

time. If there's a drawback to the exhibition, it is

perhaps the rigidity of its structure, adhering so

closely to the course of her life it can at times feel

a bit stifling. The weight of responsibility is heavy

and this is clearly a show they didn't want to get

wrong, which on the whole they haven't, and the

documentary photographs and films reveal the

revolutionary zeal of the artist, especially in the

1960s and 1970s. When the show breaks out, it's

dazzling, like in the last room, which is stuffed to

the rafters with 60 or more canvases spread from

floor to ceiling. By the end, after barely pausing for

breath, you've seen an entire art museum's worth

of installation, happenings, collages, drawings,

clothing and paintings. The same unyielding

intensity runs through them all.

Yayoi Kusama's A Bouquet of Love I Saw in the

Universe Through August 15 Gropius Bau, Mitte

Online Live Tour

Every Saturday at 6.30 pm

Luca Girardini

Online Tour via Zoom

50 min, € 3

www.museumbarberini.de/en/

JUNE 2021
---
WHAT'S ON — Art

Interview

Europe on display

Things are getting crowded under the roof of Tempelhof's Hangar II

ahead of the Diversity United exhibition. We talk to curator Walter

Smerling about what this ambitious show can achieve. By Duncan Ballantyne-Way

You're squeezing 90 artists

and the whole of Europe into

one art exhibition. What's the

motivation here? The continent

of Europe has at least 47 countries,

depending how you count, and each

one has its own character, its own

mentality, its own problems, its own

people. Each country is independent

from each other in a way but they

all belong together. That makes this

show very strong.

The artists

decided

what came

into the

show and

what didn't

– not the

curators.

It's a hugely impressive list of

artists, and it promises to be

a blockbuster of a show. What

can visitors expect to see? It's

a broad and timely intercultural

dialogue between artists from 34

European countries. When did that

last happen?! We're not focusing

on one specific issue. Each artist

describes their individual positions,

which then shed light on our

societies. We want to provoke a

dialogue, and you can see that with

Lucy and Jorge Orta's 'Antarctic

Village', whose tents symbolise a way

of living without borders. Then we

have Monica Bonvicini taking over a

whole room with her neon tubes that

bring illumination and truth. Anselm

Kiefer's 'Winterreise', a never-beforeseen

work, shows the dangers hidden

in romanticism. It's a vast list.

The Berlin-based Olafur Eliasson

is also present. His work

will be the first thing visitors

encounter, right? Yes, at the entrance.

It's quite an experience: a yellow

light that wipes away all distinction

between people, that neutralises

difference and in doing so questions

our relationship towards travelling

and citizenship and the environment.

The exhibition is by no means

limited to Western Europe;

Eastern Europe and the Balkans

are well represented. Any names

to watch there? In Europe, you

don't need to travel far to be in a totally

different world. This is what we

see in Shoes for Europe, a film made

by Moldovan artist Pavel Brăila,

which shows how a train is lifted

onto a new base while its passengers

wait. For a long time, Moldova was

part of the Soviet Union and so it

had the wide railway tracks shared

by other republics that made up that

huge federation. As a result, Moldovan

carriages had to be hoisted onto

new wheels before they went on to

neighbouring Ukraine or Romania or

other European countries. The film

is a visual description of the competing

interests of Europe's different

blocs and the problems we have

communicating between them.

You mentioned a new piece by

Anselm Kiefer. Are there any

other stand-out works debuting

at the exhibition? I think around

30 percent of the works haven't been

shown before. And it's important to

note that the artists decided what

came into the show and what didn't

– not the curators. For instance,

Chinese painter Yan Pei-Ming had

proposed paintings about Napoleon;

but then the pandemic started so he

decided to add a new piece to the

show: an unbelievable painting of a

cave from which the viewer looks out

into a dangerous world. It's really an

impressive work.

How else have artists responded

to challenges faced by Europe

today? One of the strongest works

for me is by Fernando Sánchez Castillo.

The Spanish artist came across

the famous photograph of a crowd

of men giving the Nazi salute. Only

one man, thought to be the Hamburg

labourer August Landmesser,

refuses. He stands bravely in the

crowd, arms crossed, with a sceptical

look on his face, and the artist has

built an unusual monument to him.

He reproduced 5000 plastic figures

of the labourer and lined them up as

an army of pacifist resistance. Where

is there a need for moral courage or

resistance like that today? The point

is that every visitor can take one of

the small figures in return for writing

their idea of democracy on the wall.

Lucy and Jorge Orta

42

EXBERLINER 205
---
WHAT'S ON — Art

Over time, a whole new work of art

will emerge from the audience's

comments. That's fantastic, I think.

So the exhibition sheds light on

modern-day authoritarianism.

How does that square with criticism

you've come up against for

collaborating with the Russian

foreign office to put on the

show? Diversity United is a good

basis for bringing people together,

because art brings people together.

We do not collaborate with the politicians

of Russia. We collaborate with

the curators of the Tretyakov Gallery.

We had a very good experience with

them and I think it's very important

to create a basis for communication

in this way. Ultimately, art gives us

a fantastic chance for dialogue. Of

course, art is not the only way to

communicate, but it adds something

crucial to scientific and economic

discourses: it can allow things to be

seen differently. Art can help us find

solutions – there's no guarantee, but

we might have a chance.

After Berlin and Moscow, the

exhibition will show in Paris…

Why these cities, and not London,

for example? We wanted the

exhibition to be shown at the very

heart of Europe's cultural scene,

so Berlin and Paris were obvious

choices. They are on the axis of

central Europe and connect east and

west. By bringing the exhibition to

Moscow, we hope to encourage cultural

dialogue, especially in light of

current political differences. It would

also be great for the show to travel

to London, a city that will always

remain part of the European cultural

sphere. The exhibition actually has

a wonderful Grayson Perry work,

'Battle of Britain', which focuses on

Brexit

The pandemic has put European

solidarity to the test and

EU countries seem to be constantly

at loggerheads. How

does this exhibition address

these tensions? Jean Monnet, one

of the founders of the European

Union, once said that Europe will

always be a work in progress. It is not

complete; it is an identity conveyed

by fundamental ideas such as respect

for people, and embracing diversity.

But of course there are problems and

we need to talk about them, like for

example the fear of foreigners and

refugees. This exhibition aims to address

these highly complex issues by

inspiring debate as well as conveying

the freedom and respect that are a

part of the European identity.

Diversity United, June 9 through

September 19, Flughafen Tempelhof,

Hangar 2+3

Over time, a whole new

work of art will emerge from

the audience's comments.

That's fantastic, I think.

YanPei Ming

Review

Oliver Roura

Solid Earth, Liquid Wind

Through August 28 ★ ★★★★

With its cavorting humans and unexplained circus-inspired installations, what

may at first seem like a terrifically fun exhibition by German-born artist Ulla

von Brandenburg soon turns into an enriching one as you find yourself swept

along with its infectious energy. Investigating the fine line that exists between

play and earnestness, the soundless video work 'Solid Earth, Liquid Wind' pays

homage to an early Swiss dance school that pioneered the use of contemporary

dance as a form of artistic expression. It's a wonderful watch, the dancers

moving in unison, hurling themselves in and out of shot, then suddenly standing

deadly still but always performing with abandon. The artist believes that

expressive dance can lead the body and spirit to a state of ecstatic experience

– and watching this film, you can believe it. Upstairs, alongside multi-colourful

watercolours, life-sized fabric models of the dancers are slumped together in

a heap, no doubt exhausted by their excursions. There's a palpable feeling of

expectation to the show, a sense that's perfectly encapsulated by the circuslike

installations made up of vivid blue and red fabric, pointed cones, confetti,

fans and an assortment of dice and photographs. What alchemy is all this, you

wonder? — DBW

Meyer Riegger, Charlottenburg

JUNE 2021 43
---
BOOKS BY ALEXANDER WELLS

SPOTLIGHT

"This book is

me saying, I'm

a subject, not

an object!"

Prize-nominated essayist

Asal Dardan on prejudice in

Germany, the absurdity of

Heimat and the value of selfcriticism.

The furore over the Leipzig Book Fair Prize's

all-white shortlist has prompted many to

reflect on the wealth of great literature by

diverse authors in Germany today. One recent

standout is Betrachtungen einer Barbarin

(Observations of a Barbarian, Hoffmann &

Campe) by the Tehran-born Berliner Asal

Dardan. This series of linked personal essays

interweaves reflections on Dardan's

own life – beginning with her childhood in

Cologne as the daughter of Iranian refugees

– with insightful commentary about race,

migration and gender in modern Germany.

Dardan called us to discuss her book, which

has been nominated for the prestigious German

Non-Fiction Prize.

Essays are not a very established literary

genre in Germany. Was this a hard sell

to publishers? It's true. A lot of publishers

I approached said, "Oh, we love it, but could

you make it into a novel,or a memoir?" But it's

not really a book about me – I didn't set out

to tell my story, although it is often about me.

Were you ever tempted to write a memoir

as they asked? I'm interested in other

people's memoirs, but not my own. I wanted

to offer myself up as an example – I wanted

to say, this is me in the world, here is how

I perceive things, and here is how these

specific debates and themes affect my life.

I wanted to make it more approachable, and

less abstract. And there are extra dimensions

when you write yourself in. For example,

when writing about the NSU trials, I discuss

how as a migrant to Germany, I have stories

of guilt and family trauma of my own – my

father worked for the Iranian secret police.

And I feel it's a political act, sort of, to show

yourself and make yourself vulnerable.

There is a lovely part about the importance

of seeing yourself in other people

and other people in yourself – and how

challenging that is. Are you advocating

more empathy? For me, it's not really about

empathy. If you're talking about ways of living

together, about solidarity, then I think it's

much more about looking at oneself – about

being self-disciplined and self-critical. For

example, I can never completely understand

what it's like to be a trans person. I can never

truly understand what dysphoria is, though I

can read about it. But do I really need to say

I fully understand it in order to feel solidarity

with someone – and to demand a world

Sarah Berger

I wanted to say that this is

my language, and I know

how to use it. And the

barbarian is talking back,

looking at you. Poor you.

And I'm pretty sure it hurts.

where they are more visible, have more rights,

face less obstacles in their lives? So with the

book, I didn't want to manipulate feelings.

I just wanted to make people start thinking

about themselves, by seeing how I do that.

My hope is that it lingers with someone who

reads it – that it starts a conversation they

then have with themselves.

In the opening essay, you use the contradictions

and confusions of your Ger-

FROM THE DUSSMANN BOOKSHELF

"A spy, like a writer, lives outside

the mainstream population. He

steals his experience through

bribes and reconstructs it."

Thus wrote John Le Carré,

grandmaster of spy fiction. The

spirit of Le Carré pervades A

Lonely Man (FSG/Macmillan),

a novel by British writer and

critic Chris Power that begins

with two Englishmen reaching

for one Bolaño in a Prenzlauer

Berg bookstore. One of them,

Richard, is a failing author who

feels his family is impeding

his ability to write; the other,

Patrick, claims to be on the run,

having seen too much while

ghostwriting the memoirs of

a now-dead Russian oligarch.

The two become friends, with

Richard increasingly fascinated

by Patrick's tales. But who is

telling the truth – and how high

are the stakes? Like Le Carré,

Power intertwines elements of

the thriller and literary novel.

But Power's novel, for all its

cloak-and-daggery, doesn't

quite transcend its basic theme

of what it means to write another

person's story – a theme

more interesting to critics and

novellists, one suspects, than

readers.

From contemporary Berlin

to last century: The Dead Girls

Class Trip (NYRB Classics) is a

fine collection of short fiction

from Jewish-German communist

author Anna Seghers,

translated by Margot Bettauer

Dembo. These diverse stories

– written from 1925 to 1965 –

represent Seghers' early steps

as an author, her wartime exile

in France and Mexico, and her

life in East Berlin as a GDR intellectual.

The collection shows

off Seghers' considerable narrative

skill, her ethical clarity and

her innovative spirit. The title

story is particularly excellent: it

weaves the life trajectories of

the narrator's classmates – one

of whom betrays another to the

Nazis – into an account of a

prewar school outing. "No one

ever reminded us of this trip we

took together while there was

44

EXBERLINER 205
---
man childhood to interrogate

ideas about belonging, migration

– and above all Heimat. Isn't it

an outmoded idea? Well, I think

Heimat is a German obsession –

even more when I was growing

up in pre-Wende West Germany. I

really wanted to show how absurd

the idea of Heimat is. I thought, if I

want to talk about otherness, about

the 'barbarian', then I'll have to address

how absurd it is to call a kid

who was still a tiny child when she

arrived here a 'migrant'. It's also

about how, if you are the child of

refugees, then you grow up with a

kind of nostalgia for the old homeland,

which can repeat nationalistic ideas. I

wanted to confront that and say maybe there

should be no Heimat for anyone. There's

definitely none for me.

Instead of Heimat you use the idea of

Fastorte, 'almost-places', which you

come to terms with individually. That

sounds like a more engaged kind of

belonging… Totally. Belonging, society

– it's a process, it's something you have to

actively partake in. It's also about building

relationships, including to myself, and to

the language and culture and political and

material realities of a place. What defines

me more? That Goethe and Schiller once

lived in this proximity and wrote in more or

less the same language? Or that I'm living

now in this place where I know people are

struggling to pay their rent, or dreading racist

attacks? It's important for writers to make

still time. No matter how

many compositions were

to be written about our

homeland and its history

and one's love for the

homeland, no one ever

mentioned that our group

of girls, leaning against

one another while sailing

upstream in the slanting

afternoon light, first and

foremost belonged to and

were part of this homeland."

Another communistera

classic is Mircea

Cărtărescu's Nostalgia

(Penguin). One of Romania's

most celebrated

authors, Cărtărescu has

never commanded much

of a readership in English

– but hopefully this Penguin

Classics edition of

his 1989 masterwork, in

Julian Semilian's translation,

will boost his reputation

among Anglophones.

Nostalgia is a remarkable

novel in five stories, which

are linked less by plot or

setting than their recurring

themes of stories,

games, imagination and

fate – although the rundown

apartment blocks

of 1980s Bucharest make

numerous appearances.

Cărtărescu's playfulness

and love of language will

remind some of Umberto

Eco or Jorge Luis

themselves aware of how they're connected

to the real place out there, instead of some

abstract notion like Heimat.

How did you come up with your title?

Well, it was first inspired by Heinrich Böll's

novel Ansichten eines Clowns (Opinions of a

Clown): the clown, like the barbarian, is a

figure that is looked at – the clown entertains

you while the barbarian lets you define

yourself as superior. But 'Betrachtungen'

sounded better. The barbarian, I mean, I

only really think about my otherness in this

society because someone else has treated

me like that, whether knowingly or not. So

I thought, OK, I'll talk back as that figure –

as what you view me to be. I'll talk as her,

and show that she can look back as well.

And maybe the other doesn't have to be so

threatening.

'Barbarian' comes from the ancient

Greeks, as a word to call people who

didn't speak their language. Writing

this book in German as an extremely

cultured German – is that part of the

irony? It's cheeky, isn't it? [laughs] I wanted

to say that this is my language, and I know

how to use it. And the barbarian is talking

back, looking at you. Poor you. And I'm pretty

sure it hurts, when you're used to being the

one that looks and rates and decides – and

chooses who gets to speak and be heard

– then it's painful when people suddenly

turn around, and they have autonomy, and

they're a subject not an object any more. In

a way, this book is me saying: I'm a subject,

not an object! T

Borges, but there is a

gritty, vertiginous side to

Cărtărescu that distinguishes

him from more

genteel postmodernists.

Some of his meditations

on sex and gender feel

decidedly outdated, but

readers who want a break

from the clipped, savvy

minimalism currently

dominating the literary

Anglosphere will be

cheered by this boisterous,

unusual and deeply

compelling work.

All books are available at

Berlin English Bookshop

EDITOR'S NOTE

REDISCOVERING REIMANN

Alexander Wells has been

reading the diaries of

unconventional East German

author Brigitte Reimann.

Last month, Seagull Books published the

second volume of Brigitte Reimann's

1960s diaries under the title It All Tastes

of Farewell (translated by Steph Morris). Following

last year's I Have No Regrets (translated

by Berlin's Lucy Jones), these books bring

to life a highly talented and unconventional

author, a woman determined to live life to its

fullest despite the constrictions of her time.

Now is a fine moment to (re)discover Brigitte

Reimann (1933-1973).

Reimann wrote from a young age and

had a promising career within official GDR

literature, yet she never published a novel:

her great, unfinished Franziska Linkerhand

(1974) was only released following her early

death from cancer. Published during her life,

Riemann's diaries recount the everyday life of

an author (and chronic adulterer) with great

wit and style. She goes to Berlin and hobnobs

with luminaries; she has money problems,

gives readings, gets hit on by dreadful older

men; she complains that only talentless hacks

get prizes, and is thrilled when she herself

wins one. "Oh and yet again Berlin finished us

off," she writes. "That city eats people. ... The

stress is mind-bending, the agitation, the gossip,

all the convoluted intrigues our friends

report." So far, so classic for the literary life.

But East German politics relentlessly

intrude. Reimann grows "increasingly alienated"

by GDR authorities demanding obedience

from the nation's authors; she never

stops being a socialist. Ultimately, her loyalty

– above all political and romantic entanglements

– is to her art. This passion comes

through in her diaries, haunted as they are by

her frustrations and failing health. Reimann is

a brilliant observer of social milieus, a ruthless

self-analyst and often strikingly humorous.

One hopes Franziska Linkerhand will be

translated soon.

Meanwhile, we have her diaries. They are,

in a sense, the other unfinished novel of her

life. "I know full well the book is made up

solely of digressions," she notes of Franziska,

"but I can't explain why I want to write it that

way right now: intense clusters of life, the

everyday with the random and unnecessary. A

protest against plots, against the novel form,

which seems too crystalline, too purified, too

artificial, too clear in our unclear world." — AW

JUNE 2021

45
---
ADVERTORIAL— The Berlin Guide

Still there

for you!

Order and pick up

or buy vouchers.

THE BERLIN GUIDE

Looking for something uniquely Berlin and need inspiration? The Berlin Guide is

your key to discovering new local tips around the city's vast array of RESTAURANTS,

CAFÉS & BARS, SHOPS & SERVICES. Updated monthly! All locations English-language friendly!

Please note opening times and deliveries may vary due to Corona restrictions.

ads@exberliner.com

RESTAURANTS

CAFÉS and BARS

Great takeaway

Great takeaway

BARETTINO – Cafe Barettino means "small bar"

and in our case it is a unique combination of

everything which makes you happy between

dawn and dusk. A huge breakfast choice & fine

coffee, lunch & dinner made fresh and with

love, plenty of delicacies, toasted paninis and

homemade cakes, Italian aperitivo and holy

spirits. Join the Barettino family! Reuterstr.

59, Neukölln, Tel 030 25 56 30 34

ACTIVITIES

and SERVICES

Great takeaway

LA BUVETTE – Restaurant

For a good glass of wine, a romantic or

business dinner, a wine tasting or a birthday

party... come to La Buvette Weinbar.

A cosy French bistro where all wines

come directly from France and the food

is like mama's cooking. Try the famous

'steak-frites' with a glass of Bordeaux,

or come on Sundays for 'moules-frites'!

Chausseestr. 10, Mitte

Gleimstr. 41, Prenzlauer Berg, Tel

030 88 06 28 70

CAFÉ NULLPUNKT – Vegan café This friendly,

beautifully designed café conveniently located

between Checkpoint Charlie and the Jewish

Museum offers delicious vegan lunches and

snacks – all homemade from organic and

gluten-free ingredients. Stop by on Tuesdays

or Thursdays for a takeaway 'surprise' meal,

any other day for a hearty soup or a slice

of quiche and expertly brewed coffee. They

also offer a selection of exquisite raw cakes

(cashew-coconut creams on top of nutty

doughs) that will reconcile gourmets with

healthy and ethical desserts! Mon-Fri 12-2.

Friedrichstraße 23b, Kreuzberg,

Tel: 030 84 71 09 23

Great takeaway

NO HABLO ESPAÑOL – Restaurant

The best California-style Mexican

street food joint in Friedrichshain.

Delicious freshly made burritos and

quesadillas served by a collection of

fun-loving international people. Once

a week, challenge the NHE team to a

game of rock-paper-scissors and win

a half-price meal!

Kopernikusstr. 22, Mon-Sun from

12, www.nohabloespanol.de

Online training

TIB-SPORTZENTRUM – Fitness At Berlin's oldest

sport club you'll find sports for young and old.

Baseball, softball, ultimate frisbee, tennis, dance

and more. Their sport centre has a gym, sport

courses, eight badminton and two indoor tennis

courts, and a sauna.

Columbiadamm 111, Neukölln,

www.tib1848ev.de

3 SCHWESTERN – Restaurant Housed in a former

hospital-turned-art centre, this spacious

restaurant with big windows overlooking a

lovely garden serves fresh, seasonal German

and continental dishes at reasonable prices.

Breakfast on weekends and holidays. Live music

and parties start after dessert. Mariannenplatz

2 (Bethanien), Kreuzberg, Tel 030 60 03 18 60 0

Great takeaway

CHEZ MICHEL – Restaurant Chez Michel

is a friendly bistro patronised by artists

and locals that offers authentic French

cuisine at Kreuzberg prices (€4-€18). All

dishes are cooked in the open kitchen,

including delicious quiches, steak

frites, duck confit and daily rotating

specials. For dessert, the French tarts

(Michel's tarte aux pommes is Berlin's

best!) or crème brûlée are particularly

seductive. Takeaway Wed-Sun, 16-21.

Adalbertstr. 83, Kreuzberg, Tel 030

20 84 55 07

TO PLACE

YOUR AD HERE

CONTACT:

ADS@EXBERLINER.COM

Online service

THUM RECHTSANWALTSKANZLEI | LAW

OFFICE - Service There are certain

contacts that are essential in an accomplished

working life. One of them

is an excellent lawyer for employment

law. Leonie Thum is exactly that.

Determined to plead for employees,

her English is also fluent. With her

ecological and feminist approach,

she has created a beautiful law firm/

art space in the heart of Neukölln.

Friedelstr. 56, Neukölln, Tel 030

98 43 60 62, Mon-Thu 10-6, Fr 10-13

46

EXBERLINER 205
---
ADVERTORIAL— The Berlin Guide

Siebdruck-Edition

Jakob Hinrichs "Joseph Beuys"

NEW

INTERNATIONAL PHOTOGRAPHY SCHOOL – Courses

Study photography with professionals in Berlin

ANALOGUE BASICS AND STREET

PHOTOGRAPHY Aug – Nov 2021

Expose and develop films and enlarge the

best image results in the darkroom. This

course is aimed at everyone who wants

to deal with documentary, portrait and

street photography.

MASTERCLASS Aug 2021 – Jun 2022

Are you an experienced photographer and

want to work on a personal project? Our

lecturers discuss best practices with you,

and you'll get to know methodologies as

well as questions of context and presentation.

See our website ips-berlin.org for the full study program.

Apply before June 20th and get 10% off!!

• Edition N. 10

• Exclusive silkscreen print

• Limited edition of 99

• Signed & numbered

• Format 50 x 70 cm

• 99€ incl. VAT plus delivery

Online service

BGKW LAWYERS – Service We specialise in

labour, family, private building and insolvency

law. The legitimacy of dismissal is the main

subject of labour disputes. In divorce, legal

representation is mandatory. We give legal advice

in cases of construction defects and insolvency

proceedings. Skype & Zoom meetings available.

Markgrafenstr. 57, Mitte, Tel 030 20 62 48 90

Online courses

HUMBOLDT-INSTITUT – Language Whether total

beginner or advanced learner: the Humboldt-

Institut has the right German course for everyone.

Small classes with intensive training ensure

swift and effective learning. Or simply choose

a part-time course during the evening or on

Saturdays. Private & online lessons also available.

Invalidenstr. 19, Mitte, Tel 030 81 45 37 61 0

In May 2021, the exceptional German artist Joseph Beuys would

have turned 100 years old. To celebrate the anniversary, Berlin

illustrator and comic artist, Jakob Hinrichs created this print

exclusively for tipBerlin.

shop.exberliner.com

Tip Berlin Media Group GmbH, Salzufer 11, 10587 Berlin

EXB_Shop_1_4_115x152_Siebdruck.indd 1

German language courses, University Pathway & internship programmes in Berlin

THE

LANGUAGE

SCHOOL

DIRECTORY

DEUTSCH

DE LUXE

With an international vision, we are a leading Swiss group of language schools based in

Montreux, Switzerland, devoted to excellence in teaching languages to enrich students' futures.

With adult schools in Berlin, Freiburg and Lyon, teaching French and German, we also offer

University Pathway and work internship programmes. During the summer we provide English,

French, German and Italian summer courses for 8-17 year olds in top European destinations.

Our mission is to encourage language development through immersion and to expand the horizons

of our students... to inspire their future.

ALPADIA BERLIN – EXAM CENTRE TELC & TESTDAF

German Courses & Exams

C/O GLS CAMPUS BERLIN

KASTANIENALLEE 82 | P-BERG | (030) 78 00 89 –12 | GLS-BERLIN.DE

ALPADIA BERLIN

Hauptstrasse 23/24,

10827 Berlin (U7 Kleistpark)

T: 781 10 76

TO PLACE YOUR

AD HERE CONTACT:

ADS@EXBERLINER.COM

info@alpadia.com

www.alpadia.com

JUNE 2021 47
---
BERLIN BITES BY JANE SILVER

Jaja

Mamida

selling out before you get there (low versus

considerable), Jaja gets the nod.

Weichselstr. 7, Neukölln, check @jaja.berlin

on Instagram for next pizza dates

Nea Pizza 1889

The Neapolitan pizza-demic

Pizzas never went out of style, but these days it's puffycrusted

pies or nothing. Here are four newbies to try.

Best pastries Nea Pizza 1889

This is how ridiculous the pizza situation in

this city has become: when someone says,

"Meet me at the new Neapolitan pizzeria

across from the German federal intelligence

headquarters," you have to ask, "Which

one?" Nea Pizza 1889 and the very un-

Googleable Pizzeria opened several months

apart on the same bleak-looking stretch of

Chausseestraße, the former a tiled takeout

nook just barely bigger than its Izzo oven,

the latter a slick beige-bricked date spot

with a full bar. At Pizzeria, flashy combos

like the truffle-scented Della Casa Bianca

and the egg yolk-topped Fiorentina can't

make up for a too-salty crust. Nea Pizza

1889, on the other hand, is as religiously

Italian as Silvio Orlando in The Young Pope,

with a performance to match. Chef Oscar

Eisa and most of his staff were born and

raised in Naples, and every ingredient

gracing the chewy, blistered dough comes

straight from the motherland – from the

organic olive oil on the exemplary Queen

Margherita to the Cetara anchovies and

wild Sicilian oregano spicing up the Napule.

And while sweets at most pizzerias are

an afterthought, the traditional pastries

baked here will make your nonna sigh with

recognition. Pick up a ricotta and candiedorange

tart for dessert, and a cornetto or

two for tomorrow morning.

Chausseestr. 49, Mitte, daily 8-22

Gambino's Pizza

and Highballs

Best pop-up Jaja

Have you heard of the Roccbox? It's a

portable UFO-looking gizmo that heats up to

nearly 500 degrees, and it's the reason why

you're suddenly seeing pizza at restaurants

that never had it before. That includes places

like the natural wine bar Jaja in Reuterkiez,

whose former chef and new co-owner Hannes

Broecker has been firing up absolutely stellar

pies on an irregular basis since late November.

The crust is sourdough, flavourful and chewycrisp,

but it's the ingenious, always-changing,

local, seasonal and artisanal topping combos

that keep Neuköllners coming back for

more. Depending on the weekend, your pizza

might come with homemade sauerkraut and

sustainably caught Nordic sardines, morel

mushrooms and cheese from Brandenburg

dairy Urstrom Kaese, or – the one that

won me over – a spicy-meaty-earthy mix

of fennel salami, padron peppers, buffalo

mozzarella and hot sauce. Locavore scene

star Otto has been doing something very

similar across town, but for the price

(€10 versus €12-15) and risk of the pizza

Best pregaming Gambino's

Pizza and Highballs

For a place that sounds like it belongs in

a strip mall off the New Jersey interstate,

Gambino's Pizza and Highballs takes its

food seriously. Head pizzaiolo Robert D'Elia

has made the rounds from Cecconi's in Soho

House to Moabit gem Mangiare, and he's

got the crust to show for it: perfectly formed

and ultra-light, an ideal canvas for tangy

tomato sauce and smoked mozzarella or a

gut-busting four-cheese blend with knifelike

shards of baked Parmesan. It's not for

vegans – the sole meatless, cheeseless pie on

the menu, the Vegana, is a rather sad affair –

and Futura up the road might have a better

overall product. But given Gambino's cluband

bar-adjacent location, its scene pedigree

(the tatted-up, Naples-born owner was last

seen co-running Mitte BBQ and nightspot

Chicago Williams) and those highballs

(basically long drinks served in smaller

glasses), expect it to be a whole lot of fun

once restaurants are back in full swing.

Sonntagstr. 30, Friedrichshain, daily 12-21

Best promise Mamida

Those who unleash strings of Italian curses

at the sight of pineapple on pizza should

probably avoid Prenzlauer Berg's Mamida.

The menu starts with margherita and

marinara, then immediately veers into wilder

territory: pickled pears, crumbled almond

tarallo (mini breadsticks), or – vaffanculo! –

pulled pork and pineapple ketchup. Blame

former Gazzo head chef Mikel Plasari, who's

going for a "contemporary international"

vibe with this new project and stresses that

his pizza is not Neapolitan, despite sharing

some crust similarities. About that crust: it's

sourdough, a new formula developed with

the help of a chemist, and dominates to the

point where I had to ponder whether I was

eating pizza or puffy-edged flatbread with

stuff sprinkled on it. But there was something

alchemically delicious about the combination

of celeriac veloute, wild garlic pesto and

truffle oil on the vegan Truffle Sensation, or

the pureed asparagus, bacon spread (from

Gazzo salsiccia supplier The Sausage Man

Never Sleeps) and violet-coloured potato

chips on the Purple Jam. Toppings change

every few months, and you can bet I'll be

back to see what else the crew has in store.

Dunckerstr. 80a, Prenzlauer Berg, Tue-Sun 17-22

48 EXBERLINER 205
---
| 100% MADE IN BERLIN | PRINTED ON RECYCLED PAPER |

| €4.90 |

COLUMN— The Gay Berliner

A different kind of grind

As lockdown measures bear down on queer

communities, the Gay Berliner pays tribute to hustlers

who are down but not defeated.

"She works hard for the money,"

wailed Donna Summer in her 1983

signature song of the same name.

Just over a year ago, no one would have

thought the diva's drudgery jam applied

here. In shiftless Berlin, the town where

(pre-pandemic) nobody seemed to work

and people spent all day sitting around

in cafes, the reality is that queers were

keeping that illusion alive with, well,

hard work. It takes sweat

to make life look this

cheap. Think about it:

the people working the

stages, the drag shows,

the bars, the DJ decks;

the staff corralling people

into the things we called

nightclubs; the folks that

organise the parties; then

there's the waiting staff

and restauranteurs…

They're all queers, busting

their asses to keep

Berlin and its reputation running!

When corona hit though, they were the

first to feel the pain. It certainly wasn't

bankers or start-ups whose livelihoods

were put on pause; queer businesses

took the hit. Many bars and clubs are

fighting for their lives, and two of the

city's most beloved have bitten the dust

since the pandemic hit: Prenzlauer Berg's

gay watering hole Greifbar and cult dive

institution Barbie Deinhoff's (one of the

first places I used to fall apart in when

I arrived here) have both hung up their

feather boas. SchwuZ, perhaps Berlin's

most recognisable queer institution, has

turned to some surprising merchandising

to stay afloat, including coffee mugs that

say "Homo Office". Aren't clubs the places

we go to in the hope of forgetting the

mundanity of our jobs? Then again, who

can blame them? Honestly, with a glittery

gold and pink finish, the mugs are pretty

cool. I got one.

And what about the livelihoods of

queer people on the ground? Many

lost things key to their identities. My

friend Sandy ran a popular rock club in

a Friedrichshain darkroom bar which

was abruptly ended by the pandemic.

She's not the only queer I know who had

to give up their own slice of that tasty

JUNE 2021

nightlife pie. She's now taken up courses

in coding, which is tough and pretty rad

and almost pandemic-proof. Queers

are nothing if not resilient, but I'm sure

she would have appreciated not having

the rug ripped out from under her feet.

One of the city's biggest underground

drag queens has grown exhausted of

the live-streaming runaround and now

works in a vaccination centre. This is

obviously commendable

– a much-needed hustle

at the moment – but she

was doing well enough

before the pandemic hit

and would have continued

down her own yellow brick

road had she not been

forced to find something

else.

Walter Crasshole

The sectors hit the

on queer Berlin hardest by the pandemic

were the culture and

restaurant industries,

sectors staffed overwhelmingly by queers

– and there's been barely a bail-out done

about it. It's heartbreaking, really. Like I

said, queers are resilient, but it's tough.

We are used to being failed by the systems

and people around us. Most of us grew

up failed by parents, schools and the

communities we were born into. Now

we are being failed yet again. But not

necessarily defeated. You bet when this

thing is over, we'll be the grafters working

hard for that money, honey. So treat us

right. T

One of the city's

biggest underground

drag queens has

grown exhausted of

the live-streaming

runaround and

now works in a

vaccination centre.

13.06.— 19.09.2021

Hamburger Bahnhof

Museum für Gegenwart – Berlin

www.smb.museum/hbf

Von der

SPRACHE

JOSEPH

BEUYS

aus

zum 100.

Geburtstag

Starting from

LANGUAGE

JOSEPH BEUYS

at 100

205

J U N E 2 0 2 1

SPECIAL

Jobs &

jobbing in

Berlin

49
---
SHORT ESCAPES BY EMILY MCDONNELL

MECK-POMM

A whole

lot of lake

For months, even a trip

to Wannsee has felt like a

daring journey beyond the

city parameters. As summer

sets in and lockdown eases,

Exberliner's travel columnist

takes us further afield to the

sandy shores of the Müritz.

Hands up who's been taking the

same weekend day trips. Aren't

we all guilty of visiting a handful

of forests and lakes on a rotating schedule?

And as amazing as they are, maybe

it's time we remind ourselves of a world

beyond Berlin and Brandenburg, even if it

is just Mecklenburg-Vorpommern for now

(baby steps).

Now that the weather is getting

warmer, take yourself to the Müritz to

get that summer seaside feeling without

the overwhelming crowds. Just 1.5 hours

by direct train from Berlin, you'll find

the biggest lake inside Germany (Lake

Constance, or the Bodensee, is larger, but

we share that with Austria and Switzerland).

The Müritz is at the heart of the

Mecklenburger Seenplatte and sits on

the western edge of the richly bio-diverse

Müritz National Park, known as the 'Land

of a Thousand Lakes'.

Get the train to the medieval spa town

of Waren, the perfect base for exploring.

It's easily accessible from Berlin, there

are lots of restaurants serving fresh fish,

and there is kilometre after kilometre of

unspoiled nature, from forest to lakes.

One of the most perfect things about

the Müritz is that you feel as if you're in

another world, and the longer you stay,

the more stress you feel slip off your

body. The lack of manmade noise in the

forest is restorative, you can eat fresh fish

that's sustainably caught, and there is

always a selection of lakeside beaches on

which to laze.

Favourite swimming spot Badestelle

Feisnecksee looks as if it's straight from

a Wes Anderson movie, thanks to its

colourful lifeguard lookout that stands

atop a small sandy cove and is backed by

pine trees.

Must not miss fish You have to get a

Fisch-Brötchen (ask for whatever is freshest!)

from the Fischerhof Waren, it is an

institution. Warm bread rolls, smoked fish

and tangy pickles: it's the perfect taste of

the region.

Take your bike You can cycle around

the entire Müritz, or escape the crowds

by following the paths south of Waren,

on the right side of the lake, where you

can ride through forests past smaller

lakes and adjacent to meadows full of

wildflowers. T

TMB

OFF TO BRANDENBURG!

TMB

Family water fun

The sun is peeping out, the

lockdown is easing up – time

for your little ones to embark

on some outdoor adventures.

Luckily, Brandenburg doesn't

just offer lots of green space,

but also over 3000 lakes and

endless water activities. Why

not make the most of it?

For instance, Ziegeleipark

Mildenberg has its own

adventure park where there's

a cable ferry over Herzbergstich

lake for children to pull

themselves from one bank

to the other; there's also

the opportunity for them to

drive a train and make brick

sculptures in the old industrial

building. Two particularly

family-friendly canoe tours

are the 9km loop at Hohennauener-Ferchesarer

See and

the 4km Burger Fischpass-

Tour in Spreewald. For those

with older kids, stand-up

paddleboarding is ideal; head

to the Wassersport-Center

at Wolziger See or Hotel

Döllnsee-Schorfheide to rent

boards and cruise around

lakes that are never too

crowded.

Go to brandenburg-tourism.

com for a complete list of

family fun and water activities,

as well as real-time

updates on Covid restrictions

and travel and tourism

regulations.

50 EXBERLINER 205
---
How the

Time

Goes

(Episode 1–7)

FORCED ENTERTAINMENT

23.6., 20:00 / Premiere /

Online on www.HAU4.de

➞ www.hebbel-am-ufer.de
---
Photographs by Fred Stein

Report

from Exile

11.12.2020–20.6.2021

Pei-Bau, Hinter dem Gießhaus 3, 10117 Berlin

dhm.de/FredStein