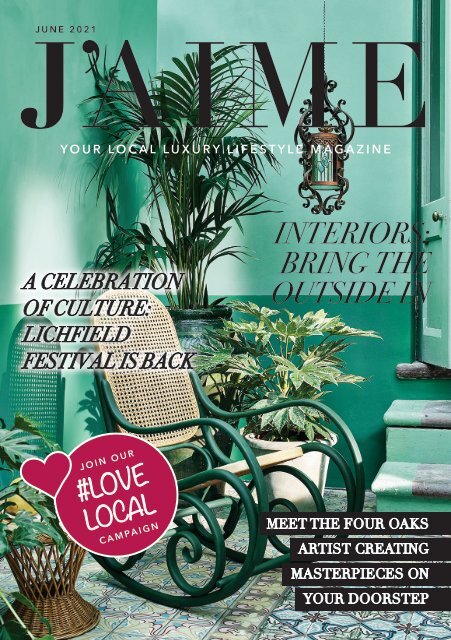 J'AIME June 2021
Your local luxury lifestyle magazine
Your local luxury lifestyle magazine
SHOW MORE
SHOW LESS
Create successful ePaper yourself
Turn your PDF publications into a flip-book with our unique Google optimized e-Paper software.
J U N E 2 0 2 1

J'AIME

Y O U R L O C A L L U X U R Y L I F E S T Y L E M A G A Z I N E

A CELEBRATION

OF CULTURE:

LICHFIELD

FESTIVAL IS BACK

INTERIORS:

BRING THE

OUTSIDE IN

J O I N O U R

#LOVE

LOCAL

C A M PA I G N

MEET THE FOUR OAKS

ARTIST CREATING

MASTERPIECES ON

YOUR DOORSTEP
---
P R E P

All our parents have one thing in common – they do not want their children to grow up too fast.

Childhood is the precious time when imagination knows no bounds.

Repton Prep is set in 55 acres of Derbyshire countryside. It is a magical place where children can

be children and yet learn at the same time. A den in the woods and an English lesson, a picnic in the

bluebells and a Science class – at Repton Prep, all of these experiences are learning opportunities.

Our co-ed community of 440 happy pupils welcomes full and flexi-boarders from age 7-13 and day

children from age 3-13.

" WE WANT OUR

CHILDREN TO

STAY CHILDREN

FOR LONGER."

reptonprep.org.uk

To arrange your personal virtual tour for you and your child please

call us on 01283 707112 or email registrar@repton.org.uk
---
Welcome to J'AIME

Pubs, restaurants, theatres, cinemas and hugs - we're so

excited about all the freedoms we've been able to start

enjoying again over the past month. Hopefully June will see

larger scale events and gatherings allowed once again. We

can't wait to party!

We are delighted to continue our #LoveLocal campaign,

which highlights some of the amazing independents based

right across our patch.

The campaign will continue throughout 2021 to celebrate

local businesses as they reopen and life starts to return

to something a little more like normal. In this month's

#LoveLocal coverage you can read about three more

independent businesses. Keep an eye out for more

#LoveLocal content next month.

You'll see the address of our website across the bottom

of each page in the magazine and that's because we've

given www.jaimemagazine.com a wonderful revamp.

You can visit the website to read everything you see in the

magazine plus much, much more. The website is updated

each day and includes positive, uplifting lifestyle articles

from right across the Midlands.

As well as being delivered to homes in selected postcodes

J'AIME is now available to pick up free of charge in major

supermarkets around the Midlands. You can also read a

digital, flick-through version of the magazine free of charge

at www.jaimemagazine.com

Within the June magazine you can read interviews with one

of the performers appearing at this year's Lichfield Festival

(yes, the festival is back!) and an artist based in Four Oaks

who paints, sculpts and creates intricate wooden boxes.

Add to that our usual mix of interiors, property, fashion,

beauty, travel, fitness and food and we hope we have

something for everyone.

We hope our upbeat, positive content will bring a little

added cheer to your life.

Please don't forget to support your local independent

businesses. When you buy from a small business you're

supporting your community and helping to keep people in

jobs.

From everyone at J'AIME, may we wish you a happy,

positive, cheerful month.

EDITOR: AMY NORBURY

EDITOR@JAIMEMAGAZINE.COM

ADVERTISING: JAN ASHLEY

ADVERTISING@JAIMEMAGAZINE.COM

07388 335 931

DESIGN: DESIGN@JAIMEMAGAZINE.COM

CONTRIBUTORS: JENNY AMPHLETT, OLIVER

BROAD, DEBORAH MITCHELL, LIBBY JOHNSON

J'AIME IS PUBLISHED BY ASHBURY

PUBLICATIONS LIMITED AND PRINTED BY KEP

LIMITED, TAMWORTH.

Check us out online at:

WWW.JAIMEMAGAZINE.COM

Find us on

/JAIMEMAGAZINE

@JAIMEMAGAZINE

@JAIMEMAGAZINE

SPONSORED BY

3
---
CONTENTS

InsideJ'aime this month...

6 Feature - Meet the Four Oaks artist who

works across three different mediums

10 Feature - Lichfield Festival is back and we

chat to one of the stars

14 Property - Could this be the home of your

dreams?

16 Property - Award success for estate agent

18 Interiors - Escape to the desert

24 Interiors - Bring the outside in

28 #LoveLocal - Support independent

businesses

30 Local area - Hidden gems to uncover

32 Education - Imagine if school felt like a

sleepover

33 What's On - Ideas for things to do this month

34 Travel - Rediscovering Gran Canaria

38 Fashion - Get ready for summer

40 Fashion - The lingerie shop that's turned buying

underwear into an uplifting experience

42 Jewellery - Our guide to buying wedding rings

44 Beauty - Tackling men's skincare

46 In the news - The region's largest luxury

bathroom showroom has a new owner

SPONSORED BY

4
---
FEATURE

A man for all mediums

THE CHANCES ARE YOU'LL HAVE SEEN HIS WORK BUT NOT REALISED

IT WAS CREATED RIGHT ON YOUR DOORSTEP IN FOUR OAKS. JENNY

AMPHLETT MEETS PROLIFIC ARTIST JOHN BATE

Most artists have their own signature style and

techniques be it portrait photography, landscape

painting or perhaps ceramics. John Bate, however, is

a master of many mediums.

A former interior designer, John paints, sculpts

and creates intricate wooden objet d'art - with his

creations adorming private homes, hotels, restaurants

and other businesses around the world.

His work is all created at home in Four Oaks, where

he works on commissions as well as his own flights of

fancy.

"I did a degree in design and then did my national

service, as one did in those days," says John. "Then

I started my career as a designer working with

graphics and products. I gravitated towards interior

design."

John worked in Amsterdam then for a furniture

company back in the UK before taking a role with

Ind Coope Hotels in Burton-on-Trent. He then

became the staff interior designer for a Burton-based

construction company before co-founding an interior

design business.

Throughout all of those different interior

design roles John often found himself creating

artwork to suit the rooms he was working on.

Trained to meet exacting client briefs for room

design, he became adept at ensuring his own

art followed suit.

"Art has always been a by-product of design

for me," says John. "In my very early days,

when I joined Ind Coope, I offered my artwork

services to the business. It was cheaper for the

company to get art from me rather than go

into the marketplace and buy it.

"Ever since then I've been making art for

myself, for colleagues and for commercial

clients. It's never really stopped."

When John retired from interior design

he wasn't ready to retire from his art. "It's

something that I really enjoy and I get a lot of

benefit from it."

6 www.jaimemagazine.com
---
After starting out with painting John found

himself making abstract sculptures with

metal, wood and glass which then developed

into wooden box making.

The boxes in particular have become a

labour of love, with each taking several

months to complete.

"I enjoy doing it, it occupies me. Every

single box is different and serves a different

purpose. I have two children and they tend

to benefit from my box making.

"To me art isn't just drawing pretty thatched

cottages by a babbling brook with snow on

it, although of course I can create that if

required. My scope ranges from full blown

abstracts to traditional work.

"A gallery once asked me why I have all these

different styles and said that an artist should

be known for the work they do. But my

response to that is that it reflects my design

background and different styles give me

different outlets."

The broad range of art reflects John's broad range of

interior design projects.

"One minute I would be involved with a pub

company and then it would be hotels. In the later

years, when I was in private practice,

I worked on health and fitness centres,

restaurants, offices and corporate function

rooms. The whole gambit of interior design."

One of the highlights of John's career was

working on the 16th Century Lincoln's Inn

in London, which houses one of the world's

most prestigious professional bodies of judges

and barristers.

"I designed furniture, lighting, graphics and

had a bespoke fabric design created. It was

a package of joy. Then the next day I was

working on a brand new office with stainless

steel."

John's clients have included Embassy Hotels,

Pinnacle Health and Fitness Clubs, Jaguar

Landrover, pub and restaurant groups,

numerous UK galleries and international art

publishers. He has also featured in a number

of solo and group exhibitions.

John takes his inspiration from many sources.

"I am particularly akin to texture, natural

patterns and intricacies such as the strata of

stones and rocks. I use various materials in

some of my work including paint, plaster,

metal and rock.

"I love the different textures and layers they

can create to give a 3D effect of high light

www.jaimemagazine.com

7
---
and shadow within the art composition.

"I also use metallic foils and geometric

construction graphics for semi and full

abstracts.

"For more traditional work I use softer paint

to stimulate atmospheric mist and the light

and dark colours of nature during all times

of the day and seasons."

The chances are that J'AIME readers

will have seen John's work but won't

have realised it was created right on their

doorstep in Four Oaks.

They can rest assured that John has no

intention of stopping his work any time

soon.

"I don't need the money but it's very nice

when I sell something for money," he says.

"Art isn't my living, it's my interest. Some

people love gardening, but it feels like a

chore for me. It's all about art for me.

"Art has always played a special part in my life. To

me art is a statement of vision. I am passionate about

colour, light, shadow and texture, all to evoke that

statement into a vibrant intrigue of drama or peace

and tranquility, captivating a moment in time.

"The real buzz in creating is when a client tells me

how much they love the work I have just produced

for them, that buzz to me is worth a million bucks."

John's paintings and sculptures tend to range in

price from around £250 to £1,500. To find out

more about John's work visit www.johnbate.com,

email john@johnbate.com, visit johnbate.art.

gallery on Instagram or call 0121 308 1196 or

07885 477333.

8

www.jaimemagazine.com
---
ISA Senior School of the Year

Weekly Boarding at Adcote School

for Girls

Now offering weekly transport to YOUR local area!

We are an all-girls school based in the beautiful Shropshire countryside. Our awardwinning

CLEAR learning programme helps our girls to secure the core skills of

Confidence, Leadership, Engagement, Achievement, and Resilience so that they are

equipped to thrive in the 21st Century.

Residential

Summer Camp

11th July - 28th August

Our camp takes our knowledge, skill and

experience, and offers your child the

opportunity to join us for a week of fastpaced

fun at the heart of the Shropshire

countryside!

enquiries@adcoteschool.co.uk | adcoteschool.org.uk | +44 (0) 1939 260202
---
FEATURE

The heart of it

LICHFIELD FESTIVAL IS BACK! JENNY AMPHLETT CAUGHT UP WITH ONE

OF THIS YEAR'S STAR PERFORMERS - THE IRREPRESSIBLE LIZA PULMAN

If you're excited at the thought of finally enjoying

live music again post-lockdown then imagine how it

must feel for people like Liza Pulman, who have been

denied the opportunity of performing for more than

a year.

The singer and comedy performer, who brought her

hit West End show Liza Pulman Sings Streisand to

Lichfield Festival in 2018, had been due to perform

at last year's cancelled event.

The organisers were therefore determined to bring

her back this year for a show based on her postponed

album, The Heart of It - which will now be released

in September.

Liza's performance at Lichfield Cathedral on July 13

will be her first post-lockdown and the first time she

has publicly sung some of the material.

"It's incredibly pioneering of the organisers to go

ahead with the festival. It'll be one of the first to

get up and going again. I know that festival director

Damian Thantrey was particularly keen to not let it

go," says Liza.

"I first came to Lichfield Festival about seven or eight

years ago as part of Fascinating Aida. Then I came

three years ago with Liza Pulman Sings Streisand

and had an amazing time again."

Speaking from her home in Cornwall, Liza is

reluctant to complain about the difficulties of the

past year when being unable to perform and tour has

actually forced her to stay at home and enjoy such a

beautiful part of the country.

"It's been very strange, such a weird mix," she says.

"I usually spend all of my life on the road. A huge

part of me loves it and a huge part of me is always

grateful to be home.

"You should be careful what you wish for, because

I've certainly been able to spend time at home just

recently.

"I've made the most of being able to get things done

in the house and have been able to do some musical

housekeeping. I've been able to release an EP which

10 www.jaimemagazine.com
---
I probably wouldn't have had the

time to do if I'd been touring.

"But I've missed performing

and singing. You realise it's a bit

like having a limb cut off really.

Performing is a huge part of who

I am.

"It's been very tough financially

and it has been very very difficult

for a huge number of my friends

who work in the arts and who

haven't quite had the support that

they needed."

Liza didn't go down the online

show route during lockdown but

did put out a recording of Bye Bye

Blackbird with Joe Stilgoe.

"It's very difficult to perform online," she says. "One

thing that all the technology in the world struggles to

deal with is time delay. Singing, making music and

performing with other people isn't really possible to

do unless you're in a room together.

"So much of what we do in terms of how we create

things is done together. I don't do this in a room on

my own.

"So much of what I do involves going into a room

with other people to create something. I tend to start

on my own at a piano and get a feel for how a song

is going to be but then I spend hours bashing things

around on a piano with other people."

Lichfield Festival will be the first time Liza

and her 'amazing band' have been able to

perform together publicly in more than a

year.

"It's incredibly exciting," she says. "I feel a

bit like I do about Christmas but I'm also

terrified because I haven't done anything for

nearly 18 months.

"It's that mix of being desperate to get back

together and perform but there's also the

fear of whether I remember how to do it.

"You're only really as good as the last thing

that you did. When you stop doing it you

almost can't imagine ever being the person

getting up and walking out in front of an

audience."

The show is largely based on The Heart of

It, an album of timeless classics and 'lost

gems' that Liza and her band recorded at

Peter Gabriel's studios in 2019. It will be

released later this year.

It features the music of Frank Sinatra,

Michel Le Grand, Randy Newman, Stevie

Wonder, Judy Collins and others.

"We went into this amazing studio for a

week but had done six months of work

before that pulling together arrangements.

I'm incredibly proud of the album, and of

course this will be my first time performing

these songs."

www.jaimemagazine.com

11
---
The Staffordshire audience will get to hear half of

the tracks from the new album, with the full The

Heart of It show due to open in London in the

spring.

"This will be a select choice of tracks from the album

that I think will work best in the cathedral setting,"

says Liza. She reveals that Bye Bye Blackbird and

Unchained Melody will be amongst them.

"Unchained Melody is just my voice and the piano.

It's like a tightrope walking version of it - it's very

exposed. I think it will work well in the cathedral."

The Lichfield performance will also feature songs

from her shows The Songs of Hollywood and Liza

Pulman Sings Streisand.

She's currently working on a new arrangement of a

few Barbara Streisand songs that she's particularly

loved performing in the past.

Known for weaving comedy between her music,

the audience can also expect warm and humorous

anecdotes in an evening designed to 'break your

heart and make it sing'.

"We've all missed so much with our friends and

family and it's been so hard not having that feeling of

connection," Liza adds.

"I hadn't realised how much I need to connect with

people and the way that I do that is by standing on a

stage and moving people with songs.

"I think the songs we've chosen to perform will

do that - it's going to be a special moment for

everybody."

Liza Pulman's Lichfield Festival show is

on Tuesday, July 13 at Lichfield Cathedral.

Tickets are available from

www.lichfieldfestival.org or by calling

01543 306271.

12 www.jaimemagazine.com
---
HELP IS AT HAND…

PUT YOUR HANDS IN OUR HANDS

With the post pandemic increase in

outpatient and surgical waiting times, many

people will be looking for solutions for both

diagnostic and pain control of their hand,

wrist and elbow conditions.

The Midland Hand Clinic offers self-pay

options with fast-track consultation, diagnosis

and treatment.

It is not necessary to have private health

insurance to get private medical care, and

more and more people are choosing to pay

for their private treatment and find costs are

often less than they had anticipated. There is

no need for a G.P. referral and you can usually

get an appointment within a few days.

Online consultations are available as well as

face to face appointments, if you would like

to be seen but would prefer not to attend a

hospital setting.

The Midland Hand Clinic pride themselves

in the positive patient feedback received

about the quality of care, safety and patient

experience.

"Delighted with the results of my finger

operation. No visible scar. Excellent patient

care from start to finish. Thank you!"

So if you detect any numbness, tingling,

weakness, progressive pain or swelling, get

in touch today.

For more information visit

www.midlandhandclinic.com

Midland Hand Clinic lead by Mr G Shyamalan FRCS

NHS consultant hand surgeon.

Hand Clinic PA: Pam Dziubany

Email: pdziubany@hotmail.com

Call: 07815 460786 - 01827 892952

www.midlandhandclinic.com
---
PROPERTY

Property of the Month

EACH MONTH WE SHOWCASE ONE OF THE MOST LUXURIOUS PROPERTIES CURRENTLY

ON THE MARKET IN THE MIDLANDS. THIS HOUSE IS OPPOSITE BEAUTIFUL SUTTON PARK.

Streetly Lane, Four Oaks, Sutton Coldfield. £1,050,000.

On the market with Aston Knowles: 0121 362 7878.

THE AGENT SAYS: This beautiful five-bedroom family

home is sure to make an incredible first impression. The

gravel driveway leading up to the porch entrance offers ample

parking space.

An internal hallway with storage cupboard and access to the

guest cloakroom leads off from the reception hallway and into

the generously sized kitchen/breakfast/family room. This is a

stunning space, designed to be the heart of the home and an

excellent space for family living.

The kitchen has slate grey wall and floor cupboards and highgloss

black granite worktops. Built-in appliances include a

large gas-fired hob with double oven and extractor fan above.

An arch to the side leads to a side door and to the utility

where there is space for a washing machine and separate

tumble dryer.

There is ample space for a dining area overlooking the

wonderful rear garden, as well as a family area. The garage

can also be accessed from here.

Sliding and double doors lead out to the patio area and

garden beyond from the family/dining space. A study is set

off to the right side of the dining area.

The principal bedroom suite is on the first floor and features

an outlook onto the garden and space for a sitting area, as

well as a walk-in wardrobe with built-in wardrobes on both

sides and an en-suite bathroom, featuring a modern suite

with grey tiling.

The first floor has three further bedrooms, all with built-in

wardrobes, an airing cupboard, and a family bathroom with

white suite and separate walk-in shower.

The home has a second-floor split-level bedroom suite with

shower room and walk-in wardrobe. Steps lead up to a higher

level, ideal for a sitting area or study/workspace.

W E L O V E : T H E SP A C I O US B E DR O O M S U I T E S .

14 www.jaimemagazine.com
---
PREMIUM LETTINGS

IF YOU THOUGHT

ASTON KNOWLES

ONLY SOLD PREMIUM HOUSES...THINK AGAIN!

Introducing ASTON KNOWLES Premium Lettings & Property Management.

Are you looking for a quality agent, with excellent communication skills and management

experience who will care for your home like their own? At ASTON KNOWLES, we know that

a premium property like yours deserves a like-minded tenant like ours.

GET IN TOUCH WITH OUR TEAM | Book your Free Market Appraisal today!

0121 362 7878

enquiries@astonknowles.com

www.astonknowles.com

@astonknowles
---
PROPERTY

National award for estate agent

SUTTON COLDFIELD-BASED CHOSEN HOME IS OFF TO A FLYING START AFTER

LAUNCHING ITS NEW STYLE OF ESTATE AGENTS DURING THE PANDEMIC

The family-run business is looking to revolutionise

the estate agency model, making it free to sell homes

– and was soon spotted by the British Property

Awards which crowned them 2021 gold winners for

Birmingham City Centre. Chosen Home has now

been shortlisted for a number of national awards

which will be announced later in the year.

Since launching in September 2020, Chosen

has successfully sold or listed more than 30 properties

with values ranging from £200,000 to £2.2M.

The new-style estate agency is the brainchild of

Nicki Ash, a former Knight Frank property expert,

who has lived and worked in Sutton Coldfield for

many years.

Nicki explained: "We wanted to change the way

people buy and sell properties for good, whilst

making the whole process far more enjoyable along

the way.

"Our extensive market research program revealed

that sellers were no longer happy to pay estate agents

to sell their home. If they had a desirable property

then they felt the purchaser should pay. We had to

agree and decided to create this revolutionary new

model. When you are selling your house the savings

could run into many thousands of pounds.

"Chosen's approach really is refreshingly different

– from our customer service to our all-inclusive

package of photography, 3D tours and professionally

produced videos, our clients know that our expertise

in marketing houses will ensure that they get the very

price for their most valuable assets."

The team, who are all experienced estate agents, also

work very hard to get Chosen homes noticed.

Nicki added: "Properties are presented in their

very best light across all national property websites

including Prime Location, Zoopla, On The Market

and Rightmove. We also have a social media team to

ensure the widest possible audience gets to view our

clients' property.

"We have been delighted with the positive responses

we have received since launching the business in

September 2020. The 5 star Trustpilot reviews just

keep on coming and customers are thrilled to be

achieving the best sales price, without any hidden

fees.

"Moving house can be a confusing time but all the

team at Chosen love helping customers achieve the

very best outcome."

For more information contact Chosen Home

on 08000 886 996, email team@chosenhome.

com or visit www.chosenhome.com/selling

16 www.jaimemagazine.com
---
We will sell your home for free.

No catches. No strings.

It pays to choose Chosen.

For a free valuation and to

find out why we are rated

as excellent on Trustpilot,

please call 08000 886 996

or visit chosenhome.com
---
INTERIORS

Escape to

the desert

WE all need to feel like we can escape reality right now,

and if we still can't enjoy a far-flung getaway in person,

we can certainly bring a far-flung vibe into our homes.

If you're after something a little more inviting that the

ever-popular minimalist Scandi chic aesthetic, the textural

extravagance of what is termed 'Desert Boho' might just

tick all the boxes.

Channelling California desert chic, its tranquil colours and

soft materials will bring us a sense of calmness and allow

us to dream of a place far away. From neutral, earthy hues

to soft browns, greens and pinks, this trend is ideal for

incorporating into your interior space all year round.

The easiest way to embrace this trend is by adding texture.

Rattan and cane are the obvious materials to opt for, but

a palm leaf lamp or Berber rug will easily add an element

of desert boho to your home. Add interest to your bed or

sofa with softly textured cushions, try out a statement wall

hanging, and pay attention to the little details such as the

rim of a mirror or the legs of a table.

BLOOMINGVILLE BOHO EYE MIRROR, £90, SWEETPEA

AND WILLOW. WWW.SWEETPEAANDWILLOW.COM

£62

£49

FERM LIVING SAND DESERT

OUTDOOR CUSHION, ROSE & GREY.

WWW.ROSEANDGREY.CO.UK

KING OF THE LIZARDS FOUR CANDLE CENTREPIECE,

AUDENZA. WWW.AUDENZA.COM

£459

£109

NATURAL POTTERY VASE, MARQUIS &

DAWE. WWW.MARQUISANDDAWE.CO.UK

£29

NATURAL BLACK WOVEN DESERT CHAIR,

CIELSHOP. WWW.CIELSHOPINTERIORS.COM

NATURAL RATTAN TASSEL STOOL,

PUJI. WWW.PUJI.COM

18
---
WELCOME TO BAYLISS, THE

LARGEST INDEPENDENT LUXURY

BATHROOM SPECIALIST IN THE

REGION. OUR UNRIVALLED

ONE STOP PROJECT MANAGED

SERVICE, FROM DESIGN THROUGH

TO INSTALLATION, IS FOCUSSED

ON TURNING YOUR DREAM

BATHROOM INTO REALITY.

WHATEVER YOUR REQUIREMENTS,

WE CAN PROVIDE YOUR BATHROOM

SOLUTION. WE WELCOME YOU TO VISIT

OUR NEW WEBSITE OR SHOWROOM TO

EXPLORE THE BAYLISS EXPERIENCE AND

ALL THE OPTIONS AVAILABLE TO YOU

We offer a complete 'One Stop' process to turn your bathroom dreams into reality, which includes:

• A bespoke 2,500 sq ft showroom with over 20 bathroom displays located in Sutton Coldfield

• A specialist design team to create designs to match your every need

• Expert knowledge of our partner brands giving you access to superb products and tiles.

• In-house installation teams working to the highest possible standards

• Management of all aspects of the Project, providing you with a single point of contact, every step of the way

• For those customers who require a Supply Only service, access to all leading brands at competitive cost.

BAYLISS LIMITED, 23 GATE LANE, BOLDMERE, SUTTON COLDFIELD B73 5TR

0121 362 1800 - WWW.BAYLISSLIMITED.CO.UK
---
£79

£150

DESERT SAGE ETCHED CANDLE,

ELLA JAMES. WWW.ELLAJAMES.CO.UK

PEACH HAMMOCK, CIELSHOP.

WWW.CIELSHOPINTERIORS.COM

BY BOO UNBELEAFABLE

FLOOR LAMP, CUCKOOLAND.

WWW.CUCKOOLAND.COM

£769

DULUX HERITAGE PAINT IN ROPE

LADDER, AVAILABLE FROM

TIPPERS. WWW.TIPPERS.COM

£18

CALLIOPE POM POM POUFFE,

SWEETPEA & WILLOW.

WWW.SWEETPEAANDWILLOW.COM

EICHHOLTZ DESERT STAR TABLE

LAMP, SWEETPEA & WILLOW.

WWW.SWEETPEAANDWILLOW.COM

£39

£110

£40

£42

CIRCLE WOVEN JUTE RUG, KINFOLK

DECOR. WWW.KINFOLKDECOR.CO.UK

BUDDY BARREL CACTUS IN GARDEN

POT, SWEETPEA & WILLOW.

WWW.SWEETPEAANDWILLOW.COM

FAUX SAGURAO CACTUS, THE FIND STORE.

WWW.THEFINDSTORE.CO.UK

PATINA DESERT' MURAL BY SPACEFROG

DESIGNS, FROM £35/M2 FROM

WWW.WALLSAUCE.COM

20 www.jaimemagazine.com
---
Soak Up

the Sun

In Style THIS Summer

Barcelona Garden Furniture

PRICED

FROM

£195

Valencia Garden Furniture

IN STOCK

READY FOR

DELIVERY

THIS SUMMER

SETS OF

2, 4 & 6

AVAILABLE

The Home of Unique Furniture

Visit our Burntwood Furniture Showroom (WS7 3JG)

Shop online at www.peppermillinteriors.com

01543 375 872 | @peppermillinteriors

Scandinavian inspired

garden pods.

Designed, supplied and installed in Lichfield and throughout

the UK, our pods are available in a variety of sizes and finishes.

A bespoke service is also offered. See our website for details.

email: info@podhouse.co.uk

www.podhouse.co.uk

DUPLOCEM RANGE IN PERLA

CALIBRATED TO 20MM

1200MM X 600MM £58.32

PER M 2 INC VAT

EUROPA WAY, LICHFIELD, WS14 9TZ

01543 440000 TIPPERS.COM

MON-FRI

7:30AM - 5:00PM

SATURDAY

8:00AM - 2:00PM
---
DESERT VIEW METAL PRINT BY SPACEFROG DESIGNS,

FROM £69, AVAILABLE AT WWW.WALLSAUCE.COM

FAUX CACTUS PLANTS, £49 SMALL AND £109 LARGE,

BASKETS FROM £19, FROM PUJI. WWW.PUJI.COM

YELLOW DESERT READY-MADE TERRARIUM, £75, UK

TERRARIUMS BY LUSAN. WWW.UKTERRARIUMS.CO.UK

BOHO DESERT MOUNTAIN PRINT, £23,

GREEN LILI. WWW.GREENLILI.COM

SCANDI BOHO CANDLE PLANTER TRIO, £27,

CHILLIWINTER. WWW.CHILLIWINTER.CO.UK
---
Care UK leads the way in safety, with enhanced

infection control measures and purpose-built visiting

suites. We are championing the Covid-19 vaccination

programme to protect those living, visiting and working

in our care homes.

With over 35 years' experience, our highly trained

teams are experts in delivering award winning care.

If you're considering care for yourself or a loved one,

discover flexibility and assurance – ask about the

Care UK 28 day guarantee*.

Please contact us to discuss booking a one-toone

video chat or viewing on 01213 140531 or

aleksandra.luczynska@careuk.com

Experts in award winning care.

Trusted by over 6,500 families.

Rated

9.9

out of 10 on

carehome.co.uk

Mercia Grange care home

Lichfield Road, Sutton Coldfield B74 4EH

careuk.com/mercia-grange

TWO WEEKS'

FREE CARE

*Seven days' written notice required.

Proud to be a family run business for over 35 years

See our

new range of

'Clock' stoves

- all British

built

HOME IS WHERE THE WARMTH IS

Suppliers of: Contura, Clock, Jotul, Gazco, Scan, Town & Country Fires, ACR Heat Products and many more

Installers and suppliers of gas fires, bespoke limestone surrounds, and gas and woodburning stoves, since 1981.

1/7 High Street, Erdington B23 6RG Next to Highclare School

Telephone: 0121 384 5251 - www.abbeyfirecentre.co.uk

Open: Mon - Fri: 9am - 5pm (closed Wednesdays), Sat: 10am - 2pm

abbeyfirecentre @abbeyfirecentre abbeyfirecentreltd

For your safety and to observe social distancing we are asking that you

telephone or email to arrange a personal viewing of our showroom.
---
INTERIORS

Bring the

outside in

WITH the increasingly unpredictable nature of the British

climate - blazing sunshine in the morning, icy hailstones in

the afternoon sound familiar? - a summer spent enjoying

our great outdoors may not be as straightforward as it

sounds.

When rain threatens to stop play for our summer garden

soirees, it's time for conservatories and garden rooms to

come into their own, allowing us to enjoy the beauty of

our outside spaces without braving the elements.

Filling your space with natural materials will enhance that

outdoor vibe, so look for rattan, wicker, cane and wood

when it comes to furniture.

Add warmth through cosy textiles; a lush rug, soft blankets

and plush throw cushions will help to create that inviting

ambience, even when it's miserable outside.

For that truly outdoor feel, foliage is a must; make a

statement with dramatic potted grasses and trees, or go for

shelves filled with trailing greenery.

ANNIE SLOAN CHALK PAINT IN FLORENCE, PROVENCE AND

AMSTERDAM GREEN, £21.95/LITRE. WWW.ANNIESLOAN.COM

£11.95

£300

DRIFTWOOD COFFEE TABLE,

NEEDWOOD LIVING OF ALREWAS

AND TUTBURY.

WWW.NEEDWOODLIVING.CO.UK

FABULOUS FAUX GOLD FERN BUSH,

AUDENZA. WWW.AUDENZA.COM

£35

£34

GOLDEN CONCRETE FACE PLANTER,

AUDENZA. WWW.AUDENZA.COM

FAUX FERN IN POT, NEEDWOOD

LIVING OF ALREWAS AND TUTBURY.

WWW.NEEDWOODLIVING.CO.UK

24 www.jaimemagazine.com
---
£395

£1165

£22

CHARLESTED FRANKLIN TEAK LOUNGE

CHAIR. WWW.CHARLESTED.COM

£75

ALDER OUTDOOR FURNITURE SET OF SIX. PRE-ORDER NOW

FROM PEPPERMILL INTERIORS, BURNTWOOD BUSINESS PARK.

WWW.PEPPERMILLINTERIORS.COM

FAUX ONION GRASS, NEEDWOOD LIVING

OF ALREWAS AND TUTBURY.

WWW.NEEDWOODLIVING.CO.UK

SEAGRASS PLANT BASKETS SET OF FIVE,

NISI LIVING. WWW.NISILIVING.CO.UK

£300

SEAGRASS COFFEE TABLE, NEEDWOOD

LIVING OF ALREWAS AND TUTBURY.

WWW.NEEDWOODLIVING.CO.UK

BY BOO NATURAL BAMBOO PLANT

STAND, LARGE, CUCKOOLAND.

WWW.CUCKOOLAND.COM

£85

ANTIQUE PETAL PLANTERS SET OF TWO,

£76.95, AUDENZA. WWW.AUDENZA.COM
---
MUNDO ROCKING CHAIR, £209,

BEAUMONDE. WWW.BEAUMONDE.CO.UK

RAMINO COCKTAIL BAR TABLE, £199,

BEAUMONDE. WWW.BEAUMONDE.CO.UK

BLACK RATTAN CONTEMPORARY SOFA, £595,

ELLA JAMES. WWW.ELLAJAMES.CO.UK

GARDEN TRADING HAMPSTEAD BENCH,

£400. WWW.GARDENTRADING.CO.UK

26
---
L U X U R Y & S P E C I A L I S T T R A V E L

R E A D Y W H E N Y O U A R E

Based in the heart of Staffordshire in the picturesque

villages of Alrewas & Tutbury, our shops are packed

with ideas and inspiration for your home. Incorporating

Jo Raybould Interior Design within, for those who

require the services of a professional designer.

needwoodliving.co.uk

info@needwoodliving.co.uk

136 Main Street

Alrewas, DE13 7ED

01283 711 272

7A High Street,

Tutbury, DE13 9LP

01283 813 322

Refreshingly Different

Visit our Stylish Showroom

11 Belwell Lane, Sutton Coldfield, B74 4AA - Tel: 0800 996 1241

Visit our fantastic website www.jmiwindows.co.uk - enquiries@jmiwindows.co.uk

Windows | Doors | Bi-Fold Doors | Garage Doors | Conservatories | Secondary Glazing | Window Repairs
---
#LOVELOCAL

J'AIME

#LoveLocal businesses

THROUGHOUT 2021 WE ARE CELEBRATING SOME OF THE

BRILLIANT INDEPENDENT BUSINESSES ACROSS OUR PATCH

PODHOUSE

They're Scandi-inspired and available right across the UK, but

Podhouse's garden rooms are made right here in Lichfield.

Podhouse was founded by Phil and Harry because of their

passion for building and carpentry. With a collective 30 years in

the industry, they took a hard look at the market and decided that

poor quality, overcomplicated and expensive garden rooms were

a problem for their customers.

They have come up with a stylish range of garden pods available

in an array of different sizes.

To find out more visit www.podhouse.co.uk or email

info@podhouse.co.uk

JMI

JMI has been a family-run, independent business since 1979,

originally started by John Masefield and subsequently carried

forward by his son and daughter, Kevin and Sharon Masefield.

The 3,000sqft showroom in the heart of Mere Green says it

all. Stylish, innovative and modern, filled with a wealth of

fantastic products. So whether you're looking for heritage timber

alternative windows, sleek modern designs or a stunning new

front door, it's all there. The team stays on trend by keeping a

keen eye on the ever changing, exciting industry, striving to offer

the very best in choice and quality.

JMI installs in Sutton Coldfield, Lichfield, Tamworth and within

a 25 mile radius of the Mere Green showroom.

JMI, 11 Belwell Lane, Mere Green, Sutton Coldfield, B74 4AA,

0800 996 1241, jmiwindows.co.uk

MEYNELL INGRAM ARMS

A national newspaper recently named The Meynell Ingram Arms as

one of the best pubs with a beer garden and outdoor seating in the

whole of the UK, and it's not difficult to see why.

With its delightful garden rooms set in well-maintained gardens you

feel transported to a different, calmer place as you dine. It's like being

on holiday, but without the flight and the price tag.

A new menu has launched including the likes of secret garden sharing

platters, roasted chump of English lamb and Meynell Mess for dessert.

The Meynell Ingram Arms, Abbots Bromley Road, Hoar Cross, DE13

8RB, 01283 575988, www.meynellingram.co.uk

28
---
Jean Lamb Wealth Consultancy

My offices are situated in the historic city of Lichfield and I have been providing personal

wealth management advice to my clients for more

than 25 years.

I specialise in the following key areas

and welcome your enquiry:

• Investment Planning

• InheritanceTax and Estate Planning

• Pre and Post-Retirement Planning

• Care Fees Planning and Funding for Care

Telephone: 01543 417342

Website: www.jeanlamb.co.uk

Email: jean.lamb@sjpp.co.uk

Office: 6A Market Street, Lichfield, WS13 6LH

Jean Lamb Wealth Consultancy is an Appointed Representative of and represents only St. James's Place Wealth Management Plc (which is authorised and regulated by the Financial Conduct Authority)

for the purpose of advising solely on the Group's wealth management products and services, more details of which are set out on the Group's website www.sjp.co.uk/products.

Nothing can beat personal

advice when you're looking

to put the last few months

behind you and make plans to

look forward, whether that's a

last-minute getaway or you're

planning ahead to next year.

beyond the horizon

Let's create something to look forward to

You will always have the

support of a real person, be it

face-to-face, by video, phone

or email - whenever you need

me.

Charlotte Mitchell - Travel Counsellor

0121 314 6650 or 07860 944207

charlotte.mitchell@travelcounsellors.com
---
T R AV E L

Hidden Gems

TUCKED AWAY IN THE PICTURESQUE COUNTRYSIDE JUST OUTSIDE THE PRETTY

VILLAGE OF YOXALL, WOODMILL FARM IS HOME TO A SELECTION OF INDEPENDENT

BUSINESSES OFFERING AN ARRAY OF TASTY TREATS

If you're looking for an alternative to the

supermarkets to satisfy your weekly shopping

needs, or are after something a bit more special

for a delicious foodie treat, a hidden gem in the

Staffordshire countryside could be the answer.

Woodmill Farm, just outside Yoxall, is home to

a variety of top quality independent businesses

supplying everything from your meat and veg staples

to baked goodies galore - and a tipple or two to boot.

Paul Shum opened his butchers and deli at Woodmill

Farm nearly three years ago. The shop has since

expanded into the neighbouring premises to keep up

with demand from hungry punters seeking out the

best local produce around.

The well-stocked meat counter features a beautiful

selection of high quality, locally sourced cuts. In

fact, the beef couldn't get more local, coming

directly from Woodmill Farm itself, while free-range

Packington pork is also on the menu. A specially

selected family pack, priced at just £20, gives

customers the chance to sample a variety of meats

and poultry - perfect for meal-planning for the week.

The meat also makes it into Paul's famous

homemade pies, with hundreds of delicious pies

winging their way from Paul's kitchen each week.

Paul is passionate about supporting other local

independent producers, regularly seeking out small

suppliers to feature in the deli, where you can pick

up an array of cheeses and charcuterie, olives and

salads, sauces and dressings - and much, much more.

Add in the fresh fruit and veg, free range eggs and

other shopping essentials, and that's the weekly shop

sorted - locally.

Over at The Green Door Bakery and Patisserie,

which opened at the farm last year, customers

patiently queue for their chance to explore the treats

which await inside.

From freshly baked breads and pastries to indulgent

sweet treats and the prettiest and most delicate

continental-style patisserie, The Green Door has it

all.

It was owner Trish McCann's aim to offer the widest

possible choice, much like the bakeries over in

continental Europe and in her homeland of Ireland,

and The Green Door certainly doesn't disappoint.

Shelves are loaded with sourdoughs and bloomers,

crumpets and croissants, counters piled high with

delicious traybakes and pretty tarts, macarons and

muffins. But you'll need to be quick; supplies run

low as the day progresses, with happy customers

snapping up goodies galore.

In a nod to her heritage, Trish always has a selection

of Irish specialities, from farls to soda breads, and

pancakes which are made daily to her beloved mum

Mary's recipe.

Local walkers heading into the surrounding

countryside often stop off at The Green Door to pick

up some goodies, alongside a freshly brewed coffee,

tea or hot chocolate.

A truly family-run business, Trish is joined in the

shop by her two daughters Lauren and Holly, while

her son also helps out on the weekends.

Once you've picked up your produce and baked

treats, it's time to head to Scrummy's at the Barn for

drinks. Owner Jane Scrimshaw and the team pride

themselves on sourcing excellent locally produced

spirits, ciders and craft beers.

Scrummy's have also partnered with local wine

merchant Vin X, based in Barton-under-Needwood,

to supply quality local and organic wines which you

definitely won't find in the supermarkets.

The friendly and knowledgeable team is on hand to

help you choose the perfect bottle for any occasion.

30 www.jaimemagazine.com
---
Experience informal outside dining with

fantastic views at Moor Hall Hotel & Spa

in Sutton Coldfield this Spring!

Our Terrace is open for outside dining

every day from 8am to late

WOODMILL FARMS BARNS, YOXALL STAFFORDSHIRE DE13 8NA

AFTERNOON TEA*

NEW GRAZE & LAZE BOXES* FOR PICNICS

COFFEE REPUBLIC HOT DRINKS

FULL DRINKS MENU

BRUNCH | SANDWICHES | SALADS

PIZZAS | MAIN MEALS

OUR ETHOS IS ABOUT SUPPORTING AND PROMOTING OUR LOCAL INDEPENDENT

PRODUCERS THAT ARE UNIQUE INDIVIDUALS AND SMALL BUSINESSES …..

OFFERING AN UNUSAL, PERSONAL & EXCITING EXPERIENCE…

HERE ARE JUST A FEW OF OUR SMALL LOCAL HAND CRAFTED SUPPLIERS

* Please pre-book

Moor Hall Drive, Four Oaks, Sutton Coldfield B75 6LN

0121 308 3751 www.moorhallhotel.co.uk

Visit our website for menus and to pre-book your table

A real treat... right on your doorstep!

butchers and delicatessen

butchersofyoxall.co.uk

also ice cream & hot drinks

greendoorcaterers.co.uk

come to see us for a warm welcome

at woodmill farm, yoxall, de13 8pg

head out of yoxall and look out for the signs!

open tuesday to saturday every week
---
E D U CAT I O N

Imagine if school felt like a sleepover

EDUCATION DILEMMA? FLEXI-BOARDING COULD BE THE ANSWER

Parents who want their children to stay children

for longer will no doubt see the benefits of a school

offering wide-open spaces, climbing trees and

communing with nature in lesson time as well as

during playtime. With space at a premium in many

urban and suburban schools, a daily car ride into the

beautiful countryside that our region has to offer may

be an attractive prospect but may mean travelling

further afield than you initially thought practical.

The modern face of boarding means that settling

on that ideal balance could be within reach. Flexible

boarding options provide children with access to

everything a vibrant school community has to offer

coupled with the flexibility to have quality family

time.

So, what does 'flexi boarding' mean?

Flexi boarding places the child and their family in

the driving seat, so they can choose when they spend

nights at school.

For many children embarking on boarding for the

first time, it enables them to book individual nights

(comparable to a sleepover) to enjoy all the benefits

of a vibrant boarding community, such as additional

extra-curricular activities and spending more time

with their friends! It is also designed to fit in with

parents' work commitments or indeed the many

other pressures of everyday life.

What does the modern face of boarding look

like?

Headmaster of Repton Prep, Rob Relton,

emphasises the importance of creating a caring,

warm environment where children feel happy and at

ease in the company of their friends.

He explains: "Repton Prep's houseparents and their

families live with the boarders in each house, creating

a strong sense of family. The closeness of the

boarding community and the enormous emphasis

placed on caring for the emotional, physical and

mental wellbeing of each of our boarders ensures

every child thrives."

Repton Prep has a reputation for valuing the

innocence of childhood, so that pupils feel confident

and supported throughout their school journey.

Preferential class sizes – meaning children are placed

in a class size suited to their pace and capabilities –

nurture their strengths and qualities in order to help

them develop in other areas and allow them to reach

their full potential.

Mr Relton adds: "The Repton Prep community is

a supportive, purposeful and unbounded group of

young people – so much so that pupils often enrol

for day schooling and quickly swap to boarding so

that they can make the most of all the incredible

opportunities on offer."

That comes as no surprise when you discover that

the school is nestled in 55 acres of countryside, with

its own den-building wood, lake for watersports,

astroturf pitches, swimming pool, sports hall,

tennis courts, theatre, not to mention dogs that are

delighted to enjoy regular walks with gaggles of

enthusiastic children.

To find out more about Repton Prep contact

registrar Ellie Jones on 01283 707112 or visit

reptonprep.org.uk

32 www.jaimemagazine.com
---
What's on Local

W H AT ' S O N

AS RESTRICTIONS CONTINUE TO EASE, HERE ARE SOME OF

THE THINGS YOU CAN GET OUT AND ENJOY THIS MONTH

WHAT: SOLVE-ALONG-A-MURDER-SHE-WROTE

WHERE: LICHFIELD GARRICK THEATRE

WHEN: JUNE 12 AND 26

Cult hit event Solve-Along-A-Murder-She-Wrote comes to

Lichfield this month with an interactive screening of the

classic Murder, She Wrote episode Broadway Malady. Jessica

Fletcher heads to New York City but soon gets caught up in

a murder mystery only she (or the audience) can solve!

Solve-Along-A-Murder-She-Wrote is a unique and hilarious

night featuring games, prizes and audience participation, with special

permission from NBC Universal Television.

The show was rated one of 2019's 50 great nights out in London and it has

played to sell-out audiences across the UK and Australia.

WHAT: PHOTOGRAPHIC EXHIBITION

WHERE: CHAMBERLAIN SQUARE, BIRMINGHAM

WHEN: FROM JUNE 25

The Mission Critical outdoor exhibition will feature portraits of people

whose lives were saved by the Midlands Air Ambulance, which celebrates its

30th anniversary this year,

Renowned fashion and lifestyle photographer Nik Hartley, who has worked

with British Vogue and Vanity Fair France, captures each patient in this free

exhibition.

The photos can also be seen at Cars in the Park in Lichfield on July 3 and

4 with other locations around the Midlands set to be announced for the

summer.

WHAT: BOOK EXHIBITION

WHERE: LICHFIELD CATHEDRAL

WHEN: THROUGHOUT JUNE

Fantastic Books and Where to find them is a new exhibition of books that

you can visit at Lichfield Cathedral every day this month and through

until July 19.

Lichfield Cathedral's Library has an extraordinarily broad and varied

collection of books gifted to the cathedral, including a significant

bequest by the Duchess of Somerset in 1673.

The books in this collection, amongst other things, remind us of the

discourse around science and faith. How we have lived and worked

together for centuries, and how debate, discovery and conflict have changed

the way societies have thought about and described the world around them.

In this exhibition you will discover ancient but living texts that have been

influential in how we explore the world around us.

33
---
T R AV E L

The other side of Gran Canaria

OLIVER BROAD, OF RB COLLECTION, TOOK A SELF-DRIVE HOLIDAY AROUND GRAN

CANARIA THIS SPRING AND FELL IN LOVE WITH THE ISLAND ALL OVER AGAIN

PHOTOS BY OLIVER BROAD

My first visit to Gran Canaria was in 2004 for a

simple week on the beach, the most common reason

visitors flock to the island. Perfectly positioned off

the north west coast of Africa, the Canary Islands

offer year-round warm weather yet much more than

beaches and luxury resorts. I returned to discover

what else is on offer, needless to say I was pleasantly

surprised.

Our journey began at Las Palmas airport which is

just a 30 minute drive from the popular resorts of

Playa Del Ingles and Maspalomas and around 20

minutes from the capital city Las Palmas, our first

stop for two nights.

As we landed first thing in the morning we wanted to

make the most of our time before checking into the

city. We headed inland from the airport and quickly

climbed to some impressive heights.

Gran Canaria is the third biggest Canary Island

after Tenerife and Fuerteventura yet the second most

visited. It is very easy to escape the busier resorts and

be surrounded by nothing but deserted and picturepostcard

scenery, traditional villages and interesting

history. This is one of the reasons I love driving

holidays and exploring Mediterranean islands, it's so

easy and quick to experience a variety of scenery and

vistas plus it's relaxing to explore at your own pace.

We drove through Telde and then to La Higuera, Los

Veroles and turned right towards the Jardin Botanico

Viera y Clavijo. This detour inland worked out great

as it wasn't difficult to discover pretty spots to enjoy

along the way.

With stomachs rumbling we stopped at Restaurant

Jardin Canario, a great lunch stop next to the

Botanical Gardens where we enjoyed sumptuous

Mediterranean salads, traditional Papas Arrugadas

(Canarian wrinkly potatoes) and the perfect local

desserts made on site. All of this and we had only

landed three and a half hours ago!

After a look around the gardens it was time to

continue to Las Palmas.

Gran Canaria was known by its aboriginal

inhabitants, the North African Canarii, as Tamaran

(land of the brave). They reportedly arrived on the

island as early as 500BC. Spain conquered the island

in 1483 but more famously Christopher Columbus

spent time on the island prior to his first trip to the

Americas in 1492.

Las Palmas is the largest city on all the Canary

Islands and spreads out along 9km of coastline with

the historic district of Vegueta my top tip for the

focus of any first-time visitor.

Our base for a couple of nights was the grand

dame of the city, the Hotel Santa Catalina, Royal

Hideaway. This five star, opulent property oozes

history and old-time glamour and is around 20

minutes by foot into Vegueta, and a short drive of

the north of the city where the main beaches and

commercial areas are.

34 www.jaimemagazine.com
---
The hotel dates back to 1890 and has been

beautifully restored to offer modern amenities such

as a stunning rooftop infinity pool and everything

you expect from a five star hotel. It has certainly not

lost its charm with a very glamorous lounge room

with sparkling chandeliers and classic, turn of the

century decor. I wasn't expecting this at all, it is a real

hidden gem. You can imagine what it would be like

all those years ago, filled with explorers, traders and

celebrities on their journey to the Americas.

Blending a resort feel with a city location is always a

challenge for a hotel and the Santa Catalina does a

great job. It has a very distinct and grand design with

Moorish elements such as wooden balconies.

The grounds of the hotel, park, flower-lined

driveway and waving palm trees are a far cry from

the pretty desolate area that surrounds the airport. In

such a short space of time we had taken in so much.

A couple of nights is enough in Las Palmas and the

main attraction is wandering around Vegueta. Enjoy

an escorted walking tour and discover the interesting

maritime history or simply wonder yourself. The

walk from the hotel will take you through colourful

streets showcasing the vibrant past of the city. Side

streets are lined with pastel buildings that boast bold

accents of colour, all decorated with mosaics and

floral motifs as if they're fighting for attention.

Our second stop was Paradores de Cruz de Tejeda in

the centre of the island, high in the mountains. We

were really looking forward to this retreat to not only

see some scenery but also reconnect, have some time

out and breathe after a very stressful year.

We first took a slight detour to Mirador de Las

Coloradas, pretty much the most northerly part of

the island. From here you pull up and take some

beautiful photographs of the Atlantic, or if you like

walking (or surfing) park up by beach (Playa del

Confital) and experience dramatic waves and rugged

landscapes.

The journey from here to our next stop was only

about an hour non-stop, but of course with so many

colourful flowers and charming spots we took our

time to take it all in. The fields were lush and green.

We spotted Bougainvillea, Hibiscus, Blood Trumpet,

Bird of Paradise and Flame Vine as we left the buzz

of the city behind and entered deep into Canarian

rural life.

Working cattle farms blended with quaint villages,

holiday homes and rolling hills to create a really

enjoyable drive. Locals were polite to help us pass

and welcomed us into shops and cafes. Time seemed

to have stood still for many and our worries of the

pandemic floated quickly away as the fresh air and

tranquil surrounding eased us into a sense of calm.

Paradores de Turismo de Espana was established in

1928 to protect the historical and cultural heritage of

Spain, help promote local economies and care for the

environment. There are 96 of these state-run hotels

across Spain and her islands and each has its own

character. They are well known for their gastronomy

and unique experiences and are generally great value

for money.

Paradores de Cruz de Tejeda is no exception.

Located high in the mountains of Gran Canaria it is

a well-known base for hikers, cyclists and now social

media fanatics as they crave that ultimate photo

opportunity. The hotel is famous for its jaw-dropping

mountain views and each room has one. You can

enjoy the vista from your private balcony, from the

restaurant and even the spa with its infinity pool.

Even if you are not a big hiker you can still

experience a short walk from the back of the hotel

and in just a few minutes you are surrounded by

nothing but scenery, wildlife, more flowers and

the sound of rustling trees in the fresh mountain

air. Kaleidoscopes of butterflies danced around us

almost acting as little tour guides on our morning

hike.

We stayed for two nights and also took a short drive

35
---
down to the very beautiful village of Tajeda. This

traditional Canarian village is well worth a visit and

in the afternoons is popular for an ice cream and a

stroll with locals and visitors. In this area the popular

peaks of Pico de las Nievas (Snow Peak), Roque

Nublo (Cloud Peak) and Roque Bentayga create a

dramatic landscape.

Next time you visit Spain (or in Portugal look for the

equivalent Pousadas) I highly recommend looking up

a Paradore. Even if you stay for just a night, they will

no doubt enhance your stay and you will be helping

inject much needed funds back into the heritage of

the country.

After a few days of mountain air it was time for our

longest drive to the more popular side of the island

for a few days by the beach. The journey is only

around 48km and can be completed in around an

hour and 20 minutes, but we took nearly all day as

there is so much to see.

I would pack a lunch and enjoy a stop at one of the

many picnic stops, hiking trails or photo vantage

points along the way such as Llanos De La Lez. The

scenery turns into pine-filled forests, a total contrast

to the northeast colour floral vistas. For hikers, I

would recommend Aparcamiento de la Degollada de

La Goleta. From here you can walk up to El Fraile

for wonderful views of Roque Nublo from the other

side of the mountain compared to earlier in Tajeda.

The roads can be quite windy but are wide, quiet

and easy to drive. I recommend an automatic SUV

or 4x4 so you can focus more on the views and have

more height.

The scenery becomes more dramatic as you descend

towards the coast. We stopped for a short walk

around San Bartolome de Tirajana where we also

filled up with fuel and snacks. This is also where you

can start the famous hiking route of El Camino de

Santiago to Gádar.

We skipped the hike and instead continued our

journey; the beach was calling! Along the way there

are plenty more photo stops including Degollada de

la Yegua which was probably the most impressive.

You can stop here for sweeping views over the

canyon and nature reserve.

The island is well known for its Aloe Vera plants and

a stop at the Finca Canaries Aloe Vera Fataga is a

good idea to buy some home-grown products.

Just 30 minutes later we were on the coast and

checking into the Seaside Palm Beach Hotel in

the resort of Meloneras for a relaxing end to our

driving adventure. This is a firm five star favourite

of our clients and I can see why with superb service,

delicious food and spacious balconies with sea views.

A far cry from the hustle and bustle of Playa del

Ingles, Meloneras is home to a handful of luxury

resorts and hotels. I visited the top hotel on the

island, and in my opinion the best in all the

Canaries, the Seaside Grand Hotel Residencia. An

oasis of calm and sophistication, this small villagelike

boutique hotel offers nothing but the best

for discerning clients looking for a smaller, more

exclusive experience.

The area is perfect for those who like a stroll (it's

completely flat) with a long seafront with up-market

restaurants and boutiques very close by. The white

sandy beach is huge and will keep keen walkers

occupied for hours. For us however it was time to sit

back, relax and enjoy some important time together.

We looked back over our photos from the past few

days and had to remind ourselves where we were.

The romance of 17 years ago came flooding, after all

this was where we first came on holidays together. It

felt reassuringly familiar, yet everywhere we had seen

on our drive was completely new. The emotional

connection to exploring, reconnecting, reminiscing

and sharing was back because we were once again,

and finally, travelling together.

The island will always have a special place in our

hearts and now, in these post-pandemic times, we

feel so privileged to have explored even more and

enhanced its appeal as a special, memorable place

for us both and I'm sure we will return.

To plan a holiday to Gran Canaria contact Oliver or

Nathan on 01543 258631 or email

vip@rbcollection.com. Remember to mention

J'AIME when you call.

36 www.jaimemagazine.com
---
OPEN

FOR NEW

RESIDENTS

WE

REMAIN

COVID

FREE

We are delighted to announce that Darwin's at The George in

Lichfield has reopened, Monday to Saturday evenings from 6pm!

We have all the Covid-19 procedures in place to

ensure your visit is safe and comfortable.

Our new head chef Charlotte has created a delicious spring

menu packed with seasonal and locally sourced produce.

Rosemary Lodge Care Home for elderly ladies and gentlemen offers a level

of care, community and comfort that is second to none. Situated a short way

from the bustling City Centre of Lichfield and set in landscaped gardens,

Rosemary Lodge is light, spacious and beautifully decorated, offering residents

just the right combination of activity and relaxation. Residents are encouraged

to retain their independence and individuality whilst being fully supported to

live a fulfilled and enjoyable life.

Available Monday to Thursday evenings

and until 7pm on Fridays & Saturdays

2 courses: £18.50 | 3 courses: £21.50

Bird Street, Lichfield, WS13 6PR

01543 414822 www.thegeorgelichfield.co.uk

Visit our website for menus and to book your table

A family run concern that has been a highly regarded part of the community

for almost 30 years. Offering 24- hour care, fully trained staff work together

to communicate with residents to ensure that personal care needs are met in

a fully person-centred approach, thus building an important relationship of

trust and friendship.

Two qualified chefs offer a nutritionally balanced and varied menu, catering

for any dietary requirement, using fresh, locally sourced produce, served in

a spacious dining room that offers views out towards the Orangery and the

gardens and fountain.

The Orangery offers the perfect space for residents, family and friends to

meet up, chat enjoy coffee and snacks at any time of the year.

We are a trusted, local family, dedicated to providing

a truly personal service for those who need us

Burials, Horse-drawn Funerals, Bespoke

Funeral and pre-payment Funeral Plans available

All-inclusive Funeral Packages for

Cremation with no hidden costs

Including Crematorium, Doctor and

Religious/Non-religious Celebrant

Simple - £2,300

Traditional - £2,650

(includes family car, service sheets and floral tribute)

16 - 20 North Street, Cannock, WS11 0BA

01543 529813 (Anytime)

Visit our web and Facebook sites to see our reviews

www.omalleyfunerals.co.uk • www.facebook.com/omalleyfunerals

All rooms are en-suite, and are designed to comfortably accommodate

individuals and couples. Full wi-fi throughout to allow residents to keep in

touch with family and friends through video link or FaceTime.

Regular activities and entertainment include movement to music, musical

theatre groups, pet therapy, pub lunches, and visits to local events are regularly

organised. However, privacy and peace and quiet is also ensured. There is also

an on-site hairdressing and beauty salon.

Rosemary Lodge also offers respite care, holiday stay and limited day care.

Rosemary Lodge Residential Home

191 Walsall Road, Lichfield. Staffs. WS13 8AQ.

In the first instance please contact Jane Evans - Registered Care Manager

or Shirley Kent - Administration Manager.

01543 415223 - Email: roselodgehome@aol.com

www.rosemarylodgecarehome.co.uk

CQC RATING GOOD
---
FA S H I O N

Petal power

SPARK JOY WITH BEAUTIFUL BRIGHTS AND BLOOMING PRINTS AS WE

HEAD INTO A SUMMER OF POST-LOCKDOWN LIFE, SAYS AMY NORBURY

IT'S been a long time coming, but we're finally heading for

a summer of going 'out-out', with the prospect of staycays

and even vacays on the horizon. So after the best part of a

year of living in loungewear, it's time for our wardrobes to

receive a much-needed update.

The SS21 catwalk collections have been, understandably, a

bit of a strange mix. After all, designers were operating in

uncharted conditions, facing huge logistical challenges to

put together collections which were presented to the world

mostly via live streams and limited audiences, rather than

the pomp and celebration which usually makes up the series

of worldwide fashion weeks.

And perhaps more pressingly, with the pandemic-hit world

at the start of 2021 still a mishmash of unknowns, it was

more a case of exactly what will people be dressing for?

One of the overriding elements of many collections was

the emphasis on how clothes can make you feel. Getting all

dressed up can be a serious mood-booster and, with that

in mind, it's perhaps unsurprising that there were so many

fabulously flamboyant key pieces on show. To borrow a

sentiment from interiors guru Marie Kondo, this season is

all about fashion which spark joy.

Feel-good prints were at the heart of many collections, and

after the dominance of rainbow stripes, as we head into

summer it's all about beautiful blooms. Tried, tested and

trending right now, flamboyant florals will help to put the

fabulous back into your wardrobe.

The bolder, the brighter, and the more impactful seems to

be the only way forward. There's no room for wallflowers

here; instead, designers have been showcasing floral motifs

in egg yolk yellows, on neon tulip dresses, and on galaworthy

ball gowns in shades of pink so eye-searingly hot

you'll need shades to look straight at them.

Think oversized florals with this print and brighter than

bright colours. Wear bold blooms with simple neutral pieces

to let them shine or amp up the drama with a daring mix

and match ensemble.

ORANGE FLORAL MAXI DRESS, £99,

MONSOON. WWW.MONSOON.CO.UK

38 www.jaimemagazine.com
---
£150

MONICA FLORAL WRAP JUMPSUIT,

MONSOON. WWW.MONSOON.CO.UK

£75

£470

FEELING GROOVY FLORAL

CHIFFON MAXI DRESS, FREE

PEOPLE AT HARVEY NICHOLS.

WWW.HARVEYNICHOLS.COM

£80

POPPY FLORAL COTTON MAXI

DRESS, DIANE VON FURSTENBERG

AT HARVEY NICHOLS.

WWW.HARVEYNICHOLS.COM

£415

£7.50

MARGOT FLORAL PALAZZO

TROUSERS, TRAFFIC PEOPLE

AT HARVEY NICHOLS.

WWW.HARVEYNICHOLS.COM

FLORAL HEADBAND,

MARKS AND SPENCER.

WWW.MARKSANDSPENCER.COM

PRINTED COTTON MINI DRESS, TORY BURCH AT

HARVEY NICHOLS. WWW.HARVEYNICHOLS.COM

GREEN FLORAL UTILITY PLAYSUIT, £40,

RIVER ISLAND. WWW.RIVERISLAND.COM

PINK FLORAL BARDOT DRESS, FROM

A SELECTION AT RIVER ISLAND.

WWW.RIVERISLAND.COM
---
FA S H I O N

An uplifting experience

HAVE YOU HEARD ABOUT THE STAFFORDSHIRE LINGERIE BUSINESSES WHERE

BUYING UNDERWEAR HAS BEEN TRANSFORMED INTO A PAMPERING EXPERIENCE?

JENNY AMPHLETT MET OWNER JUSTINE OLDFIELD TO FIND OUT MORE

Buying underwear is more than just shopping when

you visit SoS Lingerie - it's an uplifting experience in

every sense of the word.

Based in the beautiful surroundings of The Deer

Park at Hoar Cross, the newest underwear retailer

in the Midlands is a world apart from picking up

a multipack of possibly ill-fitting bras during the

weekly shop.

Owner Justine Oldfield has set out to offer ladies a

luxurious, pampering experience where they can be

expertly measured and fitted in privacy.

They can try on bras with back sizes 26 to 48, cup

sizes A to K and priced from £25 to £150 until they

find something that's perfect for them.

Brands include Simone Perele, Empreinte and

Katherine Hamilton among many others.

"My business has been built on offering an

experience for ladies," says Justine, who has many

years of experience in the corporate world and in

retail.

"I originally set up a clothing business in a studio at

my home. I live in a beautiful cottage so when ladies

came to see me they loved it.

"I know that underwear shopping can be an

intimidating and not very engaging experience, so it's

important to me to offer something different to that."

When Justine adapted the business to offer lingerie

due to customer demand she decided to move to

new premises but was worried that she wouldn't find

somewhere that offered the same experience for her

customers - then she found The Deer Park.

"It's such a beautiful setting, down country lanes, and

customers can relax over coffee or food and do some

shopping in the other independent businesses while

they're here.

"It offers a wonderful experience and is a lovely place

to work and visit. It means I can continue to offer a

special experience.

Justine says it is important to her to offer a broad

range of lingerie, from luxurious high-end items to

more affordable pieces.

"I've been in a place where I've had to live on a

limited income and I know what a nice experience it

can be to just buy one thing for yourself, how it can

really affect you and give you a lift.

"At the other end of the spectrum I've travelled the

world with high net worth individuals and been

exposed to the kind of life that they lead.

"I've built my business to incorporate my own life

experiences so that I can offer customers a personal

experience in a relaxing environment that is also

accessible to all ladies."

Justine says it can be an eye opener for women

when they try on high end lingerie for the first time

- that they perhaps hadn't realised how much it can

enhance their figure and how good it can make them

feel.

"I often have ladies who say they don't spend more

than £30 on a bra but then when they try the full

range on they can feel the difference. It's all about

what works for the individual and some people

find the perfect underwear comes in at under their

budget."

SoS Lingerie is open three days a week for retail

sales, with private fittings available on other days by

appointment.

SoS Lingerie, The Deer Park, Maker Lane, Hoar

Cross, DE13 8QR, 07814 518 170,

www.soslingerie.co.uk, www.facebook.com/

SoSlingeriseedsofsuccess, www.instagram.com/

soslingerieseedsofsuccess

40 www.jaimemagazine.com
---
Collections include

Simone Pérèle

Katherine Hamilton

Bloomin Sexy

Curvy Kate

Empreinte

Wear my Freedom

e Deer Park

Maker Lane

Hoar Cross

DE13 8QR

07814 518 170

www.soslingerie.co.uk

Exclusive and stunning lingerie and swimwear

アパート 夀 䔀 䄀 刀 匀 伀 䘀

䈀 䔀 匀 倀 伀 䬀 䔀 䘀 䤀 一 䔀 䨀 䔀 圀 䔀 䰀 䰀 䔀 刀 夀 ꀀ

Specialists in transforming

伀 older 渀 攀 漀 昀 琀 栀 pieces 攀 氀 愀 爀 最 攀 猀 琀 of 挀 漀 氀 jewellery

氀 攀 挀 琀 椀 漀 渀 猀 漀 昀

into brand new designs in

our on-site workshop

挀 漀 渀 琀 攀 洀 瀀 漀 爀 愀 爀 礀 ǻ 渀 攀 樀 攀 眀 攀 氀 氀 攀 爀 礀 椀 渀 琀 栀 攀 唀 䬀

匀 瀀 攀 挀 椀 愀 氀 椀 猀 琀 猀 椀 渀 搀 攀 猀 椀 最 渀 椀 渀 最 愀 渀 搀 洀 愀 欀 椀 渀 最 Ⰰ

爀 攀 洀 漀 搀 攀 氀 氀 椀 渀 最 愀 渀 搀 爀 攀 昀 甀 爀 戀 椀 猀 栀 椀 渀 最 昀 漀 爀 アパート 礀 攀 愀 爀 猀

ALLEN 䄀 䰀 䰀 䔀 一 䈀 BROWN 刀 伀 圀 一 䨀 JEWELLERY

䔀 圀 䔀 䰀 䰀 䔀 刀 夀

䠀 Heart 攀 愀 爀 琀 漀 of 昀 吀 The 栀 攀 䌀 Country 漀 甀 渀 琀 爀 礀 匀 Shopping 栀 漀 瀀 瀀 椀 渀 最 Village 嘀 椀 氀 氀 愀 最 攀

匀 Swinfen, 眀 椀 渀 昀 攀 渀 Ⰰ Lichfield, 䰀 椀 挀 栀 ǻ 攀 氀 搀 Ⰰ

匀 Staffordshire 琀 愀 昀 昀 漀 爀 搀 猀 栀 椀 爀 攀 WS14 圀 匀 㐀 9QR 㤀 儀 刀

01543 㔀 㐀 アパート 㐀 481948 㠀 㤀 㐀 㠀

眀 www.allenbrownjewellery.co.uk

眀 眀 ⸀ 愀 氀 氀 攀 渀 戀 爀 漀 眀 渀 樀 攀 眀 攀 氀 氀 攀 爀 礀 ⸀ 挀 漀 ⸀ 甀 欀

昀 椀 琀
---
W E D D I N G S

With this ring

LIBBY JOHNSON, DIRECTOR OF JOHNSONS JEWELLERS,

EXPLAINS HOW TO CHOOSE THE PERFECT WEDDING RING

Choosing the perfect wedding ring has to be one of

the most crucial tasks ahead of getting married. After

all, these small, delicate momentos of precious metal

hold extreme sentiment for the rest of our lives. They

are a symbol of eternal love and fidelity.

Choosing the right design can sometimes be

overwhelming, as there are numerous designs out

there. This is why, at Johnsons Jewellers, we have

created a helpful guide to give you and your loved

one the insight into the world of wedding rings.

The tradition of wearing wedding rings exchanged

between spouses dates back to the Ancient Egyptians.

Although the rings were not made from precious

metals like today, they were delicately created from

more organic materials such as hemp.

Craftsmanship has adapted rapidly over the decades

however beliefs have remained the same.

Many people ask why a wedding band is worn on

the left hand and on the fourth finger. The ideology

is this particular finger on the left hand has a 'vein

of love', which directly leads to the heart. It is not

uncommon however in Eastern European countries

such as Russia and Poland that wedding bands are

worn on the right hand. In the Netherlands rings

are worn on both hands, historically to represent

the religion of its wearer; Catholics (left hand) or

Protestants (right hand).

Today wedding rings are usually made from precious

metals such as gold, platinum and more recently

palladium, a sister metal to platinum. Industrial

metals such as titanium or cobalt are also accessible

for clients looking for an even harder wearing

material. The perpetuity of these noble metals

symbolises the permanence of a marriage.

TRADITIONAL PLAIN WEDDING BAND:

For many years people have opted for the simplicity

of a plain wedding band. Traditionally the wedding

band is slightly wider than the engagement ring itself.

Choosing the correct width is important not only for

maximum comfort for the wearer but also to suit the

size of a person's hand. The objective of a wedding

ring is to compliment the engagement ring - not to

upstage it.

Traditional court: The traditional court is no

doubt the most traditional of the wedding ring

profiles. It is rounded on the inside and the outside

to give a curved appearance. This type of ring

compliments a wide variety of engagement rings and

is also available in all precious metals.

Flat Profile: This profile of wedding ring is flat on

all surfaces. It can give the appearance and feel of a

more modern, heavier-set ring. This profile is more

attractive to gentlemen. Once again, it is available in

all precious metals.

Flat court: This is a fusion between the flat profile

and the traditional court. It has a curved inner edge

but maintains the look of a flat profile. This style sits

beautifully next to most engagement rings and is also

favoured by gents.

D Shape: This traditional profile has proved

popular with ladies and gents. The profile has a

distinctive domed outer edge. It is available in all

precious metals.

42 www.jaimemagazine.com
---
PATTERNED WEDDING BANDS:

Patterned wedding bands are for those who are after

a classic ring but with a twist. From Celtic designs

to dazzling diamond-cut, there is a pattern for each

person's taste. Some careers do not allow stone-set

jewellery, so a patterned wedding band could be an

excellent alternative.

TWO OR THREE COLOUR WEDDING

BANDS:

Multi-coloured wedding bands are definitely rising in

popularity. This design of band is an excellent idea

for those who love to mix and match different colours

of gold. For many, this design goes perfectly with

two-tone watches they may also have. Some partners

may wish to have different coloured wedding bands

but still wish to match; by choosing a two or three

colour ring you can have the best of both. We have

the technology to allow customers to create their

own bi-colour ring. Simply choose the base metal

you wish from various precious metals and then pick

a sleeve metal to compliment. This type of wedding

band is also available in different finishes and

patterns.

DIAMOND-SET WEDDING BANDS:

For those who love a little sparkle, having a diamondset

band can be the right choice. A useful tip for

ladies having a diamond wedding band is to try and

match the same setting from the engagement ring.

Popular diamond-setting styles include:

Channel set: This style is available in most precious

metals. The channel set is a modern, clean look.

Most ladies have this as half diamond coverage

across the band. Channel set is usually available with

round, brilliant-cut diamonds, princess cut or even

the fancy mixed stone variety. This is a very secure

setting where the diamonds are flush within the metal

setting, resulting in peace of mind for daily wear.

Vintage milgrain/grain set: This style works

with antique or vintage-inspired engagement rings. It

also looks fantastic with a classic solitaire ring of any

cut. This band is available in various precious metals

and diamond sizes.

Micro claw set: This is a very similar design

style to the traditional claw set, the micro pave set

wedding bands refer to very uniform sized diamonds

set with smaller, deeper-set claws. This is a slimmer

and more feminine design of ring. It is available

in most precious metals and different diamond

coverage.

OPTIONAL PERSONAL TOUCHES:

Add the finishing touch to your wedding rings

with personal engraving. Most customers opt for a

wedding date engraved on the inside of the rings

(width dependant). It's a super handy reminder tool

for your partner.

When you purchase wedding rings from us we offer

a complimentary engagement ring clean and polish

before your special day.

For more information about creating

your own bespoke wedding ring visit:

www.johnsonsjewellers.co.uk/bespokering-builder

www.jaimemagazine.com

43
---
B E AU T Y

Tackling men's skincare needs

MEN ARE NOW GIVING WOMEN A RUN FOR THEIR MONEY WHEN IT COMES TO LOOKING

AFTER THEIR SKIN, BUT IF YOU ARE NOT SURE WHERE TO START THEN ALL THOSE LOTIONS

AND POTIONS CAN BE A LITTLE CONFUSING. ROYAL FACIALIST AND HEAVEN SKINCARE

FOUNDER DEBORAH MITCHELL SHARES HER TOP GROOMING TIPS.

Time was when looking after your appearance was

very much the women's domain. While guys went for

a rough and ready approach to their daily regimen,

it was the fairer sex who spent hours in front of the

mirror. But things have certainly changed…from

beard oils and anti-ageing essentials to high tech

facials and fat busting treatments, men's grooming is

now a multi-billion-pound industry.

When I was creating my men's skincare collection it

was important for me to take into account different

needs and lifestyles – I wanted to offer an edited

collection of essentials that combined timeless style

with clear functionality.

FIND OUT YOUR SKIN TYPE:

Do you have dry, oily skin? Or maybe

it is a little on the sensitive side? By

working out what type of complexion

you have you can pick the right

products to ensure it looks its best.

Because most men have combination

skin, choose lightweight, easily

absorbed products that can add

hydration to areas most in need. My

Cooling & Soothing Hydrogel

(£19) provides much needed relief

from post-shave irritations; you can

also keep it in your gym bag to use as a

great post-work out boost for your skin.

ADD PRODUCTS TO YOUR

SHAVING RITUAL: You may well

understand how to shave correctly

but aftercare is important to keep

skin in tip top condition. My SOS

Shave Oil (£46) helps protect and

repair damage, improving texture and

adding nourishment; simply add a few

drops to your shaving cream for added

nourishment or use after to provide

relief and repair. You can also leave it on

overnight for a more intensive skin treat.

OPT FOR

ANTI-AGEING

PRODUCTS: As

your skin ages, its

requirements change –

it may be less hydrated

and fine lines and

discolouration start to

appear. My best-selling

M4M Anti-Ageing

Moisturiser (£64)

provides essential

nutrients and feeds the

skin whilst relieving

stress, leaving you with a more youthful and tighter

complexion. You can use this moisturiser in the

morning after your cleansing routine and before bed

as an effective night cream.

LOOK AFTER

YOUR EYE AREA:

The skin around

your eyes can be one

of the first to show

signs of ageing so it

is important to use

products that are

specifically designed

for this delicate area.

Try Heaven's O2

Eye Cream (£37)

to help tackle fine lines and wrinkles and promote

healthier looking skin. Its non-greasy solution is great

for perking puffy tired and dull eyes too, and you

only need a tiny amount dotted along the orbital

bone.

You can shop the complete Heaven's grooming range

online at heavenskincare.com.

44 www.jaimemagazine.com
---
We make it happen

Moving House

Family Matters

Wills

Cannock

01543 466 660

Lichfield

01543 263 456

Halesowen

0121 550 0010

Sutton Coldfield

0121 716 3716

Curtains | Blinds | Wallpaper

Refresh your home with

soft furnishings from our family

owned and run business

3 year guarantee

Expert fitting service

Best of Lichfield «««««

Top brands across all price ranges

Lichfield Showroom

NOW Lichfield OPEN

Showroom

Interior Choice

Interior 1st Floor Choice,

Sure First Store Floor

Sure WS13 Storage 6UY

Eastern Avenue

Lichfield

Sale starts Jan 4th

WS13 6UY

25% off Selected ranges

By appointment only. FREE parking. Please book in

online: www.interiorchoice.net or call 01543 406162

PHOTO ME
---
I N T H E N E W S

In expert hands

THE LARGEST INDEPENDENT LUXURY BATHROOM SHOWROOM IN THE REGION

HAS A NEW OWNER - WHO HAS AN ENCYCLOPAEDIC KNOWLEDGE OF

BATHROOMS AFTER STARTING HIS CAREER AS AN APPRENTICE PLUMBER

Bayliss Bathrooms, in Boldmere, Sutton Coldfield

was set up in 1929 and has gone on to become the

largest independent showroom of luxury bathrooms

in the region.

The business has had just three owners in all that

time with the latest very proud owner being Anthony

Biswas - a former apprentice plumber who founded

his own bathroom installation company.

Anthony's installation company, Desire Bathroom

Interiors, had worked for Bayliss for several years so

when the opportunity arose to purchase Bayliss he

knew what he had to do.

He said: "Notwithstanding the continued success of

the Desire Bathroom Interiors brand, I identified

that there was still a preference for some customers

to see, touch and feel the products, tiles and

associated equipment before they invested heavily in

luxury bathrooms.

"Bayliss was a successful bathroom products

supply business, but it did not provide an inhouse

installation service. It had been clear to

me for several years that many a large investment

in expensive bathroom products can be very

detrimentally impacted by poor installation, and with

my strong technical and installation background I felt

I was able to provide the missing, and critical, piece

of the jigsaw."

Anthony now trades under two very complementary

brands, Desire Bathroom Interiors and Bayliss.

These brands provide access to a wide range of

products and services which can be accessed online

or via the showroom.

Anthony said: "My vision, and my passion, is to

turn customers' dream bathrooms into reality, and

to continue to develop the business into the leading

designer, supplier and installer of luxury bathrooms

in the West Midlands.

"I believe we are fairly unique in being able to

provide an all embracing project managed design,

supply and installation service. Our services extend

to include bathrooms, cloakrooms, ensuites, and

wetrooms, as well as providing all the associated

services such as plasterwork, joinery, electrics,

flooring, decoration and building work.

"We provide this all as a 'one stop' service, removing

from the customer the stress of sourcing the various

trades and coordinating the project, enabling them

to relax and watch their dream turn into reality. We

always strive to exceed customer expectations, so

please feel free to contact us to see how we can help

you."

Customer service and quality workmanship are both

key to Anthony's success.

He added: "I find that customers are very much

attracted to our technical knowledge and experience,

rather than a glossy sales pitch. In addition, many

customers like to visit us not just to see designs and

the products, but also to discuss and receive strong

technical guidance on the installation process, taking

confidence from our experience in all these areas

combined into our project managed service."

Bayliss, 23 Gate Lane, Boldmere, Sutton

Coldfield, B73 5TR, 0121 362 1800,

enquiries@baylissbathrooms.co.uk,

www.baylissbathrooms.co.uk

Desire Bathroom Interiors, 0121 362 1809,

enquiries@desireinteriors.co.uk,

www.desireinteriors.co.uk

46 www.jaimemagazine.com
---
HOUSE CLEARANCE EXPERTS

We don't cherry-pick! Our team

handles the entire clearance

Discover that hidden gem with your local auctioneer

Probate and formal valuations

for inheritance tax purposes

Our reliable and sympathetic

team can assist all executors in the

administration of deceased estates

From jewellery and large

collections to cars, furniture and

household items, we handle

everything

Comprehensive, bespoke

clearance service and

downsizing solutions

We handle clearance of an entire

estate from houses, bungalows and

flats to offices and all

other buildings

We specialise in:

Antique and modern jewellery

Watches

Gemstones

Silverware

Coins, medals and militaria

Works of art

Whisky and wine

Vintage toys

Stamps and ephemera

Cameras and record collections

Scientific equipment

Antique and modern furniture

Modern toys and Pokémon

Musical instruments

Qualified

All members of our jewellery

department are certified

gemmologists and

diamond graders

Record-breaking

international sales

More than 3,800 bidders from

all over the world joined our

online auctions last month

Online services available

Virtual estimates, online auctions

and contactless collections.

'Click and collect' service

for consignments strictly by

appointment only

NEW - STRICTLY BY APPOINTMENT ONLY

FREE Thursday Valuations

For Jewellery, Watches & Silver with gemmologist

& diamond grader Heather Callaway. 9.30am - 4pm

FREE General Valuations

With our team on Thursdays from 9.30am - 4pm

Call 01543 251081

Established – Professional – Transparent

The Winterton family name has been synonymous

with auctioneering in Staffordshire since 1864

01543 251081

www.richardwinterton.co.uk

richardwinterton@richardwinterton.co.uk

The Lichfield Auction Centre

Wood End Lane

Fradley Park

WS13 8NF

J'Aime Ad 190x280 - Feb and ideas 2021.indd 1 12/05/2021 16:10
---
44 www.jaimemagazine.com