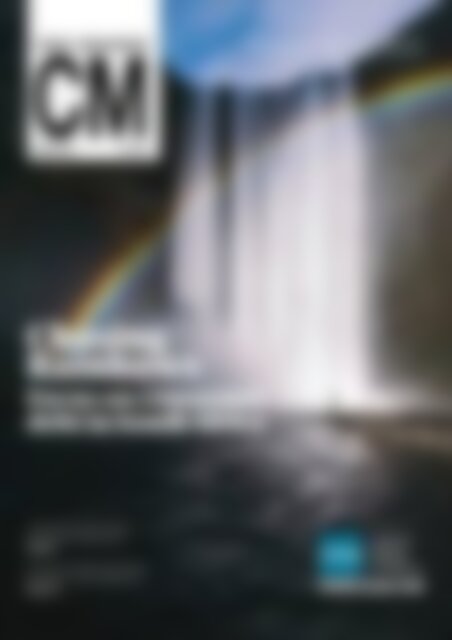 You also want an ePaper? Increase the reach of your titles
YUMPU automatically turns print PDFs into web optimized ePapers that Google loves.
CREDIT MANAGEMENT

CM

JUNE 2021 £12.50

THE CICM MAGAZINE FOR CONSUMER AND

COMMERCIAL CREDIT PROFESSIONALS

Chasing

Rainbows

Focus on consumer

debt in South Africa

Is the debt advice sector

heading for meltdown?

Page 8

How has COVID impacted the

market for credit insurance.

Page 32
---
Struggling to

stay on top

of payments?

Why not let us manage your

sales ledger and credit control?

With 10,000 employees and 80,000 clients

across 25 countries, we know how to take the

pain out of payment – maximising cash flow while

maintaining positive customer relationships.

We can manage the full credit lifecycle

from ledger management and payment

allocation to late stage collections.

20% discount

quote reference: CM Magazine

INTRUM

ADVERT

Your customers are

safe in our hands.

Talk to us about your needs:

Phil Hickson

phil.hickson@intrum.com

07776 513535
---
JUNE 2021

www.cicm.com

CONTENTS

10 – A RUDE AWAKENING

A look at Insolvency and Tax Avoidance

Schemes.

13 – MANAGE AND MEASURE

Industry needs to keep an open mind to

future test and screening services.

18

LEAD ARTICLE

Zak King

14 – INJECTION OF LEARNING

How J&J is benefitting from a new CICM

L&D partnership.

16 – FALLEN CROWN

Karen Savage considers the impact of

Crown Preference on creditors.

18 – AFRICAN MISADVENTURE

Consumer debt advice in South Africa

bears some striking similarities with

the UK.

24 – SLEEPING GIANT

South Africa is a country with its fair

share of troubles and opportunity.

32

BLIND FAITH

Sean Feast FCICM

CICM GOVERNANCE

10

INSOLVENCY

Elliot Green

President Stephen Baister FCICM / Chief Executive Sue Chapple FCICM

Executive Board: Chair Debbie Nolan FCICM(Grad) / Vice Chair Phil Rice FCICM / Treasurer Glen Bullivant FCICM

Larry Coltman FCICM / Victoria Herd FCICM(Grad) / Philip Holbrough MCICM

Advisory Council: Laurie Beagle FCICM / Glen Bullivant FCICM / Alan Church FCICM(Grad) / Brendan Clarkson FCICM

Larry Coltman FCICM / Niall Cooter FCICM / Bryony Crossland FCICM(Grad) / Peter Gent FCICM(Grad)

Victoria Herd FCICM(Grad) / Philip Holbrough MCICM / Neil Jinks FCICM / Charles Mayhew FCICM / Debbie Nolan FCICM(Grad)

/ Allan Poole MCICM / Alice Purdy MCICM(Grad) / Matthew Roberts MCICM / Phil Rice FCICM / Chris Sanders FCICM

Stephen Thomson FCICM / Sarah Wilding FCICM / Atul Vadher FCICM(Grad)

View our digital version online at www.cicm.com. Log on to the Members'

area, and click on the tab labelled 'Credit Management magazine'

Credit Management is distributed to the entire UK and international CICM

membership, as well as additional subscribers

Reproduction in whole or part is forbidden without specific permission. Opinions expressed in this magazine do

not, unless stated, reflect those of the Chartered Institute of Credit Management. The Editor reserves the right to

abbreviate letters if necessary. The Institute is registered as a charity. The mark 'Credit Management' is a registered

trade mark of the Chartered Institute of Credit Management.

Any articles published relating to English law will differ from laws in Scotland and Wales.

32 – BLIND FAITH

How has COVID impacted the market

for credit insurance. PART 1.

36 – STOP PRESS

Key trends in the print and packaging

sector.

38 – RASH JUDGMENT

COVID-19, disease clauses and business

interruption.

Publisher

Chartered Institute of Credit Management

The Water Mill, Station Road, South Luffenham

OAKHAM, LE15 8NB

Telephone: 01780 722900

Email: editorial@cicm.com

Website: www.cicm.com

CMM: www.creditmanagement.org.uk

Managing Editor

Sean Feast FCICM

Deputy Editor

Iona Yadallee

Art Editor

Andrew Morris

Telephone: 01780 722910

Email: andrew.morris@cicm.com

Editorial Team

Sam Wilson, Imogen Hart, Rob Howard

and Max Tyson.

Advertising

Russell Bass

Telephone: 020 3603 7937

Email: russell@centuryone.uk

Printers

Stephens & George Print Group

2021 subscriptions

UK: £112 per annum

International: £145 per annum

Single copies: £12.50

ISSN 0265-2099

Advancing the credit profession / www.cicm.com /June 2021 / PAGE 3
---
EDITOR'S COLUMN

Why has the need for

debt advice fallen?

Sean Feast FCICM

Managing Editor

THE world of consumer

credit is rarely dull, and the

last few weeks have proved

it. For those looking for

certainty, there is very little

to be certain about.

Various anecdotal stories from debt

collection agencies regarding the volume

and values of collections reaching record

highs appear to have been confirmed

by a Q1 report from Lowell (see news).

The pace of recovery of deferred FY20

UK collections, it says, is ahead of

expectations.

Consumers, it appears, have been using

furlough and other Government support

schemes to get their respective houses

in order, and DCAs have been more than

willing to help. Active, early engagement

between creditor and consumer, as so

often championed by the likes of the CSA,

has been paying off. Literally.

But the good news from the collections

industry has been offset by less good

news from the debt advice sector (see

our lead news special). StepChange,

one of our most respected debt advice

charities, has found itself in a bit of a

pickle, and obliged to lay off up to 170

staff. Its CEO blames funding issues, a

subject discussed in these pages on many

occasions.

There is no doubt that the current

funding models are flawed, but there is

also no doubt that some of the funding

that is provided is not going to the front

line and is instead being squandered on

overhead. That may be grossly unfair,

but it's certainly an opinion that has been

aired in public before, and high salaries

and expensive offices are always difficult

for charities to defend, regardless of the

audiences they serve.

StepChange stated that its original

expectation of advising 400,000 clients

this year is not going to materialise, and

since the charity's income is based upon

how many clients it helps (the charity

supported 200,000 clients across the UK

in 2020, compared to more than 300,000

the previous year), the CEO was left with

no choice other than to cut his cloth

accordingly.

So why are the expected numbers so

dramatically adrift? There will be many

reasons. Government support will be

one; forbearance another. But could there

also be another reason? Could it be that

the advice customers receive when they

engage with a creditor from the outset

means that the advice of a third party is no

longer required? Perhaps that is a stretch,

but again, anecdotally, the industry is

telling me that levels of customer/creditor

engagement are the highest they have ever

been, and that is now being evidenced by

the facts. Whether it continues will be the

challenge.

StepChange believes that the need for

debt advice will surge once Government

support is withdrawn. I expect it is right.

But then I've given up being certain of

anything these days, and it might be a

good plan for the debt advice sector,

agencies and the regulators to do the

same.

Advancing the credit profession / www.cicm.com /June 2021 / PAGE 4
---
CMNEWS

A round-up of news stories from the

world of consumer and commercial credit.

Written by – Sean Feast FCICM

Open banking demand triples

during COVID-19 pandemic

THE number of people

choosing to share their

data through open

banking has tripled since

the start of the COVID-19

pandemic, according to

the latest statistics from Experian.

In February, Experian's Open Data

Platform saw more than 188 million

data sharing requests (up from 47

million in February 2020) – 30 percent

of the 669 million requests made in

the UK overall. More than half (57

percent) of lenders have adopted open

banking technology in the last 12

months, helping people manage their

finances in more fluid and intuitive

ways online.

An accelerated shift towards digital

banking has seen a greater number

of people taking advantage of a new

wave of convenient apps and services

that can help them manage their

finances. As a result of the pandemic,

Experian suggests many people

have turned to digital – as accessing

branches, or using cash, became

increasingly difficult, particularly

during lockdown.

Research showed one in five UK

adults started using online banking

powered apps during lockdown. Over

half of Britons (54 percent) now say

they now use them regularly.

Lisa Fretwell, Managing Director

of Data Services at Experian, says the

business has witnessed an incredible

boom in digital financial tools over

the course of 2020: "Open banking has

the potential to do so much good –

transforming the way people manage

their money, helping them plan for the

future with confidence," she explains.

"The next step is about moving as an

industry to help build understanding

about the benefits of Open Banking

tools, so that everyone can feel

confident in how and when they want

to share their data, and the value they

get in return."

Lisa Fretwell

Managing Director of

Data Services at Experian

"Open banking has the

potential to do so much

good – transforming

the way people manage

their money, helping

them plan for the future

with confidence."

Profit warnings fall amidst ongoing uncertainty

UK quoted companies issued 50 profit

warnings in Q1 2021, an 83 percent

decrease from the 301 warnings

recorded in Q1 2020.

According to EY-Parthenon's latest

Profit Warnings report, this is the

biggest year-on-year percentage fall

in UK profit warnings on record. Profit

warnings were pushed to record levels

in Q1 2020 at the onset of the pandemic

but began to fall from the middle of last

year. Most FTSE sectors saw significant

falls in profit warning numbers at the

start of 2021, as the global vaccine

roll out bolstered the economy and

earnings forecasts, according to

the report. However, the continued

withdrawal of forecasts by 15 percent of

FTSE 350 companies indicates ongoing

uncertainty.

Alan Hudson, EY-Parthenon

UK&I Turnaround and Restructuring

Strategy Leader, says a low level of

profit warnings are an indication

of a temporary breathing space for

companies: "If they haven't already, this

is a time for UK business to reset and

ready themselves to rebuild.

"The impact of the pandemic won't

automatically reverse when lockdown

ends. For many businesses, pressures

will intensify as they restart operations,

Government support tapers, and

working capital becomes stretched."

EY-Parthenon analysis suggests that

Government support, combined with a

moratorium on winding-up petitions,

has significantly reduced corporate

insolvencies over the course of the

pandemic (even though they may now

be on the rise): more than 6,000 extra

companies would have entered an

insolvency procedure by this point if

insolvency levels had continued on the

same trajectory as pre-March 2020.

Advancing the credit profession / www.cicm.com /June 2021 / PAGE 5
---
NEWS ROUNDUP

New statistics suggests

insolvencies may be on the rise

INSOLVENCIES may be on the

rise, according to the latest

insolvency statistics, despite

ongoing Government support

keeping many businesses afloat.

There were 2,384 seasonally

adjusted corporate insolvencies in

Q1 2021, a reduction of 21.9 percent

compared to Q4 2020's figures of 3,053

and a fall of 38.3 percent compared to Q1

2020 (3,863).

Colin Haig, President of insolvency

and restructuring trade body R3 and

Head of Restructuring at Azets, says the

quarterly fall in corporate insolvencies

– to the lowest quarterly total on

record – has been driven by a drop in

all corporate insolvency processes:

"However, the increase in corporate

insolvencies between February and

March of this year, which was reported

earlier this month, suggests corporate

insolvencies may now be on the rise.

"It's clear Government's support

measures are still helping to keep

businesses going, but they have pushed

back rather than prevented the financial

pain of the pandemic from translating

into a sharp, sustained increase in

corporate insolvencies."

The total number of corporate

insolvencies between April 2020 and

March 2021 fell by more than a third

compared with the same period a year

earlier, while GDP fell nearly eight

percent during the same period. A drop

in corporate insolvencies of this scale

during an economic climate like this

suggests that corporate insolvencies are

likely to rise – and rise sharply – in the

future. "The first three months of 2021

have been tough for businesses and

followed a year of pandemic-induced

problems – shutdowns, re-openings,

and the challenges of working in a way

that's compliant with social distancing

guidelines.

"The first three months

of 2021 have been

tough for businesses

and followed a year

of pandemic-induced

problems – shutdowns,

and re-openings.''

"Looking more widely, the economy

has not recovered from the onset last

April of the unprecedented economic

contraction, while consumer confidence

has also remained low. And although

consumer spending increased towards

the middle of March this year, it still

remained well below 2019 and 2020

levels for the majority of the first three

months of this year."

As the COVID restrictions lift and

normality returns, Colin says businesses

face three key challenges: "First, they

need to keep a careful eye on their

cashflow levels to ensure they don't fall

into the trap of over-trading. They also

need to make sure they have a plan for

reopening in a way that's sustainable, so

they don't undo their efforts to survive

the last year by mismanaging the next

couple of months. And they need to

think about how they will manage when

the Government support measures end.

"Many company directors have

delayed planning for this, but they

need to use the remaining time they

have to put a plan in place for the final

quarter of this year and beyond, before

the majority of the measures end in

June, and furlough is wound up in

September."

There were 29,140 seasonally adjusted

individual insolvencies in Q1 2021, a fall

of 5.3 percent compared to Q4 2020's

figure of 30,769, and a rise of 0.7 percent

compared to Q1 2020 (28,936).

Bankruptcies in particular are notably

lower this quarter than in Q4 of 2020,

and Individual Voluntary Arrangements

have also decreased, with the fall in

Debt Relief Orders less abrupt. The

quarter-on-year rise, meanwhile, is

driven entirely by a notable increase

in IVAs.

"It's been a torrid twelve months

for many people and their personal

finances," Colin concludes, "and while

IVAs tend to correlate to consumer

debts, the gap in bankruptcies and

DROs compared with this time last

year means there may be more

pain ahead if and when these figures

start to revert to more 'normal' historical

levels."

Lockdown Release

RESULTS from Lowell, the European credit

management services business, confirms

that consumers have been repaying

their debts in significant volumes over

lockdown. In releasing its Q1 figures,

Lowell reported 'significant' UK collections:

a 102 percent collection performance

in Q1-21 vs its pre-COVID Dec-19 static

pool expectations. In a statement the

company said 'such performance is very

encouraging, and management is pleased

with the pace of the recovery in the

deferred UK collections which is ahead of

expectations'.

CSA Awards

THE Credit Services Association is

launching a new Award scheme to

celebrate the outstanding work

and commitment of staff and

teams within its membership

organisations. Held as part of

the CSA's UK Credit & Collections

Conference (UKCCC) in September,

the awards are divided into three

categories: a CSA Merit Award;

CSA Team Award; and the CSA

Innovation Award. Entries are invited

by 12 July. For details, see the CSA

website. www.csa-uk.com/awards

Gold Star

INVESTORS in People has again awarded

credit management group Intrum UK

gold accreditation, demonstrating the

firm's commitment to high performance

through good people management. Eddie

Nott, Intrum's UK Managing Director, says

the team has worked tirelessly through

unprecedented times: "This accreditation

is testament to the value we place on our

people and the experience they provide

for our customers." Investors in People

is the international standard for people

management, defining what it takes to lead,

support and manage people effectively.

Advancing the credit profession / www.cicm.com /June 2021 / PAGE 6
---
RESEARCH by EQ Credit

Services into the

unsecured lending sector

suggests there is a 'new

nervousness' among

consumers towards the

current credit market.

Surprisingly, the youngest generation

(age 18-24) appears the most anxious,

with over half of this group responding

that they would only be prepared

to borrow from a well-known high

street lender. In contrast, the so-called

Generation X (age 45–54) seems less

concerned, with 24 percent indicating

they would happily borrow from any

lender, providing the rate was acceptable.

This contradicts the common

assumption that new entrants and

challenger brands with an all-digital or

mobile-first proposition would be in high

demand among the emerging generation

of 'digital native' young adults. It supports

a wider trend shown by the report that

consumers of all ages are rushing toward

'safehouse' credit brands.

Richard Carter, managing director

of EQ Credit Services, believes the

last 12 months have ushered in a new

nervousness: "Not only is gross borrowing

down, but just 20 percent would even

consider borrowing from an alternative

NEWS ROUNDUP

Research shows 'new

nervousness' to challenger

lenders

lender, down from 62 percent in 2019.

This is a major shift, illustrated most

surprisingly by the young adults of

Generation Z, who are most likely to trust

an established high street brand.

"Given the prevailing climate of

financial anxiety post 2020, this

would make sense, as 61 percent of all

respondents still insist on speaking

directly to the lender during their

application. So clearly it is the brands

that offer human expertise, experience

and a compassionate and empathetic

approach to individuals' needs that will

win out."

Findings in the report also reinforce

the need for an appropriate balance

between human interaction and cuttingedge

technology. Whilst the human touch

remains important, data still holds the

key to successfully supporting customers,

especially when it comes to identifying

the growing number that have found

themselves more financially vulnerable

after the turmoil of the past year.

"The lenders with agile systems and

technologies that enable them to adjust

quickly to their evolving responsibilities

and changing customer circumstances

will stand out in the market, both to

customers and to their supervising

authorities," Richard concludes.

>NEWS

IN BRIEF

Just members

JUST, the enforcement market

integrator has become a member of

The Civil Enforcement Association

(CIVEA). By joining CIVEA, Just says

it is demonstrating a commitment

to delivering the highest standards

of enforcement activity and to

ensuring that fair and principlebased

approaches and outcomes

are achieved by all involved. Russell

Hamblin-Boone, CEO of CIVEA was

pleased to welcome Just to its ranks:

"There are many challenges ahead

for our industry and we are pleased

to be able to grow our membership

with firms that are committed to the

highest standards of civil enforcement.

As we take stock following the

pandemic, I look forward to working

with Just to ensure that we continue to

drive industry improvements."

Penny for them

PENNYWORTH, the digital bank

founded by former-Barclays executives,

has launched the first version of a new

financial planning app. Pennyworth

says it has created the app to help

aspiring-affluent individuals earning

more than £40,000 a year, or with a

similar level of savings, make the most

of their money by making it easier to

identify, prioritise and fulfil important

life goals.

Atradius achieves CICMQ accreditation – virtually!

ATRADIUS Collections, the commercial

debt collection services company,

has been awarded its first CICMQ

accreditation, a demonstration of

excellence in credit management.

Currently the only debt collection

company to hold the CICMQ

accreditation, it has also broken new

ground by being the first organisation to

complete the entire process virtually.

Yvette Gray MCICM, Country Director

UK & Ireland for Atradius Collections,

says seeking accreditation was an

obvious decision: "As only 50 or so

companies have achieved accreditation,

our own recognition shows that we are

a real leader in the collections

sector. This gold standard

in industry accreditation

allows us to demonstrate

to customers as well as the

wider credit management

industry the strength of

our expertise, robustness

of our processes and

that we operate at the highest level.

Not only does it benchmark us with the

best, but it also provides us with access

to the CICMQ Best Practice Network,

which has been a real lifeline during

lockdown."

"We were presented with a real

challenge," she continues, "with the

country going into lockdown in March,

around the time our programme was

due to begin. Nonetheless, we were

determined to grow and develop,

and it is thanks to the hard work and

continued focus of our brilliant team

that we are now CICMQ accredited."

Chris Sanders, CICMQ Assessor, says

Atradius Collections demonstrated

the three key elements of a high

performing team – people,

planning and stakeholder

management: "This team is outstanding,

demonstrating all three attributes and

rightly deserve recognition for their

achievement. The results achieved

over a very difficult trading year are

inspiring and represent the company's

professionalism and determination to

provide excellent service."

He adds that this accreditation

represents a milestone for the CICMQ

programme itself: "We overcame the

national lockdowns by providing all

the workshops virtually and managed

to engage the entire team despite the

physical distances between us all."

While this was the first programme

to be completed virtually, the CICM has

now completed 10 or more workshops

for organisations such as Vodafone,

L'Oreal and Biffa.

"As only 50 or so companies have achieved

accreditation, our own recognition shows that we are

a real leader in the collections sector.''

Advancing the credit profession / www.cicm.com /June 2021 / PAGE 7
---
NEWS SPECIAL

StepChange blames 'funding

issues' for cutting 170 jobs

STEPCHANGE, the Leeds-based debt

charity, is laying off up to 170 staff

– approximately 10 percent of its

workforce – as it makes compulsory

redundancies in response to

funding troubles. The move is said

to have left the Unite union 'dismayed'.

Chief Executive Phil Andrew said that the

charity was not immune to the wider pressures

arising from COVID, despite the significant

additional support StepChange has received

from Government and other sources: ''The

Government, the Money and Pensions Service,

and the debt advice sector itself were expecting

a huge wave of demand to materialise once the

emergency support measures fade away, and

we still do,'' he explains.

''Based on 2021 experience to date, however,

our original expectation of advising 400,000

clients this year is not going to materialise."

The charity's income is based upon how

many clients it helps, with those volumes

affecting the level of Government and devolved

authority funds received as well as the amount

received from creditors in recognition of its

work to support people in repaying their debts.

"The majority (of our funding) comes from the

'Fair Share' contribution that many creditors

make to us in recognition of our service, which

is based on the level of the debt repayments

that we pass on to them that our clients on

managed solutions make towards their debts,"

he continues. "This funding model has obvious

flaws. Those flaws have never been laid bare

quite so starkly as under current conditions.

"Putting it bluntly, the combination of fewer

people taking debt advice (because temporary

support has not yet been withdrawn), and the

lower payments being made by many existing

clients toward their debts (due to higher

creditor forbearance, and lower client incomes)

mean that we face a significant shortfall

between the funding we had anticipated

getting at this point, and the amount that we

are actually getting."

StepChange said it had supported 200,000

clients across the UK in 2020, compared to

more than 300,000 the previous year: "The

fact that we expect demand to increase in

the future doesn't change this current reality,"

Phil adds. "As a prudent charity, we will not

compromise our financial stability by relying

on future funding to support our current

operating costs."

As well as making redundancies, the

charity still has staff furloughed through the

Government's Job Retention Scheme and has

frozen pay. ''In the short term, this approach

of cutting our cloth to fit comes with a high

degree of pain for us as a caring employer. It

is not what we would have wished to do, even

though it is absolutely the right thing to do,"

he continues. "However, over the medium and

Advancing the credit profession / www.cicm.com /June 2021 / PAGE 8
---
NEWS SPECIAL

''Our branch members are dismayed to hear that StepChange

Debt Charity plans to make 10 percent of its workforce

redundant, and impose a pay freeze on remaining staff''

long term we hope it will concentrate the

minds of policymakers and funders alike

on what debt advice is for, what its role in

the financial eco-system should be, and

how it can be sustainably provided and

funded in a predictable fashion."

Unite's West Yorkshire and Humber

Community, Youth Workers and Notfor-Profit

branch reacted angrily to the

announcement: "Our branch members are

dismayed to hear that StepChange Debt

Charity plans to make 10 percent of its

workforce redundant, and impose a pay

freeze on remaining staff,'' a spokesman

said. ''Unite will support our members

at StepChange in whatever action our

members decide is required."

One industry insider told Credit

Management that claims of 'inadequate

funding' were difficult to support,

given that StepChange had been on

a recruitment drive in 2020 by which

time volumes were already dropping. It

has also been suggested that volumes

of enquiries may have been in decline

because customers had been receiving

better outcomes simply from engaging

with creditors, debt purchasers and

collections agencies without the need

to go down the debt advice route. This is

certainly supported by increased volumes

of settlements being reported anecdotally

by the DCAs and in reality with latest

Quarterly figures by Lowell.

Certainly not all debt charities appear

to be suffering in the same way. Jane

Tully, Director of External Affairs and

Partnerships at the Money Advice Trust,

told Credit Management that demand was

indeed falling, but she had no plans for any

redundancies: "In line with trends across

the sector, we are seeing lower demand

coming into our debt advice services when

compared to previous years. This is due to

the positive impact of temporary measures

put in place by Government, regulators

and creditors to help households through

COVID-19. Nonetheless, our services

are operating close to capacity and we

continue to expect a significant increase

in debt problems when these measures

come to an end.

"The Money Advice Trust's funding

model is different to other organisations,

with the vast majority of our services

funded by charitable donations from

creditors and funding from the Money and

Pensions Service – rather than via debt

solutions income. "We have no plans to

reduce the size of our operations."

If you are affected by this story, please

familiarise yourself with CICM resources

which may help you through this process.

>NEWS

IN BRIEF

Alan Levene MCICM

CREDIT Management is sad to report

the passing of Alan Levene MCICM.

Alan, together with Stephen Lewis, was

a founding partner in LPL Commercial

Investigations, a Commercial Debt

Collection Agency.

He specialised in Overseas and

Insolvency Book Debt collection in

particular, on behalf of numerous IP's.

In earlier years he was very active

in the growth of the Credit Services

Association (CSA) and always offered

valuable specialist help in training

members of the industry to improve

standards. A proud member of the

CICM, he was to have become a

Honorary Fellow later this year. He

has passed the mantle of specialist

debt collection on to his two sons

Gavin and Richard, who, together with

Stephen, will continue the collection

services offered by LPL. "His acerbic

wit and humour always made difficult

collection scenarios that much easier

to solve," Stephen says, "and he will be

sorely missed by all who knew him."

Cyber essentials

THE Financial Conduct Authority

(FCA) has sent 4,430 of its employees

on compulsory cyber and information

security courses over the past two

financial years – (FY 19-20 and FY 20-

21) – to help combat the growing threat

of financial crime, such as money

laundering and fraud, according to

official figures. This data was obtained

via The Parliament Street think tank

under the Freedom of Information

(FOI) Act. The FCA revealed that as

well as the 'Cyber and Information

Security' eLearning course, which is

compulsory for all staffers to complete,

217 participants were also enrolled into

locally organised security courses for

more advanced training. The additional

training courses included Cyber

Security training with a Counter Threat

Unit.

Advancing the credit profession / www.cicm.com /June 2021 / PAGE 9
---
INSOLVENCY

A RUDE AWAKENING

Is Insolvency a Director's useful response to

the consequence of Tax Avoidance Schemes?

AUTHOR – Elliot Green

WHEN the debts of a company

become unmanageable,

liquidation might not be

far away. But is insolvency

the answer for a Director

with that tax avoidance

problem? Insolvency can sprout anytime and as

a result, the relationship between tax avoidance

and insolvency can be seen at all stages in the tax

enquiry and investigation process.

HMRC, TAX AVOIDANCE SCHEMES

AND INSOLVENCY

A company that has gone into liquidation

will rarely trade and it is axiomatic that it will

eventually flatline. Nevertheless, the company is

kept on life support by its liquidator, guided by the

Insolvency Act 1986. That means that HMRC will

still have a role to play in its future.

EMPLOYEE BENEFIT TRUSTS AND

EMPLOYER FINANCED RETIREMENT

BENEFIT SCHEMES

A considerable number of insolvent liquidations

have arisen in recent years with tax liabilities

arising from such tax avoidance schemes as

Employee Benefit Trusts (EBTs) or Employer

Financed Retirement Benefit Schemes

(EFRBS). HMRC typically plays an active role

in such liquidations in the furtherance of their

investigations into these schemes and often as a

major creditor.

It is not hard to see why these schemes have been

targeted by HMRC enquiries. An idiosyncrasy of

many is that they may appear (if nothing else)

somewhat artificial, sending money around in a

circle. Furthermore, often the loans that all too

often feature, are not repaid. In the case of Ecology

Support Services Ltd v Hellard [2017] EWHC 160

(Ch) the liquidator appears to have likened circular

schemes and the consequential movement of

money to being like that of a 'spinning top'.

Arguably, such schemes appear to suffer the risk

of impermissibility because save for tax avoidance,

they potentially have no other desiderata.

THE INSOLVENT COMPANY'S TAX

ENQUIRY

Insolvency can change the dynamics of a tax

enquiry and any consequential trip to the Tax

Tribunal.

It is unlikely to improve the company's prospects

of going before a Tribunal. In many cases there

will be no money left behind for a liquidator to

pursue any appeal, assuming it is considered to

have merit. Insolvency will, however, change the

personality with control over the conduct of the

enquiry. The taxpayer will now be controlled by

the Insolvency Practitioner who acts instead of the

Directors. In a liquidation only the liquidator has

standing to prosecute a tax appeal (see GP Aviation

Group International Limited [2014] 1 BCLC 474).

The Tax Tribunal has exclusive jurisdiction

to resolve tax disputes between the taxpayer

company and HMRC. Usually, the Insolvency and

Companies Court will not intervene. On insolvency

the tax enquiry rumbles on, potentially with

renewed vigour. This is perhaps ironic given the

insolvency usually will indicate that the prospect

of full recovery of the tax will drop like a stone.

However, prior to liquidation, HMRC's requests

for information may be closely monitored and

influenced by recommendations put forward by

the Promoter of the Tax Avoidance Scheme. Once

the company goes into liquidation, the Promoter's

influence may decline.

Liquidators deal with HMRC daily and typically

will understand the duty to HMRC. That duty can

perhaps not be better articulated than how it was

promulgated in Nicholson v Morris (H M Inspector

of Taxes) 51 TC 95: '…it is idle for any taxpayer to

say to the Revenue, "Hidden somewhere in your

vaults are the right answers: go thou and dig them

out of the vaults." That is not a duty on the Revenue.

If it were, it would be a very onerous, very costly

and very expensive operation, the costs of which

would of course fall entirely on the taxpayers as

a body. It is the duty of every individual taxpayer

to make his own return and, if challenged, to

support the return he has made, or, if that return

cannot be supported, to come completely clean…'

HMRC may therefore anticipate (and receive)

useful information from an Insolvency Practitioner

in the furtherance of their investigations into a

scheme. This may assist HMRC if it is considering

launching a challenge to a particular scheme in

the Tax Tribunal.

INVESTIGATIONS ON SEVERAL FRONTS

Once the company goes into liquidation a Director

could find themselves fighting on several fronts.

Whilst Directors might feel some initial relief

from releasing themselves from the company's tax

enquiry at the outset of liquidation, they can still

end up facing tax enquiry questions put forward

instead by the liquidator.

Furthermore, to arguably add salt to the

wounds, if inadequate provision has been made

for tax but the company coffers still nevertheless

have been emptied by way of subsequent dividend

extractions (since the opening of an enquiry but

prior to liquidation), the liquidator may initiate

investigations into their lawfulness. And, if HMRC

considers the tax avoidance particularly egregious,

Advancing the credit profession / www.cicm.com /June 2021 / PAGE 10
---
INSOLVENCY

AUTHOR – Elliot Green

a Director who attempted use liquidation as

an exit route might still have to grapple with a

Personal Liability Notice (PLN).

The old adage that which is cheap can be

expensive may still therefore be true.

TAX AVOIDANCE SCHEMES AND

INSOLVENCY PROCEEDINGS

The impact of tax avoidance in insolvency

proceedings has not been a judicial backwater.

The use of EBTs as a tax avoidance mechanism

suffered a blow following the landmark

decision, RFC 2012 Plc (in liquidation) (formerly

The Rangers Football Club Plc) (Appellant) v

Advocate General for Scotland (Respondent)

(Scotland) [2017] UKSC 45 ('the Rangers

Decision'), handed down by the Supreme Court.

It determined that the tax avoidance scheme

used by Rangers Football Club was ineffective

and that PAYE and NIC should have been

deducted when payments were made into the

scheme.

A considerable

number of

insolvent

liquidations have

arisen in recent

years with tax

liabilities arising

from such tax

avoidance schemes

as Employee

Benefit Trusts or

Employer Financed

Retirement Benefit

Schemes.

HMRC seems to be succeeding in the fight

against tax avoidance, particularly when it

appears able to show that an avoidance scheme

had no purpose, other than tax avoidance. The

Rangers Decision seems to have speeded up

the prior glacial progression of tax avoidance

cases. Indeed, now liquidators have challenged

payments into such tax avoidance schemes with

some alacrity. Notably in the reported cases of

Ball (PV Solar Solutions Ltd) v Hughes [2017]

EWHC 3228 (Ch) ('PV Solar') and more recently

in Re Implement Consulting Ltd [2019] EWHC

2855 (Ch) ('Implement Consulting').

In both PV Solar and Implement Consulting,

the liquidators successfully challenged tax

avoidance related transactions. Directors were

liable to account to these insolvent companies

for significant losses. Implement Consulting

was particularly conspicuous following the

exegesis of Chief Insolvency and Companies

Court Judge Briggs: '…the Respondents had

caused the capital reserves to be swept from

the balance sheet since 2009 notwithstanding

the presence of a risk that sums would become

due to HMRC as a direct result of the "aggressive

tax" planning undertaken by the Company; (vi)

no provision had been made for a risk that was

apparent even if they believed it to be remote or

unlikely.'

EBTs are arrangements that arguably may well

be rooted in employee incentivisation. Perhaps,

however, even the incurious and insouciant

mind might not always be so readily convinced

by such a rationale, a fortiori in cases of ownermanaged

businesses whose only beneficiaries

of the EBTs, might be the Directors and their

families.

It is perhaps arguably not the subsequent

inability to avoid tax that might have

disincentivised some Directors from continuing

to trade. Indeed, some may have reverted to the

prior practice of declaring and paying dividends

once the disguised remuneration legislation

came into effect in the Finance Act 2011.

However, cessation of trading and subsequent

insolvency may have culminated instead after

issuance by HMRC of Advanced Payment

Notices (APNs) with the additional interest and

penalties.

Whilst many tax avoidance schemes may

to some people arguably appear to promote

more in tax planning terms than they might

sometimes deliver, a Director who does not

take independent professional advice on them

and carefully review their typically heavily

caveated terms of engagement, may risk finding

themselves at a notable disadvantage when

insolvency comes along.

Elliot Green is an Insolvency

Practioner with Oliver Elliot.

Advancing the credit profession / www.cicm.com /June 2021 / PAGE 11
---
A unique and

comprehensive global

SMARTSEARCH

ADVERT

AML service

Complete full AML checks on both UK and

international individuals and businesses

MONITOR OVERSEAS INDIVIDUALS FOR

SANCTION & PEP STATUS CHANGES

SAME DAY AND FRESHLY INVESTIGATED

INTERNATIONAL BUSINESS REPORTS

VERIFY INDIVIDUALS FROM OVER 200 COUNTRIES

Call us now to book a free demo on:

+44 (0)113 333 9835

Or visit us online:

smartsearch.com

SmartSearch delivers verification services for individuals and businesses in the

UK and international markets. These services include worldwide Advancing Sanction the credit & PEP profession / www.cicm.com /June 2021 / PAGE 12

screening, daily monitoring, email alerts and Automated Enhanced Due Diligence.
---
OPINION

Testing Times

When it comes to COVID-19, you can't

manage what you can't measure.

MASS testing continues to

dominate the headlines

and Government thinking

in terms of getting people

back to work and the

economy moving. It is

similarly being discussed as a tool to kick-start

our leisure and hospitality sectors.

What has become particularly apparent

as part of the debate, however, is that 'mass

testing' as a phrase means different things

to different people. To some, it signals

an important investment that is key to

protecting essential workers in mission

critical businesses, such as nuclear and

defence. To others, it represents no more than

compliance, a cost that has to

be met to tick a box to satisfy

a vague diktat and a need to be

seen to be doing something.

There is no doubt that

'cost' has been a factor in

these debates, and that is

understandable; an arguably

more important element has

been accuracy.

As a result, we seem, as a

nation, to have been drawn

to a conclusion that if you

want a more expensive testing

option with a higher degree

of accuracy you have to take

one route, whereas if you are

prepared to sacrifice accuracy (within limits

that are still acceptable/safe) in order to pay

less then you have to take another.

The choices, however, are not binary: this

is not a VHS versus Betamax moment, for

those of us old enough to remember. There

are many different paths available to us.

We simply need to be more flexible in our

thinking, and more flexible in the solutions

we propose.

'Gold Standard' testing that delivers

the highest degree of accuracy involves a

combination of LAMP/PCR tests conducted in

series – which we have badged as 'LampWorX'.

They provide a very high degree of specificity

(99.995%), which means the risk of a false

positive is extremely rare (at 1 in 20,000 tests

conducted) whilst the false negative rate is

vanishingly low due to the extremely high

'gain' in the initial LAMP reaction. Such testing

is used actively in mission critical industries –

businesses such as EDF and BAE Systems – to

keep staff and visitors safe.

A more widely known testing regime

AUTHOR – Stuart MacLennan

What we do

need to focus

on is taking

a flexible and

open-minded

approach

to tackling

what remains

an ongoing

challenge.

is Lateral Flow, the method being used by

schools and colleges, for example, and being

promoted in relation to events and stadia.

Lateral Flow tests achieve fast results but have

a lower level of accuracy, although it could be

rationally argued that sensitivity, specificity,

speed and ease of use are a trade-off, and so

not necessarily a 'disadvantage' in the strictest

sense.

Crucially, however, it doesn't have to be an

'either/or' decision. One size does not need to

be made to fit all needs.

LAMP/PCR tests, for example, and daily

testing can be used when infection rates

are high but adapted to become more of a

managed, screening-led service as the risk

declines; as implemented

in our LampWorX process.

Similarly, a Lateral Flow-based

solution can be made more

accurate through a laboratorybased

testing approach, again

with a second confirmatory

test of the same swab to

provide an additional level of

Quality Control, thus virtually

eliminating the problems

caused by false positives.

This is what we are calling

ProteinWorX, based on the

protein antigen 'base-test' of

the process. Regardless of

which process we initiate –

LampWorX or ProteinWorX – the same swab, if

returning a positive result, can then followed

by a sequencing test to identify the variant,

ensuring we can immediately identify and

respond to new strains.

The point is a simple one: we don't need to

fixate on one route or another. There are many

combinations of options available to us, and

different industries and audiences will have

different needs. Those needs will also change,

and we need to be able to respond accordingly.

Vulnerability is rarely a permanent state.

What we do need to focus on is taking

a flexible and open-minded approach to

tackling what remains an ongoing challenge.

With the fear of a third-wave and the constant

need to identify and address new variants, the

way that we manage, measure and monitor

our response in the future will play a huge

part in how quickly and safely we can return

to 'business as usual'. Flexibility will be key.

Stuart MacLennan is CEO,

Circular1 Health.

Advancing the credit profession / www.cicm.com /June 2021 / PAGE 13
---
OPINION

An Injection of Learning

Johnson & Johnson is reaping the benefits of an

L&D partnership with the CICM.

AUTHORS – Sam Wilson and Sean Feast FCICM

FOR one of the world's most

valuable companies, credit

management is a businesscritical

responsibility, reliant

on policy, process and – most

importantly – a highly skilled

team of credit management professionals.

So, when Johnson & Johnson started its

I2C transformation journey, one thing

stood out as a key ingredient for success:

learning and development.

The American multinational has been

a stalwart of the global pharmaceutical

industry since 1886 and in the past year

has been one of the big four spearheading

the global race for a COVID-19 vaccine.

All of these challenges have steered

Johnson & Johnson into a European-wide

development partnership with the CICM

to develop, nurture and support its credit

management professionals.

For Karen Tuffs, Johnson & Johnson's

UK and Ireland's Senior I2C Credit

Controller, the partnership with CICM was

a natural progression for the company as

its I2C transformation continued. A 33-

year veteran of credit management and

graduate of the CICM study programme,

she knows first-hand how a partnership

with the institute could further enable the

credit management team.

Having trained with the ICM (as it was

then) when she began her career in credit

management, it wasn't until 2014 when she

joined Johnson & Johnson and met her

like-minded manager Olivier Theodore,

that together they hatched a plan to create

their own programme.

"My involvement with colleagues,

seeing their development and their success

is one of the most rewarding aspects of

my career," Karen explains. "It feels like I

can give something back to a profession

that has given me so much! None of this

would have been possible without the

CICM of course, and it has been a privilege

to work with them and we're looking

forward to what more we can achieve

together."

PARTNERSHIP APPROACH

The L&D partnership between CICM and

Johnson was formed in 2018 and launched

with a trial of 10 students in Prague, one

of Johnson & Johnson's European global

finance hubs. However, the partnership

has been a unique one. The aim of the

first cohort was to assess what worked for

Johnson & Johnson and provide student

feedback to the CICM and to Karen and

her team as well as assess the course

content and any hurdles that could be

circumvented, such as language barriers.

"Our plan from the outset was to create

a flexible training course that would allow

our teams to achieve what they wanted

to achieve within their own career. We

trialled the course with 10 students

over three years ago and it's been such a

success that we're still working together.

The success rate of the first cohort of

students was extremely high, with an 82

percent pass rate for credit management

exams and an 89 percent pass rate for

the business environment exams. The

first group has now moved up on to

level three qualification and with that

they've inspired so many that a waiting

list is now in place for enrolment on to

the first modules. The development and

feedback from the first few cohorts gave

Johnson & Johnson and the CICM the

opportunity to tailor their training and

study courses depending on what was

working and delivering results for their

students.

"Being able to tailor the learning plan

has really allowed us to dial into what

matters for our organisation but also

what's important for our colleagues'

futures. The course teaches them what

they need to know for their role at Johnson

& Johnson but will also enable them to

Advancing the credit profession / www.cicm.com /June 2021 / PAGE 14
---
OPINION

AUTHORS – Sam Wilson and Sean Feast FCICM

"Being able to tailor the learning plan has really allowed us

to dial into what matters for our organisation but also what's

important for our colleagues' futures.''

"It's a huge privilege to be able to study

with CICM. It gives me deeper insights into

the credit & collection work and reminds

me of the basic standards that need to be

set and maintained."

"I have recently completed the first level/

year of CICM programme. I must admit it

was a bumpy journey, but I am very happy

that I managed to complete it. I really

enjoyed our classes with Kevin, they were

really interactive, and they also helped me

to get better understanding of the topics."

"The way the course fit around my job/

activities in Invoice to Cash department

was exciting. The course helped me

to understand the nuances and the

background of what I was doing every day

and allowed me to comprehend the end-toend

processes and the overall functioning of

credit controls."

"I am still at the very beginning of my

CICM 'journey' though passing Credit

Management exam with a result of 95

percent was very satisfying and some of the

gained knowledge still helps me in my daily

work."

"Studying with CICM means a lot to me,

it certainly helped to give me a framework

to carry out my job. With limited finance

education, CICM courses gave me the tools

I needed for my work."

progress their career further afield which

is unique across the industry."

Along with developing their team into

a fully-fledged CICM qualified credit

management operation, the partnership

has also improved Johnson & Johnson's

staff retention rate. The course is a first of

its kind and allows the company to stand

out from the crowd and provide a valuable

benefit to employees.

"For a period of time," Karen says,

"we were losing team members in the

collections team and struggling to replace

them, now we have a programme in place

that team members want to be a part of.

With the support and training we provide

our credit management team they have

a genuine opportunity to develop and

go further without massive costs, a real

selling point for us."

Now in its fourth year, the partnership

has been going from strength to strength

since it began, however, the pandemic

introduced a new challenge for the

learners. Taking the exams became more

difficult with centres and offices closed

around the globe. Regardless, Johnson

& Johnson's cohorts continued their

exceptional run with a 79 percent pass

even whilst balancing remote working

and home schooling. In 2021 the course

continues to bear fruit with Johnson

& Johnson moving towards a more

solidified partnership. The collaboration

will see 20 new colleagues progress with

a formal training plan that will include

individual development plans tailored to

the student.

As the course enters its third cohort the

development partnership will be reviewed

in November including compiling student

and CICM feedback to again further the

partnership and improve the learning.

"Working with CICM has been

incredibly important for our colleagues

and for Johnson & Johnson," said Karen.

"We're excited to see the new cohorts

get started with their training and are

looking forward to reviewing the course

in November to see what more we can do

together."

Advancing the credit profession / www.cicm.com /June 2021 / PAGE 15
---
OPINION

CROWN

OF THORNS

Crown Preference is likely to be to the

detriment of many creditors.

IT was on December 1, last year that

HMRC formally reverted to secondary

preferential status in all insolvency

processes, ranking above floating

charge holders and unsecured creditors.

Put simply, it gives the Government

preferential treatment over most other creditors,

including banks, lenders, and suppliers in

insolvency procedures.

The rationale behind the decision have

been well rehearsed. The purpose is to swell

Government coffers and boost tax revenues. It was

a measure they last enjoyed back in 2002, a status

that was rescinded as part of the Enterprise Act of

the same year.

While the decision may look like a smart move

for Government, such changes to the order of

payments in an insolvency situation are not only

likely to be to the detriment of many creditors, but

they are also likely to drive changes in behaviour,

and not necessarily for the better.

Under the 'old' crown preference regime, only

tax debts of up to one year old had the benefit

of preferential status. With the 'new' regime

it's different: all tax debt, regardless of age, has

preferential status, irrespective of the date that

the tax debts were incurred or the date of the

qualifying charge. This lack of a time bar means

both unsecured and floating charge creditors will

see their returns from insolvencies reduced. It

ultimately means less cash for businesses just at a

time when businesses really need cash to survive.

AUTHOR – Karen Savage FCICM

WINDING DOWN

As the Government support schemes begin to

wind down, and VAT repayment holidays draw

to a close, unsecured creditors will be last in the

queue for any cash left to distribute once the

HMRC has taken its cut. This has a number of

implications for businesses and the uncertainties

they face as we come out of COVID, particularly

for small businesses who may find access to

future funding even more of a challenge or more

expensive. Perhaps of even greater concern, it is

also possible that business payment terms may be

tightened by suppliers. The erosion of the floating

chargeholder's value could lead to lenders being

less willing to advance new lending, or re-finance

existing debt. UK Finance has estimated that the

new rules will remove circa £1bn of lending that

might ordinarily be available to borrowers, and

this could seriously impact both the speed and

scale of the economic recovery.

There is a real concern that Crown Preference

is likely to impact access to and the cost of finance,

all at a time when businesses are going through

the toughest time in economic history.

Karen Savage FCICM is Chief Operating Officer

and Solicitor at Azzurro Associates.

This lack of a time bar means both unsecured and floating charge creditors

will see their returns from insolvencies reduced. It ultimately means less cash

for businesses just at a time when businesses really need cash to survive.

Advancing the credit profession / www.cicm.com /June 2021 / PAGE 16
---
€

€

EU Factsheet

ITALY

Advancing the credit profession / www.cicm.com /June 2021 / PAGE 17
---
Nelson Mandela once described the 'walk to

freedom' as being a 'long' one. It was indeed a

political struggle that took decades.

AFRICAN

MIS-ADVENTURE

What parallels can we draw from the good, the bad,

and the ugly side of consumer debt in South Africa?

AUTHOR – Zak King

Advancing the credit profession / www.cicm.com /June 2021 / PAGE 18
---
CONSUMER CREDIT

AUTHOR – Zak King

WHEN the Apartheid

system was dismantled in

the early 1990s, millions

of South Africans were

excited to enter the

formal credit market

for the very first time. Within a decade, most

of these new credit users had over committed

themselves and were seriously over indebted.

What followed was a flood of consumers,

including Government employees, receiving

attachment orders against their monthly

salaries due to non-payment. This ultimately

saw the rise of the payday lender and a boom

in shorter term lending.

Over the next decade, the situation would

worsen to the point where Government would

finally decide there was a crucial need to adjust

and consolidate existing credit legislation

to try to reduce abuses, and thereby bring

balance between the rights of the mighty credit

provider, and the lowly consumer.

The result was the establishment of the

National Credit Act (NCA) which came into

effect, rather fortuitously, in 2007 just before

the great global recession. The Act, though not

without drafting issues, forced credit providers

to drastically adjust lending behaviour, and

provided consumers with mechanisms for

dealing with runaway debt.

One feature of the Act required lenders to do

extensive background checks and calculations

to ensure that the lender could in fact repay

the money each month. Failing that, the

credit provider could find themselves guilty

of 'reckless lending' and face a fine of up to 10

percent of their annual turnover.

Another outstanding feature was the

introduction of professional debt counselling.

Trained and registered individuals would be

able to help troubled consumers go to court

and have their monthly debt repayments

restructured into an amount they could

realistically afford.

WEATHERING THE RECESSION

Perhaps it was due to the Act (and several

other positive factors) that South Africa was

able to weather the 2008 great recession

better than many other developing countries.

Unfortunately, a decade of dishonesty and

corruption during the tenure of President

Jacob Zuma was about to begin. This would

drain municipal coffers, push up Government

indebtedness and misdirect funds needed for

infrastructure development and upgrading of

power generation capacity. All of which would

have massive negative consequences for one of

Africa's top economic powerhouses.

During this difficult decade nearly one

million South Africans would begin to make

use of the debt counselling process. The

country's economy sat balanced at the edge

of the abyss trying to avoid downgrades by

international ratings agencies with the danger

of this scaring off investors.

And then came 2020, and with it a global

pandemic.

When COVID-19 first hit South Africa, at

the end of March 2020, a three-week hard

lockdown came into effect. People were only

allowed to leave home to shop for food or seek

medical attention. The lockdown was then

extended and was in effect at various lessening

levels of restrictions since. This allowed the

economy to slowly get back up to speed,

while regulating the pressure on the country's

medical infrastructure.

South Africa was one of only a few countries

in Africa willing, or able, to report meaningful

COVID-19 statistics. This reporting and

extensive testing made it stand out during the

start of the Pandemic. Swift Government action

and tough restrictions helped limit the spread

of the virus among the population of around 60

million. Ten million tests have been conducted

and to date only 1.5m South Africans have been

infected, with a 95 percent survival rate.

Lockdown however, hit the economy hard,

particularly the mining industry, as well as the

wine, manufacturing and tourism industries.

Like elsewhere in the world, retail too was

decimated in those first few months, as people

who were not earning anything were unable to

spend anything.

EMERGENCY RELIEF

Government was able to make a monthly GBP17

grant available to the poorest of the poor, in

an effort to help ease the lockdown pressure.

There were also some short-term tax changes

made to help ease pressure on businesses and

individuals.

Over the remaining months of 2020, over

2.2m people would lose their jobs. To give that

some context, South Africa already had 16.6m

unemployed. This meant that now one out of

every three in South Africa was unemployed,

giving it one of the highest unemployment

rates in the world (among those who bother to

report such stats).

At the start of lockdown, the major banks

(who provide 80 percent of all credit in South

Africa) wisely offered their clients the option of

taking a three-month payment holiday on credit

agreements, to help ease the pressure. They

did not, however, freeze interest calculations,

of course, and so they came out ahead and

had cleverly avoided many unnecessary and

probably unsuccessful collections headaches.

Employers tried their best to pay their

homebound workers what they could, and

significantly, Government issued regulations

preventing evictions during lockdown. They

did not stop payments or limit interest but

this allowed consumers to prioritise buying

essentials, and in many cases forgoing paying

rentals.

As restriction levels progressively dropped,

landlords have not had an easy time evicting

Advancing the credit profession / www.cicm.com /June 2021 / PAGE 19

continues on page 20 >
---
CONSUMER CREDIT

AUTHOR – Zak Kin

non-paying tenants. As businesses shut down

and cash strapped consumers moved back home,

or began to share lower cost options, there has

been a glut in the property rental market with

prices perhaps normalising after decades of

constant, unrealistic increases. Landlords were

still forced to approach their banks to themselves

look for short term relief.

Johannesburg, South Africa's biggest

city and capital of Gauteng province.

RELIEF DRIES UP

An interesting thing happened during the initial

highest levels of lockdown. Because people

were unable to spend money on things they did

not need, this enabled them to actually make

their required monthly debt repayments. This

lasted for several months, and then as lockdown

dragged on and things got tough, many were able

to take advantage of the three-month payment

holiday options offered by the banks.

At the same time, debt counsellors began

a campaign to encourage consumers to make

claims on built-in insurance on their credit

which covered income interruption or job losses.

Though the insurance industry fought back at

first, claiming COVID-19 was an unforeseen

risk, the courts and common sense eventually

prevailed.

Hundreds of thousands of South Africans

were able to claim against this insurance, and

gain temporary relief, including those already in

debt counselling. Those who were receiving debt

counselling found the majority of their creditors

were also willing to offer the same type of relief

offered to others such as short-term payment

holidays or reductions.

And so, the average South African consumer

muddled their way well into the third Quarter of

2020 before the real effects of the pandemic truly

began to be felt, when the relief measures came

to an end, and the impact of job losses hit home.

SO HOW BAD IS IT?

There are currently 27m credit users in South

Africa. Of these, around 50 percent are behind

on debt repayments by a month or two. More

concerning, nearly 40 percent are more than

three months behind on payments. This reveals

the true extent of the challenges both consumers

and credit providers face. This is not however a

COVID-19 problem: these statistics have been

pretty consistent for some years already. The

pandemic has just been tipping the scales.

Although already heavily indebted, it seems

most consumers still have an appetite for

even more credit, and a boom of new credit

applications are being seen monthly. Due to the

legal restrictions (not granting credit to those

who cannot afford it) more than 60 percent

of all applications are currently being turned

down. This has driven many consumers into the

welcoming arms of unregistered neighborhood

loan sharks.

Advancing the credit profession / www.cicm.com /June 2021 / PAGE 20
---
CONSUMER CREDIT

AUTHOR – Zak King

A recent report said that there may be as

many as one out of every 10 households

running some sort of unregistered, illegal

lending across the country. The police and

National Credit Regulator (NCR) constantly

perform raids on small loan sharks, who are

illegally holding people's ATM cards, social

security grant cards or Identity documents

as surety.

South Africa currently finds itself,

therefore, in the midst of an identity crisis

with a real mixture of good and bad as

well as just downright ugly. Positive social

and economic factors clash with troubling

negatives (past and present), and now

coming to light – in a wave of revelations

– are many really ugly scandals and dark

hidden truths.

THE GOOD

South Africa is one of Africa's economic

powerhouses, with decent Infrastructure and

good statistical reporting, which has helped

to attract, and retain, foreign investment.

The country has a fairly stable political

landscape, strong legislation and an active

judiciary which is currently pursuing

punishment of those involved in high level

corruption and graft.

Recently there has been a small six

percent credit extension growth, even during

the pandemic, and despite tight regulation

regarding lending criteria.

The country also benefits from good,

legislated policies for dealing with debt,

such as the debt counselling process and

insolvency laws.

The last decade has

seen the collapse of two

major banks – one due to

poor performance, legal

woes with the Regulator,

and tumbling share prices

(African Bank).

THE BAD

With one third of the population unemployed

and many younger people struggling to enter

the formal job market, families are under

pressure to keep up with rising inflation. Both

consumers and Government are struggling

to reduce their steadily increasing debt

levels (and that was before the pandemic hit)

resulting in international ratings agencies

downgrading investment status.

Half of all credit users are now several

months behind on payments, and many are

now turning to illegal loan sharks for further

credit.

THE UGLY

Top political figures, including the former

President and close friends, are implicated

in a decade of corruption which seriously

hindered, among other things, proper

investment in power generation. Concerns

over the true extent of corruption at the

national electrical supplier (Eskom) are

growing. Recent revelations have left many

aghast.

The last decade has seen the collapse

of two major banks – one due to poor

performance, legal woes with the Regulator,

and tumbling share prices (African Bank).

The other was due to the shocking incidence

of rampant corruption and widespread fraud

(VBS Mutual). In both cases the Reserve

Bank has had to step in to save the day for

the affected consumers.

WHAT LIES AHEAD?

South Africa remains a critical role player

on the African continent and has the

infrastructure to help carry it forward.

Vaccine rollouts are slowly proceeding,

and the Government continues to walk the

tightrope of stimulating the economy while

trying to reduce another wave of infections.

After a decade of the coffers being bled

dry behind the scenes, the country has now

been able to turn off the tap of corruption

at the highest level. These funds can now

once again be used to build for the future. It

has struck a massive economic blow and the

ramifications will be felt for years to come,

that's the bad news.

The good news is that the media had the

freedom to, and politicians had the will to,

expose and stop this level of corruption.

This makes South Africa stand out among its

peers. To see the judiciary take action against

the corrupt gives insight into the stability of

that system.

Nelson Mandela once described the 'walk

to freedom' as being a 'long' one. It was

indeed a political struggle that took decades.

The journey to true economic freedom may

be an even longer one for South Africa, as it

strives to overcome many challenges. Only

time will tell if that journey will be good, bad

or ugly.

Zak King is a Registered Debt Counsellor

and Editor of Debtfree Magazine

www.debtfreedigi.co.za

Advancing the credit profession / www.cicm.com /June 2021 / PAGE 21
---
CICM MEMBER

EXCLUSIVE

Your CICM lapel badge

demonstrates your commitment to

professionalism and best practice

TAKE PRIDE IN

WEARING YOUR BADGE

If you haven't received your badge

contact: cicmmembership@cicm.com

Tired of chasing

invoices?

Let Satago chase them for you.

Satago is the platform that chases your invoices, so you don't have to.

Saving you time that you can reinvest in growing your business.

✓

✓

Integrates seamlessly with your accounting software

Send automated payment reminders from

your own email address

✓ Get paid faster, without the hassle

Satago provides automated invoice chasing, data–driven risk insights

and single invoice finance, all in one easy-to-use platform.

To try two weeks of Satago free

visit Satago.com/cicm

Satago

Advancing the credit profession / www.cicm.com /June 2021 / PAGE 22
---
HIGH COURT ENFORCEMENT OFFICERS ASSOCIATION

Pity the poor landlord

Beleaguered landlords are eager to get their properties back.

AUTHOR – Andrew Wilson FCICM

AS the UK works towards a roadmap

out of lockdown, commercial

and residential landlords are

dealing with the fallout from the

Government's eviction ban, with

many still unable to recover their

properties. With the court system stretched under

the weight of the backlog, it is no surprise that

landlords are looking for help to reclaim what is

rightfully theirs.

SINGLE PROPERTY LANDLORDS FACE A

COVID CHALLENGE

Restrictions on evicting unsatisfactory residential

tenants who fail to pay the rent were in place

until the end of May. For commercial landlords,

restrictions will continue until 30 June.

Large commercial landlords are going through

enormous transition at the moment with the

whole way we work and shop moving more to

online as a result of the COVID-19 pandemic. But

large commercial landlords are not likely to evince

much sympathy from the world at large.

It is the small residential landlords, particularly

those who have been encouraged to borrow on a

buy-to-let arrangement and only have one property,

who are suffering, if they need their rental income

to service their borrowing.

In many ways the balance between landlord and

tenant has veered towards the landlord in recent

years. The ability of the landlord to simply serve

notice (S21 Housing Act 1988 Notice) to gain vacant

possession under Assured Shorthold Tenancies

gave no real security of tenure for tenants in this

sort of arrangement, which is undoubtedly an

added problem for 'generation rent'.

The received wisdom for those investing in

residential property is never to have one property

– four or five are needed to spread the risk of a bad

tenant – something that is both expensive and time

consuming.

However, the Government in the recent past

encouraged buy-to-let investment and it is not

surprising that there are many landlords within the

one property category. The National Residential

Landlords Association (NRLA) reported in

December 2020 that 7 percent of renters (that

is 840,000 people) were in arrears, with renters

aged 18 to 24 being twice as likely to be behind as

tenants in general.

SO WHY CAN'T LANDLORDS WITH BAD

TENANTS GET THEIR PROPERTIES BACK?

Clearly, the Government does not want to see

an increase in repossessions and possible

homelessness during a health emergency, and so

the legal process for getting an order for possession

has been extended, and the ability to evict has

been restricted once an order has been obtained.

Initially High Court Enforcement Officers (HCEOs)

were asked by the Lord Chancellor to halt evictions

on a voluntary basis. A request which some of our

more legally minded members said was beyond

his powers. It was, but we agreed – he is our boss

after all, and the man who authorises us. Similar

instructions were given to County Court Bailiffs

(CCBs).

However, the NRLA picked a couple of hard cases

of small landlords with tenants owing substantial

pre-COVID rent and threatened Judicial Review.

Not surprisingly the Lord Chancellor took the wind

out of their sails by introducing the first of three

Statutory Instruments (SIs) embodying his request

to halt evictions into law.

There are some exceptions for those with orders,

covering trespass and anti-social behaviour,

and the rent arrears provisions were reduced in

severity after the first SI. But a further court order

is needed in all cases for a Judge to agree that an

exception should apply and that order must be

produced to the HCEO before an eviction can take

place.

The rent arrears exception does not help those

who have issued a S21 Notice, just asking for the

property back. The original order must be by a S8

Notice claiming that the tenant has breached the

terms of the tenancy.

For those starting afresh, generally six months'

notice has to be given before legal proceedings can

be issued – some tenants may comply but many

can't, or won't.

The end result is that there is a considerable

backlog in both eviction and legal proceedings,

and this has been a deliberate step taken by

Government, based on the health emergency.

This whole situation was considered at the Lord

Chancellor's request by a commercial High Court

Judge, when the new Notice of Eviction procedure

(Form N54) was introduced for both HCEOs and

CCBs in 2020, and the various processes and

time limits were put in place to try and ease the

transition from lockdown to normality.

Not surprisingly, private residential landlords

are chomping at the bit. At a recent NRLA webinar

it was clear that there was a willingness for them

to pay the additional cost of using an HCEO for

eviction rather than waiting for the, often long

delayed, services of one of the 294 CCBs in this

country.

HCEOs, where five main businesses now handle

97 percent of the volume of Writs issued and are

keen to develop their businesses' market share,

will, no doubt, rise to the challenge of providing

an eviction service that only the private sector can

offer.

Andrew Wilson FCICM is Chairman of the High

Court Enforcement Officers Association (HCEOA).

Advancing the credit profession / www.cicm.com /June 2021 / PAGE 23
---
COUNTRY FOCUS

There is light in

the darkness of the

Rainbow Nation.

SLEEPING GIANT

AUTHOR – Adam Bernstein

SOUTH Africa – just two words for a

country that conjures up a number

of images. Black versus white, settler

versus indigenous, rich versus

poor, and police versus policed. It's

understandable then, that some might

think of South Africa in very simplistic terms –

apartheid and racial segregation, the Zulu nation

as typified by the 1964 film of the same name, and

of course, Nelson Mandela.

But as with other country profiles in Credit

Management, the history is, however, much more

than that. In fact, it reaches back 170,000 years

and more 'recently' broadly incorporates Bantu

expansion from the 4th century, the Portuguese

from the late 1400s to the early 1600s, the Dutch

from the middle part of the 17th century, and the

British from the start of the 19th century. South

Africa didn't become fully independent until 1931.

The nation that makes up modern South Africa

is so different from that of just 30 years ago. And by

all accounts, it should be a target for any exporter

wishing to expand their market reach.

THE COUNTRY OUTLINED

Lying at the southern tip of continental Africa,

South Africa is the world's 24th largest country

by landmass. With an area of some 1.219m sq

km, it's just under twice the size of Texas, and

shares a border with six countries – Botswana,

Mozambique, Namibia, Zimbabwe, Lesotho and

Eswatini (formerly Swaziland).

As might be expected of a nation with so

many cultural influences, from native African

to immigrant settler, South Africa has not one,

but 11 official languages that includes English,

Afrikaans, isiZulu, isiXhosa and Sepedi.

And to reinforce the guaranteed failure of

apartheid, the population, according to a South

African government 2019 mid-year estimate of the

population of 58.78m, 80.7 percent identifies itself

as black African, 8.8 percent coloured, 7.9 percent

white and 2.6 percent Indian or Asian.

Demographically, it's a pretty much even

split among the sexes. The population is young

according to 2019 data from Statista: 54 percent

– 32.18m are under 29 years of age, and just 16

percent, or 9.43m, are over 50 years of age. That

leaves 17.17m or 29 percent in the middle between

30 and 49 years of age.

Where this data becomes interesting, and

illustrative of population growth, is when

comparing the 2019 mid-year estimate to data

from the census over the years. In 1996 the

South Africa is

an economic

powerhouse in

Africa, leading

the continent in

industrial output

and mineral

production and

generating a

large agricultural

production in the

European winter.

population stood at 40.58m, 44.81m in 2001, and

51.77m in 2011. The country's population is clearly

expanding at quite a rate.

Geographically, the population, notes the

CIA World Factbook, is distributed primarily

along the southern and south eastern coast and

around Pretoria; with the east being more densely

populated than the west. As for the largest

urban areas, the largest is Cape Town with 3.4m

people, which is followed by Durban with 3.1m,

Johannesburg with 2.02m, Soweto with 1.69m,

Pretoria with 1.61m, Port Elizabeth with 968,000,

Pietermaritzburg with 751,000, Benomi with

605,000, Tembisa with 512,000 and lastly, East

London with 'just' 479,000. All in all, 15.2m or

one quarter of the population lives in 10 cities.

The World Bank estimates the rural population is

on a downward path. In 1960 the country was 54

percent rural, close to 50 percent in 1985 and sits

at around 35 percent now.

THE ECONOMY

The South African economy is one not to be

ignored. As a document from the Netherlands

Enterprise Agency, Doing Business in South Africa,

noted recently, 'South Africa is an economic

powerhouse in Africa, leading the continent in

industrial output and mineral production and

generating a large agricultural production in the

European winter.'

It continues: 'The country has abundant

natural resources, well-developed financial, legal,

communications, energy and transport sectors, a

stock exchange ranked in the top 20 in the world,

and modern infrastructure supporting efficient

distribution of goods throughout the southern

African region… Not only is South Africa itself an

important emerging economy, it is also a gateway

to other African markets.'

In number, South African GDP grew steadily

in the years from 1960 where it stood at $7.57bn

and $85.45bn in 1981. But post-apartheid, GDP

rocketed to $416.41bn in 2011 before falling back

to $296.35bn in 2016. It's recovered a little since

then.

But challenges exist. Firstly, the country

has had to deal with a high HIV infection rate

for quite some time. According to Avert, in

2018 there were 7.7m living with HIV – the

largest number anywhere in the world – and

19 percent of the those aged 15-49 had the

disease. Worse, there were 240,000 new infections

that year and 71,000 died from AIDS-related

illnesses.

Advancing the credit profession / www.cicm.com /June 2021 / PAGE 24
---
COUNTRY FOCUS

AUTHOR – Adam Bernstein

Cape Town is a port city on South Africa's

southwest coast, on a peninsula beneath the

imposing Table Mountain. Slowly rotating

cable cars climb to the mountain's flat top,

from which there are sweeping views of the

city, the busy harbour and boats heading

for Robben Island, the notorious prison that

once held Nelson Mandela, which is now a

living museum.

Area: 400.3 km²

Weather: 17 °C, Wind SE at 5 mph (8 km/h),

87% Humidity

Local time: Monday 11:16

Population: 433,688 (2011) United Nations

Province: Western Cape

Advancing the credit profession / www.cicm.com /June 2021 / PAGE 25

continues on page 26 >
---
COUNTRY FOCUS

AUTHOR – Adam Bernstein

Next COVID has hit South Africa hard, although

not quite like it has India. The country saw a

strict lockdown and the economy suffered as a

result. The OECD reckons that the shutdowns

could cost the country 10 percent of GDP

although the World Bank thinks it closer to

a seven percent decline. Its economy was

already fragile as COVID came along, despite a

pickup in economic activity at the start of 2020.

The economy is expected to grow three percent

in 2021.

Even so, low commodity prices, reduced

tourism, and a major slowdown in key trading

partners is expected to hamper economic

performance. Overall, it's estimated that

COVID will push two million into poverty.

KEY SECTORS

With the background set, it's time to consider

the market opportunities that exist in South

Africa – and there are many.

Starting with agriculture, it's position in the

southern hemisphere puts it in pole position

to supply Europe and other regions with

foods such as fruit, nuts and vegetables for

consumption during their winter. The sector

is highly commercialised, according to the

Netherlands report, with some 30,000 farmers

in the commercial supply chain who tend to be

involved with maize, citrus, tropical fruits and

grains. There is livestock activity, according to

data from the US government, and this includes

cattle, pigs, sheep, and a well-developed dairy,

poultry and egg industry.

The sector provides employment to some

10 percent of the country's workers and

contributes around 2.6 percent to GDP. On

imports, US data reckons that 2019 imports

totalled $7.6bn in agricultural and food

products, albeit a decrease of three percent

compared to 2018. Key imports were rice,

wheat, chicken cuts and offal, palm oil,

whiskies, cane sugar and soybean meal.

Opportunities therefore exist in growing

and production along with training and skills

and financing.

And with climate change causing a rise

in droughts, climate-related technology is

becoming more important as is the need to

secure South Africa's water supply, especially –

as noted earlier – the population is expanding

and becoming more urbanised. Some haven't

forgotten that in 2018 Cape Town almost

ran out of water – a point noted by National

Geographic when it wrote that the city almost

had to turn off the taps to millions of people.

Water scarcity is a priority for the

government and innovation in efficiency

and re-use is welcomed. It's of note that less

than half of wastewater is treated and reused,

infrastructure needs modernising and new

sources such as rainwater and that found

underground need to be found.

According to ESi Africa, an online utilities

journal for Africa, 'South Africa's water sector

ripe with investment opportunities.' It noted

comment from a Greencape analyst as saying

that some £330m of water is lost, stolen or

incorrectly metered. The analyst reckoned that

14m South Africans have no safe sanitation

and this presents a significant opportunity

with a market potential of some £2.07bn.

Transport is another key sector for South

Africa since, given its location, it's a gateway

into the continent. The country has both a

good road and rail network along with nine

commercial ports. The government considers

transport a central plank of its drive to make

the country more competitive and is investing

around £44bn in infrastructure of which

over £14bn has been set aside for transport,

especially for rail freight, ports and road

improvements.

And then there's health and the life sciences.

With a comparatively inexpensive healthcare

system it's known that patients fly-in from

around the world to South Africa for treatment

often paid by insurance; Medicaltourism.com

places South Africa 28 out of 46 destinations

for medical tourism.

That said, there is a defacto two-tier system

operated where 50 percent of expenditure is

spent on just 16 percent of the population.

The public sector must serve more with

proportionately less, on top of which are the

problems of HIV and COVID as well as diseases

such as diabetes, violence and high levels of

child and maternal mortality.

So, while the country is an innovator in the

field of healthcare, there are opportunities for

those wanting to take healthcare to the masses,

the building of healthcare facilities, records,

telemedicine, imaging and dispensing to name

but a few.

But there is a concern that the South African

Government's National Health Insurance

programme will radically change how the

private and public sectors work.

Energy is another area that might be

suitable for exploitation. Old coal-powered

power stations suffer from poor maintenance

and so the grid has often been unable to supply

enough electricity. The country is looking at

renewables, slowly, but with a perfect location

for wind and sun powered systems, several

independent firms have become active in

generating renewable electricity. There is

also encouragement for industry to generate

its own power and for local authorities to

buy electricity on the open market. In other

words, the state monopoly – Eskom – could

find its position weakened. Opportunities

therefore exist to become an independent

power producer as well as for selling to the

producers, in renewables and for selling

to those, including households, wanting to

generate their own power needs.

South Africa is endowed with abundant

natural resources. It is the world's largest

producer and exporter of gold, chromium

Most areas in South Africa

average more than 2,500 hours of

sunshine per year, and average

solar-radiation levels range

between 4.5 and 6.5kWh/m2

in one day. This makes South

Africa's local resource one of the

highest in the world. The use of

solar energy is the most readily

accessible resource in South

Africa.

Advancing the credit profession / www.cicm.com /June 2021 / PAGE 26
---
COUNTRY FOCUS

AUTHOR – Adam Bernstein

From peak production of around

1,000t in 1970, the nation's gold

output fell to 130t in 2018, with

South Africa now only accounting

for c. 4 percent of the world's

gold production. In fact, over 50

percent of all gold reserves are

found in South Africa, with the

Witwatersrand Basin remaining

the largest gold resource in the

world.

and platinum – 90 percent of the world's global platinum mineral

resources are estimated to be in South Africa's Bushveld Complex.

iv. No commercially exploitable deposits of petroleum have been

found, but there are moderate quantities of natural gas located off

the southern coast, and synthetic fuel is made from coal. According

to Africa Mining iQ, South Africa is also the world's third largest

coal exporter and a huge producer of iron ore – in 2012, it overtook

India to become the world's third-biggest iron ore supplier to China.

SETTING UP IN BUSINESS

When opening a business, a permit is required. Entry is initially via

a visitor's permit which allows temporary residence. A number of

forms are required, but one, is a certificate issued by a Chartered

Accountant or a Professional Accountant registered with the South

African Institute of Professional Accountants to the effect that an

individual has at least R5m available in cash, or at least R5m in

cash and capital to be invested in the Republic. The detail is on

dha.gov.za.

Business entities take the usual forms – a public company (Ltd),

or private company (Pty Ltd) company, a personal liability company

(Inc), a partnership, a business trust, a sole proprietorship and an

external company (branch of a foreign company).

Company names along with the business are registered at the

Companies and Intellectual Property Commission. Registration

carries certain responsibilities, irrespective of trading status,

including the filing of an annual return and paying an annual fee.

Business registration processes, including tax registration with

the South African Revenue Service (SARS), business bank account

opening, and domain registration can be completed, without

paper, at bizportal.gov.za.

TAX ENVIRONMENT

As for taxation, Corporate Income Tax applies to a resident firm's

worldwide income; for non-residents, it only applies to South

African income. The rate is 28 percent, reducing to 27 percent in

April 2022 (unless changed). Small businesses have rates banded

from 0 to 28 percent depending on taxable income. The dividends

tax is 20 percent.

Income tax applies to a resident's worldwide income; for nonresidents,

income tax only applies to South African income. Rates

are banded and presently range from nil to R216,200, 18 percent

over that to R337,800 and 45 percent over income of R1,656,601.

The standard rate of VAT is 15 percent and businesses making

taxable supplies over R1m (around £50,000) in any 12-month period

must register, resident or not.

Businesses will no doubt be accustomed to running a PAYE

system, but in South Africa, there's also the Skills Development

Levy to fund education for workers; the Unemployment Insurance

Fund which both employee and employer pay one percent of the

salary to; and the Compensation Fund to cover occupation injuries

and illnesses.

Lastly, another aspect to consider is Broad Based Black Economic

Empowerment, legislation and policy that seeks to redistribute

management, ownership and control of economic and financial

resources in order to decrease income inequalities; it's enforced

through a system of preferential procurement. This may well

determine how a business decides to act.

IN SUMMARY

It's more than possible to write an encyclopaedic entry on South

Africa and this profile only just scratches the surface. Take time

to investigate South Africa and the possibilities and rewards will

follow – especially once the impact of COVID is reduced.

Adam Bernstein is a freelance business writer.

Advancing the credit profession / www.cicm.com /June 2021 / PAGE 27
---
IT'S TIME FOR

WAYNE WHITFORD FCICM

DIRECTOR

+44 (0)7834 748 183

wayne@courtenforcementservices.co.uk

MICHAEL WHITAKER

DIRECTOR OF BUSINESS DEVELOPMENT

+44 (0)7866 840983

m.whitaker@courtenforcementservices.co.uk

FAST. FAIR. FOR YOU.

Advancing the credit profession / www.cicm.com /June 2021 / PAGE 28
---
TAKE OFF

ENJOY THE JOURNEY

CHECK IN TO SEE HOW

WE CAN HELP YOU OR

YOUR LEGAL TEAM

IMPROVE YOUR

POST-JUDGMENT

COLLECTIONS

PERFORMANCE

NEIL JINKS FCICM

HEAD OF CLIENT DEVELOPMENT & COMMUNICATIONS

+44 (0)7542304328

n.jinks@courtenforcementservices.co.uk

COURT ENFORCEMENT SERVICES

IS DELIGHTED TO BECOME A

CORPORATE PARTNER TO CICM

Advancing the credit profession / www.cicm.com /June 2021 / PAGE 29

01993 220557

BD@courtenforcementservices.co.uk

www.courtenforcementservices.co.uk
---
INTERNATIONAL

TRADE

Monthly round-up of the latest stories

in global trade by Andrea Kirkby.

The Year of the Dragon

THE Chinese dragon is flexing its muscles. Whether over

Taiwan or elements of its own people, China is making

waves.

Take the former, The Guardian says that tensions

between Taiwan and China are 'at their highest since the

mid-1990s' – its military aircraft made 380 incursions

into Taiwan's air space over the past year alone. And of

the latter, some reports allege that 'groups' of people are

being sold into what is effectively slavery. But China is

doing more, and it looks like Australia is taking the brunt

– and that might open up opportunities for others.

According to a recent Coface report into China's and

Australia's trade relationship, the bilateral relationship

deteriorated sharply over 2020, as China imposed both

formal and informal trade restrictions on a number

of Australian exports, including coal, barley, beef,

wine, cotton among others. Coface has noted growing

concerns that China will harden its stance towards

Australia and will possibly start targeting its services

exports, particularly in tourism and education which

could see two percent of Australia's GDP at risk.

The problems for Australia started when its Anti-

Dumping Commission extended anti-dumping duties

on Chinese stainless-steel sinks on 28 February 2020

following an investigation into Chinese aluminium

extrusions. More anti-dumping actions against Chinese

products, such as steel followed and then came a call

from Australia for an investigation into the origins of

coronavirus.

As Coface has said, the situation could hurt Australia's

economy as China takes more than one-third of

Australian total exports.

So, if I were exporting to China, I'd be looking at what

Australia exports and targeting those things that are

suffering restrictions. And as for Australia, I'd exercise

caution; for while the economy has bounced back

somewhat, there may be some bumps in the road ahead

if the tensions with China escalate.

OCCASIONALLY UK Export Finance

(UKEF) publishes 'good news' stories

about British exporters. And since

there can be nothing better than a story

relating to newborn babies, it's great

to talk about Cosatto, a bespoke baby

product manufacturer that is exporting

to Australia for the first time in 15 years.

As the story goes, and the department

claims, Government support has helped

STROLL ON

Cosatto secure a £130,000 order for

over 1,000 prams, strollers and

highchairs, and the Manchester-based

business now expects sales of £14m

this year.

Cosatto already sells to retailers of all

sizes in the UK, and sales to distributors

in countries such as Japan account

for 15 percent of its growing export

business. However, when it came to

arranging the insurance for a major

deal with a distributor in Melbourne,

their insurance broker would not cover

the risk if the deal fell through. At risk

of losing the contract, Cosatto turned to

UKEF, which was able to step in with its

export insurance policy.

The timing is most propitious as the

UK and Australia are close to signing a

new free trade agreement.

Advancing the credit profession / www.cicm.com /June 2021 / PAGE 30
---
Don't be the barn on Bitcoin

LAST month I wrote about how Bitcoin

could liberate the economies of some

countries. However, as Turkey has just

illustrated, users of cryptocurrencies and

crypto assets should still exercise caution

as its central bank has banned, from 30

April, their use for the purchase goods

and services on the basis of 'irreparable'

possible damage and significant risks in

such transactions.

As Reuters commented, 'legislation

published in the Official Gazette overnight,

the Central Bank of Turkey (CBRT) said

cryptocurrencies and other such digital

assets based on distributed ledger

technology could not be used, directly or

indirectly, as an instrument of payment.'

It appears that Turkey's crypto market

had boomed recently, with investors

hoping to both gain from Bitcoin's rally

and shelter against inflation. Further

demand has come because of a weaker

Catering for the rich

IT'S a fact that there's always someone

better off than you. But at the extreme end

of the scale are the super-rich and even

in times of economic stress they can still

afford more than anyone else. And it is

these people that exporters should make a

beeline for says, Bloomberg.

Apart from demanding more than

adequate living space – the super-rich

want more. But what? Well, it seems that

tennis courts, a penthouse bedroom, wine

cellars and swimming pools are top of the

list. But the detail is more important than

the headline.

In Australia, homes need to have not just

a tennis court, but a championship sized

court to not only host a match or a place for

Turkish lira and inflation pressures.

The CBRT said that these assets were

'neither subject to any regulation and

supervision mechanisms nor a central

regulatory authority, among other security

risks.' Officially it's worried about the

destabilising influence of Bitcoin and the

like. But clearly, it's also worried about the

lack of control too. As an aside, early April,

Turkish authorities started demanding

user information from trading platforms.

All of this comes after President Recep

Tayyip Erdogan managed to wipe another

13 percent off the Turkish lira by sacking

the central bank's deputy governor barely

10 days after he dismissed its governor.

The dismissals came after the governor

increased the interest rate to 19 percent to

control rising inflation, despite it making

perfect sense.

Fundamentally, Turkey is in trouble so

take care.

children to play, but it's also a great place to

erect a marquee.

In London, the trend is for 'Indoor-

Outdoor' rooms where, according to

Morpheus London, a residential and

hospitality design firm, demand is rising for

indoor spaces that have an outdoorsy vibe

– think posh indoors garden room. One

client wanted to maximise light coming

in from the outside and was happy to lose

around £150,000 of floorspace to make it

happen.

The point is, don't lose sight of the

luxury end of the markets you could serve.

Granted it may be small in comparison to

that which serves the masses, but it can be

incredibly lucrative.

Brussels opposes UK entry to the

Lugano Convention

BREXIT was never going to be easy,

for the relationship was complex and

importantly, the EU wanted to discourage

other member states from treading the

same path.

Nevertheless, the UK applied to

join the Lugano Convention which

allows legal judgments to be enforced

across borders, with all EU countries

plus Norway, Switzerland and Iceland

members of the pact. If and when the

UK is accepted into Lugano, judgments

would be recognised and enforced

much more swiftly and cost effectively.

Understandably, this would be welcome

news for UK businesses trading in those

areas – and likewise for EU businesses

trading in the UK. But it appears that the

EU is reportedly against allowing the UK

to join the convention on the grounds

that it is not a member of the European

Economic Area or the European Free

Trade Association.

Of course, the final decision will be

taken collectively by EU nations, with

all countries needing to unanimously

approve an application. There's bound

to be some intense lobbying since, after

all, all sides benefit. Even so, it makes

sense to be certain that the partners you

trade with are both solvent and, dare I

say it, known for being trustworthy and

honourable. Remember – a sale isn't a

sale until it's paid for.

Government

grant for export

IF you're a small firm that trades with

others within the European Union you

could be eligible for a grant of up to £2,000

under a scheme recently launched by the

Government.

The grants are designed to help

businesses with no more than 500

employees and a turnover less than

£100m who are importing or exporting

goods between the UK and the EU or

moving goods between Britain and

Northern Ireland. The money can be

used to train staff on how to complete

customs declarations, how to manage

customs processes, and how to use

customs software and systems as well as

specific import and export related aspects

including VAT, excise and rules of origin.

It can also be used to help firms get

professional advice so that the business

can meet its customs, excise, import

VAT or safety and security declaration

requirements.

Everything you need to know is on GOV.

UK under Apply for a grant to help small

and medium-sized businesses new to

importing or exporting.

China's economy grows

WHO would have guessed? China's

economy has rebounded with a record 18.3

percent growth in GDP in the first quarter

of 2021. It seems churlish to compare that

to the 19 percent expected by economists

in a Reuters poll, but that's what some have

done.

Other key figures released by China's

statistics department reinforce the

continuing rebound. But again, they need

to be taken with a pinch of salt since

they are set against a 2020 base and the

pandemic. In particular, it's reported

that industrial output for March rose 14.1

percent over a year ago and retail sales

grew 34.2 percent.

Of course, numbers can be used to

prove anything. Nevertheless, it's a good

performance and should provide comfort

for anyone exporting into China (unless

you're from Australia, of course).

CURRENCY UK

EXCHANGE RATES VISIT CURRENCYUK.CO.UK

OR CALL 020 7738 0777

Currency UK is authorised and regulated

by the Financial Conduct Authority (FCA).

HIGH LOW TREND

GBP/EUR 1.16409 1.14716 Up

GBP/USD 1.41988 1.38165 Up

GBP/CHF 1.28040 1.25962 Flat

GBP/AUD 1.82730 1.78224 Up

GBP/CAD 1.75729 1.68962 Down

GBP/JPY 1 54.713 149.350 Up

This data was taken on 20th May and refers to the

month previous to/leading up to 19th May 2021.

Advancing the credit profession / www.cicm.com /June 2021 / PAGE 31
---
OPINION

BLIND FAITH

Credit insurance appears to be in rude

health, but what's really going on?

AUTHOR – Sean Feast FCICM

THE market impact of COVID on the

credit insurance sector has been

similar to many other crises: insurers

find their feet; adapt their pricing;

reduce capacity in certain sectors.

But the big difference between this

crisis and the financial crash of 2008/2009 is that the

market went out of their way to avoid bulk actions

which had caused them so much harm and negative

press a decade or more ago.

Frederic Bourgeois, UK Country Manager for

Coface, says there are two main reasons insurers

have avoided bulk actions: "Firstly, the industry

had learned from the 2008-2009 experience which

had been painful in terms of reputation and client

satisfaction," he says. "And secondly, Government

intervention (especially in the UK) in sectors

where we had the most exposure or represented

the greatest risk reduced the need for such drastic

action to be taken."

There is no doubt that BEIS and Her Majesty's

Treasury were not only fast to respond, but also

prepared to listen, rather than coming to the table

with pre-conceived ideas, and that led to a more

constructive dialogue and a more helpful outcome.

Stuart Ramsden, Regional Director UK & Ireland

at Atradius agrees. He points to the Government

Trade Credit Reinsurance Scheme which he

describes as a game changer for the industry: "It is

why we worked so hard alongside other providers

and the ABI with Government representatives on its

development," he says.

"The scheme has enabled insurers to maintain

our underwriting stance on limits which would

otherwise have been unfeasible due to the

pronounced economic impact caused by COVID-19,

ensuring that the vital lifeline of non-payment

protection has remained in place for businesses.

The very fact Governments worldwide acted fast in

implementing reinsurance schemes demonstrates

how important credit insurance is in enabling trade

and supporting businesses."

As standard, Stuart says Atradius continually

reviews its risk portfolio to ensure it is providing

the best protection for customers and this has been

no different throughout the pandemic: "There have

been occasions where we have reduced some levels

of exposure; it is important to recognise that a bad

risk is a bad risk and this has only occurred in a

small minority of cases," he insists.

"Therefore, when support schemes end, we are

not expecting a shock in cover levels. In fact, we're

confident there will be a smooth transition for

customers and only anticipate our customer base

will continue to grow. And, positively, our cover

levels proportionate to the level of trade are higher

now than they were pre-pandemic."

WORKING BLIND

Frederic talks about 'a few frantic weeks' globally

as the pandemic took hold in early 2020 and the

industry responded. He witnessed the level of

claims in the second half of March increase by

100 percent compared to the first two weeks of the

month, with no visibility or certainty as to whether

this figure would continue to rise or stabilise.

Indeed, this theme of 'visibility' is an important

one: "At the start of the pandemic, the industry was

effectively 'blind'," Frederic continues. "To maintain

cover on the largest number of buyers across the

broadest range of sectors we needed to have the

most up-to-date information.

"Accounts from 2018 or the early part of 2019

were effectively useless, and many companies

simply stopped trading, so we undertook a review

of our entire portfolio manually, which as you can

imagine put a huge strain on our underwriters and

account management teams, but it was the right

thing to do."

Globally, Coface reported c80,000 cancellations/

reductions in cover on Q1 2019; for the corresponding

period Q1 2020, this number stands at c170,000.

Predicting the future is a challenge. "All CEO's will

have a broad view of the direction of travel for the

businesses they lead," Frederic continues.

"With COVID-19 and the current state of

affairs, however, various developments can lead

to completely opposite trajectories, and we have

played out a number of scenarios from total

Armageddon through to long-term Government

support that would nearly eradicate defaults. How

we would respond to these different scenarios could

vary enormously, and that makes it very difficult to

run an underwriting business. It means we have to

be agile, we have to adapt, and we have to take a

short-term view."

COMPLICATED DECISIONS

Decision-making is further complicated by the

latest data which is not necessarily a good indicator

of any future state. Underwriting volumes and

values appear to be in rude health and in line with

or even better than previous good years; Coface and

the credit insurance industry generally appears to

be in a very good place.

But what's going on under the surface is perhaps

more difficult to determine. How many businesses

will fail once Government support is withdrawn

Advancing the credit profession / www.cicm.com /June 2021 / PAGE 32
---
OPINION

AUTHOR – Sean Feast FCICM

"At the start of the pandemic, the industry

was effectively 'blind', to maintain cover

on the largest number of buyers across the

broadest range of sectors we needed to have

the most up-to-date information.''

Advancing the credit profession / www.cicm.com /June 2021 / PAGE 33

continues on page 34 >
---
OPINION

AUTHOR – Sean Feast FCICM

is a subject of considerable debate. Zombie

companies are most certainly on the rise. The

smart money suggests there is unlikely to be

a cliff edge, but rather a long and prolonged

period of business failures.

Stuart Ramsden says that insolvencies will

undoubtedly rise this year, albeit from a low

base: "The measures introduced this year to halt

the insolvency process and support businesses,

has led to an artificial fall in insolvency rates in

2020," he explains.

"As support schemes come to an end, we'll see

a spike in failures from zombie firms which have

effectively been propped up over the last year

while, for others, long-term successive closures

and sustained uncertainty may just be too hard

to sustain. Some will be restarting trade on

empty bank accounts and are relying on a large

cash influx – fast. But how long will they survive

if trade levels aren't enough to service their

debt? The stark reality is that the coronavirus

pandemic has been a killer for some businesses.

But the squeeze will be uncertainty of what a

post-pandemic economy will look like."

Whereas there is general consensus of

the parlous state of various sectors – travel,

hospitality and non-food retail especially – again

the picture is far from uniform.

In the non-food retail sector, for example,

some companies have done notably well

through the pandemic whereas others have

failed. Frederic thinks, however, that COVID

has probably served to accelerate the demise

of businesses that were failing already: "There

were no doubt many firms that already had

underlying problems and failed to adapt their

business models in time," he says. "Some

businesses are holding on but can't hold in

forever."

Stuart agrees. Not every business, he says,

has struggled: "With a shortage of housing, for

example, housebuilders are still flourishing.

As construction underpins a huge part of the

economy, it's essential this keeps moving and

is why we've seen initiatives such as the freeze

on stamp duty and increased infrastructure

investment.

"While some businesses have been able

to capitalise on the overnight change to

consumption habits such as the surge in online

trade, for others, such as those in hospitality

and bricks-and-mortar retail, it has been their

downfall. It's fair to say some retailers were

already challenged, particularly those with large

store portfolios and who were behind the online

shopping curve. With the pandemic accelerating

e-commerce at the rate of knots, this may be the

final nail in the coffin."

BOUNCING BACK

As the economy reopens and is forecast to

bounce back, everyone is hopeful for a swift

recovery. However, many companies will have

taken on sizeable debt over the last year and

need to fight harder than most to service this

debt going forward.

"An optimist would look at how busy

restaurants were when they reopened last

summer and at the retail queues on the first

day of reopening – but is this just a blip? Will

consumers revert back to their former habits

and spending patterns? Or will online shopping

continue its reign?" Stuart continues.

"For some, it may not be a concerted choice

as a predicted move to hybrid home-office

working will reduce commuters in city centres

and their associated spend on transport, retail

and food which brings a tangible uncertainty to

city businesses. There's no question consumers

will start to spend again but it's not certain where

their spend will go. Will consumers actively

choose to return to their 'old' ways, will habits

creep back or will they make different choices?

The key question now is whether businesses

sustain these changes or can they adapt and find

new ways of trading and flourish as a result."

With 2.8 million companies on risk from

Coface worldwide, information, Frederic says,

is now more critical than ever. It is for this

reason that Coface recently launched InfoSure,

an information product that enables clients to

switch to insurance when they see fit, at preagreed

conditions.

When buying the Credit Opinion package,

the client receives in parallel an insurance quote

which Coface says it will endeavour to maintain

over time, so this gives a level of certainty both

on risk appetite (through the credit opinions)

and the terms of the policy: "This can help

companies who either have budget constraints

or prefer to keep risk on their books, at least

temporarily, to benefit from a close monitoring

of their ledger," Frederic adds.

Atradius has been similarly active, with tools

such as Atradius Atrium that enables businesses

to manage their daily policy activities and

analyse their portfolio of customers through

a single portal, and Atradius Insights that

gives businesses access to its online business

intelligence platform.

Trade credit insurance was first introduced in

excess of a century ago to encourage businesses

to export after World War I. Today, while the

product has been greatly enhanced, the essence

of credit insurance being a vital support to

business remains.

"Non-payment is the single biggest risk to

any business and having protection against

it is absolutely imperative," Stuart concludes.

"When you add that our offering now also lies in

helping customers identify new opportunities,

enter new markets, build new relationships and

develop trade strategies as well as providing

unrivalled expertise and information to monitor

risk, credit insurance becomes indispensable.

With future uncertainty making business risk

even more acute, protection is the bedrock of

sound trade."

"An optimist

would look at how

busy restaurants

were when they

reopened last

summer and at

the retail queues

on the first day of

reopening – but

is this just a blip?

Will consumers

revert back to

their former habits

and spending

patterns? Or will

online shopping

continue its

reign?"

Advancing the credit profession / www.cicm.com /June 2021 / PAGE 34
---
Advancing the credit profession / www.cicm.com /May 2021 / PAGE 35
---
SECTOR FOCUS

STOP PRESS!

Economic trends in UK printing

and packaging.

AUTHOR – Tim Vine

PRINTING and packaging have

helped to create some of the most

distinctive products in the world.

Early examples of iconic brands

include the likes of Sunlight Soap,

Coca-Cola and Heinz. However,

these are industries with a much more extensive

history. English bakers were required to brand

their bread following a law dating back to 1266

– while producers were experimenting with

blown glass and wooden barrels as early as the

Roman period.

Today, printing and packaging are significant

parts of the economy. The UK is the world's

fifth largest producer of printed goods, with

a turnover of £14bn in 2019. Meanwhile,

packaging companies delivered annual sales of

£11bn in 2018, employing 85,000 people.

But these industries are deeply intertwined

with other sectors and, as a result, the disruption

of COVID-19 has had far-reaching consequences.

Amidst this continuing uncertainty, it's hugely

valuable for companies to have data both their

immediate suppliers and customers and the

wider sector. That way, print and packaging

companies can adapt and assess potential risks

and opportunities as we gradually move from

crisis to recovery.

THE IMPACT OF COVID-19

The events of 2020 had significant repercussions

for the printing and packaging industries, with

sales falling substantially. However, with the

rise of ecommerce, packaging firms generally

fared slightly better than commercial printing

businesses.

Nonetheless, towards the end of the year,

more companies reporting upward trends in

business activity than those reporting declines,

according to the latest COVID-19 Print Business

Indicators Survey from the NAPCO Research

and PRINTING United Alliance. Encouragingly,

Print and

packaging

businesses have

played a key

role in enabling

companies to

market and sell

their products

during the

COVID-19 crisis

– and there

will be further

opportunities to

come.

PRINTING United Alliance economists are

holding to their projection of sales growth

between 2.5 percent and four percent this year.

Positively, any slowdown in the pace of

M&As among print and packaging firms is only

temporary. The industry is slowly recovering,

buyers are flexible and the fundamental forces

that drive M&A activity are still in play.

Payment performance data can be used as an

indicator of the financial health of businesses

and is a useful tool to help businesses assess

risk. Positively, our data shows that payment

behaviour in the packaging industry is

improving, with businesses paying their bills

promptly increasing by 8.2 percent over the

last four years to 31.4 percent in February 2021.

2020 saw the largest improvement in prompt

payments however, with 33.4 percent of bills

paid on time in February 2020, a trend many

sectors saw ahead of the pandemic.

THE OUTLOOK FOR 2021

With a return to normal business conditions insight,

the industry is already seeing a pickup in

activity in printing and packaging in 2021. As a

result, print and packaging businesses that came

through the pandemic's first year in reasonably

good shape are still well-positioned to grow.

At present, working patterns and social habits

remain focused on the home – underlining

the importance of packaging for transporting

goods. While hospitality remains restricted,

labelling can provide important differentiation

during food shopping, fuelling demand for

innovative printing. At the same time, trends

like increasing wine consumption at home can

provide opportunities for companies serving

this section of the market.

As the economy opens up, there will be further

opportunities across the industry and the whole

economy. In fact, as a baseline scenario, Dun

& Bradstreet expects the economy to rebound

Advancing the credit profession / www.cicm.com /June 2021 / PAGE 36
---
SECTOR FOCUS

AUTHOR – Tim Vine

by around five percent this year, offsetting

some of the losses incurred in 2020 when

real GDP fell by almost 10 percent.

THE POWER OF DATA

Print and packaging businesses have

played a key role in enabling companies to

market and sell their products during the

COVID-19 crisis – and there will be further

opportunities to come. As businesses look

ahead to recovery and future growth, it is

crucial to embrace data and analytics to

take the best decisions today and create

resilience against future crises.

Monitoring the right credit information

and data can help packaging businesses

understand their total potential risk and

identify growth opportunities across their

account base. This can enable companies

to better manage credit risk, monitor global

customers and ensure that they are realising

every opportunity for success. Armed with

insights, print and packing companies can

look to a brighter future – and focus on

supporting the next innovative product

around the corner.

Tim Vine is Head of Credit Intelligence

at Dun & Bradstreet.

Tim Vine

Advancing the credit profession / www.cicm.com /June 2021 / PAGE 37
---
LEGAL MATTERS

RASH JUDGMENT

COVID-19, disease clauses and

business interruption.

AUTHOR – Peter Walker

A

physician once joked with me

that if a doctor did not know

what was wrong with a patient,

the diagnosis was that it was due

to a virus. This is not a joke to

be made during the COVID-19

pandemic, which has affected our lives so badly,

and the law is not immune.

That was brought home to some judges of the

Supreme Court in FCA v Arch Insurance (UK)

Ltd [2021] 2 WLR 123, when they considered

COVID-19 in the context of insurance and

business interruption. Credit managers will need

the assurance that during the epidemic indebted

business enterprises will have adequate financial

resources to pay those debts should things go

wrong.

This was the background to the effect of

COVID-19 and the consequent first lockdown

causing businesses to close temporarily. The

hospitality and entertainment sectors were

particularly affected, although there were others.

Affected businesses claimed on their insurance

policies for compensation as a result of the

business interruption. The insurers objected

that for various reasons the situation was not

covered in their policies. Some insurers claimed

that the disease was not named in the policy.

Others asserted that their policies covered local

outbreaks only.

There were complaints to the Financial

Conduct Authority (the FCA). The Association of

British Insurers suggested that at the time of the

first lockdown there were claims amounting to as

much as £900m. It was time for the lawyers and

a procedure known as the Financial Markets Test

Scheme, the first time it had been used since the

Scheme's introduction in 2016. Its purpose is to

provide clarity where there were issues of general

importance.

The Arch Insurance case was therefore a test

case, and Lord Hambledon and Lord Leggatt in

their joint judgment pointed out that 370,000

policyholders were potentially affected by the

decision in this case. There were many types of

insurance policies but four types of clauses.

DISEASE CLAUSES

The first of these were 'disease' clauses,

providing cover for business interruption due to

notifiable diseases. These were covering business

interruption losses as a result of public authority

interventions. There were combinations of the

two, i.e. 'hybrid clauses'. There were finally 'trends

clauses' which quantified business losses by

reference to the performance of the business if

the insured peril had not occurred.

Factors in the case were the various Government

regulations introduced by means of various

statutory instruments in the first lockdown

of March 2020. They listed various categories

of business. The Supreme Court judges were,

however, interested particularly in contractual

interpretation.

They considered this in the context of disease

clauses. A typical clause would require the insurer

to indemnify the insured for certain losses arising

from human infections or contagious disease,

which required notification to a local authority.

There would be a maximum indemnity period of

perhaps three months.

Some clauses would refer to any occurrence

of the disease at the insured's premises or within

a radius of 25 miles. Lord Hambledon and Lord

Leggatt concluded that an insurance claim on

this basis would only succeed if there was an

occurrence of COVID-19 on the claimant's business

premises or within that radius of 25 miles. They

applied their reasoning to other similar clauses in

other insurance policies.

In another insurance policy, considered by the

Supreme Court judges, had an exclusion clause.

The policy did not cover loss or damage arising

from epidemic and disease as well as many

other events. These exclusions were included

in a clause relating to contamination, pollution

and 'kindred risks'. A policyholder could not be

expected understand this to relate to the business

interruption provisions.

The judges of the supreme court continued to

consider hybrid clauses referring to the occurrence

of a notifiable disease, but they narrowed the

definition by reference to its consequences.

Where, however, the clause refers to an area of

whatever distance, the same interpretation as

that in a disease clause applied. One insurer did

not limit it by area, so the clause would apply

wherever there was a notifiable disease subject to

other restrictions in the policy.

One of those restrictions included those

imposed by a public authority, but the judges

considered whether they were mandatory with

the force of law. The Government had previously

given instructions, but these were not enough to

fulfil this requirement. There were now, however

statutory instruments, but the FCA contended

that the cover applied from before this time, so

that the insured could claim earlier.

LOCAL AUTHORITY POWERS

Lord Hambledon and Lord Leggatt agreed that

mandatory instructions clearly meant that a local

authority had statutory or other legal powers. They

pointed out that sometimes a public authority

Advancing the credit profession / www.cicm.com /June 2021 / PAGE 38
---
LEGAL MATTERS

AUTHOR – Peter Walker

gives a mandatory instruction in anticipation

that this will be followed by legally binding

measures, or they will result in the absence of

compliance. The two judges gave an example

of the closure of a restaurant by a public health

officer, who had discovered an infestation of

vermin. They considered that, in the context

of COVID-19, the local authority instructions

were sufficiently mandatory in these limited

circumstances because of the Prime Minister's

earlier statements.

Closure of a business's premises does

not necessarily result in the closure of the

business itself. A retailer could continue to go

into the shop to sell items online, but it is likely

to lose some turnover. That closure would

result in the loss of the retailer's discrete part

of the business, e.g. the closure of its shop to

potential customers walking by. The judges

of the Supreme Court ruled that the words

'inability to use' included the insured's discrete

or the whole business.

One of the insurance policies referred to

prevention of access as a result of Government

or local authority actions arising from an

emergency likely to endanger life or property.

A restaurant may, for example, may not be

allowed to open for customers to be served at

its tables, but it may offer take-away or take-out

meals. This was the effect of the regulations

issued in March 2020. Lord Hambledon

and Lord Leggatt ruled that prevention of

access need not be physical. They said that

'prevention of access' encompassed the whole

of the business premises as well as part of it

dedicated to restaurant service.

BUSINESS INTERRUPTION

Business interruption was not restricted to the

whole of the business. The insurance policies

furthermore contained various examples to

support this view.

There was also no question that COVID-19

was the cause of the Government's actions, but

the so-called 'disease clauses' in the policies

raised some questions about causation,

particularly the proximate clause. In Leyland

Shipping Ltd v Norwich Union Fire Insurance

Society Ltd [1918] AC 350 a ship was torpedoed,

and such damage was not insured. It was towed

to a harbour, but it had to be moored where

it was at the mercy of the weather. It sank in

the subsequent storms, but the owner could

not claim under the storm-damage clauses

in the policy, because according to 'common

sense' the proximate cause was the torpedo,

not the bad weather. In the current cases

COVID-19 was the proximate cause, because it

led to Government action resulting in business

interruption.

That results in a loss of business, which

for the purpose of an insurance claim has to

be calculated. Half a century ago or so ago I

dealt with claims arising out of the destruction

of some of my then-employer's shops due to

fires or IRA bombs. The insurers accepted

a calculation based on the previous year's

turnover of the affected branches. Lord

Hambledon and Lord Leggatt observed that a

rate of gross profit would be applied to such

a figure to arrive at a recoverable loss, and to

which would be added any increased cost of

working.

That does not take into account any

business trends, and insurance policies allow

for an adjustment based on business trends

or special circumstances in the intervening

period. There is a complication of internet

sales, but the correct method of calculation

should be based on an enquiry into the

insured's likely performance had the insured

peril not occurred, and that there had not

been any underlying or originating cause.

COVID-19 in any event had been such a cause.

A trends' clause should only be used to adjust

profits on the basis of events unconnected

with COVID-19 and the resulting lockdown.

It otherwise could be used to remove cover

completely, and that was not the purpose of

the insurance policy.

The FCA therefore won the case, and the

insurers had to pay out on many, but not all,

policies – it all depended on the wording of the

relevant clauses. It is possible that the wording

of new policies will be changed to state

whether lockdown is included in the cover.

At renewal time policyholders must therefore

check that their insurance policies cover their

needs. In recent years there have been other

epidemics, such as SARS and ebola, albeit not

as widespread as the current epidemic. There

could be other future instances, where such

cover is essential to the survival of a business.

Peter Walker is a freelance journalist

It sank in the

subsequent storms,

but the owner

could not claim

under the stormdamage

clauses

in the policy,

because according

to 'common sense'

the proximate

cause was the

torpedo, not the

bad weather.

Advancing the credit profession / www.cicm.com /June 2021 / PAGE 39
---
INTRODUCING OUR

CORPORATE PARTNERS

For further information and to discuss the opportunities of entering into a

Corporate Partnership with the CICM, please contact corporatepartners@cicm.com

High Court Enforcement Group is the largest

independent and privately owned High Court

enforcement company in the country, with more

authorised and experienced officers than anyone

else. This allows us to build and manage our

business in a way that puts our clients first.

Clients trust us to deliver and service is paramount.

We cover all aspects of enforcement –writs of

control, possessions, process serving and landlord

issues - and are committed to meeting and

exceeding clients' expectations.

T: 08450 999 666

E: clientservices@hcegroup.co.uk

W: hcegroup.co.uk

Satago helps business owners and their

accountants avoid credit risks, manage debtors

and access finance when they need it – all in

one platform. Satago integrates with 300+ cloud

accounting apps with just a few clicks, helping

businesses:

Understand their customers - with RISK INSIGHTS

Get paid on time - with automated CREDIT CONTROL

Access funding - with flexible SINGLE INVOICE FINANCE

Visit satago.com and start your free trial today.

T: 020 8050 3015

E: hello@satago.com

W: www.satago.com

HighRadius is a Fintech enterprise Software-as-a-Service

(SaaS) company. Its Integrated Receivables platform

reduces cycle times in the Order to Cash process through

automation of receivables and payments across credit,

e-invoicing and payment processing, cash allocation,

dispute resolution and collections. Powered by the RivanaTM

Artificial Intelligence Engine and Freeda Digital

Assistant for Order to Cash teams, HighRadius enables

more than 450 organisations to leverage machine

learning to predict future outcomes and automate routine

labour intensive tasks.

T: +44 7399 406889

E: gwyn.roberts@highradius.com

W: www.highradius.com

Bottomline Technologies (NASDAQ: EPAY) helps

businesses pay and get paid. Businesses and banks

rely on Bottomline for domestic and international

payments, effective cash management tools, automated

workflows for payment processing and bill review

and state of the art fraud detection, behavioural

analytics and regulatory compliance. Every day, we

help our customers by making complex business

payments simple, secure and seamless.

T: 0870 081 8250

E: emea-info@bottomline.com

W: www.bottomline.com/uk

Dun & Bradstreet Finance Solutions enable modern

finance leaders and credit professionals to improve

business performance through more effective risk

management, identification of growth opportunities,

and better integration of data and insights

across the business. Powered by our Data Cloud,

our solutions provide access to the world's most

comprehensive commercial data and insights

supplying a continually updated view of business

relationships that help finance and credit teams

stay ahead of market shifts and customer changes.

T: (0800) 001-234

W: www.dnb.co.uk

Key IVR provide a suite of products to assist companies

across Europe with credit management. The

service gives the end-user the means to make a

payment when and how they choose. Key IVR also

provides a state-of-the-art outbound platform

delivering automated messages by voice and SMS.

In a credit management environment, these services

are used to cost-effectively contact debtors and

connect them back into a contact centre or

automated payment line.

T: +44 (0) 1302 513 000

E: sales@keyivr.com

W: www.keyivr.com

With 130+ years of experience, Graydon is a leading

provider of business information, analytics, insights

and solutions. Graydon helps its customers to make

fast, accurate decisions, enabling them to minimise

risk and identify fraud as well as optimise opportunities

with their commercial relationships. Graydon

uses 130+ international databases and the information

of 90+ million companies. Graydon has offices in

London, Cardiff, Amsterdam and Antwerp. Since 2016,

Graydon has been part of Atradius, one of the world's

largest credit insurance companies.

T: +44 (0)208 515 1400

E: customerservices@graydon.co.uk

W: www.graydon.co.uk

Tinubu Square is a trusted source of trade credit

intelligence for credit insurers and for corporate

customers. The company's B2B Credit Risk

Intelligence solutions include the Tinubu Risk

Management Center, a cloud-based SaaS platform;

the Tinubu Credit Intelligence service and the

Tinubu Risk Analyst advisory service. Over 250

companies rely on Tinubu Square to protect their

greatest assets: customer receivables.

T: +44 (0)207 469 2577 /

E: uksales@tinubu.com

W: www.tinubu.com.

Building on our mature and hugely successful

product and world class support service, we are

re-imagining our risk awareness module in 2019 to

allow for hugely flexible automated worklists and

advanced visibility of areas of risk. Alongside full

integration with all credit scoring agencies (e.g.

Creditsafe), this makes Credica a single port-of-call

for analysis and automation. Impressive results

and ROI are inevitable for our customers that also

have an active input into our product development

and evolution.

T: 01235 856400

E: info@credica.co.uk

W: www.credica.co.uk

Advancing the credit profession / www.cicm.com /June 2021 / PAGE 40
---
Each of our Corporate Partners is carefully selected for

their commitment to the profession, best practice in the

Credit Industry and the quality of services they provide.

We are delighted to showcase them here.

THEY'RE WAITING TO TALK TO YOU...

Hays Credit Management is a national specialist

division dedicated exclusively to the recruitment of

credit management and receivables professionals,

at all levels, in the public and private sectors. As

the CICM's only Premium Corporate Partner, we

are best placed to help all clients' and candidates'

recruitment needs as well providing guidance on

CV writing, career advice, salary bench-marking,

marketing of vacancies, advertising and campaign

led recruitment, competency-based interviewing,

career and recruitment trends.

T: 07834 260029

E: karen.young@hays.com

W: www.hays.co.uk/creditcontrol

Court Enforcement Services is the market

leading and fastest growing High Court Enforcement

company. Since forming in 2014, we have managed

over 100,000 High Court Writs and recovered more

than £187 million for our clients, all debt fairly

collected. We help lawyers and creditors across all

sectors to recover unpaid CCJ's sooner rather than

later. We achieve 39 percent early engagement

resulting in market-leading recovery rates. Our

multi-award-winning technology provides real-time

reporting 24/7.

T: +44 (0)1992 663 399

E: wayne@courtenforcementservices.co.uk

W: courtenforcementservices.co.uk

Shoosmiths' highly experienced team will work

closely with credit teams to recover commercial

debts as quickly and cost effectively as possible.

We have an in depth knowledge of all areas of debt

recovery, including:

• Pre-litigation services to effect early recovery and

keep costs down • Litigation service • Insolvency

• Post-litigation services including enforcement

As a client of Shoosmiths, you will find us quick to

relate to your goals, and adept at advising you on the

most effective way of achieving them.

T: 03700 86 3000

E: paula.swain@shoosmiths.co.uk

W: www.shoosmiths.co.uk

Forums International has been running Credit and

Industry Forums since 1991 covering a range of

industry sectors and international trading. Attendance

is for credit professionals of all levels. Our forums

are not just meetings but communities which

aim to prepare our members for the challenges

ahead. Attending for the first time is free for you to

gauge the benefits and meet the members and we

only have pre-approved Partners, so you will never

intentionally be sold to.

T: +44 (0)1246 555055

E: info@forumsinternational.co.uk

W: www.forumsinternational.co.uk

Data Interconnect provides ERP-agnostic AR

software. The Corrivo platform transmits invoices

in multiple formats using tax compliant templates

custom-designed for your business. Corrivo expedites

collections, reconciliation and dispute processes with

flexible workflow tools for creating and assigning tasks,

limits, chase paths or stops and a self-service portal

where customers can query, comment, dispute or pay.

Corrivo manages data securely and efficiently so that

you can manage your customers and cashflow better.

T: +44 (0)1367 245777

E: sales@datainterconnect.co.uk

W: www.datainterconnect.com

Serrala optimizes the Universe of Payments for

organisations seeking efficient cash visibility

and secure financial processes. As an SAP

Partner, Serrala supports over 3,500 companies

worldwide. With more than 30 years of experience

and thousands of successful customer projects,

including solutions for the entire order-to-cash

process, Serrala provides credit managers and

receivables professionals with the solutions they

need to successfully protect their business against

credit risk exposure and bad debt loss.

T: +44 118 207 0450

E: contact@serrala.com

W: www.serrala.com

American Express® is a globally recognised

provider of business payment solutions, providing

flexible capabilities to help companies drive

growth. These solutions support buyers and

suppliers across the supply chain with working

capital and cashflow.

By creating an additional lever to help support

supplier/client relationships American Express is

proud to be an innovator in the business payments

space.

T: +44 (0)1273 696933

W: www.americanexpress.com

C2FO turns receivables into cashflow and payables

into income, uniquely connecting buyers and

suppliers to allow discounts in exchange for

early payment of approved invoices. Suppliers

access additional liquidity sources by accelerating

payments from buyers when required in just two

clicks, at a rate that works for them. Buyers, often

corporates with global supply chains, benefit from

the C2FO solution by improving gross margin while

strengthening the financial health of supply chains

through ethical business practices.

T: 07799 692193

E: anna.donadelli@c2fo.com

W: www.c2fo.com

Esker's Accounts Receivable (AR) solution removes

the all-too-common obstacles preventing today's

businesses from collecting receivables in a

timely manner. From credit management to cash

allocation, Esker automates each step of the orderto-cash

cycle. Esker's automated AR system helps

companies modernise without replacing their

core billing and collections processes. By simply

automating what should be automated, customers

get the post-sale experience they deserve and your

team gets the tools they need.

T: +44 (0)1332 548176

E: sam.townsend@esker.co.uk

W: www.esker.co.uk

Advancing the credit profession / www.cicm.com /June 2021 / PAGE 41
---
INTRODUCING OUR

CORPORATE

PARTNERS

For further information and to discuss the

opportunities of entering into a Corporate

Partnership with the CICM, please contact

corporatepartners@cicm.com

The Company Watch platform provides risk analysis

and data modelling tools to organisations around

the world that rely on our ability to accurately predict

their exposure to financial risk. Our H-Score®

predicted 92 percent of quoted company insolvencies

and our TextScore® accuracy rate was 93

percent. Our scores are trusted by credit professionals

within banks, corporates, investment houses

and public sector bodies because, unlike other credit

reference agencies, we are transparent and flexible

in our approach.

T: +44 (0)20 7043 3300

E: info@companywatch.net

W: www.companywatch.net

Onguard is a specialist in credit management

software and a market leader in innovative solutions

for Order to Cash. Our integrated platform ensures

an optimal connection of all processes in the Order

to Cash chain and allows sharing of critical data. Our

intelligent tools can seamlessly interconnect and

offer overview and control of the payment process,

as well as contribute to a sustainable customer relationship.

The Onguard platform is successfully used

for successful credit management in more than 50

countries.

T: 020 3868 0947

E: lisa.bruno@onguard.com

W: www.onguard.com

The Atradius Collections business model is to support

businesses and their recoveries. We are seeing a

deterioration and increase in unpaid invoices placing

pressures on cashflow for those businesses. Brexit is

causing uncertainty and we are seeing a significant

impact on the UK economy with an increase in

insolvencies, now also impacting the continent and

spreading. Our geographical presence is expanding

and with a single IT platform across the globe we can

provide greater efficiencies and effectiveness to our

clients to recover their unpaid invoices.

T: +44 (0)2920 824700

W: www.atradiuscollections.com/uk/

Operating across seven UK offices, Menzies LLP is

an accountancy firm delivering traditional services

combined with strategic commercial thinking. Our

services include: advisory, audit, corporate and

personal tax, corporate finance, forensic accounting,

outsourcing, wealth management and business

recovery – the latter of which includes our specialist

offering developed specifically for creditors. For

more information on this, or to see how the Menzies

Creditor Services team can assist you, please

visit: www.menzies.co.uk/creditor-services.

T: +44 (0)2073 875 868 - London

T: +44 (0)2920 495 444 - Cardiff

W: menzies.co.uk/creditor-services

Chris Sanders Consulting – we are a different

sort of consulting firm, made up of a network of

independent experienced operational credit and

collections management and invoicing professionals,

with specialisms in cross industry best practice

advisory, assessment, interim management,

leadership, workshops and training to help your

team and organisation reach their full potential in

credit and collections management. We are proud to

be Corporate Partners of the Chartered Institute of

Credit Management and to manage the CICM Best

Practice Accreditation Programme on their behalf.

T: +44(0)7747 761641

E: enquiries@chrissandersconsulting.com

W: www.chrissandersconsulting.com

CICM has launched

critical AR Factsheets

for EMEA countries

Powered by

Powered by Baker Ing, country specific factsheets have been

provided for up-to-date information on payment performance,

legislation, and the effects of COVID-19 and Brexit. The factsheets

are designed for credit professionals, and they cover legal business

forms, credit risk data, collections protocols, enforcement and

much more.

Credit professionals need granular knowledge of the situation

in their clients' territories. Whether you need an off-the-peg

checklist for dealing with a new country, or you need on-the-spot

information to help review risk strategies and Credit Policies, these

insightful documents will help.

Visit cicm.com to view country specific factsheets from, Germany,

Italy, Czech Republic, Spain, France, UK.

Powered by

EU Factsheet

COVID-19 RESPONSE

Germany has introduced a raft of measures and programmes to help combat the

economic impact of COVID-19 containment measures. Here we present what we

consider to be the most significant and interesting. This section is not exhaustive.

Loans and grants – employees:

Three main tranches of wage subsidy have been introduced.

The most wide-reaching is "Kurzarbeit". This programme existed before COVID-19.

It is a social security programme whereby the government will subsidy employees'

wages up to 60% (more for those with children) in order to allow their employers to

reduce their hours (and their expenditure on wages) instead of laying them off.

Under COVID provisions, the subsidy has been increased. From the fourth month,

the rate is increased to 70% of flat-net renumeration for those households without

children and 77% for those households with children. From the seventh month, it is

increased to 80% for those households without children and 87% for those

households with children. In September, there was a decree to make this benefit

more flexible (e.g., reducing the minimum number of employees effected by

working hours reduction to 10% for the business the qualify) and to extend the

period for receiving this benefit from 12 to 24 months until 31 st December 2021.

Freelance artists in Germany can access funds if they work for cultural institutions

funded by the Federal Government. They will be compensated for up to 60% o fees

from cancelled events up to €1,000 and 40% up to €2,500.

Students can access interest-free loans of up to €650 per month for jobs lost due to

the pandemic.

Loans and grants – businesses:

EU Factsheet

GERMANY

As well as the enhanced terms of "Kurzarbeit", there are a variety of direct loans

and grants available which businesses of different sizes can access.

A grant of up to €150,000 / 80% of fixed costs in the subsidy period is available for

businesses showing decreased sales volumes compared to the same month of the

previous year. This Federal Government grant has been supplemented by some

Federal States' own grant programmes.

BAKERING.GLOBAL CHARTERED INSTITUTE OF CREDIT MANAGEMENT

CHARTERED

Powered by

Advancing the credit profession / www.cicm.com /June 2021 / PAGE 42
---
EXPERT ROUNDTABLE

Managing the road

to recovery

Simon Underwood and Giuseppe Parla of Menzies LLP

joined by members of the CICM Technical Committee,

chaired by Sue Chapple FCICM.

UNPRECEDENTED financial

support during the

pandemic has helped UK

businesses to weather exceptionally

tough trading

conditions and keep cash

flowing. However, the time is nearing for

business owners to stand on their own two

feet. But what does a return to 'normality'

really look like and what does it mean to

businesses and customers?

In a recent poll, more than two thirds

(66 percent) of businesses confirmed they

had been obliged to make changes to their

company in response to the pandemic.

Atul Vadher FCICM(Grad), CICM East of

England branch chair, was not surprised:

"I have seen fundamental changes in the

way businesses operate, from the way they

look at debt to their approach to trade and

product," he says.

However, while changes have been

seen across the business landscape, the

responses of individual sectors have

varied widely. In retail, there has been a

focus on online retailing, while deliverybased

models have come to underpin the

more successful hospitality companies.

Mark Wilkinson, Head of Income

for Northumbrian Water Group, said,

"Adjustments have had to be made in

the utilities sector at times during the

pandemic, with businesses having to

alter their processes and stop sending

employees to customers' houses. And

on a broader level, consumers have had

to adjust to bill increases, with people

working at home and using more water

during the summer and heating during

the winter."

EXTRAORDINARY TIMES

In such extraordinary times, it is only

natural that businesses have been forced

to review their working practices but,

as the UK begins to creep back towards

normality, the question is whether those

changes that businesses have been forced

to make will continue in a post-COVID

world. Most think that many of the

changes witnessed in the retail, hospitality

and utilities sectors are, to a certain

extent, likely to remain. Online retailing

has been a long time coming, with a longterm

decline of the high street confirmed

by the recent collapses of Arcadia and

Debenhams. And while there is a yearning

to return to restaurants, the rise of 'ghost

kitchens' and food delivery models are

providing the hospitality industry with

plenty to ponder, as investors look to the

greater Return On Investments that these

models are presenting due to reduced

overheads.

"The return to another

lockdown, or a shift

in the Government's

economic policies,

means the ability to

'flex' to a newfound

environment is critical"

What is interesting is that the businesses

that have succeeded during the pandemic

have shared one common factor:

flexibility. Simon Underwood, Partner

and Licensed Insolvency Practitioner at

Menzies, believes such 'flexibility' remains

vital to a sustained economic recovery:

"The return to another lockdown, or a shift

in the Government's economic policies,

means the ability to 'flex' to a newfound

environment is critical," he says.

But there are other measures, he says,

that can help ensure a smooth return to

'normal': "Businesses must preserve cash

where possible and strengthen the balance

sheet," he explains. "No-one knows what is

around the corner, and businesses need

to make sure they don't find themselves

in the position that so many were in 12

months ago, with no income and no

cash to fall back on." Giuseppe Parla,

Senior Manager and Licensed Insolvency

Practitioner at Menzies, agrees: "It is

important that businesses seek advice as

soon as possible from credit professionals,

rather than relying on the State and

watching Government support run out,"

he adds.

STRENGTHENING RELATIONSHIPS

Sue Chapple FCICM, CEO of the CICM,

says that one upside to the pandemic has

been a strengthening of the relationship

between credit managers and their clients,

as well as improving their own visibility

in the businesses in which they work:

"COVID has brought home the importance

of really getting to know your clients and

understanding their credit risks. This is

something that has declined in recent

years with the rise of technological

solutions, and an element that the industry

must revive if it is to thrive in the difficult

months and years that lie ahead."

Looking to the future, Simon

Underwood expects to see the credit

sector heating up in the coming months,

with the end of the moratorium on debts

as well as the cessation of the furlough

scheme and other Government support:

"It's remarkable in many ways that the

country has avoided a greater financial

crisis, but the brunt of the Chancellor's

measures will fall on the pockets of the

taxpayer," he says.

"This leaves us with several questions:

how will this shortfall be addressed in

the short and longer-terms? And how will

the credit sector continue to provide the

personal, relationship-centric approach

that has seen it largely weather the storm

that the last 12 months has brought?"

These questions will remain

unanswered for the next few months

at least, though in the meantime there

are valuable lessons for businesses and

credit professionals to take from the

COVID-19 crisis that should help alleviate

some of the anxieties towards returning to

normality.

"COVID has brought home the importance of really getting to know your clients

and understanding their credit risks. This is something that has declined in recent

years with the rise of technological solutions.''

Advancing the credit profession / www.cicm.com /June 2021 / PAGE 43
---
PAYMENT TRENDS

Life is a Rollercoaster

The latest late payment statistics highlight

further unpredictability.

AUTHOR – Rob Howard

LAST month's late payment statistics did not make

for pleasant reading, with some hefty increases

across both regions and sectors. The latest figures

again show the unpredictable nature of payment

performance and economic climate, with more ups

and downs than a rollercoaster. The average Days

Beyond Terms (DBT) across regions decreased by 2.4 days; there

was no change in the average sector figure.

REGIONAL SPOTLIGHT

The regional standings show some improvements, with six of the

11 regions making reductions to payment terms.

The West Midlands made the biggest move, reducing its DBT

by a massive 9.4 days and taking its overall DBT to 16.4, making

it the new best performing region. Not far behind is the North

West, now with an overall DBT of 16.7 following an impressive

reduction of 7.7 days to its payment terms. Scotland (-6.7 days),

East Anglia (-5.4 days) and the South West (-4.8 days) also all made

moves in the right direction.

Moving in the wrong direction is Yorkshire and Humberside,

now the worst performing region by some distance with an

overall DBT of 29.5 days following a sharp increase of 6.8 days to

its payment terms.

SECTOR SPOTLIGHT

The latest sector figures are a mixed bag, with a number of

industries showing encouraging signs of improvement by

reducing their payment terms, while others continue to struggle,

with payments getting later and later.

The biggest improvement came from the Business from Home

sector, reducing its payment terms by a huge 12 days. Another

sector making strides in the right direction is the Manufacturing

sector, a reduction of 10.1 days means it is now the best

performing sector overall with a DBT of 12.2 days. Elsewhere,

the Real Estate (-8.8 days), Financial and Insurance (-7.7 days),

Construction (-7.1 days) and Mining and Quarrying sectors (-6.6

days) all made notable improvements.

At the other end of the scale, it is no surprise to see the

Hospitality sector continuing to struggle as the worst performing

sector. A further increase of seven days means its overall DBT

now stands at 44.3 days, with many businesses struggling to

survive. International Bodies are also feeling the pinch, its DBT

also increased by a further seven days, making it the second

worst performing sector with overall payment terms of 33.4 days.

Official figures from the Office of National Statistics (ONS)

out in May exceeded economists' expectations, with UK GDP

rising by 2.1 percent in March – the fastest monthly growth rate

since August 2020. The figures were welcomed by the Chancellor

and commentators reporting that the UK's economic resilience

gives us a brighter outlook for the summer. While these signs

of growth are encouraging businesses in all sectors still need to

exercise caution. Understanding the payment behaviour of their

customers will be crucial to mitigating a squeeze on cash flow

from late payment as they navigate their way through the fallout

of the pandemic.

By Rob Howard

The latest sector figures are a

mixed bag, with a number of

industries showing encouraging

signs of improvement by

reducing their payment terms.

Advancing the credit profession / www.cicm.com /June 2021 / PAGE 44
---
STATISTICS

Data supplied by the Creditsafe Group

AUTHOR – Rob Howard

Top Five Prompter Payers

Region April 21 Change from March 21

West Midlands 16.4 -9.4

North West 16.7 -7.7

South West 17.1 -4.8

Scotland 17.7 -6.7

Wales 18.6 0.1

Bottom Five Poorest Payers

Region April 21 Change from March 21

Yorkshire and Humberside 29.5 6.8

East Anglia 21.3 -5.4

East Midlands 21.1 0

South East 20 -2.3

London 19.8 0.7

Top Five Prompter Payers

Sector April 21 Change from March 21

Manufacturing 12.2 -10.1

Wholesale and retail trade 13 -2.1

Education 13.1 -0.5

Transportation and Storage 15.3 -1.2

IT and Comms 16.9 -4.4

Bottom Five Poorest Payers

Sector April 21 Change from March 21

Hospitality 44.3 7

International Bodies 33.4 7

Other Service 31.9 4.8

Entertainment 30.1 -3.9

Business Admin & Support 26.2 -0.5

Getting Better

Business from Home -12

Manufacturing -10.1

Real Estate -8.8

Financial and Insurance -7.7

Construction -7.1

Mining and Quarrying -6.6

Agriculture, Forestry and Fishing -5.1

IT and Comms -4.4

Professional and Scientific -4

Entertainment -3.9

Wholesale and retail trade -2.1

Transportation and Storage -1.2

Business Admin & Support -0.5

Education -0.5

Dormant -0.4

Getting Worse

Hospitality 7

International Bodies 7

Water & Waste 6.8

SCOTLAND

-6.7 DBT

Other Service 4.8

Public Administration 4.1

Health & Social 2.4

NORTHERN

IRELAND

2.1 DBT

SOUTH

WEST

-4.8 DBT

WALES

0.1 DBT

NORTH

WEST

-7.7 DBT

WEST

MIDLANDS

-9.4 DBT

YORKSHIRE &

HUMBERSIDE

6.8 DBT

EAST

MIDLANDS

0 DBT

LONDON

0.7 DBT

SOUTH

EAST

-2.3 DBT

EAST

ANGLIA

-5.4 DBT

Energy Supply 0.8

Region

Getting Better – Getting Worse

-9.4

-7.7

-6.7

-5.4

-4.8

-2.3

0

6.8

2.1

0.7

0.1

West Midlands

North West

Scotland

East Anglia

South West

South East

East Midlands

Yorkshire and Humberside

Northern Ireland

London

Wales

Advancing the credit profession / www.cicm.com /June 2021 / PAGE 45
---
EDUCATION & MARKETING

CICM Virtual Training is an 'access anywhere' range of interactive, online training

courses, designed to give you the skills and tools you need to thrive in your credit

work. Each training course offers high quality approaches to credit-related topics, and

practical skills that can be used in your workplace. A highly qualified trainer, with an

array of credit management experience, will guide you through the subject to give you

practical skills, improved results and greater confidence.

These are pre-recorded training

sessions that you can access

anywhere and at anytime. Short,

sharp and to the point – these suit

you if you are short on time, or need

a quick introduction or update on a

subject.

These are live, interactive sessions,

delivered virtually by a qualified trainer,

experienced in the subject. Through

a series of tasks and discussions, you

will access a hands-on training session

that offers the best practice approach to

essential credit and debt skills.

NEXT VIRTUAL

WORKSHOPS

ADVANCED SKILLS IN COLLECTIONS : 23 June at 09:30

COLLECTION SKILLS FOR THE NEW CREDIT FUTURE : 3 June at 18:30

BEST PRACTICE SKILLS TO ASSESS CREDIT RISK : 23 June at 16:00

MEET YOUR TRAINER: Jules Eames FCICM(Grad); PGCE, is a qualified teacher,

trainer and credit manager with experience in credit and debt specialisms across the

O2C spectrum and ancillary businesses, in consumer, B2B and export markets.

INTRODUCTORY PRICE £90.00+VAT per person.

For group training, please contact info@cicm.com

Advancing the credit profession / www.cicm.com /June 2021 / PAGE 46
---
EDUCATION & MARKETING

The pursuit of knowledge

Laura Martin ACICM is a voice for women in the

industry, and a champion of Lego in her household.

AUTHOR – Max Tyson

IT would not be too much of a

stretch to say that Laura Martin's

relatively young career has been

one full of variety. Starting off

as a HR assistant, she worked

in customer services for Lego,

before moving into debt collection. For

the last three years, Laura has worked

for Credit Limits International, which

sees her deal with the debts of a range of

clients, from small, family-run businesses

to global companies.

Laura also has another role. One that

is more stressful, tiring and, dare I say,

perhaps more rewarding. As a mother

of three she is used to juggling multiple

responsibilities and constantly pushing

herself to the limit. And while her little

ones are yet to adjust to the deficit of

building toys and brick sets in their

stockings come Christmas time, she is

confident that she's found her calling: "I

feel so lucky to be where I am today. I'm in

a profession that I love and one in which

I'm inspired to learn."

This desire for knowledge and

development sees her find time where

others might not. She could be forgiven

for wanting to put her feet up after a

long day in her two full time jobs, but it

is easy to see a fire in Laura, so it seems

only natural that she has been drawn to

the CICM.

A NATURAL PARTNERSHIP

Since joining the Institute, Laura has

benefitted from the learning tools and

courses on offer. Having completed her

Level 3 qualification 18 months ago, she

is now undertaking her Level 5 Diploma

in Credit Management because, as she

says, there is more she wants to learn:

"From advanced credit risk management

to process improvements, the course

is providing information on key credit

management areas and opening my

knowledge up to areas of the sector I

haven't touched before."

The course has, life and kids aside,

brought its challenges. The focus is

predominantly on credit, yet Laura's job

sees her focus on collections: "I have

certainly felt somewhat thrown in at

the deep end. Strategic planning and

advanced credit risk management, for

example, are parts of the sector I haven't

been exposed to before.

"But in the same breath, the course is

giving me a broader overview of the whole

industry and the knowledge I am gaining

will only be of benefit to myself and my

customers."

A further positive can be gleaned from

the structure of the course. While there are

compulsory modules that each candidate

sits, there is room for flexibility within

these. Within the advanced credit risk

management module, for example, Laura

is focusing on the new client assessment

angle, as this is most relevant to her line

of work.

Laura Martin ACICM is Debt Collection

Manager Scandinavia & UK at Credit Limits

International Ltd.

APPLYING THE THEORY

Perhaps the most valuable aspect of the

qualification is its utility and relevance for

credit professionals. This ability to tailor

modules around your interests means

that students are able to learn theories

and practice ideas that they can apply to

their work.

Laura makes this point about the Process

Improvement module: "This element

of the course focuses on monitoring,

reviewing and improving business

processes. Learning the fundamentals of

the Lean Six Sigma, Streamlined Process

Improvement (SPI) and Continuous

Improvement methodologies has allowed

me to look at collections within the

companies on my portfolio and identify

the areas which are adding value and

remove areas that are not adding value

through leaning, cleaning and greening."

BENEFITS BEYOND THE COURSE

As a member of the CICM, members are

able to access resources and learning

materials, irrespective of whether or not

they're undertaking official qualifications.

And as well as up-to-date information,

members share best practice, allowing

collective benefits to follow.

For Laura, this meant that she was able

to keep on top of the state of many sectors

from the start of the pandemic, enabling

her to categorise her cases based on the

likelihood of receiving repayment. An

early awareness of the hardships faced

by the hospitality and retail sectors saw

her put them to one side in the early

stages, and only begin pursuing debts in

the summer months, once business had

begun to pick up again.

"It's this knowledge," she says, "that

is of such value to me as a collections

professional. The CICM is able to provide

in-depth information on the credit

industry, as well as the many sectors it

touches, and this insight provides an

invaluable tool when it comes to dealing

with customers."

A VOICE FOR WOMEN

It's difficult not to feel a real sense of

admiration for Laura. As a mother, she

wants to do right by her children; as a

professional she wants to do the best

possible job for her clients; and as a

woman she wants to provide a voice in

what appears to still be a male-dominated

industry. She puts it far better than I ever

could: "In debt collection there are two

major misconceptions: the first is that

we are nasty people who hound others on

the phone, and the other is that it is no

industry for women.

"On the first point, it is great to see

headway being made in eroding this

misconception, with groups like the CICM

and Credit Services Association (CSA)

making real strides in highlighting the

professionalism and personalism shown

by the vast majority of collection agencies.

"And on the second, I find such great

pleasure in the work I do and my only

wish is that more could be done to inspire

women to join this great industry."

Max Tyson is a writer on the

Credit Management editorial team.

Advancing the credit profession / www.cicm.com /June 2021 / PAGE 47
---
EDUCATION & MARKETING

Booking your

exams has never

been easier

Head over to our new exam pages

for all the information you need to prepare,

book and take your CICM exams

www.cicm.com/exams/
---
MARKETING & EDUCATION

Virtual Classes

for 2021

Get CICM qualified by attending

Virtual Classes: The best of both worlds.

Home study does not mean you have to study alone. Our 'gold standard'

distance learning offer, our Virtual Classes have the greatest success

rate of all our packages. Your study will be supported and led by one of

our experienced CICM Tutors via a series of virtual classes and activities,

which are interactive, challenging and fun.

LEVEL

2

Commercial

LEVEL

3

Debt

Telephone – 30 June

Consumer Collections – 20 September

Recovery – 29 June

Credit Risk open – 29 June

Credit Management (TCE) – 6 September

Business Environment – 6 September

Business Law – 6 September

Advanced Collections – 20 September

Advanced Business Comms – 4 October

LEVEL

5

Strategic

Planning open – 23 August

Compliance with legal, regulatory, ethical and social Requirements

and open – 23 August

Process Improvement open – 23 August

Book your place today, visit www.cicm.com

or contact a member of our team on 01780 722900

Advancing the credit profession / www.cicm.com /June 2021 / PAGE 49
---
NEW AND UPGRADED MEMBERS

Do you know someone who would benefit from CICM membership? Or have

you considered applying to upgrade your membership? See our website

www.cicm.com/membership-types for more details, or call us on 01780 722903

Member

Kay Baker

Fiona Brown

Janisha Patel

Karen Sanderson

Peter Staines

Anthony Barrow

Victoria Beach

Jonathan Fancourt

Corrie Norris

Member by exam

Amanda Grindle

Studying Member

Chris Ardern

Khadiza Begum

George Bou Abboud

Alan Callaghan

Alexander Chapman

Angela Coll

Andrew Cozens

Habeeb Daji

Conor David

Ahmed Daya

Angelo De Cicco

Joanna Dixon

Louis Ellis

Matthew Everley

Jennifer Forsyth

Lisa Girt

Julie Goold

Connor Hainey

Svetlana Harris

Hayley Hilton

Robert Hughes

Jaye Hunt

Mohammed Ifraz

David Jarvis

Mathana Jathurshan

Rachael Jones

Zita Joseph

Paul Loader

Barbara McLauchlan

Logan McWilliams

Charles Mensah

Jack Mills

Maithabeleng Mphane

Nandagopal Narayanankutty

Marc Newton

Sandra Piteira

Grant Raggett

Anita Rooney

Alison Rowley-Smith

MD Mozibur Rahaman Sarker

Seetharam Seethamohan

Prashant Sharma

Pamela Sibanda

Salim Tabboush

Tom Fifoot

Piers Gooding

Derrick Kankam-Hoppe

John McNeill

Tendesayi Vengesayi

Affiliate

Kinga Kacaniova

Priya Malhotra

Carol Brennan

Jane Caldwell

Claire Rimmer

Sandra Rosario-Ochtaras

Hayley Wright

Associate

Rose Anne Calleja Mark Fyfe Adewale Owoseni Eoghan Rodgers

Fellow

Margaret Dunsmore

Congratulations to our current members who have upgraded their membership

Upgraded member

Gail Armstrong FCICM

Michelle Atkinson FCICM

Nick Neal FCICM(Grad)

John Rea FCICM

Hardev Tumber FCICM

Jason Sedgwick FCICM

Anthony Barrow MCICM

Nicky Crossey MCICM

Jonathan Fancourt MCICM

Yvette Gray MCICM

Rebecca Wilkins MCICM

Luke Peacock ACICM

Alexander Dowson ACICM

Charlotte Gregory ACICM

AWARDING BODY

Congratulations to the following, who successfully achieved Diplomas

Level 3 Diploma in Credit & Collections (ACICM)

NAME

Katharyne Brindle

Henry Green

Ivelin Iliev

Eoghan Rodgers

Ian Armstrong

WE WANT YOUR BRANCH NEWS!

Get in touch with the CICM by emailing branches@cicm.com with your branch news and event reports.

Please only send up to 400 words and any images need to be high resolution to be printable, so 1MB plus.

Advancing the credit profession / www.cicm.com /June 2021 / PAGE 50
---
PANEL BASHER

Consigned to the bin?

Consignment stock arrangements are

worth a second look.

How do

consignment

stock

arrangements

work, and are

they worth the

bother?

NIGEL FIELDS FCICM

Panellist

A career in credit management spanning

more than 30 years, Nigel Fields FCICM is

now Senior Director, Global Process Owner

OTC at NBC Universal International. Nigel

spent 20 years working for Twentieth Century

Fox International Film Corp. starting out in

its UK business as Credit Manager and rising

to Executive Director for Credit, responsible

for Order to Cash (OTC) across Fox's entire

international business portfolio. Prior to Fox,

he worked as the Credit Manager at Hornby

Hobbies and a Credit Controller for GEC. Nigel

says: "I attribute much of my career success to

the CICM community where I am always able

to draw upon knowledge and skills from the

extensive array of members and partners."

CONSIGNMENT stock

agreements have become

increasingly popular in

recent years. It's basically a

supply chain management

strategy in which retailers

hold products from suppliers in store for

sale without paying for the products until

purchased by the end consumers.

We can all see our retail highstreets

in decline and disappearing at a rapid

pace and yet, as we make more and more

on-line purchases. I still feel a sense of

sorrow about losing those stores that I

previously enjoyed visiting and browsing

products that would often lead me to make

purchases on impulse. One lifeline might

just be the 'consignment stock' agreement

which allows the retailer to hold a good

range of products without them having

their money tied up in stock. It also allows

for suppliers to have a better range with

good product mixes on sale in stores that

can include products that the retailer

might not otherwise held in their normal

product ranges. It's a good balance that

ensures that the retailers' money is not

tied up in stock but is still able to offer for

sale a wide, plentiful range of products

from suppliers that would otherwise have

resulted in lost trade and sales.

The model has some obvious

advantages but does also come with some

disadvantages too. I have listed my key

thoughts on this.

ADVANTAGES FOR THE SUPPLIER

• A good marketing tool ensuring a wide

range of products in stores.

• Includes products that retailers may not

normally have held.

• Better in store placing of products on

sale.

• Maximises the potential retail sales.

• Provides insights and a true

understanding of consumer habits.

• Reduces stock inventory and warehouse

costs.

• The supplier has clear title and

ownership of all unsold products.

• Payment terms can be shortened.

• Better visibility of what is and what is

not selling.

DISADVANTAGES FOR THE SUPPLIER

• Increased shipping costs.

• Risk of loss or damage of the product on

sale.

• Reliance on retailers to correctly track

and report sales.

• Reliance on retailers to maximise

product exposure.

• Tying up the Supplier's capital until

merchandise is sold to consumers.

• Reliance on the retailer's financial

stability and their ability to transfer

funds after selling.

• Systems requirements in order to

manage the process.

ADVANTAGES FOR THE RETAILER

• Less cash tied up in stock.

• Stocking a wider range of products that

can bring increased footfall and sales.

• Only pay for what is sold.

• Supplier will help to maximise sales.

• Better margins as the supplier is more

likely to price adjust for promotions etc.

DISADVANTAGES FOR THE RETAILER

• Shelf space especially, if consigned

products aren't sold.

• Different process necessary to manage

inventory.

• Possible loss of focus on overall product

ranges.

• Generally shorter payment terms.

Consignment agreements will largely

depend upon individual circumstances.

It can be a great way to see what products

are really selling and is likely to get you

better retail shelf space. Overall, I think it

is a really good thing and, from experience,

if managed properly, the advantages

outweigh the disadvantages all round.

Let's face it, the bricks and mortar physical

retailers have a far more expensive model

than on-line retailers and it is something

that can certainly help the balance a little.

If you'd like to join our panel of experts, or if

you have a question to ask, contact the editor

at sfeast@gravityglobal.com

Advancing the credit profession / www.cicm.com /June 2021 / PAGE 51
---
@CreditServicesA

UKCCC

2021

CROWNE PLAZA

NEWCASTLE UPON TYNE

Advancing the credit profession / www.cicm.com /June 2021 / PAGE 52

AWARDS

2021
---
GET TUNED IN

CICM is proud to

introduce our new Podcasts

how they can

benefit your

company

Listen in to the

conversations of the

industry experts,

wherever you are.

Tune in now!

GET TUNED IN

Advancing the credit profession / www.cicm.com /June 2021 / PAGE 53
---
HR MATTERS

Location, Location, Location

Equal pay, the value of work, and the

right to work in the UK.

AUTHOR – Gareth Edwards

HOW should employees

in retail environments

compare their roles for

equal pay purposes? That

question was answered

by the Supreme Court in

Asda Stores Ltd v Brierley and others.

The Court ruled that Asda employees

in retail stores can compare themselves

to those employees working in the

supermarket's distribution depots under

the Equal Pay Act 1970 and Equality

Act 2010, despite working at different

locations.

In the case, more than 7,000 –

predominantly female – staff employed

in Asda retail stores brought an equal

pay claim in the Employment Tribunal,

seeking to use higher-paid, predominately

male, Asda distribution depot workers as

their comparators.

Asda said that distribution staff are not

appropriate comparators as employees

working on the shop floor are employed at

different establishments and on different,

although not materially different, terms

and conditions of employment.

The Supreme Court disagreed and

confirmed that, where there are

no comparators at the claimant's

establishment, the 'North hypothetical'

principle (Dumfries and Galloway

Council v North) can be applied to

consider whether the comparators would

have been employed on similar terms to

those they are currently on at their own

establishment, had they been employed

at the same site as the claimant.

As a result, despite working in entirely

different establishments, retail store

employees can use distribution workers

as their comparators to assess whether

the latter would have been employed

on similar terms to those currently

at distribution depots had they been

employed in supermarket retail stores.

However, retail workers must still

show that they have performed work of

equal value. In response, Asda is likely to

argue that a difference in pay is justified

because the value of the claimants and

comparators work when compared is

not of equal value. The supermarket

may be able to use the 'genuine material

factor' defence if there is a valid nondiscriminatory

reason for the difference

in pay.

The case was referred back to the

Employment Tribunal for an evaluation

of whether the work of the claimants and

comparators is of equal value and whether

a 'genuine material factor' defence would

be permissible.

The Supreme Court's ruling shows that

the comparator in equal pay claims does

not have to be employed on identical or

the same terms as the claimant. Employers

still have the opportunity to defend equal

pay claims, by showing that the claimant's

and comparator's work is not of equal

value, or by using the 'genuine material

factor' defence where an employee is paid

less than a comparator of the opposite

sex performing equal work for a nondiscriminatory

reason.

THE Home Office has updated, An

employers' guide to right to work checks,

which provides guidance on the right to

work for EU citizens starting work in the

UK between 1 January and 30 June 2021.

Until the end of this grace period,

employers can still rely on verifying an

EEA or Swiss national's right to remain

in the UK by checking their passport

or national ID card as evidence of their

identity and right to work in the UK.

The guidance confirms that there is

no obligation to apply different criteria

to those EU citizens who arrived in the

UK before 11pm on 31 December 2020 in

comparison to those who arrived after

that time under UK immigration laws.

The guidance also confirmed that no

mandatory requirement for employers

to undertake retrospective checks on EU

citizens employed before 30 June 2021 is

to be applied during the grace period.

This means that an employer will

continue to benefit from protection

against a civil penalty if their employee

is working illegally in the UK as long as

a right to work check is undertaken in

line with right to work legislation and

guidance, and the employer does not

Guidance on right to work check

know or have reasonable cause to believe

the employee has no right to work in the

UK.

For those prospective UK employees

who already have status under the EU

Settlement Scheme, or under the pointsbased

immigration system, employers

may encourage them to evidence their

right to work using the Home Office

online service. Employers are not allowed

to insist that EU citizens use the online

service, nor can they discriminate against

those who still want to use their passport

or national identity card as evidence

of their right to work during the grace

period.

However, from 1 July 2021, all EU

citizens (other than Irish nationals) will

need to provide evidence of immigration

status using the online service to

demonstrate they have a right to work in

the UK.

Gareth Edwards is a partner in the

employment team at VWV

www.gedwards@vwv.co.uk

Advancing the credit profession / www.cicm.com /June 2021 / PAGE 54
---
Advancing the credit profession / www.cicm.com /June 2021 / PAGE 55
---
TAKE CONTROL OF

YOUR CREDIT CAREER

CREDIT CONTROLLER

London City, £35,000-£45,000 per annum

The successful candidate will be working for a growing law

firm that opened as a family business 30 years ago and is now

a successful LLP specialising in property and construction law.

This is a great opportunity to join the business as a revenue

controller and take ownership of the credit control, WIP

management and billing. You will be working in a team of eight

and the ideal candidate will have experience in a similar role

previously and be confident taking full responsibility of these

duties. Ref: 3974325

Contact Rebecca Hutton on 020 3465 0020

or email rebecca.hutton@hays.com

REGIONAL CREDIT CONTROL TEAM LEAD

Belfast, c£35,000

A senior credit opportunity, leading a regional credit and

collections team within a global business has become available.

You will co-ordinate the collections and cash management

strategy for the region; oversee key client accounts; manage

the day-to-day activities of the collections staff, which includes

establishing performance goals. You will build strong relationships

with senior stakeholders across the business and externally, with

a focus on big picture and long-term relationship building.

Ref: 3972926

Contact Nicola McCallum on 07720 617714

or email nicola.mccallum@hays.com

ACCOUNTS RECEIVABLE SUPERVISOR

Uxbridge, up to £37,000 per annum + 5% annual bonus

Working for a global retail entertainment business you will primarily

be responsible for supervision of two accounts receivable clerks,

ensuring timely and correct allocation of payments. You will also

oversee the administration of intercompany and sundry receivables

accounts. This is a progressive role where you will get involved in

major projects, SOX controls and implementation of new processes

after a recent key acquisition. Experience with SAP and solid

reporting skills on excel is essential. Ref: 3977144

Contact Mark Ordoña on 07565 800574

or email mark.ordona@hays.com

CREDIT CONTROLLER

London City (currently remote), up to £28,000

You will be working for a FTSE250 media subscriptions business

and will manage a ledger of circa 200-300 live accounts, with

a value of £4M-£5M per month. This role will focus primarily

on chasing 'clean debt', and you will be dealing with multiple

currencies and international clients. You will utilise strong credit

control and negotiation skills, NetSuite system experience is

advantageous but not essential. This role is initially being offered

on a two-month contract basis but is likely to extend further.

Currently fully remote with laptop provided, flexible working

options will be available longer term. Ref: 3979035

Contact Sheyda Ozturk on 020 3465 0020

or email sheyda.ozturk@hays.com

hays.co.uk/creditcontrol

Advancing the credit profession / www.cicm.com /June 2021 / PAGE 56
---
TRAIN FOR THE

YEAR AHEAD

My Learning – free skills

training from Hays

To find out more visit

hays.co.uk/mylearning

SALES LEDGER & CREDIT CONTROL ASSISTANT

Bishop Auckland, County Durham, £24,000

A one-off opportunity to join a family owned "success story"

has become available. You will be responsible for all aspects

of sales ledger and credit control, which includes maintaining

databases, chasing debt and nurturing established relationships

with customers. You will be the key point of contact for all

customer queries and work with the sales reps and production

teams. Proficient Excel skills and knowledge of Sage 200 is an

advantage. Ref: 3981702

Contact Catherine Duke on 07595 073328

or email catherine.duke@hays.com

CREDIT CONTROLLER (GERMAN SPEAKING)

Exeter, £21,000 + potential of a bonus, usually achieved

You will be working for a large scale communications and data

management company based in the centre of Exeter. You will be

dealing specifically with the German and Austrian markets that the

organisation works with. You will be responsible for the successful

communication between the client and their customers on certain

financial issues. As well as your salary you will receive an excellent

benefits package well in excess of any industry standard or

expectations. Ref: 3966431

Contact Simon Lawrence on 07824 884540

or email simon.lawrence@hays.com

This is just a small selection of the many opportunities we have

available for credit professionals. To find out more visit us

online or contact Kabir Gulabkhan, Hays Credit Management

UK Lead on 020 3465 0020

Advancing the credit profession / www.cicm.com /June 2021 / PAGE 57
---
BE ONE CLICK AWAY

FROM OUR WEBSITE

How to set up a great one click link to the CICM website

on your mobile phone. Follow these four simple steps...

Step 1 Step 2 Step 3 Step 4

Go to cicm.com > Click highlighted icon at bottom of screen > Click add to Home screen icon

> Click add icon at top right of screen > CICM icon will appear on your screen

Step 1 Step 2 Step 3 Step 4

Open cicm.com in Google Chrome browser > Tap Menu button > Tap add shortcut to Home screen

> Icon will appear on your screen. Menu button on other Android devices may be displayed differently.

Advancing the credit profession

T: +44 (0)1780 722900 | WWW.CICM.COM
---
CHARTERED INSTITUTE OF CREDIT MANAGEMENT

ONLINE EVENTS

Keep an eye on our events calendar at CICM.COM for all CICM events!

Visit our website and book online at: www.cicm.com/cicm-events

Many of our events are now available

online, along with a new series of

live recorded webinars for the credit

profession.

Studying at a

distance

with CICM

Visit our website for

updates and instructions

on how to register...

From interactive virtual classrooms to supporting texts,

from mentor advice to peer support, we've got it all.

Contact CICM for more information on any of these services,

or check them out at cicm.com

Giving you the tools to continue

working through this crisis.

Advancing the credit profession / www.cicm.com /June 2021 / PAGE 59
---
Cr£ditWho?

CICM Directory of Services

COLLECTIONS

COLLECTIONS (INTERNATIONAL)

COLLECTIONS LEGAL

Controlaccount Plc

Address: Compass House, Waterside, Hanbury Road,

Bromsgrove, Worcestershire B60 4FD

T: 01527 549 522

E: sales@controlaccount.com

W: www.controlaccount.com

Controlaccount Plc provides an efficient, effective and ethical

commercial debt recovery service focused on improving business

cash flow whilst preserving customer relationships and established

reputations. Working with leading brand names in the UK and

internationally, we deliver a bespoke service to our clients. We

offer a no collect, no fee service without any contractual ties in.

Where applicable, we can utilise the Late Payment of Commercial

Debts Act (2013) to help you redress the cost of collection. Our

clients also benefit from our in-house international trace and

legal counsel departments and have complete transparency and

up to the minute information on any accounts placed with us for

recovery through our online debt management system, ClientWeb.

Guildways

T: +44 3333 409000

E: info@guildways.com

W: www.guildways.com

Guildways is a UK & International debt collection specialist with over

25 years experience. Guildways prides itself on operating to the

highest ethical standards and professional service levels. We are

experienced in collecting B2B and B2C debts. Our service includes:

• A complete No collection, No Fee commission based service

• 10% plus VAT commission for UK debts

• Commission from 22% plus VAT for International debts

• 24/7 online access to your cases through our CaseManager portal

• Direct online account-to-account payments, to speed up

collections and minimise costs

If you are unable to locate your customer, we also offer a no trace, no

fee, trace and collect service.

For more information, visit: www.guildways.com

COLLECTIONS (INTERNATIONAL)

Atradius Collections Ltd

3 Harbour Drive,

Capital Waterside, Cardiff, CF10 4WZ

Phone: +44 (0)29 20824397

Mobile: +44 (0)7767 865821

E-mail:yvette.gray@atradius.com

Website: atradiuscollections.com

Atradius Collections Ltd is an established specialist in business

to business collections. As the collections division of the Atradius

Crédito y Caución, we have a strong position sharing history,

knowledge and reputation.

Annually handling more than 110,000 cases and recovering over

a billion EUROs in collections at any one time, we deliver when

it comes to collecting outstanding debts. With over 90 years'

experience, we have an in-depth understanding of the importance

of maintaining customer relationships whilst efficiently and

effectively collecting monies owed.

The individual nature of our clients' customer relationships is

reflected in the customer focus we provide, structuring our service

to meet your specific needs. We work closely with clients to

provide them with a collection strategy that echoes their business

character, trading patterns and budget.

For further information contact Yvette Gray Country Director, UK

and Ireland.

Premium Collections Limited

3 Caidan House, Canal Road

Timperley, Cheshire. WA14 1TD

T: +44 (0)161 962 4695

E: paul.daine@premiumcollections.co.uk

W: www.premiumcollections.co.uk

For all your credit management requirements Premium

Collections has the solution to suit you. Operating on a national

and international basis we can tailor a package of products and

services to meet your requirements.

Services include B2B collections, B2C collections, international

collections, absconder tracing, asset repossessions, status

reporting and litigation support.

Managed from our offices in Manchester, Harrogate and Dublin our

network of 55 partners cover the World.

Contact Paul Daine FCICM on +44 (0)161 962 4695 or

paul.daine@premiumcollections.co.uk

www.premiumcollections.co.uk

Baker Ing International Limited

Office 7, 35-37 Ludgate Hill, London. EC4M 7JN

Contact: Lisa Baker-Reynolds

Email: lisa@bakering.global

Website: https://www.bakering.global/contact/

Tel: 07717 020659

Baker Ing International is a dedicated team of Credit industry

experience that, combined, covers time served in most industries.

The team is wholly comprised of working Credit Manager's

across the Globe with a minimum threshold of ten years working

experience within Credit Management. The team offers a

comprehensive service to clients - International Debt Recovery,

Credit Control, Legal Services & more

Our mission is to help companies improve the cost and efficiency

of their Credit Management processes in order to limit the risks

associated with extending credit and trading around the globe.

How can we help you - call Lisa Baker Reynolds on

+44(0)7717 020659 or email lisa@bakering.global

Sterling Debt Recovery

E: info@sterlingdebtrecovery.com

T: 0207 1005978

W: www.sterlingdebtrecovery.com

Sterling specialises in international business debt collection

to get outstanding invoices paid quickly and cost effectively.

Our experienced, enthusiastic collectors achieve results whilst

maintaining a professional image.

We work on a commission only basis with no up-front fees and

no hidden costs. Each client is allocated a named collector for

personal service and regular updates. We collect the majority

of debt without litigation, with our on-site lawyer supporting us

where appropriate.

Where local expertise is required our global network are available

to assist.

BlaserMills Law

London – High Wycombe – Amersham – Silverstone

T: 01494 478660

E: jar@blasermills.co.uk

W: www.blasermills.co.uk

Blaser Mills Law's commercial recoveries team is internationally

recognised, regularly advising large corporations, multinationals

and SMEs on pre-legal collections, debt recovery, commercial

litigation, dispute resolution and insolvency. Our legal services

are both cost-effective and highly efficient; Our lawyers are also

CICM qualified and ranked in the industry leading law firm rankings

publications, Legal 500 and Chambers UK.

Keebles

Capitol House, Russell Street, Leeds LS1 5SP

T: 0113 399 3482

E: charise.marsden@keebles.com

W: www.keebles.com

Keebles debt recovery team was named "Legal Team of the Year"

at the 2019 CICM British Credit Awards.

According to our clients "Keebles stand head and shoulders

above others in the industry. A team that understands their client's

business and know exactly how to speedily maximise recovery.

Professional, can do attitude runs through the team which is not

seen in many other practices."

We offer a service with no hidden costs, giving you certainty and

peace of mind.

• 'No recovery, no fee' for pre-legal work.

• Fixed fees for issuing court proceedings and pursuing claims to

judgment and enforcement.

• Success rate in excess of 80%.

• 24 hour turnaround on instructions.

• Real-time online access to your cases to review progress.

Lovetts Solicitors

Lovetts, Bramley House, The Guildway,

Old Portsmouth Road,

Guildford, Surrey, GU3 1LR

T: 01483 347001

E: info@lovetts.co.uk

W: www.lovetts.co.uk

With more than 25yrs experience in UK & international business

debt collection and recovery, Lovetts Solicitors collects £40m+

every year on behalf of our clients. Services include:

• Letters Before Action (LBA) from £1.50 + VAT (successful in 86%

of cases)

• Advice and dispute resolution

• Legal proceedings and enforcement

• 24/7 access to your cases via our in-house software solution,

CaseManager

Don't just take our word for it, here's some recent customer

feedback: "All our service expectations have been exceeded.

The online system is particularly useful and extremely easy to

use. Lovetts has a recognisable brand that generates successful

results."

Advancing the credit profession / www.cicm.com /June 2021 / PAGE 60
---
FOR ADVERTISING INFORMATION OPTIONS

AND PRICING CONTACT

russell@centuryone.uk 0203 603 7937

CONSULTANCY

CREDIT INFORMATION

CREDIT MANAGEMENT SOFTWARE

Chris Sanders Consulting

T: +44(0)7747 761641

E: enquiries@chrissandersconsulting.com

W: www.chrissandersconsulting.com

Chris Sanders Consulting – we are a different sort of consulting

firm, made up of a network of independent experienced

operational credit & collections management and invoicing

professionals, with specialisms in cross industry best practice

advisory, assessment, interim management, leadership,

workshops and training to help your team and organisation reach

their full potential in credit and collections management. We are

proud to be Corporate Partners of the Chartered Institute of Credit

Management and to manage the CICM Best Practice Accreditation

Programme on their behalf. For more information please contact:

enquiries@chrissandersconsulting.com

CREDIT INFORMATION

Company Watch

Centurion House, 37 Jewry Street,

LONDON. EC3N 2ER

T: +44 (0)20 7043 3300

E: info@companywatch.net

W: www.companywatch.net

Organisations around the world rely on Company Watch's

industry-leading financial analytics to drive their credit risk

processes. Our financial risk modelling and ability to map medium

to long-term risk as well as short-term credit risk set us apart

from other credit reference agencies.

Quality and rigour run through everything we do, from our unique

method of assessing corporate financial health via our H-Score®,

to developing analytics on our customers' in-house data.

With the H-Score® predicting almost 90 percent of corporate

insolvencies in advance, it is the risk management tool of choice,

providing actionable intelligence in an uncertain world.

CREDIT MANAGEMENT SOFTWARE

Data Interconnect Ltd

Units 45-50

Shrivenham Hundred Business Park, Majors Road,

Watchfield. Swindon, SN6 8TZ

T: +44 (0)1367 245777

E: sales@datainterconnect.co.uk

W: www.datainterconnect.com

Data Interconnect is dedicated to solving complex Accounts

Receivable problems through reliable, easy-to-use cloud

software. We empower billing managers and collections experts

with the tools and data they need in a user-friendly interface, for

timely, tax-compliant invoicing, collections and reconciliation in

the most cost effective, secure, auditable and trackable manner.

The powerful, flexible, Corrivo platform is the only system your

AR team needs to manage your company's cashflow better.

2 0 0 2

—

2 0 2 0

CoCredo

Missenden Abbey, Great Missenden, Bucks, HP16 0BD

T: 01494 790600

E: customerservice@cocredo.com

W: www.cocredo.co.uk

CoCredo has 18 years experience in developing credit reports for

businesses and is the current CICM Credit Information Provider

of the Year. Our company data is continually updated throughout

the day and ensures customers have the most current information

available. We aggregate data from a range of leading providers

across over 235 territories and offer a range of services including

the industry first Dual Report, Monitoring, XML Integration and

DNA Portfolio Management.

We pride ourselves in offering award-winning customer service

and support to protect your business.

HighRadius

T: +44 7399 406889

E: gwyn.roberts@highradius.com

W: www.highradius.com

HighRadius is the leading provider of Integrated Receivables

solutions for automating receivables and payment functions such

as credit, collections, cash allocation, deductions and eBilling.

The Integrated Receivables suite is delivered as a software-as-aservice

(SaaS). HighRadius also offers SAP-certified Accelerators

for SAP S/4HANA Finance Receivables Management, enabling

large enterprises to maximize the value of their SAP investments.

HighRadius Integrated Receivables solutions have a proven track

record of reducing days sales outstanding (DSO), bad-debt and

increasing operation efficiency, enabling companies to achieve an

ROI in less than a year.

ESKER

Sam Townsend Head of Marketing

Northern Europe Esker Ltd.

T: +44 (0)1332 548176 M: +44 (0)791 2772 302

W: www.esker.co.uk LinkedIn: Esker – Northern Europe

Twitter: @EskerNEurope blog.esker.co.uk

Esker's Accounts Receivable (AR) solution removes the all-toocommon

obstacles preventing today's businesses from collecting

receivables in a timely manner. From credit management to cash

allocation, Esker automates each step of the order-to-cash cycle.

Esker's automated AR system helps companies modernise

without replacing their core billing and collections processes. By

simply automating what should be automated, customers get the

post-sale experience they deserve and your team gets the tools

they need.

Graydon UK

66 College Road, 2nd Floor, Hygeia Building, Harrow,

Middlesex, HA1 1BE

T: +44 (0)208 515 1400

E: customerservices@graydon.co.uk

W: www.graydon.co.uk

With 130+ years of experience, Graydon is a leading provider of

business information, analytics, insights and solutions. Graydon

helps its customers to make fast, accurate decisions, enabling

them to minimise risk and identify fraud as well as optimise

opportunities with their commercial relationships. Graydon uses

130+ international databases and the information of 90+ million

companies. Graydon has offices in London, Cardiff, Amsterdam

and Antwerp. Since 2016, Graydon has been part of Atradius, one

of the world's largest credit insurance companies.

Tinubu Square UK

Holland House, 4 Bury Street,

London EC3A 5AW

T: +44 (0)207 469 2577 /

E: uksales@tinubu.com

W: www.tinubu.com

Founded in 2000, Tinubu Square is a software vendor, enabler

of the Credit Insurance, Surety and Trade Finance digital

transformation.

Tinubu Square enables organizations across the world to

significantly reduce their exposure to risk and their financial,

operational and technical costs with best-in-class technology

solutions and services. Tinubu Square provides SaaS solutions

and services to different businesses including credit insurers,

receivables financing organizations and multinational corporations.

Tinubu Square has built an ecosystem of customers in over 20

countries worldwide and has a global presence with offices in

Paris, London, New York, Montreal and Singapore.

SERRALA

Serrala UK Ltd, 125 Wharfdale Road

Winnersh Triangle, Wokingham

Berkshire RG41 5RB

E: r.hammons@serrala.com W: www.serrala.com

T +44 118 207 0450 M +44 7788 564722

Serrala optimizes the Universe of Payments for organisations

seeking efficient cash visibility and secure financial processes.

As an SAP Partner, Serrala supports over 3,500 companies

worldwide. With more than 30 years of experience and

thousands of successful customer projects, including solutions

for the entire order-to-cash process, Serrala provides credit

managers and receivables professionals with the solutions they

need to successfully protect their business against credit risk

exposure and bad debt loss.

ONGUARD

T: 020 3868 0947

E: lisa.bruno@onguard.com

W: www.onguard.com

Onguard is specialist in credit management software and market

leader in innovative solutions for order to cash. Our integrated

platform ensures an optimal connection of all processes in the

order to cash chain and allows sharing of critical data.

Intelligent tools that can seamlessly be interconnected and

offer overview and control of the payment process, as well as

contribute to a sustainable customer relationship.

In more than 50 countries the Onguard platform is successfully

used for successful credit management.

Credica Ltd

Building 168, Maxell Avenue, Harwell Oxford, Oxon. OX11 0QT

T: 01235 856400E: info@credica.co.uk W: www.credica.co.uk

Our highly configurable and extremely cost effective Collections

and Query Management System has been designed with 3 goals

in mind:

•To improve your cashflow • To reduce your cost to collect

• To provide meaningful analysis of your business

Evolving over 15 years and driven by the input of 1000s of

Credit Professionals across the UK and Europe, our system is

successfully providing significant and measurable benefits for our

diverse portfolio of clients.

We would love to hear from you if you feel you would benefit from

our 'no nonsense' and human approach to computer software.

Satago

48 Warwick Street, London, W1B 5AW

T: +44(0)020 8050 3015

E: hello@satago.com

W: www.satago.com

Satago helps business owners and their accountants avoid credit

risks, manage debtors and access finance when they need it – all

in one platform. Satago integrates with 300+ cloud accounting

apps with just a few clicks, helping businesses:

• Understand their customers - with RISK INSIGHTS

• Get paid on time - with automated CREDIT CONTROL

• Access funding - with flexible SINGLE INVOICE FINANCE

Visit satago.com and start your free trial today.

Advancing the credit profession / www.cicm.com /June 2021 / PAGE 61
---
Cr£ditWho?

CICM Directory of Services

FOR ADVERTISING INFORMATION

OPTIONS AND PRICING CONTACT

russell@centuryone.uk 0203 603 7937

DATA AND ANALYTICS

ENFORCEMENT

INSOLVENCY

Dun & Bradstreet

Marlow International, Parkway Marlow

Buckinghamshire SL7 1AJ

Telephone: (0800) 001-234 Website: www.dnb.co.uk

Dun & Bradstreet Finance Solutions enable modern finance

leaders and credit professionals to improve business performance

through more effective risk management, identification of growth

opportunities, and better integration of data and insights across

the business. Powered by our Data Cloud, our solutions provide

access to the world's most comprehensive commercial data

and insights - supplying a continually updated view of business

relationships that helps finance and credit teams stay ahead of

market shifts and customer changes. Learn more here:

www.dnb.co.uk/modernfinance

C2FO

C2FO Ltd

105 Victoria Steet

SW1E 6QT

T: 07799 692193

E: anna.donadelli@c2fo.com

W: www.c2fo.com

C2FO turns receivables into cashflow and payables into income,

uniquely connecting buyers and suppliers to allow discounts

in exchange for early payment of approved invoices. Suppliers

access additional liquidity sources by accelerating payments

from buyers when required in just two clicks, at a rate that works

for them. Buyers, often corporates with global supply chains,

benefit from the C2FO solution by improving gross margin while

strengthening the financial health of supply chains through

ethical business practices.

identeco – Business Support Toolkit

Compass House, Waterside, Hanbury Road, Bromsgrove,

Worcestershire B60 4FD

Telephone: 01527 549 531 Email: info@identeco.co.uk

Web: www.identeco.co.uk

identeco's Business Support Toolkit is an online portal connecting

its subscribers to a range of business services that help them

to engage with new prospects, understand their customers and

mitigate risk. Annual subscription is £79.95 per year for unlimited

access. Providing company information and financial reports,

director and shareholder structures as well as a unique financial

health rating, balance sheets, ratio analysis, and any detrimental

data that might be associated with a company. Other services

also included in the subscription include a business names

database, acquisition targets, a data audit service as well as

unlimited, bespoke marketing and telesales listings for any sector.

ENFORCEMENT

Court Enforcement Services

Wayne Whitford – Director

M: +44 (0)7834 748 183 T : +44 (0)1992 663 399

E : wayne@courtenforcementservices.co.uk

W: www.courtenforcementservices.co.uk

Court Enforcement Services is the market leading and fastest

growing High Court Enforcement company. Since forming in 2014,

we have managed over 100,000 High Court Writs and recovered

more than £187 million for our clients, all debt fairly collected. We

help lawyers and creditors across all sectors to recover unpaid

CCJ's sooner rather than later. We achieve 39% early engagement

resulting in market-leading recovery rates. Our multi-awardwinning

technology provides real-time reporting 24/7. We work in

close partnership to expertly resolve matters with a fast, fair and

personable approach. We work hard to achieve the best results

and protect your reputation.

High Court Enforcement Group Limited

Client Services, Helix, 1st Floor

Edmund Street, Liverpool

L3 9NY

T: 08450 999 666

E: clientservices@hcegroup.co.uk

W: hcegroup.co.uk

Putting creditors first

We are the largest independent High Court enforcement company,

with more authorised officers than anyone else. We are privately

owned, which allows us to manage our business in a way that

puts our clients first. Clients trust us to deliver and service is

paramount. We cover all aspects of enforcement – writs of control,

possessions, process serving and landlord issues – and are

committed to meeting and exceeding clients' expectations.

FINANCIAL PR

Gravity Global

Floor 6/7, Gravity Global, 69 Wilson St, London, EC2A 2BB

T: +44(0)207 330 8888. E: sfeast@gravityglobal.com

W: www.gravityglobal.com

Gravity is an award winning full service PR and advertising

business that is regularly benchmarked as being one of the

best in its field. It has a particular expertise in the credit sector,

building long-term relationships with some of the industry's bestknown

brands working on often challenging briefs. As the partner

agency for the Credit Services Association (CSA) for the past 22

years, and the Chartered Institute of Credit Management since

2006, it understands the key issues affecting the credit industry

and what works and what doesn't in supporting its clients in the

media and beyond.

FORUMS

FORUMS INTERNATIONAL

T: +44 (0)1246 555055

E: info@forumsinternational.co.uk

W: www.forumsinternational.co.uk

Forums International Ltd have been running Credit and Industry

Forums since 1991. We cover a range of industry sectors and

International trading, attendance is for Credit Professionals of all

levels. Our forums are not just meetings but communities which

aim to prepare our members for the challenges ahead. Attending

for the first time is free for you to gauge the benefits and meet the

members and we only have pre-approved Partners, so you will

never intentionally be sold to.

Menzies

T: +44 (0)2073 875 868 - London

T: +44 (0)2920 495 444 - Cardiff

W: menzies.co.uk/creditor-services

Our Creditor Services team can advise on the best way for you

to protect your position when one of your debtors enters, or

is approaching, insolvency proceedings. Our services include

assisting with retention of title claims, providing representation

at creditor meetings, forensic investigations, raising finance,

financial restructuring and removing the administrative burden

– this includes completing and lodging claim forms, monitoring

dividend prospects and analysing all Insolvency Reports and

correspondence.

For more information on how the Menzies Creditor

Services team can assist please contact Giuseppe Parla,

Licensed Insolvency Practitioner, at gparla@menzies.co.uk

or call +44 20 7465 1919.

LEGAL

Shoosmiths

Email: paula.swain@shoosmiths.co.uk

Tel: 03700 86 3000 W: www.shoosmiths.co.uk

Shoosmiths' highly experienced team will work closely with credit

teams to recover commercial debts as quickly and cost effectively

as possible. We have an in depth knowledge of all areas of debt

recovery, including:

•Pre-litigation services to effect early recovery and keep costs down

•Litigation service

•Post-litigation services including enforcement

•Insolvency

As a client of Shoosmiths, you will find us quick to relate to your goals,

and adept at advising you on the most effective way of achieving

them.

PAYMENT SOLUTIONS

American Express

76 Buckingham Palace Road,

London. SW1W 9TQ

T: +44 (0)1273 696933

W: www.americanexpress.com

American Express is working in partnership with the CICM and is a

globally recognised provider of payment solutions to businesses.

Specialising in providing flexible collection capabilities to drive a

number of company objectives including:

• Accelerate cashflow • Improved DSO • Reduce risk

• Offer extended terms to customers

•Provide an additional line of bank independent credit to drive

growth • Create competitive advantage with your customers

As experts in the field of payments and with a global reach,

American Express is working with credit managers to drive growth

within businesses of all sectors. By creating an additional lever

to help support supplier/client relationships American Express is

proud to be an innovator in the business payments space.

Bottomline Technologies

115 Chatham Street, Reading

Berks RG1 7JX | UK

T: 0870 081 8250 E: emea-info@bottomline.com

W: www.bottomline.com/uk

Bottomline Technologies (NASDAQ: EPAY) helps businesses

pay and get paid. Businesses and banks rely on Bottomline for

domestic and international payments, effective cash management

tools, automated workflows for payment processing and bill

review and state of the art fraud detection, behavioural analytics

and regulatory compliance. Businesses around the world depend

on Bottomline solutions to help them pay and get paid, including

some of the world's largest systemic banks, private and publicly

traded companies and Insurers. Every day, we help our customers

by making complex business payments simple, secure and

seamless.

Advancing the credit profession / www.cicm.com /June 2021 / PAGE 62
---
PAYMENT SOLUTIONS

ARE YOU A LEADER

OR FOLLOWER?

Key IVR

T: +44 (0) 1302 513 000

E: sales@keyivr.com

W: www.keyivr.com

Key IVR are proud to have joined the Chartered Institute of

Credit Management's Corporate partnership scheme. The

CICM is a recognised and trusted professional entity within

credit management and a perfect partner for Key IVR. We are

delighted to be providing our services to the CICM to assist with

their membership collection activities. Key IVR provides a suite

of products to assist companies across the globe with credit

management. Our service is based around giving the end-user

the means to make a payment when and how they choose. Using

automated collection methods, such as a secure telephone

payment line (IVR), web and SMS allows companies to free up

valuable staff time away from typical debt collection.

RECRUITMENT

Hays Credit Management

107 Cheapside, London, EC2V 6DN

T: 07834 260029

E: karen.young@hays.com

W: www.hays.co.uk/creditcontrol

Hays Credit Management is working in partnership with the CICM

and specialise in placing experts into credit control jobs and

credit management jobs. Hays understands the demands of this

challenging environment and the skills required to thrive within

it. Whatever your needs, we have temporary, permanent and

contract based opportunities to find your ideal role. Our candidate

registration process is unrivalled, including face-to-face screening

interviews and a credit control skills test developed exclusively for

Hays by the CICM. We offer CICM members a priority service and

can provide advice across a wide spectrum of job search and

recruitment issues.

PORTFOLIO

CREDIT CONTROL

Portfolio Credit Control

1 Finsbury Square, London. EC2A 1AE

T: 0207 650 3199

E: recruitment@portfoliocreditcontrol.com

W: www.portfoliocreditcontrol.com

Portfolio Credit Control, solely specialises in the recruitment of

permanent, temporary and contract Credit Control, Accounts

Receivable and Collections staff. Part of an award winning

recruiter we speak to and meet credit controllers all day everyday

understanding their skills and backgrounds to provide you with

tried and tested credit control professionals. We have achieved

enormous growth because we offer a uniquely specialist approach

to our clients, with a commitment to service delivery that exceeds

your expectations every single time.

Cr£ditWho?

CICM Directory of Services

CICMQ accreditation is a proven model

that has consistently delivered dramatic

improvements in cashflow and efficiency

CICMQ is the hallmark of industry

leading organisations

The CICM Best Practice Network is where

CICMQ accredited organisations come

together to develop, share and celebrate

best practice in credit and collections

BE A LEADER – JOIN THE CICM BEST

PRACTICE NETWORK TODAY

To find out more about flexible options

to gain CICMQ accreditation

E: cicmq@cicm.com T: 01780 722900

Advancing the credit profession / www.cicm.com /June 2021 / PAGE 63
---
Taking control of your

receivables helps drive

your business forward.

Whether you're looking to hit cash flow

targets or diversify funding options, C2FO

puts you in control. Our easy-to-use platform

enables more than 1.1 million companies to

work directly with their customers to improve

cash flow by determining the best time and

terms for being paid.

Visit C2FO.com/uk for more information.

Advancing the credit profession / www.cicm.com /June 2021 / PAGE 64