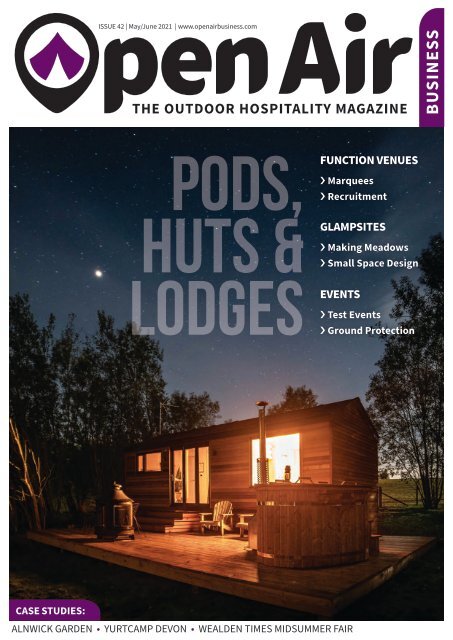 May/June 2021
The UK's outdoor hospitality business magazine for function venues, glamping, festivals and outdoor events
The UK's outdoor hospitality business magazine for function venues, glamping, festivals and outdoor events
SHOW MORE
SHOW LESS
You also want an ePaper? Increase the reach of your titles
YUMPU automatically turns print PDFs into web optimized ePapers that Google loves.
ISSUE 42 | May/June 2021 | www.openairbusiness.com

BUSINESS

PODS,

HUTS &

LODGES

FUNCTION VENUES

› Marquees

› Recruitment

GLAMPSITES

› Making Meadows

› Small Space Design

EVENTS

› Test Events

› Ground Protection

CASE STUDIES:

ALNWICK GARDEN • YURTCAMP DEVON • WEALDEN TIMES MIDSUMMER FAIR
---
ISSUE 38 | October/November 2020 | www.openairbusiness.com

ISSUE 35 | March 2020 | www.openairbusiness.com

BUSINESS

BUSINESS

ISSUE 39 | January 2021 | www.openairbusiness.com

ISSUE 33 | January 2020 | www.openairbusiness.com

FUNCTION VENUES

BUSINESS

/ /

GLAMPSITES

EVENTS

> Legalities

> Biophilic Design

> Seasonal USPs

> Bespoke Structures

> Wedding Insights

> Professional Services

CASE STUDIES: HEATON HOUSE FARM • BROOK MEADOW • DOGFEST

FUNCTION VENUES

OAB Gathering 2020 – Don't miss our very own conference this March!

Alfresco Dining

› Promoting Events

› Market Research › Testing Times

› Contingency Plans › Booking Channels › Necessary Change

CASE STUDIES:

SKIPBRIDGE COUNTRY WEDDINGS • TRECOMBE LAKES • WEEKEND AT THE ASYLUM

> Events Report

> Changing Diets

> Marquees

/ /

GLAMPSITES

CASE STUDIES:

FUNCTION VENUES

› Venue Searches

› Customer Excellence

EVENTS

STAYCATION

INVESTMENT

GLAMPSITES

› Tree Advice

/ /

› Glamping Show

CASE STUDIES:

FUNCTION VENUES

› Changing Habits

› Industry Taskforce

CHILLI BARN • MAD DOGS & VINTAGE VANS • HEVER CRAFT AND DESIGN FAIR

EVENTS

› Event Glamping

› Coping with Covid

/ /

GLAMPSITES

› Casual Excellence

› Planning Exemptions

EVENTS

THE ORCHARD AT MUNSLEY • HOLLY WATER HOLIDAYS • LANTERNS AT CHESTER ZOO

Customer

First

› 2021 Predictions

› Marketing Post-Covid

FUNCTION VENUES

› Delegation

› Instagram 1

› Start-up Venues › Small Space Design

CASE STUDIES:

HOUCHINS • THE PADDOCK RAMSBOTTOM • FRINGE BY THE SEA

/ /

GLAMPSITES

BUSINESS

EVENTS

› Placemaking

› Covid Insurance

ISSUE 40 | February 2021 | www.openairbusiness.com

SUPPLIER

SHOWCASE

BUSINESS

Spread the Word

Open Air Business is now £36 per year

If you know someone who would benefit

from a print subscription, please let them know!

With big thanks,

The Open Air Business Team

www.openairbusiness.com/subscribe
---
ISSUE 42 | May 2021 | www.openairbusiness.com

WELCOME

"AN OUTPOURING of joy," describes Professor Iain Buchan as he

talks about the crowd atmosphere at the Sefton Park test event

this spring. In an in depth look at the science behind this pilot

festival (and the other events held in Liverpool to assess the effect

meeting en-masse without masks etc. has on the spread of Covid)

he underlines just how many people are working at full capacity to

get our hospitality and live events industries back on the road. This

is echoed by Symphotech's Eddy Grant as we go behind the scenes

with him preparing the way for 6,000 unmasked partygoers at a

Liverpool nightclub.

One thing's for sure – the processes, energy, determination

and will are all there to get live events back safely and as awesome as ever, and as I write the

headlines are announcing that just 15 people from the 58,000 that attended these pilots tested

positive for the virus. If that isn't a clear signal to the powers that be I don't know what is.

With all eyes on 21 June, there is plenty of future gazing going on, and it's time to prep.

Andrew White and Charlotte Winship have excellent advice for venues to maximise on

bookings in a world with different expectations to those 15 months ago, and Caroline Cooper

gives tips on recruiting.

In the glamping industry, things are about to ramp up. Research from Champneys shows

searches for glamping are up 678 per cent on last year, so much so that there is now some

serious investment from 'big' hospitality in back-to-nature stays. Watch out for a new launch

coming from us in the summer – Resort & Retreat, aimed especially at the big boys. If you want

to be on the mailing list for a sample issue, please email tally@openairbusiness.com

With glamping embedded in the idea of reconnecting with nature, I am so pleased to be

able to share Swallowfield Glamping Retreat's story on the creation of a wildflower meadow –

I am looking forward to seeing the results of my own hard work soon too.

Finally, does anyone need a railway glamping cabin? There is a beautiful example for sale

due to a change in circumstances – hunt for it inside.

Tally Rix

Editor / Publisher

Contents ISSUE 42 | May/June 2021

PUBLISHERS

Steve Rix - steve@openairbusiness.com

Tally Rix - tally@openairbusiness.com

EDITOR

Tally Rix - tally@openairbusiness.com

ADVERTISING SALES

Marney Whyte - 01892 677743

marney@openairbusiness.com

ADMINISTRATOR

Kirsty Farrow – 01892 677740

kirsty@openairbusiness.com

DESIGN

James English -

www.jamesenglishdesign.co.uk

PUBLISHED BY

Coffee Shop Media Ltd

www.coffeeshopmedia.com

Milroy House, Sayers Lane,

Tenterden, TN30 6BW

01580 848555

OPEN AIR BUSINESS IS

NO LONGER FREE

To start a paid subscription, please visit

www.openairbusiness.com/subscribe

UPFRONT

5 News

8 Product News

11 Entrepreneur's Chat

– Tom Raynham,

Raynham Estate

FUNCTION VENUES

17 Alnwick Gardens –

home to the world's

largest treehouse

22 Filling the Gap – tips

on recruiting new

team members

25 Ghost Events – avoid

getting ghosted by

corporate bookers

26 Rapid Evolution – a

look into the future

for wedding and

event venues

29 Marquees – products

in action

GLAMPSITES

32 Yurtcamp Devon –

22 yurts in a 40 acre

woodland

36 Making a Meadow

– reinstating a

hay meadow at

Swallowfield

Glamping Retreat

40 Small Space Trends

– embracing design

post pandemic

44 Growing Followers –

tactics, hashtags and

influencers

47 Pods, Huts and

Lodges – products in

action

EVENTS

50 Wealden Times

Midsummer Fair – a

showcase for 200

hand-picked retailers

54 Covid and Temporary

Structures – how the

pandemic effected

the marquee industry

56 Testing the Safety

Net – how science

and society came

together in Liverpool

60 Flooring and

Ground Protection –

products in action

62 Spotlight

63 Classifieds

65 Behind the Scenes –

Eddy Grant, The First

Dance

Find more expert advice online:

www.openairbusiness.com

SUBSCRIBE

ONLINE

PODS,

HUTS &

LODGES

CASE STUDIES:

ALNWICK GARDEN • YURTCAMP DEVON • WEALDEN TIMES MIDSUMMER FAIR

FUNCTION VENUES

› Marquees

› Recruitment

GLAMPSITES

› Making Meadows

› Small Space Design

EVENTS

› Test Events

› Ground Protection

COVER PHOTO

One of two bespoke cabins by Cedar Tree Pods built

for Downash Wood Treehouses in East Sussex. The

cabin pictured features dual aspect bi-folding doors,

underfloor heating, a kitchen and shower room. See

page 48 for more. www.cedartreepods.co.uk

BUSINESS

WWW.OPENAIRBUSINESS.COM 3
---
Brand New Railway

Carriage for Sale

£35,000 o.n.o.

Ready to go immediately. Reluctant sale

due to unexpected house sale.

Dimensions: width 6.5m, depth 2.4m, height 2.4m.

Tanallised exterior wood, 2mm galvanised steel roof, fork

liftable extension underneath. Fully insulated with

25mm solid insulation, double glazed windows and

double stable doors.

Double bed with pull out storage, electric hob, kitchen,

sink and fridge/freezer, toilet, sink, shower, log burner

with side oven and hot plate for kettle. Complete with

blinds and settee.

For more information, photos or to arrange a

viewing (based in Monmouthshire)

please call Chris on 07860 528223.

Transport can be arranged

S2T GRASS

REINFORCEMENT

PERFO

interlocking tiles - effective

protection for soft ground

Quality Glamping

Cabins and BBQ Huts

Ideal for the reinforcement of

parking areas, access tracks,

pitches etc. at:

- camping & glamping sites

- open air event venues

- country & leisure parks

Tel. 01992 522797

www.perfo.co.uk

Introducing the Leaf

Glamping Pod range

Our fantastic range includes traditional, contemporary, double

storey and low profile designs to sleep or host a range of guests.

"We are delighted with the Finman BBQ Hut. The quality of build is superb,

and Logspan provided a very efficient fitting team. Logspan and its product

have exceeded our expectations." Alastair

UNIQUE • QUALITY • CUSTOMISABLE

01389 887205 info@logspan.com www.logspan.com

4 WWW.OPENAIRBUSINESS.COM
---
£1.9m Diversification

for Sheep Farm

A NEW contemporary event venue has been

created out of a former sheep shed at Cairns

Farm, just outside of Edinburgh. Following

a £1.9m investment and a 24 month build

project, Cairns Farm Estate near Kirknewton

will now host weddings and events alongside

its farming activities.

Developed through a partnership between

the Hamilton family and venue management

and event catering company Hickory, Cairns

Farm Estate is set to host its first wedding

on 22 May with bookings stretching into

2022, many made before the conversion was

complete.

The 1,200 acre country estate and farm has

been in the Hamilton family since 1869. Brian

Galbraith, managing director of Hickory,

said: "Cairns Farm Estate is absolutely

spectacular. With its stunning setting, on-site

accommodation and its amazing conversion

from a country barn into a stylish and flexible

modern event space. It's already attracting

huge interest for weddings and events."

CAIRNS FARM ESTATE

Champneys Reveals

678% Increase in

Glamping Interest

GOOGLE SEARCHES for 'glamping' in

the UK is currently seven times higher

than it was at the end of 2020, reports

Champneys. The luxury spa resort

company says that its analysis shows

search volume for glamping in the UK had

risen 104 per cent from July 2019 to July

2020 but is currently seven times higher

than it was at the end of 2020, with a steep

45 per cent increase since the last week of

April.

Champneys now offers glamping in

the grounds of its Tring, Forest Mere and

Mottram Hall properties, from £129 per

person per night for a bell tent to £333 for a

'Junior Tenthouse' suite. A shepherd's hut

stay at Forest Mere is £450 per night.

Alan Whiteley, CEO at Champneys,

comments: "Over the last year, people

across the country have developed a

closer relationship with nature. This shift

has driven our own desire to make the

most out of our idyllic countryside setting.

We are inviting guests to experience the

healing and restorative powers of being

grounded outdoors in nature with a

unique glamping stay, while the luxury of

pampering treatments await nearby in the

spa."

Commenting on the research, Kate

Taylor, marketing director, said: "Although

international travel is set to return and

life begins to feel more 'normal', our

analysis predicts that the impact of many

lockdowns has meant that people are

still interested in a calm, nature-first trip,

such as glamping. The data shows a clear

indication that interest in glamping is on

an upward trend once again, predicting a

summer of relaxation, rejuvenation and

reconnecting with nature."

New Luxury Venue for Catering Company

MAGHERAMORNE ESTATE

A NEW private hire venture on the Magheramorne

Estate, Co. Antrim, has been opened creating 30

jobs. The owners of catering company Jane's Kitchen

opened the exclusive hire luxury wedding and

corporate event venue backed by Magell, owned by the

Walker family.

Set up in 1988, Jane's Kitchen now employs around

100 people, catering for weddings and events.

"This past year has been incredibly tough for our

industry, for couples and event planners, either having

to postpone or cancel weddings and major corporate

events," said founder of Jane's Kitchen, Jane Allen.

"We received the keys to Magheramorne Estate in

March 2020, the week that the UK went into lockdown,

and could never have imagined the challenges that

would lie in the months ahead. I would like to thank

our investors, my family and our entire team for their

dedication and hard work throughout the past year.

Our goal is to build on our Jane's Kitchen reputation for

providing a quality, premium service and present that

on a new stage."

CHAMPNEYS

WWW.OPENAIRBUSINESS.COM 5
---
Pilot Event Shows Business

Events Unviable in Wales

Green Events

& Innovations

Summer Conference

Announced

A GREENER Festival is happy to announce

that a special virtual Green Events &

Innovations Conference (GEI) Summer

Edition will take place on 16 September

2021.

The launch follows this year's 13th

edition of the essential conference for

sustainability in the international events

sector. The decision to host a second event

reflects the doubling of efforts to create a

greener events industry now and for the

future.

"We intend to set an example that we,

the creative and 'can do' organisations and

individuals are leading the way, and the

future that we want to co-create is fully

in our grasp," says AGF co-founder, Claire

O'Neill.

GEI Summer Edition takes place just two

months prior to COP26 where the world

comes together around climate change.

Conference topics are expected to include

social justice, biodiversity, clean air, clean

water and healthy soils, wellbeing and

mental health.

Visit www.agreenerfestival.com for details.

LEADING EVENT industry

professionals have called

for a roadmap towards the

safe return of the business

events sector in Wales

after a pilot event held at

the Celtic Manor Resort

exposed the unviability of

present restrictions.

Under the guidance of

Welsh Government, the

pilot event at Celtic Manor

on 20 May tested the risk

mitigation measures

proposed for the industry

with a range of stringent

health and safety measures

in place. Attendees were

asked to carry out a

Covid-19 lateral flow test

on arrival, having already

secured a negative PCR

test in the days prior. Three

separate colour groups

were assigned to manage

delegate flow, and mask

wearing was required when

not seated for sessions.

Delegates were

happy to comply with

all protocols but the

additional requirement

to observe 2m physical

distancing throughout

the event demonstrated

that meaningful business

events would be impossible

to sustain with these

constraints on capacity.

Celtic Manor's Caernarfon

Suite can normally hold

more than 1,000 people

theatre-style in the twothirds

division of the room

being utilised for the trial

event. The 2m distancing

configuration meant it

was full with the capped

audience of 100 people.

While the roadmap set

out in February for England

already allows for events

up to 1,000 people indoors,

the reopening of the events

sector in Wales has been

much more cautious with

reluctance to outline any

schedule undermining

client confidence and

preventing advance

bookings. Both Celtic Manor

Resort and ICC Wales have

seen prestigious meetings

scheduled for later in the

year cancel in recent days

and switch to venues

elsewhere in the UK.

Ian Edwards, chief

executive, Celtic Manor

and ICC Wales, said: "It's

fantastic to be back in a

meeting room after more

than a year, but just looking

out over this eerie room, it's

clear we have a long way to

go. We are lucky we have a

room this size which means

we can host this event,

most venues will struggle

to hold 50 people with 2m

distancing in place. More

than 70 staff are working on

this event to look after only

100 delegates – numbers

like that just do not stack

up."

Public Health Wales

officials were present to

observe the event and

provide feedback to Welsh

Government.

Holiday Parks Become 'Work From Anywhere' Hubs

CRADLEPOINT, A leader in cloud-delivered

4G and 5G wireless networks, has revealed

research that shows a third of workers

would consider using holiday destinations

as 'work from anywhere hubs' this summer

as Covid-19 has changed the world of

flexible working. This rose to nearly half of

Gen Z and millennial respondents.

2,000 UK adults were surveyed, with

the results revealing that 43 per cent are

planning to book or have already booked

a staycation this year, spending £729 on

average on their domestic breaks, and

adding £16.6bn to the economy.

Over 42 per cent said they are planning

to go to holiday parks, caravan or glamping

sites this year, with 27 per cent saying they

will be using their holiday to binge boxsets,

work or game. Gen Z and millennials

admitted that they would be lost without

the internet whilst on holiday this summer

(64 per cent and 58 per cent respectively),

with the expectations and demands for

ubiquitous connectivity ever-increasing.

James Bristow, SVP EMEA Cradlepoint,

said: "The demand for UK holidays

in a summer like no other is perhaps

unsurprising, and holiday firms need to

ensure they're pulling out all the stops

so their guests have a great experience

from check-in to check-out. Internet

connectivity is a big part of this. Our

research shows there is a clear demand

for enhanced connectivity at holiday spots

around the UK.

"Pivoting from a guest house or caravan

park to a fully connected 'work from

anywhere hub' as employers change their

office policies won't happen overnight,

so leisure firms will need to react fast

if they're to benefit from the influx of

bookings this summer and beyond."

6 WWW.OPENAIRBUSINESS.COM
---
There has never been a better

time to invest with the UK's

#1 Glamping franchise

Book a discovery call today

www.wigwamholidays.com/franchise

ALL WEATHER OPTIONS FOR YOUR OUTDOOR EVENTS

Stretch Tents, furniture, lighting, heating, flooring - short and long term hire

@TentickleUK

PROFESSIONAL & RELIABLE

www.tentickle-stretchtents.co.uk

0121 740 1385 or 07826 843 099

@Tentickle_UK

TentickleUK

WWW.OPENAIRBUSINESS.COM 7
---
PRODUCT

Free App for

1kw AirForce Controller

THE FUTURENERGY 1kW Airforce1 Wind Turbine System is an ideal

way of producing off-grid energy from the wind for amenities in a

rural location such as glamping or at outdoor events. The Airforce1

system can be used with the FuturEnergy AirForce Control App, which

is available free on both Android and Apple. There is also an AirForce

Control website-based turbine monitor available.

The 1kw AirForce Control App allows users to conveniently monitor

all aspects of their turbine(s) from any location with a live data stream.

Once logged in, users can alter settings and remotely start and stop

the turbine – perfect for managing turbines anywhere in the world

that may be time consuming to travel to and difficult to access.

At 5.5m/s, with a clean air site, the Airforce1 wind turbine could

produce an estimated 1,100kW per year. If the average wind speed is

more than 5.5m/s this is all the better.

For those not so sunny days, and through the winter months, wind

can work with solar as a hybrid system using the Airforce1 to help

redress that balance and power requirement.

01789 450280, sales@futurenergy.co.uk, www.futurenergy.co.uk

Pinza App Supercharges

Participant Engagement

at Live Events

PARKLIFE IS partnering with event app Pinza to provide fans

with a more immersive and engaging festival this coming

autumn. The festival at Heaton Park will feature one of the

greatest line ups in its history and Pinza will complement the

atmosphere with a whole new social vibe.

The Pinza app reimagines in-situ fan participation,

sponsorship, talent and brand engagement, supercharging

live events. It features real time living maps including site

stages, full festival facilities, points of interest, group location

chats, integral safety settings, stage sets, dynamic artist lists

and content, geo-located media and much, much more.

Pinza's Digital Experience Pass participants can engage

in the festival's very own live community, which is tied

directly to each stage, live performance, talent and sponsor

– essentially amplifying the energy of their social graph

interactions and reactions, adding new layers of atmosphere.

Co-founder of Pinza, Joe Wee (original publisher of Angry

Birds), said: "Imagine being able to bottle up the energy of a

festival, harness it and amplify it, and even relive it at a later

point in time – that's what Pinza brings to the table."

Get in touch to see what the Pinza App could bring to your

next live event.

07801 031991, chris@pinza.io, www.pinza.io

New 4m Wide Family Pods

THIS YEAR, award-winning family business Cedar Tree Pods has launched its new

4m wide family pods. Measuring 4m wide and 6-8m long, they have enough room

inside to include bunk beds and an en-suite, perfect for families wanting a luxury

glamping getaway.

The 4m pods join the range which includes XL Grande Pods, measuring at 3.3x6m,

which also have the option of an en-suite so there is no need for the use of shared

facilities. These pods offer extra headroom and an impressive floor space of up to

21m sq.

Cedar Tree Pods is based in North East Wales and makes

glamping pods and bespoke builds for glamping start-ups

and businesses across the UK and beyond. The team prides

itself on quality and craftsmanship. All builds have a 10 year

structural warranty.

From initial design to full realisation, Cedar Tree Pods will

work closely with you to create unique spaces.

01978 780859 / info@cedartreepods.co.uk

www.cedartreepods.co.uk

8 WWW.OPENAIRBUSINESS.COM
---
New British

Geodome Company

PRO-DOMES launched earlier this year with the aim

of providing the highest quality geodesic domes to the

glamping market. The family behind the business have vast

experience in the sector with their own glampsite and know

exactly what it takes to give glampers that something extra

special.

Offering high spec geodesic domes delivered to your

door anywhere in the world, Pro-Domes offers complete

customisation of its

structures. Choose the

size, colour, insulation,

doors, heating, flooring

and much more with a

user-friendly configurator

to visualise a dome before

purchasing.

Whether it is a single

dome or a bulk order, Pro-

Domes helps glamping

entrepreneurs turn their

visions into reality.

07827 614404,

info@pro-domes.com,

JOIN US

www.pro-domes.com

Covid Test-at-Home Solution for Events

BNR GLOBAL has developed the

first web and mobile Covid-19

test-at-home solution tailored to

live events. Test A Guest is aimed

at venues and event organisers

who are looking for a manageable

and viable way of safely operating

in line with the government's

Covid-19 roadmap.

Guests will have to take a

rapid Covid-19 antigen test

at home prior to the event (full

remote training will be provided) and obtain a negative result in order

to attend. In addition to this guests will also be required to provide an

image capture of their result and upload it onto the platform to reduce

the risk of falsified test reporting. Test results are only valid for single day

events. Guests of multi-day events will have to undergo daily testing.

Once a negative test is successfully uploaded onto the platform the guest

will received a unique bar/QR code that will be scanned for entry at the

event venue.

Those who test positive/inconclusive must self-isolate and follow

government guidelines in obtaining a PCR confirmatory swab test.

Full details of the event refund policy will be included within the ticket

vendor's T&Cs.

Guests that fail to comply with testing requirements will be refused

entry to the event and their ticket will become invalid.

0203 4415 157, events@bnrglobal.co.uk, www.testaguest.com

Feature your property

on The Wanderlist

THE LEADING INTERNATIONAL

CONFERENCE FOR SUSTAINABLE

EVENTS, GREEN EVENTS &

INNOVATIONS (GEI), RETURNS

FOR A SPECIAL SUMMER EDITION

ONLINE

THURSDAY 16 SEPTEMBER

www.agreenerfestival.com/gei

hello@agreenerfestival.com

Do you own an amazing

escape with indulgent interiors,

inspiring scenery or just that

special something? We shout

about impressive UK escapes

and get properties the

exposure and interest

they deserve.

LET'S CHAT!

Get in touch with

our friendly and

approachable

team today on

info@thewanderlist.uk

ZERO % COMMISSION,

ONE-OFF ANNUAL FEE

www.thewanderlist.uk

GEI_Summer_QPV_Artwork.indd 1 24/05/2021 12:23

WWW.OPENAIRBUSINESS.COM 9
---
01453 767171

www.bondfabrications.co.uk

enquiries@bondfabrications.co.uk

British Design & Manufacture of Unique Bespoke Canvas Structures & Safari Tents

From our Gloucestershire factory Bond have served the British outdoor hospitality industry for over 30 years. With an emphasis on

client-led design, high performance technical fabrics alongside traditional British workmanship, Bond offer an unrivalled custom design

process to create unique, beautiful structures. From high luxury glamping locations to exclusive outdoor event experiences, we can offer

full CAD design support, exceptional quality and a personal service to create the image and identity your venue requires.

Call us to discuss your own project.
---
PEOPLE

ENTREPRENEUR'S CHAT

Tom

We talk to Viscount Raynham

about the diversification of his

family's estate into a multi-use

venue and glamping enterprise

RAYNHAM

WWW.OPENAIRBUSINESS.COM 11
---
PEOPLE

om Raynham's grandfather (7th Marquess

Townshend) lived all his life in the

beautiful Raynham Hall, considered the

'gateway to North Norfolk'. Home to the

Townshend family for nearly 500 years, the

estate comprises 800 acres of pasture and

parkland, 700 acres of woodland and 3,500

acres of land farmed in-hand with a variety

of cereal, root and break crops as well as

Aberdeen Angus beef cattle.

Tom, inline to inherit the estate, became

officially involved with the business in

2011 following the death of his grandfather, and

moved back to run the estate in 2016.

"Although I grew up on the farm, I have never

actually lived in Raynham Hall but it is very much part

of my history," says Tom. "My father and stepmother

live in the Hall and run a number of events and tours

in and around renovation work they are carrying out.

The stars seemed to align back in 2016 and I came

back to take the helm, planning the future of the

estate."

Tom studied at the Royal Agricultural College,

Cirencester, qualified as a chartered surveyor with

Bidwells then worked for Knight Frank in the Farms

and Estates team. "Travelling the country buying and

selling land provided a fabulous opportunity to see

what other farms were doing and what I might be

able to implement at home," says Tom.

Suitably inspired, he turned his attention to

some large scale technical innovation in the form of

renewable energy. "We now have one of the country's

largest solar farms – in fact, I think it was the largest

for about a week! – and an anaerobic digestor.

Built on the former Royal Air Force West Raynham

Airbase, the solar farm was completed in 2015 and is

currently leased to Bluefield Partners. It serves over

12,000 homes with electricity as well as providing

the neighbouring communities with funds for local

projects.

"There was still a lot of momentum in the

renewables industry at that time and my contacts

at Knight Frank helped us put together a tender that

went out to the solar developers.

"On the biogas side, our anaerobic digester uses

farm waste to produce biomethane which is injected

into the mains gas supply. It is a very satisfying

system as we produce sugar beet for British Sugar

on the farm and then buy back sugar beet pulp that

we feed into the digester along with maize, rye and

poultry muck. The bugs break down the feedstock

to produce biomethane which goes back to the

grid. The by-product of the whole process is then

put back onto the land as an organic fertiliser. This

displaces a lot of artificial fertiliser, acts as a carbon

capture and improves the soil structure."

WEDDINGS AND EVENTS

Tom admits to a steep learning curve when he

launched the hospitality side of the estate's

business. "It was about 24 months after getting

involved that we started putting our event

aspirations into place. It took around 18 months of

learning, deciding on the type of events we wanted

to hold or attract, and how best to do things".

12 WWW.OPENAIRBUSINESS.COM
---
PEOPLE

Weddings are held at Raynham but Tom isn't

pushing for them. "We are not majoring on

weddings, and if we do five to 10 in a year I am very

happy. I prefer to concentrate on a broad range of

events as a venue and don't want to put all our eggs

in one basket. We have a premises licence now so

can offer the estate to promoters – I think the only

things we aren't allowed to do are indoor events, and

wrestling…

"We tried our own music festival in 2017 and it

was a great learning process. If you want to dedicate

yourself to festivals I can see how they would build

up over time."

A big fan of food and drink, Tom has hosted a

couple of pop-up restaurants. "I learned quickly how

not to do it in financial terms! We hired in a lot of the

infrastructure – marquees, generators, staff, chefs

etc. The restaurant idea certainly has legs and food

and drink is something we are really looking at as a

future direction. We have created the perfect space

and will be starting properly next year. Everyone's a

foodie now so the timing is right and we are going

to be using the beef from our own herd. We will

be looking to attract the right quality of chef to

showcase what they can do from the estate. The plan

is to get different businesses interacting with each

other – a farm shop is also in the offing."

GLAMPING

Raynham proudly ventured into glamping last year,

making use of the extended 56 day tented camping

rights with yurts. "We had four yurts positioned in

"WE HAVE ENJOYED

SOME WONDERFUL

COVERAGE IN THE

PRESS AND HAVE

BEEN RIDING HIGH

ON THE INTEREST

IN STAYCATIONS."

what is now a wildflower meadow which we had

taken out of arable production on the farm. It is next

to the walled garden and looks out over the Wensum

Valley – a valley in Norfolk terms – which offers

breathtaking big skies at night.

"We now have full planning for up to 10 yurts. We

open on 30 May with the original four yurts and will

end the season in mid-September, as soon as the

schools are all back, so we can start proper works on

the site. We are now very much on a formal footing

so will be installing a sewerage treatment plant,

showers, loos and a permanent covered seating area

with an outdoor kitchen.

WWW.OPENAIRBUSINESS.COM 13
---
PEOPLE

"We have enjoyed some wonderful coverage in the

press and have been riding high on the interest in

staycations."

With confidence in the estate's draw for domestic

tourism, Tom is also entering a joint venture to

develop luxury holiday lodges around the estate's

lake. "We have a 12 acre lake which was created

in the 1700s and is the earliest manmade lake in

Norfolk. Despite its size, it is only about one foot deep

as it is really silted up. We are working with Natural

England on a parkland restoration project and will be

dredging it so it can be returned to its former glory.

"In the meantime we will be adding shepherd huts

in the more peaceful areas of the estate where people

can truly switch off. They will be completely off-grid,

although for those that need to keep in touch via Wi-

Fi, we have invested in a private fibre network via Air

Broadband/Voneus, with boosters around the estate.

Our connectivity had been shocking and we spent 15

months battling with BT Open Reach".

Talking of 'switching off', Tom reports,

unsurprisingly with so many diverse business

interests, that he finds it hard to do so. "I keep my

phone in my pocket – a bad habit I know. But my two

children (seven and four) are a wonderful tonic from

thinking about business. They are very energetic so

there is always football, cricket, golf and bike rides

going on."

Keeping a broad view of the business is part of

Tom's success. "I like to look at other businesses and

farm diversifications and try to take one positive or

one 'what not to do' learning from each. I find the

Farm Business Innovation Show a good one to go

"I LIKE TO LOOK AT

OTHER BUSINESSES

AND FARM

DIVERSIFICATIONS

AND TRY TO TAKE

ONE POSITIVE OR

ONE 'WHAT NOT

TO DO' LEARNING

FROM EACH"

to too. Although it is often hard to get away, we

have gone every other year and it is great for

ideas when considering future plans".

Because he is managing so many different

things, Tom says it is important to have created

the right team around him. "We have 26

employees at the moment covering the estate's

operations including the farm, renewables,

woodland and events. We will be adding to that

as the glamping and events expand. We have

also just started working with UK Adventure

Trails to create a themed trail in the woods;

perfect for the summer holidays."

Much of Tom's success with the estate

has been delegation. "It is important to give

people autonomy to manage each enterprise

themselves, although I'll admit is hard for me to

let go – hence the phone in my pocket!"

DETAILS

Raynham Estate

Hall Farm

East Raynham

Fakenham

Norfolk NR21 7EE

www.raynham.co.uk
---
CWC Advert (Open Air Magazine).pdf 1 23/02/2021 12:04:51

Expert

advice to help you

achieve the most

from your venue

business.

C

M

Y

CM

MY

CY

CMY

K

• Increase

profitability

• Reach your ideal

customers

• Maximise sales

opportunities

• Streamline your

processes

Designed in Norfolk

From Just

£4434

+VAT

Quality huts now made affordable

www.charlottewinship.com

07493 350303 / charlotte@charlottewinship.com

C RE®

BAR& EVENTHIRE

STYLISH CUSTOMISABLE BAR RENTAL

Trust us to deliver your innovative,

sustainable and tailor-made

outdoor diversification project

GLAMTAINERS

EARTH PODS

DRY HIRE OR FULL SERVICE

EYE PAD SAUNAS

SHEPHERD'S HUTS

We are the UK's leading provider of rural diversification projects

supporting landowners and country estates to offer exceptional

outdoor experiences all-year round. There's no need for you to be

overwhelmed by managing a diversification project by yourself.

Let Outdoor Living do it all for you.

FREE BAR HIRE*

*Subject to minimum spend

T: 0845 299 6499 - E: sales@core-barandeventhire.com

www.core-barandeventhire.com

Contact us today and turn your outdoor living vision into a reality

explore@outdoorliving.me.uk

01284 771568

outdoorliving.me.uk

utdoor

living

Creating Memories

ADVERT.indd 1 12/04/2021 10:05:45

OL 1/4 page ad B 2021.indd 1 WWW.OPENAIRBUSINESS.COM 10/02/2021 15

11:27
---
Get event ready!

STRETCH TENTS

STRETCH TENTS

Dining Dens

www.event-in-a-tent.co.uk•Tel: 01978 661449 • info@event-in-a-tent.co.uk

Life Under Canvas Made for Trade tents

are perfect for pop up campsites, events,

weddings and festivals

OPAS QUALITY

Since 1889 we've been

keeping things looped, clipped,

stuck, pinned, strapped, sewn,

riveted, hooked, zipped or

popped together.

A comprehensive range of top value quality

textile and marine fasteners, marquee and

exhibition stand materials are backed with old

fashioned service and free technical support.

Authorised UK distributor

for true VELCRO® Brand

Hook and Loop, DOT

press studs, turnbuttons,

Lift the Dot & Veltex fasteners, Tenax and

Authorized VELCRO® Brand Distributor

Authorized VELCRO® Brand Distributor

Authorized VELCRO® Brand Distributor

LOXX fasteners, Hipkiss Beaver Brand eyelets

and rings, Duraflex plastic buckles, snaps plus

much, much more. Call 01903 239 955

Contact our friendly customer

service team to discuss

discounts for bulk purchases

on 07968 783 325 or email

hello@lifeundercanvas.co.uk

lifeundercanvas.co.uk

Visit www.opas.co.uk for your

free fastener catalogue

16 WWW.OPENAIRBUSINESS.COM
---
FUNCTION VENUES

CASE STUDY

The Alnwick

UFINAK PHOTOGRAPHY

Garden

An incredible contemporary garden

with hidden secrets, including the

world's largest treehouse!

Home to the largest treehouse

in the world, the two events

venues in this 21st century

garden offer a number of

options for weddings, parties

and corporate gatherings

managed by a close-knit

team of three. We talk to

marketing manager

Tracy Cullen.

When did you start your venue

business and what is its history?

Created by the Duchess of

Northumberland with the build starting

in 2000, The Alnwick Garden is a 12 acre

modern garden combining sculptures,

water features, beautiful plants, cafes,

a restaurant and two outstanding

wedding venues.

The garden is adjacent to Alnwick

Castle and has a long history under

the dukes of Northumberland, but fell

into disrepair until revived at the turn

of the 21st century. It now belongs to a

charitable trust, which is separate from

Northumberland Estates, although the

12th Duke of Northumberland donated

the site and contributed £9 million

towards redevelopment costs.

Tell us about your location and site

Situated in Alnwick, in the picturesque

rural county of Northumberland, The

Alnwick Garden is a visitor attraction,

a place to eat and drink and a place

to celebrate weddings and events

surrounded by natural beauty. It

contains the largest collection of

European plants, the largest Japanese

cherry orchard in the world, the

infamous Poison Garden, and the

"WITH SOME-

THING FOR

ALL SEASONS,

ALNWICK

GARDEN IS

A TREASURE

TROVE OF

DELIGHTFUL

FLORA AND

FAUNA WHERE

THE MOST

AMAZING

PHOTOGRAPHS

CAN BE

CAPTURED"

largest treehouse in the world, which

incorporates a restaurant and doubles

as a wedding venue.

For weddings and events in the

main garden, couples and organisers

get exclusive access to the event

space - the Pavilion Room, which

features a stunning grid shell roof and

was designed by Hopkins Architects.

They also get access to a section of the

Atrium, the East Terrace and, once the

garden closes to the public, exclusive

access to the whole site. All guests can

explore and enjoy the different areas,

from the Chinese Bamboo Labyrinth,

the Grand Cascade with its half-hourly

water displays, to the opulent Rose

Garden with heady scents wafting in the

summer breeze.

With something for all seasons,

Alnwick Garden is a treasure trove of

delightful flora and fauna where the

most amazing photographs can be

captured.

The major challenge is ensuring

privacy for wedding couples whilst the

garden is open to the public and we

do this by cordoning areas, such as the

section of the Atrium and East Terrace

and the front of the Pavilion, so there are

no passers-by peering in.

WWW.OPENAIRBUSINESS.COM 17
---
FUNCTION VENUES

MARGARET WHITAKER PHOTOGRAPHY

Just outside of the garden's perimeter wall

is The Treehouse, which was designed by

Napper Architects, Newcastle. Completed in

2005, it is built around 16 mature lime trees,

which grow through and into the building. It

is made from a combination of Siberian larch,

Scandinavian redwood, Canadian cedar and

Scots and English pine, all from sustainable

sources.

Offering exclusive access to three function

rooms, it is the largest tree-top building of its

kind in the world and features a large expanse

of decking and two wobbly rope bridges.

There is truly nothing more special than

getting married in front of a roaring log fire

or, in the warmer months, on the sun-soaked

decking. It is a one of a kind venue, with

twisting branches and twinkling fairy lights

making it a rare delight.

Weddings at the Treehouse can host up to

65 guests for an inside ceremony, 85 guests

for an outside ceremony, weather depending,

and 120 guests for an evening reception.

Exclusive hire is included in whichever

package a customer chooses, so guests

can explore the incredible structure whilst

enjoying a glass of champagne 60ft above the

ground.

What facilities for outdoor functions do

you offer?

Ceremonies can be hosted outside in our

arbours or inside the event space, followed by

a drinks reception on our open air terrace. For

larger bookings, the Atrium is used for dining

and has removable glass panels.

What services do you offer?

The Alnwick Garden can host weddings,

corporate events, private dinners, and

birthday and anniversary celebrations. The

arbours can host weddings for up to 70, the

Atrium can host a ceremony of up to 200 and

the Pavilion 180.

The Pavilion is a very flexible corporate

event space too, offering capacity of

200 theatre style, 80 classroom and 100

boardroom.

Catering is provided in-house, but we are

happy to accept outside caterers on occasions

where special menus, such as Asian food,

are required. For larger functions we can

accommodate marquees on the lawn too.

Our wedding and events team is on hand

to help plan all events and will be there on the

day of the event too.

2TONE PHOTOGRAPHY

2TONE PHOTOGRAPHY
---
FUNCTION VENUES

GEMMA LOVETT-HUME PHOTOGRAPHY

Describe how you researched and

sourced your structures

The Duchess of Northumberland wanted

to create a garden like no other. She did

not want to replicate gardens that could

be found elsewhere. Designers were

chosen that would be sympathetic to

the surrounding countryside that was

developed by the renowned Capability

Brown who died some 300 years ago.

How do you work with your customers

to make their event unique?

We take a very personable approach

with our customers from initial

correspondence to show rounds, and

then further meetings in person and

communication by phone or email. We

encourage our customers to get in touch

whenever and share the details of their

plans with us.

DARRYN WADE PHOTOGRAPHY

"THE DUCHESS

OF NORTH-

UMBERLAND

WANTED TO

CREATE A

GARDEN LIKE

NO OTHER.

SHE DID NOT

WANT TO

REPLICATE

GARDENS

THAT COULD

BE FOUND

ELSEWHERE"

The planning and organising is

carried out by a small team who work

very closely together and are on hand

seven days a week. There is also

someone from the planning team on

hand on the day of the event too.

How do you publicise yourself?

We use social media channels – on

Facebook we are @weddings and

events at alnwick garden, and

Instagram @wedding_events at

alnwick garden. We obviously have our

own website www.alnwickgarden.com

We also advertise on other platforms

such as Hitched, Bridebook, Visit

Northumberland, Wedding Dates, and

Venue Directory.

How would you describe your style

or unique selling point?

As mentioned above, Alnwick Garden

is a contemporary garden featuring the

Grand Cascade, Labyrinth, and Cherry

Blossom Orchard and also many water

features such as rills and pools, so

there are amazing opportunities for

stunning photographs.

Delicious menus have been created

Build Your Own

Shepherd Huts

With Tithe Barn Shepherd Huts original parts.

Call 01262 470475 or

Visit www.shepherd-huts.com

and click on the 'self build' page

WWW.OPENAIRBUSINESS.COM 19
---
FUNCTION VENUES

2TONE PHOTOGRAPHY

2TONE PHOTOGRAPHY

using locally sourced produce and

are complemented by attentive and

experienced staff to ensure the event is

a success.

How has Covid-19 impacted you?

As a business we have utilised the

furlough scheme where necessary but

have also had a member of the team on

hand to answer any of our customers'

enquiries and move dates accordingly.

It has been important to be available for

our customers in these uncertain times

and help where we can.

As we are a garden and charity, and

not just a wedding venue churning

out wedding after wedding and being

overused, we have been in a unique

position to have availability and also

pick up short-lead time weddings now

confidence is back and people are

looking to book.

We have also adapted by providing

virtual show rounds via Zoom. This

has proved very popular and we have

secured a lot of weddings this way.

How large is your team?

We are a team of three comprising a sales

and marketing manager, a wedding and

events co-ordinator and an assistant wedding

and events coordinator. We are a tight-knit

trio who support each other and consistently

go the extra mile to ensure our customers'

events are second to none. We are a mixture

of personalities from a protective momma

bear to theatrical performers who have the

same goal and ambition for the business

and who love to get together with a glass of

prosecco or three!

MARGARET WHITAKER PHOTOGRAPHY

Have you worked with any industry

bodies or consultants?

We have utilised the UK Wedding

Task Force information and found this

very helpful.

What are your plans for next

season?

Keep the momentum going and

providing our usual exemplary

service.

Describe your average day midseason

An average day is dealing with daily

enquiries and showing customers

around the Garden Pavilion and The

Treehouse. Then there is the liaising

with wedding couples and answering

any enquiries they may have and

working on their planning files to

produce function sheets.

What do you enjoy about the

business?

We all love meeting new people and

getting to know them. We love the

interaction with our couples and

forming that bond of trust that gives

them reassurance that we will look

after them and make their event

special.

What advice could you give to

someone coming into the industry?

Having great facilities is obviously

key but customers will instantly like

or dislike your sales team. Having the

correct staff from selling and planning

to delivering the events is paramount.

Look after your staff and they will

look after you and your customers.

ADDRESS BOOK

BELLE ART PHOTOGRAPHY

DETAILS

The Alnwick Garden

Denwick Lane

Alnwick

Northumberland NE66 1YU

01665 660318

www.alnwickgarden.com

20 WWW.OPENAIRBUSINESS.COM
---
Amazingly Versatile,

Strikingly Beautiful

• Stretch Tent solutions for your outdoor business

• Fully bespoke with optional ongoing management

• Smaller Stretch Canopies now available for

glamping sites

Festivals • Weddings • Parties • Corporate Events

VISIT OUR WEB GALLERY FOR INSPIRATION

01403 333 135 enquiries@tentstyle.co.uk www.tentstyle.co.uk

THE POD BODS

NATURE DWELLINGS | OUTDOOR LIVING | HOSPITALITY SOLUTIONS

Visit: thepodbods.com | Call: 01924 677002 | Mail: Info:@thepodbods.com

WWW.OPENAIRBUSINESS.COM 21
---
FUNCTION VENUES

Filling

the

Gap

Caroline Cooper shares nine tips for attracting

and retaining new team memebers

THE PAST year has given people plenty of

time for reflection. Whether they've been

made redundant, or simply felt forgotten

whilst on furlough, many previously loyal

employees have made a decision to leave

the industry. It's possible some of your

team members have had other thoughts

about their career too. Is their current

role (or redefined role) really what they

want?

If this is the case you may find yourself

needing to recruit, either now or as you

get back to full capacity. If this applies to

you, here are nine tips to help you get the

best applicants.

1

BE THE PLACE TO WORK

You can't create a culture overnight

where the best employees will

want to work, but you can ensure

you are doing everything to retain your

reputation as a good employer. Your

existing team should be your greatest

advocates; if they feel valued they are far

more likely to recommend you to others

and spread the word that it's a great

place to work.

What does it mean to work for you? Ask

your existing team members what they

value most about working for you, so you

can make a point of promoting this in

your job ads.

2

YOUR PURPOSE

You'll want to attract people who

are a good fit for your business;

people who resonate with your

purpose and values. The more you can

demonstrate these in your recruitment

process the more likely it is to get a good

match. It's quite possible they have

changed over the past 14 months, if so

now's the perfect time for a review. Make

sure to share any changes with your

existing team too.

3

CAREER PATH

Demonstrate in your recruitment

there's potential to grow and

develop. Give examples of the

training and development opportunities

you offer. That way you're more likely

to attract people who see the role as a

potential longer-term career move, rather

than people who simply see it as a fill in, or

worse, somebody who is simply desperate

for any job.

4

THE ROLE

It's unlikely you'll be replacing like

for like. When you have a vacancy,

it might be an ideal opportunity to

restructure and open up opportunities for

your existing loyal team members. It might

also open up a bigger pool of potential

candidates.

Ask yourself if this is a role that could

be filled by a freelancer to give you more

flexibility. If it is, it's still important to get

the right fit. Even if you keep the role as it is,

upskill and cross train your existing team so

you have flexibility and you're not left in the

lurch if you can't recruit immediately.

5

AN INSIDE JOB

Let your existing team members

know of any positions you're

recruiting for. Even if this is not a step

up, it may present a new challenge for one of

your existing team to keep them motivated

or stretched.

If you do have internal applicants, treat

them in the same way as your external ones

– acknowledging receipt of their application,

interviewing, sending offer letters/salary

details etc. If internal candidates do not get

the job, ensure you give feedback to help

with their development and to encourage

them to apply for future positions.

Bear in mind people know people like

themselves, so your team is also a good

source for finding candidates through their

network of friends and family.

6

FRESH BLOOD

Rather than focusing on specific

experience in similar roles, put the

emphasis on transferable skills so

you can widen the net to attract people

22 WWW.OPENAIRBUSINESS.COM
---
FUNCTION VENUES

"ENSURE YOUR AD REFLECTS THE TYPE OF CANDIDATE

YOU'RE LOOKING FOR, AND LET YOUR PERSONALITY SHOW

THROUGH SO IT RESONATES WITH THE RIGHT PEOPLE"

from other industries. Think about other

industries that employ people with

transferable skills where there have also

been job losses, such as retail, the airlines, or

other sectors within hospitality.

Although your existing team and

network can be a good source, introducing

some fresh blood can bring some new

perspectives and ideas to your business.

GETTY IMAGES

7

BE SPECIFIC

There are certainly plenty of people

looking for work at the moment.

You may end up with hundreds

of applicants for any one role but you

don't want to waste valuable time and

resources sifting through wads of unsuitable

candidates. Ensure your ad reflects the type

of candidate you're looking for, and let your

personality show through so it resonates

with the right people. If you want someone

enthusiastic, dynamic and lively, make your

ad enthusiastic, dynamic and lively too!

You're not looking to attract anyone

who's desperate for a job; make it clear

what you're looking for so you narrow down

applications to those who fit the bill of the

ideal candidate.

8

MAKE IT AN EVENT

You may well be looking for staff for

a cross section of roles within your

business. If so, consider holding a

recruitment day. This enables you to make it

more of an event and attract more attention.

It gives potential candidates who are

unfamiliar with the industry or your business

an opportunity to get a better feel for it and

identify whether it is a good fit for them. And

you get a chance to see each candidate over

a longer period, so you can make a better

assessment.

9NO REGRETS

You certainly don't want your efforts

wasted by your perfect candidate

deciding at the last minute, or within

the first couple of weeks, that the job isn't

for them after all. Start your induction

process at the point they accept your job

offer and let them know how much you're

looking forward to them coming to work for

you.

Drip feed information that lets them know

that they're going to get a warm welcome.

This might include a background to your

business, your values and what's important

to you, current topical information, such as

your reopening plans, an invitation to any

team building, events or social activities

happening between now and their start

date, as well as a copy of their induction

programme, and the point of contact for day

one.

Doing all this before they start will make

them feel more welcome and minimise the

risk of any second thoughts.

IN SUMMARY

Treat your recruitment time as an

investment. Any team is only as strong as

its weakest member and the quality of your

team inevitably impacts your productivity

and your customer service.

When you're short of staff it's easy to

make a rushed decision and recruit the

first people who come along. Getting the

wrong people can be costly, not only in time

and effort – the wrong person can have a

detrimental impact on the rest of your team

and potentially on your customers too.

GETTY IMAGES

ABOUT THE AUTHOR

Caroline Cooper is the

Founder of Naturally Loyal

and has over 30 years' training

and development experience

in hospitality. Recognising that

managers often get promoted into

positions without much training, her

key focus is on developing newly promoted

and junior hospitality managers to lead and

engage their teams effectively.

You can download her free guide,

"Recruiting Superstars", which contains 141

tips, tools and tactics for finding and recruiting

your dream team, at www.naturallyloyal.com/

recruitment-tips

WWW.OPENAIRBUSINESS.COM 23
---
24 WWW.OPENAIRBUSINESS.COM
---
FUNCTION VENUES

INDUSTRY COMMENT

Business Events

GETTY IMAGES

Ghost Events

With a surge in enquiries, savvy venues need to

keep an eye to business at risk of being ghosted,

writes Andrew White

THE LOCKS are lifting and along with the

massive sigh of relief, there's a bullish air

to the events market.

There are reports of demand being up

by 170 per cent and 500 per cent! However,

read behind the big stats and these are

simply enquiries. Enquiries don't put

revenue in the bank – confirmed and

contracted business does.

Enquiries are a spurious way of looking

at how events are faring – we need more

reporting on actual confirmed business,

but it's sparse. Why? Because no one really

knows how the corporate will deal with

bringing their teams back into the office let

alone for an offsite meeting or event.

There are massive areas of duty of care

that now come into play in the next normal

corporate rule book. A corporate can take

every effort possible to protect its staff

and add procedures to be Covid confident

in their workplace. However when they

send their people on company business,

things change. Employees are under their

employer's jurisdiction, and frankly it may

be easier to carry on with the Webex that

has been proven to work for 15 months

and has in fact saved significant money.

Corporate procurement departments must

be relishing in the huge cost savings on

training and events and the associated

costs of sending delegates away for the

day.

Conversely, company cultures have

been redefined through home working

and enforced remote working has meant

that some employees have never even

met their peers. Bringing people together

to bond, collaborate and be creative is an

important part of the big return to work

and imperative to any organisation and its

productivity.

Perhaps this push-pull of 'will we, won't

we meet' is the reason enquiries are so

"BRINGING PEOPLE

TOGETHER TO

BOND, COLLABORATE

AND BE CREATIVE IS

AN IMPORTANT PART

OF THE BIG RETURN

TO WORK AND

IMPERATIVE TO ANY

ORGANISATION AND

ITS PRODUCTIVITY"

high. Add in another trend

for provisionally holding four

venues for the same event – yes,

cancellation culture has reached

the meetings and events sector

– and there will potentially be a lot of

venues with egg on their face if they don't

proficiently manage this demand for ghost

events. Signed contracts and deposits are

real-time value. 500 per cent of nothing is

nothing. Fact.

CONVERT THE ENQUIRY

When you send your event quotation, put

duty of care at the fore. Corporates want

to know:

• What new Covid-compliant procedures

are in place

• How contracts can be flexed in case of

another lockdown

• They want open air and they want big

technology as they will undoubtedly be

streaming people into the events.

Hybrid – in person and streamed

to an online audience – is the trend,

so ensure you've the biggest internet

connection possible and all of the

necessary equipment and expertise onsite!

After all, those ghostly online delegates

are infinitely better than a ghost event that

never happened because you weren't set

up right.

ABOUT THE AUTHOR

Andrew White is

MD of Triggerfish

Communications, a

specialist in helping

heritage venues and

leisure attractions build

awareness and market share in

the business of events.

www.triggerfish.co.uk

WWW.OPENAIRBUSINESS.COM 25
---
FUNCTION VENUES

GETTY IMAGES

A Rapid Evolution

A look into the future for UK wedding and events venues with Charlotte Winship

WHILST WE await the results of the recent

pilot events, the UK weddings and events

industry is gearing up for the welcome

return to full capacity and I am optimistic

that the hallowed date of 21 June will hold

firm. I am also aware that our industry has

been changed by this experience and, in the

process of making future plans, we must be

mindful that some of these changes may be

here to stay.

VIRTUAL TECHNOLOGY

Before lockdown #1, I had never heard of

Zoom or Microsoft Teams. I had a familiarity

with Skype and Facetime from my years

living overseas and welcomed then, as I

do now, the opportunities they created to

maintain face-to-face contact with people

from a distance. Virtual meetings are now

the norm and, although not necessarily liked

by all, they have enabled venues to maintain

client contact and engagement throughout

lockdown. Many of us are raring to embrace

(literally!) the opportunity to meet in person

again but for many, time poor or unable

to travel easily, this opportunity to meet

face-to-face remotely will continue to be

invaluable.

Many venues have already been

capitalising on virtual tour technology

and this has been crucial in enabling sales

"MANY VENUES HAVE

ALREADY BEEN CAPITALISING

ON VIRTUAL TOUR

TECHNOLOGY AND THIS HAS

BEEN CRUCIAL IN ENABLING

SALES ACTIVITY TO CONTINUE

THROUGHOUT LOCKDOWN"

activity to continue throughout lockdown.

This will also continue to be a valuable sales

and marketing tool, enabling venues to be

accessed by customers based overseas or

further afield. Make sure your tours are upto-date

and show your venues at their very

best with crisp clear imagery.

I have also been impressed by the

technology available for creating virtual

events. Venues, production companies and

entertainment suppliers have collaborated

to create some innovative virtual event

platforms enabling all manner of events

including exhibitions, conferences and

parties to be successfully transferred into the

virtual arena. Venues have been recreated

digitally to create an immersive experience

without guests having to leave their house.

Food and drink can be couriered to your

home so that you can enjoy a live culinary

experience, guests can network with each

other remotely in chat rooms, participate in

live presentations from 1,000s of miles away

and watch live entertainment from their

sofa. Whilst it is not cheap, this technology

negates the problem of managing social

distancing and enables a much larger guest

list and participation. It also has the capacity

to be used to create hybrid events allowing

guests the choice to attend in person or

remotely but still participate fully.

Corporate event organisers will be keen

to continue to access this technology to

reach overseas customers and associates,

particularly whilst travel remains limited.

Now is the time for venues to reach out to

their technical suppliers and continue to

explore virtual event opportunities.

As we become increasingly geographically

spread out, the ability to unite people

wherever they are is very powerful. So

many couples miss the opportunity to

have overseas friends and family attend

their marriage celebrations yet now we can

livestream the day for all to see. Venues with

the technology and connectivity to enable

this will be increasingly in demand as travel

restrictions continue.

OUTDOOR SPACES

For many, the ability to get outdoors for

exercise, gardening, working or socialising

26 WWW.OPENAIRBUSINESS.COM
---
FUNCTION VENUES

has been a lifeline over the past year.

Outdoors is safer, less restricted and

confined, with more space to circulate and

breathe fresh air. The outdoors creates a

feeling of wellbeing so if your venue offers

outdoor spaces, make sure you promote

them as much as your indoor spaces.

Value and maintain your outdoor spaces

as much as your indoor spaces. Show clients

how they can optimise their weddings and

events – an outdoor wedding ceremony, a

picnic or BBQ, garden games, alfresco music.

The great British weather will always require

us to make a 'plan B' but enabling people to

take their event outside will be worthwhile.

Planning laws have been relaxed this

year lengthening the usual 28-day period

for temporary structures without planning

permission to 56 days or longer in some

circumstances (speak to your local council).

This has sent the demand for marquees

and other temporary structures through the

roof. Not only do they enable hospitality

venues to open under current restrictions

in all weathers but they also enable smaller

venues to increase their capacity. A small

country home with limited indoor capacity

but a large garden can considerably increase

numbers and develop their share of the

wedding market with the addition of a

summertime marquee.

Landowners are increasingly exploring

ways to diversify and may not yet be

prepared to convert a farm building into a

wedding venue. This is a great opportunity

to put up a tent and test the market. It also

opens opportunities for venues to provide

overnight accommodation in the form of

glamping, or glampsites to offer a party

venue for their glampers. Speak to your local

marquee suppliers about a collaboration

or maybe it's time to invest in your own

marquee structure?

Anticipated changes to the marriage laws

are also likely to create more freedom for

venues to utilise outdoor spaces for marriage

ceremonies. The Law Commission has

proposed reforms to the current laws that

will enable more flexibility for couples to

marry how they wish without the constraints

of a registered or licensed venue. No date

has been confirmed but the pandemic has

certainly identified the need and increased

public demand for this change.

OVERSEAS TRAVEL

Sadly we will have to wait a while longer

before we are able to travel without

restriction again. This gives the UK wedding

and event market an advantage. An inability

to plan overseas weddings or corporate

events means that there will be an increased

demand on the domestic market. Many

people have been working remotely and,

whilst for some this has worked well, I

foresee a need for companies to bring their

teams together to aise morale and restore

mental wellbeing with team building,

workshops, corporate away days and

conferences.

Businesses will be looking for unique

experiences for their clients and teams.

What experiences can your venue offer

onsite or nearby? Orienteering, archery,

sailing, a survival challenge, treasure

hunt, escape room, obstacle races etc. Do

you have the technological capability to

facilitate conferences? Screens, PA systems,

projectors etc.

With tropical beach weddings off the

cards for now, couples not prepared to

wait will also be looking for unique and

unusual UK wedding venues to fulfil their

dreams. How can you inspire a couple with

wanderlust to book your venue? An intrepid

menu? A waterfront ceremony? A yurt in the

garden? Exotic entertainment?

MICRO WEDDINGS

The economic consequences of the

pandemic are also likely to have an impact

on consumer spending around weddings

and events. There will continue to be a

strong desire for people to meet and get

married, however it is likely that they may

continue to embrace the smaller, more

intimate nuptial event. How can your venue

continue to meet this demand for micro

weddings?

Do you have a smaller space that you can

offer to more intimate gatherings which

would otherwise be lost in a vast barn or

hall? Couples are also recognising that

micro weddings create an opportunity

for more extravagant plans. Instead of

limiting their spend to essentials they

can incorporate more luxurious styling

elements, expand their wedding breakfast

menu, upgrade their beverage choice etc.

What ways can you enable your couples to

enhance their wedding at your venue?

DIGITAL AGILITY

The biggest outcome of the pandemic is

the realisation that we are living in a digital

world. We still need personal interaction

from time-to-time but technology has

created the convenience of being able

to take action remotely. Venues must

make sure that they are up-to-date with

their digital communication methods to

access their remote audience. Up-to-date

websites and communication methods,

digital booking processes, a strong social

media presence and continued investment

in digital technology is required if you are

to continue to find an audience in an ever

expanding and advancing wedding and

events market.

Our world is constantly changing and

our customers ever evolving. Being able to

adapt, change, pivot and flex is crucial if

we are to keep up with changing consumer

demands. Venues must continue to work

with their customers, listen to their needs,

compromise where possible and adapt

when necessary. The customer is king and

only by acknowledging this will we truly

be able to ensure we give them the best

experience.

ABOUT THE AUTHOR

Charlotte Winship has

over 20 years' experience

transforming good wedding

and events venues into

great ones. She is an expert

in helping venues reach their

ideal customers, maximise sales

opportunities, increase profitability, establish

effective teams and streamline operations.

07493 350303 / charlotte@charlottewinship.

com / www.charlottewinship.com

GETTY IMAGES

WWW.OPENAIRBUSINESS.COM 27
---
28 WWW.OPENAIRBUSINESS.COM
---
FUNCTION VENUES

PRODUCT IN FOCUS

Marquees

Young's pubs, nationwide

Product: Custom made stretch tents for pub

gardens, outdoor hospitality and consumer

facing areas

Supplier: MyTent, 0208 947 2465, mytent@

intentproductions.com, www.mytentuk.com

Details: Working with Young's, alongside other

well established pub brands and independent

hospitality businesses, MyTent provides made

to measure stretch tents for pub gardens and

outdoor customer areas. Young's has been a

longstanding client and over 45 stretch tents

have been installed and managed for them.

The process is always collaborative and

involves working closely with the Young's

team and individual pub managers to create

custom stretch tents that are rigged and

managed by MyTent. The MyTent team visits

the site, measures up, and does a full design

consultancy to create tailored coverings for

each space. A drawing of the tent in situ is

produced and once everyone is happy it is

installed by qualified riggers. When the pubs

are ready to take their tents down they are

swiftly removed, cleaned and stored in time

for the season change.

Tents are made from a high grade

polycotton stretch fabric that is flame

retardant and anti-microbial. This year

MyTent has installed over 200 stretch tents at

hospitality venues around the country and is

proud to help local pubs, restaurants and bars

with outdoor spaces to remain open during

these uncertain times.

Canvas Hamlet, North Wales

Products: Stratus tipi, stretch tent, white

marquee, power distribution, furniture and

hammocks

Supplier: Event In A Tent, 01978 661449, info@

event-in-a-tent.co.uk /

www.event-in-a-tent.co.uk

Details: Event In A Tent worked with the

owners at Forge Farm and The Canvas Hamlet

to create a six week pop-up glamping field near

Llangollen, North Wales, in summer 2020. They

co-ordinated all suppliers for the bell tents,

kitchen equipment, land and furnishings, while

supplying all infrastructure including a Stratus tipi

fully furnished with rattan chairs and sofas, coffee

tables and wooden tables and benches plus some

hammocks for lazing in!

Also supplied was a stretch tent dining area

complete with mat flooring, benches and tables,

and a pagoda marquee with a wooden floor that

was turned into a kitchen area. The bell tents were

sourced and kitted out with double futon beds,

rugs and bean bags to create a luxury camping

experience.

Customer feedback: Ian Thellwell of The Canvas

Hamlet, said: "The Canvas Hamlet was a great

success in 2020, so much so that we are working

with Event In A Tent again this year to create three

pop-up glampsites. Event In A Tent provided a

great service from start to finish for us. We had five

star reviews from last year's campers who had an

amazing staycation, so we are looking forward

to working with the team again this year to bring

bigger and better things this summer!"

WWW.OPENAIRBUSINESS.COM 29
---
FUNCTION VENUES

High Billinghurst Farm, Surrey

Products: Stretch tents in beige; 20x12m joined to a 10x7.5m

totalling 315m sq. Flooring, lighting and bar

Supplier: TentStyle, 01403 333135, enquiries@tentstyle.co.uk,

www.tentstyle.co.uk

Customer feedback: The client said: "Just a quick note to

thank you for you and your team's help in delivering our event

on Saturday. The tent was a real hit! We really appreciate your

flexibility and professionalism throughout the booking and delivery

process."

Details: TentStyle worked closely with the venue and client to

deliver a stunning rustic themed wedding, consulting, advising,

delivering and fully installing a striking structure for the couple.

From the stretch tent, dance floor and matting floor, through to

the bar and specific lighting requirements, the bespoke set-up

delivered exactly what the client wished for.

The lighting installation, also by TentStyle, made a real difference

and included chandeliers, fairy lights, festoon lighting both

internally and externally, as well as external LED up-lighters to

highlight a beautiful stone monument.

Wilde Lodge, Powys

Product: Unique custom safari tent

Supplier: Bond Fabrications, 01453 767171,

enquiries@bondfabrications.co.uk,

www.bondfabrications.co.uk

Details: Wilde Lodge owners Jemma and

Kevin Willis approached Bond to talk about

adding a structure that would give them a

unique and stylish wedding space for guests.

Wilde Lodge is a beautiful and intimate

location surrounded by glorious scenery in

Mid Wales, so a shiny white marquee was not

going to work! The structure needed to fit into

a quirky space between existing characterful

barns, blend into charming surroundings and

offer a relaxed yet sophisticated

space.

Bond enjoyed working

with Jemma and Kevin

and it was certainly

one of the team's

more unusual

projects. Essentially it needed to be a bespoke

sized safari-style structure with traditional

features yet have the structural integrity of a

permanent installation. Natural wood poles

and panoramic windows in an olive

green canvas created a subtle,

welcoming façade that sat

pleasantly with the barns.

It is not unusual

for Bond to take on

such projects and

the company does

love a challenge!

Having served

the outdoor

hospitality industry

for over 30 years

the team has vast

amounts of experience,

technical know-how and

skilled craftsmen. With CAD

design capabilities and structural

engineering input, Bond can offer a full design

and manufacture service using a variety of

frame types and the highest quality fabrics. As

a true British manufacturer, Bond prides itself

on exceptional quality, attention to detail and

a personal service.

30 WWW.OPENAIRBUSINESS.COM
---
FUNCTION VENUES

Private wedding, Anglesey

Products: 15x30m white stretch tent with flooring, tables and chairs for

130 guests along with a PA system, patio heaters and lighting

Supplier: Tentickle, 07826 843099, info@tentickle-stretchtents.co.uk,

www.tentickle-stretchtents.co.uk

Details: Tentickle was approached by a couple who wanted to hold their

wedding reception in a vast field. Prior to any deposit, Tentickle made a

free site visit to meet the couple and offer a personal touch to its service.

During the site visit, the team spent time going through all weather

situations and how to maximise on the great location and view, and it

was suggested that the trees on one side of the field be used as a natural

shelter from the wind.

By incorporating the nature of this beautiful location Tentickle was

able to plan for any weather. The stretch tents are wind, rain and storm

proof so it's all about working with the client to understand the vibe they

are after and what they want from the day.

The hire included a 15x30m white stretch tent with flooring, tables

and chairs for 130 guests along with a PA system, patio heaters and

lighting. All the equipment was delivered in four large vans and the tent

installed three days ahead of the wedding to allow time for decoration.

After the installation, the team and client took time to walk the space

and envision how it would work on the day. The bride asked for a few

slight amendments to the front of the tent so the view of the spectacular

scenery could be enjoyed even more.

Customer feedback: The bride said: "You understood from the outset

the vibe I was aiming for and want to thank you for all your help and

assistance, especially your patience!"
---
GLAMPSITES

CASE STUDY

Yurtcamp

Devon

One of the UK's first glampsites, Yurtcamp Devon

comprises 22 yurts in 40 acres of woodland

Transforming a miniature

railway into a yurt glamping

village, owner David Ager

now also offers whole site

exclusivity for weddings and

celebrations, making the

most of his prime location

close to Dartmoor and the

south Devon coast.

What's your back story – your life before

glamping?

I had some holiday cottages in Worcestershire,

which gave me a taste for a hospitality business.

There is a real pleasure in delighting guests with

their chosen site and accommodation.

What made you decide to start offering

glamping accommodation?

I bought the site 14 years ago as I wanted to

start a glamping business in Devon and it had

40 acres of beautiful woodland, which seemed

ideal. It was a beautiful site that had been used

for a miniature railway tourist attraction. I could

see great potential, but there was a lot of work

needed to get it ready.

How did you research the business before

entering it?

I did a lot of research on what was currently

available in self-catering sites, and found that

there was very little in the way of glamping –

this was 14 years ago!

Tell us about your location and site

Yurtcamp Devon is located just a 15 minute

drive off the end of the M5, with the last three

minutes being the journey time off the A38, so

very accessible from all parts of Britain. Our

closeness to the A38 means that we make it

clear on our website that if you are seeking

perfect peace, please don't book. The vast

majority of our guests are not troubled by road

noise, even though they have read about it and
---
GLAMPSITES

are listening for it!

We have 40 acres of beautiful Devon

woodland, with lots of lovely walks, a

full size assault course, and a zip line.

There is also table tennis, swings, seesaws

and a sand pit plus a large field

on which impromptu games of football,

cricket and rounders are played.

We have the onsite independently

run fully licensed Woodland Cafe, run

by a very experienced chap called

Stuart, who serves fabulous local food

and drink at sensible prices including

BBQs and pizzas.

There is plenty to do in the local area

too, with Dartmoor on our doorstep

(fantastic for pony trekking, river

swimming and rock scrambling) and

the wonderful south Devon coastline is

just eight miles away.

How did you tackle getting planning?

Planning was a piece of cake as the

site was previously a lovely miniature

"I HAVE OFTEN

THOUGHT

THAT

YURTCAMP

DEVON

WOULD BE

GREAT FOR

WAKES, BUT

HAVE NEVER

DONE ANY

MARKETING

FOR THEM"

railway tourist attraction that went

bust about 16 years ago. When I bought

the site, all that was left was miles of

derelict track and fabulous bridges and

tunnels. There were also some lovely

wooden buildings which have all been

used to create Yurtcamp Devon.

Having been approached by many

way out and crazy schemes, the

planners loved my glamping site

idea, and literally rolled out the red

carpet! I got planning permission for 49

yurts, but now have 22, which is in my

opinion about right. I wouldn't want to

spoil the site by having too many.

We became licensed to hold civil

ceremonies 10 years ago and have

since had about 100 weddings. It works

really well as we offer site exclusivity

from midday Friday to midday Sunday

for the couple and their families and

friends to have a full weekend to get

together and celebrate.

I have often thought that Yurtcamp

Devon would be great for wakes, but

have never done any marketing for

them. Similarly with corporate events

and team building, which we have

done a bit with, but nothing like the

number that we could probably do

with effective marketing. I suppose the

bottom line is that I am busy enough

with things we are already very popular

for, without adding to them!

How did you finance the project?

I used savings.

What glamping accommodation do

you offer and why did you choose it?

We offer yurts. I love the design of a

Mongolian yurt, but wanted to create

a more contemporary version that was

suited to the British climate.

The smaller yurts are ideal for

couples, and the larger yurts ideal for

up to six to accommodate family and

friends. Each yurt has a log burner and

is fully equipped for cooking, sleeping

and relaxing in, and has access to

an outdoor fire pit for campfires and

barbecues.

Most of our yurts are situated in

small groups offering a pleasant village

atmosphere while allowing guests

their own space. For those seeking

more solitude we also have yurts

sited remotely in a tranquil woodland

setting.

The toilet and shower block has

separate male, female and disabled

facilities including toilets, hot showers,

hairdryers and mirrors, plus plenty of

hot water!

What occupancy levels do you

achieve?

We are open most of the year and

are usually quite busy over New Year.

In normal times our occupancy is

between 30 per cent (off peak periods)

and 95 per cent (peak periods). Our

prices depend on the season, and

whilst we offer two night stays, our

prices encourage longer stays.

WWW.OPENAIRBUSINESS.COM 33
---
GLAMPSITES

How did you work out your brand

and how do you publicise yourself?

Yurtcamp Devon seemed like the best

name, and while we post on social

media, we don't spend very much on

advertising.

How would you describe your ethos

and unique selling point?

A beautiful site to relax, or get married,

or celebrate a landmark birthday.

How did you choose your interior

decoration?

It has evolved over 12 years.

What challenges have you faced?

Initially, getting the site prepared was a

huge amount of work as it needed a lot

of landscaping to make it suitable for

yurts. There is also quite a lot of forest

maintenance needed each year, and

regular checks on trees near to yurts.

34 WWW.OPENAIRBUSINESS.COM
---
GLAMPSITES

How have you coped through Covid?

We had to be very careful about

expenditure. We've been open when

allowed to be, putting in lots of Covid

preventative measures.

What are your plans for next season?

We are always looking for improvements

to make. We are greatly looking forward

to reopening and also to hosting several

weddings for the first time in 18 months!

Describe your average day midseason

I start at 8.30am, responding to emails

and bookings, overseeing work

being done on site, saying farewell to

departing guests, welcoming arrivals,

and being available to them if they need

any help.

Do you enjoy the business and why?

Very much. Guests going away, usually

for a well-earned rest, deserve to have a

lovely time.

What are you most proud of?

Guests telling me that they've had a

great time.

What other outdoor hospitality

sectors do you operate in?

We offer site exclusivity, usually from

midday Friday to midday Sunday, for

weddings, as we are licensed for civil

ceremonies. Couples love to have a full

weekend get together and celebration

of their marriage, with everyone

staying on site.

What advice could you give to

someone coming into the industry?

Be prepared for plenty of work, but like

most things in life, the more you put in,

the more you get out.

ADDRESS BOOK

DETAILS

Yurtcamp Devon

Staplehill Road

Liverton

Newton Abbot

Devon TQ12 6FU

07768 665544

www.yurtcamp.co.uk

WWW.OPENAIRBUSINESS.COM 35
---
GLAMPSITES

Trade Secrets

Making a

Meadow

The restoration of a traditional hay meadow has been a

labour of love but is now an essential part Swallowfield

Glamping Retreat, writes owner Denise Hobbs

IN THE UK, we've lost over 97 per cent of our

UK wildflower meadows since the 1930s.

Here in Worcestershire we have almost

one-fifth of England's remaining flower-rich

meadows and pasture and Worcestershire's

Coronation Meadow, Far Starling Bank, is

just one mile away from our site.

When we moved to the farm, we were

given a copy of an old Tythe map dated 1813

which showed that historically our land

had once been large stock orchards and

traditional hay meadows. When my great

grandfather purchased the smallholding

back in the 1920s, the large stock orchard

had been replaced by a much smaller

orchard, but the flower-rich hay meadows

remained. He kept livestock and continued

to manage the meadows traditionally. At

that time the farm was a haven for

wildlife and full of biodiversity.

A neighbour recently told me a

lovely story about my grandfather.

Back in the day, Worcestershire

held an annual hay competition.

The competition aimed to

find which local farmer had

grown the best quality hay

and was quite a prestigious

event. My grandfather was up against much

larger farmers who were using new modern

farming methods, including the use of

herbicides.

Unperturbed, and one for the

underdog, he decided to enter

a sample of the small farm's

flower-rich hay where meadow

management had changed very

little over the years. And yes,

you've guessed it, he won the

award for best quality hay! He

would have found this highly
---
GLAMPSITES

"ON HEARING THAT WE HAD LOST OVER 97 PER CENT OF OUR

WILDFLOWER MEADOWS SINCE THE 1930s, AND KNOWING

THE FARM'S PREVIOUS MEADOW HISTORY, WE DECIDED TO

RESTORE THE WILDFLOWER MEADOW AND STOCK ORCHARD"

amusing and I'm sure celebrated with a good

drink of homemade cider in his drinking

horn.

BIODIVERSITY GAIN

When we embarked on creating the

glampsite, we aimed to achieve a

biodiversity gain. Over recent years the land

had been semi-improved, which meant

that it had been modified by artificial

fertilisers, slurry, grazing, herbicides, and

drainage. Consequently, it was less natural

and had a less diverse range of species than

the previously unimproved species-rich

meadows of my great grandfather's time.

On hearing that we had lost over 97 per

cent of our wildflower meadows since the

1930s, and knowing the farm's previous

meadow history, we decided to restore the

wildflower meadow and stock orchard. This

meant delaying our planned opening for

the glampsite by a year, but we felt it was a

sacrifice worth making.

So, in 2018 we commissioned

Worcestershire Wildlife Consultancy to

produce a Biodiversity Enhancement

Plan for our new glampsite and the wider

farm. Not only was the plan to enhance

our own biodiversity but our local area

is a Worcestershire Wildlife Trust Living

Landscape area. The trust's intention is

to create links between existing habitats,

restored habitats and newly created habitats

as well as benefitting the local community.

Our proposed enhancements would assist

them in this wider goal.

The plan involved scoping what we

already had and then looking at ways we

could enhance biodiversity. One of the goals

was to create new habitats, and we could

achieve this by creating a new wildflower

meadow. Meadows are of great benefit to

a diversity of species and are attractive to

humans, so it ticked all the boxes for our first

biodiversity project.

BACK TO BARE EARTH

To create a successful wildflower meadow,

we had to lower the soil fertility to reduce

the dominance of coarse grasses and herbs.

Although dramatic, the best option for us

to ensure success was to invert the topsoil

to raise the less fertile subsoil to the surface

and to provide open conditions suitable for

seed distribution.

We achieved this by ploughing and then

tilling the three-acre site. I must say, being

faced with a blank ploughed field initially

filled us with doubt, hoping we had made

the right decision! Luckily, we have very

experienced local farmers who reassured

us it would be fine. It's quite incredible how

quickly land can recover.

This also gave us a chance to lay our site

services and we used the spoil from the

trenches to create a raised path around

where the glampsite would be situated.

This has become the area we mow on a

weekly basis for access and to keep guests'

feet from getting muddy in wet weather.

Next, we needed to choose the correct

wildflower meadow seed mix not only for

our land but for our area. We contacted

Emorsgate Seeds who are specialist

growers of wildflower and wild grass seeds

for advice. We chose a 30-species meadow

mixture for clay soils mixed with a small

amount of meadow mixture for wetlands

to tackle the areas that can lie damp in the

winter months if there has been lots of rain.

So, in Autumn 2018 the seed arrived

ready for sowing, and the land was

ploughed, tilled and sown. It's quite a

difficult task to sow wildflower seed in

such a large area as it's too large to hand

sow but the seed is very fine and not

ideal for the typical tractor-mounted seed

spreaders. The only way to do this is to

tractor sow the seed at great speed. Our

very talented local farmer did a great job

whizzing around the field to distribute the

seed evenly.

Then we waited, not too long as it

happened. In November we could see

the seeds had started to germinate and

the newly sprouting grass looked like

an emerald carpet. Most newly sown

meadow wildflowers and grass species

are perennial. They are slow to germinate

and grow and usually do not flower in

the first growing season. It is said that it

takes at least three years for wildflowers to

establish themselves.

After completely ploughing the land and

sowing the wildflower meadow, it was clear

that we had to allow at least another year

for the land to recover and the meadow

to establish. So, our opening plans were

put back again to April 2020. However, this

allowed us to plant the first phase of the

traditional orchard in the spring of 2019.

We planted 50 new apple trees that

would act as screening between the

glamping lodges, along with some

hazel and hawthorn that would mix in

between them. Working with Walcot

Organic Nurseries, we chose old historic

organic varieties local to our area such

as Pitmaston Pineapple, which has small

golden-yellow apples, perfect for children,

and has a heritage dating back to 1785.

The trees will act as an edible orchard

forest that can be picked and eaten by our

WWW.OPENAIRBUSINESS.COM 37
---
GLAMPSITES

guests and will be varieties they probably

have never tasted before as you will not find

them in the supermarkets.

WORTH THE WAIT

In the spring, it was so exciting to see the

yellow rattle flowers developing. Yellow

rattle is especially good for establishing

wildflower meadows as its roots develop

underground and seek out the roots of

plants growing nearby, especially grasses.

Once contact is made, the yellow rattle

draws water and nutrients from them,

suppressing the growth of grasses by

as much as 60 per cent and allowing

wildflowers to flourish.

In the first year, the new wildflower

meadow started to establish and the

wildflowers themselves became evident

alongside beautiful meadow grasses such as

common bent, meadow foxtail, red fescue

and cat's-tail. Meadow grasses tend to be

finer and shorter than coarser grasses so that

they do not dominate wildflowers.

But what we hadn't bargained for was a

whole new level of noise! I'm talking good

noise! A noise that hadn't been there before.

The delightful sound of grasshoppers and

crickets chirring away and the contented

buzz of bees and hoverflies collecting

pollen and nectar – the sound of a summer

wildflower meadow.

The biggest surprise in that first year was

the arrival of the marbled white butterfly

to feed on the field scabious and the

knapweeds. The meadow has become a

haven for butterflies including the meadow

brown, gatekeeper and common blue who

are all regular visitors and are increasing

in numbers year on year. The peacock,

tortoiseshell, brimstone and red admiral

butterflies are often spotted around the

wider area of the farm.

Then Covid-19 struck which has been

so devastating for everyone. We made

the difficult decision to delay opening the

glampsite again until April 2021. However,

not ones to give up, in true British style we

"kept calm and carried on!" So, we got on

with planting the cider apple orchard in the

centre of the glampsite.

Working with both Walcot Organic Nursery

and our local community orchard, Colwall

Orchard Group, we chose local historical

and organic cider apple varieties dabinett,

Harry Masters Jersey, Kingston Black and

Yarlington Mill. We planted these in early

spring 2020, and we are looking forward to

"THE MEADOW HAS BECOME A HAVEN FOR BUTTERFLIES

INCLUDING THE MEADOW BROWN, GATEKEEPER AND

COMMON BLUE WHO ARE ALL REGULAR VISITORS AND ARE

INCREASING IN NUMBERS YEAR ON YEAR"

creating our unique blend of cider in the

years to come.

In the meadow's second year, it

completely changed again with many more

wildflowers appearing including yarrow,

betony, birdsfoot trefoil, ragged robin,

selfheal and oxeye daisies. It's been such a

joy to watch the meadow transform through

the seasons offering different wildflowers at

different times of the year.

By adopting the traditional meadow

management method, based around the

main summer hay cut in combination with

autumn and possibly spring mowing, the

meadow itself manages future sowings. The

meadow grassland is not cut from spring

through to late July/August to allow the

species to flower. After flowering, we take a

'hay cut' using a tractor and a flail collector,

mowing the grass to roughly 50mm. The

cut hay is then removed and given to a local

farmer who feeds it to his cattle.

It's been a labour of love creating the

wildflower meadow but it has been an

essential addition to the farm, making a

beautiful space for ourselves and our guests

to enjoy and learn about nature and our

amazing insects.

We love early morning walks in the

meadow with Dolly, our parson russell

terrier, when all is quiet apart from the

crowing of the cockerel and evening

walks in the late summer glow, watching

the swallows in flight across the orchard

meadow, swooping and diving in pursuit of

insects. It truly is a special place to be!

38 WWW.OPENAIRBUSINESS.COM
---
Free next working day delivery* on

beds & mattresses. No minimum order.

We've made sure our trade mattress range caters to

all budgets, and types of accommodation. Check out our

Landlord, Leisure, and Hotel Pocket ranges, exclusively

available through Mattressman and then, whether you

need one mattress or one hundred, get in touch with

our Trade team for the very best deals!

Call: 0800 5677625

Visit: mattressman.co.uk/contract

Source 5 fire regulation products available. Standard and special sizes. Fast, free national delivery, installations, assembly and disposal services available.

* Thousands of domestic mattresses and frames in stock. Terms and conditions apply.
---
GLAMPSITES

MALL

PACE

RENDS

AS MANY of you get ready for another busy

season, I've put together a guide to creating

the best and most on trend indoor and

outdoor spaces for your guests in 2021.

With glamping and UK holidays once again

filling the travel gap of trips abroad due to

the pandemic, many have, or are looking to,

book a trip more local to home.

With many of these getaways set in

secluded areas within nature and away

from crowded cities, guests are looking to

book spaces which give a sense of freedom,

privacy, safety and adventure. Capturing

those who would usually holiday abroad, it's

now even more important to take care of the

smaller details in order to create a sense of

escape and to engage with the needs people

are craving after a year of uncertainty.

Create spot on

glamping spaces with

advice from designer

Nikkita Palmer, and

embrace changes to

the way we look at the

world post pandemic

OUTDOOR SOCIAL SPACES

Biophilic design (incorporating nature into

spaces by bringing the outdoors in and the

indoors out) is something which has been on

the trend map for a few years now. As we all

continue to spend more time at home, and

with nature being our only escape, many

have begun and will continue to embrace it

when designing their spaces. 2021 will see a

huge rise in the need for bringing the indoors

out and glamping sites offering these options

will be high on the list of family and friends

who choose to gather as one this year.

Across industries there is an increase in

the desire for social spaces, with low level

picnic style seating areas becoming hugely

popular as well as wooden sofa lounge

spaces, rattan furniture, outdoor kitchens

and more. Embrace this trend by creating

spaces in which guests can socialise together

as we continue to crave spending more

time with our loved ones. With the safety

of the outdoors we've come to rely on over

the last year, and many more feeling a huge

connection to nature, we've come to realise

the benefits the natural environment has on

our health, not to mention the comfort guests

will get from the reduced risk of infection

from open air spaces.

As the glamping season continues to

get longer, many won't want to keep their

holidays just to the summer season. Over the

last year, as many longed for time outside,

people found ways to enjoy the outdoors in

all seasons. Extend the use of outdoor spaces

with rustic wooden pergolas, fire pits and

outdoor heaters. Accessorise with outdoor

rugs, solar lights, cosy throws and luxuries.

Consider elements like hot chocolate

40 WWW.OPENAIRBUSINESS.COM
---
GLAMPSITES

stations, pizza ovens

and hot tubs to add

to the luxury of your

offering. 2020 saw

a huge increase in

booking for sites which

provided these extra

elements and 2021 is

sure to be the same.

As working from home

becomes the norm, time

becomes more flexible, creating

an increase in more frequent but

shorter breaks and check in days no

longer needing to be on a Saturday.

THE SMALLER DETAILS

Indoor spaces are just as important to get

right. With the 'Stay at Home' message

we've been used to, many now feel less

need to be so 'busy'. Families, couples

and groups with new found passions and

hobbies will continue to focus on memory

making through reading, games and time

together. The need to head out to the

nearest attraction, while maybe still there,

will be less severe as we've all lived through

a year of the reduced need to spend excess

time and money to feel fulfilled.

Make your spaces a home from home

by incorporating on trend elements that

will have your guests (and their friends)

coming back each year. With another nod to

biophilic design, nature is again playing a

huge part in interior trends for 2021/22.

Japandi, a mix of Japanese minimalist

paired with a cool, Scandi vibe is one you

will have seen on your Instagram and

Pinterest feeds recently. Capture this need

for comfort with earthy tones such as

Dulux's Colour Of The Year 'Brave Ground',

pulling us back to nature, providing a sense

of stability, growth and potential.

Natural materials continue to be popular;

mixes of linens, wools and reclaimed wood,

creating texture, layers and

an imperfectly perfect

combination as we

continue to embrace a

sense of 'Wabi-Sabi'

(appreciating beauty

that is "imperfect,

impermanent, and

incomplete").

Build interest

into the space by

accessorising with

colour and pattern

within cushions,

throws and decor.

Something which

can be swapped easily

with changing seasons

and times. Dried florals

continue to boom (bought

or created) in interesting vases

and pots, either bought second

hand or crafted by yourself or locally.

Whatever the space, trend or vibe,

comfort is key – a sense of cocooning,

safety and slowness.

AMENITIES

After a year of heavy sanitising, privacy

and the removal of shared spaces within

society, traditional elements of a campsite

such as shared toilet, showering and

washing facilities may leave some ditching

the idea of holidaying within the industry

this year.

While many glampsites invest or pride

themselves on private facilities, for some,

the idea is unachievable. It's important to

make your guests feel comfortable and

turning an area often forgotten about

into a space of luxury is something worth

WWW.OPENAIRBUSINESS.COM 41
---
GLAMPSITES

"IF CREATIVITY ISN'T YOUR

THING, LOOK FOR LOCAL

CRAFTS PEOPLE TO DESIGN

AND CREATE FURNITURE

AND ACCESSORIES TO FIT

WITHIN YOUR SPACE AND

THEME"

investing in this year. Add small touches to

your bathroom facilities to make them feel

more welcoming, comfortable and, most

importantly, fresh!

Include well designed signage, nice

soaps, fresh paintwork and small touches

to bring the space to life and fit within the

atmosphere and feel of the rest of the site.

While public toilets may be the enemy for

some, it's especially important this year

to change how these spaces look, feel and

work!

SUSTAINABILITY

We all know by now that we have

a commitment to be kinder to our

planet. And while it's important for the

environment to play a role in lots of

elements within your business, there are

also really fun, creative and decor inspired

ways to incorporate it too. When we think

of sustainability, many jump to topics such

as plastic bottles, but there are other ways

to give a gentle nod to your eco-friendly

ways without spending huge amounts of

money or time.

With the trend for upcycling, reusing

and reinventing on the rise, use the

opportunity to get creative by sourcing

second hand when it comes to furniture.

With so many amazing products now

readily available on the market, an

afternoon with a decent paint brush and

some chalk paint will have you feeling

creatively fulfilled and getting the look you

want. This also adds personality to the

space as well as more character and sense

of nostalgia, a key word when it comes to

2021 interiors.

If creativity isn't your thing, look for local

crafts people to design and create furniture

and accessories to fit within your space

and theme. Running a reclaimed furniture

making business ourselves, we have seen a

huge increase in people wanting timeless,

handcrafted and sustainable pieces; the

desire to buy less but more sustainably.

FUR BABIES

In 2020 alone, dog-friendly was the fifth

most popular search requirement when

it came to searching glamping sites in the

UK. With a rising number of people having

extended their family to a furry friend in

2020, this year is sure to see another rise

in breaks tailored to all members of the

family.

Pet products now come in a whole

range of 'designer' and while we aren't

suggesting you spend your entire

decor budget on gourmet treat boxes,

it's important to consider your guests'

pooches for extra brownie points! Consider

adding in dog treats to your welcome

hampers, addressing them in notes and

having spaces for them to sleep to match

the other decor. Small touches such as

extra poop bags, walk recommendations

or a list of dog friendly pubs makes your

guest feel confident and comfortable to

bring their dog on holiday with them. And

while not everyone is a crazy dog lady, it

will be noticed and appreciated.

LET YOUR CUSTOMERS DO THE TALKING

As well as on trend styling, it's important

to add character and personality to your

space, to build a brand around your

offering which reflects your morals and

goals as a business. An online presence is

key for any business now and you should

be encouraging your guests to share their

experiences at your site through clever use

of design and decor.

Whether inside or out, while considering

trends, the more thought you put into the

smaller details, the more your customers

are going to do your advertising for

you, for free! Use signage and photo

opportunities to encourage social media

sharing because whether you're for it or

not, the modern guest will want to show

off their Insta-worthy shot to the world!

ABOUT THE AUTHOR

Design graduate Nikkita

Palmer runs her own

design company

alongside her partner

Billy. Nikkita is an expert

in the trend of small spaces

and is passionate about

'slow design', reconnecting

with nature, the importance of

community, and the trend of experiences

rather than things.

Look out for Nikkita's book Pallet Style,

which includes 20 creative projects using

recycled wooden pallets, and catch up

with her on Facebook and instagram @

nikkitapdesigns or via

www.nikkitapalmer.com

42 WWW.OPENAIRBUSINESS.COM
---
Learn proven social media methods

to start growing your business,

without having to hustle for hours.

That's the power of using social media for

your camping or glamping business.

Social media training, consultancy and

online training courses available.

Course reviews

"A comprehensive course ...always tailored with

campsite and glampsite owners in mind"

James Warner Smith, Editor Cool Camping

"Terrific value for money" Birds and Bees

campsite, Suffolk

Visit www.socialmediasussex.com

07736 380779 | lisa@socialmediasussex.com

A family run business making beautiful pods,

shepherds huts, yurts and garden rooms.

Cedar Tree Pods is a family-run business based

near Wrexham in North Wales. Making

beautiful glamping pods and bespoke builds.

Each one of our pod designs can be

tailored to your exact requirements, fitting

perfectly with the needs of your business,

family or lifestyle.

From initial design to full realisation our

team will work closely with you to create

the unique space you've always wanted.

Get in touch to discuss your ideas.

info@cedartreepods.co.uk | 01978 780859 | www.cedartreepods.co.uk

WWW.OPENAIRBUSINESS.COM 43
---
GLAMPSITES

YOUR INSTAGRAM and

Facebook "follower" total is

often perceived as the holy

grail. "Likes" come a close

second. These are often

described as "vanity metrics",

as "engagement" is actually the

most important metric.

Ask yourself, do your

posts get interaction and a

response? Do people ask for

more information about them?

If so, great! If not then try

asking questions and inviting

comment.

Followers that engage with

you are valuable. They are more

likely to visit your website,

buy from you and share your

content. These followers may

also become repeat visitors to

your actual business.

Having said that, having a

decent follower count does

help in other ways. It means

your posts are viewed by

more people, with increased

engagement opportunities. This

sends a signal to a social media

platform's algorithm to "serve"

content to more people. A high

follower count adds credibility

to your brand and provides

access to certain features, eg.

the prized 'swipe up' feature

which allows you to add links to

Instagram stories that viewers

access by swiping up on the

screen.

SO HOW DO I GROW MY

FOLLOWERS?

There are two ways to grow

your follower count. You can

pay by running adverts on

Facebook or Instagram or you

can grow it organically, which

does take time. Here are my

tips:

› Optimise your Instagram

account. Take a fresh look at

your bio – is your username

reflective of what you do? @

campsite123 isn't going to be

as clear as @TruroCampsite.

Ensure that your social media

handles (user names) are as

similar as possible

› Consistently post on social

media and create a monthly

GETTY IMAGES

Growing

Followers

In our third piece on social media, Lisa Bullen explains follower growth

tactics on Instagram, tips for choosing and using hashtags and what to

do with social media influencers...

44 WWW.OPENAIRBUSINESS.COM
---
GLAMPSITES

"ENSURE THAT YOU USE

HASHTAGS THAT PEOPLE IN

YOUR TARGET AUDIENCE ARE

LIKELY TO CHECK. IF THERE'S A

RELEVANT CONNECTION THEN

USERS ARE LIKELY TO FOLLOW

YOUR ACCOUNT"

content calendar (get

in touch and I will send

you mine if you need

inspiration!)

› Don't post infrequently

if you're trying to build a

following. People scroll

through 300 feet of

Facebook/Instagram posts

each day so you need to

stand out. Look at your

metrics and see when your

audience is online, and post

when they're most likely to

be there

› Test different types of post

and see what works best for

you. When you know which

types generate good results,

you can do more of them.

Campfires always generate

a lot of engagement on one

of my client's Instagram

account. Failing that, dogs

are always very popular if

your venue is dog friendly

› Use a scheduler, this way

you have planned and onbrand

content available, plus

it saves a lot of time. Use an

external one such as Later or

Planoly, or schedule within

Facebook's Business Suite

› Develop useful

collaborations on both a

local (eg. your local tourist

office) and national level

(eg. VisitBritain) and support

their own social media

efforts too

› Showcase your Instagram

everywhere and make sure

your social media buttons

are on your website and that

they work

› Communicate with your

followers via questions and

invite them to comment

below

› Resist being salesy. 80 per

cent of your posts should

be informative/funny or

relevant. That leaves 20 per

cent of your posts eligible

for sales messaging. People

switch off fast when they

are frequently sold to. Build

and develop your "know,

like, trust" factors with your

audience.

HASHTAG STRATEGY

As part of growing your

followers organically, it is

important to create a hashtag

strategy. Choose hashtags

to describe a post's content

eg. #belltent, hashtags to

describe the industry eg.

#UKHospitality, and thirdly

hashtags for the community

you are aiming at eg.

#glamping.

Use a mixture of different

"sized" hashtags ranging from

500,000 to 10,000. By this I

mean, key your chosen word

into the search bar, click Tag

and view suggestions from

the dropdown. These rank

by the number of times they

have been used. Avoid using

hashtags with large numbers

next to them eg. #escape,

as your post will get lost its

popularity. Ensure that you

use hashtags that people in

your target audience are likely

to check. If there's a relevant

connection then users are

likely to follow your account.

It's a matter of preference

if you position your hashtags

at the very bottom of the

ABOUT THE AUTHOR

Lisa Bullen runs Social Media Sussex, a social

media consultancy providing social media

training and advice for the leisure industry.

Lisa's online social media course for

campsites/glampsites has featured on

Cool Camping and Host Unusual. She is also

co-founder of award-winning The Secret

Campsite in East Sussex. Contact Lisa at lisa@

socialmediasussex.com or visit her website

www.socialmediasussex.com

post or add them in as a first

comment. Try to avoid putting

many hashtags within the

caption as it looks spammy

and annoys people.

SOCIAL MEDIA INFLUENCERS

A social media influencer is

a user on social media who

has established credibility in

a specific industry, has access

to a large audience and can

persuade others by virtue of

their authenticity and reach.

Building relations with

relevant social media

influencers can be beneficial

for your business but choose

them carefully. If you enter

into a paid arrangement

then ensure it's all written

down to avoid any later

misunderstandings.

Consider contacting other

brands or companies that the

influencer has worked with

to assess the value they gave

and get first hand feedback.

Don't be afraid to say no to

influencers who may contact

you and want to collaborate,

and if it's too good to be true

then it probably is!

WWW.OPENAIRBUSINESS.COM 45
---
glamping pods

Bear Habitats

perfect for even

the most remote locations

free design plans

bespoke build

off-grid solutions

low maintenance

fast return on investment

contact us for a free no-obligation quote

premium quality amazing value

www.podzrus.com

07767733044

A portable twin toilet & shower block to

satisfy your glamping bathroom needs

bear@theseptictankstore.co.uk www.theseptictankstore.co.uk

46 WWW.OPENAIRBUSINESS.COM
---
GLAMPSITES

PRODUCT IN FOCUS

Pods, Huts and Lodges

Diversifying land owner, County Sligo

Product: Two 'Shepherd's View' shepherd huts and four

'Lookout' huts

Supplier: Cabinville Shepherd Huts, 01379 687467, info@

cabinvilleshepherdhuts.co.uk,

www.cabinvilleshepherdhuts.co.uk

Moffat Wigwams, Dumfries and Galloway

Service: Wigwam Holidays franchise

Supplier: Wigwam Holidays, 0131 450 7126, hello@

wigwamholidays.com, www.wigwamholidays.com

Details: John Hume is a proud livestock farmer and native to the

Scottish borders. After leaving the family farm, John's ambition

was to have his own farm. Livestock farming is no cash cow

however and John knew that to make it work, to get his own farm

and to really enjoy it, he would need to think beyond just selling

livestock. Looking around at the beautiful hills, forests, rivers and

valleys that are scattered across the Scottish borders, John had a

vision – to open up his farm to guests and allow them to see and

experience the land he'd been so fortunate to call home.

After a period of looking at various options, John bumped into

the Wigwam Holidays team at the Royal Highland Show. He'd

come across some of their products before but a new product

now peaked his attention – franchise. For John, this was exactly

what he was looking for. He knew that he could look after his site

and farm, and he knew that people would want to visit, but he

also knew that this was an industry he had little experience of. He

wanted to join a recognised brand, one that could offer training,

a community and marketing support.

Customer feedback: John Hume said: "Wigwam Holidays was

the perfect fit. Since opening seven years ago, I have never

looked back. I love meeting guests and seeing how much they

enjoy their time here. With a busy site, I no longer have to worry

about the financial hardships of livestock farming – instead I can

enjoy it, comforted by the knowledge that my eggs are not just in

one basket."

Details: Having worked as a builder in Essex for 30 years, Mr

Davies promised his family that when he retired they would

move to Co. Sligo, Ireland, and operate a glamping business

near his wife's elderly parents. Cabinville Shepherd Huts

helped realise this dream when he ordered his first two huts

from its 'Shepherd's View' range.

Starting at £4,433 (+VAT), the

Shepherd's View model benefits

from having double doors

placed on the side for easier

access, more light and

fresh air. As well as the

windows in the double

doors there is a window

at each end of the hut

and another in the

back wall. All windows

open and are double

glazed.

Mr Davies purchased

a further four huts

the following year from

Cabinbille's new 'Lookout'

range, which feature big

windows either side of the front

door.

Huts can be easily insulated for all year round use and all

have galvanised chassis, axles and wheels. No foundations

are required, just a paving slab under each wheel. All huts

come complete with steps.

Customer feedback: Glampsite owner Mr Harris said: "We

are delighted with the huts. They are excellent value for

money and I am pleased to say we are fully booked and

making a healthy living from our new venture."

WWW.OPENAIRBUSINESS.COM 47
---
GLAMPSITES

Harvest Moon Holidays,

East Lothian

Product: Seven bespoke tree houses and

outbuildings

Supplier: Cheeky Monkey

Treehouses, 01403 732452, info@

cheekymonkeytreehouses.com, www.

cheekymonkeytreehouses.com

Details: Seven bespoke treehouses were

created on a private beach front site to

client Alex Mitchell's requirements. They

were based on a large octagonal cabin,

which acts as the main lounge, with a

kitchen-diner and covered walkway leading

to two double bedrooms (one with an extra

single bunk above) and a separate WC/

shower room.

The living area is fully kitted out with a

Belfast sink, Italian log-burning stove and

pine dresser. It also has a yacht-style table

which drops down to form a bed for extra

guests.

The raised deck allows guests to take

advantage of the breathtaking views to the

sea at the front of the site and to the forest

behind. The deck stands two metres off the

ground with wooden steps to access the

accommodation. Below deck are swings

and a love seat.

The Cheeky Monkey team worked with a

variety of third parties and accommodated

their needs and timings. The build team

was hard working and flexible, and annual

maintenance contracts were put in place to

ensure that any snags are rectified.

Customer feedback: Alex Mitchell,

owner of Harvest Moon Holidays, said:

"Our fabulous treehouses have been

designed exclusively to offer our guests

the highest degree of space and comfort.

All guests have absolutely loved the

accommodation."

Downash Wood Treehouses,

East Sussex

Product: Two bespoke cabins

Supplier: Cedar Tree Pods, 01978 780859, info@

cedartreepods.co.uk,

www.cedartreepods.co.uk

Details: Cedar Tree Pods was commissioned to

design and build two beautiful bespoke cabins

for Stephen and Jane at Downash Wood. The

glampsite, set in 33 acres of East Sussex farm and

woodland, features bespoke treehouses. The first

cabin was supplied in 2020 and another in 2021.

They had to be the ultimate in couples' luxury and

fit in with the existing feel and ethos that Stephen

and Jane had created with their treehouses, all

whilst being completely unique and bespoke inside

and out.

Customer feedback: Stephen from Downash Wood

Treehouses said: "It was a real pleasure working

with Mike, his family and team to bring our cabin

dreams to reality. From the initial concept through

to the delivery of the cabins, they were professional,

enthusiastic and friendly, and delivered two high

end cabins which are exactly what we envisaged.

The feedback from guests is amazing and we thank

Cedar Tree Pods for all their hard work.

48 WWW.OPENAIRBUSINESS.COM
---
GLAMPSITES

Gumboots &

Wellingtons, North

Yorkshire

Product: A bundle of major

component parts for the

self-build of a large shepherd

hut, including plans and

step by step guide, cast iron

wheels, bespoke timber roof

construction, doors, windows

and bespoke roof sheets

Supplier: Tithe Barn Shepherd

Huts, 01262 470475, info@

shepherd-huts.com, www.

shepherd-huts.com

Details: Tithe Barn Shepherd

Huts worked closely with

Andrew and Lesley over several

months as they considered

the size and design of the first

shepherd hut they would offer

at their glamping site.

The small operation based

in North Yorkshire caters for

cyclists and hikers among

others and, as with many of

Tithe Barn's customers, the

large 6x 2.8m hut chosen

required several bespoke

items. The team at Tithe Barn

also offered ongoing support

during the build.

Customer feedback: Andrew

Beale, owner at Gumboots

& Wellingtons, said: "I found

Tithe Barn Shepherds Huts

while researching for our

glamping business. They gave

me the confidence to selfbuild,

as their bespoke parts

packages and advice made

anything possible! I'm a novice

builder, so their step-by-step

guide has proved invaluable,

with photographs for each

stage of the build. I honestly

couldn't have done it without

this guidance, and also my

father-in-law who helped me

build what is essentially a tiny

house! I highly recommend

Tithe Barn Shepherds Huts and

will be placing another order

very soon!"

PRODUCT

Customisable Tiny Homes –

Book to View Now

The Qube Eco Tiny Homes

01604 785786

ecotinyhomes@theqube.co.uk

www.thequbeecotinyhomes.co.uk

Portable, affordable and energy

efficient, tiny homes are the perfect

way to show your site is keeping up

with the rising demand for ecofriendly

holidays.

When you place an order with The

Qube Eco Tiny Homes you are given

the option to tweak the design of your

structure to just the way you want

it. Choices include internal wall and

SNAPSHOT

roof cladding colour, kitchen worktop

and cupboard colour, Vinyl flooring

colour, sofa fabric and colour, and the

external cladding finishes (timber,

composite panel, corrugated sheet

and more).

This means you can have your tiny

home made just the way you know

your guests will love it.

The Qube's new Northamptonshire

factory will open its doors in a couple

of months. When it does, and when it

is safe, you will be more than welcome

to visit. This will give you the chance

to meet the team and see the build

quality of its structures. Bookings for

visits are being taken now.

Brand New Railway Carriage –

Change of Circumstances

Rachel Walford

07860 528223

Stunning, brand new

railway carriage for sale

due to unexpected house

sale. Fully insulated with

25mm solid insulation including

the floor and roof. Double glazed

hardwood windows and lockable double stable doors. It

comes with a fork liftable extension underneath to make

moving around easier. Dimensions: 6.5m long, 2.4m

wide, 2.4m high.

Inside, the carriage is painted white and willow, with

a new wooden floor. At one end is a raised double bed

with pull out storage underneath. The seating area has

a settee, kitchen sink, electric hob and fridge freezer. On

the other side is a log burner with side oven and hot plate

for a kettle. At the other end of the carriage is a bathroom

consisting of a sink, cassette toilet and a gas shower.

The carriage is built to a very high standard and is

priced at £35,000ono. If you are interested we are based

in Monmouthshire.

WWW.OPENAIRBUSINESS.COM 49
---
EVENTS

CASE STUDY

Wealden Times

Midsummer Fair

Featuring 200 hand-picked independent retailers, the Midsummer Fair

at Hole Park champions beautiful things from local suppliers

PHOTOGRAPHY BY DAVID MEREWETHER

50 WWW.OPENAIRBUSINESS.COM
---
EVENTS

Now in its 13th year, Wealden

Times Midsummer Fair is

a delight for the senses as

shoppers make their way

through an avenue of handpicked

retailers set within a

16 acre formal garden.

We talk to Vivien Cotterill-

Lee about finding last

minute suppliers and

making things Covid safe.

Describe your event and how many people it attracts

The Midsummer Fair is Kent's favourite outdoor shopping

event. Set in the beautiful gardens of Hole Park, Rolvenden,

the fair hosts more than 200 exhibitors selling vintage and

contemporary fashion, jewellery, gifts, house and garden ware,

all within four main marquees and along four outdoor avenues.

For foodies there are culinary treats from local producers, street

food from all over the world, as well as local wine makers and

the finest freshly brewed coffee.

We attract upwards of 8,000 visitors, over three days.

Explain a bit about your venue and its history

Four generations of the Barham family have created a wonderful

16-acre garden in a magical parkland setting, making Hole Park

one of the best-known and much loved gardens in Kent. It was a

worthy winner of Visit Kent's Garden of the Year award in 2016.

What is the event's history?

Wealden Times magazine launched the Midsummer Fair 13

years ago. We wanted to offer a great day out that championed

local designers, producers and stall-holders, together with

hand-picked independent retailers from outside the region.

How does the relationship work with the venue?

It couldn't be better! Edward Barham is a joy to work with and

we are now in our fifth year on the site.

Hole Park house is the perfect backdrop for our event. It really

is stunning. The land that we use is remarkably flat and we have

unlimited fields for parking so there is never an issue with space.

Access to and from the site is also excellent.

How did you find applying for permission to run the event?

As the Fair is hosted on private land, we didn't have to get any

particular permission. We did, however, have to plan the event

assuming Phase 3 Covid-19 regulations which include social

distancing, the wearing of masks in marquees and ensuring that

they don't become crowded. With these measures in place our

shoppers, exhibitors and staff can enjoy our event safely.

How have you planned the layout of the event?

We plan the layout to feature two main shopping avenues

flanked by large 25m marquees. We also install an inside,

water-plumbed toilet block. At the end of the shopping avenues,

mid-way around the circuit of stalls, we have our food and drink

area, where customers can relax, refuel and rehydrate with a

glass of fizz before they enjoy the next raft of retailers.

How did you research and source your infrastructure?

We have used the same company for many years but this year

they retired from supplying marquees. We have therefore gone

into the market to source new suppliers. Due to Covid this

proved extremely difficult but we are delighted that we are able

to work with Signature Marquees from Staffordshire who were

referred to us by another local marquee company who couldn't

supply on this occasion.

WWW.OPENAIRBUSINESS.COM 51
---
EVENTS

What entertainment do you offer?

Our visitors love to shop! It is after all

the number one pastime in the UK. But

what we do offer – and it's included

in the ticket price – is entrance to the

gardens at Hole Park. Tickets for Hole

Park normally cost £9.50 and, aside from

making our ticket extremely good value,

the gardens are an absolute joy and

the perfect antidote to a few hours of

seriously good shopping.

For foodies, culinary treats await,

with fresh local produce and foods from

all over the world. You can also enjoy a

glass of fizz, a refreshing G&T or freshly

brewed coffee.

What provisions do you make for

power, lights and sound?

We have a series of generators and a PA

system to help guide our visitors around

the fair.

How do you manage admissions and

visitor safety?

We have a wonderful group of

experienced stewards, safety marshals,

a cleaning team and of course the

Wealden Times event staff, all on hand

to make sure the event runs smoothly

and safely. Most of the team return year

after year, in part because it's such a

lovely event to be a part of.

This year, because of Covid

restrictions, we have introduced timed

entry tickets, so that we can balance

crowd numbers across each day. There

will be some socially distanced queueing

at the entrance, but we have lots of

ticket scanners so we expect the flow of

visitors to be quick and safe.

Please detail the measures you have

taken specifically for Covid-19

We have timed tickets to manage crowd

numbers, hand sanitisers throughout

the fair, masks will be worn inside each

marquee, extra cleaning of both toilets

and the common dining areas, Covid-19

marshals to ensure compliance, and

stewards to help control crowd numbers

"THIS YEAR,

BECAUSE

OF COVID RE-

STRICTIONS,

WE HAVE

INTRODUCED

TIMED ENTRY

TICKETS, SO

THAT WE CAN

BALANCE

CROWD

NUMBERS

ACROSS

EACH DAY"

in each marquee. The majority of the fair

is outside, and the marquees are well

ventilated, with more space between

each exhibitor than in previous years.

What ground protection do you use

for cars and footfall?

The ground is usually hard in July and

the car park well grassed, so we aren't

anticipating the need for extra ground

protection, although we of course

have made plans just in case. We do

hire a small amount of trackway, from

Sunbelt rentals, which is mainly used

for exhibitor car access around the

marquees and the main site.

How do you publicise the event?

We advertise the event in Wealden

Times magazine, which has a readership

of nearly 54,000 across Kent. We also

produce 35,000 show guides that are

distributed in Wealden Times and locally

in Kent. We promote the event across

all our social media channels, run ads

on Heart and Smooth FM radio and in

other local press including The Wealden

Advertiser. You'll also see banners in

fields from Sevenoaks to Rye. But above

all else, we have a very loyal following,

so we email everyone who has

previously attended the event. Not only

that but each of the exhibitors promotes

their attendance to their customer base

via email, social media and word of

mouth.

What challenges have you faced?

Covid-19 has challenged us because

we've never been 100 per cent sure

that we'll be allowed to run the event.

To mitigate this risk, we moved the fair

back a few weeks to the beginning of

July and had provisional back-up dates

later in the year, just in case.

Every outdoor event is to some

degree or another weather dependent.

We have to plan for the unlikely, which

might be unseasonal strong winds or

heavy rain.

52 WWW.OPENAIRBUSINESS.COM
---
EVENTS

How have you financed the event and

how profitable is it?

The event has 200+ exhibitors who pay

a fee for their space and then we charge

for ticket entry. The fair is profitable.

What are your plans for next year?

This year we will be running Wealden

Times Midwinter Fair at The Hop Farm,

Paddock Wood, in November 2021. In

2022 we will be back to Hole Park in

June/July and then again at The Hop

Farm in November.

What advice could you give to

someone coming into the outdoor

event industry?

Have deep pockets, be amazingly

organised and prepare for any weather!

It is incredibly rewarding when

visitors leave and say how much they

have enjoyed their visit.

ADDRESS BOOK

MARQUEES & FLOORING

Signature Marquees –

www.signaturemarquees.com

HEAT & POWER

Event Electrix –

www.eventelectrix.co.uk

GROUND PROTECTION

Sunbelt Rentals –

www.sunbeltrentals.co.uk/

equipment/trakway

TOILETS

Event Washrooms –

www.eventwashrooms.co.uk

TICKETING

Ticket Srv – www.ticketsrv.co.uk

SECURITY

NDSTS – www.ndsts.co.uk

FURNITURE

4 Jays – www.fourjays.co.uk

RADIOS

DCRS – www.dcrs.co.uk

WASTE MANAGEMENT

Countrystyle –

www.countrystylerecycling.co.uk

INSURANCE

Hiscox (through Gallaghers) –

www.hiscox.co.uk

DETAILS

1-4 July

Wealden Times Midsummer Fair

Hole Park

Rolvenden

Kent TN17 4JA

www.wealdentimes-fair.co.uk

WWW.OPENAIRBUSINESS.COM 53
---
EVENTS

Covid and Temporary

Structures

MUTA's Joe Chalk discusses how Covid-19 has

affected the temporary structure industry

MUTA IS the UK's only trade association

dedicated to marquees, tents and temporary

structures. With the majority of members

serving the events industry, which has been

closed throughout most of the pandemic,

many have shown exceptional examples of

diversification to help their communities

and the NHS.

The significant number of infections at the

beginning of the pandemic led to a demand

for bespoke hospitals, extensions to existing

hospitals, drive-through test centres and,

sadly, mortuaries.

September 2020 marked the re-opening

of educational settings and temporary

structures were considered the perfect

solution for schools, colleges and

universities that did not have sufficient

indoor space to accommodate social

distancing measures. Organisations in the

construction and logistics sector have also

used marquees and tents to increase space

and footfall.

Following a challenging winter, April 2021

saw the return of outdoor hospitality across

the UK. This resulted in a rise in the use of

marquees and the current ruling is that at

least 50 per cent of the walls or sides must

"IT IS HIGHLY UNLIKELY THAT

A TEMPORARY STRUCTURE

WOULD BE ABLE TO

WITHSTAND THE SAME WIND

SPEED WHEN THERE ARE

OPENINGS PRESENT"

be removed while in use.

Most temporary structure manufacturers

will supply wind loading information

based on a completely enclosed structure

with no openings. It is highly unlikely that

a temporary structure would be able to

withstand the same wind speed when there

are openings present.

It is important to recognise that not all

temporary structures are inherently safe

– there are many varieties out there in the

market. Poorly designed and built tents,

coupled with inclement weather, present a

significant risk.

WIND MANAGEMENT

Weather, such as wind, is undoubtedly one

of the biggest threats to the temporary

structure industry. The consequences of a

temporary structure being damaged by wind

can be catastrophic with buildings, vehicles

and, most importantly, people all at risk.

Thankfully, incidents are extremely rare, but

it is imperative to plan properly.

The responsibilities are straightforward.

A hirer must supply and erect a temporary

structure in accordance with the

manufacturer's instructions and provide

clients with the relevant information to

keep them safe during the term of hire. This

should include advice on what wind speed

the structure can withstand. Those that

acquire temporary structures must:

› Frequently monitor and record the local

wind speeds

› Work with the hirer to agree a clear and

concise wind management plan.

A wind management plan should clearly

detail what action will be taken at what wind

speed. The hirer should be able to provide

an operational wind speed which is the

maximum speed at which it is safe to use the

structure based on its design.

There are a number of methods of

wind monitoring, from complete weather

stations that can be fixed in position on

54 WWW.OPENAIRBUSINESS.COM
---
EVENTS

LEFT: MUTA member Abbas Marquees erected

a temporary structure to aid the return of

hospitality – www.abbasmarquees.co.uk

RIGHT: MUTA member Neptunus built a bespoke

hospital inside the Principality Stadium in Cardiff

– www.neptunus.co.uk

site for long term projects or sites with

multiple structures, to simple handheld

anemometers. MUTA has produced

comprehensive guidance on this issue. To

find out more, email info@muta.org.uk

STAY SAFE

May 2021 saw England move to phase three

of its roadmap and, at long last, wedding

receptions in private settings and outdoor

events are permitted to take place. Make

sure to hire structures from a reputable

supplier by visiting www.muta.org.uk to find

a member near you.

If you are involved with organising or

attending outdoor events then download

the Events Industry Forum's guidance on

keeping workers and audiences safe during

Covid-19. This document contains critical

information on how to operate safely in

England – visit www.eventsindustryforum.

co.uk

For further guidance on the safe use and

operation of temporary structures you can

download our Best Practice Guide, and

for information on choosing a temporary

structure company, download our Guide to

Choosing a Hirer.

There is no doubt that the past 15

months have been extraordinarily difficult

for the temporary structure industry

and the sectors we serve. However, with

the development of the vaccination

programme, we can see some light at the

end of the tunnel. Here's to a safe and

productive summer!

BOUT THE AUTHOR

Joe Chalk is

membership support

director at MUTA,

the UK's only trade

association dedicated

to marquees, tents and

structures. Since 1919, it

has been working to improve

standards in the industry and its Best

Practice Guide is followed by members,

which are also inspected against it.

www.muta.org.uk / 01379 788673.

WWW.OPENAIRBUSINESS.COM 55
---
EVENTS

Testing the

Safety Net

How science and society came together in Liverpool for

the Events Research Programme

56 WWW.OPENAIRBUSINESS.COM
---
EVENTS

THE 28 April to 2 May represented a

momentous five days for Liverpool, with the

execution of three Covid-19 test events – a

business gathering, nightclub event and

festival. We talk to Professor Iain Buchan,

leader of the University of Liverpool's

Institute of Population Health (now officially

known as 'The Party Professor'), to find out

about the government's Events Research

Programme, and how he and teams across

the UK are working together to find out if

live, large-scale events can resume safely

and securely post-Covid.

Can you tell us a bit about the Events

Research Programme?

The Events Research Programme has been a

fantastic partnership of a nationwide group

of scientists. A lot of people, concentrated

at the University of Liverpool, are working

in partnership with the local authority,

public health teams, event teams, and

event organisers to get data on how to build

a safety net around events that involves

testing.

There's also a social responsibility

element to that safety shield. People have

to declare if they have any symptoms, and

not go on the day if they do. For research

purposes, we've done another two tests.

We've asked people to take some home tests

that are not part of the entry criterion – a

PCR test on the event day, and five days

later. We're looking for any signs of virus, but

we're not expecting to see much as rates are

so low at the moment (around 1 in 1,000).

If you apply testing on top of that with

lateral flow, at least 8 out of 10 likely

infectious individuals will be detected. The

chance of encountering someone in one of

these venues has been exceptionally low,

maybe 1 in 5,000. It was a mixture of a public

health decision – informed by good science –

that now is the time to build that safety net.

We're looking at the early warning system

that needs to be in place so that we have all

the data should we need to ramp up later

on. If rates were to rise a little bit in July,

let's say, do we have the very quick flow

of information between testing, ticketing

and event organisers? Do you know who

everyone is? Can you trace them quickly?

It's a bit like putting a contact tracing system

in place even though you don't need it.

Everyone's coming to an event, but can the

local public health team handle that amount

of information in a short period of time?

That's what we've really tested – that safety

net, and whether the audience understands

how important it is that they are part of that

safety net.

This includes the choices they make, such

as minimising their unnecessary contacts

with other people in the days leading up to

the event. And afterwards, we can all play

our part in securing these events.

Why was Liverpool selected for these

pilot events?

Liverpool was selected because it's been a

global pioneer city in testing for people that

is voluntary, and irrespective of whether

or not they have symptoms. The people of

Liverpool embraced the testing scheme with

a larger amount of asymptomatic testing

in place. That gives us more intelligence

about what the background patterns of

the virus are. If you want to understand

what events would do to that, you need a

lot of background information. Liverpool's

probably the best place in the world to do

that.

How did you work with the other

organisations in Liverpool?

This is a partnership that's been growing

over the past year, a remarkable partnership

of science and society. I'd say it's one of the

most rewarding partnerships of my working

life. The events teams and the public health

teams at Liverpool City Council have worked

with us in the university as one family.

A lot of hard work has been done in a very

short period of time, and that's based on

trust and capability. This was prepared in the

community testing program from November.

Liverpool already had a plan in December

to open events when it was safe to do so

when the vaccination scheme was advanced

and rates were low. But because of the tight

partnership between the university, the City

Council and the population, there was the

WWW.OPENAIRBUSINESS.COM 57
---
EVENTS

ability to offer a really prepared community

for the Events Research Programme.

What has been the most challenging

aspect up to this point?

Timescales. Events are complicated –

there are a lot of moving parts. Public

health responding to a pandemic is also

complicated with a lot of moving parts! You

put the two together, and it's super complex.

There's a lot to consider – consequences of

actions that are interconnected in ways that

aren't normally; ticket offices don't normally

accept health information! They didn't

have a process for doing that, so we had

to create processes for the world of events

to work efficiently with the world of public

health, and to communicate that to both the

scientific audience and the public attending

the events. Those timescales were the most

challenging.

What were your personal highlights of the

events that took place?

I think the finale at Sefton Park with over

5,000 people. I've never seen a crowd

cry happy tears – the event organisers

and the participants. The audience broke

out into song an hour before the bands

came on. There was an outpouring of

joy and suddenly you could see it was all

worthwhile, all of the very hard work on

the science and the logistics. You saw a part

of public health that's about social fabric,

mental health and wellbeing just come

alive. A GP friend of mine was there, she's

58. She wanted her teenage twins to go, but

they were just under age. She was crying

too and it was the most joyous, collective

experience I think many of us have ever

encountered and probably will ever

encounter. It was major goosebumps time.

So, what happens now?

You have the teams looking at the data

coming in, other colleagues in universities

in Loughborough, London, and Edinburgh.

They're taking data from air quality sensors,

cameras, and the AI behind the cameras.

We're looking at testing, social media, the

usual public health information closely

and we're going to put all of that together.

Liverpool is the only place where all the

components come into a social critical

mass of multiple events happening as they

would be. These are realistic events, they

weren't artificial. The Wembley events were

not as a big football match would normally

be run, but at the nightclub, I can tell you it

was pretty realistic because I was terrified!

That was full on – the festival was as it

would normally be. The business event was

as it would have been, so realistic evidence

will come out of Liverpool.

We will crunch the numbers and deliver

a draft report that goes first to government

in May, then fuller public reports come after

11 June. There's now 'Know How' feedback

from all the teams who delivered the events

being populated and the data needs to be

crunched in the next week.

Who will you be working with to analyse

the results?

The Institute of Population Health has a

great health data science team who take

data from an integrated system that we have

in Cheshire and Merseyside called CIPHA

(Combined Intelligence for Population

Health Action). That gives us a feed, so the

CIPHA team have been working really hard

and matching ticketing and testing. We'll

then be marrying the data that comes back

from the follow up tests once they have been

processed by our laboratory in Cambridge.

The teams have got the ability to flow

data from public health, NHS and ticketing

into the Institute of Population Health with

de-identified secure data. The teams who

worked on community testing are now

looking at events and they are used to

handling this kind of data. Marta Garcia-

Finana, David Hughes, Chris Cheney, Girvan

Burnside – they're the team in health data

science. Michael Humann in psychology

has bust a gut to deploy questionnaires

to eventgoers at a military pace. Gary

Leeming and teams at the Civic Data

Cooperative have been helping to make

sure the data flows work between ticketing

and testing. Gary's worked really hard with

his counterpart in events, Robin Kemp.

Everyone's rolled their sleeves up and really

worked as one.

What does it mean to be part of the

University of Liverpool at this time?

I'm very proud because we've delivered on

our civic mission and founding principle

of 'ennoblement of life'. We've made

science work very fast, and very deep with

social purpose. We looked at the needs of

underserved communities, we've studied

inequalities and Covid-19 extensively. We're

now responding to the need of particularly

young people to reconnect in that way that's

important for their formative experiences

for their general wellbeing. That has been

missing for a very long time. This university

has contributed to so many aspects of the

Covid response, I'm immensely proud of

being at the University of Liverpool.

Anything else you'd like to add?

Yes, I promise to revisit my dress sense in

a nightclub! The New York Times sent that

tweet out and I've acquired a label of the

'Party Professor' somehow. My friends have

laughed their heads off because they know I

can't dance!

On the serious side, the main point I'd like

to make is teamwork. I am humbled and

delighted by how well the teams across the

University of Liverpool, local agencies and

city council, NHS and most of all the local

community, have just mucked in. There has

been 170 years of public health innovation

and the spirit of Liverpool is alive and well

– just as it was with TB in the 1950s and

cholera in the 1800s. There's a grit, social

responsibility and determination that just

delivers on generosity of spirit in Liverpool

and it's remarkable.

DISCOVER MORE

Find out more about

Professor Iain Buchan's

Covid-19 work at

www.liverpool.ac.uk/

coronavirus/research-andanalysis/iain-buchan

58 WWW.OPENAIRBUSINESS.COM
---
Temporary Roadways Temporary Walkways Marquee Flooring

FULL INSTALLATION SERVICE ~ NATIONWIDE COVERAGE

OVER 16 YEARS EXPERIENCE IN THE EVENT INDUSTRY

E:info@gttrax T:@GTTrax

WWW.GTTRAX.CO.UK

Hire, Sales and Service of voice and data radio

communication systems, bodycams and applications

By Appointment to

Her Majesty The Queen

Supplier of Two-Way Radio

Communications and Paging Systems

Direct Communications Radio Services Ltd

St Ives

TWO-WAY RADIO HIRE, SALES AND SERVICE

SPECIAL RATES FOR 2021/22.

Book with confidence as we offer

a no cost cancellation policy.

Terms Apply.

A simple solution for those who need

temporary communications. This solution

has proven to be invaluable for such sectors

as; event organisers, council teams, TV and

film crews, security and parking to name

but a few, with both short and long term

contracts available.

Organising any event or general on-site

communication requires total dedicated

support and at DCRS, there is always a

team on-call or on-site ready to assist you.

Call FREE: 0800 043 2688

email: sales@dcrs.co.uk

www.dcrs.co.uk

WE BOAST A COMPLETE HIRE

SERVICE INCLUDING:

Bespoke radio solutions for large,

wide area events

Motorola digital and analogue radios,

mobiles and repeaters

Wide area Nationwide coverage

WAVE and ICOM hand portables

A full range of audio accessories,

radio allocation systems and

voice recording available

Free radio licence or free programming

to your own frequencies

Delivery and collection to your

specified addresses

On-site support and out of hours

call-out, 24/7 if required

WWW.OPENAIRBUSINESS.COM 59

DCRS Open Air Business Magazine Advert-90x132mm.indd 1 24/05/2021 18:05
---
EVENTS

PRODUCT IN FOCUS

Ground Protection

and Flooring

Drive-through Cinema, Beaconsfield

Product: 1,208 Euromats

Supplier: All Weather Access, 01371 700510,

info@all-weatheraccess.co.uk,

www.all-weatheraccess.co.uk

Details: The popularity for drive-through cinema has soared in

recent months, with products from All Weather Access proving

popular among organisers. All Weather Access's temporary

roadway is part of the basic infrastructure required for such

events, enabling cars to traverse the grass fields such events are

invariably located in.

All Weather Access was contacted by an events company

regarding a specific site in Beaconsfield – a grass field by a

motorway. Operations manager, Dudley, attended the site and

assisted with the creation of a workable layout and plan for the

enormous cinema ensuring safe vehicle flow in and out and

avoiding anyone getting stuck.

The client decided on medium duty Euromats. This gave a cost

saving over the alternative Tufftrak roadway and was more than

adequate for the traffic which would be cars rather than heavier

vehicles. Euromats can also be moved by hand if required,

allowing for last minute alterations if necessary.

The 1,208 Euromats were installed over two days and were left

down for just over four weeks. This enabled the events company

to squeeze in a staggering amount of evening film viewings,

which really did help the financial viability of the project.

Feedback: The company were extremely pleased with the

products All Weather Access supplied and the team's work ethic

and professionalism. They hope to use its services again in the

future.

PRODUCT SNAPSHOT

Luxury Plastic Flooring from GT Trax

GT Trax

01487 823344

info@gttrax.co.uk

www.gttrax.co.uk

LuxTrax from GT Trax is a high quality plastic

modular flooring system ideally suited for

marquee flooring, walkways and display

areas both indoors and out.

Each LuxTrax tile is swiftly installed

without the need for any special tools or

skills. There is an underside channel for

electricity cables ensuring that wires are

conveyed safely underfoot. LuxTrax tiles

measure approximately 500x500x32mm and

weigh just 1.5kg, equalling 6.0kg per square

metre.

Tiles are manufactured in the UK from

reprocessed polyprop co-polymer, which

offers a high impact resistance even at low

temperatures. LuxTrax is BS certified for antislip

and has been professionally load tested.

It is available for hire or sale throughout the

UK exclusively from GT Trax, which offers a

complete installation and removal service.

LuxTrax complements existing flooring

products within the GT Trax range including

temporary roadways, walkways and ground

protection panels.

60 WWW.OPENAIRBUSINESS.COM
---
EVENTS

Christmas at Kew

Gardens, London

Product: 2,385m sq of Temp-A-Path pedestrian

flooring

Supplier: Event Flooring Solutions, 01509 768252,

sales@efseurope.co.uk, www.efseurope.co.uk

Details: Now in its ninth year, the 2020 Kew Gardens

enchanting winter trail took a magical new route,

leading visitors for the first time through the

beautifully illuminated Rose Garden. Old favourites

and brand new light installations brought festive

cheer as Christmas revellers made their way through

over one million lights via Event Flooring Solution's

temporary pathways. 25 different walkways and

viewing pods were installed by the EFS team

including a 775m sq catering pod.

This is the second time EFS has been

commissioned by Kew Gardens to provide the

pedestrian flooring for this very special event. 2,385m

sq of Temp-A-Path was installed, twice that of 2019,

with the installation taking just two and half days to

complete. The pathways were doubled in width to 2.4m due to the

Covid-19 social distancing measures in place. Pedestrian lay-bys were

also incorporated for enhanced visitor safety.

The event opened on 4 December and was due to run until 24

January, but sadly it had to be cancelled on the 4 January due to the

pandemic. Temp-A-Path was in situ for the duration of the event.

Customer feedback:Jeremy Simpson, EFS's managing director, said:

"We were delighted to be asked to work with Kew Gardens again on

this very special event. More of our Temp-A-Path was required than

in 2019 given this awful pandemic. Thousands of visitors were relying

on the temporary walkways to get them around the event safely and

while adhering to social distancing regulations.

"There has been a huge strain on the events industry during this

global crisis, so to be able to assist Kew, in order for the event to

continue safely was an absolute privilege. We were very sad to learn

that it had to close its doors early."

PRODUCT SNAPSHOT

PERFO Ground Reinforcement System

S2T GROUP

01992 522797

info@perfo.co.uk

www.perfo.co.uk

S2T Group's PERFO range of ground

protection products is a system of

interlocking, self-anchoring permeable

plastic tiles. They can be embedded into

an existing surface including mature grass

areas, or on a prepared base consisting of

a layer of crushed stone chippings with

or without a sub-base depending on the

application.

PERFO matting enables the stabilisation

of areas allowing them to be used for

access tracks and parking without rutting

or damage to the surface. A number of

light to heavy duty solutions are available

to suit varied ground conditions, traffic

profiles and loading requirements.

Unlike most other geogrid systems,

PERFO tiles can be installed for many

applications without the need for

excavation as they are compacted

directly into the existing surface using

rollers or compactor plates. Installation is

therefore rapid and planning issues less

problematic.

WWW.OPENAIRBUSINESS.COM 61
---
Spot light

A roundup of products for the outdoor hospitality industry

BESPOKE GEODESIC DOMES

Pro-Domes

07827 614404 / 07581 216244

info@pro-domes.com

www.pro-domes.com

Brand new to the UK market,

Pro-Domes provides high quality,

luxurious and bespoke geodesic

domes to the glamping market.

We offer complete customisation

of our structures with our new

3D configurator so you can offer

your guests that something

extra special. We have a range

of dome sizes and colours, as

well as additional features such

as insulation, log burners and

stargazer windows to create

the perfect space – all at a very

affordable price! We provide

almost everything you need to

start a new glamping venture or

develop an existing site.

BRITISH MANUFACTURE &

BESPOKE DESIGN

Bond Fabrications

01453 767171

enquiries@bondfabrications.co.uk

www.bondfabrications.co.uk

Whether our clients are looking

for high-end luxury glamping

accommodation or a unique outdoor

event structure, we are passionate

about creating high quality, Britishmade

canvas structures.

We have over 30 years' experience

supplying the outdoor hospitality

industry and manufacture all

structures at our Gloucestershire

factory. Using a variety of frame styles

and high-performance technical

fabrics our structures are designed

to be in place year-round and have

structural engineers reports.

We offer a full design and supply

service for all types of structures

and pride ourselves on a personal

approach to each project, helping

our clients create a unique style and

identity for each structure.

INSTAGRAM @FITFORASUITCASE

THE STOCK TANK POOL

REVOLUTION IS HERE!

Diptanks

01823 586444

info@diptanks.co.uk

www.diptanks.co.uk

Brand new to the UK market,

Diptanks has brought stock tank

pool over from the US, where they

have long been used as dipping

pools.

Originally sold as livestock water

troughs, these tanks are designed

to survive outside in all weather for

many years and have an authentic

charm.

Offering an alternative to outdoor

baths, wood-fired hot tubs and

paddling pools, these galvanised

steel tanks are available as oval

or round and come in a range of

versatile sizes. They can be filterpumped,

heated and even painted

to your chosen RAL colour.

PERFO GROUND

REINFORCEMENT SYSTEM

S2T Group

01992 522797

www.perfo.co.uk

S2T Group's PERFO® range of

ground protection products

comprises a system of

interlocking, self-anchoring

permeable plastic tiles which

are embedded into an existing

surface, eg. a mature grass area

or prepared base consisting of a

layer of crushed stone chippings,

depending on the application.

A number of light to heavy duty

solutions are available to suit

varied ground conditions, traffic

profiles and loading requirements.

Unlike other geogrid systems,

PERFO® tiles are usually installed

without the need for excavation,

being compacted directly into

the existing surface using rollers

or compactor plates. Installation

is therefore rapid and planning

issues less problematic.

62 WWW.OPENAIRBUSINESS.COM
---
TREEHOUSE GLAMPING

FOR ALL

Cheeky Monkey Treehouses

01403 732452

www.cheekymonkeytreehouses.com

Our team has over 15 years'

combined experience in

designing and building

treehouses of all shapes and

sizes. From simple elevated

cabins to a complex maze

of rope bridges and tree top

hideaways. Whether it is a single

structure as a luxury escape for

two, or a field of individually

built family glamping pods, we

provide a personal treehouse

consultation service with you at

your proposed treehouse site,

where ideas can be gathered,

shared and implemented. Handdrawn,

illustrated and threedimensional

drawings are then

created to suit your needs and

those of your desired end user.

Classified Directory

TWO-WAY RADIO

SUPPORTING

YOUR EVENTS

Call FREE:

0800 043 2688

sales@dcrs.co.uk

www.dcrs.co.uk

If you need help with the

Safety, Security or

Stewarding at your events,

please get in touch

01483 266486 / 020 8545 2492

info@theeventpartnership.co.uk

www.eepsafety.com

DCRS Open Air Magazine Classified Advert.indd 1 06/12/2018 09:36

C RE®

BAR& EVENTHIRE

STYLISH CUSTOMISABLE BAR RENTAL

STRETCH

TENTS

DRY HIRE OR FULL SERVICE

T: 0845 299 6499 - E: sales@core-barandeventhire.com

www.core-barandeventhire.com

outdoor

cover

solutions

info@event-in-a-tent.co.uk•Tel: 01978 661449

www.event-in-a-tent.co.uk

Advert - small.indd 1 16/04/2021 16:04:43

Finman

Glamping

Cabins and

BBQ Huts

From

£4,992

Sewage Treatment

Sales

Installation

UNIQUE • QUALITY • CUSTOMISABLE

01389 887205 www.logspan.com

TEAM

SEPTIC

01295 236 101

sales@theseptictankstore.co.uk

WWW.OPENAIRBUSINESS.COM 63
---
Classified Directory

Call 01262 470475 or visit

www.shepherd-huts.com

01453 767171

www.bondfabrications.co.uk

enquiries@bondfabrications.co.uk

Keeping Things

Together

Probably the largest selection of textile fasteners in the UK

www.opas.co.uk

Modular Flooring

for all Applications

02037 959090

www.everblockflooring.co.uk

Cedar Tree Pods is a family

business based in North Wales.

Making only the highest quality

glamping pods and builds, we

can make your dreams a reality.

Get in touch to discuss

your ideas with us.

info@cedartreepods.co.uk | 01978 780859 | www.cedartreepods.co.uk

64 WWW.OPENAIRBUSINESS.COM
---
PEOPLE

Behind the Scenes with…

Eddy Grant

How lead safety officer

Eddy Grant managed

6,000 partygoers at a

Liverpool warehouse as

part of the government's

Covid-19 Event Research

Programme

AS LEGAL and safety consultant for safety

management company Symphotech, it was my

job to check everyone involved with the pilot

nightclub event held at Liverpool's Bramley-

Moore Dock was doing theirs. Luckily for me

everyone was on their A game, even the public,

God bless them!

The event was organised by Circus Music and

produced by The Events Company UK, both

of whom are brilliant and I have longstanding

relationships with. 'The First Dance' nights ran

over two days, welcoming 6,000 clubbers with

no Covid restrictions – no masks and no social

distancing, just a negative Covid test.

Obviously we had a lot of liaising to do with

the local authority in Liverpool and the relevant

agencies to create the safest event possible while

setting up the 'experiment' so the data could be

collected – the purpose of these pilot events.

Liverpool was chosen as both Culture

Liverpool and the council are 'event friendly' and

understand the mindset needed. They still want

all the test certificates etc. emailed to them on

the day (luckily I have a great logging system on

my phone) but they have confidence that we can

deliver safe events. Liverpool has also been at

the forefront of Covid-19 testing and research,

and the public has been really on board with

voluntary studies.

On the day of the first event, I arrive on site

at 9am, having been there the day before going

through everything. Because of Covid, loading

was done over 10 days, rather than just one, but

the stage is built and the infrastructure in place.

My first job is to go through the essentials

with the site management team. It's boring but

essential. Things like, are the fire extinguishers

out and where are the lights going. Then it is

time to place the social distancing dots outside

of the venue, where Covid restrictions still apply.

In the meticulous way promoter Circus likes to

do things, the dots are as beautiful as they can

possibly be – exactly 2m apart and 2m from the

kerb, snaking 200m from the venue. They look

great!

It's soon 12pm and we have the first inspection

by the covid compliance office. The bar staff etc.

are not part of the experiment so they still need

to wear masks and abide by Covid restrictions

and the officer is suitably impressed that we have

everything in control.

Then the full joint agencies turn up to inspect

and see the security teams are briefed by Titan

Risk Management and then us. We show the

agencies and every member of staff how the

alarm sounds and how the strobe alert lights

work. We also ensure systems such as the

isolating relay works, turning off the DJ when the

alarm sounds. We also check all the house lights.

Merseyside Police attached an officer to us,

which shows yet another level of care Liverpool

extends to the event. There have been anti

vaccination protests in the city and we are made

aware of where they are as they move and if they

are likely to affect us.

At 1.30pm we start the process of getting ready

for doors. We check even the obvious things – is

there a DJ, pyro guy, lasers, medical, etc. We

go through everything – the whole process of

the event and then give the 'good to go' to Sam

CIRCUS/JODY HARTLEY

CIRCUS/JODY HARTLEY

WWW.OPENAIRBUSINESS.COM 65
---
PEOPLE

Newson, head of The Events Company UK. Their

event management practice has health and

safety at its heart – it's not a bolt on but a positive

contribution to making an event brilliant.

At 2pm it's time to start getting the audience

in. There is another layer of intrusion with the

checking. There is the Challenge 25 for the age

(at least 1,500 of the 3,000 we had on each of the

two days needed checking for age) and the lateral

flow test where attendees need to show photo

ID with their ticket and a negative test result. It

was like the first match of the season – everyone

was nervous. There were a few examples where

people brought photocopies rather than their

actual passports and they needed to go back and

get their originals.

The whole vibe was like a graduation ball.

Most of the medical incidents the amazing Spark

Medical had to deal with were alcohol related,

which makes sense as it was 'the first dance' after

all! For many it was their first official night out

with alcohol as they would have tuned 18 during

lockdown. We made provision for enhanced

medical as we knew this would be the case and it

was in our briefing, along with the fact that many

will have forgotten how to go to a gig!

The medical team was incredible and it was so

wonderful to see them in action at an event again

after 15 months. You forget that these guys were

at the front line of Covid during that time.

There were a few issues with the public

leaving; usually you'd get a 20 per cent drift off

before the end of the night as people leave to

go on somewhere else. But of course there is

nowhere else to go so the bump out happens all

at once. Liverpool's taxi licencing department

and highways worked with us to create a traffic

management plan.

There was a high level of engagement between

attendees and staff, and everyone was just so

happy. It was reminiscent of the halcyon days

of London 2012 and the positive impact the

gamemakers had. The crowd temperament

that night was special – we were all passing

"THE CROWD TEMPERAMENT THAT NIGHT WAS SPECIAL – WE

WERE ALL PASSING ONE OF LIFE'S MILESTONES TOGETHER

AND THE BUZZ WENT THROUGH THE WHOLE PLACE"

one of life's milestones together and the buzz

went through the whole place. Seeing all the

staff together demonstrated what's involved in

creating events – from the bar staff, the security,

the cleaners – not just the management. For me

it was so wonderful to be able to speak to them

all and thank them; it was a privilege to work with

them.

The show was amazing. I actually watched

from the stage with fellow professionals, all

observing this milestone event – Engine No.4's

John Drape, SJM Concerts' Simon Moran, Festival

Republic's Melvin Benn and Scott Barton from

Cream. Usually I only make it up onto a stage at

10.59pm to turn the fun off at 11pm! But this time

I did go up and watch the crowd – it was just so

emotional to see them partying!

I am now crossing everything and using

every form of prayer assistance for the 21 June

reopening, which again looks like it might be

under threat. These pilot events have shown

that our brilliant events industry can do it but we

need the government to know it. That said, every

official involved was incredibly impressed at the

depth of management planning for these pilot

events and I am very proud that we had our safety

documents and operational plans signed off a

whole week early.

CIRCUS/JODY HARTLEY

ABOUT SYMPHOTECH

Symphotech is dedicated to supporting the delivery

of safe, compliant events. It comprises a team of

qualified event specialists with combined music and

public events industry expertise who work alongside

emergency services professionals to provide a

comprehensive safety service for event organisers.

www.symphotech.co.uk

ABOUT EDDY

Eddy Grant is a chartered safety and health

practitioner and is Symphotech's legal and

safety consultant. With over 30 years of industry

experience, Eddy has worked with the Events

Industry Forum and HSE to significantly contribute

to the new Purple Guide. Specialising in event

safety, crowd management, and trained as an

expert witness in this area, Eddy is also Professor of

Professional Practice at the University of Cumbria

and will lead the University's new IOSH accredited

Diplomas in Event Safety and Counter Terrorism.

66 66 WWW.OPENAIRBUSINESS.COM
---
10 & 11 NOV 21

NEC, BIRMINGHAM

RUNNING

ALONGSIDE:

DIVERSIFY YOUR LAND

HARVEST YOUR REWARDS

1,000

EXHIBITORS

500

SPEAKERS

18,000

VISITORS

REGISTER FOR FREE TICKETS FARMBUSINESSSHOW.CO.UK | #FARMBIZ
---
Highest Quality Geodesic Domes

for the Glamping World

Get in

touch to view a

P R O - D O M E

in the UK

Visit www.pro-domes.com to configure your perfect dome

info@pro-domes.com 07827 614404 / 07581 216244