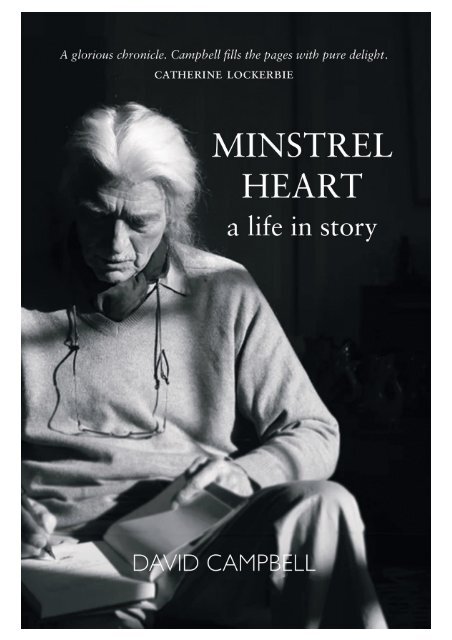 Minstrel Heart: A Life in Story by David Campbell sampler
Minstrel Heart sampler
Minstrel Heart sampler
SHOW MORE
SHOW LESS
Create successful ePaper yourself
Turn your PDF publications into a flip-book with our unique Google optimized e-Paper software.
david campbell has been a lover of stories, poetry and people from

an early age. These passions have directed the course of his life into

teaching, broadcasting, writing, performing and storytelling. Born in

Edinburgh, he spent his childhood in the story-and song-rich North-

East of Scotland. After graduating with Honours in English from the

University of Edinburgh, he worked as a producer with bbc Radio

Scotland for many years devising, scripting and directing a wide variety

of radio programmes. Mentored in storytelling by Duncan Williamson,

David has gone on to mentor many others in the craft. One of Scotland's

finest storytellers, he has toured worldwide with his repertoire of talks

and stories and currently lives in Edinburgh.
---
By the same author:

Tales to Tell 1, Saint Andrew Press, 1986

Tales to Tell 11, Saint Andrew Press, 1994

The Three Donalds, Scottish Children's Press, 1996

Out of the Mouth of the Morning, Luath Press, 2009

A Traveller in Two Worlds Vol i, Luath Press, 2011

A Traveller in Two Worlds Vol ii, Luath Press, 2012
---
Minstrel Heart

A life in story

DAVID CAMPBELL
---
First published 2021

isbn: 978-1-910022-25-2

The author's right to be identified as author of this book

under the Copyright, Designs and Patents Act 1988 has been asserted.

The paper used in this book is recyclable.

It is made from low chlorine pulps

produced in a low energy, low emission manner

from renewable forests.

Printed and bound

by Bell & Bain Ltd, Glasgow

Typeset in 11 point Sabon

by Main Point Books, Edinburgh

© David Campbell, 2021
---
Contents

A Man 8

Preface by Tom Pow 9

Prelude 11

1 A Charmed Life 13

2 Little by Little 14

3 Across the Border and Back Again 15

4 Granny Howling 19

5 A Windy Boy and a Bit 23

6 A Boyhood Fantasy 36

7 To Be Young Was Very Heaven 44

8 Varsity Meetings and Matings 50

9 The Tin Room 56

10 Highland Frolics 60

11 The Tug of Curiosity 63

12 Laying a Ghost to Rest 68

13 A Kindling Spirit 78

14 We Ran Our Heedless Ways 84

15 Into the Dark 97

16 Paradise Lost 103

17 Musical Chairs 118

18 The Course of True Love Never Did Run Smooth 125

19 The Heretics 139

20 Tinker and Saint: George Mackay Brown 150

21 In Chase of Beauty: Sorley MacLean 154

22 The Beginning of a New Song: Iain Crichton Smith 159

23 In Search of Simplicity: Norman MacCaig 167

24 Embro to the Ploy: Robert Garioch 177
---
25 A New Buzz 180

26 The Society 186

27 A Ceilidh Decade: Dundas Street in the 1980s 191

28 Passionfruit and Pangkor Island 197

29 Eurydice 206

30 Bert 210

31 Camphill 212

32 In the Listening Place 215

33 More New Worlds 220

34 A Torn Land 224

35 On a Quest 229

36 A Land in Transition 233

37 In the Footsteps of Robert Service 237

38 An Independent People 241

39 A Lucky Break 247

40 Elegies 250

41 A Fateful Day 254

42 Girl Friday and Robinson 256

43 West Coast Retreat 259

The Sweetest Music 261

Thank Yous: A Fairy Story 262

Copyrights and Permissions 263
---
For my brother John
---
8

minstrel heart

A Man

A man held out a promise

that he could not keep:

A promise, hope, illusion that he held,

a dream that love could compass all.

But his defeat was that it was,

as once his father said, so long, so long ago,

that he was 'in love with love'.

And he pursued it all along the decades of his life,

Tore off deception as a layer

of love's onion skin

And married truth

thinking this was the golden ring,

But found truth

was too stern an inquisitor at many fleshes

For it needed wisdom and compassion

to find half an ounce of worth,

And these were weighty companions,

not easy to fall in love with

But to be earned by patience and humility.

So on he trudged, the boy in love with love,

And every meeting was a joy,

and pain,

Not one without the other.

So, he came to know, as age came on

That all he'd found was still,

as a rough stone on the shore,

In need of tides of time

To smooth it into something beautiful.

(David Campbell, 2010)
---
9

Preface

a surprising omission from David Campbell's memoir is any mention of

his hair. When he was my English teacher in 1966, he wore it short at the

back and sides and with a long, falling quiff. It was gingerish then, as I recall

and, when he returned work to us, he swept his hand back through it, before

he delivered a comment. It was a micro-performance from a handsome man,

fine featured and with the strong body of an athlete, a good centre I would

have thought if he had been a rugby player. He has remained a handsome

man – even into his 80s. The pony tail he has worn during the 'storytelling

years' is now white, but his delight in the moment and an awareness of how

it might be best shared have been constants from those flop-haired times.

A 'performance' of course presupposes an audience and the memoir

shows how David found his at an early age among his playmates, while he in

turn was drawn to elders who could tell a story or a joke. Now he can look

back and share the moments – the texture of a tale – the future storyteller

instinctively saved. Of course, the performer is helped immeasurably by

the extent to which he or she has 'charm'. Minstrel Heart tells the story of

someone who I have witnessed charm audiences of school students, university

students, family, friends and folk with whom he just happens to be sharing

space. Some readers may question his assertion that he has pursued, through

his many relationships, an understanding of the nature of love. However,

I think of Edwin Morgan's late collection, Love and a Life, in which long

term relationships and the briefest encounters are alike viewed by the poet

as manifestations of love.

Lest 'performance' sound too egocentric, it has to be balanced – even for

an audience of one – with a sense of welcome. As a storyteller, David saw

how, with Duncan Williamson and other Travellers he came to know well,

this quality is bred in the bone; Minstrel Heart shows the extent to which

David himself has always welcomed people into his life and into his flat.

Whether they were needy, in want of encouragement, or merely passing,

they were welcome to the ceilidh. There is then a depth to his charm; the

minstrel heart may have wandered, but it has always been capacious. In

fact, a defining feature of the poems which thread through Minstrel Heart

is their welcoming tone, the desire to invite the reader to share a memory

of a moment or of a person.

One of the attractions of the memoir is its buoyant sense of forward

propulsion. ('Every age has its compensations,' he once told me.) Blessed

with confidence from a young age, David has trusted his inner voice to make

the decisions that have shaped his life – and to defend what is important to

him. Discarding what no longer held him, thrusting himself towards fresh
---
10

minstrel heart

experiences and new people, we can see how the life 'understood backwards'

has resulted in a coherence which his blind choices could not have foreseen.

His memoir is, as we would expect from a storyteller, an engaging tale; the

story of a richly satisfying life. What makes it of greater value, as a historical

and cultural document, is what it says about the times it was lived though:

most especially, Scotland in the last 50 years. Through inclination, choice

and chance, David has been a central figure in the cultural and political shifts

that have seen Scotland's identity move decisively from a British/Scottish

accent to a Scottish/British one in which the British element is more and

more diminished.

His interests in folk song, poetry and drama, at a time when there was

a sense of rediscovery of Scotland's past and present contribution to each,

swept him up in Hamish Henderson's 'carrying stream' of song, story, music

and dance. Minstrel Heart vividly gives us a portrait of the excitement

of the young teacher whose active interest in drama led to a bbc posting

which brought him into contact with Scotland's foremost writers, among

them Norman MacCaig, Iain Crichton Smith and George Mackay Brown;

whose interest in live events led to his involvement in intimate and large

scale readings; whose interest in Scots and Gaelic culture deepened into

the appreciation and practice of storytelling, which has absorbed him, as

practitioner, teacher and writer, over the last 30 years.

In Minstrel Heart, you will read portraits of many of the significant figures

in oral and print literature over the last half century. I began this preface

with my own brief portrait of the poet/storyteller as a young man. Alastair

Reid told how, when his prose pleased Mr Shawn, the legendary editor of

The New Yorker, it caused a spot of joy to blush on Shawn's cheek. I once

wanted to see something similar in Mr Campbell's comments, after he swept

his hair from his face. It seems so unlikely therefore that I am writing this

about him in my 70th year. Yet, from what better point to observe that

Minstrel Heart is testament to the many lives he has enriched along his way.

I consider it most fortunate that mine has been one of them.

Tom Pow,

May 2021
---
11

Prelude

Memory

One had a lovely face

And two or three had charm

But charm and face were in vain

For the mountain grass

Cannot but keep the form

Where the mountain hare has lain.

this wb yeats' poem expresses for me how place and date and detail fade

like a 'glimmering girl' 'into the brightening air', but the emotions remain

like the hare's indentation in the soft grass.

When I reflect over the eight decades of my life, I can see from my earliest

years a boy in love with words and with stories, with poetry, with people

– loves which were to connect me with singers, poets, writers, actors; with

writing and performing myself. I recall in my early teens overhearing my

father saying to my mother, 'Our David is in love with love.'

Sing not the song that others have sung. Sing only what you

yourself have realised in your own heart. (Guruji)

What I've realised in my own heart is that its song is for many, that it

sings for whom it meets on its way. It does not remain at home, but is a

wandering minstrel heart.

I started falling in love when I was at Fraserburgh Primary School,

aged five. I was in love simultaneously with three girls in my class. No one

knew except myself. They were Nadine Soutar, Vivien Stafford and Norma

Bissett. Nadine's face was soft and pear-shaped. I suppose she became June

Allyson, the film star of my adolescent infatuation. Vivien was definitely

Rita Hayworth, and Norma a sultry Gina Lollobrigida. I had no difficulty

in adoring each of them equally and separately.

This 'falling in love', being inexplicably drawn to someone, has been a

constant in my life, as has the tendency to be in love with more than one

person at a time. In my mature years it has evolved into the conviction

that we are married to the person, or persons, that we are with at the

present moment. Right now, it is to myself as I make this entry into my

life stories.

This seemingly inborn, karmic, or whatever, tendency was to become

the source of great loves, pleasures, vexations and complexity, as well as
---
12

minstrel heart

a pilgrimage in search of understanding my own nature, and the nature of

love itself.

David Campbell,

Edinburgh,

May 2021
---
13

1

A Charmed Life

when i was a baby, our family lived in a house in Craigleith Hill Avenue in

Edinburgh. I slept in a cot adjacent to the room of my mother and father.

One day when my father returned from his work in the then labour

exchange, my mother insisted, 'We have to move David into our bedroom.'

There was no apparent reason for this except my mother's intuition and

adamant insistence, but my cot was moved into their bedroom.

That night the ceiling came down in my room. Lumps of heavy sodden

plaster fell directly where I had been lying.
---
14

minstrel heart

2

Little by Little

how could i know how big the world was? Why would I need to know?

It was simple. I had a big brother and a big sister, a wee brother, an old

comfortable granny and a mum who made breakfast every morning, except

Sundays when Dad brought everyone breakfast in bed. This was the world.

Our house was white and had a garden. These houses, built in the '30s,

occupied only one side of the street since we were so far on the outskirts

of Edinburgh that we still had a farmer's field in front of the house and the

playground of a disused sand quarry at the back. It was a cosy cradle of

childhood, nourished by bedtime stories my dad told my wee brother but that

I eagerly eavesdropped to hear. They were always about a boy adventurer

called Johnny Morey who travelled the world.

I remember how I loved my sister's tortoise. He was a small explorer. I can

see him still, brown and pondering on the green back lawn. He lived under

a hard smooth shell; the shell seemed to be made of pieces glued together,

brown as chestnuts. This tortoise sometimes poked his head from under his

shell house. His neck was as long as my three-year-old middle finger, but dry

and crackly as if it would creak when it came out of the shell. But it didn't;

it was completely quiet. Sometimes he would go for a walk across the lawn

on his four padded feet. He was very, very slow. I called him Little by Little

and loved watching him moving always as if he knew where he was going.

I was very fond of Little by Little. He was my friend.

One day Little by Little seemed especially clear about where he was going

and I watched a long time as he made his way out of the garden gate into the

field across the road. The field was vast, full of sun-ripe tawny barley, and into

that vastness Little by Little made his way watched by my affectionate eye.

When my sister enquired where he was, I innocently replied – so I am

told – 'Oh, he went for a walk.' This, a preface to sister's horror and tears

when she discovered where he'd taken his walk.

The family, except Granny, searched the field for what seemed ageless

hours until dark fell and the harvest moon rose. That talismanic tortoise still

visits me, his lone and fearless journeying to adventure, freedom and danger.

Like my father's Johnny Morey and the tortoise, I was from my earliest

days an explorer. I was an explorer because I knew that always I could return

to that cossetting cradle, unlike my friend the tortoise. Even aged three, the

toddler me would stray along the road to the neighbours, some 300 yards

away, who would phone my mother to say, 'Mrs Campbell, don't worry

about David, he's visiting us.'
---
15

3

Across the Border and Back Again

it was out of this cosy world that my father's temporary position in the

Civil Service drew our family to the village of Sprotbrough in Yorkshire,

a difficult and alien world for five-year-old me. A photo of my face and

posture eloquently expresses an anxious, fraught child. Not only was the

language at first unintelligible, but as a stranger I was harried and ran from

the school gates, first to the brief sanctuary of my father's office and then,

the coast clear, home.

Two memories of Sprotbrough indicate an early sense of empathy. One

day brother John, in helping to clean the brasses in the house, had inserted

his finger into the tin to gather some scrapings. In no way could he extract

it. This filled me with tears and inconsolable alarm as I had visions of a lost

finger or a brother with a Brasso tin appended to his hand forever. Huge

relief when it was removed, I don't recall how.

My mother did not like living in England and longed to be back in

Scotland, and so with my little brother she returned to stay temporarily with

her mother in Pitlochry. During this time, my father took me to a circus. I

still recall my eyes streaming with tears. The ring master smartly dressed in

red tunic and white trousers sacked a little clown for some misdemeanour. As

the little disconsolate figure in floppy jacket and baggy trousers was walking

away, stooped and sad, the ringmaster called him back,

'Hey, where did you get that jacket?'

'From the circus,' said the clown, taking it off and handing it to the ring

master.

'The shirt?'

And so on it went until the little fellow trooped out and away wearing

only loose floppy underpants, leaving my father to put his arm around me,

dry my flooding tears and explain that he was not really sacked but would

be back for the next show.

My childhood propensity and desire to entertain and do tricks found an

exemplar in a cheery, rotund, eeh by gum, Yorkshire friend of my father,

Sam Leadbetter, who intrigued me with his bowler hat trick. He would put

on the hat, stick his middle finger in his mouth, puff his rubicund cheeks and

strenuously blow, and lo the hat would tip up from his head. Magic! Despite

my huffing and puffing till red in the face, my efforts were in vain until he

revealed the secret. He stood back to the wall, and the brim being firm,

leaned gently back simultaneously with the blowing and elevated the hat!

It is interesting how early these personality characteristics manifested
---
16

minstrel heart

themselves and how different the nature of siblings. Neither my little brother

nor my sister had any desire to entertain, and brother John was a talented

but modest pianist playing for pleasure, and not an entertainer like me!

It was also at this time that my love of words was ignited. I briefly had

a marvellous teacher who introduced poetry by reading it and encouraging

us to listen. A poem that moved me deeply with a sense of compassion and

joy was 'Abou Ben Adhem':

Abou Ben Adhem

Abou Ben Adhem (may his tribe increase!)

Awoke one night from a deep dream of peace,

And saw, within the moonlight in his room,

Making it rich, and like a lily in bloom,

An angel writing in a book of gold:–

Exceeding peace had made Ben Adhem bold,

And to the presence in the room he said,

'What writest thou?' – The vision raised its head,

And with a look made of all sweet accord,

Answered, 'The names of those who love the Lord.'

'And is mine one? Said Abou. 'Nay, not so,'

Replied the angel. Abou spoke more low,

But cheerily still; and said, 'I pray thee, then,

Write me as one that loves his fellow men.'

The angel wrote, and vanished. The next night

It came again with a great wakening light,

And showed the names whom love of God had blest,

And lo! Ben Adhem's name led all the rest.

Leigh Hunt

I include this poem since its sentiments went so deep at that age; I learned

it and still recall it.

My father's application for a transfer back to Scotland had him posted

as manager of the local labour exchange in Fraserburgh, where amongst his

other duties was the placing of evacuees from the war.

In Yorkshire, my mother had vigorously made clear my adoption of

the local dialect was certainly not for home use, and when I arrived in

Fraserburgh aged five, I rapidly had to learn Doric, that highly distinctive

North East dialect so different that not even Lowland Scots can understand

it. But I can still fall into it with a fluent and congenial ease like meeting a

long-lost friend. This language too had to be abandoned as soon as I crossed

the doorstep into our house.
---
across the border and back again

17

Learning the language was not the only challenge. In Primary One

Fraserburgh Infant School, I was rapidly acquainted with the fact that on

the next Friday I was to fight the class champion, Charlie MacDonald, a

sturdy, well set up, local fisherman's son! Luckily my big brother John was

home on leave from the raf and took it upon himself to give me boxing

lessons, and the advice to attack rather than defend.

On that Friday, a circle surrounded Charlie MacDonald and me with

cheering encouragement for Charlie from classmates. He seemed formidable

but five-year-olds are not capable in fisticuffs of inflicting serious damage.

Anyhow, by luck or by John's advice, I landed a blow on Charlie's nose

which gushed with blood, the sight and realisation of which brought tears to

the champion's eyes concluding the combat with me as victor and new class

champion. The threat however remained of the 'best of three'. Fortunately,

that was never realised.

Inside the classroom things were peaceful. We had a beautiful young Polish

teacher called Miss Petroshelka. One day, reluctantly I suppose, she took

me out from my seat at the back of the class to be belted for talking. It was

then a universally accepted part of school life that this was the punishment

for misdemeanours: to be strapped on the held-out hand by a leather belt.

I returned to my seat and continued talking – perhaps in part a result

of the leniency of Miss Petroshelka in delivering the strokes. Asked why I

still continued to talk, I apparently replied, 'I hadn't finished what I was

saying, Miss.'

This charm and leniency did not prevail in the Central School, to which

we graduated aged seven. Our Primary Three teacher was to be the grisly

Miss Cranner. In today's teaching world, she would not have survived – one

of her habits was to hurl the leather belt across the room at miscreants. How

she failed to injure or escape censure is a mystery.

My younger brother and I were too young to appreciate the dangers of

frequent German bombing raids on the targets of vass's munitions factory,

Maconochie's food tinning factory or the prosperous and important fishing

fleet. During the raids, my mother turned the sofa upside down and put my

little brother Eric and I under it until the long shrill blast of the all-clear. My

brother's red and black Pinocchio-like gas mask seemed more fun than my

standard black pig-snouted model.

Because of the importance of the fishing, the crews had extra rations so

as a bonus we had plenty meat and endless supplies of fish from the seaport.

On our Sunday walks with my father, farmers would supply him with freshlaid

eggs. At a time of severe rationing, we were never short of food. At the

top of our road was an anti-aircraft gun site where we kids visited and the

soldiers gave us chocolates.

We children were happy, unafraid and unconscious in any deep way of
---
18

minstrel heart

the perils around us. The presence of the war was a daily reality. When our

mother took us down to the harbour, we'd see the herring girls with their

lightning fingers at the quayside gutting the fish and throwing their innards

into the air where the swooping, shrieking gulls would snatch and gobble

them before they neared the ground. On Sundays, the harbour was thronged

with little fishing trawlers in bright primary colours bearing mysterious

women's names, and smelling of tarry rope and fish, but above them floated

huge barrage balloons to protect the little boats from enemy dive bombers.

In wartime Fraserburgh, life for a child growing up was wonderful. There

was space and freedom – space and freedom except on Sundays when we

could watch the families in black, like big crows followed by docile little

crows, making their doleful way to church. None of our family attended

church. My father, who had seen a woman's name struck from their family

Bible because she had conceived out of wedlock, vowed at an early age he

would never attend a church which could do such a thing. Hence, we didn't

go to Sunday School or church. My mother's sole stated religion amounted

to the wise dictum, which she exemplified, 'Do as you would be done by.'

The swings in the playground were chained, like the local children, into

silent obedience to the Lord's Day of rest, but my father took my brother

and me on wonderful walks along the sand dunes, and one of the longest and

most beautiful beaches in Scotland. We were also warned not to go near the

big awesome pronged enemy mines beached on the shore that could blow

us to smithereens, wherever that was! We also walked the lighthouse wall

breathtakingly exposed to the wild waves and dramatic sea sprays.

An occasion which wakened delight in me was a family visit to Aikie

Fair. At this fair was a stall in which you rolled a penny down a little chute

and it had to land centrally on coloured squares with numbers or blanks

on them. My penny landed on the unthinkable riches of a ten shilling note!

I was wealthy beyond dreams.

But I was wakened to a wealth of the heart in a tent where a dark-eyed,

black-haired tinker woman stood still and solid and singing. The ballad

she sang was 'Son David'. her name, Jeannie Robertson. I was mesmerised.

The rest of my family were completely unmoved by her voice, and oblivious

to the electric effect it had had on me. Something was kindled. I love that

ballad. It was a foretaste of the great Traveller singer-storytellers I was to

admire, meet and become friends with later – Lizzie Higgins, Sheila Stewart,

Stanley Robertson, Duncan Williamson, folk who were to take me into the

treasury of their tradition, lore and ways of thinking. Duncan Williamson

was to become a friend, teacher, companion, pain and inspiration and part

of my life for 20 years.