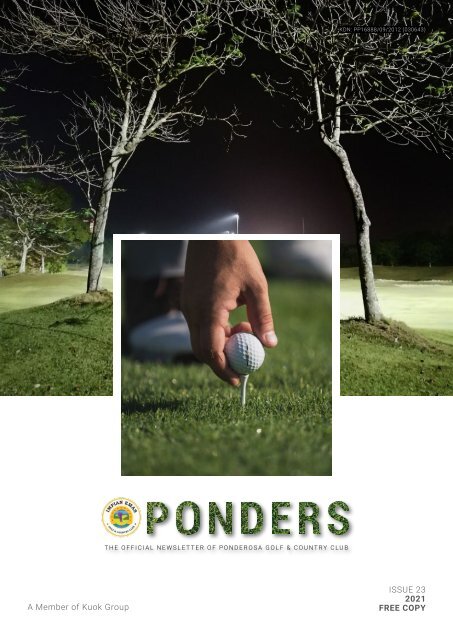 ISSUE 23 PONDERS by Ponderosa Golf
Create successful ePaper yourself
Turn your PDF publications into a flip-book with our unique Google optimized e-Paper software.
KDN: PP16888/09/2012 (030643)

THE OFFICIAL NEWSLETTER OF PONDEROSA GOLF & COUNTRY CLUB

A Member of Kuok Group

ISSUE 23

2021

FREE COPY
---
PONDEROSA GOLF & COUNTRY CLUB NEWSLETTER

FREEBIES

MY SHARING …

First of all, we would like to thank all members and guests

who visited us in the past few months, practicing and

adhering to SOPs in order to safeguard everyone's safety

and health. Ponderosa shall remain committed to part of

the national effort to win the battle against this pandemic.

SCAN ME

Have a meal at

Hop Sing and

GET 1 person's portion

of our signature

GINGER FRIED CHICKEN

FREE*

* Subject to prior reservations

** Valid: June – September 2021

Only

While daily sanitization and masking up becomes a

daily routine for us, it is great to see more and more

people investing in a healthier lifestyle, selecting us as a

destination for their daily come-to-venue. It's great to see

golf connecting people and friends more than ever, as it

is heart-warming to see young families spending quality

time together, joining activities around the club.

We believe in winning this battle and that there is a

promising future ahead of us, both for the club and for

our members. That is why we continue to upgrade and

refurbish our facilities, innovating ideas adding more value

into this green haven in the heart of the city.

Ponderosa shall always be close to you, close to your

family and close to our hearts.

Meanwhile, we have revived our mouthpiece, the

PONDERS in print and digital form. Do keep tab of every

quarterly issue as we shall be offering EXTRA SPECIAL

deals for readers.

TAN KAI YANG

General Manager

PONDERS newsletter is published by Ponderosa Golf & Country Club (No. 3, Jalan Ponderosa 1, Taman Ponderosa, 81100 Johor Bahru, Johor)

& Printed by Sin Hua Printing [No 7 & 9, Jalan Anggerik 3/2, Taman Anggerik, 81200 Johor Bahru, Johor]. Copyright of articles, contributions and

photos which are published are the property of Ponderosa Golf & Country Club.
---
PONDEROSA GOLF & COUNTRY CLUB NEWSLETTER

GRAND FINALS

@

Els Club,

Desaru Coast

9-Hole Golf Challenge

Over a series of 9-hole golf challenge played on

Tuesdays over 2020, the grand finals was played

by all winners in the series coming together for

the big bang. This time held off-site at Desaru

Coast's prestigious Els Club. Congratulations to

the Grand Final winners.

Champion

Chew Siew

Beng

2nd

Runner-up:

Diana Tay

1st

Runner-up:

Adam Tan

The next series of

Tuesday 9-hole

Golf Challenge

is NOW

HAPPENING!

To enquire, call:

019-790 0501
---
PONDEROSA GOLF & COUNTRY CLUB NEWSLETTER

NEW THINGS

FOR GREAT SWINGS…

When MCO hit us before we can call 'FORE',

everyone was caught unawares by the closure of

golf operations, not one wave but one following

another although there were short intervals of little

golf activity. Ponderosa took stock and went back to

basics. It was repair, upgrade and improve.

The purchase of a Shibaura Rough Mower SM888 for

cutting slopes at the tee-boxes, the semi roughs and

green surrounds maintaining them at a consistent

height of only 20mm.

All for heightening play on the golf course at

Ponderosa Golf & Country Resort.

During the hiatus, work was carried out

to Improve the drainage by installing

perforated corrugated subsoil flat

drainage pipes in readiness for the rainy

weather.
---
PONDEROSA GOLF & COUNTRY CLUB NEWSLETTER

Re-surfacing the tennis court –

Re-defining the Serves,

Smashes and

Wins!

After months of closing the tennis court for upgrades,

the tennis court was re-opened on the first day of

year 2021 to herald in a new season of play.

The walk of welcome

Re-furbishing the room corridors,

brightly warming every step towards a

spacious and pleasant room surprise.

Bringing back the light,

offering the fun of golf by night

Ponderosa prides itself as the only venue in

Johor Bahru to allow avid golfers to tee-off after

office hours. Now available from Thursdays to

Saturdays.
---
PONDEROSA GOLF & COUNTRY CLUB NEWSLETTER

BAY FOR EXCELLENCE

IMPIAN EMAS G0LF

& COUNTRY CLUB

We have added a total of 18 bays at the Driving

Range, and with adequate practice, golf excellence

is in the making. At Impian Emas Golf & Country

Club on the other side of the city and managed by

Ponderosa Golf & Country Resort.

Operation Hours &

Price of Range

Balls:

7.00 am – 12.00 noon @

RM9.00 per bucket of 100

balls

12.01 pm – 9.30 pm @

RM11.50 per bucket of 100

balls

Or opt to go onto the golf

course to play a round

or two for hands-on

experience.

For enquiries, contact

Diana or Rokiyah at

07-554 4747
---
PONDEROSA GOLF & COUNTRY CLUB NEWSLETTER

Foodies and Bloggers

return again and

again for this

SIGNATURE DISH!

CHEF'S SPECIAL

The Wonder Powder for

the Ultimate Crisp

Ever tasted our ever-popular, foodieraving

Ginger Fried Chicken at Hop Sing?

It is so crispy that even when left out for

a while, the skin still delivers a delectable

crunch!

Fried chicken will always be a favourite

regardless of age and time and where.

There are many ways to make the perfect

fried chicken but to ensure that your

chicken skin is super crisp and delicious it

is in the breading.

The breading or coating is the key to that

unmistakable crunch that you make when

you bite or tear into fried chicken. The

secret ingredient - instead of using only

all-purpose flour you can substitute it by

half with cornstarch.

Cornstarch is almost pure starch. There

is no gluten, unlike in all-purpose flour,

which can interfere with both the

crispness and the browning of your fried

chicken when it's added to hot oil. When

using cornstarch, you will not only get a

super crisp coating, but you will also get

a more golden brown colour faster that is

super light. It also coats thinner than flour.

There is a reason why it is known as the

wonder powder of Chinese cooking

essential from frying to making thick and

luscious soups, and in processes of making

many of their dishes.

Credit: Yummy.ph Team (6/3/2020)
---
PONDEROSA GOLF & COUNTRY CLUB NEWSLETTER

TEOCHEW PORRIDGE

@ Hop Sing Chinese

Restaurant

Not only is it a comfort food. It is heart-warming, honest-to-goodness sustenance

that's great for the humid weather.

We don't boast of anything fancy but the spread is good enough to bring back

familiar, traditional complements to plain white porridge. Salted egg or assorted

fried omelet, braised peanuts, stir-fried chicken with Szechuan vegetables, fish

braised in black beans, fermented chilli beancurd, stir-fried beef and more.

Only RM26.00 per set for 2 persons.

TEOCHEW PORRIDGE Set

ADD-ON DISHES

from RM2 onwards
---
PONDEROSA GOLF & COUNTRY CLUB NEWSLETTER

A DEGREE OF CONCERN

JB'S RISE IN

TEMPERATURE

When we think of Johor Bahru, we often imagine

a beautiful coastal city with azure skies, warm

sunshine, fresh air and white clouds rising over the

horizon. The rugged beauty of the city is coupled

with a robust ecosystem of economies that thrive

next to a complimenting yet competitive neighbour.

However, Johor is under threat by one of the

greatest challenges faced by mankind. It is under

threat by the very climate we cherish in the scenic

imagination of our city. Climate change is a real

threat to Johor and it is not something that is

waiting to happen but it has long begun and the

after effects are now rearing its ugly head.

A recent study published by Think City cited that

Johor recording a peak temperature increase of

6.70°C within a shorter period between May 2005

and May 2018 in comparison to the other cities.

The areas with significant temperature rise were

focused around industrial and developing areas

such as Skudai, Johor Bahru, Tanjung Langsat,

Pasir Gudang, Iskandar Puteri (Nusajaya), Bandar

Dato' Onn and Tanjong Langsat.

To understand the situation better, the temperature

in Johor fluctuates between 30°C to 32°C. April is the

warmest month, with an average high-temperature

of 32.8°C. If the temperatures reached a threshold of

between 35-37°C for three days straight, an official

alert will be put out. Category 2 (heatwave level) is

when the temperature is over 37°C for three days

straight while Category 3 (emergency level) is when

the temperature exceeds 40°C.

Globally, the ambition is to keep the increase below

1.5°C. This is a science-based target that is deemed

to be a safe threshold for warming. The climate

crisis however does not start at this 1.5°C threshold,

it is already here. Going above 1.5°C aggravates the

crisis further.

With increasing global surface temperatures,

droughts will be longer and more extreme, storms

becoming more severe due to warmer ocean water

temperatures, a rise in sea levels, increased risks in

food production and crop yields, jeopardised food

and water security, more frequent unprecedented

heatwaves and a general degradation of good

health and wellbeing.

In Johor, the devastating impacts of the rise in

temperature are evident. The evidence of impact

can be measured in the lost of livelihood, lost of

homes, lost of millions of Ringgit in emergency

services, cloud seeding exercises and disaster relief

and to the extent of seeing thousands of people

falling ill from pollution.

Johor needs to get back on track. Business

ambitions and actions need to be bolder if we are to

stand any chance of winning this fight. Companies

must commit to fighting climate change and align

their business strategies with better environment,

social and governance (ESG) consciousness.

Written by Edey Suresh, Johor State Director for the

UN Global Compact Network Malaysia & Brunei

(UNGCMYB)

NO MORE PLASTIC STRAWS

What was previously straws given only upon request, the Green Leap Forward

campaign has progressed to providing only paper straws for selected drinks.

REVAMP OF FOOD PACKAGING

We have long discarded Styrofoam boxes in line with the Government's call

while we are in the process of changing all packaging for food delivery or

take away to paper products only.

Work with us to save the environment. Drop old habits, adopt new ones for

Earth's sustainability.
---
PONDEROSA GOLF & COUNTRY CLUB NEWSLETTER

FACING FEAR OF CHANGE

THE NEW NORMAL

There are reasons why everyone has a 'comfort zone'. Basically, everyone has a fear of

change because of the level of uncertainty associated to change that makes so many

people avoid it. The hardest changes to understand are the ones that are unexpected

and out of our control. Now, for instance, we are in the throes of a global pandemic that

is challenging everyone to adapt to a new normal.

2 ways of coping with change

• Escape coping

• Control coping

Escape coping is the most common. It involves

avoiding or taking deliberate actions to avoid the

difficulties of the change. During the current

pandemic, for instance, there are still people

who deny the importance of face masks or social

distancing.

Control coping, on the other hand, is positive and

proactive. You refuse to behave like a "victim" of

change. Instead, you manage your feelings and

do whatever you can to be part of the change.

In reality, most of us respond to change with a

mixture of both escape and control coping.

Stages of Reacting to Change

We usually react to change in four stages,

although there is often no clear-cut, decisive

move from one stage to another.

1. Shock and disorientation

Experiencing a

sudden, big change

can feel like a physical

blow. For example,

sudden loss of job due

to a global financial

crisis, a sudden death

in the family or health

issues that threatens

security and stability

that changes your

fundamental outlook

on life. Initially, there is confusion and uncertainty.

The first priority should be to keep calm, be

rationale and to seek reliable information to

make sense of the situation. Positivity at this

stage is important.

2. Anger and other emotional responses

The initial shock or disorientation will often

accompany strong emotions such as anger,

anxiety, or fear of the impact

of loss or potential loss for you

and your family. It is natural to

feel swings between pessimism

and optimism but the most

important is to avoid suppressing

your emotions. It is ok to talk

about it to a loved one or to cry

even, but eventually the key is to

manage them by acknowledging

how you feel.

3. Coming to terms with the "new normal"

You are starting to

let go and think

of the next 'new'

step. This process

may be slow,

and you might

be reluctant to

acknowledge

it, but it's an

essential part

of coping with

change. The key

here is to make a commitment to move on. Be

patient as coming to terms with change is a

gradual process.

4. Acceptance and moving forward

Here is where you come

to fully accept your

changed circumstances.

Acceptance doesn't

mean giving up entirely

on or forgetting your

former situation but

that you are beginning

to move on, whether in

your career or in your

wider life. You can

set yourself goals and

create an action plan to make the most of your

new situation.

Adapted from an online article in https://www.

mindtools.com
---
PONDEROSA GOLF & COUNTRY CLUB NEWSLETTER

ACTIVITIES

Monday

8.30PM - 10PM

MUAY BORAN (ADULT)

Tuesday

7AM - 8.30AM

TRADITIONAL YOGA

Wednesday

7PM - 8PM

WUSHU SANDA

Thursday

7PM - 8.30PM

TRADITIONAL YOGA

Friday

7AM - 10AM

TENNIS LESSONS

8PM - 9.30PM

MUAY BORAN (ADULT)

Saturday

Sunday

7AM - 10AM

TENNIS LESSONS

9AM - 10AM

MUAY BORAN (CHILDREN)

10AM - 11AM | 11AM - 12PM | 4PM - 5PM | 5PM - 6PM

READY STEADY GO KIDS (RSGK)

5.15PM - 6.15PM

MUAY BORAN (CHILDREN)

By Appointment:

• Scuba Diving

• Swimming Lessons

• Personal Training

Waiting for vaccination?

Better boost up the immune system by charging your

metabolism through exercise.

National Day 42 km Virtual Run (Non-competitive)

21 August - 12 September 2021

No hassle!

Start running from Saturday, 21 August, and over 23-days

you can accumulate your 42 km distance. Track and record

through any of the Running Apps (Garmin, Strava, Huawei,

etc), and submit by 12 September 2021 @ 11.59pm.

Prizes:

* Best Picture

* Best Video

For more information, call or WhatsApp

the Sports Team at 016-702 7852