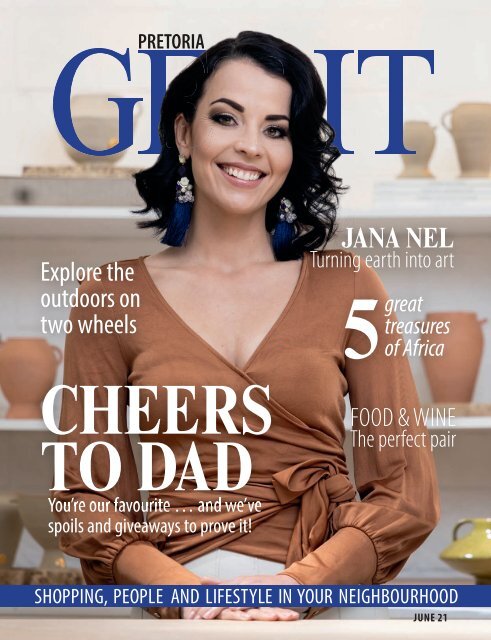 Pretoria - June 2021
Cheers to dad
Cheers to dad
SHOW MORE
SHOW LESS
Create successful ePaper yourself
Turn your PDF publications into a flip-book with our unique Google optimized e-Paper software.
PRETORIA

Explore the

outdoors on

two wheels

CHEERS

TO DAD

You're our favourite … and we've

spoils and giveaways to prove it!

JANA NEL

Turning earth into art

5 great

treasures

of Africa

FOOD & WINE

The perfect pair

SHOPPING, PEOPLE AND LIFESTYLE IN YOUR NEIGHBOURHOOD

JUNE 21
---
CONTENTS

WHY DON'T YOU…

04 Pour a glass of red and flip through half a dozen reads

WISH LIST

06 The search is over … we've found gorgeously grand gifts for guys

SOCIAL

08 A feast for the eyes and senses at the KAMERS Makers artisanal market

GET IT

Editorial

Instagram: @getitptamagazine

Facebook: Get It Pretoria Magazine

Website: getitmagazine.co.za/pretoria

National Group Editor and National Sales

Kym Argo

kyma@caxton.co.za

Facebook and Instagram:

Get It National Magazines

Website: getitmagazine.co.za

Workflow & Studio Manager Megan Brett

Journalist Rialien Furstenberg

Head of sales

Bianca Pretorius

biancap@rekord.co.za

066 200 4266

Distribution

15 000 copies monthly

Get It Pretoria is distributed free

of charge. For a full list contact

distribution@rekord.co.za

Competition rules

The judges' decision is final. Prizes cannot be

transferred or redeemed for cash. Competitions

are not open to the sponsors or Caxton

employees or their families. Get It Magazine

reserves the right to publish the names of

winners, who will be contacted telephonically

and need to collect their prizes from Caxton

Northern branch within 10 days or they will be

forfeited. Prizewinners' names are published on

our Facebook page monthly.

PEOPLE

10 Three years ago, Jana Nel decided to take up ceramic classes at night.

Today she is living out her dream of creating one-of-a-kind ceramics

12 Willem Boshoff inspires people through his art and his latest

exhibition Word Woes exceeds all expectations

15 King of Comrades Bruce Fordyce shares his top tips for those

starting their running journey

BEAUTY

16 Hair tonics. Body washes. And fresh fragrances. All your man needs

to look and feel his best

FOOD

22 Gourmet food-and-wine recipes to knock your guests' socks off!

GARDENING

20 Plant pretty primulas promptly

TRAVEL

30 Put the pedal to the metal on a biking holiday

32 Explore Africa's treasures from the comfort of your armchair

WIN

04 A magnum of Groote Post's The Old Man's Blend Red 2019

09 A three-bottle carry pack of some jolly splendid port from De Krans

11 We're giving away a gorgeous hand-formed salt and pepper gift set

from Jana Nel Design

15 A signed copy of Winged Messenger

18 A manly hamper of goodies

34 A bottle of The Bluebeards Revenge

COVER LOOK

Personality: Jana Nel

Photographer: Jaco Bothma

Hair & make-up: Antoinette de Beer

JUNE 21

June 21 Get It Magazine 03
---
Book club

Half a dozen reads and a (big) bottle of wine

04 Get It Magazine June 21

A kidnapped heiress, a robbery, an escape. And a 20-year-old cold case – the FBI

has no leads, no clues, no success. Until two decades later, when a murdered

man is found in his apartment, along with one of the stolen items and a suitcase

with the initials WHL3. Windsor Horne Lockwood III. Or Win, as he's called by his

few friends. And what Win has, and the FBI doesn't, is a personal connection to

the case, a large fortune, and his own unique brand of justice. Harlan Coben,

with his signature twists and turns, keeps the adrenaline going in Win, his latest,

massively gripping thriller. Century. Available at exclusivebooks.co.za • A five-yearold

child missing in the woods, his nine-year-old sister who's known to stretch

the truth. An imaginary friend, deceitful husband, and a best-selling author

… all come together in a thriller that keeps you guessing from start to finish.

To Tell You The Truth by Gilly Macmillan is another unputdownable read … one

boasting a final page that leaves you desperate for more. Penguin.

Win a magnum of The Old Man's Blend

There are some big, bold, gripping reads this June. Which call for a big, bold wine.

A big, bold magnum of wine. Hello Groote Post's The Old Man's Blend Red

2019. This wine is a blend of 50 per cent Merlot and 25 per cent each Cabernet

Sauvignon and Shiraz. 'This is a fantastic vintage. The three varietals all reached

optimal ripeness in perfect timing for the harvest', says winemaker Lukas Wentzel

Lukas. This is a down-to-earth, ripe-fruit-driven blend. Captivating red fruit notes

delight the senses, most notably cherry, raspberry and cranberry, with soft

tannins giving a smooth finish. R215 from groote-post-wines.myshopify.com/

collections/all. Fancy a magnum for your next book club (or nick it for your dad …

you'll be his favourite). Simply pop over to GetItPretoriaMagazine on Facebook,

find our post and follow the prompts. Entries close June 15.
---
Twisted. Dark. Suspenseful (oh, so suspenseful). Lisa Jewell's books are always

edge-of-your-seat, and The Night She Disappeared is a tremendous

psychological thriller. From the very first page, you're enveloped in a sense of

doom … you just know there's going to be no happy-ever-after ending. There's a

young couple who disappears after a night partying at a massive country estate,

leaving a much-adored baby behind with his gran, a group of not-so-desirable

youngsters who are meant to be their friends but are not terribly concerned

or helpful, and two awful mothers who leave a lot to be desired. There are

drugs and love, secrets and lies, cryptic clues and many, many twists and turns.

Honestly, don't start it at bedtime … you will not be able to put it down. Penguin

• An isolated, luxury hotel high up in the Swiss Alps, recently converted from an

abandoned sanatorium where, years before, patients were treated (not always

terribly humanely), is the setting of The Sanatorium. An uneasy atmosphere, an

engagement party, a blizzard … and a missing fiancée. It appears someone is

killing off guests, and his – or her – sadistic methods are similar to those used

on the sanatorium patients years before. Fortunately, one of the guests

happen to be a detective, but she's got demons of her own to deal with.

Dark, sinister, creepy … Sarah Pearse's debut novel is a Gothic thriller that

will scare the bejesus out of you. Penguin, available from Exclusive Books.

For a feel-good hedonistic read, you

can't beat Catherine Alliott … her

books are always a treat. In Behind

Closed Doors, she writes the story

of Lisa Palmer … who has the perfect

life with loving children, a dashing

husband and a gorgeous home. But

suddenly it's all broken marriages,

swopping snazzy London living for a

rural farmhouse retreat, parents who

are growing old disgracefully, and an

old flame popping up unexpectedly.

Great fun, really witty, a brilliant book

for a lazy weekend. Michael Joseph /

Penguin, available from Exclusive Books.

A small town in America, just filled with hate and secrets and abuse

and despair. Tall Bones is Anna Bailey's debut novel, and she writes

like a dream …. sucking you into the lives of the characters, some

indescribably awful, others who'll break your heart. The story revolves

around the mystery of a teenager who disappears after a party in the

woods. There are unhappy families with appalling secrets, a fire-andbrimstone

preacher who lords over his flock of God-fearing religious

fanatics, a sheriff 'who looks like he's been carved from wood and

then left out in the rain', who's also missing a few fingers on his

bear-trap-mangled hand (he pretty much sums up the town, to be

honest). You read with bated breath, as desperate as the townsfolk to

discover what happened in the woods that night, a discovery that's

going to be the spark that sets this tinder box of small-town rage

alight. An agonising ending for readers who like everything tied

up in a neat little bow! Brilliant. Penguin.

Compiled by: KYM ARGO

June 21 Get It Magazine 05
---
Wish list

Oh boy … have we found grand gifts for men this June!

We're mad about

these gentleman-only

accessories … black fedora

(R259), mock suede and

leather gloves (R349), and

scented candle (139), all

from woolworths.co.za

06 Get It Magazine June 21

This chess/checkers set is the perfect gift for dads who appreciate a little

old-school fun. Soft suede, and in a range of smart colours (sand, tan, black

and royal navy), each mat has a concealed tube in which counters and dice

can be stored. You can (and should) also have it monogrammed.

There's a backgammon set too. R880 from journeyleather.co.za
---
It may be a little

later than planned,

but the Olympic Games

Tokyo 2020 is finally on its

way, kicking off next month.

And while the athletes make their

final preparations, the Official Timekeeper is

unveiling a very special timepiece in tribute

to the occasion. The OMEGA Seamaster

Diver 300M Tokyo 2020 delivers a unique

colour scheme inspired by the Tokyo 2020

Olympic Games emblem, along with the very

best in watchmaking technology. It's a hefty

R105000, but it's a once-in-a-lifetime buy.

Details: For stockists, visit omegawatches.com

The Dunhill man is

accomplished,

inspirational,

sophisticated. So

just like dad then.

Dunhill London

Icon Racing Red is

an amber-woody

fragrance, with

mandarin orange

and grapefruit top

notes. If dad's raceready,

this one's for

him! R1899 from

Truworth, Edgars,

Foschini, Dis-Chem

and Clicks.

Port for the win

A superb meal. Exceptional family and friends.

And a fine port. All the ticks for a perfect

Father's Day. And while we can't take care

of the first two, we've can help out with

the third. We've a three-bottle carry pack

of some jolly splendid port from De Krans

to give away. What's in the pack? De Krans

Premium Cape Ruby … a dark ruby port full

of the rich flavours of cherries and ripe plum

fruit with hints of chocolate and spice (it's

best enjoyed at room temperature during

these chilly winters days, and is great paired

with most cheeses and chocolate desserts)

• De Krans Cape Vintage … a rich, deep,

almost inky purple-red port, which has

beautiful aromas of violets, red berries, vanilla

and dark chocolate, and full and rich flavours

… think red fruits, dried prunes, cocoa and

spice (it's lovely with almost all baked desserts

or served as a sauce over ice cream, and is

excellent on its own or with well-matured

cheese) • De Krans Cape Pink … a rose petal

pink port that has the smooth elegant taste of

cherries, plums and a hint of candyfloss (this

is perfect to have after a lazy al fresco lunch in

the winter sun). One - or all - of these would

make the perfect gift for dad … you'll find

them from R66 to R118 at dekrans.co.za. To

win a hamper, pop over to our Facebook page

(GetItPretoriaMagazine) and follow the De

Krans Port post prompts. Entries close June 14.

Compiled by: KYM ARGO

June 21 Get It Magazine 07
---
Lynette Fouché, Nicolene Meijer

Antoinette and Samanthea Rossouw

Local

creativity

It was a feast for the eyes and senses at

the KAMERS/Makers artisanal market

@Menly Maine. From sipping on the most

exquisite Turkish rose gin, satisfying the

sweet tooth with a strawberry and basil

macaron to the most gorgeous fashions

finds, décor, gifts, skincare, ceramics and

jewellery … just to name a few highlights.

It was a morning well spent … sigh, and

worth the much-depleted bank account.

See who we spotted there.

Brenda Botha, Annelize Geldenhuys, Ebeth van der Westhuizen

Elizma Stoltz, Audrey Lisik

Beeuwen Gerryts, Louise Kruger Gerryts

08 Get It Magazine June 21
---
Kirsten de Wet, Corlandi Bezuidenhout

Nielia Blignaut, Savannah Klee

Centaine Alice, Kyle Volschenk

Erinn Schmidt, Taegan Hunn

Carli-Jeanne Coetzee, Zetske and Ayla Grobler

Linda and Lilize Wonigkeit

June 21 Get It Magazine 09
---
Willem Boshoff grew up in a small town with almost

no exposure to the art world. And in those days there

was no internet or even decent TV documentaries to

learn more about art from. But, what he did have was

an inspiring art teacher, Henry Pretorius, who sparked

Willem's interest. So much so that, as a teenager, he had

no doubts about what he would like to become one

day, an artist. Ultimately he has become a conceptual

artist who challenges us to become much more aware

of how we use the languages we live by, every day.

'I was hungry to learn as much as I could about art. So,

I made myself a series of scrapbooks with pictures and

articles I cut out of the old magazines I got from the

local café owners.'

His decision to follow a career in art did not meet with

wide approval. His parents allowed him to study Fine

Arts only if he qualifies as an art teacher also. The result?

Since 1996 he's been a renowned teacher and a fulltime

practising artist in South Africa and internationally,

and still has strong ties with many academic institutions.

And nowadays he teaches as a fine arts professor at the

University of the Free State part time.

Well-known as a brilliant conceptual artist, Willem has

a huge passion for language … a passion he uses as

inspiration to create different kinds of art. Sculptures

in wood and granite, graphic art and large twodimensional

assemblage pieces are just some of the

masterpieces he makes. But that's not where this genius

wordsmith's talent stops. 'I also write dictionaries, some

are published and some I do in the form of artworks

like The Blind Alphabet Project and The Death of Afrikaans,

both on view at my retrospective exhibition Willem

Boshoff: Word Woes at the Javett Art Centre. The Blind

Alphabet is a three-dimensional dictionary. Inside rows

upon rows of steel, lidded boxes are wooden sculptures,

each a three-dimensional depiction of a particular word

from the Oxford English Dictionary.

'Now, as a sighted person, I do not allow you to open

the box and see the sculpture. For you, the rows of

boxes are like a silent graveyard. You need a blind or

visually challenged person, to get my permission to

open the lid of each box, take out the sculpture and,

A P L A Y O N

WORDS

Word artist, father, professor and plant lover. Willem Boshoff can be seen as a

jack of all trades, but he is definitely a master of the arts. He inspires people

through his art – even the blind – and his latest exhibition exceeds all expectations.

Willem donated the work Windrose (2011) to the Afrikaans

Hoër Meisieskool in Pretoria, part of which is visible above.

Text: JEAN-ELIZE MARAIS. Images: SUPPLIED.

10 Get It Magazine June 21
---
Visiting info:

The Javett Art Centre at the University

of Pretoria is open Tuesday to Sunday

from 10am to 5pm. Entrance is R150

for adults, R50 for children, R70 for

pensioners and free for all South

African university students (with a

valid student card). Guided tours are

available, but must be booked at

least 48 hours in advance. They have

various free entrance days, the next

being June 16. South Campus, 23

Lynnwood Road, Hatfield.

Details: 012-420-3960, javettup.art

The etching Word Woes (2014) also

inspired a letter brick wall.

by feeling its form, explain the concept it

interprets for you. On the lid of each box,

the definition of the word is presented

in Braille. For the blind guide, the rows of

back boxes are like an open book.'

With the combined wealth of experience

of curator Helene Smuts and Willem, Word

Woes is, quite simply, a must experience.

The title, taken from a signature work by Willem, is

understood in English and Afrikaans. In either language,

the two words look identical, but their meanings differ

sharply. 'In English, it means issues of language, or the

same words in Afrikaans could encourage you to take a

chance … to be a little wild!'

An enormous brick wall built of letter bricks that spells

out hundreds of words spelt identically in English

and Afrikaans, but which have completely different

meanings, encouraged this exhibition and it portrays five

decades of work.

'The original etching, through which I developed this

idea, is on display and all these are everyday words, which

become very entertaining when you realise how relative

their meanings are.

'As part of the education programme around the

exhibition, we will also be developing crossword puzzles

for parents and children to complete together as they

move through the exhibition. The answers to clues are

hidden in the artworks themselves!'

So … who is the man behind the art? 'A plant lover who

spends most of my free time reading books and listening

to music. I love my collection of potted plants and

nothing excites me more than working with them and

classifying them by their botanical names.'

Yet, his love for arts can simply not be tamed as all his

hobbies form part of his 'interdisciplinary research and

art-making.' An antiquarian is he indeed. 'Actually, I

The Blind Alphabet (1991 and ongoing). Inside the lidded boxes are

wooden sculptures, each a three-dimensional depiction of a particular

word from the Oxford English Dictionary.

have a very large collection of rare objects, such as antique

tools used for a wide range of purposes … from carpentry,

medicine, dentistry and even including divination practices

all over the world. I love all these possessions, along with my

collection of books and music.'

Don't for one moment think Willem is sitting still. He is already

busy developing new art for both local and international

exhibitions. We cannot wait to see what is next!

In the meantime, if you're a lover of language, inspired by

art or even someone who just merely wants to explore

the absurd meaning of words and have fun, then this

exhibition is just for you! It's at the Javett Art Centre and

will run until January 2022.

Details: willemboshoff.com, javettup.art, connect@javettup.art

Willem & fatherhood:

How to be the best father for your children? To love and

be there for them and to allow them to be themselves.

How do you manage to balance fatherhood and being

an artist? My two worlds go hand in hand! I have four

children, ranging in ages from 24 to 40. Although I never

really encouraged them to do so, they have all developed

careers related to the arts. Very often they have participated

in the making and exhibiting of my work.

What has your father taught you? My father was a

carpenter. I learnt a lot of my skills from him! And my son

Martin has inherited these skills of working with his hands.

June 21 Get It Magazine 11
---
The BEAUTY of

IMPERFECTION

Text: RIALIEN FURSTENBERG. Photographer: JACO BOTHMA. Hair & make-up: ANTOINETTE DE BEER.

After nine years of working

8 to 5 (what a way to make

a living), Jana Nel traded the

mundane sense of security

a corporate job offers, to

finally live out her dream

… one of creating gorgeous

one-of-a-kind ceramics.

Everything was planned

down to a tee. Ferocious

to-do lists were made.

But then a pandemic

hit and it was sink

or swim. And

thank goodness,

Jana swam …

straight

to success.

12 Get It Magazine June 21
---
ana Nel's perfect three-month kick-off

plan, which included workshop events,

markets and projects, simply crumbled

at the hands of a virus, which made her

question the brave – or crazy – decision to

resign from her safe corporate job.

'It made me fall into a spiral of doubt, disbelief

that pursuing my dream was still a valid and

sensible path to pursue … until I realised this

unperfect situation of uncertainty is something

every entrepreneur faces daily. Uncertainty is now

my new normal – even without the impending

coronavirus. Embracing the unperfect and uncertain

… there is an opportunity hidden in every challenge.'

Jana was born with a fiery creative passion. And although

working in a corporate career, more specifically in IT and

then later on medical aids, she made sure to live out her

creativity after hours.

'Baking, photography, oil painting – I've tried it all. Until three

years ago, a friend and I decided to take up ceramic classes

at night. Ceramics has always been a process I wanted to

learn how to master. There are so many steps and quite a bit

of chemistry involved that you need to understand to make

sure your pieces come out exactly the way you want them.

'The beginner classes were wonderful but I very quickly

came to a point where I wanted to learn and experiment

more. So I started to experiment in my home studio. Roughly

80 per cent of my knowledge and skills are self-taught.

I've also found a wonderful resource called The Ceramics

School (a global platform for ceramicists) and they offer an

incredible range of tutorials for any aspiring ceramicist.

Jana mostly works with stoneware and occasionally with

porcelain because 'these clay bodies offer beautiful stonelike

textures and colours. I love a neutral colour palette and

prefer to work with the clay's natural colour and texture as

opposed to covering it with a brightly coloured glaze. In

essence, clay is a piece of glorified mud, and to be able to

hand-form functional objects from such a simple material

gives me loads of joy.'

WIN! Who wouldn't love to have a Jana Nel Design item in

their home? So, we're giving away a salt and pepper gift

set. It is hand-formed from stoneware clay with a beautiful

ivory glaze on the inside and adorned with Jana's signature

22-carat gold logo mark. Enter our competition by liking

Getitpretoria on Facebook and tag a ceramic lover in the

comments section. Entries close 21 June.

A perfectionist at heart, Jana's journey with ceramics has

challenged her to abandon the unrealistic expectation

she always had to be perfect.

'My new-found wabi-sabi philosophy has taught me to

appreciate the beauty in imperfection, not to force a piece

of clay into something it's not meant to be, but rather let

it take up its own form and character. Many uncontrollable

and external factors influence each piece's end result

… The clay's organic characteristics, the natural air-dry

process, the high firing temperatures (some pieces are

fired up to 1260°C). This all plays a role in the becoming

of a beautiful art piece. It's these natural-uncontrollable

influences that make each piece unique.

'Pursuing a career in ceramics has most certainly given me

a whole new level of perseverance. Which was also the

most important lesson my father taught me. We share a lot

of similarities, one being that when we put our minds on a

dream, we won't quit until we feel we've reached our goal.'

With a flair for design and an eye for beautiful things,

you simply cannot pass up a gorgeous Jana Nel Design.

So it came as no surprise that H&M approached her to

collaborate on their Conscious Exclusive Collection Range

that launched last year.

'I had the amazing privilege to hand-form stoneware cups

and create custom gift boxes. It was such a wonderful

project to work on, and it showed how dedicated H&M

are to support local artisans and promote artistic talent in

South Africa. I'd say it was a blessing that fell straight from

heaven into my lap. My biggest fist-pump moment so far!'

When Jana is not creating art pieces, she loves to be in the

kitchen, cooking and entertaining people at home. And

from what we've heard, she really goes all out.

"Yeah … for me there is no such thing as just a braai or

dinner. I want to create an experience, from the moment

you set foot into the house. So, I love having a theme, and

everything, from the table décor to the food, will all add to

the entertaining experience. It is my way to show you how

much I care.'

Details: Shop her latest collections online, jananel.com and

follow her Facebook and Instagram, @jananeldesign

Jana's seven tips for entertaining:

• Always have some bubbly in the fridge. South Africa

has such a wide variety of really good MCCs. • Fill your

dinner table with a bunch of beautiful, handmade

candles, they add a beautiful charm to the aesthetic

of your table. • A good sprinkle of flaked sea salt and

cracked black pepper is the best accompaniment. • A

good quality olive oil is superb on just about anything,

from a fresh burrata, or dipping a fresh piece of bread

into a pool of olive oil. • Make sure you choose a menu

where you can prep most of the ingredients ahead of

time so you don't have to spend a whole lot of time in

the kitchen when your guest arrive.

Visit our website, getitmagazine.co.za/pretoria for two of Jana's

favourite recipes ... Yotam Ottolenghi's beetroot, caraway and goat's

cheese bread and a homemade fragrant roasted garlic hummus.

June 21 Get It Magazine 13
---
TOP TIPS

for those starting their running journey

In 1976, Bruce Fordyce was a young

student at Wits University in Joburg,

and against a background of the

country being in the grip of apartheid,

isolated from the rest of the world

and with revolution in the air, decided

he needed to take control of his

life and give himself a purpose. He

challenged himself to run SA's most

famous long-distance race, the 90km

Comrades Marathon. A gruelling race,

and one he would go on to win five

years later, and eight more times after

that, too, arguably making him one of

the greatest Comrades runners in the

history of the race.

He went on to win so much more …

the famous London to Brighton three

times, setting the world record in 1983

which stood for more than 30 years, the

100km Challenge race in Stellenbosch

in 1989 (another world record!), the

State President's Gold Award for Sport

from Nelson Mandela in 1997. He's also

launched the Parkrun concept in SA

– with close on 200 Saturday morning

5km free timed runs and more than

one million registered members.

Bruce still runs – although now with

a dodgy knee, saying he estimates

he's run well over 200 000km in his

life. His latest achievement … Winged

Messenger – a guide, written in the

first person, aimed at other keen

runners, but specifically novices, which

includes his personal 1976/77 training

diary (right from his very first jog

around the Wits rugby field on June

8, 1976) as well as anecdotes from the

time he spent training for that first race.

10 tips from the king of Comrades, Bruce Fordyce

1 CONSISTENCY: Nothing improves our running more than consistent regular

running. Regular running, (more than four times a week) builds a wonderful

foundation from which to build even greater fitness.

2 QUALITY: Always choose quality over quantity. While (L.S.D) long slow distance

still helps, really sharp fitness is improved by running faster or by running hilly

courses. Try and run a speed or hill session at least once a week.

3 LOGBOOK: Keep a logbook/training diary. I started recording my running

from the first day (a 10-minute jog around the Wits university rugby fields, June

8th 1976). Logbooks serve as a wonderful source of reference, and a source of

guidance for the future.

4 COACH: Once we start to get serious, it is advisable to find a reliable and

trustworthy coach. I have one regret from my early running days and that is that I

was self-coached. I made too many mistakes. A coach would have helped a lot.

5 INJURIES: Every runner gets injured from time to time. It takes great maturity

to admit that we are injured and that our aching calf muscle is not just a minor

niggle. Confront an injury head-on and find a good doctor or physiotherapist to

help correct the problem.

6 DESPERATELYKEENTITIS: Understand that injuries are not mysterious 'acts of

God'. They don't just happen. We get injured because we push our bodies too

hard. We catch an enthusiasm disease which I have named 'desperatelykeentitis'.

This enthusiasm drives us to do too much, too soon, too fast and too frequently.

The only cure for desperatelykeentitis is to try and blunt the enthusiasm. Creating

a fit runner takes time and patience, rather like the process of creating a really

fine wine.

7 REST: For many runners, rest is a four-letter swear word. But rest and recovery

are the stepping stones to increased fitness. Never be afraid to have an easy day

or even to take a day off running

8 GOOD SHOES: We runners are fortunate in that our sport is relatively cheap.

However, it is worth investing in a good pair of running shoes. For the correct

advice I always go to a specialist running store. I may pay a little extra but

the advice I receive is invaluable.

9 TRAIN WITH FRIENDS: Our sport is a social sport and we need the company of

friends. And besides, shared discipline is a lot easier than individual discipline.

10 DON'T OVERRACE: Training builds our fitness, racing breaks us down. Too

many of us want to run marathons and long-distance races as often as possible.

The world's most successful champions are very selective in their racing. They

choose two or three major races a year and peak specifically for those events.

Win a signed copy of Winged Messenger

The mistakes. The successes. The progress and journey towards that first

Comrades Marathon. Winged Messenger is a training guide and a fascinating

glimpse into the life of Bruce Fordyce. You can buy the book for R220 on

brucefusion.com, Amazon and Goodreads, or win one! We've got three

signed copies to give away. Simply hotfoot it over to Get It Pretoria Magazine

Facebook page, find the post and tag a training friend in the comments section.

Entries close 30 June.

June 21 Get It Magazine 15
---
WELL

GROOMED

Optiphi

Body Curve

Cleanse and

Shave offers

improved

shaving

comfort while

also cleansing

the skin. Love

a double-use

product!

R350 from

optiphi.com

• Longmarket

Barber Hair

Wax is a

conditioning

and sculpting

wax for hair and

beard. R99.95

from

Woolworths.

Montblanc Legend Eau de Parfum is the

reinterpretation of the Montblanc Legend

fragrance. Elegant and sophisticated, it's all

bergamot and violet, jasmine and

geranium, with base notes of moss, and

wood. From R1299, from Truworths, Edgars,

Foschini, Dis-Chem and Clicks.

Jules Dedet, the renowned

street artist, is the aptly

chosen face of this new

Jimmy Choo Urban Hero

fragrance – a nod to the

confident, mysterious

man with a hint

of rebellion. It

gives off intense

woody notes,

think grey amber

and leather

accord, which

mix with warm

black pepper and

sensual rosewood,

and fresh lemon

caviar. From R1299,

at Truworths,

Edgars, Foschini,

Dis-Chem, Clicks.

What is it with men's products? They're all

easy-to-use, multipurpose, two-in-one … we

should take lessons. The Glow Man is a

two-in-one (obviously) body wash and peeling

glove. Oh. And it has an ergonomic shape.

Because … boys! R199 from Woolies.

Bentley Momentum Unlimited

is as lush as the sleek interior of

a Bentley motorcar! The first rev

is a burst of bracing grapefruit

and tart green apple, with the

citrusy brightness of cardamom.

As it reaches cruising altitude, the

heart notes take a new direction,

with the wood and leather notes

inspired by the luxurious interior

of Bentley cars. After that, it's

all skin musks and ambroxan, a

quintessentially masculine ambery

note. You'll find it at Truworths and

Dis-Chem, for R1499.

16 Get It Magazine June 21
---
Barbering's new-found popularity, and an appreciation for traditional

grooming products, has seen the revival of hair tonics … a product

that's been associated with old-school barbering for more than a

century. For a while, they've been overlooked for more modern

alternatives … but they're back. And for good reason. These

no-gimmick, energising elixirs help to reinvigorate the scalp, provide

vigour and freshness, promote a natural shine and offer a light hold

to help set and define simple styles. They help to protect your hair

from heat during blow-dry styling and, when massaged intensely into

the scalp, help to condition and moisturise the hair while stimulating

circulation. The effects of this pampering session are sleek and healthy

locks, less dandruff, and repaired split ends. The light hold created by

these luscious liquids also makes hair easier to work with for

professionals and can create the vital foundation needed to build

extravagant hairstyles. The Bluebeards Revenge Hair Tonics,

available in the brand's iconic Classic and Cuban scents, also grant

their users with hair that smells irresistible … the classic has a sweet,

modern, barbershop-inspired fragrance, the Cuban packs a punchy

exotic scent – the perfect combo of British barbering and Caribbean

cheer. R310 from Sorbet MAN stores.

Compiled by: KYM ARGO

June 21 Get It Magazine 17
---
LUCKY DAD!

Let's be honest. He does so much for us … and we don't always show

our appreciation as much as we should. So this year we're going all

out … with gifts for the most important man in our lives. From Irish

Whiskey to travel bags to softest ever after-shower towels … here's

our dad-day round-up. And … a massive win coming up.

We're giving away everything on this page to one lucky dad.

Raise your glass to dad with Bannermans Scotch Whisky. Beautifully fruity flavours to enjoy neat,

on the rocks or mixed. It's made using older, more aged malt whisky, with a blend of exceptional five

to six-year-old whiskies, which gives it a bolder, more complex flavour than other blends and helps

create its wonderfully smooth, rich character. R199. Details: takealot.com

Sexton Irish Whiskey is a new and unexpected single malt. Rich in hue, approachable in taste and

memorable in character, it's made from 100 per cent Irish malted barley that is triple distilled in

copper pot stills for smoothness. The finish is a perfect balance of dried fruits and subtle oak notes

and aromas of nuts and dark chocolate followed by marzipan, spice and fruit with a mellow honeyed

taste of malt and oils. The rich, sophisticated liquid is matched by its striking, hexagonal dark bottle.

Details: trumanandorange.com

Dad may not make it to The Med this year, but he can take in the very essenza dell' Italia with Ginato

Italian Gin. A sunshine-drenched way of life distilled in a bottle. It combines the finest quality

produce from world-renowned terroir … think juniper berries from Tuscany, citrus bursting with

Southern Italy's unique Mediterranean sweetness, and Italian grapes grown alongside northern Italy's

idyllic lakes. Mix these and you get the very spirito d'Italia. Details: takealot.com. To mix … we use

Fever-Tree, which has no artificial flavourings or sweeteners. Love them!

Details: fever-tree.com

For travellers – business or pleasure – these Thule Compression Packs are brilliant for packing

smarter and staying organised. The durable compression zipper eliminates excess air between

clothes to maximise space-saving – perfect for pants, shirts and sweaters. Details: thulestore.co.za

Help dad hibernate in style during the colder months. This Volpes Cloud Blanket is part of a brilliant

selection at Volpes … loads of blankets and throws in a variety of colours and textures. We're gifting

our dads with a luxurious faux fur Cloud blankets (the snuggle is real), and adding some brushed

cotton pillowcases and sheeting with a beautifully patterned quilt. Details: volpes.co.za

WIN! We've got a hamper, overflowing with gifts from our favourite brands to give away.

Happy Father's Day, with love from Get It. To enter, simply visit our Facebook or Instagram page

(getitpretoriamagazine), find the Lucky Dad post, and follow the instructions. Entries close June 28.

18 Get It Magazine June 21
---
June 21 Get It Magazine 19
---
Veggie of the month

Kale Storm is a Winter superfood that is rich in vitamin C and iron. A colourful

mix of three different kale varieties with purple, green and blue leaves, each

with different textures, it really is almost too pretty to eat. The ready-to-eat

mix comes in a 17cm pot and doesn't need to be planted out. Simply keep

the kale in its pot, place it in a position that receives at least four hours of sun

a day, water daily and feed with a nitrogen-rich liquid fertiliser at half strength

every two weeks. Plants grow up to 60cm and can be treated like spinach by

harvesting the outer leaves. Kale 'Storm' lasts longer in your patio planter than

lettuce and it won't bolt, and can also be planted in the ground for all-season

harvesting. To prepare kale for cooking, cut out the midrib, shred the leaves and

cook like spinach. Details: ballstraathof.co.za

Garden tasks for June

• Feed Winter flowering annuals with liquid fertiliser. • Remove dead

blooms of calendulas, sweet peas, pansies, and Iceland poppies to

encourage new flowers. • Tidy up perennials, shrubs, and trees by

removing dead leaves and old flowers. • Do not let daffodils and other

Spring-flowering bulbs or shrubs, like azaleas, camellias or magnolias dry

out otherwise they will not flower. • Water Winter pot plants like cyclamen,

pot primulas, cineraria, and spring bulbs

every two to three days and feed with a

liquid fertiliser. • This is the best month

for transplanting roses, other perennials,

shrubs and even trees that are in the

wrong position. • Use all your

garden waste to make compost

20 Get It Magazine June 21

Indoor plant

of the month

Monstera adansonii – also

known as monkey mask – is

a smaller, and slower-growing

version of the traditional

delicious monster

(Monstera deliciosa). The

unusually lobed leaves gave

rise to its common name

and, although smaller in size,

it certainly makes a big impact. It trails

or climbs, being suitable for hanging

baskets, to fill a corner or cascade down

from a shelf. Being a tropical plant, it

needs a warm, humid room, and bright

indirect light but not sun on its leaves.

Place it a metre or so from a north or

east-facing window. Water once a week,

don't let the soil dry out but keep it

slightly moist. A drench and drain once a

week will flush out any salts that build up.

Feed with a liquid fertiliser at half strength

once a month in Spring and Summer to

maintain the bright green, healthy leaves.

Yellowing leaves is a sign that the plant lacks

nutrients. Details: lvgplants.co.za
---
PRETTY

PRIMULAS

We're planting …

Primula obconica original that has all the

flower power of fairy primulas but with

bigger flowers in strong, bright colours and on

thick, firm flower stems, good for picking and

long-lasting in the garden. Plants are available

in single colours of blue, violet, deep orange,

pink, red and white as well as a mix. True to the

primula nature, this variety flowers abundantly,

has lush green leaves and grows robustly,

20cm high and wide. A standout flower for

semi-shade or morning sun that also works

well as a patio plant in 17cm pots.

Details: ballstraathof.co.za

Compiled by: ALICE COETZEE

June 21 Get It Magazine 21
---
What's cooking

good looking ...

Annatjie Melck, foodie

legend and chatelaine of

Muratie, has a treasure

trove of her own very

special recipes and loves

to explore the very best

pairings with Muratie's

wines. These two, for us,

are winners.

Every wine tells a story at Muratie,

the historic Stellenbosch Estate

that dates back to 1685. In

the case of Muratie Mr May

Grenache Noir 2018, the story

is of Cornelius, or Mr May as

he was affectionately called,

who planted and pruned

many a vine at the estate,

and whose attention

to detail and ability to

predict the weather, long

before technology, is

legendary. 'He taught us

that whenever we saw

a silver cloud lying on

the south-west-facing

side of Simonsberg

mountain, it would rain

in two days' time. Today

still, in memoriam,

we have yet to prove

him wrong', says Rijk

Melck. The wine,

aged in French Oak

barrels for 18 months,

is all raspberries and

pomegranate rubies,

and a hint of white

pepper spice. It's R230

and you can order online

from muratie.co.za

22 Get It Magazine June 21

Annatjie's marrow bones on toast

So easy, so quick, and amazingly tasty. This works as well for a

dinner party starter as it does for snacks around the braai or a

Sunday night don't-feel-like-cooking dinner.

Ingredients:

You need the middle sections of the long bones (ask your

butcher for 5cm lengths); salt and freshly ground black

pepper to taste; toast

To make:

Preheat the oven to 230˚C

Rinse the marrow bones thoroughly under cold water, and

dry well with kitchen paper towel. Cover an oven pan with

foil and place marrow bones on top.

Sprinkle salt and pepper over the bones and bake for 15 to

20 minutes.

Marrow bones are cooked when the marrow starts pulling

away from the bone and the clear fat starts to drip from

the bone.

Remove pan from the oven and let it cool down slightly.

Use a knife to remove the marrow from the bones and

spread on the toast. Add a little salt according to your

liking and serve immediately, with a glass of Muratie's

Mr May Grenache Noir.
---
Annatjie's salmon with tarragon and cream sauce

If dad's a fisherman, he'll probably fancy Annatjie's salmon dish … served simply

with some lovely baby potatoes, it's lovely for a dinner party with friends.

Ingredients:

2 salmon fillets; salt and freshly ground pepper to taste; 1 Tbsp (15ml) sunflower

oil; half a small onion, finely chopped; 2 Tbsp (30ml) fresh tarragon, finely chopped;

4 Tbsp (90ml) thick cream; 2 Tbsp (30ml) fresh parsley, finely chopped

To make:

Preheat the oven to 160˚C.

Season the salmon on both sides with salt and pepper

Heat the oil in a heavy-duty pan until hot and cook the salmon (skin-side up) for

three minutes until light brown, then turn it over and cook on the skin side for

another two minutes.

Place the salmon in an oven-safe dish and sprinkle the onion and the tarragon over

the fish.

Add the cream to the dish and bake for 10 to 12 minutes, until the salmon

is cooked.

Sprinkle parsley over the dish and serve with boiled baby potatoes.

Enjoy with Muratie Isabella Chardonnay 2019.

And the story behind this wine … For Rijk and Kim Melck, there could be only one

name for their Burgundian-style Chardonnay, the name of their first child, Isabella,

who today, as a young woman, is classic and elegant, just like the Chardonnay.

The wine, which was matured for nine months in 500L French oak barrels, is

a beautifully fresh, understated and elegant Chardonnay, with an enticing

peach-blossom fragrance, ripe stone fruit, melon and citrus flavours with hints of

hazelnuts and vanilla cream from subtle oaking. You can buy it for R220 a

bottle at muratie.co.za.

Compiled by: KYM ARGO

June 21 Get It Magazine 23
---
Gifts for gourmet dads … a Jan Braai knife and

sharpener, R649 and a Jan Braai stainless steel

grid, R729. Both from woolworths.co.za

Winter on a plate

(and in a glass)

Beef and Cabernet Sauvignon … is

the perfect winter hygge. Cosy up to

Tokara Reserve Collection Cabernet

Sauvignon and a hearty beef

bourguignon for the ultimate winter

comfort food and wine experience

… best enjoyed by a roaring fire.

While this traditional dish may be

considered old-school, classic French

cuisine never fails to satisfy. Neither

does the full-bodied, richly textured

Tokara Reserve Collection Cabernet

Sauvignon 2018 … with a mouthful

of dark cherry, redcurrant and fynbos

scrub. It's the perfect wine to serve

with Drizzle and Dip foodie Sam

Linsell's rendition of French beef

bourguignon. It's a lengthy recipe,

and you'll spend quite some time

in the kitchen – three hours, to be

honest, but trust us, it's time well

spent! You'll find the recipe on

getitmagazines.co.za, and you'll find

the wine for R350 a bottle at leading

stores or online at tokara.com.

Compiled by: KYM ARGO

24 Get It Magazine June 21
---
GET IT DIRECTORY

Download the West Pack Lifestyle app

for Members Only deals!

MEMBERS ONLY
---
GET IT DIRECTORY

Cover hair & make up done by

Antoinette de Beer

We specialise in professional mobile make-up,

hairstyling, microblading, airbrush make up,

eyelash extensions, nails, facials, waxing,

massages, laser treatments, etc.

We also do one-on-one make-up teaching

classes, MUD make-up distribution &

make-up short courses. Special bridal

packages available.

@EAMakeupandHairstylists

@eaacademymudwestrand

Elaine Boshoff @ 082 885 3577,

elaine@mudsa.co.za

Antoinette de Beer @ 073 681 9516,

antoinette@mudsa.co.za
---
GET IT DIRECTORY

AD CARE CLINICS

HANDS ON CARE

Hands on Frail Care

and Assisted Living

Bernina Explore Sewing.pdf 1 5/20/2021 8:16:04 AM

Situated within the prestigious Upper Waterkloof Retirement Village, this clinic

offers round the clock security and access control. Our double story clinic offers

luxury private rooms, shared rooms and two lady wards with an en-suite. Single

rooms may be personalised with your own personal belongings, or alternatively,

you can make use of our standard furniture.

AD Care Waterkloof Frail Care Clinic is close to the Kloof Mediclinic and

Groenkloof Life Hospital with on-call ambulance services available 24 hours per

day.

Services include: 24 hour Nursing Care, Medication management, all meals,

general hygiene, hand, foot and nail care, daily laundry and housekeeping services

7 days a week.

On call Doctor, Ambulance services, therapists and wound

care sisters at additional charge.

Our main focus is to provide a value-added service

to our clients in the following fields:

Alzheimer's & Dementia

Stroke Patients

Parkinsons disease

Frail Care for elderly patients

173 Regulus Drive

Waterkloof Ridge

liesl@adcarewaterkloof.co.za

071 689 7308

074 034 2179 / 084 201 4741

www.adcarewaterkloof.co.za
---
GET IT DIRECTORY

Download the West Pack Lifestyle app

for Members Only deals!

MEMBERS ONLY

Petzone by West Pack Express Lynnwood Lane

Lynnwood Lane Retail Park, Cnr. Lynnwood & Highway road,

Equestria, Pretoria | 010 005 0016

Visit www.petzone.co.za for more

NOW ALSO OPEN @

Kolonnade Retail Park,

Near Westpack Lifestyle
---
GET IT DIRECTORY

Mariana Pera Attorneys can be

contacted at 012 460 1068 or 012 346 6272
---
Two-wheel ride

Take to the road and explore local on your bike

Local road trips and holidays are on the up, and with our beautiful scenery,

cultural history and unique flora, biking holidays and exploring on two wheels are fast

becoming a popular choice as a way for families to enjoy the great outdoors together.

Once you've done the research and found the perfect destination for your next family bike

vacation, the hardest part is out the way. Next is to line up all your family's gear and get packing!

Packing for your bike adventure

It starts with the helmets, rain jackets, shoes and then, next thing you know, you've packed way

too many outfits and loads of stuff that your kids will never need. Let's be honest, packing for a

week away or just one night with your family often means the same number of bags.

Fortunately, the team from Thule is here to help trim down your packing list and,

more importantly, make a checklist that's right for your family.

Start with a duffel for essentials. A bike trip can go downhill fast – and not in a

good way – by forgetting to pack helmets and riding gear. Stick to the basics

and set aside one go-to duffel for all the gear you can't live without.

Then you can use other bags, like rolling suitcases or backpacks, for clothes,

shoes, and activities for the kids. But you can't have a great bike trip

without the essentials, so find a spacious, durable duffel bag to store

all your must-have items.

Giving the kids a great ride

When you're away with your family, making sure you

can explore everything on your list means pedalling for

plenty of miles. For the little ones, just coming along for

the ride can be fun for them and you'll be happy knowing

they are safe, cosy and not missing a moment while

riding around in a new place. A multisport bike trailer is

the perfect addition to any young family's vacation with

bikes and is the best way to ensure you see all the sights

with the kids on board. They will be happy and comfy in

their spacious cockpit … plenty of windows, pockets for

snacks, and a five-point harness to keep them safe. Bonus

… some trailers conveniently convert from a bike trailer to

a stroller, perfect for when you reach your destination.

An alternative is to invest in a good child bike seat that

will allow you and your treasured cargo an opportunity to

enjoy the everyday bike rides – safely, easily and in style.

With front and rear seats available, it's a great choice for

letting your child see the world from your bike.

Keep hydrated

A good pack is not only a great way to stay hydrated,

but it's also an easy way to carry many of the

essential items on this list. A hip belt is also a really

convenient way to access phones safely and is

added storage for essential tools or nutrition.

30 Get It Magazine June 21
---
Most importantly … getting the bikes there!

The final step on the packing list is the most important and the one thing you really can't do without on

the trip. The bikes, of course! But before you just strap any bike rack to your trunk, you need to choose

the correct bike rack for your car and your requirements. From hitch-mounted bike racks that tilt out of

the way for easy access to your trunk to easy-to-use platform racks that grab onto the wheels for simple

loading and unloading, there is bound to be a perfect option for you and your family. The new Thule

OutWay 2 and 3 Bike Carriers are premium rear-door mounted bike racks (no tow bar required) for an

easy getaway. These carriers can be mounted to a variety of vehicles and not only do they lock to your

vehicle, they also include locks that lock your bike to the rack. There has also been a huge growth in sales

of e-bikes for those who want to enjoy biking without doing too much hard work. The Thule EasyFold

XT Bike Rack (now also available in a black version) is a fully foldable, compact, and easy-to-use towbarmounted

bike rack for all types of bikes, including e-bikes. No matter how far away you plan to take that

next bike vacation, making sure your bikes make it to and from your destination safely is the only way you

can drive with confidence, knowing you and your family are on the perfect trip! Details: thulestore.co.za

Compiled by: KYM ARGO

June 21 Get It Magazine 31
---
Treasures of Africa

We've got wild flower reserves and red-necked spurfowls. Walking safaris and

the most trafficked wild mammal in the world. And we've got big sky country.

Explore the treasures of Africa through the pages of these great books.

32 Get It Magazine June 21

Walking safaris are one of the best ways to explore our

parks and reserves, and Walking Safaris of South Africa

is a great place to start. With close to 60 guided walks,

there's everything from short dawn and dusk walks to

multi-day backpacking trails, from ultra-luxurious to

wild camping under the stars. There are stories by hikers

Hlengiwe Magagula and Denis Costello of tracking lions

and elephant snacks (to inspire or scare) and masses of

jolly useful info. Struik. • Gamebirds of Africa boasts being

the definitive field guide, and this full-colour handbook

includes everything you need to know to identify the

89 species, and is a useful addition to the libraries of bird

enthusiasts. Jacana. • In Pangolins – Scales of Injustice,

Richard Peirce blends facts with fiction – keeping the story

as close as possible to what's likely to have happened on

a journey of a pangolin poached in Zimbabwe and taken

to Joburg to be sold to a waiting trafficker. He includes

methods and stats of the trade, explains the links between

wildlife and Covid-19, and details China's response to the

unfolding drama of the pandemic. Struik. • Beginning at

Melkbosstrand just north of Cape Town, and ending where

the Orange River meets the Atlantic Ocean, The West

Coast explores a captivating part of South Africa, and

reveals a bounty of treasures that give the West Coast, or

Weskus as locals call it, its particular allure. Leon Nell takes

you on a trip through seaside villages and inland towns,

exploring the history, fauna and flora and interesting

attractions along the way. Struik.
---
Big skies. Vast plains. Scrubby bushes and hardy trees. Flat-topped mountains and conical hills

and secluded valleys. The Karoo. A place where dreams are born, legends are made, and outcasts find sanctuary.

A place where human lineage predates any written history, whose story is revealed through geology, fossils

and artefacts. Those of us who're lucky enough to have travelled through and stayed in the Karoo know its

beauty … a beauty that's been captured through a series of astonishing photo-essays in Hidden Karoo.

This coffee-table book offers readers a snapshot of the region, with a glimpse into towns and villages, farms

and churches, public buildings and private homes, all against a backdrop of awe-inspiring landscapes.

Patricia Kramer and Alain Proust's book will delight fans of the area … and tempt those who've never been to

explore the incredible Karoo (which derives from the Khoekhoe word karus, meaning dry, barren or thirsty land). It's

a book you'll spend hours reading, with fascinating new facts on every page. Magnificent! Struik.

Compiled by: Kym Argo

June 21 Get It Magazine 33
---
When it comes to men's fragrances,

it's definitely not one-size-fits-all.

Which is why we're mad about

The Bluebeards Revenge range

of three brand new eau de toilettes

for men … three signature scents

designed to let men express their

personalities and stand out from the

crowd. Each of the long-lasting scents

– Original, Classic and Cuban – has a

distinctive scent profile, giving men

real variety when it comes to

choosing a fragrance that

matches their character and

aspirations. Great, chunky,

100 per cent recyclable glass

bottles with hand-drawn

illustrations, packaged in

sturdy gift boxes that feature

a selection of classic flash art

illustrations, give these an

extra punch of personality!

R810 each from Sorbet Man

stores. To stand a chance of

winning a bottle, simply pop

over to GetItPretoriaMagazine

on Facebook, find our Bluebeards

Revenge Spoil post and follow

the prompts. Entries close

June 30. Good luck (and Happy

Father's Day to all our dad readers).

Spoil

June

A trio of men's fragrances

34 Get It Magazine June 21