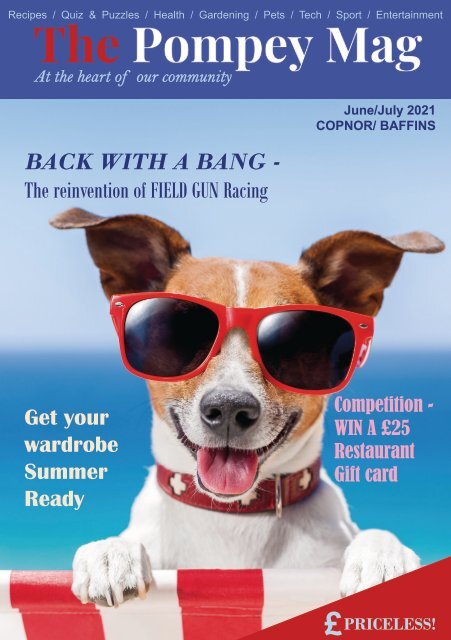 Pompey Mag June July
Community Magazine for Portsmouth Uk
Community Magazine for Portsmouth Uk
SHOW MORE
SHOW LESS
Create successful ePaper yourself
Turn your PDF publications into a flip-book with our unique Google optimized e-Paper software.
Recipes / Quiz & Puzzles / Health / Gardening / Pets / Tech / Sport / Entertainment

At the heart of our community

BACK WITH A BANG -

The reinvention of FIELD GUN Racing

June/July 2021

COPNOR/ BAFFINS

Get your

wardrobe

Summer

Ready

Competition -

WIN A £25

Restaurant

Gift card

£

PRICELESS!
---
Southsea's best kept secret

Places available for September 2021

Contact the Admissions Team who will be happy to help

organise your visit, tour and taster session.

call 023 9281 5118 email admissions@stjohnscollege.co.uk

visit www.stjohnscollege.co.uk

#wherestudentsthrive
---
Editorial

What's inside....

Time is flying, or so it seems to me. I cannot believe that Pompey

Mag has been going for 6 whole months now! With summer

here and businesses beginning to reopen, there definitely seems

to be a feeling of renewed hope. Time to show those businesses

how much we have missed them and how without them our

community was lacking something vital. It is a reminder that

if we don't use them, we will surely lose them. Where you can,

please support our local businesses. I read somewhere recently

that 70 pence in every pound spent in local businesses stays

within the community, helping us all.

If you have read this far, then I think it is safe to assume that

you are reading the magazine or at the very least giving it a quick

flick through. I am personally so grateful to you for taking time

out of your busy days to take a squiz! I wonder if I could push

my luck a step further and ask a small favour of you? If you are

ever tempted to use some of the wonderful services advertising

in Pompey Mag, would you mind just mentioning that you

saw them here? It would be a massive help in ensuring the

continuation of the magazine. Many thanks in advance.

So without any further nonsense from me, I would like to invite

you to grab a cuppa, sit down, relax and enjoy this month's issue.

We hope that you will find plenty of entertainment inside.

Cheers

Debbie.

p.s I love receiving all of your feedback, so don't be shy! Our

contact details are just below. If you have any thoughts or ideas

on what you would like to see in the Mag drop me a line.

DISCLAIMER. Whilst every care has been taken to ensure that data in this publication is accurate,

neither the publisher nor it's editorial contributors can accept any liability to any party for loss or

damage caused by errors or omissions resulting from negligence, accident or any other cause. The

Pompey Mag does not officially endorse any advertising material included within this publication. No

part of this publication may be reproduced, stored in any retrieval systems or transmitted in any form

without prior permission of the publisher.

Cover Story -

Field Gun

Racing

relaunch

pg 39

The Young

Doctors

pg 5

The Geriatric

Gardener-

it's sowing

season

pg 11

Get your

wardrobe

Summer

ready

pg 15

Our popular

Pub Quiz

pg 34

AND MUCH

MORE!

Get in Touch

Tel: 07877 943 787

Email: info@pompeymag.co.uk

Website: www.pompeymag.co.uk

Or follow us on Facebook

NEXT MAG

DEADLINE

14/06/2021

2
---
COMMUNITY

SEARCH FOR

A HERO

WINNERS FOR JUNE/JULY

This month winners, Kari and Dan (left)

were nominated by Copnor resident

Yvonne (below)

♪ Neighbours, everybody needs good

neighbours... ♪ and I certainly know

that Yvonne, who nominated this

month's winner would agree with

these lyrics!

Yvonne, from Copnor wrote in to tell us

about her amazing Neighbours Kari, Dan

and family.

'I would like to nominate my next door

neighbours as heroes. Kari and Dan and

their children, are a busy working family

but they are always on hand to help

neighbours with shopping, in times of

sickness, etc. If they hear any loud bumps

from my house they come in to make sure

I am in one piece. They walk my dog when

they see I am struggling.

Another neighbour's wife was taken into

a care home at Christmas and he was

looking to spend Christmas day on his own.

Despite the lockdown Kari and Dan made

sure he had a Christmas dinner. I too, have

lost count of the number of times a Sunday

roast is forthcoming from them.

Dan is always on hand and will do jobs

around the house for me. During lockdown

last year a middle portion of the

garden fence was taken down and every

3

Saturday, on either side of the fence,

tables were dressed and we collaborated

each week on the provision of a dinner.

Throughout the whole pandemic, the family

has ensured I am never lonely with lovely

chats over the garden fence.'

Yvonne went on to explain that helping

their neighbours is a family affair and

Kari and Dan's children are also willing

volunteers to lend a hand by taking

Yvonne's dog for his evening stroll and

baking delicious cakes.

Just before Christmas, Yvonne took

seriously ill and had to call on Kari and

Dan for help. 'They stayed with me and

comforted me until the ambulance arrived.

It was a relief knowing that if I had to go

into hospital, my lovely neighbours would

ensure that my dog and my house are both

well cared for.

I am lucky to have such neighbours, which

is a view shared by many of the residents of

our street. I would like to thank them from

the bottom of my heart for all the little,

many and varied things they do to help.'

Get in touch with Pompey Mag if you

too, would like to nominate your local

community heroes.
---
Are you having money

worries?

Have your benefits

recently stopped?

Are you having issues

at work?

We provide free, independent and

confidential advice to people living

in Portsmouth.

We can help you with General

Specialist advice on Housing,

Welfare Benefits, Debt,

Employment, General Family issues

and Consumer issues such as

benefit entitlement.

Contact Details:

T: 02392 794 340

E: advice.portsmouth@the

youtrust.org.uk

W: www.theyoutrust.org.uk

We are also available on Webchat

Follow us on Facebook, Instagram

and Twitter
---
ENTERTAINMENT

Over the past few decades the cast, crew and

fans of the classic Australian soap opera, The

Young Doctors, have been campaigning to get

the show released on DVD. That perseverance

has finally paid off and the first 250 episodes

of the serial are being released on DVD on the

16th June.

The Young Doctors followed the lives and loves

of the patients and staff of the Albert Memorial

Hospital where kiosk lady Ada Simmonds

(Gwen Plumb) kept the gossip flowing, and

where romance was the order of the day.

The series became the longest-running

commercial television drama in Australian

television history, a record which is now held

by Neighbours, and it was a ratings winner

for both ITV and Sky One on this side of the

world. The show was particularly popular in

our ITV viewing region and in the days before

the internet The Young Doctors Appreciation

Society was based in Portsmouth boasting

more than 8000 members worldwide.

Louise Howitt played the spoilt nurse Deborah

Kendall in the series and when she visited

5

"I loved Portsmouth and

found the people to be very

friendly and welcoming."

Portsmouth in 2016 she was delighted to be

able to appear on the local television station,

That's Solent, to reminisce about her time at

the Albert Memorial Hospital. Speaking to

The Pompey Mag from her home in Australia

Louise said, "I had been wanting to visit

Portsmouth for some time and when the

chance came up I grabbed the opportunity. I

loved Portsmouth and found the people to be

very friendly and welcoming. I relished visiting

HMS Victory and then the Mary Rose, and

spent hours in awe at the Historic Dockyard. It

was such an eye-opener to see so much history

and another highlight was going to the Isle of

Wight to visit Osborne House, where I got to

learn more about Queen Victoria, Prince Albert

and their family life."

Louise starred with John Inman in an

Australian tour of the comedy Pyjama Tops,

and has appeared in a raft of Australian

television programmes which we've enjoyed

in the UK including Young Ramsay, The

Henderson Kids, A Country Practice, E Street,

Skyways, Prime Time and Cop Shop, but

she'll probably be best known to British

television viewers for her work on The Young

Doctors.

Louise said, "We are all very excited that The

Young Doctors is finally coming to DVD and
---
cannot wait to view our past efforts. I actually

haven't seen many episodes that I was in as the

workload at the time was immense. So, this

is an opportunity to see ourselves as young,

vibrant actors enjoying working together.

At the time we were breaking new ground in

Australian television and it was an honour to

be part of such a long-running show."

Louise continued, "I have such wonderful

memories of working on The Young Doctors

and met and worked with so many friends who

are still in my life. The cast and crew were very

special and we had so

much fun. One of my

favourite memories is

the scene where Sister

Scott was castigating

my character for

being an extremely

irresponsible nurse.

My character was

furious, as she was a

very spoilt, rich girl

and resented mopping

the hospital floors.

I had a super time

picking up the bucket

full of water and

tossing it over Sister

Scott … a scene to

remember. One take

was all we had and we

got it right!"

In this first DVD box set Deborah Kendall

is pushed into becoming a nurse in order to

claim her inheritance, and the fierce Sister

Grace Scott (played by Cornelia Frances of

Lousie Howitt stared as Nurse

Deborah Kendall in the long

running soap The Young Doctors

ENTERTAINMENT

Home & Away fame) is jilted at the alter on her

wedding day. Medical superintendent Dr Brian

Denham (Michael Beecher) is shocked to learn

that his wife Laura (Joanna Moore-Smith)

has been having an affair, and their son Toby

(Rodney Bell) ends up on the critical list after a

hit and run incident.

Several members of the hospital staff find

themselves on the suspect list when a wealthy

patient is murdered, and good time girl Nurse

Jo Jo Adams (Delvene Delaney) starts playing

with fire when she begins

an affair with a much older

married man. Elsewhere

orderly Dennis Jamison

(Chris King) develops a

serious gambling habit, and

there is heartache for the

prickly Dr Graham Steele

(Tim Page) when he falls for

the charms of a terminally ill

nightclub singer.

Familiar faces appearing

in these episodes include

movie star Russell Crowe

and the British born

comedian Ugly Dave Gray

who stars as Bunny Howard,

the proprietor of the local

watering hole Bunny's Place.

UK based fans of The Young Doctors can order

the first DVD box set of the series directly

from the website of Via Vision Entertainment.

https://viavision.com.au/shop/theyoung-doctors-collection-one/

6
---
SPECIAL

Have you heard of GoodGym?

We are a community of runners, walkers

and cyclists who get fit by doing good. We

will use our runs, walks and cycles to get us

to community projects and organisations

where we will help out with practical tasks.

GoodGym was originally set up in London

in 2009 and arrived in Portsmouth in early

May 2018. We have now completed over

4000 good deeds as a group! These have

included many litter picks in parks and

on our beaches; planting trees; painting

walls and picnic tables; clearing school

playgrounds; digging over planting areas

and allotments; sorting food parcels and

even helping out at the vaccination clinics.

the red t-shirt but you don't have to be a

member to take part.

Would you like our help?

If you are reading this and you work for a

charity, school, voluntary or not for profit

organisation or group, then please let us

know if you would like our help!

You can request us via the

website: www.goodgym.org/

areas/portsmouth/request-a-task

or email Katie who looks after

the Portsmouth area: katie.cr@

goodgym.org

Come and join us!

If you are interested in getting involved,

you don't need to be a super fit athlete

(although athletes are welcome too!), you

just need to be willing to get involved. As

restrictions ease, we plan to go back to

doing good deeds in bigger groups so there

will be plenty of lovely people to meet and

chat to while you volunteer. You must

sign up on our website to attend any of the

sessions. www.goodgym.org We would

love you to become a member and wear

7

NB. Images taken pre-covid restrictions
---
ALL BROKEN

FOR

OR SIVLER ITEMS

GOLD

WATCHES

WANTED

CONDITION

ANY

OR NEW.

OLD

OR

WORKING

NOT.

UK GOLD BUYERS

OF PORTSMOUTH

We come to your doorstep

- and pay CASH!

URGENT!

CASH NOW

GET

OR RARE COINS

OLD

POSTCARDS

OLD

JEWELLERY

COSTUME

NAUTICAL ITEMS

ANTIQUE

ANYTHING OLD OR UNUSUAL

MILITARIA

WANTED

WANTED

WANTED

VINTAGE WATCHES WANTED - ANY CONDITION!!

CALL 07783 863366

CASH PAID
---
HEALTH

Claire Butcher

explores some

of the reasons

which may be

holding you

back.

DOES HYPNOTHERAPY WORK?

The simple answer is yes.

So why isn't everybody booking a session of

hypnotherapy? Well, this answer is not so

simple. You see, there are many reasons why

people don't book a hypnotherapy session.

Some of them are:

• They don't understand hypnotherapy

• They don't believe it will work

• They're not ready to change

• They benefit from their situation

I want to go through each of these reasons

with you as I want you to know how much

hypnotherapy can help you.

Understanding hypnotherapy

Hypnotherapy uses your subconscious

mind's power to create changes you want by

either letting go of a bad habit or behaviour

or boosting your confidence and mental

strength.

An example of this is quitting smoking.

Hypnotherapy works with your desire to

stop smoking. Positive reinforcement and

confidence building aimed directly at your

subconscious helps you solidify your belief in

becoming a permanent non-smoker.

Changing your beliefs

You may begin a hypnotherapy session with

little belief it will work. I have seen many

clients who believed hypnotherapy wouldn't

work for them. Experiencing hypnosis

consistently changes their mind.

Hypnotherapy is a positive and relaxing

experience. A good hypnotherapist works

with you to help you see all the benefits of

wanting to change something in your life.

Being ready to change

You may feel now is not the time to make

lasting changes in your life. We've all

experienced that indecision. What if you

could be in a position where you were

confident you could cope with any change or

situation life throws at you? Would You make

those changes?

This is where hypnotherapy is such a

valuable tool for your life. Letting go of a

bad habit you've had for years can seem

impossible. However, if you 100% knew you

had the mental fortitude to do it, would you

still hesitate? I don't think so.

Benefiting from your situation

There is a term used in the therapy world

called secondary gains. It basically means

you get a lot out

of your situation.

I once had a client

who wanted to lose

weight. During the

first session, they

admitted they had

a phobia of crisps. I

told them I could get

rid of their phobia.

'Absolutely not' they

exclaimed and then

9
---
clarified they loved the attention they received

because of their phobia. This is an example of

secondary gains.

It's vital to examine whether the secondary

gains are more important than living a happy

and balanced life. I have never known a client

regret letting go of their secondary gains.

And, yes, eventually, the client did come back

to get rid of their crisp phobia.

A final word

Hypnotherapy is one of the best ways to let go

of a bad habit or behaviour and replace it with

confidence, vitality, and inner strength. You

may not believe me right now, but all of this is

already inside you. I simply use the language

of the mind to reach out to your subconscious

and help it find those amazing qualities inside

you.

I hope this article has given you more insight

into hypnotherapy and how useful it can be,

and maybe, if you need me, you will feel more

confident to reach out and have a chat with

me.

10
---
By B.E. Norman

Ramblings

of a Geriatric

Gardener

The forsythia is a picture at the moment,

the result of ruthless pruning two years

ago. Prune when the last flower has

faded. Forsythia blooms on two year old

growth so be ruthless and cut out all old wood

that has flowered this year, ideally as near the

base of the shrub as possible, above a dormant

bud. This will promote new long growths

from the base. You will be left with the long

shoots resulting from pruning last year. These

shoots will branch this year and be a mass of

flowers next year. Doing this annually you will

restrict the size of the shrub and ensure a shrub

smothered in flowers each year.

Do you buy pea and bean seeds each

year?

If you do, to grow a reasonable quantity will

cost you a small fortune. Provided you are not

growing F1 varieties (and they are few and far

between and not really necessary) your peas

and beans need not cost you a penny!! It is easy

peasy (ha! ha!). With beans all you need to do is

select a plant or two giving you the best quality

beans (be that the number of pods or the length

of pods) mark in some way ( I stick a stake in

the ground alongside) and don't pick anything

from that plant so that the beans mature and

ripen naturally. When the pods are dried, take

them off and finish the drying off indoors.

When the pods are brittle, extract the beans

into a container. As I open a pod I note the

number of beans it contains and put them in a

container with a slip of paper with the number

of beans per pod on it. The next year I use those

beans that came from the most prolific pods

11

first – do this each year and you will improve

your stock. Make sure you save enough beans

to allow you to choose the best of the best. This

year I sowed 80 broad beans in February. I now

have 80 broad bean plants happily growing

away – yes, 100% germination, and all from

pods that contained at least 6 beans.

Peas are dealt with slightly differently. Peas

mainly come as pairs of pods on a stalk.

Generally, the pod at the end of the stalk is

the smaller of the two and contains at least

one less pea. Rather than selecting plants (as

with beans) select individual pods (usually the

longest containing the most peas) and mark

them by cutting off the pod at the end of the

stalk (for the kitchen), as close to the pod as

possible, leaving a stub of stalk sticking out.

When you pick subsequently, you leave any

pods with the stub sticking out to mature and

ripen. When these pods are dry, proceed as for

beans. The variety I grow generally contains

8 to 11 peas but occasionally has 12! When

selecting pods for seed, reject any that have

a dip in the outline, this indicates missed

germination or a visitor (pea moth grub). A

good tip here (borrowed from exhibitors) is to

put a strong light behind the pod and you can

then count the number of peas in the pod and

also see any visitors. The strongest light I know

is free – the sun! How many pods should you

leave? It's easy – I plant peas in triple rows in

a trench, the centre row staggered between the

outer rows. Spaced 3" apart along the row, each

one foot of trench requires 12 peas. So a 10ft

row of peas needs 120 seeds. Based on 10 seeds
---
per pod you will need 12 pods. Best to allow a

few extra to give you a choice when you sow,

some peas will be larger than others!

I store my broad beans in seed trays, my peas

in any convenient open container and

my runner and green bean seeds in

ordinary unsealed envelopes. The

whole lot spends the winter on top

of my wardrobe in the bedroom.

It is essential that the containers

are not sealed. Two years ago I lost

one lot of peas because I put them

in a sealed container before they

were perfectly dry.

As I write this, I am looking out of

my conservatory and am confronted by a

couple of dozen large pots on the terrace. They

are ablaze with colour, daffodils (narcissi) and

tulips, a true kaleidoscope of colour. It puts me

in mind of a trip some years ago to Holland at

this time of year. We ('er indoors and myself)

went by car and stayed in Delft (the paintings

of Vermeer being the main reason to go there).

Wanting to see the bulb fields we toured

around the area, but from the car you could not

see a great deal behind the hedges, and we were

most disappointed. However, we went by train

to Amsterdam, on one of those double-decker

trains the Dutch have. We were "upstairs" and

as the train went through the bulb fields we

had a magnificent view of the bulbs for

miles around – it was a veritable sea of

colour. We also took the opportunity

to visit the bulb growers' exhibition

gardens at Keukenhof. If you

ever get the opportunity to visit,

I do encourage you to go, it is

magnificent. Both outdoor and

extensive indoor areas were ablaze

with blocks of colour. To see a

curved bed of something like 1,000

hyacinths of the same variety (clearly

labelled, visible from the pathways) is

jaw dropping!

Thinking of Amsterdam reminds me of the

sight that greeted us as we exited the station,

it too was jaw dropping. Most stations in UK

have large car parks – in Amsterdam they

have a large bicycle park!! There were literally

thousands of bicycles stood up cheek by jowl

covering possibly a couple of acres. Amazing!

12
---
TECH

BY R.S.

How the revolution in battery technology

is changing our lives.

The humble battery has been with us for

220 years since Allesandro Volta first

invented his "voltaic pile", but battery

technology didn't advance significantly

until Sony commercialised the lithium-ion

(Li-ion) battery in 1991 and just 6 years later

lithium polymer batteries (Li-po) were released

which are now found in most smartphones.

Li-ion and Li-po batteries have been key to

the development of smartphones and electric

cars, as well as wireless power and garden

tools, drones, and robotic home devices such as

lawnmowers and vacuum cleaners.

Climate Change concerns have now

turbocharged the focus on resolving the

limitations of existing Li-ion batteries, and in

the UK, with the ban on the sale of petrol and

diesel cars in just 9 years, it is looking like we

are on the cusp of radical societal change.

As technology advances in Solar Panels and

they reduce in price, the long pay back times to

make them a good investment are beginning to

shorten. "Powerwalls" (basically big batteries)

are now being installed to take advantage of

Solar and off peak cheap grid electricity by

storing either daytime sunshine for evening use

or night time cheap rate electricity to use the

following day.

Imagine a world of batteries which lasted ages,

and charged at lightning speed, where laptops

13

and smartphones would be back to 100% in

less than a minute! No more hunting for the

charging lead in a panic when you are on 2%.

Let's take a look at the near future:

Drones – Amazon and Takeaway deliveries

can now arrive much more quickly as they

travel "as the crow flies". Search and Rescue

missions are now locating people in remote

locations, using multiple drones which can

scour the area for long periods using onboard

cameras and deliver supplies.

Transport – electric cars can be refuelled as

quickly as a petrol vehicle, and can get you to

Scotland on a single charge, resulting in full

adoption by drivers. Noise and fumes have

reduced, and pollution related illnesses are

rapidly in decline. Property prices of houses

and flats located on main roads go up. Drone

taxis become viable, and electric short haul

flights will be widespread and enable fast

transport to more local areas as noise pollution

disappears – every town has a short runway.

Outside Events – your visit to a Camping

site, a Music Festival or a Country Fair now

has site batteries providing refrigeration, TV's

(via a projector) cooking and heating - noisy,

heavy, diesel powered generators have gone.

Battery packs linked to portable solar panels

have become smaller, lighter and much more

powerful enabling home comforts on the go.

Living "off grid" – no longer the domain

of the slightly bonkers tree-hugging brigade,

who shunned modern day conveniences. You
---
can now live in more remote locations, with

water pumped, purified and heated by electric

battery – post-Covid this is now very attractive

to people looking for a more rural life. 5G/6G

is enabling remote working anywhere.

Exo-skeletons – people can now lift big

weights that they could not previously, without

the risk of injury. Wheelchair users can "walk"

for long periods, entering old buildings and

exploring the wilderness.

Robots –Boston Dynamics human and dog

sized robots have become commonplace,

which mimic the movements of both. They are

set to mundane tasks carrying out duties which

are now less popular for people, are dangerous

or are uneconomic, such as fruit and vegetable

picking.

Meanwhile for the environment, longer

lasting batteries mean far less recycling, and

if Lithium is replaced, less mining of this rare

mineral. As we become more reliant on electric

power, the drive for solar, wind and wave

TECH

energy will be given further impetus.

So is this years away? Perhaps not. By pushing

existing battery technology, Tesla, VW,

Renault, Kia and Vauxhall cars already have

ranges of 250-350 miles, electric commercial

flights have started and exo-skeletons are used

now. Intensive Research and Development

in battery tech is yielding some exciting

results. The Israeli company StoreDot has

demonstrated a "5 minute charge" car battery

known as XFC, and shown smartphones fully

charging in just 30 seconds. Companies are

working on Graphene Aluminium-ion batteries

to replace Lithium, with one Australian firm

(GMG) claiming that their battery cells show

promise of 60 times quicker charging, that

are safer and last 3 times longer than Li-ion

equivalents.

I wonder what Senor Volta would have made

of all this? I'm certain that our wonderful

Pompey Mag distributors are looking forward

to receiving their battery powered trolleys some

day!

WE BUY AND SELL:

Thursday & Friday 10.30am-5.30pm,

Saturday 10.00am-5.00pm

Appointments: 07802 188147

Email: holdaway4321@btinternet.com

Find us at

337a Copnor Road, Portsmouth. PO3 5EQ

14
---
"tyllliisst

Wiith

Jooooonneeeeess

Jeeeeennnniiffeeeeer

SPECIAL

Asss ttthhhheeeee sssuuummmmeeeeerr faasssttt aapppprroooaacchhhheeeeesss aannnd iiiittt''sss llliiiikkeeeeellly ttthhhhaattt weeeee''llllll beeeee mmuuucchhhh mmooorreeeee sssooocciiiiaalll aasss weeeee ccooommeeeee

ooouuuttt ooof COVID-19 rreeeeessstttrriiiicctttiiiiooonnnsss, yooouuu mmiiiighhhhttt beeeee ppaannniiiicckkiiiinnng ttthhhhaattt yooouuurr waarrdrrooobeeeee juuusssttt iiiisssnnn''ttt rreeeeeaady

Feeeeeaarr nnnooottt... ttthhhhaattt''sss whhhheeeeerreeeee I ccooommeeeee iiiinnn Asss yooouuurr }eeeeerrsssooonnnaalll "tttyllliiiisssttt, I''mm hhhheeeeerreeeee tttooo hhhheeeeelllpp yooouuu geeeeettt yooouuurr

waarrdrrooobeeeee rreeeeeaady fooorr eeeeeveeeeerryttthhhhiiiinnng ttthhhhaattt ttthhhhiiiisss sssuuummmmeeeeerr wiiiillllll brriiiinnng.

My jooob iiiisssnnn''ttt juuusssttt tttooo mmaakkeeeee sssuuurreeeee yooouuu lllooooookk aammaaziiiinnng, iiiittt''sss aalllsssooo kkeeeeey ttthhhhaattt I eeeeennnsssuuurreeeee yooouuu ooonnnllly iiiinnnveeeeesssttt

iiiinnn ttthhhheeeee ppiiiieeeeecceeeeesss ooof cclllooottthhhhiiiinnng ttthhhhaattt wooorrkk fooorr yooouuu aannnd yooouuurr llliiiifeeeeessstttyllleeeee. "ooo whhhheeeeennn yooouuu''rreeeee geeeeettttttiiiinnng

rreeeeeaady fooorr ttthhhheeeee ssseeeeeaasssooonnnsss aahhhheeeeeaad, hhhheeeeerreeeee''sss juuusssttt fiiiiveeeee sssttteeeeeppsss yooouuu ccaannn fooollllllooow ttthhhhaattt wiiiillllll tttaakkeeeee yooouuu frrooomm

feeeeeeeeeellliiiinnng ssstttrreeeeesssssseeeeed aannnd oooveeeeerrwhhhheeeeelllmmeeeeed tttooo beeeeeiiiinnng pprreeeeeppaarreeeeed aannnd ccooonnnfiiiideeeeennnttt ttthhhhaattt eeeeeveeeeerryttthhhhiiiinnng iiiinnn

yooouuurr waarrdrrooobeeeee iiiisss goooiiiinnng tttooo ssseeeeerrveeeee yooouuu...

1. Spot the gaps - take just one hour to

look at your wardrobe. What do you

have that you are going to wear over

the next three to six months? What are

you missing? Take out anything you

cannot wear in the summer months

and put them away, whether that's in

the loft or in another storage area in

your home.

2. Build a shopping list - write down

every item of clothing that you need.

Consider what plans you've made for

the summer, i.e. friend's bbq or a

summer holiday. Once the list is down

on paper (or in your phone) you'll

have a plan in place of what you need

to get when you go shopping, which

will help ensure you only buy what's

needed. Treat it like you would a food

shopping list!

15
---
yooooou''vvvveeeee ffooooollllllooooowwweeeeed theeeeesseeeee ffiivvvveeeee ssteeeeepss tooooo

Affteeeeer

yooooour wwwardrooooobeeeee reeeeeady ffooooor theeeee ssummeeeeer

geeeeet

lllooooovvvveeeee tooooo knnooooowww hooooowww yooooou gooooot ooooonn"eeeeennd meeeee

I''d

eeeeemaiilll vvvviia iinnffooooo@jeeeeennnniiffeeeeerjooooonneeeeesstyllliinng.cooooom

ann

yooooou''d llliikeeeee my heeeeelllp tooooo reeeeevvvvamp yooooour sstyllleeeee thiiss ssummeeeeer pllleeeeeasseeeee geeeeet iinn tooooouch vvvviia my

Iff

at wwwwwwwww.jeeeeennnniiffeeeeerjooooonneeeeesssstyllliinng.cooooom.

wwweeeeebssiiteeeee

3. Go shopping - now you're fully

prepared, take the plunge and book a

day out in your diary to take some real

me time and get everything that you

need. Of course you can do this online

but it's likely that it will take you

longer as trust me, you'll get

distracted. Just planning in the time

to get your wardrobe ready can make

all the difference. And don't forget to

stick to your list (as much as

possible!)

4. Only buy what works - this is a little

bit more tricky to do but try to stay

focused with your list and be picky.

Only buy what makes you feel

amazing. If something isn't right for

you - it's not the best colour for your

skin tone or the right silhouette for

your body shape, walk on by. Trust

me, this way of shopping will change

your life!

5. Double check everything - so

you've picked up the best colours for

your skin tone, the styles that make

you feel good and they're the right

items from your list. But do they

work with the rest of your current

wardrobe and other purchases? For

every item, ask yourself the

question... does this go with two or

more things I've already bought or

plan to buy? If the answer is no,

question whether you need it.
---
ADVERTISING FEATURE

INVESTING FOR

CHANGE

How the investment

community can help

advance the

environmental gains that

have come out of COVID-19

The consequences of the coronavirus

pandemic will clearly be profound,

wide-ranging and long-lasting.

So, it's no surprise that any sources of

optimism to be found as the crisis unfolds

are quickly seized upon. Perhaps the most

significant so far has come in the form of

the immediate effects on the environment.

Greenhouse gas emissions have fallen, while

data from NASA suggests that air quality has

improved dramatically as countries around

the world have taken steps to restrict activity

and travel.

Indeed, this could be an opportunity for

organisations to rethink how they do

business

Our

Financial

Planning

Expert,

Andrew

Leppard

is here to

help with

any

questions.

17

– and question whether they need to return

to a form of normality in which, for example,

employees are flown to meetings that could

otherwise be held using video conferencing

facilities.

A more realistic rate of change

Unfortunately, however, the environmental

positives are likely to be temporary.

Indeed, there is now a risk of efforts to

address climate change becoming a lesser

priority as governments focus on dealing with

the economic implications of the crisis.

This is why the investment industry has an

important role to play in maintaining the

momentum that has gathered in recent weeks

and months.

The biggest crisis now is clearly COVID-19,

but the biggest crisis of the 2020's is still

climate change, and we need to ensure

that once we're on the other side of the

coronavirus pandemic that governments

keep focusing on that.

The environmental gains from the pandemic

have clearly been made alongside painful

social, economic and health consequences.

In other words, the current rate of

improvement is unsustainable.

If we're taking climate change seriously, we

would rather see a smooth transition at a

rate less dramatic than we're seeing at the
---
moment. We don't want to be in a position

of having to bring a halt to everything, as we

are now, in order to have that environmental

impact.

ADVERTISING FEATURE

The importance of environmental, social

and corporate governance (ESG) factors in

investment decisions has only become clearer

as the crisis has unfolded.

We can invest for change

Responsible investing isn't just about the

environment, of course. The crisis has also

shone the spotlight on corporate behaviours

– both good and bad – and helped illustrate

why businesses cannot simply be about

making profits.

If they are going to be successful, they need

to think about their wider stakeholders.

Companies that have put measures in place

for employees, for example, will come out of

this with higher employee satisfaction and

community spirit – and that contributes to

their long-term success.

Investors increasingly seek information about

sustainability and responsible investing, with

growing awareness of the broader long-term

aspects of successful and effective investing.

Anyone who wants to explore their

responsible investing options should speak

with a financial adviser.

The value of an investment with St

Jame's Place will be directly linked to the

performance of the funds you select and the

value can therefore go down as well as up.

You may get back less than you invested.

A financial adviser can help with your own financial planning.

To receive a complimentary guide covering wealth management, retirement

planning or Inheritance Tax planning, contact Portsdown Wealth Management

on 01227 206 213 or email andrew.leppard@sjpp.co.uk.

18
---
PUZZLE

CROSSWORD

ACROSS

1 Exhibit hall, studio (7)

5 An aqualung (5)

9 Uproariously funny (5-8)

10 Sweaters and cardigans (8)

11 Conform, comply (4)

12 Advertising (9)

16 Butt, remnant (4)

17 Crashed (8)

19 A pirate might bury one! (8,5)

21 Brownish green (5)

22 Pursuing (7)

DOWN

2 In pain, hurting (6)

3 Source of illumination (5,4)

4 Cider With _____, novel by

Laurie Lee (5)

6 Casual hat (3)

7 Slang for sausage (6)

8 Cloth, textile (6)

11 Large flightless birds (9)

13 Imprison (4,2)

14 Complex carbohydrate (6)

15 English naval hero (6)

18 Blood-sucking worm (5)

20 Biblical ship built by Noah (3)

SOLUTION ON PAGE 41

19
---
UK

Blinds & Shutters

Never Beaten On Price

HALF PRICE VERTICAL BLINDS

Measured & Fitted FREE

18 Years of Quality & Experience

A Covid 19 Compliant Service

10% OFF

WITH THIS

ADVERT

SHUTTERS FITTED

IN 4 WEEKS

Is your conservatory too

hot and bright? Speak to us

about our solar film!

Shutters | Verticals | Venetians | Rollers | Pleated | Roman

Awnings | Electric Blinds | Conservatory Roof Blinds | and much more...

For a FREE quote call Lee on: 02392 588626 | www.ukblindsshutters.com
---
Email: rileynews@virgin.com / Website: www.rileynews.co.uk
---
PUZZLE

SOLUTION ON PAGE 41

22
---
HOBBIES

I think if you want to achieve

immortality, you can if you write a

book. Books never really disappear.

Especially today with digital versions.

But how do you do it? Where do you start?

How do you publish? The task seems just

massive

although, judging by many adverts on social

media the answers and help is available…if

you're prepared to part with a fair amount of

cash for an answer that you still have to create

and offers no guarantee.

I just want to say that I am no expert in writing

or book publishing but I have written and selfpublished

two novels which have received a

reasonable number of sales and am working

on my third. So what I am going to say here is

purely from my personal experience. It is what

worked for me and I don't think there is any

reason why it shouldn't work for you.

I had been interested in writing a novel

for quite a while. It was never a lifetime

ambition and, to be honest, I am not what

some might call a book or reading addict. It

is just something I felt inspired to do. Many

publications and experts etc. would suggest

having a daily writing plan and special writing

room and all the rest. I didn't and don't. Quite

simply my approach was I had an idea. It was a

character I liked the idea of and wanted to

explore him. He was a rough, almost down

and out looking ex-military man of middle age

who I thought was the type of

person that everyone ignores

and would make an excellent

person for security surveillance.

23

Local Author, Michael

Birchmore, has some

tips to get you started.

He could sit on a bench in a shopping centre

and watch people and nobody would notice. In

actuality this turns out to be a technique used

by professionals. But what setting could I put

him in? What story line could I develop?

One thing that often put me off writing was

not knowing how the story would end. The

author Stephen King said that his secret to

successful writing was "read a lot, write a lot".

Like I said, I'm not the world's biggest reader

but I do think I'm observant. At the time I

was pondering this there was a recruiting

drive for the Royal Marines and a particular

scene where a bunch of Marines had covertly

crept up on an individual at night and capture

him. That inspired my ending. It also gave

me a background for Dogger in Marsh Water

Murders.

Some fictional private investigators have

ex-military backgrounds. Strike by Robert

Galbraith for example. One thing I have read a

lot of is books by ex-servicemen about their in

service lives. This, and watching documentaries

and online research helped me create what I

hope is an authentic character. But what of the

storyline? It needed to be a crime. A murder.

To catch the reader's attention I devised a

scenario that was quite extreme. A body hung

in a church. I have to say that after this I didn't

know how the story was going to progress

until the end that I had planned. So I thought

I would just start and see where it took me.

That is the basis of my whole

writing technique.

Writing to me is very much

like painting a picture. You
---
have a rough idea of how you want it to look

but as you go along you add bits here and take

some bits away. You shape it as you go and

that is what I did. Again to add authenticity I

did include several events and scenarios

that I had experienced in real life. What those

were is my secret.

Eventually the writing became a habit. I'd

wake up in the morning with an idea for a

new chapter and be eager to get it written

before I forgot it. A good minimum word limit

is about 80,000 words which is a lot. But

persistence, enthusiasm and a regular writing

habit got me there. Yes, there were days when

I wasn't inspired or able to write but I didn't

beat myself up over that. I just watched and

waited.

Eventually I came to a scenario that led me

perfectly to the end and wow, what an ending

it was. But what next? What do I do with it?

Did I want to spend goodness knows how

long trying to attract a publisher and deal

with rejections? No. I was not concerned with

selling masses. My sole intent was to write

and publish a book. A novel. Fortunately I

have two good friends of whom one was able

to proof read and edit the book and another

could design the cover, format it and get

copies printed. Their fees were pretty much all

I spent on it and their work was invaluable.

Then with more research I found out how to

publish my book as a paperback and Kindle

version on Amazon. With just a few minor

hiccups I eventually achieved my goal. "The

Marsh Water Murders" was published.

Still feeling the buzz of writing I quickly

formulated an idea for a sequel which I

started on pretty much immediately. That

one, the "Red Fox", was soon to follow. I had

written and self-published two novels in one

year! Both available in paperback and Kindle

versions on Amazon. No, they're not literary

greats. But I still love reading them as much

as I liked writing them and they look great

on my bookshelf next to works by McNab,

Galbraith, Doyle and more.

Do I have a secret to successful writing? No,

you just have to write. Give it a try.

CHARITY

We started the

charity because

of my story.

Eight years

ago I had

emergency

brain

surgery

which

meant I went

from working

full time to not

being able to go

back to my job. By Becki Simmons

During my

recovery, I had a good network of help but

some people don't have that. We want to be

that network.

Before I started the charity I worked in the

travel industry as a company secretary. I loved

every moment. I was also a business mentor for

a charity going into schools to inspire children

to start their own business. After surgery, my

life changed completely as I couldn't go back

to work and the normal life I once had. But

eight years on I'm learning that it's okay to be

different and to be happy with the new person I

am. Although I still get frustrated, it's still okay.

I just have to concentrate on things I can do

and not the cards I have been dealt.

At present, we are funding for our first-ever

space in Portsmouth. We ran as a pilot scheme

for nearly a year and it was a great success

helping people who are lonely, those that have

PTSD, mental health issues, or depression.

We want to create a place for people to come

and find community, a piece of cake and a

chat. It's amazing how many lonely people or

socially-isolated people feel disconnected from

the world. Spark is a place where people, at

their own pace, can come and find the help and

support they need. Spark support group have

found a temporary home, meeting at Sherlocks

Bar in Southsea. If you feel left out, left behind,

lonely or just need a chat, pop down and find

community. We meet every Tuesday and

Wedsnesday between 11am and 2pm. For more

information go to -

www.sparkcommunityspace.co.uk

24
---
BREEDING &

BOWLEY

SERVICES

FERTILITY

Litter Whelping & Initial Raising.

Insemination.

Continued Support.

Breeding.

BRINGING HOME BABY

PETS

Following on from

her last article,

our very own dog

expert,

Kellie-Ann of

Bowley Breeding

with advice about

introducing your

new puppy to

your home.

Now you have picked 'Percy' the Pug

or 'Delilah' the Daschund it is time

to bring your 8-12 week old new

addition home, a time filled with

excitement and trepidation.

If you have other pets there is a very

specific way to introduce them, thankfully

us humans shake hands, or more recently

elbow to elbow since March 2020 (still

preferable to the puppy intro though).

Repeating this process many times I find

the best way to do it is to sit on the floor

holding puppy securely in your arms

facing inwards so allowing your other furchildren

access to sniff the area of interest,

yes indeed, your puppies butt....this is how

they roll so be thankful for your elbow

greetings people!!!.

should be able to put them down, initially

never leave them alone or better still put

them in their pen or crate so their interest

is limited to noses through the bars

helping puppy to feel happy and safe.

A really good way of settling a puppy in is

to feed them, ideally in the crate they will

be sleeping in, again reinforcing a place

of safety, their very own space. Puppies

are similar to babies in the respect they

eat, sleep, play, repeat and if you adopt

this pattern throughout the day hopefully

Percy or Delilah will settle into their new

family as though they'd always been there.

Kellie-Ann Bowley

INTERESTING FACT: Your dog possesses

up to 300 million 'Olfactory Receptors' in

his or her nose, making the part of their

brains devoted to computing information

roughly 40 times superior to ours.

Your other pets will usually accept the new

puppy once they have had a good 'ole snifffest.

After this greeting has taken place you

YOUR MOBILE K9 PROFESSIONAL

Registered. Microchipping. Ultrasound

Council

Cytology. Semen Analysis. Artificial

Scanning.

07368 497998

kellieannbowley@hotmail.com

26
---
ENTERTAINMENT

Welcome to my latest "encounters of

the televisual kind". I am writing during

this strange "emerging from lockdown"

phase where we are all hoping to be able

to do many things that we haven't done

for months, such as putting on a shirt, or

making conversation with strangers.

I had my first proper pint in months with

a friend outdoors and I've got to say it was

amazing – bottled or canned beer is not the

same. Being deprived of something for so long

that you took for granted, just makes it so

special!

I wonder if telly watching will be like that. Of

course you are rarely completely deprived of

access to a TV, even in a hotel you have one,

and these days you can watch on your portable

devices and phones, provided you've got

decent wireless or 4/5G signal. Maybe, with a

bit less telly watching as we start eating and

drinking out, playing football and doing more

recreational shopping, we might appreciate it

a bit more. We shall see. Sometimes there are

great telly events which transcend the normal,

such as the recently ended Line of Duty – what

did you make of that ending? Much like Game

of Thrones, there was a mixed reaction, but you

know what, it is impossible to please everyone

where a long running series has a big cult

following. Let me know your thoughts on the

"big reveal" of H (see Page 2 for details).

I'm waffling again - let's take a look at some of

the better watches of the last few weeks.

27

Carry on Glamping (Channel 4, 2021, 4

episodes, 47 mins each)

What with things being a bit gloomy for

the last few months, I was really pleased to

discover this mini-series, as it did my mood

no end of good. I am one of those people who

don't tend to seek out "feel good" movies or

series, but what I have occasionally done is

bumped into them (as was the case here)

having seen trailers which peaked my interest,

since I am one of those people that dreams of

owning a Motorhome or Campervan.

This is the amazing story of how the comedian

Johnny Vegas decided (pre-Covid) that he

wanted to create a unique glamping site made

up of unusual and vintage vehicles. It starts

with the incredulity of his entourage, who it

seems are used to hearing from Johnny about

his mad-cap ideas, which never happen. In the

group is his long suffering PA, Bev, who is to

become a key player in the dramas to come.

The first vehicle acquired proves to be by some

distance the most troublesome – a Maltese

bus, bought online, then needing shipping to

the UK. You simply could not make up the

journey that the bus took - Johnny ends up

naming the bus after his mum, Patricia, which

adds considerably to the story.

There are several other really interesting and

varied vehicles (the fire engine being one of

my personal favourites), most of which need

restoring at great expense of time and money,

and the episodes relate the love/hate
---
elationship which the restoration team have

with the vehicles and Johnny, who has never

done anything like this before and so has totally

unrealistic expectations!

There were some sad and poignant moments in

the story, and it was interesting how desperate

Johnny was to achieve something that was not

related to his comedy career – of course there

are lots of funny moments and one-liners too

in his dry Northern manner. It is rare to find

a series which has humour, drama, human

interest and nostalgia, all very successfully

rolled into one. The final episode is astonishing

when "Patricia" finally arrives at the site, I'll

just leave it there, you need to see this!

*****

Dark Waters, (2019, Prime, 126 mins)

Possibly the antidote to Carry on Glamping,

but nonetheless worthy of recommendation. I

often find gems from dramatised "true" stories

- very belatedly I finally got round to watching

Bohemian Rhapsody the other week and

wasn't surprised at all just how brilliantly the

story of Freddie Mercury was told. Dark Waters

is a "legal thriller" about a lawyers fight against

a big US corporation (DuPont) on behalf of a

community who are allegedly suffering serious

medical conditions including birth defects and

cancer, as a result of large scale dumping of

toxic chemicals.

Robert Bilott (played by Mark Ruffalo) is the

lawyer who is sought out by a farming family

(the Tennants) who are convinced that

something is seriously amiss with their animals

as a result of contamination of the nearby land,

resulting in 190 deaths of his cows, many with

strange symptoms. As might be expected, the

idea that a single family and their lawyer could

fight a huge corporation with their financial

and legal might, give us an overriding feeling

throughout that they can never win. If the

outcome were as might be expected (and

probably usually happens), you'd get a very

short film, but at just over 2 hours, there are

plenty of twists and turns in this case. Often,

when individuals sue large local employers,

the very many residents who rely on it for their

jobs will turn against that neighbour, creating a

huge moral dilemma for all involved.

ENTERTAINMENT

The terrible human tragedy of the Tennants,

and of many other residents of the West

Virginia town of Parkersburg, is told in a

fitting manner, and the portrayal of Bilott

is powerfully done, showing the great cost

to himself and his own family of pursuing

the case. Downright scary at times, and a

real lesson (if one were needed) in why big

corporations need regulating.

****

The Terror (2018, aired in 2021, BBC

iPlayer, 10 episodes, 45 mins each)

granted, this was a marathon watch (I did it 2

episodes at a time), but I was always left at the

closing credits wanting to see more and find

out what was going to happen next. Things

are pretty tense much of the time. I hadn't

actually realised that it was 10 episodes straight

away, but by the time I did, I was hooked and

delighted to see how long it was - perhaps I

might have been a bit wary of the time

commitment if I'd known from the outset?

What clinched it for me was seeing Ridley

Scott's name attached as Executive Producer

(he of Alien fame).

If you like period dramas, disaster movies or a

bit of horror, this should suit you just fine.

Based on the book of the same name by Dan

Simmons, the said Terror is actually one of two

ships on an expedition looking for the North

West Passage in the 19 th Century, but it is a

fine play on words for what then happens to the

crew...(cue spooky music). The episodes cover

human conflicts and friendships, naval

discipline, ambition and redemption, survival,

superstition, and (very) dangerous wildlife.

The story is based upon real events when 2

ships, The Terror and The Erebus, advanced

vessels for their time, went missing with 120

crew in 1845. Amazingly, these 2 ships were

recently found, in 2014 and 2016.

One minor criticism is that using period

language makes it sometimes hard to follow

some of the dialogue, but this didn't spoil it or

stop me understanding what was happening.

Rotten Tomatoes critics gave it 94% and

viewers 87%, and I'd say they got it right.

****

28
---
MAGNETIC MARIAN OF

BY

CHANGING ENERGIES

LIFE

SPECIAL

A whole new meaning to the phrase

"You're grounded"

Grounding is both a timeless practice and

modern discovery… It simply means living in

contact with the earth's natural surface charge

– being grounded.

We all live and

function electrically

on an electrical planet.

We are each of us a

collection of dynamic

electrical circuits

in which trillions

of cells constantly

transmit and receive

energy in the course

of their programmed

biochemical reactions.

Your heart, brain,

nervous system,

muscles and

immune system are

prime examples of

electrical subsystems

operating within your

bioelectrical body.

The fact is, all of your

movements, behaviours

and actions are

energized by electricity.

Most people are

totally unaware of

their bioelectrical

nature or the energetic

connection between

29

It's not all doom and gloom. Here are my

top tips to keep you grounded

their bodies and the earth's surface. Many of

us don't even realize that we're disconnected

from Mother Nature. Our feet and the rest of

our bodies rarely touch real ground. We keep

insulated with layers of clothing, rubber/

plastic soles, mattresses, any assortment of

chairs and accessories. We spend 23 hours

indoors when we exercise outside for an hour a

day. We probably touch

1. Get outside in the morning light to stop the

production of melatonin and wake yourself up.

Take your coffee with you and stand barefoot on

the grass where possible.

2. Set a routine for screen curfew before bedtime,

melatonin levels start rising around 8pm and

leave your phone downstairs where possible. If

you do use it as an alarm, put it on flight mode.

The less electromagnetic frequencies around you,

the more your body will feel rested.

3. Spend as much time outdoors dressed

appropriately for the weather and encourage

your children to do so too. Barefoot where safe to

do so.

4. Invest in a grounding mat or sheet to sleep on

and use when sitting at your laptop indoors all

day.

5. Sit near a window to get as much light as possible

during your working day.

6. The most effective way to ground yourself is to

feel the soles of your feet connecting to the earth

by standing barefoot on soil, sand, grass or even

the sea bed.

our mobile phone more

often than we touch a

leaf, a tree or the earth

with our bare feet.

Science informs us that

the Earth's electrons

contain a natural,

negative charge.

Maintaining contact

with the ground allows

our bodies to naturally

receive and become

charged with these

electrons. When we

are "grounded," we

absorb these beneficial

electrons that "reduce

electrical imbalances

in the body." Since our

bodies are composed

of mostly water and

minerals – just like

the Earth – we are

mutually electrically

conductive.

When you are

electrically grounded,
---
you can feel more centered, strong, balanced,

less tense and less stressed. This is one of the

reasons why it feels so luxurious to kick off our

shoes and feel the grass or sand beneath our

feet.

Grounding or earthing reduces cortisol levels

(cortisol is a stress related hormone). It also

improves sleep (think sleeping on the forest

floor as in ancient times). It stabilizes blood

sugar levels, reduces pain, and can help reduce

and neutralize unwanted positive charges and

help shield against Electromagnetic fields

(EMFs), which we build up in our daily lives –

restoring a healthful natural balance.

Modern living in our well insulated homes and

offices (remember those days), surrounded

by a sea of electrical gadgets disconnects us

further. Strong fluorescent indoor lights and

blue light from screens all suppress melatonin

levels (the sleep hormone) so no wonder so

many of us struggle with sleep and mood.

If you want to know more, please contact me:

marian@lifechanging energies.com

GROUNDING MAT

£109.20 Including delivery

Sleep better, feel better, live better with

Magnetic Marian

www.lifechangingenergies.com

Marian@lifechangingenergies.com

07872 626457

Ros Thompson

Bach Flower Practitioner

These amazing natural remedies

can help with

Anxiety Grief

Menopause PMT

Tiredness PTSD

Feeling Overwhelmed

Free consultation

We would welcome the opportunity to

chat to see how we could help

www.remediesbyros.com

ros@remediesbyros.com

07739775783

Want to feel

great again?

A refreshingly different approach to health,

wellbeing & rehabilitation using a unique

combination of movement, nutrition & mind to

help you

Relieve Pain

Increase mobility

Change your relationship with your scar

Improve balance & stability

Improve co-ordination

Calm your stress & anxiety

Improve your digestive health

Balance your hormones

Change your mind set

Emotional health coaching

www.restoring-balance.co.uk

restoringbalancetm

restoringbalancetm

www.restoring-balance.co.uk

Functional Kinesiology | Cranial Sacral Therapy

Neuromuscular Testing | ScarWork

Booook Heeree
---
31

RECIPE
---
BUSINESS

Has the pandemic left your business

feeling isolated during lockdown?

The Covid 19 pandemic has taken it's toll on

the small local business community and in turn

the local economy. This is the case across the

whole of the UK and the continued lockdown

is continuing to threaten the High Street, as we

know it, with a number of well-known stores

closing their doors for good. Fortunately the

light at the end of the tunnel is getting brighter

with the restrictions easing and the roadmap to

recovery becoming clearer.

At The Federation of Small Businesses (FSB)

we have been busy supporting and protecting

businesses during this challenging time

ensuring the voice of the small business owner

is heard loud and clear. FSB is a 'not for profit'

organisation that is led by our members, for

our members. Our mission is to help smaller

businesses achieve their ambitions. We are

proud to be the leading voice of 5.8 million

small businesses and self-employed people

across the UK, working to promote and protect

your interests.

FSB is here to help.

We offer our members a wide range of vital

business services including advice, financial

expertise, support and a powerful voice heard

in local, UK-wide and devolved governments

across the country.

FSB membership gives you more than

Local FSB

Business

Advisor Emma

Weatherstone

just market-leading benefits. Part of your

membership fee contributes to making real

change happen for your business and the wider

business community. Together, we make a

difference making sure the voice of the small

business is heard.

You're never alone with FSB.

We run a huge number of virtual events,

including networking and business surgeries

designed to help you find advice, support and

guidance for your small business. Events are

free and open to all small businesses and the

self-employed across the UK.

Membership is available to all small businesses

from sole traders to up to 200 employees

starting from as little at £147 per year.

For more information to find out how FSB

membership can support your business,

please contact your local Business Advisor

in Portsmouth, Emma Weatherstone. Quote

"POMPEY MAG" when you make contact.

Emma Weatherstone

Email :

emma.weatherstone@fsb.org.uk

Mobile : 07764432490

Web : www.joinfsb.biz

32
---
and Commercial Premises

Offices

of Tenancy Cleans

End

Cleans after Renovation Works

Deep

Term Rentals and Laundry Service

Short

mission is to create surroundings that inspire

Our

and support businesses to be more

happiness,

Providing expert plumbing and

heating services across Portsmouth

General

plumbing repairs

Boiler service &

repairs

Safety Checks &

Certificates

www.sylvadale.co.uk

Replacement

boilers

LPG installation

& servicing

Disability

adaptations

info@sylvadale.co.uk

023 9282 1281

0784 102 0862

simply better service

Cleaning

Commercial

Services

COPNORPLASTERING

COPNOR PLASTERING

From small repairs to

whole houses

Over 20 years

experience

More than 120 top

reviews on

Checkatrade!

We do this by ensuring your premises

productive.

not just clean and tidy, but safe too, allowing

is

you and your staff to fully focus.

0752 504 88 72

www.thehousewifeway.co.uk

CALL FOR A FREE QUOTE

copnorplastering@yahoo.co.uk 07714 781210

info@thehousewifeway.co.uk

02392 483 372

07751 795 762

You may not need a new

computer, let us see if

we can help

We can help you with...

Computer speed problems

Virus removal

Hardware & Software upgrades

Failure to boot up

Security issues

Data retrieval

www.thecomputerboffin.co.uk

We Offer

121 Training and advice

Competitive prices

All at a time and place most

convenient to you

By a Microsoft Certified

Professional

thecomputerboffin@hotmail.com
---
SUMMER

QUIZ

1. Name the comedy TV programme that follows the lives of 3 Priests living on

Craggy Island?

2. Wrestler Shirley Crabtree Jr. was better known by his nickname. What was it?

3. The Queen celebrates her official birthday in June, but what is the name of the

military pageant which has marked the Sovereign's official birthday for over

260 years?

4. Gordon Sumner is the real name of what famous British musician?

5. What's longer, a nautical mile or a land mile?

6. What element is denoted by the chemical symbol Sn in the periodic table?

7. Who is awarded the Venus Rosewater Dish at Wimbledon each year?

8. What is the real name of the Governess in ITV's popular quiz The Chase?

9. What is the collective noun for a group of cats?

10. Where is the British Grand Prix F1 race held?

11. What is the official name of the tower Big Ben is housed in?

12. In which area of Birmingham is the hit show Peaky Blinders set?

13. August sees the Portsmouth kite festival, which country first invented the Kite?

14. Who invented the world wide web?

15. What is the art of cutting shrubs into ornamental shapes called?

16. Which TV duo would you associate with the song 'Bring Me Sunshine'?

17. Which football club plays its home games at Loftus Road?

18. Actress, Ursula Andress famously walked out of the sea wearing a white bikini

in the James Bond flick Dr No. What was the name of her character?

19. What is the Chinese New Year animal for 2021?

20. How many balls are bowled in a normal cricket over?

21. Which Saints day falls on July 15 every year?

22. Which two colours on a flag mean that lifeguards are on patrol and you should

only swim in the area between the flags?

23. Bondi Beach is a popular beach in a suburb of which Australian city?

24. Which uk resort is known for its surf beaches and seafront Tate gallery?

25. It's in Paris, and it grows by six inches during the summer. What?

26. What is used as the filling of a summer pudding?

27. Which island group includes Ibiza, Menorca and Majorca?

28. Food and Drink. What does IPA stand for?

29. What's a baby rabbit called?

30. Whose advertising was based around the catchphrase It Does Exactly What it

Says on the Tin?

ANSWERS ON PAGE 41
---
NATURE

WASPS

FRIEND OR

FOE?

By LWB

Wasps, our perennial summer foe.

Best known for ruining alfresco dining,

taking a bath in your cider and mugging

children for a lick of their ice cream!

But are they really the angry, aggressive,

stripy hooligans just out to spoil our

summer fun? Perhaps it is time for a rethink,

could it be that wasps are actually

our friends?

Wasps have been around for some 240 million

years and are the ancestors of all the bees and

ants we know today. Ants could be thought of

as wasps who have lost their wings and bees

as wasps who went vegan! There are over

150,000 known species world-wide. About

7,000 species call the UK their home. Wasps

can be divided into 2 main categories. There

are the solitary parasitoidal wasps, who lay

their eggs in live insects and are responsible for

a huge amount of pest control. The other group

are the Social wasps, who form large colonies.

It is from this group that a select few species

have become our summertime nemesis, such

as the 'yellow jackets' (made up of the Common

wasp - Vespula vulgaris and the German wasp -

Vespula germanica) and Hornets.

Both sub-groups of wasps do an incredible

amount of good for our environment. They

help to clear rotten wood, control pests such as

Aphids and Caterpillars (sorry Colin) and are

also excellent pollinators. Over the summer

months it is estimated that in the UK, wasps

capture around 14 million kilos of insects. A

single wasp colony is thought to remove around

35

a quarter of a million Aphids each season. In

some countries, experiments are underway,

moving colonies of wasps into crop fields, to act

as pest control agents and reduce the reliance

on insecticides.

Adult wasps feed entirely on sugar, which they

can obtain from the flower pollen. Unlike bees,

wasps are not fussy as to which flowers they

visit and this makes them vital, if accidental,

pollinators. Wasps are truly the gardener's

friend.

I know what you are thinking, that whilst

wasps might make great garden buddies they

are a complete menace to picnickers! And I

can't argue with that. With their sometimes

lary attitudes, their nasty stings and their lax

approach to social distancing, I have to admit

to being one of the first people around a table

who will jump up shrieking when pestered by a

little yellow thug.

For me, like many, the fear of being stung is

almost worse than the sting itself. For the

vast majority of us wasps are a harmless,

if sometimes painful, annoyance. For an

unlucky few, though, the stings can be deadly.

On average, each year 10 people are killed in

Britain due to a severe allergic reaction to wasp

or bee stings. So why is it that wasps are so

keen to get upfront and personal with us? To

understand why, we need to dig a little deeper

into the lifestyle choices of the social wasps.

Just like bees, at the heart of each colony is
---
a Queen wasp, however, unlike their cute,

honey making cousins, only the newly fertile

Queens survive the winter, sheltering in

animal burrows or hiding in your Christmas

decorations.

In early spring these Queens emerge to build

a colony. Most of the eggs she lays grow up to

be worker wasps and it is these, yellow perils

that we know so well. The worker wasps are

responsible for hunting insect prey which they

take back to the larvae to feed on. It is only in

the larvae stage that wasps feed on protein. In

return the larvae produce a sugary substance

which helps fuel the workers.

During the later Spring and early Summer

as the colony grows, worker wasps are busy

feeding their infants and have a ready supply

of sugary snacks obtained from their larvae

and flower pollen. At this time of year, wasps

hardly bother with us at all. When they do,

they are often just circling around you. This

is because wasps use tall objects like trees to

navigate by. So if a wasp does fly rings around

you - don't worry, he is just lost and asking for

directions!

It is later towards the end of Summer and

early Autumn, when the Queen is winding

down her supply of eggs and there are fewer

and fewer larvae, that the workers turn their

eyes towards our sweet delights. No longer

able to feed from the carb-packed substance

produced by their larvae the workers become

jobless, homeless and hungry. Add feeding off

of fallen fermented fruits into the mix and it

isn't any wonder that they revert to such loutish

behaviour.

So maybe in late Summer, when the wasps are

desperate and dying we should remember the

good services they have carried out for us and

forgive them for their last hurrah.

Wasps, friend or foe? You decide!

Many thanks to the Natural History Museum

and to the BBC's podcast 'The Curious Cases

of Rutherford and Fry' for much of the

information used in writing this piece.

"Paul has done a fantastic job helping to promote my business.

He of course, produced for me some incredible and engaging

videos, but the real magic was in how he has managed to get

them on to the first page of both Google and You Tube."

Debbie Payne

Editor of Pompey Mag
---
SPACES

SANCTUARY

MENTAL HEALTH

F

A new initiative called the Spaces of Sanctuary

is offering people a safe space to retreat to

when needed. The project is the brain child of

Portsmouth City of Sanctuary and builds

O

on

the City's proud history of offering shelter to

anyone fleeing violence and persecution, or

who is isolated and seeking safety.

Spaces of Sanctuary works so that anyone

feeling vulnerable at any time can reach out

and ask for shelter from any of the locations

taking part in the project and who are

displaying the SoS symbol.

Portsmouth City of Sanctuary is part of the

national City of Sanctuary movement, and is

partnering with two other local organisations

to deliver the Spaces of Sanctuary initiative:

Pompey Safe Spaces Scheme and Portsmouth

Dignity Network.

Malcolm Little, Chair of Portsmouth City

of Sanctuary said, 'The idea is a simple one

that seizes on the widely felt appreciation

that Portsmouth is unique in its sense of

community. It aims to offer anyone, whether

they are being verbally or physically abused

or intimated, whether they feel suddenly

frightened or panicky, for whatever reason

at all, a place where they will find a welcome

and a friendly face with no judgement or

repercussion.'

Businesses, faith groups, educational

establishments and others are being offered

37

training so that they can support people in

the simplest way -to offer them a place to be

where they can take as long as it takes to catch

their breath and feel calm again. If needed the

volunteers can access a network of support

agencies that they can contact in agreement

with the person that has come to them for

refuge, but this may not always be necessary.

Spaces of Sanctuary looks to consolidate the

tangible goodwill in the City by engaging with

both the private and public sectors in support

of the City's most vulnerable people. Initial

surveys carried out in 2020 by Portsmouth City

of Sanctuary identified that whilst the majority

of people are willing and wanting to offer

support to fellow residents, they are conscious

that they might end up making a bad situation

worse by doing the wrong thing. The SoS

initiative will address that by training people

and empowering them to take right steps.

Harriet Evens, the force behind Pompey

Safe Spaces Scheme said: 'The Pompey Safe

Space Scheme works to establish a network

of city-wide safe spaces for victims of sexual

assault, sexual violence and domestic abuse,

and so a collaboration with Spaces of Sanctuary

makes so much sense. We want to ensure that

whoever you are, if you find yourself vulnerable

and in need of a safe space, one is available for

you. It's about helping all residents to feel safer

in this City and about guiding people towards

the best support available.'
---
Portsmouth Dignity Network provides

'Protecting Dignity Training', and they will be

working with Portsmouth City of Sanctuary

this summer to provide free training to any

businesses or organisations wishing to take

part in the SoS initiative.

Anna Flynn, Managing Director and founder

of Portsmouth Dignity Network with over

20 years experience of working with the

community, said: 'I truly believe that

delivering services that put people at the

centre is essential to effectively achieve the

outcomes of all involved. Identifying agencies

with aligned values who seek to serve the same

needs of the community, is vital for meaningful

impact and creating change.

I am so pleased to have found this perspective

within the fold of Portsmouth City of

Sanctuary, and very much look forward to

contributing to the joint vision, for setting a

standard of excellence, and ultimately to

support Portsmouth to be an even kinder

community.'

In addition to developing the Spaces of

Sanctuary initiative, Portsmouth City of

Sanctuary is working to bring key stakeholders

together from across Portsmouth, including

the Lord Mayor. Acting on the shared values of

inclusion, respect, dignity and participation, it

is working with doctors' surgeries to establish

safe spaces, developing refugee care-leaver

projects and sourcing social work/ law student

placements. Portsmouth City of Sanctuary

volunteers run the 'Welcome Box' initiative

that greets asylum seekers dispersed to the

City, conversation clubs, English language

learning facilities and various other support

that helps people engage with their new

surroundings.

Building on the idea that integration is

key, Portsmouth Cith of Sanctuary has

developed with partners a local resident and

refugee gardening initiative. One of the key

achievements of 2021 is the setting up of a

women-only, drop-in service that will, for the

moment, only cater to women at high risk, but

over time plans to extend the service to provide

a much-needed space for all women.

Portsmouth City of Sanctuary has been

instrumental in bringing the City together

around its compassionate values, and the

Spaces of Sanctuary project is an extension

of that, reaching out to local businesses,

public offices and the entire community of

Portsmouth as a whole, casting the support

network city-wide.

Can you and your colleagues offer kind

words, a glass of water and friendly face?

If you own a local business or organisation

and think that you might be able to operate

as a venue offering a safe space for someone

in need, please get in touch. Email Shaun at

portsmouthcityofsanctuary@gmail.com

B.L.A.S.T Away Your Fears!

A fast, powerful, yet gentle Technique to treat

Anxiety PTSD Trauma Flashbacks

Call me now for a friendly chat

sandiedoylehypnotherapy.co.uk

sandie@sandiedoylehypnotherapy.co.uk

07990 776 718

01489 557 075
---
SPORT

Field Gun Sports, one of the oldest new

Sports, born in Pompey.

Pompey Mag recently met up with Alex

Howard to hear about his plans to reinvent

an old tradition into an exciting new

international sport.

Many of you will be at least vaguely familiar

with Field Gun racing, some of you more so

if you are ex-Navy or have Naval family. If

nothing else, readers over 40 will recall the

annual Royal Tournament where Command

Field Gun, the more rigorous and spectacular

form where a chasm and wall needs to be

negotiated, prior to firing the gun, provided

an exciting spectacle on TV. Alas, this

tradition ended in 1999.

Now, after a long hiatus, a Sandhurst Officer

Graduate based in Pompey is planning

to not only revive Command Field Gun

(Command) as a Civilian sport, but also to

take it International, and Pompey Mag will be

following his progress with keen interest. Alex

has served as a Sapper in the Army for 30

years, and saw tours of duty in the Balkans,

Iraq (twice) and Afghanistan, and he knows

a great deal about Command. Amongst Alex's

many goals is for Portsmouth to win back the

world record time which they previously held,

and was narrowly snatched by Devonport

39

back in 1999.

The history of Command is almost a separate

article in itself (so maybe we'll save that for

another time) but in essence it dates back to

an incident in the Second Boer War in 1899

during the Siege of Ladysmith, when the

Navy hauled guns ashore, moved them over

difficult terrain and brought them into action

to support the army.

If you've not seen Command before, do

check it out on YouTube, it is fast paced,

exciting and with a hint of danger (drop a

field gun barrel on your foot and you are

in big trouble!). Races typically last under

3 minutes, and comprise 3 stages, the Run

Out, the Run Back and the Run Home – it is

exhausting just to watch, so you can imagine

how demanding it must be for the teams. It

has been known as the toughest team sport

in the world and lately the sport for which

high intensity interval training (HIIT) was

invented.

His concept is to create new teams, complete

with interesting team names and branded

teamwear, comprising professional athletes

who will need to train hard and full-time

for the particular rigours of a sport which

requires strength, explosive power and

technique to enable lifting, carrying and
---
hauling the heavy weights involved, always

with split second perfect team action.

It could perhaps be visualised as a cross

between the teamwork of a Formula One pit

crew, the fitness and impact of pro rugby

with the commitment of a world title boxing

contender.

Alex sees this as an inclusive sport, with

women's teams, who will compete in a similar

format but with necessary safety adaptations.

Junior teams already exist carrying plywood

replica guns!

The historic format is likely to be preserved as

much as is possible, since this is a sport with

a long tradition, but where variations would

make for even greater excitement or interest

in the future, then these might be added. For

example, a "best of 3 legs" format, and longer

or changed courses, provided always that the

safety and physical demands on athletes are

sensibly managed. Much like athletics, there

could be sprints, middle-distance or marathon

runs? We shall see, but the shorter nature of

the current format is likely to be retained, as

the trend in modern sport (as with cricket) is

increasingly more bite-sized content.

As a potential spectator sport, it has all the

ingredients needed to engage the fans, whether

for live events or on TV. Multiple camera

angles and drone footage will provide detail on

technique and maybe capture the occasional

mistake, or brilliant manoeuvre. A penalty

system will be in force, as with all sports, for

rule infringements which no doubt will spark

debate, and pundits will discuss performances,

personal and team form and errors made,

before, during and after fixtures. Tactics will be

discussed, and team strengths and weaknesses

shown. A points and league system will

structure the season, whilst creating rivalry and

excitement for the fixtures, as with most pro

sports.

I am hooked already, and the crews have not

started training yet! My Pompey Command

replica shirt is on advance order. So as the

crews would say once the starting firecracker

was alight….Burning, 2,3,4,5…..Standby.

A Family run business offering a rapid

response for all your roofing needs.

Leak repairs from £175

New and replacement roofs

Flat roofs

Replacement gutters and facias

Ask for a free, no-obligation quote today!

02393 552540

www.rapidresponseroofing.co.uk

rapidresponse06@yahoo.com

WIN

a £25 Restuarant

Gift Voucher

Free to enter, one prize to be won.

With all the rain recently, the Pompey

Mag garden is covered in weeds. They

are now growing in our adverts! Can

you find them?

TO ENTER

Simply jot down the 6 names of the

adverts that contain those pesky weeds

and email your answers to us for a

chance of winning. Send your entry to

info@pompeymag.co.uk.

All correct answers will be placed into

a draw and one lucky reader will be

randomly picked out to win the prize.

Closing date 30th July 2021.
---
SOLUTIONS

QUIZ ANSWERS

1. Father Ted.

2. Big Daddy.

3. Trooping the Colour.

4. Sting.

5. A nautical mile (1.15 land miles).

6. Tin.

7. Ladies Singles Champion.

8. Ann Hegerty.

9. A Clowder of cats.

10. Silverstone.

11. The Elizabeth Tower.

12. Small Heath.

13. China.

14. Tim Berners-Lee.

15. Topiary.

16. Morecambe and Wise.

17. Queens Park Rangers.

18. Honey Ryder.

19. Ox.

20. 6.

21. St Swithuns.

22. Red and Yellow.

23. Sydney.

24. St Ives.

25. Eiffel Tower.

26. Red berries - Soft fruits.

27. The Balearics.

28. India Pale Ale.

29. Kit or Kitten.

30. Ronseal.

41
---
We send you boxes and

can even help you pack.

We bring our van to your door &

load your items in our storage pods

Your storage pod is taken to

a secure easyStorage facility.

We return with your pod or

you can visit us.

2 5 D I S C O U N T

£

code POMPEY25 at checkout when you book at

use

www.easystorage.com