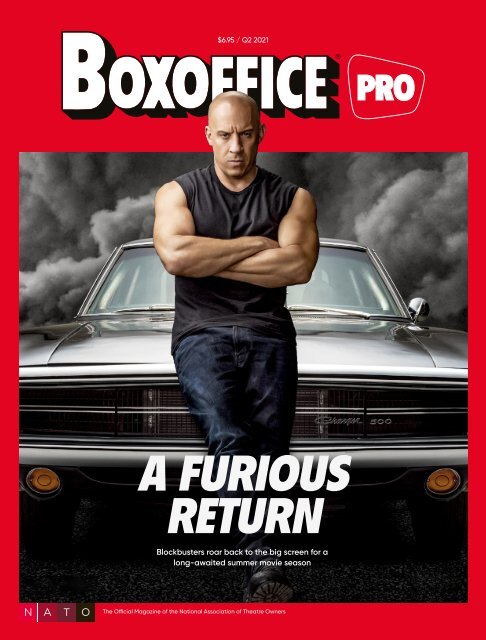 Boxoffice Pro
Boxoffice Pro is the official publication of the National Association of Theatre Owners.
Boxoffice Pro is the official publication of the National Association of Theatre Owners.
SHOW MORE
SHOW LESS
Create successful ePaper yourself
Turn your PDF publications into a flip-book with our unique Google optimized e-Paper software.
$6.95 / Q2 2021

A FURIOUS

RETURN

Blockbusters roar back to the big screen for a

long-awaited summer movie season

The Official Magazine of the National Association of Theatre Owners
---
THE FEATURES YOU NEED.

THE OPTIONS YOU WANT.

THE COMPANY YOU TRUST.

When it comes to concessions,

it comes from Cretors.

Only Cretors combines five generations of industry leadership with more than

130 years of forward-thinking innovations. Backed by our industrial manufacturing

R&D for global snack food giants, we bring revolutionary products to the

concessions marketplace, time and again. Whether it's an industry-changing

safety feature, a long-sought-after option or a customizable machine made

for the way you sell anywhere in the world, there's no limit to our ingenuity.

Made in America, loved world-round!

Contact Shelly Olesen at 847.616.6901 or visit www.cretors.com
---
PREMIUM

PROJECTION

SCREENS

FOR 2D & 3D APPLICATIONS

Reflecting every detail with

clarity and precision

PREMIUM HGA SILVER SCREENS

NORTHVIEW HORIZON WHITE GAIN SCREENS

FOLDABLE 3D SCREENS

EFFICIENT WORLDWIDE DELIVERY

www.strongmdi.com | 1 877 755-3795 | info@strongmdi.com

Q2 2021

01
---
THE GAME

ROOM EXPERTS

TRANSFORM YOUR MOVIE THEATER

WITH YOU EVERY STEP OF THE WAY

LAYOUT & DESIGN | GAME SELECTION | FINANCING OPTIONS | SITE SURVEYS

"WHITE GLOVE" INSTALLATION | TECHNICIAN TRAINING | GRAND OPENING ASSURANCE

WELLNESS PROGRAM | DEDICATED CUSTOMER SERVICE | EXCHANGE PROGRAM

WARRANTY ASSURANCE | ADVANCED REPLACEMENT PARTS & MORE

Contact Sales Today to Upgrade or Add to Your Movie Theater

(800) 524-2343 | sales@betson.com | betson.com/movie-theaters

IMAGES SHOWN ARE FROM SANTIKOS ENTERTAINMENT IN CIBOLO, TX
---
Q2 2021

CONTENTS

60

A Furious Return

Director Justin Lin Brings a

$6 Billion Franchise Back to

Cinemas with F9

50

New York City Welcomes

Back Cinemas

The Big Apple's Movie Theaters

Reopen After Nearly a Year of

Closures

54

Multiplexes in Minsk

Silver Screen Cinemas Brings

the Modern Movie Chain to

Belarus

40

Boxoffice Barometer

Exhibitors Vote on the Best

of the Industry

66

Worth the Wait

Director Will Gluck Takes the

Delayed Release of Peter Rabbit

2: The Runaway in Stride

Q2 2021

03
---
CONTENTS

INDUSTRY THEATER ON SCREEN

10

12

14

16

NATO

An Army of NATO Member

Volunteers Helped Save the

Moviegoing Experience

NATO

Senate Majority Leader Schumer on

the Importance of Helping Cinemas

Survive the Covid-19 Pandemic

Charity Spotlight

A Recap of Industry-Wide Charity

Initiatives

A Century in Exhibition

The 2000s: From Bankruptcies to a

Double Revolution

34

40

50

54

Indie Focus

The Gateway Film Center Thrives

on Community Connection

Boxoffice Barometer

Exhibitors Vote on the Best of

the Industry

New York City Welcomes

Back Cinemas

The Big Apple's Movie Theaters

Reopen After Nearly a Year of Closures

Multiplexes in Minsk

Silver Screen Cinemas Brings the

Modern Movie Chain to Belarus

60

66

73

A Furious Return

Director Justin Lin Brings a Billion-

Dollar Franchise Back to Cinemas

with F9

Worth the Wait

Director Will Gluck Takes the

Delayed Release of Peter Rabbit 2:

The Runaway in Stride

Booking Guide

26

30

Big Data

The MPA THEME Report Breaks

Down the Numbers of Covid-19

Industry Insiders

Paramount's Patricia Gonzalez Loves

the Movies, Heart and Soul

Traditionally, cinemas

in Belarus have either

been privately owned

single locations or, more

frequently, theaters owned

and run by the state.

International Spotlight, p. 54

04 Q2 2021
---
Q2 2021

05
---
BOXOFFICE MEDIA

CEO

Julien Marcel

SVP Content Strategy

Daniel Loría

Creative Direction

Chris Vickers & Craig Scott

at She Was Only

EVP Chief Administrative Officer

Susan Rich

VP Advertising

Susan Uhrlass

BOXOFFICE PRO

EDITORIAL DIRECTOR

Daniel Loría

DEPUTY EDITOR

Rebecca Pahle

EXECUTIVE EDITOR

Kevin Lally

MANAGING EDITOR

Laura Silver

CHIEF ANALYST

Shawn Robbins

ANALYSTS

Chris Eggertsen

Jesse Rifkin

DATABASE

Diogo Hausen

CONTRIBUTORS

John Fithian

Vassiliki Malouchou

Rolando B. Rodriguez

Charles E. Schumer

ADVERTISING

Susan Uhrlass

63 Copps Hill Road

Ridgefield, CT USA 06877

susan@boxoffice.com

SUBSCRIPTIONS

Boxoffice Pro

P.O. Box 215

Congers, NY 10920

833-435-8093 (Toll-Free)

845-450-5212 (Local)

boxoffice@cambeywest.com

CORPORATE

Box Office Media LLC

63 Copps Hill Road

Ridgefield, CT USA 06877

corporate@boxoffice.com

Boxoffice Pro has served as the

official publication of the National

Association of Theatre Owners

(NATO) since 2007. As part of this

partnership, Boxoffice Pro is proud to

feature exclusive columns from NATO

while retaining full editorial freedom

throughout its pages. As such, the

views expressed in Boxoffice Pro

reflect neither a stance nor an

endorsement from the National

Association of Theatre Owners.

Due to Covid-19, Boxoffice Pro

will be adjusting its publishing

schedule. For any further

questions or updates regarding

your subscription, please do not

hesitate to contact our customer

service department at boxoffice@

cambeywest.com.

BOXOFFICE

PRO 2021

PUBLICATION

SCHEDULE

Q3: CinemaCon

Available in August 2021

Q4: ShowEast and

CineEurope

Available in October 2021

100th Anniversary

Commemorative Edition

Available in December 2021

For questions regarding your

subscription, please contact

circulation@boxoffice.com.

Boxoffice Pro (ISSN 0006-8527), Volume 157, Number 2, Second Quarter 2021. Boxoffice Pro is published

by Box Office Media LLC, 63 Copps Hill Road, Ridgefield, CT USA 06877. corporate@boxoffice.com.

www.boxoffice.com. Basic annual subscription rate is $75.00. Periodicals postage paid at Beverly Hills,

CA, and at additional mailing offices. POSTMASTER: Send all UAA to CFS. NON-POSTAL

AND MILITARY FACILITIES: send address corrections to Boxoffice Pro, P.O. Box 215, Congers, NY 10920.

© Copyright 2020. Box Office Media LLC. All rights reserved. SUBSCRIPTIONS: Boxoffice Pro,

P.O. Box 215, Congers, NY 10920 / boxoffice@cambeywest.com. 833-435-8093 (Toll-Free),

845-450-5212 (Local).

Box Office Pro is a registered trademark of Box Office Media LLC.

06 Q2 2021
---
EXECUTIVE LETTER

MOVIES

ARE BETTER

TOGETHER AND

SO ARE WE

"Now, more than a year

into this pandemic, having

gone through the worst, I

am realistic, but I am truly

optimistic."

When I was elected NATO chairman

in October of last year, the movie

theater industry in the United States was

almost completely shut down. Europe had

fared somewhat better, and Latin America

was roughly in the same circumstances as

the U.S.; only the Asia Pacific region was

somewhat close to normal. Yet most of the

movie industry depends on global theatrical

releases, and with the Covid-19 pandemic

raging, they were nowhere in sight.

Early optimism that the virus could

be managed by business shutdowns and

swift, consistent government action had

given way to the sober judgment that

the movie theater business could not

return to normal until effective vaccines

were created and administered widely

and virus case numbers had declined

far below where they then stood. Since

April, NATO's Executive Board had been

meeting weekly, and shortly after NATO

staff began conducting weekly webinars to

keep our members up to date. So, despite

our optimism, we had very few illusions

about what we faced.

It has been my privilege as NATO

chairman to see how this industry has

responded, from creating a nationwide set

of voluntary health and safety protocols—

CinemaSafe—to lobbying state, local,

and federal officials on reopening and

relief measures to continuously engaging

with the studios on the release calendar

and navigating a new coexistence with

streaming services, I have never seen this

industry so committed and engaged. And

that engagement has not just been for the

survival of individual companies, but for

the good of the industry.

Friends and allies of exhibition have

also been there for us. Studio executives,

directors, and talent agencies, particularly

CAA, have been instrumental in making

the case for aid to the industry. We cannot

thank them enough.

In this issue of Boxoffice Pro, you

can read about those enormous volunteer

exhibitor contributions in John Fithian's

column. We also have the honor of hosting

a guest column from Senate Majority

Leader Charles E. Schumer, who has been

a key ally for exhibition, shepherding

important provisions for the industry

through the CARES Act, to the HELP ACT

in 2020, and on to the American Rescue

Plan this year. Furloughed workers have

received an unprecedented level of

financial support to get them through this

long, painful crisis. Important tax relief

through the Net Operating Loss provision

allowed companies to shift losses to earlier,

more profitable, tax years. Hundreds of

theater owners have received Paycheck

Protection Program loans and have now

applied for Shuttered Venue Operators

Grants, and that desperately needed

money will have started flowing by the

time you read this.

As I write seven months into my tenure,

we see real signs of recovery. Vaccination

rates, in the U.S. in particular, are soaring.

Cases of the virus are in rapid decline,

markets are reopening, and capacity

restrictions are being lifted. All of this

positive news has been accompanied by

a strengthening and solidifying release

slate, as, unlike last summer and fall,

distributors are not waiting for the entire

world to reopen at once. A strong May

and June calendar becomes an absolutely

packed summer and later half of the year,

with an unprecedentedly crowded 2022 in

view: #TheBigScreenisBack.

Now, more than a year into this

pandemic, having gone through the worst,

I am realistic, but I am truly optimistic.

Moviegoers around the world have

demonstrated that when they feel safe and

the movies are there, they will come out to

the movie theater. An industry that many

had counted out has survived the worst

that could be thrown at it. Together, we

have shown the strength, resiliency, and

importance of the movie theater industry

and the moviegoing experience. The core

of what we offer to moviegoers is simple.

Movies are better together. So are we.

Rolando B. Rodriguez

Chairman, National Association

of Theatre Owners

President & CEO, Marcus Theatres

Q2 2021

07
---
ce4-7 OCT

ce2021

convention & tradeshow

CCIB/BARCELONA

CELEBRATING

30

YEARS OF

CINEEUROPE

CENTRE CONVENCIONS INTERNACIONAL BARCELONA (CCIB)

CINEEUROPE.NET

OFFICIAL CORPORATE SPONSOR
---
NATO 10 | A Century in Exhibition 16 | Big Data 26 | Industry Insiders 30

INDUSTRY

"We will continue to work together to make sure movie

theaters make a strong recovery from this horrible time in

our country's history."

Senator Charles E. Schumer, p. 12

Q2 2021

09
---
Industry NATO

A ROUND OF

APPLAUSE

An Army of NATO Member

Volunteers Helped Save the

Moviegoing Experience

BY JOHN FITHIAN

During a NATO Executive Board of

Directors meeting in early March of

2020, Cineworld's Mooky Greidinger said

to his fellow NATO leaders something

like, "We've seen what this virus is

doing to cinema operations in Europe

and it's headed to North America,

so get ready." At the time, none of us

could comprehend what impact the

Covid-19 pandemic would have on the

moviegoing experience, nor the duration

of that impact. Now, 14 months later, the

exhibition business has experienced the

longest tunnel and the biggest existential

challenge of its history. But finally, there

is light at the end of the tunnel.

In the last edition of this magazine,

NATO's Patrick Corcoran ably described

many of the efforts undertaken by this trade

association to help its members survive

to the end of the pandemic tunnel and to

revive the business. This column offers

another part of that story—in a shout-out to

the army of NATO member volunteers who

worked tirelessly through the pandemic

on behalf of the entire industry. But first, a

word of thanks to the NATO staff team.

No doubt this author's extraordinarily

talented staff colleagues have had a huge

impact throughout the pandemic. The

"SVOG" experts Jackie Brenneman and

Esther Baruh designed and guided a

legislative and regulatory strategy that

will result in several billion dollars' worth

of grants for the association's midsize

and smaller members in the U.S. The

aforementioned Patrick Corcoran, along

with Phil Contrino, oversaw a messaging

plan that has helped restore confidence in

the moviegoing business once again. Kathy

Conroy, supported by Cheryl Dickson and

Enid Palazzolo, managed the association's

operational and financial challenges

through its most difficult period ever.

Alex Rich, working with Esther, helped

guide the various state legislative efforts

across the country to enable cinemas to

reopen once more and to provide other

forms of relief. While much of the team

focused on the domestic crisis, Erin Von

Hoetzendorff helped keep members

around the world connected through

the Global Cinema Federation. And the

CinemaCon team of Mitch Neuhauser,

Matt Pollock, Matt Shapiro, and Cynthia

Schuler worked through the cancellation

of one convention, the scheduling of

another convention, the offering of online

educational programming, and active

support of NATO's various grassroots

lobbying campaigns. And in a vital group

effort, nearly every NATO and CinemaCon

staff person and consultant played a role

in the development, execution, and

publicity of the industry's essential health

and safety protocols—CinemaSafe. This

author has never been prouder of the

association's team.

NATO's staff and budget, however, are

quite limited (particularly when no dues

are being collected and no convention

revenues generated.) A strong and

dedicated army of volunteer members

has indeed helped save the moviegoing

business, and they deserve recognition.

At the top of the list stand NATO's two

"pandemic-era chairpersons"—Ellis Jacob

of Cineplex (below right) and Rolando

Rodriguez of Marcus (below left). These

two industry giants, who have also had

These two industry giants,

who have also had

their hands full with the

extraordinary challenge of

managing major circuits

through the crisis, have

literally dedicated a thousand

hours or more to the cause of

saving this industry.

10 Q2 2021
---
their hands full with the extraordinary

challenge of managing major circuits

through the crisis, have literally dedicated

a thousand hours or more to the cause

of saving this industry. Their daily

(including weekends and holidays) service

has included the management of the

association's boards and membership,

strategic advice to the NATO staff,

lobbying of studio and government

leaders, and countless other tasks that

typically go unseen by the membership.

Joining with Ellis and Rolando has

been the most active, and productive,

Executive Board in the history of NATO.

The 17-member board met weekly through

the crisis, making strategic decisions

about the direction of the industry. They

reviewed and acted on countless strategic

and financial proposals, accepted followup

assignments, and communicated with

their fellow NATO members, all while

running their own companies. The current

list of NATO's Executive Board members

can be found at the end of this column.

They all deserve a round of applause.

But the NATO army has extended

well beyond its Executive Board. NATO's

network of affiliated regional units

mobilized immediately to address state

and local theater shutdowns and eventual

reopenings, working tirelessly to educate

key officials on theater operations and

safety. The regionals also pressed for

the creation of assistance programs for

cinemas, achieving success in several

jurisdictions and enabling theater

operators to access bridge funding.

Through the immense efforts of regional

units and their members, nearly all movie

theaters across the United States have been

permitted to reopen to the public safely.

In addition to mobilizing on the

state and local level, NATO members

responded to our calls to action at

the federal level. Theater operators in

all 50 states built relationships with

their representatives and senators,

educating them on the financial impact

of the pandemic and urging Congress

to support favorable legislation for

theaters. NATO members also galvanized

their loyal guests to speak up on behalf

of theaters, generating over 368,000

letters to Congress as part of NATO's

#SaveYourCinema campaign. Thanks to

the collective efforts of theater owners of

all sizes, we achieved $16 billion in grants

for independent operators and preserved

billions in tax provisions for companies

large and small.

Though I risk leaving important names

off the list, the following members deserve

special recognition for their superstar

lobbying efforts in support of the industry.

State and Local Lobbying

- Russell Allen

- Bobbie Bagby

- John Curry

- Mary Ann Frank

- Marina Gephart

- Dale Haider

- Chris Johnson

- Drew Kaza

- Joe Masher

- Art Murtha

- Tom Ranieri

Federal Lobbying

- Bobbie Bagby

- Mike Bowers

- Bo Chambliss

- James Cox

- Cory Jacobson

- Ron Krueger

- Bobby Levy

- Cindy Ramsden

- Steve Schoaps

- Russell Vannorsdel

- Mark Zoradi

Beyond the governmental lobbying effort,

scores of NATO members have helped

to develop and support the CinemaSafe

program and have lobbied the movie

distributors regarding movie supply

during the pandemic. And of course,

each and every NATO member has

worked tirelessly to keep their company

and operations going through the most

challenging of circumstances, so that

moviegoing would not die out.

Someday a book will be written about

the NATO movie theater operators and

their fight to preserve moviegoing. And

hundreds of leaders deserve to be at that

book signing.

John Fithian is the President & CEO of the

National Association of Theatre Owners

Thanks to the collective

efforts of theater owners of all

sizes, we achieved $16 billion

in grants for independent

operators and preserved

billions in tax provisions for

companies large and small.

NATIONAL

ASSOCIATION OF

THEATRE OWNERS

EXECUTIVE BOARD

- Adam Aron

- Robert Bagby

- Bo Chambliss

- Eddy Duquenne

- Don Fox

- Moshe "Mooky" Greidinger

- Daniel Harkins

- Ellis Jacob

- Chris Johnson

- Ronald Krueger

- J.D. Loeks

- Joseph Masher

- Joseph Paletta

- Rolando Rodriguez

- John Vincent

- David Wright

- Mark Zoradi

Q2 2021

11
---
Industry NATO

SENATE MAJORITY LEADER

SCHUMER ON THE IMPORTANCE

OF HELPING CINEMAS SURVIVE

THE COVID-19 PANDEMIC

BY SENATE MAJORITY LEADER

CHARLES E. SCHUMER, U.S. SENATOR FOR NEW YORK

Movie theaters are beloved anchors

of our communities. They are

places we come to experience stories

together. In the dark—with popcorn or

some candy—we laugh, feel joy, and shed

tears as one audience. I absolutely love

going to the movies.

And the pandemic took all that away.

When the shutdowns began last

spring, theaters across the country were

devastated. Overnight, many saw their

revenue wiped out. Ushers, concession

workers, ticket sellers, and projectionists

lost their jobs. The future looked bleak.

One could have imagined theater owners

giving in to messages of doom and gloom.

But when I walked the streets of

New York I saw a different message. On

marquees, theaters declared in different

"Theater owners across the

country are applying for

grants through the SBA.

Soon, money will flow to

beleaguered theaters."

ways that they would not lose hope. On

the marquee of Nitehawk Cinema, a great

independent theater near my home in

Brooklyn, there were three messages: "Now

showing: Onward," "See you on the other

side," and "Be excellent to each other."

All across the country, one could

see these messages of hope on theater

marquees. Some had riffs on movie titles,

others dark jokes, and many earnest

messages asking us all to be good to one

another in troubled times. Together they

told a story: Theaters weren't going to give

up; they were going to fight back against

the darkness of Covid-19.

But no amount of hope could change

the dire financial realities that movie

theaters found themselves in. With

revenues gone and months to go before

reopening, something needed to be done.

NATO stepped up in a huge way. You

mobilized theater owners from across

the country around the rallying cry

#SaveYourCinema. You helped remind

people that theaters are the beating hearts

of the communities they serve. And you

made sure the country understood that

without massive federal aid hundreds of

theaters would go out of business and tens

of thousands of jobs would be lost.

I am so proud to have worked to convert

your fantastic advocacy into meaningful

legislation. I made sure that movie theaters

were included in the Save Our Stages Act,

and worked hard with you to make sure that

the aid addressed the needs of the industry.

Together we made the case to America that

we needed to help our theaters. Passing

the Save Our Stage Act and securing $16+

billion in federal aid wasn't easy, and I

know I would not have been able to do it

without your tireless support.

We are at the point—finally—when the

lights will dim, and the main feature will

start. Theater owners across the country

are applying for grants through the SBA.

Soon, money will flow to beleaguered

theaters. Vaccine rollouts, super-charged

by the passage of the American Rescue

Plan, have surpassed expectations. In

many places, movie theaters are open for

business and film-loving audiences are

filling seats once again.

We will continue to work together to

make sure movie theaters make a strong

recovery from this horrible time in our

country's history. And I know that because

of our efforts together, Americans all

across the country will get to experience

the wonders of movie magic together in

theaters again.

Senate Majority Leader Chuck Schumer

(D-NY) is the senior U.S. Senator from the

state of New York.

Throughout the Covid-19 pandemic,

Senator Schumer has been a steadfast

ally of exhibition's interest. From the CARES

Act and Save Our Stages Act in 2020 to

the American Rescue Plan in 2021, Senator

Schumer has fought for and expanded

funding for the $16.2 billion Shuttered

Venue Operators Grant program for

independent movie theater companies

and pressed the SBA to implement it in a

timely, efficient, and fair manner.

His support for expanded unemployment

insurance has helped our furloughed

employees to weather the pandemic.

His support for the Paycheck Protection

Plan helped hundreds of movie theater

companies pay their employees and their

bills when no revenues were coming into

the industry. Crucial tax benefits like Net

Operating Loss carrybacks and Employee

Retention Tax Credits provided muchneeded

relief to companies of all sizes.

It is our pleasure to turn over some of

NATO's space in this issue of Boxoffice Pro

to a good friend of the movie theater

industry and give him the opportunity to

address you directly.

12 Q2 2021
---
THE

COMPANY WEBEDIA GROUP

Like you, we like results:

Within our new low risk pricing

model, we'll initiate our SEO

specialists who can deliver up to

100:1 ROI for cinemas. When

your website traffic and ticket

sales boost, everyone wins.

Send an email to Malcolm.Macmillan@boxoffice.com to learn more

Q2 2021

13
---
Industry CHARITY SPOTLIGHT

CHARITY

SPOTLIGHT

Variety Wisconsin

Variety of Wisconsin was excited to

welcome families to a night at the Springs

Water Park in Waukesha, Wisconsin, on

March 25, 2021. This is an annual event

that families love—it was Variety of

Wisconsin's last live event for families

before the shutdown in March 2020 and

their first live event for families in 2021!

They were pleased to host 80 individuals

at the event, which was generously

sponsored by the Greater Milwaukee

Association of Realtors Youth Foundation.

Studio Movie Grill

The team at Studio Movie Grill's Sunset

Walk location in Kissimmee/Orlando,

Florida, received the Partners in Education

Award from Westside K–8, a Title 1 school

that partnered with the Sunset Walk

cinema for its Chefs for Children program.

The school board voted SMG Sunset Walk

as their Business Partner of the Year. The

proceeds from the Chefs for Children

program—over $5,000—has helped

Variety of Wisconsin

Westside K–8 fund sensory-soothing areas

in its special needs classrooms.

Consolidated Theatres

Hawaii's Consolidated Theatres, owned

by Reading International, partnered with

health care provider Kaiser Permanente

Hawaii to provide a mass vaccination

Variety of Wisconsin

site at the chain's Kapolei Consolidated

Theatres location in West O'ahu. "We

are honored to be part of this effort to

help our community," said Rod Tengan,

division manager of Consolidated

Theatres. "Vaccinations will allow us to

safely enjoy everyday pleasures again like

going to the movies."

UPCOMING EVENTS

JUNE 15

Variety of the Delaware Valley

Black Hat Bash

Philadelphia, PA

Variety of the Delaware Valley will be

honoring the 2020 Golden Heart of Variety

award recipients at their signature Black

Hat Bash, held on Tuesday, June 15, at the

outdoor venue Water Works in Philadelphia.

More details and tickets are available at

varietyphila.org/black-hat-bash.

JULY 26

Variety of Wisconsin

Ben Marcus Memorial Variety

Golf Classic

Lake Geneva, WI

The Ben Marcus Memorial Variety Golf

Classic returns—celebrating its 44th

edition—on Monday, July 26, at the

Grand Geneva Resort and Spa in Lake

Geneva, Wisconsin. The event will benefit

Variety of Wisconsin. Register today at

https://e.givesmart.com/events/lqU/.

AUGUST 26

Variety of the Delaware Valley

Vegas at Variety

Blue Bell, PA

Wager your luck on a night of fun at Vegas

at Variety! The event, taking place in

the Empress Room at St. Helena School

in Blue Bell, Pennsylvania, will also see

Variety of the Delaware Valley honor their

2020–2021 Ace of Variety: the Mossop and

Gaul families. Tickets are $47 in advance,

$55 at the door, and include buffet,

beverages, and $25 in chips. For more

information and to purchase tickets, visit

varietyphila.org/vegas-at-variety.

14 Q2 2021
---
CHARITY

HEROES

Variety of Illinois President

Kelly Reynolds, formerly

of Disney and Variety of

Southern California, has

had her hands full delivering

boxes of PPE, paper goods,

and sanitizing supplies to

Variety families in Illinois for

almost a year, often bringing

her own kids along for the

ride! Boxoffice Pro and Variety

– the Children's Charity thank

Kelly for being a Variety hero.

Boxoffice Pro invites you

to honor a Charity Hero—

someone in the exhibition

space who has gone above

and beyond to help those in

need. Nominations—along

with a description of the

person's charity activities

and a photo—can be sent to

numbers@boxoffice.com.

WILL ROGERS PIONEERS ASSISTANCE

FUND LAUNCHES 'BIG SCREENS BIG

HEARTS' CAMPAIGN TO HELP MOVIE

THEATER WORKERS

Since the onset of the Covid-19

pandemic—and, for that matter,

for 80-plus years prior—the Will Rogers

Motion Picture Pioneers Foundation

has made a priority of assisting theater

employees in need. That need has never

been greater than over the past year. As

such, in March 2020 the Will Rogers

Pioneers Assistance Fund launched their

Covid-19 Emergency Grant, through

which they distributed $3.5 million in

grants to furloughed or laid-off theater

employees throughout 2020. Now, the

Pioneers Assistance Fund has launched

the "Big Screens Big Hearts" Campaign

as a way to further assist in-need theater

workers as the industry recovers.

The existence of the "Big Screens Big

Hearts" campaign reflects the fact that,

though the bulk of theaters in North

America have reopened (if at limited

capacity) and films are slowly making their

way back to theaters, the negative impact

of the pandemic and its resultant cinema

closures on those in the theater industry

remains. Per data provided by Will Rogers,

100,000-plus theater employees were

affected by the pandemic and 55 percent of

the cinemas that closed were communityor

family-owned and operated.

With the pandemic still ongoing, Will

Rogers is unable to host its annual Pioneer

of the Year Dinner, which traditionally

serves as one of the nonprofit's key

fundraising events. With the "Big Screens

Big Hearts" campaign, the Will Rogers

Pioneers Assistance Fund hopes to fill

that gap by raising $1 million to provide

financial aid and supportive counseling to

those who work in the exhibition arena—

whether as an employee of a cinema, a

theatrical distributor, or a vendor that

works exclusively in the theatrical space.

"The Pioneers Assistance Fund's 'Big

Screens Big Hearts' campaign wants to

raise $1 million to support exhibitors and

their employees who work tirelessly to

make our moviegoing experience special,"

says Todd Vradenburg, executive director

of the Will Rogers Motion Picture Pioneers

Foundation. "While movie theaters may

be open, theater workers all over the

country are struggling to rebuild their

lives. We value the critical role these

individuals play in the film industry.

Supporting 'Big Screens Big Hearts' will

help our workforce get back on their feet."

The Pioneers Assistance Fund is

supported by the theatrical industry at

large, with senior leadership from both

the theatrical and distribution side of

the business appearing on the group's

board. One of those, Paramount Pictures'

President of Film Distribution and PAF

Committee Chairman Chris Aronson, said

of the "Big Screen Big Hearts" campaign:

"The Will Rogers Pioneers Assistance

Fund wants to help exhibitors bring

back furloughed employees and retain

their dynamic and skilled workforce.

These hard-working individuals matter

to providing audiences with a magical

moviegoing experience. We are grateful

for the motion picture industry's support

of our Covid emergency grant program,

which supplemented the federal relief

package and helped workers weather

the storm. Now that stimulus money

is nearing an end, our 'Big Screens Big

Hearts' campaign will continue to support

theater employees and their families as we

embark on the road to recovery."

"While movie theaters may

be open, theater workers

all over the country are

struggling to rebuild their

lives. We value the critical

role these individuals play in

the film industry."

Q2 2021

15
---
INDUSTRY CENTURY IN EXHIBITION

0

' s

02020 marked the 100th anniversary of

A CENTURY

IN EXHIBITION

The 2000s: From

Bankruptcies to a

Double Revolution

BY VASSILIKI MALOUCHOU

the founding of Boxoffice Pro. Though

the publication you hold in your hands

has had different owners, headquarters,

and even names—it was founded in

Kansas City by 18-year-old Ben Shlyen

as The Reel Journal, then called Boxoffice

in 1933, and more recently Boxoffice

Pro—it has always remained committed

to theatrical exhibition.

From the 1920s to the 2020s, Boxoffice

Pro has always had one goal: to provide

knowledge and insight to those who bring

movies to the public. Radio, TV, home

video, and streaming have all been perceived

as threats to the theatrical exhibition

industry over the years, but movie

theaters are still here—and so are we.

We at Boxoffice Pro are devotees

of the exhibition industry, so we couldn't

resist the excuse of a centennial to

explore our archives. What we found was

not just the story of a magazine, but the

story of an industry—the debates, the

innovations, the concerns, and above

all the beloved movies. We'll share our

findings in this series, A Century in

Exhibition.

16 Q2 2021
---
The new millennium marked nothing

short of a historic turning point for

the exhibition business. Even though

exhibition survived Y2K unscathed, its

own reckless spending on megaplexes

and overbuilding in the 1990s resulted in

a series of bankruptcies that cast serious

doubts on the industry's future.

But perseverance and resilience, even

during the Great Recession of 2008,

proved doomsayers wrong. Exhibitors

rebounded and confronted the biggest

technological revolution since the advent

of sound: digital cinema. The revolution

was long and full of turmoil, as technical

standards and fair financing for this

costly investment became the object of

intense debates between exhibitors and

studios. During this journey, theater

owners ventured into alternative forms

of content and devised new revenue

channels afforded by digital technologies,

with a special interest in preshow digital

advertising.

The 2000s were also marked by a

strong uptick of interest in another

revolutionary tool: the internet. Yet

as online ticketing began to reach its

full potential and exhibitors slowly

discovered the power of social media,

new digital platforms and the threats

of online piracy created unprecedented

challenges that continue to rock the

industry today.

From Boom to Bust to Boom

The megaplex rush of the 1990s proved

to be a costly mistake for most of the

exhibition industry, driving many

theaters to the verge of extinction. As

a result of overbuilding, a wave of

bankruptcies began in the early 2000s.

The fate of United Artists Theatres, one

of the biggest circuits in the country, was

a scary harbinger: even the exhibition

giants, it was feared, were not immune

from the bankruptcy trend. In February

2000, the circuit reported a net loss of

$25.6 million. By May, the rating agency

Moody's downgraded its public debt

while considering doing so for Regal

Cinemas, Loews Cineplex, and Carmike

Cinemas. Soon after, in September

2000, United Artists sought Chapter

11 protection from its creditors. Silver

Cinemas, the parent company of the

art house chain Landmark Theatres,

preceded it in May of that year, while

Carmike Cinemas, which faced $65

million in total debt, and Edward

Theatres filed for bankruptcy in August.

In October, General Cinema did so as well,

abandoning its plans for an art house

venture with Sundance Film Centers.

The shadow of bankruptcy loomed over

even bigger circuits, with many pundits

correctly predicting that Regal Cinemas—

which would file for Chapter 11 in 2001—

was next.

How could an industry that had been

so confident in its megaplex strategy

just a few years before find itself in

such a situation? The problem was

simple: Exhibitors had cannibalized

themselves. In the 1990s, theater chains

added screens at a much more rapid pace

than their audiences grew. What small

gains were made came at the expense

of existing theaters, ultimately driving

many smaller operators out of business.

At the same time, the premiumization of

the moviegoing experience associated

with the expensive megaplexes drove

up the expectations of moviegoers, who

then demanded better services. "The

thinking was that bigger was better. Huge

multiplexes were built in areas that could

not support the large number of theaters

being built, and smaller mom-and-pops

didn't close down as expected, leaving too

many screens open," explained analyst

Wade Holden in April 2003.

Kurt Hall, president and CEO of United

Artists Theatre Company, explained in

January 2002 that the industry "created

a new theatre design called the megaplex

that turned out to be a profit eating

machine that put existing healthy theatres

out of business and changed film release

patterns and customer moviegoing habits

before an appropriate change in [the] film

cost structure was developed." Indeed, the

advent of the megaplex coincided with

Q2 2021

17
---
INDUSTRY CENTURY IN EXHIBITION

the practice of "glut booking," where an

extraordinary amount of prints was sent

out to theaters, often paired with a rapid

playoff—films cycling out of theaters

quicker—thus depriving operators of

the larger share of box office revenues

they would typically get later in a film's

run—that was detrimental to the cinema

business model. Hall concluded that

the megaplex altered the perception of

moviegoing itself: "We, our suppliers,

and even our customers began to treat

moviegoing as a commodity, rather than

a special out-of-home entertainment

experience."

Exhibitors faced other challenges that

compounded the overbuilding problem.

Activists and Washington brought

exhibitors to court over their alleged lack

of compliance with the Americans With

Disabilities Act (ADA). In a landmark

ruling, Cinemark's stadium seating

was found to be ADA compliant by the

Supreme Court. Litigation in District

Court between AMC and the Justice

Department over stadium seating ADA

compliance, meanwhile, resulted in a

settlement, with AMC agreeing to spend

millions to retrofit the theaters cited in

the case.

Yet the biggest blow came on

September 11, 2001. Immediately after

the tragedy, some movie theaters in New

York City volunteered to help those in

need. The United Artists' Union Square

theater, for instance, "opened its doors

to all needing a place to rest, something

cool to drink or even an abode for the

night, and in those initial days, the theatre

provided comfort to more than 16,000

people," explained editor Kim Williamson

in November 2001.

The terrorist attacks raised new

questions about the security of movie

theaters. Following 9/11, several theaters

had to be checked for anthrax or reported

bomb threats. Williamson sought to

assuage the anxieties of exhibitors and

moviegoers by reminding them that "it's

not that we're not safe; it's that we're

unsettled, and the situation seems worse

because we are accustomed to calm and

comfort." Regardless, many circuits

ramped up their security procedures as

part of special anti-terrorist measures.

New York City–based Loews Cineplex

Entertainment introduced restrictions

like a ban on backpacks and packages, as

well as searches upon entry. Boxoffice

Pro began a series of special articles on

managing crisis situations and increased

its coverage of international terrorism,

reporting, for example, the bombing

of four Bangladeshi movie theaters in

2003 that resulted in multiple deaths. In

November 2001, NATO launched a safety

and security training tape series on how to

prevent and handle emergencies. Despite

18 Q2 2021
---
the heated conversation about security

at the time, the debate faded until it was

reignited with more urgency after July

20, 2012, when 12 people lost their lives

in a tragic mass shooting at Cinemark's

Century 16 in Aurora, Colorado.

2002 was a very different story.

Despite a weak economy and a dismal

stock market, exhibition was on its

way to recovery. "The year 2002 was an

extraordinary one for exhibitors," wrote

Wade Holden, looking back from April

2003. Box office returns set a new record

of $9.2 million, and admissions grew 7.4

percent to nearly 1.6 billion, recovering

from the dip they took in 2000 that

landed them at 1.4 billion. The recovery

was boosted in part by a good slate of

superhero films and sequels/prequels,

including Spider-Man, Star Wars: Episode

II – Attack of the Clones, and The Lord of

the Rings: The Two Towers.

While most exhibitors continued to

close screens, the cash of billionaires

like Philip Anschutz—who led a group

that acquired majority investments

in Regal Cinemas, United Artists

Theatres, and Edwards Cinemas, and in

2002 consolidated them to form Regal

Entertainment Group—contributed to

a renaissance. AMC, which managed to

avoid the industry's bankruptcy trend

partly thanks to a $250 million cash

infusion from Leon Black and his Apollo

Management, acquired both General

Cinema and Gulf States Theatres in early

2002 and issued an IPO of $100 million.

Regal Entertainment Group also pulled

off an IPO by putting up 18 million shares

of Class A common stock for $19 per share,

raising $345 million. As Kim Williamson

noted in May 2003, "the clearest sign of

how well things are going is who wants

to play too—not just how well you know

things are going, but how much people

elsewhere see how well things are going,

and want to be part of the scene. As I write

this, Microsoft has pacted with Landmark

to make the biggest digital cinema circuit

to date; names like NBC and Turner

are part of the preshow, and giants like

Boeing and TI are parts of the corps;

Krispy Kreme even wants to sell donuts at

Famous Players."

The Long Road to Digital

The interest of outside players was not

a coincidence. It was linked to what

had seemed like a pipe dream during

the bankruptcy boom but was slowly

becoming a reality: the digital revolution.

In the first years of the decade, the idea of

spending upward of $100,000 to retrofit

just one screen was nothing more than a

fantasy. The beginning of the industry's

financial recovery made that dream just

a little more reachable. Meanwhile, the

major studios had been moving full

steam ahead toward digital since 1999. On

June 18, 1999, Texas Instruments' DLP

Cinema projector technology was publicly

demonstrated in two screens in Los

Angeles and New York City for the release

of Star Wars: Episode I – The Phantom

Menace. Disney also led the way with Toy

Story 2 and Dinosaur. Filmmakers like

Mike Figgis enthusiastically embraced the

technology. In 2002, Star Wars: Episode II

– Attack of the Clones was released digitally

in 17 markets across 94 venues.

On June 6, 2000, digital history was

made. For the first time, a feature film was

transmitted via the internet from a studio

lot in Hollywood to the SuperComm

2000 telecommunications trade show in

Atlanta, Georgia. Cisco Systems, Qwest

Communications, Sigma Design Group,

Barco Digital Projection Systems, and 20th

Century Fox partnered to project Fox's

Titan A.E. "The audience loved it," said

digital cinema market manager for Barco

Wendy Bosley in Boxoffice Pro. "It's a

great atmosphere, and people were just

stunned by the image [and] the quality

that the TI projector was able to screen."

Similar partnerships between studios and

digital manufacturers, such as America

Online and Time Warner and Miramax

and Boeing, flourished.

It was in this context that the Digital

Cinema Initiatives (DCI) was formed in

March 2002. A joint endeavor of Disney,

Q2 2021

19
---
INDUSTRY CENTURY IN EXHIBITION

"Digital cinema could

revolutionize the business

by transforming the nature

of production, delivery,

and exhibition; by saving

distributors hundreds of

millions of dollars annually;

and by making it easier for

exhibitors to offer alternative

content."

Fox, MGM, Universal, Paramount, Sony,

and Warner Bros. aimed at developing

a system specification for digital

cinemas, it was to become one of the key

battlegrounds in the digital revolution,

pitting studios against theaters and their

representative, NATO.

In 2000, the fan site TheForce.net

launched a petition encouraging fans to

contact their local cinema managers about

the lack of digital system installations

in most theaters. The petition named

NATO's new president, John Fithian, as

a "major stumbling block" who wasn't

"convinced that digital is worth it." The

petitioners were unaware of the general

state of the exhibition industry, which

explained the small number of digital

screens (just 15 in December 2000) at

the time of the petition's release. They

also ignored the many challenges that

needed to be resolved before exhibitors

could transition to this new technology.

"Digital cinema could revolutionize the

business by transforming the nature of

production, delivery, and exhibition; by

saving distributors hundreds of millions of

dollars annually; and by making it easier

for exhibitors to offer alternative content.

None of this will come easy, however.

Significant issues and challenges confront

the potential transition, not the least of

which is the issue of costs. No one knows

for sure which technology will prevail,

when the transition will occur, nor how it

is going to be financed. Nonetheless, the

transition will come …" Fithian said at

the National Institute of Standards and

Technology in April 2001.

The digital transition was inevitable.

Already in January 2000, a Boxoffice

Pro survey on the state of the industry

revealed that for all the exhibitors

surveyed, including Bruce J. Olson

of Marcus Theatres, Dan Harkins of

Harkins Theatres, Bob Babgy of B&B

Theatres, and Sheri Redstone of National

Amusements, digital cinema was the

biggest change facing exhibition in the

coming decade. However, the questions

of quality, release strategies, security and

piracy, standards, and most importantly

who would pay for it were far from being

resolved. Boxoffice Pro became a

forum for these often-heated debates, as

theater owners, managers, projectionists,

and technology specialists used the

publication as a tribune. In April 2000, an

exhibitor from Texas wrote a passionate

letter to Boxoffice Pro noting the top

five reasons not to go digital. Another

exhibitor from California responded,

concluding that he would "miss the days

of holding 35mm in his hand, splicing it

and threading it through projectors, but

the advantages of digital projection make

the moviegoer in [him] very happy."

Image quality was a top concern for

exhibitors. By the beginning of the decade,

it had become almost routine for trade

shows to display side-by-side screen

presentations that juxtaposed images of

digital and 35 mm movies. A Boxoffice

Pro contributor noted that at one such

screening at Cine Expo in September

2000, "a suspicious eye may have noted

that in some cases … a particularly poor

print of the 35mm half was screened to the

audience, with jump and scratch in the

film markedly notable."

"Personally, I feel like there is no

technology available today that can beat

the quality of a properly projected film

print," wrote a former theater manager

and projectionist in a letter to Boxoffice

Pro in July 2001, echoing a widespread

viewpoint. As the technology progressed,

however, the quality of digital projection

became increasingly equal to or surpassed

that of 35 mm film. Another projectionist

shared his experience in February 2002,

when he watched a digital trailer for

Unbreakable: "As soon as I saw Bruce

Willis' flesh tones, I knew that film was

dead as a projection medium. … George

Lucas was right when he said, 'I love

film but it's a 19th-century invention.'"

Exhibitors were also dreading projection

failures and changing release strategies.

"Having every theatre in the world playing

the exact same titles at the exact same

time takes away from the excitement of

going to the movies and is more akin to

television programming," complained an

exhibitor.

NATO was on the front lines of

the digital battle between exhibitors,

distributors, and technology companies.

At the end of 2001, NATO and 20 of its

international counterparts, including

UNIC and the Motion Picture Theatre

Associations of Canada (MPTAC), sent out

a letter addressed to several organizations

working on the standardization of digital

cinema. The goal was to encourage

the development of interoperable yet

competitive products while maintaining

the relatively low cost of existing film

20 Q2 2021
---
projection systems. The nightmarish

transition to digital sound just a few years

prior, which led to many incompatible

systems competing in the market, could

be even more disastrous because of

the multitude of different components

(encryption, de-encryption, compression,

decompression, servers, projectors, etc.)

necessary for digital projection. To avoid

a monopolized market, standards needed

to be set up for all components to properly

interact with each other.

In February 2004, DCI's long-awaited

technical specifications draft drew

criticism from exhibitors in the U.S. and

Europe. In a strongly worded letter, NATO

criticized the studio consortium for

wanting to weaken security standards

to remove exhibitor control over their

equipment. A widespread fear, for

instance, was that a studio could tamper

with the placement of a film in the

program and darken the auditorium.

NATO issued a resolution in January

2005 that highlighted the demands

of exhibitors: "The exhibitors want a

branded digital cinema experience that

exceeds the quality of 35mm film and

home-entertainment systems. They

also require open and global technical

standards that promote competition

and ensure interoperability. They seek

a system that secures the content yet

maintains the same operational control

that movie theaters yield today. And they

have called for a universal financing plan

that is funded by the Hollywood studios

and allows all exhibitors and studios to

participate."

Later in 2005, three long years

after its creation and following

interminable negotiations among the

various stockholders, the DCI gathered

representatives of studios, NATO, and the

American Society of Cinematographers

to announce the completion of the digital

cinema specifications. NATO was strongly

supportive, cautioning, however, that

the list was not perfect but that "digital

cinema will happen very soon."

The last obstacle was financing. Studios

argued that exhibitors would maximize

their revenues by rapidly rotating feature

films and finding alternative sources of

revenue. Exhibitors, meanwhile, argued

that studios would financially benefit

the most thanks to the dwindling cost of

digital distribution. For exhibitors, the

transition still seemed too expensive. A

projection booth with a new 35 mm film

projection unit could cost about $30,000

and last for decades. One digital screen

could be billed at about $100,000, with

no one yet knowing how long it would

be before upgrades became necessary.

"It's very simple math," said Fithian in

2001. "Digital cinema could never drive

enough extra traffic through our box

office and to our concession stands to

make up the difference." By the time the

DCI issued its specifications, various

third-party integrators had proposed

financing and installation plans to North

American exhibitors. Third parties would

raise the capital to buy and install the

equipment. Over time studios would pay

"virtual print fees," a cost paid per title

per screen, to the third parties for the

use of their equipment. Exhibitors would

make a smaller contribution that was

associated with the cost of installation and

maintenance.

2005 marked the turning point that

launched the digital rollout in the U.S.

and abroad. By the end of 2006, AcessIT

and Christie had installed digital cinema

systems in 1,000 commercial cinemas. By

June 2007, more than 4,000 screens were

equipped worldwide. Though difficulties

remained, the industry was already

looking forward to the opportunities

granted by digital. At the 2005 ShoWest

conference, 3-D eclipsed digital as the hot

topic. As James Cameron stated at the

event: "3-D is absolutely the future."

Long before the digital rollout was

completed in the following decade, the

industry felt another effect of the digital

revolution. The exorbitant costs of the

digital transition triggered a quest for

new channels of revenue for exhibitors.

Alternative content, especially digital

Q2 2021

21
---
INDUSTRY CENTURY IN EXHIBITION

advertising in the preshow, became

another buzzword of the decade. "It has

become clear over the past couple of years

that the digital cinema revolution is going

to be more gradual than first predicted

and find its footing through cinema

advertising rather than feature films,"

wrote Boxoffice Pro in February 2003.

At the time, about 20 percent of U.S.

screens had digital technology capable

of projecting the preshow. According to a

Marketing Experts International article

published in Boxoffice Pro, advertisers

spent $800 million on global cinema

advertising in 2003, with expected growth

to $1 billion in 2004 and $1.5 billion in

2005. Nascent digital cinema offered a

more efficient, cost-effective, entertaining,

and flexible avenue for advertisers to

target their consumer demographics while

boosting the revenue of exhibitors.

Digital advertising, like digital cinema,

skyrocketed in 2005. In March of that

year, Regal Cinemas and AMC combined

to form National CineMedia, with

Cinemark joining as a founding member

in July. Screenvision launched a digital

ad network and released studies that

confirmed the effectiveness of cinema

advertising among consumers. Although

preshow advertising companies touted

their innovation, Boxoffice Pro pointed

out the fears of some exhibitors who were

wary of displaying a feature film after

commercial promotions. "Exhibition

representatives take issue with the

perception that preshow programming

is unpopular … the majority of patrons

much prefer seeing a preshow rather

than a blank screen when they arrive at

theaters early," said Kurt Hall, president

and CEO of National CineMedia in March

2006. For exhibitors, the key was to adapt

advertising to the cinematic medium in

creative, engaging ways. "What we don't

have in our content set is … overt sales

messaging," explained Screenvision's

Adam Stewart in June 2006. "We're

encouraging our partners to … respect the

audience." New companies, like TimePlay

or Gold Pocket Wireless, ventured into

interactive preshows to provide more

entertaining content while also acquiring

information about moviegoers. The era of

big data was just beginning.

Wired World

The first revolution of the new millennium

was the digital transition. The second

was happening virtually, with rapid

developments in online ticketing,

marketing, and distribution. In June 2000,

when the magazine asked Cineplex Odeon

chairman and CEO Allen Karp about

the future of online ticketing, he was

unapologetically optimistic. "Ultimately,

explosive," he responded. "It will take

time for consumers' habits (last-minute,

cash-on-the-line impulse buying) to

come around, but the convenience,

guaranteed fulfillment, and the evolution

of e-commerce as part of our daily lives

should assure success."

The e-commerce landscape

was undergoing an unprecedented

competitive surge. In April 2000, in the

wake of United Artists' alliance with AOL

MovieFone, AMC joined with Hollywood

.com to create MovieTickets.com, an online

ticketing hub that included additional

editorial content from Hollywood.com's

library. Later that year, Canada's Famous

Players and National Amusements joined

the endeavor as well. In 2000, just a month

after the debut of MovieTickets.com

at ShoWest, Regal, Loews Cineplex,

Cinemark, General Cinema, Edwards,

and Century—representing a combined

12,000-plus screens across North

America—announced that they had

joined forces to co-found their own movie

ticketing website, Fandango. "Remote

ticketing has really become an extension

of our business, and it is critical for our

business that we ensure the quality of

service to all our patrons," argued Loews

Cineplex president and CEO Lawrence

Ruisi. The announcement came within

days of CBS's 5 percent investment in

MovieTickets.com.

Europe was also picking up on the

digital ticketing trend. In Germany, for

22 Q2 2021
---
"Self-service technologies

in conjunction with member

cards have created the

ability to start to get more

data on the consumer in

terms of frequency, purchase

patterns, etc. …"

instance, Cinemaxx, UFA Theater, and

Kieft & Kieft Filmtheater jointly launched

a nationwide ticketing service in 2000.

Back in the States, to curb the increasing

power of Fandango, AOL MovieFone

and MovieTickets.com partnered to

create a co-branded alliance in June

2001, representing 80 percent of North

American screens, that offered internet

ticketing capability. AOL MovieFone

transferred all its ticketing services to

MovieTickets.com in 2004.

While Fandango still serviced more

screens, MovieTickets.com gained

exclusive rights to 32 circuits, twice that

of Fandango. The e-commerce battle

forced the pioneers of online ticketing

to continuously innovate. "Still buying

tickets online? That's so 20th century,"

wrote a Boxoffice Pro contributor in

May 2006. At a time when around

6 percent of movie tickets were sold

online, the next frontier was mobile.

Both Fandango and MovieTickets.com

expanded their services to mobile

devices in the middle of the decade

with an emphasis on reserved seating,

concessions, and partnerships with search

engines. Boxoffice Pro dedicated many

pages to what was often called "DIY" or

"self-serve" ticketing. In a 2001 article,

Rukshan Mistry delved into the perils

and possibilities of e-ticketing. "The

question is not whether, but how," he

stated. The challenges, he explained,

were mostly related to driving traffic

to the ticketing website, especially for

smaller theaters without a strong brand

or the capital to operate a proper website.

Customer service was also problematic

because of the patron's inability to speak

directly to a person. But these concerns

were overpowered by the benefits: With

a clear, simple, transparent experience,

e-ticketing could revolutionize the box

office, cut expenses, and help theaters

attract a younger, more tech-savvy

generation.

Online ticketing, like interactive

preshows, represented a landmark for

data collection. "Typically, cinemas have

known very little about their customers in

the past," said Vista's Murray Holdaway in

October 2005. "Self-service technologies

in conjunction with member cards have

created the ability to start to get more data

on the consumer in terms of frequency,

purchase patterns, etc. …" Another way to

collect precious data and court younger

moviegoers was through online movie

marketing. Already in 2003, a TNS Media

Intelligence/CMR report presented in

Boxoffice Pro found that internet ad

spending had surged 71.2 percent over

the previous year. Marketing through

exhibitors' websites skyrocketed, while

social media was beginning to pique

the interest of the industry. In 2009,

Q2 2021

23
---
INDUSTRY CENTURY IN EXHIBITION

Boxoffice Pro wrote extensively

about Facebook for the first time in the

publication's history, with Phil Contrino

suggesting that the platform could help

independent exhibitors build a direct

relationship with their fans thanks to the

possibility of online grassroots campaigns,

direct messages, reviews, friend

invitations, and more. Contrino wrote,

somewhat prophetically: "Facebook is the

next step in film marketing, and exhibitors

should plug into its potential."

The advent of the internet, however,

also instilled new fears and created

unique threats. Piracy was facilitated

by the transmission of digital films via

satellite as well as the proliferation of new

platforms for online downloading. Piracy

was costing the industry billions of dollars

every year. NATO, the MPAA (now the

MPA), and studios fought hard for legal

action, as the movie industry feared that

it would follow the somber example of

the music industry's battle with pirates.

In an effort to prevent themselves from

being "Napster-ized," MGM, Paramount,

Sony, Universal, and Warner Bros. joined

forces in October 2001 to launch their

own broadband service, tentatively called

MovieFly, which provided consumers

on-demand access to theatrically released

movies. Disney and Fox responded with

their model, Movies.com. In March 2007, a

Boxoffice Pro writer—who had himself

briefly become a pirate for the sake of

journalism—concluded that "the movie

industry does have to compete against

piracy, but as with the music business, if it

gave people what they wanted for a nicer

price, it wouldn't have to."

This was exactly the concept that new

VOD platforms capitalized on. With their

emergence, the decades-old debate on

windows became more urgent than ever,

and sparked again in 2005—a particularly

bad year at the box office—when

Disney's chairman, Bob Iger, suggested

that consumers had a preference for

simultaneous theatrical and DVD release.

That same year, Mark Cuban—co-owner

of 2929 Entertainment, which controlled

Landmark Theatres—defended day-anddate

releases after Steven Soderbergh's

Bubble was released in such a manner.

In a November 2006 article, Cuban even

argued for more studio ownership of

movie theaters to eliminate the exclusivity

problem altogether. NATO's Fithian

called the high-profile debate "salutary,"

as it had generated media attention

and precipitated discussions between

exhibitors and studios.

"Thoughtful industry leaders like

Howard Stringer of Sony, Sumner

Redstone of Viacom, Ron Meyer of

Universal, and Jim Gianopulos of Fox

have all articulated publicly their support

for the theatrical release window because

they know the tiered release model

best serves their companies and their

consumers," Fithian declared in April

2006. Filmmakers like Jonathan Demme

and Tim Burton also expressed their

support for longer windows. In a tribute

to the cinematic art at ShowEast in 2005,

M. Night Shyamalan movingly defended

longer windows: "When I sit down next

to you in a movie theatre, we get to share

each other's point of view. We become

part of a collective soul. That's the magic

in the movies. If [simultaneous release]

happens, you know the majority of

theaters are closing."

By 2007, the theatrical-to-DVD window

had stabilized to four months and 16 days.

But the questions raised by VOD platforms

were far from resolved. "Suddenly, the

talked-about place to see a movie isn't

the mall plex or old-town indie cinema.

It's on your computer—or in your hand,"

lamented Boxoffice Pro's Annlee

Ellingson in November 2006. A year later,

the trend had gathered more steam: "In

an era in which Google has entered the

lexicon as a verb, MySpace is a popular

social destination, and YouTube acts

as an egalitarian showcase for budding

filmmakers, it should come as little

surprise that the internet has emerged

as the next-generation film distribution

platform with most potential—if yet,

unrealized," she remarked. iTunes, Xbox

Live Marketplace, and Amazon Unbox

were all considered to have this kind

of potential. A particular production

company, Red Envelope Entertainment,

and its distribution arm, Netflix, caught the

interest of Boxoffice Pro. Anticipating

one of the most important debates of the

next decade, Chad Greene noted in April

2007: "If alternative distributors like Red

Envelope have their way, more and more

film fans will realize they do, indeed, live

in a distribution democracy—one in which

they can cast their votes either at home or

at the box office."

"The movie industry does

have to compete against

piracy, but as with the music

business, if it gave people

what they wanted for a nicer

price, it wouldn't have to."

24 Q2 2021
---
THE

COMPANY WEBEDIA GROUP

Like you, we like results:

We'll quickly set you up on our

world class mobile app with

flexible pricing. When our product

boosts ticket sales and moviegoer

retention, we both win.

Send an email to Michelle.Coull@boxoffice.com to learn more

Q2 2021

25
---
Industry BIG DATA

THE IMPACT OF

COVID-19 ON THE

GLOBAL BOX OFFICE

72% ↓ 80% ↓

The global movie

theater box office fell

by 72 percent.

The North American

movie theater box office

fell by 80 percent.

Global Box Office Down 72 Percent, Digital

Leads Home Entertainment in 2020, According

to the MPA's 2020 THEME Report

BY DANIEL LORIA

In a beleaguered 2020, the global

movie theater box office fell by

72 percent, finishing the year with $12

billion in ticket sales, according to the

Motion Picture Association's (MPA)

annual THEME report.

Overseas box office was responsible for

$9.8 billion in ticket sales, representing

81 percent of the overall global market.

Much of that business came from the $6

billion earned by the Asia Pacific region,

which hosted three of the world's top five

box office markets in 2020: China (No. 1,

$3 billion), Japan (No. 3, $1.3 billion), and

South Korea (No. 5, $0.4 billion). The

Europe, Middle East, and Africa (EMEA)

region suffered a 61 percent drop to $3.3.

billion, while Latin America suffered the

biggest losses during the pandemic, with

an 82 percent drop to $0.5 billion.

The North American market, comprising

the United States and Canada, experienced

an 80 percent decline in box office

($2.2 billion), translating to a total

of 240 million admissions in 2020. The

number of cinema admissions in the

United States had previously fluctuated

between 1.24 and 1.36 billion since 2011.

According to the MPA, the typical

moviegoer bought 1.5 tickets in 2020,

down from 4.6 the previous year.

Less than half of the U.S./Canada

population attended the cinema in 2020,

a year when digital home entertainment

accounted for 82 percent of the entire

entertainment sector. Streaming revenues

in the United States have more than

doubled over the last four years—from

$11.4 billion in 2016 to $26.5 billion in

2020—while physical media have shrunk

by more than half during the same term—

from $8 billion in 2016 to $3.5 billion in

2020. Theatrical revenues had consistently

surpassed $11 billion since 2016, until

falling to $2.2. billion in 2020 due to the

onset of the Covid-19 pandemic.

2020 Top 10 Global Box Office Markets

– All Films (US$ Billions)

1

2

3

4

5

China

1 2 3

$3.0

North America (U.S. & Canada)

Japan

France

$0.5

$1.3

South Korea

$0.5

$2.2

Global Box Office Market — All Films (US$ Billions)

International

U.S./Canada

6

$0.4

U.K.

$45

$40

$39.9

$40.9 $41.8 $42.3

7

$0.4

India

$35

$30

$25

$27.9

(71%)

$27.9

(71%)

$27.9

(71%)

$27.9

(71%)

8 Germany

$0.4

$20

$15

$10

$5

$12.0

$9.8

$11.4

$11.4 $11.4 $11.4

(81%)

$2.2

2016 2017 2018 2019 2020

9 Russia

$0.3

10 Australia

$0.3

Source: Omdia, local sources

26 Q2 2021
---
Less than half of the U.S./

Canada population attended

the cinema in 2020, a

year when digital home

entertainment accounted

for 82 percent of the entire

entertainment sector.

Global Theatrical & Home/Mobile Entertainment Market (US$ Billions)

Physical Digital Theatrical

$98.3

$100

$92.0

$83.7

$80.8

$80

$77.8

$42.3

$12.0

$41.8

$40.9

$60

$39.3

$40

$61.8

$39.4

$47.2

$23.6

$30.1

$20

$14.9

$12.7 $10.8 $8.8

$7.0

Theater vs. Home Entertainment

The pandemic upended the usual

revenue from theatrical and helped spur

a dramatic rise in home entertainment

earnings as audiences stayed home. Home

entertainment brought in a total of $68.8

billion worldwide in 2020, propelled

almost entirely by digital—with physical

media representing only $7 billion of that

figure. Combined, theatrical and home

entertainment earned a total of $80.8

billion in the year, down 18 percent from

2019's $98.3 billion.

2016

2017

2018

2019

2020

Source: Omdia

U.S. Online Views & Transactions (Billions)

Online movie views/transactions

Online TV views/transactions

300

265.9

250

201.4

200

163.6

150

130.1

244.6

100

88.6

186.7

151.8

119.7

50

78.9

9.7

10.4

11.8

14.7

21.3

2016

2017

2018

2019

2020

2016 2017 2018 2019 2020 '20 vs. '19

Online movie views/transactions 9.7 10.4 11.8 14.7 21.3 45%

Online TV views/transactions 78.9 119.7 151.8 186.7 244.6 31%

Total 88.6 130.1 10.4 201.4 265.9 32%

Subscription

Subscription-based services within the

digital home entertainment category

experienced a particular upswing in 2020, a

reflection of new platforms introduced by

major media conglomerates. Subscription

video on demand (SVOD) was up by 35

percent in 2020, earning $21.2 billion in the

year—nearly three times the $7.8 billion

SVOD brought in 2016. Transactional digital

home entertainment, however, shrank by 2

percent in 2020 to $8.8 billion—down from

$11.6 billion in 2016.

The growth of digital home

entertainment has been significantly more

disruptive for linear television than it has for

the theatrical industry. Television content

represents 92 percent of the overall online

views and transactions in the United States.

Although it represents a minority of digital

transactions and viewership, streaming

movies at home has seen a relative rise in

popularity in recent years. Online movie

views and transactions in the United States

have more than doubled since 2016 and

increased by 45 percent from 2019 to 2020.

Q2 2021

27
---
Industry BIG DATA

Seven of the top 10 streamed

movies in the United States in

2020 were released in 2019 or

earlier—including the top three

titles of the year.

6% ↑ 1% ↑

The number of cinema

screens around the

world increased by 6

percent.

The number of cinema

screens in North

America increased by

1 percent.

Seven of the top 10 streamed movies

in the United States in 2020 were

released in 2019 or earlier—including

the top three titles of the year. Notably,

eight of the top 10 most-streamed

movies in 2020 were children's titles.

The data reveals that despite an

increased adoption and engagement in

digital home entertainment platforms

because of the Covid-19 pandemic,

the bulk of home viewership remains

centered on serial television content and

library catalogue titles at this time.

Despite the disruption caused by

the pandemic, the number of cinema

screens around the world increased by

6 percent in 2020 to a total of 207,650

screens. Asia Pacific accounts for nearly

half of the world's cinema screens with

103,603, followed by EMEA with 44,902,

North America (U.S. & Canada) with

44,111, and Latin America with 15,034.

The number of cinema screens in

North America increased by 1 percent

in 2020 and has risen by 3 percent since

2016 despite the increasing popularity of

digital home entertainment platforms.

In the United States specifically, the

number of screens decreased by 0.4

percent, from 41,172 to 40,998, but was

nevertheless higher than the national

screen counts of every year dating back

to 2016.

Top 10 Streaming Films in the U.S. in

2020 (million minutes streamed)

1

2

3

4

5 10 15

Frozen II (2019) Disney Plus

14,924

Moana (2016) Disney Plus

10,507

The Secret Life of Pets 2 (2019) Netflix

9,123

Onward (2020) Disney Plus

8,367

5

Dr. Seuss' The Grinch (2018) Netflix

6,180

U.S. Screens by Type

Analog Digital non-3D Digital 3D

6

Hamilton (2020) Disney Plus

6,132

45,000

40,000

40,174 40,393 40,837

41,172 40,998

7

Spenser Confidential (2020) Netflix

5,374

35,000

30,000

15,318 15,530 15,511

15,136 14,848

8

Aladdin (2019) Disney Plus

25,000

5,172

20,000

9

Toy Story 4 (2019) Disney Plus

15,000

24,205 24,579 24,806 25,432 26,150

4,416

10,000

5,000

651 284 520 604 0

2016 2017 2018 2019 2020

Source: Omdia

10

Zootopia (2016) Disney Plus

4,400

Source: Nielsen

28 Q2 2021
---
RTS

Q2 2021

29
---
Industry INDUSTRY INSIDERS

A LIFE

IN FILM

Paramount's Patricia

Gonzalez Loves the Movies,

Heart and Soul

BY REBECCA PAHLE

Regardless of the company

she worked for, or whether she

was on the distribution or the

exhibition side, her goal was

the same: getting people into

theaters.

A love of the movies runs deep in

Pat Gonzalez, SVP of in-theater

marketing at Paramount Pictures. A

child of Los Angeles, she grew up as a

regular at the Egyptian Theatre, where

her introduction to the art form in which

she would eventually establish a 40-year

career came, not from children's movies,

but from capital-C Classics that were not

always the most appropriate viewing for a

child not yet in middle school.

"I was one of those younger girls

hanging out with older cousins," Gonzalez

recalls. "At 9 years old, I was a chaperone

for my cousin, 17, and her boyfriend—at

the time, 19. When they went out to the

movies, they took me. So I saw movies that

were very much out of my age range. I saw

the Godfather at age 9."

Such an early exposure to, say, The

Godfather's horse-head scene ("I couldn't

get that out of my mind") could have

turned young Pat off film for good.

Fortunately, her childhood moviegoing

experiences were mostly thrilling,

with the classic old movie houses of

L.A. serving as the source of a cinema

obsession that continues to this day. "I

wasn't, probably, in a multiplex until I was

a teenager," she recalls. Gonzalez will take

a black-and-white movie over a color one.

The Hepburns—Audrey and Katharine—

are her actresses of choice, along with the

great Myrna Loy. For the men, it's Clark

Gable. And as for big screen vs. small—the

answer should be obvious.

"It was at a time when it was safe. You

could walk places," recalls Gonzalez of

her Hollywood childhood. "I was allowed

to walk to Hollywood Boulevard to go

to the movies." Butch Cassidy and the

Sundance Kid, The Sting, The Heartbreak

Kid, and Jeremiah Johnson were early

favorites, along with the road comedies

of Bob Hope and Bing Crosby. "It is such

a different way to see a movie, right when

you walk in," says Gonzalez of her early

years haunting the Egyptian, the Mann's

Chinese Theatre, and classic cinemas

dotted around Westwood. "In those

theaters, you feel so small. Especially

as a kid. And it's this big, enormous

picture—it does suck you in. I love the

way that we see movies today. But there

is something really special about the

throwback of seeing them on those

big screens, where you had eight, nine

hundred people in one auditorium

seeing a big movie."

It made sense that someone who spent

so much time in theaters would eventually

get a job in one—which Gonzalez did, at a

General Cinema location, where, starting at

age 17, she worked the concession stand one

day a week. One day turned into five, then

six. Gonzalez was "enamored by that whole

experience," she says, and her plans of

being a graphic designer fell by the wayside.

It surely didn't hurt that the cinema

where Gonzalez started her entertainment

career played host to extensive audience

research screenings—she estimates 250

a year. "You had Julia Roberts, Richard

Gere. It was a constant influx of talent for

research screenings and also just hanging

out and coming to the movies."

Gonzalez moved to the corporate side

of General Cinema, eventually becoming

their national director of film marketing.

She would work on the exhibition side of

the business for 16 years before moving

over to DreamWorks—where she was the

head of theatrical marketing services

until 2006—and then Paramount Pictures.

Regardless of the company she worked for,

or whether she was on the distribution or

the exhibition side, her goal was the same:

getting people into theaters. Working

creatively to do just that was the part

of her time at General Cinema that she

loved the most. "We did a lot together

collectively as a staff," she says. "If we

knew that Universal's coming in, and they

were doing a big research screening, I'd

get our team together: 'Listen, Backdraft is

opening. Let's do this really amazing still

life with set pieces and tie-ins with the

local fire station.' You'd be collaborating

and actually creating something that

would create a focal point."

In working on the exhibitor side of

in-theater marketing, Gonzalez would

collaborate with studios—though, at the

time, "exhibitor relations" was still coming

into being as a distinct role. "Way back

in the day, there wasn't a department at

an exhibition company programming

the trailers. It would have been myself or

anybody else that was the manager of that

complex—we would be programming our

screens. And as things got more … I'm going

to say competitive, and you had everybody

vying to get on-screen, it actually got taken

out of the individual theaters and became a

home office responsibility. But back in the

day, in the '80s, there were maybe two or

three people doing what, today, you might

have 100 people doing."

30 Q2 2021
---
Whether it's two people or 100,

distributor or exhibitor: "Whatever we

do, we have to continue to elevate the

theatrical experience. Showmanship

has always been important. But I feel

like it's even more important today than

ever before."

What does that mean in the post-

Covid era, when exhibitors and studios,

filmmakers and talent, must work together

to remind moviegoers of how powerful

the cinema experience can be—when the

resources for a big, splashy spend may not

be there? "What can you do that becomes

a little bit more turnkey yet feels special?"

Gonzalez asks. She offers up as an example

an event around Paramount's A Quiet

Place Part II, where a Thursday preview

screening at the Cinemark Playa Vista and

XD featured a live Q&A with director John

Krasinski, simulcast to over 500 theaters

across the country.

"Our big thing was, how do you bring

this experience and not charge anything

extra for it? For this event, it's the regular

price of admission," says Gonzalez. "These

things—they were important before the

pandemic, but I think it's really even

more important now. We're doing some

taped greetings. We're doing things to

verbally remind people: 'You're here. We

know it wasn't easy for you to get out of

your house and come to the movie theater.

We're grateful that you're here.'"

The pandemic may have caused a time

of unprecedented, extended precarity in

the cinema industry, but championing the

experience of seeing movies in theaters is

nothing new to Gonzalez and her team, nor

is doing so on a shoestring budget. Asked

about an underdog film that she's worked

on during her time at Paramount, Gonzalez

flashes back to the first Paranormal Activity,

the campaign for which memorably (and

quite successfully) showcased moviegoers'

terrified in-theater reactions to the horror

unspooling on the screen. "It was a small

group of us trying to do things in a very

nontraditional way," she says. The film

initially opened in 13 markets—not "typical,

mainstream theaters," but more out-ofthe-way

places and college towns. When

they added Santa Cruz, people would drive

the five-plus hours from Los Angeles to get

there, despite the fact that there were only

two screenings per day, one at 10 and the

other at midnight.

The experience was, "in the truest

sense, about working hand in hand with

your exhibitor partners," says Gonzalez.

Promotion was largely by word-ofmouth—no

television and a modest

digital "Demand It!" campaign, in which

those curious about all the fuss could go

to the film's official website and vote for

Paranormal Activity to come to their city.

If the film got a million votes—which it

did, as evidenced by the five-and-counting

sequels—it would open nationwide. "It

was really the strangest, most fascinating

process, but also the most rewarding,

because you saw the fruits of the

grassroots efforts," says Gonzalez.

The Paranormal Activity marketing

campaign may have been exceptional in

its creativity and effectiveness, but every

film requires something a little different

from the rest—and that's what Gonzalez

likes most about her job. "It's a constantly

changing landscape. We get more involved

now in life cycle marketing, because

you're talking about theatrical and the

home entertainment piece, and a lot of the

exhibitor partners now have [streaming

platforms]," she says. "You're always going

to have what I call a traditional marketing

mix. And then separate from all that is,

what do you do to really step out? What

can you do that feels like you're taking

the movie to the next level?" Whatever

marketing magic is required to get people

to see a particular film, Gonzalez says it's

most important that the programs her

team proposes "have to be good for both of

us," studio and theaters. "It can never be

one-sided. It has to be good for us and for

our exhibitor partners," she says. "I have

fun! At the end of the day, I have fun doing

what I do with the team that I get to work

with and the people that I work with in

exhibition."

The joy and the pride Gonzalez takes

in her work in the entertainment industry

extends beyond her work in exhibition

and distribution to her years of service

with Variety – the Children's Charity,

where she serves on the boards of two

chapters: Variety the Children's Charity

of Southern California and Variety Boys

& Girls Club of Boyle Heights. "I work

with incredible men and women," she

says. "We all have day jobs. But we're all

so motivated by this passion of trying to

make the world a little bit better. And one

of the ways you can do that is through

helping kids and youth, so that everyone

has a fair shot at making their dreams

come true."

Through her work with Variety,

Gonzalez has seen first-hand the good

that the film industry does in providing

children who have health challenges with

the mobility bikes they need. "You give

that child a moment to actually feel like

other kids feel, things that we all take for

granted." The children who attend the

Variety Boys & Girls Club of Boyle Heights,

meanwhile, "just take your breath away.

They're such smart kids. This club is in

a really tough part of Los Angeles. It's in

the inner city, and it's surrounded by a lot

of gangs—it's just a tough neighborhood

to live in. But that club is a safe haven

for all these kids. I'm inspired by the kids

and their desire to learn. I'm part of the

scholarship review at Variety SoCal. A lot

of those kids that get scholarships, they're

the first in their families going off to

college." Once they do, many come back,

"because they want to help make their

community better. I'm really inspired by

that, too."

"I've been very lucky," Gonzalez says. "I

don't forget how blessed I am. I love this

industry."

"Whatever we do, we have

to continue to elevate

the theatrical experience.

Showmanship has always

been important. But I feel

like it's even more important

today than ever before."

Q2 2021

31
---
Indie Focus 34 | Boxoffice Barometer 40 | NYC Reopens 50 | International Spotlight 54

THEATER

"We don't really identify in any traditional programming bucket.

We're just focused on booking the best films available."

Indie Focus, p. 34

Q2 2021

33
---
Theater INDIE FOCUS

INDIE FOCUS

Brought to you by

As the cinema industry begins to emerge from the Covid-19

pandemic, Boxoffice Pro and Spotlight Cinema Networks are

partnering to profile movie theaters and influential industry

figures from across the country and asking them to share their

first-person accounts of bringing the movies back to the big screen.

GATEWAY FILM CENTER

Columbus, Ohio

Interview with Chris Hamel, President

What role does the Gateway

Film Center play in its local

community, and how did you get

involved with it?

The Film Center is the real epitome

of unique. We sometimes feel like an

arts center, sometimes it appears to be

somewhat of a commercial venue, but I

don't think there's anything really like it

in the country. It was originally developed

by the city and Ohio State University to

drive economic development to a part

of the city that was being revitalized. It

was originally operated by the Drexel

Theatres group, which was a small, local

chain that was here in Columbus at

the time. Landmark Theatres operated

the venue for a few years as well. I was

retained as a consultant in 2009 to figure

out why it wasn't working the way that

the developers had hoped it would. We

realized at the time that we had to really

become an integral part of the arts

community in Columbus to reach those

goals. That is why the Film Center is

really focused on artists and filmmakers;

we don't exclusively play independent,

commercial, or local films. We try to

curate a mix of the best of all three. And I

really think we've done a pretty good job

at building trust locally and in the region.

People believe in curation here. Columbus

is really a great arts city, and the Film

Center is a part of that arts community.

How did the Gateway Film Center

establish itself in the Columbus arts

scene?

I think it's fair to say that the legacy arts

leaders in the city were a little skeptical of

us. They thought of us as just a traditional

movie theater, and a lot of people in the

U.S. think of movies as a commodity: get a

bunch of people in, sell concessions, move

on. We spent the first few years really trying

to explain to the other arts leaders in the

city that that wasn't really our model ... in

time, I think we were able to earn their trust

and build really meaningful partnerships.

Sometimes our role here at the Film

Center is to act as the host, and sometimes

we're the venue. If there's a film festival or

another organization that wants to host a

screening, we have a great place to do it

and we take the responsibility seriously in

letting them tell their story. Other times

34 Q2 2021
---
Q2 2021

35
---
Theater INDIE FOCUS

our role is in the curation and creation of

these opportunities.

We see it as critically important to get

filmmakers in our city who are ready to

present their film the way they've always

wanted to, on the big screen. Nobody

spends two years of their life on a project

to watch it on their computer; they want

that big screen environment. If you're a

filmmaker in our city or region, and you

want to see how your film looks along the

way, we make ourselves available so that

you can come in, without paying a bunch

of fees, and take a look at your work in

progress. A lot of venues in our industry

can't offer that screen space without an

economic return—and I have nothing

but empathy for that position—but our

situation is a little bit unique. During the

time when the Film Center is closed, it's

nice to allow people to use the screen to

take a look at their films.

How did the Gateway Film Center

navigate the Covid-19 pandemic?

I don't know anybody in our field who

was prepared for the challenges of the

pandemic, but we still found ways to form

meaningful partnerships. We worked

"You could tell there was a

huge desire for people to

get back to the cinema. I

remember thinking that we

weren't going to have much

of an issue reintroducing

ourselves to the community."

with the [Columbus Museum of Art] on

presenting some films about artists, we did

talks ... we looked at every way we could

maintain our partnerships and find new

ways to innovate during the pandemic.

In some ways, the operational

challenges were greater than the external

ones. We've got a team assembled that's

been in operations for a lot of years,

but we were all required to put on our

learning hats to really understand the

appropriate levels of sanitation, cleaning,

social distancing, and health measures

that were required to be a responsible

exhibitor. We spent the better part of

those first few months of the pandemic

trying to understand that. I don't have

any animosity toward the CDC or our local

health organizations—they were learning

as well. Once we got our heads around it, it

really became about outfitting the venue

so that we could reopen responsibly and

ensure we kept our patrons safe.

Did you go through any cycles of

reopening and having to close back

down again?

We reopened for two little bursts during

the pandemic. The first was when we

36 Q2 2021
---
were selected as one of the venues to host

the Sundance Film Festival; we opened

for those five days in January. We then

did a little test run in late April, when we

screened all the Best Picture nominees

and all the nominated short films over

a four-day period. We were able to even

have our patrons stay and watch the

broadcast of this year's Academy Awards.

We sold every ticket available, for both

those iterations. Now, granted, we were

operating at limited capacity, 30 percent,

so the sellouts didn't feel the way they

used to back in 2019.

What were the main lessons you took

from those experiences?

The first lesson we all learned and talked

about as a group afterward is that people

cannot wait to see a movie on the big

screen again. The audience was amazing.

We had received countless individual

donations ahead of both openings. People

came in and brought our staff doughnuts

and food. You could tell there was a huge

desire for people to get back to the cinema.

I remember thinking that we weren't going

to have much of an issue reintroducing

ourselves to the community.

Like a lot of venues that reopened, we

limited some of our food and beverage

offerings and amenities when we finally

opened our doors. We were very careful

about food and drink for both Sundance

and award-season weekend, but we

quickly learned that all of those missing

products were ones people had grown

accustomed to—and they asked for them.

They weren't on our menu boards, but the

audience knew about them and wanted

them back.

"We don't really identify in

any traditional programming

bucket. We're just focused

on booking the best films

available from around the

world in any given week,

month, or season."

don't really identify in any traditional

programming bucket. We're just focused

on booking the best films available from

around the world in any given week,

month, or season. And that's what we're

doing as we reopen: you're going to see

some commercial stuff like A Quiet Place

Part II, and we're also going to screen

independent and festival films like Gunda

and Port Authority. In our repertory

programming we're doing a retrospective

of the films by Cartoon Saloon from

Ireland, we're showing all of Chloé Zhao's

feature films and shorts, and we've got a

4K restoration of The Silence of the Lambs

on the schedule.

How much of a role does curation and

programming play in how you engage

with your core audience?

Audiences will be subjective. Sometimes

they'll like the thing that you curate,

sometimes they won't. But I think they

can trust and feel something when they

know the effort's going in to bring them

things that are original, innovative, and

interesting. That's what we're looking

for. It's not hard to program A Quiet Place

What did your programming look

like when you "officially" reopened

in late May?

I feel like we've been in a period of

innovation in exhibition since 2010.

Things have changed so much. When

we got to 2020, it wasn't like streaming

was invented that year. Netflix had

already fully cornered the market five

years ago. Now you're seeing all these

new [streaming] players come along,

changing the options people have to watch

something at home. This is the time to

innovate [our programming], and I feel

pretty proud of what we've done. We

Q2 2021

37
---
Theater INDIE FOCUS

Part II, but I know a lot of traditional

art houses would say, "That's just a

commercial genre sequel." That's not

really how we see it. If we think something

is thought-provoking and interesting,

if it's from a filmmaker to keep an eye

on, then that's a good thing to be a part

of if you're an audience member. I have

a tremendous amount of respect for

traditional art house cinemas, but I also

think there's an opportunity to be more

innovative, quite frankly, in this sector of

the exhibition world. I have never gotten

into a conversation about print count with

anybody outside of our industry. None of

my friends or family knows whether any

given film is being released in 500 venues.

Nobody cares. What they care about is

seeing quality films.

As we emerge from the pandemic,

how have additional revenue streams

like cinema advertising helped your

cinema recover from the impact of

the closures?

I can't say enough complimentary things

about the folks at Spotlight Cinema

Networks. Full disclosure: I spent 10 years

"I have a tremendous amount

of respect for traditional art

house cinemas, but I also

think there's an opportunity

to be more innovative, quite

frankly, in this sector of the

exhibition world."

working in cinema advertising, so I know

how challenging it is to appeal to national

brands while still being respectful and

caring about local venues who have

footing in their cities. It's a balancing

act, and they manage it quite well. There

are two ways that I think they really help

us. One, they help us gain credibility by

bringing in these national partners and

advertisers. If I'm an audience member,

and I see a major brand associated with

an independent venue, there's some

added credibility there. And there's also

the economics: quite frankly, this is an

important revenue stream for us, and it

was noticeable when we didn't have it for

those 14 months. There are people who get

to have jobs in our venue because of the

relationship with Spotlight, and I'm really

pulling for them to have a great recovery

alongside us in 2021.

38 Q2 2021
---
THE

COMPANY WEBEDIA GROUP

Like you, we like results:

With our low risk flexible pricing,

we'll give you access to our Boost

ticketing solution at no upfront

cost. When your online ticket sales

receive a boost, everyone wins.

Interested in learning more, send an email to Scott.Hanlon@boxoffice.com

Q2 2021

39
---
theater BOXOFFICE BAROMETER

2021

Honoring Excellence in Theatrical Exhibition

Boxoffice Pro is reviving its iconic Boxoffice Barometer readers' poll, a popular

annual feature of our magazine for decades, in which exhibitors vote on the best

achievements in the industry. In this newly revamped edition of the Barometer,

representatives from over 50 exhibition circuits around the world voted online

to select the most important and influential contributions in the exhibition

industry throughout 2020. Boxoffice Pro will be featuring profiles of each

honoree throughout our upcoming print editions in 2021.

40 Q2 2021
---
Industry Figure of the Year:

NATIONAL ASSOCIATION

OF THEATRE OWNERS

Cinema Trend of the Year:

PRIVATE THEATER

RENTALS

Film of the Year:

TENET

(WARNER BROS.)

Theatrical Distributor of the Year:

WARNER BROS.

Exhibitor Relations Department

of the Year:

WARNER BROS.

Cinema Vendor of the Year:

VISTA GROUP

INTERNATIONAL

Food & Beverage Vendor of the Year:

VISTAR

Technology Vendor of the Year:

CINIONIC

Q2 2021

41
---
theater BOXOFFICE BAROMETER

CINEMA VENDOR

OF THE YEAR:

VISTA GROUP

INTERNATIONAL

"One of the earliest decisions

we took was to try and work

even more closely with our

customers and support them

as they experienced difficult

times."

Interview with Kimbal Riley, Chief Executive

Officer, Vista Group International

As a global group of companies,

how did the Vista Group tackle

the early days of the Covid-19 crisis,

both internally, communicating with

staff and teams all over the world,

and externally, in communicating

with cinema clients globally?

The early days of the Covid-19 crisis

seemed like an accelerating sequence of

challenges to manage—every day brought

something new to wrestle with. We stuck

to our core priorities: Look after our

people, look after our customers, and look

after our company.

In the two weeks leading up to the

closure of cinemas all around the world, we

undertook a practice day of working from

home for every group location, anticipating

that this might become a reality. And

it did—really quickly. So, we were well

prepared when countries globally instituted

lockdown—our teams smoothly relocated

to working from home and kept working

together as they usually do. Remote

collaboration is in our DNA—it has to be—

so this simply broadened that to everyone.

Our executive teams ran a daily action

session via Zoom—managing our core

priorities. Constant communication with

our people from multiple levels—group

CEO down—was a key part of what we

discussed every day. (The group CEO learnt

how to record short—low production

quality—vidgrams on his phone, updating

people across the company to reinforce our

support for our people.)

As working from home has extended

for months and months, we've followed

42 Q2 2021
---
through with care packages, social events

via Zoom, and intense communication to

look after our people as best we can.

"Social distancing" became part

of our global culture practically

overnight. And in order for cinemas

to reopen at all, it was necessary to

implement that social distancing in

auditoriums. Vista had a direct hand

in that. Can you walk us through the

process of how social distancing was

able to be so quickly implemented at

cinemas worldwide?

We undertook a wide-ranging survey of

our customers around what they saw

as priorities/needs in a post-pandemic

world—and out of that generated

"reopening kits" from Vista Cinema, Movio,

and Veezi. The reopening kit from Vista

Cinema included the Dynamic Social

Distance seating capability. Development

only took six weeks, and the social

distance seating code was one of the

most difficult codes to include in the

Vista Cinema system yet was completely

revolutionary, enabling cinemas to

configure their seat plans to support a

wide range of government requirements—

from social distancing to capacity

restrictions. This flowed through each

sales channel—as moviegoers pivoted en

masse to contactless purchasing (when

the cinemas were open). We talked to our

customers, we assimilated their collective

thoughts, we added our own innovation

input, and we rapidly had the reopening

kits available for customers to take up.

How has the Vista Group kept

in touch with clients during the

closures? What role does that

communication with the client play in

Vista's corporate culture?

One of the earliest decisions we took was

to try and work even more closely with

our customers and support them as they

experienced difficult times. We worked

really hard at sustaining our multilevel

communications with our customers—

proactively reaching out to support any

ideas they had for short-term revenue

opportunities (we supported a number of

cinemas offering a drive-by/pickup sales

offer for popcorn and other F&B offerings).

Creating and delivering innovationfocused

products and services that meet,

and aim to exceed, the needs and wants

of our customers is key to the Vista

Group culture—and therefore consistent

communication with our clients to ensure

these needs are being met is vital to us.

And to end on a positive note: The

Vista Group has a behind-the-scenes

look at the global exhibition industry.

From your perspective, which markets

have already recovered so far in

2021—and which do you expect can

steer closer to normality over the

summer?

With the acceleration of vaccination

rollouts, we're starting to see light shining

on our industry. Globally the pattern is

still uneven, with renewed outbreaks in

some countries proving challenging to

handle. However, we are positive that

over the coming months we will see a

wide trend to control the pandemic and

subsequent recovery of the exhibition

community.

Q2 2021

43
---
theater BOXOFFICE BAROMETER

CUSTOMERS' CHOICE

PRIVATE CINEMA

RENTALS

Private Cinema Rentals are

Boxoffice Pro's Trend of the Year

BY REBECCA PAHLE

Roadside popcorn sales. Pop-up

drive-ins. Virtual cinema. The Covid

era has been one of experimentation

for the exhibition industry, as cinemas

worldwide struggle to compensate for

shutdowns, capacity limits, and a lack

of content. One of the most successful

methods for keeping theaters afloat as

they wade through a period of recovery

has been named Boxoffice Pro's first

ever Trend of the Year: Private cinema

rentals and microcinemas.

Private cinema rentals, as a concept,

are nothing new. But with the pandemic,

the old world of private cinema rentals

in North America—corporate events and

children's birthday parties—took a sharp

turn. For exhibitors, renting out cinemas

to small groups of moviegoers made sense

for many reasons: It let customers know

they were open and operating; it gave

exhibitors a way to sell tickets during a

period of content scarcity and let them

reopen their theaters gradually, rather

than all at once; and it gave moviegoers

still apprehensive about the full cinema

experience a way to dip their toes into

theatrical waters once more.

Cinemark was the first of North

America's top chains out of the gate for

what a representative call "a streamlined,

direct-to-consumer online private

auditorium rental program." The Texasbased

chain, the third largest in North

America, announced its "Private Watch

Parties" program in July of 2020, enabling

moviegoers to rent an auditorium for

as many as 20 guests. In August, Alamo

started with locations in Austin and

Denver. AMC soft launched a beta

program in October before officially

launching its "Private Theatre Rentals" in

November—noting in the press release

that the four weeks of the beta period

resulted in 110,000 guest requests, more

than quadruple the entire number in all of

2019, "without any significant marketing

and press announcement."

Other chains, large and small, were

quick to see the benefits of private rentals.

One of those is San Antonio, Texas–based

Santikos Entertainment, one of the first

chains to reopen in summer 2020. "Back

in November, we started getting a lot of

requests from our customers about private

cinema rentals," recalls COO Rob Lehman.

They started renting private cinemas

in December, with 658 groups taking

them up on the offer that month—54 on

Christmas Day alone. "It really took off

[from there]. We did three different price

structures. We did a $75 rental, we did

a $135 rental, and then [with] Wonder

Woman 1984 we did $175. We were blown

away by the number of people that

wanted private rentals. We had 194 alone

for Wonder Woman, and that was for

the month of December. In six days, 194

private showings."

Santikos was not alone. Between

December's launch of the Marcus Private

Cinema (MPC) program and mid-April

2021, Marcus Theatres sold nearly 25,000

private cinema rentals; over the final 11

weeks of the fiscal 2021 first quarter, they

averaged over 1,500 MPC events per week,

accounting for over 20 percent of their

admissions revenue.

Within four months of the launch of

Cinemark's private cinema rental program,

they'd sold nearly 50,000 private events

attended by more than 600,000 people,

"with a significant portion reporting it

was their first time back in the theater

since the shutdown, underscoring the

opportunity for guests to sample the

cleanliness and safety of our theaters,"

said CEO Mark Zoradi in a November

"Consumer sentiment about

theater rentals shifted. It

was no longer thought of

as just for special events

like birthday parties or

corporate outings."

44 Q2 2021
---
2020 call with investors. By the end of Q1

2021, Cinemark had welcomed over three

million attendees to more than 235,000

private rentals, making up 20 percent of

the chain's U.S. admissions revenues in

that quarter.

AMC, too, saw the success of private

cinema rentals continue through the

end of 2020 and into 2021. As of press

time, they had hosted more than 165,000

private watch parties since reopening in

August 2020. Ryan Noonan, AMC Theatres'

V.P. of corporate communication, notes

that private rentals had long been

available at the chain, but what changed

in the pandemic era was a concerted

communication effort to inform patrons as

to their rental options. As a result, he says,

"Consumer sentiment about theater rentals

shifted. It was no longer thought of as just

for special events like birthday parties or

corporate outings. It was now friends and

families who were getting out of the house,

while enjoying the communal theatrical

experience in a way that made them feel

comfortable."

Though the pandemic era has seen

millions of moviegoers attend a private

cinema screening for the first time,

audiences in select overseas countries

have been able to rent out cinemas in

small groups for years. According to Tony

Adamson, GDC Technology of America's

SVP of strategic planning, private cinema

rentals have been waiting in the wings for

a while, their newfound popularity less

caused by than sped up by the pandemic.

"Let's take a look at the evolution of the

movie theater," said Adamson in an April

Boxoffice Pro LIVE Session webinar

on the subject of private cinema rentals.

"Early 20th century was the grand movie

Q2 2021

45
---
theater BOXOFFICE BAROMETER

palace. In 1963, the multiplex era began

with a twin, leading up to 14-, 16-, 18-plexes.

Then, in 1995, the megaplex era began

with the 24-, 30-screen complexes. And

now many would say we're in the dine-in

era or the entertainment center era. So,

what's next in the evolution of the movie

theater? We feel very strongly that it's the

minitheater." A smaller theater, rentable by

a small group, gives Gen Z and millennial

moviegoers in particular the experience

they want, Adamson argues: "They want

to be with their friends. They want to be

with their families. They want to text. They

want to talk." In other words, they want to

see the movie they want to see, when they

want to see it, and with whom.

The concept has already caught on

in parts of Asia, says Adamson, where

"the introduction of a new media law in

China in April 2017 by media regulator

SAPPRFT kick-started the trend of

private cinemas (aka microcinemas)

in China. The law recognized private

cinemas as second-run theaters with

earnings now included in the national

box office." GDC's own GoGoCinema,

which allows moviegoers to create their

own mini-cinema screenings, launched

in Singapore and Shanghai in the final

months of 2019. Says Adamson, "Despite

the pilot test being stopped due to the

pandemic, the response from exhibitors

and customers was very positive. For

"The people that are renting

[cinemas] are the millennials

that are very tech savvy, and

they really don't have any

interest in dealing with the

sales team."

example, from October 30, 2019, to

January 5, 2020, Hall 4 (GoGoCinema Hall)

at GV Funan in Singapore averaged over

90 percent seating capacity, while Hall 3

averaged half the seating capacity of the

GoGoCinema Hall."

With the pandemic, the private cinema

rental hopped overseas. North American

exhibitors experimented to find the price

points and mix of new and older films that

best worked for their audiences. Marcus

Theatres, noted CEO Greg Marcus in a May

2021 call with investors, found particular

success with family films, like Raya and

the Last Dragon, Tom and Jerry, and The

Croods: A New Age—two films (Raya, Tom

and Jerry), notably, that went day-anddate

in theaters and on streaming, and one

(The Croods) that had only three weekends

of theatrical exclusivity. Chris Tickner,

director of marketing and special events

for B&B Theatres, recalls wondering

"[when] all of this would end, as far as how

many people are going to continue to want

to come and … watch something they can

watch at home, which was pretty much

what we were able to show." Happily, the

rentals kept coming, speaking to patrons'

desire to experience films theatrically

even when they could have watched them

at home from their sofas.

Some chains, like Santikos, broadened

the private cinema rental concept to

include gaming, inviting small groups

to bring in their own gaming consoles

and games and play on a large theater

screen. In March 2021, says Santikos's

Lehman, "We had 43 private rentals on

just [gaming] alone. It's been a huge

demand. The kids just love it. We did great

internal marketing from our video team

here, and we played that in front of the

movies that we were showing. Once we

started showing that, we got a spike on

the Xboxes and PlayStations and having

15 kids in an auditorium playing Madden

or Call of Duty."

As cinemas and audiences alike

adapted to the private cinema rental

concept, tweaks had to be made. On

the opening week of Godzilla vs. Kong,

recalls Lehman, a group came in toting a

PlayStation and dressed in Team Godzilla

and Team Kong T-shirts. "They walk

into the auditorium. They hook up the

PlayStation. We have one of our managers

in there. And all of a sudden, they're

loading up Godzilla vs. Kong through HBO

Max. They rented the auditorium for $75

46 Q2 2021
---
for that one. But we're renting auditoriums

for $135 going through our projectors. So,

we said, 'Whoa, wait a minute, this isn't

gonna work. Give us 60 more dollars. We'll

run it through our projector.'... That was

pretty creative. We had to tweak our FAQs

again on that one."

Other changes didn't involve rulebending

teenagers. For private cinema

rentals to have any sort of longevity—at

least enough to get the industry through

the pandemic—the booking process would

need to be streamlined and simplified

for the benefit of both the customers

and the theaters. That involved another

trend that's seen a major boost during

the pandemic: mobile ticketing. At AMC,

previous investment in online ticketing

made its private rental campaign easier to

launch. Notes Noonan: "Online ticketing in

general has exploded over the last decade,

and AMC has invested greatly in our online

ticketing technology, as well as in features

that accompany online ticketing, like our

website, reserved seating, and mobile

ordering. Guests were already accustomed

to going online to purchase tickets and,

in many cases, purchase tickets well in

advance of a showtime, making it easier to

plan a night out with friends and family for

a Private Theatre Rental."

"Bringing it online made a huge

difference for us," says Marcus Theatres'

V.P. Sales Clint Wisialowski. "As much

as I love my crew and our Group Sales

Department, once we automated this

system and allowed people to come in

through what we're calling our micro site,

it dramatically changed the numbers for

us. It allowed us to, with greatly depleted

staff based on all the furloughs we had,

monetize these private rentals."

Added to that, notes Annelise Holyoak,

national director of marketing and

communications at Cinépolis Luxury

Cinemas, "The people that are renting

[cinemas] are the millennials that are very

tech savvy, and they really don't have any

interest in dealing with the sales team."

For Marcus, as they moved into April

2021, the volume for private cinema

rentals remained "tremendous," says

Wisialowski. "Right now, we're booking

about 40 percent more events than we

had in 2019 over this first quarter." What

doesn't match up in the current private

cinema rental landscape, he notes, is

attendance and revenue, which "[don't]

even compare" to what Marcus was pulling

in pre-pandemic. "So, even at this volume,

it's still not significant enough for us to

say that this would be our business model

going forward."

"I call it the 100/100 phase," Wisialowski

continues. "When you get to 100 percent

open and 100 percent occupied, this

system no longer works." It's a sentiment

echoed by other exhibitors. Deeply

discounted private cinema rentals (the

average event pre-pandemic at Marcus

cost around $850) make sense when

capacity limits and a lack of content

put a cap on attendance, but once those

restrictions are removed, a cinema can

typically make more money on a general

admission screening than they can by

renting it to a small group.

At Cinépolis Luxury Cinemas, private

cinema rentals kicked off in a beta form

in May 2020 at their Moviehouse and

Eatery locations before they were even

open to the public. "It was a family affair,"

says Holyoak. "We had the CEO running

drinks. … Having a limited menu and just

opening up to those reservations made it

really easy for us to get started." Private

cinema rentals later expanded to the wider

Cinépolis Luxury Cinemas brand, and

demand ballooned—to a point where it has

outstripped supply, at least when it comes

to what Holyoak terms "prime time hours."

"People are kind of frustrated that they

can't get a theater for four people, or even

20 people, now that capacity is up to 50

percent [in California]," says Holyoak. "It

really makes more sense for us to just have

it as a regular show."

In April 2021, B&B Theatres stopped

letting people rent its cinemas to watch

older titles on weekends. Even a multiplex

with a dozen-plus screens, argues Tickner,

needs to devote most of those screens to

Once those restrictions are

removed, a cinema can

typically make more money

on a general admission

screening than they can by

renting it to a small group.

Q2 2021

47
---
theater BOXOFFICE BAROMETER

general screenings once lucrative new

films—like Godzilla vs. Kong—start to

debut. With moneymakers finally back

in cinemas, B&B Theatres and Cinépolis

count themselves among the chains that

have begun shifting private rentals to

off-peak hours. At AMC, the plan is to

continue to offer private rentals "after this

summer and likely far into the future,"

says Noonan. He anticipates that after the

pandemic subsides, AMC will continue

to see demand for special events like

birthday parties and corporate outings,

as well as the sort of friends-and-family

cinema gatherings that moviegoers have

been introduced to.

Meanwhile, at Cinemark, the increased

presence of blockbuster movies means

the chain has seen "an increased number

of people booking standard showtimes

over [Private Watch Parties], particularly

as Covid cases decline, vaccinations

increase, and consumer sentiment rises,"

says a Cinemark representative. "While

Private Watch Parties will still continue

to exist at Cinemark for the foreseeable

future, their frequency and amount may

evolve as we welcome new content from

our studio partners."

"I don't think the concept is going

away any time soon," says Cinépolis's

Holyoak. For one, the way the pandemic

has pressed cinemas to simplify the rental

process will impact traditional group sales

moving forward. "Prior to Covid," she

says, "our company was doing thousands

of private events every year. Primarily

corporate, but we joked that the most

time-consuming events were the kids'

birthday parties. ... Our highly paid sales

team was focusing way too much attention

on that. This has been a game changer for

us now that we've gotten it online. If you

want to have your kid's birthday party,

you can book it online yourself and, quite

frankly, we're just not going to help you

coordinate clowns and all these other

things. If you want to go that route, you'll

have to have a higher food and beverage

minimum and book with our team."

Kid's birthday parties and clowns

aside, if, moving forward, a customer

wants to rent a cinema for their group of

friends to see the latest blockbuster, they

may still be able to do so, depending on

the cinema. Just don't plan on a Friday

night spot or Covid-era pricing. At B&B

Theatres, says Tickner, the presence of

30- to 40-seat auditoriums alongside

larger-capacity houses means private

cinema rentals might remain "an ongoing

revenue stream" after Covid. "They might

not get Avengers on opening weekend.

But we'll tell them, 'Hey, you can get that

30-seat auditorium two weeks after.' And

[they can say], 'OK, I'll watch it opening

weekend and then I'll come back for my

private rental two weeks after.'"

Given the potential of private cinema

rentals as an ongoing auxiliary revenue

stream, especially as cinemas continue

to explore alternative, niche forms of

programming—and given the general

unsuitability of large auditoriums to the

private cinema rental concept—could we

be seeing an increase in the number of

microcinemas in North America over the

coming years, either through new builds

or the renovation of existing theaters?

Adamson of GDC Technology believes we

will. "Many exhibitors are resistant," he

admits, "but there are [an] equal amount

that are ready to move onto the next era.

Recently built suburban complexes, they

average seven screens with about 125 to

250 seats. There are several other barriers:

high capital investment, film distribution

costs"—and the need for projection

equipment suited to small spaces.

Mike Cummings, senior principal at

TK Architects, which has operated in

the cinema design space for 40 years,

believes that the private cinema rental

concept has "strong potential," pointing

to the fact that "the pandemic has proven

that customers like the option of private

cinema rental." Too, Cummings argues,

the relationship between exhibitors and

studios has changed over the course of

the pandemic, meaning, "Exhibitors

are exploring other content sources and

should also be exploring other revenue

sources. Microcinemas can be part of this

inevitable evolution of the exhibition

business model."

The issue, expectedly, comes down to

money. Exhibitors, says Cummings, are

"immersed in recovery. Between SVOG

[the Shuttered Venue Operators Grant

program] and the complex logistics of

reopening facilities, they are striving

to achieve some semblance of financial

stability"—so, even though some

exhibitors have expressed "keen interest"

in microcinemas over the last several

months, "it is not their priority right now."

As the industry stabilizes, Cummings

says, "Converting is the most likely first

wave. Right-sizing spaces is critical longterm

but less important with current

content availability. Many facilities have

more auditoriums than they can utilize

effectively right now. They could allocate

a few to microcinema[s]. ... We have seen

some experimentation, but we believe the

right formula is yet to be discovered."

"Exhibitors are exploring

other content sources and

should also be exploring other

revenue sources. Microcinemas

can be part of this inevitable

evolution of the exhibition

business model."

48 Q2 2021
---
Building a Mini-Theatre?

Introducing the award-winning Espedeo Supra-5000

The world's smallest, quietest, and lightest RGB+ laser

phosphor cinema projector sold exclusively by GDC Technology

Ideal for boothless

Quiet

Light

Small

Ceiling

mount

No

hush-box

Contact your GDC sales representative today!

GDC Technology

Hong Kong • Beijing • Shenzhen • Barcelona • Dubai • Jakarta • Los Angeles • Mexico City • Mumbai • SãoPaulo • Seoul • Singapore • Tokyo

PA-1111-2105-V1E

Copyright©2021 GDC Technology Limited. All rights reserved.

Powering your digital cinema experience

@GDCTechnology

Q2 2021

49

www.gdc-tech.com
---
Theater NEW YORK CITY

The Big Apple's Movie

Theaters Reopen After

Nearly a Year of Closures

BY DANIEL LORIA

NEW YORK CITY

WELCOMES

BACK CINEMAS

50 Q2 2021
---
Cinemas in New York City were

ordered to close on March 16, 2020,

as part of the city's mitigation efforts to

contain the Covid-19 pandemic in its early

days. The virus would soon turn the city's

five boroughs into its global epicenter,

extending the length of those closures

from what was initially expected to be

weeks to a matter of months.

Cases dropped from that first spring

peak and stabilized in the New York

City region throughout much of the

summer. Starting in May and extending

through August, cinemas slowly began

reopening on a state-by-state basis across

the country. As Labor Day approached,

however, the state of New York had yet

to provide a reopening time frame or

set of guidelines for cinemas. Despite

the lack of clarity around New York's

reopening, Warner Bros.' gambled on an

early September release for Christopher

Nolan's Tenet, the first major studio

film released in cinemas during the

pandemic. The film's release came and

went without the slightest indication

of a New York reopening, indefinitely

sidelining the top box office market in the

country—and putting the rest of the 2020

release schedule at risk. Days after Tenet's

domestic debut, with New York and Los

Angeles theaters still closed, Warner Bros.

decided to push the October release of

Wonder Woman 1984 to Christmas.

When New York state finally

announced reopening guidelines timed

to late October, it excluded New York

City from those plans without providing

any further explanation. By the end of

October, nearly every remaining title on

the 2020 slate had been rescheduled to

the following year, premiered early or

simultaneously in streaming platforms, or

skipped theaters altogether.

It took a total of 50 weeks from Mayor

Bill De Blasio's original announcement for

local moviegoers to finally learn when—

and how—they could return to the cinema.

It wasn't until late February 2021, after

prioritizing several other businesses—

including restaurants, gyms, casinos,

pool halls, bowling alleys, and arcades—

that Governor Andrew Cuomo finally

announced that New York City cinemas

could reopen at 25 percent capacity, with

a maximum of 50 people per auditorium,

on March 5. After nearly a year of closures

without a single update, New York City

exhibitors were given 10 days to make all

the necessary arrangements, including

the installation of enhanced air-filtration

systems, in order to be among the first in

the city to reopen.

AMC Theatres was the first major circuit

to jump at the opportunity to announce

its return to New York City. The chain

released a statement from CEO Adam Aron

within hours of Cuomo's announcement,

indicating it would be opening all its

NYC locations on March 5. Showcase

Cinemas was the only other major circuit

to announce it would open three NYC-area

locations on that date. Across the Brooklyn

Bridge, independent dine-in operator

Nitehawk Cinemas opened its Prospect

Park location. Other top chains—including

Regal, Alamo Drafthouse, and Cinépolis—

expressed optimism about reopening in

the coming weeks and months. Luxury

cinema chain Ipic announced it would

reopen its location in the financial district

on March 31.

Complementing its status as the

country's top box office market, New York

also plays a crucial role in the specialty

market, both as a launching ground for

platform releases and a media hub for

marketing art house and foreign titles.

Two of the most prominent art house

theaters in New York City remained closed

until April: Film Forum, which reopened

on April 2, and Film at Lincoln Center,

which returned on April 16. A trio of

cinemas in Greenwich Village were among

the first to reopen on March 5. The IFC

Center was joined by Reading's Angelika

Film Center and Cohen Media Group's

Quad Cinema, programmed by the group's

Landmark Theatres team, in welcoming

New Yorkers back to the movies with the

specialty programming they're known for.

"It wasn't easy. None of them have

been," says Landmark Theatres President

and COO Paul Serwitz, recounting his

circuit's experience in getting locations

back up and running. Landmark, the

largest specialty circuit in North America,

had to permanently close its flagship NYC

location earlier in the pandemic. The

circuit assisted in reopening its parent

company's Quad Cinema in Greenwich

Village on March 5. "We have gotten

accustomed, dating back six months now,

to getting very little advance notice from

Complementing its status

as the country's top box

office market, New York

also plays a crucial role in

the specialty market.

Q2 2021

51
---
Theater NEW YORK CITY

any particular state or locality. Having a

week to week and a half has been typical.

A couple of weeks is like a luxury," he says.

"I think a lot of people in exhibition

have gotten pretty savvy at implementing

a pretty quick turnaround to get ready,"

he adds. "We've learned a lot along the

way: getting the jump on ordering PPE

materials and inventory items that we

need in advance, as we could see the

potential for various states and markets

to reopen. The Quad, specifically, came as

a surprise. A lot of people were thinking

New York and L.A. could be as far back as

April, May, or June to reopen. It seemed to

happen pretty quickly. There was a lot of

scrambling, but we were able to get it done

with all the necessary arrangements. … It

took about a week and a half of the 10 days

of nonstop activity and trying to get things

delivered to the theater for all that to be

ready, but we made it."

Being ready to open by March 5 was

only half the equation for New York City

exhibitors. Even with all the preparations

in place, movie theater operators needed

to grapple with the financial challenge of

operating at 25 percent capacity for the

foreseeable future. In a city like New York,

where real estate comes at a premium, the

25 percent capacity restrictions can make it

financially unviable to reopen at all. In its

response to the reopening announcement,

the National Association of Theatre

Owners (NATO) was quick to emphasize

the need to increase capacity restrictions

to 50 percent to help more exhibitors

return to operation. "New York City is a

major market for moviegoing in the U.S.;

reopening there gives confidence to film

distributors in setting and holding their

theatrical release dates and is an important

step in the recovery of the entire industry,"

read NATO's statement. "We look forward

to expanding the capacity from 25 to 50

percent in the very near future so that

theaters can operate profitably."*

IFC Center was one of the theaters that

decided to reopen despite the financial

challenges of operating at 25 percent

capacity. The cinema went a step further

by choosing not to sell concessions

for the time being, in order to ensure

mask wearing at all times inside their

auditoriums.

"Being closed was absolutely more

challenging on a financial level than

being open with limitations, so we were

excited to open as soon as we were

allowed," says John Vanco, senior vice

president and general manager at the

IFC Center. "The 25 percent capacity

limitation certainly makes the finances

more difficult, but we're optimistic that

things will improve steadily in the next

several months, with growing comfort

of audiences, more movies in exclusive

theatrical windows, and eventually

easing capacity restrictions."

Landmark's Serwitz agrees about

the financial challenges of the state's

current operating restrictions, but, like his

colleagues who also reopened on March 5,

he says he believes it's a risk worth taking.

"It's pretty hard to break even at 25 percent

with small capacity," he says. "The Quad

is a good example, where that puts us at

roughly 25 people max per show, per film.

It's pretty hard to drive enough revenue

from that to be in the black. A large part

of it is just trying to tap into that pent-up

demand for those audiences that are dying

to go, ready to go, and do go. Making it so

we can get important films and important

filmmakers' content back in theaters,

where they belong to be seen, and create

the access the movie business has long

been associated with: the ability for

movies to be on-screen and for people to

be able to go to theaters and find them."

"In any market, as the ability to open

theaters continues to expand, there's going

to be a curve, from the point of opening

over the subsequent number of weeks and

months, for people to get accustomed to

the fact that theaters are open and movies

they want to see are available to be seen in

theaters. You have to provide some runway

for audiences to get back in," says Serwitz.

For the IFC Center, a theater known for

having in-person filmmaker appearances

and Q&As, reopening is an opportunity

for moviegoers to engage with film culture

after a year dominated by streaming

providers. The theater hasn't shied

away from programming Netflix titles

already available to subscribers at home.

"While we're holding off on having any

in-person appearances in our first weeks

being reopened, we invited filmmakers to

contribute a video introduction to welcome

moviegoers back to the cinema. We were

thrilled at how many filmmakers sent us

something—from Spike Lee and Miranda

"The 25 percent capacity

limitation certainly makes the

finances more difficult, but

we're optimistic that things

will improve steadily in the

next several months."

52 Q2 2021
---
"Movie theaters are

something that can safely

bring people back into the

world again."

July to Eliza Hittman, Aaron Sorkin,

George C. Wolfe, Thomas Vinterberg, and

David Fincher and the cast of Mank—and

audiences are getting a big kick out of

watching them," says IFC's Vanco.

While it's still early to see a significant

box office impact from New York City's

reopening, the industry is already

experiencing tangible benefits from

the market's return to business. Focus

Features opened specialty title Boogie in

1,252 locations on March 5, finishing the

weekend as the fourth highest-grossing

film in the market with a $1.2 million

haul. Fourteen of the title's 20 highestgrossing

locations came from New York,

seven of them in Manhattan—including

the AMC Empire in Times Square, the

film's top-grossing theater. New York

accounted for nearly a fifth of Boogie's

opening-weekend take.

"The impact of New York coming

back online is not going to be immediate,

but it will be a significant piece to how

distributors look at how and when they're

going to release their specialty titles," says

Landmark's Serwitz, whose circuit focuses

primarily on programming specialty titles.

"It's been hugely problematic for those

distributors through this period. There was

a point last fall before Covid numbers really

started resurging that there were close to

70 percent of theaters around the country

open, but not New York and L.A. That poses

a particular problem for all distributors and

studios, but particularly for the specialty

distributors who rely so much on New York

and L.A. to launch a movie."

Focus Features president of

distribution Lisa Bunnell agrees,

describing New York as part of the overall

foundation the specialty market needs to

rebuild in the coming months. "Things are

still fluctuating. When you're releasing a

specialty film, not only do you need New

York, but you also need L.A., you also

need Washington D.C.," she says. "You

don't have Washington, you don't have Los

Angeles—there are still a lot of missing

pieces and markets."

"I think the specialty market will take a

while to figure out where we're going to go

and how we're going to get our distribution

schedules back to where we were before

or maybe change them," adds Bunnell.

"We've learned a lot during this time

period; maybe we do go a little broader

with some of these films than we used to in

the past. The knowledge that we've gained

from the pandemic, despite being a tough

way to learn, showed that there is interest

in specialty film across the country and we

need to take that into account when we are

releasing films. Having your anchors, New

York and L.A., open for business is going

to be tremendous for us across the board."

Bunnell expresses hope that the

domestic cinema recovery can begin in

earnest as the spring turns to summer,

after a year of frustrated efforts and false

dawns. "A lot of that [optimism] has

to do with the vaccine. People see that

there's light at the end of the tunnel," she

says. "As we're starting to understand

the pandemic more, we all know it's not

going to be like flipping a switch and

everything's going to be OK. Each step we

take into a positive direction is something

that brings everybody a little bit out of

their pandemic depression."

"Movie theaters are something that

can safely bring people back into the

world again," says Bunnell. "I think it's

important to recognize that theaters

are doing a good job of keeping people

safe. We've seen that so far throughout

the country, even before Manhattan

reopened. I know that AMC and everybody

in New York who is open right now is

being very careful. That's what we all

have to understand: there are going to be

protocols for a while, but we can still have

fun and see movies together again."

*Editor's Note: Cinemas in New York City

were granted permission to operate at 33

percent capacity on April 26. Additional

capacity restrictions were relaxed in May.

Q2 2021

53
---
Theater OVERSEAS

MULTIPLEXES

IN MINSK

Silver Screen Cinemas Brings

the Modern Movie Chain to

Belarus

BY REBECCA PAHLE

"We were called crazy!" says CEO

Oleg Tronik, reflecting on the 2014

birth of Silver Screen Cinemas. What is

now, in 2021, four theaters—including

one opened in March 2021, in the midst

of the Covid-19 pandemic—was then just

one, but that one represented a significant

milestone: Silver Screen's Galileo theater,

in the capital city of Minsk, was the first

multiplex in the Eastern European nation

of Belarus.

Traditionally, cinemas in Belarus

have either been privately owned single

locations or, more frequently, theaters

owned and run by the state. Prior to Silver

Screen's emergence, the former Soviet

country had no chains or multiplexes to

speak of. Government-owned cinemas,

though centrally located, typically aren't

of the highest quality, Tronik explains—

and with their standard of having one

screen apiece, they certainly don't provide

cinemagoers with much variety, either in

terms of programming or the exhibition

amenities that audiences in other

countries enjoy.

"There was no [moviegoing] culture"

in Belarus, Tronik says. The country's

per capita annual movie attendance

rate was the lowest of any former Soviet

country. Five years and four Silver Screen

multiplexes later, it's still low, with the

average person buying less than one ticket

per year. Similarly, there's little in the way

of a local movie scene, with most of the

productions shot in Belarus originating

from nearby Russia rather than local

filmmakers. "But there was willingness to

54 Q2 2021
---
Left: In spring 2021,

multiple Silver Screen

locations played host

to a Lord of the Rings

movie marathon,

complete with special

concessions and

costumed characters.

Right: The concessions

area in Silver Screen's

Mooon cinema, their

most recent location

and first in the city of

Grodno

develop from the nation, from the people,"

says Tronik. "We think that our business

actually helped to develop [a moviegoing]

culture [in Belarus]. …. Maybe it's a big

word—but still, we think so."

Building a cinema chain in a place

where there aren't any cinema chains—

where there are no multiplexes, and

cinemagoing isn't a common pastime—

took experimentation. Five million dollars

was invested in the first theater, at which

pricing was set at about five dollars per

ticket. (At state-owned cinemas, tickets

are about two dollars.) "With $5 million

invested in one location, we were

called crazy. But we succeeded," says

Tronik. Despite the higher ticket prices,

the Galileo welcomes over 400,000

admissions a year. Silver Screen's second

location, which opened in 2015, brought

Dolby Atmos sound and recliners to

Belarus for the first time; its third gave

the post-Soviet Commonwealth of

Independent States (CIS) region its first

ScreenX auditorium.

The Mooon, Silver Screen's fourth and

most recent cinema—and its first located

outside Minsk, in the city of Grodno—

has a coffee shop, a self-serve snack bar,

and an entertainment/gaming area for

children, in addition to five auditoriums,

three of which are open as of press time—

one boasting ScreenX technology, and

another with tables and sofas for easier

in-theater dining. "We traveled a lot," says

Tronik of how he and the rest of the Silver

Screen team decided which amenities

the Belarusian market would respond to.

They "saw a lot of locations throughout

the world—what they look like. What

they offer. We tried to bring to Belarus

everything that we liked in the world."

That includes another first for the chain,

and indeed for Belarus: a self-serve M&M

machine at the Mooon location that had

to be purchased in London, because "we

have no distributors here in Belarus."

The innovations extend beyond

amenities to the content on the screen;

in 2019, Silver Screen showed two films

dubbed into the Belarusian language, a

rarity in for the country and a move that

was "very popular for our audience."

Alternative content, too, is an attractive

prospect for the chain. Being from a

small (if growing) market, "it's not

so easy," says Tronik. Their Russian

distribution partners "aren't so interested

[in alternative content]. Everything

is good for them, because Russia is a

big market. … You don't need to think

about niche, alternative stuff." At Silver

Screen, the long-term goal is to establish

an overall programming strategy that

is "unique to our audience" and not so

dependent on Russia, which—along with

the United States—currently generates

the vast majority of Silver Screen's

programming. (They typically look at

about an 80/20 split, with more films

from the States, though with Hollywood

releases continuing to lag as the Russian

film industry picked up steam in the first

quarter of 2021, the split was more like

50/50.) With the addition of theater, music,

and sports to Silver Screen, Tronik hopes

to "make a menu for our audience … to

bring everything that exists in the world.

"There was willingness to

develop from the nation, from

the people. We think that

our business actually helped

to develop [a moviegoing]

culture [in Belarus]."

Q2 2021

55
---
Theater OVERSEAS

That's the strategy. And we have a lot of

work ahead of us!"

That work includes expansion. During

2020, as Covid pummeled the exhibition

business, Silver Screen had to decide

whether to move ahead with three

contracts for new locations. In a meeting

with the owners, Tronik recalls, "we

decided that the crisis was the best time

to develop, to grow. And we decided not

to refuse these plans and to invest in new

locations." All three locations are slated to

open by the end of 2022.

The growth of Silver Screen, Tronik

admits, has not been without its

challenges. Though they would prefer to

be located in the major regional cities of

Belarus, they're limited by the presence—

or lack thereof—of modern shopping

centers fit to host a multiplex. And there

are the state-owned theaters, which by

virtue of their central locations and sheer

quantity still draw the majority of the

country's audiences. "Maybe our next step

will be to buy these state-owned cinemas

and to rebuild them—to make something

"We decided that the crisis

was the best time to develop,

to grow. And we decided not

to refuse these plans and to

invest in new locations."

from these, because the locations are

great," says Tronik.

But there are some tools at Silver

Screen's disposal: for one, their exclusive

rights to operate ScreenX and 4DX

auditoriums in Belarus. In 2020 came

another exclusive license, this time with

Imax, which will have its grand entry into

Belarus with Silver Screen's fifth location,

planned to open later this year. There has

been interest in the past from exhibitors

in other countries looking to enter Belarus,

but "we've built a very high limit [for

competitors] to enter the market," says

Tronik. "The technology that's behind

us, the quality, and the loyalty of our

audience—I don't know what competitors

would do."

56 Q2 2021
---
DIGITAL SIGNAGE

Integrated Digital Signage,

Concession Signs, Lobby &

Directional Signs, Custom Graphics

MOBILE APP &

WEBSITES

Web Management, Website

Design and Programming,

Online Ticket Purchasing,

Mobile App Development,

Mobile Ticketing Sales

INTERNET TICKETING

Online Ticket Sales with Theatre Branded Interface

Your Complete Theatre

Management Solution

Starts Here!

TICKETING & CONCESSION

POINT-OF-SALE

Touch Screen Ticketing,

Concession Point-of-Sale,

Two-in-One Terminals, Kiosk Sales

& Redemptions, Assigned Seating

BACK OFFICE

MANAGEMENT

Show Scheduling, Inventory,

Cash Control, Remote Access,

Labor Management,

Real-Time Corporate Reports

GIFT CARDS & LOYALTY

PROGRAMS

Gift Cards, Virtual Gift Card

Sales, Customer Rewards

888-988-4470 Sales

FILM RENTAL MANAGEMENT

Automatically Calculate Weekly Film Rental, Create

Payment Vouchers, Settle Films & Manage Credits

NETWORK &

IT SERVICES

Network Support, Hardware

Monitoring, Phone & Surveillance

System Support, ISP Monitoring,

Security & Antivirus

RetrieverSolutionsInc.com

Q2 2021

57
---
The Boxoffice Podcast is

your weekly podcast all

about the cinema industry.

Every week we break down major industry news, dissect

box office results and connect with studio and cinema

executives to talk market trends and industry shifts in

theatrical exhibition and entertainment at large.

Search for Boxoffice Podcast on your favorite podcast app.
---
F9 60 | Peter Rabbit 2 66 | Booking Guide 73

ON SCREEN

"We had a lot of Brits working on this movie who were

constantly saying to me, 'That's not right, that's not

right, that's not right.'"

Worth the Wait, p. 72

Q2 2021

59
---
On Screen FILMMAKER INTERVIEW

FURIOUS

Director Justin Lin Brings a $6 Billion

Franchise Back to Cinemas with F9

BY JESSE RIFKIN

60 Q2 2021
---
RETURN

Q2 2021

61
---
On Screen FILMMAKER INTERVIEW

To escape a villain in Furious 7, Vin

Diesel revs his Lykan HyperSport out

the window of one gleaming Abu Dhabi

skyscraper, then crashes through the

window of another, but not before flying

through the air for several moments. Yet

Justin Lin has audaciously claimed on

Twitter that F9, the upcoming ninth film

in the Fast and the Furious franchise, is "by

far the most ambitious film of the series."

After directing the third through sixth

installments, Lin left for a few years to

direct other films (Star Trek Beyond) and

television shows including episodes of

NBC's "Community" and HBO's "True

Detective." Now he's back for Universal's

F9, potentially a billion-dollar film; the

prior two installments earned $1.5 billion

and $1.2 billion globally.

Boxoffice Pro asked Lin about his

reported criticisms of the franchise's

original 2001 installment, whether Fast

and Furious has turned him into a "car

guy," and how working on the sitcom

"Community" prepared him to helm a

billion-dollar franchise.

The second film was titled 2 Fast 2

Furious. Did you consider naming this

one 9 Fast 9 Furious?

[Laughs.] [The fifth film] was supposed

to be Fast Five, and then Furious 6. The

title card in the actual movie even says

Furious 6. But when Universal actually

released it, they called it Fast & Furious 6,

just to make sure everybody knew which

franchise it was. So F9 shows how we've

evolved and grown the franchise to the

point that now we can just say F9 and

everybody knows what that means. It's a

badge of honor.

What do you remember about seeing

the first Fast and the Furious in 2001?

I was at UCLA film school and a teaching

assistant for a documentary class. These

two students were doing a documentary

on car races out in the desert. I didn't

really know much about cars, but by the

time [The Fast and the Furious] came out

six months later, I was really excited. I

went to see it at the AMC Santa Monica

and the audience was cheering and having

a great time.

At the same time, I remember thinking,

"All the Asian American faces I see onscreen

are the bad guys. They always

62 Q2 2021
---
FURIOUS

FRANCHISE

Worldwide grosses

$207.3M

The Fast and the

Furious

$236.3M

2 Fast 2 Furious

$158.9M

The Fast and the

Furious: Tokyo Drift

$360.3M

Fast & Furious

$626.1M

Fast Five

$788.6M

Fast & Furious 6

$1.5B

Furious 7

$1.2B

The Fate of the Furious

$759M

Fast & Furious Presents:

Hobbs & Shaw

"I came to understand and

respect the passion some

people have for cars. I

would not tell you that I'm

an aficionado, but now I

can appreciate cars and

car culture."

have to hang out by pagodas and Buddha

statues. Oh my God." I could connect with

the excitement, but I was disappointed by

the portrayal. That was 2001, and only four

years later I had the opportunity to join the

franchise, reshape it, and redefine it.

You didn't know much about cars

back in 2001, but after directing

five of these movies, are you a

"car guy" now?

My passions in life are filmmaking and

basketball, and I wanted to treat cars the

same, so I went and hung out with all

these people who love cars. Over that time,

I came to understand and respect the

passion some people have for cars. I would

not tell you that I'm an aficionado, but

now I can appreciate cars and car culture.

You just said filmmaking is your

passion, but is it true that as a kid

you only saw two movies in a theater?

Because my parents had this fish-andchips

restaurant, they were always

working. E.T. was so big that my dad

actually closed the restaurant a little early

on a weeknight and took the family to

Cerritos Mall [in L.A.]. It was 10 p.m., with

me, my two brothers, and my parents

together. We knew their sacrifice, but they

didn't want us to miss out. [The other

movie Lin saw in a theater as a child was

Rocky III.]

I read that you work every

Thanksgiving, in honor of your father.

For 26 years, he worked every day except

Thanksgiving. My work ethic was so

Q2 2021

63
---
On Screen FILMMAKER INTERVIEW

influenced and inspired by him and my

mom. When I went to UCLA's film school,

they don't fund your movies. You can

do whatever you want, and they support

you as a filmmaker, but you had to figure

out how to [pay for] your movies. I had

three jobs: making smoothies, working

at an audiovisual service, and working at

Tiverton House hotel. It became this ritual

that I would put in my name to work on

Christmas and Thanksgiving. Not only to

honor my dad, but also just for survival!

I really do enjoy working on holidays.

It's a little harder now, with a family and

a son. But they still allow me to go off and

do some work. Some of my best work is

done during holidays. The phone does not

ring, so I get to really focus.

Do you have a favorite car or vehicle

in this film?

One of the perks of the job is "casting"

the cars. We go through months of

deliberation, going back and forth.

Especially living in L.A., what we drive is

kind of an extension of us. On F9, I got to

put the Pontiac Fiero in there. In eighth

grade, my history teacher, Miss Grant,

would show up in her red Pontiac Fiero.

"For me, it's more about

the process than the fame.

... It's humbling to do these

tentpoles, but to me it's all

about trying to get better

every day. I'm still learning,

I'm still growing."

I always had this image of how cool it was

in eighth grade.

Do you have a favorite story from the

set?

People bring their families on set.

Whenever the kids show up, whether it's

me or Vin or other cast or crew members,

we're so proud. We're going to do this big

stunt. And the kids are never impressed

by what we're doing. They're always most

impressed by the craft service. "Look at

all the candies we can have!" My son just

wanted to go to set to get Starburst.

You directed several episodes of the

NBC sitcom "Community," as did

Avengers: Endgame co-directors

Joe and Anthony Russo. What about

that sitcom apparently translated to

directing the biggest blockbusters?

After Better Luck Tomorrow [Lin's 2002

directorial debut], I didn't stop working.

The only time I took off was when I had

my son in 2009. Two weeks into my selfimposed

break, Joe calls and says, "Hey,

we're doing this show. We'd love for you

to do an episode." I loved the script, but

comedy is probably the scariest genre to

64 Q2 2021
---
direct. Rolling up my sleeves and learning

all that?

I was directing the Halloween episode

and decided I needed a Technocrane. At

first they said "What?" but then they

accommodated me. Joe thought that was

great, so then Joe upped his game. We

were always challenging each other. You

never felt like there were any limitations

on that show. They were always trying to

top themselves: in the scripts, in how it was

shot. You were doing 18 hours, it was insane.

Joe and I were actually at UCLA at the

same time. In our second year, we took

this amazing class with this Polish director

Jerzy Antczak. It was basically seven of

us on a soundstage with a dolly and a set

of lenses. We had to really learn camera

moves. It was one of my best experiences

in film school.

A profile article described you as

having "a perplexingly low profile

that belies his blistering box office

track record." Is that intentional, or

would you prefer a bigger profile?

Sometimes with success, you can find

yourself in a bubble of protection with

people who just agree with you. I think

that's dangerous. For me, it's more about

the process than the fame. I love working.

It's humbling to do these tentpoles, but to

me it's all about trying to get better every

day. I'm still learning, I'm still growing.

So how did you try to grow when

directing F9?

When you make films that are financially

successful, the tendency is for studios to

repeat that business, so you get creatively

hemmed in. "It worked, so let's do it

again." At least on my watch, that's never

been the case. When I say yes to do a

movie, it's two years of my life, minimum.

Every film that I've done in this franchise

has been completely different. Tokyo

Drift (2006) was much more about the

drifting culture. We get to redefine

ourselves every time.

In this era of streaming, why should

people see this film in a cinema?

The convenience of watching things on

devices definitely has its perks, but so

rarely do we get to go out and make an

effort [and experience] that anticipation.

The inconvenience of parking or getting

a babysitter is all worth it. To this day,

I think it's one of the most magical

experiences of my life, to sit in a room

with 600 strangers and laugh together or

cheer together. That shared emotion really

gives you a sense of humanity. Especially

with films like F9, you could watch it in

any medium—but it's being built for the

big screen, to sit in that dark room and

escape for two hours.

AT THE MOVIES

What is your all-time favorite

moviegoing memory or

experience?

It was in the '90s; I was

at UCLA. We went to see

Tommy Boy with a sold-out

crowd. There was this sense

of discovery and communal,

shared laughter throughout

the whole movie. It was at the

Mann National in Westwood

[California], which isn't there

anymore. This huge theater,

maybe 2,000 people? To this

day, that's one of my favorite

experiences of my life.

What's your favorite snack at

the movie theater concession

stand?

I love a plain pretzel, but I

pay for extra cheese. Even

sometimes when I go to the

movies after a meal, I still

love that. Then there's also

the Raisinets. When we were

growing up, financially it was

tough. When we went to

movies, it was this second-run

cinema where they'd play two

of them back-to-back. I never

had money for all the snacks.

To this day, I still get so excited

because I can afford snacks

now. To be able to afford a

large water? I really made it!

Q2 2021

65
---
On Screen FILMMAKER INTERVIEW

WORTH

THE WAIT

Director Will Gluck Takes the Delayed Release of

Peter Rabbit 2: The Runaway in Stride

BY JESSE RIFKIN

Of all the theatrical release-date

changes caused by the pandemic,

Peter Rabbit 2: The Runaway may take

the cake—or, should we say, the carrot

cake. The June 11 release for Sony Pictures'

animated sequel counts as its staggering

tenth domestic date.

The pandemic's timing couldn't have

been worse for director and co-screenwriter

Will Gluck, known for helming early 2010s

comedies including Easy A and Friends

with Benefits before pivoting to more

family-friendly fare. On the very same day

66 Q2 2021
---
"We had a lot of Brits

working on this movie who

were constantly saying to

me, 'That's not right, that's

not right, that's not right.'"

in March 2020 that all airline flights were

canceled, Gluck was scheduled to fly to

London for Runaway's premiere.

Gluck directed 2018's original Peter

Rabbit, which earned a surprise $115.2

million domestically and $347 million

globally. The sequel reunites the voices

of James Corden, as the animated title

character, and Margot Robbie, as his

friend Flopsy Rabbit, while Rose Byrne

and Domhnall Gleeson return as the

McGregors, the live-action married couple

whose garden the rabbits live in. New

to the series is David Oyelowo, as the

McGregors' unscrupulous book publisher,

Nigel Basil-Jones. In this installment,

Peter wanders away and gets taken in by

a criminal gang of animals, who threaten

to keep him from both the rabbits and the

humans he's come to consider family.

We asked Gluck how he navigated the

British/American culture gap, how he came

up with the names of minor characters,

and why he cast his VFX supervisor and an

animator as voice actors.

Q2 2021

67
---
On Screen FILMMAKER INTERVIEW

This is the tenth domestic release

date announced for this film. Is that

some sort of all-time record?

I know that the box office people always

talk about the release date. I truly believe,

in this pandemic era, nobody else cares.

As soon as a movie starts doing marketing,

when it's about to come out, that's when

people start to pay attention—especially

kids. We were released in Australia on

March 25 and it did amazing, and that date

changed five or six times, too! That wasn't

the narrative. The narrative was, "Hey,

there's a movie in theaters!"

The movie business is kind of a fandom,

as you well know. Release dates are such a

big thing. What the pandemic is showing

people is there's no such thing as a

summer movie, there's no such thing as a

fall movie, there's no such thing as a spring

movie. There's just a "movie" now. If you

want to see a movie, you're going to see it.

Where were you in the production

process on Wednesday, March 11,

2020, "the day everything changed"?

We were about to get on an airplane to go

to London for the premiere! I always finish

a movie at midnight, the night before they

have to yank it from my hands and start

"What the pandemic is

showing people is there's

no such thing as a summer

movie, there's no such thing

as a fall movie, there's no

such thing as a spring movie.

There's just a 'movie' now."

making digital copies. We finished Sunday

night. Monday, I took my daughter to the

Mulan premiere at the Kodak Theater,

with thousands of people. And Wednesday

the 11th we were about to go to London.

They'd warned us for a few days, "This

might not happen." Then that morning,

"It's not going to happen." My daughter

couldn't go look at colleges in the U.K.

because of that. The most important

thing! [Laughs.]

We decided after much consternation

to move the movie. I remember talking to

the head of the studio, saying, "How do

you feel about this decision?" And even he

goes, "I don't like it." But then the whole

world shut down. So it's kind of funny,

looking back.

Even before everything shut down, I did

have a sense this was going to be a big deal,

just talking to my friends and family back

east. New York got hit, as you well know,

really badly. They said, "No one's going to

the movies here." So it was pretty clear.

Let's talk about the movie itself. What

was the hardest thing to animate?

I'm so impressed with the visual

effects people in Australia, how they

anthropomorphize these animals while

68 Q2 2021
---
continuing to make them look like

animals. Most movies either make them

look completely like animals, like the new

Lion King, or barely at all. We tried for

both. That was the hardest thing.

The two hardest were the deer and

the cat [Tom Kitten, voiced by Damon

Herriman]. We changed the rabbits a little

bit with their eyes, because real rabbits

have eyes on the sides of their heads,

so we moved them to the front of their

heads. But when you look at an animated

character that you know so well in real

life, like a cat, it has to be either perfect

or completely off. Otherwise, it messes

with your head because it's not quite what

you're used to.

You're an American, and this is a very

British movie. The story is British, your

three main live-action characters are

British, James Corden is British. Were

there any cultural differences you had

to navigate?

Sure. We made this with [Peter Rabbit

author and illustrator] Beatrix Potter's

estate. We got the rights, and we spent

a lot of time with them in London,

every step of the way. We had a lot of

Brits working on this movie who were

constantly saying to me, "That's not right,

that's not right, that's not right." But by

the end of working on the movie, I, myself,

started to talk that way! There's actually a

joke in the movie about whether it's called

a "flashlight" or a "torch."

There's an extended sequence

featuring the song "Boulevard of

Broken Dreams" by Green Day.

This movie hardly jibes with the

public image Green Day has

cultivated for almost 30 years.

Was it hard to get their permission

for the rights to that song?

Every time you put a song in a movie,

especially when you're actually

highlighting the song, it takes time and

finessing. Bands like Green Day—and, in

the last movie, Fort Minor—they have kids.

That's the golden ticket we have. We call

the songwriter up and say, "For your kid."

They want to be relevant!

How many takes did the screaming

rooster require? And can that voice

actor still speak?

The rooster is a character I created for

these movies. Beatrix Potter didn't have

Left: Elizabeth Debicki,

Margot Robbie, Colin

Moody, James Corden,

and Aimee Horneg find

their inner rabbit in Peter

Rabbit 2: The Runaway.

Above: Domhnall Gleeson

and Rose Byrne revisit

the world of Beatrix

Potter (top), as director

Will Gluck confers with

Gleeson and director

of photography Peter

Menzies Jr. on set

(bottom).

him. If you look online at the credits for

the first movie, that voice actor is our

[award-winning] VFX supervisor. The way

it works in these movies, you start at the

beginning with people recording what they

call scratch tracks—you bring in anyone to

do it instead of real actors, just so you get a

sense of it. He was always so good, we knew

he was going to do it [for the actual film].

The thing about that is, since he's not

an actor, when he does that voice, he

literally gets red, hyperventilates, downs

water, needs to take a break. He just

screams into the microphone. And he's

Australian, so we had to have a dialect

coach in there to help him with the British.

So it becomes like this four-hour session,

this poor man, Will Reichelt, just getting

red and sweaty and almost passing out.

Q2 2021

69
---
On Screen FILMMAKER INTERVIEW

Do you have any other funny stories

from the set or from production?

It's fun making a movie like this with

people who are just friends. It makes the

set very easy, especially when half the

time they're acting with stuffed socks and

blue suits and tennis balls. David Oyelowo

came down halfway through the movie. In

his first scene, he had to interact with this

rabbit and with Rose and with Domhnall.

He was amazed how crazy it was, yet how

confident Rose and Domhnall were doing

it. They helped him through the process.

If you step onto a set halfway through

one of these movies, especially since

it's the second movie, it's insanity. The

actors have to interact with an animated

character, first with a stuffed blue

animal, then with a little laser light, then

with what's called the ghost pass—with

nothing. So it's this constant mind

scramble. But the movie doesn't look that

way, so that's a testament to the VFX team

and the actors.

"It's fun making a movie like

this with people who are just

friends. It makes the set very

easy, especially when half

the time they're acting with

stuffed socks and blue suits

and tennis balls."

Did you use any other scratch track

actors?

I wanted the fox to be Scottish, so I

had some scratch track. The more you

hear stuff, you get used to it. You start

animating to that. Once again, the guy

playing Mr. Tod is an animator on the

movie [Stewart Alves].

For the crowd scenes, I needed more

British voices. So I asked David [Oyelowo],

"On your phone, can you do this for me?"

So some of the background voices in

London are actually him. That's the fun

thing about animation: you can always

change things and enhance things. My

voice is actually there in a few places.

What's a good example of a shot or

scene that was particularly crazy for

the actors to shoot with the ghost

pass?

At the very beginning of the movie, when

Peter daydreams a fantasy sequence

where he's fighting Mr. McGregor and

kicks him in the face in super slow motion.

You see Domhnall's face move. That's not

fake. The way we did that is Domhnall

put a blue [screen] glove on his arm and

smacked himself in the face, over and

over and over again. Then you remove the

arm [in post-production], but the face still

looks smacked.

What about the scene where Mr.

McGregor violently rolls down the hill?

That was him, too. He held a real camera

out in front of him as he rolled all the way

down the hill. We just made sure his hand

was out of frame. That's all real. Those are

my favorite times in moviemaking. In one

scene, you'll have 300 crew members. In

the next scene, it's just the actor holding

the camera.

What about in that crazy climactic

sequence? Domhnall Gleeson didn't

actually skydive, did he?

We did shoot that in a real airplane, and a

stuntman really did skydive. But Domhnall

was hung way up in the air, on a crane.

70 Q2 2021
---
Who came up with some of these

minor characters' names? I'm looking

at Busker K. Bushy, Esq.; Trainer von

Stauffenmouse; Kennedy St. Squirrel;

and Sir Tweedy Fantastic III.

I believe in giving actors real character

names, so when they go on auditions

it doesn't say they played Man 1 or Man

2. I always like doing that. Those are all

named after friends of mine. I have a

friend who used to go by Tweedy. For von

Stauffenmouse, I have a friend with the

last name von Stauffenberg.

Why is it important for audiences to

see this in a cinema?

The movies you really [should] see in

theaters, in my opinion, are big Marvel

kind of movies and family movies. Parents

and kids, you're all enjoying something

together and not otherwise disposed.

Seeing the first Peter Rabbit in the theater,

it was the nicest thing, seeing parents

and their kids together, sharing moments

together. Because what's going on now is

everyone's kind of doing their own thing

at home: Kids are watching their own

thing, adults are watching their own thing.

Theaters are the one time when you have

a real co-viewing experience and can talk

about it later.

If I could find a way to financially

bet on the exhibition business, I would.

People love predicting the death knell of

things, but I know for a fact that people

are going to be flocking back to the movies.

There are so many movies that haven't

been released yet. I predict this Christmas

is going to be the biggest Christmas season

in the history of this business.

AT THE MOVIES

What is your all-time favorite moviegoing

memory or experience?

Probably seeing Breaking Away the

second time. I loved it so much the

first time, I remember not leaving the

theater and just sitting there [until it

played again]. I saw it recently again

with my kids, and it was everything I'd

remembered.

What's your favorite snack at the movie

theater concession stand?

My favorite would be the sausage

sandwich at the ArcLight. The ArcLight

was one of the first theaters where you

could eat dinner while you watched a

movie. ArcLight is in trouble, but I hope

they're going to come back.

Q2 2021

71
---
Big screen.

Bigger cause.

St. Jude Children's Research Hospital® is

leading the way the world understands,

treats and defeats childhood cancer and

other life-threatening diseases. But, we

couldn't do it without you. By donating

pre-show advertising to screen the annual

St. Jude Thanks and Giving® movie trailer,

you support our lifesaving mission: Finding

cures. Saving children.® The generosity of

you and your patrons helps ensure that

families never receive a bill from St. Jude

for treatment, travel, housing or food—

because all a family should worry about is

helping their child live.

St. Jude patient

Eleanor

Art inspired by St. Jude patients

For more information, please email

chance.weaver@alsac.stjude.org or visit stjude.org/theaters

©2021 ALSAC/St. Jude Children's Research Hospital (RELM-634)

Q2 2021

72
---
On Screen BOOKING GUIDE

BOOKING

GUIDE

Release calendar for theatrical

distribution in North America

Release dates are accurate as of May 24.

20TH CENTURY STUDIOS

310-369-1000

212-556-2400

FREE GUY

Fri, 8/13/21 WIDE

Stars: Ryan Reynolds, Jodie Comer

Director: Shawn Levy

Rating: NR

Genre: Com/Act

THE LAST DUEL

Fri, 10/15/21 WIDE

Director: Ridley Scott

Rating: NR

Genre: Dra

RON'S GONE WRONG

Fri, 10/22/21 WIDE

Directors: Alessandro Carloni,

J.P. Vine

Rating: NR

Genre: Ani

WEST SIDE STORY

Fri, 12/10/21 WIDE

Stars: Ansel Elgort, Rachel Zegler

Director: Steven Spielberg

Rating: NR

Genre: Mus

THE KING'S MAN

Fri, 12/22/21 WIDE

Stars: Ralph Fiennes,

Gemma Arterton

Director: Matthew Vaughn

Rating: NR

Genre: Act

UNTITLED 20TH CENTURY 2022 1

Fri, 1/7/22 WIDE

Rating: NR

DEEP WATER

Fri, 1/14/22 WIDE

Stars: Ana de Armas, Ben Affleck

Director: Adrian Lyne

Rating: NR

Genre: Thr

The King's Man

Fri, 12/22/21 WIDE

DEATH ON THE NILE

Fri, 2/11/22 WIDE

Stars: Tom Bateman, Annette

Bening

Director: Kenneth Branagh

Rating: NR

Genre: Cri/Dra/Mys

UNTITLED 20TH CENTURY 2022 2

Fri, 6/10/22 WIDE

Rating: NR

UNTITLED 20TH CENTURY 2022 3

Fri, 9/16/22 WIDE

Rating: NR

UNTITLED 20TH CENTURY 2022 4

Fri, 10/21/22 WIDE

Rating: NR

AVATAR 2

Fri, 12/16/22 WIDE

Stars: Zoe Saldana, Sam Worthington

Director: James Cameron

Rating: NR

Genre: Act/Fan/SF

UNTITLED 20TH CENTURY 2022 5

Fri, 12/23/22 WIDE

Rating: R

UNTITLED 20TH CENTURY 2023 1

Fri, 1/13/23 WIDE

Rating: NR

UNTITLED 20TH CENTURY 2023 2

Fri, 3/24/23 WIDE

Rating: NR

THE GREEN KNIGHT

Fri, 7/30/21 LTD

Stars: Dev Patel, Alicia Vikander

Director: David Lowery

Rating: R

Genre: Fan

BLEECKER STREET

THE LONELIEST WHALE: THE

SEARCH FOR 52

Fri, 7/9/21 LTD

Director: Joshua Zeman

Rating: R

Genre: Doc

A24

646-568-6015

Q2 2021

73
---
On Screen BOOKING GUIDE

Jungle Cruise

Fri, 7/30/21 WIDE

THE MARVELS

Fri, 11/11/22 WIDE

Stars: Brie Larson, Teyonah Parris

Director: Nia DaCosta

Rating: NR

Genre: Act/SF/Fan

UNTITLED DISNEY ANIMATION 2022

Fri, 11/23/22 WIDE

Rating: NR

Genre: ANI

ANT-MAN AND THE WASP:

QUANTUMANIA

Fri, 2/17/23 WIDE

Stars: Paul Rudd, Evangeline Lily

Director: Reyton Reed

Rating: NR

Genre: Act/SF

UNTITLED DISNEY LIVE ACTION

2023

Fri, 3/10/23 WIDE

Rating: NR

DISNEY

818-560-1000

Ask for Distribution

BLACK WIDOW

Fri, 7/9/21 WIDE

Stars: Scarlett Johansson, David

Harbour

Director: Cate Shortland

Rating: PG-13

Genre: Act/Adv

Specs: 3-D

JUNGLE CRUISE

Fri, 7/30/21 WIDE

Stars: Dwayne Johnson, Emily Blunt

Director: Jaume Collet-Serra

Rating: NR

Genre: Act/Adv

Specs: Dolby Vis/Atmos

THE BEATLES: GET BACK

Fri, 8/27/21 WIDE

Stars: The Beatles

Director: Peter Jackson

Rating: NR

Genre: Doc

SHANG-CHI AND THE LEGEND OF

THE TEN RINGS

Fri, 9/3/21 WIDE

Stars: Simu Liu, Awkwafina

Director: Destin Daniel Cretton

Rating: NR

Genre: Act/Adv/Fan

ETERNALS

Fri, 11/5/21 WIDE

Stars: Richard Madden,

Angelina Jolie

Director: Chloé Zhao

Rating: NR

Genre: Act/Adv/SF

ENCANTO

Fri, 11/24/21 WIDE

Directors: Byron Howard, Jared Bush

Rating: NR

Genre: Ani

TURNING RED

Fri, 3/11/22 WIDE

Rating: NR

Genre: Ani

DOCTOR STRANGE IN THE

MULTIVERSE OF MADNESS

Fri, 3/25/22 WIDE

Stars: Benedict Cumberbatch

Director: Sam Raimi

Rating: NR

Genre: SF/Fan/Adv

UNTITLED DISNEY LIVE ACTION

2022 1

Fri, 4/8/22 WIDE

Rating: NR

THOR: LOVE AND THUNDER

Fri, 5/6/22 WIDE

Stars: Chris Hemsworth, Tessa

Thompson

Director: Taika Waititi

Rating: NR

Genre: SF/Fan/Act

UNTITLED DISNEY LIVE ACTION

2022 2

Fri, 5/27/22 WIDE

Rating: NR

LIGHTYEAR

Fri, 6/17/22 WIDE

Stars: Chris Evans

Director: Angus MacLane

Rating: NR

Genre: Ani

BLACK PANTHER: WAKANDA

FOREVER

Fri, 7/8/22 WIDE

Director: Ryan Coogler

Rating: NR

Genre: Act/SF/Fan

UNTITLED INDIANA JONES

Fri, 7/29/22 WIDE

Rating: NR

Genre: Act/Adv

UNTITLED DISNEY LIVE ACTION

2022 3

Fri, 8/12/22 WIDE

Rating: NR

UNTITLED MARVEL 2022

Fri, 10/7/22 WIDE

Rating: NR

UNTITLED DISNEY LIVE ACTION

2022 4

Fri, 11/4/22 WIDE

Rating: NR

GUARDIANS OF THE GALAXY VOL. 3

Fri, 5/5/23 WIDE

Stars: Chris Pratt, Zoe Saldana

Director: James Gunn

Rating: NR

Genre: Act/Adv/SF

FOCUS FEATURES

ROADRUNNER: A FILM ABOUT

ANTHONY BOURDAIN

Fri, 7/16/21 LTD

Director: Morgan Neville

Rating: NR

Genre: Doc

STILLWATER

Fri, 7/30/21 WIDE

Stars: Matt Damon, Abigail Breslin

Director: Tom McCarthy

Rating: R

Genre: Dra

THE CARD COUNTER

Fri, 9/10/21

Stars: Tiffany Haddish, Oscar Isaac

Director: Paul Schrader

Rating: NR

Genre: Thr

LAST NIGHT IN SOHO

Fri, 10/22/21 WIDE

Stars: Anya Taylor-Joy,

Thomasin Harcourt McKenzie

Director: Edgar Wright

Rating: NR

Genre: Hor/Thr

Specs: Dolby Vis/Atmos

BELFAST

Fri, 11/12/21 WIDE

Stars: Caitriona Balfe, Judi Dench

Director: Kenneth Branagh

Rating: NR

Genre: Dra

74 Q2 2021
---
MRS HARRIS GOES TO PARIS

Fri, 3/4/22 WIDE

Stars: Lesley Manville, Isabelle

Huppert

Director: Anthony Fabian

Rating: NR

Genre: Dra

GREENWICH ENTERTAINMENT

THE PHANTOM

Fri, 7/2/21 LTD

Director: Patrick Forbes

Rating: NR

Genre: Doc

ALL THE STREETS ARE SILENT

Fri, 7/23/21 LTD

Director: Jeremy Elkin

Rating: NR

Genre: Doc

IFC FILMS

BOOKINGS@IFCFILMS.COM

SETTLERS

Fri, 7/23/21 LTD

Stars: Sofia Boutella, Ismael Cruz

Cordova

Director: Wyatt Rockefeller

Rating: NR

Genre: SF/Thr

ENEMIES OF THE STATE

Fri, 7/30/21 LTD

Director: Sonia Kennebeck

Rating: NR

Genre: Doc

JOHN AND THE HOLE

Fri, 8/6/21 LTD

Stars: Charlie Shotwell,

Michael C. Hall

Director: Pascual Sisto

Rating: NR

Genre: Thr

DEMONIC

Fri, 8/20/21 LTD

Stars: Carly Pope,

Chris William Martin

Director: Neill Blomkamp

Rating: NR

Genre: Hor

WE NEED TO DO SOMETHING

Fri, 9/3/21 LTD

Stars: Vinessa Shaw, Sierra

McCormick

Director: Sean King O'Grady

Rating: NR

Genre: Hor

LIONSGATE

310-309-8400

THE PROTÉGÉ

Fri, 8/20/21 WIDE

Stars: Michael Keaton, Maggie Q

Director: Martin Campbell

Rating: NR

Genre: Act/Sus

AMERICAN UNDERDOG: THE KURT

WARNER STORY

Fri, 12/10/21 WIDE

Directors: Jon Erwin, Andrew Erwin

Rating: NR

Genre: Dra

JOHN WICK: CHAPTER 4

Fri, 5/27/22 WIDE

Rating: NR

Rating: Act

SHOTGUN WEDDING

Wed, 6/29/22 WIDE

Stars: Jennifer Lopez, Josh Duhamel

Director: Jason Moore

Rating: NR

Genre: Act/Com

WHITE BIRD: A WONDER STORY

Fri, 9/16/22 WIDE

Stars: Bryce Gheisar, Ariella Glaser

Director: Marc Forster

Rating: NR

Genre: Dra/Fam

MAGNOLIA PICTURES

212-379-9704

Neal Block - nblock@magpictures.com

FIRST DATE

Fri, 7/2/21 LTD

Stars: Tyson Brown, Shelby Duclos

Directors: Manuel Crosby,

Darren Knapp

Rating: NR

Genre: Com

MANDIBLES

Fri, 7/23/21 LTD

Stars: Grégoire Ludig, David Marsais

Director: Quentin Dupieux

Rating: NR

Genre: Com/Fan

SWAN SONG

Fri, 8/6/21 LTD

Stars: Udo Kier, Jennifer Coolidge

Director: Todd Stephens

Rating: NR

Genre: Dra

THE EAST

Fri, 8/13/21 LTD

Stars: Martijn Lakemeyer,

Marwan Kenzari

Director: Jim Taihuttu

Rating: NR

Genre: War

Q2 2021

75
---
On Screen BOOKING GUIDE

CRYPTOZOO

Fri, 8/20/21 LTD

Stars: Lake Bell, Zoe Kazan

Director: Dash Shaw

Rating: NR

Genre: Ani

NEON

hal@neonrated.com

AILEY

Fri, 7/16/21 LTD

Director: Jamila Wignot

Rating: NR

Genre: Doc

PARAMOUNT

323-956-5000

SNAKE EYES

Fri, 7/23/21 WIDE

Stars: Henry Golding, Andrew Koj

Director: Robert Schwentke

Rating: NR

Genre: Act/Adv

PAW PATROL: THE MOVIE

Fri, 8/20/21 WIDE

Stars: Iain Armitage, Marsai Martin

Director: Cal Brunker

Rating: G

Genre: Ani

JACKASS

Fri, 10/22/21 WIDE

Rating: NR

Genre: Com

CLIFFORD THE BIG RED DOG

Fri, 11/5/21 WIDE

Stars: Jack Whitehall, Darby Camp

Director: Walt Becker

Rating: NR

Genre: Fam

TOP GUN: MAVERICK

Fri, 11/19/21 WIDE

Stars: Tom Cruise, Miles Teller

Director: Joseph Kosinski

Rating: NR

Genre: Act/Adv

Specs: Imax/Dolby Vis/Atmos

SCREAM

Fri, 1/14/22 WIDE

Stars: Melissa Barrera, Kyle Gallner

Directors: Matt Bettinelli-Olpin,

Tyler Gillett

Rating: NR

Genre: Hor

RUMBLE

Fri, 2/18/22 WIDE

Stars: Will Arnett, Terry Crews

Director: Hamish Grieve

Rating: NR

Genre: Ani

SONIC THE HEDGEHOG 2

Fri, 4/8/22 WIDE

Stars: Ben Schwartz

Rating: NR

Genre: Adv/Fan

LOST CITY OF D

Fri, 4/15/22 WIDE

Stars: Sandra Bullock,

Channing Tatum

Directors: Adam Nee, Aaron Nee

Rating: NR

Genre: Com

MISSION: IMPOSSIBLE 7

Fri, 5/27/22 WIDE

Stars: Tom Cruise

Director: Christopher McQuarrie

Rating: NR

Genre: Act

UNTITLED TRANSFORMERS

Fri, 6/24/22 WIDE

Rating: NR

Genre: Act/Adv/SF

UNDER THE BOARDWALK

Fri, 7/22/22 WIDE

Rating: NR

Genre: Ani

UNTITLED BEE GEES

Fri, 11/4/22 WIDE

Rating: NR

Genre: Dra/Mus/Bio

BABYLON

Fri, 12/23/22 WIDE

Director: Damien Chazelle

Rating: NR

Genre: Dra

TIGER'S APPRENTICE

Fri, 2/10/23 WIDE

Rating: NR

Genre: Ani

DUNGEONS & DRAGONS

Fri, 3/3/23 WIDE

Rating: NR

Genre: Fan

UNTITLED STAR TREK

Fri, 6/9/23 WIDE

Rating: NR

Genre: SF/Act

MISSION: IMPOSSIBLE 8

Fri, 7/7/23 WIDE

Stars: Tom Cruise

Director: Christopher McQuarrie

Rating: NR

Genre: Act

THE

COMPANY WEBEDIA GROUP

Like you, we like results:

With around 20% of online

ticket sales including

Food and Beverages, use

our F&B ticketing solution,

to increase your average

transaction value and

boost sales.

Send an email to Michelle.Coull@boxoffice.com to learn more

76 Q2 2021
---
SEARCHLIGHT PICTURES

212-556-2400

SUMMER OF SOUL

Fri, 7/2/21 LTD

Director: Ahmir "Questlove"

Thompson

Rating: PG-13

Genre: Doc

THE NIGHT HOUSE

Fri, 8/20/21 LTD

Stars: Rebecca Hall, Sarah Goldberg

Director: David Bruckner

Rating: R

Genre: Hor

THE EYES OF TAMMY FAYE

Fri, 9/24/21 LTD

Stars: Jessica Chastain,

Andrew Garfield

Director: Michael Showalter

Rating: NR

Genre: Dra

ANTLERS

Fri, 10/29/21 LTD

Stars: Keri Russell, Jesse Plemons

Director: Scott Cooper

Rating: R

Genre: Hor

NIGHTMARE ALLEY

Fri, 12/3/21 LTD

Stars: Bradley Cooper,

Cate Blanchett

Director: Guillermo del Toro

Rating: NR

Genre: Thr

SHOUT! FACTORY

DON'T BREATHE SEQUEL

Fri, 8/13/21 WIDE

Director: Rodo Sayagues

Rating: NR

Genre: Hor

VENOM: LET THERE BE CARNAGE

Fri, 9/24/21 WIDE

Stars: Tom Hardy, Woody Harrelson

Director: Andy Serkis

Rating: NR

Genre: Act/SF

A JOURNAL FOR JORDAN

Fri, 12/10/21 WIDE

Stars: Michael B. Jordan

Director: Denzel Washington

Rating: NR

Genre: Dra

GHOSTBUSTERS: AFTERLIFE

Fri, 11/11/21 WIDE

Stars: Carrie Coon, Finn Wolfhard

Director: Jason Reitman

Rating: PG-13

Genre: Hor/Com/SF

RESIDENT EVIL: WELCOME TO

RACCOON CITY

Fri, 11/24/21 WIDE

Stars: Kaya Scodelario,

Hannah John-Kamen

Director: Johannes Roberts

Rating: NR

Genre: Hor/Act

SPIDER-MAN: NO WAY HOME

Fri, 12/17/21 WIDE

Stars: Tom Holland, Zendaya

Director: Jon Watts

Rating: NR

Genre: Act

THE MAN FROM TORONTO

Fri, 1/14/22 WIDE

Rating: NR

Genre: Act

MORBIUS

Fri, 1/28/22 WIDE

Stars: Jared Leto, Matt Smith

Director: Daniel Espinosa

Rating: NR

Genre: Act/Thr/SF

Specs: Imax/Dolby Vis/Atmos

UNCHARTED

Fri, 2/18/22 WIDE

Stars: Tom Holland, Mark Wahlberg

Rating: NR

Genre: Act/Adv

Specs: Imax

WHERE THE CRAWDADS SING

Fri, 6/24/22 WIDE

Rating: NR

Genre: Dra

LYLE, LYLE, CROCODILE

Fri, 7/22/22 WIDE

Directors: Will Speck, Josh Gordon

Rating: NR

SPIDER-MAN: INTO THE

SPIDERVERSE SEQUEL

Fri, 10/7/22 WIDE

Rating: NR

Genre: Ani

THE NIGHTINGALE

Wed, 12/23/22 WIDE

Stars: Dakota Fanning, Elle Fanning

Director: Mélanie Laurent

Rating: NR

Genre: Dra

SONY PICTURES CLASSICS

Tom Prassis

212-833-4981

NINE DAYS

Fri, 7/30/21 LTD

Stars: Winston Duke, Zazie Beetz

Director: Edson Oda

Rating: R

Genre: Dra

THE LOST LEONARDO

Fri, 8/13/21 LTD

Director: Andreas Koefoed

UNITED ARTISTS RELEASING

310-724-5678

Ask for Distribution

HOW IT ENDS

Tue, 7/20/21 WIDE

Stars: Zoe Lister-Jones,

Cailee Spaeny

Directors: Zoe Lister-Jones,

Daryl Wein

Rating: NR

Genre: Com

RESPECT

Fri, 8/13/21 WIDE

Stars: Jennifer Hudson, Forest

Whitaker

Directors: Liesl Tommy

Rating: PG-13

Genre: Dra/Mus

HOW TO DETER A ROBBER

Fri, 7/16/21 LTD

Stars: Vanessa Marano, Chris Mulkey

Director: Maria Bissell

Rating: NR

Genre: Com

The Night House

Fri, 8/20/21 LTD

SONY

212-833-8500

ESCAPE ROOM 2

Fri, 7/16/21 WIDE

Stars: Taylor Russell, Logan Miller

Director: Adam Robitel

Rating: NR

Genre: Hor

HOTEL TRANSYLVANIA:

TRANSFORMANIA

Fri, 7/23/21 WIDE

Directors: Jennifer Kluska,

Derek Drymon

Rating: NR

Genre: Ani/Com

Q2 2021

77
---
On Screen BOOKING GUIDE

The Forever Purge

Fri, 7/2/21 WIDE

THE ADDAMS FAMILY 2

Fri, 10/1/21 WIDE

Stars: Charlize Theron, Oscar Isaac

Director: Greg Tiernan

Rating: NR

Genre: Ani

NO TIME TO DIE

Fri, 10/8/21 WIDE

Stars: Daniel Craig, Rami Malek

Director: Cary Joji Fukunaga

Rating: PG-13

Genre: Act/Thr

Specs: Imax

HOUSE OF GUCCI

Wed, 11/24/21 WIDE

Stars: Lady Gaga, Jared Leto

Director: Ridley Scott

Rating: NR

Genre: Dra

UNTITLED PAUL THOMAS

ANDERSON PROJECT

Fri, 11/26/21 WIDE

Director: Paul Thomas Anderson

Rating: NR

Genre: Dra

CYRANO

Fri, 12/24/21 LTD

Stars: Peter Dinklage, Haley Bennett

Director: Joe Wright

Rating: NR

Genre: Dra/Mus

DOG

Fri, 2/18/22 WIDE

Stars: Channing Tatum

Directors: Reid Carolin, Channing

Tatum

Rating: NR

Genre: Com

LEGALLY BLONDE 3

Fri, 5/20/22 WIDE

Stars: Reese Witherspoon

Rating: NR

Genre: Com

DARK HARVEST

Fri, 9/23/22 WIDE

Director: David Slade

Rating: NR

Genre: Hor

CREED III

Fri, 11/23/22 WIDE

Stars: Michael B. Jordan,

Tessa Thompson

Director: Michael B. Jordan

Rating: NR

Genre: Dra

UNTITLED RUSSO BROTHERS

FAMILY FILM

Fri, 1/13/23 WIDE

Rating: NR

Genre: FAM

UNIVERSAL

818-777-1000

THE FOREVER PURGE

Fri, 7/2/21 WIDE

Director: Everardo Gout

Rating: R

Genre: Hor

THE BOSS BABY: FAMILY BUSINESS

Fri, 7/2/21 WIDE

Stars: Alec Baldwin, Jeff Goldblum

Director: Tom McGrath

Rating: PG

Genre: Ani

OLD

Fri, 7/23/21 WIDE

Stars: Gael García Bernal, Vicky

Krieps

Director: M. Night Shyamalan

Rating: NR

Genre: Thr

CANDYMAN

Fri, 8/27/21 WIDE

Stars: Yahya Abdul-Mateen II,

Teyonah Parris

Director: Nia DaCosta

Rating: R

Genre: Hor

DEAR EVAN HANSEN

Fri, 9/24/21 WIDE

Stars: Ben Platt

Director: Stephen Chbosky

Rating: NR

Genre: Dra/Mus

HALLOWEEN KILLS

Fri, 10/15/21 WIDE

Director: David Gordon Green

Rating: R

Genre: Hor

SING 2

Fri, 12/22/21 WIDE

Stars: Matthew McConaughey,

Reese Witherspoon

Director: Garth Jennings

Rating: NR

Genre: Ani/Mus

THE 355

Fri, 1/7/22 WIDE

Stars: Jessica Chastain,

Lupita Nyong'o

Director: Simon Kinberg

Rating: PG-13

Genre: Thr

THE BLACK PHONE

Fri, 1/28/22 WIDE

Stars: Ethan Hawke, Mason Thames

Director: Scott Derrickson

Rating: NR

Genre: Hor

MARRY ME

Fri, 2/11/22 WIDE

Stars: Jennifer Lopez, Owen Wilson

Director: Kat Coiro

Rating: NR

Genre: Rom/Com

AMBULANCE

Fri, 2/18/22 WIDE

Director: Michael Bay

Rating: NR

Genre: Act/Thr

UNTITLED UNIVERSAL MUSICAL

EVENT

Fri, 3/11/22 WIDE

Rating: NR

Genre: Mus

UNTITLED UNIVERSAL EVENT FILM

2022 1

Fri, 4/8/22 WIDE

Rating: NR

THE BAD GUYS

Fri, 4/15/22 WIDE

Director: Pierre Perifel

Rating: NR

Genre: Ani

UNTITLED BLUMHOUSE

PRODUCTIONS PROJECT

Fri, 5/14/22 WIDE

Rating: NR

Genre: Hor

JURASSIC WORLD: DOMINION

Fri, 6/10/22 WIDE

Rating: NR

Genre: Act/Adv

MINIONS: THE RISE OF GRU

Fri, 7/1/22 WIDE

Stars: Steve Carell, Taraji P. Henson

Director: Kyle Balda

Rating: PG

Genre: Ani

UNTITLED JORDAN PEELE HORROR

EVENT

Fri, 7/22/22 WIDE

Director: Joran Peele

Rating: NR

Genre: Hor

BROS

Fri, 8/12/22 WIDE

Stars: Billy Eichner

Director: Nicholas Stoller

Rating: NR

Genre: Com/Rom

UNTITLED UNIVERSAL EVENT FILM

2022 2

Fri, 9/16/22 WIDE

Rating: NR

PUSS IN BOOTS: THE LAST WISH

Fri, 9/23/22 WIDE

Stars: Antonio Banderas

Director: Joel Crawford

Rating: NR

Genre: Ani

TICKET TO PARADISE

Fri, 9/30/22 WIDE

Stars: George Clooney,

Julia Roberts

Director: Ol Parker

Rating: NR

Genre: Rom/Com

HALLOWEEN ENDS

Fri, 10/14/22 WIDE

Rating: NR

Genre: Hor

UNTITLED UNIVERSAL EVENT FILM

2022 3

Fri, 11/18/22 WIDE

Rating: NR

UNTITLED ILLUMINATION ANIMATED

FILM

Fri, 12/21/22 WIDE

Rating: NR

Genre: Ani

WARNER BROS.

818-977-1850

SPACE JAM: A NEW LEGACY

Fri, 7/16/21 WIDE

Stars: LeBron James, Don Cheadle

Director: Malcolm D. Lee

Rating: NR

Genre: Ani/Com

78 Q2 2021
---
THE SUICIDE SQUAD

Fri, 8/6/21 WIDE

Stars: Margot Robbie, Taika Waititi

Director: James Gunn

Rating: NR

Genre: Act

REMINISCENCE

Fri, 8/20/21 WIDE

Stars: Hugh Jackman, Rebecca

Ferguson

Director: Lisa Joy

Rating: PG-13

Genre: Act/Thr

MALIGNANT

Fri, 9/10/21 WIDE

Director: James Wan

Rating: NR

Genre: Hor

THE MANY SAINTS OF NEWARK

Fri, 9/24/21 WIDE

Stars: Alessandro Nivola,

Leslie Odom Jr.

Director: Alan Taylor

Rating: R

Genre: Dra/Cri

DUNE

Fri, 10/1/21 WIDE

Stars: Timothée Chalamet,

Rebecca Ferguson

Director: Denis Villeneuve

Rating: PG-13

Genre: SF

CRY MACHO

Fri, 10/22/21 WIDE

Rating: PG-13

Genre: Dra

KING RICHARD

Fri, 11/19/21 WIDE

Rating: NR

Genre: Dra/Bio

UNTITLED MATRIX FILM

Fri, 12/22/21 WIDE

Stars: Keanu Reeves

Director: Lana Wachowski

Rating: NR

Genre: SF

UNTITLED SESAME STREET

Fri, 1/14/22 WIDE

Rating: NR

Genre: Fam

THE BATMAN

Fri, 3/4/22 WIDE

Stars: Robert Pattinson, Zoë Kravitz

Director: Matt Reeves

Rating: NR

Genre: Act

UNTITLED WB EVENT FILM 2022 1

Fri, 4/15/22 WIDE

Rating: NR

DC SUPER PETS

Fri, 5/20/22 WIDE

Rating: NR

Genre: Ani

UNTITLED ELVIS FILM

Fri, 6/3/22 WIDE

Director: Baz Luhrmann

Rating: NR

Genre: Dra/Bio/Mus

UNTITLED FANTASTIC BEASTS 3

Fri, 7/15/22 WIDE

Rating: NR

Genre: Fan/Act

BLACK ADAM

Fri, 7/29/22 WIDE

Stars: Dwayne Johnson, Aldis

Hodge

Director: Jaume Collet-Serra

Rating: NR

Genre: Act/Fan

UNTITLED WB EVENT FILM 2022 2

Fri, 8/5/22 WIDE

Rating: NR

UNTITLED NEW LINE HORROR FILM

2022

Fri, 9/9/22 WIDE

Rating: NR

Genre: Hor

THE FLASH

Fri, 11/4/22 WIDE

Stars: Ezra Miller, Kiersey Clemons

Director: Andy Muschietti

Rating: NR

Genre: Act/SF/Fan

UNTITLED WB EVENT FILM 2022 3

Fri, 11/18/22 WIDE

Rating: NR

AQUAMAN 2

Fri, 12/16/22 WIDE

Stars: Jason Momoa

Director: James Wan

Genre: Act/SF/Fan

The Boxoffice Podcast is

your weekly podcast all

about the cinema industry.

Every week we break down major industry news, dissect

box office results and connect with studio and cinema

executives to talk market trends and industry shifts in

theatrical exhibition and entertainment at large.

Search for Boxoffice Podcast on your favorite podcast app.

Q2 2021

79
---
MARKETPLACE

Our Sponsors

Advertiser

Page

Atom Seating 43

Betson Industries 2

Cardinal Sound 80

CineEurope 8

Cretors

IFC

Dolphin Leadcom Seating 32

Enpar Audio 75

Galalite Screens 57

GDC Technology 49

Gold Medal Products 29

QSC

BC

Ready Theatre Systems 29

Retriever Solutions 57

Sensible Cinema 80

Spotlight Cinema Networks 35

St. Judes 72

Strong MDI 1

Image Credits & Acknowledgments

Cover: Image courtesy Universal Pictures

p3: F9 - Giles Keyte/Universal Pictures.

p4: Theater pic courtesy Silver Screen Cinemas

p9: Nitehawk image courtesy Rebecca Pahle

p10: Images courtesy of the National Association of

Theatre Owners

p12: Image courtesy of the office of Charles E. Schumer,

United States Senator for New York

p14-15: Images courtesy Variety - the Children's Charity

p16-24: All images courtesy Boxoffice Pro

p30: Photo: Nicholas Gonzalez

p33: Image by Serenity Strull

p34: Image courtesy of Gateway Film Center

p36: Image by Ethan Benevidez

p.37: Top (step and repeat photo) Image by Serenity Strull

p.37: bottom left - Image by Serenity Strull

p37: bottom right - Image by Heather Taylor

p38: Image by Serenity Strull

p42: TK

p44-45: Adobe Stock

p46: Image Courtesy Cinemark

p47: Photo Credit: Nick Simonite

p50: Nitehawk image courtesy Rebecca Pahle

p54-56: All images courtesy Silver Screen Cinemas

p59: Courtesy of Sony Pictures

p60-65: All images Giles Keyte/Universal Pictures

p65: Pretzel - Adobe Stock

p66-67: Courtesy of Sony Pictures. © 2020 CTMG, Inc. All

Rights Reserved.

p68: Courtesy of Sony Pictures. © 2020 CTMG, Inc. All Rights

Reserved.

p69: © 2020 CTMG, Inc. All Rights Reserved. Photo by: Mark

Rogers

p70: Courtesy of Sony Pictures. © 2020 CTMG, Inc. All Rights

Reserved.

p71: Courtesy of Sony Pictures. © 2020 CTMG, Inc. All Rights

Reserved.

p71: ArcLight - Adobe Stock

p73: Photo Credit: Courtesy of 20th Century Studios. © 2020

Twentieth Century Fox Film Corporation. All Rights Reserved.

p74: © 2021 Disney Enterprises, Inc. All Rights Reserved.

p77: Photo Courtesy of Searchlight Pictures. © 2021 20th

Century Studios All Rights Reserved

p78: Photo Credit: Jake Giles Netter/Universal Pictures

© 2021 UNIVERSAL STUDIOS. All Rights Reserved.

Telescopic Seating

The Boxoffice Co.

5, IBC

13, 25, 39,

58, 76, 79

ADVERTISE IN THE

NEXT ISSUE OF

Call or Email to book

space today!

Susan Uhrlass

susan@boxoffice.com

310-876-9090

80 Q2 2021
---
now

can go

Today's cinema complexes are so much more than just a

place to see movies. You need an audio, video, and control

ecosystem that can manage your entire cinema entertainment

complex.

With the new Core Nano and Core 8 Flex, it's never been

easier or more affordable to get the benefits of the Q-SYS

Ecosystem for small rooms, large PLFs, immersive rooms,

and everywhere else in the cinema complex. If you haven't

considered Q-SYS yet, these may just be the Cores you've

been waiting for.

©2021 QSC, LLC all rights reserved. QSC, Q-SYS and the QSC logo are registered trademarks in the U.S. Patent and Trademark Office and other countries. All other trademarks remain the property of their respective owners.