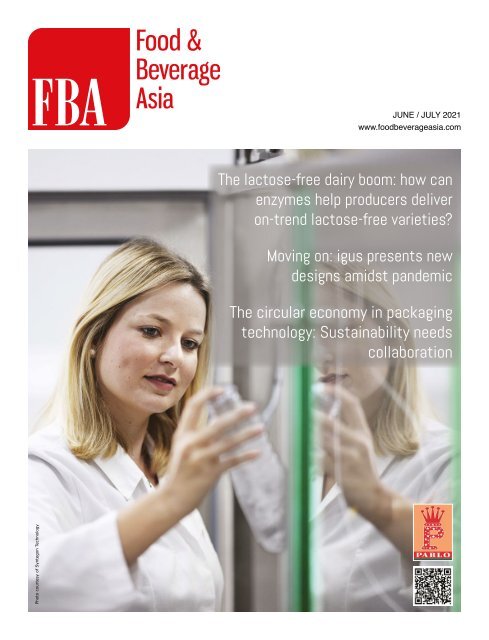 Food & Beverage Asia Jun/July 2021
Food & Beverage Asia (FBA) is the leading source of food and beverage news in Asia since 2002. FBA delivers a comprehensive view of the food and beverage landscape, spanning across the latest health and nutrition trends and industry innovations in ingredients, recipe formulations, food science, sustainability, packaging, and automation, as well as advancements in agri and food-tech.
Food & Beverage Asia (FBA) is the leading source of food and beverage news in Asia since 2002. FBA delivers a comprehensive view of the food and beverage landscape, spanning across the latest health and nutrition trends and industry innovations in ingredients, recipe formulations, food science, sustainability, packaging, and automation, as well as advancements in agri and food-tech.
SHOW MORE
SHOW LESS
Create successful ePaper yourself
Turn your PDF publications into a flip-book with our unique Google optimized e-Paper software.
JUNE / JULY 2021

www.foodbeverageasia.com

The lactose-free dairy boom: how can

enzymes help producers deliver

on-trend lactose-free varieties?

Moving on: igus presents new

designs amidst pandemic

The circular economy in packaging

technology: Sustainability needs

collaboration

Photo courtesy of Syntegon Technology
---
Advertising is a

wonderful opportunity for you to widen

your reach, given our wide readership

across the Asia Pacific region, and online

presence that can be accessed from any

point across the globe.

For advertising enquiries, please contact

us at sales@pabloasia.com

Access Food & Beverage Asia on the go!

Download our electronic version

into your devices.

- eBook

- Website: www.foodbeverageasia.com

The official

publication of

@foodandbeverageasia

#foodandbeverageasia

Like us on Facebook!

Food & Beverage Asia
---
Shape-retaining steel belts for the food industry

One group, multiple solutions. We are your reliable partner in

regards for customized premium steel belts and innovative

belt systems for your bakery and food application.

Perfect belt geometry

Excellent conductibility

of temperatures up

to 400 °C | 752 °F

Berndorf Band GmbH

T: +43 2672 800 0

E: band@berndorf.co.at

www.berndorfband-group.com

Effortless cleaning &

highest sanitary standards

Steel Belts | Belt Systems | Worldwide Service
---
2

CONTENTS

MARKET INSIGHTS

13

The rapid growth of plant based proteins in Asia

BITING ISSUES

16

Amano / Sweegen

17

Tate & Lyle

18

Olam Food Ingredients

19

Yakima Chief Hops / AAK

20

Conagen / FrieslandCampina

13

INGREDIENTS

22

The lactose-free dairy boom: How can enzymes help

producers deliver on-trend lactose-free varieties?

26

TomaTech files patents for ToBRFVresistant

DNA markers for tomato varieties

28

Unlocking the secrets of healthy ageing

28

22

ON THE TABLE

30

A fresh start: Sacco System revamps Agrofood

division

32

Moving on: igus presents new designs amidst

pandemic

34

The nutra meets pharma initiative

37

Having your cake and eating it: Swiftlet Natural

Sugar Replacement delivers an alternative

experience

32

37

FOOD & BEVERAGE ASIA JUNE / JULY 2021
---
CONTENTS 3

30

PROCESSING AND PACKAGING

40

The circular economy in packaging technology:

Sustainability needs collaboration

44

A harmonised solution

47

V-Shapes: A unique story about sustainability,

safety and convenience in packaging

49

Five best practices for foreign body detection

47

40

FIRST LOOKS

52

Napasol / GEA

53

Krones

54

igus / Sidel

55

B A S F / S W E D B R A N D

SHOW PREVIEW

56

The Spirit of Creativity: KROHNE celebrates its

100th anniversary under the sign of creativity

57

igus 2021 Motion Plastics Show: 168 tribo

innovations on the trade show stand

49

REGULARS

4

Editor's Note

6

News

59

Events Calendar

60

Advertisers' Index

FOOD & BEVERAGE ASIA JUNE / JULY 2021
---
4

EDITOR'S NOTE

Growth in South

East Asia

According to AgFunder's ASEAN Agrifoodtech Investment Report 2020,

one of the world's most active foodtech and agtech venture capitals, a

total of US$423 million was invested into South East Asian agrifoodtech

startups in 2019, across 99 deals.

This means that the plant-based market in APAC (Asia Pacific) is expected

to surge by 200% by 2025 as more consumers become conscious of

their health and are looking for a diversity of products that prioritise taste,

texture and nutrition (p.13).

This can be seen in the growing lactose-free dairy market which reflects

a change in consumers' tastes and preferences (p.22), according to Ben

Rutten, business manager Milky of DSM Food Specialties.

PABLO SINGAPORE

Publisher

Publications Director

Senior Editor

Assistant Editor

Graphic Designer

Circulation Manager

PABLO BEIJING

General Manager

PABLO SHANGHAI

Senior Editor

William Pang

williampang@pabloasia.com

Jamie Tan

jamietan@pabloasia.com

foodbeverageasia@gmail.com

Pang Yanrong

yanrong@pabloasia.com

Agatha Wong

agatha@pabloasia.com

Liu Yu

liuyu@pabloasia.com

Shu Ai Ling

circulation@pabloasia.com

Ellen Gao

pablobeijing@163.com

Sharon Wu

pabloshanghai@163.net

In fact, in the midst of the pandemic, Swiftlet Co. created its Natural Sugar

Replacement, a 100% natural, non-GMO concoction with added health

benefits. The mission of the company is to change the way people think

about ingredient replacements by showing that one does not have to

compromise flavour for health (p.37), shared Jake Jereza, co-founder of

Swiftlet Co.

In a move to tap into the pharmaceutical market with its leading branded

ingredients, we spoke with Julia Diaz, head of marketing at Pharmactive,

who talks about what this move means to Pharmactive Biotech, S.L. and

more about the company's validated saffron extract, affron ® , which can be

used as a stand-alone or to enhance pharmaceutical products (p.34).

And there's igus, where the company recently presented its Motion

Plastics Show (p.32). The press conference, which was carried out via a

livestream, saw developers and engineers showcasing their latest designs

and products across the large exhibition space. A key component of this

press conference was the emphasis on innovation.

HEAD OFFICE (SINGAPORE)

PABLO PUBLISHING & EXHIBITION PTE LTD

3 Ang Mo Kio Street 62 #01-23

Link@AMK, Singapore 569139

Tel: (65) 62665512

Email: info@pabloasia.com

Website: www.foodbeverageasia.com

Company Registration No.: 200001473N

Singapore MICA (P) No. 075/05/2019

Malaysia KDN: PPS1528/07/2013 (022978)

REGIONAL OFFICE (CHINA)

PABLO BEIJING

Tel: +86-10-6509-7728

Email: pablobeijing@163.com

PABLO SHANGHAI

Tel: +86-21-52389737

Email: pabloshanghai@163.net

These new creations were achieved against the

backdrop of the larger pandemic crisis; to cope with

the current COVID-19 situation.

As the world continues to grapple with the

pandemic situation, we hope you're staying safe

and look forward to bringing you more exciting

trends and developments from the industry.

LET'S CONNECT!

@foodandbeverageasia

Pang Yanrong

Senior Editor

Food & Beverage Asia incorporates the Official Publications of the

Singapore Institute of Food Science & Technology.

All rights reserved. Views of writers do not necessarily reflect the views of the Publisher.

No part of this publication may be reproduced in any form or by any means, without prior

permission in writing from the Publisher and copyright owner.

Whilst every care is taken to ensure accuracy of the information in this publication, the

Publisher accepts no liability for damages caused by misinterpretation of information,

expressed or implied, within the pages of the magazine.

All advertisements are accepted on the understanding that the Advertiser is authorised

to publish the contents of the advertisements, and in this respect, the Advertiser shall

indemnify the Publisher against all claims or suits for libel, violation of right of privacy

and copyright infringements.

Food & Beverage Asia is a controlled-circulation bi-monthly magazine. It is mailed freeof-charge

to readers who meet a set of criteria. Paid subscription is available to those

who do not fit our terms of control. Please refer to subscription form provided in the

publication for more details.

Printed by Times Printers Pte Ltd

FOOD & BEVERAGE ASIA JUNE / JULY 2021
---
6

NEWS

Vitafoods Asia will take place from 23-26 November 2021

Informa has decided to push back Vitafoods

Asia by seven weeks to the end of November

2021. The event will continue as a hybrid

event, with an in-person event – hosted at

the Marina Bay Sands Expo and Convention

Centre in Singapore from 24 to 25 November

2021 – and an accompanying virtual event,

running in parallel from 23-26 November

2021.

Informa believes that this will benefit the

industry and put them in the best possible

position to run an in-person event in Asia

in 2021. Vitafoods has understood how

important it is for the industry to stay

connected, and Informa has spent the last

12 months developing their virtual offering

to ensure their community has been able to

network, meet existing and new business

contacts, learn and share knowledge. These

new dates provide them with the best chance

to get back to what they do best, bringing

the nutraceutical community together, and

this year there will be more opportunities

than ever with their new hybrid format for

Vitafoods Asia.

The original dates meant that Vitafoods

Europe and Asia were running back-to-back

which proved to be challenging for both their

suppliers and exhibitors. By moving the event

to the fourth quarter of 2021, everyone will

be able to plan more effectively, and that

Singapore and the APAC region will be in a

more stable position in relation to COVID-19

and ready to open up to foreign visitors and

allow a return of larger exhibitions.

While it continues to be a challenging year for

all, Informa is looking forward to welcoming

their community at the event in 2021. ■

Mettler-Toledo and EVRYTHNG partner to further digitalisation of

global food safety

Mettler-Toledo Product Inspection recently

announced a new, industry-leading strategic

partnership with EVRYTHNG, the pioneer of

the Product Cloud. The partnership provides

food manufacturers, retailers and brand

owners with an end-to-end traceability and

food production reporting solution.

The two companies, working collaboratively,

are positioned to further the digitalisation

of the food safety landscape. The joint

proposition is achieved by Mettler-Toledo

ProdX device data management software

monitoring and collecting product inspection

information in real-time. The software records

all inspection activity from Mettler-Toledo

Product Inspection systems. This data can be

integrated and modelled in the EVRYTHNG

Product Cloud ® , applying a new level of

data intelligence to advance audit, reporting

and food traceability use cases for multi

stakeholder groups.

The Active Digital Identity (ADI) is a unique

digital identity assigned to products in

the EVRYTHNG Product Cloud ® , at an

individual product item, batch or SKU level.

The ADI ensures that data is captured and

managed by EVRYTHNG at every touch

point throughout a product's lifecycle.

This information can be used by food

manufacturers, retailers and food safety

audit bodies to ensure compliance with food

safety regulations and contract requirements,

improve supply chain performance with

greater agility and integrity, and can

be surfaced to consumers to provide

transparency with authentic data.

Rob Rogers, senior advisor Food Safety

& Regulations of Mettler-Toledo Product

Inspection, said: "The partnership between

Mettler-Toledo and EVRYTHNG is about

developing and providing a robust and proven

infrastructure to handle that wealth of digital

data."

Niall Murphy, CEO of EVRYTHNG, said:

"Food safety is a critical factor for all food

manufacturers. Our solution will enable them

to get ahead of the curve, by collecting and

managing data for every individual product

that comes out of their factory, in a way

that is locked into already globally-accepted

standards for digital track and trace." ■

FOOD & BEVERAGE ASIA JUNE / JULY 2021
---
NEWS 7

NORD DRIVESYSTEMS develops MAXXDRIVE ® industrial gear units

with new SAFOMI-IEC adapter for improved mixing and agitation

processes

NORD DRIVESYSTEMS has developed a

powerful combination for use in mixing

and agitation processes: The MAXXDRIVE ®

industrial gear units with the new SAFOMI-IEC

adaptor is specifically developed for mixers to

improve operational reliability and reduce the

need for the replacement of wearing parts. In

combination with the NORDAC FLEX SK 200E

frequency inverter for the power range up to

22 kW, a flexible unit with low maintenance is

offered.

MAXXDRIVE ® industrial gear units, an integral

part of the NORD portfolio for ten years, offer

high output torques from 15 to 282kNm

and ensure smooth operation even under

demanding conditions. The FEM-optimised

and compact design enables operation

under ultimate external loads. For agitation

applications, a combination with the SAFOMI

IEC adapter (SAFOMI = Sealless Adapter For

Mixers) is recommended, in which an oil

expansion chamber is directly integrated.

SAFOMI is available for MAXXDRIVE ® parallel

gear units in the sizes seven to 11 covers

maximum output torques from 25 to 75kNm.

SAFOMI-IEC adapter for

MAXXDRIVE ® industrial

gear units from NORD

DRIVESYSTEMS

combined with a drive

motor: less components,

increased operational

reliability.

Photo credit: NORD

DRIVESYSTEMS

SAFOMI impresses with its compact and

simple design and integrated oil equalization

volume, which means that there is no need

for oil tanks and hoses or the shaft sealing

ring between the gear unit and the IEC

cylinder, which is prone to leakage and wear.

HIGHER OPERATIONAL RELIABILITY

WITH LESS EFFORT

For the further reduction of wearing parts and

attached components, NORD recommends

a combination of MAXXDRIVE ® industrial

gear unit, SAFOMI-IEC adapter, a drive motor

and NORDAC FLEX SK 200E. The frequency

inverter can be flexibly installed and features

a high output range as well as a wide choice

of optional functions and accessories. The SK

200E can be directly mounted on the motor

without control cabinet. ■

Swiftlet launches natural sweetener

South East Asian start-up Swiftlet has

developed a natural, zero-calorie sweetener

made from a blend of plant extracts.

The natural sugar replacement contains

zero calories and has a low glycemic index,

meaning it can be consumed by diabetics.

It is also free from artificial flavours and

contains prebiotic dietary fibres, which are

associated with good digestive health.

According to the company's head of sales,

Dominic Plana, it has the same taste as

refined, white sugar.

"We wanted to get

rid of the mindset

that if a food is

healthy, it has to

taste bad," he said.

Plana and Le said

one of the biggest

formulation challenges when developing

the ingredient was ensuring it could be used

in the same ratio as refined sugar in order

to make substitutions easier, particularly

in home cooking and baking. Swiftlet's

replacement also has the same appearance

and texture of white, refined sugar and can

be used in a variety of applications including

baking, desserts, hot and cold beverages and

sauces.

Swiftlet has a young team spread across

South East Asia, and is based in the Filipino

capital of Manila, where its manufacturing

facilities are located; Hanoi, Vietnam where

the R&D division is based; and Singapore.

The sweetener was launched in the

Philippines in September last year as a

consumer-facing product, however in 2021

Swiftlet plans to develop a B2B business,

supplying manufacturers in the Philippines

and beyond. It currently has a production

capacity of several tons a day that it can

increase based on demand.

According to Minh Le, head of R&D, Swiftlet's

natural sweetener fetches a price premium

but is competitively priced when compared to

other natural sugar alternatives.

Swiftlet's exact formulation is patent pending

and the company is trying to keep details

under wrap until the patents are granted.

However, it says the sweetener is made

entirely from natural plant and agricultural

product extracts that are already sold on

the market as food ingredients, all of which

have been approved for the food market by

international regulatory authorities, including

the US Food and Drug Administration (FDA)

and the European Food Safety Authority

(EFSA). ■

FOOD & BEVERAGE ASIA JUNE / JULY 2021
---
8

NEWS

Firmenich opens Culinary & SmartProteins ® Innovation Hub in

Singapore

Firmenich, the world's largest privately

owned fragrance and taste company,

has recently launched its Culinary and

SmartProteins ® Innovation Center in Tuas,

Singapore. The new centre will serve as a

regional R&D (research and development)

hub for Asia and a global centre of expertise

in alternative proteins for meat and dairy

analogues. The Innovation Center is key

to Firmenich's Savory vision — to deliver

breakthrough integrated solutions in meat

proteins and plant-based alternatives

bringing together technical expertise in

aroma, flavour, taste, umami and texture

solutions from Campus and Firmenich.

Emmanuel Butstraen, global president, Taste

& Beyond at Firmenich, said: "The centre will

allow us to partner closely with our customers

to serve a fast-growing number of Flexitarian

consumers with delicious food & beverage

options."

Butstraen added: "We are proud to have

Singapore's Economic Development Board

(EDB) as a partner in this investment. This

new facility will be home to some of the

best talent in the industry across several

disciplines to deliver truly innovative,

consumer-focused integrated solutions."

Asia Pacific is the fastest-growing region

for plant-based alternatives worldwide

and is estimated to grow 25% by 2025. The

new SmartProteins ® centre in Singapore

will enable Firmenich to meet this growing

demand by combining its global expertise

and Campus solutions.

Jun Saplad, Taste & Beyond's regional

president for Asia, said: "By harnessing

our deep regional and local understanding

and our expertise in taste and plant-based

proteins, the Innovation Center will allow us

to tailor solutions to the unique needs of the

Asian market and explore new angles for

meat-free dishes."

"Firmenich's decision to select Singapore as

its alternative proteins innovation hub for

Asia is testimony to Singapore's leading role

in creating and developing sustainable and

innovative solutions to meet the nutritional

needs of the region," said Mr. Ow Kai Onn,

vice-president and head, Chemicals and

Materials, Singapore EDB. "Firmenich's

presence in Singapore spans nearly 50 years.

EDB is proud to support this undertaking,

which would enable Firmenich to capture

new growth opportunities as well as

strengthen Singapore's Flavor and Fragrance

specialty chemicals sector." ■

EcoCortec ® announces compostable shrink wraps for industrial use

Recently, EcoCortec ® has announced the

official release of EcoShrink Compostable

Film, a commercially compostable alternative

to common plastic shrink wraps for use in

industrial packaging applications.

DESIGNED WITH THE CIRCULAR

ECONOMY IN MIND

EcoShrink takes both the beginning and

the end of the shrink wrap product life

cycle into account. EcoShrink is sourced

from certified commercially compostable

resins and contains 45% biopolymers. After

use, EcoShrink can be disposed of in a

commercial composting environment to

reduce the amount of plastic packaging that

normally ends up in a landfill. EcoShrink

is shelf and curb stable and will retain its

integrity until disposed of properly.

PUTTING ECOSHRINK TO GOOD USE

In addition to these green benefits,

EcoShrink has many practical

characteristics. It is designed for standard

heat-shrinking applications. Users of

EcoShrink can shrink wrap their small or

large components as normal to conform to the

shape of the object. EcoShrink is a great way

to keep dust, dirt, and moisture off warehouse

stock while keeping components bundled into

a streamlined package. Shrink wrapping can

be done with a wide variety of standard shrink

tools. Simply measure the size of the unit,

determine how much film is needed to wrap

around it with enough for overlap, then shrink

wrap as usual.

EcoShrink is available in 2 or 4mil (50 or

100µm) thicknesses and as single wound

or centerfold sheeting in widths of 45.72

cm (18in) or 91.44 cm (36in). Rolls come

individually boxed or in cradle packed pallets. ■

FOOD & BEVERAGE ASIA JUNE / JULY 2021
---
NEWS 9

Chr. Hansen Natural Colors announces company name change

to Oterra

Chr. Hansen Natural Colors A/S, the leading

provider of natural colours with the widest

natural colour portfolio in the industry,

recently announced that the company will be

known as Oterra, effective immediately, and

will begin the process to operate under the

new name.

Cees de Jong, Oterra board chairman,

sustainable value proposition. We see great

commented: "The board is very excited growth ahead for Oterra and are confident

about Food the & relaunch Beverage as Oterra Asia,132 – a name x 205 and mm, ErgoBloc the company L, will CC-en31-AZ286 accelerate its development 05/21

identity that encapsulates our purpose and under its new brand." ■

The new name, Oterra, is inspired by the

Latin word for earth. The rebranding reflects

the company's commitment to provide the

world with colours from natural sources, and

contribute to food that is natural, authentic,

safe and sustainable. The company's

ownership and staff have not changed.

CEO Odd Erik Hansen, stated: "We have been

producing natural colours for more than

145 years now – our new name and brand

identity are rooted in this proud heritage

and reflect our belief that nature provides

the best ingredients. We help our customers

meet the increasing global consumer demand

for natural products by utilising the power

of nature's true colours and our unrivalled

expertise in colours for food, beverage and

pet food."

The new name is the latest in a string of

announcements for the company which

was acquired by investment organisation

EQT in 2021. In April 2021, the company

announced its first strategic investment with

the acquisition of SECNA Natural Ingredients

Group S.L., a move which supports EQT's

strong growth plans for the company.
---
10

NEWS

Cultivated meat likely to make up 40% of future meat intake

A research, published on 11 May 2021 by the

journal Foods, has affirmed that cultivated

meat is likely to make up a major part of

consumers' future diets. The study showed

patterns of greater openness to trying such

products by younger generational groups.

Led by Keri Szejda, Ph.D., the researchers

surveyed a large, representative sample of

2,018 US and 2,034 UK consumers, assessing

indicators of adoption among the general

population, and by generational segments.

The majority of consumers surveyed

were unfamiliar with cultivated meat, yet

when presented with a description of the

innovation, the respondents imagined that

cultivated meat could make up about 40% of

their future meat intake.

The survey further found 40% of consumers

were "very" or "extremely likely" to try

cultivated meat in both the US and the UK.

This group of triers was categorised as the

"early majority" group, and 98-99% of them

said they would consider welcoming it as a

regular item.

"In order to turn this expected acceptance

into actual consumption patterns over time,

it is critical to develop the right products,

based on the right solutions," said Didier

Toubia, co-founder and CEO of Aleph Farms,

which commissioned the research. "In the

long term, Aleph Farms' vision is to provide

a better alternative to industrial livestock

farming, which represents approximately 70%

of global meat production today."

YOUNGER GENERATIONS – THE

EARLY ADOPTERS

"The results suggest that cultivated meat is

likely to be widely accepted by the general

public, especially the younger generations

and an eager group of early adopters," noted

Szejda, Ph.D., founder and principal research

scientist of North Mountain Consulting Group.

"Additionally, we observed an increase in

support for the technology once consumers

had access to additional information,

underscoring the importance of effective

science communication for consumer

adoption."

"In contrast to the younger eager adopters,

the older generations are more wary of

change," explained Toubia. "Social proof

is important to them and they want to be

assured that a product is safe, functional, and

beneficial before they adopt it. This is why

transparency and trust are cornerstones of

our company." ■

Roquette celebrates 20 th anniversary in China

Roquette, a global leader in plant-based

ingredients, a pioneer of plant proteins and a

leading provider of pharmaceutical excipients,

celebrates the 20th anniversary of its plant in

Lianyungang, China.

Roquette is investing significantly in

nutritional solutions to respond to health

demands from Chinese consumers which are

unique and intertwined with local food and

dining habits and culture. Over the past 20

years, the Roquette teams have developed an

innovative approach dedicated to the Chinese

market

The plant in

Lianyungang was

the first industrial

site of Roquette

in China. It has

transitioned from

being a product manufacturer to a highquality

solution provider, making Roquette in

China a reference in the food and nutrition

ingredients market.

In 2019, the plant was selected as the leading

pilot for upgrading traditional manufacturers

to "Intelligent and green enterprises" by both

the Ministry of Industry and Information

Technology of the People Republic of China

and the Ministry of Economics and Finance

of France. In 2020, the site was certified as

"Green Manufacturer" by the China Starch

Industry Association. Furthermore, Roquette

is committed to reducing carbon emissions

and has already achieved a 30% reduction

since 2019 for this plant.

Additionally, Roquette has two other

manufacturing plants in China, in Wuhan

and Nanning. In 2019, the opening of the

new Food Innovation Center including R&D

(research and development) and customer

technical service in Shanghai was also a key

milestone for Roquette.

The company is truly committed to working

with the communities around its sites.

In China, Roquette has made significant

investments to reduce its environmental

footprint and to strengthen relationships with

local communities. The company organises

regular "Open Day" activities to invite the

residents in neighbouring communities to

visit the plants and to address questions

about production safety and environmental

impacts.

The developments helped Roquette secure

the "Top Employer" certification in China for

the last three years. ■

FOOD & BEVERAGE ASIA JUNE / JULY 2021
---
12

NEWS

SIG's combismile carton pack enters French market with new

Volvic fruity flavoured ranges

SIG's unique on-the-go combismile carton

pack enters the French market for the first

time this month, with the new fruity flavoured

ranges for adults and kids from renowned

natural mineral water brand Volvic.

SIG's combismile packaging innovation is the

ideal lifestyle packaging option for flavoured

water.

Stylish combismile offers consumers a new

packaging experience as they stay refreshed

on-the-go during their busy daily schedules.

Easy to grip and use, combismile carton pack

from SIG also includes a single-action and

re-closable combiGo closure for convenient

opening, closing and secure bag storage,

to provide the ultimate on-the-go drinking

experience.

Nathalie Abrahamian-Deudon, vicepresidente

Marketing at Danone Waters

France, said: "This packaging is perfectly

adapted to the new consumption habits

of the French and the move towards more

mobile and active lifestyles. This innovation is

part of our approach to offer more responsible

and sustainable packaging, with the ambition

to eliminate the use of virgin plastic from our

packaging by 2025."

With an output of 24,000 carton packs per

hour, SIG's CFA 1824 filling machine provides

the optimum combination of flexibility and

speed, with the option to fill five different

volume sizes: 200ml; 250ml; 300ml; 330ml

and 350ml. Volvic's new functional water

range will be available in combismile 250ml

and 330ml carton packs.

combismile from SIG is the perfect partner

for premium and added-value products and

offers responsible on-the-go consumption.

SIG is 100% FSC-certified which means

all paperboard comes from responsibly

managed forests and other controlled

sources. combismile is also fully recyclable.

José Matthijsse, president and general

Manager Europe at SIG, said: "Bringing true

innovation to the water sector, combismile

provides consumers with the perfect product

and packaging mix to fit in with their hectic

lifestyles, which rely on remaining fit and

healthy."

combismile has already been successfully

launched in various regions of the world. The

commercial roll-out of combismile will be

extended to Germany, Great Britain, Italy and

Japan, and further ramped up in France, after

July 2021. ■

New Glanbia Nutritionals website offers enhanced user

experience

Glanbia Nutritionals has launched a

redesigned website to offer an enhanced

user experience that quickly connects visitors

with the people, ingredients, services and

expertise that can help create next-level

nutrition solutions across foods, beverages

and supplements.

Brian Phelan, CEO of Glanbia Nutritionals,

said: "Our new website demonstrates how

we can help support our customers to grow

their businesses with unique, high-quality,

innovative nutrition solutions, tailored to solve

their nutritional and functional challenges."

The new homepage's interactive features

provide an overview of how Glanbia

Nutritionals is "Built Around You" with a

commitment to finding the right solution for

each project. Throughout the page, users

can learn how partnering with Glanbia's team

creates avenues toward successful consumer

products.

Visitors will find an open, explorable site

where they can quickly access information

on specific ingredients and services, as well

as the company's full offering of innovative

solutions by market. The new, robust

NutriKnowledgeSM Center allows visitors to

scan through insights, nutrition resources,

previously recorded webinars and more to

gain deeper understanding on a number of

relevant topics.

The new site reflects all of Glanbia's core

capabilities as well as Watson Inc. ingredients

including bakery ingredients, edible film

products and functionally optimised nutrients. ■

FOOD & BEVERAGE ASIA JUNE / JULY 2021
---
MARKET INSIGHTS 13

The rapid growth of plantbased

proteins in Asia

According to AgFunder's ASEAN

Agrifoodtech Investment Report 2020,

one of the world's most active foodtech

and agtech venture capitals, a total of

US$423 million was invested into South

East Asian agrifoodtech startups in

2019, across 99 deals. This means that

the region's ecosystem has yet to reach

the maturity of markets such as North

America, Europe, and China; the majority

of dealmaking activity took place at seed

stage.

ADM recently opened a plant-based innovation lab in

Singapore to showcase their commitment to localising

plant-based solutions to meet the nutritional

challenges of changing taste and preference in Asia

and around the world. Sarah Lim, marketing director

of South East Asia at ADM (Archer Daniels Midland)

Human Nutrition, shares how ADM continues to

provide more extensive solutions to the growing

appetite of plant-based proteins in Asia.

In fact, in 2019, there were 63

agrifoodtech seed fundings in the region,

raising a total of US$39 million.

Sarah Lim, marketing director of South

East Asia at ADM (Archer Daniels Midland)

Human Nutrition (a global leader in

human and animal nutrition and the

world's premier agricultural origination

and processing company), shared: "The

plant-based market in APAC is expected

to surge by 200% by 2025 1 , as more

consumers have a heightened awareness

of health and are looking for a diversity of

products that prioritise taste, texture and

nutrition. As such, people have become

more health conscious and are looking for

more options to better understand how

food impacts their overall health.

"This is exciting as not only is it growing,

but plant-based options have grown

"beyond the bun", which includes

more alternatives including seafoods

like shellfish and shrimp, plant-based

cheeses, ready-to-eat protein snacks and

more, as consumer demand continues to

grow."

Sarah Lim, marketing director of South East

Asia at ADM Human Nutrition

THE RISE IN FLEXITARIANISM

With the rise of flexitarianism, plantbased

alternatives have seen tremendous

growth. This is significantly apparent

when looking at the current market size

as well as at the variety of products

available in the supermarkets. Even largescale

global food service providers have

plant-based options on their menus now,

which a few years ago was unthinkable.

Darren Streiler, managing director of ADM

Ventures

"It is clear that taste, texture and overall

experience are, as always, very important,

but this is amplified when we are catering

to the flexitarian consumer. Recent

studies completed by ADM have shown

that flexitarians expect the same eating

experience from plant-based products

as they would get from their animal

protein equivalents. This raises the bar

for product developers who now not

FOOD & BEVERAGE ASIA JUNE / JULY 2021
---
14

MARKET INSIGHTS

Photo credit: ADM

The lunch spread

includes food such as

the spicy otah, which

was made with ADM's

plant-based fish and

coconut custard

only have to create great tasting products

but are also expected to get as close as

possible to the animal protein equivalent

version," explained Lim.

As these products continue to develop

and more investment money flow into the

industry, ADM continues to see new and

exciting products emerge. This will enable

more and more consumers to find the

products that match their expectations.

"I can see a future where there are so many

plant-based options on the market that

everyone can find something they like. In

the end, maybe everyone will be more of a

flexitarian," remarked Lim.

Through ADM Ventures, an advisory firm

focused on digital and hi-tech companies,

the company seeks to create functional

and clean-label ingredient portfolios that

advance the growth strategy of ADM by

both investing in and collaborating with

start-ups that are focused on improving

human and animal health and nutrition.

"ADM Ventures invests in cutting-edge

start-ups with disruptive technologies

across five key areas: human nutrition,

health & wellness or microbiome, animal

nutrition, sustainability and biomaterials,

and agriculture technologies," explained

Darren Streiler, managing director of ADM

Ventures.

ATTRACTING AND RETAINING

LOCAL CONSUMERS' TASTE BUDS

The COVID-19 pandemic has also given

rise to the importance of health and

wellbeing as well as the increased

awareness to save the planet from the

climate crisis, which drives the desire to

eat less meat.

"Many markets in Asia are developing

rapidly and the current pandemic has

accelerated this. There are parts of Asia

that are already very developed, and

other countries, such as the Philippines

and Indonesia, have seen increased

purchases online over the past year," said

Lim.

Additionally, according to AgFunder's

ASEAN Agrifoodtech Investment

Report 2020, ASEAN (the Association of

Southeast Asian Nations) is one of the

fastest growing regions in the world, and

plays host to a rapidly expanding middle

class that demands more choices when it

comes to food.

In 2020 alone, there was an estimated

two billion Asians of the middle class

and that number is set to increase to 3.5

billion by 2030 2 .

As Asian consumers change their general

lifestyle values, the demand for food

that is nutritious, healthy, safe and more

sustainable continues to grow. In order to

attract and retain consumers' taste buds

on plant-based ingredients, ADM believes

in delivering both taste and texture.

Lim said: "ADM has been pioneering

plant-based innovations for over 75 years,

so we are able to bring protein and flavour

to create some of the cleanest-tasting

FOOD & BEVERAGE ASIA JUNE / JULY 2021
---
MARKET INSIGHTS 15

Photo credit: ADM

A chef preparing

a plant-based,

Peranakan-themed

lunch spread at ADM

Innovation Center in

Singapore

plant-based proteins. Focusing on protein

and flavour in tandem, we jointly develop

on-trend, regional and culturally relevant

plant-based solutions in both the food and

beverage areas.

"We also continue to invest significant

resources into innovation of both

individual ingredients, systems, and design

techniques to bring the best possible

solutions and ingredients to our customers

by unlocking the power of nature to enrich

the quality of life of individuals."

But localising plant-based dishes to suit the

locals' palates is equally important too.

In fact, ADM recently inaugurated a new

plant-based innovation lab, located in

ADM's Biopolis research hub in Singapore.

The 8,900-square foot (825-square metre)

Singapore innovation centre will serve as

the gateway to consumers in South East

Asia and beyond, and enable ADM to work

closely with customers to create complete

flavour and specialty ingredient solutions

that meet consumer preferences for

taste, nutrition, function and texture.

It will be staffed by a team of food

scientists, flavourist and applications

experts, along with sales, marketing and

regulatory personnel.

"We continue to expand our offerings

of creative, innovative, and on-trend

solutions to keep up with changing

demands and preferences. We

understand that it is not a one-size-fitsall

solution, and place great care into

ensuring that our solutions fit the needs

of our customers and the target market,"

explained Lim.

The new innovation centre also features

a wide range of capabilities, including a

food and flavour analytic lab; a beverage

and dairy applications lab and pilot plant;

a bakery and confectionery lab; a meat

and savoury lab; a sweet and savoury

creation lab; sensory evaluation facilities;

and a customer innovation centre.

The opening of the new centre also

reflects the potential of the market as

ADM continues to invest and ensure

that the company is the go-to solution

providers for clean labels, sustainable

ingredients and great taste.

"Localisation is key to capture the

hearts of Asian consumers. Asia is an

amalgamation of cultures and this is

what makes taste creation exciting as

flavour creation experts and product

development teams create the right

product with the right texture to cater to

the ever-changing needs of consumers

backed by market and consumer insights,

while understanding the regulatory

space which varies country to country,"

remarked Lim. FBA

REFERENCES

1

https://vegconomist.com/market-and-trends/

plant-based-market-in-asia-pacific-to-surge-

200-by-2025/

2

https://www.statista.com/chart/8402/asianmiddle-class-on-the-rise/

FOOD & BEVERAGE ASIA JUNE / JULY 2021
---
16

BITING ISSUES

Amano

Amano introduces savoury enzyme for plant protein products

Umamizyme Pulse, a non-GMO enzyme

designed for use in a variety of plant protein

products to produce a pleasant, savoury

(umami) flavour, similar to that provided

by monosodium glutamate (MSG), as well

as a sensation of richness and complexity

(kokumi) has been introduced by Amano

Enzyme.

"Umamizyme Pulse is an animal-free

enzyme formulation optimised to produce

high glutamic acid and cysteine levels;

and less bitter flavour in proteins, including

pea, soy, almond and rice," said Keita

Okuda, technical services team lead. "It

is comparable, or better than, traditional

ingredients for producing a rich, savoury

flavour in proteins, providing customers with

a vegan-friendly, clean label product."

"Umamizyme Pulse also works well in an

acidic environment, allowing our customers

to prevent contamination with less salt,"

added Okuda.

The new enzyme can be used to produce

umami and kokumi in a variety of foods,

including soups, broths, snacks, and meat

substitutes.

Founded in 1899, Amano Enzyme is a

major supplier of specialty enzymes, with

subsidiaries in the USA, Europe, and Asia.

Amano Enzyme USA Co., Ltd. supplies highquality,

microbial enzymes for the Food,

Dietary Supplement, Industrial, Diagnostic,

and Regenerative Medicine Industries to the

Americas. With multi-ton manufacturing

capabilities, SQF Level 2 certification,

and technical expertise Amano provides

unparalleled service along with guaranteed

quality products. ■

Photo credit: Eiliv-Sonas Aceron/ Unsplash

SweeGen

SweeGen's Bestevia ® zero-calorie stevia sweeteners accepted

for use in Malaysia

As pandemic conditions encouraged Asian

consumers to adopt healthier lifestyles and

diets, the Malaysia Ministry of Health has

officially accepted SweeGen's zero-calorie

Bestevia sweeteners, Rebaudiosides D, E

and M for use as ingredients in food and

beverage products.

Brands in Asia are striving to deliver sweet

indulgence alongside new and exciting

flavors in snacks and beverages to satisfy

consumers' cravings. The acceptance

of not just one, but three of SweeGen's

Malaysia Ministry of Health has officially accepted

SweeGen's zero-calorie Bestevia sweeteners,

Rebaudiosides D, E and M for use as ingredients in

food and beverage products

premium stevia ingredients, gives brands in

Malaysia the creative latitude to tackle sugar

challenges when innovating and renovating

products.

Luca Giannone, senior vice president of

Sales, said: "Our promise well into the future

is to ultimately move the needle in what

consumers eat and drink through better

sugar reduction solutions."

Malaysia is one of the many APAC (Asia

Pacific) countries where SweeGen's non-

GMO stevia sweeteners will change the

landscape for offering a low cost-in-use

sugar reduction solution.

SWEEGEN VENTURES INTO ASIA

SweeGen is also in the process of opening

a food and beverage application centre

in Singapore to collaborate with brands

on exploring and discovering product

innovations motivated by consumer trends

and regional tastes. Last year, Singapore's

food safety authority approved SweeGen's

Rebs D and E in 2020 and Reb M in 2019.

Next generation non-GMO stevia sweeteners

have led the way in replacing sugar in

foods and beverages, nutritional products,

and many other market products worldwide.

SweeGen's proprietary zero-calorie

stevia sweeteners are produced through

a patented bioconversion process, which

begins with the stevia leaf to achieve highpurity

clean-tasting Rebs D, E and M.

SweeGen offers food and beverage

manufacturers rapid innovation sugar

reduction solutions for beverage, dairy,

savoury, bakery and confectionery. Bestevia

Rebs D, E and M were commercialised in

the past few years, and have already been

approved in many regions around the world.

Hadi Omrani, director of Regulatory Affairs,

said: "We're looking forward to continuing our

goal throughout the region which will help

an industry that strives to be relevant with

consumers." ■

FOOD & BEVERAGE ASIA JUNE / JULY 2021
---
BITING ISSUES 17

Tate & Lyle expands PROMITOR ® Soluble Fiber range

Tate & Lyle is expanding their awardwinning

PROMITOR ® Soluble Fiber range.

The expansion sees the launch of two new

liquid versions of PROMITOR ® : PROMITOR ®

Soluble Fiber W and PROMITOR ® Soluble Fiber

90L. These versions have been developed to

make adding fibre to applications including

confectionery, beverages and bars, easier

and more cost effective. This allows food

and beverage manufacturers to make their

products healthier, both reducing sugar

and calories and fortifying them with fibre,

while maintaining great taste, texture and

consumer experience.

"These additions to our PROMITOR ® Soluble

Fiber range bring all the existing benefits

of PROMITOR ® that have helped make the

product range so popular both for adding

fibre to products and for lowering sugar and

calories." said Susanna Palatucci, global head

of Health and Wellness at Tate & Lyle.

Both of the new ingredients address

specific needs in certain types of products.

PROMITOR ® Soluble Fiber W, which contains

a minimum of 85% fibre and less than

2% sugars, has a lower viscosity than

comparable fibre ingredients and performs

particularly well in confectionery products

such as gummies. It can therefore be

used for sugar reduction in mainstream

confectionery or for fibre fortification in

nutritional confectionery products.

PROMITOR ® Soluble Fiber 90L is a liquid

version of Tate & Lyle's existing 90% fibre

powder ingredient, which, depending on the

end-product and manufacturing set-up, can

provide production efficiencies by avoiding

the need to dissolve or handle powders. The

ingredient has lower viscosity and is easier to

handle and use than comparative products

on the market.

"By growing the PROMITOR ® family with these

two new offerings, it is now even easier to

incorporate the ingredient into a very broad

range of applications."

This expansion of the PROMITOR ® fibre range

is another example of Tate & Lyle delivering

on its purpose of Improving Lives for

Generations.

The PROMITOR ® W launch is focused on

North America, and PROMITOR ® 90L on North

America and Japan. Their regulatory approval,

labelling and claims may vary by country. ■

Tate & Lyle

Creative Sweetness Solutions

Sweegen's sugar reduction solutions are customized to meet consumer

preferences for local taste and sweetness profiles.

Using proprietary next generation stevia as a foundation, we incorporate

the right combination of proprietary flavors and best-in-class texturants

to create cost-effective solutions for your toughest sweetness challenge.

Non-GMO Nature Based Ease Of Use Cost Effective Label Friendly

Make your next sweet

innovation with Sweegen

www.sweegen.com | sales@sweegen.com
---
18

BITING ISSUES

Olam

Olam Food Ingredients accelerates growth strategy with an

acquisition

Olam Food Ingredients (OFI) 1 is acquiring

a leading US private label spices and

seasonings manufacturer, Olde Thompson,

at an EV of US$950 million through its wholly

owned subsidiary Olam Holdings Inc.

This acquisition reinforces OFI's growth

strategy of being a global leader in providing

sustainable, natural, value-added food and

beverage ingredients and solutions so that

consumers can enjoy the healthy and tasty

products that they love.

This acquisition will be transformative

for OFI's spices business, which is an

attractive and growing part of OFI's overall

portfolio. It will also create a substantive

growth platform for OFI to provide similar

sustainable and innovative retail solutions

across OFI's other products.

OFI CEO A. Shekhar, said: "This transaction

builds on our long 15-year partnership with

Olde Thompson and is a logical move to

combine our 'back-end' strengths in global

origination and sustainable supply chains,

with Olde Thompson's 'front-end' capabilities

Olam Food Ingredients ("OFI") 1 is acquiring a

leading US private label spices and seasonings

manufacturer, Olde Thompson

in providing retail spice solutions to many

major US retailers.

"Growing our offerings of private label

solutions is right at the heart of OFI's

strategy – and within that spices is one of

the most attractive and growing categories,

especially in the US. This will enable us to

offer consumers a comprehensive range of

bold, authentic, natural taste and flavours

with end-to-end traceability."

Established in 1944, Olde Thompson is a

leading manufacturer of private label spices,

seasonings, baking ingredients and spicerelated

housewares in the US. It has led and

benefited from the increased penetration of

private label in the spices and seasonings

space 2 , as well as the growing demand for

healthy, natural, organic, clean-label spices

and ethnic, savoury flavours. With two highly

automated bi-coastal facilities in Bayonne,

New Jersey and Oxnard, California, Olde

Thompson has built a significant formulation,

blending, packaging and distribution

capacity to serve customers across the US.

It has also built long-term relationships with

a diverse group of blue-chip retail customers

across the club, mass, grocery, discount and

dollar store channels.

CEO of Olde Thompson, David Sugarman,

said: "The acquisition of Olde Thompson

by OFI is a terrific outcome for all of our

key stakeholders. For our customers, this

partnership pushes Olde Thompson to

the forefront of sustainable innovation as

it provides access to OFI's extraordinary

international sourcing capabilities and spice

expertise that will allow us to provide a new

level of traceability and transparency to the

marketplace. Our employees will benefit from

additional resources and opportunities that

will accelerate our growth and their careers

even further."

Greg Estep, CEO of OFI's spices business,

said: "Our global origination and sustainable

spice supply chain along with Olde

Thompson's expertise in private label is

going to be truly complementary and

transformative for our spices business.

We can now deliver greater value to our

customers by combining Olde Thompson's

reach and capabilities in blending, product

formulation and packaging to our seed and

field management programmes, ingredient

processing capabilities and the differentiated

transparency and traceability that our

AtSource platform delivers."

KEY FINANCIAL INFORMATION

RELATING TO THE ACQUISITION

Olam Holdings Inc. will acquire Olde

Thompson from Kainos Capital and Olde

Thompson's management shareholders

at an EV of US$950m, subject to net

working capital adjustment at closing. The

consideration was arrived at on a willingbuyer,

willing-seller basis and implies an

EV/EBITDA multiple 3 of approximately 11.5

times, or approximately 8.5 times including

expected synergies.

The acquisition of Olde Thompson is

expected to be earnings and margin

accretive to OFI from the first year onwards

and generate potential EBITDA synergies of

US$25-30m.

Subject to customary closing conditions, the

transaction is expected to close in Q2 2021. ■

1

OFI is the new operating group, created after the

re-organisation of global food and agri-business

Olam International, with revenues of S$12.5 billion

and sales volume of 3.8 million metric tonnes in

2020.

2

Private label currently accounts for approximately

26% of the US spices and seasonings industry

and has been growing at an annual rate of

approximately 15% between 2015 and 2019

(Source: IRi industry data; OFI estimates).

3

EV/EBITDA multiple is Enterprise Value on

diligence adjusted 2020 Earnings Before Interest,

Tax, Depreciation and Amortisation.

FOOD & BEVERAGE ASIA JUNE / JULY 2021
---
BITING ISSUES 19

Yakima Chief Hops releases new blend that retains raw

hop aroma

Yakima Chief Hops (YCH), a grower owned

global hop supplier, is yet again taking

aromatic beers to a new level with their

latest product launch – Cryo Pop Original

Blend. Celebrating four years since the

release of their advanced product line, Cryo

Hops ® , this hop blend uses groundbreaking

research to solve the common brewing

Photo credit: Yakima Chief Hops

Global hop supplier Yakima Chief Hops has officially

launched their newest product – Cryo Pop

Original Blend

problem of how to carry raw hop aroma into

finished beers.

In 2017, YCH launched a line of innovative

hop products known as Cryo Hops ® using a

cryogenic hop-processing technology that

separates whole cones into two components

— concentrated lupulin and bract. These

concentrated lupulin pellets provide brewers

with maximum aroma impact while reducing

the negative effects experienced with

brewing hoppy beers.

YCH has combined this novel process with

cutting-edge hop lab analysis techniques

to create Cryo Pop Original Blend, formerly

known as trial blend TRI 2304CR. The YCH

R&D facility houses one of the only labs in

the world with the capability to analyse hops

via GC-QTOF and GC-SCD technology and

study previously undetectable aromatic

components.

The data is utilised to engineer a hop

pellet that contains high concentrations

of the most beer-soluble compounds,

or compounds that survive the brewing

process. The result is a supercharged pellet

that provides brewers with a dynamic

solution for juicy, fruit-forward, highly

aromatic applications, showing massive

tropical, stone fruit, and citrus aromas.

"The research behind Cryo Pop is

revolutionary," said Spencer Tielkemeier,

YCH's East Division sales lead and a member

of the Brewing Innovations team. "It helps

brewers harness a practical understanding

of how beer-soluble compounds make an

impact in the finished product." ■

Yakima Chief Hops

AAK South East Asia announces exclusive distribution

agreement with Invita for plant-based food solutions in Australia

and New Zealand

AAK

AAK has announced a collaboration with

Invita through an exclusive distribution

of AAK's plant-based food solutions for

Australia and New Zealand.

Australia and New Zealand are two of the

fastest-growing markets in the world when

it comes to plant-based foods, supported by

an advanced food technology as well as the

countries' eating clean and green lifestyle.

Drawing on a diverse range of raw material

sources, AAK works together with its

customers to develop great-tasting plantbased

food products made with love for

people, plants and the planet, and the

company shares Invita's fundamental core

mission to be in a long-term sustainable

business.

"We are excited about the partnership with

AAK as this aligns with our initiatives in

creating value-added and healthier options

in plant-based foods with a sustainable

supply chain for our customers," said

Yen Bird, director of Sales and Business

Development at Invita Australia.

Invita supplies high-quality life science

ingredients with a focus on food, beverage,

pharmaceutical and nutraceutical industries,

including onsite application support, local

warehousing, and distribution. Through

exclusive relationships with supply partners,

Invita has access to the latest global market

trends and new product launches across all

market segments.

"With this partnership, our innovative and

customised AkoPlanetTM by AAK solutions

for plant-based foods will be available

to food manufacturers via Invita's wellestablished

technical facility and distribution

network in Australia and New Zealand," said

Nikesh Hindocha, regional director of AAK

South East Asia. ■

AAK will collaborate with Invita through an

exclusive distribution of AAK's plant-based food

solutions for Australia and New Zealand

FOOD & BEVERAGE ASIA JUNE / JULY 2021
---
20

BITING ISSUES

Conagen

Conagen employs novel solution to make natural capsaicin by

fermentation more accessible

Conagen has successfully scaled-up its

fermentation process for the production

of premium capsaicin and its related

capsaicinoid molecules.

Consumers globally are demanding more

clean, natural and exciting flavours,

especially hot and spicy flavours.

Yet, manufacturers face a challenge in

meeting this demand as capsaicin from

chili peppers is difficult to use because of

its hot properties. Capsaicin extraction is

limited by the availability of chili peppers,

Did anyone say red hot chilli

peppers? The re-engineering of

capsaicin

which is subject to

fluctuations in price

and quality.

The market for

capsaicin is

growing because

of its pungent characteristic. In industrial

applications, such as anti-fouling paint for

boats and ships, capsaicin has the potential

to replace heavy metals.

Two major capsaicinoids, capsaicin and

dihydrocapsaicin are responsible for roughly

up to 90% of the pungency in chili pepper.

Yet, another capsaicinoid, nonivamide, also

known as Pelargonic Acid Vanillylamide

(PAVA), is found in small, trace amounts in

hot peppers. It is an alternative to capsaicin

for its hot sensation and spicy flavouring.

Nonivamide is typically used in topical muscle

pain relievers and synthetic pepper spray,

respectfully.

Due to the extremely low content of

nonivamide in hot peppers, and the large

demand, current plant extraction methods are

not commercially viable. Thus, nonivamide

has exclusively been made by chemical

synthesis. Although chemically synthesized

nonivamide is readily available, consumers

are adopting clean and natural products.

Providing a solution to global capsaicin

shortages, Conagen has identified several

key genes in the capsaicin biosynthetic

pathway in hot peppers and has

demonstrated proof-of-concepts for the

production of capsaicin, dihydrocapsaicin,

and nonivamide. Several patents have been

granted to Conagen for microbial production

of capsaicinoids.

Following demands for a natural, low costin-use

solution, Conagen has successfully

optimised and scaled-up its fermentation

process for the production of capsaicin,

dihydrocapsaicin, and nonivamide. ■

FrieslandCampina

FrieslandCampina's Biotis TM GOS supported by research to

reduce anxiety

A first-of-its-kind clinical trial has shown

the ability of Biotis GOS, the galactooligosaccharide

prebiotic ingredient supplied

by FrieslandCampina Ingredients, to reduce

self-reported anxiety in young women. While

past animal studies have indicated such

benefits, the new study is the first human

trial to demonstrate a clear link between GOS

consumption, gut microbiota composition

and mental well-being.

During the four-week trial, 64 women aged

18–25, with self-reported anxiety*, received

a daily dose of Biotis GOS or a placebo

supplement. Participants completed baseline

and end of study surveys to assess their

general health, including their sleep quality,

mood and stress levels. Gut microbiome

sequencing analysis was also carried out.

After 28 days, the group receiving Biotis TM

GOS reported improved mental well-being

and reduced anxiety levels, while the

microbiome sequencing analysis showed

they had better gut health, characterised

by significantly increased Bifidobacteria

levels, compared to the control group. In

addition, brain imaging was employed on

a sub-sample of participants to measure

key emotion regulation regions, allowing

for further understanding of how changes

in the gut microbiome may relate to brain

functioning.

The results suggest that a daily Biotis TM GOS

supplement in a fortified food or drink may

be beneficial in instances of pre-clinical

anxiety.

Commenting on the study, Vicky

Davies, global marketing director at

FrieslandCampina Ingredients, said: "We

developed Biotis TM to usher in a new era of

ingredients science – one that responds

directly to the key concerns of today's

consumers. Given the challenges of the last

year, mental well-being, including anxiety,

is one of the most pressing and widespread

global health issues right now. We're very

proud to be playing our role in furthering

scientific understanding of how prebiotics

like galacto-oligosaccharides can target the

microbiome to bring about benefits in mental

wellbeing." ■

*No clinical diagnosis

FOOD & BEVERAGE ASIA JUNE / JULY 2021
---
22

INGREDIENTS

Lactase enzymes can contribute to

the creation of quality dairy products

The lactose-free dairy boom: how

can enzymes help producers deliver

on-trend lactose-free varieties?

The growing lactose-free dairy market reflects a change in consumers'

tastes and preferences. More than ever, consumers are considering

authenticity, health, and taste in their dairy products. Ben Rutten,

business manager Milky, DSM Food Specialties, discusses how lactase

enzymes can contribute to these evolving demands.

The lactose-free dairy market continues

to grow and outpace the traditional dairy

market 1 . Estimates now suggest that the

CAGR of lactose-free dairy will be more

than double that of regular dairy between

2019 and 2024 at 6.5% and 2.4%

respectively, with the market expected

to exceed €9.7billion (bn) by 2024. 2

Representative of 80% of the lactosefree

market share, lactose-free milk is

expected to be the main growth driver. 3

Anticipated to reach €0.9bn by 2024 at

an impressive CAGR of 8.2% 4 , lactosefree

yogurt is further fuelling demand,

with people seeking diverse flavours and

textures in the products they purchase.

Meanwhile, the lactose-free cheese

category is also expected to grow (CAGR

6.7%) between 2019 and 2024. 5

The success of the lactose-free

dairy industry can be seen across

different regions worldwide, with Asia

demonstrating particularly impressive

and steady growth in the forecast

period (7.8% CAGR) 6 - opening up

exciting innovation opportunities for

dairy producers in Asia. To tap into them

effectively, however, manufacturers must

understand the consumer needs driving

FOOD & BEVERAGE ASIA JUNE / JULY 2021
---
INGREDIENTS 23

the market forward and find the right

solutions for delivering lactose-free dairy

products that meet diverse expectations.

THE TOP THREE MARKET DRIVERS

Consumer attitudes and purchasing

behaviors continue to evolve, making it

crucial for manufacturers to keep their

finger on the pulse of the market. So,

what are the factors driving lactose-free

industry growth in Asia?

1. Lactose intolerance

An impaired ability to digest lactose

- also known as lactose intolerance

- affects many individuals across the

globe and typically leads to digestive

discomfort following the consumption

of dairy products, such as milk, cheese

and yogurt. Incidence varies extensively

across the globe, however. In East

Asia, for example, 90-100% of adults

are reported to be living with lactose

intolerance, compared to just 4% in

Denmark 7 . Lactose intolerance therefore

remains a key factor in the popularity

of lactose-free dairy products in Asia,

with a 2020 DSM research showing that

51% and 69% of respondents in China

and Indonesia, respectively, agree that

lactose-free dairy is easier to digest than

regular dairy. 8

2. Health appeal

Lactose-free dairy products are also

increasingly popular with many healthconscious

consumers in Asia, thanks to

their perceived health benefits. DSM's

survey, for example, found that 43%

and 67% of respondents in China and

Indonesia, respectively, believe that

lactose-free dairy is healthier than regular

dairy. 9 This has played a prominent role

in the strong growth potential of this

category in recent years.

Meanwhile, low-sugar and nutrientrich

dairy varieties are also gaining

popularity. For example, both Chinese

and Indonesian consumers reported

that they will lower their sugar intake

(CN 66%; ID 78%) and look for vitamin/

mineral-enriched products (CN 74%; ID

84%) in the next three to five years. 10

This presents an exciting opportunity for

lactose-free dairy brands to differentiate

their products and appeal to the rising

number of consumers looking for dairy

varieties with "no added sugar", "reduced

sugar" or "rich in vitamins/minerals"

claims.

3. Authenticity and product

positionings

Growing numbers of consumers are also

looking for authenticity claims, such as

"organic", from their dairy, and are often

willing to pay a premium price for such

products. For example, DSM's research

FOOD & BEVERAGE ASIA JUNE / JULY 2021
---
24

INGREDIENTS

found that Chinese and Indonesian

consumers expect to purchase more

locally produced (CN 61%; ID 74%) and

non-GMO/organic (CN 70%; ID 69%)

products in the coming three to five

LACTASE ENZYMES: DRIVING

INNOVATION IN LACTOSE-FREE

DAIRY

The latest lactase enzymes on the

market - such as DSM's Maxilact ®

Delvo ® Pro L26 Lactobacillus casei

probiotic strains, to their formulations.

This can help create nutrient-rich,

lactose-free dairy products that support

health and wellbeing.

The Asian market is

one of the growing

consumers of

lactose-free dairy

products

years. 11

Beyond these three top market

drivers, taste remains a key influencer

of the consumer purchasing

decision. Producers are also facing

growing pressure to speed up the

production process and improve

their manufacturing capacity to stay

competitive. The question now is, how

can producers meet evolving consumer

demands to stay at the forefront of the

industry, while working efficiently and

remaining profitable?

Super solution, part of its Maxilact ®

portfolio - can support the production

of clean-tasting, high-quality lactosefree

dairy products like milk, cheese and

yogurt varieties that meet discerning

consumers' expectations across Asia.

Highly efficient and pure, these

enzymes are free from invertase and

arylsulfatase that can produce offflavours

and reduce stability during

shelf life, guaranteeing a clean taste

and consistent high quality across a

product's life cycle. These benefits,

combined with the suitability of

lactase enzymes for all dairy product

positionings - from traditional to organic

- allow lactose-free dairy producers

to appeal to increasingly health- and

label-conscious consumers, without

adding complexity to the production

process. These solutions also enable

manufacturers to cut hydrolysis time

by as much as 33%, and thereby help to

achieve optimal production efficiency

and boost capacity without capex

investment. Maxilact ® Super lactase

enzymes further unlock the natural

sweetness of dairy by breaking down

lactose into sweeter monosaccharides

(glucose and galactose). These

components have a higher relative

sweetness than lactose, which achieves

sweetness similar to sucrose and

effectively lowers the sugar levels in

lactose-free dairy products by up to

20%, helping manufacturers meet the

requirements for 'reduced sugar' or 'no

added sugar' front-of-pack label claims.

LOOKING AHEAD

The strong growth potential of the

lactose-free dairy market in Asia

means that producers have an exciting

opportunity to expand their portfolios

and market share. To drive innovation in

the industry, however, manufacturers

need to act quickly and bring highquality

lactose-free and sugar-reduced

varieties with a clean taste and an

appealing nutritional value to market.

Lactase enzymes and micronutrient

solutions can help them align their

products with the latest consumer

trends, while also allowing them to work

more economically and sustainably.

To speed up the route to market,

producers can also collaborate with an

industry expert. With more than 50 years

of experience in lactase development

and manufacturing, DSM is the world's

leading lactase specialist committed to

being a true "one-stop-shop" partner

to customers. With a broad portfolio

of lactase enzymes, dairy cultures,

probiotics, bio-protection and sugarreduction

solutions, vitamins, minerals

and hydrocolloids, and end-to-end

technical support, DSM is ideally

positioned to help manufacturers create

appealing lactose-free products. FBA

REFERENCES:

1

Mintel Global New Product Database –

claim low/no/reduced lactose category

dairy (excluding dairy alternatives, creamers,

shortening & lard, spreads).

2

Euromonitor, Market value based on 2019

Manufacturers looking to further

retail values. CAGR 2019-2024, 2019.

enhance the health appeal of their

3 – 6, 9 - 11

Ibid.

products can also add vitamins,

7

De Vrese M, et al. Am J Clin Nutr.2001;73

minerals and probiotics, such as DSM's

(suppl):421s–9s.

Quali ® vitamins, Premix Solutions and

8

DSM. 'Future Food Trends', 2020.

FOOD & BEVERAGE ASIA JUNE / JULY 2021
---
26

INGREDIENTS

TomaTech files patents

for ToBRFV-resistant

DNA markers for

tomato varieties

In a fight against the Tomato Brown Rugose

Fruit Virus (ToBRFV), TomaTech files a

provisional patent for identifying the DNA

markers correlated to its resistant traits.

will accelerate the breeding and

commercialization of high resistance

non-GMO tomato varieties.

"Following years of intensive R&D

(research & development) efforts,

TomaTech has succeeded in identifying

DNA markers that elicit resistance to

ToBRFV," said Ofer Ben Zvi, CEO of

TomaTech. "This discovery will allow us

to rapidly develop a complete portfolio

of resistant tomatoe varieties for global

introduction and will benefit the growers

and the entire value chain, providing a

consistent supply chain while lowering

production costs."

TomaTech, Ltd. recently announced

a major advancement in the fight

against the Tomato Brown Rugose

Fruit Virus (ToBRFV), which has caused

significant economic damage estimated

as much as billions of USD in the last

few years globally. Lead by Assaf

Eybishitz PhD, the company furthered

the fight against this pandemic of the

tomato world by filing for a provisional

patent for identifying the DNA markers

correlated to its resistant traits which

TOBRFV VIRUS

The ToBRFV virus has been inflicting

havoc on in-door tomato plantations

globally since 2014, affecting a broad

spectrum of tomatoes — from sweet

cherry lines to full-sized beefsteak

FOOD & BEVERAGE ASIA JUNE / JULY 2021
---
INGREDIENTS 27

tomatoes. Outbreaks have overwhelmed

greenhouses across the North America,

Europe and the Middle East, and is spreading

to other regions.

The appearance of ToBRFV on commercial

tomato cultivations presented a substantial

threat to tomato growers and the entire

value chain around the world, causing severe

damage to commercial varieties. It already

has led to colossal losses in yields, ranging

from 30% in losses to devastating entire

crops.

Due to the virus' ability to rapidly spread via

mechanic transmission, especially under

intense production practices, hygiene

protocols have been imposed that require

farmers to wear full protective gear and fully

isolate virus-infected greenhouses.

Development of a portfolio of resistant

varieties requires exceptional phenotyping

and genotyping capabilities. TomaTech

targeted virus resistance as one of its top

R&D goals and has been working intensively

since 2017 to develop new sources of

resistance and the new cultivars.

"The ability to find strong resistance as well

as identify DNA markers, protecting our IP

through submission of provisional patent

application, demonstrates TomaTech's

capabilities to position itself at the front line

in the research and breeding of the tomatoes

varieties for the global market," explained Favi

Vidavski, PhD, president and head of R&D of

TomaTech.

IDENTIFYING DNA MARKERS

"We developed an advanced highly efficient

screening system based on controlled

inoculation and molecular technology where

we continually tested tens of thousands

of tomato plants under the most severe

conditions," explained Vidavski. "We reached

a breakthrough a year ago with the discovery

of specific DNA markers that proved

instrumental in helping us isolate, identify

and introduce ToBRFV-resistant genes, which

we bred into our principal commercial tomato

varieties."

INTERMEDIATE RESISTANCE VS HIGH

RESISTANCE

TomaTech has already introduced

intermediate resistance (IR) capabilities

across its entire breeding programme while

concurrently broadening efforts to attain the

next stage of high resistance (HR), projected

to be completed in the near future.

"We have successfully identified and

produced an impressive portfolio of

commercial ToBRFV-resistant (IR) tomatoes

that already are available for our customers,"

enthused Vidavski.

TomaTech's innovation can be applied to a

comprehensive range of tomato varieties

across all segments and can be adapted to

both heated and non-heated greenhouses.

TomaTech will continue to invest efforts and

agronomical inputs to bring real solutions to

growers.

"Since its first appearance in 2014, the

ToBRFV virus has presented a heavy burden

for growers around the globe and for many

dealt a heavy blow to their crops," added

Ben Zvi. "Our unique breeding methodology

not only boosts resilience but also

positively enhances flavour and fruit quality

characteristics, ensuring that the needs of

retailers are met and that consumers will

have continuous access to healthy, attractive,

and flavourful tomato varieties." FBA

ToBRFV susceptible vs

ToBRFV resistant

FOOD & BEVERAGE ASIA JUNE / JULY 2021
---
28

INGREDIENTS

Unlocking the

secrets of

healthy ageing

By Dr Adam Carey

Ageing is a complex process characterised

by a progressive loss of physiological

integrity, leading to impaired function and

increased likelihood of dying. These changes

drive the primary risk factors for major human

pathologies, including cancer, diabetes,

cardiovascular disorders, osteoarthritis and

neurodegenerative diseases. Ageing research

has exploded in recent years, particularly

with the discovery that the rate of ageing

is controlled by genetic pathways and

biochemical processes that are evolutionarily

conserved. There have been nine tentative

hallmarks that have been identified, which

represent common denominators of ageing;

four have a genetic basis, three a cellular

basis and two occur within tissues. Work

continues to better understand these

processes and what might be done to impact

them.

Today, the loss of physiological function

results in a loss of quality of life and a gradual

increase in fragility. This loss in function,

mobility and quality of life is mirrored in the

body by a loss of lean body mass. While some

of this loss in lean mass is due to a loss in

bone mass, the major driver for the change

that is seen is due to a reduction in muscle

mass. The question being asked is, "Is this all

inevitable?"

THE THREE PHASES

When we consider the ageing process,

we can divide life into three phases. First

there is childhood, which can extend until

approximately 30 years of age. It is about

this time we start developing our careers

and taking on major responsibilities such

as paying mortgages, getting married and

raising children.

The second phase of life is adulthood and

lasts from about 30 years to 60 years.

During this time, we look to discharge

these responsibilities. We hope to pay off

the mortgage, see our children grow, leave

home and become independent and we have

hopefully saved enough to retire comfortably.

The final phase of life is over the age of 60

and has been called old age. During this

time the impacts of the ageing process are

experienced with a gradual loss of function,

mobility and quality of life. The good news is

that this loss of function is not inevitable.

We are now seeing data that suggests that

those who are able to look after themselves

during a traditional adulthood are better able

to manage this third phase of life. They are

stronger, active and have a better quality of

life. The ideal must be that this final phase

of life should be as active and fulfilling as

the previous two, but potentially without

the same responsibilities. Perhaps the three

phases should be renamed: Happy, Happier,

and Happiest?

DELAY FUNCTIONAL AGEING

How do we ensure that we continue to live

an active life? It is important to prevent the

loss of muscle mass and therefore, delay

functional ageing. Functional ageing is

directly associated with a loss in muscle

FOOD & BEVERAGE ASIA JUNE / JULY 2021
---
INGREDIENTS 29

mass. This may occur because of a lack

of drivers involved in the maintenance of

muscle mass, or because of joint injury or

disease that inhibits normal physical activities

important for the maintenance of muscle

mass.

Developing and supporting lean body mass

requires four things to be in place:

• Weight bearing exercise, which is the

primary driver to develop and maintain

muscle mass;

• Sufficient building blocks for muscle

mass that come from amino acids

derived from the protein containing

foods we eat;

• An appropriate energy intake to support

maintenance and growth; and

• Enough sleep and recovery to allow the

repair and building to occur.

As people get older, they commonly stop

taking part in regular exercise. This removes a

primary driver for maintaining and developing

lean body mass. Weight-bearing exercise

is critical to staying strong and vital as we

age. Instigating a weight training activity

in your 80s is still beneficial. An adequate

protein intake is essential as you get older

and this requirement is now thought to be

higher than in a younger population. The

current recommended daily intake for protein

is 0.8g/kg of body weight, and it has been

proposed that those over 50 years should

consider consuming 1g/kg body weight.

While a lack of calories in the western world

is rarely the reason for a failure to maintain

muscle mass, poor quality and duration

of sleep is increasingly common in older

individuals [citation]. All these areas need to

be addressed to maintain lean body mass

with age. When put in place, it is possible

to be more fit and active as individuals age

than previously perceived, which may help

individuals maintain physiological function

and quality of life as they age.

Injury or joint degeneration leading to

inactivity is another major reason for a loss

of lean body mass. Joint pain and discomfort

increase with age, which may be the primary

reason for not exercising. While exercising,

36% of younger individuals experience some

muscular skeletal conditions, this rises to 68%

of those over 65 years old. Joint pain and

discomfort are the most common ailments

for those under 65 and the second most

common in those over 65 years, with 25% of

adults experiencing knee discomfort. 1

ALTERNATIVE TO NSAIDS

Historically, people have tried addressing

joint pain using anti-inflammatory drugs

like nonsteroidal anti-inflammatory drugs

(NSAIDs) or nutritional products such as

curcumin, boswellia, omega-3 essential

fatty acids, antioxidants including vitamin

C, and building blocks of the joints, such as

glucosamine and chondroitin. While NSAIDs

do have a place in managing joint pain,

these drugs have significant side effects and

are the most common cause of a GI bleed.

What is often forgotten in daily routine is the

considerable hypertensive effect of NSAIDs in

everyday life.

More recently, UC-II ® undenatured type II

collagen has been identified as a possible

contender for the management of joint

discomfort. It is a food supplement sourced

from chicken sternum using a special

patented low-temperature, non-enzymatic

manufacturing process to preserve the

efficacy of the collagen's critical undenatured

form and is marketed in a number of oral

forms.

Its mechanism of action is interesting and

different from other joint health supplements

on the market. Other supplement ingredients

require large amounts of a joint building

block. UC-II ® undenatured type II collagen is

thought to work through oral tolerance due to

an interaction between UC-II ® undenatured

type II collagen and the immune cells in

Peyer's patches in the small intestine.

The regulator T cells formed during this

interaction produce anti-inflammatory

cytokines in the joints, which in turn have a

symptom-modulating and repair effect on the

joints.

Several clinical trials have demonstrated that

UC-II ® undenatured type II collagen offers

joint health benefits not only for people with

osteoarthritis (OA), but also for healthy adults.

In 2002, Bagchi et al successfully showed

that women with joint-health problems were

able to achieve clinically meaningful jointhealth

benefits. Subsequently, two clinical

trials confirmed similar benefits in people

with knee OA. 2,3,4 In these controlled trials,

UC-II ® undenatured type II collagen was

statistically significantly more effective than

glucosamine and chondroitin as measured by

WOMAC score. In a randomised, double-blind,

placebo-controlled trial (Lugo et al), UC-II ®

undenatured type II collagen was found to

significantly improve post-exercise recovery,

when compared to baseline, in healthy adults

who experience joint pain after climbing

steps. 3

UC-II ® small, once-a-day efficacious dose

makes it easier for older consumers to

swallow and to remember to take. Capsules

are a preferred dosage form for the UC-II ®

ingredient, due to some key advantages,

particularly around consumer compliance.

They enable the safe and secure containment

and preservation of the undenatured type II

collagen.

Ageing remains a complex and evolving

area. While science will undoubtedly, in time,

unlock some new secrets, it is important

to recognise that there is a lot we can

currently manage. Maintaining an active

lifestyle, eating a healthy diet with the

proper balance of macronutrients, getting an

adequate amount of sleep, and taking dietary

supplements such as UC-II ® undenatured

type II collagen, may allow us to age

gracefully. FBA

REFERENCES:

1

Bunt CW, Jonas EE, Chang JG. Am Fam Physician.

2018;98:576-585.

2

Bagchi D, et al. Int J Clin Pharm Res.

2002;22:101-110.

3

Crowley, et al. Int J Med Sci. 2009;6:312-321.

4

Lugo JP, et al. J Int Soc Sports Nutr. 2013;10:48.

FOOD & BEVERAGE ASIA JUNE / JULY 2021
---
30

ON THE TABLE

Dr Rossi has had extensive experience in the development of sales networks

and business start-ups worldwide

A fresh start: Sacco

System revamps Agrofood

division

Sacco System has reorganised its Agro-food division

– expanding product lines, fresh qualified personnel,

and a new leader in its Business Unit. Dr Luigi Rossi,

executive director of Agro-food, shares about the

division's new plans and strategies.

Dr Rossi, you have worked for decades

in the dairy business. What prompted

you to accept the challenge to

change the sector and shift focus on

the Agro-food world? What exactly is

meant by Agro-food?

Dr Luigi Rossi: My dairy team and I have

experienced exciting years, during which

we have built a worldwide network by

selecting the best distribution channels

and sharing with them a partnership path

that has allowed business developments

in more than 110 countries around the

world.

The new role of commercial director of

the Agro-food Business Unit (BU) has

a particularly important significance

to me. By leveraging my accumulated

experience, I will give my contribution

to positioning Sacco System in new

emerging sectors that foresees very

important growth trends in the upcoming

years.

The new Agro-food BU is made up of

several market segments, all of which

are nonetheless characterised by one

important element they share, namely

the innovation and enhancement of our

microorganisms as an added value to our

customers' production processes.

The probiotics we offer for the plants

and livestock sector allow, in addition

to improving the health of plants and

animals, to increase yields by reducing,

or in many cases even eliminating, the

FOOD & BEVERAGE ASIA JUNE / JULY 2021
---
ON THE TABLE 31

enzymes and probiotics: from meat to

fish, bread, vegetables and fermented

drinks. What prompted you to expand

the product portfolio?

Dr Rossi: All our customers have as

primary interest to produce with a

high quality and safety standard, our

process and protection crops allow to

obtain a controlled fermentation while

the protection ones act as a natural

antagonist towards the unwanted flora

that can give rise to deterioration of the

product.

The cultures can also be used as an

alternative to yeast for consumers who

wish to switch to a diet without added

yeasts; a real revolution for yeastintolerant

people, and even more so

for gourmets, continuously in search of

particular products reminiscing of the

ancestral tastes of leavened bread and

cakes.

The use of our crops has therefore

become "transversal" to multiple sectors,

ranging from the dairy sector to many

other markets in the food and agri-food

sector.

use of antibiotics, pesticides, chemical

fertilisers; we are fully aware of the

relevance this element carries in the

choice made by the final consumer.

The meat sector will also enjoy the benefit

of improving the production and shelf

life of its products through the use of our

protective cultures.

The company is also extending its

interest to other sectors such as

fermented food vegetables, non-alcoholic

beverages where we are experimenting

with the culture that improve the aroma,

especially in fruit-based ones. Another

rapidly evolving segment concerns the

bakery and the beer sector, where we

will shortly experiment with mixtures

composed of yeasts and bacteria that

allow us to enhance the organoleptic

properties

Research and development have always

been a fundamental pillar for Sacco,

also in light of our growth-oriented

mentality. For what concerns the plant

sector, the company has recently

signed a collaboration agreement with

a technological platform, Landlab, to

cooperate in the testing of innovative

microorganisms, both in vitro

(greenhouse) and directly in the field.

You mention an impressively wide

range of applications for the use of

Which markets are you targeting?

Dr Rossi: We will address our offer to

the B2B sector by designing with it, not

only a commercial development, but also

a development network consisting of

qualified personnel who will accompany

the product offer with technical

application consultancy in the various

industrial sectors. Our goal will be to

complete the production chain starting

from agriculture to get to the table for this

reason we have joined the "from farm to

fork" program.

What about the future?

Dr Rossi: I would say that there are

already many applications we are working

on right now, but we also know that it is

essential to never stop and always try to

innovate. FBA

FOOD & BEVERAGE ASIA JUNE / JULY 2021
---
32

ON THE TABLE

The exhibition,

which saw 168

new designs, was

transmitted via

livestream

Moving on:

igus presents new

designs amidst

pandemic

igus recently presented its Motion

Plastics Show. The press conference,

which was carried out via a livestream,

saw developers and engineers

showcasing their latest designs and

products across the large exhibition

space. The conference also marked the

second consecutive year in which the

exhibition was held virtually as a result

of the pandemic.

INNOVATION IN THE FACE OF

ADVERSITY

A key component of this press

conference was the emphasis on

innovation. The 168 new designs boast

stronger product life, greater wear

resistance, and higher efficiencies.

These new creations were achieved

against the backdrop of the larger

pandemic crisis; to cope with the

current COVID-19 situation, many of

igus' engineers are working from home

with few visits to the testing labs, often

using creative ways to create and test

their new designs in their backyards

with materials found at home.

"Home office is a great challenge,

especially for the design and testing

department," said Michael Blass,

chief executive officer of igus e-chain

systems. "We have succeeded

in combining the concentrated

development of ideas in the home office

with haptic testing and implementation

here in the laboratory. We often build

small test stands ourselves in the home

office and confirmed the results here in

the test lab. Hybrid is key."

The current situation has also

demanded an alternative in terms

of customer service: igus offers

virtual visits, which include assembly

support and drawings, as well as

a demonstration of the machine's

application, and interactive presentation

for designers and other stakeholders.

This works in tandem with the IF Design

Award-winning igus trade show booth.

Furthermore, the online shop has also

provided customers with necessary

information on price, service life, and

delivery period, facilitating a smooth

ordering and delivery process.

LAUNCH OF NEW PRODUCTS

The highlight of the press conference

was the demonstration of igus' new

products and designs from their

2020/21 line-up. Notable introductions

include the AX500 plain bearings, and

the A180, both of which are safe for food

contact and are suited for use in the

food and beverage industry.

The new iglidur AX500 plain bearings,

with its ESD and EU 10/2011

sustainability, was developed precisely

for its use in the food and beverage

industry. It boasts a water-resistant and

high temperature material, being able

to withstand up to 250C. The highperformance

bearing is also strongly

wear-resistant, particularly for use with

chemicals and water-cleaning.

Of the AX500's attributes, Tobias

Vogel, chief executive officer of

Bearings & Linear Technology, said

that the combination of the EU 10/2011

compliancy, alongside similar rates

FOOD & BEVERAGE ASIA JUNE / JULY 2021
---
ON THE TABLE 33

of wear resistance and coefficient of

friction with past iglidur X materials,

was a big step for very high technical

application in the food industry. This is

further emphasised through the AX500's

greaseless, plastic design, making it

optimal for machines that undergo an

automatic cleaning process every few

hours with strong chemicals.

Another key product of the conference

was the iglidur A180 plain bearing, which

is made from 100% FDA-compliant

material and is thus ideal for contact with

food. The large grooves of the A180 allow

it to be washed easily, making it suitable

not only for the food and beverage

industry but also for the medical industry.

Of the groove design, Gerhard Baus, VP

and head of Business Bearings at igus,

remarked that the bearing's thick grooves

can be cleaned easier than small edges –

a hygienic design that is vital to the food

industry process.

A STRONGER DEDICATION TO

SUSTAINABILITY

Wrapping up the press conference,

igus CEO Frank Blase reiterated igus'

commitment to sustainable practices.

Through the chainge Recycling Program,

all e-chains are recycled at the end of

their lifetime. Furthermore, the company

has invested in Mura Technologies,

which enable plastic waste to be

recycled back into oils – contributing to

the circular economy that allows plastic

to become a reusable resource.

Blase also highlighted how the young

apprentices in Germany have been

applying themselves to the recycling

and refurbishing of electronic waste

produced by igus, and in return selling

them back to igus' associates and

their families for under 100 euros as

functional devices. This initiative was

also partially motivated by the need

for electronics and laptops during the

pandemic.

"The young people, below twenty,

below thirty years-old, they insist, they

demand, they force us to act, and this

is a good thing. Together, I think we will

get on the right track," said Blase, when

asked about the company's challenges

in transitioning to a sustainable model

during the pandemic.

igus also has plans to create a "green

tree lung" to achieve CO2 neutrality,

which would see the planting of trees

and plants together in their new parking

space. This is part of igus' efforts to

contribute to the reduction of CO2

emissions on their facilities, and will be

located in the middle of their campus.

Furthermore, igus is currently in the

process of determining their CO2

footprint.

The new factory building currently under

construction is also set to be climateneutral

in its inception, and by 2025

all other igus factories will follow suit.

Within its production process, igus has

also implemented new state-of-the-art

injection moulding machines that save

up to 40% energy, reducing emissions.

Altogether, the press conference marks

igus' commitment to greater innovation

in the face of a global pandemic. FBA

FOOD & BEVERAGE ASIA JUNE / JULY 2021
---
34

ON THE TABLE

The nutra meets

pharma initiative

In a move to tap into the pharmaceutical market with its leading branded

ingredients, Julia Diaz, head of marketing at Pharmactive shares what this move

means to Pharmactive Biotech, S.L. and more about the company's validated

saffron extract, affron®, which can be used as a stand-alone or to enhance

pharmaceutical products.

By Pang Yanrong

Pharmactive's affron ® saffron is grown in the

company's private fields in Spain

and medical practitioners, and will help

the pharmaceutical business provide

greater value to their patrons," said Jean-

Marie Raymond, CEO of Pharmactive, in a

press release.

"This means a better and increased

approach to the pharma business;

being able to offer a natural solution

with demonstrated effects and of

high-tolerance in combination with

antidepressants," explained Julia Diaz,

head of marketing at Pharmactive.

WHAT IS AFFRON ® ?

Saffron bears a deep-rooted history as

traditional natural agents that can relieve

occasional anxiety and promote rest. For

Pharmactive, its affron ® saffron is grown

in the company's private fields in Spain.

Pharmactive Biotech, S.L. is tapping

into the pharmaceutical market with

its leading branded ingredients, such

as affron ® saffron extract, to support

mental health. The company has

appointed Paul Clayton, PhD as chair of

its scientific advisory board. Together with

Pharmactive's medical advisor, Carlos

Galmarini, MD, PhD, they will lead this

strategic move for Pharmactive.

"Including high-level medical and natural

science experts on the advisory board

enables the company to combine and

reconciliate the two worlds of pharma and

nutraceuticals, to benefit both consumers

"Our extractions are 100% natural and the

ingredient is standardised by HPLC (high

performance liquid chromatography)

technology to ensure the highest purity

and endorsed by strong clinical science,"

said Diaz. "Our company oversees the

entire supply channel. We work closely

with our farmers and set in place a robust

quality control system. We have acquired

a number of quality seals including

organic certification to ensure that it is in

line with our customers' values for quality

FOOD & BEVERAGE ASIA JUNE / JULY 2021
---
ON THE TABLE 35

and traceability of naturally sourced

ingredients."

In addition, Pharmactive's affron ® is a

highly-awarded ingredient (six times)

and is recognised as the best saffron

ingredient by The Frost & Sullivan entity.

HOW DOES AFFRON ® HELP

MENTAL HEALTH?

In stress situations, the body will activate

the sympathetic nervous system into

a fight or flight mode as a means of

defense. Oxidative stress is implicated in

this response, especially when it becomes

chronic and is characterised by lowered

antioxidant defenses and increased

oxidative damage to proteins, lipids, and

more where excess free radicals damage

brain structures and cells.

Diaz explained: "Our affron ® branded

saffron extract is backed by six human

clinical studies demonstrating its ability

to improve mood, relieve stress, support

relaxation, and enhance sleep (1-6). It

is also the first saffron extract clinically

studied on adolescents, and has shown

to be well tolerated when administrated

with antidepressant drugs, effectively

reducing depression in adults with

persistent depressive symptoms.

"Affron ® possesses a potent antioxidant

and anti-inflammatory impact, which

not only could help to balance key

neurotransmitters levels, such as

serotonin and dopamine, but also fights

the oxidative stress produced by anxiety

and stress in the brain."

Pharmactive's affron ® saffron is

manufactured using a unique proprietary

AFF ® ON Cool-Tech actives-saver

extraction procedure. This optimises

the preservation and concentration of

the key active ingredients with minimal

industrial processing, no chemicals,

and low energy use; with long-lasting

actives' stability of at least 36 months.

The extract is also standardised to

contain more than 3.5 lepticrosalides;

the unique combination and synergic

effect of crocins, crocetins, safranal and

picocrocins, are the bioactive compounds

responsible for its cognitive effects.

This is on top of exhibiting the lowest

dosage threshold for saffron extracts on

the market — just 28mg per day — with

proven bioavailability, rapid one-hour

absorption and can be taken alongside

pharmaceutical SSRI's (selective

serotonin reuptake inhibitors).

"There is a current gap in the

management of stress and anxiety

Saffron bears a deep-rooted

history as traditional natural

agents that can relieve

occasional anxiety and

promote rest

FOOD & BEVERAGE ASIA JUNE / JULY 2021
---
36

ON THE TABLE

Pharmactive's affron ® saffron is

manufactured using a unique proprietary

AFF ® ON Cool-Tech actives-saver

extraction procedure to optimise the

preservation and concentration of the key

active ingredients

from a medical point of view, where

pharmaceuticals targeting anxiety can

cause a range of side effects in almost

40% of consumers 1 . This can cause a loss

in adherence," said Diaz. "Here, affron ®

could help as a support for cases where

the person needs an extra support to cope

with daily problems and, in combination

with antidepressants, to boost the mood

and sleep improvement benefits with no

added side effects, improving adherence to

complete treatment."

PHARMACTIVE'S NEXT MOVE

Along with the affron ® , Pharmactive offers

a wide range of innovative and patented

biomolecules from natural origin and is

backed by their scientific studies with a

characterised mechanism of action.

The company plans to conduct more

clinical trials and explore various new

health categories that can be addressed

with their ingredients as well as the

possibilities for integrating it into novel

new finished products applications to

offer it to their customers.

"We are working in several clinical studies

including new population groups to

favour personalised medicine driven by

scientific evidence," shared Diaz.

In addition, with an increase in mental

health wellbeing awareness since the

COVID-19 pandemic, more are seeking

help across the different age groups,

and Pharmactive aims to support this

increased awareness.

"We have indeed noted an increase in

awareness amongst consumers on

mental health who are active seeking

natural agents including for their teens

whose mental health has been greatly

affected by the pandemic. We are

offering webinars and expert information

to the Industry, using social media to

communicate the science we generate,"

said Diaz. FBA

REFERENCE

1

Warden, D., et al. 2007. The STAR*D Project

results: a comprehensive review of findings.

Curr. Psychiatry Rep. 9, 449–459; Ferguson,

J. SSRI Antidepressant Medications: Adverse

Effects and Tolerability. Prim Care Companion J

Clin Psychiatry. 2001 Feb; 3(1): 22–27.

FOOD & BEVERAGE ASIA JUNE / JULY 2021
---
ON THE TABLE 37

Having your cake and eating it:

Swiftlet Natural Sugar Replacement

delivers an alternative experience

As the world adjusts to a new normal – from

remote working to livestream broadcasts –

consumers are looking for food alternatives

that can deliver robust flavour, texture, and

added benefits. In the midst of the pandemic,

Swiftlet Co. has created its Natural Sugar

Replacement, a 100% natural, non-GMO

concoction with added health benefits. Its

mission: to change the way people think about

ingredient replacements by showing that one

does not have to compromise flavour for health.

By Agatha Wong

The COVID-19 pandemic has changed

the ways in which people negotiate

their relationship with food. More than

ever, consumers are considering how

their food and diet choices can affect

their health. Moreover, remote working

measures have also encouraged many

to cook at home, further spurring them

to consider their culinary habits, and

what goes into their food.

These changes in consumer patterns

have allowed for the growth of

alternative ingredients in the market:

plant-based meats are rising in

popularity as consumers seek

environmentally-friendly options.

Yet, tastebuds are as critical as ever

– alternative food products tout near

replications of flavour, fragrance, and

texture. There is thus a stronger call not

only for healthier options, but similar, if

not better, tasting ones as well.

THE BEST OF BOTH WORLDS

In Asia, Swiftlet Co., a start-up company,

has created a natural sugar

replacement which accomplishes

both taste and health. The product,

derived from several plant-based

ingredients, has made ripples in the

alternative ingredient market for its

unique properties: zero calories, zero

glycaemic index and zero sugars.

The replacement, which contains

prebiotics that promote gut health

and digestion, is also easy to measure

and incorporate into cooking, with

one cup of Swiftlet Natural Sugar

Replacement equivalent to one cup

of refined white sugar. The ingredients

that make up its blend have also

been granted food safety status by

international food safety agencies, like

USFDA and EFSA.

The product was launched in the

Philippines last year to resounding

success, selling over 1,700 units in its

first month. 1

Sugar alternatives have been around

Swiftlet Natural Sugar Replacement contains a blend

that is plant-based, 100% natural and non-GMO

FOOD & BEVERAGE ASIA JUNE / JULY 2021
---
38

ON THE TABLE

The Swiftlet team is a diverse effort spanning different disciplines and cultures

for quite some time; stevia sugar and

agave syrup are just some of the most

popular options around with which most

consumers are acquainted. However,

these sugar replacements have garnered

a poor reputation amongst consumers

for its poor aftertaste, high cost in

comparison to sugar, and possible

laxative effects. Thus, most consumers

still prefer to use refined or brown sugar

in their diets and cooking.

To that end, Swiftlet Natural Sugar

Replacement stands out among its

competitors as a well-rounded product

that can serve health-conscious

consumers looking for quality sugar

alternatives. Its one-to-one ratio with

refined sugar also makes it easy for

home-bakers to implement into recipes,

be it sweet or savoury.

"The combination of all of these benefits

is really what makes our blend unique. On

top of that, our blend performs really well

in diverse applications. We've conducted

qualitative tests that suggest that it can

be used for a wide array of cooking and

baking processes ranging from ovenbaked

pastries, frozen desserts, hot and

cold beverages, and even pan-fried or

oven-baked savoury dishes," remarked

Jake Jereza, co-founder of Swiftlet Co.

"The whole premise of our company is

that we're here to say, 'No, you don't have

to give something up. You can enjoy what

you used to enjoy and not suffer from

it later on.' We envision a world where

'healthy' becomes synonymous with

'tasty.'"

A CROSS-CULTURAL EFFORT

The product was developed by the

Swiftlet R&D team. Inspired by the rise

of home-baking and the concerns for

healthy habits amidst the pandemic and

beyond, the founding members of the

Swiftlet team (who were close family

friends) wanted to create a product that

could make a difference in culinary habits

in Asia.

The team also had an advisor with more

than 40 years of experience, as well as a

manufacturing partner, who collaborated

with the company to formulate the

FOOD & BEVERAGE ASIA JUNE / JULY 2021
---
ON THE TABLE 39

product. By formulating with different

ingredients and varied proportions in

the blend, the team was able to create a

sugar alternative that achieved the health

benefits which they initially sought to

accomplish. Furthermore, the team kept

in close contact with the experts from the

food industry both in US and Asia to gain

consumer insights and knowledge of the

manufacturing and testing process.

With a team based in Singapore, Manila,

and Hanoi, its members were able

to capture not only the demands of

customers from specific countries, but

across South East Asia – a cogent factor,

as sugar plays a significant role in South

East Asian cuisine.

The diversity of the team members,

whose individual majors span across food

science, applied chemistry, business, IT,

alongside a creative professional, also

allowed them a unique position in the

creation of the product and its business

model.

"Since we come from different cultural

backgrounds, however, it was a bit hard at

first to adjust to each other's perspectives

and priorities when it came to the work

we wanted to do. But in the end, we

realised that these differences gave us a

chance to think more laterally and attack

problems from different angles until we

found the best solutions," added Jereza.

The result: a dedicated product that

resonated with a consumer base across

various dimensions.

COMMITMENT TO

SUSTAINABILITY

Current sugar alternatives, such as agave

syrup and honey, have been criticised

in the past for being environmentally

unfriendly. The commercial production of

honey, for instance, has contributed to a

sharp decline in bee populations in the

United States. 2

With the use of ethically-sourced, 100%

natural and non-GMO products to create

its blend, Swiftlet is committed to its

sustainability cause. They are currently

looking at different technological

developments to further strengthen their

mission toward sustainability. Moreover,

they have plans for marketing partnerships

with institutions that are making

sustainability accessible and actionable.

LOOKING AHEAD

Though Swiftlet is currently tight-lipped

regarding any specific future products,

they are optimistic about the company's

plans for expansions ahead.

"Our R&D team is working really hard

to get these to market as efficiently as

possible. We're looking at releasing them

by the end of this year after the proper

tests have been done, and we're very

much excited to get them out so we can

all celebrate a life of health and wellness!"

Jereza enthused.

The company also has plans to develop

a B2B business, having spent the last

year as a consumer-facing product. They

currently have a production capacity

of several tons a day, which is able to

increase based on demand. FBA

REFERENCES

1

https://foodsci.rutgers.edu/NewsAndEvents/

StudentParts.php?n=MinhLe; https://www.

foodnavigator-asia.com/Article/2020/11/17/

Cross-country-Asia-team-develops-worldfirst-zero-GI-zero-calorie-and-prebioticenriched-sugar-replacement

2

https://foodprint.org/blog/sugar-substitutes/

FOOD & BEVERAGE ASIA JUNE / JULY 2021
---
40

PROCESSING AND PACKAGING

The circular economy in

packaging technology:

Sustainability needs collaboration

The requirements placed on food packaging are immense.

It needs to provide protection while simultaneously

conveying the brand image, be tightly sealed yet easy

to open, and create a reliable barrier while also being

breathable when required. During the production process,

it must also enable high-speed food packaging while, of

course, remaining cost efficient. Decades of research and

development have gone into tackling these diverse tasks.

In recent years, the demand for sustainability has become

huge. New packaging solutions need to be developed as

soon as possible. They need to meet the same requirements

as conventional packaging without burdening the

environment or the purse. Syntegon Technology has

set itself this Herculean task, which it is addressing in

cooperation with all supply chain participants.

By TORSTEN SAUER

On the road to sustainable packaging

solutions, the "circular economy" is pointing

the way. This approach seeks to close energy

and material cycles through the efficient

use of resources, recycling and waste

reduction. The aim is to achieve a sustainable

improvement in environmental and climate

protection.

With this goal in mind, the European Union

(EU) passed the Circular Economy Act in

2012 1 . The core of this legislation is a fivelevel

hierarchy of waste, which helps to

consistently orient the circular economy

towards waste avoidance and recycling. It

defined a sequence of waste avoidance,

reuse, recycling and waste recovery –

including energy recovery – and finally

waste disposal. In each case, the most

environmentally friendly option has priority.

Syntegon Technology has set itself the goal

of making a contribution to sustainability

through its packaging solutions. This calls

for collaboration with customers as well

as packaging material manufacturers and

suppliers, which Syntegon Technology sees

as part of the solution. In concrete terms,

the aim is to make both the packaging itself

and the packaging process more sustainable.

This includes, in particular, the development

of machines that can process new, more

environmentally friendly packaging materials.

Syntegon Technology has developed a

number of solutions with customers that

target the first three stages of the waste

hierarchy – waste avoidance, preparation for

recovery, and recycling.

FOOD & BEVERAGE ASIA JUNE / JULY 2021
---
PROCESSING AND PACKAGING 41

The new blank feeding motion of the Elematic

2001 case packer can accommodate blanks

that have been bent by moisture and changing

temperatures. As a result, fewer blanks need

to be thrown away, which contributes to more

sustainable production processes

STAGE 1 – AVOIDANCE: NO

PRODUCT AND MATERIAL WASTE

Packaging requirements are not

necessarily at odds with sustainability.

Primary and transport packaging offer

product protection, and therefore

contribute to sustainability by

preventing food spoilage or waste during

transport. An optimised packaging

process also helps to prevent product

waste. During necessary downtime for

cleaning or format changes, batches

can spoil and have to be disposed of.

Minimising downtimes thanks to easier

cleaning and faster format changeovers

helps to reduce waste. In addition, more

efficient production processes also

mean resources, such as energy and

water, are used more efficiently.

Optimising machines can also help

to reduce the amount of packaging

material. The continuous development

of sealing technologies is already

doing its bit. Thanks to technological

advances, thinner films can now be used

while packs can be sealed more tightly

around the product. This helps to reduce

the amount of material used.

Syntegon Technology has also developed

cartoners and case packers that are

more material-efficient thanks to higher

tolerances. These include systems that

can process slightly bent cardboard

blanks or those made from recycled

material. This wider tolerance range

means that blanks, that would previously

have been discarded as rejects, are now

being processed by the machine.

Efficiently designed secondary packaging

and outer packaging also helps to

minimise transport costs. According

to Olivier Cottard, head of industries

business units at DS Smith Packaging,

shrinking standard secondary packaging

by 5mm reduces shipping requirements

by 20 truckloads per year. This results

in carbon emissions savings of 100

metric tonnes as well as significant

cost savings. Put differently, the carbon

emissions savings are equivalent to the

amount of carbon absorbed by 2,500

conifer seedlings in 10 years 2 .

Waste prevention also involves replacing

environmentally harmful packaging

materials with more environmentally

friendly options such as using paper

instead of plastic. Paper or cardboard

already account for around 65% of

all packaging 3 , but the application

possibilities for paper in primary

packaging are far from exhausted.

Syntegon Technology is currently

working on making conventional plastic

packaging solutions usable with paper

In collaboration with the paper manufacturer BillerudKorsnäs,

Syntegon Technology has developed a process for securely

packaging and sealing dry foods such as sugar, pasta, or

cereals in mono-material paper using vertical flow wrappers

FOOD & BEVERAGE ASIA JUNE / JULY 2021
---
42

PROCESSING AND PACKAGING

as well. Up to now, using mono-material

paper for packaging has only been

possible with glued, prefabricated bags

or glued paper packaging produced

using pinwheel technology.

In collaboration with the paper

manufacturer, BillerudKorsnäs Syntegon

Technology, formerly Bosch Packaging

Technology, has developed a solution

to securely package and seal food in

mono-material paper using vertical

baggers. This pioneering sealed paper

packaging is suitable for dry foods such

as sugar, pasta, cereals and powders

without compromising on product

protection and dust tightness. Thanks

to the use of Forest Stewardship

Council (FSC)- or the Programme for

the Endorsement of Forest Certification

(PEFC)-certified paper, the sustainable

characteristics are maintained from the

raw material through to recycling – fully

in keeping with the principles of the

circular economy.

Syntegon Technology has

also developed cartoners and

case packers that are more

material-efficient thanks to

higher tolerances

Even specially shaped and optimally

dimensioned small paper pods can

contribute to a more sustainable

future by replacing plastic sleeves.

Recently, the new Pearl packaging

concept was developed together with

BillerudKorsnäs. The 3D-formable

paper can be processed into creative

The new Pearl packaging concept

and sustainable packaging solutions

on Syntegon Technology machines.

This further reduces the amount of

plastic used. The demand for this type

of packaging solution is already high,

meaning that more of it will soon be

appearing on supermarket shelves.

STAGE 2 – PREPARATION FOR

RECYCLING: LONG-LASTING

QUALITY AND GOOD SERVICE

For packaging machine manufacturers,

recycling also means preventing

machinery already in circulation from

becoming obsolete prematurely. In this

regard, a comprehensive retrofitting

programme and appropriate service

support are the decisive factors.

Syntegon Technology offers its

customers the option of upgrading

existing machines so they can handle

more sustainable packaging materials.

This includes comprehensive customerspecific

tests for new packaging

materials as well as the necessary

upgrade kits. Furthermore, Syntegon

Technology offers to overhaul their

customers' equipment and thus

considerably extend their lifecycle.

STAGE 3 – DESIGN FOR

RECYCLING

In the field of plastic packaging, the

trend is increasingly moving towards

using mono-materials wherever

possible; in other words, preparing the

packaging material for recycling within

an available recycling stream. This poses

challenges for the composition and

processing of the packaging material.

Multi-layer films assign different tasks,

such as barrier protection, sealing or

printing to individual layers made from

different materials. These multi-layer

films are not homogenous and cannot

be separated in the recycling process

FOOD & BEVERAGE ASIA JUNE / JULY 2021
---
PROCESSING AND PACKAGING 43

because they consist of several plastics.

In many cases, the option is thermal

recovery.

Mono-material packaging – even if it

consists of several layers of the same

material – will have to do all the work on

its own. This may mean that previous

assumptions, for example regarding

shelf life, need to be reconsidered or

that new, optimised processes in the

supply chain will need to compensate

for shorter shelf lives. When it comes

to recycling, however, things are much

simpler – the mono-material can be

directly fed into the recycling stream

and be fully recycled.

Another challenge is that consumers

cannot immediately tell the difference

between recyclable mono-material and

multi-layer film. Food manufacturers

would do well to take this into account

when designing their packaging

and, if necessary, to print additional

information on the pack or make

it available via QR code. Syntegon

Technology already offers track and

trace solutions, whereby a QR code

is linked to additional consumer

information.

Many research projects are devoted

to the development of bio-based

and biodegradable plastics that meet

the requirements of food packaging.

Compared to conventional plastics,

so-called drop-in bioplastics, such

as bio-polyethylene (bio-PE) and

PET), have a better carbon footprint

as they are made from renewable raw

materials. Because they have the same

chemical structure as conventional

plastics, they can be processed into end

products using the same machines and

processes. Biodegradable plastics offer

advantages if they can be decomposed

easily by microorganisms. The use

of these compostable materials is

especially beneficial when product

remains and packaging are disposed of

together. This, for instance, applies to

coffee capsules or tea bags.

Sustainable packaging is certainly a

sales argument, as it can increase both

revenue and customer loyalty. Today's

consumers want to avoid material

waste as much as possible and prefer

biodegradable or recyclable packaging

materials. According to a global retail

survey conducted by Nielsen, 55% of

online consumers in 60 countries are

willing to pay more for products if the

companies involved are committed

to positive social and environmental

change 4 .

CIRCULAR ECONOMY BY UNITING

EVERYONE INVOLVED IN THE

SUPPLY CHAIN

Machine manufacturers can only

develop solutions that close the material

bio-polyethylene terephthalate (bio-

cycle, avoid waste and yet still fulfil

the extensive requirements placed on

packaging if the relevant stakeholders

are involved at an early stage. This

includes material manufacturers,

brand owners and their customers,

right through to packaging material

recycling facilities. The successful use of

sustainable packaging can only succeed

if all parties along the supply chain

pool their respective areas of expertise.

The objective is to test the machine

capability of new types of packaging

materials, and to provide support in the

development of packaging designs.

Food manufacturers can here

benefit from Syntegon Technology's

international network of material

suppliers. By working together, they

are able to find pragmatic, innovative

solutions that meet complex market,

consumer and legal requirements and

thus open up new, more sustainable

avenues. FBA

Torsten Sauer is project manager

Sustainability at Syntegon Technology.

REFERENCES

1

https://www.bmu.de/en/law/

circular-economy-and-safeguard-theenvironmentally-compatible-managementof-waste/

2

The benefits of packaging in an increasingly

waste-conscious world, DS Smith,

https://www.dssmith.com/company/

newsroom/2018/2/the-benefits-ofpackaging-in-an-increasingly-wasteconscious-world

3

The current state of the paper packaging

market, Smithers Pira, https://www.

smitherspira.com/resources/2014/june/

current-state-of-the-paper-packagingmarket

4

Global consumers are willing to put their

money where their heart is when it comes

to goods and services from companies

committed to social responsibility, Nielsen

2014, http://www.nielsen.com/content/

corporate/us/en/press-room/2014/globalconsumers-are-willing-to-put-their-moneywhere-their-heart-is.html

FOOD & BEVERAGE ASIA JUNE / JULY 2021
---
44

PROCESSING AND PACKAGING

A harmonised

solution

In mid-2019, Vitaqua GmbH put its seventh

PET line into operation at its plant in Breuna,

Germany – and like all of its predecessors, it's a

turnkey line from Krones. It's the first to be used

as a multipurpose line as all of the others run just

one product in one PET bottle shape and size.

Besides the installation of Line 7, the company

also needed to restructure all of the plant's

peripherals since everything was configured for

the existing six lines. That, too, was handled by

Krones.

Plant Manager

Stefan Thöne

The family-owned enterprise

Altmühltaler Mineralbrunnen originally

emerged from a mid-tier brewery by the

name of Schäffbräu in Treuchtlingen,

Germany. In recent years, however, it

has specialised entirely in producing and

bottling mineral water and soft drinks in

single-use PET bottles for discounters

and store brands. The company is now

one of Germany's largest beverage

producers, with four production sites,

in the country's south (Altmühltaler

Mineralbrunnen GmbH, Treuchtlingen),

center (Vitaqua GmbH, Breuna, and

Heil- und Mineralquellen Germete GmbH,

Warburg), and east (Brandenburger

Urstromquelle GmbH, Baruth).

When the Vitaqua plant in Breuna was

completed in 2007, it was considered

one of Europe's most state-of-theart

beverage production and logistics

facilities. Krones served as general

contractor, and planned, built, and

installed everything (except the building

itself) in just under a year's time. The

project included

• the turnkey delivery of the entire

process technology,

• a high-bay warehouse with 51,000

pallet slots,

• internal logistics,

• the digital connectivity of the entire

plant,

• and four PET bottling lines, each

rated at 43,200 containers per

hour.

That enabled the newly established

plant, which takes its water from the hills

around Kassel, Germany, to fill around

four million containers per day. But that

wasn't the end of it.

As planned from the outset, Vitaqua

continued to expand its capacities in

the years that followed, adding two

further Krones PET bottling lines that

would be used exclusively for water.

In 2014 and 2018, respectively, Krones

updated Lines 1 and 2, increasing their

individual capacities from 43,200 to

63,000 0.5L/h. And yet, even that was

not enough to keep up with demand.

So, Vitaqua decided to add another PET

line – now its seventh and again from

Krones. Designed to handle four different

bottle formats ranging from 0.75 to 1.5L

at a speed of 40,000 bottles per hour,

this new line is the first to be used as a

multipurpose line.

"Strictly speaking, if we include the two

upgrades, Krones has now installed

nine turnkey lines in our plant," said

Plant Manager Stefan Thöne, who has

helped "build" the Breuna facility since

its beginnings. "In addition, in 2020, we

also retrofitted all of the lines with new

Contiroll labelers, so they now all use the

same gluing system."

FOOD & BEVERAGE ASIA JUNE / JULY 2021
---
PROCESSING AND PACKAGING 45

But even so, the contract award wasn't

a done deal: "We're almost an entirely

Krones-built operation, but Krones still

has to prove itself with each bid."

FLEXIBLE, TROUBLE-FREE

PRODUCTION

PET line number 7:

• Contiform 3 Speed stretch blowmolder

with PET-View inspection

system

• AirCo air conveyor

• Contiflow mixer

• Modulfill VFS filler in a cleanroom

• The latest-generation Accutable

dynamic buffer system

• Linadry container dryer

• Contiroll labeler

• Variopac Pro FS-7 packer

• Modulpal Pro 1AD palletizer with

a Robobox T-GS grouping system

with high-level infeed

The new turnkey line bottles both

still and carbonated water as well as

carbonated soft drinks (CSDs) and went

into operation in mid-2019. A number of

unique points are worth noting.

At Vitaqua, the blow-molder on each line

is linked to the filler via an air conveyor.

"It's our 'house philosophy' and it has

worked well for us so far," explained

Thöne.

Besides trouble-free operation, flexibility

is a priority: "Since we run four different

containers on this line, it was important

that the Contiform blow-molder be

equipped with quick-change capability.

We can now change over from the

smallest bottle size to the largest in just

75 minutes."

The new, third-generation Accutable buffer system was installed in this line for the first time

In addition, the cleanroom that houses

the filler also has three integrated cap

supply systems that feed into the screw

capper. Switching between normal

screw caps, flat caps, and sports caps is

done automatically.

"This is the first line on which we've

been able to handle sports caps at all,"

said Thöne.

The company buys the sports caps,

while the normal screw caps and flat

caps are produced on site in Breuna

and even supplied to the group's other

plants.

In addition, Altmühltaler Mineralbrunnen

has been producing its own PET

FOOD & BEVERAGE ASIA JUNE / JULY 2021
---
46

PROCESSING AND PACKAGING

preforms for all four plants at the Baruth

location since 2004. The company has a

dedicated container design and development

team. All in all, the group is pretty selfsufficient.

"Basically, we are a plastics processing

operation," explained Thöne.

MAJOR MODIFICATIONS WERE

NEEDED

Although the plant offered enough space not

only for the seventh but even an eighth line

from the start, the entire periphery was laid

out for six lines.

"As a result, this project was not simply about

installing another filling line. Rather, the new

line had to be embedded, and our plant's

entire structure had to be adjusted," said

Thöne.

In other words, the installation of Line 7

required some major modifications to the

plant:

• An existing carbonator was moved to

make room for the Contiflow mixer in the

centralised syrup room.

• In addition, a new CIP (clean-in-place)

system and a high-capacity compressor

were needed.

• A new pallet inspection unit for

Düsseldorfer pallets was installed.

• The material flow technology was

adjusted, with eight new electric

overhead conveyor vehicles and fitted

into the existing structure. The electric

overhead conveyor serves the entire

Vitaqua plant.

• The production planning and control

(PPC) system for the entire plant was

also upgraded to the latest version.

"Krones had to do all of this in a timeframe

that kept production stoppage to a minimum.

In the end, we only had to shut down for three

weeks. It was really a great accomplishment

on the part of everyone involved. Krones

sent 70 welders alone, who laid new piping

and every one of them deserves a great

deal of praise," remarked Thöne about the

cooperation.

HIGHLY DIGITALISED

The new line is, like all of the other lines,

highly digitalised and therefore equipped with

a variety of solutions from the SitePilot suite:

the Line Management order management

system, Line Diagnostics for production

data acquisition and analysis, and the Asset

Management maintenance tool. A bar code is

affixed to each machine that helps coordinate

the raw materials and supplies needed for

each respective order. Suppliers of, say, raw

materials, labels, or films affix bar codes that

are defined by Vitaqua to their products.

These bar codes contain information such

as batch numbers and "best before" dates.

Based on experience from past orders,

the SitePilot Planning module creates a

production plan for each line and machine,

using a specific algorithm to take into

account the needs and thus generating a list

of planned orders. This complete production

plan then goes into the Line Management

System.

So, when the operator starts production, the

system already knows exactly which raw

materials and supplies are needed and makes

them available, fully automatically, by way

of the electric overhead conveyor. When the

operator scans the bar code on the machines,

another validation takes place. Likewise, it is

also possible to precisely trace which product

was produced and packaged when and with

which raw materials and supplies.

"It practically eliminates the risk of production

errors," shared Thöne.

This high level of digitalisation is also

necessary for smooth operation: "Our

production is configured for round-the-clock

operation on seven days a week. Depending

on the season, though, we sometimes only

work five days a week. But here's the rub: We

always have to be able to deliver, because

we've only got two days from receipt of an

order until the product leaves the plant. That's

a logistical challenge, especially with regard

to getting the needed raw materials and

supplies ordered in time," explained Thöne.

The plant manager sums up the project

positively: "Initially, the commissioning

was delayed by a couple of weeks, but in

the end, we have been extremely satisfied

with the new line. We were able to run the

final acceptance at 98.5%. All guaranteed

performance criteria were either met or

exceeded: For the 1.5L bottle, we had agreed

on a rated capacity of 38,000 containers per

hour and we are actually able to run the line

at between 40,000 and 41,000 containers per

hour for all container sizes."

At Vitaqua, all lines use AirCo air conveyors to link the Contiform blow-molder to the filler

Adding this summary of his experience

from nearly one and a half decades, he said:

"Krones always brings its orders to a good

conclusion." FBA

FOOD & BEVERAGE ASIA JUNE / JULY 2021
---
PROCESSING AND PACKAGING 47

V-Shapes: A unique story

about sustainability, safety and

convenience in packaging

As the climate crisis continues to evolve and

governments around the world are paying

more attention to sustainability initiatives

and regulations, packaging will come under

increased scrutiny for its role in adding to

CO2 emissions, landfills and plastics pollution.

Addressing this requires new thinking and a

mindset of sustainability. Those are two of

the founding principles of V-Shapes as the

company continues to improve its singledose

sachet packaging machines.

But in this new, more environmentally

conscious world, it can be tricky to balance

the needs of consumers, converters/fillers,

brand owners, and the planet. Clearly, brand

owners want their packaging to convey a

desired brand image, including through

high-quality colour, images and text.

Converters/fillers are always developing new

ways to serve their brand owner customers.

Consumers look to packaging to identify the

product they are purchasing or considering,

and often seek to understand the

sustainability profile of the brand owner. This

can play a big role in purchasing decisions,

especially with younger consumers.

Consumers are also mindful of convenience

and safety, with safety being an increased

concern in light of what the pandemic has

taught. And with respect to the environment,

plastics are not going away anytime soonhence,

V-Shapes is using materials that can

operate within a circular economy.

Taking all factors into consideration,

V-Shapes added a twist of uniqueness to

bring cachet to their sachets. The brand

owners V-Shapes spoke to love their unique

approach to single-dose packaging that

can be opened in a single move using only

one hand. In addition, they love to be able

to use high-quality printing on the sachets

to promote their brand image and consumer

messaging as well as the fact that there is

less product wastage, precise dosing and less

space consumption in the shipping process

compared to more conventional single-dose

units. Conventional packaging of single doses

often requires air headspace that takes up

FOOD & BEVERAGE ASIA JUNE / JULY 2021
---
48

PROCESSING AND PACKAGING

room and can have a deleterious effect

on the packaged product shelf life.

Consumers love using leading-edge

products that are different. They also

like convenience. As V-Shapes gets

back to some semblance of normality

as the pandemic ebbs, the brand will

likely remain reluctant to use things like

large condiment containers in event

venues. Instead, they will be seeking a

convenient way to continue to carry hand

sanitizer and will be more conscious of

other safety issues, in addition to overall

sustainability.

V-Shapes has given a lot of thought to

the sustainability aspects of single-dose

packaging. Most recently, the company

has achieved two important goals. First,

TOMRA has verified that the company's

sachets are detectable in industrial waste

stream sorting as 100% polypropylene.

This is important and means that used

sachets can be sorted out of the waste

stream for recycling.

All samples were easily identified by

near infrared detection using a TOMRA

AUTOSORT 4 detection unit. In addition

to these samples being detectable

as 100% polypropylene in the waste

stream, TOMRA was also able to detect

polypropylene below a thin high-barrier

OPP layer used to prevent migration in

some V-Shapes substrates.

In addition to the TOMRA verification, the

prestigious auditing agency Interseroh

tested two different V-Shapes proprietary

substrates, reNEW-100 and reNEW X-500,

for recyclability and issued certifications

following successful tests.

V-Shapes also partnered with

NatureWorks to offer their innovative

Ingeo substrate as an option, which the

company is marketing under the brand

V-Green. INGEO polymers are certified

as compostable according to EN13432.

TÜV Austria has certified that "bio-based

V-Green" features between 60% and 80%

bio-based carbon content, a three-star

rating. This enables V-Shapes to use the

"OK BIOBASED" conformity mark with

their V-Green biobased substrates.

Experts said that there is a difference

between recyclability and compostability,

and V-Shapes wants to be able to offer both.

The polypropylene the brand uses can be

directed to a variety of applications after it

is sorted out of industrial waste streams,

including being chopped up for use in other

products such as carpets. For a material

to be classified as compostable, it needs

to be 90% biodegradable and compostable

within 90 days, and elements that come

from the breakdown of the material should

be nontoxic and natural so the final compost

does not contain any toxic material.

Hence, V-Shapes has made a variety of

substrates available so that the concerns

of converters/fillers, their brand owner

customers, the consumers of the final

product and government regulatory

agencies can all be satisfied.

In addition, for printing on their chets,

V-Shapes uses water-based inks that

can be removed in the washing processtypically

in recycling polypropylene – or

composted without leaving behind toxic

materials in the case of V-Green. The

company has been able to address two

other concerns as well: efficient sealing

and prevention of ink or other material

migration into packaged product. Even

when put under pressure in applications

like magazine tip-ins with samples, placed

in a purse or a pocket, the sachets do not

leak. Furthermore, the brand uses a very

thin high-barrier OPP layer as appropriate

to prevent migration – a layer that does not

affect detection, as shown in the TOMRA

results, or recyclability.

V-Shapes has also spent a great deal of

time ensuring they are serving each and

every one of the various stakeholders in the

packaging life cycle in the best possible way.

On 17 March, V-Shapes received two certificates from Interseroh with high scores for their newly

developed materials, reNEW X-100 and reNEW X-500

Whether a brand owner is looking for unique

packaging, or a converter/filler is looking for

a solution to make their customers stand

out, V-Shapes is here to help – either by

providing equipment or by connecting with

one of their partners close by. FBA

FOOD & BEVERAGE ASIA JUNE / JULY 2021
---
PROCESSING AND PACKAGING 49

If food contaminated with foreign

bodies reaches the retailers or even the

end consumer, the associated direct and

indirect costs for food manufacturers

are immense — high recall costs,

permanently damaged brand images

and customer cancellations of supply

contracts.

This is why the installation of inline

product inspection systems which

can detect foreign bodies on the

production line are so important. But

simply installing the machines will not

be the silver bullet. To be truly effective,

they must be backed up with robust

testing practices and staff must adhere

to a number of process steps over the

entire lifecycle of the inspection system.

Only regular testing can confirm that

system performance is within the set

detection sensitivity specification, and

that product standards, whether those

recognised through the GFSI initiative

or by retailers and consumers, are being

met.

There are five key steps to increased

product safety, but within these steps,

the issues of validation, verification and

routine performance monitoring are all

intertwined. Let's quickly look at those

issues before we go through the five

steps:

• Validation – to ensure the device

meets the requirements for the

detection of likely contamination

risks with the specific product, and

does so without exceeding the

permissible false reject rate.

• Verification - regular

assessments that ensure the

system works as expected, with

test results documented. The

expertise and qualifications of

line personnel to carry out local

tests and monitoring can also be

included.

• Routine Performance

Monitoring - a series of

performance tests that are

performed at short, regular

intervals, confirming that the

inspection system is operating

according to expectations and

within the defined limit values. If

a critical limit value is exceeded,

corrective measures are required

to ensure non-compliant products

are efficiently and cost-effectively

removed from the production

process.

With those issues in mind, here are the

five steps to robust testing practice:

STEP 1: USE OF CORRECT TEST

SAMPLES

The use of certified test samples and

weights helps to ensure compliance

with food safety standards, guidelines

and legal regulations, and guarantees

that the inspection systems operate

according to the correct specifications.

Test samples are available in many

An operator using XR System-colour-toned

from Mettler Toledo

Five best practices for

foreign body detection

Five steps to increased product safety: Rainer Mundt,

marketing manager of Mettler-Toledo Product

Inspection, explains how robust testing practice in

foreign body detection requires validation, verification

and routine performance monitoring.

FOOD & BEVERAGE ASIA JUNE / JULY 2021
---
50

PROCESSING AND PACKAGING

different formats, with test cards being

the most common format for dry

applications, test balls or tablets suitable

for applications with powdery materials,

test rods recommended for free-fall metal

detectors without a reject mechanism,

test balls or rods for pipeline applications

and tablet-shaped test samples available

specifically for x-ray inspection. For

vertical metal detection applications,

an Automatic Test System (ATS) is also

suitable to detect metal contaminants

such as ferrous, non-ferrous and

stainless steel metals.

STEP 2: USE OF SUITABLE TEST

PRODUCTS

The specification of suitable test products

as well as the following requirements

should be defined and integrated into the

test procedures:

- the process of ensuring that a

product is free of foreign bodies

before test samples are inserted or

attached;

- the manner in which test products

are prepared, including the

positioning of the test sample inside

or outside the test product;

- the frequency with which the

test products should be created,

taking into account properties such

as durability and shelf life of the

product;

- the procedure for marking

test products to prevent them

from entering the supply chain

inadvertently in the event of a failed

attempt.

Test products outside of the food item

can be used to test the fail-safe system.

However, they should be similar in size,

shape, and weight to the food products

that are transported on the line.

There are a number of particular

recommendations here that are specific

to different applications. For instance,

with packaged products, test samples

should be placed at those points of the

product that are most difficult to inspect.

With metal detectors, they should be

placed in the front, middle, and rear

section of the test products, while with

x-ray inspection systems, the samples

should be positioned both on and under

the product.

Test tablets or test rods are usually

used for bulk or loose products, while in

free-fall applications with unpackaged

products, the test samples should be

introduced directly into the product flow.

For pipeline applications, the test samples

should be introduced into the production

flow via a filler opening, and the product

with the foreign body is then passed

through.

STEP 3: COMPLIANCE

WITH RECOMMENDED TEST

PROCEDURES

Different test procedures may be required

to comply with specific food safety

codes of conduct. When testing for

different types of foreign bodies, these

tests should at least meet the following

requirements:

- relevant standard recognised by the

GFSI

An inspection taking place

FOOD & BEVERAGE ASIA JUNE / JULY 2021
---
PROCESSING AND PACKAGING 51

- possible external customer

specifications

- rules and regulations of the retail

industry

- company-specific guidelines/test

requirements

There are differences in test procedures

when using either conveyorised metal

detectors or conveyorised x-ray inspection

systems. For metal detectors, the basic

test and the preferred method is to

test consecutive products, with (as a

minimum) one test sample in the front,

one in the middle, and one in the rear

section of the test product. The metallic

test sample should pass through the

geometric center of the metal detector,

as this is the least sensitive area. As an

alternative, companies can choose to test

isolated products, but this method has the

drawback of not checking the reliability of

the metal detection system with regard

to the detection of several consecutive

contaminated products.

For conveyorised x-ray systems, the tests

should be carried out in the most difficult

area of the product in order to push the

x-ray inspection system to the limits of

its detection performance. Test samples

should be placed randomly to ensure that

the system is able to detect contaminated

products regardless of their position in the

production line.

In addition to testing consecutive

products, retailers may require additional

performance monitoring tests to be

performed. These might include the

memory test and the 'Large Metal Test'.

With the memory test, three contaminated

products (which should be rejected) and

two non-contaminated products (which

should be accepted) should pass through

the metal detector. This is to confirm that

the metal detection system is capable

of distinguishing between 'good' (no

metal contaminants) and 'bad' (metal

contaminants present) product when

working at high speeds, with packs placed

closely together on the line.

The Large Metal Test serves to confirm

that the photogating system on the metal

detector is working properly, and it is

recommended that the test is undertaken

at least once a day, and ideally once a

shift. In the test, a large metal test piece

(20mm ferrous) is introduced to the metal

detection system, either on its own, or

among other packs, though the latter

will likely result in multiple packs being

rejected. The test is successful if the

product contaminated with a large metal

foreign body is detected, the test product

is rejected, and the production line is not

blocked.

STEP 4: COMPLIANCE WITH TEST

INTERVALS

GFSI-recognised standards, customer

and retail requirements and company

guidelines regarding shelf life and

product blocking times must all be

considered when setting the frequency

of tests. As a general rule, the test

intervals must always be situated within

the quarantine period time (i.e. the time

between when a product is produced

and when it leaves the production site).

The performance tests at the beginning

and end of daily production should be

emphasised, as these serve to confirm

that the detection and rejection takes

place in accordance with the specified

standards and that any additional

warning systems are functioning properly.

It is also advisable to carry out

performance tests at regular intervals

during the production run and at the

beginning of a new product run. The aim

is that every product that has passed

the inspection system, since the last

successful performance test, can be

retrieved while still on site if the system

does not pass the test. In addition, a

performance test should be carried out

with every batch change — especially if

there are changes to the product type or

changes have been made to the product

and/or system settings. A performance

test is also required after repair-related

downtimes to ensure that the product

inspection system and the reject

mechanism are still operating according

to the established standards.

STEP 5: ELECTRONIC DATA

MANAGEMENT

The trends towards automating

data collection processes are rapidly

accelerating. There are clearly many

benefits in respect of time saved in the

documentation and recording process:

as well as a reduction in human error

endemic to any manual data capture

process. A secure and up-to-date data

solution actively supports food safety

regulation compliance and helps prove

due diligence. In addition, in event of

a product recall all the product quality

data can be easily retrieved. Real-time

documentation of all inspection test

results and machine parameter changes

also allow production issues to be quickly

identified and resolved. The most proven

method for automating data collection

processes is data management software

connected directly to the inspection

device. This communicates to multiple

product inspection technologies plus also

connects to a manufacturer's ERP or MES

systems.

IN CONCLUSION

There are many considerations to make,

and many procedures that must be

followed, if food manufacturers are to

detect foreign bodies on the production

line and reduce the risks of product recall.

The keys are to establish good testing

guidelines at the start; to ensure that

staff understand what is required and

are able to perform suitable tests; and

to maintain accurate, easily accessible

records of testing activity. Product

inspection technology of course plays

a critical role, but it must be backed up

by good operational practice which is

demonstrated through robust and regular

testing. FBA

FOOD & BEVERAGE ASIA JUNE / JULY 2021
---
52

FIRST LOOKS

Napasol

Napasol AG of Switzerland adds a new South Africa Nut

pasteurisation plant with Ivory Macadamias

Swiss company Napasol AG has established

a leading position in nut pasteurisation

technology with over 30 plants operating

worldwide. The pasteurisation process

developed by Napasol allows treating nuts

with dry steam to retain the flavour, texture,

and colour of the raw nut.

All Napasol pasteurization plants are

validated for above 5log reduction in

salmonella. By pasteurising in a partial

vacuum at low temperatures, the dry

saturated steam pasteurisation process

prevents moisture pickup and no drying step

is needed. In the

Napasol Statisol

line, products

move through the

process loaded

in stainless-steel

bins protected

from mechanical

damage.

Ivory Macadamias can boast a guaranteed

performance in macadamia safety and

quality with the Napasol pasteurisation

technology.

Giovanna Secco, managing director of

Ivory Macadamias, said: "This investment

underscores the company's stake in

continuing improvement in food safety,

a requirement to meet the increasingly

stringent demands of the global market."

The Napasol Statisol pasteurisation lines

were specifically developed for the bulk

pasteurisation of nuts. Napasol pasteurisers

for macadamias are operational in Australia,

South Africa, the USA and Europe. Napasol

tree nut pasteurisation units are also

validated for almonds, walnuts, pistachios,

hazelnuts, pecans, Brazil nuts, and pine nuts.

Napasol AG, Zug, Switzerland, sells

pasteurisation equipment worldwide for

many other low moisture food applications.

While Napasol Statisol pasteurisation lines

find applications for nuts and seeds, the

Napasol Rotosol pasteurisation lines were

specifically developed for bulk pasteurisation

of herbs, spices, seeds, and powders. The

Rotosol pasteurisation lines uses the same

saturated steam process in a blending

autoclave that insures maintaining the

products free flowing. Napasol pasteurisers

are available for capacities starting at

200kg/h and up to 6000kg/h matching

the requirements of a diversity of customer

needs.

Ivory Macadamias, Mpumalanga South Africa

is part of Global Macadamia Pty Ltd, South

Africa, and the Marquis Marketing Group Ltd,

Australia, the world's largest processor and

marketer of macadamias. Marquis Marketing

Group can supply Napasol pasteurised

macadamias to manufacturing, wholesale,

and retail customers around the world. ■

GEA

GEA launches high-capacity SKIN thermoforming technology for

food items up to 100mm high

GEA launches the latest version of its SKIN

thermoforming packaging technology:

PowerPak SKIN.50. This provides processors

of sliced products and high-end products

with high-capacity packing of products of

up to 100mm high that protrude up to 50mm

above the level of the packing tray. The

PowerPak SKIN.50 can also perform vacuum

and MAP packaging on the same machine.

This thermoforming packaging machine

brings together the highest production

capacity currently available and excellent

packing quality with minimum wrinkles in

the finished package. GEA achieved the high

capacity through innovative engineering

that gives an index length up to 600mm,

eight tracks and four rows of product. A new

top film guiding and pre-heating station

avoids tapering of the film, making the top

film easier to form. It prevents wrinkles and

improves the overall appearance of the

package, and ensures the correct alignment

during the sealing process.

The modular design of the GEA PowerPak.50

SKIN thermoforming packaging system

Photo credit: GEA

The GEA PowerPak SKIN.50 high-performance SKIN

thermoforming packaging system

allows a choice of feeding, labelling and end

of line equipment to match perfectly any

food producer's demands. The system can

also be adapted to provide vacuum and MAP

(Modified Atmosphere Packaging).

WHY SKIN THERMOFORMING

SKIN packaging is a versatile process that

wraps all products perfectly on a second

skin, even those with sharp edges and

irregular shapes. It eliminates air, preventing

oxidation and maintaining the product's

original colour and flavour; gives excellent

shelf life; keeps juices and marinades within

the package; provides a clear view of the

entire product; minimizes packaging waste

and provides an excellent price/performance

ratio. ■

FOOD & BEVERAGE ASIA JUNE / JULY 2021
---
FIRST LOOKS 53

Rapid Parts on Demand: Spare parts from the 3D printer

Krones has developed a solution for

beverage producers to produce a brand new

emergency part on demand in just a few

hours. It can be used to bridge the time until

the spare part proper is delivered, hence, not

a need to keep stock.

as the cleaning filament or backing material.

Krones supplies the requisite hardware too.

When the Ultimaker S5 printer is delivered, it

is ready for use by connecting to the Krones.

shop. All information exchanged between

printer and platform is at all times encrypted.

different lines but is equally useful for

relatively small line owners too as the client

only pays for the part that is printed. The 3D

printer is currently available in a compact

dimension, is easy to handle and can be

started up quickly on the plug-and-play

principle; hence it can be used be used at

The solution is based on 3D printing

technology, which Krones offers in an allinclusive

package comprising of consultancy

on the client-specific possibilities, the data

needed for printing the spare in question

as well as the matching 3D printer and the

requisite expendables. Print templates are

also available for many different parts in just

after six months — and more are added on a

continuous basis.

SPARE PART AVAILABLE IN A SHORT

TIME

The advantages for the beverage producer

are obvious: 3D printing cuts the time of a line

standstill by producing an emergency part.

Instead of keeping different spares in stock,

the user just requires the printer supplied by

Krones and a computer with access to the

Krones.shop. Depending on the component

concerned, it takes between 20 minutes to

different production facilities — all that is

needed is a stable internet connection.

Beverage producers can print their parts

directly in their own plant but Krones also

offers an option to use the 3D printer in their

local subsidiary. This is ideal for beverage

producers who would like to start by testing

the 3D technology, without having to invest

in their own kit upfront, or whose plant is

located in the subsidiary's vicinity, so it's

When a beverage producer opts for this

solution, Krones will check all existing

machines and recommends suitable print

files for spares that are already available.

On request, Krones will also check other

client-specific parts that are suitable for 3D

printing. All print templates are then made

available in the Krones.shop where the

printing order starts at the touch of a button,

and its progress monitored. The entire

printing process is transparent for the client

whose customised data are securely stored

in the Krones Cloud.

a few hours from the time the printing order

starts until the part is completely printed and

ready for immediate use.

Rapid Parts on Demand is particularly

worthwhile for clients who operate many

easy for them to keep their 3D printing

options open for emergency parts.

Krones expects the concept to become an

integral part of Krones' service portfolio from

mid-2021. ■

Krones

CREADDITIVE MATERIALS

In order to be able to print spare parts

for an ultra-varied range of applications,

Krones, together with KIC Krones, has

created a material portfolio with different

characteristics and colours, available

under the name, creadditive. Parts with

disparate mechanical, chemical and thermal

characteristics can be printed, using

materials ranging from resilient and fibrereinforced

plastics to tribologically optimised

filaments. Each of the materials is chosen to

suit specific application for the component in

question. In addition, the creadditive series

also comprises of supporting materials such

Krones has developed a solution for beverage producers to produce a brand new emergency part on

demand in just a few hours

FOOD & BEVERAGE ASIA JUNE / JULY 2021
---
54

FIRST LOOKS

igus

igus develops food-compatible tribo-filament for cost-effective

3D printing of special parts

iglidur I151 is blue, prints easily, and has

an optimal coefficient of friction and wear.

The new tribo-filament is a refinement

of the easy-to-machine igus iglidur I150

all-rounder filament. As it is blue, it can be

used to manufacture special parts that are

optically detectable in the food industry.

Food compatibility, according to the FDA and

to EU Regulation 10/2011, also qualifies the

high-performance polymer for use in the

food and cosmetics industries.

"Many customers, primarily from the food

industry, have requested a blue, FDAcompliant

filament with properties similar

to those of iglidur I150. That is why we have

now developed iglidur I151," said Tom Krause,

head of igus GmbH Additive Manufacturing

Business Unit.

The new tribo-filament is suitable for printing

components with great wear resistance.

Because the material is enriched with

solid lubricants, no additional lubrication is

necessary. This rules out any contamination

hazard. iglidur I151 can be used with any

3D printer that can be set to a nozzle

temperature of 250°C.

USERS CAN PRINT FOOD-

COMPLIANT SPECIAL PARTS OR

ORDER THEM ONLINE

iglidur I151 was also impressive in weartesting

in igus' in-house test laboratory with

a service life that is 100 times that of such

standard plastics as ABS and nylon. The new

filament can be ordered from igus online as

roll material. Users can also commission the

igus 3D printing service to manufacture their

wear-resistant special parts. Just upload the

STEP data, choose the material, calculate

prices, and order the customised wearresistant

part directly.

The new tribo-filament for the food industry

was introduced from 20-23 April 2021 at the

Ultimaker Transformation Summit. ■

Photo credit: igus GmbH

The new iglidur I151 tribo-filament is FDA-compliant

and especially well-suited to food contact

Sidel

Sidel StarLITE HPC: Increases stability of flat PET and rPET

containers

Sidel has introduced the StarLITETM HPC

base. The new, oval bottle base alternative for

flat PET containers helps achieve optimum

performance and can also comply with

recycled PET (rPET). The new bottle base

not only increases container stability by up

to 25%, but also optimises bottle weight and

energy consumption, reducing production

costs and greenhouse gas emissions.

IMPROVED STABILITY BY UP TO 25%

The base of the StarLITE HPC is cleverly

structured. Its new anti-rocking design

is based on a

360-degree

continuous

contact surface

which improves

tilt angle and may

be combined with

structural ribs and

oval push-up.

"The doubled sitting surface and the

balanced stretching ratios between small

and large sides enable better material

distribution, while avoiding base sagging,"

explained Laurent Naveau, packaging expert

at Sidel.

This oval shape achieves an optimum

performance level, drastically improving

stability by up to 25%. This increases

production uptime with better container

stability on conveyors while improving

consumer experience.

A MORE SUSTAINABLE AND COST-

EFFECTIVE FLAT CONTAINER

Applicable for both opaque and transparent

PET resins, the StarLITE HPC base offers

wide containers opportunities and is

perfectly compliant with rPET. The smart,

asymmetric, structured base design

improves material distribution, prevents

unexpected base roll-out and contributes

to lightweighting opportunities, i.e., a 0.5g

PET reduction for a 500ml container base.

The enhanced base cooling engineering for

mould and tooling design improves base

cooling during blow moulding and may

prevent post-mould base cooling according

to bottle shape, format and weight.

Thanks to its design, the StarLITE HPC base

is easy to blow and reduces blow moulding

pressure by 10% - a 3 bar decrease for a

420ml container. It can increase production

output up to 15% higher than the market

average. With the investment in a new set

of moulds equipped with the StarLITE HPC

base, fast payback in less than one year can

be achieved.

The StarLITE HPC is compatible with

all generations of Sidel blow moulding

machines. ■

FOOD & BEVERAGE ASIA JUNE / JULY 2021
---
FIRST LOOKS 55

Zoom T uses BASF's Ultrason ® P for its baby bottles

The Japanese baby products manufacturer

Zoom T, Tokyo, is now using BASF's Ultrason ®

P to produce baby bottles under its Dr.

Bétta brand. The polyphenylsulfone (PPSU)

meets Zoom T's strict requirements for its

curved baby bottles that are safe and easy

to handle. Ultrason ® P 3010 nat is approved

for food contact and features excellent

strength, chemical resistance and resistance

to superheated steam up to 180C (356F).

These properties ensure that the baby

bottles are safe to use, while being

lightweight and shatter-proof, and can

be used over a long period of time. It also

easily withstands sterilization in microwave

ovens or in very hot water. The BASF PPSU

allows for designing complex shapes like

the Bétta baby bottles as it is also suitable

for extrusion blow moulding. Ultrason ® P

3010 outperforms commercially available

PPSU materials used to manufacture baby

bottles because of its excellent melt stability

necessary for the extrusion blow moulding

process.

Tomoko Kawai, president and CEO of Zoom

T, said: "With Ultrason ® P we can perfectly

produce the curved geometry of our Bétta

bottles by extrusion blow moulding. This is

important as the curved design stops babies

from swallowing air while being nursed,

preventing ear infections or colic."

Georg Graessel from Global Business

Development Ultrason ® at BASF, added:

"Due to the numerous design possibilities

for colour and shape as well as the option

for producing the bottles either by injection

moulding or extrusion, it can also be

employed to make water bottles for sports or

multi-use bottles for green tea which can be

found everywhere in Asian countries."

Ultrason ® is the trade name for BASF's

product range of polyethersulfone

(Ultrason® E), polysulfone (Ultrason ® S) and

polyphenylsulfone (Ultrason ® P). Because

of their extraordinary property profile, the

Ultrason ® brands can substitute thermosets,

metals and ceramics in many applications. ■

New SWEDBRAND factory in Poland offers supply chain

alternatives for European brands

SWEDBRAND Group, the packaging partner

to some of the world's most iconic brands,

recently reported that the establishment

of its brand-new, state-of-the-art Gdansk

factory for the production of premium rigid

boxes offers many advantages to European

brands in addressing global supply chain

difficulties exacerbated by the pandemic.

Manufacturing in Europe for European

distribution significantly reduces both time

and costs associated with the delivery of

finished premium rigid boxes.

Europe due to shortages of empty shipping

containers, and then five to seven weeks for

the products to arrive.

"Intra-Europe shipping has huge advantages

by comparison," she said. "We are talking

three to five days to ship finished products

by truck to most European destinations.

That's a time saving of as much as two

to three months, providing brands with

significantly more on-the-shelf time for their

products to actually generate revenue."

the recent blockage of the Suez Canal."

The new plant in Gdansk is a highly

automated state-of-the-art converting

operation for premium rigid boxes and is

managed by Bogdan Putko, a well-respected

packaging expert with 35 years of industry

experience. ■

BASF SWEDBRAND

Cornelia Oswald, head of Sales Worldwide

at SWEDBRAND, noted that while

manufacturing lead times are similar

between Asia and the new European plant,

time delays associated with shipping are

often excessive and only seem to be getting

worse. She reports that it can take as much

as four to five weeks to secure a 40-foot

container for shipping finished products to

The other advantage of intra-European

shipping, according to Oswald, is cost. "Our

shipping costs per truckload from Poland to

Germany, for example, are between €850

to €1,300. This is a huge cost saving, easily

offsetting any possible labor cost increase

we might experience in Poland compared

to Asia. Plus, we are not dealing with any

unexpected delays such as those caused by

FOOD & BEVERAGE ASIA JUNE / JULY 2021
---
56

SHOW REVIEW

KROHNE is celebrating its

100th anniversary under the

main message "THE SPIRIT OF

CREATIVITY"

THE SPIRIT OF

CREATIVITY:

KROHNE celebrates

its 100th anniversary

under the sign of

creativity

KROHNE is celebrating its 100th

anniversary under the main message

"THE SPIRIT OF CREATIVITY". The start

of the digital fair "KROHNE Insights" on

7 June marks the anniversary kick-off.

At a press conference on April 28, 2021,

Michael Rademacher-Dubbick, chairman

of the Advisory Board and spokesman

for the owner family, and Dr Attila

Michael Bilgic, CEO and spokesman of

the Executive Board of the KROHNE

Group, explained the core values that

have accompanied the company's

success story from its foundation in 1921

to today, and how it will remain true to

them in the future.

With the main message "THE SPIRIT OF

CREATIVITY", the anniversary highlights

the sides of the company that go

beyond measuring technology.

"KROHNE is a multi-layered combination

of values. Our goal is to offer added

value with our products, solutions and

services. We can achieve this only

by knowing or even anticipating the

wishes of our customers from various

industries and their applications,"

explained Dr Bilgic. "Meeting them

requires creative ideas that equally drive

technical innovation and organisational

development, and continue to help

KROHNE to accomplish pioneering

achievements."

"The foundation for this is our familyoriented

and appreciative corporate

culture and KROHNE's special

connection to art," added Rademacher-

Dubbick.

"THE SPIRIT OF CREATIVITY" stands for

an open approach to unconventional

ideas and shows that 100 years of

KROHNE have been all about creativity

and the company's innovative strength.

The anniversary kicks off with the

start of "KROHNE Insights": the digital

fair offers an overview of trends and

industry topics in the form of industryspecific

exhibition rooms with video

messages as well as live presentations.

At the same time, visitors have the

opportunity to learn more about

the "spirit" of the company and the

anniversary in a 100 year KROHNE

showroom. "KROHNE Insights" will

be accessible worldwide and in 12

languages from 7 June at insights.

krohne.com.

Parallel to the opening of "KROHNE

Insights," KROHNE is also going live

with the anniversary website krohne.

com/100years. It bundles all information

on the anniversary that will include

many different activities to which

KROHNE will to invite and involve

customers, partners and employees

alike. FBA

FOOD & BEVERAGE ASIA JUNE / JULY 2021
---
SHOW REVIEW 57

igus 2021 Motion Plastics

Show: 168 tribo innovations on

the trade show stand

The real-life/virtual trade show invites

visitors to use high-performance

polymers to improve their moving

applications

More new products, product extensions

and digital offerings than ever before:

the 2021 "igus Motion Plastics Show"

went virtual. Visitors were treated to

168 innovations from all departments —

from telescopic robot tube packages to

dry-running ball bearings with 21 times

the standard service life to large scale

3D printing.

Source: igus GmbH

Since the beginning of May 2020, the

stand has been located in an exhibition

hall in Cologne Porz-Lind, Germany,

where it was recognised with the iF

Design Award.

"We are in our second year without trade

shows," said igus CEO Frank Blase. "This

time we can start the presentation of

our new products at full digital speed."

The new trade show stand was

optimised based on experience gained

in virtual customer consultation and

tours last year. Solutions for various

industries can be seen in a separate

area: the space-saving and telescopic

triflex TRX system for 3D energy supply

on robots as well as the wound highload

bearing iglidur TX2 for construction

machinery. The issue of plastics

sustainability is now even more visible

and is given a central position at the

trade show.

igus introduced 168 motion plastics innovations this year at its trade show, which has been

recognised with the iF Design Award.

PHYSICAL/VIRTUAL TRADE

SHOW STAND WITH 168 MOTION

PLASTICS INNOVATIONS

In total, 168 product innovations from

igus departments were presented at

the trade show, which took up 400sqm,

including the lightweight drygear cobot

gear set for cost-effective automation

and iglidur I151 tribo-filament for FDAcompliant,

detectable wear-resistant

parts for food technology.

The orange trade show stand hosted

55,000 visitors from all over the world

as its virtual twin is freely accessible.

In addition, another 16,000 visitors also

took advantage of the offering of a

digital visit with igus specialists.

"We would normally have been

represented at 222 trade shows and

conventions last year, but we only made

a total of 26," said Blase. "So we are

very happy that the IMPS has become a

fixed part of daily communication with

customers."

The real/virtual trade show stand is an

important component of a digital igus

concept that allows users to quickly find

the right lubrication-free, maintenancefree

motion plastics for their specific

requirements. For instance, machine

design and tutorials can be completed

virtually with igus consultants; online

seminars from the online seminar studio

provide additional assistance while the

interactive digital catalogue variant also

provides additional information with

access to white papers, blog articles and

explanatory videos.

Explore the igus Motion Plastics Show at

the igus website. FBA

FOOD & BEVERAGE ASIA JUNE / JULY 2021
---
2021

JUNE

1 – 4 FOOMA Japan

Aichi Sky Expo

Aichi Prefecture, Japan

www.foomajapan.jp/english

EVENTS CALENDAR

8 – 10 Food Ingredients China

National Exhibition and Convention Centre (NECC)

Shanghai, China

en.fic.cfaa.cn

9 - 23 ProPak Asia

Virtual

www.propakasia.com/VE

15-18 ProPak Asia

Bangkok International Trade & Exhibition Centre

(BITEC)

Bangkok, Thailand

www.propakasia.com

30 Sep – 02 Oct

ProPak India

Bombay Exhibition Centre (BEC)

Mumbai, India

propakindia.com

OCTOBER

13 – 15 FoodTech Japan

Makuhari Messe

Chiba, Japan

www.foodtechjapan.jp/en-gb.html

59

23 – 25 Hi & Fi-Asia China

National Exhibition Convention Centre (NECC)

Shanghai, China

www.figlobal.com

JULY

08 – 09 ProPak India

Virtual

propakindia.com/virtual-expo

28 – 30 ProPak Vietnam

Saigon Exhibition and Conference Centre (SECC)

Ho Chi Minh City, Vietnam

www.propakvietnam.com

AUGUST

01 Aug – 28 Oct

Food Japan 2021

Virtual

oishii-world.com/en/

17 Aug – 25 Sep

Fi Asia

Virtual

www.figlobal.com/asia-thailand

SEPTEMBER

15 – 17 Fi Asia

Bangkok International Trade & Exhibition Centre (BITEC)

Bangkok, Thailand

www.figlobal.com/asia-thailand

15 – 17 PackEx India

Bombay Exhibition Centre

Mumbai, India

www.packexindia.com

15 – 17 Anutec Ingredients India

Bombay Exhibition Centre

Mumbai, India

www.anutecingredientsindia.com

21 – 23 Food Japan 2021

Suntec Singapore

Singapore

oishii-world.com/en

27 – 30 AllPack Indonesia

Jakarta International Expo (JI Expo)

Jakarta, Indonesia

allpack-indonesia.com

NOVEMBER

9 – 11 Food & Hotel China

Shanghai New International Expo Centre (SNIEC)

Shanghai, China

www.fhcchina.com/en/

16 – 18 China International Beverage Industry Exhibition on

Science & Technology (CBST)

Shanghai New International Expo Centre (SNIEC)

Shanghai, China

www.cbst.com.cn/en

23 – 25 swop

Shanghai New International Expo Centre (SNIEC)

Shanghai, China

www.swop-online.com/en

23 – 26 (Virtual)

24 – 25 Vitafoods Asia

Sands Expo and Convention Centre

Singapore

www.vitafoodsasia.com

2022

FEBRUARY

9 – 12 Food Pack Asia

Bangkok International Trade & Exhibition Centre

(BITEC)

Bangkok, Thailand

www.foodpackthailand.com

FOOD & BEVERAGE ASIA JUNE / JULY 2021
---
60

ADVERTISERS' INDEX

COMPANY

PAGE

Berndorf Band GmbH 01

CBST2021 25

Fi Asia 2021 21

Why wait?

Get your brand out

there now!

Food & Beverage Asia

IFC

Heat and Control 05

Koel Colors 11

Krones 09

ProPak Asia 2021 58

Solar Turbines

IBC

@foodandbeverageasia

SweeGen 17

For information, visit us www.foodbeverageasia.com or

contact us at sales@pabloasia.com

Yamato Scale Co., Ltd

OBC

FOLLOW US

@foodandbeverageasia

FOOD & BEVERAGE ASIA JUNE / JULY 2021