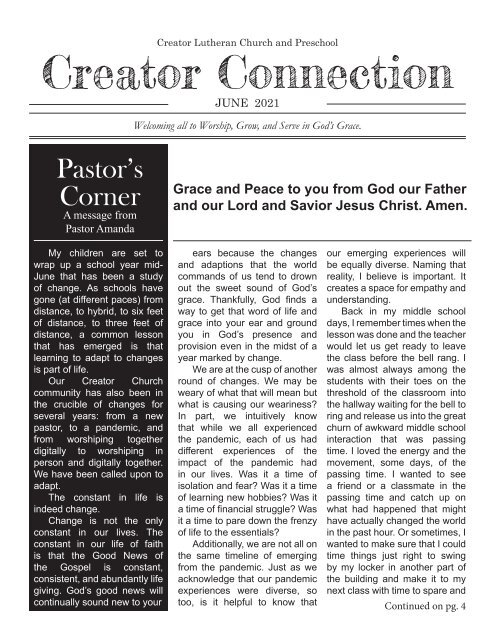 Creator Connection June 2021
The official newsletter of Creator Lutheran Church & Preschool.
The official newsletter of Creator Lutheran Church & Preschool.
SHOW MORE
SHOW LESS
Create successful ePaper yourself
Turn your PDF publications into a flip-book with our unique Google optimized e-Paper software.
Creator Lutheran Church and Preschool

Creator Connection

JUNE 2021

Welcoming all to Worship, Grow, and Serve in God's Grace.

Pastor's

Corner

A message from

Pastor Amanda

Grace and Peace to you from God our Father

and our Lord and Savior Jesus Christ. Amen.

My children are set to

wrap up a school year mid-

June that has been a study

of change. As schools have

gone (at different paces) from

distance, to hybrid, to six feet

of distance, to three feet of

distance, a common lesson

that has emerged is that

learning to adapt to changes

is part of life.

Our Creator Church

community has also been in

the crucible of changes for

several years: from a new

pastor, to a pandemic, and

from worshiping together

digitally to worshiping in

person and digitally together.

We have been called upon to

adapt.

The constant in life is

indeed change.

Change is not the only

constant in our lives. The

constant in our life of faith

is that the Good News of

the Gospel is constant,

consistent, and abundantly life

giving. God's good news will

continually sound new to your

ears because the changes

and adaptions that the world

commands of us tend to drown

out the sweet sound of God's

grace. Thankfully, God finds a

way to get that word of life and

grace into your ear and ground

you in God's presence and

provision even in the midst of a

year marked by change.

We are at the cusp of another

round of changes. We may be

weary of what that will mean but

what is causing our weariness?

In part, we intuitively know

that while we all experienced

the pandemic, each of us had

different experiences of the

impact of the pandemic had

in our lives. Was it a time of

isolation and fear? Was it a time

of learning new hobbies? Was it

a time of financial struggle? Was

it a time to pare down the frenzy

of life to the essentials?

Additionally, we are not all on

the same timeline of emerging

from the pandemic. Just as we

acknowledge that our pandemic

experiences were diverse, so

too, is it helpful to know that

our emerging experiences will

be equally diverse. Naming that

reality, I believe is important. It

creates a space for empathy and

understanding.

Back in my middle school

days, I remember times when the

lesson was done and the teacher

would let us get ready to leave

the class before the bell rang. I

was almost always among the

students with their toes on the

threshold of the classroom into

the hallway waiting for the bell to

ring and release us into the great

churn of awkward middle school

interaction that was passing

time. I loved the energy and the

movement, some days, of the

passing time. I wanted to see

a friend or a classmate in the

passing time and catch up on

what had happened that might

have actually changed the world

in the past hour. Or sometimes, I

wanted to make sure that I could

time things just right to swing

by my locker in another part of

the building and make it to my

next class with time to spare and

Continued on pg. 4
---
Table of Contents

Ministry

Pastor's Corner...............................................

Terri's Two Cents...........................................

Pastor's Corner cont. .....................................

Hope After the Storm, Southwestern

Washington Assembly 2021...........................

Fellowship

Church in Society..........................................

Thoughts on Stewardship..............................

Stewardship cont., Creator Ladies Night......

Children, Youth, and Family

One on One...................................................

Vacation Bible School, Prayer Chain,

Children's Book of the Month.......................

Sunday BLAST..............................................

Graduate Congratulations..............................

1

3

4

5

6

7

8

9

10

11

12-13

Staff

Pastor:

Amanda Olson de Castillo

pastoramanda@creatorlutheran.net

Children, Youth,

& Family Director: Terri Heckroth

creatorterri@comcast.net

Office Ministry: Donna Reynolds

office@creatorlutheran.net

Communications Coordinator:

Marion Gil

communications@creatorlutheran.

net

Bookkeeper: Marcie Reid

creatorbooks@creatorlutheran.net

Custodian: Leslie Noborikawa

Nursery Attendants: Debbie

Eikland and Cynthia Lowe

Sunday School Coordinator:

Terri Heckroth

creatorterri@comcast.net

Preschool

Preschool News..............................................

News and Education..............................

Birthdays and Reminders.......................

Calendar............................................................

14

15-17

18

19

Preschool Director:

Andrea DeDominces

Preschool Teachers:

Andrea DeDominces, Ragan Allen

& Cheri Farrer

Baptism Coordinator:

Briana Halaas

Funeral Coordinator:

Janee Theleman

2

Ministry teams and program leaders, please think ahead about what is coming up and

submit information, pictures or stories of impact to office@creatorlutheran.net by the 20th

of each month. Our Office Ministry Coordinator, will collect, format, and get the newsletter

out to the congregation by the first of each month. If you have any further questions,

please feel free to call the office (253) 862-7700.
---
Terri's Two Cents

June is typically the month

in which we recognize the

achievement of graduation.

This year, we celebrate with six

high school graduates and two

college graduates from Creator.

Congratulations, Graduates!

Graduation can bring on

some diverse emotions. At my

own graduations, I remember

feeling confusion, loss, and fear.

I felt the grief of losing my best

friends and my "home away from

home," all the familiar activities

and places. I was overwhelmed

with all the options that lay before

me. And I was afraid of the new

responsibilities that come with

adulthood. I was excited, but

also sad.

I realize now that what created

those painful feelings in me

was a misunderstanding of the

definition of the word "graduate."

I thought that graduating

meant the end of good things.

Now, a bazillion years later, I

understand that graduation was

only the beginning of wonderful,

new things for me. In fact, the

graduation ceremony is called

"commencement," which means

"a beginning."

After high school, I entered

the job market where I learned

many new things and made

life-long friends. After college,

I began a career in teaching,

which I LOVED! My teaching

experience led me to this position

at Creator where I developed

such deep relationships (with you

all and with God) and expanded

my understanding of scripture

and how God is working in me.

I have noticed that after each

life accomplishment, a new

adventure begins. I will be ready

for that adventure because I

know that God will be with me.

"It is the LORD who goes before you. He will be with you; he will not fail you or forsake

you. Do not fear or be dismayed." Deuteronomy 31: 8

3
---
Ministry

Continued from pg. 1

not risk a tardy slip. Other days

I did not want to be noticed, so

I perched on that line with the

desire to jet out into the sea of

tween drama with the hope of

getting from one class to the

other without being noticed. And

on occasion, I even hung back in

the room not wanting to go to the

next class, much less into the

time between classes— I liked

where I was, what that class

had to offer and did not have the

energy or desire to see what was

next. It was middle school after

all, a time for mercurial emotions.

This time of transition ahead

of us that may last the summer

and may even reach into the fall

is a time in which some of us will

venture into the passing time from

pandemic living into whatever

this time is that we are in now.

As individuals, we will each likely

have a range of reactions to the

shape that re-opening takes in

your life. You may be vaccinated,

or you may not be. One day or

in a particular situation you

might feel comfortable but, in

another circumstance, or day,

you might feel cautious. Now

multiply that range of reaction

of each individual with each

person that has been gathered

into Creator by the Holy Spirit

to be the Body of Christ. The

middle school hallway seems

like a good metaphor doesn't

it?! Complicated, awkward, and

somehow wonderful at times as

well.

It will be complicated. It will

require change. God knows that

there are so many things, people,

and experiences that will act like

thieves in our lives attempting to

steal our peace, our hope, and

rob us of our trust that God has

us and has brought us into a

community together. God knows

that sometimes that thief is even

ourselves, cue mirror.

We respond with

graciousness to ourselves and

to timelines and comfort levels

that do not match our own. I

am not saying that we won't

be frustrated but I am inviting

awareness and compassion. We

don't know the factors behind

the timelines and comfort levels

just like we often have not known

the stories behind the masks.

Knowing that we stumble and

that we struggle, God has given

us a promise, "I have come that

they may have life, and have it

abundantly," John 10:10.

We are at another time of

change and God is right here

with us, being our constant

and pouring out upon us, as

individuals and as a community,

steadfast love and grace. God

will see us through. God gives

abundant life into all our timelines

and comfort levels to each of us

and to our community of faith.

Peace be with you,

Pastor Amanda

...we intuitively know that while we all experienced the pandemic, each

of us had different experiences of the impact of the pandemic had in our

lives. Was it a time of isolation and fear? Was it a time of learning new

hobbies? Was it a time of financial struggle? Was it a time to pare down the

frenzy of life to the essentials?

4
---
Ministry

Hope After

the Storm

Creator Lutheran is

looking to bring members

back together in person this

summer with small group

gatherings.

If you can host a small

group gathering in your

backyard, lead a group for

a walk, or anything similar,

please contact the office

and let us know.

There is hope after the

storm church family, in

God's grace.

Southwestern Washington Assembly 2021

Theme-With Hope and Vision

There were about 180 people attending this year's 2021 SWWA Synod Assembly. The priorities of

our synod are: 1) Growing Leaders; 2) Cultivating new ministries; and 3) Energizing Congregations.

Over the 2 days they held several worship services, we participated in a lunchtime bible study,

discussed and voted in new Synod council members, voted on changes to the constitution, voted

on the budget, we broke into small group sessions, we met other members of the Synod as they

shared information about programs the Synod supports. One of the longer discussions was regarding

educational financial support for public higher learning. SWWA Synod will review the current support

and future support at the June council meeting. Paige Winsor showed up in a video of the Synod Alyve

Board where she serves as the Vice President. Horacio Castillo was voted to attend the Church-wide

Assembly in COLUMBUS OH, happening in August 2022.

In spite of having a virtual assembly, versus in person, many items were addressed and accomplished.

Blessings and Thank you,

Donna and Jeff Lovin

Pastor Amanda Olson de Castillo

5
---
Fellowship

As we look toward summer vacation,

Church in Society is already planning for Back

to School support where we donate to various

agencies in contributing in school supplies.

While at times the year seemed to go slowly,

there is a sense that things are quickening

as the pandemic draws to a close. It's a

wonderful feeling that we can look forward to

the future as Creator can make returning to

school more comfortable and welcoming for

many children.

Distribution of funds for the month of May

were as follows:

Church

In Society

• Sumner Food Bank

Regular..........................................$200

Backpack......................................$300

• Bonney Lake Food Bank

Regular..........................................$200

Backpack......................................$300

• Mothers2Many...................................$300

• Faith Action Network..........................$300

• New Hope..........................................$300

• Exodus Housing-for air mattresses....$268

(donations from Lent services)

At the moment, $650 was donated to the

Hunger Walk through the Emergency Food

Network by the church and individuals during

the month of May. This will feed many people

throughout Pierce County.

We are saving some funds for next month as

we determine back to school supplies. Thank

you for your generous support as Creator

shares its blessings with our communities.

God's Blessings to you!

6
---
Thoughts on

Fellowship

Stewardship would like to hear

what is inspiring you at Creator.

A remarkable thing about

Creator has been the many ways

we have continued to gather

virtually, allowing our ministries

to remain active despite this

pandemic. From worship live in

Pastor Amanda's living room in

the early days of Covid, to Zoom

Council, committees, confirmation,

Bible Study and program meetings,

connections and church life has

not been stagnant. In fact, far from

it. We continue to learn and find

new ways to connect, and maybe

some things are forever changed in

unique and positive ways because of

the pandemic.

Once worship resumed in small

numbers, with all participants

donning masks and sitting six

feet apart, some have continued

to connect from home via Zoom

or Facebook Live. These options

have allowed many members to be

together as a church. Not being able

to make it to church, or get a ride,

is no longer a barrier, and virtual

church may be the new normal for

some, allowing us to expand our

reach.

Lest we forget the many efforts

on the part of Pastor Amanda

to creatively encourage our faith

development, her ideas like Holy

We are uplifted by one

another. It is important

we share our stories

and encourage one

another. A significant

part of Stewardship is

to express appreciation,

not only to our church

but to God. Gratitude

can inspire generosity.

Week in a Box, and the Seven Stations

of Ash, and even last Sunday's fun

celebration of Pentecost and the

birthday of the church have all been

very special. The daily devotions,

even done twice a day for a while,

have truly been beautiful teachings

and a true blessing.

Though Covid has prevented

much of the usual volunteer work

opportunities, did you know Creator

has continued to deliver meals to the

Hope Center and Peace Lutheran in

Tacoma? Our Creator Cares team

has connected with those needing

support, providing a listening ear,

encouragement, and prayer all while

following COVID safety distancing

protocols to ensure the health and

safety of our members as well as of

those in need. On two occasions our

Care-a-Van of cars visited members,

homebound with health conditions,

waiving uplifting signs and balloons

and ending with a word of prayer

offered by Pastor Amanda.

Our Youth and Family

ministry has not been deterred by

Covid either. Known for offering

wonderful events for our neighbors

in the area, they were able to spread

the good news with both a drive

through Halloween Carnival and

even an Easter Egg Hunt. Vacation

Bible School was virtual last

summer yet managed to reach about

200 children. And did you see the

beautiful Christmas message told

through video clip submissions by

our youth?

This is not a complete list of

the numerous ways our church

continues to teach and spread

God's love and the good news of

Jesus to our Creator family and

the community throughout this

pandemic. God is on the move at

Creator. He has continued to touch

our hearts and is able to speak to

us through a powerful message,

even those that are virtual. He is

not limited by Zoom fellowship or

worship. He hears all our prayers

and has never left our side, even

during Covid.

Continued on pg. 8

7
---
Fellowship

Continued from pg. 7

How has Creator been able to

minister to you? What has been

meaningful for you and your family

during Covid? The isolation of

Covid brought the potential for us all

to appreciate even more the love at

Creator. As Romans 8:28 mentions,

God can work good in all situations.

Though this time has been difficult,

there have also been many blessings

and positive connections. For

example, many families, friends,

and relatives have enjoyed regular

contact through Zoom, facetime,

or other virtual gatherings. The

Stewardship Committee would

appreciate hearing how worship,

a ministry or program, or any

experience has possibly inspired

you or enriched your faith. If you

would be willing to share this in an

email, phone call, or maybe even a

short testimonial during worship

service, we invite those willing to

let us know. We are uplifted by one

another. It is important we share our

stories and encourage one another.

A significant part of Stewardship is

to express appreciation, not only to

our church but to God. Gratitude

can inspire generosity.

As restrictions continue to

lift, we would welcome your

participation as a volunteer. The

fellowship in service work is a great

way to meet members, make new

friends, and bless others.

Our Stewardship Committee is

in need of new members. We are

a fun group, so please let the office

know if you are interested in joining

us.

Creator's Ladies Night Out

Saturday June 12th at 7pm

8

Join us for Creator

Ladies Night Out via

Zoom! We will be

creating marbled note

cards during our time

together. The cost is

$10 per kit. Pick up of

kits will be scheduled

during the week

before the event. The

kit will contain a foil

pan, shaving cream, a

ruler for scraping, four

liquid dyes, four note

cards and envelopes.

You will need to

provide: paper towels,

and a cookie sheet

or large piece of

cardboard. Optional

items: painter's tape,

disposable gloves,

additional liquid dye

colors. Contact Lisa

Wire if you have

questions: 253-312-

7523; lewire@yahoo.

com.

Follow the link

below to register for

the event. We look

forward to having

a wonderful time

together with you!

https://

creatorlutheran.

breezechms.com/

form/5db9cb
---
Children, Youth, and Family

One on One

JUNE 2021

A monthly interview with one of

our church members to help get

to know each other

Name: Laura Sarver

Profession: Teacher - now

retired

Birthday: June 11

What are your hobbies? Reading,

gardening, traveling, camping, hiking, water

sports including swimming, kayaking and

stand-up paddle boarding.

What is your favorite food? Steak and pie

such as rhubarb or cherry

Who is one person who has influenced

your life decisions? My husband Craig

has been a great sounding board for me.

He helps me think through and make good

decisions.

What three things do you value the most?

My faith, my family, and the gift of extra

time that retirement has provided to spend

with family members and friends, to pursue

interests and to do volunteer work.

What do you like most about Creator?

Creator has always been a welcoming,

nurturing community to grow in faith and

I have gained many great friends through

the years.

Where do you see God in your life?

Everywhere

What is the biggest challenge you face?

For me, the biggest challenge recently has

been going through this pandemic time

and not being able to do simple things like

shake hands or hug.

Who do you admire the most? My

dad and mom, and my friend and former

colleague Sandy.

Who is your favorite Super Hero?

I don't really have a fictional one but,

especially this past year, I think of local

superheroes such as those in the medical

field working during the pandemic and

everyone who helped contain the Sumner

Grade fire.

9
---
Children, Youth, and Family

Vacation Bible School 2021

VBS will look a little different

this summer. Normally, Creator

is bursting with excitement

as over 200 children, youth,

and adult staff fill the building

for a week in the summer. In

consideration of the health and

safety of all the families in our

community during this unusual

year, VBS will be presented to

families via Facebook live, email,

and YouTube.

During the week of July 26-

30, 2021, our VBS leadership

team will email and post Bible

story skits, craft ideas, and

upbeat songs to families to use

in a home style Vacation Bible

School. Using Facebook live

and Creator's YouTube channel,

Bible lessons will come to life

through skits, music, and crafts.

Craft supplies for the entire week

will be available to pick up on

Monday, July 26.

Registration is

now open.

Please sign up

so we will know

how many craft

kits to make up.

Stephanie and Eliana

Parton recommend the book,

Barnyard Dance! By Sandra

Boynton. Eliana already

finishes the sentences in the

book and "twirls" along with

the Pigs. This is the first book

that Eliana would read along

with her mom.

Click here to

register:

https://

creatorlutheran.

breezechms.

com/

form/53a4e793

Our Confirmation and High School Students are

constantly praying! If you have a specific prayer you

would like to include in our prayer chain, please email

Terri Heckroth creatorterri@comcast.net.

10

We will attach it to the growing paper prayer chain

hanging in the sanctuary.
---
Children, Youth, and Family

SUMMER SUNDAY BLAST

Beginning Sunday, June 6 through July 18

from 10:30am - 11:00am

All families with children are invited to join us on Sunday

mornings during the summer for a BLAST of a good time. We

will hear a Bible story, make a craft, and play some games. Our

hope is to meet outdoors every week, but we will be ready for

rain. Children will be asked to be masked (indoors and out) and

remain socially distanced indoors.

11
---
Children, Youth, and Family

CONGRATULATIONS GRADUATES!

Faith Stober

Faith graduates from Auburn Riverside High School while

also earning her Associates of Arts degree from Green River

College. She plans to attend Washington State University in

the fall.

Mackenzee Roush

Mackenzee graduates from Bonney Lake High School. She

plans to attend the University of Montana in the fall majoring in

Psychology and Wild Life Biology.

Mitchell Morrow

Mitchell graduates from Auburn Riverside High School. He plans

to attend Pacific Lutheran University in the fall. Mitchell has been

involved in ROTC throughout his High School career and plans to

continue in college. Mitchell plans to major in Political Science at

PLU and wants to be a military lawyer.

Jacob Hemmen

Jacob will be graduating from White River High School and

plans on becoming an electrician. He enjoys repairing small

engines and working outside.

12
---
Children, Youth, and Family

Sara Heineman

Sara graduates from Orting High School. Her plans for the fall

have not yet been solidified. She will likely start at Pierce College

or moving to Georgia to attend the University of Georgia in Atlanta.

Sara would love to teach horse riding with a therapy bent or

primary school while teaching riding on the side. Sara is currently

working with her parents at a local horse barn and loves it. She is

certified in Adobe Photoshop while still showing horses. Sara has

two Regional Horse Competitions coming up this summer.

Sydney Carter

Sydney will be attending Clark College in Vancouver, Washington in the

fall. She received a scholarship to play softball and will work towards a

nursing degree.

Eli Yackel-Juleen

—Seattle University, Masters of Teaching

Eli graduates from Seattle University with a Master's Degree in Teaching.

Eli began his Master's program after spending a year in Jerusalem/West

Bank with the ELCA Young Adults in Global Mission. He is looking forward

to teaching in person in the fall and getting married next June.

Talia Gaulke

—California Lutheran University

Talia graduated Magna Cum Laude from California Lutheran

University with a Bachelor's degree in Marketing Communication

as well as minors in Business Administration and Spanish. During

her time at CLU she served as Cheer Captain, worked in the

Undergraduate Admissions office as a Presidential Host Lead, was a

Student Ambassador, and became the President and Founder (with

her sister, Taryn) of the Pacific Northwest club.

13
---
Preschool

Preschool News

JUNE 2021

Creator Preschool completed the 2020-2021 school year with an

enrollment of 59 students. This is quite an achievement in a pandemic

year! At the same time, we are very humbled that so many families put

their trust in us.

The Preschool finished the year with 33 children moving on to

Kindergarten.

Please look for information about the upcoming school year in our

August newsletter.

14
---
News and Education

ANNUAL

CONGREGATIONAL

MEETING

Our annual Congregational

Meeting to elect new members to

Council will be held on Sunday,

June 13th at 10:45. The meeting

will be a hybrid of in person (for

those who are already at church

for worship) and Zoom for those

who are home.

We will be using a poll feature

to vote for those attending via

Zoom. The poll ballot will be

sent to each login, meaning

that each login will only be able

to vote once. In order to for

each person in a household to

vote individually, each person

must log in on separate Zoom

accounts. As such, please log in

to Zoom separately even if you

live in the same household. The

login information for Zoom can

be found below:

Join Zoom Meeting

https://us02web.zoom.us/j/

87313239155?pwd=ZnYxK

1V4bTFlR1dtQXNPTjlQdV

M4UT09

Meeting ID: 873 1323

9155

Passcode: 350193

One tap mobile

+12532158782,,873132

39155#,,,,*350193# US

(Tacoma)

First Quarter Report of Creator Lutheran's Foundation Fund

The Foundation continues

to implement its purpose which

is to support social and ministry

projects for both the local

communities and the church.

Since January, it has donated

$3,000 our local food banks,

Bonney Lake and Sumner. It has

also donated $3,000 to Mi Casa,

a local philanthropic organization

that provides affordable housing

for low-income people. The

money was used for a roof

replacement of one of its facilities

and other maintenance projects.

Anyone interested in learning

more about the Foundation or is

interested in our grant process,

should visit the Church's

website. There is an explanation

of our activities as well as grant

application forms.

New Hope Resource Center Lunches

THANK YOU to everyone who is donating food for the New Hope

Resource Center. We will carry on providing lasagna lunches

monthly through the Spring and Summer. Our next lunch will be

July 2nd. Please watch the announcements for sign-up info.

15
---
News and Education

Daily Devotions

Morning Prayer will continue

throughout the month of January at

9:00am. You are invited to watch

the recordings which are posted or

consider joining us at 9:00am via

zoom. Pastor Amanda turns off the

recording after her reflection on

the reading and we have a time of

discussion and connection with one

another.

Join Zoom Meeting https://zoom.

us/j/633840757

Meeting ID: 633 840 757

One tap mobile

+12532158782,,633840757# US (Tacoma)

All worship services and devotions will be

posted after completion on both YouTube

and the creator website: https://www.

youtube.com/user/CreatorLutheran and

www.creatorlutheran.net

Adult Education

I Love to Tell the Story

Pastor Amanda will be posting a

short video each week diving into

the Bible Narrative and specific

readings for the upcoming Sunday.

The videos will be posted on

Facebook, YouTube and linked

to our website. If you have any

questions or comments about the

bible study please send them to

pastoramanda@creatorlutheran.

net.

16
---
News and Education

Thursday

Morning

Bible Study

Join us for Thursday Morning

Bible Study via Zoom from

10:00am—11:30am. We will

continue with our study on

Exodus. Our first meeting we

will start with a little fellowship

and lesson on using Zoom and

then start a review of lesson 1.

If you need to order the Exodus

Study book, let us know.

Join Zoom Meeting

https://us02web.zoom.us/j/9668

069876?pwd=MlAvSUcxeFpUa

nlFdWJKekNHemZvUT09

Meeting ID: 966 806 9876

Passcode: 1DMKSi

One tap mobile

+Dial by your location

+1 253 215 8782 US (Tacoma)

Meeting ID: 966 6 9876

Passcode: 419391

We're going to getting back

together in person again!! Over

the summer we'll take a pause

from our Zoom fellowship

meetings on the 1st and 3rd

Mondays and we'll move back to

getting together for a book study.

We will meet just once a month

and discuss the book that is

selected for that gathering. A

Zoom option will be scheduled

for those who prefer to meet that

Men's

Fellowship

During "All things Covid"

the Wednesday night

Men's group has been

using Zoom. The meetings

start at 7:00 PM and get

over by 9:00PM. If you

are interested in joining

the meeting please contact

Scott Perkins with your

email address and he will

send you a link for Zoom.

Scott.perkins@hotmail.

com or 253-230-3416

way. We will meet on Mondays,

6:00pm - 8:00pm. While inside

we'll wear masks and distance

ourselves when eating.

For addresses and directions to

each home, or if you have any

questions or concerns, please

contact Janice Pendergast at

253-202-4460 or janicepend@

yahoo.com.

17
---
Birthdays and Reminders

Remote Worship

Worship will continue to be live-streamed on Facebook Live and

Zoom. To join via Zoom, follow the link below:

https://us02web.zoom.us/j/89375602512?pwd=M3hPK0pIMGIz

Z2M0eEhmTitoM3NQdz09

Meeting ID: 893 7560 2512 Password: 435230

One tap mobile:

+ 12532158782,,89375602512#,,,,0#,,435230# US (Tacoma)

Call in option: Zoom offers the option to call in to listen to the

service. Call into worship while it is open - usually a minimum of

five minutes before 9:30am until 11:00am - +1 253 215 8782 and

enter the meeting number: 89375602512 when prompted. You

will be able to hear the worship service.

Pastoral Emergency Fund

Creator has a fund available to be used at the discretion of Pastor

Amanda to support congregation members and the community

as needed. If you or a member another member of the Creator

Community has a particular financial need at this time, please

reach out to Pastor Amanda for support. We are here for one

another at this time. This fund is also open for additional

donations from the congregation.

Recycle Your

Ink Cartridges

Don't throw away those printer cartridges or used cell phones.

The Youth will recycle them for you. It's good for the

environment and the youth program receives a small concession.

Just deposit old cartridges in the drawer in the narthex.

Creator Sunday School Is Back!

Creator's Family Sunday School is Virtual!

We will be emailing Sunday School lessons with video stories

and links to music videos every week to our Sunday School

families. If you know of any family who would like to added to the

distribution list, please let Terri know. We will follow the narrative

lectionary so you can enjoy a family discussion after Sunday

School and Worship. Some videos will be saved on Creator's

YouTube channel. We are also sending by email Family Daily

Devotions for Lent throughout this season.

18

June

Birthdays

02 - Jenny Coleman

02 - Tracy Hoffner

04 - James Kintigh

04 - Danielle Roller

05 - Janice Harlor

06 - Cathy Crossan-Vork

06 - Charlie Johnston

06 - Aurora Thayse

06 - Tony Winn

07 - Donald Brannan

09 - Heidi Dahn Worley

09 - Megan Filer

09 - Laura Sarver

11 - Sharon Kraus

11 - Leah Ramberg

12 - Karen Loreth

15 - Summer Stullick

16 - Hunter Bruckbauer

17 - Kendra Hemmen

18 - Donald Eismann

18 - Ashleigh Heineman

18 - Deon Knickerbocker

23 - Peggy Olson

24 - Sam Suznevich

25 - Jeremy Coleman

25 - Melina Kintigh

25 - Kurt Magnusson

25 - Grace Thayse

26 - Krysta Baxter

26 - Karen Grigg

29 - Claire Robinson

30 - Karl Kirn

30 - Doris Richards
---
JUNE

Sunday Monday Tuesday Wednesday Thursday Friday Saturday

9am Morning

Devotions

7pm Men's

Fellowship

1 2 3 4 New Hope Lunch 5

9am Morning

Devotions

9am Morning

Devotions

10am Thursday

Morning Bible Study

7pm Hope After

the Storm Planning

Meeting at Church

6

9:30am Sunday

Worship Online

and In person w/

Communion

10:30pm Sunday

BLAST

7

9am Morning

Devotions

8

9am Morning

Devotions

9 9am Morning

Devotions

7pm Men's Fellowship

10 9am Morning

Devotions

10am Thursday

Morning Bible Study

11

12

7pm Creator

Ladies Night Out

via Zoom

13 9:30am Worship

Online and In

person w/Communion

10:30pm Sunday BLAST

10:45pm Congregational

Meeting

14 9am Morning

Devotions

7pm Adult Bible

Study

15

9am Morning

Devotions

16 9am Morning

Devotions

7pm Men's Fellowship

17 9am Morning

Devotions

10am Thursday

Morning Bible Study

7pm CYF Meeting via

Zoom

18

19

9:30am Worship

20

Online and

In person w/

Communion

10:30pm Sunday

BLAST

21 9am Morning

Devotions

7pm Fellowship Book

Club

22

9am Morning

Devotions

23 9am Morning

Devotions

7pm Men's Fellowship

24 9am Morning

Devotions

10am Thursday

Morning Bible Study

12pm Creator Book

Club

25

26

27 Palm Sunday

9:30am Worship

Online and In

person w/Communion

10:30pm Sunday

BLAST

28

9am Morning

Devotions

29

9am Morning

Devotions

30 9am Morning

Devotions

7pm Men's Fellowship

19
---
Creator Lutheran

Church and Preschool

Welcoming All to Worship, Grow, and Serve in God's Grace

creatorlutheran.net (253) 862-7700 office@creatorlutheran.net

Office Hours: Mon-Fri 9:00AM - 3:30PM

16702 South Tapps Drive East, Bonney Lake, WA 98391