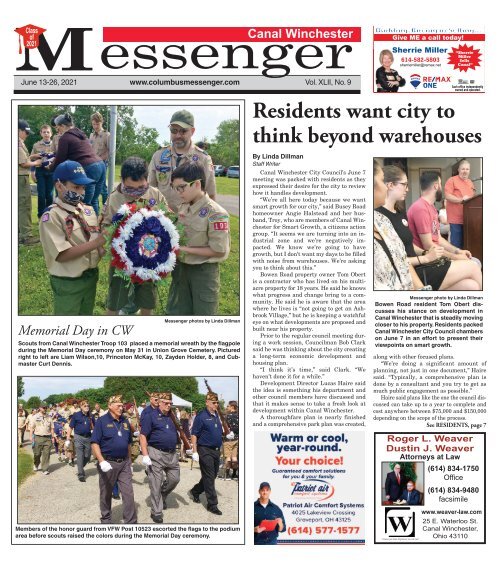 Canal Winchester Messenger - June 13th, 2021
You also want an ePaper? Increase the reach of your titles
YUMPU automatically turns print PDFs into web optimized ePapers that Google loves.
Messenger

Canal Winchester

Class

of

2021

Building, Buying or Selling...

Give ME a call today!

Sherrie Miller

614-582-5803

sherriemiller@remax.net

"Sherrie

Miller

Sells

Canal"

June 13-26, 2021 www.columbusmessenger.com Vol. XLII, No. 9

Memorial Day in CW

Messenger photos by Linda Dillman

Scouts from Canal Winchester Troop 103 placed a memorial wreath by the flagpole

during the Memorial Day ceremony on May 31 in Union Grove Cemetery. Pictured

right to left are Liam Wilson,10, Princeton McKay, 10, Zayden Holder, 8, and Cubmaster

Curt Dennis.

Members of the honor guard from VFW Post 10523 escorted the flags to the podium

area before scouts raised the colors during the Memorial Day ceremony.

Each office independently

owned and operated.

Residents want city to

think beyond warehouses

By Linda Dillman

Staff Writer

Canal Winchester City Council's June 7

meeting was packed with residents as they

expressed their desire for the city to review

how it handles development.

"We're all here today because we want

smart growth for our city," said Busey Road

homeowner Angie Halstead and her husband,

Troy, who are members of Canal Winchester

for Smart Growth, a citizens action

group. "It seems we are turning into an industrial

zone and we're negatively impacted.

We know we're going to have

growth, but I don't want my days to be filled

with noise from warehouses. We're asking

you to think about this."

Bowen Road property owner Tom Obert

is a contractor who has lived on his multiacre

property for 18 years. He said he knows

what progress and change bring to a community.

He said he is aware that the area

where he lives is "not going to get an Ashbrook

Village," but he is keeping a watchful

eye on what developments are proposed and

built near his property.

Prior to the regular council meeting during

a work session, Councilman Bob Clark

said he was thinking about the city creating

a long-term economic development and

housing plan.

"I think it's time," said Clark. "We

haven't done it for a while."

Development Director Lucas Haire said

the idea is something his department and

other council members have discussed and

that it makes sense to take a fresh look at

development within Canal Winchester.

A thoroughfare plan is nearly finished

and a comprehensive park plan was created,

Messenger photo by Linda Dillman

Bowen Road resident Tom Obert discusses

his stance on development in

Canal Winchester that is steadily moving

closer to his property. Residents packed

Canal Winchester City Council chambers

on June 7 in an effort to present their

viewpoints on smart growth.

along with other focused plans.

"We're doing a significant amount of

planning, not just in one document," Haire

said. "Typically, a comprehensive plan is

done by a consultant and you try to get as

much public engagement as possible."

Haire said plans like the one the council discussed

can take up to a year to complete and

cost anywhere between $75,000 and $150,000

depending on the scope of the process.

See RESIDENTS, page 7

Roger L. Weaver

Dustin J. Weaver

Attorneys at Law

(614) 834-1750

Office

(614) 834-9480

facsimile

"A name you know, Experience you can trust"

www.weaver-law.com

25 E. Waterloo St.

Canal Winchester,

Ohio 43110
---
PAGE 2 - MESSENGER - June 13, 2021

CW Labor Day Festival

The Canal Winchester Labor Day Festival, originally scheduled

for Sept. 4, 5, and 6, has been cancelled, according to event

organizers and the city of Canal Winchester.

The event, which was set to celebrate its centennial year in

2020, has been a Labor Day weekend mainstay in the community

since 1920.

In a public statement released May 7, festival organizers

shared their difficult decision, noting the inability to meet Ohio

Department of Health regulations and the lingering effects

COVID-19 has had on the entertainment industry and festival

sponsors.

Marie Gibbons, parade organizer, said, "It is not feasible at this

time to put on our traditional event, which draws families from all

over Central Ohio. The committee instead has been focusing on a

smaller, one-day event for our community that will feature rides,

food vendors, family-friendly activities, entertainment, and a nontraditional

parade."

The one-day event, Canal Winchester Hometown Day, will be

Sept. 4. Details are pending.

The Canal Winchester Area Historical Society will hold its

annual Ice Cream Social on Sept. 5 from 1-4 p.m. at the Prentiss

School at 10 W. Oak St.

Labor Day Festival organizers recognize the importance of the

annual three-day festival to the community and continue to plan

for the 100th Labor Day weekend celebration in 2022.

Obetz Zucchinifest

The 2021 Obetz Zucchinifest will be held Sept. 3-6. The event

will feature food, music, rides, and entertainment at Fortress

Obetz, 2015 Recreation Trail, Obetz.

More information about the festival will be released when it is

available. Visit www.obetzzucchinifest.com.

Groveport Farmers' Market

The Groveport Farmers' Market will be held on Tuesdays from

June 29 through Sept. 14 from 4-7 p.m. at Groveport Madison

Middle School Central, 751 Main St.

www.columbusmessenger.com

The Columbus Crew at work

Messenger photos by Pat Donahue

The Columbus Crew practiced for one of the last times at their Obetz training facility that they have called

home since the late 1990s. They will soon be moving to their new facility in Columbus.

PLEASE GET VACCINATED

for Everyone's Safety

Malek &

ATTORNEYS AT LAW

Malek

Enter the

Million Dollar Drawing

www.ohiovaxamillion.com

WORKERS'

COMPENSATION

PERSONAL INJURY

WRONGFUL DEATH

SLIP & FALL INJURY

DOG BITE INJURY

Douglas, Ed, Jim

and Kip Malek

"Hablamos Español"

FREE Initial Consultation

www.maleklawfirm.com

614-444-7440

1227 S. High St., Columbus, OH 43206

Members of the Columbus Crew working out at their Obetz

training facility.

Lockbourne fish fry

The Lockbourne fish fry will be held June 17 and 18

from 11 a.m. to 6 p.m. at Lockbourne Old Hamilton

School (formerly the Lockbourne Masonic Lodge), 206

Vause St., Lockbourne.

Columbus Crew Coach Caleb Porter

has some laughs with the team during

one of their last practices at the team's

Obetz training center.

Obetz Farmers' Market

The Obetz Farmers' Market is held on the first

Wednesday of the month from June to August from 4-

7 p.m. For information call 614-491-4416.
---
www.columbusmessenger.com

June 13, 2021 - MESSENGER - PAGE 3

Work to begin on Saltzgaber, Toy, and Swisher roads

By Rick Palsgrove

Managing Editor

Long hoped for improvements to Saltzgaber, Toy, and

Swisher roads will begin this summer.

For many years, area residents have been frustrated by

the roadways' poor condition and the heavy traffic from

nearby commercial warehouses that use these narrow, formerly

rural roads.

The residents want relief from the vehicle and semitruck

traffic they say damages the roads, tears up yards,

knocks over mailboxes, causes noise, generates trash, and

creates congestion.

The three roads fall within several government jurisdictions

including Madison Township, Groveport, Obetz, and

Franklin County.

Groveport City Engineer Steve Farst said the improvements

are combined into a single construction contract to

be managed by the Franklin County Engineer.

Saltzgaber Road reconstruction

According to Farst, Saltzgaber Road will be reconstructed

from its intersection with Groveport Road to its connection

at Toy Road.

"On Saltzgaber Road, the road will be widened to three

lanes and a cul-de-sac (for turn arounds) will be located

about 170 feet south of Saltzgaber's connection to Toy

Road," said Farst. "The link between Saltzgaber and Toy

Road will be preserved."

"The limits of construction include Saltzgaber Road

from Groveport Road to the 90 degree turn at Toy Road,"

said Carla Marable, Franklin County Engineer's Office

director of communications. "The project includes reconstruction

of Saltzgaber Road to provide a three lane typical

roadway section with a two-way left-turn lane along the

majority of the alignment. The project will also construct

an eastbound left turn lane, an eastbound right turn lane,

and a westbound left turn lane on Groveport Road at its

intersection with Saltzgaber Road. The project will also

improve the intersection of Groveport Road and Saltzgaber

Road."

Marable said the project was combined and bid together

with the Toy Road and Swisher Road improvements project.

"The contractor's low bid for the overall project was

$2.26 million," said Marable. "Funding is provided by

Franklin County Motor Vehicle Registration and Gas User

Fees, the city of Groveport, Madison Township, the Ohio

Public Works Commission, the Franklin County

Transportation Improvement District, and private partners."

Marable said closure of Toy Road began on June 1.

Local access to the residents of Toy Road, Swisher Road,

and Saltzgaber Road will be maintained throughout construction.

Substantial completion is scheduled for fall 2021

with a final completion by spring 2022.

When asked why the reconstruction is necessary,

Marable said, "Saltzgaber Road is an old township road,

currently maintained by Madison Township and the city of

Groveport, that was never expected to handle the volume

and type of traffic it will see with the increased development

in the area. Nearby recent warehouse projects will

increase traffic. This generated the need for the proposed

two-way left-turn lane on Saltzgaber Road and designated

turn lanes on Groveport Road accessing Saltzgaber Road."

Farst added that the reconstruction is needed because

"the existing Saltzgaber Road is of insufficient condition

both in thickness of pavement and width for

current and anticipated traffic conditions."

Toy and Swisher roads improvements

"This project provides pavement maintenance

and drainage improvements along Swisher Road

and Toy Road from Centerpoint Parkway to the 90

degree turn at Saltzgaber Road," said Marable.

"The project will also construct Toy Road with dual

cul-de-sacs east of the intersection of Centerpoint

Parkway."

Marable reiterated this project was combined

and bid together with the Saltzgaber Road improvements

project. The contractor's low bid for the overall

project was $2.26 million. Funding is provided

by Franklin County Motor Vehicle Registration and

Gas User Fees, the city of Groveport, Madison

Township, the Ohio Public Works Commission, the

Franklin County Transportation Improvement

District, and private partners.

"The Franklin County Engineer's Office took

advantage of a private public partnership by combining

funds from the Saltzgaber Developer and

Ohio Public Works Commission," said Marable.

Closure of Toy Road began on June 1. Local

access to the residents of Toy Road, Swisher Road,

and Saltzgaber Road will be maintained throughout

construction. Substantial completion is scheduled

for fall 2021 with a final completion of spring

2022.

Farst noted the pavement condition is degraded

and needs improved

Summer Reading Challenge

Columbus Metropolitan Library will offer an allonline

Summer Reading Challenge through July 31.

Summer Reading Challenge is CML's signature

program to keep young readers from losing critical literacy

skills during the summer months.

Loss of these skills is often referred to as summer

slide, and places children at a distinct learning disadvantage

once school begins again in August.

"This pandemic has deeply impacted our young

minds and their ability to learn," said CML Public

Services Director Kathy Shahbodaghi. "Helping them

get back on track starts with books and reading. This

is especially critical during the out-of-school months."

Due to the ongoing pandemic, this year's nine-week

program will once again be offered with several modifications

put in place to ensure the community's health

and safety.

Changes include:

•The program will be online only through columbuslibrary.org/summerreading

and with the free

READsquared app (available on iOS and Android

devices). Customers of all ages can use the app to log

in and track activity just like on CML's website.

•CML is not currently offering any in-person programs

at its 23 locations. CML will instead offer a calendar

of free virtual events.

•The VolunTeen program, which enables 12 to 17-

year-olds to help with customer sign-ups and programs,

has been canceled.

•CML will mail participants a Game Board with

activities and a free book while supplies last.

Participants will complete reading goals to be entered

into raffle drawings for gift cards and other prizes

along the way. A raffle at the end of the program

includes kids' bikes, helmets and locks for the 5-11 age

group.

For information, visit www.columbuslibrary.org.

Added Marable, "These portions of Toy Road and

Swisher Road are older residential-type township roadways

that are currently maintained by Madison Township

and the city of Groveport. The continued increase in commuter

and commercial traffic using these roadways has

left portions of the roads in disrepair. The improvement

will repair the roadway so the residents can safely and

efficiently access their homes. The project provides dual

cul-de-sacs east of Centerpoint Parkway that will act as

turnaround locations for commercial traffic. Throughout

construction, further investigation and study of the

impacts of the construction closure of Toy Road by the

Franklin County Engineer's Office will provide necessary

and critical data to determine if a long term closure of Toy

Road (between the two cul-de-sacs) will be appropriate."

A FREE ESTIMATE

15 10 5

YOUR ENTIRE

PURCHASE *

1-855-995-2490

% % %

OFF + OFF + OFF

SENIOR & MILITARY

DISCOUNTS

YEAR-ROUND

CLOG-FREE GUARANTEE

TO THE FIRST

50 CALLERS! **

| Promo Number: 285

Prepare for unexpected

power outages with a

Generac home standby

generator

REQUEST A FREE QUOTE!

844-334-8353

FREE

7-Year Extended Warranty*

A $695 Value!

Limited Time Offer - Call for Details

Special Financing Available

Subject to Credit Approval

*To qualify, consumers must request a quote, purchase,

install and activate the generator with a participating dealer.

Call for a full list of terms and conditions.
---
PAGE 4 - MESSENGER - June 13, 2021

Slate Run Historical Farm

operating hours

Metro Parks' Slate Run Living

Historical Farm, 1375 State Route 674

North, Canal Winchester hours are:

Tuesday, Wednesday, Thursday, and

Sunday 9 a.m. to 6 p.m. and Friday and

Saturday from 9 a.m. to 7 p.m. The farm

is closed on Monday.

Letters policy

The Eastside Messenger welcomes letters

to the editor. Letters cannot be libelous.

Letters that do not have a signature, address,

and telephone number, or are signed with a

pseudonym, will be rejected. PLEASE BE

BRIEF AND TO THE POINT. The

Messenger reserves the right to edit or

refuse publication of any letter for any reason.

Opinions expressed in the letters are not

necessarily the views of the Messenger. Mail

letters to: Eastside Messenger, 3500

Sullivant Avenue, Columbus, OH 43204; or

email eastside@columbusmessenger.com.

eastside

Messenger

(Distribution: 16,822)

Rick Palsgrove................................South Editor

eastside@ columbusmessenger.com

Published every other Sunday by

The Columbus Messenger Co.

3500 Sullivant Ave., Columbus, Ohio 43204-1887

(614) 272-5422

Keep tabs on the news in Canal

Winchester and Hamilton Twp.

Look for South Messenger on

Become a fan!

BIRTHDAY • ENGAGEMENT • WEDDING • ANNIVERSARY

• GRADUATION • RETIREMENT

IN MEMORIUM • ARMED FORCES

Say it with an announcement ad in

the Messenger and spread the word.

You can download the appropriate form from

our Web site or stop by our office

Monday-Thursday, 8:30 a.m.-5 p.m.

Friday, 8:30 a.m.-2 p.m.

Columbus Messenger

3500 Sullivant Ave.

614-272-5422

www.columbusmessenger.com

column

This idea was for the birds

Years ago, I wanted to keep chickens on

my acre-plus property, but like many good

plans, it was not meant to be after a wise

chicken farmer pointed out amateur mistakes

I was bound to make.

For months I scoured do-it-yourself project

pages for a coop I could handle. Well, I

should say that my daughter and I could

handle because she has a natural ability to

assemble, fix or repair things. She would be

my executive chef in construction and I

would be her construction sous chef.

I showed her various designs from a

structure worthy of a Victorian manor to

something little more than a frame covered

in chicken netting–plain and functional,

but not for me.

Hitting a happy medium, I found a simple,

charming house for hens with an

enclosed white clapboard structure, ramp

and a suitable protected outdoor run.

Nothing extravagant, just manageable.

I researched the care of poultry and

skipped over information on breeding. No

roosters in my henhouse. While I can

appreciate an early morning chicken wakeup

call–I probably get up earlier than a

rooster–I did not want to worry about

weeding out fertilized eggs.

Places

I decided to start

out with a trio of

hens–three seemed

like a manageable

number and I sought

the advice of a farmer

before deciding on

which breed I wanted

to purchase after we

built the coop.

Her first question

after I shared my

plans with her: "What

are you going to do

with the hens when

they stopped producing

eggs?"

Linda

Dillman

Huh? Chickens

stop producing eggs after a few years?

Well, I'll just get more.

She again asked, "What are you going to

do with the chickens that no longer lay

eggs?" before frankly laying out my

options–build a bigger cage to accommodate

more hens or serve the non-producers

for Sunday dinner to make way for fresh

www.columbusmessenger.com

hens.

What? Kill the chickens after they provided

eggs for my family? No way. I'm sure

they would all have names and how can I

dispose of a creature with a cute name, who

spent her productive life feeding me?

"Well, then you're going to eventually

end up with a coop full of chickens with

names that no longer lay eggs," I was told

in response.

It was at that moment I saw in my mind

my beautiful white coop filled with aging

non-productive chickens living out their

lives while my refrigerator was stocked

with store-bought cartons of eggs.

A nice idea, but not the end result I

wanted. So, I threw my design clippings in

the trash and told my daughter the chicken

coop plans that I held close to my heart for

so many years would not happen.

A few days later, for the first time since

we moved into our house, two ducks landed

at the back of our property and wandered

around for the afternoon. I took it as a sign

from Mother Nature that she was giving

me a couple of egg laying creatures to enjoy

for the day since I will never have my own.

The earth is always at equilibrium.

Linda Dillman is a Messenger staff writer.

Strong acting saves another "Conjuring" installment

Hollywood has been combing through

the case files of paranormal investigators

Ed and Lorraine Warren for ideas for more

than four decades now, but it wasn't until

2013 that anyone thought to make a movie

centered around the dynamic demon-fighting

duo of the Northeast.

In "The Conjuring," the story revolves

around their attempt to uncover the origins

of a haunted farmhouse before it destroys

the sweet family living within, but it

wasn't the tried-and-true horror trope that

captured the interest of the general public.

Though considered one of the best supernatural

films of the decade, what made

"The Conjuring" such a hit was the chemistry

between the actors Patrick Wilson

and Vera Farmiga and their depiction of

the unwavering faith between their reallife

counterparts as they fought off demons

while battling their own. Not only did their

portrayal add something new to the horrorsphere,

but it also sparked a newfound

interest in the couple (along with newfound

claims of fraud) and kickstarted a multimillion

dollar franchise and extended universe

with solo films and spin-offs where

they play second fiddle to haunted dolls

and other objects.

In their latest venture, "The Conjuring:

The Devil Made Me Do It," it sees the two

take center stage once again as they try to

prove that a young man accused of murder

only did so at the behest of evil spirits.

The Reel Deal

The film begins in

slick and stylized fashion

as Ed (Wilson) and

Lorraine (Farmiga)

carry out an exorcism

on 8-year-old David

Glatzel (Julian

Hilliard) in early

1980s Connecticut.

With thick fog rolling

through the kitchen

and David doing his

best impression of a

Dedra

Cordle

human pretzel on the dining table to great

sound effect, they try to get the spirit to

leave the boy despite the physical and emotional

toll it is taking on their own bodies.

Try as hard as they might, this demon is

not leaving — until the boyfriend of David's

sister invites it into his own, that is.

Not believing that he is now host to an

evil entity (Ed collapsed after the exorcism

due to his heart problems and was not able

to explain that he saw the transference),

Arne Cheyenne Johnson (Ruairi O'Connor)

goes about his life none the wiser. But soon

odd things start to happen — a cereal box

falls to the floor, he starts to see visions,

and his once even temper becomes shorter

and shorter.

While helping his girlfriend Debbie

(Sarah Catherine Hook) do odd jobs around

the dog kennel where they work one day,

he "blacks out." When he finally comes to,

he is covered in blood and realizes that he

has stabbed business owner Bruno Sauls

(Ronnie Gene Blevins) to death.

Upon hearing the news, a newly awakened

Ed and his increasingly clairvoyant

wife Lorraine rush back to the town to try

to uncover how this happened. Unlike the

local law enforcement officials, the prosecuting

attorney and the international

media, they whole-heartedly believe Arne's

claim that the devil made him do it.

Rather than delve into a straight courtroom

drama with elements of Satanic

Panic, the film retraces the case to the

beginning when Ed and Lorraine first

heard about David's possession. Through

flashbacks, tight shots of dark and dank

quarters and a jump scare involving a

waterbed, they determine that someone

had placed a powerful curse on him, one

that would have made him kill anyone the

demon commanded. With that part of the

mystery solved, they have to figure out who

placed the curse on him, why, whether it

has truly transferred to Arne and how far

this curse-placer is willing to go in order to

get what they want.

As the eighth installment in the greater

Conjuring universe, "The Devil Made Me

See REEL DEAL, page 5
---
www.columbusmessenger.com

Dr. Bender 5K Classic

This year's 14th annual Dr. Bender 5K

Classic Race will be conducted as a hybrid

race. Those who wish to participate in person

can do so on the morning of July 17 at

Canal Winchester High School. A virtual

5K event will also be available for those

who are not able or choose not to participate

in the in-person race. The dates to run

the virtual race will be July 15-18. All inperson

registrants may be converted to virtual

if mandated by state or local guidelines

specific to COVID-19 cases prior to

July 17.

A longstanding community 5K run and

walk through the streets of Canal

Winchester, this year's hybrid race format

returns to the tradition of running for a

cause in person, despite the fact that some

may opt for a virtual race that offers social

distancing. The proceeds from registration

and sponsorships with this year's hybrid

race will directly benefit the boys and girls

cross country teams at Canal Winchester

High School. The alumni team challenge

(high school or college) will again be part of

the 5K for participants that are interested

in putting together a team of four runners

to compete against other alumni teams

within the race. Provide your team member

list at the registration tables the day of

the event. This challenge is for the in-person

race only. There will also be prizes for

the top three overall men's and women's

finishers for the in-person race as well as

REEL DEAL

Continued from page 4

Do It," ran a real risk of losing the appeal

that made the latter films so popular —

especially since it is based on a real-life

murder case and not just an alleged haunting.

But, like it or not, true crime is an

increasingly popular medium for theory

and story so in a sense it makes sense that

the creators wanted to pivot to one of Ed

and Lorraine's most controversial cases.

I'm not certain that will be a lasting

change in this universe, but it does open

the doors to explore more avenues in the

future should they so choose.

As in the case in the previous

age group prizes for men and women.

If allowed, there will be a post-race raffle

at the high school football field with

some additional prizes. Each participant

receives a raffle ticket. However, if

state/local officials do not allow this by the

day of the race, the raffle prizes will be

drawn on July 19 at 8 p.m. via Facebook

Live at the Dr. Bender 5K Classic page.

These prizes will be delivered to a local

winner and mailed to a non-local winner.

Cotton t-shirts with this year's race design

are guaranteed to participants who register

for the race by midnight on July 9.

Shirts will be mailed to virtual race participants

(week of July 19) and will be available

on the day of the race for in-person

participants.

Registration cost is $25 for the in-person

or the virtual 5K races. The 1-mile kids

fun run returns this year and costs $10.

The fun run starts at 8 a.m. and the 5K

race will follow at 8:30 a.m. Register at

www.drbender5k.com.

Lockbourne Council

Lockbourne Village Council meets the

second and fourth Mondays of each month

at 7 p.m. Council meets in-person at the

Lockbourne Historical Hall at 206 Vause

St., Lockbourne. The public may join the

meeting virtually through Microsoft

Teams. To join the meeting, go to the village

website at www.lockbourneohio.us

and click on the link to the meeting.

"Conjuring" films (and some of the spinoffs,

to be honest), the strength of this one

lies with the acting, especially with Wilson

and Farmiga. They once again give a fantastic

performance, one that carries the

film through some rough story patches,

stilted dialogue and questionable decisions

involving jump scares with waterbeds. We

former owners of said "beds" know all

about their evilness.

Grade: C+

Dedra Cordle is a Messenger staff writer

and columnist.

Strawberry time

June 13, 2021 - MESSENGER - PAGE 5

Messenger photo by Linda Dillman

Overcast skies and bouts of rain did not stop Gretchen Hann and three other vendors

from participating in Obetz's first Farmer's Market of the season on June 2.

The Obetz Farmers' Market is held on the first Wednesday of the month from June

to August from 4-7 p.m. The June 2 event included Hann's strawberries, homemade

baked goods, a stand offering wildflower and flavored honey, and a soy candle

maker. For information on the farm market call 614-491-4416.

Smarty-pants

W

N

D

L

O

G

I

C

A

L

F

A

Y

I

S

F

T

U

K

I

N

T

E

L

L

I

G

E

N

T

S

G

L

I

T

E

R

A

T

E

Z

Z

I

F

R

S

E

N

S

I

B

L

E

T

O

A

M

Q

O

A

P

O

L

Y

M

A

T

H

X

D

M

R

W

R

M

R

K

N

O

W

I

N

G

O

S

S

S

N

M

S

E

Z

A

H

D

E

V

I

T

P

E

C

R

E

P

K

L

I

U

J

P

E

D

U

C

A

T

E

D

D

N

Z

R

V

T

N

A

I

L

L

I

R

B

K

E

I

E

G

G

H

E

A

D

W

E

R

H

S

C

L

H

M

D

H

G

T

G

S

A

V

A

N

T

I

L

T

G

E

N

I

U

S

A

G

E

Y

I

T

L

I

B

P

F

L

R

T

F

A

P

R

A

H

S

S

K

I

B

O

U

B

S

C

H

O

L

A

R

L

Y

S

Y

S

L

B

R

A

I

N

I

A

C

G

M

I

J

Messenger Word Search

ABLE

ASTUTE

BRAINIAC

BRIGHT

BRILLIANT

CLEVER

EDUCATED

EGGHEAD

ERUDITE

GENIUS

GURU

INFORMED

INTELLIGENT

KNOWING

LEARNED

LITERATE

LOGICAL

PERCEPTIVE

POLYMATH

SAGE

SAVANT

SCHOLARLY

SENSIBLE

SHARP

SHREWD

SKILLED

SLICK

SMARTS

THINKER

WHIZ

Puzzle solution on page 10.
---
PAGE 6 - MESSENGER - June 13, 2021

www.columbusmessenger.com

SWACO notes trash increase, recycling decrease

By Linda Dillman

Staff Writer

The Solid Waste Authority's recent 2020

Community Impact Report is a mirror

reflecting the way COVID-19 hit every

aspect of daily life, such as a massive

increase in trash including cardboard shipping

boxes.

At the same time, communities across

the area–such as Canal Winchester, who

implemented a curbside recycling program

for the first time–are helping to divert

recyclables from the trash stream.

According to the annual report, during

the first months of the pandemic, SWACO

waste hauling partners experienced a 30

percent increase in trash set out for weekly

pick up.

However, recycling haulers did not

experience the same level of increase.

Forty percent of Franklin County's

waste stream is generated by residents,

families and other households, yet less

than half of the recyclables households

could recycle are captured.

In Franklin County, the most frequently

tossed-out items include food, cardboard,

paper towels and napkins, and magazines

and newspapers, which all could be diverted

from the landfill.

"Many residents don't know that more

than 75 percent of Franklin County's landfill

material has the potential to be reused,

recycled or composted, instead of simply

being landfilled, so there's work to be

done," according to the SWACO report. "In

response, throughout the year, the team at

SWACO worked with dozens of communities

and businesses to improve recycling

programs."

As a result of Canal Winchester's decision

to go with a recycling program through

their waste hauler, every city in Franklin

County now offers residents curbside recycle.

"While we may be the last to do so, we

did it at a time when we could get waste

and curbside recycling at a cost of less than

we were paying for just waste pickup

alone," said Canal Winchester Mayor Mike

Ebert.

Hamilton Township offers weekly curbside

recycling as part of their townshipwide

trash hauling contract.

SWACO is also working on reducing

food waste as one of the best opportunities

to increase redirection of material away

from the county landfill and reach the 75

percent diversion goal.

Along with members of the Central Ohio

Food Waste initiative, in 2020, SWACO

spent the year working on food waste solutions

identified in an initiative action plan,

such as resources for schools and a new

consumer education campaign, as well as

supporting local restaurants.

"While many schools, restaurants and

businesses were closed last year as a result

of the pandemic, SWACO spent the year

providing guidance for more sustainable

ways to function after re-openings," according

to the SWACO report, "and offering

businesses information on ow to implement

best practices for reducing waste and

improving recycling and composting."

SWACO gets grant to help reduce food waste

The Solid Waste Authority of Central

Ohio is one of three organizations that

received a grant from the U.S.

Environmental Protection Agency to support

sustainable materials management

projects in Ohio.

Sustainable materials management,

according to the U.S. EPA, is a systematic

approach to use and reuse materials

through a product's entire life cycle to minimize

environmental impacts, conserve

resources and reduce costs.

The U.S. EPA awarded a $60,000 grant

to SWACO in support of its work to reduce

food waste in the Columbus region.

Specifically, the grant will be used to measure

the baseline of food waste behaviors

and outcomes in a central Ohio community

and subsequently explore how the campaign

changes behaviors to reduce food

waste as well as the effectiveness of "Save

More Than Food," an awareness campaign

to educate consumers about food waste and

how to prevent it. SWACO launched the

campaign in September in partnership

with the 150 plus organizations and businesses

in central Ohio that make up the

Central Ohio Food Waste Initiative.

The EPA grant is the second national

recognition SWACO has received for its

work surrounding food waste diversion. In

October, the National Recycling Coalition

named SWACO as the "Outstanding

Recycling Organization for 2020" for outstanding

growth of programs and impacts

pertaining to food waste diversion.

"We believe the "Save More Than Food"

campaign will help people understand the

severity of the food waste problem in central

Ohio and encourage them to reduce

food waste in their own homes," said Ty

Marsh, SWACO's executive director. "But

the grant from the U.S. EPA will let us

know for certain what type of impact the

campaign has had."

SWACO is partnering with The Ohio

State University and the city of Upper

Arlington on this grant project.

OSU's research team conducted resident

surveys to find out if the campaign had an

impact on residents' views and behaviors

regarding food waste. The team will also

conduct a waste audit, where they'll examine

random samples of residential waste

and separate it into categories to determine

how much of it is food. OSU plans to compile

and share the results of the surveys

and waste audit by November, creating a

peer-reviewed manuscript for academic use

and likely hosting webinars aimed at the

consumer audience.

"We are excited for this partnership. It

will allow us to understand how efforts in

central Ohio can inform campaigns around

the country, and improve the sustainability

of our food system," said Professor Brian

Roe, OSU research lead.

Residents can learn more about the

grant and food waste diversion at

SaveMoreThanFood.org.

Plastics recycling expanded

The Solid Waste Authority of Central

Ohio and its partners at Rumpke Waste

and Recycling announced they are expanding

their plastics recycling program to

include polypropylene tubs and yogurt containers.

In recent years, central Ohio's residential

plastics recycling program has only

allowed for the recycling of plastic bottles

and jugs which feature a neck smaller than

their base. This recent announcement

expands the existing recycling program to

include a wide variety of plastic tubs such

as butter, cottage cheese, and sour cream

tubs, fruit, pudding, and applesauce cups

and all yogurt containers.

These items need to be empty and clean

before being they're put in the recycling

cart. Lids and labels can be left on but the

foil tops that sometimes come on yogurt

containers should be removed and not

recycled.

Like most businesses, recycling is commodities-based.

Taking care to recycle correctly

is an important act we can each

make to support the businesses which

make it possible for us to recycle our

unwanted materials. In order to expand

the plastics recycling program, Rumpke

has secured several long-term buyers and

users of recycled plastics. In addition to

securing end users, Rumpke is also investing

in new equipment and the necessary

workforce to separate and sort these materials

at its Material Recovery Facilities

(MRF).

For information visit RecycleRight.org.
---
www.columbusmessenger.com

RESIDENTS

Continued from page 1

Councilman Pat Lynch felt a comprehensive

plan for Canal Winchester would be one

of the best investments the city could make.

Resident Randy Stemen agreed with the

idea and urged council to fund the study.

"We've all seen towns overwhelmed by

warehouses and tuck traffic," Stemen said.

"We're talking about smart growth. There

are other things beside warehouses."

Kathleen Vasko moved to Canal Winchester

in 1978 and said she loves living in

the city, wants to preserve green space, and

is encouraged by the idea of a comprehensive

study to guide future growth.

"I've been here through a lot of changes,"

said Vasko. "Let's think about what we're

doing."

When asked about the appearance of vacant

space in warehouses throughout the

city, Haire said companies are leasing space

as fast as buildings are being constructed.

According to Haire, Canal Winchester is

situated in one of the fastest growing regions

in the Midwest.

"The vacancy rate for industrial properties

is less than five percent on a regional

basis," said Haire, "which is the lowest

recorded in the market. The amount of

space available is very limited. The hub of

economic growth is from Louisville, Ky., to

Columbus and probably will continue to be

the hub for years to come."

Other CW news

•Council held the first reading on an ordinance

amending the city charter that

would go before voters in November.

Council also discussed the possibility of creating

another charter ballot issue setting a

one-year residency requirement for elected officials

and debated the merits of language prohibiting

partisan endorsements for council.

Councilwoman Jill Amos felt residents

should be the ones to choose whether there

should be a year's residency requirement for

office and Councilman Will Bennett concurred.

"I, too, would be in favor of offering residency

requirements," said Bennett, "but I

prefer the residents decide that."

•A public hearing is set for June 21 at

6:30 p.m. following a council work session to

discuss the 2022 tax budget.

•The city received word from Columbia

Gas of Ohio that the company plans to file

an application with the Public Utilities Commission

of Ohio to raise distribution rates

and implement an alternative rate plan.

Columbia last filed a rate increase application

with the state over 10 years ago and

since 2008 said it made significant infrastructure

investments to benefit customers.

"…residents have paid for many of these

investments through items on the gas bill

know as riders," stated the company in a

May 28 letter. "In its rate case application,

Columbia will seek to recover more of these

costs through the fixed base distribution

portion of the bill. This shift will account for

a large portion of the rate charges requested

in Columbia's filing."

MadisonTownship

Police statistics

May crime statistics from the Madison

Township Police: 78 traffic stops, 24 parking,

12 assist/mutual aid, 5 assaults, 4 burglaries,

35 domestic complaints, 3 missing

persons, 2 narcotics, 8 suspicious cars, 35

suspicious persons, 28 suspicious

persons/vehicles, 13 larceny/thefts, 1 robbery,

3 fights, 1 sex offense, 6 animal complaints,

5 threats or harassment, 3

vandalism, 1 driving under the

influence/OVI, 4 fireworks complaints, 13

juvenile complaints, 40 property complaints,

7 accidents with injuries, 8 shots

fired in area, 8 hit skip accidents, and 14

property damage accidents.

Special Olympics

A local chapter of Special Olympics Ohio

formed in the Groveport/Canal Winchester

area. The mission of Special Olympics Ohio

is to provide year round sports training and

competition in a variety of Olympic type

sports for intellectually disabled individuals.

For information contact local coordinators

Penny and Cassandra Hilty at groveportspecialolympics@gmail.com

or at (614)

395-8992 or 395-6640.

Donations may be sent to Groveport Special

Olympics, P.O. Box 296, Groveport, OH

43125.

June 13, 2021 - MESSENGER - PAGE 7

Music in the Park

Canal Winchester's Music in the Park is

a free summer concert series held the third

Friday of June, and July from 6-9 p.m. in

Stradley Place, 30 S. High St. in downtown

Canal Winchester. The June 18 concert features

live music by Waterloo 5. There will

also be a variety of farm tractors on display.

CW Farmers' Market

The Canal Winchester Farmers' Market

will operate on Saturdays through Sept. 25

from 9 a.m. to noon. For information visit

www.thecwfm.com.

Moses-Mouser Eye Care

Dr. Joshua Morris is an Optometrist who grew

up in Bellville, Ohio. He completed his undergraduate

degree at the University of Akron, where

he graduated magna cum laude with honors.

Dr. Morris attended The Ohio State University

College of Optometry and graduated cum laude

with honors to receive his Doctor of Optometry Degree in May 2019. After

completing his studies, he was awarded the "Primary Vision Care Clinical

Excellence Award", in 2019.

Dr. Morris is a member of the American Optometric Association, the Ohio

Optometric Association, and The Ohio State Alumni Association. He is

excited to practice full scope optometry, diagnosing and treating a variety

of ocular disorders and diseases in patients of all ages, but has a special

interest in contact lenses and ocular disease.

On a personal note, Dr. Morris and his wife Tess, enjoy spending time with

their family, friends, and their Bernese Mountain dog Maverick, cheering

on The Ohio State Buckeyes, trying new foods, and exploring Columbus

breweries.

Q: What are floaters and what causes them?

A: Floaters are small dark shapes that move across your vision. They can appear

as dots, threads, squiggly lines, or even like cobwebs. Most floaters are caused

by normal changes in the eye. As you age, small strands of vitreous (gel-like fluid

that fills your eye) can clump together and cast a shadow on your retina (the

light-sensitive tissue at the back of the eye). Those shadows appear as floaters

that drift across your vision. You may notice floaters more when you look at a

bright background, like a computer screen or a blue sky.

Q: How often should someone with new

floaters get an eye exam?

A: Someone experiencing new floaters, a large increase in the number of floaters,

or flashing lights should see an eye care professional immediately. Sometimes

floaters have a more serious cause, including: infection, injury, inflammation,

bleeding, retinal tear or retinal detachment.

Someone with a few stable floaters should see an eye care professional at least

once a year for a comprehensive dilated eye exam.

Schedule your comprehensive eye exam

today with Dr. Morris

1600 Gateway Circle, Grove City, OH 43123 614-963-3820
---
PAGE 8 - MESSENGER - June 13, 2021

www.columbusmessenger.com
---
www.columbusmessenger.com

June 13, 2021 - MESSENGER - PAGE 9

CANAL WINCHESTER

HIGH SCHOOL

MADISON CHRISTIAN

HIGH SCHOOL

HARVET PREP

HIGH SCHOOL

Congratulations & Best Wishes to the

Class of 2021

Congrats to all of this year's hardworking graduates! Your commitment and dedication

have paid off, and today we celebrate your academic achievement.

We know you'll continue to work hard and accomplish great

things, and we hope the future holds success, happiness, good health and good fortune for

you. As you continue this milestone achievement, please be smart and enjoy the party without

drugs or alcohol. We care about your safety!

The Elected Officials and

Employees of Madison Township

Wish You The Best

CLASS OF 2021

Hats off to you,

GRADS!

telhio.org

"CONGRATULATIONS

CLASS OF 2021"

Much success in all your future

endeavors! Go Cruisers!

Make us proud!!

Marylee Bendig

580 Main St. Groveport, OH 43125

(614) 218-1097

A name you KNOW,

the name you TRUST
---
PAGE 10 - MESSENGER - June 13, 2021

Rugged rugby

Messenger photo by Pat Donahue

Fortress Obetz played host June 5 to the Rugby Ohio High

School State Championships. The championships crowned

champions in seven divisions for both boys and girls with

the Super Elite D1 Boys Final seeing St. Ignatius defeating

Moeller 22-8. Rugby Ohio President Chris Northup said that

Fortress Obetz will always be his choice for the state tournament

because it is built for rugby and has a rugby turf that

makes it the best place to play.

www.columbusmessenger.com

Lockbourne Air Force Base

According to "Crossroads of Liberty, a

Pictorial Tribute to

Lockbourne/Rickenbacker AFB-ANGB-

IAP," written by Robert M. Stroup II and

advised by military historian Donald C.

Porter, before Pearl Harbor was attacked

in 1941, plans were already underway to

construct an airfield near the village of

Lockbourne.

A site was surveyed on Oct. 23, 1941

that consisted of over 1,500 acres.

"On Jan. 2, 1942, authorization was

received to proceed with construction of

base facilities. On January 17, a directive

was issued approving the acquisition of 33

parcels of land of different sizes and various

ownerships, mostly in the form of

farmland. While some owners were reluctant

to part with ground, most recognized

that the nation was at war and this was a

necessary commitment. Due to the

urgency of war, land owners were given

just 30 days to relocate, a task made even

more difficult by winter weather," wrote

Stroup in "Crossroads of Liberty."

Construction began on facilities to first

accommodate training for glider pilots,

then B-17 pilots. Following the end of the

war, Lockbourne's mission shifted to support

of the fledgling Air Force, National

Guard and Reserve.

The Tuskegee Airmen were an important

part of the base's history in the late

1940s, as well as the Strategic Air

Command in later years. Lockbourne

nearly doubled in size in the 1950s due to

the Korean War, necessitating another

acquisition of local land.

In 1974, Lockbourne was renamed

Rickenbacker Air Force Base in honor of

Eddie Rickenbacker. Five years later, following

re-alignment recommendations at

the federal level, the base started closing

down after SAC operations were transferred

elsewhere. It officially closed in

1994, albeit with an active Ohio National

Guard and Naval Reserve presence still to

this day, and operations converted to commercial

transportation.

DOUG HENRY

Your Local Advertising Specialist

Contact me today to increase your business!

614.272-5422

doughenry@columbusmessenger.com

Groveport

Messenger

Reach over

22,000 Households

Puzzle solution

W

N

D

L

O

G

I

C

A

L

F

A

Y

I

S

F

T

U

K

I

N

T

E

L

L

I

G

E

N

T

S

G

L

I

T

E

R

A

T

E

Z

Z

I

F

R

S

E

N

S

I

B

L

E

T

O

A

M

Q

O

A

P

O

L

Y

M

A

T

H

X

D

M

R

W

R

M

R

K

N

O

W

I

N

G

O

S

S

S

N

M

S

E

Z

A

H

D

E

V

I

T

P

E

C

R

E

P

K

L

I

U

J

P

E

D

U

C

A

T

E

D

D

N

Z

R

V

T

N

A

I

L

L

I

R

B

K

E

I

E

G

G

H

E

A

D

W

E

R

H

S

C

L

H

M

D

H

G

T

G

S

A

V

A

N

T

I

L

T

G

E

N

I

U

S

A

G

E

Y

I

T

L

I

B

P

F

L

R

T

F

A

P

R

A

H

S

S

K

I

B

O

U

B

S

C

H

O

L

A

R

L

Y

S

Y

S

L

B

R

A

I

N

I

A

C

G

M

I

J
---
www.columbusmessenger.com

June 13, 2021 - MESSENGER - PAGE 11

Columbus Library offers "Culture Passes"

Columbus Metropolitan Library offers

its cardholders free admission to select central

Ohio cultural institutions.

The Culture Pass Program enables CML

customers to borrow passes just as they

would a book - using their library card.

This onetime pass, which must be checked

out in person, grants customers limited

free access to institutions that would otherwise

charge admission fees.

CML piloted the program in 2018, offering

culture passes to Franklin Park

Conservatory and the Wexner Center for

the Arts. Since then, CML has worked to

expand the number of participating organizations.

Newly added this month was the

Columbus Zoo and Aquarium.

"With the help of our community partners,

we're working to expose all central

Ohioans to the many renowned cultural

gems we are fortunate to have at our

doorstep," said CML Chief Community

Engagement Officer Donna Zuiderweg. "As

a public library, our role is to ensure equal

access to all, and that goes well beyond

Ohio Flags of Honor

The Ohio Flags of Honor Traveling

Memorial honors the men and women of

Ohio who have given their lives in service

to their country. Specifically, those fallen

in the wars in Afghanistan, Iraq and the

war on terrorism since Sept. 11, 2001

The Ohio Flags of Honor Traveling

Memorial event will be held July 2-5. The

opening ceremony is July 3 at 2 p.m. and

the closing ceremony is July 5 at 11:50 a.m.

Bertha is a lovely lady.

She's 7 years old, she is

good with kids, good

with dogs, and good

with cats. She loves

people. All she wants to

do is wave hello to

everyone she meets. If

you've been in search

of a new 72-pound best friend, then what are

you waiting for? Come meet Bertha. She is up

for adoption at the Franklin County Dog

Shelter.

FYI: www.franklincountydogs.com

Clever is a bit of a wallflower.

She is a 6-yearold

pit bull mix. This shy

yet charming girl is

searching for a patient

owner with a relaxed

lifestyle. Clever could

use gentle guidance to

help her out of her

shell. Treat her sweet and kind and she will

blossom. Adopt her from the Franklin County

Dog Shelter.

FYI: www.franklincountydogs.com

Dr. Honeydew is fondly called Doc. She is

mom to the Muppets, who are also ready to

books."

Current participating cultural organizations:

•Columbus Museum of Art: Passes

available at all CML locations

•Columbus Zoo and Aquarium: Passes

available at CML's Main Library and

Barnett, Driving Park, Franklinton,

Hilltop, Karl Road, Linden, Marion-

Franklin, Martin Luther King, Northern

Lights, Northside, Parsons, Shepard and

Whitehall branches

•Franklin Park Conservatory: Passes

available at CML's Driving Park, Martin

Luther King and Shepard branches

•National Veterans Memorial and

Museum: Passes available at CML's Main

Library and Barnett, Franklinton, Martin

Luther King and Parsons branches

•Ohio History Center: Passes available

at CML's Karl Road, Linden, Northern

Lights and Northside branches

•Pizzuti Collection of the Columbus

Museum of Art: Passes available at all

CML locations

The event will be held at Madison

Christian School, 3565 Bixby Road,

Groveport.

pets of the week

be adopted. Doc is a

gentle soul. She loves

hanging out by a sunny

window. She is shy and

can join a home with

adults or older teens

and a feline friend, given

the right introduction.

Doc is a beautiful tabby

with gorgeous markings that shine in the light

and is ready for a comfortable home where

she can be loved. Doc is up for adoption

through Friends for Life Animal Haven.

FYI: www.fflah.org

Daddy Warbucks is 2 years old. He ended

up in rescue because

his owner died. He loves

being held, brushed and

purrs like crazy when

you give him pets. He's

currently residing at the

Pet Supplies Plus at

Consumer Square West

Shopping Center. Stop

in the store if you'd like to meet him or contact

Colony Cats. Daddy Warbucks is neutered,

microchipped, and up to date on vaccines.

FYI: www.colonycats.org

•Wexner Center for the Arts: Passes

available at all CML locations.

The culture pass program offers each

participating institution the opportunity to

select which specific CML locations will

offer their passes based on the neighborhoods

and communities associated with

their outreach, diversity and inclusion

goals. Therefore, culture passes are only

available for in-person customer checkout

at the specific locations listed above.

Culture passes cannot be reserved like traditional

library items, however customers

can check their availability at columbuslibrary.org

by typing "culture pass" into the

catalog search bar.

Each participating organization offers

their passes to CML and its customers for

BETHANY LUTHERAN

CHURCH, LCMS

1000 Noe-Bixby Rd., Columbus, OH 43213

Telephone: 614-866-7755

bethanylutheranchurch@weebly.com

NEW SERVICE TIME: 10:00 a.m.

NEW Summer Drive-in Services:

The second Sunday of every month will be a

"DRIVE-IN" service.

You can remain in your car or bring lawn chairs

and sit in the lawn

OUTSIDE WORSHIP. BRING YOUR CHAIR,

LET THE LORD REPAIR

BRICE

UNITED METHODIST

CHURCH

3160 Brice Road, Brice, Ohio 43109

614-866-3025

Pastor Nick Shaw

Sunday Morning Worship Service - 10:30 a.m.

Messenger

South

free. CML does not purchase passes as it

does with traditional library materials.

Each organization sets its own rules for

how many individuals are covered under

its passes and on which days the passes

will be honored. Partner organizations also

set the number of passes allotted to each

designated CML location. Many of the participating

organizations remain closed — or

open in a limited capacity — due to the coronavirus

pandemic. Therefore, customers

who check out a culture pass are advised to

call the organization ahead of their visit for

hours and rules, or to redeem their pass for

a timed ticket.

Visit columbuslibrary.org for information.

EMMANUEL LUTHERAN

CHURCH

80 E. Markison Ave., Columbus, OH 43207

elclife.org

SUNDAY WORSHIP SERVICE

8:30 am & 11:00 am

BIBLE CLASS

Adult and Youth (K-5)

9:45 am

*11:00 service includes a radio broadcast

in our parking lot on FM 87.9

Please visit the

South/Canal Winchester

Church of your choice.

List your Worship

Services here.

For info. call 614-272-5422

Be a Part of Our Local Worship Guide

Our Worship Guide is geared toward celebrating faith and helping readers connect

with religious resources in our community. Make sure these readers know

how you can help with a presence in this very special section distributed to more

than 19,000 households in the South area.

Contact us today to secure your spot in our Worship Guide.

614.272.5422 • kathy@columbusmessenger.com
---
PAGE 12 - MESSENGER - June 13, 2021

Youth work program

High school students will have the

chance to gain first-hand work experience

and earn up to $1,300 this summer thanks

to a $1.4 million investment from Franklin

County.

The Franklin County Board of

Commissioners approved an agreement

between the Department of Job and Family

Services and three local nonprofits to provide

paid work readiness training through

the summer Ready 2 Earn program.

This partnership brings together

Franklin County JFS, the Columbus

Urban League, Godman Guild Association

and TECH CORPS Ohio to offer a combination

of project-based learning and traditional

work opportunities for 14- to 18-

year-olds this summer.

"Programs like Ready 2 Earn are generational

investments," said Deputy County

Administrator Joy Bivens, who oversees

the commissioners' health and human

services agencies. "It's not just about providing

an opportunity for young people to

earn money over one summer. It's about

equipping them to excel in college or their

career. This is one way we begin to close

the racial wealth gap and move families up

the economic ladder."

Ready 2 Earn partners will provide a

blend of in-person work readiness training

and interactive webinars. Youth will have

the chance to gain exposure to in-demand

career fields ranging from coding, cybersecurity

and robotics to health care and early

childhood education. Ready 2 Earn partners

will also offer a broad array of work

placements, from the Huntington Bank to

the Furniture Bank of Central Ohio, to Top

Golf or the Columbus Museum of Art.

All participating students — regardless

of whether they are in the project-based

learning track or more traditional work

placement track — will receive training covering

essential workplace behaviors such

as professionalism, teamwork and critical

thinking, along with resume writing tips

and interview etiquette. Participants will

receive a $1,000 stipend with the chance to

earn an additional $300 in incentives for

hitting program-specific targets.

Ready 2 Earn is just part of summer

programming for youth throughout

Franklin County that the commissioners

will be funding this year. The program also

supports the commissioners' Rise Together

Blueprint To Reduce Poverty in Franklin

County, which calls for providing "comprehensive

career readiness support for students

with exposure to work and integrated

skill-based learning opportunities."

Students and parents can learn more by

visiting:

•Columbus Urban League:

www.cul.org/initiatives/summer-youthprograms/

•Godman Guild: www.godmanguild.org/

•TECH CORPS: techcorps.org/

The Franklin County Department of Job

and Family Services provides timely public

assistance benefits and builds community

partnership through inclusion, responsiveness

and innovation.

Visit jfs.franklincountyohio.gov.

Project Taillight

Columbus City Attorney Zach Klein

announced an innovative public safety and

crime prevention program being piloted by

the City Attorney's Office and the Franklin

County Commissioners, in partnership

with Columbus State Community College,

which aims to help Columbus residents by

providing repair services for broken or

burned-out safety lights on their vehicle.

The program, Project Taillight, seeks to

improve community safety by connecting

low-income residents with proactive headlight,

taillight, license plate light, and/or

turn signal repair services for free.

"We know that non-violent crime is

often linked to poverty and lack of economic

opportunity, and the City Attorney's

Office remains committed to finding creative

ways to reduce these avoidable interactions

between neighbors and law enforcement,"

said Columbus City Attorney Zach

Klein. "Our hope is that this program will

help keep our neighbors safe and reduce

traffic violations for small issues like a broken

taillight or turn signal, giving police

officers even more time to focus on more

urgent, violent crime in our community."

The vehicle repairs are performed by

students enrolled in Columbus State

Community College's automotive technology

program. Over the past few months, the

pilot program has held soft-launch events

as partners work through operational

logistics of onsite repairs at the college and

processes for verifying eligibility and identifying

and ordering parts for repairs.

"Part of the mission of Columbus State

is to serve the community," said Ian

Andrews, assistant professor of engineering

and transportation technologies. "This

program, which assists needs-based car

owners with safety-related repairs, is a

modest way we can give back that appears

to have big impact for the folks coming

through the program."

The City Attorney's Office and Franklin

County Commissioners are working

through community organizations and

neighborhood groups to promote Project

Taillight, secure participants, verify eligibility

and schedule repairs with Columbus

State's program. Franklin County residents

in households with annual incomes

at or below 200 percent of the federal

poverty level are eligible to participate in

this program.

"Research shows there is an everincreasing

rise in residents facing financial

challenges, these challenges are exasperated

even further when our low-income

neighbors are disproportionality impacted

by non-moving traffic violations while driving

to places like school or work," said

Franklin County Commissioner John

O'Grady. "The Project Taillight pilot program

not only improves safety on our roads

but lifts-up those marginalized community

members that are negatively impacted by

these infractions and the criminal justice

system. Connecting those in need with free

lighting system repairs while providing

Columbus State Community College students

teaching and learning opportunities

is yet another win-win way Franklin

County stays committed to promoting

racial equity, inclusion and diversity and

eliminating racial disparities."

As a pilot program, Project Taillight is

currently scheduled to run through the end

of 2021. The $50,000 budget comes from

the U.S. Department of Justice's Office of

Justice Programs, Bureau of Justice

Assistance, Edward Byrne Memorial

Justice Assistance Grant (JAG) sub-award

from Franklin County Board of

Commissioners' Office of Justice Policy and

Programs, and a $25,000 contribution from

the Columbus Department of Public Safety

general fund.

To participate in the Project Taillight

program, residents must be pre-registered

through the Columbus City Attorney's

Office following the eligibility screening.

For more information, contact 614-702-

7462 or outreach@columbus.gov.

Dog license extension

Franklin County Auditor Michael

Stinziano announced an extension of the

dog licensing deadline. The new deadline,

based on COVID-19 relief passed by the

General Assembly, is July 1. This exten-

www.columbusmessenger.com

sion will allow dog owners more time to

purchase or renew a license without a

penalty.

"Your auditor's office wants to ensure

that everyone can get their dog license free

of penalty," Stinziano said. "Licensing your

dog is required by the state of Ohio, and I

want to make dog licensing easy and accessible

for all Franklin County residents

throughout the COVID-19 pandemic. One

goal since I took office as your Franklin

County Auditor has been to increase the

rate of licensed dogs and encourage responsible

pet ownership."

The 2020 licensing season saw 99,795

licensed dogs in Franklin County.

The cost to license a spayed or neutered

dog is $18 for one year, $54 for three years,

or $180 for a permanent license. For a nonspayed

or neutered dog, the cost is $35 for

one year, $105 for three years, or $350 for

a permanent license.

Dog licensing ensures that any lost dog

is returned quickly to their owners. Most

funds generated from dog licensing support

the Franklin County Dog Shelter and

Adoption Center.

Dog licenses can be purchased online at

doglicense.franklincountyohio.gov.

CLASSIFIED ADS

Deadlines: Groveport and West editions, Wednesdays at 5 p.m., • South/Canal Winchester, Grove City, Madison editions, Tuesdays at 5 p.m.

All editions by phone, Tuesdays at 5 p.m. • Service Directory, Tuesdays at 5 p.m.

INFORMATION

Are you limited by your

past experience? Find

out. BUY AND READ

Dianetics The Modern

Science of Mental Health

by L. Ron Hubbard. $25.

Call 614-221-5024 or

come to 1266 Dublin

Road, Columbus, Ohio

CEMETEERY LOTS

2 Grave Sites at Franklin

Hills Memory Gardens

with a bronze plate & a

granite plate & a vase unit

for each. 2 Vaults. Will sell

for 2010 price + transfer

fees. 614-775-1533

ASSOCIATION ADS

DENTAL INSURANCE

from Physicians Mutual

Insurance Company.

Coverage for 350 plus

procedures. Real dental

insurance - NOT just a

discount plan. Do not wait!

Call now! Get your FREE

Dental Information Kit with

all the details! 1-877-553-

1891

www.dental50plus.com/

macnet#6258

Become a Published

Author. We want to Read

Your Book! Dorrance

Publishing Trusted by

Authors Since 1920 Book

manuscript submissions

currently being reviewed.

Comprehensive Services:

Consultation, Production,

Promotion and Distribution.

Call for Your Free Author's

Guide 1-866-482-1576 or

visit http://dorranceinfo.

com/macnet

xCome & Get It!

COME AND GET IT

Deadlines are Tuesdays by 5 pm.

Call For Publication Schedule 614-272-5422

Need to Get Rid of Something Fast - Advertise It Here For FREE!

FREE Garden Straw for gardens or bedding. Call for appointment for pickup.

Circle S Farms, 9015 London-Groveport Road, Grove City, 43123

Grove City - 614-878-7980

New feature product FREE to you. Participate in a brief survey and see

it on Facebook. Facebook.com/new shower sleeve and write:

freehands@mail.com

Columbus

. Come and Get It! is a bi-weekly column that offers readers an opportunity to pass

along surplus building materials, furniture, electronic equipment, crafts, supplies,

appliances, plants or household goods to anybody who will come and get them - as

long as they're FREE. NO PETS! Just send us a brief note describing what you want to

get rid of, along with your name, address and phone number. Nonprofit organizations

are welcome to submit requests for donations of items.

Send information to The Columbus Messenger, Attention: Come and Get It, 3500

Sullivant Ave., Columbus, OH43204. Deadline is Tuesdays by 5 pm for following

Mondays publication. Messenger Newspapers is not responsible for any

complications that may occur. Please contact us when items are gone. 272-5422

Come & Get It!
---
www.columbusmessenger.com

June 13, 2021 - MESSENGER - PAGE 13

CLASSIFIED ADS

Deadlines: Groveport and West editions, Wednesdays at 5 p.m., • South/Canal Winchester, Grove City, Madison editions, Tuesdays at 5 p.m.

All editions by phone, Tuesdays at 5 p.m. • Service Directory, Tuesdays at 5 p.m.

xEmployment

NOW HIRING

J & P Caulking, Inc.

3858 Alum Creek Drive

Columbus, OH 43207

Caulkers, Pointers, Cleaners

Swing Stage Experience

Please Call

Ph. 614-491-0658

Email: jpcaulking3@hotmail.com

Hampton Inn & Suites

Canal Winchester

Immediate Openings Available:

Housekeeping, Maintenance,

Breakfast Attendant, PT Laundry,

PT Front Desk

Apply in Person:

Hampton Inn & Suites

700 W. Waterloo St.

Canal Winchester, Ohio 43110

NO PHONE CALLS PLEASE

DO YOU NEED

SEASONAL EMPLOYEES?

Call KATHY to ADVERTISE!

and reach over 40,000 homes in the

West & Grove City Messengers

614-272-5422

kathy@columbusmessenger.com

ASSOCIATION ADS

Train online to do medical

billing! Become a

Medical Office Professional

at CTI! Get trained

and certified to work in

months! 888-572-6790.

(M-F 8-6 ET)

ASSOCIATION ADS

AT&T Internet. Starting

at $40/month w/12-mo

agmt. 1 TB of data/mo.

Ask how to bundle &

SAVE! Geo & svc restrictions

apply. 1-888-796-

8850

ASSOCIATION ADS

The bathroom of your

dreams for as little as

$149/month! BCI Bath &

Shower. Many options

available. Quality

materials & professional

installation. Senior &

Military Diiscounts

Available. Limited Time

Offer - FREE virtual inhome

consultation now

and SAVE 15%! Call

Today! 1-877-540-2780

Donate your car to kids.

Your donation helps fund

the search for missing

children. Accepting trucks,

motorcycles & RV's too!

Fast free pickup - running

or not - 24 hr response -

maximum tax donation -

Call 888-515-3813

DISH TV $64.99 190

Channels + $14.95 high

speed internet. FREE installation,

Smart HD DVR

included. Free Voice Remote.

Some Restrictions

apply. Promo Expires

7/21/21. 1-833-872-2545

IMPORTANT

NOTICE

The following states: CA,

CT, FL, IA, IL, IN, KY,

LA, MD, ME, MI, MN,

NE, NC, NH, OH, OK,

SC, SD, TX, VT and WA

requires seller of certain

business opportunities to

register with each state

before selling. Call to

verify lawful registration

before you buy.

BE YOUR OWN BOSS!

INDEPENDENT

CONTRACTORS

WANTED

If you have a reliable

car and would like to

earn extra money,

then why not deliver?

• Deliver 1 or 2 days a week

• Flexible delivery hours

• Work close to home - often

in or near your neighborhood

CONTACT US

1-888-837-4342

www.thebag.com

• Deliver 7 days a week

• Delivery before dawn

• Work close to home - often

in or near your neighborhood

CONTACT US

614-461-8585

www.dispatch.com/delivery

ASSOCIATION ADS

GENERAC Standby Generators

provide backup

power during utility power

outages, so your home

and family stay safe and

comfortable. Prepare

now. Free 7-year extended

warranty ($695 value!).

Request a free

quote today! Call for additional

terms and conditions.

1-855-465-7624

The Generac PWRcell

solar plus battery storage

system. Save money,

reduce reliance on

grid, prepare for outages

& power your home. Full

installation services. $0

down financing option.

Request free no obligation

quote. Call 1-855-

270-3785

SELL YOUR ANTIQUE

OR CLASSIC CAR.

Advertise with us. You

choose where you want

to advertise. 800-450-

6631 visit macnetonline.

com for details.

Don't let the stairs limit

your mobility! Discover

the ideal solution for

anyone who struggles on

the stairs, is concerned

about a fall or wants to

regain access to their

entire home. Call

AmeriGlide today! 1-844-

317-5246

ASSOCIATION ADS

ATTENTION DIABETICS!

Save money on diabetic

supplies! Convenient

home shipping for

monitors, test strips,

insulin pumps, catheters &

more! To learn more, call

now! 877-810-0063

ATTENTION SENIORS:

The average funeral cost

is $9000+ Don't leave

your family to pay your

debts. State Approved,

Final Expense Life

Insurance Plans are now

avaiilable as low as $25 a

month. Hurry and call

before enrollment ends. 1-

877-761-1796. M-F 9am-

6pm EST

Employment

ASSOCIATION ADS

Wesley Financial Group,

LLC Timeshare Cancellation

Experts Over

$50,000,000 in timeshare

debt & fees cancelled in

2019. Get free

informational package &

learn how to get rid of

your timeshare! Free

consultations. Over 450

positive reviews. 888-965-

0363

Attention Active Duty &

Military Veterans! Begin a

new career & earn a

Degree at CTI! Online

Computer & Medical

training available for

Veterans & Families! To

learn more, cal 888-449-

1713.

HOME HEALTH AIDES

$13.00-$20.00 per hour

Choose your Schedule and Clients,

Benefits Available: Pay Advances,

Quarterly Bonuses, Paid Vacation,

401K w/matching, Medical/Dental/Legal

One year experience working for an employer

in caregiver role is preferred.

To apply, please visit v-angels.com

or text/call "career" to

614-80-ANGEL (802-6435)
---
PAGE 14 - MESSENGER - June 13, 2021

www.columbusmessenger.com

xEmployment

WANTED

SW CITY SCHOOLS

SCHOOL BUS DRIVERS

The South-Western City School

District is currently hiring drivers

for the 2020-2021 school year

We Will Train

Available positions are for substitute drivers

that can develop into "Regular" positions with

benefits. Interested individuals should submit

an application on our website at swcsd.us.

Follow the employment link. Applicants should

have an excellent driving record and must

submit to drug, alcohol, and background

screening. A high school diploma or equivalent

is required.

EOE

FREE

TRAINING

+

$1000 SIGN-ON BONUS

Kroger Pharmacy Warehouse

2nd and 3rd Shift

Positions Available

Scan for more details and

link to apply:

xAdult Care

A PRIVATE HOME

IS ACCEPTING NEW PATIENT

FOR ELDERLY CARE

I have years of exp. Refs., Hot Meals

Also furnish lots of things to make

patient feel comfortable.

Beautician & Foot Doctor available.

CALL BETTY FOR MORE INFO.

614-777-5850

ASSOCIATION ADS

Life Alert. One press of a

button sends help fast

24/7! At home and on

the go. Mobile Pendant

with GPS. Free first aid

kit (with subscription).

877-537-8817 Free brochure

Adult Care

ASSOCIATION ADS

Want Faster & Affordable

Internet? Get internet

service today with

Earthlink. Best internet &

WiFi Plans. Call us Today

to Get Started. Ask

about our specials! 866-

396-0515

ASSOCIATION ADS

Pest Control

Find Pest Control Experts

Near You! Don't let

pests overtake your

home. Protect your loved

ones! Call to find great

deals on Pest Control

Services - 833-872-0012

ASSOCIATION ADS

Eliminate gutter cleaning

forever! LeafFilter, the

most advanced debrisblocking

gutter protection.

Schedule a FREE LeafFilter

estimate today. 15% off

Entire Purchase. 10% Senior

& Military Discounts.

Call 1-855-791-1626

DISH TV $64.99 FOR 190

Channels + $14.95 High

Speed Internet. Free Installation,

Smart HD DVR

Included, Free Voice Remote.

Some restrictions

apply. Promo expires

7/21/21. 1-855-270-5098

HEARING AIDS!! Bogo

free! High-quality rechargeable

Nano hearing

aids priced 90% less

than competitors. Nearly

invisible! 45-day money

back guarantee! 833-

669-5806

Donate your car to kids!

Fast free pickup running

or not - 24 hour response.

Maximum tax

donation. Help find missing

kids! 877-831-1448

Directv Now. No Satellite.

$40/mo 65 Channels.

Stream news, live

events, sports & on demand

titles. No contract/

commitment. 1-866-825-

6523

DENTAL INSURANCE-

Physicians Mutual Insurance

Company. Covers

350 procedures. Real

insurance - not a discount

plan. Get your free

dental Info kit! 1-888-

623-3036 . www.dental50plus.com/58

#6258

Thinking about installing

a new shower? American

Standard makes it

easy. FREE design consulation.

Enjoy your

shower again! Call 1-

833-769-0995 today to

see how you can save

$1,000 on installation, or

visit www.newshowerdeal.com/mac

Employment

ASSOCIATION ADS

Attention oxygen therapy

users! Inogen One G4 is

capable of full 24/7 oxygen

delivery. Only 2.8

pounds. Free info kit.

Call 877-929-9587

Attention: If you or aloved

one worked around the

pesticide Roundup

(glyphosate) for at least 2

years and has been diagnosed

with non-Hodgkin's

lymphoma, you may be

entitled to compensation.

855-341-5793

Looking for auto insurance?

Find great deals

on the right auto insurance

to suit your needs.

Call today for a free

quote! 866-924-2397

GENERAC Standby

Generators provide

backup power during

power outages, so your

home & family stay safe &

comfortable. Prepare now.

FREE 7-yr extended

warranty $695 value!

Request a free quote

today. Call for terms &

conditions. 1-844-334-

8353.

Protect your home w/home

security monitored by

ADT. Starting at $27.99/

mo. Get free equipment

bundle including keypad,

motion sensor, wireless

door & windows sensors.

833-719-1073

BATH & SHOWER UP-

DATES in as little as

ONE DAY! Affordable

prices - No payments for

18 months! Lifetime warranty

& professional installs.

Senior & Military

Discounts available. Call

855-761-1725

HEARING AIDS!!

Buyone/get one FREE!

Nearly invisible, fully rechargeable

IN-EAR

NANO hearing aids

priced thousands less

than competitors! 45-day

trial! Call1-877-436-0234

EARN EXTRA

$$$ $$$

MONEY

The Advertising Department at the

Columbus Messenger Newspapers

is seeking a Salesperson.

No Experience Necessary.

Base salary plus commissions, auto allowance.

Seniors welcome to apply.

Please send your resume or call:

Doug Henry, Advertising Manager

Columbus Messenger Newspapers

3500 Sullivant Ave.

Columbus, Ohio 43204

614-272-5422

or

e-mail to doughenry@columbusmessenger.com

ASSOCIATION ADS

New authors wanted!

Page Publishing will help

self-publish your book.

Free author submission

kit! Limited offer! 866-

951-7214

HOME BREAK-INS take

less than 60 SECONDS.

Don't wait! Protect your

family, your home, your

assets NOW for as little as

70¢ a day! Call 866-409-

0308

Donate Your Car To

Veterans Today! Help and

Support our Veterans.

Fast - FREE pick up.

100% tax deductible. Call

1-800-245-0398

HughesNet Satellite Internet

- Finally, no hard

data limits! Call today for

speeds up to 25mbps as

low as $59.99/mo! $75

gift card, terms apply. 1-

844-863-4478

VIAGRA and CIALIS

USERS! 50 Generic pills

SPECIAL $99.00 FREE

Shipping! 100% guaranteed.

24/7 CALL NOW!

888-445-5928 Hablamos

Espanol

The Generac PWRcell, a

solar plus battery storage

system. SAVE money,

reduce your reliance on

the grid, prepare for power

outages and power

your home. Full installation

services available. $0

Down Financing Option.

Request a FREE, no obligation,

quote today. Call

1-855-900-2894

ASSOCIATION ADS

Wants to purchase minerals

and other oil and gas

interests. Send details to

P.O. Box 13557, Denver,

CO. 80201

ASSOCIATION ADS READY TO BUY, SELL

Elminate gutter cleaning OR RENT YOUR

forever! LeafFilter, most VACATION HOME OR

advanced debris-blocking

protection. Schedule Advertise it here and in

HUNTING CAMP?

Free LeafFilter Estimate neighboring publications.

today. 15% off We can help you. Contact

MACnet MEDIA @

Purchase. 10% Senior

& Military Discounts. Call 800-450-6631 or visit our

1-855-995-2490

site at MACnetOnline.

com

NEED IRS RELIEF

$10K-$125K+ Get Fresh VIAGRA & CIALIS! 60

Start or Forgiveness. pills for $99. 100 pills for

Call 1-844-431-4716 $150 FREE shipping.

Monday through Friday Money back guaranteed!

7am-5pm PST

1-844-596-4376
---
www.columbusmessenger.com

xPreschool/Daycare

June 13, 2021 - MESSENGER - PAGE 15

xClassified Services

INCREASE YOUR

FALL ENROLLMENT!

ADVERTISE YOUR

PRESCHOOL OR DAYCARE

in

The South/

Canal Winchester Messenger

For More Info, CALL Kathy

614-272-5444

Preschool/Daycare

ASSOCIATION ADS

Update your home with

beautiful new blinds &

shades. Free in-home

estimates make it

convenient to shop from

home. Professional

installation. Top quality -

Made in the USA. Free

consultation: 877-212-

7578. Ask about our

specials!

READER

ADVISORY

The National Trade Association

we belong to has

purchased the following

classifieds. Determining

the value of their service

or product is advised by

this publication. In order

to avoid misunderstandings,

some advertisers do

not offer "employment"

but rather supply the

readers with manuals, directories

and other materials

designed to help

their clients establish mail

order selling and other

businesses at home. Under

NO circumstance

should you send any

money in advance or give

the client your checking,

license ID or credit card

numbers. Also beware of

ads that claim to guarantee

loans regardless of

credit and note that if a

credit repair company

does business only over

the phone it's illegal to request

any money before

delivering its service. All

funds are based in US

dollars. Toll Free numbers

may or may not

reach Canada. Please

check with the Better

Business Bureau 614-

486-6336 or the Ohio Attorney

General's Consumer

Protection Section

614-466-4986 for more

information on the company

you are seeking to

do business with.

MISC. FOR SALE

Electric Wheel Chair, HD-

Edge, ex. cond. 2018

model, built for larger

person, very clean &

durable. Only used 9 mo.

$5000 obo, discount for

veterans. 614-864-6389

Carpet Installer has Entry

Level Carpet, good for

bdrm, flip houses, rentals,

etc. Also, other carpet

available. Free estimates.

Call or text 740-927-3504,

ask for Ray

Electric PowerWasher

w/attachments - $150 obo.

614-775-1533 lv msg

WANT TO BUY

BUYING VINYL RECORDS.

LPs and 45s - 1950-80s

Rock, Pop, Jazz, Soul.

614-831-0383

We Buy Cars & Trucks

$300-$3000.614-308-2626

We Buy Junk Cars &

Trucks. Highest Prices

Paid. 614-395-8775

WANTS TO Purchase

minerals and other oil &

gas interests. Send details

to: P.O. Box 13557,

Denver, CO 80201

WE BUY JUNK CARS

Call anytime 614-774-6797

VACATION RENTALS

Englewood, Florida

Palm Manor Resort

Within minutes of white

sand Gulf beaches,

world famous Tarpon

fishing, golf courses, restaurants/shopping,

Bush

Gardens. 2 BR 2 BA

condos with all ammenities,

weekly/monthly, visit

www.palmmanor.com

or call 1-800-848-8141

AIR CONDITIONING

AIR CONDITIONING

Complete System

Clean & Check

$49.95

7/4 A

Free Electronic Leak Testing

All Makes • All Models

45 Yrs. Exp. • Senior Discount

614-351-9025

BASEMENT

WATERPROOFING

Walker's Basement

Waterproofing. LLC

614-359-4353

BLACKTOP

SANTIAGO'S

Sealcoating & Services LLC

Quality Materials Used

SUMMER IS HERE!

Driveway Seal & Repair!

Top Seal Cracks!

Residential & Commercial

Mulching, Edging & Clean-ups

"Ask for whatever you need."

BBB Accredited-Fully Insured

7/4 A/M

Call or text for Free Est.

614-649-1200

AGM OHIO

ROOFING &

SEALCOATING

Free Estimates

Cell 614-512-1699

CARPET CLEANING

Any 5 areas ONLY $75

Powerwash $99 to $200.

614-805-1084

Specializing in Pet Odors

CARPET SALES

CARPET

Gray Saxony

270 sq.ft. - $299.00

6 lb Pad - $99.00

Phone or text Ray

740-927-3504

Delivery & Inst. avail.

CLEANING

Looking for Mrs. Clean?

For excellent cleaning serv

at reas. rates w/great refs,

dependable. 10% Senior

Disc. Free Est. Gwen

614-226-5229

INFORMATION

7/5 e/se

CONCRETE

EDDIE MOORE

CONSTRUCTION

Quality Concrete Work

Lt. Hauling & Room Add.,

Block Work & Excavation

Stamp Patios,

Bsmt. Wall Restoration

35 Yrs Exp - Lic & Ins.

Free Ests. 614-871-3834

AJ's Concrete,

Masonry

Good Work - Fair Prices

Block Foundations

Driveways • Sidewalks

Epoxy/Overlay Floors

Bonded-Ins. • Free Ests.

614-419-9932

www.hastingsnsons.com

Driveways & Extensions

Patio & Walkways,

Porches & Steps,

Garage/Basement Floors

Hot Tub/Shed Pads,

Stamped/colored concrete

Sealing of new &

existing concrete.

FREE ESTIMATES

Contact Adam

614-756-1754

hastingsandsons.

columbus @gmail.com

Buckeye City

Concrete & Excavating

* Concrete * Foundations

* Waterlines * Drains

*Catch Basins

614-749-2167

buckeyecityconcreteand

excavating@yahoo.com

INFORMATION

ONLY

$50.00

For This Ad In Our

South & Groveport

For Info Call

272-5422

INFORMATION

LOOK TO

THE PROFESSIONALS

IN OUR

SERVICE DIRECTORY

For Service

"That Is Out Of This World"

7/4 A

7/4 A/M

PEST

CONTROL

PEST

CONTROL

TERMITE &

PEST CONTROL

614-367-9000

TORCO®

TERMINATES

TERMITES

Locally Owned & Operated. Any Pest. Anytime.

$

50 00 OFF Service

Expires July 11, 2021

Free Termite Inspection

HAULING

DEAN'S HAULING

614-276-1958

HOME

IMPROVEMENTS

SINCE 1973

Phil Bolon Contr.

Windows & Siding

Decks, Kitchens, Baths

Room Additions,

Flooring, Roofing

Bsmt Waterproofing

Deal With Small Non-Pressure Co.

47 Yrs. Exp. - Refs. Avail.

Lic.-Bond-Ins.

7/4

A/M

Free Est. - Financing Avail.

Member BBB Of Cent. OH

O.C.I.E.B. ID #24273

614-419-3977

or 614-863-9912

C&JHandyman

Services LLC

Minor Plumbing

& Electric

Install Hot Water Tanks,

Dishwashers & Disposals

Also Fencing &

Interior/Exterior Painting

Free Est. ~ 18 Yrs. Exp.

CDC/EPA Approved Guidelines

614-284-2100

KLAUSMAN HOME

IMPROVEMENT

Siding-Windows-

Doors-Roofing-Soffit-

Fascia-Gutters-Trim

Earn FREE Seamless

Gutters with Siding Over

1000 Sq. Ft.

FREE Shutters with

Soffit & Trim

EPA Certified

Member of BBB

Financing Available

Over 20 yrs exp. • Free Est.

Licensed-Bonded-Insured

Owner & Operator

James 614-419-7500

5/23 A

6/13 A

HOME

MAINTENANCE

JOE'S HOME MAINT.

Home Repairs, Roofing,

Siding, Gutters, Soffits,

Misc. Int. Repairs

Int. Painting

Call Joe 614-778-1460

37 Years Exp.

HOME

REMODELING

Remodels/Room Additions

Roofing & Conctete

Free Estimates

614-419-5848

Handyman Remodeling

Over 35 yrs exp.

Larry 614-376-7006

LAWN CARE

The Lawn Barber

Cut, Trim, Blow away

Hedge Trimming, Edging

Garden Tilling

614-935-1466

Lawnmasters and

Landscaping

Give us a call for your

yards that need mowing,

Spring clean-up, weed

control, paver patios, etc.

Free Estimates

614-378-1237

LET US MAINTAIN

YOUR LAWN & GARDEN

FOR YOU

Summer, Spring,

Winter or Fall

WE DO IT ALL!!!!

Lawn Cuts, Edging,

Trees & Shrubs, Garden,

Mulching, Hauling,

Garden Pond &

Home Maint.

Free Ests. Low Rates

$20 & Up

Kevin - 614-905-3117

MOVING

Aaron Allen

Moving

Local Moving since 1956

Bonded and Insured

614-299-6683

614-263-0649

Celebrating

over 60 yrs

in business

Classified Services

7/4 A&M

PLUMBING

PLUMBING

CALHOUN

PLUMBING AND

BASEMENTS

We install sump pumps, perimeter

drains, french drains, as well as

repair and install plumbing.

Give us a call, we can do it all!

614-444-1712

MOWER REPAIR

LAWN MOWER DR.

"House Calls Only"

Overall Checkups

Oil Change & Filter,

Spark Plug &

Blades Sharpened

MINOR REPAIR

John

614-395-7909

johnellis0333@sbcglobal.net

PAINTING

Walker's Interior Painting

Free Est. 614-359-4353

A Job Well Done Again

A lic. General Contractor

Some Skilled Services

Incl: Painting • Stucco,

Repair•Carpentry•Exterior

Drainage & Home Maint.

Call Today! 614-235-1819

BudgetPro

"Budget Price

Professional Quality"

SUMMER SPECIAL

Int/Ext. Painting

Full Service

Painter Over 30 Yrs Exp.

Free Est. Reas Rates

Daniel 614-226-4221

AMOS PAINTING

Insterior/Exterior Painting

Powerwashing

Call Jim 614-323-7819

PLASTERING

5/23 A

Int/Ext Remodeling

FREE ESTIMATES

614-599-8683

DRYW

YWALL &

PLASTER

6/13

A&M

REPAIR

Textured Ceilings

614-551-6963

Residential/Commercial

BIA

6/20 A

PLUMBING

All About Drains & Plumb.

Will snake any sm drain

$125 + tax. 614-778-2584

CHRIS'

PLUMBING

"Plumbing & Drain Professional

That You Can Count On"

24 Hrs., 7 Days/Week

No Overtime Charges

24 Yrs. Exp. in Plumbing &

Drain Cleaning Field

Call For A Free Phone Estimate

$100.00 For Any Small Drain

614-622-4482

30% OFF with AD

POWERWASHING

MDB POWERWASH

We Specialize In Decks.

Clean, stain, reseal,

revitalize any deck.

Quality work at fair prices.

Guarantee All Work 3 Yrs.

25 Yrs Exp. Free Est.

614-327-9425

MRS. POWERWASH

Any house wash $149+tax

Single deck $69+tax

2 Tier deck $99+tax

Best Wash in Town

Over 45,000 washes

Ashley 614-771-3892

ROOFING

Robinson roofing & repairs

30 yrs. exp. Lifetime Cols.

resident. Lic./bonded/Ins.

Reas rates. Member of

BBB. Dennis Robinson

614-330-3087, 732-3100

TREE SERVICES

BURNS TREE SERVICE

Trimming, Removal &

Stump Grinding.

614-584-2164

Brewer & Sons Tree Service

• Tree Removal

• Tree Trimming 6/13

A&M

• Stump Grinding

• Bucket Truck Services

Best Prices • Same Day Service

614-878-2568

7/4 A

6/13 A

7/4 A&M
---
PAGE 16 - MESSENGER - June 13, 2021

www.columbusmessenger.com

CW's Howard ready for future academic challenges

By Linda Dillman

Staff Writer

Recent Canal Winchester High School

graduate and valedictorian Gabriella

Howard is following a career path she imagined

at a young age–to attend a top 10 university

following her secondary education.

This fall, Howard can check off that goal

when she enters the doors of Northwestern

University to pursue an undergraduate degree

in applied math and economics.

"My parents took me and my siblings on

many college visits to top colleges, such as

Harvard, Princeton, Vanderbilt, Northwestern,

and many others," said Howard. "When

we visited Northwestern, I fell in love with

everything about it. Also, Northwestern has

the only competitive applied math program

in the country that focuses on the social sciences,

called Mathematical Methods in the

Social Sciences. It only accepts 30 students

per year, and I was accepted."

Howard plans to attend graduate school

to further increase her expertise and envisions

a future in which she conducts Ph.D.

level research in academia or industry.

She is also a National Merit Finalist. The

top one percent of high school juniors taking

the PSAT entrance exam–an elite field

which includes Howard–earn National

Merit semi-finalist status.

Qualified students then apply to become

one of 2,500 finalists who receive a $2,500

"I had a great high school experience

at Canal Winchester. I made

countless memories, amazing

friends, and learned so much. I believe

these last four years have prepared

me for college and life after

college and I can't wait to see how

the rest of my life turns out."

- Gabriella Howard

scholarship. All totaled, Howard received

$18,500 in scholarships, including a 2021

Ohio Capital Conference Academic Scholarship,

Mu Alpha Theta Math Honor Society

Scholarship, Mabel Wagnalls Jones Scholarship,

South Central Power - Academic Excellence

Scholarship and Young

Entrepreneurs Program - YEP College

Scholarship.

Getting to this point in her young life was

a path filled with college-level educational

opportunities, participation in the high

school's Business Professionals of America

club, an agenda packed with sports competitions,

and community service.

"The main contribution that I made in

my community was through my and my siblings'

501(c)3 non-profit organization named

Pumpkins Helping People," stated Howard.

"For the past few years, we have sold fall

pumpkins through our website, www.pumpkinshelpingpeople.org,

and have donated all

of the money to the Canal Winchester Food

Pantry. We have raised over $8,500 for the

Canal Food Pantry since 2017."

Howard played soccer all four years of

high school, was on the varsity squad for

three years, and served as a captain her senior

year. She also played basketball and was

on the varsity track and field team her senior

year. Apart from sports, she was also involved

in multiple clubs.

While taking college classes at Columbus

State simultaneously during her high school

career, she was a member and president of

the college's Mu Alpha Theta Math Honor

society.

The class of 2021 valedictorian was

homeschooled until the sixth grade and attended

seventh grade part time at Canal

Winchester Middle School. From eighth

grade on, she attended district schools full

time and started taking college courses as a

high school freshman through the College

Credit Plus program.

"I had a great high school experience at

Canal Winchester. I made countless memories,

amazing friends, and learned so much,"

said Howard. "I believe these last four years

have prepared me for college and life after

college and I can't wait to see how the rest

of my life turns out."

GABRIELLA HOWARD

Our Pictorial Past

by Rick Palsgrove

Canal Winchester

Messenger

The canal in CW

Photo courtesy of the CW Area Historical Society

This is a photo from either the late 1890s or the early 1900s of the Ohio and Erie

Canal where it passed through downtown Canal Winchester. The High Street bridge

is visible in the center of the photo and a warehouse can be seen in the rear of the

photo. The towpath is at the left along with a canal boat.