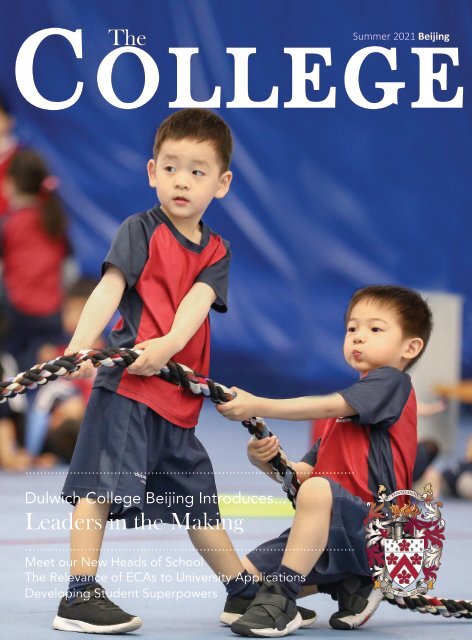 The College Magazine Summer 2021
Do you know the secret to free website traffic?
Use this trick to increase the number of new potential customers.
C The

OLLEGE

Summer 2021 Beijing

.........................................................................................

Dulwich College Beijing Introduces...

Leaders in the Making

.........................................................................................

Meet our New Heads of School

The Relevance of ECAs to University Applications

Developing Student Superpowers
---
Friends of Dulwich

Singing to Convey Love and Positivity across the Community

By Willa AuYeung and Haifeng Cao

Like singing? Yes!

Like choir singing? Yes, I guess so.

How about a cappella? Sounds cool! Never tried before… What's a cappella?

Originated from chapel style music in Italy, a cappella nowadays simply

refers to singing without instrumental accompaniment. By combining different

music style in its melody and harmonic structure, a cappella music gained an

incredible amount of popularity in recent decades.

In November 2020, the DCB's a cappella choir group was launched as many

families could not enjoy the usual holiday gatherings due to the pandemic. The

Friends of Dulwich (FoD) committee sensed the emotional needs of parents on

time, and offered a Cloud Choir project for parents to learn one song over 2-3

online and offline sessions, show love and support to each other, and spread

good holiday cheers. The recruitment for the Cloud Choir project started and

over 70 parents joined the group, including graduates parents and families

trapped abroad during the pandemic.

FoD invited AcaLab, a music organisation dedicated to promoting a cappella

music in China, to support the choir. After some heated discussions, parents

voted for their favourite songs: Pin Fan Zhi Lu and See you again. Mr Taylor

Hartwell, the co-founder and creative director of AcaLab, made new musical

arrangements to combine these two beautiful songs. After practising very

hard for a month, parents gradually found they enjoyed every note of the

song, and some even conquered more than two vocal parts. In this process,

parents felt that the atmosphere of trust and encouragement, along with the

joy of overcoming a challenge, mattered more than the singing itself. A video

production of 90 song videos covering 5 vocal parts from soprano to bass was

distributed to the DCB community in December as the warmest greetings for

the holiday season.

The a cappella choir was invited by FoD to join its Christmas Brunch & Carols

event. 23 parents rehearsed intensively for two weeks after work and children's

bedtime, faced frustrations and challenges together and finally presented

their first live performance at the Winter Garden of Indigo mall. Followed by

enthusiastic applause and cheers, the performance was incredibly successful

and touched the audience on the spot. A moment of pure joy in that warm

winter afternoon!

The DCB parent a cappella choir now rehearses every Friday. Choir members

enjoy systematic training (including breath, rhythm and intonation) to improve

their singing skills. There would be no more panic when holding several pages

long music notes. Parents sometimes even try impromptu singing conducted by

Mr Taylor. A new journey has begun, singing along with our songs!

Tremendous thanks to the parents who have participated and continued

participating in our a cappella choir. Your support and participation exemplifies

the Dulwich Values and makes our community shine with splendour!

beijing.dulwich.org
---
C O N T E N T S

Head of College Message ................................................ 2

Meet our New Heads of School .......................................... 4

Meet our New Head of Early Years ................................................... 4

Meet our New Head of Junior School ............................................... 6

Student Leadership ......................................................... 8

Leaders in the Making: the Early Years Student Council ................... 8

Hear from the Junior School House Captains! ................................ 10

Hear from the Junior School Student Council! ............................... 12

What does it Mean to be a Prefect while Preparing the IB? ............14

Live Worldwise ................................................................ 18

Sustainability at Heart .................................................................... 18

The Relevance of ECAs to University Applications ........................ 20

A Brief Guide to the World of University Applications .................... 24

Let's Meet Again in 15 Years! .......................................................... 26

Getting to Know the Duckers .......................................................... 28

Learn Worldwise .............................................................. 30

Developing Student Superpowers .................................................. 30

Educational Technology and Innovation ........................................ 32

Ranking 9 th at the Oxford University Computing Challenge! .......... 34

Learning Journey: from an Extended Essay to a Research Paper ... 36

Visual & Performing Arts .................................................. 36

Spotlights ........................................................................ 46

DCI News ......................................................................... 56

Cover: Dica W, Luis C (DCB Early Years students)

Back Cover: Kevin M, Michael L Jr, Yi Xin L, Sophie P, Mink L, Jessica T,

Jadelle C (DCB Class of 2021)

Editor, Design & Layout: Kalyana Marechal, Yadi Zhou

Editorial Support: Cecilia Liang

Contributors: Hetal Ascher, Willa AuYeung, Becky Bush, Haifeng Cao,

Laura Clark, Anthony Coles, Sally Corben, Jacob Dong, Stephen Ducker,

Tracey Francis, Jacinth Gurdon, Jeffrey Harmon, Yosef Karasik, Liz

Mawson, Joseph Stewart, Yvette Stride, Iyabo Tinubu, Bernd Widemann,

our colleagues across the DCI network and many of our wonderful

students and alumni.

Graphic Designer: Faye Zhang

Photography: Kidsphoto Studio, Dulwich College Beijing students and

teachers

The College Magazine (Beijing)

1
---
Head of College Message

As we are approaching the end

of the 2020/21 academic year,

it is my privilege to write a

short reflection.

The past year was indeed not a

usual one. It was full of unexpected

turns and challenges due to the

pandemic and its related restrictions.

However, when looking back, I feel

extremely proud of the achievements accomplished

by our DCB community and the resilience, positivity,

and teamwork that every member demonstrated

throughout the year.

In the latter half of the year, the College resumed

much of its pre-COVID activities, and campus life

sprang back with full force.

The new student leadership team was formed. In

Senior School, we appointed the new Prefect Team,

including four Head Prefects (Head Girl Dorothy A,

Head Boy Ethan Z, Deputy Head Girl Lauren Z, Deputy

Head Boy Isaac C) along with thirty-one other Student

Prefects, including five Heads of House. Junior School

and Early Years also have their Student Council leaders

and House Captains. The student leaders have been

proactively contributing to students' learning and

wellbeing at school, conveying the students voice

and reflecting their perspectives in a wide array of

activities including learning, ECAs, sustainability,

wellbeing, and community service. Student agency is

one of the key priorities for learning at DCB and we

are proud to see the various student-led programmes

flourishing across the College.

From January onwards, we have been

receiving great news from universities

around the world. Each of the eighty-one

students of Class of 2021 has determined

his/her own pathway in medicine, film

production, law, or a lifetime of academia,

and they continue to receive prestigious

offers from the most selective universities

and programmes across all disciplines. To

name but a few, at the time of writing, our

students have offers from KAIST (the Korea Advanced

Institute of Science and Technology), the University of

Cambridge, the University of Oxford, Imperial College

London, the University of St Andrews, Carnegie

Mellon University, the Rhode Island School of Design

and Art Center College of Design, Dartmouth College,

University College London, and UCLA. The list will

continue to grow through the summer as we receive

more updates.

We are particularly proud of our Class of 2021, not

only because of their exceptional offers, but also for

their incredible resolve, adaptability, and resilience as

they navigated through unprecedented challenges and

uncertainty over the past eighteen months. They have

demonstrated that they have the skills and confidence

to deal with their future world of study, work, and life.

2 beijing.dulwich.org
---
Head of College Message

At DCB, learning of courses stretches far beyond

the classroom, and academic excellence is not the

only objective our students strive for. When our

students returned onto campus, they were delighted

to have opportunities to engage with a vast array of

ECAs, sports, music and performing arts, visual arts,

and service projects. All three schools also had their

Sports Day with a wide range of sports activities and

residentials across Junior and Senior Schools have also

returned in this last term.

At DCB, we believe that learning is effective when

it's adapted and applied. In light of that learning

principle, we are now partnered with Amazon Web

Services to bring Artificial Intelligence technologies

into the curriculum to better support students to

apply their knowledge to solve real-world problems.

Looking ahead into the new academic year, DCB

has confirmed three strategic key priorities: Live

Worldwise, Community of Learners, and Learning

Pathways. Under each of these headlines, there is a

number of areas that we intend to focus on next year.

Our IB and IGCSE Visual Arts students put on

amazing exhibitions, displaying their artworks on and

off-campus. In the Chinese New Year celebrations,

spring student concerts, and the recent MADD

Around the World Festival, our students and teachers

put on professional performances and fully expressed

the DCB vibe. The ECA groups came up with creative

ideas for serving the community and promoting

sustainability such as the accessibility lift and the

greenhouse and garden designs.

We look forward to continuing our partnership

with the whole DCB community, working towards

our strategic priorities, to create another year of

exceptional experiences for our students.

Anthony Coles

Head of College

The College Magazine (Beijing)

3
---
Meet our New Heads of School

Meet our New Head of Early Years

By Tracey Francis

It is a great honour to have been chosen

to lead such a wonderful school, and to

be a part of the legacy of educational

excellence that is synonymous with Dulwich

College International. The confidence that the

DCB community has placed in me to build on

the great things already happening in Early

Years is humbling, and a privilege that I will

use to ground how I support and direct Early

Years as we move forward together.

My background

I am currently the Head of Pre-Prep in a school in Kuwait,

a role I have held for three years, and I am responsible for

the 3-7 year-old students. Prior to this, I was a Headteacher

and a Head of School both in London primary schools that

catered for 3-11 year-olds. In fact, most of my career has

been in London primary schools; but I worked, for a short

spell, in Oman. Additionally, I have been a programme

director for summer schools in Cambridge and Ascot in

England.

Why did you choose DCB?

Several things attracted me to the role. Foremost,

students come first, which is at the heart of all decisions

at DCB. I was fortunate to meet the student council. They

were full of energy, charming, and inquisitive. I also met

some parents who are actively involved and engaged in

school life. They are clearly keen to work in partnership

with the school. This is a great starting point for any

new Head. Furthermore, the staffing team and college

leadership are highly skilled, committed, and passionate

about providing a timeless education. Inheriting a great

team, who are full of ideas and have the capability to

make them happen, is appealing. Undeniably, I wanted

to be a part of this team! In addition, DCB invests in

high-quality resources and facilities to facilitate teaching

and an amazing extracurricular offer. Ultimately, it is

a wonderful opportunity for me to work in a phase of

education (Early Years) that I am at my happiest, in a wellrespected

organisation that is steeped in tradition and has

a renowned reputation.

My excitement about joining DCB

Since learning of my appointment, I have experienced

a mixture of emotions. Mostly excitement, but also

anticipation about the beginning of a new chapter in my

life, and everything that that entails. Children will encounter

similar feelings as they embark on one of the most

momentous events in a person's life. The

significance of a family's decision to join

the DCB community; to form a relationship

of trust with us to effectively nurture the

development of their child, will not be

taken for granted. My excitement includes a

desire to strive for the best for our students,

and to work with the community to create

something special.

My hopes for the future…

I believe that it is important for people

to stretch beyond what is comfortable, and

challenge themselves to do things that seem

just out of reach. With persistence and determination, this

is achievable. It is through trying our best and not giving up

that we can experience success. It is these successes that

help us to build character and the confidence to pursue

our dreams and aspirations.

I hope our community will work together to see children

as individuals, and recognise that diversity builds strength

and creativity. We can support the needs of all our students

so that they develop holistically. Our community will be

formed on firm foundations and positive relationships.

I hope we will instil confidence and a sense of self in our

students so that they believe in themselves; encouraging

them to demonstrate curiosity and to take risks in their

learning. Our provision and care should nurture them. It

should enable them to feel safe and secure, healthy and

happy.

People make a school unique, and the best schools

utilise this strength. A significant impact on children's

development will be the key people around them (staff,

peers, parents) modelling the expansion of knowledge and

skills, and supporting deeper understanding. Equipping our

community to authentically represent the school's values is

also vital. I would expect those values to be evident in not

only the children's behaviours, but a part of how their key

adults behave and reflected in our Early Years' systems.

I hope that through rich experiences and interactions,

our students will demonstrate high engagement and talk

enthusiastically about DCB now, but also in the future

when they look back fondly at being a part of DCB.

I look forward to getting to know the DCB community

and I am open to hearing from you. We will continue to

talk throughout my time at DCB.

4 beijing.dulwich.org
---
Onboarding with the Early Years Student Council

Meet our New Heads of School

Hello, my name is Ms Francis. I have been sent lots of wonderful questions that

I am going to do my best to answer, so let's get started!

2NS Do you think sustainability is important? What

will you do to make sure we are a green school?

Yes, of course. It is so important. I will need to find out

what is already happening at DCB. I understand that

sustainability is one of your key priorities, and you have

been working really hard for quite some time to be a green

school, so I would love to hear your ideas to find out what

your plan for the future is, what you would like our school

to look like in an ideal, dream scenario. How could we

become even more of a green school, and what would we

need to do? And I would love to support you with that.

2DD What languages can you speak? Can you speak

Chinese?

English, fluently. I can speak a few other languages but

just to a basic degree. I cannot speak Chinese and so I am

learning Mandarin to a basic level. I am going to need a lot

of help. So, will you help me when I arrive? I hope so!

2LW

What is your Chinese zodiac animal?

Let me give you a clue… I am a ssssssssnake.

2DS Are you excited to come to our school?

I am so excited to be joining DCB! I have been

building up the excitement over the last couple of months

and I really can't wait. I am looking forward to meeting you,

seeing the school, and to getting started.

2JS How can you stop bullying? What will you do if

you see this?

Bullying is never ok. It is important for us as a school to

have a shared understanding of what is acceptable and

what is not acceptable. For the most part, we make good

choices, and we get really good consequences. Sometimes,

we make wrong choices, and we have to understand there

is a knock-on. It is also important to have a fair system to

ensure that everyone is listened to and respected. If we

use our school values to support this process, then we all

understand how to treat each other with kindness.

1HG Do you have any children? What are their

names?

I have one daughter. Her name is Jadah. She is 25, and she

lives in the Netherlands.

The College Magazine (Beijing)

1LH What do you like to do at the weekends?

I live in a place called Kuwait, which is very quiet.

Currently, we have a curfew, so I don't get to do an awful

lot at the moment. When things are in a better place, I

enjoy reading and drawing. I love going to the beach, and

I really enjoy yoga and playing sports, for example, netball

or basketball.

1LC What was your favourite book when you were a

child?

I was a child quite a long time ago, but don't tell anyone.

So, it is hard for me to remember that far back but I would

probably say The Tiger Who Came to Tea.

1JB

What will your job be at our school?

I'm going to be the new Head of Early Years.

1CB Why did you want to become a Headteacher?

I have been a teacher for many years and really

enjoyed that role. Some of the schools I have worked for in

the past asked me to take on further responsibilities to help

them to improve. So, I felt lucky to have that opportunity.

That role has grown and evolved over the years and

eventually, I was asked to be a headteacher. Instead of just

getting to know and interact with the children in my class, I

can do that on a much bigger scale and get to know all the

children in the school and their parents. It is a great job!

When I wake up in the morning, I am excited to come to

school, and I feel lucky. I am even more excited to do this

job at your school.

I can't wait to meet you all in person. I hope you will

make me feel welcome because I will be new and will

need some support. I will need some kindness, and I am

sure you can all help me with that. I can't wait to meet

you in person and get to know you. Take care. Bye!

- Ms Francis

5
---
Meet our New Heads of School

Meet our New Head of Junior School

By Jacinth Gurdon

My name is Jacinth Gurdon, and I

am pleased to introduce myself

as the new Head of Junior School

at Dulwich College Beijing. I feel incredibly

privileged to join a school whose vision and

philosophy match seamlessly with my own.

With over 20 years of teaching experience,

including 15 years as a senior leader, I have

gained a BA (Hons) in Special Education from

Goucher College, a Masters of Education

in Elementary Reading and Literacy from

Walden University and an Education

Specialist degree in Educational Leadership

from National Louis University. I have lived

and worked in New York City, Florida and Dubai. The

large majority of my teaching career has been with Junior

School-aged children at a British international school,

notably leading on curriculum implementation and the

teaching and learning of the British National curriculum.

Over the years, I have held various leadership roles,

including a Reading Coach, Head of Learning Support and

Student Services and most recently, Deputy Head Teacher

of Academics. My plethora of experience has cemented my

firm belief in inclusion. I think that the primary emphasis

of a school is to develop every child's full potential. No

two children are the same, and each child has different

qualities that need to nurture and develop. Children with

one or more abilities developed to a level significantly

ahead of their year groups are no exception. Children learn

best when they have fun and are engaged in practical, reallife

activities, and this approach will continue.

I also believe that we are educating children for jobs

that are not created yet. Therefore, we need to teach

children hard skills (reading, writing and maths) alongside

soft skills. Soft skills are a combination of people skills,

social skills, communication skills, character traits,

attitudes, mindsets, and social and emotional intelligence

(teamwork, collaboration, flexibility, problem-solving,

innovation, perseverance and decision making). These

skills are transferable to any future jobs and will remain

indispensable.

My core values are kindness, respect, responsibility,

challenge and collaboration. These values match with

DCB's. Children are unique individuals who need a secure,

caring and stimulating atmosphere to grow and mature

emotionally, intellectually, physically and

socially. Under my leadership, I will ensure

that DCB Junior School continues to support

all children to meet their fullest potential by

providing a safe environment that promotes

risk-taking, collaboration and thinking

outside of the box.

I fully recognise the impact that fostering

strong parental partnerships plays in

students achievement and wellbeing.

Parental engagement is one of the critical

elements of an outstanding school, and I see

this as part and parcel of school life. I believe

that strong relations with parents and the

wider community are vital in ensuring that

children are supported as they move through the school.

To that end, I celebrate the home-school partnership. I

feel strongly that it is essential for the Head to be visible

around the school. A smile is a perfect way to start each

day, and I relish the opportunity to meet and greet children

and parents at the gate each morning.

With a passion for educational excellence and an

unwavering determination to see the best in all children,

I will drive and maintain positive change, motivate and

inspire others to improve in their practice while working

toward a shared child-centred vision of global citizenship

for all. I am excited to provide a new perspective to the

Junior School, ensuring DCB maintains its place as a

global leader in providing a world-class education. I will

work closely with other schools to guarantee a smooth

transition as children move through the school.

Outside of school, I love to travel and experience

different cultures, primarily through food. I am a big foodie

and live by the saying, "I'll try anything once (most of the

times)." Since being grounded due to COVID-19, I have had

no other option than to rely on the Discovery Chanel and

National Geographic to fulfil my desire for travel. While

it is not the same experience, this has satisfied the void

until the world is open again for global travel. I am thrilled

about relocating to Beijing and cannot wait to discover and

explore my new home city and country.

I am delighted to be working together with students,

staff, parents and everyone else involved with Dulwich

College Beijing for all the children's success, achievement

and welfare. I look forward to seeing you in school.

6 beijing.dulwich.org
---
Meet our New Heads of School

Onboarding with the Junior School Student Council

Hello, I'm Ms Gurdon. Thank you to the Student Council for sending through some

thought-provoking questions. I look forward to meeting you all.

3CE Is there anything you are feeling worried about

as you are moving to a new country and school?

I am feeling slightly worried about the weather. I have lived

in warm countries for the past 18 years. I know Beijing gets

really cold, so slightly worried about that. I do not have any

worries about the school. I have had a very warm welcome,

and I'm sure that will continue once I get to the school.

3BC

6JL

What is your favourite food? Do you like Beijing

food?

I do love Chinese food very much. Especially the spicy

ones. I love spicy food. And I am looking forward to tasting

the specific foods that are native to Beijing.

3IT

6SS

What will you do differently in Junior School as

the Head of School?

I know the past Head of Junior School has been there for

many years. I've heard some amazing things about the

school and about you. I am looking forward to carrying on

all of the Dulwich traditions and maintain an outstanding

education. Students voice is extremely important to me, so

I look forward to hearing from you what you would like me

to do differently as the new Head of Junior School.

3VT

6CL

What is your favourite thing to do? What do you

do at the weekends?

I like to just relax. I like to take most weekends to maybe

take a long walk, to read a book, to catch up on emails, to

catch up on conversations with family members. Just spend

time with myself and my family.

4NC What was your favourite subject at school?

My favourite subject at school was, and still is,

maths. Why? Because 1 + 1 always equals 2; there is always

a right answer and a wrong answer. And there's always a

formula or some easy tricks to do it. It's straightforward

and not very complicated.

4NC Can we have more visits to places out of school?

There are so many places we can now visit virtually

without leaving the school building! So you will absolutely

be able to experience outside of the classroom. Maybe

actually visiting these places, but for sure, virtually.

The College Magazine (Beijing)

4NH

5TR

What brings you to DCB and have you been to

Beijing before? What are you most excited for?

I have not been to Beijing, so I am very much looking

forward to visiting but, more importantly, living and

exploring Beijing and the surrounding areas. Dulwich has

an amazing reputation throughout the world. And it also

had the same educational ethos as I do. I am most excited

to meet you - the children.

4NH What has been your best teaching experience?

In 2019, I was given the opportunity to travel to

Senegal with other teachers, parents and students to

build a school. We got to not only build a school from

scratch, but also stayed with a local family in their house,

learning different traditions and different customs, working

alongside the students who would then go to that school.

5JB Are you strict?

I would say that I am firm but fair, and definitely

consistent in my approach. I also have extremely high

expectations of the staff, of the students, but especially of

myself.

4NH How many languages do you speak?

Fluently, only English. However, being in Dubai for

many years, I have picked up some Arabic phrases, and my

hope is to pick up some Mandarin phrases along the way.

4NH What do you expect from us?

I have heard some wonderful things about the

students at DCB. I expect to see all of the amazing things

that I've heard.

4NH As a female coming into the school in a

leadership position, what are your views on

feminism and how will you show this at school?

I think I'm more of a humanist. I believe in equality for all.

Regardless of gender, age, religion, or culture, everyone

should be treated fairly and equally.

4NH If you were a colour, what colour would you be

and why?

I would choose yellow. Yellow is the colour of sunshine. It's

daylight, it's bright and it makes people happy.

7
---
Student Leadership

Leaders in the Making: the Early Years Student Council

By Annika M and Tina Q

As the College Links Prefect and the Communication

and Language Prefect for this academic year, we have

the great privilege of working with students and leaders

from different key stages across the school. The strong

student-to-student bond facilitated across the student

body is evident and we hope that this bond continues

to strengthen and grow in the upcoming years. In

particular, the student leaders we have worked with

this past year have continually impressed us with their

strong interpersonal skills, teamwork and enthusiasm for

contributing to the Dulwich community.

The Early Years Student Council, with whom we have

had the pleasure of working on several projects, is no

exception. It was evident that the Early Years Student

Council representatives were enthusiastic to participate

in the activities they were tasked to complete. When

faced with difficulties or adversities, they were quick to

understand their mistakes and correct them. When asked

to complete a task that was outside of their comfort zone,

they persevered and produced admirable work.

All in all, Student Leadership is an integral part of any

student community. It gives students an opportunity to

become more engaged in the overall community at school,

incentivizing them to make more meaningful contributions

and allowing them to achieve a more positive, caring and

equitable school climate.

The qualities that the Early Years students gain from

such leadership opportunities are extremely important,

and we are hopeful that when they progress through the

years, they utilise their passion and skill sets to further

enrich the Dulwich community.

The Early Years Student Council consists of members

from Year 1 and Year 2, with the council members changing

every term.

Throughout the year, the primary goals of the Early

Years Student Council were to make school a better place

as well as to give students a voice. They achieved their

goals through various projects such as campaigning for

International Women Day, helping to contribute with

proposals for the FoD Enrichment Funding for the area

outside the Early Years' classrooms, and coming up with

ideas of how to repurpose the ice-skating rink. They also

interviewed the new Head of Early Years and discussed

their curriculum next year.

The Early Years Student Council members from...

1CB

1HG

8 beijing.dulwich.org
---
Student Leadership

1JB

1LC

1LH

2DD

2DS

2JS

2LW

2NS

The College Magazine (Beijing)

9
---
Student Leadership

Hear from the Junior School HOUSE Captains!

Alleyn - Estelle, Ran, Zoe and Savanna

Johnson - Tiger, Jonathan, Lily and Colin

Soong – Sarah, Alan, Circle and Jessica

Owens – Aaron, Ronnie, Vicky and Nicole

Wodehouse - Poppy, Marcus, Isla and Sophia

Please briefly introduce your role as a HOUSE Captain.

Alleyn: We do lunch duty every week, cheer on our team,

collect House points every Friday and set up Early Years

events. As House Captains, we help other students in the

school, not only those in our House. Our job is to be role

models, and to help other students in everything they do.

Johnson: We also help teachers get everything ready and

set up for any exciting events that will take place. We have

helped with the Early Years' Teddy Bear Gymnastics and

Sports Day. We help Johnson discover their talents and

unite them altogether.

Soong: Part of our role is that we have to sacrifice our rest

time in order to do our duties which include mask duty and

bridge duty. We aim to enjoy our last year in Junior School

by making other people's year better.

Owens: We make our House a better one and make sure

everyone in this House is involved in any group work.

Other than the duties, an important part is to entertain

and inspire every member in this House when doing

Housework. We'll make Owens more united and support

each other.

Wodehouse: We help with House events, collect House

points, and help organise our House. We sacrifice our time

to do our bridge duties, making sure people are being safe

and wearing masks, and we collect trophies when we win

House events. We love contributing to DCB, especially

when we are contributing to Wodehouse.

What was the most fun part of being in the House team?

Alleyn: Seeing the smiles on the little kids faces as we go to

collect the trophies that they helped win.

Johnson: The fun part is when we help out with fun

activities and help the younger kids with their classes!

Soong: Helping out Early Years activities such as Teddy Bear

Gymnastics, and Early Years Sports Day. One of the best

parts is when your House wins an event and you go up on

stage and hold the trophy high above your head.

Owens: If your House wins a House event, the House

Captain will go down and receive the trophy, and it will

have a House-coloured ribbon tied around it.

Wodehouse: We love to help others when they have hard

times. Seeing Wodehouse have fun inspires us to keep

going and give back to our house.

What have you learnt from this experience?

Alleyn: I learnt that House Captain is actually a huge role in

Junior School, and we need to be very responsible so that

we could help our House become better.

Johnson: This experience had made our year challenging

especially when COVID struck. A House Captain is a big role

and just the tiniest mistakes can mess up a big thing, so

this year, we had to be extra cautious about everything.

Soong: How to apply the Dulwich Values in real life.

Respect, in respecting the teachers you work with.

Responsibility, in wearing your House kit and remembering

the exact dates of events. Open-Mindedness: if a child is

different from the rest, you have to accept them for who

they are. Confidence, when we got elected, we had to

speak with confidence. Resilience, when our house lost,

Kindness, we had to be kind even if a kid was mean to us.

Integrity, when our friends did something bad, we had to

10 beijing.dulwich.org
---
Student Leadership

be a role model and tell the teachers.

Owens: We have learned how we can lead the group and

improve ourselves, also to work as a team and learn from

other people.

Wodehouse: We have learnt more about leadership, and

that teamwork can be possible even with a large group of

people. In Wodehouse, we proved that we can trust each

other. We aim to set an outstanding example to the whole

Junior School and the younger students in Early Years.

What was the biggest challenge you encountered?

Alleyn: The biggest challenge we've encountered was

within the House events. Everyone tried very hard and

contributed a lot to Alleyn, but sometimes, other Houses

did much better.

Johnson: The biggest challenge to me was to keep

everyone on the right track, and not to wander around and

do nothing that will contribute to our House.

Soong: The biggest challenge was that we had to set an

example for the Junior school, also doing the bridge duty

because a lot of students didn't like to put their masks on,

so we had to persuade them to do so. But we all completed

it and proved that we can complete different challenges no

matter how hard they are.

Owens: The biggest challenge I encountered was always

being the role model and organising certain activities and

helping the Early Years. Leaders become great, not because

of their power, but because of the way they empower

other people. That's what we all desire.

Wodehouse: The biggest challenge is attempting to get

everyone organised and being where they should be. It

also hurts to see people from our House sad because we

didn't win a House event.

Explain one of the most memorable House events you

took part in.

Alleyn: The most memorable House event for us was

this year's House Colour War themed Halloween. It was

exciting and made our heart race. The Spooky Obstacle

Race was a blast, Pumpkin Toss was extremely fun, but the

most fun of all was Capture the Bat, being all those roles

was exhilarating.

Johnson: The most memorable House event was the

House Game-a-Thon last year. This was great fun because

we got to play quizzes and games and learn the history of

games. You got to show off your knowledge of the different

varieties of games throughout the House event.

Soong: Our most memorable event was House Gamea-Thon

because it was one of the most unique and

memorable events in our four years of Junior School. It

included a variety of games including Pac-Man, Mario Kart

and Just Dance. There was also a great quiz to test our

knowledge on games.

The College Magazine (Beijing)

Owens: The most memorable House event was

House Verse Speaking because that day, all the Owens

competitors competed and proved that Owens could

achieve everything.

Wodehouse: We loved all the House events from Colour

War to Go Green for Your House. Our most memorable

House event is definitely Tour'd Four. After many losses,

and close hits with other House events, we finally earned a

well-deserved victory with Tour'd Four.

What is unique about your House?

Alleyn can be unique in many ways. We have been quite

successful this year as we won four House competitions.

We feel like our House has contributed a lot and we, as

House Captains, feel very proud to be part of this family. All

the year groups have taken part in this run.

Johnson is unique in every way. Everyone respects the

school and makes the House even better by just being

themselves. They all contributed and participated greatly

in the House events that took place this year.

Soong is unique in several ways. We win our own

challenges and challenge ourselves to a higher level.

We always try our best and help each other when other

students are struggling. We show a lot of Dulwich Values

and teamwork. Although we don't win every single event,

we try our best at everything.

Owens might not be winning everything, but we always

improve ourselves and we will become better. Our House

is also unique in how we work together and try to make up

for the previous mistakes.

Wodehouse hasn't won every House event this year, but

all of us have talents, including running, swimming and

football, basketball, and dodgeball. We all encourage

each other to make the House better. Our House founder

P.G. Wodehouse has left us with a great House, lots of

fascinating stories and great people that later joined. Go,

Wodehouse!

11
---
Student Leadership

Hear from the Junior School

Student Council!

Please briefly introduce your role as STUCO?

Chelsea Z: The Student Council is a hugely important role

to enable DCB to have the best possible environment for

us, children, to work and learn in.

Elsa W: It has been my first and amazing year in STUCO.

The role means representing your year group.

Kaden Y: As a part of the Student Council, we represent

Junior School. We get to hear great opinions from students

on how to make Junior School better.

Jay Z: As a student councillor, we represent the Junior

School student body, do surveys and organise activities.

Julie Z: Student Council is a very important role at school.

We help to do surveys and help the teachers to sort

things out. We also represent the students from our year

group to give advice and help the school to be a better

place.

12 beijing.dulwich.org
---
Student Leadership

What are some of your goals for this year? Have you

achieved them?

Megan K: One goal is to be confident, and I achieved it

because I wasn't nervous when I had to go on stage.

Isa W: One of the goals I had for this year was to be more

confident in presenting information. My voice used to be

very wobbly when I spoke on stage in an assembly. After

the experience with Student Council, I have become more

confident. Now, my voice is very strong!

Chelsea Z: One of the most important goals this year is to

make the students voice to be heard. To achieve this, we

did lots of surveys. The topics included: food, the Friends

Shop, questions to the Head of Junior School... As a result,

we got some valuable suggestions, we asked the school for

some further improvements and everyone is happy.

Kelly Z: We have solved lots of food concerns and toilet

problems this year. For food, many students have been

wanting better food and after a survey, we and Sodexo

managed to provide a better food choice to the school.

When we found out that the toilet was unhygienic, we

made a video to inform the whole school about the

problem.

Kaden Y: My goal was to make some good changes to

Junior School. Yes, I have achieved it. In our project to

improve the snacks, I have seen a decrease in food left in

our snack box.

Andy Q: One of my goals is to make the school better and

the Student Council and I have achieved it. We made the

food better, the school environment better and the toilet

better.

Jay Z: My goal was to make Junior School a little bit better

than the previous year. I feel I have achieved that goal

because as a student councillor, we asked Mr Nichol to add

more toys in the sandpit, another entrance in the maze

and to include juice day and pizza day at the canteen.

What was the biggest challenge you encountered?

Irene W: My biggest challenge was to go on stage, and to

remember all the lines 30 minutes before.

Eileen W: The biggest challenge I encountered was to have

the responsibility for things and people.

Piers W: To make speeches.

Gavin L: The biggest challenge I have faced as a student

councillor was the responsibility I had to take, such as

doing surveys and getting the results to Ms Tinubu on time

and getting the answers correct. Also, to have the courage

to face everyone in the class or in the theatre.

Eleanor W: To speak out to the Junior School and doing

surveys in classes.

Mike P: I think the biggest challenge I have faced was when

we had to stand on the stage and perform multiple times

so we could make the school better, but I have done very

well in the performances. We had to learn difficult lines

and say them aloud to the whole Junior School.

The College Magazine (Beijing)

Julie Z: My biggest challenge was actually doing all the

steps and being a part of Student Council because I have

competed against lots of really strong students. Finally, I

got in and also handed the video and script on time. It was

challenging because I also had lots of other things to do at

that time.

What was the most fun part of being a part of the Junior

School STUCO?

Megan K: The most fun part of being a student councillor

is when you get to do things like the surveys, and toilet

video scripts.

Isa W: It is fun going back and seeing the big change I have

made to the school. All the hard work paid off!

Gavin L: The best part of Student Council must be the trips

and the extra things. Meeting with the Head of College

Mr Coles is also one of them. Every year, I enjoy being a

student councillor.

Elsa W: To be on the TVs around the school.

Kelly Z: I really liked giving out all the surveys, where we

could find out the students' opinions on different topics. It

was also very enjoyable to make the Captain-Clean-a-Lot

script where we could act out different parts.

Kaden Y: It is acting in the toilet project. Even though I had

a challenge stepping in for a sick councillor, I still had a lot

of fun acting it and also watching the video.

Jay Z: The most fun part was making new friends and

announcing upcoming events.

Julie Z: It was making new friends and meeting new

people.

What have you learnt from this experience?

Irene W: You need to be brave all the time!!

Eileen W: I have learned about public speaking by

presenting in the assembly in front of the whole Junior

School.

Gavin L: I have learned to have the confidence to speak up

on stage, take responsibility for my actions, and to attend

meetings on Wednesdays.

Eleanor W: I have learnt to be responsible this year by

doing meetings and bringing the papers and things that I

needed, and remember lines when I needed to talk to the

whole Junior School. I have also built up my confidence by

speaking in public.

Mike P: I learnt how to be responsible and confident.

Julie Z: I have learnt to be more confident and have a go

at anything, to never give up and to show more resilience.

13
---
Student Leadership

Class of 2022, What does it Mean

to be a Prefect

while Preparing the IB?

By Ella R

Being a Prefect gives pride to students who want to make an active change in our school community,

as well as a facilitated route to achieving our goals. This collection of quotes from each Prefect across

every category humorously and honestly represents the incredibly impressive and diverse leaders of

our student body. Together, we aim to continue our community's path towards success, and ensure a

safe, fun and brilliant learning environment filled with opportunities for all types of students.

Prefect Leaders

Dorothy A (Head Girl)

Ethan Z (Head Boy)

"Lunch duty - the Prefect team's

biggest challenge."

"Best dressed member!"

Lauren Z (Deputy Head Girl &

Sustainability Prefect)

"An endless list of projects and

goals."

Isaac C (Deputy Head Boy &

Community Service Prefect)

"We host expensive events, but

it's for a good cause."

14 beijing.dulwich.org
---
Student Leadership

Heads of

HOUSE

Jason C (Soong)

"We find ourselves

very funny."

Helena Z (Alleyn)

"Thank you for reading our

zillion Teams announcements

posts and still saying 'Hi' to us

in the hallways."

Guan Rong T

(Wodehouse)

"Too bad the

curls didn't last."

Anaïs M

(Johnson)

"Some count

sheep to sleep.

I go 'IB, EE, IA,

TOK…' ".

Matthew B

(Owens)

"We all just go

with the flow."

Communications Prefects

Tina Q (Communication &

Language)

"Meetings every day - but

at least you got excuses for

leaving class early."

Annika M (College

Links)

"So when's the next

pizza party?"

Zoe N (Media)

"We're a

competitive

bunch!"

Ella R (Media)

"Does anyone

know what we

really do?"

Joy R (Alumni,

Careers &

University)

"We always

understand the

assignment."

The College Magazine (Beijing)

15
---
Student Leadership

Community Engagement and Support Prefects

Katrina C (Approaches

to Teaching and

Learning)

"Someone? Teach

me how to not

procrastinate!"

Natalie W

(Community Service)

"We don't only work

with Service ECAs and

Ms T."

Alex L (Community

Service)

"We charge money for

free-dress."

Clara L (Community

Service)

"There should be a

mark scheme for black

lanyard applications,

right?"

Angelina D (Equality

& Diversity)

"I only need 2

holidays, each lasting

6 months, every

year…"

Mika Y (Student

Support Services)

"Getting asked to help

with everything because

the entire Prefect system

is about student support."

Eojin R (Student

Support Services)

Taeyon L

(Sustainability)

"Social life? What's

that?"

"So… when's our

handover assembly?"

Seung Yon K

(Wellbeing)

"We may, or may not,

have only met up once

this year."

Artem L

(Wellbeing)

"Maintaining a sense of

wellbeing is generally a

good thing!"

16 beijing.dulwich.org
---
Student Leadership

Academics Prefects

Yukino C

(Art)

"Do it for the

Monet!"

Rino F (Art)

"In need of

chocolates? Ms T,

where are you?"

Yiming S (Performing

Arts)

Victoria F (Performing

Arts)

"We are a big loving

family."

"Wait, who's on duty

right now???"

Yann R

(Sports)

"Do we get CAS

hours for this?"

Pia M

(Sports)

"Sad Nike socks

aren't part of the

dress code."

Max A

(ICT/MIT)

Andrew Y

(STEAM)

"Our lanyards are on

fleek."

"We don't fix

computers."

Jeffrey W (Debating

and MUN)

"We really want to let

you into lunch!"

Andrew Y

(STEAM)

"I don't know what

the A in STEAM

stands for…"

Vivian L (STEAM)

"I didn't realise maths was getting harder until it slapped 149.25 brain cells out

of my single automated polarised discounted brainsale that perpendicularly

analyses itself. It's trIviAL.."

The College Magazine (Beijing)

17
---
Live Worldwise

Live Worldwise with Sustainability at Heart

As the world is starting to realise that we are in the

midst of a climate crisis, major economies are

pushing ahead to reduce carbon emissions. As an

international school, Dulwich College Beijing has pledged

to play its part, and the initiative towards sustainability

involves every member of the community doing their

part, and it starts with a committee to encourage our

community to make informed choices, take inspired action

and make positive impacts at individual, group and global

levels.

Raising collective awareness at school

Thursday 22 April 2021 was a valuable opportunity for

DCB (and the wider world) to acknowledge Earth Day and

reflect on what we are already doing well with regards

to sustainability and how we can be even better. Each

school engaged its students in a vast array of activities,

from acting the book Earth! My First 4.54 Billion Years or

creating a collective artwork on an environmental theme,

to promoting sustainable consumption behaviours and

sustainable development in general.

But sustainability is not limited to Earth Day at DCB!

Environmentally responsible food consumption

According to Kevin Elliott, DCB's Director of Business

Administration: "Initiated by the DCB sustainability

committee (which includes representatives of students and

staff) and supported by members of the wider community,

we worked with our food service provider Sodexo to offer

more vegetarian options. The aim is to become more

accountable when eating while not sacrificing the nutrition

intake and taste. Compared with one of the most common

daily proteins, pork, plant-based meat uses 78% less water

and creates 96% less carbon emissions during production.

Replacing 1000kg of pork with plant-based meat is

equivalent to 192 trees being planted in terms of saved

carbon emissions."

Plant-based meat burger

Plant-based

spaghetti Bolognese

Plant-based meat lasagna

Rice with grilled

vegetarian eel (eggplant)

Lentil curry with multi-grain pasta

18 beijing.dulwich.org
---
Live Worldwise

Environmentally responsible resources management

In line with the idea of teaspoons of change, the

entire College supports collective efforts to reduce the

consumption of plastic, and encourage the students and

the wider community to be responsible and respectful

global citizens on the planet that we live on.

Some of these everyday endeavours include:

• A significant decrease in the use of single-use plastic,

from stopping providing plastic bottled beverages to

disposable packaging for food. Students and staff are

encouraged to use sustainable water bottles.

• Back in 2012, the replacement of standard lighting

with energy-saving lights that illuminate the entire campus.

Now, we go one step further and start using solar energy

lights. Currently, solar energy lights up about half the

campus, and we will soon be fully illuminated by natural

sustainable energy. Additionally, auto-censoring lights were

installed in some classrooms so that when students are

off by the end of school days, lights turn off automatically.

Auto-censoring lighting has proven to be successful and

efficient, and it will be implemented across different

classrooms shortly. DCB is one of the first schools in Beijing

to implement such a sustainable lighting system.

• The installation of

sustainable water fountains, to

encourage the use of reusable

water bottles.

• Advising staff to be

cautious when using

lamination for teaching or any

other scenarios. The general

rule is that posters or flyers

displayed on campus should

not be laminated, and creative

way for display should be considered instead.

• The use of recycled water to irrigate all the greenery

and gardens in DCB.

Non-laminated poster or flyer, with the option of flyer

holder for ones in longer usage

• Food waste monitoring to increase the level of

awareness across the College.

The College Magazine (Beijing)

19
---
Live Worldwise

By Jeffrey Harmon

The Relevance of Extracurricular Activities

to University Applications

Every year as the Year 13 students prepare for

graduation, we ask them to reflect on their learning

journey and share advice and insights about the university

application process. For the Class of 2021, one major

theme was the impact of extracurricular activities (ECAs)

on their personal growth as well as their university

applications.

For most students, ECAs are meaningful because they

are a way to explore new avenues of interests while also

making like-minded acquaintances. However, from the

perspective of university applications, the role of ECAs is

to bring credibility to an application, either as supporting

evidence of a claimed passion or showing the applicant's

Explore or nurture centres of interests

engagement beyond the academic programme. Common

pitfalls, however, are to superficially engage in an overly

wide range of ECAs or to participate in an event or

organization merely to collect titles. While exploration and

recognition of achievement are both valuable, students do

need to reflect on their involvement and pare away those

that lack depth of engagement and genuine interest.

Our students not only emphasised how their ECAs have

allowed them to gain exposure in a specific field of interest,

but also advised younger students to focus their time and

energy on activities they genuinely enjoy and connect

these ECAs to a broader narrative. The underlying takeaway

was that ECAs, and House leadership in particular, brought

them a sense of belonging in their community.

Anna I

Erik C

"I actively engaged

in ECAs because they

enabled me to acquire

knowledge that can be

used to narrate the films I

make. Moreover, I attended

the Shanghai Film Festival every summer,

where I watched movies premiering in China

and analysed them from the perspective

of an audience. I was also able to meet

professionals in the field.

I originally went to Myanmar in Year 11

with the intention to improve my CV, but the

condition of the school there propelled me

to contribute to improving the situation of

Myanmar children, so I led a service ECA at

school: the Myanmar School Project. This

project was meaningful because despite not

being a 'somebody', I was able to contribute

to making the world a better place, improving

the lives of less fortunate children."

"Trying out many

ECAs helped me to figure

out what I liked. I did a

lot with debating in MUN,

ended up being the secretarygeneral

for DIMUN, ran Debate

for Change Tournament and ran a debating

ECA. I really liked theatre, so I participated

in a lot of productions, supporting the

major players. I was on the tennis team too,

to exercise.

Try not to overwhelm yourself, focus on

things you are interested in and make sure

you are not burning yourself out. If you take

some time to relax, it actually helps you to

be more efficient in the long run."

20 beijing.dulwich.org
---
Live Worldwise

ECAs to be engaged in the

Sungbeen L

"House is really

something different.

Getting involved in

House, whether as a

Prefect or a House member,

is really a good opportunity to

meet new people, not just within your year

group, but also outside, with teachers. It's

just a great time. Overall, I learnt a lot being

a House Prefect."

Erik C

"I actually did not want

to do House Prefect…for

about one week. Meeting

new people is really great

and knowing people in all

the different year groups is even

greater. House Prefect is a lot of work but

it's more fun work to do. It was a great

experience!"

Anna I

"I want to reemphasise

the

importance of House

events because they

allow you to engage in a

community that is once-in-alifetime."

The College Magazine (Beijing) 21
---
Live Worldwise

A strategic choice of ECAs

Andrew H

"It's best to have ECAs

that are tailored to your

specific, unique interest. I

personally didn't have a wide

range of activities, but I did have many

that supported the narrative I was trying to

tell throughout my application. I had a lot

of activities related to music and English,

even my service projects were tied to music

and English. So finding an angle and linking

the activities to that angle really helped."

Erik C

"I got an internship

at the Chinese National

Institute for Qing Research

and ended up writing a

6000-word essay about the

Qing economy that was then

published in The Concord Review. It was a

great experience as I learnt how to write

things properly and conduct research."

Kevin M

"I have a good mix of

activities, but the difference

is how I'm able to use those

activities to complement my

application, to demonstrate growth,

learning, intellectual engagement and

curiosity for new knowledge. For

example, I wrote about a service trip when

I went to rural China to teach rural kids

English. I talked about my engagement for

new perspectives and being able to realise

my privilege, linking that to my studies in

economics—the very complicated efforts

of development, the different perspectives

that play into the development. Those

aspects demonstrate intellectual

engagement with what you do and what

you study, and colleges really like that."

22

beijing.dulwich.org
---
Live Worldwise

Growing through ECAs

Michael L Jr

"In DCB, the House system has definitely

helped me grow as a person. I've been

active since Year 10 and it grew to feel like a

second home. House events can be very tiring,

even extremely stressful at times but the reward

at the end is so fulfilling that the stress all goes away. They

develop your skills immensely. Communications, leadership

and organisation are the three main skills I developed so

much that looking back at my younger self would make me

laugh!

I was part of a choir outside of school and I remember

being on a particularly tiring trip while being responsible for

the props and instruments. This was one of these moments

that test your ability to stay focused when you are tired, and to

know what you are doing even when things are messy. I also

was part of a baseball team outside of school where being the

older player enabled me to help younger players understand

the postures, and learn how to talk to younger children which

turned out to be useful also for my Prefect role.

Such skills are little things that add up and may not be

noticed until the day you actually face something bigger or

reflect back, and you realise how much you have learnt little

by little."

The value of extracurricular activities lies in the multiple

ways they enrich our students' learning beyond the

classroom. Not only do ECAs contribute to the intellectual

and emotional development of young learners, but they

also enhance their personal growth by building up lifelong

skills related to collaboration, initiative, motivation,

creativity, and maturity. Therefore, whether or not ECAs

are an explicit section of a university application, they have

an undeniable impact on preparation for university and

life as a young adult. The specific title or position within an

ECA is much less important than how students decide to

challenge themselves and grow.

The College Magazine (Beijing)

23
---
Live Worldwise

A Brief Guide to the World of University Applications

By Bernd Widemann

Oxbridge and the Ivys – two names that seem

to be synonymous with university, not just at

DCB but in the wider international schools

world. But those are just a slither of the

world of higher education.

The Bachelor system has been

adopted beyond the borders of the

UK and US, and the offer of topquality

university places, taught in

English, has increased hugely over the

past couple of decades. Canada and

Australia are the obvious alternatives.

However, the EU and Asia are becoming

increasingly renowned among the top-ranked

universities. The Netherlands and Germany for example,

have an increasing number of courses on offer at worldrenowned

universities. The University of Amsterdam

and Utrecht University in the Netherlands, and Ludwig

Maximilian University of Munich and Heidelberg University

are just a few of many fantastic opportunities in mainland

Europe, with perks that set them apart from their UK and

US counterparts. Dutch universities are very much global

players academically, but generally, their approach to

admitting students is more liberal. Applicants may find it

easier to be offered a place, however once matriculated,

students are expected to deliver high-quality work in order

to retain their place at university. German universities add

a price advantage, as higher education is subsidised by the

state. This means that even international students only

pay a fraction of the otherwise high tuition fees. An added

bonus is the relative ease of finding work and staying in

Germany after graduation.

But what is the key to submitting successful university

applications?

First and foremost, the students need to ask

themselves what their future goals are, what

success means to them, and to determine

how to achieve such said success. If

university is the best route to reach this,

it is a healthy approach to understand

the different types of schools and

school cultures to have a productive

three to four years. There are plenty

of factors that impact one's wellbeing,

not just the global ranking of

institutions.

Answers won't be found overnight and

hence, the process should start in Year 10. This

might seem early to think about what to do in the future,

but the students' interests and possibilities should be

explored and discussed on an ongoing basis, involving

parents and teachers, always keeping students in the

limelight. It is paramount to remember that students

need guidance, but that their interests are central to

this process: "What are their strengths? Do they have a

passion?" This will be also important for choosing the right

IB subjects during Year 11.

24 beijing.dulwich.org
---
Live Worldwise

The process of finding what to do and where to go after

graduating from DCB is an ongoing one, and the university

counselling team is focused on giving the right support and

guidance. Thorough research is key – the more students

know about their chosen fields and university choices the

better their educated decision will be, and hopefully will

improve their best fit. It is important to keep expectations

realistic – both from students and parents. The aim should

be to find the right range of destinations in order to create

the most productive application strategy. Additionally,

what students need to focus on is making the most

out of both the school and the local community. Most

universities will be judging applications on how engaged

and active students are – good grades are essential, but

not everything. Of course, it is important to work toward

the best grades possible as well as showing high academic

rigour in all subjects. It is equally important for students

to be involved in extracurricular activities (called supercurricular

if the activity is related to the field of study).

The application will then of course be supported

by letters of recommendation, written by up to two

subject teachers and a university counsellor. A good

recommendation letter is written by someone who

knows the student well, so it is paramount for students

to communicate positively with their teachers, show that

they are engaged and ask for help if needed – there is no

point in quietly waiting for help. School can be a tough

time with an ongoing mountain of work, endless deadlines

and social pressure. Teachers and counsellors are here to

help and support students through difficult situations. And

hopefully, students build good enough relationships that

they feel they can confide in their teachers during stressful

times. The key is to build those relationships early, not just

in the last few months of their school career.

Some very competitive courses will require preadmission

testing and others might ask students for

interview. These aspects will be discussed in Year 12

together with the University Counselling team. For now,

the focus should be on what the students enjoy doing and

whether they might want to pursue those interests further,

so when it comes to the application deadline, much further

down the line, the students can confidently submit their

applications to their chosen universities.

"Quality is more important here than

quantity... it is more valuable for the

students to explain what they have learnt

and how they have developed through

the activities, rather than listing endless

endeavours."

Universities want to see students' interests and how

proactive they are. Quality is more important here than

quantity though, meaning it is more valuable for the

students to explain what they have learnt and how they

have developed through the activities, rather than listing

endless endeavours. Sports, work experience, volunteering

and courses are just a range of activities students can

engage in, to complement their academic standing. These

can also be used as material for the students' personal

statements, or essays as they are known in the US.

The College Magazine (Beijing)

25
---
Live Worldwise

To celebrate Dulwich College Beijing's 15 th anniversary,

our students came up with the slogan No Aspiration

too Big, No Inspiration too Small to summarise their

DCB learning journey and its impact on their stepping into

adulthood.

Let's Meet Again in 15 Years!

When asked to fast forward and imagine their life

15 years from now, the students we met all confidently

envisioned a happy and balanced life with a professional

career they enjoy, and safe and healthy family and

friends, with the underlying and natural goal to positively

impact others as they did within the DCB community. It

was striking to observe the same calm and composed

confidence in these students of different ages and

personalities, a testament to the commitment of DCB to

equip students with the necessary knowledge and life skills

to face the challenges of tomorrow and Live Worldwise.

"In 15 years, I hope to

become a designer of

sorts or an architect. That

may change, but whatever I

choose to pursue, I hope I can make

a positive impact."

Mink L – Year 13

"My goal in 15 years is

to balance my work life

and my home life. I'm very

interested in social sciences,

so I hope to work in research on

sociology or anthropology and share

this knowledge with others. I hope

to explore my personal interests

further, discover new hobbies, and

really, embrace adulthood."

"In 15 years, I hope I'll

be working in a field I

really enjoy, something that

I've studied for my entire life,

not something mundane and boring.

I hope to live comfortably, but the

most important thing with anything I

do in life is to make sure I enjoy it."

Jeffrey W – Year 12

Yi Xin L – Year 13

"I see myself as a

scientist in 15 years

because science is my

favourite subject and I find it

interesting."

Thomas M – Year 7

"I see myself in a place

where I'm happy and

doing something I'm really

passionate about, perhaps in

the field of sciences. Hopefully all my

friends and family will be all healthy

and safe by then."

Seung Yon K – Year 12

26 beijing.dulwich.org
---
Live Worldwise

"I'd really want to come

back to Beijing in 15 years

because it is the familiar

environment I grew up in, so I

really like the atmosphere here. I

hope to have a really stable job so I

can enjoy the rest of my life."

Alex L – Year 12

"I hope I'm at a place

where I'm happy and

doing something I'm

passionate about, and all

my close friends and my family are

healthy and happy. I also hope there

will more equality in the world and

the planet will be a better place for

everyone. And I hope to be a part of

that change."

Diana T - Year 11

"When I think about

the goals of a job,

it would be to create

something and enjoy it. For

me, working in Computer Science, or

Technology in general, would mean

I could create something to change

people's life which I really enjoy and

feel lucky about. I really see myself

in a big technology company as

they are integral parts of our lives,

or in the field of automated cars, or

even NASA: I would love to explore

the space in a rocket I would have

designed!"

Eddy J – Year 10

"I enjoy my drama

classes, so I think maybe

in 15 years, I might be

doing something related to

that field."

Timm R – Year 10

"I rather enjoy maths

lessons, so in the future,

I may want to find some

role related to that subject but

I'm still not quite sure what specific

role I want. These are quite hopeful

wishes."

Junyi L – Year 9

"I see myself as a lawyer

in 15 years because I love

debating in school and out of

school, and I also love speaking in

different ways. It's just so much fun!"

Sissi S – Year 8

The College Magazine (Beijing)

27
---
Live Worldwise

Getting to Know the Duckers - A Long Term DCB Family

An interview with Stephen Ducker, a DCB parent since 2005

Please tell us more about your experience as a Dulwich

College Beijing parent.

We arrived in Beijing in 2004 with three children, James,

Chiara and Joe aged 9, 7 and 5. We enrolled them at

another international school at first, then transferred them

to Dulwich College Beijing (DCB) as soon as the campus

opened in August 2005.

For the next five years, all three children attended DCB

as Junior School and Senior School students. They then

moved to the USA, but a year later, we decided that the

best option for James would be to come back to DCB as an

IBDP student, and he graduated successfully from the Class

of 2013.

Their younger sister and brother, Dani & Matthew, also

joined DCB in 2017 in Year 1 and Reception respectively

and are now close to completing Year 4 and Year 3. As of

today, if you add up all the "children-years" at DCB, I think

it comes to 25!

What were your key expectations as you were initially

searching for an international school for your children?

We were looking for a high-quality international school

providing a balanced approach to education. We wanted

academic rigour for our children, but strongly believed that

they needed to also develop in other areas, be it sports,

music, arts or drama. It was also critical for us that the

school showed the willingness and ability to support our

children's individual capabilities.

How did DCB meet your criteria at that time?

DCB was new at that time, so it was a bit of a leap of

faith, but given the "DNA" of the school and our initial

impressions, we felt comfortable with our choice. Dulwich

College in London is a very well-respected school in the

UK with which I was familiar, so we expected the style of

schooling to be what we wanted.

28 beijing.dulwich.org
---
Live Worldwise

In your perspective, how has the College evolved over

the past 15 years?

The biggest change has been in the demographics of

students, reflecting the changing expatriate population

in Beijing. This has inevitably, and quite rightly, led to

the evolution of the curriculum and teaching style to

respond to this changing population. We also observed

the growth in terms of student numbers, new campus

and buildings, but at its core, DCB in 2021 still feels very

similar to the school we had chosen back in 2005, and we

very much appreciate this ability to adapt to the changing

environment while remaining true to its core values and

identity.

What drove you to also enrol your younger children at

DCB?

We had the same academic expectations as before, but

because Dani and Matthew are half Chinese, we had a

much higher expectation of the Chinese language side of

the curriculum. We did look at other options to be sure we

were not missing anything, but in the end, it was an easy

choice: DCB had been an excellent platform for my three

elder children, so we had no reason to change. Knowing

their elder siblings had been at DCB made the transition

for Dani and Matthew much easier.

Would you share some unique moments you have

experienced as a DCB parent?

There are too many to mention, however, I would

highlight James's IB graduation, but also Joe's Early Years

graduation: we'd never seen anything like that before!

On the sports side, I keep memorable images of Chiara

and James representing DCB during sports fixtures, in the

Girls Soccer and Rugby Varsity teams respectively. And of

course, I have fond and fun memories of myself playing in

the traditional Parent vs Students cricket tournament!

The most recent moment

I still vividly recall is when

James returned to Beijing

on holiday after graduating.

He gave a presentation to

a group of DCB students

about his experience at the

University of San Diego, and

a marine biology research

voyage he had been on as

part of his degree studies.

His younger siblings Dani

and Matthew were in Year

1 and Year 2 then, and they

were able to sit in and watch. The photo that was taken of

the three of them at the end of the session is very special

to us.

According to you, what are the main life skills your

graduated children have learned from their DCB journey?

Maturity and independence.

What influence did DCB have on your graduated

children's educational growth?

Their DCB journey taught them self-confidence, broad

cultural awareness and acceptance of diversity, and

"learning how to learn", all of which have set them in good

stead for their subsequent studies at school and university.

How did DCB influence your view of international

education, or education in general?

It is reassuring to see an institution evolve with the

changing times, and yet stay true to its core values. We

strongly believe that the school, together with the whole

overseas lifestyle, created (and continues to create) a great

platform for our children to achieve in higher education

and beyond, creating confident, well-rounded, culturally

integrated, young adults.

The College Magazine (Beijing)

29
---
Learn Worldwise

Developing Student Superpowers:

How DCB's English Additional Language Programme Supports Students in Reaching their Potential

By Hetal Ascher, Liz Mawson and Becky Bush

Our DCB student body is comprised of a range of

nationalities across our three schools (Early Years, Junior

School and Senior School). Despite the rich range of

nations represented, it's important to note that a high

percentage of our students are actually learning English

as an additional language. These students, often referred

to as English Additional Language (EAL) learners, may join

DCB as early as three years of age and stay for up to fifteen

years, while others may join at any point throughout the

student journey, and may even just stay for a year or two.

At whatever point students join our DCB community,

there is a need to clearly identify the strengths and needs

of our language learners, so that we can

provide the support to help them fulfil not

only their language learning potential, but

their potential in ALL areas.

What is our philosophy for language

learning?

At Dulwich, we believe that students come

first. DCB students who are learning English

receive excellent language support so that

they are able to fully access the curriculum

and other learning opportunities available

here.

At DCB, we value multilingualism because we know that

language is an important part of a child's identity. We also

know that multilingualism is like a superpower! Aside from

being able to communicate in different languages, research

has shown that multilingual people have increased

concentration skills, as well as increased critical thinking

skills and a more creative mind (Kapa and Colombo, 2013).

The benefits of multilingualism are numerous, but they

also take time to develop. Researchers believe that it can

take up to 7 years, and sometimes longer, to develop full

academic proficiency in a language. Because of this, at DCB,

we carefully tailor language instruction to meet the various

needs of our students. Additionally, our mainstream

teachers also receive regular professional development in

order to support students throughout their entire school

day.

"As students come first at DCB, we aim to ensure that

students with English as an additional language are

fully able to enjoy the benefits of the safe, secure and

stimulating environment that the College offers. We

provide English language support to enable students to

"We value

multilingualism

because we know

that language

is an important

part of a child's

identity. "

reach their full academic, sporting, creative and social

potential." (Dulwich College Beijing, 2017)

How do we identify the strengths and needs of our

learners?

After a careful vetting process, DCB decided to align our

EAL provision using the WIDA (World-Class Instructional

Design and Assessment) programme. This internationally

renowned programme not only ensures consistency within

DCB but will also allow for collaboration and teamwork

with other Dulwich College International EAL departments

who utilise the system.

WIDA will ensure that all students from Early Years to

Junior School to Senior School are assessed

in a similar way so that there is continuity

as they transition throughout the different

stages of the school. An initial screener for

all students in Early Years and Junior School

will take place once a year so that we know

where each student's strengths lie. Senior

School will assess students as needed. The

WIDA model builds on linguistic strengths

with 'can-do' descriptors identifying any

needs in the four domains of language:

listening, speaking reading and writing.

We believe that formal, systematic assessment is one

part of a holistic approach to English learning. A variety

of factors, such as classroom assessment and qualitative

data, will be used to determine EAL provision for each

student. With the WIDA model, all students will benefit

from some embedding of strategies into the curriculum,

ensuring that every learner is able to achieve more

linguistically…. and to develop their language superpower!

30 beijing.dulwich.org
---
Learn Worldwise

What does language support look like in the

different schools?

In Early Years (Nursery to Year 2) a dual-language

model is at the core of language learning, recognising

the important role of the home language in supporting

further language acquisition. The powerful tool of

'translanguaging', the act of multilinguals accessing various

linguistic features and modes to maximise communication

(Garcia, 2009), is used frequently by the children and our

bilingual Assistant Teachers and Dual Language Teachers.

The Early Years EAL Team, which is made up of both Dual

Language Teachers and native English-speaking teachers,

assesses children using the WIDA model, identifies

language objectives, collaboratively plans with class

teachers, co-teaches (whole class, small groups or oneto-ones

as needed), and develops resources to support

language learning. As all teachers are viewed as language

teachers, language learning is embedded throughout the

Early Years curriculum, across a range of disciplines.

In Senior School, students who are identified as English

language learners take a smaller, more supportive English

Language Arts class which follows the mainstream

curriculum. In Key Stage 4 (Years 10 and 11) and Key Stage

5 (Years 12 and 13), teachers carefully determine the best

language courses for students in IGCSE and IB, and place

students accordingly.

In Junior School (Years 3 to 6), an English Support (ES)

team will use WIDA to embed EAL strategies into the

day-to-day curriculum. In addition, ES teachers provide

in-class support, small pull-out groups and one-to-one

interventions. They support language learning by providing

additional resources, materials and strategies for students

based on needs. Members of the Junior School ES team

also hold training sessions for class teachers in EAL

strategies for the classroom. These strategies frequently

benefit the language learning of all students.

Final thoughts

The journey of aligning language learning across the

whole DCB remains a key priority as we move towards

the end of this school year and plan ahead for the next.

We know that when we learn a language, we are not

only learning the language but the culture behind that

language: languages are a tool needed by our students to

"make a positive difference to the world" and to continue

"building bridges to the world" (Dulwich College Beijing,

n.d.).

We are confident that as we continue to put students

at the forefront of our decision-making related to the

provision of support for English language learners, we

will continue to see students reaching their potential in

language learning, as well as other areas. Bring those

superpowers on!

The College Magazine (Beijing)

31
---
Learn Worldwise

Educational Technology and Innovation

By Yosef Karasik

As part of the Dulwich Digital Difference initiative

by Dulwich College International, beginning from next

academic year, Dulwich College Beijing will have a

brand new, whole-College team focusing on educational

technology and innovation!

The team will work across the three schools to enhance

the integration of technology and digital citizenship into

the curriculum, align the student journey throughout the

College, and support students and teachers with innovation

in teaching and learning.

Meet the team!

The team will be led by

Mr Yosef Karasik, who will be

assuming the role of Director

of Educational Technology and

Innovation. Mr Karasik will be

starting his fifth year at DCB

where he is currently Senior

School EdTech Coordinator.

He also teaches Technology

and Computer Science and

Mathematics at the IBDP level.

We are lucky to have Mr Jeff

Brunet joining the team as a

Learning Technology Coach

and the Digital Safeguarding

Lead. With 18 years of teaching

experience, out of which three

were spent at DCB, Mr Brunet

will bring his expertise and

passion for Design Thinking and

Project Based Learning.

The third member of the new

team, also taking up the role

of Learning Technology Coach

is Mr Jared Rigby, a Computer

Science teacher who will be

joining us after spending the last

three years teaching at Dulwich

International High School in

Suzhou. Mr Rigby is a specialist

in gamification of learning and

is a perfect person to support

innovative teaching and learning

approaches across the College.

Integration of technology, computational thinking, and

digital citizenship

Technology has been a major part of education for

many years. This has been accelerated further due to the

COVID-19 pandemic, and the consequent forced transition

to online and hybrid learning. We pride ourselves, at

DCB, for having meaningful integration of technology

in the curriculum. The team will work with curriculum

leaders to further enhance the use of technology for

learning as well as map ICT and digital citizenship skills to

better fit the student journey. Students will engage with

more meaningful, technology-rich projects with real-life

applications to further strengthen the connection between

school, academia and industry and make their learning

real. One great example of this comes from one of our

seniors, Richard H, who built on his passion for Computer

Science to further research into the application of Machine

Learning in solving Pediatric Vehicular Heatstroke.

The College invests substantial resources into

technology provisions. Students develop technological

and computational literacy when they are in Early Years

through the use of iPads and a variety of STEM kits. We

then build upon it as they progress to Junior School where

they develop their computational thinking, and finally in

Senior School where these skills are put into the Design

Thinking framework. The team will support our teachers

to plan with technology in mind, and embed the skills our

students will need when they graduate from DCB.

Innovation: AI and other emerging technologies

In addition to integration of EdTech, the team will work

to build, support, and sustain a culture of innovation in the

College. Pioneering Spirit is one of our group values and as

32 beijing.dulwich.org
---
Learn Worldwise

Introduction of AI is a two-fold project. On the one hand,

we want to expose our students to AI and develop their

understanding of the complex concepts from a young age.

This will be done through hands-on experience of AI in

Early Years and Junior School, and work with AI in Senior

School. On the other hand, we are designing curriculum

materials to integrate AI projects across the College. In

addition to teaching AI, we are investigating AI-powered

EdTech tools and platforms that can enhance the teaching

and learning at the College.

a leading international school, we want to ensure that

we are practising innovation as well as embedding it in

our curriculum. In recent months, we have been forming

relationships to collaborate on new and exciting innovative

ideas. One of our focuses was the enrichment of our

curriculum with Artificial Intelligence. Recently you may

have read about Velocity, our newly founded DeepRacer

club. This student-led club is one of 13 founding members

of China's DeepRacer league, where students train

Reinforcement Learning models and deploy them on

real autonomous cars to compete against other schools.

Despite being newly founded, the club had remarkable

success in their first race, having two teams finished first

and third in the league.

We are excited to be working with our students, parents,

and teachers to support a meaningful integration of

technology as well as further developing the innovation

culture at DCB. Students are at the heart of our mission

statement, and we invite parents and other partners to join

us and enrich the student DCB experience to ensure that

students learn worldwise.

The College Magazine (Beijing)

33
---
Learn Worldwise

Ranking 9 th at the Oxford University Computing Challenge!

We would like to congratulate Eddy in Year 10

on his outstanding achievement in this year's

Oxford University Computing Challenge (OUCC

2021) finals. Eddy began his journey early this academic

year as he achieved a Distinction award in the annual

BEBRAS computing challenge. Together with 90 other DCB

students, he qualified to compete in the first round of the

Oxford University-sponsored contest. Eddy achieved an

outstanding result and placed in the top 20 in the Senior

category, mostly competing against Year 11 students across

the world. Eddy secured the ninth place in the final round

of the competition, finishing an amazing personal journey!

We had the pleasure of meeting Eddy to learn a little more

about him!

My preparation itself is a mix of technical preparation,

like going through past papers to get used to the types

of questions, and mental preparation to stay focused on

the day. As you know, programming skills are built up over

time, with 50% coming from the actual technical skills, and

50% coming from the thinking process. I usually prepare

on my own in a quiet environment to remain focused and

avoid potential distractions.

What would you tell your peers to encourage them to

engage in similar challenges?

It is all about passion. I discovered Computer Science

when I was in Year 1, and started to be involved in more

complicated programming in Year 4 when my mom

mistakenly signed me up for a Python programming

workshop intended for older children. But when it came

to the final contest of the workshop, at the age of 9, I

defeated my 14/16-year-old peers, and it really motivated

me to keep going. This is how I really started learning

about programming and discovered how I enjoyed doing

so. Enjoying what I do helps me to learn and improve a lot

faster, so my top tip would be to do what you enjoy and

enjoy what you do.

Is there one thing or one person who particularly inspired

you to pursue your interest in Computer Science?

My exposure to simple Computer Science in Year 1 is

what led me to where I am today. Most importantly, my

parents were always supportive of my interest and they've

always encouraged me to pursue this interest further.

How do you feel about your participation in OUCC and

your achievement?

I've participated in these challenges since Year 7 and

made the finals three times out of these 4 participations.

I tend to set high expectations for myself. However, I

realised it's not healthy to constantly stretch myself. I'm

really happy I achieved 9 th place, even proud because these

challenges are definitely not easy, both technically and

mentally.

How did you prepare yourself for the competition?

I have competed in other events such as USACO (USA

Computing Olympiad) and they are really, really, hard. So,

I know I need good preparation to achieve a good score: I

push myself a little and I feel it's necessary to step out of

my comfort zone when I get prepared. But I have learnt

that it is very important to remain calm and focused during

the actual competition. In other words: stress before but

not during the event.

A person who inspired me a lot was Ms Stevens, former

Head of Technology at DCB when I started participating

in competitions. She has always encouraged me to move

forward and recently sent me her regards through my

teacher. Knowing a former teacher still knows what I'm

up to is really motivating. Having my family, my peers and

my teachers' support certainly pushes me to continuously

improve.

Quick choice of words.

Cat or Dog? Cat.

Great Wall or 798? 798.

Analysis or synthesis? Analysis.

Marathon or sprint? Marathon.

34 beijing.dulwich.org
---
Learn Worldwise

Learning Journey: From an Extended Essay to a Research Paper

As an IB student, Richard H chose to write his

Computer Science 4000-word extended essay (EE)

about the efficiency of curriculum learning and

the impact of specific parameters on paediatric facial

recognition accuracy. Reading about the news led him

to use his extended essay's research to tackle the realworld

problem of Paediatric Vehicle Heatstroke (PVH),

and come up with an algorithm that detects and reports

the presence of children forgotten in vehicles, thereby

helping to prevent the occurrence of Paediatric Vehicular

Heatstroke. This research work earned him an outstanding

Honourable Mention award from the highly recognised Yau

Mathematical Sciences Center. We have met Richard to

understand how he designed his PVH alert system.

How do you feel about your award and your overall

journey in this competition?

I am very grateful to receive an Honorable Mention

in the competition. I knew I was going against some of

the strongest competitors, many of whom had research

teams backed by professors from universities. Looking

back, I think the entire research experience was extremely

valuable and meaningful. It taught me a lot, from technical

aspects (maths and programming) to social aspects

(coordinating volunteers to obtain training data) and

personal aspects (perseverance despite setbacks and

challenges). It was exhausting because I constantly faced

the fear that my method would end up as a failure. Luckily,

everything worked out in the end.

Tell us more about the application and selection process,

from your first entry to receiving the award?

The preparation and research phase lasted for almost

an entire year. Research papers were submitted by 1500

teams, then go through three rounds of preliminary

viewings by the judges. The top 240 teams were selected

for the semi-finals, in the form of a viva voce at Tsinghua

University. 90 teams (15 teams for each of the award

categories in Maths, Physics, Computer Science...) were

then awarded with the First Prize and promoted to the

finals.

How did the idea of using computer vision to detect

children come to your mind? To which extent did your EE

contribute to this idea?

I opted for a computer vision-based method because

it's more practical than alternative solutions that I've

investigated: weight sensors under the car seat could be a

simple and reliable solution, but on larger vehicles (such as

buses), installing a sensor under each seat is impractical.

Thermal cameras could detect the heat from a human and

The College Magazine (Beijing)

a single camera can

view a large area, but

the technology is too

expensive.

My essay revolved

around investigating

the effectiveness of

a technique called

"curriculum learning"

to enhance the

performance of machine learning algorithms for age

classification. The results I obtained in my EE became a

subcomponent of my research project for this competition.

Why face detection?

Face detection algorithms merely identify the presence

of faces in an image, while facial recognition algorithms

are capable of distinguishing the faces of different people

by looking at the relative positioning of different facial

features. Face detection is an extremely mature, robust,

and reliable technology. It allows the algorithm to detect

the presence of humans with high reliability if a frontal

face happens to be visible. Plus, once a face is detected,

the algorithm also runs an age classification procedure to

determine whether the face belongs to a child or an adult.

Are there any next steps to this research and if so, what

are they?

I have plans to look into other sensors, such as

microwave radars that can penetrate through thin barriers

(e.g. seat backs of cars, in a larger vehicle such as a bus)

and detect the presence of a human. However, existing

products that use microwave radars are quite costly.

Your advice to younger students regarding machine

learning?

I would recommend students to familiarise themselves

with programming, because it is the "language" that one

must speak in order to explore and apply machine learning.

Another important aspect that is often overlooked is

mathematics: in order to concretely grasp the theories

behind machine learning, one needs to know at least

the basics of multivariable calculus, linear algebra, and

statistics.

You are about to start a new journey in your life. What's

your take-away from your DCB journey?

I'm glad that I was able to get to know so many friends.

They all excel in different ways that complement what I'm

good at, and together we had many great memories that I'll

treasure going forward.

35
---
Visual & Performing Arts

Sustainable Artworks in Early Years

By Jacob Dong

Sustainability has been considered as

our priority in learning Art in Early Years

throughout this academic year. Recycle,

Reuse and Recreate is our motto when we

were planning and making our projects and

clearly translates our goals.

You might find that a variety of recycled

or plastic materials has been transformed

into some amazing artworks, for example,

recycled colour paper, boxes, plastic

bottles, straws, bags, and fridge magnets,

etc...

John X

Year 1 collaborative collage Nathan L Thomas L Della C

Year 1 collaborative drawing

Alex Z

Lucas F Skyler Y Sarah W Ruei Hsuan H Nichole C

36 beijing.dulwich.org
---
Visual & Performing Arts

Natural bamboo circles were also used to create sculptures with sustainability in mind as well. We

hope that the awareness of sustainability can be raised by our efforts in artistic expressions.

Another exciting experience for us is that Toddler children have been working with me after the

Chinese New Year holiday, and are now they are the youngest artists in DCB!

The College Magazine (Beijing)

37
---
Visual & Performing Arts

Junior

School

Art

By Sally Corben

This project linked closely with the book The Arrival by Shaun Tan. Students in

Year 5 used this picture book as part of their On the Move topic. Students learned

about proportion and scale while drawing these portraits. They have also developed

their drawing techniques by learning to create a range of tonal values. Whilst

drawing, we were able to discuss the features in our faces that give clues to our

heritage. Each student also chose a piece of headwear that was important to him or

her.

Jayden L Ella H Daniel L Mike P

Lawrence Z

Maggie T

Max S

Siting F

Norah T

Pearl Z

Tiger N

Yitong C

38

beijing.dulwich.org
---
Stella G

Suri Y

Visual & Performing Arts

Alex Q Amanda F Andy Z Angela W

Ashton W Bowen F Carrie W Jonathan J

Camille B

Kelly Z Ella L Freya M

The College Magazine (Beijing)

39
---
Visual & Performing Arts

IGCSE ART

Mylene R

The piece is based on

the theme facade,

which incorporates

both buildings and the

deceptive outward

appearance of a person.

The mirror represents

the inner character of a

person which is hidden

behind the made-up

veneer.

Julia Z

The distorted perspective

makes the usually firm

medieval wooden

structures less capable of

allowing any household to

go inside these buildings.

The whole architectures

seem absurd, making

them incapable of any

proper use.

Michelle Z

The piece reflects the theme of childhood by conveying

an idea of those precious memories swimming away

along with the cranes. Childhood is an experience you

cannot keep hold of any longer once the time is up.

Cathy M

The scene comes

from the Beijing opera

Peony Pavilion which

conveyed the emotions

of two lovers when

they separated, then

found each other again.

The tone used on

the watercolour is to

create and express her

emotions.

Sofie H

This piece of garlic, corks, leaves and a phone convey the

theme of time. Inspired by the artist Sam-Taylor Wood, I

incorporated different textures and food to achieve the

idea of time, as it can be shown through objects as they

age.

Agatha Z

The watercolour is of the

sunset passing through

a window and reflected

onto the wall. The piece

is kept to be minimalistic

and concise. The colours

used in the piece emit a

long-lost feeling, however

indescribable.

40 beijing.dulwich.org
---
Visual & Performing Arts

IB Visual Arts

Year 12

By Yvette Stride

Year 12 students have begun

their IBDP journey in Visual

Arts, and here we see a taste

of what's to come in next year's

show.

Lauren Z

Emma Z

Jessie Z

Yukino C

Clara L

Esther K

Ava L

Rino F

Katrina C

The College Magazine (Beijing)

Alice Z

Sally L

41
---
Visual & Performing Arts

IB Visual Arts

Year 13

Cher X – An Afternoon

Olivia W – Girl, Umbrella and Mask

Ruthie L – Will it Stay with Me?

Mark W – These are all things out of your control.

You can't really think of solutions to them. Maybe you

should stop maddening yourself thinking about them

Tyler Y – Tabletop Ecosystem

42 beijing.dulwich.org
---
Visual & Performing Arts

By Yvette Stride

Congratulations to our graduating Year 13 students and the incredible achievement of their final

exhibition presently gracing the walls of DCB. Mr Stewart led this courageous group through their final

year, with previous teachers Mr Daniel Hickey and Ms Jennifer Knowles being Zoomed in for the final

show! A great variety of artworks is on display, with talent seen across traditional and contemporary

mediums. Accomplished oil paintings, sensitive charcoals and striking woodcuts stand alongside evocative

installations, imaginative digital and mixed media works. The outstanding work is a credit to all the students

and teachers involved. We wish these students well and hope their 'Golden Paintbrush', issued at the

exhibition opening, is a happy memento of the art spirit cultivated during their school years.

Leah S – The Mask

Ariana L – Hope

Nathan L – Healing the Blind

Jenna H – Make a Larger Fire

Henry K – Acrophobia

Rownie Z – I'm a Mess

The College Magazine (Beijing)

Karen K – Location Tracker

43
---
Visual & Performing Arts

MADD FESTIVAL

44

beijing.dulwich.org
---
Early Years Summer Production

Visual & Performing Arts

The College Magazine (Beijing)

45
---
Spotlights

Early Years

Sports Day

Senior School

Basketball

46 beijing.dulwich.org
---
Spotlights

Junior School

Sports Day

Junior School

Swimming

The College Magazine (Beijing)

47
---
Spotlights

HOUSE LEADERS

A Glimpse of

HOUSE SINGING

48 beijing.dulwich.org
---
Spotlights

HOUSE Events

HOUSE BATTLE OF THE BANDS

HOUSE SINGING

The College Magazine (Beijing)

49
---
Spotlights

By Joseph Stewart

HOUSE ART

DCB students entered the fabulous world of

face painting for a recent House Art Competition.

Students had to work collaboratively to design

five distinct looks based on the five Chinese

natural elements: Wood, Earth, Water, Fire

and Metal. Each House demonstrated amazing

creativity and initiative through interpreting,

planning and hand-painting their themes in

unique and original ways.

50 beijing.dulwich.org
---
Spotlights

Go Green for Your HOUSE

The College Magazine (Beijing)

51
---
Spotlights

CELEBRATING OUR 15 TH

ANNIVE

52 beijing.dulwich.org
---
RSARY AT FOUNDER'S DAY !

Spotlights

The College Magazine (Beijing)

53
---
Spotlights

Festive Spirit at DCB

54

beijing.dulwich.org
---
DCI News

Dulwich is Coming to Shenzhen!

By Dulwich College International

We are incredibly excited to share that we are bringing

the Dulwich Difference to Shenzhen with an all-new

Dulwich Early Years Centre.

The Dulwich EY Centre Shenzhen provides studentcentric,

holistic and experiential education to instil

in our youngest students a spirit of exploration and

curiosity about the world around them, and develop their

confidence as learners.

This year, five of our China-based schools were ranked

among the top 100 in the Hurun report, with all four of

our China-based International Colleges ranked among the

Top 20 schools open to foreign passport holders. We are

especially proud of Dulwich College Beijing, which is ranked

first for the second straight year.

While rankings are just one indicator, we are delighted

that our holistic and experiential approach to education

has resonated with the industry. We aim to continue

delivering the best holistic and experiential education for

our students, and are excited for the opportunity to bring

the Dulwich Difference into Shenzhen.

Dulwich EY Centre: the newest member of the Dulwich

family

As part of the Dulwich College International family, our

new EY Centre will draw on the unique strength of being

part of our global network to benefit our students with a

wealth of expertise, resources and opportunities, enabling

them to Learn, Graduate and Live Worldwise.

Like in all our schools, the EY Centre is committed to

developing the whole child and preparing each child for

the future. This includes making sustainability, service and

global citizenship a lived experience for students from an

early age, and equipping them to make a difference.

Beyond environmental conservation, Dulwich places a

balanced focus on wellbeing, character development and

service, educating students in age-appropriate fashion at

every stage of their learning journey so that they develop

as empowered global citizens.

Nine Medals in the UK Chemistry Olympiad

By Dulwich International High School Zhuhai

Dulwich International High School Zhuhai Year 12

students participated in the UK Chemistry Olympiad

(UKChO) and achieved brilliant results. The awards include

one Gold medal, six Silver medals and two Bronze medals.

Among these excellent results, Ivan K and Jason L have

received the Honorable Mention Awards in the Chemistry

category of the S.-T. Yau High School Science Award in

December 2020.

The College Magazine (Beijing)

55
---
DCI News

Learning to Build a More Sustainable Future,

One House at a Time

By Dulwich College Seoul

"How could we design our homes to help save our planet?"

This was the question Year 3 students at Dulwich College

Seoul grappled with as part of the school's effort to link

their learning around Sustainable Development Goal 11:

Sustainable Cities and Communities.

Students learnt about the impact cities and a heavilybuild

environment have on our planet and were tasked

with a guided home-learning enquiry project to investigate

how we could redesign our homes to make them more

sustainable.

Over several weeks, students got a clear understanding

of what sustainability is and researched where they could

source sustainable building materials for their houses, and

which types of energy would most limit its impact on our

environment. Students then combined all their knowledge

and design ideas to build a home that could most likely

exist in harmony with nature.

Many students chose to include features such as wind

turbines and solar panels as sources of sustainable energy

and had to consider how they could "bank" energy in

seasons that were less sunny, which posed a challenge.

Others focused on finding innovative ways to insulate

their houses to avoid using too much energy, grass being a

particularly sustainable option that one student discovered.

Students went one step further with their architectural

designs and included a garden to grow their own food,

thereby decreasing their carbon footprint.

Throughout their research, students continued to

return to their original designs, to implement changes and

improvements as their knowledge grew. Although this back

and forth was a challenge for some, they understood that

this was part of the design process.

Some students were then asked to present their houses

during assembly, honing their presentation skills by sharing

their learning with their peers. During the assembly,

students explained the different features of their houses in

detail and answered questions from audience members.

Ultimately, the design exercise helped to demonstrate

how housing impacts our environment and how we need

to make better choices as responsible global citizens who

care deeply about building a more sustainable world.

56 beijing.dulwich.org
---
DCI News

Earth Day 2021: #RestoreOurEarth

By Dulwich College Shanghai Puxi

On Thursday 22 April, the world celebrated Earth

Day 2021. Dulwich College Shanghai Puxi was proud to

participate in this important international cause, hosting

one of three officially registered Earth Day events in

Shanghai, our Life on Land ceremony.

The ceremony officially unveiled our campus signage

promoting United Nations Sustainable Development Goal

#15, Life on Land.

loss of natural habitats and land degradation. Promoting

a sustainable use of our ecosystems and preserving

biodiversity is not a cause. It is the key to our own survival"

GlobalGoals.org

Our Life on Land signs showcase the native bird species

that frequently visit the campus, and provide us with a

unique teaching opportunity to highlight the importance

of preserving natural habitats for future generations.

Together, let's support Earth Day and #RestoreOurEarth!

Global Goal 15, Life on Land: "Protect, restore and

promote sustainable use of terrestrial ecosystems,

sustainably manage forests, combat desertification, and

halt and reverse land degradation and halt biodiversity

loss."

"A flourishing life on land is the foundation for our life on

this planet. We are all part of the planet's ecosystem and

we have caused severe damage to it through deforestation,

The College Magazine (Beijing)

57