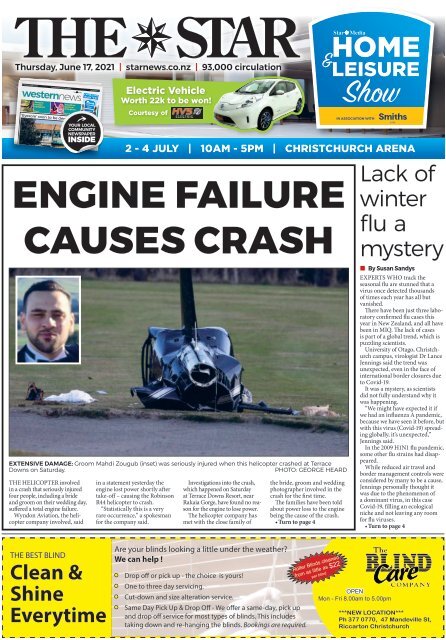 Create successful ePaper yourself
Turn your PDF publications into a flip-book with our unique Google optimized e-Paper software.
Authorised by

Megan Woods,

8 McCarthy St,

Christchurch

Page 3 Page 10

Talk to over 10,000 visitors in 3 days

Contact Lisa on 021 800 809

PARKING shortages, speeding,

limited road visibility and

congestion needs to be

addressed if a proposal to lease a

high-performance sports facility

The city council invited public

consultation aimed at establishing

wha the community thought

about a non-profit group taking

USUALLy

ServiCe

Thursday, June 17, 2021 | starnews.co.nz | 93,000 circulation

THURSDAY, JUNE 17, 2021 Connecting Your Local Community

starnews.co.nz

Residents

concerns

highlighted

The staff are

dancing at

St Margaret's

'Eyesore' soon to be demolished

Plan for

sports

centre to

continue

raises

concerns

• By Bea Gooding

IN ASSOCIATION WITH

to the community gets the green

light, residents say.

Saturday 23 June

1pm

North Lounge, St Marks Church,

150 Withe ls Rd

2:30 pm

School Ha l, Aidanfield Christian

School, 2 Nash Road

If you would like to make an appointment with

my office please ca l 03 338 6347.

Authorised by Megan W ods, Parliament Buildings, We lington

BEYOND REPAIR: Demolition of the Sockburn Service Centre and other buildings is due to start within

the next two weeks.

• By Fiona E lis

THE SOCKBURN Service

Centre building is se to be

pu led down after lying empty

Megan

Woods

Megan

Woods

Megan Woods

MP for Wigram

MP for Wigram

MP for Wigram

Please get in touch with my o fice if you

need any assistance on 03 338 6347 or

megan.woodsmp@parliament.govt.nz

Please get in touch with my office if you need

any assistance on 03 338 6347 or

megan.woodsmp@parliament.govt.nz

/MeganWoodsWigram

@megan_woods

Please get in touch with my office if you need

any assistance on 03 338 6347 or

megan.woodsmp@parliament.govt.nz

/MeganWoodsWigram

@megan_woods

/megancwoods

/megancwoods

Authorised by Megan Woods,

8 McCarthy St, Christchurch

Authorised by Megan Woods,

8 McCarthy St, Christchurch

since the February 22, 2011,

earthquake.

Demolition work a the Main

South Rd site is due to start

within the nex two weeks.

Greater Hornby Residents

Association chairman Marc

Duff said he was "absolutely

ecstatic" with the decision.

"It's been an eyesore for

far too long, especia ly for

residents coming in from the

south. A lot of residents travel

that route," he said.

• Turn to page 7

over the Apo lo Project Centre at

Je lie Park.

The facility's future is

currently in limbo as its existing

owner, High Performance

Sport New Zealand, wi l be relocating

to Parakiore Recreation

and Sports Centre when it opens

next year.

Of the 26 responses received, 11

supported the use of the centre by

a community group, five did not

agree, and 10 indicated their view

depended on how current issues

would be resolved.

• Turn to page 4

ENGINE FAILURE

Bring this

voucher in to get

10% off your bill

Not available in conjunction with any other offer or promotion.

Limit 1 coupon per table. Offers red emable Monday to Friday,

Lunch & Di ner only. Not valid during Mother's Day W ekend.

Valid ti l 30th of June 2021. Discount can not exc ed $50.

For everything

AUTO ELECTRIC

CARS • BOATS • TRUCKS

CARAVANS • TRAILERS • 4WDS

ELECTRIC & HYBRID VEHICLES

• Starter Motors

• Alternators

• Central

Locking

• electric

Windows

• ABS & Airbags

AAE Electric

Amazing

Auto

65 Coleridge St, Sydenham

Phone 03 379 4250

• Stereos/

Alarms

• Batteries

• tuneups

• engine

Management

SAMe DAy

www.amazingautoelectric.co.nz

CAUSES CRASH

EXTENSIVE DAMAGE: Groom Mahdi Zougub (inset) was seriously injured when this helicopter crashed at Terrace

Downs on Saturday.

PHOTO: GEORGE HEARD ​

THE HELICOPTER involved

in a crash that seriously injured

four people, including a bride

and groom on their wedding day,

suffered a total engine failure.

Wyndon Aviation, the helicopter

company involved, said

in a statement yesterday the

engine lost power shortly after

take-off – causing the Robinson

R44 helicopter to crash.

"Statistically this is a very

rare occurrence," a spokesman

for the company said.

Investigations into the crash,

which happened on Saturday

at Terrace Downs Resort, near

Rakaia Gorge, have found no reason

for the engine to lose power.

The helicopter company has

met with the close family of

the bride, groom and wedding

photographer involved in the

crash for the first time.

The families have been told

about power loss to the engine

being the cause of the crash.

• Turn to page 4

Lack of

winter

flu a

mystery

• By Susan Sandys

EXPERTS WHO track the

seasonal flu are stunned that a

virus once detected thousands

of times each year has all but

vanished.

There have been just three laboratory

confirmed flu cases this

year in New Zealand, and all have

been in MIQ. The lack of cases

is part of a global trend, which is

puzzling scientists.

University of Otago, Christchurch

campus, virologist Dr Lance

Jennings said the trend was

unexpected, even in the face of

international border closures due

to Covid-19.

It was a mystery, as scientists

did not fully understand why it

was happening.

"We might have expected it if

we had an influenza A pandemic,

because we have seen it before, but

with this virus (Covid-19) spreading

globally, it's unexpected,"

Jennings said.

In the 2009 H1N1 flu pandemic,

some other flu strains had disappeared.

While reduced air travel and

border management controls were

considered by many to be a cause,

Jennings personally thought it

was due to the phenomenon of

a dominant virus, in this case

Covid-19, filling an ecological

niche and not leaving any room

for flu viruses.

• Turn to page 4

THE BEST BLIND

Clean &

Shine

Everytime

Are your blinds looking a little under the weather?

We can help !

• Drop off or pick up - the choice is yours!

• One to three day servicing.

• Cut-down and size alteration service.

• Same Day Pick Up & Drop Off - We offer a same-day, pick up

and drop off service for most types of blinds. This includes

taking down and re-hanging the blinds. Bookings are required.

Roller Blinds cleaned

from as little as $22

per blind

OPEN

Mon - Fri 8.00am to 5.00pm

***NEW LOCATION***

Ph 377 0770, 47 Mandeville St,

Riccarton Christchurch
---
2 The Star Thursday July 30 2020

2 The Star Thursday June 17 2021

inside

inside

Tributes flow after death .................................. 5

Ageless team goes on tour...............................3

Man fined after docking puppies ............ 7

Mental health mission.....................................6-7

Sporting

New hospital

celebrities

child care

pay

initiative

tribute...................8

....................9

Call Bank for to bank stop charges cash, cheque to be dropped.10

deposits ....10

Petition New home for men's for Smiths refuge...............................12

City 15

Heritage Return to homes Trump, struggle...............................14

pandemic ..............20-21

Transport Heritage policies in photos questioned..................15

.............................................25

Jonty's

Check

big

your

moment..........................................20

shopping receipts .............. 27

ECan column............................................................22

Food .................................................................................28

Mayor's column......................................................25

Gardening....................................................................27

Gardening ................................................................ 29

National Sport ................................................................................. Volunteer Week.....................28-29 31

Sport...........................................................................31-33

Drivesouth .................................................................33

DriveSouth...................................................................35

Puzzles ..........................................................................34

Puzzles............................................................................36

Classified ............................................................35-42

Classified..............................................................38-43

Gig guide ................................................................... 43

Gig guide..................................................................... 43

newsroom

newsroom

Louis Day Reporter

021 919 917

louis.day@starmedia.kiwi

Matt Slaughter Reporter

Matt 021 910 Slaughter 788 Reporter

matt.slaughter@starmedia.kiwi

021 910 788

matt.slaughter@starmedia.kiwi

Chris Barclay Reporter

Chris 021 914 Barclay 169 Reporter

chris.barclay@starmedia.kiwi

021 914 169

chris.barclay@starmedia.kiwi

Barry Clarke Editor in Chief

Barry 021 359 Clarke 426 Editor in Chief

barry@starmedia.kiwi

021 359 426

barry@starmedia.kiwi

advertising

Shane Shane Victor Victor Advertising Manager Manager

021 021 381 765

shane@starmedia.kiwi

Classified advertising: 379 379 1100 1100

General General inquiries: inquiries: 379 379 7100 7100

REACH

REACH

MORE

MORE

.

. . .

178,000 * *

readers every week!

readers every week!

*2019 Nielsen Newspaper Readership Report

*2019 Nielsen Newspaper Readership Report

online

online

Keep up with the latest

Keep local up news with as the it happens latest

local news as it happens

www.starnews.co.nz

www.starnews.co.nz

A division of Allied Press

A Regional division of Manager: Allied Press Steve McCaughan

Regional PO Box Manager: 1467, Christchurch Steve McCaughan

PO 359 Box Lincoln 1467, Rd, Christchurch Addington

359 www.starmedia.kiwi

Lincoln Rd, Addington

www.starmedia.kiwi

Queen: It's A Kinda Magic

Friday 8pm-10.30pm

Celebrate the legacy of Queen and Freddie Mercury.

Showtime Australia presents Dominic Warren performing

lead vocals, guitar and piano live on stage in Freddie's

original key, with all the wit, charm and bravado of the

legend himself.

Admission: Adult: $62.50 Child (under 13 yrs old): $37.60.

Christchurch Town Hall Auditorium

The ReVamp Vintage

Market Sunday 10am-3pm

Go to Christchurch's largest indoor vintage market

set amongst the Air Force Museum's historic planes. For

sale will be all things vintage. Homewares, antiques, retro,

china, clothing, books, art... the unusual and the eclectic.

Admission: Free.

Air Force Museum of New Zealand

letters

letters

We want to hear

We

your

want

views

to

on

hear

the

your

issues

views

affecting

on the

life in

issues

Canterbury.

affecting life in

Canterbury.

Send emails to:

Send barry@starmedia.kiwi

emails to:

barry@starmedia.kiwi

Letters may be edited

Letters or rejected may at be The edited Star's

or discretion. rejected Letters at The Star's should

discretion. be about 150 Letters words. should

be about 150 words.

A name, postal address

A and name, phone postal number address

and should phone be provided. number

should be provided.

Please use your real

Please name, not use a your nickname, real

name, alias, pen not name a nickname, or

alias, abbreviation. pen name or

abbreviation.

Mid-winter swim events

The Polar Plunge

Sunday 11am-11.15am

Strip down to your togs and swim from the floater to the

boat ramp. Followed by a warming tot or hot chocolate.

Admission: Free. Naval Point Club Lyttelton

Waikuku Beach Surf Lifesaving Club

Sunday 10.30am-noon

Entering the water at 11am, lifeguards will be on patrol.

Scarborough Beach

Sunday 10am Meet by the clocktower.

Sign up for the O-Studio Reset and receive a hot drink at

Ocean Cafe to warm up after the plunge.

Diamond Harbour Sunday noon-3pm

Winter solstice Matariki

night light bike ride

Monday 5pm-6.30pm

Cycle Hagley Park on the longest night of the year at dusk,

with bright lights and family. Prizes. Admission: Free.

Mickle Gates at Armagh St, Hagley Park

Stay comfortable all year round with

Fujitsu's sleek, stylish Lifestyle Range.

HEAT PUMPS FROM $1999 inc GST INSTALLED!

2020

Heat Pumps

03 381 6950

info@powersmart.co.nz

powersmart.co.nz

Fujitsu's Catechin Filters are approved by

the Asthma and Respiratory Foundation

NZ's Sensitive Choice ® programme.

FREE

consultation from

your local Accredited

Heat Pump Expert

Bras and

shape Wear

ShOPPING AT ITS BEST

• No under wires

• Straps do not fall down

• Full support from beneath the bust

• Front-opening modifications

• Breast Prostheses fitted & supplied

• Esther is a registered

health provider

• Unique shape wear

Formerly

Jeunique Bra

FREE

CONSULTATIONS

& FITTINGS

Esther Rökk UnderFashions

For appointments please phone 322-6590

82 Milns Rd, Halswell • www.eru.co.nz

Whooooooooo

wants to see how much

gas they have left?

www.GasOwl.nz
---
• By Devon Bolger

A BID FROM the Crown to

have an additional allegation of

abuse against Peter Ellis admitted

as evidence in the upcoming

hearing for his appeal has been

dismissed.

The proposed evidence was an

affidavit from a woman in which

she said Ellis sexually

assaulted her in 1982 or 1983

when she was a child and Ellis

was her babysitter.

The Crown also applied

to adduce other supporting

material related to the affidavit.

The Supreme Court has dismissed

the Crown's application

and ruled that the proposed

evidence is inadmissible, in a

judgment released yesterday.

Reasons for this decision will

be provided in two-to-three

weeks' time.

Christchurch Civic Creche

worker Ellis was convicted on

16 charges of sexual offending

against seven children in 1993.

He appealed twice to the

Latest Canterbury news at starnews.co.nz

New allegation against Ellis dropped

• By Matt Slaughter

PETER SMITH is 82 years-old

and is still part of a rugby team.

A team of supporters, that is.

The team call themselves the

Crushers, a group of rugby-mad

Lady Wigram Retirement Village

residents who get together to

watch rugby and any other

sports they are interested in.

Smith said the Crushers have

followed the Crusaders most

recent Super Rugby season

closely, attending two home

games live and watching the

others on TV.

He said a recent highlight for

17 of the Crushers was visiting

the Southbridge house where

Dan Carter grew up, seeing the

goal posts on the section where

he used to practice kicking, and

getting a tour of Southbridge's

rugby clubrooms.

About 30 Lady Wigram residents

are part of the team. Some

are ardent rugby fans and some

watch less often.

Many of the Crushers played

sport at a high level in their

younger days, and Smith and

others still get out to pass the

rugby ball around.

Smith trialled for the Kiwis

rugby league team, other team

members played senior rugby,

Court of Appeal, the second

time after a referral by the

Governor-General. The first

appeal quashed three of the

convictions.

The second appeal against the

remaining 13 convictions was

dismissed in 1999, but Ellis was

granted leave to appeal against

the remaining convictions by the

Supreme Court in 2019.

Ellis died in September 2019

but the court decided the appeal

should continue.

—NZ Herald

Ageless team on tour

one played hockey for New

Zealand and two are golfers who

have earned red coats for representing

their clubs for more than

25 years.

Smith is the son of Pat Smith,

who captained the Kiwis in each

TEAM: The

Crushers form

a scrum at Dan

Carter's former

home.

Below – the full

team including

wives and

supporters.

of his 38 appearances between

1947-49.

Smith said members enjoy the

social aspect of the group and

the friendships they have made

through watching rugby and

other sports.

"We enjoy the discussion

and the comradeship and we

often talk about games that we

were in and bits and pieces. It

is the comradeship of having

something in common, I think,

that's our biggest thing.

"Mostly, we're averaged at

over 80. The more you can keep

your mind occupied and [have]

friendship, it does help you."

Thursday June 17 2021 The Star

NEWS 3

in brief

Canterbury may be in

for another soaking

Weather experts are keeping a

close eye on the rain forecast to

hit Canterbury this weekend.

Metservice meteorologist

Andrew James said there is still

a lot of uncertainty around the

amount of rain at this stage.

"We are keeping an eye on

the situation and are in direct

contact with the councils on a

daily basis, briefing them and

giving them the information

they need.

Cat returns home

after six years

A cat missing from its West

Melton home for six years has

been returned to its owner. Lilli

the cat was found at a property

in Oxford and brought to the

SPCA Christchurch Centre last

Tuesday. Lilli had a microchip

and, as a result, SPCA staff

were able to get hold of her

owner. Lilli was thin when she

was found, but was happy and

healthy.

No more faxes

at CDHB

Canterbury District Health

Board staff will retire their fax

machines by December. The

board is following Ministry of

Health guidance to ensure digital

communications are secure.

Its in-house Information Services

Group is leading the fax

retirement strategy. Chief digital

officer James Allison said there

were about 700 fax phone lines

across the organisation.

Medical Officer of

Health resigns

Canterbury Medical Officer of

Health Dr Alistair Humphrey,

who was sacked but later

temporarily reinstated after a

court fight, has now resigned

from the role. Humphrey

lodged a personal grievance

against the CDHB and was

temporarily reinstated after

a hearing in April. His case

claiming wrongful dismissal was

expected to be heard next week.

A spokesperson for Humphrey

said he had now resigned to

engage with other professional

opportunities.

Find it hard

to get out of

your chair?

These stunning chairs

have a practical, high

19" seat, making them

easy to get out of.

Available now from our showroom

or in your choice of fabric.

Blakeleys

of Kaiapoi

Specialist in

Traditional and

Modern New

Zealand made

furniture and

Moorcroft Pottery

from England.

Phone: 03 327 8161

117-119 Williams St, Kaiapoi

Mon–Fri: 9am-5.30pm Sat: 10am-2pm

www.blakeleysofkaiapoi.co.nz

Care &

Compassion

We pride ourselves on the

very highest level of service

If you are thinking about the future, we can help

you explore pre-payment and pre-planning options.

Contact us for a Free Information Pack.

We offer funeral information talks to groups.

Please call us for a speaker to come to you.

(03) 379 0196 | www.simplicity.co.nz

Mark Glanville

Manager &

Funeral Director
---
The Star Thursday June 17 2021

4

NEWS

• From page 1

"It is imperative we find the

cause for the engine to have lost

power," a spokesman said.

"This accident will

again raise the profile of

the Robinson helicopter

but it has to be remembered

the power plant in

the R44 is provided by

a reputable third party

manufacturer."

The helicopter was

carrying newlyweds

Fay El Hanafy and

Mahdi Zougub, whose

wedding day it was, and

photographer Rachel

Jordan.

They and the pilot all suffered

serious injuries, including broken

bones.

The pilot suffered "significant

injuries to the hand, wrist, leg

and back including broken bones

• From page 1

Jennings did not rule out a late

surge this winter from flu. There

were four strains of influenza

viruses circulating globally, albeit

at a low level. These were two

A subtypes and two B lineages,

which were covered in this season's

flu vaccine.

"As we know with influenza,

and lacerations."

Jordan suffered spinal fractures,

five fractured ribs, a lung

laceration, fractured sternum,

a fractured arm and

fractured feet.

Her husband Eric

said she was worried

her back was broken

when they spoke on

the phone just after the

crash and before emergency

services arrived.

"I heard . . . a lot of

screaming in the background

that I assumed

was the bride, and

groom, and pilot, who

had been injured as well," she told

him.

"She told me she recalls the

engine had shut off at some point,

that it completely lost power in

mid-air, and it seemed like the

whole thing went dead."

we always expect the unexpected,"

he said.

While, New Zealand is considered

most at risk of flu entering

through the travel bubble with

Australia, the Sydney Morning

Herald recently reported experts

noting just 71 confirmed cases

across the Tasman, compared to

more than 30,000 in May in 2019.

Latest Canterbury news at starnews.co.nz

'It seemed like the whole thing went dead'

Rachel Jordan

INVESTIGATION: Police oversee the crash scene at Terrace Downs.

PHOTO: GEORGE HEARD

Vaccination important to protect vulnerable people

Director at the World Health

Organisation, National Influenza

Centre, at Environmental Science

and Research in Wellington, Dr

Sue Huang, said the low numbers

this year and at the end of last

year were "quite extraordinary."

"I've never imagined that we

would experience this kind of

situation," Huang said.

She has worked in flu surveillance

for about 20 years.

The median number of laboratory

confirmed cases during flu

season from April to September

from 2015 to 2019 is about 5000.

Last year there were 502 cases,

with only two of these having

occurred from October to December.

Dr Huang said it was still

important to be vaccinated,

in order to protect vulnerable

people.

She believed the drop in

cases had been assisted by border

closures and was "powerful"

testimony to the value of public

health measures, such as social

distancing and hand washing.

november 2020

november 2020

for the love of local

Make an

entrance

Looks to steaL

the show

Doughnuts in

a Zephyr

DuneDin's fooD

truck scene

Make an

entrance

Looks to steaL

the show

Doughnuts in

a Zephyr

DuneDin's fooD

truck scene

Hitting the

sweet spot

Life in a

cake shop

Your dinner

party menu

Low on fuss,

high on fancy

for the love of local

Hitting the

sweet spot

Life in a

cake shop

Your dinner

party menu

Low on fuss,

high on fancy

Stressed?

Sore? Tired?

november 2020

november 2020

Book your traditional

Thai Massage today

• Relaxation

• Deep tissue

• Couples massage

• Hot stone option

• Hot oil

aromatherapy

www.style.kiwi | @StyleChristchurch

Wairakei Thai Massage and Beauty

198 Wairakei Road

03 351 2869 | 027 241 7735

www.wairakeithaimassage.co.nz

8 WEEK PROGRAM

STARTING 22 JUNE

Fear, anxiety and depression

are feelings we all experience.

There is a way out!

NEDLEY

DEPRESSION & ANXIETY

RECOVERY PROGRAM

Come, learn, be empowered!

Information session

Thursday 17 June

7:00pm at

Ilam SDA Church Hall

24 Ilam Road, Ilam, Christchurch

A merry heart doeth good like a medicine:

but a broken spirit drieth the bones. Prov 17:22

Enquiries:

Debra - 027 349 7925
---
• By Matt Slaughter

A PERSON received critical

injuries in a workplace incident

in Christchurch on yesterday

morning.

The incident happened at

construction company Lanyon &

Le Compte Construction Ltd on

Shivas Pl, Bromley, at about 7am.

Tracey Ogilvy, who works

POLICE ARE investigating

after an 18-year-old girl and her

father were assaulted in their

home on Sunday.

The 18-year-old was returning

to their Opawa home on

Fifield Tce at 3.30am when she

disturbed the intruder.

She was then seriously assaulted,

a police spokesperson

said.

Her father came to her assistance

and was also assaulted.

Police believed the intervention

of the family member

stopped any further assault on

the person.

The offender then fled the

scene.

The intruder turned off the

power to the victims' home during

a break-in.

It is understood the teenager

was punched repeatedly during

the attack and she and her

father suffered facial injuries.

The victims required treatment

at hospital and are assisting

police with their inquiries.

It is understood police believe

the attack was random rather

than targeted, and are looking

into whether the incident is

connected to other burglaries in

the area.

Police would like to speak

to anyone in the Opawa area

who had property disturbed

on Saturday evening or Sunday

morning or has information

that would assist the inquiry.

Police would not give more

information on the incident

when contacted by The Star.

If you can help police

phone 105, quoting police

file number 210613/2503.

Latest Canterbury news at starnews.co.nz

Construction company worker receives critical injuries

at nearby business Aerofast

Tiedowns, confirmed the

construction company's site

was cordoned off yesterday

morning.

"We don't actually know exactly

what happened. We just saw

that it was cordoned off."

She said the cordon was gone

yesterday afternoon.

Lanyon & Le Compte's director

refused to comment to The

Star.

"Just no comment, mate.

Thank you," he said.

St John spokesman

Gerard Campbell said the

injured person was taken to

Christchurch Hospital and was

in a critical condition yesterday

afternoon.

Campbell did not know the

nature of the injuries the person

sustained.

WorkSafe is making inquiries

into the incident.

In 2013, a subcontractor

for Lanyon & Le Compte

Construction Ltd, working on

the rebuild, was lucky to survive

after being impaled on a steel rod

that skewered three vital organs

and narrowly missed his heart.

Teenage girl, dad assaulted at home

SERIOUS: A daughter and her father were assaulted by a

home intruder on Fifield Tce, Opawa, on Sunday.

PHOTO: GEOFF SLOAN

Thursday June 17 2021 The Star

NEWS 5

100 staff

members

wanted

for Te Pae

TE PAE Christchurch

Convention Centre is on the

hunt for around 100 new

staff members to join its team

ahead of the centre's opening

in October.

As part of its largest ever recruitment

drive, the centre is

advertising an array of casual

roles for wait staff, baristas,

and kitchen hands, as well as

guest assistants, audio-visual

technicians and housekeeping

attendants, among others.

With more than 70 events

on its books, ranging from

small degustation dinners

to multi-day exhibitions, the

centre is hoping for applications

from a broad range of

candidates, whether they are

looking for a casual job with

flexible hours, or considering

a career in hospitality, spokesperson

said.

"Successful candidates

will receive at a minimum

the living wage, along with

full training, uniform and

subsided meals during their

shift," the spokesperson

said.

loose yams ..................................... 4

green kiwifruit ........................... 1

Ambrosia Apples ...................... 2

Red & Orange Kumara ....... 2

.99

kg

.69

kg

.99

kg

.99

kg

loose carrots ............................99 c

kg

limes ....................................................... 2

Beef Rump Steak ........................ 15

Whole Beef Rump ...................... 13

pork mince ....................................... 10

Lamb Loin Chops ...................... 19

Chicken Breast

(skin on) ........................................... 9

.99

kg

.99

kg

.99

kg

.99

kg

.99

kg

.99

kg

At

we have...

FRIDAY TO

SUNDAY ONLY

Persimmons ............................................ 4

Large Crown Pumpkins ............ 2

beef cheeks .......................................... 16

Pork Leg Steaks .............................. 10

.99

kg

.49

each

.99

kg

.99

kg

Check our website for

your local stores opening hours

All our fresh meat is 100% NZ FARMED. specials VAlid

14th June - 20TH June 2021.

WHILE STOCKS LAST! ONLY AVAILABLE AT RAEWARD FRESH HAREWOOD RD, TOWER JUNCTION

WWW.

.CO.NZ

Like us on

Facebook
---
The Star Thursday June 17 2021

6

NEWS

Latest Canterbury news at starnews.co.nz

Rugby player's death sparks mental

• By Matt Slaughter

TANE HIPANGO'S twin

brother Tama never talked to

him or anyone else much about

his struggles.

But, these struggles got the

better of Tama, a Lyttelton Rugby

Club division four player, in

December, when

he succumbed to

mental illness at

age 31.

Now, determined

to not

see other club

Tama

Hipango

members suffer

in silence, committee

member

Aaron Stevens

and coach Joseph Tyro ran a

workshop on Friday for players

and coaches to discuss their mental

struggles and arm them with

methods to cope.

The workshop was funded

by New Zealand Rugby and

hosted by social worker Kereama

Carmody. It was part of a pilot

programme it is hoped may

expand Canterbury and New

Zealand-wide.

Hipango thinks an initiative

like this may have helped his

brother through his battle.

"We would talk not every

day, but honestly, almost every

second or third day we'd call on

the phone, and we would talk

about kind of nothing. We'd talk

mostly about rugby, I suppose, to

be honest, and the last text message

I got from him was about

rugby,'' he said.

"He never talked to me about

his feelings.

"A rugby club is a community

space for all kinds of people, and

especially those who are, apparently,

at risk. It is men, young

men in that age bracket from all

kinds of walks of life. Having an

initiative like that, it brings so

much hope. It's the right thing in

the right place."

Hipango said Tama was

"extremely kind," "an awesome

brother" and was loved by his

family. He wrote poetry in his

spare time, some of which, in

hindsight, he believes was about

his struggles.

The first time Hipango heard

Tama was struggling, was from

Stevens, who helped get Tama to

hospital just in time to save his

life after a suspected attempted

suicide in June.

Stevens said, at the club's first

well-being workshop on Friday, a

SPEAKING UP:

Lyttelton Rugby

Club's Aaron

Stevens and

Joseph Tyro

are running

sessions for club

members to

talk about their

struggles, after

player Tama

Hipango lost

a battle with

mental illness in

December.

PHOTO: GEOFF

SLOAN ​

WHERE TO GET HELP:

• (0800 LIFELINE) or free text

4357 (HELP) (available 24/7)

• https://www.lifeline.org.

nz/services/suicide-crisishelpline

• YOUTHLINE: 0800 376 633

• NEED TO TALK? Free call or

text 1737 (available 24/7)

• KIDSLINE: 0800 543 754

(available 24/7)

• WHATSUP: 0800 942 8787

(1pm to 11pm)

• DEPRESSION HELPLINE:

0800 111 757 or TEXT 4202

• NATIONAL ANXIETY 24 HR

HELPLINE: 0800 269 4389

•SAMARITANS: 0800 726 666

• EDANZ, Eating Disorders

Association of New Zealand:

0800 EDANZ 0800 543 354

• If it is an emergency and

you feel like you or someone

else is at risk, phone 111.

room of 30 rugby players and

coaches were asked how many

had considered suicide and 20

put their hands up.

Said Stevens: "[Hearing] people

that I said were hard men, hardened

rugby players, openly talking

about their well-being, I was

really proud of those boys, eh."

Stevens battled anxiety himself,

after suffering a brain bleed as a

result of hitting his head during a

rugby game three years ago.

"I'd never had anxiety in my

life, I hadn't suffered from depression,

but I banged my head

and because I had strength and

weakness around the wrong way,

I thought being a tough man was

to [say] it will come right, harden

up, but it didn't.

"The first time I knew I had

anxiety, I didn't know what it

was. I thought I was having a

stroke . . . I ended up in A&E,

which resulted in a whole lot of

other therapy."

Tyro, who works in the health

sector, said his a message for

rugby players is "it's okay not to

be okay."

Turn everyday

essentials into

SuperGold

JUNE

DENTURE GIVEAWAY

ENTER TO WIN

Book your FREE no-obligation consultation

in the month of June and go into the draw to win

a free full set of dentures * (Valued up to $4,250)

914 Colombo St | Ph: 03 365 2859 | www.cosmeticdentureclinic.co.nz

*Terms & conditions apply

Find all the ways you could

stretch your money further.

Visit www.supergold.govt.nz or download

and check the SuperGoldNZ app.

SG_180x130_glasses

huge winter

SALE

10 to 50% off everything

3 DAYS ONLY

Ends Saturday 12th June - 1st in first served

BEST VALUE BIKES & REPAIRS OPEN 6 DAYS

Chch's largest range of quality used bikes and parts

620 Ferry Rd, Woolston. P: 03 376-6377. E: aroundagaincycles@gmail.com
---
health mission

He said traditional stereotypes

about rugby players having to be

staunch and harden up when faced

with adversity need to change.

"Concussion is one of the big

challenges and also the stereotypes

of traditional rugby in the

days of that culture – you don't

talk about your feelings, that

harden-up kind of attitude. We're

trying to change that kind of stereotype

and, usually, the alcohol

[consumption] after games and

all that."

Tyro said key focus is also to

help players cope with mental

challenges caused by factors like

Covid-19, the earthquakes and

social media.

Said Christchurch sports and

clinical psychologist Graeme

Clarke: "Generally males, whether

it's rugby, [or] whatever we're

doing, in a Kiwi way, we've sort

of have this sense of it's strength

to just take care of what you've

got to and get on with it."

Clarke said its great to see

Lyttelton Rugby Club giving

members a platform to not suffer

alone.

Former All Black John Kirwan

has spoken widely about his

battle with mental health issues

and the importance of asking

for help. He is an advocate for

mental health services across

New Zealand.

Australian rugby league star

STRUGGLES: Tama Hipango

(right) never spoke much

to his twin brother Tane

Hipango about how he was

feeling before his death in

December.

Greg Inglis went public last

year about being diagnosed

with bipolar II disorder in 2019,

following a second stint in

rehab for alcohol problems and

depression.

Tama Hipango's poem

See our world at your feet,

rise and never retreat.

Roar every heart beat, to fire

magics mystique.

As a day drums and sweeps

seconds away.

Times lightning strikes once;

for fortune for fate . . .

Your home, your heart will

never let you fall.

Like the lion you are –

forever stand tall.

• Walking into a new life, p12

Latest Canterbury news at starnews.co.nz

CANTABRIANS will have

the chance to learn about the

many benefits of owning an

eco-friendly EV ride at the

Home and Leisure Show,

where HVS Motors has a

$22,000 Nissan Leaf 30G to

be won.

From July 2-4 at Christchurch

Arena the HVS Motors

stand is the place to be if you

want to go in the draw to win.

Marvel at the car's full

leather interior, 360 deg cameras,

Android Auto and Apple

CarPlay, Bose sound system

and 10 air bags.

The Home and Leisure

Show is not just about inspiring

eco-friendly choices – it

covers building, renovation,

landscaping and has thousands

of ideas to inspire you

too.

There will be a variety of

informative seminars every

day from 11am brought to you

by Resene.

Hear from a range of businesses

including Buildright,

Sunshine Solar, Resene,

Kitchen Studio, Whitehouse

Builders and NZ Home Loans.

Look out for your free

double pass in this issue of The

Star brought to you by Smiths

City and be both inspired

and educated at Canterbury's

favourite home and leisure

show.

NEWS 7

Chance to win an electric

car at Home & Leisure Show

CHARGED UP: To go

into the draw to win this

$22,000 Nissan Leaf, visit

the HVS Motors stand

at the Home & Leisure

Show at Christchurch

Arena from July 2-4.

Thursday June 17 2021 The Star

IN ASSOCIATION WITH

Check out our latest

deals

Fill the fridge with everyone's faveS!

HOT DEAL!

$

39 99

each

STEINLAGER

PURE,

STEINLAGER

CLASSIC or

CARLSBERG

PILSNER

24 x 330ml Bottles

HOT DEAL!

$

24 99

each

GORDON'S G&T

12 x 250ml Cans, 7%

GORDON'S Sicilian Lemon

Gin & Soda, GORDON'S

Premium Pink Gin & Soda

12 x 250ml Cans, 4%

HOT DEAL!

$

34 99

HOT DEAL!

$

39 99

each

HOT DEAL!

$

42 99

HOT DEAL!

$

44 99

HOT DEAL!

$

49 99

Mix and match

these vinoS

2 for

$ 25

Single bottle

$14.99

1.125 LITRE

BELL'S

1 Litre

ABSOLUT, BACARDÍ Range

1 Litre

Includes Barcardi Gold, Spiced, Carta Blanca

JIM BEAM

White Label

1.125 Litre

TANQUERAY

1 Litre

JAMESON

1 Litre

THE NED Range

750ml

Includes Rosé, Sauvignon Blanc,

Chardonnay, Pinot Gris

19 CRIMES Range

750ml

Includes Cabernet Sauvignon, Shiraz,

Hard Chard, Red Blend, The Uprising

Rum Aged Red Wine

Shop local with

AMBERLEY, ASHBURTON, BARRINGTON, BELFAST, BRIGHTON, BURNSIDE,

COLOMBO ST, EDGEWARE, ELMWOOD, FERRYMEAD, HALSWELL, HANMER

SPRINGS, HORNBY, ILAM, KAIAPOI, LEESTON, LINCOLN, METHVEN, OXFORD,

SHOP LATEST DEALS at WWW.SUPERLIQUOR.CO.NZ

NATIONWIDE PICKUP & DELIVERY NOW AVAILABLE

PAPANUI, PEGASUS, RANGIORA, SEASIDE, WOOLSTON

Exclusions may apply on some brands advertised. Offers end close of trade 20th June 2021, while stocks last. Available at participating stores only. Multi Deal only available in store. Varietals may

vary by store. Limits may apply. Wholesale (other liquor retail banners) not supplied. Terms and conditions may apply. Available 7th - 20th June 2021 inclusive. Please see www.superliquor.co.nz for details.

SUP2280_C6
---
The Star Thursday June 17 2021

8

NEWS

Latest Canterbury news at starnews.co.nz

Sporting celebrities pay tribute to

EMOTIONS RAN high at

Addington Raceway on Friday

night after John Morrison

was able to salute his No 1 fan

Charlotte McLeod just days after

she lost her battle with cancer.

Charlotte was in Morrison's

thoughts when he flourished his

whip as he crossed the line in his

win with Time In The Bottle.

The Canterbury junior driver

carried the brave youngster's

name, written in her own

handwriting, on a sticker on the

inside of his helmet.

The victory was the first time

Morrison had been able to

honour Charlotte with victory

after she lost her tenacious battle

with neuroblastoma – a type of

cancer that forms in nerve tissue

– last Monday at just nine years

of age.

Charlotte is the daughter of

Hayley and Hamish McLeod,

with Hayley the niece of Southland

breeder Diane Dynes.

Morrison has a special bond

with the Dynes and McLeod

families.

"Family is the main thing,

this family have supported me

all of my life and without them

I wouldn't be here," Morrison

said.

Morrison admitted it had been

a difficult week for the family

after he returned following his

win honouring Charlotte.

"It has been a tough week."

Richie Mounga posted on Instagram

a photo of he and Sevu

Reece with wrist bands bearing

Charlotte's name.

Said Mounga: "I bloody love

footy, but no way does it define

me. This relationship has taught

me so much. The people and

relationships I have in my life

will always be the best thing

about me.''

McLeod was an avid supporter

of Morrison's career and enjoyed

watching his races.

The youngster, along with

and her brother Fergus and

sister Maggie even had a pair of

Morrison's pink silks made to

fit her.

"She loved watching the races,

she always enjoyed the races and

we even got colours made for the

three kids," Morrison said.

"Her and her two other siblings,

we had colours made with

the pink and the white hoops

and they would turn up at the

races (wearing them)."

"It was good, you always knew

she was watching."

Morrison first carried Charlotte's

name on the inside of his

helmet just one day before her

passing when finishing second

at the Harness Jewels with Lifes

A Beach.

"Charlotte hand-printed that

herself and I got to wear it at the

Jewels when I ran second."

"And that was the last race she

got to watch."

Morrison's victory brought up

HONOUR: Harness racing

driver John Morrison carried

Charlotte McLeod's handwritten

sticker in his helmet

and saluted the young

cancer victim when he won

with Time In the Bottle on

Friday night.

his 50th win this season.

That tally gives him a five-win

advantage in the national junior

driver's premiership over Sarah

O'Reilly, who notched doubles at

Forbury Park and Addington to

set up an intriguing battle.

As he strives to bring up three

consecutive junior titles Morrison

will have Charlotte in his

thoughts.

"All of this season so far is for

her."

– Harness Racing Desk

Nurse back in the wild ADVERTISEMENT

SPECIAL OFFER

KORU NUTRITION

A few years ago Kathy was

worried everything would

all come to a grinding halt.

A natural go-getter, her love

for the wild rugged outdoors

was calling but every form of

exercise really was taking its

toll. "I just love to get out into

nature and push myself, but

even on the easy rolling walks

I was struggling to keep up".

Nursing responsibilities were

becoming increasingly harder

and some of the old climbing

activities took a back seat. What

Kathy wasn't prepared for was

the feeling that the older she

got the more her joints needed

support, that she would have to

slow down and scarily it all felt

overwhelming; thankfully this

didn't turn out to be the case.

Now in her seventies, Kathy

is back out doing what she

loves whilst still working in the

nursing home. "All of us work

hard, and joke around having a

laugh, then it turns serious and

they ask me, 'Seriously Kathy,

you used to be so worried about

getting older - what's changed,

what is your secret?'"

"I've realised it is actually

no longer a secret - I was just

a little slow on the uptake. I

read a review from legendary

broadcaster Peter Williams and

then scrolled through hundreds

of others on the product Koru

FX".

"It's a natural rub rather

than a pill and if Peter finds it

good, then it must be worth a

try. I tell you what, the review

wasn't wrong. I tried it and

now I wouldn't be without it!"

Koru FX cream by Koru

Nutrition has become NZ's #1

fastest growing topical joint

support cream. With thousands

of happy customers, Koru FX

has set a new bar for joint

support.

"I feel like I am back to

my old self. Last year, I was

up Mount Taranaki again. I

wouldn't be doing that without

a bottle of Koru FX in my

pocket. I laughed when I saw

some cheap knock-offs - I tell

all my friends, if it's not Koru

Fx by Koru Nutrition...it's not

real."

Containing high quality oils

like calendula, arnica, manuka

and peppermint, along with

12 others, Koru FX provides

the perfect formulation for

supporting joints and muscles.

Always read the label and use as directed. If symptoms persist see your healthcare professional. Koru Nutrition Ltd, Christchurch.

Countless doctors and

pharmacists are recommending

Koru FX cream due to its

natural ingredients and fast

acting delivery.

If you're looking for a fastacting

and long-lasting, natural

product, harnessing the benefits

of essential oils, then Koru FX

is for you.

Ask for Koru FX cream next

time you're in the pharmacy

and try it for yourself.

FOR READERS
---
young Charlotte

THE CRUSADERS too had a

place in their hearts for Charlotte.

Richie Mo'unga posted on

Instagram a photo of he and Sevu

Reece with wrist bands bearing

Charlotte's name, and also

the name of a family member,

Michael, who had also just succumbed.

Said Mo'unga: "I bloody

love footy, but no way does it

define me. This year has taught

me so much. The people and

relationships I have in my life will

always be the best thing about me.

"Earlier this year I met little

Charlotte. A nine-year-old whose

smile can light up the whole room.

Sadly she lost her battle to cancer

this [last] week. My life will never

be the same and forever grateful

for the impact she's had on me.

"Today I remember her and

a family member Michael both

taken by cancer this (last) week.''

Latest Canterbury news at starnews.co.nz

• By Matt Slaughter

POLICE PHONE lines

have been running hot in

Christchurch in the last three

years, with 330,480 calls made

to emergency communication

centre staff.

An Official Information Act

Request from The Star has revealed

on average 302 calls a day

were made, including to police's

111 line, to report incidents

between 2018 and 2020.

The median response time for

priority one incidents – those

where an immediate police response

is required to reduce risk

or harm – was 8min 56sec.

For priority two incidents,

where a timely response is

required, but there is no immediate

threat to life or property,

police's median response time

was 34min 15sec.

The most calls to police's

emergency communication

centre were made in 2019:

114,487. Meanwhile, 108,323

were made in 2018 and 107,670

last year.

Said a police spokesperson:

"The data shows the numbers of

calls for service has remained

reasonably stable over the past

three years. We have an agile

Thursday June 17 2021 The Star

NEWS 9

Daily police calls

average 302

BUSY: Christchurch's police

emergency centre received

an average of 302 calls for

service a day between 2018

and 2020.

workforce and are ready to redeploy

staff into other roles

where there is demand, as well

as ensuring we are prepared

for likely spikes in demand, for

example Friday and Saturday

nights and major events.

"We strive to provide the best

service possible for Christchurch

residents and work hard to

ensure we have the right staff in

the right places, to respond to

calls for action and assistance."

Police do not hold information

on how many of the calls were

responded to in person by police,

how many resulted in arrests, or

how many led to no charges.
---
The Star Thursday June 17 2021

10

NEWS

• By Andy Brew

AS TECHNOLOGIES,

smartphones and the internet

continue to change the ways

we bank, those without access

to such platforms are being

increasingly left out – and at a

price.

Having the opportunity to

speak face-to-face with fellow

human beings now seems like

the exception, rather than the

rule.

And, as far as New Zealand's

banks are concerned, in-person

assistance is a privilege worth

paying for.

Research carried out by The

Herald shows that all of the

country's leading high-street

banks are charging customers

for over-the-counter, in-branch

transactions.

Charges for such interactions

vary from $2.50 at Westpac

branches to $5 at BNZ for "staffassisted"

and "manual" transactions.

These include over-the-counter

withdrawals, setting up direct

debit services and bill payments.

As with most financial increments,

it is the poorest and most

vulnerable in society who bear

the brunt of such penalties.

Age Concern New Zealand

chief executive Stephanie Clare

said changes in modern-day

banking systems affect everyone,

especially the elderly, who are

unable to access online banking,

where such transactions are free.

"There are so many changes

happening for our seniors in the

banking space, from the changing

of cheque use to more online

requirements," she said.

ANZ charges $3 for in-branch

assistance but offers the service

Latest Canterbury news at starnews.co.nz

Call for face-to-face charges to be axed

hot

ULEBs are

Metro Ultra Insert

Pyroclassic Mini

and Pyro IV

Woodsman

Serene

Metro

Ultra

See our range of

these ultra Low

emission Burners

on our website and

take a Virtual Tour of our

showroom online at :

www.simplyheat.co.nz

These burners comply with the

strictest clean air regulations so

you can cosy up to a wood fire

in comfort.

UNUSUAL: Speaking face-to-face now seems like the exception, rather than the rule.

METRO ULTRA

InSERT

Fits existing masonry

fireplace and chimney.

for free to customers with more

than $5000 in the bank.

BNZ imposes a $5 fee for

"manual" transactions despite

posting yearly profits of almost

$1 billion.

With New Zealand's banking

sector phasing out cheques

and the continuing closure of

branches across the country, the

New Zealand Bankers' Association

has provided a report for

Age Concern in order to help the

elderly transition to phone-based

and online banking.

In conjunction with New

Zealand's six biggest banks,

Age Concern has been offering

"banking workshops" to help the

elderly with the transition from

face-to-face banking to online

and telephone services.

"Banking is a right," Clare said.

"It's all about working together

with these changes, particularly

with our seniors, who are used

to banking in a different way,

used to knowing who their bank

manager is, know who the bank

teller is."

Clare said she is aware of the

fees for face-to-face banking and

advises those who are worried

about them to speak to the bank

in person.

"If people do have issues with

the charges, it's best to go to

the bank and talk to someone.

There are still human beings in

branches and humans online

too," she said.

New Zealand Bankers' Association

chief executive Roger

Beaumont said he was unable to

comment on the banks' fees as

each bank set their own charges

to operate in a commercial and

competitive environment.

Beaumont did, however, reiterate

Age Concern's advice for

those struggling with bank fees.

"Anyone concerned about their

bank fees should talk to their

bank to discuss their particular

situation and how they can

avoid fees," he said. "Some banks

waive fees for older customers.

Everyone's circumstances are a

bit different and it pays to have

a chat about how your bank can

help you." —NZ Herald

When the latest Ultra Low Emission Burners

are here, Simply Heat will have them.

PYROCLASSIC MInI

And PYRO IV

Inside colour: flame red

Exterior colours: 200+

WOOdSMAn

SEREnE

Latest in the range.

Come and see us, our showroom

has all the latest heating solutions

METRO FITS FInE

right where any old

woodburner did.

95 Byron Street, Sydenham,

next door to Rockgas

Call today 03 365 3685

www.simplyheat.co.nz

facebook.com/simplyheat

GAssoN sT

Moorhouse Ave

CArLYLe sT

BYroN sT

BrIsBANe ST

WALThAM rD overBrIDGe
---
Thursday June 17 2021 The Star 11

CARPET HOUSE LOT

DEALS

USING

25 METRES

OF CARPET

Prices are based on an average 3 bedroom home, using 25 broadloom metres of carpet on new underlay, three finishing bars and fully installed.

26oz Nylon

• Detroit/Riveria

• Solution Dyed Nylon

• Extra Heavy Duty

• Great colours to

choose from

Only $80 per metre

FULLy INSTALLEd

ON LUxURy

UNdERLAy

36oz Nylon

• Windsor

• Solution Dyed Nylon

• Extra Heavy Duty

• Great colours to

choose from

Only $109 per metre

FULLy INSTALLEd

ON LUxURy

UNdERLAy

HOUSE LOT: $3,900

HOUSE LOT: $4,600

50oz Nylon

• Grange Fell

• Solution Dyed Nylon

• Extra Heavy Duty

• Great colours to

choose from

Only $129 per metre

FULLy INSTALLEd

ON LUxURy

UNdERLAy

Polyester

• Vermont

• Heavy duty

• Great colours

Only $69.90 per metre

FULLy INSTALLEd

ON LUxURy

UNdERLAy

HOUSE LOT: $5,100

HOUSE LOT: $3,600

Luxury

Engineered

Timber Flooring

nOw

1/2 pricE

Vega Vinyl

Planks

• Four stock colours

nOw

1/2 pricE

FROM

$

60 00 $

30 00

PER M2

PER M2

CALL FOR A FREE MEASURE + QUOTE

312 Wilsons Road North, Waltham Phone 366 0070

Q Card Finance

Available

Mon to Fri 8am-5pm and Sat 10am-1pm

Check out our website! www.carpetkingdom.co.nz
---
The Star Thursday June 17 2021

12

NEWS

Petition for

Latest Canterbury news at starnews.co.nz

Walking into a new life

men's refuge

• By Samantha Mythen

"IF I can save one more life,

walking for 24 hours is nothing."

Starting at 7am yesterday

TWO HIGH school students

have started a petition to

persuade the Government to

fund refuges for men who are

victims of domestic violence.

Brooklyn Cavanagh and Jade

Frankland

started the

petition three

weeks ago, and

it has already

attracted about

900 signatures.

The two Year

13 Rolleston

College students

are aiming to

reach the 10,000

signatures

required for the

Government

to formally

consider the

petition.

"Domestic violence is often

hidden behind closed doors and

victims are sometimes afraid or,

in the case of men, embarrassed,

to come forward and seek help,"

Brooklyn said.

"Domestic abuse comes in

many different forms, from

verbal to physical, and can take

place over a short period to over

many years," Jade said.

Currently it is only women's

refuges that are funded by the

Government, leaving the 15

per cent of victims of domestic

violence who are men with

very little

support.

The pair

initially

became

interested

in the topic

as they

undertook an

assessment

for their

law and

psychology

class, aimed

Brooklyn Cavanagh (left) and

Jade Frankland

at trying to

change

a law or

policy

within the country.

They recently met up with

Selwyn district mayor Sam

Broughton, who was keen to hear

about the cause and offer support

by promoting the campaign. He

signed the petition.

If you want to help Brooklyn

and Jade, head to their petition -

http://chng.it/S7whY6CW.

morning, 2019 mayoral

candidate Stephen McPaike

began a 24-hour walk around

South Hagley Park, aiming

to clock up about 108km in

the name of stopping violence

against men.

McPaike's hopes his Walk for

Help will raise both awareness

for men who are victims of

domestic abuse and funds to

assist with their recovery.

McPaike was inspired to begin

this project after a man trapped

in an abusive relationship

reached out to him during level

four lockdown.

They had been chatting over

the phone when the man's

partner entered the room and

began physically abusing him.

He was taken to hospital for his

injuries.

McPaike said he helped the

man leave his relationship and

build a new life for himself.

"I chose to do a walk because it

symbolises walking out of a bad

relationship and walking into a

new and better life," he said.

All money raised will be

donated to the Canterbury

Men's Centre on Marshland

Rd, creating a fund for free

counselling for men who have

left abusive relationships.

The men's centre sees 300

men through its doors each

week. They are the largest

community counselling service

in Canterbury.

The centre's chief executive

Donald Pettitt said he was moved

by McPaike's walk.

McPaike wants survivors to

know they are not alone.

"I want people to be able to

open up and to say, "I have been

WALK

AGAINST

VIOLENCE:

Stephen

McPaike

spent

yesterday

walking

laps around

South Hagley

Park for 24

hours to raise

awareness

about

violence

against men.

PHOTO:

GEOFF

SLOAN

abused, I want help, I want to be

a better person," said McPaike.

He is hoping people will begin

to have conversations about an

issue "that is just not really

talked about."

• Need help? Shine also assists

people who have experienced

domestic violence. You can

call their Domestic Abuse

Helpline (0508 744 633) seven

days a week, from 9am

to 11pm.

Marshland Road

Marshland

Substation

Te Korari Street

N

Prestons Road

Key

Approximate worksite

One-way system

Prestons Road section one-way

due to power network upgrade

Please allow extra time for your

journey and follow all signage and

instructions from our team on site.

Orion is installing a new 66kV power

cable between the new Belfast

Substation on Blakes Road and the

Marshland Zone Substation.

As we lay the cable on Prestons

Road we need to close the road to

eastbound traffic. From 28 June for

up to 6 weeks you will not be able to

travel east on Prestons Road between

Marshland Road and Te Korari Street.

These are essential upgrades to the network,

so we can better service the fast-growing Belfast

and Marshland areas. To do this work, we need to

close Prestons Road, between Marshland Road

and Te Korari Street, to eastbound traffic so our

crews can work safely.

We understand the work and detour are an

inconvenience for residents and commuters.

Thank you for your patience.

03 363 9898 | 0800 363 9898

oriongroup.co.nz
---
Thursday June 17 2021 The Star 13

Winter

High Tea

Image is indicative only.

Join us for a Winter High Tea at one

of our three Christchurch villages

Winter certainly is starting to settle in. These cooler months

can make it just that little bit harder to get out and about.

So here at Summerset we're planning a month of warm

winter High Teas and you're invited.

Just pop along to one of our three Christchurch villages any

time between 10am and 2pm, on any Friday in June, and

enjoy a range of delicious winter treats and hot drinks on us.

Whilst you're here, why not also get a taste of the Summerset

life that our residents love so much.

10am - 2pm

Every Friday in June

Summerset at Avonhead

120 Hawthornden Road,

Avonhead

Summerset on Cavendish

147 Cavendish Road,

Casebrook

Summerset at Wigram

135 Awatea Road, Wigram

Our teams would love to show you around our stunning

villages and show homes.

We're looking forward to seeing you!

0800 SUMMER | summerset.co.nz

SUM3118_37X8
---
The Star Thursday June 17 2021

14

NEWS

Indian

restaurant

boss

banned

THE FORMER owner of

Corianders restaurant chain in

Christchurch has been banned

from being an employer and his

companies ordered to pay almost

half a million dollars.

The Employment Court has

issued declarations of breach

against Jeet Holdings Ltd and

two other companies for

breaching the Minimum Wage

Act.

A banning order has been

issued against the companies'

director and shareholder, Amar

Deep Singh.

The court found he instructed

eight employees to complete

false time sheets – which lead to

underpayment over several years

– and when detection was likely,

tried to cover it up.

The companies and Singh

have been ordered to pay more

than $300,000 in penalties and

$250,000 in reparation.

Regional manager southern,

labour inspectorate Jeanie

Borsboom said the finding serves

as a strong deterrent of this

completely unacceptable conduct.

— NZ Herald

• By Sophie Harris

THE HERITAGE properties

of some of Canterbury's most

influential women are struggling

to stay afloat as the effects of

Covid-19 take their toll on

fundraising.

The heritage properties of

Ngaio Marsh and Janet Frame,

which rely on visitor numbers

and fundraising events, are

facing tough financial challenges,

with private trust-backed

properties faring worse than

government-funded properties.

Visitor numbers have fallen

significantly since the borders

closed, with the former home of

Ngaio Marsh particularly hard

hit.

Ngaio Marsh House and Heritage

Trust chair Jessica Petersen

said the trust relied on fundraising

events to meet its operational

costs, but was unable to run

these with last year's lockdown

and ongoing uncertainty around

alert levels, and the trust was

struggling financially as a result.

While operational costs

remained fixed, the trust's

income had "dropped quite a lot"

and, because the trust was not a

publicly owned museum, it fell

through the cracks on a lot of

funding opportunities.

Latest Canterbury news at starnews.co.nz

Heritage homes of Marsh, Frame

hard hit by fewer visitors

STRUGGLING: Heritage homes, including those of Janet Frame (left) and Ngaio Marsh,

are feeling the impact of fewer visitors.

"It is very hard to get a grant to

pay the insurance."

Petersen said the trust had

relied on international tourism

in the past, with 40-50 per cent

of its pre-Covid income coming

from overseas visitors.

The trust's use of Givealittle

had helped to relieve some of the

financial burden, but Petersen

is worried about the long-term

outlook.

"Post Covid, the world's moving

online. How do you move

online as a house museum?" she

said.

"We have lots of creative ideas,

but innovation can be risky and

costly."

Janet Frame Eden Street Trust

chairperson Chloe Searle said it

was facing similar challenges.

"The sector is vulnerable,"

she said. "It is possible that we

(will) lose some smaller visitor

attractions like house museums

forever if they aren't supported

during this time.

"We are anticipating less

revenue from visitors with the

absence of international visitors,

and competition for external

grants will be even stronger than

previously."

Government-funded historical

properties are also feeling the

impact of the pandemic.

Kate Sheppard's former Clyde

Rd home received two awards

last week at the Canterbury

Heritage Awards – the ChristchurchNZ

supreme award and the

Heritage New Zealand award for

outstanding contribution

to heritage.

The property opened as a visitor

destination last December,

and while it has avoided the

financial uncertainty that other

heritage properties are encountering,

it is struggling to attract

tourists.

Since the beginning of June,

the property has averaged about

70 walk-in visitors a week, much

less than the 170 visitors a week it

had anticipated, and the opening

of the trans-Tasman bubble has

done little to increase numbers.

Property lead at Te Whare

Waiutuutu Kate Sheppard

House, Helen Osborne, said

it has had only two or three

Australian groups come through

the house since the bubble

opened in April.

Free afternoon tea and talk, Thursday 24 June, 2.30pm

Your next move

Downsizing or 'right-sizing' your home can

be daunting. Fortunately, there are experts

to help you get your head around it.

Our guest speaker on Thursday 24 June will be

Paul Lawrence from Senior Move Managers

talking about how they can help manage a stressfree

move and providing some tips and tricks.

Free afternoon tea & talk:

Thurs 24 June, 2.30-3.30pm

Please RSVP by 22 June to Laura on 021 905 778

or sales@stalbansretirement.co.nz

41 Caledonian Road, St Albans.

An Arvida Living Well Community
---
• By Matt Slaughter

AN ECONOMIST and author

who specialises in policy

effectiveness says strategies

encouraging Christchurch

residents to get out of cars and

onto bikes and buses have not

worked.

But the city council says the

number of people cycling is

increasing and Environment

Canterbury says it is working to

address challenges facing public

transport and its popularity.

Dr Greg Clydesdale, an author

and former Lincoln University

economist, believes in spite of

urban planners attempting to

combat climate

change

with more

bike lanes and

buses, "they

have failed

significantly."

Greg

Clydesdale ​

In his

submission

to the city

council's Long Term Plan, which

has been up for consultation and

will be finalised next month,

Clydesdale said oil consumption

in Canterbury and Westland

increased from 1.672MT [metric

tonnes] per person in 2013, to

1.675MT in 2019.

He said figures show car

ownership in Canterbury has

also increased from 0.485 cars

per person in 2013 to 0.706 cars

per person in 2019.

As a result, Clydesdale

believes this means transport's

contribution to climate change

has worsened under the city

council's policies.

Said Clydesdale: "Our council

has spent millions on cycleways

and discouraging cars from

entering the CBD, and there is no

evidence of any benefit for climate

change. In fact, the evidence

suggests they have made it worse.

"By making it harder for cars

to travel and park in the city,

planners thought they were

encouraging car drivers to

switch to bus/bike.

"In reality, they were making it

harder for businesses to relocate

to town. This, in turn, made

buses less competitive with cars,

Latest Canterbury news at starnews.co.nz

Thursday June 17 2021 The Star

NEWS 15

Transport policies not working – expert

Don't be

colD this

winter

Phone now for our winter

heat pump specials plus

prompt expert advice

and installation.

We can install in the

same week.

TRANSPORT: A former university lecturer says the city council and Environment Canterbury's efforts to get people using

bikes and buses are not working.

PHOTOS: GEOFF SLOAN

as bus passengers now had to

take two or three buses to get to

where they want (more travelling

and wait time)."

He said bus numbers in

Canterbury have dropped from

17 million pre-earthquake to

between 11 and 12 million now.

"The council put bicycles

first. Businesses and rebuilding

the city came second. The

result is wide, empty footpaths,

insufficient businesses in the

CBD, few pedestrians and empty

bike racks. And, under the

council's policies, our carbon

footprint has increased," said

Clydesdale.

Said a city council

spokesperson: "The council

For example, a count of cyclists

last year showed a 20 per cent

increase on the count the year

before. That count follows a

pattern of yearly growth and

we expect these numbers will

continue to go up as the cycleway

network is built.

"Environment Canterbury

has reported that bus use

dropped significantly after

the earthquakes and has not

returned to the levels we would

like to see. As a council we are

working with ECan to finalise

the Public Transport Futures

Business Case. This will outline

what improvements to the public

transport system would leverage

the greatest benefits."

years with public transport

partners, including Christchurch

City Council and Waka Kotahi

NZ Transport Agency, is

around understanding the

challenges facing public

transport - the two biggest being

urban form and the resulting

uncompetitive nature of public

transport in our distributed

urban environment.

"PT [Public Transport] Futures

is intended to improve service

levels to make public transport

more attractive, invest in service

enhancements and invest in

priority measures."

It comes as last week The Star

reported average temperatures

in Canterbury could rise by 1.5

has seen a consistent increase An ECan spokeswoman deg C by 2040 and 3.5 deg C by

in cycling numbers since we

Heat

said: "The work we

Pump

have been 2090 if climate

Spec

change is not

started building the cycleways. undertaking over the last few responded to.

GE35 PROBLEMS 4kW Heat AND Pump CHRONIC from o

GUT DISEASES

Heat Pump Specials

If you suffer from gut problems, many

factors need to be considered to get to

GE50 5.8kW Heat Pump from

their root causes.

It is not enough to investigate the stomach

GE35 4kW Heat Pump from only $2,299

and intestines, as gut diseases can arise

from other body systems seemingly

GE50 5.8kW Heat Pump from only $2,749

exposure to mycotoxins, pesticides and

other harmful chemicals in our diet.

Diseases of the gut - the oesophagus,

stomach, intestines, pancreas and liver

can cause digestive problems such as bloating

FH50 6.0kW Heat Pump from only $3,499

INCLUDES INSTALLATION. CONDITIONS APPLY.

379-3589

7 Dalziel Pl,

www.snowtemp.co.nz Woolston,

Christchurch

unrelated to digestion. Furthermore,

FH50 diseases of the gut can 6.0kW also occur from

Heat Pump from

environmental factors such as food

allergies, food additive sensitivities and

and cramps, abdominal pain, acid reflux,

constipation, diarrhoea and food intolerances.

Some of the hidden causes of these digestive

problems are Small Bowel Intestinal Growth

(SIBO), Sluggish Bowel Movement, Enzyme

deficiencies, microbial infections and chronic

Technology

inflammation.

The Diagnostic Scan performed at Marvel

INCLUDES INSTALLATION. CONDIT

Health is designed to identify diseases of the and other environmental causes of digestive

gut and their hidden causes. It detects harmful

viruses, bacteria and parasites, nutrient and

enzyme deficiencies, autoimmune diseases

and many other pathological changes that

cause chronic diseases of the gut.

379-3589

Chronic gut problems may even arise from

196 Wordsworth Street,

Christchurch

www.snowtemp.co.nz

www.marvel.health

Heat Pump Installation/Repairs • Refrigeration Design, Build, Repairs

ADVERTISEMENT

HOW MARVEL HEALTH

INVESTIGATES DIGESTIVE

dysfunctions in other systems that seem

unrelated to the gut.

A damaged immune system will promote

Tech

microbial overgrowth and food sensitivities.

When the detoxification system becomes

dysfunctional, toxins can build up in the

pancreas and lymphatic glands and cause

diseases.

The Scan checks for food allergies,

contaminants, food additive sensitivities

diseases.

After the scan, the doctors and healthcare

specialists at Marvel Health will study the

report and recommend targeted science-based

natural treatments and lifestyle changes to

support the body's healing.

Book A Scan Today 03-669-5410

Unit 13/6 Cone Street, Rangiora, Canterbury, 7400

293 Durham Street, Awly Building, Christchurch, 8013

196

The inspections from the scan is not a substitute for medical inspections. It is not assigned to state the final diagnosis
---
16 The Star Thursday June 17 2021

28

weeks

to go!

20% off

20% off

Stacking

Train

Usually $39.99

$

34 99 ea

Creative

Sketchbook

Usually $29.99

$

23 99 ea

National

Geographic

Kits

Usually $24.99

$

19 99 ea

Pound a Peg

Usually $29.99

$

24 99 ea

Tool Kit

Usually $34.99

$

29 99 ea

Save

$60

Ivar or Eldor

Dragon

20cm

Usually $29.99

$

24 99 ea

30cm

Usually $39.99

$

34 99 ea

Sophies

House

Usually $299.99

$

239 99 ea

54 Inch

Plush Snake

$

19 99 ea

Jumbo

Plush Sloth

$

59 99 ea

45cm

Usually $59.99

$

49 99 ea

HALF

PRICE

Smart Phone for Kids

*Requires SIM Card

Assorted

Rubber

Duck

$

8 99 ea

Mega Light

Up Dino

Surprise

$

49 99 ea

Video Call

Instant Messaging

GPS Tracking

SOS Alerts

Usually $249.99

$

229 99 ea

Unicorn

32cm Plush

Usually $59.99

$

29 99 ea

Fairycorn

Surprise

$

39 99 ea

Save

$30 20%

off

RC Rock

Crawler

3XL

Usually $159.99

$

129 99 ea

RC Cyklone

Buggy

Usually $99.99

$

79 99 ea

25cm Plush

Animals

Usually $34.99

100% Recycled

100% Huggable

$

29 99 ea

New Zealand's BEST

TOY LAYAWAY

NO DEPOSIT – NO INTEREST

• Layaway held up to 17th December, 2021

• Payments instore or by Internet Banking

• At least fortnightly payments required

• Cancellation Fees apply

• 48hour notice for pickup (as some layaways stored offsite)

• Photo ID required for creating Layaway
---
Hero 2 Missile Remote

Control Robot

Usua ly up to $99.99

Thursday June 17 2021 The Star 17

28

WEEKS

TO GO!

SAVE

$

20

New mailer out now

$ 79 99

ea

SAVE

$

10

$ 79 99

ea

Ages

8+

Ages

17+

New Zealand's BEST

TOY LAYAWAY!

Do l Savannah

ONLY

$

59 99

ea

NO DEPOSIT, NO INTEREST!

HELD UP TO 17 TH DEC 2021. See in-store for T&Cs

Family House

Playset

Usua ly up to

$89.99

LOCALLY

OWNED AND

OPERATED

$

19 99 ea

Ages

10+

Save $10

Ages

8+

Save $5

15% off JADA

Save $5

Ages

13+

$

34 99 ea

$

29 99 ea

Ages

7+

$

49 99 ea

1:24 Die

Cast Models

Ages

6+

Ages

7+

Ages

17+

Over 150 models to

choose from

$

49 99 ea

$

49 99 ea

$

44 99 ea

Skateboard

Fly Bar

Usually $69.99

$

59 99 ea

Push and

Glow

Formula

Fun

Usually $27.99

$

24 99 ea

Save

$20

RC 360

Cross

Usually $69.99

$

59 99 ea

1:16 Mini

Excavator

Usually $89.99

1:16 Wagon

with Horse

Float

Usually $169.99

$

79 99 ea

$

149 99 ea

Trick Board

Flybar

Usually $59.99

Flybar

Pogo

Stick

Usually $79.99

$

69 99 ea

$

49 99 ea

Robot

Kombat

Balloon

Punchers

Usually $79.99

$

69 99 ea

Splash

and Play

Rescue

Raft or

Fire Boat

Usually $27.99

$

24 99 ea

50cm

Side Load

Garbage

Truck

Usually $189.99

$

169 99 ea

My First

Flybar

Usually $39.99

$

34 99 ea

TOWER JUNCTION

NZ's Biggest TOYWORLD

Clarence St, Riccarton, Ph 03 343 0330

MARSHLAND

199 Marshland Rd,

Ph 03 982 8697

HORNBY

Chalmers St,

Ph 03 281 8127

Valid until 4th July 2021
---
The Star Thursday June 17 2021

18

Latest Canterbury news at starnews.co.nz

CONTENT MARKETING

Mortgage advisers offer experience

and comprehensive service

TWELVE MONTHS ago, three

colleagues who had worked

in senior roles at one of New

Zealand's leading banks over a

number of years decided to go

into business together.

Bringing their extensive experience

in banking and finance, particularly

mortgage finance, to the

table, they took on a Loan Market

franchise, setting up a small office

in Papanui as Loan Market Agile.

The three directors, Rodney

King, Dallas Roberts and Nigel

Ho, had worked with mortgage

customers from across the property

sector, including developers,

spec builders and investors, as

well as home buyers purchasing

properties from first homes to

top-of-the-range residences.

But, as they had observed,

times were changing in the mortgage

market.

"With bank branches closing

around the country, there was a

growing trend towards people using

the free services of independent

mortgage brokers," Rodney

said.

"In fact, about half of the

mortgages in New Zealand are

now arranged through mortgage

brokers, and it was this growing

industry that attracted us,

as we believed we could provide

an excellent and comprehensive

service.

"What we offer is access to

all banks, and with the differences

between banks in mortgage

conditions and how much they

will lend, we are able to advise

our customers and arrange

mortgages with terms and rates

that will save them as much

money as possible," Rodney said.

"There are also a number of

other lending institutions we have

access to that will provide mortgage

finance in situations where

banks are not willing to. There are

no charges for our services, and

we provide ongoing advice and

like to build up long-term relationships

with our customers."

Now, Loan Market Agile has

moved to new, larger premises in

a more convenient location – on

the corner of Ilam and Clyde Rds.

All three directors say they are excited

to be in their new Bryndwr

offices, and look forward to meeting

the local business owners, and

helping people in the community

achieve their financial goals.

ACCESS: The three directors

of Loan Market Agile. (From

left) – Rodney King, Nigel Ho

and Dallas Roberts.

LOCATION: Loan Market

Agile has moved to a more

prominent site on the corner

of Ilam and Cyde Rds.

"We invite people to call in for a

chat and a free coffee at any time,"

Rodney said.

The support staff at Loan

Market Agile also have extensive

finance and accounting experience.

Loan Market has been

established for many years

and is New Zealand's largest

independent mortgage broking

company, with branches

throughout the country.

RUN OUT SALE | RUN OUT SALE | RUN OUT SALE

GL50 Heat Pump

Heating 5.8kW | Cooling 4.8kW

$2,599

03 349 5050

SAME

DAY

RELINES

INSTALLED

Basic back-to-back installation.

Conditions apply.

Call us for a free quote

New Dentures > Relines > Repairs >

6 Brynley Street, Hornby, Christchurch

www.betterdenture.co.nz

ATTENTION BUSINESS OWNERS

Are you a tiny home manufacturer, architect or do you specialize in furnishing small spaces?

A new

addition to

the show!

Christchurch Arena, 2-4 July 2021

IN ASSOCIATION WITH

Tiny Homes ∙ Heating ∙ Small Spaces ∙ Furniture ∙ Waste ∙ Insulation

Gadgets ∙ Organisation ∙ Solar Power ∙ Compostable Toilets

If so, we want you to

join our Tiny Home

display space!

Call Lisa now on 021 800

809 or email lisa.lynch@

starmedia.kiwi and reach

over 10,000 attendees across

three days at our Home and

Leisure show in July.
---
Thursday June 17 2021 The Star 19

Bring your garden indoors!

Big Range, Low Price, Local Advice

Indiaka

Indiaka Cyclamen 13cm

337811

Sansvieria 15cm Varigated

122317

Living Interiors

Monstera

Deliciosa 1.5

litre

346210

Living Interiors

Tiny Pots House Plants 80mm

133557

$9 97

Was $34.97

now

$ 27 97

$6 97

each

Castle Rock

Assorted Cacti 8cm

305840

Red Fox

Indoor Kalanchoe

Pot 10.5cm

Red/White

296879

Living Interiors

Blechnum Silver

Lady 1.5 Litre

151498

$27 98 $12 98

Flowering Patio Planter 25cm

188609

$9 97

each

Enrich With nature Ceramics

Hollis Indoor Ceramic Pot 12cm Silver

369482

$11 98 $7 97

Botanicals Collection

Kokedama Indoor

Plant Hanger

H:15cm, W:15cm

375395

Enrich with Nature

Macrame Hanger 12cm Cream

367986

Was $34.97

now

$ 17 97

Botanicals Collection

Glass

$21

Geometric Terrarium 12cm 352985

99

each

Botanicals Collection

$14

Glass Ball Terrarium 15cm 352982

99

each

Botanicals Collection

Coco Fibre Indoor House

Plant Pole 0.9m

*Terrarium only,

Contents not included

Botanicals Collection

Terrarium Sand 500g

362882

Yates

Thrive Indoor

Liquid Plant Food

Drippers pack of 5

351316

$6 99

$9 99 $12 97

$7 98

Was $18.99

now

$ 14 99

each each each

pack

376802

Spend $50 or more on houseplants

and receive a

FREE regular

coffee voucher!

*Coffee redeemable only at the store mentioned on

the voucher. Limit 1 per transaction of $50 or more.

Not to be used with any other offer.

Keep up to date on

whats new instore

by following us on

instagram at:

@MEGACanterbury!

Mitre 10 MEGA

Hornby

☎ 03 349 8497

Mitre 10 MEGA

Papanui

☎ 03 359 5443

Mitre 10

Beckenham

☎ 03 322 7557

Mitre 10 MEGA

Ferrymead

☎ 03 366 6306

Prices valid until the 20th of

June only while stocks last.

If you find a lower price on an identical stocked product locally we will beat it by 15%

*if you find the same product cheaper from another Mitre 10 store of Mitre 10 website we'll match that price.

Excludes trade and special quotes, stock liquidations and commercial quantities. The in-store price may be lower than advertised.

www.mitre10.co.nz
---
The Star Thursday June 17 2021

20

NEWS

Christchurch gang links

suspected in meth raid

• By Daisy Hudson

POLICE HAVE seized $20,000

worth of methamphetamine and

more than $40,000 from a group

believed to have strong links to

several gangs in Christchurch

and the lower South Island.

The raids happened across

Dunedin and Invercargill

on Tuesday.

Detective Senior

Sergeant Rob Hanna

said organised crime

teams executed a

series of warrants in

Dunedin and Invercargill.

The investigation focused

on the supply and distribution

of methamphetamine into the

southern police district.

The warrants followed the

arrest of four people in Waihola,

between Dunedin and Milton,

on Monday after the occupants

of an alleged stolen vehicle left

a crash scene and were later located

with the help of the Armed

Offenders Squad.

Two further arrests were made

on Tuesday as a result of the

search warrants.

Four men aged 25, 29, 32 and

34 have been charged with numerous

offences, including selling

methamphetamine, unlawful

possession of a firearm, unlawfully

taking a motor vehicle and

a variety of driving offences.

They appeared in the Dunedin

District Court on Tuesday.

Police believed that members

of this group have strong links to

several gangs in the lower part of

the South Island and Christchurch,

said Hanna.

Police have so far seized

methamphetamine with a

street value of about

$20,000, four vehicles,

one firearm and

around $42,000

in cash from the

addresses targeted.

Said Hanna:

"Methamphetamine continues

to cause extreme harm in the

community and police will

continue to focus and target

those selling and pushing this

harm in order to hold those

offenders accountable.

"Stopping its distribution will

reduce harm not only to those

that have already been exposed

to the harmful effects of this

destructive drug, but those who

may never have been exposed to

it before.

"We want to send a clear

message that such criminal

activity won't be tolerated.

Police are committed to

stamping out the distribution

of methamphetamine and the

detrimental impact it has on all

communities.''

—Otago Daily Times

Latest Canterbury news at starnews.co.nz

Jonty's big moment

Reuben Thorne and Jonty.

PHOTO: GWYN HUGHES ​

FORMER ALL Black's captain

Reuben Thorne visited Burwood's

Champion Centre last week to

promote a Trade Me auction for

a signed and framed 2007 Iveco

Series/ Philips Tri Nations All

Blacks jersey.

The jersey currently has a bid of

$2100, with the reserve met. The

auction finishes at 8pm today.

The Champion Centre provides

multi-disciplinary, early intervention

services to infants and

young children with significant

disabilities and their families in

Canterbury.

One of the centre's own little

champions, Jonty, 22-months-old,

took the opportunity to be photographed

with Thorne to

help promote the auction. Jonty

was born with Down's Syndrome

and has been with the centre since

he was six-months-old.

Jonty warmed up to Thorne

once they started playing with

the ball, rolling and passing it

between each other, which is one

of Jonty's favourite things to do at

home.

Thorne was then given a tour

of the centre, where he learnt

more about its special early

intervention service, which

will receive 100 per cent of the

proceeds.

• Visit the Trade Me auction

to bid or to donate go to www.

championcentre.org.nz
---
• By Susan Sandys

PREBBLETON'S residential

area could increase by more

than 80 per cent if plan change

applications before the district

council are all approved.

A new Prebbleton plan

change application takes the

number of applications before

the district council to three,

amounting to about 1520 new

homes.

This would represent an

82 per cent increase on the

district council's current estimate

of about 1850 dwellings in the

town.

Prebbleton's potential huge

growth comes as nearly 300

submitters lodge their opposition

and support to the 2000-home

Lincoln South proposal and

2100-home west Rolleston

proposal on Dunns Crossing Rd.

The new plan change

application is from Birchs

Village Ltd, for rezoning about

36.5ha at Birchs Rd, south

Prebbleton. The district council

has named it Plan Change 79.

It would allow for about 400

residential lots.

District council staff are

currently reviewing the PC79

request to ensure it is adequate

to put to councillors to

allow it to be publicly

notified.

The PC79 request

follows two others for

Prebbleton – PC68,

which would allow for

about 820 residential lots

on 67.5ha, and PC72,

which would allow for about 300

residential lots on 28.7ha.

The PC68 request is from

Urban Holdings Ltd, Suburban

Estates Ltd and Cairnbrae

Developments Ltd, for land

Latest Canterbury news at starnews.co.nz

between Trents and

Hamptons Rd in south-west

Prebbleton.

The district council

has requested further

information from the

developers, before

ensuring the application

is adequate to put to

councillors to allow it to

be publicly notified.

The PC72 request is the

only one of the three requests

to have already made it to the

submission process.

At their meeting last week,

councillors accepted the

application, from Trices Road

Rezoning Group, which means

it can now go out for public

notification.

It relates to land on the southwest

of the town, generally

located between Trices, Birchs,

and Hamptons Rds, near land

recently acquired by the district

council for development as a

park.

Prebbleton Community

Association chairman Peter

Hunter said the area was already

seeing much growth with the

addition of two new retirement

villages, which would ultimately

see hundreds of new residents

settle in the town.

NEWS 21

Major growth spurt expected for Prebbleton

Support and

opposition on

developments

Peter Hunter

Thursday June 17 2021 The Star

RESIDENTIAL

SURGE: Prebbleton

is set to expand by

more than 1500

new homes if

plan changes are

approved.

PHOTO: GEOFF

SLOAN

•HAVE YOUR SAY:

Will more than 80

per cent residential

growth in Prebbleton

be good for the area?

Email susan.sandys@

starmedia.kiwi

"In five years' time, it could

well be a busy little retirement

centre," Hunter said.

He neither supported

nor opposed the addition of up

to 1520 new homes which could

become possible under the three

plan change applications.

"As an association, we are

still getting our head around

it.

"We are still trying to have

conversations with council and

say: 'What does this actually

mean?'," Hunter said.

"I see progress as positive,

but it needs to be done well and

thoughtfully," he added.

Apartments

from

$275,000

A great lifestyle in a supportive community

Where New Memories are Made

• Stunning serviced apartments

• Restaurant & bar

• Landscaped courtyards

• Close to The Palms

Resthome and Hospital Care – Care is what we do best

• 24/7 care available throughout the Village Palms. Fully serviced care suites offering

hospital and resthome level care

• Dedicated registered nurses, carers and household staff

• Additional support of a physiotherapist, diversional therapist, podiatrist and visiting GP

Open Monday to Friday

10am – 4pm

or by appointment

including weekends

Call Jenny for your personal

guided tour 021 993 943

31 Shirley Road, Shirley

www.thevillagepalms.co.nz
---
The Star Thursday June 17 2021

22

OPINION

since Environment Canterbury

climate-change emergency

Latest Canterbury news at starnews.co.nz

Support available for flooding victims

by sea-level rise this century and threatened and facing increased

our productive and protected land pressures due to river system

Environment

jeopardised by the arrival and change.

spread of new, exotic weeds and Wetlands are also ecosystems

Canterbury Chair

pests from warmer climates. at-risk nationally and regionally,

Jenny Hughey

All these eventualities have degraded by draining, damming

to be planned and prepared for, and diversion affecting their

and enhance that work.

fleet hybrid or long-range electric

and Environment Canterbury ability to sequester carbon,

IT

That

HAS

work

BEEN

included

a tumultuous

setting

small

by 2022.

rural

Carbon

communities

emissions

if they

from

will remain in the vanguard of cleanse freshwater and mitigate

time for those Cantabrians flood.

up a climate-change integration air travel across the organisation

these climate change efforts. flooding, as well as impacting on

affected by the recent flooding – The damage to homes, farms One example is the $40 million biodiversity and mahinga kai.

one

programme

of the worst

in the

cases

Long-term

the region

Plan

and

are

livelihoods

offset via our

is a tragedy,

own biodiversity

but Waimakariri River flood

With biosecurity, we are

has 2018-28, seen. ensuring climate change

if there

programmes.

is a silver lining, it is that protection project, completed putting greater emphasis on the

was My actively sincere considered condolences across to all no lives According were lost, to thanks a Madworld in part report

late last year. The network of risks of new pests establishing

those workstreams, whose lives increasing and livelihoods visibility to in MetService 2019, our issuing gross emissions just its were

floodgates and stopbanks will in Canterbury. Warming

have of the been science impacted and what by this we know second-ever 2253 tonnes red of warning. carbon dioxide

protect half a million people and temperatures, changing soils and

event. about the impact of climate Forecasters (CO2) equivalent, worked compared closely with

$8 billion of community and new land uses mean new weeds

change Flooding on Canterbury, is the most common

the natural issue hazard with iwi we and contend regional hydrologists equivalent and through river our engineers efficiency

and liaising with removals Environment of 7883 Canterbury tonnes of CO2-

business assets from a possible especially, will be able to gain a

"super flood".

better foothold across the region.

with partners, in this other country. local The authorities recent to efforts try to minimise and from the forestry effects planting The last major flood was in More broadly, we have to

extreme and central weather government. is a reminder of downstream across 2700 from hectares. the vast

how As vulnerable an organisation, our communities we have amount The of changing rain falling climate in the will pose

DELUGE: December In just 1957, three when days, parts some places curb reliance in Canterbury on fossil recently fuels and received more than 300

can be to heavy rain and raging foothills.

per of cent Coutts average Island monthly in Belfast and rainfall. Even find though environmentally surface suitable flooding created havoc on roads,

also made significant progress in many risks to life and livelihood

the Kainga flood-protection were swamped network by river held up alternatives, well. such as electricity and

rivers. addressing our own greenhousegas

Canterbury's emissions, with large, our braided water overwhelmed some rivers, agement

While in Canterbury. the massive In recent amounts years of

flow

and

peaking

flood-protection

at 3990 cubic

in our

hydrogen,

region right

to

now.

power

The

our

loss

public

we have seen how occasional,

make an insurance claim, and

rivers Christchurch are generally building at their receiving a those with stopbanks and other schemes

metres

are

per

a huge

second

asset

(cumecs).

to of livestock,

transport.

but extreme, weather events have

and the damage to find psychological support,

most "market-leading" ferocious after energy days of efficiency types of protection work fared communities.

The protection

They

scheme

safeguard

has been

farms, roads,

When

riverbanks,

my predecessor

bridges

Steve

had huge effects on residents and

financial help or emergency

north-westerly rating of 5.0 out rain of 6 in in the the high year much better than they would hundreds designed of thousands to defend of Christchurch people, and other Lowndes infrastructure retired as is chair huge. of

infrastructure around the South

accommodation.

country to February headwaters. on the National We are used have Island. otherwise.

homes from and a businesses. flood of as much A recent as 6500 Even once this council the repairs late are last made, year, he Please don't hesitate to use the

to seeing them flowing at high It will be cold comfort to those study cumecs. calculated their replacement

cost Environment at around $2.3 Canterbury's billion. logical changes and financial on the effects way. He of was

there will highlighted be the ongoing some of psycho-

the big support services available.

Australian Built Environment The driest parts of our region,

levels.

who have been seriously impacted

by the floods, but Canter-

The leadership ongoing work of biodiversity for these and the disaster optimistic to deal we with. would be able to • Cr Jenny Hughey is chair

Rating System New Zealand. along the Marlborough coast and

But our smaller rivers, those

The building's features include across much of the Canterbury

that rise in the foothills (such bury wide, the flood-protection schemes biosecurity is funded programmes by regional is also Support deal is with available the "pressing for those issues" of the Canterbury Regional

as

184

the

solar

Ashley/Rakahuri,

panels which can

the network

Plains,

held

are expected

up remarkably

to get

well

even ratepayers, underpinned but as climate by climate-change change who need climate it. The change Civil and Defence sustainability. Council (Environment

Selwyn/Waikirikiri

generate more than

and

55,000

the Ashburton/Hakatere),

kilowatt hours of electricity have relatively per which predicted some to places become saw more more intense, extreme Canterbury's weather, there distinct the braided

community, webpage and (www. as a council,

under

drier.

such

North-westerly

an extreme event,

storms are increases concerns. the likelihood of more Emergency I share Management his confidence. As a Canterbury)

infrequent year. exposure to easterly than with 300 torrential per cent alpine of average rainstorms question rivers of and central unique government wetlands face cdemcanterbury.govt.nz)

we are taking some bold steps to

rain. There This

It's has means been that, a 26% during

year reduction monthly turning since

rainfall our braided in just rivers Environment

three into playing many a role challenges. in accelerating The rivers Canterbury

form includes ensure advice we on are how in a to better make place to

extreme per staff weather member events, in emissions they can days. roaring rapids, fuelling landslides protection a vital ecological work. link and provide your home cope habitable with the changing again, climate

have since a 30 more declared June direct 2010. impact We now on have New a and causing Zealand's climate-change widespread river-man-

erosion. It is an a abundant difficult time food for supply many emergency

and how to and remove the tests flood it debris, will set us. But

access to electric and hybrid

Canterbury's coastal

nesting grounds for 26 species of there will always be a need to do

vehicles JENNY and hope HUGHEY to have explains half our what communities will be threatened native birds – most classified as by sea-level more. rise this century and

the council has been doing.

The formal declaration of a

state of climate emergency across

Canterbury was one of the most

serious, and colourful, moments

in the regional council's more than

Most elder abuse is

30-year history.

and enhance that work.

fleet hybrid or long-range electric

A year ago this Saturday,

That work included setting by 2022. Carbon emissions from

will remain in the vanguard of

at 11.49am, Environment

up a climate-change integration air travel across the organisation

these climate change efforts.

Canterbury became New Zealand's

One example is the $40 million

hidden

programme in the Long-term Plan

are offset via

plain

our own biodiversity

first council to proclaim such an

Waimakariri

sight

River flood

2018-28, ensuring climate change programmes.

emergency, formally dedicating

protection project, completed

was actively considered across According to a Madworld report

itself to consideration of climate

late last year. The network of risks of new pests establishing

workstreams, increasing visibility in 2019, our gross emissions were

change at the heart of all it does.

floodgates and stopbanks will in Canterbury. Warming

of the science and what we know 2253 tonnes of carbon dioxide

The declaration highlighted

protect half a million people and temperatures, changing soils and

about the impact of climate (CO2) equivalent, compared with

that all the work Environment

$8 billion of community and new land uses mean new weeds

change on Canterbury, and liaising removals of 7883 tonnes of CO2-

Canterbury does – from

business assets from a possible especially, will be able to gain a

freshwater management to

biodiversity and biosecurity,

transport and urban development

to air quality, and also regional

leadership – has a climate change

focus.

Currently, under the Resource

Management Act, regional

councils are required only to adapt

to climate change, not mitigate

it – that responsibility is the

Government's, but could change.

Even in 'adapt mode' many

of Environment Canterbury's

existing policies and plans already

contribute to reduced emissions.

In declaring the climate

emergency, the Council noted it

would continue to show leadership

on climate-change and do so

without adding new programmes

at ratepayers' expense. It also gave

staff a clear mandate to continue

on the issue with iwi and regional

partners, other local authorities

and central government.

As an organisation, we have

also made significant progress in

addressing our own greenhousegas

emissions, with our

Christchurch building receiving a

"market-leading" energy efficiency

rating of 5.0 out of 6 in the year

to February on the National

Australian Built Environment

Rating System New Zealand.

The building's features include

184 solar panels which can

generate more than 55,000

kilowatt hours of electricity per

year.

There has been a 26% reduction

per staff member in emissions

since 30 June 2010. We now have

access to electric and hybrid

vehicles and hope to have half our

Environment

Canterbury Chair

Jenny Hughey

we have seen how occasional,

but extreme, weather events have

had huge effects on residents and

infrastructure around the South

Island.

The driest parts of our region,

along the Marlborough coast and

across much of the Canterbury

Plains, are expected to get even

drier. North-westerly storms are

predicted to become more intense,

with torrential alpine rainstorms

turning our braided rivers into

roaring rapids, fuelling landslides

and causing widespread erosion.

Canterbury's coastal

communities will be threatened

our productive and protected land

jeopardised by the arrival and

spread of new, exotic weeds and

pests from warmer climates.

All these eventualities have

to be planned and prepared for,

and Environment Canterbury

equivalent through our efficiency

Abusers are often someone

efforts

close

and from forestry

– A family

planting

member, a caregiver,

across 2700 hectares.

someone trusted. If you're concerned about how someone is being treated,

The changing climate will pose

many risks to life and livelihood

it's in Canterbury. OK to In recent help. years

CALL OUR FREE HELPLINE

"super flood".

The last major flood was in

December 1957, when parts

of Coutts Island in Belfast and

Kainga were swamped by river

flow peaking at 3990 cubic

metres per second (cumecs).

The protection scheme has been

designed to defend Christchurch

from a flood of as much as 6500

cumecs.

Environment Canterbury's

leadership of biodiversity and

biosecurity programmes is also

underpinned by climate-change

concerns.

Canterbury's distinct braided

rivers and unique wetlands face

many challenges. The rivers form

a vital ecological link and provide

an abundant food supply and

nesting grounds for 26 species of

native birds – most classified as

threatened and facing increased

pressures due to river system

change.

Wetlands are also ecosystems

at-risk nationally and regionally,

degraded by draining, damming

and diversion affecting their

ability to sequester carbon,

cleanse freshwater and mitigate

flooding, as well as impacting on

biodiversity and mahinga kai.

With biosecurity, we are

putting greater emphasis on the

better foothold across the region.

More broadly, we have to

curb reliance on fossil fuels and

find environmentally suitable

alternatives, such as electricity and

hydrogen, to power our public

transport.

When my predecessor Steve

Lowndes retired as chair of

this council late last year, he

highlighted some of the big

changes on the way. He was

optimistic we would be able to

deal with the "pressing issues" of

climate change and sustainability.

I share his confidence. As a

community, and as a council,

we are taking some bold steps to

ensure we are in a better place to

cope with the changing climate

and the tests it will set us. But

there will always be a need to do

more.
---
Thursday June 17 2021 The Star 23

$

48,990 +ORC

The King of Beasts is here, with a meaner jet black, factory-fitted body kit, including front grille and 18 inch alloys.

It's also packed with super select 4WD, 2.4L turbo diesel engine, plus more mean features like smartphone

connectivity, multi around view monitor, advanced safety. Then there's our beast of a 10 Year Powertrain Warranty.

CHRISTCHURCH MITSUBISHI

386 Moorhouse Avenue, Christchurch | Ph: 03 379 0588 | christchurchmitsubishi.co.nz

*Price listed is for Triton 4WD GLS Black Edition automatic and excludes on road costs, which includes registration, WoF, 1,000km road user charges and a full tank of fuel.

Available while stocks last. Visit www.mmnz.co.nz for full Diamond Advantage conditions.

DRIVE A NEW

NISSAN

STOCK AVAILABLE TODAY

OFFER

3 YEARS FREE SERVICE

WITH THE NEW NISSAN NAVARA*

THE ALL-NEW

AGILITY MEETS SMARTS

AVAILABLE FROM

$33,990 *

STOCK AVAILABLE NOW

*Price shown is for the Nissan Qashqai ST excludes on road costs of $1,250 which includes registration,

WoF and a full tank of fuel.

CHRISTCHURCH NISSAN, 380 Moorhouse Avenue, Christchurch

Ph: 03 595 6820

www.christchurchnissan.co.nz

From

$39,990 *

*Price shown is for the Nissan Navara SL 2WD Manual excludes on road costs, which includes registration,

WoF and a full tank of fuel. Not available in conjunction with any other offer or promotion. Stock only.

Complimentary 3 years/60,000km (whichever occurs first) no cost service applies to Navara models first

registered between May 1 and June 30, 2021. The complimentary service offer to be carried out by an

Authorised Nissan dealer includes all items listed in the service schedule including parts, lubricants and labour.

Terms and conditions apply. Excludes all lease and some fleet purchasers. For full information regarding the

schedule and inclusions visit nissan.co.nz/owners/priceguides

christchurchnissan.co.nz
---
24 The Star Thursday June 17 2021

STYLE & QUALITY

FOR LESS

WWW.AFFORDABLEFURNITURE.NZ

SUPER

SPECIAL

CHRISTCHURCH'S MOST AFFORDABLE

NZ MADE LOUNGE SUITES

CUSTOMISE TO YOUR REQUIREMENTS

WAS $3319

$

3069

Naples Modular Corner

2 Seater $1129 $1049

3 Seater $1649 $1529

SUPER

SPECIAL SUPER

SPECIAL SUPER

SPECIAL

Willow

Barstool

Maui

Recliner

3 Colour options

available

Orbit

Barstool

WAS $89

$

79

WAS $999

$

899

WAS $139

$

129

Elm Dinning

Collection

SUPER

SPECIAL

Sylvie Bedroom

Collection

Buffet $1,109

Dining Table $909

Tallboy 5 Drawers $689 $639

Tallboy 6 Drawers $799 $739

Lowboy 6 Drawers $729 $679

Bedside $219 $199

Headboard From $379

3 Year Warranty

3 Year Warranty

5 Year Warranty

5 Year Warranty

Comet

Mattress

FROM

Single $229 $219

King Single $249 $229

Double $279 $259

Queen $319 $299

Melody

Mattress

FROM

Single $299 $279

King Single $349 $329

Double $399 $369

$

219 $ FROM

279

$

349

$

459

Queen $439 $399

King $469 $439

Riviera

Mattress

FROM

Single $369 $349

King Single $419 $389

Double $499 $469

Queen $549 $509

King $599 $549

California King $709 $659

Chateau

Mattress

Single $499 $459

King Single $589 $549

Double $709 $649

Queen $759 $709

King $839 $779

California King $1009 $939

5 Year Warranty

Continuous Wire

Spring Unit, Firm

Mattress & Quilt Fibre

5 Year Warranty

Pocket Spring,

Euro Top, Quilt Fibre,

Wave Foam & Comfort Foam

5 Year Warranty

Zone Pocket Spring,

Mini Pocket Topper,

Plush Fabric, Quilt

Fibre & Wave Foam

FROM

$

489

Chiro Mattress

Queen $519 $489

King $579 $539

FROM

$

499

King Single $539 $499

Double $679 $629

Queen $759 $709

Cloud Rest Mattress

King $839 $779

FROM

$

519

Super King $899 $839 King Single $559 $519

Queen $809 $749

Indulgence Mattress

King $869 $809

Super King $879 $819

FREE

CARPARKING

SOUTH CITY

BATH ST

WE ARE

HERE

255 MOORHOUSE AVE

REBEL SPORT

COLOMBO ST

MON-FRI 9:30AM – 5:30PM

SAT-SUN 10AM – 5:30PM

0800 268 264

www.affordablefurniture.nz
---
OPINION 25

HUI: He Whenua Taurikura, New Zealand's first hui addressing terrorism

and violent extremism, was held in Christchurch this week.

PHOTO: GEORGE HEARD

A united approach

to terrorism the key

I HAD the privilege of welcoming

ministers, public agencies and a range of

community members, academics, media

representatives and experts to He Whenua

Taurikura, New Zealand's first annual

hui on countering terrorism and violent

extremism, earlier this week.

The hui was in response to some of the

recommendations

of the Royal

Commission

report into the

terrorist attack

on Christchurch

masjidain on

March 15, 2019.

In welcoming

(representatives) to Ōtautahi Christchurch,

I reminded them of the importance

of local leadership, and the need to engage

broadly across communities – 'nothing

about us without us'.

This is the same theme that has led to

the response to Hollywood announcing its

intention to make a movie about what followed

the terror attack without engaging

deeply with the affected community.

Although it appears that the announcement

about They are Us was an attempt to

gain publicity ahead of seeking funding in

Cannes, I hope that the reaction causes a

We want to hear your views

on the issues affecting life

in Canterbury

Send emails to:

barry@starmedia.kiwi

Mayor

Lianne Dalziel

rethink. It has caused enormous distress

among local Muslim community

members.

One of the issues the hui looked at

related to the underlying causes of terrorism

and violent extremism, including how

individuals journey down pathways to

radicalisation across a range of ideologies.

What can we do to intervene early, prevent

radicalisation, and build strong communities

that are resilient to extremism?

I told them that in 2019 then Councillor

Raf Manji and I visited the mayor of London,

Sadiq Kahn, who had just released

the report 'A Shared Endeavour - Working

in Partnership to Counter Violent Extremism

in London', which said "we will only

be able to counter violent extremism most

effectively if all in society work in partnership

together."

I agree. I hope that we can come

together locally to talk about these issues,

so that we can form that partnership. It's

the only way to tackle these issues.

LETTERS

Letters may be edited or rejected at

Star Media's discretion.

Letters should be about 200 words.

A name, postal address and phone number should be provided.

Please use your real name, not a nickname, alias, pen name or

abbreviation.

FOCUS ON HEALTH

Essential for optimum health

All the cells of our body require

coenzyme Q10, commonly known as

CoQ10 to function. It is critical to the

production of adenosine triphosphate

(ATP), the major cellular energy source.

The creation of ATP occurs in the cells'

mitochondria, which generate about 95%

of the body's total energy needs. As all the

organs are made up of cells, CoQ10 levels

directly affect organ function. Sufficient

CoQ10 levels in the body have been

shown to decrease all causes of health

related mortality by half, according

to the results of double blind trials. It

is the first nutrient to improve heart

failure mortality in over a decade and

should be added to the standard

treatment, according to lead author

Professor Svend Aage Mortensen

(Copenhagen, Denmark). It

has been said that the levels of

CoQ10 in your cells is directly

related to your wellness state

as optimum levels of CoQ10

have been linked with

improved aging, exercise

performance, cardiovascular

and general better health.

CoQ10 has been very

well-researched to its

efficiency as a nutritional

supplement. However most

of the scientific research has

been on CoQ10 supplements

that are made using a natural

fermentation process to

produce a CoQ10 that is

identical to that found in the

body. Unfortunately some

CoQ10 supplements are

made synthetically and may

CoQ10 Vital for

Good Health!

CoQ10 is a nutrient that is absolutely vital to every cell

to perform its function & live. It is essential for energy

production, muscle function & required in sufficient

amounts for the heart to keep beating. A deficiency will

affect all organs & sufficient CoQ10 is considered an

important factor in reducing the chances of chronic disease

& reduced life expectancy.

CoQ10 is a fat soluble nutrient & its absorption is enhanced

when it is in a base of fatty acids. This formula contains

150mg of naturally fermented CoQ10 in a blend of fatty

acids from high quality fish oil to enhance the absorption.

Naturally fermented CoQ10 has been well researched as

to its efficiency as a nutritional supplement & is identical to

that found in the body. However some supplements contain

synthetic CoQ10 that has not been used in the research.

Co-Q10 SUPPORTS:

• Cardiovascular health • Brain Function

• Blood circulation • Lung Health

• Healthy blood pressure • Immune function

• Energy & endurance • Antioxidant protection

• Muscle function • Essential if on statin drugs

• Blood sugar regulation • Good health

• Exercise performance

Thursday June 17 2021 The Star

not produce the same results. Always check

the label carefully and look for "naturally

fermented" on the label.

CoQ10 levels in the cells have been

shown to start dropping by around the

age of 30. This decline continues as we age

and by around the age of 70 our CoQ10

level may be only 50% of the

optimum level. Some experts

have speculated, the heart

may stop beating if levels drop

below 75% of optimum levels.

According to Dr. Robert

Atkins MD and cardiologist,

"When some people who

need a heart transplant take

the nutrient, their conditions

improves so remarkably that

transplant surgery is no longer

necessary".

Co-Q10 is a nutrient that

is absolutely vital to every

cell to perform its function

and live. It is essential for

energy production, muscle

function and required in

sufficient amounts for the heart

to keep beating. A deficiency will

affect all organs and sufficient Co-

Q10 is considered an important

factor in reducing the chances of

chronic disease and reduced life

expectancy.

Enhanced absorption,

naturally fermented CoQ10

and further information is

available from Marshall's

Health & Natural Therapy,

101 Seaview Road, New

Brighton and phone:

388-5757.

Our Natural Health Advisers, Naturopath & Medical Herbalists are always happy to help you choose

the best products for your particular needs. We stock one of the most comprehensive ranges of

quality health products in New Zealand with all products at very competitive prices. If we don't have

what you require, or a suitable alternative to suit your needs, we may be able to obtain it for you.

Bringing You the Best in Natural Health! MAIL ORDER AVAILABLE

marsHalls HealtH & natUral tHeraPY

CONSULTING - PRESCRIBING - DISPENSING - MANUFACTURING - MEDICAL HERBALISTS

101 seaView rd, new BriGHton • PH 03 388 5757 • email: enquiry@marshallshealthshop.co.nz

- knowledGe makes tHe differenCe -

Super Special!

Premium Quality

Naturally Fermented

Coenzyme Q10+

90 soft gels,

150mg +

only $39.90
---
26 The Star Thursday June 17 2021

Be inspired with thousands of ideas under one roof!

2 – 4 July 2021

IN ASSOCIATION WITH

Free informative seminars

thanks to

Complimentary

goodie bags! show-only specials

and giveaways!

Live AUCTION!

Courtesy of

This MEGA tiny home

could be yOUrs!

A 2016 Nissan Leaf

worth $ 22,000!!

2 - 4 July 2021 • 10am - 5pm • Christchurch Arena • www.starhomeshow.kiwi

CUT THIS AD OUT FOR

1x FREE DOUBLE PASS

Join us at the Home & Leisure show, stand number 176.

Appliances, beds, furniture & tech.

Everything you need for your home.
---
Thursday June 17 2021 The Star

Latest Canterbury news at starnews.co.nz

GARDENING 27

Entries must be received by 24 June 2021

Use your outdoor living areas

all year round

• Warm & dry in winter

• UV protection for summer

• Stylish & permanent

• 5 year warranty

"AS SEEN ON TV"

ATTENTION

BUSINESS OWNERS

Do you sell products that are

eco-friendly or sustainable?

Chris Thorndycroft

15 months

INTEREST FREE

You could feature in the Eco-Zone at the 2021 Star

Media Home and Leisure Show this July and reach over

10,000 attendees across 3 days!

Phone 0274 211 079 | www.archgola.co.nz

Normal lending criteria apply

EntEr

now!

be in to WIN

WIth our 7 th AnNual bIrd

photo competition

our 2020 Winner:

Karen Moffatt-Mcleod

Your favourite bird photo competition

sINce 2015!

over $1000

in prizes

Including a Canon EOS M200

inter-changeable lens

camera, a Topflite Native Bird

Nurturer Pack & more!

Entries can be sent electronically (high resolution files) to giveaways@gardener.kiwi, with the subject line 'Photo Competition 2021', or posted to Photo

Competition 2021, Kiwi Gardener, PO Box 1467, Christchurch 8140. All entries must be received by 5pm, Thursday, July 1 2021. You can enter more than

once. The winning photos will be published in the August issue (out July 26).

Beeswax Wraps • Reusable Products

Natural Cleaners • Skincare & Make-Up Organics

Compost • Upcycled Furniture • Recyclable Products

If this sounds like you,

contact Lisa now on 021 800 809 or email lisa.

lynch@starmedia.kiwi for a no obligation quote.

Payment options available. Terms & Conditions apply.

Christchurch Arena, 2-4 July 2021

IN ASSOCIATION WITH
---
28 The Star Thursday June 17 2021

National Volunteer Week

RECOGNISE. CONNECT. REIMAGINE.

Te Wiki Tūao ā-Motu

20 - 26 JUNE 2021 | #NVW2021

Celebrating volunteering

National Volunteer Week, 20-26 June

2021, is an opportunity to celebrate

the volunteering which happens in our

communities around the country, and a

welcome chance to thank all those who

are out in their communities making a

difference. "The opportunity to make

a difference in our community must be

available to everyone", Outreach Manager

at Volunteering Canterbury, Glenda

Martin, says, "and we are delighted

that, due to our wide range of member

organisations, the diversity of volunteer

roles we are able to offer does provide

opportunities for a wide range of people,

skills and interests". While our older

adults may form the larger number of

current volunteers, the largest growth rate

remains with our younger people. "We

continue to be impressed by the younger

people who approach us to find out how

they can make a difference" Glenda said.

"Understanding the impact that the gifting

of their time has on the community,

together with providing a worthwhile

volunteer experience, will ensure that the

volunteering culture which has stood the

tests of time in this country for so long

will continue with this next generation of

volunteers."

Volunteering Canterbury is shortly

launching an update of its online services

which will enhance access to information

on volunteering and volunteer

opportunities and sits alongside the faceto-face

service which operates from it's

office in the heart of the city. Advocating

for volunteering and volunteers is another

important part of the day to day services

Volunteering Canterbury provides. "It's

important that organisations recognise

their responsibilities to all those in their

work places", Glenda says, adding that

Volunteering Canterbury's Tautoko

Network: Supporting the Community

Sector programme provides regular

training opportunities in relevant areas

to support organisations' volunteer

programmes.

For more information, contact

Volunteering Canterbury, Ph 366-2442,

www.volcan.org.nz.

Value volunteering

during National

Volunteer Week

Volunteering New Zealand is calling on

all types of volunteering to be valued during

Te Wiki Tūao ā-Motu National Volunteer

Week.

Everyone who gives their time freely

deserves to be recognised for their mahi

aroha.

"Volunteering takes many forms including

formal volunteering with organisations

as well as mahi aroha and social action.

Combined with the everyday acts of

kindness between friends, neighbours and

whānau, they help shape the kind of world

we want to live in," says Volunteering New

Zealand Chief Executive, Michelle Kitney.

The world-leading shape of

volunteering in New Zealand

Aotearoa has been recognised in

international reports as traditionally having

a high volunteer rate compared with the rest

of the world.

Around 2.5 million of our team of five

million actively support organisations and

other people through volunteering, social

action and mahi aroha. This adds up to a

voluntary contribution of 159 million hours

per year to enable our not-for-profit sector

to operate. This contributes $4 billion to our

economy.

Research also shows that if you live in a

community with high levels of volunteering,

even if you do not volunteer, your subjective

wellbeing will tend to be increased by all

that goodwill and social capital building

around you.

The shape of volunteering as

impacted by Covid-19

So, what's the shape of our volunteer

sector at the moment?

"The impact of Covid-19 on the volunteer

sector has been very varied. We know that

some older volunteers stopped volunteering,

while we also saw a wave of new volunteers

across different age groups," says Michelle.

"Regional differences have become

bolder, and the demographics of some

local communities are changing. Some

community organisations have experienced

an increased demand for their services,

stretching staff and resources. Funding

is the biggest challenge for volunteer

organisations."

These were some of the results of a new

report, Status of the Volunteering Sector

May 2021: post-COVID recovery and

resilience. The research will help in the

sector's recovery and preparedness for the

future.

The landscape of volunteering is

changing, in some cases exacerbating the

changes we were already seeing, in others

creating another shift entirely. Change

presents different challenges across

the sector, but also highlights unique

opportunities for reshaping and improving

the practice of volunteering. Volunteering

New Zealand continues to develop its

expertise in acting as the champion of mahi

aroha.

Call to action – keep shaping the

world we want to live in

Meantime, says Volunteering New

Zealand, volunteer organisations have

always needed more volunteers and better

funding. So, it has a few calls to action for

this National Volunteer Week.

• Look for where kindness, mahi aroha,

work for love, has impacted your life.

• Show your thanks to those people

giving kindness and mahi aroha through

#AotearoaOfKindness.

• Connect or reconnect with a community

or a cause that's important to you through

volunteeringnz.org.nz/finding-volunteerroles.

• And for decision-makers, commit

to promote and value volunteering and

volunteers.

More information contact Michelle

Kitney, Chief Executive, Volunteering NZ,

phone 027 681 4956, email michelle@

volunteeringnz.org.nz or Margaret

McLachlan, Communications Manager,

Volunteering NZ, phone 027 247 8047,

margaret@volunteeringnz.org.nz

church corner

Thank you to all our

volunteers & duty members

- we could not do this without you!

393 Riccarton Road

(next to Countdown)

thursday 7:00pm - 8:30pm

saturday 9:30am - 12 noon

library@cctoylibrary.org.nz

phone 027 358 3259

find us on facebook
---
National Volunteer Week

RECOGNISE. CONNECT. REIMAGINE.

Thursday June 17 2021 The Star 29

Te Wiki Tūao ā-Motu

20 - 26 JUNE 2021 | #NVW2021

Support

our toy

library

The Church Corner Toy Library is a

non-profit service run by a voluntary

committee for children and families in

our community. We aim to provide a

variety of good quality, safe, educational

toys for children (Aged 0 to 8) in our

community, which will enhance their

social, physical, cultural and emotional

development.

Without Volunteer members, we would

not be able to open. Any time given

is greatly appreciated and vital for the

library to survive.

If you are a non-member, interested

in volunteering please call Bella

on 027 358 3259 or email: library@

cctoylibrary.org.nz

Making a difference

Presbyterian Support would not be

able to continue their work without

the valuable and vital contribution of

volunteers. Last year 267 volunteers gave

over 18,000 hours of their time to help

care for vulnerable whānau/families,

tamariki/childen and kaumātua/older

people in Christchurch, Mid Canterbury,

West Coast, Marlborough, Nelson and

North Canterbury.

Volunteers of all ages, backgrounds

and nationalities provide support to our

Family Works mentoring programme and

our Enliven programmes for older people.

Melbin Varghese likens his voluntary

role at the Tōtara Club in Riccarton to

that of being treated as a special guest

and no wonder, given his kindness and

psuppersouth.org.nz/volunteer

willingness to help others.

"As an immigrant, and not having

any family members in New Zealand,

working with older people and making a

commitment was a wonderful experience

for me. Whenever I went to the Tōtara

Club everyone treated me as a special

guest."

"Volunteers make a huge commitment

to our organisation and the people

we care for," says Barry Helem, Chief

Executive Officer for Presbyterian

Support Upper South Island. "Our

programmes rely on their generosity and

willingness to help others. We're very

grateful to them."

To learn more or to apply, visit www.

enlivenuppersouth.org.nz/volunteer.

To our volunteers ... thanks!

Last year 267 Presbyterian Support

volunteers gave 18,666 hours of

their time by driving, chatting,

serving food and refreshments,

opening their homes, visiting,

mentoring and much more.

We couldn't do this without them

so thanks! It means a lot.

If you'd like to know more about

volunteering for Presbyterian

Support visit psuppersouth.org.nz/

volunteer or contact us below:

Presbyterian Support

P. 0800 477 874

E. ps@psusi.org.nz

Recipients of Volunteer

Recognition Awards 2021

Robyn Ogle

Steve Baker

Loraine van der Colff

Dot Volovik

Gardeners Team

Idea Services Team

Sara Ford

Julie Florkowski

Barry Doherty

Parisa Binaeizadeh

Administration Support Team

Glenys Whitelaw

Michaela Morrison

PARS Challenger Team

Theresa McLennan

Neil Brosnahan

Kelynge England

Julie Gray

Akaroa Volunteer Team

Liz Taylor

Ross Purves

Jessica Shackel

Support Workers & Counsellors

Christos Merentitis

Jordan Moss

Bellyful

Big Brothers Big Sisters Nth Canterbury

Birthright

Cancer Society CWC Division

Canterbury Workers' Education Assoc

CCC Graffiti Programme

Christchurch Kidney Society

Christchurch Transitional Cathedral

English Language Partners

Imagination Station

Lifeline Aotearoa

Literacy Christchurch

New Brighton Project

Prisoners Aid & Reintegration Society

Petersgate Counselling Centre

Pregnancy Infancy Parenting Support

Recreate NZ

Shirley Community Trust

St John NZ - Akaroa

St John NZ - Christchurch

St John of God

The Green Lab

Women's Centre

Yellow Brick Road

Youthline Central South Island

We sincerely thank our

wonderful volunteers for

their valuable contribution

to Orana Wildlife Park.

We are currently seeking

passionate people

to join our

volunteer team,

for a variety

of roles

including

guiding

visitors and

driving our

Safari Shuttle

(particularly

on weekends).

If you would

like to join

our team,

please contact

us to obtain

an application

pack.

Phone 359 7109 extn 819

volunteers@oranawildlifepark.co.nz

www.oranawildlifepark.co.nz
---
30 The Star Thursday June 17 2021

Simon Barnett &

Phil Gifford Afternoons.

12PM – 4PM

TUESDAY TO FRIDAY

CHRISTCHURCH 100.1FM
---
p $10.99

rrp $10.99

Thursday June 17 2021 The Star

• By Chris Barclay

MARTY BANKS has embarked

on a trip down memory lane

after heading home from Japan,

back to where it all began for a

club rugby player turned cult

figure.

Reefton-born Banks returned

to Sheldon Park last Saturday,

coming off the bench for

Sydenham in their Christchurch

Metro Cup clash with Belfast.

It was a task approached with

some trepidation, not just because

he hadn't played since his

NTT DoCoMo Red Hurricanes

lost their Japan Top League

quarter-final on May 8.

In the corresponding fixture

away to Belfast in 2012, you see,

Banks suffered a season-ending

knee injury in his previous outing

for the club.

"There was a little bit of

uneasiness," he confessed after

the 12-0 victory, though fonder

recollections dominate his

comeback to domestic footy.

With a fortnight in MIQ

looming, Banks contacted

Sydenham, with the intention

of boosting the club's bid for the

title.

"I've got a house in Auckland

and the easy decision would

have been to stay up there and

try and get into a club that I

didn't have a connection with,"

he said.

However, Banks and his

partner opted for Christchurch

after completing quarantine. He

had his first training session last

Tuesday.

"It's not ideal coming in so late

in the season but I see it as an

opportunity to come back and

be that older guy, help out some

of the young boys and give back

to a club that helped me out a lot

when I finished school," he said.

Banks left the West Coast

for a year in the Christchurch

Boys' High School 1st XV in

2007 and then Canterbury

age-group team-mate Elliot

Dixon convinced him to bolster

struggling Sydenham's ranks.

"We could have gone to (High

School) Old Boys, a club that

was doing pretty well at the time

but a group of us decided to go

against the grain," said Banks,

who never regretted his career

move in 2008.

"Sydenham reminded me of

home a little bit. There was that

semi-country feel. Everyone had

a bit of a chinwag, there was

none of the cliquishness you can

get at other clubs."

So Banks is feeling right back

at home, even if the playing

environment has changed

dramatically.

"When we started we had

Latest Canterbury news at starnews.co.nz

Banks still keen to give

Super Rugby a crack

SUPER-SUB: Marty Banks makes a break after coming off

the bench during the Highlanders upset Super Rugby

final victory against the Hurricanes in 2015.

PHOTO: GETTY IMAGES

a year of under-21s, now I'm

playing with 19 and 20-yearolds.

The landscape of senior

footy has got pretty young," he

said.

Now, at 31, Banks is an elder

statesman in a group that sit

sixth on the ladder heading into

Saturday's match with University.

"When I came into the team

we had a lot of guys who'd

played upwards of 100 games.

Guys like Jason Ryan, Andrew

Stead … the list just goes on.

Jack Umaga was the guy we

looked up to in the backline.

"They'd take you under their

wing, make you feel welcome

EXPERIENCE:

Marty Banks, a

Super Rugby

title winner

with the

Highlanders

in 2015, has

returned

from a stint

in Japan to

reunite with

Sydenham.

PHOTO:

BRIDGITT

ROBINSON

and punish you in the old court

sessions."

Banks, who was relieved to

have missed the most recent

drinking exercise, joined a gym

on Monday.

Golf courses also contribute

to his fitness regime while he is

also helping out the CBHS rugby

programme, focusing on the

backline.

Not that coaching is a priority,

Banks still has provincial and

Super Rugby goals.

"I feel like I've got a lot of

rugby left in me," said the utility

back who famously slotted a

crucial dropped goal before the

Highlanders won their solitary

Super Rugby title – against the

Hurricanes – in 2015.

"I'd love to end up back at

the Landers but they've got a

young group coming through.

Mitch Hunt and Josh Ioane are

going bloody well so that door is

probably not open."

Whatever happens, Banks

was content to be back in New

Zealand and "chipping away"

at the little nine-hole at Lincoln

during the week, taking in the

cool, clean air.

"For the last year and a half

in Japan we were pretty much

confined to our apartment and

training, that was pretty much

our life," he said.

SPORT 31

WINNERS: Canterbury's

champion Farah Palmer Cup

team will be seen on Sky

Sport this season.

Farah

Palmer

Cup

to air live

FOR THE first time in the history

of the Farah Palmer Cup, all

matches are to be broadcast live

and available on Sky Sport this

season.

In addition, every week a Farah

Palmer Cup match and NPC

match will be available free to air.

"Women's rugby is skilled, athletic,

powerful and unique – and

now, everyone can see how superb

it is, wherever the Farah Palmer

Cup is played," said Sky chief

executive Sophie Moloney.

Cate Sexton, New Zealand

Rugby head of women's rugby,

said this move isn't just an opportunity

to showcase the commitment

and dedication of women's

rugby players, it will also inspire

women into the sport.

"With the increasing profile of

both international and national

competitions, we have seen tremendous

growth in the fan-base,

support and involvement from

women in rugby at all levels.

There is a real interest in playing,

getting involved in and watching

the game, it's great to see."

"The resource for women's

rugby has also grown significantly

over the years, having the support

of Sky as a partner is fantastic,"

said Sexton.

The 2021 FPC season returns to

the Premiership – Championship

format this year, kicking off on

July 17.

BE IN TO

WIN

A SONY X90H ANdROId Tv WORTH $2,500!

9 416770 121325

FREE FIRST XV SEASON PREVIEW MAGAZINE INSIDE

MAY 2021

SEILALA MAPUSUA INTERVIEW: HIS VISION FOR MANU SAMOA

JUNE 2021

TONY JOHNSON

ON THE COMING OF

MOANA PASIFIKA

AARON SMITH

'WHY I RATE

DUPONT'

SEAN FITZPATRICK

'WE NEED MONEY TO

SUSTAIN THE GAME'

CRUSADERS DAN

FIVE OF THE BEST

CARTER

TONY

REFLECTING JOHNSON ON A

CAN GREAT THE CAREER

SABBATICAL

SAM CANE

JEROME

THE LONG

KAINO

ROAD BACK

SORTED FOR

LIFE AFTER

RUGBY

BEEGEE'S

DREAM

WHY MOANA

PASIFIKA WILL BE A

• PHIL GAME-CHANGER

GIFFORD: THE BEST

SCHOOLBOY STARS HE SAW

• DARYL GIBSON: HIS VISION

FOR THE BOP STEAMERS

9 416770 121325

WAYNE PIVAC

FROM THE OUTHOUSE

TO THE PENTHOUSE

• WHERE ARE THEY NOW:

MATTHEW COOPER

• SARAH HIRINI:

BRINGING THE MANA

Subscribe to New Zealand's

premier rugby read for six issues

or more to go in the draw. Ten

lucky subscribers will also win

one of five All Blacks jerseys, Lone

Star and Joe's Garage vouchers.

SIX ISSUES

$39

SAvE 41%

+ CHANCE

TO WIN A Tv

& mORE!

*Competition runs till July 31st 2021. Offer only applies to NZ

residents and subscription periods of six issues or more.

SUBSCRIBE AT RUGBYNEWS.CO.NZ OR 0800 77 77 10 | AvAIlABlE AT All GOOd BOOkSTORES ANd SUpERmARkETS
---
The Star Thursday June 17 2021

32

SPORT

Latest Canterbury news at starnews.co.nz

BIG CLUB MATCH-UPS THIS WEEKEND

Cashmere Tech won't be resting

on laurels going into Chatham Cup

• By Chris Barclay

CASHMERE Technical

dropping points is a rarity,

though a draw with Ferrymead

Bays could not prevent the

Mainland Football premiership

powerhouse defending their

crown with two rounds to play.

The second stalemate of their

unbeaten campaign wasn't the

only surprise, with Cashmere

Technical's players shocked by

Nomads United's 4-1 win over

Coastal Spirit, a result that sealed

a fourth successive title.

"We didn't expect to win the

league (last Saturday), we didn't

expect Coastal to fall over," said

Cashmere Technical head coach

Dan Schwarz.

"It was very subdued to be

honest when he found out after

the game."

Completing another league

campaign unbeaten, constructing

a deep Chatham Cup run

and carrying over their imperious

form into the new Southern

League ensures the squad will

not be resting on their laurels.

Cashmere Technical opened

the scoring through Garbhan

Coughlan from the penalty spot

and then provided the equaliser

with Tom Schwarz conceding an

own goal in the 32nd-minute of a

tight tussle.

The champions lead Coastal

Spirit by 10 points, with the

seasiders only able to bank a

maximum of nine with a catchup

game with Halswell still to be

scheduled.

Christchurch United became

the third of five premiership

clubs to qualify for next month's

Southern League after they beat

Nelson Suburbs 3-1.

Nomads United are also poised

to join the Southern League after

beating Coastal Spirit.

The eight-team competition

also features three qualifiers

from the Football South Premier

League. The top two clubs then

advance to the National League.

Coastal Spirit are now tasked

with bouncing back in a tricky

third round clash Chatham Cup

clash with Christchurch United

tomorrow night.

Cashmere Technical are also

in action on Saturday with a

third-round fixture with Nelson

Suburbs at Garrick Park.

"We know it's going to be a

difficult afternoon against them.

They've got some very good

players going forward. They're

always capable of scoring three

or four against you," Schwarz

said.

The remainder of the premiership

clubs have this weekend off.

In Christchurch Metro Cup

club rugby action Lincoln

University, Marist Albion and

QUADRUPLE: Cashmere Technical won their fourth

straight Mainland Football premiership after they drew

with Ferrymead Bays and Coastal Spirit lost to Nomads

United.

MARKSMAN:

Cashmere

Technical

goalscorer

Garbhan

Coughlan

was on target

during the

title-clinching

draw with

Ferrymead

Bays.

PHOTO: MATT

HASTINGS

Linwood continued to maintain

a gap on the chasing pack with

relatively comfortable wins at the

weekend.

Champions Lincoln beat

fourth-placed Christchurch

29-18, Marist Albion claimed

a high-scoring encounter with

Sumner 36-28 and Linwood was

too strong for Shirley, taking a

free-flowing contest 46-27.

At the other end of the spectrum,

Burnside bounced back

from conceding a half-century

against Lincoln with a tight 8-6

win over University.

The status quo at the top of the

standings should remain this

weekend with Lincoln, Marist

Albion and Linwood drawn

favourably.

The Eastern Eagles resurgence

continued with a 26-22 victory

over last year's beaten finalists,

the Northern Bulldogs their

fourth win in five games to stay

in range of a play-off berth with

five rounds of the Canterbury

Rugby League premiership's

regular season remaining.

After losing their first four

games of the campaign, the

Eagles chalked up a third successive

nail-biting triumph after

leading 20-16 at the break. Lock

Uale Peneli notched a double for

the Eagles.

They now face a tough clash

with the Halswell Hornets at

Wainoni Park on Saturday.

Predictably there was no

change at the top of the table

with unbeaten Hornby thumping

winless Papanui 78-16,

second-placed Linwood beat

Riccarton 42-12 while the Celebration

Lions climbed into the

top-four by shading Halswell

28-22.

There is a new leader in Canterbury

Hockey's women's premiership

with Marist replacing

Harewood after they drubbed

Avon 6-0.

Carlton Redcliffs also shunted

Harewood back to third with a

6-2 win over Hornby, the defending

champions ceded ground

with 3-3 stalemate with HSOB/

Burnside.

Harewood have a chance to

overhaul the inactive Carlton

Redcliffs on Saturday when

they play Avon; Marist should

preserve top spot when they take

on Hornby.

There was no change in the

men's division, where unbeaten

Marist maintained a five-point

advantage over Harewood

through a 3-2 victory over Avon.

HSOB/Burnside and Avon

make up the top-four.

Champions Lincoln University

continued to dominant the

Christchurch Netball Centre

premier grade with a 73-43

victory over Christchurch Girls'

High School in ninth round

action.

Kereru A also maintained

their unbeaten record with

a tougher 52-43 win against

fourth-placed Technical A on

Tuesday night.

Third-ranked University of

Canterbury swamped Villa

Maria 83-19.

Top of the tables

Christchurch Metro Premier Cup men's rugby

P W L D PD Pts

Lincoln University 9 6 3 0 121 34

Marist Albion 9 6 3 0 26 34

Linwood 9 7 2 0 68 32

Christchurch 9 4 4 1 88 28

Burnside 9 6 3 0 30 28

Sydenham 9 5 3 1 -5 27

Shirley 9 3 6 0 -21 24

Sumner 9 4 4 1 -25 24

New Brighton 9 4 5 0 -43 19

HSOB 9 3 6 0 - 1 18

University 9 3 6 0 -46 17

Belfast 9 1 7 1 -192 9

Canterbury Rugby League men's premiership

P W L D PD Pts

Hornby Panthers 9 8 0 1 186 17

Linwood Keas 9 7 1 1 160 15

Halswell Hornets 9 4 3 2 88 10

Celebration Lions 9 4 5 0 36 8

Northern Bulldogs 9 4 5 0 26 8

Eastern Eagles 9 4 5 0 -94 8

Riccarton Knights 9 3 6 0 -110 6

Papanui Tigers 9 0 9 0 -292 0

Mainland Football men's premiership

P W D L GD Pts

Cashmere Technical 12 10 2 0 29 32

Coastal Spirit 11 7 1 3 8 22

Christchurch Utd 12 6 3 3 17 21

Nomads Utd AFC 12 6 0 6 3 18

Nelson Suburbs 12 5 2 5 3 17

Ferrymead Bays 12 4 1 7 -12 13

Selwyn Utd FC 12 3 3 6 -6 12

Halswell Utd AFC 11 0 0 11 -42 0

Weekend match-ups

•Christchurch Metro Premier

Cup (all Saturday at 2.45pm)

Sydenham v University, Sydenham

Park; Shirley v Lincoln University,

Burwood Park; Burnside v Sumner,

Burnside Park; Marist Albion v

Christchurch, Edgar McIntosh Field;

Linwood v New Brighton, Linfield

park; HSOB v Belfast, Bob Deans

Field.

•Canterbury Rugby League

Premiership (all Saturday at

2.45pm)

Eastern Eagles v Halswell Hornets,

Wainoni Park; Celebration Lions v

Hornby Panthers, Cuthberts Green;

Papanui Tigers v Linwood Keas,

Papanui Domain; Northern Bulldogs

v Riccarton Knights, Murphy Park.

•Mainland Football

Premiership

No games this weekend due to

Chatham Cup fixtures.

•Chatham Cup third round

Christchurch United v Coastal

Spirit, Christchurch Football Centre,

Friday 7.30pm Friday; Cashmere

Technical v Nelson Suburbs, Garrick

Park, Saturday 1pm.
---
ONE THING has definitely

changed for the Highlanders

this week — they will not need a

bonus point against the Blues at

Eden Park on Saturday night.

The franchise has battled its

way through to the final of Super

Rugby Trans-Tasman.

It is the Highlanders' first appearance

in a final since they beat

the Hurricanes 21-14 in Wellington

to claim the 2015 crown.

The competition has undergone

a few changes since then.

This year, there have been two

titles up for grabs, courtesy of

Covid-19.

The transtasman tournament

has its detractors. But if the Highlanders

win, it is doubtful anyone

in the South will care much about

the curious format.

And to get this far they had to

register a bonus point win against

the Brumbies in Canberra last

weekend. That was no small task.

Assistant coach Riki Flutey said

his side had played well during

the past few weeks ''and we are

excited by the big challenge ahead

of going up to Auckland to take

on the Blues''.

Latest Canterbury news at starnews.co.nz

''By the sounds of things it is

going to be a packed out crowd . .

. so it is going to be amazing.''

Flutey said while his side has

had to chase bonus points in the

past few weeks, it had not formed a

major part of the side's game plan.

''A big focus for us has been

controlling our game. And we

know once we get on top of the

defence things will happen.

''We made mention every week

that we could not go into the games

being loose with our structures and

how we played the game.''

The Blues boast an attacking

backline which could be even

more potent come Saturday with

All Black Beauden Barrett in the

Blues' camp.

His chances of taking the field

for the Blues may be slim given he

has only recently emerged from

managed isolation following a

playing stint in Japan.

''That will add a bit of spark to

their attack if he gets the opportunity

to play. But also other

things we are expecting from the

Blues are their intensity and their

physicality that they always bring

to the game.''

The Highlanders are nursing

a couple of fresh injuries. Potent

SPORT 33

Controlling the game a focus for Highlanders

• By Adrian Seconi

Mobile showroom

service

Curtains

Blinds

Shutters

BRAND NEW SHOWROOM

Free

measure &

quote

Unit 2 / 99 Sawyers Arms Rd

03 365 4666 or 0800 836 587

www.venluree.co.nz

New Selection of

Water Features

on

display

now

Portstone

GARDEN CENTRE & CAfÉ

465 Ferry Rd • Phone 389-4352

www.portstone.co.nz

OPEN 9am - 4.30pm 7 Days

Helping

Christchurch Grow

NEW CARVERY

in our NEW Restaurant

SUPER RUGBY tRanS taSman

Tipping CompeTiTion

BrOUghT TO yOU By ThE STar MEdia COMPany

GRAND FINAL

19 June 2021

BLUES

v

highLandErS

OUr TiPSTErS SELECTiOnS ThiS WEEK

2 points for correct winner, 1 point for correct margin

ChriS SMiTh

portstone

highlanders

by 1-10 points

Total points

44

MarTy fULLEr

elmwood Trading Company

Blues

by 11-20 points

Total points

54

BrEnT JEffEriES

A1 Auto

highlanders

by 11-20 points

Total points

41

JaMiE harriS

Venluree

Blues

by 21-30 points

Total points

56

davE MCLaChLan

Rose and Thistle

highlanders

by 1-10 points

Total points

38

ChriS TayLOr

Richmond Club

Blues

by 11-20 points

Total points

39

YOUR NEW LOCAL!

SUPER

RUGBY

LEadErBOard

# NAme LAst week's TOTaL

sCORe POinTS

Marty Fuller 10 52

Dave McLachlan 11 51

Brent Jefferies 10 50

John McCann 12 49

Shane Dalley 10 49

Jamie Harris 10 48

Chris Taylor 10 45

Chris Smith 10 41

ShanE daLLEy

Sheffield Cres Auto Centre

Blues

by 1-10 points

Total points

47

JOhn MCCann

Artworks

highlanders

by 21-30 points

Total points

55

GRAND FINAL

Saturday 7.05pm:

BLUES v

HIGHLANDERS

Thursday June 17 2021 The Star

winger Jona Nareki and lock

Pari Pari Pakinson left the

field with shoulder injuries during

the 33-12 win against the

Brumbies.

Flutey was hopeful they will

be available but said they were

waiting on ''another report from

the doc''.

Flutey said the Highlanders had

had their share of injuries but the

players who had taken their spot

had managed to step up and will

again if need be.

Nareki's absence, though,

would deprive the Highlanders of

a ''massive attacking threat'.'

FRAME YOUR

MEMORIES

We have the perfect frame for you!

6 Main North Road | Ph 352 7594

Open Mon-Fri 9am-5pm

www.artworkspictureframing.co.nz

Sizzling

Saturday

$22

WOF

Bookings essential. Conditions apply.

WE'RE BACK!

Cnr Fitzgerald Ave & Hereford St.

Phone: 365-5220

workshop@a1auto.co.nz

ONE STOP SHOP

FOR ALL VEHICLE REPAIRS

CARVERY OPEN

THURS - SAT

5.30-8PM

richmondclub.nz

FROM

22 50 $

75 London St,

Richmond

P: 03 389 5778

theborough.nz

• $12.50 Lunches

• $12.50 Lunches

- Friday Nights

• Karaoke - Fri Nights

Live Bands - Sat Nights

• TAB • Gaming Machines

• Pool TAB Table • Pool Table

• Sports on Big Screens

• Live Bands - Sat Nights

• Gaming Machines

• Sports on Big Screens

24a Main North Road

Papanui. Ph: 03 352 7011

www.roseandthistle.co.nz

Running a

charity quiz is

a piece of cake!

Let us put together

a charity or

fundraising quiz

night for YOU!

Call or speak to us now!

• TAB • Private Function Room

1 Normans Rd

Ph 355 5345

www.facebook.com/

elmwoodtradingco

• WOF • Servicing • Full Mechanical Repairs

• Latest Diagnostic Equipment • Tyres

• Batteries • Auto Electrical Repairs

• Mechanical Breakdown Insurance Repairs

• Loan Cars Available

12 Sheffield Crescent, Burnside, Christchurch

P: 03 3585 580 E: sheffieldcauto@xtra.co.nz
---
34 The Star Thursday June 17 2021

WHY CHoose

WE ARE CURRENTLY OFFERING

$2000 MINIMUM

TRADE IN

*ON SELECTED VEHICLES! TERMS & CONDITIONS APPLY

for Your next VeHICLe?

VALUE

REPUTATION

SELECTION

TRUSTED

PLUS

REGISTRATION

2018 ToyoTa aqua

$17,999

Very popular 5 door hatch, 1.5L hybrid engine with

automatic trans, low kms, looks stunning in blueish

black with driving lights and black interior, push button

start, parking sensors, collision avoidance and lane

departure warning, reverse camera, ABS, T/C and

airbags, perfect round town vehicle or for Uber!

PLUS

REGISTRATION

2014 Subaru XV Hybrid

$22,999

Stylish AWD family hatch, 2.0L hybrid engine with

tiptronic trans, stunning in deep purple with factory

body kit and 17'' alloys, black leather, SI-Drive, PBS,

adaptive cruise, collision avoidance and lane departure

warning, heated front seats, roof rails, reverse

camera, ABS, T/C and 6x airbags, test drive today!

PLUS

REGISTRATION

2014 Ford FieSta ecobooSt

$14,999

Stylish 5 door 'hot' hatch, 1.0L turbocharged ecoboost

engine with automatic trans and sport shift option,

travelled very low kms, looks stunning in wine red

with body kit, driving lights and 16'' alloys, push

button start, cruise control, rear wiper, spoiler, ABS,

T/C and multiple airbags, inspection will impress!

PLUS

REGISTRATION

2012 audi a1

$15,999

Stylish European 'hot hatch', rare 4 door model, 1.4L

turbo charged engine with tiptronic trans and 5 star

fuel efficiency, low kms, dark blue with silver pillars

and 15" alloys, driving lights, infotainment system,

Bluetooth, black interior, push button start, rear wiper,

ABS, T/C and 6x airbags, won't last long!

PLUS

REGISTRATION

2017 Suzuki SwiFt

$15,999

The Swift is a very popular 5 door hatch and

preferred in its class by many, features and

economical 1.2L engine with automatic trans, looks

smart in white with stylish dark interior, push button

start, reverse camera, heated drivers seat, Bluetooth,

ABS, T/C, and airbags, inspection will not disappoint!

PLUS

REGISTRATION

2014 ToyoTa priuS S

$12,999

Extremely popular, fuel efficient vehicle, features a

1.8L hybrid engine with automatic trans and 5.5 star

fuel rating, finished in white, black interior, travelled

low kms, push button start, reverse camera, spoiler,

rear wiper, ABS, T/C and 8x airbags, come and view

today!

PLUS

REGISTRATION

2013 ToyoTa auriS

$16,999

Popular family hatch model of the perennial and

reliable Corolla, rare 1.8L engine with tiptronic trans

and paddle shift option, travelled low kms, looks good

in blue with chrome detail and 16'' alloys, push button

start, black partial leather interior, rear wiper, ABS,

T/C and airbags, hurry – won't last long!

PLUS

REGISTRATION

2015 honda grace

$15,999

Stylish family sedan, features a 1.5L VTec hybrid

engine with 7 speed automatic trans, looks good

in silver with black interior, travelled low kms, push

button start, reverse camera, cruise control, USB, ABS,

T/C and airbags, come and view today!

PLUS

REGISTRATION

2010 MercedeS-benz c200

$14,999

Stylish luxury sedan, features a 1.8L engine with

tiptronic trans, looks sleek with white with chrome

detail, driving lights and 16'' alloys, black interior,

very low kms, Bluetooth, reverse camera, electric

front seats, rainshields, ABS, T/C and 9x airbags,

inspection will impress!

PLUS

REGISTRATION

2010 Subaru legacy b4

$16,999

Stylish and well sought after family sedan, 2.5L engine

with tiptronic trans and idle stop, SI-Drive, looks

sharp in silver with driving lights and 17'' alloys, black

partial leather interior, AWD, PBS, adaptive cruise, lane

departure and collision avoidance warning, low kms,

reverse camera, ABS, T/C and 8 airbags, nice vehicle!

PLUS

REGISTRATION

2017 ToyoTa Fielder X

$15,999

This effectively the station wagon of the ever popular

longstanding and reliable Corolla, it features a 1.5L

engine with automatic trans and idle stop returning

5.5 star fuel efficiency, looks great in blue with chrome

detail and stylish black interior, low kms, keyless entry,

rear wiper, ABS, T/C and 8 airbags, a must see!

PLUS

REGISTRATION

2007 VolVo V50 Se

$8,999

Stylish and safe family wagon, features a 2.4L

engine with tiptronic trans, looks smart in red

with factory body kit and 17'' alloys, black leather

interior, heated front seats, rear wiper, roof rails,

multi-function steering wheel, ABS and 8 airbags,

you'll be impressed!

PLUS

REGISTRATION

2008 MiTSubiShi outlander 24g

$13,999

A good choice for those wanting a versatile SUV, 2.4L

engine with tiptronic trans and paddle shift, Rockford

Fosgate edition, white with contrasting black body

kit, driving lights and 18" alloys, black interior, smart

keyless ignition, reverse camera, parking sensors,

good kms, ABS, T/C and airbags, won't last long!

PLUS

REGISTRATION

2010 niSSan dualiS 20g

$11,999

Very popular compact SUV, features a 2.0L engine

with automatic trans, looks great in orange with

18'' alloys, black leather interior, heated front seats,

push button start, sunroof, foot rails, ABS, T/C and

airbags, great buying!

PLUS

REGISTRATION

2009 ToyoTa Vanguard 240S

$14,999

Popular 4WD model, features a 2.4L engine with

tiptronic trans, looks sleek in black with driving

lights and 17" alloys, black interior, cruise control,

reverse camera, 4WD, ABS, T/C and 8 airbags,

with solid construction and renowned Toyota

reliability it's quickly become a very popular SUV!

Registration for 6 months is $301

Value Cars Warehouse

4.72

CANTERBURY OWNED

& OPERATED

ESTABLIShED 1993

32 Moorhouse Ave, P: (03) 366 7768 IMVDA

www.valuecarswarehouse.co.nz
---
2013 Volkswagen

Tiguan TSi

h tp: /kaywa.me/8aVDQ

Download the Kaywa Qr Code reader (A p Store &Android market) and scan your code!

my Kaywa Qr-Code

w.valuecarswarehouse.co.nz

CELLULAR

See page 5 for more info!

2

h tp: /kaywa.me/8aVDQ

Download the Kaywa QR Code Reader (a p Store &android Market) and scan your code!

REVERSE CAMERAS

My Kaywa QR-Code

w.valuecarswarehouse.co.nz

PARKING SENSORS

0800 212 777

Ce l 021 855 884

GPS/TRACKING

motor vehicle purchase

See our ad on page 2

Thursday June 17 2021 The Star 35

Octavia wagon a lot of car for the money

I GOT INTO a conversation just

recently with a work colleague,

he's also a car enthusiast, when

time allows we are always talking

about things automotive.

After asking me how I was

enjoying the Skoda Octavia

evaluation car, he raised a really

good point by saying out of any

car manufacturer, Skoda has

probably done the best job of

turning around its image.

That harks back decades, the

central European company had

a reputation that wasn't entirely

complementary.

However, today, it is a class

leader in terms of design,

quality, reliability, efficiency and

refinement.

None of that surprises me,

Skoda, now manufactured in

what is known as the Czech

Republic, fell entirely into

Volkswagen Group's hands in

2000. Since then the company's

product has been on a constant

programme of improvement,

bearing in mind that Volkswagen

took an interest in Skoda in 1991,

and the product that has been

leaving the factories since then

has been outstanding, with the

Octavia being a classic example

of that.

In New Zealand we have two

Octavia wagons – Style TSi and

RS. Put simply, they are both

four-cylinder petrol-powered

with a turbocharger driving to

the front wheels, the TSi has a

1.4-litre unit, the RS has a 2-litre

engine, and it is the subject of this

evaluation.

The TSi has a power output

of 110kW and drives through

an eight-speed automatic

transmission. The RS gets

something special under the

bonnet, it has the engine that

makes the Volkswagen Golf GTi

so special. In the Octavia it is

rated with 180kW and 370Nm,

it drives through a seven-speed

direct shift transmission.

What makes the RS engine so

special are the points at where

the outputs are reached, power

peaks at just 5000rpm extending

to 6500rpm, maximum torque

is available all of the way from

1600rpm to 4300rpm. The

consequence of all of that is that

there is so much immediacy at all

points of the rev band, you don't

need to have the engine singing

high to extract acceleration.

Such is the bottom end power,

the engine wants to pull from

low revolutions and that is a

good thing, it feels strong under

the accelerator pedal and hauls

solidly right to the red line.

However, that's not necessary,

it's great to manually (paddles)

short-shift the gears and feel

VERSATILE: A new aluminium ladder was easily

accommodated under the wagon's tailgate.

SKODA OCTAVIA RS WAGON: Performance-based family wagon.

the turbo forcing air into the

cylinders vigorously.

In terms of acceleration, the

Octavia wagon will launch to

100km/h in 6.7sec and will

make 120km/h from 80km/h in

4.1sec. These are feisty times and

rewarding to feel, performance is

constantly vivid. Of course, the

Octavia has various drive modes

that can be selected at will, all

are self explanatory – comfort,

normal, sport and driverprogrammable

individual.

I used normal and sport most

of the time I was driving the

wagon, simply because there is

a nice audible throb delivered

constantly in those modes. It isn't

loud, but it does let you know

something special is sitting up

front.

Normal and sport modes don't

deliver a harsh ride. Yes, the

Octavia wagon has progressive

dampers which alter the way the

wagon rides. Personally, I couldn't

tell a lot of difference, in all

modes the ride is compliant and

comfortable.

In order to beat the weather

bomb that was forecast for

Canterbury recently, I took to the

roads at dusk, and as darkness

encroached misty drizzle made

the roads greasy in places. They

weren't ideal conditions, but it was

a good test of how the Octavia

wagon handled the conditions.

• Price – Skoda Octavia RS

wagon, $57,990

• Dimensions – Length,

4689mm; width, 1994mm;

height, 1468mm

• Configuration – Fourcylinder,

front-wheeldrive,

1984cc, 180kW,

370Nm, seven-speed DSG

automatic

• Performance – 0-100km/h,

6.7sec

• Fuel usage – 6.6l/100km

I have a friend who has just

traded his Volkswagen Passat

wagon for a 2017 Octavia RS, and

he tells me how much he misses

the 4Motion system of the VW,

he says the RS doesn't put power

to ground as well when the road

surface is slippery.

The conditions I drove in were

ideal to test that theory, and I

think it's fair to say that Skoda

has done a lot with the latest

generation Octavia to make

it work when grip is low, the

electronics working well so that

I never had any issues. I guess

that also has a lot to do with the

quality of the low profile Good

Year tyres (225/40 x 19in), they

have a solid tenure and offer

plenty of feel so the driver is

fully aware of what is happening

underneath.

On board, the Octavia is chock

full of technology. The evaluation

car was carrying a lot of extras,

and it's fair to say Skoda's option

list is extensive.

However, even in standard

form the Octavia wants for little,

it carries all of those wonderful

features that have been developed

through the VW Group and,

what's more, the fit and finish is

absolutely sublime. I particularly

like the gearshift lever, well it's

more like a button really, just

requiring a gentle flick of a switch

to activate. The Octavia makes

you feel good to be in and it

looks after you with high comfort

levels and user-friendly in-cabin

dynamics.

It is also a genuine fiveseater

car, and the load space is

cavernous and adaptable so that

all of those belongings we tend

to carry with us can be stored

securely.

That's just one of the reasons

why I like wagons and I

particularly like the Octavia RS.

Its performance and versatility

make it many different vehicles

in one.

I'd also be very interested

in driving the TSi wagon,

sometimes those with what

would be deemed the mainstream

model often turn out to be the

pick of the bunch.

In all cases it's certainly time to

forget all those old disparaging

Skoda jokes.

has motoring covered!

Incorporating

ISSUE 667 | FrIday 20 novEmbEr 2020

iggest range of vehicles

location!

2011 Jaguar

XF Premium

$18,999

See inside for this week's

4WD feature!

sherborne st, edgeware

se Ave | P: (03) 366 7768 | www.valuecarswarehouse.co.nz

See page 4 for more info!

free

best motorbuys

Incorporating

ISSUE 668 | FrIday 27 NovEmbEr 2020

275 Colombo street, Christchurch

For more see their advert on pages 6 & 7

Ce l 021 855 884

Incorporating

ISSUE 669 | FrIday 4 dEcEmbEr 2020

See inside for this week's

Classic Car feature!

PH 03 web

www.drivesouth.co.nz

One Owner!

40 Years Finance

Experience

Cannot be Beaten!

• Talk to us about finance for your next

motor vehicle purchase

Specialising in Finance for Private Purchases

Very quick approvals, sensational interest rates

• From no deposit (terms & conditions may apply)

Hiace spares

Cnr Main South Rd and Epsom Rd, Christchurch

Ph: 03 348 4129 | avoncityford.com

2015 IsuZu D-mAX

4WD Ls D/CAb

NZ new, 3.0 intercooled turbo/dsl,

auto, rare flatdeck with ladder/pipe

racks, reverse cam, service history.

$34,995 $192pw

For more see their advert on page 31

free

best motorbuys

www.drivesouth.co.nz

See inside for this week's

marine feature!

free

best motorbuys

The South Island's leading motoring resource,

filled with news, reviews and dealer listings.

From family cars to work trucks, and supercars

to SUVs. No matter what you're looking for,

you can find it all with Drivesouth.

Magazine available for FREE every Friday

at a convenient pick up point near you!

The biggest range of vehicles

in one location!

Now Available @ NZ Van Spares

www.drivesouth.co.nz

2.4 auto, alloys, ABS, twin airbags.

2005 toyota rav

$20,999

$9,990

40 Years Finance

2008 bmW 320i

2.0lt Petrol, 5 Dr Station wagon,

Climate Control, ABS Braking,

.nz

CAR AUDIO

AUDIO VISUAL

CAR SECURITY

32 Moorhouse Ave | P: (03) 366 7768 | www.valuecarswarehouse.co.nz

MOBILE INSTALLATION SERVICE

RADAR DETECTORS

DASH CAMERAS

Cannot be Beaten!

$10,974 NoW $7,974 + orC

Experience

Automatic. $34.63pw.

AERIALS

• Talk to us about finance for your next

Specialising in Finance for Private Purchas

• Very quick approvals, sensation

• From no deposit (term
---
ISSUE 94

MARCH-APRIL 2021

$10.50

9 416770 121332

TONY JOHNSON

ON THE COMING OF

MOANA PASIFIKA

AARON SMITH

'WHY I RATE

DUPONT'

SEAN FITZPATRICK

'WE NEED MONEY TO

SUSTAIN THE GAME'

rrp $10.99

9 416770 121325

MAY 2021

JEROME

KAINO

SORTED FOR

LIFE AFTER

• PHIL GIFFORD: THE BEST

SCHOOLBOY STARS HE SAW

• DARYL GIBSON: HIS VISION

FOR THE BOP STEAMERS

RUGBY

$9.25 incl. GST

& all the varieties

in between

& where they

like to grow

AuTumN 2021

& propagate more

of those you love

Faran Gillbanks

on a succulent

movement

$8.00 incl. GST

9 416770 121318

Try gardening

like the French

Why, when & how

The Star Thursday June 17 2021

36

PUZZLES

CROSSWORD

1 2 3 4 5 6 7

9 10

11 12

8

CHRISTCHURCH

CREMATORIUM

FUNERALS

Latest Canterbury news at starnews.co.nz

199

SUDOKU

Every row, column and box should

contain the digits 1 to 9.

WORDBUILDER

WordBuilder

099

6

U E D

R E C

many words of three or more letters,

How

including

many

plurals,

words

can you

of

make

three

from

or

the

more

six

letters, using including each letter plurals, only once? can No you foreign

words or words beginning with a capital are

make

allowed.

from

There's

the

at

five

least one

letters,

six-letter

using

word.

each only once? TODAY

Good 14 Very Good 18 Excellent 23

No words beginning with a capital

are allowed. There's at least one

Solution 098: emir, EMPIRE, ere, imp, ire, mere,

mire, peer, per, peri, perm, pie, pier, prim, prime,

six-letter rep, rim, rime, word. rip, ripe.

Good 12 Very Good 16 Excellent 22+

DEC

9

13 14 15

16 17 18 19

20

21 22 23

24 25

SOLUTION

No.99

14 15 16 17 18 19 20 21 22 23 24 25 26

U L M A V H P F I Z J S E

26 27

1 2 3 4 5 6 7 8 9 10 11 12 13

Y T B G Q C X D W R O N K

Across

1. Hit repeatedly (6)

4. Robber (6)

9. Spiral (4)

10. Drink of vodka and

tomato juice (6,4)

11. Killjoy (colloq) (6)

12. Subject without clearly

defined rules (4,4)

13. Small, fast battleship (9)

1 2 3 4 5 6 7 8 9 10 11 12 13

G A

14 15 16 17 18 19 20 21 22 23 24 25 26

R

Decoder

A B C D E F G H I J K L M N O P Q R S T U V W X Y Z

19 16 5 19 9 19 12 21 13 17 8 15

15 13 23 18 3 19

15. Make a run for it (4)

16. Con trick (4)

17. Filled with wonder (9)

21. Eternal (8)

22. State categorically (6)

24. Juvenile (10)

25. Regrettably (4)

26. Wayward (6)

27. Blush (6)

21 7 15 8 8 17 19 9 22 20 16 26

Down

1. Make a suggestion (7)

2. Turns to liquid (5)

3. Trade ban (7)

5. Bewildered (6)

17 9 22 1 19 22 1

11 13 6 6 15 13 4 13 17 19 9

1 20 26 24 1 19

6. Outward behaviour (9)

7. Fast stream of water (7)

8. Alliterative series of words

(6,7)

14. Voyager (9)

16. Cheat (7)

18. Surprise (7)

19. Sure (7)

20. Motive (6)

23. Burn (5)

All puzzles copyright

24 19 23 23 8 14 3 17 13 16 7 3

9 15 19 10 13 16

3 17 15 13 17 19 6 1 19 3 19

G

T H E P U Z Z L E C O M P A N Y

www.thepuzzlecompany.co.nz

19 13 3 13 2 9 17

A

R

DECODER

Each number in our DECODER grid represents a different

letter - there is a number for all 26 letters of the alphabet.

Each Enter number the given represents letters into a different all squares letter with of the matching alphabet. numbers. Write the

given The letters challenge into now all squares is to work with out matching which letters numbers. are Now represented work out

which by the letters other are numbers. represented As you by the get other numbers. letters, enter As you them get into the

letters, the main write grid, them and into the main reference grid and grid. the To reference keep track grid. Decoder of the

uses letters all 26 you letters have of found, the alphabet. cross them off the alphabet provided.

2 19 10 11 2 2 15 26 5 17

R O T

22 11 10 14 20 15 14 16 3

4 10 17 8 14 17 15 15 1 17 25

19 16 26 15 24 6 11 11

2 9 22 2 10 26 20 17 6 13 15

25 1 14 1 7 15 8 5 23 19 16 3

12 21 8 16 18

23 22 4 23 17 4 3 17 2 2 15 26

11 22 22 25 26

11 11 12 10 14 25 19 25 12 11 3

15 17 7 9 11 22 14 17

11 22 17 15 3 17 2 10 11 25 25

4 11 8 15 1 17 26 14 26

1 26 20 10 11 16 22 25 26 8

99

A B C D E F G H I J K L M N O P Q R S T U V W X Y Z

1 2 3 4 5 6 7 8 9 10 11 12 13

T R O

14 15 16 17 18 19 20 21 22 23 24 25 26

SOLUTION

No.98

8 8 13 21 11 20

7 13 10 25 1 26 6 3 17 13 6 3

Each number in our DECODER grid represents a different

letter - there is a number for all 26 letters of the alphabet.

Enter the given letters into all squares with matching numbers.

The challenge now is to work out which letters are represented

by the other numbers. As you get the letters, enter them into

the main grid, and the reference grid. To keep track of the

letters you have found, cross them off the alphabet provided.

100

1 2 3 4 5 6 7 8 9 10 11 12 13

H M Z W Q D S K A E C O I

14 15 16 17 18 19 20 21 22 23 24 25 26

F L X Y J U N T B P V G R

Crossword

Across: 1. Pummel, 4.

Bandit, 9. Coil, 10. Bloody

Mary, 11. Wowser, 12. Grey

area, 13. Destroyer, 15. Bolt,

16. Scam, 17. Awestruck,

21. Timeless, 22. Assert, 24.

Adolescent, 25. Alas, 26.

Errant, 27. Redden.

Down: 1. Propose, 2. Melts,

3. Embargo, 5. Addled, 6.

Demeanour, 7. Torrent, 8.

Tongue twister, 14. Traveller,

16. Swindle, 18. Startle, 19.

Certain, 20. Reason, 23.

Scald.

WordBuilder

Cede, cere, cred, creed, cru,

crud, crude, cud, cue, cued,

cur, curd, cure, cured, deer,

deuce, due, ecru, educe,

ere, red, REDUCE, reed,

rude, rue, rued.

Sudoku

Something for everyone

Available in all good bookstores and supermarkets, or subscribe from as little as $20.

© A.F.Shuker

CLASSIC ALPINE TOUR | PELLAND COUPÉ | JIM RICHARD'S WILLMENT ESCORT | TERRY MARSHALL | VAUXHALL FIRENZA | RICHARD BROCKLEHURST MAR-APR 2021

GENTLEMAN JIM RICHARDS & THE WILLMENT ESCORT

THE MOTORSPORT

PHOTOGRAPHY OF

TERRY MARSHALL

RARA AVIS:

PELLAND COUPÉ

A SHORT TIME IN FRONT: RICHARD BROCKLEHURST

50TH ANNIVERSARY OF THE VAUXHALL FIRENZA

SOUTHERN MEN AND TALES OF THE SOUTH

SOUTHERN

SOJOURN

THE CLASSIC ALPINE TOUR

COME ON, FEEL THE

NOISE: CLASSIC

RACING ENGINES

FREE FIRST XV SEASON PREVIEW MAGAZINE INSIDE

100

DAN

CARTER

REFLECTING ON A

GREAT CAREER

DECODER

The Shrub Hub

ISSN 2423-0626

meet 20 of our Kiwi garden favourites

From abelia to

viburnum

Why we

like them

How to keep your

shrub in shape

growing with you Issue 504 | May 2021 | 100%

A tropicAl

flock

Grow your own

bird of paradise

Capitalising

on CaCti

Roses on the wishlist

Hot new releases for 2021

Space iSSueS?

The lowdown on

cover crops

Read local

For the motoring

For the

rugby fans

Supplied by KNIGHT enthusiasts FEATURES

20 Crescent Grove, London SW4 7AH

Tel: 020 7622 1467 Fax: 020 7622 1522

growing with you 100%

alliedpressmagazines.co.nz

For the seasonal

gardeners

Rugby News & Kiwi Gardener: 0800 77 77 10 Classic Driver & General: 0800 624 295

For the green

thumbs
---
Thursday June 17 2021 The Star 37

ATTENTION

BUSINESS OWNERS

Do you sell products or services that

enhance outdoor spaces?

You could feature in the Innovative Outdoor Living Area

at the 2021 Star Media Home and Leisure Show this July

and reach over 10,000 attendees across 3 days!

Louvre System • Bbqs • Heating • Hammocks

Trampolines • Spas • Pools • Decking Pizza Ovens • Shade

Systems • Water Features • Outdoor Furniture • Fencing

If this sounds like you,

contact Lisa now on 021 800 809 or email lisa.

lynch@starmedia.kiwi for a no obligation quote.

Payment options available. Terms & Conditions apply.

Christchurch Arena, 2-4 July 2021

IN ASSOCIATION WITH
---
38 The Star Thursday June 17 2021

Get the TLC experience

Call one of our Licensed Sales Consultants

today for a free appraisal:

Trish Lawrence ph 0274 350 565

'Trust in Trish'

Kris Hagena ph 027 390 0097

'Creative and effective'

Kay Livingstone ph 021 163 0001

'Goes above and beyond'

MAKING YOUR MOVE EASIER

tlc realty limited

Licensed Agent REAA 2008 | www.tlcrealty.co.nz

RENT ME!

Ideal as an extra

bedroom or office.

no bond required

Fully insulated and double glazed for warmth.

Three convenient sizes from $80 a week:

Standard 3.6m x 2.4m

Large 4.2m x 2.4m | Xtra-large 4.8m x 2.4m

Visit our website

www.justcabins.co.nz

for display cabin locations

www.justcabins.co.nz

EVERY THURSDAY

The Star Classifieds

Bicycles

HUGE WintEr

SALE

10 to 50% oFF

EvErytHinG

3 dAyS onLy

620 Ferry Rd, Woolston.

P: 03 376-6377.

aroundagaincycles@gmail.com

Chch's largest range of quality used bikes

Cars Wanted

AAAA $$ CASH PAID

Buying cars & trucks for

wrecking. Ph / txt Zac 021

1056 797.

CARS WANTED We buy

small Japanese vehicles,

must be tidy, cash paid

Ph Doug Drake Motors,

ChCh 03 389-1121 or 027

432 9947

Caravans, Motorhomes

& Traliers

CARAVAN Wanted to

buy. Up to $5000 cash

today 027 488-5284.

CARAVAN Wanted to

buy. Up to $5000 cash

today 027 488-5284.

Car Parts

TYRES Secondhand,

most szs from $30 - $70

fitted, Also batteries, 217

Waltham Road, 027 476

2404

Church Notices

Christian

sPiritUaList

ChUrCh

182 Edgeware Road

Sunday Service

7pm

Address &

Clairvoyant

Auckland Medium

Dennis Burrow

All Welcome

NEW AGE CHRISTIAN

SPIRITUAL CENTRE

61 Grafton Street

Sunday 7pm

Address:

Gaynor

Clairvoyance:

Gaynor

Tuesday

Healing 1-1.45pm

Clairvoyance 2pm

CLAIRVOYANTS NIGHT

Wed, 30th June, 7pm

$5.00 entry per person

Everyone receives

a message

All Welcome

Home & Property appears every Thursday, delivered FREE

throughout Christchurch

For more information and bookings, contact Mike Fulham

M: 021 300 567 E: mike@starmedia.kiwi

Checklist for selling

your home

Make small fixes

Inspect your home with a buyer's eyes,

and correct the flaws that are most

egregious (if affordable) or can be

relatively easily fixed—from repairing

cracks in the walkways to repainting

dingy walls or oiling creaky hinges.

Select the best real estate agent

For a commission, an agent will take care

of many details you may not want to be

bothered with (placing ads, fielding calls,

making signs, etc.) and bring experience

to the table. To find a good one, ask

friends and relatives, then interview

several candidates.

Set a price

A real estate agent will give you a market

analysis free of charge or commitment.

Ask a few to get a broader picture of the

market. Check out

comparable listings

yourself in the real

estate section of

your newspaper or

on websites. Then

decide whether you

want a quick, easy

sale or the highest

possible price.

Clean & declutter

Weed out excess

furniture,

knicknacks, and

"stuff "—toss it,

donate it, give

Church Notices

SYDENHAM CHRISTIAN

SPIRITUAL CHURCH

Sydenham Community

Centre

23/25 Hutcheson St

Address

Janet

Clairvoyance

Janet

Sunday 7pm

All Welcome

Curtains

A1 CURTAINS &

DRAPES.

Roman blinds, tie backs,

cushions, nets & voiles,

plus alterations. Free

quotes. Ph Kay 980 1501

or 021 257 1823. kay.

tainui88@gmail.com

Firewood

FIREWOOD

Good burning, ideal for

starting. Good size trailer

load.8 x4 caged, will

deliiver. Get ready for

winter $160. Ph 027 507

2224

For Sale

STEEL for sale all

sections, off cuts cut

lengths. siteweld@ xtra.

co.nz Ph 0274 508 785

EVERY THURSDAY

• Phone our local team 03 379 1100 • Email star.class@starmedia.kiwi

Finance

RW Finance

Small Loans

From $1,000 - $5,000

SPECIAL

INTEREST RATE

FOR NEW

CUSTOMERS

(limited time offer)

Beneficiaries Welcome

Friendly & Personal

Customer Service

0800 325 345

www.rwfinance.co.nz

RESPONSIBLE LENDING & CREDIT CRITERIA APPLY

Situations Glazier Vacant

GLAZING

TWISTY GLASS &

GLAZING LTD

• Mirrors • Pet Door Specialists

• Splashbacks • All Broken Windows

THE CAT DOOR MAN

Phone Cushla or Darren Twist

027 352 6225

it away, sell it at a garage sale, or put

it into storage—so the house seems

more spacious and buyers can imagine

themselves in it.

Stay vigilant about maintenance

Keep the lawn mowed, shrubs trimmed,

gardens weeded, rooms spotless and

clutter-free.

Ready your home for open days

Hide pocketable valuables, display fresh

flowers or bowls of fruit, bake a batch of

cookies for the homey smell, open the

drapes, keep pets out of sight.

Decide whether to do your own

building inspection

It may save you time, especially with

older homes, to identify—and potentially

solve—problems your buyer's inspection

will discover later.

Your

Earthquake

damaged

home!

Talk to us if you are serious about

selling your "As is Where is" home.

We have sold over

150 "As is Where is"

homes and we have

a huge database of

qualified buyers.

Phil & Holly Jones

Ph 03-382-2230

Phil 027 435 7711

Holly 027 222 0220

holly.jones@raywhite.com

Licensed (REAA 2008) Results Realty Ltd

We have achieved

record breaking

prices recently!

Is your

section

1050sqm

or more

We would like to buy

your house or half of

your section.

We will meet all costs.

Phone 0274 146 270 or email

dingwallfrank@outlook.com

For Sale

Phil's

secondhand

shed

• Antique furniture 1920-1930's

• Modern furniture

• Whiteware (with 3 month warranty)

• Bric a Brac

• Fishing rods and tools

5 week layby available

for goods over $200

Phone: 027 223 0948

745 Hawkins Road, Marshlands

Look for the flag outside the gate

Mon, Tues, Wed, Fri & Sat 10am-5pm

Closed Thursdays & Sunday
---
Thursday June 17 2021 The Star 39

Funeral Directors

Your local guide to our

Trusted Tradesmen & Professionals

To advertise: 379 1100 or star.class@starmedia.kiwi

DECORATORS

DRIVEWAYS

Driveways

No Service Cremation $2,000

Family Funeral with Cremation $3,950

Chapel - 35 people, casket, hearse, cremation fees

Full Funeral options and

Burial options available

Just Funerals, a family owned and

operated company with qualified,

registered and experienced staff.

Phone 0800 804 663 - 24 Hour Availability

Email: info@justfunerals.co.nz

christchurch.justfunerals.co.nz

Direct

Cremation

No frills, No Service,

No fuss, simply

straight to the crem.

Other options

available.

Ph: 379 0178

for our brochure

or email

office@undertaker.co.nz

LADIES enjoy a full body

sensual massage. Choice

of oils, discreet mature

gent. Outcalls available.

Ph / txt 027 251 4660

Gardening

& Supplies

Gardener available for

maintenance, weeding

pruning, spraying,

planting, advice. Qual &

exp.Pensioner discount

25%. Ph Richard 0274 918

234, 03 349 4022

PETE'S GARDENING

SERVICE Gardening,

rubbish removal, cleanups,

expert pruning, hedge

trimming, tree cutting,

good rates, no job too big

or too small, half the price

of a franchise. Ph 027 551

4118

Personals

Massage MALE 59 seeks older /

larger lady for intimate

fun. 022 637 8403

MALE 59 seeks older /

larger lady for intimate

fun. 022 637 8403

ELECTRICIAN

Contact for a free quote

phone 027 331 0400

dave@davesimpsonelectrical.co.nz

davesimpsonelectrical.co.nz

Experienced Domestic Electrician

Quality Workmanship

• New Build

• Renovations

• Fault finding

New Paint • Repaints

Wallpapering • Fences

Feature Walls

Floor & Roof Painting

Spray Painting

Light Commercial

Restoring Timber

* Finance available (T's & C's apply)

Selwyn based but service the whole of Canterbury

www.andertondecorators.co.nz

www.facebook.com/andertondecorators

027 724 6846 027 PAINTIN

• Power

• Lighting

• Switchboards

Exposed Aggregate

Stamped Concrete Plain

Concrete Resurfacing

Things we offer...

Competitive/affordable pricing

Attention to detail

Professional service

free quotes/insurance scopes

Cell 0278 145 848

www.drivecrete.co.nz

landscaping

Landscape

Construction and

Garden Maintenance

You can have your gardens, trees,

shrubs, plants and lawns maintained to look their best

all year round, for a great price.

Residential & Commercial Landscaping

• Maintenance • Pruning • Reconstruction & Rejuvenation

• Rental Property and Commercial Maintenance

• Pre-Sale Tidy-Ups

New Home Landscaping

Lawns • Gardens • Decks • Paving • Water Features

• Quality • Value for money • Experienced • Punctual

• Professional • Flexible • Knowledgeable • Reliable

Call Ross Legg - 027 222 0388

Email ross@revivelandscaping.co.nz

www.revivelandscaping.co.nz

SWAINS

KIWI KERB

(Since 2005)

Over 22 Years Experience

Quality

Workmanship

• Driveways

• Kerb &

Channel

• Garden Edging

Freephone: 0800 081 400

swainskiwikerb@gmail.com

Mailer Deliveries

For a local, reliable

mailer delivery

service contact

Star Media

• Newspaper inserts

• Magazine inserts

• Letterbox deliveries

• Urban & Rural deliveries

For a cost effective, targeted

delivery please call 03 379 7100

or email mike@starmedia.kiwi

www.star.kiwi

Remote Controlled

WANTED to buy - old

remote control cars gas/

nitro powered, any cond

PH 027 434 1014 or 03

388 5521

Pets & Supplies

CATS UNLOVED

can help with the cost

of desexing your cat.

Ph 3555-022 or email

catsunloved@xtra.co.nz

Reid TouRs

Mt Cook Sat 14th August $55 pp

Two Passes Sat 4th September $45pp

Call Reid Tours 0800 446 886

Email: reidtours@xtra.co.nz www.reidtours.com

Trades & Services

Tours

Trades & Services

Painters and Decorators Ltd

Canterbury Owned and Operated

A husband and wife team

Specializing in:

• Roof Painting

• Interior/exterior

residential

• Small commercial

painting

PAINTERS

Noel 027-411-3596

kemp.painters@gmail.com

kemp painters and decorators

We offer

free quotes

Quality not

Quantity

PLUMBER

NEED A PLUMBER

Call us now for fast friendly service.

Get your problems sorted out

quick smart - on time!!

Phone for a

FREE

quote now.

Phone 03 377 1280 | Mobile 021 898 380

ROOF REPAIRS

Locally owned & operated with

over 30 years experience.

• Extensions & repair • Roof coating

• Concrete & clay tiles • Butynol

• Malthoid • Asbestos Certified

• Coloursteel • Old iron • Guttering

Phone Dave 981 0278

or 021 223 4200

E: dave@beaumontroofing.co.nz

BEAUMONT ROOFING LTD

House & Garden

Property services Ltd

Tree and hedge trimming

Stump grinding

Tree removal

Gardening

Landscaping

CALL us 021 405 277

Qualified

Builder

Available

Repairs

New Houses

Renovations

Phone John: 027 224 2831

www.dohertybuilders.co.nz

EXPERIENCED

GARDENER

(Kevin Garnett)

30 Years

Christchurch Botanic

Gardens.

ALL landscape

work done.

Maintenance, pruning,

tidy up, lawn work,

landscape planning

and planting etc.

Free Quotes

Phone 348 3482

SCRAP METAL

Dominion Trading Co Ltd

• Scrap metal buyers

• Canterbury owned & operated

• Top prices paid $$$

• Open Saturday morning

Open Mon-Fri 8am – 4.30pm Sat. 8.30am-12.30pm

www.happyscrappy.co.nz

03 343 9993 333 Blenheim Rd

TRADES

Advertise your

business & services

in Christchurch's

best read &

largest circulation

newspaper

Delivered into over 93,000

Christchurch homes every week.

Ask us about our fantastic

cost affordable packages.

Phone: 03 379 1100 | www.star.kiwi

WINDOW TINTING

tintawindow

advanced film solutions

99% uv block

fade protection

heat control

reduce glare

25 Years Experience

privacy films

frosting designs

non-darkening films

Workmanship Guaranteed

Lifetime Warranties on Most Films

UV

block

Free Quotes Canterbury and Districts

03 365 3653 0800 368 468
---
40 The Star Thursday June 17 2021

The Star Classifieds

Need it?

Rent it!

No Bond

Free Delivery

Free Repair

Great Student Deals

Canterbury Owned & Operated

Free Call Now:

0800 717 000

Trades & Services

Or Apply Online:

www.a4r.co.nz

Re Roofing

Roof Repairs

Spouting

Approved Age Concern provider

Over 30 years experience

Licensed Building Practitioner

N A BARRELL

ROOFING LTD

Ph: 0275 389 415

Email: nabroofing@xtra.co.nz

"I WILL TURN UP

WHEN I SAY I WILL"

Need a certified and reliable plumber for filtration

systems or hot water cylinder replacement?

Bathroom upgrades or refurbishments?

FREE CALL

TEXT

EMAIL

0508 H2O BOY

426 269

027 245 5100

NICK@NICKJONESPLUMBING.CO.NZ

STOP leaveS

birds, snow, hail & vermin from

blocking up your spouting

Quality materials: BHP Colorbond steel mesh

with unique patented louvre will even keep out

pine needles. Will not rust or sag with age or

load. 10 year warranty, range of colours. Proven

in Australia & New Zealand over the last 15 years.

FOR SaFe, PURe DRINKING

WaTeR FROM YOUR ROOF.

NOW avaIlaBle: STaINleSS STeel MICO MeSH

Call Rohan anytime Mon-Sat for a noobligation

assessment & quote 0800 486 532

www.gumleaf.co.nz

Trades & Services

PAINTING

older painter

for older houses

50 years in trade

"All the skills"

GST FREE

Contact Jimmy Bell

0211221487

30 years + experience

Older house

restorations:

no problem!

Quotes: FREE!

Rates: Reasonable

Paint supplied at

trade price!

NO JOB TOO SMALL

Light industrial also

Roger Brott

Painter & Decorator

021-1966-311

AAA HANDYMAN

licensed carpenter

LBP, all property and

building maintenance,

repairs, bathroom/shower

installations, with free

quotes 03 383 1927 or 027

245 5226 ciey@xtra.co.nz

AA SHOWER

CLEANING

Deep clean, soap scum,

water stains, mineral

deposits . Comp prices.

Gold card disc. Ph 021 022

824 85

ARBORIST

Qualified. Copper

Beech Tree Services.

Tree removal, pruning,

height reduction, hedge

trimming, shaping, tree

planting, firewood. Free

quote. Contact Angus

Edwards 027 2596741

copperbeechtreeservices@

gmail.com

BRICK & BLOCK

LAYING

all restoration work

and new work plus

foundations, ph 342 9340

or 021 853 033

BUILDER QUALIfIED

50 yrs exp. Bathrooms,

Kitchens, Renovations,

Repairs & Extensions

Free quotes. Discount for

pensioners. Ph Mike 03

980 9771 or 027 2266 930

BUILDER QUALIfIED

Decks, T & G Flooring,

Villa Restoring, New

Homes, Weatherboards.

Free Quotes. Bennet &

Sons Ltd Sam 027 496-

9362 or Tony 027 224-

0374

BUILDER,

HANDYMAN,

MAINTENANCE

Have peace of mind with

a fully qualified owner

operater LBP. Available

for all jobs around the

home, commercial or

rental property (extremely

experienced in Healthy

Homes Reporting and

all Remedial works) Call

Chris on 027 3888 211

BUILDER

New builds, alterations,

decks, fencing. 30 yrs in

the trade has given me

ability to build to a high

standard. Free quotes. Ph

Brent 027 241 7471

• Phone our local team 03 379 1100 • Email star.class@starmedia.kiwi

Trades & Services

CARPET LAYING

Exp. Repairs, uplifting,

relaying, restretching.

Phone John on 0800

003181, 027 240 7416

jflattery@xtra.co.nz

CARPENTER

BUILDER

Licensed Building

Practitioner no. 100981.

All carpentry & building

repairs & maintenance.

Alterations & property

upgrades.Laundries /

bathroom / kitchens

replaced. Specialising in

replacement of all rotten

timber, fascia boards,

window, windowsills etc.

John Sandford, ph 329

4616, mob 027 5189 598

johnsandford2@gmail.

com

CARPET CLEANING

Your Local Professional

Carpet Cleaner. No Hidden

Fees / Fully Insured /

100% Guaranteed. Call

Now 0800 672 777 www.

mrcarpet.co.nz

CLEANING SERVICE

Home - Rentals -Home

Help. Competitive rates.

Ph Amanda 0274 761 602

COMPUTER REPAIRS

fAST

Friendly experienced

techs available to help you

now. Christchurch based.

All work guaranteed.

Computer Help 0800 349

669

CONCRETE CUTTING

Affordable Concrete

Cutting with Quality, and

removal work. Free quote.

No job to small. Phone 027

442-2219, Fax 359-6052

a/h 359- 4605

ELECTRICIAN

Registered, electrical

installation and repairs,

Gorbie Electrical, ph 021

026 73375 or 03 322 4209

ELECTRICIAN

All types of domestic

& commercial work

undertaken, new housing,

alterations, extensions,

ranges, security lights,

quick response, efficient

service, free quotes,

city -wide. No call out

fee. M/S, 8-5. Call Pat

Barrett 03 359 2087/ 027

7331384.

ELECTRICIAN

Prompt & reliable

registered electrician

with 24 years experience

for all residential and

commercial work, new

housing and switch board

replacements. Phone Chris

027 516 0669

ELECTRICIAN

Available, 30 years

experience, immediate

start, competitive rate,

ph Brian 027 433 9548

No Call out fee

fENCING

All types of fencing . Free

quotes. Ph Jim 022 137

1920

GLAZIER

Glass repairs - pet doors

- conservatory roofs. Exp

Tradesman. Call Bill on

022 413 3504 or 981-1903

HANDY - DAN

General Handyman for

all your maintenance

requirements. I specialise

in fences and decking, also

do spouting cleans and

repairs and everyday home

maintenance. NO JOB TO

BIG OR SMALL I can do

it all, please don't hesitate

to call me on 022 600 7738

for a no obligation free

quote.

Trades & Services

HANDYMAN

SERVICES

Had new carpet installed?

Doors rubbing on

carpet? Specialist cutting

equipment can fix. Master

Multi - Tasker Ltd. Call

Steve 027 408 6199

LANDSCAPING

Paving, Lawns, Irrigation,

Decking, Fencing.

Kanga & small digger

services. Check out Squire

Landscaping on facebook.

FREE QUOTES. Ph

Arthur 347-8796, 027

220-7014 Edwin 027 220-

7154

MOBILE CAR

CLEANING SERVICES

We come to you where

ever you are. Ring us

at 03 281 8054 for free

quotation.

ODD JOB SPECIALIST

Small jobs specialists.

eg: drippy taps, sticky

doors, locks, spouting/

fence repairs Discount for

pensioners.

Ph 390 1565 or 022 5275

668. Avail now.

PAINTER,QUALIfIED

local professional, Int /

Ext,roofs,wallpaper, call

or text Corban 027 846

5035

PAINTING

Indoor / Outdoor, over 30

yrs exp, same day quotes,

ph Steve 021 255 7968

PAINTING

PLASTERING

Free quotes. Int/ext &

roof painting Family run

business, work guaranteed.

Pensioner discounts. Ph

Kerin or Paul 022 191

7877 or 379-1281. Website

www.swedekiwipainting.

co.nz

PAINTER

CARPENTER

Repairs. Free quotes. Ph

Joe 0220 916 671

PLASTERER

Phone Finn for all your

interior plastering needs.

No job too small -

renovations, alterations,

holes & cracks. Free

quotes. I'll beat any quote

by 10% .25 yrs exp. Canty

born. Ph 022 087 4351

PLASTERING (INT)

and small painting jobs

Experience and

Excellence. Small to

Medium job specialists

in all aspects of Interior

Plastering. Please call Tim

022 5380959

REMOVALS

Small furniture removals,

have own van, can fit

various types of whiteware

appliances, some furn,

bedding, boxes etc, honest

& reliable, any area

considered, ph Chch 027

517 7001

ROOfING SERVICES

Metal roofing & spouting.

Butyl rubber and flat

rooves. Repairs, reroof

and new build. 25 yrs

experience.NZ Cert

and LBP qualified. Free

quotes. Call Elliot 332-

9662 / 027 237 9431

ROOfING

All Roof repairs, Roof

painting, moss treatments,

Gutter cleaning 10 + yrs

exp, free quotes 24 / 7, Ph

027 516 6609

RUBBISH REMOVAL

Van, Trailer Rubbish

Removal. Ph Gary 342-

8950, 021 529 022

Trades & Services

SPOUTING

Select Spouting

The PVC specialist.

Repairs & replacement. Ph

022 197 2351

SPOUTING CLEANING

SPECIALIST

Entire spouting system

cleared. Single or 2 storey.

Jo 021 164 0365

SPOUTING

CLEANING

Spouting Unblocked,

Cleaned Out and Flushed

Out, Call Trevor 332 8949

or 021 043 2034

STUMP GRINDING

Best price guarantee Tony

0275 588 895

TEST & TAG

NZ3760 complient (class

1 and class 2 tools). Can

travel to your work site.

Phone Jamie 021 134 6893

TILER ( MASTER )

Int / Ext. Res / Comm. .

Free quote. 18 yrs exp. Ph

Zac 021 1056 797

TREE SERVICES

Free quotes 20+ yrs exp.

Tree, hedge or shrub

- reduction, shaped or

removed. Ph/text Paul

The Branch Manager

0274314720

TREE SERVICES

Specialist small tree

pruning & shaping.

Roses,fruit trees etc. Ph

Hugh 021 2755445

TREE SERVICES

Hedges, shrubs, tree

trimming & removal,

rubbish removal, Ph for

free quotes 022 540 4900

WINDOW CLEANING

Average 3 brm house

inside or out from $45.

Both from $80 Phone

Trevor 344-2170

WINDOW CLEANING

Brown & White Ltd.

Family owned since 2001.

Ph Paul 027 229 3534

Tuition

COMPUTER LESSONS

avail for computer, IPad,

or Mobile. Please contact

Jobee 027 290 9246 www.

computertutor.nz

Wanted To Rent

MALE WANTING ONE

or TWO BEDROOM

Apartment or flat.With

garage. $270-$300 Call

Dan 021 090 22110

Wanted To Buy

WANTED

SLEEPOUTS

Sleepouts Galore

Buyers and sellers of

relocatable buildings

11 Brixton Street, Hornby

Phone: 349 9633

STEVE PURCELL

ANTIQUES

BUYING

NOW

Gold jewellery,

watches, coins,

medals, scrap

gold, sterling

silver, pewter,

original paintings,

modern art.

351 9139

stevepurcellantiques.com

Wanted To Buy

AAA Buying goods

quality furniture, beds,

stoves, washing machines,

fridge freezers. Same day

service. Selwyn Dealers.

Phone 980 5812 or 027

313 8156

A1 Albums, old photo's,

postcards, coins, gold,

bank notes, badges,

medals, jewellery,

watches, china, crystal,

books, furs, vintage

clothing, paintings,

furniture, estates &

downsizing. Etcetera

Antiques, 194 Edgeware

Rd 385 5117

ACADEMY ANTIQUES

Buying estates, antiques,

old china, crystal, art,

Royal Doulton , Royal

Albert etc. Best prices,

free appraisal. Call Rob

349-4229

A+ Household effects,

fridges, freezers, washing

machines, ovens. Good

cash paid. Ph Paul 022

0891 671

ALL whiteware wanted.

Same day service, cash

paid for freezes, fridges,

washing machines, ovens.

Also buying furniture &

h/hold effects.Anything

considered. Ph Dave 960-

8440, 027 66 22 116

Wanted to buy

Public Notices

Wanted To Buy

A records and Hi-Fi

gear wanted. Pennylane

Sydenham. 7 days. Ph

366-3278

BOOKS.

Old wanted.

Anything considered incl

hunting,

mountineering,

fishing,childrens.

Ph 354 1621

TOOLS, Garden garage,

MILITARIA Any

country, firearms,

uniforms, badges, medals,

memoribilia, WW2 or

earlier ph 338-9931

saw benches, Lathes. Cash

buyer Phone 355-2045

Public Notices

Sorry, we are

no longer accepting

cheques

Star Media wish to advise

we no longer accept cheques as

payment for advertising, events

or accounts due to changes in

bank processes.

We do offer a range of other

payment options including cash,

EFTPOS, Visa, Mastercard, debit

card and online.

www.starnews.co.nz
---
The Star Classifieds

SCHOOLS. SPORTS CLUBS OR CULTURAL EVENTS

OUTSTANDING

Fundraising opportunity

The Star has a fantastic opportunity that is an ideal way

to fundraise while at the same time helps to profile and

promote your team and their goals and ambitions.

Call now to find out more about how you can fundraise

those hard to get dollars, while at the same time

promoting some of the great positive work being done

in the community. It also offers exceptional value for

your supporters and sponsors.

Contact:

Mike Fulham

379 7100

mike@starmedia.kiwi

Public Notices

2021

Annual General Meeting

and Election of Officers

AGM

Saturday 19 June 2021

10am in The Junction

ELECTIONS

Saturday 19 June 2021

Voting commences

15 minutes after the

completion of the AGM

and closes at 6.30pm

J Summerfield

General Manager

Vehicles Wanted

CAR REMOVALS

$$CASH PAID$$

CARS, VANS, UTES & 4X4 WANTED

NZ OWNED AND OPERATED FOR 24 YEARS

We use world class vehicle depollution systems

0800 77 80 80

www.pickapart.co.nz

Thursday June 17 2021 The Star 41

• Phone our local team 03 379 1100 • Email star.class@starmedia.kiwi

Public Notices Situations Vacant Situations Vacant

Situations Vacant

Entertainments

STAMP AND

POSTCARD FAIR

The Philatelic Centre

67 Mandeville Street,

Riccarton

Saturday 19th June

9am-12pm

Sellers tables available

Phone 027 6354 957

Building Control Officer

• Performing various functions required by

the Building Act 2004;

• Processing applications for building consents,

PIMs, exemptions and Certificates of

Acceptance

• Inspection of consented building works

• Investigate complaints of potential illegal

building works and issue and monitor

Notices to Fix where appropriate

• Monitoring and maintaining compliance

schedules, enforcing the Building Warrant

of Fitness system, on site compliance

schedule audits

The Westland District Council is seeking an experienced

Building Control Officer to perform a range of

tasks relating to building-related Building Consent

Authority (BCA) and Territorial Authority (TA) functions.

This will primarily involve processing building

consent applications, performing inspections, and

issuing Code Compliance Certificates, and other TA/

BCA functions.

You will ideally have 3 – 5 years' experience in a

similar role and hold or be working toward an

appropriate qualification recognised in Regulation

18 of the Building Regulations 2006 Act. A high level

working knowledge of the Building Act, Regulations

and Building Code is required. You will also maintain

excellent customer service.

We are seeking an enthusiastic person with excellent

communication skills, both written and verbal,

a thorough knowledge of relevant legislation,

bylaws and able to learn and follow policies. You

will have high levels of computer literacy especially

with the relevant programmes/software, and

problem solving abilities. You will be a great team

player. Relevant experience in a local government

environment is preferred.

Full details of the role are in the Position Description,

which is available on our website, along with

our application form. The salary range for this

position is $70,000 to $85,000 per annum.

For further information or to apply please email

Shelley Sutherland, People and Capability Manager,

hr@westlanddc.govt.nz. Please include a cover

letter, your CV and a copy of our application form,

available from our website.

We will short-list as applications are received so

please do not delay in applying for this position.

Entertainment

Call us

and we'll

help you

place

your

classified

advert

(with no

hassles!)

Nobody knows

Christchurch

like a local

We're local,

we're in

Christchurch

and we speak

your language!

Ph: 379 1100

Classifieds

The Star is published every

Thursday, is home delivered

free into 93,000 households and

is available at over 500 pick up

points throughout Christchurch

www.starkiwi

CLEANERS

REQUIRED

Christchurch Area

Monday to Friday

3pm - 6pm

Relieving work in

schools

Christchurch Area

Monday to Friday

5.30pm - 8pm approx

Relieving work

Sumner School

Monday – Friday

3pm – 6pm

Rolleston

Monday – Friday

6pm – 8.30pm (flexible

start time from 6pm)

Must have experience

with floor work

We are looking for

cleaners to join our

commercial cleaning

team.

You will need to pass a

Security Check and you

MUST have your

own transport.

Must be eligible to work

in New Zealand.

Please email your

Application to

csc@totalcanterbury.co.nz

or phone 338 9056

Visit our website:

totalcanterbury.co.nz

Please advise which job

when emailing your CV.

Senior Building

Control Officer

The Westland District Council is seeking an

experienced Senior Building Control officer with

exceptional people skills and a can do attitude to

assist the Council in meeting its obligations under

the Building Act. As a minimum you will have 5

years plus in the Regulatory industry in a similar

role , and you must have a qualification that meets

the requirements of Regulation 18 of the Building

(Accreditation of Building) Authorities 2006.

As a Senior Building Control Officer you will assist

the Building Control Manager to provide team leadership;

and mentor and monitor staff performance

and development, ensure that the functions and

requirements of the Building Act are managed

efficiently and appropriately. You will have excellent

technical knowledge and ensure policy and

procedure is followed to a high standard. We use

electronic consenting software for processing and

inspections, so your computer skills will need be

suitable for this.

You will be experienced in processing and inspecting

building consents to Res 3 and Com 2 and have

the ability to deal with associated Building control

functions (PIMs Certificates of Acceptance, Code

Compliance Certificates, Compliance Schedules,

BWOFs etc).

If you're a positive team player, we want to hear

from you. The salary range for suitably qualified

applicants is $90,000 to $105,000

Full details of the role are in the position description,

which is available on our website, along with

our application form. For further information or

to apply please email Shelley Sutherland, People

and Capability Manager, hr@westlanddc.govt.nz.

Please include a cover letter, your CV and a copy of

our application form, available from our website.

We will shortlist as applications come in, so

please do not delay in applying for this position.

Reporter - Christchurch

• Great media opportunity

• Be part of an award winning team

• A media company which is growing its reach

Who we are

Allied Press Limited employs over 450 people on a permanent basis

across our 15 sites in the South Island. We operate across multiple

media platforms (print, on-line, digital) delivering news, information and

entertainment through our various regional and city publications, including

Christchurch-based Star Media.

The role

We are seeking someone who is looking to take the next step in their

journalism career.

Reporting to the editor, the main purpose of the position is to file

community-based news, sport and people articles for both print

publications and online platforms.

Your skills and experience

We are looking for a journalist who has already displayed the qualities

and drive to become a topline journalist. In addition to your interest in

equity and diversity you will demonstrate:

• A great work ethic

• A competitive nature

• An eye for detail

• Accuracy

Further details

This is a full time, permanent position.

We can offer you a great team environment, professional development

opportunities and an opportunity to grow.

If you think this role is for you, please apply by way of CV and a

covering letter to barry@starmedia.kiwi. Informal inquiries about the

role are welcome and should be directed to Editor in Chief Barry

Clarke 021 359-426.

All applications will be treated in the strictest confidence.

Please note you must have the right to work in New Zealand to

apply for this role.

Disclaimer: Allied Press does not accept unsolicited agency resumes.

Allied Press is not responsible for any fees related to unsolicited resumes.
---
42 The Star Thursday June 17 2021

SUNDAY FROM 2PM

NEXUS

SHUTTLE OPERATING

To add a listing, contact

Jo Fuller 03 364 7425 or

027 458 8590

jo.fuller@starmedia.kiwi

www.star.kiwi/whatson

BRIDIE'S BAR & BISTRO

COMING UP

SUPER RUGBY LIVE!

Matariki

Fireworks

+

All Blacks

v Fiji

SATURDAY

10 JULY 2021

BISTRO IS OPEN

TUES TO SAT

12pm-2pm and from 5pm

& SUNDAY with limited menu

202 Marine Pde - Ph 388-9416

www.newbrightonclub.co.nz

Members, guests & affiliates welcome

THE ENTERTAINMENT HUB OF THE NORTH!

113 RAVEN QUAY | PHONE: 03 327 7884

BRIDIE'S BAR &

BISTRO

BISTRO

OPEN FROM 12PM

WEDNESDAY

TO SUNDAY

COMING ATTRACTION

MADSEN PROMOTIONS

PRESENTS

HOUSIE

EVERY THURSDAY

12PM

EYES DOWN 12.30PM

SENIOR'S GOLD CARD

SPECIALS!

From $24.50

Theme Buffet

Friday 25th June until

Sunday 11 July 2021

LUNCH OR DINNER - BOOK NOW!

Bookings Essential

PH 386 0088

fb.com/GardenRestaurantBuffet

www.gardenhotel.co.nz

THUR: FISH & CHIPS

FRI: FISH & CHIPS

SAT: CHICKEN NIB/CHIPS

SUN: ROAST MEAL

TUE: CHICKEN NIB/CHIPS

WED: ROAST MEAL

Available 11.30am-2pm

CAFE OPEN 7 DAYS 9AM - 4PM

BAR OPEN THU - SUN EVENINGS

PH 385 8880

FIND US ON FACEBOOK

fb.com/GBCCHCH

THE GARDEN HOTEL COMPLEX, 110 MARSHLAND RD

www.gardenhotel.co.nz . Phone 385 3132

facebook.com/gardenrestaurantbuffet instagram.com/gardenrestaurantbuffet

BAR HOURS

MON 3PM-10PM

TUES & WEDS 11.30AM

THURS 11AM | FRI 11.30AM

SAT & SUN 11AM

Closing times will vary.

SATURDAY

10TH JULY, 7.30PM

Tickets $25 at the club

FRIDAY

MEMBER DRAW

$500

SUPER RUGBY

GRAND FINAL

SATURDAY 7.05PM

BLUES v

HIGHLANDERS

SATURDAY 7.30PM - SPORTS BAR

Vague-As

Brothers

SATURDAY

31st JULY, 7.30pm

TICKETS $25

Available at the club or

online cosmicticketing.co.nz

D I N I N G

BAR/BISTRO MENU

AVAILABLE

MONDAY-SUNDAY

12 NOON - 8.30PM

QU I Z

EVERY WEDNESDAY

FROM 7PM

P OK E R

EVERY

THURSDAY 7PM

& SUNDAY 3PM

HOU S I E

EVERY SATURDAY

FROM 12.30PM

Woolston Club|43 Hargood St|Ph 03 389 7039|www.woolstonclub.co.nz|fb.com/WoostonclubInc
---
Thursday June 17 2021 The Star 43

christchurch

GIG GUIDE

Thursday 17 to Wednesday 23 June 2021

To add a listing, contact

Jo Fuller 03 364 7425 or

027 458 8590

jo.fuller@starmedia.kiwi

www.star.kiwi/whatson

'Famous for their roasts!'

SENIORS SPECIAL

Two courses: $

23

Soup/Roast or Roast/Dessert

Special available lunch only

Monday - Saturday 12pm - 2.30pm

Conditions apply

FAMILY FRIENDLY

Kid's Special

Two courses

Great Kids menu plus

designated play area.

$

13

RESTAURANT & CAFÉ

Open daily from 6.30am - Breakfast, Lunch & Dinner

The

RACECOURSE HOTEL

& Motorlodge

118 Racecourse Rd, Sockburn,

Christchurch. Ph 03 342 7150

www.racecoursehotel.co.nz

Christchurch metal outfit 'Fall of Them' is amongst the

premium Midwinter Mayhem lineup

playing at the Embankment on Saturday night.

12 BAR, 342 St Asaph St: Christchurch's

smoking hot BLUES BAR. Thursday 7.30pm

- Kate Anastasiou. Friday 8pm - Li'l Chuck

& Davey Backyard split personality tour.

Saturday 8.30pm - Josette, St Peter's

Thursday and the Preservatives.

A ROLLING STONE, 579 Colombo St:

Thursday 7.30pm - Laidback grooves with

CWB, free; 9.30pm - Revolución Thursdays

Latin dance with DJ Zee, free. Friday 5.30pm

- Clube do Choro's Brazilian Jam Session,

free; 9pm - Th'Goonz, free. Saturday 9pm -

Technomatic feat. Moulder, Craig Shaw,

Eamonn Fevah, and Monkey Puzzle, tix $15

via Humanitix or $20 door. Sunday 4pm -

Laidback Sunday music from Bayley, The

High Kats (unplugged), and Just Another

June, free. Monday 7pm - Quiz. Tuesday

8pm - Stand-up comedy night, free; 10pm -

Open Mic Night, full set-up, free.

BILL'S BAR, 1 Halswell Rd: Thursday

7pm - Mickey Rat's Karaoke. Friday 7pm -

Medium Rare. Sunday 7pm - Mickey Rat's

Karaoke.

BRIDIE'S BAR & BISTRO, 401

Worcester St: Sunday 4pm - Quiz.

BOO RADLEYS, Level 1, 98 Victoria St:

Thursday 9pm - Live music. Friday 8pm -

Amber Carly Williams; 10.30pm - VOXY

Duo. Saturday 8pm - Libby Barker; 10.30pm

- Black & Gold. Wednesday 7.30pm - South

Street Blues Trio; 9.30pm - Open Mic Night.

CHRISTCHURCH CASINO, 30 Victoria

St: Friday 6pm - Stephen James; 9.15pm -

Cantora. Saturday 6pm - Natalie Elms;

9.15pm - D'Sendantz.

HORNBY CLUB, Carmen Rd: Saturday

7pm - Ian Mac. Sunday 3pm - Norm Bland.

Saturday 23rd July, 7.30pm - Madsen

Promotions presents Jersey Boys & Grease,

tickets $25 at the club.

KAIAPOI CLUB, 113 Raven Quay:

Saturday 10th July, 7.30pm - Madsen

Promotions presents Kenny & Dolly

performed by Stevie K & Jo Hill, tickets $25

at the club.

MICKY FINNS, 85a Hereford St: Friday

- In the City. Saturday 10.30pm - Alignment.

NEW BRIGHTON CLUB, 202 Marine

Pde: Sunday 2pm - Nexus.

RICHMOND CLUB, 75 London St:

Friday 7pm - Absolut. Saturday 7pm -

Mezzanine. Sunday 3pm - Marcel.

RIVERSIDE MARKET, 98 Oxford Tce:

Thursday 6pm - Live jazz with Triangulation

(Heather Webb, guitar; Reuben Derrick,

saxophone; Michael Kime (bass), $15 entry.

TEMPS BAR, 21 Goulding St, Hornby:

Friday 8.30pm - DJ. Saturday 8.30pm - No

Secrets.

THE EMBANKMENT, 181 Ferry Rd:

Thursday 8pm - The Giant Poppies. Friday

7.30pm - Open Mic & Jam. Saturday -

Midwinter Mayhem feat. Fall of Them;

Empire; Black Water Project; The Snake

Behaviour; Cyber Maniac, $10 entry.

Wednesday 9pm - Titanic (Kevin Emmett,

Nick Buchanan, and Peter K Malthus).

THE LITTLE BROWN JUG, 290

Wairakei Rd: Friday 7pm - Shiver.

THE MILLER BAR, 308 Lincoln Rd,

Addington: Friday 9.30pm - Red Zone.

Saturday 9.30pm - Old Skool. Sunday 6pm -

Lance Kiwi Karaoke. Tuesday 7pm - Quiz.

Wednesday 7.30pm - Lance Kiwi Karaoke.

WOOLSTON CLUB, 143 Hargood St:

Saturday 7pm - Vague-As Brothers. Saturday

31st July 7.30pm - Totally 80's Show, tickets

$25 at the club or online at

cosmicticketing.co.nz.

WUNDERBAR LYTTELTON, 19 London

St, Lyttelton: Friday 8.30pm - Genzed, $10

entry. Tuesday 8pm - Open Mic. Wednesday

8pm - Jam Night.

WINTER

MADSEN PROMOTIONS PRESENTS

FRIDAY 23 JULY, 7.30PM

TICKETS $25 AT THE CLUB

Saturday 7pm:

IAN MAC

Sunday 3pm:

NORM BLAND

TUESDAYS 10AM

Mid Winter

CHRISTMAS

SUNDAYS 4 & 11 JULY

LUNCH 12-2pm &

DINNER 5-6pm

Adults $35pp.

Children $1 per year of age (up to 12).

Pre-pay at reception to secure your spot.

ALL BLACKS RUGBY

SATURDAY 3; 10; 17 JULY

Come on down!

17 CARMEN RD. PH. 03 349 9026

WWW.HORNBYWMC.CO.NZ

WHAT'S ON AT THE RICHMOND CLUB

FRIDAY 7PM

ABSOLUT

SUPER

RUGBY

FINAL

SATURDAY

7.05PM

BLUES v

HIGHLANDERS

SATURDAY 7PM

MEZZANINE

SUNDAY 3PM

MARCEL

75 London St, Richmond

Christchurch 8013

P: 03 389 5778

theborough.nz

richmondclub.nz
---
44 The Star Thursday June 17 2021

EXTENDED!

FOR 1 FINAL WEEK!

Queen's Birthday

STOREWIDE SALE

IN STORE & ONLINE + SUPER DEALS. NOW ENDS 21.6.21.

ALL LOUNGE ON SALE

CHARLIE

ON SALE

3 Seater – Midnight

NOW $

1099

2 Seater – Midnight

NOW $

899

Sydney

2.5 Seater

WAS $

799

NOW

$

699

Armchair – Midnight

NOW $

699

ALL LIVING & DINING ON SALE

VIVA WHITE

ON SALE

Buffet

NOW $

799

Entertainment Unit

NOW $

699

Coffee Table

NOW $

299

ALL DINING CHAIRS

ON SALE

Carson

NOW

$

115

Veno

NOW $

95

Peyton

NOW $

125

Duke

NOW

$

125

Watson

Barstool

NOW $

165

ALL BEDROOM & MATTRESSES ON SALE

Jamie Single/Single

Bunk Bed WAS $ 699

NOW

$

399

Dallas Queen Bed

WAS $

449

NOW

$

299

Serene Trundler Bed Set

WAS $

897

NOW

$

699

Includes Trundler Base,

Bahamas King Single Mattress,

Bahamas Single Mattress

Shop

Online

Nationwide

Delivery

Finance

Options

PLUS HEaps more super deals in store & online!

QUEEN'S BIRTHDAY SALE NOW ENDS 21.06.21.

250 Moorhouse Ave, Christchurch

Ph: 0800 TARGET (0800 827438)

targetfurniture.co.nz

Offers and product prices advertised here expire 21/06/21.

Sale Excludes Accessories.