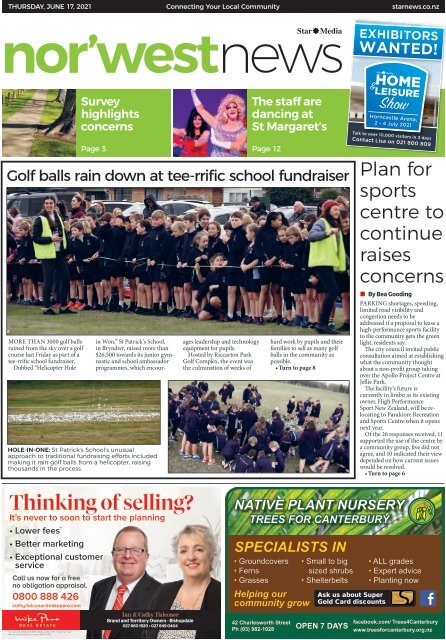 Nor'West News: June 17, 2021
You also want an ePaper? Increase the reach of your titles
YUMPU automatically turns print PDFs into web optimized ePapers that Google loves.
THURSDAY, JUNE 17, 2021

Connecting Your Local Community

starnews.co.nz

Survey

highlights

concerns

The staff are

dancing at

St Margaret's

Talk to over 10,000 visitors in 3 days

MORE THAN 3000 golf balls

rained from the sky over a golf

course last Friday as part of a

tee-rrific school fundraiser.

Dubbed "Helicopter Hole

Page 3 Page 12

Golf balls rain down at tee-rrific school fundraiser

HOLE-IN-ONE: St Patrick's School's unusual

approach to traditional fundraising efforts included

making it rain golf balls from a helicopter, raising

thousands in the process.

in Won," St Patrick's School,

in Bryndwr, raised more than

$26,500 towards its junior gymnastic

and school ambassador

programmes, which encourages

leadership and technology

equipment for pupils.

Hosted by Riccarton Park

Golf Complex, the event was

the culmination of weeks of

hard work by pupils and their

families to sell as many golf

balls in the community as

possible.

• Turn to page 8

Contact Lisa on 021 800 809

Plan for

sports

centre to

continue

raises

concerns

• By Bea Gooding

PARKING shortages, speeding,

limited road visibility and

congestion needs to be

addressed if a proposal to lease a

high-performance sports facility

to the community gets the green

light, residents say.

The city council invited public

consultation aimed at establishing

what the community thought

about a non-profit group taking

over the Apollo Project Centre at

Jellie Park.

The facility's future is

currently in limbo as its existing

owner, High Performance

Sport New Zealand, will be relocating

to Parakiore Recreation

and Sports Centre when it opens

next year.

Of the 26 responses received, 11

supported the use of the centre by

a community group, five did not

agree, and 10 indicated their view

depended on how current issues

would be resolved.

• Turn to page 6

Thinking of selling?

It's never to soon to start the planning

• Lower fees *

• Better marketing

• Exceptional customer

service

Call us now for a free

no obligation appraisal.

0800 888 426

cathy.falconer@mikepero.com

*Our fees are 2.95% up to $490,000 thereafter 1.95% + admin fee + gst.

Mike Pero Real Estate Ltd Licensed REAA (2008)

Ian & Cathy Falconer

Brand Brand Territory and Territory Owners Owners - Bishopdale

027 660 1920 • • 027849 849 0404

natiVe plant nurSery

treeS for canterbury

SpecialiStS in

• Groundcovers

• Ferns

• Grasses

Helping our

community grow

42 Charlesworth Street

Ph (03) 982-1028

• Small to big

sized shrubs

• Shelterbelts

Ask us about Super

Gold Card discounts

OPEN 7 DAYS

• ALL grades

• Expert advice

• Planting now

facebook.com/ Trees4Canterbury

www.treesforcanterbury.org.nz
---
2 Thursday June 17 2021

Latest Canterbury news at starnews.co.nz

what's on

this week

NOR'WEST NEWS

GENERAL INQUIRIES Ph 379 7100

CLASSIFIED ADVERTISING Ph 379 1100

Star Media, a division of Allied Press Ltd

PO Box 1467, Christchurch

starmedia.kiwi

NEWS

Fiona Ellis

Ph: 021 914 407

fiona.ellis@starmedia.kiwi

ADVERTISING

Monique Maynard

Ph: 021 372 481

monique.maynard@starmedia.kiwi

Your local community news

delivered to 28,748 homes

within The Star each week.

Harewood • Burnside • Bishopdale • Bryndwr

Fendalton • Merivale • St Albans • Mairehau

Papanui • Casebrook • Redwood • Styx Mill

Regents Park • Northwood • Belfast • Strowan

Knit 'n' Yarn

Thursday, 1-3pm, at Shirley, 1.30-

3.30pm, at Fendalton, Friday,

10am-noon, at Papanui, Tuesday,

1-3pm, at Bishopdale, Wednesday,

1-2.30pm, at Redwood

Bishopdale, Fendalton, Papanui,

Shirley and Redwood libraries

Take your knitting, crochet, stitching

or any other handcraft and enjoy

the company of others. Share skills

and be inspired.

Citizens Advice Bureau

Thursday, 11am-5pm, Friday,

11am-5pm, Monday, 11am-5pm,

Tuesday, 2-5pm, Wednesday,

11am-5pm

Fendalton Library

Citizens Advice Bureau provides

free and confidential advice. They

take the time to listen and equip you

with the information, options and

support that fit your needs. Phone 351

7804 for more information.

JP Clinic

Saturday, 10am-noon, at

Fendalton, Tuesday, 10am-1pm, at

Shirley and Papanui, Wednesday,

10am-1pm, at Bishopdale

Bishopdale, Papanui and Shirley

libraries

A justice of the peace will be

available to witness signatures

and documents, certify document

copies, hear oaths, declarations,

affidavits or affirmations, as well

as sign citizenship or rates rebates

applications.

Manga Club, Thursday, 3.30-5pm, Shirley Library. If you enjoy Manga, go

along to the club to share your favourites, find a new one or just for a chat.

All ages. Free, no bookings required. ​

Cards at the Papanui Club

Monday, 1.15-3.15pm, Tuesday,

1-3.15pm, Wednesday, 1.15-3.15pm

Papanui Club, 310 Sawyers Arms Rd

Join others for a different card

game each day. Monday is Flag 500,

Tuesday is cribbage and Wednesday

is euchre. All welcome. $2. Phone

Alan on 021 173 3388 for more information.

Marshland Table Tennis Club

Monday, 7.30pm

Ouruhia Hall, 225 Gutheries Rd

The Marshland Table Tennis Club

is looking for more players to join

in on the fun each week at its new

premises in Belfast. All abilities welcome.

$5 for adults, $3 for children.

For more information phone 021 205

1106.

Wā Kōrero: Storytimes

Tuesday, 10.30-11am, at Fendalton

and Shirley

Fendalton and Shirley libraries

Storytimes is an interactive programme

including books, songs,

rhymes and play. Recommended

for children 2-years-old and up. No

bookings required.

Reading to Dogs

Tuesday, 3.30-4.30pm

Shirley Library

A relaxed, non-threatening event

designed to encourage children to

practise reading skills and develop

a love for reading. Registration required.

Phone 941 7923 to register.

Scottish Country Dancing

Tuesday, 7.45-9.45pm

Heaton Intermediate School hall, 125

Heaton St

Go along if you want to take part in

the fun exercise. All you need to take

is some soft shoes. The first night is

free for beginners. Phone 021 480 802

for more information.

Elizabeth Bridge Club

Wednesday, 1-4pm

Christchurch Bridge Club Rooms, 21

Nova Pl

Go along and join others for a game

of bridge every Wednesday. Arrive at

12.50pm for a 1pm start. If you do not

have a partner, phone Maureen at 021

646 123.

Not-for-profit organisations can

send their What's On listings to

norwest@starmedia.kiwi
---
NOR'WEST NEWS Latest Canterbury news at starnews.co.nz

Thursday June 17 2021 3

Issues highlighted in survey

• By Matt Slaughter

RESIDENTS ARE largely

unsatisfied with the condition

of roads and footpaths in

Christchurch.

The city council's recent

Christchurch Residents' Survey

revealed only

29 per cent

of those who

gave feedback

are satisfied

with the

condition of

roads and 36

Bronwyn

Hayward

per cent with

footpaths.

It comes

as the city council's Long Term

Plan, which outlines its 10-year

budget, and has been undergoing

consultation since March, will be

finalised this month. It includes a

proposed budget of $18.3 million

a year, for the first three years of

the plan, for road resurfacing.

Meanwhile, the results of

the survey show 24 per cent

of respondents who have been

involved in governance processes

are satisfied with their influence

on city council decisions and

only 36 per cent understand how

its decisions are made.

It comes as 2381 Christchurch

residents gave feedback on

the city council's draft Long

•HAVE YOUR SAY: What are your views on footpaths and

other issues? Email matt.slaughter@starmedia.kiwi

Term Plan. The city council says

it is working on ways to improve

engagement.

The Star spoke to residents in

April after written consultation

for the Long Term Plan had

closed. All either did not know

what the Long Term Plan is, or

chose not to give feedback on it.

Canterbury University

professor Bronwyn Hayward

believes the number of people

who gave feedback on the draft

Long Term Plan is promising.

However, she said the reason

more people did not give

feedback could be because they

have a lack satisfaction with

their influence on city council

decisions.

"It is costly in terms of time

and resources to actually read

a plan and spend time writing

formal submissions. Many

people that give submissions

are not expecting to have their

submissions agreed with, but

we do know that people have

confidence in a process when

they feel that they were listened

to respectfully and given enough

time to be heard."

Said city councillor Yani

Johanson: "I think at a

governance level, we do need

to consider how we make it

easier for people to understand

what council's doing and to be

involved in what council's doing.

"Certainly, making it easier for

people to understand information

is critical. The second thing

is having greater transparency

and openness around our briefings."

Said city council head of community

support, governance and

partnerships John Filsell: "We

are always looking at ways we

can improve our engagement.

"We are continuing to engage

and educate on decisions and we

actively encourage as many people

as possible to submit, contribute

and get involved via a variety

of channels – online, hard copy

and face to face.

"These questions [in the survey]

seek to establish if citizens

have had that opportunity to

contribute/influence/have their

say on council decisions – rather

than whether they were able

to influence council's decision

to the individually preferred

outcome."

In contrast to the city council

services residents are most concerned

with, there are many they

are happy with.

Of those surveyed, 100 per cent

are satisfied with education programmes

in Christchurch, 98 per

cent are happy with the Botanic

Gardens and Mona Vale, 95 per

cent with libraries, 97 per cent

with walk-in customer service

and 92 per cent with customer

service over the phone.

Overall satisfaction with city

council services is sitting at 49

per cent – a slight decrease from

50 per cent last year.

Christchurch Residents'

Survey satisfaction

percentages

•Reliability of water supply

– 75 per cent

•Inner city parks – 82 per

cent

•Kerbside bins collection –

80 per cent

•Education programmes –

100 per cent

•Libraries – 95 per cent

•Botanic Gardens and

•Mona Vale – 98 per cent

•External communication –

82 per cent

•Customer service – walkins

97 per cent/email – 71

per cent/phone – 92 per

cent

•Condition of footpaths –

36 per cent

•Walking friendly city – 74

per cent

•Condition of roads – 29

per cent

•Community parks – 63

per cent

•Influence on city council

decisions – 24 per cent

•Understanding of city

council decisions – 36 per

cent

•Public influence on

decisions – small influence

– 46 per cent/large or

some influence – 30 per

cent

•Heritage buildings – 48

per cent

•Stormwater drainage – 45

per cent

•Water supply –

responsiveness – 52 per

cent/quality 45 per cent

'CEREC' & cosmetic dentistry

Wisdom tooth removal

Painless, high quality dentistry

Sedation dentistry

Experienced, conscientious team

Experienced hygienists

OPEN SATURDAYS

355 9380

144 Cranford Street

www.stalbansdentalcentre.co.nz

PARENTS

Do you have a son or daughter

interested in horse riding?

✭ Courses every weekend.

✭ 2, 5 & 7 day School Holiday courses.

✭ Private lessons available

Monday to Friday

✭ One day / one night $90 child

✭ Opportunity to compete on our horses.

✭ ½ day lessons and treks available.

2264064

711 Island Rd View Hill, OXFORD 7495

03 312-4309 www.kowhai.co.nz

Give a man a fish

and you feed him

for a day.

Teach him how to fish

and you feed him

for a lifetime.

Whatever your health and wellbeing goals are,

Health Coach Steve Thompson will support,

guide and motivate you to live your best life.

BOOK YOUR FREE CONSULTATION TODAY

95 Main North Rd, Papanui. Ph: 352 9210.

Open until 8pm Monday - Friday.

Fantastic teamwork by Cameron and his team. They

were super prompt with replies to emails and following

up with any questions.

Our sale price exceeded our expectations due to

Cameron's negotiation skills.

- Jo Corden -

Phone or text 027 555 7079

REINZ Salesperson of the Year across all brands in NZ

cameron.bailey@harcourts.co.nz

No.1 Harcourts Canterbury 2012-2021

No.1 Harcourts New Zealand 2017-2021

www.cameronbailey.harcourts.co.nz No.1 Harcourts International 2017-2020

Licensed Sales Consultant REAA 2008
---
4 Thursday June 17 2021

Latest Canterbury news at starnews.co.nz

NOR'WEST NEWS

What are you waiting for?

Now is a great time to sell in the Nor'West area but don't

just take our word for it, have a look at the May statistics

below and see the results for yourself.

If you would like a suburb specific report, or are curious to

know what your home is worth, get in touch with us today!

0800 YELLOW

Nor'West Market Snapshot

May 2021

Median Sale Price

$650,000

Total # of Sales

198

Median Days to Sell

28

Total Sales Value

$168,666,377

Nor'West Christchurch median sale price has increased by 25% on the same period last year.

($520,000 in May 2020)*

*Statistics sourced from REINZ

Ray White Bishopdale & Strowan

0800 YELLOW (0800 935 569)

5/333 Harewood Road, Bishopdale | 55 Blighs Road, Strowan

rwbishopdale.co.nz | rwstrowan.co.nz

Inline Realty Limited (Licensed REAA 2008)

Proudly owned by

Karen Ellis

021 519 275

Barry Ellis

021 519 274
---
NOR'WEST NEWS Latest Canterbury news at starnews.co.nz

Thursday June 17 2021 5

Illustrator shortlisted for award

In Brief

• By Fiona Ellis

ILLUSTRATOR Malene

Laugesen is bringing the sky to

life for young readers.

The Papanui resident has been

nominated for the Russell Clark

Award for Illustration in the

New Zealand

Book Awards

for Children

and Young

Adults for

her work on

Moon & Sun,

by Melinda

Malene

Laugesen

Szymanik

She is one of

five shortlisted

for the award,

which received 40 entries.

The book is about the relationship

between Moon and her

sister, Sun. Moon feels jealous

of Sun, who seems brighter and

more beautiful.

Capturing these emotions was

challenging, Laugesen said.

"They're heavenly bodies but

they're personified. How do you

illustrate the moon and sun, and

give them a personality? It was

difficult."

She worked on the illustrations

for over a year, experimenting

with multiple ways to

illustrate the book before settling

on her chosen style.

"It took a while."

However, she enjoyed illustrating

the book in spite of this, she

said.

"It's just a wonderful script. It

was a chance to do something

else."

Unlike many books which

described scenes and characters

in great detail, the text of Moon

& Sun allowed more creative

NOMINATION: Papanui

resident Malene Laugesen

has been shortlisted for a

New Zealand Book Award

for Children and Young

Adults for her illustrations

in Moon and Sun, by author

Melinda Szymanik.

freedom.

She had taken an abstract approach

and was "quite proud" of

the result, she said.

She was especially pleased

with her vibrant use of blue

and yellow used in some of the

pictures.

Watercolour paints were her

medium of choice because they

worked well with the topic.

"I quite like the transparency

and luminosity.

It was her first nomination for

the award, she said.

"I'm really, really excited".

Her two sons had read the

book and were proud of the

nomination, she said.

"They've both watched me

work on it.''

Winners would be announced

in a ceremony at the National Library

in Wellington on August

11, but she was not making any

predictions.

"I have no idea how it will go.

They're all really good books. I'm

just happy I got nominated."

DRAIN TO BE REPLACED

Work will soon be carried out

by the city council to replace

Wilkins Drain in Merivale's

Holmwood Rd. Water diversion

will be in place for the duration

of the works. The broken

concrete drain will be removed

and the replacement will use rock

and timber edging and landscape

planting for a more natural

waterway environment.

GRANTS APPROVED

The Papanui Community

Toy Library will receive

$3000 towards a supervisor's

wages. The Fendalton-Waimairi-

Harewood Community Board

grant was approved during a

board meeting on Monday.

Funding for the grant will

come from the board's 2020-21

Discretionary Response Fund

SERVICE CENTRE

Demolition of the Sockburn

Service Centre on Main South

Rd will begin in the next two

weeks. The city council decided

it was uneconomic to repair the

building, which has has been

empty since it was damaged

in the the February 22, 2011,

earthquake. The demolition

will take about 12 weeks. The

future use of the site is under

consideration.

10am - 2pm

Every Friday in June

Summerset at Avonhead

120 Hawthornden Road,

Avonhead

Summerset on Cavendish

147 Cavendish Road,

Casebrook

Summerset at Wigram

135 Awatea Road, Wigram

Winter

High Tea

Join us for a Winter High Tea at one

of our three Christchurch villages

Winter certainly is starting to settle in. These cooler months

can make it just that little bit harder to get out and about.

So here at Summerset we're planning a month of warm

winter High Teas and you're invited.

Just pop along to one of our three Christchurch villages any

time between 10am and 2pm, on any Friday in June, and

enjoy a range of delicious winter treats and hot drinks on us.

Whilst you're here, why not also get a taste of the Summerset

life that our residents love so much.

Our teams would love to show you around our stunning

villages and show homes.

We're looking forward to seeing you!

0800 SUMMER | summerset.co.nz

Image is indicative only.

SUM3118_18X8
---
6 Thursday June 17 2021

Latest Canterbury news at starnews.co.nz

NOR'WEST NEWS

Traffic would need to be managed

• From page 1

Those who supported the idea

referred to various uses, including

a centre for community

groups, youth or elderly people.

The Grey Goose Wing Archery

Society and the Canterbury

Whitewater Club also commented

on why they needed the

facility for storage, training and

host competitions.

Parking along Chateau Drive

and Matisse Pl by athletes currently

using the centre was a key

issue for those opposing ongoing

use of the building.

Not only would they speed

and make too much noise, but

residents said they parked on both

sides of the road from early morning,

restricting road visibility.

A report by the city council's

project team addressing issues

raised during consultation

outlined that future groups will

need to demonstrate the ability

to manage parking and traffic

flow.

"There are 22 parking spaces

associated with the facility and

20 bike storage spaces. Traffic

management plans will need to

identify how parking issues will

be minimised, including how

this will be enforced," the report

read.

"Parking and speeding issues

on Chateau Drive have been

raised with the parking team

ISSUE: Parking on both sides of Chateau Drive restricts

visibility on the road.

at the city council to see what

they advise."

There were also concerns the

building was not made to last,

considering it was temporary.

"The current facility should

have at least 17 years of useful life

remaining. If there is a successful

applicant who is granted a lease,

there will be a requirement for

them to remove the building at

the conclusion of a new lease."

The 2300 sq m centre was built

to provide temporary training

facilities for high performance

athletes and teams following the

February 22, 2011, earthquake.

It was always intended to be removed

once Parakiore was completed,

but an opportunity rose

to retain it for the community.

The new group will have full

responsibility for running the

facility, including a full-sized

indoor netball court, a strength

and conditioning gym, a 40m

running track, showers, offices

and meeting spaces.

The Fendalton-Waimairi-

Harewood Community Board

recently completed a request for

proposal process, considering

early submissions from interested

groups.

A public notice with interested

parties will be issued and

residents will be able to provide

feedback on those parties before

a lease was awarded, provided

there were no objections.

RESIDENTS' VIEWS ON THE APOLLO

The city council received

public submissions on

a proposal to lease the

Apollo Project Centre, a

high-performance sports

facility, to a community or

not-for-profit group once

the existing owners move

out. Here are some of the

responses:

"As an archery club that currently

has no indoor shooting

capability at our current venue,

we have been looking at a suitable

indoor venue to shoot indoor

postal competitions, hold coaching

or performance workshops

(we have a number of international

archers as members.)

"Our problem is storage,

archery targets are not small or

light, having a venue which has

walls capable of supporting a

safety net and space to shoot 18m

– 25 is even better.

"The Apollo Project Centre may

meet this, but the cost is just too

high for a minority sports club.

However, we would like to work

with the new committee that will

run it, to see if any agreement can

be made, especially with the possible

closure of the Christchurch

Archery Club if they cannot find a

suitable venue."

– Colin Tucker, Grey

Goose Wing Archery

Society president

"I would like to see this used

for community groups and activities

for the elderly. Subsidised

Keep Fit, yoga or stretch classes

perhaps. Also a wellness clinic

- classes at Jellie Park are too expensive

for a lot of older people.

"You need to address the parking

problem, groups should be

encouraged to park at the Greers

Rd end of Jellie Park, there are

lots of parking spaces there.

Parking in Chateau Drive causes

many problems and will reflect

on the groups using the space.

The present users can be noisy

and often park over drives or opposite

driveways."

– Marilyn Bishop

"The Christchurch Whitewater

Club is looking for a space to

store rafts, kayaks and other

white water equipment until

such time as the Avon River Hub

is constructed. They would be

interested in tenanting a storage

or meeting space, ideally an area

of 40 to 50m2 with external access.

The duration of this tenancy

would ideally be up to five years."

– Crispin Schurr,

Canterbury Whitewater

club vice president

"I do not think the proposed

use by community recreation

groups should happen. This centre

was a temporary use site for

after the earthquakes.

bespoke, upscale & personalised care

The reassurance of quality is built in to everything we do at The Russley Village. However, nowhere

is the requirement for reassurance more important than within our new Ashley Suites Care Facility

– setting new standards in care, comfort and security. Our highly appointed care suites offer private

ensuite and a kitchenette with refrigerator, microwave and refreshment making facilities –

providing a sense of residence. This boutique facility is truly unique, and offers personalised rest home

and hospital care within an elegant residential setting.

rest home & hospital level care
---
NOR'WEST NEWS Latest Canterbury news at starnews.co.nz

Thursday June 17 2021 7

PROJECT CENTRE

My understanding is due to

the necessity for a venue, no

community consultation took

place.

"Over time, parking has been a

local issue for residents in nearby

streets, namely Chateau Drive and

Matisse Pl. Users of this temporary

facility park on both sides of the

local roads causing traffic issues

on these streets due to the visibility

issues. There is extremely limited

parking, if any, on-site. Jellie Park

parking is also limited.

"This area has enough 'acitivty'

groups associated with it and

the current proposal would

mean unknown amounts of

traffic, noise, safety and security

problems."

– Michelle Macaulay

"I support the facility going to

a community sports group, but

not a large franchise. The tenant

shouldn't cost the ratepayer

money, but not be about pure

profit. I like how Wharenui

Pool supports a local and small

affordable gym like Boxfit

Brothers and there could be

opportunities for people with

passions to operate a business

within the space."

– Tessa Smith

"I agree that the facility should

be made available to community

groups, as long as those groups

would enable the building to be

booked and used by others for

special events. I would also be

interested in understanding if

there could be opportunities for

use of the park and facility as a

joint booking for some events."

– Claire Fletcher

"As nearby residents, the

large number of cars parked

in Chateau Drive has totally

degraded and devalued the

residential area, with car

movements from 5.30am to late

evening. Not helped by car horns,

loud music, dropped rubbish,

loud talking and speeding.

"The parking on both sides

of our street has narrowed to

a dangerous level. We were

informed from the beginning

this was a temporary building

and have been hugely looking

forward to its removal.

"It is a shock and extremely

disappointing to read consideration

being given to ongoing use."

– P J and D J McGill

"This would be a fabulous

venue for Delta Rhythmic

gymnastics."

– Cassandra Robb

"It definitely should be used

for a community centre, I

would have loved to have run

something like that there. Our

youth surely do need something

to keep them occupied. I look

forward to see what becomes of

it."

– Shalenah Evans

CONSULTATION: Community sports

groups have already shown interest

in leasing the Apollo Project Centre

to take advantage of its indoor courts,

gyms and office spaces.

"We wish to object to the

complex being used for more

community recreation activities

because Chateau Drive is already

cluttered with parked cars and

people speeding dangerously

along at all hours on the way to

the building.

"Unless you can guarantee all

access will be from Greers Rd

and/or Ilam Rd, and parking will

be on the property, we strongly

disagree with the proposal to go

ahead."

– Jan and Colin Notley

Simply great kiwi cuisine

100% owner operated

Products made by our own

team of qualified bakers

Classic kiwi cuisine at

affordable price is our

formula for success

Turn everyday

essentials into

SuperGold

135 Farrington Ave, Bishopdale

P 03 359 1020

E mabaker@mabaker.nz

Also at 1066 Colombo St, Edgeware

SOIL AND

HARDFILL

DUMPING

WE NOW HIRE

LANDSCAPING AND

GARDEN EQUIPMENT

DIGGERS, TRUCKS, WOOD CHIPPERS, POLE SAWS,

BREAKERS, WATER BLASTERS, ETC.

PLUS WE SUPPLY THE BEST

LANDSCAPE & GARDEN SUPPLIES

•BARKS •COMPOSTS

•AGGREGATES - CHIP, ROUND & BASECOURSE

•SCHIST PRODUCTS •PUNGAS

•DECORATIVE STONE & LANDSCAPING ROCKS

•TRAILER HIRE - FIRST HOUR FREE WITH PURCHASE

•BAG & BULK - PICK UP OR DELIVERED

DYERS ROAD LANDSCAPE & HIRE

PHONE: 03 384 6540

183 DYERS RD, BROMLEY ● OPEN 7 DAYS

Weekdays 7.30am-5pm. Weekends 8.30am-3pm

www.dyersroadlandscape.co.nz

Find all the ways you could

stretch your money further.

Visit www.supergold.govt.nz or download

and check the SuperGoldNZ app.

SG_180x130_garden
---
8 Thursday June 17 2021

Latest Canterbury news at starnews.co.nz

NOR'WEST NEWS

OUTLET SALE

$1000 for lucky winner

• From page 1

Each ball was labelled

with a unique number and

loaded into the helicopter

for the big drop. To win the

grand prize, a person's ball

had to make a hole in one,

or closest to it.

And it was lucky number

461, purchased by Gareth

Turner, that landed in the

hole, getting to take home

$1000.

The prize money was donated

in memory of Kelsey

Davidson who died in 2019.

Davidson taught dance

lessons and assisted with

choreography for school

productions, leaving a positive

impact on the lives of

many students and staff.

Jo McKenzie, Parents and

Friends Association chairwoman

said the fundraiser

was a huge success.

"We're thankful to

everyone who has worked

hard to make today such an

awesome event," she said.

"We've received so much

support from students,

their whānau and the

community, including

Christchurch Helicopters

Ltd and Riccarton Park

Golf Complex. We're so

pleased with the result."

Principal Tom Wallis

said the school was appreciative

of the time and

effort the PFA put into organising

such a unique and

SUCCESS:

Parents

and Friends

Association

chairwoman

Jo McKenzie

announces

the winner.

PHOTOS:

GEOFF SLOAN ​

fun event, which included

a barbecue lunch and an

afternoon of golf-themed

activities for the pupils.

"The funds raised will

directly support the junior

gymnastics programme,

technology equipment

and the school's leadership

ambassador programme,"

said Wallis.

"It's been a massive

effort by the whole

community and one the

students will remember for

a long time."

A reader responds

to the issue of

pedestrian safety

around Northlink

shopping centre

I fully agree with Ian

Wilkie that it is dangerous

trying to walk across

Langdons Rd, not only

near the Northlink

shopping centre but

anywhere from Greers Rd

down to Papanui Library.

Traffic has increased

enormously since

Northlink opened. Because

many cars are parked on

both sides of the road near

Chapel and Sails Sts, you

have to step out onto the

road to see the traffic and

wait for a gap.

Crossing at the

roundabout by the library

is not safer as traffic comes

from four directions. If

I'm driving, I try and

use Hoani St but this has

been partially closed for

months.

– Alan Tunnicliffe

4 DAYS ONLY

Take a further

25% off all outlet

clearance prices!

155 Roydvale Ave, Burnside

Wed 23 rd - Sat 26 th June

9am – 4pm

The dedicated team at Styx

Living Laboratory are passionate

about the work they do on the

Styx River catchment and in

promoting community

understanding of the importance

of our waterways. I was thrilled to

bring National's Spokesperson for

Conservation, Jacqui Dean, to

northern Christchurch to meet

with the team to hear about their

work in ecosystem rehabilitation.

Many of our residents have

enjoyed the successful Summer in

the Styx events, which bring

recreation and education together

to build on our community's

awareness of the value of these

ecosystems. We're lucky to have

such a great regional park on our

doorstep and I love showcasing

what we do well to my Caucus

colleagues.

Willowbank Wildlife Reserve is

another wildlife rehabilitation

group I often mention in this

column because of their very

successful conservation model.

After we visited Styx Living

Laboratory, I took National's

Conservation Spokesperson

Jacqui Dean to Willowbank for a

briefing on their conservation and

rescue work as the third largest

wildlife park in New Zealand.

I was honoured to accept a

petition on Parliament's forecourt

from Christchurch mum Rebecca

Tomms, the mother of an eating

disorder survivor who had fallen

through all the waitlists trying to

get help. Rebecca reached out to

me as National's Mental Health

Spokesperson as she felt she

couldn't get the government to

listen. Her petition calls on the

government to provide more care

for our young people with eating

disorders and I was honoured to

help her and all the other parents

who attended from around New

Zealand to be heard.
---
NOR'WEST NEWS Latest Canterbury news at starnews.co.nz

Thursday June 17 2021 9

RYMAN HEALTHCARE

SHOWHOME

SERIES

People often tell us they feel the difference

when they visit our villages. Our showhome

series is a great opportunity to experience

that feeling first hand.

You can tour our beautiful showhomes,

and learn more about the lifestyle our

villages have to offer.

If the times below don't suit you, simply

give us a call to arrange a private tour.

DIANA ISAAC

RETIREMENT VILLAGE

Tuesday 15 June - Thursday 1 July

Every Tuesday & Thursday, 1pm - 3pm

Phone Chris or Adrienne 385 3518

1 Lady Isaac Way, Mairehau

NGAIO MARSH

RETIREMENT VILLAGE

Tuesday 15 June - Thursday 24 June

Every Tuesday & Thursday, 1pm - 3pm

Phone Danielle 354 6608

95 Grants Road, Papanui

rymanhealthcare.co.nz
---
10 Thursday June 17 2021

Latest Canterbury news at starnews.co.nz

NOR'WEST NEWS

Prepare your

home for winter

The Mitsubishi Electric EcoCore AP35

heatpump is whisper quiet and ideal for living

rooms & bedrooms.

Back-to-back installation of the EcoCore AP35

heat pump for just $2450 including GST.

T&C's apply. Enquire Today!

Exterior lighting

Repair or install

• Landscape lighting

• Security lighting

• Path and driveway

lighting

• Discuss the many

more options

Switchboard

health check

Ensure your electrical

wiring and connected

equipment are safe

and compliant.

Just

$190

SAVE $85!

incl.GST

Six tips to get the most efficiency

out of your heat pump

Make sure it's clean

A clean heat pump filter will help your

heat pump run more effectively and

efficiently.

Give your filter a good clean as we head

into the cold season, and ideally clean your

filters once a month during winter.

Know your temperatures

Set your heat pump temperature to 18

deg C or above to help fight damp and

mould, and below 21 deg C to save on

power.

Heat where you eat/sleep, play

Heat pumps use the most energy

when they're getting a room up to a set

temperature. Heat the rooms you use

most often.

Close the doors to unused rooms

to avoid heating unrequired space (ie

spare bedrooms etc).

Don't run your heat pump

constantly

A lot of people believe that keeping a

heat pump running 24/7 is an efficient,

cost-effective way to heat their home.

Doing this will use more energy than

only using it as required.

Fixed Price.

Full Service.

Guaranteed

Quality.

Now,

that's hot.

Use your timer

Set your timer to turn on just before you

get home from work and/or before you

wake.

Set or turn off when you leave for the

day and before retiring to another room.

Avoid an expensive mistake

If you are looking to buy a heat pump,

talk to the experts.

Consider energy star ratings, location,

and the size required for the area/s you

wish to heat.

For a fully project-managed

hot water repair or upgrade.

Give us a call today 24/7 03 365 9712

aoteaelectriccanterbury.co.nz

Conditions apply. This offer is exclusive to Aotea Electric Canterbury for residential homes in the Canterbury area only.

Award winning company, trusted in Canterbury for 37 years

Call the installation hotline

0800 HOT WATER

hotwatershop.co.nz
---
NOR'WEST NEWS Latest Canterbury news at starnews.co.nz

Thursday June 17 2021 11

Prepare your

home for winter

Minimise your heat loss

Insulation

Without insulation, approx. 30-35%

of the heat loss occurs through the roof,

20-30% through windows, and 20-25%

through walls. The floor and air leakage

make up the balance.

Drafts

Seal up any unused openings such as cat

doors and open fireplaces.

Use draft stopping tape around windows

and tape, door 'sausages or a rolled-up

towel for doors.

Double glaze windows, there is a wide

range of DIY Window insulation kits that

are both effective and economical.

Downlight fittings

Some modern LED downlights have

insulation fitted over them, instead of

leaving a gap for fire prevention.

Super-efficient LEDs use less energy

and can save lighting costs. Ask a lighting

specialist or registered electrician for

advice.

Simple steps to reduce dampness

Air your home regularly

Open doors and windows for 10-15

minutes each morning or use a ventilation

system.

Use energy efficient, low

emissions heaters

Heat rooms being used to at least 18˚C.

Don't use unflued or portable gas heaters.

Use extractor fans

They can help to get rid of moisture in

the bathroom and laundry and use a fan or

rangehood in the kitchen.

Use lids on pots when you cook

This helps to stop the steam escaping.

Turn on the fan before a shower

or bath

Shut the bathroom door and open the

window slightly. Afterwards, leave the fan

running until the moisture clears.

Move furniture away from walls in

winter

A 10cm gap discourages mould

(especially on external walls).

Dry washing outside

Use a washing line or rack in the garage

or a under covered area.

Leave wardrobes slightly open

A little air circulation discourages mould

growing on fabric.

Buy — sell — reside with

peace of mind

Any property, old or new, can have

hidden problems. It is important to know

the true condition of your current, or

potential property.

An AA House Check report can provide

you with the confidence to buy or sell with

no surprises.

Property examinations provide detailed

room by room inspections, including

roof cavity, insulation, flooring, electrical,

plumbing, drainage, hot water systems,

roofing, decks, paths and driveways,

garages, asbestos identification and more.

A BOINZ accredited building surveyor

can also carry out moisture checks,

residential foundation inspections,

earthquake damage repair assessments and

methamphetamine testing.

Serving Canterbury homeowners,

landlords and prospective home buyers for

over 15 years AA House Checks have your

house inspection needs covered.

Retrofit Insulation

Specialists

Retrofitting insulation in your ceiling,

walls and underfloor will make your home

warmer, healthier and more energy efficient.

An investment you cant afford to be without.

CONTACT US NOW

Phone 0800 220 055

www.canterburyinsulation.co.nz
---
12 Thursday June 17 2021

Latest Canterbury news at starnews.co.nz

HOME & HEATING

NOR'WEST NEWS

Keep cosy with

RD Petroleum

this winter

Taking to the stage

for a good cause

Betsy Macdonald (above), along with other staff members at St

Margaret's College, put their pride and dignity on the line to perform

on stage at a fundraising concert. Student mentors helped to mould

some of the staff members into stars. The event raised $8000 for the

school's charity – Educating Girls Globally. The money will be used to

help complete a new school in Malawi in southeast Africa. The school

will give children from the nearby Dzaleka Refugee Camp, which houses

more than 32,000 displaced people, the chance to get an education.

PHOTOS: PETRA MIGNEAU

RD Petroleum (RDP) is a familiar sight

for farm and rural residents around the

Canterbury region, however now days urban

residents also enjoy the same excellent

customer service for which RDP is known for

in rural communities, through their home

heating diesel.

RDP began its home heating diesel delivery

service to the lower South Island's main urban

centres of Christchurch, Timaru, Dunedin

and Invercargill a number of years ago.

Customer demand has continued to increase

year upon year, and RDP has responded

with specialised improvements to its delivery

equipment.

The trucks that deliver RDP's home heating

diesel in each urban centre are drawn from

the company's extensive vehicle fleet. This

means they have the latest communication

and GPS tracking technology on board, so

the operations team always know where they

are and how far away they are from their next

delivery stop.

RDP's home heating diesel trucks come

equipped with a specially-designed hose,

through which the diesel is pumped from

the truck into house tanks. The length of

the hose allows the trucks to access tanks

without having to enter the property, avoiding

damaging the driveway. RDP is the place to

go if you require diesel conveniently delivered

to your home and as a loyal RDP customer

you're offered discounted pricing and can

become eligible for value-added benefits.

For all enquiries please phone

0800 44 00 14, or visit the RDP website at

https://www.rdp.co.nz/home-heating or

signup at apply.rdp.co.nz/home-heating

Julie Calder, Jennie Nairn and

Kathryn Gray.

Caroline Price.

Jenni McLaughlin and Jo Symon.

Jenna McLaughlin, Jo

Wilkinson and Lisa Williams.

St Margaret's College executive principal

Diana Patchett.
---
NOR'WEST NEWS Latest Canterbury news at starnews.co.nz

Thursday June 17 2021 13

HOME & HEATING

Get the balance

right this winter

Enviro Master has been helping

Cantabrians get the balance right when it

comes to choosing the perfect heat pump or

air conditioning system for their home or

office since 2002.

Their team of expert sales people, qualified

electricians, heating and refrigeration

engineers, help to supply and install

Christchurch's widest range of heat pumps,

and because they have no affiliation with any

one brand, you can be assured their advice

on the benefits and differences between each

product is unbiased.

They will recommend the most energyefficient

and cost-effective system for your

individual situation, and will have you

regulating the heat in your home or office in

no time.

Nowadays, customers are often wanting

whole home solutions to be able to maintain

even temperatures throughout the home both

in Winter and Summer. This can be achieved

by using ducted systems or multi systems

and Enviro Master are experts in designing,

installing and commissioning these systems.

Help is currently available with a

government subsidy covering 80 per cent of

the cost of a new heat pump up to $3000.

The subsidy is part of the Warmer Kiwi

Homes initiative and is available to Home

owner/occupiers with a Community Services

Card, a SuperGold combo card or who live in

a low-income area as determined by deciles

8-10 on the New Zealand Deprivation Index.

The applicant's home must also have been

built before 2008, have insulation up to code

(insulation subsidies also available) and have

no fixed heating in a living area, such as an

existing operational heat pump or fireplace.

With new regulations coming in for

Landlords to provide heating in rentals,

now is a great time to beat the deadline.

Inadequate heating and ventilation can lead

to mould growth and dampness in your

property, leading to costlier maintenance

and an unhealthy living environment.

Providing a fixed heater with a higher heat

output and lower running costs, like a heat

pump, will enable your tenants to heat the

area effectively. Enviro Master are well

experienced with the Tenancy Services

software to ensure that you are meeting your

requirements.

To ensure you choose the right system for

your home or business, one of Enviro Master's

experts will visit to assess your individual

situation, offer advice and answer any

questions you may have. This consultation

is at no cost to the customer and is always

provided before a heat pump is installed.

Anyone wondering about their eligibility

for a subsidised heat pump are welcome to

get in touch for details and help with the

application process. To find out more, call

Enviro Master on (03) 366 0525 or visit

their website www.enviromaster.co.nz.

What makes a great

Heat Transfer System?

There are a number of Heat Transfer

systems on the market. Smooth-Air

ventilation specialists offer a range of HTU

Heat Transfer Units with carefully selected

components to optimise the system:

They use insulated duct to transfer the

heated air with as little heat loss as possible.

The fan moves sufficient air for the distance

and number of rooms, without being noisy.

The diffusers send the heat to the floor, not to

skim the across the ceilings. All components

are good quality - designed to operate for

years without problems.

Smooth-Air's HTUs come in a range of

options: One to four rooms, with or without

thermostat and with a choice of grilles and

diffusers. HTUs improve energy efficiency

in your house, as you are using excess

heat. They have low power consumption

- only 80watts for the three room system.

Circulating air through the house also

reduces the risk of damp.

You can also choose the HTU version with

downjet diffusers, which throw the warm

air downwards to the floor. These downjet

diffusers can also be adjusted to regulate

which room receives the most warm air.

An average size living room requires 2-4 kw

of heating, yet appliances such as log burners

generate heat in the region of 10 -20kw. This

leaves an excess of 8 -16kw of heat which

sits at high level in the heated room, usually

above door level.

Heat transfer units work best where very

hot air has 'stratified' into a layer near the

ceiling. So heat pumps, which circulate warm

air around the room with no layering, are

not suitable as a heat source by themselves.

However, if you have both log burner and

a heat pump, heat transfer systems with

thermostat can work very well: The heat

pump stops operating once the heat from the

fire has heated the room, and the heat transfer

kicks in above this point, once there is a layer

of hot air at the ceiling.

Contact Smooth-Air on 0800 SMOOTH

(0800 766 684) to ask how they can help you

with your Heat Transfer, as well as any other

ventilation requirements.

HEAT PUMP

SALE NOW ON!

Amazin' Winter Specials!!

80%

SubSidy

Warmer KiWi HomeS

Programme

*Eligibility criteria apply

• We will offer you the best quality brands and

option of heat pump for your home/business

• Providing Heat Pump solutions for over 19 years to Cantabrians

• We personally guarantee all our products & installs for 5 years

(providing annual maintenance has been completed)

Phone us today for your free consultation & quote

41A SHAKESPEARE RD, WALTHAM

PHONE 03 366 0525

www.enviromaster.co.nz

"A local team for local people"

Ventilation Equipment Suppliers

to

Smooth-Air also has a wide range

of ventilation equipment to bring

fresh air into your home.

Domestic

Commercial

Industrial

Smooth-Air

trade

&

retail

ATTACK RISING DAMP

Transfer

the excess

from your

heat

log burner

to your bedrooms

T. 03 376 4608 E info@foamconcrete.nz

W. www.foamconcrete.nz

0800 SMOOTH

(0800 766 684)

sales@smooth-air.co.nz

264 Annex Rd

Riccarton

Christchurch

03 343 6184

Monday - Friday

7.30am - 5pm

www.smooth-air.co.nz
---
14 Thursday June 17 2021

Latest Canterbury news at starnews.co.nz

NOR'WEST NEWS

Use garlic and onions to jazz up roast

Sunday roasts are

a traditional Kiwi

favourite. Try adding

some powerful flavours

for a change that

should please the

whole family

Roast beef with garlic and

onions

Ingredients

1.5kg rolled roast beef

2 medium onions

2 carrots

2 sticks celery

1 bulb of garlic

1 bunch of mixed fresh herbs ,

such as thyme, rosemary, bay,

sage

olive oil

Directions

Remove the beef from the

fridge 30min before you want to

cook it, to let it come up to room

temperature.

Preheat the oven to 240 deg C.

Wash and roughly chop the

vegetables – there's no need

to peel them. Break the garlic

bulb into cloves, leaving them

unpeeled.

Pile all the veges, garlic and

herbs into the middle of a large

roasting tray and drizzle with oil.

Drizzle the beef with oil and

season well with sea salt and

black pepper, then rub all over

the meat. Place the beef on top of

the vegetables.

Place the tray in the oven,

then turn the heat down

immediately to 200 deg C

and cook for 1 hour for

medium beef. If you prefer it

medium-rare, take it out five to

10min earlier. For well done,

leave it in for another 10

to 15min.

If you're doing roast potatoes

and veges, this is the time to

crack on with them – get them

into the oven for the last 45min

of cooking.

Baste the beef halfway through

cooking and if the veges look dry,

add a splash of water to the tray

to stop them from burning.

When the beef is cooked

to your liking, take the tray out of

the oven and transfer the beef to

a board to rest for 15min. Cover

it with a layer of tin foil and a tea

towel and leave

aside while you make your

gravy, horseradish sauce and

yorkshire puddings.

Baked chicken breasts

Ingredients

4 tablespoons olive oil

3 tablespoons honey

2 tablespoons whole grain

mustard

1 tablespoon smooth and mild

Dijon mustard

4 cloves garlic, peeled and

minced

1-2 tablespoons fresh lemon

juice

1/2 teaspoon paprika

2 pounds (1 kg) boneless skinless

chicken breasts, (4 large

chicken breasts)

Salt and cracked black pepper,

to season

2 tablespoons fresh chopped

parsley, to garnish (optional)

Lemon wedges, to serve

(optional)

Directions

Onions roast

up well in

the oven

with beef,

don't forget

to garnish

with herbs

before

serving

Preheat oven to 200 deg C.

Lightly grease a baking tray/

sheet with oil and line with foil or

parchment paper.

Combine the oil, honey,

mustards, garlic, lemon juice

and paprika in a small bowl to

combine well.

Place the chicken onto the

prepared baking sheet (tray).

Season generously with salt and

pepper. Spoon three-quarters

of the honey mustard mixture

evenly over the chicken and

spread evenly all over each

breast. Pour a quarter of a cup of

water onto the baking sheet to

prevent burning, creating a sauce

while baking.

Bake until cooked through

(about 20-30min, depending

on the thickness of the breasts).

Spoon the remaining sauce over

each breast and broil (or grill) for

a further three-to-four minutes

on medium-high heat to brown

the chicken and caramelise the

edges.

Cover with foil and allow to

rest for 10min to let the juices

settle before serving.

Garnish with parsley and serve

immediately with lemon wedges.

Notes

To include roasted asparagus,

arrange them onto the same

baking sheet around the chicken

in the last 10 minutes of cooking

time. Rotate them in the pan

juices or pan sauce and season

with salt and pepper.

Most elder abuse is

hidden in plain sight

Abusers are often someone close – A family member, a caregiver,

someone trusted. If you're concerned about how someone is being treated,

it's OK to help.

CALL OUR FREE HELPLINE
---
NOR'WEST NEWS Latest Canterbury news at starnews.co.nz

Thursday June 17 2021 15

Gardening

& Supplies

Gardener available for

maintenance, weeding

pruning, spraying,

planting, advice. Qual &

exp.Pensioner discount

25%. Ph Richard 0274 918

234, 03 349 4022

Motorcycles

MOTORCYCLE

Service, repairs, tyres &

hire all at affordable rates.

South Pacific Motorcycle

Services

03 3120066 (Mandeville)

office@motorbiketours.

co.nz

www.motorbiketours.co.nz

Classifieds Contact us today Phone our local team 03 379 1100

2378808

Trades & Services

Trades & Services

STONEMASON, BRICK

& BLOCKLAYER,

Earthquake Repairs, Grind

Out & Repoint, River/

Oamaru stone, Schist,

Volcanic Rock, Paving,

all Alterations new & old,

Quality Workmanship,

visit www.featureworks.

co.nz or ph 027 601-3145

STUMP GRINDING

Best price guarantee Tony

0275 588 895

TILING

Flooring - Splashbacks -

Wall incl tile removal, reg

master tiler, ph Dave 027

334 4125

• Interior and exterior

painting

• Small-medium size/

repaints

• Minor plaster repairs

• Timber window repairs

Ph: 0800 462 758 Ph/txt: 021 314 319 Mark Taylor

Email: jackiemarktaylor@yahoo.co.nz

Long established local company

www.taylorbuildingmaintenance.co.nz

Specializing in:

• Roof Painting

• Interior/exterior

residential

• Small commercial

painting

Trades & Services

PAINTERS

Painters and Decorators Ltd

Canterbury Owned and Operated

A husband and wife team

Noel 027-411-3596

kemp.painters@gmail.com

kemp painters and decorators

We offer

free quotes

Quality not

Quantity

Trades & Services

PLUMBER

NEED A PLUMBER

Call us now for fast friendly service.

Get your problems sorted out

quick smart - on time!!

Phone for a

FREE

quote now.

Phone 03 377 1280 | Mobile 021 898 380

Trades & Services

SCRAP METAL

Dominion Trading Co Ltd

• Scrap metal buyers

• Canterbury owned & operated

• Top prices paid $$$

• Open Saturday morning

Open Mon-Fri 8am – 4.30pm Sat. 8.30am-12.30pm

www.happyscrappy.co.nz

03 343 9993 333 Blenheim Rd

Be inspired with thousands of ideas under one roof!

BRICKLAYER

George Lockyer. Over

40 years bricklaying

experience. UK trained.

Insurance work, EQC

repairs. Heritage

brickwork & stonework

a speciality. No job too

small. Governers Bay.

Home 329 9344. Cell

027 684 4046. E mail

georgelockyer@xtra.co.nz

BUILDER

New builds, alterations,

decks, fencing. 30 yrs in

the trade has given me

ability to build to a high

standard. Free quotes. Ph

Brent 027 241 7471

CARPET LAYING

Exp. Repairs, uplifting,

relaying, restretching.

Phone John on 0800

003181, 027 240 7416

jflattery@xtra.co.nz

CLEANER

Home - Office - daily -

weekly - monthly. 2 yrs

exp. Competitive rates.

Call or txt 022 353 0264

PAINTER,QUALIfIED

local professional, int/

Ext,roofs,wallpaper, call

or text Corban 027 846

5035

ROOfING REPAIRS

Fully qualified, over 40

yrs experience. Ph John

027 432-3822 or 351-

9147 email johnchmill@

outlook.com

Trades & Services

DRIVEWAYS

Trades & Services

VHS VIDEO TAPES

& all camera tapes

converted to DVD or

USB. Video taping

special occasions, www.

grahamsvideo.co.nz ph 03

338-1655

Wanted To Buy

AAA Buying goods

quality furniture, beds,

stoves, washing machines,

fridge freezers. Same day

service. Selwyn Dealers.

Phone 980 5812 or 027

313 8156

TOOLS Garden,

garage, woodworking,

mechanical, engineering,

sawbenches, lathes, cash

buyer, ph 355-2045

Public Notices

Exposed Aggregate

Stamped Concrete Plain

Concrete Resurfacing

Things we offer...

Competitive/affordable pricing

Attention to detail

Professional service

free quotes/insurance scopes

Live AUCTION!

This MEGA tiny home

could be yOUrs!

2 – 4 July 2021

IN ASSOCIATION WITH

Free informative seminars

thanks to

Complimentary

goodie bags! show-only specials

2 - 4 July 2021 • 10am - 5pm • Christchurch Arena • www.starhomeshow.kiwi

CUT THIS AD OUT FOR

1x FREE DOUBLE PASS

and giveaways!

Courtesy of

A 2016 Nissan Leaf

worth $ 22,000!!

Join us at the Home & Leisure show, stand number 176.

Cell 0278 145 848

www.drivecrete.co.nz

Appliances, beds, furniture & tech.

Everything you need for your home.
---
16 Thursday June 17 2021

Latest Canterbury news at starnews.co.nz

NOR'WEST NEWS

RAY WHITE PAPANUI NEWS

Four Fabulous Home-Staging Tips

• Matching, freshly laundered linen,

plump cushions and soft music in the

bedroom create a relaxing atmosphere.

•Decorative pieces spaced in oddnumbered

arrangements offer the most

pleasing effect for visual symmetry, but

keep these to a minimum.

• Make sure wardrobes, cupboards and

cabinets are neat as a pin and stocked

with the bare minimum. Potential

buyers always look inside as further

proof of the type of storage they are

seeking.

Home staging is the preparation of a

private residence for sale. The objective

is to present the property in as appealing

a manner as time and budget allow.

Ensuring the home is attractive to the

highest number of potential buyers also

enables the promptest and most effective

sales results.

Staging your home for maximum effect

Given time, effort and meagre

financial outlay, most homeowners

are equipped to implement their own

home-staging touches. Larger-scale

home improvements, such as cosmetic

makeovers and landscaping projects,

might require specialist assistance.

Creating home staging with the wow

factor

Whether you do it yourself or enlist

professional help, preparation and design

vision will add immeasurable value to

your staging projects. These include:

1. Freshly painted interiors in white or

neutral colours provide a new look to

any property.

2. Declutter your furniture, decorative

pieces, books and items that are not

necessary or eye-catching. Less is

always more in the presentation stakes.

A couple of key furniture items, side

tables instead of a central coffee table,

adding a framed or wall-hung mirror for

the illusion of extra space, one feature

artwork and elegantly potted plant

per room often create all the style and

pizzazz required to win over your buyer.

3. First impressions are lasting, so the

exterior must dazzle the eye to attract

potential buyers inside. Investing

in light landscaping work, such as

fresh planting, a statement outdoor

sculpture or artwork and, if budget

permits, installing an outdoor cooking

zone or calm-inducing water feature,

will work wonders for your resale

value in the long run. At the very least,

decluttering the extraneous elements

of your exterior, weeding out dead

plants and shrubbery, cleaning gutters

and removing moss or mould build-up,

will provide a new lease on life for your

outdoor area.

4. Lastly, ensure that everything is spic

and span for viewings and open homes.

Extend the impression of solidity,

uniformity and personal style with little

touches that you can impart on the day.

These include:

• Freshly brewed coffee, subtle incense

or interior fragrances create olfactory

evocation that is designed to draw in

new or unexpected buyers.

• A bowl brimming with seasonal fruit

and fresh baguettes in a basket in the

kitchen add to the aspirational quality of

homeownership.

• Include coordinated accessories and

fresh flowers in the bathroom and toilet

areas.

Where to from here? Any of the members

of the Ray White Papanui sales team

are happy to come out and offer advice

and professional contacts for creating

home staging that is designed to secure

your home buyer with the quickest and

most value-added approach. Get in touch

today, we look forward to hearing from

you.

Content originally appeared on Real Estate

Voice

Vanessa Golightly,

Business Owner

and Licensee Agent

Ray White Papanui

027 664 9292

Feature Property

174A Sawyers Arms Road,

Bishopdale

Tracy Thomson

Vanessa Golightly

Licensee Agent &

Business Owner

027 664 9292

Stuart Morris

Licensee Agent

& Auctioneer

027 422 6395

Tracy Thomson

Licensee Salesperson

027 440 3035

Maria Paterson

Licensee Salesperson

027 543 4689

Claire Morris

Licensee Agent &

Business Owner

027 662 4822

Katrina Green

Operations Manager

Property Management

027 606 0030

Richie Eggelton

Licensee Salesperson

021 089 65594

Paul Nicholson

Licensee Salesperson

027 921 2160

Are We Going To

Run Out Of Rental

Properties In

Canterbury?

Hasna Ngara

Licensee Salesperson

021 262 4943

Jana Schleehauf

Licensee Salesperson

022 090 1227

Previously mentioned how I believed that

the recent changes to laws around tax

and capital gains was impacting the rental

market in New Zealand and over the past

few weeks I have noticed a real decline in

advertised properties.

When I combine this with what my team are

telling me about the number of enquiries

they are receiving for advertised rentals

and the amount of very disappointed

tenants who are missing out, I do think that

we are heading for a shortage of rentals

right here in Canterbury.

Today when I look on TradeMe I note that

the numbers are sitting at (aside from postearthquake)

an all-time low in most of the

Canterbury districts. This is certainly the

case for the 15 years I have been working

in the industry. Here are the numbers for

you: Christchurch – 857, Waimakariri – 19,

Hurunui – 8 (includes Hanmer Springs),

Banks Peninsula – 8 and Selwyn – 71.

If you break it down into suburbs, there are

definitely some pockets where there are

still a reasonably high number of properties

available, in particular the city centre where

there are a lot of apartments popping

up. However, if you don't fancy inner city

apartment living or living in the Selwyn

area, and are looking to rent, then your

choices are very slim.

The Government's dream does seem to

be that all New Zealanders will have the

opportunity to own their own home, and

while this would of course be fantastic what

we need to remember is that not all can,

or indeed want to own their own homes. I

read recently where it said that over 33% of

New Zealanders will never own their own

home, through choice or financial ability.

Private landlords in New Zealand provide

homes to Kiwis, and regardless of the bad

press they often get, it is important to

remember that we will always need houses

for those who wish to rent.

Next time I will talk about how you can get

into the investment property market, why

you should, and provide a few tips about

choosing the right property.

Katrina Green,

Operations Manager

Property Management

027 606 0030

Olivia Hendry

Executive Assistant

Estelle Schuurman

Property Manager

Georgia Tuuta

Excutive Assistant

Joy Coughlan

Mortgage Broker

027 223 3572

Level 1, 7 Winston Avenue, Papanui

Phone (03) 352 0567 | rwpapanui.co.nz | /RayWhitePapanui Morris & Co Limited | Licenced REAA 2008