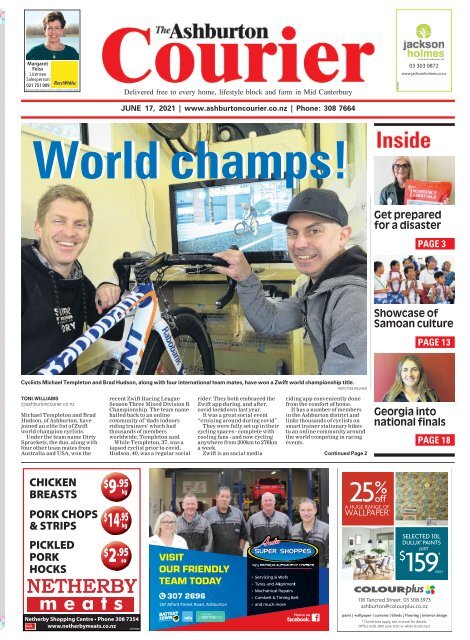 Ashburton Courier: June 17, 2021
Create successful ePaper yourself
Turn your PDF publications into a flip-book with our unique Google optimized e-Paper software.
2356213

Margaret

Feiss

Licensee

Salesperson

021 751 009

Real EstateMid CanterburyProperty Limited Licensed (REAA 2008)

Delivered free to every home, lifestyle block and farm in Mid Canterbury

2379686

03 303 0872

www.jacksonholmes.co.nz

JUNE 17, 2021 |www.ashburtoncourier.co.nz |Phone: 308 7664

Worldchamps!

Get prepared

for adisaster

PAGE 3

Showcase of

Samoan culture

PAGE 13

Cyclists Michael Templeton and Brad Hudson, along with four international team mates, have won aZwift world championship title.

PHOTO TONI WILLIAMS

TONI.WILLIAMS

@ashburtoncourier.co.nz

Michael Templeton andBrad

Hudson, of Ashburton,have

joined an elite list of Zwift

world championcyclists.

Underthe team name Dirty

Sprockets, the duo, along with

fourother team mates from

Australia and USA, won the

recentZwift RacingLeague

Season ThreeMixed Division B

Championship. The team name

hailed back to an online

community of 'dads indoors

riding trainers' which had

thousands of members

worldwide,Templeton said.

While Templeton, 37, wasa

lapsed cyclistprior to covid,

Hudson, 40, wasaregularsocial

rider. They both embracedthe

Zwift app during,and after,

covid lockdown last year.

It was agreat socialevent

''cruisingaround duringcovid''.

They were fully set up in their

cycling spaces ­complete with

cooling fans ­and now cycling

anywhere from 200km to 276km

aweek.

Zwift is an socialmedia

riding appconveniently done

from the comfort of home.

It has anumber of members

in the Ashburtondistrict and

links thousandsofcyclists on

smarttrainer stationary bikes

to an onlinecommunity around

theworld competinginracing

events.

ContinuedPage 2

Georgia into

national finals

PAGE 18

CHICKEN

BREASTS

PORK CHOPS

&STRIPS

PICKLED

PORK

HOCKS

$9 .95

$14 .95

$2 .95

NETHERBY

meats

Netherby Shopping Centre •Phone 308 7354

www.netherbymeats.co.nz

2387898

kg

kg

ea

%

25off

AHUGE RANGEOF

*

WALLPAPER

SELECTED 10L

DULUX ® PAINTS

JUST

159*

$

118 Tancred Street, 03 308 3973

ashburton@colourplus.co.nz

paint |wallpaper |curtains |blinds |flooring |interior design

*Conditions apply,see in-store fordetails.

Offers ends 28th June 2021 or while stocks last.

EACH
---
NEWS

2 Ashburton Courier, June 17, 2021

www.ashburtoncourier.co.nz

BUSINESS OWNERS

Build customers,

sales and profits

with us ...

news

16,079 copies,

delivered to homes,

lifestyle blocks,farms

and businesses in

MidCanterburyand

Geraldine

Reporters

Mick Jensen

mick.jensen@ashburtoncourier.co.nz

Toni Williams

toni.williams@alliedpress.co.nz

advertising

Jann Thompson

Sales Manager

308 7664

027 587 6351

jann.thompson@ashburtoncourier.co.nz

Karen Gane

Sales Account Manager

308 7664

021 510 804

karen.gane@ashburtoncourier.co.nz

Methven water concerns

Methven Community Board

member RonSmith has

again raised concerns

about the Methven

reservoir upgrade project.

Speaking at Monday's

MCB board meeting Mr

Smith said Methven's water

storagewas not adequate,

and perhaps Ashburton

District Council neededto

look into tapping into awell

instead.

He said in light of recent

heavy floodingitwas time

for council to review all its

options.

Spending $5 millionona

reservoir membrane was a

lot and maybe there were

other options out there,he

said.

Social riding to world champs

From Page1

Ron Smith

Michael Templeton and Brad Hudson

have been doing Zwift events which

feature the graphics ­and ascents and

descents ­ofwell­known

international routes. There were

around 150 rides loaded on theapp.

The smart trainermeasured the

powerused by theridersand there

were alsorealracing events such as

bunches, draftingand pack dynamics.

Riders also talked to each other in

real time through messaging apps.

Since joininginMarch 2020,

Templetonhad cycled12daysand 18

hourscoveringanimpressive

11,319km.

''I've burnt the equivalentof732

slices of pizza,'' he said, reading the

data collected from his profile.

The men startedsocially riding as a

way to connect with others during the

early days of covid restrictionsbut the

more fitterthey got, the more

competitive they became, Templeton

said.

Initially they tried to completeeach

route on the programmebut then

opted in on race events.

The Dirty Sprocketsplaced second

in the Asia Pacific division to qualify

for the championships.

It was the culmination of eight

weeksofreal time racing, ridingfor

around 45­minutes and covering

distances between 30 to 40km.The

races took place every Tuesday at

9.30pmdue to the majority of the

other riders being European teams.

The world championships ­which

involved weight and height

Councillor Liz McMillan

remindedMr Smith that a

new ''super'' plant idea that

could provide treated

drinking water to residents

on the Methven, Methven­

Springfield, Montalto and

Mt Somers watersupplies

was alsoonthe table as a

possibility.

It was timely to look at

how that was going to work,

she said.

Mayor Neil Brown said it

was the quality not the

quantity of thewater that

had been the issue during

the recent flooding event.

He said although

Methven had aboilwater

notice in place for12days,

the township had got off

lightly compared with

farmers who werewithout

water ,had wells that were

''stuffed'' andwho had to

Michael Templeton (left) and Brad Hudson use smart trainers to Zwift race.

verifications done with real time

videolinks ­were atwo day event over

Queen'sBirthdayweekend. Theraces

weredone on Sundayand Mondayat

6.30am.

It was theperfect time for us,

Hudson said.

There were othersinthe races who

were competing at 2am (such as those

from Thailand)or4am (ridersfrom

Melbourne), they said.The Dirty

drink bottledwater.

TheMethven reservoir

provides an essential

bufferfor thetownship's

treatedwater,and without

it, the scheme would not be

able to supply water at

times of peak demand.

Supply would alsobelost

if the treatmentprocess

needed to shutdown for any

reason.

The current 810m3

concrete reservoiristhe

only water storage for the

Methvensupply and has

been assessed as aseismic

risk. Six tenders have been

received and will be

considered by Ashburton

council for the Methven

reservoir project.

Sprockets wonthe finalone point

ahead of secondplacedGerman

team ZRG#03and two points ahead

of third placed Kirchmair Honey

Bees, also of Germany, Templeton

said.

Templeton andHudson plan to

defend their title andwillbeback on

the starting line whenthe Asia

Pacific Division Three competition

restartsatthe end of September.

get in touch

Editorial

mick.jensen@ashburtoncourier.co.nz

Advertising

info@ashburtoncourier.co.nz

CreativeManager

murray.thompson@ashburtoncourier.co.nz

Accounts

accounts@alliedpress.co.nz

Distribution/Deliveries

mary.summerfield@ashburtoncourier.co.nz

Office

office@ashburtoncourier.co.nz

03 308 7664

199 Burnett Street,Ashburton

AUTHOR OF THE MONTH: FRANCIS &KAIORATIPENE

Jenni, PaperPlus SupportOffice(Staff)

"Intheir introduction to Tikanga Francis

and KaioraTipene say, "Werealised there

aremanypeople –Pakehā and Māori

–who know alittle bit about tikanga

Māoriand would like to know alot

more."They have written this book as a

pathwaytounderstanding foreveryone,

including those of us who grew up with

almost no exposuretothe concepts of

tikanga Māoriand need to startfromthe

beginning."

2387902

www.ashburtoncourier.co.nz

2387935

212 East Street,Ashburton. Phone 308 8309
---
www.ashburtoncourier.co.nz

NEWS

Ashburton Courier, June 17, 2021

3

Being prepared for adisaster

Therecent major flooding in

Mid Canterbury has

highlighted the need for

people to be asprepared as

possible for emergency

situations.

Thousandsofpeopleliving

in the Allenton, Netherby and

Racecourse Roadareaswere

told to get ready and planfor

an evacuationoftheir homes

on May 30 as aprecautionary

measureshould there be a

breach in Ashburton River

stopbanks. They werealso

urged to have ''a grab­bag

ready to go''.

RedCross humanitarian

development engagement

manger Kathy O'Neill said the

floods wereatimely reminder

for people in Ashburton

district to be good andreadyin

case disaster strikes.

Thedisaster in thiscase was

aflood, but it could also be an

earthquake,major snow event,

or another kind of disasterthat

had the abilitytodisconnect

communities.

Mrs O'Neill says making a

plan in caseadisaster strikes

is good and that plan should

include havingakit of

emergencysupplies, including

food and water.

Keyitemslike medication,

torches, and clothing should

all be ready to grab.

Adisaster could mean

evacuation or could equally

mean being cut off from the

community.

She said people neededtobe

more resilient when faced with

an emergency.

Mrs O'Neill is collaborating

with the Connecting Mid

Canterbury Charitable Trustto

Red Cross humanitarian development engagement manger Kathy O'Neill.

run aworkshop in Ashburton

on June 22 to helppeople be

goodand ready when disaster

strikes.

The workshop is free and

open to anyone andwill be

held at Community House from

1.30 ­3.30pm.

Information resources will

be given outand MrsO'Neillis

keen to follow up and

collaborate withservice clubs,

migrants andother groups

afterwards.

Follow­ups could include

free first­aid and psychological

firstaid training,she said.

Spreading the word about

beingready helped

communities stay connected.

''Ifmore people are resilient

and 'goodand ready', then we

PHOTO MICK JENSEN

have more support in the

community andalso more

people able to help and relieve

others managingthe

situation.''

To register for the Be Good

andReady workshopvisit

Eventbrite or call community

house(308 1237).

Kathy O'Neill can be

contacted on 027 272 1983.

Rain event1-in-200years forsome

NIWAclimate scientists

preliminary analysis has

found the recent Canterbury

rainfall latelast monthwas so

extreme in some inland places

couldhappen only once every

200 years.

NIWA climatescientistDr

TrevorCarey­Smith said it

was thelongduration of the

rainfall, over more thantwo

days, rather thanthe shortterm

intensitywhich was

exceptional.

Therainevent happened

fromMay 29­31.During that

timeEnvironment

Canterbury'sraingauge near

Mt Somers recorded its largest

48­hourrainfall event

totalling 526mm.Just10km

away,onthe plains the other

sideofMtSomers, another

gauge recorded 310mminthe

same period,also its largest

ever total.

The first analysis of the

rainfall data suggests the

48­hour rainfall totals

recordedatMtSomers,

Geraldineand Snowdon

wouldall be expected on

average only onceevery 200

years.

Theseraingauges span

100km south westtonorth east

in inland Canterbury.

''These results show how

widespread thiseventwas,

although it is interestingto

notethat the most extreme

rainfall only occurred in a

relatively thinstrip alongthe

Canterbury foothills,'' Dr

Carey­Smith said.

Nearer to the coast, at

placeslike Ashley, Oxford,

Darfield andMethven,the

48­hour rainfall observedwas

lower andreduces the

expectedprobability of the

event occurringtoabout once

in 50 years on average.

Thatdroppedtoonceevery

30 to 40 yearsfor Christchurch

andonce every10years for

Akaroa which recorded

250mm of rainoverthree days

­alarge amountbut not

unusual.

Dr Carey­Smith said the

calculations assumed the

probability of extreme rainfall

hasnot altered duringthe

past, when in reality we

expect thelikelihood of such

eventstoincrease due to

climatechange.

Riverflood return intervals

whichrespond to shorter­term

rainfall intensities,werestill

beingevaluated.

IN BRIEF

WINTER MARKET

Produce sellers of fresh fruit and

vegetables, boutiquecheeses, fish

and specialty sausages are braving

the cold mornings and manning the

winter marketindowntown

Ashburton everySaturday morning.

The marketplace can be quite a

busyspot some mornings with

peoplestopping while travelling

past, or making the stalls a

destinationtopickuptheir favourite

locally-grown or sourcedsupplies.

The winter market is on at the

WestStreet car parkevery

Saturdayfrom 9am until noon.

KNITTERS SOUGHT

Knitters are needed to helpthe Red

Cross by knitting Trauma Teddy

Bears for those experiencing

trauma and the after effects of

trauma. Completed knitted teddies

can be droppedtothe Red Cross

shoponBurnett Street, in

Ashburton.

Patternscan be emailed to

interested knittersifneeded.

Contactkathyoneill@redcross.

co.nz

HOSPICE POP UP

HospiceShop is holding agarage

sale at theirforever-premiseson

Sealy Street on June 26 and are

seeking donations of quality

second-handgoods to include in the

sale.

It's achance to turn second hand

goods into firstclass care.Anyone

with donations can dropthem into

the Hospice ShoponTancred

Street.

CONCERTOFF

The NewZealandSymphony

Orchestra hashad to cancelthe

performance of TheSoldier's Tale

in Ashburton on June18due to the

health of orchestra conductor

HamishMcKeich.

Otherconcerts in Dunedinand

Oamaru have also been cancelled.

All Ashburtontickets will be

refunded. Contactthe EventCentre

directly.

ROADCLOSED

Roadclosures alongHavelock

Street, from West StreettoEast

Street and just pastBaringSquare

East, are expectedtoremain in

placefor the next three weeks. The

road is closed to all traffic, including

pedestrians. HavelockStreet

businesses still have accesstotheir

premises and parking by entering

from CassStreet. Pedestrians

tryingtocrossthe railway lineatthe

area will need to usethe rail

crossing at BurnettStreet.

Louie Redmond

Kelli Aldridge

FLOORING SALE

Burnett Street,Ashburton l Phone (03) 308 5269 l www.redmonds.co.nz

2388282
---
NEWS

4 Ashburton Courier, June 17, 2021

Fibre switch help

Chorus will have ateam on hand to help

Ashburton residentsyet to make the switch to

fibrenetwork.

They will be at the Ashburton RSA on

Tuesday(June 22) from3pm to 6pm.

Chorus customer andnetworkoperations,

generalmanagerAndrew Carrollsaid fibrehad

beenavailable in Ashburton for quite some

timeandChorus wantedto help those yet to

connect,sotheycould experience thebenefits

of afibre connection.

"There could be any number of reasons why

some households have not yetmade the

switch,''hesaid.

"Whetheritisnot beingaware fibre is

available, not knowing how to getconnectedor

thinking it's expensive to connect,wewantto

dispel any myths andgive people the

informationabout just howeasy it is to make

the change."

www.ashburtoncourier.co.nz

• Additions and Renovations • All types of maintenance

• Commercial and Farm buildings • New Housing

Laundry Dreams

Your dream laundryis

easiertoachievethan

you think!

Our highlyexperienced

teamishappytowork

withyou on your

renovation or new build.

The Renovation Experts

Poppy

ReviewedbyRowenaHart

Shot on the Kapiti Coast,Poppyisthe storyofa

young woman living with Down syndrome. Her

ambition to become an apprentice mechanic

is stalled by herolder brotherrefusing to help

her.

Nineteen-year-old Libby Hunsdale, who plays

the starring role of Poppy, says"Itactually feels

very,veryamazing.Ifeel very grateful."

It is aquiet movie thatwill warm your heart.

The dialogue is beautiful, Poppy's sentences

really pack apunch.

Poppyand her brother arerecoveringfromthe

shock ofloosing both parents and it is Poppy

and her friendsthattake the bull by the horns

and fight to help them get through this sad

time and find out whatlifeisall about.

Ilearnt about Burnout Racing and how todo

an oil change...

It's original, surprising, fun and very very

moving.

bookings ph 307 1230

www.regentcinema.co.nz

Talk to

us now!

Free Quote

BOOK NOW

606 East St, Ashburton P: 307 7131

www.kitchenexpress.co.nz

9am-5pm Mon-Fri 9.30am-12.30pm Sat

>>

2389890

2380052

2387932

Checking out the updated Variety Theatre Ashburton history book are (from left) Glenn Vallender, Elaine Vallender and

Yvonne Harrison.

VTA history book updated,

jubilee to take centre stage

MICK.JENSEN

@ashburtoncourier.co.nz

The historyofVariety Theatre

Ashburton(VTA) has been updated

and thespotlight is on thejubilee

celebrations on July 3.

VTA will celebrate 60 years with a

mixandmingle event in its rehearsal

rooms followed by dinneratthe

AshburtonTrust Event Centre.

Those attending will be able to

relivethe last 10 years of shows,

snippets andphotoswith an updated

book compiled bythe husband and

wife team of Glenn andElaine

Vallender.

The pair worked longand hard to

produce In theSpotlight­celebrating

50 years, which came out in 2009 and

documents the first five decades of

VTA.

The historyupdate,called In the

Spotlight II, was completedduring

lockdownand had beenfar lesswork

than its predecessor,'' MrsVallender

said.

Ten showshad performed overthe

Mid/South CanterburyContinuous Spouting

TM

TM

TM

TM

Askabout our large capacityspouting for

commercial and farmbuildings

Residential –fascia, gutter and downpipes

Snowprotection our specialty

last decade, including Mama Mia in

2018, ajoint show with the Event

Centre to mark 10 years of the venue,

and Sister Act in 2019.

VTAtypically putonone showa

year, butinthe pastthere were twoor

even three productions ayear.

The next show, Jesus Christ

Superstar, wasproduction number

92, MrsVallender said.

The history update includesa

section on the rebuild of theVTA

rehearsalrooms and Party People

costume hire premises, which were

completedin2016.

Mrs Vallender was first involved

with VTA in 1976 with theshow South

Pacific and has held many roles

including musical director.

Backthen the theatre group was

called Ashburton Operatic.

HusbandGlenn was firstinvolved

backstage in 1989, when he lent a

hand with Oliver.

VTAjubilee committee chair

Yvonne Harrison said there were

around 60 confirmations so far for

next month's celebration.

The Original

Spouting Specialists

Serving

Mid/South

Canterbury

for over

26 years

Your new spouting proudly installed by

Craig or Josh

John Tull ...providingoutstandingservice,

afterinstallation care and pricing requirements!

Phone him on 021 288 8290

Email: john@canterburycontinuous.co.nz

www.continuous.co.nz Freephone 0800 50 1993

2344842

Thoseattending included some

with alongassociation withVTA

including founding member and

currentpatron Margaret Jackson,

92­year­old Nancy Winterand

Colleen Corbett.

Registrations have nowbeen

extended until June21, she said.

Mrs HarrisonsaidVTA showshad

entertainedand touched the lives of

so many people.

Thousands of talented people had

performed on stageand average

audiences had typically been 3500

pershow.

''For every person on stagethere

areatleast three peopleoff­stage

involved withtechnical support,

wardrobe, make­up,music, front of

houseand many other roles.''

She had thoroughly her

involvementand roles in wardrobe

andfront of house overalmost four

decades.

Anyone wanting to attendthe

jubileeoracopy of the new book can

contactElaine(021 234 8102) or Faye

(johnston.fam@xtra.co.nz).

Listyour property with me andyou'll

have my wholeteam working foryou!

Call me today to arrangeyour free market appraisalandfind out how

we canreceiveapremiumpricefor your property.

KirstyClay Residential/Lifestyle Sales Consultant

M 027 3087557 | P 03 307 9199 | E kirsty.clay@pb.co.nz

PropertyBrokers LtdLicensed REAA 2008 |PB049630
---
www.ashburtoncourier.co.nz

Big build project at St Joseph's

TONI.WILLIAMS

@ashburtoncourier.co.nz

St Joseph's School hasstarted

along­termbuildingproject

withfour newclassroomsat

thesoutheast cornerofthe

grounds.

The workisthe startofa

long­term plan costingover$1

millionand fundedbythe

Catholic Development Fund;a

cyclic fund administeredby

thechurchtoits schools.

It is also topped up with

state integrated school

infrastructure funding from

government of around

$172,000, which would ensure

the workwas fully finished

withinteriorfittings.

PrincipalCathBlacklow

said thebigger, long­termplan

would seetheremoval of a

section of older classrooms

and autilityblock near the

newbuild, theextensionofthe

existing office block and

staffroomareainto oneofthe

classroomsand wouldallow

otherspaces to berepurposed.

"It's really great... the

funding streams have

aligned," shesaid,whichhad

enabledthe worktogetunder

way.

It wasbeingdoneby

Hanham andPhilip

Contractors, of Christchurch,

and was expected to be

finished in time for Term4.

Mrs Blacklow said pupils

would have fournew

classroomsand,asabonus,a

St Joseph's School principal Cath Blacklow is looking forward to the completion of four new

classrooms, which is part ofalong­termbuilding plan at the school.

newhalf­sized basketball

court usingexistingbasketball

hoopsbut with arefurbished

playing surface.

The school has arollof250

pupils, which by theend of the

year wouldlikely sitat265, its

maximum level.But there

werenoplans,orany need,to

buildextraclassrooms, Mrs

Blacklowsaid.

Thenew classrooms were

goingtobemodern­plan and

could be usedasstand alone

classroomsoropened up.They

would alsohave kitchen

facilities.The existingstaff

classroom would become an

officeforlearning support coordinatorShereeTait

whowas

basedatthe schoolbut also

worked with pupils at

Wakanuiand Ashburton

Christianschools.

There werealsoplansto

build aschoolhall on the

grounds,Mrs Blacklowsaid.

NEWS

Ashburton Courier, June 17, 2021

5

Methven

board want

new plan

Methven Community Board

(MCB) members are keen to

see aformal refresh and

update of Methven's

strategic plan.

The plan provides

Methven with a'roadmap' for

the community's direction

and development over the

next few years and was last

updated in 2009.

MCB chairman Dan

McLaughlin said there had

been initial update work

done in 2014 and five years

later alocal strategic plan

had been developed.

Much of the 2019 work was

still relevant today, he said.

''We've done alot of work

and spent alot of time on this

plan.

''It was forwarded to

Ashburton council awhile

ago, but nothing has

happened with it.''

Speaking at Monday's MCB

meeting, council community

services manager Steve

Fabish said that with growth

in Methven in recent years it

was agood time to look at

updating the strategic plan.

MCB passed amotion

asking council to look at the

strategic plan update and to

offer feedback on it at the

next community board

meeting.

MASPORT

WINTER

SALE

Clean burning low and ultra

low emission wood burners

R5000

PED PACK

$2699

WAS $3598

RANGITATA

PACK

$2599

WAS $3298

WAIMAKARIRI

PACK

$2599

WAS $3798

*TERMS ANDCONDITIONS APPLY. WHILESTOCKSLAST.

FREE MASPORT

WINTER WARMERS PACK

FREE

WORTH

$199

RAKAIA

PACK

$3299

WAS $4498

Laser Electrical

Ashburton

726 East Street

03 308 2106

VISIT OUR LIGHTING SHOWROOM

HOURS: Mon -Fri 8am -5.30pm

RESIDENTIAL | COMMERCIAL | INDUSTRIAL | RURAL | LIGHTING | HEATING | 24HOUR MAINTENANCE AND SERVICING

www.laserelectrical.co.nz | 0800 LASER 4U(0800 527 374)
---
NEWS

6 Ashburton Courier, June 17, 2021

www.ashburtoncourier.co.nz

Bureau proving useful asset

Mid Canterbury CAB co­ordinator Sarah Clifford (left) with volunteer

bureau interviewer Cathie Withington.

MICK.JENSEN

@ashburtoncourier.co.nz

Mid CanterburyCitizens

Advice Bureau (CAB) is

proving its worth in the

community andvolunteers

have fielded266 inquiries

in the firstsix monthsof

operation.

TheCAB office at

Community House Mid

Canterburyopenedquietly

on December 2and is

staffed by arosteredpoolof

21 volunteer bureau

interviewers.

Half of theinquiries

fielded to date havebeen

face­to­faceand the rest via

telephone(40%)and online.

Inquiries arevariedand

volunteers never know

from day to day whatthey

will be asked about.

Co­ordinator Sarah

Clifford said she was proud

of what the CABhad

achieved so far.

Inquiries typically

centred around legal,

finance, benefit, health and

employment issues,aswell

as general community

inquiries.

For face to face inquiries

peoplewere taken into an

interview room and if

further researchwas

needed volunteers would

go next door to search

online.

Mrs Clifford said CAB

wasnon­judgemental and

couldn't operate without its

very capable volunteers.

The CAB motto,'Not

sure, ask us', was fitting

becauseanextensive range

of resources and

informationcouldbe

accessed.

CAB has 85 bureaus

nationallyand auserfriendly

website (cab.org.

nz).

Mrs Clifford said arecent

''mystery shopper'' from

CAB had had given the

Ashburton bureau abig

quality assurance tick.

She welcomedmore

volunteers on board, who

withtraining,could help

people know and

understand their rights

better.

The Mid CanterburyCAB

is one from 10am until 1pm

weekdays and inquiriescan

be madeby calling 03 928

8761, or by emailing to

midcanterbury@cab.org.

nz.

Tayla helping Rakaia community

Rakaia teenager Tayla Davidson has

started her DukeofEdinburghaward

journey and is focused on voluntaryservice

andsupport in her community.

Shehas launched 'Big Sister' to provide

acommunityservice that promotes helping

people, offers advice and acts as alistening

friend.

If she can't helppeople directlyTayla

will call on community leadersfor advice.

''Overtime Ihopetoform asmallgroup

of team mates who can helpmegrowBig

Sister,''Tayla said.

Shehad already spoken to Dorothy

Knightfrom the Rakaia Friendship Club

andhad outlined her goals and thoughts

andMrs Knight had agreed to be her

mentor.

Tayla said she intended talking to

people, being afriendand running errands

forthose who neededhelp, such as the

elderly.

Herfirstcommunity projectisraising

awareness of theneed forsmoke alarms.

Tayla is working with the Rakaia

Volunteer Fire Brigadetooffer a10­year

battery life alarm installed for $25.

Tayla Davidson promoting the installation of smoke alarms with Rakaia Volunteer Fire

Brigade chief fire officer Tyrone Burrowes (left) and deputy chief fire officer Fred Clarkson.

IN BRIEF

STOCK WATER

Awastewaterpipe renewal

project on State Highway77

nearMethvenhas identifiedan

issuewith an underground stock

waterasset. The issue will be

investigatedfurther and

remedied, but may have some

short-term implicationsfor

downstreamstockwater users.

Council staffare working to

minimise inconvenience and

appropriate notifications will be

issues as required.

PUB TALK

Jeanette McLennanfrom the

MethvenHistorical Society will

give atalk on Methven pubsand

the liquor history of the township

on June 20. The2pm talk will be

held in the theatrette at at the Mt

HuttMemorialHall. The

illustratedtalk willbefollowed by

afternoon tea.Admission is free,

but donationsare welcome.

COMEDY GIG

There's adoubleheaderof

comedy at Methven's Blue Pub

on July 3with top Kiwi

comedians Ben Hurley and

Justine Smith on stage. Bothare

well known faceson7Days,The

Project, Have You Been Paying

Attention and The Comedy Gala.

The show is expectedtosell out.

Doors open 7.30pm for8pm

start. Tickets from eventfinda.co.

nz.

CRASH NAMES

Thenames of the four people

who died in acrashinAshburton

on June 4have been released.

They were Sheryll Cairns, 66,

Avinash Chand, 33,and Donald

Wallace,61, all of Christchurch,

and Jonathan Campbell, 54,of

Auckland. Thecrashoccurred at

the intersection of Wakanui and

Cochranes roads.The

investigationinto thecrashis

ongoing.

FLOOD STREET

Recentheavyrain saw water

running off the roadand down

driveways in theMackie Street

area of Methven. Gutters failed

to holdback the waterand there

was floodingtosome properties.

Methven Community Board

chairman DanMcLaughlinsaid

rainrun off hadbeenanissue

alongthe road for thelast nine

years anditneeded looking it. A

solution wasneeded, hesaid.

Readthe Ashburton Courier

ANYWHERE

ANYTIME

24/7

www.ashburtoncourier.co.nz

Heretohelp

Jo Luxton

MP forRangitata

Please get in

contact if you

need any support.

75 Harrison Street,

Ashburton

03 339 1030

rangitatamp@parliament.govt.nz

/JoLuxtonLabour

@joluxx

/joluxton_mp

Ashburton

June 16, 17, 18,

21, 22, 23

2385982

2388188

Authorised by Jo Luxton,

Parliament Buildings, Wellington
---
www.ashburtoncourier.co.nz

NEWS

Ashburton Courier, June 17, 2021

7

Book ready for Sacred Heart reunion

MICK.JENSEN

@ashburtoncourier.co.nz

Abook documenting the history

of Ashburton's SacredHeart

College has beenproofedand

will soongotoprint.

The book, called Nor'Westers

andPanamas, will be revealed

at reunion over Labour

Weekendthatmarks 50 years

since the college closedits

doors.

The historyinthe book has

beenresearchedand written by

local historian Michael

Hanrahan,while former pupil

Mary Schmack has compiled

the personal storiesand

memories of formerstudents.

Mrs Schmack said the book

was150 pageslong, featured a

lot of photosand would bring

back plenty of fond memories.

Her part of thebookhad been

compiled over afive year

period.

Everyoneattending the

reunion would receive the book

as part of thereunionfee, she

said.

''It is atrip down memory

lanefor former pupils,but it

alsodocumentshistory for

currentandfuture

generations.''

MrsSchmack said she had

enjoyed her school days.

The nuns from Sisters of Our

Ladyofthe Missions who ran

Sacred Heartwere strict and

expectationsand standards

were high.

Music hadfeatured highly in

the school curriculum and the

nuns had also taught music

privately.

FellowScared Heartpupil

and reunion book committee

member Yvonne Harrison said

she too had fondmemoriesof

her time at the college.

Shehad attended for two

years in the mid 1950s and had

travelled from Methven via

Rakaia each day.

''I've still gotmypanamahat

which was part of thestrict

uniformofthe day and I'vealso

stayed in touch with afew

formerschool mates.''

Mrs Harrison saidshe was

looking forward to the October

reunion and also reading the

book.

SacredHeart College began

lifeinWakanui Road in 1884 as

aprivate girls school.

Reminiscing on their school

days at Sacred Heart are (from

left) Yvonne Harrison, wearing

her old school panama, and

Mary Schmack with aproof

copy of the soon to be printed

book.

Ten years later thesizeable

two story building was

relocatedtoasiteonSealy

Street, Ashburton.

One of NewZealand's first

Montessorischools joined the

site in 1932 and educated both

boys and girls for the next20

years.

With the buildingofalarger

StJoseph's School in 1952, the

Montessoriand primary

departments were closed and

the school continued as agirls'

secondary college.

The school was demolished

in 1960 and anew single storey

schoolbuilt, which is today

used by theAshburton

Learning Centre.

Pre ordered copies of the

Nor'Westers and Panamasbook

cost $20 before June 30 and

after thatdate $25.

The cost of thebook has been

kept low because of

sponsorship from the St

Augustine of Canterbury

Parish,Blacklows Trade Zone,

Jim Reed Builders, Ashburton

Trust and Hanham Concrete.

Books canbeorderedby

callingJan McAllister(308

5748)orKathBryant(3071127).

Checkout ourlatest

deals

Fill thefridge with everyone's faveS!

HOT DEAL!

$

39 99

each

STEINLAGER

PURE,

STEINLAGER

CLASSIC or

CARLSBERG

PILSNER

24 x330mlBottles

HOT DEAL!

$

24 99

each

GORDON'S G&T

12 x250ml Cans,7%

GORDON'S Sicilian Lemon

Gin &Soda, GORDON'S

Premium Pink Gin &Soda

12 x250ml Cans,4%

HOT DEAL!

$

34 99

HOT DEAL!

$

39 99

each

HOT DEAL!

$

42 99

HOTDEAL!

$

44 99

HOTDEAL!

$

49 99

Mixand match

thesevinoS

$ 25

2 for

Single bottle

$14.99

1.125LITRE

BELL'S

1Litre

ABSOLUT,BACARDÍ Range

1Litre

Includes Barcardi Gold, Spiced,Carta Blanca

JIM BEAM

WhiteLabel

1.125Litre

TANQUERAY

1Litre

JAMESON

1Litre

THE NED Range

750ml

Includes Rosé,Sauvignon Blanc,

Chardonnay, PinotGris

19 CRIMES Range

750ml

Includes CabernetSauvignon, Shiraz,

HardChard, Red Blend, The Uprising

Rum Aged Red Wine

Shop local with

AMBERLEY, ASHBURTON, BARRINGTON, BELFAST, BRIGHTON, BURNSIDE,

COLOMBO ST, EDGEWARE, ELMWOOD, FERRYMEAD, HALSWELL, HANMER

SPRINGS, HORNBY, ILAM, KAIAPOI,LEESTON, LINCOLN, METHVEN, OXFORD,

SHOP LATESTDEALS at WWW.SUPERLIQUOR.CO.NZ

NATIONWIDE PICKUP &DELIVERYNOW AVAILABLE

PAPANUI, PEGASUS, RANGIORA, SEASIDE, WOOLSTON

Exclusions mayapplyonsomebrands advertised. Offers end close of trade 20th June 2021, while stockslast.Available at participating stores only.Multi Dealonly available in store. Varietals may

vary by store. Limits may apply.Wholesale (other liquor retail banners)not supplied.Termsand conditions mayapply.Available 7th -20th June 2021inclusive. Pleasesee www.superliquor.co.nz fordetails.

SUP2280_C6
---
NEWS

8 Ashburton Courier, June 17, 2021

Flood clean up

help available

Mid Canterbury farmers and landowners

affectedbythe recent flooding can now

register for help with cleaning up their

propertiesthrough Enhanced Taskforce

Green (ETFG)scheme.

Job seekers interested in helping the

Canterbury­wide flood recovery can register

their interest by phoning 0800 559 009.

Farmersand growers canself­register for

clean­up help by fillinginan online form.

CanterburyCivil Defence Emergency

Management is co­ordinating assistance to

communities affectedbyflooding. The typeof

help available is listed on the Canterbury

Civil Defence Emergency Management

website andincludes information about

returningtoflooded homes, rural

communities andanimalwelfare, and

financialsupport and insurance.

The Ministry of Social Development's

helpline for people needing assistance after

the floods is 0800752102, or visit Work and

Income.

NewGrant Rounds

2021/2022

Closing Dates

Operational (programme or event) costs

Up to $15,000 –16th April &

3rdSeptember 2021

Capital projects

Up to $20,000 –16th July 2021 &

4th February2022

Major Grants Round

Over $20,000 –21st May&

8th October 2021

(Phone to discuss prior to applying)

www.ashburtoncourier.co.nz

Riverbed berm vegetation

will need to be replanted

Environment Canterbury expects all

water flowingout of Ashburton

riverbed in the upper reaches of the

catchmentwill be diverted off private

land by the end of the week.

Althoughmuchofthe diverted

water wasjust atemporarymeasure

with fullrepairs to someof the

breakouts expectedtotake months.

ECan riversmanagerLeigh

Griffiths said water was still flowing

out of the riverbed in acoupleof

places in the upper reaches of the

Ashburton catchmentearlier this

week.

''Weexpectthat by the end of this

week all overflows will be diverted off

private land.

''Manyof these diversionsshouldbe

considered temporary and vulnerable

in nature.''

She said for full repairstobedone

river engineers were working on

understanding the changes thathad

occurred within the riverbed andits

surrounding land.

''In somecases, we will need to

discuss new stopbank alignments

with adjacent landowners,'' she said.

''Thereare significantareas of

riverbed berm vegetation to be

replanted. Theseserveasabufferto

slow floodwateragainststopbanks

and terraces.

''Rebuilding stopbanks andother

earth structures will require heavy

machinery.

''In many places water levels

needed to drop and ground

conditions todry outbefore afull

rebuild can be undertaken,'' she said.

The work would include many

partieswith an interest, such as

ECan,adjacentlandowners, mana

whenua partners, districtcouncils,

roading and other infrastructure

Significant areas of riverbed berm vegetation washed downstream ­and is

visible at the Ashburton River bridge at State Highway 1.

providers, Fishand Game, and

Department of Conservation.

The rainfall which hit the district

saw adeluge of water on the foothills;

from May 28 to May 31 amassive

545mm of rain was recorded at Mt

Somers, the MetService reported.

The main centres ­Christchurch

(110mm), Ashburton (155mm), and

Timaru (105mm) ­wereinundated

over the same period.

ECan groundwater science

manager Carl Hansonsaid following

months of dry conditions the water

table across Canterbury had already

responded to the rainfall. In late May,

many wells were wellbelow average

levels forthistimeofthe year, and in

areas like West Melton, some were at

record lows.

''In some placesthe water table has

risen by less than ametre, and in

others, more than two metres,| he

said.

While much of therainfall rushed

through the river systems out to sea,

Mr Hanson expected most of the rain

that fell on the plains soaked into the

dry ground.

"Outinthe middle of the

Canterbury Plains,far fromany

watercourses, there's really

nowhere else for the raintogo,"he

said.

However, onelarge rainfall event

does notmakeupfor months of very

dry conditions that much of

Canterbury has experienced.

Council sets up Givealittle page

Seeour websitefor further information

and to makeanonline application …

www.comtrust.org.nz

To discuss anyapplications

Phone:

03 687 7360 or 0800 672 287

Email:

crm@comtrust.org.nz

2359983

AshburtonDistrict Councilhas setup

aGivealittle page andbank account

to support people affectedbyrecent

floodinginthe district.

Thetwo donation channels were

created after the council received an

outpour of support from communities

andindividuals nationwide who

wanted to help.

AshburtonMayorNeilBrown said

the impact of the floodingonthe

district is stillemergingand farmers

in the mostaffectedareashave been

working around the clocktorestore

theiroperations.

''They haveabig job on their hands

in the weeksand months ahead, and

theyneed allthe help they canget.

''I've beenhearing from mayors all

overthe country offeringsupport and

thereare people too,who wantto

helpthose that havebeen affected in

our district, by wayofdonation,'' he

said.

People interested in makinga

financial donation can through an

official flood relief Westpacbank

account (03­1592­0521970­04) or

through the Givealittle page.

Ashburton district people affected

by the flooding and needing

assistance were encouraged to apply

for Emergency ReliefFundingonthe

council's website(ashburtondc.govt.

nz).

Awide range of agencies are also

offeringsupport and being

facilitated, in part,through council's

recovery efforts.

Heritage award winners

2385429

There were nine winners across

six categories at theCanterbury

HeritageAwards, butnoneof

them came fromMid or South

Canterbury.

Two Ashburtonentries were

among the finalists, the Ng King

Chinese market garden

settlement in the outstanding

contribution to heritage

category, and the quake

strengthened No1 Rakaia Gorge

Bridge in the seismiccategory.

The restoredformer twostorey

vicarageofStMary's in

Geraldine was afinalist in the

domestic saved and restored

category.

The supreme award and a

Blue Plaque went to the Kate

Sheppard House in

Christchurch.

The house has been adapted to

avisitor destination to celebrate

Kate Sheppard's life and

achievements, the suffrage

movementand itslegacy of

social change.

The heritage tourism award

went to the Godley Head Coastal

Defence Site and the public

realm saved and restored award

was jointly won by The Arts

Centre Te Matatiki Toi Oraand

BalmoralFire Lookout.

There were also joint winners

of the domestic saved and

restored award with Montrose

Station Homesteadand The

Britten Stables taking the

honours.

Theseismic award went to the

Sacred Heart Basilica and

future heritage award to

Turanga Christchurch Central

Library.

The winnerswere announced

at afunctionatChrist's College

to recognise heritage in all its

forms.
---
NEWS

Ashburton Courier, June 17, 2021

CBD work on track

Two milestone events will

happen soon in Ashburton's

central business district (CBD)

as the revitalisation project

and new Ashburton Library and

Civic Centre construction

project progress.

Final finishing on Burnett

Street is expected in the next

few weeks, along with the first

concrete pour of the new

Ashburton Library and Civic

Centre building; significant

landmarks in the life of both

projects.

To give you an idea...the

latter will require the careful

co­ordination of around 70

truckloads of concrete over six

hours and will be the first of

three big concrete pours for the

job.

The CBD revitalisation

project also has many moving

parts.

On the East Street Green,

play equipment is being

installed.

The grass will be resown in

spring, and crews have been

working nights on Burnett

Street to advance the work

there with as little disruption

as possible to users.

Paving of the Havelock

Street/East Street intersection

is also under way, which has

required the temporary closure

of the intersection. New traffic

signals for the Havelock Street

intersection will also be in

place in another few weeks.

The required work at this

intersection has been

undoubtedly disruptive.

9

However, Council is keeping

the intersection open

throughout the planned fourweek

construction period to

help maintain access for

businesses and customers

along East Street.

In July, contractors will be

working east on Havelock

Street, replacing asewer pipe

and installing connections for

the new Library and Civic

Centre building.

These large projects require

contractors to work to specified

plans, work around weather

conditions, and most

importantly, work with

businesses and Council to

mitigate any issues.

It is abalancing act that

requires frequent review

throughout the project to

ensure disruption is limited to

the extent possible.

The rain we received over the

30 May weekend caused adelay

of acouple of days. Still,

Council's contractor Tru­Line

Civil is confident of recouping

that time lost as the project

goes forward.

The completion date remains

towards the end of November

2021.

Buy aDole Tropical Gold pineapple

for achance to WINa$50

FourSquare gift card.

SEEDLESS

&EASY

PEEL

SEE INSTORE FOR MORE INFORMATION

SatsumaMandarins Loose

Product of New Zealand

$ 4 99

kg

PamsFresh

CookedChicken

Large (Available at

Selected Stores)

ONE

PRIZE PER

STORE

$

12 99 ea

Wattie's Baked

Beans or Spaghetti

420g (excludes Meat

and Flavours)

ANY

2FOR

$

3 49 ea

Pams Butter 500g

$ 5 79

ea

Ashburton Car Club is after atemporary space for club events.

Car club seeking

temporary grounds

Members of the Ashburton Car

Club are seeking space they can

use for clubeventsover the next

few months while their home

grounds recover from flood

waters.

The club house and grounds

are on Wakelins Road, just off

the Methven highway, which

backsontothe AshburtonRiver

north branch.

Because of the flooding the

club'sback paddock and access

roadhad been ''rearranged''.

Club president Daniel Tew

said anyonewith apaddock or

two, or aprivateroad or

tarsealed car park that club

members could usetohold

controlledevents over the

coming months would be

appreciated.

The club usually holds one

controlledcar club event a

monthduringthe winter period.

They hadverystrict rulesand

regulations andhadHealthand

Safetypermits, andpublic

liabilitycoverage, he said.

He said the club groundswas

limited to smaller events butany

size space,big or smallwould be

valuable.

Members could use rally tyres

(with more grip and helpful for

tearingupsoil)orradial road

tyres (more gentle on the soil).

One­offlocations would also be

helpful, he said.

TheAshburton CarClubruns

controlled car events which can

be found on theirFacebook page

or website www.

ashburtoncarclub.org.nz

Anyone able to help can

contact the club via the page.

Thegrounds wouldneedtobe

dried out beforetheycould be

redrilled andregrassed, Mr Tew

said.

A-FOUR-DABLE

EVERY DAY

TipTop Bakery

Supersoft Bread

700g

$

3 59 ea

www.foursquare.co.nz

ThePeoples

750ml (excludes

Pinot Noir)

$

12 99 ea

facebook.com/FourSquareNZ

Specials available South Island only from Monday 14th June until Sunday 27th

June 2021 or while stocks last. Wine and beer available at stores with an off

licence. Wine and beer purchases restricted to persons aged 18 years old and over.
---
Family Notices

Deaths Deaths Deaths Deaths Deaths

DENFORD, Jennifer Margaret

(Jenny) – On June 9, 2021.

Peacefully at Coldstream Life

Care, Ashburton, after along

illness. Aged 76 years. Loved

wife of the late Malcolm. Loved

partner and friend of Graham

for 13years. Messages to the

DenfordFamily,c/- PO Box472,

Ashburton 7740. At Jenny's

request a private cremation

has been held.

Paterson's

Ashburton

FDANZ

03 3077433

HURIA, David William

George: Dave was a highly

respected and valued teammate

and friend of the staff at

Neumanns Tyres for 19 years

and will be sadly missed.

Our thoughts are with his

family.

HUNT, Alan John: Passed

away peacefully at Tuarangi

Home on June 10, 2021, in

his 97th year. Much loved

husband of Fay for 68 years.

Loved father of Lorraine, and

Alison (Auckland), son-in-law

Dmitriy, lovedgrandfatherof

KiriandBill Lomas (Auckland),

special friend of Colleen and

Kevin Aldridge and family.

Messages to the Hunt family

c/- PO Box 472, Ashburton.

A service to celebrateAlan's

life was held at our chapel,

cnr East and Cox Street,

Ashburton on Wednesday

16th June.

Paterson's

Ashburton

FDANZ

03 3077433

GUASTA, Luciano: Peacefully

at Rosebank Rest Home on

June 5, 2021 aged 95 years.

Dearly lovedhusband of Livia,

and loving dad of Sabrina, and

Claudia.

Messages to: The Guasta

Family, c/- PO Box 6035,

Ashburton 7742. A private

family only memorial will be

held in due course.

0800 2MEMORY

027 637 1229

McLEOD, Charlotte Jayne,

on June 7, 2021. It is with great

sadness that we announce

that our wee girl passed away

very peacefully at home,aged

9 years. Precious daughter

of Hamish and Hayley and

adored big sister of Maggie,

and Fergus. Much loved

granddaughter of Ellayne

and Tony Kelly, and Alasdair

and Juliet McLeod, great

granddaughter ofJim and Joy

Kelly, and Murray and Lesley

Faulkner. Special little niece

and friend of all her aunties,

uncles and cousins. We are

absolutely broken. Charlotte

fought so hard right till the

very end. Weare incredibly

proud of her and all she's

been through. We just want

to give the biggest thanks to

everyone who has supported

us on this journey. Your love

and strength has been felt so

much. "HoldFast". Donations to

the Child Cancer Foundation

and Ronald McDonald House

in MemoryofCharlottewould

be appreciated. Messages

to the McLeod family c/- PO

Box 472, Ashburton 7740. A

servicetocelebrateCharlotte's

life was held at the Hotel

Ashburton, Racecourse Road

on MondayJune14.

Paterson's

Ashburton

FDANZ

03 3077433

Complete

Local Care

Since 1982

NORMAN, Iris Gwendoline:

Passed away on June 8,2021,

in her 96th year.Adored wifeof

the late Walter (Wattie). Much

loved mother and motherin-law

of Janice Norman,

Robyn and Robert McCullum,

Judith and Tony McKenzie

and Susan and the late Robbie

Haile. Nanny ofall her grandchildren,

great- grand-children

and great-great grandchildren.

LovedAunty of Carol

McKay, and Raylene Johnson.

Special thanks to Rosebank

for their wonderful care of

Iris. Messages to the Norman

family, c/- 141 Trevors Road,

Ashburton 7700.

According

to Iris's wishes aprivateservice

has been held.

Paterson's

Ashburton

FDANZ

03 3077433

RAE, Helen Marjorie: Passed

away peacefully at Tuarangi

Home Ashburton onJune 14,

2021, aged 87 years. Much

loved wife of the late Alan.

Loved mother of Ian, Kenny

and Roben (Sydney), and

MalcolmandMary(Gold Coast)

and dearly lovedgrandmother

of Bradley, Daniel, and

Mitchell. The family wish to

express their sincere thanks

to the staff of Tuarangi Home

forthe kind caring culturethey

provided Mum. Messages to

the RaeFamily,c/- PO Box472,

Ashburton 7740. Aservice to

celebrate Helen's Life will be

held in our chapel,corner East

&Cox Streets, Ashburton on

Friday June 18 commencing

at 11.00am. Followed by

interment at the Ashburton

New Lawn Cemetery.

Paterson's

Ashburton

FDANZ

03 3077433

RAE; Helen Marjorie: Passed

away peacefully at Tuarangi

Home on 14 June 2021.

Loved sister and sister-in-law

of Noeline and the late Pat

Brennan, the late Rose and

the late Dave Watson, the late

Dave and Lorraine Murison

and Judy and BobHarrison.

Also aloved aunty. RIP

RICKSON, Josephine Rose

(Josie) (nee Low):OnJune14,

2021, peacefully at Coldstream

Lifecare, Ashburton. In her

95th year.Much loved mother

and mother-in-law ofBarbara

and Arthur Thomson (Ross),

and Malcolm and Daphne

(Wellington). Adored nana of

Mark and Cara, Jason and the

late Susan, and Aaronand Kris;

Michael and Katie,and Angela

and Malcolm and lovedbyher

many great-grandchildren.

Friend of Norm. Special

thanks to all the staff of

Coldstream for their love

and care of Josie. Messages

to the Rickson Family, c/- PO

Box 472, Ashburton 7740. A

memorial service for Josie will

be held in Our Chapel, corner

East &Cox Streets, Ashburton

today, Thursday June 17

commencing at 2.30pm.

SMITH, Pauline Herd – On

June 7, 2021. Peacefully at

Ashburton Hospital in her

85th year.Dearly lovedwife of

the late Gerald. Loved mother

and mother-in-law ofthe late

Roger, Alister and Ange, and

Jill and Charlie Tomlin. Loving

Nana of all her grand-children

and

Paterson's

Ashburton

FDANZ

03 3077433

great-grand-children.

Messages to 32 West Town

Belt, Rakaia 7710. At Pauline's

request aprivate service has

been held.

Paterson's

Ashburton

FDANZ

03 3077433

SMITH, Pauline Herd (nee

Gaylor) - On June 7, 2021,

at Ashburton Hospital.

Daughter of the late Amy

and Tom Gaylor. Loved sister

and sister- in-law of Noreen

and the late Des Smith, and

Murray and Vivia. Very special

Auntie Pauline of all her nieces,

nephews and their families.

"Fond Memories"

SPARROW, Audrey Gwenith

(nee Banks), 12-4-1929 --

14-6-2021, at Terrace View

RetirementVillage,Ashburton.

Loved wife of the late

Reg. Very much loved and

respected Mum and motherin-law

ofthe late Warren, and

Jeanette Crean, Jeff and Irene

(Perth), Judith and Ivan Wilson,

and friend of Tony Crean.

Loving and caring Nana of

Bradley, Melanie, and Glen;

Nathan, Serena, Marika, and

Zaneta; Daniel, Adam, Jacob

and their partners. Great

Nana of Katie, Jordy, Rylee,

Chase, CJ, Annabelle, Lucia,

Beau,and anew arrivalinJuly.

Sister to Lorraine Ward, and a

loved aunty to all her nieces

and nephews. Messages to

the Sparrow family c/- P O

Box 472, Ashburton 7740. A

service to remember Audrey

will be held in our chapel, cnr

East &Cox Streets, Ashburton

today, Thursday June 17,

commencing at 11.00am.

Followed by a private

interment.

Paterson's

Ashburton

FDANZ

03 3077433

Birth notices listed by

parents will continue

to be free in the Family

Notices column. The

initial death notice

lodged by a funeral

director will be listed

without charge. There

will be asmall charge

of $15 for subsequent

notices related to the

same death, up to a

maximum of 35 words

and on aper-line basis

after that. The same

low charges apply to

other family notices,

such as engagements,

acknowledgements, in

memoriam notices and

anniversaries.

Supporting thecommunity

96 Tancred Street, Ashburton.

Phone 307 8317

Real Estate MidCanterburyProperty Limited Licensed (REAA 2008)

Family owned,

locally owned

22 MooreStreet,

Ashburton

0800 263 6679

2379731

Acknowledgement

JEMMETT, Brian Valentine

- Barney: 16/11/1945 -

21/05/2021

Judy, Dayle, Garth, Lyall, their

families and extended family

would sincerely like to thank

everyone for their expressions

of love and supportinsomany

ways following Barney's death,

it has been overwhelming

but so appreciated. Special

acknowledgement to the

many people who attended

the celebration of Barney's life

and party afterwards. While

it was asad time for usall it

wasalso atime forustoenjoy

the memories and share afew

laughs.

Please accept this as a

personal acknowledgement

from all of us.

JONES Estelle Hope,

06/08/1933 – 13/04/2021.

Mervyn, Robyn, Glenda,

Philippa and their families

wish to sincerely acknowledge

those who attended Estelle's

funeral service inthe Sinclair

Centre, Ashburton. Also

the support of Rev. Eric

Mattock and members of St

Andrew's Presbyterian Church

Pastoral Care Committee

during Estelle's illness was

greatly appreciated. We also

acknowledge the caring

support of Doctor Penny

Holdaway, Hospice Mid

Canterbury, Rosebank Lifecare

staff and Paterson's Funeral

Services. For the gifts of

baking, food, flowers, cards,

visits and phone calls we

are most grateful. This has

helped us through this sad

time. Please accept this as a

personal thank you from the

family.

WHITING; Maureen Agnes:

Trevor, Lynda, Gary, Andrew,

the late Rex and families,

would like to thank all those

who attended Maureen's

funeral, and wish to thank

everyone who sent cards,

flowers,visits,baking and kind

thoughts. Special thanks to

CarolGunn foralovely service

for our mother, Paterson's

Funeral Services, all staff at

Radius Millstream and to all

our special friends at this very

sadtime;thank youall.

Please accept this as our

personal acknowledgement

to youall.

Family

Notices

Enquiries phone

Mary,Jann or

Karenon

308 7664 or

call into

199 Burnett

Street

Repairs

finished,

rail link

restored

KiwiRail teams have

restoredthe line

between Ashburton

and Timaru,

completing the repairs

on the Main South

Linelast weekend.

KiwiRail general

managerSouth Island

operations Mark

Heissenbuttel said two

bridgeshad temporary

piles installed to allow

the line to reopen

quickly andnew piling

worktopermanently

support the structures

will follow.

''Thereisno limit on

the number of trains

which canuse the line,

but some speed

restrictions will be in

force over several

affected areasuntil

final repairs are

completed,'' he said.

Rail bridges and

other structures were

built to withstand

normalweather

conditions, but rare

eventslike the recent

floodingseverely test

their resilience.

''While we do not

foreseeany issues of

concerninthe near

future,weare always

looking for ways to

make ournetwork as

resilient aspossible

and carry out routine

maintenanceand

monitoring of

structures to ensure

safe operations,'' he

said.

Therewas no freight

backlog to clear, but

some empty wagons

had beenrepositioned

as aresult of the

closure of theline.

Dairy

industry

skills

boost

The shortage of dairy

workershas seen

government give

approval for 200

skilled people to cross

the border to work in

the industry.

FederatedFarmers

and DairyNZsaidthe

exception process

would help someofthe

workersstuck

overseas to return to

their jobsonKiwi

farms.

But now there was a

job of working through

the details with

industry, Immigration

NZ andMinistry for

Primary Industries to

see howthe spaces

could be fairly

allocatedacross the

country.
---
www.ashburtoncourier.co.nz

Teachers to attend enviro programme

MICK.JENSEN

@ashburtoncourier.co.nz

Methven Primary School

teachers PhoebeTodd and

Erica Georgeare offonan

environmental education and

leadership development

programme.

Funded by the Ministry of

Education, the BLAKE Inspire

for Teachers programme offers

experiential learning

opportunitiesand practical

ideas that will help encourage

environmental action,

conservation and

sustainability in schools.

Over five days delegates will

be teamed with world­leading

scientists,environmental

leadersand experts in their

fields to learnabout issues

such as climate change,

freshwaterquality,

biodiversity and ocean health.

Phoebe andErica areboth

second year teachers at

Methven and bothare keen on

theoutdoors.

Phoebe is theschool's enviro

leader andhas 26 Year 5/6

students involvedinregular

conservation and growing

projects.

Every second week students

clean up litter in their lunch

break,Phoebe said.

The schoolhad bokashi

composting, new recycling

policies and was looking to

expand its vegegardens.

''I'm really excitedtobe

going off and getting adeeper

understanding of

environmental issues andthen

applying that knowledge back

at school.''

It wasimportantfor students

to understand about

conservation andthe

environment fromayoung age

because they werefuture

guardians of ourland.

Erica, who teaches new

entrants, said shewas still

awaiting exact programme

details, butshe knew that

previousdelegates had been

able to visit predator­free

islandsnear Auckland with

Department of Conservation

staff.

''We're going to be busy from

8amuntil 9pm each day, and

I'm really lookingforward to

learning more, networking and

sharing ideaswith other

teachers.''

Erica,who hails from the

easternBay of Plentyisonthe

programme next month and

Waimate­raised Phoebe is in

Fashion on show at fun parade

Methven Primary School

teachers (from left) Phoebe

Todd and Erica George will

brush up on their

environmental education

when they attend the BLAKE

Inspire for Teachers

programme.

Auckland in October.

The pair are flatmatesin

Methven and enjoy hiking,

skiing andbiking.

Both have also travelled and

worked at skifields in Canada.

Somemembers of Netherby Women's Institute took to the

runwaythisweek with afun,mini­fashion show for their

peers using someof thelatest fashions available from St

VincentdePaulcharity shop.

Thefashion paradetook place at theWIs usualmonthly

meeting thisweekwhich was held at the AshburtonSenior

Centre. It was followed by afternoon tea.

The runway models were fitted out in available itemsof

clothing which includedcoats, blouses,pants and shoes as

wellashandbag, jewellery and scarvesaccessories. Items

cost as little as $2.

Thereweresomevery desirable piecesinthe collection,

which drew plentyofinterest from those at the meeting and

saw afew extradonations heading towards the charity shop.

The WIs next meeting on July 12 will include lunch and

with housie.

Runway fashion models and members of Netherby WI (from

left) Diane Bradley, Patsy Huggins, Barbara Danielson,

Daphne Sheehan, Adrienne Hodson and Catherine Thomas

in some of the clothing collection from St Vincent de Paul

charity shop.

NEWS

Ashburton Courier, June 17, 2021

IN BRIEF

11

WELLNESSTALK

Understanding ourHuman Needs is

the subject of awellness talkon

Tuesday lunchtime at Community

House MidCanterbury. Presented

by BryceElvy,the talkwill address

whatweactually needashumans

for different areasofour life. It will

look at how we are drivenand

influencedbyour decisionsinlife

and examine what we actually need

in ourlife. The talk runs fromnoon

until 1pm and $5 entryincludes

lunch. It is part of afortnightlyseries

organised by Safer Mid Canterbury.

SWIM MEET

Ashburton Master Swimmers group

is hosting abig, fun meetatEA

Networks Centre on July10.

The meet is open to all keen adult

swimmers over the age of 20 years

and warm up starts at 3pm.

Anyone interested in swimming is

encouragedtoget in touchwith the

group.

Themeet willconclude with two

mysteryrelays, designedto

promote fun and friendship.

Registrationscan be madethrough

the AshburtonMasterSwimmers

Facebookpage.

LOW CROPS

Newsoflow cropyields,due to low

rainfall last week incorrectly stated

that Wilmar had been tasked with

buying most of the volume forAB

Mauri's South IslandMillingWheat

and for Goodman Fielders mill in

Timaru.However,ithas been

brought to our attention that

Goodman Fielder do not ownamill

in Timaru. ''Goodman Fielderare a

customer of Farmers MillinTimaru.

Farmers Mill is a100%New

Zealand owned company.''

EMPLOYERSHUB

Beef+LambNew Zealand has

launchedanew online 'Employment

Hub'describedasaone-stopshop

for farmowners and managersto

assist themasemployers.Itwas

partofB+LNZ's commitment to

supporting,growing,training and

retainingpeopleinthe sector. The

hub has information and resources

in varying stages of employmentto

helpassistboth employersand

employees withrecruitment ranging

from goals and targets, rolesonthe

farm,tolearningand development

and, exitand review. The webpage

will provide adviceand guidanceof

recruitment andretention for

farmers, as well as informationfor

farmers' legal requirements as an

employer.

The Apple

wirelessbundle.

Also,interestless.

iPhone SE,Apple AirPods 2

+Apple Magsafe Charger

perweekfor 24

$1167 $13 months interest free*

Stockislimited andmay be delayed.Products,colours,and sizesmay vary betweenstores. In the event thatdemandexceedsexpectation, rainchecks areavailable butmay not be available for immediate delivery. Personal shoppers only.Trade not supplied.*24 monthsinterestfreeon

Apple products.Includes Beats by Dreproducts. Minimum purchase $499.Offer available from 2–30 June 2021. Available in-storeand online. Exclusions, fees, terms, conditions andcreditcriteria apply.Equalinstalment amountsinclude one-off booking fee of $45.00, annualfeesof$45.00

p.aand securityregistrationfee of $8.05, andexcludes insurance.Current interest rate of 23.95% appliestoany unpaid balance afterexpiryof(any) interest free period.Not available in conjunctionwith anyother offer. Seein-storeorvisit smithscity.co.nz/interest-freefor details.
---
NEWS

12 Ashburton Courier, June 17, 2021

Lions line up Big Smoke

The Big Smoke­Rural

Folk fun challenge and

auction is shaping up to

be agreatnight out on

June 26.

TheAshburtonLionsrun

event willfeature a

number of team

challengesinterspersed

with auctions.

Fundsraisedwill go to

Big LittleTheatre

Companyand the Lives

Worth Livingproject.

Thefun evening will be

held at Hotel Ashburton

from 7.30pm.

Tickets cost$50, which

includes supperand

entertainment. Tickets

fromsnowyriver5658@gmail.com

Big Smoke team

leader and school

principal Brent Gray

(left) and Rural Folk

leader and wellness

advocate Pup

Chamberlain with

the coveted

challenge trophy.

www.ashburtoncourier.co.nz

Digital banking and

scam safety lessons

Amobile classroom in abus

rolled into Ashburton,

Methven and Rakaia last

weektohelp residents learn

about digital banking and

offered tips on beingscamsavvy.

Up to 10 people boarded

the DORA (DigitalOn­Road

Access) bus foreachlesson

that includedaslide

presentation, handouts and

videos designed to helpthem

understand online banking

and offered advice on not

falling victim to scammers.

They were taken through

online scenarios that looked

like legitimate banking

emails, but were instead

fraudand scam attempts.

Some 72 per cent of New

Zealanders have been

targetedbyscammers at somestage.

Scamsattempts camevia email,

telephone or mail andmillions of

dollarshave been lost by people being

sucked in by scammers.

Scammers were inventive and

targetedpeople through investment

scams, identity theft, romance scams,

tax, phishing andsmishing scams,

shopping scams andsubscription

scams.

Many seemed plausible at aquick

glance, but often an emailaddress gave

them away.

Inside the DORA bus at the digital banking and

scam­savvy education session in Ashburton.

Hoveringover alinkinthe email

could also highlightits as suspicious.

Useful numberstocall if people are

unsure or need advice included

Netsafe (0800 638 723), and Consumer

Protection(0508 426 678).

Those attending themobile online

bankingand scamsessions weretested

on their knowledgethrough quizzes.

They were encouraged to report

scams, to not engagewith scammers, to

better understand different tactics

used by scammersand to have strong

online passwords.

Most elder abuse is

hidden in plain sight

Abusersare often someone close – Afamily member, acaregiver,

someone trusted. If you'reconcernedabout how someone is being treated,

it's OK to help.

CALL OUR FREE HELPLINE
---
www.ashburtoncourier.co.nz

NEWS

Ashburton Courier, June 17, 2021

13

Assembly showcases Samoan heritage

Hampstead School's Samoan

pupils sang, danced and offered

acolourful insight into their

heritage at last week's school

assembly.

Dressed in traditional

clothing, around 40 boys and

girls showed off their dance

skills, chants and wellrehearsed

moves in a30­minute

performance.

In between some fast­paced

segments, pupils shared facts

about the Pacific Island nation

to peers and family members.

Samoa has 139 primary

schools and apopulation of just

203,000.

Siva is the Samoan word for

dance and dances are

performed at ceremonies and

celebrations.

Sapasui, taro and pork are

foods typically eaten at those

same celebrations.

The school assembly was coordinated

by the parents of

Samoan children at Hampstead

School.

Around 55 pupils of Samoan

heritage attend the school

which has aroll of 350.

Photos: Hampstead School

pupils celebrate their Samoan

heritage.

PHOTOS MICK JENSEN

Front loading

machine.Backloaded

payments.

Samsung 8.5kgFront Load

Washing Machine

$999 $11

per week for24

months interestfree*

Offers valid from 16th June 2021,whilestockslast, unless otherwise stated.Someproducts on display in selected stores only –please call 0800 764847 to checkavailability.Personalshoppers only. *Selected computers,gameconsoles,giftcards, clearance itemsand some promotional

itemsare notavailable in conjunctionwith interestfreeoffers. Flooring available on amaximumof18months interest free.Exclusions,fees, terms, conditions, andcreditcriteria apply.Available in-store only.Equal instalment amountsincludeone-off bookingfee of $45.00,annual fees of

$45.00 p.a.and securityregistration feeof$8.05,and exclude insurance. Current interest rateof23.95%applies to anyunpaidbalance after expiry of (any)interest free period.See in-store orvisit smithscity.co.nz/interest-free fordetails.
---
Ashburton College

Individual Excellence in aSupportive Learning Environment

News

Issue 18

17 June 2021

Acting Principal Message

Road Safety Education

Theday ayoung persongets their driver licence

is an exciting one.Itopens up awhole newworld

of opportunity and freedom. In acommunity

such asAshburton, the drivers' licence is also

very helpful in supporting students to findwork.

With these benefits also come responsibility

and risk. Weknow that young drivers are overrepresentedinroad

deaths and serious injuries.

It is for this reason that, each year, werun aroad safety education

programme knownasRYDADay forall Year 12 students.The dayisheld

at the Hotel Ashburton and is being held on Wednesday 23June. The

RYDA workshops feature practical demonstrations, real-life narratives,

videos,quizzes and interactiverole plays focused on road safety.

Feedback from the past is that this day isvaluable and enjoyed bythe

students.Thank you tothe Ashburton District Council who generously

fund this day, and tothe Rotary Club of Ashburton for their support in

bringing the programme to us.

Course Selection 2022

With three weeks left inthe term, weare over halfway through the

year for our senior students. Itisanexciting time with the annual Ball

looming forYears 12 and 13 students,onFriday02July.

It is also ascary reality that, at this time, westart toplan for 2022. For

most students it is time to begin thinking about the subjects that they

may beinterested in studying next year as they progress through the

school. Course confirmation evening is held early in Term Three and is

an opportunityfor students and their parents to discuss courses and get

information about areas of interest.

More information about this process will be made available to students

and whānau in the near future. If in doubt about what you may want

or need to do in terms offuture subjects, students are welcome to

make an appointment with our Careers Advisor Karen Ell, orany other

relevant member ofstaff to find out more information about courses

and pathways.

Enrolment Week

Week 2, Term Threeisalso enrolmentweek,when we begin the process

of welcoming and transitioning students who will be new to College

next year.Information about this will be distributed via local Primaryand

AshburtonIntermediate Schools.

At this time, all students coming into Year 9have ashort meeting with

their parents/caregivers and amemberofCollege staff.Welook forward

to welcoming you.

Whāia te mātauranga hei oranga mō koutou

Seek afterlearning forthe sakeofyour well-being

Jono Hay

Acting Principal •Tumuaki

Information

ASHBURTON COLLEGE

PRESENTS

LIPSYNC

OurVision

2021

ASHBURTON COLLEGE

AUDITORIUM

THURSDAY JULY 8TH AT 7PM

ENTRY IS BY GOLD COIN

DONATION AT THE DOOR

Staff -Farewell

Sarah Cavill –tomorrow we farewell Sarah from her Learning Support

Assistantrole within the College's CommunityEntry Programme,arole she

has been in sincemid-March2020. Sarahcame to us with varied and relevant

previous working experience, including significantsupportfor marginalised

members of communities. Avery positive, creative person who established

strong connections with students and staff and contributed much as a

person, and through her capabilities,Sarahwill be greatly missed but,aswe

acknowledge her dedication and carefor the students,wedowish her well

in her new employment.

Events

Volunteer Project

Information provided by Gemma Taylor,

Student ExecutiveMember,

and Student Representativetothe BoardofTrustees

In Term Twoofthis year,aspartoftheir Akoprogrammes, Year 13 students

are required to undertake eight hours ofvolunteer project work. Choices

include coaching sports teams, picking up rubbish, helping out in primary

schools andmanyotheroptions.

Gemma tells us that -

For myvolunteer project, Ireally wanted to look at supporting Netherby

School,which is the PrimarySchool Iattended and stilllove.

In an effort togive back tothe students Icame up with the plan to do a

mentoring programme.

Togetherwith six otherYear 13 students,weattend NetherbySchool foran

hourevery Wednesday. Onceatthe school we split ourselves between two

classrooms, with children aged between six to nineyears old.

How wehelp ranges weekly, depending onwhat the teacher wants to

do, and what the specific children

need support in. For me, this project

has been amazing. We are making

connections with students who we

will remember for years to come.

Students who hopefully we are

inspiring to love school, and the

experiencesthatcome with it.

(Pictured right):

Gemmaworking with

agroup of students.

Student Group

Gemma said that four of the seven volunteers inher group all went to

Netherby School in the same year with her -twin sister Lauren Taylor,

SamRakthong, Easterlin Faamausiliand Toetu Touli. Added into this group

arefriendsofGemma's -Shrina Afuand Mahina Pongia, with the total group

covering the culturally diverse school populationthatisNetherby School.

Gemma noted they are agroup ofreally good friends undertaking their

Volunteer Project together.

(Pictured left): the

College students

interspersedwith

Netherby pupils.

(Backrow,lefttoright):

Shrina Afu,

SamRakthong,

GemmaTaylor,

MahinaPongia,

Lauren Taylor,

with

Easterlin Faamausili

crouching with the

students.

(Absent from photo): Toetu Touli.

Pink Ribbon Breakfast Fundraiser

The AshColl Kapa Hauora (previously

Staff Social Committee) hosted a

Well-being/Pink Ribbon Breakfast

Fundraising event onFriday 04June.

In the past this has been held in the

College Staffroom but, this year, was

held at Cleavers Corner Restaurant.

Donations forPink Breakfast

Twenty staff were abletoattend,with

numerous others donatingtothe Pink Ribboncause,via araffle drawnatthe

breakfast and/or online donations, all towards research for the prevention

of/recoveryfrombreast cancer.

An impressivetotal of $575.00 wasraised by the conclusion of the breakfast.

(Pictured,right and

below): Asuitably

decoratedcorner;

andthe staff table –

frontedbybudding

members (leftand

right)Octavia and

Arias Backhouse-

Smith.

Events

Te KāhuioHakatere:CollectivePathways

to Success -Successful Teacher Only Day

Te Kāhui oHakatere (aMinistry of Education Community ofLearning) has

been functioning since 2015, with the goal of raising achievement for

students across our community. It fosters connections between Kura,Early

Childhood Education Centres and the wider community bysharing ideas

and resources, while building the capacityand capabilityofteachersfor the

common good of improving teaching and learning practicefor all ākonga.

Avery successful day, organised by the Hakatere Kāhui Ako, was hosted at

AshburtonCollege on Friday04June,with approximately 240 teaching staff

involved from across the College, Ashburton Intermediate School and the

majorityofPrimarySchoolsinthe AshburtonDistrict.

Thetheme forthe daywas Teacher Well-being with keynotespeaker being

John Quinn. John is based in Christchurch, as Director ofPerformance

Well-Being specialising in experthigh-performancesportand mental skills,

and people performance.

(Pictured below): John Quinn facilitating aWorkshop forSenior Management

personnel.

Aside from the above workshop the balance ofworkshops covered the

wide range of Women's Health (Dr Diane Young); Men's Health (Donald

Pettitt,CEO of the CanterburyMen's Centre); Strength Based Development

(John Eatwell); Life'sWorth Living(PupChamberlain); Motus/Physiotherapy

(Karla Poyner); Mana Ake -Trauma Informed Schools (Malcolm Gooch

and Liz Riley); Mana Ake -Anxiety inthe Classroom (Bernice Swain and

Celia Colcord); Time Management and Organisation (Sandra Keenan);

Core Nutrition -seven nutrition and lifestyle tips (Sarah MacAvoy); Yoga

(Annie Hunt); Taiaha (Huata Arahanga); Rainbow Youth Counselling

(Siobhan Tumai).

After adisrupted week weather-wise wethank families in the district for

accommodating this pre-planned Teacher Only Day.

Coming Events

(Pictured left):

Huata Arahanga

instructing

members of the

group at the Taiaha

Workshop.

(Pictured left): TheYoga

class in full swing.

June

17-19 Year 13 Biology Portobello Camp,Dunedin

18 Hockey 1st XI Boys –Christchurch

Manu KōreroRegional Speech Competition, HornbyHigh School

19 Crusaders'Region 1st XV MCCvStThomas of Canterbury (home)

19-20 South Island SecondarySchools'Swimming Championships,Timaru

21-25 TopArt Exhibition, AshburtonDomainPavilion

23 Road Crash Day

Aoraki SecondarySchools'Junior Boys'Basketball tournament,

Ashburton

Hockey 1st XI Girls,Christchurch

College AGirls'Netball,SuperNet,Christchurch

23-25 Year 11OUE -MtSomersHike

24 Aoraki SecondarySchools' Junior Girls'Basketball tournament,

Timaru

StudentVolunteer Clean Up

25 Hockey 1st XI Boys –Christchurch

26 Crusaders Region 1st XV MCCvRangiora(away)

25-27 WorldVision 40 Hour Famine

26-27 South Island SecondarySchools'Squash Tournament, Timaru

30 Hockey 1st XI Girls,Christchurch

TWMSausage Sizzle -lunchtime

Crusaders Region 1st XV MCCvLincolnHigh School (home)

Year 10 Rock Climbing

College AGirls'Netball,SuperNet,Christchurch
---
Ashburton College

Individual Excellence in aSupportive Learning Environment

News

Issue 18

17 June 2021

Congratulations

Successful Phoenix Chorus Southern Tour

Phoenix Chorus,our senior choir,has recently returned from their'Southern

Sojourn' to Dunedin. This six-day tour (which turned into seven) gave the

choir the opportunitytoparticipate in awidevariety of musical experiences

as well as enjoy the sights and activities thatthe beautiful southerncityhas

to offer. Choral Manager Carolyn Clough, shares their experiences below.

Choir ManagementPersonnel

Thechoir wasled by Angela Cresswell (Musical Director) andCarolynClough

(Choral Manager), and RonCresswell (DeputyPrincipal).

Phoenix Chorus members were – Gianna Butler, Emma Cochrane,

Paulina Cuadrado, Emma-Paige Dickson, Jordis Double, Janelle Galos,

Emily Greer, Amelia Harris, Alice Homer, Zoe Kenny, Charlotte McKenzie,

Ngahuia Maeva, Laura Mihailescu Bogdan, Grace Prendergast,

AnnyaRawlings,LibbyRyan, Sama Sooialo,Joelle Watson.

Carolyn tells usthat they left Ashburton's sunny blue skies and headed

south on Thursday27May,munching on delicious cookies supplied by Tony

Corbett of SubwayAshburton, and made our waytoMoeraki. Astroll along

the beach in the sunshine gave manystudents the opportunitytotheorise

about the origins of the famous boulders which several people had not seen

before.

During our stay inDunedin, wewere based at the Dunedin Holiday Park.

Afterunpacking and organising arrangements,itwas straightintorehearsal

to preparefor our busy fewdaysahead.

Rehearsal Time

We were very fortunate to have the amazing Dr Jared Corbett with us on

tour.Jared is aformer AshColl studentand member of Phoenix Chorus. With

hiswealth of musical knowledge and skill,Jared is an incredible mentorand

accompanist.

DayTwo

Thefollowing daydawned grey and drizzly (a signofthings to come) but we

had agreat morning in rehearsal beforeheading out to TheRoyal Albatross

Centre on the Otago Peninsula. What atreat! The weather may not have

been pleasantfor humans but it was perfect to bring the albatross parents

in from the seatofeed their chicks.

Following this, wewound our way upthrough the mist to Larnach Castle.

The weather prevented us from exploring the grounds and taking photos

outside but we enjoyed the

stories and sights on the

inside.

(Pictured left): At Larnach

Castlewith JaredCorbett

(centrefront) and

Angela Cresswell (behind).

Aconcertinthe ballroom

to asmall butappreciative

audience, followed by a

DevonshireTea was the

perfect waytospend the

afternoon. We took the

opportunitytoshowcase

AliHarper's beautiful

tributetothe victims of

the Christchurch Mosque

shooting and performed

'Release our Love' whichwas

ahuge honour.

DayThree

On Saturday, the morning was spent in a barbershop workshop and

rehearsal with the Dunedin Harmony Chorus which we loved! Then, it was

off to the Dunedin Public Library for aconcert, with abracket from each

choir and finishing with our choirs together singing acapella. 'CanYou Feel

TheLove Tonight' from the Lion King wasacrowd favourite.

(Pictured above): At the Barbershop Workshop with The Dunedin Harmony

Chorus. (Pictured front row, left to right): College Chorus members

AliceHomer,Gianna Butler and ZoeKenny.

Sadly, the poor weather cancelled our short excursion and photo

opportunity onthe Ocean Beach Railway but we used the time to have a

rest and catch uponsome homework back at camp. Inthe evening we

celebrated Amelia's birthday bygoing ten-pin bowling, complete with

birthdaycake afterdinner.

DayFour

We had aday to remember on Sunday, for many reasons. Wespent the

morning exploring the Otago Museum including the interactiveexhibits in

Tūharaand the Tropical Rainforest.

Afteragreat lunch in the Museum Cafe,wehad the pleasureofsharing in a

performanceinthe Atrium with the New Zealand RedCross Choir,toalarge

and appreciativeaudience.

Workshop

Then it wasofftothe beautiful St Paul's Cathedral foranamazing workshop

with Ben Madden, who along with Jared Corbett, isone of New Zealand's

brightest young talents in choral music! We gained so much from Ben's

workshop and have brought home anew song which we hope to showcase

at aconcert laterthis year.

(Pictured above): At their

workshop,with Jared Corbett

and BenMadden (left: leftand

right).

(Pictured right): Thegroup in

St Paul's Cathedral.

Whilst the weather wasfar

from pleasantinDunedin,

our thoughts wereconstantly

turning to our families

and friends in our AshColl

communityback home,where

the flooding had caused a

state of emergencytobe

declared.

(Pictured left):

Performing

at the Otago

Museum

Concert.

DayFive–and then DaysSix and Seven!

On Monday, we decided that when the going gets tough, the tough go

shopping. So, despite the rain, we embarked onashopping trip in central

Dunedin which was agreat success judging by the number of bags that

came back to the bus afterlunch.

We had a very special visit and performance at Montecillo Veterans'

Home and Hospital in the afternoon, where itwas our pleasure toshare a

programme of music with the residents and staff.After our concertwegot to

talk with the residents and so enjoyedtheir advice, insights and reminiscing

about school days and choirs past.

Theweather cancelled our trip to see the Yellow-Eyed Penguins so we opted

for atrip tothe movies in the afternoon. Then, apizza and fish 'n' chip tea

was followed byacrazy Karaoke night, featuring classics from ABBA and

Neil Diamond as well as plenty of big numbers from musicals.

Due tothe flooding with road and bridge closures back home, weopted

to stay for afurther day inDunedin on Tuesday. We made the most of our

final fewhours with Jared and spentsome focused time working on our new

song from our workshop with BenMadden.

After lunch, wetook awalk along the beach from St Kilda toStClair in the

glorious sunshine and enjoyed hot chocolates, coffees and milkshakes on

the esplanade. After an epic spaghetti bolognaise, wehad aquiet night

at camp, hoping that the flood waters would recede and allow ustoreturn

home the following day. Bymorning on Wednesday, it was clear that we

could make it home,although the routechanged several times as roads and

bridges reopened during our journey.

Appreciation

Phoenix Chorus owes an enormous debt of gratitude to many people for

their contribution to making our tour so successful.

Ourthanks go to:

Leen Braam for volunteering his time and skill as our bus driver during the

tour, particularly in such challenging driving conditions; Jared Corbett for

his energy,enthusiasm and wonderful skills as an accompanist and mentor;

Mark Cook from Pearsons Coachlines forhis adviceand guidancetobring us

safely home; the manypeople from our AshColl communitywho supported

our fundraising efforts, particularly those involved in 'A Concert ofChoirs';

our families who supported usonthe tour and arrived promptly when we

returned to ensurethateveryone could get homesafely.

KarateMedals forTayla Davidson and

Maddy Soal

Tayla Davidson and Maddy Soal competed in the Secondary Schools'

Southland Championships on Saturday 05June, and the Otago-Southland

Championships on Sunday 06 June, at Mosgiel's Sports Centre. Their

outcomeswereimpressive.

Tayla Davidson

In the Saturday Under 16 Girls'CompetitionTayla gained aSilver Medal in

the Kata (techniques)and aGold Meal in the kumite (fighting).

On Sunday she was in action again, gaining Gold Medals in the

14-15 year old Girls'competition, inthe final winning her fight inarecord

time. Essentially fightsare fortwo minutes,requiring ascore of 8to win. On

this occasion Tayla reached 8in16seconds, advised to her that this was a

New Zealandrecordtime. However,Tayla is awaitingconfirmation of that.

Tayla's training regime

is solid,and she

principally attended

this tournamentto

keep 'mat time'tothe

fore. She travels to

Christchurch twiceweekly

currently,but

is including additional

times in the build-up

to the forthcoming

New Zealand Cup

on 10-11 July;which

precedes the National

Championships to be

held in Auckland over 18 and 19 September. ItishopedthatAustralian

Competitors will be able to attend these latter twoeventsalso.

In order toqualify for aNew Zealand team, fitness training levels must be

met, with Tayla noting they do alot of 'fitness stuff' atnational training

camps, while she competes in various local events plus circuit-type fitness

sessions at her karateclass andtesting via the beep test.

Maddy Soal

Maddy Soal,who trainswithinthe Jion Karate Dojo in Ashburton, competed

at thesame eventand also returned with aclutchofmedals.

Maddy'splacingswere -

thirdinthe SecondarySchools'Under 16 Girls Kata (techniques) and first in

the Under 16 +55kg Girls Kumite.

In the Otago-Southland Regional Championships on the Sunday Maddy

placed third in the Girls'14-15 years Premier competition in the Kata, and

secondinthe Kumite.

(Pictured right): Maddy with her

medalsand (below, in blue) in

action in the Kumiteevent.

(Pictured left): Tayla's medals

earned from the event.

(Pictured below): Tayla (blue

belt) showing her skills and

flexibility.
---
NEWS

16 Ashburton Courier, June 17, 2021

www.ashburtoncourier.co.nz

Elder

care

at

hand

Abuse of our elderly folk is

hitting closer to homethan

people think. It may be

hidden in our community, but

it is out there and knows no

socio­economic boundaries. A

display set up by Age Concern

Ashburton in the Ashburton

Arcade this week has arange

of information for people

about Elder Abuse including

endearing power of attorney

processes and support

agencies.

It was set up for World

Elder Abuse AwarenessDay

(June 15) but is in the arcade

all week.

Age Concern Ashburton

president Jan McClelland

said nationally 75 percent of

elder abuse was done by

family members and of those

family members, 59 percent

werechildren and

grandchildren.

Ashburton­based senior

clinical social worker Annie

Hunt said the abuse could

include financial,

psychological or physical

abuse,sexualand

institutional abuse, or even

neglect and anyone

concerned aboutafamily

member, friend or neighbour

could ring Age Concern

Ashburton and makecontact.

People could also call the

office if they wanted to talk to

someone about their

concerns.

Historically Age Concern's

Elder Abuse services get

around 10 referrals every

working day of older people

facing elder abuseorneglect.

Photo: Age Concern

Ashburton's Annie Hunt (left)

and president Jan McClelland

available for people in need of

help due to elder abuse.

PHOTO TONI WILLIAMS

Reach out for

help if needed

BY PUP CHAMBERLAIN

LIVES WORTH LIVING

What afortnight, the South

Island cut in two, land now

river, beloved animals gone,

winter food washed away,

homes flooded, livelihoods

shattered. What has happened

in Canterbury is adisaster, by

definition that means our

normal systems can't cope and

things have gone wrong. If

things hadn't gone wrong, then

it would be an event not a

disaster.

As with all disasters we will

learn valuable lesson for the

future. We will also be

reminded that at the end of the

day Mother Nature will decide

what she wants to do despite

any of our interventions.

We know the bad things from

this flood and for some the

reality of this will go on for

months if not years.

Ihave witnessed and been

involved in disasters for most of

my life, they produce some

armchair idiots who selfishly

criticize instead of becoming

part of the solution, fortunately

these few are overpowered by

the good. Over the last two

weeks Ihave heard amazing

humble acts of bravery.

Many people standing in the

middle of their own destruction

have told me of concerns for a

neighbour and when visiting

the neighbour, they have in

turn voiced their concern for

the person Ihad just left.

Ihave seen groups and

individuals work long hours

from, Emergency Services,

Ashburton District Council,

MPI, Rural Support, Civil

Defence, Federated Farmers,

Rural Women, ECAN, Support

Agencies and many, many

others, all concerned about

other people.

Like all of us Ihave also

witnessed strong leadership,

from the mayor, farmers and

Civil Defence. Their public and

local appearances have been

confident and calm.

People from both the country,

town and cities have shown up

at farms wanting to help in any

way they can, willing to pay and

repay to others. Ihave also

witnessed people in all states of

mental confusion and distress

and this will continue for along

time. The good news is both

local agencies and national

groups are aware of this.

Local GPs, already under the

pump, have set up asystem to

deal with flood affected

individuals. CDHB are in

contact with government,

sharing what they know may

come as aresult of experience

with the earthquake and the

Mosque shootings.

Local welfare groups are

being briefed weekly through

the council and aware of the

fact that we are now in a

marathon, not asprint. Now

comes the important part, the

after care. In the last two weeks

welfare groups have visited

most people affected by

flooding but those needs are

changing day by day and will

evolve for along time.

Remember to give 100% we

need to be both mentally and

physically fit ourselves and

sometimes that means getting

help.

Need help:

If you want help please seek it,

there is strength asking for

assistance to cope and to keep

yourself at peak health. Rural

Support, Federated Farmers,

Presbyterian Support, ACADS,

Ashburton Hospital, Salvation

Army, Red Cross, MPI are

available and for practical help

for mental distress, contact your

local GP and state it is flood

related. Or contact 1737 by text

or phone to talk to a

professional, this free service is

available 24 hrs aday. It is

anonymous and you can talk

about your mental distress or

get advice on others that you

may be worried about.

Want to get

paid for your

weeklywalk?

I'mMarythe Delivery

Supervisorfor the Courier.

I am looking for reliable

people to deliver the

Courier each Thursday.

If you are keen to find out

more about this opportunity,

please send me an email or

give me a call and we

can talk further.

Please email mary.summerfield@ashburtoncourier.co.nz

or phone Mary on 03 308 7664

forfurther details.

2366378
---
www.ashburtoncourier.co.nz

NEWS

Ashburton Courier, June 17, 2021

17

Wellbeing economics talk

AshburtonU3A's next

speakeronJune29is Lincoln

University professor of

economics PaulDalziel.

He willspeakonwellbeing

economics and the major

disruptions to economic

activity in NewZealandand

aroundthe world caused by

Covid­19.

The NewZealand

Government hascommitted

itselftowellbeing budgets.

Thisreflects aworld­wide

movement to go beyond

traditional measuresof

economic performance (such

as GDP) to explicitlyconsider

people's wellbeing.

ProfessorPaul Dalzielwill

explore what this might mean

for New Zealand's future

economic policies. The talk at

AshburtonTrust EventCentre

startsat10.15am.Entryisfree

to U3Amembers and costs $10

per person for casual entry.

Photos: (Top) The view above the clouds and (below) Mt Hutt's new

Nor'west Express chairlift in action.

PHOTOS MT HUTT

Flyingstart to season

Arecord number of people hit

the slopes at Mt Hutt skifield on

opening day and sincethenmany

more have made thetrek to the

mountain.

Skifield manager James

McKenzie said more than 2200

people, with some camping out

overnight to be firstin,

descended on the mountain on

June 11.

He was thrilled by the turnout

and saidthe previous record for

an opening day was in 2009 when

2093 people hitthe slopes.

Everyone was stoked the

season had kicked off and the

new Nor'west Express chairlift

was spinning.

''We've gotagreat early season

base, which has set us up well for

the winter ahead."

Thenew eight­seater lift

replaces the old chairlift, and

increases the capacity of the

mountain from 1600 to a

maximum of 3000 skiers per

hour.

The first of its kind in New

Zealand, the chairlift is also

rated to run in higher wind

conditions.

''This lift really changes how

people access the mountain.

''It's nowonly atwo­minute

ride to our terrain parksand

mid­mountain trails which

means more laps for everyone,''

Mr McKenzie said.

Solo­skiers or those with spare

seats are encouraged to carpool,

using the app snowriders.nz, to

ease congestion on the road and

in the car park.

The ski season is due to run

until October 17.

Okay.Half price.

Youdrivea

hardbargain.

50%off

Sleepyhead

FocusBeds*

*Discount is offour full retail price. Notavailable in conjunctionwithany other offer. Offervalid until22ndJune2021, whilestockslast,

unlessotherwisestated. Excludesdrawer bases andpop-upmodels.Some bedsondisplayinselected stores only –please call 0800

764847 to checkavailability.Personalshoppers only.
---
RURAL

18 Ashburton Courier, June 17, 2021

www.ashburtoncourier.co.nz

Ploughing,

Colin's return

to rural roots

Octogenarian Colin Cross took

to the field in the Mid

Canterbury Vintage Machinery

Club ploughing match at Rob

Butterick's Farm, at Wakanui

on Saturday.

He was in the vintageopen

class riding aFergusson TEA

tractor,which has has owned

for the past 12 years.

Mr Cross, 84, of Ashburton, is

aretiredgrader driver and

farm worker, who spent his

adult lifeliving in Mid

Canterbury.

He worked alongside his

father, and then his brother, on

the family farmatWinchmore

before securing ajob in his

early40s as grader driverwith

the Ashburton County Council.

It was 1978 and atimewhen

five grader drivers were

employed to cover specific

areas of the district.

Mr Cross covered 180km of

rural roading from Wakanui to

Rakaia River Mouth andinland

to Lauriston/Barrhill. He had a

total of five different licences to

his name; heavytrade,heavy

wheels and roller, trailer,

motor vehicle and motorbike

andwas stilltherewhenthe

council named changed to

Ashburton District Council and

thenthe graders became apart

of Ashburton Contracting Ltd.

He retired in 1998, after 20

years on thejob.

Mr Cross, amember of the

MidCanterbury Vintage

Machinery Club,did not take up

ploughing competitively until

around2010 and enjoys

keeping his hand in with the

machinery.

The bestperformance he has

hadinpast ploughing matches

wasathird placing, but he was

everhopeful and enjoyed the

socialaspect of the match

eventswhich were ahark back

to his rural roots.

Results from the event were:

Silver Plough:1st Ashley

Seaton,2nd Bob Mehrtens, 3rd

Simon Reed

Vintage Qualifying: 1st Colin

Boon, 2nd Pearce Watson, 3rd

Colin Cross, 84, competing at the recent Mid Canterbury VintageMachinery Clubploughmatch at

Wakanui.

PHOTO TONI WILLIAMS

Robert Weavers

Vintage Open: 1st John

Stalker, 2nd Bruce Graham, 3rd

CliffBegg

Horses: 1st John &Sharon

Chynoweth, 2nd John Booth.

The judgeswere: Maurice

Millar, Peter Butterick and

Owen Horsnell.

Georgia in groundspreader national finals

Georgia Voice, of Philip

Wareing Group,has been

named one of two finalistsin

the young achievers category of

the national groundspread

awards.

She is the only Mid

Cantabriantomakethe New

Zealand Groundspread

Fertiliser Association finals

and is up against Toby Evans, of

Brooks SpreadingLtd in

Nelson.

Georgia, who is Spreadmark

certified, was adriverwith the

Methven­based Philip Wareing

Ltd andholds aBachelor of

Commerce, majoring in supply

chainmanagement and

marketing, as well as Class 5,

DG and WTR licenses.

NZGFA executiveofficer

Melanie Dinglesaid the

groundspreading industrywas

only as good as the people

behind it.

"And giventhatall the

nominationswere very

impressive, it's no wonder this

nicheindustryisgoing from

strength to strength," she said.

Georgia was described by the

awards judging committee as

''highly adeptatthe safe and

efficient operation of fertiliser

spreaders including pre­start.

Shealsohad ''great rapport

with customers,ispassionate

about agriculture and is

ambitious to go as far as she can

in the industry.''

Nowinits third year,the

NZGFA Awards programme

had attractedhigh calibre

nominationsacross each of the

four categories ­John

Whitehead of JWE Ltdand

TravisChurchill of SpreadTest

NZ (innovation); Nick Hyslop,

of Hyslop GroundspreadingLtd

and Anne­MarieDavison,of

Wealleans Bay of Plenty (health

&safety); andJohn Whitehead,

JWE Ltd,and Matthew

Blomfield, Transport Services

SouthlandLtd,(presidents).

The winnersand runners­up

will be announced and

celebrated at theNZGFA

ConferenceatAorakiMount

Cook on June 29.

Georgia Voice (pictured) is a

finalist in the New Zealand

Groundspread Fertilisers

Association national awards.

PHOTO SUPPLIED

• DairyNZ accredited

EffluentPondDesign

andConstruction

• Pond Constructionand

Irrigation Development

• Hedgeand Stump

Removal

• Farm Conversions

• DairyTracks–

Lime or Gravel

• PumpHire

• Wellsand Galleries

• Bulk Earthworks

• Subdivisions

• Site Works

• Tree Shear

• Transportation

2390162

2376022
---
Newlook,new

store, same old

school service.

Come andsee the team at 363WestSt,

Allenton(whereBunnings was).
---
COUNCILBRIEF

5Baring SquareWest,Ashburton |POBox 94, Ashburton, NewZealand 7740 | Telephone (03) 307 7700 | Website ashburtondc.govt.nz

Stateofemergency lifted forMid Canterbury

Ashburton District Mayor Neil Brown

officially lifted the local state of

emergencyfor MidCanterburylastweek

as emergency management operations

transitioned from response to recovery

mode following severeflooding.

Mayor Brown declared alocal state of

emergency on30May after an extreme

wetweather event impacted the district.

Whilethe stateofemergencydeclaration

ended at4pm on Thursday (10 June),

the official transition period intorecovery

still gives some powers to coordinate

personneland other resourcesasneeded.

"The dangerperiod is now over but there

is stillalot of work ahead forlandowners

in the most affected areas and we are

committed tomaking sure they get the

help they need," said Ashburton District

Mayor Neil Brown.

"On behalf of Council,Iwould liketothank

thosepeopleandagenciesthatwereapart

of the response during this emergency.

"Your efforts and contributions have been

greatly appreciated by all and has helped

to now officially move into the recovery

phase -asignificant milestone,"headded.

Rural Support Trust teams arecontinuing

to visit landowners most affected by

the flooding but anyone needing help is

encouragedtocontactCouncilon3077700

or visit Council's website (ashburtondc.

govt.nz) to access relevant resources.

The emergency operations centre, which

was staffed 24/7 for the first seven days,

closed on Friday, 11 June. The local

transition period torecovery isexpected

to last 28 days.

Week of 14 June 2021 | ISSUE 33

Donation channels now

available to help those

affected by recent floods

Ashburton District Council has set up

two donation channels after receiving

an outpouring of support from

communities and individuals from all

over the country, wanting tohelp lives

and livelihoods thathave been affected

by recent floods.

AGivealittlepageandabankaccounthave

been setupfor people to makedonations.

Ashburton Mayor Neil Brown said the

impact of the floodingonthe district is still

emerging and farmersinthe most affected

areashave been working around the clock

to restoretheir operations.

"Theyhave abig job on their hands in the

weeks and months ahead, and theyneed

all the help theycan get.

"I've been hearing from mayors all over

the countryofferingsupport and thereare

people too, who want to help those that

have been affected in our district, by way

of donation,"headded.

People interested in making afinancial

donation can dosovia an official flood

relief Westpac bank account (03-1592-

0521970-04) or through the Givealittle

page thathas been setupbyCouncil.

Ashburton district people affected by

the flooding and needing assistance are

being encouraged to applyfor Emergency

Relief Funding on the Council's website

ashburtondc.govt.nz.

Awide range ofagencies, including the

Rural Support Trust, the Ministry for

Primary Industries, and the Ministry for

Social Development, are also offering

support and being facilitated, in part,

through Council'srecoveryefforts.

Illegalrubbish dumping

offendersfined

Three people have been fined atotal

of $1200 for illegal dumping after

Ashburton District Council officers

trackeddown the offenders.

In each case, aCouncil complianceofficer

was able to sift through the rubbish and

find items that identified the offender.

In one of the cases, seven bags of

household rubbish and food waste were

left atthe Fairton recycling depot. The

others involved abag of rubbish left on

Allens Road inAshburton and household

rubbish, including a lounge chair, was

left atthe end of Smyths Road in the

Ashburton River bed.

Each wasfined $400.

Members of the public are encouraged

to report illegally dumped rubbish.

While Council prefers towork with and

educate offenders rather than hand out

enforcement notices under the Litter Act

(1979), the penalty fine is intended to

discouragethe behaviour.

Council is also investigating two other

cases where household and garden

rubbish in black refuse bags weredumped

at Fountaines Road, and under the

Ashburton River bridge.

Council provides regular kerbside rubbish

and recycling collections for urban

residents and operates resource recovery

parks and rural recyclingstationsaround

the district.

Illegalrubbishdumping

canbereported to

Councilon307 7700.

1 ashburtondc.govt.nz

Week of 14 June 2021 |ISSUE 33
---
Newphotobook

showcases Ashburton

Districtcultural diversity

Public Notice

CONCRETE POURING

Ashburton DistrictCouncil'scontractor,Naylor Love,willbepouring Stage 1(of 3) of

the concrete foundation forthe new Ashburton Library and Civic Centre on Friday,25

June 2021. Thepour is expected to take placefrom6am to 12 pm.Roughly 12 trucks on

acontinuous rotation will be delivering concreteloads throughout theday duringthe

scheduledperiod.

Naylor Love will endeavour to minimise disruptiontosurrounding businesses by

ensuring thebelow management plan is enforced with relevant contractors:

A special book of photographs

showcasing the cultural diversity of

Ashburton district residents has been

unveiled to the 42 people whostarinit.

Images of the 42 were taken by local

photographer Emmily Harmer before

Level 4Covid lockdown last year and they

have sincebeen turned intoaunique book

called HakatereHome &Heritage.

The book waspresented to someofthose

involved at a special gathering at the

Ashburton Museum. Some of the photo

subjects arehome grown and some have

come from countries like Fiji, Tokelau,

Mexicoand the Philippines.

Those who arefeatured, and their families,

were invited to bring food of their home

countrytothe book unveiling and be part

ofaKiwipot-luckdinneronFriday.Someof

the dishes included lamb mincesamosas

(South African Indian), Maori fried bread,

taro and coconut cream(Tokelau),custard

cake (Filipino, nachos (Guatemala) and

beef and parsnip stew with sourdough

bread(British).

The photobookwas designed as acultural

initiative under the Ashburton District

Council's Welcoming Communities

programme, to celebrate the district's

diverse ethnicities.

Ashburton DistrictMayor Neil Brown said

the HakatereHome &Heritage project was

awonderful opportunity to celebrate the

community and share stories.

"Alongsidethephotos,thereisinformation

about the people who arefeaturedinthe

book."

Seeingtheirstoriesandphotosinprintwas

aproud momentfor those in attendance.

"They each share why they call our

district home and the significanceoftheir

clothing; it's a fascinating project that

celebrates our people,"headded.

The stories and photos of those featured

in the book will also become part of an

exhibitionatthemuseumthatisscheduled

to run from July to September this year.

Participants will also beinvited totake

part in Ashburton Museum workshops

during the school holidays in July.

Two copies of the book have also been

deposited with the National Library of

NewZealand. One will go to the Alexander

Turnbull Library for its national research

and heritage collection. The second will

go to the general NewZealand and Pacific

collection.

Roughly 150 copies of the hardcover A4

bookhave been printed and digitalcopies

werealso archived.

Their stories and images will be atime

capsule for the Ashburton District and

NewZealand.

To report any concerns, please contact:

• TomPyatt,Naylor Love ProjectManager –021 986 705or

• MarkTitter, NaylorLoveSeniorSiteManager -021 924037

Similarnotice aheadofthe second andthird foundation pour stages will be provided,

as well as future floor slab pours.

ASHBURTON

DOMAIN AVIARY

REMOVAL

The Ashburton

District

Councilinvites

expressions of

interest from

interested parties

forthe purchase

and removal of

theAshburton

DomainAviary.

The aviary

includes three largenetting enclosures,

and an attached timberframedshed

which areavailable forviewingat

youtu.be/hsjJxSkboxo.

All queries must be directed by

5.00 pm on Monday,28June,via email

to: david.hampton@adc.govt.nz.

ROAD CLOSURE

Pursuant to theTransport (Vehicular

TrafficRoadClosure)Regulations 1965,

notice is hereby giventhatfor thepurpose

of allowing AshburtonTrust Event

Centre to hold the AshburtonCollege

Ball the following road will be closed

to ordinaryvehicular traffic (with the

exception of emergencyvehicles) forthe

period indicated hereunder.

• WILLSSTREET,from211 WillsStreet

(EventCentre–CassStreetend)to197

Wills Street (Neumanns Tyres–East

Streetend)

PeriodofClosure: From 7.00pm until

9.30pm on Friday 02 July2021.

It willbeanoffenceunder theabove

regulations foranyperson otherwise than

underauthorityofanauthorisedpermit to

usethe roads forordinaryvehicular traffic

during theperiod of closure.

NEIL McCANN

GroupManager Infrastructure Services

MethvenCemeteryearlygraves and headstones

getting a'gentle' clean

The lives and times ofearly settlers

buried in the Methven Cemetery are

about to see daylight, thanks to a

special clean-up project by Methven

Lions members, in partnership with

AshburtonDistrictCouncil.

Lions noticed that some of the earlier

graves and headstones inthe cemetery

wereinapoor stateand coveredinlichen

and moss. This has resulted inaneffort

to carefully clean them up in the coming

weeks.

Methven Lion Mac McElwain said atleast

100 headstones were inthe cold part of

the cemetery, adjacent to the Methven

A&P Showgrounds and sheltered by ahigh

hedge.

"Thismeans there'snot muchwind there,

nor sun,"hesaid.

Lionsmembershave regarded this project

as asign of respectfor thoseburied there

who had contributed to Methven inits

early years.

Theyhave been advertising their intended

work in case some of the relatives of

people interred there would prefer the

graves to be leftalone.

The Lions are collaborating with the

Ashburton District Council on theproject:

Council is supplying materials and the

Lionswill do the "gentle" clean.

Mr McElwain said itwas important to

emphasise the word gentle. Many of the

graves were quite old and potentially

fragile.

"This is no place for the actions of a

water blaster or aggressive detergents

and abrasives, so we'll do agentle spray

with Wet 'n' Forget, followed up by hand

removal of dead moss andlichenlater on,"

he added.

The cemetery is one of 16 managed by

Council and has burial recordsdating back

to 1883.

Families who don't want headstones

cleaned should writetoLions viaemail or

postal mail, stating the numberofthe plot

and the name/s on the headstone, and

they will leave it alone. People have until

July 1toopt outofthe clean.

The club can becontacted onemail at

methvenlions@gmail.com or by post to

Methven Lions, PO Box88, Methven.

ashburtondc.govt.nz Week of 14 June2021 |ISSUE 33

2
---
22 Ashburton Courier, June 17, 2021

www.ashburtoncourier.co.nz

LETTER TO EDITOR

Bridgehas notbeen swept away

Having justread Psalm 124

from the bible, fromthe great

KingDavid,Ifelt Ishould

shareitwith others.

Verse onestarts, if theLord

had notbeenonour side. We

canrelate to versefour,the

floodwould have engulfedus,

the torrentwould have swept

over us.

Versefive,the raging

waters wouldhavesweptus

away.

Even in old Testament days

(BC),thesethings happened

in dry parched lands. Our

bridge hasdamage, but has

not been sweptaway, like it

does in other countries,

although we havesuffered

damage inland.

Wecall ourselves Godzone

and weshould be thankful to

the Almighty Godfor his

protection.

Dorothy Morris

Turn everyday

essentials into

SuperGold

Find allthe ways you could

stretch your moneyfurther.

Visit www.supergold.govt.nz or download

and check the SuperGoldNZ app.

2376028

SG_200x150_grocery

Robbie 'Gooserooter' Shefford in aspecially designed t­shirt to help

support farmers in the Mid Canterbury district following recent

flooding events.

PHOTO SUPPLIED

Supporting farmers

Robbie 'Gooserooter'Shefford

andthe team at Sign Spot

Graphicsare helpingtoboost the

coffersofRural SupportTrust

MidCanterbury, by selling

t­shirts to support farmers.

Mr Shefford andthe graphics

business are from,orbased,in

Geraldineand wanted to help

farmers aroundthe districtwho

had beenhit by recent flooding.

Mr Shefford said farmers have

had atough few weeks with

heavy rainfall andfloodingand it

was time for peopletorally

behind them.

The t­shirt design, in either

white,navyorblack, have been

specially created as part of the

fundraiser to reflectthe 1­ina­100

year flood in Canterbury,

with all proceeds going to Rural

SupportTrust for distribution.

They range from childrens'

sizesthrough to 5XL.

Each t­shirt costs $50, with$30

fromeach product going into the

trust coffers.

Hoodies are also available up

to 5XLand cost$74.30.

''If it wasn't for farmers you

would be hungry, naked and

sober,'' he said;asaying which

has been made into its own

t­shirt andisalsoavailablefor

purchase.

The moneywill helpwith

fencing, stockfeed, welfareor

family support ­whereveritis

needed, Mr Shefford said.

T­shirts can be ordered online

through signspotgraphics.com

Guest speaker to

talk on farm plans

Well­known landscape architect,

Di Lucas, will presentatalk at

the Sinclair Centre on Tuesday

June 22. Her particular interest is

planning for farms and other

rural land management.

Herteam takes into account the

land's inherent characteristics,

vegetation, production goals and

management options.

She will talk on Integrated

Farm Plans (IFP), which address

greenhouse gasemissions,

freshwater quality, indigenous

biodiversity, and thelandscape

associated with individual farms

and catchments. Theirplans

respond to theunderlying natural

and cultural diversity of Aotearoa

NZ –the great biophysical,

historic andsocial variation that

we see in ourcountry, which has

been described as the "land of

little landscapes".

Thecurrent farmregime is first

identified and mapped, the

emissions calculated,then

alternative land­use and

management options are

explored to transition production

toward net Carbon Zero, healthy

ecosystems, and sustainable

landscapes. Dairy, sheep and

beef, andhighcountry farms are

being addressed in terms of farm

production from "cradle to farm

gate".

Landscape architect Di Lucas will

present atalk in Ashburton this

Tuesday.

Thefarm plans provide

guidance on reducing or

mitigating effects, and allow for

adaptation to increasing

environmental pressures.

Greenhouse gas emissions that

cannot be avoided are addressed

through insetting,thatis, on­farm

works, not offsetting them

elsewhere.

Thetalk at the Sinclair Centre

is hosted by the Ashburton

branch of Forestand Bird and the

general publiciswelcome. It

begins at 7.30 pm.
---
Be inspired with thousands of ideas under one roof!

2–4July 2021

IN ASSOCIATION WITH

Free informativeseminars

thanks to

Complimentary

goodie bags! show-only specials

and giveaways!

Live AUCTION!

Courtesy of

This MEGA tiny home

could beyOUrs!

A2016 Nissan Leaf

worth $ 22,000!!

2-4July 2021 • 10am -5pm • Christchurch Arena • www.starhomeshow.kiwi

CUTTHISADOUT FOR

1x FREE DOUBLE PASS

Join us at the Home &Leisureshow, standnumber 176.

Appliances,beds,furniture&tech.

Everything youneed foryour home.
---
Lions Club of

BIG SMOKE vRURAL FOLK

TEAM CHALLENGE &AUCTION

Ashburton at HotelAshburton, Saturday, June 26

2021

is our major sponsor

We thank our sponsors,team members

and ticket holders forsupporting

our selectedcharities

Tickets arestill available at $50 each.

Telephone Julie McGrathphone 027 227 7818

or email snowyriver5658@gmail.com

Lions Club of AshburtonCharitable Trust

(annual supportfor anumber of youth activities,

communitygroups&organisations).

Big Little TheatreCompany

Lives WorthLiving -Safer MidCanterbury

Team sponsorship

BIG SMOKE Team

BIG SMOKE Team

Team members Sponsored by

Brent Gray (Captain) KFC Ashburton

Michelle Parkin Forsyth Barr

BIG SMOKE vRURAL FOLK

TEAM CHALLENGE &AUCTION

Challenge 1

Event Overview

6:30pm: Doors Open at HotelAshburton

7:30pm: Matt Markham MC: welcome and introductions

Judges: Phill Hooper (Hoops), Chrissy Milne

Auctioneer:Jarrod Ross

Alphabet Game

Kirsty Naish

SidekickAccounting

Auction Set1

Refertoauction set 1inprogramme

AndreBall

RMFSilva

Challenge 2

Auction Set2

Going Away Race

Refertoauction set 2inprogramme

GavinTempleton

NewlandsElectrical

Challenge 3

Blindfold Contest

ReneArtz

Phil Wheeler

Real Estate NZ

SprayMarks

Auction Set 3

Challenge 4

Refertoauction set 3inprogramme

Lip Sync

Julie McGrath

AoteaElectrical

ASHBURTON

RURAL FOLK Team

Team members Sponsored by

CONTINUOUS SUPPER SERVED FROM 8:30PM

Raffles,judgement, awards and thanks

Barcloses 11.55pm –Finish

PupChamberlain (Captain)

Jason Ree

Leen Braam

David Ward

Rakaia Mobil

MethvenSeed Cleaning

KFC Ashburton

Cairns GroundSpreading

Methven

Seed Cleaning

Cairns

Groundspreading

ClaytonMcSorley

Collision Plus

COLLISIONS PLUS

JeanetteMaxwell

Liz McMillan

NickyWithell/O'Grady

R&RPrecisionFertiliser

JacksonHolmes Contracting

Greg Donaldson Contracting

2390345
---
www.fowlerhomes.co.nz

TM

www.fowlerhomes.co.nz

TM

TM

Lions Club of

Ashburton

BIG SMOKE vRURAL FOLK

TEAM CHALLENGE &AUCTION

at HotelAshburton, Saturday, June 26

is our major sponsor

2165239

AUCTION ITEMS –SET 1

Heartland Design &Print-RicohBackpack,Computer Case&Speaker. Value $150.

MountHutt SkiCompany–SnowGroomerRide fortwo people.

JacSparks–Painting of alocal scene.

D&EOutdoors – WaterSki LifeJacket

Ray&JennySwan–Gardening work voucher.Value $125.

Greg LysaghtLtd – Candle Stand.

GarryMcCormickTransportLtd–One causal skipbin hire. Value$230.

RuralTransportLtd – 10 tonnesoflime,cartage &spreading.Value$750.

Jac Sparks

D&E Outdoors

Ray and Jenny Swan

Gary McCormick

Transport Ltd

Wilson Windscreens

HolmesleeEnterprises

Mitre10

EvansAnimalFeeds

Partners in Pork

Table Talker Sponsors

Ashburton Powder Coating

WILSONS GLASS

Wilsons Windscreens2018 Ltd

HolmesleeEnterprises Ltd

Partners In Pork

Ravensdown – 20 litres Glyphosate.Value$207.

Total OilProducts – Oil Products.Value $80.

Heartland Printand Design

Fowler Homes Ashburton–900 Wall mounted VanityUnit. Value $920.

Smith &Sons

Lushington's Garden Centre – Potted Plant.

TheBrown PubMethven

Colour Plus–One hour colourconsultation.Value $150.

Morrison's Mitsubishi, Ashburton – Vouchersfor vehicle servicing.Value $239.

TheBluePub Methven

AUCTION ITEMS –SET 2

HeartlandDesign&Print–RicohBackpack,Computer Case &Speaker.

Goldmark – Mark CherryGardeningworkvoucher.Value $200.

TricroftProperties

PeterMay Ltd

Young Electrical

Young Electrical Ltd

ValuePlus Processing –Beef Processing up to $500 in value.

Ian Parkin –Guided Fishing Trip,Rakaia River.

Gluyas MotorGroup –Bag and $50.00 voucher.

Ian Parkin

ColourPlus Ashburton

Karen McRaeProperty Brokers

Engineering Repairs Ltd –Colin Hunt–Garden Feature.

Gary McCormick Transport Ltd –One causal skip bin hire. Value $230.

Ravensdown –One tonne of Superphosphate.Value$378.

SirJohn Kirwan –RugbyJersey.Framed.Value$600.

Engineering Repairs 2012 Ltd

Gary McCormick

Transport Ltd

Sir John Kirwan

McLeod Real Estate

Fowler HomesAshburton Ltd

Alps Continuous Spouting

ALPS

CONTINUOUS SPOUTING

RayWhite RealEstate –Kim Millar –Cowhide Lounge Chair.Value $1000.

Mark Scammell Painting

SCAMMELL

PAINTING &DECORATING LTD

Lifestyle MotorHomes –Servicing.Value $100.

Farm Source – Swandri Jacket &Socks.

EliteScaffolding

Redmond'sFurnishings–Cushion &Throw.Value $240.

KFCAshburton

Colour Plus–One hour colourconsultation. Value$150.

WelshyContracting

AUCTION ITEMS –SET 3

AshburtonEngravers

HeartlandDesign&Print–RicohBackpack,Computer Case &Speaker.

AshburtonPowder Coating

Neumanns Tyre Services Ltd – Bag &$50 voucher.

JuiceSigns – Signage designfor vehicle or boat etc. Value $250.

CommunityHouse

McKay&DonaldsonLtd – Oilskin Jacket.

Forsyth Barr

Robilliards Jewellers – Necklaceand earpieces.Value $89.

MayfieldTransport Ltd – 10 tonnes VictoryLime, cartage &spreading.Value $750.

Des KrugerTreeServices – Services to value of $200.

DesKruger Tree Care

HolmesleeEnterprises

KFCAshburton

Holmeslee Enterprises Ltd

D&L PlumbingServices – Twohoursofplumbingservices.Value $200.

D & L

PLUMBING AND HEATING

Lemacon

Ravensdown–20 litres Glyphosate. Value$207.

RayWhiteRealEstate – ChrissyMilne –OccasionalTable.Value $350.

PowerFarming

ASHBURTON

Fowler HomesAshburton–Speights Ale houseVouchers.Value $150.

Sidekick Accounting

Stronechrubie,MtSomers – Spa, Dinner,Bed &Breakfast.Value$350.

Adams SawmillingCoLtd – One Cord ScreenedFirewood

Adams Sawmill

Sims' Bakery

2390346
---
FEATURE

26 Ashburton Courier, June 17, 2021

www.ashburtoncourier.co.nz

20-26

June

2021

AshburtonMuseum

Thanks to all the volunteers who help

with operating the museum.

Your help is greatly appreciated.

New people arealwayswelcome.

329WestStreet,Phone 3077890

2392471

TheAshburtonArt Gallerywould like to

thank all of our fabulous

volunteers fortheir ongoing

supportand hardwork.

If youwould like to join our volunteer team,

come to the Galleryand sayhi!

2391856

Thankyou to all ourbrilliant

andwonderful volunteers.

Last year our volunteers donated hundreds of hours

of driver support, shopping assistance, food parcel

organisation and companionship. Want to join them?

Contact us on 03 261 6907 to find out more.

enlivenuppersouth.org.nz/volunteer

At the Cancer Society, we know acancer

diagnosis can affectevery aspectofyour

lifeand we areheretohelp youthrough.

If youorsomeone youcareabout has

cancer or if youare interested in

volunteering please contactAnnie.

Cancer Society, MidCanterburyCentre

122 KermodeStreet,Ashburton

Phone 03 307 7691

2392511

DellwynMoylan is full of praisefor the people in the community who volunteer.

Volunteers are the stars

Recognising volunteering stars

among us is highonthe list of things

being done this year for National

Volunteer Week. The annual event

runs from June 20 to 26. It's theme

this year is recognise, connect and

reimagine.

Volunteering Mid and South

Canterbury Mid Canterbury coordinator

Dellwyn Moylan said the

MID CANTERBURY GROUP

RIDING FOR THE DISABLED

Thank you to

all our valued

volunteers.

New volunteers

always welcome.

Further

enquiries to:

mcriding@outlook.com

or Liz 03 308 0392

2392345

Community House Mid Canterbury

are pleased to support National

Volunteer Week and welcome

enquiries from people wishing to join

the volunteer bank

Phone 308 1237

44 Cass Street

Providing

therapeutic riding

rehabilitation and

horse related

activities for

those who may

benefit in the

Mid Canterbury

area. Trained

instructors and

volunteers hold

sessions on

Tuesday and

Thursday,

8:15am -1:30pm

annual day was during the time of

Matariki and there were many

volunteers around the district who

were "stars in our eyes".

She is calling for all business,

organisations, groups, clubs and

people in their homes to showtheir

support for the volunteers among us

by putting starsintheir windows, or

doors. There would also be adisplay

set up in the Ashburton

Library.

It's timeto celebrate the

2392383

community and recognise

peoplewho volunteer.

"Thankstoevery person

whovolunteers. Theymake a

difference in ourcommunity,

she said.

Volunteers help out in

many different roles around

the district and many aspects

of our society could not

function without their

volunteers, she said.

Thereisalistofvolunteer

roles,incategories, which

need filling on the

Volunteering Mid and South

Canterbury new website.

Of late theyhave included

people helping with floodstrickenareas

of Mid

Canterbury whichhave seen

people come together to help

farmers and landowners clear

debris strewn areas of land.

There have also beengifts of

baking and home care parcels,

she said.

"It's amazing, everybody has

steppedup," she said.

Over the pastyear, the face

of volunteering nationwide

had changedasmany older

folk notreturning to volunteer roles

post covid lockdown.

Nationalvolunteer weekhonoured

the collective energies and manaof

all volunteers in New Zealand and

wasachance to reimagine what

volunteering would look like in the

future.

In Mid Canterbury there were more

menvolunteering, as wellasmore

youngerpeople, shesaid.

Therewere also more people

seeking short­term or one­off

volunteer roles, suchasPoppyFlight

knitters, or those knitting RedCross

trauma teddy bears.

"People juststep up as well (when

needed)aswehave seen," she said.

They were roles people could do in

their own homes andpeople were

looking for those roles they coulddo

if covid returned.

More than one million people

nationwide identified as

volunteering for an organisation

which contributed around$4billion

to the economy.

Therewas more happeningwithin

communitiesand between people,

and increasingly in different ways.

While the landscape of

volunteering was changing and

presentedsome challenges, it also

highlighted unique opportunities for

reshaping and improving the

practice of volunteering.

People were encouragedto

celebrate National Volunteer Week ­

the community full of volunteers ­

and share stories of volunteering, as

wellashelp reshapemahi arohafor

the future.

"We are always on thelookout for

more stars, the sky is not full,"Miss

Moylan said.
---
www.ashburtoncourier.co.nz

FEATURE

Ashburton Courier, June 17, 2021

27

20-26

June

2021

Volunteering

to help the

community

AngelaCushnie is a

community­mindedperson

who enjoys seeing the

difference her volunteering

makes to those around her.

She has been volunteering

"for as long as Ican recall"

which started with beinga

delegate for Hinds hockey.

"We grew up in acommunity

where mum and dad were very

involved and Ibelieve it is a

natural progression in terms

of accepting that it is now our

turn to service the community

we live in," she said.

She volunteers with Kanuka

Mid Canterbury Regeneration

Trust,Ashburton Water Zone

Committee, the Hinds Reserve

Board,Parent to Parent

Support as well as catchment

groups.

And whileshe is usually

shoulder tapped and asked to

help out for most roles, in the

case of the Kanuka Trust she

said it was aconscious

decision.

"I saw the needand decided

to make it happen.That was

big!"

"If our communities thrive

so too do our people,soIsee it

as alegacy for future

generations to benefit from,"

she said.

Whilevolunteering was

important, Angela learned

earlyonthat it was more

important to focus energy on

things that were important to

her.

"I do say no. Ilearned that

earlyon," she said.

"Otherwise if Ispread

myself too thin Iamless

effective."

"Everybody's time is

valuable and many hands

make light work so we have to

sharethe load,"she said.

Angela Cushnie says volunteering is about leaving alegacy for future generations.

Flood volunteer stars

sought for recognition

Volunteering Mid andSouth Canterbury are

looking to recognisepeople whoplayed

starring rolesinvolunteeringfollowing the

recent floodingevent, andongoing cleanup,

in the district.

If you knowofsomeone who ''starred with

their volunteeringduring "Code Red' recent

floods in MidCanterbury'' feel free to

nominate them.

MidCanterbury co­ordinator Dellwyn

Moylan said as partofNationalVolunteer

Week2021 the organisationwas inviting

St Vincent de Paul

Appreciates, respects and

thanks all our volunteers

Thankyou!

Open Monday -Friday 10am -4pm

for quality used clothing &household furnishings

84 Victoria Street, The Triangle, Ashburton

Waitaha Primary Health takesthis opportunity

to acknowledge andthank our volunteers who

supportthe weekly Mother for Mother Breast

Feeding Peer Supportgroup in Ashburton.

We value your time and ongoing commitmentto

this servicetothe local community.

If youare interested in learning moreabout this

group,please contactClaireon027 588 1007.

2391667

2392390

nominations fromthe community, of people

who volunteeredtohelp othersduringthe

floods.

''We have somegiftsandcertificates to

present to someofour stars,'' she said.

''So,makeanomination today.''

Nominations formscan be collectedfrom,

and returnedtocoordinatormc@vmsc.org.nz

or picked up from Community House Mid

Canterbury at 44 Cass Street, Ashburton, or

from the AshburtonPublic Library.

Nominations closeMonday,June28, 2021.

Thanks to all our wonderful

volunteers who are

involved in manyofour

SaferMid Canterbury

projects

Your continued support

helps change lives

If interested in learning about our

volunteer opportunities,

please contactuson:

Phone 308 1395

or email info@safermidcanterbury.org.nz

www.safermidcanterbury.org.nz

2391243

Ashburton

Learning Centre

Abig thank you

to all our volunteers

who supportthe

work of St John

in our community

Ashburton

Learning Centre

Would liketothank all our volunteers

Without your continued support, our centre could not operate

Ourhomely centre givesstudents awarm, friendly,non-judgemental

and confidential environment.

We requireadultstobecome volunteer literacyand

numeracytutors.Full training is provided.

FIND OUT MORE BY CONTACTING

CnrPark&Havelock Streets,Ashburton

Phone: 308 5322 Email: adult.literacy@xtra.co.nz

• Operations and events staff

• Health shuttle drivers

• First aid tutors &medical alarmreps

• ASB St John in Schools/communityeducator

• Youth leaders,Caring Callers

• OpportunityShop Volunteers

• Local supportgroup members

. ..andour local ASB staff

St John Mid Canterbury Area Committee

2391696

2391239
---
CLUB NEWS

28 Ashburton Courier, June 17, 2021

www.ashburtoncourier.co.nz

Ashburton Dahlia Circle

Another fantastic season of

dahlia growing andgardening

knowledge wrapped up with a

beautiful meal at Jackie and

Frank Ryan's home recently.

Brian Glassey presided over

the general meeting followed by

the annual president's report of

the 29th AGMof the Ashburton

Dahlia Circle, 13 members

attending and 6apologies

received. Brian paid special

thanks to Alison for her

unwavering attention to detail

for all administration of

secretarial and financial

matters throughout the year for

all members.

Re­elected patron Graham

Gunn took thechairand

thanked all membersfor their

continued support. He also

made special mention to Joyce

Read and thanked herfor allthe

work she hasput into the

publicity role for the Circle.

Presentationof Trophies

followed andpresented by

Graham Gunn.

Morgan Medal ­mostpoints,

Open Section, Joyce Read

ADC Trophy ­most points,

Intermediate, John Hoogweg

Cameron Medal ­mostpoints,

Novice, Leonie Rollinson

GGunnTrophy (Dahlia of the

Year), GrahamGunn

Patrons Trophy­5bloomsin

one vase, Graham Gunn

Cuthbertson Shield ­small

classes, Alison Donald

Ryan Trophy ­Fimbriated

class, Joyce Read

RosewoodBowl ­Giant &

Large Decorative classes,

Jackie Ryan

Houston Trophy­Tipped Or

Variegated, Graham Gunn

Hampton Trophy ­Vaseof

Dahlias, Jackie Ryan

Tarbotton Trophy ­most

points, Pom Pom, Jackie Ryan

Flowers displayed at the recent Ashburton Dahlia Circle meeting.

Donald Trophy ­mostpoints,

Waterlily, Jackie Ryan

Avery well supported Tuber

Stall at theFarmersMarket in

October helpedraise funds for

the circles events and members

looked forward to offering this

to the public again in 2021.New

membersare always welcome

plus you can find us on FB ­

Ashburton Dahlia Circle

Run and WalkAshburton

Club News –June 2021

Huge congratulations to

members, Ronnie Campbell and

Brian Goodeswho recently

qualified to represent New

Zealand at the Triathlon Age­

Group World Championships.

Both qualified for the Olympic

distance to be held in

Edmonton,Canada this August.

Throughoutthe triathlon season

two selection events were held

of which there are alimited

number ofslotsavailable. Brian

was in good form during the

triathlon season andRonnie

had been training hard for

Ironman. Our Winter

programme is well underway,

and agood turnout continues

both Saturday morning and

afternoon. The morninggroup

of runners consistently come

together and adapt their

distance to fit around training

goals, getting in extra

kilometres' if desired before

meeting others at7:30am. The

afternoon bringstogether a

dedicated groupofmainly

walkers. Lately they have

enjoyed both hosted andlocal

events which has offered great

variety. Congratulations to

Lynda and David Bayne, and

Kelvin Leachwho recently

travelled to compete in the St

Clair half Marathon, all in the

walking category. Each came

away happy with their times

achieved.

Ashburton Bridge Club

Monday Evening ­June 7th,

Mixed Grade

N/S 1st Amanda Evans &Kay

Robb, 2nd Maryke Blignault &

Kate White, 3rdBruce Leighton

&Peter Downward

E/W 1stEric Parr &Trish

Downward, 2nd Mary Bruce &

ColinClemens, 3rd Wendy Parr

&George Brown

Tuesday Evening ­June 8th,

3rds diff pr

1st Trish Downward &Mary

Buckland, 2nd Alan Wright &

Rosemary McLaughlin ,3rd Pat

Jordan &Mike Holmes, 4th

AnnetteBlain &BillKolkman,

5th Peter Wilson &John

Fechney, 6th John McDonald &

Derek Newton

Wednesday Afternoon­June

9th, Individual Ladder

N/S 1st Linda Baker &Maree

Moore,2nd Rewa Kyle &Judith

Edmond,3rd John Kelly &

MichaelNeels

E/W 1st Peter Wilson&

Evelyne Taylor,2nd PatJordan

&JohnFechney, 3rd Bev Turton

&Colin Clemens

Thursday Evening ­June 10th,

2rds diff pr

N/S 1st Pat Jordan &Ian Doel,

2nd Bev Macaulay &Sue

Rosevear, 3rd Kate White &

MarykeBlignault E/W 1st Alan

Wright &Trish Downward,2nd

Bev Turton &Jim Rooney, 3rd

Peter Downward &John

Fechney.

Ashburton Combined

Friendship Club

Alister wrote aquizwhich

Errol compered. The"Dumb

Questions" section was

certainly achallenge butthere

were also comments like "Why

didn't we think of that?" when

the answers were revealed. The

general knowledge questions

were wide ranging and most of

us fared better, but there were a

few "It's on the tip of my tongue

moments".

Our main speaker was local

"Rock Hound" Malcolm Luxton.

He became interested in the

wide variety of stonesfound on

local beaches so joined the

Christchurch Lapidary Club in

his late teens beginning a

lifelong interest in agates.

Malcolm gave abrief

geologicalhistory of Mid

Canterburyover thelast 90

million years when New

Zealand was part of Gondwana

Land. These days NZ is

consideredtobepartof

Zealandia which is an undersea

continentwith only the NZ land

mass abovethe sea. In the

distant past Mt Somers was part

of an active volcanic zone which

extended from the Rangitata

gorge to Malvern, north of the

Rakaia. Agates were formed

from thebasaltic lava produced

by volcanic eruptions. Gas

bubbles in themolten lava

formed cavities and over

geological timedissolved

minerals found ways into the

cavities and crystallised. The

volcanic rock was broken up by

the iceages anderosion giving

the agates found rivers and

beaches today. Petrified wood

and fossils are alsofound. The

tidal drift is from south to north

so much interesting material is

deposited on Birdling's Flat.

The recent floods will have

uncovered alot of agate

material.

Malcolm's interest has been

in collecting agates and

unlocking their beauty by

cutting andpolishing for

display. He explained this

process andthe machines used

and broughtalong some display

examples. He has aprivate

museum, which can be visited

by arrangement, displaying the

agates he hasprepared,

includingasphere. He is akeen

photographer of agatesand

some years ago published a

coffee table style book on NZ

agates. He gaveanoutline of the

self­publishing process and

explained that it gavethe

author much more control of the

book.

Meetings second Tuesday of

month, Senior's Centre 206

CameronSt, 9.30 am.Visitors

welcome.Phone Joe 0274339

018. ashcomboclub@gmail.com
---
DP 38803

DP 38803

DP 38803

DP 38803

DP 38803

DP 38803

DP 38803 DP 38803

DP 38803

DP 42954

RT CB 21A/957

RT 306412

DP 42954

DP 42954

RT 306412

ROAD TO VEST IN

ASHBURTON DISTRICT COUNCIL

RT 306412

DP 42954

DP 42954

DP 214

DP 376214

DP 20737 DP 21231

DP 21231

DP 21231

DP 21231

DP 21231

DP 381992 DP 381992

DP 381992

87959

06412

DP 21572

DP 22147

DP 22147

DP 22147

DP 22147

DP 22147

DP 22147

DP 512062

DP 22147

DP 22147

DP 22147

www.ashburtoncourier.co.nz

PUZZLE PAGE

Ashburton Courier, June 17, 2021

29

CRYPTIC CROSSWORD

1 2 3 4 5 6 7

8 9

10 11

12 13 14 15 16

17

18 19 20

21 22 23

18/6

Across

1. Involvedale in numberofchanges

that can'tbecounted (11)

8. Agiant bird with an additional part(5)

9. Although almost unnecessary,they

have theirpoint (7)

10. It is asetback that'sconcerned with

poetic writing (7)

11. Withnostarter to main meal,it'sstill

on-target(5)

12. GirlI'm returningservice book to (6)

14. Theyare extortionersand voracious,

in the main(6)

18. Billy,aboutfifty, will lookwickedly

exultant (5)

19. Man with adog could land in her

embrace(7)

21. Bob errsabout them being criminals

(7)

23. Don't takeaservice vacation (5)

24. Mindsrecentdevelopmentwith

which one discriminates(11)

Down

1. There'saninterveningperiodofmerit

in adaptingtoit(7)

2. Going aroundinavest,asthose born

to the place (7)

3. Onenot old enoughfor amusical sort

of key (5)

4. Sort of bean for an athlete (6)

5. Limb he'sbroken shows aflaw (7)

6. Afish starts eyeingevery lure (3)

7. He hoards awell-boringinstrument

(5)

13. Can therebenopainting without

guile? (7)

15. Let go of thefilm for public viewing

(7)

16. Something thatcrawlscould be

present (7)

17. How purecheatsare turned out (6)

18. Rig up theuncompleted belly-band

(5)

20. Yarn only theNorth can produce (5)

22. Arudimentaryshoot is indubitably

held up (3)

SUDOKU

Fill the grid so that every column, everyrow and 3x3

box containsthe digits 1to 9.

24

QUICK CROSSWORD

1 2 3 4 5 6

7

8 9

10 11

12 13 14 15

16

17 18 19 20

21 22

23 24

Across

1. Foul-smelling (5)

4. Voucher,docket (6)

8. Lacking depth (7)

9. Curse (5)

10. Siren(5)

11. Result(7)

12. Belittle (6)

14. Breakfastfood (6)

17. Obsessivecollector

(7)

19. Gold bar(5)

21. Connect to water

pipes (5)

22. Saying (7)

23. Warming appliance

(6)

24. Unitof

measurement (5)

Down

1. Popular takeaway

(4,3,5)

2. Headadornment (5)

3. Difficultchoice (7)

4. Unqualified

tradesman (colloq)(6)

5. Distressed(5)

6. Demanding (7)

7. Overwhelmingly

tempting (12)

13. Size up (7)

15. Militarygarb (7)

16. Fitting (6)

18. First appearance

(5)

20. Invited visitor(5)

CODECRACKER

QUICK CROSSWORD

Across: 1. Fetid, 4. Coupon, 8.Shallow,9.Swear,10. Alarm, 11.

Outcome,12. Demean,14. Muesli,17. Hoarder, 19. Ingot, 21.

Plumb, 22.Proverb,23. Heater,24. Metre.

Down: 1. Fish andchips, 2. Tiara, 3. Dilemma, 4. Cowboy,5.

Upset,6.Onerous, 7. Irresistible, 13. Measure, 15. Uniform,16.

Proper, 18. Debut, 20.Guest.

CRYPTIC CROSSWORD

Across: 1. Innumerable 8. Titan 9. Needles 10. Reverse

11. Inner 12. Missal 14. Sharks 18. Gloat 19. Handler 21.

Robbers 23. Leave 24. Discernment.

Down: 1. Interim 2. Natives 3. Minor 4. Runner 5. Blemish 6.

Eel 7. Miser 13. Artless 15. Release 16. Serpent 17. Chaste

18. Girth 20. Nylon 22. Bud.

TARGET

bling bluing brig brim

bring bruin bugling bulging

burgling burin burling

girl glib gluing grim grin

GRUMBLING limb limn ling

lungi luring rimu ring ruin

ruing ruling rumbling urging

MEDIUM HARD

EASY

TARGET

G B U

G I M

N L R

Good 14

Very Good 19

Excellent 24+

ALL PUZZLES ©THE PUZZLE COMPANY

How many words of four letters or more can you

make? There is at least one nine-letter word.

Each letter may be used only once and all

words must contain the centre letter.

No words starting with acapital, no plurals

ending in sunless the word is also averb, e.g.

he fires the gun.

Lot 6

Grove Street

Grove Street

Grove Street

Selling

StageOne

SectionsFrom600m 2

From $170,000

Lot 8

50

1130m²

1135m²

945m² net 950m² net

51

765m²

52

765m²

53

835m²

Lot 7

300

LOCAL PURPOSE (UTILITY)

RESERVE TO VEST IN

ASHBURTON DISTRICT

COUNCIL

H

4750m²

G

Lot 10

Lot 9

48

770m²

47

770m²

46

Lot 11

49

600m²

45

610m²

Stage One

Lot 12 Lot 13

Lot 14

41

895m²

42

780m²

43

780m²

Marked A

DP 342954

44

610m²

200

2960m²

RECREATION RESERVE

TO VEST IN ASHBURTON

DISTRICT COUNCIL

Lot 2

Marked D

DP 376214 810m²

Marked E DP 376214

Lot 1

40

655m² 650m²

39

655m²

38

645m²

680m²

54

88

855m²

760m² net

Lot 3

35

36

655m²

37

655m²

690m²

87

520m²

101

1065m²

100

5915m²

55 56 57

685m²

660m²

660m²

660m²

31

Lot 4

33

32

89

615m²

34

Lot 5

30

650m² 650m² 645m²

ROAD TO VEST IN

ASHBURTON DISTRICT

COUNCIL

58 59

I J K L M N O P

855m² 855m²

740m² net

740m² net

L 2

Lot 1

29

60 61 62

685m² 690m² 680m²

Lot 2 Lot 1

Pedestrian siteaccess

from Grove Street

22

21

745m² ² ²

685m²

63 64

Lot 2

20

65 66

695m²

Lot 3

Lot 4

N

68 69

855m² 855m² 885m² 750m² 810m² 950m²

740m² net

600m² net

580m² net

720m² net

740m² net

740m² net

Lot 5

Lot 2 Lot 1

m

Lot 3

A

73

525m²

74

525m²

Lot 2

10

810m²

705m² net

Lot 1

8

815m² 715m² 725m² 720m² 720m² 720m²

m

75 76

78

655m²

77

665m²

Lot 2

730m²

Lot 3

765m²

Lot 4

730m²

Lot 5

730m²

Lot 1

730m²

720m²

80 81 82 83 84 85

Lot 6

Lot 7

730

Lot 8

Lot 9

Grahams Road

Proudly

marketedby

RayWhite

Ashburton

Contact

BruceMcPherson027 438 4250

or KimMiller 027 2368627

Forfull details visit rwashburton.co.nz

or phone 03 3078317
---
SPORT

30 Ashburton Courier, June 17, 2021

Southern beat Southbridge

Tarbotton Land &Civil

Southern seniors successfully

defended their title in athrilling

Luisetti Seeds Cup Combined

Country Competition division

one final against Southbridge at

Hinds on Saturday. Theywon

22­18.

Southern aheadinthe dying

minutes of the game, managed

to hold off an attacking run by

Southbridge ­despitegiving

awaynumerous penalties.Itwas

aunbelievably exciting finish

that went downto the wire and

resulted in awell­deservedwin

for theSouthern team.

Southern retain the title they

last won in 2019;there was no

2020 gameplayed due to covid.

Southern made the final by

beating Prebbleton 36­25, while

Southbridge toppledNorth

Canterbury's Kaiapoi 26­18.

Rugby action from the final of

the Luisetti Seeds Cup

Combined Country

Competition division one final

at Hinds on Saturday.

PHOTO ANGELA CUSHNIE

www.ashburtoncourier.co.nz

High scoring games

Mid CanterburyUnited's top

twoteamswereinvolved in

high scoringgames against

Burwood at Ashburton

DomainonSaturday.

Thesenior team, which

plays in Mainland Football's

championshipleague, won

6­5, while the reservesdrew

5­5.

The seniors went ahead,

butwerethen pegged back

by the opposition, which had

the edgefor much of thefirst

half andscored four goals.

Twolate first halfgoals by

the homeside took them into

the break at 4­4.

An improved second half

performancegave thehome

team the edgeand they

scored two more goals,

before alategoal fromthe

away team.

MidCanterburygoalkeeper

LiamSheppard produceda

coupleofgood second half

saves to help his team earn all

three points.

Veteranstriker Luke Martin

scored three goals, Millar

Mclauchlan netted twice and

Wesley Torres also scored.

Mid Canterbury striker Luke

Martin (on the ball) and midfield

Wesley Torres race forward

towards the Burwood goal in this

first half attack.

Mid Canterbury reserves

were 3­0downin the first 10

minutes before astrong fight

back againstBurwood reserves.

The awayteam scored a

questionable late penalty and

the points were shared.

Both Mid Canterbury teams

play against Western this

Saturday in Christchurch.

stages 1&2

SELLING NOW!

Ashburton's newest

neighbourhood is here!

Laidback living at its best.

With beautiful streets, wide open spaces, and close to the heart ofAshburton,

Strowan Fields isthe ultimate place to live and play!

Whether you're starting out or slowing down, growing your portfolio or expanding

your family, Strowan Fields is the ideal place totake the next step on your property

journey. With manageable sections, apicture-perfect setting and astrong sense of

community, it's the ideal spot to invest in your future.

At its core, the Strowan Fields vision is asimple one –tocreate acommunity of quality

homes with beautiful streetscapes, plenty of greenspaces, and lots of

breath-taking views!

For more information, don't hesitate toget in touch with our locally based agents:

Robert Harnett 027 432 3562 |roberth@pb.co.nz

Hamish Niles 027 435 6265 |hamish@pb.co.nz

Property Brokers is licensed under the REAA 2008.

strowanfields.co.nz

2389829

Adult runners and walkers at Saturday's Norrie Cup event.

Runners, walkers

outfor Norrie Cup

Therewas astrong turnout of

adultsand children across all

age groupsatthe Norrie Cup

event on Saturday.

Organised by Run andWalk

Ashburton, the action started

from the Hot RodClubrooms,

Tinwald, andfolloweda2km

course in and around the

Tinwald Domain.

Some56people in total took

part, including some from

Timaru,Geraldine and

Waimate.

Results:

Clubs ­Ashburton(A) /

Timaru (T) /Waimate (W)

Walkers 6km

Men: Noel Batty (A) 42:45;

Dave Strong (A) 44:02; Robert

Moffitt(A) 45:42; Kelvin Leach

(A) 47:34; Roger Small (W)

52:09; Bill Hood (A) 53:32; Dave

Wilkinson (A) 68:30.

Women: Stacey Hooper (A)

42:45; JudithCrozier (A) 45:44;

Marie Batty (A) 45:48; Lori

Rusbatch (A)46:17; Chrissie

Stratford (A) 47:41; Lynda

Bayne (A) 48:56; Karen

Hodgson(A) 54:58.

Children Runners

Boys 2km: U6 Judah Courage

(T) 11:25; U8Jamie Hooper(A)

11:54; U10 ValiantPilgrim (T)

10:13; Gus Simpson(A) 10:43;

U12 Benaiah Courage (T) 8:17;

TadhgSimpson (A) 11:53.

Boys 4km: U14 BenPilgrim

(T) 19:39; Jack Hooper(A) 19:45;

Peter Heeron (W) 28:15.

Girls 2km: U8 Charity Pilgrim

(T) 11:29;U10 Justina Courage

(T) 9:13.

Girls 4km: U12Graceful

Pilgrim (T) 19:39; Emily Heeron

(W) 19:59; CarinaLupse (A)

20:48.

Men Runners

Senior10km:Jessie Kempf

(T) 34:21;DanielPilgrim (T)

35:55;MatthewLinton(T) 37:42;

Josh Cameron (T) 38:15; Xye

Doyle (T) 38:53; Shaun Clarke

(A) 39:08.

Veteran 8km:Peter Trainor

(W) 32:49; Ronnie Campbell (A)

33:39;Brian Goodes (A) 35:48;

Ian Broadbelt (A) 39:07; Wayne

Doyle (T) 39:43; Eamon Hooper

(A) 47:34.

Veteran 6km:John Conway

(A) 30:40.

65 plus 6km:Merv Gilbert (A)

35:38;Kenny Johnston (A)

35:54; Phil Crozier (A)45:17;

MikeO'Callaghan (A) 48:00.

U18 10km: TriumphPilgrim

(T) 39:21.

Women Runners–all 6km

Senior: AngeWreford (T)

25:33; Hannah Kempf (T) 26:14;

Joy Courage (T) 28:30.

Veteran:GabbySimpson (A)

28:21;Tam Grant (A) 28:50;

Megan Stirling (A) 30:54; Toresa

Hooper (A) 31:20; Alison

Conway (A) 33:52; Lisa Small

(W) 34:34.

65 plus: Andrea Wreford(T)

30:06.
---
RT 306412

ROAD TO VEST IN

ASHBURTON DISTRICT COUNCIL

RT 306412

104

150m²

M

k

d A DP 376214

RT 787

RT 306

Selling Stage One

Sections From 600m 2

From $170,000

Lot 6

DP 38803

Grove Street

Grove Street

Grove Street

Lot 7

DP 38803

Lot 10

DP 38803

Lot 11

DP 38803

Lot 12 Lot 13

DP 38803 DP 38803

Lot 2

DP 42954

Lot 3

DP 42954

87

520m²

Lot 4

DP 42954

Lot 5

DP 42954

Lot 1

DP 376214

Lot 2 Lot 1

DP 20737 DP 21231

Lot 2

DP 21231

Lot 3

DP 21231

Lot 4

DP 21231

Lot 5

DP 21231

Lot 2 Lot 1

DP 381992 DP 381992

Lot 2

DP 21572

Lot 1

DP 22147

Lot 2

DP 22147

Lot 3

DP 22147

Lot 4

DP 22147

Lot 5

DP 22147

Lot 6

DP 22147

Lot 7

DP 22147

Lot 8

DP 22147

Lot 1

DP 3788

Lot 8

DP 38803

Lot 9

DP 38803

50

1130m²

1135m²

945m² net 950m² net

51

765m²

52

765m²

H

G

49

48

770m²

47

770m²

Marked A

DP 342954

Lot 14

Marked D

DP 38803

DP 376214

41

895m²

42

780m²

43

780m²

Lot 1

DP 42954

RT CB 21A/957

RT 306412

40 35

655m² 650m²

39

655m²

88

810m²

36

655m²

101

1065m²

660m²

33

660m²

32

34

660m²

89

615m²

L 2

DP 214

Pedestrian site access

from GroveStreet

Lot 3

DP 381992

11

875m²

755m² net

12

830m

B

A

10

810m²

705m² net

8

815m²

7

6

Lot 9

DP 22147

Grahams Road

Marked E DP 376214

53

835m²

46

600m²

45

610m²

44

610m²

38

645m²

37

655m²

100

5915m²

31

30

650m² 650m²

ROAD TO VEST IN

ASHBURTON DISTRICT

COUNCIL

71

5m²

73

525m²

685m²

78

655m²

80 81 82

730m²

765m²

730m²

N

Area ADP512062

300

4750m²

LOCAL PURPOSE (UTILITY)

RESERVE TO VEST IN

ASHBURTON DISTRICT

COUNCIL

Stage One

200

2960m²

RECREATION RESERVE

TO VEST IN ASHBURTON

DISTRICT COUNCIL

55 56 57

680m²

54

855m²

760m² net

690m²

685m²

60

58 59

I J K L M N O P

855m² 855m²

740m² net

740m² net

685m² 690m² 680m²

685m²

695m²

795m²

63 64 68 69

855m² 855m² 885m² 750m² 810m² 950m²

740m² net

740m² net

740m² net

600m² net

580m² net

720m²net

70

630m²

74

525m²

75 76

77

665m²

Lot 1

DP 512062

Secure

Your Dreams

in Ashburton's Newest Neighbourhood

Real Estate Mid Canterbury Property Limited Licensed (REAA 2008)

Now youcan stampyour name on your family's

future with anew home in Ashbury Grove,

Ashburton's latest residentialsubdivision.

The launch of this development, situated at

the gatewaytoLakeHood, offers aunique

opportunity to become part of athriving

communityinfamily-friendlyTinwald.

Ashbury Grove is perfectly positioned to

enjoythe region's favourite aquatic playground

at Lake Hood.

The Stage 1plan for Ashbury Grove includes

arecreational area complete with achildren's

playground to keep the kids off screens and

out inthe sunshine.

Education is taken care of with arange

of excellent schooling and earlylearning

opportunities available in Tinwald.

To support this growing area,Ashbury Grove

has chosentoinvest in the futureofeducation

with $200 going to Tinwald PrimarySchool for

every new section sold.

To secure your place in this exciting new

community, prices start from $170k per section,

and construction of your home can begininthe

new year,with titles due in2022.

Proudlymarketed by RayWhiteAshburton

BruceMcPherson

Licensee Salesperson

027 438 4250

bruce.mcpherson@raywhite.com

Kim Miller

Licensee Salesperson

021 236 8627

kim.miller@raywhite.com

Forfulldetails

visitrwashburton.co.nz

or phone 03 3078317
---
SATURDAY 19TH JUNE

Ashbury Grove,Tinwald 10:00-12:00pm Sections AHB23099

6Williamson Place, Ashburton 11:00-11:30am 3 1 2 AHB23135

27 Brucefield Ave, Ashburton 11:00-11:30am 3 1 2 AHB23088

102 Eton Street,Ashburton 11:00-11:30am 3 1 0 AHB23146

59 Pages Road, Ashburton 11:00-11:30am 4 2 2 AHB23138

18 Coniston Drive, Ashburton 12:00-12:30pm Section AHB23077

Hut 22, LowerHakatere 1:00-1:30pm 2 1 0 AHB23143

SUNDAY 20TH JUNE

NO OPEN HOMES TODAY

27 BrucefieldAvenue, Ashburton

4 1 1

Alarger4bedroom renovated home with alarge

sunny living, kitchen/dining area, this home has been

renovated to an excellent standard with all modern

decorand fittings and fixtures. Comfortablewarm,

light and bright with agreat backyard toplayinorto

keep your furbabies safe.This property has asingle

garage and off street parking for two vehicles. An

amazingly beautiful home to just shift into and enjoy.

ForSale

By Negotiation

View

Saturday11:00 -11:30am

Lynne Bridge

027 410 6216

rwashburton.co.nz/AHB23088

Real Estate Mid Canterbury Property Limited LICENSED (REAA 2008

59 Pages Road, Ashburton

4 2 2

*Four bedrooms with good storage

*2modernised bathrooms (under tile heating)

*Sizable kitchen dining area with heat pump

*Lovely sunnylarge living area with Rinnai gas fire

rwashburton.co.nz/AHB23138

Real Estate Mid Canterbury Property Limited LICENSED (REAA 2008

SetDateofSale

closing 15 June 2021, at

4:00pm (unless sold prior)

View

Saturday11:00 -11:30am

Kim Miller

027 236 8627

18 Coniston Drive, Ashburton

Aroad frontage section of 828 square metres (orthereabouts)

at18Coniston Drive.

*Quality fencing all round (1 to bebuilt prior to settlement)

*Water, electricity and communications services available

rwashburton.co.nz/AHB23077

Real Estate Mid Canterbury Property Limited LICENSED (REAA 2008)

Tender

closing 24 June 2021, at

4:00pm

View

Saturday12:00 -12:30pm

[Agent on Site]

3 1 2

BruceMcPherson

027 438 4250

Denise McPherson

027 242 7677

AshburyGrove, Tinwald

Nowyou can stamp your name on your family's future with

anew home in Ashbury Grove, Ashburton's latest residential

subdivision. The launch of this development, situated on the

road to Lake Hood, offers aunique opportunity to become

part of athriving community in family-friendly Tinwald.

rwashburton.co.nz/AHB23099

Real Estate Mid Canterbury Property Limited LICENSED (REAA 2008

ForSale

Asking price from $170,000

View

Saturday10:00 -12:00pm

[Agent on Site]

BruceMcPherson

027 438 4250

Kim Miller

027 236 8627

Kim Miller

Sales Consultant

027 236 8627

Denise Russell

Sales Consultant

0274 329 717

ChrissyMilne

Sales Consultant

027 290 6606

Cheryl Fowler

Sales Consultant

027 461 2614

Margaret Feiss

Sales Consultant

021 751 009

ShirleyFitzgerald

Sales Consultant

027 220 1528

Denise McPherson

Sales Consultant

027 242 7677

Janene McDowell

Property Manager

027 287 3388

Armandvan der Eik

Sales Consultant

021 597 527

Lynne Bridge

Sales Consultant

027 410 6216

Mike Grant ncre

Sales Consultant

021 272 0202

Mark Totty

Sales Consultant

021 664 113

BruceMcPherson

Sales Consultant

027 438 4250

Justin Waddell

Sales Consultant

027 437 1111

Carey VonLubke

Property Manager

027 697 6948

96 TancredStreet, Ashburton 03 307 8317 Main Road,Tinwald 03 307 8317

rwashburton.co.nz

36 McMillan Street,Methven 03 303 3032
---
trusted

2021 GUIDE

trades &services

To book your spaceinthis guide,phone KarenGane 308 7664 or email karen.gane@ashburtoncourier.co.nz

Lubes WOF

Allmechanical repairs

Interior and Exterior Painting

Interior Plastering

Wallpapering

JukeBox Hire

Weddings,21st,

PrivateFunctions

Sound Systems &Lighting Hire

Phone DJ Dave

03 308 5106

027 251 0015

www.soundmanagement.co.nz

2346679

TRIANGLE

GARAGE LTD

Victoria Street,

TheTriangle,Ashburton

Phone: (03) 308 6772

2379285

RESIDENTIAL &

COMMERCIAL SPECIALISTS

Phone Quentin andPhilon

027 282 8908 or 027 2828909

2379104

GODSELL

BRICKLAYING

•Houses

•Feature Walls

•Fences

•Blocklaying

Chris Godsell

027 274 2533

AH 308 7117

godsell@xtra.co.nz

2379139

PROFESSIONAL

PORTRAIT AND

COMMERCIAL

PHOTOGRAPHER

PICTURE FRAMING

GALLERY &STUDIO

THE TRIANGLE, VICTORIA STREET

0800 881122

emmily@emmilyharmer.co.nz

www.emmilyharmer.co.nz

2372098

FREE LEGAL HELP

Help in person by appointment

Thursday9.15am -1.45pm

Ph 0508 CANLAW

(0508 226 529) to makean

appointment.

Help by phone Infoline

03 371 3819 or 0508 226 529

215 Tancred Street,Ashburton

2379134

FOR ALLYOUR

ADVERTISING

REQUIREMENTS,

GIVE

Jann or Karen

acall on

308 7664

Sales l Service l Repairs

E-BIKES l MOTORCYCLES

P 03 308 7982 - E cliff@mckayanddonaldson.co.nz

W www.mckayanddonaldson.co.nz -734 East Street,Ashburton

2376525

GREAT

RATES

QualityRepairs &Manufacturing

ENGINEERING

Ashburton

General engineering and

mobile workshop

Integritybuilds agood reputation

PC Repairs, Set-up and Tutoring

Icome to youday or evening!

Ewan Cairns

0274354 031

NewPCs

and Laptops

forsale

•PCRepairs/Sales •Networks/Servers

•Firewalls/Security •Spyware Clean-up •Training

20 YearsExperience Microso Cerfied Professional

NETWORKS FIREWALLS AND PCS LTD

Robin Johnstone 67 Aitken Street, Ashburton

P: 03 308 1440 C: 027 768 4058

robinbj@xtra.co.nz

2387923

2379245

Our authorised techniciansns

service and repair all

makes and models of

sewing machines and

overlockers

WILSONS

GLASS

Wilsons Windscreens 2018 Ltd

We areyour one stop glass shop for

AUTO and HOUSE

REPAIR or REPLACE

"Your placeorours"

2373623

OPEN 7DAYS9.30am -4.30pm

Main South Road, Tinwald Ashburton | Phone 307 6277

www.anniesquilts.co.nz

152 Wills Street,

Ashburton

Ph.308 8485

2372825

2371984

ASHBURTON

GLASS LTD

Experts in glass

Your Digital

TV Experts

• Aerial/Dish installations and repairs

• Prewirefor TV/Audio and controlsystems

• TV wall mounting • Cell phone aerials

• Home theatreinstallation

• Authorised SkyTVtechnician

Servicing

308-3918

214Wills Street

Ashburton

www.ashburtonglass.co.nz

office@ashburtonglass.co.nz

UNDER NEW LOCAL OWNERSHIP

Ashburton Geraldine

Methven Rakaia

andeverywhereinbetween

ASHBURTON

TV &AUDIO

PH 308 7332 /027 277 1062

ashburtontvandaudioltd.co.nz

2371987
---
trusted

2021 GUIDE

trades &services

To book your spaceinthis guide,phone KarenGane 308 7664 or email karen.gane@ashburtoncourier.co.nz

115 Archibald Street,Tinwald,Ashburton

Phone /Fax: (03) 307 2354

Email tincanup@xtra.co.nz www.tinwaldcanvas.co.nz

2346686

•CARS •4WDs •CAMPERVANS

Automotive

Diagnostics &

Servicing

03 308 6646

•Automotiveservicing,repairs

and diagnostics

•Latest scan tools and

servicedata

•All makes and models including

European and Japanese

•Vehicle transportand recovery

TheBig Blue Shed

CnrJohn &McLean Street,Ashburton

2382531

We offer the following:

• Gutter and DownpipeCleaning • Weed Spraying

• Moss,Mould andLichen Spraying • Spider Proofing

• Gorse and BroomSpraying • FenceLineSpraying

• Chimney/Flue Cleaning $75 • Heat Pump Service$90

MENTION THIS AD WHEN BOOKING FOR A10% DISCOUNT

ON GUTTER AND DOWNPIPE CLEANING

Call Allan on 027 209 5026 an let us know howwecan help

2378913

"we clean to a

standard,

not aprice"

UNDER NEWAshburton

OWNERSHIP

Same exceptional CleaningServices

level of service

&quality cleaning

• regular full house cleans

• one off spring cleans

• farm houses

• builders cleans

•

100% LOCAL

03 307 2656

www.ashburtoncleaning.co.nz

2379098

2379128

•

•

•

•New builds •Renovations

•All types of engineering

•Small or large projects

Rob021 124 4268 l Sam022 5428927

email: robsue@hotmail.co.nz

ALL THINGS CANVAS &PVC

*Awnings/Shade sails/Dropblinds*Auto seat covers &repairs

*Hay&bin covers *PVC covers &repairs

*Ute tonneau covers *Furnitureupholsteryrepairs

*Commercial

PHONE TRAVISHOWDEN 027 922 4544

2379146

ashburtoncranes2015@gmail.com

2379102

2379279

Letthe team at

Insideout takecareof

all your painting and

property maintenance

• Painting

• Carpentry

• Renovations

• Projectwisdom

• Maintenance&repairs

Ash Solar Power

South Island

Alarms|Monitoring|Guards|Locks|Fire Protection|Compliance

•Securityalarms •Firealarms

•Alarmmonitoring •Fireextinguishers

•Documentdestruction •Locksmithing

2371808

2010 LTD

Call Shanetodayon03307 7071

2372182

www.ashsolarpower.com

2375756

120 MooreStreet,Ashburton

307 7199 (24 hours)

Phone 308 1366 Mobile 027 433 3601

E: patsumm@xtra.co.nz

•All domestic and commercial wiring

•New build andalterations

•Freequotes

NEAT GARDENS

Does your garden need monthly

maintenancetokeep it tidy and

looking good through the seasons?

Or perhaps just need aone off tidy

or pruning completed?

We can help!

Allgarden wasteremoved

ContactCAROLYN Phone: 027 2675403 or 3082333

Email: cccolt@xtra.co.nz

2379247

2379231

2362401

•Restoration

•Modifications

•Rust Repairs

•InsuranceClaims

•WOF Reports

•All vehicle Panel &Paint

16 Cass Street,Ashburton. 03 308 0387

johnsons.panelpaint@gmail.com

Ashb

hbut

rton,R Rolles

leston

ton&Ch

Chrit

ist chu rch

•Paving •Irrigation •Lawns

•Planting •Fences •Pergolas

•Water features •Outdoor fires

•Raised planters •Decks

•Stonework•Brick &blockwork

•Artificialgrass and more...

Email –Aaron@theoutdoorspace.co.nz

Phone0800 688 365 /021 542 402

www.theoutdoorspace.co.nz

2344420

Forall your tyre requirements,

see the localexperts

•Wheelalignments

•Wheelbalancing

197Wills Street,Ashburton l www.neumannstyres.co.nz

Phone 03 308 6737 (24 hrs –after hours call out applies)

•Manufacturer and supplier of

Rylock aluminium windows and doors

•Retrodouble glazing installers foradrier,

warmer,quieter home

Forafreequote, contactDavid &Lorayne Oakley

PHONE 308 8493. EMAIL: owdrylock@gmail.com

8A John Street,Ashburton

2372186

2344292
---
www.ashburtoncourier.co.nz

SPORTS DRAWS

Ashburton Courier, June 17, 2021

35

HOCKEY

June 21 to June 28

Div 1Women Monday 21June 6.00

pm Methven v Wakanui (C Hastie, M

Marshall) 7.30 pmHampstead vTinwald

(K McIntyre, SRead)

Div 1Men Tuesday 22 June 6.00 pm

Tinwald vWakanui White (C Watson, B

Gray) 7.30 pmAllenton vWakanui Black

(S Muir, ASoper)

Kwik SticksWednesday23June 3.45

pm Tinwald Engineering Solutions v

Wakanui Black (B Greer, E Shapland)

4.55 pm Collegians/Rakaia v Methven

Black (GOates, SGeeson)

6.05 pm Wakanui Blue v Tinwald

Bonnington Painting (Wakanui Div 2

Men, Allenton Div 2 Men) 7.15 pm

Methven White v Allenton (Hampstead

Lowcliffe Div 2Men, Tinwald Div 2Men)

SSL Girls Div 1Championship Marist

Park @StBedes College 5.15 pm St

Margaret's College 2nd XI vAshburton

College 1st XI (Umpires supplied)

Small Sticks Duty Club: Tinwald Kiwi

Sticks (Yr 5) Friday 25 June

3.45 pmTinwald Foothills vTinwald

The Tool Shed -Turf a(SGeeson, H

Kidd) Methven vAllenton/Hampstead -

Turf b (T Ellis, R Kidd + S French)

Wakanui (BYE)

Kiwi Sticks (Yr 6) 4.30 pm Allenton v

Wakanui Black -Turf a(S Geeson, R

Kidd) Tinwald Smith &Sons vTinwald

Foothills -Turf b(K McDonnell, HKidd)

5.15 pm Collegians/Rakaia vMethven -

Turf a(K McDonnell, DLaw) Wakanui

Blue vRakaia Blue -Turf b(Methven Div

2 Women, Wakanui Purple Div 2

Women)

Div 2 Women 6.15 pm Methven v

Wakanui Purple (Wakanui Div 1Women,

Hamsptead Div 1 Women) 7.30 pm

Hampstead/Tinwald v Wakanui Black

(Wakanui White Div 1Men, Tinwald Div

1Women)

SSL Boys Div 1 Marist Park @St

Bedes College 5.50 pm Christ's College

2nd XI v Ashburton College 1st XI

(Umpires supplied)

Small Sticks Duty Club: Tinwald

Saturday 26 June Mini Sticks 10.00 am

MethvenBlack vTinwaldMayfield Transport

- Turf a (Coaches) Allenton Mini

Magic vAllenton Golds -Turf b(Coaches)

Wakanui Blue vWakanui Black -

Turf c (Coaches) Tinwald Skip-2-It v

Methven White -Turf d(Coaches)

Fun Sticks 11.00 am Draw made on

the day Coaches

Snr Men (Canterbury Div 1 Men

Champs) Mainpower Waimakariri Turf

2.45 pm Mid Canterbury v HSOB/

Burnside (Umpires supplied)

Div 2Men Sunday 27 June 5.00 pm

Hampstead Lowcliffe vAllenton (Tinwald

Div 1Men, Methven Div 1Women) 6.30

pmWakanuivTinwald Orange (Wakanui

Black Div 1Men, Allenton Div 1Men)

Tinwald Black (BYE)

GOLF

Ashburton Golf Club

Qualifiers for Presidents Cup: 1.

Robbie Bell 2. Josh Coyle 3.Tom Blacklow

4. Steve McCloy 5. Kevin Smith 6.

Paul May 7. James McFarlane 8. Sean

Strange 9. Paul Baird 10. Gaby Jansen,

11. Matt Tait, 12. Richard McKernan, 13.

Charlie Alexander, 14. Paul Clarke, 15.

Dave Hampton, 16. Barry Jury

President Cup Draw for 19/6/2021:

Number 1Tee: 1.12:00pm: Robbie

Bell vsBarry Jury: Paul Baird vs Sean

Strange

2. 12:08pm: Richard McKernan vs

Kevin Smith: Charlie Alexander vs Steve

McCloy

3. 12:15pm: Tom Blacklow vs Paul

Clark: Matt Tait vs Paul May

4. 12:22pm: James McFarlane vs

Gaby Jansen: Dave Hampton vs Josh

Coyle

Reserves are; Phil Kerr, Mitchell

Stoddart and Peter Walker.

If anyone has to pull out for medical

reasons or emergency reasons please let

Matt know in the Ashburton Pro Shop

before Friday.

BOWLS

Allenton Bowling Club

Saturday 19th Next round Bishop

Plate 2Bowl Triples 12 noon start.

Tuesday 22nd rollup names in by

12.45pm for 1.00pm start.

RUGBY

Mid Canterbury Rugby Saturday 19th

June

Mt Somers Club Day

Seniors –Watters Cup Week 1

Hampstead vSouthern, Hamp1, 2:45

pm (Max Gilbert Challenge Trophy)

Rakaia vMethven, Rak1, 2:45pm

BYE, Celtic

Senior B–

Allenton vMethven, Allent1, 2:30pm

(Bruce Beckley Challenge Shield)

Collegiate/Hampstead vCeltic, Coll1,

2:30pm

Mt Somers vSouthern, MtSomers1,

2:30 pm

Senior Women

3rd v4th Playoff

Celtic vLincoln, NgaPuna Wai2, 1:00

pm

COLTS Combined

Methven Combined v Springston,

Rakaia 1,1:00pm

Darfield vCeltic, Darfield2, 1:00pm

1st XVMiles Toyota Championship

MC Combined vStThomas, Ashburton

A&P1, 12:00pm

Under 18Combined

MCRU Alps vSouthbridge, Rakaia2,

1:15pm

Under 16 Combined

MCRU Plains v Rolleston, Celtic1,

1:30pm

MCRU Alps BYE

Under 14.5 Combined

Methven v MCRU Alps, Meth1,

1:00pm

Rolleston v MCRU Plains,

FosterPark1, 12:00pm

Under 13

Methven v Collegiate, Methv2,

1:15pm

Rakaia v Southern, Rakaia2,

12:00pm

Celtic Bye

Under 11.5

Celtic White vCeltic Green, Celtic2a,

1:00pm

Hampstead v Allenton, Hamps1A,

1:30pm

Methven Black vSouthern,Methv3A,

12:30pm

Methven Red vCollegiate, Methv3B,

1:00pm

Methven White v Tinwald, Meth4,

1:15pm

Under 10

Allenton vTinwald, All2, 1:15pm

Collegiate vCeltic, Coll2, 1:30pm

Hampstead v Southern, Hamp1B,

1:30pm

Rakaia vMethven, Rak4, 1:15pm

Under 9

Celtic White vCeltic Green, Celtic2B,

1:00pm

Hampstead v Southern, Hamps1A,

12:30pm

Methven/MtSomers v Tinwald,

Mtsomers2, 1:30pm

Rakaia vMethven, Rak4, 12:15pm

Allenton BYE

Under 8

Allenton Gold v Southern W, All2,

12:15pm

Allenton Maroon vSouthern B, All3,

1:15pm

Celtic vTinwald, Celtic4, 1:00pm

Methven/MtSomers v Collegiate,

MtSomers2, 12:45pm

Rakaia vMethven, Rakaia3A,1:30pm

Under 7

Allenton v Tinwald Black, All3,

12:30pm

Celtic Green vTinwald orange, Celtic3A,

1:30pm

Celtic White v Collegiate, Celtic3B,

1:30pm

Hampstead vSouthern R,Hamp1B,

12:45pm

Mt Somers v Southern W,

MtSomers3, 1:30pm

Rakaia vMethven, Rakaia3B,1:30pm

Southern BBYE

Under 6

Allenton Gold v Southern S, All4A,

1:15pm

Allenton Maroon v Tinwald Blue,

All4B, 1:15pm

CelticGreen vTinwaldBlack ,Clet3A,

12:15pm

Celtic White vTinwald Orange, Celtic3B,

12:15pm

Collegiate v Southern W, Coll3,

1:00pm

Hampstead vSouthern R, Hamps1B,

12:00pm

Mt Somers vSouthern B, Mtsomers3,

12:45pm

Rakaia Black vMethven B,Rakaia3A,

12:45pm,

Rakaia W v Methven W,

Rakaia3B,12.45pm

trusted

2021 GUIDE

trades &services

To book your spaceinthis guide,phone KarenGane 308 7664 or email karen.gane@ashburtoncourier.co.nz

Shane James Contracting

•FIREWOOD

TREES WANTED

•Hedgerow removal

•Rootraking

•Conversions

•Money backonmillablelogs

PHONE SHANE 027611 3334

2376763

TA LBOT SEC URIT Y GROUP

E - info@t al botsecuri ty .co.nz

-Alarm Response and Patrols

-Alarm

Monitoring

-Alarm and CCTV Installa tion

-Alarm and CCTV Serv ic ing

Integrity Estate Services specialise in;

• Full interior house clean, including carpets

• Full exterior service

• Preparing/de-cluttering houses

• Packing

• Re-homing furniture

Complimentary 30 minute walk through consultation

"Professional co-ordination of your relocation needs"

Kate Webster 027 500 1033

62c Dobson Str eet, As hbu rton

Kate.IES@hotmail.com

-Data and Netw orking

-Fire

Ex tin gu is hers

-Key

Cu ttin g

-Loc ksmithing

Ashburton' s only 100% loc ally ow ned and operated security company

2392291

BRANZ Appraised

Low Maintenance

Eco-friendly

Family-safe

25 Year Warranty

Contact Reece Trotter

P: 027 273 7313 E: canterbury.south@biform.co.nz

P - (03 ) 307 2409 Anytim e 24/7

2375720

"IntegrityEstate

Services"

canterburysouth.biform.co.nz

FOR ALL YOUR

ADVERTISING

REQUIREMENTS,

GIVE

Jann or Karen

acall on

3087664

199 Burnett Street,

Ashburton

office@ashburtoncourier.co.nz

2387929

ALL YOUR PLUMBING NEEDS

•Bathroom/

kitchen renovations

•New homes

•24/7emergencycall out

Phone James 022 463 4606 l 03 308 8865

office@premierplumbing.co.nz

Bridgestone

Tyre Centre

Ashburton

• New tyre sales

• Wheel alignments

• Wheel balancingand

puncturerepairs

24 HOUR CALLOUTSERVICE

03 307 8438

ForPassenger,Commercial

and Farm Vehicles

Proudly locallyownedand operated

CnrCox &East St.

Book nowon03 307 8438

Premier

Plumbing

Ltd

Conditions apply.Includes up

to 4.5 litres of Penriteoil and a

standardoil filter.

Seein-storefor details

2372238
---
CLASSIFIEDS

36 Ashburton Courier, June 17, 2021

2387697

ENTERTAINMENT

Queen It's AKinda Magic

Saturday 19th June 8pm

Adults $61.15* /Group 6+ $56.15* each /Child 13 &Under $36.85*

Immerse yourself in the spectacle, grandeur

and energy of the world's greatest Rock

Band with Queen celebrating the legacy of

Queen and Freddie Mercury. Get ready for

anight of non-stop Rock anthems proudly

brought to you by Showtime Australia in a

night you won't forget.

Wonderland GlowShow–Little Green ManProductions

Monday 13th September

0-5 years 10am. All Tickets $13.50*

6-12 years 11-30am. All Tickets $15.50*

The Glow Show team is back with a'Kiwified'

interpretation of Alice in Wonderland with

Wonderland Glow Show. With giant scale

glow in the dark puppetry including an 8

metre caterpillar this show will have your

imagination soaring as you are transported

into another word.

ENTERTAINMENT ENTERTAINMENT ENTERTAINMENT

BOOK

NOW

Afull complement of 9passionate musicians

bring alive the timeless music of Bruce

Springsteen and the EStreet Band. The

BOSS is turned into perfection in a3hour

world-class show featuring the entire Born In

The USA album plus more.

Thursday 16th September 7-30pm

Adults $49.50* /Senior $42* /Child $35*

Stevie, Carole and Linda are arguably three

of the world's most recognisable voices.

In this brand new show, Melbourne singer/

songwriter Bloom will have you experience

the incredible hits that span several decades.

Come and be charmed by the Australian

vocal powerhouse.

For more information

www.ateventcentre.co.nz

TheBoss –Bruce Springsteen TributeShow

Thursday, 15th July 7-30pm

Adult $65* /Group 6+ $55* /Senior orStudent $55*

Stevie Nicks –Linda Ronstadt –Carole King Songbook

03 3072010 211A Wills Street, Ashburton 7700 admin@ateventcentre.co.nz *Service fees apply

AshburtonClub&MSA

Sunday27June,2:30pm

Tickets $25 available from the club

231 Burnett St, Ashburton03308 7149

FOR LEASE

RENT ME!

Ideal as an extra

bedroomoroffice.

Fully insulatedand

double glazed forwarmth.

Threeconvenientsizes:

Standard3.6m x2.4m,

Large 4.2m x2.4m

Xtra-large 4.8m x2.4m.

Visit our displaycabin

418WestStreet or callfor a

freebrochure.

www.justcabins.co.nz

2379729

0800 58 78 22

WANTED TO RENT

FOR LEASE

2391845

STORAGE available, Ashburton.

Self storage, variety

of sizes. Phone Rainbow

Storage 03 307 0401

AWESOME office space for

lease, rent or hire. Park like

setting. Indoor and outdoor

areas. North West town

boundary. Must view.

Phone 0274 754 241

STORAGE:Secure self storage

units available, long or

short term. Ashburton Storage

Facilities. Contact us

on 0274 362 636 or www.

ashburtonstoragefacilities.

co.nz

FRUIT &PRODUCE

POTATOES; Nadine and

Agria $1.25kg, or preordered

10kg bags $10.

Standard peastraw bales,

$5 pick up or $6 delivered.

Phone 03 308 3195 or 027

531 9103. 81 Elizabeth

Street, Ashburton.

WANTED TO RENT

WANTEDROOM

TO RENT OR BOARD

Single,professional male.

Shorttomedium term.

Phone 022 406 6075

2391534

CLUB DAY

Sunday 20 th

June 2021, 2pm

@AshburtonClub

and MSA

All welcome -Nocovercharge

GARAGE SALES

2392332

FARM Road, Saturday 19th

June, 9am -2pm. General

household items; Furniture,

Cutlery, etc.

GARAGE Sale; Saturday

19th June from 11am

onward. Grove Street. Cancelled

if wet.

TUBEROUS begonias,

hanging baskets, bird bath,

worm farm. Lots of garden

bargains. Everything must

go. 19th June, 9am start,

Reid Crescent.

SELL

DINNER Suit. S.M. In top

condition $50. Ph 027 602

4885

LPG

REFILLS

Small LPG cylinders

Off Street Parking

Available

Arthur Cates Ltd

26 McNally Street

Ph 308 5397

Riverside Industrial Estate

LPG REFILLS

9kg cylinders

$27.50

Askaboutour

deliveryservice

Anysizecylinder filled

17 Grey St,Ashburton

Phone 307 2707

WANTED TO BUY

2379296

2379300

HAMILTON Jet 132a, hull,

deck and screen. Private

cash buyer - Phone/text

0274 858 595

FIREWOOD

DRY Macrocarpa, Bluegum,

Old Man Pine, 3way mix.

3m 3 $365, 6m 3 $725.00.

WINZ accredited. Free

delivery to most of Mid-

Canterbury. Phone 027 297

7563

WANTED TO BUY

SITUATIONS VACANT

FIREWOOD

DRY Pine. Ready to burn, cut

9 months. $285 per cord.

Phone 027 338 4853

FIREWOOD

SPECIAL

OFFCUTS

$140 PER CORD

FIREWOOD

SLABWOOD

3cordgreen

$330

1cordgreen

$110

C.O.D. in town

Adams Sawmill

Malcolm McDowell Rd

Phone

308-3595

SITUATIONS VACANT

Workers Required

We are seeking staff with the

right attitude for work throughout

Canterbury.

Agricultural Labourers

Warehousing Positions

Factory Staff

Agstaff has over 20 years'inagricultural

recruitment, we can see the lie of the land.

Apply now

agstaff.co.nz 0800 247 8233

2375897

2366834

STANDING trees for firewood.

Pines, poplars for

sale. Must have all Health

and Safety equipment.

Phone 027 602 4885

evenings.

CRITIQUE &COLLECTABLES

WANTEDTOBUY

FROM $10 TO $100,000

Collections,Estate Lots, SingleItems

payuptofollowingprices:

Old Hotel Beer Signs, DB, Speights, etc. $300.

Petrol Pumps $10,000. Oil Bottles,PetrolOil Hand

Pumps, Enamel advertising signs $3,000. Metal

tractorseats $100. Arcade Games,Pinball,Flipper

Ball Games, One Arm Bandit Poker Machines

$1,000. Ships Lights and BrassPortHoles $500.

Ships Wheels $2,000. Glass Buoys, Life Rings,

Oars, small Clinker Dinky $1,500. Joinery and

BuildersTools, Glue Pots,Oil Cans, Scribes, Levels,

Plum Bobs, Screwdrivers, Chisels, Lath, Brace

Bits, Screws, old boxes screws, Vice Workbench,

TacHammers, Levels. Gold and Silver Jewellery,

Sovereigns $700. Gold $2,500 ozs. Bracelets,

Chains, Silver Tea Service $5,000. Candlestick,

Statutes, marble and bronze $3,000. Paintings,

Oak Gilt frames, Furniture.

WANTED TO BUY

Old Toys, Dinky, tin

plate, wound-up Money Boxes, collections, etc.

PhoneMurray anytime

021 441 400

2392189

www.ashburtoncourier.co.nz

SITUATIONS VACANT

SITUATIONS VACANT

Bathroomdepartment

Salesperson

Twopositions

1. Fulltime (40 hours) Tuesday–Saturdayroster

2. Permanent part-time (16 hours per week)

Sundayand Monday

Due to internal promotions, we now have

two positions available in our bathroom

department for two sales people. This

department covers all plumbing accessories,

tapware, sinks showers baths, vanities and

toilets. The role will also cover the sale of log

fires and heatpumps,aswell as coveringinitial

kitchen enquiries.

If you like variety inyour day this could be

the ideal job for you. Full training will be

provided for the successful applicant both in

house and through our suppliers.Also includes

stocktaking and general housekeeping duties.

The successful applicant will need the

following skills:

• Previous retail experience

• Bephysically fit as some lifting is required

• Good computer skills

• Attention to detail

• Excellentcustomer serviceskills

• Self-motivatedwith adrive to succeed

• Able to work in ateam

• Abilitytoworkunsupervised.

If you think you are the person we are looking

for, please email your c.v. and covering letter

stating which position youare applying forto:

HR.Ashburton@mitre10.co.nz

Applications close on Monday 21st June 2021.

The OddJob Squad

Theteam at TheOdd JobSquad is in need of a

bit of help and have anew role available that

canbeflexible to the rightperson.

If you are aFully qualified builder, aretired one or

averycapable person thatcan build or fix all most

anything, maybe would even suit a contractor,

then we want to hear from you!

We are incredibly flexible with hours and days

worked.

Your qualities must include ... trustworthy,honest,

reliable, happy towork ontheir own with good

time management, be organised, And sometimes

can work well in ateam environmenttoo.

Definitely have great Customer service skills, we

don't do grumpy!

We are agrowing maintenance and renovation

company, that does a wide range of different

jobs, from assmall as repairing door latches and

fixing holes in walls, tofull kitchen and bathroom

renovations, building fences, decks and painting,

no twodaysare the same!

If youthink this could be you, writeabrief

email with your expression of interest and

attach your CV or if youdon't have aCV, just let

me know past employers -references and what

youcan do in your email

office@theoddjobsquad.co.nz

Commis/Junior Chef/Kitchen Hand

Nobel 600 Restaurantispreparing to open and is

looking to hireaCommis/Junior chef to support

the kitchen team.

This is afull-time position working overa6day

week roster with acombination of both morning

and evening shifts.

This role would suit ajunior chef,happytocover

kitchen hand duties while extending their skills

further with food prep and cold larder.

Forfurtherinformation,

please contactJosé021 02602278

2392173

2392839

2392842
---
www.ashburtoncourier.co.nz

SITUATIONS VACANT

SITUATIONS VACANT

Checkout Operator

Supervisor

(Fulltime)

Mitre10MEGAAshburtonhas avacancyfor a

checkout operatorinasupervisoryrole.

This position is 40 hours,Tuesday–Friday,

9am -6pm and Saturday7:25am -5pm.

If youhave:

• Great customer serviceskills

• Provenleadership skills

• Able work in ateam environment

• Reliable

• Good numerical accuracy

If this position is of interest to you, please

email your C.V.and covering letter to:

HR.Ashburton@mitre10.co.nz .

Applications close on

Wednesday 23 June 2021

WORKSHOP FOREMAN

About us

Rainer Irrigation is aproud family-owned company

based in the heart ofnew Zealand's agricultural

hub -Mid Canterbury. Rainer has been providing

irrigation and effluentsolutionstofarmers forover

30 years and have apassion for the industry and

our clients. With aninnovative and well-resourced

team, we offer turnkey solutions for all on-farm

water reticulation requirements including power,

pumps,pipe,and Pivots.

The role

We are seeking a dynamic and experienced

Workshop Foreman, with a background in

engineering and fabrication, to joinour large team

based in Ashburton.

Working in partnership with the workshop manager

you will assist with the organisation of workshop

staff, delegating daily work and monitoring

progress. You will also be on the workshop floor,

designing, fabricating, and repairing parts for

irrigation systems.

Keytasksinclude:

• Manufacturing parts for irrigation systems and

other departments as required.

• Organise and delegate work for all workshop

staff.

• Liaise with internal and external stakeholders as

necessary.

• Assist with company-wide technical training.

• Custom fabrication and repairs.

Your skills andexperience

• Experience in metalworkand fabrication –using

jigs and engineering drawings.

• An agricultural/rural background, with

knowledge of irrigation products.

• Understanding of CAD orother related drawing

software.

• Peoplemanagementexperience.

• A relevant welding qualification would be

beneficial.

Application

If you've got apassion for people, flair for design,

technical know-how, and a connection to the

rural industry, this could be just the role for you!

With aweb of diversity, competitive remuneration

package, relocation cost contribution and the

chance tojoin aprogressive and future focused

team –apply now.

Allapplicants must have NZ Residencyoravalid

NZ work permit

Email your application including CV and

coverletter to

matt.sutherland@rainer.co.nz

2392580

2391615

SITUATIONS VACANT

SITUATIONS VACANT

Operations Manager

We are searching for amotivated and enthusiastic

person to take onthe role ofOperations Manager at

ourseedcleaningbusiness in Methven.

Prior seed cleaning experience is preferred but not

essential, however the right attitude and ability to

learnquicklyisparamount.

The position of Operations Manager is varied and

challenging andwould suit apractical,motivated and

ambitious person looking tofurther their career by

taking responsibility for the day to day management

of thebusiness.

The successful candidatewill:

•Betaughtthe artofseed cleaningtothe extentthat

they can proficiently set, operate and monitor the

performanceofarangeofseed cleaningequipment.

•Have hands-on participation in the practical

running ofthe plant including unloading trucks,

bagging,stacking, mixingand loadingout seed.

•Become trained and certified inforklift operation,

seed samplingand phytosanitaryinspection.

•Move seamlessly between physical work alongside

other staff onthe machine floor tosupporting

the Administration Manager particularly around

scheduling work, staff management including

health andsafety, andseedanalysis.

•Provide strongleadership andmanagerialskills.

•Enjoyproblem solvingand practical maintenance.

•Have excellent communication skills and ability to

relate to clients.

•Take anactive role inbusiness development and

strategicplanning.

This position would particularly suit someone

currently working in the seed cleaning industry

who islooking for the challenge and reward that

managementbrings.

Remuneration package may include the use of a

three bedroom (+ office) house and company EV by

negotiation.

Applicants must be New Zealand residents currently

living in NewZealand.

Phone:JohnMcCaw 0274140157

Email: john@mccawseeds.co.nz

Postal:JohnMcCaw, McCawSeeds.

PO.Box 37, Methven7745

OpukeKahui Akoisseeking 2Filipino ,Tagalog

speaking,BilingualSupportWorkers for

10 hours aweek perposition.

Applications close July 2at12noon.

Role and Responsibilities:

To work in schools and provide in-class learning

bilingual support and help teachers in reducing

barriers to meet theneeds of new learners of English

through

• Assisting with successful adjustmenttoschooling

in general and transition to the mainstream

• Increasing the chances of academic success

through increased understanding of the

curriculum

• Improving school-student communication and

relationships

CV and cover letter to Mark Ellis,RakaiaSchool

markellis@rakaia.school.nz

SPRAY PAINTER/PREPPER

Afull time position has become available in our

Panel and Paintshop foraQualified Spray Painter.

Theposition requires

• Good work ethics

• Have ahigh standardindetail and finish

• Tobereliable

• The abilitytoworkunsupervised

• Toworkinateam and meet production deadlines

• NZresidencyorvalid NZ work visa

Please send resume and coverletter to

TheGeneral Manager

Bus and Truck Body Work Ltd

PO Box51, Ashburton7740

Phone Keith on 0274 274 007 or 307 0378

Email busandtruckbodywork@xtra.co.nz

2392602

2391340

2387936

TRADE &SERVICES

ALTERATIONS. Sewing,

mending and trouser hemming,

curtain alterations

and curtain making. Call

Michelle on 027 352 7248.

BUILD work to do? Contact

Kiwi Building and Maintenance

Ltd. Alterations,

Renovations, New builds.

Qualified Tradesmen.

Phone Cawte 027 418

7955.

CARPET cleaning. Powerful

equipment and fast drying.

Upholstery, mats and rugs.

Experienced owner/operator.

Phone John Cameron

at Supersucker. 027 435

1042 or 308 1677.

CARR'S Chimney Cleaning,

servicing Ashburton and

surrounding districts, $60

per chimney. Phone

Rodney on 03 324 2999

and leave amessage.

CHARLIES Blind Cleaning

Service -same day service

and repairs. Charlie can

supply new blinds and

tracks and will hang

drapes. Ph 03 307 1936 or

020 4169 0342

CHIMNEY Sweep - for a

professional service call

Dan McKerrow Chimney

Sweep and Repairs on 021

118 7580

COMPUTER Problems? For

prompt reliable computer

servicing and laser engraving,

contact Kelvin, KJB

Systems Ltd, 4 Ascot

Place, Ashburton. Phone

308 8989. SuperGold discount

card accepted.

COMPUTER repairs, sales,

training, setup wirelessnetworks,

spyware

cleanup. On-site day or

evening. Low fees. Call

Robin Johnstone, Networks

Firewalls and PC's Ltd, 308

1440 or 027 768 4058

CONCRETE Services -

Driveways, paths, patios,

mowing edging. Decorative

Concrete specialist 30

years servicing Canterbury.

Free quotes. No job too big

or small. Phone Paul 021

152 1966.

DENTURES; Dr Peter

Rumping repairs existing

dentures and also provides

new dentures. Phone 027

220 9997.

DRIVEWAYS, Patios and

Paths, Plain Concrete, Coloured

Concrete or Exposed

Agregate Concrete.

Paveco, 13 Robinson

Street. 100% local. Phone

307 6466 for aquote.

ENGINEERING repairs, fabrication,

farm equipment

service and maintenance,

WOF repairs, machining

and welding. Odd jobs a

speciality. Mobile workshop.

Can collect. Phone

Malcolm 0274 754 241.

FLY control and spider

proofing. For all your

domestic and industrial

pest control needs phone

AJ Kerr at Ashburton Pest

Control on 03 308 8147 or

027 432 5447

FURNITURE Removals. For

all your household removal

needs - urban, rural lifestyle,

office relocations -

call Nudges Furniture

Removals, phone 027 224

0609.

GARDENING, mowing,

pruning, fertilising, projects

or general spruce ups? Call

Andrew at Spruce Gardens

to get the job done right.

027 765 2899 or 03 307

1693.

sprucegardens@xtra.co.nz

GUTTER Cleaning. Using a

vacuum system to clean

out the debris is a faster

and cleaner process. Call

Allan on 027 209 5026

LOCKSMITH/Door repairs.

Keys/locks, sliding and bifold

door roller repairs.

Mobile service. Call Nigel at

Doors and More. Ph 027

516 7104

CLASSIFIEDS

Ashburton Courier, June 17, 2021

TRADE &SERVICES

PAINTER for all your painting

needs. No job too small,

inside or outside. Professional

friendly service.

Phone Pete 03 308 1672 or

027 200 1619.

PLASTERING

&COATINGS

Rockcote. Waterproofing.

Texture/Specialist

Coatings.

The Finishing Company

03 307 8870 2343603

FOR: Mobile Sandblasting

Painting

OF: Structural Steel

Trailers

Farm Machinery

Car Parts

Shipping Containers

Concrete, Brick Rendering

Free quotes -Competitive rates

HEALTH &BEAUTY

37

TRADE &SERVICES

SUN Control Window Tinting:

Privacy, UV, glare, heat

control for homes, offices

and cars. Phone Craig

Rogers 307 6347, member

Master Tinters NZ. www.

windowtinter.co.nz

TINT-A-WINDOW, fade, UV

block, glare, heat control,

safety, security, privacy,

frosting films, solar protective

window films. Free

quotes, 20 years local service.

Phone 0800 368 468

now, Bill Breukelaar, www.

tintawindow.co.nz

ASHBURTON SANDBLASTING

LIMITED

Phone Kurt 027 332 4549 or Neil 0274 362 900

HEALTH &BEAUTY

AndreGrob

Chiropractor

Tues 9am-5pm

03 308 9516

www.ashburtonchiropractic.co.nz

URGENT CARE CLINIC

WEEKEND DUTYDOCTORS

IN THE EVENT OF AN EMERGENCYPHONE 111

Forall othermedicalassistance outside of normal

hoursplease phone your generalpracticeteam,24/7,

to speak withahealth professional whowill giveyou

free health advice on what to do or wheretogoifyou

need urgentcare.

If youdon't have aregular generalpractice, call any

GP team 24/7 forfreetelephone health advice.

All non-residents and visa holders please bring your

passporttoyour surgeryappointment.

New Zealanders'tobringsome form of ID.

TheAshburtonDutyPractice for ...

Saturday19th June is

MooreStreet Medical Centre, MooreStreet,Ashburton.

Consultations will be by appointmentonly.

To make an appointmentcallyour regular GP 24/7.

Sunday20th June is

Eastfield Health, 135 Tancred Street,Ashburton.

Consultations will be by appointmentonly.

To make an appointmentcallyour regular GP 24/7.

Methven and Rakaia: Formedical attention on the

weekend and public holidays please telephone

MethvenMedical Centre on 03 302 8105

or Rakaia Medical Centre on 03 303 5002.

Details foraccessing the afterhoursservices will be

on the answer phone.

PHARMACIES

Wises Pharmacy,CountdownComplex,

East Street will be open on ...

Saturday from 9.00am until 1.00pm

Sunday from 10.00am until 1.00pm

At Geraldine: TheGeraldine Pharmacywill be open

normal trading hours during the week,and on

Saturdaymorning from 9.30am to 12.30pm.

Closed Sundays and Public Holidays

Forfree24hour Telephone Health Advice

Phone the healthline on 0800 611 116

Brought

toyouby

CountdownComplex, East Street, Ashburton

Phone: 03 308 6733 Fax: 03 308 6755

2380080

2363694
---
CLASSIFIEDS

38 Ashburton Courier, June 17, 2021

www.ashburtoncourier.co.nz

MEETINGS

MEETINGS

PUBLIC NOTICE

PUBLIC NOTICE

PUBLIC NOTICE

PUBLIC NOTICE

PUBLIC NOTICE

Mid Canterbury

Soball

AGM

July 6th, 2021

6:30pm

Ashburton Club &MSA

Cardroom

Nominaonsby5pm,

June 25th, 2021

2390944

Tuesday22June

Sinclair Centre

7.30 pm

Di Lucas

Landscape Architect

Protecting

Canterbury's

outstanding

Landscapes.

Visitorswelcome

2392558

Established 1885

Ashburton

Club &MSA

2021

ExecutiveElections

Polling in the Club

Elections will take place

at the club on

Friday, June 18

11am -1pm

3pm-8pm

Saturday, June 19

11am -1pm

3pm-7pm

Please havemembership

cardsavailable

StuartGeddes

General Manager

EDUCATIONAL

2391813

Established 1885

Ashburton

Club &MSA

TheAnnual

General Meeting

of Members

will be held at the

Club on

Sunday, June 27, 2021

at 10am

Business:

• Toreceive and discuss

the Annual Report

of the Committee

and the Statement

of Financial Position

for the year ended 31

March2021

• Todeclare the election

of Club Officers

• To consider any

notices of motion for

which the necessary

noticeisgiven

• GeneralBusiness

StuartGeddes

General Manager

2391822

Grey PowerAshburton

Monthly Meeting

Monday, 21 st

June,2pm

at the Senior Centre

AGM

Please remember the

sales table.

All welcome

EDUCATIONAL

Forkliftand Dangerous GoodsCourses

NZTAApproved Course Provider,MITO&Competenz Assessor

Classes 2&4,Endorsements F&D

ForkliftF&OSH, Saturdays and other days as requested

Dangerous Goods Course,½day Mondaymornings

CommunityHouse,Ashburtonoryour work place

Forfurther information

Phone Christine 027 245 2563

PHOTOGRAPHS

FOR SALE

Have you had your photo

taken by our reporters?

OrderaPhoto Today!

¼Page*

$6

*approx 6x4

A5

$8.50

A4

$16

Ph: 308 7664 -199 Burnett St, Ashburton

2392261

2379679

2376133

2346047

ASHBURTON

SOCIETY OF ARTS

57th ANNUAL EXHIBITION

AshburtonArt Gallery

Opening Night5th July2021

Public viewing daily

6th -30th July 2021

Tickets forOpening Nightare $25

from AshburtonArt Gallery

or contact0274 650 010

My friends and

Iare looking for

anew home.

Canyou help?

Food donations needed please.

Kindly sponsored by

Adrienne Patterson

Ph308 4432

HospiceMid Canterbury

Dealing

with alife

limiting

illness?

We can help with:

2392769

2387289

•Sittingand companionship

•Counselling and bereavement

support

•Biographywriting

•Massage,reiki and reflexology

•Activityand support

programmes

Phone 307 8387 or 027 227 8387

email manager@hospicemc.nz www.hospicemc.nz

RAFFLE RESULTS

Allservices

arefree

RAFFLE RESULTS

HospiceMCDiamond Raffle Result

2391818

Winner: Maureen Chinn

Ticket No: 0140

(Thankyou to allwho

supportedHospiceMC)

FARMING NOTICES

ON FARM

Portable Sawmilling

20 years experience

custom cutting

RobertMcLaren 0274 374 399

POULTRY

PEKIN and Silkie bantams

hens and roosters, born

Jan/Feb. Turkeys also

available. Bulk orders welcome.

Phone Heather, 027

244 1102 for viewing, pick

up Hinds.

HOME SERVICES

ROOF COATINGS: All roof

types, specializing in

Decramastic and Long Run

Iron, Coloursteel etc, steep

roofs not a problem. —

Spraymaster 027-433-7780.

FARMING NOTICES

GARDEN SUPPLIES

2392583

GARDENERS Specials.

Sheep Manure $8.bag. Pea

straw $5.bale. Mediumsquare

pea straw $60.bale,

linseed straw $50.bale.

Phone Alan 027 496 7136,

Ian 027 286 3697. AHinds

Lions Project.

CARS WANTED

$$ CASH PAID $$ Buying

cars and trucks for wrecking.

Ph/txt Zac 021 1056

797

OPEN DAY

DorieCommunityPreschool is apurpose-built

facilityinthe heartofDorie,locatedbeside our

local primaryschool,with ateam of greatteachers

to guide your tamarikithrough theirearly years.

• Feesofonly $6 perhour

• Low teacher/child ratio

• 30FREE hours for3and 4year olds

ENROLMENTSOPENNOW

Come and visit our fabulous facilities and share

morning teawith the teachers.

Tuesday, 29th June 9.30 -11am

ContactDee

97 DorieSchool Rd,03302 0989

deanne@doriepreschool.co.nz

Dr Christopher McGrath

PhD(Otago), MSc, DO(UK)

Expert

musculoskeletal care for your pain

Consulting Osteopath, Ashburton

Appointments/contactthrough web site

021 0222 6378

www.countrypractice.nz

Hinds Y.F.C. 71st Ploughing Match

Sunday27thJune 2021 -10.30am start

at Ian &Christine Lowe's Swamp Road property.

Allclasses welcome –horsestomodern

Entries close 23rdJune 2021

Entries to

RSmith 3026648 or

NRoss 3026055

BYO lunch

Afternoon teainthe shed at conclusion of events

ALL WELCOME

2392174

STEADYAS

YOUGO

These falls prevention exercises improveyour

balance, leg strength, general fitness

and well being.

Groups held weekly in manylocations

at $2 forone hour.

NewClass starting in Staveley

Wednesday23June in the hall.

Come along and see if this is for you.

Please phone AgeConcernAshburtonon

308 6817 to enrol or forfurther information.

Having difficultycutting

your toenails?

Maybewecan help

TheHakatere Presbyterian Parish has organised

asix-weekly toenail cutting service

whichwill starton

Wednesday, June 30 at 1.30pm,

at the parish church lounge in

Thomson Street,Tinwald.

Thesessions begin with afoot spa, followedby

nail cutting and then afoot massage.

Thesession concludes with acuppa.

Thereisnocharge butadonation

would be appreciated.

To bookplease contact

Alison Scammell on 308 3861

2392519

2391601

2392829

2386391

Thurs 17th

10.00 Poppy

10.00 Dream Horse

11.50 Fast &Furious 9

12.10 Finding You

2.15 AQuiet Place2

2.20 Poppy

4.10 Spirit Untamed

4.10 James &Isey

5.50 Dream Horse

6.00 Fast &Furious 9

8.15 Fast &Furious 9

8.30 TheConjuring 3

Fri18th

11.00 Poppy

11.00 Dream Horse

12.50 Fast &Furious 9

1.00 Finding You

3.00 Cruella

3.15 Spirit Untamed

4.55 TheConjuring 3

5.20 Fast &Furious 9

7.00 In TheHeights

8.00 Fast &Furious 9

9.30 Fast &Furious 9

Sat19th

10.00 Spirit Untamed

10.00 Tom&Jerry

11.40 Fast &Furious 9

11.50 PeterRabbit 2

1.40 AQuiet Place2

2.10 Spirit Untamed

3.30 In TheHeights

6.00 Dream Horse

6.00 Fast &Furious 9

8.15 Fast &Furious 9

8.30 TheConjuring 3

Sun 20th

10.00 Tom&Jerry

10.00 Spirit Untamed

11.40 Dream Horse

11.45 Spirit Untamed

1.20 Fast &Furious 9

1.40 In TheHeights

4.00 PeterRabbit 2

4.10 AQuiet Place2

8.30 Fast &Furious 9

8.30 TheConjuring 3

Mon21st

10.00 Poppy

10.00 Dream Horse

11.50 Fast &Furious 9

12.00 Finding You

2.00 Dream Horse

2.15 James &Isey

3.50 PeterRabbit 2

4.00 Spirit Untamed

5.30 Cruella

5.40 Fast &Furious 9

8.00 Fast &Furious 9

8.15 TheConjuring 3

Tues 22nd &Wed 23rd

5.40 Fast &Furious 9

5.50 Dream Horse

8.00 Fast &Furious 9

8.15 TheConjuring 3

NO COMPS

Fast &Furious 9,

In TheHeights,

Spirit Untamed

PG

PG

M

PG

M

PG

G

M

PG

M

M

R16

PG

PG

M

PG

PG

G

R16

M

PG

M

M

G

G

M

G

M

G

PG

PG

M

M

R16

G

G

PG

G

M

PG

G

M

M

R16

PG

PG

M

PG

PG

MGG

PG

MM

R16

M

PG

M

R16

AshburtonFancier's Society

ANNUAL SHOW

Sports Hall,TancredStreet

June 18th -19th 2021

Friday2-5pm

Saturday10am-3pm

Exhibition of poultry:

Ducks,bantams

&pigeons

S.I. Championship feature

showoffancypigeons

Kindly sponsored by

AshburtonTrust

FARMLANDS

ASHBURTON IN

STORE DAY

Friday June 25th

Coffee cart and BBQ lunch

11.30 to 1.30

Specials across the store and

giveaways

Look for our calving check

sheet and our colouring competition

for the family in

your letterbox or from our

store

2391563
---
With WINTER HERE, your

FAMILY'S SAFETY on the road is

moreimportantthan ever

Seeustodayfor afreeno-obligation tyre check,with the option to replaceyour tyres

if youneed abetter grip ...

Or a WHEELALIGNMENT to correctyour tyresfromwearing unevenly.

Servicing MidCanterburyfor over 75 years.

197 Wills Street,Ashburton l www.neumannstyres.co.nz l Phone 03 308 6737 (24 hrs –after hours call out applies)

2389883
---
WINTER SALE –ON NOW!

55'' 4K SmartTV

LIMITED STOCK

was$2799

NOW

$

1700

$11.42 weekly

• 4kresolution offers amazing vibrant

colours foramazing picturequality

• Samsung user friendly remote

allows youtoaccess all of Samsung's

greatonline content like Apple TV

and Netflix and so much more

• UHF and satellitetuner allows youto

watch Freeview straightfromthe TV

75''4KSmartTV

was$4499

NOW

$

3790

$25.08 weekly

• 4Kresolution offers amazing vibrant

colours foramazing picturequality

• Easy to use remoteand operating

system make it easy to access your

favouriteapplications

IMMEDIATE

DELIVERY

IMMEDIATE

DELIVERY

Fisher &PaykelWashing Machine

was$1129

NOW

$

977

$6.70 weekly

Fisher &PaykelFront Load Washer

was$1899

NOW

$

1322

$8.95 weekly

Fisher &PaykelDishwasher

was$1199

NOW

$

988

$6.77 weekly

10 YEAR

MOTOR

WARRANTY

• 5.5kg –Compactdesign

• Soak option –helps remove stains

• 5 water levels –saves water and

time

• H1050 W560 D560

LARGE CAPACITY

• 9kg,large capacity

• 1200spin speed,less

drying timeneeded

• Pause and add option, for

those forgotten items

• H850 W600 D645

14 PLACE SETTINGS

• 14placesettings

• 6wash programmes,wash

avariety of dishes

• Delaystartoption, set to

start/finish when it suits

you

• H850 W597 D600

IMMEDIATE

DELIVERY

BONUS

WITH THIS OFFER

c

3 5 OFF

IMMEDIATE

DELIVERY

IMMEDIATE

DELIVERY

Westinghouse Range

was$1499

NOW

$

1298

$8.79 weekly

Haier Sensor Dryer

was$929

NOW

$

798

$8.08 weekly

Beko Heatpump Dryer

was$2099

NOW

$

1337

$9.05 weekly

• Bakeand grill functions,

cook amazing meals

• Warmerdrawer,warm

plates/rest meat

• Powersockets on sides,

plug kettle/toaster etc. in

• H1146 W696 D610

SENSOR DRYING

• 7kg –Mid sized capacity

• Sensor drying –Easy and

convenient

• Front or rear venting –

position wherebest foryour

• H830 W600 D585

ENERGY EFFICIENT

• 7kg –Mid sizedcapacity

• Heatpump/condenser –energy

efficient and no venting needed

• 5year warranty –Peaceofmind/

reliable

•

BONUS

WITH THIS OFFER

c

3 5 OFF

IMMEDIATE

DELIVERY

BONUS:

$50 PrezzyCard

"byredemption"

$50

IMMEDIATE

DELIVERY

BONUS:

$100 Visa Card

"byredemption"

IMMEDIATE

DELIVERY

Trundle Domino

BACK IN STOCK

was$1799

NOW

$

1098

$7.49 weekly

Chorus DeluxeKingBed

LIMITED STOCK

was$2999

NOW

$

1690

$11.36 weekly

• 3-in-1 bed with strong

metal trundle unit.Ideal

forthe kids room or

accommodating extra

guests over the holidays.

MEDIUM

COMFORT

5YEAR

WARRANTY

• Pillowtop Pocket Spring

System–Reduced

partner disturbance

• Ultrafresh –for allergy

support

• Medium comfort

2360204