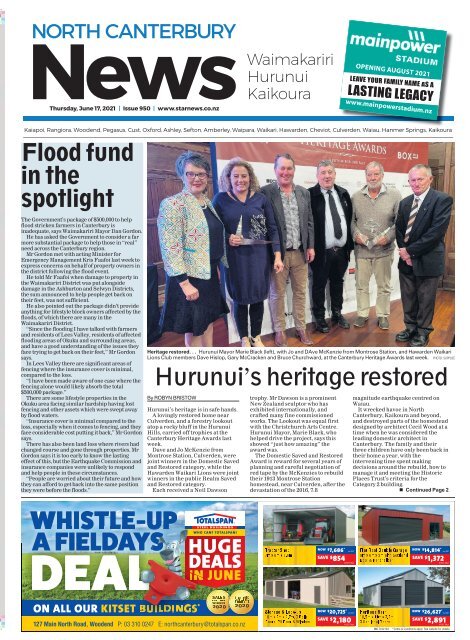 North Canterbury News: June 17, 2021
You also want an ePaper? Increase the reach of your titles
YUMPU automatically turns print PDFs into web optimized ePapers that Google loves.
OPENING AUGUST 2021

LEAVE YOUR FAMILY NAME AS A

LASTING LEGACY

Thursday,June17, 2021 | Issue950 | www.starnews.co.nz

www.mainpowerstadium.nz

Flood fund

in the

spotlight

The Government's package of $500,000 to help

floodstricken farmers in Canterburyis

inadequate,says Waimakariri Mayor Dan Gordon.

He has asked the Governmenttoconsiderafar

more substantial packagetohelp those in ''real''

need acrossthe Canterbury region.

Mr Gordon met withacting Ministerfor

Emergency Management KrisFaafoi last week to

express concerns on behalf of property ownersin

the district followingthe flood event.

He told Mr Faafoi when damagetoproperty in

the Waimakariri District was put alongside

damage in the Ashburtonand Selwyn Districts,

the sum announcedtohelp peopleget back on

theirfeet, was not sufficient.

He also pointed out the package didn't provide

anything for lifestyle block owners affected by the

floods, of which there are many in the

Waimakariri District.

''Sincethe flooding Ihave talked with farmers

and residents of Lees Valley, residentsofaffected

flooding areasofOkuku and surrounding areas,

and have agood understanding of theissues they

face trying to get back on theirfeet,''MrGordon

says.

In LeesValley thereare significant areasof

fencing where the insurance cover is minimal,

comparedtothe loss.

''I have been made awareofone casewhere the

fencing alonewouldlikely absorbthe total

$500,000 package.''

Thereare some lifestyle propertiesinthe

Okukuarea facingsimilarhardship having lost

fencing and other assets which wereswept away

by floodwaters.

''Insurance coverisminimal compared to the

loss,especiallywhen it comes to fencing, andthey

face considerable cost puttingitback,''MrGordon

says.

Therehas also been landloss whererivers had

changed courseand gonethrough properties. Mr

Gordon says it is too early to know thelasting

effect of this, but the Earthquake Commissionand

insurance companies were unlikely to respond

and help peopleinthese circumstances.

''Peopleare worried about their future andhow

they can afford to getback intothe sameposition

they were before the floods.''

Heritage restored. .. Hurunui Mayor Marie Black (left), with Jo and DAve McKenzie from Montrose Station, and Hawarden Waikari

Lions Club members Dave Hislop, Gary McCracken and Bruce Churchward, at the Canterbury Heritage Awards last week. PHOTO: SUPPLIED

Hurunui'sheritage restored

By ROBYN BRISTOW

Hurunui's heritage is in safe hands.

Alovingly restored home near

Culverden, and aforestry lookout

atop arocky bluff in the Hurunui

Hills, carried off trophies at the

Canterbury Heritage Awards last

week.

Dave and Jo McKenzie from

Montrose Station, Culverden, were

joint winners in the Domestic Saved

and Restored category, while the

Hawarden Waikari Lions were joint

winners in the public Realm Saved

and Restored category.

Each received aNeil Dawson

trophy. Mr Dawson is aprominent

New Zealand sculptor who has

exhibited internationally, and

crafted many fine commissioned

works. The Lookout was equal first

with the Christchurch Arts Centre.

Hurunui Mayor, Marie Black, who

helped drive the project, says this

showed ''just how amazing'' the

award was.

The Domestic Saved and Restored

Award is reward for several years of

planning and careful negotiation of

red tape by the McKenzies to rebuild

their 1913 Montrose Station

homestead, near Culverden, after the

devastation of the 2016, 7.8

magnitude earthquake centred on

Waiau.

It wrecked havoc in North

Canterbury, Kaikoura and beyond,

and destroyed parts of the homestead

designed by architect Cecil Wood at a

time when he was considered the

leading domestic architect in

Canterbury. The family and their

three children have only been back in

their home ayear, with the

intervening time spent making

decisions around the rebuild, how to

manage it and meeting the Historic

Places Trust's criteria for the

Category 2building.

Continued Page 2

WHISTLE-UP

AFIELDAYS IN JUNE

Tractor Shed

7m x 6m x 3.6m

$

7,686 *

$

854

incl GST

KITSET ONLY

Flat Roof Double Garage

9m x 6m x 3m with Sectional

Door & Ranchslider

$

14,814 *

$

1,372

incl GST

KITSET ONLY

DEAL

ON ALL OUR KITSET BUILDINGS

*

SALES

E X C E L L E N C E

2020

S T R AT E G I C

E X C E L L E N C E

R U N N E R U P

2020

127MainNorth Road,Woodend P: 03 3100247 E:northcanterbury@totalspan.co.nz

Storage & Lock-up

16m x 7m x 2.7m, 3 Roller

Doors, PA Door & Window

$

20,725 *

$

2,180

incl GST

KITSET ONLY

Heritage Barn

10.5m x 11m x 2.7m

3 Sectional Doors

HC TLS2104

$

26,627 *

$

2,891

incl GST

KITSET ONLY

*Terms &Conditions apply. See website for details.
---
NEWS

2 The North Canterbury News, June 17, 2021

Grow

customers,

salesand

profits

with North

Canterbury's

bestread

newspaper

Readership: 47,000 weekly

Circulation: 30,150copiesdelivered

to EVERY farm, RD, lifestyle block

and home inWaimakariri, Hurunui

&Kaikoura every Thursday.

news

RobynBristow

Managing Editor

027 312 1581

robyn.bristow

@ncnews.co.nz

Reporters

David Hill, Shelley Topp.

advertising

DaynaBurton

Sales Co-ordinator

027 312 0089

dayna.burton

@ncnews.co.nz

Amanda Keys

Advertising

027 536 6224

amanda.keys

@ncnews.co.nz

Fireworks decision 'responsible'

By SHELLEY TOPP

AWaimakariri District councillor is

heartened by The Warehouse's decision

to stop selling fireworks.

''It is the right move,'' Paul Williams

says.

He now wants to see fireworks

restricted to public displays because of

the potential of fireworks to cause fires

to homes and properties, and cause

distress, pain and even death to animals.

In 2018 Waimakariri District Council

staff were asked to investigate whether

it was possible to ban, or at least limit,

the sale of fireworks in Waimakariri and

only have public fireworks displays,

after Cr Williams raised the issue.

''I am pleased that The Warehouse is

acting in aresponsible way by now not

selling this product,'' he said.

''Other retailers now need to follow

this action.''

''I found that the council could not

implement abylaw,'' he says.

Paul Williams

Cr Williams says while most families

act responsibly with their fireworks,

others don't.

''I had ratepayers relaying stories of

sky rockets being let off from moving

cars aimed at houses.

''My father was avolunteer fireman

and Ialso saw the strain this put on our

already very busy fire service.''

Cr Williams says he has support from

the SPCA and other groups to stop the

sale of fireworks to the public.

''However Isupport public displays

that are displayed in asafe way in which

people can get the information required

to keep their pets safe and the fire

service can have asay on the

conditions.''

The Warehouse chief product officer

Tania Benyon said when making the

announcement about the decision to end

the sale of fireworks, that it came after

feedback from customers.

''While many are supportive of public

fireworks displays to mark special

events across the year, Guy Fawkes has

become less of an occasion, and there

are clear concerns about people letting

off fireworks at home.

''In line with that response we no

longer feel fireworks have aplace on our

shelves.''

Home and lookout preserve Hurunui history

From Page 1

''All plans had to go throughthem(the

Historic Places Trust), for approval

which added another six months to

rebuild.

''Meanwhile we lived in the90

square metre shearers quarters,

compared to our 600 square metre

house,'' saysJo.

Someparts of the home were

repaired, some demolished and then

rebuilt.

The architects for the project,

Wilson andHill, ensured much of the

original timberand brick construction

was retained, with many original

features skilfully reintegrated.

Jo saysitisahuge thrill to be back in

their home.

The Hawarden Waikari LionsClub

led project restoringthe Balmoral

Forestry Lookouthas helped preserve

arare example of afire lookoutinNew

Zealand, whichhold aplaceinhistory

alongside lighthouses.

Local builder Matthew Newton

breathed new life into the lookout,and

aplains tableidentifies the peaks that

can be viewed from it.

There is alsoinformationonpanels

inside the building tellingthe storyof

the lookout, and the people who kept

the Balmoral forest safe.

Hurunui Mayor ,MarieBlack, who

was raised on the family farm that

surroundedthe lookout, saysthe

project became acollaboration

betweencommunity groups, with the

AmberleyLions also coming on board

withadonation for seats, so people

can take abreather during the 40

minute walk fromthe BluffRoad up to

Celebration. .. Afunction was held by the Department of Conservation and the Hawarden

Waikari Lions Club at the Balmoral Fire Lookout to celebrate the restoration of the historic

Lookout in August last year.

PHOTO: SUPPLIED

the Lookout.

It was now akintoamuseum

collection of historic information

relating to forestry assets,production

and the protection of assets overalong

period of time.

Kerryn Clark

Advertising

021 586 138

kerryn.clark

@ncnews.co.nz

getintouch

Editorial

info@ncnews.co.nz

Advertising

sales@ncnews.co.nz

Found summer's

watering hard

work and time

consuming?

An automatic irrigation

system isnot as expensive

as you may think!

The Widest

Music Variety

Graphic Design

heather.hood@ncnews.co.nz

Distribution/Deliveries

03 314 8335

Rangiora: 03 313 2840 /03314 8335

14 Ashley St, Rangiora

Christchurch: 03 364 7460

www.starnews.co.nz

2386026a

www.tiw.co.nz 03 313 0408

308 Flaxton Road, Rangiora

See us and be prepared to

sit back, relax and enjoy

the garden this spring.

Tune in nowtolisten on

104.9 for North Canterbury

103.7 for Hanmer Springs

andKaikoura
---
Personal journey ignites passion

By DAVID HILL

Following her family's legacy led to a

Queen's Birthday Honour for Kaikoura's

Gina Solomon.

Ms Solomon was made aMember of

the New Zealand Order of Merit (MNZM)

for services to conservation and

governance.

''I was pretty blown away by it. You

don't expect those things to happen and

then it does.

''I've been involved in anumber of

different committees over the years in

that conservation and environment

space and I've had some wonderful

opportunities to go to some great places

and meet some great people.''

Growing up at Oaro, south of

Kaikoura, she gained apassion for

conservation, following afamily legacy.

''My father fished with my grandfather

and that's where my grandmother's

people are from, so it's been apersonal

journey of trying to carry­on their good

work to ensure it continues to feed us.

''I don't fish myself, but it's about

looking after that place for the next

generation and the one after that.''

After living and working in

Wellington, Ms Solomon returned home

to Kaikoura in 1993 and was keen to

reconnect with her iwi.

She was appointed secretary of the

local Kaikoura runanga and began

tagging along with her mother, Darcia

Solomon, to various hui, including the

Nelson Marlborough Conservation

Board.

Her mother had replaced her uncle as

the Ngai Tahu representative on the

Queen's Birthday honour ... Gina

Solomon was surprised to be awarded an

MNZM.

PHOTO: SUPPLIED

conservation board ''and she wanted me

to take her place one day''.

''I tagged along with her to various hui

over the years and Iended up being her

driver and then Igot thrown in the deep

end, so Idid my best to try to swim.

''I've been very lucky at having good

people around me, including close

family and friends who have given me

advice so it's not just recognition for me.

''You don't really do anything without

the people who stand with you.''

Ms Solomon has served 14 years on the

conservation board and as chairperson

since 2017, but will step down later this

month.

She continues to be involved in Te

Korowai oTeTai oMarokura as

secretary and administrator and is a

Kaikoura Marine Guardian.

Te Korowai was instrumental in

advocating for the establishment of

Kaikoura's marine protection

legislation, while the guardians were

established to monitor the marine

reserve.

Her passion for conservation has also

led to involvement in the QEII National

Trust Board, the Nature Heritage Fund,

the Molesworth Steering Committee, the

Forestry Ministerial Advisory Group,

the Hutton's Shearwater Charitable

Trust and the Kaikoura Zone

Committee.

''I really enjoyed my time on the QEII

trust. Ihad the opportunity to share my

iwi values. Being the only Maori on the

trust board at the time, it was important

to share that.

''I got to go all round New Zealand and

see what people are doing. Iwent to

some special places and Igot to hold a

kiwi and agiant weta and had all sorts of

wonderful experiences that you don't

always get to see. I've been very, very

lucky.''

George and his gumboots conquer 100km

By SHELLEY TOPP

BayleysRangiora real estate agentGeorge

Black was backatwork withblistered feet

last Mondayafter raising more than

$20,000for theNorthCanterbury Rural

SupportTrust.

George ran 100 kilometres,from The

Peaks, in Hawarden, to Christchurch,in

his gumbootsonThursdaylast week to

supportthe trust's work.

''I grew up on aNorth Canterbury farm

and understand that farming can be

extremely toughattimes,'' he said. ''The

suiciderate for farmers is 1.5 times the

New Zealand average so theyneed all the

supportwecan give them.''

The run took George 12 hours and 15

minutestocomplete.

''I am stokedabout the money we raised

which was more than double what Ihoped

for. Iamreallygrateful to all the people

who supported me and madedonations,''

he said. ''I had alot of support and it

worked out really well.''

The North Canterbury Rural Support

TrustchairGayle Litchfield said she was

in awe of whatGeorgehad achieved for

the trust.

''What aremarkable young man he is.

We were at the finish line along with his

colleagues to cheer him in and the feeling

was one of sheer amazement that he was

stillsmiling at the end of his challenge.

''We would liketothank hismum and

the rest of his support crew for the role

they playedtoo. Iamsure he would agree

he would not have beenable to do it

without them.'' The money raisedwill go

towards helpingthe trustprovide

additionalwellbeing support to the

farming community.

George established aGivealittle page

before the run for peopletomake

donations to the fundraiser and by last

Monday he had raised $20,300.The tallyis

expectedtoincrease with the pageopen

for donations until June30.

Gumboot fundraiser ... George Black who

ran 100km in gumboots.

PHOTO: SHELLEY TOPP

NEWS

The North Canterbury News, June 17, 2021

3

TAXRETURNS

Debra Jowsey

Karla Kilner

Tax &Accounting

Consultants

since 1984

Overwhelmed? Confused? With the recent IRD

changes to tax returns, GST returns, rental returns

and pay day filing A-Plus Accounting is here to help.

Give us acall. Friendly,knowledgable staff.

A-Plus Accounting

☎ 03 314 9480

2293781

2095268

Kaiapoi Lodge

Residential Care

Nursing Home, Hospital and

Respite

Person Centred Care,

Care that's built

around you

6CassStreet,Kaiapoi

Ph 03 327 7235

The wait is over...

New stock has arrived!

Winter styles in store

Caring for North Canterbury

Dr John Dehn

Full Mole Checks

using Dermoscopy

Surgical Management

and Aftercare

Comprehensive, Affordable, Convenient

Ph 03 9204060

52 Pegasus Main Street, Pegasus 7612

www.pegasusmedicalcentre.co.nz

Southern Cross

Affiliated Provider

For selected services

1890742

20% OFF STORE WIDE

ONE WEEK ONLY -June 21 st –June 26 th .

SALE

2Durham Street, Rangiora

Ph 03 310 6062

www.iadore.co.nz

*excluding already reduced items

2391236

Comfortable, Convenient &

Captivating, Arcopedico

will soon earn their spot at the

front of your wardrobe.

The dual Arch support system

&anatomic footbed keep your

feet supported all day long &

encourages dreamy comfort

&stability during wear.

Made in Portugal

Vegan friendly

Kaiapoi Mill, Ranfurly Street, Kaiapoi

Monday –Friday 9am –5pm

Saturday 10am –1pm

Closed on Public Holidays

Ph 03 327 0576

2389009
---
NEWS

4 The North Canterbury News, June 17, 2021

PARENTS

Do you haveasonordaughteror interested inhorse riding?

✭ Courses everyweekend.

✭ 2, 5&7daySchool Holiday courses.

✭ Private lessons available

Monday toFriday

✭ One day /one night $90 child

✭ Opportunity to compete on our horses.

✭ ½day lessons and treksavailable.

2264064

711Island Rd View Hill, OXFORD 7495

03 312-4309 www.kowhai.co.nz

Ice life. .. Kaiapoi photographer and filmmaker Anthony Powell in Antarctica, the subject of his multi­award winning film Antarctica: A

Year on Ice which will be screened at the Rangiora Town Hall cinemas this August.

PHOTO: SUPPLIED

Frozen continent, raw and pristine

By SHELLEY TOPP

AKaiapoi photographer and film

maker's multi­award­winning

documentary Antarctica: AYear on Ice,

is to be screened in Rangiora.

Anthony Powell's film had its world

premiere at the New Zealand

International Film Festival in

Christchurch during July 2013.

But renewed interest in it, and

interest from school principals, means it

will screen in Rangiora later this year.

Anthony made his first trip to

Antarctica in 1997 and has now spent

about 10 years, off and on, on the Earth's

southernmost continent.

''It took afew years of experimenting

with cameras to get things that would

actually work in the cold of winter, then

afew more to build up the footage,'' he

said.

''I had not seen anything that Ithought

really captured the experience from the

point of view of the everyday worker, or

what it is like to spend the winter there

isolated from the rest of the world, so

once Ihad most of the scenery shots, I

concentrated on filming that story for a

couple of years.''

Curiosity, and asense of adventure,

made him want to visit the frozen

continent.

''I wanted to shake things up abit from

my usual job.''

Originally he worked as

telecommunications worker, looking

after the phone, radios, satellite gear

and other electronics. ''Now Iwork as a

full­time documentarian, filmmaker,

photographer, and multi­media

creator.''

The cleanness, untouched by humans,

is the thing he finds most extraordinary

about Antarctica.

''Anywhere else in the world, even in

national parks, way off the beaten track,

you still see signs of human activity,'' he

said.

''Once you get away from the bases in

Antarctica it is still raw and pristine.''

Anthony has seen ashift in culture

towards putting alot more effort into

making sure Antarctica remains as

clean, and as untouched as possible.

''But also the effects of climate change

are becoming more and more apparent,''

he says.

The owner of Rangiora Town Hall

Cinemas, Jeremy Stewart, is offering a

discounted ticket price for school

groups to the film on Monday, August 30,

Tuesday August 31 and Wednesday

September 1, all starting at 10am.

Anthony will do aQ&A session after

the film at each screening.

WE NEED

FARMSS

We currently have

buyers looking for:

•Sheep and beef properties

up to 5,000SU

•Irrigated dairy support,

particularly in the

Culverden Basin

•Large scale sheep

and beef properties

Altogether better experienced

The ever-changing Real Estate market demands

aunique approach— ateam of experienced and

skilled marketers, negotiators and facilitators.

Ben and his team are ready and able to help you.

Ben Turner, Top Rural Real Estate Agent in

New Zealand-Real Estate Institute ofNZAwards

2013/2014, 2014/15, 2015/16, 2016/17, 2017/18 and 2019/2020

If you are thinking of selling

your property and would like

aconfidential discussion, or

just amarket update, please

give Ben or Pete acall.

Ben Turner

027 530 1400

ben.tuner@bayleys.co.nz

Pete Foley

021 754 737

peter.foley@bayleys.co.nz

WHALAN AND PARTNERS LTD, BAYLEYS,

LICENSED UNDER THE REA ACT 2008

Ph. 3136640| 275Flaxton Road, Southbrook

sales@brandmowers.co.nz

Residential / Commercial / Rural / PropertyServices
---
NEWS

The North Canterbury News, June 17, 2021

Local radio station celebrates milestone

By DAVID HILL

5

OwenPaterson, whofounded North

Canterbury's own communityradio

station, CompassFM, adecade ago,

sayshesucceeded by cajolingafew

keen locals to his wayofthinkingthere

was aplacefor alocal station.

The stationcelebrated themilestone

withsupporters lastweek.

Compass FM's firstbroadcast was

during Queen's Birthday weekend

2011.

Speaking via zoom from his now

homeinEngland, Mr Patersonspoke

about the challenges of establishing

the North CanterburyRadio Trust in

2008, and preparingfor the first

broadcast.

''WhenIcametoRangiora,

broadcasting seemed to be controlled

in the maincentres. Icajoled afew

keenlocalstothinkasIdid andin2008

we gotalicense andthenwerealised

we needed somefunding.''

For thenextthree years theNorth

Canterbury Radio Trust worked hard

to raise funds,secure abuilding and

buy equipment.

''Fundraisingwas hard, because we

wereasking localpeople to take aleap

of faith on somethingthey could

neither see norhearnor touch,''Mr

Paterson says.

''Wedid makemistakesand we didn't

havethe vocaldynamics of bigger,

commercialstations, butwelistened to

our communityand delivered what

theywanted.

Today'sTrust chairpersonIan Lamb

saidfor astart­up to succeed in the

media industry andtoreach10years

was ''ahuge achievement''.

He thankedthe station's major

sponsors MainPower,McAlpine's

Mitre 10 Mega and theRata

The show must go on ... Compass FM

announcer Bruce Johns continues to

broadcast live during the station's 10th

anniversary festivities last week.

Foundation.

WaimakaririMayor Dan Gordon and

Hurunui Mayor Marie Blackwerealso

on hand to paytribute to Compass FM

for its supportofthe communityacross

the Waimakariri, Hurunuiand

Kaikoura districts.

Opening remarks ... Compass FM founder Owen Paterson watches on from his home in

England via Zoom, while station manager Kerry Treymane addresses guests during

Compass FM's 10th anniversary function.

PHOTOS: DAVID HILL

RETIREMENT LIVING

THAT KNOWS

NO BOUNDARIES

Discover awelcoming community nestled in the

heart of the existing Silverstream community.

The Sterling, aquality later living village, isnow

under construction in Silverstream, Kaiapoi.

At The Sterling, you are free to live the life you choose;

enjoy plenty of green spaces within the village, or

explore streamside walks inthe wider community, all

while receiving the support you choose. There are no

boundaries atThe Sterling; no boundaries around the

village and no boundaries to what you can experience.

VILLAS SELLING NOW

Construction Underway!

Find out how easyit is to secure avilla and you too could

be one ofour first residents to be living at The Sterling

before Christmas.

Call Michelle now!

VISIT us

1/42 Silverstream Blvd,

Kaiapoi

TALK to us

0508 783 754

hello@thesterling.co.nz

LEARN more

thesterling.co.nz
---
OPINION

6 The North Canterbury News, June 17, 2021

Pressure still on feed

Until last week's significant rainevent,

the ongoingdry conditions were aworry

to many.

While the rain was welcome, and we

can see anoticeableresponsewith

groundtemperaturesenabling some

growth, it has not taken away the

pressure of feed supplies to get us

through the winter.

Support is available through the

Rural Support Trust, and this causehas

been buoyed by the amazing effort of

GeorgeBlack, running 100km in

gumboots.

Running in gumboots is aserious

effortand George's determination has

raisedawareness of the Trust,and the

support that is available throughthese

unpredictable weather events.

An upcoming event with Gilbert

Enoka on June 22, at 7pm at the Omihi

Community Hall, is designed to support

the wellbeingour rural community.

"Fill your Boots"comes to you from

the "Refill your Cup"team. Bookings are

essential and may be made at events.

humanitix.com/fill­your­boots.

The Canterbury Heritage Awards

held their premier event last Friday

night.

Congratulations to Jo and Dave

McKenzie fromMontrose Station

Culverden as joint winners in the

Domestic Saved and Restored category

and the Hawarden WaikariLions as

joint winnersinthe Public Realm

Saved and Restored category.

These are prestigious awards, and

their recognition is significant in

Canterbury, bothreceiving aNeil

Dawsontrophy.

McALPINES MITRE 10 MEGA RANGIORA -OCEAN WATCH

This

Week

Sun

Fishing

Guide

Moon

Wind

Fair

Thursday Friday Saturday Sunday Monday Tuesday Wednesday

Jun 17 Jun 18 Jun 19 Jun 20 Jun 21 Jun 22 Jun 23

Rise 7:59am

Set 4:59pm

Best

Times

5:34am

5:58pm

Rise12:34pm

Set 11:32pm

Gentle S

strengthening

Fair

Rise 8:00am

Set 4:59pm

Best

Times

6:21am

6:45pm

Rise 12:59pm

Moderate SW turning

S

Neil is aprominent New Zealand

sculptor who has exhibited

internationally, and commissioned

many fineworks including the Chalice

in Cathedral Square and Fanfare on the

Northern Motorway.

The Canterbury Heritage awards

recognise excellence in heritage

retention and conservation and

promotethe value of heritage in the

wider community.

Iwould like to thankmembers of our

district who attended the engagement

sessions and have provided feedback on

the consultation document in regardto

the Long Term Plan.

We face substantial issues as a

district, including the impact of the

three waters reform and our response to

climatechange. With such extreme

weatherevents of drought and storm

surges,weneed to plan and prepareour

district to meet these challenges.

With agriculture being the backbone

of our district,wemust support thosein

the industry whenever we can.

Covid­19 vaccines will soonbe

available as the roll out continues

throughout the country –itisimportant

to follow the Ministry of Health

guidelinesand work with your Health

Centre to receive the protective

vaccination.

The Hurunui HealthService

Development group is hosting aseries

of community meetings, if you are

passionateabout the district'shealth

care you are encouraged to attend.

Dates and timesmay be foundccn.

health.nz and search Hurunui Heath

Services.

Strong support for awards

Over 50 applicationsare being processed,

andmoreare expected, for theNorth

CanterburyBusiness Awards,before

tomorrow's cutoff date (June 18).

Fifty­six applicationswereunder way

late lastweek, slightlyaheadatthesame

time atthe lastawards when thefinal

totalwas 93.

Thejudges forthe event,hostedby

Enterprise NorthCanterbury(ENC),are

Steve Wilkinson,Des Taylor­Hayhurst

andBrian Davey.

ENC's BusinessSupport manager,

Miles Dalton, saysthereisagoodspread

of entriesinthe variouscategories.

There aresix entries apiece in the

Percival Street Bakery Excellencein

RetailAward, the HanmerSprings

ThermalPools andSpa Tourism and

HospitalityAward,the Misco Joinery

Manufacturing andTradesAward, Hellers

Emerging Business Award, the Pak'nSave

Rangiora Community EnterpriseAward,

and the Lime RealEstate Sustainability

award.

Thereare five entries to date inthe

Made in NorthCanterbury Foodand

BeverageAward,and the SparkBusiness

Christchurch Innovation Award.

Votesforthe People's Choice Award

sponsoredbythe NorthCanterburyNews

open on July 12 andcloseonAugust 11.

Good

Rise 8:00am

Set 4:59pm

Best

Times

7:09am

7:33pm

Set 12:42am

Rise 1:23pm

Gentle Sbecoming

moderate SE

Good

Rise 8:00am

Set 5:00pm

Best

Times

7:57am

8:22pm

Set 1:54am

Rise 1:48pm

Moderate Sturning

SE

Good

Rise 8:00am

Set 5:00pm

Best

Times

Community Patrol

The Rangiora Community Patrol,

the eyes andears of the police, will be

holdingafundraisingbarbecue/

sausage sizzle outsidePak'nSave,

South from 10am to 2pm on Saturday

June19. Thebarbecues are held on

the third Saturday of every month.

Fill you Boots

People wanting to register for the

Fillyour Boots evening in the Omihi

Hall on June 22, can go to events.

humanitixcom/fill­your­boots.Entryis

freeto theFill yourCuphosted event

at which Gilbert Enoka, theAll Blacks

mental skills coachfor more than 20

years, will speak.

Rangiora Museum

''TheSmall Camera that changed

PhotographyForever'' will be the

focusof ameetingatthe museumon

Thursday, June 24, at 7.30pm.

President DavidPetriewill speak

about thecamera, with photographs

taken using these camerasstillspread

everywhere around theworld today.

Members free.Visitors welcome­a

donation please.

Classic Car meeting

The sixth monthly classiccar

gatheringwill be held on Sunday,

June27. Do notbeput off by inclement

8:48am

9:14pm

Set 3:09am

Rise 2:15pm

Gentle S

Rise 8:01am

Set 5:00pm

Best 9:42am

Good

Times 10:10pm

Set 4:27am

Rise 2:47pm

Moderate SW turning

SE

Rise 8:01am

Set 5:00pm

Best 10:40am

Ok

Times 11:11pm

Set 5:48am

Rise 3:25pm

Gentle SW becoming

moderate S

weather. There is abig log fire in the

BetterHalf kitchen andBar,and hot

drinks, brunchorlunch available.

Numbersare notexpected to be bit

during winter,butthe gatheringswill

continueathe corner of SH­1 and

AshworthsBeach Road, Leithfield.

Suggested timeisfrom about 10am,to

about 2pm.Better Half opensat 9am

for thosewishingtostart theday off

withacooked breakfast.

Drop in health sessions

Do youwant to makeadifference to

the hauora(health &wellbeing)ofthe

Hurunuicommunity?Drop­in

sessions withmembers of the Hurunui

HealthServices Development Group

start this week to talkaboutcreatinga

community group,and ahealthand

wellbeing providergroup. If you

provideahealth and wellbeing

service to yourcommunity, or you are

aresident whoispassionate about the

region's health careservices, youare

encouragedtoattend. Sessiontimes

andlocations:Cheviot,Knox Hall,

Friday,June18, 2pm to 3pm;

Amberley, Hurunui District Council

building,Friday,June 18,4pm to 5pm;

Waikari, WaikariMemorialHall,

Monday, June 21, 10amto11am;

Rotherham Hall,Monday,June 21,

12.30pm to 1.30pm; Hanmer Springs

library,Monday, June21,2.30pm to

3.30pm.Formore information, go to

ccn.health.nzand search 'Hurunui

HealthServices'.

Tough Country, by Mike Bellamy

In the 1970s and 80s, BarryBellamy wasafair old

bushman, traversingthe back­country from Hawke's Bay

to the far north in ablueex­air force LandRover.

His son Mike would joinhim andhis stories of the

characters of the1980sand 90s,fromtradiestodiggerdrivers,

are as hilariousasthey are quintessentially Kiwi.

Can You MakeThis Thing Go Any Faster?byJeremy

Clarkson

Oncebaptised in crude oilinAzerbaijan, thesedays

JeremyClarkson can be found pootling aroundDiddly

Squat Farm on histractor, seeingtohis crops, andtrading

in thered meatand road­rage foramuchmore mellow

timeofthings.

Intothe Unknown,byIan Trafford

Apersonalaccount of WWI from the diaries of aGisborne

farmboy,shapedinto agripping narrative by the diarist's

grandson 100 years later.

These titles are availableinboth Waimakaririand Hurunuilibraries.

Findout more aboutrecent additions to the librarycollectionbygoing to the

library catalogue at waimakariri.kotui.org.nz or hurunui.kotui.org.nzorcontact

yourlocallibrary.

Swell

Pegasus Bay

Tide Chart

3

2

SE 0.9 m E0.9 m E1.0 m E1.4 m E1.9 m E1.6 m E1.4 m

3 6 9 NOON 3 6 9 3 6 9 NOON 3 6 9 3 6 9 NOON 3 6 9 3 6 9 NOON 3 6 9 3 6 9 NOON 3 6 9 3 6 9 NOON 3 6 9 3 6 9 NOON 3 6 9

1

0

Highs Lows Highs Lows Highs Lows Highs Lows Highs Lows Highs Lows Highs Lows

Waimakariri 9:49am 2.1 3:37am 0.7 10:36am 2.2 4:25am 0.6 11:26am 2.3 5:15am 0.6

6:05am 0.5 12:43am 2.3 6:57am 0.5 1:38am 2.4 7:51am 0.4 2:35am 2.4 8:47am 0.4

Mouth

10:06pm 2.3 3:52pm 0.7 10:56pm 2.3 4:43pm 0.6 11:48pm 2.3 5:38pm 0.6 12:18pm 2.3 6:34pm 0.6 1:14pm 2.4 7:31pm 0.5 2:11pm 2.5 8:30pm 0.4 3:09pm 2.6 9:28pm 0.4

Amberley 9:49am 2.1 3:37am 0.7 10:36am 2.2 4:25am 0.6 11:26am 2.3 5:15am 0.6

6:05am 0.5 12:43am 2.3 6:57am 0.5 1:38am 2.4 7:51am 0.4 2:35am 2.4 8:47am 0.4

Beach

10:06pm 2.3 3:52pm 0.7 10:56pm 2.3 4:43pm 0.6 11:48pm 2.3 5:38pm 0.6 12:18pm 2.3 6:34pm 0.6 1:14pm 2.4 7:31pm 0.5 2:11pm 2.5 8:30pm 0.4 3:09pm 2.6 9:28pm 0.4

9:58am 2.1 3:46am 0.7 10:45am 2.2 4:34am 0.6 11:35am 2.3 5:24am 0.6

6:14am 0.5 12:52am 2.3 7:06am 0.5 1:47am 2.4 8:00am 0.4 2:44am 2.4 8:56am 0.4

Motunau 10:15pm 2.3 4:01pm 0.7 11:05pm 2.3 4:52pm 0.6 11:57pm 2.3 5:47pm 0.6 12:27pm 2.3 6:43pm 0.6 1:23pm 2.4 7:40pm 0.5 2:20pm 2.5 8:39pm 0.4 3:18pm 2.6 9:37pm 0.4

10:00am 2.1 3:48am 0.7 10:47am 2.2 4:36am 0.6 11:37am 2.3 5:26am 0.6

6:16am 0.5 12:54am 2.3 7:08am 0.5 1:49am 2.4 8:02am 0.4 2:46am 2.4 8:58am 0.4

Gore Bay 10:17pm 2.3 4:03pm 0.7 11:07pm 2.3 4:54pm 0.6 11:59pm 2.3 5:49pm 0.6 12:29pm 2.3 6:45pm 0.6 1:25pm 2.4 7:42pm 0.5 2:22pm 2.5 8:41pm 0.4 3:20pm 2.6 9:39pm 0.4

9:56am 1.6 3:48am 0.5 10:43am 1.7 4:35am 0.5 11:33am 1.7 5:22am 0.5

6:11am 0.4 12:51am 1.8 7:02am 0.4 1:46am 1.8 7:55am 0.3 2:41am 1.8 8:49am 0.3

Kaikoura 10:14pm 1.8 3:58pm 0.5 11:05pm 1.8 4:49pm 0.5 11:57pm 1.8 5:43pm 0.5 12:25pm 1.8 6:39pm 0.4 1:19pm 1.8 7:36pm 0.4 2:15pm 1.9 8:34pm 0.3 3:12pm 2.0 9:32pm 0.3

*Not for navigational purposes. Wind and swell are based on apoint off Gore Bay. Maori Fishing Guide by Bill Hohepa. www.ofu.co.nz www.tidespy.com Graphic supplied by OceanFun Publishing Ltd.

2118223
---
NICOL'S

Duracoil NewZealandmadeBeds

availablenow

•Medium comfort level

•Continuous Coil SpringSystem for strong

support

•NZ-made foam for superior comfort and

durability

BE QUICK -STOCK IS LIMITED

QueenMattress&Base Set

$

599

SUPER HOTDEAL

SingleMattress&BaseSet

CRAZY PRICE!

$

399

Samsung 318LTop Mount

FridgeFreezer

• LED lighting

• Digital InverterCompressor

• Twin CoolingPlus

• H1698 xW600xD605

GREAT

BUYING

$

899

LG Neomulti

Stick Vac

•Upto40minss run time

•3Modes:

Normal,Power, Turbo

•0.44L capacity,fully

washable dust

bin

SWEETDEAL! $ 799

Beko 7kg Sensor Dryer

•15drying programmes

•Quick 14 minuteprogramme

•LED display

•H856xW497 xD584

SUPERDEAL! $ 595

+12 MONTHS

INTEREST

ON PRODUCTS

FREE! $499&OVER *

*Terms&ConditionsApply

343A Flaxton Road, Rangiora•Phone (03) 313 7886
---
STYLE & QUALITY

FOR LESS

WWW.AFFORDABLEFURNITURE.NZ

SUPER

SPECIAL

CHRISTCHURCH'SMOSTAFFORDABLE

NZ MADE LOUNGE SUITES

CUSTOMISE TO YOUR REQUIREMENTS

WAS $3319

$

3069

Naples Modular Corner

2 Seater $1129 $1049

3Seater $1649 $1529

SUPER

SPECIAL SUPER

SPECIAL SUPER

SPECIAL

Willow

Barstool

Maui

Recliner

3Colour options

available

Orbit

Barstool

WAS$89

$

79

W A S $ 9 9 9

$

899

WAS $139

$

129

Elm Dinning

Collection

SUPER

SPECIAL

Sylvie Bedroom

Collection

Buffet $1,109

Dining Table $909

Tallboy 5Drawers $689 $639

Tallboy 6Drawers $799 $739

Lowboy 6Drawers $729 $679

Bedside $219 $199

Headboard From $379

3Year Warranty

3Year Warranty

5Year Warranty

5Year Warranty

Comet

Mattress

FROM

Single $229 $219

King Single $249 $229

Double $279 $259

Queen $319 $299

Melody

Mattress

FROM

Single $299 $279

King Single $349 $329

Double $399 $369

Riviera

Mattress

$

219 $ F R OM

279

$

349

$

459

Queen $439 $399

King $469 $439

FROM

Single $369 $349

King Single $419 $389

Double $499 $469

Queen $549 $509

King $599 $549

California King $709 $659

Chateau

Mattress

Single $499 $459

King Single $589 $549

Double $709 $649

Queen $759 $709

King $839 $779

California King $1009 $939

5Year Warranty

Continuous Wire

Spring Unit, Firm

Mattress &Quilt Fibre

5Year Warranty

Pocket Spring,

EuroTop, Quilt Fibre,

Wave Foam &ComfortFoam

5Year Warranty

Zone Pocket Spring,

Mini Pocket Topper,

Plush Fabric, Quilt

Fibre&WaveFoam

F R O M

$

489

ChiroMattress

Queen $519 $489

King $579 $539

FROM

$

499

King Single $539 $499

Double $679 $629

Queen $759 $709

Cloud Rest Mattress

King $839 $779

FROM

$

519

Super King $899 $839 King Single $559 $519

Queen $809 $749

IndulgenceMattress

King $869 $809

Super King $879 $819

FREE

CARPARKING

SOUTHCITY

BATH ST

WE ARE

HERE

255MOORHOUSE AVE

REBEL SPORT

COLOMBOST

MON-FRI 9:30AM–5:30PM

SAT-SUN 10AM–5:30PM

0800 268 264

www.affordablefurniture.nz
---
Unity organiser honoured

Long­timeAmberley Beach

residentBev Watson hasreceived

aQueen's BirthdayHonour,

recognisingover20years of

service organising theRaceUnity

SpeechAwards andRace Unity

hui.

The projects provided a

platform for high schoolstudents

to share theirvisionfor ending

racismand building unityin

Aotearoa.

Ms Watson has beenmadean

Officerofthe NewZealandOrder

of Merit forservices to race

relationsand youth.

''I feelincrediblyhonoured.

''The SpeechAwards and hui

havebeenamazingprojects to

workonand it hasbeen hugely

gratifying to see theimpact they

havemade on so manystudents.

''Itiscritical thatthe youth of

New Zealandhaveanopportunity

to helpshape theconversation

about racism andrace unity in this

country,'' shesays.

Ms Watson is amember of the

New ZealandBaha'i community –

areligious community concerned

withestablishingthe onenessof

humanity and universalpeace.

She became involvedinrace

relationswork whenserving as the

director of the Baha'i Officeof

Public Affairs. Sheworked closely

withthe Human Rights

Commissionand Baha'i race

relationsactivistHedi Moani to

arrange thefirst celebrationof

RaceRelationsDay in New

Zealandin1999. Followingthe

tragic death of Hedi Moani, Bev

was instrumentalinestablishing

the RaceUnity SpeechAwardsin

his memory.

Ms Watson is currently livingin

Bev Watson

Auckland for familyreasons, but

has been an integral partofthe

Amberley Beach community for

manyyears, includingserving as

Chairperson of Hurunui

Timebank,Chair of Amberley

Beach CoastCare, andSecretary

of the Amberley BeachResidents

and Ratepayers' Association.

In 2019 Prime Minister Jacinda

Arderncalled out the RaceUnity

SpeechAwards for providing

"young people with aspace to

deepen their understandingof

race relations issuesand share

their viewsonhow we canall help

to promote unityinAotearoa".

In recentyearsRace Unity hui

have strengthenedand multiplied,

from asinglenational event held

in conjunction withthe Speech

Awards, to regional huiaswell.

Theseevents enable youth to

discussrace relations issues,

solutions,and practicalplansin

more depth.

NEWS

The North Canterbury News, June 17, 2021

Anniversary

reflections

By SHELLEYTOPP

An interdenominational

service is being plannedto

celebratethe 150th

anniversary of the Ashley

Churchlater this month.

The plans have been kept

simpledue to concerns

about ``another Covid­19

level 2situation,orworse,''

says the AshleyCommunity

ChurchchairJeneane

Hobby.

``We will justhost an

interdenominational

service, with afew

reflectionsfrom members

of the community to cover

its whole 150 years,'' she

says. The Tuesday,June 29

service willfollow the form

of the Christmas Eve carol

services held annuallyat

the church, starting at 7pm

and lastingaround45

minutes, with supper

provided for guests

afterwards.

Paul Askin, aformer

Kaiapoi BaptistChurch

pastor, will leadthe service

duringwhich guest

speakers will offer

reflectionsand titbitsof

history from key phases of

the church's 150 years. ``We

will have adescendant of

Charles Ffrench

Pemberton,one of the

original land benefactors, a

9

memberofour local

community who recalls

worshipping in the final

Anglican years, and Julia

Witbrock will speak about

the Eastern Orthodox

tenancy (30 years from 1982

­2012),''Jeneane says.There

is also likely to be someone

talking aboutthe periodof

salvageand restoration

during the early 1970s.

It's also hoped Lesley

Askin (wifeofpastor Paul

Askin) will sing, tying in

with the Askins' monthly

hire of the church for their

family friendlyserviceand

discussiongroup.

Although the church,

which is a19th century

Category Two Heritage

building, is now a

deconsecrated building it is

still availabletohire for

weddings, civil unions,

christenings, funerals,

organised worship, and as a

community space.

Entry is free but

donations are always

welcome.

The church has a

Givealittle page to help

maintain and insure the

building.

Anyonewanting to attend

the anniversary celebration

night should contact

Jeneaneon027 289 1380 as

seatingspace is limited.

NEW LAND ROVER DISCOVERY

NEVER STOP DISCOVERING

The new Land Rover Discovery is the ultimate family-friendly SUV for the road, delivering unrivalled, exceptional long-haul

comfort for seven people and aconfidence-inspiring environment for the driver.

Aseries ofenhancements deliver increased functionality, improved comfort and 21st century connectivity, while the

innovative interior continues todeliver comfort without compromise. New Discovery.The spirit offamily adventure.

Archibalds

38 Tuam St, Christchurch

021 540 064 -Corey Gray

archibalds.co.nz/newdiscovery

*Terms and conditions apply. The standard scheduled 5Year servicing isincluded (different terms and conditions apply todifferent models). Contact Archibalds for more details orvisit www.landrover.co.nz.
---
KAIKOURA

10 The North Canterbury News, June 17, 2021

SALE ENDS 21 JUNE 2021

"Exclusive"

Pellet and Wood Fire Specialists

Ravelli ULEB Wood Pellet Fires

472 Blenheim Road

Sockburn

Phone: 03 343 1651

Turn everyday

essentials into

SuperGold

Open 8:30am -5pm

Sat 10am -3pm

www.heatstore.co.nz

Funding nets results

Funding from Fonterra is supporting the

protection and enhancement of one of the

lastremaining coastal bush scarp wetlands

in the South Island.

The Hailes family farm just north of

Kaikoura boasts uninterruptedviewsofthe

SeawardKaikoura Ranges on one side, and

on the other, vast ocean.

Castyour eyesdownwardand nestled at

the bottomoftheirdriveway is one of

Canterbury's best examples of acoastal

bushscarp wetland, and one of the last

remaining in the South Island.

The farm is home to the Hapuku Scarp

wetland, totaling more than10hectares.

It is the largestremaining freshwater

palustrine wetland (fed by rain,

groundwater,orsurface water) in the area

and hosts someofNew Zealand's

southernmost tawa and black maire trees.

Neighbour Richard Howard sharesthe

wetland and wasalso quick to recognise its

significance, fencinghis part of the wetland

manyyears ago.

Bothlandowners havebeen proactive in

protecting the wetlands and overland flows

intothe wetland,fencing off several

overland flow paths and critical source

areas. Asignificantcontribution from the

Fonterra Sustainable Catchment Fund has

ensuredthe wetland is protected from

stock.

Thishas enabled theHailes, who

specialise in dairy,deer and tourism, to

increase fence setbacks(the distance

between the waterwayand the fence) to the

wetland, and upgrade fencing on the scarp

to make it more resilient to floodsand

heavy rain.

Bernard Hailes saysthe funding from

Fonterra has enabled them to completely

fence the last long stretch of their wetland,

helpingtoprotect the natural taonga.

''The fencing means the natural beautyof

the wetland will be fullyprotectedand it

Fishing ... Environment Canterbury Pou

Matai Ko (cultural land management adviser)

Makarini Rupene sets some hinaki (nets) to

catch tuna (eel) in the Hapuku Scarp wetland.

PHOTO: ENVIRONMENT CANTERBURY

will helpitregenerate to its naturalstate so

futuregenerationscan appreciate it.

''Without the Fonterra funding, this

projectcould well have progressed at a

much slower rate. So we are verygrateful

for theirsupport,'' he says.

Previous biocontrol and weedcontrolby

the QEII Trust and Environment

Canterburytargeting Tradescantia /

wandering willie, banana passionfruit and

old man's beard, has increased the

wetland's capacity to hostnative floraand

fauna.

EnvironmentCanterbury Pou Matai Ko

(cultural land management adviser)

Makarini Rupenesays while covenants

generally don't allow the gatheringofkai,

they provide wider benefits whichalign

with mahinga kai values.

''Covenants provide patches of native

habitatthat can allowustogather plant

seeds specific to an area, usefulinaiding

native habitat across ecologicalregions.''

Winter playground awaits

By DAVIDHILL

Kaikoura's winterwonderland has plenty

to offer these school holidays.

Destination KaikouraadviserLouise

Frendsays winter is agood time to visit the

district, but makesure you bring your

beanie and sunglasses.

''We've got beautiful days and snowcapped

mountains and thebusinesseshere

really need your support.

''Allour businessesare operating as

normal and winterisanawesome timeto

go out whalewatching. There's no such

thingasbad weather in Kaikoura, justpoor

clothing choices, so pop on abeanie and

grab yoursunnies.''

Thereismore than one way to view

Kaikoura's wildlife, withscenic flights

available, alongside WhaleWatch,

Encounter Kaikoura and kayaking

adventures. Land­based entertainment

includes Mayfair Cinema, Kaikoura

Museum and the sheep shearing show,

alongwith cafes, restaurants, diners, pubs

and othereating places, with crayfish being

adelicacy the town is famous for and there

are some localcraft beers and wineries.

Llamatrekking, fishing, Fyffe House,

cycling and walking trails,mini golfand

escape roomexperiencesare just some of

the attractions on offer.

The cultural artworksalong State

Highway 1add to the experienceasyou

drivetoKaikoura, Ms Frend says. ''They

are some excellent reasons to justslow

down and enjoy the journey and it turns

what could have been aboring engineering

display intosomethingwhich brings the

cultural narrative to life.''

DestinationKaikoura's wintercampaign

offers the chancetowin ashort getaway.

For more information and special deals,go

to www.kaikoura.co.nz.

Book your

reserved table

today!

Find allthe ways you could

stretch your moneyfurther.

Visit www.supergold.govt.nz or download

and check the SuperGoldNZ app.

SG_200x130_grocery

REGISTER NOWAND

Proudly brought to you by the Rangiora Promotions Association

'Splash for Cash' for the Rangiora Stroke Club

Be the 2021 'Splashfor Cash'Champion!

OR the 'Best Dressed'Participant!

www.rangiorapromotions.co.nz

5PM

FRIDAY18JUNE

RangioraRSA Club
---
Kaikōura District CouncilNews

LONG TERM PLAN (LTP) 2021 -2031

The Council's LTPisnow available forpublic consultation.

Thisisthe Council's first LTP plan since2015. The years following the

earthquakes have been HUGE! Now, withasuccessful Council $40million

InfrastructureRebuild project behindusit'stimetolookatthe future.

The Earthquake Rebuild has effectively renewed or replaced key

assets that were at the end of their expected life or otherwise

compromised. There is no major expenditure required on

Council owned infrastructure assets (more info on

assets below) over the next 20-30 years (other than

roads) and no major growth-related projects

needed for at least ten years.

Last year becauseofCOVID-19 we reduced the rates increase from

10% to 4%. We know our community still faces economic

uncertainty so we are working with a'no frills' budget. TheCouncil

is focusing on delivering affordable, fit-for-purpose services and

infrastructure upgrades that servethe community now and in the

future.

Using what we know about our infrastructure, and taking on board

what our community is tellingus, we have identified anumber of

priority areas that we want to focus on. If all of theproposals

in the LTP go ahead, it would mean an annual average rates

increase over ten years of 3.4%. (5.2% this year)

HAVE YOUR SAY ONTHE PROPOSALS...

1-ROADS

Spend $4.997 million on road reseals and renewals

to address abacklog - mostly inrural areas.

2-FOOTPATHS

Increase annual spend from $14,000 to $60,000. Plus

afurther $100,000 each year to upgrade footpaths

from 2022/23 till 2031.

3-DISTRICT PLAN REVIEW

Residential, Business and Rural Zoning rules review

commencing in 2021/22. Full review to be completed

by 2030.

4-URBAN RUBBISH COLLECTION

New fortnightly kerbside rubbish collection to urban

residential properties.

5-TOURISM AND BUSINESS SUPPORT

Maintain current fundinglevels to Destination

Kaikōura.

Whetheryou agree or disagree, or have different

suggestions, please let us know.You can find more

information and have yoursay at kaikoura.govt.nz

or dropintothe Library or the Council for apaper

copy. Submissions close 28 June.

Kaikōura Aquatic

Centre will be open

next summer -with

new road and

walkways to get

there!

WHAT ELSE IS HAPPENING...

Upgrading and Creating

Digital Records to increase

effective managementand

security of records and make

themeasier for the community

to access.

New Technology at

the Library including

touch-screen public

computers andpublic

access to electronic

resources.

Rating Model Review

planned in 2023/24.

The Innovative

Waste Kaikōura

Landfill will be

closed andanew

Transfer Station

timed for2024.

Image Credit

Hanako Kubayashi

COMMUNITY

FACILITIES

The much loved Scout Hall is

being renovatedand

refurbished.

Old Council Building at 34

Esplanade,will be demolished.

We're going to investmorein

the maintenance of our Parks

and Reserves, Playgrounds,

Tracks and Walkways.

AND....MORE....

Suburban, Kincaid and Peketa

water supplies upgraded and

improvements made to treat the

water of the rural Fernleigh and

East Coast Water Supply.

Construction on the Wakatu

Quay Development (funded by

PGF) will begin in 2022.

Waiau Toa/Clarence River,

restoring access that was

destroyed in the2016

earthquake. 95% funded by Waka

Kotahi NZTA.

PLUS...AS USUAL

We'll still keeponwith business

as usual -we'll make sure that

sewerageistakenaway and

treated, you have accesstosafe

water,you can disposeofyour

rubbish and recycling.

There are Civil Defence services

in place should we need it, as

well as dog and noise control.

We provide community grants

and events, the Kaikōura

District Library, pensioner

housing, building and resource

consents and more...

Ph: 319 5026 | www.kaikoura.govt.nz | @ KaikouraDistrictCouncil
---
Professionals

in North Canterbury

Your Local Builder.

Bringing the mind,

body and spirit into

balance…

2384258v1

Relaxation Massage

Deep Tissue Massage

Sports Massage

Hot Stone Massage

Pregnancy Massage

Aromatherapy

Indian Head Massage

Cupping

31 Blackett Street, Rangiora

Phone 03 313 0349

Email info@head2toe.co.nz

www.head2toe.co.nz

YOUR TIME IS LIMITED

SO DON'T WASTEIT

Helping you make your

business successful

Contact Prosser Quirke Accountants

Chartered Accountants &BusinessAdvisors

6Blake Street, Rangiora

Ph 313 7824

team@prosser-quirke.co.nz

2299722v2

Skilled women. .. Alivia (left), Mia, Lynn and Brydie, talented professionals with Helmore

Stewart in Rangiora.

New generation of lawyers

NorthCanterbury has witnessed

enormous growth and changeinthe region

in the pastdecade.

Therehas been acommensurate

increaseindemand for professional

services.Inmany cases, women are at the

forefront of business, community

engagement and social development.

Helmore Stewart,one of the most

respectedlaw firmsinthe region, has

respondedtothese marketchanges by

hiring talented and skilled women, andis

proudtointroduce this new generation of

lawyers to the region.

Lynn Malin ­Partner

Lynn joined Helmore Stewart in 2014 and

became aPartnerthis year. Lynn's

expertise is familylaw and she adviseson

most family law matters. She is an

approved lead provider of the Family

LegalAdviceService and Family Legal

Aid.

Mia Hofsteede ­Lawyer

Mia comes from afarming background and

lovesworking and livinginNorth

Canterbury. Her practice is centred on

Agri­business and her background has

given her first­handexperience with

clientsconnected to the primary sector.

Mia advises on the acquisition and

disposal of rural property and businesses,

water, leases, dairy agreements, finance,

trusts and inheritance issues.

Brydie McFall ­Lawyer

Brydie was raised in North Canterbury

before moving to Wellington to studyLaw

and Commerce. After graduating,Brydie

providedemploymentadvice in the public

sector. Brydie movedback to the North

Canterbury area and joined Helmore

Stewart in 2020.Brydieadvises on

conveyancing,trusts, and succession

planningincluding wills and powers of

attorney.

Alivia Nevin –Law Clerk

Alivia joined Helmore Stewart this year

afterfinishingher law degreeatUC. Alivia

advises on conveyancing and relationship

property matters. Alivia has thoroughly

enjoyed her timeinthe NorthCanterbury

region so far and is looking forward to

meeting and working with the people

within thiscommunity.

Former Partner, Dorothy Stewart who was

one of the first womantopracticelaw in

NorthCanterbury,reflects "women

lawyerswere ararity when Istarted my

career in 1981.Todaythe situation is vastly

different and womenare prominent in all

sectors of the profession".

2373659v1

Experienced Podiatrist;

Erin Marsden BSc(Pod)

022 1726 049

www.northcanterburypodiatry.co.nz

NORTH CANTERBURY

03 311 8008

email@helmores-law.co.nz

www.helmores-law.co.nz

2373179v2
---
NEWS

14 The North Canterbury News, June 17, 2021

Bite-sizedslicesoffarming life in NC

By DAVID HILL

Five North Canterbury rural businesses

feature in anew book.

Launched at the West Eyreton Hall on

Friday evening, Waimakariri­based

rural journalist Tim Fulton's new book,

Kiwi Farmers' Guide to Life,features 25

''bite­sized'' chapters telling the stories

of New Zealand farmers and their

families.

''I was able to cover all sorts of

farming operation types and people

from all over the country,'' Tim says.

''I've set it out to make it chunky, with

bite­sized chapters, so it's something

you can pick up and just dip into the

chapters.''

He began the project last year, on the

eve of lockdown, which caused an

immediate rethink.

''I was just about to get going and then

we had lockdown, so Iended up doing a

lot of phone calls and emails to farmers

around the country, and when I

eventually got to go and see them, it was

like Iwas bolting in and getting what

information Icould, knowing Imay only

get to visit them once.''

Five North Canterbury families made

it into the book, including Tim's

neighbours Alan and Margo Vliet

Vlieland of West Eyreton.

The couple migrated to New Zealand

from the Netherlands in the 1990s and

have gone on to breed Clydesdale horses

and compete in ploughing matches with

the Clydesdales.

Margo fell in love with the Clydesdale

after seeing them at the Canterbury A&P

Show, with Alan later training as an

equine dentist in the United States.

Chapter one is Andy Fox of Foxdown

at Scargill, in the Hurunui district.

''It's the classic tale of an intergenerational

dry land family farm,'' Tim

says.

''Andy is areal contributor in his

community and he's areally interesting

guy. He has his own museum of vintage

cars and classic cars, and one car had its

origins in the Al Capone era in the 1930s.

''And he has tales of how people have

farmed over the years.''

Tracey Topp grew up in asheep

farming family at Cust and now runs

Cosy Toes at Rotherham selling Merino

clothing and created the We Love NZ

Wool social media campaign.

The Brothers Green features in a

chapter, telling of family ties to the

Culverden area and the story behind

establishing the hemp growing and

retail business.

Leighton and Jane Croft are sheep and

beef farmers at Omihi, north of Waipara,

and have hosted the Omihi Trailbike

fundraiser for their local school on the

farm.

''These were people Ithought Iknew,

but now Iknow them aheck of alot

better,'' Tim says.

Kiwi Farmers' Guide to Life: Rural

tales from the heartland by Tim Fulton

has been published by Bateman Books

and is on sale at bookstores for $39.99.

Guide to life ... Anew book that has just

hit the shelves written by local author and

journalist Tim Fulton captures the lives of

five North Canterbury farming families.

PHOTO: SUPPLIED
---
NEWS

The North Canterbury News, June 17, 2021

15

Rangiora concert

celebrates solstice

International relations ... Te Matauru Primary School pupil Lucy Kearns (left), principal Danny Nicholls, pupils

Tom Yorke and Millie Kirwan show off their gifts from Chinese schools with GYAM liaison manager Mary McCrostie

and Megan Prior, of Mana Ake.

PHOTO: SUPPLIED

Schools forge global relations

Te Matauru Primary School is

maintaining it's commitmentto

developing global partnerships

despite the ongoingchallenges of

Covid­19.

The Rangiora school is one of a

smallgroup of Canterbury schools

forging aheadwith connections to

schools in the Shichuan province of

China.

It has formed relationshipswith

two local schools for reciprocal

benefits.

Aseries of online Chinese

culturallessonshave beenheldin

the lastfew months, and Te

Matauru School principalDanny

Nicholls and Kaiapoi North School

principal JasonMileshave spoken

to aChinese schoolleaders

conference via Zoom.

The nextstepisfor the local

schools to sharetheir 'kiwiculture'

lessons with theirrelationship

schools andtotake the lead in

sharing thinking about educational

and social issues.

Te Matauru School has recently

received specialmusical giftsfrom

ShunanSchool and Chenju Primary

schools­the erhu (Chinese violin)

and yo­yo, whichwere thoughtfully

chosen and very much appreciated

by the school, Mr Nichollssays.

''We hope that the exchange of

gifts and culture willnurtureareal

interest for our students and will

continue beyondthe current global

situation. Our studentsare

enthusiasticand curious to learn

more about other cultures, and

opportunities such as this allow

them to gainanappreciationof

student life in other partsofthe

world,'' he says.

By SHELLEY TOPP

The winter season will take

centre stage in aconcert in

Rangiora next week.

The popular Rangiora

Community Choir will

perform awinter solstice

concert in the Rangiora

Methodist Church on Sunday,

June 27, to celebrate winter

and Matariki (the Maori New

Year), with songsabout snow

and cold, moon and stars, the

New Year, appropriate

carols and more.

``There is amixture of

well­known and lesserknown

material,'' said the

choir's musical director,

Merle Brown.

``A variety of styles

ranging from show music,

swing style, traditional

choral, carols, to a

challenging modern

rhythmic work will be

performed.''

The Covid­19 lockdown

disrupted the choir's plans

for 2020, but the members

performed an informal

concert for ''Family and

Friends'' last December.

``This replaced our usual

Christmas Concert,'' Merle

said.

``We also performed for

rest homes and acommunity

service group.''

This year the choir has also

performed another ''Friends

and Family'' concert

comprising Easter music.

``Our 'Friends and Family'

concerts have been well

supported and thoroughly

enjoyed,'' Merle said.

The choir will also perform

aChristmas concert this year

at the end of November.

Since the choir resumed

after lockdown it has

experienced steady growth

and now comprises agroup of

thirty­plus singers.

``We are afriendly,

welcoming group of all ages

who enjoy our singing and

socialising,'' Merle said.

``Our choir includes at

least six members over

eighty, which proves how

good singing is for health and

wellbeing, physically and

socially.''

New members are always

welcome, especially men

able to sing tenor or bass.

``Please support our

concert and if you are a

singer come and join us in

August after the choir has

taken awinter break,'' Merle

said.

The concert starts at 2pm

and is suitable for all ages.

Tickets can be purchased

at the church door before the

concert and cost $8.00 for

adults, with free admission

for children and afternoon

tea servedafter the

performance.

Most elder abuse is

hidden in plain sight

Abusersare often someoneclose – Afamilymember,acaregiver,

someone trusted. If you'reconcernedabout howsomeone is being treated,

it's OK to help.

CALL OUR FREE HELPLINE
---
NEWS

16 North Canterbury News, June 17, 2021

OUTLET SALE

4DAYS ONLY

Take afurther

25% off all outlet

clearance prices!

155 Roydvale Ave, Burnside

Wed 23 rd -Sat 26 th June

9am –4pm

Green light ... The Waimakariri Youth Council hopes to make the Dudley Park skate park

more community­friendly.

PHOTO: FILE

Youth council wants to

change skate park vibe

Ayouth­led project at Rangiora's Dudley

Park has been given the green light.

The Rangiora­Ashley Community

Board has given its approval for concept

plans to create amore communityfriendly

space alongside the Dudley Park

skate park.

The project has been led by the

Waimakariri Youth Council, which has

been working alongside the council's

greenspace to look at how the park can be

made more inclusive for more people.

''The youth council has done afantastic

job bringing everyone's ideas together

and the new features will create agreat

area for all to enjoy,'' board chairperson

Jim Gerard says.

The idea was proposed by the youth

council in response to reports of antisocial

behaviour.

The Waimakariri District Council set

aside $20,000 from its 2019/20 annual

plan.

The board's approval of the plan allows

the youth council to seek external

funding to fund its $40,000 budget.

The first feature to be installed will be

an 'activation platform', with plans to

install mounded seating, children's play

equipment, apicnic table and a

volleyball net.

Once the project is completed, staff

will work with the youth council to carry

out surveys to see if the additional

features are successful in making amore

youth and community­friendly space.

Council staff are keen to see which

features are successful so that they can

be utilised in other public spaces across

the district.

City choir heads to Cheviot

Christchurch­basedchoir the Knox

Singers will performaconcertinthe

Knox Church in Cheviot on Sunday

(June 20).

The choir will present Polyphony,a

performance of JosefHaydn's Missa

Brevis, Gabriel Faure's Cantique de

Jean Racine, and two Gradualsby

Anton Bruckner, plus other

favourites.

The Knox Singers'first public

performance was early in 2015 to

celebrate the newly restored Knox

PresbyterianChurchinChristchurch.

The choir has established a

reputation for versatility and

originality, and under new director

Gabriel Baird the choir is continuing

to build awide classical repertoire.

Since the choir's first public

performance, it has performed

concerts annually in Christchurchand

in the wider Canterbury community,

except for last yearduringthe Covid­

19 pandemicisolation restrictions.

The choir has performedmusic by

Schubert,Vivaldi,Stanford and

Wesley as well as adramatic

production of Handel's Messiah.

The concert startsat2pm with

admission by ``suggested koha'' of

$10.

The Widest Music Variety

Tune in nowtolistenon104.9 North Canterbury

and103.7 Hanmer Springs andKaikoura
---
Winter

High Tea

Image is indicative only.

Join us foraWinter HighTea at one

of our three Christchurch villages

Winter certainly is starting to settle in. These coolermonths

can makeitjust that little bit harder to get outand about.

So hereatSummerset we'replanning amonth of warm

winter High Teas andyou're invited.

Just popalong to one of our three Christchurch villagesany

time between 10am and 2pm, on anyFridayinJune,and

enjoyarange of delicious winter treats and hotdrinksonus.

Whilst you're here, whynot also get ataste of the Summerset

lifethat our residents love so much.

10am -2pm

EveryFridayinJune

Summerset at Avonhead

120Hawthornden Road,

Avonhead

Summerset on Cavendish

147Cavendish Road,

Casebrook

SummersetatWigram

135 AwateaRoad,Wigram

Our teams would love to showyou around ourstunning

villagesand showhomes.

We'relooking forwardtoseeingyou!

0800SUMMER |summerset.co.nz

SUM3118_37X8
---
NEWS

18 The North Canterbury News, June 17, 2021

New exhibition saving

art from rubbish skip

By SHELLEYTOPP

Anew exhibitioninRangiora'sChamber

Gallery is saving'incredible' art from

the rubbish skip.

The Uncovering HiddenTalent

exhibition, in Rangiora's Chamber

Gallery, showcases the work of

Canterbury secondary schools' Year

11­13 senior visualartists.

The work is part of afree initiative

launched in 2018 by the Creator's Room,

to connectsenior visual artists in

Canterbury secondary schools with the

community of collectors.

One of the instigatorsofthe Creator's

Room, Sophie Paterson, of

Christchurch, who established the

onlinegallery with Charlotte Sherratt,

of Ashburton, said incredible art work

was created at secondary schoollevel,

but more often than not thosestudentart

foliosended up either in adeep, dark

corneroftheir parents' garage or in the

schoolrubbish skip.

''We wanted to provide options for

these students to showcase their work,''

Sophiesaid.

''We provide upfront financial

support, through the purchase and

professioal framingofthe original

artworks and fundthe reproductionof

their limited­edition prints,'' she said.

''The artworksare then made

available to the collectors throughour

gallery online and annual exhibition,

with acommission of all sales going

directly to the artists.''

The initiative overcomes anumber of

obstacles facing students endeavouring

to publiclyshowcase their artwork.

''Our secondary school art students

often lack confidence, resources and

funding to createand present theirwork

on aprofessional level and have limited

ways of marketing themselves and

connecting with the widerarts

community,''Sophiesaid.

The Creator's Room also awards an

annualscholarship of $3000 to one of the

students taking part in the initiative,

once they leavethe school environment,

to help support the development of their

artistic career.

The scholarship winner is selected by

an independent judging panel

consisting of practising artists and art

experts.

Two former scholarship winners,

Emma Patmore and Jack Williams have

artwork in this exhibition.

The UncoveringHidden Talent

exhibition opened on Sunday and ends

on July 8.

Lost and found property

The following property has been

reported to the Police as lostinNorth

Canterbury ­have you seen it? A

Samsung phone in ablack cover, a

Nokia phone in black cover, agrey

wallet, abrown wallet, red rimmed

Karen Millinpresecription reading

glasses, acream leather wallet with

animals on it, and agold Samsung

phone in aclear case.

Red dots please art tutor

By SHELLEY TOPP

Rangioraart tutor

VictoriaBennett was

heartenedtosee so many

sold red dots on her

students' work at their

latest exhibition.

It wasalsopleasingfor

the11special needs

artists, whosework

featuresinthe Our Studio

exhibition whichopened

in Kaiapoi'sArt on the

Quay Gallery earlier this

month.

``It is always very

rewarding forthe artists

to have their work on

show in an exhibition,''

Victoriasaid.

``We had averygood

turnoutfor the opening

night andmost of the

artistswere able to

come.''

Theartists allhave a

unique, uninhibited style.

``If youintroducea

themethey will all come

up with somethingtotally

different,''Victoria said.

``Some of thework may

be alittleaccidentalbut

because theydon'tover

thinkit, it comes out

looking lovely.

''They have aunique

approach and Ithink

theirart makes people

very happy.''

Theexhibitionalso

givesthe artistsasenseof

achievement, which

Victoriabelieves is

importantfor the

wellbeingofeveryone,

andnot justartists.

Victoria Bennett

Victoriahas been

teaching specialneeds

studentsart at various

venuesfor around twenty

years, beginningatthe

ArtsCentre in

Christchurch.

She loves the workand

now holds twoclasses,

one dayaweekatIdea

ServicesinRangiora.

The artworkinthe Our

Studio exhibitionhas

beenchosen from the

workVictoria'sstudents

havedonethroughoutthe

year.

``Itisthe best of the

best,'' she said.

Thisisthe second

exhibition of theartists'

workatthe Artonthe

QuayGallery.

Theyhavehad several

other exhibitions at other

venuesthough, at the

ChristchurchArtscentre,

beforethe earthquakes,

SodaCafeinRangiora,

and at Rangiora's

ChamberGallery.

``I try to have an

exhibitionevery 18

months,'' Victoriasaid.

``The gallery

managers,Brian Hoult,

MirandaHalesand Jackie

Watson,and Soda Cafe

owner Lynda Cox,have

beenenormously

supportive.''

The OurStudio

exhibitionopened on

Thursday,June 3, and

closesonWednesday,

July14.

Smoke-free burning

means acosynest…

Learn clean burning

techniques, fora

healthier region at

warmercheaper.co.nz

Lowpollutiondaysand nights

require everyone with firesto

burn smoke-free.

You'll get awarmerhome,

useless firewoodAND help

improve Canterbury'sair quality.

…and better

breathing for

our tamariki.

LE22551-V4
---
NEWS

North Canterbury News, June 17, 2021

19

Buy aDole Tropical Gold pineapple

for achance to WIN a$50

Four Square gift card.

Rivals ... The fairy king Oberon (left, played by Daniel Lees) squares off against the fairy

queen Titania (played by Iona Main).

PHOTO: COURTESY OF PAUL JOHNSON, WHITE KNIGHTCONTRACTING

Punk rock Shakespeare

By DAVID HILL

Shakespearewith amodern twist will be

performedatthe Rangiora Town Hall

during next month's school holidays.

The Hartley School of PerformingArts is

returning to havingawinter production,

afterlast year's senior and intermediate

show in the Julyschoolholidayswas

cancelleddue to Covid­19.

This year's show,anupdated version of

Shakespeare's AMidsummer Night'sDream

­Rewritten will be performed in the

Rangiora Town Hall from July 14 to 17.

Show director Paul Johnsonhas added

his own twisttoascriptwritten by school

directorDale Hartley­Brown more thana

decade ago.

''When Ifirst wrote it more than 10 years

ago Irememberthinking about whatthe

characters weretryingtosay and being

conscious of makingsure it was

appropriate formystudents to say on stage.

''Andthen this time, while there's

nothing particularly rude, therewas alot of

things the guys aresaying to the girls and

that the girlswere wishingfor that just

aren't quite right anymoreand Iwantmy

girlstobeconfident. So Ithink it'sreally

interestingjust how muchthingshave

changed,even in the last 10 years.''

Whilethe lineshavechanged,Dale says

the story stays truetothe original

characters.

The well­knowncharacters include the

fairyking Oberon (playedbyDaniel Lees)

and the fairy queenTitania(Iona Main),

FREE FLUE KIT * WITH WOODSMAN COLERIDGE

Woodsman

Coleridge fire

and flue combo

Only $2549

Latest ULEB canbeinstalled installedin

any home in Canterbury

SAVE $629

who have had alovers'spat.

Oberon castsaspell on Titania, forcing

her to fall in love with ahuman character

namedBottom (playedbyOliverBurns),

who'shead has been changed into a

donkey's head by the mischievousand

gender diverse Puck,played by Michelle

O'Brien, who played the white witchinlast

year's whole school production of The Lion,

The Witch And The Wardrobe.

Oberon enters the stageonhis

skateboard and his fairy followers are

dressed in the styleofpunk rockers, while

Titania's entourageare dressed in K­pop

style.

Theirstyle is in contrast to the human

characters, who enter the fairy forest

dressed in Edwardian style ''to mix it up

and keep it interesting''.

Lead human characters include Hermia

(Hannah Thompson),Helena (Casey

Montgomery), Lysander(Braydn

Siegenthaler) and Demetrius(Felix

Horwarth).

Around dancers, singers and lead

characters willperform in the show,

requiringaround 200 costumes,with two

make­up artists andtwo hairdressers,

making wigs, supportingthe cast.

AMidsummer Night's Dream ­Rewritten

will be performedatthe Rangiora Town

Hall with2pm matineeshows on

Wednesday to Saturday, July 14 to 17, and

evening showsfrom 7.30pmonThursday

and Friday. Tickets are on salefrom the

Rangiora Town Hall or townhallcinemas.

co.nz.

See us nowtoarrange your

FREE, NOOBLIGATIONOBLIGATION quote to

have your log fire fully installed.

Wemanage the whole job,

including the council consent.

*Woodsman 4.2m Heat Saver Flue Kit

Offer valid until 28th June 2021

360Flaxton Road, Rangiora

Ph 03 313 5563

www.kingsmowersheating.co.nz

2391761

SEE INSTORE FOR MORE INFORMATION

SEEDLESS

&EASY

PEEL

Satsuma Mandarins

Loose Product of

New Zealand

$ 4 99

kg

Wattie'sBaked

BeansorSpaghetti

420g (excludes Meat

and Flavours)

ANY

2FOR

$

3 49 ea

A-FOUR-DABLE

EVERY DAY

Tip TopBakery

Supersoft Bread

700g

$

3 59 ea

PamsFresh

CookedChicken

Large (Available at

Selected Stores)

Pams Butter 500g

www.foursquare.co.nz

ONE

PRIZE PER

STORE

$

12 99 ea

$

5 79

ea

The Peoples

750ml (excludes

Pinot Noir)

$

12 99 ea

facebook.com/FourSquareNZ

Specials available South Island only from Monday 14th June until Sunday 27th

June 2021 or while stocks last. Wine and beer available at stores with an off

licence. Wine and beer purchases restrict cted to persons aged 18 years old and over.
---
28

WEEKS

TO GO!

20% off

20% off

Stacking

Train

Usually $39.99

$

34 99 ea

Creative

Sketchbook

Usually $29.99

$

23 99 ea

National

Geographic

Kits

Usually $24.99

$

19 99 ea

PoundaPeg

Usually $29.99

$

24 99 ea

Tool Kit

Usually $34.99

$

29 99 ea

Save

$60

Ivar or Eldor

Dragon

20cm

Usually $29.99

$

24 99 ea

30cm

Usually $39.99

$

34 99 ea

Sophies

House

Usually $299.99

$

239 99 ea

54 Inch

Plush Snake

$

19 99 ea

Jumbo

Plush Sloth

$

59 99 ea

45cm

Usually $59.99

$

49 99 ea

HALF

PRICE

Smart Phonefor Kids

*Requires SIM Card

Assorted

Rubber

Duck

$

8 99 ea

Mega Light

Up Dino

Surprise

$

49 99 ea

Video Call

Instant Messaging

GPS Tracking

SOS Alerts

Usually $249.99

$

229 99 ea

Unicorn

32cm Plush

Usually $59.99

$

29 99 ea

Fairycorn

Surprise

$

39 99 ea

Save

$30 20%

off

RC Rock

Crawler

3XL

Usually $159.99

$

129 99 ea

RC Cyklone

Buggy

Usually $99.99

$

79 99 ea

25cm Plush

Animals

Usually $34.99

100% Recycled

100% Huggable

$

29 99 ea

New Zealand's BEST

TOYLAYAWAY

NO DEPOSIT–NO INTEREST

• Layaway held up to 17th December,2021

• Paymentsinstore or by InternetBanking

• Atleastfortnightly paymentsrequired

• Cancellation Fees apply

• 48hour noticefor pickup(as somelayaways stored offsite)

• Photo ID required forcreating Layaway
---
Hero 2Missile Remote

Control Robot

28

WEEKS

TO GO!

SAVE

$

20

New mailer out now

$ 79 99 ea

SAVE

10

$

10

$ 79 99 ea

Ages

8+

Ages

17+

$

19 99 ea

Ages

10+

Save $10

Ages

8+

Save $5

15% off JADA

Save $5

Ages

13+

$

34 99 ea

$

29 99 ea

Ages

7+

$

49 99 ea

1:24 Die

Cast Models

Ages

6+

Ages

7+

Ages

17+

Over 150 models to

choose from

$

49 99 ea

$

49 99 ea

$

44 99 ea

Skateboard

Fly Bar

Usually $69.99

$

59 99 ea

Push and

Glow

Formula

Fun

Usually $27.99

$

24 99 ea

Save

$20

RC 360

Cross

Usually $69.99

$

59 99 ea

1:16 Mini

Excavator

Usually $89.99

1:16 Wagon

with Horse

Float

Usually $169.99

$

79 99 ea

$

149 99 ea

Trick Board

Flybar

Usually $59.99

Flybar

Pogo

Stick

Usually $79.99

$

69 99 ea

$

49 99 ea

Robot

Kombat

Balloon

Punchers

Usually $79.99

$

69 99 ea

Splash

andPlay

Rescue

Raft or

FireBoat

Usually $27.99

$

24 99 ea

50cm

Side Load

Garbage

Truck

Usually $189.99

$

169 99 ea

My First

Flybar

Usually $39.99

$

34 99 ea

TOWER JUNCTION

NZ's BiggestTOYWORLD

Clarence St,Riccarton, Ph 03 3430330

MARSHLAND

199 Marshland Rd,

Ph 03 982 8697

HORNBY

ChalmersSt,

Ph 03 2818127

Valid until 4th July 2021
---
Be inspired with thousands of ideas under one roof!

2–4July 2021

IN ASSOCIATION WITH

Free informativeseminars

thanks to

Complimentary

goodie bags! show-only specials

and giveaways!

Live AUCTION!

Courtesy of

This MEGA tiny home

could beyOUrs!

A2016 Nissan Leaf

worth $ 22,000!!

2-4July 2021 • 10am -5pm • Christchurch Arena • www.starhomeshow.kiwi

CUTTHISADOUT FOR

1x FREE DOUBLE PASS

Join us at the Home &Leisureshow, standnumber 176.

Appliances,beds,furniture&tech.

Everything youneed foryour home.
---
Landlords have plenty to study

Landlordshave plentytoweigh­up thanks

to recently announcedtax changes.

Legislation denying interest

deductibility for residential rentals is a

hot topic for many, as is the brightline test

being extended to 10 years, whichtargets

gains on buying and selling property, other

than the main home, within 10 years.

Add to that the ring fencingofrental

lossesfrom April1,whichmeans rental

lossescan notbeoffset againstother

taxable income.

Interest deductions on residential

investmentpropertyacquired on or after

27 March 2021 will not be allowedfrom1

October 2021. Interest on loans for

properties acquired before March27, 2021

can stillbeclaimed as an expense.

However, the amountable to be claimed

will be reduced over the nextfour income

years until it is completelyphased out.

This meansinthe 2025–2026 and later

incomeyears, no claims can be made on

interest expenses as deductions against

income.

Money borrowedonorafterMarch27,

2021, to maintain or improve property

boughtbeforethat date, willbegiventhe

same treatmentasaloanfor aproperty.

Property developers (who pay tax on the

sale of property)will not be affected by this

ACCOUNTANCY

T ASK FORCE

L I M I T E D

2361547

"

OxfordsOldest

Accountancy Firm

Forall your Accounting

End of Year Accounts?

Don't do it yourself as you'll

pay more tax!

• Rentals / Lifestyle Properties Specialists

• Advice on Cloud Accounting Systems

To save your time.

• Business Start Ups Advice

Dave Trayner, 9ABay Road, OXFORD

Phn 03-312-4878

Email :atfoxford@outlook.com

TAXATION

The North Canterbury News, June 17, 2021

SHOREACCOUNTING SOLUTIONS

Shore Accounting have given us

excellent accounting service over the

years. Both Ben and Tsarina are very

approachable and provide us with useful

financial information in atimely manner.

Iamhappy to supportanaccounting firm that

is not only verygood at what they do,

but also employs local people.

Ross Carter,

Hanmer Adventure Centre

Checking the future ... Landlords have plenty to digest with new legislation.

change. Theywill still be able to claim

interest as an expense.

The bright­linepropertyrule does not

apply to properties acquired before

October 1, 2015. But if aproperty is sold

thathas been owned for lessthan 10 years

the sellermay have to pay incometax.

The bright­line property rule also

applies to New Zealand tax residents who

buy overseas residentialproperties.

The date aproperty is acquired

determines whether the bright­line period

New top taxation rate

Tax changesthatkicked in on April 1

this year,see anyincome over $180,000

taxed at anew top rate of 39 percent.

Before April, New Zealand's tax

thresholds saw any incomeover

$70,000 taxed at 33 percent. Those

earning above that amountnow, will

only be taxed at 39 percent for dollars

earned over $180,000. The rate only

applies to individuals. So acouple

could be earning $240,000 ayear with

each personearning $120,000, but

wouldn't be affected by the new rate.

Finance MinisterGrant Robertson

saidthe hike was neededtokeepalid

on NewZealand'sdebtinthe wake of

the Covid­19 pandemic,while also

maintaining investment in core public

services like education and health. It's

expected to generate about $550

million of revenue each year.The tax

rateremainsinthe bottom third of the

36 OECD countries,lower than

Australia's 47 percent including 2per

centMedicare levy for income over

$180,000.

Farm Accounting

Business Advisory

Taxation

T: 03 313 6534

E: enquiries@abacusca.co.nz

220 King St, Rangiora

www.abacusca.co.nz

"

2264923

TAXRETURNS

Ben Shore has been providing our

business professional service and

advicefor nearly ten years.

He is trustworthy,reliable,solutions

focused, and veryresponsive.

He is alwaysapleasure to deal with and has

taken agreatinterest in our business.

We would highly recommend Ben to any business.

Dean &Esther Hyde,

Men At Work Traffic

Management

Debra Jowsey

Karla Kilner

Tax &Accounting

Consultants

since 1984

Overwhelmed? Confused? With the recent IRD

changes to tax returns, GST returns, rental returns

and pay day filing A-Plus Accounting is here to help.

Give us acall. Friendly,knowledgable staff.

A-Plus Accounting

☎ 03 314 9480

23

03 314 7640 info@sasl.co.nz www.sasl.co.nz 5Beach Road, Amberley

2293781

"

PHOTO: FILE

is 2, 5or10years.

The Government intends the legislation

to be retrospective so thatnew builds

acquired on or afterMarch 27, 2021,will

continue to be subject to a5­year brightline

period.

When aproperty is acquired,generally

the bright­line property rule does not

apply to asale of property that has been

the mainhome, inherited property,orthe

executor or administrator of adeceased

estate.

Consider this client focused Accountant!

2134655

Sheppard &Ormsby Limited

Chartered Accountants

The Approachable Professionals

Let us take awayyourpaperwork headaches so

you can concentrate on growing your business

1869137

ContactJenny,NikkiorTracey

77-83 High Street,POBox 97

Rangiora 7440

Phone (03) 313 6001

Fax (03) 313 6475

sheppard.ormsby@xtra.co.nz

ATCAccounting Services

ExperiencedAccountant availabletovisit

youfor astress-freeservice.

Competitiverates.

Troy Cameron

–Accountant

Ph:021 122 1960

Email: troy@atcaccounting.nz

forafree no obligation consultation.

ABit Differentthanthe Average Accountant

–Ready forAnything!

Visitwww.atcaccounting.nz

2390727

Here to assist you

with all your

accounting services

•First Consultation Free

•Taxation

•GST &FBT

•Monthly Administration

•Wages &PAYE

•Accounting for Farms

&Rural Businesses

•Company Administration

•Succession Planning

•Business Planning

•Budgeting

Adedicated team operating from

arural base in Greta Valley

Telephone: (03) 314 3579 admin@arawata.co.nz

Mobile: 022 675 0773 www.arawata.co.nz

Shore Accounting Solutions has

aided the growth of our businesses

by providing timely financial advice.

Along with Xero as our accounting

system we are now far more aware of

how we are trading.

Nathan &Tania Pulley,

Amberley Glass

2385711

2034853
---
ISSUE 94

MARCH-APRIL 2021

$10.50

9 416770 121332

TONY JOHNSON

ON THE COMING OF

MOANA PASIFIKA

AARON SMITH

'WHY IRATE

DUPONT'

SEAN FITZPATRICK

'WE NEED MONEY TO

SUSTAIN THE GAME'

RRP $10.99

9 416770 121325

GROWINGWITHYOU 100%

MAY 2021

JEROME

KAINO

SORTED FOR

LIFE AFTER

• PHIL GIFFORD: THE BEST

SCHOOLBOY STARS HE SAW

• DARYL GIBSON: HIS VISION

FOR THE BOP STEAMERS

RUGBY

$9.25 incl. GST

&all the varieties

in between

&wherethey

liketogrow

AUTUMN 2021

&propagate more

of those you love

Faran Gillbanks

on asucculent

movement

$8.00 incl. GST

9 416770 121318

Trygardening

likethe French

Why, when &how

If yousuffer from gutproblems,

many factors need to be considered

to gettotheir root causes.

It is notenoughtoinvestigate the

stomachand intestines, as gut

diseases canarise from otherbody

systems seeminglyunrelated to

digestion.Furthermore,diseases

of thegut canalsooccur from

environmental factors such as food

allergies, food additive sensitivities

andexposuretomycotoxins,

pesticides andother harmful

chemicalsinour diet.

Diseases of thegut -the oesophagus,

stomach,intestines, pancreas andliver

cancause digestive problemssuchas

bloating andcramps, abdominal pain,

acid reflux, constipation,diarrhoea and

food intolerances. Some of thehidden

causes of thesedigestive problemsare

Small BowelIntestinalGrowth(SIBO),

Sluggish BowelMovement, Enzyme

deficiencies, microbialinfectionsand

chronic inflammation.

The Diagnostic Scan performedatMarvel

Health is designedtoidentify diseases of

thegut andtheir hidden causes. It detects

harmful viruses, bacteria andparasites,

nutrientand enzyme deficiencies,

autoimmunediseasesand many other

pathological changes that causechronic

diseases of thegut.

ADVERTISEMENT

HOW MARVEL HEALTH

INVESTIGATES DIGESTIVE

PROBLEMS AND CHRONIC

GUT DISEASES

Chronic gutproblemsmay even arise

from dysfunctions in othersystems that

seem unrelated to thegut.

Adamaged immunesystemwill

promotemicrobial overgrowth andfood

sensitivities. When thedetoxification

systembecomes dysfunctional, toxinscan

buildupinthe pancreas andlymphatic

glands andcause diseases.

The Scan checks forfood allergies,

contaminants, food additive sensitivities

andother environmental causes of

digestive diseases.

After thescan, thedoctors andhealthcare

specialistsatMarvelHealth will studythe

report andrecommend targeted sciencebasednaturaltreatmentsand

lifestyle

changes to supportthe body'shealing.

NEWS

24 North Canterbury News, June 17, 2021

Men encouraged to

talk about health

This week is Men'sHealth Week and local

male leaders have shared some healthy

tips.

WaimakaririMayor Dan Gordon is

knownasalarger than life character and

through making healthy choiceshas lost

around 60kg over the last two years.

Mr Gordonsays he has achievedthis ''by

making healthier choices and regular

walking, avoiding finger good and having

good balancedmealsduring the day, and

Itake vitaminCevery day''.

''It is important to be realistic –have

occasional(healthy)treats. Adiet has got

to be realistic and achievable,''hesays.

The Mayorencourages men to take ''a

regular 'stock­take' of your health'' and

just as you take your car in for awarrant

of witnesseach year,you should have an

annual checkupwith your doctor.

''It is essential to get any changesyou

become aware of checkedout,'' he says.

WaimakaririMPMatt Dooceyhas a

background in health,with aparticular

interest in mental health.

''It's important for all of us to look at

areasinour health and wellbeing where

we couldmake small changes that over

time lead to healthier lives,''hesays.

Recently Mr Dooceyacceptedapetition

on Parliament's forecourt callingonthe

governmenttofund servicesfor eating

disorders for youngpeople.

''From that, Iwas suddenlyhaving so

many conversationswith men who were

reachingout to me to say, thisisnot

something that should be seen as only a

women's issue,'' he says.

''I was surprised to hear how manymen

are battlingwith low self­image and who

have developed reallybad patterns,

unhealthy eating patterns,whichare

putting their health at serious risk.

''As men, we'reoften told to man up.

With my background in mentalhealth,I'm

very aware thatdenialnever fixes

anything.''

Mr Dooceyhas asimple tip for Men's

Dan Gordon

Matt Doocey

Health Week: ''champion yourself''.

''If something doesn't feel right,get it

checked out.See your GP, talk to amate

or familymember. And start to make

positivechanges in your life that will

improve yourwellbeing.Invest in

yourself, because you are worth it.''

Healthcare meeting tonight

Canterbury District Health Board's new

chief executive Peter Bramley will

outline the board's plans for healthcare

in the Waimakariri district at apublic

meeting this evening (Thursday, June

17).

Waimakariri MP Matt Doocey has

called the meeting following healthrelated

queries he has received,

including the possible impact that

centralisation of services could have on

apromised after hours facility in

Rangiora.

''My offices are getting many calls

from our over 65s, who are seeking

clarity on the roll­out of the Covid­19

vaccine in our area,'' says Mr Doocey.

''I've also asked Peter to brief our

community around the issue of

flexibeds at our Rangiora Health Hub.''

Mr Doocey urges everyone to bring

their questions on health to the meeting

at 6.30pm in the Rangiora Town Hall

Main Auditorium.

SOMETHING FOR EVERYONE

Available in all good bookstores and supermarkets, or subscribe from as little as $20.

GENTLEMAN JIM RICHARDS &THE WILLMENT ESCORT

FREE FIRST XV SEASON PREVIEW MAGAZINE INSIDE

SOUTHERN

SOJOURN

THE CLASSIC ALPINE TOUR

DAN

CARTER

REFLECTING ON A

GREAT CAREER

The Shrub Hub

GROWING WITH YOU Issue 504 | May 2021 | 100%

Meet20ofour Kiwi garden favourites

ATROPICAL

FLOCK

GROW YOUR OWN

BIRD OF PARADISE

SPACEISSUES?

THE LOWDOWN ON

COVER CROPS

CAPITALISING

ON CACTI

THE MOTORSPORT

COME ON, FEEL THE

RARA AVIS:

PHOTOGRAPHY OF

NOISE: CLASSIC

PELLAND COUPÉ

TERRYMARSHALL

RACING ENGINES

ASHORTTIME INFRONT: RICHARD BROCKLEHURST

50TH ANNIVERSARYOFTHE VAUXHALL FIRENZA

SOUTHERN MEN AND TALES OF THE SOUTH

ISSN 2423-0626

From abelia to

viburnum

Whywe

like them

Howtokeep your

shrub in shape

ROSES ON THE WISHLIST

HOTNEW RELEASES FOR2021

Forthe motoring

enthusiasts

Forthe

rugbyfans

Forthe seasonal

gardeners

Forthe green

thumbs

alliedpressmagazines.co.nz

RugbyNews &Kiwi Gardener: 0800 77 77 10 Classic Driver &General: 0800 624 295
---
EXTENDED!

IN STORE &ONLINE +SUPER DEALS. NOW ENDS 21.6.21.

FOR 1 FINAL WEEK!

Queen's Birthday

STOREWIDE SALE

ALL LOUNGE ON SALE

CHARLIE

ON SALE

3Seater –Midnight

NOW $

1099

2Seater –Midnight

NOW $

899

Sydney

2.5 Seater

WAS $ 799

NOW

$

699

Armchair –Midnight

NOW $

699

ALL LIVING &DINING ON SALE

VIVA WHITE

ON SALE

Buffet

NOW $

799

Entertainment Unit

NOW $

699

Coffee Table

NOW $

299

ALL DINING CHAIRS

ON SALE

Carson

NOW

$

115

Veno

NOW $

95

Peyton

NOW $

125

Duke

NOW

$

125

Watson

Barstool

NOW $

165

ALL BEDROOM &MATTRESSES ON SALE

Jamie Single/Single

Bunk Bed WAS $ 699

NOW

$

399

Dallas Queen Bed

WAS $ 449

NOW

$

299

Serene Trundler Bed Set

WAS $

897

NOW

$

699

Includes Trundler Base,

Bahamas King Single Mattress,

Bahamas Single Mattress

Shop

Online

Nationwide

Delivery

Finance

Options

PLUSHEapsmoresuperdealsinstore&online!

QUEEN'S BIRTHDAY SALE NOW ENDS 21.06.21.

250 Moorhouse Ave, Christchurch

Ph: 0800TARGET (0800 827438)

targetfurniture.co.nz

Offers and product prices advertised here expire 21/06/21.

Sale Excludes Accessories.
---
NEWS

26 The North Canterbury News, June 17, 2021

KidsFest market set to excite

TheGreat Rangiora Kids' Market

is set to return next month.

Theannual kids marketwillbe

back as partofKidsFest, during the

July schoolholidays, and will be

held at RangioraBorough School

on Friday, July16, from10amto

1pm.

Theeventisanopportunity for

local childrentoraise some pocket

money by having astall to sell

clothestheynolonger wear or toys

they no longer playwith, do a

sausage sizzle, abake stall or other

funthings.

It turns outdinosaurs are alive

andwellinthe Waimakariri, with a

Dino MysteryTrail being hosted

daily by thethreeWaimakariri

Libraries between 9am and 5pm.

ProfessorPunchinellowill be

bringinghis dino puppet show to

theOxford LibraryonTuesday,

July 13, from10.30am andthe

Ruataniwha Kaiapoi Civic Centre

on Wednesday,July 14,from

10.30am.

Dino Story Timewillbeheldat

theRangiora Library on Tuesday,

July 13, from10.30am,and there

will be DinoCraft in the evenings

from 5.30pm at the Oxford Library

on Wednesday,July 14,Kaiapoi

LibraryonThursday andthe

Rangiora LibraryonFriday.

Buddingtrain driversare

encouraged to getalong to the

Rangiora LibrarytodriveThomas

andhis friends model trainsfrom

Monday to Friday, July12to 16,

from 10am to 4pm.

Familyquiznights will be held

from 7pmatthe RangioraLibrary

on Wednesday,July 21,and at the

OxfordTownHall and the

Ruataniwha Kaiapoi Civic Centre

Ahoy me hearties! ... Josh (left,

then 9) and Jess (then 10) Fahey, of

Loburn, popped into the Rangiora

Library during last year's KidsFest to

complete the pirate trail and take

home some holiday reading.

on Thursday evening.

The ''Great Fairy Hunt'' is

returning to theKaiapoi Domain

and Pearson Park in Oxford daily

during KidsFest from9am to 5pm.

The adventurous are encouraged

to get alongtothe PinesBeach Hall

on Friday, July16, from 9am for

''WildAdventures''.

Young entertainers willtake to

the RangioraTown Hallstagefor

the Hartley School of Performing

Arts' seniorand intermediate

production of AMidsummer Night's

Dream ­Rewritten fromJuly 14 to

17.

In weektwo,future starsare

encouraged to signupfor the

School holiday fun ... The Great

Rangiora Kids' Market will be back

with school holiday fun. PHOTOS: FILE

PerformingArtsWinter Camp, with

four days of classescombining

acting, singingand dance for

studentsaged6to13years at the

Hartley SchoolofPerformingArts'

Studios.

Roller discoisback at the

Woodend CommunityCentre for

two days actiononWednesdays,

July 14 and21, from 12.30pm.

Pool parties are beinghostedby

Waimakariri Aquatics with music,

games, dancing and prizesupfor

grabs, from1pm at the Dudley Park

Aquatic CentreonThursday, July

15, and theKaiapoi Aquatic Centre

on Friday,July23.

Several of theseevents require

tickets,sogotokidsfest.co.nzfor

more information.

Hurunui holiday fun

There is plenty to do in the

Hurunuidistrict duringthe

school holidays.

The Alpine Winter Festivalis

being held in Hanmer Springs

throughout themonth of July,

withfun familyactivities for

the schoolholidays.

Visit the alpine village on

SaturdayJuly10for the

HanmerSpringsWinter

Festival Hanmer10from10am.

Run or walkthis 10km course,

starting andfinishing at the

historicQueenMaryHospital.

Email jono@fusionevents.co.nz

for moreinformation.

Get along to the Activity

HanmerFamily Weekend

beginning on Friday, July16, at

5.15pmwithGlow Topia, afun

night timeorienteering

challenge based in the Hanmer

HeritageForest.

Glowsticks,neon face paint

and UV torchesare provided,

withhot chocolate providedat

the finish line as prizes for the

top three teams.Email

office@activityhanmer.co.nzto

findout moreand register for

the weekend'sevents.

The nextday is ''Bike and

Seek''atthe forest camp, with

registration at 9am, where you

can rideyour bikethrough the

forest and answersome ''tricky

questions''.

''MissionImpossibleand

TreeTops'' will be nextupfrom

12.30pm,withparticipants in a

raceagainst theclockfor a

variety of fiveminute

challenges.

The HanmerSprings Ski

Areaisholdinganopen day on

Saturday, July 24, from10am

Full steam ahead ... The Weka

Pass Railway is one of the many

attractions the Hurunui district

has to offer.

PHOTO: FILE

withfamilies welcometoenjoy

skiing,snowboardingand have

alookaround.Email

sarah@haenni.co.nz for more

information or checkout the

Facebook page.

The Weka Pass Railwaywill

be operatingonSunday, July

18, foranexcursion along the

12.8kmscenic track.

WekaPassRailway is an

historicruralrailwayusing

vintagesteam and dieselelectric

locomotives through

the uniquelimestone

countrysideofWeka Pass,

leavingfromthe stationat

Waipara.

For more information or to

bookaticket, go to https:/

/wekapassrailway.co.nz/.

Museums are also on offer

throughoutthe district,along

withthe Hurunui District

LibraryinAmberley.

Checkout ourlatest

deals

Fill thefridge with everyone's faveS!

HOT DEAL!

$

39 99

each

STEINLAGER

PURE,

STEINLAGER

CLASSIC or

CARLSBERG

PILSNER

24 x330mlBottles

HOT DEAL!

$

24 99

each

GORDON'S G&T

12 x250ml Cans,7%

GORDON'S Sicilian Lemon

Gin &Soda, GORDON'S

Premium Pink Gin &Soda

12 x250ml Cans,4%

HOT DEAL!

$

34 99

HOT DEAL!

$

39 99

each

HOT DEAL!

$

42 99

HOTDEAL!

$

44 99

HOTDEAL!

$

49 99

Mixand match

thesevinoS

$ 25

2 for

Single bottle

$14.99

1.125LITRE

BELL'S

1Litre

ABSOLUT,BACARDÍ Range

1Litre

Includes Barcardi Gold, Spiced,Carta Blanca

JIM BEAM

WhiteLabel

1.125Litre

TANQUERAY

1Litre

JAMESON

1Litre

THE NED Range

750ml

Includes Rosé,Sauvignon Blanc,

Chardonnay, PinotGris

19 CRIMES Range

750ml

Includes CabernetSauvignon, Shiraz,

HardChard, Red Blend, The Uprising

Rum Aged Red Wine

Shop local with

AMBERLEY, ASHBURTON, BARRINGTON, BELFAST, BRIGHTON, BURNSIDE,

COLOMBO ST, EDGEWARE, ELMWOOD, FERRYMEAD, HALSWELL, HANMER

SPRINGS,HORNBY, ILAM,KAIAPOI, LEESTON, LINCOLN, METHVEN, OXFORD,

SHOP LATESTDEALS at WWW.SUPERLIQUOR.CO.NZ

NATIONWIDE PICKUP &DELIVERYNOW AVAILABLE

PAPANUI, PEGASUS, RANGIORA, SEASIDE, WOOLSTON

Exclusions mayapplyonsomebrands advertised. Offers end close of trade 20th June 2021, while stockslast.Available at participating stores only.Multi Dealonly available in store. Varietals may

vary by store. Limits may apply.Wholesale (other liquor retail banners) notsupplied.Termsand conditions may apply.Available 7th -20th June 2021inclusive. Pleasesee www.superliquor.co.nz fordetails.

SUP2280_C6
---
Motoring

Guide

Your local motoring professionals

NEED TYRES?

• Punctures

• Balancing

• New tyres

• ATV tyres

• Motorbike tyres

(on and off road)

• Barrow tyres

• Mobility scooter tyres

• Bicycle tyres

Give usacall or come

and see us in store!

ARTHUR BURKE LTD

Markham St, Amberley

03 314 0137

Petrol &Diesel

Use your SuperGold card or

supermarket docket for 12

cents off Petrol &Diesel only

COMPLETE AUTO REPAIR SERVICE

WOF

Light Engineering

Tune-ups

Repairs

Lube-Oil changes Ride-on Mowers

Full Diesel Service Pick up &Delivery

Brakes &Clutches

Sell &Sharpen

Motor Work

Horse Clippers &

Warranty Work

Sheep Shears

Oils &Automotive Accessories, Postal

Services, Hot Pies, Sandwiches, Rolls,

Groceries and Sweet Treats

For your convenience

Sefton Garage

571 Upper SeftonRoad, Sefton

North Canterbury.Ph03312-9713

Hours: Monday-Friday 8am-5.30pm

Saturdays 9am-12noon

Best Prices Guaranteed

Quality Brands

We will match any written

quote –conditions apply

WINZ Quotes Welcome

Cnr Ashley &Burt Streets,

Rangiora.

Phone (03) 313 73 23

2346898V1

Under the bonnet ... Les Summerfield has been fixing motor vehicles for more than 40

years and he likes nothing more than working on classic cars.

Fixing cars apassion

Fixing cars is more than ajob for the team

at Autotech Services in Rangiora.

It is apassion, withthe staffatthe Ivory

Street business ensuring customersenjoy

afriendly, andefficient motoring

experience.

Autotech Services has been servicing

cars in NorthCanterbury since 1993.

If your car needs aservice, oil change or

repair, theteam at Autotech Services can

help.

The dedicated team can service

everything from classic cars to the latest

European models,and alsohas the latest

diagnostictools and technologytofix and

repair the most modern cars on New

Zealand'sroads.

Autotech Services aims to make the

workshopvisit as easy as possible, offering

loan cars, and free pick up and deliveryin

Rangiora, allowing you to get on with your

busy life.

Today, it has nine staff,who each have

theirareas of expertise.

Nicole Summerfield, who looks after

clients on reception, says Autotech offers

Warrant of Fitness to aservice and engine

We Do It All!

Your One Stopp

Mechanical Shop

Courtesy Cars, Van, Automatics Available

One Stop WOF Shop

AllMechanical Repairsand Servicing, Tyres,

Exhausts, Automatic TransmissionService

Burbidge Automotive

325 Flaxton Rd

Ph 03 313 3344

Ample

carparking!

2254991v9

swap and ''everything in between''.

The workshop contains adedicated

warrant of fitness laneand wheel

alignmentbay.

Autotech offers factory warranty

servicingtosavelocal car owners from

havingtomake the tripinto Christchurch.

It is also alocalsupplierofKumho and

Good Ridetyres, supplying tyres for all

types of vehicles at prices to meet

everyone's budgets.

It also stocks Fuchs Oil.

Owner Les Summerfield says all staffdo

regular training in the latest technology

and most are involved in motorsport and

4WD off­roading. ''Weall live for cars.''

Autotech Servicessupportsthe local

rally scene, sponsoring the Canterbury

Rally heldinNorthCanterbury. Nicole codrivesfor

her brother Matt and have

becomeapair to watchonthe national

rally scene.

Autotech can be contacted on (03)313

5802, or you can email

office@autotechservices.co.nz.

Farmlandscards are accepted and Gold

Card holders can get a10percent discount.

FOR ALL YOUR LIGHT

AND HEAVY

TRANSPORT REPAIRS

Breakdown &

After Hours

Service

Available

Phone 03 313 6361

0275 200 711

307 Flaxton Road,

RANGIORA

brooktrucks@xtra.co.nz

2324381

2318749v8

WE ARE THE

SERVICINGEXPERTS!

No Need To Commute To Christchurch –

We Can Do It All! We canuse genuine parts,

so yourvehicle is still coveredunderwarranty.

We have the latest Diagnostic Computer

Systems thatare compatible with most vehicles.

Best Brands

-Best Prices

5Star Service

ROTATION /BALANCE

AND WHEEL ALIGNMENTS

FREE

Pressure check on

Cars, Utes, 4WD &

Trailers

Wheelalignments&tyres at

very

competitive prices.

CALL US NOW TO BOOK YOUR SERVICE

Discounts to Superannuates

77 Ivory Street,Rangiora Ph 313-5802

Mon-Fri8am-5.30pm•Sat 8.30am-12.30pm

COLLISION REPAIRS RANGIORA

Support Local

Businesses

Recommendusfor Paint&Panel

requirements

Make an insurance claim and choose North

Canterbury Collision Repairs Rangioraas

your repairer. Your Car,Your Choice.

Crash repairs, bumps &scrapes to major

smash work

Commercial&fleet repairs,Buses,Caravans &

Motorhomes, Trucks,Trailers, Buses &Boats

Quality

workmanship &

fastest

turnaround

Fleetofcourtesy cars available

Contact John 3136966

639LinesideRoad, Southbrook | www.nccrc.co.nz

FROM $69

Bookings recommended, ts&cs apply.

346a Flaxton Road

Phone 03 310 6666

0800 226 324 for 24/7 Service

2318082v7
---
FROM

$

33,990+ORC*

SAVE $3,800 -STOCK AVAILALBE FOR IMMEDIATE DELIVERY

NISSAN 150,000 KM'S

5YR FACTORY

WARRANTY

*Offer based on selected new Nissan Qashqai ST at a vehicle price of $33,990 plus on road costs. Offer available on Qashqai ST vehicles ordered and delivered

by 31 June 2021 or while stock lasts. Nissan reservesthe right to vary,extend or withdraw this offer.Not available in conjunction with any other offer.

RANGIORA NISSAN, 321 High Street, Rangiora

Ph: 03 941 3175

www.rangioranissan.co.nz

• AppleCarPlay & Android Auto

+ voice recognition

• Push button start

• Rearview camera

• Intelligent Emergency Braking

• Front & Rear Sensors

• 17" alloy wheels

rangioranissan.co.nz

Rental Fleet

RENTAL COMPANYCLEAR ANCE

SAVE THOUSANDSONTHESE LATE MODEL LOW MILEAGE VEHICLES

MITSUBISHI MIRAGE XLS

5-StarANCAP Safety |Integrated

Audio and Air Conditioning

15" AlloyWheels

$12,990

MITSUBISHI ECLIPSE CROSS XLS

5-StarANCAP Safety |Forward

Collision Mitigation |Lane Departure

Warning |Smartphone Link Display

Audio System

$24,990

MITSUBISHI OUTLANDER 4WD VRX

5starsafety rating with 7airbags |Rear

view camera Touchscreen infotainment

with Bluetooth connectivity Electronic

traction control |Central locking

$36,990

*Vehicle supply is limited and colourchoice cannot be guaranteed. Vehicle images are fordisplay purposes only.. Finance criteria, terms and conditions apply.

RANGIORA MITSUBISHI

321 High Street, Rangiora | 03941 3175 | rangioramitsubishi.co.nz

SALES |SERVICE |FINANCE
---
Bull prices disappoint

North Canterbury's recent drought has

taken its toll,with prices down at the first

bull sales in the region.

Pricesatthe annualRichon /Beechwood

/Woodburnon­farm saleatBalcairn, near

Amberley, and the Grassmere /Riverlands

J/Capethorne sale heldnear Cheviot last

Thursday were welldownonrecentyears.

RichonHerefordstud owner Rob Stokes

says the combination of an uncertain

marketand the recentdroughtappear to

have had an impact.

''I can'tnail exactly what it is, but we just

didn'thave the under­bidders on the day.

Everyone's bulls have come throughthe

drought prettywell, but you just never

know withbull sales.''

''It was goodlast year, but the calf market

was also strong. Whereasit's adifferent

marketthis year withabit of uncertainty.

Sheep are doingall right, but beef needs to

pick up.''

The top price for aRichonbull on the day

was just $6000,with ''a few passes'', while

the Burrows family's Beechwood Hereford

stud topped the sale with $10,000.

Richonand Beechwood were forced to

withdraw their Herefordcows from the

sale after the recentflood event damaged

roads and bridges, restricting accesstothe

Stokesfamily's LeesValley property,near

Oxford.

Selling was just as tough up the road at

Domett, near Cheviot,with Grassmere

Herefords selling 11 of its 16 Hereford bulls

for an averagepriceof$6545.

The Jeffries family toppedthe sale with

Livestock firms join forces

Livestockbroking firms Hazlett and Peter

Walsh &Associates(PW&A) are joining

forces to become abroader, South Islandwide

operation.

Hazlett will acquire all of PW&A's

operations on July 1, except for Peter

Walsh &AssociatesFinance (PWAF),

which Peter Walsh will retain.

All PW&A team members have been

offered positions and, other than everyone

wearing the Hazlett shirts, things are

expectedtorun as they are with no

disruption.

The billing systems used by both

companies will remain as they are, and

clients will continue to deal with the same

people they are dealing with now.

PW&A wasestablished nearly 20 years

ago and has grown to provide services to

South Island farmers.

Succession planning by Peter and

Karen Walsh,and the PW&A Board,

identified Hazlettasbeingthe company

which is closest in culture and best placed

to build on what the team has achieved

over the years.

Hazlett chairman Graham Brown says

his company and PW&A already know

each otherwell, having jointlydeveloped

and operatedthe Coalgate Saleyards.

''Peter has jokinglydescribed us as

On farm sale ... Grassmere Herefords' bulls

go under the hammer at an on­farm bull sale

held near Cheviot last week.

PHOTO:SUPPLIED BY THE JEFFRIES FAMILY.

$12,000 for aHerefordbull sold to

Beckenham Hills, of Cheviot, but had better

luck with theirRiverlandsJAngus bulls,

selling all 14 Angusbullsonsale for an

averageprice of $8095.

Two Angus bullssold for $10,000, to Mt

Montrose, of Culverden, and Pinaki Farm,

of Greta Valley, respectively.

Capethorne Polled Hereford studbulls

sold for an average priceof$6283, with a

top priceof$11,200.

Stud owner Greg Chamberlain says there

were more bulls on offer than registered

buyers on the day.

'friendly competitors'.But Ithink our

shared focus on people and acommitment

to do the best for our clients makesthis

development more of awin­win than any

sort of truce,'' Grahamsays.

''The two companies have mutual

respect for each other, we are both familyowned,

we already work well together and

we are going to build on that for our

clients who will enjoy the benefitsof

working with acompany which operates

throughout the South Island ­and into the

NorthIsland ­and whichprovides

insurance, agri­supplies, funding and

procurement services, as well as livestock

broking.''

Hazlettwas launched in 2008 as a

livestock broking service.Since then,it

has extended its offering to provide

insurance, agri­supplies and funding

solutionstobusinesses of many types,

while remainingdeeply rootedinthe

rural sector.

PW&A was established in 2002 by

livestock brokers PeterWalsh and

Hamish Lane. At the time, the pair's

experienceinthe livestock industry

totalled more than four decades and their

working style and reputation saw the

company grow. It now has more than 30

livestock brokers.

RURAL LIFE

The North Canterbury News, June 17, 2021 29

Baptism of fire for new leader

By DAVID HILL

Caroline Amyeshas had an eventful

first month in her new roleasafarming

leader.

TheFederated Farmers North

Canterburypresident is hoping her trip

to NationalFieldays at MysteryWeek

this week will give her the chance to

''refocus'' after her ''baptismoffire'' in

respondingtothe recent flood event.

''It's beenaninterestingfirst month.

The Federated Farmers team has been

awesome in the support they've

provided and we've been working

closely with the Mid­Canterbury and

SouthCanterbury provincial presidents,

so there's been plentyofsupport.''

Like Ms Amyes, South Canterbury

president Greg Andersonwas only

elected last month.

Despite the challenges of her first

month, she has no regrets.

''These things never happenatthe

most convenient time,but (immediate

past president)Cam [Henderson] and

the restofthe exechave beenawesome.

If the wholeexec had changedatonce it

wouldhave beenadifferent story.

''I really like helpingpeople and

providingsupport, so I've just been

trying to do that and Ihope it's

beneficial.''

Whilepeopletend to run on

adrenalineinresponding to a

significantnaturalevent, the recovery

phasecan be more taxing on people, she

says.

''Farmers are really good at reaching

out and supporting each other. These

events happen and thenitkind of falls

out of the newscycle,but these guys are

on theirfarms whichare still not fully

functioningand they're having to deal

with it everyday.''

Ms Amyes is particularly concerned

for drylandfarmers in NorthCanterbury

BayBlenders

who havebeen dealing with the long

drought and now have had winter crops

destroyed and fences wrecked, which

can takea''massive toll'' on finances,

relationships and mental health.

''I want people to have the confidence

to reach out to me for help and support.

Even if Idon'thave the expertise, Ican

put them on to someone else.''

2354936

MEAT2U.NZ

HOME KILL

&WILD GAME

MEAT PROCESSING

313 0022

Built to your budget!

-All types of fencing including:

-deer,sheep and cattle yards

-Retaining walls –Timber gates

-Full range of specialised equipment for farm fencing and

lifestyle blocks, offers you the complete land package.

Ashley: 0274 364 776 ah: 314 8541

e: A.Duckworth@xtra.co.nz

www.duckworthfencing.co.nz

Post &Rail Fencing -Looks great &

makes life easy for the Rural Lifestyler!

1972001

There's just no

substitute for

Experience &Local

Knowledge!

Barns &Stockyards Built

Fencing -All Types

Security Fencing

Noel 0274 330 980 or (03) 312-8666

preencontractors@gmail.com

1738815

2191656

FENCING

• Post Driving

• Stock Fencing

• Stockyards

• Post and Rails

• Lifestyle etc

Ph Andy Horn

021 214 1201 or

(03) 314 9460

Checkout

ourwebsite for

ourcurrent specials

or sign up at our website

to receivethemdirectly

to your inboxwith our

newsletter!

Balcairn

Stockfoods

Quality Stock Foods at Quality Prices
---
RURAL

30 The North Canterbury News, June 17, 2021

Varied career leads to NZPork

By DAVID HILL

Maitland Manning has made

the switch from sheep and

cowstopigs.

After avariedcareer, which

has included roles with

DairyNZ and Beef +Lamb

New Zealand (BLNZ), Mr

Manning joinedNZPork as

nationalindustrysupport

manager based in

Christchurch last month.

Mr Manninggrew up on a

sheep, beef, cropping and

Clydesdalefarm in the

Wairarapa, completing a

science degree at the

University of Canterbury.

Since then he has workedin

project management roles for

DairyNZ and the former Crop

&Food Research(now Plant

&Food) and was aresearch

manager at BLNZ.

''I've done alittle bit of

everything.The only thingsI

haven't done are poultryand

arable,'' he says.

''While Iknow all farms are

different, Ihave an

appreciationthat there are

common threads. And

everyone who works at the

levy­funded organisations is

passionate about what they do

and want to do the best for

their levy payers.''

Thatvariety of experiences

should put Mr Manningin

goodstead for his new role,

which will see him work

closely with New Zealand's 93

commercial pig farms to

support them with advice on

immigration, migrant labour,

Bringing home the bacon ... Maitland Manning is enjoying his new

role with NZPork.

PHOTO: DAVID HILL

health and safety, vocational

education and employment.

The role also involves

supporting the collaboration,

communicationand

education across the pork

industry ''from paddock to

plate''.

Mr Manning is looking

forward to gettingout to meet

farmers around the region

and learning abouttheir

challenges, so he can be a

voicefor them.

''I'mstill gettingmyhead

around it, but there are alot

of uncertainties, so it's about

how do we helpthem and

work with government to get

the best outcome.''

One challenge facingthe

pork industry was competing

against importedmeat, which

was oftensubject to lower

environmental, animal

welfare and safety standards.

NZPork has called for

mandatory country of origin

labellingtoassistlocal

consumers.

''We wantconsumers to

know they can make an

informed choice,'' Mr

Manning says.

''We are here to represent

our farmers and we are proud

of our farmers. We are being

held to ahigher standard and

at the end of the day it'supto

the consumer.

''It's the same across any

industry. Our farmersare

passionate about their

animals and they're

passionate about their

product.''

Sourcing qualitystaff has

always been achallenge,

made worse by Covid­19

border restrictions, though on

asmaller scale comparedto

otherindustries.

Thereare positives and

challengesofworking for a

smaller industry body, Mr

Manning says.

''In this role there's93

farmsinstead of thousands of

farms. Ithinkit's great

because you've got the

opportunity to get to know

people and their situations.

''Butitdoes mean we've got

asmaller budgetsoyou'vegot

to be abit more nimble and

focused.''

NZPork supportsan

industry which produces

637,280 pigsayear, withtwothirds

of the pigsprocessed in

the South Island.

Canterburyisthe country's

largest pig producing region,

with Patoa Farms at Medbury,

near Hawarden, one of the

largest in the country.

Focusing on

finding space

Rally driverHayden Paddon is set to

the keynote speakeratnextweek's Beef

+Lamb NewZealand(BLNZ) northern

South Island FarmSmartConferencein

Christchurch.

The annual BLNZFarmSmart

Conference returns to Addington

Raceway on Thursday afterlastyear's

event wascancelleddue to Covid­19.

Thisyear's theme is ''findingour

place in anew landscape''and will

cover topicsincluding management

through measurement,time

management, sociallicenseand

succession planning.

Keynote speakerHaydenPaddon will

provide an insightinto the highs and

lows of an industryfacedwith

challenges as disruptive as whatthe

agricultural sector is facing.

Apanel of farmerswilldiscusshow

workingtogetherinaction groups

helped them make changestotheir

farmingbusinesses, with the topic

''making change ­farmbusiness gains

through action groups''.

Other speakers includeFraser Avery

speaking on ''moving whilethe restare

still sleeping'', aBLNZreferendum

updatefromchairperson Andrew

Morrison, DaveCloustonspeaking on

''be aproduct of yourchoices rather

thanyourchallenges'', Penny Clark­

Hall speakingon''social license,the

influencer of change'', Richard Parkes

speaking on ''a practical andrealistic

approachtoFarm Succession

Planning'' andJana Hocken focusingon

''lean farm–reduce waste andcost to

improve farmefficiency and create a

moresustainablefarm business''.

For more information,pleasecontact

Briar Huggett:

briar.huggett@beeflambnz.com.

Need Heat Fast?

The Fastest, Warmest Indoor/Outdoor HeaterYou Will Ever Own!

Buy One Get One Free! *

+Plus

Free

Floor

Stand!*

worth

$199.99

• Heats UpInstantly

• Suitable for Indoors orOutdoors

–InRain, Fog, Wind or Snow

• Carbon-Fibre Bulb Technology

*Call forTerms

&Conditions

• Multi-Directional Stand

• Includes Remote Control &

Built-In Timer

• Motion Detection Function

1.8m High

• Commercial Grade

• Multi-Directional

• Easy Install

• Portable

• Indoors &Outdoors

CALL NOW! 0800 665 665
---
Kaiapoi third in country rugby

RUGBY

BY LINDSAY KERR,

PETER WILLIAMS AND

DAYLE SUTHERLAND

Kaiapoi beat Prebbleton 20­8 in

the playoff for third and fourth

positions in the 2021 edition of

the Luisetti Seeds Combined

Country rugby competition.

This equalled Kaiapoi's

previous best finishinthis

competitioninthe 2010 season.

Whilethiswas unfoldingat

Kaiapoi,Southbridge and hosts,

Southern werelocked in a

thriller 120kmfurthersouth at

Hinds.

Southbridge made the early

running but Southern gradually

closed the gap and eventually,

late in the second half, scored

what proved to be the winning

try to holdonfor a22­18victory.

With the competition in

abeyancelast season courtesy

of Covid­19, Southern had

shared the spoils with

Glenmark­Cheviot in 2019,soit

can claim to be the most

consistent team of the lastfew

seasons.

Kaiapoi v

Prebbleton

At Kaiapoi, both teamschoseto

rest anumberoftheirregular

starters but there was no lack of

intensity.

Kaiapoi unveiled yet another

front­rower of truequality with

youngster Henry Bogitini

impressing in aconvincingspell

at loose­headprop.

This week it was his turnto

anchorastrong scrum which

kept Kaiapoi in the game

despite Prebbleton havinga

distinct territorial advantagein

the first half.

Despite that Kaiapoi scored

the first two tries of the match,

ten minuteseither side of halftime,

with lock Nacanieli

Namatainstrumental in both

tries.

In the first he offloaded to his

locking partner Connor Smith,

while he scored the second

himself after selling one of his

trademarkdummies.

At this point Kaiapoi had a

comfortable buffer and it was

late in the matchbefore

Prebbletonscoredaconsolation

GET

YOUR

Lift off ... Oxford lock Liam Stevenson going high to secure line

out ball.

PHOTO: LINDSAY KERR

try.

Kaiapoi's defensiveeffort was

particularly laudable and a

major factor in restricting

Prebbleton's scoring.

Loose forwards JarrodSmith

and Jarred Gilmore took the

leadand, though short in

stature, neverstopped running

and never shirkedthe tackle,

serving their side superbly and

could takealot of credit forthe

Kaiapoi victory.

Scoreboard:Kaiapoi 20 (Connor

Smith and NacanieliNamata

tries, Taine JacobsLawson 2

conversions,1penalty, Lance

Taylor 1penalty) Prebbleton 8

(Steven Lees­Godwin 1try,

Lachie Stove 1penalty).

Saracens v

Springston

At Southbrook Park,Saracens'

strong season continued with a

43­36 win overSpringstoninthe

5th place play­off game.

Following its injurytime

defeat in the quarter finals,

Saracenswas determined to put

theresult behind it and used

the game as an opportunity to

do so.

Saracens led 29­12athalf

time, following fourtries to full

backHarry Murray,but

Springstonfought back in the

second spell.Saracensscored

two more triestoensurethe

win, scored by Nathan Goodwin

and TobyAshby, with first­five

Corey Simpson kicking the

goals.

Next Saturday Saracens will

resume in top spot in the North

Canterburycompetition.

Oxford vWest

Melton

Oxford earnedsome silverware

in the play­off for 9th place,

winningthe CanterburyRugby

Supporters' Club Trophy, with a

handy 45­24 victory over

Ellesmere's WestMelton.

West Melton was in thehunt

in the opening quarter, but the

enterpriseofthe Oxford

backline was to prove too good.

Oxford was first to score,

when RhetMoore ran an inside

line to makeanoverlap.

West Meltonresponded

before Oxford's impressive

number eight Jesse Houston

scored.

Before half­time West Melton

scored again,while Angus

Mitchell scoredfor Oxford

following a60metre break­out

andamovement that saw the

ball transfer through many

hands.

With a26­12advantage at half

SPORT

North Canterbury News, June 17, 2021

SPRING CHALLENGE BOOST

Give your team the edge with a SPRING CHALLENGE TRAINING BOOSTER

session at one of our NorthCanterburyFitness Centres.

This 30-minute targeted andengagingworkout with one of our Exercise

Professionals willgiveyou and your team matesthe extraspeed,

enduranceand motivationyou'llneedto completethis greatevent.

SPRING CHALLENGE BOOSTER sessions areavailable at anyofour

four Fitness CentresinRangiora, Kaiapoi, Amberley &Oxford.

Contactusfor available session times andtrainers at your preferred location.

www.sportstrust.org.nz

ONLY

$30

FOR YOUR

TEAM OF 3

31

time, Oxford scored aconverted

try five minutes into the second

spell.

Scoreboard: Oxford 45 (Angus

Mitchell2,Jesse Houston 2,

Rhet Moore, Dayne Patontries.

Matt Roberts try to 5

conversions) beat West Melton

24.

Glenmark­Cheviot optedfor a

warm up game ahead of round

two of the local competition,

with anew frontrow andfirstfive

were testedagainst

Waihora, going down 5­26.

Lincoln on Top

Althoughtherewas little riding

on the match,spectators were

treated to agreat spectacle in

perfect conditions at

Mandeville.

Lincoln dominatedthe

possession stakes early on

against Ohoka,converting

territory into points with

number8Andy Munroeand

blindsideCam Jordondominant

acrossthe park.

Ohoka was able to reply late

in the firsthalf withatry to

standoutloose forward Tom

Taylor, but was still well behind

at the break 17­9.

Ohoka's second half efforts

improved with much needed

possession andcontinuity with

tries to wingerGeorge Wiggens

and replacement second­five

Tom Wedlake.

With the homesidechasing

the scoreboard, Lincoln showed

composureand capitalised on

some late handling errors from

the homeside to takethe spoils

26­19.

Scoreboard:Lincoln 26

(Ashley Munroe 3tries, Jackson

Brown atry, Tom Keeling 3

conversions) beatOhoka 19

(Tom Taylor, George Wiggens,

Tom Wedlake tries, Scott Allin 1

conversion, Freeman Eder 1

conversion).

Hurunuiwas delighted with

its hit out against Hornby

winning 36­23.Prop CaleDobby

and centre EmanuelSimpson

and second­five Standford

Heard eachscored two tries

and BenFunnel one try,while

Digby Heardkicked three

conversions.

Ashley's play­offgame against

Mid Canterbury's Hampstead

came to nothing when the

visitors failed to arrive, while

Woodend losttoCeltic, 12­53.

NORTH CANTERBURY

RUGBYSUB UNION DRAW

19 th June 2021

Luisetti SeedsCombinedDiv 1

Ashley VSaracens, 2:45 PM, LobLr1. Oxford VGlenmark

Cheviot, 2:45 PM, OxOval. Hurunui VWoodend, 2:45 PM, Cul

1. Ohoka VKaiapoi,2:45PM,Mand1.

Ellesmere&NorthCanterbury Div 2(Section A)

Hurunui VKaiapoi GOLDS, 01:00 PM, Cul 1. Kaikoura V

GlenmarkCheviot, 02:45PM, Kaik1. Saracens BYE.

Ellesmere&NorthCanterbury Div 2(Section B)

Ashley VOxford,01:00 PM,LobLr1.Woodend VOhoka,01:00

PM,Wood1.AmberleySeniors BYE.

Combined Colts(Section A)

18/06/2021 Lincoln Bales VAshley SOL Colts, 07:00 PM, Linc

1.

19/06/2021 Glenmark Cheviot V Hampstead/

SouthernCombined,01:00 PM,Team1Default Win.

Canstaff Womens Round Robin

Linwood Wahine VKaiapoi Women's, 02:45 PM, ngapun 2.

ChampionshipFinal

1stXVRoundRobin

MBC 1st XV VRHS 1st XV,12:00PM,MARLBH1.

Under18

Prebbleton VKaiapoi, 12:30 PM, Prebb 2.Oxford VHurunui,

01:00 PM,Ox2.RHS 2ndXVBYE.

Under16

Dunsandel-IrwellCombined VRHS Green,12:00 PM, Prebb1.

Under15

Hurunui VRHSGreen,1:00PM, Cul2.RHSGold VWoodend

Pegasus Bay,11:15 AM,RHS1.Oxford BYE.

U12-U13 -North CanterburyOnly

SectionA

Glenmark Cheviot VWoodend, 12:00 PM, Chev 1. Hurunui

Blue VAshley, 12:00 PM, Cul 2.Amberley Black VKaikoura

Blue,12:00 PM, Amb2.Oxford RedVKaiapoi Gold, 11:00AM,

Oxford2.Saracens U13 BYE.

SectionB

Oxford VOhoka Black, 12:00 PM, Ox2.Woodend VHurunui

Black, 12:00 PM, Wood 2. Ashley VKaiapoi Blue, 12:00 PM,

Lob5.SaracensU12 BYE.

Under11

Kaiapoi VSaracens Red, 11:00 AM, Kai 1a. Amberley Black

VSaracens Blue, 11:00 AM, Amb 1a. Oxford VOhoka Black,

10:55 AM, OxOvalb. Ashley Blue VAshley Green, 11:00 AM,

LobLr2a.HurunuiBlackVGlenmarkCheviot,12:00PM,Cul 2c.

Ohoka RedVWoodend, 11:00 AM, MandJr5a. Kaikoura ABYE.

Under10

Ohoka BlackVKaiapoi, 12:00PM,Mandjr4a. Hurunui BlackV

Oxford,11:00AM,Cul 2b. Woodend VAmberley Black,12:05

PM, Wood 2a. Saracens Red VGlenmark Cheviot, 12:05 PM,

SBJnr7. Ashley VSaracens Blue, 12:10 PM, LobLr2b. Ohoka

RedBYE.

Under9

Kaiapoi GOLD VHurunui Black, 09:55 AM, Kai 1a. Glenmark

Cheviot VKaikoura, 10:00 AM, Chev 1b. Oxford VAmberley

Black, 09:55 AM, Ox 2b.WoodendVSaracens Blue, 10:00 AM,

WoodJ4a. Ohoka Red VAshley Green, 10:00 AM, Mandjr5b.

Ashley Blue VOhoka Black, 10:00 AM, LobLr6. Kaiapoi BLUE

BYE.

Under8

Ohoka Red VKaiapoi, 10:40 AM, MandJr4c. Amberley Black

VSaracensBlue, 11:05 AM, Amb 2b.AshleyBlueVSaracens

Red, 11:05 AM, LobLr3. Hurunui Black V Ohoka Black,

11:05 AM, Cul3a. Woodend VGlenmark Cheviot, 11:05 AM,

WoodJ4a.AshleyGreen VOxford,11:05AM,LobLr6.Kaikoura

BYE.

Under7

Kaiapoi V Glenmark Cheviot Black, 10:45 AM, Kai 2c.

Saracens Blue VAmberley Black, 10:45 AM, Sbk3b. Ohoka

Black VAshley Green, 10:45 AM, Mandj7. Saracens Orange

VSaracens Red, 10:45 AM, SBJnr7. Oxford VAshley Blue,

10:50 AM, OxOvala. Woodend Black VHurunui Black, 10:50

AM,Wood 2a. Glenmark CheviotBlueVOhoka Red, 11:00AM,

Chev 1a.

Under6

SectionA

Kaiapoi BLUE VWoodend Green,10:00 AM, Kai 2a. Woodend

Black VKaiapoi GOLD, 10:00 AM, Wood 2a. Woodend White

VGlenmark Cheviot Black, 10:00 AM, Wood 2b. Glenmark

Cheviot Blue VHurunui Black, 10:00 AM, Chev 2a. Hurunui

BlueVAmberleyBlack,10:00 AM,Cul5.

SectionB

Kaiapoi WHITE VSaracens Red, 10:00 AM, Kai 2b. Saracens

Orange VOhoka Black,10:00AM, Sbk3a. Ashley BlueVOhoka

Red, 10:00 AM, Lob 4a. Oxford Red VAshley Gold, 10:00

AM,Ox 4a. Ashley White VAshley Green, 10:00 AM, Lob 4b.

Ohoka GreenVSaracensBlue,10:00AM, Mandj6.

Printed draw proudly supported by

Four SeasonsRealty

Your home forlocal property

0800 789 1011

Four Seasons Realty 2017 Ltd|Licensed Agent REAA 2008

For all draw information and updates

please keep up to date with

North Canterbury Rugby

2364200
---
SPORT

32 The North Canterbury News, June 17, 2021

Rangiora women draw with mid-week Aces

HOCKEY

Afterwinning the local derby

against Hinemoa­Kaiapoi Rata a

fortnight ago, the Rangiora

Hurunui Hares were excited to

take on unbeaten Avon Aces in

the Mid­Week Open Division 1

competition.

An own goal early put the

Haresonthe back foot,but they

replied quickly with an

equaliser, thendominated for

long periods and were unlucky

not to score several times.

In the end the Hares had to

settle for a1­all draw,which

knocked them bothoff the top of

the table, but withonly two

points separating the top five

teamsinthe competition every

pointcounts.

The Rangiora Hurunui Hawks

have got on the board, scoring a

2­1 upset win over Avon, aweek

afteratight 4­3 loss against UC

Aztecs.

The Hawkswill be hoping this

form continues against bottomof

the tableSouthern United, so it

can close the gap on 4th place in

the Division3competition.

Both Rangiora CBK Division 1

teamshad tough asks last

weekend againstHornby.

The men were solid against the

second placed team in their

division, but were unable to

manufacture agoal despite

creating good opportunities.

The women did manageto

scorethreegreat goals, but it

wasn't enoughasits opponents

ran in seven.

Afterbeing relegated fromthe

Sunday Super League Women's

On attack ... Bram Vermeulen playing for the Rangiora Rangers against

HSOB/Burnside Hunters.

PHOTO:SUPPLIED

Premiership, Rangiora

Korimako look determined to

dominate the SSL

Championship.

Two quick goals in the first

quarter set them up for a

comfortable 4­1 win againstUC

Athenians, ateam that had

beaten Rangiora earlier in the

season.

Unfortunately Rangiora

Piwakawaka couldn't match that

result, goingdown to UC Incas

3­0,but the scoreline could have

beenalot worse withoutthe

heroic efforts of goalkeeper

Cassidy New, who saved 17 shots

on goal.

At 2­1 down and with only 10 fit

playersthe Rangiora Allsorts

had to dig deep in theirmidweek

men's clash against Marist

Mooses, with George Ridgen

scoring from apenalty stroke to

take alate lead.

Marist dropped its goal keeper

near the end in adesperatebid to

manufacture agoal, butinstead

it gavethe Allsorts an easy 4th

goal and an unassailable lead.

Meanwhile heavy fog at

MainPower Turf couldn't hold

back the mid­week Amen's team

from demolishing Uni Romans

11­0.

Results:

Division 1: Men ­Rangiora CBK 0

lost to Hornby Emulous 3.

Women ­Rangiora CBK 3

(Kaylee McDonald 1, Krystalena

Roberts 1, Hayley Linton 1) lost

to Hornby Wildcats 7. MVP:

KayleeMcDonald.

SundaySuper League

Championship: Men ­Rangiora

Oddfellows 1beat UC Apache0

in 1st round of Knock Out Cup.

Rangiora Oddfellows 0lost to

Avon in semi­final of Knock Out

Cup.

Women ­Rangiora Korimako 4

(Ashleigh Merrick 2, Skye

Trowbridge 1, Poppy Griffith­

Jones 1) beat UC Athenians 1.

MVP: PoppyGriffith­Jones.

Rangiora Piwakawaka 0lost to

UC Incas 3. MVP:Cassidy New.

Mid WeekOpen: Men ­Rangiora

A11beat UC Romans 0. Rangiora

Allsorts 4(George Ridgen2,

Shaun Maxwell 1, Jon Green 1)

defeated Marist Mooses 3.

Women ­Rangiora Hurunui

Hares 2(Anna Armstrong 1, Rose

Johnston 1) beat Hinemoa­

Kaiapoi Rata 0. MVP: Lucy

Murray. Rangiora Hurunui

Hares 1(Anna Armstrong 1) drew

with Avon Aces 1. Rangiora

Hurunui Hawks 3(Anneke

Cameron 1, Kelly Morris1,Sally

Berry 1) lost to UC Aztecs 4. MVP:

TaylorNader.Rangiora Hurunui

Hawks 2(Maddi Plimmer 1, Sally

Berry 1) defeated Avon 1. MVP:

AnnekaCameron.

Platinum Grades: Men ­

Rangiora A0lost to Marist Green

11. MVP: Mica Wilson. Men ­

Rangiora B1lost to Waikirikiri

Falcons 4. Women ­Rangiora A0

lost to Carlton Redcliffs 8. MVP:

Tilly Dodds.

Kwik Sticks 11­a­side: Boys ­

Rangiora Renegades 7(Matt

Corey 3, HenryWebb2,Logan

Austin1,Connor Smith 1) beat

Harewood 3. MVP: Henry Webb.

Girls ­Rangiora Rascals 3

(Felicite Antoniuk­Newall 1,

Mikayla Molloy 1, JasmineOliver

1) beatWaikirikiri Kereru 0.

MVP: Jasmine Oliver.

Kwik Sticks 7­a­side: Boys ­

Rangiora Rampage 0lost to

Waikirikiri Hawks 8. Rangiora

Rangers 3(BramVermeulen 2,

Jamie Ryan 1) beatHSOB/

Burnside Hunters 2. MVP: Jamie

Ryan.

Girls­Rangiora Rebels 1(Amelia

Hutchison1)lost to MalvernBlue

6. MVP: Danielle Petrie.

Rangiora Rainbows 5(Angie

Mones­Cazon 2, Brooklin Glass 2,

PJ Mackintosh 1) beat Southern

United 2. MVP: Leilani Pokoina.

Rangiora Rubys 2(Katie Lunn 1,

Sabrina Galilee 1) lost to

Hinemoa­Kaiapoi 4. MVP:

Sabrina Galilee.

Kiwi Sticks: Boys­Rangiora

Rogues 0lost to Southern United

3. MVP: Ollie Clouston. Girls ­

Rangiora Rabbits 5(Catherine

McKellow 2, Emma McKellow 1,

Quincey Hawes 1, Freya Clark1)

beat HSOB/Burnside 1. MVP:

Ashlee Harkess. Rangiora

Raiders 2(LilyGeorge 1, Zara

Cartwright 1) drew with Marist

Lions 2. MVP: Bonnie Timms.

Mini Sticks: Boys­Rangiora

Roadsters 6(Harry Pullar 6) beat

Hinemoa­Kaiapoi Matai 4. MVP:

Xander Moore. Girls ­Rangiora

Rockets 11 (RubyHutchison 4,

Aimee Dunlop 2, Shaylee

Eastmond 2, Adele Ferguson 1,

Hazel O'Steen 1, Ila Bavis 1)

defeated HSOB/Burnside

Monkeys 0. MVP: Ruby

Hutchison. Rangiora RockStars

3(AnitaMones­Cazon 2,

Charlotte Hawes1)beat Hornby

Lynx 1. MVP: AlexBerry.

LOVED BY

GENERATIONS

Published more frequently and

giving you better value for money

than any other rugby read

SUBSCRIBE

FROM AS

LITTLE AS

$20

rugbynews.co.nz

0800 77 77 10

ALSO AVAILABLE ATALL GOOD BOOKSTORES AND SUPERMARKETS
---
North CanterburyNews

PROPERTY

Charming, idyllic sanctury

160 Sladdens Bush Road, Coopers Creek

With lovely garden and hill views, and aspacious covered veranda, the scene is picture perfect for entertaining and whiling

away family meals in idyllic surroundings. This beautifully presented home acts as acosy, calming sanctuary all-year-round.

The country-style kitchen -with astunning macrocarpa benchtop -is complemented by open-plan dining and living

spaces, while the large wood burner (with wet back) keeps the charming atmosphere heated throughout the cooler

months. The four double bedrooms are complimented by two ensuites and afamily bathroom providing versatility to

accommodate large families, host friends or continuing an airbnb business. The separate laundry with plenty of storage

adds the final touch. And then you wander outside! Aseparate studio with an ensuite and kitchenette provides another

quality space.

Other highlights on alist too long to mention in full include agarage and workshop space, numerous storage sheds,

multiple green houses, raised vegetable gardens and ahuge chook run. Love the great outdoors? In the heart of rural

country, you can take your pick ofhorse trekking and tramping routes orgooff the beaten track to hunt, fish, forage, and

bring home the bounty. Good array of sheds and productive soils, good cattle block.

Our vendors have cherished their time here and leave armed with innumerable happy memories. But having reached the

decision to move onthey are determined to achieve aresult, offering their immaculately presented home tothe market with

genuine commitment and resolve. Interest will be high, and immediate action is required -call us now for more information.

Web

DEADLINE SALE

Wednesday 14 July 2021,

4.00pm

4 3 1 3

Maurice Newell

mauricen@pb.co.nz

027 240 1718

Hamish Anderson

hamisha@pb.co.nz

027 678 8888

pb.co.nz/RL87464

Arealchange in

real estate.

The Property Brokers and Farmlands partnership means

great things forprovincial real estate*

Together our combinedstrengths complement

eachother to createbigger networks,more

buyers and better results.

For more informationcall0800367 5263

orvisit pb.co.nz/together

Proudtobetogether

2391345

*Farmlands will continue to administer its property management portfolioand its West Coast real estatesites, pendingCommerce Commission clearance.

Property Brokers Ltd Licensed REAA 2008
---
Four

Four

SeasonsRealty

Seasons Realty

Stage 3 & 4

Coming Soon

"Explorewhatmakes

Townsend Fields the

Natural choicefor living."

Please talk to me regarding options in future stages.

ChristineTallott

027 4906 042 |03313 6158

Four Seasons Realty

Four Seasons Realty 2017 Ltd|Licensed Agent REAA 2008

townsendfields.co.nz |027 4906 042 |sales@townsendfields.co.nz
---
Netballers to mark 75 years

Hurunui Netball will reach a

hugemilestonenext month.

Local netballers are set to

celebrate75years of netball in

the Hurunuidistrict on Saturday,

July26.

Kaikoura will join in the

festivities with the Hurunui

Netball Association for the day at

Culverden.

Normal competition matches

willstart at 9.30am,followed by

feature games with the various

Kaikoura teams.

There will be ashort breakat

12.30pm for formalities and

cutting of acake, followed by

afternoon tea at the end of the

day's play.

Pastplayers, coaches, office

bearers and anyone interested is

welcome to attend.

The latest roundofthe

competitionsaw atop of the table

clash between the Glenmark

under­14 team and atough

Culverden Black team.

The Glenmark team is on a

developmentjourneywith five

girls making the step up from

6­aside to 7­aside, filling gaps left

as other players move up the

grades.

The Glenmark girls jumped out to

alead after the firstquarter,but

Culverden showed excellent

fightingspiritbybouncing back

to trail by only one goal at

halftime.

Bothteamstraded goals in the

third quarter, before Glenmark

cametogether, winning the game

by 3goals points on Glenmark's

first clubday of the season.

Mia Northoverwas named

player­of­the­day for asolidfinal

On defence ... Glenmark under­14's Hannah Northover defends apass

against Culverden Black on Saturday.

PHOTO: SUPPLIED

quarter, providingagoodtarget

for her inexperienced feeders,

and shootingwell.

The game marked the halfway

point of the season.

Senior resultswere:

Section1:Cheviot A24,

Culverden B24; Glenmark A44

Glenmark B15; Culverden A25

Waiau A21.

Section 2: CheviotB8Waiau

Black 23; Waiau White 15

HanmerA41; HawardenA32

HanmerB15.

NEWS

The North Canterbury News, June 17, 2021

SPORTS RESULTS

Rangiora GolfClub

Nine holecompetition

June 8:

Stroke: Ladies: Lyn

Leech37c/b, Coleen White

37, Annie Cameron 40 c/b,

Catherine Boddy 40 c/b.

Men: Howard Thomas35

c/b, JohnGregan35,Colin

Bowman 36, Hudson Deane

38.

Rangiora Bridge Club

Saturday Holiday Open:

North/South: Junette

McIntyre/SueMcIlroy 1,

Babs­MereldeVisser/Carl

de Visser 2, Bernie Lukken/

Veronica Hall3.East/West:

Jack Lyon/Ken Johns1,

JoyceGray/Jenny Shore 2,

BarrySmart/Colleen Adam

3.

Monday, QueensBirthday

Open:N/S: Judith Driver/

Jan Roose 1, Dave Tocker/

Ken Johns 2, Tom Rose

Rona Maslowski 3. E/W:

Jack Lyon/Heather

Waldron1, George Scott/Joy

Scott2,Fern McRae/David

McRae, Jill Amer/Andrew

Findlay equal3.

WednesdayPlate Pairs:

N/S: Tony Biddington/Jack

Lyon 1, Sarah Waldron/

Janelle Crawley 2, Carole

Anderson/Jeanette Joyce 3.

E/W: Richard Luisetti/Geoff

Swailes 1, NancyHarris/

Junette McIntyre 2, Robin

Hassall/GaynorHurford 3.

AmberleySmallbore

RifleClub

June 13: DQuigley 100.9,

35

MQuigley 100.3, KQuigley

98.4, CRhodes98.3, K

Brown97.4, OMitchell96.4,

PWisheart 96.4,MParker

93.0,GDouglas90.2, W

Parker 89.3,IFrazer89.0, M

Palmer 81.1.

June 6shoot: KQuigley

100.6, KBrown 99.7, C

Rhodes 98.4, OMitchell

97.5,PWisheart 96.4, W

Parker 93.2,JTrembath

92.2,MParker 91.3, IFrazer

88.0,CBoyce 87.0, A

McLean 85.2, BParker82.0,

TBoyce78.0.

Everyone is welcometo

join the club shoots.All

gear is supplied.

May 31 shoot:OMitchell

100.5, PWisheart 99.4,K

Brown97.4, CRhodes 95.1, I

Frazer 94.2, MParker 91.0,

BParker 86.0,AMcLean

80.0.

AmberleyGolf Club

May 12: NScott 70, B

Fitzgerald 71, JWigley 73, P

Cumming 73,SHartley 73,J

Robertson 74, BRayner 74.

Twos:BGill SManson ,B

Yates, SThomas, IRouse.

Ladies:LRobertson 77, K

Pepper 78, JCumming 80.

Mid WeekMen: G

Blackler 37, JStringleman

35, BBalderstone34. Twos:

RWilshire, DWilliams, J

Stringleman, DFlewellen.

Mid WeekLadies: SLee 72,

BPettigrew 78, J.Morgan 79.

Nine holers: Putting

competition KHowie13, G

Steltenpool 16 .

NEW LISTING

NEW LISTING

Boundary lines are indicative only

Lot 2

Boundary lines are indicative only

Lot 4

Boundary lines are indicative only

Greta Valley Lot 2and 4, 10 Valley Road

Only two sections left

Sefton 76 Ashworth Bush Road

Ashworth Downs

The covenants for this property allowfor apermanent

dwelling of anysize.Nestled in the beautiful, quiet

town of Greta Valley are these sections ready for you

to build your dream home,holiday home, bach or

even fixed foundation tiny home. Theproperty has

sealed driveway access, power, sewerage and water

to its boundary. Aperfect base in which youcan take

advantage of the fishing,diving,vineyards, wineries

andall thearea has to offer.Contact us formore

information.

bayleys.co.nz/5515444

Price by Negotiation

View by appointment

Brook Yates 027 807 8093

brook.yates@bayleys.co.nz

George Black 027 3158214

george.black@bayleys.co.nz

Dean Pugh 027 335 6303

dean.pugh@bayleys.co.nz

WHALAN AND PARTNERS LTD, BAYLEYS, LICENSED REAA 2008

Impressiveviews towards MountGrey and the

foothills with establishedshelterbelt and trees.

Electricityand water to be providedtothe boundary

andthe Lots will be fully fenced. Titles dueout

approximately October2021.

• Lot 1–4.63ha $325,000 +GST (if any)

• Lot 2–4.64ha $335,000 +GST (if any)–Includes

four bayshed

• Lot 3–4.04ha $325,000 +GST (if any)

• Lot 4–4.38ha $315,000 +GST (if any)–

Macrocarpa tree lot with building site

bayleys.co.nz/5515412

Asking Price $325,000 +GST (if any)

View by appointment

Brook Yates 027 807 8093

brook.yates@bayleys.co.nz

Dean Pugh 027 335 6303

dean.pugh@bayleys.co.nz

George Black 027 3158214

george.black@bayleys.co.nz

WHALAN AND PARTNERS LTD, BAYLEYS, LICENSED REAA 2008
---
What's happening in your

community…

Flooding Update -Moving Into Recovery

TheState of Emergency declared fortheCanterbury

floodshas nowended with Councils across theregion

shiingtheirfocus to recovery.

Forthe lasttwo weeks, Council staff have offered

welfaresupport to affectedresidents, assessed

buildings impacted by floodwater,repaired damaged

stormwaterinfrastructure, reopened roadsand

continue to work to reconnect roadstoLeesValley.

"The amount of work put in during ashort period of

time has been significant," says Mayor Dan Gordon.

"For any residents still dealingwith issues relating to

thisevent Iwould encourage youtotouchbase with

the Council. Whileweare moving to recovery mode we

knowthe job isn't overand remain on hand to help."

Vehicle access to Kairaki Beach river mouth

reopened at the end of last week. With changes at

the river mouth along with alarge amount of debris,

the Council urge people to drive with care and check

tides before heading out to make sure they can

get asafe return below the high tide mark. Visitors

should use 4WD vehicles only.

Roads

Asmall number ofroads remain closed:

• All fords across the District

• Lees Valley Road -There are two slips and three

bridges with approaches washed out. We are

working to restore access

• Okuku Pass Road -Repairs are underway

• Horsford Downs Road -Repairs are underway

• Island Road east of Mounseys Road -Aculvert

repair is required.

Water

• Residents on the Garrymere water supply no

longer need to boil water.

Kickstart Canterbury Presents Highway to Well

Motorcyclists feature highly in our road crash

statistics, particularly in the Canterbury area.

While there are some great riding routes, wealso

unfortunately have one of the highest death and

serious injury rates in the country.

Since 2015 sadly 44 motorcyclists have lost their

lives on Canterbury roads with afurther 285

seriously injured. For every one of those people it

is an ongoing trauma for both families and loved

ones le behind orrecovering from or adapting to

the impact of serious injuries ontheir lives.

Kickstart Canterbury is acollaborative effort

involving Waimakariri and Selwyn District Councils,

Christchurch City Council, ACC, Motorcycle Safety

Advisory Council and local Ride Forever trainers.

Each year events are held to encourage uptake of

Ride Forever training and promote safer riding.

This year Kickstart Canterbury are linking inwith

Men'sHealth Week, recognising that motorcycle

riding has many benefits other than transport.

Being in the right physical and mental health when

riding is key to keeping safe onthe roads.

Kickstart's "Highway to Well" events are free and

will have guest speakers and motorcycle safety and

health information. There will also be multiple spot

prizes and free nibbles throughout the evening.

The event provides agreat opportunity to come

together and connect with likeminded riders, and

to listen to topics on motorcycle safety and riding

tips, mental health and wellbeing.

Local Ride Forever trainerswill be there to chatto,

along with the CanterburyMen's Centre, Menz Medical,

and Green Prescription.

Numbers are limited so register to secure aspot to

attend an event at:

• Woodend Community Centre, 17 June, 6.30pm

• Hornby Working Men's Club, 16 June, 6.30pm

Register here to select your preferred venue

and for catering purposes:

events.humanitix.com/kickstart/tickets

ABOUT PARKING

How should we design, build and manage

parking for our growing district?

We'recreating aDistrict ParkingStrategy and we'd

likeyourfeedback.

Complete the short survey and share your

ideas before 5pm on Sunday 4July 2021.

Have your say waimakariri.govt.nz/letstalk

Tell us About Your Dog

You can now update all your dog

details online...

• Are you saying hello to anew puppy, or

goodbye to an old friend?

• Share amicrochip number sowecan

help if your dog goes missing.

• Update owner details so we can keep in

touch with you, and much more.

Update your details and find out more

waimakariri.govt.nz/dogs

Give them

to charity.

Unwanted household items, clothing

and toys can't go in theyellowbin.

Instead, take them to acharity shop or

the ReSaleStoresothey can be reused.

rethinkrubbish.co.nz
---
NEWS

North Canterbury News, June 17, 2021

Give usyour

feedback

WHAT YOU DO, CAN MAKE A DIFFERENCE

VOLUNTEER EXPO

Celebrating Volunteer Week. Displays and

activities by local groups. Find out how you

can make adifference.

Kaiapoi Library • Saturday 19June 10am -2pm

PegasusCommunity Centre • Friday25June 5pm -7pm

Rangiora Library • Saturday 26June 10am -2pm

The team ... The Murchison Homes team with their fleet of electric cars.

PHOTO:SUPPLIED

Hammering home electric

An Amberley­based building

company is working towards

becoming carbon negative.

Murchison Homes,which has an

environmental focus, is adopting

an electric vehicle(EV) fleetasa

first stepinhelping removemore

carbondioxide from the

atmospherethan they emit.

ManagingdirectorMarty

Murchison says the company is

also moving toward using wool

insulation, renewable timbers

such as beechand pine, and ecofriendly

fibre cement.

Martysays the benefits of

swapping to EVs was compelling,

and believes in the not too distant

futurethe majority of New

Zealanders will be driving them.

''We hope that by adopting an

EV fleet we can lead by example

and begin to effect real change,''

he says.

Electric vehicles emitted 80

percent less carbonthan an

equivalent petrol vehicle, were

cheaper to run, and had lower

maintenance costs

Critics said batteries could not

be recycled, but they could be

used for solarback up, and

facilities overseas werenow

recycling the entire battery, and

making them intonew ones.

''We will see these battery

recycling facilities in New

Zealandonce enough people swap

over,''Marty says.

The range of the vehicles

needed to be calculated when

making the transition to EVs, he

says.

''The Nissan Leafinthe

Murchison Homes fleet covers

220km while the Tesla Model 3

will travelupto660km, depending

on how heavy footed you are.''

Impressive milestone

By SHELLEY TOPP

Ablocked drain?

New pothole?

Fallen tree?

Waimakariri District Council

Use the free Snap Send Solve app to tell

Waimakariri District Council about it.

DOWNLOAD FOR FREE

Visit our website to find out more

waimakariri.govt.nz

Find out more at

waimakariri.govt.nz

Woodend Beach trainers

Greg and Nina Hope

achieved an impressive

milestone at Addington

Raceway recently.

The husband and wife

trained their 700th winner,

when their young trotting

star Muscle Mountain,

driven by their son, junior

driver, Ben Hope, won the

$23,000 mobile trotting

free­for­all on the

programme.

It was aclassy

achievement for the couple

with Muscle Mountain's

stablemate, Midnight Dash

finishing second in the

race.

Greg said it was agreat

family occassion with Ben

driving the winner but also

great to achieve the win

with Muscle Mountain, the

winner of 11 races and

$167,000 while still only

four, because ''he is the best

trotter we have in the stable

by acountry mile,'' and for

Midnight Dash, to run

second.

''He is also asmart young

trotter and has already won

nine races.''

Impressive milestone ...

Woodend Beach trainers,

husband and wife Greg and

Nina Hope, trained their

700th winner recently night

when their young trotting

star Muscle Mountain won

again at Addington

Raceway. PHOTO: RACE
---
CLASSIFIED

38 The North Canterbury News, June 17, 2021

AMPLIFY YOUR

BUSINESS

AND BE THE

NAME THEY

REMEMBER

FIRST

Advertise with us and

get noticed today!

Phone us today on

03 314 8335 or email

sales@ncnews.co.nz to find

out how we can help!

For classified advertising

or to advertise in our Trades

and Trusted Professionals

sections email

amanda.keys@ncnews.co.nz

or phone 03 313 2840.

MISSED

DELIVERIES?

If you didn't receive your copy

of the North Canterbury News,

flick us an email at

info@ncnews.co.nz

Please include your name,

address, phone number and

we'll get it sorted!

VIEW US

ONLINE!

Did you know you can view the

paper online -

www.ncnews.co.nz

Entertainment

LIZ BRAGGINS, Graham

Wardrop and Mary Dunne

performing live at Balcairn

Hall, three local legends

combined into something

really special, Saturday

26th June at 8pm, free

supper, alcohol free event,

raffles, CD sales. Tickets

$25 from Sally Macs

Amberley, Stan's 7 Day

Pharmacy Rangiora, Sefton

Garage and online via

www.balcairnhall.com.

Educational

TUITION available. Primary

and secondary up to

NCEA level 3. In centre

(Rangiora) or interactive

online from your home.

Each student on an individually

tailored programme.

Kip McGrath Rangiora has

been serving the local community

for 30 +years. Give

us acall (03 313 3638) or

book your free assessment

online https://www.kipmcgrath.

co.nz/rangiora

CANCELLATION OF MEETING

• The Mahi Tahi Joint Development

Committee meeting previously advertised

for Tuesday 22 June 2021 at 9am to

be held in the Function Room, Rangiora

Town Hall, has been CANCELLED.

• The Utilities and Roading Committee

meeting previously advertised for

Tuesday 22 June 2021 at 3:30pm to

be held in the Function Room, Rangiora

Town Hall, has been CANCELLED.

Sarah Nichols

GOVERNANCE MANAGER

WarMemorial Hall

1AlbertStreet, Rangiora 7400

PO Box 351, Rangiora 7440

www.bsnc.org.nz

Covid-19 and Level 1–Keeping everyone safe

Dear Clients and prospective clients,

•WeARE open and ready to provide you with

budgeting supportand advice.

•WeARE able to meet with you face-to-face. Strictly

by appointment only.

•Wewillbeabletosee walk-in clients. Please phone

first

•Home visits are by arrangement only.

•Wewill trytocontinue advocating on your behalf

with WINZ, banks, creditors etc.

•Weregularly workwith other supportagencies and

food banks; to provide you with additional

assistance.

Phone: 03 313 3505

(please leave amessage and we'll get back to you)

Email: servicemanager@bsnc.org.nz

Monday to Thursday 09:00 am to 4:00 pm

• However, Ifyou cannot wait to talk with us, then

please call the MoneyTalks helpline on 0800 345 123

2300807

SeniorNet Internet Banking series

1Introduction Wednesday 23 June

2Workshop Wednesday 30 June

Each starts at 10.00 am in the

Learning Centre,

178 King Street, Rangiora

Information/enrollment with Bob on

03 312 8933 /jobo@gumbrell.net

2390519

KAIAPOI CHRISTADELPHIANS

"The Key of Knowledge .."(Luke 11:52)

"GOOD NEWS"

Lord Jesus Christ believed increation, He

saidtothe Pharisees, "Have you neverread,

thatHEthatmade them at the beginning made

themmale and female". Matthew 19:4.

Personal

COUNTRY girl, mid 50's,

slim and fit, honest and

open. Financially independent,

likes the outdoors,

watching int rugby and

cricket, farm life. Oxford

area. Looking for like

minded man under 60 for

lifetime relationship. Ph

021 235 4357.

LADIES are you looking

for amale companion, partner

or just acasual date. I

am single, 5ft11, just

retired, live on own, indep,

fun, witty, charming and

romantic. Why be on your

own? 0276 594 425.

SEMI RETIRED kind,

caring man looking for a

loving relationship.

Seeking agenuine, caring

woman in her 70's, light

drinker. Ph020 4129 5331.

2392472

Cars Wanted

2391233

ANY old cars, anything pre

1990, unfinished Hot Rods,

Classic Cars. Please call

027 258 8366.

CASH 4CARS

and 4WD'S

Phone

Automotive

Parts

03 313 7216

CARS, vans, 4WD's

wanted for dismantling or

repair. Phone 027 258

8366.

WANTED to buy Ford,

Holden, Chrysler or

Chev's, Classic cars. Any

other types considered, any

condition. Please phone

Tony 027 313 5000.

Deaths

FLYNN, Shirley Jean (Jean)

Passed away peacefully with extended family on the

7June 2021, two months after her 99 th birthday.

Awoman who was always full of life, always had

something to say and always made close friends.

Our beloved mother to her sons Keith and Doug,

has now joined her beloved husband Bryan. Youare

loved and will be missed by all who have known you.

Aprivate cremation has taken place and amemorial

service will be held when both Keith and Doug can

travel freely to New Zealand. Email messages to

keith@keithflynn.com.au or doug@vicprops.com.au.

Other messages may be sent to The Flynn family c/o

POBox 35 Rangiora 7440.

Funeral Directors |03313 8222 |RANGIORA

Wanted To Buy

BLACKSMITH tools,

individual items or sets,

will look at anything. Ph

Bill 027 669 9355.

BUYING estate type old

china, crystal, collectables,

vases. Phone 027 350 3963,

or 313 1878.

$$$

Amalgamated Scrap Metal

Ltd. Specialists in farm

machineryand farm clean

ups, old vehicles etc.

100% locally owned.

Ph 0800 030 712 or

027 695 0480.

2312759

To Let

SMALL, sunny, 3bdrm

house on farm, 7km from

Rangiora, log burner,

carport, short or long term.

Text 0274 354 023.

Wanted To Rent

MATURE woman seeks

long term, nicely kept 2-3

bdrm, spacious home in

Rangiora or surrounding

areas, max rent $370, excel

refs. Ph Julie 020 420 2712.

Pets

BICHON HOMESTAY

for smaller dogs. We look

after your dog in our home.

"No kennels". Phone today

03 314 6110.

BIRMAN KITTENS, 12

weeks, ready now. Vaccinated

&vet checked. Phone

03 312 5755.

Livestock

HOMEKILL

&Wild Game

Meat Processing

313 0022

2309602MEAT2U.NZ

Gardening

A+ GARDEN hedges cut

to perfection. Tree &arbor

work. Also spraying. Free

quotes. Ph 03 312 0668 or

021 111 4322.

For Sale

HONEY 4kg bucket

cooking honey, $30 special.

Available at Gracebrook,

Amberley. Telephone 03

314 7076.

Situations Vacant

JOBS JOBS JOBS

Labourers (of all skill sets),

sawmill, welders, steel fabricator,

factory, brush

hands, and lots of other

local opportunities. An

advantage if you are

physically fit, able to pass a

drug test, have drivers'

license and reliable transport.

Ph Tina 03 310 7285

or 027 636 6967 Elevate

Recruitment, 113A High

Street, Rangiora.

Firewood

DRY WATTLE two years

old, $700 6m2. Dry old

man pine, $550 6m2. Phone

03 312 8726 Rangiora.

FIREWOOD logged ready

to saw up, 7km from Rangiora,

$10m3. Please Text

0274 354 023.

Trade&Services

ABEL &Prestige Chimney

Cleaning. Nth Cant owned

& operated. Covering all

areas from Waimak to Hanmer.

Professional, guaranteed,

service. Firebox

repairs, carry most parts. Ph

0800 661 244.

AFFORDABLE concrete

cutting with quality and

removal work. Free quotes.

No job too small. Ph 027

442 2219, Fax 03 359 6052

or A/H 03 359 4605.

ALL TREE SERVICES,

arbour work, pruning, tree

removal. Affordable &

friendly service. Telephone

021 111 4322.

ARBORIST

Copper Beech Tree

Services. Tree removal,

pruning, height reduction,

hedge trimming, shaping,

tree planting, firewood.

Free quotes. Contact Angus

Edwards 027 259 6741

copperbeechtreeservices@gmail.com

2391234

SPLIT Old Man Pine 3.7m

@$260, Split Hardwood

Mix 3.7m @$360. Mobile

021 993 497 Paul.

SPLIT PINE $350 for 4.5

cube trailer load, free delivery

to Rangiora area. Phone

021 241 8075.

BRIAN'S Tree Services.

Tree felling, topping,

shaping, firewood cut, rubbish

removed, stump grinding,

branch chipping.

Affordable rates. Phone 03

327 5505 or 021 124 4894.

BRICK &blocklaying. All

types of work undertaken,

repairs. Phone Hamish

0272 386 003 or 313 5678.

BUILDERS Father &Son

team. Amac Builders are

available to help you with

your building needs. High

standards, low overheads.

No job too small. Check us

out on fb. Amac Builders

Ltd. Ph 027 318 4400.

PAINTERS

Reg Tradesman

Interior,exterior.

North Canterbury Painters

specialising in decorating for

over 65 at adiscount rate.

Free quotes.

Covering Nth Canty,Oxford,

Kaiapoi, Rangiora, Amberley.

Rob 03 327 7899

or 027 432 3520 2227597

FIRE GUARDS Custom

made with safety latch.

Phone 021 169 9066. E:

pjfabricators123@gmail.com.

PAINT & wallpaper

services. Wayne Bryant,

exterior, interior. Qualified

tradesman. Free quotes. Ph

313 5337 or 027 654 4568.

Trade&Services

DIRTY TILES &Grout?

Professional tile cleaning,

tiled shower restoration,

mouldy silcone, shower

glass & we can even

recolour your old grout!

For all your tile and grout

issues call Grout Pro for a

free, no obligation quote.

Ph Darryl 0800 882 772.

Log Fires

Pellet Fires

Heat Pumps

Sales

Service

Installations

Free Quotes

03 343 1651

472 Blenheim Rd

www.heatstore.co.nz

METAL WORX. Flashing,

Sheetmetal Fabrication,

Wrought Iron,

Welding, Custom Trailers,

General Metalwork. No job

too big or too small. Ph 021

265 5428 or 03 314 6908.

Find us on facebook/

Glenmark Metal Worx.

glenmarkmetalworx.ltd@gmail.com.

PAINTER & Decorator.

25 + years experience.

Interior /exterior, roofs &

waterblasting. For a free

quote, please ph Steve 03

314 4620 or 027 477 1930.

PAINTER. Qualified local

professional, Int / Ext,

roofs, wallpaper. Call or

text Corban 027 846 5035.

POWER TOOLS repairs,

parts &sales for over 40

years. All main brands serviced.

Grossman Trade

Tools, 23 Watts Road,

Christchurch. Ph 389 9230.

RANGIORA Rubbish

qualified. Removal and RRR skips.

Wheelie bins any frequency

and skips from 1.5 cube to

9cube. Skips and wheelie

bins for any use, rubbish,

greenwaste, building sites

or just cleanups. Give us a

phone call 313 6957 or for

skips 021 313 255.

ROOFER. All roof repairs,

roof painting, water blasting,

moss treatment,

repointing, gutter cleans &

snow straps. And more.

Free quotes. Phone Nathan

027 516 6609.

SCREEN PRINTING.

For all your printing

requirements. T-shirts,

Hoodies, Hi-Vis vests and

polos, Overalls, Caps etc.

Please phone Heather 03

313 0261 or email heather.

norstar@gmail.com.

Trade&Services

SHEARER. Hap's Farm &

Lifestyle Services. Shearing,

crutching, drenching,

tailing, feet trimming &

health check. — Ph. 03-

423-3713or021-267-4025.

STONEMASON, Brick

and Blocklayer. Earthquake

repairs, grind out and

repoint, River/Oamaru

stone, Schist, Volcanic

Rock, paving, all alterations

new and old. Quality

workmanship. Visit

featureworks.co.nz or ph

027 601 3145.

SUMMERFIELD

FENCING

IN YOUR AREA NOW.

Lifestyle or farm, sheep, cattle,

horse, all types of animals.

Fences, yards, sheds, arenas,

shelters, runs.

30+ years contract fencing.

Steve is available to help with

your design &planning.

Ph office03312 4747

2091848

ANTHONY SYMONDS

Forall your painting &

plastering requirements

Local with 30 years

experience

All workmanship

Guaranteed.

Phone 021 344 023

2220615

SEPTIC TANK

CLEANING

Bill's Liquid

Waste

Blair Tavendale

Ph 03 314 9371

0275 379-694

Pride &Quality Painting

&Decorating Services

20 yrs exp, fast and friendly

service. For all your painting

needs, phone: Martin 310

6187 or 021 128 9867

2362002

REMOVALISTS

Movemen Ltd

2Men &agood sized truck.

From $150 plus GST per

hour.Kaiapoi based.

Call Gerard

027 668 3636

2343272

You dump it...

Blair pumps it...

027 216 0000

2225862

VALUATION -

Specialising in North Canterbury.

Contact Geoff at

Maxwell Valuation. Phone

03 310 8541 or email

geoff@maxval.co.nz.

WINDOW TINTING

tintawindow

advanced film solutions

99% uv block

fade protection

heat control

reduce glare

25 Years Experience

privacy films

frosting designs

non-darkening films

Workmanship Guaranteed

Lifetime Warranties on Most Films

UV

block

Free Quotes Canterbury and Districts

03 365 3653 0800 368 468
---
Trusted Trades &

Professional Services

Guide

To book your spaceinthis guide,phoneAmanda Keys 313 2840 or email amanda.keys@ncnews.co.nz

Automotive &Recovery

Builder

DENTURE CLINIC

Digger Hire and Construction

2070788

• WOF Cars &Trailers

• Vehicle Servicing &

Repairs

• Tyres &Punctures

• Jump Starts

•

Towing &Salvage

• Courtesy Car Available

Ph Aaron Rowlands

0272 588 366

13 Stone Eyre Place,

Swannanoa

Eftpos available Mon –Fri 8am –5pm, Sat 9am –1pm

Butchery

OxfordButchery

Shane and Leanne Frahm

We cankill&process yourstock

FourGenerations of Frahms

since 1957

Ph 312 4205

Oxford

1680439

Number one

old-fashioned bacon

&ham curing.

A/H 312 4709

Construction &Concrete

All Construction & Concrete Work

•Driveways, patios &paths

•Bridges and Culverts

•Floors, foundations

•Sheds and buildings

•Dairy Sheds, Herd homes

•Silage pits, effluent ponds

•Excavation and cartage

•Precast concrete

•Insulated panels

Daryl Power

027 230 9401

concretepower@scorch.co.nz

www.concretepower.co.nz

2273277

RANGIORA

DENTURE CLINIC

Garry WMechen

Registered Clinical DentalTechncian

Phone (03) 313-9192

38a Ashley Street, Rangiora

NEW N W DENTURES D ES

*RELINE * *REPAIRS

* I S

HOURS

8.30am -12noon

- Monday to Friday

FREE E CONSULTATION O

AND ADVICE

A V C

For a/h repairs

phone (03) 310-3044

ECOM Digger Hire

and Construction

•9 ton Komatsu with rubber pads.

•Excavotor can be dry hired or with

one of our expert operators.

•Attachments available:

•Post driver

•Concrete/rock breaker

•Grab bucket

•Tilt bucket

•Rock bucket

No job

too big

–Nojob

too small

admin@ecomconstruction

www.ecomconstruction.co.nz

2384249

Ear Health

Landscaping

Landscaping

2089195v2-4/4-S

• Ear Health checks.

• Wax removal using Microsuction

• Removal of foreign bodies

• Basic hearing aid care

• ACC provider

• WarVeteran provider

• No medical referral

required

Clinics in Rangiora, Amberley and Kaiapoi

Rest homes/retirement villages, booking by prior arrangement.

Bookings: Online www.earcare.nz |Phone 020 4124 25 25

Email alison@earcare.nz | Ear Care Canterbury

2324849

STEWART CONTRACTING

Landscaping -Fencing

& Earthworks

ENJOYABLE STRESS FREE LANDSCAPING

03 313 9375 •027 369 3974

www.stewartcontracting.co.nz

contact@stewartcontracting.co.nz

2136148

For all your landscaping needs

All Landscaping, Retaining Walls (Engineered and

Non-Engineered), Timber Fences, Landscape Structures

and more...Lifestyle Block, Rural and Residential.

Phone Jeremy 021 169 9394

www.blackhill.co.nz

2372616

Lawn &Garden Care

Lawn Mowing

Water Blasting

Gardening

Spraying

Pruning and Trimming

Lawn Care

Rubbish Removal

Compost, Worms, Bark

and Stone Chip Delivery

Mark Borck

markborck@icloud.co.nz

Free Quotes

www.mrgreen.co.nz

Seamless Spouting

Seamless Spouting

027 2214 936

0800 674 733

Supply and Install

of Seamless Gutters

10 year no leaks

guarantee

• Continuous spouting made on site,

large colour range available

• High grade and thicker material used

• Repair or replace any type of gutter

• Undertake all insurance work

• Independently owned and operated

• Competitive pricing

Servicing North CanterburyDistricts

Call Danie 021 875 462

2358470

2359362

YOU

COULD

BE

HERE

Advertise

your business

in our Trades

and Services

Phone

Amanda Keys

on

03 313 2840

Plumbing

For all

general

aspects of

plumbing

Discounts for over

65 years old

Fast friendly service

All work guaranteed

Aaron McCartney

Certifying Plumber

Cell 027 366 9091

A/H 03 310 2137

Free Call:

0508 44EVER

EMAIL:

plumber_27@yahoo.com

2172994

2374056V2

Trellis

Proud specialists in enviro-friendly

timber manufacturing trellis from

premium Macrocarpa &treated Pine

2351878

Recycling

TIME FOR ACLEAN UP

AROUNDTHE YARD?

FREE COLLECTION OF

METALITEMS

Washing machines–Dryers –Dishwashers -

Microwaves –Stoves–Cooktops –Ovens

-Food mixers -Heat pumps –Fridges–Lawn

Mowers –Cultivators -Electric motors -

SawBenches- Carparts –Car batteries–

Lead –Brass –Steel –Iron–Aluminium –Tin

–Drums -Electric cable –Nuts–Bolts

–Screws -Steel bath -Stainless Steel sinks

and benchtops -Tapsetc

Free serviceavailable throughout

Waimakariri, Hurunui

and Kaikouradistricts.

Forany items not listedpleaseask

TO ARRANGE YOUR COLLECTION

Phone or Txt0274332 176

Email: ben@anyoldiron.co.nz

•Trellis •Outdoor Living

•Outdoor Furniture •Gates

550 Oxford Road, Fernside |sales@kaiapoitrellis.co.nz

Ph 027 575 4511 |www.kaiapoitrellis.co.nz

✓ Mowing

✓ Edging

✓ Trimming

2360356

Mowing &Gardening

✓ Blowing

✓ Pruning

✓ Cleanups

CALL US NOW: 027 294 8279

elitemowingandgarden

Scrap Metal

CASH PAID FOR SCRAP

•Car Bodies •Scrap Steel•Specialists in Farm

Machinery•All non Ferrous

MAINLAND

METALS LTD

Ph (03)338 7000

Mike0274 818544 •Robbie0274818 027

Locally owned and operated

Windows & Doors

And much

more ...

WINDOW MARKET PLACE

• New & Used

• Timber & Aluminium

• Windows & Doors

8am-5pm Weekdays

8am-2pm Saturday

215 Waltham Rd, Sydenham

Ph (03) 379 6159 info@windowmarket.co.nz

Fax (03) 962 1012 www.windowmarket.co.nz

1902273

ncn1242200aa

To book your spaceinthis guide,phone Amanda Keys 313 2840 or email amanda.keys@ncnews.co.nz
---
RangioraToyota

WANTED

Quality used late

modelToyotas.

Contactus today

if you'relooking

to sell!

2014 Toyota Yaris Vitz 2013Toyota Prius C

•1.3LPetrolAuto,

•1.5LHybrid Petrol, Alloys

•Alloys,5-Door, $ •Camera, Satnav

•Only 32,800kms

13,995 •69,100kms

2009 MazdaDemio

•1.5LPetrolAuto

•Alloys, ReverseCamera

•91,350km

$

8,995

2015Toyota Ractis

•1.3LPetrolAuto

•CD/AUX/USB Connectivity

•45,550km

$ •Camera, Bluetooth

14,995 $

14,995

$

15,995

2014 Toyota Vitz

•1.5LPetrolAuto, Alloys

•Only 18,900

2018 Toyota Yaris GX

•1.3LPetrolAuto

• Reverse Camera, Bluetooth

•40,400kms

$

18,995

2018 Corolla Sedan GX

•1.8L PetrolAuto, Alloys

•Bluetooth, ReverseCamera

•45,800kms

$

21,995

2011 Toyota Sai

•2.4LHybridPetrol, Auto

•Camera,Keyless

•43,300km

$

16,995

2010 Toyota SaiG

•2.4LHybridPetrol, Auto

•Camera, Cruise Control,Alloys

•62,550km

$

16,995

2011 HyundaiElantraElite

•1.8L PetrolAuto, Alloys

•Leather,Sunroof

•Camera

$

12,995

2014 Toyota Corolla GX

•1.8L PetrolAuto,

•NZNew,Bluetooth,

•Cruise Control

$

13,995

2016 Corolla GX Sedan

•1.8L PetrolAuto, Bluetooth

•ReverseCamera&Sensors

•60,000kms

$

19,995

2019 CamryHybrid GX

•2.5LPetrolHybrid, Alloys

•SafetySense,Camera

•16,250km

$

36,995

2019 CamryGXHybrid

•2.5LPetrolHybrid, Alloys

•Bluetooth, Safety Sense

•15,250kms

$ 36,995

2011 Toyota Avensis Wagon

•2.0L PetrolAuto,

•Alloys, Camera

•Bluetooth, Keyless

$

14,995

2018 Corolla GX Hatch

•2.0L PetrolAuto, Alloys

•Satnav,Bluetooth,Camera

•78,850kms

$

22,995

2014 MitsubishiLancerGSR

•2.0L PetrolAuto, Hatchback

•Alloys, Camera

•80,050km

$

13,995

2011 Toyota Wish Z

•1.8L PetrolAuto, 6-Seater

•Sunroof,Alloys, Camera

•82,300kms

$

15,995

2019 Toyota RAV4 GXL

•2.5LPetrolAWD,Latest Model

•Satnav,SafetySense

•41,400km

$

41,995

2009 Toyota Wish Z

•2.0L PetrolAuto, 6-seater

•Alloys, Keyless

• 88,500km

$

14,995

2010 Mitsubishi Lancer VRX

•2.4LPetrolAuto

•Alloys, Leather

•80,750kms

$

12,995

2018 LandCruiser Prado VX

•130Kw2.8L TurboDiesel

•SafetySense, GPS, Leather

•NZNew,only52,550kms

$

71,995

2013Toyota RAV4 GX

•2.5LPetrolAWD

•Bluetooth, Towbar

•Nz-new

$

15,995

2006 Hilux SR5 4X4

•3.0L TurboDiesel Auto

•Canopy &Liner

•Cruise Control

$

22,995

2016 HiluxSR5 PreRunner

•.8L TurboDiesel Manual

• Satnav,Camera

• Tonneau

$

39,995

2007 HiluxSR5 4x4

•3.0L TurboDiesel Auto

•Tonneau,CruiseControl

•Towbar

$

22,995

2013Toyota AlphardSC

•2.4LPetrolAuto, 7-Seater

•DualElectricDoors

•25,250kms

2014 Ford Ranger XLT

2018 Nissan Navara RX4x4

•2.3LTurbo Diesel Manual

•Alloys, Bluetooth

•Only 58,100kms

2018 Landcruiser PradoTZ-G

•2.8L turbodieselauto

•KDSSsuspension, 7-seater

•40,250km

2016 LandCruiser PradoTZ-G

•2.8L Turbo Diesel

•ReverseCamera, Bluetooth

•Sat Nav

•3.2LTurbo Diesel 4WD

$

36,995 •Bluetooth

$

33,995

$

41,995

$ $

•ParkingSensors

71,995

57,995

Percival Street,Rangiora • Ph (03) 313-8186any time • www.rangiora.toyota.co.nz

Signature

CLASS

2385701

FINANCE &INSURANCE AVAILABLE
---
RANGIORA

MID WINTER

CHRISTMAS

Starts 7amFriday

100% LOCALLYOWNED &OPERATED.

Spend them &

Earn them here

RANGIORA

If youfind alower priceonanidentical stocked productlocally,wewill beatitby15%

If youfind the same productfromanother Mitre10store or Mitre10website, we'll match that price.

Excludestrade and special quotes,stock liquidations and commercial quantities.The in-storepricemay be lowerthan thatadvertised.
---
MID WINTER

CHRISTMAS

RANGIORA

now

$ 199

20

only

Bosch 18v BlowerBattery/

Charger Kit

382796

now

$

298

EGO Commercial

BlowerSkin 600cfm

342244

5

only

now

$

199

Hikoki 36V Hedge

Trimmer Skin 620mm

334126

2

only

now

$

248

Hikoki 24cc500mm

Hedge Trimmer

341916

7

only

HONDAENGINE

1

only

now

$

38

Ace141pc Tool Set

902127

30

only

now

$

399

Hikoki 18v SiteTVRadio

918272

4

only

15

only

now

now

now

$

2730

Wood Chipper 9HP

909450

$

119

OregonElectric Chainsaw

Self Sharpening

922093

7

only

$ 42

Bacho 6pc Ergo

HandleScrewdriver Set

347652

Sale starts 7am Friday18th June,

100% LOCALLYOWNED &OPERATED.

Spend them &

Earn them here

RANGIORA

If youfind alower priceonanidentical stocked productlocally, we will beatitby15%

If youfind the same productfromanother Mitre10store or Mitre10website, we'll match that price.

Excludes trade and special quotes,stock liquidations and commercial quantities.The in-storepricemay be lowerthan thatadvertised.
---
MID WINTER

CHRISTMAS

RANGIORA

now

$ 47

88pc Titanium Drill Bit Pack

938443

10

only

now

$

12

Ace9pc Tool Set

902126

Limited

Stock

LOTS

MORE

DEALS

IN-STORE

now

$

15

Ace21pc

Tool Set

902125

25

30

only

now

$

12

Tool Set31pc

Screwdriver Ratchet Set

942105

now

$

449

Makita Blue

ImpactDriver Kit

921689

1

only

3

only

now

$

339

Bosch 18v H/Torque hammer

Drill with 2x batteries

382795

now

$

55

Ox 30m

Heavy Duty

Lead

923222

now

$

18

Ace20pce

Socket and

Bit

942106

only

40

only

now

$

248

Bosch GDX18VEC Impact

Driver Wrench

920864

Sale starts 7am Friday18th June,

100% LOCALLYOWNED &OPERATED.

Spend them &

Earn them here

RANGIORA

If youfind alower priceonanidentical stocked productlocally,wewill beatitby15%

If youfind the same productfromanother Mitre10store or Mitre10website, we'll match that price.

Excludestrade and special quotes,stock liquidations and commercial quantities.The in-storepricemay be lowerthan thatadvertised.
---
MID WINTER

CHRISTMAS

RANGIORA

8

only

1

only

8

only

now

$

55

Resin Umbrella Stand

202109

now

$

397

Dining Table 1600x990

336882

5

only

now

$

99

Umbrella 3500mm Wide

With Crack Natural

288972

now

$

99

CoffeeTable 1.1m

319579

4

only

now

$

190 00

Canzo1000mm

Dining Table Round

336879

2

only

2

only

now

$

146

Sunbeam EM5000 Espresso

Machine

297426

now

$

98

Sunbeam EM2800 Espresso

Machine

178715

now

$ 12 98

Wood Basket Knitted

Medium

335258

8

only

now

$

24 98

10

only

Wood Basket Knitted Large

335257

Sale starts 7am Friday18th June,

100% LOCALLYOWNED &OPERATED.

Spend them &

Earn them here

RANGIORA

If youfind alower priceonanidentical stocked productlocally, we will beatitby15%

If youfind the same productfromanother Mitre10store or Mitre10website, we'll match that price.

Excludes trade and special quotes,stock liquidations and commercial quantities.The in-storepricemay be lowerthan thatadvertised.
---
MID WINTER

CHRISTMAS

now

$

5 60

Misc Colour

Duct Tape

ACE0067

RANGIORA

now

$

50

OX Pipe Cutter

922849

now

$ 25

5

only

Ox 6in adjustable wrench

922852

only

25

only

10

only

MISC SIZES

now

$

18

Bata Gumboot Junior

Pink or Blue

922755

Limited

Stock

LOTS

MORE

DEALS

IN-STORE

now

$

11

Ox ProComfortGrip

550mm Saw

922840

15

only

now

$

17

Bluetooth

SpeakerBottle

AssortedColours

ACE0017

now

$

8 50

40

Limited

Stock

UltraBrightFlashlight

917090

now

$

28

Bluetooth

Speaker Bottle

Stainless Steel

ACE0016

IdanceSDJ

Headphone

IdanceJockey

Headphone

Sale starts 7am Friday18th June,

100% LOCALLYOWNED &OPERATED.

Spend them &

Earn them here

RANGIORA

If youfind alower priceonanidentical stocked productlocally,wewill beatitby15%

If youfind the same productfromanother Mitre10store or Mitre10website, we'll match that price.

Excludestrade and special quotes,stock liquidations and commercial quantities.The in-storepricemay be lowerthan thatadvertised.
---
MID WINTER

CHRISTMAS

RANGIORA

1

only

now

$

194

Robinhood Rangehood

600mmLED SS

309446

now

$

194

$

194

CanopyRangehood

90cm LEDSS

ECO018308

1

only

now

$

500

SideRiser600mm

Down-draft

909051

1

only

1

only

now

$

749

Oven Wall 60cm Delonghi

7Function 60LSS

918879

1

only

2

only

1

only

only

10

only

now

$

348

Verso 600mmInductionHob

ECO025584

now

$

3998

NectreBig BakerOven

922651

now

$

998

Delonghi 60cm GasTop

Oven

334150

now

$ 699

Classique 600mmF/S Oven

with GasC/T

248784

now

1

only

$

298

CanopyRangehood600mm

SS Simpson

440609

Sale starts 7am Friday18th June,

100% LOCALLYOWNED &OPERATED.

Spend them &

Earn them here

RANGIORA

If youfind alower priceonanidentical stocked productlocally, we will beatitby15%

If youfind the same productfromanother Mitre10store or Mitre10website, we'll match that price.

Excludes trade and special quotes,stock liquidations and commercial quantities.The in-storepricemay be lowerthan thatadvertised.
---
MID WINTER

CHRISTMAS

RANGIORA

1

only

1

only

1

only

only

now

$

549

Delonghi Cooktop Gas

90cm 5Burner

341496

now

$

962

Newark 1700 Bath Left

ECO023851

now

$

198

Bath MixerStream

158507

2

only

LOTS

MORE

DEALS

IN-STORE

1

only

20

only

1

only

now

$

999

Bench Setting3pce

354107

now

$

150

Sink Faucet XFactor

119877

now

$

498

ShowerEnc SignatureAnna

915 x915mm 2/S

164219

now

$

199

Outdoor Sink Unit

353231

Sale starts 7am Friday18th June,

100% LOCALLYOWNED &OPERATED.

Spend them &

Earn them here

RANGIORA

If youfind alower priceonanidentical stocked productlocally,wewill beatitby15%

If youfind the same productfromanother Mitre10store or Mitre10website, we'll match that price.

Excludestrade and special quotes,stock liquidations and commercial quantities.The in-storepricemay be lowerthan thatadvertised.
---
MID WINTER

christmas

RANGIORA

24

MONTHS

INTEREST FREE

on purchases $799 &over

FINANCE

OPTIONS

AVAILABLE

20% deposit

Paycash price only

No booking or

insurancecharge

or 12 MONTHS

INTEREST FREE

Terms, Conditions&Credit Criteria apply

WANT IT NOW?

Payfor it using your

AirpointsDollars

Remember, 1=$1

When youspend$75 or more.

Seein-store forterms &conditions.

100% LOCALLYOWNED &OPERATED.

Spend them &

Earn them here

RANGIORA

If youfind alower priceonanidentical stocked productlocally, we will beatitby15%

If youfind the same productfromanother Mitre10store or Mitre10website, we'll match that price.

Excludes trade and special quotes,stock liquidations and commercial quantities.The in-storepricemay be lowerthan thatadvertised.