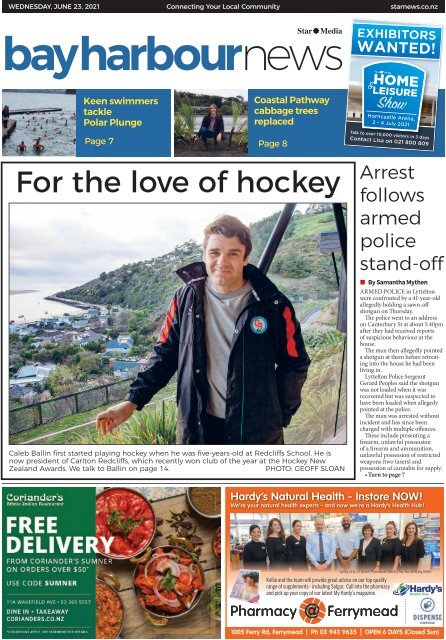 Bay Harbour: June 23, 2021
You also want an ePaper? Increase the reach of your titles
YUMPU automatically turns print PDFs into web optimized ePapers that Google loves.
WEDNESDAY, JUNE 23, 2021

Connecting Your Local Community

starnews.co.nz

Keen swimmers

tackle

Polar Plunge

Page 7

Coastal Pathway

cabbage trees

replaced

Page 8

Talk to over 10,000 visitors in 3 days

Contact Lisa on 021 800 809

For the love of hockey

Caleb Ballin first started playing hockey when he was five-years-old at Redcliffs School. He is

now president of Carlton Redcliffs, which recently won club of the year at the Hockey New

Zealand Awards. We talk to Ballin on page 14.

PHOTO: GEOFF SLOAN

Arrest

follows

armed

police

stand-off

• By Samantha Mythen

ARMED POLICE in Lyttelton

were confronted by a 41-year-old

allegedly holding a sawn-off

shotgun on Thursday.

The police went to an address

on Canterbury St at about 5.40pm

after they had received reports

of suspicious behaviour at the

house.

The man then allegedly pointed

a shotgun at them before retreating

into the house he had been

living in.

Lyttelton Police Sergeant

Gerard Peoples said the shotgun

was not loaded when it was

recovered but was suspected to

have been loaded when allegedy

pointed at the police.

The man was arrested without

incident and has since been

charged with multiple offences.

These include presenting a

firearm, unlawful possession

of a firearm and ammunition,

unlawful possession of restricted

weapons (two tasers) and

possession of cannabis for supply.

• Turn to page 7

Hardy's Natural Health - Instore NOW!

We're your natural health experts - and now we're a Hardy's Health Hub!

Lynley, Orla, Lil, Grant (Pharmacist/Owner) Pav, Sue, Brittany, Kellie

Kellie and the team will provide great advice on our top quality

range of supplements - including Solgar. Call into the pharmacy

and pick up your copy of our latest My Hardy's magazine.

Health Hub

1005 Ferry Rd, Ferrymead | Ph 03 943 9635 | OPEN 6 DAYS (Closed Sun)
---
$15,999

h tp: /kaywa.me/8aVdQ

download the Kaywa QR Code Reader (A p Store &Android market) and scan your code!

my Kaywa QR-Code

w.valuecarswarehouse.co.nz

2016 NIssAN LeAf 24s

$17,990 FACELIFT MODEL

Ce l 021 8 5 84

Cnr Main South Rd and Epsom Rd, Christchurch

Ph: 03 348 4129 | avoncityford.com

h tp: /kaywa.me/8aVdQ

download the Kaywa Qr Code reader (a p Store &android Market) and scan your code!

My Kaywa Qr-Code

w.valuecarswarehouse.co.nz

Ce l 021 8 5 84

FROM

ONLY:

www.drivesouth.co.nz

h tp: /kaywa.me/8aVDQ

Download the Kaywa QR Code Reader (A p Store &Android Market) and scan your code!

My Kaywa QR-Code

w.valuecarswarehouse.co.nz

0800 400 040

• www.kickthetyres.co.nz

2 Bay Harbour News Wednesday June 23 2021 Latest Canterbury news at starnews.co.nz

from the editor's desk

GENERAL INQUIRIES Ph 379 7100

CLASSIFIED ADVERTISING Ph 379 1100

Star Media, a division of Allied Press Ltd

PO Box 1467, Christchurch

starmedia.kiwi

NEWS

SPORTS CLUBS can't

operate without hard

working volunteers and good

administrators.

The Carlton Redcliffs

Hockey Club is no different.

It is one of Canterbury's

best run sports clubs, and

was also recently judged the

best hockey club in New

Zealand. And that's because

it has all of the qualities mentioned

above and more.

Today we profile club president

Caleb Ballin (page 14)

who took over the role from

the legendary Pat Barwick in

February last year.

Ballin details his time in

the sport and at the club, the

highlights and how family is

so important.

Nurturing kids into the

game and ensuring they can

afford to play is vital to Ballin

and Carlton Redcliffs' sporting

DNA.

That makes for a great

sports club.

– Barry Clarke

barry@starmedia.kiwi

Samantha Mythen

Ph: 021 919 917

samantha.mythen@starmedia.kiwi

news

ADVERTISING

Jo-Anne Fuller

Ph: 364 7425

jo.fuller@starmedia.kiwi

Mental health crusade

The Lyttelton Rugby Club is running sessions for members to talk about

mental health struggles.

Rob Davison

Ph: 021 225 8584

rob.davison@starmedia.kiwi

The best-read local newspaper,

delivered to 10,514 homes every week.

Brookhaven • Heathcote • Ferrymead

Redcliffs • Mt Pleasant • Sumner • Lyttelton

Diamond Harbour • Governors Bay • Akaroa

Pages 4-5

community events

Artistic controversies

Go to St Peter's Church, 10 Rue Balguerie, Akaroa, today between 7

and 8pm and listen to Penelope Jackson talk about art crime, forgeries

and fakes.

Page 18

Ray White Morris & Co Property Management

Free Landlord Seminar

Residential Tenancies Act 2020

In February 2021 we experienced the most significant

changes ever seen to the Residential Tenancies Act.

Are you up to date? Do you understand these changes?

Join us for a free update, resources and the opportunity to

gain much-needed clarity in a time of significant change.

PICK IT UP...

DRIVE AWAY

Incorporating

ISSUE 651 | FrIday 31 JUly 2020

free

best motorbuys

www.drivesouth.co.nz

Incorporating

ISSUE 652 | FrIday 7 aUgUSt 2020

1996 toyota Landcruiser

Prado $8,990

7 seater, 3.0 litre diesel,

very rare find!

free

best motorbuys

Education is the

key to successfully

owning investment

property!

To register please email us

morrispm.nz@raywhite.com

or phone 03 331 6755

Saturday 26 June

10am - 11.30am

Ray White Papanui

Thursday 1st July

5.30pm - 7pm

Ray White Ferrymead

261 stanmore road, Christchurch For more, see their advert on page 25

The biggest range of vehicles in one location

2015 mazda demio

See page 4

for more info!

32 Moorhouse Ave | P: (03) 366 7768 | www.valuecarswarehouse.co.nz

GET THAT

PEACE OF MIND

VEHICLE INSPECTIONS

$149

FROM

ONLY:

www.gRCAudIO.CO.Nz

LEd headlights, heated seats &

steering wheel, Bluetooth/USB

audio, 21,000km with Japanese

service history. Includes New

NZ charging cable & OrC.

PH 03 web

See inside for this week's

4WD feature!

40 Years Finance

Experience

Cannot be Beaten!

• Talk to us about finance for your next

motor vehicle purchase

Specialising in Finance for Private Purchases

Very quick approvals, sensational interest rates

• From no deposit (terms & conditions may a ply)

Dyna spares

C h r i stC h u rCh

331 blenheim road, Christchurch For more, see their advert on page 25

Now Available @ NZ Van Spares

The biggest range of vehicles in one location

2006 mitsubishi outlander

$11,999

location: 68 Falsgrave Street, Woolston, Christchurch

email: nzvanspares@hotmail.com | phone: 03 379 3932 / 0508 698 267

See page 5

for more info!

32 Moorhouse Ave | P: (03) 366 7768 | www.valuecarswarehouse.co.nz

2004 BMw 530d Nz NEw

151, 0kms, black leather interior, very

economical, reliable vehicle, in exce lent

A fordable new parts available for BMW / MERCEDES BENZ / AUDI

454 St Asaph Street, 03 378 1818 or 021 480 201

41 Sandyford Street

0800 400 040

• www.kickthetyres.co.nz

condition. Exce lent buying at only

$11,999

INCLudINg ORC

CAR AUDIO CAR SECURITY

AUDIO VISUAL CELLULAR

PH 03 web

REVERSE CAMERAS PARKING SENSORS

RADAR DETECTORS AERIALS

MOBILE INSTALLATION SERVICE 0800 212 777

Incorporating

ISSUE 653 | FrIday 14 aUgUSt 2020

see inside for this week's

Hybrid & electric feature!

40 Years Finance

Experience

Cannot be Beaten!

• Talk to us about finance for your next

motor vehicle purchase

Specialising in Finance for Private Purchases

Very quick approvals, sensational interest rates

• From no deposit (terms & conditions may a ply)

Cnr Main South Rd and Epsom Rd, Christchurch

Ph: 03 348 4129 | avoncityford.com

Hilux, Hiace &

everytHing in between

68 Falsgrave Street, Woolston W: nzvanspares.co.nz

E: nzvanspares@hotmail.com Ph: 03 379 3932 / 0508 698 267

GET THAT

PEACE OF MIND

VEHICLE INSPECTIONS

See inside for this week's

motorcycle feature!

CHRISTCHURCH

MOTORCYCLES LTd

The biggest range of vehicles in one location

2013 peugeot 4008

$19,999

See page 5

for more info!

32 Moorhouse Ave | P: (03) 366 7768 | www.valuecarswarehouse.co.nz

$149

DASH CAMERAS

GPS/TRACKING

See our ad on page 2

free

best motorbuys

Ce l 021 8 5 84

PH 03 web

www.drivesouth.co.nz

For more, see their advert on page 22

40 Years Finance

Experience

Cannot be Beaten!

• Talk to us about finance for your next

motor vehicle purchase

• From no deposit (terms & conditions may a ply)

Specialising in Finance for Private Purchases

• Very quick approvals, sensational interest rates

Cnr Main South Rd and Epsom Rd, Christchurch

Ph: 03 348 4129 | avoncityford.com

Hilux, Hiace &

everytHing in between

68 Falsgrave Street, Woolston W: nzvanspares.co.nz

E: nzvanspares@hotmail.com Ph: 03 379 3932 / 0508 698 267

• 41 Sandyford Street

2008 Victory Vegas

Customised x USa

arlan Ness themed

$12,999

Read local

USED CARS | TRUCKS | VANS

COMMERCIAL VEHICLES | SUVS

MOTORCYCLES | CARAVANS

BOATS | AUTOMOTIVE SERVICES

Available for FREE every

Friday at convenient

pick up points near you!

PLUS check out this week's

edition, plus past issues

online now at

bestmotorbuys.co.nz

INCORPORATING besT mOTORbuys

www.drivesouth.co.nz

03 322 4548 | Easy Parking

17 Lillian Street, Halswell

www.maxwellfashion.co.nz

Open Mon-Fri 9.30am - 5.00pm

Saturday 10.00am - 1.00pm

LAYBY WELCOME
---
• By Ella Somers

THOUSANDS OF daffodils

are being planted to brighten

up Lyttelton's two earthquakedamaged

cemeteries.

The city council's community

parks manager Al Hardy said

the council had already planted

20,000 grand monarch daffodil

bulbs in the Lyttelton Anglican

Cemetery and are planting

20,000 daffodils bulbs in the

Lyttelton Catholic and Public

Cemetery this month.

The bulbs will flower later this

winter or early spring.

Hardy said the 40,000

daffodil bulbs cost $18,000 and

were funded through the city

council's community parks

green asset renewal programme.

The daffodil planting initiative

was proposed by the city

council's in-house cemetery

maintenance team in December

2019.

The daffodils will "lift the

appearance, increase amenity

value and introduce more colour

into our cemeteries," Hardy said.

There have been 3800 burials

within both cemeteries and

95 per cent of the burials are

classified as heritage which are

burials dating pre-1950.

Hardy said the daffodils are

not being planted to mitigate the

severe earthquake damage in

the two cemeteries that have not

had any repair work from the

council.

The city council inspected

all cemeteries after the

earthquakes to ensure they were

in safe condition for visitors.

Monuments and headstones

deemed "unsafe" were laid flat

on the ground, Hardy said.

Broken monuments,

headstones and concrete kerbing

are still lying on the hillsides of

both Lyttelton cemeteries.

Veterans' Affairs deputy head

Marti Eller said the organisation

had been in discussion with

Latest Canterbury news at starnews.co.nz

the city council since 2014

over repairing the 50 damaged

soldiers' graves in the Lyttelton

Catholic and Public

Cemetery.

"Veterans' Affairs

has always been ready

to support the repair of

the [soldiers'] graves at

Lyttelton," she said.

Lyttelton Reverend John

McLister said some of

the graves in the cemeteries had

been in a "shocking state" since

the earthquakes. He had been

concerned for several

years about the damage to the

soldiers' graves.

Banks Peninsula Community

Board member Reuben

Davidson said it was

"disappointing" that the

cemeteries were still in a

state of disrepair and it

would be good to see a plan

from the city council on how

they intend to repair them.

Banks Peninsula Ward

city councillor and Deputy

Mayor Andrew Turner said

repairing cemetery gravestones

was "detailed, specialised

NEWS 3

Daffodils set to brighten Lyttelton's cemeteries

John

McLister

Wednesday June 23 2021 Bay Harbour News

UNSIGHTLY: Earthquake damage at the Lyttelton

Catholic and Public Cemetery (left) and Lyttelton

Anglican Cemetery. Daffodils are being planted to

'lift their appearance.' PHOTOS: ELLA SOMERS

work that needs to be done by

professionals which means it's

not cheap."

Turner said the city council

was constantly reminded by

communities that they needed to

be frugal with finances.

It was about finding the "right

balance" but said finding a longterm

solution to repairing the

cemeteries needed to be found.

It would require some funds

to be put on budget by the city

council "when we're through

some of the particular constraints

we have at the moment."

NUMBER ONE SUPPLIER

TO THE NZ JET BOATING

COMMUNITY FOR OVER

50 YEARS

• Part Boats & Hulls

• Turn Key Packages

• New Jet Units

• Custom Fabrication

• Expert Advice

SERVICING

Peter Tonkin

03 962 0505

peter.tonkin@hamiltonjet.nz

• Spare Parts Retailer

• Jet Unit Refurbishment

• Engine Tune-Ups

• Insurance Repairs

• Impellor Reconditioning

Care &

Compassion

We pride ourselves on the

very highest level of service

If you are thinking about the future, we can help

you explore pre-payment and pre-planning options.

Contact us for a Free Information Pack.

We offer funeral information talks to groups.

Please call us for a speaker to come to you.

(03) 379 0196 | www.simplicity.co.nz

Mike Chandler

Funeral Director

How can selling your

property help protect tui?

Ask Marilyn.

Marilyn Still, Bayleys Real Estate

027 229 8769 | marilyn.still@bayleys.co.nz

TIAKI

OUR CARE FOR

PEOPLE AND PLACE

WHALAN AND PARTNERS LTD, BAYLEYS, LICENSED UNDER THE REA ACT 2008
---
Bay Harbour News Wednesday June 23 2021

4

NEWS

Latest Canterbury news at starnews.co.nz

Rugby player's death sparks mental

• By Matt Slaughter

TANE HIPANGO'S twin

brother Tama never talked to

him or anyone else much about

his struggles.

But, these struggles got the

better of Tama, a Lyttelton Rugby

Club division four player, in

December, when

he succumbed to

mental illness at

age 31.

Now, determined

to not

see other club

Tama

Hipango

members suffer

in silence, committee

member

Aaron Stevens

and coach Joseph Tyro ran a

workshop on Friday for players

and coaches to discuss their mental

struggles and arm them with

methods to cope.

The workshop was funded

by New Zealand Rugby and

hosted by social worker Kereama

Carmody. It was part of a pilot

programme it is hoped may

expand Canterbury and New

Zealand-wide.

Hipango thinks an initiative

like this may have helped his

brother through his battle.

"We would talk not every

day, but honestly, almost every

second or third day we'd call on

the phone, and we would talk

about kind of nothing. We'd talk

mostly about rugby, I suppose, to

be honest, and the last text message

I got from him was about

rugby,'' he said.

"He never talked to me about

his feelings.

"A rugby club is a community

space for all kinds of people, and

especially those who are, apparently,

at risk. It is men, young

men in that age bracket from all

kinds of walks of life. Having an

initiative like that, it brings so

much hope. It's the right thing in

the right place."

Hipango said Tama was

"extremely kind," "an awesome

brother" and was loved by his

family. He wrote poetry in his

spare time, some of which, in

hindsight, he believes was about

his struggles.

The first time Hipango heard

Tama was struggling, was from

Stevens, who helped get Tama to

hospital just in time to save his

life after a suspected attempted

suicide in June.

Stevens said, at the club's first

well-being workshop on Friday, a

SPEAKING UP:

Lyttelton Rugby

Club's Aaron

Stevens and

Joseph Tyro

are running

sessions for club

members to

talk about their

struggles, after

player Tama

Hipango lost

a battle with

mental illness in

December.

PHOTO: GEOFF

SLOAN ​

WHERE TO GET HELP:

• (0800 LIFELINE) or free text

4357 (HELP) (available 24/7)

• https://www.lifeline.org.

nz/services/suicide-crisishelpline

• YOUTHLINE: 0800 376 633

• NEED TO TALK? Free call or

text 1737 (available 24/7)

• KIDSLINE: 0800 543 754

(available 24/7)

• WHATSUP: 0800 942 8787

(1pm to 11pm)

• DEPRESSION HELPLINE:

0800 111 757 or TEXT 4202

• NATIONAL ANXIETY 24 HR

HELPLINE: 0800 269 4389

•SAMARITANS: 0800 726 666

• EDANZ, Eating Disorders

Association of New Zealand:

0800 EDANZ 0800 543 354

• If it is an emergency and

you feel like you or someone

else is at risk, phone 111.

room of 30 rugby players and

coaches were asked how many

had considered suicide and 20

put their hands up.

Said Stevens: "[Hearing] people

that I said were hard men, hardened

rugby players, openly talking

about their well-being, I was

really proud of those boys, eh."

Stevens battled anxiety himself,

after suffering a brain bleed as a

result of hitting his head during a

rugby game three years ago.

"I'd never had anxiety in my

life, I hadn't suffered from depression,

but I banged my head

and because I had strength and

weakness around the wrong way,

I thought being a tough man was

to [say] it will come right, harden

up, but it didn't.

"The first time I knew I had

anxiety, I didn't know what it

was. I thought I was having a

stroke . . . I ended up in A&E,

which resulted in a whole lot of

other therapy."

Tyro, who works in the health

sector, said his a message for

rugby players is "it's okay not to

be okay."

SAFER SPEED REVIEW

Christchurch to Akaroa

Have your say on safer speeds

Speed on impact determines if the people in a crash are

killed, injured or walk away unharmed.

Through Road to Zero – New Zealand's road safety

strategy – we're working towards a future where no-one

is killed or seriously injured on our roads.

Christchurch to Akaroa is Canterbury's highest-risk route

– in terms of personal safety – and in New Zealand's

top 10% where we can make the greatest difference in

reducing road deaths and serious injuries.

Do traffic speeds affect how you use the road?

Come along to a pop-up event and have your say.

Feedback closes on 27 July 2021.

Pop-up events

Te Hapua Halswell Centre

Thursday 1 July, 3–6pm

Tai Tapu Hotel

Tuesday 6 July, 10am–1pm

Little River School

Tuesday 6 July, 3–6pm

The Gaiety Hall, Akaroa

Saturday 10 July, 11am–2pm

Head to www.nzta.govt.nz/chchtoakaroa

to have your say online or email us

chchtoakaroaspeeds@nzta.govt.nz

nzta.govt.nz
---
health mission

NEWS 5 Wednesday June 23 2021 Bay Harbour News

He said traditional stereotypes

about rugby players

having to be staunch and

harden up when faced with

adversity need to change.

"Concussion is one of

the big challenges and

also the stereotypes of

traditional rugby in the

days of that culture – you

don't talk about your feelings,

that harden-up kind

of attitude. We're trying

to change that kind of

stereotype and, usually,

the alcohol [consumption]

after games and all that."

Tyro said key focus is

also to help players cope

with mental challenges

caused by factors like

Covid-19, the earthquakes

and social media.

Said Christchurch sports

and clinical psychologist

Graeme Clarke: "Generally

males, whether it's rugby,

[or] whatever we're doing,

in a Kiwi way, we've sort

of have this sense of it's

strength to just take care of

what you've got to and get

on with it."

Clarke said its great to

see Lyttelton Rugby Club

giving members a platform

to not suffer alone.

Former All Black John

Kirwan has spoken widely

STRUGGLES: Tama

Hipango (right)

never spoke much

to his twin brother

Tane Hipango about

how he was feeling

before his death in

December.

about his battle with

mental health issues and

the importance of asking

for help. He is an advocate

for mental health services

across New Zealand.

Australian rugby league

star Greg Inglis went

public last year about

being diagnosed with

bipolar II disorder in 2019,

following a second stint in

rehab for alcohol problems

and depression.

Tama Hipango's poem

See our world at your

feet, rise and never

retreat.

Roar every heart

beat, to fire magics

mystique.

As a day drums and

sweeps seconds

away.

Times lightning

strikes once; for

fortune for fate . . .

Your home, your

heart will never let

you fall.

Like the lion you are –

forever stand tall.

OUTLET SALE

4 DAYS ONLY

NURSING / PRE-HEALTH

Learn about nursing study options at Ara and find

out how our pre-health course can help you meet

the entry criteria for a nursing degree or diploma.

Wednesday 4 August

Manawa campus, 276 Antigua Street

Nursing: 5.30pm-6.30pm

Pre-Health: 6.30pm-7pm

Take a further

25% off all outlet

clearance prices!

155 Roydvale Ave, Burnside

Wed 23 rd - Sat 26 th June

9am – 4pm

Register to attend at ara.ac.nz
---
6 Bay Harbour News Wednesday June 23 2021 Latest Canterbury news at starnews.co.nz

tips for gardening in June!

NOW is the time to

plant strawberries!

Strawberries need to have

Winter chilling to make

them fruit better. It is also

the time to plant rhubarb

and asparagus. Make

sure you add compost

before you plant.

Fertilize your camellias

as these will have a

growth spurt after

flowering. This is also

the time to prune your

roses and your fruit

trees and plant your lily

bulbs.

Most of your garden beds

will be empty so now is

a good time to compost

and plan for when

weather warms up.

Indoor plants can be a

little more difficult over

Winter especially where

watering is concerned.

Water your house

plants when the potting

mix is dry. It is easy to

over water at this time

of year.

big range, low price, local advice

Cells to plant seeds to plant Herbs to plant Flowers to plant

Super Six

Strawberry

Camarosa Pack of 6

Choose a spot in full sun.

High resistance to wet

weather. Self-fertile. Best

planted over Winter.

319347

pack

Yates

Parnsip Seeds

Assorted

Harvest in approx.

18-20 weeks.

137224

$3

from

98

each

Growfresh Pot

Coriander 10cm

Coriander is an easy

to grow herb that is

popular in many styles

of cooking.

181827

$4 79

each

$3

Growflora

Pansy Pack of 6

Assorted

Easy to grow. Adds a splash

of colour to your garden.

Outstanding ability to

recover from adverse

weather conditions.

279671

98

pack

Growfresh

Spinach Pack

of 6 Assorted

Easy to grow. Perfect

for garden beds.

188500

McGregors

Carrot Seeds

Assorted

Harvest in approx.

100 days.

135214

$13 98 4 for $ 10

Gourmet

Herb

Parsley 1.3L

Parsley is the

world's most

popular herb. It

Growflora

Polyanthus

pack of 6

Assorted

Easy to grow.

Winter bedding

is easy to grow.

plant.

$3 98

pack

$3

from

18

each

$5 98

each

$3 98

pack

183235

188352

Growfresh

Cauliflower Pack

of 6 Assorted

Easy to grow. Perfect

for garden beds.

188458

Yates

Beetroot Seeds

Assorted

Harvest in approx.

10-12 weeks.

202596

Gourmet

Herb Mint

Common 1.3L

Mint is very popular

and easy to grow.

183232

Cyclamen

10cm

Assorted

Perfect for pot

and garden

beds. Great

range of colours.

$3 98

pack

$3

from

98

each

$5 98

each

$3.92 each

369688

Growfresh

Silverbeet Pack

of 6 Assorted

Easy to grow. Perfect

for garden beds.

188499

$3 98

pack

$3

McGregor's

Radish Seeds

Assorted

Harvest in approx.

30 days.

135243

from

18

each

Gourmet

Herb Rosemary 1.3L

Rosemary is an aromatic

and versatile herb which

has been treasured for its

culinary and medicinal value

for thousands of years.

183236

$5 98

each

Maxi 24

Primula Malacoides

Pack of 24

Ideal for mass planting

colour in your garden.

Easy to grow.

188586

$15 30

pack

Prices valid until June 30th or while stocks last.

Mitre 10 MEGA Ferrymead

1005 Ferry Road. Christchurch

Phone: 366 6306

Find us at: /MEGAFerrymead

Opening Hours:

Monday – Friday:

7am – 7pm

Saturday, Sunday & Public Holidays:

8am – 6pm

www.mitre10.co.nz/local/MegaFerrymead

Ferrymead
---
Wednesday June 23 2021 Bay Harbour News

• By Samantha Mythen

IN SPITE OF the cold

temperature and rain, about

100 people dived into Lyttelton

Harbour on Sunday for a winter

swim.

Fifty people, including 25

children, jumped off Diamond

Harbour's wharf as part of the

Long Distance Swimming Club's

mid-winter event.

Said Diamond Harbour resident

Michael O'Neill: "It was a

great dip in the rain."

Prior to entering the water, resident

and founding member of

the event Mike Hosted discussed

the International Ice Swimming

Association's Ice Mile – known

as "the ultimate achievement of

swimming in ice waters."

Hosted described the ice mile

as swimming one mile in water

of 5 deg C or less, with advice

from the swimming association,

"enter the water gradually – do

not dive in."

Latest Canterbury news at starnews.co.nz

SHIVERS: Swimmers prepare to enter the water from the Diamond Harbour wharf on Sunday. (Below) – The Naval

Point Club's annual Polar Plunge in Lyttelton.

Swimmers brave cold for winter dip

He then passed over his own

advice to the Diamond Harbour

participants: "Run down the

wharf, jump off jetty, swim for

steps, run up steps, drink lots of

gluhwein.

"One would have to be bonkers

to swim a mile in mid-winter,"

he said.

At Naval Point, another 50

hardy people took part in the

Naval Point Club's annual Polar

Plunge, pitching into Lyttelton's

surrounding waters.

The Sumner mid-winter swim

will be held on July 4.

Organiser Julie Zarifeh said:

"The event has a great vibe and

it is a great, fun thing to do with

family and friends, engendering

much positivity.

"Simply put, it makes you feel

great," she said.

For those eager to participate

Zarifeh said to meet at the

Esplanade end of Hardwicke St

at 11am on July 4.

NEWS 7

Incident illustrates

the dangers

faced by police

• From page 1

He has been remanded in custody

and will re-appear in court in

early July.

The incident took place just two

days before to the anniversary of

the death of Constable Matthew

Hunt who was shot and killed on

June 19, 2020.

Hunt was killed during a routine

traffic stop in Massey, Auckland.

Another officer was seriously

injured.

Eli Bob Sauna Epiha, has been

accused of killing Hunt and is set

to stand trial on charges of murder

and attempted murder at the High

Court next week.

Peoples said this and the

Lyttelton incident illustrates the

current dangers faced by the

police.

"Generally speaking, criminals

involved in the drug scene are

known to arm themselves for

protection against the threat

of being 'ripped off' by other

criminals.

"Police are keen to identify

criminal elements, especially those

dealing drugs and in possession

of firearms so that we can remove

these risks to our community,"

Peoples said.

He encourages anyone who

has information regarding such

matters to contact the police or to

make an anonymous report via the

Crimestoppers website.

Canterbury, we need to talk about our changing climate. We know this isn't an easy topic. Or a small one.

But we have to start somewhere, so we're starting here – with our region. Learn more at itstimecanterbury.co.nz

It's time, Canterbury is climate friendly - learn more on our website.

It's time to talk about climate change, Canterbury.

Brought to you by:

P61506-PLATO-CP-B
---
Bay Harbour News Wednesday June 23 2021

8

NEWS

Latest Canterbury news at starnews.co.nz

Cabbage trees replaced

TREE WARRIORS: Oliver Lewis and a team of volunteers braved the rain on Sunday to

plant 24 cabbage trees, replacing the ones that had been poisoned in 2018. ​

• By Samantha Mythen

DRIZZLING RAIN and cold

weather did not prevent 30

volunteers from planting more

than 300 natives and 24 cabbage

trees along the Coastal Pathway

on Sunday.

Oliver Lewis, who has a passion

for cabbage trees, had set

up a fundraiser to replace the

24 that were poisoned along the

Coastal Pathway in 2018. Nearly

$800 was raised.

The person who poisoned the

trees has never been identified.

"I'm really happy the trees are

back in their rightful place and I

can't wait to see them mature in

the years to come," said Lewis.

Christchurch Coastal Pathway

Group chairman Hanno Sander

said: "The cabbage trees look

great and I think they will make

a good addition to the Coastal

Pathway."

The other native plants were

bought from money raised by

the Coastal Pathway Group. The

plants were supplied by Trees 4

Canterbury.

"This planting was a wonderful

demonstration of the passion

the neighbours of the Coastal

Pathway have for their area," said

Sander.

Said Lewis: "Lots of passing

motorists tooted in support, so

I just hope the groundswell of

enthusiasm for the project shows

people who think they can mess

with public trees that they're on

the wrong side of history."

Sensors cause

Dyers Pass delays

• By Samantha Mythen

CONTINUING frustration from

drivers about road works on

Dyers Pass has resulted in action

from the city council.

Added delays to travel times

over Dyers Pass Rd have been

caused by road users not activating

traffic light sensors.

To address this, city council

head of transport Lynette Ellis

said it is adding a painted limit

line and signage to assist people

with stopping in the right place,

so the lights are activated.

There is also a phone number

that anyone who has problems

with the traffic lights can call.

Governors Bay residents have

been posting on social media to

let others know when the traffic

lights have stalled.

Ellis said some of the recent

delays occurred when a rock hit

and severed a traffic light cable,

resulting in a complete outage.

"The traffic management team

responded to that by getting a

stop/go system

operating while

the lights were

fixed," she said.

Ellis said the

city council had

received about

10 complaints

Lynette Ellis

and queries

about the traffic

lights since the

road works began.

The city council has reinstalled

electronic signs to remind road

users of the delays as contractors

are operating on several longer

work sites.

Uncertain future for

Akaroa's Yew Cottage

• By Samantha Mythen

YEW COTTAGE in Akaroa

is still set to undergo a full

restoration, but there is an

ongoing conversation about its

long-term future.

The historic building recently

flooded during the bad weather.

In 2019, the Banks Peninsula

Community Board decided to

restore the building at 40 Rue

Jolie and hold on to it, rather

than sell it after it was restored.

City council head of parks

Andrew Rutledge said: "The

cottage is a good example of a

period in Akaroa's history and

the community board would

like to retain this part of the

settlement's history."

He said the community

board approved the repair of

Yew Cottage to comply with

residential tenancy standards,

which would enable it to be

leased out as a residential

dwelling.

This repair work involves

lifting the building above flood

levels.

However, last Monday, the

community board discussed

whether this was still the best

option for the future as they had

concerns about the low-lying area

in which the cottage was situated.

Community board

chairwoman Tori Peden said:

"As the cottage is increasingly

vulnerable to flooding and

coastal inundation, we have

asked the city council to look at

the situation again and consider

what is the best option for its

future."

Rutledge said repair work

has begun to stop the cottage

from deteriorating, yet the full

restoration will not be completed

until the end of 2025 due to

funding availability.

The community board has

requested a new report from

staff reconsidering the

cottage's future.

EntEr

now!

be in to Win

With our 7 th AnnuaL bird photo competition

over $1000

in prizes

Including a Canon EOS M200

inter-changeable lens camera, a Topflite

Native Bird Nurturer Pack & more!

Your favourite bird

photo competition

since 2015!

our 2020 Winner:

Karen Moffatt-McLeod

Entries can be sent electronically (high resolution files) to giveaways@gardener.kiwi, with the subject line 'Photo Competition 2021', or posted to

Photo Competition 2021, Kiwi Gardener, PO Box 1467, Christchurch 8140. All entries must be received by 5pm, Thursday, July 1 2021. You can enter

more than once. The winning photos will be published in the August issue (out July 26).
---
Latest Canterbury news at starnews.co.nz

Wednesday June 23 2021 Bay Harbour News 9

Winter

High Tea

Image is indicative only.

Join us for a Winter High Tea at one

of our three Christchurch villages

Winter certainly is starting to settle in. These cooler months

can make it just that little bit harder to get out and about.

So here at Summerset we're planning a month of warm

winter High Teas and you're invited.

Just pop along to one of our three Christchurch villages any

time between 10am and 2pm, on any Friday in June, and

enjoy a range of delicious winter treats and hot drinks on us.

Whilst you're here, why not also get a taste of the Summerset

life that our residents love so much.

10am - 2pm

Every Friday in June

Summerset at Avonhead

120 Hawthornden Road,

Avonhead

Summerset on Cavendish

147 Cavendish Road,

Casebrook

Summerset at Wigram

135 Awatea Road, Wigram

Our teams would love to show you around our stunning

villages and show homes.

We're looking forward to seeing you!

0800 SUMMER | summerset.co.nz

SUM3118_37X8
---
10 Bay Harbour News Wednesday June 23 2021 Latest Canterbury news at starnews.co.nz

GRAND

OPENING

SALE

THIS WEEKEND

CHRISTCHURCH NISSAN

392 Moorhouse Avenue

Saturday 26 th 9am - 5pm

Sunday 27 th 10am - 4pm

*Sale ends Sunday 27th June at 4pm, not in conjunction with any other offer or promotion.
---
• By Samantha Mythen

A STOAT hit squad has been

established to ramp up efforts

to make Sumner's backyard

predator-free.

The squad, along with several

other initiatives have been

started by Predator Free Sumner

Bays.

The group was established in

2017 after they received funding

from Predator Free NZ. They

started with backyard trapping

in Balmoral Hill through to

Taylors Mistake, and have now

extended trapping into local

reserves.

One of the group's

co-ordinators Paul Cragg said

members Mike Ryan and Dave

Evans act as a "hit squad when

stoats are sighted."

Only two stoats have been

killed so far, but Cragg said they

are encouraging locals to report

any stoat sightings so the group

can keep protecting native birds

in the area.

"We are nowhere near elimination

but we are hopefully

making a difference," he said.

The group's work has seen

other success. Two significant

trap lines on the hillsides above

Sumner have trapped 250 possums

over the last two years.

Cragg said the group, made up

of Ryan, Evans, James Young,

David Kerr, Bruce Marks, Sue

Unsworth and John Goodrich,

TIM WRAIGHT New Wood For Old Iron

26 JUNE – 27 JULY

Exhibition at Little River Gallery 26 June – 27 July

Tim Wraight is a musician and artist from

Marahau. He works primarily in carved wood,

a medium he has loved since childhood. As a

child he was surrounded by works created by his

great-great-grandfather John Henry Menzies of

Menzies Bay on Banks Peninsula.

In 1990 he was offered the opportunity to train

with traditional Maori master woodcarver John

Mutu, who he worked with for the rest of that

decade. He still works for iwi in the Nelson/

Golden Bay region making traditional works for

their marae and public art installations.

This has influenced the way he

works since, and although his

personal art practice has

moved away from

the traditional, the

methods and way of

making reflects this

background.

The works for this

show "New Wood

for Old Iron" at Little

River Gallery take old

iron and steel tools

and gift them new

intricately carved and

checks the traps on a daily basis,

come rain or shine.

Another trapping team targets

rats and mice along the Sumner

Esplanade.

In the last four years, Phil

Loughnan and Wyn Mossman

have trapped more than 150 rats.

They are not stopping there with

their next aim to extend the

trapline as far as Shag Rock, or

even further into Moncks Bay

to help protect penguins in the

area.

Residents from Ryman

Healthcare in Rangiora built and

donated wooden trap tunnels for

the project.

Cragg said Barnett Park in

Redcliffs is the latest reserve to

decorated handles. This is his way of honouring

the role these hand tools have shaped our places

and environments in the past, when hard work

with simple but effective tools made our places

and grew our food. It is also a rejection of the

ease with which we now alter our landscapes

with massively powerful machinery and the

damage we can so easily inflict on our fragile

environment.

Tim learnt to use these types

of tools from his grandfather,

an old-time farmer who also

lovingly crafted wonderful

handles for his tools. This

show also honours those who

worked with muscle power

and honed skills to do what

was needed with these tools

to sustain their lives.

Tools with

a twist, Tim

Wraight's

exhibition at

Little River

Gallery

TIM WRAIGHT New Wood For Old Iron

Latest Canterbury news at starnews.co.nz

Bid to eradicate predators

Tim has a record of significant

public artwork gracing our

shared spaces, marae, and

schools. He has also been

the recipient of the Sculpture

on the Peninsula Award,

his works are part of many

collections both in NZ and

overseas.

Main Rd, Little River

03 325 1944

art@littlerivergallery.com

TRAPPERS:

Predator

Free

Sumner

Bays

members

John

Goodrich

and Paul

Cragg, with

rat tunnels

used to

house

rat traps

and keep

out pets,

children

and birds. ​

be targeted with the first traps

installed a couple of months ago.

The group is aiming to extend

the trap lines into the hills above

the park.

For more information about

trapping, to join one of the

volunteer teams, to report a

stoat sighting, or to buy a trap

for your backyard, Cragg said

to visit the Predator Free Port

Hills stall, held on the second

Saturday of each month, at the

Mt Pleasant Market.

People can also contact the

group through email sumner@

predatorfreeporthills.org.nz,

Facebook, phone Paul Cragg on

021 0835 3415, or John Goodrich

027 365 6985.

• By Samantha Mythen

AN ENVIRONMENTAL group

is seeking a home in Redcliffs

to show the owner how they

can save power and save the

environment at the same time.

It is the latest project started

by the Redcliffs Te Rae Kura Eco

Village.

Residents concerned

about their high

electricity bills are

invited to make contact

with the Eco Village

Group.

One house will be

selected for an energysaving

workshop, where

the group will visit and

complete an energy

audit, as well as suggest

measures to reduce energy use in

the home.

The goal is to help lower power

bills and improve the home's

health.

The group was formed under

the umbrella of the Redcliffs

Residents Association to guide

local action on the nationwide

climate and ecological

emergency.

It has created Eco-Kiwi Pledges,

a handbook for undertaking

better sustainable living to help

address climate change and

ecological damage.

Ferrymead

Tikanga

by Francis and Kaiora Tipene

Living a fulfilling life rich with tradition,

connection and te ao Maori.

Following on from their bestseller, Life as

a Casketeer, Francis and Kaiora Tipene

share how they bring the traditional values of

tikanga Maori into day-to-day living, what they

know about whanau, mahi and manaakitanga,

and how they live a life rich with the concepts

of te ao Maori.

Known for their warm hearts, grace and humour, the stars of the

wildly popular series The Casketeers show how the traditions of

tikanga shapes their lives juggling five sons, three businesses and

a television show - all while sustaining a life filled with joy and

connection.

The Clockmaker's Wife

by Daisy Wood

The world is at war. And time is running out…

London, 1940. Britain is gripped by the terror of the Blitz, forcing

Nell Spelman to flee the capital with her young daughter – leaving

behind her husband, Arthur, the clockmaker who keeps Big Ben

chiming.

When Arthur disappears, Nell is desperate to find him. But her search

will lead her into far darker places than she ever imagined…

New York, Present Day. When Ellie discovers a beautiful watch that

had once belonged to a grandmother she never knew, she becomes

determined to find out what happened to her. But as she pieces

together the fragments of her grandmother's life, she begins to wonder

if the past is better left forgotten…

A powerful and unforgettable tale of fierce love, impossible choices

and a moment that changes the world forever, perfect for fans of

Fiona Valpy and Suzanne Kelman.

WIN THIS BOOK

Wednesday June 23 2021 Bay Harbour News

ENTER TO

WIN

THIS BOOK

NEWS 11

Workshop a chance to save

electricity in your home

Dave Bryce

The book is separated by

monthly themes, with energy the

focus for June.

Said group co-ordinator

Dave Bryce: "Reducing home

energy reduces power bill

costs, reduces emissions and

results in a warmer healthier

home."

Bryce suggests making simple

changes at home to lower

your energy use, such as

catching the sun through

optimising north-facing

windows, cleaning

windows and trimming

trees shading them.

He has undertaken

many changes to his

home to save energy.

This includes installing

solar water heating panels on

the roof, a high efficiency wood

burner with a wetback for

the water cylinder heater and

insulated floor tiles in sun-strike

areas.

To make changes in your

home, Bryce said: "Just do one

thing at a time and get used to

the changes and benefits, until

it becomes a habit and your life

style is changed for good."

•To submit your home,

phone Dave Bryce at

021 363 498 or email

ecosolutions@xtra.co.nz

book

release

We have one copy of Tikanga to give away, courtesy of Take Note Ferrymead. To be in the draw,

email giveaways@starmedia.kiwi with Tikanga in the subject line or write to Take Note Book Giveaway,

Tikanga, Star Media, PO Box 1467, Christchurch 8140. To be eligible for the draw, all entries must include

your name, address and contact number. Entries close Tues July 6. The book winner for Noise is

Kelsey Chambers of Lyttelton.
---
12 Bay Harbour News Wednesday June 23 2021 Latest Canterbury news at starnews.co.nz

26

weeks

to go!

Tiny Tot Kinder

Board

Assorted colours

Usually $169.99

$

149 99 ea

Tiny Tot Plus

Trike/Bike

Assorted colours

Usually $199.99

$

159 99 ea

100pcs Wooden

Blocks in Bucket

Usually $49.99

$

39 99 ea

Save $20 20%

off

Multifunctional Easel

Usually $79.99

$

69 99 ea

Walker with Blocks

Usually $99.99

$

79 99 ea

Real Sounds

Lawnmower

Usually $69.99

$

59 99 ea

Nerf Fortnite TS

Usually $79.99

$ 69 99 ea

15" Big Scoop

Excavator or

Dump Truck

Usually $44.99

$

39 99 ea

Nerf Elite 2.0 Turbine CS

Usually $79.99

$

69 99 ea

Maximal

T-Wrecks

$

119 99 ea

Wild Ones

Junior Scooter

Dino, Shark or Unicorn

Usually $99.99

Vet Practice

with Pets

Usually $199.99

$

149 99 ea

Save $50

$

79 99 ea

20%

off

Gravitrax

Starter Kit

Usually $129.99

$

119 99 ea

Save $80

Large Stables

Playset

Usually $359.99

$

279 99 ea

Club Ranch

Usually $99.99

Steel Tough

Mightiest

Dump Truck

$

79 99 ea

Metro Police

Department

Usually $169.99

$

139 99 ea

Save $150

Soft Touch Doll

Usually $119.99

$

119 99 ea

Train & Table Set

Usually $449.99

$

299 99 ea

$

99 99 ea

New Zealand's BEST

TOY LAYAWAY

NO DEPOSIT – NO INTEREST

• Layaway held up to 17th December, 2021

• Payments instore or by Internet Banking

• At least fortnightly payments required

• Cancellation Fees apply

• 48hour notice for pickup (as some layaways stored offsite)

• Photo ID required for creating Layaway
---
Hero 2 Missile Remote

Control Robot

Usua ly up to $99.99

Latest Canterbury news at starnews.co.nz

ChriSTmaS

Wednesday June 23 2021 Bay Harbour News 13

28

WEEKS

TO GO!

SAVE

$

20

New mailer out now

$ 79 99

ea

SAVE

$

10

$ 79 99

ea

New Zealand's BEST

TOY LAYAWAY!

Do l Savannah

ONLY

$

59 99

ea

NO DEPOSIT, NO INTEREST!

HELD UP TO 17 TH DEC 2021. See in-store for T&Cs

Family House

Playset

Usua ly up to

$89.99

LOCALLY

OWNED AND

OPERATED

30% off

30% off

Ticket

to Ride

Europe

Usually $99.99

$

69 99 ea

Settlers

of Catan

Usually $99.99

$

69 99 ea

Boogie

Board

with 18

Stencils

Usually $79.99

$

69 99 ea

RC Speed

Phantom 2

Usually $159.99

$ 139 99 ea

Sequence

Usually $39.99

John Deere

Dump Truck

Usually $79.99

1:50

Diecast

$

59 99 ea

$

34 99 ea

Pass

the Pen

Usually $39.99

$

34 99 ea

Rubik's

Race

Usually $29.99

$

24 99 ea

20% off

Liebherr

Wheel Loader

Usually $44.99

$

34 99 ea

20%

off

Regular Doll

Amina, Gabe

and Jovie

$

59 99 ea

Deluxe Doll

Megan, Willow

and Sydney Lee

Usually $89.99

$

79 99 ea

All 4 Pack

Families

Usually $49.99

$

39 99 ea

20% off

Tactical

Truck

Usually $129.99

$

99 99 ea

20%

off

Save

$20

Family

Picnic Van

Usually $64.99

$

49 99 ea

Fire Engine

Usually $179.99

$ 139 99 ea

20%

off

Wooden

Wardrobe

$

199 99 ea

Deluxe

Dressing

Room

Usually $99.99

$

79 99 ea

Beechwood

Hall Gift Set

Usually $199.99

$

169 99 ea

Fire Station

Usually $249.99

$ 199 99 ea

TOWER JUNCTION

NZ's Biggest TOYWORLD

Clarence St, Riccarton, Ph 03 343 0330

MARSHLAND

199 Marshland Rd,

Ph 03 982 8697

HORNBY

Chalmers St,

Ph 03 281 8127

Valid until 4th July 2021
---
Bay Harbour News Wednesday June 23 2021

14

OUR PEOPLE – CALEB BALLIN

40 years of hockey and still involved

Carlton Redcliffs was

recently awarded New

Zealand Hockey Club

of the Year. Samantha

Mythen talks to

president Caleb Ballin

Tell me about your connection

to Redcliffs?

I grew up way at the top of

Moncks Spur, at the back of

Redcliffs. My first house after I

got married was in Cashmere,

but we then worked our way

around the hills and now we are

back living in Redcliffs.

What makes Redcliffs such a

good place to call home?

It's the community and for

me, being able to see the water

really makes this area so special.

There's also a lot of great people

here. It feels like home.

What is your day job?

I wear a few different hats

but one of my main roles

is managing director of a

nationwide project management

company that I founded about

13 years ago. That occupies a

fair bit of my time and then I'm

also involved with property

investment and other bits and

pieces. My first major job was

working on the Christchurch Art

Gallery, I was lucky enough to

get involved in that when I was

about 24.

How would you define

yourself?

I look at myself as a hardworking

person, family focused.

I love sport and I'd like to think

I give back to our community,

such as being involved with

Sumner Surf Lifesaving over the

years and more recently Carlton

Redcliffs Hockey.

Tell me about your hockey

journey; you said you started

when you were a young boy?

What inspired you to start

hockey?

It wasn't so much something

that inspired me, but when

I went to Redcliffs School, at

the time, you couldn't really

do anything but play hockey.

There were bins full of hockey

sticks outside the classrooms.

At lunchtime everyone played

hockey. It was a unique period

of time. Redcliffs has since

produced so many great players

and coaches that have played at

the highest level.

Were there many injuries?

Oh absolutely. There were no

mouth guards and shin guards, it

was just playing on the grass.

I rolled my ankle playing a lot of

hockey and so had to get ankle

reconstruction but other than

that, touch wood, nothing too

bad personally.

Did you ever think of pursuing

hockey as a sporting career?

It was always more of a hobby

for me. I played at a reasonable

level but I got really busy with

business and with family. I

finished up hockey when I was

quite young, around 23. This is

an age where most people are

probably playing hockey in their

peak.

SUCCESS: Pat Barwick, Caleb and Miranda Ballin with the New Zealand Hockey Club of the Year trophy.

(Right) – Caleb Ballin in action at the national masters tournament.

Instead, I finished up and had

a bit of a break for five years and

then got back into it.

That was quite cool as I had not

realised how much I had missed

hockey until I got back into

playing again.

How long have you been

president of the Carlton

Redcliffs club?

I started a couple of months

before Covid-19 hit, around

February. Pat Barwick, who was

president for 10 years and has

given so much to the club, is

now focusing on what she really

loves, which is coaching and

mentoring. So, it was my time to

put my hand up and give back.

I joke that Pat took me out for

coffee one day and I unwittingly

agreed to become president

and I don't quite know how it

happened, but it did.

How long have you been a

member of the club for?

I started playing for Carlton

Redcliffs when I was about five,

so it's been a few years now,

probably about 40 on and off.

Tell me about the club, it's

history and it's members

The club history goes right

back to 1928 when the original

Redcliffs Club was founded.

More recently, we have

amalgamated with the Carlton

Women's Club forming Carlton

Redcliffs back in 1996. The

club has about 350 people as

members. We are really, really

lucky with the quality of coaches

and people in the club. A lot of

them have played at a high level

and they've come back with their

children and have given back

with coaching. I can think of

three or four who have played for

the Black Sticks and a number

of Canterbury reps. The club is

made of really good people and

the family focus.

It makes my job really easy. I'm

really proud of these people.

What motivates you as club

president?

It's about giving back to a club

I am really proud of. I've always

played for this club, I've never

played for anyone else and it was

a chance to use some of my skills

in business to help improve the

club in a number of different

areas.

I've got four daughters who all

play hockey and my wife is on

the club committee, so we are

deeply involved in hockey. You

might as well be all in.

Do you still compete now?

I'm still playing for the

masters. I was in the Canterbury

masters team last year and we

won the national title which was

pretty cool. I really enjoyed that.

I will probably keep playing until

my body tells me I can't.

What has playing hockey

taught you?

There are so many parallels

between sport and what it

teaches you about life but for me

in terms of a business context,

playing in your position and

doing your job really well is

something I've taken away from

my time in hockey.

The idea that in hockey not

everything goes your way.

Sometimes you will have a great

game, other times you won't

and you will have to find ways

to refocus and get back into it –

that's like life as well.

It's also about the great

friendships you get from sport

and also the idea of being

humble. How you win is just as

important as how you lose.

What have been some of

the highlights of your hockey

career?

Some of the things that jump

out aren't the games we've won

but rather the friendships you

make. You get to play when

you're younger at a reasonable

level and then you go back and

play Masters where you're still

playing with some of the people

you played with 20 years ago

which is pretty cool.

What is the most important

thing to you about who you've

become in terms of your hockey

playing?

As a club, and myself

personally, we are trying to make

hockey more accessible for kids.

Not all New Zealanders have the

opportunity to be able to afford

to watch their kids play a game.

But the idea that a family could

watch their child play a sport

and be proud of them is such a

powerful thing. As a club, we

also have things in place such as

scholarships, getting kids playing

who otherwise would not have

been able to afford to play. This is

really important to me and to my

wife and the club as a whole.

We've just taken on several

players from a lower docile

school and have provided them

with equipment and paid their

fees and got them involved and

just the look on their faces when

they got their new uniform and

new gear, it was so special to see.

You mentioned your whole

family is involved in the club,

tell me more.

Our weekends are quite busy

with four games of hockey and

my daughters have got no choice

obviously playing for Redcliffs.

I think they are pretty loyal as

well, they really enjoy it. I would

have been happy with them

playing any sport but if you do

FAMILY

AFFAIR: Caleb

Ballin with

(from left)

Lily, Miranda,

Neve, Willow

and Mila.

know a sport as a parent it's great

because you can teach them and

be a part of it. It's pretty cool. I

really love the idea of children

playing sports, there are so many

good things about it. There was

of course, a gentle nudge from

me to play hockey but they have

to want to play it themselves

and enjoy it, otherwise it is not

sustainable.

Does your wife play hockey?

No and I think that's probably

one of her regrets is actually not

playing hockey. She absolutely

loves the game but was a really

good sprinter at school and rode

horses. She didn't really have an

opportunity to play hockey but

if she had that time again she

would have loved to have played

hockey. She loves watching our

girls play.

She plays socially and it's quite

funny as the girls give her quite a

hard time for her skill-set.

How do you survive these

early winter mornings playing

hockey?

It gets pretty busy on the

weekends with the different

games and I also go and watch

the other teams in the club.

As a family, we have all just

committed to hockey and know

it is absolutely going to take

over during winter and it just

becomes a part of your life. So

winter is very much focused

on sport and then summer is a

bit more relaxed, we do more

surfing.

Why should people try

hockey?

I am obviously biased but I

do think the first thing is that

any team sport a child plays is

fantastic. I think people should

try hockey though, because the

game is incredibly skilled. It's

fast and you can play it for a long

time. Like for me, I started as a

five year old and now I'm still

playing, which is a really cool

thing. It is a dynamic, fast, and

exciting game, and as a team

sport, there are so many great

things you can get out of it.
---
Latest Canterbury news at starnews.co.nz

Wednesday June 23 2021 Bay Harbour News 15
---
16 Bay Harbour News Wednesday June 23 2021 Latest Canterbury news at starnews.co.nz

Warm up

and chill out

Winter getaways

never felt so good!

Just 90 minutes north of Christchurch,

the Hanmer Springs Thermal Pools

and Spa is the perfect place to head

for your winter escape!

There's nothing quite as satisfying as

that feeling when you slip down into one

of our hot, open-air thermal pools on a

cold, wintry day! Of course, if soaking in

our therapeutic waters isn't enough, you

could warm-up with an adrenalin rush

on Conical Thrill, or treat yourself to a

well-deserved pampering at The Spa –

there really is something for everyone here.

We have a wide range of affordable

packages that include everything from

pool entry to accommodation, and

even lunch – so pop in for the day,

or make a long weekend of it!

• Two night's accommodation

• Two days single Hanmer Springs

Thermal Pools & Spa entry (incl. slides)

• ½ hour Village Cruiser bike rental

• 1 round of Mini Golf at Alpine

Crazy Putt

$

349 $

429

2 adults and

up to 3 children under

15 years

• One night accommodation

in a motel/hotel in Hanmer Springs

• One day Hanmer Springs Thermal

Pools & Spa entry

• ½ hour private thermal pool

• ½ hour sauna or steam

• ½ hour Unwind Revival Massage

at The Spa

for two people

• Pools & slide entry

• Two of our famous pizzas

from our pizza oven

You can spend all day at the pools

on this pass – the Tea Kiosk Café

and Grill's amazing pizzas will be

ready when you are!

SAVE $ 30

$

2 adults and

up to 3 children

99under 15 years

Just a 90 minute drive from Christchurch

0800 4 HANMER hanmersprings.co.nz Open seven days

HC HST2515
---
2

[Edition datE]

24-hour walk nets

• By Samantha Mythen

"IF I CAN save one more

life, walking for 24 hours is

nothing."

Starting at 7am, last

Wednesday, Stephen

McPaike started his walk

around South Hagley Park,

clocking up about 104km

in the name of stopping

violence against men.

McPaike's hopes his

Walk for Help will raise

both awareness for men

who are victims of domestic

abuse and funds to

assist in their recovery.

"My legs are very sore

and the last lap was the

most difficult, mentally

and physically," he said.

McPaike was inspired to

begin this project after a

man trapped in an abusive

relationship reached out

to him during level four

lockdown.

"I chose to do a walk

because it symbolises

walking out of a bad

relationship and walking

into a new and better life,"

he said.

McPaike said he was

greatly supported by his

employer, Mitre 10 Mega

Ferrymead.

As of yesterday, McPaike

has raised $1410 from the

walk.

All money will be donated

to Canterbury Men's

NEWS 17

over $1400 for a cause

WALK AGAINST

VIOLENCE: Stephen

McPaike spent last

Wednesday walking

laps around South

Hagley Park for

24 hours to raise

awareness about

violence against men.

PHOTO: GEOFF SLOAN ​

Centre on Marshland Rd,

creating a fund for free

counselling for men who

have left abusive relationships.

He is hoping people will

begin having conversations

about an issue, "that is just

not really talked about."

"I want people to be able

to open up and to say: 'I

have been abused, I want

help, I want to be a better

person'," said McPaike.

If you need help, there

are many resources out

there including Shine,

which has a Domestic

Abuse Helpline (0508 744

633), seven days a week,

from 9am to 11pm.

ARA INSTITUTE OF CANTERBURY

Is business your calling?

If you're a big thinker, a natural leader or a

born organiser, business could be your perfect

career choice.

Ara Institute of Canterbury has a wide

range of business study options designed to

equip individuals with the skills needed to

take advantage of the many opportunities

available in the business world. Qualifications

include certificates, diplomas, degrees

and graduate certificates and diplomas in

specialties such as project management, sales

and marketing, accounting, HR and change

management.

School leaver Rachel Fraser decided she'd

love a job in an office environment. She

studied a diploma in business at Ara and

now uses the skills and knowledge she gained

organising appointment bookings for the

South Canterbury District Health Board.

She says of the diploma: "It was filled with

relevant information that directly related to

the field, as well as skills like communication,

time management and effective planning

which I find myself using every day. It was an

amazing experience."

Olivia Smith worked in hospitality for 12

years before studying a business diploma

at Ara, specialising in administration and

technology. "Deciding to study business

opened up so many opportunities," she says.

Olivia did a lot of her learning in a

simulated office environment. "The tutors

were amazing - they adapted to each students'

learning style. The highlight was realising I'd

suddenly acquired a massive number of skills

that I could use every day in all areas of my

life."

Olivia is applying those skills in her role as

a customer service officer at ACC. "I work in

Wednesday June 23 2021 Bay Harbour News

the very role I was trained for, and I can do it

with confidence."

Mike Roberts discovered a passion for

project management while working as a

software tester. With the support of his

employer, he studied a graduate diploma

in project management at Ara where he'd

previously gained his IT degree.

Mike says the industry project he

undertook as part of his postgraduate course

was a highlight of his studies. "Being able to

demonstrate your learnings by working in a

real-world setting is so valuable. It's a fantastic

opportunity for students."

To learn more about Ara's business

qualifications, visit ara.ac.nz or call

0800 24 24 76.

Chance to win an electric

car at Home & Leisure Show

CANTABRIANS will

have the chance to learn

about the many benefits

of owning an eco-friendly

EV ride at the Home and

Leisure Show, where HVS

Motors has a $22,000

Nissan Leaf 30G to be won.

From July 2-4 at

Christchurch Arena the

HVS Motors stand is

the place to be if you

want to go in the draw to

win.

Marvel at the car's full

leather interior, 360 deg

cameras, Android Auto

and Apple CarPlay, Bose

sound system and 10 air

bags.

The Home and Leisure

Show is not just about

inspiring eco-friendly

choices – it covers

building, renovation,

landscaping and has

thousands of ideas to

inspire you too.

There will be a variety of

informative seminars every

day from 11am brought to

you by Resene.

Hear from a range of

businesses including

Buildright, Sunshine Solar,

Resene, Kitchen Studio,

Whitehouse Builders and

NZ Home Loans.

Look out for your free

double pass in this issue of

Bay Harbour News brought

to you by Smiths City

and be both inspired and

educated at Canterbury's

favourite home and leisure

show.

IN ASSOCIATION WITH

CHARGED UP: To go into the draw to win this $22,000 Nissan Leaf, visit the

HVS Motors stand at the Home & Leisure Show at Christchurch Arena from

July 2-4.
---
18 Bay Harbour News Wednesday June 23 2021 Latest Canterbury news at starnews.co.nz

Birdsey Reserve Boxthorn

Working Bee

Today, 2pm

Take your gloves and

gumboots and help out with

this working bee in the great

outdoors.

Birdsey Reserve, Heathcote

Valley

Creative Wednesdays

Wednesday, 11.30am-2.30pm

All welcome and you can

come and go as you please. This

group is focused on bringing

people together and getting

creative, no matter what level

your art practice is, beginner or

expert. Go along to this event to

make connections and express

yourself freely. Occurring every

Wednesday.

The Rock, 10 Wakefield Ave,

Sumner

Email samantha.mythen@starmedia.

kiwi by 5pm each Wednesday

your own clay, glazes, tools and

ideas.

Sumner Hub, 57 Nayland St

Limber Up Ladies

Wednesday, 2pm

Gentle, slow, balance,

stretch and move following a

Canterbury District Health

Board programme. Nothing

strenuous, just keeping the

body and mind awake. Stay for

a cuppa if you fancy. Occurring

every Wednesday.

Trinity Church Hall, Rue

Lavaud, Akaroa

Ferrymead Sumner Men's

Probus Club

Thursday, 10am

Meetings held on last

Thursday of each month,

featuring guest speakers. This

week's speaker is Dr Greg Burrell

who is a fresh water scientist

with extensive experience

in managing the effects of

wastewater discharges, mining,

land development and water

abstraction. The second speaker

is John Wiltschut who will speak

of his experiences while working

in the high tech environment of

Silicon Valley in California. For

membership information email

ProbusFerrymeadSumner@

gmail.com or phone Ian on 021

196 3737.

Redcliffs Mt Pleasant Bowling

Club, 9 James St

Create 'n' Connect Art and

Craft Group

Thursday, 10am-12pm

Company and creativity. Take

your project to work on, or if you

are stuck from inspiration, the

group can help you find some. $3

per session. Phone Beth for more

info 022 678 1252.

St Andrews, 148 Main Rd,

Redcliffs

Pottery Social Night

Wednesday, 7-9.15pm

This is a local, equitable

opportunity for those with

pottery experience to pot, have

fun and make connections with

Twinkle Tots

others. They have two fully

Friday, 10.30am

equipped clay rooms all set up

Twinkle Tots is a community

for you to work on your own

music group for Under fives, a

projects and share your skills.

delightful space where the littlest

Tuition

260

is not provided. The

x 180

members of the community and

rooms have benches, and three

their guardians can catch up for

electric pottery wheels, just take

singing, dancing and practicing

social skills. Beautiful morning

tea is provided. Gold coin

donation.

St Mary's Church Village Hall,

Heathcote

Duncan Park Tree Planting

Saturday, 1-4pm

Go and plant on the lower

slopes of Avoca valley near

Duncan Park. Access is via a

neighbour's property on Avoca

Valley Rd. The site is mainly

grass with some gorse. The

slope is reasonably steep and

the ground uneven. You will

need to walk about 5-10 minutes

to the planting site from the

road edge. Please take a spade

if you have one. Once you have

registered, you will be sent

detailed instructions on where

to go, what to bring, and health

and safety information. Children

Artistic controversies

talk – art crime, forgeries

and fakes with Penelope

Jackson. Today, 7-8pm.

Foray into the murky

underbelly of art crime

at this talk organised by

the Akaroa Community

Arts Council. Art historian

Jackson will discuss

the billions of dollars

of artworks that are

stolen every year. Fakes

and forgeries find their

way into the most

prestigious galleries

across the world, and

art crime is flourishing

in New Zealand. Gold

coin donation entry. St

Peter's Church, 10 Rue

Balguerie, Akaroa

are very welcome to attend this

event, but please be aware the

ground is hard and the terrain

is steep and uneven. To register,

email Marie Gray secretary@

summitroadsociety.org.nz or

phone 027 470 2020

Duncan Park

Sam's Gully Planting Day

Sunday, 10am-12pm

Thanks to last weekend's rain,

there are better conditions to

start the gully winter planting.

The location is roughly halfway

along the West track, with access

either from Bayview, or better

from Ngatea Rd. Take a spade

if you have got one, plus gloves,

and sturdy shoes. If you need a

spade, go to the shed at the end

of Ngatea Rd at 10am on the day.

West Track, Sam's Gully,

Diamond Harbour

Need Heat Fast?

The Fastest, Warmest Indoor/Outdoor Heater You Will Ever Own!

Buy One Get One Free! *

+Plus

Free

Floor

Stand!*

worth

$199.99

• Heats Up Instantly

• Suitable for Indoors or Outdoors

– In Rain, Fog, Wind or Snow

• Carbon-Fibre Bulb Technology

*Call for Terms

& Conditions

• Multi-Directional Stand

• Includes Remote Control &

Built-In Timer

• Motion Detection Function

1.8m High

• Commercial Grade

• Multi-Directional

• Easy Install

• Portable

• Indoors & Outdoors

CALL NOW! 0800 665 665
---
Latest Canterbury news at starnews.co.nz

Wednesday June 23 2021 Bay Harbour News 19

Vaccinations for

the rest of Aotearoa

New Zealand

The COVID-19 vaccination rollout for the general population

starts from the end of July.

Our COVID-19 vaccination programme has built momentum

steadily since February. We are vaccinating around 100,000

people a week at the moment. In the second half of the year

we hit top speed and everyone in New Zealand aged 16 and

over will be able to be vaccinated.

Moving to the general population

So far, vaccinations have been made available to those most at

risk of getting COVID-19 to limit the chances of it getting into the

wider population.

With more vaccine supply coming on, and having ramped up our

infrastructure, vaccinations for everyone else in New Zealand

aged 16 and over (the general population) start from 28 July.

This is a very large group of people. To make this flow smoothly,

we will break this down by age bands.

All people aged 60 plus can book their vaccinations from 28 July.

Then, two weeks later, people who are 55 plus. From there, new

age bands will be opened up every 2–3 weeks based on confirmed

deliveries of the vaccine and the speed of rollout to earlier groups.

By mid to late August, invitations should be open for people over

45. By mid to late September, invitations should be open for those

over 35, with everyone else being eligible from October.

Invitations

Most people will get a direct invitation to book – either by email,

text, phone call or in the post. You will then be able to book through

Book My Vaccine, a new national booking system that will be online

from 28 July, or phone a new national call centre. Availability of

booking slots (the date, time and place you can be vaccinated)

will vary between district health board (DHB) regions.

Once you are eligible to be vaccinated, you can be vaccinated

at any time. There is no cut off.

Registration

Even if your age band isn't open, everyone aged 16 and over will

be able to go to Book My Vaccine to register for an invitation from

28 July. Registration means we will be certain to have your correct

contact details and when your age group is opened, you will get an

invitation telling you it's your turn to book.

Getting a vaccination

Step 1

Step 2

Step 3

Receiving an invitation

We'll call or send you an email, text or letter to invite

you to book.

Make your booking

From 28 July, go to Book My Vaccine or call the new

national call centre to book both doses, or to register

if your age band isn't open yet.

Get your vaccination

Have your first vaccination dose.

3–6 weeks later have your second vaccination dose.

If you don't hear from us, or are concerned, you can register

for your vaccination through the new national Book My Vaccine

booking system at any time from 28 July.

Important dates

28 July People 60+ Vaccinations open

11 August People 55+ Vaccinations open

Mid to late Aug People 45 + Invitations should open

Mid to late Sept People 35+ Invitations should open

October People 16+ Invitations should open

Other ways to get vaccinated

As we go through the year there will be other ways for people

to be vaccinated. These will include workplace vaccinations and

other targeted vaccination events across the country. For some

remote rural communities we will vaccinate all age groups at the

same time to make it easier for them. Our successful whānaucentred

approach to vaccinations will continue for Māori and

Pacific communities and those with disabilities.

Find out more at Covid19.govt.nz
---
20 Bay Harbour News Wednesday June 23 2021 Latest Canterbury news at starnews.co.nz

STYLE & QUALITY

FOR LESS

WWW.AFFORDABLEFURNITURE.NZ

SUPER

SPECIAL

Wagner Chair &

Radius 1.2 Round Dining Table

Bramwell

3+2 Suite

WAS $1999

$

1849

3 Seater $1199 $1099

2 Seater $839 $779

Wagner Chair

$189 $169

Radius 1.2 Round

Marble Top

Dining Table

$1199 $1139

SUPER

SPECIAL

SUPER

SPECIAL

Calla Corner

Sofa Bed Chaise

with storage ottoman

WAS $2809

$ WAS $2609

2599

$

2419

Byrony Corner Suite

Modular

Nova Bedroom

Collection

Sylvie

Collection

Bedside $249 $229

Bedframe $849 $759

Under Bed Drawer $169 $149

6 Drawer Tallboy $799 $719

6 Drawer Lowboy $729 $659

Dining Table $839 $779

Dining Chair $199 $189

TV Unit 1250mm $489 $459

Bookcase 1800mm $499 $459

Buffet $909 $839

Aspen Bedroom

Collection

Mangrove Bedroom

Collection

SUPER

SPECIAL

Lift Up Base

Single $489 $459

King Single $509 $479

Double $569 $529

Queen $599 $559

King $669 $619

Queen Slat Bed $979 $909

Bedside Cabinet $299 $279

Lowboy 6 Drawers $849 $789

Tallboy 6 Drawers $829 $769

Bedside $209 $199

Tallboy $699 $649

Lowboy $649 $599

Queen Base $679 $629

FROM

$

459

FREE

CARPARKING

SOUTH CITY

BATH ST

WE ARE

HERE

255 MOORHOUSE AVE

REBEL SPORT

COLOMBO ST

MON-FRI 9:30AM – 5:30PM

SAT-SUN 10AM – 5:30PM

0800 268 264

www.affordablefurniture.nz
---
CRYPTIC CROSSWORD

1 2 3 4 5 6 7

8 9

10 11

12 13 14

15 16 17

18 19 20

21 22

23 24

25/6

Latest Canterbury news at starnews.co.nz

Across

1. King Goldfinger? (5)

4. Principal male character, in bed with

a cigar (7)

8. Feel that it is common, with nous (5)

9. One making a noise in the leaves will

be a cattle thief (7)

10. Mess of spilled type one could get

one's teeth into (3)

11. King, at present on the shelf, is

acquired with learning (9)

12. What on the watering-can may be

watering the hybrid tea (4)

13. In Europe, South Africa showed one

who sold his birthright (4)

18. How to breathe in and sleep during

the winter (9)

20. It's not an impediment if it's added to

decoration (3)

21. He shared Britannia's weapon (7)

22. Thread the end of the rope through

for a bird (5)

23. With sex appeal, sends a mixture of

tristfulness (7)

24. Tears about and scolds one (5)

Down

1. Wrongly understands schoolmistress

is about to arrest somebody (13)

2. They were perils that Red sang about

(7)

3. Perhaps asks about physical

education as one gives utterance (6)

4. Motor it is good for the French to

have a copy of (6)

5. How could the East slay one? Without

difficulty! (6)

6. Intoxicated, which made things run

smoothly (5)

7. 75% of rugby players (5-8)

14. A monarch's man is something to

talk about (7)

15. Grumble about a bird being game

(6)

16. Skips about with the flower-buds in

pickle (6)

17. Awful fear of last recent mistake (6)

19. One quietly appearing in the cot, a

two-footer (5)

Wednesday June 23 2021 Bay Harbour News

PUZZLES 21

SUDOKU

Fill the grid so that every column, every row and 3x3

box contains the digits 1 to 9.

QUICK CROSSWORD

1 2 3 4 5 6

7

8 9

10 11

12

13 14

15 16

17 18 19

20

21 22

23 24

Across

1. Lure (4)

4. Reveal (6)

8. Obvious (7)

9. As a result (5)

10. Noblewoman (4)

11. Heaven (8)

13. Infamous (9)

17. Spam (4,4)

19. Sketch (4)

21. Series of repeated

events (5)

22. Expression of

regret (7)

23. Plant eaten raw

and used in salads (6)

24. Punctuation mark

(4)

Down

2. Desert (7)

3. Snare (4)

4. Outstanding (13)

5. Hunter (8)

6. Popular takeaway

(5)

7. Ward off (5)

8. Chime (4)

12. Run in panic (8)

14. Grave (7)

15. Throw out (5)

16. Not at home (4)

18. Recess (5)

20. Brazen (4)

CODECRACKER

QUICK CROSSWORD

Across: 1. Bait, 4. Expose, 8. Blatant, 9. Ensue, 10. Lady, 11.

Paradise, 13. Notorious, 17. Junk mail, 19. Draw, 21. Cycle, 22.

Apology, 23. Celery, 24. Dash.

Down: 2. Abandon, 3. Trap, 4. Extraordinary, 5. Predator, 6. Sushi,

7. Repel, 8. Bell, 12. Stampede, 14. Serious, 15. Eject, 16. Away,

18. Niche, 20. Bold.

CRYPTIC CROSSWORD

Across: 1. Midas 4. Cheroot 8. Sense 9. Rustler 10. Pie 11.

Knowledge 12. Rose 13. Esau 18. Hibernate 20. Bar 21. Neptune

22. Reeve 23. Sadness 24. Rates.

Down: 1. Misapprehends 2. Dangers 3. Speaks 4. Carbon 5.

Easily 6. Oiled 7. Three-quarters 14. Subject 15. Grouse 16.

Capers 17. Terror 19. Biped.

TARGET

coke core cores cork corks

corky corset cost cosy cote

coyer coyest crest cyst

escort recto restock rock

rocket rockets rocks rocky

score scoter sect sector

SKYROCKET sock socket

stock stocker stocky torc

MEDIUM HARD

EASY

TARGET

K R O

K C T

E Y S

Good 16

Very Good 22

Excellent 28+

ALL PUZZLES © THE PUZZLE COMPANY

How many words of four letters or more can you

make? There is at least one nine-letter word.

Each letter may be used only once and all

words must contain the centre letter.

No words starting with a capital, no plurals

ending in s unless the word is also a verb, e.g.

he fires the gun.

Mon-Thurs: 7am - 4pm

Fri-Sun: 7am - 5pm
---
22 Bay Harbour News Wednesday June 23 2021 Latest Canterbury news at starnews.co.nz

Celebrate the very best

of winter in one of New Zealand's

most picturesque alpine villages

Hanmer Springs kicks off its first-ever Winter Festival

this July. Gather your friends and family for this epic

wintry line-up, featuring all this and more ...

• Ice Skating: 1 st July – 1 st August

• NEW Winter Wonderland Window

& Lights Display: 1 st – 31 st July

• Hanmer Springs Winter Fete: 2 nd July

• Masquerade Winter Ball: 3 rd July

• Hanmer 10 & Kids 2km Twilight Dash:

10 th July

• NEW Activity Hanmer Family Challenge

Weekend: 16 th – 17 th July

• NEW Hanmer Springs Hotel

Mid Winter Dinner: 17 th July

• Honour Festival Winter Wellness

Retreat: 18 th July

• Canterbury vs Tasman Rugby Match: 23 rd July

• Hanmer Springs Ski Area Open Day: 24 th July

• NEW Amuri Rams Golden Oldies

vs New Brighton Rugby Match: 25 th July

www.visithurunui.co.nz/events
---
2013 Volkswagen

Tiguan TSi

h tp: /kaywa.me/8aVDQ

Download the Kaywa Qr Code reader (A p Store &Android market) and scan your code!

my Kaywa Qr-Code

w.valuecarswarehouse.co.nz

CELLULAR

See page 5 for more info!

2

h tp: /kaywa.me/8aVDQ

Download the Kaywa QR Code Reader (a p Store &android Market) and scan your code!

REVERSE CAMERAS

My Kaywa QR-Code

w.valuecarswarehouse.co.nz

PARKING SENSORS

0800 212 777

Ce l 021 855 884

GPS/TRACKING

motor vehicle purchase

See our ad on page 2

Latest Canterbury news at starnews.co.nz

Wednesday June 23 2021 Bay Harbour News 23

Octavia wagon a lot of car for the money

I GOT INTO a conversation just

recently with a work colleague,

he's also a car enthusiast, when

time allows we are always talking

about things automotive.

After asking me how I was

enjoying the Skoda Octavia

evaluation car, he raised a really

good point by saying out of any

car manufacturer, Skoda has

probably done the best job of

turning around its image.

That harks back decades, the

central European company had

a reputation that wasn't entirely

complementary.

However, today, it is a class

leader in terms of design,

quality, reliability, efficiency and

refinement.

None of that surprises me,

Skoda, now manufactured in

what is known as the Czech

Republic, fell entirely into

Volkswagen Group's hands in

2000. Since then the company's

product has been on a constant

programme of improvement,

bearing in mind that Volkswagen

took an interest in Skoda in 1991,

and the product that has been

leaving the factories since then

has been outstanding, with the

Octavia being a classic example

of that.

In New Zealand we have two

Octavia wagons – Style TSi and

RS. Put simply, they are both

four-cylinder petrol-powered

with a turbocharger driving to

the front wheels, the TSi has a

1.4-litre unit, the RS has a 2-litre

engine, and it is the subject of this

evaluation.

The TSi has a power output

of 110kW and drives through

an eight-speed automatic

transmission. The RS gets

something special under the

bonnet, it has the engine that

makes the Volkswagen Golf GTi

so special. In the Octavia it is

rated with 180kW and 370Nm,

it drives through a seven-speed

direct shift transmission.

What makes the RS engine so

special are the points at where

the outputs are reached, power

peaks at just 5000rpm extending

to 6500rpm, maximum torque

is available all of the way from

1600rpm to 4300rpm. The

consequence of all of that is that

there is so much immediacy at all

points of the rev band, you don't

need to have the engine singing

high to extract acceleration.

Such is the bottom end power,

the engine wants to pull from

low revolutions and that is a

good thing, it feels strong under

the accelerator pedal and hauls

solidly right to the red line.

However, that's not necessary,

it's great to manually (paddles)

short-shift the gears and feel

VERSATILE: A host of storage options are available under

the wagon's tailgate.

SKODA OCTAVIA RS: Performance-based family wagon.

the turbo forcing air into the

cylinders vigorously.

In terms of acceleration, the

Octavia wagon will launch to

100km/h in 6.7sec and will

make 120km/h from 80km/h in

4.1sec. These are feisty times and

rewarding to feel, performance is

constantly vivid. Of course, the

Octavia has various drive modes

that can be selected at will, all

are self explanatory – comfort,

normal, sport and driverprogrammable

individual.

I used normal and sport most

of the time I was driving the

wagon, simply because there is

a nice audible throb delivered

constantly in those modes. It isn't

loud, but it does let you know

something special is sitting up

front.

Normal and sport modes don't

deliver a harsh ride. Yes, the

Octavia wagon has progressive

dampers which alter the way the

wagon rides. Personally, I couldn't

tell a lot of difference, in all

modes the ride is compliant and

comfortable.

In order to beat the weather

bomb that was forecast for

Canterbury recently, I took to the

roads at dusk, and as darkness

encroached misty drizzle made

the roads greasy in places. They

weren't ideal conditions, but it was

a good test of how the Octavia

wagon handled the conditions.

• Price – Skoda Octavia RS

wagon, $57,990

• Dimensions – Length,

4689mm; width, 1994mm;

height, 1468mm

• Configuration – Fourcylinder,

front-wheeldrive,

1984cc, 180kW,

370Nm, seven-speed DSG

automatic

• Performance – 0-100km/h,

6.7sec

• Fuel usage – 6.6l/100km

I have a friend who has just

traded his Volkswagen Passat

wagon for a 2017 Octavia RS, and

he tells me how much he misses

the 4Motion system of the VW,

he says the RS doesn't put power

to ground as well when the road

surface is slippery.

The conditions I drove in were

ideal to test that theory, and I

think it's fair to say that Skoda

has done a lot with the latest

generation Octavia to make

it work when grip is low, the

electronics working well so that

I never had any issues. I guess

that also has a lot to do with the

quality of the low profile Good

Year tyres (225/40 x 19in), they

have a solid tenure and offer

plenty of feel so the driver is

fully aware of what is happening

underneath.

On board, the Octavia is chock

full of technology. The evaluation

car was carrying a lot of extras,

and it's fair to say Skoda's option

list is extensive.

However, even in standard

form the Octavia wants for little,

it carries all of those wonderful

features that have been developed

through the VW Group and,

what's more, the fit and finish is

absolutely sublime. I particularly

like the gearshift lever, well it's

more like a button really, just

requiring a gentle flick of a switch

to activate. The Octavia makes

you feel good to be in and it

looks after you with high comfort

levels and user-friendly in-cabin

dynamics.

It is also a genuine fiveseater

car, and the load space is

cavernous and adaptable so that

all of those belongings we tend

to carry with us can be stored

securely.

That's just one of the reasons

why I like wagons and I

particularly like the Octavia RS.

Its performance and versatility

make it many different vehicles

in one.

I'd also be very interested

in driving the TSi wagon,

sometimes those with what

would be deemed the mainstream

model often turn out to be the

pick of the bunch.

In all cases it's certainly time to

forget all those old disparaging

Skoda jokes.

has motoring covered!

Incorporating

ISSUE 667 | FrIday 20 novEmbEr 2020

sherborne st, edgeware

iggest range of vehicles

location!

2011 Jaguar

XF Premium

$18,999

See inside for this week's

4WD feature!

se Ave | P: (03) 366 7768 | www.valuecarswarehouse.co.nz

See page 4 for more info!

free

best motorbuys

Incorporating

ISSUE 668 | FrIday 27 NovEmbEr 2020

275 Colombo street, Christchurch

For more see their advert on pages 6 & 7

Ce l 021 855 884

Incorporating

ISSUE 669 | FrIday 4 dEcEmbEr 2020

See inside for this week's

Classic Car feature!

PH 03 web

www.drivesouth.co.nz

One Owner!

40 Years Finance

Experience

Cannot be Beaten!

• Talk to us about finance for your next

motor vehicle purchase

Specialising in Finance for Private Purchases

Very quick approvals, sensational interest rates

• From no deposit (terms & conditions may apply)

Hiace spares

Cnr Main South Rd and Epsom Rd, Christchurch

Ph: 03 348 4129 | avoncityford.com

2015 IsuZu D-mAX

4WD Ls D/CAb

NZ new, 3.0 intercooled turbo/dsl,

auto, rare flatdeck with ladder/pipe

racks, reverse cam, service history.

$34,995 $192pw

For more see their advert on page 31

free

best motorbuys

www.drivesouth.co.nz

See inside for this week's

marine feature!

free

best motorbuys

The South Island's leading motoring resource,

filled with news, reviews and dealer listings.

From family cars to work trucks, and supercars

to SUVs. No matter what you're looking for,

you can find it all with Drivesouth.

Magazine available for FREE every Friday

at a convenient pick up point near you!

The biggest range of vehicles

in one location!

Now Available @ NZ Van Spares

www.drivesouth.co.nz

2.4 auto, alloys, ABS, twin airbags.

2005 toyota rav

$20,999

$9,990

40 Years Finance

2008 bmW 320i

2.0lt Petrol, 5 Dr Station wagon,

Climate Control, ABS Braking,

.nz

CAR AUDIO

AUDIO VISUAL

CAR SECURITY

32 Moorhouse Ave | P: (03) 366 7768 | www.valuecarswarehouse.co.nz

MOBILE INSTALLATION SERVICE

RADAR DETECTORS

DASH CAMERAS

Cannot be Beaten!

$10,974 NoW $7,974 + orC

Experience

Automatic. $34.63pw.

AERIALS

• Talk to us about finance for your next

Specialising in Finance for Private Purchas

• Very quick approvals, sensation

• From no deposit (term
---
24 Bay Harbour News Wednesday June 23 2021 Latest Canterbury news at starnews.co.nz

Be inspired with thousands of ideas under one roof!

2 – 4 July 2021

IN ASSOCIATION WITH

Free informative seminars

thanks to !

Complimentary goodie bags!

show-only specials & giveaways!

Place a bid in the live AUCTION!

This MEGA tiny home could be YOUrs!

have an EV worth

$

22,000

TO

GIVE AWAY!

CUT THIS AD OUT FOR

1x FREE DOUBLE PASS

Join us at the Home & Leisure show, stand number 176.

Appliances, beds, furniture & tech.

Everything you need for your home.

2 - 4 July 2021 • 10am - 5pm • Christchurch Arena • www.starhomeshow.kiwi
---
$10.50

ISSN 2423-0626

$8.00 incl. GST

REAL ESTATE

The perfect position in Sumner, in the heart

of the village and in the first block from the

beach. Enjoy the buzz of village life, walk

to all the cafes, restaurants, movie theatres,

retail stores and more importantly - park

your car up in the garage and relax.

It is time for the owner to move on; she has

loved living in this wonderful home, in this

amazing location. A simple life to be had

here, maybe it is the perfect weekender or

holiday home.

Light, bright and breezy with great

neighbours, very friendly and welcoming.

Two good-sized bedrooms on the upper level,

with nice views across the hills and glimpses

of the sea. The living, all on the middle level,

has a covered balcony to soak up the sun,

smell and hear the ocean. An oversized,

internally accessed garage - ideal for the

surfboards and bikes, as well as your vehicle.

The courtyard gardens are a surprise -

maybe add an outdoor shower for when

you return from the beach.

Feel part of the community and love your

new lifestyle!

Latest Canterbury news at starnews.co.nz

Beachside apartment living

4/6 Burgess Street, Sumner

Auction 1st July (Unless Sold Prior)

2 bedrooms 2 bathrooms 1 car garage

courtyard garden - Listing No. 5515089

Open Homes - Sunday 1pm - 1:45 pm

Wednesday June 23 2021 Bay Harbour News 25

ADVERTISING FEATURE

Marilyn Still

Mob. 027 229 8769

Office. 03 595 2843

Bayleys Ferrymead

Whalan & Partners Ltd.

(Licensed Agents REAA 2008)

Something for everyone

Available in all good bookstores and supermarkets, or subscribe from as little as $20.

GENTLEMAN JIM RICHARDS & THE WILLMENT ESCORT

FREE FIRST XV SEASON PREVIEW MAGAZINE INSIDE

CLASSIC ALPINE TOUR | PELLAND COUPÉ | JIM RICHARD'S WILLMENT ESCORT | TERRY MARSHALL | VAUXHALL FIRENZA | RICHARD BROCKLEHURST MAR-APR 2021

ISSUE 94

THE MOTORSPORT

PHOTOGRAPHY OF

TERRY MARSHALL

RARA AVIS:

PELLAND COUPÉ

A SHORT TIME IN FRONT: RICHARD BROCKLEHURST

50TH ANNIVERSARY OF THE VAUXHALL FIRENZA

SOUTHERN MEN AND TALES OF THE SOUTH

MARCH-APRIL 2021

SOUTHERN

SOJOURN

THE CLASSIC ALPINE TOUR

COME ON, FEEL THE

NOISE: CLASSIC

RACING ENGINES

9 416770 121332

TONY JOHNSON

ON THE COMING OF

MOANA PASIFIKA

AARON SMITH

'WHY I RATE

DUPONT'

SEAN FITZPATRICK

'WE NEED MONEY TO

SUSTAIN THE GAME'

rrp $10.99

9 416770 121325

MAY 2021

DAN

CARTER

REFLECTING ON A

GREAT CAREER

JEROME

KAINO

SORTED FOR

LIFE AFTER

RUGBY

• PHIL GIFFORD: THE BEST

SCHOOLBOY STARS HE SAW

• DARYL GIBSON: HIS VISION

FOR THE BOP STEAMERS

$9.25 incl. GST

meet 20 of our Kiwi garden favourites

From abelia to

viburnum

& all the varieties

in between

Why we

like them

& where they

like to grow

AuTumN 2021

The Shrub Hub

How to keep your

shrub in shape

& propagate more

of those you love

growing with you Issue 504 | May 2021 | 100%

A tropicAl

flock

Grow your own

bird of paradise

Capitalising

on CaCti

Faran Gillbanks

on a succulent

movement

9 416770 121318

Roses on the wishlist

Hot new releases for 2021

Space iSSueS?

Try gardening

like the French

The lowdown on

cover crops

Why, when & how

For the motoring

enthusiasts

For the

rugby fans

For the seasonal

gardeners

For the green

thumbs

growing with you 100%

alliedpressmagazines.co.nz

Rugby News & Kiwi Gardener: 0800 77 77 10 Classic Driver & General: 0800 624 295
---
26 Bay Harbour News Wednesday June 23 2021 Latest Canterbury news at starnews.co.nz

BE IN TO WIN

A SONY x90h ANdROId Tv WORTh $2,500!

FREE FIRST XV SEASON PREVIEW MAGAZINE INSIDE

MAY 2021

TONY JOHNSON

ON THE COMING OF

MOANA PASIFIKA

AARON SMITH

'WHY I RATE

DUPONT'

SEAN FITZPATRICK

'WE NEED MONEY TO

SUSTAIN THE GAME'

rrp $10.99

SEILALA MAPUSUA INTERVIEW: HIS VISION FOR MANU SAMOA

DAN

CARTER

CRUSADERS

FIVE OF THE BEST

REFLECTING ON A

GREAT CAREER

TONY

JOHNSON

CAN THE

SABBATICAL

JEROME

KAINO

SORTED FOR

LIFE AFTER

RUGBY

BEEGEE'S

DREAM

WHY MOANA

PASIFIKA WILL BE A

GAME-CHANGER

• PHIL GIFFORD: THE BEST

SCHOOLBOY STARS HE SAW

• DARYL GIBSON: HIS VISION

FOR THE BOP STEAMERS

JUNE 2021

SAM CANE

THE LONG

ROAD BACK

WAYNE PIVAC

FROM THE OUTHOUSE

TO THE PENTHOUSE

Subscribe to New Zealand's

premier rugby read for six

issues or more to go in the

draw. Ten lucky subscribers

will also win one of five All

Blacks jerseys, Lone Star

and Joe's Garage vouchers.

9 416770 121325

rrp $10.99

• WHERE ARE THEY NOW:

MATTHEW COOPER

• SARAH HIRINI:

BRINGING THE MANA

9 416770 121325

SIx ISSUES

$39

SAvE 41%

+ ChANCE

TO WIN A Tv

& mORE!

*Competition runs till July 31st 2021. Offer only applies to NZ residents

and subscription periods of six issues or more.

SUBSCRIBE AT RUGBYNEWS.CO.NZ OR 0800 77 77 10

AvAIlABlE AT All GOOd BOOkSTORES ANd SUpERmARkETS
---
Latest Canterbury news at starnews.co.nz

Wednesday June 23 2021 Bay Harbour News 27

Classifieds Contact us today Phone our local team 03 379 1100

Cars Wanted

$$ CASH PAID $$

Buying cars & trucks for

wrecking. Ph / txt Zac 021

1056 797.

Gardening

& Supplies

Gardener available for

maintenance, weeding

pruning, spraying,

planting, advice. Qual &

exp.Pensioner discount

25%. Ph Richard 0274 918

234, 03 349 4022

ADD SOME

COLOUR

TO YOUR ADVERT!

To Let

RENT ME!

Ideal as an extra

bedroom or office.

no bond required

Fully insulated and double glazed for warmth.

Three convenient sizes from $80 a week:

Standard 3.6m x 2.4m

Large 4.2m x 2.4m | Xtra-large 4.8m x 2.4m

Visit our website

www.justcabins.co.nz

for display cabin locations

www.justcabins.co.nz

Trades & Services

SCRAP METAL

Dominion Trading Co Ltd

• Scrap metal buyers

• Canterbury owned & operated

• Top prices paid $$$

• Open Saturday morning

Open Mon-Fri 8am – 4.30pm Sat. 8.30am-12.30pm

www.happyscrappy.co.nz

03 343 9993 333 Blenheim Rd

Trades & Services

CARPET LAYING

Exp. Repairs, uplifting,

relaying, restretching.

Phone John on 0800

003181, 027 240 7416

jflattery@xtra.co.nz

DECKS

Fences, retaining, 2nd

hand kitchen installs

incl stone bench rework,

sleepouts, alterations,

paths and more. Greg 022

475 8227

ELECTRICIAN

JMP Electrical

Experienced & registered..

Expert in all home

electrical repairs &

maintenance.Call James

027 4401715

Trades & Services

WINDOW TINTING

tintawindow

advanced film solutions

99% uv block

fade protection

heat control

reduce glare

25 Years Experience

privacy films

frosting designs

non-darkening films

Workmanship Guaranteed

Lifetime Warranties on Most Films

UV

block

Free Quotes Canterbury and Districts

03 365 3653 0800 368 468

Trades & Services

ELECTRICIAN

Andrew Martin Electrical.

25 years experience.

Specialize in home

renovations, repairs and

maintenance. Call Andrew

0274 331 183

GUTTER CLEANING

Gutter cleaning special

from $99 plus gst for a

whole house clean"".

Free Quotes, call Morgan

Thomas today 022 375

8506

GUTTER CLEANING /

HOUSE WASH

Total gutter / spouting

clear out & clean. House

wash & windows. For a

professioanl & reliable

service call Greg Brown

A1 Spouting Cleaning 027

616 0331 or 384 2661

Trades & Services

STONEMASON, BRICK

& BLOCKLAYER,

Earthquake Repairs, Grind

Out & Repoint, River/

Oamaru stone, Schist,

Volcanic Rock, Paving,

all Alterations new & old,

Quality Workmanship,

visit www.featureworks.

co.nz or ph 027 601-3145

Wanted To Buy

AAA Buying goods

quality furniture, beds,

stoves, washing machines,

fridge freezers. Same day

service. Selwyn Dealers.

Phone 980 5812 or 027

313 8156

Situations Vacant

Reporter - Christchurch

• Great media opportunity

• Be part of an award winning team

• A media company which is growing its reach

Who we are

Allied Press Limited employs over 450 people on a permanent basis

across our 15 sites in the South Island. We operate across multiple

media platforms (print, on-line, digital) delivering news, information and

entertainment through our various regional and city publications, including

Christchurch-based Star Media.

The role

We are seeking someone who is looking to take the next step in their

journalism career.

Reporting to the editor, the main purpose of the position is to file

community-based news, sport and people articles for both print

publications and online platforms.

Your skills and experience

We are looking for a journalist who has already displayed the qualities

and drive to become a topline journalist. In addition to your interest in

equity and diversity you will demonstrate:

• A great work ethic

• A competitive nature

• An eye for detail

• Accuracy

Further details

This is a full time, permanent position.

We can offer you a great team environment, professional development

opportunities and an opportunity to grow.

If you think this role is for you, please apply by way of CV and a

covering letter to barry@starmedia.kiwi. Informal inquiries about the

role are welcome and should be directed to Editor in Chief Barry

Clarke 021 359-426.

All applications will be treated in the strictest confidence.

Please note you must have the right to work in New Zealand to

apply for this role.

Disclaimer: Allied Press does not accept unsolicited agency resumes.

Allied Press is not responsible for any fees related to unsolicited resumes.

NEVER

MISS AN

ISSUE

SUBSCRIBE

FROM $49

Subscribe:

classicdriver.co.nz

0800 624 295
---
28 Bay Harbour News Wednesday June 23 2021 Latest Canterbury news at starnews.co.nz

ALL TIPAZ

ON SALE

Double/Queen

Headboard

NOW $

399

Bedside

NOW $

265

NOW ON! SELECT ITEMS

+ SUPER DEALS. ENDS 12.7.21.

Riley 3 Seater – Grey

WAS $

1199

NOW

$

899

Riley

Chaise Sofa – Grey

WAS $

1699

ALL PARIS

ON SALE

Dining Table – W190

NOW $

799

Dining Chair

NOW $

150

NOW

$

1299

DON'T MISS OUT ON THESE GREAT SUPER DEALS!

Caribbean Queen

Sleepset

WAS $

849

NOW

$

649

Zara Single Bunk Bed

WAS $

999

NOW

$

699

Lennox 2 Seater

WAS $

1499

NOW

$

1199

SCAN QR TO SHOP ALl

SUPER DEALS OnLINE!

Lennox

3 Seater

NOW $

1399

Shop

Online

Nationwide

Delivery

Finance

Options

PLUS HEaps more super deals in store & online!

WINTER SALE NOW ENDS 12.7.21.

250 Moorhouse Ave, Christchurch

Ph: 0800 TARGET (0800 827438)

targetfurniture.co.nz

Offers and product prices advertised here expire 12/07/21.

Sale Excludes Accessories.
---
WEDNESDAY, JUNE 23, 2021

Connecting Your Local Community

starnews.co.nz

YOUR LOCAL

INSIDE

What's on offer this year?

2 – 4 July 2021

IN ASSOCIATION WITH

Be inspired with thousands

of ideas under one roof!

FREE

DOUBLE PASS!

CUT THIS AD OUT FOR

1x FREE DOUBLE PASS

Join us at the Home & Leisure show, stand number 176.

Appliances, beds, furniture & tech.

Everything you need for your home.

2 - 4 July 2021 • 10am - 5pm • Christchurch Arena • www.starhomeshow.kiwi
---
Explore our unique zones!

IN ASSOCIATION WITH

IN ASSOCIATION WITH

Sip, taste and try new

products before you buy.

Discover liquorice, gourmet

dips, fruit juices, local wine

and more!

Learn about eco friendly

products and services

including solar power, pellet

fires, energy efficient homes,

LED lighting, electric bikes,

light therapy, alternative

energy and more!

Be inspired by landscaping

plans, pools, spas, outdoor

furniture, fencing, garden

ornaments, decking, glass

and more!

Upgrade your leisure time

with boats, camper vans,

caravans, jet skis and an off

road vehicle!

Take a look inside several tiny

homes, mega tiny homes,

modular homes and place a

bid in a live auction!

2 - 4 July 2021 • 10am - 5pm • Christchurch Arena • www.starhomeshow.kiwi
---
IN ASSOCIATION WITH

IN ASSOCIATION WITH

Worth $ 22,000!

2016 nissan Leaf

Marvel at the car's full leather interior, 360

degree cameras, Android Auto and Apple

CarPlay, Bose sound system and 10 air bags.

Visit the hVs stAnd At our show to be in to win!

Informative seminars brought to you by

On every day — Friday, Saturday and Sunday

Buildright

11.00am

Covering renovations for your home - whether it be your bathroom, kitchen,

reconfiguration of existing rooms or extensions.

Sunshine Solar

11.30am

Learn if solar is right for you, what type of solar is best for what applications

and how you can make money off solar with little or no money down. Covering

commercial solar as well as residential and batteries.

Resene

12.00pm

Discover how to take your favourite colours and confidently design colour

schemes to suit you, your home and your lifestyle. Make the most of your

space and maximise the appeal of your home.

Kitchen Studio

12.30pm

From inspiration to installation, take note of our tips and tricks when updating

your kitchen to ensure it fits in with rest of your house.

Whitehouse

Builders

1.00pm

Ever wondered how to build an energy efficient home? Learn the 5 passive

house principles that contribute to a truly efficient home.

NZ Home Loans

1.30pm

Discover the tools that will allow you to become debt free faster, purchase a

property in Christchurch, either a 1st home, construction, or investment.

2 - 4 July 2021 • 10am - 5pm • Christchurch Arena • www.starhomeshow.kiwi
---
Place a bid in the live auction!

IN ASSOCIATION WITH

IN ASSOCIATION WITH

Cosy Homes are auctioning off a brand

new 2-bedroom 50sqm home at our show!

*Digital rendering of outside

This MEGA tiny home could be YOURS!

This mega tiny home is warm, spacious

and homely, it is built and ready to go

and can be transported anywhere in the

country. Step inside and feel it for yourself.

Don't miss out on this auction! Cosy

Homes have a range of options to suit

your budget with their 2-bedroom homes

typically ranging in price from $95,000 -

$130,000.

The Cosy Home for auction is at the

premium end of the range, with the added

bonus of being available immediately!

The auction is set for 1pm on Sunday 4th

of July at the Cosy Home stand.

The auction is sponsored by Ray White

Bishopdale & Strowan.

There is normally a 9 month wait on a tiny

home, but this one will be yours in a week!

Auction set for 1pm on Sunday,

4th July at the Cosy Home stand.

To place a bid, you must register your interest at www.cosyhomes.co.nz/auction

CUT THIS AD OUT FOR

1x FREE DOUBLE PASS

Join us at the Home & Leisure show, stand number 176.

Appliances, beds, furniture & tech.

Everything you need for your home.

2 - 4 July 2021 • 10am - 5pm • Christchurch Arena • www.starhomeshow.kiwi