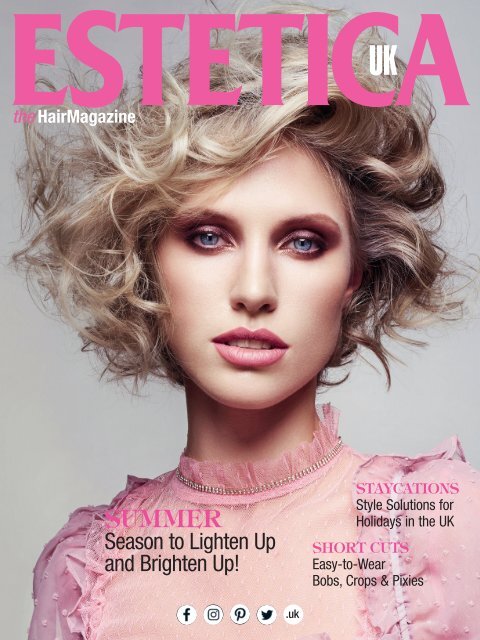 Estetica Magazine UK (2/2021)
Estetica Magazine is the world's leading hairdressing magazine. Founded in Italy in 1946 and published today in over 60 countries around the world, it is a global reference point for professionals working in the hair and beauty industry. Techniques, fashion, education and trends are at the core of every issue of Estetica Magazine. Further information about both the printed and digital versions of the magazine is available at www.esteticanetwork.com
Estetica Magazine is the world's leading hairdressing magazine. Founded in Italy in 1946 and published today in over 60 countries around the world, it is a global reference point for professionals working in the hair and beauty industry. Techniques, fashion, education and trends are at the core of every issue of Estetica Magazine. Further information about both the printed and digital versions of the magazine is available at www.esteticanetwork.com
SHOW MORE
SHOW LESS
Create successful ePaper yourself
Turn your PDF publications into a flip-book with our unique Google optimized e-Paper software.
UK

the HairMagazine

SUMMER

Season to Lighten Up

and Brighten Up!

STAYCATIONS

Style Solutions for

Holidays in the UK

SHORT CUTS

Easy-to-Wear

Bobs, Crops & Pixies
---
Blonde made Better

Protect your blonde investment

with the Bright Blonde Collection
---
Discover Oribe's Bright Blonde range at Oribe.com
---
THE GREAT ITALIAN JOURNEY

PALERMO

To find out how you can become a Great Lengths

certified stylist, speak to our team on

+44 (0) 113 278 1292 and start your journey.

www.greatlengths.com/uk
---
editorial

There is no end to the number of online articles about the challenges that businesses are

facing post-pandemic - and the hair and beauty industry is no exception. Interestingly, there

is much evidence that companies which are engaging with new technology are finding that

Colour & Cut:

Marc Antoni Artistic Team

Photo: Jamie Blanshard,

Jamie Blanshard

Photography

Model: Annabelle Strutt

Products: Blonde Life and

LumiShine by JOICO

digital platforms really do help ride the storm. They are much better placed to

adapt to market realities through

discovering new ways to communicate

their commitment to the public. Through this

process, the hot topic of 'Sustainability' is no longer presented as a mere change in packaging

or a reduction in pollutants, but can prove to be a powerful instrument in interacting with

consumers by attracting a large number of potential new clients who have become more

intensely aware of problems with the ecosystem. This came to light at the G7 Summit 2021

of world leaders held in Cornwall back in early June, when Sir David Attenborough's

contribution proved to be one of the most talked-about issues on the agenda. Customers

across all aspects of our industry and society are proving to have a much greater appreciation

of brands that are waving the flag for green issues and place care for the environment as one

of their priorities. They are also becoming much more savvy about what's really credible and

are no longer as easily duped into believing everything they read, so green credentials now

need to be substantiated with certification by recognised industry bodies or recognised and

respected brands.

Gary Kelly,

Editor-in-Chief, Estetica UK

Follow us on Social Media or at

www.esteticamagazine.co.uk
---
The World's Leading

Trade Beauty

Network

• 19 editions:

7 in-house + 12 licensed

• Over 228,000 copies

of each issue distributed in

over 60 countries worldwide

• More than 800k fans/followers

worldwide

• 20 online platforms

and much, much more...

Follow us on:

Free for iPad

For further information please contact:

on AppStore

Edizioni Esav

Via Cavour, 50 - 10123 Torino (Italy)

Tel.: +39 011 83921111 - Fax: +39 011 8125661

w w w . e s t e t i c a m a g a z i n e . n e t
---
Estetica n. 2/2021

contents

PUBLISHER AND

MANAGING DIRECTOR

Roberto Pissimiglia

EDITOR-IN-CHIEF

Gary Kelly

estetica.uk@lineone.net

INTERNATIONAL

EDITOR-IN-CHIEF

Laura Castelli

l.castelli@estetica.it

INTERNATIONAL

EDITORIAL COORDINATOR

Serena Monachesi

s.monachesi@estetica.it

INTERNATIONAL ADVERTISING

COORDINATOR

Monica Tessari

m.tessari@estetica.it

LAYOUT

Manuela Artosi

m.artosi@estetica.it

Davide Cardente

d.cardente@estetica.it

UK SALES & MARKETING

MANAGER

Luca Pissimiglia

l.pissimiglia@estetica.it

CONTRIBUTORS

FRANCE

Marie Coccoluto

SPAIN

Elisabet Parra,

Cristina Hernández

DEUTSCHE AUSGABE

Michaela Dee

ITALIA

Lucia Preziosi,

Glorianna Vaschetto

USA

Marie Scarano

DIGITAL

Erica Balduini,

Ludovica Cavalli,

Erika Marchese,

Wilma Sommariva

Catwalks Eye-Catching Colour 9

Looks Short Stories 16

Styling Staycation Styles 24

Farewell Raffel Pagès: Icon, Legend 28

Interview Double Act 84

Anniversary 75 Years of Excellence 86

Event We Create: Virtual Excellence 88

international trends

True Colour 33

Colour provides your

perfect partner in

every aspect of beauty

- it's your shortcut to

creativity!

Wherever your travels

take you this Summer, go

with the sun in your hair!

Short hair is never

short on style: bobs,

crops and pixies are

always en vogue,

whatever the

occasion.
---
© 2021 Pettenon Cosmetics S.p.A. - All rights reserved
---
Max Mara

Gregis

Valentino

Eye-catching

C O L O U R

It's full speed back to normality, so gear up and energise

yourself by embracing the power and vitality of colour.

Choose a shade to wear with strength & optimism! Laura Castelli

Victoria Tomas

Gregis

Valentino

Franchi/Courtesy of Press Office

Gabriela Hearst

Courtesy of Press Office

Versace/Courtesy of Press Office

Boss

Versace

Courtesy of Press Office

Franchi/Courtesy of Press Office

Catwalks Photos: IMAXtree.com/Andrea Adriani

/Courtesy of Press Office
---
Blue moon

And surprisingly, it's not denim that's standing

out – it's a combo of oceanic- and sky- coloured

voile overlaid with light blue cotton. China Blue

is out there on the horizon.

Fendi

Fendi

Sportmax

Hermès

Etro Louis Vuitton Boss

Christian Dior

Genny

Salvatore Ferragamo

Dolce & Gabbana

Fendi

Kenzo

Max Mara

124 adloremter
---
Dolce & Gabbana

The energy of

citrus fruits

bathed in sunlight.

Essential yellow

stimulates a 'joie

de vivre' and

composes a hymn

to elation. In

pastel it's a must.

Etro

Fendi Balmain Etro

Laura Biagiotti

Genny/Courtesy of Press Office

Daffodil

Blumarine

Bronx Banco/Courtesy of Press Office

Salvatore Ferragamo

catwalks

11
---
Bubblegum

Fila

Annakiki/Courtesy of Press Office

Romantic allure, of course –

forever reinterpreted. Ironic and

beguiling, from petunia to rose,

pink softens the warrior spirit of

contemporary femininity.

Simona Marziali

Isabel Marant

Chanel

Blumarine

Versace/Courtesy of Press Office

Franchi/Courtesy of Press Office

Blumarine

Chanel

Balmain Fendi

Dolce & Gabbana
---
Isabel Marant

Valentino Genny/Courtesy of Press Office

Isabel Marant

Koche

Lipstick

Lanvin/Courtesy of Press Office

Philosophy

Blumarine

Versace/Courtesy of Press Office

Versace/Courtesy of Press Office

Fendi

Boss

An intellectual red:

suppose you dress for an

interview with panache

and culture? A brand new

and hyper-modern

tomato red. Strictly total.

Etro

catwalks

13
---
Pistachio

Valentino

In full ecological revamp:

fashion adopts organics and is

unleashed in a palette of

greens that stimulate the

appetite for environmental

fashion addiction.

Genny/Courtesy of Press Office

Coperni

Versace/Courtesy of Press Office

Salvatore Ferragamo

Dolce & Gabbana

Tod's/Courtesy of Press Office

Koche

Valentino

Koche

Balmain

Alberta Ferretti Boss

Christian Dior
---
Marco Rambaldi

Mattiussi

Coperni

Versace/Courtesy of Press Office

Isabel Marant Isabel Marant

Lilac

The magical middle

ground between polite

blue and sassy scarlet.

The nuance of

mediation, which smells

of lavender and shines

like an amethyst.

Tod's/Courtesy of Press Office

Valentino

Mark Fast

Chloe

Annakiki/Courtesy of Press Office

Valentino

catwalks

15
---
Short stories

Ever since the first liberating bobs of the 1920s, short hair

styles have become the ultimate fashion-forward option.

Marie Scarano and Gary Kelly

There is no description for long locks that short locks can't fulfill as well or even better! Sexy? ☑ Gorgeous? ☑ Stylish ☑

- not to mention classic or contemporary, quirky or queenly, tame or textured. It looks like these styles are ticking all the

boxes. Whatever the look you're craving, there is a spectacular bob, crop, shag, or pixie cut that is sure to suite you to a T.

GROOVY... UPDATED!

This contemporary look was designed by to capture all the positive vibes of the first post-pandemic America's Beauty Show. A nod to the

shag, but in a luminous, summertime blond. The face-framing, disconnected cut lends movement and livability, and the flirty, point-cut

bangs call attention to the eyes.

The Ulta Beauty Pro Team for America's Beauty Show (USA)

Hair: The Ulta Beauty Pro Team for America's Beauty Show

Hair: James Pecis for Oribe Hair Care

TANTALIZING TEXTURES

Stylish volume can often be achieved with a great cut. Why not just give beautifully-shaped curls free rein? Don't

fight mother nature, just go with the flow! Not a curly-girl? Maybe you can opt for a bluntly layered, sideswept bob.

For added oomph, add some volume to the roots for height and run fingers through for a rocker vibe.

Hair: James Pecis for Oribe Hair Care (USA)

16 looks
---
DARK LITERATURE

In spite of the name of the collection to which this shot belongs, there's nothing bookish about this

chic yet edgy look for all seasons. Yet there are all the elements of a great novel - black & white, light

& dark, conflict in the lengths, and - most of all - a happy ending! The perfect melding of creatively

innovative cutting and color placement make a stunning fashion statement, minimalist and over the

top at the same time.

Hair/Styling: Michael Haase for Platinum Black @ Michael Haase Salon; Photo: Nick Berardi;

Make-up: Eric Allen; Products: Wella Company (USA)

Hair: Michael Haase

Hair: Ken Picton

REAL CUTS. STRONG SHAPES.

"I love the versatility of short hair! The right cut allows for such diverse styling; from a smooth, sleek

finish to more textured looks like this, which really let you play with movement and create something

very personal. Post-pandemic, whether that's trend-led looks like a modern mullet or something more

commercial and wearable like a layered crop, people are embracing real cuts and stronger shapes again

– which can only be great news for us hairdressers." Ken Picton

Hair: Ken Picton, Ken Picton Salon; Photo: Andrew O'Toole; Make-up: Kylie O'Toole;

Styling: Ella Murphy; Products: L'Oréal Professionnel. (UK)

trends

125
---
CUTTING EDGE

The beauty of the bob is that it can be clean and classic or... something completely different! "One of the

fiercest versions of a bob. This truly graphic bob plays a huge role, literally balancing on a projected

undercut. The micro slashed, spliced fringe completes the look." Errol Douglas MBE (UK)

Hair: Errol Douglas MBE, Errol Douglas London; Photo: Andrew O'Toole.

Hair: Errol Douglas

Hair: Dylan Tung

METAMORPHOSIS

"I draw my inspiration from the caterpillar's transformation into a butterfly. I sought elements that can

be found in nature to create a look that is full of life, and that has movement – just like the wings of a

butterfly – with the same shimmering hues lending numerous facets and reflections. I wanted it to be

daring and extravagant, yet maintaining femininity and keeping the style on-trend. I applied

disconnected, texturized, deep point cut technique to achieve the smooth trendy look. For finishing

touches, I applied Goldwell Dry Texture Spray for easy, free styling and texture."

Hair: Dylan Tung from Evolve Salon (Singapore)

124 trends trends 125
---
QUICK CHANGE-UPS

There is a common misconception that short hair limits a girl's styling options, but WhitneyVerMeer dispels these fears with this pixie

look - a bit extreme with the close shave and fade on the sides but just the right length on top. This androgynous look can be changed

up with a minimum of product and a flick of a comb. Slicked to the side when getting down to business, textured and tousled for a

more casual, easy-going look with eye-brow tickling bangs. What's not to love?

Hair, styling, photo: Whitney VerMeer (USA)

Hair:: Claire

Hair: Whithey VerMeer

Hair: Goldwell

THE PIXIE

Sometimes all you need is dramatic color to bring a casually tousled pixie to life. Natural looking texture is the key to this wash-n-go

beauty, perfect for carefree summer fashion. Add vibrant claret red and style with Goldwell's StyleSign Soft Waver onto damp hair

layered over with StyleSign Diamond Gloss. Dry with a diffuser on medium setting and allow to cool completely. Dress out using your

fingers and style with StyleSign Unlimitor. Easy as pie!

Hair: Goldwell (USA)

looks

19
---
ADDED VALUE

"This image was inspired by the Goldwell Hair Color Style Collection 2021. We believe the haircut is one of the first things

people notice when you make a change, especially in the case of women. Along with the pixie, the bob is one of the most

significant hairstyle trends of late, so if a client is interested in wearing a classic bob, try mixing things up with wavy texture and

a disconnected haircut on the horseshoe section, as it can really bring hair back to life and create some beautiful movement to the

hair while building up the volume at the back." Peter Wu @ Coloriste Hairstyling & Eason Chen @ EROS Hair Styling (Taiwan)

Hair Colour: Peter Wu @ Coloriste Hairstyling; Hairstyle: Eason Chen @ EROS Hair Styling;

Styling: Yu-Hao Chang; Make-up: Justin lien

Hair: Peter Wu and Eason Chen

Hair: Martin Crean

PINK POSITIVITY

"This image evokes feelings of calm and solace, key to improving our well-being, which is at the forefront of all our thoughts at the

moment. The soft, pearly pink hues are indicative of health and vitality but also bring a subtle sense of fun to lighten our mood."

Martin Crean (UK)

Hair: Martin Crean and the MODE Hair Artistic Team; Make-up: Lan Nguyen-Grealis;

Photo: Richard Miles

20 looks
---
A BALANCED BOB

"I love a good cut, so I am totally here for short hair in the summer months! The weather is getting

warmer, everyone is happier, it is literally the perfect time to experiment with a shorter cut. Getting nice

movement in the hair is key, as I think short hair has to move. Soft lines next to bold shapes always looks

stunning, almost classic and timeless. I love a good undercut too, it's perfect to take some weight out for

anyone who has a lot of hair, but also a great way to have some fun with your hair and add a bit of edge."

Paul Falltrick (UK)

Hair: Paul Falltrick; Photo: Barry Jeffrey; Make-up: Elizabeth Rita: Styling: Magdalena Jacobs.

Hair: Sharon Cox

Hair: Paul Falltrick

A NEW CLASSIC

Soft elements of disconnection enable movement and fluidity to what is a signature Sanrizz classic: a

razor-sharp, new geometric bob. Psychedelic tones of petrol, mahogany, sepia and gold flow through

the hair in a brickwork print. To finalise the look, high polish and texture create drama and strength."

Sharon Cox @ Sanrizz (UK)

Hair: Sharon Cox @ Sanrizz; Photo: Andrew O'Toole.

124 trends trends 125
---
EDUCATION INSPIRATION INNOVATION

BOOK TICKETS NOW

www.salonshow.co.uk/estetica

Main image: Hair, Robert Eaton; Photography, Richard Miles; Make up, Lucy Flower; Styling, Clare Frith
---
AT THE HEART

OF HAIRDRESSING

#

Salon21

@Salon_Intl @Salon_Int Salon International
---
Photo: Getty Images

Staycation

Styling

Photo: Getty Images

Easycare solutions will prevail when you glam it up

on a campsite, help reboot the traditional British holiday

resort, or visit that UK city you've always admired!

24 styling

With uncertainty over summer holidays still hanging around for a good while yet, staycations are the

way to go for 2021! Whether it's glamping to staying in a luxury hotel in the city or an AirBnB near the

beach, there's a multitude of amazing places to visit within the UK borders. So if your client is swapping

Croatia for Cornwall, Milan for Manchester or the South of France for the Lochs of Scotland, styling

options will be different to the usual salt spray-and-go of previous summer months. Wherever they are

heading, here's some staycation style solutions.
---
Nothing screams beach holiday like mermaid waves – soft, natural waves that look better the dirtier

they get. Marcello Moccia from Room 97 Creative, Leeds and Wakefield, says: "Boho waves, tumbling

curls and mermaid waves are the perfect beach hairstyle as they require minimum styling, but look

good the looser and messier they get. After a shower, gently apply a product such L'Oréal Professionnel

Tecni.Art Beach and leave hair to dry for the ultimate summer textured finish. And most importantly,

slather on sunscreen to make sure hair and scalp is protected as much as the skin." Alternatively, a top

knot can be created quickly but look incredibly chic and sophisticated. Stylist Callum Standen-May

adds: "It's the perfect hairstyle for the beach and for clients who want a hairstyle they style away from

their face, but still allows them to look chic and stylish. I love leaving some pieces of hair out around the

face with this look too, giving a more relaxed and 'undone' look.

Beach Holiday

Photo: Getty Images

Hair: Room 97
---
Glamping

Photo: Getty Images

Hair: Room 97

Photo: Getty Images

Celebrity hairdresser, Jay Birmingham, says:" My go-to hairstyle for a glamping

has to be braids. Anything from two classic French braids on either side of the hair to a high

ponytail with a long braid can work. This will keep your hair out of your face and stop you touching it too

much which encourages oil production and leads to it needing washing quicker. I also think creating a

beachy wave at home before travelling is a great option for an outdoor trip. You can wear it down for the

first 1-2 days and then try a textured ponytail or half up half down style on day three. Dry shampoo will be

your BFF for this look. Apply to the root and leave for five minutes to soak up excess oil." Karoliina

Saunders agrees – natural textures are not only the best way to wear your hair on holiday, but are currently

on trend too. "Texture is the word this season. Where we used to gloss everything and smooth all the

flyaways we now embrace them and purposely create the look. It all comes from cultural influences but is a

perfect Glamping style, especially when combined with a few different-sized braids."

26 styling
---
After spending over a year cooped up inside, it's nice to get your walking boots on and discover city

wonders. "Casual is still the name of the game, but with a bit more luxury thrown in," says David

Corbett from David Corbett Hairdressing, Glasgow. "After a year of messy, relaxed hair, it's time to opt

for more dressed, luxurious finishes. A bouncy blow dry will take you from sightseeing to restaurant

in an instant. A slick of serum and spritz of hairspray will hold it in place – and if it's the Great British

summer with plenty of rain, tuck lengths in your collar and hide under a waterproof trilby!" Whether

you're staying locally or heading further afield, Ryan Steedman from Adam Reed, London, says booking

in your clients for a big bouncy blow dry before they go away will ensure they have great looking hair

for the first few days. "Build strong foundations throughout the hair so that the volume will stay put for

at least 72 hours! Then make sure they take some gorgeous accessories with them – like the fabulousleather

covered pony scrunchies there are available now and get that hair into the highest pony tail you

can fashion for that final day before you hit homeward bound."

CIty

BreAK

Photo: Getty Images

Hair: Callum Standon

Hair: Callum Standon
---
Never stop learning.

I'm still doing it and will

continue to do so until

the end of my days...

"

"

Raffel Pagès

Icon... Legend

It is with much sadness and regret that we must report

on the sudden passing of our dear friend - a global icon

in the world of international hairdressing, Raffel Pagès.

Sergi Bancells
---
A wonderful human being, an inspiring artist, an overwhelmingly successful

businessman, Raffel was the founder and director of the chain of salons that bears his

name and which currently has 80 establishments in Spain, employing more than 300

people. The son of a hairdresser, he learned to love hairdressing at the prestigious Carita

in Paris, under the guidance of his mentor and teacher, Rosy Carita. There, his soul as a

hairdresser was formed, theoretically, philosophically and emotionally. Back in Barcelona,

he worked with his father and his brother in the family business before opening his

own salon. In the mid-70s he began to travel throughout Europe, starring in shows,

seminars and ateliers, where he conveyed his passionate understanding for the profession

- something Raffel called "Peluqueria Emocional"- not only carried out with the hands,

but with the senses and emotions. In the Olympic year of Barcelona 92, he inaugurated

his renowned Instituto de Perfeccionamiento, a temple of education where thousands

of hairdressers have been trained and the starting point of the exponential growth of his

firm. In the 90s, Raffel opened salons throughout Spain, in Italy and even in his beloved

Paris. For Raffel, the keys to success were his four Is: Investing, Investigating, Intuiting and

Innovating - in addition to continuing to firmly believe in continuous training, with the

aim of continuing to evolve: "You have to learn throughout your life, I am still learning

and will continue to do so until the end of my days." Passionate about art and history,

in 1960 he began to collect objects related to hairdressing, founding the most important

Museum of the History of Hairdressing in the world, located in Barcelona and which

today exceeds the 14,000 pieces. In recent years, Raffel received in London the prestigious

Hair Legend Award from the hands of the AIPP during the world famous Alternative

Hair Show, while continuing to dedicate much of his time to growing his Museum and

following the in front of his chain of salons together with his two daughters, Carolina and

Quionia Pagès. Estetica has followed the brilliant career of Raffel Pages for more than

four decades, since his first successful show at Cosmoprof 1975, when Estetica's founder

Mino Pissimiglia dedicated an article to him proclaiming him a "new star in hairdressing".

Throughout time, there have been countless encounters, shared stories, articles ... together

with Raffel, with whom we have always been united in great friendship.

Raffel recently won the prestigious

AIPP Hair Legend Award in London

during the Alternative Hair Show,

while continuing to dedicate much of

his time to the growth of his Museum

and to personally follow his chain of

salons together with his two

daughters, Carolina and Quionia

Pagès. Still today, they continue to

lead the family business, respecting

the values in which it was founded.

in memoriam

29
---
design tip

Choose vibrant ferns for a

tropical oasis or dried fan

palms and pampas for a

Boho inspired look.

GET THE LOOK

1

1

3

2

3

GET THE LOOK FROM COMFORTEL

1.MESSINA TERRAZZO Salon Mirror €559,-

2.ARIA TAN II Styling Chair with Matte Black Bolt down Base €499,-

3.HAZEL TAN Shampoo Wash Lounge €1755,-

4.SADDLE STOOL TAN II with Black Base € 149,-

4
---
SALON SPACES /

INSPIRATION

Resort

YOUR SALON DESIGN STYLE

modern mediterranean

and dreamy escapes

Take us away to the Mediterranean and dream of a resort

style salon with sculptural proportions and feminine

undertones. Earthy, dusty tones are taking centre stage,

think clay, rust, blush and peach with natural materials like

travertine, terrazzo, light timbers and rattan to add a sense

of escape. Lush tropical foliage completes the look.

THE PALETTE

COMFORTEL EUROPE STOCKIST

SHOWROOM

ZUID-KAVELSEDIJK 3

3291 LX STRIJEN

OPEN EVERY SUNDAY 12-17

PRICES ARE EXCL. WORKS, EXCL. VAT

WWW.GUYSARLEMIJN.COM

INFO@GUYSARLEMIJN.COM

PHONE +31 (0) 10 303 1600

WHATSAPP 31 (0) 6 57 83 86 88

SALON FURNITURE
---
I've

escaped

my partner

SUPPORTING HAIR AND BEAUTY PROFESSIONALS AND THEIR CHILDREN

Together we can help make a difference supporting

terminal illness, domestic abuse, homelessness,

poverty, mental health, and financial hardship

SPONSORS

GOLD SILVER MEDIA

EXHIBITIONS

BRONZE

CAMPAIGNS

Hairandbeautycharity.org | Registered Charity in England & Wales No: 1166298
---
MODA

INT'L

Hair: Adrian Gutierrez/Photo: Damien Carney

Make-up: Joanne Gair/Styling: Nikko Kefalas

true

COLOUR

In a world where grey is increasingly prevalent, what could ever be better than to add a bit of fun and a splash of colour? Let's be

dazzled by joy and envelop ourselves in innumerable gradations of every hue, stimulating our imaginations while we go on our

journey through life. Embrace your inner-rainbow and let colour consume you inside and out!

In un mondo in prevalenza grigio, cosa c'è di meglio che aggiungere un po' di divertimento e qualche pennellata di colore? Lasciamoci

abbagliare dalla gioia e avvolgiamoci in infinite sfumature di colore che stimolino la nostra immaginazione, mentre proseguiamo il

nostro viaggio attraverso la vita. Abbracciate il vostro arcobaleno interiore e lasciate che il colore vi pervada, dentro e fuori!

Was könnte in einer Welt, in der Grau immer häufiger vorkommt, besser sein, als ein wenig Spaß und einen Farbtupfer hinzuzufügen?

Lassen Sie sich von Freude blenden und in diverse Farbnuancen einhüllen, die unsere Fantasie anregen. Umarmen Sie Ihren inneren

Regenbogen und lassen Sie die Farbe auf sich wirken!

Dans un monde où tout est gris, la meilleure manière de stimuler la bonne humeur est de lui apporter quelques touches de couleurs !

Laissons-nous nous illuminer par la joie et nous remplir de cette palette infinie de couleurs qui stimulent notre imaginaire et nous accompagnent dans

notre parcours de vie. Libérons notre arc-en-ciel personnel et laissons la couleur stimuler notre for intérieur ainsi que notre environnement extérieur.

En un mundo donde el gris es cada vez más frecuente, ¿qué mejor que agregar un poco de diversión y un toque de color? Déjanos

deslumbrarte por la alegría y envolverte en innumerables gradaciones de todos los matices, estimulando tu imaginación mientras

avanzamos en nuestro viaje por la vida. ¡Abraza tu arco iris interior y deja que el color te impregne por dentro y por fuera!
---
TRIBAL

PALETTE

If you want to explore Tribal then play with colour combos, but be

extreme! Remember that anything goes with anything, so discard the

shackles of convention and break free from preconceived ideas.

Se volete esplorare il tribale potete giocare con le combinazioni di

colore, purché siano estreme! Ricordate: tutto si abbina a tutto, perciò

liberiamoci dalle catene delle convinzioni e dei preconcetti.

Wenn Sie den Tribal-Trend erkunden möchten, dann spielen Sie mit

Farbkombinationen, und zwar extrem! Denken Sie daran: alles passt zu

allem. Befreien Sie sich von Konventionen und vorgefassten Ideen.

Envie d'une tendance tribale ? Jouez avec les combinaisons de

couleurs les plus extrêmes. Sachez que tout peut fonctionner et que

tout est permis. Alors, libérez-vous des conventions et des aprioris.

Si quieres explorar lo tribal, juega con combinaciones de colores, ¡pero

sé extremo! Recuerda que todo vale, así que desecha los grilletes de

las convenciones y liberarte de las ideas preconcebidas.

Hair: Anne Veck

Photo: Magic Owen/Make-up: Morgan Defre

Pronounce

Catwalks Photos: IMAXtree.com/Andrea Adriani

Dolce & Gabbana

Dolce & Gabbana

Mattiussi
---
Hair: Anne Veck

Photo: Magic Owen

Make-up: Morgan Defre
---
Hair: Andrew Smith

Photo: Richard Miles

Make-up: Louise Lerego

Styling: Magdalena Jacobs
---
Hair, Photo & Make-up: Harri Åkerberg
---
Hair: Alexander Dinter @ La Biosthétique/Photo: Anna Bauer/Make-up: Steffen Zoll

Hair: G. Nevado, E. Lozano

@ Eternian Kreactivos

Photo: David Arnal

Make-up: Ana Yuste Kripa

Hair: Gogen Team as Alter Ego Italy International Creative Director

Photo: Marco Di Filippo @ TM Studio Productions
---
Bobbin' along

LIKE THIS?

Hair: Carla Bergamaschi

& the Artistic Team Inebrya

Photo: Filippo Fortis
---
Creative Director: Toni Pellegrino

Artistic Director: Salvo Binetti

Hair: G. Maltese, S. Peluso

Photo: Domen & Van de Velde

Products: Redken, Kérastase,

L'Oréal Professionnel
---
Hair: Compagnia della Bellezza
---
Hair: HC Artistic Team

Photo: Davide Cirillo,

Alessandro Gennusa

Make-up: Marta Basiglio

Products: Wella Professionals
---
Softest shades of... gelato!

You can almost taste the

pistachio and lavender...

Creative Director: Simon Ellis

Cut: Tyler Johnston

@ Schwarzkopf Professional

Colour: Viola Landsky

Photo: Simon Emmet

Make-up: H. Branscheidt, L. Breitfeld
---
SMOLDERING

EMBERS

Annakiki

Laura Biagiotti

Catwalks Photos: IMAXtree.com/Andrea Adriani

Versace

Valentino

The fire is never out while one small flame is still flickering - it takes just one

spark to reignite the inferno! Forget the consequences; who has the audacity

to take ownership of the hottest end of the spectrum?

Il fuoco non è spento finché c'è ancora una piccola fiammella: basta una

scintilla per riaccendere l'inferno! Dimenticate le conseguenze: siete abbastanza

audaci da appropriarvi della parte più calda dello spettro cromatico?

Das Feuer ist nie erloschen, solange noch eine kleine Flamme flackert - es

braucht nur einen Funken, um es neu zu entfachen! Wer besitzt die Kühnheit,

das heißeste Ende des Spektrums zu erobern?

Le feu qui est en vous ne peut s'éteindre tant qu'une petite flamme est

encore là pour le réanimer ! Une seule étincelle et tout peut repartir. Prêt pour

le grand saut ? Concentrez-vous essentiellement sur la partie la plus chaude

du spectre chromatique.

El fuego nunca se apaga mientras exista una llama. Solo se necesita una

chispa para reavivar el infierno. ¡Olvídate de las consecuencias! ¿Te atreves

a apropiarte del extremo más caliente del espectro?

Sportmax

Direction: Roberto Bombardieri/Hair: Emsibeth Artistic Team

Photo: Tiziano Zatachetto @ Zatac/Make-up: Max Moretto
---
Hair: Jorge de Sancho

Photo: David Arnal

Make-up: Anna Gonzalez

Styling: Carmen Marco
---
Hair: Kobi Bokshish

Colour: Stevie English

Photo: David Mannah

Make-up: Pablo Morgade

Styling: Josie McManus
---
Hair & Photo: Chung-Yang Su

Colour: Sanja Scher

Make-up: Ann Stevens

Styling: Jessica Jade
---
Hair: Ken Hung @ Salon Era/Photo: Babak/Make-up: Maria Li/Styling: Sirena Shonuck

Hair: Chad Demchuk/Photo: John Rawson/Make-up: Lan Nguyen/Styling: Jamie Russell

Hair: Klaus Peter Ochs/Photo: Studio Zajaczek/Products: Wella Professionals, Hairdreams

Hair: Isaac Martín/Colour: Sita Zoroa/Photo: Esteban Roca/Styling: Joss Blaké
---
Hair too

hot to

HANDLE

Hair: Mark Leeson

Photo: Richard Miles

Make-up: Lans London

Styling: M&R

Products: Revlon Professional
---
Artistic Direction:

Marco Migliorelli @ Jean Paul Mynè;

International Colour Ambassador:

Sergio Laurenzi

Photo: Gianvito Caputo

Make-up: Paolo Nicolai
---
Hair: Safy Burton

Photo: David Greensmith

Make-up: Rebecca Butterworth

Products: Goldwell
---
Maitrepierre

Hair: P. Di Serafino, S. Minella, F. Di Claudio @ Zero6 Lab

Photo: Justyna Pawlowska

Dolce & Gabbana Liberatore

TROPICAL

SUNRISES

Valentino

Koche

When nature inspires the shades of fashion it leaves nothing to chance.

Those with a love of flowers will tell you that 'anything goes with green',

but in the natural world there's never really a clash of colours, is there?

Quando è la natura a ispirare le sfumature della moda, nulla è lasciato al

caso. Gli amanti dei fiori vi diranno che "il verde sta bene con tutto", ma in

fondo in natura non c'è mai uno scontro di colori, no?

Wenn die Natur die Mode inspiriert, geschieht nichts per Zufall. Diejenigen,

die Blumen lieben, werden Ihnen sagen, dass 'zu Grün alles passt', aber

gibt es in der Realität einen echten Farb-Clash?

Quand la nature inspire la mode, rien n'est laissé au hasard. Les amoureux

du végétal vous l'affirmeront : "le vert fonctionne avec tout". Dans la

nature, les couleurs ne sont jamais en rivalité. Vous êtes bien d'accord ?

Cuando la naturaleza inspira a la moda, nada queda al azar. Los amantes

de las flores te dirán que 'el verde va bien con todo', pero en el mundo

natural nunca hay un choque de colores, ¿verdad?

Versace

Catwalks Photos: IMAXtree.com/Andrea Adriani
---
Hair: Giovanni Iovino for Cotril

Photo: Pasquale Abbattista
---
Accentuate

THE POSITIVE

Hair: Patrizio Di Serafino,

Simone Minella, Fiorindo

Di Claudio @ Zero6 Lab

Photo: Justyna Pawlowska

Styling: Carolina Turra

Products: Wella Professionals
---
Hair & Art Direction: Tom Connell/Colour: Ashleigh Hodges/Photo: Jon Gorrigan

Make-up: Jose Bass/Styling: Steph Stevens/Products: Davines

Hair: Dominik Podwika/Photo: Sonia Kumidaj

Make-up: Wiola Szkudlarek/Styling: Aleksandra Fu/Products: Rica

Hair: HC Artistic Team/Photo: Davide Cirillo, Alessandro Gennusa

Make-up: Marta Basiglio/Products: Wella Professionals
---
Hair: Martin Crean @ Mode

Photo: Richard Miles

Make-up: Roseanna Velin

Styling: Magdelena Jacobs
---
Hair: Marc Antoni Artistic Team

Photo: Jamie Blanshard Photography

Products: Joico
---
Hair: Compagnia della Bellezza
---
Pink waves dappled in

reflected light: it's a long

story... and every girl's

pastel dreamscape.

Hair: Viktoriia Vradii

Photo: Tony Le-Britton

Make-up: Evgeniya

Spiktorenko

Styling: Irina Dzhus
---
NEON

RAINBOW

Multiply, intensify, beautify... colour without boundaries, combinations

without end. When you enter the rainbow-zone your options are limitless,

but the only way forward is to go into the depths and emerge renewed.

Moltiplica, intensifica, arricchisce... colore senza confini, combinazioni

illimitate. Quando si entra nell'arcobaleno le opzioni sono infinite, ma l'unico

modo per andare avanti è scendere in profondità e riemergere rinnovati.

Multiplizieren, intensivieren, verschönern ... Unendliche Farben und

Kombinationen. Der Regenbogen ist grenzenlos. Der einzige Weg nach vorn:

in die Tiefe gehen und Neues entstehen lassen!

Amplifier. Intensifier. Enrichir. Des couleurs sans limites et des

combinaisons démesurées. Lorsque l'on entre dans l'arc-en-ciel, les

possibilités deviennent infinies. L'unique manière d'avancer est de plonger

dans les profondeurs pour en ressortir renouveler !

Multiplica, intensifica, embellece... ¡color sin límites! Cuando entras en la

zona del arco iris las opciones son ilimitadas. El único camino a seguir es

adentrarse en las profundidades y emerger renovado.

Mark Fast

Versace

Versace

Mark Fast

Art Direction: Laurent Voisinet & Pascal Latil

Hair: Laurent, Carole & Manon Voisinet/Photo: Pascal Latil

Mark Fast

Catwalks Photos: IMAXtree.com/Andrea Adriani

Versace
---
Art Direction:

Laurent Voisinet & Pascal Latil

Hair: Laurent, Carole

& Manon Voisinet

Photo: Pascal Latil

Make-up: Ambre

Products: Wella Professionals
---
Art Direction: Andrew Smith

Colour: I. D'alessandro, A. Sbreglia

Photo: Kamil Strudziński

Make-up: Mary Cesardi
---
Tufted, tousled, undone:

when was 'natural'

anything but perfection?

Love the true you.

Hair: Team Contrasto @ Fanola

Colour: Alessandro Fiorin

& Gionathan Contino

Photo: Marco Di Filippo
---
Hair: Dee Parker Attwood

@ Wieselmann

Colour: Dee Parker Attwood

& Katie Ryman

Photo: Andrew O'Toole

Make-up: Kylie O'Toole
---
Hair: Shogo Ideguchi

Photo: John Rawson

Make-up: Lan Grealis

Styling: Jamie Russell
---
Girly Pink?

THINK AGAIN!

Hair & Styling: Davinia Cuñat Ripoll

Photo: Esteban Roca

Make-up: Cristina Garcia

Products: Revlon Professional
---
Hair: Mark Leeson/Photo: Richard Miles

Make-up: Lans London/Styling: M&R/Products: Revlon Professional

Hair & Colour: Viktoriia Vradii/Photo: John Rawson

Make-up: Annie Lysenko/Styling: Irina Dzhus

Hair & Styling: Davinia Cuñat Ripoll/Photo: Esteban Roca

Make-up: Cristina Garcia/Products: Revlon Professional

Hair: Kobi Bokshish @ Intershape Hairstylists

Colour: Stevie English @ Stevie English Hair/Photo: David Mannah
---
Hair: Olga García

Photo: David Arnal

Make-up: Jose Luis Blasco

Styling: Visori FashionArt
---
Sorbet, chocolate,

champagne: more

inspiration to

pique our appetites

in every sense!

Hair & Art Direction:

Joey Scandizzo

@ Eleven Australia

Photo: Andrew O'Toole

Make-up: Kylie O'Toole

Styling: Kate Gaskin
---
Rick Owens

GENUINELY

AVANT GARDE

Razzle dazzle yourself - it'll be worth it! Have faith in the alternatives and take

that bold step beyond the conventional and into the surreal. OK, beauty is in the

eye of the beholder, but honestly, do we really care who's looking anymore?

Lasciatevi abbagliare, ne varrà la pena! Credete nelle alternative e fate quel passo

coraggioso oltre il convenzionale e verso il surreale. Ok, la bellezza è nell'occhio

di chi guarda, ma onestamente, a chi importa più chi sta guardando?

Blenden Sie sich selbst - es lohnt sich! Wagen Sie den kühnen Schritt ins

Surreale. OK, Schönheit liegt im Auge des Betrachters - aber mal ehrlich,

kümmert es uns wirklich, wer noch hinschaut?

Laissez-vous éblouir, cela en vaut vraiment la peine ! Acceptez de faire un pas dans

un univers alternatif, au-delà des conventions, où le surréel est une nouvelle réalité !

La beauté est dans le regard de celui qui l'observe. A lui de faire son choix ?

¡Déjate deslumbrar! Ten fe en las alternativas y da un paso más allá de lo

convencional. ¡Ve hacia lo surrealista! La belleza está en el ojo de quien mira,

pero ¿nos importa quién está mirando?

Hair: Shy+Flo/Photo: Karine & Oliver

Make-up: Sophia Sing, Iris Kümin

Rick Owens

Blumarine

Hair: Ismahan Obenali/Photo: G+K photo

Make-up: Florence Claire

Hair: Manuel Mon & Gonzalo Zarauza

Photo: Pavel Zverev & Alina Paranina

Catwalks Photos: IMAXtree.com/Andrea Adriani
---
Hair: Senen Armas

Photo: Eduardo Melo

Make-up: Marisol Bullon

Styling: 442 Fashion hunters
---
Hair: Alexis Ferrer @ Anna Ferrer

Photo: Rafa Andreu

Make-up: Mary Torres
---
Hair: Stacey Smoker

Photo: Andrew Werner

Make-up: Heath Bryant-Huppert

Styling: Kyndall Minley-Marshall
---
Hair: Kumenhair/Photo: David Arnal/Make-up: Ana Paola

Art Direction: Teresa Romero/Hair: Jose Luis Buitron/Photo: Nico Nordstrom/Make-up: Tanya Ortega

Hair: Dylan McConnachie @ Salon64/Photo: Caz Dyer

Make-up: Emily James

Art Direction: Teresa Romero/Hair: Jose Luis Buitron/Photo: Nico Nordstrom/Make-up: Tanya Ortega
---
Hair: Justo Seoane

@ Antonio Calvo Estilistas

Photo: Danny Goiri

Make-up: Maria Freire

Styling: Antonio Calvo

Where to go?

THE WAY IS UP!
---
Hair: Virginia Martinez

@ Yoko-Pels

Photo: David Arnal

Make-up: Sylvia Mengual

Products: Schwarzkopf

Professional
---
Hair: Cos Sakkas

@ Toni&Guy London

Photo: Jack Eames
---
Hair & Photo: Jose Urrutia

Make-up: Peluquería Jose Urrutia

Styling: Veronica Calpa Perugachi

Products: Revlon Professional
---
Don't be modest,

revamp your

greatest asset with

colour - then live

your hair dream.

Hair: Sandy (Chang Hsin-Wen)

@ Visavis

Photo: Dean

Make-up: Tseng Ya-Fan

Products: Shiseido

Professional Taiwan
---
DISCOVER

ESTETICAEXPORT.COM

A new digital way to enhance

international business is

now available!

An editorial and digital

service supporting hair & beauty

product manufacturers in enterprises

into new international markets.

JOIN US TODAY!

www.esteticaexport.com
---
CADILLA

The embodiment of classic design and lasting performance

that never goes out of style

www.takarahairdressing.co.uk
---
Estetica because...

It's international

The leading trade publication is Italian:

1hairdressers worldwide read Estetica

2

It's

inspirational

Clients in every salon read Estetica:

an exclusive magazine found only

in professional salons

3It's hair fashion

Previews of all the best

international collections: with more

than 150 images in every issue

4

It's

educational

All the new cutting and styling

techniques and product launches:

so you always have the latest news

5It's shows and events

Updates on all the leading sector

happenings: as if you had been

there yourself

6

lt's reputable

Seventy-five years of history

and expertise: always at the

hairdresser's side
---
9 – 13 SEPTEMBER 2021

BOLOGNA, ITALY

FAIR DISTRICT

SUPPLY CHAIN, RETAIL

9 – 10 SEPTEMBER 2021

GREEN & ORGANIC

9 – 12 SEPTEMBER 2021

PROFESSIONAL HAIR,

BEAUTY SALON & SPA, NAIL

11 – 13 SEPTEMBER 2021

Cosmoprof Worldwide Bologna

presents OnBeauty, the first

in-person event, crucial

to return to face to face business,

promote networking and create

new opportunities.

THE COSMETIC INDUSTRY

RESTARTS FROM BOLOGNA

Onbeautybycosmoprof.com

ORGANIZED BY

BolognaFiere Cosmoprof S.p.a.

Milan, Italy

P +39 02 796 420

F +39 02 795 036

info@cosmoprof.it

COMPANY OF IN PARTNERSHIP WITH WITH THE SUPPORT OF CONJUNCTION WITH

®
---
Double

Act

"

In an exclusive interview for Estetica Magazine, Zoe and Amy discuss our industry's emergence from challenging

times and share optimism with their positive approach to moving forward.

How would you introduce your brand to those who do not know it yet?

Salon Success are here to make it easy for hairdressers and barbers to be successful in

both business and artistry through marketing and education, as well as providing the

products to make their salon guests look and feel awesome and helping the planet

along the way too. Salon Success started around a kitchen table in 1979 with the aim

of helping hairdressing to become a better-paid and more respected career choice by

raising the standards within the industry. We choose to work with a broad range of

brands including John Paul Mitchell Systems, Olaplex, Matrix, #mydentity and Scrummi.

How did you face up to the restrictions brought about by the pandemic?

We formed a tight team whose main focus was to support and inform our customers

throughout the pandemic. Through sharing information via our website, emails and

social media we ensured that our customers felt connected to us as a business, even

though theirs was closed. John Paul Mitchell Systems reacted quickly with a global Covid

relief support fund for salons, that we were able to use in each country to support our

customers getting back on their feet after lockdown. Our promotional objective since reopening has been to help our salon

customers to save on professional costs, grow their retail and increase their service sales.

We're assured by the powers-that-be that our emergence from lockdown this time is 'irreversible'. Assuming that's

true, what does it mean for your immediate and longer-term plans as a business?

Just like our salon customers, we have had to quickly adapt to new ways of working. We have accelerated our digital

offering across our marketing, sales and education activities and tested new ground in terms of delivering information to

the industry. Some things have worked really well and we will continue to drive our digital offerings further, but there is

no long term replacement for face to face connections which has been backed up by some research we have conducted with our

84 interview

"

SENSATIONAL SISTER DOUBLE-ACT,

ZOË VEARS AND AMY FREDRIKSSON,

ARE DIRECTOR OF PUBLICITY AND PR &

DIGITAL MANAGER AT SALON SUCCESS

– A BUSINESS AT THE FOREFRONT

OF PROFESSIONAL HAIR AND BEAUTY

PRODUCT DISTRIBUTION IN THE UK.
---
For further information about Salon

Success hello@salon-success.co.uk

and www.salon-success.co.uk

Hair: Noogie Thai, Paula Peralta and

Mary Cromeans for Paul Mitchell

Make-up: Fiona Stilles

Wardrobe Stylist: Martina Neson

Creative Direction: Lucie Doughty

Art direction: Iris Arnaud

Photographer: Kate Powers

customer base. Like many companies, the pandemic has given us the opportunity to pause and revaluate, it has also forced the

hand with some projects that were not planned so early on. I think we have learned a lot and there are definitely positives to come

out of this whole experience, but what is really vital moving forwards is that our team and customers are safe and we support our

customers and industry first and foremost to strengthen and futureproof their businesses.

How do you choose the brands to distribute?

We are fortunate to have worked with the John Paul Mitchell Systems brands since the 80s, this business and the brands and

salon support they offer has gone from strength to strength and has an exciting future. For the other brilliant brands we

offer, it has been a combination of brands approaching us, and us seeking brands which have great stories for salons and

consumers to connect with. We have seen a huge increase in interest in our 'conscious brands' that are environmentally

friendly and have ethical practices. This is something that is inherently important to Salon Success, we are fortunate to do

business with manufacturers and suppliers who are like minded and great to work with.

How do you communicate with your market?

We saw a huge increase in engagement through our website, social channels and emails during lockdown, and now that salons

are re-opened we are happy to say this level of engagement has continued. Predominantly our communication is through these

digital channels, but we have also created new ways of working for our sales team who are not back out on the road yet, this

has been a really powerful shift and has worked incredibly well. From a business and creative education perspective, we have

experienced the power and success of digital events. Our 365 team were busier than ever during lockdown, working with our

members to communicate the correct legislation and guidance and create solid business plans to ensure their businesses could

sustain the pandemic and grow healthy, strong and profitable businesses moving forwards. We see digital education having great

importance in the future, but this will complement and be in addition to face to face education as soon as it is safe to do so.

Do you use online marketplaces to promote product sales or do you work directly with salons?

We work directly with salons. Relationships are at the heart of everything we do, we have a super friendly and

knowledgeable team at Salon Success whose primary objective is to help our salon customers to grow their businesses.

Our international business readers are very interested in getting a viewpoint from UK businesses in our industry

about Brexit. Have you experienced any impact from it and if so, how easy is it proving for you to work around it?

Being part of a pan-European organisation and working with European distributors has meant Brexit has had a huge impact

on our business. We have had to get to grips with new paperwork and labelling and adapt how we distribute and deliver

products throughout Europe. Of course it has also meant additional operational costs to the business, and working with

American brands we also have the exchange rate to factor in which has been pretty challenging at times!
---
75 Years of

Excellence

Together with Estetica Magazine, this year marks a special

anniversary for the Fellowship for British Hairdressing, as

both look back on 7½ decades of supporting our industry.

In the 1940s, the world was emerging from a world war and rebuilding for the future. Salon appointments

had been scarce but women did their best to emulate Veronica Lake or Betty Grable with

beer rinses and sugar and water solutions to set the hair. After the rations and restrictions came a

new-found freedom and a desire to spend money on hair and beauty treatments. The Fellowship for

Hair Artists of Great Britain was founded in 1946 by a group of passion hairdressers, a brand-new

organisation to promote the professional hairdressing industry and invite hairdressers to belong to an

organisation to share experiences, knowledge and desire to be the best in the world. Now, 75 years

later, its membership is a who's who of great British hairdressers and encourages new talent while

promoting excellence, professionalism and creativity.

Throughout the past 75 years there have been memorable moments – the launch of the Luncheon and

Awards in 1984, the Fellowship Hairdresser of the Year in 2000 and a myriad of top talent taking on

the role of President, with B Furman taking up the mantle in 1946. Creativity has been at its heart

since the inception of the Fellowship for Hair Artists of Great Britain– which has morphed into

various guises to become the Fellowship for British Hairdressing today. It launched its inspirational

86 anniversary
---
Christofer Mann and Joshua Galvin

Kevin Arkell and Ann Herman 1991

FAME Team 1998

Image of the Year 2020: Errol Douglas MBE

F.A.M.E. Team – Fellowship Academy for Merit & Excellence - in 1993 with many former members

becoming household names. Lisa Shepherd, Adam Reed and Kim Kardashian's stylist Chris Appleton all

started their creative careers with the F.A.M.E.Team. And around the same time as the Fellowship was

raising standards and professionalism of hairdressing, so was Estetica – which was also founded

75 years ago.

"The Fellowship has seen many changes and been there through many hairdresser's journey and

alongside Estetica, we have grown together and been a voice for the industry," says President Ken

Picton. "Now, in these unprecedented times, we all face challenges we never expected but by working

together and supporting one another, we can help mould it into the industry we want it to be."

FAME Team 2021

The Fellowship For British

Hairdressing President,

Ken Picton.
---
We Create:

Virtual Excellence

The Wella Company's We Create virtual event was a

celebration of excellence conveyed through a programme

of shows, seminars and intimate conversations. Gary Kelly

Hosted and compered by long hair icon and Wella Professionals Global Ambassador, Patrick Cameron, the

virtual expression of excellence, We Create, set a new benchmark in demonstrating how to bring together

hair creatives and professionals from all around the world. While nothing will ever substitute the joy and

excitement of coming together is person, this ground-breaking 4-hour virtual spectacular by the Wella

Company has proven that the same sense of participation and enjoyment that we all feel when sitting in an

auditorium can still be matched through a virtual reality. Demonstrating Wella's commitment to

supporting the professional community at the time when it needs it most, #WeCreateLive amassed over

70,000 registrations by professionals from across the globe registered to the event. The event featured 26 of

Wella's top stylists, who all shared their unique education and inspiration. Headliners united from across

the globe, including hot markets such as Tokyo, New York and London - all coming together on the virtual

stage to share their mastery and creativity.What's more, this entire creative, educational and inspirational

spectacular was broadcast entirely free of charge, not only to those already part of the Wella Family, but to

anyone who wished to participate – anywhere in the world!

88 events
---
Wella offers an incredible line up of color and cutting courses delivered by the international stars

of WeCreate. Robert Eaton and Jayson Gray teach Color Masterclass, a 1 day course that will push

your creative boundaries, built around editorial creative color. Akin Konizi and Darren Ambrose

deliver Advanced Cutting, for higher level stylists looking for advanced level techniques and new

approaches to latest trends. Plus, there's the 'Color Craft' collection; courses which hone all of your

fundamental color skills to become a confident and in-demand colorist. For all the information

head to www.wella.com/educationbook

The event also showcased

the finalists and broadcast

the winners of the

International Trend Vision

Award, which this year saw

5,000 entries received from

across 28 countries. The

Gold Award Winners were

announced by Lara Zunica,

Vice President Head of

Education Global, Wella

Company and Laura

Simpson, Chief Marketing

Officer.

COLOR ARTIST

Gold COLOR Winner: ARTIST

Kati Gold Suokas, Winner: Finland

Kati Suokas, Finland

COLOR SPECIALIST

Gold Winner:

Svetlana

COLOR

Teryaeva,

ARTIST

Russia

Gold Winner:

CRAFT Kati Suokas, ARTIST Finland

Gold Winner:

Cicera COLOR Rolim, ARTIST Portugal

Gold Winner:

EDITORIAL Kati Suokas, LOOKFinland

Gold Winner:

Rita Tuska, UK

GHD STYLE MASTER

Gold Winner:

Aoife Pomphrett, UK

OPI NAIL ARTIST

OF THE YEAR

Gold Winner:

Ashton Harlan, USA

MEN'S HAIR

Gold Winner:

Viktoria Elistratova, Russia
---
Hair: HOB Academy

Hair: Robert Eaton

Hair: D&J Ambrose

Advertorial

Inspired?

Read On!

The amazing success

of We Create has

helped opened many

minds to the what a

great educational resource

online learning can be

for creative stylists

and colourists.

hile online resources

will continue to be a

pivotal part of Wella's

educational and creative

programme, nothing can

really substitute the real

thing! So if you were

inspired by what We Create has

shown you, the great news is that

it's now very easy to continue

your journey with face-to-face

educational courses, skilfully led by

a highly accomplished Wella Artist

at one of the Wella Studios. Here are

details of just some of the courses

due to be held later this Summer:

➜ ADVANCED CUTTING

Skilfully led by a Wella Artist

including HOB Academy's Akin

Konizi and Darren Ambrose from

D&J Ambrose, Advanced Cutting

begins with a razor-sharp

consultation, hones your cutting

technique and introduces you to

the finishing touches that will leave

your clients bang on-trend. After

this one-day course, you'll return to

your salon brimming with ideas to

inspire your clients and fellow team

members. Be inspired by the latest

hair cut trends and enjoy up-close

tuition with a leading Wella Artist,

while discovering how to deliver

the perfect cutting consultation. If

you're confident in classic

haircutting but know you could take

your skills to the next level,
---
Jayson Gray Robert Eaton Darren Ambrose Akin Konizi

Advanced Cutting will give you the

inspiration and practical skills you

crave. Course cost: £310 / €360

Next Available Dates:

Edinburgh 26th Jul; London 7th

Sept; Manchester 20th Sept;

Dublin 26th Oct.

➜ COLOUR

MASTERCLASS

Wella Artists Robert Eaton

(Russell Eaton) and Jayson Gray

(Karbon Kyd), both of whom

participated in We Create, are just

two of the renowned colourists

who head up the Colour

Masterclass - an invitation you to

open your mind and embrace your

creativity! Explore the world of

editorial hair colour, and learn the

fashion-led, inspirational

techniques seen in magazines and

competition work. Enjoy

demonstrations, tutorials and

background knowledge on

creating collections to enable you

to push the boundaries as you

take your creativity to an extra

dimension. If your colouring

prowess could benefit from added

inspiration, then this is your

opportunity to have your creative

sparks ignited by some of the

most esteemed individuals in the

hairdressing world.

Course cost: £300 / €315

Next Available Dates:

London 9th Aug; Edinburgh 6th

Sept; Manchester 27th Sept;

Dublin 2nd Sept.

➜ COLOUR CRAFT

COURSES

These exceptionally insightful

courses provide you with the

perfect foundation upon which

to build your career. The Wella

Studios offer a range of 'colour

craft' courses each designed to

hone your skill in a key area of

hair colour, covering every

element you will need in order to

run a successful colour column:

• COLOUR CRAFT ESSENTIAL

2 days Course cost £220 / €260

To become a great colourist, you need to

start with the colour fundamentals; the

"ABCs" of hair colouring. This course

starts you off on the right foot with a full

understanding of the colour principles, as

well as Wella's colour portfolio and how it

can be used to achieve sensational results.

Next Available Dates: London 9th & 10th

Aug; Manchester 9th & 10th Aug; Dublin

10th & 11th Aug.

• COLOUR CRAFT HIGHLIGHTS

1 day Course cost £174 / €210

Whether you're looking to create

highlights, babylights or contouring,

the art of foiling is an essential skill and

a timeless technique. This hands-on

workshop session ensures you have the

very best practical skills and how to

develop new highlighting techniques

for the modern client.

Next Available Dates: London 3rd Aug;

Manchester 4th Aug; Dublin 29th Sept.

• COLOUR CRAFT CORRECTION

2 days Course cost £240 / €310

When you master the skill of colour

correction and can solve any colour

challenge, you are guaranteed a longlasting

client relationship. This course

combines theoretical knowledge with

hands-on workshops to change the way

you look at colour correction forever

Next Available Dates: Manchester 26th

& 27th Jul; London 10th & 11th Aug;

Dublin 24th & 25th Aug.

• COLOUR CRAFT BALAYAGE

1 day Course cost £174 / €210

Balayage is now an essential service to

every colour menu. This course is the

perfect starting point to learn this everpopular

technique, and will give you

hints and tips that help you achieve

a beautifully blended result every time.

Next Available Dates: London 16th Aug;

Manchester 16th Aug; Edinburgh 28th

Sept; Dublin 19th Oct.

➜ THE COLOUR

CRAFT SPECIALIST

PROGRAMME

This combines four of Wella's most

popular and essential colour

courses together, offering a 20%

saving on the cost of booking

them separately. After completing

the Colour Craft Specialist

Programme, you will have learnt

everything you need to know to

run and grow a successful colour

column, including the Wella

colour product portfolio,

techniques, formulas, placement,

and even the latest colour trends

and palettes. You will also have

completed the four pre-requisite

courses that Wella ask you to

undertake before enrolling on the

prestigious Master Colour

Programme – so this is a fantastic

step for your career path to

becoming an elite level colourist!

The Colour Craft Specialist

Programme includes Colour

Craft Essential, Colour Craft

Highlights, Colour Craft

Correction and Colour Genius.

The package costs £695 / €875.

To book, please contact:

- Wella World Studio London

+44 (0)203 650 4700;

- Wella Studio Manchester

+44 (0)161 834 2645;

- Wella Pop-Up Studio Edinburgh

+44 (0)161 834 2645;

- Wella Studio Dublin

+353 (0)1 416 0900

Visit education.wella.com and follow

the UK or IE link for more information

All face-to-face

educational courses

are carried out at

the Wella Studios

with all appropriate

safety and social

distancing

measures in place.

education

91
---
Oribe Hair Care announces

two new additions to its

top-selling Bright Blonde

Collection: Essential Priming

Serum & Sun Lightening Mist.

The Bright Blonde

Collection by Oribe caters

to the unique needs of

blonde hair, with products

specially designed to

maintain colour vibrancy

and reveal hair's most

radiant, healthy-looking blonde.

To complement the existing

collection, the new Essential

Priming Serum hydrates strands

and enhances existing blonde tones

with a dose of colour-correcting

protection, while the Sun Lightening

Mist gradually and naturally

lightens and illuminates blonde

hues. Both products can be used

on professionally coloured and

naturally blonde hair of all types

and textures, and their portable

Blonde

Made Better

packaging make it easy to achieve

blonde anytime, anywhere.

"Consumers are increasingly

seeking ways to preserve and

perfect their colour at home,"

explains Michele Burgess,

Executive Director of Product

Development, Oribe Hair Care.

"Hair health drives Oribe's

innovation, so it was critical for us

to create specific products that not

only revitalize blonde shades, but

also deliver those benefits through

formulas that improve the overall

integrity of the hair."

Both products can be

used on professionally

coloured and naturally

blonde hair of all types

and textures.

BRIGHT BLONDE

➤ ESSENTIAL PRIMING SERUM

Inspired by a skincare-minded

approach, the Bright Blonde

Essential Priming Serum

replenishes essential moisture and

eliminates brassiness using violet

and pearlized pigments to reveal

visibly brighter blonde hues. As

the essential first step when caring

for blonde hair, this lightweight

serum allows for seamless layering

of styling products and helps
---
ensure more even distribution of

product throughout the hair. Hair

is left protected, touchably soft

and lit from within and it can be

used daily to brighten and tone

blonde hair.

• Eliminates brassiness and

enhances vibrancy for healthier

looking hair.

• Provides 450°F heat protection

and helps prevent breakage.

• Replenishes lost moisture to hydrate

and restore softness to dry hair.

• Improves elasticity and strengthens

damaged, brittle strands.

BRIGHT BLONDE

➤ SUN LIGHTENING MIST

The Bright Blonde Sun Lightening

Mist is the innovative way to

create controlled highlights by

gradually lightening their hair by

using the heat from the sun or a

hairdryer. The hydrogen peroxidefree

formula blends the power of

natural plant, flower and fruit

extracts to gradually lighten hair

while imparting weightless

moisture, shine, and essential UV

protection for optimal hair health.

• Gradually brightens, illuminates

and enhances natural or

professionally coloured highlights

(based on clinical test conducted on

human hair against a control group.

• Provides lightweight moisture

and nourishment.

• Adds shine and a reflective

luminosity to strands.

• Protects from damage and dryness

caused by harmful UV rays.

• Features a hydrogen peroxidefree

formula to prevent dryness.

All Oribe products are formulated

with safe, high quality, innovative

ingredients. They are dermatologically

tested and formulated without

sulphates (SLS & SLES), as well

as being vegan, gluten-free and

approved by PETA.

Bright Blonde Essential Priming Serum

and Bright Blonde Sun Lightening Mist

are launching April 5, 2021 and will be

available now on Oribe.com and at

Oribe salons and retailers nationwide.

For more information about Oribe Hair

Care please visit Oribe.com or call

Customer Services on 03301 239530.

The Bright Blonde

Collection by

Oribe is specially

designed to

maintain colour

vibrancy and

reveal hair at its

most radiant.

products

93
---
Advertorial

Mist

Evolution

Be a 'Colourpreneur' and transform the

power of your colour business.

94 equipment

Every salon knows the

power of colour - not

just as a creative aspect

of hairdressing and an

art form within itself, but

also as a business

generator. Colour is

technical, and it's a reflection of

skill, dedication and education that

differentiates the average salon

from those who are celebrated for

their colour prowess. From

hairdressing icons that elevated

colour to prominence, and who

may well have coined the phrase

'colourist', like Royal colour

supremo Daniel Galvin to Jo

Hansford and Lisa Shepherd, to

their contemporaries such as

Sophia Hilton and Skyler London,

colour has evolved. It is a key

hairdressing service and essential

to business success.

THE PROCESS OF

COLOUR EVOLUTION

Colour product is essential to

results and it has evolved over the

decades with both exceptional

range and quality available to

colourists of every artistic

persuasion. From everyday to

extraordinary and off the shelf to

off the wall, colour is a creative

playground in which colourists and

clients play with equal passion.

As part of the constant evolution of

colour and in the search for

continual improvement in the

technical delivery of colour

services, and of course the result,

technology plays a vital role too.

Processors have long been a key

tool, used by colourists to

accelerate colour take and lock-in

pigments for more vibrant, durable

results. By using temperature to

open the cuticle layer, colour

product penetrates deeper into the

hair shaft and, as cooling occurs,

the pigment is sealed in. This

ensures longer-lasting colour and a

more vibrant result. The theory is

sound. Yet in practice many

processors used, and still use,

heated water to create the 'steam'

that opens the cuticle layers. The

downside of this is that to create

steam from water it needs to be

extremely hot. First, the cuticle

layer opens at around 30˚- 40˚so it

doesn't need extreme heat to

achieve that. Overheating hair can

damage it too so, despite the

intention, hair can be weakened

and its condition adversely affected.

Second, the presence of 'water

steam' entering the cuticle

effectively dilutes the colour

product, so the effect is

compromised too.
---
MIST - THE GREATEST

EVOLUTION IN 'STEAM-

BASED' PROCESSING

As a world-leading equipment

innovator, Takara Belmont has

presented colourists with a

selection of ground breaking

technological solutions to this

problem. Rollerball-F brought

infrared technology to colour

processing, which has literally

revolutionised global colour. It's

distinctive rotating ring halves

processing time and achieves

exceptional colour results. But it's

in the area of 'steam processing'

that lies the greatest evolution of

this processing equipment genre.

To address the problem of heat and

dilution, Takara Belmont applied

ultrasonic wave technology to

create a micro-mist from water at

significantly lower temperatures.

This ultra-fine 'dry' mist is not only

generated at the optimum

temperature of 30˚- 40˚, it

ingeniously eliminates water

moisture allowing the cuticle layer

to open to receive colour and

treatment product without any

dilution. Next, to quickly cool hair

and seal product in, a special

cool-shot feature quickly reduces

the cuticle temperature to close it.

The result. More vibrant colour

that lasts longer and more intensive

conditioning treatments that

combined, leave hair visibly

healthier, glossier and more vibrant

with no heat damage to the

structure of the hair.

SPA MIST II - THE ANSWER TO EVERY COLOUR QUESTION

The equipment design that delivers this innovative processing technology serves as its own

innovation too. How could this technology benefit every salon?How could it be mobilised to treat

more clients without requiring a fixed location? And how could it be unobtrusive and small enough

to stow away when not in use? Importantly, how could it be easily and affordably available to salons

with a minimum training requirement? The answer - Spa Mist II. As ingenious in its physical form

as it is in its performance, Spa Mist II is the perfect companion for colour, and for those looking to

elevate treatments and other chemical service outcomes, such as perms and waves.

This multi-tasking processor has it all. Convenience, speed, agility and scientifically proven results.

Spa Mist II enhances every colour and treatment into a spa-style, atmospheric experience with its

soothing, calming and warming mist. It delivers exceptional results that visibly and tangibly

transform hair health, condition and process outcomes. Spa Mist II is mobile and just one unit can

be affordably introduced and used to service multiple stations. It's versatility allows salons to not

only enhance colour and conditioning treatments, it improves perms and waves and you can expand

your service menu with the addition of spa-style hand treatments. And, by elevating the quality of

results and the service delivery, technical services can be charged at a premium to boost income too.

As hairdressing salons seek to recover following a challenging year, Spa Mist II accelerates

processing time so you can see more clients too. Why not discover how Spa Mist II can help you on

your journey to a business transformation?

(l-r) Headband to ensure treatment comfort;

Hand Treatment Glove Capo for hand treatments to cleanse pores;

Silver Cap for colour treatments; White Cap for treatments and scalp care.

Discover at https://www.takarahairdressing.co.uk/equipment/processors/spa-mist-ii

Call 020 7515 0333 email: hairdressing@takara.co.uk
---
THE WORLD'S

MOST

RENOWNED

AWARDS

IN THE

HAIRDRESSING

INDUSTRY

Association Internationale Presse

Professionnelle Coiffure

5, Rue Boudreau

75009 PARIS (France)

Don't miss the opportunity... visit now

www.aipp.net

www.aippcoiffure.com
---
Estetica n. 2/2021

ad index

EDIZIONI ESAV

Via Cavour, 50

10123 Torino (Italy)

Tel.: +39 011 83921111

Fax: +39 011 8125661

info@estetica.it

ESTETICA UK

85 Tottenham Court Road

London W1T 4TQ

(Great Britain)

estetica.uk@lineone.net

www.esteticamagazine.co.uk

AHS 4

www.alternativehair.org

AIPP 96

www.aipp.net

COMFORTEL EUROPE 30-31

www.guysalermijn.com

FANOLA 8

@fanola.official

GREAT LENGTHS 2-3

www.greatlengthshair.co.uk

HAIR & BEAUTY CHARITY 32

www.hairandbeautycharity.org

JOICO

www.joico.eu

OBC

ON BEAUTY BY COSMOPROF 83

www.onbeautybycosmoprof.com

ORIBE

www.oribe.com

IFC-1/92-93

SALON INTERNATIONAL 22-23

www.salonshow.co.uk

TAKARA BELMONT 81/94-95

www.takara-belmont.eu

WELLA PROFESSIONALS 90-91

www.wella.com/professional/en-uk/home

The "Elemental Chlorine Free"

mark certifies that the cellulose

used for the production of the

paper has been bleached without

the use of chlorine dioxide

The "100% recyclable" mark

certifies that the paper is a

recyclable material, since the

cellulose it contains can undergo

repeated processing cycles

The "Green Paper" mark is

synonymous with quality and

respect for the environment

PRINTED IN ITALY BY

Tipo Stampa s.r.l.

Registration n. 435 of 7.4.49, Turin Law Court. All rights reserved.

Reproduction in whole or in part of texts or photography is prohibited. Manuscripts, photographs and art are selected at the

discretion of the publi sher free of charge (advertising exclu ded). Whether published or not, no material will be returned and

remains the property of the publishing house, which may make use of it as seen fit. This may include the withdrawal of publication

rights to other publishing houses. Estetica requires exclusive publication rights in the hairdressing sector for all photography

submitted which must not therefore be offered for publication to other magazines in the hairdressing trade or industry.

Notice to subscribers (Art. 13 of EU Regulation 679/2016)

Pursuant to Art.13 of EU Regulation 679/2016, our company will proceed with the processing of the personal data you provide in

compliance with current laws in force concerning the protection of the processing of personal data and in keeping with the

obligations and guarantees of the legal, contractual, and regulatory standards. Subscription information may be known only bny

subjects specifically authorised and instructed by our Company and by third parties subjects authorised to carry out the

orginasational and economic activities connected with the subscription (ex. Shipping management, enveloping, sending

correspondence) and will not be communicated to third parties for purposes not allowed by law or without explicit consent; they

will be stored for teh purpose of sending our publications and for the time necessary to complete the purposes of professional

updating for which the same information was collected. Data process controller is the company Edizioni Esav S.r.l. - Via Cavour 50,

10123 Turin. The person whose information was processes may, at any time, exercise the rights established by the EU Regulation

(Art. 15 Right to access; Art.16 Correction; Art. 17 Cancellation) by writing to Edizioni Esav - edizioniesav@pec.it.

TO SUBSCRIBE

e-mail: customercare@estetica.it

online: www.esteticamagazine.co.uk
---
®

BLONDELIFE

Henkel Nederland B.V. – JOICO | Grasbeemd 4 | 5705 DG | Helmond | The Netherlands | HAIR & COLOR Larisa Love & Gina Bianca | PHOTO Hama Sanders | J69787

UP TO

#BlondeLife4All

LEVELS

OF LIFT

Lifting each other

to the next level

joico.eu

*Results may vary depending on the hair type/original hair color