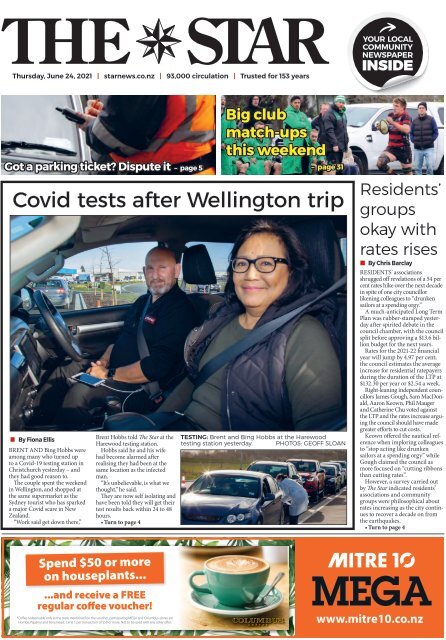 Create successful ePaper yourself
Turn your PDF publications into a flip-book with our unique Google optimized e-Paper software.
Thursday, June 24, 2021 | starnews.co.nz | 93,000 circulation | Trusted for 153 years

Got a parking ticket? Dispute it – page 5

Big club

match-ups

this weekend

– page 31

Covid tests after Wellington trip

• By Fiona Ellis

BRENT AND Bing Hobbs were

among many who turned up

to a Covid-19 testing station in

Christchurch yesterday – and

they had good reason to.

The couple spent the weekend

in Wellington, and shopped at

the same supermarket as the

Sydney tourist who has sparked

a major Covid scare in New

Zealand.

"Work said get down there,"

Brent Hobbs told The Star at the

Harewood testing station.

Hobbs said he and his wife

had become alarmed after

realising they had been at the

same location as the infected

man.

"It's unbelievable, is what we

thought," he said.

They are now self isolating and

have been told they will get their

test results back within 24 to 48

hours.

• Turn to page 4

TESTING: Brent and Bing Hobbs at the Harewood

testing station yesterday. PHOTOS: GEOFF SLOAN

Residents'

groups

okay with

rates rises

• By Chris Barclay

RESIDENTS' associations

shrugged off revelations of a 54 per

cent rates hike over the next decade

in spite of one city councillor

likening colleagues to "drunken

sailors at a spending orgy."

A much-anticipated Long Term

Plan was rubber-stamped yesterday

after spirited debate in the

council chamber, with the council

split before approving a $13.6 billion

budget for the next years.

Rates for the 2021-22 financial

year will jump by 4.97 per cent;

the council estimates the average

increase for residential ratepayers

during the duration of the LTP at

$132.30 per year or $2.54 a week.

Right-leaning independent councillors

James Gough, Sam MacDonald,

Aaron Keown, Phil Mauger

and Catherine Chu voted against

the LTP and the rates increase arguing

the council should have made

greater efforts to cut costs.

Keown offered the nautical reference

when imploring colleagues

to "stop acting like drunken

sailors at a spending orgy" while

Gough claimed the council as

more focused on "cutting ribbons

than cutting rates".

However, a survey carried out

by The Star indicated residents'

associations and community

groups were philosophical about

rates increasing as the city continues

to recover a decade on from

the earthquakes.

• Turn to page 4

Spend $50 or more

on houseplants...

...and receive a FREE

regular coffee voucher!

*Coffee redeemable only at the store mentioned on the voucher, participating MEGA and Columbus stores are

Hornby, Papanui and Ferrymead. Limit 1 per transaction of $50 or more. Not to be used with any other offer.
---
2 The Star Thursday July 30 2020

2 The Star Thursday June 24 2021

inside inside

Tributes flow after death .................................. 5

Photoshoot supports cancer patient .....3

Man fined after docking puppies ............ 7

Home-based foodbank..................................6-7

New hospital child care initiative ....................9

Covid triggers career change.................. 8-9

Bank to stop cash, cheque deposits ....10

Clubs on mental health crusade............ 10

New home for Smiths City ......................... 15

Power hike affects businesses..................12

Return to Trump, pandemic ..............20-21

Daffodils to brighten cemetery...............18

Heritage in photos .............................................25

Our People...........................................................21-22

Check your shopping receipts .............. 27

Letters..............................................................................27

Food .................................................................................28

Gardening....................................................................28

Gardening ................................................................ 29

Gateway to the West Coast........................29

Sport ................................................................................. 31

Sport...........................................................................31-33

Drivesouth .................................................................33

DriveSouth...................................................................35

Puzzles ..........................................................................34

Puzzles............................................................................36

Classified ............................................................35-42

Classified..............................................................38-43

Gig guide ................................................................... 43

Gig guide..................................................................... 43

newsroom

newsroom

Louis Day Reporter

021 919 917

Matt

louis.day@starmedia.kiwi

Slaughter Reporter

Matt 021 910 Slaughter 788 Reporter

matt.slaughter@starmedia.kiwi

021 910 788

Chris

matt.slaughter@starmedia.kiwi

Barclay Reporter

Chris 021 914 Barclay 169 Reporter

chris.barclay@starmedia.kiwi

021 914 169

Barry

chris.barclay@starmedia.kiwi

Clarke Editor in Chief

Barry 021 359 Clarke 426 Editor in Chief

barry@starmedia.kiwi

021 359 426

barry@starmedia.kiwi

advertising

Shane Shane Victor Victor Advertising Manager Manager

021 021 381 765

shane@starmedia.kiwi

Classified advertising: 379 379 1100 1100

General inquiries: 379 379 7100 7100

REACH

REACH

MORE

MORE

. .

. . .

178,000 * *

readers every week!

readers every week!

*2019 Nielsen Newspaper Readership Report

*2019 Nielsen Newspaper Readership Report

online

online

Keep up with the latest

Keep local up news with as the it happens latest

local news as it happens

www.starnews.co.nz

www.starnews.co.nz

A division of Allied Press

A division Regional of Manager: Allied Press Steve McCaughan

Regional PO Box Manager: 1467, Christchurch Steve McCaughan

PO 359 Box Lincoln 1467, Christchurch

Rd, Addington

359 www.starmedia.kiwi

Lincoln Rd, Addington

www.starmedia.kiwi

Tīrama Mai

Friday until Saturday, July 10

6pm-11pm every night

Christchurch's central city and New Brighton will be

transformed with a series of innovative lighting installations,

projections and illuminated artworks. Installations will

be located around The Arts Centre, Worcester Boulevard,

Ōtākaro Avon River, Riverside Market, New Regent St,

Victoria Square and the New Brighton Pier. Admission: Free.

Encraftment Winter Market

Saturday, Sunday 10am-3pm

Support local designers and go down to the Winter

Market for quality handmade items such as art,

jewellery, clothing and

fashion, homewares and toys.

Sample goumet foods and

refreshments. Admission: Free.

Pioneer Recreation &

Sport Centre

letters letters

We want to hear

We want to hear

your views on the

your views on the

issues affecting life in

issues affecting life in

Canterbury.

Canterbury.

Send emails to:

Send

barry@starmedia.kiwi

emails to:

barry@starmedia.kiwi

Letters may be edited

Letters

or rejected

may

at

be

The

edited

Star's

or

discretion.

rejected at

Letters

The Star's

should

discretion.

be about 150

Letters

words.

should

be about 150 words.

A name, postal address

A

and

name,

phone

postal

number

address

and

should

phone

be provided.

number

should be provided.

Please use your real

Please

name,

use

not

your

a nickname,

real

name,

alias, pen

not

name

a nickname,

or

alias,

abbreviation.

pen name or

abbreviation.

Galileo: Astronomer,

Scientist, Visionary

9am-5pm daily until October 31

Experiment with scales, clocks, pendulums and telescopes

and learn about the revolutionary discoveries of one of the

Italian Renaissance's most significant scientists, Galileo

Galilei. His experiments paved the way for modern science

with their use of mathematics. Galileo is a hands-on,

interactive exhibition that is sure to be a hit with families of

all ages. Admission: Free (donations appreciated).

Canterbury Museum, Rolleston Ave

Rehua Marae Matariki Whanau

Day Sunday 11am-2pm

Go along and enjoy the festivities. Kapa Haka,

live entertainment, clothes and craft stalls

and workshops, Kai stalls and a hangi for the whanau.

Admission: Free. Rehua Marae, 79 Springfield Rd

Stay comfortable all year round with

Fujitsu's sleek, stylish Lifestyle Range.

HEAT PUMPS FROM $1999 inc GST INSTALLED!

2020

Heat Pumps

Fujitsu's Catechin Filters are approved by

the Asthma and Respiratory Foundation

NZ's Sensitive Choice ® programme.

JUNE

DENTURE GIVEAWAY

ENTER TO WIN

Book your FREE no-obligation consultation

in the month of June and go into the draw to win

a free full set of dentures * (Valued up to $4,250)

03 381 6950

info@powersmart.co.nz

powersmart.co.nz

FREE

consultation from

your local Accredited

Heat Pump Expert

914 Colombo St | Ph: 03 365 2859 | www.cosmeticdentureclinic.co.nz

*Terms & conditions apply
---
Latest Canterbury news at starnews.co.nz

Photo shoot supports friend

who is living with cancer

MEMORIES: Claire Blackall organised a photography fundraiser at Cracroft Community Centre for a young family whose

father has stage 4 cancer. Portraits taken on the day included babies and "a couple of fur babies." PHOTO: GEOFF SLOAN

• By Bea Gooding

CLAIRE BLACKALL'S

photography fundraiser for a

friend with stage 4 lymphoma

brought back memories of her

own father, who is dying of

bowel cancer.

The Cashmere resident raised

$820 last weekend by offering

$50 photo shoots to anyone who

wanted a crafted portrait of their

family and pets.

All profits will go to the family

of her husband's best friend,

Shannon Cave, who this year

was diagnosed with stage 4 Non-

Hodgkin Lymphoma – a cancer

of the lymphatic system.

With cancer and chemotherapy

weakening his immune

system, Cave, a self-employed

tiler, has been unable to work,

putting financial pressure on his

partner and young family.

Blackall aimed to raise $1000.

Even though the initiative made

hundreds of dollars, "It doesn't

feel like enough."

"It's lovely that people came

along and did it, and I know the

family hugely appreciate that

as they've had a massive loss of

income," she said.

"[Cave] has gone from working

full-time to suddenly being

at home all the time and being

really sick, anxious, having no

energy to do anything and with

[his] hair falling out."

On the day, 15 different groups

had portraits taken, including

kids, a grandmother and grandson

and "a couple of fur babies."

The Old Stone House at

Cracroft Community Centre was

the planned backdrop, but poor

weather meant creating a makeshift

studio in Blackall's lounge,

with her toddler, dog and cat

running amok.

This was a challenge for

someone who prefers natural

backgrounds.

"One family who came; they

themselves are going through the

same thing, as the father also had

stage 4 cancer," said Blackall.

"I put a shout-out on Facebook

saying it was in support of a

family, and quite a few businesses

came together and offered

bags of clothes and massage,

hair, cleaning and supermarket

vouchers.

"That's the cool thing about

Christchurch – when people

need [help], people really do

come together."

It was not the first time

Blackall has put a charitable

twist on her creative skills.

Originally from Oxford,

England, Blackall volunteers

at Heartfelt New Zealand, a

non-profit organisation of

professional photographers who

gift photo shoots to families

experiencing a palliative

diagnosis.

She did this because she

understood the magic behind

capturing memories of loved

ones with terminal illnesses.

"My dad has terminal bowel

cancer, so I've always wanted

to use my photography skills

to have something to give to

others."

To donate to the cause, visit:

https://givealittle.co.nz/cause/

shannon-cave

Thursday June 24 2021 The Star

NEWS 3

in brief

Arrest follows armed

police stand-off

Armed police in Lyttelton were

confronted by a 41-year-old

allegedly holding a sawn-off

shotgun on Thursday. The

police went to an address on

Canterbury St at about 5.40pm

after they had received reports

of suspicious behaviour at the

house. The man then allegedly

pointed a shotgun at them

before retreating into the house

he had been living in. Lyttelton

Police Sergeant Gerard Peoples

said the shotgun was not loaded

when it was recovered but was

suspected to have been loaded

when allegedly pointed at the

police. The man was arrested

without incident and has

since been charged with

multiple offences. These

include presenting a firearm,

unlawful possession of a firearm

and ammunition, unlawful

possession of restricted weapons

(two tasers) and possession of

cannabis for supply. He has been

remanded in custody and will

re-appear in court in early July.

Cyclist receives serious

injuries after crash

A cyclist was taken

to Christchurch Hospital with

serious injuries after colliding

with a car at the intersection of

Linwood Ave and Hargood St,

Bromley, about 7am yesterday

morning.

Community detention

for immigration advice

A Christchurch woman,

whose company provided

immigration advice to migrants

without being licensed, has

been convicted and sentenced

to six months community

detention and ordered to repay

$74,703. Jing (Lydia) Zeng

was sentenced at the district

court on charges relating to

providing immigration advice

without being licensed or

exempt, and for asking for or

receiving a fee, which are both

legal requirements under the

Immigration Advisers Licensing

Act 2007. Zeng was sentenced

to six months community

detention, commencing

immediately.

ROCKPOOL RIBS

AND A BOTTLE OF HEINEKEN

ALL DAY SPECIAL

85 Hereford St, Christchurch

$20

Care &

Compassion

We pride ourselves on the

very highest level of service

If you are thinking about the future, we can help

you explore pre-payment and pre-planning options.

Contact us for a Free Information Pack.

We offer funeral information talks to groups.

Please call us for a speaker to come to you.

(03) 379 0196 | www.simplicity.co.nz

Mike Chandler

Funeral Director
---
The Star Thursday June 24 2021

4

NEWS

• From page 1

"I think they've found a pretty

good balance," said Greater

Hornby Residents' Association

chairman Marc Duff.

He said 15 groups in

the area met to discuss

the implications of the

LTP when consultation

opened in March and

found some common

ground.

"One of the overriding

issues brought up at that

meeting was it's really

important that we don't

target zero rates, but a rate increase

than doesn't burden future

generations.

"We could keep our rates down

really low but the cost of doing

that delays infrastructure and the

costs that come out of that will be

horrendous," Duff said.

"Residents are always looking

for savings inside the council

chambers but at the same time

we've also got to address . . . we've

got roading issues and water

issues and we can't fix those

without rate increases."

The council identified

$18 million of savings

in running costs this financial

year and an extra

$27.3 million in 2021-22.

An estimated $268 million

of operational cost

saving had been factored

in over the decade, lower

than February's assessment

of $329 million.

About $1.4 billion will

be devoted to transport

infrastructure, including

$241.2 million for cycleway

enhancements.

In a new development, residents

will be charged for excess

water use from July, although

Latest Canterbury news at starnews.co.nz

Group divided on excess water charge

• From page 1

The Wellington region, including

Wairarapa and Kapiti Coast,

moved to alert level 2 yesterday

and will remain there until

11.59pm Sunday.

Up to 2500 people visited

Te Papa around the time a Sydney

tourist attended, the museum has

revealed. Te Papa is among 16

locations of interest released by

Marc Duff

health authorities yesterday.

The rest of the country remains

at alert level 1.

Hobbs believed the idea of

a quarantine-free transtasman

travel bubble was reasonable.

"We've still got to live," he said.

"It was a good idea while it

lasted but there are things that

can go wrong."

He believed the Government

penalties were not be issued for

the first year.

Ratepayers who use more

than 700-litres per day over a

three-month time frame will be

charged $1.35 for every 1000-litres

over the cap.

Duff said the group forum was

divided on the excess water charge.

Avonside Community Group

chairman Peter MacLauchlan

said rates increases were understandable.

"They city took a hell of a

hammering and unfortunately

someone's got to pay to fix it," he

said.

Halswell Residents Association

secretary David Hawke

was loathe to discuss the rates

increases.

"We've got people who couldn't

care less about rates rises, others

do. It's totally divisive so we leave

it alone," he said.

was handling the situation well,

he said.

Testing centre service manager

Karyn Bainbridge said more

people than usual were taking the

test.

"We've probably done 150 today.

It would normally be 60-80."

"It's definitely busier."

Director General of Health

Ashley Bloomfield said this case

Key features of the finalised

Long Term Plan include:

•$1.45 billion for transport

infrastructure, including

$931 million for roads and

footpaths and $242.8m million

for cycleways.

•$2.35 billion for upgrading

and protecting the Three

Waters (water, wastewater

and stormwater) network.

•A new excess water use

targeted rate for households

that use significantly more

water than average. This will

be $1.35 for every 1000 extra

litres used for those who use

more than an average of

700 litres a day over a threemonth

period.

•An extra $13.5 million for

climate change and environmental

initiatives.

•An average residential rate

rise of 4.65 per cent in the

2021-22 financial year, which

equates to an extra $2.54 a

Reminder to make use of Covid tracer app

was a reminder of the need to

use the Covid tracer app and

to have the Bluetooth function

turned on.

If people had been in the

Wellington region over the

weekend, they needed to take

the alert level restrictions with

them.

If someone had been in Wellington

over the weekend but was

week.

•The decision not to decommission

Wharenui Pool.

Funding after 2022 is not

guaranteed at this stage).

•A $5.5 million grant for the

Arts Centre , The decision

to keep the Riccarton bus

lounge

•A heritage targeted rate

that will be used to help

protect and preserve heritage

buildings, including the

Arts Centre and the Old

Municipal Chambers.

•Provision for the city council

to sell a number of properties

that it owns which are

surplus to requirements.

•The decision to retain library

services where opening

hour cuts were proposed,

including the mobile library,

Fendalton, Upper Riccarton,

South and Linwood libraries

and Te Hāpua: Halswell

Centre.

now in Christchurch, for example,

they should not go to big

gatherings, he said.

Contract tracers were tracking

down 58 passengers who were

on the Sydney flight the man

took.

The people on that flight were

close contacts and required to

isolate for 14 days and take a day

five and day 12 test.

Art Expo weekend - Saturday 26 & Sunday 27 June, 11am-3pm

Free Art Expo

Park Lane 2021

The first Park Lane Art Expo last year was a huge success,

so we're doing it again. Come and see our permanent

works by Peter Geen of EarthSea Gallery, as well as a

selection from other New Zealand and international artists,

curated by Windsor Gallery. You can also watch resident

artists at work, enjoy a glass of bubbles and take a tour of

our new Living Well apartments.

Art Expo

Sat 26 & Sun 27 June, 11am-3pm

35 Whiteleigh Avenue, Christchurch.

Call Tara 021 489 784 or visit parklaneretirement.co.nz

An Arvida Living Well Community
---
• By Matt Slaughter

IF YOU have recently received

a city council parking ticket, it

may pay to dispute it.

An Official Information Act

request from The Star has revealed

58.4 per cent of disputes

over city council parking tickets

were successful between 2016

and 2020.

In this time period, 55,191

parking tickets were disputed,

32,240 of these disputes were

successful and 22,951 were

unsuccessful.

However, only about 14 per

cent of the 388,546 parking

tickets the city council issued

were disputed.

The number of parking

tickets was about the same in

each year except for 2019, where

91,596 were issued. 71,680 were

issued in 2016, 70,912 in 2017,

75,178 in 2018 and 79,180 in

2020.

The greatest number of tickets

were disputed in 2019, 12,826.

7637 of these were successful,

the most of any year.

Said a city council spokeswoman:

"Council does not

specifically collate the reasons

behind successful disputes as

each case is determined on its

own merits, however submissions

regarding infringements

issued for an expired vehicle

licence label or not displaying a

valid licence are the most common.

"Generally, this is because the

recipient of the infringement

has been able to provide further

information such as confirmation

of a valid licence that has

not been displayed."

Latest Canterbury news at starnews.co.nz

The success rate for parking

ticket disputes was lower when

these went to court. Of the 35

court hearings that took place

between 2016 and 2020, six were

successful for the recipient.

Meanwhile, the number of

city council parking spaces has

CHALLENGED: Disputes

over city council parking

tickets were successful

32,240 out of 55,191 times

between 2016 and 2020. ​

decreased from 8813 in 2016, to

7325 now.

The spokeswoman said the

city council does not hold information

on the most parking

tickets issued to one person, or

the reasons for these.

Last year, The Star reported

Christchurch's most prolific

parking warden issued 17,777

tickets from 2017 to the start of

2020, making a total of $206,096

in revenue for the city council.

Thursday June 24 2021 The Star

NEWS 5

Got a council parking ticket? Dispute it

Total tickets issued

2016 – 71,680

2017 – 70,912

2018 – 75,178

2019 – 91,596

2020 – 79,180

Number of disputes

received

2016 – 10,436

2017 – 10,639

2018 – 11,710

2019 – 12,826

2020 – 9580

Number of successfully

disputed tickets

2016 – 6442

2017 – 6315

2018 – 6401

2019 – 7637

2020 – 5445

Number of unsuccessfully

disputed tickets

2016 – 3994

2017 – 4324

2018 – 5309

2019 – 5189

2020 – 4135

Number of court hearings

over parking tickets from

2016 to 2020

35

Number of successful

court hearings

6

Gold Kiwifruit ............................... 2

jazz apples ...................................... 2

Brushed Agria Potatoes

5kg .............................................................. 5

Gold Pineapples ........................ 2

Carrots 1.5kg .................................. 1

onions 1.5kg .................................... 1

Beef Porterhouse Steak ... 23

Beef Schnitzel ............................. 15

Butterflied Lamb Legs ....... 19

Rolled Pork Shoulder ....... 10

Chicken Thigh Cutlets .......... 9

.99

kg

.49

kg

.99

each

.99

each

.99

each

.99

each

.99

kg

.99

kg

.99

kg

.99

kg

.99

kg

At

we have...

FRIDAY TO

SUNDAY ONLY

yams 500g 2 ............................

nz grapefruit 2 .................

beef brisket 13 .....................

pork loin chops 12 ..........

.99

ea

.99

kg

.99

kg

.99

kg

Check our website for

your local stores opening hours

All our fresh meat is 100% NZ FARMED. specials VAlid

21st June - 27TH June 2021.

WHILE STOCKS LAST! ONLY AVAILABLE AT RAEWARD FRESH HAREWOOD RD, TOWER JUNCTION

WWW.

.CO.NZ

Like us on

Facebook
---
The Star Thursday June 24 2021

6

NEWS

Latest Canterbury news at starnews.co.nz

Home-based foodbank needs help as

Having struggled to

make ends meet as

a solo dad, Corrin

Webster decided to

start his own foodbank.

He now feeds 30 to

40 families a day, and

supplies have taken

over his home. Bea

Gooding reports

CORRIN WEBSTER and his

family are looking forward to

the day when their home no

longer resembles the inside of a

supermarket.

Take no more than three steps

in any direction and you will

be lost in a sea of shelving, with

boxes piled high to the ceiling

– all full of fresh, frozen and

tinned food.

Because, to others, their home

is known as the Hoon Hay Food

Bank, a place where struggling

families can collect parcels in

order to put food on the table.

But after a year of supporting

about 180 families a week,

Webster is now turning to the

community through Givealittle

for its help in freeing up their

home.

"We have no room in our

house and we're struggling for

space. Some days we can't even

move and get to our oven, some

VULNERABLE: Corrin Webster started the Hoon Hay Food Bank out of his home after

having gone through food insecurity himself.

PHOTO: GEOFF SLOAN

days our whole hallway and

rooms are full," he said.

"We can't even feed our fish

some days because we've got to

sneak through somewhere.

"So I'd like to build a shed or

have some sort of Portacom or

container – anything that will

help, so me and my girls can

have our house back."

The foodbank is run exclusively

by Webster and his family,

with the help of daughters Mercedez

and Portia Lee, sometimes

up to six days a week.

A typical day includes picking

up food donations, prepackaging

parcels and offering at

least 30 to 40 families their pick

of canned food, baking, fruit,

vegetables, cereals and snacks.

For the former drainlayer, it

has become a full-time gig in the

past year since starting it.

The word spread after Webster

initially provided parcels for two

to three families each week.

Inspired by a friend who ran

his own foodbank, he decided to

take it further by giving back to

even more families.

The cost of picking up bulk

food five to six times a week to

make bundles came from his

back pocket, even down to the

things he'd never considered,

like plastic bags and pens.

With little outside funding, it

was not possible without the aid

of other foodbanks, financial or

physical donations made by the

community, and leftover food

from the Government's healthy

school lunches programme.

"It's been really difficult, but

somehow we make it happen,

and we'll continue to make it

happen," said Webster.

Because the foodbank was

not an established trust he approached

the city council for

help. It put him in touch with the

Rowley Resource Centre.

The foodbank is now run

under the aegis of the centre,

supporting him financially,

legally, and through referrals.

Te Korari Street

Marshland Road

Marshland

Substation

N

Prestons Road

Key

Approximate worksite

One-way system

Prestons Road section one-way

due to power network upgrade

Please allow extra time for your

journey and follow all signage and

instructions from our team on site.

Orion is installing a new 66kV power

cable between the new Belfast

Substation on Blakes Road and the

Marshland Zone Substation.

As we lay the cable on Prestons

Road we need to close the road to

eastbound traffic. From 28 June for

up to 6 weeks you will not be able to

travel east on Prestons Road between

Marshland Road and Te Korari Street.

These are essential upgrades to the network,

so we can better service the fast-growing Belfast

and Marshland areas. To do this work, we need to

close Prestons Road, between Marshland Road

and Te Korari Street, to eastbound traffic so our

crews can work safely.

We understand the work and detour are an

inconvenience for residents and commuters.

Thank you for your patience.

03 363 9898 | 0800 363 9898

oriongroup.co.nz
---
Thursday June 24 2021 The Star

Latest Canterbury news at starnews.co.nz

NEWS 7

demand soars

Controversial central city

youth hub to go ahead

AT CAPACITY: Corrin Webster's foodbank has taken over

his home.

Centre manager Evelyn Kenneally

said: "I think he's doing

a wonderful job. Part of our job

is to encourage people who have

initiatives and supporting them

moving forward.

"Since Covid, people are still

struggling to make ends meet

and need the support of a foodbank.

It's winter, so people are

choosing whether they pay for

heating or food.

"We're a low-decile area and

people struggle, so I think they

need as much support as we can

give them."

It did not matter what situation

a person was in – Webster did not

turn anyone away.

Within the space of 30 minutes,

three people showed up at his

home for a parcel – one was a

mother who had just lost her job.

"It's had a huge impact, it's

quite amazing," he said.

"We're happy to help anyone.

It's even people that do have a bit

of money, but they've got mortgages

as well and they're having

to come here."

All Givealittle proceeds will go

towards a new storage unit, with

any leftover money going back

into running the foodbank.

To donate to the cause, visit:

https://givealittle.co.nz/cause/

storage-unit-for-hoon-hay-foodbank

A PROPOSAL to bring New

Zealand's first purpose-built

youth hub to Christchurch,

which was a topic of concern

among central city residents last

year, has been given the green

light.

An agreement between

Christchurch's Youth Hub Trust,

the community group Victoria

Neighbourhood Association and

the city council will allow the

$20 million "one-stop-shop" for

youth health and well-being to

proceed.

But previously neighbours said

the 4250 sqm hub on Salisbury St

and Gracefield Ave would be too

noisy and bring about more traffic.

They also expressed concerns

that privacy would be lost.

"This agreement means

resource consent has now been

achieved, enabling us to work

together, hand-in-hand, to ensure

that the youth hub delivers not

only for the city's young people in

need, but also, importantly, the

local neighbourhood," said trust

chairwoman Dame Sue Bagshaw.

VNA spokesperson Marjorie

Manthei said the outcome provided

a pathway to an effective

partnership.

"Of course we're disappointed

NEW: An artist's impression of the youth hub.

that this large piece of residential

land won't be used only for housing,"

she said.

"However, mediation allowed

us all to take another look at the

plans and find positive, workable

compromises."

The agreement allows the hub

to meet its core purpose while

addressing most of the concerns

raised by the VNA.

A community liaison group

will oversee both long-term and

day-to-day operational matters,

including operating hours, traffic

management and the number of

social service agencies operating

at the facility, once built.

The VNA said its objection

to the youth hub application

focused on the impact of nonresidential

activities on a small

residential neighbourhood, not

the young people.

Once built, the hub – Te Hurihanga

Ō Rangatahi – will be a

communal place of support for 10

to 25 year-olds, including access

to catch-up education, healthcare,

mental health counselling,

vocational training, recreation

and employment.

The development will provide

purpose-built accommodation

for up to 40 young people in need,

aged 16 to 24 years old, with most

staying a few months at a time.

The centre will also provide

space for about 12 different

youth organisations.

NURSING / PRE-HEALTH

Learn about nursing study options at Ara and find

out how our pre-health course can help you meet

the entry criteria for a nursing degree or diploma.

Wednesday 4 August

Manawa campus, 276 Antigua Street

Nursing: 5.30pm-6.30pm

Pre-Health: 6.30pm-7pm

Register to attend at ara.ac.nz
---
The Star Thursday June 24 2021

8

NEWS

Latest Canterbury news at starnews.co.nz

Covid triggers career change into

• By Chris Barclay

VICKY QIAO was dispensing

beauty advice, duty free, at

Christchurch International

Airport when it became apparent

a departure was imminent –

Covid-19 was bound to force a

career change.

So she joined the unfortunate

Cantabrians forced to consider

alternative employment once the

coronavirus pandemic spread.

"I did a short stint at the duty

free and then Covid hit. We

went straight into lockdown,

overnight it just went dead."

Qiao made what appears a

logical decision to join an industry

that has boomed in spite of people

hunkering down at home.

Returning to hospitality hardly

seemed viable, so Qiao was sold

on real estate after attending a

careers evening at Harcourts last

year.

"I started to think about what

my next step would be and since

Covid struck the real estate

market has been particularly

active. That has triggered a lot of

people to have a career change,"

she said.

"I found that (careers evening)

really interesting. I thought

it was the perfect mix for me.

It's such an exciting industry.

It's ever-changing and I like

NEW START: Vicky Qiao is part of a growing number of people who have changed careers

and become real estate agents.

PHOTO: GEOFF SLOAN ​

change," she said.

Qiao is not the only Christchurch

resident to embrace change.

Figures obtained from the Real

Estate Authority – the regulator

responsible for licensing real

estate professionals – illustrate

the industry's appeal.

The REA issued 1228 new real

estate licences nationwide in the

second half of 2020, an increase

of 45 per cent on the same period

in 2019.

Between March 2019 and

March 2021 the number

of licences issued in the

Canterbury/West Coast region

increased from 1680 to 1883.

"The average age of someone

applying for a real estate licence

is 38, which

suggests

applicants

are bringing

their skills

and expertise

to real estate

after having

had careers

Belinda

Moffat

in other

fields," said

REA chief

executive

Belinda Moffat.

"The property market has

remained buoyant in the wake of

Covid-19 with intense activity,"

she said.

The latest Real Estate Institute

of New Zealand property report

backs that view, with the median

house price in Christchurch

increasing from $474,000 in May

2020 to $600,000 in May 2021.

Sales volume was also up in the

city, with 374 houses sold last May

compared to 722 last month.

Canterbury, we need to talk about our changing climate. We know this isn't an easy topic. Or a small one.

But we have to start somewhere, so we're starting here – with our region. Learn more at itstimecanterbury.co.nz

It's time, Canterbury is climate friendly - learn more on our website.

It's time to talk about climate change, Canterbury.

Brought to you by:

P61506-PLATO-CP-B
---
Thursday June 24 2021 The Star

Latest Canterbury news at starnews.co.nz

NEWS 9

real estate

Qiao did a six-month online

course through Skills and once

she passed the New Zealand Real

Estate Certificate (Level 4) she

became a licenced salesperson

through the REA.

Harcourts also provides an

eight-week in-house training

programme.

"We do that training in the

morning, the rest of the day you

carry on with your normal real

estate work," Qiao said.

She also said there has been a

wealth of information to absorb

since making her latest career

change.

"There's a lot to take in,

property law, contract law . . .

legislation. Our branch managers

and sales managers provide

amazing and abundant support.

"They're here to supervise us

during the first six months of our

real estate practice."

Qiao is still working on

securing her first listing and

already visualising her first sale

while building the all-important

network of contacts.

"There are a couple of different

avenues. First of all we start off

with our friends and family, we

shout it to the world that we're

doing real estate now."

Then there's leaflet drops and

old-fashioned door knocking

because the rivalry is intense.

Qiao acknowledged she

has entered a competitive

marketplace.

"From a new person's

perspective there is competition

but I actually see it as an

opportunity," she said.

"The more established or

experienced agents may have

many listings at any given time so

their time and attention will be

divided.

"For us starting out new, we

do have a bit more time on our

hands so we can provide a more

personalised one-on-one service

for our clients."

Other than the necessary

qualifications, budding

salespeople needed other key

attributes, according to REINZ

acting chief executive Wendy

Alexander.

"Ultimately selling real estate

is about people skills – you're

dealing with people at a hugely

important time in their lives.

Buying and selling a home is

a really big deal and it's often

people's most significant asset,

so having the skills to support

people through this time is key,"

she said.

"They need a good network

of contacts, be an excellent

communicator/listener and

have a strong work ethic

and tenacity."

Johanson calls for trolleys

to be microchipped

SUPERMARKETS are on notice

to do a better job of collecting

their abandoned shopping

trolleys.

The Linwood-Central-

Heathcote Community Board

has asked city council staff to

look at options for getting the

unsightly trolleys off the streets.

City councillor Yani Johanson

said supermarkets need to look

at microchipping their trolleys

so they could do a better job of

gathering them up. Or bring

in locking mechanisms so they

could not be taken out of car

parks.

"People just get sick of

• By Samantha Mythen

CONTINUING frustration from

drivers about road works on

Dyers Pass has resulted in action

from the city council.

Added delays to travel times

over Dyers Pass Rd have been

caused by road users not activating

traffic light sensors.

To address this, city council

head of transport Lynette Ellis

said it is adding a painted limit

having to report it on such a

regular basis, and certainly that's

the feedback I've been

getting from some

communities," he said.

"They just think that the

operators should take more

responsibility."

Foodstuffs said it was up to

individual stores to decide if

extra measures were needed,

and encouraged people to call

them so they could be taken

back.

Countdown said staff at one

of its supermarkets in the east

gathered up trolleys at least three

times a week.

Sensors cause delays on Dyers Pass Rd

line and signage to assist people

with stopping in the right place,

so the lights are activated.

There is also a phone number

that anyone who has problems

with the traffic lights can call.

Governors Bay residents have

been posting on social media to

let others know when the traffic

lights have stalled.

Ellis said some of the recent

delays occurred when a rock hit

and severed a traffic light cable,

resulting in a complete outage.

"The traffic management team

responded to that by getting a

stop/go system operating while

the lights were fixed," she said.

Ellis said the city council had

received about 10 complaints

and queries about the traffic

lights since the road works

began.

The city council has reinstalled

electronic signs to remind road

users of the delays.

Christchurch Southern Motorway

Christchurch Southern Motorway will be closed on:

Saturday 26 June - 5am to midday*

Sunday 27 June - 5am to midday*

Signed detours will be in place on to State Highway 1 Main South Road and Halswell Junction Road.

Please allow a little more travel time (we estimate between 5 -10 minutes).

The closure is for a filming event.

Christchurch Northern Corridor will be closed on Saturday 3 July from 5am to midday,

and Sunday 4 July from 5am to midday*. Signed detours will be in place.

We apologise for any inconvenience and thank you for your patience.

* Dates are subject to weather conditions.

For latest information on the day go to www.journeys.nzta.govt.nz/canterbury
---
The Star Thursday June 24 2021

10

NEWS

Latest Canterbury news at starnews.co.nz

More rugby clubs prioritising

the mental health of players

• By Matt Slaughter

POSITIVE: Canterbury rugby clubs are working to improve

their members' mental health, with support from New

Zealand Rugby. ​

MORE CANTERBURY rugby

clubs have joined the mission to

get their members talking about

mental health and to support

those who are struggling.

It comes as The Star reported

last week that Lyttelton Rugby

Club is prioritising its members'

mental health, with support

from New Zealand Rugby,

after player Tama Hipango succumbed

to a battle with mental

illness in December.

Linwood and Rolleston rugby

clubs are also on board, with

New Zealand Rugby providing

free well-being support and

resources for the club as part of

its HeadFirst programme.

The programme aims to get

the rugby community talking

about depression, anxiety and

stress, and provide it with mental

fitness tactics.

Linwood Rugby Club development

officer Mike O'Donovan

declined to talk to The Star,

saying the initiative is only in its

early stages for Linwood and it is

too soon to comment.

Rolleston Rugby Club intermediate

club captain Wilson Ruki

said he was asked by Lyttelton

committee member Aaron Stevens

if Rolleston would benefit

from similar support.

Said Ruki: "Over the last

couple of years, especially with

Covid, the club sort of identified

within our members that, hey,

there are things going on behind

the scenes that we're not aware

of, that maybe we should be

aware of.

"Most males, big muscular

men playing rugby, they often

think you've got to be tough, you

can't be weak and that kind of

stuff.

"Honestly, that's sort of changing

now. People are realising

we're not all tough, we all need

help now and then, or even some

discussion."

As well as Rolleston and

Lyttelton, Linwood is also being

supported by

New Zealand

Rugby to

improve its

members'

mental health.

New Zealand

Rugby culture

Nathan Price

and well-being

manager

Nathan Price said the HeadFirst

programme provides workshops

and resources for club members

to learn about their mental

health and help others.

"They [the workshops] are

about 90 minutes and they cover

a range of things around mental

well-being [and] what is it?

Things around stress as well.

"Then we move into how do

you look after your own wellbeing

and we then go a little

bit deeper into things around

depression and anxiety to understand

what the signs are, the

symptoms of those, how to spot

that in other people . . . [and]

how to have a conversation with

people who you think might be

struggling."

Said New Zealand Rugby

mental health

and wellbeing

project

manager Suzie

McDonald:

"They [the

clubs New

Zealand Rugby

Suzie

McDonald

is supporting]

are recognising

that, within

their rugby whānau, that there is

need in this space.

"Rugby is a place they feel

connected, but it's also a place

that they want to be able to

reach out and have those

conversations."

Ellesmere Rugby Sub Union

president Stuart Boon is aware

of Rolleston's well-being focus.

He said the union may discuss

the potential of more clubs it

represents running similar

programmes if it is successful.

Dog lovers joint support secret ADVERTISEMENT

SPECIAL OFFER

KORU NUTRITION

Philip Gould is an active

retiree who enjoys doing jobs

around the house and walking

his dog each day.

Now retired, Philip and his

dog Benji can often be seen

walking the streets around their

neighbourhood twice, if not

three times per day.

"Benji loves to go for walks

throughout the day which

keeps me active."

After an ankle injury,

Philip was unable to walk his

dog each day, highlighting to

him the value he placed on his

mobility.

"Not walking my dog was

hard emotionally. He'd look

at me and wondered why we

weren't able to go out. To him

I didn't look any different but

my mobility just wasn't there."

Once recovered, Philip

decided he was going to do

what he could to support his

joints and mobility into the

future.

"My son-in-law suggested

I try Koru Nutrition's Koru

Joint, which I did."

"I was a little bit skeptical to

start with because I thought the

different vitamins people talk

about don't really work. But I

thought, well, I'll try it. If you

don't try different things you'll

never know!"

"I tried it and found it really

beneficial. It supported me

mobility wise - big time. I

would say I walk and move

confidently. That's got to be a

plus."

"It's like putting oil in the

car. If you drive a car without

your oil. The oil lubricates the

parts in the car."

"I find Koru Joint is a

lubricant for your joints and it

supports your joints to do their

job. I'll be taking it for as long

as I can."

Koru Joint is a long lasting

natural formula, harnessing our

proprietary 3 in 1 mechanism

to support soothing, nourishing

and lubrication of healthy

joints.

All 3-phases are required to

build on each other to support

long term healthy joint, muscle

and cartilage function.

With over 21,384 happy

customers and counting,

Koru Joint has set a new bar

for natural joint, tendon and

cartilage support.

Koru Joint has been a best

Always read the label and use as directed. If symptoms persist see your healthcare professional. Koru Nutrition Ltd, Christchurch.

seller on the internet and is

now making it's way into local

pharmacies.

If you're looking for a long

lasting product to naturally

provide 3 in 1 support, then ask

for Koru Joint in the pharmacy

and experience the difference

for yourself.

Koru Joint works from the

inside out and is best used in

conjunction with Koru FX

topical joint cream.

FOR READERS

33% OFF

KORU JOINT

2 FOR

$79.98

SAVE $40

KORUNUTRITION.CO.NZ

0800 99 99 80

Available in

good pharmacies.
---
Thursday June 24 2021 The Star 11

CARPET HOUSE LOT

DEALS

USING

25 METRES

OF CARPET

Prices are based on an average 3 bedroom home, using 25 broadloom metres of carpet on new underlay, three finishing bars and fully installed.

26oz Nylon

• Detroit/Riveria

• Solution Dyed Nylon

• Extra Heavy Duty

• Great colours to

choose from

Only $80 per metre

FULLy INSTALLEd

ON LUxURy

UNdERLAy

36oz Nylon

• Windsor

• Solution Dyed Nylon

• Extra Heavy Duty

• Great colours to

choose from

Only $109 per metre

FULLy INSTALLEd

ON LUxURy

UNdERLAy

HOUSE LOT: $3,900

HOUSE LOT: $4,600

50oz Nylon

• Grange Fell

• Solution Dyed Nylon

• Extra Heavy Duty

• Great colours to

choose from

Only $129 per metre

FULLy INSTALLEd

ON LUxURy

UNdERLAy

Polyester

• Vermont

• Heavy duty

• Great colours

Only $69.90 per metre

FULLy INSTALLEd

ON LUxURy

UNdERLAy

HOUSE LOT: $5,100

HOUSE LOT: $3,600

Luxury

Engineered

Timber Flooring

nOw

1/2 pricE

Vega Vinyl

Planks

• Four stock colours

nOw

1/2 pricE

FROM

$

60 00 $

30 00

PER M2

PER M2

CALL FOR A FREE MEASURE + QUOTE

312 Wilsons Road North, Waltham Phone 366 0070

Q Card Finance

Available

Mon to Fri 8am-5pm and Sat 10am-1pm

Check out our website! www.carpetkingdom.co.nz
---
The Star Thursday June 24 2021

12

NEWS

• By Nicholas Pointon

SOME Christchurch businesses

are being hit by massive rises

to their power bills as dry

weather and a natural gas

shortage wreak havoc in the

electricity market.

Hundreds of thousands of

dollars in extra costs are hitting

firms as they look to renew their

fixed power contracts.

Enztec employs 70 people to

design and manufacture highend

medical instruments for the

global orthopaedic market.

It usually operates on a fixed

electricity contract with its

suppliers, to avoid the volatility

of spot prices.

But its chief

executive Iain

McMillan said

it had struggled

to get a new

deal since its

previous contract

ended in

February.

"We have had

one company

being prepared to negotiate a

contract with us and we're still

actively working on that.

"But several of the large supply

companies basically said they

did not have capacity to supply

and therefore wouldn't even put

an offer to the table."

Latest Canterbury news at starnews.co.nz

Surprise power hike impacts businesses

Iain McMillan

Enztec is now stuck paying

spot prices which are more than

50 per cent higher than a year

ago, according to the energy consultancy

firm Energy Link.

This is because the country

had been suffering from outages

at several gas fields since December,

dry weather to start the year

and low hydro lake levels.

Enztec's monthly power bill

had about doubled but it was unable

to pass these costs onto its

customers because the price of

its products are fixed.

As a consequence, McMillan

said Enztec would have to reduce

spending on research and development

because it had no idea

when the upward pressure on

power prices may ease.

Enztec's situation was not

unique, with more firms saying

they were at the mercy of high

wholesale electricity prices.

It is believed the new power

contract for supermarket operator

Foodstuffs is 70 per cent

more expensive.

The company would not comment

on the specifics, but in a

statement its North Island chief

executive Chris Quin said it had

seen significant increases in its

power bill.

"The combination of price

PRICE

INCREASE: Dry

weather and

natural gas

shortages have

forced power

prices up, with

businesses

bearing the

brunt.

increases is affecting our stores

across the board, large and

small, and a lot of effort is going

into trying to find efficiencies to

manage prices to consumers.

"It is particularly hard for our

smaller stores with a number of

cost impacts from recent policy

changes, compliance costs, talent

shortages and supply chain

costs," he said.

A chief executive of a large

commodity business, who did

not want to be named, said he

thought he got off lightly when

its new contract only rose by 43

per cent.

Another company with offices

nationwide, who would not comment

on the record, said it was

facing price hikes of several hundred

thousand dollars per year.

Employers and Manufacturers

Association head of advocacy

Alan McDonald said it is consumers

who would ultimately

pay.

"[The high power prices are]

going to find [their] way through

into prices of consumer goods

and other goods, alongside things

like supply chain pressures, wage

pressures, the whole Covid background

to everything."

Power companies were

approached for comment and

only Meridian responded.

It said it acknowledged the

effect high wholesale power

prices were having on large

customers who were coming off

their contracts.

Meridian said it continues to

offer fixed price contracts and

would work with its customers

to provide solutions that, to the

extent possible, insulated them

from price increases.

The Electricity Authority's

general manager of market

policy Andy Doube said it was

investigating prices in the wholesale

market to ensure they were

competitive.

However, he said spot prices

were inherently volatile.

—RNZ
---
Thursday June 24 2021 The Star 13
---
ISSUE 94

MARCH-APRIL 2021

$10.50

9 416770 121332

TONY JOHNSON

ON THE COMING OF

MOANA PASIFIKA

AARON SMITH

'WHY I RATE

DUPONT'

SEAN FITZPATRICK

'WE NEED MONEY TO

SUSTAIN THE GAME'

rrp $10.99

9 416770 121325

growing with you 100%

MAY 2021

JEROME

KAINO

SORTED FOR

LIFE AFTER

RUGBY

• PHIL GIFFORD: THE BEST

SCHOOLBOY STARS HE SAW

• DARYL GIBSON: HIS VISION

FOR THE BOP STEAMERS

$9.25 incl. GST

& all the varieties

in between

& where they

like to grow

AuTumN 2021

& propagate more

of those you love

Faran Gillbanks

on a succulent

movement

$8.00 incl. GST

9 416770 121318

Try gardening

like the French

Why, when & how

The Star Thursday June 24 2021

14

NEWS

Latest Canterbury news at starnews.co.nz

Psychiatrist raises Sunnyside concerns

Claim many

staff in 70s

lacked

qualification

• By Ian McRae

A PSYCHIATRIST who worked

in New Zealand in the 1970s

says many people employed

at psychiatric hospitals back

then often had no relevant

qualifications.

Dr David Baron has given evidence

to the inquiry into abuse

in care which is investigating

claims that young people at Lake

Alice Psychiatric Hospital were

given electric shock treatment

and drugs as punishment.

Baron established an adolescent

unit at Sunnyside Hospital

after being concerned young patients

were mixed in with adults.

He said electroconvulsive

therapy in any form was not ever

used on young patients at Sunnyside.

"You are often looking at

disturbed behaviour and if you

spend a bit of time with people

it usually settles down. I think

even these days I don't think

very much ECT is given very

rarely to children, I think.

"It has not been an appropriate

treatment for children or

adolescents in my care and I

have never used it with this age

group.

"I would have been horrified

if I had known one of my contemporaries

was routinely using

unmodified ECT on children or

adolescents. I would question

what the purpose of such treatment

was," he said.

Modified ECT still does have

a part to play, particularly in

certain depressive conditions in

adults, he said.

"There can be a tendency to

fall back on a physical method of

treatment, where as actually you

can treat people in other ways, if

you have the resources and the

skills.''

The use of the sedative paraldehyde,

which survivors of

Lake Alice say was used as a

punishment on them, was being

phased out when he first started

in psychiatry in the 1960s.

"It was not in common usage

by the 1970s. I never used it in

our adolescent unit and I cannot

remember it ever being used on

children.''

Psychiatry in the 70s was divided

between young practitioners

with more enlightened ideas

and those following old-school

techniques, he said.

David Baron

established

an adolescent

unit at

Sunnyside

Hospital.

It was a bit of a rag-tag profession

back then, Baron said.

"People sort of got jobs for

which they really didn't have any

(skills). If you take Sunnyside, I

can't remember how many beds

we had, probably about 1000,

so you need quite a lot of people

around to sort of do medical

work and there were quite a few

people who really had no training

in psychiatry at all.''

He was asked at the hearing

why no one in the profession

spoke out against the techniques

of the lead psychiatrist at the

Lake Alice adolescent unit, Dr

Selwyn Leeks.

"When you look at it you think

how on earth did that happen.

Why did nobody say anything.

You couldn't, you know you

couldn't.''

The Crown's lawyer Karen

Feint QC said to Baron that to

put it bluntly, it smacks of the

medical profession closing ranks.

"Yes."

Dr Janice Wilson was the director

of mental health between

1993 and 2000.

She had some involvement

when a class-action was taken by

some survivors in the 1990s.

"I thought then and I still

think now that the complainants'

stories are compelling and believable.

Any reasonable person

would say Ms McInroe (Leonie

McInroe) and the class-action

complainants had good reason to

pursue their respective claims.''

She is calling for mental health

services to remain vigilant in

this country so there is no repeat

of Lake Alice.

"Continually advocate for

improved skilled and competent

staff, in numbers.''

Wilson said the use of ECT

needed to be understood within

the context of the tools available

at the time.

Unfortunately the health

system did not have the

necessary services or resources

available to follow a different and

more appropriate path, she said.

– RNZ

Whooooooooo

wants to see how much

gas they have left?

www.GasOwl.nz

Something for everyone

Available in all good bookstores and supermarkets, or subscribe from as little as $20.

GENTLEMAN JIM RICHARDS & THE WILLMENT ESCORT

FREE FIRST XV SEASON PREVIEW MAGAZINE INSIDE

DON'T MISS OUT!

CLASSIC ALPINE TOUR | PELLAND COUPÉ | JIM RICHARD'S WILLMENT ESCORT | TERRY MARSHALL | VAUXHALL FIRENZA | RICHARD BROCKLEHURST MAR-APR 2021

THE MOTORSPORT

PHOTOGRAPHY OF

TERRY MARSHALL

RARA AVIS:

PELLAND COUPÉ

A SHORT TIME IN FRONT: RICHARD BROCKLEHURST

50TH ANNIVERSARY OF THE VAUXHALL FIRENZA

SOUTHERN MEN AND TALES OF THE SOUTH

SOUTHERN

SOJOURN

THE CLASSIC ALPINE TOUR

For the motoring

enthusiasts

COME ON, FEEL THE

NOISE: CLASSIC

RACING ENGINES

For the

rugby fans

DAN

CARTER

REFLECTING ON A

GREAT CAREER

The Shrub Hub

ISSN 2423-0626

meet 20 of our Kiwi garden favourites

From abelia to

viburnum

Why we

like them

For the seasonal

gardeners

How to keep your

shrub in shape

growing with you Issue 504 | May 2021 | 100%

A tropicAl

flock

Grow your own

bird of paradise

Capitalising

on CaCti

Roses on the wishlist

Hot new releases for 2021

For the green

thumbs

Space iSSueS?

The lowdown on

cover crops

alliedpressmagazines.co.nz

Rugby News & Kiwi Gardener: 0800 77 77 10 Classic Driver & General: 0800 624 295
---
Thursday June 24 2021 The Star 15

Winter

High Tea

Image is indicative only.

Join us for a Winter High Tea at one

of our three Christchurch villages

Winter certainly is starting to settle in. These cooler months

can make it just that little bit harder to get out and about.

So here at Summerset we're planning a month of warm

winter High Teas and you're invited.

Just pop along to one of our three Christchurch villages any

time between 10am and 2pm, on any Friday in June, and

enjoy a range of delicious winter treats and hot drinks on us.

Whilst you're here, why not also get a taste of the Summerset

life that our residents love so much.

10am - 2pm

Every Friday in June

Summerset at Avonhead

120 Hawthornden Road,

Avonhead

Summerset on Cavendish

147 Cavendish Road,

Casebrook

Summerset at Wigram

135 Awatea Road, Wigram

Our teams would love to show you around our stunning

villages and show homes.

We're looking forward to seeing you!

0800 SUMMER | summerset.co.nz

SUM3118_37X8
---
16 The Star Thursday June 24 2021

26

weeks

to go!

Tiny Tot Kinder

Board

Assorted colours

Usually $169.99

$

149 99 ea

Tiny Tot Plus

Trike/Bike

Assorted colours

Usually $199.99

$

159 99 ea

100pcs Wooden

Blocks in Bucket

Usually $49.99

$

39 99 ea

Save $20 20%

off

Multifunctional Easel

Usually $79.99

$

69 99 ea

Walker with Blocks

Usually $99.99

$

79 99 ea

Real Sounds

Lawnmower

Usually $69.99

$

59 99 ea

Nerf Fortnite TS

Usually $79.99

$ 69 99 ea

15" Big Scoop

Excavator or

Dump Truck

Usually $44.99

$

39 99 ea

Nerf Elite 2.0 Turbine CS

Usually $79.99

$

69 99 ea

Maximal

T-Wrecks

$

119 99 ea

Wild Ones

Junior Scooter

Dino, Shark or Unicorn

Usually $99.99

Vet Practice

with Pets

Usually $199.99

$

149 99 ea

Save $50

$

79 99 ea

20%

off

Gravitrax

Starter Kit

Usually $129.99

$

119 99 ea

Save $80

Large Stables

Playset

Usually $359.99

$

279 99 ea

Club Ranch

Usually $99.99

Steel Tough

Mightiest

Dump Truck

$

79 99 ea

Metro Police

Department

Usually $169.99

$

139 99 ea

Save $150

Soft Touch Doll

Usually $119.99

$

119 99 ea

Train & Table Set

Usually $449.99

$

299 99 ea

$

99 99 ea

New Zealand's BEST

TOY LAYAWAY

NO DEPOSIT – NO INTEREST

• Layaway held up to 17th December, 2021

• Payments instore or by Internet Banking

• At least fortnightly payments required

• Cancellation Fees apply

• 48hour notice for pickup (as some layaways stored offsite)

• Photo ID required for creating Layaway
---
Hero 2 Missile Remote

Control Robot

Usua ly up to $99.99

ChriSTmaS

Thursday June 24 2021 The Star 17

28

WEEKS

TO GO!

SAVE

$

20

New mailer out now

$ 79 99

ea

SAVE

$

10

$ 79 99

ea

New Zealand's BEST

TOY LAYAWAY!

Do l Savannah

ONLY

$

59 99

ea

NO DEPOSIT, NO INTEREST!

HELD UP TO 17 TH DEC 2021. See in-store for T&Cs

Family House

Playset

Usua ly up to

$89.99

LOCALLY

OWNED AND

OPERATED

30% off

30% off

Ticket

to Ride

Europe

Usually $99.99

$

69 99 ea

Settlers

of Catan

Usually $99.99

$

69 99 ea

Boogie

Board

with 18

Stencils

Usually $79.99

$

69 99 ea

RC Speed

Phantom 2

Usually $159.99

$ 139 99 ea

Sequence

Usually $39.99

John Deere

Dump Truck

Usually $79.99

1:50

Diecast

$

59 99 ea

$

34 99 ea

Pass

the Pen

Usually $39.99

$

34 99 ea

Rubik's

Race

Usually $29.99

$

24 99 ea

20% off

Liebherr

Wheel Loader

Usually $44.99

$

34 99 ea

20%

off

Regular Doll

Amina, Gabe

and Jovie

$

59 99 ea

Deluxe Doll

Megan, Willow

and Sydney Lee

Usually $89.99

$

79 99 ea

All 4 Pack

Families

Usually $49.99

$

39 99 ea

20% off

Tactical

Truck

Usually $129.99

$

99 99 ea

20%

off

Save

$20

Family

Picnic Van

Usually $64.99

$

49 99 ea

Fire Engine

Usually $179.99

$ 139 99 ea

20%

off

Wooden

Wardrobe

$

199 99 ea

Deluxe

Dressing

Room

Usually $99.99

$

79 99 ea

Beechwood

Hall Gift Set

Usually $199.99

$

169 99 ea

Fire Station

Usually $249.99

$ 199 99 ea

TOWER JUNCTION

NZ's Biggest TOYWORLD

Clarence St, Riccarton, Ph 03 343 0330

MARSHLAND

199 Marshland Rd,

Ph 03 982 8697

HORNBY

Chalmers St,

Ph 03 281 8127

Valid until 4th July 2021
---
The Star Thursday June 24 2021

18

NEWS

• By Ella Somers

THOUSANDS OF daffodils

are being planted to brighten

up Lyttelton's two earthquakedamaged

cemeteries.

The city council's community

parks manager Al Hardy said

the council had already planted

20,000 grand monarch daffodil

bulbs in the Lyttelton Anglican

Cemetery and are planting

20,000 daffodils bulbs in the

Lyttelton Catholic and Public

Cemetery this month.

The bulbs will flower later this

winter or early spring.

Hardy said the 40,000

daffodil bulbs cost $18,000 and

were funded through the city

council's community parks

green asset renewal programme.

The daffodil planting initiative

was proposed by the city

council's in-house cemetery

maintenance team in December

2019.

The daffodils will "lift the

appearance, increase amenity

value and introduce more colour

into our cemeteries," Hardy said.

There have been 3800 burials

within both cemeteries and

95 per cent of the burials are

classified as heritage which are

burials dating pre-1950.

Hardy said the daffodils are

not being planted to mitigate the

severe earthquake damage in

the two cemeteries that have not

had any repair work from the

council.

The city council inspected

all cemeteries after the

earthquakes to ensure they were

in safe condition for visitors.

Monuments and headstones

deemed "unsafe" were laid flat

on the ground, Hardy said.

Broken monuments,

headstones and concrete kerbing

are still lying on the hillsides of

both Lyttelton cemeteries.

Veterans' Affairs deputy head

Marti Eller said the organisation

had been in discussion with

Latest Canterbury news at starnews.co.nz

Daffodils set to brighten Lyttelton's cemeteries

the city council since 2014

over repairing the 50 damaged

soldiers' graves in the Lyttelton

Catholic and Public

Cemetery.

"Veterans' Affairs

has always been ready

to support the repair of

the [soldiers'] graves at

Lyttelton," she said.

Lyttelton Reverend John

McLister said some of

the graves in the cemeteries had

been in a "shocking state" since

the earthquakes. He had been

concerned for several

John

McLister

UNSIGHTLY: Earthquake damage at the Lyttelton

Catholic and Public Cemetery (left) and Lyttelton

Anglican Cemetery. Daffodils are being planted to

'lift their appearance.' PHOTOS: ELLA SOMERS

years about the damage to the

soldiers' graves.

Banks Peninsula Community

Board member Reuben

Davidson said it was

"disappointing" that the

cemeteries were still in a

state of disrepair and it

would be good to see a plan

from the city council on how

they intend to repair them.

Banks Peninsula Ward

city councillor and Deputy

Mayor Andrew Turner said

repairing cemetery gravestones

was "detailed, specialised

work that needs to be done by

professionals which means it's

not cheap."

Turner said the city council

was constantly reminded by

communities that they needed to

be frugal with finances.

It was about finding the "right

balance" but said finding a longterm

solution to repairing the

cemeteries needed to be found.

It would require some funds

to be put on budget by the city

council "when we're through

some of the particular constraints

we have at the moment."

Apartments

from

$275,000

A great lifestyle in a supportive community

Where New Memories are Made

• Stunning serviced apartments

• Restaurant & bar

• Landscaped courtyards

• Close to The Palms

Resthome and Hospital Care – Care is what we do best

• 24/7 care available throughout the Village Palms. Fully serviced care suites offering

hospital and resthome level care

• Dedicated registered nurses, carers and household staff

• Additional support of a physiotherapist, diversional therapist, podiatrist and visiting GP

Open Monday to Friday

10am – 4pm

or by appointment

including weekends

Call Jenny for your personal

guided tour 021 993 943

31 Shirley Road, Shirley

www.thevillagepalms.co.nz
---
Thursday June 24 2021 The Star 19

Warm up

and chill out

Winter getaways

never felt so good!

Just 90 minutes north of Christchurch,

the Hanmer Springs Thermal Pools

and Spa is the perfect place to head

for your winter escape!

There's nothing quite as satisfying as

that feeling when you slip down into one

of our hot, open-air thermal pools on a

cold, wintry day! Of course, if soaking in

our therapeutic waters isn't enough, you

could warm-up with an adrenalin rush

on Conical Thrill, or treat yourself to a

well-deserved pampering at The Spa –

there really is something for everyone here.

We have a wide range of affordable

packages that include everything from

pool entry to accommodation, and

even lunch – so pop in for the day,

or make a long weekend of it!

• Two night's accommodation

• Two days single Hanmer Springs

Thermal Pools & Spa entry (incl. slides)

• ½ hour Village Cruiser bike rental

• 1 round of Mini Golf at Alpine

Crazy Putt

$

349 $

429

2 adults and

up to 3 children under

15 years

• One night accommodation

in a motel/hotel in Hanmer Springs

• One day Hanmer Springs Thermal

Pools & Spa entry

• ½ hour private thermal pool

• ½ hour sauna or steam

• ½ hour Unwind Revival Massage

at The Spa

for two people

• Pools & slide entry

• Two of our famous pizzas

from our pizza oven

You can spend all day at the pools

on this pass – the Tea Kiosk Café

and Grill's amazing pizzas will be

ready when you are!

SAVE $ 30

$

2 adults and

up to 3 children

99under 15 years

Just a 90 minute drive from Christchurch

0800 4 HANMER hanmersprings.co.nz Open seven days

HC HST2515
---
20 The Star Thursday June 24 2021

STYLE & QUALITY

FOR LESS

WWW.AFFORDABLEFURNITURE.NZ

SUPER

SPECIAL

Wagner Chair &

Radius 1.2 Round Dining Table

Bramwell

3+2 Suite

WAS $1999

$

1849

3 Seater $1199 $1099

2 Seater $839 $779

Wagner Chair

$189 $169

Radius 1.2 Round

Marble Top

Dining Table

$1199 $1139

SUPER

SPECIAL

SUPER

SPECIAL

Calla Corner

Sofa Bed Chaise

with storage ottoman

WAS $2809

$ WAS $2609

2599

$

2419

Byrony Corner Suite

Modular

Nova Bedroom

Collection

Sylvie

Collection

Bedside $249 $229

Bedframe $849 $759

Under Bed Drawer $169 $149

6 Drawer Tallboy $799 $719

6 Drawer Lowboy $729 $659

Dining Table $839 $779

Dining Chair $199 $189

TV Unit 1250mm $489 $459

Bookcase 1800mm $499 $459

Buffet $909 $839

Aspen Bedroom

Collection

Mangrove Bedroom

Collection

SUPER

SPECIAL

Lift Up Base

Single $489 $459

King Single $509 $479

Double $569 $529

Queen $599 $559

King $669 $619

Queen Slat Bed $979 $909

Bedside Cabinet $299 $279

Lowboy 6 Drawers $849 $789

Tallboy 6 Drawers $829 $769

Bedside $209 $199

Tallboy $699 $649

Lowboy $649 $599

Queen Base $679 $629

FROM

$

459

FREE

CARPARKING

SOUTH CITY

BATH ST

WE ARE

HERE

255 MOORHOUSE AVE

REBEL SPORT

COLOMBO ST

MON-FRI 9:30AM – 5:30PM

SAT-SUN 10AM – 5:30PM

0800 268 264

www.affordablefurniture.nz
---
Thursday June 24 2021 The Star

OUR PEOPLE – NIC LOW 21

Retelling stories of the Southern Alps

Nic Low nearly died on

one of the journeys in

his new book Uprising:

Walking the Southern

Alps of New Zealand,

which will be released

on July 2. The book is

Low's story of crossing

the Southern Alps

more than a dozen

times on different

greenstone trails, trying

to understand how his

Ngāi Tahu ancestors

saw the land. Matt

Slaughter spoke to the

Christchurch author

What is a greenstone trail

and how many did you walk as

part of this journey?

They were the routes used

through the mountains in

order to go and get greenstone.

So, there's not necessarily any

greenstone along the route itself,

it's more just that this is a known

pathway through the mountains

where you can cross. They

were often talked about as the

greenstone trails, but they were

used for far more than that.

I've walked 15 [trails] in total

and I've written about nine of

them in the book. I guess you

would say that they span from

around the Lewis Pass area all

the way through to the bottom of

Fiordland.

Your new book documents

your experiences walking these

trails. Why is this a story worth

telling?

My great uncles were

mountaineers who climbed

with Sir Edmund Hillary. They

were both past presidents and

patrons of the Canterbury

Mountaineering Club and so I

really grew up on the stories of

the mountains from the pakeha

side.

On my mum's side, we're Ngāi

Tahu, and I grew up learning

about, knowing about a lot of

our history around the coast.

I knew about where we came

from out on the coast, but it had

never really occurred to me that

we would have had a big history

inland, in the high country

and through the mountains

themselves.

I thought there has to be

Ngāi Tahu stories about those

mountains. I just started asking

around, I started doing some

research, talking to people

I knew within Ngāi Tahu –

some of the elders, some of the

historians – and, what do you

know, there is a huge wealth of

material.

I hoped that by writing this

book, that people will come to

know just a bit more about the

richness and the depth of the

history that's right here in the

landscape.

Tell me about any danger

or close calls you experienced

while walking the trails?

I didn't always stay safe. I tried,

but I actually came very close to

dying while writing this book.

I was in the middle of winter

scouting out a route through

the big mountains in South

Canterbury, about 30km north

of Aoraki (Mt Cook) up the back

of Takapō, Lake Tekapo. Just

through a sequence of events [I]

ended up going a bit further and

a bit further and a bit further

not in good conditions . . . the

further I went, the more things

went wrong. The more gear

broke, the more things I lost, the

more my way was barred and

the whole time, at night, there

were these electrical storms

happening up over the main

divide, and in Māori, we call that

kapo – it's a type of lightning

playing about the horizon and

in the old days it was considered

an omen. While I'm walking,

I'm like, I'm pretty sure that was

considered an omen in the old

day, but I can't remember what

it's an omen of.

Everything kept going wrong

until the final point where I

almost made it to the pass, and

then I got hit by an avalanche

and swept all the way off the

pass and I was very, very lucky to

survive. By rights, I should have

been dead. I'd been climbing

really steep terrain, I'd been

climbing an ice fall before that,

so when the avalanche swept me

away, I just basically fell straight

down the ice fall, didn't hit

anything luckily, and then this

float just caught me and spat me

out the bottom, but it was a real

feeling of some massive creature

just, kind of, wiping you out. It

was hard out and it was scary.

UPRISING: Nic Low's new

book of walking journeys

retraces the steps of his

Ngāi Tahu ancestors,

including paddling across

Lake Pūkaki.

You collected greenstone on one

of the legs of your journey? Can

you explain this process?

We got a permit from our

rūnaka, so from the tribal

body, the tribal council from

down there (Colac Bay). We got

permission to gather some of

the stone, gather that takiwai

from the head of Milford Sound.

Over three weeks, about 30 of

us worked together at different

points to bring that stone

about 300km overland and

paddling all the way back to the

marae [Takutai o Te Tītī

Marae] at Colac Bay

(Southland).

How many people went on

the trip?

Twenty-nine people. It was a

real mixture . . . some of them

were there in a support role, all

just doing it for the love.

There were six of us who did

the walking at different times.

• Turn to page 22

Ducted PEAD125

Heating 14.0kW | Cooling 12.5kW

$13,499

INSTALLED

Basic installation.

Conditions apply.

Quiet, unobtrusive

whole home comfort

Call us for a free quote

Read local
---
The Star Thursday June 24 2021

22

OUR PEOPLE – NIC LOW

Taking oral histories for a walk in the mountains

• From page 21

What was one of the

highlights of your trip?

I think, bringing the

greenstone back to our home

marae [Takutai o Te Tītī Marae].

This a place where my whānau's

ancestors are from, going way

back, and so, to come there with

this stone that, you know, so

many of us had worked together

to bring back. As far as we're

aware, it was the first time in 180

years that anyone had done that

journey [the greenstone trails] in

that way. Definitely, Ngāi Tahu

people have been going there

and collecting that stone all the

time since, but usually using

more modern methods, you

know, a lot of travel by boat and

by car and whatever.

It was just really special to be

there at our home marae with

that great big group of whānau

and friends around us, who'd all

worked together to make that

happen.

What was your favourite trail

you walked?

I guess, I really loved the

Whitcombe Pass trip, I think,

just because it was a bit of a

rowdier trip. It's just really

gnarly terrain and we also did

a fun side mission. There are

two mountains along that route

named after [explorers] Henry

JOURNEYING: Paying respects to Aoraki Mt Cook at the base of the Summit Rocks (left) and ascending Ball Ridge.

Whitcombe and Jakob Lauper

. . . We spent several kind of

hard-out days playing, climbing,

exploring up in there.

Over what years did you

complete the greenstone trails?

I started researching and talking

to people about this in 2014 and

then I did the walks over a few

years – 2015, 16 and 17. Then it's

been just a bunch more years of

more research and writing and

editing. It's been a massive project,

really, 2014 until now.

How did you document your

experiences along the way to

remember them when you

came to write the book?

Part of it was taking

photographs, just to capture the

landscapes and the feeling of

those places. Part of it was just

taking notes, so just having that

diary with me the whole time,

stopping and scribbling down

thoughts, observations, smells,

sounds, just all those things that

as a writer you need to really

bring a scene to life.

On a couple of the trips we also

took some film gear and shot

some little clips with a GoPro,

and then, when we did the big

mission down south [to Takutai

o Te Tītī Marae] we had a camera

crew dropping in at a couple of

points to film stuff.

What other books have you

published in the past?

I've contributed to heaps of

books, but the one that I guess

I'm most proud of, that's got my

name on the cover, is a book

called Arms Race, which is a

totally different type of book

compared to this one [Uprising].

It's short stories and if you're a

fan of Black Mirror on Netflix,

it's very much in that style.

They're stories about the near

future, just imagining what

might life be like if we kind of

keep going the way we're going

now. They're kind of partly

speculative fiction, partly satire.

For example, stories about what

would it be like if you were the

last person left on Facebook?

You recently returned home

to Christchurch after 20 years

living in Melbourne. Why did

you make the move?

I am now the programme

co-director of the WORD

Christchurch festival. It was a

combination of getting the job

offer here, and also, Covid

over there.

HOW MARVEL HEALTH

DELIVERS ADVANCED

DIAGNOSTICS AND SCIENCE-

BASED NATURAL MEDICINE

At Marvel Health, our focus is on regenerative

and preventive healthcare. The whole body

scan we perform provides our doctors with

a comprehensive report of a patient's state

of health. It reveals hidden diseases and

their causes and our recommendations, are

based on the detailed information from the

scan. The scan searches for the underlying

causes of health problems, whether infections

caused by viruses and bacteria or heavy metal

contamination such as lead toxicity or food

allergies. Furthermore, it searches for the

causes of organ damage such as narrowing

of the arteries, auto-immune conditions or

nutrient deficiencies. After studying the scan

reports, our doctors make personalised and

targeted recommendations. During your

30-minute tele-consultation with the doctor

they recommend only the 3 most essential

medicines that you need to kick-start your

healing and stop pain and discomfort.

We only recommend science-based natural

remedies that are supported by published

medical journals and trialled clinical

studies. The Marvel Health scan is unique

because it recognises and searches for

harmful environmental factors that promote

diseases. It checks the body for nutrient

levels, environmental toxins, harmful

electromagnetic influences, food sensitivities

and predisposition to genetic disorders.

ADVERTISEMENT

Our Marvel Health Lifestyle Specialists spend

30 minutes with you exploring in detail your

lifestyle, nutrition and other environmental

influences on your health and they prepare

a detailed report with personalised

recommendations of the steps you need to

take to preserve your health.

However, your healthcare continues even after

consultations with the doctor and lifestyle

specialist. We follow-up on your health and

are there to assist you along the way until you

feel better.

Book A Scan Today 03-669-5410

www.marvel.health

Unit 13/6 Cone Street, Rangiora, Canterbury, 7400

293 Durham Street, Awly Building, Christchurch, 8013

The inspections from the scan is not a substitute for medical inspections. It is not assigned to state the final diagnosis

Seriously not to

be missed!

Seriously Brass will showcase one

of New Zealand's finest brass bands,

Christchurch's iconic Woolston Brass

with Music Director Tyme Marsters

alongside their talented Academy;

Woolston Concert Brass and Woolston

Junior Band with Music Directors

Kevin Hickman and Sarah Hickman.

Featuring the 2021 National Brass

Band Championship repertoire in

preparation for competing in the A, C

and D Grade band events being held

in July in the Christchurch Town Hall,

this pre-contest concert will impress

its audience with the bands' excellent

technical skill and musicianship.

Sunday 4 July, 2.00pm James Hay Theatre

advertorial

Each band will perform a Sacred

Item, Own Choice and Test Piece for

their respective grade showcasing the

breadth of talent in the organisation,

it is the first time in Woolston Brass'

history where all three bands will

compete at the National Brass Band

Championships.

Celebrating 130 years, join Woolston

Brass and their Academy for an

afternoon of contemporary music and

be inspired by their musical excellence.

An opportunity seriously not to be

missed!

Secure your ticket from Ticketek

today!

Woolston Brass - Music Director Tyme Marsters

Woolston Concert Brass - Music Director Kevin Hickman

Woolston Junior Band - Music Director Sarah Hickman

performing repertoire for the 2021 New Zealand Brass Band Championships

woolstonbrass.org • facebook.com/woolstonbrass • info@woolstonbrass.org
---
Thursday June 24 2021 The Star 23

GRAND

OPENING

SALE

THIS WEEKEND

CHRISTCHURCH NISSAN

392 Moorhouse Avenue

Saturday 26 th 9am - 5pm

Sunday 27 th 10am - 4pm

*Sale ends Sunday 27th June at 4pm, not in conjunction with any other offer or promotion.
---
TM

TM

TM

24 The Star Thursday June 24 2021

THIS

WEEKEND

SAT & SUN

9AM-5PM

CRANFORD ST

& SOCKBURN

WORLD'S LARGEST GUN STORE

amazing deals

throughout

the store!

SCOPED & SILENCED

PACKAGE $449

3-9x SCOPE +$99

BLACK

OR GREEN

RIMFIRE

AIR RIFLES

no licence req'd over 18!

400018

*Semi auto

*10rnd magazine

*Threaded barrel

*10rnd magazine

*Threaded barrel

*Oversized bolt handle

*M-Lok forend ALL CALIBRES

*Adjustable stock

SCOPE PACKAGES

RANGER 3-9x +$150 *18" target barrel

RANGER 4.5-14x +$450 *22LR, 22Mag, .17HMR

$949

T1X 22LR OR 17HMR

*Made in Germany

*AK47 replica

WILDCAT 16.5" 22LR TFS

*10rnd magazine

*Threaded barrel

*Crossover heavy barrel

WOOD

$69 .99 SYNTHETIC

$89 .99

040133

WAS $99.99 WAS $119

EXPLORER YOUTH .177 SCOPED

*4x32 scope

*Thumbhole stock

WAS $599

$499

M1100 BLK/SYN 18" TFS

MSR MK22 22LR SEMI

T1X UPR BLU/SYN 20"

X22 22LR SEMI

*Wood or Syn stock

*10 shot semi auto

PRECISION M-LOK

ONLY

$349

WAS $449

WAS $799

$699

WAS $1099

$999

WAS

$1499

$999

TAC R1 22LR SEMI SCOPED

& SILENCED

BARE GUN

$999

WAS $1299 WAS $1599

SCOPE/SIL

$1399

RAK-22 22LR SEMI BLU/WD

*Modular target stock

*Adjustable cheek piece

WAS $1899

$1599

MAGNUM RESEARCH LITE 22MAG

*Graphite barrel

*Just landed after 2 years!

*Hogue overmoulded stock

BLU/WD BLU/SYN

$999 $1299

WAS $1299 WAS $1599

WAS $1999

$1799

JUNIOR .177

400002

RRP $318

$179

TARGIS .177 BUNNY BUSTER PKG

INCREDIBLE DEALS!

UP TO 60% OFF

SPLASHPROOF

GEAR BAG 60L

WAS $99.99

$

49 .99

FLEECE NECK

GAITER

Camo

WAS

$39.99

CENTREFIRE

Staff pick for rifles under $1000

7mm08, .308, .22-250,

6.5CRD, .243

*Quality, made in Japan

*Stainless barrel and action

.223, 7.62x39

M1500 STAINLESS

S/SYN HOGUE

BLACK FROM

$899

1500 MINI ACTION

RUGGED

PULLOVER

Green

1-PIECE CLEANING

ROD

170248

$219 WITH BATTERIES & CHARGER

S/SYN HOGUE

GREEN FROM

$899

WAS $999 WAS $999

SHOOTERS

JACKET

Woodland

camo

$

19 .99 $

59 .99 $

49 .99

158151

DIGITAL IR NV

GOGGLES

WAS

$799

$

499

165120

2000LM LED

DRIVING LIGHTS

2 Pack

WAS

$69.99

$

39.99

OREGON

700 GPS

WAS $699

$

399

177003

177003

WAS

$99.99

WAS

$79.99

GUN VICE

$

39 .99 $ 74 .99

4" DROP

FORGED

HUNTER

+Sheath

1250lm

151145

$

99 .99 $ 14 .99

BLITZER LED

TORCH

WAS $139

WAS

$249

FLEECE

WETLAND BEANIE $

2

GUMBOOT

WAS

WAS $129

$

69 .99 $4.99

010034

157113

In store only

WAS

$99.99

WAS

$149

KNIVES

Skinning or

Boning

360105 360105

.308, 44Mag

.357 or .44Mag

203010

151188

WAS

$29.99ea

each

SINGLE SHOT BUSH GUN 22"

$699

TOP GUN DEALS

BB, PAINTBALL & ARCHERY

20% OFF CROSSBOWS

COBRA 80LB

no licence req'd over 18!

33% OFF SLINGSHOTS

TARGET 3.0

SLINGSHOT

$19 .99

WAS $29.99

WAS $79 .99 $99.99

430018

101146

20% OFF ARCHERY

BERETTA 92FS 6MM

BB PISTOL

RECURVE BOW

12LB

RRP

WAS

$99.99

$34.99

$49 .99

415016

$27 .99

436008

VICTOR .68

BLADE+ SCOPED

PAINTBALL GUN CROSSBOW 175LB

WAS

WAS $199

$549

$149 055222

$439 430018

+$100 PREDATOR

AMERICAN RANCH BLU/FDE

*10rnd magazine 7.62x39 .223

BARE

RANGER

*Factory Picatinny scope base

GUN SCOPED $999

WAS $899 WAS $1199 WAS $1099

PUMA 16" SS/WD L/A

*8+1rnd tube mag

*Adjustable buckhorn sights

LONG RANGER LEVER .308

*Detachable magazine

*Oil finished walnut stock

In store only, limit 1 per customer

TIBET

BOOTS

CLAY TARGETS

GREEN 150x

150x

$

22 .49

Tan

$199

157090

WAS

$349

WAS

$44.99

251025

In store only, limit 1 per customer

5A LOCKBACK/

18A TOOTHPICK

2 Knife

Gift Box

$

39 .99

DTC 460

X-LITE

SLIM

10x42

TRAIL

BINOS

CAM

WAS $399 WAS $449

WAS $79.99

$

169 $

249 $

299

361089

465031 450078

WAS $1299

$1199

WAS $2299

$1799

1873 COMPETITION LEVER .357

212 TAC MARINE 12GA 20"

* Semi auto

*Heat Sheild

* Adjustable P/grip stock

XX3 18.5" PUMP 12GA

* Vented rib

* 4+1rnd mag

*Double slide bar action

T3X ELITE FLUTED

+$100 L/H

WAS $1749

*T3x Modular Stock

*Threaded for silencer

*Huge range of calibres $1599

.223, .243, .270, .308, 6.5CRD, 7mm08, 7mmMag

T3X LITE SS/SYN

*Lightweight

*Modular Stock

*Improved recoil pad

10X42 2800M

WATERPROOF

BINOS

ADVENTURE

PACK 25L

w/bladder

WAS $159

AMMUNITION

POWERPOINT 22LR

500rnds

40gr

30-06,

.233 55GR PSP PERFECTA SP

50rnds

20rnds

WAS $51.99

WAS $39.99

$39 .99 $29 .99

706028

WAS $2999

$1999

ACCESSORIES

$99 .99 450081

165070

WAS $69.99

$29 .99

PISTOLS

IMPACT SPORT

EARMUFFS

Pink

WAS $179

$119 240126

SPARTAN

JAVELIN

BIPOD

Carbon legs

WAS $649

$599

IL4 TORCH

IL7 TORCH

80 Lumens 340 Lumens

NIGHT VISION

SCOPE

4.6x HD

170272

333 22LR

333rnds

36gr

WAS $129 WAS $54.99

$99 .99 $ 600025

39 .99

062170

GSG FIREFLY 22LR

715002

Limit 2 per customer. In store only

Pistol Licence

Required

243126

WAS $139

$49 .99

TAC SCOPE

4.5-30x50

Limit 1 per

customer.

In store

only

.308,

.270

170273

WAS $999 WAS $2099

$799 $1499

WAS $699

$

499

P226 X5 9MM

RRP $4499

$

3599

455056 440684

RRP $1699

$

1399

ALFA 3561 .357

STAINLESS 6"

92FS 9MM

WAS $1299

$

999

SHOTGUNS

+$100 FOR L/H

$ $

* Adjustable Marksman trigger 899 999

*Ghost silencer

+$200 FOR CAMO

*Ranger 4-12 scope

+$700 M2 SPEED

WAS $1099

T3X BLU/SYN .223, .308, 7mmMag, 7mm-08

+$100 LEFT HAND

X-BOLT RIFLES

STANDARD SPIRAL FLUTED

* Ghost Ring sights

*Steel bolt shroud

*Enlarged ejection port

*Foam filled anti-vibration stock

*5rnd magazine

.308, 300WIN, * 24" threaded barrel

6.5CRD *HMR Mini Chassis stock

WAS $1099

$799

WAS $449

$349

+$100 L/H

WAS $1599

$1499

WAS $1399

$1199

B14 HMR BLU/SYN

WAS $1999

$1799

MARAL SYN NORDIC

AMERICAN RANCH BLU/FDE

$1599

WAS $1699

SCOPED/SILENCED

$1499

VALUED AT $1966

$1799

WAS $2099

T3X SUPERLITE STRATA CAMO .308

*Fluted barrel

*Protective Cerakote finish

WAS $2099

$1999

85 FINNLIGHT II 20.4" S/SYN

* Vented rib

* 4+1rnd mag

*Double slide bar action

+$100 CAMO

K100 BLU/WD 28" 12GA

* Single shot

*Turkish walnut stock

*Folds away for storage

XX3 28" PUMP 12GA

P3000 12GA SEMI 28"

*4+1rnd mag

*Handles 23/4 - 3" loads

*Fibre optic front sight

12GA SUPER NOVA TAC 14"

*Picatinny rail

* Ghost Ring sights

* Telescopic pistol grip stock

M2 12GA

* Made in Italy

* Inertia action

12GA M2 TAC 18.5"

* Great for rabbit shooting

WAS $699

$599

RANGER M5 INERTIA 12GA SEMI

24", 26", 28"

* Inertia Action

CAMO +$100 *Interchoke

SCEPTRE SXE 12GA U/O

GREAT

VALUE!

28" BARREL

$399

SUBGAUGE

$899

WAS $1099

WAS

$1999

$1599

12GA MK70 G1 SPORTER 30"

WAS $2199

* Satin varnish stock

* Invector Multi-choke $1999

WAS $2999

$2499

686 SILVER PIGEON 12GA SPORT

* Interchoke

* Walnut stock

* Italian made quality

WAS $399

$299

WAS $699

$599

12GA

$799

WAS $999

NOVA 12GA PUMP 18.5"

* Made in Italy

* Inertia action

*Ghost ring sights

WAS $1399

$999

AFFINITY III 12GA SEMI

BLACK

$1299

WAS $1499

18.5" + 28"

$549

CAMO

$1449

21", 24", 26", 28"

WAS $1649

WAS $2299

$2199

WAS $3099

$2899

A400 XTREME PLUS 28"

400154/PKG

*4x32 scope

*Up to 1200FPS

*Thumbhole stock

WAS $399

$349

RUGER 10/22 .177 CO2 RIFLE

*Short throw bolt

*Quality, made in Japan

*Removable box magazine

BLUED

FROM

$699

STAINLESS

FROM

$849

WAS FROM $799 WAS FROM $949

PRECISION 24" 6.5CRD

*Walnut stock

*10+1rnd mag

*Octagonal barrel

WAS $2799

$2599

T3X TACTICAL A1 BLACK .308

*Straight pull bolt

*Adjustable cheek piece

*Browning Superfeather trigger

WAS $3399

$2799

FURY CARBON BARREL .308

*Fluted & threaded

* RTM fibreglass stock

*Weatherproof Cerakote finish

WAS $4799

$4199

MODEL 99 .50BMG 32" HBAR

BLACK SYN

$3199

WAS $3499

$3399

12GA M4 TAC 18.5"

CAMO

WAS $3699

*CO2 powered

*Up to 650FPS

*10rnd rotary mag

RRP $399

$299

+$1000 .338LAP

300WIN & 300PRC

WAS $2699

*M-LOK forend

*10rnd box mag

*Adj. folding stock $2499

+$300 6.5CRD

+$500 LEFT HAND

*Muzzle brake

*Detachable mag

*Adjustable stock

WAS $3799

$2999

WAS $5999

*Carbon fibre stock

*Weatherproof Lastguard finish

*Adjustable match grade trigger $4999

*Match quality trigger

*Match grade 32" heavy barrel

*3-port high efficiency muzzle brake

WAS $10999

$9999

*Cerakote finish

* Ghost Ring sights

* Adjustable P/grip stock

WAS $4499

$3999

20% OFF 20% OFF 10% OFF 15% OFF 5% OFF 10% OFF 10% OFF 10% OFF 5% OFF 20% OFF 10% OFF 20% OFF 20% OFF

* * * * * * * *

* *

CAMPING CLOTHING FOOTWEAR SAFES THERMAL KNIVES & OPTICS CLAYTHROWERS BACKPACKS AIR RIFLES HEARING LIGHTING

FLASH 2.0

1L COOKER

THERMOLITE

JACKET V2

20% OFF

LIMA BOOTS

10% OFF

5-GUN

SAFE

AXION XM30

THERMAL

WAS

$2599

$2469

MULTITOOLS

MICRA STD

MULTITOOL

DROPTINE

3-9x40

PROTECTION

WAS $249 WAS $369

WAS $199

WAS $329

WAS $99.99

$89 .99 WAS $449 WAS $79.99

$71 .99 WAS $119

254020

$854 340019

$96 .99 WAS $349

WAS $79.99

$

199 $

295 $

179

$279

$404 $359

$63 .99

165069 151347 157087

453032

160948 440295 165069

$279 240105 171014

501056

*

*

PLUS: 10% OFF AMMO, RELOADING, BINOS & MUCH MORE 10% OFF DECOYS & CLEANING GEAR

3-SPIKE CLAY

THROWER

RINO 750

GPS +

2-WAY

RADIO

SCOUT

PACK

8-litre

RAPID

REPEATER

Multi-shot

.177

SPORTTAC

EARMUFFS

Grn/Orange 29dB

HALOGEN

SPOTLIGHT

150mm 100w

WAS $899 WAS $399 *

*Off RRP, products not already discounted only. Optics excludes Leupold. ERRORS AND OMISSIONS EXEMPT

VIEW THE GUN LIST ONLINE

EVERY GUN IN STORE REDUCED, SEE GUNCITY.COM FOR YOUR STORE'S FULL LIST
---
2

[Edition datE]

Mayor

Lianne Dalziel

OPINION 25

Long Term Plan process

one of co-creation

THIS HAS been the third

Long Term Plan process

I've been through.

Each time there has been

a steep change as we move

further away from the

earthquakes that began the

last decade.

The auditor reflected

on that when he spoke to

the council to confirm an

unqualified audit opinion

at the beginning of the

week.

I will never forget the

moment we discovered that

the plan we were inheriting

in 2013 contained a $400

million hole, coupled with

an insurance claim that

was nowhere near settled.

Never again.

This has been our

chief executive Dawn

Baxendale's first experience

of our Long Term Plan

process in New Zealand.

And I am glad it has been

this one, as she has been

able to work through all

the activity management

plans and levels of service

with councillors, at the

same time as sitting in

as the External Advisory

Group analysed different

parts of the organisation's

operations and drilled into

the capital programme.

We asked for this Long

Term Plan to be co-created,

and it was.

However, the challenge

for next time is to take

that co-creation process

out into the community.

We need our community

boards engaging with

residents' groups,

businesses and other

organisations so they can

see how the LTP impacts

on their areas, so as to have

a meaningful say.

That being said, I have

thoroughly appreciated

the partnership offers that

have come from the heart

of our communities. We

have accepted those, and

built appropriate funding

around them.

At the same time,

we are continuing

to invest heavily in

climate resilience, which

means ensuring our

infrastructure can meet

the challenges that lie

ahead.

Thank you to everyone

who made a submission

and is willing to play a role

in your community.

ARA INSTITUTE OF CANTERBURY

Is business your calling?

If you're a big thinker, a natural leader or a

born organiser, business could be your perfect

career choice.

Ara Institute of Canterbury has a wide

range of business study options designed to

equip individuals with the skills needed to

take advantage of the many opportunities

available in the business world. Qualifications

include certificates, diplomas, degrees

and graduate certificates and diplomas in

specialties such as project management, sales

and marketing, accounting, HR and change

management.

School leaver Rachel Fraser decided she'd

love a job in an office environment. She

studied a diploma in business at Ara and

now uses the skills and knowledge she gained

organising appointment bookings for the

South Canterbury District Health Board.

She says of the diploma: "It was filled with

relevant information that directly related to

the field, as well as skills like communication,

time management and effective planning

which I find myself using every day. It was an

amazing experience."

Olivia Smith worked in hospitality for 12

years before studying a business diploma

at Ara, specialising in administration and

technology. "Deciding to study business

opened up so many opportunities," she says.

Olivia did a lot of her learning in a

simulated office environment. "The tutors

were amazing - they adapted to each students'

learning style. The highlight was realising I'd

suddenly acquired a massive number of skills

that I could use every day in all areas of my

life."

Olivia is applying those skills in her role as

a customer service officer at ACC. "I work in

Thursday June 24 2021 The Star

the very role I was trained for, and I can do it

with confidence."

Mike Roberts discovered a passion for

project management while working as a

software tester. With the support of his

employer, he studied a graduate diploma

in project management at Ara where he'd

previously gained his IT degree.

Mike says the industry project he

undertook as part of his postgraduate course

was a highlight of his studies. "Being able to

demonstrate your learnings by working in a

real-world setting is so valuable. It's a fantastic

opportunity for students."

To learn more about Ara's business

qualifications, visit ara.ac.nz or call

0800 24 24 76.
---
26 The Star Thursday June 24 2021

Be inspired with thousands of ideas under one roof!

2 – 4 July 2021

IN ASSOCIATION WITH

Free informative seminars

thanks to !

Complimentary goodie bags!

show-only specials & giveaways!

Place a bid in the live AUCTION!

This MEGA tiny home could be YOUrs!

have an EV worth

$

22,000

TO

GIVE AWAY!

CUT THIS AD OUT FOR

1x FREE DOUBLE PASS

Join us at the Home & Leisure show, stand number 176.

Appliances, beds, furniture & tech.

Everything you need for your home.

2 - 4 July 2021 • 10am - 5pm • Christchurch Arena • www.starhomeshow.kiwi
---
Latest Canterbury news at starnews.co.nz

Thursday June 24 2021 The Star

LETTERS 27

Readers respond to last week's article in The Star about transport policies that aren't seen to

be working

I totally agree with Greg

Clydesdale (The Star, June 17),

that all the policies the council

has put forward, on roading

improvements have not had the

desired effects.

Used to love my city, now yuk.

– Dawn Martin

The report by Dr Clydesdale

is correct and the council strategies

will not make it what they

want.

The ideas they used must be

based on cities with millions of

people and Christchurch is not

one of them.

A lot of people I have

conversed with avoid the

city because of the problems

with parking, and they are not

about to go to town on a bike. –

D E Drake

Why isn't the council listening

to this expert and change their

policies?

In relation to the council's

transport policies, Greg Clydesdale

said ". . . under the council's

policies, our carbon footprint

has increased.''

The council has said there

is a steady increase in cyclist

numbers per year but fail to say

what the numbers actually are.

If there are 100 cyclists and they

increase by the 20 per cent stated

by council for one year, to 120

cyclists, that is an increase but

not enough to make a difference.

Is the possible temperature

increase of 1.5 deg C by 2040

reason enough to spend millions

on cycleways, when the NZ contribution

in the global context

is so minuscule and people are

homeless?

I personally think boycotting

the big overseas polluters and

producing locally, buying locally

will cut far more emissions and

make a greater contribution to a

cleaner world. – D Downward

Housing growth

I hope there are no major

obstacles to the expansion of

Prebbleton (The Star, June 17) although

on the other hand I hear

what its objectors are concerned

about – the intrusion into arable

pasture etc. It's all about balance

I think.

This is reflected in the vox

populi of the council, in the

Nor'West News (June 17). Only

49 per cent satisfaction overall,

and 48 per cent in heritage matters.

It seems our council is not

keeping abreast of nationwide

and worldwide opinion in regard

to housing and heritage. It matters

to many of us who see beyond

the towers of cookie-cutter,

cell-like apartments currently

invading our our older neighbourhoods.

Our local MP has labelled us

nimbys – a smear term which

Athena, top UK magazine writer

(Country Life) has called for an

end to.

We are not selfish people wanting

to stop building at all costs,

she writes, but a range of local

people who care passionately

about beauty and character.

Wellington City Council has

listened to its residents and actually

expanded areas of protected

homes in the 100-150 year age

group. Demolition laws will be

stricter, and enforced.

Our council obviously had an

inkling of the 'specialness' of the

southern end of Mersey St (St

Albans), when seven years ago it

planted the berms with manna

ash trees (on which it promptly

bestowed rigid protection) to

complement the northern end

of the street which is within the

protected Severn Special Amenity

Area.

Then last year it gave consent

for the construction of a totally

out-of-character, enormous, twostoreyed

white concrete complex

amongst the landscape of early

last century, weatherboard villas

and bungalows. And then for

another within cooee on Westminster

St, 10m from the special

amenity area.

With these 11 tiny apartments

going on sale for around $600k,

I'm pretty sure they won't go

anywhere near solving the

"affordable housing crisis" for

needy families. But between

Prebbleton, other already

consented subdivisions, and the

still-stalled city housing precinct,

I hope they will be catered for. –

June Peka

Council spending

At long last, Christchurch

ratepayers have five pragmatic

councillors who are prepared

to fight the wasteful mediocrity

that has plagued this council.

These mavericks have put its

chief executive on notice to reduce

staff costs by 10 per cent.

Cr Sara Templeton's attachment

to her particular brand of

cycleway ideology is denying the

city's eastern suburbs the attention

they deserve. To call these

five "climate deniers" is not only

a cheap shot, it demonstrates

how deep she is into her own

brand of political ideology that

has no place in the local council

chambers.

Mayoral hopeful, Cr Mike

Davidson, who originally

promoted himself as Mr

Frugality supports Templeton's

blind crusade.

To councillors MacDonald,

Keown, Gough, Mauger and

Chu, fight the good fight, you

have my vote. – Rob Beechey

Bad bus driving

Today driving from Papanui

Rd to The Palms Shopping Centre

in Shirley, I saw no fewer than

four big buses going through

intersections after the amber

lights been on for a few seconds

We want to hear your views

on the issues affecting life

in Canterbury

Send emails to:

barry@starmedia.kiwi

but one hit the intersection on

red and went through in front

of me.

I appreciate the need for buses

to get to stops on time and the

frustrations caused to drivers

but flagrant breech of rules and

safety cannot be condoned.

Does anybody physically monitor

this issue?

We have video cameras on

bus lanes to nab private drivers

but can I ask if any bus driver

has been photographed and

subsequently fined for running a

red light?

This red light situation in

general in Christchurch is

dreadful, I think Cranford St/

Innes Rd intersection must

rate as one of the worst. – N G

Smith

Language week

Congratulations to the organisers

of the recently held Samoan

Language Week.

I like the way it was presented

in such a friendly, inclusive and

non-threatening way. – J Stone

Footpath

I walk many streets in

Northwood, but one very

dangerous footpath is on

Beechwood Drive.

I originally notified the council

in November 2020, and since

then emails have been going

back and forth. The most logical

remedy would be to take the tree

out.

It is a lovely suburb but tree

stumps are causing a problem

to the footpaths. – Kath and

Bernie McCartin

Letters may be edited or rejected at Star Media's

discretion. Letters should be about 200 words.

A name, postal address and phone number should be

provided.

Please use your real name, not a nickname, alias, pen

name or abbreviation.

Hiring Class 5

Drivers Now!

With our full range of equipment, we offer you the

service you want, when you want it.

• Hiab-Crane Trucks – up to 10 tonne lift • Specialised Container Cartage

• 20/40' Swinglift • Freight and General Cartage • Bulk Cartage

• Tip Truck Hire • Flat Deck Truck & Trailer Hire

• Hay, Straw and Baleage Cartage • Flat Deck Tippers

• MPI Accredited Container Devanning Facility • Tail Lift Available

• Daily Freight Rangiora and surrounding districts - Christchurch

• 20' Container Hire / Storage

P.O. Box 171 ● 279B Flaxton Road ● Rangiora ● www.transportrangiora.co.nz

Phone 03 313 6026 Fax 03 313 6024 email admin@transportrangiora.co.nz

2386578
---
The Star Thursday June 24 2021

28

GARDENING

Latest Canterbury news at starnews.co.nz

EntEr

now!

be in to WIN

WIth our 7 th AnNual bIrd

photo competition

Your favourite bird photo competition

sINce 2015!

our 2020 Winner:

Karen Moffatt-Mcleod

over $1000

in prizes

Including a Canon EOS M200

inter-changeable lens

camera, a Topflite Native Bird

Nurturer Pack & more!

Entries can be sent electronically (high resolution files) to giveaways@gardener.kiwi, with the subject line 'Photo Competition 2021', or posted to Photo

Competition 2021, Kiwi Gardener, PO Box 1467, Christchurch 8140. All entries must be received by 5pm, Thursday, July 1 2021. You can enter more than

once. The winning photos will be published in the August issue (out July 26).
---
GETAWAY TO THE WEST COAST

Pioneers' story

re-created

Before the world-famous scenery was drawing crowds

to the West Coast, it was the allure of gold, timber and

natural resources that encouraged 19th-century arrivals

to the region.

Those forbears who turned up in the 1800s brought

a mentality of hard work, ingenuity and resilience that

persists across The Coast to this day, and their stories are

retold through the open-air experience of Shantytown

Heritage Park.

Now in its 50th year of operation, Shantytown exists as

an entire gold rush township hand-built for preserving

an incredible heritage, surrounded by the same forested

landscape where those original gold hatters and sawmillers

once toiled for a living.

Featuring over 30 replica buildings, on-site café,

heritage train trips and gold panning experiences just

10 minutes south of Greymouth, the park is centrally

positioned for anyone journeying along The Coast to

enjoy.

A wide range of ticket offers are available, with the $99

Golden Family Pass recommended as the best deal. This

pass includes entry and train trips for two adults and up

to four children, plus four gold-panning vouchers.

Find out more at shantytown.co.nz

Enjoy scenic

views from the

treetops

Just 15 minutes' drive south from Hokitika, visitors

have the opportunity to enjoy the stunning West Coast

scenery from a different perspective – the treetops.

This unique Walk the Tree Tops attraction features

a 1.2km-long walkway situated 20 metres above the

ground, giving panoramic views of the surrounding

native bush. It is reached via a 300-metre walk up a

hill, with complimentary golf-cart transport up the hill

available if required.

Eleven stop points along the walkway have plaques

with information on what can be seen from that point. In

addition, visitors can climb a 47-metre-high tower, which

offers 360-degree views of the Southern Alps, the Tasman

Sea and Lake Mahinapua.

After completing the excursion, visitors can enjoy

refreshments at the delightful on-site café, which offers

a wide selection of delicious food, and also has a liquor

licence.

Walk the Tree Tops is open every day except Christmas

Day. Entrance fees are $32 for adults, $29 for seniors 60+,

$16 for children, $77 for a family pass – two adults, two

children. Annual passes are available at the same prices.

Thursday June 24 2021 The Star 29

Advertising Feature

Stunning

Beachfront

Hotel

Located in central Hokitika on New Zealand's West

Coast, a stones throw away from the beach and offers

a wide range of quality accommodation, from elegant

Driftwood Rooms to modern, luxury and spacious

Oceanview Rooms with an uninterrupted view of the

beach, to the magnificent Penthouse.

Full services including Oceanview Restaurant and Bar,

event facilities for conferences, meetings and parties.

Bike storage shed for those that are here to experience the

fantastic West Coast Wilderness Cycle Trail. Free parking,

free unlimited Wifi.

Close to the town's restaurants, cafes, shops and

charming craft galleries featuring jade, wood, gold,

ruby, rock and precious metals. Hokitika is centrally

located, making it easy to travel to the main West

Coast attractions such as Punakaiki Pancake Rocks,

Shantytown, Franz Josef Glacier and Fox Glacier, as well

as numerous rainforest walks and gold mining history.

Book your stay at Beachfront Hotel Hokitika and

experience the best of the South Island's West Coast.

Contact us direct, mention

this advertisement & receive

15% OFF

THE USUAL PRICE

For travel in the months of

July & August

Hokitika's Kiwi Holiday Park and Motels

160 Davie St, Hokitika

kiwiholidayparkhokitika

phone 03 755 5141 or 0800 115 322

office@hokikiwihp.co.nz

www.hokitikakiwiholidaypark.co.nz

'Book

Today!'

AMAZING VIEWS

THRILLS

ALL WEATHER

FAMILY FUN

CAFE

SOUVENIRS

1128 Woodstock-Rimu Road, Ruatapu, Hokitika

freephone: 0508 8733 8677 phone: 03 755 5052

email: bookings@treetopsnz.com

www.treetopsnz.com

20%

OFF

When you show

us this advert

• Located in middle of Hokitika Township within

walking distance to tourist shopping

• Choose from a variety of different room types to

suit your budget:

• The Penthouse – magnificent Tasman Sea Views

with true colours of comfort and luxury

• Luxurious and spacious Oceanview rooms

overlooking the rugged Tasman Sea

• Elegant Driftwood Rooms

• Enjoy an elevated dining experience in the

Oceanview Restaurant and Bar while watching the

waves.

• Fresh New Zealand seafood available.

• Room service • Free parking • Secure Bike Storage

• Guest laundry

• Free WiFi

• Bottle store on site

111 Revell St, Hokitika | 0800 HOKITIKA

www.beachfronthotel.co.nz
---
30 The Star Thursday June 24 2021

Our readership is

way up

Reach more people than any other

media choice in Christchurch with us.

Source: Nielsen National readership survey y/e Q3 2020 - y/e Q1 2021

Readership of people 15+ in Christchurch is:

Up 5.9% in

the last 6 months

Just ONE AD placed in The Star is read by:

90,000 people

Reach more customers and grow your profits with our free professional advertising

consultancy for your business. Contact Shane on 021 381 765 / shane@starmedia.kiwi

www.starmedia.kiwi
---
Thursday June 24 2021 The Star

Latest Canterbury news at starnews.co.nz

SPORT 31

BIG CLUB MATCH-UPS THIS WEEKEND

Lincoln University heads a

tight tussle at top-of-table

• By Chris Barclay

TWO PLAYERS joining the

100 club and the title-winning

exploits of their top women's

rugby side means there will be

no shortage of motivation when

Christchurch take on high-flying

Linwood in the latest round of

the Metro Premier Cup.

A congested table, where

four points cover five teams

chasing champions Lincoln

University, also sets up the 11th

round clash at Christchurch

Football Club's headquarters on

Saturday nicely.

Christchurch sit fourth, two

points behind third-placed

Marist Albion, who they beat 32-

24 last weekend.

The accumulation of 11 bonus

points has boosted their cause,

likewise the ability to perform

well against teams ranked

around or above them.

Christchurch beat Burnside,

drew with Sydenham and were

not disgraced against Lincoln,

losing 29-18 two rounds ago.

Ironically they struggled

against lower ranked opposition,

copping losses to New Brighton,

High School Old Boys and

Shirley.

"We just had a couple of games

where we just weren't quite there

as a team," the club's rugby development

officer Craig Dunlea

said.

"We've blooded a lot of new

guys this year, I think we're up

to 12 and you usually take a bit

of a hit when it's like that, but it's

pretty exciting seeing guys get

their first (club) ties."

Dunlea is also looking forward

to forward Matt Etheredge and

William Mills making their

100th division one appearance

for the club against Linwood.

Since the slip up against

Shirley, Christchurch have won

three from four, with Lincoln the

only setback.

"Everything's been going really

well, though we're getting near

ON THE BURST: Christchurch's Nathan Evans makes a break past unimpressed Marist

Albion reserves.

that business end of the season,"

Dunlea said.

"We knew Marist would

throw everything at us. They're a

dangerous side," he said, predicting

more of the same against

Linwood, who sport an 8-win

2-loss record.

"They're got a couple of new

recruits and guys who have come

through the grades … they're

sitting second on the table, that

speaks for itself."

Dunlea was also rapt for the

TON OF EXPERIENCE: Christchurch stalwart Matt

Etheredge (centre) makes his 100th appearance for the

club against Linwood on Saturday.

PHOTOS: BRIDGITT ROBINSON

women's team, who won the

premier competition by beating

Lincoln University 22-14 in last

weekend's final.

"It was absolutely brilliant for

them considering at the start of

the year we were struggling to

find them a coach," he said of a

squad mentored by Pete Manson

and Ross Tarawhiti.

Cashmere Technical's quest

for a second successive unbeaten

Mainland Football premiership

season resumes after the champions

cruised to a 7-3 triumph over

Nelson Suburbs in the Chatham

Cup, to set up a fourth round tie

with Christchurch United next

month.

They notched the opening five

goals of the contest and after Josh

Moffatt trimmed the deficit with

a quickfire double, the favourites

cranked into gear again through

Declan Tyndall, whose second

strike erased any prospect of a

comeback by the visitors.

Nomads United are now

tasked with stopping a premiership

juggernaut which claimed

their fourth successive title with

two rounds to spare.

In the other local Chatham

Cup fixture Christchurch United

edged Coastal Spirit 4-3 with Oliver

Colloty snaring the winner

10min from time. The Celebration

Lions have an opportunity

to push into the Canterbury

Rugby League premiership topfour

when they play the winless

Papanui Tigers on Saturday.

Papanui's struggles predictably

continued last weekend when

champions Linwood showed no

mercy as they racked up 17 tries

in a 98-6 drubbing featuring

hat-tricks to Uili Uili, Zion

Amituanai and Graeme Patu-

Vaega'au.

Leon Jarden scored a double

and racked up 15 conversions.

Celebration sit fifth with four

rounds of the regular season

remaining but are well within

range of last year's beaten finalists,

the Northern Bulldogs, who

take on table-topping unbeaten

Hornby.

The Eastern Eagles, who now

face a menacing clash with

Linwood, had their three-game

winning streak spiked by the

third-placed Halswell Hornets,

who won 40-12.

Hornby subdued Celebration

24-10 after the scores were level

at the break while the Bulldogs

secured a narrow 18-16 victory

over Riccarton.

Unbeaten Marist continued

their winning ways in the men's

division of Canterbury Hockey's

premier grade with a 2-1 victory

over Hornby increased their lead

over Harewood to seven points

after the latter had to be content

with a 3-3 stalemate with Avon.

Carlton Redcliffs were the big

movers through seventh round

action, with a 5-3 win over University

boosting them from fifth

to third on the ladder.

Harewood replaced Marist

atop the women's standings

thanks to a 3-1 win over Avon

which lifted them from third.

Marist slipped to second after

drawing 1-1 with Hornby while

Carlton Redcliffs dropped to

third, although they were on a

bye.

Champions Lincoln University

suffered their first loss in the

Christchurch Netball Centre

premier competition when they

were beaten 43-38 by University

in 10th round action.

Kereru A are the only unbeaten

side following a 78-21 win

over Villa Maria though Lincoln

still top the standings due to

bonus points accrued.

Top of the tables

Christchurch Metro Premier Cup men's rugby

P W L D PD Pts

Lincoln University 10 7 3 0 127 39

Linwood 10 8 2 0 81 36

Marist Albion 10 6 4 0 18 35

Christchurch 10 5 4 1 96 33

Burnside 10 7 3 0 36 33

Sydenham 10 6 3 1 12 32

Shirley 10 3 7 0 -27 26

Sumner 10 4 5 1 -31 26

HSOB 10 4 6 0 44 23

New Brighton 10 4 6 0 -56 19

University 10 3 7 0 -63 17

Belfast 10 1 8 1 -237 9

Canterbury Rugby League men's premiership

P W L D PD Pts

Hornby Panthers 10 9 0 1 200 19

Linwood Keas 10 8 1 1 252 17

Halswell Hornets 10 5 3 2 116 12

Northern Bulldogs 10 5 5 0 28 10

Celebration Lions 10 4 6 0 22 8

Eastern Eagles 10 4 6 0 -122 8

Riccarton Knights 10 3 7 0 -112 6

Papanui Tigers 10 0 10 0 -384 0

Mainland Football men's premiership

P W D L GD Pts

Cashmere Technical 12 10 2 0 29 32

Coastal Spirit 11 7 1 3 8 22

Christchurch Utd 12 6 3 3 17 21

Nomads Utd AFC 12 6 0 6 3 18

Nelson Suburbs 12 5 2 5 3 17

Ferrymead Bays 12 4 1 7 -12 13

Selwyn Utd FC 12 3 3 6 -6 12

Halswell Utd AFC 11 0 0 11 -42 0

Weekend match-ups

•Christchurch Metro Premier

Cup (all Saturday at 2.45pm)

University v HSOB, Ilam Fields;

Marist Albion v Burnside, Edgar

McIntosh Field; Lincoln University

v Belfast, Lincoln Uni; Sumner v

Sydenham, St Leonards Square;

New Brighton v Shirley, Rawhiti

Domain; Christchurch v Linwood,

Christchurch Park.

•Canterbury Rugby League

Premiership (all Saturday at

2.45pm)

Riccarton Knights v Halswell

Hornets, Coronation Park; Hornby

Panthers v Northern Bulldogs,

Leslie Park; Linwood Keas v Eastern

Eagles, Nga Puna Wai; Papanui

Tigers v Celebration Lions, Papanui

Domain.

•Mainland Football

Premiership

Nelson Suburbs v Ferrymead

Bays, Saturday 2.30pm, Saxton Field;

Halswell United v Christchurch

United, Saturday 2.45pm, Halswell

Domain; Nomads United v Cashmere

Technical, Saturday 2.45pm, Tulett

Park; Coastal Spirit v Selwyn United,

Sunday 12.30pm, Linfield Park.
---
p $10.99

rrp $10.99

The Star Thursday June 24 2021

32

SPORT

Latest Canterbury news at starnews.co.nz

Canty hungry to maintain stranglehold

CANTERBURY'S quest to

maintain their stranglehold

on rugby's Farah Palmer Cup

has been strengthened by the

return home of established stars

and new talent drawn to the

province's success.

Motherhood has also played a

role in Canterbury setting themselves

for a fifth title in a row,

with former Black Ferns prop

Steph Te Ohaere-Fox available

after missing last season due to

the birth of her second child.

Halfback Dianne Hiini and

first five-eighth Rosie Kelly are

back from stints in Ireland and

Otago respectively while another

halfback option, Melanie Puckett

has recovered from knee surgery

to rejoin the squad.

"It's great to have those four

available this year," head coach

Blair Baxter said.

"While Steph and Mel both offered

their skills and experience

off the park last season, to have

them both out on the park will

be a big bonus. Equally Dianne's

speed around the ruck and game

management strengthens our

options as does Rosie with her

ability to play 10 or 15."

The lure of playing for

Canterbury influenced South

Africa-born Black Fern Amy du

Plessis and Marcelle Parkes to

switch from Otago and Wellington

in a bid to make the squad

BACK IN ACTION; World Cup-winning Black Ferns prop Steph Te Ohaere-Fox is back in

action for Canterbury for the first time since she led the province to Farah Palmer Cup

glory in 2019 against Auckland.

PHOTO: GETTY

after joining Canterbury's high

performance unit during the

off-season.

"They've come in with a

hunger to make the team along

with a few others, so I can see

us as coaches having quite a few

selection headaches this year,"

Baxter said.

Te Ohaere-Fox, 36, played in

the Black Ferns' winning World

Cup campaign in 2010 said she

was excited to be back on the

provincial scene.

"I'm really blessed to be able

to play the game I love and have

a beautiful whanau. I know this

year is going to be really challenging,

but I wouldn't want to

be anywhere else," she said.

The squad will again be led

by Alana Bremner, Black Ferns

teammate Grace Booker is the

vice-captain.

That duo have the experience

of Kendra Cocksedge to call

on as the Black Ferns halfback

prepares for her 15th first class

season.

There are several new faces in

the squad including rising sevens

talent Jorja Miller, forwards Stacey

Niao, Emma Dermody and

former gymnast turned outside

back Bronwyn Dibb.

Canterbury open their title

defence at Rugby Park against

Counties Manukau on July 17.

They then play Waikato, who

Canterbury pipped 8-7 in last

year's final, in Hamilton on July

24. The final is scheduled for

September 12.

Canterbury women's squad:

Lucy Anderson, Alana Bremner,

Chelsea Bremner, Grace Brooker,

Kendra Cocksedge, Emma

Dermody, Bronwyn Dibb, Amy

du Plessis, Terauoriwa Gapper,

Trina Greenslade, Dianne

Hiini, Lucy Jenkins, Rosie Kelly,

Phillipa Love, Liv McGoverne,

Jorja Miller, Amy Milnes,

Cindy Nelles, Stacey Niao, Greer

O'Rourke, Marcelle Parkes, Nina

Poletti, Georgia Ponsonby, Melanie

Puckett, Amy Rule, Tayla

Simpson, Grace Steinmetz, Steph

Te Ohaere-Fox, Rebecca Todd,

Isabella Waterman.

FREE FIRST XV SEASON PREVIEW MAGAZINE INSIDE

MAY 2021

TONY JOHNSON

ON THE COMING OF

MOANA PASIFIKA

AARON SMITH

'WHY I RATE

DUPONT'

SEAN FITZPATRICK

'WE NEED MONEY TO

SUSTAIN THE GAME'

9 416770 121325

SEILALA MAPUSUA INTERVIEW: HIS VISION FOR MANU SAMOA

JUNE 2021

DAN

CARTER

CRUSADERS

FIVE OF THE BEST

REFLECTING ON A

GREAT CAREER

TONY

JOHNSON

CAN THE

SABBATICAL

JEROME

KAINO

SORTED FOR

LIFE AFTER

RUGBY

BEEGEE'S

DREAM

• PHIL WHY GIFFORD: MOANA THE BEST

SCHOOLBOY STARS HE SAW

• DARYL PASIFIKA GIBSON: HIS WILL VISION BE A

FOR GAME-CHANGER

THE BOP STEAMERS

9 416770 121325

SAM CANE

THE LONG

ROAD BACK

WAYNE PIVAC

FROM THE OUTHOUSE

TO THE PENTHOUSE

• WHERE ARE THEY NOW:

MATTHEW COOPER

• SARAH HIRINI:

BRINGING THE MANA

*Competition runs till July 31st 2021. Offer

only applies to NZ residents and subscription

periods of six issues or more.

Subscribe to New Zealand's

premier rugby read for six

issues or more to go in the

draw. Ten lucky subscribers

will also win one of five All

Blacks jerseys, Lone Star and

Joe's Garage vouchers.

Douglas powers way

to motorsport dream

TEENAGER Jacob

Douglas will take his next

step towards his motor

racing dream when he

travels to the United States

next month for his formula

4 debut.

The Lincoln 16-year-old

enjoyed a second day of

testing with the Toyota

FT60 putting in around 80

laps in both wet and dry

conditions at Hampton

Downs, Waikato, on Sunday,

in preparation for the

US trip.

Douglas, a multiple New

Zealand kart champion,

impressed both his management

and Toyota Gazoo

Racing New Zealand team

at the recent Christchurch

test day, enough to

warrant another

run at Hampton

Downs.

It also helped him

and his team make

the decision for him

to travel to the US

under the wing of

Kiwi Motorsport's

Garry Orton and Teena

Larsen to test a a formula

3 car and test and race the

formula 4 machine.

Having driven both the

earlier Toyota FT50 and

the FT60, Douglas will

Jacob

Douglas

IMPRESSIVE: Jacob Douglas will head to the

US next month after testing a Toyota singleseater

race car on Sunday.

test the US formula 4 car

at Laguna Seca, Button

Willow and Mid-Ohio

before making his US race

debut at Laguna

Seca at the start of

September.

He will leave for

the US on July 8. He

said his time in the

Toyota racing cars

has been invaluable

ahead of the US

trip, which will

mark his overseas singleseater

debut.

"I've definitely learned

a lot from being in the

TGRNZ environment with

the engineering feedback

from the team and the

PHOTO: BRUCE JENKINS

driving input from Chris

van der Drift," he said.

"I know a lot of young

racers have had a successful

introduction to the US

racing scene with Garry

and Teena and I'm looking

forward to it," he said.

TC Performance director

Tiffany Chittenden,

who manages Douglas and

a handful of other up-andcoming

Kiwi racers, is in

no doubt the youngster is

ready to make the big step.

"He's gone really well in

the testing and has shown

both speed and the ability

to learn quickly so we all

thought the time was right

for this kind of trip."
---
All Blacks' search for dominant blindside continues

• By Liam Napier

FOUR BLINDSIDE flanker options

and, yet, there is no clear standout

candidate for the All Blacks.

Truth be told the No 6 jersey is a

riddle the All Blacks have been unable

to solve since Liam Squire's last test in

2018.

In the 36-man squad unveiled on

Monday night the Crusaders' Ethan

Blackadder was the latest contender

to join Shannon Frizell, Akira Ioane

and the recalled Luke Jacobson, who

played the last of his two tests prior to

the 2019 World Cup.

With Sam Cane injured, Ardie Savea

and Dalton Papallii will contest openside

duties. Savea, Hoskins Sotutu,

Ioane and Jacobson can all play No 8.

Flexibility within that seven-pronged

loose forward mix is handy, sure, but

at some stage soon the All Blacks will

ideally settle on a blindside pecking order

with one contender delivering the

commanding, compelling consistency

needed to lock down the influential

six role.

Yet for the three tests against Tonga

and Fiji next month, expect rotation to

continue as the All Blacks bid to give

each challenger chances to push their

respective cases.

From the late Jerry Collins to Jerome

Latest Canterbury news at starnews.co.nz

Kaino and Squire, little has changed in

the All Blacks' expectations from their

No 6.

Hit hard, carry hard, be physically

dominant remains the chief job

description.

At this point, All Blacks forwards

coach John Plumtree admits they are

no closer to knowing their preferred

blindside.

"The six position was hotly

contested between Akira and Shannon

last year. Shannon started with the

jersey and Akira ended up with it.

That's what we want in those positions

– we want the six jersey battled out,"

Plumtree said. – NZ Herald

Thursday June 24 2021 The Star

SPORT 33

SKILLS: Ethan Blackadder makes a break for the

Crusaders against the Rebels. He is in contention

for the All Blacks No 6 jersey. PHOTO: GETTY

New Selection of

Water Features

on

display

now

Portstone

GARDEN CENTRE & CAfÉ

465 Ferry Rd • Phone 389-4352

www.portstone.co.nz

OPEN 9am - 4.30pm 7 Days

• $12.50 Lunches

Helping

Christchurch Grow

NEW CARVERY

in our NEW Restaurant

CARVERY OPEN

THURS - SAT

5.30-8PM

richmondclub.nz

FROM

22 50 $

75 London St,

Richmond

P: 03 389 5778

theborough.nz

• $12.50 Lunches

- Friday Nights

• Karaoke - Fri Nights

Live Bands - Sat Nights

• TAB • Gaming Machines

• Pool TAB Table • Pool Table

• Sports on Big Screens

• Live Bands - Sat Nights

• Gaming Machines

• Sports on Big Screens

24a Main North Road

Papanui. Ph: 03 352 7011

www.roseandthistle.co.nz

SUPER RUGBY tRanS taSman

Tipping CompeTiTion

Brought to you By the star media company

winner

CONGRATULATIONS TO

Marty Fuller

from Elmwood Trading Company

FinaL

standings

# NAME LAST wEEk'S totaL

SCORE points

Marty Fuller 2 54

Dave McLachlan 1 52

Shane Dalley 3 52

Brent Jefferies - 50

Jamie Harris 2 50

John McCann - 49

Chris Taylor 2 47

Chris Smith - 41

YOUR NEW LOCAL!

Running a

charity quiz is a

piece of cake!

Let us put

together

a charity or

fundraising quiz

night for YOU!

Call or speak

to us now!

• TAB • Private Function Room

1 Normans Rd

Ph 355 5345

www.facebook.com/

elmwoodtradingco

Tipping competition winner, Marty Fuller (left) with

Shane Victor, Star Media Advertising Manager.

ONE STOP SHOP

FOR ALL VEHICLE REPAIRS

• WOF • Servicing • Full Mechanical Repairs

• Latest Diagnostic Equipment • Tyres

• Batteries • Auto Electrical Repairs

• Mechanical Breakdown Insurance Repairs

• Loan Cars Available

12 Sheffield Crescent, Burnside, Christchurch

P: 03 3585 580 E: sheffieldcauto@xtra.co.nz

BRAND NEW SHOWROOM

Mobile showroom

service

Curtains

Blinds

Shutters

Free

measure &

quote

Unit 2 / 99 Sawyers Arms Rd

03 365 4666 or 0800 836 587

www.venluree.co.nz

FRAME YOUR

MEMORIES

We have the perfect frame for you!

6 Main North Road | Ph 352 7594

Open Mon-Fri 9am-5pm

www.artworkspictureframing.co.nz

Sizzling

Saturday

$22

WOF

Bookings essential. Conditions apply.

WE'RE BACK!

Cnr Fitzgerald Ave & Hereford St.

Phone: 365-5220

workshop@a1auto.co.nz
---
34 The Star Thursday June 24 2021

WHY CHoose

WE ARE CURRENTLY OFFERING

$2000 MINIMUM

TRADE IN

*ON SELECTED VEHICLES! TERMS & CONDITIONS APPLY

for Your next VeHICLe?

VALUE

REPUTATION

SELECTION

TRUSTED

PLUS

REGISTRATION

2018 ToyoTa aqua

$17,999

Very popular 5 door hatch, 1.5L hybrid engine with

automatic trans, low kms, looks stunning in blueish

black with driving lights and black interior, push button

start, parking sensors, collision avoidance and lane

departure warning, reverse camera, ABS, T/C and

airbags, perfect round town vehicle or for Uber!

PLUS

REGISTRATION

2014 Subaru XV Hybrid

$22,999

Stylish AWD family hatch, 2.0L hybrid engine with

tiptronic trans, stunning in deep purple with factory

body kit and 17'' alloys, black leather, SI-Drive, PBS,

adaptive cruise, collision avoidance and lane departure

warning, heated front seats, roof rails, reverse

camera, ABS, T/C and 6x airbags, test drive today!

PLUS

REGISTRATION

2014 Ford FieSta ecobooSt

$14,999

Stylish 5 door 'hot' hatch, 1.0L turbocharged ecoboost

engine with automatic trans and sport shift option,

travelled very low kms, looks stunning in wine red

with body kit, driving lights and 16'' alloys, push

button start, cruise control, rear wiper, spoiler, ABS,

T/C and multiple airbags, inspection will impress!

PLUS

REGISTRATION

2012 audi a1

$15,999

Stylish European 'hot hatch', rare 4 door model, 1.4L

turbo charged engine with tiptronic trans and 5 star

fuel efficiency, low kms, dark blue with silver pillars

and 15" alloys, driving lights, infotainment system,

Bluetooth, black interior, push button start, rear wiper,

ABS, T/C and 6x airbags, won't last long!

PLUS

REGISTRATION

2017 Suzuki SwiFt

$15,999

The Swift is a very popular 5 door hatch and

preferred in its class by many, features and

economical 1.2L engine with automatic trans, looks

smart in white with stylish dark interior, push button

start, reverse camera, heated drivers seat, Bluetooth,

ABS, T/C, and airbags, inspection will not disappoint!

PLUS

REGISTRATION

2014 ToyoTa priuS S

$12,999

Extremely popular, fuel efficient vehicle, features a

1.8L hybrid engine with automatic trans and 5.5 star

fuel rating, finished in white, black interior, travelled

low kms, push button start, reverse camera, spoiler,

rear wiper, ABS, T/C and 8x airbags, come and view

today!

PLUS

REGISTRATION

2013 ToyoTa auriS

$16,999

Popular family hatch model of the perennial and

reliable Corolla, rare 1.8L engine with tiptronic trans

and paddle shift option, travelled low kms, looks good

in blue with chrome detail and 16'' alloys, push button

start, black partial leather interior, rear wiper, ABS,

T/C and airbags, hurry – won't last long!

PLUS

REGISTRATION

2015 honda grace

$15,999

Stylish family sedan, features a 1.5L VTec hybrid

engine with 7 speed automatic trans, looks good

in silver with black interior, travelled low kms, push

button start, reverse camera, cruise control, USB, ABS,

T/C and airbags, come and view today!

PLUS

REGISTRATION

2010 MercedeS-benz c200

$14,999

Stylish luxury sedan, features a 1.8L engine with

tiptronic trans, looks sleek with white with chrome

detail, driving lights and 16'' alloys, black interior,

very low kms, Bluetooth, reverse camera, electric

front seats, rainshields, ABS, T/C and 9x airbags,

inspection will impress!

PLUS

REGISTRATION

2010 Subaru legacy b4

$16,999

Stylish and well sought after family sedan, 2.5L engine

with tiptronic trans and idle stop, SI-Drive, looks

sharp in silver with driving lights and 17'' alloys, black

partial leather interior, AWD, PBS, adaptive cruise, lane

departure and collision avoidance warning, low kms,

reverse camera, ABS, T/C and 8 airbags, nice vehicle!

PLUS

REGISTRATION

2017 ToyoTa Fielder X

$15,999

This effectively the station wagon of the ever popular

longstanding and reliable Corolla, it features a 1.5L

engine with automatic trans and idle stop returning

5.5 star fuel efficiency, looks great in blue with chrome

detail and stylish black interior, low kms, keyless entry,

rear wiper, ABS, T/C and 8 airbags, a must see!

PLUS

REGISTRATION

2007 VolVo V50 Se

$8,999

Stylish and safe family wagon, features a 2.4L

engine with tiptronic trans, looks smart in red

with factory body kit and 17'' alloys, black leather

interior, heated front seats, rear wiper, roof rails,

multi-function steering wheel, ABS and 8 airbags,

you'll be impressed!

PLUS

REGISTRATION

2008 MiTSubiShi outlander 24g

$13,999

A good choice for those wanting a versatile SUV, 2.4L

engine with tiptronic trans and paddle shift, Rockford

Fosgate edition, white with contrasting black body

kit, driving lights and 18" alloys, black interior, smart

keyless ignition, reverse camera, parking sensors,

good kms, ABS, T/C and airbags, won't last long!

PLUS

REGISTRATION

2010 niSSan dualiS 20g

$11,999

Very popular compact SUV, features a 2.0L engine

with automatic trans, looks great in orange with

18'' alloys, black leather interior, heated front seats,

push button start, sunroof, foot rails, ABS, T/C and

airbags, great buying!

PLUS

REGISTRATION

2009 ToyoTa Vanguard 240S

$14,999

Popular 4WD model, features a 2.4L engine with

tiptronic trans, looks sleek in black with driving

lights and 17" alloys, black interior, cruise control,

reverse camera, 4WD, ABS, T/C and 8 airbags,

with solid construction and renowned Toyota

reliability it's quickly become a very popular SUV!

Registration for 6 months is $301

Value Cars Warehouse

4.72

CANTERBURY OWNED

& OPERATED

ESTABLIShED 1993

32 Moorhouse Ave, P: (03) 366 7768 IMVDA

www.valuecarswarehouse.co.nz
---
Thursday June 24 2021 The Star 35

Toyota Hilux helps home renovation

WE'VE BEEN busy at the Kiddie

household.

There's new timber on the

house, new windows are going in,

there's fresh paint, and in readiness

for a the painters to give the

fences a tidy-up I've had to trim

back a succession of shrubs and

small trees.

That on top of some landscaping

work I needed to do after a

drain was repaired. Throughout

all of these enhancements I've put

two new Toyota Hiluxes to good

use. I took the foliage to green

waste processing, building debris

to the transfer station, and I've

also been to the garden centre to

uplift two loads of pebbles to finish

the landscaping.

That's the versatility today's

double cab pick-up/utility offers,

it is the quintessential vehicle for

the everyday role, yet doubles as

a versatile carry-all when tasks

need to be completed, not to

mention it's towing ability and

payload capacity – 3500kg and

around one-tonne respectively.

This evaluation focuses on

the SR specification Hilux, I had

two double cab variants in a

row – one a cab-chassis with an

aluminium flat deck, the other

was a standard wellside.

Toyota has done considerable

work on the Hilux, there's been

an extensive change of look, it is

bolder and more aggressive on

the outside, while major interior

changes incorporate new display

graphics and the addition of a

larger touch screen in the centre

of the dashboard proper.

Mechanically, the mainstream

turbo diesel engine has had a big

boost in power, thanks to a larger

turbocharger. Toyota now claims

150kW and 500Nm a 15 per cent

increase for power and 11 per

cent increase in torque.

Of course, you can still buy the

Hilux with petrol power if you so

wish, but that option is limited

to two entry-point Workmate

models, both with just twowheel-drive.

The other 16 variants are all

diesel-powered, but you do have

the choice of manual transmission

in some of those, along with

just 2WD options.

Both variants I drove were

four-wheel-drive capable and

fitted with a six-speed automatic

gearbox.

While the Hilux is destined for

a working role, what Toyota have

done on the inside is to keep it

family-friendly, there are all the

VERSATILE: An aluminium flat deck on the cab-chassis

model provides a multitude of load carrying options

including carrying a load of pebbles for the Kiddie

landscaping project.

TOYOTA HILUX SR: Built for a working role.

features and there is as much comfort

as you can expect for something

built over a ladder chassis

and load-bearing suspension.

There are many car-like features

fitted to the Hilux and, of course,

the Toyota suite of SafetySense

technologies contribute to a

five-star Australasian New Car

Assessment Program rating.

I can also safely say the new Hilux

is smoother, while the power

is boosted remarkably, it hasn't

lost its finesse, the engine throbs

away in typical diesel fashion,

but it isn't loud and doesn't seem

stressed when building towards

the top part of the rev band.

Interaction between the engine

and gearbox is fluid, shifts are

clean and smooth. Drive, of

course, is normally channelled

rearwards, electric switching will

engage the front axles in both low

and high ratio depending on the

journey ahead.

It must also be mentioned

that the SR Hilux gets all of the

four-wheel-drive trickery that is

demanded in the working role. I

only used it for a short evaluation

purpose, and there are no surprises

there, even without deeptreaded

tyres the Hilux ute will

scale humps and mounds without

fear of getting stuck nor becoming

grounded thanks to 286mm

of clearance underneath.

On that subject little has

changed in terms of suspension,

the rear axle is still located by leaf

• Price – Toyota Hilux SR

cab-chassis, $49,490

(wellside, $50,990)

• Dimensions – Length,

5255mm (5325mm);

width, 1855mm; height,

1815mm

• Configuration – Fourcylinder,

four-wheel-drive,

2755cc, 150kW, 500Nm,

six-speed automatic.

• Performance – 0-100km/h,

10.5sec

• Fuel usage – 7.9l/100km

springs, while a civilised independent

wishbone system is fitted

up front.

My loads didn't measure up to

anything that would challenge

the payload rating of the two

utes, but I can report both laden

and unladen the ride is perfectly

acceptable, so for those who

need to travel long distances

recreationally it's good to know

the family will be well looked

after, even those seated in the

back will find there is satisfactory

rake on the seats.

I took both SR variants on a

high country run through the

Malvern Hills, with the boost in

engine outputs the Hilux feels

free and doesn't require much

energy from the driver to keep

relaxed motion, and if you need

that mid-range boost for a highway

overtake, it fairly scampers

when the accelerator is given a

nudge.

Toyota also claims an 11 per

cent decrease in fuel usage, the

Hilux in SR form is rated with

a combined cycle average of

7.9-litres per 100km. At 100km/h

the engine is loping over at just

1800rpm, returning a 7l/100km

instantaneous figure, resulting in

around 9l/100km for both models

when I took them back to the

dealership.

One of the most notable

features about SR specification is

that it arrives with steel wheels.

This is something Toyota has

done with Hilux for a few years

now, if you want alloy wheels

you'd need to upgrade. I'm a big

believer in steel, they are stronger

and lighter and don't detract

much from the aggressive look of

the new model.

However, that is something to

consider, high grade SR5 models

round out the Hilux series at

just over $60k. If SR-only form

is preferable you'll save around

$9000, more if you prefer manual

transmission. The cab-chassis

automatic lists at $49,490, the

wellside sits at $50,990, those

prices present a wealth of options

to prospective buyers.

It's always been that way

with Hilux, there is a ute for

every purpose and that's why

it's so popular, there are choices

that easily fill the working or

recreational role.

NEED AUTO

ELECTRICAL REPAIRS?

NEW! European specific diagnostic equipment

– Fine tune & identify any faults.

Diagnostic Testing Starters Alternators

Wiring Alarms: Insurance Approved

Fuel Injection Repairs ABS Airbags

Batteries Free Check & Assessment

ROSES

AUTO ELECTRICAL
---
The Star Thursday June 24 2021

36

PUZZLES

CROSSWORD

1 2 3 4 5 6

7 8 9

CHRISTCHURCH

CREMATORIUM

FUNERALS

Latest Canterbury news at starnews.co.nz

200

SUDOKU

Every row, column and box should

contain the digits 1 to 9.

WORDBUILDER

WordBuilder

100

6

N T R

G U E

words of three or more letters,

How

including

many

plurals,

words

can you

of

make

three

from

or

the

more

six

letters, using including each letter plurals, only once? can No you foreign

words or words beginning with a capital are

make from the five letters, using

allowed. There's at least one six-letter word.

each TODAY only Good once? 23 Very Good 27 Excellent 30

No Solution words 099: cede, beginning cere, cred, with creed, a cru, capital crud,

are

crude,

allowed.

cud, cue, cued,

There's

cur, curd,

at

cure,

least

cured,

one

deer,

deuce, due, ecru, educe, ere, red, REDUCE, reed,

six-letter rude, rue, rued. word.

Good 14 Very Good 20 Excellent 28+

10 11

12 13 14

DEC

10

15 16 17

19 20 21 22

23 24

18

25 26

SOLUTION

No.100

14 15 16 17 18 19 20 21 22 23 24 25 26

W R M T Z E Y U H L F K N

1 2 3 4 5 6 7 8 9 10 11 12 13

I J S V B G P O D C X Q A

14 15 16 17 18 19 20 21 22 23 24 25 26

N K I

Decoder

Across

7. Prediction (8)

9. Idolised (6)

10. Falling out (4)

11. Unmoving (10)

12. Part of the eye (6)

14. Musical note (8)

15. Filter (6)

16. Neglectful (6)

19. Germs (8)

21. Appetiser (6)

23. Mixture (10)

24. Wound mark (4)

25. Find (6)

26. A practitioner of magic (8)

A B C D E F G H I J K L M N O P Q R S T U V W X Y Z

1 2 3 4 5 6 7 8 9 10 11 12 13

18 2 22 2 20 14

17 15 18 17 26 20 26 17 20 24 15 21

24 15 13 14 24 14 15

Down

1. Beginner (6)

2. Repose (4)

3. Sicken (8)

4. Gambling venue (6)

5. Link (10)

6. Unafraid (8)

6 17 26 3 2 22 26 10 17 25 4 12

4 16 21 25 5 4 6

8. Hypnotic state (6)

13. Not logical (10)

15. Photograph (8)

17. And so on (Latin) (2,6)

18. Documents (6)

19 26 1 21 4 23 25 4 4

20. Instead (6)

22. Entreaty (6)

24 14 6 16 24 11 15

13 15 4 12 13 22 26 18 24

N

17 10 14 25 10 17 18

I

24. Distort, make inaccurate

(4)

All puzzles copyright

T H E P U Z Z L E C O M P A N Y

www.thepuzzlecompany.co.nz

10 22 8 21 26 7 23 4 7 26 10 17

K

DECODER

Each number in our DECODER grid represents a different

letter - there is a number for all 26 letters of the alphabet.

Each Enter number the given represents letters into a different all squares letter with of the matching alphabet. numbers. Write the

given The letters challenge into now all squares is to work with out matching which letters numbers. are Now represented work out

which by the letters other are numbers. represented As you by the get other numbers. letters, enter As you them get into the

letters, the main write grid, them and into the the main reference grid and grid. the To reference keep track grid. Decoder of the

uses

letters

all 26

you

letters

have

of

found,

the alphabet.

cross them off the alphabet provided.

7 13 10 25 1 26 6 3 17 13 6 3

8 8 13 21 11 20

25 1 14 1 7 15 8 5 23 19 16 3

19 13 3 13 2 9 17

3 17 15 13 17 19 6 1 19 3 19

4 18 11 4 24 9 15

R

A

G

9 15 19 10 13 16

24 19 23 23 8 14 3 17 13 16 7 3

1 20 26 24 1 19

11 13 6 6 15 13 4 13 17 19 9

17 9 22 1 19 22 1

21 7 15 8 8 17 19 9 22 20 16 26

15 13 23 18 3 19

19 16 5 19 9 19 12 21 13 17 8 15

A B C D E F G H I J K L M N O P Q R S T U V W X Y Z

1 2 3 4 5 6 7 8 9 10 11 12 13

G

A

14 15 16 17 18 19 20 21 22 23 24 25 26

R

SOLUTION

No.99

6 12 26 8 25 15 1 17 24 15 14 12

10 7 6 6 17 7

Each number in our DECODER grid represents a different

letter - there is a number for all 26 letters of the alphabet.

Enter the given letters into all squares with matching numbers.

The challenge now is to work out which letters are represented

by the other numbers. As you get the letters, enter them into

the main grid, and the reference grid. To keep track of the

letters you have found, cross them off the alphabet provided.

101

100

1 2 3 4 5 6 7 8 9 10 11 12 13

Y T B G Q C X D W R O N K

14 15 16 17 18 19 20 21 22 23 24 25 26

U L M A V H P F I Z J S E

Do you need a Plumber, Gasfitter,

Drainlayer or Electrician?

Crossword

Across: 7. Forecast,

9. Adored, 10. Rift, 11.

Stationary, 12. Retina, 14.

Crotchet, 15. Screen, 16.

Remiss, 19. Bacteria, 21.

Canapé, 23. Assortment,

24. Scar, 25. Locate, 26.

Sorcerer.

Down: 1. Novice, 2. Rest,

3. Nauseate, 4. Casino, 5.

Connection, 6. Fearless, 8.

Trance, 13. Irrational, 15.

Snapshot, 17. Et cetera,

18. Papers, 20. Rather, 22.

Prayer, 24. Skew.

WordBuilder

Erg, gen, gent, get, gnu,

grunt, gun, gurn, gut, net,

nut, reg, rent, ret, rue, rug,

run, rune, rung, runt, rut,

teg, ten, tern, true, trug, tug,

tun, tune, tuner, turn, urge,

URGENT, urn.

Sudoku

DECODER

101

Read local

© A.F.Shuker

We'll arrive within 30 minutes of the arranged

time or the first hour of labour is free!

Supplied by KNIGHT FEATURES

20 Crescent Grove, London SW4 7AH

Tel: 020 7622 1467 Fax: 020 7622 1522

Contact

Us Now

Phone: 343 0763

www.foleys.co.nz
---
Thursday June 24 2021 The Star 37

ATTENTION

BUSINESS OWNERS

Do you sell products or services that

enhance outdoor spaces?

You could feature in the Innovative Outdoor Living Area

at the 2021 Star Media Home and Leisure Show this July

and reach over 10,000 attendees across 3 days!

Louvre System • Bbqs • Heating • Hammocks

Trampolines • Spas • Pools • Decking Pizza Ovens • Shade

Systems • Water Features • Outdoor Furniture • Fencing

If this sounds like you,

contact Lisa now on 021 800 809 or email lisa.

lynch@starmedia.kiwi for a no obligation quote.

Payment options available. Terms & Conditions apply.

Christchurch Arena, 2-4 July 2021

IN ASSOCIATION WITH
---
38 The Star Thursday June 24 2021

Get the TLC experience

Call one of our Licensed Sales Consultants

today for a free appraisal:

Trish Lawrence ph 0274 350 565

'Trust in Trish'

Kay Livingstone ph 021 163 0001

Goes above and beyond'

MAKING YOUR MOVE EASIER

tlc realty limited

Licensed Agent REAA 2008 | www.tlcrealty.co.nz

RENT ME!

Ideal as an extra

bedroom or office.

no bond required

Fully insulated and double glazed for warmth.

Three convenient sizes from $80 a week:

Standard 3.6m x 2.4m

Large 4.2m x 2.4m | Xtra-large 4.8m x 2.4m

Visit our website

www.justcabins.co.nz

for display cabin locations

www.justcabins.co.nz

EVERY THURSDAY

The Star Classifieds

Cars Wanted

AAAA $$ CASH PAID

Buying cars & trucks for

wrecking. Ph / txt Zac 021

1056 797.

CARS WANTED We buy

small Japanese vehicles,

must be tidy, cash paid

Ph Doug Drake Motors,

ChCh 03 389-1121 or 027

432 9947

Caravans, Motorhomes

& Traliers

CARAVAN Wanted to

buy. Up to $5000 cash

today 027 488-5284.

Car Parts

TYRES Secondhand,

most szs from $30 - $70

fitted, Also batteries, 217

Waltham Road, 027 476

2404

Church Notices

CHRISTIAN

SPIRITUALIST

CHURCH

182 Edgeware Road

Sunday Service

7pm

Address

Amana

Clairvoyant

Amana

All Welcome

Church Notices

SYDENHAM

CHRISTIAN

SPIRITUAL CHURCH

Sydenham

Community Centre

23/25 Hutcheson St

Address

Ron Griffiths

Clairvoyance

Ron Griffiths

Sunday 7pm

All Welcome

NEW AGE CHRISTIAN

SPIRITUAL CENTRE

61 Grafton Street

Sunday 7pm

Address:

Carole

Clairvoyance:

Carole

No Tuesday this week

Healing or

Clairvoyance

Clairvoyance Night

Wednesday,

30th June, 7pm

$5 entry per person

Everyone receives a

message

All Welcome

Home & Property appears every Thursday, delivered FREE

throughout Christchurch

For more information and bookings, contact Mike Fulham

M: 021 300 567 E: mike@starmedia.kiwi

Confident at auctions

Looking confident may be all you need

to be the last bidder standing when the

hammer goes down.

Does your blood pressure go sky-high at

the sight of an auction room? Chances are

some of your fellow bidders are doing all in

their power to psych you out and win the

bidding.

Securing a property isn't just about having

the most money. Sometimes the winning

bidder is the one with the most confidence.

They use psychology to convince

opposing bidders to give up, hoping to make

everyone else think they've got more to

spend than anyone else in the room.

Too often buyers have preconceived ideas

about how the auction will unfold and have

their confidence knocked when it doesn't go

their way.

Two can play at that game. You just need

to get your strategy right.

Looking confident may be all you need

to be the last bidder standing when the

hammer goes down.

To be that person you need to do some

preparation. Make sure you go to a few

auctions first to get used to them.

Come bidding day, park yourself on

the side at the front so that you can

see everyone in the room and, more

importantly, they can see you whether

they're at the back of the front.

It gives you a vantage point and shows

the opposition you are bidding confidently

against them.

You are hoping that the other buyers have

a plan in place.

Often that's to start low. So if you come

in with a relatively high first bid, you may

rattle them.

"The lower the open bid the more people

can afford to bid. So you could knock out

some of the opposition before they even

place a bid if you choose the right opener.

Don't start at $500,000 for a house you

Curtains

A1 CURTAINS &

DRAPES.

Roman blinds, tie backs,

cushions, nets & voiles,

plus alterations. Free

quotes. Ph Kay 980 1501

or 021 257 1823. kay.

tainui88@gmail.com

know is going to go for at least $800,000.

Put an opening bid of $785,000.

Immediately your opposition is going to

think it will go incredibly high and might be

unnerved.

Call each bid out confidently. "It shows

you are comfortable and in control.

The more confident you seem the more

people will think you have done it before.

It's a really good idea to vary your bidding

increments.. If it's going up by $2000 bids

and it's below your limit don't be afraid to

put a $10,000 bid in..

Your competition is always thinking

about that next $2000 bid and if you change

the rhythm from $2000 to $10,000 you show

you have the money and it changes where

their next bid has to be. Instead of $4000

more it is $12,000 more.

Finally, if you're a couple, make sure

you've discussed every aspect of the auction

before you get there. As soon as you start

looking at each other or conferring, the

opposition will think you're weak.

Your

Earthquake

damaged

home!

Talk to us if you are serious about

selling your "As is Where is" home.

We have sold over

150 "As is Where is"

homes and we have

a huge database of

qualified buyers.

Phil & Holly Jones

Ph 03-382-2230

Phil 027 435 7711

Holly 027 222 0220

holly.jones@raywhite.com

Licensed (REAA 2008) Results Realty Ltd

Appears every week in

For more information:

Mike Fulham

P 379 7100

E mike@starmedia.kiwi

We have achieved

record breaking

prices recently!

EVERY THURSDAY

• Phone our local team 03 379 1100 • Email star.class@starmedia.kiwi

For Sale

Curtains

A1 CURTAINS &

DRAPES.

Roman blinds, tie backs,

cushions, nets & voiles,

plus alterations. Free

quotes. Ph Kay 980 1501

or 021 257 1823. kay.

tainui88@gmail.com

Phil's

secondhand

shed

• Antique furniture 1920-1930's

• Modern furniture

• Whiteware (with 3 month warranty)

• Bric a Brac

• Fishing rods and tools

5 week layby available

for goods over $200

Phone: 027 223 0948

745 Hawkins Road, Marshlands

Look for the flag outside the gate

Mon, Tues, Wed, Fri & Sat 10am-5pm

Closed Thursdays & Sunday

For Sale

STEEL for sale all

sections, off cuts cut

lengths. siteweld@ xtra.

co.nz Ph 0274 508 785

For Sale

STEEL for sale all

sections, off cuts cut

lengths. siteweld@ xtra.

co.nz Ph 0274 508 785

Finance

RW Finance

Small Loans

From $1,000 - $5,000

SPECIAL

INTEREST RATE

FOR NEW

CUSTOMERS

(limited time offer)

Beneficiaries Welcome

Friendly & Personal

Customer Service

0800 325 345

www.rwfinance.co.nz

RESPONSIBLE LENDING & CREDIT CRITERIA APPLY

Funeral Directors

Direct

Cremation

No frills, No Service,

No fuss, simply

straight to the crem.

Other options

available.

Ph: 379 0178

for our brochure

or email

office@undertaker.co.nz

Garage Sales

STROWAN 23 Watford

St, Sat 8am - 12 noon.

Rugs, bookcases, lamps

and lots more. Cash only.

STROWAN 23 Watford

St, Sat 8am - 12 noon.

Rugs, bookcases, lamps

and lots more. Cash only.

Gardening

& Supplies

Gardener available for

maintenance, weeding

pruning, spraying,

planting, advice. Qual &

exp.Pensioner discount

25%. Ph Richard 0274 918

234, 03 349 4022

Funeral Directors

No Service Cremation $2,000

Family Funeral with Cremation $3,950

Chapel - 35 people, casket, hearse, cremation fees

Full Funeral options and

Burial options available

Just Funerals, a family owned and

operated company with qualified,

registered and experienced staff.

Phone 0800 804 663 - 24 Hour Availability

Email: info@justfunerals.co.nz

christchurch.justfunerals.co.nz

Gardening

& Supplies

PETE'S GARDENING

SERVICE

Gardening, rubbish

removal, cleanups, expert

pruning, hedge trimming,

tree cutting, good rates,

no job too big or too

small, half the price of

a franchise. Ph 027 551

4118

Massage

LADIES enjoy a full body

sensual massage. Choice

of oils, discreet mature

gent. Outcalls available.

Ph / txt 027 251 4660

Massage

Hillmorton area. Ph 027

RELAXATION to

Remedial massage.

244 0195

Motoring

1.8T, 2005. Silver, Auto

155KM, tidy. $3000. Ph

VW GOLF GTI

MK1V.WOF & Rego

027 535 0534

Personals

MALE 61 seeks lady 40

- 60 yrs for friendship,

relationship. Ph 662-9028
---
The Star Classifieds

Pets & Supplies

CATS UNLOVED

can help with the cost

of desexing your cat.

Ph 3555-022 or email

catsunloved@xtra.co.nz

Remote Controlled

WANTED to buy - old

remote control cars with

glow plug engines, any

cond PH 027 434 1014 or

03 388 5521

To Let

HOMESITTERS reqd

July. Lovely homes/pets.

Ph Lisa 021 547 262 www.

townandcoun tryhomesit.

co.nz

Tours

Reid TouRs

Mt Cook Sat 14th August $55 pp

Two Passes Sat 4th September $45pp

Call Reid Tours 0800 446 886

Email: reidtours@xtra.co.nz www.reidtours.com

Trades & Services

GLAZING

TWISTY GLASS &

GLAZING LTD

• Mirrors • Pet Door Specialists

• Splashbacks • All Broken Windows

THE CAT DOOR MAN

Phone Cushla or Darren Twist

027 352 6225

Trades & Services

House & Garden

Property services Ltd

Tree & hedge trimming

Stump grinding

Gardening

Landscaping

Gutter cleaning

All aspects of

property maintenance

CALL us 021 405 277

Trades & Services

EXPERIENCED

GARDENER

(Kevin Garnett)

30 Years

Christchurch Botanic

Gardens.

ALL landscape

work done.

Maintenance, pruning,

tidy up, lawn work,

landscape planning

and planting etc.

Free Quotes

Phone 348 3482

Trades & Services

PAINTING

older painter

for older houses

STOP leaveS

birds, snow, hail & vermin from

blocking up your spouting

Quality materials: BHP Colorbond steel mesh

with unique patented louvre will even keep out

pine needles. Will not rust or sag with age or

load. 10 year warranty, range of colours. Proven

in Australia & New Zealand over the last 15 years.

FOR SaFe, PURe DRINKING

WaTeR FROM YOUR ROOF.

NOW avaIlaBle: STaINleSS STeel MICO MeSH

Call Rohan anytime Mon-Sat for a noobligation

assessment & quote 0800 486 532

DIRTY TILES

& GROUT?

Our unique restoration

processes will make your

tiled areas look NEW again!

We specialise in professional

cost effective solutions for

all your tile & grout issues.

• Tiled shower makeovers

• Re-colouring old grout

• Mouldy silicone replacement

• Professional tile/grout

cleaning, sealing & repairs

Call today for a FREE quote on 0800 882 772

www.theprogroup.co.nz/dpc9385

Thursday June 24 2021 The Star 39

• Phone our local team 03 379 1100 • Email star.class@starmedia.kiwi

"I WILL TURN UP

WHEN I SAY I WILL"

Need a certified and reliable plumber for filtration

systems or hot water cylinder replacement?

Bathroom upgrades or refurbishments?

FREE CALL

TEXT

EMAIL

Trades & Services

Trades & Services

0508 H2O BOY

426 269

027 245 5100

NICK@NICKJONESPLUMBING.CO.NZ

Trades & Services

Trades & Services

Re Roofing

Roof Repairs

Spouting

Approved Age Concern provider

Over 30 years experience

Licensed Building Practitioner

N A BARRELL

ROOFING LTD

Ph: 0275 389 415

Email: nabroofing@xtra.co.nz

Trades & Services

BUILDER

New builds, alterations,

decks, fencing. 30 yrs in

the trade has given me

ability to build to a high

standard. Free quotes.

Ph Brent 027 241 7471

BUILDER

New builds, alterations,

decks, fencing. 30 yrs in

the trade has given me

ability to build to a high

standard. Free quotes. Ph

Brent 027 241 7471

CARPET LAYING

Exp. Repairs, uplifting,

relaying, restretching.

Phone John on 0800

003181, 027 240 7416

jflattery@xtra.co.nz

CARPET CLEANING

Your Local Professional

Carpet Cleaner. No Hidden

Fees / Fully Insured /

100% Guaranteed. Call

Now 0800 672 777 www.

mrcarpet.co.nz

CARPENTER

BUILDER

Trades & Services

ELECTRICIAN

Prompt & reliable

registered electrician

with 24 years experience

for all residential and

commercial work, new

housing and switch board

replacements. Phone Chris

027 516 0669

ELECTRICIAN

Available, 30 years

experience, immediate

start, competitive rate,

ph Brian 027 433 9548

No Call out fee

fENCING

All types of fencing

Free quotes. Ph

Jim 022 137 1920

fENCING

All types of fencing . Free

quotes. Ph Jim 022 137

1920

GLAZIER

Glass repairs - pet doors

- conservatory roofs. Exp

Tradesman. Call Bill on

022 413 3504 or 981-1903

HANDY - DAN

General Handyman for

all your maintenance

requirements. I specialise

in fences and decking, also

do spouting cleans and

repairs and everyday home

maintenance. NO JOB TO

BIG OR SMALL I can do

it all, please don't hesitate

to call me on 022 600 7738

for a no obligation free

quote.

HANDYMAN

SERVICES

Had new carpet installed?

Doors rubbing on

carpet? Specialist cutting

equipment can fix. Master

Multi - Tasker Ltd. Call

Steve 027 408 6199

Need it?

Rent it!

No Bond

Free Delivery

Free Repair

Great Student Deals

Canterbury Owned & Operated

Free Call Now:

0800 717 000

Trades & Services

PAINTER,QUALIfIED

local professional, Int /

Ext,roofs,wallpaper, call

or text Corban 027 846

5035

PAINTING

Indoor / Outdoor, over 30

yrs exp, same day quotes,

ph Steve 021 255 7968

PAINTING

PLASTERING

Free quotes. Int/ext &

roof painting Family run

business, work guaranteed.

Pensioner discounts. Ph

Kerin or Paul 022 191

7877 or 379-1281. Website

www.swedekiwipainting.

co.nz

PAINTER

CARPENTER

Repairs. Free quotes. Ph

Joe 0220 916 671

PAINTING

DECORATING

All types of int/ext

painting undertaken. 30 +

yrs exp. Ph Michael 022

496 3322

PLASTERER

Phone Finn for all your

interior plastering needs.

No job too small -

AA SHOWER

CLEANING

Deep clean, soap scum,

water stains, mineral Licensed Building

30 years + experience deposits . Comp prices. Practitioner no. 100981.

50 years in trade

Gold card disc. Ph 021 022

"All the skills"

Older house

All carpentry & building

824 85

restorations:

repairs & maintenance.

ARBORIST

no problem!

Alterations & property

Qualified. Copper

renovations, alterations,

Quotes: FREE!

upgrades.Laundries /

Beech Tree Services.

holes & cracks. Free

bathroom / kitchens

Rates: Reasonable Tree removal, pruning,

quotes. I'll beat any quote

replaced. Specialising in

Paint supplied at height reduction, hedge

by 10% .25 yrs exp. Canty

replacement of all rotten

trade price! trimming, shaping, tree

born. Ph 022 087 4351

timber, fascia boards,

planting, firewood. Free

PLASTERING (INT)

NO JOB TOO SMALL

window, windowsills etc.

quote. Contact Angus

Light industrial also

GST FREE

Edwards 027 2596741

John Sandford, ph 329

and small painting jobs

Contact Jimmy Bell

copperbeechtreeservices@

4616, mob 027 5189 598

Experience and

Roger Brott

0211221487

gmail.com

johnsandford2@gmail.

Excellence. Small to

Painter & Decorator

BRICK & BLOCK com

Medium job specialists

AAA HANDYMAN 021-1966-311 LAYING

COMPUTER REPAIRS

in all aspects of Interior

licensed carpenter

all restoration work fAST

Plastering. Please call Tim

LBP, all property and

and new work plus Friendly experienced

022 5380959

building maintenance, Building

foundations, ph 342 9340 techs available to help you

PLASTERING

HOME CLEANING

repairs, bathroom/shower

or 021 853 033

now. Christchurch based.

Gary 4 Fxing, stopping,

Maintanence

SERVICES

installations, with free

BUILDER QUALIfIED All work guaranteed.

solid plastering, brick

Regular Weekly or

quotes 03 383 1927 or 027

& small job

50 yrs exp. Bathrooms, Computer Help 0800 349 Fortnightly. Ring Vivien

repairs & painting. 021

245 5226 ciey@xtra.co.nz

Kitchens, Renovations, 669

at 03 365 8422 for free 529 022 / 342 8950

Specialists Repairs & Extensions CONCRETE CUTTING quotation

PLUMBING

Free quotes. Discount for Affordable Concrete LANDSCAPING DRAINAGE & GAS

10% Discount

pensioners. Ph Mike 03 Cutting with Quality, and Paving, Lawns, Irrigation, No job to big or too small.

980 9771 or 027 2266 930 removal work. Free quote. Decking, Fencing. Discount rates!!. Free

with this voucher BUILDER QUALIfIED No job to small. Phone 027 Kanga & small digger quotes - call Morgan today

Decks, T & G Flooring,

condtions apply

442-2219, Fax 359-6052 services. Check out Squire 022 375 8506

Villa Restoring, New a/h 359- 4605

Landscaping on facebook. REMOVALS

Ph Wayne

Homes, Weatherboards.

ELECTRICIAN

FREE QUOTES. Ph Small furniture removals,

Free Quotes. Bennet &

Arthur 347-8796, 027

Registered, electrical

have own van, can fit

021 136 3045 Sons Ltd Sam 027 496-

220-7014 Edwin 027 220-

installation and repairs,

various types of whiteware

Qualified Builder 9362 or Tony 027 224-

7154

Gorbie Electrical, ph 021

appliances, some furn,

0374

MOBILE CAR

026 73375 or 03 322 4209

bedding, boxes etc, honest

go repairs

BUILDER,

CLEANING SERVICES

HANDYMAN,

ELECTRICIAN

& reliable, any area

We come to you where

MAINTENANCE All types of domestic

considered, ph Chch 027

ever you are. Ring us

Have peace of mind with & commercial work

517 7001

Trades & Services

at 03 281 8054 for free

a fully qualified owner undertaken, new housing, quotation.

ROOfING SERVICES

AAA HANDYMAN

operater LBP. Available alterations, extensions, ODD JOB SPECIALIST

Metal roofing & spouting.

licensed carpenter for all jobs around the ranges, security lights, Small jobs specialists. Butyl rubber and flat

LBP, all property and home, commercial or quick response, efficient eg: drippy taps, sticky rooves. Repairs, reroof

building maintenance, rental property (extremely service, free quotes, doors, locks, spouting/ and new build. 25 yrs

repairs, bathroom/shower experienced in Healthy city -wide. No call out fence repairs Discount for experience.NZ Cert

installations, with free Homes Reporting and fee. M/S, 8-5. Call Pat pensioners.

and LBP qualified. Free

www.gumleaf.co.nz

quotes 03 383 1927 or 027 all Remedial works) Call Barrett 03 359 2087/ 027 Ph 390 1565 or 022 5275 quotes. Call Elliot 332-

245 5226 ciey@xtra.co.nz Chris on 027 3888 211 7331384.

668. Avail now.

9662 / 027 237 9431

Qualified

Builder

Available

Repairs

New Houses

Renovations

Phone John: 027 224 2831

www.dohertybuilders.co.nz

Trades & Services

Or Apply Online:

www.a4r.co.nz

Trades & Services

RUBBISH REMOVAL

Van, Trailer Rubbish

Removal. Ph Gary 342-

8950, 021 529 022

SPOUTING

Select Spouting

The PVC specialist.

Repairs & replacement. Ph

022 197 2351

SPOUTING CLEANING

SPECIALIST

Entire spouting system

cleared. Single or 2 storey.

Jo 021 164 0365

SPOUTING CLEANING

Spouting Unblocked,

Cleaned Out and Flushed

Out, Call Trevor 332 8949

or 021 043 2034

STUMP GRINDING

Best price guarantee Tony

0275 588 895

TEST & TAG

NZ3760 complient (class

1 and class 2 tools). Can

travel to your work site.

Phone Jamie 022 313 9567

TILER ( MASTER )

Int / Ext. Res / Comm. .

Free quote. 18 yrs exp. Ph

Zac 021 1056 797

TREE SERVICES

Free quotes 20+ yrs exp.

Tree, hedge or shrub

- reduction, shaped or

removed. Ph/text Paul

The Branch Manager

0274314720

TREE SERVICES

Specialist small tree

pruning & shaping.

Roses,fruit trees etc. Ph

Hugh 021 2755445

TREE SERVICES

Hedges, shrubs, tree

trimming & removal,

rubbish removal, Ph for

free quotes 022 540 4900

WINDOW CLEANING

Average 3 brm house

inside or out from $45.

Both from $80 Phone

Trevor 344-2170

WINDOW CLEANING

Brown & White Ltd.

Family owned since 2001.

Ph Paul 027 229 3534

House & Garden

Property services Ltd

Tree & hedge trimming

Stump grinding

Gardening

Landscaping

Gutter cleaning

All aspects of

property maintenance

CALL us 021 405 277

Tuition

COMPUTER LESSONS

avail for computer, IPad,

or Mobile. Please contact

Jobee 027 290 9246 www.

computertutor.nz
---
40 The Star Thursday June 24 2021

Your local guide to our

Trusted Tradesmen & Professionals

To advertise: 379 1100 or star.class@starmedia.kiwi

DRIVEWAYS

Exposed Aggregate

Stamped Concrete Plain

Concrete Resurfacing

Things we offer...

Competitive/affordable pricing

Attention to detail

Professional service

free quotes/insurance scopes

Cell 0278 145 848

www.drivecrete.co.nz

kitchen renovation

Kitchen looking tired?

Revitalize with new colour at a

fraction of replacement cost

• Alterations & Hardware available

• Laminated Kitchens no problem

• 'On Site' finishing available

• Over 20 years experience

• Free Quotes with no obligation

• All Joinery & Furniture repair & Spraycoatings

PABLO'S PAINTWORKS

27 Birmingham Drive, Middleton

03 338 6280 | 021 541 323

pablospaints@xtra.co.nz

www.pablospaintworks.co.nz

Specializing in:

• Roof Painting

• Interior/exterior

residential

• Small commercial

painting

PAINTERS

Painters and Decorators Ltd

Canterbury Owned and Operated

A husband and wife team

Noel 027-411-3596

kemp.painters@gmail.com

kemp painters and decorators

We offer

free quotes

Quality not

Quantity

Driveways

SWAINS

KIWI KERB

(Since 2005)

Over 22 Years Experience

Quality

Workmanship

• Driveways

• Kerb &

Channel

• Garden Edging

Freephone: 0800 081 400

swainskiwikerb@gmail.com

landscaping

You can have your gardens, trees,

shrubs, plants and lawns maintained to look their best

all year round, for a great price.

Residential & Commercial Landscaping

• Maintenance • Pruning • Reconstruction & Rejuvenation

• Rental Property and Commercial Maintenance

• Pre-Sale Tidy-Ups

New Home Landscaping

Lawns • Gardens • Decks • Paving • Water Features

• Quality • Value for money • Experienced • Punctual

• Professional • Flexible • Knowledgeable • Reliable

Call Ross Legg - 027 222 0388

Email ross@revivelandscaping.co.nz

www.revivelandscaping.co.nz

PLUMBER

NEED A PLUMBER

Call us now for fast friendly service.

Get your problems sorted out

quick smart - on time!!

Phone for a

FREE

quote now.

Landscape

Construction and

Garden Maintenance

Phone 03 377 1280 | Mobile 021 898 380

ELECTRICIAN

Contact for a free quote

phone 027 331 0400

dave@davesimpsonelectrical.co.nz

davesimpsonelectrical.co.nz

Experienced Domestic Electrician

Quality Workmanship

• New Build

• Renovations

• Fault finding

Mailer Deliveries

For a local, reliable

mailer delivery

service contact

Star Media

• Newspaper inserts

• Magazine inserts

• Letterbox deliveries

• Urban & Rural deliveries

• Power

• Lighting

• Switchboards

For a cost effective, targeted

delivery please call 03 379 7100

or email mike@starmedia.kiwi

www.star.kiwi

ROOF REPAIRS

Locally owned & operated with

over 30 years experience.

• Extensions & repair • Roof coating

• Concrete & clay tiles • Butynol

• Malthoid • Asbestos Certified

• Coloursteel • Old iron • Guttering

Phone Dave 981 0278

or 021 223 4200

E: dave@beaumontroofing.co.nz

BEAUMONT ROOFING LTD

TRADES

Advertise your

business & services

in Christchurch's

best read &

largest circulation

newspaper

Delivered into over 93,000

Christchurch homes every week.

Ask us about our fantastic

cost affordable packages.

Phone: 03 379 1100 | www.star.kiwi

Wanted To Buy

STEVE PURCELL

ANTIQUES

BUYING

NOW

Gold jewellery,

watches, coins,

medals, scrap

gold, sterling

silver, pewter,

original paintings,

modern art.

351 9139

stevepurcellantiques.com

AAA Buying goods

quality furniture, beds,

stoves, washing machines,

fridge freezers. Same day

service. Selwyn Dealers.

Phone 980 5812 or 027

313 8156

A+ ALL whiteware

wanted. Same day

service, cash paid for

freezes, fridges, washing

machines, ovens. Also

buying furniture & h/

hold effects.Anything

considered. Ph Dave 960-

8440, 027 66 22 116

Wanted to buy

A1 Albums, old photo's,

watches, china, crystal,

Wanted To Buy

postcards, coins, gold,

bank notes, badges,

medals, jewellery,

books, furs, vintage

clothing, paintings,

furniture, estates &

downsizing. Etcetera

Antiques, 194 Edgeware

Rd 385 5117

ACADEMY ANTIQUES

Buying estates, antiques,

old china, crystal, art,

Royal Doulton , Royal

Albert etc. Best prices,

free appraisal. Call Rob

349-4229

A+ Household effects,

fridges, freezers, washing

machines, ovens. Good

cash paid. Ph Paul 022

0891 671

uniforms, badges, medals,

TOOLS, Garden garage,

saw benches, Lathes. Cash

TOOLS, Garden garage,

saw benches, Lathes. Cash

MILITARIA Any

country, firearms,

memoribilia, WW2 or

earlier ph 338-9931

buyer Phone 355-2045

buyer Phone 355-2045

SCRAP METAL

Dominion Trading Co Ltd

• Scrap metal buyers

• Canterbury owned & operated

• Top prices paid $$$

• Open Saturday morning

Open Mon-Fri 8am – 4.30pm Sat. 8.30am-12.30pm

www.happyscrappy.co.nz

03 343 9993 333 Blenheim Rd

TREE SERVICES

CRAIGS

TREES

Our services include:

Tree felling

Branch chipping

Trimming and pruning

Crown reduction

Stump grinding

P: 027 2299 454

E: craigstrees@xtra.co.nz

www.craigstrees.co.nz

Fully insured

WINDOW TINTING

tintawindow

advanced film solutions

99% uv block

fade protection

heat control

reduce glare

25 Years Experience

privacy films

frosting designs

non-darkening films

Workmanship Guaranteed

Lifetime Warranties on Most Films

UV

block

Free Quotes Canterbury and Districts

03 365 3653 0800 368 468
---
The Star Classifieds

Public Notices

CHRISTCHURCH

CITY COUNCIL

JULY 2021 MEETINGS

The next meetings of the Christchurch City Council, Committees,

Subcommittees, Council Hearings Panels, and Community Boards

will be held as below: Where stated, the Civic Offices are located at

53 Hereford Street.

COUNCIL

Date Time Venue

8 9.30am Council Chambers, Civic Offices

COMMITTEES OF THE WHOLE

Date Time Committee and Venue

7 9.30am 3 Waters Infrastructure and Environment

Committee, Council Chambers, Civic Offices

28 9.30am Sustainability and Community Resilience

Committee, Council Chambers, Civic Offices

29 9.30am Finance and Performance Committee,

Council Chambers, Civic Offices

COMMITTEES

Date Time Committee and Venue

1 4.30pm Youth Advisory Committee, Civic Offices

9 9.00am Greater Christchurch Partnership Committee,

Council Chamber, Environment Canterbury,

200 Tuam Street

9 9.00am Regulatory Performance Committee,

Civic Offices

COMMUNITY BOARDS

Date Time Board and Venue

2, 16 9.00am Papanui-Innes Community Board, Board Room,

Papanui Service Centre, Cnr Langdons Road

and Restell Street, Papanui

12 10.00am Banks Peninsula Community Board, Little River

Board Room, 4238 Christchurch Akaroa Road,

Little River

26 4.30pm Lyttelton Community Boardroom,

12 25 Canterbury St, Lyttelton

12 4.30pm Coastal-Burwood Community Board,

Board Room, Cnr Beresford and Union Streets,

New Brighton

12 4.30pm Fendalton-Waimairi-Harewood Community

Board, Board Room, Fendalton Service Centre,

Cnr Jeffreys and Clyde Roads, Fendalton

13 5.00pm Halswell-Hornby-Riccarton Community Board,

Horoeka Room, Rārākau Riccarton Centre,

199 Clarence Street, Riccarton

14 8.00am Spreydon-Cashmere Community Board,

Board Room, Beckenham Service Centre,

66 Colombo Street, Beckenham

14 4.30pm Linwood-Central-Heathcote Community Board,

Linwood Board Room, 180 Smith Street,

Woolston

COMMUNITY BOARD COMMITTEES

Date Time Committee and Venue

19 5.30pm Duvauchelle Reserves Management

Committee, Duvauchelle Community Centre,

6039 Christchurch Akaroa Road, Duvauchelle

19 7.30pm Diamond Harbour Reserve Management

Committee, Diamond Harbour Community

Centre, Committee Room, Waipapa Avenue,

Diamond Harbour

21 7.00pm Allandale Reserve Management Committee,

Ōtoromiro Hotel, 52 Main Road, Governors Bay

26 7.00pm Lyttelton Reserve Management Committee,

Lyttelton Community Boardroom,

25 Canterbury Street, Lyttelton

Copies of the agendas will be available online and to the public at

the meetings. Members of the public are welcome to attend any of

these meetings.

To make a deputation or presentation to a Council, Committee or

Community Board meeting ring the call centre on 03 941 8999 or

email info@ccc.govt.nz.

Information about Alcohol Licensing can be found online at

ccc.govt.nz/alcohol

Megan Pearce

Manager Hearings and Council Support

Thursday June 24 2021 The Star 41

• Phone our local team 03 379 1100 • Email star.class@starmedia.kiwi

Public Notices

Senior Citizens

Outings

with Companion Driving Service Ltd

Still some seats available on our

Coach/Train journey to Kaikoura (overnight)

then onto Picton (overnight) then return to

Christchurch on coach & Coastal Pacific train.

No room sharing - evening meals & breakfast

- your own tour escort on coach & train

- free pick up and drop off.

Our price $849.00. Departing 16 July.

MID-WINTER CHRISTMAS

BUFFET (Mid-day) Wed June 30

All the bells & whistles buffet

3 course $57

With free pick up & drop off.

Phone Peter on 0800 453 873

COMPANION DRIVING SERVICE LTD.

Senior Building

Control Officer

The Westland District Council is seeking an

experienced Senior Building Control officer with

exceptional people skills and a can do attitude to

assist the Council in meeting its obligations under

the Building Act. As a minimum you will have 5

years plus in the Regulatory industry in a similar

role , and you must have a qualification that meets

the requirements of Regulation 18 of the Building

(Accreditation of Building) Authorities 2006.

As a Senior Building Control Officer you will assist

the Building Control Manager to provide team leadership;

and mentor and monitor staff performance

and development, ensure that the functions and

requirements of the Building Act are managed

efficiently and appropriately. You will have excellent

technical knowledge and ensure policy and

procedure is followed to a high standard. We use

electronic consenting software for processing and

inspections, so your computer skills will need be

suitable for this.

You will be experienced in processing and inspecting

building consents to Res 3 and Com 2 and have

the ability to deal with associated Building control

functions (PIMs Certificates of Acceptance, Code

Compliance Certificates, Compliance Schedules,

BWOFs etc).

If you're a positive team player, we want to hear

from you. The salary range for suitably qualified

applicants is $90,000 to $105,000

Full details of the role are in the position description,

which is available on our website, along with

our application form. For further information or

to apply please email Shelley Sutherland, People

and Capability Manager, hr@westlanddc.govt.nz.

Please include a cover letter, your CV and a copy of

our application form, available from our website.

We will shortlist as applications come in, so

please do not delay in applying for this position.

ADD SOME

COLOUR

TO YOUR ADVERT!

Situations Vacant

Public Notices

Love Poetry?

WE WANT

YOU!!

Beyond Rhyme is a monthly

radio show at Plains FM

Christchurch showcasing

original local poetry and

celebrating the creativity

and diversity of our local

community of poets in a fun

and safe environment. We

are always welcome to new

guest poets so if interested.

Please contact us at:

beyond.rhyme@gmail.com

Public Notices

Situations Vacant

CLEANERS

REQUIRED

Christchurch Area

Monday to Friday

3pm - 6pm

Relieving work in

schools

Christchurch Area

Monday to Friday

5.30pm - 8pm approx

Relieving work

Sumner School

Monday – Friday

3pm – 6pm

Belfast Northwood

Monday – Friday

7am – 11am

We are looking for

cleaners to join our

commercial cleaning

team.

You will need to pass a

Security Check and you

MUST have your

own transport.

Must be eligible to work

in New Zealand.

Please email your

Application to

csc@totalcanterbury.co.nz

or phone 338 9056

Visit our website:

totalcanterbury.co.nz

Please advise which job

when emailing your CV.

Vehicles Wanted

Situations Vacant

CLEANER

PAPANUI AREA

2 x night cleaners required

for Medical Facility

Mon - Fri, 9pm - 11pm, Saturday if

required, start 5pm

Willing to relieve as well for sickness etc

Full onsite training given

Must be reliable, honest and

undergo a police check

Please text 021 244 2377

Situations Vacant

Building Control Officer

• Performing various functions required by

the Building Act 2004;

• Processing applications for building consents,

PIMs, exemptions and Certificates of

Acceptance

• Inspection of consented building works

• Investigate complaints of potential illegal

building works and issue and monitor

Notices to Fix where appropriate

• Monitoring and maintaining compliance

schedules, enforcing the Building Warrant

of Fitness system, on site compliance

schedule audits

The Westland District Council is seeking an experienced

Building Control Officer to perform a range of

tasks relating to building-related Building Consent

Authority (BCA) and Territorial Authority (TA) functions.

This will primarily involve processing building

consent applications, performing inspections, and

issuing Code Compliance Certificates, and other TA/

BCA functions.

You will ideally have 3 – 5 years' experience in a

similar role and hold or be working toward an

appropriate qualification recognised in Regulation

18 of the Building Regulations 2006 Act. A high level

working knowledge of the Building Act, Regulations

and Building Code is required. You will also maintain

excellent customer service.

We are seeking an enthusiastic person with excellent

communication skills, both written and verbal,

a thorough knowledge of relevant legislation,

bylaws and able to learn and follow policies. You

will have high levels of computer literacy especially

with the relevant programmes/software, and

problem solving abilities. You will be a great team

player. Relevant experience in a local government

environment is preferred.

Full details of the role are in the Position Description,

which is available on our website, along with

our application form. The salary range for this

position is $70,000 to $85,000 per annum.

For further information or to apply please email

Shelley Sutherland, People and Capability Manager,

hr@westlanddc.govt.nz. Please include a cover

letter, your CV and a copy of our application form,

available from our website.

We will short-list as applications are received so

please do not delay in applying for this position.

CAR REMOVALS

$$CASH PAID$$

CARS, VANS, UTES & 4X4 WANTED

NZ OWNED AND OPERATED FOR 24 YEARS

We use world class vehicle depollution systems

0800 77 80 80

www.pickapart.co.nz
---
42 The Star Thursday June 24 2021

BRIDIE'S BAR & BISTRO

To add a listing, contact

Jo Fuller 03 364 7425 or

027 458 8590

jo.fuller@starmedia.kiwi

www.star.kiwi/whatson

AGM THIS SUNDAY, 10AM

COMING UP

SATURDAY 10th JULY

Matariki

Fireworks

+

All Blacks

v Fiji

BISTRO IS OPEN

TUESDAY TO SATURDAY

12pm-2pm and from 5pm

202 Marine Pde - Ph 388-9416

www.newbrightonclub.co.nz

Members, guests & affiliates welcome

THE ENTERTAINMENT HUB OF THE NORTH!

113 RAVEN QUAY | PHONE: 03 327 7884

BISTRO

OPEN FROM 12PM

WEDNESDAY

TO SUNDAY

BRIDIE'S BAR &

BISTRO

COMING ATTRACTION

MADSEN PROMOTIONS

PRESENTS

HOUSIE

EVERY THURSDAY

12PM

EYES DOWN 12.30PM

SENIOR'S GOLD CARD

SPECIALS!

From $24.50

Theme Buffet

This Friday 25th June until

Sunday 11 July 2021

LUNCH OR DINNER - BOOK NOW!

Bookings Essential

PH 386 0088

fb.com/GardenRestaurantBuffet

www.gardenhotel.co.nz

THUR: FISH & CHIPS

FRI: FISH & CHIPS

SAT: CHICKEN NIB/CHIPS

SUN: ROAST MEAL

TUE: CHICKEN NIB/CHIPS

WED: ROAST MEAL

Available 11.30am-2pm

CAFE OPEN 7 DAYS 9AM - 4PM

BAR OPEN THU - SUN EVENINGS

PH 385 8880

FIND US ON FACEBOOK

fb.com/GBCCHCH

THE GARDEN HOTEL COMPLEX, 110 MARSHLAND RD

www.gardenhotel.co.nz . Phone 385 3132

facebook.com/gardenrestaurantbuffet instagram.com/gardenrestaurantbuffet

BAR HOURS

MON 3PM-10PM

TUES & WEDS 11.30AM

THURS 11AM | FRI 11.30AM

SAT & SUN 11AM

Closing times will vary.

QU I Z

EVERY WEDNESDAY

FROM 7PM

P OK E R

EVERY

THURSDAY 7PM

& SUNDAY 3PM

SATURDAY

10TH JULY, 7.30PM

Tickets $25 at the club

FRIDAY

MEMBER DRAW

$600

SATURDAY 7PM

The

SHAMELESS

FEW

SATURDAY

31st JULY, 7.30pm

TICKETS $25

Available at the club or

online cosmicticketing.co.nz

HOU S I E

EVERY SATURDAY

FROM 12.30PM

D I N I N G

BAR/BISTRO

OPEN

MONDAY-SUNDAY

12 NOON - 8.30PM

NEW MENU

OUT NOW!

SUNDAY CARVERY

LUNCH & DINNER

BUFFET

12pm-2pm & 5pm-7.30pm

Woolston Club|43 Hargood St|Ph 03 389 7039|www.woolstonclub.co.nz|fb.com/WoostonclubInc
---
Thursday June 24 2021 The Star 43

christchurch

GIG GUIDE

Thursday 24 to Wednesday 30 June 2021

12 BAR, 342 St Asaph St: Christchurch's

smoking hot BLUES BAR. Thursday 7.30pm

- Andy Genge. Friday 8pm - Penny Blues.

Saturday 6pm - Ōtautahi Stand Up &

Afterparty, tix at Humanitix.

ARMADILLO'S PREBBELTON, 587

Springs Rd: Saturday 8.30pm - Vague As

Brothers.

A ROLLING STONE, 579 Colombo St:

Thursday 7.30pm - Laidback grooves with

CWB, free. Friday 5.30pm - Clube do

Choro's Brazilian Jam Session, free; 8pm -

Back to the 80s Retro Dance Party, tix

$10+BF Cosmic Ticketing. Saturday 8.30pm

- Eclectic 60s to modern with Now & Zen

feat. Bruce Hambling, Wayne Jamieson,

Richard Johnston, Peter Allison, free. Sunday

5pm - Singalong Irish favourites with

Malarkey Irish Band feat. O'Neill's Irish

Dancers at 6pm, free. Monday 7pm - Quiz.

Tuesday 8pm - Stand-up comedy night, free;

10pm - Open Mic Night, full set-up, free.

Wednesday 6pm - Dig The Gig Semi-finals

feat. Just Another June, Marsha, Layaround,

This Dog, The Gateways, Castaway,

Th'Goonz, Team, & house band Con Carne,

free.

BILL'S BAR, 1 Halswell Rd: Thursday

7pm - Mickey Rat's Karaoke. Friday 7.30pm

- Don't Tell Mama. Saturday 7pm - Marcus.

Sunday 7pm - Mickey Rat's Karaoke.

BRIDIE'S BAR & BISTRO, 401

Worcester St: Sunday 4pm - Quiz.

BOO RADLEYS, Level 1, 98 Victoria St:

Thursday 9pm - The Cassettes duo. Friday

8pm - Holly Kimber; 10.30pm - The

Edmond Brothers. Saturday 8pm - Dan

Pfeifer; 10.30pm - In the City. Wednesday

7.30pm - South Street Blues Trio; 9.30pm -

Open Mic Night.

CHRISTCHURCH CASINO, 30 Victoria

St: Friday 6pm - Lissel; 9.15pm - X-Files.

Saturday 6pm - Shannon Cooper-Garland;

9.15pm - Smooth Talk.

HORNBY CLUB, Carmen Rd: Saturday

7pm - John McCabe. Sunday 3pm - Ian

Mac. Saturday 23rd July, 7.30pm - Madsen

Promotions presents Jersey Boys & Grease,

tickets $25 at the club.

KAIAPOI CLUB, 113 Raven Quay:

Saturday 10th July, 7.30pm - Madsen

Promotions presents Kenny & Dolly

performed by Stevie K & Jo Hill, tickets $25

at the club.

MICKY FINNS, 85a Hereford St: Friday

10.30pm - Uncovered. Saturday 10.30pm -

Flat City Brotherhood.

NEW BRIGHTON CLUB, 202 Marine

Pde: Saturday 10th July - Matariki

Fireworks.

To add a listing, contact

Jo Fuller 03 364 7425 or

027 458 8590

jo.fuller@starmedia.kiwi

www.star.kiwi/whatson

OLD STONE HOUSE, 30 Shalamar Dr:

Sunday 5pm - Jennine Bailey & Tom Rainey,

tix at events.hunamitix.com

RICHMOND CLUB, 75 London St:

Friday 7pm - DnD BAND (Jojo, Mark, Tim

& Phil). Saturday 7pm - Danger Baby.

Sunday 3pm - Robbie Drew.

RIVERSIDE MARKET, 98 Oxford Tce:

Thursday 6pm - Live jazz with Swing 42

(Bob Heinz, Keith Petch, Michael Kime,

Reuben Derrick), $15 entry.

SPACE ACADEMY, 371 St Asaph St:

Saturday 7.30pm - Neon Cowboys (Nelson);

Darryl Baser (Dunedin); Madeleine Howard

(Christchurch); Daniel Madill (Christchurch),

presale tix at undertheradar.co.nz, door sales

$15-$20.

STEDFAST BRASS, Majestic House,

Durham St Saturday 7.30pm - Stedfast

Brass feat. Jazzamatazz Choir and The Red &

Black Jazz Band. All proceeds to the

Champio Centre. Tickets Adults $12,

Senior/unwaged $10, Children $5, Family (2

adults/2 children) $25. Door sales or phone

Rose McKee 03 359 9254.

TEMPS BAR, 21 Goulding St, Hornby:

Friday 8.30pm - DJ. Saturday 8.30pm - No

Secrets.

THE EMBANKMENT, 181 Ferry Rd:

Thursday 8pm - The Giant Poppies. Friday

7.30pm - Open Mic & Jam. Wednesday 9pm

- Titanic (Kevin Emmett, Nick Buchanan,

and Peter K Malthus).

THE LATE STARTERS, The Good

Home, 290 Wairakei Rd: Saturday

8.30pm - The Late Starters playing their

latest single 'Blistered Hills' and other tracks

from their debut album 'Age: A State of

Mind', plus great covers.

THE MILLER BAR, 308 Lincoln Rd,

Addington: Friday 9.30pm - Flat City

Brotherhood. Saturday 9.30pm - Awesome

Source. Sunday 6pm - Lance Kiwi Karaoke.

Tuesday 7pm - Quiz. Wednesday 7.30pm -

Lance Kiwi Karaoke.

WOOLSTON CLUB, 143 Hargood St:

Saturday 7pm - The Shameless Few. Saturday

31st July 7.30pm - Totally 80's Show, tickets

$25 at the club or online at

cosmicticketing.co.nz.

WUNDERBAR LYTTELTON, 19 London

St, Lyttelton: Thursday 8.30pm - Comedy

Night. Friday 8pm -TJ & Huri winter Tour,

tickets at ticketfairy.com. Tuesday - Open

Mic. Wednesday - Jam Night.

'Famous for their roasts!'

SENIORS SPECIAL

Two courses: $

23

Soup/Roast or Roast/Dessert

Special available lunch only

Monday - Saturday 12pm - 2.30pm

Conditions apply

FAMILY FRIENDLY

Kid's Special

Two courses

Great Kids menu plus

designated play area.

$

13

MADSEN PROMOTIONS PRESENTS

FRIDAY 23 JULY, 7.30PM

TICKETS $25 AT THE CLUB

RESTAURANT & CAFÉ

Open daily from 6.30am - Breakfast, Lunch & Dinner

The

RACECOURSE HOTEL

& Motorlodge

118 Racecourse Rd, Sockburn,

Christchurch. Ph 03 342 7150

www.racecoursehotel.co.nz

Saturday 7pm:

JOHN McCABE

Sunday 3pm:

IAN MAC

Mid Winter

CHRISTMAS

SUNDAYS 4 & 11 JULY

LUNCH 12-2pm &

DINNER 5-6pm

Adults $35pp.

Children $1 per year of age (up to 12).

Pre-pay at reception to secure your spot.

ALL BLACKS RUGBY

SATURDAY 3; 10; 17 JULY

Come on down!

17 CARMEN RD. PH. 03 349 9026

WWW.HORNBYWMC.CO.NZ

WHAT'S ON AT THE RICHMOND CLUB

FRIDAY 7PM

SATURDAY 6.30PM

SUNDAY 3PM

75 London St, Richmond

Christchurch 8013

P: 03 389 5778

DnD BAND

DANGER BABY

ROBBIE DREW

theborough.nz

richmondclub.nz
---
44 The Star Thursday June 24 2021

ALL TIPAZ

ON SALE

Double/Queen

Headboard

NOW $

399

Bedside

NOW $

265

NOW ON! SELECT ITEMS

+ SUPER DEALS. ENDS 12.7.21.

Riley 3 Seater – Grey

WAS $

1199

NOW

$

899

Riley

Chaise Sofa – Grey

WAS $

1699

ALL PARIS

ON SALE

Dining Table – W190

NOW $

799

Dining Chair

NOW $

150

NOW

$

1299

DON'T MISS OUT ON THESE GREAT SUPER DEALS!

Caribbean Queen

Sleepset

WAS $

849

NOW

$

649

Zara Single Bunk Bed

WAS $

999

NOW

$

699

Lennox 2 Seater

WAS $

1499

NOW

$

1199

SCAN QR TO SHOP ALl

SUPER DEALS OnLINE!

Lennox

3 Seater

NOW $

1399

Shop

Online

Nationwide

Delivery

Finance

Options

PLUS HEaps more super deals in store & online!

WINTER SALE NOW ENDS 12.7.21.

250 Moorhouse Ave, Christchurch

Ph: 0800 TARGET (0800 827438)

targetfurniture.co.nz

Offers and product prices advertised here expire 12/07/21.

Sale Excludes Accessories.
---
A RESOUNDING "no" is the

response of St Albans residents

The responses have prompted

Corrections to change to how it

plans to operate the centre.

Department of Corrections

Canterbury district manager Jessie

Middlemiss said this included

reducing the maximum number

of residents from 16 to 12, and

increasing the maximum number

of staff on site to 14.

Mike Pero Real Estate Ltd Licensed RE A (2 08)

Talk to over 10,000 visitors in 3 days

Contact Lisa on 021 800 809

THURSDAY, JUNE 24, 2021 Connecting Your Local Community

starnews.co.nz

Read to dogs

at the library

Page 2 Page 7

Lessons in

lawn bowls for

youngsters

Proposed rehab centre takes

residents' concerns on board

• By Fiona Ellis

Thursday, June 24, 2021 | starnews.co.nz | 93,000 circulation | Trusted for 153 years

who submitted on whether a

rehabilitation centre for violent

offenders should open in the

area.

The city council received 173

submissions agains the Department

of Correction's proposed

residential violence-prevention

programme project at 14 Bristol

St, and just 20 in favour.

She said residents would now

be phased in during the first 15

months of the programme.

A new gate would be installed

at the main entrance and the

hours when outdoor areas could

be used would be limited.

"We are committed to being

the best neighbour we can be,

"If the Christchurch

City Council approves our

application, we will establish a

the proposed use of the property

was unreasonable.

to sports activities in the area.

REHAB CENTRE:

Bristol St may

become the site

of a residential

programme for

the Department of

Corrections.

What's on offer this year?

and we hope that the changes

we are making demonstrate our

willingness to work with the

community," Middlemiss said.

Ph: 03 359 8207 E: bishopdalepostshop@gmail.com

Bishopdale Vi lage Ma l Plenty of free parking!

ON NEXT

WEEKEND!

community liaison group."

Many residents who lodged

submissions cited safety as a

concern.

Submitter Philip Cooper said

The

MISSING

SISTER

Lucinda Riley's

Latest Release

"[It is] unsafe for all residents,

especially children and the

elderly," he said.

Submitter Melissa Warrington

said her two children regularly

walked or scootered to school and

Tariq Kundan

0800 700 111

tariq@mikepero.com

"Should this application be approved,

I will be fearful for them

to continue to do so in case they

encounter one of the residents or

their associates [or] visitors."

Submitter Chris Rennie said

rehabilitation measures were

TARIQ IS A

HOUSESOLD

NAME

Christchurch Central

important, but often ineffective.

Rennie compared them to the

prison meetings he used to run.

"A residential area is not the

place to be housing these violent

offenders who can just walk out

the door at any time."

• Turn to page 7

2 – 4 July 2021

IN ASSOCIATION WITH

Be inspired with thousands

of ideas under one roof!

FREE

DOUBLE PASS!

CUT THIS AD OUT FOR

1x FREE DOUBLE PASS

Join us at the Home & Leisure show, stand number 176.

Appliances, beds, furniture & tech.

Everything you need for your home.

2 - 4 July 2021 • 10am - 5pm • Christchurch Arena • www.starhomeshow.kiwi
---
Explore our unique zones!

IN ASSOCIATION WITH

IN ASSOCIATION WITH

Sip, taste and try new

products before you buy.

Discover liquorice, gourmet

dips, fruit juices, local wine

and more!

Learn about eco friendly

products and services

including solar power, pellet

fires, energy efficient homes,

LED lighting, electric bikes,

light therapy, alternative

energy and more!

Be inspired by landscaping

plans, pools, spas, outdoor

furniture, fencing, garden

ornaments, decking, glass

and more!

Upgrade your leisure time

with boats, camper vans,

caravans, jet skis and an off

road vehicle!

Take a look inside several tiny

homes, mega tiny homes,

modular homes and place a

bid in a live auction!

2 - 4 July 2021 • 10am - 5pm • Christchurch Arena • www.starhomeshow.kiwi
---
IN ASSOCIATION WITH

IN ASSOCIATION WITH

Worth $ 22,000!

2016 nissan Leaf

Marvel at the car's full leather interior, 360

degree cameras, Android Auto and Apple

CarPlay, Bose sound system and 10 air bags.

Visit the hVs stAnd At our show to be in to win!

Informative seminars brought to you by

On every day — Friday, Saturday and Sunday

Buildright

11.00am

Covering renovations for your home - whether it be your bathroom, kitchen,

reconfiguration of existing rooms or extensions.

Sunshine Solar

11.30am

Learn if solar is right for you, what type of solar is best for what applications

and how you can make money off solar with little or no money down. Covering

commercial solar as well as residential and batteries.

Resene

12.00pm

Discover how to take your favourite colours and confidently design colour

schemes to suit you, your home and your lifestyle. Make the most of your

space and maximise the appeal of your home.

Kitchen Studio

12.30pm

From inspiration to installation, take note of our tips and tricks when updating

your kitchen to ensure it fits in with rest of your house.

Whitehouse

Builders

1.00pm

Ever wondered how to build an energy efficient home? Learn the 5 passive

house principles that contribute to a truly efficient home.

NZ Home Loans

1.30pm

Discover the tools that will allow you to become debt free faster, purchase a

property in Christchurch, either a 1st home, construction, or investment.

2 - 4 July 2021 • 10am - 5pm • Christchurch Arena • www.starhomeshow.kiwi
---
Place a bid in the live auction!

IN ASSOCIATION WITH

IN ASSOCIATION WITH

Cosy Homes are auctioning off a brand

new 2-bedroom 50sqm home at our show!

*Digital rendering of outside

This MEGA tiny home could be YOURS!

This mega tiny home is warm, spacious

and homely, it is built and ready to go

and can be transported anywhere in the

country. Step inside and feel it for yourself.

Don't miss out on this auction! Cosy

Homes have a range of options to suit

your budget with their 2-bedroom homes

typically ranging in price from $95,000 -

$130,000.

The Cosy Home for auction is at the

premium end of the range, with the added

bonus of being available immediately!

The auction is set for 1pm on Sunday 4th

of July at the Cosy Home stand.

The auction is sponsored by Ray White

Bishopdale & Strowan.

There is normally a 9 month wait on a tiny

home, but this one will be yours in a week!

Auction set for 1pm on Sunday,

4th July at the Cosy Home stand.

To place a bid, you must register your interest at www.cosyhomes.co.nz/auction

CUT THIS AD OUT FOR

1x FREE DOUBLE PASS

Join us at the Home & Leisure show, stand number 176.

Appliances, beds, furniture & tech.

Everything you need for your home.

2 - 4 July 2021 • 10am - 5pm • Christchurch Arena • www.starhomeshow.kiwi