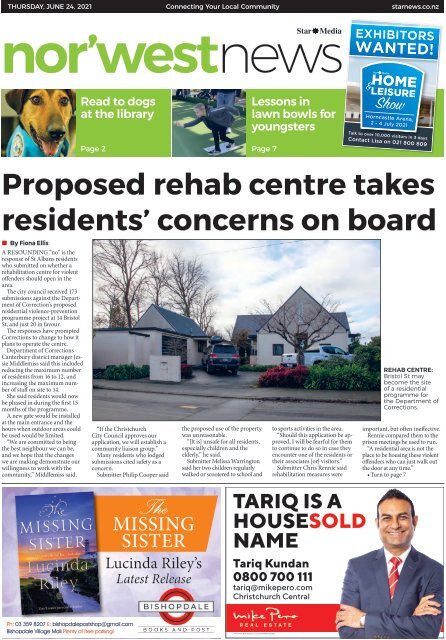 Nor'West News: June 24, 2021
You also want an ePaper? Increase the reach of your titles
YUMPU automatically turns print PDFs into web optimized ePapers that Google loves.
THURSDAY, JUNE 24, 2021

Connecting Your Local Community

starnews.co.nz

Read to dogs

at the library

Lessons in

lawn bowls for

youngsters

Talk to over 10,000 visitors in 3 days

Page 2 Page 7

Contact Lisa on 021 800 809

Proposed rehab centre takes

residents' concerns on board

• By Fiona Ellis

A RESOUNDING "no" is the

response of St Albans residents

who submitted on whether a

rehabilitation centre for violent

offenders should open in the

area.

The city council received 173

submissions against the Department

of Correction's proposed

residential violence-prevention

programme project at 14 Bristol

St, and just 20 in favour.

The responses have prompted

Corrections to change to how it

plans to operate the centre.

Department of Corrections

Canterbury district manager Jessie

Middlemiss said this included

reducing the maximum number

of residents from 16 to 12, and

increasing the maximum number

of staff on site to 14.

She said residents would now

be phased in during the first 15

months of the programme.

A new gate would be installed

at the main entrance and the

hours when outdoor areas could

be used would be limited.

"We are committed to being

the best neighbour we can be,

and we hope that the changes

we are making demonstrate our

willingness to work with the

community," Middlemiss said.

"If the Christchurch

City Council approves our

application, we will establish a

community liaison group."

Many residents who lodged

submissions cited safety as a

concern.

Submitter Philip Cooper said

the proposed use of the property

was unreasonable.

"[It is] unsafe for all residents,

especially children and the

elderly," he said.

Submitter Melissa Warrington

said her two children regularly

walked or scootered to school and

to sports activities in the area.

"Should this application be approved,

I will be fearful for them

to continue to do so in case they

encounter one of the residents or

their associates [or] visitors."

Submitter Chris Rennie said

rehabilitation measures were

REHAB CENTRE:

Bristol St may

become the site

of a residential

programme for

the Department of

Corrections.

important, but often ineffective.

Rennie compared them to the

prison meetings he used to run.

"A residential area is not the

place to be housing these violent

offenders who can just walk out

the door at any time."

• Turn to page 7

The

MISSING

SISTER

Lucinda Riley's

Latest Release

TARIQ IS A

HOUSESOLD

NAME

Tariq Kundan

0800 700 111

tariq@mikepero.com

Christchurch Central

Ph: 03 359 8207 E: bishopdalepostshop@gmail.com

Bishopdale Village Mall Plenty of free parking!

Mike Pero Real Estate Ltd Licensed REAA (2008)
---
2 Thursday June 24 2021

Latest Canterbury news at starnews.co.nz

NOR'WEST NEWS

GENERAL INQUIRIES Ph 379 7100

CLASSIFIED ADVERTISING Ph 379 1100

Star Media, a division of Allied Press Ltd

PO Box 1467, Christchurch

starmedia.kiwi

NEWS

Fiona Ellis

Ph: 021 914 407

fiona.ellis@starmedia.kiwi

ADVERTISING

Monique Maynard

Ph: 021 372 481

monique.maynard@starmedia.kiwi

Your local community news

delivered to 28,748 homes

within The Star each week.

Harewood • Burnside • Bishopdale • Bryndwr

Fendalton • Merivale • St Albans • Mairehau

Papanui • Casebrook • Redwood • Styx Mill

Regents Park • Northwood • Belfast • Strowan

what's on

this week

Knit 'n' Yarn

Thursday, 1-3pm, at Shirley,

2-3.30pm, at Fendalton, Friday,

10am-noon, at Papanui, Tuesday,

1-3pm, at Bishopdale, Wednesday,

1-2.30pm, at Redwood

Bishopdale, Fendalton, Papanui,

Shirley and Redwood libraries

Take your knitting, crochet, stitching

or any other handcraft and enjoy

the company of others. Share skills

and be inspired.

Citizens Advice Bureau

Thursday, 11am-5pm, Friday, 11am-

5pm, Monday, 11am-5pm, Tuesday,

2-5pm, Wednesday, 11am-5pm

Fendalton Library

Citizens Advice Bureau provides

free and confidential advice. They

take the time to listen and equip you

with the information, options and

support that fit your needs. Phone 351

7804 for more information.

JP Clinic

Saturday, 10am-noon, at

Fendalton, Tuesday, 10am-1pm, at

Shirley and Papanui, Wednesday,

10am-1pm, at Bishopdale

Bishopdale, Papanui and Shirley

libraries

A justice of the peace will be

available to witness signatures and

documents, certify document copies,

hear oaths, declarations, affidavits or

affirmations, as well as sign citizenship

or rates rebates applications.

Reading to Dogs, Tuesday, 3.30-4.30pm, Shirley Library. A relaxed, nonthreatening

event designed to encourage children to practice reading skills

and develop a love for reading. Registration required. Phone 941 7923 to

register. ​

Cards at the Papanui Club

Monday, 1.15-3.15pm, Tuesday,

1-3.15pm, Wednesday, 1.15-3.15pm

Papanui Club, 310 Sawyers Arms Rd

Join others for a different card game

each day. Monday is Flag 500, Tuesday

is Cribbage and Wednesday is Euchre.

All welcome. $2. Phone Alan on 021

173 3388 for more information.

Marshland Table Tennis Club

Monday, 7.30pm

Ouruhia Hall, 225 Guthries Rd

The Marshland Table Tennis Club is

looking for more players to join in on

the fun each week at its new premises

in Belfast. All abilities welcome. $5

for adults, $3 for children. For more

information phone 021 205 1106.

Wā Kōrero: Storytimes

Tuesday, 10.30-11am, at Fendalton

and Shirley

Fendalton and Shirley libraries

Storytimes is an interactive programme

including books, songs,

rhymes and play. Recommended

for children 2-years-old and up. No

bookings required.

Scottish Country Dancing

Tuesday, 7.45-9.45pm

Heaton Intermediate School hall, 125

Heaton St

Go along if you want to take part in

the fun exercise. All you need to take

is some soft shoes. The first night is

free for beginners. Phone 021 480 802

for more information.

Elizabeth Bridge Club

Wednesday, 1-4pm

Christchurch Bridge Club Rooms, 21

Nova Pl

Go along and join others for a game

of bridge every Wednesday. Arrive at

12.50pm for a 1pm start. If you do not

have a partner, phone Maureen at 021

646 123.

Not-for-profit organisations can

send their What's On listings

tonorwest@starmedia.kiwi

10am - 2pm

Every Friday in June

Summerset at Avonhead

120 Hawthornden Road,

Avonhead

Summerset on Cavendish

147 Cavendish Road,

Casebrook

Summerset at Wigram

135 Awatea Road, Wigram

Winter

High Tea

Join us for a Winter High Tea at one

of our three Christchurch villages

Winter certainly is starting to settle in. These cooler months

can make it just that little bit harder to get out and about.

So here at Summerset we're planning a month of warm

winter High Teas and you're invited.

Just pop along to one of our three Christchurch villages any

time between 10am and 2pm, on any Friday in June, and

enjoy a range of delicious winter treats and hot drinks on us.

Whilst you're here, why not also get a taste of the Summerset

life that our residents love so much.

Our teams would love to show you around our stunning

villages and show homes.

We're looking forward to seeing you!

0800 SUMMER | summerset.co.nz

Image is indicative only.

SUM3118_18X8
---
NOR'WEST NEWS Latest Canterbury news at starnews.co.nz

Thursday June 24 2021 3

Chance to guide visitors around

gardens a privilege for volunteer

VOLUNTEERING AT the

Botanic Gardens has been a

chance to branch out for Susan

Lawrence.

The Bryndwr 72-year-old

began guiding visitors at the

gardens in 2012.

Volunteer guides – all

members of the Friends of the

Botanic Gardens – run free

walks in different parts of the

Botanic Gardens each day

between October and April.

"I find being a volunteer

guide incredibly rewarding,''

said Susan.

"It has provided me with an

opportunity to learn and grow

in my knowledge of plants. I

cringe sometimes when I think

of how little I knew at the start.''

She led two or three walks a

month, co-ordinated the team of

volunteer guides, and served on

the committee of the Friends of

the Botanic Gardens.

"Being part of a team

is fulfilling – we are very

supportive of one another and

each one brings his or her own

skills to the task, and we learn

from each other."

"Having the opportunity

to share our knowledge and

Andrew Hawkey

(BHS Podiatry)

stories with the public is a great

privilege, whether they are

locals or tourists.

"Locals are often surprised at

how much of the gardens they

are unfamiliar with."

Mrs Lawrence says engaging

with the public on the tours

is a two-way experience and

the guides often come away

having learned a thing or two

themselves.

Feet holding you up,

but holding you back?

• Foot/Leg Pain

• Ingrown Nails

• Corns/Calluses

• Orthotics

Burnside • St Albans • Amberley

Home visits by arrangement

Ph: 027 220 9395 • andrew@pacepodiatry.co.nz

"Above all it is a great

privilege to give out to others

– our lives are enriched in the

process.''

She estimated she spent about

30 hours a month working on a

voluntary basis for the Friends

of the Botanic Gardens, which

exist to support and promote the

work of the gardens.

Funds raised provide

education and travel

LABOUR

OF LOVE:

Volunteer

Susan

Lawrence

spends

around

30 hours

a month

showing

groups of

people

what the

Botanic

Gardens has

to offer.

PHOTO:

NEWSLINE

opportunities for gardens' staff,

apprenticeships and annual

library grants amongst other

things.

A large volunteer team

work in propagation, guiding,

weeding and duties in the kiosk.

"I would encourage anyone

who appreciates the sanctuary

that is our Christchurch Botanic

Gardens to join the friends,'' she

said.

Grants for

community

groups approved

• By Fiona Ellis

A GRANT of $8698 to the Styx

Living Laboratory Trust was

approved by the Papanui-Innes

Community Board at a meeting

last week.

THis was more than the

recommendation of $7556 set

before the meeting was held.

The trust aims to promote education

and research around the Styx

River catchment.

Board member Pauline Cotter

proposed the increase.

"They're growing, they're doing

such a fantastic job and I'm really

passionate about our biodiversity. I

don't think we've had a big enough

lens on that over the council."

Funds would go towards the

trust's work programme, its education

programme and development

of a talking circle.

The board also approved $8000

to the Papanui Redwood Association

Football Club towards the

installation of floodlights in Owen

Mitchell Park.

A third grant of $2000 to the

Belfast Netball Club was also approved,

which would help with the

club's court hire costs and pay for

new balls.

Money for the grants would

come from the 2020/21

Discretionary Response Fund.

Cakes

For All

Occasions

OPEN 7 DAYS Cnr Cranford St & Innes Rd

P: 03 355 6921 E: cafe@kiddscakes.co.nz

www.kiddscakes.co.nz (34 on site car parks)

Baking fresh each day since 1986
---
4 Thursday June 24 2021

Latest Canterbury news at starnews.co.nz

NOR'WEST NEWS

Former Olympian still has the competitive spirit

THE OLYMPIC spirit still shines

brightly with John Abrams.

John, a New Zealand hockey

team member from the 1956

Melbourne and 1960 Rome

Olympic Games, remembers

close matches and physical

tussles, as the team played its

heart out from the get-go.

John and New Zealand team

made their Olympic debuts in

Melbourne.

He recalls the Australian adventures,

as he sits alongside his

wife Dawn – both residents of

Diana Isaac Retirement Village

in Mairehau.

Now, John is looking forward

to his next Olympics adventure.

Ryman Healthcare is bringing

together 12,500 residents across

41 villages in New Zealand and

Australia to compete in the

world's first international retirement

village Olympic Games.

The residents will be competing

in cycling, swimming, bowls,

a 21.6km team walking relay and

Quiznastics (gymnastics for the

brain).

Back in 1956, John and other

Kiwi games athletes were invited,

and went, to social events hosted

by gracious Melburnians.

"Even if you were wandering

around outside the village, a car

would pull up and they would

say: 'Hey you guys, we're having

MEMORIES: John Abrams, who played at right fullback in

Canterbury and New Zealand hockey teams.

a barbie tonight, would you like

to join us?' " John said.

Times at the games were different

back then, and security settings

were much lower. In 1960

John was able to watch, trackside,

the performance of Kiwi

medal winners including Barry

Magee, Peter Snell and Murray

Halberg.

As well as these memories,

John and Dawn have plenty of

Olympic memorabilia on their

walls in their independent apartment

at the village.

John's historic collection

includes photos, an Olympic

tie and an Olympic blazer from

Rome.

The items date back to the

games and more recently to

get-togethers. As Olympians he

and others were honoured by the

Christchurch High School Old

Boys with names inscribed on

a sports shirt. His shirt is now

framed and mounted on the

wall.

Both Woolston Primary

School, CBHS and later

Woolston Hockey Club were

proving grounds for John and

others. His schoolmates Noel

Hobson and Ross Gillespie (who

later coached the Kiwi 1976 gold

medal-winning team) played

together in 1960.

Provincial and national representation

followed, then John

says that he and his family had to

listen to a 6pm radio broadcast

to find if he was included in the

team for Melbourne.

The departure for Melbourne

was quite a ruckus. His father,

Dawn and young daughter,

Nicola, saw him off only to

discover the car keys (to get

home) were in John's pocket and

on the plane. They were eventually

tossed down by the pilot to

ground level before the aircraft

took off.

In Melbourne the team finished

in sixth place just behind

Australia.

The Rome Games were longhaul

in terms of travel, with the

hockey players ending in fifth

place this time after beating Australia

in the final match.

John says the team were very

close to contending for a medal,

but lost 1-0 in a thrilling quarterfinal

against Spain. The score

could have been reversed; he

says.

"We had a penalty corner and

the ball was definitely going into

the net, and it hit one of their

defenders in the jaw and went

out," John said.

"A few minutes after that, they

scored, and then it was fulltime."

The team was consigned to

the sidelines. "(But) one of the

marvellous things, then and in

Rome, the competitors had a reserve

stand at the main stadium,"

John said.

John got to sit beside athletics

coach Arthur Lydiard in the

Rome stadium to see the arrival

of the marathon athletes including

Barry Magee (now a Ryman

resident at Murray Halberg) who

finished with a bronze medal.

"It was a fabulous effort," he

said.

In Rome, he watched Peter

Snell and Murray Halberg's gold

medal performances.

Snell, in fact, spent a lot of

time at the dining table with

the hockey team, knowing well

the Auckland team members

having played hockey against

them.

Years later John, a trained

lifesaver, found Snell cramping

in the water at Tahunanui Beach

near Nelson. He pulled him to

safety, with Snell forever grateful.

Both John and Dawn are

looking forward to the Tokyo

summer Olympics and Ryman's

version of the games.
---
NOR'WEST NEWS Latest Canterbury news at starnews.co.nz

Thursday June 24 2021 5

New home for

native butterflies

McMaster & Heap

Veterinary practice

• Fiona Ellis

CANTERBURY'S own native boulder

copper butterfly will soon have a new

home at Orana Wildlife Park.

The Burnside Primary School pupils

behind the project braved the wintery

weather to plant 150 Muehlenbeckia

axillaris shrubs at the park last week.

Teacher Bianca Woyak said the shrub

was the butterfly larvae's only food source.

"They'll be moving in about October,

we're just waiting for the plants to settle,"

she said.

It was a great day of hands-on learning,

Woyak said.

"The weather wasn't the best, but it was

good for digging and planting."

The boulder copper butterfly was

reintroduced to Christchurch by Burnside

pupils in February, after a 200-year

absence from the city.

Because the pupils had already built the

butterflies a habitat on the school grounds,

they knew what to look for when scouting

a new location for the insects to live,

Woyak said.

"Boulder coppers need an area with no

shade . . . and dry, so nowhere too lowlying."

The butterflies from the initial

translocation had laid eggs, and these

offspring would be the ones to inhabit the

park, she said.

DIGGING IN: Burnside Primary

School pupils (from left) Cairo

Wesley, Ivan Carrapiett and Paul

Campana plant Muehlenbeckia

axillaris at Orana Wildlife Park

last week.

At just two or three centimetres wide,

the butterflies were small and their eggs

were nearly impossible to see.

This added an element of suspense to the

project.

"We're waiting with bated breath to see

if we have butterflies in October."

Storage

Motorhomes

Boats

Caravans

Trucks

LIPOMAS

A Lipoma is a benign mesenchymal

tumour comprised of "mature adipocytes"

(namely fat cells). Lipomas are very

common in the dog, rarely in the cat.

Believe it or not I have several small

lipomas on my arms that cause no issue.

They are often picked up in a routine visit,

are non-painful, soft, moveable and slow

growing. Breeds at risk are the Labrador,

Retriever, Doberman, Spaniel and Beagle.

No one knows why they pop up and they

are classified into three groups –

• Simple lipoma – a benign, slow growing

mass that expands rather than invades.

They can get really huge. They are usually

encapsulated and easy to surgically shell

out. They are most commonly seen within

the fat tissue on the trunk and limbs. Very

occasionally they can be found in the

chest and abdomen. Depending on where

they are they can impede movement

causing abnormal gaits and neurological

deficits may be noticed.

• Infiltrative lipoma – These are locally

aggressive, invasive and can disrupt the

surrounding tissues. These have been

known to cause spinal cord compression.

• Myelolipoma – These are benign and can

commonly occur on the spleen, adrenal

glands and liver. We rarely see these.

Diagnosis is made by fine needle

aspiration cytology, radiographs and

ultrasound (especially of lipomas in the

thorax and abdomen or those inbetween

muscle planes). Cytology of the mass can

be done while you wait.

Most lipomas require NO specific therapy.

We usually only suggest surgical removal

if they are impeding motion or function or

in an area that irritates the dog. Surgery is

usually straight forward and it helps having

cautery for the large tumour removals as

they have a decent blood supply. Often

suction drains are inserted due to all the

dead space left and blood tends to want

to pool there. Complications of surgery

can be delayed wound healing, seromas

forming or occasionally nerve damage if

the lipoma is deep.

Recently we had a referral to give our

opinion on lipoma surgery for a 12 year

old Labrador called "Tess". She's had a

multitude of lipomas (diagnosed via

cytology) for years but some have started

growing quickly, causing her severe

mobility issues. Kirsty initially saw Tess

and thought she could make a difference

surgically to her quality of life and mobility.

One large lipoma had extended down the

right side of her chest and into her axilla

(armpit), impinging on nerves affecting

limb placement. She kept throwing this leg

outward.

Tess was a trouper under her anaesthetic

and has recovered well. The surgery took

nearly two hours and required lots of

sutures and drains to close large wounds.

Six lipoma masses were removed, the

largest weighing in at 1.6kg. She should

hopefully find it easier to walk now. Tess

was discharged on good pain medications,

weight loss diet and a recommendation

for Physio to help her mobilise quicker and

improve muscle strength. She was a gentle

old soul to treat and we hope we have

made a difference to her quality of life.

Dr Michele McMaster

Open air storage near Airport

Secure Entry

From $30 per week +GST

Ph: 0276132684

Email: robyn@amherst.co.nz

Open 7 days

Cnr Hoon Hay & Coppell place

phone 338 2534, Fax 339 8624

e. mcmasterandheap@yahoo.co.nz

www.mcmasterheap.co.nz

McMaster & Heap
---
6 Thursday June 24 2021

Latest Canterbury news at starnews.co.nz

NOR'WEST NEWS

We have the buyers.

Do you have the home?

Have you been thinking about selling?

We have buyers looking to buy in the Nor'West area

and you might have just what they are looking for!

Curious to know what your home is worth? Call us today! 0800 YELLOW

Recently

By Your Local Experts at Ray White Bishopdale & Strowan

44 Willryan Avenue, New Brighton 74 Palatine Terrace, St Martins 11 Swynford Lane, Spreydon

5 Parnwell Street, Burwood 14 Nairn Street, Spreydon

11 Melville Street, Bishopdale 305 Sawyers Arms Road, Bishopdale 127 Tancred Street, Linwood

5 Portman Street, Woolston 28 Grampian Street, Casebrook

23 Belleview Terrace, Mt Pleasant 85A Kahu Road, Fendalton 3/270 Kilmore Street, Chch Central

1 Ballybrack Place, Casebrook This could be your home!

Ray White BS

Bishopdale & Strowan

0800 YELLOW (0800 935 569)

5/333 Harewood Road, Bishopdale | 55 Blighs Road, Strowan

rwbishopdale.co.nz | rwstrowan.co.nz

Inline Realty Limited (Licensed REAA 2008)

Proudly owned by

Karen Ellis

021 519 275

Barry Ellis

021 519 274
---
NOR'WEST NEWS Latest Canterbury news at starnews.co.nz

Thursday June 24 2021 7

Proposed rehab centre

encounters resistance

in St Albans

• From page 1

The minority who submitted in favour

of the application believed in the benefits

of the programme.

Submitter Victoria Wilby said she

was satisfied with the safety measures

proposed.

"I believe in non-punitive programmes

when possible, especially when they

retain the dignity and mana of those

participating," she said.

Linwood-Central-

Heathcote Community

Board chairwoman Alexandra

Davids said she

was not surprised by

the amount of negative

feedback.

"With that much

Alexandra

Davids

feedback from a negative

standpoint, people in the

area should be listened to,"

she said.

However, she hoped people would keep

an open mind towards the project, which

aimed to help offenders move forward

with their lives.

"If not there, where are you putting

it? There's not going to be a community

anywhere that would fully support it."

Christchurch Central MP Duncan

Webb said community feedback and

expert advice were both important.

Corrections would need to prove the

facility could operate

safely, he said.

"There is a robust

process for assessing applications

to operate such

a facility and I have confidence

in this process.

Duncan

Webb

"I am aware of similar

facilities being successfully

run both close by in

Christchurch and in other

cities.

"I absolutely support the safe reintegration

of offenders back into the community."

Central Ward city councillor Jake

McLellan said it was a good thing so

many people had given feedback.

"The number of submitters highlights

how important it is that Corrections get it

right," McLellan said.

A date for the submissions hearing had

not been set, but it was likely to take place

in August, a city council spokesperson

said.

• HAVE YOUR SAY: What are your

views on the proposed rehab

centre for violent offenders at 14

Bristol Street?

Lawn bowls a new

experience for pupils

A GROUP of year five

pupils from Northcote

School visited Summerset

on Cavendish Retirement

Village for an introduction

to lawn bowls.

The recent field trip

was part of the Kiwi Can

programme run at the

school.

Kiwi Can facilitator

Hayley Young said the

opportunity for the 16

pupils to engage with

village residents through

learning new activities

was an extremely positive

experience.

"The kids and I loved it,"

she said.

"Thank you so much

Summerset Village for

warmly welcoming us.

It was a very successful

and engaging community

project."

The programme,

facilitated by the Graeme

Dingle Foundation, had

a focus on values, such as

integrity and respect.

Along with the Kiwi

Can facilitators, the pupils

walked to the retirement

TAKING AIM: Northcote School pupil Savanah

learns to bowl with help from Summerset on

Cavendish Retirement Village resident Ian Capill. ​

village where a team of volunteers

introduced them to

the sport.

The event also included

an opportunity for the

residents and pupils to

share afternoon

tea together.

NOW IN PAPANUI

Serving the Trade & Public

for 30 years in town

The original 'Painters

Warehouse' with the

biggest range

Stocking Paint, Accessories

and much more

New store to serve you in

the north of Christchurch

11 Carparks at rear of shop

SHOP ONLINE

www.rstradecentre.co.nz

FREE CHRISTCHURCH DELIVERY

0800 99 99 76

LOCATIONS:

484 Papanui Road, Papanui

68 Montreal Street, Sydenham

HOURS:

Monday - Friday 7.00am - 5.00pm
---
8 Thursday June 24 2021 Latest Canterbury news at starnews.co.nz

NOR'WEST NEWS

NGAIO MARSH RETIREMENT VILLAGE

Step inside a

townhouse lifestyle

Independent and secure, the living is easy in a Ryman village.

Our townhouses are light and inviting with clean lines and a

clever design layout that provides an easy flow throughout.

Nestled amidst beautifully landscaped gardens, you'll

enjoy a lovely flow to the outdoors. Scenic pathways

weave their way around the village promoting a

sense of connection to your neighbours.

We have one and two-bedroom townhouses available priced

from $455,000. Your fixed base weekly fee* of $119 includes

rates, building insurance, window cleaning, gardening and

exterior maintenance. Leaving you more time and energy to

enjoy your new home and a fulfilled village lifestyle.

Call Danielle for more details.

NGAIO MARSH RETIREMENT VILLAGE

95 Grants Road, Papanui, 354 6608

*Some conditions apply
---
NOR'WEST NEWS Thursday June 24 2021 9

Our pioneering approach to retirement living

includes our Peace of Mind Guarantees designed

to give our residents greater confidence to live

the way they want. They provide freedom and

flexibility that lets you choose when, where,

and how you want to live your life.

DEFERRED

MANAGEMENT FEE

CAPPED AT 20%

The deferred management fee (DMF) is your contribution to the

continued maintenance and management of the village, including your unit

and the village amenities. It's deducted when your occupancy advance is

repaid, which is the amount you've paid to occupy the unit. Your DMF will

be no more than 20 percent – one of the lowest in the retirement sector.

For example:

RYMAN HEALTHCARE

$560,000

%DMF

20%

=

$DMF

$112,000

MANY OTHER PROVIDERS

$560,000

25 - 30% =

$140,000 - $168,000

FIXED BASE

WEEKLY FEE

CARE OPTIONS TO

SUIT YOUR NEEDS

FEES STOP

IMMEDIATELY

NO HIDDEN

COSTS

REPAYMENT

PROTECTION

NO CAPITAL

LOSS

CHANGING

YOUR MIND

90-DAY MONEY

BACK GUARANTEE

For full details on our Peace of Mind Guarantees,

or our Ngaio Marsh Village, call 354 6608.

rymanhealthcare.co.nz

1492
---
10 Thursday June 24 2021

Latest Canterbury news at starnews.co.nz

NOR'WEST NEWS

Christchurch

Intermediate Schools

specialists in Year 7

and Year 8 education

Intermediate Schools are exciting places

for students to begin their adventure into

adolescence!

Intermediate aged children are changing

rapidly – physically, emotionally and

socially. Intermediate schools focus solely

on this age group and are well positioned to

meet their needs.

Intermediates provide a rich, age and

stage, middle-years specific curriculum in

a stimulating, challenging and rewarding

environment, and cater for many interest

groups and clubs.

Intermediate teachers are focussed

solely on the middle years. They work

collaboratively to provide level-appropriate

engaging programmes that connect learning

to students' lives and interests and provide

challenges for all students to achieve to the

best of their ability.

Intermediate Schools have a mix of

specialist and home room teachers which

enhance the choices, challenge, practical

activities and academic rigour that can be

provided.

Intermediates plan and resource deliberately

to meet early adolescent student needs,

help build self esteem, assist students to

develop and find strengths and link learning

with career aspirations.

An intermediate school can support your

child by providing:

• Opportunities to excel and thrive right

across the curriculum both in and out of

the classroom

• Broad enrichment and extension

opportunities

• Opportunities to develop leadership

skills

• Carefully tailored wellbeing programmes

and learning support

• Teachers who understand and have an

affinity for this age and stage

• Structured and safe learning

environments that focus on relationships,

emotional and academic development.

• Technology and specialist programmes

that are hands-on and designed to

encourage creativity and curiosity.

• Schools that are resourced and

designed to meet the needs of this age

group with age appropriate experiences,

opportunities and challenges.

• Challenging extra-curricular experiences

The intermediate schools and principals

in Christchurch work closely together

to collectively provide a wide range of

extracurricular opportunities for students

in sporting, cultural and academic

contexts.

Find out more about your local

intermediate school and enrol now

for 2022.

Now is the time to eNrol for 2021

school Principal Contact Details

Breens Nikki Clarke website: www.breens.school.nz Phone: 359 8108 email: office@breens.school.nz

Casebrook Sharon Keen website: www.casebrook.school.nz Phone: 359 7428 email: office@casebrook.school.nz

Chisnallwood Justin Fields website: www.chisnallwood.school.nz Phone: 388 4199 email: info@chisnallwood.school.nz

Christchurch

south Karamata

Ross Hastings

website: www.chchsouth.ac.nz Phone: 332 2408 email: office@chchsouth.ac.nz

Cobham Eddie Norgate website: www.cobham.school.nz Phone: 351 6381 email: office@cobham.school.nz

heaton Andrea Knight website: www.heaton.school.nz Phone: 355 9555 email: admin@heaton.school.nz

Kirkwood Phil Tappenden website: www.kirkwood.school.nz Phone: 348 7718 email: school.information@kirkwood.school.nz

shirley Geoff Siave website: www.sis.school.nz Phone: 385 2229 email: office@sis.school.nz
---
ISSUE 94

MARCH-APRIL 2021

$10.50

9 416770 121332

TONY JOHNSON

ON THE COMING OF

MOANA PASIFIKA

AARON SMITH

'WHY I RATE

DUPONT'

SEAN FITZPATRICK

'WE NEED MONEY TO

SUSTAIN THE GAME'

rrp $10.99

9 416770 121325

growing with you 100%

MAY 2021

JEROME

KAINO

SORTED FOR

LIFE AFTER

RUGBY

• PHIL GIFFORD: THE BEST

SCHOOLBOY STARS HE SAW

• DARYL GIBSON: HIS VISION

FOR THE BOP STEAMERS

$9.25 incl. GST

& all the varieties

in between

& where they

like to grow

AuTumN 2021

& propagate more

of those you love

Faran Gillbanks

on a succulent

movement

$8.00 incl. GST

9 416770 121318

Try gardening

like the French

Why, when & how

NOR'WEST NEWS Latest Canterbury news at starnews.co.nz

Thursday June 24 2021 11

Give your fresh fish a point of difference

There's an abundance

of fish types

readily available in

supermarkets and fish

retailers. Jazz up your

snapper with some

tangy sauce or go really

wild with a salmon and

avocado salad

Snapper with caper sauce

Serves 4

Ingredients

Marinade:

3 cloves garlic

1 green chilli, seeded and

chopped

1 tsp thyme leaves

1/3 cup lime juice

Salt and pepper to taste

Fish:

Four fillets skinned and boned,

about 600gm

Caper sauce:

2 tbsp water

3 tbsp each – lime juice, olive

oil

2 tsp each – red wine vinegar,

diced seeded green chilli

½cup fresh coriander leaves

1 shallot, peeled

1 tbsp capers, rinsed and

drained

1 garlic clove, peeled and

halved

¼ tsp pepper

Directions

Combine the marinade ingredients

in a small food processor.

Whizz until well blended.

Pour into a large resealable

plastic bag.

Pat the fillets dry. Place in the

plastic bag, seal and turn fillets

to coat.

Marinate in the refrigerator for

45min.

To prepare the caper sauce,

place the ingredients in a small

food processor and blend, until

smooth. Place aside.

Drain and discard marinade.

Grill the marinated fish on the

barbecue or under a preheated

grill for 3-5min each side or

until the fish flakes easily when

pulled with a fork.

Serve the sauce with the fish.

Salmon, avocado and

noodle salad

Serves 2

Ingredients

50gm noodles

Ginger dressing:

3 tbsp extra virgin olive oil

1 tsp sesame oil

2 tsp grated root ginger

1 tbsp each – rice vinegar, light

soy sauce, lemon juice

½ tsp sugar

1 tbsp finely chopped coriander

Salad:

Caper sauce

for snapper

and avocado

salad with

salmon are

unusual

dinner treats.

150gm hot smoked salmon

1 medium avocado, peeled,

stoned and diced

Flaky sea salt and freshly

ground black pepper to taste

¼ cup coriander leaves

Directions

Cook noodles in boiling

water according to packet instructions.

Drain noodles, wash under

cold water, drain well, then allow

to cool.

Meanwhile, combine ingredients

for the dressing in a small

food processor and blend until

smooth. Place aside.

Break the salmon into

chunks.

Place in a large bowl with the

cold noodles, avocado, seasoning

and coriander leaves.

Add about 3/4 of dressing.

Gently toss to coat.

Add remainder of the

dressing.

'CEREC' & cosmetic dentistry

Wisdom tooth removal

Painless, high quality dentistry

Sedation dentistry

Experienced, conscientious team

Experienced hygienists

OPEN SATURDAYS

355 9380

144 Cranford Street

www.stalbansdentalcentre.co.nz

Cheryl Wright

Looking after locals

With New Zealand's number

one agent for client service

on your side, you can trust that

Cheryl will help you reach your

Real Estate Goals.

Get in touch today.

Something for everyone

Available in all good bookstores and supermarkets, or subscribe from as little as $20.

CLASSIC ALPINE TOUR | PELLAND COUPÉ | JIM RICHARD'S WILLMENT ESCORT | TERRY MARSHALL | VAUXHALL FIRENZA | RICHARD BROCKLEHURST MAR-APR 2021

GENTLEMAN JIM RICHARDS & THE WILLMENT ESCORT

THE MOTORSPORT

PHOTOGRAPHY OF

TERRY MARSHALL

RARA AVIS:

PELLAND COUPÉ

A SHORT TIME IN FRONT: RICHARD BROCKLEHURST

50TH ANNIVERSARY OF THE VAUXHALL FIRENZA

SOUTHERN MEN AND TALES OF THE SOUTH

SOUTHERN

SOJOURN

THE CLASSIC ALPINE TOUR

COME ON, FEEL THE

NOISE: CLASSIC

RACING ENGINES

FREE FIRST XV SEASON PREVIEW MAGAZINE INSIDE

DAN

CARTER

REFLECTING ON A

GREAT CAREER

The Shrub Hub

ISSN 2423-0626

meet 20 of our Kiwi garden favourites

From abelia to

viburnum

Why we

like them

How to keep your

shrub in shape

growing with you Issue 504 | May 2021 | 100%

A tropicAl

flock

Grow your own

bird of paradise

Capitalising

on CaCti

Roses on the wishlist

Hot new releases for 2021

Space iSSueS?

The lowdown on

cover crops

P: 359 4370

M: 027 529 7444

E: cheryl.wright@harcourts.co.nz

Licensed Agent REAA 2008

For the motoring

enthusiasts

For the

rugby fans

For the seasonal

gardeners

For the green

thumbs

alliedpressmagazines.co.nz

Rugby News & Kiwi Gardener: 0800 77 77 10 Classic Driver & General: 0800 624 295
---
12 Thursday June 24 2021

Latest Canterbury news at starnews.co.nz

NOR'WEST NEWS

Vaccinations for

the rest of Aotearoa

New Zealand

The COVID-19 vaccination rollout for the general population

starts from the end of July.

Our COVID-19 vaccination programme has built momentum

steadily since February. We are vaccinating around 100,000

people a week at the moment. In the second half of the year

we hit top speed and everyone in New Zealand aged 16 and

over will be able to be vaccinated.

Moving to the general population

So far, vaccinations have been made available to those most at

risk of getting COVID-19 to limit the chances of it getting into the

wider population.

With more vaccine supply coming on, and having ramped up our

infrastructure, vaccinations for everyone else in New Zealand

aged 16 and over (the general population) start from 28 July.

This is a very large group of people. To make this flow smoothly,

we will break this down by age bands.

All people aged 60 plus can book their vaccinations from 28 July.

Then, two weeks later, people who are 55 plus. From there, new

age bands will be opened up every 2–3 weeks based on confirmed

deliveries of the vaccine and the speed of rollout to earlier groups.

By mid to late August, invitations should be open for people over

45. By mid to late September, invitations should be open for those

over 35, with everyone else being eligible from October.

Invitations

Most people will get a direct invitation to book – either by email,

text, phone call or in the post. You will then be able to book through

Book My Vaccine, a new national booking system that will be online

from 28 July, or phone a new national call centre. Availability of

booking slots (the date, time and place you can be vaccinated)

will vary between district health board (DHB) regions.

Once you are eligible to be vaccinated, you can be vaccinated

at any time. There is no cut off.

Registration

Even if your age band isn't open, everyone aged 16 and over will

be able to go to Book My Vaccine to register for an invitation from

28 July. Registration means we will be certain to have your correct

contact details and when your age group is opened, you will get an

invitation telling you it's your turn to book.

Getting a vaccination

Step 1

Step 2

Step 3

Receiving an invitation

We'll call or send you an email, text or letter to invite

you to book.

Make your booking

From 28 July, go to Book My Vaccine or call the new

national call centre to book both doses, or to register

if your age band isn't open yet.

Get your vaccination

Have your first vaccination dose.

3–6 weeks later have your second vaccination dose.

If you don't hear from us, or are concerned, you can register

for your vaccination through the new national Book My Vaccine

booking system at any time from 28 July.

Important dates

28 July People 60+ Vaccinations open

11 August People 55+ Vaccinations open

Mid to late Aug People 45 + Invitations should open

Mid to late Sept People 35+ Invitations should open

October People 16+ Invitations should open

Other ways to get vaccinated

As we go through the year there will be other ways for people

to be vaccinated. These will include workplace vaccinations and

other targeted vaccination events across the country. For some

remote rural communities we will vaccinate all age groups at the

same time to make it easier for them. Our successful whānaucentred

approach to vaccinations will continue for Māori and

Pacific communities and those with disabilities.

Find out more at Covid19.govt.nz
---
NOR'WEST NEWS Latest Canterbury news at starnews.co.nz

Thursday June 24 2021 13

Winter makeover

FREE

CONDITIONING

TREATMENT

WITH EVERY COLOUR

T&C's apply

Let 's

discover

your winter

colour

Ph 357 0002

162a Kendal Ave, Burnside

Tuesday to Friday,

Late nights by appointment

PERFECT

BROWS

Only

$599+gst

Payment can be split over

the two sessions.

Session one $350+,

second session $249+

Makeup artist Jess

creates brows

to frame your

face, often taking

years off your

appearance.

Save time, money

and reduce wear

on your skin,

with perfectly

manicured brows

all day and night.

BEFORE

AFTER

Afterpay available

3/75 Rutland St,

St Albans

(Above Meshino Cafe)

Phone/Text:

021 770 184

OUTLET SALE

4 DAYS ONLY

Take a further

25% off all outlet

clearance prices!

155 Roydvale Ave, Burnside

Wed 23 rd - Sat 26 th June

9am – 4pm
---
14 Thursday June 24 2021

Latest Canterbury news at starnews.co.nz

NOR'WEST NEWS

Be inspired with thousands of ideas under one roof!

2 – 4 July 2021

IN ASSOCIATION WITH

Free informative seminars

thanks to !

Complimentary goodie bags!

show-only specials & giveaways!

Place a bid in the live AUCTION!

This MEGA tiny home could be YOUrs!

have an EV worth

$

22,000

TO

GIVE AWAY!

CUT THIS AD OUT FOR

1x FREE DOUBLE PASS

Join us at the Home & Leisure show, stand number 176.

Appliances, beds, furniture & tech.

Everything you need for your home.

2 - 4 July 2021 • 10am - 5pm • Christchurch Arena • www.starhomeshow.kiwi
---
NOR'WEST NEWS Latest Canterbury news at starnews.co.nz

Thursday June 24 2021 15

Gardening

& Supplies

Gardener available for

maintenance, weeding

pruning, spraying,

planting, advice. Qual &

exp.Pensioner discount

25%. Ph Richard 0274 918

234, 03 349 4022

Trades & Services

BRICKLAYER

George Lockyer. Over

40 years bricklaying

experience. UK trained.

Insurance work, EQC

repairs. Heritage

brickwork & stonework

a speciality. No job too

small. Governers Bay.

Home 329 9344. Cell

027 684 4046. E mail

georgelockyer@xtra.co.nz

BUILDER

New builds, alterations,

decks, fencing. 30 yrs in

the trade has given me

ability to build to a high

standard. Free quotes. Ph

Brent 027 241 7471

CARPET LAYING

Exp. Repairs, uplifting,

relaying, restretching.

Phone John on 0800

003181, 027 240 7416

jflattery@xtra.co.nz

CLEANER

Home - Office - daily -

weekly - monthly. 2 yrs

exp. Competitive rates.

Call or txt 022 353 0264

House & Garden

Property services Ltd

Tree and hedge trimming

Stump grinding

Tree removal

Gardening

Landscaping

CALL us 021 405 277

Classifieds Contact us today Phone our local team 03 379 1100

Trades & Services

PLUMBER

NEED A PLUMBER

Call us now for fast friendly service.

Get your problems sorted out

quick smart - on time!!

Phone for a

FREE

quote now.

Phone 03 377 1280 | Mobile 021 898 380

ROOF REPAIRS

Locally owned & operated with

over 30 years experience.

• Extensions & repair • Roof coating

• Concrete & clay tiles • Butynol

• Malthoid • Asbestos Certified

• Coloursteel • Old iron • Guttering

Phone Dave 981 0278

or 021 223 4200

E: dave@beaumontroofing.co.nz

BEAUMONT ROOFING LTD

WINDOW TINTING

tintawindow

advanced film solutions

99% uv block

fade protection

heat control

reduce glare

25 Years Experience

Trades & Services

privacy films

frosting designs

non-darkening films

Workmanship Guaranteed

Lifetime Warranties on Most Films

UV

block

Free Quotes Canterbury and Districts

03 365 3653 0800 368 468

Trades & Services

PAINTER QUALIfIED

local professional, int/

Ext,roofs,wallpaper, call

or text Corban 027 846

5035

ROOfING REPAIRS

Fully qualified, over 40

yrs experience. Ph John

027 432-3822 or 351-

9147 email johnchmill@

outlook.com

STONEMASON, BRICK

& BLOCKLAYER,

Earthquake Repairs, Grind

Out & Repoint, River/

Oamaru stone, Schist,

Volcanic Rock, Paving,

all Alterations new & old,

Quality Workmanship,

visit www.featureworks.

co.nz or ph 027 601-3145

Trades & Services

STUMP GRINDING

Best price guarantee Tony

0275 588 895

TILING

Flooring - Splashbacks -

Wall incl tile removal, reg

master tiler, ph Dave 027

334 4125

VHS VIDEO TAPES

& all camera tapes

converted to DVD or

USB. Video taping

special occasions, www.

grahamsvideo.co.nz ph 03

338-1655

ADD SOME

COLOUR

TO YOUR ADVERT!

Wanted To Buy

AAA Buying goods

quality furniture, beds,

stoves, washing machines,

fridge freezers. Same

day service. Selwyn

Dealers. Phone 980

5812 or 027 313 8156

TOOLS Garden,

garage, woodworking,

mechanical, engineering,

sawbenches, lathes, cash

buyer, ph 355-2045

TIM WRAIGHT New Wood For Old Iron

Exhibition at Little River Gallery 26 June – 27 July

Tim Wraight is a musician and artist from

Marahau. He works primarily in carved wood,

a medium he has loved since childhood. As a

child he was surrounded by works created by his

great-great-grandfather John Henry Menzies of

Menzies Bay on Banks Peninsula.

In 1990 he was offered the opportunity to train

with traditional Maori master woodcarver John

Mutu, who he worked with for the rest of that

decade. He still works for iwi in the Nelson/

Golden Bay region making traditional works for

their marae and public art installations.

This has influenced the way he

works since, and although his

personal art practice has

moved away from

the traditional, the

methods and way of

making reflects this

background.

The works for this

show "New Wood

for Old Iron" at Little

River Gallery take old

iron and steel tools

and gift them new

intricately carved and

decorated handles. This is his way of honouring

the role these hand tools have shaped our places

and environments in the past, when hard work

with simple but effective tools made our places

and grew our food. It is also a rejection of the

ease with which we now alter our landscapes

with massively powerful machinery and the

damage we can so easily inflict on our fragile

environment.

Tim learnt to use these types

of tools from his grandfather,

an old-time farmer who also

lovingly crafted wonderful

handles for his tools. This

show also honours those who

worked with muscle power

and honed skills to do what

was needed with these tools

to sustain their lives.

Tools with

a twist, Tim

Wraight's

exhibition at

Little River

Gallery

Situations Vacant

CLEANER

PAPANUI AREA

2 x night cleaners required

for Medical Facility

Mon - Fri, 9pm - 11pm, Saturday if

required, start 5pm

Willing to relieve as well for sickness etc

Full onsite training given

Must be reliable, honest and

undergo a police check

Please text 021 244 2377

Entertainments

Tim has a record of significant

public artwork gracing our

shared spaces, marae, and

schools. He has also been

the recipient of the Sculpture

on the Peninsula Award,

his works are part of many

collections both in NZ and

overseas.

TIM WRAIGHT New Wood For Old Iron

26 JUNE – 27 JULY

Main Rd, Little River

03 325 1944

art@littlerivergallery.com
---
16 Thursday June 24 2021

Latest Canterbury news at starnews.co.nz

NOR'WEST NEWS

Celebrate the very best

of winter in one of New Zealand's

most picturesque alpine villages

Hanmer Springs kicks off its first-ever Winter Festival

this July. Gather your friends and family for this epic

wintry line-up, featuring all this and more ...

• Ice Skating: 1 st July – 1 st August

• NEW Winter Wonderland Window

& Lights Display: 1 st – 31 st July

• Hanmer Springs Winter Fete: 2 nd July

• Masquerade Winter Ball: 3 rd July

• Hanmer 10 & Kids 2km Twilight Dash:

10 th July

• NEW Activity Hanmer Family Challenge

Weekend: 16 th – 17 th July

• NEW Hanmer Springs Hotel

Mid Winter Dinner: 17 th July

• Honour Festival Winter Wellness

Retreat: 18 th July

• Canterbury vs Tasman Rugby Match: 23 rd July

• Hanmer Springs Ski Area Open Day: 24 th July

• NEW Amuri Rams Golden Oldies

vs New Brighton Rugby Match: 25 th July

www.visithurunui.co.nz/events