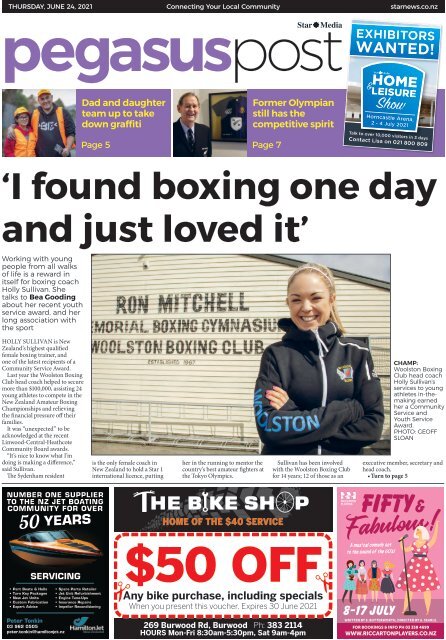 Pegasus Post: June 24, 2021
Create successful ePaper yourself
Turn your PDF publications into a flip-book with our unique Google optimized e-Paper software.
THURSDAY, JUNE 24, 2021

Connecting Your Local Community

starnews.co.nz

Dad and daughter

team up to take

down graffiti

Former Olympian

still has the

competitive spirit

Page 5 Page 7

Talk to over 10,000 visitors in 3 days

Contact Lisa on 021 800 809

'I found boxing one day

and just loved it'

Working with young

people from all walks

of life is a reward in

itself for boxing coach

Holly Sullivan. She

talks to Bea Gooding

about her recent youth

service award, and her

long association with

the sport

HOLLY SULLIVAN is New

Zealand's highest qualified

female boxing trainer, and

one of the latest recipients of a

Community Service Award.

Last year the Woolston Boxing

Club head coach helped to secure

more than $100,000, assisting 24

young athletes to compete in the

New Zealand Amateur Boxing

Championships and relieving

the financial pressure off their

families.

It was "unexpected" to be

acknowledged at the recent

Linwood-Central-Heathcote

Community Board awards.

"It's nice to know what I'm

doing is making a difference,"

said Sullivan.

The Sydenham resident

is the only female coach in

New Zealand to hold a Star 1

international licence, putting

her in the running to mentor the

country's best amateur fighters at

the Tokyo Olympics.

Sullivan has been involved

with the Woolston Boxing Club

for 14 years; 12 of those as an

CHAMP:

Woolston Boxing

Club head coach

Holly Sullivan's

services to young

athletes in-themaking

earned

her a Community

Service and

Youth Service

Award.

PHOTO: GEOFF

SLOAN ​

executive member, secretary and

head coach.

• Turn to page 5

NUMBER ONE SUPPLIER

TO THE NZ JET BOATING

COMMUNITY FOR OVER

50 YEARS

Home of tHe $40 service

• Part Boats & Hulls

• Turn Key Packages

• New Jet Units

• Custom Fabrication

• Expert Advice

SERVICING

Peter Tonkin

03 962 0505

peter.tonkin@hamiltonjet.nz

• Spare Parts Retailer

• Jet Unit Refurbishment

• Engine Tune-Ups

• Insurance Repairs

• Impellor Reconditioning

$50 OFF

Any bike purchase, including specials

When you present this voucher. Expires 30 June 2021

269 Burwood Rd, Burwood Ph: 383 2114

HOURS Mon-Fri 8:30am-5:30pm, Sat 9am-4pm
---
2

Thursday June 24 2021

what's on

this week

Latest Canterbury news at starnews.co.nz

PEGASUS POST

GENERAL INQUIRIES Ph 379 7100

CLASSIFIED ADVERTISING Ph 379 1100

Star Media, a division of Allied Press Ltd

PO Box 1467, Christchurch

starmedia.kiwi

Kawhe & Kōrero

Thursday, 10-11am

New Brighton Library

Build your confidence in te reo

Māori skills with other fellow learners.

Free, no booking required.

Speaking 4 the Planet exhibition, Saturday to Wednesday, 9am-

6pm, New Brighton Library. Speaking 4 the Planet was an art competition

offering students from year 7 to early tertiary an opportunity to address

sustainability issues creatively. The works are on display. ​

NEWS

Bea Gooding

Ph: 021 911 576

bea.gooding@starmedia.kiwi

ADVERTISING

Frank Greenslade

Ph: 364 7441

frank.greenslade@starmedia.kiwi

Your local community news

delivered to 17,598 homes

within The Star each week.

SeniorNet

Thursday, Monday, Tuesday,

Wednesday, 10am-noon

202 Marine Pde, New Brighton

Go along and learn how to use

modern technology and the internet,

such as smartphones, tablets, laptops,

cameras and more. Bookings required.

Phone 382 6048 to register.

NZ Army Brass Band

Ensemble

Thursday, 3.30-4.15pm

Shirley Library

The NZ Army Brass Band ensemble

is performing a variety of musical

styles to cater for all. Free, no bookings

required.

Dementia Partners Support

Group

Friday, 10.30am-noon

Linwood • Avonside • Richmond • Shirley • Bexley

Wainoni Avonside Community

Burwood • Dallington • Wainoni • Bromley

Services Trust, 58 Bassett St

Aranui • Avondale • New Brighton • Northshore

The Wainoni Avonside Community

Services Trust has started a

Queenspark • Parklands • South Brighton

new support group for the partners

of those who have their loved ones in

260 x 180

dementia care. Gold coin donation.

All welcome. Phone Betty Chapman

at 389 2285 for more information.

SAYGo Falls Prevention

Exercise Class

Friday, 10-11am, at New Brighton,

Tuesday, 10-11am, at South Brighton

New Brighton Library and South

Brighton Community Centre

Steady As You Go (SAYGo) is an

exercise class designed to help older

people reduce their likelihood of having

a fall. Free, no bookings required

but places are limited. Phone Age

Concern on 366 0903.

Rotary Market

Sunday, 8.30am-12.30pm

Woolston Club, 43 Hargood St

A variety of stalls will be available,

including fresh produce, jams and

preserves, and recycled clothing,

books and tools. Every fine Sunday,

with all proceeds supporting the local

community. For site inquiries, phone

Vance at 022 382 0086.

Marshland Table Tennis Club

Monday, 7.30pm

Ouruhia Hall, 225 Gutheries Rd

The Marshland Table Tennis Club

is looking for more players to join

in on the fun each week at its new

premises in Belfast. All abilities welcome.

$5 for adults, $3 for children.

For more information phone 021 205

1106.

North Beach Bridge Club

Wednesday, 1-4pm

St Andrews Anglican Church,

Marriott's Rd, North New Brighton

Go along and join other friendly

members of the bridge club, who

meet every Wednesday. Phone

Margaret Keall at 382 0274 for more

information.

South Brighton Voices Choir

Wednesday, 7.30-9.30pm

New Brighton Methodist Church

If you love singing, go along and

join the friendly choir each Wednesday.

New members, especially tenors

and basses, are welcome. Reading

music is helpful, but not essential.

Phone 388 3727 for more information.

Not-for-profit organisations

can send their What's On listings

to pegasus@starmedia.

kiwi

Need Heat Fast?

The Fastest, Warmest Indoor/Outdoor Heater You Will Ever Own!

Buy One Get One Free! *

+Plus

Free

Floor

Stand!*

worth

$199.99

• Heats Up Instantly

• Suitable for Indoors or Outdoors

– In Rain, Fog, Wind or Snow

• Carbon-Fibre Bulb Technology

*Call for Terms

& Conditions

• Multi-Directional Stand

• Includes Remote Control &

Built-In Timer

• Motion Detection Function

1.8m High

• Commercial Grade

• Multi-Directional

• Easy Install

• Portable

• Indoors & Outdoors

CALL NOW! 0800 665 665
---
PEGASUS POST Latest Canterbury news at starnews.co.nz

Thursday June 24 2021 3

Cabbage trees replaced along pathway

TREE

WARRIORS:

Oliver Lewis

and a team

of volunteers

braved the

rain on Sunday

to plant 24

cabbage trees,

replacing the

ones that had

been poisoned

in 2018. ​

• By Samantha Mythen

DRIZZLING RAIN and cold

weather did not prevent 30

volunteers from planting more

than 300 natives and 24 cabbage

trees along the Coastal Pathway

on Sunday.

St Martins resident Oliver

Lewis, who has a passion for

cabbage trees, had set up a

fundraiser to replace the 24 that

were poisoned along the Coastal

Pathway in 2018. Nearly $800

was raised.

The person who poisoned the

trees has never been identified.

"I'm really happy the trees are

back in their rightful place and I

can't wait to see them mature in

the years to come," said Lewis.

Christchurch Coastal Pathway

Group chair Hanno Sander said:

"The cabbage trees look great

and I think they will make a

good addition to the Coastal

Pathway."

The other native plants were

bought from money raised by

the Coastal Pathway Group. The

plants were supplied by Trees 4

Canterbury.

"This planting was a

wonderful demonstration of the

passion the neighbours of the

Coastal Pathway have for their

area," said Sander.

Said Lewis: "Lots of passing

motorists tooted in support,

so I just hope the groundswell

of enthusiasm for the project

shows people who think they

can mess with public trees that

they're on the wrong side

of history."

TIM WRAIGHT New Wood For Old Iron

Exhibition at Little River Gallery 26 June – 27 July

Tim Wraight is a musician and artist from

Marahau. He works primarily in carved wood,

a medium he has loved since childhood. As a

child he was surrounded by works created by his

great-great-grandfather John Henry Menzies of

Menzies Bay on Banks Peninsula.

In 1990 he was offered the opportunity to train

with traditional Maori master woodcarver John

Mutu, who he worked with for the rest of that

decade. He still works for iwi in the Nelson/

Golden Bay region making traditional works for

their marae and public art installations.

This has influenced the way he

works since, and although his

personal art practice has

moved away from

the traditional, the

methods and way of

making reflects this

background.

The works for this

show "New Wood

for Old Iron" at Little

River Gallery take old

iron and steel tools

and gift them new

intricately carved and

decorated handles. This is his way of honouring

the role these hand tools have shaped our places

and environments in the past, when hard work

with simple but effective tools made our places

and grew our food. It is also a rejection of the

ease with which we now alter our landscapes

with massively powerful machinery and the

damage we can so easily inflict on our fragile

environment.

Tim learnt to use these types

of tools from his grandfather,

an old-time farmer who also

lovingly crafted wonderful

handles for his tools. This

show also honours those who

worked with muscle power

and honed skills to do what

was needed with these tools

to sustain their lives.

Tools with

a twist, Tim

Wraight's

exhibition at

Little River

Gallery

Tim has a record of significant

public artwork gracing our

shared spaces, marae, and

schools. He has also been

the recipient of the Sculpture

on the Peninsula Award,

his works are part of many

collections both in NZ and

overseas.

TIM WRAIGHT New Wood For Old Iron

26 JUNE – 27 JULY

Main Rd, Little River

03 325 1944

art@littlerivergallery.com
---
4 Thursday June 24 2021

Latest Canterbury news at starnews.co.nz

PEGASUS POST

School Update

Manukura Kōrero

E ngā iwi,

E ngā reo,

E ngā huihuinga nga tāngata,

Tēnā Koutou,

E mihi ana ki te whānau o Haeata,

Tēnā Koutou, Tēnā Koutou,

Tēnā Koutou Katoa

E mihi ana rangatahi mā

Ngā mihi nui, Ngā mihi nui

Ko Maukatere te maunga.

Ko Rakahuri te awa.

Ko Ngāti Pākehā te iwi.

Ko au te Manukura o Haeata.

Ko Dr Peggy Burrows taku ingoa.

Tēnā koutou, tēnā koutou, nga

manaakitanga ki a tātou katoa!

Our Haeata whānau celebrated Open

Night on Thursday, 17 June 2021. Kaimahi

were excited to have the opportunity to

share with our community the endless

possibilities and unique wero Haeata offers

all ākonga within the mātauranga landscape

of Aotearoa.

Our community, whānau and ākonga

noticed some differences in our kura as

they explored the campus, particularly if

they were used to single cell classrooms.

Haeata is a $33M state-of-the-art modern

learning environment. It is the jewel in

the crown of the East! I am the first to

acknowledge that our kura has had some

teething problems as the transition from

the old to the new occurred since 2017.

I am proud to say we have met and

overcome many of those wero head on.

Over the past five terms, since my

appointment, we have anchored our

innovative learning design into the New

Zealand Curriculum, into NCEA, and

as well, we have introduced an ākonga

behaviour management plan - He

Korowai Manaaki - to support positive

engagement in ako/teaching and learning

and angitu/success.

In working with whānau and ākonga and

kaimahi this year I have two specific goals.

The first is for us all to be mākoha/

kind and the second is to be angitu/

successful. By working with Kaimahi,

whānau and ākonga I will ensure we all do

the mahi/work required to truly succeed.

We all need to pay attention to detail and

ask for help whenever we need it, but we

also need to accept that we are responsible

for our own success and we should never

wait for angitu/success to "happen" to us.

We must make it happen!

All I ask of our ākonga is to be the best

version of themselves and make angitu/

success happen.

As always it is a privilege to serve!

Te manu ka kai i te miro, nōna te ngahere.

The bird that partakes of the miro berry

reigns in the forest.

Te manu ka kai i te matauranga, nōna te ao.

The bird that partakes of the power of

knowledge has access to the world.

He mihi whanui, he mihi maioha ki a

koutou katoa kua tae mai.

This is a widespread greeting of welcome

to you all that have arrived.

Nō reira huri noa i pūmanawa o Haeata.

To everyone gathered within the beating

heart of Haeata.

Tēnā koutou, tēnā koutou, nga

manaakitanga ki a tātou katoa!

Dr Peggy Burrows

Manukura/Principal

Leadership & Hauora Team

School Visits to Auckland

Thank you for your support of our two Teacher Only Days on

Thursday 3 & Friday 4 June, this has been hugely beneficial for

our planning moving forward.

We had the opportunity to visit four kura/schools in the

North Island to learn how their kura/school worked with

systems/structures,curriculum/timetabling, learning support and

wellbeing/wellness.

We were impressed by the way each kura/school put their

young people first alongside their kaimahi/staff and whānau,

knowing that we share the same challenges and barriers in

education.

The opportunity to

network with colleagues

in similar roles was

great professional

development to glean

from each other

knowledge and ideas to

enhance our practice

in our respective

education contexts.

We learned about

strategies and tools that

these kura have used to

lift student achievement

and how they have

taken their kaimahi and

whānau along in the

change process.

We were really encouraged with the commonality and aroha

we share for all things taurite/equity for all people and the

culturally responsive ways that these schools engage.

We look forward to our ongoing partnership around waiora

with these kura.

Ngā mihi nui

Rebecca Wilson

Kaihautū Whakaako/Deputy Principal

Operations & Pastoral Care

Haerenga To Waitikiri

Last month Kōmanawa Years 1-3 were fortunate

enough to visit Waitikiri; a mahinga kai of Waitaha.

We participated in two workshops run by Christchurch

City Council; the Junior Park Explorers and the

Forest Explorer programme.

We spent the day learning about the insects and manu

in the forest, how to build huts and some of us even

experienced eating hūhū grubs! We also learned about

'kaitiakitanga'; looking after our environment for future

generations.

Highlights were learning to build forts, dressing up as

insects to protect the forest, eating hūhū grubs, looking

for the many insects under tree trunks and identifying

local insects and birdlife. Lots of curiosity, fun, and

hands-on activities made for an amazing experience.

Our thanks to Pete Johnson and the Environmental

Education Team at the Christchurch City Council.

The work you do educating our tamariki about the

environment is invaluable. Also, thank you to the many

parents that came to support us on our trip.

Ngā mihi nui ki a koutou.

Kōkā Waiārani, Whaea Ariana & Whaea Kezia

Photography at Haeata

This term in the year 9 &10 kete "That's how I see it" akonga have

been learning basic photography skills and capturing everyday life

here at kura. We have been exploring interesting ways to tell stories

in photos by using different angles and light.

Check out these amazing

examples taken by some of

the talented students.

Photography is a great way to show others

how you see the world.

Photo by Issac Phillips

and Jayda Lang

Photo by O'Sheana Ashby

Taking enrolments, please email enrol@haeata.school.nz for any enquiries or phone us on 03 930 0110

Haeata Community Campus

240 Breezes Road, Wainoni

Reception Hours: Mon - Fri 8am - 3pm

Contact 03 930 0110 • enrol@haeata.school.nz

www.haeata.school.nz
---
PEGASUS POST Latest Canterbury news at starnews.co.nz

Thursday June 24 2021 5

McMaster & Heap

Veterinary practice

MAKING A

DIFFERENCE:

Ben and

Nevaeh

McCallum

paint over

graffiti in their

neighbourhood

as part of the

Off the Wall

programme.

PHOTO:

NEWSLINE

Dad and daughter team

up to take down graffiti

REMOVING GRAFFITI from their

Spreydon neighbourhood has become a

family affair for a father and daughter.

Ben and Nevaeh McCallum volunteered

for the Off the Wall graffiti programme,

run by the city council, in 2017 after seeing

a brochure about it at their local library.

Nevaeh was only seven at the time, but

Ben wanted her to have a strong work ethic

and felt getting rid of graffiti was a worthwhile

task to tackle together.

"At the time there was a lot of graffiti

along the front of our shops so we decided

to get active with that," Ben said.

As part of the Off the Wall graffiti programme,

they help paint over graffiti in

their neighbourhood.

They're also 'tag-spotters', who report

Seeing young people

develop a reward in

itself for boxing coach

• From page 1

Sullivan has also been the Ultimate

Martial Arts Fighting secretary for the

past five years, and team manager of the

Canterbury Boxing Association since 2013.

And last year, for the tenth year in a row,

she ran the South Island novice champs

in spite of Covid-19 public gathering

restrictions.

It was no easy feat to host 45 competitive

amateur boxing bouts online in a single

day through a live stream, with no crowds

cheering from the sidelines.

But boxing was never Sullivan's first love

– she put the gloves on for the first time 14

years ago as a way to stay fit when she was

a Canterbury tennis representative and

national football trialist.

"I found boxing one day and just loved it,

there's an amazing community of people.

It's a physical challenge and at the same

time it's a mental challenge," she said.

"If I knew what I knew now, including

all the opportunities I've had, I would've

gone a lot further."

Sullivan took up coaching after a

number of injuries, enabling her to stay

close to the ring.

The Woolston Boxing Club, which

also received its own service award,

was established in 1967 by the late Ron

graffiti to the council when they see it.

It has been a fun experience for Nevaeh,

which has come with an added bonus

many other kids will relate to.

"It gets me away from my brother," she

said.

Ben doesn't know many other people in

his age group who volunteer and worries it

is a dying art.

He said more people should give

volunteering a go.

"Definitely give it a go. You've got

nothing to lose. If it's not for you, it's not for

you. But you won't know until you give it a

go."

•It is National Volunteer Week from

June 20 to 26.

Mitchell and has a proud history within

New Zealand boxing circles.

It teaches the skills, techniques and

discipline required in order to be an

amateur boxer.

The club often takes youth members

with anger management or behavioural

issues under its wing.

The sessions provide a positive

environment to help members improve

self-esteem, including patience, impulse

control and the ability to focus.

Seeing young people grow and develop

was "better than anything" she could have

imagined.

Said Sullivan: "We've got kids from all

different backgrounds and people from all

walks of life with their own personal issues

and struggles. The cool thing was, at the

last tournament, two kids in our classes

[competed] and their [school] teachers

came and watched their fights.

"One of the teachers got in touch directly

and said they saw an improvement in the

kid and he really wanted to come along to

support and congratulate him.

"It takes a tonne of commitment and

discipline to keep weight and fitness on

point. It's not like football, there's no game

every weekend. You have to train hard for

months with no guaranteed outcome."

LIPOMAS

A Lipoma is a benign mesenchymal

tumour comprised of "mature adipocytes"

(namely fat cells). Lipomas are very

common in the dog, rarely in the cat.

Believe it or not I have several small

lipomas on my arms that cause no issue.

They are often picked up in a routine visit,

are non-painful, soft, moveable and slow

growing. Breeds at risk are the Labrador,

Retriever, Doberman, Spaniel and Beagle.

No one knows why they pop up and they

are classified into three groups –

• Simple lipoma – a benign, slow growing

mass that expands rather than invades.

They can get really huge. They are usually

encapsulated and easy to surgically shell

out. They are most commonly seen within

the fat tissue on the trunk and limbs. Very

occasionally they can be found in the

chest and abdomen. Depending on where

they are they can impede movement

causing abnormal gaits and neurological

deficits may be noticed.

• Infiltrative lipoma – These are locally

aggressive, invasive and can disrupt the

surrounding tissues. These have been

known to cause spinal cord compression.

• Myelolipoma – These are benign and can

commonly occur on the spleen, adrenal

glands and liver. We rarely see these.

Diagnosis is made by fine needle

aspiration cytology, radiographs and

ultrasound (especially of lipomas in the

thorax and abdomen or those inbetween

muscle planes). Cytology of the mass can

be done while you wait.

Most lipomas require NO specific therapy.

We usually only suggest surgical removal

if they are impeding motion or function or

in an area that irritates the dog. Surgery is

usually straight forward and it helps having

cautery for the large tumour removals as

they have a decent blood supply. Often

suction drains are inserted due to all the

dead space left and blood tends to want

Open 7 days

Cnr Hoon Hay & Coppell place

phone 338 2534, Fax 339 8624

e. mcmasterandheap@yahoo.co.nz

www.mcmasterheap.co.nz

to pool there. Complications of surgery

can be delayed wound healing, seromas

forming or occasionally nerve damage if

the lipoma is deep.

Recently we had a referral to give our

opinion on lipoma surgery for a 12 year

old Labrador called "Tess". She's had a

multitude of lipomas (diagnosed via

cytology) for years but some have started

growing quickly, causing her severe

mobility issues. Kirsty initially saw Tess

and thought she could make a difference

surgically to her quality of life and mobility.

One large lipoma had extended down the

right side of her chest and into her axilla

(armpit), impinging on nerves affecting

limb placement. She kept throwing this leg

outward.

Tess was a trouper under her anaesthetic

and has recovered well. The surgery took

nearly two hours and required lots of

sutures and drains to close large wounds.

Six lipoma masses were removed, the

largest weighing in at 1.6kg. She should

hopefully find it easier to walk now. Tess

was discharged on good pain medications,

weight loss diet and a recommendation

for Physio to help her mobilise quicker and

improve muscle strength. She was a gentle

old soul to treat and we hope we have

made a difference to her quality of life.

Dr Michele McMaster

McMaster & Heap
---
6 Thursday June 24 2021

Latest Canterbury news at starnews.co.nz

PEGASUS POST

Christchurch

Intermediate Schools

specialists in Year 7

and Year 8 education

Intermediate Schools are exciting places

for students to begin their adventure into

adolescence!

Intermediate aged children are changing

rapidly – physically, emotionally and

socially. Intermediate schools focus solely

on this age group and are well positioned to

meet their needs.

Intermediates provide a rich, age and

stage, middle-years specific curriculum in

a stimulating, challenging and rewarding

environment, and cater for many interest

groups and clubs.

Intermediate teachers are focussed

solely on the middle years. They work

collaboratively to provide level-appropriate

engaging programmes that connect learning

to students' lives and interests and provide

challenges for all students to achieve to the

best of their ability.

Intermediate Schools have a mix of

specialist and home room teachers which

enhance the choices, challenge, practical

activities and academic rigour that can be

provided.

Intermediates plan and resource deliberately

to meet early adolescent student needs,

help build self esteem, assist students to

develop and find strengths and link learning

with career aspirations.

An intermediate school can support your

child by providing:

• Opportunities to excel and thrive right

across the curriculum both in and out of

the classroom

• Broad enrichment and extension

opportunities

• Opportunities to develop leadership

skills

• Carefully tailored wellbeing programmes

and learning support

• Teachers who understand and have an

affinity for this age and stage

• Structured and safe learning

environments that focus on relationships,

emotional and academic development.

• Technology and specialist programmes

that are hands-on and designed to

encourage creativity and curiosity.

• Schools that are resourced and

designed to meet the needs of this age

group with age appropriate experiences,

opportunities and challenges.

• Challenging extra-curricular experiences

The intermediate schools and principals

in Christchurch work closely together

to collectively provide a wide range of

extracurricular opportunities for students

in sporting, cultural and academic

contexts.

Find out more about your local

intermediate school and enrol now

for 2022.

Now is the time to eNrol for 2021

school Principal Contact Details

Breens Nikki Clarke website: www.breens.school.nz Phone: 359 8108 email: office@breens.school.nz

Casebrook Sharon Keen website: www.casebrook.school.nz Phone: 359 7428 email: office@casebrook.school.nz

Chisnallwood Justin Fields website: www.chisnallwood.school.nz Phone: 388 4199 email: info@chisnallwood.school.nz

Christchurch

south Karamata

Ross Hastings

website: www.chchsouth.ac.nz Phone: 332 2408 email: office@chchsouth.ac.nz

Cobham Eddie Norgate website: www.cobham.school.nz Phone: 351 6381 email: office@cobham.school.nz

heaton Andrea Knight website: www.heaton.school.nz Phone: 355 9555 email: admin@heaton.school.nz

Kirkwood Phil Tappenden website: www.kirkwood.school.nz Phone: 348 7718 email: school.information@kirkwood.school.nz

shirley Geoff Siave website: www.sis.school.nz Phone: 385 2229 email: office@sis.school.nz
---
PEGASUS POST Latest Canterbury news at starnews.co.nz

Thursday June 24 2021 7

Former Olympian still has the competitive spirit

THE OLYMPIC spirit still shines

brightly with John Abrams.

John, a New Zealand hockey

team member from the 1956

Melbourne and 1960 Rome

Olympic Games, remembers

close matches and physical

tussles, as the team played its

heart out from the get-go.

John and New Zealand team

made their Olympic debuts in

Melbourne.

He recalls the Australian adventures,

as he sits alongside his

wife Dawn – both residents of

Diana Isaac Retirement Village

in Mairehau.

Now, John is looking forward

to his next Olympics adventure.

Ryman Healthcare is bringing

together 12,500 residents across

41 villages in New Zealand and

Australia to compete in the

world's first international retirement

village Olympic Games.

The residents will be competing

in cycling, swimming, bowls,

a 21.6km team walking relay and

Quiznastics (gymnastics for the

brain).

Back in 1956, John and other

Kiwi games athletes were invited,

and went, to social events hosted

by gracious Melburnians.

"Even if you were wandering

around outside the village, a car

would pull up and they would

say: 'Hey you guys, we're having

MEMORIES: John Abrams, who played at right fullback in

Canterbury and New Zealand hockey teams.

a barbie tonight, would you like

to join us?' " John said.

Times at the games were different

back then, and security settings

were much lower. In 1960

John was able to watch, trackside,

the performance of Kiwi

medal winners including Barry

Magee, Peter Snell and Murray

Halberg.

As well as these memories,

John and Dawn have plenty of

Olympic memorabilia on their

walls in their independent apartment

at the village.

John's historic collection

includes photos, an Olympic

tie and an Olympic blazer from

Rome.

The items date back to the

games and more recently to

get-togethers. As Olympians he

and others were honoured by the

Christchurch High School Old

Boys with names inscribed on

a sports shirt. His shirt is now

framed and mounted on the

wall.

Both Woolston Primary

School, CBHS and later

Woolston Hockey Club were

proving grounds for John and

others. His schoolmates Noel

Hobson and Ross Gillespie (who

later coached the Kiwi 1976 gold

medal-winning team) played

together in 1960.

Provincial and national representation

followed, then John

says that he and his family had to

listen to a 6pm radio broadcast

to find if he was included in the

team for Melbourne.

The departure for Melbourne

was quite a ruckus. His father,

Dawn and young daughter,

Nicola, saw him off only to

discover the car keys (to get

home) were in John's pocket and

on the plane. They were eventually

tossed down by the pilot to

ground level before the aircraft

took off.

In Melbourne the team finished

in sixth place just behind

Australia.

The Rome Games were longhaul

in terms of travel, with the

hockey players ending in fifth

place this time after beating Australia

in the final match.

John says the team were very

close to contending for a medal,

but lost 1-0 in a thrilling quarterfinal

against Spain. The score

could have been reversed; he

says.

"We had a penalty corner and

the ball was definitely going into

the net, and it hit one of their

defenders in the jaw and went

out," John said.

"A few minutes after that, they

scored, and then it was fulltime."

The team was consigned to

the sidelines. "(But) one of the

marvellous things, then and in

Rome, the competitors had a reserve

stand at the main stadium,"

John said.

John got to sit beside athletics

coach Arthur Lydiard in the

Rome stadium to see the arrival

of the marathon athletes including

Barry Magee (now a Ryman

resident at Murray Halberg) who

finished with a bronze medal.

"It was a fabulous effort," he

said.

In Rome, he watched Peter

Snell and Murray Halberg's gold

medal performances.

Snell, in fact, spent a lot of

time at the dining table with

the hockey team, knowing well

the Auckland team members

having played hockey against

them.

Years later John, a trained

lifesaver, found Snell cramping

in the water at Tahunanui Beach

near Nelson. He pulled him to

safety, with Snell forever grateful.

Both John and Dawn are

looking forward to the Tokyo

summer Olympics and Ryman's

version of the games.

Te Korari Street

Marshland Road

Marshland

Substation

N

Prestons Road

Key

Approximate worksite

One-way system

Prestons Road section one-way

due to power network upgrade

Please allow extra time for your

journey and follow all signage and

instructions from our team on site.

Orion is installing a new 66kV power

cable between the new Belfast

Substation on Blakes Road and the

Marshland Zone Substation.

As we lay the cable on Prestons

Road we need to close the road to

eastbound traffic. From 28 June for

up to 6 weeks you will not be able to

travel east on Prestons Road between

Marshland Road and Te Korari Street.

These are essential upgrades to the network,

so we can better service the fast-growing Belfast

and Marshland areas. To do this work, we need to

close Prestons Road, between Marshland Road

and Te Korari Street, to eastbound traffic so our

crews can work safely.

We understand the work and detour are an

inconvenience for residents and commuters.

Thank you for your patience.

03 363 9898 | 0800 363 9898

oriongroup.co.nz
---
8

Thursday June 24 2021

Latest Canterbury news at starnews.co.nz

PEGASUS POST

Give your fresh fish a point of difference

There's an abundance

of fish types

readily available in

supermarkets and fish

retailers. Jazz up your

snapper with some

tangy sauce or go really

wild with a salmon and

avocado salad

Snapper with caper sauce

Serves 4

Ingredients

Marinade:

3 cloves garlic

1 green chilli, seeded and

chopped

1 tsp thyme leaves

1/3 cup lime juice

Salt and pepper to taste

Fish:

Four fillets skinned and boned,

about 600gm

Caper sauce:

2 tbsp water

3 tbsp each – lime juice, olive

oil

2 tsp each – red wine vinegar,

diced seeded green chilli

½cup fresh coriander leaves

1 shallot, peeled

1 tbsp capers, rinsed and

drained

1 garlic clove, peeled and

halved

¼ tsp pepper

Directions

Combine the marinade ingredients

in a small food processor.

Whizz until well blended.

Pour into a large resealable

plastic bag.

Pat the fillets dry. Place in the

plastic bag, seal and turn fillets

to coat.

Marinate in the refrigerator for

45min.

To prepare the caper sauce,

place the ingredients in a small

food processor and blend, until

smooth. Place aside.

Drain and discard marinade.

Grill the marinated fish on the

barbecue or under a preheated

grill for 3-5min each side or

until the fish flakes easily when

pulled with a fork.

Serve the sauce with the fish.

Salmon, avocado and

noodle salad

Serves 2

Ingredients

50gm noodles

Ginger dressing:

3 tbsp extra virgin olive oil

1 tsp sesame oil

2 tsp grated root ginger

1 tbsp each – rice vinegar, light

soy sauce, lemon juice

½ tsp sugar

1 tbsp finely chopped coriander

Salad:

Caper sauce

for snapper

and avocado

salad with

salmon are

unusual

dinner treats.

150gm hot smoked salmon

1 medium avocado, peeled,

stoned and diced

Flaky sea salt and freshly

ground black pepper to taste

¼ cup coriander leaves

Directions

Cook noodles in boiling

water according to packet instructions.

Drain noodles, wash under

cold water, drain well, then allow

to cool.

Meanwhile, combine ingredients

for the dressing in a small

food processor and blend until

smooth. Place aside.

Break the salmon into

chunks.

Place in a large bowl with the

cold noodles, avocado, seasoning

and coriander leaves.

Add about 3/4 of dressing.

Gently toss to coat.

Add remainder of the

dressing.

EntEr

now!

be in to WIN

WIth our 7 th AnNual bIrd

photo competition

Your favourite bird photo competition

sINce 2015!

our 2020 Winner:

Karen Moffatt-Mcleod

over $1000

in prizes

Including a Canon EOS M200

inter-changeable lens

camera, a Topflite Native Bird

Nurturer Pack & more!

Entries can be sent electronically (high resolution files) to giveaways@gardener.kiwi, with the subject line 'Photo Competition 2021', or posted to Photo

Competition 2021, Kiwi Gardener, PO Box 1467, Christchurch 8140. All entries must be received by 5pm, Thursday, July 1 2021. You can enter more than

once. The winning photos will be published in the August issue (out July 26).
---
PEGASUS POST Latest Canterbury news at starnews.co.nz

Thursday June 24 2021 9

Vaccinations for

the rest of Aotearoa

New Zealand

The COVID-19 vaccination rollout for the general population

starts from the end of July.

Our COVID-19 vaccination programme has built momentum

steadily since February. We are vaccinating around 100,000

people a week at the moment. In the second half of the year

we hit top speed and everyone in New Zealand aged 16 and

over will be able to be vaccinated.

Moving to the general population

So far, vaccinations have been made available to those most at

risk of getting COVID-19 to limit the chances of it getting into the

wider population.

With more vaccine supply coming on, and having ramped up our

infrastructure, vaccinations for everyone else in New Zealand

aged 16 and over (the general population) start from 28 July.

This is a very large group of people. To make this flow smoothly,

we will break this down by age bands.

All people aged 60 plus can book their vaccinations from 28 July.

Then, two weeks later, people who are 55 plus. From there, new

age bands will be opened up every 2–3 weeks based on confirmed

deliveries of the vaccine and the speed of rollout to earlier groups.

By mid to late August, invitations should be open for people over

45. By mid to late September, invitations should be open for those

over 35, with everyone else being eligible from October.

Invitations

Most people will get a direct invitation to book – either by email,

text, phone call or in the post. You will then be able to book through

Book My Vaccine, a new national booking system that will be online

from 28 July, or phone a new national call centre. Availability of

booking slots (the date, time and place you can be vaccinated)

will vary between district health board (DHB) regions.

Once you are eligible to be vaccinated, you can be vaccinated

at any time. There is no cut off.

Registration

Even if your age band isn't open, everyone aged 16 and over will

be able to go to Book My Vaccine to register for an invitation from

28 July. Registration means we will be certain to have your correct

contact details and when your age group is opened, you will get an

invitation telling you it's your turn to book.

Getting a vaccination

Step 1

Step 2

Step 3

Receiving an invitation

We'll call or send you an email, text or letter to invite

you to book.

Make your booking

From 28 July, go to Book My Vaccine or call the new

national call centre to book both doses, or to register

if your age band isn't open yet.

Get your vaccination

Have your first vaccination dose.

3–6 weeks later have your second vaccination dose.

If you don't hear from us, or are concerned, you can register

for your vaccination through the new national Book My Vaccine

booking system at any time from 28 July.

Important dates

28 July People 60+ Vaccinations open

11 August People 55+ Vaccinations open

Mid to late Aug People 45 + Invitations should open

Mid to late Sept People 35+ Invitations should open

October People 16+ Invitations should open

Other ways to get vaccinated

As we go through the year there will be other ways for people

to be vaccinated. These will include workplace vaccinations and

other targeted vaccination events across the country. For some

remote rural communities we will vaccinate all age groups at the

same time to make it easier for them. Our successful whānaucentred

approach to vaccinations will continue for Māori and

Pacific communities and those with disabilities.

Find out more at Covid19.govt.nz
---
10

Thursday June 24 2021

Latest Canterbury news at starnews.co.nz

PEGASUS POST

Be inspired with thousands of ideas under one roof!

2 – 4 July 2021

IN ASSOCIATION WITH

Free informative seminars

thanks to !

Complimentary goodie bags!

show-only specials & giveaways!

Place a bid in the live AUCTION!

This MEGA tiny home could be YOUrs!

have an EV worth

$

22,000

TO

GIVE AWAY!

CUT THIS AD OUT FOR

1x FREE DOUBLE PASS

Join us at the Home & Leisure show, stand number 176.

Appliances, beds, furniture & tech.

Everything you need for your home.

2 - 4 July 2021 • 10am - 5pm • Christchurch Arena • www.starhomeshow.kiwi
---
PEGASUS POST Latest Canterbury news at starnews.co.nz

Thursday June 24 2021 11

Classifieds Contact us today Phone our local team 03 379 1100

Collision Repairs

Collision Repairs

Trades & Services

Trades & Services

Trades & Services

QEII Collision Repairs.

Free Courtesy Cars

(conditions apply),All

Insurance work, Rust

Repairs & Private work.

Spray-painting.

Free pickup & delivery.

Ph. 03 388 5187

Health & Beauty

KATANG

Fitness

Held at St Faiths Church Hall,

46 Hawke Street, New Brighton

QEII Collision Repairs.

Free Courtesy Cars

(conditions apply),All

Insurance work, Rust

Repairs & Private work.

Spray-painting.

Free pickup & delivery.

Ph. 03 388 5187

Sit & Be Fit

Monday 1 – 2pm

$4 per class

Movement to Music

Thursday

9.30 – 10.30am

$5 per class

For more info contact Katrina 3811704 or 0274966845

Wanted To Buy

TOOLS Garden,

garage, woodworking,

mechanical, engineering,

sawbenches, lathes, cash

buyer, ph 355-2045

Trades & Services

FOR ALL YOUR

★Garden Clean-ups

★Pruning

★Lawn Mowing

★Garden Maintenance

Call us today for a FREE quote

PH 0800 4 546 546

(0800 4 JIMJIM)

Trades & Services

BLOCKED

DRAINS?

• Video inspection

• Waterblasting

• liquid Waste

pH: 03 365 7960

24 hours // 7 days

info@h20jet.co.nz

www.h20jet.co.nz

ROOF REPAIRS

Locally owned & operated with

over 30 years experience.

• Extensions & repair • Roof coating

• Concrete & clay tiles • Butynol

• Malthoid • Asbestos Certified

• Coloursteel • Old iron • Guttering

Phone Dave 981 0278

or 021 223 4200

E: dave@beaumontroofing.co.nz

BEAUMONT ROOFING LTD

SCRAP METAL

Dominion Trading Co Ltd

• Scrap metal buyers

• Canterbury owned & operated

• Top prices paid $$$

• Open Saturday morning

Open Mon-Fri 8am – 4.30pm Sat. 8.30am-12.30pm

www.happyscrappy.co.nz

03 343 9993 333 Blenheim Rd

WINDOW TINTING

tintawindow

advanced film solutions

99% uv block

fade protection

heat control

reduce glare

25 Years Experience

privacy films

frosting designs

non-darkening films

Workmanship Guaranteed

Lifetime Warranties on Most Films

UV

block

Free Quotes Canterbury and Districts

03 365 3653 0800 368 468

BRICKLAYER

George Lockyer. Over

40 years bricklaying

experience. UK trained.

Insurance work, EQC

repairs. Heritage

brickwork & stonework

a speciality. No job too

small. Governers Bay.

Home 329 9344. Cell

027 684 4046. E mail

georgelockyer@xtra.co.nz

BUILDER

LICENSED

Available for alterations,

additions, repairs, decks,

bathroom alterations,

aluminium window &

door replacements. Free

quotes. Over 40 years in

industry. Prompt, reliable,

quality workmanship. Ph:

Ian on 021 350 509

CARPET

LAYING

Exp. Repairs, uplifting,

relaying, restretching.

Phone John on 0800

003181, 027 240 7416

jflattery@xtra.co.nz

ELECTRICIAN

Prompt & reliable

registered electrician

with 24 years experience

for all residential and

commercial work, new

housing and switch board

replacements. Phone Chris

027 516 0669

VHS VIDEO TAPES

& all camera tapes

converted to DVD or

USB. Video taping

special occasions, www.

grahamsvideo.co.nz ph 03

338-1655

ADVERTISE YOUR BUSINESS HERE

Phone for further details

(03) 379 1100

NEVER

MISS AN

ISSUE

SUBSCRIBE

FROM $49

Subscribe:

classicdriver.co.nz

0800 624 295
---
12 Thursday June 24 2021

Latest Canterbury news at starnews.co.nz

PEGASUS POST

Celebrate the very best

of winter in one of New Zealand's

most picturesque alpine villages

Hanmer Springs kicks off its first-ever Winter Festival

this July. Gather your friends and family for this epic

wintry line-up, featuring all this and more ...

• Ice Skating: 1 st July – 1 st August

• NEW Winter Wonderland Window

& Lights Display: 1 st – 31 st July

• Hanmer Springs Winter Fete: 2 nd July

• Masquerade Winter Ball: 3 rd July

• Hanmer 10 & Kids 2km Twilight Dash:

10 th July

• NEW Activity Hanmer Family Challenge

Weekend: 16 th – 17 th July

• NEW Hanmer Springs Hotel

Mid Winter Dinner: 17 th July

• Honour Festival Winter Wellness

Retreat: 18 th July

• Canterbury vs Tasman Rugby Match: 23 rd July

• Hanmer Springs Ski Area Open Day: 24 th July

• NEW Amuri Rams Golden Oldies

vs New Brighton Rugby Match: 25 th July

www.visithurunui.co.nz/events