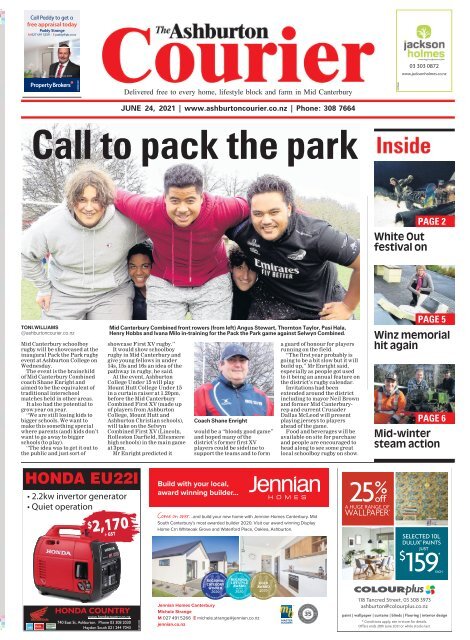 Ashburton Courier: June 24, 2021
You also want an ePaper? Increase the reach of your titles
YUMPU automatically turns print PDFs into web optimized ePapers that Google loves.
free appraisal today

03 303 0872

www.jacksonholmes.co.nz

2389420

Delivered free to every home, lifestyle block and farm in Mid Canterbury

JUNE 24, 2021 |www.ashburtoncourier.co.nz |Phone: 308 7664

2379686

Calltopackthepark

White Out

festival on

PAGE 2

TONI.WILLIAMS

@ashburtoncourier.co.nz

MidCanterbury schoolboy

rugby will be showcased at the

inaugural Pack the Park rugby

event at AshburtonCollegeon

Wednesday.

The event is the brainchild

of MidCanterburyCombined

coach Shane Enrightand

aimed to be the equivalentof

traditionalinterschool

matches held in other areas.

It also had the potential to

grow year on year.

''We are still losing kidsto

bigger schools. We want to

make this something special

where parents (and) kids don't

want to go awaytobigger

schools (to play).

''The idea was to getitout to

the public and justsort of

Mid Canterbury Combined front rowers (from left) Angus Stewart, Thornton Taylor, Pasi Hala,

Henry Hobbs and Ivana Milo in­training for the Pack the Park game against Selwyn Combined.

showcase First XV rugby.''

It would showschoolboy

rugbyinMid Canterbury and

give young fellowsinunder

14s, 15s and16s an idea of the

pathway in rugby, he said.

At the event,Ashburton

College Under 15 will play

Mount Hutt College Under15

in acurtain raiser at 1.20pm,

before the Mid Canterbury

CombinedFirst XV (made up

of playersfromAshburton

College,Mount Hutt and

AshburtonChristian schools),

willtake on theSelwyn

CombinedFirst XV (Lincoln,

Rolleston Darfield, Ellesmere

high schools) in themain game

at 3pm.

Mr Enright predicted it

Coach Shane Enright

wouldbea''bloody goodgame''

and hopedmany of the

district's former first XV

players could be sideline to

support the teams andtoform

aguardofhonour for players

runningon thefield.

''The first year probably is

going to be abit slow but it will

build up,'' Mr Enrightsaid,

especially as people got used

to it being an annual featureon

thedistrict's rugby calendar.

Invitations had been

extended around the district

including to mayorNeil Brown

andformer Mid Canterburyrepand

current Crusader

Dallas McLeod will present

playingjerseystoplayers

aheadofthe game.

Food andbeverages will be

available on site for purchase

andpeopleare encouraged to

head along to see some great

local schoolboy rugbyonshow.

PAGE 5

Winz memorial

hit again

PAGE 6

Mid-winter

steam action

HONDA EU22I

•2.2kwinvertorgenerator

•Quietoperation

$2,170

+GST

Build with your local,

award winning builder...

Come on over...andbuild your new home with Jennian Homes Canterbury.Mid

South Canterbury'smost awarded builder 2020.Visit our award winning Display

Home Crn Whiteoak Grove and Waterford Place,Oaklea, Ashburton.

%

25off

AHUGE RANGEOF

*

WALLPAPER

SELECTED 10L

DULUX ® PAINTS

JUST

159*

$

EACH

HONDA COUNTRY

www.hondacountry.co.nz

740 East St, Ashburton. Phone 03 308 2030

Haydon South 021 244 7043

2388106

Jennian Homes Canterbury

Michele Strange

M 027 491 5266 E michele.strange@jennian.co.nz

jennian.co.nz

118 Tancred Street, 03 308 3973

ashburton@colourplus.co.nz

paint |wallpaper |curtains |blinds |flooring |interior design

*Conditions apply,see in-store fordetails.

Offers ends 28th June 2021 or while stocks last.
---
NEWS

2 Ashburton Courier, June 24, 2021

www.ashburtoncourier.co.nz

BUSINESS OWNERS

Build customers,

sales and profits

with us ...

16,079 copies,

delivered tohomes,

lifestyle blocks,farms

and businesses in

MidCanterburyand

Geraldine

news

Daniel Tobin

Editor

308 7664

027 628 7679

daniel.tobin@ashburtoncourier.co.nz

Reporters

Mick Jensen

mick.jensen@ashburtoncourier.co.nz

Toni Williams

toni.williams@alliedpress.co.nz

advertising

Jann Thompson

Sales Manager

308 7664

027 587 6351

jann.thompson@ashburtoncourier.co.nz

Karen Gane

Sales Account Manager

308 7664

021 510 804

karen.gane@ashburtoncourier.co.nz

getintouch

Editorial

daniel.tobin@ashburtoncourier.co.nz

Advertising

info@ashburtoncourier.co.nz

CreativeManager

murray.thompson@ashburtoncourier.co.nz

Accounts

accounts@alliedpress.co.nz

Distribution/Deliveries

mary.summerfield@ashburtoncourier.co.nz

Office

office@ashburtoncourier.co.nz

03 308 7664

199 Burnett Street,Ashburton

www.ashburtoncourier.co.nz

2388023

Festival boost for Methven

MICK.JENSEN

@ashburtoncourier.co.nz

An impressive line­up of bands and

DJ'sand aspectacular rail jamevent

are settofeature at Methven's White

Out festivalonAugust 7.

Thefestival will be held at

MethvenRacecourse and is

expectedtodrawabig crowd of

localsand visitors.

It will provide an economic boost

for the Methven areaand further

promote local tourism.

Mt Hutt skifieldand Cream Events

haveteamed up to presentWhite

Out,whichisbeingdubbed ''a

musical winter odyssey''.

Cream Events managing director

Sam Smithsaid White Out was about

showcasing the Methven area and

putting it on the radar ofmore

people.

Bringing more people to town

would bringobviouseconomic

benefits.

Mr Smith saidintermsofmusic,

the festivalwas settobe''the

baddest line­uptograce Canterbury

thiswinter''.

He was hoping for 2000 peopleor

more at the event.

Cream Events hasreceived $10,000

fromthe Mid CanterburyRegional

Events Fund to put on the music

festival and has an impressive lineup

of morethanadozen bands and

DJ'sset to playatanR18 ticketed

event from7pm.

Performersinclude rapper Scribe,

Aw B, Daily J, Bexy, Australian

bands WhatSoNot,SpaceyJane,

Royalston and HumanMovement

TuscanySolid European was $ 3999

Oak Dining Table 2m and chairs

Action fromthe railjam event at thefirst White Out Festival held at theBlue

Pub, Methven in 2019.

PHOTO SUPPLIED

and UK band Grafix.

OlympicWinter Games medallist

and top New Zealand freestyle skier

Nico Porteous will alsoperform his

firstever DJ set at the festival.

Someofthe bands and DJ's will

also playatthe Mt Huttskifield over

the weekend.

The first halfof White Out is free

for everyoneand runs from4pm

until6pm.

It kicks off with afamily­friendly

rail jamcompetition.

Mt Hutt will truckdownthe snow

and qualified ridersofall ageswill

NOW

$

1999

SAVE

30%

Mancave Bar

was $ 3999 NOW $ 3199

Burnett Street,Ashburton l Phone (03) 308 5269 l www.redmonds.co.nz

show off theirskills and tricks.

Methven company Adventure

Balloons will cold inflateastandard

walk through balloon andasitgets

dark will inflate aspecial shaped

Ford van using theburners to light

up theinsideofthe balloon like a

large lightbulb.

Food and drink stalls willbeset up

to keep people fed and watered.

The fullmusic line­up forWhite

Outcan be found at the

whiteoutfestivalnz Facebook page.

Tickets are available from

eventbrite.co.nz.

More health support on the cards

Extra primary healthcare

support for people affected

by therecent floods in Mid

Canterbury could be on the

way.

Speaking at the recent

Ashburtoncouncil meeting

Waitaha Health chief

executiveBill Eschenbach

told councillors that

negotiations were

continuing withthe

Canterbury District Health

Board regarding

additional support through

local general practice

teams for all residents

impactedbythe floods.

He hopedtobeina

position to finalise things

whenhemet with the

general practices this

week.

Mr Eschenbach said

Bill Eschenbach

there had been afalloutof

somepeople's wellbeing

duringand afterthe floods

and anxiety and

depression could beissues

for some.

He said previously extra

support had been provided

in Canterbury during the

earthquakes,big firesand

after theChristchurch

mosqueshooting.

Mr Eschenbach gave

Ashburton councillors an

update of the currentstate

of localhealth services and

focused on the flooding

andcovid vaccinationrollout.

He said ameeting in

Ashburton on June10

involving GP's,nurses, and

other health providers had

been very informativeand

had outlinedcurrent

needs.

Abooklet had been

developed and more

meetings were planned.

Mr Eschenbach said the

nextstageofthe covid

vaccine rollout would

involvethose in Group 3,

which included alarge

number of people aged

over 65.

Therewould be

communication from local

GP practicestothose

eligible shortly, he said.

Canterburywas on track

to administer100,000

vaccines by the end of

June.

Mr Eschenbach said

local GP practices were

very busyand actively

trying to recruitdoctors.

Waitaha Health provides

andsupports health

services run by GPs at

TinwaldMedical Centre,

ThreeRivers, Health First,

MooreStreet andRakaia

medical centres,while

Pegasus Health doesthe

same forEastfield Health

and Methven Medical

Centre.

SAVE

20%

2388283
---
www.ashburtoncourier.co.nz

Hospice volunteers prepare for garage sale

Hospice Mid Canterbury shop manager Tracey Fuller (left), with Hospice volunteers Barbara

Redmond, Tony Todd and Kay Miles sort through treasures donated for acharity fundraiser garage

sale at the hospice home at 70 Havelock Street this Saturday. Among the bargains for sale are an

assortment of goods including kids toys, clothing, shoes, bags and bric­a­brac items. The sale runs

from 9am until noon.

NEWS

Ashburton Courier, June 24, 2021

3

Bridge slump work

Theslump in theAshburton

River/Hakatere Bridge has

been levelledbyWaka Kotahi

NZ Transport Agency.

The work was done earlier

this week during bridge

closure repairs andthe speed

limit is back at 50km/hour.

There isalsonow hasa24/7

access for most vehicles;

overweight guidelines have

been made known directly

with industry/freightpartners.

Since floodinginlate­May

the bridge, which links

Ashburton town with Tinwald,

and is amainSouth Island

route, hassuffered damage to

one pier.

It resulted in adip in the

deck causing trafficlimits,and

reduced speeds.

Waka Kotahi network

manager Jessica McFarlane

said in the coming monthsthe

bridgewillbejacked to the

rightlevel atthedamaged pier

and then fixed at the right

height.

"Wewillleave thejacksin

placessoifweneedtomake

any adjustments in future,

they can be made easily."

Waka Kotahi also recently

installed electronic

monitoring equipment to

allow remote monitoring of

the structure which will avoid

more closuresfor manual

monitoring.

Ms McFarlane thanked all

bridge users fortheirpatience

during the past three weeks as

the bridge investigation got

under way and traffic

management was put in place.

Work was expected to be

completedintwo months.

ECan rates

set at 12.6%

EnvironmentCanterbury (ECan) has

formally adopted its Long­Term Planand

set thecoming year's average rates

increase at 12.6 percent.

The plansetsthe course for theregional

council's work overthe next 10 years and

includes essential priorities, statutory

obligations, and transformational

opportunities.

Delivering the planisexpected to cost

$243.8million in the first year, with $129

millioncoming fromrates.

The 12.6% total ratesincrease is made up

of targeted rates, generalrates, anda

UniformAnnual General Charge(UAGC).

Targeted rates and general ratesvaryfor

specificproperties.

The UAGC per rateableproperty has

beenset at $36.71.

ECan chairwoman Jenny Hughey said the

planacknowledged thatthere wasmuch to

be done in the region and some big

challenges coming down theline.

''But it also gives us the opportunity to be

transformational –somethingthe

community has been asking of us.

"The plan is our commitment to the

communitytoimprove environmental

outcomes across theregion –toaccelerate

changewhile balancing affordabilityand

the region's need to recover economically

from Covid­19,'' she said.

The plangroupsECan's work intofive

portfolios: water and land; biodiversity and

biosecurity; air quality, transport and

urban development; climate changeand

community resilience; and regional and

strategicleadership.

Hearing talk

Members of the publicare invited to attend

ahearing seminar beinghosted by the

Ashburton Hearing Association next

month.

It's an opportunity to hear University of

Auckland headofaudiology Professor

David Welch speak about health impactsof

noise.

Prof Welchhas beeninvolved in research

and service provision in adults with

cochlearimplants, has interests in newbornhearing

screening, and is involved in

researchabout environmental noise and

the soundscape. His research interests

includedthe influencesof hearing, hearing

loss and noiseonpeople and community

hearinghealth services.

His public address willbewide ranging

and gives members of the public

opportunity to askquestions abouthearing

issues.

Thereisno charge to attend although a

goldcoindonation is appreciated. The

seminar will beheld in the Seniors Centre

on Cameron StreetonJuly 1, startingat

2pm. Alightafternoon tea will be served.

SUPER SPECIALS

HEAT PUMP

SALE

FREE

Winter Bed SALE

Dryer SALE

Vented from $

498

Condenser from $ 1097

Heatpump from $ 1337

Prompt Installation!

IN-HOME

CONSULTATION

EXPERIENCE

AND ADVICE

WE STOCK THE

BIG

BRANDS

PROMPT

INSTALLATION

FREE QUOTES

INTEREST FREE

TERMSAVAILABLE

BY YOUR TRUSTED LOCALPROFESSIONALS

FROM $8.79

Heat Pump from only $1297

* WEEKLYPAYMENTS

*Unit only

(excludes installation)

LIMITED

STOCK

5.5kg from $ 598

7.5kg from $ 977

10kg from

Smith &Church will

come to your home,

measureand advise

youonthe best size

heatpump forthe

area youwish to

heat.

We'll also provide an

obligation-free

quotefor the

supply and

installation of

your heatpump.

Talk to your localheatpump experts

JackyorDean today.

Phone308 9019

"Wejust makeiteasy foryou"

NZ made

Queen beds

Washer SALE

from $

698

Huge savings on floor models in-store

$

1197

PROMPT INSTALLATION

PROMPT INSTALLATION

*T&C'S APPLY. 12 MONTHS INTEREST FREE AVAILABLE.

2387669
---
NEWS

4 Ashburton Courier, June 24, 2021

www.ashburtoncourier.co.nz

ABATTOIR PROCESSORS

LICENSED

Book your processing now!

•Beef •Venison •Sheep

•Pigs -scalded •Alpaca

•Wild game

Forall your processing needs

PHONE 308 3464

73 WinslowRoad

Fast &Furious 9

20 Years ago amovie opened here that

drew its inspiration from a magazine

article about illegal street racing.

Six billion dollars in box office receipts

(and counting) F9 opens in Ashburton.

The plot, hell you don't need to know the

plot as it's justawild ride,faster and higher

than the franchise has driven before.

Oh all right, Dom'sbrother,sins of the past,

worldwide plot.You get the picture.

Big,dumb,silly over the topand ahellofa

fun ride. Never going to win an Oscar but

did the crowds thatflocked to it mind? No

PS: This was the biggest box office

weekend in New Zealand for a single

movie since2019.

bookings ph 307 1230

www.regentcinema.co.nz

2387785

2380035

2387933

Support for rural community

Businesses, organisations, groups

and individuals have steppedupto

help rural communitymembers

impacted by the damaging effectsof

recent flood waters.

The floods,which hit on May 30,

saw riversredirected across

properties, river bermsand roads

washedout,fences downed, animals

lost, anddebris strewn about.

Federated Farmers flood recovery

co­ordinator AngelaCushnieispart

of aco­ordinated team,led by

AshburtonDistrict Council, working

in Mid Canterbury to helpfarmers

withtheirflood recovery planning.

She said everyone in thedistrict's

risk areas had been contactedand

their ongoingneedswerebeing

assessed.

In the immediate aftermath of the

flooding ­and following some

mammoth volunteer turnouts ­the

clean up was movingfrom response

and into recovery mode, shesaid.

Information on the needs of

families in the affected areas was

being processed andonceavailable,

no farmer­nor their family­would

be left behind,she said.

Itdid howeverinvolveabit of

strategic planning and wasa

marathon effort,not asprint, Mrs

Cushnie said.

However anyonewith immediate

concerns, or questions,were

encouraged to get in touch either

through the Mid Canterbury Farmy

ArmyFacebookpageorbyphoning

027 603 3457.

There had been many ''bootsonthe

ground'' volunteers since the

flooding and included skilled labour,

practical farmers, those able to

mentor, and those with lightorheavy

mechanical equipment such as

GREAT

RATES

PC Repairs, Set-up and Tutoring

Icome to youday or evening!

NewPCs

and Laptops

forsale

•PCRepairs/Sales •Networks/Servers

•Firewalls/Security •Spyware Clean-up •Training

20 YearsExperience Microso Cerfied Professional

NETWORKS FIREWALLS AND PCS LTD

Robin Johnstone 67 Aitken Street, Ashburton

P: 03 308 1440 C: 027 768 4058

robinbj@xtra.co.nz

Federated Farmers flood recovery co­ordinator Angela Cushnie (left) with

Mitre 10 Mega Ashburton managing director Simon Lye and adonation of

heavy­duty shovels for recovery work.

farmers and contractors.

There wasalsobaking and care

packages.

''Everyone is putting in somepretty

big hours at themoment, stress levels

are highand the initialshock is

slowly wearing off,'' she said.

''Anyonestruggling in terms of

mental wellbeing canphone or text

1737orcallRural Supporton0800

2380047

Plastic welding

We repair all types of plastic products

andequipment.

•Water tanks •Calf feeders •FuelTanks

•Car bumpers •Cab roofs

787 254.''

Mitre 10 Mega Ashburton

managing director Simon Lyehas

been oneofthe many businesses to

make contact, donating 50 heavy duty

shovels for bootsontheground

volunteers. He said it was achance

for the company to give back to those

in the ruralcommunity who were

very supportive of the business.

Recovery action plan started

AshburtonDistrict Councilhas

developed arecoveryactionplan to

establish and planfor an effective

recovery after therecent major

floodinginthe district.

Significant floodingsaw record

levels of rain fallfor three daysfrom

May 30 and the declaration of alocal

stateofemergency.

Therecovery plan is aliving

document and outlines theprinciple

aspectsofthe transition from

response to recovery.

As the recovery progresses and

moreinformation is gathered, the

plan willbereviewedand is likely to

be simplerand shorter.

Thedraft recovery plan was

receivedatlast week's council

meetingand councillor JohnFalloon

saiditlaid downthe processes and

protocols needed to move the district

forward after the flood event.

The planwill establish timeframes

for implementing recovery activities

andwill assign responsibilities.

Fourgroups have been set up by

council to look at specific areas of

the recovery.

The initialfocus is on the social

andeconomic environmentsand a

welfare/social workinggroupwill coordinate

support services.

With farming amajorcontributor

to the local economy, arural

economy group willco­ordinate the

impact of the flood on the economic

healthofthe district.

Abuild infrastructure group will

targetareturn of damaged

infrastructure and property andwill

look at areas such as roads,water

andwastewater assets, and the

Ashburtonbridge.

And anatural environment group

will focus on resolving the effectson

the land, water and air in the district.

The working groups will work

alongside arange of taskholdersand

agencies,including NZTA,

Environment Canterbury, Federated

Farmers, theInsurance Council and

Department of Conservation.

ARTHUR

CATES

LIMITED

26 McNALLYSTREET,

RIVERSIDE INDUSTRIAL

PARK,ASHBURTON

TEL 308 5397

www.arthurcates.co.nz

2379944
---
www.ashburtoncourier.co.nz

Replacement memorial vandalised

Amemorial to twowomen who lost

their lives in the former Work and

IncomeBuilding (Winz) on Cass

Street, in Ashburton, hasbeen

targeted by vandals andbroken into

three pieces.

Staff at Community House Mid

Canterbury, which now owns the

building,foundthe memorialbase

up­rooted on Friday morning and the

Oamarustonesculpture inset with

paua in pieces.

Thememorial sits on the Cass

Street side of the building, in an area

which also includes seating.Itwas

unveiled in April2016toremember

Winz employees Peggy Noble and

Susan Leigh Cleveland ''who were

killed while serving the peopleof

Ashburton'' on September 1, 2014.

Community House MidCanterbury

managerJohn Driscoll said he was

''gutted'' by theact of vandalism.

It was the secondtime the

memorial site had been targeted.

Afew years ago the sculpture had

been damaged beyond repair anda

replacement had been madebylocal

sculptor Peter Green, who made the

original.

''This time someone has kicked the

base out of the ground completely

andwrecked the carving again.''

Mr Driscoll said thedamagehad

been reported to police andCCTV

footage wasbeingreviewed. The

memorial wasset up as lasting

community memorial to the women

who died and he now felt for their

families andothers affected by the

incident.

The memorial was built with $3000

Community House Mid Canterbury

receptionist/administrator Jeanette

Price views the wrecked memorial

site.

PHOTO MICK JENSEN

of funding from the Ministry of Social

Development and topped up with

donations and CommunityHouse

reserves money.

Areplacement memorial would go

up, Mr Driscoll said.

NEWS

Ashburton Courier, June 24, 2021

HELPING SENIORSSEESEE OUR COUNTRY

5

EAST CAPE AND

COROMANDEL TOUR

15 DAY NORTH ISLAND FULLY ESCORTED TOUR

1st -15th August 2021

•Relaxing 3night stay inTairua, Coromandel.

•13Dinners, 15 breakfasts and 1lunch

•Luxury travel including Coach and

Inter-islander Ferry

•All sights, accommodation and travel prices

included

Fully Escorted by experienced and very popular local Driver

plus our own Travelclub guide.

Pickand drop off from your door (where possible).

CALLUSNOW FORMORE INFORMATION:

WWW.GREATTIMETRAVEL.CO.NZ

Phone 308 7664

office@ashburtoncourier.co.nz

2392943

Driftwood litters beach

Manager's

DEALS!

Super

HOTDEAL!

$

10 99

each

Super

HOTDEAL!

$

16 99

each

Members of the Mid Canterbury Four Wheel Drive Club enjoyed a

recent beach drive and litter clean up along the stretch of coastline

between Wakanui beach and the Ashburton River mouth.

Club president Steve Adam said the rubbish litter levels were not too

bad, but the recent flood event had brought in alot of driftwood.

There was alot of driftwood also visible and floating at sea.

He said the four wheel drive club had done previous litter drives,

including along the Ashburton River bed.

MONTANA

WINEMAKER

Merlot 750ml

Super

HOTDEAL!

$

19 60

each

BROOKFIELDS

BURNFOOT

Merlot 750ml

Super

HOTDEAL!

$

17 50

each

SINCE 1934

ROLLESTON

ASHBURTON

TIMARU

YEALANDS

Reserve Pinot Noir

750ml

FOUR HAWK DAY

Pinot Noir 750ml

Super

HOTDEAL!

$ each

14 00

Super

HOTDEAL!

$

15 99

each

PROVIDORE

FIRST EDITION

Pinot Noir

750ml

DELEGAT

CROWNTHORPE

Merlot 750ml

ASHBURTON

MSA

www.superliquor.co.nz

266 Havelock Street,Ashburton.

Ph.308 7149

HOURS

Monday

Tuesday-Thursday

Friday&Saturday

Sunday

10:00am -7:00pm

10:00am -8:00pm

10:00am -9:00pm

10:00am -6:00pm

Offer ends

8July 2021

*Terms and conditions apply

2373028
---
NEWS

6 Ashburton Courier, June 24, 2021

Little engines, big on steam

There was alot of huffingand puffing at

ThePlains complex last weekend but it was

notthe big bad wolf visiting. It was apintsized

collection of miniature steam

poweredmodels attending the Ashburton

Model and Steam Engineers Clubmidwintersteam­up.

Club member Ian Marr said the annual

interclub event sawmembers enjoy aday

of steam action and camaraderie with

fellow enthusiasts from aroundthe South

Island. It was followed by an evening

dinner.

Enthusiasts came from as far afield as

Nelson, Dunedin and Cromwell andthere

wereatleast 11 locomotives, five traction

engines and one boatonsite. Themodels

were allbased on prototypes andmany had

been scratch­built by their owners, Mr

Marrsaid.

TheAshburton club's youngestmember,

Jacob Gillespie, 16,was checking out the

visiting models takingatrip aroundthe

club's minirailtrack.

He is in the processofmakinghis own

model NZDSG,drawing on theexperience

of club members along the way.Itwasa

work in progress, which of late had slowed

in part because of international shipment

delays due to covid. He was hopeful of

completion by the endofthe year.

Jacob started withthe steam club two

years ago after being alifelong member

withThe Plains Museum and Historical

Society and then attended an open day at

themodel club.

They let him drive oneofthe models,

''And thatwas it, Iwas hooked,'' he said.

He joined the modelclub, offhis own

steamasitwas; he had no family members

or mates involved, butwas keen to learn

aboutthe different models.

Also on site was Blenheim's Win

Holdaway­and son, Mark, of Kirwee­with

Photo above: Ashburton Model and Steam

Engineers Club's Jacob Gillespie (from left)

checks out the British Railways B1 (or

Springbok) locomotive with Reece Cobb,

(Nelson Model Engineers Club), Hayden

Brown (South Canterbury), and Hamish

Tyson (Otago); photo right: Blenheim's Win

Holdaway (left) and son, Mark, of Kirwee,

with aBurrell Scenic Showman's engine.

Photos Toni Williams

aBurrell Scenic Showman's engine built

six years ago.

The Burrell, which was athird of the size

of afull sized model, took 5000 hoursover

six years to build using 80 different

patterns. It weighed 850kg and was fuelled

by coal, or hot burning woods such as

manuka or gum trees. It was based at

Kirwee andonlybrought out for special

eventssuchasthe steam up in Ashburton.

www.ashburtoncourier.co.nz

IN BRIEF

QUIZ NIGHT

CanInspire is hosting aquiz night for

teamsofuptosix people next month

called''GetQuizzed with

CanInspire''. Proceeds raised will go

towards the work of the local charity.

It is being heldatHotelAshburton on

July 3and starts at 7:30pm.

Doors open from 7pm. Light

supper is provided.Cost is $10 per

person.Teams can be entered

getcoloured@caninspire.org.nz

MARCHING ACTION

Mid Canterbury Magic Leisure

Marchers are holding aLeisure

Marching Fun Day,atEANetworks

Centre thisSunday (June 27) from

10.30am to 1.30pm. Theday will see

11 teamsperform leisure marching

displays at the centrewhich is open

to the public to view.Entry is free.

RUN PROCEEDS

Ashburton Rotary Club's Lest We

Forget Run and Walk held on Anzac

Day raised $843.22 for the

Ashburton RSA. Around50people

took part in memorial run/walk in the

Ashburton Domain which followed a

one kilometre circuit.

MATARIKI MARKET

Therewill be acelebration of the

Maori new year at Hakatere Marae

on June 26. AMatariki nightmarket

will run from 4.30pmuntil 7.30pm.

As well as stalls, there will be

activities for children,aMatariki

exhibition, andentertainmentfrom

Pacific Tribal, Cook Island dance

group, kapa haka groupand fire

dancer.

MASPORT

WINTER

SALE

Clean burning low and ultra

low emission wood burners

R5000

PED PACK

$2699

WAS $3598

RANGITATA

PACK

$2599

WAS $3298

WAIMAKARIRI

PACK

$2599

WAS $3798

*TERMS ANDCONDITIONS APPLY. WHILESTOCKSLAST.

FREE MASPORT

WINTER WARMERS PACK

FREE

WORTH

$199

RAKAIA

PACK

$3299

WAS $4498

Laser Electrical

Ashburton

726 East Street

03 308 2106

VISIT OUR LIGHTING SHOWROOM

HOURS: Mon -Fri 8am -5.30pm

RESIDENTIAL | COMMERCIAL | INDUSTRIAL | RURAL | LIGHTING | HEATING | 24HOUR MAINTENANCE AND SERVICING

www.laserelectrical.co.nz | 0800 LASER 4U(0800 527 374)
---
NEWS

Ashburton Courier, June 24, 2021

7

Reuben Roberts of Geeks on Wheels (right) helps 90­year­old Jim Hardy set up his new phone.

Help with navigating tech

Afree weekly service

facilitated by CitizensAdvice

Bureau(CAB) Mid

Canterbury has been helping

people navigate, andget

adviceon, technology issues.

Run by visiting technology

expert Reuben Roberts, of

GeeksonWheels,since early

April, the service is available

at Community House Mid

Canterbury every Friday

between1pm and 3pm. No

appointment is necessary.

Mr Robertstypically helps

betweentwo tosix clients

withissueseach week.

Lip protection

Buy bothand

SAVE

VIRALEX ® LYSINE

OINTMENT 7g

Sessions were around 15

minutes, but could go for

longer.

In between clients he was

abletodohisown work, Mr

Robertssaid.

Issueswere varied and

included everythingfrom

setting up anew smartphone

through to adding new

contacts, taking photos,

internet and Wi­Fi issues

andfile recovery.

He wasable to offeradvice

on PCs, laptopsand

smartphones andanswer

questions on areas such as

USETOGETHER

500ml

EARN UP TO 35 REWARD POINTS

VIRALEX ® BUYBOTH

LYSINE 60s

FOR

$19 90 $24 90 $34 90

was $44.80

Natural cell health

• Supports the immune

system

• Improves energy levels

• Helps detox the body

$34 95

upgrades, viruses and

security.

The 26­year­old said he

had grown up with

technology and was

confidentwith it, but this was

not the case foreveryone.

''Some people, particularly

the older generation,get abit

nervousaround technology

andI'm happy to helpthem

navigate and build

confidence.''

He said technology was

moving at afast pace and

some people were falling

behind.

Areyou

readyfor

'A Better

Everyday'?

We have vacancies

available now.

If you're looking for Rest Home, Hospital, Respite

Care and Independent living, Coldstream

Lifecare &Village is afriendly community set

amongst beautifully landscaped gardens.

If you're needing Dementia Care, Princes Court

Lifecare offers specialist Dementia Care inawarm

and homely environment.

Let's catch up for acuppa.

Coldstream Lifecare &Village

(03) 308 8020

Princes Court Lifecare

(03) 308 0302

heritagelifecare.co.nz

2387886

DentureProblems?

Come &see us at Life Dental!

• FREE

Consultation

•1year FREE

aftercarewith

newdentures

"Qualityisour

Goal,Drive,

&Motto"

2369969

5% Discount Gold Card &Community Services Card

5% DiscountOuter District (Oamaru, Waimate, Tekapo,Twizel,Ashburton)

8Woollcombe St,Timaru |P:03688 3504 |W:lifedental.co.nz

Mr RafikHanna

Clinical Dental Technologist

PGClinDentTech (Otago),

BDentTech(Otago), MBA (Otago)
---
When RebeccaHawkesopened

herbusiness, PerfectFit,she always

envisionedacompleteservice to the

womenofAshburton. TheBeautyBra

is provingpopular but womenwho

have undergone breastsurgery maybe

missingout on what Rebeccahas to offer

them.

On Thursday, 8July, Rebeccais

hostingEstherRokkfrom Beauty Bra,

Christchurch. Estherwill be fitting

womenwho need towearaprosthesis

or simply thosewho have hadany type

of breastsurgery e.g. alumpectomy. At

thesametimeRebecca will be garnering

experience andtrainingtoofferthis

service permanentlytothe ladies of

Ashburton. Both Rebeccaand Esther

areregisteredHealth Providerssowill be

abletotakecareofall your claimswith

theMinistry of Health.

"You do notneed to have undergone a

full mastectomytoclaim on thesubsidy

provided by theMinistry of Health,"

Rebeccaexplains. "Ifyou have never

claimedonthis fundingbefore, bringa

medical certificatewithyou andwewill

take care of therest."

The Beauty Braisrevolutionary in what

it offers women. Here arejustsome of

thenumerousbenefits: No under wires–

just asupportive shelfinside thebra cups

whichmeans thereisnopinchingofthe

delicatebreasttissueand no chaffing in

sensitiveareas. Thebustissupported

from beneatheliminatingmostofthe

weight from theshoulders.

ADVERTORIAL

Breast surgery

bra fittings

No stretch straps. Thisstops the

'bounce' that many womenexperience

andalsoahuge plus -the straps do not

slip off theshoulders! "No more

constantly pullingupthe straps

throughout theday," says Rebecca.

There's minimal flatteningofthe breast

tissueleadingtoahealthier breast and

assistswithlymphatic drainagewhichis

especiallyimportant forthose whohave

undergone surgery.

BeautyBra is suitable for womenat

all ages andstages. There areover200

individual brasizes whichmakes it easy

to findanexact fit.

Fittings arefreewithnoobligation

to purchase. Weare reserving8July

forwomen whohaveundergone breast

surgery but if youdon't fall into that

category make an appointmenttosee

Rebeccaonany otherday. She'll be

delighted to hear from you.

Ifyou arephoning it's best to call

after 4.00pmorleave amessage on her

mobile phone. Emailing andtexting are

welcome anytime. Rebecca is looking

forwardtorespondingtoyou promptly.

Appointments forthe 8Julyare

extremelylimited so bookearly to

avoiddisappointment.

ContactRebecca Hawkes on

telephone/text027 937 5533 or

email: perfectfit352@gmail.com

NEWS

8 Ashburton Courier, June 24, 2021

Support for region

Whennewsstartedrolling in

that Canterbury had ared

warningweather alert in place,

I'm not quite sure we realised

the damage thatwouldbe

caused in ourregion.Witha

StateofEmergencydeclared ­

widespreadand devastating

damage to farms, properties,

roads and bridges, as wellas

evacuations and detours ­we

havebeen through it all these

last few weeks.

We knowthatour farmers

havebore the brunt of the flood,

and that the clean job is

monumental.

That is why the Government

has activated Enhanced

TaskforceGreeninresponse

and unlocked another $500,000

to helpwiththe clean­up. This

will mean that jobseekers can

be hired to helpwith clearing

debris, clearing fencesand

buildings and supporting

general cleanup, whichisso

desperatelyneededall over the

electorate.

Across our region,damage

assessments are being carried

out and the Ministry of Social

Development will workclosely

with agencies on the ground to

help identify theneedfor

EnhancedTaskforce Green

support.

Ourlocal farmersand

growers can self­register for

cleanuphelp through https:/

/arcg.is/0Sbj5W0and

jobseekersinterestedin

helping with thefloodrecovery

canregister their interest by

phoning 0800­559­009.

Ahuge thank you tothe

differentlocalgroups whom

are already supporting our

region withcleanup–tothe

Farmy Army, the Student

VolunteerArmyand every

volunteer thatishelping, thank

you ­your hard work does not go

unnoticed.

It is arelief to see all traffic

(exceptfor overweightpermit

vehicles) backonthe Ashburton

Bridge, 24hoursaday.

KiwiRail has reopened the

TimarutoAshburton main

trunk line followingdamages

fromthe floods also. The floods

have shownusjust howfragile

our local roading networksare,

andthis is somethingthatIam

relayingtothe Minister of

Transport,MichaelWood.

Understandably, therehave

been alot of discussionsaround

theneed for asecond bridge in

Ashburton. Iabsolutely support

asecond bridge,and once the

Council has completed the

business caseand has adesign

andproposal prepared, Iwill

strongly advocate for extra

government funding.

It's importantthatweget the

business caserightand Ido

understand the community's

frustration in how longithas

taken to gettothis point.

However, it is absolutelya

priority for me, andfor this

government. Myfocus at this

stage is we aredoing everything

possible to ensure progresson

thebridgeisbeing made.

Please don't hesitate to

contactmyofficeifyou need

support –you can call

03­339­1030 or email

rangitatamp@parliament.govt.

nz

We have along way to

recovery, butweare committed

to workingalongsidethe

community and getting the

workdone.

Breast surgery

bra fittings

Rebecca Hawkes

Formerly Jeunique Bra

Esther Rokk

• No underwires

• No stretch straps

• Full support from beneath the

bust

• Straps do not fall off the shoulders

• Breast forms fitted and supplied

• Extremely comfortable when worn

with abreast prosthesis

• Registered Health providers

• Free, no obligation consultations

and fittings

Limited Numbers

Book Early for 8July

Contact: Rebecca Hawkes at Perfect Fit

352 Havelock St, Upper Hampstead,

Ashburton. Phone/text: 027 937 5533

or email: perfectfit352@gmail.com

www.beautybra.co.nz

Spaces are extremely limited sobook early.

Neighbourhood Support

links community, police

Neighbourhood Support is the

link between grassroots

community and the Police.

It is designed to support

households by bringing them

together through

neighbourhood connectedness

in an effort to support each

other and build resilience. It

encompasses urban (which can

also include businesses) and

rural households with all

requiring very different needs

in terms of connectedness and

safety. It is something that

Neighbourhood Support is

reviewing under its present

umbrella.

Currently working with

Lesley Symington from Safer

Communities we are looking at

acampaign on theft and

burglary. In my new role Iam

ardent about prevention and it

appears that this is something

that very much needs

addressing throughout Mid

Canterbury. It seems sensible

to be the ambulance at the top

of the hill to ensure that the

community as awhole feels safe

and can ensure its assets and

valuables are kept that way as

well. This applies to both urban

and rural areas.

This of course cannot be done

without the volunteers and

street co­ordinators who

proffer their time in

committing to this cause so

acknowledgement and thanks

must be given to them for their

support in this.

Neighbourhood Support in

Mid Canterbury is funded by

Safer Communities which

allows the role to be involved

with some very special agencies

who intertwine with

Neighbourhood Support and its

goals. However, it was brought

to New Zealand as aPolice

profile so follows the values

and direction of the Police and

its initiatives. Burglary and

theft have currently been

highlighted in Mid Canterbury

as one of the major cause of

concern. Police also comment

on the importance of being

contacted on 105 or 111 in the

event of acrime.

It is said that the strength of a

neighbourhood provides the

backbone to acommunity. We

need to make this as resilient as

we can.

Sue Abel

District Neighbourhood

Support Co­ordinator for Mid

Canterbury
---
3T Tipper Truck

OPEN 7DAYS

CarTransporter

Large TipTrailer

Full day$65* † l Half day$45* † Full day$190* l Half day $120*

2.5T Digger

24 hours $65 l Half day$45

Hire with us in July

&enterthe draw

to win a2021 All

Blacks home jersey

Full day$65 l Half day $45

1.7T Digger

Full day$250* l Half day $170*

Vermeer,Bucket,Leveller

LogSplitter

Full day$140* l Halfday $85*

Full day$80* l Half day $50*

LANDSCAPE SUPPLIES

Lime Chip Mushroom Compost ConcretePremix Bark Nuggets

Scoop $40

Cubic metre$115

35L bag $8

Scoop $25

Cubic metre$50

Scoop $25

Cubic metre$40

Scoop $36

Cubic metre$105

NOWSTOCKING PAVERS

03 307 1575

171 Alford Forest Road,Ashburton

www.oasishire.co.nz

*Plus fuel

† Plus mileage

2391381
---
Family Notices

NEWS

10 Ashburton Courier, June 24, 2021

Deaths

DUNLOP, Winifred Joy

(Joy) –OnJune 17, 2021

peacefully at Rosebank

Rest Home, Ashburton

after ashort illness. Inher

92nd year. Dearly loved

wife ofthe late John. Much

loved mother and motherin-law

of Sherryl and the

late Alistair Taylor, Leslee

and Peter Clarke, Alex

(Bruce), Gary and Carin,

and Bronni. Loving Nana

Joy of Brendon, the late

Ritchie,and Michelle; Barrie,

and Colin; Sean, Tamara,

and Caitlin; Jamie, Steve,

and Danny; and Dylan and

Great-Nana Joy of all her

great grandchildren and

great-great-grandchildren

and their extended families.

Messages to the Dunlop

Family, c/- PO Box 472,

Ashburton 7740. Special

thanks to the staff and

her family at Rosebank for

their love and care. At Joy's

request aprivate cremation

has been held.

Paterson's

Ashburton

FDANZ

03 3077433

NOLAN, John Raymond

(Johnboy) – On June

17, 2021 suddenly but

peacefully at home,

Ashburton aged 77 years.

Dearly loved husband of

Pat and the late Jeanette.

Much loved father and

father-in-law of Jason,

Peter, and Louise and

Kevin Opele. Loved stepfather

of Adrienne and

Rob, Diane and John, and

Dale. Loving Grump John

of Chloe, Maddie, and

Fliss. Loved brother and

brother-in-law of the late

Kathleen, and Des Leach,

the late Peter, and Vince

and the late Margaret.

Respected uncle of all his

nieces and nephews. "Rest

In Peace". Special thank

you toAshburton StJohn

Ambulance and Ashburton

Volunteer Fire Brigade.

Messages to the Nolan

Family, c/- PO Box 472,

Ashburton 7740. AtJohn's

request a private family

service has been held.

Louise would like to offer

an open invitation to those

that would like to raise a

glass to John and tell afew

yarns. This will be held at

the Hampstead Allsports

Club, Bridge Street, on

FridayJune 25 from 6pm.

Paterson's

Ashburton

FDANZ

03 3077433

Deaths

WRIGHT, Raymond

Leslie – On June 18, 2021

peacefully in his sleep at

his home, Ashburton. Aged

77 years. Donations to

Ashburton IHC would be

appreciated and can be left

at the service. Amemorial

service for Raymond will

be held in our chapel,

corner East &Cox Streets,

Ashburton onTuesday July

6commencing at 11.00am.

Paterson's

Ashburton

FDANZ

03 307 7433

Family

Notices

Enquiries phoneMary,

JannorKarenon

308 7664 or call into

199BurnettStreet.

Birth notices listed by

parents will continue

to be free in the Family

Notices column. The

initial death notice

lodged by a funeral

director will be listed

without charge. There

will be asmall charge

of $15 for subsequent

notices related to the

same death, up to a

maximum of 35 words

and on aper-line basis

after that. The same

low charges apply to

other family notices,

such as engagements,

acknowledgements, in

memoriam notices and

anniversaries.

Supporting

the

community

96 Tancred Street, Ashburton.

Phone 307 8317

Real Estate Mid Canterbury Property Limited

Licensed (REAA 2008)

Acknowledgement

FINCH; Donald 23.5.38

– 3.5.21: Janice, Desma,

Sue and Donald and

family, would like to thank

everyone for the love

and support they gave us

following Don'sdeath.

The baking, flowers

and cards were greatly

appreciated and we thank

youall so much.

Special thanks to Dr Penny

Holdaway and the staff

at Coldstream for their

kindness and support of

Don.

Please accept this as a

personal thank you toyou

all.

LAMONT; Margaret Ann:

Heather, Alison and

extended family, wish

to sincerely thank those

who gave support in

many ways after the loss

of our much loved Mum

and Nana Minnie. Please

accept this as a personal

acknowledgement.

YOUNG; Garfield William

Tarr (Garth): Dave and

Leanne, Margaret and

Graeme,Barry,and Lily,

Russ and Anna, Tiffany and

Daniel, Liam,

Cullen and Eliza, Amelia and

Georgia

We thank all those who

left messages, sent flowers

and/or cards and made

personal contact. Special

thank you to the staff at

Rosebank for the care and

attention they lavished on

Garth. Also thanks to all the

home help services who

looked after Garth before

he went into care. Please

accept this as a personal

acknowledgement from all

of us.

In Memoriam

STREET, William Geoffrey

–

05/07/2011 –23/06/2013

Thereisabeautiful weeface

in our pictureframes,

Alittle voicewewould love

to hear,

Abeautiful smile to

remember

of our bravewee William

so dear.

So sadly missed and dearly

lovedand remembered

everyday.

Grandma and Grandad

Murchie, Grandma and

Grandad Street and all your

family.

Ann seeks parking

support in CBD

Ashburtonvolunteer AnnMcKay is seeking

support for her mobility­restricted peers,

who havebeen more restricted due to alack

of parkinginthe centralbusiness district.

She is hoping to garner enough support to

approach Ashburton District Council about

getting parkingdispensations ­or

something similar ­for senior­aged

volunteers withlimited­mobility who

volunteer in the central businessdistrict.

Alarge percentage of them were aged

over 80 and restricted from walking any

great distances.

Adispensation would give those

volunteers achance to park close to their

placesofwork,just for the time they are

rostered or scheduledto work, Mrs McKay

said.

Mrs McKay,82, hasvolunteered at St

VincentdePaulfor the past18years and

had noticed an increase in thenumberof

her peers being issued parkingtickets over

the pastfew months.

Most likely duetoextensiverevitalisation

work being done in town andparking being

at premium.

But it was havingadetrimental impact

too.

Mrs McKay said one of her friends ­who

was in her late 80s­had considered giving

up her volunteer role due to theparking

woes. She wasunable to walk too far to get

Family owned,

locally owned

22 MooreStreet,

Ashburton

0800 263 6679

2379731

Volunteer Ann McKay is hopeful of getting

parking assistance for senior volunteers

with limited mobility.

PHOTO TONI WILLIAMS

to herwork place and the cost of aparking

ticket weighed heavily on her mind.

Volunteers werenot seeking ahandout,

just abit of helptoenable them to fulfill

their roles, which ultimatelyhelpedothers

in thecommunity.

If only something could be donetomake

us notfeel targeted, Mrs McKay said.

Changes to dog bylaw

Ashburtondistrictresidents are being

asked to havetheir say on the proposed Dog

Control Bylaw and Policy, and OpenSpaces

Bylaw.

Theproposeddog bylawand policy

includes two new clauses thatstatethat

owners must makesuretheir dogsare

wearing current registration tags while

awayfromhomeand ownersmust carry

plastic bagsorsomething else to remove

theirdog's poo from publicland.

Council is also proposing thatthe dog

exercise areaatArgyle Parkbeextended

andanewdog exercise area createdin

northeastAshburton next to the Ashburton

Business Park. The new northeast exercise

arearuns between Company Road and

TaitsRoad.

Consistentwith Departmentof

Conservationrules, newareaswhere dogs

are prohibited have also beenadded.

Thedraft Open Spaces Bylawincludes

changesthat helpaddress problems or

nuisance behaviour on council's parks,

reservesand public gardens.

Officerswill haveauthority to remove

structures, traffic willbelimited to 20km/h

if no speed limit is posted, and boundary

fences will need permission. Thedocument

also lists approvedcampingareasinthe

district.

Council's strategyand compliance

manager JaneDonaldson said the proposed

dog rules aim to findabalance between

minimising thepotentialfor incidents and

providingfor the recreationalneeds of dogs

and their owners.

TheproposedOpen Spaces Bylawhelps

the council addressdamage toits parksand

openspaces and behaviour that affects

otherpeople's enjoyment of thoseareas.

Youcan find details about thedraft

documents andthe changes being

proposed, as well as an online submission

form on the council's website(ashburtondc.

govt.nz).

Feedback can be submittedonline, in

writing, or via emailtosubmissions@adc.

govt.nzand closes on July 11.

If you would liketospeak to your

submission,ahearing is scheduled to be

held on 29 July.

Website upgrade

EA Networks Centre is getting anew

content­rich website that aims to giveusers

avisual experience while providing regular

new content and information. The bookings

and membership system is also set for an

overhaul and will allow the centre to

provide amoreseamless experience to

customers.

Complete

Local Care

Since 1982
---
COMING UPATTHE ASHBURTONTRUST EVENT CENTRE

The Boss –Bruce Springsteen Tribute Show

Afull complement of 9passionate musicians bring alive the timeless

music of Bruce Springsteen and the EStreet Band. The BOSS is turned

into perfection in a3hour world-class show featuring the entire Born In

The USA album plus more.

Thursday, 15th July 7-30pm

Adult $65* /Group 6+ $55* /Senior or Student $55*

NZ Mountain Film Festival

The New Zealand Mountain Film Festival is coming back to Ashburton

featuring the Kiwi made selection of films either made in NZ or made

by New Zealander's. Films include traversing the Southern Alps on

Skis, Climbing the Airport wall in Fiordland and more.

Saturday 7th August 7pm

Adult $25 /Youth 14 and under $15 (fees included)

Wonderland Glow Show –Little Green Man Productions

The Glow Show team is back with a'Kiwified' interpretation of Alice in

Wonderland with Wonderland Glow Show. With giant scale glow in the

dark puppetry including an 8metre caterpillar this show will have your

imagination soaring as you are transported into another word.

Monday 13th September

0-5 years 10am. All Tickets $13.50* / 6-12 years 11-30am. All Tickets $15.50*

Friends! The Musical Parody

Friends the Musical Parody will be there for you as it tours New

Zealand for the first time. Imean isn't that just kick you in the crotch,

spit on your neck fantastic? The fun begins on an ordinary day at the

corner coffee shop when acertain run away bride stumbles into the

lives of five others………

Friday 24th September 7-30pm

Premium $89.90 /AReserve $79.90 /Child $69.90 /Groups (A Reserve) 10+ $$69.90

Stevie Nicks –Linda Ronstadt –Carole King Songbook

Stevie, Carole and Linda are arguably three of the world's most

recognisable voices. In this brand new show, Melbourne singer/

songwriter Bloom will have you experience the incredible hits that

span several decades. Come and be charmed by the Australian vocal

powerhouse.

Thursday 16th September 7-30pm

Adults $49.50* /Senior $42* /Child $35*

TomSainsbury –Snapchat Dude Live

Taking his New Zillund comedy on the road, comedian, snapchat

satirist and now unmasked as the dancing Alien on The Masked

Singer NZ, TomSainsbury is about to add another sting to his bow

as Comedian on the loose! So grab yourself some fush and chups,

put some L&P in the chilly bin, say "yeah nah" dress up fancy in your

jandals and book your tickets today.

Tuesday 16th November 7-30pm –Tickets are limited

All tickets $69 (fees apply)

Book at our ticket office

*Service fees apply

03 307 2010 211A Wills Street, Ashburton 7700

admin@ateventcentre.co.nz

2393085
---
Vaccinationsfor

therestofAotearoa

NewZealand

TheCOVID-19vaccination rolloutfor thegeneral population

starts from theend of July.

OurCOVID-19vaccination programme hasbuilt momentum

steadily since February. We arevaccinating around 100,000

peopleaweekatthe moment. In thesecond half of theyear

we hittop speed andeveryoneinNew Zealand aged16and

over will be able to be vaccinated.

Moving to the general population

So far, vaccinations have been made availabletothose mostat

risk of gettingCOVID-19tolimit thechances of it getting into the

wider population.

With more vaccinesupply coming on,and having rampedupour

infrastructure, vaccinations foreveryoneelse in NewZealand

aged 16 and over (the generalpopulation) startfrom28July.

This is averylargegroup of people.Tomakethisflow smoothly,

we will breakthis down byage bands.

Allpeopleaged60pluscan book theirvaccinations from 28 July.

Then,two weekslater,peoplewho are55plus. From there, new

agebands willbeopenedupevery 2–3weeks basedonconfirmed

deliveriesofthe vaccineand thespeed of rollouttoearlier groups.

By midtolateAugust,invitations should be open forpeopleover

45.Bymid to late September,invitations should be open forthose

over35, witheveryoneelse beingeligible from October.

Invitations

Most peoplewill getadirect invitationtobook–eitherbyemail,

text,phone call or in thepost. Youwillthenbeabletobookthrough

Book My Vaccine,anew national bookingsystemthatwill be online

from 28 July,orphoneanew national call centre.Availabilityof

bookingslots (the date,timeand place youcan be vaccinated)

will vary between districthealth board(DHB) regions.

Once youareeligible to be vaccinated, youcan be vaccinated

at anytime. Thereisnocut off.

Registration

Even if your ageband isn't open, everyoneaged16and overwill

be abletogotoBook My Vaccine to registerfor an invitationfrom

28 July.Registrationmeans we willbecertain to have your correct

contactdetails and when your agegroup is opened, youwill getan

invitationtelling youit'syourturn to book.

Getting avaccination

Step 1

Step 2

Step 3

Receiving an invitation

We'llcallorsend youanemail,textorlettertoinvite

youtobook.

Makeyour booking

From 28 July,gotoBook My Vaccine or call thenew

national call centretobookbothdoses,ortoregister

if your ageband isn'topenyet.

Get your vaccination

Have your first vaccinationdose.

3–6weekslater have your second vaccinationdose.

If youdon't hear from us, or areconcerned, youcan register

foryour vaccinationthrough thenew national Book My Vaccine

booking system at anytimefrom28July.

Importantdates

28 July People60+ Vaccinations open

11 August People55+ Vaccinations open

MidtolateAug People45+ Invitations shouldopen

MidtolateSept People35+ Invitations shouldopen

October People16+ Invitations should open

Other ways to get vaccinated

As we go throughthe year therewill be otherwaysfor people

to be vaccinated. These willinclude workplace vaccinations and

other targetedvaccinationeventsacrossthe country. Forsome

remote ruralcommunities we will vaccinate allage groupsatthe

same time to makeiteasierfor them.Our successful whānaucentredapproachtovaccinations

will continue forMāori and

Pacific communitiesand those withdisabilities.

Findout more at Covid19.govt.nz
---
THEONLY THING GREATER

THAN OUR RANGE, IS OUR

SERVICE &ADVICE

With STIHL SHOP,not onlywill you find the perfect tool for what you'redoing,

you'll get the knowledge and experiencefromour STIHL experts to get the

most out of it. Plus every tool comesfuelledup, charged up, and ready to go.

SHOP ONLINE www.stihlshop.co.nz

HOME DELIVERY AND CLICK &COLLECT OPTIONS AVAILABLE

STIHL SHOP ASHBURTON

187 West Street,Ashburton

Phone 03 308 2055

LOVE YOUR LAND

2393394

$

1000

OFF

incl.GST

Suzuki

LTA500 XM1

SPECIAL

Ex NZ Fieldays Demonstrator

NOWONLY

$

12,928

plus GST

2393395

We have alimited number of units available used by theNZFieldays Committee

JEFF MARSHALL MOTORCYCLES

187 West Street,Ashburton. Phone 03 308 2055
---
Ashburton College

Individual Excellence in aSupportive Learning Environment

News

Issue 19

24 June 2021

Head of Senior School Message

Year 13 Students Planning on

TertiaryStudy

It's that time of year where Year 13 students

who are intending to undertake Tertiary

Study next year, should start making their

decision on whattheyare going to studyand

where.

Students planning tolook for accommodation

at UniversityorPolytechnic Residential College (Halls) arerequired to:

• Complete an online application form which opens on Sunday

01 August 2021;

• Ensure they make an online request for the Common Confidential

Reference(CCRF) beforethe end of August (the sooner the better);

• Offers of accommodation will be emailed from Saturday02October

2021.

Scholarships

There is a large cost in going to any kind of tertiary study, and

scholarships can be away of lessening the burden. There isavast

amountofscholarships thatstudents can apply for, some of which have

already opened.

My keytips are:

1. Settimeaside to find relevantscholarships which can be applied for

2. Check whatdocuments areneeded to supportthe scholarship

3. Contactreferees early

4. Make applications stand out by finding out what the organisation

awarding the scholarship is asking for and tailor the application to

their goals

Iencourage all students to get on to this early.Thisisatime-consuming

activitybut can result in greatrewards.

Flooding Clean Up

Therecentfloodinghas had amassive impactonanumber in our school

communityand local community.

One particular area that has been hit hard are farms in the Greenstreet

area. Theflooding has had long-lasting effects and needs manpowerto

help clean up the debris and fix fences.Overthe last fewweeks Years11

and 12 Agri Academyand Agricultural Scienceclasses have been going

out to help the farmers clear the debris and fix fences. These students

have shown the AshColl Values and have done the College proud.Over

the coming weeks, larger groups of student volunteers will also be

heading out and doing their part.

Embracing and Celebrating Diversity

Over the last fewweeks students have been embracing and celebrating

the diversity ofour AshColl Community. Diversity isthe practice or

qualityofincluding or involving people from arangeofsocial and ethnic

backgrounds and of differentgenders,sexual orientations,and similar.

Celebrating Samoa

At AshColl we have awide range of students from different ethnic

backgrounds.4.7% of our AshColl students identify as Samoan.

The College's Cultural Committee, led by Shrina Afu, did an amazing

job of highlighting and celebrating the Samoan cultureduringSamoan

Cultural Celebration Week. The week included flying the Samoan flag;

holding aquiz to test students'knowledge of Samoa; Samoan students

dressing in their cultural clothing; and concluding the week with

performances and afashion show. Allthe students and staff thoroughly

enjoyedthe event.

P.I.E.'sGroup

Last week the P.I.E.'s(Pride,Individualityand Equality) Group celebrated

PRIDE week which aims to support Rainbow young people to have a

sense of belonging in our schools and community.

The AshColl Student Executive worked alongside the P.I.E.'sGroup by

hosting an AshColl Pride 'No Uniform Day'. Students came to school

wearing what they took pride in, whether that was their favourite

sports team, idol, sexuality, or the team they played for.The group also

organised abake sale and flew the rainbowflag,asisshown elsewhere

in this newsletter.

Cook IslandsLanguageWeek

Cook Islands Language week is coming up and will celebrate the

identity, languages, and culture ofstudents from the Cook Islands,

which helps in the journey towards ashared cultural understanding. I

challenge everyone to get involved by either: learning aphrase aday,

exploring artwork from the Cook Islands, and engaging in community

and school events.

Ibelieve itisimportant that wecontinue toactively highlight and

embrace our diverse AshColl community, as these differences are what

makes our school unique and special.

Diversityisnot about howwediffer.

Diversityisabout embracing one another's uniqueness -

Ola Joseph

AbbeyBruce

Head of Senior School

OurVision

Information

ASHBURTON COLLEGE

PRESENTS

LIPSYNC

2021

ASHBURTON COLLEGE

AUDITORIUM

THURSDAY JULY 8TH AT 7PM

ENTRY IS BY GOLD COIN

DONATION AT THE DOOR

Individual ExcellenceinaSupportiveLearning Environment

OpenEvening

Thursday29July 2021,5:30pm –7:30pm

TheAshColl Way

Quality Pride Respect

Futurestudents,parents/caregivers,whānau

and communitymembers are

warmly invited to attend our OpenEvening.

Aparticular welcome,and encouragementtoattend,

is extended to students who will be in Year 9in2022,

and family members.

During the evening youwill have the opportunity to –

• Meet andtalk with the Principal, staff and students.

• Hearand see whatthe College can offer your child andfamily.

• Viewour facilities,and Innovation and Subjectdisplays.

• Meet with BYOD Retailers -College is aBYODschool [Bring

Your OwnDevice]

• Enjoyasausage sizzle,coffee,tea, juiceinthe staffroom.

Therewill be information availableon:

• Innovationand SingleSubjectClasses.

• Option Subjects for2022 (Year 9students).

Option subjects: ninesubjectstobetaken from twelveavailable:

– Choose at least one from TheArts: Art, Drama, Music.

– Choose at leastone from Languages: German, Japanese,Māori.

– Choose at least three from Technology: Agriculture,

Design and Visual Communication, Digital Information

Technology, Fabric Technology, Food and Nutrition,

HardMaterials Technology.

• Note: all Year 9studentstake English,Mathematics,Physical

Education and Health,Science, Social Studies.

• Additionally available: English as an additional languagefor

studentsfor whom English is asecond language.

If you have not yet chosen option subjects or require assistance in

choosing themthroughSchoolPoint, there will be staff available in the

College Office to assist you.

Presentations startinthe College Auditorium

at 5:30pm and6:15pm.

These arefollowedbyguidedtours of the College,

or youmay choose to self-tour by following the signs.

EVERYONE MOST WELCOME

Events

No Uniform Day–P.I.E.'sGroup

On Monday 14 June, asoutlined in Abbey Bruce's editorial, the AshColl

Executive worked alongside the P.I.E.'sgroup when hosting the AshColl

Pride No UniformDay.

Students donated agold coin for the day, with the donations of$977.70

going to the QTOPIA Foundation basedinChristchurch.

This not-for-profit Foundationprovides support forRainbowyoungpeople

in Ōtautahi Christchurch and the wider Waitaha Canterbury area. The wellbeingofRainbowyoungpeople

guidesthe heart of their work and,assuch,

they areveryappreciativeoffinancialsupport.

Their serviceencompasses the meaningfulness of –

Celebrate,Educate,Advocate.

(Pictured above, left to right): Mahina Edwards,

Sarah McKerrow and Jamie Rushton raise the

Progress Pride Flag, inplace for the week. Sarah and

Jamie were amongst the creators of the College

P.I.E.'sGroup, with support from College Counsellor

Bridget McConnochie.

(Pictured above):

Theflag in place,

awaiting abreeze!

BakeSale

As partofthe week's activitiesaBakeSale washeld on Wednesday16June,

with profitsalso to be forwarded also to the QTOPIA Foundation.

(Pictured right):

Customers

purchasing.

(Pictured left, left

to right): Ready

forsales are

Jamie Rushton,

Rachel McArthur

and

Mahina Edwards.

Appreciation

We thank all who donated goods and money to the objectives of the No

UniformDay.

Coming Events

June

24 Aoraki SecondarySchools'Junior Girls'Basketball tournament,

Timaru

25 Hockey 1st XI Boys –Christchurch

26 Crusaders Region 1st XV MCCvRangiora(away)

25-27 WorldVision 40 Hour Famine

26-27 South Island SecondarySchools'Squash Tournament, Timaru

30 Hockey 1st XI Girls,Christchurch

Te WhareManaaki Sausage Sizzle -lunchtime.

Profit to supportKea from Extinction Fund

Crusaders Region 1st XV MCCvLincolnHigh School (home game)

Year 10 Rock Climbing

College AGirls'Netball,SuperNet,Christchurch

July

02 Senior Ball,AshburtonTrustEvent Centre, 8:00pm

Hockey 1st XI Boys –Christchurch

05 Exchange vRangioraHigh School,Ashburton

06 Year 11 and Year 12 Rock Climbing,YMCAChristchurch

07 Hockey 1st XI Girls,Christchurch

College AGirl'sNetball,SuperNet,Christchurch

LandcareResearch trip,Lincoln University

08 Lip Sync,Auditorium, 7:00pm

09 Hockey 1st XI Boys –Christchurch

10 NZSS Shooting Championships (Triple S) Round 2, Home Range

Crusaders Region 1st XV MCCvSTAC(away)

10-11 SISS Road Cycling Race,Christchurch

10 Term StudentHolidaybreak begins

10-25 Term 2Holiday

26 Term Threestarts
---
Ashburton College

Individual Excellence in aSupportive Learning Environment

News

Issue 19

24 June 2021

Events

Samoan Celebration Week

Samoan Language Week was officially recognised nationally during the

week 31 May-04 Juneand wastobecelebrated at Collegeaswell,organised

by the College'sCultural Committee. However -the flooding, schoolclosure

and Teacher Only Day -meantpostponementoftheseplans.

Being very flexible and organised, the committee transferred activities to

within theweekcommencingafter Queen's Birthday holiday, and changed

the title to SamoanCelebration Week.

Flag Raising

The three days of activities started on the

Tuesday with Samoan flag raising and

photos able to be taken against the beautiful

Celebration of Samoa backdrop, put together

by Cultural Committee leader Shrina Afu and

her mother Amelia Afu.

Concertand Fashion Show

Fridaysaw the culminating eventdetails of which aredescribed to us by –

members of the AshburtonCollege Writers'Group Year 9students,

RosaraAckroyd, CharlotteBell, Bella Dawson and Maddie Page

On Friday some students wore their cultural outfits during the day and at

lunchtime therewas aperformanceput together by groups of people doing

traditional Samoan dances or singing their cultural songs.The performances

were well-rehearsed beforehand and looked incredible on stage. Itwas

inspiring to see all those people representing their culture. Everything was

exceptionally performed and it wasanamazing experience.

In between acts the audience was asked some questions to test their

knowledge of Samoa. There were not many hands up in the nearly full

Auditorium!

(Pictured right, left

and right): Performing

with the boys'group -

Tiresa Kwan Wing and

Easterlin Faamausili.

(Pictured

left): Deputy

HeadGirl

andSamoan

student

Easterlin

Faamausili

raising the

Samoanflag.

(Pictured above right): Celebration of Samoa

backdrop.

Quiz Competition

During the lunch break on Thursday, in the Auditorium, agood crowd

watched the 'Know Your Roots' Quiz Competition, between four Samoan

studentteams, with Easterlin Faamausili and SamRakthong (pictured below,

leftand right) as hosts.

The competition was organised and hosted by Easterlin, Mahina Pongia,

Samand Mark Gabriel as 'Charlotte' the special guest!

(Pictured below, back row,lefttoright):SeraUla,

Naomi Taeauga, Mark Gabriel,

Ripena Umaga Vaeila, Cecillia Vaaelua.

(Front row,lefttoright): Foni Hala,

SamRakthong,Easterlin Faamausili.

(Pictured above): The GFTM Family Dance Crew group of cousins, with the

name of their group taken from the first initials of their last names.

(Back row,lefttoright): George Milo,Maafala Faamausili, Ivana Milo.

(Front row,lefttoright): Poe-Joseph Taumaoe,AlexGabriel,MarkGabriel.

At the end all the acts and people who dressed up walked around the stage

to show offtheir cultural outfits. Itwas interesting to see all the different

styles thatrelatedback to the one theme of Samoa. Allthe acts received a

ulafala (necklace) made with candy.

All-in-all the performance was ahuge success. Itgot lots of support from

the audience who were clapping and cheering at every opportunity and

everyone of the dances and songs were extremely well-executed.

This wasagreat experienceasitconnectedcultures and showedthe beauty

of Samoa in so manydifferentways.Weare looking forwardtogoing again

next year and hope that more people can come and enjoy itasmuch as

we did.

Congratulations andAppreciation

During the week,winners of the various activities were –

Quiz Winning Team, who received a cash prize – Sinifoni Hala,

Cecillia Vaaelua, Sera Ula, Ripena Umaga Vaeila and Naomi Taeauga Mafiti.

Fashion Show, four best dressed – Anjali Savaiinaea and

Penina Vaaelua, who each received aMcDonald's Voucher;and Tielu Iakopo

and Toetu Touli, who each received abag of 'goodies'.

College acknowledges the significant work put in by the Student Cultural

Committee to make this week agreat success –Shrina Afu, Head of

Committee; Coty Cuadrado, Rangi Makutu, Nazarene Masina, Toetu Touli

and Year 12 students Luvepa Falealili and Anjali Savaiinaea.

Additional Appreciation is given by Shrina to students not on the

committee who helped with the week also – Deputy Head Girl

Easterlin Faamausili, Lindalaurosa Masina and Mahina Pongia; and also to

Acting DeputyPrincipalAngela Mitchell forsupportand involvement.

(Pictured above): Concertand fashion showperformers.

Further Celebrating Samoan Week

at Pre-Schools

To further add to Celebrating Samoa Week, Acting Deputy Principal

with Pasifika responsibility Angela Mitchell, took agroup of students out

on Friday 11June to visit two local pre-schools -Ashburton Baptist and

BestStartAllenton.

OurAshColl students performed adance forthe pre-schoolers,weretreated

to asong in returnand made to feel very welcome.

The theme this year was 'Poupou le lotoifale. Ola manuia le anofale'

which means strengthen the posts of your house,for all to thrive.

It was wonderful to be able work in partnership with other schools in our

communitytostrengthen and celebrate the Samoan culturethrough these

visits.Wethank them fortheir invitation and hospitality.

PasifikaCommunityFono

The PasifikaCommunity

Fono washosted on

Saturday29May by

JoLuxton, Member of

Parliamentfor Rangitata.

College students (pictured

right, lefttoright):

Cecillia Vaaelua,

Lindalaurosa Masina,

Penina Vaaelua

and Mahina Pongia

performed at the fono,

welcomingthe

Hon AupitoWilliam Sio,

Minister forPacific

Peoples,toAshburton.

Theysang beautifully and

representedAshColl with

pride.

Pictured in the Fale,the

group members were -

(back row,lefttoright):

MayPenjueli, Sera Ula,

Cecillia Vaaelua,

Anjali Savaiinaea,

Ripena Umaga Vaeila.

(Front row,lefttoright):

Mahina Pongia,

Sivailoa Teomatavui,

Edelma Kelsall,

Penina Vaaelua.

Year 11 Economics -McDonald's Ashburton

Field Trip

Students in Level 1Economics have been studying aunit on Producer

Decisions. Recently, the two classes ofYear 11 Economics students visited

McDonald's Ashburton to hear about the types of decisions Dave Whalley

makes as afranchiseowner.

The students learnt about the goals ofthe business, the various resources

used in the business, how they improve productivity and the ways they

attractand retaincustomers. They were also taken on atourofthe premises

to look at the production process.

Thestudentsthenracedeachother to create

ahappy meal box, which isn't as easy as it

looks!

We are very grateful to Dave and the team

at Ashburton McDonald's for welcoming us,

sharing their knowledge and providing us

with an opportunity to sample their tasty

food.

Teachers Ange Mitchell and Jason Vannini

said thatitisgreat forour AshColl students to

be able to seeeconomic theory come to lifein

areal businessinour local community.

Flooding Clean Up

As advised in Abbey Bruce's Head of Senior School article, student groups

have been helping to cleanupdebris on farms affectedbyrecentflooding,

and also,aStudentVolunteer clean-up dayisscheduled forbeforethe end

of this term.

(Pictured right and below): College Year 11

Ag Academy students plucking debris from

a fence on Darryl Butterick's Greenstreet

farm, on Tuesday08June.

Accounting Students to Lincoln University

On Thursday10June College Accounting students attended an Accounting

information dayatLincoln University.

The students ranged from Years 11-13 and were accompanied by their

teachers Clair Bedward and Kirsty Moffett. They spent aninteractive day

exploring the differentaspects of Accounting,with students of several other

schools.

Theday wasprompted by the misunderstanding of the futureofaccounting,

and the thoughts that becoming an accountant isnolonger the attractive

career option thatitused to be.

Students were put into three differentgroups and rotatedthrough arange

of activities. They all enjoyed the lolly cake-making where the concept of

cost accounting wasdiscussed.

(Pictured right, leftand right):

Ella Shanks and Alyssa Gilbert

busy making lolly cake.Another

activityinvolved the use of

computers to completean

Amazing Race-typecompetition

wherestudentshad to use their

financial literacyknowledge

to answer arange of questions

relatedtoAir New Zealand.

(Pictured right, front to

back): Jacob Wilson,

Dominic Hayand

CairoHawkes

talking with the

CAANZ (Chartered

Accountants Australia

and New Zealand)

Representative.

(Pictured left, lefttoright):

In the Amazing Race competition:

Chris Angus,Ethan Gray,Fononga Lisala,

wherethey placed second in their group.

Finally,students were introduced to

experts in the Accounting field, through

asix-minutespeed-dating exercise.

They were giventhe opportunitytoask

questions and learnofthe career paths

and supportavailable to them.

Atour of Lincoln University was given tointerested students where they

were able to view the facilities.All students enjoyedthe day.
---
2377782
---
House and Land Packages

Available NOWfrom $555,000

In the new Strowan Fields and

Ashbury Grove Developments!

Selling fast... choose your house plan today!

Mia

177m 2

| 3 bdrm

Annie

192m 2

| 4 bdrm

3 2 2 2 2

4 2 2 2 2

DINING

LOUNGE

LIVING

LOUNGE

LIVING

DINING

MASTER BEDROOM

BEDROOM 2

KITCHEN

ENTRY

ENTRY

KITCHEN

MASTER BEDROOM

LAUNDRY

GARAGE

ENSUITE

BEDROOM 3

BEDROOM 4

WC

BATHRM

GARAGE

ENSUITE

BEDROOM 2

BATHRM

BEDROOM 3

LAUNDRY

Andy

156m 2

| 3 bdrm

Amy

162m 2

| 4 bdrm

3 1 2 2 2

4 1 2 2 1

LOUNGE

LIVING

DINING

DINING

KITCHEN

ENTRY

ENTRY

KITCHEN

BEDROOM 3

BEDROOM 2

MASTER BEDROOM

ENSUITE

LAUNDRY

MASTER BEDROOM

GARAGE

BEDROOM 2

BATHRM

BEDROOM 3

GARAGE

LAUNDRY

BEDROOM 4

BATHRM

ENSUITE

Ashburton Display Home

Cnr of Whiteoak Grove and

Waterford Place, Oaklea

Wed, Thurs, Sun 12-3pm,

or by apt

Michele Strange

P: 03 741 1436

M 027 491 5266

E michele.strange@jennian.co.nz
---
Dress the little men in your life

The Arcade, Ashburton 03 307 7340 www.totstoteens.nz

2393442
---
www.ashburtoncourier.co.nz

RURAL

Ashburton Courier, June 24, 2021

Ruralco instore days

Ruralco's annual instore day will

extend beyond thethree Mid

Canterburystores this year and

includeanonline option for

members. Over the past 26 years

the Ashburton basedfarmer cooperative

has runthe instore

daysthroughretail outlets in

Ashburton, Methven and Rakaia,

offering discounts to members.

In 2020they looked different as

covid sawthe business create a

new format to offer great deals

and thelatestinagricultural

technology. The annual

19

promotion runsinstore and

online from July1to 2, but online

until July4.RuralcoCEO Robert

Sharkie said the marquee will be

backinthe Ruralco Ashburton

store andover90businesses

were duetobeon site with

fantastic deals. Therewill be

coffee andrefreshments allday

withfood trucks servingvarious

options for astanding lunch

between 10am and3pm.

The Methven andRakaia

stores will also have great deals

and offer refreshments.

Rising two year old bull, Mt Possession Q53 set anew Souh Island record.

PHOTO SUPPLIED

Q53 bringsin $88,000

Angus stud breeders, Donald

and Leigh Whyte and Ryan

and Sarah Hussey, of Mt

Possession Angus, have sold a

rising two­year­old bull for an

impressive $88,000.

The bull, called Mt

Possession Q53, wassoldat

the on­farmsaleatthe Mt

Possession Angus stud at

Hakatere Station on June 14.

The price set anew South

Island record.

''I knew he was agood bull.

Iwasn't anticipating that sort

of money though,'' Mr Hussey

said.

''He's just areally,

complete package. Great

phenotype, the data on him is

just outstanding right across

the board and fantastic

temperament.'' Mt Possession

Q53, was born on Hakatere

Station on October 3, 2019.

He had good breed plan

data, growth,fertility, carcass

traits, pedigree and

phenotype (the physical

attributes) ''He looks good

and is well put together,'' Mr

Hussey said.

''The really pleasing thing

about him is he actually by a

bull that we bred as part of

the stud, out of acow thatwe

bredaswell.''

The sire's name is Mt

Possession M13; he wasborn

in 2016.

The couples have a50/50

partnership in thestud,

which is run at Hakatere

Station, ownedbythe Whyte's

in theMid Canterbury high

country.

Mr Hussey, who is also the

manager of the sheep and

beef side of thestation's

operation, said the auction ­

which was their first on­farm

bull sale ­had been quite a

success with 19 bulls sold out

of the 20 up for sale.

Smoke-free

burning means

acosynest…

Learn clean burning

techniques, fora

healthier region at

warmercheaper.co. .nz

Lowpollutiondaysand nights

require everyone with firesto

burn smoke-free.

You'll getawarmer home,

uselessfirewoodAND help

improve Canterbury'sair quality.

Wiggy wins rural award

Rural personality and

farming advocate Craig

'Wiggy' Wiggins has been

recognised for his

contribution to the

agriculturalindustry winning

the Ravensdown Agricultural

Communicator of the Year

award.

The award recognises and

honours those who use their

skills to effectively

communicate issues, events

and information relevant to

the sector. It was presented

by Ravensdowngeneral

managercustomer

relationshipsBryan Inch to

Mr Wiggins during Fieldays at

Mystery Creek.

Mr Wiggins,based at

Dromore,near Ashburton, is

apassionate farmer, horse

trainer, commentator,

announcer,and MC.Heset up

WhateverwithWiggy, last

year during covid lockdown,

an ongoing weekly Zoom

forum for farmers to engage

with industry leaders and

politicians to discuss issues of

importance to the

agriculturalcommunity. He

wasaleading organiser and

facilitator of the Agri Connect

rural mental healthseminar,

which taught attendeesthe

tell­tale signs of mental strain

and where to direct farmers

for help.New Zealand Guild

of Agricultural Journalists

and Communicators

president Jackie Harrigan

said Mr Wiggins facilitated

muchneeded discussions

within the agricultural sector

and kept politicaland

industry leaders appraised of

the mood on farm. The

Whatever withWiggy

platformhad been''an

invaluablecommunication

platformfor members''

especially during the covid

lockdownwhen many were

feeling isolatedand

overworked.

LE22559-V2

…and better

breathingfor

our tamariki.

Buyone,get onehalf

price. On nursery

items,not babies.

Buyone get one half price on

Mountain Buggy and

Phil&Teds nursery products*

Buyany twoqualifyingitems andget the second item half price. Second item must be of equalorlesser value than the first item.Appliestoqualifyingproductspurchasedatthe

same time within asingle transaction.Subject to availability.Valid 16th June -13thJuly. Discount is offour full retail price. Notavailableinconjunctionwith anyother offer. Excludes

clearance, gift cards, flooring.Limitsand other exclusionsmay apply. Personalshoppersonly,trade notsupplied.
---
Newlook,new

store, same old

school service.

Come andsee the team at 363WestSt,

Allenton(whereBunnings was).
---
www.ashburtoncourier.co.nz

The power of words

"It's only words, but wordsare all I

have"This wasaline from asongby

the BeeGees manyyears ago.

Words havepower. Theyhavean

impact on us. Theycan be usedto

builduportotear down. They can be

used to hide evil or to expose it. Words

can be false or true.How we choose to

speakchanges lives –both oursand

thosewho hear us.

Consider how wordscan be building

blocks. They can buildpeople up.

Maybe in the sense of givingthem

confidence, maybe in the senseof

giving them knowledge, maybe in the

sense of giving them frameworksto

express or betterunderstandwhat

theyknow.Wordscan bringcomfort in

timesofsorrow. They can be used to

buildrelationships­even without

intentionality, but justinthe courseof

engaging in conversationwith

another.

Then again, wordscan bebattering

rams to knock people back or to

silence them. Clichés canbeused

this way. Thinkofhow often a

disagreement can be met with "That's

xxxx­phobic". That used to mean a

fearofsomething, like

claustrophobic being afear of

enclosedspaces.Nowithas become a

condemnation of any who might

disapprove of whatever the" xxxx"

CHRISTIAN COMMENT

might be, as away of silencing

disagreement. Our wordsare

important not only in what they say

but in how it issaid.Inthe Bible we

read in Paul's lettertothe Colossians

Let your speech always be gracious,

seasoned with salt,sothatyou may

know how you ought to answer each

person–even if in strong

disagreement.

Most of thetimeweshould focus on

words that are building blocks. There

is aneed forwords of comfort in

times of suffering, loss or distress.

Those words are best anchored

outside of ourselves in the ultimate

Comforter,yet expressed throughour

knowing the comfortthatHehas

brought to us.

The ultimate word is Jesusthe

Word of God. He brings both comfort

andchallenge.Aswereadin the

Gospel of John"ThewordsIhave

spokentoyou arespirit andlife".

Here is the guidetoall ourwords.

May you knowthe blessing of the

Word found in the Gospels.

Rev David Bayne, Grace

Presbyterian Church of Ashburton.

NEWS

Ashburton Courier, June 24, 2021

21

Birds flock to show

Ashburton Fanciers'

Society long­running

annual show attracted

more than 800birds,

includingan impressive

100 plus fancy pigeon

entries.

The129th annual show

was held in the Tancred

Street Sports Hall last

week.

Nine judges,most from

out of town, were brought

in to choose the top birds

in the flock across a

numberofcategories.

AshburtonFanciers'

Society presidentJohn

Taylor said the show was

the biggest so far this year

after last month's

nationals in Dunedin.

Theshow season ran

from mid­May through to

the end of July and the

next show was in

Christchurch this

weekend, he said.

Aroundthreequarters

of the 800 birds in the

Ashburtonshowcame

from theCanterbury

region, with agood

Gavin Greenwood with the bird that won the overall best

fancy pigeon award at the annual show run by

Ashburton Fanciers Society.

PHOTO MICK JENSEN

number of local entries.

LocalbreederGavin

Greenwood took outthe

top bird awardinthe fancy

pigeon section.

Abird shower for 60

years and breederfor 50,

Mr Greenwood won with a

four­year­old that he bred

himself.

Mr Greenwoodsaid as

the bird grew older it had

developed the

characteristic wattles

(knobby fleshy covering)

aroundthe eyes and beak.

the somerset grocer

IS LOOKING

FOR YOU!

Full Time &Part Time

Front of HouseStaff

Looking to work in a fun team

environment with lotsofvariety?

Pleasesend CV &contact Nicky

03 307 5899

manager@somersetgrocer.co.nzto

apply.

8-18 JULY2021 SCIFEST.ORG.NZ DUNEDIN

DON'T MISS OUT!

Full Programme out now!

GO to scifest.org.nz

And get the julyschool

holidayssorted!

Sleep likeaking

forthe priceof

asingle.

Buyany size Sleepyhead Evolveor

Latitude Bed for theprice of the single*

Valid23rdJune-20thJuly, whilestock lasts, unlessotherwisestated. Some products on display selectedstoresonly -pleasecall 0800764 847tocheck availability.Personalshoppers only.*Headboards,

accessories, drawer andadjustable basesand pop-up notincluded.Appliestosizesofthe same model bed. Matchingbases only.Not available in conjunctionwithany other offerorpartner pricing.
---
COUNCILBRIEF

5Baring SquareWest,Ashburton |POBox 94, Ashburton, NewZealand 7740 | Telephone (03) 307 7700 | Website ashburtondc.govt.nz

Registrations open forBusiness of the Year

The Ashburton District Council has had

its first entry in theBusiness of theYear

awards, anew eventthatrecognisesour

businesscommunity.

The entry is in the People's Choiceaward,

which will bedecided by text vote. Each

retail business in the award category will

be provided with aunique voting code

allowing people tofree text the code to

4196 to support their favouriteretailer.

Theawardisforallthoseintheretailsector,

including franchisees, online, big, small

and traditional operators, and ranging

from garden centres, motor vehicle

dealerships to bakeries and computer

suppliers.

Council's Community Services Group

Manager Steve Fabish said the voting

period for the People's Choice award will

be between 1August and 30 November,

so it wasgood to see retailersbeginningto

enter.

"Mid Canterbury ishome to many great

businesses and these awards are an

opportunity to showcase theirstories to a

wider audience.

"It's also achancefor thoseinbusiness to

reflect on their core strengths and review

achievementsand milestones,"headded.

Other award categories recognise

excellence inprimary industries, export,

tourism, manufacturing, not-for-profit

and technology and innovation. There is

alsoaFuture Business Leaderaward and

an Overall Supreme Business Excellence

award.

Entries in all but the People'sChoiceretail

categorymust be received by 5pmon30

November.

Category finalists will be announced in

Decemberand all winners willberevealed

at agala evening on 18 February2022.

A special judging panel and awards

coordinator will assess the entries.

Selected entrants will progress to stage

two of the judgingphase.

There is no cost to enter the Ashburton

District Business ofthe Year Awards. Any

business within the district is eligible,

providedtheyhave beenoperating for12

months or moreasofMarch 31 of this year.

businessoftheyear.nz

Week of 21 June 2021 | ISSUE 34

We arereviewing

ourdocumentsandare

proposing some changes.

ashburtondc.govt.nz/

haveyoursay

Draft DogControl

Bylaw&Policy

The bylaw and policy work

together to regulatedog control

mattersinour community.

Draft Open

Spaces Bylaw

This bylaw addresses potential

problems that may arise from

the misuse of Council owned or

managed parks and open spaces.

We areaccepting feedback until

5pm Sunday 11 July 2021.

IntroducingIan Soper,the Council's

newOpen Spaces manager

IanSopercan step out hisoffice doorto

check out thebest piece of real estatein

town: theAshburtonDomain.

He is Ashburton District Council's new

OpenSpacesManager and knows looking

after the domain, aswell as other parks

and green spaces all aroundthe district,is

an important job.

Ian has come to Ashburton from Gore

District Council where hemanaged the

parks department there for 16years. His

horticultural working career,which started

as an apprentice in 1980, also covers

private enterprise and local government

experience.

Passing through Ashburton over the

years, he has always been impressed

by Ashburton's domain, considered the

town's jewel in the crown, and is now

pleasedtocallthisregionhome.Ianandhis

wifeSuehavefamilyspreadfromNelsonto

Southland, so Ashburton is ideallyplaced

fortravel to see grandchildren either way.

And it is an exciting time to be arriving at

Council when the Ashburton Domain is

about to embark on aperiod ofchange

that will set itupfor the next 100 years

following the adoption of a 30-year

development plan. The plan includes

proposals formoving the main entranceto

Walnut Avenue, adding asealed perimeter

path, and playground improvements.

All green spaces cycle through periods

of development, consolidation and

maintenance.

Officially, the domain and other green

spaces areamenitiestobemanaged, but

theyalso requirepassion and agood longterm

vision.While footpaths canbedug up

and replaced in aweek,the value of atree

planted in the domainmight not be visible

for80years.

Managing the space isabout making it

safe, attractive, usable and educational.

Trees, especiallysome of the oldest ones,

require close attention and there are

plentyofmaturevarieties to keep an eye

on.

Ian hopes in the future to have domain

maps that show the tracks and paths,

and even an app that shares historical

information about particular trees or

areasofthe domain.

PartofhisroleisliaisingwiththeAshburton

Domain User Group, which includes

sporting and other groups using the space,

so information canbemoreeasily shared

about ongoing work.

Ian'swider role as Open Spaces Manager

also includes oversight of the district's

cemeteries, its public toilet facilities,

stockwater race management,support for

reserve boards and general beautification

of the district.

The town's pioneers, who created the

Ashburton Domain, wouldbewell pleased

with their foresight,and Ian looksforward

to continuing to care for and maintain

these beautiful public spaces.

1 ashburtondc.govt.nz

Week of 21 June 2021 |ISSUE 34
---
Ng King Bros ChineseMarket Garden

Settlement highly commended at

Canterbury HeritageAwards

The Ng King Brothers Chinese Market

Garden Settlement in Ashburton won

high praise atthe Canterbury Heritage

Awards as an exceptional cultural

heritagelandscape.

The former marketgarden settlement was

one of four finalists in the outstanding

contribution toheritage award category.

The buildings of the former settlement

are currently being restored in ajoint

projectinvolving theNg Kingdescendants,

Ashburton District Council, and Heritage

NewZealandPouhereTaonga.

The Allens Road site, which is protected as

apost-1900 archaeological siteand listed

as aCategory 1historic place, impressed

judges in the Canterbury awards, who

said it wasanexemplary partnership that

would promote understanding of the

early Chinese settlers' contribution to the

Canterburyregion over 100 years.

"The site was more than abusiness, it

was where those settlers lived, learned

and socialised, ameetingplacefor South

Island Chinese communities and abase

where Chinese newcomers transitioned

into New Zealand life," the judging panel

said.

The market garden settlement operated

from the early 1920s until 1964 and was

the largest Chinese community in the

Picturedfromleft to right:Christine King,Ashburton District Councillor Leen Braam, Andrea King,

RobertKing, Arlene Baird(EraConsulting), Cath King,LoisYee, Roger King.

South Island during that time.

Once restored, the grounds will be open

to the public as acommunity heritage

park and will tell the story ofChinese

immigration to New Zealand, aswell as

how the buildings wereused and what it

wasliketolive on the settlement.

In addition to restoring the heritage

buildings, picnic areas, walkways, and

open spaces for informal recreation are

planned.

Ashburton District Council Community

Services Group Manager, Steve Fabish

said that it wasanhonour forthe Ng King

project to make ittothe finals of these

prestigious awards alongside such ahigh

calibreofentrants.

"This isnot only an acknowledgement

of the contribution these early Chinese

settlers made toNew Zealand's history,

but also awonderful recognitionofall the

hard work that isgoing into saving and

restoringthe site,"hesaid.

The siteisregarded as the lastremaining

example of a20th Century Chinesemarket

garden settlement in NewZealand.

Mount Huttbikepark's snappynewsign

Expect to seethe Mount HuttBikePark

blowingupon social mediasoon, thanks

to abig, colourful sign at its entrance.

The sign, which is fixed in the ground with

repurposed steel irrigation pipes, isthe

work of Methven sculptor Hannah Kidd,

who cycles the park's mountain trails

herself.

The top ofthe sign is arainbow made

of corrugated iron and there is space

underneath for mountainbikers totake

photos, with the Mid Canterburyplains as

astunning backdrop.

Hannah made the sign for Bike Methven,

avolunteer group thatruns the bikepark,

and the work has been supported by a

$5336 grant from the Ashburton District

Council'screative communities fund.

The bike park attracts ridersfromall over

the South Islandand is accessed off the Mt

Hutt skifield road. It contains over 30km of

trails, including many thatare suitable for

riding in the winter –meaning visitors to

the area in winter canstill havefun if the

mountain is closed.

The park has aloyal and growing group

of users in Mid Canterburyall year round

and attracts day and weekend riders

from Christchurch and further afield. It

hosted the South Island SecondarySchool

Mountainbike Championships earlier

this year,bringinghundreds of ridersand

supporterstoMethven.

Hannah ran a competition during

lockdown last year forideas forthe sign's

design.

"We had loads of really great entries and

ended up settling on the rainbow idea.

We wanted the signtobebright and eyecatching,

something iconic that people

would want to have their photos taken

with."

The sign itself is made from steel and

flattened out corrugatediron. It has been

coated with aspecial zinc anti corrosion

product and then painted. Hannah has

been working on it steadily all this year.

Whilethecreativecommunitiesgrantwasa

greathelp,Hannahhasalsohaddonations

of time from committee members and

friends with usefulequipment. The posts

for the sign are from old irrigation pipes

donated by local farmer David Keeley

and concrete was donated by Methven

Trucking.

Hannah said thepark wasaone-stop shop

forbikers.

"We love it as afamily, but for different

reasons.Ilovetheclimbs,whereasthekids

areinspiredmost by being shuttledtothe

downhill tracks. There areaccessible trails

that caterfor folk who arejust starting out,

good challenging intermediatetrails with

rewarding climbs that lead to some quite

rowdydownhill tracks.

"We wanted the signtorepresent all of the

above and be welcoming."

BikeMethven president Ricky Brown said

Sculptor Hannah Kidd enlisted husband

Richard Morris, a telehandler machine

and fellow bikers Cam Bisset and Fred

Holmberg to manoeuvre the Mount Hutt

bike parksign in place.

the sign would be agreat talking point and

the group wasgratefultothe artistic skills

of Hannah.

The sign is thefinishing touch to awider

project at the carpark area that has

involved anew post and rail fence and

native planting.

Ricky said those who had helped included

fencing contractor Andrew Morgan, Greg

Meadows, Craig Cullimore, landscaper

Dell Phillips and Morris Contracting.

The bike park is on land owned by Sir

Graeme Harrison, who is also amajor

supporter of it becoming apermanent

community asset.

COMMUNITY NOTICEBOARD

JULY MEETINGS

Meetings areheldinthe Council

Chambers, 137 Havelock Street,

(unless otherwise advised).

CouncilMeeting,

Wednesday 30 June, 1.00pm (live-streamed)

The previouslynotified 30 June extraordinary

meeting has been replaced withafull Council

meeting and the meetingscheduled on 7July

has been cancelled.

Youth Council Meeting,

Wednesday 14 July,4.00pm

Methven Community BoardMeeting,

Monday 26 July,1.00pm,MtHutt Memorial Hall

Ashburton WaterZoneCommittee

Meeting,

Tuesday 27 July,1.00pm

CouncilMeeting,

Wednesday 28 July,1.00pm, (live-streamed)

Submission Hearings&Deliberations

(Draft Dog Control Bylaw&Policy,and

draft Open Spaces Bylaw),

Thursday 29 July, 9.00am,(live-streamed)

PUBLIC NOTICE

PROPOSED ROAD

CLOSURE

Pursuanttothe Transport (Vehicular Traffic

Road Closure) Regulations1965, noticeis

hereby given that Enduranz Events forthe

purposeofallowing the Mission Mt Somers

Race to be held, proposes to closethe

followingroads to ordinaryvehicular traffic

forthe period indicatedhereunder.

Road proposedtobeclosed:

• SYMES ROAD,for thewholelength

PeriodofClosure: From 5.30am until

3.30pm on Saturday,30October 2021.

Any person objecting to the proposal is

calledupon to lodgenoticeoftheir objection

and grounds thereof in writing or email to

Council by 4pm on Friday, 27 August 2021.

NEIL McCANN

Group Manager InfrastructureServices

APPLICATION FOR

RESOURCE CONSENT

363WestStreet, Ashburton

Under Section95A of the Resource

Management Act 1991

Application Number: LUC21/0029

Applicant: Tricroft Properties Ltd.

Address: 363West StreetAshburton District

LegalDescription: Lot1DP 1563 &Lot 1DP

23503 &Lot 2DP 1563

Description of the proposal:

Resource consent foranareaof

approximately 1000sqm of retail spaceto

operate aSmithsCity storeand associated

non-compliances.

Full details of the application and submission

forms canbeobtained at:

• AshburtonDistrict Council, GroundFloor,

5Baring SquareWest,Ashburton

• AshburtonPublic Library, 180 Havelock

StreetAshburton

• www.ashburtondc.govt.nz

Making asubmission:

Any person who wishes to makea

submissiononthe application maydosoby

sending awritten submission to Ashburton

District Council, P.O. Box94, Ashburton

7740, or info@adc.govt.nz quoting reference

LUC21/0029.

Notethat acopyofthe submissionmust

be sent to theapplicant: Tricroft Properties

C/- David Harford PlanningPOBox 603

Ashburton7740 or david@dhconsulting.co.nz

within theapplicationassoon as reasonably

practicable.

Submissionclosing date:

The Ashburton District Council must receive

yoursubmission no later than 5pm on the

23 rd of July 2021.

If youhave anyqueries aboutthe application

please contactAshburton District Council

at 03 3077700 andspeak to IanHyde

(planning@adc.govt.nz)fromPlanning team.

IanHyde

Planning Manager

ashburtondc.govt.nz Week of 21 June2021 |ISSUE 34

2
---
www.ashburtoncourier.co.nz

CLUB NEWS

Ashburton Courier, June 24, 2021

25

Creative Fibre

There was agood crowdwho

attended our meeting, taking

intoconsiderationthe grotty

weatherand thedamaged

bridge.

The co­chairperson welcomed

everyone with arendition of a

ditty about the weatherand

crafting to thetune of 'Let it rain,

let it rain, let it rain' followed by

one of herquotes about 'Loose

Ends'.

Areport on the'Knitting in

Public Day' held at the

Ashburton Library recently was

given.The librarian has

suggested we do itonamore

regular basis once thenew

library is opened, as it will have

more space.

'Our' Librarian introduced

two magazines we have

subscribed to. These ones had

articles about yarns and knitted

and crochet toy patterns in them.

OurMid­WinterChristmas

dinner is being held at Hotel

Ashburton on July 12 at 11:30am.

If you would liketoattend

contact Pamon 027 3703253.

An invitation has been

received for our weavers to

demonstrate at theHampstead

School on June 29,gathering at

the officeat11am.

Back to Basics at theNewLife

Centre (Tinwald) is being held

on July 17 from 10:30am.

The weaving workshopwith

national tutor, Nynke Piebenga,

for learners and novices is

happening at thePlains Museum

on October 4and October 5.

Anyone interested in learning

the craftcontact Pam on 027 370

3253forfurther information and

costsinvolved. It hasbeen

suggested that memberswarp

the looms at our September

meeting.

'Craft Cluster' is being held on

July5at The Plains Museum.

Membersofthe public who

would like to have acouple of

hours of uninterrupted crafting

are welcome to attend. There is a

$2 chargetocover costs so come

along, bring your craft and acup,

yourlunchand enjoy our

company from10am–about

2pm.

The 'piece de resistance' on

the Show and Tell table was a

miniaturebox containing ahand

knitted on 1.25 knittingneedles

using crochet cotton,jug about

5cms high.VeryImpressive.

Other articles weretrauma/

worry bears to be donatedto

distressed children, 'fiddle'

muffs for dementia patients,

knitted children's and adults

jerseys, mittens, hats and abox

of knitted'people'. Crochet was

an adults jacket, rugs from

scraps in amembers stash, anda

Dozens of curtains made by members of Altrusa International of

Ashburton have been given to St Vincent de Paul and to the curtain

bank run through Presbyterian Support. Pictured at the recent

presentation of curtains are (from left) Sue Hutchinson from

Presbyterian Support, Isabell Page and Denise Hydes, both Altrusa,

Donna Collins from St Vincent de Paul and Rosemary Moore from

Altrusa.

PHOTO SUPPLIED

table centreand feltedwas an

'Alladin's' style jug.

AshburtonBridgeClub

Sunday­ June 13th, Conlands

Trophy

N/S 1stJandeJong&Alan

Wright,2nd Linda Baker &Mike

Holmes, 3rd Trish&Peter

Downward

E/W 1stAnne &Maurice Reid

(overall winner), 2nd Peter

Wilson &PatJordan, 3rdLeigh

Wackrow&Mike Holdaway

Monday Evening –June 14th,

Irwin Trophy

N/S 1stGeorgeBrown &Eric

Parr, 2nd Bruce Leighton &Dee

Murdoch, 3rd Heather &Bruce

Sim

E/W 1st=Catherin Robins&

PaulineScott andAverilLeckey

&JoyceJohnson,2nd John F

Rickard &Derek Prebble ,3rd

Louise McCrea &CarolEfford

Tuesday Evening –June 15th, 3

rdsdiff ptr

N/S 1STDavid Sewell &John

McDonald ,2nd Kay Robb &

RewaKyle ,3rd BevTurton&

IanDoel

E/W 1stAudrey Rooney &

Leigh Wackrow, 2nd Peter

Wilson &EvelyneTaylor, 3rd

Peter Downward &Jim Rooney

Wednesday Afternoon­ June

16th,2rdsdiffptr

N/S 1stMary Buckland&Trish

Downward, 2nd Peter

Downward &Rosemary

McLaughlin ,3rd Beth McIlraith

&Johnny Wright

E/W 1stSue Rosevear &Anne

Reid, 2ndValPalmer &Bev

Macaulay, 3rd John Shearer &

John Irwin

Thursday Evening –June17th,

Smith'sTrophy

1st TrishDownward &Mary

Buckland, 2ndJandeJong &

PeterDownward ,3rd Pat

Jordan &MaureenKolkman, 4th

BillKolkman &John Fechney,

5th Evelyne Taylor&Peter

Wilson, 6th Ann Gilbert &

Carolyn King

Ashburton MusicalClub

The AshburtonMusical Club

had afeast of great musicfrom

Nor'West Brass on SundayJune

13.

Conductor, Matts Toomata,

managed aband that playedwith

precision and attention to detail.

The vigour andenthusiasm of

their music communicated with

the largeaudience.

The opening march, Death or

Glory, paraded all those

qualities. Two items,Mid All The

Traffic andKaleidoscope ,being

prepared forthe National

Championships in Christchurch,

showed thepractice and

discipline requiredtoperform

at ahigh level.

The band had anumber of

veryyoung musicians. Mia Yee

played Wonderful World on

flugel horn with apurity of

sound that was aprivilege to

listen to. The band's renditions

of Hine eHine and Abide With

Me wereemotionally stirring.

We allhearmusic differently,

and, Light AsAir ,was difficult to

understand.

When the SaintsgoMarchin

In, Candy Man, Fake it Til Ya'

Make It,Can't TakemyEyesOff

Of You andAll These Things

That I've Done were familiar

Music, great to hearplayed well.

Hey Jude, allowedthe Horn

sectiontoshow their talents.

The cornet section, with

several young musicians, played

Cornets aGoGo, and shared

their enjoyment with allpresent.

Arare treat was ,The Bare

Necessities, played on bass

trombone byStephen Croker. In

each half of the programme

Mexican Dancers performed to

La Bambe and EL Son de la in

Negra.

Themusic, graceofmovement

andcolour was awelcome and

cultural variation to the

afternoon. The band

management was very

complimentary to theSinclair

Centre as aconcertvenue.The

club hadawonderful afternoon.

MidCanterburyLadies

FriendshipClub

President Julie welcomed

memberstothe June meetingof

theMid Canterbury Ladies

FriendshipClub. Birthdaysand

anniversaries were celebrated.

There is abus trip to

Christchurchon23Juneand

also aluncheon on 30 June.The

mini speaker was Marion who

told of pearl farming. Her son

worksinthe industry near Perth

wheretheworkers are

accommodatedinahouse boat.

The pearlsare harvested after

twoyears fromafresh water

mussel.Everypearl is unique,

they arenot cut or polished.

After morning tea the main

speaker was Elainefrom StJohn

Ashburton whotoldofall the

programmes and servicesthat

they offer. Theircorebusiness is

theambulance service, however

this is not fully funded.

Emergency ambulance services

provided by St John arefunded

approximately 70 percent

through contractswith the

Ministry of Health and the

Accident Compensation

Corporation (ACC), the balance

made up with fund raising. The

health shuttle goes to

Christchurch every week day, as

well thereisthe Timarushuttle.

The drivers are volunteers, they

arefirst aid qualified. Another

service is the CaringCaller,

there are 11 clients in

Ashburton.Medicalalarms may

be provided, someare worn on

thewrist. The Supporters

Scheme costs $55 and covers

emergency call outs, thisisa

National Scheme. TheYouth

Programme is popular with the

Penguins and Cadets. Aswell

there is theOpshop. If you call

111you will be asked ifyou need

Accident,Fire or Police, their

questionsarepre­determined.

Elaine was thanked for her

informative address. Julie

closedthe meeting with the

Thought for theMonth –"Ican

do things you cannotdo, you can

do things Icannot do,together

we can do great things"by

MotherTeresa.

Mid CanterburyCentral

Friendship Club

President Ken welcomed 75

membersand two visitors to the

meetingand receivedsix

apologies.

Heexpressed the clubs

sincere heartfelt support and

thoughts to the victims of the

recent flood. Alsotothe victims

of tragic vanand truck accident

he extendedcondolences, and a

speedyrecovery to theinjured.

This morning he inducted four

new memberstothe club,

MurrayJackson, John Pringle

and John and Rosalee Duncan.

Bruce Rolston was our mini

speaker who spoke about an

Australian,Sir Sydney Kiddman

who grewuptobecome the

largest privatelyowned, land

owner in the worldinhis time.

Helefthome ataged13with

five shillings in hispockettobe

with his brotherinNSW.Hemet

up with an aborigine who taught

him many bush skills which

become invaluable in laterlife.

He met up with his brother and

worked on Mt Gibb Station and

aftertwo years when he asked

for araise he wassacked.

Hewas just 21. So he boughta

bullock wagon and carted

supplies to the local miners. A

butchery business was his next

venture and when themine

ownersfellshort on payments

they gave him 15% of shares in

BHP which he promptly sold for

£150. Adecision he regretted for

therest ofhis life. Today the

company is worthover$146

billion.

Hecontinued in thecartage

business, takingover Cobb &Co,

and fattening andselling

unbranded cattle. At28yrs old he

bought his first cattlestation of

1,000 square miles for£1,000in

cash. He went on to own 128

stationsall over thecountry

except Victoria.

In the1890's depression, he

almost went bankrupt but

survived duetohis bush craft

skills andboundlessenergy.

Thenin1902 when the big

drought hit, he lost enormous

amounts of stock. During WW1

he financed aircraft andsold

horses tothe army also

supported the Salvation Army in

many ways. He was knightedin

1921 forhis war efforts.

Our mainspeaker was Peter

Gluyas from Gluyas Ford who

showed slides of the early garage

and people.

The EV cars was the main

topic with the pro's and con's

related to them. Peter was

thanked by Merv Green who

presentedhim with afruit

basket.

Eat Scandi style.

Pickled herring

optional.

Oslo 7Piece DiningSuite

$1099

was

$1579

Validuntil 29th June,while stocklasts,unlessotherwisestated. Some products on display selected stores only -pleasecall 0800 764847 to checkavailability.Personal shoppersonly.
---
SPORT

26 Ashburton Courier, June 24, 2021

www.ashburtoncourier.co.nz

Twotitles forMaddi

RakaiaGolf Club quartetofVal Sisson (from left), SallySmith, Jill Burrowes and Bev

Sutherland won the Aorangi VeteransGolf PennantFinal.

PHOTO SUPPLIED

District golfers win

Golf teams from Mayfield and Rakaia

have taken top honours at the Aorangi

Women's Open and Veterans Golf

Pennantfinals.

Played recently at the Timaru Golf

Club, the Mayfield Golf Club quartet of

Christine Ross, Judy Webb, Lal Mulligan

and Lynley Mackenzie defeated Temuka

1by71/2matches to 21/2 to win the

Aorangi Women's Open final.

And the Rakaia team, made up of Sally

Smith, Jill Burrowes,Val Sisson and Bev

Sutherland beatTokarahi 7­3towin the

VeteranGolf Pennant final.

Results: OpenSingles:CRoss beatD

INSTORE

DAYS 2021

1–2 JULY

Providing great deals foryour farm, every year since 1994.

Taylor 4/2,JWebb lost to WPowell 3/2, L

Mulligan beatLStratford 3/1, L

Mackenzie beat GSmith 1up.

Fourball: Ross andWebb beat Taylor

and Powell 3/2, Mulligan and Mackenzie

halved withStratford and Smith.

Veterans: Singles: SSmith beat S

McCulloch 2up, JBurrowes halved with

RSutherland, VSisson lost to D

McKenzie 3/2, BSutherland beat V

Clarke2/1;

Fourball: Smithand Burrowes beat

McCulloch and Sutherland 4/3, Sisson

and Sutherland beat McKenzie and

Clarke2up.

SHOP WITH PARTICIPATING SUPPLIERS

FROM 1JUNE &

ANEW

$29,350

OM

*T&C'S APPLY

RRPFROM

*T&C'S APPLY

ruralco@ruralco.co.nz

ruralco.co.nz 0800 787 256

race) has won both the 4.8km time trail and 19.2km scratch races at the Aoraki

secondary schools cycling championships. Competing in the Under 16 age group

category, the Year 12 student clocked 3minutes 39 seconds in the time trial and

an average speed of 39.2kmh.

RESULTS

Cycling

Mid Canterbury Social Wheelers; 18Riders,

19th June 2021. 16km. 1st. Brian Ellis CT. 32.31s

HC. Go. RT. 32m 31s. 2nd. Liz Wylie CT.32.31.

HT. Go. RT. 32m 31s. 3rd. Paul BrakeCT. 32.49.

HT. 6m. RT. 26m 49s. 4th. Roger Wilson CT.

32.50. HT. 6m. RT. 26m 50s. 5th. Daniel Gould

CT. 32.51. HT. 3.30m. RT. 29m 21s. 6th. Neil

Wylie CT. 32.52. HT. 6m. RT. 26m 52s. 7th.

Kenny Johnston CT. 33.45. HT. 2.20m. RT. 31m

25s. 8th. Andy Skinner CT.33.47. HT. 2m. RT.

31m 31m 47s. 9th.Debbie SkinnerCT. 33.48. HT.

2.20m. RT. 31m 28s. 10th. Brent Kircher

CT.33.49. HT. 3.30m. RT. 30m 19s. 11th. Sarah

Gould CT.34.17. HT. 2m. RT. 32m 17s. 12th.

Kerry Gould CT. 34.17. HT.2m. RT. 32m 17s.

13th. Richard Kirwan CT. 35.05. HT. 8.30m. RT.

26m 35s 4f/t. 14th. Ross Templeton CT. 35.06.

HT. 8.30m. RT. 26m 36s 5f/t. 15th. Doug Coley

CT. 35.08. HT. 8.30m. RT. 26m 38s. 6f/t. 16th.

Tony Ward CT. 35.23. HT. 10.30m. RT. 24m 53s

F/T. 17th. Mike Hansen CT.35.30. HT. 10.30m.

RT. 25m 00s. 2f/t. 18th. Michael Gallagher CT.

35.46. HT. 10.30m. RT. 25m 16s.3f/t.

Golf

Saturday 19/6/2021; President Cup top 16

PHOTO SUPPLIED

Knockouts: Winners are; Robbie Bell, Sean

Strange, Richard McKernan, Charlie Alexander,

Paul Clark, Matt Tait, Gaby Jansen and Josh

Coyle. Stableford round: The Radius Care player

of the day was: Don MacQuarters 36points, 2nd

Phil Kerr 35 pts, 3rd Bryan Donaldson. Other

winning scores were; Bruce Day 34, Craig Bain

34, Jaeyong Jang 33, Dave Fisher 33, Blair

Snowball 33, Dylan Stoddart 32, Ian Rive 32, Ron

Carlson 32, Hamish Niles 32. Twos: Dylan

Stoddart, James McFarlane, Paul Clark, Robbie

Bell, Dave Fisher, Grant Hastie, Trevor Watson,

TerryKingsbury. Nearest The Pins: Hole4#Doc's

Seafood Bar and Grill: Rob Coyle, Hole 8# 3

Stooges (BrownBombers): Dave Fisher,Hole 12#

South Island Seeds: Kay Fox, Hole 14# Value

Plus:Ian Rive, Hole6# Hamish Niles Shout!!: Sean

Strnage, Hole 9# Ton'sThai Longest Putt: George

Brown, Bonus Spot Prize: Alluvial Restaurant

Tinwald Spot Prize: Ray Lambert, Birdie Jackpot

Hole: #4Nett Eagle Jackpot Hole: #17 Nine Hole

Results: Stableford: The Harvey Bakehouse team

of the day was Gavin Johnston and Peter Woods

22ptsOther winning scores were: Hughie Murchie

&Tonee Hurley 21pts and Murray Lister &Chris

Anderson 19pts.

50 *T&C'S APPLY Ashburton College cyclist Maddi Lowry (pictured on the start line for the time trail

Ashburton's Rothbury Insurance local business Brokers

are insurance Ashburton's specialist, local business

insurance whatever business specialists you're in

The recent weather event in Ashburtonhas highlighted the importance of havingthe right insurance.

We are providing ongoing supportand guidance to our clients affected by the recentflooding.

For quality advice on insurance solutions tailoredtomeet your needs,get in touch today.

Peter McAuliffe

Commercial Broker

P: 021 288 8303

E: peter.mcauliffe@rothbury.co.nz rothbury.co.nz
---
FEATURE

28 Ashburton Courier, June 24, 2021

www.ashburtoncourier.co.nz

QualityEuropean

Vehicle Servicing

•Advanced

Diagnostics

•Experienced

Technicians

Bruce McIlroy Limited

309MethvenHighway, Ashburton 7776

Tel: 03 3087282•E:bruce.mcilroy@xtra.co.nz

MTAAPPROVED

Call us for a

FREE

QUOTE

•Collection/Delivery

'Free of Charge'

in Ashburton

2380069

:: ROBBIE :: KYLE :: WILLIAM

Your safety is our concern!

Don't wait for your WOF toexpire ifyou think

there issomething wrong with your car!

•WOF •Servicing •Tyres •Suspension •Steering •Brakes

• Exhaust specialists •Batteries •Mechanical repairs

Cnr Cass and South Streets, Ashburton

P 03 308 9984 F 03 308 9910

M 0274 999 565

E undercars@robbies.co.nz

OPEN SATURDAYS FOR WOF, 8.00am to 12 noon

2387854

2380074

Mercedes Benz AClass AMG 45 Shatch.

Merchatchtopperformer

BY BOB NETTLETON

There areaplethora of high performance'hot

hatches' on our market, but fewoffer

anywhere near the'sizzle'ofthe sensational

Mercedes Benz AClass AMG 45 S.

Thisscintillating compact five­door hatch

is in aperformanceleague of it's own and a

major driving forceinthis vehicles

development. Mercedes Benz has created a

2.0 litre turbo charged motor that's the most

powerfulonthe planet, withanoutput per

litre of 155 kW.The new­generation

Mercedes­AMG A45S4MATIC liftsthe

performance bar much higher than its hard

charging predecessor, and afull redesign

from the engine and transmission throughto

the bodystructure.

This isn't acar for thefaint hearted in terms

of both performance and price.Asix digit

$111,000 basepricesticker sees to that. An

optional AMG edition1package on thetest

vehicle pushed the asking priceout to a

whopping $119,000. Even taking into account

the phenomenal performanceonoffer, thisis

still aseriously large sum of moneytooutlay

for asmallishhatch, albeit no ordinary one.

At the heart of this model is amilestone

engine designachievement for Mercedes­

AMG –aturbochargedfour­cylinder engine

generating an astonishing 310 kW of power

and 500 Nm of torque.Ithas the perfectgearchanging

companion in anew 8automatic

dual­clutch transmission ready to play hard

and fastwith eight ratios at is disposal, and

gearshiftsmeasured in milliseconds.

Incredibly quick off the mark and super

responsive rightacross the rev range,thisisa

genuinehard­wired performancehatchthat

lives up to all the hype around it andmore. A

delightfully throatysporty exhaust note

provides the perfect sound track, for one of

the rockstarsofthe premium 'hot' hatch

scene.Almost as impressiveasthe withering

performance, is just howreadily it adapts to

the motoring mundane such going to the local

supermarket forthe weeklyshop.This 'hot'

hatch will be one of the coolest customers in

the supermarket carpark!

The testcar wasimpeccablyfinished. All

the switches andcontrolfor lights, wipers and

indicatorsare easy to find andoperate. This

is acompact luxuryhatch withonly adequate

passenger andload space.

Standard safetyincludes drivingassistance

package, active lane change assist andmulti

beam headlights with adaptivehigh beam

assist, sparingthe driver the tedioustaskof

dipping the vehicles lights foron­coming

open roadtraffic at night.The test carrode

regallyonimposing 19­inchalloys, while the

driver is kept snugand comfy in AMG

Performance Seats.

AMG'sPerformance4MATIC all­wheel

drive systemisstandard. WithDYNAMIC

SELECT, the vehiclecharacteristics can be

tweakedbyasimple touch of abutton, that

seesthe systemset about modifying the

engine, transmission, suspension,steering

andair conditioning to meet thedriver's

preferences. There are fourdriving modes,

"Comfort", "Sport", "Eco" and "Individual".

This is technologythat works andlargely

delivers on what it promises. You would

expect, wellatleast Idid, that ride quality,

would take abackseat in such ahyper

focused performancehatch. To Mercedes

credit,they have factored in enough bump

absorbency ability to effectively manage

invasive suspension noiseand much of the

abrasiveness associated with asuspension

system tuned for optimumroad holding. The

handling like the performanceisprodigious

with levels of grip andtraction from the

suspensionand 4WD system, that arenext

level and beyond. Mercedes have pulled offa

stunner to produce arideand handling

package worthyofthis genuine X­factor

performancehatch.

Ratingout of 10: Performance9,Handling

9, Build Quality9,Comfort8,Styling7,Fuel

Economy, Rightcarwebsite figure not

available, on road test average consumption,

9.4L/100km,Value for money,6,Safety,

ANCAP crash rating, five star.

Overall points out of 10: 8.5

Restoration Rust repairs Insurance claims -Your vehicle your choice

Deal directly with the owner, Bill Johnson

Panel beating and painting on all vehicles, including horse floats, caravans and small boats

2380072

16 -18Cass Street, Ashburton l E: johnsons.panelpaint@gmail.com
---
RURALCO INSTORE 2DAY SPECIALS

Ester-plex 600mg

RRP $33.00 $

14 .99

Purchase any product

and receiveaFREE GIFT.

While stocks last

Specials available 1st and 2nd July 2021 only

•Phone 3086661•

•182 East St,Ashburton •

•Mon-Fri 9.00am -5.30pm •

2393084

TWO DAYS ONLY

Buy one

get one

FREE

Hair &Lashes

Skin &Nails FX

$

14 .99

Vision FX

$

14 .99

Specials available 1st &2nd July 2021 only

67 Harrison St

Ashburton

P (03) 308 6030

F (03) 308 9900

2393065
---
1400x600FX

ADJUST DOOR TO SUIT MIN

REQUIREMENT FOR BRICK

VENEER WALLS (MIN 230mm

EACH SIDE OF DOOR)

800x2100

660x1000DH

BCU7760229

B65

B20R

CrossSection 6

SB78

1520x1 100DH

SB13661

CrossSection11

1600x1 200DH

U4960229R

RB84

U6060229R

800x2100

917x2150

30/30/30 FIRE WALL

1010x2 100

800x2100

1520x1 100DH

2000x2 100

2000x2 100

660x1000DH

W

U3160229R

REF.

B60R

SB78

900x2210

B60144R

B117

U11069229

3000x2 150

1400x600FX

RB89

B49R

B71

DISREGARD CLADDING

RETURN (AS SHOWN BY

DRAWING PROGRAM)

DOOR REVEALS GO TO THE

FULL WIDTH OF THE ENTRY

2405 2405

NOTE:

GIB AN

ROOFI

END O

END O

Town To Country

3480

1400

14 238

7359

1701

NOTEAL

ALLWET

F5

9878

8530

SB11847

SB4835R

SB179

B71 Dishwasher(no (noknobs) [592]

8088

16 170

1200

2282

4420

F5

NOTE AL

ALLWET

27 0x2 150

B60117R

8576

5396

3090

1400x1 200DH 1400x2 150TA 1400x2 150TA

B60117R

B3430R

600

600

BCU6060229R

F5

F4

F2

F2

SMOKEDETECTOR

F2

U6060229R

U7760229

F3

S11

F2

ACCESS HATCH

HEAT PUMP

INSULATEGARAGEWALLS TO FORM

THERMALBREAK

F1

1190

F5

F3

3550

D/W

4260 1527 2300 1701

9 878

METER BOX

1348

F5

INSULATEGARAGEWALLS TO FORM

THERMALBREAK

60/60/60 FIRE WALL

3190 600 999 6791

11 760

LIVING

F2

F2

BED 2

1710x2 100 ROBE

800x2100

800x2100

SB4835R

F2

WC

Dishwasher(no knobs) [592]

D/W

3480

S6

KIT- DINNING

F3

F2

U3060229R

U1864229R

REF.

SMOKE DETECTOR SYSTEM

BED 1

750x2100

800x2100

F3

LINEN

ROBE

F2

750x2100

800x2100

1090

BED 3

F2

ROBE

F4

600

CLY. LINEN

BATH ROOM

SB11847

800x2100

1400x600FX

ACCESS

HATCH

LAUNDRY

INSULATE GARAGE WALL TO FORM THERMAL BREAK

F1

GARAGE

60-60-60 FIRE WALL

5772 2804

8576

30/30/30 FIRE WALL

3410 600 1000 3000 1200 2000 4420

16 170

90 6,760 90 2,500 90 2,000 90 2,800 90

Site Layout

140 4,714 90 5,846 90

LIVING AREA OVER CLADDING- 136.4m 2

90 1,200 90 700 90 3,766 90

90 2,000 90

90 6,000 90 600 90 2,810 90

DR

90 2,376 90

3,466 90

140 1,200 90 3,424 90 1,000 90 1,200 90 Sample Floor Plans

cnr Kermode &William Streets, Ashburton

Check out this exciting new development!

Amixture of 2&3bedroom houses to be constructed by one of the premier building companies inMid

Canterbury. Construction is well under way for these stunning new town houses.

Easy walking distance to the new shopping complex onsouth street that iscurrently being built, or if you

want to stroll into the Town Centre that isalso an easy commute byfoot.

These houses will have ahigh quality of finishes.

Looking for that turn key property then look no further than these.

2bedroom units are priced from $492,000 and 3bedroom unit from $537,000.

Units currently under construction sizes:

•Unit 4–117sm •Unit 5-126sm •Unit 6–136 sm

Don't miss this opportunity to secure atop quality home in agreat location.

2-3 1 1-2

Price: Enquiries over $492,000

View: By Appointment

https://rem.ax/3q05z30

Jarrod Ross |027 259 4644

jarrod.ross@remax.co.nz

Vince Carr |027 434 6634

vince.carr@remax.co.nz

RE/MAX Town to Country

remaxtowntocountry.co.nz | Each office independently owned and operated

Town to Country Real Estate Ltd | Licensed REAA 2008

ADDRESS: 35b Archibald Street, Ashburton

OFFICE: 0800 REMAX T2C or 0800 736 298
---
Celebrate the very best

of winter in one ofNew Zealand's

most picturesque alpine villages

Hanmer Springs kicks off its first-ever Winter Festival

this July. Gather your friends and family for this epic

wintry line-up, featuring all this and more ...

•Ice Skating: 1 st July –1 st August

• NEW Winter Wonderland Window

&Lights Display: 1 st –31 st July

•Hanmer Springs Winter Fete: 2 nd July

•Masquerade Winter Ball: 3 rd July

•Hanmer 10&Kids 2km Twilight Dash:

10 th July

• NEW Activity Hanmer Family Challenge

Weekend: 16 th –17 th July

• NEW Hanmer Springs Hotel

Mid Winter Dinner: 17 th July

•Honour Festival Winter Wellness

Retreat: 18 th July

•Canterbury vsTasman Rugby Match: 23 rd July

•Hanmer Springs Ski Area Open Day: 24 th July

• NEW Amuri Rams Golden Oldies

vs New Brighton Rugby Match: 25 th July

www.visithurunui.co.nz/events
---
WANT TO LIVE AT LAKE HOOD?

15 LudlowDrive,Ashburton, Canterbury

3beds 2baths 220m2 floor 885m2land

This great family home will satisfy all your needs!

Consisting of 3bedrooms with the master bedroom upstairs,ensuiteand walk-in

wardrobe.

Open plan living,with agreat outdoor area off the main living room.

Good sizeopenplan kitchen with great flowthrough to the dining area.

OPEN FOR VIEWING

12:30pm -1:30pm

this Sunday, June 27

Plentyofroom in the double garage to accommodateyour car and boat etc.

Very privatehomewith welcoming backyardand shelter.

Plentytolikeabout this sun drenched home,veryhandy to the LakeHood tennis court

and residents boat ramp.

OPEN HOMES

Offers over $600,000

Saturday26June 11am -11:30am

AUCTIONREMINDER

4homes and 1section,cornerNormanby&Cridland Streets,Rakaia

Thursday, 1st July, 2pm at the Rakaia RugbyClub Rooms

TWOBEDROOM CUTIE

19 NormanbyStreet, Rakaia

2beds 1bath 107m2 floor 492m2 land

This twobedroom house is awaiting its newowner -the perfect home if

youare wantingtoget on the property ladder.

Easy caresection, surrounded by qualityhouses. Open plan living with

tasteful fittings and fixtures.Double glazedhome with log fireonwet

back,alarmsystem and plentymore.

GOLDENGEM ON CRIDLAND

11 Cridland Street,Rakaia,

2beds 1bath 88m2 floor 391m2 land

This wee2bedroom gem is perfect forthose wantingtodownsizeor

would likeaneasy care, lowmaintenance home to live in.

Seldom doyou findsuchabeautyinawell sought afterareathat is close

to all the amenities the townofRakaia has to offer and within walking

distance of the nearby river.

SENSATIONAL EXECUTIVE HOME

13 Cridland Street,Rakaia

3beds 1bath 112m2 floor 480m2 land

Sittingonaneasy carebacksection that is mostly fenced,you will be

instantly impressedwith the style and comfortthat this gorgeoushome

has to offer.

Exuding class with high qualityfinishes,this is the type of home youwill

be able to walk in to and not touch athing!

Remax.co.nz

Town to CountryReal Estate

35b Archibald Street,Ashburton

027 259 4644

Licensed REAA 2008

Each officeindependently owned and operated

Jarrod Ross

Your Auction Specialist

Ph 027 259 4644

jarrod.ross@remax.co.nz

EASYCARE FAMILY FAVOURITE

17 ANormanbyStreet,Rakaia

*4 beds *2 baths *212m2 floor *1045m2 land

This well configured relocated showhomehas neverbeen lived in so

is likeabrand newhomeminus the price tag! Boasting 4well sized

bedrooms including amaster bedroom with walk-in wardrobe and

ensuite, this home ticks all the boxesfor youand your family.

Thefully fenced, easy careback section is plentybig enough forthe

family pet and the kids to have their trampoline, completewithaprivate

outdoor area -perfect forentertainingguests.

WEST SIDE SECTION

21 NormanbyStreet, Rakaia

592m2 land,surroundedbyrecently located modernhousesthat have

neverbeen occupied.

Very handy location to Rakaia School and townamenities.

2393897
---
Fresh from the ocean to your plate

Allyour favourites plus your choiceof

freshly battered or crumbed fish

Always fresh –never frozen

•Gurnard

•Blue Warehou

•SilverDory

•Blue Cod

•Lemon Sole

•House

smoked fish

HOURS

Thursday

4:00pm–late

Friday,

Saturday,

Sunday

12:00pm –late

• Terakihi

•Moki

• Gem

• John Dory

Ourfish is sourcedfresh and whole,processed on siteby

Ashburton's ONLY residentfishmonger,thenfreshly cooked to order.

DOCKS

BAR &SEAFOOD GRILL

Chooseour fishof the dayorafilletfrom

our menu.

Chips are

homemade

traditional

fries or

McCains.

•GFoptions

available

FRESH

WHOLE FISH

nowavailable

to purchase

HOURS

Thursday

4:30pm–8:00pm

Friday

4:30pm–9:00pm

Saturday

4:30pm–8:30pm

Sunday

4:30pm–8:00pm

90-92 Harrison Street,Allenton, Ashburton

(oppositeAllentonShopping Mall). Tel03423 21 66

88 Harrison Street,Allenton, Ashburton

(oppositeAllentonShopping Mall). Tel03307 7637

2393446
---
DP 38803

DP 38803

DP 38803

DP 38803

DP 38803

DP 38803

DP 38803 DP 38803

DP 38803

DP 42954

RT CB 21A/957

RT 306412

DP 42954

DP 42954

RT 306412

ROAD TO VEST IN

ASHBURTON DISTRICT COUNCIL

RT 306412

DP 42954

DP 42954

DP 214

DP 376214

DP 20737 DP 21231

DP 21231

DP 21231

DP 21231

DP 21231

DP 381992 DP 381992

DP 381992

87959

06412

DP 21572

DP 22147

DP 22147

DP 22147

DP 22147

DP 22147

DP 22147

DP 512062

DP 22147

DP 22147

DP 22147

www.ashburtoncourier.co.nz

PUZZLE PAGE

Ashburton Courier, June 24, 2021

35

CRYPTIC CROSSWORD

1 2 3 4 5 6 7

8 9

10 11

12 13 14

15 16 17

18 19 20

21 22

23 24

25/6

Across

1. King Goldfinger?(5)

4. Principalmale character, in bedwith

acigar (7)

8. Feel that it is common, with nous (5)

9. Onemaking anoise in the leaves will

be acattlethief (7)

10. Messofspilledtype one could get

one'steeth into (3)

11. King,atpresent on theshelf,is

acquired with learning (9)

12. Whatonthe watering-can maybe

wateringthe hybrid tea(4)

13. In Europe, South Africa showedone

who sold hisbirthright (4)

18. How to breathe in and sleep during

the winter (9)

20. It'snot an impediment if it'sadded to

decoration(3)

21. He sharedBritannia's weapon (7)

22. Threadthe end of theropethrough

for abird (5)

23. Withsex appeal,sendsamixture of

tristfulness(7)

24. Tearsabout andscolds one (5)

Down

1. Wronglyunderstands schoolmistress

is about to arrest somebody (13)

2. Theywere perilsthatRed sang about

(7)

3. Perhaps asks about physical

education as one gives utterance(6)

4. Motor it is goodfor theFrench to

haveacopy of (6)

5. How could the East slay one?Without

difficulty!(6)

6. Intoxicated, whichmadethings run

smoothly (5)

7. 75% of rugby players(5-8)

14. Amonarch's man is somethingto

talk about (7)

15. Grumbleaboutabird being game

(6)

16. Skips about with theflower-buds in

pickle (6)

17. Awfulfear of lastrecentmistake (6)

19. One quietly appearinginthe cot, a

two-footer(5)

SUDOKU

Fill the grid so that every column, everyrow and 3x3

box containsthe digits 1to 9.

QUICK CROSSWORD

1 2 3 4 5 6

7

8 9

10 11

12

13 14

15 16

17 18 19

20

21 22

23 24

Across

1. Lure(4)

4. Reveal(6)

8. Obvious(7)

9. As a result(5)

10. Noblewoman (4)

11. Heaven (8)

13. Infamous(9)

17. Spam (4,4)

19. Sketch (4)

21. Series of repeated

events (5)

22. Expression of

regret (7)

23. Planteaten raw

andused in salads(6)

24. Punctuation mark

(4)

Down

2. Desert (7)

3. Snare (4)

4. Outstanding (13)

5. Hunter (8)

6. Populartakeaway

(5)

7. Ward off(5)

8. Chime (4)

12. Runinpanic (8)

14. Grave (7)

15. Throwout (5)

16. Not at home (4)

18. Recess(5)

20. Brazen (4)

CODECRACKER

QUICK CROSSWORD

Across: 1. Bait,4.Expose, 8. Blatant,9.Ensue, 10. Lady, 11.

Paradise, 13. Notorious, 17. Junk mail,19. Draw,21. Cycle,22.

Apology,23. Celery,24. Dash.

Down: 2. Abandon,3.Trap, 4. Extraordinary,5.Predator,6.Sushi,

7. Repel, 8. Bell,12. Stampede, 14. Serious, 15. Eject,16. Away,

18. Niche,20. Bold.

CRYPTIC CROSSWORD

Across: 1. Midas 4. Cheroot8.Sense9.Rustler10. Pie11.

Knowledge 12.Rose13. Esau 18.Hibernate 20.Bar 21. Neptune

22. Reeve23. Sadness 24.Rates.

Down: 1. Misapprehends 2. Dangers3.Speaks4.Carbon5.

Easily6.Oiled 7. Three-quarters 14. Subject15. Grouse 16.

Capers17. Terror 19. Biped.

TARGET

coke core cores cork corks

corky corset cost cosy cote

coyer coyest crest cyst

escort recto restock rock

rocket rockets rocks rocky

score scoter sect sector

SKYROCKET sock socket

stock stocker stocky torc

MEDIUM HARD

EASY

TARGET

K R O

K C T

E Y S

Good 16

Very Good 22

Excellent 28+

ALL PUZZLES ©THE PUZZLE COMPANY

How many words of four letters or more can you

make? There is at least one nine-letter word.

Each letter may be used only once and all

words must contain the centre letter.

No words starting with acapital, no plurals

ending in sunless the word is also averb, e.g.

he fires the gun.

Lot 6

Grove Street

Grove Street

Grove Street

Selling

StageOne

SectionsFrom600m 2

From $170,000

Lot 8

50

1130m²

1135m²

945m² net 950m² net

51

765m²

52

765m²

53

835m²

Lot 7

300

LOCAL PURPOSE (UTILITY)

RESERVE TO VEST IN

ASHBURTON DISTRICT

COUNCIL

H

4750m²

G

Lot 10

Lot 9

48

770m²

47

770m²

46

Lot 11

49

600m²

45

610m²

Stage One

Lot 12 Lot 13

Lot 14

41

895m²

42

780m²

43

780m²

Marked A

DP 342954

44

610m²

200

2960m²

RECREATION RESERVE

TO VEST IN ASHBURTON

DISTRICT COUNCIL

Lot 2

Marked D

DP 376214 810m²

Marked E DP 376214

Lot 1

40

655m² 650m²

39

655m²

38

645m²

680m²

54

88

855m²

760m² net

Lot 3

35

36

655m²

37

655m²

690m²

87

520m²

101

1065m²

100

5915m²

55 56 57

685m²

660m²

660m²

660m²

31

Lot 4

33

32

89

615m²

34

Lot 5

30

650m² 650m² 645m²

ROAD TO VEST IN

ASHBURTON DISTRICT

COUNCIL

58 59

I J K L M N O P

855m² 855m²

740m² net

740m² net

L 2

Lot 1

29

60 61 62

685m² 690m² 680m²

Lot 2 Lot 1

Pedestrian siteaccess

from Grove Street

22

21

745m² ² ²

685m²

63 64

Lot 2

20

65 66

695m²

Lot 3

Lot 4

N

68 69

855m² 855m² 885m² 750m² 810m² 950m²

740m² net

600m² net

580m² net

720m² net

740m² net

740m² net

Lot 5

Lot 2 Lot 1

m

Lot 3

A

73

525m²

74

525m²

Lot 2

10

810m²

705m² net

Lot 1

8

815m² 715m² 725m² 720m² 720m² 720m²

m

75 76

78

655m²

77

665m²

Lot 2

730m²

Lot 3

765m²

Lot 4

730m²

Lot 5

730m²

Lot 1

730m²

720m²

80 81 82 83 84 85

Lot 6

Lot 7

730

Lot 8

Lot 9

Grahams Road

Proudly

marketedby

RayWhite

Ashburton

Contact

BruceMcPherson027 438 4250

or KimMiller 027 2368627

Forfull details visit rwashburton.co.nz

or phone 03 3078317
---
2393631
---
Selling

Fast

SATURDAY 26TH JUNE

6Williamson Place, Ashburton 11:00-11:30am 3 1 2 AHB23135

27 Brucefield Ave, Ashburton 11:00-11:30am 3 1 2 AHB23088

8Bird Street, Ashburton 11:45-12:15pm 3 1 0 AHB23059

18 Coniston Drive, Ashburton 12:00-12:30pm Section AHB23077

102 Eton Street,Ashburton 1:00-1:30pm 3 1 0 AHB23146

Hut 22, LowerHakatere 1:00-1:30pm 2 1 0 AHB23143

Ashbury Grove,Tinwald 1:00-3:00pm Sections AHB23099

SUNDAY 27TH JUNE

NO OPEN HOMESTODAY

View our listings online at:

rwashashburton.co.nz

Agent on Site

AshburyGrove, Tinwald

Now you can stampyour name on your family's

futurewith anew home in Ashbury Grove,

Ashburton's latest residential subdivision.

The launch ofthis development, situated on the road

to Lake Hood, offers aunique opportunity to become

part of athriving community in family-friendly

Tinwald. With awonderful platform for homes to suit

people's budget and lifestyle.

ForSale

Asking Price From $170,000

View

Saturday1:00 -3:00pm

[Agent on Site]

BruceMcPherson

027 438 4250

Kim Miller

027 236 8627

rwashburton.co.nz/AHB23099

Real Estate Mid Canterbury Property Limited LICENSED (REAA 2008

102 Eton Street, Ashburton

3 1 0

*Fantastic renovation opportunity

*985sqm Section

*Large Kitchen and separate lounge

*Rare opportunity not tobemissed

rwashburton.co.nz/AHB23146

Real Estate Mid Canterbury Property Limited LICENSED (REAA 2008

SetDate of Sale

Mark Totty

closing 5July2021, at 4:00pm 021 664 113

(unless sold prior)

View

Saturday1:00 -1:30pm

19 Kingsbury Road, Rakaia

This is what aKiwi Bach should be -Peace and Quiet.

Located on the coast 20km east ofthe RakaiaTownship.

Properties in this settlement donot come up often and are

generally snapped up quickly.Just sit and relax.

ForSale

Offers over$279,000

View

by appointment

2 1 2

Mike Grant ncre

021 272 0202

19 Peters Street, Hinds

-A4bedroom house with open plan living space (tenanted)

-Atwo bedroom unit upstairswith adouble garage below

(tenanted)

-Acommercial style building containing acafe (tenanted)

-Aretail area of approx. 225sqm adjoins the cafe with

multiple rest rooms (not tenanted)

Tender

BruceMcPherson

closing 8July 2021, at 4:00pm 027 438 4250

View

by appointment

Denise McPherson

027 242 7677

rwashburton.co.nz/AHB23082

Real Estate Mid Canterbury Property Limited LICENSED (REAA 2008)

rwashburton.co.nz/AHB23137

Real Estate Mid Canterbury Property Limited LICENSED (REAA 2008

Kim Miller

Sales Consultant

027 236 8627

Denise Russell

Sales Consultant

0274 329 717

ChrissyMilne

Sales Consultant

027 290 6606

Cheryl Fowler

Sales Consultant

027 461 2614

Margaret Feiss

Sales Consultant

021 751 009

ShirleyFitzgerald

Sales Consultant

027 220 1528

Denise McPherson

Sales Consultant

027 242 7677

Janene McDowell

Property Manager

027 287 3388

Armandvan der Eik

Sales Consultant

021 597 527

Lynne Bridge

Sales Consultant

027 410 6216

Mike Grant ncre

Sales Consultant

021 272 0202

Mark Totty

Sales Consultant

021 664 113

BruceMcPherson

Sales Consultant

027 438 4250

Justin Waddell

Sales Consultant

027 437 1111

Carey VonLubke

Property Manager

027 697 6948

96 TancredStreet, Ashburton 03 307 8317 Main Road,Tinwald 03 307 8317

rwashburton.co.nz

36 McMillan Street,Methven 03 303 3032
---
NEWS

38 Ashburton Courier, June 24, 2021

www.ashburtoncourier.co.nz

New bins going in at skate park

New rubbish and recycling bins with

'street­cred' willbeinstalled at

Ashburton's skate park following asurvey

of users.

Members of the Ashburton Youth

Council (AYC) commissionedthe bins

after surveyingskaters and visitors at a

recentskate jam event, which attracted

about 150 people.

Surveyresults identifiedthe bins as an

area of concern and AYC membershave

SPORTS DRAWS

HOCKEY

Drraw 28 June to 4July

Div 1Women Monday 28 June 6.00 pm

Hampstead vMethven (K McIntyre, JGray)

7.30 pm Wakanui v Tinwald (C Hastie, M

Marshall)

Div 1 Men Tuesday 29 June 6.00 pm

Tinwald vAllenton (B Gray, SMealings) 7.30

pm Wakanui White v Wakanui Black (C

Watson, ASoper)

Kwik Sticks Wednesday30June 3.45 pm

Tinwald Bonnington Painting v Wakanui

Black (B lw-1Greer, S Geeson) 4.55 pm

Wakanui Blue vMethven Black (G Oates, L

Ellis) 6.05 pm Collegians/Rakaia vAllenton

(Wakanui Div 2Men, Allenton Div 2Men)

7.15 pm Tinwald Engineering Solutions v

Methven White (Hampstead Lowcliffe Div 2

Men, Tinwald Div 2Men)

SSL Girls Div 1Championship Nga Puna

Wai 25.00 pm Ashburton College 1st XI vSt

Andrew's College 2nd XI (Umpires supplied)

SMALL STICKS DUTY CLUB: Wakanui

Kiwi Sticks (Yr 5) Friday 2 July 3.45 pm

Tinwald Foothills vWakanui -Turf a(JMuir

+SFrench, HKidd) Tinwald The Tool Shed

v Allenton/Hampstead - Turf b (T Ellis, R

Kidd) Methven (BYE)

Kiwi Sticks (Yr 6) 4.30 pm Collegians/

Rakaia vAllenton -Turf a(JMuir, RKidd)

Rakaia Blue vMethven -Turf b(KMcDonnell,

HKidd) 5.15 pm Tinwald Smith &Sons v

Wakanui Black -Turf a(KMcDonnell, DLaw)

Wakanui Blue vTinwald Foothills - Turf b

(Wakanui Purple Div 2 Women, Wakanui

Black Div 2Women)

Div 2Women 6.15 pm Wakanui Purple v

Wakanui Black (Wakanui Div 1 Women,

Hampstead Div 1Women) 7.30 pm Hampstead/Tinwald

vMethven (Wakanui White Div

1, Men Tinwald Div 1Women)

SSL Boys Div 1Marist Park @StBedes

College 7.10 pm Ashburton College 1st XI v

St Bede's College 2nd XI (umpires supplied)

SMALL STICKS DUTY CLUB: Wakanui

Saturday 3 July Mini Sticks 10.00 am

Methven Black v Allenton Golds - Turf a

(Coaches) Tinwald Mayfield Transport v

Wakanui Black -Turf b(Coaches) Allenton

Mini Magic v Methven White - Turf c

(Coaches) Wakanui Blue vTinwald Skip-2-It

-Turf d(Coaches)

Fun Sticks 11.00 am Draw made on the

day (Coaches)

Snr Men (Canterbury Div 1Men Champs)

Marist Park @StBedes College 11.45 am

Mid Canterbury vSouthern United Sluggers

(Umpires supplied)

Div 2 Men Sunday 4 July 5.00 pm

been working with council and its waste

sustainability education contactorEco

Educate on asolution.

The new binswill be installed by

council and will include aglass and

recycling unit, and aseparate general

waste bin.

They will be located at the southern

end of the skate park.

Councillor LynetteLovettsaid the

skate park is apopular hangout and the

Hampstead Lowcliffe v Tinwald Orange

(Tinwald Div 1Men, Methven Div 1Women)

6.30 pm Allenton vTinwald Black (Wakanui

Black Div 1, Men Allenton Div 1 Men)

Wakanui (BYE)

GOLF

Ashburton Golf Club - Saturday

26/6/2021:

Morning report 8:00am for 8:30am Tee

Off

Afternoon report 11:30am for 12:00pm

Tee Off:

9Holers report 12:30pm for 1:00pm Tee

Off

President Cup Quarter Finals Draw for

26/6/2021:

Number 1Tee:

1. 12:00pm: Robbie Bell vs Sean

Strange, Richard McKernan vs Charlie Alexander

2. 12:08pm: Paul Clark vs Matt Tait, Gaby

Jansen vs Josh Coyle

President's Plate Quarter Finals:

Number 1Tee:

3. 12:15pm: Barry Jury vs Paul Baird,

Kevin Smith vs Steve McCloy

4. 12:22pm: Tom Blacklow vs Paul May,

James McFarlane vs Dave Hampton

RUGBY

Saturday 26th June 2021

Seniors –Watters Cup Week 2

Celtic vMethven, Celtic1, 2:45pm Glenn

Peddie –AR1 Simon Bennett –AR2 Mike

Southby

Southern v Rakaia, Mayfield1, 2:45pm

Hamish Grant –AR1 Ant McGirr –AR2 Gary

Clement

Hampstead BYE

Senior B–

Celtic vMethven, Celtic1, 1:00pm Simon

Bennett

Mt Somers v Collegiate, Mt Somers1,

2:30pm Kalifa Faalogo

Southern vAllenton, Mayfield1, 1:00pm

Greg Jopson

COLTS Combined

Celtic v Lincoln, Celtic2 1:00pm Phil

Everest

Hampstead/Southern v Methven

Combined –DEFAULT

1st XV Miles Toyota Championship

RHS 1st XV vMid Canterbury Combined,

Rangiora1, 1:00pm

Under 18 Combined

Rangiora vMCRU Alps, Rangiora HS2,

1:00pm

Under 16 Combined

Rangiora Green vMCRU Alps, Rangiora

HS2, 11:20am

Rangiora Gold vMCRU Plains, Rangiora

HS1, 11:20am

Under 14.5 Combined

MCRU Alps vDarfield, Tinwald, 1:00pm,

Tinwald1 Linda Kelsall

MCRUPlains vMethven,Celtic3, 1:30pm

Moon Tuilaepa

Under 13

Celtic vMethven, Celt3, 12:15pm Liz Bell

Southern Combined vCollegiate, Hampstead1A,

1:00pm Tololima Senetenari

Rakaia BYE

Under 11.5

Celtic Green vMethven Black, Celtic2A,

12:00pm

Celtic White vMethven White, Celtic2B,

12:00pm

Hampstead v Methven Red, Hamp1A,

12:00pm

Southern vCollegiate/Rakaia Combined,

Mayfield4 12:15pm

Tinwald vAllenton, Tinwald2A, 1:00pm

Under 10

Celtic vAllenton, Celtic4, 12:30pm

Collegiate vMethven, Coll1A, 1:00pm

Southern vRakaia, Mayfield4, 1:15pm

Tinwald vHampstead, Tinwald3, 1:15pm

Under 9

Allenton v Celtic Green, Allenton2,

1:00pm

Celtic vMethven Black, Celtic4, 1:30pm

Hampstead v Methven/Mt Somers,

Hamp1B, 12:00pm

Southern vRakaia, Mayfield2A, 1:30pm

Tinwald vBYE

Under 8

Allenton Maroon vMethven/Mt Somers,

Allenton3, 1:00pm

Collegiate v Methven Black, Coll2,

1:00pm

Southern Blue v Rakaia, Mayield2B,

1:30pm

Southern White v Celtic, Mayfield2A,

12:30pm

Tinwald v Allenton Gold, Tinwlad3,

12:15pm

Under 7

Celtic Green vMethven Black, Celtic 4,

11:45pm

Collegiate v Tinwald Orange, Colle3,

1:00pm

Mt Somers vHampstead, Mt Somers2,

1:30pm

Southern Blue v Rakaia, Mayfield2B,

12:30pm

Southern Red vTinwald Black, Mayfield

3A, 12:45pm

Sothern White v Allenton, Mayfield3B,

new bins would encourageusers to have

pride in the park and help keepittidy.

"The new bins will be almostidentical

to the new bins goinginaspart of the CBD

upgrade," she said.

Youth Council membershave started

working on creatingdesigns for the

recycling and glassbins, with helpfrom

Eco Educate.

The binsshould be ready for use by

August2021.

12:45pm

Celtic White BYE

Under 6

Celtic Green vMethven White, Celtic1A,

12:15pm

Celtic White vMethven Black, Celtiv1B,

12:15pm

Mt Somers vHampstead, Mt Somers3,

1:30pm

Southern Blue v Allenton Gold, Mayfield3A,

12:00pm

Southern Red vAllenton Maroon, Mayfield3B,

12:00pm

Southern SvRakaia White, Mayfield 3A,

1:30pm

Southern White vRakaia Black, Mayfield

3B, 1:30m

Tinwald Black v Collegiate, Tinwald 4,

12:15pm

Tinwald Orange vTinwald Blue ,Tinwald

4, 1:00pm

Sunday 27th JUNE

Senior Women

Heartland Women's 10s comp @Methven

Round 1-10am:

South Canterbury/West Coast vs. Mid

Canterbury, Methven 1,10:00am

North Otago vs. Buller, Methv2, 10:00am

Round 2–11am:

South Canterbury/West Coast vs. North

Otago, Methv1, 11:00am

Mid Canterbury vs. Buller, Methv2,

11:00am

Round 3:

South Canterbury/West Coast vs. Buller,

Methv2, 12:00pm

North Otago vs. Mid Canterbury,Methv1,

12:30pm

BOWLS

ALLENTON BOWLING CLUB RESULTS

Next Events on the winter programme:

Friday 25th June Next round Hunt Trophy

3Bowl Triples 12 noon start

Saturday 26 June Next round Hunt

Trophy 3Bowl Triples 12 noon start.

Tuesday 29 rollup 1pm start

OUT AND ABOUT

JUNE26

Ashburton Lions Big Smoke vRural

Folk teamchallenge and auction,

Hotel Ashburton from 7.30pm.

Tickets $50, includes supperand

entertainment-tickets from

snowyriver5658@gmail.com

Matariki night market at Hakatere

marae on State Highway 1at

Fairton. Celebrating maori new

year. Foodand market stalls,

Matarikiexhibitions, childrens

activities, entertainmentand

giveaways. From 4.30pm to 7.30pm

at the marae on state highway1at

Fairton

JUNE26­27

Ashburton Bird Club annualshow.

Birds,seed and accessories.Entry

$5 foradults,under 16 free. The

showrunsfrom 1pmuntil 4pm on

June26, 9amuntil noon June 27.

Ashburton Model Aero Clubis

holding amodelfly-in at Harris

Scientific Reserve on Lovetts Road,

off Maronan Road in Tinwald from

9am to 4pm. (Weather permitting)

Publicwelcometoattend.

JUNE27

Mid CanterburyMagic Leisure

Marchersare holding aLeisure

Marching Fun Day, at EA Networks

Centre from 10.30amto1.30pm.

Opentothe public to view. Entryis

free.

TheAshburtonDistrict Family

History Group are holding their 40th

AnniversaryLunch at midday for all

pastand present members.For

details pleaseemailShirley D'Ornay

-shirley.dornay@gmail.com

Hinds Young Farmers ploughing

match, at Ian andChristine Lowe's

propertyatSwamp Road,Hinds.

10.30am start. All classes in action,

everyone welcome.

JULY1

Ashburton Hearing Association

hosted hearing seminar at Senior

Centre from 2pm,open to the

public, withguest speaker

Professor David Welch talking

about healthimpacts of noise. Gold

coin donation appreciated.

Apple trees 'confused'

Some of the apple trees in Dave

Thomson's orchard are confused

and have re­blossommed and are

now fruit­bearing.

The lifestyle blockowner lives

5km from Hinds and has about40

older variety trees on his property.

Every year the trees blossomin

Spring and Dave picks his apples in

February, before the birds get them.

He enjoys the fruit and feedsany

surplus to his animals.

Recent new blossom on three

trees caughtDave's eye and there

are now golf ball­sized apples

growing.

''I couldn't believe it. I'm

confused,the trees are confused and

they thinkit's spring again.''

He said autumn had been mild

this year,but the apples would not

enjoy and survivewinter frosts.

Dave, whoisretired and aformer

rural realestateagent, has lived on

his property for more than 20 years

and has never seenwinter blossom

or fruit before.

''It might be the sign of things to

come,who knows.''

Apple trees in Dave Thomson's Hinds

orchard are bearingunseasonal fruit.

PHOTO SUPPLIED

WANTED TO BUY

ANTIQUES &COLLECTABLES

WANTED TO BUY

FROM $10 TO $100,000

Collections, EstateLots,SingleItems

payuptofollowing prices:

Old Hotel Beer Signs, DB, Speights, etc. $300.

PetrolPumps $10,000. Oil Bottles,Petrol Oil Hand

Pumps, Enamel advertising signs $3,000. Metal

tractor seats $100. Arcade Games, Pinball,Flipper

Ball Games, One Arm Bandit Poker Machines

$1,000. Ships Lights and BrassPortHoles $500.

Ships Wheels $2,000. Glass Buoys, Life Rings,

Oars, small Clinker Dinky $1,500. Joinery and

Builders Tools,GluePots,Oil Cans, Scribes,Levels,

Plum Bobs, Screwdrivers, Chisels, Lath, Brace

Bits, Screws, old boxes screws, Vice Workbench,

TacHammers, Levels. Gold and Silver Jewellery,

Sovereigns $700. Gold $2,500 ozs. Bracelets,

Chains, Silver Tea Service $5,000. Candlestick,

Statutes, marble and bronze $3,000. Paintings,

Oak Gilt frames, Furniture.

WANTED TO BUY

Old Toys, Dinky, tin

plate,wound-up MoneyBoxes,collections,etc.

Phone Murray anytime

021 441 400

2392189
---
www.ashburtoncourier.co.nz

ENTERTAINMENT

ENTERTAINMENT

AshburtonClub&MSA

This Sunday27June,2:30pm

Tickets $25 available from the club

231 Burnett St, Ashburton03308 7149

BECKLEY'S PROGRAMME

4July -Triptothe Country(TheDiamonds)

replacing the flooding postponed date.

Depart9am

17 July -COURTTHEATRE musical "Once".

Matinee at 2pm

SELL

LPG

REFILLS

Small LPG cylinders

Off Street Parking

Available

Arthur Cates Ltd

26 McNally Street

Ph 308 5397

Riverside Industrial Estate

GARAGE SALES

2379296

MITSUBISHI upright freezer

for sale. One Bernina

Bernette 75 sewing

machine in good order for

sale. Phone 308 0064

Forbookings

308 7646 l 027 249 1827

GARAGE SALES

HospiceGarage Sale

70 Havelock Street,Ashburton

(former Sealy Street Medical Centre)

Saturday 26th June 2021

9am to 12pm

Clothing,Homewares,Furnitureetc.

CashorEftpos only.

GARDEN SUPPLIES

SELL

2391846

2394546

LPG REFILLS

9kg cylinders

$27.50

Askaboutour

deliveryservice

Anysizecylinder filled

17 Grey St,Ashburton

Phone 307 2707

GARDEN SUPPLIES

Ashburton

Plains Rotary

PEA STRAW ANDLINSEED STRAW

TheAshburtonPlains RotaryClub has

pea straw and linseed straw forsale.

Small bales of peastraw are$6delivered

andmedium squarebales of

linseedstraw are$40 delivered.

Stocks arelimited so get in quick.

Mediumsquares linseed phone

Colin -03307 1127

Small bales pea straw phoneIan 027432 0438

or Wim 027 423 5513

2379300

MOBILITY Scooter; Model

AMW Discovery 2016, 4

wheel, excellent condition.

$1,800. ono. Phone 308

8260 or 027 307 3645

2394525

2386366

GARDEN SUPPLIES

GARDENERS Specials.

Sheep Manure $8.bag. Pea

straw $5.bale. Mediumsquare

pea straw $60.bale,

linseed straw $50.bale.

Phone Alan 027 496 7136,

Ian 027 286 3697. AHinds

Lions Project.

WANTED TO RENT

BUSINESS FOR SALE

SITUATIONS VACANT

FRUIT &PRODUCE

POTATOES; Nadine and

Agria $1.25kg, or preordered

10kg bags $10.

Standard peastraw bales,

$5 pick up or $6 delivered.

Phone 03 308 3195 or 027

531 9103. 81 Elizabeth

Street, Ashburton.

WANTED TO RENT

WANTEDROOM

TO RENT OR BOARD

Single,professional male.

Shorttomedium term.

Phone 022 406 6075

BUSINESS FOR SALE

DRIVING MISSDAISY

FRANCHISE FOR SALE IN

ASHBURTON

We are looking for amotivated,

energetic franchise owner

for the Ashburton region.

If you are looking for anew challenge

and the chance to make adifference in

your community, become afranchise

ownerinthis growth sector.

$40,000plus GST, cars additional.

Apply online

www.drivingmissdaisy.co.nz/buy/e/np/

SITUATIONS VACANT

Stablehand Vacancy

Vacancyfor astablehand 25- 40 hours aweek in a

Harness racing stable basedinMethven.

Must be reliable and confident with horses and

willing to learntodrive,but consideration also

giventokeen reliable learner willing to learn.

OpportunitytocompleteLevel3&4Equine

Certificate.

Please email m.heenan@farmside.co.nz with

references or phone Michael Heenan 0272999604.

2393359

Office Administrator

Agreat opportunityfor atalentedadministration professional.

Join the team at AdvanceAshburtonCommunity Foundation and help make a

real differenceinour community.

We have over $15m in invested funds and we distributed $648,000 to worthy

causes in our districtinthe last year.

We have anew role of Office Administrator to run the Foundation office.

Up to 40 hours this varied role includes all aspects of officeadministration.

Also providing supportfor ourExecutive Officer, Board, committees,donors,

and grantrecipients.

We offer an immediate start, and agood hourly rate.

If youwanttojoin this progressiveorganisation please send your CV and cover

letter to

TheChair

AdvanceAshburtonCommunityFoundation

chair@advanceashburton.org.nz

Applications close July 7th 2021.

Aposition description and application form areonour website:

www.advanceashburton.org.nz

2391534

PART TIME

DAIRY FARM

ADMIN

MANAGER

Craigellachie Dairy Farms

Ltd is a family owned and

run fully self-contained

operation employing 11-15

full time employees. We are

situated 10 minutes north of

Ashburton.

We are seeking someone for

a newly created role. The

role will likely be 10-20 hours

aweek with some flexibility

on when in the week it is

carried out.

Remuneration by negotiation.

The ideal skills for the role

are below.

-

Ageneral understanding of

adairy farming business.

-

Cash Manager Rural /Focus

inputting and reporting,

GST returns.

-

A sound understanding of

payroll legislation and payroll

inputting.

-

An understanding of NAIT

and MINDA would be areal

advantage.

-

Record keeping/filing to do

with the staff records, H&S

documentation.

-

An organised person with

attention to detail and happy

to work by themselves and

as part of ateam. Some work

may be able to be done at

home going forward

-

As it is anew role, improving

on some existing systems/

procedures and developing

new/better ways of doing

some things.

Working mostly with the

business's General Manager

but also at times with my

father the business owner.

Virtually all of the Admin

work will be in the farms air

conditioned office. There is

no requirement with this

role to do any farm work but

if the person has adesire for

this we are happy to consider

this.

Please send CV and

references to Andy,

ajrgrant@hotmail.com (if

you have agmail account

please also send to

alangrant@xtra.co.nz, as I

do not always get gmail

emails?) If you have further

question please email those

as well.

AshburtonHealth First

PracticeNurse Full Time

Position available

NZMC Registered

Send CV's to

admin@healthfirst.kiwi

2394515

2394539

CLASSIFIEDS

Ashburton Courier, June 24, 2021

39

Experienced Office Manager

Andrew Quigley Contracting Ltd is a successful

agricultural contracting company with anenviable

reputationforprovidinghigh-qualityservicestoour

clients. We arebased in Tinwald,Ashburton.

An opportunity has arisen for an experienced,

highly motivated self-starter tojoin our team as

Office Manager. This role supports all day-to-day

requirements to keep the business operating

efficiently and effectively.You will lead and oversee

ateam of Administrators and Support staff in the

Finance, Administrative, Kitchen/Accommodation

facilities, HR and Health and Safety divisions of

QuigleyContracting.

KeyResponsibilities:

• Leading and developing ateam of administration

and supportstaff,providing ongoing training and

building depth and succession plans within the

team.

• Tobeakey player within our Senior Management

Team, having an excellent understanding of all

areas of the business, in order to supportthe dayto-day

running of Quigley Contracting aswell

as contribute tostrategic planning and decision

making.

• Supporting our CFO by ensuring financial

deadlines are met within your team, providing

monthly preparation and reconciliation of

accounts, reporting on annual and monthly

budget variances, debt collection and managing

all associatedday-to-day financialtasks.

• Key supporttoour General Manager

• Asset Management – work alongside our

Operations Manager & Fleet Manager in the

managementofall new and sold machinery.

• All aspects of people management within the

Admin/Support team including work allocation,

coaching, training, recruitment, performance

management, absence&discipline.

• Promote our culture of a close-knit team,

encouragingteamwork between all departments.

This position covers awide scope of responsibilities

and thereforerequires an individual withexperience

in managing, prioritising and delegating workload

in ahigh paced environment. Youwill also possess

thefollowingattributes:

• At least 5 years proven experience in a

managementand leadershiprole

• Strong financialacumen

• Must have aproactive approach and be able to

useown initiative

• Excellent analyticaland problem –solvingabilities

• Strong verbal and written communication

• Accuracy andattention to detail

• Abilitytomulti-task and prioritise your workload

• Ateam playerwith awilling 'can-do' attitude

• Customer focused,professionaland friendly

• Organised and methodical, with a flair for

administration andpositiveteam culture

• Advanced user of the Microsoft suite and the

ability to adapt to and implement new systems

and software. Experience with Xero and Sim Pro

would be an advantage but notessential

• Knowledge and/or experience within the

Agriculture Sector would be an advantage but

againnot essential

If youwish to apply forthis position in strict

confidence,please email your CV and covering

letter by Monday 12th July or forfurther

informationcontact:

ClareQuigley –clare@quigleycontracting.co.nz

CALF REARERREQUIRED

• 9km from Tinwald

• 650 cows

• Good facilities

• Workwith one other person

• Experiencepreferred but full training given

• Drive in only

• Hours and paynegotiable

• From2nd August to approx.17September 2021

Phone or text Janet 027601 6130

2393858

2394619
---
CLASSIFIEDS

40 Ashburton Courier, June 24, 2021

SITUATIONS VACANT SITUATIONS VACANT SITUATIONS VACANT

Position:

Location:

Hours of Work:

Refugee SettlementSupportVolunteer Coordinator

SaferMid Canterbury Offices, Ashburton

Part time 20 hrs per week

Purpose:

The Refugee Settlement Support Service isanewly established service in

Ashburton. Its purpose is to provide support and assistance toquota refugee

families who are resettling in Ashburton. This service will assist with the early

settlementneeds of former refugees,asthey slowly establish their new lives in

Ashburton. Ouraim istoassistfamilies to achieveindependenceand become

active participants in our community. In this role you will be working with

Afghan/Hazara refugee families as they embark ontheir new journey and life

in New Zealand adjusting to anew cultureand environment. This is an exciting

opportunitytobepartofthe Refugee SettlementSupportTeam.

TheIdeal candidate will have the following key attributes:

• Experienceincoordinating volunteer programs

• Knowledge and understanding of refugee resettlement, or other relevant

cross cultural experiences

• Abilitytobuild,sustain and actively manage relationships and networksof

people

• Excellentoraland written communication skills

• Excellenttime managementand people managementskills

• Ability to learn and relate appropriately with different cultures (this

includes dress codes,religious practices etc.)

• Empathy with humanitarian causes

• Haveknowledge of confidentialityand privacyact practices

• Haveadvanced computer skills,including Excel, Word, email and database

systems

• Hold acurrent motor vehicle driver's license and willing to travel tofulfil

job requirements

• Liveand work in the Ashburtonregion

• Enthusiasm and commitmenttoworkasateam member

This position is part time (20 hours per week) with some flexibility required

around when the hours will be worked.Itispreferred thatthe person liveinthe

Ashburton District. In return weoffer asupportive and flexible family friendly

work environment. If this sounds like youthen we would love to hear from you.

To apply please go to our websitewww.safermidcanterbury.org.nz to download

anapplicationformandviewthejobdescription.Pleasefollowallinstructionson

theapplicationform.Ifyourequireadditionalinformationorwishto apply,email

kathy.harrington-watt@safermidcanterbury.org.nz

Applications close 5pm, 9th July 2021

Horticultural

Opportunities

Our OpenSpacesteamproudly manageand maintain 86 parksand reserves

through our district. While their work is physically demanding, the results

of their effort goonshow for the entire community tosee providing much

satisfaction.

Performing arangeofamenity horticulturetasks, we arelookingfor someone

who is physically fit to join ourteam.

Our standardworking week is Monday to Friday,eight hourseach daystarting

at 7.30am.

To find out more about this vacancy

and what the Ashburton District

Council has to offer you -gotoour

website.

Applications close

Wednesday,30June 2021.

www.ashburtondc.govt.nz/careers

STOCK FOOD

HAY; smalls - Lucern, Clover,

Ryegrass mix $15+gst

per bale. Phone 308 1688

or 027 890 4180

TURN THE PAGE TO VIEW

MORE CLASSIFIEDS

2393641

SITUATIONS VACANT

SITUATIONS VACANT

Mayfield School is seeking a school secretary/

financeofficer to joinour team. Theposition would

be part-time, 10 hours a week involving both

secretarial work and financial tasks.

This position will suit aperson who is an excellent

communicator, well organised and ateam player.

This opportunity is for someone experienced

in finance, especially Xero also experience with

Novopay/Ed Pay would be advantageous but not

essential.

The successful applicant will be required

to successfully time manage the tasks and

interruptions that occur in the daily life ofour

busy school whilst meeting the administrative

requirements of the role.

Training with our current finance officer will be

provided.The startdate will be as soon as possible

by negotiation.

APPLICATION DETAILS

Please forward aCV, covering letter and at least 2

recent referees,outlining your skills and experience

to:principal@mayfieldschool.co.nz

Applications close: Friday 2July at 9am

Applications will be reviewed as they come in and

interviewsmay be held beforethe closing date.

This is aterm time only position. Salary will be

negotiated based on experience. Salary will be

competitive with similar roles in an education

setting.

2393763

Operations Manager

We are searching for amotivated and enthusiastic

person to take onthe role ofOperations Manager at

ourseedcleaningbusiness in Methven.

Prior seed cleaning experience is preferred but not

essential, however the right attitude and ability to

learnquicklyisparamount.

The position of Operations Manager is varied and

challenging andwould suit apractical,motivated and

ambitious person looking tofurther their career by

taking responsibility for the day to day management

of thebusiness.

The successful candidatewill:

•Betaughtthe artofseed cleaningtothe extentthat

they can proficiently set, operate and monitor the

performanceofarangeofseedcleaningequipment.

•Have hands-on participation in the practical

running ofthe plant including unloading trucks,

bagging,stacking, mixingand loadingout seed.

•Become trained and certified inforklift operation,

seed samplingand phytosanitaryinspection.

•Move seamlessly between physical work alongside

other staff onthe machine floor tosupporting

the Administration Manager particularly around

scheduling work, staff management including

health andsafety, andseedanalysis.

•Provide strong leadershipand managerialskills.

•Enjoyproblem solvingand practicalmaintenance.

•Have excellent communication skills and ability to

relate to clients.

•Take anactive role inbusiness development and

strategicplanning.

This position would particularly suit someone

currently working in the seed cleaning industry

who islooking for the challenge and reward that

management brings.

Remuneration package may include the use of a

three bedroom (+ office) house and company EV by

negotiation.

Applicants must be New Zealand residents currently

living in NewZealand.

Phone:JohnMcCaw 0274140157

Email: john@mccawseeds.co.nz

Postal:JohnMcCaw,McCaw Seeds.

PO.Box 37, Methven7745

2392602

www.ashburtoncourier.co.nz

SITUATIONS VACANT

SITUATIONS VACANT

SPRAY PAINTER/PREPPER

Afull time position has become available in our

Panel and Paintshop foraQualified Spray Painter.

Theposition requires

• Good work ethics

• Have ahigh standardindetail and finish

• Tobereliable

• The abilitytoworkunsupervised

• Toworkinateam and meet production deadlines

• NZresidencyorvalid NZ work visa

Please send resume and cover letter to

TheGeneral Manager

Bus and Truck Body Work Ltd

PO Box51, Ashburton7740

Phone Keith on 0274 274 007 or 307 0378

Email busandtruckbodywork@xtra.co.nz

Care GiverPositions at

MethvenHouse

NightCarer

Casual Carer TemporaryCarer

We arelooking foranexperienced NightShiftCare

Giver and Casual Carer to join our dedicatedteam

at MethvenHouse.

NightShiftCarer

• Responsible in providing personalised caretoour

residents.

• 2NightShifts per week.

Casual Carer

• Responsibleinproviding personalised caretoour

residents.

• Casual hours available

TemporaryCarer

Three-month temporaryafternoon shiftavailable.

These positions could be combined.

Methven House takes great pride in providing a

high level of caretoour residents whilst maintaining

ahome-likeenvironment. Theresthomeislicensed

for14residentsand we have 4rental flats on site.

Foranapplication form please email

officeadmin@methvenhouse.co.nz

If you have any questions please contact - Sue Bell

03 302 8528

Closing date: Monday 12th July 2021 for

applications (including acover letter and your CV)

to MethvenHouse.

2394275

InwardsGoods

Full time

Mitre 10MEGA Ashburton has avacancy for a

person in their InwardsGoods department.

This position is full time, (40 hours) with a

Tuesday–Saturdayroster.

The role will include computerised entry of

stock and other inwardsgoods duties.

For the right candidate this position has

potential to grow.

The successful applicant will need the following

skills:

• Mustbephysically fit

• Current forklift licence would be an

advantage or abilitytoget one is preferred

• Bemotivated and work at afast pace

• Tobecomputer literate

• Attention to detail and accuracy isessential

to this role

• Able to followinstructions

• Reliable

• Abilitytoworkinateam.

If you think you are the person we are looking

for: Please email your c.v. and covering letter

to:HR.ashburton@mitre10.co.nz

Applications close on Tuesday 29th June 2021

2387936

2394233
---
www.ashburtoncourier.co.nz

FIREWOOD

FIREWOOD

SPECIAL

OFFCUTS

$140 PER CORD

FIREWOOD

SLABWOOD

3cordgreen

$330

1cordgreen

$110

C.O.D. in town

Adams Sawmill

Malcolm McDowell Rd

Phone

308-3595

TRADE &SERVICES

2366834

DRY Pine. Ready to burn, cut

9 months. $285 per cord.

Phone 027 338 4853

DRY Bluegum, Old Man

Pine, 50/50mix. 6m 3

$695.00. WINZ accredited.

Free delivery to most of

Mid-Canterbury. Phone

027 297 7563

ALTERATIONS. Sewing,

mending and trouser hemming,

curtain alterations

and curtain making. Call

Michelle on 027 352 7248.

BUILD work to do? Contact

Kiwi Building and Maintenance

Ltd. Alterations,

Renovations, New builds.

Qualified

Phone Cawte 027 418

7955.

CARPET cleaning. Powerful

equipment and fast drying.

Upholstery, mats and rugs.

Experienced owner/operator.

Phone John Cameron

at Supersucker. 027 435

1042 or 308 1677.

CARR'S Chimney Cleaning,

servicing Ashburton and

surrounding districts, $60

per chimney. Phone

Rodney on 03 324 2999

and leave amessage.

CHARLIES Blind Cleaning

Service -same day service

and repairs. Charlie can

supply new blinds and

tracks and will hang

drapes. Ph 03 307 1936 or

020 4169 0342

CHIMNEY Sweep - for a

professional service call

Dan McKerrow Chimney

Sweep and Repairs on 021

118 7580

CHIMNEY Sweeping.

Includes full firebox inspection

and internal flue

camera inspection. An

inspection report can be

issued on completion. Call

Allan on 027 209 5026

COMPUTER Problems? For

prompt reliable computer

servicing and laser engraving,

contact Kelvin, KJB

Systems Ltd, 4 Ascot

Place, Ashburton. Phone

308 8989. SuperGold discount

card accepted.

FOR LEASE

AWESOME office space for

lease, rent or hire. Park like

setting. Indoor and outdoor

areas. North West town

boundary. Must view.

Phone 0274 754 241

RENT ME!

Ideal as an extra

bedroomoroffice.

Fully insulatedand

double glazed forwarmth.

Threeconvenientsizes:

Standard3.6m x2.4m,

Large 4.2m x2.4m

Xtra-large 4.8m x2.4m.

Visit our displaycabin

418WestStreet or callfor a

freebrochure.

www.justcabins.co.nz

2379729

0800 58 78 22

STORAGE available, Ashburton.

Self storage, variety

of sizes. Phone Rainbow

Storage 03 307 0401

STORAGE:Secure self storage

units available, long or

short term. Ashburton Storage

Facilities. Contact us

on 0274 362 636 or www.

ashburtonstoragefacilities.

co.nz

TRADE &SERVICES

COMPUTER repairs, sales,

training, setup wirelessnetworks,

spyware

cleanup. On-site day or

evening. Low fees. Call

Tradesmen. Robin Johnstone, Networks

Firewalls and PC's Ltd, 308

1440 or 027 768 4058

CONCRETE Services -

Driveways, paths, patios,

mowing edging. Decorative

Concrete specialist 30

years servicing Canterbury.

Free quotes. No job too big

or small. Phone Paul 021

152 1966.

DENTURES; Dr Peter

Rumping repairs existing

dentures and also provides

new dentures. Phone 027

220 9997.

DRIVEWAYS, Patios and

Paths, Plain Concrete, Coloured

Concrete or Exposed

Agregate Concrete.

Paveco, 13 Robinson

Street. 100% local. Phone

307 6466 for aquote.

EC ENGINEERING manufacturing,

welding and

repairs to farm equipment,

irrigators and hose trailers.

Mobile workshop. Phone

Ewan 0274 354 031

ENGINEERING repairs, fabrication,

farm equipment

service and maintenance,

WOF repairs, machining

and welding. Odd jobs a

speciality. Mobile workshop.

Can collect. Phone

Malcolm 0274 754 241.

FLY control and spider

proofing. For all your

domestic and industrial

pest control needs phone

AJ Kerr at Ashburton Pest

Control on 03 308 8147 or

027 432 5447

ashburtoncranes2015@gmail.com

2379961

HEALTH &BEAUTY

HEALTH &BEAUTY

URGENT CARE CLINIC

WEEKEND DUTYDOCTORS

IN THE EVENT OF AN EMERGENCYPHONE 111

Forall othermedicalassistance outside of normal

hoursplease phone your generalpracticeteam,24/7,

to speak withahealth professional whowill giveyou

free health advice on what to do or wheretogoifyou

need urgentcare.

If youdon't have aregular generalpractice, call any

GP team 24/7 forfreetelephone health advice.

All non-residents and visa holders please bring your

passporttoyour surgeryappointment.

New Zealanders'tobringsome form of ID.

TheAshburtonDutyPractice for ...

Saturday26th June is

ThreeRivers Health, 7-11 Allens Road,Ashburton.

Consultations will be by appointmentonly.

To make an appointmentcallyour regular GP 24/7.

Sunday27th June is

ThreeRivers Health, 7-11 Allens Road,Ashburton.

Consultations will be by appointmentonly.

To make an appointmentcallyour regular GP 24/7.

Methven and Rakaia: Formedical attention on the

weekend and public holidays please telephone

MethvenMedical Centre on 03 302 8105

or Rakaia Medical Centre on 03 303 5002.

Details foraccessing the afterhours services will be

on the answer phone.

PHARMACIES

Wises Pharmacy,CountdownComplex,

East Street will be open on ...

Saturday from 9.00am until 1.00pm

Sunday from 10.00am until 1.00pm

At Geraldine: TheGeraldine Pharmacywill be open

normal trading hours during the week,and on

Saturdaymorning from 9.30am to 12.30pm.

Closed Sundays and Public Holidays

Forfree24hour Telephone Health Advice

Phone the healthline on 0800 611 116

Brought

toyouby

CountdownComplex, East Street, Ashburton

Phone: 03 308 6733 Fax: 03 308 6755

FARMING NOTICES

FARMING NOTICES

ON FARM

Portable Sawmilling

20 years experience

custom cutting

RobertMcLaren 0274 374 399

TRADE &SERVICES

FURNITURE Removals. For

all your household removal

needs - urban, rural lifestyle,

office relocations -

call Nudges Furniture

Removals, phone 027 224

0609.

GARDENING, mowing,

pruning, fertilising, projects

or general spruce ups? Call

Andrew at Spruce Gardens

to get the job done right.

027 765 2899 or 03 307

1693.

sprucegardens@xtra.co.nz

LOCKSMITH/Door repairs.

Keys/locks, sliding and bifold

door roller repairs.

Mobile service. Call Nigel at

Doors and More. Ph 027

516 7104

FACTORY SPRAY LACQUER

A NEW LOOK

that lasts!

Existing kitchens, doors,

furniture &appliances

The Finishing Company

03 307 8870 2390661

PAINTER for all your painting

needs. No job too small,

inside or outside. Professional

friendly service.

Phone Pete 03 308 1672 or

027 200 1619.

TRADE &SERVICES

EDUCATIONAL

2392583

SUN Control Window Tinting:

Privacy, UV, glare, heat

control for homes, offices

and cars. Phone Craig

Rogers 307 6347, member

Master Tinters NZ. www.

windowtinter.co.nz

TINT-A-WINDOW, fade, UV

block, glare, heat control,

safety, security, privacy,

frosting films, solar protective

window films. Free

quotes, 20 years local service.

Phone 0800 368 468

now, Bill Breukelaar, www.

tintawindow.co.nz

PUBLIC NOTICE

CLASSIFIEDS

Ashburton Courier, June 24, 2021

PUBLIC NOTICE

41

PUBLIC NOTICE

Minor amendment to the enrolment scheme of

Ashburton Borough School

The Ministry of Education is proposing aminor amendment to the

enrolment scheme of Ashburton Borough School. This is because Allenton

School has recently reduced their home zone due to the risk of

overcrowding and this area will now be in zone for Ashburton Borough

School.

This amendment proposes that students will be able to enrol if they live

within the home zone described on this website –

https://consultation.education.govt.nz/education/ashburton-boroughschool-minor-amendment.

The enrolment of out-of-zone students is governed by the provisions of the

Education and Training Act 2020.

Comments can be made to

Canterbury.EnrolmentSchemes@education.govt.nz by 22 July 2021.

MEETINGS

Established 1885

Ashburton

Club &MSA

TheAnnual

General Meeting

of Members

will be held at the

Club on

Sunday, June 27, 2021

at 10am

Business:

• Toreceive an

the An

of t

a

tion

nded 31

1

clarethe election

f Club Officers

• To consider any

notices of motion for

which the necessary

noticeisgiven

• GeneralBusiness

StuartGeddes

General Manager

POSTPONED

UNTIL

FURTHER NOTICE

HOME SERVICES

EDUCATIONAL

L2D Driver Training

Teaching driving skills

and road craft

Allstages –beginner to full

Block booking discounts

Dave Campion

027 543 7632

2388125

2391822

ROOF COATINGS: All roof

types, specializing in

Decramastic and Long Run

Iron, Coloursteel etc, steep

roofs not a problem. —

Spraymaster 027-433-7780.

Having difficultycutting

your toenails?

Maybewecan help

TheHakatere Presbyterian Parish has organised

asix-weekly toenail cutting service

which will starton

Wednesday, June30at1.30pm,

at the parish church lounge in

Thomson Street,Tinwald.

Thesessions begin with afoot spa, followedby

nail cutting and then afoot massage.

Thesession concludes with acuppa.

Thereisnocharge but adonation

would be appreciated.

To book please contact

Alison Scammell on 3083861

MEETINGS

MEETINGS

Allfamilies of prospectiveNew Entrants to

Tinwald School from

July 2021 to December 2021 areinvited to an

Information Meeting

on Thursday1st July at 9:30am

in the Tinwald School hall.

Allwelcome!

Forcateringpurposes please RSVP

by phone on 308 4555

Mid Canterbury

Soball

AGM

July 6th, 2021

6:30pm

Ashburton Club &MSA

Cardroom

Nominaonsby5pm,

June 25th, 2021

2390944

EDUCATIONAL

CJ'S Driving School -

Classes 1, 2 & 4,

Endorsements F&D,

Forklift F&OSH, Dangerous

Goods. NZTA

approved course provider.

MITO and Competenz

Assessor. Locally owned.

Phone Christine 027 245

2563

2392829

2391840

for Lifelong Learning

ProfPaul Dalziel

Professor of Economics

Lincoln University

Wellbeing Economics

Covid and its major

disruptions to economic

activityin NZ and the world.

Tuesday29thJune,10am

AshburtonTrust Event Centre,

Wills Street,Ashburton

Visitors welcome -$10

CARS WANTED

$$ CASH PAID $$ Buying

cars and trucks for wrecking.

Ph/txt Zac 021 1056

797

2393205
---
CLASSIFIEDS

42 Ashburton Courier, June 24, 2021

www.ashburtoncourier.co.nz

PUBLIC NOTICE

PUBLIC NOTICE

Dr Christopher McGrath

PhD(Otago), MSc, DO(UK)

Expert

musculoskeletal care for your pain

PUBLIC NOTICE PUBLIC NOTICE PUBLIC NOTICE PUBLIC NOTICE

PUBLIC NOTICE

Consulting Osteopath, Ashburton

Appointments/contactthrough web site

021 0222 6378

www.countrypractice.nz

Ashburton

Hearing Association (Inc.)

Members of the public areinvitedtoour

Seminar in the Seniors Centre,

206 Cameron Street,Ashburtonat2:00pm on

Thursday1July at which Professor David Welch

arenowned Health Professional will speak about

health impacts of noise.

David who is currently Head of Audiology at the

UniversityofAuckland,therewill be question and

answer time.

Admission is free but agold coin donation would

be appreciated, lightafternoon teawill be served.

STEADYAS

YOUGO

Improve your balance, strength,

fitness andwell being.

Groups and availability

Tuesday

Wednesday

Methven10.30am Ashburton1.30pm

Hampstead 1.30pm Staveley 2pm

Rakaia 1pm

Ashburton10.30 am (wait list)

Allenton9.30am (wait list)

Please phone Age

Thursday

ConcernAshburtonon

Ashburton1pm

308 6817 to enrol or

St Stephens1pm forfurther information.

Tinwald 11am (wait list)

ASHBURTON

SOCIETY OF ARTS

57th ANNUAL EXHIBITION

AshburtonArt Gallery

Opening Night5th July2021

Public viewing daily

6th -30th July 2021

Tickets forOpening Nightare $25

from AshburtonArt Gallery

or contact0274 650 010

PROSTATE

CANCER

SUPPORTGROUP

2392769

2394286

2392096

2386391

DANCE SECTION OF THE

ASHBURTON CLUB &MSA

Friday, 9th

July, 7.30pm

to 11.30pm

Excellent

supper

provided.

$15 per person

-admission by

ticket only

Enquiries &Tickets:

Elaine Lowe 03 307 6684 or 027 914 6505;

Alan Ayers 03 302 4779 or 0274 414 085.

Also at the MSA office, Havelock St, Ashburton

FINANCIAL

FINANCIAL

2392821

FINANCIAL

FINANCIAL

2388994

Thurs 24th &Fri 25th

10.00 Poppy

10.00 Dream Horse

11.50 Fast &Furious 9

12.00 In TheHeights

2.30 James &Isey

2.45 Cruella

4.10 Spirit Untamed

5.30 Fast &Furious 9

5.45 In TheHeights

8.00 Fast &Furious 9

8.15

M

TheHitmansWifes BodyguardR16

Sat26th

10.00 Tom&Jerry

G

10.00 PeterRabbit 2 G

11.45 Spirit Untamed G

12.00 Cruella

PG

1.30 TheHitmans WifesBodyguardR16

2.30 Fast &Furious 9 M

3.50 Dream Horse

PG

5.10 In TheHeights PG

6.00 TheConjuring 3 R16

8.00 Fast &Furious 9 M

8.10 TheHitmans WifesBodyguardR16

Sun 27th

10.00 Tom&Jerry

10.00

11.40

12.00

1.20

3.00

3.50

5.50

7.50

8.10

Spirit Untamed

PeterRabbit 2

Fast &Furious 9

In TheHeights

TheHitmans WifesBodyguard

Dream Horse

TheConjuring 3

Fast &Furious 9

TheHitmans WifesBodyguard

Mon28th, Tues 29th

&Wed 30th

10.00 Poppy

10.00

11.50

12.00

2.30

2.45

4.10

5.30

5.45

8.00

8.15

Dream Horse

Fast &Furious 9

In TheHeights

James &Isey

TheHitmans WifesBodyguard

Spirit Untamed

Fast &Furious 9

In TheHeights

Fast &Furious 9

TheHitmans WifesBodyguard

PG

PG

M

PG

M

PG

G

M

PG

G

G

G

M

PG

R16

PG

R16

M

R16

PG

PG

M

PG

M

R16

G

M

PG

M

R16

NO COMPS

Fast &Furious 9,

TheHitmans WifesBodyguard,

In TheHeights,

Spirit Untamed

FINANCIAL

YOU'RE INVITED!

INVEST IN THE CVI FINANCIAL HIGH YIELD INTEREST RATE FUND

EARN INTEREST AT

10 % pa

EXCELLENT PRIZES FORALL AGEGROUPS

ADULTS AS WELL AS CHILDREN

ASHBURTONWRITERS'GROUP

PAPERPLUSSHORT STORYCOMPETITION

Forall agegroups.

Maybeyou have astory tuckedawayinyourdrawer.

Send it in!

Entryformwithconditionsofentry areavailableby

e-mail: raejohn@xtra.co.nz

Entries close FRIDAY9JULY 2021.

2394046

E- info@talbotsecurity.co.nz 62c Dobson Street,Ashburton

P-(03) 307 2409 Anytime 24/7

-Alarm Response and Patrols

-Alarm Monitoring

-Alarm and CCTV Installation

-Alarm and CCTV Servicing

-Data and Networking

- Fire Extinguishers

- Key Cutting

- Locksmithing

Ashburton'sonly100%locally owned and operatedsecuritycompany

2376083

For further information

about investment in the CVI

Financial Limited high yield

interest rate offer please call

Chance Voights' investor

enquiries specialist,

Irina Sharipova.

HOSPICE Mid-Canterbury.

Dealing with alife limiting

illness? Contact us to see

how we can support you.

Phone 307 8387 or 027 227

8387

An established supportgroup in

Ashburtonfor men and their families

who areliving with adiagnosis and

treatmentfor prostate cancer.

Partners arealso welcome to attend

CO-ORDINATOR: Doug Collie 027 510 0556

WHEN:

Tuesday, 13 July at 3.00pm

WHERE: Ashburton

Mackenzie Centre,122 Kermode St,Ashburton

Email: ashburton@prostate.org.nz

Formoreinformation call 0800 477 678

Organised by the Prostate Cancer Foundation of NZ

www.prostate.org.nz

2394164

TERMS FROM 12–36 MONTHS,

INTEREST PAID QUARTERLY

FULL DETAILS ONTHE RETURN AND

INVESTMENT ARE AVAILABLE FROM THE

INFORMATION MEMORANDUM.

CVI FINANCIAL LIMITED IS AMEMBER OF

ASX EQUITIES INVESTMENT GROUP, CHANCE

VOIGHT INVESTMENT PARTNERS LIMITED.

Call today

0800797 799

Investment in this fund is only available to

wholesale and eligible investors inaccordance

with the Financial Markets Conduct Act 2013.
---
ASHBURTON

Jet Boil Flash

Omeals Self Heating

OutdoorFood Packs

Wetlands Neoprene Gumboot

Compact,

fast and

efficient

outdoor

stoves and

cooking

accessories.

Comfortable,

lightweight

adults boots.

RRP $ 259 .99

NOW $ 219 .99

Just add anyliquid! 9meal options available

$

16 .99 each

BUY2,GET 1FREE

RRP $ 179 .99

NOW $ 139 .99

Kids'Mud Stompers Kids Slippers StoneyCreek

StowItJacket

100% waterproof

Ultralightweightand

neoprene boot

packable design

anti-slip rubber outside

RRP $ 149 .99

NOW $ 99 .99

EVERYDAY LOWPRICE

Pull on boot design!

$

29 .99

StoneyCreek

Dreambull Overtrousers

Packable overtrousers.

100% waterproof,

windproof and seam sealed.

Available in Cedar/Black.

RRP $ 129 .99

NOW $ 99 .99

$

49 .99 Phone 03 308 5117 l 393 West St,Ashburton

StoneyCreek WindproofGloves

Ledlenser MH5 Headlamp

Stoeger RX20 S3

Suppressed Scoped

Combo

Made from stretchyfleecelaminated

forwarmthand comfort.

400 lumens with beam range up

to 180 metres,4colour options

Velocityupto.177 1000fps/22,800fps

RX20 Gas-Ram Airgun $449.99

Stoeger Targets 100pc $9.99

Stoeger Pellet Trap $24.99

RRP $ 59 .99

NOW $ 49 .99 RRP $ 119 .99

NOW $ 79 .99 RRP $ 484 .97

SALE $ 349 .99

Offers end 3July

2351537
---
QUALITY USED VEHICLES

KEITH'S

PICK

1500cc, hybrid,auto,

cam chain, ABS, push

button start, 76,000kms

2012 TOYOTA

AQUA G

$11,995

6 stars

2008 TOYOTA

MARK X

2012 SUBARU

IMPREZZASPORTS

2014 SUZUKI

SWIFT XG

2013 MAZDA

DEMIO 13-A

• 2400cc, petrol

• Auto

• 7seater

• 8air bags

• 89,065kms

$9,995

TOYOTA

• 2000cc, petrol

• ABS

• Cam chain

• Rear spoiler

• 87,310kms

2013 TOYOTA SPADE X, 1500 cc,auto, air con, easy access,

24,000 kms.................................................................................................................................SOLD

2012 TOYOTA AQUA,1500cc, hybrid,auto, cam chain, ABS,

76,000 kms........................................................................................................................... $11,995

2013 TOYOTA SPADE, 1500cc, ABS, air con, cam chain,

53,100 kms........................................................................................................................... $10,995

2013 TOYOTA AQUA S,1500cc, auto, 2wheel drive, ABS, reverse camera,

106,173kms............................................................................................................................$8,995

1993 TOYOTA CORONA,2000cc, liftback,petrol, high kms..............................................SOLD

2001 TOYOTA ALLEX, 1500cc, auto, 5door, 102,000kms..............................................$6,495

2008 TOYOTA MARK X, 2400cc, 7seater, ABS, air con, S/W,89,000kms....................$9,995

• 1200cc,petrol

• Auto

• Cam chain

• Push button start

• 76,556kms

$11,995 $10,995 $10,995

DUE TO ARRIVE

• 1300cc, petrol

• ABS

• Auto

• Air conditioning

• Body kit

WARRANTIESAA APPRAISEDFINANCEBIGGEST YARDBEST SELECTIONTRADE-INS

SUZUKI

2000 SUZUKI JIMNEY, 660cc, 2door, SUV/4x4, auto, off road only............................SOLD

2014 SUZUKI SWIFTXG, 1200cc, cam chain, rear spoiler,air con, 76,556kms .. $10,995

2006 SUZUKI SWIFT, 1300cc, 5speed,power steering,54,000kms..........................$4,995

KIA

2015 KIARIO X, 1400cc, auto, reverse camera, air con, cruise control,

25,241kms................................................................................................................................SOLD

MITSUBISHI

2001 MITSUBISHIDION, 1500cc, hatchback,auto, ABS, air con..............................$4,995

SUBARU

2012 SUBARUIMPREZASPORT, 2.0I, 2000cc, 2WD, 5door,ABS, 87,310kms $11,995

5 stars

NISSAN

2010 NISSAN DUALIS, 2000cc, auto, 5seats,6air bags,auto, SUV,

71,000kms...........................................................................................................................$12,995

2013 NISSAN SYLPHY, 1800cc, petrol sedan, cam chain, ABS, 18,984kms ...........$11,995

2014 NISSAN TIIDA LATIO, auto, idling stop,twinair bags,ABS,

4door,petrol,air con, 31,100kms................................................................................ $9,995

2012 NISSANNOTE, 1200 cc,auto, skyblue,ABS,

60,000kms............................................................................................................................. $9,995

2015 NISSAN NOTE X, 1200cc, ABS, air con, cam chain,

56,300kms...........................................................................................................................$10,995

MAZDA

2010 MAZDAPREMACY, 2000cc, 7seats,auto, timing chain, 126,000kms ..........$9,995

2011 MAZDADEMIO 13-SKYACTIVE, 1300 cc,ABS,air con,

body kit, 38,000 kms............................................................................................................SOLD

2010 MAZDACX-7, 2300 cc,ABS,air con, cruise control, body kit,

59,000 kms........................................................................................................................ $17,995

2013 MAZDADEMIO 13-SKYACTIVE,1300cc,air con, ABS,

cam chain, 96,600 kms.....................................................................................................$9,995

2013 MAZDA DEMIO 13-A, 1300cc,auto, 5door,ABS, cam chain,23,000kms... $10,995

2010 MAZDA 3SP25A,2300cc, ABS, Air con, auto, rear spoiler,verysporty......$9,995

HOLDEN

5 stars

2014 HOLDEN CRUZE, ZSeries –1800cc, auto, all the bells &whistles,

78, 560 kms........................................................................................................................ $12,995

2013 NISSAN SYLPHY, 1800cc

2008 MITSUBISHI DELICA, 8seatercoach

2009 MAZDAAXELA, 2000cc, auto

20012 TOYOTA RACTIS, 5door,auto

5½ stars

AUTOSLTD

&RENTALS

ENQUIRE NOW

-about our range of rental vehicles

3081396

Family,Sports, School or Social Trips

We have 8, 10 &12seaterminivans available.Cars and 3trucks forsmall or big

loads also available.

470 West Street, Ashburton

A/H Keith Drummond 0274 367 646

www.atob.co.nz

2388080
---
free appraisal today

2389420

Delivered free to every home, lifestyle block and farm in Mid Canterbury

JUNE 24, 2021 l www.ashburtoncourier.co.nz l Phone 308 7664

YOUR LOCAL

COMMUNITY

PAPER

INSIDE

2379686

03 303 0872

www.jacksonholmes.co.nz

What's on offer this year?

2–4July 2021

IN ASSOCIATION WITH

Be inspired with thousands

of ideas under one roof!

FREE

DO

OUBLE PASS!

CUT THIS AD OUT FOR

1x FREE DOUBLE PASS

Join us at the Home &Leisure show,stand number176.

Appliances,beds,furniture&tech.

Everything youneed foryour home.

2-4July 2021 • 10am -5pm • Christchurch Arena • www.starhomeshow.kiwi
---
Explore our unique zones!

IN ASSOCIATION WITH

IN ASSOCIATION WITH

Sip, taste and try new

products before you buy.

Discover liquorice, gourmet

dips, fruit juices, local wine

and more!

Learn about eco friendly

products and services

including solar power, pellet

fires, energy efficient homes,

LED lighting, electric bikes,

light therapy, alternative

energy and more!

Be inspired by landscaping

plans, pools, spas, outdoor

furniture, fencing, garden

ornaments, decking, glass

and more!

Upgrade your leisure time

with boats, camper vans,

caravans, jet skis and an off

road vehicle!

Take alook inside several tiny

homes, mega tiny homes,

modular homes and place a

bid in alive auction!

2-4July 2021 • 10am -5pm • Christchurch Arena • www.starhomeshow.kiwi
---
IN ASSOCIATION WITH

IN ASSOCIATION WITH

WORTH $ 22,000!

2016 nissan Leaf

Marvel at the car's full leather interior, 360

degree cameras, Android Auto and Apple

CarPlay, Bose sound system and 10 air bags.

Visit the hVs stAnd At our show tobeintowin!

Informative seminars brought to you by

On every day —Friday, Saturday and Sunday

Buildright

11.00am

Covering renovations for your home -whether it be your bathroom, kitchen,

reconfiguration of existing rooms or extensions.

Sunshine Solar

11.30am

Learn if solar is right for you,what type of solar is best for what applications

and how you can make money offsolar with little or no money down. Covering

commercial solar as well as residential and batteries.

Resene

12.00pm

Discover how to take your favourite colours and confidently design colour

schemes to suit you, your home and your lifestyle. Make the most ofyour

space and maximise the appeal of your home.

Kitchen Studio

12.30pm

From inspiration to installation, take note ofour tips and tricks when updating

your kitchen to ensure itfits in with rest of your house.

Whitehouse

Builders

1.00pm

Ever wondered how tobuild an energy efficient home? Learn the 5passive

house principles that contribute toatruly efficient home.

NZ Home Loans

1.30pm

Discover the tools that will allow you to become debt free faster, purchase a

property in Christchurch, either a1st home, construction, or investment.

2-4July 2021 • 10am -5pm • Christchurch Arena • www.starhomeshow.kiwi
---
Place abid in the live auction!

IN ASSOCIATION WITH

IN ASSOCIATION WITH

Cosy Homes are auctioning off abrand

new 2-bedroom 50sqm home at our show!

*Digital rendering of outside

This MEGA tiny home could be YOURS!

This mega tiny home is warm, spacious

and homely, itisbuilt and ready to go

and can be transported anywhere inthe

country. Step inside and feel it for yourself.

Don't miss out on this auction! Cosy

Homes have arange of options to suit

your budget with their 2-bedroom homes

typically ranging in price from $95,000 -

$130,000.

The Cosy Home for auction is at the

premium end of the range,with the added

bonus of being available immediately!

The auction is set for 1pm on Sunday 4th

of July at the Cosy Home stand.

The auction is sponsored by Ray White

Bishopdale &Strowan.

There isnormally a9month wait on atiny

home, but this one will be yours in aweek!

Auction set for 1pm on Sunday,

4th July at the Cosy Home stand.

To placeabid, youmust register your interest at www.cosyhomes.co.nz/auction

CUTTHIS AD OUT FOR

1x FREE DOUBLE PASS

Join us at the Home&Leisureshow, stand number 176.

Appliances, beds,furniture&tech.

Everything youneed foryour home.

2-4July 2021 • 10am -5pm • Christchurch Arena • www.starhomeshow.kiwi