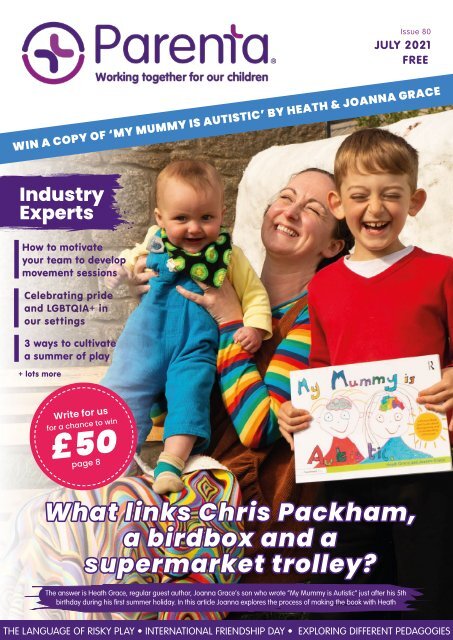 July 2021 Parenta magazine
You also want an ePaper? Increase the reach of your titles
YUMPU automatically turns print PDFs into web optimized ePapers that Google loves.
Issue 80

JULY 2021

FREE

WIN A COPY OF 'MY MUMMY IS AUTISTIC' BY HEATH & JOANNA GRACE

Industry

Experts

How to motivate

your team to develop

movement sessions

Celebrating pride

and LGBTQIA+ in

our settings

3 ways to cultivate

a summer of play

+ lots more

Write for us

for a chance to win

£50

page 8

What links Chris Packham,

a birdbox and a

supermarket trolley?

The answer is Heath Grace, regular guest author, Joanna Grace's son who wrote "My Mummy is Autistic" just after his 5th

birthday during his first summer holiday. In this article Joanna explores the process of making the book with Heath

THE LANGUAGE OF RISKY PLAY • INTERNATIONAL FRIENDSHIP DAY • EXPLORING DIFFERENT PEDAGOGIES
---
hello

welcome to our family

JUNE JULY 2021 2020 ISSUE 80 67

IN THIS EDITION

Regulars

Hello and welcome to the July edition of the Parenta magazine!

Summer is here at last – and that means lots of outdoor play opportunities for us as practitioners, for the children

in our care, and for parents too! We know that the children certainly don't need any encouragement when it comes

to playing; this comes very naturally to these youngsters. However, there are times, as adults when we can be less

enthusiastic – after all, playing is not a priority for us - and it's not always something we feel the most confident

about. Laughter specialist Katie White gives us the benefit of her experience and helps us overcome barriers when

it comes to adult playfulness. Turn to page 36 to find out how to embrace your silly side in her article "3 ways to

cultivate a summer of play".

Industry experts Gina Bale and Helen Garnett continue the topic of play – Gina looks at how we can motivate our teams and help with

self-consciousness and embarrassment when it comes to delivering movement sessions with our team, and Helen gives some fantastic

advice about how we can safely encourage and deliver 'risky play'.

We are so lucky to have another book giveaway this month! We have three signed copies of the acclaimed "My Mummy is Autistic" by

Heath and Joanna Grace - turn to page 24 to read the fascinating story behind the story - and to find out how you can win one of these

amazing books!

Also inside this month's issue, we learn about the art of mentoring, we discuss the resumed Ofsted inspections, we celebrate LGBTQIA+

and look at how music can help build relationships in the early years – plus so much more!

As always, all the advice and guidance in our magazine is written to help you with the efficient running of your setting and to promote the

health, happiness and well-being of the children in your care.

Please feel free to share the magazine with friends, parents and colleagues – they can sign up to receive their own copy here!

Please stay safe, everyone.

Allan

12

The art of

mentoring in

the early years -

part one

In apprenticeships mentoring

is common and trainees need

high-quality mentors to help

Celebrating

difference and

neurodivergence

- part 4

14

There is a lot of confusion

around sensory differences

that can lead to harmful

narratives

Celebrating Pride and 18

LGBTQIA+ in our settings

We should acknowledge and celebrate

the diversity that exists within our

families and children as many in our

settings may be part of this community

8 Write for us for the chance to win £50!

8 Guest author winner announced

16 Feelie box

17 Best ever chocolate nests

21 Congratulations to our learners

News

4 Childcare news and views

6 A round-up of some news stories

that have caught our eye over the

month

Advice

12 The art of mentoring in the early years -

part one

26 EYFS and resumed Ofsted inspections

30 National Marine Week

34 International Friendship Day

38 Exploring different pedagogies

Industry Experts

10 How to motivate your team to deliver

movement sessions

14 Celebrating difference and

neurodivergence - part 4

18 Celebrating Pride and LGBTQIA+ in our

settings

22 Music and building relationships in the

early years

24 What links Chris Packham, a birdbox

and a supermarket trolley?

28 The language of risky play

32 10 ways to build children's self-esteem

36 3 ways to cultivate a summer of play

Music and building relationships in the early years 22

EYFS and resumed Ofsted inspections 26

10 ways to build children's self-esteem 32

International Friendship Day 34
---
Childcare

news & views

Government announces £1.4bn

in additional 'recovery' funding

The government has pledged an

additional £1.4 billion for the next

stage of its 'education recovery' plans.

Approximately £1 billion of this will be

allocated to 6 million tutoring courses for

disadvantaged schools and an expansion

of the 16-19 tuition fund; and a total of

£400 million will be offered to early years

practitioners and school teachers for

training and support. This is in addition

to £1.7 billion already promised to help

children catch up on missed learning

during the pandemic, bringing the total

spend on education recovery to a little over

£3 billion.

Education secretary, Gavin Williamson,

said: "The package will not just go a

long way to boost children's learning in

the wake of the disruption caused by

the pandemic, but also help bring back

down the attainment gap that we've been

working to eradicate."

Neil Leitch, chief executive of the Alliance,

commented: "It is encouraging to see the

early years sector properly considered

in this stage of the recovery plan, with

a proportion of funding significantly

higher than the government's initial

announcements. Additional training for

early years practitioners is particularly

welcome since tight budgets leave many

settings with little money to invest in

upskilling the workforce.

Read the full story on the Parenta website

here.

"Apprenticeship wages should

be paid in full by government":

Halfon

Robert Halfon, chair of the education

select committee and former skills minister

is calling on the government to pay

apprentice wages and fund their full cost

of training "for at least a year" if they work

for a small or medium-sized employer

(SME).

The influential MP believes the chancellor's

extra investment for apprentice incentives

and kickstart programmes should not

have "been given so much to the bigger

companies".

Speaking at the recent Association of

Employment and Learning Providers

conference, Halfon said it would have

been better targeted at smaller firms and

went as far as to call for their apprentices'

wages to be funded.

Halfon said: "The number of

apprenticeship starts has fallen steadily

among all age groups since 2015/16, from

509,000 to 323,000 in 2019/20. That's

an overall decline of 37 percent. This

fall was particularly acute for the most

disadvantaged young people aged under

25 who fell by 52 percent.

"So, to support SMEs, we should fund

100 percent of training costs and

salary, at least for the first year of an

apprenticeship."

Read the full story on the Parenta website

here.

NDNA backs petition calling for

independent review of early

years childcare sector

The NDNA has added its support to a

petition which is calling for the government

to commission an independent review of

childcare funding and affordability.

The petition is open to all parents,

providers and staff working in early years

and has already gained over 107,000

signatures passing the 100,000 required

for a debate in parliament. It highlights low

pay, nursery closures and how 'without

good quality, affordable childcare the

'levelling up' agenda will fail.'

Stella Ziolkowski, NDNA's Director of

Quality and Training, said: "We know

that the childcare policy has been

underfunded for many years – a report

from MPs in 2019 revealed a funding gap

of £662 million. The survey by an All-party

Parliamentary Group found serious doubts

about the Government's financial support

for early years providers with just one in

ten parents believing that current funding

levels are enough for nurseries to remain

sustainable.

"Findings from our research with the

Education Policy Institute reveals much

lower occupancy levels whilst costs remain

the same. There is also an additional

cost burden associated with applying

Government COVID-19 guidance and

measures to keep everyone safe. We are

concerned this financial strain will impact

on the future sufficiency of early education

for families as we are seeing more

closures as a result.

Read the full story on the Parenta website

here.

'Landmark' centre for childhood

launched by Duchess of

Cambridge

The Duchess of Cambridge has launched

her own Centre for Early Childhood, to raise

awareness of the importance of early years

and help "transform lives".

A spokesperson for the royal family said

Catherine felt early childhood was the

"social equivalent to climate change"

but it was not discussed "with the same

seriousness".

Kensington Palace described the centre as

"a landmark step" in her work. The duchess

said she wanted to "create a happier, more

mentally healthy, more nurturing society";

and an aide said the development would

shape her future focus as a senior royal.

"The duchess has made the observation

that the more you learn about the science

of early childhood, whether it's brain

development, social science, what it means

for our adult mental health, the more you

realise that this is the social equivalent to

climate change," they said.

"But it is not discussed with the same

seriousness or strategic intent that that

issue is."

In a video to mark the launch of the Royal

Foundation Centre for Early Childhood,

Catherine, wearing a necklace engraved

with her children's initials, said: "Working

closely with others, the centre hopes to

raise awareness of why the first five years

of life are just so important for our future

life outcomes, and what we can do as a

society to embrace this golden opportunity

to create a happier, more mentally healthy,

more nurturing society.

"By working together, my hope is that

we can change the way we think about

early childhood and transform lives for

generations to come."

The centre will focus on research, working

with people across the private, public and

voluntary sectors on new solutions and

campaigning to raise awareness.

Early childhood has been a focus of the

duchess's decade as a member of the

Royal Family, as she has looked at issues

including family breakdown, mental health

and the school environment. Last week,

she joined US First Lady Jill Biden at a

school in Cornwall to discuss early years

development.

The full story, as reported by the BBC can be

read here.

Early years underfunding not a

surprise to ministers, new data

shows

Data obtained by the Early Years Alliance

via a Freedom of Information (FOI) request

shows that the funding rates paid to local

authorities for 'free childcare' offer are just

two-thirds of what the government itself

estimated would be needed to fully fund

the scheme.

Following a two-year FOI battle with

the Department for Education, the data

reveals that civil servants estimated that a

government-funded early years place for

three- and four-year-olds would cost an

average of £7.49 per hour by 2020/21.

However, the average rate paid to local

authorities for this offer is currently just

£4.89, according to independent analysts

Ceeda which shows a shortfall of £2.60 per

child, per hour for every 30-hours place – or

£2,964 over the course of a year.

The FOI documents state that the

government expects providers to "move,

over time, to full use of statutory staff

ratios" to accommodate the shortfall. This

is despite low child-adult ratios being

associated with higher quality early years

provision.

The documents obtained also reveal that

ministers were aware that the inadequate

levels of investment proposed would result

in higher prices for parents of younger

children as providers would be forced to

cross-subsidise those on the 30-hours

scheme.

The Early Years Spending Review Scenarios

document, obtained by the Alliance, also

exposes a deliberate strategy of passingon

costs to parents. It states: "We will

strip out funding for consumables (food,

nappies) – and set an expectation that

providers charge parents for these."

This acceptance of inevitable price

increases for families comes despite the

fact that the document goes on to state that

"a 10% reduction in the cost of childcare

might lead to a 1.4% increase in the

employment rate for married mothers with

pre-school age children".

The FOI request – which asked for proof that

the early years funding rates announced

in 2015 and implemented in 2017 had

been calculated to cover rising costs – was

originally filed back in December 2018. The

DfE rejected this request, even after a ruling

by the Information Commissioner's Office,

appealing to the First Tier Tribunal against

the ICO's decision.

The full story, as reported by Early Years

Alliance can be found here.

4 July 2021 | parenta.com

parenta.com | July 2021 5
---
A round-up of some news stories that

have caught our eye over the month

Source and image credits to:

Freepik, Vogue, Day Nurseries, The Mirror, Nursery World,

The Bolton News, Birmingham Express, East Anglian Times

Parenta FREE webinar -

Exploring what 'School

Readiness' means

As we are heading towards the start of

the new academic year it is important

to prepare children for the next step in

their education, and in this case, making

sure nursery children are school-ready.

Click here to watch all the advice and tips

shared on how to successfully achieve

'School Readiness' in your setting.

The second most expensive

childcare system in the world is

the UK's

Women with paid employment are having

to choose to either work less than they

want to keep costs low or leaving work

completely to look after their children.

One of the UK's largest nursery

providers bought by Partou

Just Childcare has 62 nurseries based all

over the UK and was founded in 2004.

The nursery group has now been bought

by the largest childare provider in the

Netherlands to help with expansion.

How to claim £2,000 worth of

free childcare which families are

currently missing out on

Recent figures from HMRC show that

around 1.3 million homes qualify for

childcare funding support but only

282,000 families used it in March.

Little People Nurseries has

bought its third setting based in

Hampton

The family-owned nursery group

purchased it's third setting with the

potential of taking up to 34 children.

New campaign launched to help

Grosvenor Nursery with funding

shortages

Nursery schools have lost on average

over £70,000 of income due to the

pandemic. Yasmin Qureshi has launched

this new campaign to try and help.

Click here to send in

your stories to

hello@parenta.com

Early Days Nursery staff and

children raise money for mum

with breast cancer

Over £2,700 has been raised for a

nursery mum with breast cancer. The

staff and children have been raising

money with lots of raffles and cake sales.

Birmingham toddler scores

close to Einstein on Mensa test

Dayaal Kaur, 3 years old, scored 142

on the high IQ society's admission test.

Einstein is estimated to have had a score

around 160. Dayaal has now been put in

the top 99.9% for her age group.

Parliament to debate the

cost of childcare

Pregnant Then Screwed, Grazia

Magazine and The Juggle groups all

secure the discussion of UK childcare

costs as petition tops 100k.

Climbing frame and new rooms

to expand Cherry Blossom

Children's Centre, Hadleigh

The expansion of the two rooms, means

that the centre can now take 30 more

children, making a total of 60 spaces in

the setting.

Achievement of 'climate positive'

status by Childbase Partnership

Childbase nurseries have got this

achievement by saving more greenhouse

gas emissions than they generate in it's

44 nurseries and head office.

6 July 2021 | parenta.com

parenta.com | July 2021 7
---
Write for us!

We're always on the lookout

for new authors to contribute

insightful articles for our

monthly magazine.

If you've got a topic you'd like to write about,

why not send an article to us and be in with a

chance of winning? Each month, we'll be giving

away Amazon vouchers to our "Guest Author of

the Month". You can find all the details here:

https://www.parenta.com/sponsored-content/

Congratulations

to our guest author competition winner, Katie White!

WIN A COPY OF HEATH & JOANNA'S

BOOK "MY MUMMY IS AUTISTIC"

Congratulations to Katie White, our guest author

of the month! Her article "A playful approach to

difficult emotions" introduced three important steps

to providing emotional support for children in our

settings whilst cheering them up. Well done Katie!

A massive thank you to all of our guest authors for

writing for us. You can find all of the past articles

from our guest authors on our website:

www.parenta.com/parentablog/guest-authors

Even if you are not a lucky winner, you can still purchase Heath and

Joanna's book here and enjoy 20% discount too!

Discount code: BSB20

We have three signed copies of

Heath and Joanna's book to give

away. Three lucky readers picked at

random will receive a free copy of

the book!

To enter the competition email

marketing@parenta.com by

Friday 23rd July 2021

8 July June 2021 | | parenta.com

parenta.com | July 2021 9
---
How to motivate your team to

deliver movement sessions

and engaging with the children, everything

and everyone else in the room is forgotten

except for the needs of the children.

If you are not focused on the children and

being there with them in that moment, in

the session, mentally as well as physically,

it allows space for anxiety and worry.

The problem:

So many adults working with children

forget what it was like to be a child, and

can't always remember what it was about

the teacher that captured their attention

when they were very little. Having trained

practitioners and teachers for years, I have

seen how hard it can be for some to flick

the switch to find their inner child. The

child in you allows you to see the bridge

between the imaginary and real world.

The solution:

Help your team to flick that switch and say

hello to the child we all have inside!

A question:

Do you remember what you loved to do

as a child or what it was about a certain

teacher that you loved to have lessons

with?

That moment in time you are remembering

means you were engaged and interested

in what you were doing. You were the

engaged child who:

• Paid attention

• Listened

• Asked questions

• Responded to questions

What a difference it makes to have a group

of engaged children! It is all down to you

being engaged in what you are doing as

well.

If your team or children

are unengaged you need

to find the most effective

strategies through:

• Hands-on learning

• Making learning fun

• Giving them a purpose

• Collaborating with them

• Giving them choice

• Giving them responsibility/ownership

of the activity

The key to motivation:

We all need to be engaged and enjoy what

we are doing no matter whether we are

adults or children.

How can I help them?

If they are struggling to create their own

sessions, let them choose the right product

with you. Give them choice and ownership.

Key things to remember:

• If your team does not enjoy what

they are doing, they will not want

to deliver the sessions and they will

lose motivation and whatever you

purchased will gather dust on the shelf

• Children will engage if the adults

believe in what they are doing and

enjoy the sessions as well

• Adult and child engagement improves

attention, focus, motivation, critical

thinking skills and promotes a

meaningful learning experience

What should we look for in a

product to help our team?

Ensure the product you choose is multisensory

to help all different learners and

needs. The benefits of a multi-sensory

movement activity are that it helps the

children with as many areas of learning as

possible.

Don't forget your team will be multi-modal

learners, just like your children, and if it's

a multi-sensory product, you will reach all

of them as well so they can learn to use it

quickly and feel confident in their delivery.

Look for a product that has additional

activities and learning materials to help

your team with planning, delivery and

learning for the children.

They lack confidence and

don't think they can run

sessions – how can I help

them?

1. Source the best training for your team

on how to have fun delivering the

sessions and see the benefits for the

children, with them having fun as

well. This is important as once they

understand this concept and see the

benefits, they become engaged and

motivated to continue.

2. Ensure they are given post-training

support to help with the sessions,

problem-solve and feel confident.

3. Talk to them to find out what they are

struggling with and how you can help.

4. Ensure all the adults in the room

participate in the session with the

children. This really helps them if they

are feeling self-conscious as everyone

will be doing it together.

5. Give them ownership of the sessions to

decide when they will run in the daily/

weekly plan.

6. Support them throughout by checking

in weekly to see what they need to

develop their skills and improve the

sessions for the children. For example:

how did it go? What went well? Are

there areas you want to improve on?

They feel embarrassed

dancing and jumping around

– what can I do?

They may need help in finding their inner

child hiding behind their adult self as we all

get shy; I must admit I still get worried but

once the session starts, and I am talking to

Yes, you may think 'hmmm that's easy to

say!' I do understand it can be hard, but

it just takes the right product, training,

support, and time. Yes, the first few

sessions may feel tricky, as it's something

new, but we learn best from "doing". Have

fun, if you're having fun, the children will

have fun with you and that's the most

important thing, as it means they are

engaged and ready to learn.

Don't forget:

1. Find the right multi-sensory product to

engage your team and children.

2. Give your team ownership of the

activity.

3. Support them with the products

training.

4. Ensure they have follow-on support

to continue to build their skills and

confidence.

5. Ensure all adults in the room join in

the session.

6. Communicate with them regularly

and join in some of the sessions

yourself.

Gina Bale

Gina's background was originally

ballet, but she has spent the last 27

years teaching movement and dance

in mainstream, early years and SEND

settings as well as dance schools.

Whilst teaching, Gina found the time to

create the 'Hi-5' dance programme to

run alongside the Australian Children's

TV series and the Angelina Ballerina

Dance Academy for Hit Entertainment.

Her proudest achievement to date is her

baby Littlemagictrain. She created this

specifically to help children learn through

make-believe, music and movement.

One of the highlights has been seeing

Littlemagictrain delivered by Butlin's

famous Redcoats with the gorgeous

'Bonnie Bear' on the Skyline stage.

Gina has qualifications of teaching

movement and dance from the Royal

Ballet School, Trinity College and Royal

Academy of Dance.

Use the code 'PARENTA' for a 20%

discount on Littlemagictrain downloads

from 'Special Editions', 'Speech and

Language Activities', 'Games' and

'Certificates'.

Something extra:

Take a quick peek at this: https://youtu.be/

TG4PqmShvHI (Prince: Starfish and Coffee

on the muppet show). I am a massive

"Prince" fan, and this song and video shows

the colour that imagination can give to your

world.

10 July 2021 | parenta.com

parenta.com | July 2021 11
---
The art of mentoring

in the early years -

part one

Learning is a life-long activity and the old adage that 'you

learn something new every day' is true – it could be something

you read, heard on the news, or something from a more formal

learning activity such as a course or book. If you undertake a

more formal course, for example, an apprenticeship, or a CPD

course, then you might expect there to be someone who can help

you, who has been there, done it, and who can give you some

tips and tricks and guide you on your learning journey. You may

get a mentor – and if you're really lucky, you'll get a good one!

Many of the world's most successful people have been mentored:

Sir Richard Branson had Sir Freddie Laker, Mark Zuckerberg had

Steve Jobs, and Luke Skywalker had Yoda!!

OK, in early years, you're unlikely to come

across Yoda, unless as a toy, but you may

have opportunities to either become a

mentor, or even be mentored yourself.

Much of the training for the early years

workforce is done through apprenticeships

where mentoring is common and trainees

need high-quality mentors to help them

learn on the job. The job of the mentor is to

help facilitate the learning of their mentee,

but in truth, mentors are learners too, or

they should be, as they will be learning

alongside their partner, the best way to

help that particular person succeed, and

one in which the mentor can develop

themselves and their own career too.

Being a mentor is a responsible and

important role that you can take on, but it

should not be undertaken lightly or if you

don't have the time or motivation to do it

properly. The trainees will expect proper

training. They will need your time, your

attention and your expertise and they

will also need a great deal of empathy,

understanding, care and patience too.

Some mentoring roles, such as those for

postgraduate courses, require the mentors

to be trained themselves, although it is

not the remit of this article to give specific

advice for that type of mentoring. You can

mentor your staff in any number of other

roles for any number of training situations

too.

The problem is, that many mentoring roles

are not well recognised, trained or funded

either in terms of time or money, even in

well-established professions like teaching,

but that does not mean that they are not

important. In fact, they could be one of the

most important keys to success.

Mentors should help trainees to plan and

meet their targets, be a good role model

for the job, offer advice and listen to their

trainee's concerns, observe their mentee

doing the job, and give them high-quality

feedback that will enable them to succeed.

One of the least explored roles is that of

giving feedback, but it is the quality of the

feedback that is one of the main drivers of

success.

Giving feedback

If you want to be a good mentor, you need

to develop a way of putting things that

gets the message across in a way that is

enabling and empowering rather than one

which is patronising or overly critical. Think

about how you would like to be mentored

and how you would prefer to get feedback.

If your goal was to run a marathon, and

you'd never done anything more than run

for a bus, then you'd need to take things in

stages. You'd want to know that you were

reaching small milestones along the way

and that you were getting more things

right than wrong. That way you wouldn't

become overwhelmed or despondent, and

you will eventually reach your goal.

It's the same for mentees (and pre-school

and school-aged children, by the way).

What they want to know first, is what

they are doing well. If they hear and

understand that, then they will be more

open to listening to the 'even better ifs'

or the specifics of how they can improve,

which make up the second part. Finishing

your feedback with an overall positive,

so that they go away feeling they are on

the right track, is the final part of what has

become known as the 'feedback sandwich'.

But it's important that your feedback is

sincere and appropriate too. It's no good

telling people they are doing well to their

face, if you then fail them the following

week without telling them why. And if we

think about it, we all know people who

make us feel empowered and positive and

those who drain our energy and for whom,

we can do nothing right. The job of the

mentor is obviously to be the first person.

Your feedback should be specific, offering

them ways that they can succeed, and a

few things at a time so that they are not

trying to work on too many things at once.

If a trainee needs to develop confidence

in running a session on writing names

for example, then it would be no good to

just say "develop your confidence". It is

too general and doesn't give the trainee

anything to go on. If they are already

feeling underconfident, they may nod

nicely at you, but go away feeling that

they are still getting nowhere.

It would be better to

give specific pointers or

suggestions, such as:

• Start with one child first and get them

to draw different strokes

• Make sure you are modelling what

you want the child to do – so pick up

a pen and draw things yourself

• Let them know that it is the journey

and effort that is important rather

than the outcome. If the child can

draw a circle to start, that's good

• Suggest they watch a few more

sessions of other people leading a

session

• Suggest they talk to other members of

your staff to learn how they cope

These things may seem like common sense

once you are an experienced professional,

but to the trainee, they will need this level

of guidance to start. Remember when

you were learning to drive? Every action

was followed by the conscious thoughts

of 'mirror, signal, manoeuvre' and even

those were tentative. After a time, they

become second nature, but remember

how scaffolded people need things in the

beginning.

In the next part, we'll look at how to tackle

difficult conversations.

12 July 2021 | parenta.com

parenta.com | July 2021 13
---
Celebrating difference and

neurodivergence - part 4

Other people sense different things

This article is the fourth article in a series of six from Sensory Engagement and Inclusion Specialist

Joanna Grace, the activities described in each article build up to form a toolkit for celebrating

difference and neurodivergence within your setting in a way that will benefit both the children and

the adults. Joanna runs online training courses focused on strategies for supporting differently abled

children and promoting inclusive practice. Click here for more information.

In the first three articles in this series,

we have explored simple craft activities

you can do with children to help them

explore and understand the differences

between people, and we have challenged

ourselves to support those explorations

using non-judgemental language to

describe those differences. The impact of

doing this was explored in the last article.

In this article, we are going to consider

sensory differences; you can explore these

with children using the feelie bag activity

described as 'Feelie box' on page 16.

You may have noticed a rise in children

who have sensory differences in your

setting. This is a phenomenon many

settings are experiencing, it's not just you!

Knowledge and awareness of sensory

needs and differences have grown in

recent years which is leading to greater

identification and the landscape of

childhood has changed, which means

children coming through your settings

now may have different sensory skills

compared to children ten or twenty years

ago.

There is a lot of confusion around sensory

differences, and that can lead to the

sorts of harmful narratives we've been

discussing through this series. So in this

article, I'm going to share an analogy

I find useful for thinking about sensory

processing differences.

Imagine a child's sensory systems are

controlled by a set of volume controls in

their brain. These are used to tune into

the information in the world. If their sense

organs work, they pick up the information,

and if the volume is set correctly, it

arrives at the brain at the perfect level for

processing.

Some children are born with broken

volume controls. That is to say they have a

physiological difference in their brain which

means that sense information comes

through either too quietly for their brain to

hear, or too loud for it to bear. The result

of this shows in their response to their

sensory environment.

Children have to learn how to operate their

sensory volume controls. Actually watching

a child play with a real volume control is

perfect for cementing our understanding of

this. At first, the sound is too quiet, so they

turn it up. Only they haven't got the fine

motor control required and so they turn

it far too far up and now the sound is too

loud. It will take them a while of adjusting

the volume up and down before they get

to the perfect level, whereas someone with

the relevant fine motor skills might be able

to adjust straight there.

The skill of tuning in and out to sensory

information, one you use as you listen

to a conversation against background

noise, or read a sign on a busy high street,

is developed through early childhood

experiences. Some childhoods are rich in

sensory experiences, and other childhoods

are limited. If you were able to get out

of the house, roll down a grassy bank,

swing from trees, climb a climbing frame,

bounce on a trampoline, you have had a

very different set of sensory experiences

from the child whose house was small

and far from an outdoor play space who

entertained themselves on a screen whilst

seated.

Some children present with sensory

differences because they have missed

out on the opportunity to develop sensory

skills (to develop their operation of those

volume controls) and some children present

with sensory differences because their

volume controls are broken. And there

are different ways they could be broken,

perhaps they are set too high, or too low,

and just stuck there, or perhaps they have

been overly greased so that no matter how

carefully someone operates them, they

slide around becoming too high or too low.

It is important to think about these

distinctions because an approach that is

a supportive of one child could be cruel

to another. If I am someone who needs

practice to learn to focus on a visual

stimulus, then asking me to engage in

activities that have me practice that skill

is going to be beneficial to me. However,

if I am someone whose visual volume

control is turned up full whack so that

visual stimulus hurts my eye, being asked

to engage in that activity isn't going to help

me, it's going to hurt me. And again, the

misunderstandings and narratives created

around this are harmful. The risk is that

the narrative will be that I didn't try hard

enough, or wouldn't focus, that it was my

fault that the therapy that supported my

peer does not work for me.

A parent recently asked me how their son

could have struggled with loud noises when

he was younger but now got into trouble

at home for making loud noises. When you

think of the volume control analogy this

seemingly counterintuitive situation makes

sense. When he was born, the volume on

his hearing wasn't right for his interaction

with the world, so he's adjusted it, only he's

gone too far in the opposite direction. With

some children with sensory differences,

you could witness changes like this hour

to hour. It's important we are sympathetic

and do not judge their experience as being

supposed to be like our own.

Listen out for the judgement in things you

say "You're being too loud" – what you

mean is "too loud for me", they might be

exactly the right volume for them! It is easy

for us to think the sensory landscape as we

experience it is fixed. We have made sure

the room is lit appropriately, it is the right

temperature, the music we are playing is

not too loud, and so on. But what we have

done is created a space that suits us and

our sensory needs. The sensory needs of

the children may be different.

Using a feelie bag is a good way of

exploring our sensory likes and dislikes

and talking to one another about them. Try

including items that are likely to highlight

that experience is unique to the individual.

A good one I often find is cotton wool,

some people love the feel other people say

it makes the hairs on the back of their neck

stand on end! Remember as you talk about

these differences, work hard to weed out

the judgement from your language. Doing

so can be enormously powerful!

Jo provides in-person and online training to

settings looking to enhance their inclusive

practice for more information visit www.

TheSensoryProjects.co.uk where you can

also find resources to help you include

children of all abilities. Jo is active on social

media and welcomes connection requests

from people curious about inclusive

practice.

Joanna Grace

Joanna Grace is an international

Sensory Engagement and Inclusion

Specialist, trainer, author, TEDx speaker

and founder of The Sensory Projects.

Consistently rated as "outstanding" by

Ofsted, Joanna has taught in

mainstream and special school settings,

connecting with pupils of all ages and

abilities. To inform her work, Joanna

draws on her own experience from her

private and professional life as well as

taking in all the information she can

from the research archives. Joanna's

private life includes family members

with disabilities and neurodiverse

conditions and time spent as a

registered foster carer for children with

profound disabilities.

Joanna has published four practitioner

books: "Multiple Multisensory Rooms:

Myth Busting the Magic", "Sensory

Stories for Children and Teens",

"Sensory-Being for Sensory Beings"

and "Sharing Sensory Stories and

Conversations with People with

Dementia". and two inclusive sensory

story children's books: "Voyage to

Arghan" and "Ernest and I". There is

new book coming out soon called '"The

Subtle Spectrum" and her son has

recently become the UK's youngest

published author with his book, "My

Mummy is Autistic".

Joanna is a big fan of social media and

is always happy to connect with people

via Facebook, Twitter and LinkedIn.

Website:

thesensoryprojects.co.uk

14 July 2021 | parenta.com

parenta.com | July 2021 15
---
Feelie Box

Best ever chocolate nests

This craft is in relation to the "Celebrating difference and neurodivergence - part 4"

article by Joanna Grace

You will

need

• A large cardboard box

This recipe has been

kindly supplied by

Katherine Houghton, from

her wonderful cookbook

"Early Years Recipes for

Children", available to

purchase here.

• An old T-shirt

• A selection of different

items to feel

1. Cover the box with the

T-shirt

2. Cut two holes in the sides

of the box, level with where

the sleeves of the T-shirt

meet the box

3. The children will be able

to reach down the T-shirt

sleeves to feel the contents

of the box and the fabric of

the sleeves will stop them

from being able to peek

inside

Instructions:

4. Place something to explore

inside the box and invite

different children to feel it -

and to describe what they

feel and what they think

about it

5. You could try the

following:

Cotton wool, peeled

soft fruit - like grapes or

tomatoes (dropping them

into boiling water makes

their skin easy to peel off)

something gooey or

slimy, like slime, gak or

a homemade playdough,

feathers, polystyrene, ice

cubes

6. A feelie box is essentially a

container that isolates our

sense of touch. Consider

how you could create a

similar experience for other

senses, like tasting with a

blindfold on or closing your

eyes and listening

What do you need?

• Shredded wheat

• Chocolate

• Mini eggs

• Cake cases

Instructions

1. Weigh 85 grams of shredded wheat and add to your bowl

2. Crush up the shredded wheat into a bowl with a wooden

spoon

3. Weigh 200 grams of chocolate and place into a crockery bowl

4. Melt the chocolate over a bowl of water on the hob or you can

use a microwave

5. Pour the chocolate into the bowl of shredded wheat

6. Mix it up until the shredded wheat is all coated

7. Place a spoonful of mixture into the cases

8. Place 3 mini eggs into the 'nest'

9. To reduce the risk of choking, cut the eggs in half first. Make

sure you help the children do this

16 July 2021 | parenta.com parenta.com | | July 2021 17
---
Celebrating Pride and

LGBTQIA+ in our settings

In June we celebrated Pride Month, when many countries around the world celebrate LGBTQIA+ and

promote their rights. In the UK, some Pride marches were postponed due to coronavirus, but that

didn't mean we had to halt our smaller celebrations!

Here are some suggestions of

how we can actively celebrate

diversity and LGBTQIA+ in our

settings:

• Provide role models who have some of

the same identity features as children

and families, for example, race,

religion, gender, sexual orientation, or

languages spoken

It is my hope that early years practitioners

will not shy away from talking about

LGBTQIA+ with their children and families.

However, we need to be aware of how

we use language describing gender and

ensure that it remains positive. Terminology

changes over the years and the most

inclusive way to acknowledge this is to

ask the person what language they would

like us to use to describe their gender.

Commonly used terms are explored below.

Understanding terminology

LGBTQIA+:

L – Lesbian – a woman who is sexually

attracted to other women.

+ Plus - this means that the LGBTQIA+

acronym intends to be inclusive and include

everyone who doesn't feel they fit in with

the typical male/female or heterosexual

groups. In addition, some people may

add an additional letter, e.g. a second

Q for Questioning their identity, a P for

pansexual, when someone is attracted

to another due to their characteristics

rather than gender, or an additional A for

Ally, meaning someone who supports

the LGBTQ+ community. The plus sign

encompasses all variations.

Other terms used:

Gender – gender is a social construction

describing masculinity and femininity, this is

different from sex.

Gender identity – this is referring to which

gender a person identifies with and uses to

describe themselves.

Tamsin Grimmer

Tamsin Grimmer is an experienced early

years consultant, author and parent who

is passionate about young children's

learning and development. She believes

that all children deserve practitioners

who are inspiring, dynamic, reflective

and loving. Tamsin particularly enjoys

planning and delivering training and

supporting early years practitioners and

teachers to improve outcomes for young

children.

Tamsin has written four books –

Most people are familiar with the rainbow

flag, which has represented the gay civil

rights movement since the late 1970s. The

rainbow was chosen because it represents

all colours and all genders. This year, the

rainbow had even more significance as

we have also used this symbol in the UK

during the pandemic to represent hope

and feeling connected to one another

during a very tough time.

I found myself talking to an educator

the other day about whether we should

celebrate Pride in our settings. I feel very

strongly that we should acknowledge and

celebrate the diversity that exists within our

families and children and many children in

our settings may be part of the LGBTQIA+

community. Celebrating Pride is a way

of enabling these children and families

to feel included and welcomed. Many

settings that celebrated Pride did so by

creating rainbows together using a variety

of different media or reading stories that

represent different sorts of families. We

did some rainbow baking in our house to

celebrate.

The new Birth to 5 Matters non-statutory

guidance document has a really useful

section on inclusive practice and equalities.

It states, "A child may also be part of a

family which is LGBTQIA+ (lesbian, gay,

bisexual, transgender, queer, intersex,

asexual, plus other variations). Early years

settings have an opportunity to prevent

prejudices from occurring by ensuring

that these children and their families feel

welcome and valued. In practice, this

means that settings should ensure that

their environments are welcoming and

supportive and actively celebrate the value

of diversity. Ultimately, supporting children

to embrace and celebrate differences

between them, their families and others,

is "a crucial part of doing equalities work

and fostering inclusive practice." (Birth to 5

Matters, 2021, p25)

• Ensure children can see themselves

and their families reflected in the

learning environment

• Include books, posters and small

world play materials which depict a

range of families (for a list of books,

look at the LGBTQ Early Years website

resources section)

• Display photographs of all the children

and celebrate the unique child and

their identity

• Talk about differences and similarities

in families, for example, mummies

and daddies, single parents, samesex

parents, grandparents raising

children or adopted children

• Challenge prejudice and

discrimination and try to avoid

tokenism

• Allow children to play in genderflexible

ways, for example allowing a

boy to wear a princess dress

G – Gay – a homosexual person, usually

used to describe a man who is sexually

attracted to other men.

B – Bi-sexual – a person who is sexually

attracted to both genders.

T – Transgender (trans) – umbrella term

for people whose gender identity does not

match their sex as assigned at birth.

Q – Queer – umbrella term for people who

might identify as lesbian, gay, bisexual or

trans. In the past this term has been used in

an offensive way, however, it is now being

used by some members of the LGBTQ+

community in a positive way.

I – Intersex – a person who is born with a

body that does not fully fit into either male

or female.

A – Asexual – used when someone isn't

sexually attracted to others of any gender.

Pansexual – this refers to people who

are attracted to other people regardless of

their sex or gender identity – so they might

say their romantic attraction is not based

on sexual orientation but rather on who

they fall in love with or have an emotional

connection with.

Sex – a person has a sex assigned to them

at birth according to their reproductive

organs.

Heterosexual – a person who is sexually

attracted to a person of the opposite

gender.

Homosexual – a person who is sexually

attracted to a person of the same gender.

Non-binary – this term is used when a

person feels that they cannot describe

themselves as either male or female.

Cisgender – a person whose gender

identity matches their sex as assigned

at birth. Cisgender is the opposite of

transgender.

"Observing and Developing Schematic

Behaviour in Young Children", "School

Readiness and the Characteristics

of Effective Learning", "Calling All

Superheroes: Supporting and Developing

Superhero Play in the Early Years"

and "Developing a Loving Pedagogy

in the Early Years: How Love Fits with

Professional Practice". She is currently

working on her next two, "Supporting

Behaviour and Emotions" and "Self-

Regulation in Early Childhood".

You can connect to Tamsin via Twitter

@tamsingrimmer, her Facebook

page, earlyyearsconsultancy, website

www.tamsingrimmer.com or email

tamsingrimmer@hotmail.co.uk.

Gender dysphoria – a person who

experiences distress because there is a

mismatch between their gender identity

and their sex as assigned at birth. This term

is often used in relation to children who are

exploring their gender identity and do not

feel they fit into their birth sex.

18 July 2021 | parenta.com

parenta.com | July 2021 19
---
The cheapest all-in-one,

easy-to-use, cloud-based

early years software

package you can buy!

Congratulations

to all our Parenta learners!

No setup fee – save a massive £2395! | No hidden costs!

All inclusive | Limited time offer | Unlimited support

For only £99

per month

(paid annually)

with a MASSIVE

saving of £2395

(No setup fee)

Congratulations to all these Parenta learners who completed their apprenticeship

in May and have now gained their qualifications.

These range from Childcare Level 2, Childcare Level 3 and Team Leading

to Level 3 and Level 5 Management – that's a huge achievement in the

current climate.

All that hard work has paid off – well done from all of us here at

Parenta Training!

Did you know?... Parenta has trained over 20,000 apprentices within the early years sector!

Our Level 3 success rate overall is almost 10% higher than the national average.

That's down to great work from you, our lovely Parenta learners!

If you have a learner with us who has recently completed their apprenticeship, please send in

a picture to hello@parenta.com to be included in the magazine.

Book a Demo Today!

May's wall of fame!

What's included?

A. Mclaren

E. Hales

M. Rose

• Cloud-based Nursery Management

Software for easy and quick invoicing,

reporting & ratios

• User-friendly EYFS development

tracking software

• Daily Diary to record activities, naps,

meals and nappies

• Parent engagement app –

maintaining social distancing

guidelines

• Go paperless and limit the spread

of germs

• Accurately record baseline

observations

• Photo Editing, Tagging & Blurring

Technology (GDPR compliant)

• Easy Ofsted reporting

• Unlimited phone & email support

plus videos and help files

B. Atkin

B. Sorgowicka

C. Vant

C. Beer

C. Webb

E. Lyon

E. Hammond

E. Hughes

E. Watts

F. Magrico

H. Watson

J. Gomez

J. Poultney

J. Buhler

K. Holloway

L. Bramley

L. Watling

L. Moss

M. Gallacher

R. Harding

S. Padula

S. Colyer

S. Wood

S. Rowden

V. Patel

Monthly direct debit option available on request

E. Baker

M. Shams

0800 002 9242 hello@parenta.com

parenta.com | July 2021 21
---
Music and building

relationships in the early years

Many songs are written about and inspired by relationships. From classical to pop, hip-hop to

RnB, first loves, unrequited loves, and ending loves dominate the lists. It is not clear whether this is

because songwriters are more inspired by relationships or whether their audiences relate more to

relationships. Ultimately, people prioritise relationships above many other activities, and will move

schools, jobs and even countries to fulfil this need. Music is therefore a natural way to introduce

and support the development of healthy relationships in the early years.

This lovely little tune may be a little

stretching for young voices and new

singers as it covers the whole octave – it

is probably useful to start it low to hit the

high notes properly! It is a great one for

acting out, and interestingly, was a real

story about the characters who went up

the hill in Kilmersdon to secretly meet up.

Although they had a sad end, this village

celebrates the story with signposts: "Ames

Lane leading to Jack and Jill Hill". Another

interesting point is that their surviving

son, raised by the village, originated the

surname Gilson – Jill/Gill's son.

A-Tisket A-Tasket

The song selection is an important

aspect in modelling healthy relationships.

While we often switch on the radio while

working, absent-mindedly sing the last

song we heard in the car, children are

noticing and listening and copying what

they see. Depending on their level of

understanding, they may or may not know

the meaning behind the lyrics at the time,

and it should be remembered that often

it comes back to them in later life. This is

particularly important to note with songs

that have dubious or negative origins.

One specific example is "Five Little

Monkeys", a song that has now been

excluded in many early childhood music

specialist's repertoires. A quick Google

search will clarify the background of this

song, particularly with regards to race,

and this creates identity issues later in

life for all once it is known – how do you

enjoy the memory of singing a song that

you now know was written to celebrate

bad practices? In contrast, "Baa Baa Black

Sheep" had nothing to do with race but

rather immoral tax practices – so it is

worth researching, as often these histories

are quick and easy to discover. "Lucy

Locket" is one with questionable origins,

so some music specialists have taken it

out of their repertoire as it may have been

about historical practices of well-known

courtesans.

Another genre of potentially controversial

music is spirituals, like "Michael Row

The Boat Ashore". For many with slave

ancestors, spirituals are a direct reminder

of the memories that still circulate within

the family, making them more than just

'songs'. Even more recently, Sting's 80's

classic, "Every Breath You Take" is an

instant reminder to those with histories of

domestic abuse.

There is the argument that eliminating

controversial music eliminates history.

One example of a controversial song that

some have eliminated is "Jingle Bells", yes,

the popular Christmas carol. While the

songwriter was simply writing about the

New England fad of jingling horses over

snow, there is controversy over the lyrical

content suggesting courtesans. However,

the biggest controversy is that the song

writer earned his wage by selling the

song to a minstrel group, where it gained

popularity. Singing it is a tricky decision

– does it celebrate the songwriter's

winter observations of Christmas time, or

does it reward a minstrel group for their

behaviour? Because it is so nuanced, you

could consult those families who may have

been affected, and if it upsets and offends

them, avoid it. Others argue that if it has

the potential to offend, avoid it completely.

Not an easy decision.

Thankfully, there are many more songs

about relationships that have more

straightforward origins, and these are the

focus for this month.

Jack and Jill

Jack and Jill went up the hill

To fetch a pail of water

Jack fell down and broke his crown

And Jill came tumbling after

Then up Jack got and home did trot

As fast as he could caper

He went to bed to mend his head

With vinegar and brown paper

A-tisket, a-tasket

A green and yellow basket

I sent a letter to my love

And on the way I lost it, I lost it

This is a lovely chase game, like duck-duckgoose,

but with a "letter" that is dropped

behind the child chosen to be the chaser,

made famous by Ella Fitzgerald.

All Around The

Buttercup

All around the buttercup

One, two, three,

If you want a pretty maid

Just choose me

This lovely little song can be sung with little

ones simply walking in a circle and on the

last line, let go hands and find a friend.

Older children may like to hold hands raised

in a circle, while one child weaves in and

out of the circle to swap places with the

person in front of them when singing the

last line. Many songs like these have origins

of finding partners secretly in plain view,

as polite society did not approve of public

courting!

Songs have meanings in ways that we still

do not fully understand. We all have songs

that we either turn up the volume when

we hear them – or switch off completely,

because of the association it has. And the

association usually involves a significant

relationship. Being aware that young

children will be building their associations

helps us to not only be more thoughtful

and reflective providers but also helps to

develop confident, resilient children, able

to manage unexpected and new situations

independently as they get older.

References:

• https://pancocojams.blogspot.

com/2014/07/the-racist-roots-of-fivelittle-monkeys.html

• https://www.sporcle.com/

blog/2019/05/real-meaning-behindbaa-baa-black-sheep/

• http://nurseryrhymesforbabies.com/

the-history-of-lucy-locket-rhyme/

• https://www1.cbn.com/

churchandministry/the-origins-of-thespirituals

• https://americansongwriter.com/thereal-story-behind-every-breath-youtake-by-sting/

• http://www.

theimportanceofbeingtrivial.com/

where-jack-and-jill-really-did-go-upthe-hill.html

• https://allnurseryrhymes.com/a-tisketa-tasket/

Frances Turnbull

Musician, researcher and author,

Frances Turnbull, is a self-taught guitarist

who has played contemporary and

community music from the age of 12. She

delivers music sessions to the early years

and KS1. Trained in the music education

techniques of Kodály (specialist singing),

Dalcroze (specialist movement) and Orff

(specialist percussion instruments), she

has a Bachelor's degree in Psychology

(Open University) and a Master's degree

in Education (University of Cambridge).

She runs a local community choir, the

Bolton Warblers, and delivers the Sound

Sense initiative "A choir in every care

home" within local care and residential

homes, supporting health and wellbeing

through her community interest

company.

She has represented the early years

music community at the House of

Commons, advocating for recognition

for early years music educators, and her

table of progressive music skills for under

7s features in her curriculum books.

Frances is the author of "Learning with

Music: Games and activities for the early

years", published by Routledge, August

2017.

www.musicaliti.co.uk

22 July 2021 | parenta.com

parenta.com | July 2021 23
---
What links Chris

Packham, a birdbox and a

supermarket trolley?

Well, the answer is my son's book: "My Mummy is Autistic", which he wrote just after his 5th birthday

during his first-ever summer holiday from school. When it was published, one of the reporters who

visited our garden to interview him asked "Do you suffer from having a mummy who is autistic?" My

son looked puzzled. I interjected, "He suffers from having a Mummy who is a primary school teacher!"

I have always sought out purposeful

reasons for mark-making and writing for

him. Ever since he's been able to hold

a pencil he's written me shopping lists.

Scraps of paper with scribbles on that

we used in the supermarket to make

shopping feel like teamwork, rather than

something I was dragging him to do. It

worked!

Actually, it worked better than I realised.

One day when the queue was particularly

long I asked him (then aged around 2

years) to check whether we had everything

on his list. He studied it earnestly and said

"cucumber". I checked the conveyer belt

with all our food on, to my amazement I

realised he was right!

From then on I didn't worry about

shopping, we would stand in the kitchen

24 July 2021 | parenta.com

together and I would reel off a list of all we

needed, he would write it down, and then

in the shop, he rode on the front of the

trolley directing me and leaping on and off

to collect the produce. All I had to do was

push!

I am autistic. One of the many differences

I experience being autistic has to do with

my processing of language. It takes me

longer to take in what has been said.

On this particular day when we were

shopping, he had exciting news to tell me.

He was talking ten to the dozen and I was

listening. (I didn't need to concentrate on

anything other than him, he was 5 years

old and a shopping pro by this point).

Somewhere in the midst of all the things

he was saying, he spotted the next item

on the list, called "stop" for me to stop the

trolley and leapt.

The only trouble was my brain was still

several sentences back in his excited

babble, trying to keep up. I did not stop the

trolley. I ran over his foot. I hurt him. Not

badly, but he was shocked. He stood alone,

wide-eyed in the aisle and looked up at me

"But Mummy," he said, "I said stop!"

I apologised and checked he was okay,

and we continued on. All the while I was

thinking: I can't promise him I won't do it

again. And so as we walked out of the

shop I explained to him how the words

line up in my head, and if he has said lots

then the one he wants me to hear might

not yet be at the front of the queue. He

had started school that year, lining up was

a big deal! My explanation clicked in his

head, but he still eyed me with the sort of

suspicion of a child who suspects the adult

is conveniently making up an excuse.

The next morning I wanted to check he

had understood, so I asked him about the

day before. He sighed as I pressed him to

explain (he suffers from having a primary

school teacher as a mother!) And showing

insight into his understanding of how I

best take in information he got down from

the breakfast table and retrieved a piece

of paper and a pen, drawing me a picture

of me standing with the words pressing

against my head, waiting for their turn to

get in.

Thinking back to that picture makes me

cry, to be so seen and so understood by

someone so small when the rest of the

world seems to find it so hard at times,

was just remarkable.

I praised him for his picture and said if

he wrote a sentence underneath it then

he could help explain to other people

how his mummy's brain works. Seeing a

chance for purposeful writing I made a

plan that we would draw a picture and

write a sentence every day of the holidays

(the poor child suffers from having a

primary school teacher as a mother a lot!).

I imagined that at the end of the holidays

we would staple his pictures together and

shows his grandparents.

When the book was done I was taken

aback by how clear it was. I thought

it was wonderful. But of course I did!

He's my son, I think everything he does

is wonderful. Looking for an unbiased

opinion I sent it to Routledge where it

went through all the usual committees.

They thought it was brilliant, the unique

perspective of the child explaining the

adult, depicting autism as a difference to

be celebrated not a condition to get better

from.

Already this was more than we had

imagined would ever happen with his felt

tip pen pictures and his oh-so-carefullydrawn

letters. But then a friend of ours

met Chris Packham at a conference and

showed him the pictures. Chris agreed

to write a foreword for the book, and

instead of a fee, asked that we build him a

birdbox. I hoped for a foreword along the

lines of "I like this book – Chris Packham"

but what we received was far more than

that. Chris wrote a poignant essay, he saw

things in the book I hadn't appreciated.

WIN A COPY OF HEATH & JOANNA'S

BOOK "MY MUMMY IS AUTISTIC"

To enter the competition email marketing@

parenta.com by Friday 23rd July 2021

Even if you are not a lucky winner, you can still purchase

Heath and Joanna's book here and enjoy 20% discount too!

And once again I felt seen and understood

in unexpectedly kind ways.

The publication of the book saw my son

become the UK's youngest published

author, and we have had messages from

people saying that the book has enabled

them to see themselves or a loved one in

a new way, and thanking us for it. And to

top it all off, as of a few weeks ago two

beautiful great tits began building a nest in

the birdbox!

We have three signed copies of Heath and Joanna's

book to give away. Three lucky readers picked at

random will receive a free copy of the book!

Discount code:

BSB20

parenta.com | July 2021 25
---
EYFS and resumed Ofsted

inspections

The so-called 'freedom day' of June 21st may have recently been postponed until July 19th, but one

thing that nurseries and pre-schools should be aware of is that there are no more postponements

of graded Ofsted inspections, which restarted again on May 4th 2021. During the various stages of

lockdown, Ofsted had visited a few settings but the grading system was suspended in favour of

'assurance inspections' which were designed to find out the experiences of children attending the

setting, and to provide assurance that providers were meeting the registration requirements of either

the Early Years Register or the Childcare Register, and settings were only judged on whether they met

the requirements or not.

Since May 4th however, Ofsted have

been carrying out full, graded inspections

on-site after undertaking preliminary

field work to ensure that visits can be

carried out safely and with agreed safety

measures in place. These include Ofsted

Inspectors taking a lateral flow test before

arriving and ensuring that interactions

between Inspectors, practitioners and

parents are socially distanced where

possible. In some instances, videocalls

are deemed acceptable for speaking to

parents/carers or leaders who are unable

to attend the setting.

Since Ofsted are now behind with their

usual schedule of inspections, they are

prioritising providers who:

• were judged less than good at their

last inspection (including those who

received an interim visit in the autumn

term)

• registered recently but have not been

inspected

• have an overdue first inspection

• were not inspected in the last

inspection cycle due to the pause in

routine inspections

Urgent inspections will be carried out if

there are significant concerns about a

provider but if your setting has cases of

COVID-19 at the time of the inspection, you

will be able to request a deferral.

During lockdown, Ofsted changed from

their usual 4-year cycle, to what they call

an "inspection window" – providers have

a 6-year window for inspections, but even

this depends on when their last inspection

was, the grading at that time, and what

Ofsted know about the setting.

Having piloted some changes to the 2019

education inspection framework (EIF), they

have published an updated handbook

which they urge all settings to read. The

changes take into account some of the

difficulties and challenges faced due to

coronavirus. However, the amendments

are only 'minor' and the document

remains substantially unchanged for most

things. The 2 main changes are:

1. inspectors will agree safety protocols

to ensure the inspection is completed

in a COVID-secure way; and

2. inspection remit handbooks have

been updated to reflect the COVID-19

context that settings are operating in,

and the disruption the pandemic has

caused to them

You can read the main changes here.

Settings will again receive a judgement

of either 'outstanding', 'good', 'requires

improvement' or 'inadequate', but Ofsted

says there will be "flexibility in recognition

of current contexts".

The initial call

In the initial phone call, Inspectors will now

be asking questions about the specific

impact of the pandemic on the setting,

and how the provision has responded. In

April 2020, the government temporarily

modified and disapplied some elements

of the EYFS especially under the "learning

and development" heading, to account

for the fact that some settings were

closed, and children may not have been

attending. Staff qualifications and ratios

were adjusted, as was the progress check

at age 2, and the validity of paediatric

first aid certifications. Given that, the initial

conversation will now cover questions on

these areas, and Ofsted have said that it

may take longer or be split into 2 different

calls as mutually agreed. At this stage,

the Inspectors will also agree any specific

safety protocols with the provider.

The handbook explicitly states that

"Inspectors will always seek to understand

the impact of the COVID-19 pandemic

on providers and will take this into

account when reaching final inspection

judgements." Therefore, it is in your

interests to have already gathered as

much evidence as you can about the

way the pandemic has impacted your

business. You might want to think about

the effect on:

• staffing levels

• opening hours

• attendance rates

• how you supported learning and

development – e.g. what did you do

instead if you couldn't use certain

toys?

• curriculum areas

• assessments

• any disapplication you made

• how you supported vulnerable

children

• how you ensured your commitment to

safeguarding

A few things to bear in mind

• Even if you were not able to stay open

at times, settings should have been

working flexibly with other agencies

and the local authority to ensure

the safety of children as part of their

responsibility to safeguarding

• The extension to the paediatric first

aid (PFA) certificate was only until

March 31st 2021, so providers must

have a valid PFA certificate now

• If you have any confirmed cases of

COVID-19 in the setting (either child

or staff), or if your setting has been

advised to close as a result, you

should report this to Ofsted as soon

as reasonably practical, and in any

case within 14 days

• Think about how you have supported

your staff and their own mental health

and wellbeing during the pandemic.

One of the new additions to the latest

EIF was a greater emphasis on staff

mental health, so remember this in

your preparations

Which EYFS document are you

using?

If you are inspected before September

2021, it is likely you will be using the

older version of the EYFS, unless you are

an early adopter of the new version.

After September 1st 2021, all settings are

expected to use the new final version that

was published on 31st March 2021.

What did Ofsted say in the

recent Parenta webinar?

If you missed the recent Parenta "Ask

Ofsted" webinar, held on May 14th, you can

access a recording here. It was full of lots of

useful advice including:

• The main thing Inspectors want to

know is - what is it like to be a child in

your setting?

• Be prepared – read the inspection

handbook

• Don't be nervous about an inspection -

do what you normally do

• They are more interested in what's

happened to children in your setting

during the pandemic than paperwork

– and what you are doing to help

children you are concerned about

• Don't be afraid of talking about things

you want to be better at – it shows

reflective practice and a desire to

improve

Between now and September 1st, they

will not judge your preparations for

implementing the new EYFS

Click here to download the

poster below to make sure

you're prepared for inspections

and the new academic year

approaching.

26 July 2021 | parenta.com

parenta.com | July 2021 27
---
The language of risky play

"We want our kids to develop the skills to pick themselves up when they fall, to

know when to ask for help, but also to be confident that they can solve a lot of

their problems themselves." 1

Risk, what does it mean to you? Do you

watch every move and wince when a child

gets a graze on their knee or falls off their

bike? Do you perceive risk as a 'bad thing'?

In reality, children need to take essential

risks. Wrapping children in cotton wool and

hovering over their every move is not the

healthy option.

In fact, the removal of risky play should

come with a warning sign of danger!

The less risk our children are exposed to,

the more risk-averse and less resilient

they may become. 'Helicopter' parenting

often forces children indoors, away from

perceived danger, away from freedom and

ultimately, away from learning. During the

pandemic, opportunities for independence

and creativity have been further and

dramatically reduced.

My childhood was spent with huge

swathes of time outside, roaming

round the countryside with siblings or

friends. Such freedom was accompanied

with warnings: Be careful! Don't hurt

yourselves! As both mother and teacher, I

have found myself mirroring the language

spoken over me as a child and have had

to make adjustments as to how I speak

about risk to children around me.

1

Type of

risk

Environmental

risk

2 Social risk

Willing to have a go at a

new challenge

Happy to contribute to

group settings

3 Physical risk out a new or challenging

Happy to have a go trying

physical skill

4 Emotional risk Confident to ask for help

5 Intellectual risk Makes choices with ease

"The creative and intelligent individuals

we are going to need to solve the world's

problems in the future will only be able

to rise to such challenges if the liberal

attitudes they learn as young children

are both creative and imaginative so that

each child's physical prowess expands

alongside their independence and selfbelief."

2

Our children need liberty, and liberal

attitudes! Children need to learn open

mindedness, and have the physical and

mental freedom to explore, escape and

have adventures. In this way, children

learn vital things about their own

capabilities and judgements - life skills that

transform adulthood.

Risk mindset

Our own attitude towards risk will affect

those around us. How risk-averse/

confident are we? In what areas?

Carry out the risk mindset analysis below

on yourself. Then, observing the children

in your setting, use the same quiz. Notice

how some children may be more riskaverse

in some areas and less so in

others.

Always Frequently Sometimes Seldom Never

Language around risk

Children need to hear both 'supportive'

and 'challenging' language when taking

risks. As they test new waters and try out

new skills, encouraging and reassuring

language demonstrates faith and trust

in children's capabilities and skills, whilst

challenging language encourages them to

step out of their comfort zones.

Language around risk can therefore be

broken down into the following:

Supportive language

1. Identifying

Look, a step!

Look, sharp stones!

Look, hot water!

2. Thinking

Do you need more room?

Do you want me to help?

Let's find a place where we can throw

these stones.

3. Empathising

Are you feeling ok?

Are you having fun?

This is the quiet zone. Come over here if

you need a break.

4. Encouraging

Would you like to have a go?

Would you like another go?

Let's see how we can make this work.

5. Trusting

I love how you are doing this

You're doing such a great job.

You can do it!

Challenging language

1. Questioning

Shall we try to balance on this?

Could you try climbing over there?

Could you ride your bike along here?

2. Role modelling

I'm going to have a go.

Try it like this.

Shall we try it together?

3. Develop the risk

Do you think you could go higher?

Let's cycle round again!

Where shall we jump next?

Encouraging bravery

Risk and uncertainty are part and parcel

of a healthy lifestyle. Protecting children

from risk is not being protective! Instead,

it allows anxiety and fear to build. Half of

anxiety disorders begin before the age

of 11. There are many reasons for this,

with over-involved parenting being one

of them. Anxious children are much less

likely to take risks. In short, anxiety about

risk-taking actively impacts the ability to

confront risks.

During the pandemic emotional disorders,

particularly anxiety, have increased by a

whopping 49%. Right now, more than ever,

we need to provide plenty of supervised

yet rich opportunities for children to step

out and be brave; to create times for

adventurous play where children can learn

about coping with uncertainty and to offer

long stretches of freedom. Such play is by

nature both exciting and exhilarating, with

an element of joyful fear. Bravery comes

more naturally in this sort of environment,

rewarded with satisfaction and fulfilment.

And throughout this positive framework

of risk and boldness, let's speak support

and challenge in equal measure as we

encourage children to be brave.

Let's give children freedom to take risks,

make mistakes and ultimately, make a

difference! When children learn how to

manage risk, their self-esteem soars, they

start to embrace more opportunities and

crucially, are able to become confident and

independent learners.

Helen Garnett

Helen Garnett is a mother of 4, and

a committed and experienced early

years consultant. She has a wealth

of experience in teaching, both in

the primary and early years sectors.

She co-founded a pre-school in 2005

where she developed a keen interest

in early intervention, leading her into

international work for the early years

sector. Helen cares passionately

about young children and connection.

As a result, she wrote her first book,

"Developing Empathy in the Early Years:

a guide for practitioners" for which she

won the Professional Books category

at the 2018 Nursery World Awards,

and "Building a Resilient Early Years

Workforce", published by Early Years

Alliance in June 2019. She also writes

articles for early years magazines, such

as Nursery World, Early Years Teacher

Organisation, QA Education, Teach Early

Years, and Early Years Educator.

Helen is the co-founder and Education

Director at Arc Pathway, an early years

platform for teachers and parents.

Helen can be contacted via LinkedIn.

References

1. 50 Risks to Take with Your Kids", 2021.

Daisy Turnbull

2. Risk, Challenge and Adventure in the

Early Years", 2015. Kathryn Solly

28 July 2021 | parenta.com

parenta.com | July 2021 29
---
National Marine Week

The UK is an island - an area of land surrounded by sea, and the sea has been instrumental in

shaping modern Britain. Whether it's brought Viking invaders, or helped Elizabeth I's ships see off a

Spanish invasion, or allowed Victorian explorers to establish an Empire on which 'the sun never sets',

the oceans and seas around our islands have been critical to the success of our country for centuries.

But now these oceans are being threatened and it is our responsibility to return the favour and

protect the seas, oceans and marine life that has been so influential to our culture and way of life.

Between the 25th July and the 9th August,

the Wildlife Trust is organising a two-week

celebration of all things marine, as part of

their campaign to protect our oceans and

marine wildlife. National Marine Week,

will actually last 15 days to allow for the

variation in tide times around the country,

so there will be plenty of chance to get

involved, be that a visit to the seaside to

collect some fossils, a chance to create

some beach art, or a lecture on 'ocean

giants' via a Facebook page, there will be

something fun for everyone.

A visit to the webpage will reveal many

activities which are being held at different

locations around the country, many of

which are specifically targeted at

pre-school children. The Wildlife Trust is

particularly interested in collecting data

from a simple 'shoreline spotting' activity

and they have produced a downloadable

sheet to help, with pictures of marine

wildlife such as wireweed, Chinese mitten

crabs, common limpets and Pacific oysters

but they're also keen to hear about other

sightings too.

The seas around the UK are home to a

myriad of oceanic life including a few you

might not think of as living around our

shoreline such as seahorses, porpoises,

basking sharks and bottle-nosed dolphins.

Our coast is home to more than 8 million

seabirds made up of 25 different species,

many of whom migrate many miles to get

to their breeding or feeding grounds at

different times of the year. There are also

a lot of amazing sea mini-beasts such as

nudibranchs (pronounced nudi-branks

and meaning 'naked gills') which are

colourful sea slugs which get their colour

from the food they eat. They literally have

frilly gills on their backs too which are their

breathing apparatus, so they have their

lungs on the outside of their body.

One interesting fact about UK marine

waters is that it's not just the waters

around the islands of the UK that we

are involved with, since we still have

a responsibility to many British or UK

territories around the world too. In fact, the

UK and our overseas territories together

account for the fifth largest marine

estate in the world. So we have a global

responsibility to protect and nurture it

and National Marine Week is the perfect

opportunity to raise awareness of the

issues and start to do something about

them.

There are five main challenges

currently facing our marine

habitats:

1

Lack of protected areas.

2

General fishing and especially over-fishing,

which reduces fish stocks, disrupts the

natural food chain and is unsustainable in

the long-term.

3

Lack of adequate planning for competing

interests – industries such as fishing,

drilling, wind farms and seabed gravel

extraction need to work together more

closely to create a sustainable future.

4

Severe pollution from sewage, farming,

chemicals, nonbiodegradable plastic and

litter.

5

Human behaviour and apathy.

One thing that everyone can easily do is

sign the letter to the UK Government here

encouraging them to support the creation

and protection of Highly Protected Marine

Areas (HPMAs) as soon as possible.

HPMAs would offer the strictest possible

protections for the marine environment.

By removing all pressures from things such

as fishing, sea angling and construction,

shallow seas, shores and diverse seabeds

can recover and be healthier, more

productive, and full of life once more.

There are many suggestions of things to do

during the fortnight on the website here,

but if you can't find an official event to visit

near you, don't worry, we've listed some

ideas below of how you can support the

initiative in your own setting, promote some

marine conservation, and engage the

children in some exciting 'understanding

the world' and other related, crosscurricular

activities at the same time.

Explore some rock pools

You could complete the shoreline survey

mentioned earlier, or if you don't live by

the sea, why not create a display using

pictures of creatures that you would find in

a rockpool such as crabs, sea anemones,

limpets and sea snails? The National

History Museum has some information

here about how to get started and some of

the things you can look out for. You could

make it a sensory space too by thinking

about the textures of the creatures and

find a suitable substitute for the children

to touch.

Create some beach art

You can use items that you collect from a

beach if you live near one, or use some

sand, shells, fossils, drift wood (sticks)

and pebbles if not. See if you can create

some unusual sea creatures using

the items and let the children use their

imaginations!

Go on a litter pick

A lot of our rubbish finds its way into the

oceans damaging marine habitats and

killing wildlife. Picking up litter wherever

you live and disposing of it properly will

help reduce this. Remember to wear

protective gloves and clothing.

Raise awareness on your

social media channels

Use #NationalMarineWeek and let others

know what you are doing.

Sing some songs about the

sea

How about "The big ship sails on the

Ally Ally O" or "Five little seashells"? You

can get the children to move around like

different sea creatures as well. See here

for some ideas.

Share some sea stories

Julia Donaldson's "The Snail and the

Whale" is a perfect way to introduce the

notion of our human responsibility to

marine creatures.

Make some sea creature

puppets

You can make starfishes, crabs, snails

and fishes. Then let the children make up

stories about their adventures.

Whatever you do, let us know by sending

your pictures to hello@parenta.com

30 July 2021 | parenta.com

parenta.com | July 2021 31
---
10 ways to

if they have support and love, rather than

feeling rejected and backed in a corner.

build children's

8

self-esteem

Building self-esteem in children is crucial because it ultimately

underpins their choices and decisions in life. If we believe

we have worth and value, we are more likely to take care of

ourselves and explore our full potential.

Here are 10 ways that can help build a

child's self-esteem:

1

Praise effort and attributes

over ability

It's always great to achieve what you set

out to do. However, there are times in life

when we try our best and still fall short.

Failure is a part of life and there are many

lessons in failure that quite often become

stepping stones to success. Children need

to learn that things like effort, resilience

& persistence are worth celebrating. By

praising these attributes, you reinforce

their importance and teach children that

their greatness doesn't just exist when

they are winning or being perfect.

2

Focus on behaviour rather

than character

People are not their behaviour. Quite often

challenging behaviour is a sign of a child's

struggles, and it is important for us to be

the calm in their chaos. By linking their

character to their mistakes, you imply that

they are not good enough as a person,

which is hugely detrimental to self-esteem.

Just

Just

because

because

they

they

have

have

got

got

something

something

wrong

wrong

does

does

not

not

mean

mean

they

they

are

are a

bad

bad

person,

person,

so

so

our

our

language

language

needs

needs

to

to

reflect

reflect

this.

this.

When

When

addressing

addressing

behaviour

behaviour

always

always

refer to the action and not the child.

refer to the action and not the child.

3

Give choices and autonomy

Nobody likes to feel controlled, and it

can be very disempowering when we

feel backed into a corner. By giving

children choice it empowers them to be

in command of themselves and builds

confidence because it gives them a voice.

4

Own your mistakes and

apologise

Just because we are adults does not

mean that we always get things right. By

owning our mistakes and apologising, we

teach children about responsibility and

model that it's okay to get things wrong.

Modelling perfection gives children a very

high, if not impossible standard to live up

to. However, by taking responsibility we

pave the way for children to do the same

and build their confidence in us because

they know that we are authentic.

5

Let them take risks

Our natural reaction is quite often to put

out a hand to help children when they are

in risky situations. Obviously if a child is at

serious risk we should always help them.

However, by allowing them to take small

risks it can build confidence and selfesteem

because it shows them that you

trust their ability and it also gives them the

opportunity to push their own limits and

problem-solve.

6

Nurture their uniqueness

Every child is unique and has their own

strengths and weaknesses. When a child

walks to the beat of their own drum, even

if it's a beat we don't understand, it is

important for us to see the greatness in

their individuality and to advocate that

being different is okay. Quite often, the

people who change the world are the

ones who don't think the same way as

everyone else.

7

Lead with love

Behaviour is always communication

and the children that are in need of the

most love are often the ones displaying

the most challenging behaviour. Setting

boundaries should never equate to a

withdrawal of love. You can still be firm

and reinforce that you care. By doing

this, children learn that despite their

mistakes, you are still their safe space

and that regardless of these mistakes,

they are still loved and supported to

move forward in a better way. Our job is

to nurture and guide children. Everyone

makes mistakes, however, people are far

more likely to see the error of their ways

Let them work things out

It can be hard to watch children struggle,

but if we rescue them too quickly, we are

taking away the opportunity for them to

problem-solve and to overcome difficulty.

There is no better feeling than coming out

the other side when you face a challenge

and knowing that you achieved that

outcome. Giving words of encouragement

and telling children that you believe in them

will inspire them to keep trying. Quite often

the feeling of wanting to quit comes just

before a big breakthrough. By allowing

children to get to that point and gently

supporting them through it, we are giving

them the opportunity to step out of their

comfort zone and into their greatness.

9

Make sure your expectations

are age appropriate

Children look at the world through a lens

influenced by their age. What seems small

to us will be huge to them, so it's important

to adjust our expectations and to make

sure that they are realistic.

Let them help

10

By allowing children to help us with different

jobs we give them the opportunity to

demonstrate their competence and we also

teach them that their contribution is valued.

This in turn builds self-esteem and selfworth

because we are showing them that

we trust their ability, value and appreciate

their help.

Stacey Kelly

Stacey Kelly is a former teacher, a parent

to 2 beautiful babies and the founder

of Early Years Story Box, which is a

subscription website providing children's

storybooks and early years resources.

She is passionate about building

children's imagination, creativity and

self-belief and about creating awareness

of the impact that the early years have

on a child's future. Stacey loves her role

as a writer, illustrator and public speaker

and believes in the power of personal

development. She is also on a mission

to empower children to live a life full

of happiness and fulfilment, which is

why she launched the #ThankYouOaky

Gratitude Movement.

Sign up to Stacey's Premium Membership

here and use the code PARENTA20 to get

20% off or contact Stacey for an online

demo.

Email: stacey@earlyyearsstorybox.com or

Telephone: 07765785595

Facebook: https://www.facebook.com/

earlyyearsstorybox

Twitter: https://www.twitter.com/

eystorybox

Instagram: https://www.instagram.com/

earlyyearsstorybox

LinkedIn: https://www.linkedin.com/in/

stacey-kelly-a84534b2/

32 July 2021 | parenta.com

parenta.com | July 2021 33
---
International

Friendship Day

Whatever experiences we've had in the last 18 months during the pandemic, one thing we can all

agree on, is that we have missed out on seeing our friends and family, and that we will never take

everyday acts, like being able to hug a loved one, for granted again. Friendships are important,

they give some structure to our lives – some friendships last a lifetime, some are much briefer, but

we remember the times we've spent together; the laughter, the tears, the embarrassing and the

painful moments; all the support, love and encouragement that our closest friends give us, and

above all, we always remember the positive way that our friends make us feel.

• ensure equality between women and

men

• foster democratic participation

• advance understanding, tolerance and

solidarity

• support participatory communication

and the free flow of information and

knowledge

• promote international peace and

security

So International Friendship Day is not just

about being good friends with people you

already know. It's also about positively

reaching out to explore what friendships

with others could be and could do.

The recent G7 summit held in Cornwall

highlighted some of the positive changes

that can be achieved when nations

come together in friendship and unity.

By educating our pre-school children on

the "positive ideals of friendship" and

celebrating everything that is good about

our friends, even at this early age, we

can begin to learn to not just tolerate our

differences, but to actively embrace and

celebrate them.

There are many ways to get involved: call a

colleague, write to a long-lost friend, send

some flowers, have a radio dedication – the

list is endless, but we've chosen 3 ways

below which we think are in the spirit of

the UN's aims, starting close to home and

spreading out across the globe.

3 ways to celebrate

International Friendship Day

1. In your setting - run a

'friendship workshop'

In order to have friends, you must first BE

a friend, so why not proactively teach the

children how to be a good friend? Discuss

with them what they think a good friend

should be –you may need to help them

to define some words around friendships

such as:

• Kind

• Caring

• Loyal

• Loving

• Honest

• A good play mate

• Someone who takes turns

• Someone who shares

Then go through the list with them and

explain what that might mean in their

world – so explain that they might be a

friend to someone by being kind or when

sharing something; or it might be when

they help someone else with a task, such

as picking up some toys, or fetching a

book. Once you have defined some of

the words associated with friendship, ask

the children to practice being 'friendly'

to everyone for that day, not just the

people they know. You could make some

suggestions and model things such as

holding the door open for someone,

smiling at people, or giving someone a

hug and saying 'thank you' for being my

friend.

2. In your community - reach

out to others in need

Being a friend to others in the community

is a great way to extend the hand of

friendship to those in your vicinity who

may feel lonely, isolated of abandoned.

After the last 18 months of coronavirus,

there are many within our communities

who have felt this way through no fault of

their own. So why not use this as a way to

establish or re-establish some links with

a local care home or multigenerational

group? The interaction of younger and

older people has been shown to benefit

both groups, and as we start to come out

of lockdowns, this could be the ideal time

to create a network close to home. You

may not be able to visit in person, but you

could write or draw some cards as an

introduction saying, 'Happy International

Friendship Day'. You could also have a

small collection of simple 'treasures' that

you could send with them. This could be

anything, from some cookies you baked

to a daisy chain, or a drawing of a heart,

sent with love.

3. In the wider world - sponsor

a child in another country

So this year, on Friday 30th July, why

not shout your appreciation of your

friends from the rooftops, and celebrate

International Friendship Day in the best

way you can?

According to some sources, the first World

Friendship Day was proposed for 30 July

1958 by the World Friendship Crusade,

an international civil organisation that

campaigns to foster a culture of peace

through friendship. Although they

proposed the idea in the mid-20th century,

it wasn't until 2011, that the International

Day of Friendship (July 30th) was adopted

by the UN General Assembly, with the

idea that friendship between peoples,

countries, cultures and individuals could

inspire peace and build bridges between

communities. And it has been used to

bolster peace efforts and promote the

positive values of friendship ever since.

To mark the day, the UN encourages

governments, international organisations

and civil society groups to hold events,

activities and initiatives to promote

dialogue, solidarity, mutual understanding

and reconciliation. UNESCO has defined a

'Culture of Peace' by setting out the values,

attitudes and behaviours that they think, if

established, will help promote friendship

and prevent conflict. Many of these values

have been adopted around the world.

In the UK, we promote British Values in

schools to ensure equality, respect and

tolerance which are closely aligned to

those in the UN's Culture of Peace.

UN actions to promote a Culture

of Peace

• foster a culture of peace through

education

• promote sustainable economic and

social development

• promote respect for all human rights

There are many children in other countries

who don't enjoy the same privileges as

the children in the UK. We, at least, have

running water, free schools, free nursery

places and free healthcare. But there are

many countries in the world where this is

just a dream. Part of the UN's ideas behind

International Friendship Day is to promote

social and economic parity, so why not

decide to extend the hand of friendship

far and wide and sponsor a child? There

are many child sponsorship programmes

through different charities and Parenta run

a sponsorship programme of their own

which provides free nursery places for preschool

children in Africa. You can find more

details here.

34 July 2021 | parenta.com

parenta.com | July 2021 35
---
3 ways to cultivate a

summer of play

We all know the richness that play can offer our children, but some of us might not feel overly

confident facilitating playful moments. This is no surprise, as playing in adulthood is not our

priority. We've got bills to pay, work to do, washing to hang out, meals to cook, children to care for.

We don't need something else on our giant 'to do' list!

Through my work as a play and laughter

specialist, I have seen the transformative

effects that playfulness can have on both

adults and children. Participants leave my

workshops feeling relaxed, connected and

emotionally lighter. Equipped with tools

that can be used immediately at home or

work, to harness more laughter, joy and

ridiculousness.

I didn't call my business The Best Medicine

for no reason! Playfulness promotes

connection, feeds the imagination, enables

self-expression and builds self-confidence.

The skills that we learn through play can't

always be measured or quantified; but

we mustn't forget that these skills are

crucial to the emotional and physical

development and wellbeing of our

children.

I truly believe that playfulness has the

capacity to heal us as we face the

aftermath of this pandemic. It is our

duty as parents, teachers, playworkers,

carers and family members to provide

opportunities for play, laughter and

reconnection. Yes, this may feel daunting;

but I can guarantee that if you put some

of these ideas into practice, it won't just be

the children having fun.

Prioritise playfulness

The best kinds of play are purposeless;

which us adults sometimes find difficult

to get our heads around. Why engage

in something that has no end goal? But

let me tell you, the unknown is where the

magic happens. Prioritising play means

enabling and encouraging children to fully

explore and enjoy play without needing a

final outcome.

Here are a few tips to get

you there:

• Make time in each day where you

can be present and playful. Put your

phone down and leave your chores

to one side. It could be for 10 mins, 30

mins or a whole hour, just give your

child your undivided play-tension

• Invent your own game together, one

that's never been played before. This

could be anything from making dots

on a piece of paper to designing your

own obstacle course. Let your child

lead the way, support their creativity, it

doesn't need to make sense!

• Create your own playful rituals. When

someone in the house sneezes why

not come up with a ridiculous dance

move or word to yell? Again the ritual

doesn't need to be logical, silliness is

key!

Get outside

There is no question that nature is the

biggest playground of them all. Climbing

trees, jumping in puddles and blowing

dandelion heads all count as play to me!

Connecting to nature has a multitude

of health benefits for both adults and

children. Natural environments provide

an array of possibilities for physical play

and games. There is room to roam and

challenges around every corner. Hopping

across stepping stones or climbing

trees are the types of activities that build

confidence and increase self-esteem.

Here are a few tips to

support outdoor play:

• Set the parameters, this could be a

physical boundary or a series of rules

that help to keep your child safe

• Don't be afraid to go out in the

elements. As a wise women once

said 'Skin is waterproof', you can

always get dry and warm again!

• Facilitate a nature treasure hunt. Pick

up some free paint sample strips

from your local DIY shop and get your

child to match the colour of the strip

with the colour of something they can

find in nature. This could be a plant,

flower, seed or feather

Don't be afraid to look

foolish

Now this is one of the most important

routes to playfulness. Looking silly is

something we actively avoid as grownups,

but what's the worst that could

happen?

Here are some tips that will

help you to embrace your

silly side:

• Create a play signal. This could be a

word, phrase, action or even silly hat

to wear. When the signal has been

made, your child knows you're ready

to play!

• Remember a moment in your day

(mundane or memorable) and

pretend that someone has pressed

rewind on the activity. See if you and

your child can act out what happened

backwards

• Laugh at yourself. The times when

I embarrass myself (fall over in the

middle of the street, talk to the shop

assistant like a pirate or take the bins

out early in my dressing gown only to

be met with a passing dog walker),

I laugh! Being able to loosen up and

laugh at yourself will go a long way

when facilitating playful moments

with children

Katie White

Katie Rose White is a Laughter

Facilitator and founder of The Best

Medicine. She works predominantly

with carers, teachers and healthcare

professionals - teaching playful

strategies for boosting mood,

strengthening resilience and

improving wellbeing. She provides

practical workshops, interactive talks

and training days - fusing therapeutic

laughter techniques, playful games

and activities, and mindfulness-based

practices. The techniques are not

only designed to equip participants

with tools for managing their stress,

but can also be used and adapted to

the needs of the people that they are

supporting.

thebestmedicine@outlook.com

www.twitter.com/bestmedicine1

http://www.facebook.com/

thebestmedicinecornwall

36 July 2021 | parenta.com

parenta.com | July 2021 37
---
Exploring different

• Piaget (Jean) – known for developing

his theory of early childhood stages

and researching when children could

developmentally do certain things

pedagogies

You may hear the word 'pedagogy' in educational circles, and there are many research articles

which assess the effectiveness/importance of one pedagogy over another. But how do you

know which ones are really relevant to the early years? In this article, we will take a look at what

pedagogies are, and look at some of the most important ones for early years professionals.

What is a pedagogy?

If you look on the web, there are varying

definitions of the word 'pedagogy'. One

of the easiest to understand is from the

Merriam-Webster dictionary which says

it is "the art, science, or profession of

teaching". In simple terms, a pedagogy

can be thought of as something similar

to a theory of how to teach something,

so that knowledge or skill is imparted

to the child (or adult in some cases) and

which takes into account the current

understanding of how children learn, and

other things that might affect this. But to

truly understand its meaning, you need to

understand the context in which it is used.

If you look at the history of UK education,

much of it was based on rote learning

or the old 'chalk and talk' method. The

teacher stood in front of the class, wrote

on the blackboard and the children copied

it into their books and somehow 'learnt

it'. That constituted a methodical and

regimented way of learning – a pedagogy.

But it didn't work well for everyone, so

teachers researched, experimented and

tried different things to see if they could

improve their teaching. At the same time,

other scientists researched how children

learn and develop, and began assessing

what worked well and some more

pedagogies were developed.

A recent example of a pedagogical

approach coming into its own, is that of

Forest Schools. They have a particular set

of beliefs about how children learn best,

and what adults should do to facilitate this.

It's a very practical, hands-on approach

with the learning taking place in a

woodland or forest environment. Teachers

ensure the safety of the children whilst

exploring or learning a new skill, but the

children often lead the learning, choosing

their activity and discovering nature in

their own way – a far cry from looking at a

picture of a stag beetle in a book!

Teachers many prefer or teach according

to a certain pedagogy, and in choosing

a school for their children, many parents

will seek a school that follows a certain

pedagogy (e.g. Steiner/Montessori).

Sometimes pedagogies strike a resonance

with the needs of the time, and so

seem to become a preferred, or even

a 'fashionable' pedagogy. Others may

disagree, and the debate continues.

Many early years professionals will be

using a mixture of different pedagogies,

sometimes without knowing the theory

behind it, but they do it because it works!

So which pedagogies relate

best to early years?

A review of pedagogies 1 in several OECD

countries reported some strengths in the

pedagogies mostly being implemented in

England. These were:

1. England's pedagogical approach put

an emphasis on age-appropriateness

and play as well as encouraging staff

to employ different approaches and

practices, flexibly

2. It promoted continuous child

development within its curriculum

framework

3. England was found to have

favourable staff-child ratios which can

positively impact the pedagogy

It also reported that:

"Research suggests that specific

pedagogical approaches do not have better

outcomes than more general pedagogical

ones. In general, research has revealed

a mixed picture in terms of the impact on

children's outcomes of approaches with a

specific pedagogical programme, such as

Montessori or Steiner."

It did report however, that certain

pedagogical practices can stimulate

children's development better than others,

with the "quality of the interactions between

the adults and the children" scoring

very highly. Some of the most important

practices were where adults:

• Are genuinely interested in what the

child is doing

• Listen to the children they care for

• Extend their knowledge through

scaffolding the work

• Guide children's play to some extent so

that it has a meaningful purpose

• Use 'sustained, shared-thinking ways'

where the children construct meaning

from their experiences with the help of

adults

Some commonly discussed

pedagogies

It would be impossible, within the confines

of one article to discuss each of these

pedagogies in detail, be we have listed

some of the most common ones that are

used to inform early years practice. These

include:

• Athey (Chris) – built on Piaget's early

work and developed his 'schemas'

around them which are really patterns

of repeated behaviours that we can

recognise and work with

• Bandura (Albert)– highlights the

importance of adults being good role

models for children since children learn

to copy the behaviour of adults

• Bowlby (John) – instrumental in

developing the idea of attachment in

childhood which has influenced the

use of a key person

• Dweck (Carol) – developed the

idea of a growth and fixed mindset

which can affect whether children can

surpass their own ideas and beliefs

• Forest Schools –started in Denmark

where children learn through hands-on

experiences in a wooded environment,

developing a close relationship with

nature through 'risky play'

• Froebel (Friedrich)– invented the idea

of pre-school or kindergarten stressing

the importance of play as a way of

experiencing the world

• Gardner (Howard) – developed

his 'theory of multiple intelligences'

such as linguistic or intrapersonal

intelligences

• Montessori (Maria)– developed her

own method of teaching based on

her observations, focusing on each

child's individuality, and using specific

resources in 5 curriculum areas

(practical life, sensorial, mathematics,

language, and culture) in a mainly

self-guided, hands-on approach

• Reggio (Emilia) – developed a

child-centred approach focused on

understanding how children learn and

communicate and emphasises that

adults should embrace children's ideas

rather than try to change them

• Steiner (Rudolph)/Waldorf – offers

a calm, peaceful and predictable

environment in which children can

learn in a homely, comfortable

environment in a 'Education for life'

program

• Vygotsky (Lev) – stressed the

importance of a child's environment

and social interactions in their learning

experience as well as the value of play

Remember that some of these theories and

research date back nearly 100 years, and

the world is a very different place now. In

addition, there are several other strategies

that you could explore too, including:

• Co-operative learning

• Sensory learning

• Social stories

• Contextual learning

• Reflective learning

• Constructivist learning

• Concrete, pictorial and abstract

approaches

References

1. Early childhood education and care

pedagogy review

38 July 2021 | parenta.com

parenta.com | July 2021 39
---
Paediatric First Aid Course

Parenta is always looking at new ways to support the Early Years Sector. We

are pleased to announce that we now offer Paediatric First Aid training to all

those who work in early years, in partnership with Co-operative Childcare.

The course meets the requirements of

Ofsted, under DfE's guidance (April 2017),

complying with the framework for the Early

Years Foundation Stage

3

The certificate is valid for 3 years from

date of issue

This course offers a blended approach

(6 hours online + 6 hours face to face

training)

£

It costs only £120 per learner

Nationwide training venues are

available. Alternatively, we can

deliver the training in your setting

(minimum 6 students)

Support your staff by ensuring they

have the right skill sets and training

to maintain the safety of all children

within your care.

Book your Paediatric First Aid Training today

For as little as £120 + VAT you can get the qualification you need to be Ofsted ready and

maintain the highest level of safety within your setting.

0800 002 9242 hello@parenta.com