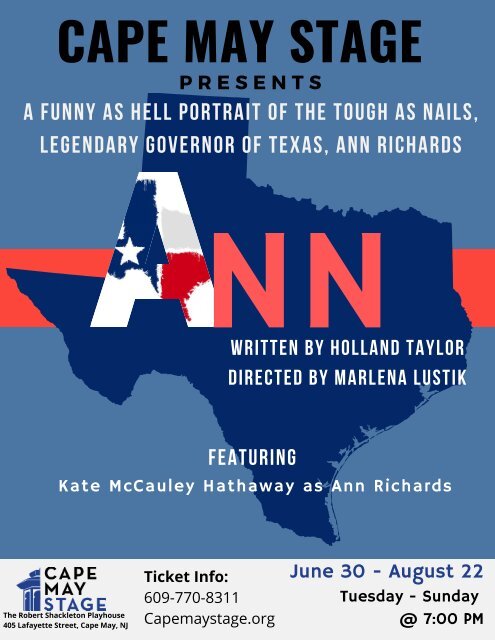 AnnPlaybill Final
Ann By Holland Taylor Directed by Marlena Lustik Featuring Kate McCauley Hathaway ANN is an intimate, no-holds-barred portrait of Ann Richards, the legendary late Governor of Texas. This inspiring and hilarious play brings us face to face with a complex, colorful, and captivating character bigger than the state from which she hailed. Written and originally performed by Emmy Award-winner Holland Taylor, ANN takes a revealing look at the impassioned woman who enriched the lives of her followers, friends, and family. Preview: June 30th Opening Night: July 1st June 30th-August 22nd Tuesday-Sunday 7:00 PM
Ann
By Holland Taylor
Directed by Marlena Lustik

Featuring Kate McCauley Hathaway

ANN is an intimate, no-holds-barred portrait of Ann Richards, the legendary late Governor of Texas. This inspiring and hilarious play brings us face to face with a complex, colorful, and captivating character bigger than the state from which she hailed. Written and originally performed by Emmy Award-winner Holland Taylor, ANN takes a revealing look at the impassioned woman who enriched the lives of her followers, friends, and family.

Preview: June 30th
Opening Night: July 1st
June 30th-August 22nd
Tuesday-Sunday 7:00 PM
SHOW MORE
SHOW LESS
You also want an ePaper? Increase the reach of your titles
YUMPU automatically turns print PDFs into web optimized ePapers that Google loves.
CAPE MAY STAGE

P R E S E N T S

a F u n n y a s h e l l p o r t r a i t o f t h e t o u g h a s n a i l s ,

L e g e n d a r y G o v e r n o r o f t e x a s , A n n r i c h a r d s

NN

w r i t t e n b y h o l l a n d t a y l o r

d i r e c t e d b y m a r l e n a l u s t i k

F e a t u r i n g

Kate McCauley Hathaway as Ann Richards

The Robert Shackleton Playhouse

405 Lafayette Street, Cape May, NJ

Ticket Info:

609-770-8311

Capemaystage.org

June 30 - August 22

Tuesday - Sunday

@ 7:00 PM
---
In Memoriam

All of us at Cape May Stage mourn the passing of Arthur Birsh at

the age of 88 at his home in Key Largo, Florida.

Arthur was one of the most important supporters of our theatre donating

the iconic yellow and black "Showbill" known to Broadway patrons from his

publishing "Playbill" for decades. He was a member of our Producers Circle

and his talented wife, Joan, donated her artwork for sale at our box office.

"May his memory be a blessing" is a phrase from the Jewish tradition.

His memory brings a smile of gratitude even as we mourn his loss.

"I loved Arthur Birsh for his taste and wit. He could be irascible at times but

never failed to tell the truth. His support of my work was one of my

treasured honors. He was my mentor as a producer and businessman. I

loved his jokes – particularly the off-color ones. We shared a love for the

theatre and good food and poetry. I will miss him and feel blessed to have

known his friendship."

- Roy Steinberg, Cape May Stage Producing Artistic Director
---
Welcome to Cape May Stage's 2021 Season!

"Idleness gives one the

mood in which to write,

isolation the conditions"

– Oscar Wilde

After months of quarantines and idleness for many, one could predict a

plethora of new writings if Mr. Wilde's musings have any merit. Indeed,

we have been exploring new works during the 2020 season and some of

them may be mounted in the future.

As we enter back with caution for this 2021 season, we pay homage to

the social justice personified by Ann Richards in "Ann", seek solace in

laughter with Neil Simon's "Last of the Red Hot Lovers" and revel with

a new play called "Adopt A Sailor – the Holiday Edition".

Live theatre is a hot medium. After countless hours of staring at video

screens for zoom meetings and virtual plays that have a cool quality,

the experience of living and breathing actors on a stage leading you

and your neighbors in a collective response is a treasure.

Roy B Steinberg

Producing Artistic Director
---
August 2nd - at 7PM

Monday,

actor-singer-dancer Karen Ziemba

Tony-winning

to Cape May Stage! Join one of Broadway's

returns

versatile and beloved performers as she

most

performs Broadway Classics like never before.
---
2021 SEASON

To book tickets:

Call the Box Office at 609-770-8311 or

visit capemaystage.org

405 Lafayette Street, Cape May, NJ 08204

Ann

by Holland Taylor

Directed by Marlena Lustik

Jun. 30 - Aug. 22

Tues. - Sun. | 7 PM

ANN is an intimate, no-holds-barred

portrait of Ann Richards, the legendary

late Governor of Texas. This inspiring

and hilarious play brings us face to face

with a complex, colorful, and

captivating character bigger than the

state from which she hailed.

Last of the Red Hot Lovers

by Neil Simon

Directed by Roy Steinberg

Sept. 8 - Nov. 21

Wed. - Sat. | 7 PM | Sat. & Sun. | 2PM

Middle-aged and married,

overworked and overweight,

Barney Cashman wants to join

the sexual revolution before

it's too late...

Just don't tell his wife!

Adopt A Sailor:

The Holiday Edition

by Charles Evered

Directed by Chris Dolman

Dec. 8 - Dec. 30

Thur. - Sat. | 7 PM | Sat. & Sun. | 2 PM

A successful and artistic

couple from NYC

inadvertently "adopt a

sailor" during the holidays &

have their lives changed

forever.

Welcome

Back!
---
Welcome Back to

Cape May Stage!

Please note the following guidelines from

Actors' Equity Association:

Patrons will be required to wear masks

throughout the performance.

Patrons may not eat or drink in the

theater before or during the performance

and intermission.

No visitors will be allowed backstage.

Autograph signings are strictly prohibited.

Thank you for following these

simple guidelines that enable

our theater to be re-opened!
---
Cape May Stage Staff

BOARD OF TRUSTEES

President Leslie Martel

Vice Presidents Stephen Miller, Wendy Collins,

Lynn Martenstein, Mary McKenney

Secretary Lee Bellarmino Treasurer Fred May

BOARD MEMBERS

Suzan Chmiel, Irene B. Darocha, Kate Hathaway, Ken Kirby,

Mark Kulkowitz, Marga Matheny, Joe Rodgers, Roy Steinberg

Producing Artistic Director

Marketing Director

Box Office Manager

Director

Production Stage Manager

Tech Director

Set Design

Costume Design

Lighting Design

MANAGEMENT

Roy B. Steinberg

Denise Shutter

Courtney Davis

CREATIVE STAFF

Marlena Lustik

Amy Hadam*

Seth Chaffin

Spencer Potter

Sera Bourgeau

Zach Weeks

Director of Development

Director of Finance

Volunteer Coordinator

Sound Design

Props Master

Dialect Designer

Artistic Associate

Literary Manager

Video Projection

Video Production Assistant

PRODUCTION STAFF

Production Manager

Master Electrician

Run Crew / Costumer / Props Coordinator

Amy Hadam

Joe McLaughlin

Leah Nadolski

Mitchell Malnati

Joan Flynn

Roberta Aungst

Hao Bai

Leah Nadolski

Amy Stoller

Chris Dolman

Shawn Fisher

Vincent C. Ellis

Ian Conway

*Member of Actors' Equity Association, the Union of Professional Actors and Stage Managers in the United States.
---
Director's Note

What better way to begin our post pandemic season than with

"Ann" by Holland Taylor?

We are in the midst of major seismic social shifts in our society.

All sorts of "norms" are in question. When I began work on the

play, I thought it might just be a period piece of sorts, a trip back

in time. I was surprised to discover how contemporary her world

feels.

Ann Richards became an adult at a time when women were

expected to do nothing but marry and become mothers. She did

that quite successfully but she also managed to become the

Governor of Texas. It is inspiring to see the story of an intelligent

woman who used humor ("I was the funny one!") and as she said

just plain "grit", to forge a career in politics.

Ann's story is not only inspiring to young women, but thought

provoking for all of us. So many of the issues she was concerned

about are still with us: equal opportunity regardless of race or

gender, the need for good jobs and education, the need for

honesty in government.

Her story reminds us that in every generation we need to keep

fighting the good fight. Ann Richards was a funny lady and the

lesson she teaches all of us is that in good times or bad, it's okay

to laugh.

And there's no better place than Cape May Stage to come

together and chuckle, chortle, guffaw, giggle, titter, and howl.

by Marlena Lustik
---
Our Producers Circle: Janice & Joseph Anania, Bill & Tina Angstadt, Lee & Jill Bellarmino, Lenore & Martin

Bowne, Tom & Sue Carroll, Suzan & George Chmiel, Ronnie & Barry Cohen, Wendy Collins & Laura Shaddock,

Irene Darocha & Michael Picariello, Denise & Vincent Degiaimo, Ted Gettinger, David Green & Christine Petrik,

Martyn & Greta Greenacre, Jennifer Harmon, Jerry & Kate Hathaway, Victor Keen & Jeanne Ruddy, Ken &

Elaine Kirby, Jim & Theresa Knipper, Mark & Pam Kulkowitz, Teri & Bob Lamendola, Leslie & Myles Martel, Lynn

Martenstein & Jorg Pawlik, Tedd & Mary McKenney, Stephen and Janet Miller, Catherine Rein, Fran Rixon,

Meryl & Joe Rodgers, George & Theresa Schu, Sue & Steve Teitelman, and Heather Turner present:

ANN

By Holland Taylor

Directed by Marlena Lustik

June 30th – August 22nd, 2021

The Otto and Phoebe Haas Stage

FEATURING:

Ann Richards....................Kate McCauley Hathaway *

Production Stage Manager

Amy Hadam*

Set Design

Spencer Potter

Costume Design

Sera Bourgeau

Lighting Design

Zach Weeks

Sound Design

Hao Bai

Props Master

Leah Nadolski

Dialect Designer

Amy Stoller

Production Manager

Amy Hadam

Time: 1990 to Eternity

Place: Texas

There will be one ten minute intermission

Tech Director

Seth Chaffin

Artistic Associate

Chris Dolman

Literary Manager

Shawn Fisher

Video Projection

Vincent C. Ellis

Special thanks to Professor Willard Neuert and DeSales University, Jerry Hathaway, Albert Geana

Bastare, Howard and Rick from Wigboys, Sandra Castellanos, and The Hugh

Ann is presented by special arrangement with DPS Dramatists Play Service

*Member of Actor's Equity Association

The use of any recording device, either audio or video, and the taking of photographs,

either with or without flash, is strictly prohibited. All electronic devices such as beepers,

tablets, cell phones, and watch alarms must be turned off prior to the performance.
---
Cast Bio

Kate McCauley Hathaway (Ann Richards)

was one of the producers that brought the

original production of Ann to Broadway,

and Kate is thrilled to bring Ann Richards

to Cape May, for Kate's second solo

production at Cape May Stage. In addition

to playing the title role in Erma Bombeck: At

Wit's End, Kate has appeared here in Steel

Magnolias, Other Desert Cities, Sylvia, and I

Hate Hamlet. On tour and regionally, Kate

performed the roles of Fantine in Les

Miserables, Eva Peron Miserables in Evita, Sally Bowles in Cabaret, Nellie

Forbush in South Pacific, Petra in A Little Night Music, and many

other roles. Kate has produced on, and invested in, Broadway

productions, including, in addition to Ann, Beautiful: The Carole King

Musical, and she was the lead producer for the musical Southern

Comfort, whose Off-Broadway production garnered many awards.

Kate and her husband Jerry live in New York City, and are lucky

enough to own a house in Cape May, where Kate serves on the

Board of Cape May Stage.

Kate McCauley Hathaway in Steel Magnolias, Sylvia, and Erma Bombeck: At Wit's End
---
Crew Bios

Marlena Lustik (Director) is thrilled to be directing live

theatre again! In Cape May Stage's last season

prepandemic, she directed The Taming. Other Cape May

Stage productions include Erma Bombeck: At Wit's End, Billy

Bishop Goes to War, Red Hot Patriot, A Walk in the Woods, and A Tuna

Christmas. She staged The Santaland Diaries, A Christmas Carol: The Radio

Show and This Wonderful Life which were performed during the holiday

season at Congress Hall. New York credits include Anton Chekhov's Uncle

Vanya (which she co-adapted) for the Triangle Theatre Company and a

production of A Cherry Orchard Off-Broadway for the Yorkville Repertory

Theatre featuring Maureen Garrett. She has directed for the Deptford

Players, The Comedy Club, the Snarks, and the 29th Street Rep in New

York as well as done workshops of new plays such as Piano Bar Blues,

Bavarian Rage, and Lotteria. Her on-site theatre piece based on Everyman

was performed at the Church of the Holy Trinity. Her productions of The

Seagull with Robert Newman and Vita and Virginia with other members

of the cast of Guiding Light were performed at the Helen Hayes Theatre in

Nyack, NY. She has directed as a guest artist at Berea College, Lafayette

College, and the School of Visual Arts in NYC. Marlena is also an

accomplished actress who has appeared on Broadway, Off Broadway and

at many regional theaters including The Long Wharf Theatre, Indiana

Repertory Theatre, The Goodspeed Opera House, The Kennedy Center,

and of course Cape May Stage. Thanks to Roy for the opportunity of

working on this delightful play, to Kate McCauley Hathaway for her

luminous performance., to the amazing crew and staff for all their hard

work, to the Board and all the Cape May Stage supporters who kept the

faith and kept us alive during this difficult time and of course to my

daughter Alexa for keeping me sane.
---
Crew Bios

Amy Hadam (Production Stage Manager) is so thrilled to be

back for her fifth-ish season! Past Cape May Stage credits

begin with The Whipping Man in 2016 all the through

Murder For Two: The Holiday Edition in 2019. Amy has also

been the Stage Manager for Dreamcatcher Repertory

Theatre (Summit, theater NJ) since 2013; recent virtual credits with them include

Everything Is Super Great and Holiday Bites, and the most recent in-person

production with them was Be Here Now in early 2020. Other credits

include: 21: The Musical (NYC), Jekyll & Hyde and Spamalot at Surflight

Theatre (Beach Haven, NJ), A Piece of My Heart and Janey Miller's World

Tour at Speranza Theatre Company (Jersey City, NJ), Miss Witherspoon

and The Further Adventures of Hedda Gabler at The Theater Project

(Maplewood, NJ), and Talking to Westfield and At Liberty Hall at Premiere

Stages (Union, NJ). Amy is a member of Actors' Equity Association.

Spencer Potter (Set Design) is a Professor of Design and

freelance costume/set designer working between the

Western and Mid-Atlantic regions. Spencer's design

credits at Cape May Stage include: Ultimate Christmas

Story...Abridged! Outside Mullingar, Billy Bishop Goes to War,

Buyer and Cellar, buyer The Whipping Man, The Search for Signs of Intelligent Life,

Red Hot Patriot, Blithe Spirit, How to Make a Rope Swing, Erma Bombeck: At

Wit's End, An Actor's Carol, Heisenberg, Sidekicked, Murder for Two: The

Holiday Edition and assistant designer for Time Stands Still. Other design

credits include: Costumes- The Roads to Home, Die Fledermaus, The Odd

Couple, The 25th Annual Putnam County Spelling Bee. Scenery - Singin' in The

Rain, Noises Off, And Then There Were None, Tons of Money, The Woman in

Black and Steel Magnolias. In the past, Spencer has also worked as Cape

May Stage's Production Manager/Technical Director and as the Resident

Intern Program Coordinator.
---
Crew Bios

Hao Bai (Sound Designer), a multidisciplinary designer in

lighting, sound, and video projection for live and virtual

performances. Hao works with groundbreaking and

innovative artists including Charlotte Braithwaite, Abigail

DeVille, Mei Ann Teo, Ping Chong, The Talking Band,

Mabou Mines, Mabou The Wooster Group, The Builders Association, The

Hawtplates (Justin Hicks), Pioneers Go East Collective, Loco7, Nia

Witherspoon, and New Stage Theatre, etc. Hao's work has been seen

internationally at Asia Culture Center (South Korea), WuZhen Festival

(China), in the states at CAC (Cincinnati), Stanford, Jone Hall (Houston),

and in New York at The Public Theatre, NYU Skirball, Bushwick Starr, La

MaMa, JACK, Performance Space New York, New Stage Theatre, 59E59,

A.R.T/New York Theatres, 14 Street Y, BAAD!, Stella Adler, The

Performing Garage, The Gallery Players, The Tank, etc. Recent: Virtual:

Final Boarding Call (Ma-Yi Theater+WP Theater); Nocturne in 1200s

(Ping Chong). Lighting: Waterboy and the Mighty World (Bushwick Starr

& The Public Theatre). Projection: Electronic City (NYIT Awards),

Chronicle X (The Shed). Upcoming: Production Design: Where We

Belong (Woolly Mammoth Theatre). Lighting: Chinoiserie (Ping Chong).

Projection: Storm (NYU). Sound: Walden (Theater Works Hartford); Little

Shop of Horrors (St. Louis Rep). https://www.haobaidesign.com/

Leah Nadolski (Props Master) is happy to be back at Cape

May Stage. She graduated from DeSales University in 2017

with her degree in Theatre Tech and Design with a

concentration on set design and props. Her past

productions include Heisenburg, Sidekicked, The

Taming, Sylvia Taming, and Murder for Two: A Holiday Edition. She would like to

thank her family and friends for their love and support.
---
Crew Bios

Zach Weeks (He, Him, His) (Lighting Design) is excited to

be designing at Cape May Stage. Zach is a New York based

designer whose designs have been seen all over New York.

Selected credits include Peter and the Starcatcher, Little Shop

of Horrors, You're are a good man Charlie Brown, The Tempest,

Little Prince (Epic Little Players), Pushkin (Sheen Center), Fall of the House of Usher

(The New School). Regional Credits include Brigadoon & Love and the Law

(Muhlenberg College), The Producers, Into the Woods, Hairspray, & Legally

Blonde (White Plains PAC). Zach has worked as an Assistant Designer at

Carnegie Hall, New York City Center, Plaza Hotel, and Theatre Row just

to name a few. To learn more about Zach or to see more of his work

please go to zwdesigns.net

Sera Bourgeau (Costume Design) is thrilled to be returning

to Cape May Stage for the 2021 Season! While always a

Cape May local at heart, Sera is currently based in New

York City, and has spent much of the last decade

designing and working at theatres all over the country.

Previous Cape Previous May Stage Credits include: Erma Bombeck: At Wit's End,

Murder for Two: Holiday Edition, The Taming, Chapter Two, The Lion in Winter,

The Shuck, An Actor's Carol, and Outside Mullingar. Additionally her designs

have been seen at Williamstown Theatre Festival, Long Wharf Theatre,

The Duke at 42nd Street, HERE Arts Center, Northern Stage, The Secret

Theatre – NYC, The Lounge Theatre – LA, Colorado Springs Fine Arts

Center, Adirondack Theatre Festival, Mill Mountain Theatre, and

Theater at Monmouth. Sera worked as a full time Production Assistant

then Costume Department Coordinator on Season 1 of CBS's The

Equalizer. MFA: University of California, Irvine. www.serabourgeau.com
---
Crew Bios

Amy Stoller (Dialect Designer) has provided dialect design

and/or dramaturgy for over 30 productions at Off-

Broadway's award-winning Mint Theater Company. On

Broadway she coached Jessie Mueller (Tony Award) as

Carole King in Beautiful. Amy has been personal dialect

coach to Anna coach Deavere Smith since 2007, most recently on Notes from the

Field (New York and London; HBO; audiobook). Her latest projects

include dramaturgy and language consultation for The Night of the Iguana

starring Dylan McDermott and Phylicia Rashad, directed by Emily Mann;

dialect coach for Fires in the Mirror at Theatrical Outfit in Atlanta; and the

feature film Zola (Colman Domingo as X). Other screen credits include

Selma (Carmen Ejogo as Coretta Scott King); Dietland; Mozart in the Jungle;

Nurse Jackie; Dora the Explorer. Amy is an officer of VASTA, and a member

of the LMDA. www.stollersystem.com
---
Crew Bios

Holland Taylor (playwright) Her New York stage performances include

Bess in Breakfast With Les and Bess, the original productions of Butley,

opposite Alan Bates, and A.R. Gurney's The Cocktail Hour. In Los Angeles

she has performed in Kindertransport and in Yasmina Reza's The

Unexpected Man at the Geffen. Holland was a dedicated student of Stella

Adler, and has given talks about this great teacher. A Philadelphia native,

she went to Westtown Friends School, and took a BA at Bennington

College. In 2005 she became a student again, earning an MA from the

University of Santa Monica, and in '07, began work on this play. She will

always be grateful to the Galveston Grand Opera's Maureen Patton, who

took an enormous "Ann Richards-sized" risk in launching its first run; to

Kevin Bailey, our shepherd from the start; to Benjamin Endsley Klein for

his promise to "make the vision flesh;" and to Bob Boyett, who read the

play as a friend, and looked up from the page as its producer.

Actors' Equity Association (AEA) was founded in 1913 as the first of the American

actors unions. Equity's mission is to advance, promote, and foster the art of live

theatre as an essential component of our society. Today, Equity represents more

than 40,000 actors, singers, dancers, and stage managers working in hundreds of

theatres across the United States. Equity members are dedicated to working in the

theatre as a profession, upholding the highest artistic standards. Equity negotiates

wages and working conditions and provides a wide range of benefits including

health and pension plans for its members. Through its agreement with Equity, this

theatre has committed to the fair treatment of the actors and stage managers

employed in this production. AEA is a member of the AFL-CIO and is affiliated

with FIA, an international organization of performing arts unions. For more

information, visit www.actorsequity.org
---
Generous Donations to Cape May Stage

Representing January 1. 2020 - June 15, 2021

MICHAEL LAIRD LEADERSHIP CIRCLE - $25,000 TO $74,999

Geraldine R. Dodge Foundation

NJ State Council on the Arts / CARES Act

The Shubert Foundation

MARQUIS SOCIETY - $15,000 TO $24,999

Myles & Leslie Martel

STANDING OVATION - $10,000 TO $14,999

Victoria Cumock

Robert Dixson

Victor Keen & Jean Ruddy

Kenneth & Elaine Kirby

Jim & Teresa Knipper

Catherine Rein

Steve & Susan Teitelman

LEAD PRODUCER - $7,500 TO $9,999

Lee & Jill Bellarmino

PLAYWRIGHTS CIRCLE - $5,000 TO $7,499

Irene Darocha & Michael Picariello

Denise & Vince Degiaimo

Mary & Ted McKenney

IN THE SPOTLIGHT - $2,500 TO $4,999

The Nancy Friday Foundation

Joan & Arthur Birsh

Walter Bradhering

Paul & Frances Rixon
---
Generous Donations to Cape May Stage

Representing January 1. 2020 - June 15, 2021

STARS OF THE SHOW - $1,000 TO $2,499

Lester & Roberta Aungst

Edward Breiner

Mr. & Mrs. Russell Dickhart

Jill Eikenberry & Mike Tucker

Tanice & Dudley Fitzpatrick

Barbara & Doug Groff

Haldeman Family Foundation

Gerald & Kate Hathaway

Bob & Becky Kriebel

Mark & Pam Kulkowitz

Chris & Kit Marlowe

Lynn Martenstein & Jorg Pawlik

David Green & Christine Petrik

Sue Priester, Community Foundation of Greenville, Inc.

George & Theresa Schu

Woody Shackleton

Jeremy T. Smith

Matt & Mary Trella

Lee & Marvin Zektzer

Mary Burke

John & Kathy Case

Suzan & George Chmiel

Scott & Diane Clemens

Brad Gettelfinger

Pamela & Tom Harrison

Philip Kellett

Tricia Kraemer

Bob & Terri Lamendola

Brook & Cherry Landis

John Leek

Brian MacGeorge

Belle & Thomas Maher

LEADING ROLE - $500 TO $999

Antonio & Gordon Mason

Fred May & Sandra Bloodworth

Paula Murray, The Bedford Inn

Jane Robinson

Dr. James & Marilou Rochford

Robert Schwinger

Lee & Roy Shubert

Therese & Robert Smith

Barbara St. Clair

Stephen & Patricia Steinour

James & Jeanne Testa

Chris & Rosanne Traficante
---
Generous Donations to Cape May Stage

Representing January 1. 2020 - June 15, 2021

John & Nancy Bailey

Nancy & Michael Childs

Catherine & Douglas Davis

Mr & Mrs. David Eschback III

Susan Fitz

Ron Germann

Bruce and Paula Greene

Don & Tillie Hager

Donna & Craig Imbriaco

Mary Beth James

Shelley Jordan

Mary Ann & Gus King

John & Nancy Kitlas

FEATURED ACTOR - $250 TO $499

UNDERSTUDY - $100 TO $249

Richard Klein

Kathleen Kucsma

Arleen Buchanan & James Mantell

David Mcshane

Richard Mosso

Susanne & Alexander Nelson

Dale Owens

Lisa Rothman

Alan Rutenberg

Ann Turnbull and Alice Hort

Kerry Wagner

Sheri Wolfe

Virginia Anslinger

James Anthony

Joshua & Lauren Averill

Michael & Amy Bellarmino,

in Honor of Lee and Jill Bellarmino

Edward Borer

Debra Bosin

Anne Burrows

Sean Byrne

Sue & Tom Carroll

Pat Carroll

Richard and Marrie Cassidy

Edward Castagnetta

Tom Cavanaugh

Bruce & Robin Corini

Matt Palmer & Christine Cosenza

Hutchie & Jeremy Cummin

Susan & William Currie

Marta Dabezies

Francis Derose

Dan & Mary Dewaters

Teresa Dowe

Morris Edelman

Michael & Jane Egan

Abigail Adams & Kathleen Emerson

Gail Evans

Thomas H. Fairchild Charitable Fund

Kathleen & Robert Familetti

Adele Faust

Vicky Fiedler,

In memory of Judith Fiedler

William & Margaret Flanagan

Jim & Janine Foreman

Donald Frigon

William & Adrienne Gallagher

Robert Gasalberti

Steven and Lynne Glasser

Lorelei Goldstein

Carol Goloff

Joyce and Alan Gould

Stacie Gray

James Haines

Catherine Hawkes

Michael & Mary Lou Hayko

Raymond Herman

Sheila Horgan

David Hutchinson

Kathryn & William Hymans

Connie Jannuzzi

Richard Kallok

John & Carol Kassay

Maria Kastner

Jeanne Kelly

Kate and John Kerrigan

Malcolm & Dottie Knapp,

In Honor of Michael Zuckerman

Deborah Kops

Holly Krinsky

Walt & Yvonne Kuemmerle

Rena Laith

Dolores F. Lanzaro

Roberta Rote & Martin Levitas

Jon Lindstrom

Donna Locke

Al & Martha Maffeo

Suzie Maguire

Barbara Mallaney

Marikay & Jim Malley

Ira L. Marks & Judith F. Marks

Tom & Tina Mcandrews

Robert Mcbride

Diane Mcfarlin

Tom Ringe & Patricia McGuinn

Debra Mcmahon

Mary Millar

Dana Welch Miller

Paula Miller

Lisa Monard

Stephen Murray

Carol Nick

Richard and Kathryn Noble

Connie Norteman

Stephanie & Bryan Oscarson

John Ounsworth

Susan Panzarella

Virginia & Theodore Passon

Joanne Perry

Robert & Geraldine Petrucelli

Gary Platterspiel

Michael Posner

Mark Renna

Jeffrey Rights

Octavio Rodriguez

Lynn Romolini,

In memory of Michael Rowinski

Jim Salasin

Ronald Salerno

Joan Saylor

Kristina Scanlon

Madeline Schroth

Katharine Schumacher

David Schwartz

Mary Claire Seider

Edward Shakespeare

Patricia & Jack Smyth

Bill & Sherry Soutiere

Brian Spadora

Sharon Tether & Joseph Stefanelli

Roy B. Steinberg

Rosalind Stern

Dr. Eileen Tyrala

Alan Urek

Alice Washington

Susan Wiggins

Bruce Wilson

Lewis and Joy Wyatt

Debbie Yeager

Janet Yunghans,

in honor of Walter Casebeer

Kim Zimmer