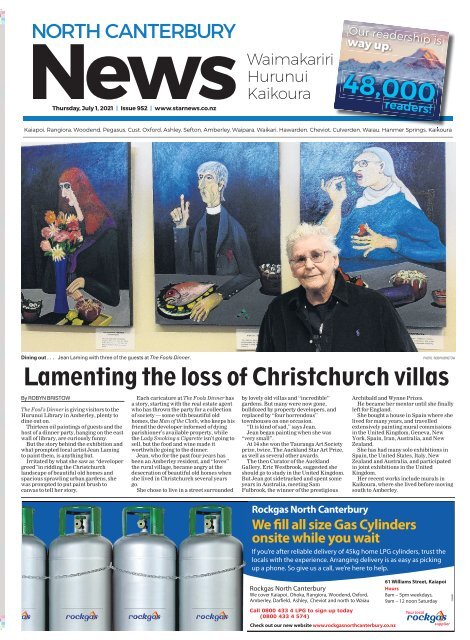 North Canterbury News: July 01, 2021
You also want an ePaper? Increase the reach of your titles
YUMPU automatically turns print PDFs into web optimized ePapers that Google loves.
Our readership is

wayup.

48,000

Thursday,July1,2021 | Issue952 | www.starnews.co.nz

readers!

Dining out ... Jean Laming with three of the guests at The Fools Dinner.

PHOTO:ROBYN BRISTOW

Lamenting the loss of Christchurch villas

By ROBYN BRISTOW

The Fool's Dinner is giving visitors to the

HurunuiLibraryinAmberley, plenty to

dineout on.

Thirteen oil paintings of guestsand the

hostofadinner party,hanging on theeast

walloflibrary, are curiously funny.

But the story behindthe exhibitionand

whatpromptedlocal artistJean Laming

to paint them,isanythingbut.

Irritated by whatshe saw as ''developer

greed''in ridding theChristchurch

landscape of beautifulold homes and

spacious sprawlingurban gardens,she

was promptedtoput paint brush to

canvastotellher story.

EachcaricatureatThe Fools Dinner has

astory, starting withthe real estate agent

who has thrown theparty for acollection

of society —some withbeautiful old

homes,the Man of theCloth,who keeps his

friendthe developer informed of dying

parishioner'savailableproperty,while

the Lady SmokingaCigarette isn'tgoingto

sell, but the foodand wine made it

worthwhile going to the dinner.

Jean, whofor thepast fouryears has

beenanAmberley resident,and ''loves''

the rural village, became angry at the

desecrationofbeautifulold homes when

she lived in Christchurch severalyears

go.

She chose to liveinastreet surrounded

by lovelyold villasand ''incredible''

gardens. Butmany were now gone,

bulldozedbypropertydevelopers, and

replaced by ''four horrendous''

townhouses on oneoccasion.

''It is kind of sad,'' saysJean.

Jean began painting when shewas

''very small''.

At 14 shewon the Tauranga Art Society

prize,twice,The Auckland StarArt Prize,

as wellasseveral otherawards.

Thethen Curatorofthe Auckland

Gallery, Eric Westbrook,suggested she

should go to studyinthe United Kingdom.

ButJean got sidetracked and spent some

years in Australia,meeting Sam

Fulbrook, thewinner of the prestigious

Archibald and WynnePrizes.

He became hermentoruntil she finally

leftfor England.

She boughtahouse in Spain where she

lived formanyyears, andtravelled

extensivelypaintingmural commissions

in the United Kingdom,Geneva,New

York,Spain, Iran, Australia,and New

Zealand.

Shehas hadmanysoloexhibitions in

Spain,the United States,Italy, New

Zealandand Australia, and participated

in joint exhibitionsinthe United

Kingdom.

Her recentworks includemurals in

Kaikoura,where shelivedbeforemoving

south to Amberley.

Rockgas NorthCanterbury

We fill all sizeGas Cylinders

onsite while youwait

If you're afterreliabledeliveryof45kghome LPG cylinders,trust the

locals with the experience. Arranging deliveryisaseasyaspicking

up aphone.Sogive us acall,we're heretohelp.

61 Williams Street,Kaiapoi

Hours

8am –5pm weekdays,

9am –12noonSaturday

2286893

Check out our newwebsite www.rockgasnorthcanterbury.co.nz
---
NEWS

2 The North Canterbury News, July 1, 2021

Grow

customers,

salesand

profits

with North

Canterbury's

bestread

newspaper

Readership: 47,000 weekly

Circulation: 30,150copiesdelivered

to EVERY farm, RD, lifestyle block

and home inWaimakariri, Hurunui

&Kaikoura every Thursday.

news

RobynBristow

Managing Editor

027 312 1581

robyn.bristow

@ncnews.co.nz

Reporters

David Hill, Shelley Topp.

advertising

DaynaBurton

Sales Co-ordinator

027 312 0089

dayna.burton

@ncnews.co.nz

Amanda Keys

Advertising

027 536 6224

amanda.keys

@ncnews.co.nz

Boutique gin captures Kaikoura

By ROBYN BRISTOW

Agin distillery, tucked awayinthe

foothills of Mt Fyffe,iscapturing the

spiritofthe Kaikoura region.

Woolshed and Shearwater Gin,are

tantalisingtastebuds with locally

foraged botanics from the slopes of Mt

Fyffe,the Kaikoura mountain range,

and the coastline.

Justine Schroder'ssmall batch

artisan gin has not only captured the

imagination of the many people now

buyingitonline, but was also

recognisedatthe New Zealand Spirits

AwardsinAuckland lastweekend.

Justine who launches her gin today

(Thursday, July 1), in Kaikoura, won the

Long story short New ZealandEmerging

Product award.

She really only attended the awards

to network, as her gin she distills in a

littleworkshopontheir Mt Fyffe farm,

had barely gone on the market.

''It was amazingtowin. There were52

entries,'' says Justine.

She begansearching for something to

turn her handto, having given up her

job as amidwife after her children

arrived.

''I couldn'tdooncall work becauseof

the kids, and Ihad been searching for

thingsfarmers can do to diversifyonthe

farm,'' she says.

''I lovetodrink gin,and the New

Zealand gin industryisreally cranking.

''I am just anewbee,but Iwant to

produce aboutique gin so people can

enjoy aglass with some organic tonic,

and garnishes,''she says.

She uses botanics sourced from the

slopesoflocalsmountain and the area,

creating two distinct blends.

Supporting local and sustainability

are two of the key ingredients in the

venture

Woolshed is aLondon dry stylegin

where Juniper is ''the hero''.

Justine says she got her inspiration

National award ... Justine Schroder with the award she won last weekend for her artisan

gin.

PHOTO:SUPPLIED

from the farm, pairing earthy nutty

tones foundinkanuka,fresh mint and

floral elderflowers, withcoriander and

angelicaroots, giving it abold smooth

flavour.

Shearwater gin is the opposite

sensation.

Justine pairs rosehipand blue borage

flowers fromthe highcountry with

native seaweed (Karengu) whichis

foundonthe Kaikoura coastline.

The blend is oceanic, fresh, fruity,

lightand crisp.

Both gins can be purchased through

the Mt Fyffe Distillery website, by

phoneorbyemail.

Hurunui council confirms 8.49% rate rise

A$1million shortfall in fundingfrom

Waka Kotahi/New Zealand Transport

Authority, has seen the Hurunui District

Council committing to further debt to

maintainits roading network at the

current level.

The councilapproved funding the

shortfallinits Long Term Plan (LTP), for

2021­2031, after last minute receipt of the

indicative fundingproposal from the

agency.

Chiefexecutive Hamish Dobbie says the

roading infrastructure is vitalasameans

to support the connectedness of rural

communities and the national economy.

''Yes,council was disappointed in the

amount of funding available, but we

remain committed to maintaining the

roadingnetwork to the best condition that

finances allow."

The LTP document, Finding the Fair

Way was finalised at an extraordinary

meeting yesterday (June 30). It follows

consultationacross the district, and

consideration of submissions.

Mr Dobbie says the key elements in the

LTP are closely aligned to key council

infrastructure—three waters and the

transport network.

He says it also reflects public services

the council delivers, particularlyinthe

areas of waste managementand social

housing.

As aresult, the averagerate increase

will rise to 8.49%for the 2021/2022 year. A

4.99% rate increase is proposed for the

2022/2023 and 2023/2024 years.

"While council acceptsthe 8.49% rate

increase is challenging, it is of the view it

is prudent at this time, to minimise

operational debt, given the uncertainly

that faces Local Government nationally."

For the final seven years of the LTP, the

proposedrate increase is 2% per annum.

''This plan will ensure that the rating

effectsofCovid­19 are adequately dealt

with and that the roadingdebt is

eliminated by the end of June 2024,'' says

Mr Dobbie.

While council accepts the 8.49% rate

increase is challenging, it is of the view

that it is prudent at this time,tominimise

operationaldebt given the uncertainly

that faces Local Government nationally."

Kerryn Clark

Advertising

021 586 138

kerryn.clark

@ncnews.co.nz

getintouch

Editorial

info@ncnews.co.nz

Advertising

sales@ncnews.co.nz

Graphic Design

heather.hood@ncnews.co.nz

Distribution/Deliveries

03 314 8335

Rangiora: 03 313 2840 /03314 8335

14 Ashley St, Rangiora

Christchurch: 03 364 7460

www.starnews.co.nz

2386026b

Largest pump display in

North Canterbury

www.tiw.co.nz 03 313 0408

308 Flaxton Road, Rangiora

See usfor all

your domestic &

lifestyle pumping

requirements

-New Homes

-Lifestyle Blocks

-Submersible Pumps

-Variable Speed Booster

Pumps

-Drainage Pumps

-Pond Pumps

-Installations

See the Experts!

2095268

Kaiapoi Lodge

Residential Care

Nursing Home, Hospital and

Respite

Person Centred Care,

Care that's built

around you

6Cass Street, Kaiapoi

Ph 03 327 7235
---
Vaping in the spotlight at RHS

Vaping ... Rangiora High School students and staff join forces to

fight vaping.

PHOTO:ABIGAIL CHESSUM

By ABIGAIL CHESSUM

Awar on vaping is being waged

at Rangiora HighSchool.

It is being led by several

students and teachers at the

school due to their growing

concern about the recent

vaping trend hittingthe New

Zealand high school scene.

They are also concerned

aboutthe openingofavape

shopabout 750 metresfrom the

school.

Shemya Jones­Bloomfield

and Kirriana Sutton, two Year

12 students,have put posters

around the school, advertising

the negative effectsofvaping

they feel many studentsneed

to know.

They are not only targeting

the issue because it is

becoming awider New

Zealand one, but also because

they want to spread awareness

to young students.

''We saw howimportant it

wouldbetospreadawareness

around it becausewefeel alot

of the younger kids,especially

here at Rangiora High School,

see what the older kids are

doingand theycopy them."

said Shemya.

Rangiora High teachers and

staffare supportingthe efforts,

pulling out all the stops to

combat vaping, including

tightening up on out of class

passes, checking up regularly

on where vapingoccurs,

educating studentsthrough

assemblies and using ministry

providedsignage.

PrincipalKaren Stewart

says it is illegal to vape on

school sites, due to achange in

legislation lastyear, so there

were consequences.

''Vaping is out thereinthe

community. It'sinthe movies,

you see it on TV, so therefore

we've got asection of our

community thatthinkvaping is

the thingtodo,'' she says.

In 2019 asurvey showedthat

an estimated12percentof

Year 10 students, aged 14 to 15

years, vape on acasual basis, at

least monthly, and about3%of

Year 10 studentsvape daily.

Vaping,unlike smoking, can

be flavoured whichgives it

furtherappeal to students. The

good taste in vapes can mask

it's negative effects, and only

makes themmore addictive.

''I thinkother young people

think they're ok because

they'reusing vapejuices,

which taste good, therefore

make themthink they're safe,''

says Mrs Stewart.

Studieshave shown vaping

has as many negative effects as

smoking.

Chemicals suchaspropylene

glycol and flavourings are

inhaledthrough vape, as well

as Vitamin Eacetate, a

thickening agent, whichcan

potentially damage the lungs.

Nicotine is acommon

substance in most vapes.

Concernisgrowing and it is

recommendedyoung people

need to treat vaping as a

harmful substance. As more

peoplebecomeaddicted to

vaping, there is less of achance

of removingthe trend in

youths. ''Just don't do it''

Shemyasays.''Just don't.You

don't look cool when you follow

what everyone else is doing.''

New business bringing memories to life

By SHELLEY TOPP

Anew business callediRemember is

bringing memoriesofthe dead back to life

usingaquickresponse (QR) code.

The business is the brainchildof

Kaiapoi's Ben O'Reilly, Paul King, his

employeratGraceworks Recycling, in

Flaxton, near Rangiora, software engineer

Dan Rosenbrock, of Halswell, plus Paul's

nephew Sam McKay, whoisafilm student

at theVictoria UniversityofWellington.

Ben approached Paul about creating a

QR code, similartothe Covid­19 tracer

code,toaccess amemorial page for

deceasedloved ones at cemeteries and

othermemorial sites.

Ben suggested establishing anew

business together. They brought Dan and

Sam on board and began workingon

establishingthe iRememberwebsiteearly

last year. ''Everyonehas an equal input

into this project,''Ben says.

Once the memorial marker QR code has

been placed at amemorial site, anyone

with asmartphone can scan the codeand

view photos, videos and images of the

person.The iRememberservice comes

with three subscription options, monthly,

yearly or lifetime. Subscriptions can be

cancelled at anytime with no continuing

contracts or obligations.

Ben saysthe initiativewas createdto

share the legaciesand help preserve

memories of their lovedones.

''Everyonehas ahistory, astory to tell, a

lesson to teach, alife they have lived, a

legacy,'' Ben says. The motivation for the

business came from the death of his

brother, Jamie O'Reilly who died in acar

crashin2008.''He was cremated and his

asheswere scattered to the wind,'' Ben

says.''My familybuilt amemorial chairfor

Jamie, but it doesn'tshow what an

amazing person he was. It doesn't allow

me and my familytohear his voice or see

his face again to sharethe memories we

haveofhim or for Jamie's story to be

preservedfor my children or their

grandchildren.'' AQRcode memorial

marker has now been createdfor Jamie's

memorialchair to access hismemorial

page on the iRemember website.

For more information on how to create

amemorial page and establishan

iRemember QR codegotothe iRemember

website at www.iremember.co.nz.

The Widest Music Variety

NEWS

The North Canterbury News, July 1, 2021

Womans shoe $129 Now $64.50

3

TAXRETURNS

Debra Jowsey

Karla Kilner

Tax &Accounting

Consultants

since 1984

Overwhelmed? Confused? With the recent IRD

changes to tax returns, GST returns, rental returns

and pay day filing A-Plus Accounting is here to help.

Give us acall. Friendly,knowledgable staff.

A-Plus Accounting

☎ 03 314 9480

2293781

Caring for North Canterbury

Dr John Dehn

Full Mole Checks

using Dermoscopy

Surgical Management

and Aftercare

Comprehensive, Affordable, Convenient

Ph 03 9204060

52 Pegasus Main Street,Pegasus 7612

www.pegasusmedicalcentre.co.nz

Southern Cross

Affiliated Provider

For selected services

1890742

NOW

HALF PRICE

N $74 50

Womans boot $149 Now$74.50

Limited time

Offer applies to full price Skinside Out range only

While stocks last

2393292

Tune in nowtolistenon104.9 North Canterbury

and103.7 Hanmer Springs andKaikoura

Kaiapoi Mill, Ranfurly Street, Kaiapoi

Monday –Friday 9am –5pm

Saturday 10am –1pm

Closed on Public Holidays

Ph 03 327 0576
---
NEWS

4 The North Canterbury News, July 1, 2021

Pegasus parkrun celebrates amilestone

By ABIGAIL CHESSUM

The Pegasus parkrun showsnosign of

slowing downasitcelebrated its 250th run

on Saturday.

People flockedtothe startline dressed

in theircelebratory green colours,as

Compass FM pumpedtheir music in the

background.

Who knew arunning event could feel

like such aparty?

The Pegasus parkrun has been held

everySaturday morning since 2016.

For over four years it has catered to a

wide community of peoplewho walk or

run the 5km course.Unique in its ability to

bringthe community together, the parkrun

doesn't seem to be slowingdown any time

soon.

SouthIslandEvent ambassador for

parkrun, GeoffMcMillan, ran in

Saturday'scelebration event.

''Thewhole ideaofparkrun is that it's

MattDoocey

MP for Waimakariri

Kaiapoi Office

03 3270514•kaiapoi@parliament.govt.nz

137 Williams Street

RangioraOffice

03 3107468•waimakariri@parliament.govt.nz

Level 1Conway Lane,188 High Street

Iamrunning constituent

clinicsinOxfordonthe

last Friday of every month

and in Belfastonthe first

Monday of everymonth.

Authorised by Matt

Doocey, Parliament

Buildings, Wgtn.

notcompetitive unlessyou want it to be.

It's totally freeand it's afun thing to do.

''It gets peopleover the idea of 'yikes,

5km' and all of asudden 5km doesn't seem

so hard."

Three family members, the Tilley's,

haverun in many parkrunsessions, with

Keith taking part in 28 parkruns.

"It's just good fun.It's avery family

orientated event,"says Keith'swife,

Donna.

"It's good to be apart of the community

in thatway,"says Jo Tilley, theirdaughter.

ThisSaturday, 245 runners tookpart

fromthe wider community, astaggering

differencefrom the usual 90 to 100 that

cametoparkruns at this time of year.

"Thewhole atmosphere is family, it's

community, it'sjust everyone getting

together.

Onceyou finish your run you can have a

bit of ayack and catch up with people."

saysGeoff.

Regular runners ... Keith, Jo and Donna Tilley say the parkrun is good fun and avery

family orientated event.

PHOTO: ABIGAIL CHESSUM

If anyone is interestedinjoining

parkrun on Saturday mornings at 8am at

Pegasus lake, signuponline at parkrun.co.

nz/pegasustorecord yourrunning details.

New community centre at Pegasus closer

Apurpose­built Pegasus community

centre is one step closer.

The Waimakariri District Council has

endorsedits LongTerm Plan(LTP), which

proposes three community projects over

the next 10 years beginning with anew

Pegasus Community Centre.

MayorDan Gordonsays the futurefocused

LTP responds to agrowing

populationwhilecaring for the

environmentand keepingrates increases

low.

The LTP focusesonproviding

infrastructure and facilitiesfor agrowing

community (likelytobearound 95,000 by

2050), supporting Covid­19 economic

recovery, responding to climatechange

and considering the impact of the

Government's Three Waters

Infrastructure Review.

''Waimakariri fared much better than

other parts of New Zealand following the

lockdowns of last year, but there's still a

long way to go in recoveryand the council

has arole to play here,'' Mr Gordon says.

''We'reahigh growth district and need

to make sure we caterfor and appeal to

new residents by being an attractive place

to work and live. We do this by ensuring we

invest in and provide the rightservices

and facilities to meet diverse needswhile

lookingafter existing communities and

our environment.''

Councillors received and deliberated on

161 formal submissions before making

amendmentstothe planwhichsees rates

increase for the first year at an averageof

4.3 percent.

Prioritiesfor the comingyear include

recovering from the recent floodevent,

developing strategiestorespond to

climate change and sustainability in

accord with the Government's focus on

lowering emissions, and purchasing land

for the proposed Pegasus and north

Woodend (Ravenswood)community

facilities.

Ahighlight will be the opening of the

new MainPower StadiuminAugust,Mr

Gordon says.

''While there is someuncertaintyabout

the operating environmentofcouncilsdue

to three water and RMA (Resource

ManagementAct) reforms, the councilis

committed to investing in our community

and ensuringWaimakariricontinues to be

afantastic placetowork and live.

VOTE FOR YOUR

FAVOURITE BUSINESS IN THE

PEOPLE'S CHOICE AWARD

Voting is now open for the 2021 North Canterbury

Business Awards People's Choice Award.

Your vote puts you in the draw to WIN aMini Group

Pass from Hanmer Springs Thermal Pools &Spa.

Cast your vote now at

www.northcanterbury.co.nz/choice

Ph. 3136640| 275Flaxton Road, Southbrook

sales@brandmowers.co.nz
---
NEWS

The North Canterbury News, July 1, 2021

5

welcomes Wendy Withell

to the team

Popular performance ... Members of the Rangiora Borough School senior kapa haka group performing during aMatariki celebration

at the Rangiora Bridge Club last Monday afternoon.

PHOTO: SHELLEY TOPP

Matariki to be celebrated widely

✯ New client specials

✯ Free treatment with every service

✯ Rebook for 25% OFF next service

✯ Humm Payment Option Available

✯ Book online

By SHELLEY TOPP

Matariki is beingcelebrated widely in

North Canterbury thisyear.

In Rangiora the Maori New Year

celebrationsbegan with aperformanceby

Rangiora Borough School'ssenior kapa

hakagroup at theRangiora Bridge Club's

Matariki mid­winter lunch on Monday .

The performancewas adressrehearsal

for the school'send­of­yearconcert. The

group, under the guidance of kapa haka

tutor,LianaAbraham,includedaspecial

version of HappyBirthday To You,inte

reo Maori, for bridge clubmember Helen

Dunn, whoturned90recently.

Anumber of North Canterbury Schools

are celebratingMatarikithisyear.

TheyincludeLeithfield School, which

is holding itsannual Matariki Celebration

community event in the schoolhall next

Tuesday,July 6, from 5pmand Ashgrove

School, which is holding acommunity

MatarikiBreakfastonFriday, July9,

starting at 7.15amwithpancakes,fresh

whipped cream andfruit on the menuand

thechildren'sMatariki artworkon

display.

Therewill alsobekapa haka

performancesduringthe breakfastand a

former pupil, Tessa McNay willbethe

guestspeaker.

WhileinKaikoura,tomorrownight,

(Friday, July 2), HapukuSchool is holding

aMatariki NightGala from5.30pmuntil

9pm.

Waimakariri'sTuhaitara CoastalPark

is also celebratingMatarikiwithtwo night

walks.The first wasfully booked andheld

lastnight, butthere arestillplaces

availableonthe second onebeingheld

nextWednesday, July 7.

The Kaiapoi Food Forest was

scheduledtocelebrate Matariki with an

afternooninthe garden lastSunday, but

theeventwas postponed afterheavy rain

madeittoowet, andMadeNorth

Canterbury's Matarikifeast, scheduled to

be held at Mona Vale in Christchurch

yesterday(Wednesday June 30)was

cancelled, due to poorticketsales.

Matariki celebrates theMaoriNew

Year andisrecognisednationwideduring

lateJuneand early July. Prime Minister

Jacinda Ardernhas announced from next

year, Matariki willbecelebrated with a

public holidayonJune 24.

239 396 966 6600

Conway Lane, 172 High Street,

Rangiora Ph 423 3148

Read astory that you

want to comment on?

Send us a

Letter to the Editor!

Letters must be under

250 words and may

be abridged.

Email robyn.bristow@ncnews.co.nz

Thinking of selling

your ruralproperty?

Iwelcome your call.

www.pggwre.co.nz

PeterCrean

Ruraland Lifestyle Sales

NZ No 1RuralSalesperson

NZ No 1Unit Sales

PGG WRIGHTSON REALESTATEAWARDS2020

M 027 4344002

pcrean@pggwrightson.co.nz

PGG WrightsonReal EstateLimited, licensed under the REAA2008

Helping grow the country

CERTIFIED ORGANIC COMPOST

Living Earth compost is ahigh

performance, nutritious brew

made from organic garden waste.

It's 100% seed and weed free and

ideal for topdressing,vineyards,

orchards and all types of gardens.

Living Earth compost is perfect if youare looking to:

• Savewater by increasing soil waterretention

• Reducenitrateleaching

• Add organic nutrients whichwill improve soil health

• Improve plants' resistance to drought

• Reduce soil loss and erosion

Living Earth has been producing quality compostfor over25years. Our compost is produced

to NZS4454:2005 standardand is certifiedorganic.

Get in touch with one of the team today. Asitevisit can be arranged to discuss your needs.

Contact Tony Poole: M021 657992 Etpoole@livingearth.co.nz
---
OPINION

6 The North Canterbury News, July 1, 2021

McALPINES MITRE 10 MEGA RANGIORA -OCEAN WATCH

This

Week

Sun

Fishing

Guide

Moon

Wind

Good

Thursday Friday Saturday Sunday Monday Tuesday Wednesday

Jul 1 Jul 2 Jul 3 Jul 4 Jul 5 Jul 6 Jul 7

Rise 8:01am

Set 5:04pm

Best

Times

5:46am

6:07pm

Set 12:14pm

Moderate Sturning

SE

In the Electoratewith

MattDoocey

MP forWaimakariri

Fair

Rise 8:01am

Set 5:04pm

Best

Times

6:28am

6:49pm

Rise 12:10am

Set 12:36pm

Gentle Sturning

E

Ok

Authorised by MattDoocey,Level1ConwayLane,188 High Street,Rangiora.

Winter offers treats

In winter,thereisalways interesting

things to do in Waimakariri.

My familyand Ienjoyed visiting

Oxfordatnight thisweekend to look

at the winter lights, as businesses

and homes tookpartinthis years

WinterLights competition.

On Sunday,weenjoyedviewing the

wakaatthe KaiapoiMarina as part of

the Matarikicelebrations in

Waimakariri.

Our stunningriver madea

wonderful backdrop forthe beautiful

waka, whichprovided agreat

learningopportunity forthe kids.

As National's MentalHealth

spokesperson, and as aCanterbury

MP whoisfrequently approached by

residents telling me they wanttosee

action and not rhetoric in the mentalhealth

space, Ibelieveitisakey part

of my roletohold the governmentto

accountthroughquestioning

ministersinParliament.

Lastweek,Iascertainedfrom the

Health Ministerthat despite

promises, verylittle hasbeenspent

on in­patientmental­health

facilities.

In fact, promisedspending has

resulted in only five extra acute

mental­healthbeds.

Iwas disappointed by the

minister's responsetopressurefrom

the mediaattention thatcame from

my questions,which was to saythat a

review of thespendingcouldbe

announced. Thisisnot goodenough

for New Zealanders strugglingtoget

help.

What asuccessfulmeetingwehad

in theRangiora TownHallwith the

Canterbury District HealthBoards

newchiefexecutive,Peter Bramley.

ThefeedbackIgot from the CDHB

wasthatthey reallyappreciated this

model of communityengagementand

will be working closely withour

residents around the issues that

were raised.

It is great to be able to update

everyone thatwecan expect

construction of our newafter­hours

facilitytostart in January.

It wasalsoreassuring to be

reminded at themeetingthat a

paramedic is availableeveryevening

to visit and assesspeople in their

homes.

This is something we have

especiallyfor our Waimakaririarea,

anditisagreat service.

Ihad to resistthe temptation to

take my carfor ablastaround the

WoodfordGlenSpeedway circuitin

Kaiapoithis week, when Idroppedin

as partofmyregular visits to our

communitygroups,businessesand

not­for­profits to checkinwiththem

as their localMP.

Iwas verysurprised to learn how

many local employees and small,

localvendors the speedway supports

during the season.

An army of volunteers has also

helpedkeep thetrackgoingfor over

45 years through theirpassion and

dedication.

Rise 8:01am

Set 5:05pm

Best

Times

7:09am

7:30pm

Rise 1:13am

Set 12:56pm

Gentle Wbecoming

moderate SW

Ok

Rise 8:00am

Set 5:05pm

Best

Times

7:50am

8:11pm

Ok

Rise 8:00am

Set 5:06pm

Best

Times

Waimakariri

Focus from Dan Gordon, Mayor

8:32am

8:54pm

Rise 8:00am

Set 5:06pm

Rise 2:14am

Rise 3:16am

Rise 4:18am

Set 1:17pm

Set 1:41pm

Set 2:07pm

Moderate SW easing

to gentle SE Moderate S Moderate S

Response to floods

Waimakariri celebrated international

volunteer week duringthe past week.

As acommunity we couldn't function

without fantasticvolunteers who

generously give their time in support of

great causes.Inthe last 12 months

council's community team estimate over

one million hours have been freely given.

Ahuge thank you to all who generously

give of your time to support our

community.

Flooding

The flood eventafew weeks ago has

transitioned from emergency to arecovery

response.

Council staff are managing 30 work

streams, aroundrestoring road access,

fixing storm waterinfrastructure and

providing support to affected landowners.

It is estimated the cost to our districtwill

be around $3 million.

We hope asignificantportion of this will

be recoverable throughthe Government,

especially in the area of roading. We are

continuing to work with landowners to

understand their issues and how best we

can support them and connectthem to the

right service.

We appreciated the support of the

Government, and Minister Kris Faafoi who

visited the welfare centres and the

Emergency OperationsCentre to reach out

and offer support. Two weeks ago Iagain

met with Minister Faafoi to stress thatthe

uninsured cost and hardship now faced by

our communitiesand landowners who

have been adversely affected by this

floodingevent is significant. The

Government's reliefpackage for

Canterbury of $500,000 was simply

inadequate.Infact it would barely cover

Ok

Best

Times

9:16am

9:39pm

Rise 8:00am

Set 5:07pm

Best 10:02am

Fair

Times 10:26pm

Rise 5:20am

Set 2:39pm

Moderate SW turning

SE

fencingreplacement costs on some of our

bigger farms.

Iwrote aletter on behalf of Canterbury

Mayors seeking more Government support

­especially for uninsured and remedial

costs. Iwas invitedtomeet the Prime

Minister last week, alongwith other

Canterbury Mayors.

The PrimeMinister listenedtoour

concerns and agreed to afurther $4m

relief support package, as well as an extra

$100,000 towards the Mayoral Relief Fund

for those affected by the floods.

Alot in our rural community are still

working towards recovering from this

event and the additional support will be

welcome. If you need supportplease reach

out to our Recovery Team on 0800 965 468.

Pegasus Park Run 5th Birthday

On SaturdayIattendedand took part in

Pegasus parkruns' 5th Birthdayand 250th

event.Weare fortunate to have such

positive, fun, welcoming and inclusive

experiences that focus on our wellbeingin

the district.Well done to Geoff McMillan,

Chris van der Leer and all the volunteers

and sponsors who make this weekly event

aroundthe lake possible.

Communitydrop­in meetings

Ihave started holding aseries of dropins

so that you can call in for achat, and I

remain connected with communities.

These are informal to allow people to talk

to me about whateverthey want. They will

happen across the district so keep an eye

out for adrop­in close to you (details are on

the council website and Facebook page)

and stop by and have achat about any

ideas, issues or topics important to you.

Email me at dan.gordon@wmk.govt.nz

or phone 021906437. I'm here to help.

Future flooding in storms will only get worse -farmer

By JOHN MCCASKEY

The Hurunui area escaped lightly in the

recent rainstorms.

The lower branchesofour creeks,

streams and rivers onlycaused abit of

inconvenience withwashoutsand slips.

However, thankstofour decadesof

neglect, and the Resource Management

Act, the predictions of thoseofuswho

grew up with actual on the ground

experienceway back in the 80s and 90s,

backed up by governmentfinanced

catchment/drainage boards, wereignored.

Now we can onlysit back and say ''told

you so''.

Whathappened was no "act of God''. It

was purely and simply the result of

government neglect/responsibility,

handed to bureaucratswith little

collective life experience.

Now all New Zealand is paying the

price, and with awarmingclimate

spawning moreunreliable storm periods,

it can only get worse.

Every time Itake aroam aroundthe

backroads, some Ihaven't travelledfor

30+ years,Iam horrifiedbywhat Isee.

Streamsand creeks chokedwith yearsof

accumulated debris —willows, old mans

beard —all ahaven for the exploding

weeds/vermin.

What hitsmehardest is where have all

the sheepgone, and the farming families

that keptthe country clean. Ihave seen

hillsides of forestry,nofirebreaks, slash

waiting to slide off into the catchment

areas,volunteer wilding escapees from

forests establishingthemselveson

roadsides —and some nassella tussocks —

miles from Waipara.

There is lots of official bleating from

those on high about the state of natures

affairs. It is apity they can't do anything

more practical than blame the farmers.

How longsince you heard the skylarks

singing, and saw the wax eyes and finches

flitting around.Isaw alonely fantailthe

otherday whereonce theywere very

common. All but gone thanks to the

government sponsoredenvironmental

neglectofthe "commons".Upuntil our

caretaking responsibilities were usurped

by the RMA that was part of what we did

—every day —look after the land. A

downpournow couldstartanavalanche of

rubbishbecause the ground is saturated

for the first time in adecade. Willows are

already eroded waiting to go, and alogjam

situation could eventuate —then boom,

down she comes —noWaiparabridges.

The alarming pity is popularitypolitics

rule,regardless of party, so don't expect

any improvement in the near future.

Swell

Pegasus Bay

Tide Chart

3

2

SE 1.7 m SE 1.2 m SE 0.7 m E0.4 m E0.6 m E0.9 m E1.0 m

3 6 9 NOON 3 6 9 3 6 9 NOON 3 6 9 3 6 9 NOON 3 6 9 3 6 9 NOON 3 6 9 3 6 9 NOON 3 6 9 3 6 9 NOON 3 6 9 3 6 9 NOON 3 6 9

1

0

Highs Lows Highs Lows Highs Lows Highs Lows Highs Lows Highs Lows Highs Lows

Waimakariri 10:06am 2.3 3:52am 0.5 10:57am 2.2 4:45am 0.6 11:48am 2.2 5:36am 0.6 12:10am 2.2 6:25am 0.7 1:00am 2.1 7:12am 0.7 1:49am 2.1 7:58am 0.7 2:35am 2.1 8:43am 0.7

Mouth

10:28pm 2.3 4:12pm 0.6 11:19pm 2.2 5:06pm 0.7

6:01pm 0.8 12:38pm 2.2 6:54pm 0.8 1:29pm 2.2 7:44pm 0.8 2:17pm 2.2 8:33pm 0.8 3:03pm 2.2 9:19pm 0.8

Amberley 10:06am 2.3 3:52am 0.5 10:57am 2.2 4:45am 0.6 11:48am 2.2 5:36am 0.6 12:10am 2.2 6:25am 0.7 1:00am 2.1 7:12am 0.7 1:49am 2.1 7:58am 0.7 2:35am 2.1 8:43am 0.7

Beach

10:28pm 2.3 4:12pm 0.6 11:19pm 2.2 5:06pm 0.7

6:01pm 0.8 12:38pm 2.2 6:54pm 0.8 1:29pm 2.2 7:44pm 0.8 2:17pm 2.2 8:33pm 0.8 3:03pm 2.2 9:19pm 0.8

10:15am 2.3 4:01am 0.5 11:06am 2.2 4:54am 0.6 11:57am 2.2 5:45am 0.6 12:19am 2.2 6:34am 0.7 1:09am 2.1 7:21am 0.7 1:58am 2.1 8:07am 0.7 2:44am 2.1 8:52am 0.7

Motunau 10:37pm 2.3 4:21pm 0.6 11:28pm 2.2 5:15pm 0.7

6:10pm 0.8 12:47pm 2.2 7:03pm 0.8 1:38pm 2.2 7:53pm 0.8 2:26pm 2.2 8:42pm 0.8 3:12pm 2.2 9:28pm 0.8

10:17am 2.3 4:03am 0.5 11:08am 2.2 4:56am 0.6 11:59am 2.2 5:47am 0.6 12:21am 2.2 6:36am 0.7 1:11am 2.1 7:23am 0.7 2:00am 2.1 8:09am 0.7 2:46am 2.1 8:54am 0.7

Gore Bay 10:39pm 2.3 4:23pm 0.6 11:30pm 2.2 5:17pm 0.7

6:12pm 0.8 12:49pm 2.2 7:05pm 0.8 1:40pm 2.2 7:55pm 0.8 2:28pm 2.2 8:44pm 0.8 3:14pm 2.2 9:30pm 0.8

10:15am 1.7 4:06am 0.4 11:07am 1.7 4:58am 0.4 11:57am 1.7 5:47am 0.5 12:23am 1.7 6:34am 0.5 1:11am 1.6 7:19am 0.5 1:58am 1.6 8:04am 0.5 2:43am 1.6 8:48am 0.5

Kaikoura 10:40pm 1.8 4:22pm 0.5 11:32pm 1.7 5:17pm 0.5

6:10pm 0.5 12:47pm 1.7 7:02pm 0.6 1:35pm 1.7 7:52pm 0.6 2:22pm 1.7 8:40pm 0.6 3:08pm 1.7 9:25pm 0.6

*Not for navigational purposes. Wind and swell are based on apoint off Gore Bay. Maori Fishing Guide by Bill Hohepa. www.ofu.co.nz www.tidespy.com Graphic supplied by OceanFun Publishing Ltd.

2118223
---
NICOL'S

1OO% Nicol'sAppliances

areexcited to bringyou the

sophistication and styling of

BLANCO sinks and taps

Germanengineeringatits finest

bringing you award-winning products.

Visitustoday for your perfect match.

+12 MONTHS

INTEREST

ON PRODUCTS

FREE! $499&OVER *

*Terms&ConditionsApply

343A Flaxton Road, Rangiora•Phone (03) 313 7886

2393785
---
STYLE & QUALITY

FOR LESS

WWW.AFFORDABLEFURNITURE.NZ

SUPER

Available in

Green

Blue

Grey

SPECIAL SUPER

SPECIAL

Luna Corner Suite

FROM

$

429

Iris Sofa

3 Seater $809 $749

2Seater $679 $629

1Seater $459 $429

WAS $1929

$

1789

Luna 3Seater $859 $799

Luna 2Seater $719 $669

SUPER

SPECIAL SUPER

SPECIAL SUPER

SPECIAL SUPER

SPECIAL SUPER

SPECIALI A L

Linden

Bar Stool

Willow

Bar Stool

Cove

Bar stool

Coronet

Bar stool

Sling

Bar stool

WAS $89

$

69

WAS $89

$

79

WAS $149

$

129

WAS $189

$

179

W A S $ 18 9

$

169

SUPER

SPECIAL

SUPER

SPECIAL

Sumata

Fabric Headboard

Maple

Collection

Maui

Recliner

3Colour

available

WAS $999

$

899

FROM

$379 $349

King $399 $369

California King $479 $439

$

349 Queen $379

Bunk $899 $829

3 Drawer Lowboy $509 $469

5DrawerLingerie Chest $489 $449

6DrawerTallboy $639 $589

3Year Warranty

5Year Warranty

10 Year Warranty

Continuous Spring

Pilllow Top

Coiled Fibre

Wave Foam

ComfortFoam

Pocket Spring

EuroTop

Quilt Fibre

Wave Foam

ComfortFoam

Zoned Pocket Spring

EuroTop

LatexFoam

Pillow SoftFoam

Wave Foam

FROM

$

279 Single $299 $279

King Single $349 $329

Double $399 $369

FROM

Melody Mattress Cloud Rest Mattress ComfortLatexMattress

Queen $439 $399

King $839 $779

King $469 $439

Super King $899 $839

$

499

King Single $539 $499

Double $679 $629

Queen $759 $709

FROM

$

1299

Queen $1399 $1299

King $1509 $1399

FREE

CARPARKING

SOUTHCITY

BATH ST

WE ARE

HERE

255MOORHOUSE AVE

REBEL SPORT

COLOMBOST

MON-FRI 9:30AM–5:30PM

SAT-SUN 10AM–5:30PM

0800 268 264

www.affordablefurniture.nz
---
Volunteers keep trains on track

By ROBYN BRISTOW

Thanks to 300 to 400 hours of voluntary

work done on­site each week, the Weka

Pass Railway charitable society

continues to build up ahead of steam.

From Monday to Sunday, there is

always work happening at Waipara, the

Glenmark and Waikari Stations, and

behind the scenes.

Monday is earmarked for businesses,

schools and tour group charters to visit,

with shift­workers and semi­retired

volunteers looking after the visitors.

Tuesday is one of the busiest days of

the week at the depot as the carriage

restoration team, apassionate group of

carpenters, painters and anyone else

enthusiastic enough to lend ahand,

gather.

The 1930s carriages are now cared for

more than ever thanks to the efforts of

the passionate crew.

The engineering team also meet at the

depot on Tuesdays, and activities range

from locomotive maintenance to the

completion of rolling stock mechanical

inspections, along with maintenance

and even gardening.

The track gang arrive on aWednesday

comprising about half adozen

committed volunteers who work rain or

shine to help keep the 1881 built stretch

of permanent way in safe working order.

They work on arange of tasks from

sleeper replacement and ballasting to

maintaining the bridge and 62 culverts.

The executive committee of the

charitable society meets on Thursday

nights, at least once amonth to make

decisions about the operations, projects,

marketing and financing of the society's

current and future undertakings.

Friday is typically quiet though

volunteers often turn up. It is not

uncommon for charters to be booked for

Friday nights, particularly in spring and

Track gang ... Committed volunteers hard at work looking after the track, maintaining

bridges and culverts.

PHOTO: SUPPLIED

early summer.

Some volunteers, particularly the

younger crew and out of towners, choose

to stay at the railway for the weekend to

volunteer, socialise and watch the trains

roll by at night. There are always plenty

of beds in the bunk car accommodation

carriage.

Saturday is the main work day at the

Waipara depot, beginning with DE­loco

shunting vehicles around to get them in

the appropriate positions.

Tasks can vary from brake overhauls,

to installing heaters in carriages, and

repainting wagons or locomotives.

Sunday is operation day. If steam

hauled, the driver, fireman and loco

trainee will be on the job by 6.30am to

light the fire. By 9am, the rest of the

crew arrives, with the train departing at

11.30am, arriving at the Waikari Station

at about 12.30pm, before returning to

Glenmark.

Asecond round trip runs at 2pm,

returning to Glenmark at 3.45pm.

By 5pm, the engine crew head home,

exhausted, and always with awhite

smile, contrasting against afilthy face.

NEWS

The North Canterbury News, July 1, 2021

In brief

9

In the article ''Cemetery policy unveiled''

in North Canterbury News on June 24 it

was incorrectly stated that the new policy

includeda10­yearly review of prepurchased

plots. While the 10 year

review was raised by staff, it was not

adopted by the council asitwas

considered administratively costly and

was not consulted on. The error is

regretted.

Ploughing

Ploughing, including clydesdales and

vintage ploughs, willfeature atthe North

Canterbury Ploughing Match at

Swannanoa/Mandeville this Saturday,

July 3, and Sunday, July 4.

Events at the annual match get under

way at No 10 Road, at 10am. Visitors

welcome.

Lost and found

The following property has been is

reported to the police as lost in North

Canterbury ­have you seen it? Ablack

leather wallet, acamouflage wallet, a

Samsung S9 mauve/silvercellphone in a

cleargel cover, abrownwallet.

The following property is waiting to be

claimed: Agold ring with gold/black

Celtic cross and stone (at Amberley).

Waikari community shop

The WaikariAnglicanChurchhall has

beentransformed into acommunity

clothing shop which opensits doors at

Princess Street at 10.30am on July 5. It

will then open from 10am to 2pm on

Mondays and Thursdays. HurunuiMayor

Marie Black will officiate at the opening

to which visitors are welcome. Acuppa

and cake will follow. There has been a

huge response to the call for good, quality

used clothing. People can continue to

drop off clothing during opening hours.

Information SEMINAR

THURSDAY

29 JULY 2–4PM

RiverviewLounge

KAIAPOI CLUB

RSVP by

21 JULY

hello@thesterling.co.nz

0508 783 754

We invite you toattend aseminar

for retirement village living.

Hear from legal representativesand learnmoreabout the

role of theStatutory Supervisor.

Our CEO and Directors will be present toshare with you

their experience and vision for The Sterling, in particular

the flagship retirement village in Kaiapoi.

LIMITED SEATS AVAILABLE

RSVP by email, phone, ordrop by the office!

Complimentary refreshments will be served after the presentation

LIFT ACCESS AVAILABLE

We look forward to seeing you there!

VISIT us

1/42 Silverstream Blvd,

Kaiapoi

TALK to us

0508 783 754

hello@thesterling.co.nz

LEARN more

thesterling.co.nz
---
NEWS

10 The North Canterbury News, July 1, 2021

Vietnam vets gather

Acommemorativeevent has been

planned to celebrateNew Zealand

Vietnam Veterans Day in Rangiora

next month.

The August 18 event has been

organisedbyVietnam veteran Chris

Gunn,who is amember of agroup of

Vietnam veterans who haveinformal

meetings at Rangiora'sRSA Club every

fortnight.

The commemoration will start at

10.45am at the RSAClub in Victoria St

wherethe veterans, wearing medals,

will assemble and thengotothe

Rangiora War MemorialCenotaph in

High St via AlfredSt.

The service at the cenotaph will

includeaperformance by the

Rangiora Brass Band,and an address

and prayer by RangioraRSA Club

Our readership is

wayup

Reach morepeople than any other

media choice inNorth Canterbury with us.

Source: Nielsen National readership survey y/e Q3 2020 -y/e Q1 2021

secretary/treasurer Bill Peck,who will

alsoperform the role of the lone

bugler playing The Last Post.

After the service, the veterans will

return to the RSA Club for lunch with

families and supporters.

Chris said this event couldbethe

lastopportunity manyveterans will

get to meet their fellowservicemen

frommore than 50 years ago because

mostofthemare now in their 70s or

older.

Morethan3000 New Zealand

militaryand civilianpersonnel served

in Vietnambetween 1963 and 1975.

Thirty­seven New Zealanders died

and 187 were wounded while on active

service during the war. Two civilians

serving with the surgical and Red

Cross teams also died.

Taskforce continues

Afunding boost is helpingprovide

Hurunui youthwith long term work.

Another $500,000 has been received by

the HurunuiDistrictCouncil from the

Ministry of Social Development for round

two of the Mayor's Taskforcefor Jobs

programme.

MayorMarie Blacksays it is one of the

most exciting thingstohappen withinthe

community.

"To partner with our community and be

able to build trust between the

programme, the businesses and the youth

has been invaluable… it'saboutknitting

our youngpeople with our community and

creating these relationships."

It is aGovernment fundedprogramme

connecting local businesses with youth

and those displaced by Covid­19, and

creating sustainable opportunities for both

parties.

Council's's Business RecoverycoordinatorJoni

Howe and Business

Recovery adviser Chris Kinghave been

working behindthe scenes, placing50

youthsintowork.

"I am really excited to be able to

facilitateanother community recovery

programme.The support, guidance and

upskilling to becomework ready provides

our youthwith much needed confidence

and resilience," saysJoni.

Chris says it has been ahugely

rewarding programme. ''It's great being a

part of such aworthwhile initiative."

The current programme finishes on

June 30, with the second round

kickstartingonJuly 1. If you are alocal

business or know ayouth interested in

joining the venture, contact JoniorChris

at the council, on 03 3148816oremail

mtfj@hurunui.govt.nz.

Readership of people 15+ in North Canterbury is:

Up 11.6% in

thelast 6months

Just ONE AD placed in the North Canterbury News isread by:

48,000 people

Reach more customers and growyour profits with us. For professional

advice contact Dayna today, 027 312 0089 or dayna.burton@ncnews.co.nz

www.ncnews.co.nz

Talented teens ...The Rangiora Rotary Club's latest Young Totara Award winners Ella

Spark, aged 17, and Khan Charles, aged 16 at Hegan Reserve in Rangiora last Sunday

morning with the small totara trees they planted alongside four other totaras previously

planted in the reserve by former winners of Young Totara Awards.

PHOTO: SHELLEY TOPP

Students stand tall

By SHELLEY TOPP

Outstanding achievements by two

Rangiora High School pupils have earned

them aYoungTotara Awardsfrom the

Rangiora RotaryClub.

Ella Spark,aged 17, and Kahn Charles,

16, were at Rangiora'sHegan Park last

Sunday morning, along with family

members and rotary clubrepresentatives,

to plant two totara trees to recognise their

achievement.

The trees werepart of their prize for

winning the award andwere planted

beside four othertotaras planted in the

reserve by previous award winners.

Rangiora RotaryClub youthdirector

HelenRichards said the club was pleased

to recognise two outstanding young people

from within Rangiora's community.

Ella won her awardfor being amodest,

HOWMARVEL HEALTH

DELIVERS ADVANCED

DIAGNOSTICSAND SCIENCE-

BASED NATURAL MEDICINE

At Marvel Health,our focusisonregenerative

and preventive healthcare.Thewhole body

scan we performprovides ourdoctors with

acomprehensive report of apatient'sstate

of health.Itrevealshidden diseases and

their causes andour recommendations, are

basedonthe detailedinformation from the

scan.Thescansearchesfor theunderlying

causes of health problems, whetherinfections

caused by virusesand bacteria or heavymetal

contaminationsuchasleadtoxicity or food

allergies. Furthermore, it searches forthe

causes of organdamagesuchasnarrowing

of thearteries, auto-immuneconditionsor

nutrientdeficiencies. After studying thescan

reports, ourdoctors make personalised and

targetedrecommendations.Duringyour

30-minutetele-consultation with thedoctor

they recommendonlythe 3mostessential

medicines that youneed to kick-start your

healingand stop pain anddiscomfort.

We only recommendscience-based natural

remedies that aresupported by published

medical journals andtrialled clinical

studies. The Marvel Health scan is unique

becauseitrecognisesand searchesfor

harmful environmental factors that promote

diseases. It checksthe bodyfor nutrient

levels,environmental toxins, harmful

electromagneticinfluences, food sensitivities

andpredisposition to geneticdisorders.

self­motivatedyoung woman, who was

sincere and genuineinher desiretohelp

others. ''As head girl at Rangiora High

School, she goes beyondher job

description,''Helen said. ''Students are

driventojoin Ella as they see in her a

leaderwho cares for others.''

Khan was also strongly motivated to help

others. ``Hehas distinguished himself as a

young man who livesbyRangioraHigh

School's three values; contribution,

respect and aspiration,'' Helen said. ``He

is acourageous and confident youngman

who has astrong moral compass and sense

of responsibility.''

The teenagers werepresentedwith a

pin, aframedcertificate and acertificate

to be added to theirCVatthe club's

meeting recently.Both Ella andKhan are

consideringacareerinnursingwhen they

leave school.

ADVERTISEMENT

Our Marvel Health Lifestyle Specialists spend

30 minutes with youexploring in detailyour

lifestyle,nutrition andother environmental

influences on your health andtheyprepare

adetailedreportwithpersonalised

recommendationsofthe steps youneed to

taketopreserveyourhealth.

However, your healthcare continues even after

consultationswiththe doctor andlifestyle

specialist. We follow-uponyourhealthand

arethere to assist youalong theway until you

feel better.

Book AScan Today 03-669-5410

www.marvel.health

Unit 13/6 Cone Street, Rangiora, Canterbury, 7400

293 Durham Street, Awly Building, Christchurch, 8013

The inspections from the scan is not asubstitute for medical inspections. It is not assigned to state the final diagnosis
---
HDC in July

Thelatest localnews,views and announcements fromthe council

Meetings ,

Events, News.

July meetings

Winter continues to bite

Winter has bitten with a vengeance this year. This week

demanded continued caution on our roads. Thank you to

everyone for your continued efforts to keep yourselves safe

out there, with changing conditions changing.

Strengthening work complete

MTFJ

The Powerhouse Café in Hanmer Springs has had its earthquake

strengthening Mayoral Taskforce work completed, funded by HDC's Earthquake

For Jobs

Building Fund. The new steel work in the ceiling fits in well with the

industrial-look theme of the building.

14th South Ward Committee 7.00pm

(Venue: Council Chambers, Amberley).

15th Audit and Risk Committee 9.30am

(Venue: Council Chambers, Amberley).

21st Amuri Community Committee

7.00pm (Venue: Hillcrest Chambers,

Culverden).

22nd Operations Committee 9.30am

(Venue: Council Chambers, Amberley).

26th Hanmer Springs Community Board

1.00pm (Venue: Council Chambers,

Amberley).

27th Cheviot Community Committee

6.00pm (Venue: Cheviot Service

Centre/Library).

29th Council Meeting 9.30am (Venue:

Council Chambers, Amberley).

July Events -HYP

13th Riccarton Mall visit.

14th 'I can't wait' campaign launch -

10.00am -12.00pm, Waipara Hills.

Supporting those with bowel disease.

16th Day

hike -Port Hills.

20th A day ofteam building.

23rd Hanmer Springs Hot Pools.

Contact Ward Shearman for more

information: hyp@hurunui.govt.nz

In The Community

SKINNY JUMP

Skinny Jump (low cost internet) is

provided inpartnership with Community

libraries –contact Hurunui Libraries or

call the Amberley Library -(03 314

8980).

HANMER MEMORIAL HALL

The refurbishment and strengthening

work has been completed (funded by

Progressive Growth Fund).

Areopening and blessing ceremony will

take place Friday July 2, 2.15-2.45pm.

Stay on for ashared (bring aplate)

afternoon tea.

In brief:

WASTE DISPOSAL LEVY: Due to increasing waste costs

from 1 July, including the waste disposal levy (a central

government charge) which is rising from $10 to $20 per tonne,

the cost of our refuse bags are increasing from $3.00 to $3.30

each. Gate fees for waste via Amberley Transfer Station has

increased from $255/tonne to $268/tonne. Revised rates at

our other Transfer Stations also apply.

DOG REGISTRATIONS DUE: Have you received your dog

registration forms? If not, please ring Council on 03 3148 816.

EARTHQUAKE PRONE BUILDINGS: Anew national system

for managing earthquake-prone buildings which came into

effect on 1July 2017 has meant that HDC is now required to

identify potential earthquake-prone buildings. The three profile

categories are: anunreinforced masonry building; apre-1976

building three or more storeys or 12 metres, or greater in

height above the lowest ground level; or apre-1935 buildings,

one or two storeys.

Balmoral Fire Lookout awinner

Acommunity effort to restore the Balmoral Fire Lookout has

been recognised at the recent Canterbury Heritage Awards.

It received joint first place alongside The Arts Centre Te

Matatiki Toi Ora, inthe 'Public Realm Saved and Restored'

category this month.

Hawarden Waikari Lions Club members have dedicated

numerous hours tothe restoration ofthe Lookout, which was

built in 1940 to accommodate astaff member employed to

keep watch and report on any fire risks in the Balmoral Forest.

Due towildfires instate forests becoming extremely common,

12 of these lookouts were built throughout Canterbury from

1922 onward, of which only four remain.

Fun

fact!

Aword fromyour Mayor, Marie Black

The past month has served us agenerous dose of challenging

weather, culminating in agiant leap from seriously dry to very wet

conditions.

June 2021 will be infamously remembered for its back to back

significant rain events, with some unusually mild days in-between.

Across Canterbury were great displays of community spirit both

rurally and in the urban areas, people helping each other to move

stock and get belongings above the line of the encroaching water.

The Government has released some funds to assist landowners in

their recovery from the floods, the criteria for dispersal yet to be

determined.

Many of us had our 'boots filled' with wisdom last week when the

All Black's mental skills coach Gilbert Enoka spoke to apacked

hall at Glenmark Rugby Club. He stated that "Clear thinking is

KING" and discussed the importance of balance to boost your

energy, focus, creativity, productivity, and one's happiness. These

components are essential as we all grapple with conditions within

our lives outside of our control.

Iamvery pleased to be receiving afurther round of funding for the

Mayor's Taskforce For Jobs programme. This influential scheme

has seen 50 young people from Hurunui into sustainable

employment over the past twelve months. It is agreat credit to the

young people, their employers and HDC who have worked in

collaboration to ensure this success. Ilook forward to ensuring

continued strong outcomes for the year ahead.

We are almost there with the sign off of our Long Term Plan

'Finding The Fair Way' –this is asubstantial body of work in the

life of Council planning and preparation for the next 10 years.

Without your input it is adocument without voice, and Iamgrateful

for those who have taken the time to provide feedback on the

proposal.

Recently Ihave had the privilege to be part ofmany volunteer

awards nights, for both Fire Brigades and St John. Ithank you all

for this contribution to our fantastic district - being called a

volunteer is a precious title and one that is to be admired-

"Volunteers don't get paid -not because you are worthless, but

because you are priceless."

Kia kaha and thankyou.

"The importance of balance to

boost your energy, focus,

creativity, productivity, and

one's happiness......."

In 20/21 from Hurunui -more than 600 tonnes of glass has been crushed and used in roading, more than 170 tonnes ofscrap

metal has been recycled, more than 450 tonnes of paper, card, plastic bottles and cans have been recycled via EcoCentral in

Christchurch, and more than 150 tonnes of green waste has been converted into mulch. Clean paper, card, plastics (1,2 and

5), food and drink cans can be dropped off to any ofHurunui transfer station for no charge.

Contact us :

www.hurunui.govt.nz

info@hurunui.govt.nz

03 314 8816
---
House

and Home

QUALITY KITCHENS

AND JOINERY TO SUIT

ALL STYLES AND BUDGETS

Relationships and Family

Arrangements can be tricky

without the right advice and

paperwork in place.

We can assist you with:

•Contracting Out Agreements

•Separation &Relationship

Property Agreements and advice

•Property Sharing Agreements

•Retirement Village –Licence to

Occupy

•Wills and estate planning

PROVEN -PERSONABLE

PROFESSIONAL

7Ashley Street, Rangiora | 03 310 6464

admin@law4you.co.nz | www.law4you.co.nz

"Exclusive"

2351968v4

Retroffitting ... Renowned glazing company, North Canterbury Glass, is offering retro

double glazing to keep you house cozy this winter.

PHOTO: SUPPLIED

Warm yourhomein

winter and winbig

What if there was away to keep your house

cosy in winter,cut down on power bills and

potentially get agreat prize as well?

The solution is here and it couldbea

triple win for you, just by retrofitting your

home or business withretrodouble glazing

from NorthCanterbury Glass.

If you accept your quote from this

renowned glazing company in JuneorJuly,

you will go in the draw to win anightin

Hanmer Springs for two,including ahotel

stay and pamper packfor thespa and hot

pools.

To make the deal even sweeter, North

Canterbury Glassisalso offeringafree

upgrade to the premiumlow Eglazing,to

customerswho chose to retrofit their

housewith doubleglazing (termsand

conditions apply).

Low E, or low emissivity, glass hasa

special coating thatreflects radiant heat

from inside and outside the home,

significantlyimproving its insulating

properties.

Both cooling your house in summer and

Ravelli ULEB Wood Pellet Fires

warming it in winter, this premium double

glazing is one of the best waystoincrease

home comfort and permanently reduce

power bills.

In addition, outside noise is diminished,

condensation reducedand the property

gains an overall boost in value.

Operating since 1983,and with over 80

years combined experience,North

Canterbury Glass's teamare experts at

retrofitting doubleglazing. Their proven

approach works for buildings old and new,

often bringing modern flair in the process.

Operating from Belfast to Kaikoura,the

team has worked on hundreds of homes

and businessesinthe region,fitting

thousandsofwindowswith quality glass.

North CanterburyGlass is alongstanding

member of the Window&Glass

Association NZ and provides afull

guaranteeonworkmanship.

For afree quoteormore information,

call 03 313 5335, visit10Albert St,

Rangiora, or go online to www.

northcanterburyglass.co.nz.

2352423v4

19 Beach Road

Ph: 03 319 5562

E. info@thejoinershop.co.nz

www.thejoinershop.co.nz

Free Installation until

end of July 2021

• Curtains • Romans • Rollers

• Cushions and much more.

Phone Maureen 03 327 4919

Mauds Soft Furnishings

88 Williams Street,

Kaiapoi

(up long driveway)

www.mauds.co.nz

2350098v6

Allan Pethig

For all your electrical needs.

Residential &Commercial

Phone 03 313 7144 | 027 432 1534

2278923

Fax 03313 2144

Pellet and Wood Fire Specialists

472 Blenheim Road

Sockburn

Phone: 03 343 1651

Open 8:30am -5pm

Sat 10am -3pm

www.heatstore.co.nz

rgrantelectrical@gmail.com

PO Box 69, Rangiora

www.rgrantelectrical.co.nz
---
NEWS

The North Canterbury News, July 1, 2021

13

Embrace Fiji given aboost

By ROBYN BRISTOW

Young entrepreneurs ... Sophie and Christina are hoping their

magazine, titled Aeipath, will be successful.

Business competition

Anationalcompetitionis

unearthing somebudding

young entrepreneurs at

Rangiora High School.

Year 13 Rangiora High

Schoolbusiness studentsare

competinginthe Young

Entrepreneurs Scheme,a

year­long national

competition aimedatthem

starting up business.

So far students in the class

have invented self drying

bags, biodegradablehand

sanitiser pods and even

educationaltoiletpaper.

Christina Malcolm and

SophieKiddey are developing

an onlinemagazine, Aeipath,

suitable for findingupcoming

New Zealand local musicians.

''As ahuge supporter of New

Zealandmusic, Iconstantly

struggle with finding new

artists as all the local tunes

are so washedout by

internationalcelebrities,''

says Sophie who has grownup

playing her own music.

The magazine willfeaturea

new artisteach week, so that

finding new local musicis

simpler thanever.

Sophie's inspiration behind

the magazine is her personal

passion for New Zealand

music.

"I havesomany talented

friends that I'vemet through

being involved with the local

music scene, and they struggle

to get anyone to hear their art.

Aeipath is designed to fix

that."

Swimming is proving to be just

the tonic for Christine Patterson.

Christine, who has been

battling depression for over a

decade, has taken the plunge,

and is back in the pool, which is

proving to be agreat place to find

solace.

Recently she swam 100 lengths

of Rangiora's Dudley Park pool.

Her efforts were not just for

her own wellbeing however, but

to help raise funds for a

Salvation Army project, Embrace

Fiji,aretreat for women.

''For me personally, through

helping these ladies in Fiji, I

have been helped in return,'' says

Christine.

Her decision to get back in the

pool has been life changing.

She can now do every day jobs

like grocery shopping, and enjoys

being back in the garden.

Her problems began with pain

in her feet ­Plantar fasciitis.

With the pain being so horrific,

feet bandaged, unable to swim,

unable to walk, unable to

continue her lifeguard work, and

unable to be aswim instructor, or

work at an elderly persons home,

Christine became isolated.

The February 2011

Christchurch earthquake also

took its toll.

''With the sale of our house,

and unable to begin our new

build, it must have been all too

much and depression set in.

Once the bandages were off,

she couldn't bring herself to get

back into the pool.

But hearing about Embrace

Fiji,Christine made it her goal to

In the swim ... Christine (centre), with Stacey Bruce from the Salvation

Army in Rangiora (left) and Christine's husband Gordon, who supported her

during her swim.

PHOTO: SUPPLIED

get back in the pool to help at

least one Fijian lady go to the

retreat, by swimming 100,

sponsored 25 metre lengths of the

Dudley Park pool.

Once back in the water,

Christine found she was

''surprisingly happy''. Each

Tuesday for three weeks she

swam, culminating in tackling

the 100 lengths. Her efforts are

helping 20 women attend the

retreat.

Embrace Fiji is the Salvation

Army New Zealand, Fiji, Tonga

and Samoa Women's Ministries

Territorial Project for 2021. ''I

would like to say ahuge thank

you to folk in Rangiora, and

beyond, for your generosity in

sponsoring this swim, to support

the ladies in Fiji.''

People can still donate to the

cause with forms available from

the Salvation Army office in

Ashley Street, Rangiora.

Christchurch NorthernCorridor

Christchurch Northern Corridor will be closed on:

Saturday3July–5am to midday*

Sunday 4July –5am to midday*

Signed detourswillbeinplaceontoStateHighway74m Main North Road andQueen Elizabeth II Drive.

Please allow alittle moretraveltime (weestimate between 3-11 minutes).

Theclosureisfor afilming event.

We apologise forany inconvenience andthankyou foryour patience.

*Dates aresubjecttoweatherconditions.

Forlatest information on the daygotowww.journeys.nzta.govt.nz/canterbury
---
NEWS

14 North Canterbury News, July 1, 2021

Showcasing volunteer work ... Volunteer Alyssa Scoulte, of Christchurch, aDementia

Canterbury volunteer, at the support group's stall in the Kaiapoi Library on Saturday, June

19, during day one of the Waimakariri District Council's three­day Volunteer Expo.

PHOTO:SHELLEY TOPP

Volunteers recognised

By SHELLEY TOPP

National Volunteer week started early in

Kaiapoi last month with 16 stallholders

at the Ruataniwha Kaiapoi Library and

Civic Centre, promoting and recognising

the valuable work of volunteers.

Held on Saturday, June 19, it was the

first day of the Waimakariri District

Council's three­day Volunteer Expo held

in conjunction with National Volunteer

week, which ran from June 20 to 26.

The Rangiora and Kaiapoi Library's

reading dog Hazel and her human

volunteers took part in the Kaiapoi expo

to showcase the work they do to help

children learn to read.

Stallholders included the Kaiapoi

District Historical Society, which runs

the Kaiapoi Museum, Rangiora's Cancer

Society North Canterbury Centre, the

Ashley Rakahuri Rivercare Group,

Dementia Canterbury and North

Canterbury Pride.

Council safe community project

organiser Wendy Howe said volunteering

in the community was good for

volunteers and those they helped.

It also provided volunteers with the

opportunity to gain new skills, share

knowledge and experience, make new

friends, improve the lives of others and

in some cases, improve the environment.

Twenty­five stallholders took part in

the three­day Waimakariri Volunteer

Expo.

Amberley arts exhibition

Play at

BounceForBucks.co.nz

Promotion runs 28 June until 25 July 2021. One game ticket will be issued forevery $25 spent on

Qualifying Purchases (exclusions apply). Max 10 game ticketsper transaction. Youmust be 18+

and retain original game ticket and receipt. Visit foursquare.co.nz forfull Terms &Conditions.

Amberley's NEST ArtsCollective is

celebrating its first anniversary with an

exhibition of member's work.

The Showcase Art Exhibition will

open this Saturday (July3)and end on

Saturday, July 17.

The exhibitionwill be held at the

NEST headquartersat88Carters Road

in Amberley andwill be open to the

publicdaily from 10am to 4pm.

The collective hosted its first art

exhibition and workshopevent at 16

Markham Street in Amberley in July

last year, shortly afterthe nationwide

Covid­19 pandemic lockdown.

The event was ahuge successand

introduced the collective's concept,

ambitions and artists to the wider

community.

The collectivehas now establisheda

permanent homeatCarters Road.

Since moving into this spacein

October, and officially openingits

doors in January, the team has

developed acreative education space

and held avariety of workshops and

classes.

Agallery and retail spacefor selling

avarietyofwork by North Canterbury

artists andcraftershas also been

established plus aresident artists'

studio.

Creative community projects,

including alarge wall muralin

Rangiora's Blake Street car park and

contributionstothe Pop Up Penguins

ArtTrail have also beencompleted by

the collective'sartists.

Local Lionesses reborn

www.foursquare.co.nz

facebook.com/FourSquareNZ

Ends 25 July 2021. Seefoursquare.co.nzfor full Terms &Conditions.

By ROBYN BRISTOW

ALioness Club has been reborn in

Rangiora.

The Lions Club of Rangiora

Lionesses held its inaugural charter

meeting recently and is now looking for

new members to join the other 12

members of the group.

The club is keentocarry on the work

of the originalclub, which was formed

in Rangiora in 1986.

The original club, which was a

branchofthe Lions International

organisation, raised funds through

book fairs, fashion parades,selling

cheese rolls and running quiz evenings,

enabling it to support many local

charities, including the Rangiora

Cancer Supportgroup and St John.

The new club is looking at similar

fundraising ventures and is keenfor

anyone interested in joining, to join the

local clubfor fun, friendship and the

opportunity to help support their

community.

The club meets in the Rangiora RSA

on the first and third Monday of the

month at 10.30am. For more

informationcall Anne on 029­3744141.
---
GOLDEN YEARS

North Canterbury News, July 1, 2021

15

Support offered for grandparents

By DAVID HILL

Support is available for those who are

''parenting again''.

Agrandparentsraising grandchildren

support group wasestablished by the

Community Wellbeing North Canterbury

Trust twoyearsago to support agrowing

number of residents being calleduponto

parentfor thesecond time.

Sharon Ward, whoisraising two

grandchildren, wasattendingaparents'

support group through Mana Ake,along

with another grandparentand saw the

need for aseparate grandparents' support

group.

''Ifind it so amazing.It's the onlygroup

available forus, but it'snot onlythe

support you get outof, it'sthe opportunity

to talk to peopleinthe same situationyou

areinofparentingagain,'' Sharon says.

Marie Simpson, one of Community

Wellbeing's MakaAke counsellors, says

when grandparents step in it is generally

following trauma,whichcreates added

challenges and canleadtobehavioural

issues.

''Grandparentshavetheirmokointheir

care forarange of reasons,soit's about

providingasafeand lovinghome,but

everyone's situation is different.''

Because it is generally considered a

temporaryarrangement,many

grandparents are limited in what support

they are eligible for, Marie says.

''When it comestofinancial support, it

depends on what court ordersare in place.

Sometimestemporary arrangements can

last years,but if they don't havefull

custodythey may not be eligiblefor

support.''

Grandparents face different challenges

to otherparents, Sharon says.

''There's awholelot of emotions

involvedbecause we havetodealwith it as

aparent and as agrandparent, because

Parenting again ...

oftenit'sour own childrenwho haveled to

this situation.''

Thepressures of raisingher

grandchildrensaw Sharongiveupfull

time employment to meet their needs.

Because she is on her own andunder

age­65she hashad to go on aJobseeker

benefit.Othergrandparents are much

older.

''There's onecouple in their80s and

they don't know how to dealwiththe

internet andthingsthat pop up and on top

of that they're dealingwithwhatever

behaviours from their grandchild, and

they shouldbeliving the lastdaysoftheir

lives withouthaving to worry about that.

''There's no benefitfor grandparents.

Thereisthe unsupported childbenefit,

butit's not as muchaswhatfoster parents

Support is available for grandparents raising their grandchildren.

PHOTO: COMMUNITY WELLBEINGNORTH CANTERBURY TRUST

get. Moreand moregrandparentsare

supporting their childrenand if it wasn't

forusour grandchildrenwouldend up in

foster homes.''

Some of the children do getsupport

through BigBrothers BigSisters of North

Canterbury, which makesabig difference,

Marie says.

Thegrandparents raisinggrandchildren

support group meets three times aterm,

with twomeetingsinRangiora and one in

Amberley.

Thenext meeting is on Friday, July2,

from 9.30am at theRangiora RSA.For

more information contact Marie on

022­1612670oremail marie.mana.

ake@wellbeingnc.org.nz,orJulieon

027­4511567oremail: j.best@wellbeingnc.

org.nz.

PAINTERS

RegTradesman • Interior,exterior.

North Canterbury Painters

specialising in decorating for

over 65.

Discounts

for Seniors

Free quotes.

Covering North Canty,Oxford,

Kaiapoi, Rangiora, Amberley.

Ph Rob 03327 7899

or 027 432 3520

2289726

Petrol &Diesel

Use your SuperGold card or

supermarket docket for 12

cents off Petrol &Diesel only

COMPLETE AUTO REPAIR SERVICE

WOF

Light Engineering

Tune-ups

Repairs

Lube-Oil changes Ride-on Mowers

Full Diesel Service Pick up &Delivery

Brakes &Clutches

Sell &Sharpen

Motor Work

Horse Clippers &

Warranty Work

Sheep Shears

Oils &Automotive Accessories, Postal

Services, Hot Pies, Sandwiches, Rolls,

Groceries and Sweet Treats

For your convenience

Sefton Garage

571 Upper SeftonRoad, Sefton

North Canterbury.Ph03312-9713

BloomfieldCourt

Homelysettingproviding

personalised care,delicious

home cooked meals &rooms

with alovelygarden outlook.

Privatelyowned and

operatedwithin the heartof

NorthCanterbury.

134 Rangiora-Woodend Road,Woodend

Forfurther information phone Lyn-Nurse Manager 03 312 7088

Email: nmbloomfield17@gmail.com www.eldernet.co.nz/bloomfieldcourt/

2393781

2394665

Join an approved class near you:

Call Sport Canterbury for classes in your area 03 373 5043

Visit the website www.livestronger.org.nz
---
NEWS

16 The North Canterbury News, July 1, 2021

Work needed to reduce risks

By DAVID HILL

Anew study hopes to reduce the risk of

falls.

AUniversity of Otago study involving

North Canterbury residents hopes to

better understand ''street conditions''

and their ''relationship with falling

outdoors''.

Senior lecturer Dr Angela Curl says

falling over and the fear of falling can

raise anxiety about walking outside,

limiting out of home activities.

''We know the condition of footpaths

and urban environments impact how

comfortable people feel walking, how

much they walk and [leads to] afear of

falling.''

She says 44 people participated in a

study across 12 workshops, with four

workshops held in Kaiapoi and

Rangiora.

Participants ranged in age from 32 to 92

years, with the average age being 69.

''We did recruit through Age Concern

and mainly targeted older adults, but we

didn't restrict who could attend. There

was quite arange of people in terms of

mobility issues,'' Dr Curl says.

''Most people were very active and,

despite concern about falling and often

feeling unsafe, they did get out and walk

alot.

''For some people this means driving to

areserve, or getting out of town, but not

everybody can do this so we need to

ensure neighbourhood streets are safe

from risk of falls.''

Once people have afall it can reduce

self­confidence, Dr Curl says.

''Sometimes people who had been very

committed walkers, start walking less

and might go out in the car even just

down to the local shops.

''In one case someone had stopped

taking neighbours' dogs and children for

walks, showing the impact on connection

Stronger ...

Improving your strength and balance will help reduce the risk of afall.

PHOTO: GETTY IMAGES

and community.''

She says 40 percent of participants had

fallen in the last 12 months, with 70% of

those having fallen more than once,

while the other 60% ''expressed ahigh

level of concern about falling''.

The research team has used data from

St John Ambulance as well as

participants to identify where falls have

occurred.

An audit tool has been developed, with

2500 locations audited.

Almost all of the locations had at least

one obstruction, such as poles, signs,

overhanging vegetation, manholes or

grates and litter bins. Participants also

commented on bus stops, uneven ground,

rough surfaces, chairs and tables outside,

changing levels across driveways and

cars parked on the footpath.

Dr Curl says there is more data

analysis to be completed and the

research team will continue to

disseminate data at workshops.

''There are things individuals can do

such as the 'steady as you go' falls

prevention classes that work on balance

and stability, but there is aneed for more

consideration of the needs of the ageing

population in the design of our towns and

cities.''

She encourages people to report any

potential hazards by using

SnapSendSolve.

Forums for

aged care

Forums arebeing held in Rangiora to

support those whowork in theaged

caresector.

ElderCareCanterbury forums are

opentoanyone interested in working

together to improve health andwellbeing

servicesfor Canterbury's older

people. Participants include awide

range of interested organisations

and individuals, withforums

fulfilling anumberofimportant

roles.

It is an opportunity for people from

across the aged care services sector

to network and shareinformation, to

discuss problems that older people

are facing when using health and

well­beingservices, and for

collaboration between providersof

services for older people.

The forums provideamechanism

to facilitate twoway communication

between the CanterburyDistrict

Health Board (CDHB) and other

agencies and an opportunity to

provide feedback to theCDHB on

policies and issuesaffecting older

people'shealth services.

Participants canbeco­opted to

participate in various projects and

focus groups.

Local hui are held from 1.30pm to

3.30pminthe Wyllie Room,John

KnoxCentre, corner of High and

KingStreets in Rangiora, with the

nextforums being held on

Wednesday, July21,and Wednesday,

November 10.

For more informationorto

contribute, pleasecontact Elder

CareCanterbury co­ordinator Helen

Rossphone (03) 3638225,027­5577372

or email helen.ross@psusi.org.nz.

NEW LAND ROVER DEFENDER 90

CAPABLE OFGREAT THINGS

AVAILABLE NOW

New Land Rover Defender relishes challenges and doesn't care much for impossibilities, and now the two-door Defender 90

version promises even more agility and adventure.

Tested in every condition, in every environment, and on every surface you might encounter, it always comes out the

other side, ready for the next challenge. The new Defender crowned 2021 World Car Design ofthe Year as unstoppable

all-terrain model beats shortlisted rivals to win coveted award. Defender. Anicon inacategory ofone.

To book atest drive, please contact Corey Gray at Archibalds.

38 Tuam St, Christchurch |03377 5200 |archibalds.co.nz

Own apre-2015 Land Rover Defender? Book aservice now from just $425. Call our team on 03 977 8146.

*Terms and conditions apply. The standard scheduled 5Year servicing isincluded (different terms and conditions apply to different models). Contact Archibalds for more details orvisit www.landrover.co.nz.
---
MID WINTER

CHRISTMAS

RANGIORA

ENDS THIS SUNDAY!

3

Only

Limited

Stock

Limited

Stock

now

$

248

Hikoki 24cc500mm

now

$

399

Hikoki 18v SiteTVRadio

918272

Hedge Trimmer

341916

LOTS

MORE

DEALS

IN-STORE

now

$

339

Bosch 18VHigh Torque Hammer

Drill with Battery&Charger

382795

n ow

$

45

88pcTitanium Drill Bit Pack

938443

now

$ 29

Tape Measure8mOXPro SS

336763

now

$

38

Ace141pc Tool Set

902127

Items similar to photo, some stock is end of line and/or displaymodels,eachproductislimited to 1itemper customer,

limited quantityofeachproduct,onhand stockonly,personal customers only,nophone holds or orders,noaccounts,notrade accounts,noFarmlands accounts,

no rain checks,prices valid until Sunday4th July or while stocklasts,financeterms available.

100%LOCALLY

OWNED&OPERATED.

RANGIORA

If youfind alower priceonanidentical stocked productlocally, we will beatitby15%

If youfind thesame productfromanother Mitre10store or Mitre10website, we'll matchthatprice.Excludes tradeand special

quotes,stock liquidations and commercial quantities.The in-storeprice maybelower than thatadvertised.
---
MID WINTER

CHRISTMAS

RANGIORA

ENDS THIS SUNDAY!

now

$

199

Bosch 18V Blower/Battery/

Charger kit

382796

now

$

15

46L Collapse-AStorage Box

350333

now

$

10

23L Collapse-A Storage Box

350332

ATLAS

FIXINGS

SELLOUT

now

$

29

Foldable Hand Truck

901007

now

$

4 98

MicrofibreCar Duster

913050

now

$

7 50

AntiFatigue Mat

902303

Limited

Stock

now

$

17

Bluetooth

Speaker Bottle

Assorted Colours

ACE0017

Items similar to photo, some stock is end of line and/or displaymodels,eachproductislimited to 1itemper customer,

limited quantityofeachproduct,onhand stockonly,personal customers only,nophone holds or orders,noaccounts,notrade accounts,noFarmlands accounts,

no rain checks,prices valid until Sunday4th July or while stocklasts,financeterms available.
---
MID WINTER

CHRISTMAS

ENDS THIS SUNDAY!

MISC SIZES

now

$

12

Ace9pc Tool Set

902126

24

MONTHS

INTEREST FREE

on purchases $799 &over

FINANCE

OPTIONS

AVAILABLE

20% deposit

Paycash priceonly

No booking or

insurancecharge

or 12 MONTHS

INTEREST FREE

Terms, Conditions&Credit Criteria apply

now

$

18

WANT IT NOW?

Payfor it using your

AirpointsDollars

Remember, 1=$1

When youspend$75 or more.

Seein-store forterms &conditions.

Bata GumbootJunior Pink or Blue

922755

Free Loan Trailer

to getthose big purchases home

100%LOCALLY

OWNED&OPERATED.

RANGIORA

If youfind alower priceonanidentical stocked productlocally, we will beatitby15%

If youfind thesame productfromanother Mitre10store or Mitre10website, we'll matchthatprice.Excludes tradeand special

quotes,stock liquidations and commercial quantities.The in-storeprice maybelowerthanthatadvertised.
---
NEWS

20 The North Canterbury News, July 1, 2021

Cooking up community connection

By DAVID HILL

Food is bringingthe community

together in the Hawarden /Waikari

area.

The Hawarden Waikari Community

Care Group, whichwas only formed a

monthago, has been runningcooking

classes to bringpeople together.

Organiser Brona Youngman says

two cooking classes have been held so

far, with the third and final one being

held in the Waikari HallonMonday

evening.

''We'vebeen getting 12 or 13 people

each time, whichispretty good and

it's different people turning up each

time.

''We'vehad five different

nationalities coming alongsofar, so

it's quite nicetoget them out and to

talk about whatwehave in common.

''We'veset up acommunity care

groupinthe Hawarden /Waikari area

and it's about how do we get people

out and about. It's really about

connection.''

The first cooking class washeld in

the WaikariHall on June8where

YoshimiDonnelly gave alesson on

making sushi.

Mrs Youngman led the second class

in the Hawarden HallonJune 23,

whichalesson on making sauerkraut.

On Monday participants will get a

lesson on making breadbyUrsula

Fricker.

''We'rekeen to encourage more

events like this so people on the

ground can motivate othersand it can

be fun and quite encouraging,'' Mrs

Youngman says.

''We'vebeen encouraged by Mayor

MarieBlack and trying to encourage

everyonetoget involved.

Fruits of their labour ... Participants got

to take home ajar of sauerkraut after a

cooking class in Hawarden Hall recently.

PHOTOS:SUPPLIED

''We started amonth agoand we're

stilltrying to find our way.''

Winter can be lonely time of year

and the groupisplanningtohost apot

luck meal in lateJuly or earlyAugust,

Mrs Youngman says.

To findout more,message Brona

Youngman on Facebook or phone /

text 021­02602821.

Sushi time ... Participants get some tips

on making sushi during acooking class in

Waikari Hall recently.

Aqua park

consultation

Community consultationonthe

proposed aqua play park in Kaiapoi

is open untilJuly 14.

The Waimakariri District Council

has received aproposal from the

WHoW CharitableTrust to install a

temporary aquaplay park within

NCF Reserve in Kaiapoi.

The playpark would be primarily

made up of floating bouncycastles

and inflatable pontoons on

Courtenay Lake, with supporting

features including apoint of sale

container, coffeeand small food, a

storage shed,picnic tables, a

spectator area,lifeguardstand and

toiletfacilities.

Around1554 square metres of the

lake would be used for the park,

which would operatefor up to six

monthsofthe year duringthe peak

summermonths and school

holidays.

Duringthe off­season, the

inflatables and all other temporary

buildings would be removed.

The trust wouldneed to meetall

resource consentrequirements for

the activity to go ahead.

Water qualitytesting is being

undertakenbyWHoW, following

Environment Canterbury

guidelinesand the Trust is also

working with ECantolook at any

potential impacts the projectmay

have on wildlife in the reserve.

The council says this type of

facility couldenhancethe

community and bringalarge

amountofnew visitors to the area.

To offer feedback, go to

waimakariri.govt.nz/letstalk by July

14.

Checkout ourlatest

deals

NEW

INSTORE

Discoverthis

superjuicy

and tropical

hazy IPA.

$ $

39 99

each

24 99

$

39 99

$

41 99

LONG WHITE

SAWMILL HAZY

STEINLAGER

ASAHI SUPER DRY VodkaRange

EAST COASTIPA

CLASSIC

24 x330ml Bottles

$

54 99 $

59 99

6x330ml Bottles

24 x330mlBottles

Mix&match

HOT DEAL! EVERYDAY HOT DEAL! HOT DEAL!

$

theseKiwivinoS

$

34 99 PRICE! $

41 99 $

49 99

each $

37 99

Single bottle

$14.99

15 x320ml Bottles, 4.8%

Includes Lemon &Lime, Apple &Pear,Raspberry

THE GLENLIVET

Founder's

Reserve

700ml

MAKER'S

MARK

1Litre

DEWAR'S

White Label

1Litre

FINLANDIA

1Litre

GORDON'S Gin

1Litre

Also available: Premium

Pink Gin, Sicilian Lemon Gin

JIM BEAM

White Label

1Litre

TANQUERAY

London Dry Gin

1Litre

GRAHAMNORTON'S

OWN Range

750ml

Includes Rosé, Shiraz,

Sauvignon Blanc,

WITHER HILLS RANGE

750ml

Includes Rosé,Chardonnay,Early Light

PinotNoir Rosé, SauvignonBlanc,Early

LightSauvignonBlanc, Riesling, Pinot

Gris,Early LightPinotGris

Shop local with

AMBERLEY, ASHBURTON, BARRINGTON, BELFAST, BRIGHTON, BURNSIDE,

COLOMBO ST, EDGEWARE, ELMWOOD, FERRYMEAD, HALSWELL, HANMER

SPRINGS,HORNBY, ILAM, KAIAPOI, LEESTON, LINCOLN, METHVEN, OXFORD,

SHOP LATESTDEALS at WWW.SUPERLIQUOR.CO.NZ

NATIONWIDE PICKUP &DELIVERYNOW AVAILABLE

PAPANUI, PEGASUS, RANGIORA, SEASIDE, WOOLSTON

Exclusions mayapplyonsomebrands advertised. Offers end close of trade 4th July 2021, while stockslast.Available at participating storesonly.Multi Deal only available in store. Varietals mayvary

by store. Limits mayapply.Wholesale (other liquor retail banners) notsupplied.Termsand conditionsmay apply.Available 21st June -4th July 2021 inclusive. Please seewww.superliquor.co.nz fordetails.

SUP2283_C7
---
It's not

spam!

We'retexting people in

Group 3this week.

If youget atext, thatmeans

you're in Group3.

COVID-19 Vaccination

The text will confirmyou'reinGroup 3and you'll receiveaninvitation to

bookyourvaccination appointment by the endofJuly.

Youmight get more than one text –that'sokay!

There aremorethan 170,000 people in Group 3inCanterbury, so vaccinations

forthis Group will continueuntilmid-September.

There's no cut-offdatetoget yourvaccination, and there's plenty ofvaccine

foreveryone.

Thank youfor your patience.

We'renow vaccinating people in Groups 1, 2and 3:

Group 1

Group 2

Group 3

Group 4

Includes border and MIQ workers and their household contacts.

Includesfrontlinehealthworkers,peopleworkingand living in long-term residential care,

Māoriand Pacific people aged 70 and over,the peoplethey livewithandtheircarers.

Includes people aged 65 and over;people with some underlying health conditions;

pregnant people; people with disabilities andtheir carers, plus older Māori and Pacific

people, the people they livewith and theircarers.

Includes everyone,aged16orover.

If youare in Group 3but don'treceive atextbefore5July, pleasecheck your eligibilityonour website:

www.VaccinateCanterburyWestCoast.nz

If youdon'thaveacell phone,you will receivealetter or an emaileither advisingyou'rein Group 3or inviting youtobook

your appointment.

If youbelieve youhavebeen inadvertentlymissed or youdon'thaveaGP,

email COVID19@cdhb.health.nztoregisteryour details.

CDHB28Jun21 CP
---
STADIUM

@

JOIN NOW TO SAVE!

OPENING 9th

AUGUST

full service gym

80+ prama &revl gt classes each e week

yoga &silver fitness sclasses

FULL SERVICE FITNESS CENTRE

With afull complementofweightsand cardio machines PLUS specialist team

training facilities,Stadium Fitness Centre will caterfor individuals and groups at

everylevel of fitness and whatevertheir goals.

•21m runningturf •Speed &Jump Testing •Life Fitness &BlueFitness Machines

•Hammer Strength Weights •Personal Training •Team Training •+Much More

REVL GT GROUP TRAINING

Revl GT,New Zealand's brand newstyle of group

training ishere! Torch calories,get fitfast andforget

boredom with theseepicfullbodyworkouts. The

30 and45minuteintervalworkouts are fun,social

andadaptable to all skilland fitness levels.

•RevlStrength •RevlAthletic •RevlPlay

•Find out moreatwww.revlgt.co.nz

$18 .50

ONLY

children's programmes

join online before opening day tosecu

ure this great

rate and get your first 2weeks free

PRAMAINTERACTIVE FITNESS

PRAMAfitness utilises touch sensitivefloor and

wall panels to provide an immersive, motivational,

fun &interactiveworkout experience.

•Strength •Speed •Agility •Mobility •Power

•Classes for all ages •Sport Specific Training

•Find outmoreatwww.pramafitness.com

SUPPORTED BY

perweek

WWW.MAINPOWERSTADIUM.NZ
---
NEWS

24 The North Canterbury News, July 1, 2021

AgriKids ready for action

By DAVID HILL

North Loburn School's Karetu

Kids don't have to look far for

inspiration ahead of tomorrow's

(Friday, July 2) national AgriKids

final in Christchurch.

The school has had along

tradition in the annual AgriKids

competition's 10 year history,

having competed in several

AgriKids finals including the

Gumboot Gang being national

runners­up at Feilding in 2017.

This year's Karetu Kids team

comprises Regan Herlihy (12),

John Lundy (12) and Cate Ambury

(13), who are all competing for the

first time.

Regan's older brother and

sister have competed in past

AgriKids competitions, while

John's dad is apast Young

Farmers Club member, so there is

no shortage of advise for the team.

All three are rural kids, with

John hailing from asheep and

deer farm, Cate comes from a

lifestyle block with goats, while

Regan lives on afarm and his dad

is ashearer.

''I think we are pretty well

covered because we have arange

of knowledge between us,'' Cate

says.

The team has had afew morning

and after school sessions to help

them prepare and has been

making good use of the ''hints''

provided to the finalists last week

of the things they may be tested

on, John says.

''We've thought about what the

hints might be telling us,'' Cate

says.

''And we've learnt about Young

Karetu Kids ... North Loburn School's team of Regan Herlihy (12, left),

John Lundy (12) and Cate Ambury (13) is excited about competing in the

national AgriKids final tomorrow.

PHOTO: DAVID HILL

Farmers and where they came

from,'' Ryan adds.

In the last few days before the

final the team was due to have a

session on ATVs in preparation

for the Honda module and

planned to brush up on their

general knowledge.

Being in the national final

means two days off school, with

teams participating in an opening

ceremony in Christchurch this

afternoon.

The AgriKids modules will be

held at New Zealand Young

Farmers' headquarters at

Innovation Park in Templeton

tomorrow between 7.30am and

3.30pm, alongside the FMG Young

Farmer of the Year and Junior

Young Farmer practical

competitions.

Teams will compete in various

modules, arace and awritten test.

Karetu Kids will be lining up

against two teams from Waikari

School and 18 other teams from

around the country.

The AgriKids winners will be

announced at afunction in the

Christchurch Town Hall

tomorrow evening.

SPORTS RESULTS

Rangiora Golf Club:

Nine hole competition:

Stableford/Knibbs Cup

Round 2: Ladies: Elaine

Klopper 18 c/b,Pat Benny

18, LynLeech16c/b Rita

Moore 16.

Men:Howard Thomas 18

c/b, Robert Madden19c/b

John Gregan 19 c/ b,

Hudson Deane 19, Bruce

Pugh 18.

Rangiora Bridge

Oxford Pairs: North/

South:Junette McIntyre/

Sue McIlroy 1, Jeanette

Chatterton/Gaynor

Hurford 2, Joan Lloyd/

JoyceGray3.East/West:

Liz Duke/David Rainey 1,

Pat Green/Selwyn Green 2,

DawnSimpson/Veronica

Hall3.

Rata Pairs:N/S: Shirley

Syms/Jack Lyon 1, Jenny

Roper/Liz Duke 2, Dawn

Simpson/Sue McIlroy 3.

E/W: Noeline Goodgame/

Phillipa Watkins 1. Kevin

Kuch/Shona Keating 2. Sue

Solomons/Jan Roose 3.

Junior:N/S: Kerryn

Lange/Karen Manson1,

Annette Caldwell/Gail

Dunlop 2, Lorraine

Barnett/Batman 3. E/W:

Wayne Hutchings/Stuart

Atkinson 1, Lindsey

Sigglekow/Judith Robin

son 2, Murray Davis/

Sharyn Davis 3.

Individual: N/S:Tony

Biddington/Dave Tocker 1,

Linda Joyce/Joyce Gray 2,

Hilary Lakeman/Vicktor

Paul 3. E/W:David McRae/

Jack Lyon 1, Gaynor

Hurford/DavidRainey 2,

Judy Hayton/Kevin Kuch 3.

Amberley GolfClub

Multiple stableford: T

Natapu andGWilliams78,

GGill and LCook 70, B

Fitzgeraldand NRhynd

66,KPercy andJMorgan

66.

Twos: BBalderstone,B

Fitzgerald, GSmith, R

Wilshire, NGranger.

Excel Design Longest

Putt: BScott.

Mid weekmen: JWigley

39,KGussettee 35, BGill

35,TSullivan 35.

Twos: RHornblow (2), B

Mills.

Mid weekwomen: SLee

36,JBishop 34, RLester

32.Longest Putt:JBrown.

Nine holders:

Foursomes: Dand KPercy

40,LEdwardsand HAstell

40.

Amberley Smallbore

Rifle Club

MQuigley 100.8, O

Mitchell 99.5, DQuigley

98.4, KBrown97.2,P

Wisheart 95.3, GDouglas

95.2, MParker93.1, C

Rhodes 91.1,CKelland

91.1, WParker89.1,A

McLean 77.0, GJennings

57.0.

Everyonewelcome with

gear supplied.

ALL TIPAZ

ON SALE

ALL PARIS

ON SALE

Dining Chair

NOW $

150

Dining Table – W190

NOW $

799

SCANQRTOSHOPALl

SUPERDEALSOnLINE!

Caribbean Queen

Sleepset

WAS $ 849

NOW

$

649

Chia 4 Drawer

– W80 WAS $ 499

NOW

$

349

Chia 8 Drawer

WAS $

749

NOW

$

599

Riley Sofa Chaise –Grey

WAS $ 1699

NOW

$

1299

Lennox 2Seater

WAS $

1499

NOW

$

1199

NOW ON! SELECT ITEMS +SUPER DEALS.

ENDS 12.7.21.

Lennox

3Seater

NOW $

1399

Scantofindstore

250 Moorhouse Ave, Christchurch

0800 TARGET (0800 827438)

targetfurniture.co.nz

Offers and product prices advertised here expire

12/07/21. Sale Excludes Accessories.
---
NEWS

The North Canterbury News, July 1, 2021

25

Former racehorse now an off-track hero

By SHELLEY TOPP

Bordeaux, aformer staronthe

racetrack, is nowahero as part

of HarnessRacing New

Zealand's Harness Education

andRehoming Opportunities

programme.

TheFrench­bred trotter,

which won 11 races and was

formerlyowned by his Rangiora

breedersPhilipand Martine

Iggo,was retiredfrom racing in

March 2020.

Thecoupledecidedtosign

Bordeauxover to theHero

programmeafterheretired

when it wasclear he was missing

thedaily training routine at

Philip'sRangiora stables.

''He was justpottering around

here coming up to the gate every

daywaiting to comeintowork,''

Philip said.

``When you stoptraining them

they continue lookingfor that

day­to­dayinvolvement.They

just want to carry on.Sowe

thought the Hero programme

wouldbethebestthing forhim.''

TheHero programmewas

launched by Harness Racing

Victoria in 2015 andadoptedby

Harness RacingNew Zealand

last year.

It was designed to create

positive retirementpathways for

retired standardbredracehorses

andtoshowcase the

standardbredbreedtothe wider

equine industry.

NewZealand's Hero

programmehas been

establishedinCanterburyand

New role ... Retired trotting star, Bordeaux, with Chanelle Dickie, coowner

of the Selwyn Equestrian Centre, with her mother, Helen Dickie,

in the saddle. Bordeaux is now taking part in Harness Racing New

Zealand's Hero programme which re­educates retired standardbred

racehorses to showcase and rehome them into the wider equine

industry. Chanelle is one of the Hero programme's equine educators.

Southlandand thereare plans to

extendthe initiative to the North

Island in thefuture. Horsesare

selected forthe programme

basedonage, temperament,

PHOTO:SUPPLIED

conformation and soundness.

Theyare placed witha

professionalequine educatorfor

about eight weeks where they

are schooled to ahigh level to

Full flight ... Bordeaux winning his second South Bay Trotter's Cup

at Kaikoura on October 30, 2017, with Dexter Dunn in the cart.

PHOTO: RACE IMAGES

showcase their versatilityasa

pleasure andcompetition horse.

After completing their

educationthe horse will be

offered for salewith potential

new owners undergoing

extensivechecksand all

proceeds returning to the Hero

programme.

Bordeauxisbeingtrainedby

Chanelle Dickie, who ownsthe

Selwyn Equestrian Centrewith

her mother,Helen. Chanelle

saidBordeauxwas ''a kind,

gentleteddy bear who impresses

me every dayand willmakea

great ambassadorfor the Hero

programme''.

Theshowy chestnutbecame

widely recognisedfor his long,

flowing maneduringhis racing

careerand the gelding attracted

alarge social media following

shortly after joiningthe Hero

programme, whenthe public

were asked if his mane should be

trimmed.

Theresoundinganswer was

``no'', so thegeldinghas

retained histrademark locks

whichare suchabig part of his

character.

kura tawhiti.Castle hill

It's right here in Selwyn!

Nestled between the Torlesse and CraigieburnRanges, Kura

Tāwhiti/Castle Hill is just over an hour's drive from Christchurch.

Atraditional stopping point for early Māori, travelling between

the west and east coast, KuraTāwhiti has sacred Tōpuni status.

The easy walking tracks makeexploringthe ancient limestone

formations amust-visit place for everyone.

Share your Kura Tāwhiti photos

and tag us selwyn.nz

Visit selwyn.nz
---
NEWS

26 The North Canterbury News, July 1, 2021

West Eyreton community displays its wheels

By DAVID HILL

The West Eyreton community

brought their wheels to school

last week to ''ignite'' student

passion for learning.

Around 20 different types of

vehicles rolled into West

Eyreton School on Wednesday,

June 23, as part of an Ignite

learning programme, where

senior pupils have been

learning about different forms of

transport.

Teacher Sarah Wardle said

she was pleased with the

community support, which saw a

range of agricultural, work,

recreational and vintage

vehicles on display.

''We've got different types of

transport and machinery from

around the district. We've got

farming and contracting

machinery, vintage cars, racing

''Older than granddad'' ... Head students Jack Topless (12, left), Jack

Meyer (12), Finehiki Uhatafe (12) and Matilda Harland (12) in front of a

1928 Oakland, which was restored by West Eyreton School granddad

Graeme Read at avehicle display day at West Eyreton School last week.

PHOTOS:DAVID HILL

Raw power ... Head students Matilda Harland (12) and Jack Meyer (12)

imagine taking this truck for aspin.

cars and trucks, tractors and tiny

go­karts and anything in

between.

''People have been very keen

to come along and support the

school, which is amazing.''

The slowest form of transport

was aShetland pony, Rowan

(21), and cart driven by his

owner Izzy de Roo (12).

Old style ... Izzy de Roo (12)

enjoyed driving her Shetland pony,

Rowan (21), around school.

''He loves the attention,'' she

said.

Shetland ponies like Rowan

were once used in coalmining

more than acentury ago.

A1928 Oakland car attracted

plenty of attention, with owner

Graeme Read, of West Eyreton,

only too happy to support his

grandchildren, who attend the

school.

''Some of the children are

pretty amazed that this car is

older than they're

grandparents.''

Off­roader ... Head student Finehiki Uhatafe (12, left) enjoys being in

the driver's seat, while fellow head student Jack Topless (12) admires her

choice of wheels.

MID-WINTER

CHRISTMASDEAL$

CHRISTMAS DEAL$

$12.99

EACH

$22.99

EACH

$26.99

EACH

Jim Beam /CC

4.8% 440ml 4pk cans &7%355ml

4pk cans (inc zero) cans

Cruiser

12pk can range

$22.99

EACH

ODD Company

10pk can range

$22.99

EACH

Woodstock

250ml 7% 12pk cans

(incls zero /exraspberry)

$24.99

EACH

Part Time Rangers

Jack Daniels 4.8% 330ml

10pk can ranges (incls no sugar)

$24.99

EACH

Smirnoff Ice Double Black

7% 12pk can range (ex guarana)

$25.99

EACH

Clean Collective

5% 250ml 12pk cans

Long White

10pk bottle range

$9.99

EACH

$13.99

EACH

$15.99

EACH

$18.99

EACH

2FOR

$30.00

$25.99

EACH

$34.99

EACH

$35.99

EACH

$39.99

EACH

$35.99

EACH

Jim Beam /Canadian Club

18pk 330ml cans

$39.99

EACH

Jacobs Creek (ex Sparkling

range) MontanaClassic ranges

$47.99

EACH

Brown Brothers

Moscato range

$54.999

EACH

$59.99

EACH

The Ned

range (ex PN)

$62.99

EACH

Allan Scott Black Label &

Cecilia (brut/rose) ranges

Matawhero Gisborne range (ex PN)

$9.99

EACH

Villa Maria Cellar

Selection, Esk Valley

(exPN,Syrah,Grenache)ranges

$15.99 each

Malibu /Kahlua

700ml (incl flavours)

$18.99

EACH

$19.99

EACH

Ivanov/Seagers

(incl lime) 1L

$21.99

EACH

Jagermeister/

Pepe Lopez

(gold/silver) 700ml

Larios Rose /

Citrus /Larios 12 1L

FamousGrouse /

Finlandia /Southern

Comfort 1L /Smoky Black

FG 700ml

Wild Turkey

1L

Ratu Dark/Signature/

Spiced Rum 700ml range

Maker's Mark

1L

ChivasRegal 12yr 1L

The Glenlivet 12yr 700ml

Old Mout

1.25L cider range

Fortune Favours

6pk range

Somersby

10pk can range

Haagen

15pk bottles

$23.99

EACH

Asahi

12pk bottles

$24.99

EACH

$24.99

EACH

$29.99

EACH

$36.99

EACH

$39.99

EACH

$39.99

EACH

Lion Red /Waikato/Speights

Summit

15pk bottles

Monteith's

(classic &batch brewed)

12pk range

Promotion period between1/07/2021 to 31/07/2021. While stocks last.Promotion only available at participating stores –please contact your local store to confirm

whether theyare participating in the promotion and checkthe pricing in-storeprior to purchase. Online pricing will vary.

THIRSTYLIQUOR RANGIORA

398 HIGHSTREET, RANGIORA

03 3137207

$26.99

EACH

Steinlager

15pk bottles

Heineken

15pk bottles

THIRSTYLIQUORBRIDGEND

1275MAIN NORTHROAD, BRIDGEND

03 3238833

Tui/ExportGold/Extra

Low Carb/ DB Draught

24pk bottles

Export33

24pk bottles

thirstyliquor.co.nz

ASK ABOUT

LOYALTY CARD

BENEFITS &

GIFT VOUCHERS

Carlsberg

24pk bottles
---
MainPower

Live Lines

Issue 197 July 2021

View HillSchool

presents 'Just So'

NEVER TOUCH

FALLEN LINES

TheMainPower Community Fund helpssupport local events.

Recipients of the last funding round,View HillSchool,are

set to share an evening of Wearable ArtsPresentations and

Performances.

The wearable arts outfits areconstructed from asustainability

perspective andfeatureelementsofnatureinspiredby

Rudyard Kipling's 'Just So'stories.

The Performance is onThursday 8 July, at 5:30pm. Coopers

Creek Hall, Oxford. Entry is by Gold Coin Donation.

Principal Bu Windsorsays, "View Hillschoolisgrateful tothe

MainPower Community Fund for providing agrant to assist

withcostsassociated withthis event".

About the MainPower Community Fund

Through the MainPower Community Fund,there is $30,000

availablefor community groups, non-profit organisations,

local charities and schools based in or serving theNorth

Canterburyregion.There aretwo funding rounds eachyear.

Nominations for the current funding roundclose 6August.To

learn more, visit mainpower.co.nz.

Keep clear,warnothers of the

danger andphone MainPower

immediately.

24 hour faults line

0800 3090 80

mainpower.co.nz

Join theteam

MainPower currently have exciting opportunities available for

traineestojoin ourteam!

We are looking forthe following trainees:

-Electrician

-CableJointer

If you have apassionfor working outdoorsand providinga

service forthe local community,thenthiscould be the trainee

job to help kick startyourcareer.

Full training and supportwill be offered to suitable applicants

who will be required to successfully complete therelevant

New Zealand Certificates associated with the trades.

To learn more about thesepositions, visit mainpower.co.nz.

Applications closeSunday11July.

Trainee Cable Jointer Rob Sampson working at the

Ravenswood subdivision.

MainPower 24 HourFaults Line

0800 30 90 80
---
MID WINTER

CHRISTMAS

RANGIORA

ENDS THIS SUNDAY!

3

Only

Limited

Stock

Limited

Stock

now

$

248

Hikoki 24cc500mm

now

$

399

Hikoki 18v SiteTVRadio

918272

Hedge Trimmer

341916

LOTS

MORE

DEALS

IN-STORE

now

$

339

Bosch 18VHigh Torque Hammer

Drill with Battery&Charger

382795

n ow

$

45

88pcTitanium Drill Bit Pack

938443

now

$ 29

Tape Measure8mOXPro SS

336763

now

$

38

Ace141pc Tool Set

902127

Items similar to photo, some stock is end of line and/or displaymodels,eachproductislimited to 1itemper customer,

limited quantityofeachproduct,onhand stockonly,personal customers only,nophone holds or orders,noaccounts,notrade accounts,noFarmlands accounts,

no rain checks,prices valid until Sunday4th July or while stocklasts,financeterms available.

100%LOCALLY

OWNED&OPERATED.

RANGIORA

If youfind alower priceonanidentical stocked productlocally, we will beatitby15%

If youfind thesame productfromanother Mitre10store or Mitre10website, we'll matchthatprice.Excludes tradeand special

quotes,stock liquidations and commercial quantities.The in-storeprice maybelower than thatadvertised.
---
RURAL LIFE

The North Canterbury News, July 1, 2021

Strong buyer interest in Kaikoura bulls

By DAVID HILL

Acommercial Angus bull

produced abit of surprise at a

Kaikoura bull sale last week.

Angus bull Woodbank 9110

sold for $16,000, outstripping the

prices paid for stud Angus bulls

at the combined Matariki

Hereford /Woodbank Angus onfarm

bull sale held in the

Clarence Valley, north of

Kaikoura, on June 22.

''It's what happens when

commercial guys see something

they like,'' Woodbank Angus coowner

Ben Murray said.

''People are prepared to pay

for quality genetics and the

results they're getting are pretty

good.''

Angus bulls were primarily

bred as maternal sires, to

produce cows to build up an

Angus herd.

''You're breeding for the

females you keep in your herd.

Everyone wants good females to

keep in their herd for aperiod of

time.''

Three Angus stud bulls sold

for $15,000, while 54 of the 58

Angus bulls offered for sale were

sold for an average of $9204,

which was afitting way to mark

the stud's 85th anniversary.

''We were very happy with how

it all went, we sold 54 bulls

which was absolutely brilliant,''

Mr Murray said.

''We were very well supported

from Marlborough and North

Canterbury. It's always good to

keep them (the bulls) in the

district and to see the buyers

keep coming back.''

Other buyers travelled from as

Family affair ... Three generations of the Murray family ­Johnny (left),

Ben and Tom check up on their bulls ahead of last week's bull sale.

PHOTOS: ANDREW SPENCER PHOTOGRAPHY

far afield as Gisborne and

Wairoa in the North Island and

from Southland and South Otago

in the south, he said.

The Woodbank Angus stud was

founded in 1936 by Mr Murray's

grandfather, while the

Woodbank farm was established

by his great­grandfather in 1900.

The farm was later subdivided

after World War 2, with

Mr Murray's great­uncle

establishing the Matariki

Hereford stud.

''We've got an awesome

relationship with Matariki and it

suits our clients well, as alot of

guys like to chop and change

between the breeds, so it works

for both of us,'' he said.

Today Mr Murray runs the 450

cow Angus stud with his father

Johnny, while his son Tom is the

latest generation on the farm.

The Matariki Hereford stud

had asuccessful day selling 58 of

the 59 Hereford bulls offered for

sale for an average price of

$8448, with the day's top price

being $20,000 paid for Matariki

Memphis in lot 46 by Koanui

Polled Herefords of Havelock

North. Two Hereford stud bulls

also sold for $18,000.

29

Rounding them up ... Jack Murray walks some Hereford bulls ahead of

last week's bull sale.

On sale ... Astrong gallery of buyers supported last week's Matariki /

Woodbank on­farm bull sale.
---
RANGIORA MITSUBISHI

321 High Street, Rangiora | 03941 3175 | rangioramitsubishi.co.nz

10 year /160,000km Powertrain Warranty(whichevercomes

first)(nontransferable). 5year/130,000kmNew Vehicle

Warranty(whichevercomesfirst)(nontransferable).

FROM

$

33,990+ORC*

ST

ST-L

MIDNIGHT EDITION

Ti

$33,990 +orc* $41,990 +orc* $42,500 +orc* $46,990 +orc*

Stock available for immediate delivery

*Prices shown are available while stock lasts plus on road costs.. Nissan reserves the right to vary, extend or withdraw this offer. Not available in conjunction with any other offer.

RANGIORA NISSAN, 321 High Street,Rangiora

Ph: 03 941 3175

www.rangioranissan.co.nz

NISSAN 150,000 KM'S

5YR FACTORY

WARRANTY

rangioranissan.co.nz
---
Resilience message

for changing world

By DAVID HILL

Looking to the future and

resilience were the focus

of afarmers' conference

held in Christchurch last

week.

Around100 farmers

attended Beef +Lamb

New Zealand's annual

FarmSmart conference at

Addington Raceway,

where Canterbury­based

board directors Nicky

Hyslopand Kate Acland

discussed the

organisation's

referendum and northern

South Island farmers'

council chairperson

FraserAverykicked

thingsoff by talking about

resilience.

''The key message is we

are in areferendum year,

so we really encourage

farmers to get out and

vote. It's justsoimportant

that we have their

mandate,'' Mrs Hyslop

said.

Areferendum is held

every six yearstogive

farmers achancetohave

their say on the futureof

the levy­funded

organisation, with voting

closing on July9.

Achanging world, the

environment, trade,

recruitingyoungpeople,

research and

development,genetics

and influencing

governmentpolicy were

prioritiesfor BLNZ going

forward, Mrs Hyslop said.

''As farmers we

understandthe bow wave

of issues thatare coming

forward and the change

ahead of us, so that'sone

of our goals is to make

sure in terms of policy that

we influence wherever we

can sensible outcomes.

We knowthat's really

frustratingfarmers at the

moment.

''It'snot the direction of

travel, we certainly

support good water

quality, lookingafter our

soils,biodiversity, all of

those really important

thingsand mitigating

climate change,we

acknowledgeweare part

Built to your budget!

-All types of fencing including:

-deer, sheep and cattle yards

-Retaining walls –Timber gates

-Full range of specialised equipment for farm fencing and

lifestyle blocks, offers you the complete land package.

Ashley: 0274 364 776 ah: 314 8541

e: A.Duckworth@xtra.co.nz

www.duckworthfencing.co.nz

Post &Rail Fencing -Looks great &

makes life easy for the Rural Lifestyler!

Women in agriculture ... Board directors Nicky Hyslop

(left) and Kate Acland were out in force to promote Beef +

Lamb New Zealand's referendum at last week's BLNZ

northern South Island FarmSmart Conference in

Christchurch.

PHOTO: DAVID HILL

of thatsolution, but we

want to see sensible policy

and we're not always

seeingthat.''

The recent flood event

on the back of the long

running drought had abig

impactonfarmers in the

regionand new board

memberMrs Acland's

property was in the midst

of the flooding.

''We've had close to half

our annualrainfall in one

weekend, but it's

something we faceas

farmers and one of the

themestoday is about

resilience and dealing

with these events and

remaining strongand

resilient in the face of it,''

Mrs Aclandsaid.

In his opening address,

Mr Averynoted the

Aclands had received

more rain in five days than

his farm receivedin18

months, whichhighlights

the need for resilience.

Resilience beganwith

''understanding ourselves

­how we manage

ourselves and the people

aroundus'',hesaid.

2272726

2191656

''Life happens. How we

deal with it is what define

us.

''Some people tellme

that rightnow is the most

challenging time they've

ever seeninfarming,but

for me I've never seen

more opportunities. So it's

all about mindset.''

Mr Avery also noted the

growing

acknowledgement of the

roles women have always

played in the rural sector,

which was echoed by

Canterbury's two BLNZ

board directors.

''I think throughoutthe

countryyou'll find

farmingisapartnership,

so it's not unusual to have

women really strongly

involved,'' Mrs Acland

said.

''And Ithinkit's just that

now we are seeing so

much more

acknowledgement and

confidencefrom women to

come forward. But they've

always been an important

part of farming

partnerships,'' Mrs Hyslop

added.

FENCING

• Post Driving

• Stock Fencing

• Stockyards

• Post and Rails

• Lifestyle etc

Ph Andy Horn

021 214 1201 or

(03) 314 9460

RURAL LIFE

The North Canterbury News, July 1, 2021 31

Dana apicture perfect cow

ANorth Canterbury cow hasproven to be

the pictureperfect milker.

Cresslands Windbrook Dana EX, a

7­year­old cowbredbythe Stewartfamily,

of Cresslands FarmsatWaikuku, has won

bothtwo bigawardsatthe Holstein

Friesian New ZealandConferenceheldin

Northland last week.

Thecow won the all New Zealandsenior

cowawardinthe 2021HolsteinFriesian

NewZealand photocompetitionand also

claimed the 2021Semex NewZealandonfarm

competitionmature cowchampion

award.

It was agood weekfor Cresslands Farms

cows,asCresslands ImpressionLilywas

reserve championinthe mature cow onfarm

competition, while Cresslands

SolomonChloe placed 5th in the four­yearoldcow

on­farm class. In the photo

competition, Cresslands Bytes Paris VG86

wasrunner­up for thejuniorcow award,

while Cresslands Corvette Daisy EX

placed 3rdinthe senior cow award and

Cresslands B52 Peggy was 5th in theheifer

calf class.

TheStewarts havebeenbreeding

Holstein Friesianssincethe late 1950s.

Champion cow ... Cresslands Windbrook

Dana EX.

PHOTO: DEAN MALCOLMPHOTOGRAPHY

Community Conversation series

withEnvironmentCanterbury

Apublic conversation to exchangenewsand views

on topics of interest to the community.

Proposed topics fordiscussion:

• Long-Term Plan 2021-31

• Ourresponse to the recent weatherevent

• Catchment-based project and initiatives

• Biosecurity co-design programme–feedback

• Topics youwouldliketodiscuss with us.

Please register your interest by emailing events@ecan.govt.nz

Tuesday6July2021

12.30pm to 2.00pm, KaikōuraMemorial Hall

6.30pm to8.00pm, OxfordTown Hall (A&P Room)

Wednesday7July2021

6.30pm to 8.00pm, WaiparaMemorial Hall

Taking action together to shape athrivingand

resilient Canterbury,now andfor future generations.

Toitū te maraeoTāne, toitū te maraeoTangaroa,toitūteiwi.

www.ecan.govt.nz

Cresslands Farms continues to milk its

cows 12 monthsofthe year, milking just

over 400cows in thespring and300 cows in

thewinter,employing threefull­timestaff,

as well as father andson Grahamand

Andrew Stewart.

2354936

MEAT2U.NZ

HOME KILL

&WILD GAME

MEAT PROCESSING

313 0022

TRUCK DRIVER

Class 2

We are looking for atemporary person tojoin our

team from 26 th July until 10 th September (7 weeks)

to help with our bobby calf pickups.

Key requirements:

•Have aclass 2license (small truck)

•Befit and capable of handling calves up to 30kg

•Enjoy working in arural area with arural

•Local knowledge is abenefit but not essential

The hours are varied but the hourly rate will reflect

the successful candidate's level of experience and

the short term nature of the contract.

If this sounds like ajob you are interested in call or

txt Marco on 0274 965 850.

2395385
---
IT'S TIMETOSTEP UP

FROM 5IN1TO

COGLAVAX8 VACCINE

The health and welfare of our

animals is really important to

us, so we use products that

achieve results

Hayden Ashby

Livestock Operations Manager,

Brownrigg Agriculture

STEP UP TO 8 IN 1 PROTECTION

When you're running big numbers of sheep and cattle… there's one number you want

to keep really low. And that's unnecessary losses from Clostridial disease.

That's why Brownrigg Agriculture have stepped up from 5 in 1 to Coglavax8

vaccine to protect against 8 Clostridial diseases present in New Zealand.

ONLY AVAILABLE FROM YOUR VET

CEV0001 APFP

coglavax8.co.nz

Ceva Animal Health (NZ) Limited. P: 09 972 2853 ACVM No. 7528 References: 1. JS Munday, HBentall, DAberdein, MNavarro, FAUzal &S Brown, Death of aneonatal lamb due to Clostridium perfringens type B

in New Zealand, New Zealand Veterinary Journal 2020. 2.West, Dave M., Bruere, A. Neil and Ridley, Anne L. The Sheep, Health, Disease and Production. Auckland: Massey University Press, 4th ed., 2018. Print.
---
CREATE

YOUR

LASTING

LEGACY

GET YOURNAME ON NORTHCANTERBURY'S PREMIER

SPORTING FACILITY-MAINPOWERSTADIUM

As a Legacy Supporter of MainPower Stadium you can getyour

name (family, business, sports team, etc)permanently associated

with thisfantastic community facility.

Your name will appear on the supporters'

board, and with your support we will be able

to cater for a wide variety of sports clubs and

groups, and bring the best sports tournaments

and events to OUR community.

SPORT

North Canterbury News, July 1, 2021

DON'T MISS THIS EXCLUSIVE OPPORTUNITY! TY!

WWW.MAINPOWERSTADIUM.NZ

33

Kaiapoi remains top of the table

RUGBY

BY LINDSAY KERR,

PETER WILLIAMS, AND

DAYLE SUTHERLAND

Kaiapoi and Saracens have

consolidated their positions at

the topofthe Luisetti Seeds

NorthCanterbury premier

rugbycompetition, but the

battle for the remaining semi

finalplaces intensified last

Saturday, after the completion

of round four.

Glenmark­Cheviot returned

to the winners circleafter

accounting for Hurunui, and

Ashley bounced back from a

heavydefeat by Saracens to

comfortablyhead off Woodend.

Points after four rounds:

Kaiapoi 19, Saracens 17,

Ashley 11, Hurunui 10, Oxford

9, Glenmark­Cheviot 9, Ohoka

5, Woodend 1.

Kaiapoi too strong

Kaiapoi's strength across the

park wasevident underlining

why its the top­ranked teamin

the Luisetti SeedsNorth

Canterbury rugbycompetition.

In an entertaining, freeflowing

match Kaiapoi

comfortablybeat Oxford 39­22.

Its strong­running backs

thrived on aconstant streamof

possession provided by the

hard­working and mobile

forward pack.

Its consistent scrum,a

feature all season, was amajor

strength,with the Oxfordpack

pushed back on afew

occasions, sometimesupto10

metres. Kaiapoi also gained

the ascendancy at lineout time.

Lock Nacanieli Namata,

playing in his 100th matchfor

Kaiapoi,revelledinhis work

helping gainlineout

possession and frequently

popping up in generalplay

with the ball in hand. Halfback,Codey

Grimes, skilfully

distributed aplethora of

quality ball to his backs.

LoganBell, seemed to make

adent in the line every time he

touched the ball, and Reuben

Tiweka and Jovilisi Toleqa

were aconstant threat.

If there was achink in

Kaiapoi's armour,itwas its

goal­kicking. the usually

reliable Taine Jacobs­Lawson

had already sprayed three

penalty chances in the first 12

minutes and even achange of

kicker brought littlejoy. Only

two of their seventries were

converted.

But Oxford was resilient.As

in recent weeks, theytackled

their hearts out and whenever

Kaiapoi threatened to openup

asizeable margin, Oxford

found away to clawback the

margin.Itgrabbed the few

chancesitwas presented with.

Half­back Matt Roberts and

hooker DannyBrooker were

bothrewarded for their

diligence with opportunistic

tries. Jesse Houston was a

standout in awell­beatenpack.

Scoreboard: Kaiapoi 39

(Jacob Hurring, Jovilisi Taleqa,

Reuben Tiweka (2) ShakBassi,

Codey Grimes and Inia Toa

tries, Grimes2conversions)

beat Oxford 22 (Matt Roberts 1

try, 2conversions, 1penalty)

Danny Brooker 2tries.

Successfor

Saracens

Saracens needed the full 80

minutes to secure the points

against avaliant Ohokaside.It

wasfittingfor Saracens to win

on club day, and alsocelebrate

newcenturion Ricky Allin's

100gamesand double

centurionBrentHancox's200

games.

Ohoka however,was

determined to spoil the party

and took advantage of

possession and territorytogo

into the half 15­10ahead.

Ohoka's ZanePaterson and

Tobias Pulleygave the visitors

ball running options, leaving

the visitors confident heading

into the break. The old adage of

securingfirstpointsafter half

time couldn't have been more

important. The home side

claimedthe advantage,scoring

wide to lockthe scoresat15­all.

Theturning pointfor the

home side came late in the

game. With Ohoka up 18­15,

Saracens second intercept try

handed themomentum over.

Two consecutive tries against a

tiring Ohokadefence, handing

the home sidea38­18victory.

Saracens openside Nathan

Centurion .. . Nacanieli Namata, with ball in hand, playing his

100th game for Kaiapoi, made anumber of telling runs against

Oxford.

PHOTO: PETER WILLIAMS

Goodwin madehis presence

felt with 2triesand was well

supported by Hancox and

Allin. Ohoka's pack ensured

the visitorshad plenty of ball.

Freeman Ederand Scott Allin

made the most of the visitors

attacking opportunities.

Scoreboard: Southbrook 38

(Nathan Goodwin2tries, Brent

Hancox, OliverBithray, Slade

Gray tries, Ricky Allin 2

conversions, 3penalties) beat

Ohoka18(Ethan McDuff, Zane

Patterson tries,Scott Allin, 1

conversion,2penalties).

Ashleydominant

Ashley had little difficulty

beating Woodend,runningin

nine tries for a64­0demolition.

The scoreline was alittle

flattering withWoodend's

tigerish defence at times

suggesting alesserside would

have conceded more points. A

last minute 80 metre Scott

Barber intercept try added to

theiragony.

Woodend did have its

moments on attackand after

trailing0­22 at halftime was

closetoscoring earlyinthe

second half, but came up short.

Ahat trick of triesfrom

Ashley's front rower Josh

Duckworth was afeature of the

match. Also the boot of Korbyn

Graywas to the fore,

convertingeight of his team's

ninetries.

Scoreboard: Ashley64(Josh

Duckworth 3, Scott Barber2,

MattKing, Nairia Wilson­

Bairds, Leon Hingston tries.

Korbyn Gray try, eight

conversions and apenalty)

beat Woodend0.

Glenmark Cheviot

wins

Glenmark Cheviot's

disappointing run came to an

endwhenitbeat neighbours

Hurunui 22­6. Playing at home,

Hurunui contested toe­to­toe

in the first half,but the effort

fellaway in thesecondspell,

which allowedthe visitors to

dominate.

Scoreboard:Glenmark­

Cheviot 22 (Jordy Grayatry,

BrookeRetallick aconversion

and5penalties) beatHurunui

6(Digby Heard 2penalties).

CREATE

YOUR LEGACY

FORJUST

$1000

NORTH CANTERBURY

RUGBYSUB UNION DRAW

3 rd July 2021

Luisetti SeedsCombined Div 1

OxfordVAshley,02:45 PM, OxOval. GlenmarkCheviot VKaiapoi,

02:45 PM, Omi 1. Saracens VHurunui,02:45PM, Sbk1. Ohoka

VWoodend, 02:45 PM, Mand 1.

Ellesmere &North CanterburyDiv 2(Section A)

Glenmark Cheviot V Saracens, 01:00 PM, Omi 1. Kaiapoi

GOLDS VKaikoura, 01:00PM, KaiOv.Hurunui BYE.

Ellesmere &North CanterburyDiv 2(Section B)

Oxford VWoodend, 01:00 PM, OxOval. Amberley Seniors V

Ashley SOL,02:00PM, Amb 1. Ohoka BYE.

Combined Colts(SectionA)

Waihora VAshley SOL, 01:00 PM, TT2.Methven Combined V

Glenmark Cheviot,02:15 PM, Tinw 1.

CanstaffWomens 2nd round

Kaiapoi Women's VWomen's Premier,02:45 PM,KaiOv.

1st XV Round Robin

St Thomas 1st XV VRHS 1st XV,02:45 PM, St Tom1.

Under 18

MackenzieVHurunui, 01:00PM, Methvn 2. OxfordVRHS 2nd

XV, 01:00PM, Ox 2. Timaru BoysHS2nd XV VKaiapoi, 01:00

PM, S.P3.

Under 16

RHS Gold VDunsandel-Irwell Combined, 01:00 PM, RHS 2.

RollestonVRHS Green, 01:00PM, Foster 3.

Under 15

WoodendPegasus Bay VHurunui, 1:15 AM, Wood 1. Oxford V

RHS Gold, 11:15 AM, OxOval. RHS Green BYE.

U12 -U13 -North CanterburyOnly

SectionA

Saracens V Woodend, 11:00 AM, Sbk1. Hurunui Blue V

Amberley Black, 11:00 AM, Cul 2. Oxford VGlenmark Cheviot,

11:00 AM, Ox 3. Ashley VKaikoura Blue, 10:45 PM, Lob 4.

Kaiapoi Gold BYE.

SectionB

Ohoka Black VSaracens, 11:00 AM, Mand 2.Kaiapoi Blue V

Hurunui Black,11:00 AM, KaiOv.Oxford VWoodend,11:00AM,

Ox 4. Ashley BYE.

Under 11

Kaiapoi VAshley Green, 11:00 AM, Kai: Kai 1a. Woodend V

Saracens Red, 11:00 AM, Wood 2a. Ohoka Black VGlenmark

Cheviot, 11:00 AM, Mand 3b. Ohoka Red VAmberley Black,

11:00 AM, Mand 3a. Ashley Blue VKaikoura A, 11:00AM, Lob

4a. Oxford VSaracens Blue, 11:05 AM, Ox 2a. Hurunui Black

BYE.

Under 10

Oxford V Amberley Black, 10:00 AM, Ox 2a. Woodend V

Saracens Red, 12:10 PM, Wood 2a. Kaiapoi VHurunui Black,

12:10 PM, Kai 2a. Ohoka Red VGlenmark Cheviot, 12:10 PM,

Mand 3a. Ashley VOhoka Black, 12:10 PM, Lob 4a. Glenmark

CheviotVOhoka Black, 05:00 PM, Mand 3a. Saracens Blue BYE.

Under 9

Kaiapoi BLUE VOhokaBlack, 10:00 AM, Kai:Kai 1b. Glenmark

CheviotVSaracens Blue, 10:00AM, Omi 1b. Woodend VAshley

Green, 10:00 AM, Wood 3a. Ashley Blue V Amberley Black,

10:00 AM, LobLr3. Ohoka Red VKaiapo GOLD, 10:00 AM,

Mandj4a. Oxford VHurunui Black, 10:00 AM, Ox 4a. Kaikoura

BYE.

Under 8

Glenmark Cheviot VOhoka Black, 11:05 AM, Omi 1b. Ashley

Blue VKaiapoi, 11:05 AM, LobLr3. Oxford VSaracens Red,

11:05 AM, Ox 4a. Woodend VSaracens Blue, 11:05 AM,

WoodJ4a. Ohoka Red VKaikoura, 11:05 AM, Mandj4a. Ashley

Green VAmberley Black, 11:05 AM, LobLr6. HurunuiBlack BYE.

Under 7

Oxford VOhoka Red, 10:00 AM, Oxjn5a. Kaiapoi VSaracens

Blue, 10:50 AM, Kai 2a. Glenmark Cheviot Blue VSaracens

Orange,10:50 AM, Omi2a. AmberleyBlackVGlenmark Cheviot

Black, 10:50 AM, Amb 2a. Hurunui Black VSaracens Red,

10:50 AM, Cul3a. Ashley Green VAshley Blue, 10:50 AM, Lob

5a. OhokaBlackVWoodend Black, 10:50 AM, Mandj6.

Under6

SectionA

Glenmark Cheviot Blue VWoodend White, 10:00 AM, Omi 1a.

Kaiapoi BLUE VAmberley Black, 10:00 AM, Kai 2a. Woodend

GreenVGlenmarkCheviot Black, 10:00AM, Wood 2a. Hurunui

Black V Kaiapoi GOLD, 10:00 AM, Cul5. Hurunui Blue V

WoodendBlack,10:00 AM, Cul6.

SectionB

Kaiapoi WHITE VOhoka Green, 10:00 AM, Kai 2b. Ashley

Blue VAshley Gold, 10:00 AM, Lob 4a. Oxford Red VAshley

White, 10:00 AM, Ox4b. Ohoka Black VSaracens Red, 10:00

AM, Mandj6. Saracens Blue VOhoka Red, 10:00 AM, SBJnr6.

Saracens Orange VAshley Green, 10:00AM, SBJnr7.

Printed draw proudly supported by

Four SeasonsRealty

Your home forlocal property

0800 789 1011

Four Seasons Realty 2017 Ltd|Licensed Agent REAA 2008

For all draw information and updates

please keep up to date with

North Canterbury Rugby

2364200
---
SPORT

34 The North Canterbury News, July 1, 2021

Mixed results for Rangiora hockey teams

HOCKEY

Rangiora Hockey Club's division 1men's

team took awhile to warm up in its home

game against University of Canterbury

Spartans, conceding agoal in the first

couple of minutes, then anotherbefore

the end of the firsthalf.

But it shored up its defence after halftime

and worked its way back into the

game, with several promising forays into

the UC circle.

Lachlan Miller scored awell crafted

individual goal and then John Single

netted one late in the game to even the

scoreline.

Rangiora division 1women also earned

some much neededpoints with a1­all

draw against University of Canterbury

Huns.

In the Sunday Super League Men's

Championships the Rangiora Colts

comfortably accounted for University of

Canterbury Barbarians, but an understrength

Oddfellows team couldn't match

Avon.

In the women's championship

Rangiora Piwakawaka lost 4­nil to

Waikirikiri, which wasactually a

considerable improvement on the 8­0

scoreline the last time these two teams

met.

In the mid­weekcompetition all

Rangiora teamshad good wins. Rangiora

Hurunui Hares downedMalvern 5­1 in

the women's division 1grade, turning

aroundaloss to this team in round 1.

Rangiora Allsorts also turned arounda

round 1loss to Avon with adominant

performance over the blue and golds in

the division 2men's clash. The final

scoreline was 5­3, but it could have been

even more had Jon Green not had two

goals disallowed.

The mid­week Amen's team kept up its

Lining up ashot ... Sam Firth of the Rangiora Platinum Aboys' team gets off ashot at

goal against Southern United. Thomas van der Heiden is in support.

PHOTO: SUPPLIED

unbeaten record,albeitwith ascratchy

win over Southern United.

In the juniorcompetition unbeaten

Rangiora Rabbits(Kwik Sticks girls'

grade) were put underpressure in the

top of the table clash with the also

unbeaten HSOB/Burnside Pixies. The

Rabbits got two goalsupinthe first half

only to seePixies hit back quickly to even

the score.

The Rabbits again took atwo goal lead

which Pixies cancelled with two more

goals of its own. In the end it tooka

couple of individual goals to Catherine

McKellow late in the game to separate

the teamsand keep the Rabbits'

unbeaten record intact.

Results:

Division 1: Men­RangioraCBK 2(John

Single 1, Lachlan Miller1)drew withUC

Spartans 2. MVP:AdamHird. Women ­

Rangiora CBK 1drewwithUCHuns 1.

Sunday SuperLeagueChampionship:

Men ­Rangiora Colts 6(JonGreen 3,

Thomasvan der Heiden1,Sam Firth 1,

Justin Meyers1)beatUCBarbarians 2.

Rangiora Oddfellows0lost to Avon 2. MVP:

Graeme Ferreira.

Women­Rangiora Korimako wonby

defaultover UC Incas;Rangiora

Piwakawaka 0lost to Waikirikiri Tuis4.

MVP:Lee­AnneEnglish.

Mid­Week Open: Men­RangioraA3beat

Southern United 1. Rangiora Allsorts5

(JonGreen 2, Shaun Maxwell2,Tim

Hawke 1) beatAvonGold3.

Women­Rangiora Hurunui Hares 5

(KellyNicholson 3, Jan McDonald1,Lucy

Murray 1) beat Malvern1.MVP: Lucy

Murray.

Platinum Grades: Men­RangioraA2

(Liam Hayes 1, Sam Firth1)lostto

SouthernUnited 7. MVP: Liam Hayes.

Rangiora B1lost to Southern United 2.

Women ­Rangiora A1(Tilly Dodds 1)

lost to Southern United3.Rangiora B2

(Eliza Smith 1, Aimee 1) beat Harewood

Gold 1. MVP: Millie McCartney.

Kwik Sticks 11­a­side: Boys ­Rangiora

Renegades3(Matt Corey 2, Henry Webb1)

drew withHSOB/Burnside 3. MVP: Rubin

Carter.

Girls­RangioraRascals 0lostto

Harewood Blue 3.

Kwik Sticks 7­a­side Grades: Girls ­

Rangiora Rebels3(Meg Dunn1,Bella

Ealam­Smith 1, AmeliaHutchison 1) beat

Hornby Panthers0.MVP: Bella Ealam­

Smith.

RangioraRainbows 1(Sophie

Cartwright 1) lost to St Margaret's College

4. MVP:Kayleigh Sweeney. Rangiora

Rubies 1(Emily Lunn1)losttoSt Andrew's

College 2. MVP: Megan Green.

Kiwi Sticks: Boys ­Rangiora Rogues 1

(SethCann1)losttoWaikirikiri3.MVP:

DanieldeLima. Girls ­Rangiora Rabbits 6

(CatherineMcKellow5,Emma McKellow

1) beat HSOB/BurnsidePixies4.MVP:

Kaitlyn Pullar. RangioraRaiders 1

(Cassidy Wilson 1) lost to SouthernUnited

Starfish 7. MVP: Samara McCartney.

Rangiora Road Runners 6(Sammy Frost­

Smith 2, NeveFantham 2, Bella Cherry 1,

Jemma Clarke 1) beatStMargaret's

College 2. MVP: JemmaClarke.

Mini Sticks: Boys­Rangiora Roadsters6

(Aidan Ferguson 3, Harry Pullar 1, Jordan

Thomson 1, Xander Moore1,RyanRoyds

1) beat Southern United Sea Turtles 2.

MVP: JackMcLean. Girls ­Rangiora

Rockets8(Adele Ferguson3,Aimee

Dunlop 2, Shaylee Eastmond 1, Ruby

Hutchison 1, Hazel O'Steen 1) beat

Waikirikiri Keas1.MVP:Ila Bavis.

Rangiora Rock Stars 3(AnitaMones­Cazon

3) beat HSOB/Burnside Llamas 0. MVP:

CharlotteHawes.

LOVED BY

GENERATIONS

Published more frequently and

giving you better value for money

than any other rugby read

SUBSCRIBE

FROM AS

LITTLE AS

$20

rugbynews.co.nz

0800 77 77 10

ALSO AVAILABLE ATALL GOOD BOOKSTORES AND SUPERMARKETS
---
North CanterburyNews

PROPERTY

Home with astunning view!

12 Valley Road, Greta Valley, Hurunui

Elevated property, with exceptional views over farmlands -stretching down the Scargill Valley.

Whether you are searchingfor aholidayretreat for the family,anAir B'n'B for the portfolio, or apermanent place to call home,

this charming property is sure to catch your attention!

Inside, this sun-drenched three-bedroom home features agenerous family bathroom, awell-appointed kitchen and versatile

living areas. Awood burner adds to the welcoming ambience, promising year-round comfort.

Outside, there is plenty of room for the kids to play in the park below the property, with well-considered landscaping including

asmall hobby vineyard, growing red grapes which are well established and capable of giving its first crop in 2022!

The location offers atruly enviable lifestyle, with everything from acclaimed vineyards and walks with easy access to

Christchurch.

Our vendors have cherished their time in this incredibly special part of the country and leave armed with innumerable happy

memories. But having reached the decision to moveonthey are determined to achieve aresult as swiftly as possible, offering

their immaculately presented home to the market with genuine commitment and resolve.

Interest will be high, and immediate action isrequired -call me now for more information.

Web

DEADLINE SALE

22 nd July 2021 at 4:00pm

3 2

Victoria

McKenzie-Browne

victoriam@pb.co.nz

Ph 021 413 883

pb.co.nz/RU92302

Arealchange in

real estate.

The Property Brokers and Farmlands partnership means

great things forprovincial real estate*

Together our combinedstrengths complement

eachother to createbigger networks,more

buyers and better results.

For more informationcall0800367 5263

orvisit pb.co.nz/together

Proudtobetogether

2395122

*Farmlands will continue to administer its property management portfolioand its West Coast real estatesites, pendingCommerce Commission clearance.

Property BrokersLtd Licensed REAA 2008
---
Rangiora 50 Charles Upham Drive

Brand new and ready for you!

Be the firsttolive in this brand-newhomeinpopular northwest Rangiora.Owners have had achange in circumstances, so it is

readyfor you to moveright in!Themodernopenplansun-drenched living room opens to alargepatio just waiting for you to

add yourown style. Thekitchen features abutler'spantry, quality SMEGappliancesand abreakfast counter for lazy brunches.

Wander down the hall to view fourbedrooms, all with double wardrobes, bathroom with allthe modcons as wellas aseparate

toilet. The largemaster bedroomhas its ownheat pump andpatio, plus awalk-inwardrobe to alarge ensuitewith shower,

toilet andextended vanity. The internal access double garage has compatibility forEVcharging, with the laundry arealeading

to the sunny fully fenced rear yard.Takethis opportunity to buy new in an excellent locationamongstquality homes, handy to

OakwoodPark, Arlington Shopping Centre and within walkingdistance to cafes and bus services.

4 2 1 2

Auction 3.00pm, Fri 23rd Jul, 2021, (unless sold prior), Onsite

View Thu 1Jul 3.30 -4.15pm

Sun 4Jul 2.00 -2.45pm

Web pb.co.nz/RU90706

Dayan Muntz

M 021 432 926

E dayan.muntz@pb.co.nz

Waikuku Beach 75 ParkTerrace

Make your move, and make your mark!

Boasting plenty of potential, this homeholds massive appeal for families, first home buyers andinvestors alike. And,with the

property already vacant, it's readytobelived in straight away! Accommodationisprovided by three bedroomsand is

complemented by awell-appointed kitchen and bathroom space, while the open-plan living areaisafforded wintercomfort

thanks to the presence of awoodfire. Outside, the grounds arelarge enough to offer flexibility without necessitating endless

hoursofmaintenance, while the sun-drenched deck is the ideal spottorelax andunwind with friends andloved ones.The

double garage with an attached sleepout (including bathroom with toilet and shower) adds to the appealofthis character

home. The lifestyle opportunities on offer in Waikuku Beach are abundant, to say the least.While it's just ashort commute to

Rangiorathereare plenty of walks, cycleways, and beach activities to keep youactive on the weekends. Thereisstill plenty of

potential to enhance thiswarmand inviting home,increasing its value in the process. Ourvendorsare determinedtosell, and

achangeofownershipisinevitable.

Property Brokers Ltd Licensed REAA 2008 |pb.co.nz

4 2 2

Auction 1.00pm, Fri 16th Jul, 2021

View Sun 4Jul 1.00 -1.30pm

Wed 7Jul 2.00-2.30pm

Web pb.co.nz/RU91260

SallyDavies

M 027 359 5509

E sally.davies@pb.co.nz

Proudtobehere
---
Coopers Creek 160 Sladdens Bush Road

The search ends here!

This beautifulfour-bedroom homefeatures acountry-style kitchen,

stunning macrocarpabenchtop, open-planlivingand woodburner

withwet back. The home has two ensuites and family bathroom,great

for guests, extendedfamily,orAir BnB business. The 50ha block

running from flat land to steeperhill has approximately ten main

paddocksand the soil is quite productive(predominately Claremont

ModeratelyDeep Silt on the hill, Mairaki and Pahau soil on thelower

land) with excellentgrass production. Infrastructure includes cattleyards,loading

ramp, two-bay, and three-baysheds. DeadlineSale

closes14th July at 4:00 pm.

4 3 1 3

Deadline Sale closes Wednesday 14th

July, 2021 at 4.00pm, (unless sold

prior)

View By appointment

Web pb.co.nz/RL87464

Maurice Newell

M 027 240 1718

Hamish Anderson

M 027 678 8888

Make sellingyour

home abreeze...

List andsellyour homewithmebythe

31st of Augustand Iwillgiveyou a

professional house cleanfor free!

KirstynBarnett

Residential/LifestyleSales Consultant

M 021312 230 |P03 3130101

E kirstyn.barnett@pb.co.nz

W kirstyn4property.com

PB050245

Amberley 33 Seadown Crescent

Bringing a full tank

of marketing ideas

It's no secret, local house prices have soared

over the last twoyears and shownosignof

slowing down. Discoverwhat your property is

worth today.

Accelerateyoursale,callmetoday!

LindaMcCarthy

Residential/Lifestyle Sales Consultant

M 022 6926090 E linda.mccarthy@pb.co.nz

lindaselznzproperty

Crisp and contemporary

Built just last yearand covered by aMaster Builders' guarantee, this

fabulous modern homeissure to impress. This property has been very

thoughtfully planned to make the most of the available space.Three

generously-proportioned bedrooms (withawalk-inrobe off the

master) are complemented by two lovelybathrooms (including an

ensuite), while well-configured living areas provide plenty of versatility.

The kitchen is both stylish and highly-functional; double glazing and a

log burner conspiretocreateawarm and inviting atmosphere, and

ranch sliders provide seamless access outside. The home is so warm

the owners often have to open doors to cool down!

3 2 1 2

Deadline Sale closes Wednesday 21st

July, 2021 at 3.00pm

View Sun 4Jul 3.45 -4.45pm

Web pb.co.nz/RU92407

Aaron Clark

M 027 873 5121

Property Brokers Ltd Licensed REAA 2008 |pb.co.nz

Proudtobehere
---
Four

Four

SeasonsRealty

Seasons Realty

TO ACHIEVE THE

Best POSSIBLEPrice

Foryourlifestyle property,you need aconsultant who

lives in the area,understands your property and will work

hardtoexceedyour expectations!

310MackenziesRoad, Waipara 337DepotRoad, Oxford 208Wards Road, Swannanoa

Lot1&2Gardiners Road,Oxford

1009 Wolffs Road,West Eyreton

Specialising in Lifestyle and Equestrian Properties in

North Canterbury.

Phone me forafreenoobligation market appraisal, or a

friendly chat about the current real estate market.

Rhiannon Moss

027 440 4449 |03323 6045

rhiannon.moss@harcourts.co.nz

harcourtsfourseasons.co.nz

Your home forlocal property

Four Seasons Realty 2017 Ltd

Licensed Agent REAA 2008

Rhiannon

MOSS

Four Seasons Realty
---
Hurunui netball celebrations

NETBALL

The HurunuiNetball Centre has

reachedamilestone.

The centre celebrated 75 years of

netball in the district on Saturday.

PresidentJulia Dickson said,at

Culverden's club day, that the first

club game played in the Hurunui

was in Waiau in May 1946.

Supporters were able to view

displaysofnetball memorabilia

from the over years,and enjoy

watchingnetball in the warm

conditions.

Boththe Hawarden Aand

Cheviot Bteams played in uniforms

from their club's past.

Kaikoura Netball joinedHurunui

for the day, bringing both senior

and junior teams to Culverden,

including awalking netball team

which played amixed Hurunui

team.

This was afirst for alot of people

to see and was afun way to end the

day, after the usual club games

were finished.

Results:

Senior Section 1saw avery low

scoring,close game between

Cheviot Aand Waiau.

Cheviot took the honours19­17.

GlenmarkAbeat Culverden A

47­19, in the othersection 1, senior

game.

Section 2: Waiau Black 22 Cheviot

B13; Waiau White 21 Hanmer B12;

Hawarden A25Hanmer A13.

Blast from the past ... The

Hawarden Ateam played in a

uniform from the club's past.

Official duties ... Hurunui Netball Centre president Julian Dickson (centre)

with life members Julie Fleming (left) and Isobel Whyte.

PHOTOS: SUPPLIED

SPORT &CLASSIFIED

The North Canterbury News, July 1, 2021

39

Selling something?

Looking to buy? Need help?

Advertise it all in our popular

classified section!

To find outhow we canhelp you

- phone Amanda today!

03 313 2840 or email info@ncnews.co.nz

MATURE woman seeks

long term, nicely kept 2-3

bdrm, spacious home in

Rangiora or surrounding

areas, max rent $370, excel

refs. Ph Julie 020 420 2712.

Property Wanted

WANTED TO BUY: lifestyle

block, any size house,

anywhere considered, privacy

is key, preferably won't

have to sell akidney for.

Text/leave amessage with

details to 027 787 9648 and

will call back.

EARN INTEREST AT

10 % pa

TERMS FROM 12–36MONTHS,

INTEREST PAID QUARTERLY

FULL DETAILS ONTHE RETURN AND

INVESTMENT ARE AVAILABLE FROM

THE INFORMATION MEMORANDUM.

CVI FINANCIAL LIMITED IS AMEMBER

OF EQUITIES INVESTMENT GROUP,

CHANCE VOIGHT INVESTMENT

PARTNERS LIMITED.

Wanted To Rent

URGENTLY REQUIRED

Farm cottage or similar,

2-3 bedroom, by responsible,

mature, professional female

with clean, tidy habits.

Long term and not prepared to

share. Also require 3-4 acres

for grazing sensible horses.

Ph 027 472 6391.

2395366

Financial

INVEST IN THE CVI FINANCIAL

HIGH YIELD INTEREST RATE FUND

For further information about

investment in the CVI Financial Limited

high yield interest rate offer please

call or TXT Chance Voight's investor

enquiries specialist, Irina Sharipova.

TXT CVI to 875 with your

name and email address, or:

Call 0800797 799

9am –5pm, Mon- Fri.

Investment in this fund is only available

to wholesale and eligible investors in

accordance with the Financial Markets

Conduct Act 2013.

NEW LISTING

MOTIVATED VENDOR

Boundary lines are indicative only

Boundary lines are indicative only

Oxford 235 High Street

Rangiora 13 Southbrook Road

Vendorshave purchased!

4 2 2 2

Diversify yourinvestments

Paradise on the edge of town,this park-like semi-rural

environment offers the best of both worlds.Three

bedroom home plus self contained one bedroom flat.

Or use as alarger home, four bedrooms, twolivingor

home officeand hobbies. Kitchen and dining,

separateliving, heat transfer, log burner and three

heat pumps.Low maintenance exterior,spaces for

keen gardeners or hobbyists with workshop,

greenhouseand raised garden beds. Asubstantial

carport,woodshed,paved driveway, water features,

birdlife all create apeaceful ambience. Vendors have

purchased and asale is required–actearly.

Set Sale Date (unless sold prior)

1pm, Thu 22 Jul 2021

251-253 High Street, Rangiora

View Sat/Sun 1-1.45pm or by appointment

Dean Pugh 027 335 6303

dean.pugh@bayleys.co.nz

Brook Yates 027 807 8093

brook.yates@bayleys.co.nz

WHALAN AND PARTNERS LTD, BAYLEYS, LICENSED REAA 2008

Whether youare looking for an investment

opportunity, ayard or storage foryour business, this

prime site on Southbrook Road issure to offer you

maximum exposure. Currentlyoperating as astorage

business with seven units of varying size,this property

could also be utilised as agreat base forany

tradespeople or anyone require plenty of lockable

storage for their business. Fullyfenced, the site is very

secure in addition to being well lit at night. Situated on

347sqm of landthe site comprises of 120sqm of

buildingsand the yard is fully concreted. Access

provided from Southbrook Road.

For Sale offers invited over

$295,000 +GST (if any)

View by appointment

Brook Yates 027 807 8093

brook.yates@bayleys.co.nz

Dean Pugh 027 335 6303

dean.pugh@bayleys.co.nz

WHALAN AND PARTNERS LTD, BAYLEYS, LICENSED REAA 2008

bayleys.co.nz/5515592

bayleys.co.nz/5514555
---
What's happening in your

community…

Park &Ride Update

Work is nearly complete to upgrade the Southern

Kaiapoi Park &Ride facility at the intersection of

Main North Roadand Wrights Road. This will provide

abus turn around and pedestrian pick-up area, to

complement the existing car park completed under

Stage 1. The pick-up area will include anew bus

shelter and bike parking aswell as lighting and

securitycameras.

Thisnew addition to the Southern Kaiapoi Park &Ride

site will provide improved accessibility for users.

The completion date is looking like the end of this

monthand the facility should be fully open to the

public the week beginning Monday 5July. You can

find out more info about our Park &Ride facilities

at waimakariri.govt.nz/park-and-ride

Mayoral Drop-in Sessions

Youcan takethe opportunity to catchupwithMayor

DanGordon in aseriesofinformal drop-ins. The next

one is on Thursday 1July between 2-5pm at Ruataniwha

Kaiapoi Civic Centre, 176 Williams Street, Kaiapoi.

This achance for people to talk to the Mayor about

anyissues,ideas or other mattersimportant to them.

Drop-ins will be advertised on the Council Facebook

page and all residents are welcome.

Aqua Play Park Proposal in Kaiapoi

The Council have received aproposal from the

WHoW Trusttoinstallatemporary Aqua PlayPark

within NCF Reserve inKaiapoi.

The play park would include floating bouncy castles and

inflatable pontoons on Courtenay Lake, with supporting

features including apoint of sale container, coffee

and small food area, astorage shed, picnic tables, a

spectator area, lifeguard stand and toilet facilities.

Around 1554 square metresofthe lakewould be used

for the park, which would operate for six months

of the year during the peak summer months and

school holidays, with everything removed and put

into storage during the off-season.

The Trust would need to meet all resource consent

requirements for the activity to go ahead. They are

currently undertaking water quality testing and also

looking at any potential impacts the project may

have onwildlife.

This type of facility could enhance the community

andbring alargeamountofnew visitors to the area.

The Council is supportive ofinitiatives that benefit

and enhance the community. However, before any

decisions are made to support the proposal we're

keen to know what you think.

Your feedback willhelp the Kaiapoi-Tuahiwi Community

Board understand whether this issomething the

communitywouldliketosee in Kaiapoi andyou can

give usyour feedback at waimakariri.govt.nz/letstalk

Parking inthe District

There isstill time to let us know what you think

about car parking as we work on anew District

Parking Strategy tohelp address the needs of

agrowing population. Give us your feedback at

waimakariri.govt.nz/letstalk –consultation closes

on Sunday 4July.

Have you signed up for

the Waimakariri District

Council Newsletter?

To join visit:

waimakariri.govt.nz/subscribe

Massive BookSaleat

Waimakariri Libraries

Stock up on your winter reading

materialwithgreat books at

special prices foreveryone!

Kaiapoi Library

176Williams Street, Kaiapoi

› Saturday10July 2021•10am to 2pm

› Sunday11July2021•1pm to 4pm

Find out more

libraries.waimakariri.govt.nz

03 311 8901

Waimakariri Libraries presents a

DINOMITE two weeks of KidsFest Fun.

Come on in for some ROARSOME

entertainment for the whole family!

From magicians to quizzes to craft -

you name it we got it.

For more details look for the online

Kidsfest booklet at kidsfest.co.nz

or visit usatthe library!

Eventsrun from 10 July to 25 July

Find out more

libraries.waimakariri.govt.nz

Keep the

Plastic you can

screw up into a

ball needs togoin

the rubbish. Rigid

household plastic

containers type 1, 2

&5can goinyour

yellow bin.

rethinkrubbish.co.nz
---
CLASSIFIED

North Canterbury News, July 1, 2021

41

Give usyour

feedback

ABOUT AN

AQUA PLAY PARK

Should the Council support aproposal to

install anAqua Play Park in Kaiapoi?

The WHoW Trust are proposing to createa

temporary water park on the lake within

NCF Reserve.

It would include floatingbouncy castles, pontoons

and supporting facilities and would operateduring

peak summer months.

Before adecision ismade, we'd like to know

what you think. Share your feedback before

5pm on Wednesday 14 July 2021.

Have your say waimakariri.govt.nz/letstalk

NEED FUNDING FOR A

LOCAL ARTS PROJECT?

Assistance is available for groups and

individuals who are keen to provide arts

and cultural activities in the Waimakariri

District from the Creative Communities

New Zealand Scheme.

The next CreativeCommunities round will close

Monday23August 2021,foreventsoractivities

thattakeplace between1October2021 and

1October2022.

The Application Form and Guide for Applicants is

available from Council Service Centres and Libraries or

from the Council website at waimakariri.govt.nz

If youhaveany questionsplease contact

the administrator,Ben Eldridge

Phone03311 8901or0800965 468

Email ben.eldridge@wmk.govt.nz

KAIAPOI CHRISTADELPHIANS

"The Key of Knowledge .."(Luke 11:52)

"GOOD NEWS"

LordJesusChristbelieved in creation,Hesaidto

the Pharisees, "From the beginning ofcreation

GOD made themmale andfemale. Forthiscause

shall aman leave his father and mother and

cleavetohis wife".

PUBLIC NOTICE

DECISION ON SUBMISSIONS ON

PROPOSED PLANCHANGE 4TOTHE

HURUNUIDISTRICTPLAN

2395591

The decision onsubmissions to Plan Change 4–

Intensive primary productionand effluentdisposal,

has been made.

The Hurunui District Planwill be amended in

accordancewiththisdecisionfrom thedateofthis

public notice.

Any person who made asubmission on Plan

Change 4may appeal thedecisiontothe

EnvironmentCourtagainst adecisiononaprovision

or matter raised in theirsubmission.

Appeals mustbefiled with theEnvironmentCourt

within30workingdays, beingthe 12 August 2021.

Acopyofthe decisioncan be viewedonthe

Council's websiteat

hurunui.govt.nz/report/consultations

Please direct anyenquiries to Kelsey Bewley

on 03 3140048,

or by emailtokelsey.bewley@hurunui.govt.nz.

CONWAY WAIAU TB MANAGEMENT AREA

DETECTION BASED CONTROL -WARNING

Vector Free Marlborough Limited wishes to advise that a

ground-based possum control operation will be taking place to

keep possum numbers under control to prevent the spread of

bovine tuberculosis to livestock. It is important that we keep

possum numbers low, aswework towards eradicating TB

from New Zealand over the long term. This operation will be

conducted as apartofOSPRI's TBfree programme.

Before the operation, Vector Free Marlborough staff will seek

written permission from landowners within the operational area

to gain permission before undertaking work. They will discuss

the proposed control methods and answer any questions.

Amap of the area can be found on the Vector Free Marlborough

website under the Current Operations tab.

Description of control area

Amuri Dog Creek -located immediately to the northwest of

Waiau Township from Lottery River in the East then along the

Waiau River to Cabbage Tree Island in the West and up into the

foothills of the Amuri Range in the North.

Operation date

12 July 2021 to 30 September 2021 (approximate)

Control methods, equipment used and nature of work

• Detection Devices (non-toxic chew cards affixed to trees

and structures such as fence posts presented with a

blaze of flour and icing sugar from the ground up to the

detection device) will be deployed for 7-8nights

• Leg-hold traps or sentinel kill traps will be deployed for 3

nights at the site when possum activity is detected

• Concurrent Survey -animal carcasses will be retrieved

and submitted for post-mortem

General warning

• Follow advice stated on warning signs

• Donot touch detection devices and traps

• Donot touch possum carcasses

• Keep children under strict supervision in the control area

• Keep pets under supervision.

Warning signs will be erected at all main public entrypoints and

the public are reminded that it is an offence to remove any of

these signs. Please follow the instructions stated on the signs.

Forfurther information please contact

Vector Free Marlborough Limited

Free Phone: 0508 548 008

Email: communications@vectorfree.co.nz

Website: www.vectorfree.co.nz

OSPRI helps protect and enhance the reputation of New Zealand's

primary industries and currently runs the TBfree and National Animal

Identification and Tracing (NAIT) programmes.

2395592

Public Notices

2389743

WarMemorial Hall

1AlbertStreet, Rangiora 7400

PO Box 351, Rangiora 7440

www.bsnc.org.nz

Covid-19 and Level 1–Keeping everyone safe

Dear Clients and prospective clients,

•WeARE open and ready to provide you with

budgeting supportand advice.

•WeARE able to meet with you face-to-face. Strictly

by appointment only.

•Wewillbeabletosee walk-in clients. Please phone

first

•Home visits are by arrangement only.

•Wewill trytocontinue advocating on your behalf

with WINZ, banks, creditors etc.

•Weregularly workwith other supportagencies and

food banks; to provide you with additional

assistance.

Phone: 03 313 3505

(please leave amessage and we'll get back to you)

Email: servicemanager@bsnc.org.nz

Monday to Thursday 09:00 am to 4:00 pm

• However, Ifyou cannot wait to talk with us, then

please call the MoneyTalks helpline on 0800 345 123

HAWARDEN

A&P

ASSOCIATION AGM Will be

held on Wednesday 7th July

2021, at 7.30pm, in the

Hawarden Hall. ALL WEL-

COME

PUBLIC NOTICE OF

APPLICATION FOR

CLUB-LICENCE

SECTION 101, SALE

AND SUPPLY OF

ALCOHOL ACT 2012

Rangiora RSA Club has

made application to the

District Licensing Committee

at Rangiora for the renewal

of aClub Licence in respect

of the premises situated

at 82 Victoria St, Rangiora

known as Rangiora RSA

Club.

The general nature of the

business conducted (or to

be conducted) under the

licence is Club, Bar and

Restaurant.

The days on which and the

hours during which alcohol

is sold under the licence are

Sunday - Thursday 8am -

11pm, Friday/Saturday 8am

-1am Following day.

The application may be

inspected during ordinary

office hours at the office

of the Waimakariri District

Licensing Committee at 215

High Street, Rangiora.

Any person who is entitled

to object and who wishes

to object to the issue of the

licence may, not later than

15 working days after the

date of the publication of this

notice, file anoticeinwriting

of the objection with the

Secretary ofthe Waimakariri

District Licensing Committee

at Private Bag 1005,

Rangiora.

No objection to the renewal

of alicence may be made

in relation to amatter other

than a matter specified in

section 131 of the Sale and

Supply of Alcohol Act 2012.

This is the second publication

of this notice. This notice

was first published on 24th

June 2021.

2393743v2

RANGIORA Country

Music Club night, 7th July music.

at 7pm. Venue is RSA

Rangiora. All welcome.

Enquiries to 027 928 1730.

2300807

PUBLIC NOTICE OF

APPLICATION FOR

OFF LICENCE

SECTION 101, SALE

AND SUPPLY OF

ALCOHOL ACT 2012

Daniel Stapleforth of

Forthluck Ltd, 201 Davis

Rd, Cust has made

application to the District

Licensing Committee at

Rangiora for the issue of

an Off Licence in respect

of the premises situated

at 201 Davis Road, Cust

known as Forthluck Ltd.

The general nature of the

business conducted (or to

be conducted) under the

licence is Remote Sales

of Alcohol -Online Sales.

The days on which and

the hours during which

alcohol is (or is intended

to be) sold under the

licence are 7am to 11pm,

Monday to Sunday.

The application may be

inspected during ordinary

office hours at the office

of the Waimakariri District

Licensing Committee

at 215 High Street,

Rangiora.

Any person who is entitled

to object and who wishes

to object to the issue of

the licence may, not later

than 15 working days after

the date of the publication

of this notice, file anotice

in writing of the objection

with the Secretary of

the Waimakariri District

Licensing Committee

at Private Bag 1005,

Rangiora.

No objection to the

issue of a licence may

be made in relation to a

matter other than amatter

specified is section 105

(1) of the Sale and Supply

of Alcohol Act 2012.

This is the first publication

of this notice.

2394993v1

WANTED team members,

creative thinkers, theatre

and film, wardrobe, set,

museum, script, dance,

Email

greenmoonstudio@outlook.com

Please phone 03 313 3271

or 027 714 3643.

Personal

SEMI RETIRED kind,

caring man looking for a

loving relationship.

Seeking agenuine, caring

woman in her 70's, light

drinker. Ph 020 4129 5331.

Trade Personal

DECKS AND SHEDS

Looking to build that

new deck or shed?

CHRIS GABITES

CONSTRUCTION LTD

have got you covered!

Our timber decks and

pole sheds are built to last.

Contact us today for a

free no obligation quote at

cgconstruction@

outlook.co.nz

or 022-619-8163.

You can also visit

our website:

www.chrisgabites

construction.co.nz

Educational

TUITION available. Primary

and secondary up to

NCEA level 3. In centre

(Rangiora) or interactive

online from your home.

Each student onanindividually

tailored programme.

Kip McGrath Rangiora has

been serving the local community

for 30 +years. Give

us acall (03 313 3638) or

book your free assessment

online https://www.kipmcgrath.

co.nz/rangiora

Cars Wanted

ANY old cars, anything pre

1990, unfinished Hot Rods,

Classic Cars. Please call

027 258 8366.

CASH 4CARS

and 4WD'S

Phone

Automotive

Parts

03 313 7216

CARS, vans, 4WD's

wanted for dismantling or

repair. Phone 027 258

8366.

WANTED to buy Ford,

Holden, Chrysler or

Chev's, Classic cars. Any

other types considered, any

condition. Please phone

Tony 027 313 5000.

Pets

BICHON HOMESTAY

for smaller dogs. We look

after your dog in our home.

"No kennels". Phone today

03 314 6110.

Livestock

HOMEKILL

&Wild Game

Meat Processing

313 0022

2309602MEAT2U.NZ

SHEEP DOG pups, 9

weeks old, $400. From

strong working dog line.

Phone 021 030 3487.

Gardening

A+ GARDEN hedges cut

to perfection. Tree &arbor

work. Also spraying. Free

quotes. Ph 03 312 0668 or

021 111 4322.
---
CLASSIFIED

42 The North Canterbury News, July 1, 2021

MOBIL AMBERLEY

Aposition foramotivated&well

presented person.

Includes cashier duties, sales&

assistingcustomers.

Computer &communication skills

would be an advantage.

Phone Andrew 021 355 890

CLEANER REQUIRED

Apermanent part-time position has become available

for acleaner at Broomfield School, Amberley.Hours

of work will be 4hours per day, Monday to Friday,

including term holidays. The 4 hours each day

ideally will be worked between 3.00pm and 7:00pm.

These times are flexible and negotiable including

during the school holidays. Previous experience

would be preferred but not essential as training will

be provided. The successful applicant will need to be

honest, reliable and work well unsupervised. Youwill

also be required to undergo apolice vetting check.

Please apply with acovering letter of application and

aCV, including 2valid referees, to Andrew Kemp

Principal, or alternatively, drop an application into

the Broomfield School office.

Applications close 3pm, Friday 9th July 2021

Please send your CV to the following Email address:

principal@broomfield.school.nz

2395595

School Bus DriversRequired

Would youliketoearn extraincome whilestill

having mostofyour dayfreeand at the same time

do your community aservice by helpingtoprovide

asafe, high standardofschool transportfor our

region'schildren.

Torlesse Travel has positionsavailable forpart time

schoolbus drivers in Darfield and Rangiora.

If youhaveaClass 2license, aPassenger

Endorsement andare interestedindriving on a

part time basis then this couldbefor you.

Alternatively,ifyou areinterestedinbecoming a

bus driver,wecan provide assistance to help you

achieve the correct licencing.

If youare interestedinthisrole or wish formore

information, please email.

manager@torlessetravel.co.nz

Phone: 021 198 7358

LOCAL WORK for local

people contact Superior

Personnel 313 6180, or call

into Unit 1/6 Cone Street,

Rangiora.

www.superiorpersonnel.co.nz

For Sale

2090492

HONEY 4kg bucket

cooking honey, $30 special.

Available at Gracebrook,

Amberley. Telephone 03

314 7076.

Situations Vacant

REGISTERED NURSE

–Part time

Due tothe resignation of one of our Team members

we are looking for another amazing Registered Nurse

to join our friendly and supportive Team at Pegasus

Medical Centre in North Canterbury.

We are a close knit, fun and positive practice

committed to providing excellent care for our

patients.

Experience in General practice is essential together

with "can do attitude" and acheerful disposition.

This role covers all aspects of general practice

including wound management, diabetes care,

immunisations, assisting with minor surgeries and

good health outcomes for our patients. Experience

with triaging and emergency response would also be

advantageous.

Flexible part time hours to suit will be offered tothe

right candidate.

Email your CV to:

manager@pegasusmedicalcentre.co.nz

Nicky Sloss

Practice Manager

JOBS JOBS JOBS

Labourers (of all skill sets),

sawmill, welders, steel fabricator,

factory, brush

hands, and lots of other

local opportunities. An

advantage if you are

physically fit, able to pass a

drug test, have drivers'

license and reliable transport.

Ph Tina 03 310 7285

or 027 636 6967 Elevate

Recruitment, 113A High

Street, Rangiora.

Wanted To Buy

BUYING estate type old

china, crystal, collectables,

vases. Phone 027 350 3963,

or 313 1878.

$$$

Amalgamated Scrap Metal

Ltd. Specialists in farm

machineryand farm clean

ups, old vehicles etc.

100% locally owned.

Ph 0800 030 712 or

027 695 0480.

2312759

Firewood

SPLIT Old Man Pine 3.7m

@$260, Split Hardwood

Mix 3.7m @$360. Mobile

021 993 497 Paul.

FIREWOOD logged ready

to saw up, 7km from Rangiora,

$10m3. Please text 027

435 4023.

2395461

START NOW On-call factory

work near the airport, a

variety of hours and weekend

work. Call us to see

what other roles we have.

Contact Superior Personnel

313 6180, Unit 1/6 Cone

Street, Rangiora.

www.superiorpersonnel.co.nz

For Lease

LAND FOR LEASE

KAIAPOI MR 873 Sec 247

Applications are invited for

alease of 5.613 hectares

(available 1July 2021) situated

at 924 Main North Road,

Kaiapoi. 55-65 stock units.

Ph: 04 474 4657

or email: ritihia.hailwood@

tetumupaeroa.co.nz

for information pack.

Applications close 5July 2021.

2393783

FOR LEASE

Industrial shed 18 x 12

metres with 480 m2 of

shingled yard, power

single &3phase plugs,

water & alarm.

Newnham street Rangiora.

Lease terms negotiable

.

Phone 0274342831

ABEL &Prestige Chimney

Cleaning. Nth Cant owned

& operated. Covering all

areas from Waimak to Hanmer.

Professional, guaranteed,

service. Firebox

repairs, carry most parts. Ph

0800 661 244.

AFFORDABLE concrete

cutting with quality and

removal work. Free quotes.

No job too small. Ph 027

442 2219, Fax 03 359 6052

or A/H 03 359 4605.

ALL TREE SERVICES,

arbour work, pruning, tree

removal. Affordable &

friendly service. Telephone

021 111 4322.

POWER TOOLS repairs,

parts &sales for over 40

years. All main brands serviced.

Grossman Trade

Tools, 23 Watts Road,

Christchurch. Ph 389 9230.

RANGIORA Rubbish

Removal and RRR skips.

Wheelie bins any frequency

and skips from 1.5 cube to

9cube. Skips and wheelie

bins for any use, rubbish,

greenwaste, building sites

or just cleanups. Give us a

phone call 313 6957 or for

skips 021 313 255.

ROOFER. All roof repairs,

roof painting, water blasting,

moss treatment,

repointing, gutter cleans &

snow straps. And more.

Free quotes. Phone Nathan

027 516 6609.

SCREEN PRINTING.

For all your printing

requirements. T-shirts,

Hoodies, Hi-Vis vests and

polos, Overalls, Caps etc.

Please phone Heather 03

313 0261 or email heather.

norstar@gmail.com.

SHEARER. Hap's Farm &

Lifestyle Services. Shearing,

crutching, drenching,

tailing, feet trimming &

health check. — Ph. 03-

423-3713 or 021-267-4025.

Kaiapoi, Rangiora, Amberley. All aspects of Property

Maintenance

Rob 03 327 7899

Tree trimming and

or 027 432 3520 2227597

removal

STONEMASON, Brick

and Blocklayer. Earthquake

Log Fires

repairs, grind out and

repoint, River/Oamaru

stone, Schist, Volcanic

ARBORIST qualified.

Rock, paving, all alterations

new and old. Quality

Copper Beech Tree Pellet Fires

Services. Tree removal,

workmanship. Visit

pruning, height reduction,

featureworks.co.nz or ph

hedge trimming, shaping, Heat Pumps 027 601 3145.

tree planting, firewood.

Free quotes. Contact Angus

Edwards 027 259 6741 Sales

SUMMERFIELD

copperbeechtreeservices@gmail.com

Service

FENCING

BRIAN'S Tree Services.

IN YOUR AREA NOW.

Tree felling, topping, Installations Lifestyle or farm, sheep, cattle,

shaping, firewood cut, rubbish

removed, stump grind-

Free Quotes Fences, yards, sheds, arenas,

horse, all types of animals.

ing, branch chipping.

shelters, runs.

Affordable rates. Phone 03

30+ years contract fencing.

327 5505 or 021 124 4894. 03 343 1651

Steve is available to help with

BUILDERS Father &Son 472 Blenheim Rd your design &planning.

team. Amac Builders are

available to help you with

www.heatstore.co.nz Ph office03312 4747

your building needs. High

standards, low overheads. PAINT & wallpaper

No job too small. Check us services. Wayne Bryant, ANTHONY SYMONDS

out on fb. Amac Builders exterior, interior. Qualified Forall your painting &

Ltd. Ph 027 318 4400. tradesman. Free quotes. Ph plastering requirements

313 5337 or 027 654 4568. Local with 30 years

PAINTERS

PAINTER. Qualified local

experience

Reg Tradesman

All workmanship

Guaranteed.

Interior,exterior.

professional, Int / Ext,

roofs, wallpaper. Call or

North Canterbury Painters text Corban 027 846 5035.

specialising in decorating for

Phone 021 344 023

over 65 at adiscount rate.

House &Garden

Free quotes.

Property Services Ltd

Covering Nth Canty,Oxford,

Stump grinding

CALL US 021 405 277

DIRTY TILES &Grout?

Professional tile cleaning,

tiled shower restoration,

mouldy silcone, shower

glass & we can even

recolour your old grout!

For all your tile and grout

issues call Grout Pro for a

free, no obligation quote.

Ph Darryl 0800 882 772.

METAL WORX. Flashing,

Sheetmetal Fabrication,

Wrought Iron,

Welding, Custom Trailers,

General Metalwork. No job

too big or too small. Ph 021

265 5428 or 03 314 6908.

Find us on facebook/

Glenmark Metal Worx.

glenmarkmetalworx.ltd@gmail.com.

PAINTER & Decorator.

25 + years experience.

Interior /exterior, roofs &

waterblasting. For a free

quote, please ph Steve 03

314 4620 or 027 477 1930.

Trade &Services

Trusted Trades &

Professional Services

2091848

2220615

SEPTIC TANK

CLEANING

Bill's Liquid

Waste

You dump it...

Blair pumps it...

Blair Tavendale

Ph 03 314 9371

0275 379-694

Pride &Quality Painting

&Decorating Services

20 yrs exp, fast and friendly

service. For all your painting

needs, phone: Martin 310

6187 or 021 128 9867

WINDOW TINTING

tintawindow

advanced film solutions

99% uv block

fade protection

heat control

reduce glare

25 Years Experience

privacy films

frosting designs

non-darkening films

Workmanship Guaranteed

Lifetime Warranties on Most Films

UV

block

Free Quotes Canterbury and Districts

03 365 3653 0800 368 468

2362002

Guide

2225862

REMOVALISTS

Movemen Ltd

2Men &agood sized truck.

From $150 plus GST per

hour.Kaiapoi based.

Call Gerard

027 668 3636

2343272

027 216 0000

VALUATION -

Specialising in North Canterbury.

Contact Geoff at

Maxwell Valuation. Phone

03 310 8541 or email

geoff@maxval.co.nz.

To book your spaceinthis guide,phoneAmanda Keys 313 2840 or email amanda.keys@ncnews.co.nz

Automotive &Recovery

Builder

Butchery

Computer Repairs

2070788

• WOF Cars &Trailers

• Vehicle Servicing &

Repairs

• Tyres &Punctures

• Jump Starts

•

Towing &Salvage

• Courtesy Car Available

Ph Aaron Rowlands

0272 588 366

13 Stone Eyre Place,

Swannanoa

Eftpos available Mon –Fri 8am –5pm, Sat 9am –1pm

OxfordButchery

Shane and Leanne Frahm

We cankill&process yourstock

FourGenerations of Frahms

since 1957

Ph 312 4205

Oxford

1680439

Number one

old-fashioned bacon

&ham curing.

A/H 312 4709

For all your computer repairs, parts, servicing, sales &more..

Come and see us for friendly &supportive service

2208126

To book your spaceinthis guide,phone Amanda Keys 313 2840 or email amanda.keys@ncnews.co.nz
---
Trusted Trades &

Professional Services

Guide

To book your spaceinthis guide,phoneAmanda Keys 313 2840 or email amanda.keys@ncnews.co.nz

Construction &Concrete

DENTURE CLINIC

Digger Hire and Construction

All Construction & Concrete Work

•Driveways, patios &paths

•Bridges and Culverts

•Floors, foundations

•Sheds and buildings

•Dairy Sheds, Herd homes

•Silage pits, effluent ponds

•Excavation and cartage

•Precast concrete

•Insulated panels

Ear Health

• Ear Health checks.

• Wax removal using Microsuction

• Removal of foreign bodies

• Basic hearing aid care

Daryl Power

027 230 9401

concretepower@scorch.co.nz

www.concretepower.co.nz

• ACC provider

• WarVeteran provider

• No medical referral

required

Clinics in Rangiora, Amberley and Kaiapoi

Rest homes/retirement villages, booking by prior arrangement.

Bookings: Online www.earcare.nz |Phone 020 4124 25 25

Email alison@earcare.nz | Ear Care Canterbury

2324849

2273277

RANGIORA

DENTURE CLINIC

Garry WMechen

Registered Clinical DentalTechncian

Phone (03) 313-9192

38a Ashley Street, Rangiora

NEW N W DENTURES D N ES

*RELINE * *REPAIRS

* I S

HOURS

8.30am -12noon

- Monday to Friday

FREE E CONSULTATION O

AND ADVICE

A V C

For a/h repairs

phone (03) 310-3044

ECOM Digger Hire

and Construction

•9 ton Komatsu with rubber pads.

•Excavotor can be dry hired or with

one of our expert operators.

•Attachments available:

•Post driver

•Concrete/rock breaker

•Grab bucket

•Tilt bucket

•Rock bucket

No job

too big

–Nojob

too small

admin@ecomconstruction

www.ecomconstruction.co.nz

2384249

2089195v2-4/4-S

2393549

Senior's Handyman

Landscaping

STEWART CONTRACTING

Landscaping -Fencing

& Earthworks

ENJOYABLE STRESS FREE LANDSCAPING

03 313 9375 •027 369 3974

www.stewartcontracting.co.nz

contact@stewartcontracting.co.nz

Painter /Plasterer

HURUNUI Painting

• Qualified tradesmen, quick, neat and friendly.

• Reasonable rates. • Interior /exterior painting.

• Interior plastering &wallpapering.

• Spray painting &water blasting.

P: Rod Hermes 027 414 0830 or 03 314 2391

E: r.hermes@xtra.co.nz

2394026

Thursday,August 2, 2018 | Issue 808 | www.ncnews.co.nz

HAVE YOU BEEN TO

OUR WEBSITE LATELY?

www.ncnews.co.nz

Visit now toview the paper online &more!

2136148

Landscaping

For all your landscaping needs

All Landscaping, Retaining Walls (Engineered and

Non-Engineered), Timber Fences, Landscape Structures

and more...Lifestyle Block, Rural and Residential.

Phone Jeremy 021 169 9394

www.blackhill.co.nz

www.facebook.com/blackhillltd

2372616v2

Plumbing

For all

general

aspects of

plumbing

Discounts for over

65 years old

Fast friendly service

All work guaranteed

Aaron McCartney

Certifying Plumber

Cell 027 366 9091

A/H 03 310 2137

Free Call:

0508 44EVER

EMAIL:

plumber_27@yahoo.com

2172994

Lawn &Garden Care

Lawn Mowing

Water Blasting

Gardening

Spraying

Pruning and Trimming

Lawn Care

Rubbish Removal

Compost, Worms, Bark

and Stone Chip Delivery

Mark Borck

markborck@icloud.co.nz

Light Transport

NEED

?

SOMETHING

LARGE

PICKED UP OR

DROPPED OFF

Specialising in items up to

1500kgs

Quad bikes -mowers -side by sides

Trailers -small vehicles -machinery

Local and NZ wide service

Phone /Txt 0274 332 176

Email benstrailertransport@gmail.com

2374056v3

Free Quotes

www.mrgreen.co.nz

2358470

027 2214 936

0800 674 733

✓ Mowing

✓ Edging

✓ Trimming

2360356

Seamless Spouting

Seamless Spouting

Mowing &Gardening

✓ Blowing

✓ Pruning

✓ Cleanups

And much

more ...

CALL US NOW: 027 294 8279

elitemowingandgarden

Supply and Install

of Seamless Gutters

10 year no leaks

guarantee

• Continuous spouting made on site,

large colour range available

• High grade and thicker material used

• Repair or replace any type of gutter

• Undertake all insurance work

• Independently owned and operated

• Competitive pricing

Servicing North CanterburyDistricts

Call Danie 021 875 462

2359362

YOU

COULD

BE

HERE

Advertise

your business

in our Trades

and Services

Phone

Amanda Keys

on

03 313 2840

Scrap Metal

CASH PAID FOR SCRAP

•Car Bodies •Scrap Steel•Specialists in Farm

Machinery•All non Ferrous

MAINLAND

METALS LTD

Ph (03)338 7000

Mike0274 818544 •Robbie 0274 818 027

Locally owned and operated

1902273

Trellis

Proud specialists in enviro-friendly

timber manufacturing trellis from

premium Macrocarpa &treated Pine

2351878

•Trellis •Outdoor Living

•Outdoor Furniture •Gates

550 Oxford Road, Fernside |sales@kaiapoitrellis.co.nz

Ph 027 575 4511 |www.kaiapoitrellis.co.nz

Windows & Doors

WINDOW MARKET PLACE

• New & Used

• Timber & Aluminium

• Windows & Doors

8am-5pm Weekdays

8am-2pm Saturday

215 Waltham Rd, Sydenham

Ph (03) 379 6159 info@windowmarket.co.nz

Fax (03) 962 1012 www.windowmarket.co.nz

ncn1242200aa

To book your spaceinthis guide,phone Amanda Keys 313 2840 or email amanda.keys@ncnews.co.nz
---
RangioraToyota

WANTED

Quality used late

modelToyotas.

Contactus today

if you'relooking

to sell!

2014 Toyota Yaris Vitz 2013Toyota Prius C

•1.3LPetrolAuto,

•1.5LHybrid Petrol, Alloys

•Alloys,5-Door, $ •Camera, Satnav

•Only 32,800kms

13,995 •69,100kms

2009 MazdaDemio

•1.5LPetrolAuto

•Alloys, ReverseCamera

•91,350km

$

8,995

2015Toyota Ractis

•1.3LPetrolAuto

•45,550km

NOW

•CD/AUX/USB Connectivity

$ •Camera, Bluetooth

14,995 $

14,995

$

14,995

2014 Toyota Vitz

•1.5LPetrolAuto, Alloys

•Only 18,900

2018 Toyota Yaris GX

WAS$15,995

•1.3LPetrolAuto

• Reverse Camera, Bluetooth

•40,400kms

$

18,995

2018 Corolla Sedan GX

•1.8L PetrolAuto, Alloys

•Bluetooth, ReverseCamera

•45,800kms

$

21,995

2011 Toyota Sai

•2.4LHybridPetrol, Auto

•Camera,Keyless NOW

•43,300km

2010 Toyota SaiG

WAS$15,995 •2.4LHybridPetrol, Auto

•Camera, Cruise Control NOW

•Alloys, 62,550km

$

12,995

WAS$15,995

$

12,995

2011 HyundaiElantra Elite

•1.8L PetrolAuto, Alloys

•Leather,Sunroof

•Camera

$

12,995

2014 Toyota Corolla GX

•1.8L PetrolAuto,

•NZNew,Bluetooth,

•Cruise Control

$

13,995

2016 Corolla GX Sedan

•1.8L PetrolAuto, Bluetooth

•ReverseCamera&Sensors

•60,000kms

$

19,995

2019 CamryHybrid GX

•2.5LPetrolHybrid, Alloys

•SafetySense,Camera

•16,250km

$

36,995

2019 CamryGXHybrid

•2.5LPetrolHybrid, Alloys

•Bluetooth, Safety Sense

•15,250kms

$ 36,995

2011 Toyota Avensis Wagon

•2.0L PetrolAuto,

•Alloys, Camera

•Bluetooth, Keyless

$

14,995

2018 Corolla GX Hatch

•2.0L PetrolAuto, Alloys

•Satnav,Bluetooth,Camera

•78,850kms

$

22,995

2014 Suzuki Swift Sport

• 1.6L Petrol Auto

•Climate &Cruiser Control

•Only 13,500kms

$

15,995

2011 Toyota Wish Z

•1.8L PetrolAuto, 6-Seater

•Sunroof,Alloys, Camera NOW

•82,300kms

2019 Toyota RAV4 GXL 2009 Toyota Wish Z

WAS$15,995

•2.5LPetrolAWD,Latest Model

•2.0L PetrolAuto, 6-seater

WAS $14,995

•Satnav,SafetySense $ •Alloys, Keyless NOW

•41,400km

41,995

•88,500km

$

14,995

$

13,995

2010 Mitsubishi Lancer VRX

•2.4LPetrolAuto

•Alloys, Leather

•80,750kms

$

12,995

2018 LandCruiser Prado VX

•130Kw2.8L TurboDiesel

•SafetySense, GPS, Leather

•NZNew,only52,550kms

$

71,995

2017 Isuzu D-MaxLS

•3.0L TurboDiesel Auto

•2WD,Bluetooth,

•Camera, 96,200kms

$

35,995

2006 Hilux SR5 4X4

•3.0L TurboDiesel Auto

•Canopy &Liner

•Cruise Control

$

22,995

2015Ford TerritoryTitanium

•2.7LTurboDiesel

• 7-Seater,Satnav

• Leather,Camera

$

32,995

2018 Nissan Navara RX

•2.3LTurbo Diesel Manual 2WD

•Camera, Tonneau

•Only 13,600kms

$

35,995

2013Toyota AlphardSC

•2.4LPetrolAuto, 7-Seater

•DualElectricDoors

•25,250kms

2014 Ford Ranger XLT

2018 Nissan Navara RX4x4

•2.3LTurbo Diesel Manual

•Alloys, Bluetooth

•Only 58,100kms

2018 Landcruiser PradoTZ-G

•2.8L turbodieselauto

•KDSSsuspension, 7-seater

•40,250km

2016 LandCruiser PradoTZ-G

•2.8L Turbo Diesel

•ReverseCamera, Bluetooth

•Sat Nav

•3.2LTurbo Diesel 4WD

$

36,995 •Bluetooth

$

33,995

$

41,995

$ $

•ParkingSensors

71,995

57,995

Percival Street,Rangiora • Ph (03) 313-8186any time • www.rangiora.toyota.co.nz

Signature

CLASS

2388857

FINANCE &INSURANCE AVAILABLE
---
Thursday,July1,2021 | Issue952 | www.starnews.co.nz

THIS FrIDAy,

SATUrDAy &SUnDAy!

What's on offer this year?

2 – 4July 2021

IN ASSOCIATION WITH

Be inspired with thousands

of ideas under one roof!

FREE

DO

OUBLE PASS!

CUT THIS AD OUT FOR

1x FREE DOUBLE PASS

Join us at the Home &Leisure show,stand number 176.

Appliances,beds,furniture&tech.

Everything youneed foryour home.

2-4July 2021 • 10am -5pm • Christchurch Arena • www.starhomeshow.kiwi
---
Explore Our Unique Zones!

IN ASSOCIATION WITH

IN ASSOCIATION WITH

Sip, taste and try new products before you buy.

Discover liquorice, gourmet dips, fruit juices, local wine

and more!

Learn about eco friendly products and services including

solar power, pellet fires, energy efficient homes, LED lighting,

electric bikes, light therapy, alternative energy and more!

Be inspired by landscaping plans, pools, spas, outdoor

furniture, fencing, garden ornaments, decking, glass

and more!

Take alook inside several tiny homes, mega tiny

homes, modular homes and place abid in alive

auction!

Upgrade your leisure time with boats,

camper vans, caravans, jet skis and even an

off road vehicle in our NEW Leisure Zone!

Discover Sea-Doo personal watercraft

and Live The Good Life with aSea-Doo.

Learn more onthe exciting models

2021, features and specs. Models: Spark,

Spark Trixx, Wake Pro 230,GTI, GTI SE

Can-Am ATVs and side-by-side vehicles

are designed to outperform, no matter

what. From the trails to fields, dunes to

mountaintops, this beautiful, challenging,

exciting place isfor those who dare to

venture off-road for work orplay.

CARAVANS

Come visit us and see our display

which will include Caravan and

camping accessories.

Visit our stand where we will be

displaying three Motorhomes for

you towalk through.

Stockists of:

Welcome to the world of boating

with Mr Boats, the South Islands

leading marine retailer. Stockists of

premier brands of pleasure craft,

marine engines and accessories.

2-4July 2021 • 10am -5pm • Christchurch Arena • www.starhomeshow.kiwi
---
IN ASSOCIATION WITH

Informative seminars brought toyou by

On every day —Friday, Saturday and Sunday

IN ASSOCIATION WITH

Buildright

11.00am

Covering renovations for your home -whether it be your bathroom, kitchen,

reconfiguration of existing rooms or extensions.

Sunshine Solar

11.30am

Learn if solar is right for you, what type of solar is best for what applications

and how you can make money offsolar with little or no money down. Covering

commercial solar as well as residential and batteries.

Resene

12.00pm

Discover how to take your favourite colours and confidently design colour

schemes to suit you, your home and your lifestyle. Make the most ofyour

space and maximise the appeal of your home.

Kitchen Studio

12.30pm

From inspiration to installation, take note ofour tips and tricks when updating

your kitchen to ensure itfits in with rest of your house.

Whitehouse

Builders

1.00pm

Ever wondered how tobuild an energy efficient home? Learn the 5passive

house principles that contribute to atruly efficient home.

NZ Home Loans

1.30pm

Discover the tools that will allow you to become debt free faster, purchase a

property in Christchurch, either a1st home, construction, or investment.

Some of our Show-only Specials &Giveaways!

For a full list of show specials, visit our facebook page facebook @TheStarHomeandLeisureShow - updated daily!

Are offering a

FREE car diffuser

to their first 50

customers.

Visit the Resene stand or get

aResene showbag and enjoy

show savings on products,

plus you can redeem it for a

free Resene fashion colour

fandeck, with the latest

colours for your walls.

The Fudge Cottage will have a

show special of 3Fudge Bars

for $16.50

From our Taste Zone #6 stand.

Visit us at stand 47

Save 20% off a

Sensibo Make

ANY heatpump

SMART with

Sensibo.

Pick up your entry form upon arrival, find

the hidden word and hand in your completed

form to the Ray White Bishopdale &Strowan

stand #199 togointo the draw to win an iPad!

WIN!

*Sample image

Kids'

house hunt

Competition!

Go in the draw to win 2nights

explorer package at Hermitage

Hotel, Mt Cook

visit www.hallmarkhomes.co.nz/app to find out how!

Visit us at the show and receive $30 off your next shower top!

That's only $209 +$7courier, for a

DIY kit that comes with everything you

need including easy peel fixing rails

and shower door seal. Installation extra.

Enter your details at the stand to win the Ultimate

OH Bubbles pack valued at $500! Includes Red

Maker, 3Soda Syrups and alarge 60L gas bottle.

2-4July 2021 • 10am -5pm • Christchurch Arena • www.starhomeshow.kiwi
---
Our 2021 Exhibitors

IN ASSOCIATION WITH

General Exhibitors

•AAHouse Checks

•Active Flow

•Adjustamattress

•Affordable Furniture

•Affordable Modular Homes

•Allied Press Magazines

•Aspiring Kitchens

•ATL Electrical

•Bambillo Beds

•Beam Built In Central Vacuum

•Buildright

•Café Italiano

•Canterbury Spa and Pool

•Carpet Mill

•Comfort Glaze

•Condensation Control

•Coopers Strip Club

•Damon Puddy Art

•Duzzall Beezwax

•DVS

•Emuology

•Entertainment Technology Ltd

•EuroBlade Infrared heaters

•EVS Window Technology

•Fire and Emergency

•FryAir

•GJGardner

•Golden Homes

•Handzon

•Home Show Products

•HRV

•HVS Electric

•Insulmax

•Intelligro

•Jalmac

•Kaha Scooters

•Kitchen Studio

•Kiwi Artisan Co

•Laser Focus

•Lifestyle Landscape Solutions

•Little Giant Ladders

•Living House NZ

•Loan Market Agile

•Logan Smythe and Associates

•Maintenance Men Ltd

•Maverick Bond

•MichaelCalder of Bayleys Canterbury

•Mulberry Silk Bedding

•MyBuild Sorted

•NZLiving Homes

•NZTint

•Nanoclear

•Nutrimetics

•NZHL

•Oderings

•OHBubbles

•Plus 2WP

•Pool Land

•Portable Spas

•Pzazz Building

•Qestral Corporation Ltd

•Ray White

•ReadyLawn

•Resene

•Rockaroma

•Shuzi

•Sistaco Nails

•Smart Grass

•Smiths City

•Snaphappy Marketing

•Solarcorp

•Step Forward Orthotics

•Strathclyde

•Surface Protect

•Swiper Shower Tops

•Tebo Massage Chairs

•Tenspro Retail

•The Better Back Company

•The Great Bungee

•The Original Smoke And Spice

Company

•Thermomix

•Thin Lizzy

•Trident Homes

•UPVC Windows and Doors

•Venluree

•Warmth NZ

•Whitehouse Builders

•Williams Corporation

•WindoWow E-Blade

•Woll Cookware

•Zenteq

Our Unique Zones

Tiny Home, BIG Impact

•Cosy Homes

•NZTiny Living

Taste Zone

•Aoraki Liquorice

•Brandhouse

•Cannon Hill Gourmet

•Eden Juice

•X50 Greentea

•Maori Point Wines Ltd

•Straight 8Estate

•The Fudge Cottage

•The Original Smoke And Spice

Company

•Viberi

Eco Zone

•Aquapick

•Bioptron

•EEnergy

•Emegastore

•Hallmark Homes

•LED Christchurch

•Sunshine Solar

•The Alternative Energy CoLtd

Landscaped Outdoor Living Zone

•ADrop InTime

•Get AGate

•Gutter Solutionz

•Hotspring Spas Christchurch

•One Square Rate

•Paragon Fencing

•Pure ByThe Barrelman

•Roxstar Glass Art

Leisure Zone

•Action Power Sports

•Can-Am

•MrBoats

•Nationwide RV

•UKCaravans

Visit the HVS stand to go in the

draw to win this $22,000 EV!

CUT THISADOUT FOR

1x FREE DOUBLE PASS

Join us at theHome &Leisureshow, standnumber 176.

Appliances,beds,furniture&tech.

Everything youneed foryourhome.

2-4July 2021 • 10am -5pm • Christchurch Arena • www.starhomeshow.kiwi