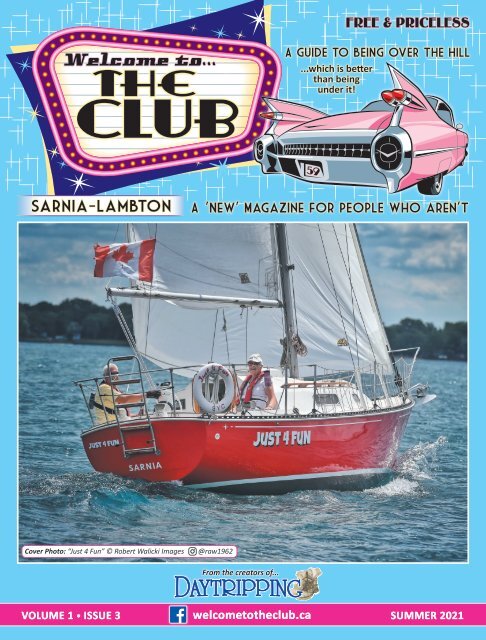 Welcome to the Club - Summer 2021
A Magazine for 55+ Like No Other! Welcome to The Club features timeless articles and anecdotes including many from the archives of Daytripping Magazine. It's online at www.welcometotheclub.ca and is also distributed free in Sarnia-Lambton, Ontario.
A Magazine for 55+ Like No Other!
Welcome to The Club features timeless articles and anecdotes including many from the archives of Daytripping Magazine. It's online at www.welcometotheclub.ca and is also distributed free in Sarnia-Lambton, Ontario.
SHOW MORE
SHOW LESS
Create successful ePaper yourself
Turn your PDF publications into a flip-book with our unique Google optimized e-Paper software.
FREE & PRICELESS

Welcome to ...

THE

CLUB

A GUIDE TO BEING OVER THE HILL

...which is better

than being

under it!

Sarnia-Lambton

A ''New' Magazine for PEOPLE who aren't

Cover Photo: "Just 4 Fun" © Robert Walicki Images

@raw1962

From the creators of...

welcometotheclub.ca

VOLUME 1 • ISSUE 3 SUMMER 2021
---
Welcome to ...

THE Club

Welcome to the Summer issue!

Welcome to ...

Summer 2021

Are you 55+ in Lambton County?

Share your voice - we want to hear from you!

Enter to win 1 of 20 prepaid VISA cards

How to participate:

We want to hear

about your

experiences with

local social and

community services.

• Online Survey: ShareYourVoice.ca

• Phone Survey: 1-519-542-7751 ext. 3022

• Questions: ashley.hutchinson@lambtoncollege.ca

Garden of Giving

Each year LEO's staff plants, grows, and harvests a variety of vegetables. Fresh garden boxes

are prepared and donated to residents throughout Sarnia Lambton. Donations to LEO of salad

dressing and salad toppings are always welcome additions to our garden box deliveries!

Lambton Elderly Outreach

As a partnering agency of the Age-Friendly Sarnia-Lambton

initiative, Lambton Elderly Outreach continues to work

with community partners to increase access and

awareness of social and health supports that ensure our

population is connected to programming, health care, and

opportunities to contribute to our great community!

Age-Friendly Sarnia-Lambton is all about making community navigation and participation

easier, and that is why a one-stop access point to over 600 services in Lambton County

was developed! Navigating social and health supports is convenient and easy at

agefriendlysarnialambton.ca. For those that prefer to speak with someone about local

supports, please call The Older Adult Care Pathway at 1-888-347-8737.

Together, Lambton Elderly Outreach and Age-Friendly Sarnia-Lambton, work to empower

our community to stay involved and give back through volunteerism, no matter your age!

Thinking about becoming a volunteer? Please reach out to volunteer@leohelps.ca for

more information and to get started!

Volunteer Opportunities

Transportation • Home Maintenance

Meals on Wheels • The Peer Program

Friendly Visiting • Fitness Classes

Diners Club • Bingo

Due to COVID-19, volunteer

opportunities are limited. For

Volunteer Inquiries – please email

volunteer@leohelps.ca

Become a Volunteer

How We Can

Help You Live

at Home

Transportation

Non-Urgent Stretcher Van

Meals on Wheels

Home Maintenance

Personal Care

Home Help

Care Giver Respite Support

Crisis Intervention

Housing Support

The Peer Program

Friendly Visiting

Diners Club

LEO Scored 98% Exemplary Standing

for providing Quality Services

Funded in part by the United Way of Sarnia-Lambton

and Jackpot City, Sarnia

Lambton Elderly Outreach • 1-800-265-0203 • www.lambtonelderlyoutreach.orgb ld l h

P A G E

2

Our bottom borders contain sounds and expressions we used to hear often...
---
We're all getting older, we may as well laugh about it!

Welcome to ...

THE Club

101 Indian Rd. S., Sarnia • 519-464-4000 • www.lambtonford.com

It's not just a Ford it's a

Lambton Ford !!!

Summer 2021 ...but we think you'll agree that most of them are rarely heard any more. P A G E 3
---
Welcome to ...

THE Club

BUTTONS

&

Bows

Ladies Clothing

& Accessories!

From size 4 to

18!

Open 6 Days a Week

Monday to Saturday 10-5

Elegance

at its finest!

www.buttons-and-bows.caw.

o .

131 Michigan Ave., Point Edward • 519-491-1412

"Your Feet Will Be In Good Hands"

Contact Julie Today!

Ryan Cross

Hons. BA (Kin),

MScPT, FCAMPT

Jamie Easter

BScH, MScPT

Jayme Davies

BSc, MPT

Are your feet f sore r

and a n

d

keeping i

you o

from

r m

doing i the things that t you u love?

Cerfied Cerfied Master t

Pedicurist ist - Julie Coulombe

ombe

will give you the best experience and the

professional aenon your feet need!

ADVANCED FOOTCARE

Diabecs, Ingrowns, Corns, Warts,

Fungus & other common foot problems

519-466-5853 • Julie@athomespa.ca

At Home Spa @ Mara Surgical Clinic

704 Mara St. Point Edward, Unit 106

Do You Have Arthritis

in Your Knees or Hips?

GLA:D CANADA IS

MADE UP OF 3 PARTS:

• 2-3 Education Sessions

• 12 Neuromuscular Exercise Sessions

• Data Collection for Quality Monitoring

519-491-7273

611 St. Clair Street, Point Edward

Serving

Sarnia

Since 2006

GLA:D Canada is an 8-week

education and exercise program for those with stiff and/or painful knees

and/or hips, or those with knee and/or hip osteoarthritis. Research from

GLA:D® in Denmark shows participants report less

pain, reduced use of painkillers, fewer

indiviudals on sick leave, and being more

physically active.

Cross Works Physiotherapy is proud to

present the GLA:D program

at Ironworks Fitness.

For more information

contact 519-491-7273

Covered Under Extended Health Care

Jenny Lindsay

BSc, MPT

Reves Henderson

BScPT, CGTTDN

Jenna Veens

BHSc, MPT

www.crossworksphysio.ca

You must be 55 or over to read this magazine.

The

"The Dentist"

Frankie was tired of being

bothered with a painful

toothache, so he visited

the dentist and asked,

"How much do you charge

to extract a tooth?".

The dentist replied,

"Thirty-five dollars!"

Frankie exclaimed,

"Isn't that a little high for

only five minutes work?"

"Well," replied the dentist,

a little annoyed,

"I could work a little

slower if you'd like."

Many years ago I was baby

sitting my nephew while his

mother was in the hospital.

He could get into more

mischief than I could

imagine any child

getting into, so when I

put my two year old down for her nap, I

checked on Alan again. He was playing

quietly on the veranda.

"This is Herkimer," he said, pointing

to a large and furry caterpillar. "Watch

him walk down the ramp. Want to see

him ride in my jeep? Oh, he's tired,

he's curling up for a sleep." Alan gently

picked up his furry friend and put it in

a small box. He might knock over my

favourite plant, or break a plate a day,

but he handled living things with the

care of a brain surgeon at work.

I walked down the steps and started

to weed the flower bed. Funny how fast

weeds grow. From there I could hear

Sandee when she woke up, and I could

also keep an eye on my small charge.

While I was weeding, Alan built a

higher ramp with some of Sandee's

blocks, and a road with sand borrowed

from the sand box.

I'll show Sandee how fast Herkie can

go, when she wakes up," he promised.

A short time later I heard her call

and went in to lift her out of the crib.

"Alan has something to show you," I

whispered as I buckled her shoes.

She slid from my lap and ran to the

front door.

"Look Sandee. He's going right

down the ra...mp." Alan's face was full

of shock and disbelief. Sandee had

TAKE HOME!

Fresh Made Comfort Food

A tradition since 1992!

105 MICHIGAN AVENUE

PT. EDWARD • 519-344-2855

Bright & Unique

Lighng Ideas For Your Home

116 Michigan Ave

POINT EDWARD

(519) 344-3535

Mon-Fri 9am-5pm

www.twinbridgelighng.com

Don't Step On My Caterpillar

by Doris M. Johnston • from Daytripping Magazine Summer 2002

gone barrelling out

the door, jumped

over the blocks

and landed right on

Herkimer.

"He never got the chance to be a

butterfly." Alan hiccuped.

Sandee had not only squashed

Herkimer, she had squashed Alan's

hopes of ever seeing his very own

caterpillar spin a cocoon and emerge

as a beautiful butterfly. His dreams had

been shattered.

"Don't step on my caterpillar," were

familiar words in our family as the

children were growing up. They often

made our children stop and think

before flattening someone's dreams,

ambitions or hopes, with a thoughtless

remark. We would never have bought

the house we now live in if my children

hadn't used those familiar words.

My husband had seen the house

and talked about it incessantly. "We

can't afford it. Wait awhile." I said, and

watched the excitement fade out of his

face and the hope depart from his eyes.

"You're stepping on Dad's caterpillar."

the children reminded me.

It took only a minute to think it over.

The struggle we had with payments

for the first few years was worth it, as

together we watched a dream become

a reality.

I often wonder if I would have become

a violinist, always my dream, if my

uncle hadn't told me I had no talent,

and should stick to sensible things like

dressmaking and typewriting.

It's so easy to step on caterpillars.

Welcome to ...

Summer 2021

P A G E

4

(Rarely Heard Any More) "Be sure to fill the ice trays, we're having company!"
---
This FREE magazine is distributed in most of Sarnia-Lambton

HANDSHAKES & HUGS!

By Mark Moran, Publisher

After 15 years of thinking about it, three

years of planning for it, and six months

of actually doing it, we are happy and

proud to present you with the third issue

of Welcome to The Club. It's a magazine

for people 55+ in Sarnia Lambton and

is filled with good news, a few jokes,

and lighthearted memories from people

like yourself. As much

as we're tempted to

speak out about local

shenanigans, there

are no politics in these

pages. You won't find

any bad news, or at least

I hope not, but you will

find an invitation to help

build this magazine now

and in the future. It is

written by our readers

and many of the articles

are from our other

magazine, Daytripping

in Southwestern Ontario,

which covers a much

larger area but has had the same feel

good style since 1995. When you see an

article that says it has been published in

Daytripping, the author has given us their

blessing to reprint their work. We donate

$25 to charity for doing so and, though

some of them passed away years ago,

their words live on in these pages.

An interesting addition this time is

a list of discounts for seniors that you'll

find on page 18. We're keeping our eyes

open in search of more discounts to tell

you about, so please let us know if we

are missing some. We also hope that this

list may encourage some businesses to

offer a discount to those of us who have

reached a certain age. I'm only a pup

compared to some of my readers, but I

am told that "senior" is an okay word to

use whenever it comes before the word

discount!

As I write this in mid June, it seems

like the light at the end of the COVID-19

tunnel is getting steadily brighter. I hope

and pray that this is

not an illusion. The few

breaths of fresh air in

the company of friends,

that we have finally

been able to experience,

have an overwhelming

healing power for minds

and souls that have been

so stressed for the past

year and a half. A simple

handshake is so much

more meaningful than it

was before all this began,

and a hug, well that's just

the most heartwarming

thing there is.

So enjoy the stories, summer new

and summer old, the recipes, the jokes,

the typos, and please make a note of the

businesses that are advertising in this

magazine. It's free for you, but does cost

money to produce, and you have them to

thank for making it possible. I have my

staff to thank and want to send a special

shout out to Carrie Ann Timm this time,

for taking all the various puzzle pieces

and creating this issue.

Take care, stay safe and bask in the

simple pleasures of life, like handshakes

and hugs.

Thanks for reading.

Mark Moran, Publisher

You can be anywhere in the world and sll read

Welcome to The Club Magazine

Subscribe for

FREE on our

homepage and

we'll simply email

you a link to each

new issue.

The online version

may not be as

"Priceless"...

but it's just as FREE!

www.welcometotheclub.ca

Welcome to The Club is published four times annually by Moran Advertising, Brights Grove, Ontario. The publisher reserves

the right to reject, discontinue or omit any advertisment without notice or penalty to either party. No portion of this

publication can be reproduced in whole or in part without the permission of Moran Advertising. The content of this

publication does not necessarily represent the opinions of the publisher. The content of this publication has not been deemed

by the publisher to be correct and accurate. The advertiser agrees that the publisher shall not be liable for damages arising

directly or indirectly from errors occuring in this publication beyond the amount paid for the space actually occupied by that

portion of the advertisment in which the error occurred, whether such error is due to the negligence of its servants or

otherwise, and there shall be no liablity for non insertion of any advertisment beyond the amount paid for such advertisment.

Use of Material: submitted articles, letters, and other works or materials may be used, published, distributed and stored by

Moran Advertising, Welcome To The Club, and Daytripping Magazine, in whole or in part, in print or by any other means.

Welcome to ...

Welcome to ...

THE

THE Club

CLUB

VOLUME 1, ISSUE 3 • SUMMER 2021

You'll find

current and

nostalgic

articles

throughout

The Club.

Discount List 18

Milestones & Memories 32

Postcards from the Past 25

Trivia 11

Word Search 7

Crossword 24

Recipes 27,37

Other Stuff 1-40

"Just 4 Fun" by Robert Walicki, Sarnia

Ruth t

Sharon, n

Spokeshave, p k

e,

Glynn n

Leyshon, e

o , Jean a

Leedale

e

Hobson, on

, Lyn Tremblay, Nadine Wark, k Gail Northgrave rave

Adams,

Pat Taylor, o , Lucy Landry, d y Doris Johnston, h

n n,

Claude d

Tiffin, in, Therese

es

e

Lecuyer, y r A.C. A C

Stone, e Marion Urquhart q rt

Charkow, k

Cathy t y Dobson,

on

,

Christ i

s Treftlin, n Kelly-Lynn K l

ly

L

yn

n Musico, M

i

c , Lee Michaels, h

John h

Gardiner,

n r,

Doug McClintock, c k Sienna Senior Living, in

g Sipkens k Nurseries, ries

, and

a d

all a l the Recipe i

p

and a d

Milestones i n s & Memories es

submissions.

ssio

Mark Moran - Publisher, Ad Sales & Design

Carla MacGregor r - Advertising in

Sales

Carrie Ann Timm - Office/Graphics fi

ics Manager

Angela Lyon - Graphics & Article Formatting

Carla Mejia - Graphic Design

Ben Moran - Graphic Design

From the publishers

of Daytripping Magazine

The Club Features

On the COVER of the CLUB

YOUR CONTRIBUTORS

CLUB STAFF

P.O. Box 430 • Brights Grove, ON •N0N 1C0

519-491-1676 • info@welcometotheclub.ca

www.welcometotheclub.ca

A Magazine

g

for 55+

like no other!

Summer 2021 (Rarely Heard Any More) "Take those bottles back to the store for the deposit." P A G E 5
---
Welcome to ...

THE Club

Move Better, Feel Better, Live Better

By Kelly-Lynn Musico, Brights Grove • Registered Physiotherapist, Registered Yoga Teacher

Is it inevitable that the human body

will age? I remember being in my 20's

and taking one of my Physiotherapy

courses titled "The Physiology of Aging."

I remember thinking to myself, "Oh,

come on, they (the older population)

must have never exercised," and "they

are being wimpy". This was in reference

to learning about the common effects of

aging within each of our bodily systems:

Cardiorespiratory, Musculoskeletal, and

Neuroanatomy. Wow, how naive was I?

As someone now in my 50's, with close

friends in their 60's & 70's, and parents

close to their 80's, I now understand

what my professors were talking about.

So, what is aging anyway? According

to one of the basic definitions I found,

"Aging is the process of becoming

older. In humans, aging represents the

accumulation of changes in a human being

over time and can encompass physical,

psychological, and social changes." So,

the good news is, we are supposed to be

aging, not 'anti-aging.' Phew!

It's true, our physical body changes

as we age. Think about how quickly we

might have recovered from injury in our

20's compared to today. We may not

recover from injury as quickly as we used

to and that is okay. Let us think back to

how many consecutive days we could

play golf, tennis, or workout without the

aches and pains we may feel today. What

about the external, physical changes to

our bodies? The elasticity in our skin is

expected to change, as it, too, is a natural

part of aging. Those fine lines let people

know we are "experienced people."

Now, the psychological changes? I

personally feel as we age, we have the

opportunity to grow into a deeper kind

of beauty, one which works its way from

the inside out. It can be a more authentic

and less superficial beauty. It may show

through our eyes and the confident way

we move through life.

The 'anti-aging campaigns' turn the

entire natural development of aging into

enemies, rather than embracing aging

as normal and positive; this needs to

change. Often, older people are more

mature, confident, and powerful than

when they were younger.

We cannot stop the aging process, and

nor should we. We can, however, make

Feel free to send in photos showcasing Sarnia-Lambton.

choices to help us feel better from the

inside out. Yoga is a great form of activity

that can help us embrace aging and all

the positive things that it brings.

Although I dabbled in Yoga in my

30's, it wasn't until my 40's that I truly

discovered the physical and emotional

benefits. Yoga is a fantastic mind-body

practice that incorporates strengthening,

balance, stretches, breathing techniques

and meditation. These can all help to

contribute to healthier and happier aging.

For me, it is the connection of

the breath to movement that makes

Yoga such a wonderful activity. If you

can breathe, you can do Yoga! As a

Physiotherapist and Yoga teacher, I

often incorporate breathing exercises

into my client's exercise program.

Connecting with our breath can help to

reduce stress, anxiety, and ultimately

pain. By bringing our awareness to our

breath, we may be able to connect with

what our body and mind are feeling.

This can be a step in the right direction

towards preparing our body to relax and

to quiet the chatter in our mind.

So how do we do that? Let's give it a try!

Complete Breath:

• This simple breath can be done

in a comfortable seated or lying

position.

• Relax…Maybe close your eyes.

• Exhale completely. Inhale slowly

and deeply through your nose.

Allow your stomach to expand like

a balloon. Filling your chest and

lungs with air.

• Pause your breath…

• Exhale slowly through the nose,

squeezing out all the air from within.

• Repeat 5 times or more if you like.

• Enjoy the sensations associated with

observing and feeling your breath.

There are so many different types of

Yoga and each teacher will bring their

own style into practice. Take time to

explore and find the one that connects

best for you. Be patient and enjoy the

journey.

We cannot stop the aging process;

however, we can make choices that aim

to improve our physical and mental wellbeing.

Thus maintaining an active life,

doing the things we enjoy and spending

time with our loved ones. As we increase

our physical and mental health, we may

begin to feel more positive about our

aging and all the beauty it brings. Each

new day is an opportunity to embrace our

age and all its glory!

Welcome to ... Summer 2021

If you need access to additional funds,

using the equity in your home

can be a lower cost way to borrow

the money than taking out a traditional loan.

For example, you can use your home equity to:

RENOVATE YOUR HOME,

AN ADDITION, POOL

BUY AN

ADDITIONAL

PROPERTY

INVEST

IN STOCKS

BARRY

PORTER

Mobile Mortgage

Specialist

BUY A CAR

OR BOAT

Cell: 519-466-3833

E-mail:

barry.porter@rbc.com

P A G E

6

(Rarely Heard Any More) "That dog is NOT coming in the house, it lives outside."
---
Most articles in here have been written by people like you.

Welcome to ...

THE Club

Life is Better

When

You're Home

Seniors live at home -

independently,

comfortably & happily.

Mom!

You can get meals,

housekeeping, and

door-to-door

transportation!*

Love Jen -

P.S. for much less than

a retirement home!

It doesn't matter how old you are, life is always better

when you're home. There's a deep comfort that comes

from being in familiar surroundings, sleeping in your own

bed, and living under a roof that belongs to you.

Summer Daze WORD SEARCH

Established in 2010, Shine at Home serves seniors who

wish to live in full independence. Since our earliest

beginnings we have learned that with just a little help,

people can remain in their homes for many years safe

and free in the knowledge that a dedicated team is

there for them.

Housekeeping

Transportation

"All the staff go out of their

way to make life easier for our

Mom when we aren't able to

be there everyday! We

definitely recommend Shine at

Home to others looking for

excellent care for their elderly

parents"

Heather – Daughter of Client

Companionship

and Care

"The lady who does my

housekeeping is so nice and

efficient and always fits in

special requests"

Ruth Ann - Client

Find these words hidden vertically, horizontally, diagonally and backwards.

Call today and find out how

Shine at Home can help you:

519-336-9898

shineathome.com

Summer 2021 (Rarely Heard Any More) "Sit still! I can't cut your hair straight if you move!" P A G E 7
---
Welcome to ...

THE Club

By Old Farts - For Old Farts

Welcome to ...

Summer 2021

By Lyn Tremblay, Simcoe

from Daytripping Magazine, May-June 2009

Senior's Bumper Sticker

I'm so old that whenever I eat out,

they ask me for

my money up front!

Affordable Rates • All Work Guaranteed • 25 Years Experience

GENERATION PAINT COMPANY

Interior & Exterior Painting and Makeovers

All types of

painting,

feature walls,

wallpaper

15% Seniors

DISCOUNT

PLUS HANDYMAN SERVICES:

• Repairs • Waterproofing (caulking)

• Maintenance • Renovations

Call Mark 519-330-4424 or email 1863989ontarioinc@gmail.com

As a child growing up in rural

Ontario, a nightly chorus of frog song

was my bedtime lullaby. Outside my

open bedroom window the night was

filled with the sound of thousands

of frog voices joined as one. Even

if you covered your ears, the sound

penetrated. But after a while, you

became accustomed to the rhythmic

melody and drifted off to sleep.

Many of the frogs that lulled me

to slumber each night also became fish

bait.

A cousin's uncle used to own a bait

shop in a small community near our

farm. He'd pay his nephews a couple

of cents for each frog brought to him.

The boys would show up at our farm

with their empty Silverwood's Dairy

milk cartons in hand and off we'd go

to scout the many swales, ponds and

wetland areas that dotted our farm

property.

As much as I would like to say

that I too was an adept frog-catcher,

admittedly I was not. I was a klutz

for one thing. I never did have the

coordination it would have taken

to outwit a frog. Secondly, I wasn't

thrilled with touching their slimy, little

squirming bodies.

But that is not to say that my

role in my cousin's entrepreneurial

partnership wasn't an important one.

I was in charge of the milk carton! The

boys were experts at pouncing and it

was difficult to keep up with the number

of times a fist with outstretched frog's

legs poking out between the fingers,

was flung before my face.

It was my job to open the top of

the (soon-to-become very muddy)

carton so they could make a deposit.

Of course, opening the waxy spout to

put one frog in also meant that those

already caught and piled up on top of

one another in the carton were fighting

to get out!

Years later, when we moved

to Norfolk County, one of the first

welcoming spring sounds was the

chorus of frog song. We dug a big

pond in the backyard and waited while

Mother Nature started to put in place

her fine-tuned ecosystem.

We were delighted to spot tadpoles

in the pond and were later entertained

when the common green leopard frogs

teased our city-bred Bull Terrier. While

trotting along in the shallow water

around the shoreline, he'd disturb the

frogs and they in turn would startle

him. We came to expect a sequence

of sounds as the dog made his way

around the entire circumference of the

pond – the gribbit of a frog, followed

by a splash as they hit the water, and

then the dog's bark. Gribbit, splash,

bark. Gribbit, splash, bark.

And then one year, we were

puzzled that there were no frogs. Part

of that mystery might be explained by

the fact that we had also stocked the

pond with bass. Duh! Bass eat frogs!

A few years ago, an unusually dry

summer meant that the pond level

lowered to the point where it reduced

the bass population. Fortunately,

Mother Nature has a way of taking

care of such things and in recent years

we've been able to spot huge tadpoles

in the springtime, some performing

like dolphins as they actually jump out

of the water!

While we don't seem to have the

numbers needed for the full-fledged

symphony recalled from my childhood,

those who call our pond home are

welcome because, as we've been told,

when we can no longer hear their song

it is a signal that there is something

very wrong with our sensitive world.

P A G E

8

(Rarely Heard Any More) "You skipped your chores? Wait til your father gets home!"
---
Thank you for continuing to shop locally!

NORTH END APPLIANCE

Serving Sarnia-Lambton Over 30 Years

519-336-7676

635 Cathcart Blvd., Sarnia

northendappliance.ca

Welcome to ...

HOME RENOVATIONS?

Reasonable Prices

FREE ESTIMATES

Decks, Sheds, Repairs...

(Excludes plumbing/electrical)

YOU NAME IT,

I'll get it done for you.

10% OFF with mention of this ad

THE Club

30 YEARS

EXPERIENCE

Call Don at

226-343-2265

Welcome to ...

THE

CLUB

Gallery

Remember jumping into the St. Clair River

when you were younger? These brave

boys did it in April this year!

Sent in by

Nadine Wark,

Sarnia

Send us your great photos

showcasing Sarnia-Lambton!

(PAST OR PRESENT)

(C through D)

Canada: 51 weeks of winter, one week hockeyless summer.

Cauterize: Made eye contact with a woman.

Charm: Getting a "yes", without having asked any clear question.

Cheap: Much less expensive than ones selling for up to twice as much.

Chirpes: A canarial disease, no tweetment.

Choconiverous: Biting off the head of the chocolate Easter bunny first.

Cinemuck: Popcorn and candy that covers the floors of movie theatres.

Conservative: A liberal who has just been mugged.

Constipation: Teeth marks on the toilet seat. Diplomacy:

Counterfeiter: Kitchen cabinet installer.

The art of

Deliberation: Examining one's bread to determine letting someone

which side it is buttered on.

else have

Drug: A substance that, when injected into a rat, your way.

produces a scientific paper.

Dumbwaiter: One who asks if the kids would care to order dessert.

SWEDISH

No one has so big a

house that he does not need

a good neighbour.

He is a friend to none

who is a friend to all.

A peacock has too

little in its head and

too much in its tail.

Guests should not forget to go home.

He who has nothing but virtues is not much

better than he who has nothing but faults.

He who buys what he doesn't

need steals from himself.

Wisdom is in the head and not in the beard.

Don't throw away the old bucket until you

know whether the new one holds water.

Being young is a fault which improves daily.

A life without love, a year without summer.

Better to suffer for the truth

than be rewarded for a lie.

Envy shoots at others and wounds herself.

Summer 2021 (Rarely Heard Any More) "May I speak to the man of the house please?"

P A G E 9
---
Welcome to ...

THE Club

If you know where you were on Feb. 9th, 1964 this is for you!

Join us by the Lake!

• Authentic Hickory Smoked Ribs

• Genuine Broasted Chicken

• Seafood, Sandwiches, Wraps

PRIME RIB

TUESDAY

NIGHTLY

H

Y

SPECIALS

P L

S

Welcome to ... Reserve er e for panoramic a views

of Lake Huron from our patio!

• Take Out •Lakeside parks & benches nearby

2713 Old Lakeshore Road • Brights Grove

519-869-2794 • www.skeeterbarlows.com

By A.C. Stone, Windsor

Keep It Simple

from Daytripping Nov-Dec 2007

Politicians, generally, are

masters of obfuscation;

the subtle art of couching

whatever they say in words

so complex that later,

when they are taken to

task for their comments

they can say, "That's not

what I meant" and no one can prove

them wrong. It is little wonder then,

that the people who work for them

have brought the art of obfuscation to

its current level. Witness the reams

of paper that are produced whenever

a government committee is asked to

write a report.

And yet, it is the simple writing that

is understood and remembered. For

example, if you had read the following

sentence, would you have remembered

it? "A single unit of pre-decimal

currency, parsimoniously hoarded, is

the equivalent of a similar pecuniary

token received as wages." Not likely.

However, when James Thomson

wrote "A penny saved is a penny got,"

he created an adage that has endured

for more than two hundred years (albeit

in slightly modified form.) With that

in mind, how many of the following

"familiar quotations" would you

recognize if they had been written by a

bureaucrat?

1. A quantity of useless material is

invariably created whenever a project is

performed with undue alacrity.

2. A joyful feeling of contentment

is not a commodity which can be

purchased through the normal channels

of currency exchange.

3. If the extremities of a person are

Summer 2021

of a low temperature, it

is an indication that he

or she possesses a loving

nature.

4. It is generally unwise to

awaken a slumbering member

of the canine family.

5. If your initial efforts are

unsuccessful, perseverance will

eventually lead to a satisfactory

conclusion.

6. Given advance knowledge of

impending actions, one may take

whatever course is necessary to ensure

a suitable outcome.

7. A basic writing implement, used

judiciously, has the potential for greater

impact than an ancient, double edged

weapon.

8. The introduction of a large number

of assistants to a task force reduces

the individual effort required for the

completion of a particular assignment.

9. Those members of the avian family

having similar plumage are often

predisposed to seek common domicile.

10. The subtle essence of humor is

dependent upon the constrained use of

verbiage.

Answers:

l. Haste makes waste.

2. Money can't buy happiness.

3. Cold hands, warm heart.

4. Let sleeping dogs lie.

5. If at first you don't succeed,

try, try again.

6. Forewarned is forearmed.

7. The pen is mightier than the sword.

8. Many hands make light work.

9. Birds of a feather flock together.

10. Brevity is the soul of wit.

Garden of Wisdom

Submitted by:

Eve Stickland

"

Most people are about as

happy as they make up their

"

minds to be

Abraham Lincoln

P A G E

10

(Rarely Heard Any More) "I'm going to order a new set of Encyclopedia Brittanica."
---
That was the Beatles' first appearance on the Ed Sullivan Show

Welcome to ...

THE Club

Welcoming

New Patients

SARNIA PHARMACY

Corunna Pharmasave

• Pharmacist available 24/7 for our paents

• FREE Delivery • FREE Compliance Packs

• $2.00 Co-Pay waived on elegible ODB Prescripons

• 10% discount on otc items every Tuesday & Friday

Open Monday-Friday 9-6, Saturday 9-2, Sunday Closed SARNIA: 206 Maxwell Street • 519-337-3215

MEDICATION MANAGEMENT • AWARENESS • COMPLIANCE CORUNNA: 409 Lyndoch Street • 519-862-2020

Phrase Origins

Refers to being almost, but not quite successful.

Although there's no proof of origin, it's widely

accepted that because carnival games were once

targeted to adults and cigars were a common prize,

if the person was close to winning, but didn't

succeed, they'd say "close, but no cigar."

Close But no Cigar

Floors for life.

Hardwood • Tile • Laminate • Carpet

Luxury Vinyl Tile and Plank & More!

532 CHRISTINA ST. N., SARNIA • 519.344.8855 • CARPETONE.CA

® Trademarks of AIR MILES International Trading B.V. Used under license by LoyaltyOne, Co., and Custom Floors Carpet One Floor & Home.

CANADIAN

TRIVIA

1. How many judges are there on the

Supreme Court of Canada?

2. What is the oldest national

park in Canada?

3. How many regular season points did

Wayne Gretzky end his career with?

4. Which ruling British Monarch was the

first to visit Canada (or any Commonwealth

country) - on May 17, 1939?

5. Wood Buffalo National Park is home to

the world's largest ______?

6. What mountain range can you see from

Vancouver?

7. What Canadian skater was the first to

ever perform a "quad" in competition?

8. Astronaut Chris Hadfield recorded a song

in space. What was it called?

9. What is Canada's tallest mountain?

10. Fresh water or salt water? What are

icebergs made up of?

11. What baseball position did Ferguson

(Fergie) Jenkins play?

12. Name the six members of the Six Nations

confederacy.

13. About 35% of Canada is made up of

lakes. True or false?

14. What is Canada's longest river?

Quiz

15. Is it the longest river in North America?

16. What was the population of Canada at

Confederation in 1867, to the nearest

million?

17. What happened in Niagara Falls on

March 29th, 1948?

18. What is the Easternmost point in

Canada?

19. Josiah Henson is believed to have been

the inspiration for the title character of

this famous book.

20. Which town is home to the world's

longest covered bridge?

21. Justin Trudeau is Canada's _____

Prime Minister. (We need a number!)

22. The Ambassador bridge connects

Canada to which major US city?

23. Who's band played "Auld Lang Syne" in

New York City every year from 1924 to

1962?

24. Where is Flin Flon?

25. What are the two governing bodies of

Parliament?

26. If it's 10:00 in Ontario, what time is it in

Newfoundland?

27. Who is the only Canadian to medal in

both summer and winter Olympics?

28. What was first performed in Quebec

City on July 24th, 1880?

29. When and where did the first Tim

Hortons open?

30. Anne of Green Gables was written by?

31. How many provinces were there at the

time of Confederation? Name them.

32. In what decade was the St. Lawrence

Seaway built?

33. Is Nunavut in the Eastern, Central or

Mountain time zone?

34. The longest name of a place in Canada

is is Pekwachnamaykoskwaskwaypinwanik

Lake. Is this true?

35. What Canadian city was the world's first

to use the 911 emergency number?

Answers:

1. Nine 2. Banff 3. 2,857 4. George VI 5. Beaver

Dam 6. The Coastal Mountains 7. Kurt

Browning 8. Jewel in the Night 9. Mount

Logan 5,959 m 10. Fresh water 11. Pitcher

12. Cayuga, Oneida, Seneca, Tuscarora,

Mohawk and Onondaga 13. False, it's closer

to 8% 14. The Mackenzie River 1,738 kms.

15. No, the Mississippi is 3,734 kms. long

16. Three million 17. It ran dry due to an ice

jam 18. Cape Spear , Newfoundland 19. Uncle

Tom's Cabin 20. Hartland, New Brunswick 391

m 21. 23rd 22. Detroit MI 23. Guy Lombardo

24. In Manitoba 25. The House of Commons

and the Senate 26. 11:30 27. Clara Hughes, in

cycling and speed skating 28. O Canada 29.

Hamilton in 1964 30. Lucy Maud Montgomery

31. Four, Quebec, Ontario, Nova Scotia &

New Brunswick 32. The 1950's 33. It's in all

three 34. It's true 35. Winnipeg

Do you want to reach

our age 55+ readers?

advertise

in the club

Call 519-491-1676

info@welcometotheclub.ca

BUY YARN!

Save the

Economy!

Heaven is

Handmade

"A Yarn Boutique"

ue"

Everything

you need for

knitting & crochet

250 North Christina Street

Sarnia • 519-491-9276

www.HeavenIsHandmade.ca

Summer 2021 (Rarely Heard Any More) "Get the ice pick, the freezer is all frosted over." P A G E 11
---
Welcome to ...

GIFTWARE & UNIQUE HOME DÉCOR

SHOWCASING MANY LOCAL ARTISANS

TUESDAY-FRIDAY 10-5 • SATURDAY 10-2

Home of Just-A-Nuff Antiques

850 Colborne Street @ Exmouth Street

Northgate Plaza, Sarnia • 519-336-3838

THE Club

Today is the

you've ever been,

yet the

Youngest

you'll ever be.

Oldest

Enjoy this day

while it lasts!

Thank you, to all the advertisers you see throughout the magazine.

TOP 10

1959

Country Songs

1 The Battle of New Orleans Johnny Horton

2 The Three Bells (Les Trois Cloches) The Browns

3 He'll Have to Go Jim Reeves

4 El Paso Marty Robbins

5 Billy Bayou Jim Reeves

6 Waterloo Stonewall Jackson

7 Don't Take Your Guns to Town Johnny Cash

8 Scarlet Ribbons (for Her Hair) The Browns

9 I Ain't Never Webb Pierce

Source:

10 White Lightning George Jones playback.fm

Billboard Hits

1 The Battle of New Orleans Johnny Horton

2 Mack the Knife Bobby Darin

3 Personality Lloyd Price

4 Venus Frankie Avalon

5 Lonely Boy Paul Anka

6 Dream Lover Bobby Darin

7 The Three Bells The Browns

8 Come Softly to Me The Fleetwoods

9 Kansas City Wilbert Harrison

Source:

10 Mr. Blue The Fleetwoods billboard.com

Movies

Ben-Hur

(Oscar for Best Picture)

The Shaggy Dog

Some Like It Hot

Operation Petticoat

Pillow Talk

Imitation of Life

North by Northwest

The Nun's Story

A Hole in the Head

Solomon and Sheba

Source: the-numbers.com

Welcome to ...

Summer 2021

WE MAKE

Beautiful Smiles

~ Are you unhappy with the way

your Dentures make you look or feel?

~ Are your Dentures loose?

~ Sore spots?

~ Not eating the foods you love?

~ Are they over five years old?

Digital

(photographic)

impressions now

available

WE ARE HERE TO HELP YOU!

Call to book your

FREE CONSULTATION today.

Since 1972, our family has made thousands of dentures for our patients.

Ask your dentist to refer you to us or call yourself for your free consultation.

We are adhering to strict Covid guidelines to keep you safe.

519-336-6580

1200 Lambton Mall Road, Sarnia

www.feigedentureclinics.com

P A G E

12

(Rarely Heard Any More) "My Sunday shoes are at the cobbler getting repaired."
---
As you may have guessed by now, it's for people 55+

563 Front St. N., Sarnia

519-337-9998

GlassAndPillarSpa.com

It Is Sandal Season!

Trendy mani-pedi

colour combos to

try this Summer!

We have the highest

safety protocols in place!

No appointment needed to shop the boutique

A Day in the Life of a

Child of the 50's

By Therese Lecuyer, Essex • from Daytripping Magazine, May-June 2013

I was never alone. There were seven

of us in the family. My being the fourth

of five daughters, there was always

someone talking, if not all of us, at the

same time (my poor dad!)

We owned a transistor radio with

AM/FM—that is what we would listen to

music by, until one Christmas all five of

us girls were given a record player from

Santa Claus.

TV came into my life when I was

about eight years old. I still have fond

memories of taking our Saturday night

baths in a metal tub filled with water

that was heated on the stove (we had

no running water in the bathroom

and no bathroom) and then all of us

gathering around the television to

watch Lawrence Welk, freshly bathed.

I still love re-runs! On Sunday nights it

was Ed Sullivan and Bonanza, eating

our allotted hand full of chips and

bottle of pop, our treat for the week, if

it even lasted until then.

The summers seemed endless. We

lived outside and I loved tending to

the pigs. They were never fed so well,

as during the summer when there was

no school. Our "playhouse" was the

outhouse or chicken coupe. Yes, the

outhouse; the smell never bothered me

back then!

We all helped around the farm,

feeding the chickens, gathering eggs

and hoeing weeds in the fields, and of

course, feeding the pigs.

I remember one summer, Dad

promised us girls a new "playhouse" for

all our hard work hoeing milk weeds,

etc. It was our playhouse for the better

part of a day, before the hens and chicks

moved in.

We didn't have any fancy electronic

games back then. My sisters and I

would play a lot of Old Maid. If you

ended up the Old Maid, Dad would

tease us mercilessly. We'd play statue,

tag, hop scotch and hide and seek.

When it rained, we'd put on our

bathing suits and run around in the rain

and under the eavestroughs —that was

so cool!

I can remember a milk man, bread

man, a Fuller Brush man, and even an

ice cream man. The ice cream man

even came to our house in the country.

It was always exciting when the ice

cream man would pull into our

yard and stop and pull out a box of

ice cream treats. They wouldn't go far

when there were seven of us.

Peanut butter and jelly, bologna

and ground up sweet pickles were a

staple to feed us in our lunches. In the

summer months we ate a lot of toasted

tomato sandwiches and sweet corn.

Playing with the many farm animals

was always fun, until you sat down to

dinner and had shepherd's pie, which

included many of the animals I fondly

tended to. It was all part of growing up

on a farm, but very difficult at times.

We walked to school (no, not 20

miles there and back) about a mile each

way, no matter the weather. My first

time ever on a school bus was in grade

six—that was so exciting! I can recall

walking to school in snowstorms and

being told the buses weren't running,

so there would be no school, and to go

back home. It wasn't a one room school

house but two buildings; one housing

grades 1-3 and 7-8, the other grades 4

and 5. What I wouldn't give to go back

to those days again.

During the summer, I often played

teacher with my younger sister and

taught the boys across the road.

We never had a phone until I was 12

and a bathroom until I was 13. I can

still remember my first tub bath—I felt

like I was in heaven!

Being one of five girls, I got a lot

of hand-me-downs, but was always

excited and grateful for Christmas and

Easter, when we'd all get a new dress,

shoes and bonnet. I still have the picture

of all us five girls and dad on the tractor

on Easter Sunday that Mom took.

Growing up on the farm, in the 50's

and 60's came with a great many firsts.

We may not have had a lot of money

but we were rich in family and love.

Welcome to ...

Roland Electronic Drums TD-07KV V-Drums

Looking at

LOGOS

You may never look at

these logos the same way again!

Sent in by Joan Richardson

The 2nd and 3rd "T's"

are two people sharing

(or fighting over) a tortilla

and a bowl of salsa!

The Goodwill smiley

half face is also a "g".

The arrow means

Amazon has everything

from A to Z.

THE Club

Only you will

know how loud

they are!

430 Exmouth St.

Sarnia

519-344-7740

pickersalley.com

Do you see the arrow between

the "E" and "x" (in white)?

The world's most famous bike race.

The "R" in "Tour" is a cyclist.

The yellow circle is the front wheel

of a bicycle, the "O" is the back wheel.

There is a dancing bear above

the "ble". Toblerone chocolate bars

originated in Berne, Switzerland,

whose symbol is the bear.

Summer 2021 (Rarely Heard Any More) "Aw man, the typewriter letters jammed again." P A G E 13
---
Welcome to ...

THE Club

Do you remember being 19? Neither do we!

My Ordinary Life

by John Gardiner

Welcome to ...

Summer 2021

"I love getting

my Tel-Check calls

and medication

reminders!"

Sometimes I feel lonely

Sometimes I forget to take my medication

Sometimes I just like to talk about how

I'm feeling or what's going on in the world

You can receive daily or weekly Tel-Check calls to:

• Lessen feelings of isolation by having a friendly

chat with our volunteers

• Make medication/nutrition/hydration reminders

• Provide you with safety reminders such as ensuring

doors are locked and appliances are turned off

or

You can call our Distress Line Volunteers (519-336-3000)

if you are struggling and need to talk (7am–Midnight)

or

You can call the Care Pathways Program if you are

looking for information and referrals about services

for older adults and caregivers

1-888-DISTRES(347-8737)

519-336-3000 (7am-Midnight)

To find out more about these programs

or refer a patient/client/loved one,

please contact our office at 519-336-0120

To learn about all of our programs and services,

visit us online at

www.familycounsellingctr.com

The following is an excerpt from the soon-to-be-released memoir, My Ordinary Life, by

Wallaceburg writer John Gardiner, who grew up and came of age in Hanover, Ontario during

the 1950's and 1960's. In My Ordinary Life, Gardiner tells the story of his growing-up years

with a series of colourful anecdotes about the way life used to be. More of the writer's work

is available at www.johngardinerstories.com and he can be contacted at gardiner@kent.net.

The Leafs, The Lake & Other Adventures

I remember sitting with my Dad

in the little lake house and watching

hockey on the tiny, blurry TV that had

been purchased. It was, of course, not

just hockey we were watching.....it was

the Toronto Maple Leafs and they were

somewhat sacred back in those days. I

learned watching hockey with my Dad

on that tiny TV, and I learned to love the

Leafs, and that was something that stayed

with me through much of my adult life.

Even when I was a teenager and was out

partying all night, my Dad would leave me

a synopsis of the game and the score on

the kitchen table before he went to bed on

Saturday night. I regret now that I didn't

stay in and watch more Leafs' games with

my Dad in those days. I guess I took it

for granted and didn't really understand

how important it was. Now that I've had

my own kids and had them find their

own lives, I know how disappointed my

father must have been not to have me stay

home to watch the games with him. It's a

grim reality in life that most people don't

recognize the important stuff until it's

too late. And another grim reality of life

is that there's no going back and there's

no turning back. Life is linear – you go

from one end to the other and there are

no places to get off along the way – and

there's no way you can slow it down. Life

runs by its own clock – you're just along

for the ride.

I started school when I lived at the

lake.....I started when I was four years old

because my birthday was in December.

And while many people joke about having

to walk a mile to school through snow

drifts waist high back in the old days.....

that's pretty much what I did on some

winter mornings those first couple of

years. In fact, because we lived down a

road with no winter service, which meant

that the snow plow didn't come down,

my Dad and the few other men who lived

along our road would sometimes get up

really early in the morning after a snow

storm and shovel out the road up to the

bigger road.

We had a bunch of adventures at the

lake. I learned to swim and skate really

well because our front yard was filled

with a swimming pool in summer and a

skating rink in winter... by the time I was

six or seven, I could both swim and skate

really well. My parents got to know a guy

who had a cottage at the lake, who was

only there in summer. He had a pretty

big motor boat and he and his family

and friends were big water skiers – there

was even a ski jump out in the middle of

the lake. Now Mr. Sternel – that was his

name – had a small, black dog and in due

course he built a special water ski with a

small wire basket on the front. He would

ski around the lake and the dog would sit

in the wire basket and have a ride. This

was a great delight to the other cottagers

who would sit out on their boathouses

and cheer on the man and his little dog.

But Mr. Sternel wasn't done performing

circus tricks for the cottagers yet. And, as

it turned out, my circus career was just

about to begin. And, so, Mr. Sternel would

get me up his shoulders and the little dog

on the front of his special ski and away

we would go – around the lake, the three

of us would go while everybody cheered

and clapped. It was the start of a long life

in performance. I didn't know that then,

but it was the way it was going to be and

it was the way it was.....

There were some other kids whose

parents had decided to rough it on the

lake all year long in those days. So, there

were playmates for me and we hung out

around the lake and in the lake and on

the lake and we had no end to good times

from what I remember. One remarkable

thing that happened while I lived at the

lake involved my friend, George.....We

were out horsing around in the farmer's

fields one day and George had a sudden

urge to poop. So, rather than go home,

he just went over behind a tree, dropped

his drawers and let her go.....After he'd

finished, he called me over to admire his

pile of poop – that's the kind of thing kids

used to do. And the remarkable things

about his poop is that it had ended up

looking exactly like a Dairy Queen soft ice

cream cone, all swirly and such. We stood

and admired it for a couple of minutes

amazed that something like that could

happen. It's a strange but true reality that

I've never seen anything like this again

in my life. And George is dead now. And

that's that.

One of my sisters was born in 1956

– while we lived at the lake. She was

my first sibling and I don't have many

memories of her from those early days.

My first real memory was when she was

three or four and thought it would be fun

to lick the big oil tank that stood on the

back porch. Now, one of the early lessons

you learn in life is you keep your tongue

away from cold metal things in the winter.

Unfortunately, my sister found that out the

hard way. Mom really didn't know how

to solve the problem so my sister stayed

with her tongue stuck to the oil tank until

my Dad got home from work. He knew

the old hot water trick, so he boiled the

kettle and poured that water down over

my sister's tongue and the oil tank finally

released its relentless hold on her.

P A G E

14

(Rarely Heard Any More) "I've run out of film for the camera."
---
Putting the "old" back in "Damn, you're old!"

Welcome to ...

THE Club

Shop Online at www.tywc.ca & SAVE 10%

TREE STUMP & FINGERPRINT

IT'S ALL NATURAL

WE HAVE YOUR VITAMINS AND SUPPLEMENTS

141 Mitton St. S., Sarnia • 519-339-8999 Ext. 2 • info@tywc.ca

Sent in by Jim Hudson

Pick'n

It was the long hot summer of 1958 and

there, perched on the Ross' picnic table,

was my friend Mary and myself. It was the

middle of the summer, needless to say, by

now, we were bored. We had put a lot of

effort into the morning tormenting her kid

sister, and were debating what to do next.

After great consideration, we decided to go

down to the bay. Both of our mothers have

warned us not to go down to the bay, this is

one of the reasons we picked it. We were

rebels, troublemakers, girls gone bad, we

just hoped we didn't get caught!

To make the journey a little more

interesting, we decide to travel a different

route. Today we were going by way of

Simcoe Street. We pass Palamero Bakery,

boy it smelled good, we were hungry, but

we didn't want to go home. This is a long

steep hill; we get a big stone taking turns

kicking it down towards the bottom of the

hill. We are almost at the bottom when we

spot an absolute treasure. We can't believe

what we're looking at, and no one else has

laid claim to the great find.

Behind the old grey shack at the bottom

of the hill is the biggest, fullest, fruitiest

cherry tree - and we found it, it was ours! We

realize we had to be quiet, we didn't want to

share, we were so excited! We ran back to

Mary's house, she snuck into her kitchen and

grabbed us a big brown paper bag. Our feet

were barely touching the ground, we had to

hurry to lay claim, we would not relinquish,

not at this stage.

Again, down to the end. We climbed

over the two feet of wild growing grass, it

looked like no one had mowed the lawn for

a long time. As we approach the tree we

realize it is much taller than we thought,

but this wasn't going to stop us. We open

by Pat Taylor, Hamilton

from Daytripping Magazine,

Sept-Oct 2005

our paper bag, and with great maturity we

decide to take turns climbing the tree to get

the big luscious red cherries. Like a pair of

monkeys we worked all afternoon. At the

end, our knees were scraped, our hands

were bloody, and we darn near filled that

ten pound bag! We had trouble bringing it

up the hill, it was so heavy. Now we begin

to eat them. Mmmmm.

The only logical place to go is back to

Mary's backyard. Placing our treasure in

between us, this gives us easy access. We

are stuffing ourselves when, sure enough,

out walks her sister again, whiney thing!

We decide, why not throw at couple at

Joan. We had her crying in no time.

She wanted some cherries and said she

wouldn't tell on us. So the blackmail

works, we give her a handful and tell

her go to the other end of the yard to eat

them. Mary and myself are slowing down

eating, we really did stuff ourselves. Mary

opens a cherry and says, "hey look, there's

a worm in this cherry." I open one, and

sure enough, another worm. We were in

a panic now, we kept opening them, and

they all had worms in them. We started

spitting, trying to upchuck, we knew there

were things swimming in our sweet little

tummies! Nothing was working. Mary says

it's worms for us, worm medicine that is.

Her family must have got worms a lot, they

had the syrup in their medicine cabinet.

We took a swig each, and let nature take

it's course. We, being extremely smart

kids realize why no one else wanted those

darn cherries!

We decided to go to the park, no use crying

over spilled cherries. Mary was a good big

sister, she told Joan she could have the rest

of the cherries. Wasn't that nice!

"IT'S NOT JUST ABOUT THE MONEY,

IT'S ABOUT WHAT IT MEANS TO YOU"

Jodi diD

Dark C.F.P. R

Financial Advisor

Providing solutions

for all your investment needs.

Financial By Design

1315 Michigan Avenue,

Suite D102, Sarnia

519-332-5050

1-888-231-3583

Scan the

QR Code to go

to our website

Mutual funds and/or approved pr

exempt market products are offered fere

through Investia Financial i

al

Services Inc.

Summer 2021 (Rarely Heard Any More) "See a penny, pick it up, all day long you'll have good luck." P A G E 15
---
Welcome to ...

THE Club

CASH IN ON CLEAN UP!

Recycle your scrap metal for CASH!

ELECTRONIC WASTE RECYCLING

Copper • Brass • Aluminum • Lead • Stainless Steel

Batteries • Scrap Appliances • Aluminum Pop Cans

WE BUY & RECYCLE

ALL SCRAP METAL

Container rental and C&D garbage disposal also available

SUPERIOR SERVICE, SUPERIOR VALUE! OPEN TO BUSINESSES & PUBLIC

MON-FRI 7:30-4:30

1279 Plank Rd, Sarnia • 519-337-3779 • www.trijan.ca SATURDAY 7:30-12

Laughter is the best medicine - here's to your health.

Seniors

SAVE 20%

Every Thursday!*

*Discount applies to

regular priced merchandise

Available with a PC Optimum card at

the following Shoppers Drug Mart stores:

510 Exmouth Street, Sarnia

123 Mitton Street South, Sarnia

420 Lyndoch Street, Corunna

A 'bugbear,' says the dictionary, is

anything that causes an imaginary fear or

anxiety. Imaginary? Methinks not. In my

vocabulary, a bug is a bug is a bug.

A psychiatrist might blame a childhood

trauma, when I plopped on a bearskin rug,

jumped up with a wasp (literally as snug

as a bug in a rug) stinging my hand for

invading its private space. The start of it all.

Decades later, in cottage country,

I earned the name 'Broom Lady' for

swishing a broom to ward off things with

wings. Thankfully, in my hearing at least,

nobody suggested I ride it.

'June bug' is a blatant misnomer. It's

always May when we open up the cottage,

but these critters' hard shells hit doors and

windows on determined dive-bombing

missions. June indeed!

My produce patch beside the cottage

netted summery salad stuff until one

lunchtime when I was picking some

greens for lunch. Nibbling on a young

leaf, I inadvertently chomped a

fat caterpillar in half before it

had time to squiggle out of

the way. Too late, it was

decapitated between my

teeth and the eyes in the

head section gave me a look never to

forget. Needless to say, the garden went to

seed and I shopped in town every summer.

'Heartburn' with Jack Nicholson and

Meryl Streep was the unfortunate video

choice one rainy night when neighbouring

cottagers came over. When Streep's

fingers mimed a spider's trip up the water

spout, the ditty 'Inky Dinky Spider' in the

background, I shivered, grabbed a sweater,

but soon had to escape, feigning a sudden

chill. No, don't turn it off. No, I don't need

the village doctor. I'll just go to bed. I lay

watching a horror movie instead, to clear

my mind of spiders.

Next morning I tried to ward off

questions: I'm fine, thanks, must have

been something quick that hit me. No

way would I reveal the well-kept secret of

my shame.

As a pre-teen at summer camp, I'd

climbed into my bunk that first night,

then instantly screamed and raced into

the woods, followed by counsellors and

kids who fortunately caught up to me at

the lake edge. Hysterically I blurted out

that a huge spider was on my pillow.

End of summer camp forever.

Unfortunately, Meryl Streep,

Welcome to ... Summer 2021

A Case of Bugmania

by

Jean Leedale Hobson, West Vancouver, BC

From Daytripping Magazine, May-June 2007

your Inky Dinky Spider interpretation

resurrected an experience this fan thought

she'd outgrown.

Is it any wonder, with my painful past,

that I freaked out recently when I spied

tiny brown 'somethings' on the rug?

Jumping up, I flung away the handmade

heating bag from my aching shoulder and

stared, petrified, at the invaders. They

stayed still, not a skitter across the

floor, not a flap of a wing. Probably,

I reasoned, they were as

frozen with fear of me as

I was of them. Panic took

over as I also spotted a few on

the chair arm. BUGS in my living

room? Oh no! Oh yes!

I dashed to the hardware store, discreetly

picked up a can of insect spray, paid and

got out of there fast. For an hour I sprayed

everything in sight, wishing I'd bought

a gas mask too. Can emptied, I treated

myself to two aspirins and a pot of tea

as a chaser.

All that zeal had made my shoulder

worse, so I reheated the bag in the

microwave. Two, four, six shiny brown

specks lay on the counter. Curbing an urge

to phone 911, I looked closer. Not bugs,

FLAXSEED! A bit of the stitching had split,

letting the seeds escape. No local charity

would have wanted the chair, saturated

with strong-smelling spray, so it went to

the dump. But did I explain my new velvet

rocker to the family on their next visit? Not

on a bug's life I didn't!

In my loathing of creepers, crawlers,

wrigglers or flutterers, there is one

exception however. I am a

pushover for those red-andblack,

polka-dotted, gardenfriendly,

aphid-guzzling beetles

we call ladybugs.

My son was asthmatic as a

child. If I could find a ladybug, I'd

gently transfer her to his bed tray, asking

her to babysit, the child watching in delight

as she crawled back and forth for his

amusement. When her nanny stint was

over I'd tell her to fly away home, hoping

her house wasn't on fire, her children all

gone, as the nursery rhyme predicted. I

wouldn't want that fate to happen to her.

Come to think of it, I wouldn't want it to

happen to a wasp, a June bug or even an

inky dinky spider.

Now that, for this Broom Lady, is saying

a lot!

From

BABY BOOMER

to Empty Nester

Maybe it's time to downsize

We can help

Text DOWNSIZE to 85377

not intended to solicit

clients under contract

EXIT REALTY TWIN BRIDGES

Brokerage - Independently Owned and Operated

519-542-1000

P A G E

16

(Rarely Heard Any More) "Can we go to the five and dime store?"
---
It's the advertising that makes this magazine possible, and free!

"Big or Small, JohnnyRemax

Sells T hem All"

John A. McCharles, Broker

Re/Max Sarnia Realty Inc. Brokerage

519-383-4812

johnnyremax@bellnet.ca

Welcome to ...

ANNUAL SHOW

This year's show features International Harvester

AUGUST 14 th & 15 th at Forest Fairgrounds

THE Club

DISPLAY OF STEAM ENGINES • ANTIQUE EQUIPMENT • TRACTORS

Watch our website www.steamthresher.com w.

t

eshe

r.

and Facebook ok for details.

Leaving Northern High School on April 26, 1970 to Blue Point, a 40 mile

round trip! The Sarnia Cycling Club, sponsored by the City of Sarnia.

Photo taken by The Sarnia Gazette. Left to right, Rick Campbell, Peter

Dougan, Peter De Jager, Shawn Hall, Charlie Cole & Doug McClintock

Welcome to ...

THE

CLUB

Memories

Summer Garden Checklist

Courtesy of Sipkens Nurseries

Sent in by Doug McClintock

Send us your great photos

showcasing Sarnia-Lambton!

(PAST OR PRESENT!)

SARNIA

You can't buy

Happiness

but you can

BUY LOCAL!

Summer in the garden is, for many,

the most wonderful season. It is a season

of enjoying our spring efforts grow and

bloom. Those new plants we purchased

to provide food to pollinators are coming

into their glory, and luring wildlife to our

gardens for our entertainment.

Everyone has a different vision when

planning their individual oasis, and the

summer is when we realize the successes

of our choices of what to plant. We also

notice at this time those items that are

not best situated. Not enough sunlight

to bloom, too closely planted over there,

these colours don't work together the

best. Resist the urge to move items

around in the heat of summer. Make

note of these changes you wish to make

in July and August, and plan to move

them as we cool in late September.

Keep vigilant for damaging pests in

your garden that seek to steal your show

and produce. At the same time, take

notice of the beneficial insects starting to

arrive in late June and July. Lacewings,

Ladybeetles, Praying Mantis are all helpful

garden assistants for keeping those pests

at bay. Consider creating a toad abode

to encourage these voracious critters in

your garden. They love to hide under cool

stones and leaves to escape the summer

day heat and emerge at night for their

evening buffet of insects and more. Also

make use of diatomaceous earth (silicon

dioxide) to reduce the population of

earwigs and other plant eaters where the

beneficial insects aren't keeping up.

In the vegetable garden, produce is

becoming a greater and greater harvest

each week. Nothing is better than eating

the effort of your own hands right from

the garden. Brush off the soil and the

occasional insect and mmm… tomatoes

cucumbers peas carrots. And if you

have too much to enjoy, share with

neighbours or strangers, you never know

who becomes a new friend.

Checklist:

JULY

❏ Water deeply all the new plantings

from this year and the veggie garden.

❏ Trim spent blossoms to encourage

more blooms (or just let the seeds

develop to feed the birds).

❏ Keep weeds at bay so plants have

space to develop.

❏ Monitor insect and bird populations

and marvel at their beauty and design.

❏ Harvest and share produce from

your yard.

AUGUST

❏ start thinking about adding new

seasonal colour where there are no

showy flowers.

❏ If plants are out of place make note

to relocate these in late September.

❏ Keep the hummingbird feeder clean

and stocked.

SEPTEMBER

❏ Move the plants that need a new

home and divide perennial plants.

❏ Add Fall blooming mums, Tall

grasses and ornamental kale to container

gardens to welcome the next season.

❏ Plant trees for shade and other

larger plants you should have many

years ago. (You remember how hot July

and August were don't you?)

Auto Centre

GET YOUR

VEHICLE

SUMMER

ROAD

READY!

and more reputable brands.

Be prepared with

Summer Tires and a

Complete Oil Change.

24 HOUR EMERGENCY TIRE SERVICE

519-383-1000

1341 4 Plank a k

Road, a ,

Sarnia

a a

Wallaceburg ac Location: on:

JACK'S TIRE

7966 6

McCleary Line • 519-627-3335

-333

335

35

SARNIA

Auto Centre

www.tirecraft.comw.ti i

c f

Summer 2021 (Rarely Heard Any More) "My watch stopped, I forgot to rewind it today." P A G E 17
---
Welcome to ... THE Club This magazine comes with a free, built-in old-fashioned fly swatter!

Going Above & Beyond for Our Clients!

LAURIE LAURIN

STEPHANIE MURRAY

Sales Representave

Sales Representave

Cell: 519-328-7251

Cell: 519-383-5185

sarnia realty Inc., Brokerage* Office: 519-542-9999

Office: 519-542-9999

*Indepentently owned and operated

laurie.l@bell.net

movewithsteph@gmail.com

1319 Exmouth Street, Sarnia

#laurieloveslambton

Welcome to ...

How Old

The DISCOUNT LIST

ARE you?

Count all the ones you

Acomprehensive c m p e h

e s

i list of discountsoroffers s u

t

s or

o offers that h

t

benefit efi t

people plep e over a

remember,

not the ones you were

certain age in Sarnia-Lambton. n a-

b

t n.

Please let us know of any that are e missing!

in

g

told about.

Ratings are at the bottom.

TOWN

BUSINESS

SPECIAL OFFER

AGE+

CONTACT

1) Blackjack chewing gum

BRIGHTS GROVE Shoppers Drug Mart 20% OFF Thursdays 60+ 519-869-4224 2) Wax coke-shaped bottles

with coloured sugar water

3) Candy cigarettes

CORUNNA Corunna Pharmasave 10% OFF Tuesdays & Fridays 65+ 519-862-2020

4) Soda pop machines that

Shoppers Drug Mart 20% OFF Thursdays 60+ 519-862-1451

dispensed bottles

Corunna Foodland 2% OFF Wednesdays 60+ 519-862-5213

5) Coffee shops with tableside

jukeboxes

SARNIA Bayview Chrysler $10 OFF See Coupon in The Club all ages 519-337-7561

6) Home milk delivery in glass

Bulk Barn 10% OFF Wednesdays 65+ 519-542-6668

bottles with cardboard

Generation Paint Company 15% OFF always 65+ 519-330-4424

stoppers

Giant Tiger 10% OFF Ist Monday of month 65+ 519-336-0831

7) Party lines

Goodwill 25% OFF 2nd Monday of month 55+ 519-541-9273

8) Newsreels before the movie

9) P.F. Flyers

London Road Pharmacy 20% OFF Thursdays 60+ 519-491-6778

10) Wash tub wringers

M&M Meats 10% OFF Tuesdays 60+ 519-542-8398

11) Telephone numbers with a

Michaels 10% OFF Every Day 60+ 519-542-3200

word prefix (Olive-6933)

Don's Home Renovations 10% OFF See ad in The Club all ages 226-343-2265

12) Pea shooters

Petsmart 10% OFF Off Grooming on Tuesdays 65+ 519-542-2822

13) Howdy Doody

Pet Valu 10% OFF Last Thursday of month 65+ 519-541-0468 14) Shiny metal flip-over toasters

Russell Street Home Hardware 20% OFF See ad in The Club all ages 519-383-0688 15) Mimeograph paper

Salvation Army Thrift Store 25% OFF 1st Wednesday of month 60+ 519-344-3781

16) Metal ice cube

Sarnia Pharmacy 10% OFF Tuesdays and Fridays 65+ 519-337-3215

trays with levers

17) 45 rpm records

Shoppers Drug Mart 20% OFF Thursdays 65+ 519-337-3727

18) Hi-fi's

Value Village 30% OFF Tuesdays 60+ 519-541-0153

19) Blue flashbulbs

20) Beanie and Cecil

FOREST Forest Naturals & Home Health 15% OFF Wednesdays 65+ 226-520-0054 21) Roller skate keys

Forest Pharmasave 15% OFF Wednesdays 65+ 519-786-5161

22) Cork popguns

Williamson Farms Country Store Various Wednesdays 55+ 226-520-0144 23) Drive-ins

24) Studebakers

PETROLIA Country Yarns 15% OFF See Coupon in The Club all ages 519-882-8740

25) Butch wax

Gramma's Candy Store 5% OFF Tuesdays 60+ 519-882-1212

Heidi's Your Independent Grocer 10% OFF Tuesdays 60+ 519-882-2211

If you remembered 0-5

Hogan Pharmacy 20% OFF Wednesdays 60+ 519-882-1840

= You're still young

M&M Meats 10% OFF Tuesdays 60+ 519-882-4316

If you remembered 6-10

= You're getting older

PT EDWARD Twin Bridge Lighting 15% OFF Mondays 55+ 519-344-3535

If you remembered 11-15

STRATHROY M&M Meats 10% OFF Tuesdays 60+ 519-245-6355

= Don't tell your age

If you remembered 16-25

Please let us know of any discounts for Seniors in Lambton County!

= That's your secret!

Do you also remember headlights on

car floors and ignition switches on the

dashboard? How about real iceboxes,

or pant leg clips for bicycles without

Please remember: e

r: These discounts are for your reference renc

e as a service. They might

chain guards? Did any of you use hand

change and they may not apply ply to sale l

items, or to things like lottery, tery

tobacco, o,

etc.

signals for cars without turn signals?

and the stores are not obligated to adhere to what we've printed. You may also

There are so many things younger

need ed

to ask in order to get the discount. t

Thank you for understanding.

ndin

people would have no idea about.

Summer 2021

Call 519-491-1676 or email info@welcometotheclub.ca @

to add one!

P A G E

18

(Rarely Heard Any More) "You didn't lick the stamp good enough."
---
Many of the articles are from the archives of Daytripping Magazine.

Welcome to ...

THE Club

I Always Wanted to

Play Baseball

Sienna Senior Living • https://blog.siennaliving.ca/i-always-wanted-to-play-baseball

Eric Mackenzie always knew he

wanted to play baseball.

"I always wanted to play baseball,"

Eric Mackenzie said. He was born in

Glendon, Alberta in 1932 and grew

up on the farm. From a young age, he

knew that the farming life was not for

him, but it was all Glendon really had to

offer. So he set his eyes on a seemingly

impossible dream: Baseball.

His father encouraged him to play.

When Eric came of age in 1949, life

in Glendon was tough. WWII had

just ended, and jobs were few and far

between. He bought a one-way ticket

to Leamington, ON to tryout for the big

leagues.

Eric had quit school in Grade 10 to

work on the farm and focus

on baseball. He played as a

catcher. From Leamington,

Eric was signed to the

Philadelphia Athletics, a

U.S.-based team. He set

off for spring training in

Georgia.

"I travelled a lot of miles

and saw most of the United

States from a bus," Eric said.

"Those eight years were the

best times of my life… it was

my lifetime dream to play

baseball."

Eric can still remember his

first day of spring training.

"I was a catcher… when

you sit all day on your haunches, in a

crouch, your legs almost seize-up on

you," Eric said. Near the end of the day,

one of the coaches told him to practice

at bat. He took three swings before

another player sent him back to the

bullpen. "They didn't like to see new

people. They were always worried you'd

be the one to take their spot."

Eric started as a player in the D-club,

but he didn't stay there long. He made

his way up through the ranks, playing

the majority of his games at the A and

Eric Mackenzie in uniform

for the Athletics during his

baseball career.

B rank. In 1954 Philadelphia Athletics

changed hands, becoming Kansas City

Athletics. In 1955, Eric played in his first

Major League game for the Kansas City

Athletics.

Although the team changed hands

during Eric's eight-year career, he was

never signed to another team.

In 1956, Eric was married. He and his

wife, who was from Leamington, had a

son and a daughter.

In 1958, Eric retired as a player and

went on to coach baseball. At first, he

coached local Canadian baseball teams.

"And then I got a call from Baseball

Canada to coach the Canadian baseball

teams," Eric said. He was one of several

coaches for the team, and he travelled

around the world, from Italy

to Japan. He also coached

at the Pan American Games

and the 1984 Olympics,

which were held in Los

Angeles. He served as a

coach with team Canada for

nine years.

After his coaching career,

Eric worked in Parks and

Recreation as the recreation

director. He enjoyed the job

for many years, and retired

in 1990. He continued to

volunteer as a ballpark

groundskeeper. He saw

almost every park in Ontario

and the southern States. He

retired from his volunteer work in 2018,

at the age of 86.

Today, Eric continues to enjoy life at

Fairwinds Lodge Retirement Residence

in Sarnia. To this day, he says The

Athletics, which are now Oakland based,

are his favourite team.

"Baseball is a big item around the

world," Eric said. "It's a sport where you

need a lot of background, and there's

lots of competition… [but] there's a

lot of comradery and a lot of laughs in

baseball."

Cover of the CLUB

Our local cover photographer is Robert Walicki

...slightly less cool than the

Cover of the Rolling Stone,

but we're working on that!.

In these mes of digital over-saturaon, how do we grab people's aenon and direct

them to what we want them to see? Over the past 35 years, I've learned that collaborang

with creaves, clients and students who share the same end goal is key to a successful

commission or a project and will produce results that are honest, innovave and with a

quality value everyone can feel proud of.

Since before high school growing up in Poland,

Robert Walicki had a camera in his hand. In grade 9,

he had his first darkroom (and sll has that first

enlarger). Since then, photography was always an

integral part of his career and a tool he ulized in his

work as an archaeologist, urban designer, graphic

designer, media designer, commercial photographer

and a New Media Teacher at St. Chris/St. Pat's in

Sarnia for the last 22 years. Robert has completed

countless commissions and won some awards along

the road; however, what he finds most rewarding is the passion he passed on to his

students. The measure of his success are the awards and successes accumulated by his

students. Robert is open to creave and challenging commercial commissions.

Summer 2021 (Rarely Heard Any More) "Will you get up and change the channel for me?" P A G E 19
---
Welcome to ...

Welcome to ...

THE

CLUB

THE Club

1st Annual Co-Ed

GOLF TOURNAMENT

AUGUST 14, 2021

GUARDIAN

ANGELS

at:

TEE TIME:

10am SHARP

4300 Garden Crescent

Petrolia • 519-882-0860

ALL PROCEEDS ARE BEING DONATED TO:

10 am Shot Gun Start/Scramble

(please arrive early)

$360/four - 18 Holes, Cart, BBQ Lunch

Register & Pay by e-transfer by July 31

guardianangelslambton@gmail.com

Want to sponsor a hole? (Receipt over $100)

More info - John 519-490-5786

We donate $25 for each article

we reprint from the archives of

Daytripping Magazine.

$925 has been donated since Jan. 2021

The recipient for this issue is

Heritage St. Clair

Send arcles to info@welcometotheclub.ca

The Club • P.O. Box 430, Bright's Grove, ON N0N 1C0

We're living life to the fullest (until about 9 pm).

A Waft of Summer

The gentleness of an early summer

morning on my back porch swing

floods over me. The smell of fresh cut

grass tickles my nostrils as I relish in

the wonderful joys of retirement. Oh

yes, the howling winds of winter, the

blowing snow, the dangling icicles all

have their beauty as we stay snuggly,

tucked inside, piecing a jigsaw puzzle,

but the best time of all the seasons is

when the sun shines, the birds dutifully

build their nests and tug on worms, the

tractors pass by in a caravan of busyness

and the daffodils sway in the ditch. This

is truly a touch of heaven.

And with it comes the

smells of summer. The

cherry blossoms send out

their v1.1 delicate LEO spray, lilacs

scent v1.2 the Forest air with Kineto their Theatre

distinctive v1.3 Heritage perfume St. Clair

as we drive past a

plethora of bushes in the

neighbouring ditches. I

always cut a few to put

in my bedroom so I can

fall asleep to that familiar

scent. As I rock in my

By Marion Urquhart Charkow, Flesherton

swing, the pungent odour of freshly

spread manure wafts on the breeze.

My mother, often remarked how this

reminded her of her childhood days

on her grandfather's farm in the Back

Canishers of Guernsey. I don't suppose

I ever realized as a child how much she

missed her island home. However, it did

leave her with a great love of nature,

the different seasons and how each one

has its own special joys. I believe I've

inherited that love. I could not imagine

ever again living in a big city although

that is certainly where the de

Beaucamp family settled

when they immigrated.

But I, many generations

later, enjoy the sweet

smells of the barnyard,

the sweetness of fresh

cut hay, the damp odour

after a summer rain, the

crispness as Lake Huron

splashes on the sandy

beach, the hungry smell

of french fries. Ah, the

smell of summer, I love it.

Enjoy!

Welcome to ... Summer 2021

P A G E

20

(Rarely Heard Any More) The sound of baseball cards in bicycle spokes
---
You're welcome to send in articles to help build this new magazine.

Easy

If baseball were easy every hop would be great,

Every pitch would be served on a silver home plate,

I'd have perfect mechanics, not practice at all,

Always get my way when I dislike a call,

I'd only paint corners, hit homers with ease,

Pitch perfect games and steal home when I please,

I'd play every inning at the position I want,

Remove fans from the stands when they issue a taunt,

If baseball were easy I'd play it without strife

But baseball's not easy.....

Baseball's like life.

Author Unknown

Welcome to ...

FOOT ORTHOTICS

SLIPPERS, SHOES, BOOTS, SANDALS

THE Club

Julie Munday, Certified Pedorthist

www.soledecisions.com

30+ YEARS

EXPERIENCE!

For comfort,

support, circulation,

balance & fatigue

ASK ABOUT IN-HOME SERVICE

303 Davis St, Sarnia • 888-971-6345 Essential Business - Onsite Lab

Russell Street

Family Owned

and Operated

Since 1989.

120 Russell Street North, Sarnia • 519-383-0688

First off, you never realize how old

you really are. In your mind you just stay

the same age. Mine is 20. I still think like

I am 20, still see myself as 20, the only

time I am not 20 is when I am trying to

do something I could do so easily when I

was 20.

I have also discovered I have a lot more

memories than I could possibly have at 20.

I just can't remember them all as well as I

could then. If I try really hard to remember

them, they just run away somewhere and I

can't find them.

In my mind, I could climb Everest, hike

non-stop over Australia, hop a plane to

anywhere and have enough energy left

to take on the world again. Now I look at

Everest and say why would I want to climb

it? I think I could hike a conservation area

in Australia. I need a night's sleep before I

hop a plane to anywhere and when I land

they assist me off the aircraft and I am

exhausted by the time I get to my car.

The other day, I noticed that most of

my friends have gained a few years, and

are looking old. At least I have managed

to keep looking young, until I really look in

the mirror and wonder how my mother's

face looks out at me. How did she get in

there?

I have also lost a lot of friends lately and

some of them are younger than me even.

They must be doing something to age so

much. Me, I just keep looking forward to

the year 2043, that will be the greatest

year of my life.

I notice the nights are getting longer

and the days are shorter. I get up at 9 on a

good day and work until lunch time. Then

I load up the dishwasher and go for a rest

until 3. Then I work for an hour and then

get supper ready. Then I clear up and go

on the computer for an hour or so. Then

hubby and I play a game or two and head

for bed. I read for a while and then have a

great night, usually. I actually look forward

The Trouble With Getting Older

By Lucy Landry, Appin • from Daytripping Magazine, May-June 2013

to reading in bed.

I used to be good at making quick

decisions. Now I have to write down the

questions, remember where I put the

paper, remember to read it and remember

to think about it long enough to come up

with an opinion. By then my hubby has

a better idea so I really don't have to do

much thinking.

One of the most difficult things when

you get older is remembering who all

your relatives are and whose they are.

Grandchildren all sound the same and

so do your kids and they all start off "Hi

grandma, do you know who this is?" Let

me see, did I call you? No. You called me.

And you called to see if I know who you

are? I didn't enter this contest. Oh wait a

moment, I have call display. "Sure, I know

who this is."

While I am on the subject of age, when

you retire you expect a certain level of lazy

life… wrong! Everyone thinks you can do

more for them now that you have all this

extra time. Even the cats think you are

there to meet their every need and to feed

them eight times a day.

Your telephone list gets updated as

well. Leading the list is 911, your doctor,

your drugstore, your masseuse, your foot

specialist, your hair dresser… no wonder

your family are at the end of the list!

Did you notice they put pet foods in

easy open containers but put people food

in impossible to get open containers. Have

you tried to open a pudding cup or even

a package of crackers? They have banned

knives from schools, airports, etc. but you

can never open the snack packs that air

lines give you or those sealed containers of

juice. It is really sad when you have to have

a pair of scissors to open the toilet paper

package. They make things easy to close

but I want easy to open!

Then there are the pills the doctor wants

you to take. You can have them packaged

in the toughest bubble wrap press out that

you still need your knife to open, or in a

child proof bottle that your grandchildren

can open easier than you can. Then they

give you prescriptions to take once a day in

the morning, once a day at night, twice a

day but not with food or other medication,

three times a day but not with food or

other medication, and one before you go

to bed. If you work out a schedule for the

above you need a timer to remind you to

take your pills at the proper time.

Speaking of time, I am supposed to

have lots of it. My theory is that if I have

lots of time I don't need to live my life by

the clock. I can do what I want except for

medications and appointments. Wait, let

me check that timer again.

The other thing you really need is the

calendar. I love the last day of each month

when you turn to a new and blank page.

Funny thing is, the calendar is quickly

jammed full of things to do and places

to go and birthdays and anniversaries to

remember. I try to phone everyone on

their birthday and anniversary but there

are so many I run out of voice!

A real annoyance of getting older is

the print in everything gets smaller. No

wonder seniors don't get newspapers

any more, they can't see to read the obits

without a magnifying glass. The telephone

book is hopeless because you can either

remember the number and not the person

or you remember the first name but not

the last and you can't see the number

anyway.

Now I have been smart about this. Years

ago, I memorized everyone's number in

my family. I just didn't know they would

all get cell phones and change numbers.

They bought me a cell phone and I can text

them, but I have to learn a new language

to be able to understand what they are

telling me. It is like getting a crossword

puzzle with no clues. My grandson texted

me: cu 7X12 which means see you in 7-12

days. Who would have thought?

I am computer savvy now, only

everyone else has blackberries (we used

to eat those), iPods, iPads and e-readers

where you can download books so you

don't have to go to the library. Each book

you download is stored for life so you can

read it again. Oh the e-reader lets you

enlarge the print so you can see it and

you turn pages just like in a real book! The

trouble is, you are unsure which one is

simple enough for you to operate without

calling a grandchild for instructions.

I can't wait to see what else will be

available when I get old. I mean things

change every minute. You can preplan

everything so when it happens you are

looked after. It means you can let your

mind wander away because you have

already decided what to do. What if I

change my mind? Maybe what I decide

now is not what I would want later. Can

I really trust those I put in charge? I like

being in charge of myself… after all, I have

lived with me all my life.

So where does all this leave me? I am

20 at heart, my mirror tells me different.

My body wants replacement parts so I can

move like a 20 year old. Really though, I

love being me. I've been there, done that

and look forward to doing more. I have

wonderful memories of things I've seen

and people I've met and the beauties God

has created for us. I'd even climb Everest

if one of my grandkids could push me up

there in a wheel chair. Wouldn't that just

be the adventure to top off getting older!

Summer 2021 (Rarely Heard Any More) "I need to go on the roof to adjust the antennae." P A G E 21
---
Welcome to ...

THE Club

I'd write something better here but I forgot to!

Welcome to ...

Summer 2021

WANTING PRIVATE IN-HOME PHYSIOTHERAPY?

Mobility Works Physio Yoga will come to you!

Balance Training, Funconal Strength. Falls Prevenon,

and more! Covered under most Extended Health Benefits.

MOBILITY WORKS

phy s i o

y oga

MOVE. FEEL. LIVE.

Book IN-HOME Physiotherapy or Private Yoga

at: www.mwphysioyoga.com

Kelly-Lynn Musico

Registered Physiotherapist | Registered Yoga Teacher

Quesons? Call 519.312.6122 • mwphysioyoga@outlook.com

Family owned and

operated in Sarnia!

We take great pride in

our workmanship

and customer service!

- SHOWROOM HOURS -

Monday to Friday, 10 am to 4:30pm

Achieve Your Dreams

With Your ABC's

Avoid negative people & places.

Believe in yourself.

Consider things from every angle.

Don't give up and don't give in.

Enjoy life today.

Family & friends are treasures.

Give more than you planned to.

Hang on to your dreams.

Ignore discouraging people.

Just do it.

Keep trying no matter what.

Love yourself, first & foremost.

Make it happen.

Never lie, cheat or steal.

O

Practice makes perfect.

Quitters rarely succeed.

Read & learn as much as you can.

Stop procrastinating - do it now!

Try your best at all times.

Understand yourself.

Visualize it.

Want it more than anything.

Xcellerate your efforts.

You are unique.

Zero in on your target & go for it!

pen your eyes, see things as they are.

Thrilled with our new windows!

The workmanship was excellent,

installaon was mely, efficient and the

windows look great! We would highly

recommend Beehive! ~ Dara

1781 London Line • Sarnia

519.491.8888

beehivewindowsanddoors.com

Tasty and Nutritious Meals for Seniors

An all-too-familiar phrase I hear all

the time. So, how does a senior eat tasty,

nutritious, and balanced meals and do it

without eating out every night, or worse

opening a can of soup a few times a day?

There are ways, and like everything I have

written about it takes some planning.

Some folks in this situation rely on family.

Lots of lasagnas and casseroles. This will

work for a time, and after a while the

refrigerator gets stuffed, and Mom and

Dad are back to where they started.

The Freezer Section of the Grocery

Store - Not

Prepared food from the freezer

section of the grocery store gets called

on sometimes. While the "TV-Dinner"

looks like a good option, in fact, it is not.

It is not because it is not healthy at all,

for anyone!

This nutrition label is of a popular

frozen dinner. Salisbury Steak in fact.

Yummy, I guess and while the calories

may be in line some of the other

information should shock you. I draw

your attention to the sodium. At 71%,

or 1630mg you might as well eat the

cardboard packaging, take the lid off

the saltshaker and pour the salt down

By Chris Treftlin, Shine at Home, Sarnia

I like to eat, I just don't like to cook.

Great Summer

Selection!

• Perennials

• Nursery Stock

• Garden Decor

& More!

1508 Blackwell Rd.

- SARNIA -

519-542-3371

Visit our online store... Praillsgreenhouse.com

your throat. The daily suggested intake

for sodium for a senior is 1500mg. So,

this Salisbury Steak at 1630 mg blows

the budget. I will not even get into the

negative effects of that much salt. These

are cheap and convenient, but horrible

for your health and well-being.

In Home Meal Preparation

Another option is to bring meal

preparation into your home. Home Care

providers offer this as an option for

their clients. The benefit of this choice

is that the client gets the types and

options of food they enjoy. The cost is

built into staffing charges. An hourly rate

Sodium - Get the facts!

https://www.cdc.gov/salt/pdfs/sodium_

dietary_guidelines.pdf

is charged based on the organization's

rates. Somewhere around $30 per hour,

and a typical week would use 2 to 3

hours. Another benefit to this option is

that many times the client joins in peeling

the potatoes and cutting the carrots.

The nutritional benefit of preparing raw

food is another win for in-home meal

preparation. With this choice, budget

about 2 hours per week for staffing plus

the cost of groceries.

Home Meal Replacement - HMR

This is becoming a big business, and

it's not just for seniors. Many busy people

are taking advantage of the convenience

and copious options on the internet and in

this magazine. They are organized in three

categories; RTC (Ready to Cook), RTE

(Ready to Eat), and RTH (Ready to Heat).

Ready to Cook refers to the companies

that deliver prepared raw food to your

door with the instructions on how to cook

and serve. Ready to Eat are completed

meals in smaller servings served hot and

complete. Think of a modern grocery

store deli section. There you can find a

wide range of hot food choices.

Ready to Heat are prepared, small

batch, cooked meals. Pop them into the

microwave and a few minutes later you

have a piping hot roast turkey dinner,

meatloaf, lasagna... the possibilities are

endless. This is a great option for seniors

as it combines the convenience of the TV-

Dinner and good nutrition. From a cost

per meal standpoint, they range from

$5 to $10 per meal. An added benefit is

the reusable microwave containers. With

them you can snap the lid back on, put

the partially eaten meal into the fridge

and it is tomorrow's lunch.

Whether you use In Home Meal

Preparation, or HMR be sure to research

your local providers. Many will allow you

to order a few to try. Be discriminating;

after all you are the customer.

P A G E

22

(Rarely Heard Any More) "Come in when the street lights come on."
---
We are really hoping to include some great events in future issues!

Welcome to ...

THE Club

This FREE Magazine is made possible by the

companies you see adversing in these pages.

Please consider them when making your

purchasing decisions, and please let them

know that you saw their ad in...

Welcome to...

THE

THECLUB

FUNNY

x

Peter Marshall:

George Gobel:

Peter Marshall:

Paul Lynde:

SQUARES Answers

x

True or false... A pea can last as long as 5,000 years.

Boy, it sure seems that way sometimes.

What are "dual purpose" cattle good for that other cattle aren't?

They give milk and cookies... but I don't recommend the cookies!

Peter Marshall:

Charley Weaver: I'll lend him the car. The rest is up to him.

Peter Marshall:

When a couple have a baby, who is responsible for its sex?

o

If you're going to make a parachute jump, you should beat

least how high?

Charley Weaver: Three days of steady drinking should do it.

Peter Marshall:

Paul Lynde:

Do female frogs croak?

If you hold their little heads under water.

Peter Marshall:

Rose Marie:

Peter Marshall:

Don Knotts:

x

You've been having trouble going to sleep. Are you probably

In bowling, what's a perfect score?

Ralph, the pin boy.

a man or a woman?

That's what's been keeping me awake.

Summer 2021 (Rarely Heard Any More) "Fill 'er up and check the oil please."

P A G E 23
---
Welcome to ...

Exemplary customer service, a safe

and friendly environment to shop

565 Murphy Road, Sarnia

519-383-0588

Celebrang 50 years 1971-2021

THE Club

Lambton County's oldest

& only independent

family shoe store.

• Orthotic Friendly

• Fashion Forward

• Men, Women, Children

Open

Mon-Fri 10-5

Saturday ay 10-3

We'd like to hear your honest opinions on how you like the magazine.

THE CLUB Summer 2021

CROSSWORD

Welcome to ...

Summer 2021

Headlines

Actual headlines from many different newspapers.

EXTRA!!!

You really have to laugh at how some headlines are worded!

Arson Suspect is Held in Massachusetts Fire

EXTRA!!!

Deaf College Opens

Doors to Hearing

British Union

Finds Dwarfs

in Short Supply

Lansing Residents

Can Drop Off Trees

Man Minus Ear Waives Hearing

Steals Clock,

Faces Time

Local High

School Dropouts

Cut in Half

Stop In & See The Difference An Independent,

Locally Owned Business Can Offer!

• Fashionable designer frames

at compeve prices

• Durable, high quality brands

• Personal aenon to your vision needs

• Honest opinion on your frame fit & style

• Value brands available to fit your budget

• Offer direct billing to most vision plans

Fresh

Summer

Selection of

Eyewear!

Beth Kolthoff

ACROSS

DOWN

PUZZLE SOLUTION ON PAGE 28

... A Frankly Optical Experience!

With Beth's 30 years of

experience she is dedicated

to helping you find

just the right pair

from her great selecon

of eyewear including

sunglasses & contact lenses!

Walk in or book a one on one appointment time!

147 N. Mion St., Sarnia • 519-337-4060 • TheEyeGuySarnia.com

P A G E

24

(Rarely Heard Any More) "Engine's flooded... wait a minute and try again."
---
Contact us by email any time - info@welcometotheclub.ca

Welcome to ...

THE Club

The Canatara Park Beach in the 1940s.

POSTCARDS

of

SARNIA-

LAMBTON

See the Dave Burwell

Postcard Collecon at

sarniahistoricalsociety.com

Drawbridge Chipican Grill Inn, 1970's

1960s.

Sponsored p

o

dBy:

A Better Place For You®

F. Filia & Associates Ltd.

2-565 Murphy Road, Sarnia Franco Filia

519-332-5400 I franco_filia@cooperators.ca Advisor/Owner

Chalet Motel on Chrisna St. in the 1950s.

The Sarnia Fire

Department,

George St., 1900s.

Sarnia General Hospital on George

and Mion St. in the 1900s.

Aerial view of the

St. Clair, 1960s.

The St. Clair Tunnel

Canatara Beach

COMMUNITY RESOURCES FOR AGES 55+ (FROM THE BOOKLET "A SENIORS' GUIDE TO SARNIA-LAMBTON")

RESOURCE NAME SERVICES OFFERED PHONE WEB/EMAIL

211 Mental Health Support, Food Services, Financial Assistance 211 211oncovid19.ca

Age-Friendly Sarnia Lambton List of Supports & Services 519-332-0527 agefriendlysarnialambton.ca

Bayshore Home Care Soluons Assistance with Housekeeping, Errands & Meal Prep 519-383-6979 bayshore.ca

Canadian Red Cross Grocery Pickup & Transportaon Services 519-332-6380 redcross.ca

Care-A-Van Door-to-Door Public Transportaon - li equipped vehicles 519-336-3789

Habitat for Humanity Low-Cost Home Reno Services 519-339-7957 habitatsarnia.org

Heart to Home Meals Pre-Made Frozen Meal Delivery to 60+ 877-404-4246 hearohomemeals.ca

Instacart Delivery from several local stores 888-246-7822 instacart.ca

Lambton Elderly Outreach Home & Yard Maintenance, Meals, Various Resources 800-265-0203 lambtonelderlyoutreach.org

Lambton Public Health Individual, Agency and Cargiver help 226-254-8222 lambtonpublichealth.ca

Neighbourlink Household Chores, Transportaon, Shopping, Companionship 519-336-5465 neighbourlinksarnia.org

Sarnia Blessings Free Meals for Seniors & Vulnerable People 519-402-9093 sarniablessings@outlook.com

Shine at Home Transportaon, 24 hr Housekeeping, Shopping, Meal Prep 519-336-9898 shineathome.com

Strangway Community Centre Recreaonal, Social & Educaonal Programs & Acvies 519-332-0656 strangway@sarnia.ca

Victorian Order of Nurses (VON) Demena Programs, Home Nursing, Respite, Much More 519-542-2310 von.ca/en/site/sarnia

Resource booklet available through Age-Friendly Sarnia-Lambton by calling 519-332-0527 or vising www.agefriendlysarnialambton.ca

Summer 2021 (Rarely Heard Any More) "You will stay after school and clean the black board." P A G E 25
---
Welcome to ...

Bayview

Chrysler • Dodge • Jeep • Ram

www.bayviewchrysler.com

State of the Art Collision Center

that deals with all insurance

companies as well as a

Full Detailing Department

for cleaning vehicles.

Before

Family-owned business

built on hard work,

integrity and superior

customer service.

You can trust CSN

St. Clair!

THE Club

Bayview Chrysler Dodge Ltd.

255 Indian Rd. South, Sarnia

FREE SHUTTLE SERVICE in Greater Sarnia Area!

After

$10.00 OFF

(or more)

Redeem this coupon

for 10% OFF

ANY SERVICE, PARTS

and/or DETAILING JOB

of over $100.00

before tax.

Sales, Service & Parts:

519-337-7561

No matter

what happens...

We'll straighten

it out!

Proudly serving Sarnia-Lambton and surrounding area for 60 years.

856 Confederation St., Sarnia • 519-337-3842

A new magazine for people who aren't (new that is!)

What's in a Name?

By C.W. Tiffin, Chatham • from Daytripping Magazine, Summer 2013

When I was born, I was given a name

just like everyone else. That part is done

for you. My parents chose my name

from one of my uncles, which was quite

common way back when I was born.

It was not a name that I would have

chosen for myself for several reasons,

mostly because at that time it was not a

common name.

As I grew older, I soon realized this.

There was of course my uncle... Claude.

Then there was this other kid at school

with the name of Claude. He was quiet

and grinned a lot, but being older than

me, we didn't talk much to each other,

although I once called him Claude. It

just seemed odd to call someone with

the same name, especially that name as

he grinned and said, "Hello... Claude."

Then there was Claude Rains, the actor

who starred with Humphrey Bogart and

Ingrid Bergman in Casablanca... and

me!

As I continued through life, whenever

someone asked my name, whether for

filling out a form or some other reason,

I would invariably be asked the same

questions. "Is it Bob?"

"No, it's Claude."

Then I would get a quizzical look and

another try... "Clyde?" And so on until

I would finally get my name through to

them and their face would light up as

they would finally say.

"Oh... it's Claude."

Some years ago

when the movie

actor Jean Claude

VanDamme got to be

fairly well known, the

name Claude became

more popular, at least enough so that I

didn't have to keep repeating myself.

Of course then, there were those who

thought that I was French, which I am

not. I am of Irish decent, and I couldn't

answer them in French when they

began to speak the language to me,

even though Canadians are supposed to

be bilingual. Which all brings me up to

the present day in time.

Recently I had to go to Windsor to see

a doctor. My wife and I got a hotel room

and decided to take a cab over to the

Hospital. Like many seniors, my body

seems to be losing the full function

of some of the main parts, like my

memory, my hearing, to name only a

couple.

Surprisingly, we weren't long at the

hospital. He just looked at some x-rays

and then gave me another appointment.

We were out in half an hour. I stopped

at the main desk and asked the lady if

she would call a cab for the wife and I.

She smiled as she asked, "What is your

name, the cab driver will have to know

who it is that he is supposed to pick up."

"Claude Tiffin," I answered.

Her eyes grew large as she stared at

me and asked, "Is that REALLY your

name?!"

Thinking that she might have read

one of my self-published books, I

proudly answered, "YES."

She got the most amazed look on

her face I had ever seen. "Your name

is GOD?!!"

"No, no!!" I said, not really certain

that I had heard her right, but I looked

over and saw my wife laughing really

hard and it all began to dawn on me.

My blame name

again. My face

probably reddened as

I answered. "No it's

not GOD. It's Claude!!

C.L.A.U.D.E.!

Once again, I had

to spell it out for

someone. So now you know why I

often sign my name C.W. Tiffin. An odd

name is a heavy thing to carry through

life. That is why I named my sons Sam

and Dan. Oh yes, my daughter's name

is Debbie and my wife's name is Jean.

They are all nice simple names.

Signed... C.W. Tiffin.

Welcome to ... Summer 2021

Make this magazine Your Own!

Welcome to ...

THE

CLUB

The Club • P.O. Box 430,

Bright's Grove, ON N0N 1C0

info@welcometotheclub.ca

WELCOME TO THE CLUB is written by you, OUR READERS.

Send in articles to be published here and possibly in Daytripping Magazine.

Keeping our 55+ audience in mind, you may want to write about:

• Long gone hangouts i.e. Kenwick on the Lake, Tab's Drive-In, the Campbell St. Staon

• Local things that will never be the same - Local things that will never change

• A local champion from the past or present that deserves recognion

• A great local concert. Elton John? Johnny Cash? Alice Cooper? Bayfest?

• Hidden gems in Sarnia-Lambton, whatever they may be

• An in depth look at a local charity, event or movement

• Growing up in this area in the 40's, 50's, 60's, 70's, 80's

• A first hand account of a trail/route in Lambton County

• A personal story that you're willing to share

(and tell us how we're doing)

Send us

your stories,

ideas & photos!

P A G E

26

(Rarely Heard Any More) "Turn on the television and let it warm up."
---
Our next issue will come out around the start of October.

Recipes

Zucchini Loaf

Send Us

Your u

r

Recipes!

e c

es

!

We'll be bringing you recipes from Club contributors and

from local fundraising cookbooks we've collected over the

last quarter of a century.

You're welcome to send your own recipes, or on behalf of

an organizaon that has a new cookbook, and we can help

promote those cookbooks for free.

Ranch Potato Casserole

8 medium red potatoes

1/2 cup sour cream

1/2 cup Hidden Valley Ranch Dressing

1/4 cup cooked crumbled bacon

TOPPING:

2 cups crushed cornflakes 1/4 cup buer

Quarter and boil potatoes with skin on, just unl tender. Combine

dressing, sour cream, bacon, parsley and 1 cup of cheese. Pour over

cooked potatoes and toss lightly then put in a 9x13 inch casserole.

Top with remaining 1/2 cup cheese. This can be made the night before.

TOPPING: Make just before you bake it.

Bake when ready at 350˚F for 45 minutes.

Barbecued Country Ribs

2 to 2 1/2 lb. boneless country style

Ribs (bone in pork ribs work too)

BARBECUE SAUCE:

2/3 cup chopped onion

1 Tbsp. oil

3/4 cup water

3/4 cup ketchup

1/3 cup lemon juice

3 Tbsp. sugar

1 Tbsp. Worcestershire sauce

2 Tbsp. prepared mustard

1/2 tsp. salt

1/2 tsp. pepper

By: Lillis Huybers (from

Holy Rosary School 50th

Anniversary A nive

Cookbook)

okbo

ok)

Place ribs in a roasng pan coated with nonsck cooking spray. Sprinkle

with salt. Add water. Cover and bake at 350˚F for 1 hour. Meanwhile in

a saucepan, sauté onion in oil unl tender. Add remaining ingredients;

bring to a boil. Reduce heat and simmer uncovered for 15 minutes or

unl slightly thickened. Drain the ribs; top with half the Barbecue Sauce.

Cover and bake 1 hour longer or unl the meat is tender, basng every

20 minutes. Serve with the remaining sauce.

3 eggs

2 cups white sugar

1 cup oil

3 tsp. vanilla

2 cups zucchini

1 tsp. salt

3/4 tsp. cinnamon

3/4 tsp. nutmeg

(oponal)

1 tsp. baking soda

By: Diane Cadieux

(from "Millennium Menus"

by Bridgeview Public School)

1 tsp. dried parsley

1 1/2 cups cheddar

cheese, shredded

(Be generous with ingredients)

1/2 tsp. salt 1 cup water

By: Judy Williamson (from Wyoming

Lioness Club 30th Anniversary Cookbook)

1 1/2 tsp. baking powder

3 cups all purpose flour

1 cup raisins

1/2 cup walnuts (oponal)

Welcome to ...

• Home Sleep Apnea Tesng

- In your home, no wait list, professionally

analyzed & sent to your doctor in 1-2 weeks

• Ambulatory Blood Pressure Monitoring

- 24 hr tesng, detailed interpreted report

Hugging is healthy:

it cures depression,

it reduces stress,

it induces sleep,

it's invigorating,

it's rejuvenating,

it has no unpleasant

side effects,and hugging

is nothing less than a

miracle drug.

Hugging is all natural:

It is organic, naturally

sweet & 100% wholesome.

It contains no pesticides,

no preservatives, and no

artificial ingredients.

THE Club

SLEEP HEALTH

SERVICES &

CPAP SUPPLIES

• CPAP Masks & Supplies

- Nasal & Full Masks,

Tubing, Pillows, Filters,

and many other items

Hugging is practically perfect:

There are no movable parts,

No batteries to wear out,

No periodic checkups,

No insurance requirements,

And no monthly payments.

It has low-energy

consumption and

high-energy yield.

It is inflation-proof,

non-fattening, theft proof,

nontaxable, non-polluting,

and of course,

fully returnable.

All Inclusive Suites & Apartments with kitchenettes.

CUSTOM MENU OPTIONS • ACTIVITIES • 24HR CARE

Call for a personal tour.

WALLACEBURG • 519-627-9292

SoClean

CPAP Cleaner

and Sanizer

for sale

481 London Rd, Sarnia • 226-776-8891 • www.RestwellSarnia.ca

Mix eggs and sugar. Add oil, vanilla and zucchini. Mix dry ingredients.

Add to egg mixture. Add raisins and walnuts. Pour into 2 small greased

loaf pans. Bake at 350˚F for a least one hour.

Send Your Recipes to info@welcometotheclub.ca

Summer 2021 (Rarely Heard Any More) "Operator, I'd like to make a long distance call." P A G E 27
---
Welcome to ...

Do you want copies of...

Welcome to ...

THE

CLUB

For a group,

apartment

building,

or meeting?

They're FREE

for people 55 + !

THE Club

We Are Here to Serve You

6-1000 Finch Drive,

Sarnia, Ontario

N7S 6G5

519-383-6600

marilyn.gladu@parl.gc.ca

www.mpmarilyngladu.ca

Call 519-491-1676

or email...

info@welcometotheclub.ca

Fresh Meals to Your Door

All Homemade & Prepared Just For You!

Shepherds Pie • Quiche

Roast Beef with Mashed & Veggies

Beef Stew • Lasagna

Pork Chop with Baked & Veggies

Roast Chicken with Mashed & Veggies

Penne with Meat Sauce

Meatloaf with Mashed & Veggies

Salisbury Steak with Baked & Veggies

Turkey with Mashed, Veggies, Stuffing, Gravy

Full Pound Portions - $9.95

SOUPS: Chicken Rice, Vegetable,

Beef Vegetable & Texas Style Chili

500 ml - $5.55 • 1 litre $7.99

www.phillycheesejakes.com

Puzzle

Solution

For The Club Summer 2021

CROSSWORD on page 24

Weekly Deliveries

on Sundays

Easy Order by Phone

519-491-5797

Growing old is inevitable, but growing up is optional!

WALTER PETRYSCHUK

His Unique Legacy

By Cathy Dobson, Point Edward • Photos by Leonard Segall, Sarnia (except where noted)

Tucked along a picturesque stretch of

Hillsboro Road in northwest Lambton

County, is a private nature preserve that

has given Sarnia's Walter Petryschuk

great solace over the years.

He has spent 43 years escaping to

the trails that wind through his bush

and meander beside Hickory Creek.

"I was a plant manager for 15 years

in Chemical Valley and to stay sane

you have to get away from it," he says,

explaining why the land has been such

a big part of his life. "Besides, I grew

up on a farm near Point Pelee National

Park.

"I am a farm boy."

Petryschuk and his wife Mary

purchased 40 acres (16 hectares) on

Hillsboro Rd. in 1978. The vast majority

is untouched bush

and a fabulous place

to enjoy the birds and

see the odd bobcat or

wolf. But about five

acres was cleared

and converted by

the Petryschuks for

a large garden, a

690-tree orchard, and finally a tall grass

prairie.

It's Petryschuk's sanctuary in many

ways. During his working life, he spent

12 hours at a time working and walking

the land. Now, at age 84, he's there

two to three times a week, tending

his garden, building bird houses and

enjoying the natural environment.

"If you want to live a long time, you

have to have something to look forward

to," he said. "I love the peace and

solace here."

The preserve is his legacy project and

will eventually be passed to one of his

four sons.

Petryschuk left his childhood

farm to study chemical

engineering. But he never forgot

his roots.

One fortuitous day in 1978,

he was having lunch at Polysar

with a colleague named D'Arcy

Hunt who said he had some land

for sale in Plympton Wyoming.

"I wanted to plant something

and had been looking for some

land," said Petryschuk.

"If you want to live a

long time, you have to

have something to look

forward to."

He immediately asked to see Hunt's

acreage where he was astonished to

find Hickory Creek running 130 feet

below the property's high ground. In

a part of Ontario where the terrain is

generally flat, the gully is rare.

"I was absolutely flabbergasted,"

Petryschuk said. "I turned to D'Arcy

and said, 'It's spectacular. It's just a

matter of how much you want for it.'"

He dubbed the land "Conservation

@ Hickory Creek," and set about

clearing the almost impenetrable bush

above the ravine for an apple orchard.

Nearly 700 trees were eventually

planted on five acres, with Mary and

their sons pitching in along with a hired

construction crew.

In the early 80s, an equipment

building was

constructed, a tractor

was purchased, and

trails were created.

The first apple harvest

took place in 1983 and

a vegetable garden

went in nearby.

Hickory Creek has

always been a big draw to Petryschuk

and his family. Trout are plentiful and

the creek provides water for the

garden.

Throughout the 1990s and

into the 2000s, the Petryschuks

sold their apples roadside and

then began to wholesale them as

far away as Collingwood. It was

a going concern for two decades

that abruptly stopped in 2005

when he contracted larynx

cancer and had to dedicate all

his energy to recovery.

"We got rid of the orchard

and planted a tall grass prairie in 2018,"

said Petryschuk.

Over the years, Mac Kechnie from

Sarnia built about two dozen birdhouses

and strategically erected them

throughout the property. Petryschuk

was determined to attract a diversity of

birds and built about 100 more. To this

day, he continues making them from

recycled materials.

About 35 acres have been left to

develop naturally. When a tree falls —

and many have—it is left alone unless

it's blocking a path. The property

Continued on next page

Welcome to ...

Summer 2021

P A G E

28

(Rarely Heard Any More) "The captain has turned off the No Smoking sign."
---
If your business offers anything to people 55+, you can advertise too!

Home

of the

No Fancy, Schmancy

Just An Honest, Wholesome,

REAL BIG, REAL GOOD

REAL SANDWICH!

Fruit

Smoothies,

Ice Caps

& More

Chills!

Welcome to ...

REAL SANDWICH!

LONDON LINE (DRIVE THRU) • 519-542-6121

NOW AVAILABLE

THE Club

If You're

Gonna

Have

One...

Gotta

be a

Global

Donut!

AYear Round Garden Centre, Gi

Shop &Bouque!

Extraordinary selecon

of Plants & Unique

Decoraons & Poery

for enhancing your indoor

has lost about 1,000 ash trees to the

emerald ash borer and they are slowly

being replaced with other species.

The Petryschuks are members of the

Carolinian Canada Coalition, a network

committed to maintaining healthy

landscapes to conserve Canada's

Carolinian Zone. The Coalition helped

fund the addition of 500 new trees in

2019. Students from nearby North

Lambton Secondary School in Forest

assisted with the planting. This year,

members of The Kiwanis of Sarnia-

Lambton Golden K, a club to which

Petryschuk belongs, helped plant 14

new Blue ash. Blue ash is a rare species

that's native to the region and highly

resistant to the emerald ash borer.

Petryschuk left Polysar to become

site manager of the Suncor refinery

in Sarnia. Later he worked as director

general of the National Research

Council of Canada's manufacturing

technology institutes in Vancouver and

London. Today he is an associate with

the Bowman Centre for Sustainable

Energy.

Since his recovery from cancer,

Conservation @ Hickory Creek has

offered a great place to keep busy and

enjoy the outdoors.

Earlier this year, the Petryschuks

won an award from the St. Clair Region

Conservation Authority for improving

and protecting their land on Hillsboro

Road.

And this summer, the property will

be featured in an exhibition in Bright's

Grove by photographer Leonard Segall.

The show runs Aug. 5-Sept. 4 at the

Gallery in the Grove.

"Walter allowed me to take

photos at his property for two

years," said Segall. "It's rare to

find a vertical drop that big in

this area. I found I could get

immersed in the forest.

"That and the wildflowers

were the main attraction for me."

While the Petryschuk's

property is private, Segall's 25

colour photographs will give the

public a unique opportunity to

see it at the gallery.

"I think it's just a fabulous place,"

said Segall. "From the tall grass prairie,

to the overgrown bush you can hardly

get through, it's great to know it will be

protected for years to come."

Photo by Cathy Dobson

Proud Member of...

Actual

FAMILY

FEUD

Answers

OPEN Monday to Saturday

(Rd. 22)

East of SARNIA

519-542-8353

Kern

water

Home Water

Treatment

Mon–Fri 9 am–6 pm • Sat 8 am–2 pm

1804 London Line, Sarnia

519-542-4211

kernwater.com

USA

Sarnia

• Name something that floats in the bath - Water

• Something you put on walls - Roofs

• Something in the garden that's green - shed

• Something you do before you go to bed - Sleep

• Something you do in the bathroom - Decorate

• Something slippery - A con man

• A part of the body beginning with "N" - Knee

Better Water

for Better

Health

Water softeners,

whole house filters

and drinking

water units

Benefits

N

Bright's

Grove

From

26

London

401

22

From

SIPKENS

Wallaceburg

NURSERIES

Water Treatment:

• Improved taste and clarity

• Removes contaminents

• Environmentally friendly

• Cost-effective

Water Softener:

• Healthier hair, skin

and nails

• Preserve appliance life

• Cleaner/shinier silverware

and glassware

• Softer clothes that last

longer

Summer 2021 (Rarely Heard Any More) "Look it up in the dictionary/phonebook."

P A G E 29
---
Welcome to ...

Kern

water

kernwater.com

Mon–Fri 9 am–6 pm • Sat 8 am–2 pm

THE Club

1804 London Line, Sarnia

519-542-4211

FISHIN'

Fishing is a pastime enjoyed by

millions – every thing from tarpon

fishing to pond fishing with a stick and a

hook. I'm of the latter school and I was

introduced to the sport by my father.

The preparations and anticipation

including the catching of the necessary

bait were as much a part of the day as

the fishing itself.

We began in the late

evening the day before.

The soft shadows, the

scent of nicotine flowers,

the muted voices were

all part of catching the

bait.. worms. With a

flashlight held so the

beam was softened

by our fingers over

the glass, we stalked

our prey – the elusive earth worm.

We walked slowly, and stooped over

across a newly-watered lawn looking

for the tell-tale glint of a slimy worm

reflecting the light. There were fire

flies in the balmy air and we spoke in

whispers, in case worms could hear and

be frightened away. We had to be alert

as it was, for a glistening, slippery worm

could quickly disappear into its hole if

it were spooked. Stabbing down with

a fore finger at a fat worm to prevent

it retracting into its hole we would

then gently tug it up to the surface and

deposit it in a navy-cut tobacco tin half

filled with grass and dirt. I was a champ

at spotting and reacting, not so good

at the next step – actually working the

worm onto a hook.

In the morning, we reached the bay

by bicycle. We did not own a car. My

U-Fill

Water

Delivery

Service

Reverse

Osmosis

and Alkaline

By Glynn A. Leyshon, London

from Daytripping Magazine, Summer 2011

father pedaled while I sat on the cross

bar between my father's arms, as

I gradually grew numb in the nether

regions. It was a relief to stand on the

ground again when we arrived at the

water's edge. After restoring circulation

I watched and learned how to bait a

hook with a worm. The fresh worm

was impaled on the hook by driving it

through the whole length

of the creature. That way

it was difficult to lose the

bait to a single grab by

the jaws of a fish. Waste

not want not. This act

of baiting the hook was

as upsetting to some as

the actual catching of the

bait. The worms didn't

like it much either.

The fish, mostly perch, suckers,

catfish and the occasional smallmouthed

bass, loomed large in my

recollection but were actually no bigger

than one's hand. Nothing was thrown

back. Despite the high ratio of bones to

flesh I insisted on eating them. This was

true of even the catfish whose white

flesh made one forget the nasty looking

barbells hanging from its chin.

The squeamish would be aghast at

the whole process – icky worms, ugly

fish, an uncomfortable ride, and the

ever-present danger from the myriad of

bones if one ate the catch. But I reveled

in it. I thrived on the whole thing from

catching the bait, to catching the fish

to eating what one caught. The only

negative, that numbing bike ride, was

eliminated when I was big enough to

have my own wheels.

DROP BY & SEE US!

Don't put this down! You'll have to bend over to pick it back up!

Owen R. Wyrzykowski

Owen R.Wyrzykowsk

Wyrzykowski

y

ki

519-336-6118

6118

Seniors

Save

Young @

Heart

WYRZYKOWSKI & ROBB

Barristers and Solicitors

Whether you are buying or selling real estate, or need to

update your estate planning, we provide personal service

to help you through the legal process.

orw@wrlawoffice.ca

722 Lite Street, Point Edward

Where

is it

The Hint is ...

These metal men,

and there are many

more, were created

by Murray Watson

to celebrate the

150th Anniversary

of something in

Sarnia-Lambton.

?

Earn Free

Rewards

on almost

everything you

buy at Pharmasave.

• Real Estate Purchases & Sales

• Mortgages & Credit Lines

• Wills & Powers of Aorney

• Estate Planning & Administraon

30 Years Experience

Look for the answer

in our

Fall 2021 issue

20%

OFF

Regular Priced

Items In-Store

Every Thursday of every month!

Welcome to ...

Summer 2021

• FLAGSTONE

Visit Our

• BEDDING MATERIAL -

CLEARANCE

APB, Chips & Dust, Sand

SECTION

• GROUND COVER -

Pea Gravel, Black Granite, Beach Pebble, Beach Stone

1189 Confederation Street, Sarnia • 519-337-2334 • www.patene.com

LONDON ROAD PHARMACY

Locally Owned and Operated

www.londonroadpharmacy.com

* Every surface & product is disinfected daily for your safety!

Tammy Maure

1249 London Rd

519-491-6778

P A G E

30

(Rarely Heard Any More) "Don't slam the screen door when you go out."
---
Please tell our advertisers that you saw their ad in this new magazine!

Welcome to ...

THE Club

BOB BAILEY

MPP – Sarnia-Lambton

Building A Better Sarnia-Lambton

Welcome to the summer edition of The Club! For the second year

in a row, the COVID-19 pandemic has upended most people's

summer plans, but there is real hope on the horizon that July and

August will bring back some sense of normalcy to everyone's

lives.

Discussing mental health issues

with Bluewater Health President

& CEO Mike Lapaine (right),

alongside the Associate Minister

of Health & Addictions.

Congratulating Pathways Health

Centre on reaching their

$1.6 million Therapeutic Pool

fundraising goal, which included

$148,500 in support from the

Ontario Trillium Foundation.

Presenting virtually to the

Michigan Senate in March

about the importance of Line 5

to Sarnia-Lambton, Ontario, and

the entire Great Lakes Region.

Touring Creative Education

of Canada in Point Edward,

which has transitioned from

a costume designer to an

Ontario-based provider of face

masks and surgical gowns.

June is Seniors Month. Now more than ever, it is important that

we come together to support each other. We all recognize and

honour the knowledge, experience, and contributions those of us

who are 55+ have made to build the province that we enjoy today

- and continue to make every day in communities across Ontario.

I'd like to also recognize the challenges being faced by our local

businesses. These past 14 months have been incredibly difficult

for all businesses, but it's been especially hard on Ontario's once

vibrant tourism industry. Prior to the pandemic, Ontario's tourism

sector was a robust $36 billion industry making vital

contributions to our province. In addition to the 400,000 jobs in

the tourism industry, it also plays a critical role in enhancing

Ontario's cultural fabric and spirit. Please do your part by

supporting these valued Sarnia-Lambton community members

as we continue to recover from the pandemic.

I want to wish everyone in Sarnia-Lambton a wonderful summer.

With the warm weather finally arriving and many outdoor

activities reopening again, it's important that we all get outside

and rediscover the beauty of our community as much as

possible. If we all do that safely and responsibly, I am confident

the summer ahead will be a truly memorable one. Enjoy!

Announcing $1.3 million in

joint provincial/federal funding

to create 24 new affordable

rental housing units for

seniors in Sarnia.

Supporting arts and culture

at the Judith & Norman Alix

Art Gallery with the Minister of

Heritage, Sport, Tourism and

Culture Industries.

Announcing $2,843,400 in

provincial funding to expand

the Community Paramedicine

for Long-Term Care program

in Lambton County.

Joining the Minister of Labour

and Parliamentary Assistant

to the Minister of Agriculture

in announcing SWIFT funding

to deliver rural broadband

services in Lambton County.

CONSTITUENCY OFFICE

805 Christina St. North, Suite 102

Point Edward, ON N7V 1X6

Contact Bob Bailey

Tel.: 519-337-0051

Fax: 519-337-3246

E-mail: bob.baileyco@pc.ola.org

Website: bobbaileympp.com

Summer 2021 (Rarely Heard Any More) "You've torn your pants so much I can't patch them again." P A G E 31
---
Welcome to ...

THE Club

Please submit a photo of your loved one for this feature page!

Welcome to ...

Summer 2021

IT'S FREE TO HAVE PHOTOS PUBLISHED!

Just send usaph

aphoto ofsomeone who hascee celebrated amilestone amies

a birthday or

anniversary, a rerement, rerement, an award or if they just deserve s

recognion.

recognion.

n

The main person must be 55 or over and the photo must t

be of f

good o

quality.

u t

Photos are not guaranteed g a

to o

run. n

info@welcometotheclub.ca

Box 430, Bright's Grove, ON N0N 1C0

Jack a

Higdong

turned 70

on June 11th

Deb Ferguson

pictured with her daughter, Lauren,

turned 56 on April 24th.

Happy Birthday Deb... from your work crew!

Grace r e

McLaughlinn

of Corunna in her garden in

April 2021. She will be

celebrang her 95th birthday

on June 27th.

Bill and Sherry Vandevenne

n

celebrated e their

50th wedding anniversay

June 12, 2021.

Much love

from their friends.

Donald Pierce

celebrated his 90th Birthday

on May 27th, 2021.

The celebraon took place over 3

days, 'COVID style' and included:

phone calls, video messages, a

dedicated Facebook group page of

greengs and memories, drive by

visits, an 'inside vehicle' picnic at

Willow Park, and other surprises.

P A G E

32

(Rarely Heard Any More) "Change into your play clothes before going outside!"
---
Sometimes, no news really is good news.

3G CUSTOM APPAREL & MORE

T-shirt & Sweater Pressing

FUNDRAISERS WELCOME

4110 Petrolia Line

Petrolia

519-882-1212

~ OPEN 7 Days a Week ~

Tues. to Sat. 11am to 8pm

Sun. & Mon. Noon to 6pm

Welcome to ...

Over 500

people...

should ...You

too!

THE Club

Everything for

your Kning,

Crocheng,

Cross Stch &

Needlepoint

Country Yarns Needs!

- Menon this ad for a 15% discount -

2776 LaSalle Line, PETROLIA • 519-882-8740

(BETWEEN MANDAUMIN & WATERWORKS)

Wed.10-5 • Thurs.10-6 • Fri.10-5 • Sat. 10-3

www.country-yarns.com

Hot Summers of the 60's

One of the perks of getting older is Beach Boys harmonized.

looking back on the days of your youth Another happening place was the

and, if you still have your memory, it's a A&W Drive-in on Christina at Maxwell

blast from the past. I was a teen in the 60's streets. There was nothing like an ice-cold

and recall the summers and the musical rootbeer served in a frosty mug on a hot

soundtrack of that time, with the Top 40 summer's eve. The carhops would come

blaring from a car radio or transistor. "Hot right up to your window to serve. The guys

town, summer in the city, back of my neck would have their hair slicked back with

gettin' dirt and gritty," the Lovin' Spoonful Brylcreem ("a little dab will do ya") and try

sang the summer of 1966.

to look as cool as possible, hanging out of

Growing up in Corunna, until I had their cars trying to make eye contact with

my own car and license, it wasn't easy the girls.

getting a ride to Sarnia where all the How about the bands around town

action seemed to be. "Get your motor in the 60's? Groups such as The Grimm

runnin', head out on the highway, lookin' Reaper, the Grass Company, Unit 4,

for adventure and whatever comes our Quotations and Gladiators played regularly

way," growled Steppenwolf. Hitchhiking at high school and teen town dances. Back

was popular, although more prevalent in those days, a girl had to wait for a boy to

with the boys than the girls. I thought if I ask for a dance, unless it was ladies' choice.

could just get to Tab's Drive-in on Colborne That resulted in plenty of walking around

Road I would have it made. That's where in a circle. Those were definitely 'dizzy'

you would show up in a hot car (if at all times! Sarnia, Corunna and Courtright

possible), cruise around checking out the all ran their own teen-towns and Mary's

other cars and, of course, its' occupants Record Mart was the place to buy all the

(did you see that cute guy who just pulled latest 45's.

in?) Something to eat was another reason Another hot spot to be was Kenwickon-the-Lake

in Bright's Grove to see Grant

to be at Tab's and the Canadaburger and

Tartan Surprise were always favourites. Smith & the Power all the way from T.O.

Colborne Road was no Jan & Dean's Rumour had it that the lead singer split his

"Dead Man's Curve" but a bit of a drag strip. pants on a regular basis and the girls hung

(Watch out for the cops!) "She's real fine, around the stage in great anticipation.

my 409," bragged the Beach Boys. Well for Freddie 'Boom-boom' Cannon also

me, not quite, as I was driving, firstly, an performed there. There were no mosh

old car from the mid 50's and then a '66 pits or crowd surfing in those days, but

Vauxhall. Although not conducive to drag I remember a lot of jumping

racing, my little green car did get my sister around and screaming in front

and I where we had to be (or wanted to of the stage. And the strobe

be). Things did improve later when my lights and go-go girls added to

boyfriend drove into my driveway with a the excitement.

'66 SS-396 Chevelle and I rode in style. Rose Gardens was the destination for

"Round round get around, I get around," the both record hops and roller-skating. Close

By Nadine Wark, Sarnia

from Daytripping Magazine,

Summer 2013

by, in Point Edward, was the Bluewater

Bridge for the 'submarine races' and a

plate of Albert's famous chips. There was

none of the technology we have today,

so seeing a movie meant going to either

the Capital or Odeon theatres downtown

Sarnia. The lineups were several blocks

long and you would always see friends

from school. Who can forget the Startop

Drive-in (later the Mustang) on Plank Road

where the family would be loaded up in

the station wagon, kids in pajamas, as well

as the family dog, to watch movies under

the stars. Of course, after the popcorn was

gone, the kids would be asleep and the

dog would be throwing up.

Looking back, it seemed like a time

of simple pleasures. We didn't have all

the choices that teens have today, yet we

still managed to keep entertained in a

great town called Sarnia. Time for a little

reminiscing…"Summertime and the livin'

is easy." No, the song from my transistor

is Steppenwolf singing "Born To Be Wild."

Think my sister and I will go cruisin' in the

Vauxhall…(if only in my dreams!)

Kind Words...

From Our

Readers!

I jaust want to let you know

I got my copy of The Club.

I've been turning pages and

laughing and giggling

and reminiscing.

This magazine is top notch.

Thank you for all the

pleasures you have given me.

Bye for now.

Anonymous

HOGAN

P•H•A•R•M•A•C•Y

Full Service Pharmacy

Full Service Cosmetic Department

Full Service Home Health Care Dept.

Beautiful Gift Shop

• Wedding • Birthday

• Baby • Home Decor

4177 Petrolia Line, Petrolia • (519) 882-1840

Mon-Fri 9-6, Sat 9-6, Sun10-5

Summer 2021 (Rarely Heard Any More) "If the car doesn't start, get out & push so I can start it." P A G E 33
---
Welcome to ...

SARNIA

519-337-3713

THE Club

OIL SPRINGS

519-834-2833

395 Fletcher St

Petrolia, Ontario

226-738-0665

blackgold.beer

Check out Part 1 of a great article below. Part II in the next issue.

Parents Who Drugged Us!

Welcome to ...

Summer 2021

• AUTO • HOME • FARM

• TENANTS • COMMERCIAL

1-800-265-7506 • www.cam-ron.ca

Established in 1978,

Lambton Pharmacy continues to

provide caring, professional pharmacy

services to residents of the beautiful

town of Petrolia and Lambton County.

4130 Glenview Rd, Unit 2, Petrolia

519-882-0650

Danielle Edgar, B.Sc., PharmD

Pharmacist

Monday–Friday 9–6

Saturday 9–12

Petrolia's Alternative Fuel

Our Readers

Are

Our

Writers!

WRITERS

WANTED

Send us your stories,

recipes & photos!

The Club • P.O. Box 430,

Bright's Grove, ON N0N 1C0

info@welcometotheclub.ca

The other day, someone asked me, "Why didn't we have a drug problem when we

were growing up?" I replied, "I DID have a drug problem when I was young ..."

I was drug to church on Sunday morning, as well as many weddings & funerals.

I was drug to family reunions and community socials no maer the weather.

I was drug by my ears when I was disrespecul to adults, when I disobeyed my

parents, told a lie, brought home a bad report card, spoke ill of the teacher or the

preacher, or if I didn't put forth my best effort in everything that was asked of me.

I was drug to the kitchen sink to have my mouth washed out with soap if I swore.

I was drug out to pull weeds in mom's garden and flower beds and cockleburs out

of dad's fields.

I was drug to the homes of family, friends,

and neighbors to help out someone who had

no one to mow the yard, repair

things, or chop some firewood;

and, if my mother had ever known

that I took a single dime as a p for

this kindness, she would have

drug me back to return it.

Those drugs sll affect my

behavior in everything I do, say,

and think. They are stronger

than cocaine, crack, or heroin;

and, if today's children had this

kind of drug problem, this world

might be a beer place.

Toys That Almost Killed Us

Part I

By Lee Michaels,

Sarnia

I honestly don't know how many of

us are still around considering what we

played with when we were kids.

I grew up a tomboy in the prairies.

Girl's toys bored me to tears. My aunt,

who wanted me to be more "girlie" gave

me a Barbie for my birthday. I promptly

cut off all her hair and stuck little gold

safety pins through her ears. Later,

when one of my buddies showed me

the pink rabbit's foot he had hanging

from his banana bicycle handlebars

for "good luck," I ripped off my shorn

Barbie doll head, painted it pink with

my Mom's nail polish, and hung it from

my handlebars. No dolls for me.

I'd rather be playing "knivesies" with

the boys. Yes, most of us carried

around a jack knife in our

pockets, most with blades

about three inches long.

They weren't fancy

Swiss Army Knives or

those 20-tools-in-one variety,

just a regular old jack knife. My

Uncle Archie gave me mine,

a beauty with an ivory

handle. (He also gave me

an ivory cigarette holder. He told me

he got both in India as a Scottish soldier

but all the grown-ups said he liked to tell

stories and cheated at cribbage). I liked

to think he was telling the truth because

it made my knife special and once in a

while I would pretend I was a Scottish

soldier, puffing on my slightly smokey

smelling cigarette holder, and battling

enemies with the knife. Anyway, we'd

draw a circle in the dirt and put a stone

P A G E

34

in the middle and the idea was to throw

your knife from outside the circle,

seeing who could get their knife to stick

into the ground, closest to the rock.

We'd practise for hours, trying different

grips, blades towards us, blades away,

trying to get that knife to stick. We'd do

the same with a chalk circle on a tree

or wooden shed. I never remember any

mishaps playing "knivesies," although I

did draw blood on a couple of occasions,

whittling down sticks to use as swords

to poke each other with. Amazingly,

we never poked each other's eyes out.

Could you imagine walking by a group of

ten-year-olds nowadays, all

grouped in a circle, knives

in hand? Unthinkable.

The unthinkable

did happen once with

firecrackers. We played

with those short, stubby "red

devils" that were tied together

with string. You could either

light them off all at once: Bang!

Bang! Bang! Bang! Or you could untie

them and light them one by one. They

were great to stuff in a big anthill and

then light it and watch the ants fly to

Kingdom Come. Sometimes the bigger

kids would throw them at each other,

but I wasn't that stupid….yet. I wasn't

allowed to play with them, but I'd save

up my money and sneak off to the

variety store and buy them anyway, then

hide them somewhere outside where

Mom wouldn't find them. Sometimes,

you'd get a dud that wouldn't explode

or wouldn't have a fuse. My best friend

Dale decided to light off

a string of them. One

didn't explode so he

decided to take it

home, take out the

gunpowder and do

something with

it. He put the

unused firecracker

in his front pocket

and a few seconds

later. BAM! The

darn thing exploded

in his pocket,

burning a big hole in

his old blue nylon shorts

which in turn melted and adhered

to his nether regions. He ran home

screaming and I ran to my home to

avoid guilt by association. (Yeah, I

know, some friend.) Poor Dale had to be

treated for burns to his privates and the

older boys called him "onenut" from

thereon in, something I didn't really

understand other than to think it was

strangely dirty.

We really didn't have a lot of fancy

stuff to play with and that led to another

explosive situation that, in hindsight,

could have robbed me of my sight. Some

of the neighbours, including Dale's dad,

had big old 85-gallon oil drums next to

the garbage cans in the back lane that

divided houses on either side. They'd

burn rubbish and yard refuse in them.

My folks told me to never, ever, throw

spray cans into them. Never explained

why. You guessed it. The next time

my Mom ran out of hairspray, I fished

(Rarely Heard Any More) "It's time for a castor oil cleanse."

the Adorn can out of

the trash, hid it, and

waited for the next

smouldering fire.

I was scared, but

Dale egged me

on. "Come on

you sissy girl,

throw it in!" So I

did. We waited.

Waited some

more. After what

seemed like forever,

I hesitantly crept forward

and peered inside the can.

Sure enough, KABOOM!

The can exploded, burning my bangs

off to half their length and singeing off

both eyebrows. By the grace of God,

I was not blinded. We snuck down to

Dale's older sister's basement bedroom

and he cut my stinking burnt bangs off

almost to the top of my forehead. Then

I used her eyebrow pencil to draw on

eyebrows. My Mom went ballistic when

I went home, screaming, "wait until

your Father gets home." I was banished

to my bedroom, sick with dread. When

I was called for supper, I crept to the

table, head hanging. I sat down, we said

grace, and all Dad said was, "what did

we tell you about playing near the fire

barrel?." No further punishment was

needed and I still get queasy thinking

about how close I came to being blinded.

After that incident, I decided to try to

play with the girls because it seemed a

lot safer. It wasn't.

Look for Part II in the next issue.
---
Hopefully we can enjoy some great yard sales this summer!

"Big or Small, JohnnyRemax

Sells T hem All"

John A. McCharles, Broker

Re/Max Sarnia Realty Inc. Brokerage

519-383-4812

johnnyremax@bellnet.ca

Why We Use Recipes

I guessed the pepper…the soup was too hot;

I guessed the water…it dried in the pot;

I guessed the salt, and what do you think…

We did nothing the rest of the day but drink!

I guessed the sugar…the sauce was too sweet;

And so, by guessing, I spoiled our treat.

So now I guess at nothing, for cooking by guess

Is sure to result in a terrible mess.

By Ruth Sharon, Windsor

now an authorized Dealer for:

Welcome to ...

A shop for both the modern

& classic Quilter!

4247 oil heritage rOad,

petrolia • 519-918-2226

THE Club

• fabrics • patterns • classes

Open tuesday to Saturday 10 am - 5 pm

Shop on our website too... www.stitcharie.cA

www.albanyretirementvillage.com

Retirement

Village

Downtown Retirement Living

in a Quaint Victorian Town

Call to Book a Tour:

423 Albany Street

Petrolia, ON

519-882-3157

Enjoy Friends | Enjoy Independence | Enjoy Life

• Fresh Produce

• Fresh Meat

• Party Trays

• Bakery

• Deli

• Bulk Food

• Seasonal

Merchandise

• Flower

Market

The Old Yard Sale Song

By Spokeshave

Sing a song of yard sales, the greatest 'fad' around,

At garages, lawns and driveways, each weekend can be found.

My 'Missus' used to get upset, and said, "It's a lotta bunk!

Spending from the family funds, for someone else's junk."

A bad mistake, one Saturday morn, I took her with me,

All my loonies, toonies went, blown, on her shopping spree.

Picture frames and dishes, and coffee mugs galore,

Who would want to buy the rug, from someone's bedroom floor?

So many fishing rods and skis, and rusty steamer trunk,

They might be someone's treasures, but to me, a lotta junk.

A twenty dollar kitchen set, to eat your breakfast eggs?

The table was too wobbly, and a chair, with broken legs?

Every Tuesday is SENIORS DISCOUNT DAY

10% OFF for age 60 and over (must tell cashier)

Doesn't apply to tobacco, lottery or gift cards

Use our easy

ONLINE

SHOPPING

SERVICE

www.yourindependentgrocer.ca

We'll bring your groceries to your car!

4136 Petrolia Line,

Petrolia • 519-882-2211

www.yourindependentgrocer.ca

A radio that didn't work, the camera had no lens,

A jacket (just one sleeve was torn), among the odds and ends.

A convoy of baby buggies, and a doggie, on a rope,

Got our legs all tangled up, by some obnoxious dope.

Sometimes I waste my money, and I could blow a fuse,

I buy this junk because it's cheap, that I will never use.

The bedroom dresser out for sale, no bargain - I could see,

There was no charge for crawlers, the spiders all were free.

The stuff we buy, we like to think, the profit it will bring,

We'll have a lawn of our own, that's early in the spring.

So many times we trod this path, it makes me want to holler,

The junk we sell, we only get, 'bout two cents on the dollar.

When we have a lawn sale, what really upsets me,

Leaving cartons on the sidewalk, and a sign says, "All is free!"

We all get satisfaction, wasting bucks and time,

But the money hungry taxman, doesn't get to grab a dime!

I'll meet you every weekend, my wallet, it shall bleed,

Buying other people's trash, that I don't really need.

If I should croak, with all this junk, my heirs will be quite sad.

"This must be our inheritance, from Dear Old Loving Dad!"

Summer 2021 (Rarely Heard Any More) "My dad bought a new 8-track player!"

P A G E 35
---
Welcome to ...

THE Club

If this brings back good memories, send us some of your own.

Welcome to ...

Summer 2021

Green County Ebikes

and

Mobility Scooters

Retail Store on the Farm

Produce Fresh From Our Fields

4622 London Line, Reeces Corners • 519-845-3482

www.zekveldgardenmarket.ca

New • Used

Parts • Sales • Service

Ebike &

Mobility Scooter

Batteries

638 Broadway Street, Wyoming • 519.333.8313 • www.greencountyebikes.com

MARLEY PHARMACY

59 Years Y of f Service S i e to Wyoming & The Surrounding unding n

Community!

C mu

!

"Where Good Friends Meet!"

607 Broadway St., Wyoming 519-845-3341

Grandkids are F UNNY

If you need to consult

with a physician,

we have a new

VIRTUAL

WALK-IN

CLINIC

Call us for details

A grandmother was telling her little granddaughter

what her own childhood was like: "We used to skate

outside on a pond. I had a swing made from a tire; it

hung from a tree in our front yard. We rode our

pony. We picked wild raspberries in the woods."

The little girl was wide-eyed, taking this in. At last

she said, "I sure wish I'd gotten to know you sooner!"

PICK YOUR OWN

• Strawberries • Apples

• Pears • Pumpkins

(in season)

Open

Monday-Saturday

(hours vary)

Closed on Sundays

Children Welcome

One day a teacher asked her students to

list the names of the other students in the

room on two sheets of paper, leaving a

space between each name.

Then she told them to think of the nicest

thing they could say about each of their

classmates and write it down. It took the

remainder of the class period to finish their

assignment and, as the students left the

room, each one handed in the papers.

That Saturday, the teacher wrote

down the name of each student

on a separate sheet of paper,

and listed what everyone

else had said about that

individual. On Monday,

she gave each student

his or her list. Before

long, the entire class

was smiling. "Really?" she

heard whispered. "I never

knew that I meant anything to

anyone!" and, "I didn't know

others liked me so much" were some of

the comments.

No one ever mentioned those papers

in class again. She never knew if they

discussed them after class or with their

parents, but it didn't matter. The exercise

had accomplished its purpose. The students

were happy with themselves and one

another. That group of students moved on.

Several years later, one of the students was

killed in Vietnam and his teacher attended

the funeral of that special student. She

had never seen a serviceman in a military

coffin before. He looked so handsome, so

mature. The church was packed with his

friends. One by one, those who loved him

took a last walk by the coffin. The teacher

was the last one to bless the coffin. As she

stood there, one of the soldiers, who acted

as pallbearer, came up to her.

"Were you Mark's math teacher?" he

asked.

E-Mail

The E-Mail

IN-BOX

Send the good stuff to info@daytripping.ca

Someone Special

TUES. TO SAT.

9AM - 5PM

She nodded: "Yes."

Then he said: "Mark talked about you

a lot."

After the funeral, most of Mark's former

classmates went together to a luncheon.

Mark's mother and father were there and

wanted to speak with his teacher. "We want

to show you something," his father said,

taking a wallet out of his pocket. "They

found this on Mark when he was killed.

We thought you might recognize it."

Opening the billfold, he carefully removed

two worn pieces of note paper that had

obviously been taped, folded and refolded

many times. The teacher knew, without

looking, that the papers were the ones

on which she had listed all the good

things each of Mark's classmates had

said about him.

"Thank you so much for doing that,"

Mark's mother said. "As you can see,

Mark treasured it."

All of Mark's former classmates

started to gather around. Charlie smiled

rather sheepishly and said, "I still have my

list. It's in the top drawer of my desk at

home."

Chuck's wife said, "Chuck asked me to

put his in our wedding album."

"I have mine too," Marilyn said. "It's in

my diary."

Then Vickie, another classmate, took

out her wallet and showed her worn and

frazzled list to the group. "I carry this

with me at all times," Vicki said, and she

continued: "I think we all saved our lists."

That's when the teacher finally sat down

and cried. She cried for Mark and for all

his friends who would never see him again.

The density of people in society is so thick

that we forget that life will end one day, and

we don't know when that one day will be.

So please, tell the people you love and care

for, that they are special and important.

Tell them, before it is too late.

P A G E

36

(Rarely Heard Any More) "You can't get those this time of year."
---
Never throw this away (like those Beatles albums you once owned).

• Manicures • Pedicures

• Waxing • Electrolysis

• Independent

Hair Stylists

WYOMING

ROOFING

• Residential

i

t

ial

• Re-Roofs

• New Work

Welcome to ...

THE Club

FARM FRESH ARTISAN GOAT CHEESE

a getaway from the everyday

635 Broadway Street, Wyoming

226-307-0772

Mike Daamen

519-845-0182 5-

82

• 519-899-2422

99-2

-242

2

GLUTEN FREE • LOW LACTOSE

SPECIALTY FOODS AS WELL

569 BROADWAY ST, WYOMING • 519-845-1613

663 Broadway Street

Wyoming, ON N0N 1T0

519-845-3212

beth@bethhackettins.ca

Great Local Service

AUTO • HOME • FARM • INSURANCE

623 Broadway St., Wyoming • 519-845-9915 • VillageFireplaceShop.com

The

Wisdom of...

Benjamin Franklin

A countryman between two lawyers is like a fish between

two cats.

At 20 years of age the will reigns, at 30 the wit, at 40 the

judgment.

Be civil to all; sociable to many; familiar with few; friend to

one; enemy to none.

Early to bed and early to rise makes a man healthy, wealthy,

and wise.

He that blows the coals in quarrels that he has nothing to do

with, has no right to complain if the sparks fly in his face.

A slip of the foot you may soon recover, but a slip of the

tongue you may never get over.

An investment in knowledge always pays the best interest.

Having been poor is no shame, but being ashamed of it, is.

He that is of the opinion money will do everything may well

be suspected of doing everything for money.

Glass, china, and reputation are easily cracked, and never

well mended.

Kale & Fennel Salad with Mandarin, Blueberries

and Cranberry Havarti Goat Cheese

Ingredients:

Large bunch of kale

1 medium bulb of fennel

1 can mandarins

1 pint Blueberries

1/3 cup pepitas (pumpkin seeds)

1 brick Cranberry Havar Cheese

Find more goat cheese recipes

at greatlakesgoatdairy.com

This delicious salad makes enough for 2 large salads or 4

side salads! It's great to make at the beginning of the week,

so you can enjoy it a few days in a row at lunch me!

Direcons:

Aer thoroughly washing the kale, remove ribs from the

kale and chop kale into small pieces. Put in a large salad

bowl. Prepare the dressing by mixing all the ingredients

together. Slice the fennel as thinly as possible. Chop the

brick of Great Lakes Goat Dairy Cranberry Havar

Cheese into small cubes. Toast the pepitas in a skillet

over medium low heat, tossing frequently unl

fragrant, about 5 minutes. Add the fennel, mandarin,

blueberries, cheese and slightly cooled pepitas to the

kale. Drizzle dressing over the salad. You may not have

to use all of it. Toss well, and add more dressing if

desired. Let the salad sit for at least 15 minutes before

eang. Let all those flavours get friendly!!

Dressing Ingredients:

1/4 cup olive oil

2 tbsp white balsamic vinegar

2 tbsp humus (any flavour you wish!)

1 freshly squeezed lemon

2 tsp maple syrup

1 tsp Dijon mustard

½ tsp minced garlic

¼ tsp each of freshly ground pepper and sea salt

Summer 2021 (Rarely Heard Any More) "Can you flip the record (or cassette) over please?" P A G E 37
---
Welcome to ...

THE Club

Putting the Grey in Great!

Welcome to ...

Summer 2021

P A G E

38

(Rarely Heard Any More) "If you get a spanking at school, you'll get one at home too."
---
Thanks again - keep this copy or pass it on to a friend please.

Open the door to your

financial well-being.

Pat Smits

Financial Advisor

12 Mac Donald Street

Forest, ON N0N 1J0

519-786-4924

www.edwardjones.ca

Unique Gifts & Greeting Cards • Home & Garden Decor

Sun & Skin Care Products • Purses, Scarves & Jewellery

View our flyer at pharmasave.com

Seniors Save *15% Every Wednesday

*Free Delivery in Lambton Shores

* Some restrictions apply

Driving Teachers

Crazy

ANSWER:

Mon-Fri 9-6, Saturday 9-5

Sunday & Holidays 10-2

19 King Street West, Forest • 519-786-5161

QUESTION:

Name one of the

early Romans'

greatest

achievements.

Learning to speak Latin

Welcome to ...

WHY I LIKE

RETIREMENT

QUESTION: How

many days in a week?

ANSWER:

6 Saturdays, 1 Sunday

QUESTION: What's a retiree's bedtime?

ANSWER:

2 hrs after falling asleep on the couch

QUESTION: How many retirees does it

take to change a lightbulb?

ANSWER: One, but it might take all day.

QUESTION: Why don't retirees mind

being called Seniors?

ANSWER: The term comes with a discount

QUESTION: Among retireees, what is

considered formal attire?

ANSWER: Tied shoes

I didn't notice the gentleman on the

other side of our car when I, loudly and

happily, started humming a little ditty.

I glanced up only after I had opened

the door. He smiled at me. Immediately, I

stopped my senseless tune and sheepishly

smiled back. My husband Frank, who had

already slid into the driver's seat, laughed.

I ducked into the passenger side holding

the source of my pleasure. A new book.

Our son Dan had given me a gift certificate

for my birthday and now I was the proud

owner of, "The Chronicles of Narnia" by

C.S. Lewis.

As we drove home, I chatted non-stop

about the joys of reading. I happened

to glance over at Frank and saw he was

wearing a ridiculous grin.

"What's so funny," I asked.

"You!" he replied, "you get so excited

over a new book."

When compared to all the small

pleasures of this world, I

believe reading ranks

closely, if not,

THE Club

It's Summer - Grab a Book!

by Gail Northgrave Adams, London • from Daytripping Magazine, Summer 2007

at the top. The pleasure is heightened on

a summer's day if one is able to relax in

a lounge chair with a cool drink. Likewise,

a blazing fire, a mug of hot chocolate and

a good novel makes any winter's day

delightful.

The inscription over the door on

the great library at Thebes which was

established in the third millennium BC

reads, "Medicine for the Soul." Indeed,

there is a book for any and every need

or desire. Whatever your fancy, be it

history, gardening, cooking, novels,

autobiographies or… there is a volume

waiting to befriend you.

Many people, myself included,

have cherished memories of parents,

grandparents or teachers who took the

time to read to a child. Strickland Gillian

sums it up with these lines. "You may

have tangible wealth untold; caskets of

jewels and coffers of gold. Richer than I

you can never be – I had a mother who

read to me."

Indeed, reading enhances one's

imagination and provides lasting

treasures. It's summer. How about joining

me with a cool drink outdoors. I'll

grab my book, you grab yours.

An Old Fashioned Country Store with a Modern Twist!

• Collecbles & Giware • Kids secon

• Fudge • Maple Buer Tarts & Baking

• Williamson Farms Beef & Local Pork, Cider,

Cheese & Maple Syrup • Gi Baskets

Wednesday is

SENIORS DAY!

Numerous Savings for 55 & over

Shop Online www.williamsonfarmsmarket.com

Curbside Pickup is always available • Ask us about delivery!

14 King St. W., FOREST • 226-520-0144

OPEN Mon. to Fri. 10am-6pm • Thurs. 10-8 • Sat. & Sun. 10-5 unl Labour Day

Summer 2021 (Rarely Heard Any More) The sound of dialing a rotary telephone.

P A G E 39