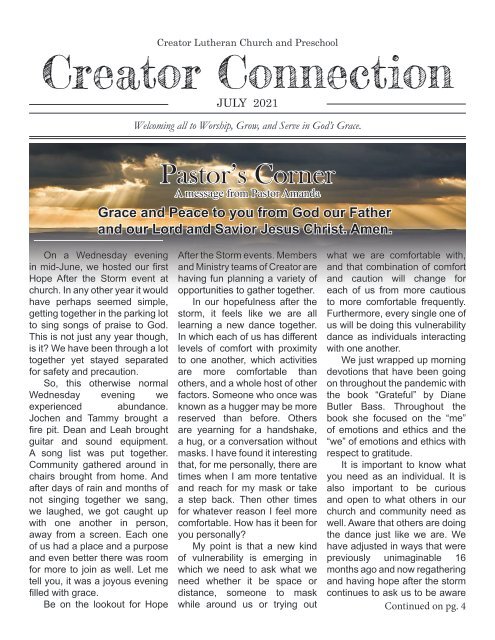 Creator Connection July 2021
The official newsletter of Creator Lutheran Church and Preschool.
The official newsletter of Creator Lutheran Church and Preschool.
SHOW MORE
SHOW LESS
You also want an ePaper? Increase the reach of your titles
YUMPU automatically turns print PDFs into web optimized ePapers that Google loves.
Creator Lutheran Church and Preschool

Creator Connection

JULY 2021

Welcoming all to Worship, Grow, and Serve in God's Grace.

Pastor's Corner

A message from Pastor Amanda

Grace and Peace to you from God our Father

and our Lord and Savior Jesus Christ. Amen.

On a Wednesday evening

in mid-June, we hosted our first

Hope After the Storm event at

church. In any other year it would

have perhaps seemed simple,

getting together in the parking lot

to sing songs of praise to God.

This is not just any year though,

is it? We have been through a lot

together yet stayed separated

for safety and precaution.

So, this otherwise normal

Wednesday evening we

experienced abundance.

Jochen and Tammy brought a

fire pit. Dean and Leah brought

guitar and sound equipment.

A song list was put together.

Community gathered around in

chairs brought from home. And

after days of rain and months of

not singing together we sang,

we laughed, we got caught up

with one another in person,

away from a screen. Each one

of us had a place and a purpose

and even better there was room

for more to join as well. Let me

tell you, it was a joyous evening

filled with grace.

Be on the lookout for Hope

After the Storm events. Members

and Ministry teams of Creator are

having fun planning a variety of

opportunities to gather together.

In our hopefulness after the

storm, it feels like we are all

learning a new dance together.

In which each of us has different

levels of comfort with proximity

to one another, which activities

are more comfortable than

others, and a whole host of other

factors. Someone who once was

known as a hugger may be more

reserved than before. Others

are yearning for a handshake,

a hug, or a conversation without

masks. I have found it interesting

that, for me personally, there are

times when I am more tentative

and reach for my mask or take

a step back. Then other times

for whatever reason I feel more

comfortable. How has it been for

you personally?

My point is that a new kind

of vulnerability is emerging in

which we need to ask what we

need whether it be space or

distance, someone to mask

while around us or trying out

what we are comfortable with,

and that combination of comfort

and caution will change for

each of us from more cautious

to more comfortable frequently.

Furthermore, every single one of

us will be doing this vulnerability

dance as individuals interacting

with one another.

We just wrapped up morning

devotions that have been going

on throughout the pandemic with

the book "Grateful" by Diane

Butler Bass. Throughout the

book she focused on the "me"

of emotions and ethics and the

"we" of emotions and ethics with

respect to gratitude.

It is important to know what

you need as an individual. It is

also important to be curious

and open to what others in our

church and community need as

well. Aware that others are doing

the dance just like we are. We

have adjusted in ways that were

previously unimaginable 16

months ago and now regathering

and having hope after the storm

continues to ask us to be aware

Continued on pg. 4
---
Table of Contents

Ministry

Pastor's Corner...............................................

Terri's Two Cents...........................................

Pastor's Corner cont. .....................................

Fellowship

Church in Society..........................................

Church Council Highlights...........................

Thoughts on Stewardship..............................

Hope After the Storm Events........................

Children, Youth, and Family

One on One...................................................

High School Bible Study, Children's Book of

the Month, Prayer Chain...............................

Sunday BLAST.............................................

Congratulations Graduates, Confirmation....

VBS...............................................................

High School Youth Beach Day......................

Young Adult Day on the Lake.......................

Young Adult Craft Day..................................

News and Education..............................

Birthdays and Reminders.......................

Calendar............................................................

1

3

4

5

6

7

8-9

10

11

12

13

14

15

16

17

18-21

22

23

Staff

Pastor:

Amanda Olson de Castillo

pastoramanda@creatorlutheran.net

Children, Youth,

& Family Director: Terri Heckroth

creatorterri@comcast.net

Office Ministry: Donna Reynolds

office@creatorlutheran.net

Communications Coordinator:

Marion Gil

communications@creatorlutheran.

net

Bookkeeper: Marcie Reid

creatorbooks@creatorlutheran.net

Custodian: Leslie Noborikawa

Nursery Attendants: Debbie

Eikland and Cynthia Lowe

Sunday School Coordinator:

Terri Heckroth

creatorterri@comcast.net

Preschool Director:

Andrea DeDominces

Preschool Teachers:

Andrea DeDominces, Ragan Allen

& Cheri Farrer

Baptism Coordinator:

Briana Halaas

Funeral Coordinator:

Janee Theleman

2

Ministry teams and program leaders, please think ahead about what is coming up and

submit information, pictures or stories of impact to office@creatorlutheran.net by the 20th

of each month. Our Office Ministry Coordinator, will collect, format, and get the newsletter

out to the congregation by the first of each month. If you have any further questions,

please feel free to call the office (253) 862-7700.
---
Terri's Two Cents

I am so excited! After 16

months of Zoom Bible Study

meetings, recording Sunday

School videos, and struggling

with new technology, we

are entering a hopeful new

phase. We are now planning

in-person gatherings for

the Children, Youth, and

Families of Creator. The most

important thing for now is that

we stay healthy and safe, so

we will still be intentional about

following CDC guidelines

and State recommendations

and restrictions, but I am

optimistic that we can resume

the in-person, face-to-face

gatherings that we enjoy in

this community.

I believe that we are

created for relationships.

Aren't we meant to be in

relationship with God and with

God's people? Relationships

are what bring us together as

members of the Creator family.

I thank God that we have

continued to nurture those

relationships over the past 16

months! Even during a global

pandemic, we worshiped and

prayed together. We learned

and celebrated together. We

supported each other in times

of challenge. And, greatest of

all, we encouraged each other

in faith and love.

So, now that Covid 19

cases are low enough to

gather in person (with safety

protocols in place), and the

weather is warm and dry

enough for us to spend time

outdoors, let us gather. Let

us see each other's smiles

and hear each other's voices

clearly.

"And let us consider how we may spur

one another on toward love and good

deeds, not giving up meeting together,

as some are in the habit of doing, but

encouraging one another – and all the

more as you see the Day approaching."

-- Hebrews 10:24-25

3
---
Ministry

Continued from pg. 1

of both the "me" and the "we" of

our life together.

The metaphor of the body of

Christ is particularly useful in this

time.

1 Corinthians 12:21 "the eye

cannot say to the the hand, "I

don't need you!" and the head

cannot say to the feet, "I don't

need you!"

We need one another, and

many of us are out of the habit of:

1) how to care for one another in

our needs; 2) how to ask for what

we need; and 3) trusting that we

will receive what we need. God

has kept us together as the Body

of Christ over the pandemic and

I do know that some of you are

holding on to the Body of Christ

simply by some tired ligaments.

The good news is that it is God

who holds us together with

the Word coming to us and

holding us. The same God who

is gracious when we fall short

and perseveres in gathering

us in when we grow faint. You

matter to God and to the Body of

Christ—who is Creator.

You are also invited to

consider what information is

yours to share but not necessarily

yours to ask. Vaccine status

is one of those areas in which

we can offer our status but

asking someone their status

could create division rather than

unity. Another example is where

people have been for the past

months or more specifically

why they have not be physically

present at Creator. How can

we express joy in seeing one

another rather than questioning

the motives for distance we have

witnessed? Could we leave the

comment at "great to see you,

how have you been?" rather

than "where have you been?"

It opens up conversation rather

than confronts someone with

being asked to share what they

don't want to share or perhaps

are not prepared to share. In

these two examples and many

more, our intentions are often

to reconnect but can create

disconnect. Once again creating

connection and trust also

involves intentionality. When

we fall short and unintentionally

create tension, we can all be

reminded that there is grace as

we all move forward together.

The need for the community

of Christ is the need to be held

by Christ in whatever life brings

our way. Christ uses us as the

Body of Christ to bring mutual

consolation, hope, and to point

us back to Jesus's gift of grace.

It is a community that collectively

knows that God's mercy comes

when needed and that it comes

from outside of ourselves.

Eventually we will move

to mask optional inside the

building, to moving groups of

chairs closer, to communing at

the altar, and to singing live and

in person. When we do, some

who have been comfortable in

what we have done will feel the

need to move to worshipping on

Facebook, YouTube or Zoom.

For others it will signal the time

to come back into the building.

There is no right or wrong

with either approach, God will

continue to knit us together into

the Body of Christ.

Bodies have needs. The

Body of Christ needs the Word

of God's grace and needs one

another. Thankfully, God will

continue to provide both for us

as we regather at our different

speeds and comfort levels. Being

gracious in our understanding of

what each other's needs are,

and earnest in our desire to be

together and invite others into

the one place where all is held

together — in God's grace and

mercy for us — as individuals

and as Creator.

Peace be with you,

Pastor Amanda

"...it feels like we are

all learning a new

dance together.

In which each of us

has different levels

of comfort..."

4
---
Fellowship

Benevolence distribution was as

follows with emphasis on back-to-school

needs:

• Prairie Ridge Community Coalition will

use $500 for school supplies.

• Sumner Bonney Lake Family Center will

use $500 to provide children with shoes.

• Sumner and Bonney Lake food banks

will receive $500 each to provide school

lunches through the food banks' backpack

program during the summer on weekends.

• Due to the lack of beds, when clients

of Exodus Housing require sleeping

arrangements, they sleep on floors or

air mattresses. We will supply $460 to

provide air mattresses.

Church

In Society

When we begin meeting again next fall,

Missional Church Team will be merged with

Church in Society to become one team

under Church in Society and led by Cathy

Coleman and Cindy Totten. Our new year of

action begins again in August. Anyone who

wants to help people who need assistance in

our community, please check with Cindy or

Cathy for meeting times. You'll find it will be a

great gift to you as you give and a great gift

to receive by the people you are helping. We

meet once a month. All are welcome and we

need your help!

Ron Noborikawa shared a possible service

project with Pacific Lutheran University in

assisting with a parking lot cleanup. Serving

two purposes- assisting the university, and the

opportunity to work with other congregants

outside in a social time as we "open up our

church," the team enthusiastically agreed.

Watch for more information soon. The cleanup

will be on July 10 at 9am to noon. This should

be a great social time and a way to serve. We

hope we see you there.

The Church In Society Team extends our

deepest appreciation to all those who give to

our Sunday offerings. By giving, you provide

many services including clothing, food,

counseling, shelter and so much more to our

neighbors and their children.

In His Name,

The Church in Society Team

5
---
Fellowship

Church Council Highlights

Following are highlights from our Council meeting held on Tuesday June 15,2021. These are

not the official meeting minutes, but a brief summary to aid communication. Approved minutes

will be posted on the bulletin board across from the office.

Council Reports:

From Treasurer

• Jochen Funk reported that

the General Fund balance

at the end of May was

$109,157.76

• Expenses were -$ 29,220.45

• Contributions/Giving were

$23,644.22

• Council approved Local

benevolence of 6%-

$1,418.65

• 4% to Synod -$945.77

Evangelism Grants

We are setting aside funds for ministry teams that have

a good idea on ways we can celebrate and evangelize

as we open up. Forms will be created. Get your group

together and come up with something incredible! More

details to come.

Personnel Committee

We are looking to hire a new Director of Worship with an

emphasis on someone who can lead us with traditional

and contemporary services.

In Person Worship

Upon reflecting on the state's current Covid situation,

Council decided to continue our current Covid safety

practices for in person worship. We will be re-evaluating

this decision at our monthly meetings.

From Pastor Amanda

The energy of the congregation seems to be increasing.

It has been a fun month with bubbles, confetti, and flame

hats. What a blessing it was to celebrate all our graduates

this past Sunday. A lot of people were so excited to be in

the sanctuary last Sunday. We even had four baptisms

with three of those in the lake!

We have some fun events coming up from an ice cream

social at Pastor Amanda's house to possibly some more

sunrise services and get-togethers at the lake.

6
---
Fellowship

Thoughts on

Recently while attending a

local high school graduation,

the Superintendent of schools

mentioned that this group of

students had earned a degree

in resilience. For all the

challenges they have faced

during the pandemic, resulting in

a significant increase in mental

health issues amongst other

difficulties, they have persevered

and seem to have a greater

appreciation of being together as

the class of 2021. This strength

of character will surely inform

their life choices going forward.

Certainly Creator has

endured the impact of Covid

19, both as individuals and as a

church body. In a sermon from

Pastor Amanda, she referenced

the fragility of life, but also said it

is fear that trips us. We need to

continually have the Word of our

Lord to combat fear. Many things

cause fear. Fear makes us not

believe, it is the opposite of faith,

and it causes us to question

God's promises. She went on

to elaborate on the scripture that

says faith comes from hearing,

as a gift from God outside of

us, so that our faith rises within

us. The storms can help us be

resilient but God takes away

fear. He reminds us "I am here

for you. You are not alone, you

are forgiven, you are loved."

"Blessed is the man who remains steadfast

under trial, for when he has stood the test

he will receive the crown of life, which God

has promised to those who love him."

- James 1:12

As we come out of the 'storm'

of the pandemic, we may have

a new appreciation for things

previously taken for granted.

Maybe we realize we have grown

closer to God during this difficult

period. We may reflect on other

blessings that have come during

this hardship, or experiences in

which we are grateful. As we

focus on the assurances in God's

Word that restore our faith, does

this result in a grateful heart as

well? Our gratitude can inform

our generosity.

The Stewardship Committee

is hoping to hear your stories

of resilience, faith, and even

gratitude experienced through

Covid 19. We have the

opportunity to encourage and

build one another up when we

share together and inspire one

another to have hope amidst the

storm. If you are willing to share

via email or during the offering

in our church service, please

email the office at office@

creatorlutheran.net.

7
---
Fellowship

Hope After

the Storm

Events

Creator Lutheran is

looking to bring members

back together in person this

summer with small group

gatherings.

8

If you can host a small

group gathering in your

backyard, lead a group for

a walk, or anything similar,

please contact the office

and let us know.

There is hope after the

storm church family, in

God's grace.

HIGH SCHOOL YOUTH BEACH DAY

SUNDAY, JULY 11TH AT 2PM

Get ready for the High School Youth Beach Day at Jenks Park! This is a Hope After the

Storm Event for High School Youth. Bring a swim suit, a towel, and don't forget the sunscreen!

Sign up and register for the event by texting Terri Heckroth.

If you have any questions or concerns, please contact Terri Heckroth or the church office.

YOUNG ADULT FUN ON THE LAKE

SUNDAY, JULY 18TH AT 1PM

Join us at Lake Debra Jane for the Hope After the Storm Event "Young Adult Fun on the

Lake." The event is for young adults ages 18-25. Bring a swim suit, towel, sunscreen, and a life

jacket. We will have paddle boards, kayaks, and sandwiches.

Please contact Terri Heckroth or the church office for more information or if you have any

questions.
---
CAMPFIRE SING ALONG

WEDNESDAY, JULY 21ST AT 7PM

Fellowship

Join us on Wednesday, July 21 at 7pm in the church parking lot for a night of singing around the

campfire! Music will be provided by Dean Ramberg and Tammy Funk. If you have any questions,

please contact the church office at (253) 862-7700 or via email at office@creatorlutheran.net.

WINE AND CHEESE GATHERING

FRIDAY, JULY 23rd AT 6:30PM

Creator Lutheran is having a Wine and Cheese Gathering Hope After the Storm Event. Do

you like cheese? Everyone does! Do you like wine? I hope so! If you're feeling the need to be

a bit fancy, join us for this event taking place at Janee Theleman's home.

You must be 21 years or older to attend this event. We are limited to 20 people for this event,

so please register to attend by clicking here or by following this URL: https://www.signupgenius.

com/go/20F044FA8AC2EA5F85-wine

YOUNG ADULT CRAFT DAY

SATURDAY, JULY 24TH AT 7PM

The Hope After the Storm event "Young Adult Craft Day (Glass Etching)" will be meeting at

Creator Lutheran Church. The event is for young adults ages 21-35. Bring whatever glass you

want to etch (wine glasses, beer steins, water glasses, vases, mirrors, etc.). Materials to etch,

snacks, and beverages will be provided. You must be 21 or older to attend.

If you have any questions or concerns, please contact Terri Heckroth or the church office.

LAKE JANE SUMMER GATHERING

WEDNESDAY, JULY 25TH AT 5:30pm

Please join us for some summer fun at Lake Jane Upper Park! Everyone

is invited, and we will provide ice cream treats for everyone. Activities you can

look forward to are playgrounds for the little ones, volleyball, tennis (bring your

racket and tennis balls), basketball, horseshoes, shaded picnic areas, etc.

The address to the park is 18802 68th Street East, Bonney Lake, WA 98391. We can host 50

people at this event, and you can register by following this URL: https://www.signupgenius.com/

go/20F044FA8AC2EA5F85-hope

If you have any questions or concerns, please contact Cindy Totten (253-653-2699) or Lisa

Wire (253-31-7523).

9
---
Children, Youth, and Family

One on One

JULY 2021

A monthly interview with one of

our church members to help get

to know each other

What are some of your hobbies?

Skiing, beading, genealogy, reading

What is your favorite food?

Ice cream/ sorbet

Who is one person who has influenced

your life decisions? My Mom

What three things do you value the

most? Family, compassion and laughter

What do you like most about Creator?

The ability to learn and grow in my faith

Where do you see God in your life?

I see God in His presence in the people

around me and in His Word.

What is the biggest challenge you face?

Aging parents

Name: Lisa Wire

Profession: Occupational

Therapist

Birthday: July 29

Who do you admire the most?

My Mother-in-law

Who is your favorite Super Hero?

Does Harry Potter count as a Super Hero?

10
---
High School

Bible Study

Children, Youth, and Family

There is no High School

Bible Study during the summer

months.

However, we will be having

special gatherings for those

who are normally members of

this Bible Study. Stay tuned

for more information!

Children's Book of the Month!

This month, I would like to

recommend the children's

book, Tony Baloney by

Pam Muñoz Ryan. Tony is

a penguin who expresses

the challenges of being

part of a family. This is my

grandson's favorite book as

it incorporates humor and

honesty into the story of

childhood.

Our Confirmation and High School Students are constantly

praying! If you have a specific prayer you would like to include in

our prayer chain, please email Terri Heckroth creatorterri@comcast.

net.

We will attach it to the growing paper prayer chain hanging in

the sanctuary.

11
---
Children, Youth, and Family

SUMMER SUNDAY BLAST

Beginning Sunday, June 6 through July 18

from 10:30am - 11:00am

All families with children are invited to join us on Sunday

mornings during the summer for a BLAST of a good time. We

will hear a Bible story, make a craft, and play some games. Our

hope is to meet outdoors every week, but we will be ready for

rain. Children will be asked to be masked (indoors and out) and

remain socially distanced indoors.

12
---
Children, Youth, and Family

CONGRATULATIONS GRADUATES!

Scott Freisthler

Scott Freisthler earned his second Bachelor's degree,

this one in English, last December from Washington

State University. Scott is currently working at Amazon

and hopes to become a Technology Writer.

Kate Wire

Dr. Kate Wire earned her Doctor of Physical Therapy

degree from Franklin Pierce University in New

Hampshire. She has been hired at a Physical Therapy

clinic in Bonney Lake and will begin working soon.

All students entering 6th-8th

grade (or higher if you have never

been confirmed) are invited to

join Creator's AMAZINGLY FUN

Confirmation Program this fall.

We plan to meet with students

in person to learn and grow in

faith and to build relationships

by playing fun games. If you

know of anyone interesting in

joining this fun-loving group,

please contact Terri Heckroth

this summer.

13
---
Children, Youth, and Family

Vacation Bible

School 2021

VBS will look a little different

this summer. Normally, Creator is

bursting with excitement as over

200 children, youth, and adult

staff fill the building for a week

in the summer. In consideration

of the health and safety of all

the families in our community

during this unusual year, VBS

will be presented to families

via Facebook live, email, and

YouTube.

During the week of July 26-

30, 2021, our VBS leadership

team will email and post Bible

story skits, craft ideas, and

upbeat songs to families to use

in a home style Vacation Bible

School. Using Facebook live

and Creator's YouTube channel,

Bible lessons will come to life

through skits, music, and crafts.

Craft supplies for the entire week

will be available to pick up on

Monday-Wednesday, July 19-

July 22.

This year, we hope to include

a "Play Date" for each grade

level. This will be an hour to meet

in person and play some games

that reinforce the lessons for the

week.

Registration is now open.

Please sign up so we will know how many craft kits to make up.

Copy and paste this link into your URL to register:

https://creatorlutheran.breezechms.com/form/53a4e793

14
---
Children, Youth, and Family

15
---
Preschool

16
---
News and Education

17
---
News and Education

Creator Men's Club's next

meeting is on Monday, July

12, 2021.

Allowing for the national

holiday, the next meeting of

the Creator Men's Club will be

Monday, July 12 at 6 p.m. at

Brank's BBQ, 13701 24th St.

E., Sumner. In addition to the

meal and fellowship, the group

will discuss work projects at

the church campus and in the

community. Besides current

members, the meeting is open

to new members.

18

• Monday, July 12-

Brank's BBQ, 6 p.m.

• Monday, August 2

Tim's Chicken and

Burger Restaurant,

114 Washington Ave.

S.( Across from the

Downtown Park),

Orting, 6 p.m.

• Monday, September

13- Jochen Funk Host,

16816 43rd St. Ct. E.,

Bonney Lake, (2 blocks

east of Creator), 6 p.m.

HELP NEEDED for JULY 2nd New

Hope Resource Center Meal

We will carry on providing lasagna lunches monthly through the Summer

to New Hope Resource Center. Our next lunch will be July 2nd.

Creator provides cooked lasagna, rolls, fruit cups and cookies. All food

should be dropped off at the church no later than Friday morning at 10:00

AM.

Everything except hot dishes can be left at church on Thursday during

office hours.

Lasagna should be cooked and delivered to the church on Friday Morning

by 10:00 AM . Creator volunteers will transport the food to New Hope.

Please sign up below. You will get a reminder email.

Volunteer sign up link: https://www.signupgenius.com/

go/20f044fa8ac2ea5f85-newhope
---
News and Education

Daily Devotions

Morning Prayer will continue

throughout the month of January at

9:00am. You are invited to watch

the recordings which are posted or

consider joining us at 9:00am via

zoom. Pastor Amanda turns off the

recording after her reflection on

the reading and we have a time of

discussion and connection with one

another.

Join Zoom Meeting https://zoom.

us/j/633840757

Meeting ID: 633 840 757

One tap mobile

+12532158782,,633840757# US (Tacoma)

All worship services and devotions will be

posted after completion on both YouTube

and the creator website: https://www.

youtube.com/user/CreatorLutheran and

www.creatorlutheran.net

Adult Education

I Love to Tell the Story

Pastor Amanda will be posting a

short video each week diving into

the Bible Narrative and specific

readings for the upcoming Sunday.

The videos will be posted on

Facebook, YouTube and linked

to our website. If you have any

questions or comments about the

bible study please send them to

pastoramanda@creatorlutheran.

net.

19
---
News and Education

Thursday

Morning

Bible Study

The Thursday Bible Study has

completed the book of Exodus

and is taking the months off

until September. Please stay

tuned as to the start date and

new study material. Have a

joyous, safe summer.

Join Zoom Meeting

https://us02web.zoom.us/j/9668

069876?pwd=MlAvSUcxeFpUa

nlFdWJKekNHemZvUT09

Meeting ID: 966 806 9876

Passcode: 1DMKSi

One tap mobile

+Dial by your location

+1 253 215 8782 US (Tacoma)

Meeting ID: 966 6 9876

Passcode: 419391

Creator Sunday School Is Back!

We will be emailing Sunday School lessons with video stories and

links to music videos every week to our Sunday School families. If

you know of any family who would like to added to the distribution

list, please let Terri know. We will follow the narrative lectionary so

you can enjoy a family discussion after Sunday School and Worship.

Some videos will be saved on Creator's YouTube channel. We are

also sending by email Family Daily Devotions for Lent throughout

this season.

Men's

Fellowship

During "All things Covid"

the Wednesday night

Men's group has been

using Zoom. The meetings

start at 7:00 PM and get

over by 9:00PM. If you

are interested in joining

the meeting please contact

Scott Perkins with your

email address and he will

send you a link for Zoom.

Scott.perkins@hotmail.

com or 253-230-3416

20
---
Women's Summer

Fellowship Book

Club

We're going to getting back together in person

again!! Over the summer we'll take a pause from

our Zoom fellowship meetings on the 1st and 3rd

Mondays and we'll move back to getting together

for a book study.

We will meet just once a month and discuss the

book that is selected for that gathering. A Zoom

option will be scheduled for those who prefer to

meet that way. Links out closer to the date. We

will meet on Mondays, 6:00pm - 6:30pm will be

time for food and fellowship, then 6:30pm - 8:00pm

we will begin book discussion and prayer request.

Please bring only individually portioned food to

avoid using serving utensils. Hopefully we can

be outside and distanced. While inside we'll wear

masks and distance ourselves when eating. Below

you can find the schedule for our meetings as well

as the book we will be discussing.

For addresses and directions to each home,

or if you have any questions or concerns, please

contact Janice Pendergast at 253-202-4460 or

janicepend@yahoo.com.

News and Education

Upcoming Meetings

Monday July 19th: Book- Born a Crime by Trevor

Noah (not the adapted for young readers one)

6:00pm - 8:00pm at Leah Ramberg's

Cell: 253-640-6602

Monday August 16th: Book- Dear Church a Love

letter from a black preacher.... by Lenny Duncan

6:00pm – 8:00pm at Tammy and Jochen Funk's

Cell: 253-468-1472

PLU Cleanup

Join us on Saturday, July 10th at 9am for our

PLU Clean Up event. We will be starting at the

PLU Hauge Administration Building/Mortvedt

Library parking lot (at the courner of 121st and

Park Avenue). PLU will provide a truck or trailer to

help us unload our debris.

After, we will meet at Farrelli's on Garfield for a

well deserved lunch with our church family! Below

you will find a link to register for the event. We

need to have an estimate of attendees so that we

can reserve enough space at Farrelli's for lunch

afterwards. We look forward to seeing you there!

Register: https://www.signupgenius.com/

go/20F044FA8AC2EA5F85-pluclean

21
---
Birthdays and Reminders

Remote Worship

Worship will continue to be live-streamed on Facebook Live and

Zoom. To join via Zoom, follow the link below:

https://us02web.zoom.us/j/89375602512?pwd=M3hPK0pIMGIz

Z2M0eEhmTitoM3NQdz09

Meeting ID: 893 7560 2512 Password: 435230

One tap mobile:

+ 12532158782,,89375602512#,,,,0#,,435230# US (Tacoma)

Call in option: Zoom offers the option to call in to listen to the

service. Call into worship while it is open - usually a minimum of

five minutes before 9:30am until 11:00am - +1 253 215 8782 and

enter the meeting number: 89375602512 when prompted. You

will be able to hear the worship service.

Pastoral Emergency Fund

Creator has a fund available to be used at the discretion of Pastor

Amanda to support congregation members and the community

as needed. If you or a member another member of the Creator

Community has a particular financial need at this time, please

reach out to Pastor Amanda for support. We are here for one

another at this time. This fund is also open for additional

donations from the congregation.

Recycle Your

Ink Cartridges

Don't throw away those printer cartridges or used cell phones.

The Youth will recycle them for you. It's good for the

environment and the youth program receives a small concession.

Just deposit old cartridges in the drawer in the narthex.

Are You Looking for a Little Serenity?

I now have four special places for those who need a quiet time apart.

Come and experience water, trees, roses and the mountain as you sit

and pray. There is a guided meditation for each serenity station if you

wish. Or, just come and "Be still and know that God is God." Please

call in advance and we will plan around the weather. Elaine Swigart

253-431-1086.

22

July

Birthdays

05 - Sandy Rogen

05 - Eli Yackel-

Juleen

06 - Quinn Dickson

06 - Dylan Russell

08 - William Halaas

08 - Toni Hoeck

08 - Benjamin

Rebner

08 - Cesar Romero

11 - Paula Eismann

11 - Jonathan

Hurley

12 - Olivia Olson

12 - Lindsay

Williamson

13 - Dave Anderson

13 - Scott Freisthler

14 - Terri Heckroth

14 - Linda Reed

15 - Margaret

Brossow

15 - Tony Gaulke

17 - Kristi Romero

18 - Shawn Drennen

18 - Noelle Thayse

18 - Virginia

Winger

19 - Miranda

Morgan

19 - Michael

Rutkosky

20 - Sheri Dunn

21 - Weston

Gillispie

21 - Eric Nelson

21 - Nancy Thorp

22 - Christopher

Brown

22 - David Halaas

22 - Scott Perkins

23 - Judy Flies

24 - Megan Kjelland

24 - Paige Stober

24 - Cynthia

Winchell

25 - Tyler Brown

25 - Sharon Parker

26 - Talia Gaulke

26 - Eben Sarver

27 - Ken Olsson

28 - Danielle

Bickford

28 - Callahan

Gillispie

28 - Emily Wickes

29- Sandra Brown

29 -Kevin Davis

29 - Lisa Wire

30 - Declan Larson
---
JULY

Sunday Monday Tuesday Wednesday Thursday Friday Saturday

1 9am Morning 2 New Hope Lunch 3

Devotions

10am Thursday

Morning Bible Study

4

9:30am Sunday

Worship Online

and In person w/

Communion

10:30pm Sunday

BLAST

5

Office Closed

6

7

7pm Men's

Fellowship

8 9am Morning

Devotions

10am Thursday

Morning Bible Study

9

10

9am PLU Clean

Up

11 9:30am Worship

Online and In

person w/Communion

w/ Guest Preacher

10:30pm Sunday BLAST

2pm High School Youth

Beach Day

12 9am Morning

Devotions

6pm Creator

Men's Club

7pm Adult Bible Study

13

6pm Finance

Team Meeting

14

7pm Men's

Fellowship

15

7pm CYF Ministry

Meeting via Zoom

16

17

18

9:30am Worship

Online and In

person w/Communion

w/ Guest Preacher

10:30pm Sunday

BLAST

1pm Young Adult Fun

on the Lake

25 Palm Sunday

9:30am Worship

Online and In person

w/Communion

10:30pm Sunday

BLAST

19 6pm Women's

Summer

Fellowship Book Club

26 River of Life

Vacation Bible

School 2021

11am VBS Play Dates

20

6pm Church

Council Meeting

27 River of Life

Vacation Bible

School 2021

11am VBS Play Dates

21 7pm Hope

After the Storm:

Campfire Singing

7pm Men's Fellowship

28 River of Life

Vacation Bible

School 2021

11am VBS Play Dates

5:30pm Hope After the

Storm: Lake Jane

7pm Men's Fellowship

22

29 River of Life

Vacation Bible

School 2021

11am VBS Play Dates

23 6:30pm Hope

After the Storm:

Wine and Cheese

Gathering

30

River of Life

Vacation Bible

School 2021

24

31

7pm Young Adult

Craft Day (Glass

Etching)

23
---
Creator Lutheran

Church and Preschool

Welcoming All to Worship, Grow, and Serve in God's Grace

creatorlutheran.net (253) 862-7700 office@creatorlutheran.net

Office Hours: Mon-Fri 9:00AM - 3:30PM

16702 South Tapps Drive East, Bonney Lake, WA 98391