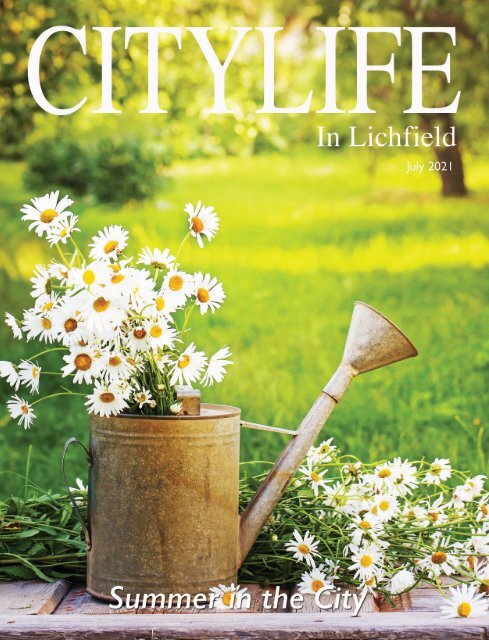 Citylife in Lichfield July 2021
Here Comes the Summer! Our July Lichfield edition magazine is full of summer sunshine - just like the weather we hope - and, as usual, we have the usual mix of local news, recipes, competition and history features. So put those shorts and sunglasses on, pour yourself a nice chilled glass of ginger beer - or something stronger! - sit out in the garden and relax with a copy of our super-summery July magazine!
Here Comes the Summer! Our July Lichfield edition magazine is full of summer sunshine - just like the weather we hope - and, as usual, we have the usual mix of local news, recipes, competition and history features. So put those shorts and sunglasses on, pour yourself a nice chilled glass of ginger beer - or something stronger! - sit out in the garden and relax with a copy of our super-summery July magazine!
SHOW MORE
SHOW LESS
You also want an ePaper? Increase the reach of your titles
YUMPU automatically turns print PDFs into web optimized ePapers that Google loves.
3
---
Welcome to

CITYLIFE

Welcome to CITYLIFE in Lichfield, a monthly magazine

bringing you our pick of the city's news, events and stories.

Each month CITYLIFE in Lichfield is delivered to

businesses and homes in Lichfield, Kings Bromley, Fradley,

Alrewas, Hill Ridware, Whittington, Stonnall, Shenstone,

Hammerwich, Burntwood and Longdon, completely free

of charge; bringing you the best that the city has to offer.

Each issue features heritage stories exploring the rich

history of our area, plus competitions, interviews and the

latest in fashion and style.

Got a story or charity event you want to share with our

readership? Think you've snapped an image that captures

the spirit of the city? We want to hear from you!

Our business is bringing you Lichfield's city life.

CITYLIFE Contacts

Editor - Kristen Lackajis 07885 380632

kristencitylife@gmail.com

Features - Jono Oates 07785 757201 jonocitylife@gmail.com

Advertising -

Steve Brown 07740 166497 stevebrowncitylife@gmail.com

Rebecca Hill 07970 513144 rebeccahillcitylife@gmail.com

Production -

Helen Smith 07967 154187 helencitylife@gmail.com

Citylife In Lichfield Ltd

PO Box 7126 LICHFIELD WS14 4JS

CITYLIFE in Lichfield and CITYLIFE in Rugeley and

Cannock Chase magazines are not connected to any other

publication or publisher, and are wholly owned by CITYLIFE

in Lichfield Ltd.

Citylife In Lichfield

@citylifelichfield

@lichfieldcity

www.citylifeinlichfieldltd.co.uk

Citylife in Lichfield Ltd does not endorse any business or organisation

appearing in these pages, and the publication of any advertisement,

editorial, event listing or advertising editorial does not constitute an

endorsement by Citylife in Lichfield Ltd.

Your Local Magazine

Inside...

6 Local News

What's happening in and around the area

.............................

22 Competition Time!

Win tickets to the County Show

.............................

38 The Clock Makers of Lichfield

Jono Oates looks at the history of Stripling &

Sons

.............................

44 Pick Your Own...

Where to pick your own fruit & veg

.............................

50 Tastes of the Season

Simon Smith creates delicious summery salads

From the Editor…

Welcome to another bumper issue of Citylife in Lichfield!

As the city slowly opens back up again, everything is springing to

life, and many previously postponed events are starting to take

place, which is really heart-warming to see.

Summer is now in full swing and, whilst the weather is a little

dubious, there's still plenty of places to visit, and things to be

seeing and doing, in and around the region to keep you

entertained!

In the July issue, we've got some fantastic articles written by

historian, Jono Oates, who delves into the past of a Lichfield

watchmaker, as well as pages of community news, recipes from

Simon Smith, and local interest stories to keep you going.

Krissy
---
Advertising Feature

The Foot Retreat

.........................

Alison Loverock had spent 25 years working in local

authority, with the last eight years in adult social care,

when she decided to retrain as a Foot Health Practitioner. Now fully trained

and qualified, Alison is keen to promote the benefits of healthy feet to all.

"It's important to keep your feet in good condition," she explains. "Especially if you have

an active lifestyle, are elderly or suffer from a medical condition such as diabetes.

"Feet carry the full weight of our bodies and play an important part in our daily activities.

Our feet and lower limbs are often overlooked when it comes to health care. We use them

as often as we use our eyes so why not get them checked regularly?"

The Foot Retreat offers a convenient and professional mobile solution for all your foot

care needs, whether you have a particular problem, you are struggling to reach your

toenails, or you simply want them to look good.

Each treatment is tailored personally for you and Alison takes on a variety of tasks,

including:

• Nail trimming • Fungal & thick nail treatment • Callus/hard skin reduction

• Cracked heels/dry skin • Corn removal • Verruca • Pedicures • Ingrown nails

• Diabetic foot care

A typical treatment involves initial assessment of feet, cutting and filing of toenails,

removal of dead skin, prevention and treatment of any of the above foot conditions,

relaxing foot massage using appropriate foot cream and

aftercare advice.

Treatment is suitable for all ages.

Fully covid vaccinated and PPE worn throughout

visit. For an appointment contact Alison on

07980 110025.

READER OFFER

*Get £5 off your first appointment

with this advert!*

5
---
LOCAL NEWS

Local Voluntary Groups

get Queen's Award

Seven voluntary groups from across

Staffordshire have been honoured with Her

Majesty the Queen's Award for Voluntary

Service.

The honour recognises outstanding voluntary

contributions in local communities and has an

equivalent status for voluntary groups as the

MBE has for individuals.

Groups recognised in this year's awards include:

• Changes Tamworth

• The Fun Club Hub, Burntwood

• Marchington Village Shop

• Spark CIO, Burntwood

• Staffordshire Narrow Gauge Railway,

Amerton, Stafford

• Walk Ministries, Tunstall

• Whittington and Fisherwick Good Neighbour

Scheme

In the coming months, the seven groups will

receive their certificate signed by Her Majesty

The Queen along with an exclusive

commemorative crystal presented by the Lord-

Lieutenant of Staffordshire, Mr Ian Dudson CBE

KStJ who is Her Majesty's representative for

the County.

Representatives from the groups will also

receive an invitation to attend a Royal Garden

Party at Buckingham Palace. To date 105 groups

from Staffordshire have now received this

annual Award since it was created by Her

Majesty in 2002.

For details of all this year's Award winners and

information on how to nominate a group visit

https://qavs.direct.gov.uk/ where a nomination

form can be completed and submitted online.

Nominations for 2022 need to be submitted by

15th September 2021.

.......................................................................................

Chess Returns with

Outdoor Tournament

No one thinks of chess as an outdoor game

but Lichfield Chess Club has found a way to

avoid Covid restrictions by playing a small

tournament outdoors in the garden of the

club's fixture secretary, Brian Homewood.

For the past 15 months there has been almost

6

Brian Jones, John Fryer and Mike Hoare

no chess played by Lichfield Club members,

the exceptions being a few matches with other

clubs played on Zoom and some friendly

games for up to six members played in local

pubs.

The outdoor experiment was a success and it

will be followed during the summer by two

more outdoor tournaments. The club's annual

meeting will also take place outdoors with a

further date pencilled in in case of inclement

weather.

Club officials have been worried that there

may have been a loss of interest, and members,

during the long shutdown, but secretary David

Short who has been contacting everyone

about a potential resumption of club nights in

September, said members can hardly wait to

get started again.

.......................................................................................

Leisure Centre Site

Surveys at

Stychbrook Park

Work started on Monday 7th June to learn

more about the suitability of the ground at

Stychbrook Park for construction of a leisure

centre.

Holes were dug around the park to assess soil

conditions and take groundwater depth

measurements.

A survey also assessed the ecological impact of

the project and identified any valuable or

protected animals, plants or habitats within

Stychbrook Park, along with a search for any

archaeological sites to help understand past

uses of the land.

Traffic surveys on Curborough Road and the

junction with Eastern Avenue were also carried

out to assist with future traffic management

plans.

The information gathered from the site

investigations is being used to inform initial

design planning for the proposed new leisure

centre and secure support for the project from

organisations such as Sport England.

The proposed new leisure centre is intended to

feature a 25-metre swimming pool with a

movable floor to support swimming lessons, a

fitness suite and three group exercise

studios/multi-function rooms. Also intended is a

3G artificial turf football pitch at the rear of the

centre.

.......................................................................................

Garrick Announces

Musical composer

The Lichfield Garrick is excited to announce

that Joel Hall will be joining the Your

Community Musical project as Composer.

Joel will work alongside the participants of the

composition group of Your Community Musical

to build the score and develop the music for the

production. The team will meet with him

fortnightly to work on the project.

He will also be offering a masterclass for those

interesting in learning more about the basics of

composition, getting started with your songs,

how to create music for your characters, as well

as a whole host of other tips and tricks that

participants will be able to use during the bigger

project and beyond.

A composer, lyricist, digital producer and

performer, Joel trained at the University of

Nottingham and Royal Birmingham

Conservatoire. He is also the director of

Stream Park, an interactive digital events

platform partnered with the Mixed Reality Lab

at the University of Nottingham, Live Cinema

UK and Oxfam GB, currently undertaking

funded research through Horizon Digital

Economy and hosting immersive events for

national organisations, recognised theatres, and

communities.

Visit www.lichfieldgarrick.com/communitymusical-masterclasses/

for more information

about Your Community Musical and how to

book onto any masterclasses.
---
Advertising Feature

Do you need a financial health check?

How many pensions do you have and what do you really know about them?

Will your Pensions and investments allow you to have the lifestyle you want when you want to retire?

Are you going to ignore your financial health and welfare or do something positive about it?

Give me a call for free one-hour Financial health check to see if I can help you.

As we emerge from pandemic many of us are starting to think about our savings, investments and pensions. Others are thinking of moving

house, taking out life assurance, booking holidays or just waiting to see what the rest of the year will bring. It's probably time that you reviewed

your pensions, savings and investments with a professional to see what your options are.

Just like your health your financial future and that of your families is important so please don't neglect it. I am still taking on new clients and

if you feel that you need advice then please give me call so we can have a chat. My clients get a personalised service and I see them once or

twice a year depending upon their circumstances.

At Four Oaks Financial Services I am

supported by in-house research, client

liaison and administration teams. I spent

most of 2020 and the first half of 2021

working from home using online meetings

to great effect, keeping in contact with my

clients and advising them during a very

strange year. I have now started booking

face to face meetings so whether our

meeting is online, on the phone or face to

face I look forward to speaking to you.

Your first meeting will be at my cost and

there is no obligation to proceed any

further. Financial Advisers get paid in a

variety of ways and I will explain this to you

when we speak. If you do decide to be a

client then you will get a personalised

service that matches your needs, whatever

they may be, as we are all individuals.

I will carry out a full fact find of your

circumstances and discuss with you your

priorities, where you want to be financially

in the future and how I may be able to help

you get there. I will speak in clear terms and

do my best to try and help you achieve your

goals.

As an experienced Financial Adviser I

work with clients, at all stages of their life, to

help them achieve their financial goals. My

clients are mainly in the Burntwood,

Lichfield and greater Wolverhampton areas,

although I do have clients much further

afield. You can find me on the Independent

rating sites Unbiased and Vouchedfor, via my

website - www.financialadviser.me.uk or the

Four Oaks website – www.fouroaksfs.com

It is often said that people deal with

people, particularly local people, so please

give me a call or drop me an email so we can

have a chat and can take it from there.

I hope to hear from you soon.

Robin Place DipFA, CeLTCI, MLIBF

Financial Adviser

0121 323 2070, 07968 504805

robin@fouroaksfs.com

7
---
LOCAL NEWS

New Farmers' Market

in Burntwood

Trust (LHCRT) nominated Chasetown Civil

Engineering for the award as recognition of the

enormous contribution the company has made

to the charity.

.......................................................................................

Johnson's Willow

Will Live On!

Burntwood Town Council is pleased to

announce that a new farmers' market will be

starting in Burntwood.

A three-month pilot will see the event take

place at Sankey's Corner this summer - Sunday

11th July, Sunday 8th August, and Sunday 12th

September from 10 am to 4pm.

A small section of the Cannock Road will be

closed for the market days which will bring a

real sense of vibrancy to the area. The pilot is

being delivered by the Town Council with the

support of Lichfield District Council.

The event organiser is CJ's Events

Warwickshire Limited which currently runs a

Producers' Market at Lichfield and an Artisan

Market at Barton Marina.

Sign up to become a trader at

www.cjseventswarwickshire.co.uk and join the

brilliant local businesses promoting and selling

their products and services.

.......................................................................................

LHCRT Helps Business

Win Award

A local engineering company has won a

prestigious award for helping youngsters learn

new skills while contributing to the restoration

of the canal.

Chasetown Civil Engineering received the

Lichfield District Business Contribution to

Communities award in the Support

Staffordshire Volunteer Star Awards.

Lichfield and Hatherton Canals Restoration

8

Noel Sweeney, (front, second right) on a visit to

LHCRT's Fosseway Heath site

The fifth incarnation of an historic tree at

Stowe Pool in Lichfield will be planted later this

year.

Lichfield District Council and the Johnson

Society have been working together to make

sure a significant tree in Lichfield, called

Johnson's Willow, is regrown as the current tree

reaches the end of its life.

The tree grows to the side of Stowe Pool and

is famous for having been Dr Samuel Johnson's

favourite tree when he lived in Lichfield in the

18th century. For this reason it is now called

Johnson's Willow, although in his time it was

known as the Lichfield Willow.

A survey of all Lichfield District Council's trees

revealed Johnson's Willow needs to be felled

due to extensive decay.

The tree has already been regrown three times

over the years using cuttings from each version

of Johnson's Willow. In preparation for the

felling, the council's community gardeners have

been growing cuttings taken from the fourth

willow in 2018.

Johnson's Willow is expected to be felled in

mid-August and a cutting will be planted in the

same location in November when the site has

been cleared. This will be protected with a tall

metal cage until the young tree establishes itself.

To find out more about Stowe Pool visit

www.lichfieldhistoricparks.co.uk.

.......................................................................................

Lichfield 10k &

Family Fun Run

Entries are now open for the annual Lichfield

10k and Family Fun Run, which will take place

this year on 12th September at King Edward VI

Leisure Centre.

Organised by Lichfield Running Club, this year

marks the 25th anniversary of the event, and all

runners will receive ship timing, a medal and a

t-shirt.

For further information, and to sign up, visit

www.entryhub.co.uk/2021-lichfield-10k-familyfun-run.

.......................................................................................

Partnership is

Commended in

National Awards

Lichfield District emergency shopping scheme

has been recognised in a prestigious national

awards scheme.

Lichfield District Council and Central England

Co-operative's emergency shopping scheme

has been commended in the coronavirus

category of the Regulatory Excellence Awards

2021, which took place virtually on 10th June.

These are the awards that celebrate

outstanding achievements in supporting

businesses and protecting consumers,

contributing towards fighting coronavirus,

rebuilding the economy, and unleashing

innovation.

The two organisations were praised for their

work supporting vulnerable people who were

isolated and impacted by the coronavirus

pandemic.

The scheme involved delivering emergency

shopping to more than 900 people across

Lichfield District who were self-isolating during

the first wave of Covid-19.

The call centre was managed by Lichfield

District Council, who pulled in staff from other

areas of the council to take the shopping

orders and find out if any other support was

needed. Central England Co-operative then

completed the orders and volunteers and

council workers delivered the shopping.
---
Here at Just Granite Ltd, we pride ourselves on being the experts for any worktop needs you may have.

Be it a beautiful bespoke and unique kitchen worktop, a bar, bathroom or even a barbecue area, we have

an extensive in-house range ready to be chosen by you! We stock a varied range, in a variety of materials,

such as our own competitively priced quartz, granite, marble and porcelain, as well as all the top brands

from around the world.

There really is no reason to go anywhere else!

Win a Granite Chopping Board

If you require our services please do not hesitate

to call us on 01785 711096 or email your quote

request to stef@justgranite.ltd.uk

With the largest variety of natural stones in the Midlands, the

solid slabs are kept on-site and are available for a virtual viewing

from 9am-5pm on Monday to Friday. Located at The Stone

Works, Pillaton Hall Farm, Penkridge, ST19 5RZ.

We've got a bespoke Chopping Board (in the

colour of your choice) to give away! To be in

with a chance of winning this magnificent prize,

simply answer the following question correctly:

Where does the supply

of granite come from?

a) Spain

b) Italy

c) Germany

To enter, just send your name, contact details and answer to Just

Granite Competition at competitioncitylife@gmail.com or post your

entry to Citylife in Lichfield Ltd, PO Box 7126, Lichfield WS14 4JS by

the closing date of 23rd August 2021. One entry per household.

Multiple entries will be disqualified. No cash equivalent. Please note

you must be 18 or over to enter. All entrants' information is

processed in line with GDPR Data Protection Regulations and our

Privacy Policy (available at citylifeinlichfieldltd.co.uk).

Full t&cs on page 66.

9
---
LOCAL NEWS

Don't Dump It!

Lichfield District Council is urging local

residents to dispose of their white goods

properly, which means not leaving them out on

the street as this counts as fly-tipping, even if

they are removed by scrap metal dealers.

The warning comes after the council has

noticed a worrying trend of white goods,

especially fridges and freezers, being stripped of

their metal motors and compressors and then

being dumped locally on grass verges and

country lanes.

To combat this, householders should either

dispose of white goods at their local household

recycling centre or pay for a licensed waste

carrier to dispose of them on their behalf.

The council offers a scrap metal service and can

remove white goods, including washing

machines and fridge freezers, for £15.75 for the

first item and £6.50 for a second item.

To book a scrap metal collection, visit

www.lichfielddc.gov.uk/bookscrapmetal or call

the Shared Waste Service on 0345 002 0022

(charged at the local rate).To report fly-tipping,

go to www.lichfielddc.gov.uk/report.

.......................................................................................

New Cannock Chase

Guide Launched

Tourists, visitors

and residents can

find out how to

get more from

their visit with the

launch of the new

guide for

Cannock Chase.

The guide will act

as a one stop

shop for residents,

tourists and

visitors who want

to find out what

the District has to

offer. It

showcases all the

incredible places

in the District spanning across the three main

town centres: Cannock, Hednesford and

10

Councillor Mike Sutherland

and Mike Thomas, Centre

Manager at McArthurGlen

Designer Outlet Village

Rugeley and the surrounding areas.

It's packed full of information about things to do

and places to visit, plus there's also a Heritage

Trail map with walking routes and cycle trails.

The guide will be available to pick up from

various locations including visitor centres, B&Bs

and accommodation providers amongst others.

It is also available online via the website

https://www.cannockchasedc.gov.uk/visitors/wh

at-do/visit-cannock-chase.

.......................................................................................

School Extension

Opened by Education

Secretary

Education minister Gavin Williamson officially

opened a £4.2 million state-of-the-art

extension at a Lichfield school – saying it would

benefit 'generations' of local youngsters.

Nether Stowe School, in St Chad's Road,

received the expansion to cope with an

increased demand for school places in the area,

with the front of the school being extended to

provide a new reception, extra classroom

space, science labs and a new sixth form area,

while a new sports hall is also nearing

construction.

And on Friday 11th June the Secretary of State

for Education Gavin Williamson visited to cut

the ribbon and officially open the new block,

before being given a tour of the new facilities at

the school, which is part of the respected

Arthur Terry Learning Partnership (ATLP).

.......................................................................................

Mayor and Sheriff's

Charities

Councillor Deborah Baker, former Mayor of

Lichfield, accompanied by Dr Steve Baker and

Dr Daryl Brown, former Sheriff of Lichfield,

have recently presented cheques to

representatives of their three nominated

charities: St. Giles Hospice; Lichfield &

Hatherton Canals Restoration Trust; and

Lichfield Voluntary Transport for the Disabled.

During their two years in office the former

Mayor and Sheriff raised a grand total of

£9,095.12 which was distributed equally

between their chosen charities, all three

charities were delighted to receive a cheque for

£3,031.70.

The former Mayor and Sheriff hosted a variety

of successful charity events throughout their

time in office, including an Indoor Street Party,

Barn Dance, Sheriff at Home, Charity Dinner

Dance, Beer and Skittles Evening and Charity

Sunday Lunch.

Councillor Deborah Baker and Dr Daryl

Brown would like to offer their sincere thanks

to all the local businesses, groups and

individuals who supported their fundraising

activities and for their wonderful generosity

towards three very worthy local charities.

.......................................................................................

New Art Exhibition

at The Hub

The Gallery at

The Hub is

delighted to be

hosting the

work of a

Lichfield artist.

'Uninhibited' by

Grace Dooley,

(also known as

Viivakuuva) is

on show until

21st July. Each of

the pieces in

G r a c e ' s

exhibition is

named after

emotions or experiences that every person

experiences, but many groups in society are

discouraged from discussing. This exhibition

project aims to participate in the fight to end

the stigmatisation of the pain, pleasure, loss,

growth and change that all bodies experience,

but many people in society are often forced to

feel shame for discussing, hence the name of the

exhibition: 'Uninhibited'.

The Gallery is open Tuesday – Saturday 9.30am-

3pm. All of the artworks are available to buy

from The Hub. Tel: 01543 414749. For details of

all upcoming events at The Hub visit

thehubstmarys.co.uk.
---
11
---
LOCAL NEWS

12

Leisure Centre Project

Bids for £5M

Lichfield District Council has submitted a bid

for £5 million to the government's Levelling Up

Fund as part of its strategy to fund the

development of Lichfield's new leisure centre.

The proposed new leisure centre will be built

at Stychbrook Park in Lichfield subject to

obtaining planning permission. Work has been

going on in and around the park in recent

weeks to survey ground conditions around the

park in preparation for the drawing up of

outline plans and public consultation later in the

year.

The £4.8 billion Levelling Up Fund is designed

to bring government departments together to

support priority local projects by focusing on

the needs of individual places in places where it

can make the biggest difference to everyday life.

Lichfield District Council has already

committed £5 million towards the cost of the

new leisure centre. The new facility centre will

replace the existing Friary Grange Leisure

Centre. Early proposals for the leisure include a

25-metre swimming pool, fitness centre,

community rooms and a 3G football pitch. In

February 2021, a programme of essential

repairs was completed at Friary Grange at a

cost of just over £400,000 to help keep the

centre operational until the new leisure centre

is completed.

The outcome of the Levelling Up fund bid is

expected in the autumn.

.......................................................................................

Staffordshire

Celebrates Armed

Forces Day

Paul Snape holds flag

People from Staffordshire showed their

support for the Armed Forces community, as

the county celebrated Armed Forces Day on

Saturday 26th June.

The National Memorial Arboretum in Alrewas

lead the nation's commemorations with a

special outdoor celebration and service, along

with a weekend of family activities and a food

and craft fair.

People were also being encouraged to join the

#saluteourforces campaign by uploading a selfie

of themselves saluting.

Staffordshire County Council flew the Armed

Forces flag from Shire Hall in Stafford over the

commemorative weekend.

.......................................................................................

LHCRT Receives

Cheque from Civic

Leaders

Deborah Baker, husband Steve, and Daryl Brown

with Chris Bull (left) and Bob Williams

Lichfield's Canal Restoration Trust has received

a cheque for more than £3,000 as one of the

nominated charities of the former Mayor of

Lichfield, Cllr Deborah Baker, and the former

Sheriff of Lichfield, Dr Daryl Brown.

Mrs Baker and Dr Brown presented the cheque

for £3,031.70 to Lichfield and Hatherton

Canals Restoration Trust chairperson Chris Bull

and Trust finance director Bob Williams at a

small ceremony at Borrowcop Locks Canal

Park, on the city's Tamworth Road.

.......................................................................................

New Offices for Fast-

Growing Business

Michael Fabricant opened Espace's new offices

in Burntwood on Friday 25th June which was

also Employee Ownership Day.

Like the John Lewis Partnership, Espace is one

of 730 employee-owned businesses in the UK

and is the only freight and logistics one.

Managing Director, Tony Shally, started the

company 22 years ago and transferred 100% of

the shares into An Employee Ownership Trust,

with the 36 staff members as sole beneficiaries.

An announcement was made at the new office

opening that each employee would receive 15%

of their gross salary as the employee ownership

annual bonus.

.......................................................................................

Cabinet to Discuss

Recycling Options

Lichfield District Council's Cabinet will debate

the future of recycling collections when they

meet on Tuesday 6th July 2021.

Following extensive work with other

Staffordshire local authorities and waste

disposal contractors, the report recommends

the Joint Waste Service for Lichfield and

Tamworth change how recycling is collected

and disposed of.

The proposed new system would see residents

separate their paper and card from their glass,

cans and plastics, and be provided with an

additional bin or bag. Many other local

authorities use this system, which is shown to

increase recycling rates.

Tamworth Borough Council will consider the

proposals on Thursday 8th July.

To read the full report, go to

www.lichfielddc.gov.uk/julycabinet.

June Winners

Congratulations to G Troman

of Fradley who is the winner of

the Just Granite prize, and to L

Palmer of Longdon who won

tickets to see Chloe Hanslip

and Danny Driver at the

Lichfield Festival.

Well done to the winners and

thank you to everyone who

entered!
---
13
---
LOCAL NEWS

A Warm Welcome in

Burntwood

Tammy Law and Louise Taylor

A Burntwood bakery feels welcomed by the

local community and businesses since first

opening up shop in December 2020.

Despite not having a background in hospitality

and against a backdrop of the pandemic, Louise

Taylor decided to go for it, opening Mikey Teas

six months ago, and is enjoying being a business

owner.

Although the bakery could remain open over

lockdown, as it offers a takeaway and delivery

service, reduced footfall on the high street did

affect trade and Louise is looking forward to

Mikey Teas first summer as more Covid-19

restrictions are lifted.

Lichfield District Council's Information Officer,

a role funded by the European Regional

Development Fund, has visited Mikey Teas to

offer advice and distribute #LoveLocal Covidsecure

resources.

To book a visit from Lichfield District Council's

Information Officer and to order #LoveLocal

resources, such as Covid safety posters and

queue waiting floor stickers, email

economicdevelopment@lichfielddc.gov.uk or

complete a form at

www.lichfielddc.gov.uk/lovelocal.

.......................................................................................

Gate Gallop Returns

The Ruff family took part in the Gate Gallop this year

A popular Staffordshire running event

organised each summer by the Peel Road

Runners in aid of St Giles Hospice returned in

June.

The Tamworth Gate Gallop took place on

Sunday 27th June at the Anker Valley Sports

Complex in Amington, Tamworth, following its

cancellation last year due to the Coronavirus

pandemic.

The Tamworth Gate Gallop has been taking

place for more than 25 years and in that time

has raised over £100,000 to help fund the

hospice's work caring for local people living

with a terminal illness.

The event will featured a fully-marked and

marshalled route, finisher medals, goodie bags,

Unveiling of St Chad Statue

The new statue of St Chad, by Peter Walker, was unveiled by the Bishop of Lichfield at Lichfield

Cathedral on Saturday 26th June. It is the first statue to be unveiled at the Cathedral for more

than 100 years. * Images courtesy of Lichfield Cathedral Photographers

electronic chip timing for 10k and fun run

participants, and event facilities including a

water station, toilets and free parking.

For more information about St Giles Hospice

and the expert care it provides, visit

www.stgileshospice.com.

.......................................................................................

Shakespeare in

Whittington

A new adaptation of

Shakespeare's most

famous work will be

performed outdoors

near Lichfield in July.

Featuring the cast of

2020's critically

acclaimed Lord of the

Flies, theatre company

Let Me In will present

Mac/Beth in a safe,

s o c i a l l y - d i s t a n c e d

environment in Whittington.

Supporters are encouraged to take along

their own picnics and drinks for the one-act

play. There are toilets on site and some parking,

including disabled parking next to the seating

area.

Mac/Beth will run from Tuesday 20th July to

Saturday 24th July at 8.30pm at Woodhouse

Farm and Garden, Whittington.

Socially-distanced seating will be reserved.

The play is suitable only for 14-year-olds and

above, due to themes of violence and strong

language.

To purchase tickets, please visit

www.letmeinpresents.eventbrite.com.

The statue being

dedicated by the

Bishop of

Lichfield, the Rt

Revd Dr Michael

Ipgrave

The Dean of Lichfield, the Very Revd Adrian Dorber

& sculptor Peter Walker

14

The 1st Bishop of Lichfield, St Chad with the

99th Bishop of Lichfield, the Rt Revd Dr Michael

Ipgrave (photo by Jan McFarlane)

A close up of the statue
---
15
---
Summer In

The City!

...............................

By Ben Winterton

Summer is in full swing, venues are

opening up again and we are delighted

to be back offering valuations and

auction advice in the heart of

Lichfield!

From the start of July, Richard

Winterton Auctioneers returns to

The Hub at St Mary's in the city

centre, above the library in the Market

Square, and it is going to be fantastic

meeting people once again and

hearing all about their treasures and

trinkets.

I'll be at The Hub between 10am-

12.30pm on Tuesdays offering advice

on watches, jewellery, silver and

antiques and people can also take the

opportunity to securely drop off

general consignments for auction with

me.

Catching up with the team at The

Hub, executive director Louise

Fleming said: "We are delighted to

have Richard Winterton Auctioneers

back at The Hub as we know a great

many people in the community love

attending the venue to get their

treasure valued!

"Richard has been a wonderful

sponsor and supporter since The Hub

opened and we are grateful he

continues to support our work.

"As we get back into the swing of

things our coffee shop is now open

This British Military Omega

RAF pilot's watch, dating

back to 1953, sold at

auction recently for £2,000.

and makes a great 'waiting room' while you are waiting for Ben to take a

look at your (hopefully) valuable heirlooms.

"We look forward to seeing you soon."

I couldn't agree more!

With our streamlined, Covid-secure processes, it's never been easier

to put your items quickly and efficiently through auction and, as our

results over the past year have shown, demand is stronger than ever.

We've introduced new fortnightly Two Day Antiques & Home Sales

online every other Monday and Tuesday, starting at 9.30am each day –

although for July we're going three on the bounce due to demand!

Two Day Antiques & Home Sales are planned for July 5-6, 12-13 and

19-20, the latter to feature wines and spirits.

Our 'Day One' sales feature jewellery, watches, ceramics, toys and

collectables, with Day Two including automobilia, household items and

furniture.

Appointments can now be booked to view auction lots – just call us

on 01543 251081 – and each sale has its own digital catalogue online.

Simply visit www.richardwinterton.co.uk/auction-dates.

We are currently gearing up to auction a spectacular collection of

watches and jewellery on Monday, July 5.

From left: Watch and jewellery specialist Ben Winterton, The Hub

executive director Louise Fleming and auctioneer Richard Winterton.

Watch specialist Ben Winterton will be offering advice at The Hub in

the heart of Lichfield from 10am-12.30pm on Tuesdays.

Rolex watches through the years plus Omega, Hamilton and Jaeger-

LeCoultre timepieces all feature.

And there is some incredibly impressive gem set jewellery, including a

2.20ct square emerald cut single stone diamond ring.

It's going to be a sale to remember – in fact we're expecting it to be

one of the highlights of the year for our jewellery department!

What better time to get free professional advice and discover that

hidden gem?

Summer's in full swing so let's bring a little more sunshine by shining a

light on your hidden treasures – see you at The Hub!

Starting July 6, Ben Winterton will be at The Hub in Lichfield city

centre between 10am-12.30pm on Tuesdays offering drop-in advice.

Email ben@richardwinterton.co.uk or call 01543 251081.

Free quotations for house clearances, probate services and in-person

valuations at The Lichfield Auction Centre can be booked on 01543

251081 or by email to office@richardwinterton.co.uk – free home visits

for bulky items or large collections are also available to arrange.

Visit www.richardwinterton.co.uk.

16
---
Lichfield Festival

.........................

We could all do with some light

entertainment just now, so how about

some rib-tickling comedy courtesy of

Lichfield Festival (8th-18th July)?

George Egg mixes great gags with gourmet food (which

you get to taste at the end), newcomer Sam Lake brings

his new show Cake, and Sexy Lamp is Lichfield ex-pat

Katie Arnstein's award-winning show. There's stand-up

from the 'best haircut in comedy' Tom Ward, and

guaranteed laughs from Justin Moorhouse (star of Peter

Kay's Phoenix Nights) on the Festival's last night.

Festivals are a chance to make new discoveries and the

Young Artists' series features a hand-picked selection of

incredible talent and a variety of instruments which don't

always get their fair share of the limelight. Festival

Director Damian Thantrey picks out a trombone recital

by Kris Garfitt (Friday 16th July) as a case in point.

"It's not an instrument I knew much about but I've been

doing my homework and really had my eyes – and ears –

opened by the sound and writing. This is definitely my

'surprise yourself' recommendation of the Festival," he

says.

Ionel Manciu (violin), Toby White (cello), Lucy

Humphris (trumpet), The Mithras Trio and National Youth

Jazz Orchestra Quintet are just some of the other

fabulous musicians in the series.

More details available from www.lichfieldfestival.org.

17
---
Advertising Feature

Lichfield Smiles

Denture Clinic

.........................

Matthew Burnell, an awardwinning

Clinical Dental

Technician (CDT), owns both

Lichfield Smiles and The Dental

Laboratory located in the heart of

Lichfield.

CDTs are registered dental care

professionals and are regulated by the

General Dental Council.

Qualifying over many years of intensive

study, exceeding dental technicians'

training through additional modules in sciences, clinical skills and

customer care, the position of CDT allows patients to get direct

treatment for the construction, repair and fitting of removable

dental appliances.

Whilst dentists and CDTs work independently of each other

they often find themselves working together and will confer on

certain dental treatments when it is in the best interests of the

patient or as part of some treatments, such as the creation of

partial dentures.

The most common patients that Matthew sees and treats are

denture wearers, however CDTs can offer other services, such as

advice on oral health, performing technical and clinical procedures

for removable dental appliances, clinical examinations to search for

oral abnormalities, and they can also refer patients to other health

care professionals where necessary.

Lichfield Smiles opened in 2012 meaning Matthew and the

dedicated team is approaching its 10-year anniversary – to

celebrate, he is pushing his skills and abilities even more to mark

the momentous milestone!

Having had some incredible feedback over the last decade, and

having gained numerous awards along the way from the British

Association of Clinical Dental Technicians (all of which are based

on feedback from patient experiences), Matthew is looking

forward to a bright and exciting future.

Matthew is the Winner of:

• Best Patient Experience - 2014, 2015, 2016 and 2019

• Extra Mile Award – 2015 and 2016

• Highly Commended - 2014

After a hard two years, excessive building work following a

devastating flood which essentially ruined the building, and the

Covid-19 pandemic wreaking havoc, the clinic is once again back

on course and committed to creating your perfect smile.

*In Citylife in Lichfield June issue, Matthew was incorrectly acknowledged as a

dentist, instead of a Clinical Dental Technician.
---
19
---
Hospice Celebrates

Cycle Spring Success

...................................

Cyclists from across Staffordshire

used their pedal power to make

Sunday 23rd May Cycle Spring in aid of

St Giles Hospice a fundraising event to

remember.

Keen supporters signed up for this

year's ride, which was the first organised

charity event the hospice has been able to

run in more than a year due to the Covid-

19 pandemic.

Riders setting off on Cycle Spring

Previous Cycle Spring rides set off from

Chasewater, but this year's event started and finished at St Giles Hospice in

Whittington for the first time ever and featured Covid-compliant measures, including

staggered starting times, to ensure the safety of all riders.

Starting at 7.30am, 430 riders in socially-distanced groups of up to six people set

off to enjoy one of three new routes of varying difficulty through the beautiful

Staffordshire countryside.

Organisers hope the 2021 event will hit a record Cycle Spring fundraising total,

with more than £20,000 pledged so far this year to help fund hospice care.

Cycling events run by St Giles Hospice have raised more than £250,000 since they

were first launched in 2013.

For more information about St Giles Hospice and the expert care it provides,

please visit www.stgileshospice.com

20

Advertising Feature

All Aboard

The Buxton Spa

Express

.........................

As a regular reader of CityLife it can't have escaped

your notice that Lichfield based Transport for

Britain is running a special charter train from

Lichfield to the beautiful Georgian Spa town of Buxton on

18th July. With the date fast approaching there is now

limited time to get your tickets for this once-in-a-lifetime

experience.

Organised to promote the reopening of the line between

Lichfield, Alrewas and Burton the train will be making history as

the first service direct from Lichfield to Buxton. For those keen

walkers amongst you the train will be stopping at Edale as it

winds its way through the Peak National Park. The train will also

be the first passenger service from Lichfield to use the line

since it closed following the Beeching cuts of the 1960s.

On reaching Buxton Spa passengers will have several hours

to take in the sights and explore. Visit the Crescent, walk

around the Pavilion Gardens or take the Wonders of the Peak

bus tour and learn about the towns rich history dating back to

Roman times.

Tickets are available through www.eventbrite.co.uk or you

can visit the website at www.arboretumline.uk/charterservice.
---
Advertising Feature

Day Aesthetics

............................................

If beauty comes from within, just the

gentlest helping hand can often enhance the

best of what we already have within us. From

the fine lines and wrinkles that sometimes

stand between us and our more confident

selves, to long-standing skin complaints in

need of resolution, there are many reasons to

seek out an aesthetics practitioner.

But what to look for? In a world of so many

'frozen-faced' cosmetically enhanced

celebrities, finding a reputable, knowledgeable

practitioner to have confidence in is key such

as a practitioner who not only hails from a

medical background but is passionate about

skin health and achieving natural results, never

overtreated or over-filled. Less is more, after

all.

now taking advantage of our microneedling

treatment to combat male pattern baldness. The

commonality between Day Aesthetics customers

perhaps is less when they walk into clinic and

more when they walk back out. We want

everyone to leave us feeling rejuvenated and

confident. The biggest compliment is when a

client says: 'No-one can pinpoint what I've had done.

They just say how well I look!'"

Nestled in the heart of Lichfield, Day

Aesthetics has a proven track record for

more than just delivering excellent results,

providing each and every client with a

dedicated service that's professional, discreet

and friendly. A sentiment which seems to have

resonated with Day Aesthetics' customer

base, sufficiently so that they've been voted

Lichfield's most trusted aesthetics clinic

2020/2021 in Global Excellence Awards, with

a steadfast 'Excellent' 5* rating on Trustpilot.

Led by Lichfield native, Amie Day, an

Aesthetic Nurse Practitioner with some 22

years clinical experience and member of The

Royal College of Nursing and British

Association of Cosmetic Nurses, Day

Aesthetics is a fully certified and insured

aesthetics clinic, using only the safest and

most effective premium products from leading

pharmaceutical providers.

"Embarking on cosmetic treatment is no

small decision and we understand that

wholeheartedly. It's incredibly important to us

that our clients are listened to, that their

needs and expectations are at the forefront of

the treatments we offer, and that all treatment

options are discussed in a thorough, relaxed

way so that our clients can make informed

choices with confidence, knowing they're in

the very best hands at Day Aesthetics."

So, is there a typical customer seeking out

the treatments on offer? "Not at all," says

Amie. "Our clients are from all walks of life.

We're actually seeing many more gentlemen

21
---
Win VIP Tickets to the

Staffs County Show

The Staffordshire County Show will be held on Wednesday 25th and Thursday 26th August.

Despite the change of date, the event will have all the attractions visitors expect from one

of the County's premier events. The Show offers something for visitors of all ages.

A packed Main Ring programme includes a range of attractions from the breath-taking

Bolddog Lings to show jumping and the Grand Parade of Livestock. In the Country Pursuits

Arena visitors can watch the birds of prey display, the ferret roadshow or sit back and learn

all about pigs with the Hogg Show. Around the Showground there will be demonstrations

of traditional rural crafts such as thatching and drystone walling. However, at the heart of

the Show is livestock with over 1,000 cattle, sheep, pigs and goats and over 1,500 horses

and ponies.

There are a number of competitions and shows, including the Sheep Shearing Competition,

Farriery Competition, the Fur and Feather Show and the Bees and Honey Show with its

working hive. Children of all ages are especially well catered for with a children's farm, an

exotic animal display, donkey rides and fairground rides. Shopaholics will be able to browse

over four hundred trade stands selling everything from cars to hot tubs. In addition there

is a food hall with a further fifty stands selling a range of mouth-watering local produce.

For more information and to purchase tickets visit www.staffscountyshowground.co.uk.

We've got a pair of VIP tickets to give away, including free admission to the

show with access to the Member's Pavilion and a two-course lunch with a

glass of wine. To enter, simply answer the question below and send your

details to us!

On which road is the County Showground located?

a) Western Road

b) Stafford Road

c) Lichfield Road

To enter, just send your name, contact details and answer to The Staffordshire County Show

Competition, at competitioncitylife@gmail.com or post your entry to Citylife in Lichfield Ltd, PO Box 7126, Lichfield WS14 4JS by the competition closing date of

9th August. One entry per household. Multiple entries will be disqualified. Winners will not be offered a cash equivalent. Please note you must be 18 or over to

enter. All entrants' information is processed in line with GDPR Data Protection Regulations and our Privacy Policy (available at citylifeinlichfieldltd.co.uk). Full t&cs

on page 66.

Royal Visit for New Era

............................

Her Royal Highness The Princess Royal visited New Era

Domestic Abuse Service for Staffordshire and Stoke-on-

Trent to see the valuable support provided to local adults

and children affected by domestic abuse, including across Lichfield,

Cannock and Rugeley.

The Princess Royal was visiting New Era's

Staffordshire hub in her capacity as Patron

and President of Victim Support, who provide

the victim services part of the New Era

service. The Princess Royal also spoke to

clients and front-line staff about how the

pandemic has impacted them.

Over the past year, New Era has

successfully adapted many of its services to

ensure adults, children and young people

could continue to get the help they needed

from its specialist advisors, either online,

face-to-face, on a one-to-one basis and through group work, despite

successive lockdowns.

During the 30 months from 1st October 2018 and 31st March 2021,

New Era received more than 14,000 referrals and enquiries to its victim

services, and over 900 referrals and enquiries to its perpetrator services.

HRH The Princess Royal also heard how New Era was prepared for a

possible increase in enquiries during the UEFA Euro 2020 football

tournament; traditionally, domestic abuse support services like New Era

often see a rise in referrals during such

football competitions, caused by the

coercive and controlling behaviour of an

abuser and triggers such as alcohol misuse

or unfavourable results.

New Era's confidential helpline for

victims of domestic abuse is 0300 303 3778.

Alternatively, a live webchat can be accessed

day or night via New Era's website at

www.new-era.uk. New Era's confidential

helpline for people who want support to

change their abusive behaviour is 01785 601

690 (Monday to Friday, 9am until 5pm).

22

Emma Tennant of New Era Domestic Abuse Service

welcomes HRH The Princess Royal
---
23
---
Summer Sundaes

........................................

Heavy Beat Brass Band

Whimsy May

Charlie Barnes

On Sundays throughout the summer holidays, The Hub at St

Mary's is rolling out the grass, unfolding the deckchairs and

cracking open the cold drinks on Lichfield's Market Square,

to meet you and show you what the Hub is all about.

The Coffee Shop and Bar will be setting up shop outdoors and there's

a fabulous line up of entertainment with music, family fun, dance, theatre,

cabaret and Shakespeare for you to enjoy.

Kicking off with Cabaret Familia, a variety show suitable for all the family,

spectators can expect song and dance, circus, magic and more! There's two

dance pieces specially for children; 'The Bull and The Moon' from Spin Arts

and 'Whimsy', created for young imaginations; and the younger generation

can also get hands on with Van Gough inspired art, pottery, a teddy bears'

Picnic and family archery, all courtesy of Lichfield's Nurture Network.

There'll be Maths Madness with Kyle D. Evans and lots of very surprising

visitors dropping in throughout the summer!

Music wise there's lots of great artists lined up and raring to go: big, loud

and brassy, Heavy Beat Brass Band remix pop and funk music with the

sound of New Orleans – foot tapping guaranteed! - while HUM Gospel

Choir's soulful vocals will have your hairs standing on end with their

unique style covering all genres of music. Lichfield singer/songwriter and

touring member of Bastille, Charlie Barnes, performs his original

alternative pop and Hub Associate Company 'Let me In' bring together

Lichfield's finest up and coming musicians and spoken word artists. Awardwinning

Walsall Operatic Society will also be dropping by with some of

your favourite musical theatre numbers.

Black Country based ME Dance company will be taking us on a journey

with 'Chain Stories' a contemporary dance piece following the route

taken by the chains manufactured in the Black Country – their beginning

in the earth, the people they met and the places they travelled to.

Each Summer Sundae session will be rounded off by 'Jazz in the Square'

or 'Shakespeare in the Square'. Midland jazzers Elliot Drew, Tom Lindsay

and Nick Dewhurst will all be appearing with swinging jazz standards,

funky tunes, and original and well-known songs.

The Shakespeare comes from 'Bard in the Yard' with actors who have

credits from the RSC, National Theatre, BBC and more. Launched as a

response to the theatre closures in the past year, Bard in the Yard will be

doing Shakespeare in their own very unique way with 'King Leonardo' and

'The Scottish Play'.

For all Summer Sundaes information, including full details of each event,

visit the website at www.thehubstmarys.co.uk.

24
---
25
---
Experience Cricket

Like Never Before

.........................

This summer, The

Hundred – a

brand-new 100-

ball cricket competition

– is coming to

Birmingham's Edgbaston

Stadium for four

unmissable home

fixtures, action-packed

with fantastic sport, live

entertainment and show-stopping moments for the whole family.

The region's newest sports team, Birmingham Phoenix, are competing

in the inaugural season of The Hundred, with Edgbaston Stadium hosting

four matchdays, featuring both men's and women's games back-to-back.

The first home matchday takes place on Friday 23rd July when

Birmingham Phoenix take on London Spirit, with the women's team

getting underway at 3pm and the men's team at 6:30pm. On Sunday 1st

August, both teams play Trent Rockets, followed by matches against Oval

Invincibles on Wednesday 4th August, and Welsh Fire on Monday 9th

August.

Packed with excitement for families, friends and sport-lovers alike, The

Hundred is a fun-filled event making cricket more accessible than ever

before by changing up the fan experience. The Hundred brings a shorter,

fast-paced and simplified game to engage a wider audience, alongside

extra entertainment and affordable tickets.

The Hundred will see sport and entertainment collide on a scale

never seen before as world-class cricket and a strong line-up of live

music fuse to create one of the must-see events of the summer.

Tickets start from just £12 for adults; £5 for under 16s, and under 6s

go free. For more information and to book tickets visit

www.thehundred.com.

Advertising Feature

Something Old,

Something New

.........................

An ever-popular service offered

by Allen Brown Jewellery is the

remodelling service, where the

studio can transform your older pieces

of jewellery into something you can

wear and enjoy, remodelled to a new

design to suit your taste.

Allen Brown is helping many customers

take existing family heirloom pieces and

aid in carrying the sentiment forward to

the next generation. By carefully separating existing pieces, the team can

transform their metals and stones into new individually designed pieces.

It is a good way of recycling material and reusing whilst keeping all the

sentiment of the old pieces.

Often it's hard to visualise what can be done with old pieces of

jewellery and Allen and the team have lots of before and after examples

to show what is possible and will happily guide you along the process. In

addition, the upstairs viewing gallery also provides customers with the

chance to view first-hand pieces of jewellery being created in the onsite

workshop.

From the customer initially walking in the door to the collection of

the final item, the whole process typically takes between 6-8 weeks, with

the first half of this time being for the design and drawing stage and the

following dedicated to the creation of a new piece, depending on the

work involved.

You can rely on the talented jewellery designers at Allen Brown to

create unusual and unique items to your requirements with attention to

detail along with a truly personal service.

If you have some jewellery that you would like remodelling, visit

Allen Brown Jewellery, Heart of the Country, Swinfen, Lichfield,

WS14 9QR or call 01543 481948.

Got a story or

charity event you

want to share with

our readership? Think

you've snapped an

image that captures

the spirit of the

region? We want to

hear from you!

Contact Citylife at

kristencitylife@gmail.com

26
---
Now open 7 days

a week

27
---
Visit Lichfield Celebrates

English Tourism Week

...........................................

To celebrate English Tourism Week, Visit Lichfield invited two followed by a visit to the picturesque Fradley Junction on Tuesday 25th

local MPs to visitor attractions across Lichfield District. May.

English Tourism Week, organised by Visit England, ran from 22nd to

31st May 2021. The annual celebration highlights the importance, value

and vast contribution tourism makes to the UK economy.

To show they are 'here for tourism', the MP for Lichfield, Michael

Fabricant, and the MP for Tamworth, Christopher Pincher, got a closer

look at some of the district's unique visitor attractions.

At the first trip of the week Michael Fabricant was joined by

Councillor Iain Eadie for a race round the tracks at Midland Karting,

At Fradley Junction, Michael was joined by James Dennison from

Canal and River Trust, Christine Bull from Lichfield & Hatherton Canal

Restoration Trust, and Julie Arnold from Staffordshire Waterways. They

took a ride on a narrow boat provided by Streethay Wharf and talked

about the importance of the canals for our tourism industry and the

hard work by volunteers to restore more canal routes in the area.

For attractions, events, tours, where to eat and shop and much more

go to www.visitlichfield.co.uk and to download a Visit Lichfield short

breaks brochure go to www.visitlichfield.co.uk/download.

Michael Fabricant at

Midland Karting

James Dennison, Canal and River Trust, and

Michael Fabricant

Iain Eadie, Michael Fabricant and Garry Mitchell

at Midland Karting

Cllr Doug Pullen, Christopher

Pincher MP, William Bryan Managing

Diretor of Drayton Manor Park

28

Chistopher Pincher MP, and Cllr Doug Pullen -

Meerkat enclosure

Fradley Junction six
---
Advertising Feature

RVT Gardening &

Groundcare

RVT

Gardening &

Groundcare

offers a

complete range

of horticultural

equipment for

all households

and

professionals. It

offers a complete range of walk-behind mowers

from Hayter, ride-on mowers from John Deere, and

robotic mowers from Stihl. The company can also

provide John Deere compact tractors and utility

vehicles, Grillo groundcare machinery and the full

range of Stihl powered garden machinery including

chainsaws, leafblowers and strimmers to name just a

few.

There are four depots, with the closest to Lichfield

being the Sudbury branch where horticultural expert

Mick Reeves is on hand to help customers find the

right equipment to suit their requirements. Contact

Mick on 01283 821345 or 07736 693158 or email

mickreeves@reavalleytractors.com. Alternatively, visit

RVT at Ashacres Industrial Estate, Draycott in the

Clay, Sudbury, Derby DE6 5GX. There's also a

dedicated Facebook page – just search for

@RVTGardeningandGroundcare.

29
---
Feel Good

Campaign Launches

.......................................

People are being encouraged to sign up to a new campaign to help keep

themselves happy, healthy and feeling good.

The 'Do It to Feel Good' email campaign is being delivered by Staffordshire County

Council in conjunction with Everyone Health Staffordshire. It aims to remind people of

the importance of looking after their mental health and the positive impact that making

small changes can have on a person's wellbeing.

Dropping into people's inbox each week is a motivational email with practical tips

based on 'The Five Ways to Wellbeing' - a series of actions proven to improve wellbeing

in everyday life. People will also receive details about services and local organisations

across Staffordshire that offer support.

Dr Johnny McMahon, Cabinet Support Member for Public Health and Integrated Care

at Staffordshire County Council said: "Now, more than ever, it's important for us all to

be more mindful of our mental wellbeing, to help us to live a happier and healthier life.

Abigail Robertson EHS

"We have all felt the impact of the last eighteen months on our health, and as we start

to emerge from the Covid-19 restrictions, many may start to feel the pressures of daily

life creeping in again.

"When you sign up to our free campaign, you'll receive a weekly email with simple and

practical steps that you can take each and every day, to help you to feel good and nurture

your mental wellbeing. It's sometimes the simple things that can make a difference. So,

do it to feel good."

Abigail Robertson, Nutritionist with Everyone Health Staffordshire runs a number of

activities and said: "The baking group is a wonderful opportunity to bring people

together who love baking and socialising. We've had so much fun sharing ideas, recipes

and having a good old natter about foods past, present and future.

Johnny McMahon

"The group have really gotten to know each other and it's become a really friendly

place for people to come together. Over the past few months we've made all sorts of

treats including flapjacks, lemon drizzle cakes, fruit muffins, chocolate brownies and mini

cheesecakes just to name a few."

Zoe Williams, also from Everyone Health Staffordshire, runs various activities,

including the book club. Zoe said: "Joining the book club has given our clients the

opportunity to talk to new people and discuss all sorts of books during a time when

meeting people has been extremely difficult. I have watched those taking part grow in

confidence and start to really enjoy people's company again, which is great."

Karen has joined both the virtual baking and reading groups to help her to connect

with others and improve her wellbeing. Talking about her experiences she said: "Initially

I was feeling apprehensive about it all but joining the groups has been a really enjoyable

experience.

"The groups have benefitted me socially, as without them I wouldn't have had anyone

else to talk to - apart from my husband! My life has changed now and I know that I need

to join in with more social groups in the future. The telephone groups have given me the

courage and the confidence I need to join in with face-to-face groups once these are

back up and running."

People can sign up to the 'Do It to Feel Good' campaign at

https://bit.ly/DoItToFeelGood.

Zoe Williams EHS resize

30
---
31
---
Theatre is Back...

OUTDOORS!

............................

Lichfield Garrick is set to take advantage of the summer heat

and bring audiences outdoors to Lichfield's historic parks,

where they can watch outdoor theatre productions in the

glorious sunshine!

The exciting new programme of shows gets underway next month

with a performance of Shakespeare's The Tempest by celebrated theatre

company, The Pantaloons, on Thursday 29th July. This premier

performance will be held at Stowe Fields, with the stunning Lichfield

Cathedral as the backdrop.

The Pantaloons safely and successfully staged 70 socially distanced

open-air performances in the summer of 2020 and are ready to perform

once again, so get set for a voyage to an enchanted island full of

adventure, romance, magic, and monsters in Lichfield!

Shows continue into August as the magic and adventures move to

Beacon Park on Sunday 8th August. Families will laugh until their tummies

hurt as Little Red Riding Hood and the Three Funky Pigs join Karate

Granny on their afternoon adventures... but watch out for that

cantankerous Mr Wolf who is always on the lookout for his next meal!

Shakespeare's popular comedy of love and intrigue, magic and mayhem, is

brought to life by family favourites, Quantum Theatre, in their wonderfully

funny and exuberant production of the Shakespeare classic.

Audiences are invited to relax on their own seats or picnic blankets

and watch the wonderfully funny tale of magical fancy unfold, as real life

becomes unexpectedly tangled with the supernatural.

These open spaces have plenty of space for families to bring picnic

blankets or chairs and settle themselves in their own areas, safely and

socially distanced from others for the performance.

Entrance is by ticket only and these must be purchased in advance from

the Garrick box office or online. There will be no ticket sales on the day.

The show will go on, rain or shine, and theatregoers are advised to

dress accordingly. Gates open 45 minutes prior to the performance and

audiences are invited to bring their own seating and picnics but are asked

not to bring any glass items or gazebos. There is a short walk across the

grass to the performance area which may be restrictive for pushchairs

and wheelchairs.

Ticket numbers for the Open-Air Theatre shows are limited in

accordance with social distancing requirements and are on sale now,

priced at £14 for adults and £12 for under 16s.

You can purchase tickets online at www.lichfieldgarrick.com or by

calling the Box Office on 01543 412121.

This picturesque setting invites families to

watch classic children's characters being

brought to life with a fabulous modern twist,

packed with songs and fun for all the family.

The fun continues in Beacon Park as Kick

in The Head Productions perform their riproaring

barrel of fun, Three Men in a Boat,

with Giles Shenton (Old Herbaceous

himself!) playing the part of Jerome K

Jerome.

Jerome recounts the hilarious story of his

boating holiday along the magnificent River

Thames with his two companions and

Montmorency the dog. Come and join in the

fun as Giles expertly takes the helm and

pilots you through the much-loved and

ridiculous tale of men behaving badly!

There will be another helping of open-air

theatre on Sunday 22nd August in Beacon

Park, which will provide the perfect setting

for The Tales of Peter Rabbit and Benjamin

Bunny.

Beatrix Potter's classic characters will be

brought to life by Quantum Theatre in a

magical and enchanting production for the

whole family, complete with live music.

The line-up of shows will conclude on the

evening of 22nd August, as an outdoor

production of A Midsummer Night's Dream,

32
---
Not Just Travel

By Gemma Standish

My passion has always been travel and after years

of being an Area Manager I decided it was time for

me to set up my own business and start doing what

I love by helping customers find their dream

holidays, however big or small!

Travel is not as simple as it once was - the

booking process alone can take hours and people

want that extra security. Luckily for me - we are

now in the era of the travel consultant, where one

phone call will connect you with someone who will

take all the stress away. You have my direct mobile

number and I am here to not only search for your

holiday but to answer questions, ask for that room

you heard about on Tripadvisor, and check you had

the perfect trip when you return!

I work with all the suppliers you know and all the

trade-only suppliers. It doesn't cost you any more to

go through me, I get paid directly from the supplier,

so in most cases, I am either the same price or

better than what you find online with the difference

of a personal/VIP service for free.

I have been lucky to visit some amazing places and

love to find that perfect place for my clients. It's

these experiences that clients find invaluable, I feel

my passion and my personal service are what

encourages people to book multiple trips with me.

Not only do I want to make your trip perfect but

also your experience in booking with me!

33
---
Swim House artist impression

Zinzan Brooke, Abbie Wood and Neil Morten launch Swim House Lichfield

Olympian and All Blacks Legend

Back New Swimming Centre

.....................................................

Anew concept in community swimming will be launched in

Lichfield when a former retail unit is transformed to house

a 25-metre pool as part of a push to get the UK fit after

the Covid pandemic.

All Blacks rugby legend Zinzan Brooke and Team GB Olympics

swimmer Abbie Wood have got behind plans to turn the empty store

at Lichfield Retail Park, on Eastern Avenue, into Swim House, the first

in a series of openings planned to take place nationwide.

The plans, being shaped by community interest company Swim

House Lichfield CIC, will see the former Carpetright premises become

home to a three-lane pool for swimming lessons and leisure.

Up to 13 new jobs are expected to be created with the opening of

the centre, which will be used for a mix of formal swimming lessons,

leisure classes and community uses.

The Swim House will boast a dry training facility, rehab pool, physio

access and a cafe space. A baby pool, a viewing gallery and Covid-safe

changing rooms are among the other features of the centre, which

Swim House Leisure expect to be the first of dozens to be established

across the UK.

Taking time out of her training schedule ahead of travelling to Tokyo

with Team GB for the Olympic Games in August, Abbie joined All Black

star Zinzan at the launch event for Swim House Lichfield on 23rd June.

Abbie said: "It is exciting to see the Swim House concept taking

shape. It appeals to me as Swim House offers a positive environment

where young swimmers can learn so I was pleased to visit to see the

plans are heading in the right direction.

"A year of swimming has been disrupted due to Covid, with many

young people missing the chance to learn. Hopefully, Swim House can

get people back in the pool and enjoying swimming."

Fellow Swim House ambassador Zinzan Brooke played for the All

Blacks between 1987 and 1997, playing 58 tests and 42 matches. He

scored 195 points and is considered one of the best All Black number

eights.

Zinzan said the concept of Swim House fitted the need for increased

levels of participation in swimming. He said: "The idea of Swim House

changing the use of a building to get people swimming appeals to me

as a former international rugby player as I want to see barriers to

participation in sport removed to get people fitter and healthier.

"I'm aware of reports suggesting as many as 30 per cent of children

in the UK do not know how to swim, which means lives are at risk. I

wanted to give my time to help realise this project because our towns

and cities are going to change due to Covid, so we need sporting uses

to be at the forefront. Lichfield is going to be the first of what we hope

will be a reinvention of spaces across the UK."

Director Neil Morten, who lives in Lichfield, says the project has

already generated interest from families ahead of its opening, planned

for September, with more than 1000 people registering expressions of

interest in advance.

Neil said: "The opening of the Swim House is the first of its kind

nationwide. We will be providing top-class coaching for all levels of

ability, from helping with a baby's first experience, to learning to swim

and advancing elite athletes.

"We have been overwhelmed by the interest from the local

community already, even though we are still waiting to open the doors

to the public.

"The facility will provide primary school water time every week,

benefiting residents and local schools. We are finding that local

businesses and organisations see this project as an excellent addition

to the city and are delighted to be involved.

"The proposal will deliver access to pool time for young people,

while also helping, we hope, elite athletes on their journey to gold."

Work is expected to start shortly to prepare the facilities. Lichfield

District Council approved a planning application for the change of

usage in January.

34
---
Sniffing Out Treasures with the "Truffle Pig" of Rare Books

When asked how he unearths so many hidden treasures for

auction, book specialist Jim Spencer says: "I'm like a trained

sniffer dog or truffle pig. I plough through every old box of bits, get

to the back of every shelf, check the corners of every dusty drawer,

until something emerges like a speck of gold. Then I go down the

rabbit hole of research, hoping to bring it to life for collectors."

In the last few weeks alone, Jim has made numerous exciting

discoveries. In a box of old books, he found a small order of service for a

funeral - that of Sir John Everett Millais PRA (1829-1896), painter and

founding member of the Pre-Raphaelite Brotherhood. "Just think of St

Paul's Cathedral on 20 August 1896," said Jim. "Someone clutching this

little book, watching the pallbearers, among them Sir Henry Irving and

William Holman Hunt, it's spine-tingling history."

He loves scrapbooks and always checks every page. In a scrapbook

album compiled by WP Granville, electrical engineer, he spotted two

autographed letters signed by Sir George Simpson, meteorologist for

Captain Scott's Antarctic Terra Nova Expedition, 1910-1913, as well as

two photographs of Simpson conducting experiments with a balloon

during the expedition. "This is really important," said Jim. "Collectors will

be scrapping over this one - no pun intended!" The scrapbook is guided

at £1,000-2,000, but Jim suspects a bidding battle will see it race away for

more. "I read Cherry-Garrard's Worst Journey in the World a few years

ago, and it's remarkable what these people went through. This is a little

slice of that expedition."

Jim discovered a single leaf printed in 1484 by William Caxton - the

By Charles Hanson

........................

person who introduced printing in

England. "This is from Disticha de

moribus, and it's a tangible piece of

our printing history." This single leaf

of text is guided at £300-500.

Jim has a soft spot for the comedic

or bizarre and was pleased to dig

out a small manuscript book

recording the theatrical exploits of

John Cole (1792-1848), disastrous

bookseller, publisher and antiquary.

"Cole was an eccentric character

who seemed to avoid success

A letter and photographs depicting

Simpson conducting experiments

whenever possible. This curious book records in meticulous detail the

series of completely mundane events leading to Cole performing a

soliloquy on stage in Northampton. Why he thought it necessary to

devote an entire book to the history of this insignificant performance is

anyone's guess - but I love him for it."

Jim is always keen to hear about antiquarian books, modern firsts,

manuscripts, maps, prints and ephemera. He offers free valuations by

appointment every Monday at Bishton Hall, Staffordshire, and catalogues

a quarterly specialist Library Auction. For more information, or to arrange

a free valuation, please contact Jim Spencer, Associate Director and Head

of Books & Works on Paper, Hansons Auctioneers at

jspencer@hansonsauctioneers.co.uk or call 07807 563 472.

35
---
Abstract Theme in Final Competition

...................................................................

Lichfield Camera Club has just held the final merit competition of included "Splash Around" by Ann Wright.

the year. All meetings have been held online to ensure that "Emirates, London" was by Tim Wayne.

members could continue to improve their photography and enter Sandra Morgan created an abstract floral effect with "Lily Mandala"

competitions.

and "Symphony in Paint" was by Liz Thomas.

Abstract photography aims not to convey anything 'concrete' or 'real' Although the club's season has now ended, members will be leading

(though subject matter is often based on real objects). The

the Lichfield Festival's "City Photo Walk" on 14th July. Photographers of

photographer must rely on other aspects of composition such as all abilities will be given help and advice to improve their composition

colour and structure.

skills during a two-hour walk around the city's more photogenic

The "Abstract" theme allowed members to demonstrate their locations.

creativity and generated a range of remarkable images The Advanced For more information visit: lichfieldfestival.org.

Section was won by

Richard Moore with

"Disappearing Circles."

Other images from the

Advanced Section included

"Bluebells" by Sue

Freeman.

"Psychedelic Bubble

Film" by Darron Matthews.

"Sunrise" by Anne

Anderson.

"Behind the Yellow

Door" by Joe Anderson.

The Beginners/

Intermediate section was

won by Debra Dingley

with "Forks." Other images

in the Beginners/

Intermediate section

The Advanced Section was won

by Richard Moore with

"Disappearing Circles"

Other images from the Advanced Section

included "Bluebells" by Sue Freeman.

"Psychedelic Bubble Film" by

Darron Matthews

Sunrise by Anne Anderson

"Behind the Yellow Door" by Joe Anderson

The Beginners/ Intermediate section

was won by Debra Dingley with "Forks"

Other images in the The Beginners/

Intermediate section included "Splash Around"

by Ann Wright

36

"Emirates, London" was by Tim Wayne

"Symphony in Paint" was by Liz Thomas
---
Before and After...

..........................

Rugeley's iconic cooling towers came down on Sunday

6th June, changing the landscape of the town forever.

Local resident, Simon Wilberforce, sent us these before

and after images of the power station site.

Advertising Feature

Rose House Pottery

....................................

Born in Edinburgh in 1949, Andrew Matheson owns and runs

Rosehouse Pottery, a unique pottery studio and gallery which is

nestled in the heart of Lichfield city centre.

Having graduated from Gray's School of Art in Aberdeen, Andrew specialises in

stoneware and porcelain pieces hand-thrown with a variety of distinctive glazes

and has been producing pieces from locally sourced materials since 1981.

As a member of the Royal Birmingham Society of Artists (RBSA) Andrew has

work in both public and private collections. He also plays a central role in both

the Royal Birmingham Society of Artists (RBSA) having being treasurer since

1987, and the Midland Potters' Association (MPA) where he is currently vice

chairman (former chairman).

Exhibiting in galleries across the United Kingdom, Andrew also undertakes

commissions from his Lichfield-based

workshop and visitors are always very

welcome to watch his classic skills

pottery production.

He also manages a gallery space

above his workshop, exhibiting work

from other potters.

Find out more about Andrew on the

website

at

www.andrewmatheson.co.uk or visit

Rosehouse Pottery at 13 Tamworth

Street, Lichfield.

37
---
Pocket Watch movement by Thomas

Stripling Snr, circa 1770s

Graves of the Stripling Family, south side

of Lichfield Cathedral

Fusee Pocket Watch by Thomas Jnr and

William Stripling, circa 1830s

The Clock Makers

of Lichfield

By Jono Oates

............................

On the south side of Lichfield Cathedral close to the

newly-erected statue of St Chad lie 12 gravestones

dedicated to the memory of a noted Lichfeldian family –

Thomas Stripling and Sons, noted clock and watch makers in the

18th and early 19th century. For nearly 80 years their watches

and clocks were sold throughout the country and they were

renowned for their high quality and style.

Thomas was born in Lichfield in 1742 and he married Hannah Hunt

in July 1763, aged 21, when he was described as a watchmaker. Thomas

and Helen had two children, Thomas Jnr born in 1765 and William in

1767. During the next 10 years, Thomas Snr was responsible for

producing many watches and clocks, including long case clocks, but he

died, aged just 32, in 1775 leaving his widow and two young sons.

Thomas Jnr and William were both sent to be apprentices to learn

their late father's trade under James Hartwell at Uttoxeter with

Thomas studying for four years and William for seven. When they had

completed their apprentices both brothers formed a partnership

making clocks and watches, just as their father had done although until

1822 William had another trade, selling fine chinaware, glassware and

fancy ornaments, selling all his stock in December of that year to start

another concern, presumably to enter into partnership with his

brother. The second generation of watchmakers were just as successful

as their father and in May 1810 Mr William Inns of Towcester was

offering a reward of half-a-guinea for a Stripling of Lichfield silver watch

that he had lost on route to Stony Stratford.

Thomas Jnr was very well-known, and respected, in the city and he

became the Senior Bailiff (Mayor) of Lichfield in 1829. The partnership

between the two brothers was dissolved in December 1842, William

passed away in 1843 and his older brother Thomas died in 1848.

William and his wife, Frances, had four children, including a daughter

Fanny, born in 1802, who married Lichfield surgeon John Whateley in

1834. When John died a few years later Fanny ran a goldsmith and

silversmith business as well as a fine china and glassware business from

numbers 16 and 18 Bird Street (now Damn Fine Café and Ivison the

Florist respectively). She traded as Whateley, Son and Hodson.

Thomas Jnr and his wife Elizabeth had four daughters, Ann, Harriet,

Charlotte and Emma. In 1841 they were all living on Beacon Street;

Thomas was then aged 75, his wife was 65, the four daughters were all

in their thirties and forties and all single. By 1851 both of the parents

had died and the head of the household was now Ann who was

described on the census that year as being a 'Proprietor of Houses and

Dividends.' In 1861 the three remaining younger sisters were all living

in Cheltenham, and 10 years later, in 1871, they had moved to the

fashionable area of Marylebone, London. However, when her two

sisters passed away Charlotte Stripling returned to the family home at

3 Beacon Street in 1881, aged 80. In May of that year Charlotte herself

passed away, and was a very wealthy person as her father's estate of

property and money had been split between the four sisters and, as

her siblings had all passed away, she had inherited the entire estate.

The Lichfield Mercury issued an obituary for Charlotte, written by a

journalist who had known the Stripling sisters for over 30 years, stating

that the Lord had called her up to the Heavenly Temple after a 'life of

close walking with God'. He said that all of the sisters had been very

generous with their financial donations to deserving causes. Charlotte

had donated £10,000 (a huge amount of money in those days) to the

building of a new wing at the Wolverhampton Orphan Asylum and had

also financed the building of a Girls' School on Beacon Street. The

journalist claimed that her death would leave a blank hole in Lichfield

and that there would be none to replace her. The final words of his

homage were 'Good Charlotte Stripling – an honoured and faithful

servant of the Lord, full of years, of faith, of hope, of charity.'

With the passing of Charlotte Stripling, and Fanny Whateley a few

years later in 1894, the period of Stripling watch makers, goldsmiths

and silversmiths came to an end and the male family line ran out. Their

watches and clocks continue to fetch good prices online and at

auctions and I feel very honoured to have two of their watches in my

collection, one movement-only watch by Thomas Stripling Snr, and a

complete pocket watch by Thomas Jnr and William, the name Stripling

and the word Lichfield is etched on both watch movements.

The respect in which the Stripling family name was held during their

time in Lichfield, both for their expertise as clock and watch makers

and for their benevolence in charitable donations, is clearly evident as

the family gravestones are placed very close to the south side of

Lichfield Cathedral, quite an honour for a family who were neither

landed gentry, nor members of the clergy.

Sources: The British Newspaper Archive; Blog by Brian Loomes,

www.brianloomes.com/collecting/stripling; www.ancestry.com;

www.findmypast.co.uk

38
---
Advertising Feature

Andrew Downing Booth

Estate Agents

.............................................

Opening up just six weeks before an unprecedented

pandemic was not the start that Andrew Downing-

Booth estate agents had when opening their doors

just 16 months ago, but that was just the challenge that they

faced. Since then, the business has gone from strength to

strength having agreed sales on a number of properties that

other agents have failed to sell, and become one of the

busiest local agencies in Lichfield. With the right blend of

good old fashioned values of putting the customer first,

alongside contemporary marketing, they have taken the

market by a storm and many local homeowners have

chosen them as the company to be trusted with the sale of

their most valuable asset.

Director Andrew Downing-Booth said: "I'm very proud of how

quickly we have grown as a business. To know that so many

people have entrusted us to sell their home when we were

unheard of before the pandemic is extremely rewarding, as is

seeing how happy our clients are on moving day, with the service

that they have received throughout the process. I set the

business up with a vision to provide the best service we can, and

I genuinely feel that we care more than others about getting our

clients moved."

Andrew is so confident that his clients will be happy with the

service that he offers and the quality of the photography and

property descriptions provided, that he doesn't tie his clients in

to a minimum contract length.

If you are interested in finding out more, or to get a free

marketing appraisal on your property, give the team a call

on 01543 396677, or drop them an email at

lichfield@andrewdowningbooth.co.uk

39
---
Volunteer Star

Awards

Lichfield & District

............................

Sadly in 2020 the Volunteer Star Awards events were cancelled due

to Covid and government restrictions.

Rather than cancel for a second year running, the decision was taken to

go virtual this year instead and the Support Staffordshire Volunteer Star

Awards 2021 took place on 10th June.

It's really important to recognise the wonderful work that volunteers do

in the community, something which is perhaps more important than ever

in these current times.

Business Contribution to Communities

WINNER: Chasetown Civil Engineering Ltd

Commendation: Central England Co-operative

Personal Achievement Award

WINNER: Jonno Quinn - MHA Communities South Staffordshire

Commendation: Sarah Stanley - community volunteer

Commendation: Molly Cutler - Fun Club Hub

New Volunteer Team of the Year

WINNER: Burntwood Be a Friend

Commendation: Liberty Jamboree Trainee Youth Workers

Commendation: Helping Each Other Lichfield and surrounding areas

Volunteering Support for Young People

WINNER: Phoenix Volunteers at St Giles

Commendation: Fun Club Hub Team

Commendation: Ellie Davison - Midday Mayhem at Spark

Commendation: Sebbie Hall - Liberty Jamboree

Volunteer of the Year

WINNER: Linda Hood - Spark-Burntwood, Burntwood be a Friend,

Pathway and Cannock and District Foodbank.

Commendation: Andrew Hardisty - Gartmore Riding School RDA

Commendation: Ian Rose - MHA Communities South Staffordshire

Lifetime Achievement

WINNER: Kathie Peat - MHA Communities South Staffordshire &

Arthritis Care

Commendation: Gillian Eggleshaw - MHA Communities South

Staffordshire

Commendation: Sheila Murphy - St Anne's C of E Church, Chasetown.

Sponsors

Clayton Thermal Processes Ltd was the Event Sponsor and Sponsor of

the 'Lifetime Achievement' Award

'Young Volunteer of the Year' Award

Sponsored by Richard Winterton Auctioneers Ltd. An award sponsor for

the second year running.

'Volunteering Team of the Year' Award

Sponsored by Bromford. An award sponsor for the second year running.

'Business Contribution to Communities' Award

Sponsored by Lichfield BID. An award sponsor for the second year

running.

'Volunteering Support for Young People' Award

Sponsored by Whitemoor Lakes

'Personal Achievement' Award

Sponsored by The Tudor of Lichfield

'New Volunteer Team of the Year'

Sponsored by Police Mutual Foundation

'Trustee of the Year'

Sponsored by Staffordshire County Council

'Volunteering Support for the Over 65's'

Sponsored by Lichfield District Council

Volunteering Support for the Over 65's

WINNER: Hannah Montgomery - Re-Engage, Lichfield (formally

Contact the Elderly).

Commendation: MHA Communities South Staffordshire

Volunteer Team of the Year

WINNER: Kendall and Wall Charitable Trust Volunteers

Commendation: Elford Hall Garden Project Volunteer Team

Commendation: Burntwood be a Friend Foodbank Team

Trustee of the Year

WINNER: John Palmer - Whittington Village Hall Management

Committee

Commendation: James Flintham - Lichfield Re:Cycle and Curborough

Community Association

Young Volunteer of the Year

WINNER: Josh Allen - Fun Club Hub.

Commendation: Holly Clark - Saxon Hill Craft Barn

Commendation: Liam Smythe - Friends2friends

40
---
Whats on

July

........................

Free Countryside Course

Free countryside course with animals,

plants and creativity for people recovering

from mental ill health. Courses are for

Staffordshire residents. Support with

transport available. No prior knowledge

required but must be willing to commit to

27 hours of the course. For more

information contact Carol on 07814

237211/email: umra.cic@gmail.com

........................

The BitterSuite

Beer Festival

Friday 13th - Sunday 15th August

12pm-10pm (Sunday 9pm)

Join us in our large beer garden for our

retro-themed Beer Festival (1960s through

to the 1990s).

A prize every day for the best outfit!

• Over 20 real ales and 8 ciders

• Wood fired pizza by Biddulph's Pizzeria

• Traditional pub snacks

Live music from local bands

Friday - Punch the Air

Saturday - The Legacy

41
---
Advertising Feature

Down on

the Farm!

.......................

Based in Burntwood, situated on the edge of

Cannock Chase amidst the stunning

Staffordshire countryside, lies family-run

Bradshaw Brothers Traditional Butchers, Farm

Shop and Café.

A veritable haven, offering peace, tranquillity and a

quality shopping and dining experience, Bradshaw's (as

it's affectionately known) certainly has something for

everyone.

With its own on-site butcher, Bradshaw's stocks a

wide range of meat of the finest quality. You'll find

everything from joints of beef and lamb for a Sunday

roast, barbecue favourites such as sausages, burgers

and kebabs, and homemade treats like scotch egg and

pork pie. Plus the friendly butcher and his team are

always on hand to give advice on how to prepare and

cook your purchases.

A well-stocked farm shop sells locally sourced

delights, including fresh eggs, bread, cakes, biscuits, and

a range of delicious chutneys and sauces. There's also a

vast selection of wines, beers and spirits from

distilleries and producers in the area, making it the

ideal place to pick up a unique gift for a loved one.

The recently extended café has always been a firm

favourite locally for a delicious breakfast, and the menu

proffers everything from a simple sandwich to a belly

busting Full English which features Bradshaw's own

meat products as the stars of the show! However, the

café also offers a selection of Sunday roasts with all the

trimmings, plus Afternoon Tea should you want to

make your visit more of a special occasion.

Whilst you're enjoying your food, you also get the

opportunity to gaze across the farmland, take in the

views, and watch some of the many animals that live

there too as part of the new Burntwood Alpaca and

Animal Experience centre. From pigs to peacocks,

emus to wallabies, and ducks to goats, a trip to

Bradshaw's is a fun day out that the whole family can

enjoy!

Find out more at www.bradshawbros.co.uk, or

visit Bradshaw Brothers Farm Shop and Café,

Ironstone Road, Burntwood. Tel: 01543 279437.

42
---
All Creatures

Great & Small!

By Kristen Lackajis

.......................

It's not everyday you meet an alpaca… in fact, I'd

never got up close and personal with this animal

before in my life, but after just a few minutes of

time spent with them I realised what beautiful,

curious and funny animals they really are!

Of course, interacting with these magnificent creatures

is all part of a day's work for Sally and the team at

Burntwood Alpaca and Animal Experience centre, based

at Bradshaw Brothers Farm in Burntwood. And it's not

just about alpacas either, as the name suggests, there are

many more animals to meet and greet.

On arrival, I was taken through the new purpose-built

cabin which acts as the waiting area prior to the animals

meet and greet, and also boasts a range of beautiful and

unique gifts made from the wool of their very own alpaca

herd. Beautifully soft, and I'm told very warm, alpaca socks

are particularly in demand with walkers due to their

moisture-wicking properties.

Here, I could also acquire bags of animal feed to help

me tempt the animals to come my way, not that I needed

any sort of bribe, as I found out!

A dedicated walkway takes you through the myriad of

pens and animals runs where guests get the chance to

admire, feed and pet the beautiful and well-cared for

inhabitants. Amongst the residents are two pigs, several

goats, sheep, ducks, chickens, ponies, emus, all of which

were very friendly and just as eager to come and say hello

to me as I was to them! I couldn't say the same for the

four wallabies however as they kept a wary distance, but

they were fascinating to just sit and observe as they went

about their business.

There is also a large aviary housing a variety of different,

exotic birds, as well as two owls and a pair of peacocks!

But the stars of the show had to be the alpacas who

just love to be fed and stroked. And the experience with

these wonderful 'camelids' doesn't have to end there… As

the name suggests, Burntwood Alpaca and Animal

Experience offers the chance to do so much than simply

watch from a distance. Offering alpaca walks, the centre

provides guests with the opportunity to get hands-on

with their very own dedicated alpaca, which can be

walked round the vast fields adjoining the farm, groomed

and enjoy a little TLC! This 90-minute experience can also

be followed with an afternoon tea in the Bedouin-style

bell tent to make it an even more spectacular event.

Private parties and groups can also be catered for,

including children's animal experience parties and also

toddler groups (where the smaller children get to meet

baby animals such as ducklings, bunnies and guinea pigs).

Combine your animal experience with a bite to eat in

the on-site café and a mosey round the farm shop, and

you've got yourself the perfect day out for all the family!

Visit www.bradshowbros.co.uk to find out more

and to book your experience, or pop along and say

hello at Bleak House Farm, Ironstone Road,

Burntwood, WS7 1YL. Tel: 01543 279437.

43
---
Pick Your Own…

By Kelly Johnson

............................

Summer is here and the local farms have opened for fruit picking. Where

will you go to this year and what fruit will you be choosing?

SmallHouseBigTrips has got three local favourites and we wanted to

share them with you:

Essington Fruit Farm

Bognop Road, Essington, Wolverhampton, WV11 2AZ

A lovely 50-acre family-run farm with a variety of PYO fruits and a huge on site

farm shop.

Fruits available: Strawberries (June/July), raspberries (June/July), blueberries (late

July), rhubarb (June/July), plums (Late July/August), damsons (August), runner beans

(August/September), sweetcorn (August), courgettes (July), marrows (July),

pumpkins (October), squash (October).

For more details: www.essingtonfarm.co.uk

Canalside Farm

Mill Lane, Great Haywood, Staffordshire, ST18 0RQ

A family-run farm for the past 36 years with a farm shop and cafe on site.

Fruits available: Strawberries (June - Sept), raspberries (July/August) and

blackberries (Late July - Sept).

For more details: www.canalsidefarm.co.uk

Manor Farm Fruits

Manor Farm, Watling Street, Hints, Tamworth, B78 3DF

One of Staffordshire's longest established soft fruit growers, Manor Farm Fruits

has been owned and run by the Clarke family for the last three generations.

Fruits available: Strawberries (June/July), blackberries (July), gooseberries

(June/July).

For more details: www.manorfarmfruits.co.uk

Do you have any favourites? Get in touch with SmallHouseBigTrips on Instagram

@smallhousebigtrips, Facebook @Smallhousebigtrips1 or Twitter @mummytrips

and let us know your favourites. We would love you to share your best fruit

picking pictures with us too, using the hashtag #CityLifeFruitPicking.

44
---
45
---
Independents'

Day UK 2021

............................

Lichfield District retailers and shoppers

are being encouraged to get involved

with this year's Independents' Day

weekend on Saturday 3rd and Sunday 4th

July.

Independents' Day UK is a campaign that

independent retailers can use to promote their

businesses online and in their communities.

Lichfield District Council is encouraging local

businesses to take part in the campaign and shoppers are being asked

to show some love for the independent retailers in their communities.

To celebrate, businesses across Lichfield District are being invited to

run a Visit Lichfield special offer for the weekend of Independents' Day,

on 3rd and 4th July and beyond. This is where retailers, hospitality

venues and attractions offer savings for Visit Lichfield card holders,

which is a free card that simply needs to be shown at participating

businesses.

Shoppers are also being offered free Visit Lichfield cotton bags on

Saturday 3rd July. To claim a shopping bag, simply spend £5 or more at a

local independent store in Lichfield District on Saturday 3rd July and

bring your receipt to either the

Visit Lichfield stall on Lichfield's

Market Square between 10am

and 3pm or Burntwood Library

from 10am to 1pm and 1.30pm to

4pm. This offer is available while

stocks last and is limited to one

bag per person.

For more information about

Independents' Day, go to

www.independentsdayuk.org.

To apply for a free Visit Lichfield Card and find out what special offers

are running, go to www.visitlichfield.co.uk/specialoffers.

Shine On!

.........................

Working from his

base at The Deer

Park Farm, Oliver

at Igloo Total Car Care is an

expert at bringing cars back

to life. Whether it's a family

car that needs a quick spruce

up, or your pride and joy

classic vehicle that need returning to showroom

condition, Oliver and the experienced team offer a

range of polishes and paint protection packages, as well

as undertaking total interior disasters, all using local

sourced products!

A simple valet will get your car looking clean, shiny and

smelling fresh; a more detailed valet sees your car returned

to near-showroom conditions; whilst a correctional valent

utilises a range of specialist tools that polish your paintwork

far beyond factory standards, for a completely flawless paint

job.

Not only does Oliver offer valeting services, he also

stocks and sells a range of car care products which have

been tried and tested over many years and are guaranteed

to keep your car in tip-top showroom condition!

Find out more, or book your appointment, at

www.igloototalcarcare.co.uk.

Email: hello@igloototalcarcare.co.uk. Tel: 07932 332219.

46

Advertising Feature
---
A Taste

of Nature

By Kristen Lackajis

............................

Nestled deep within the rolling Staffordshire countryside,

situated down a winding tree-lined lane, lies a hidden gem

in the form of The Deer Park Farm.

Formerly part of the Hoar Cross Hall estate, The Deer Park occupies

an enviable position with far reaching views of The National Forest, with

the land having been sympathetically farmed by the Prince family for four

generations. It is no wonder that the family decided to create their own

little hideaway, inspired by, and very much rooted in, the nature that

surrounds them.

The converted barn which dominates the Park houses a farm shop

which stocks a wide range of local produce from nearby artisan

suppliers. There's fresh bread available and in-house master butcher,

Russell's of Shenstone, provides meat of the finest quality.

Upstairs, a variety of bespoke gifts and crafts are available to purchase,

as well as a photographer's studio, designer lingerie unit and a country

clothing outlet.

Then there's the Linhay Restaurant. Beautifully appointed and

tastefully decorated in a classic country-style, with a modern twist, the

atmosphere is laid back and relaxing, and the staff friendly and attentive.

Outside, a paved terrace offers guests the chance to dine 'alfresco' and

enjoy staggering views of the surrounding farmland and woodland. It was

here that we chose to sample the

lunchtime menu so we ordered a glass

of English 'fizz' and had a look what was

on offer.

Amongst the many delights were

several stand-out items featuring meat

from Russell's, which we decided we

just had to try. I chose the Grass Fed

British Flat Iron Steak with Deer Park

Salad, which was accompanied by stout

and cheddar sourdough with dripping

butter. Served medium rare, the steak

was plentiful, lean and cooked to

perfection - delightfully pink on the

inside, it literally melted in the mouth.

The salad was crisp and fresh and I have

to say, having never tasted it before, I'm

now a huge advocate of dripping butter!

What a taste sensation!

My guest opted for The Deer Park Hot

Dog, featuring a Russell's lightly smoked

spiced sausage on an onion bridge roll

courtesy of The Loaf Bakery. Served with

mustard, ketchup, creamy mayo, crispy

onions and garlic and thyme chips, this

was a very grown-up take on the classic

'hotdog and fries' and was declared

utterly delicious! Needless to say, we didn't leave much on our plates!

If you're looking for somewhere to while away the hours, enjoy the

local countryside, eat quality food, and do a spot of shopping, you'll find

The Deer Park is the perfect destination for you. Visit The Deer Park at

Maker Lane, Hoar Cross, DE13 8QR or find out more on the website at

www.deerpark.farm.

47
---
A City of

Flavours

When it comes to dining

out, Lichfield really does

have it all. There's a huge

range of different cuisines and

cooking styles to choose from, such

as Thai, Mexican, Italian, Chinese,

Mediterranean, French, Asian,

English… and everything in

between that you could possibly

want. There's also a varied range of

restaurant vibes in the city, with

chilled out dining, quick and easy

fast food, or something more along

the fine dining experience –

whichever you prefer, you're still

spoilt for choice!

With pubs and restaurants open

once again and able to serve meals

both inside and out, we've put

together just some of our favourites

over the next few pages to whet

your appetite!
---
Bureau Pineapple

Rockstar

........................

A fabulous cocktail from The Bureau on Market Street,

made using Rockstar Pineapple Grenade, as seen recently

on Dragon's Den! This is a gorgeous, summery drink

which will transport you straight to the Caribbean Sea!

Ingredients

25ml Rockstar Pineapple Grenade

25ml Passoa

12.5ml Grenadine

50 ml Pineapple Juice

Lemonade

Method

Fill a cocktail shaker with

ice, put in all the

ingredients apart from

the lemonade, and shake

until the outside of the

shaker feels cold. Pour

into a mason jar, top up

with lemonade and

garnish with a

strawberry and fresh

pineapple.

Enjoy!

49
---
Tastes of the Season

By Simon Smith

Salad for the Soul!

Mid-summer should be the time of sunshine

and salads but who knows what the weather

will be doing this month!

A salad can be so much more than a

collection of leaves with a tomato and

cucumber on top. Any vegetable that can be

served hot can also be served cold and give

such vibrant colours to a plate. The joy of a

salad is that it can be prepared in advance so

won't restrict you to a specific eating time.

They are also healthy clean foods packed full

of nutrients.

If you are using green veg for a salad such as

green beans, broccoli or asparagus you should

boil a pan of water and drop the veg in there

until cooked but still with a bit of crunch and

then drop into a bowl of iced water to stop

them cooking. This will make sure they stay a

beautiful green rather than grey and they look

so much nicer. Mixed with other foods, such

as mangoes, heritage tomatoes, roast

sweetcorn, carrot ribbons, and nuts, these

plates will look fabulous on the table.

Salad dressings are on every shelf in

abundance but my favourite is an easy one to

make and can be used as a 'mother sauce'

which will take other ingredients.

Two parts mayonnaise to one part chicken

stock made with a Knorr stock cube, finely

diced red onion, squeeze of lemon juice, finely

diced garlic (optional), chopped chive, mix

together in a bowl. This will give you a lovely

creamy dressing. If you prefer it thinner add

more chicken stock. You can then change the

basic sauce by adding honey and mustard or

avocado purée or blue cheese.

I quite often use a filo pastry tartlet to serve

a salad in. Preheat the oven to 180 degrees

Celsius. Melt some butter. Lay one sheet of

filo on the work surface, brush with butter all

over, lay another sheet on top and brush again

with butter, repeat for a third time. You can

cut into eight equal squares. Grease tartlet

moulds and press the filo squares in. Cook in

the oven for 5-6 minutes but keep an eye on

it as they burn very quickly. These will keep in

an airtight container for a week or so. If you

dress a salad in these do it at the last minute

so they don't go soggy.

When I'm using eggs in a salad I will always

use Burford Brown's as the have a deep

yellow yolk which give a great lift to a Niçoise

salad for example.

King Prawn, Mango and

Avocado Salad

600gms cooked king prawns

2 x avocados

1 x ripe mango

1 x pack mixed cherry tomatoes

1 x clove garlic

1 x lemon

2 tbsp fresh basil

2 tbps fresh coriander

Cut the avocado in half, remove the stone and

cut into cubes of about 1cm. Peel the mango

and cut into cubes of about 1 cm. Peel and

crush the garlic. Mix together in a bowl and

zest the lemon over the top then squeeze the

juice in. Fold in the king prawns and tear the

basil and coriander over the top.

Roast Vegetable Salad

1 x celeriac

1 x cauliflower

1 x butternut squash

4 x carrots

2 x sprigs fresh rosemary

3 tbsp pumpkin seeds

I know these quantities are too much for a

salad for four people but you would have to

buy these ingredients like this. Any excess can

be used to make soup or served as

vegetables.

Peel and cut the celeriac into half inch cubes.

Cut the cauliflower into fleurettes. Peel and

cut the butternut squash into half inch cubes.

Peel and cut the carrots into similar size

chunks. Take the rosemary leaves off the

stalks. Mix all the ingredients together in a

roasting tray with some sea salt and olive oil.

Roast in a preheated oven at 180 degrees

Celsius for approximately 25 minutes, turning

quite often so the veg cooks evenly.

Simon Smith runs a catering business from his

production kitchen in Lichfield, providing bespoke private

dinners plus wedding, corporate and event catering.

Simon also undertakes cookery demonstrations around

the country and with local businesses such as Arthur

Price and Tippers. During the summer months Simon

works for private clients both on superyachts and in

villas in St Tropez and Europe. If you are looking for

catering or a day of cookery skills go to

www.simonsmith-chef.com

*Please take extra care when preparing and handling

hot foodstuffs. Go to www.food.gov.uk for further details.

**Please take extra care as bones may be in the fish.
---
51
---
Lichfield

Cathedral

By The Rt Revd Jan McFarlane

............................

As we begin to look ahead to recovering

our freedom from the Covid pandemic as

a result of the success of the mass

vaccination programme, we're aware, as never

before, of the importance of science.

Some people think that science and religion don't

go together, but many scientists are people of faith.

Lichfield Cathedral made headline news across the

world when we opened our doors as a mass

vaccination clinic in the spring, supporting the work

of our brilliant NHS. And now we're opening our doors again for a summer

of science, creativity and spirituality.

Come and walk around a large Laboratory - with free family activities

during the summer holidays and October half term.

Be amazed by The Great Exhibition as in light and sound we explore the

wonders of our world through the eyes of scientists. Learn about pioneering

scientists you may never have heard of before but whose work has shaped

the world around us in our free exhibition, Pioneers in Science.

We are also marking the end of five years' work with our artist-inresidence,

Peter Walker, who has created the sound and light exhibitions and

Luxmuralis by Peter Walker

the magnificent bronze statue of St Chad, the Cathedral's patron saint and

first Bishop of Lichfield, which now greets you as you come to the Cathedral via Dam Street.

In September there will be a Retrospective exhibition showcasing his work over the past five years. And as always,

you'll find too at our Cathedral a space to remember and to reflect – especially on the events of the past 18 months.

You are always welcome at Lichfield Cathedral. See our website lichfield-cathedral.org for further details.

Call for Cornish

Coast Walkers

............................

St Giles Hospice is looking for energetic fundraisers with a

passion for the great British outdoors to take part in a Cornish

Coastal Challenge this summer.

The weekend trek, taking place between 10th and 12th September, will

follow the dramatic coastline of North Cornwall where the spectacular

landscapes feature rugged cliffs, hidden coves and old fishing villages

forming a beautiful backdrop to the blue sea.

The coastal challenge, run in partnership with the company Discover

Adventure, is suitable for walkers of all abilities and is open to anyone

aged 18 and over.

Starting at Trevose Head, west of Padstow, Cornish Coastal Challenge

trekkers will walk for 22 hilly miles to St Agnes Head – a challenging

distance considering the terrain. The group will pass the distinctive beach

stacks of Bedruthan Steps, as well as old reminders of Cornwall's mining

heritage, while Poldark fans will recognise some key filming locations such

as Holywell Bay, with the much-filmed Gull Rocks visible offshore.

Participants pay an £80 registration fee for the event and pledge to

Charity walkers enjoying the Cornish Coastal Challenge

raise a minimum sponsorship of £600 for St Giles Hospice, which will

fund care for patients and their families living with a terminal illness.

Everyone taking part will receive food and accommodation, transfers

within the trek, Discover Adventure leaders and drivers throughout the

challenge.

As a member of #TeamStGiles, walkers will also get an exclusive St

Giles T-shirt, a bespoke St Giles Hospice fundraising pack, a dedicated

member of the hospice fundraising team to assist them with training and

fundraising and a supportive community and team to engage with ahead

of the event and during the challenge.

For further information about the Cornish Coastal Challenge or to sign

up visit www.stgileshospice.com/cornishchallenge.

52
---
National Miners'

Memorial Update

.........................

The National Miners'

Memorial being built at the

National Memorial Arboretum

(NMA) is now well under way

once again!

Mike and Trish Mellor, and

Len and Jackie Prince of Chase

Arts for Public Spaces

(CHAPS), visit the NMA

regularly to keep up with

progress and hold regular site

meetings with Andy Ansell and

Paul Johnson of the NMA;

Mark Walker of A Walker &

Sons, who are building the

Derbyshire Stone memorial,

and artist Andy DeComyn,

responsible for the 25 bronze

plaques which will be fixed to

the memorial. It is expected

that the memorial will be

completed in July.

It is important that, once

completed, the memorial

receives a fitting service of

dedication which, Covid

guidelines permitting, allows all

those who wish to attend to

be present. To that end CHAPS

is now in the process of raising

the funds to enable them to

hold a suitable dedication

service which will include a

Brass Band and a Male Voice

Choir.

(l-r) Artist Andy DeComyn with

stonemason Mark Walker, and Mike

Mellor and Len Prince of CHAPS

Pin badge

Print No 2, Mother and

Daughter

Funds are being raised through the sale of commemorative pins

which are £5 each and limited edition prints at £25 each. The

prints are from the drawings used by artist Andy DeComyn to

make the bronze plaques and were completed by his wife

Francesca. There are just 25 prints of each drawing, each one

signed and numbered by the artist; they come complete with a

pale grey mount and a leaflet with information about the drawing

and the memorial, finished size is 8" x 10" so that they fit into a

standard frame.

You can find out more about CHAPS and the National Miners'

Memorial at www.chaseartsforpublicspaces.co.uk or

www.facebook.com/ChaseArtsForPublicSpaces.

For more information or to order pins or prints email

info@chaseartsforpublicspaces.co.uk or phone 07583 655199.

53
---
Armed Forces

Day at

Arboretum

............................

Saturday 26th June marked Armed Forces Day and is a chance

for everyone to show their support for the men and women

who make up the armed forces community, from current serving

troops to veterans.

The National Memorial Arboretum in Alrewas held a special tribute

weekend of celebrations, which included a live broadcast ceremony for

those who could not attend, a fantastic flypast from The Red Arrows,

as well as a visit from HRH The Princess Royal.

There were also lots of activities for visitors and children, including

assault courses, a climbing wall and a food and craft fair.

54

Images: National Memorial Arboretum
---
55
---
Eric Wood co-founded the Trust in 1988

Lichfield Canal

Trust AGM

............................

Lichfield's Canal Trust celebrated the 90th birthday of its

president and co-founder at its 31st annual general meeting.

The virtual meeting watched a 20-minute YouTube video, produced

by Lichfield and Hatherton Canals Restoration Trust (LHCRT) website

manager Paul Marshall, on Eric Wood's vision for the restoration of

two long-abandoned branches of the Wyrley and Essington Canal.

Having taken early retirement from the teaching profession in 1985,

Eric's dream was to re-establish the link between the northern

sections of the Birmingham Canal Navigations, the Coventry Canal in

the east and the Staffordshire & Worcestershire Canal in the west.

Eric was inspired to take on what he described as 'a bit of a

challenge' when he realised a small body of water connecting to the

Coventry Canal and used by Lichfield Cruising Club was actually the

final portion of the W&E extension, which had been abandoned in

1954.

With boating friends Brian Kingshott and Nick Grazebrook, Eric set

up the Trust in 1988 and became its first chairman.

The video retraced the early years of the Trust and included the

unveiling earlier this year at Fosseway Heath of a sign at Lock 18, one

of the Trust's first excavation sites, which has now been renamed

Wood Lock 18 in Eric's honour.

Eric's son Robert then made a surprise presentation to his father of

a painting by Stuart Sampson of Eric's narrowboat.

Earlier the AGM was addressed by engineering director Peter Buck,

who said 2020 had been a year of challenges caused by Covid, with

work party cancellations and restrictions on corporate groups,

Waterway Recovery Group camps, and college students affecting

restoration activities.

But the Trust's volunteers always rise to challenges, he said, and

skeleton teams had continued to work throughout the year to

maintain and keep safe the restored section of the nature trails, the

Heritage Towpath Trail, together with keyworks necessary for the longterm

stability of the work sites.

The local community had flocked in droves to exercise along the

open sections of the Lichfield Canal, notably at Fosseway Heath,

Borrowcop Locks, Gallows Reach and Summerhill. With the lifting of

some of the Covid restrictions in June, volunteers had made great

strides in the canal restoration work.

At Gallows Reach and Tamworth Road, the formation of the canal

channel exposed the towpath wall, allowing volunteers to restore the

wall and towpath.

At Fosseway Heath and Falkland Road, a great deal was achieved

with the construction of two towpaths, one each side of the channel,

together with new walls on each side.

Meanwhile, work off-site has been ongoing, protecting the next

sections of the restoration from development involving rogue

installation of service utilities on designated canal land and securing the

route of the canal.

On the St John's Grange development, between London Road and

the Birmingham Road railway line, Persimmon Homes and Amey have

been beavering away on a section of the new bypass which includes

several key elements of the Lichfield Canal, sandwiched between the

bypass and the housing development.

Much time has been spent in discussions to protect the Trust's

requirements for the canal and this has resulted in securing the

heritage lock 23 for restoration by the Trust in the near future with the

installation of a substantial wall between the canal and the bypass.

Trust financial director Bob Williams reported that in a difficult year

for fundraising, an appeal to pay for steel piling had raised £25,000

since its launch in April 2020, with donations from all over the world.

Trust chairperson Chris Bull said that given the very strange year

that 2020 turned out to be, the Trust had weathered the storm rather

well, conducting virtual meetings, and she looked forward very much

to getting back to normal and holding an in-person AGM next year.

Links to the video of the annual general meeting and the tribute to

Eric Wood can be found at

https://lhcrt.org.uk/news/news_Jun06_2021.html.

56
---
J HOWELL &

DAUGHTERS

FUNERAL DIRECTORS LICHFIELD

LICHFIELD'S LONGEST ESTABLISHED INDEPENDENT,

FAMILY RUN FUNERAL DIRECTORS.

SECOND GENERATION BUSINESS HERE TO ASSIST YOU

AND YOUR FAMILY.

24 hours a day

We are proud to be Lichfield's longest established family run funeral directors offering a wide range of

choices to suit all requirements. Horse drawn hearse, non religious ceremonies, floral tributes and

memorials are but a few of the services we offer.

Pre-paid funeral plans are also available.

For a truly personal service please call

01543 255776

Private Chapel of Rest 116 Netherstowe,

Lichfield, Staffs. WS13 6TS

57
---
A Landscape Vision for the

Future of the Washlands

By Victoria Bunter

.........................

The Washlands is an extensive piece of natural land that follows the

river through to the heart of Burton-upon-Trent. Recently, a new

shared Landscape Vision has been launched for the Washlands,

headed by East Staffordshire Borough Council and in partnership with

the Environment Agency, Staffordshire Wildlife Trust and other public

and private sector partners.

Transforming the Trent Valley is excited to announce that a range of habitat

enhancements have now been designed though our Living Floodplains project

which will make this vision into a reality.

The vision, informed by consultation with key stakeholders and the local

community, addresses how to best balance the regular flooding of the area

with the need for public access and recreation, whilst promoting nature

conservation and a more environmentally sustainable approach to green space

management.

This work will be completed in two phases over 2021 and 2022. Phase 1 is

the delivery of projects within the central part of the Burton Washlands,

primarily on East Staffordshire Borough Council Landholding. These are a mix

of wetland, river, grassland and woodland enhancements. Some of the

highlights include:

• Creating wildlife ponds in areas where stagnant water collects after

flooding. These ponds will have diverse vegetation and will support a host of

aquatic wildlife. Deepening the pools will also have the effect of collecting

water improving access across the floodplains during wetter periods.

• Addressing water flow in vegetated channels such as the Silverway. We will

look to lower the nettle-covered banks encouraging a more species rich

aquatic flora during periods of high flow, whilst maintaining flow during drier

seasons, ensuring water flow in the channel year-round.

• Reprofiling strategic

sections of the riverbanks by

changing the slope. This will

replicate how the river

would have looked before it

was artificially modified. By

doing this we will create new

habitats by varying the width

of the river, exposing gravels,

and creating areas of

shallower water. These new

Water standing on fields for long periods

after flooding.

habitats will support young fish and aquatic insects in the shallows as

well as invertebrates specifically associated with exposed river

gravels.

• Bringing in local wildflowers to the meadow areas supporting

pollinators and bringing attractive colour to the fields outside of the

amenity areas.

We would like to thank the various user groups of Burton

Washlands who have provided important local knowledge on the

project area and fed into the design phase for this project. This will

be a fantastic example of creating a landscape which can provide

both support for wildlife and enjoyment for people in the same

space.

We would like to thank our funders and partners including the

Environment Agency, National Lottery Heritage Fund and East

Staffordshire Borough Council.

'The Washlands Vision' sets out the landscape scale proposals for

the area and can be viewed at www.eaststaffsbc.gov.uk/washlandsproject.

Unused meadow areas which would benefit

from wildflower introduction.

Nettle banks alongside the Silverway.

Riverbanks that would benefit from reprofiling

to create a shallower beach profile.

58
---
Advertising Feature

Elite Academy of

Performing Arts

Elite Academy of Performing Arts is

delighted to open its doors as a dance

teacher training college. Since lockdown the

Academy has gone international, taking its

students' online training to a professional

level. The next stage is a full-time course

along with its own music specially developed

and designed for dance teachers! The course

is run by IDTA examiners, Donna Wilcox

and Michelle Upton.

Contact

elitedanceteachertraining@gmail.com for

further information.

High Sheriff's Tour

of the Trent Valley

................................

Throughout June and July 2021, James Friend, the High Sheriff

of Staffordshire, will be touring along the River Trent as it

flows through the county. Supported by Transforming the

Trent Valley (TTTV), a National Lottery Heritage Fund landscape

partnership scheme headed by Staffordshire Wildlife Trust, the

High Sheriff will walk, cycle and paddle the Trent raising money for

The Community Foundation.

The High Sheriff and his family have already walked the first stage

from the headwaters on Biddulph Moor. The tour kicked off in earnest

on Thursday 24th June starting at Staffordshire University in Stoke-on-

Trent where Staffordshire Wildlife Trust have carried out a major river

enhancement work as part of the ERDF SUNRISE project to improve

the diversity and habitat of the river channel.

The High Sheriff and the Transforming the Trent Valley team then

cycled from Stoke-on-Trent to Wolseley Bridge with the 22-mile cycle

ride concluding at the Wolseley Centre, head office for Staffordshire

Wildlife Trust.

James Friend, High Sheriff of Staffordshire, at the Trent Head

Well on Biddulph Moor

Further stages of the tour will take place over the coming weeks

including a walk along the canal through Rugeley to Kings Bromley and

walking the Trent Valley Way into Burton. The tour will incorporate

stops and diversions to key project locations within the TTTV

landscape, including a tour of the Riverside Park at the former Rugeley

Power Station site, a visit to our river island restoration project at

Cherry Holme and concluding with a Celebration Event on the Burton

Washlands on Saturday 31st July.

Visit www.thetrentvalley.org.uk/high_sheriff_tour.php to stay up to

date with the tour, or follow it on Twitter @thetrentvalley.

59
---
60

The Festival of Britain

in Lichfield

70th Anniversary

By Jono Oates

............................

Seventy years ago the whole of the country celebrated the

Festival of Britain and Lichfield certainly played its part, with

many events and exhibitions held throughout the summer of

1951.

The Festival of Britain had been the brainchild of Labour MP Herbert

Morrison, as a commemoration of the centennial of the Great Exhibition

of 1851, held at London's Crystal Palace, and it became a major

celebration of Britain and its many achievements, designed to help reinvigorate

the economy of Britain after the ravages of World War Two.

London was the central location of the festival events but many towns

and cities across the country chose to celebrate in their own way,

including Lichfield.

Lichfield Round Table held a meeting in June 1950 to discuss the

following years' festival and discussed a plan to have a large number of

flower arrangements placed around the city, the Mayor of Lichfield,

Councillor Arthur Handford, addressed the Lichfield Greenhill Bower

Committee in November 1950 stating that he hoped that the Bower

would take a very active part in the 1951 celebrations.

By April 1951 arrangements were well on way, with an exhibition

planned by the Lichfield Chamber of Trade and Commerce, including an

'exciting' demonstration of Nylon-making, a reasonably new product at

that time, by a local manufacturing firm. A scheme was also submitted by

the Midland Electricity Board for flood-lighting and strip lighting to be set

around several of the city's attractions, throughout May to September.

Flood-lighting illuminations were proposed for the West Front of the

cathedral and the central spire; the Samuel Johnson Birthplace Museum

and the Clock Tower on the Friary while strip-lighting was proposed for

Minster Pool, the Friary Rose Gardens and the Museum Gardens.

One of the earliest events of the summer was on Sunday 17th June

when over 500 police officers from around the county took part in a

parade round the city by the Staffs County Police Force, led by the Chief

Constable Colonel GWR Hearn which finished at Lichfield Cathedral

where they were greeted by Bishop Edward Sydney Woods.

A Festival of Britain Lawn Tennis Tournament took place from 9th to

16th June at the Recreation Grounds at Beacon Park with tournaments

for singles, doubles and mixed doubles, and large crowds gathered daily

to watch the qualifying rounds and finals.

Lichfield Cathedral hosted an exhibition of literary treasures in the

Lady Chapel during the first fortnight of July 1951, including the 8th

century St Chad's gospel, which at that time was not generally on public

display. The treasures were considered to be priceless, and plain-clothed

police officers patrolled the exhibition while it was on display.

More than 2,000 spectators watched the Pageant-Fair 'Lichfield

Through the Ages' on Saturday 7th July in the grounds of the former

Friary School, where over 500 children from schools all over the city put

on four scenes: the 'Story of St Chad'; the 'Bower in Early Times'; 'The

Friars in Lichfield'; and 'The Message of the Spires'.

The Friary School was also the setting of the starting point of a

procession, held on Sunday 15th July, of nearly 1,500 people including

representatives from 40 local authorities across the whole of

Staffordshire who then walked to the cathedral, and was led by the

marching band of the 16-5th Lancers.

Lichfield Bower image courtesy of the St Mary's Photographic Collection

St Chad's Youth Club Greenhill

Bower float 1951

Festival of Britain stamped

letter, posted May 1951 from

RAF Lichfield

Edward Sydney Woods,

Bishop of Lichfield

An exhibition of historical artifacts, including items from the

Letocetum Roman Site and Museum at Wall, was held at the council

chamber of Lichfield Rural Council on St John Street. The exhibition,

titled Lichfield Countryside, was opened by Major Richard Dyott of

Freeford Manor and guests included the Sheriff of Lichfield, John S Tayler

of the men's outfitters on Bore Street, and Henry Callender, the Town

Clerk of Lichfield.

Festival events continued throughout the summer and autumn,

including an impressive fireworks display in the Recreation Grounds,

Beacon Park, on Friday 21st September and an 'Old Tyme Fayre' held at

the Friary School on Friday 24th August and organised by the Lichfield

Women's Institute. At the AGM of the Lichfield and District Domestic

Rabbit and Poultry Keepers' Association, held in November 1951 at the

Bridge Tavern on St John Street, Chairman GA Gee told the group that

the group's biggest contribution had been at the Festival of Britain event

in September at the Guildhall, where over 70 pens of rabbits and 50

plates of eggs were on display.

The Festival of Britain events in Lichfield in 1951 were incredibly

popular and many thousands of visitors, and locals, came to the city to

help celebrate the best of Britain. In the New Year's Honours list of 1952

Town Clerk Henry Callender was awarded the MBE for his services to

the Lichfield events and the gardens at the Friary, originally called the

Rose Gardens, were renamed as the Festival Gardens in honour of the

celebrations.

Sources: The British Newspaper Archives; Lichfield City Council website.
---
61
---
62

The Day the Steam

Ran Out

By Jono Oates

............................

On Sunday 6th June 2021 at 11.15am the skyline around

Rugeley was changed forever, as the four cooling towers of

the Rugeley Power Station were reduced to a pile of rubble

in just a few seconds, ending a 60-year tenure as one of the most

iconic, and historic, images of Rugeley.

Construction of the power station, a joint venture between the

Central Electricity Generating Board (CEGB) and the National Coal

Board, started in 1956 with full production expected within five years,

and the building cost was an estimated £30,000,000. The first station

became known as Power Station A and had five cooling towers,

generating power via the supply of coal from the nearby Lea Hall Colliery,

and used the first, and only, dry tower in the country, aiming to eliminate

water loss. It was followed by the Rugeley B Station in 1972.

Work on the new station was disrupted several times by accidents

involving the construction workers. In April 1959 scaffolder Francis

Duggan fell a staggering 210 foot inside one of the cooling towers and,

amazingly, despite the height of his fall, Francis survived, sustaining two

broken ankles and a broken spine, and received treatment at Stoke

Mandeville Hospital. A few months later, in September of the same year,

fellow scaffolder Kenneth Glover fell 30 foot and also survived.

In December 1958 the Lichfield Mercury reported that the power

station would have the biggest cooling tower in the world and that the

towers were so large that you could even fit Lichfield Cathedral into

them! The site employed a large number of staff and construction

workers and on 31st May June 1959 thieves broke in to the site in the

early hours of the morning. They ransacked every office and succeeded

in stealing a safe from the one of the offices, containing £500 in cash.

Rugeley A was officially opened on 1st October 1963 by Lord Robens,

Chairman of the National Coal Board, and Sir Christopher Hinton, the

first Chairman of the CEGB. Lord Robens said he believed that the

power station would have a huge impact on the national and local

economy, and that he believed that production at the Lea Hall Colliery

would increase from the current 1.5 million tons of coal a year to two

million tons. The following weekend hundreds of people attended an

Open Day at the station, and the climax of the day was a dance in the

evening when the newly-crowned Electricity Queen was announced as

18-year-old Mrs Kathleen Morgan, wife of an electrician at the plant.

Production at the station almost came to a complete halt in October

1966 when a cracked 12-inch water main pipe, 30-foot underground at

Queensway, meant that water supplies to the station, Lea Hall Colliery

and many houses in the area were severely disrupted. Supplies of water

were only maintained by fleets of county and auxiliary fire engines who

pumped water from a 'borrow' pit to the A Station.

The station continued to be a popular visitor attraction and in 1970

over 2,000 people visited it, shown round by trained guides, many of

them were the wives or girlfriends of workers at the station. The station

also had many football, and sporting, teams and Rugeley Power Station

football team destroyed rivals Houghton 10-0 at home as they went top

of the Mid Staffs Division League Three in December 1974. Houghton

must have been fed up of playing the station as they were also despatched

5-1 in the reverse away fixture two months later!

The generosity of the workers at the station was shown in October

1982 when they raised funds to provide a specially designed intensive

care bed, suitable for both the X-ray department and the operating

theatre, costing £1,830. The bed was put to use immediately after the

handing-over ceremony at the Staffordshire General Infirmary and it was

later transferred to the Stafford District General Hospital which had just

recently opened.

In September 1986 the CEGB declared an Open House event on

twenty of its power stations around the country, including Rugeley.

Nearly 17,000 visitors came to join in 'behind the scenes' tours at the A

and B plants, when they were told that each cooling tower cooled 7,000

million gallons of water every year and that between them Rugeley A and

B were capable of producing 1,500 megawatts of electricity – enough to

power electricity for 1.5 million people.

The Rugeley A station was closed in 1995 and in September of that

year hundreds of spectators gathered to watch the final two, of the

original five, cooling towers be demolished by a controlled explosion,

mirroring the demolition of June this year. The explosion had to be

carefully managed due to the close proximity of major overhead power

lines, the closest of which was just 20 feet away.

The closure of the Rugeley B power station was announced in

February 2016 and it closed on 8 June 2016. Over the last five years

various buildings and towers on the site have been demolished,

culminating in the demolition of the remaining four cooling towers on 6

June this year.

For the last 60 years local and visitors alike have known when they

were approaching the town by spotting the cooling towers as they

dominated the skyline from every direction. Plans are now in hand to

develop the site but, whatever is built there, it will not have the same

majestic, dominating and, at times brooding, presence of the grand old

towers of Rugeley A and B.

Sources:

The British Newspaper Archive

Courtesy of ENGIE
---
63
---
Pawfect Pets

..............................

We had an overwhelming response to our

call for the area's Cutest Pets - here are

just a few of them! Send your pet pics to

us at petscitylife@gmail.com and see if your furry or

feathered friend features in next month's

compilation!

David is the owner of four-year-old

Bengal, Oscar

This is 15-year-old Sooty, owned by Chris and

Lorraine. In this photo, Sotty was at a talk

given by a Bletchley Park engineer on the

Enigma Code Breaking Machine, before

lockdown, of course!

64

Make a Fast Friend and Adopt a Greyhound

By Lauren Hirst

...................................................................

The summer holidays are approaching and you

might be thinking about adopting a dog. You may

even have a certain breed in mind like we did

years ago when we went to a rescue centre looking for

a terrier but then actually came home with a greyhound!

At Greyhound Trust Hall Green we are getting enquiries

from people who stumbled across greyhounds as pets. It

goes something like this: let's get a puppy… puppies are

expensive and there are some disreputable breeders out

there…let's research getting a rescue dog… but so little

is known about their background… research some

more…oh look, greyhounds could suit our lifestyle."

Greyhound Trust Hall Green has two homing kennels, one

in Shenstone and a second in Hagley with 40 ex-racing

greyhounds looking for their forever homes. We take in dogs

from all over the country and Ireland, once they finish their

careers. Years ago we were called the Retired Greyhound

Trust but the charity changed its name as so many people

thought the dogs in our care were older. Greyhounds can

take "early retirement" from two years of age or less if they

just aren't interested in chasing that bunny, and most are

retired by the time they are 4 or 5; so lots of years of love

to give their new owners.

There are dozens of good reasons to adopt a greyhound

but here are a few which surprises people: greyhounds are

gentle, sweet natured dogs. They are adaptable preferring a

quiet life with two short walks a day but many also enjoy an

active lifestyle too with longer hikes. They are laid back and

affectionate but their quirky nature will have you in fits of

laughter. Their short coat makes grooming easy and quite

often are tolerated by people with allergies. They do need

love and patience while learning about the big wide world outside of kennel life but they make the transition amazingly well all things considered.

We actively encourage "meet the breed" visits to our kennels for those who haven't met greyhounds before and many potential adopters volunteer

first to find out more about them before adopting. Our kennels are open every day by appointment. To find out more about greyhounds looking for

homes, and also about volunteering, visit our website at www.greyhoundtrusthallgreen.org.uk or phone 0121 426 4810.

Next time you are looking to add a canine companion to your family, think about a greyhound. We've never regretted out decision all those years

ago and have had eight greyhounds since Jasper "the terrier imposter."
---
Twins Luke and Leia are always causing

mischief together!

The lovey Teddy!

K9 ACRES LTD

A rural safe haven for your dog! K9 acres is a large

purpose-built secure dog field facility, based in

Longdon, available for private individual hire. With

two dedicated fields, 'Country' and 'Meadow',

there's no better way for your four-legged friend to

enjoy the countryside!

To find out more, or to book, visit

www.k9acres.co.uk or call 07968 550006.

Grace and Munchkin are owned by

Mikey and Clare.

Pippa looks dashing in her hat!

Ginger the Guinea Pig

(photo taken by Emily)

Otto

Georgie Beagle is owned by Dominique

Mr Kong is owned by Jack

(he's so fluffy!)

65
---
Holiday Cottage

Woolacombe, North Devon

Details/Pictures:-

www.leesideholidays.com

johns@leeside.myzen.co.uk

Tel: 0121 353 6613

Competition and Prize Draw Terms and Conditions

1.Entrants' details will be held and processed in line with Citylife in Lichfield Ltd's Privacy Policy, which in turn adheres to

GDPR Data Protection legislation. For a copy of our Privacy Policy please email kristencitylife@gmail.com

2.By entering the prize draw/competition, you agree to the terms and conditions stated.

3.The closing date is stated on each individual prize draw or competition.

4.Entrants' details will be securely held by Citylife in Lichfield Ltd in accordance with our Privacy Policy. Details will be

held only until the closing date of the competition. After this date entrants' details will be securely destroyed/deleted.

Winners' contact details will be securely stored only until the winner has been informed of their win/prize. After this details

will be securely deleted/destroyed.

5.Entrants' details will never be shared with any third party. The only exception to this is the name (and if the prize is to

be posted) address of Competition/Prize Draw winners that will be communicated to the competition partner to allow

winners to securely claim their prize, after which all details will be securely destroyed. The initial and surname of winners

will be printed in our magazines – no other details will be published.

6.By entering the competition/prize draw, entrants agree to Citylife in Lichfield Ltd using or publishing materials provided

by the entrants (but not address or contact details apart from initial and surname) in any of their publications and online.

7.Citylife in Lichfield Ltd accepts no responsibility for any breach of copyright or breach of any other legislation entailed

by entrants in their creation or submission of materials.

8.Only one entry per prize draw/competition, per reader.

9.Except in the case of cash prizes, no cash equivalent will be offered and the prize is non-transferable.

10.All prizes are subject to availability and the prize suppliers' terms and conditions.

11.No purchase necessary.

12.Prize draws and competitions are only open to UK residents aged 18 years or over (unless otherwise stated).

13.Competitions and prize draws may not be entered by any employee of individual associated with any employee,

66

agent or third party of Citylife in Lichfield Ltd.

14.Winners will be selected at random in the case of applicable prize draws and competitions, or by an independent

judge in the case of photographic/art competitions from all entries received.

15.Winners will be notified by Citylife in Lichfield up to 28 days after the closing date of the competition/prize draw by the

contact details provided by the entrant.

16.A list of the surnames and county of residence of the winners will be available by writing to Citylife in Lichfield Ltd no

earlier than six weeks after the competition closing date.

17.When the prize draw/competition winner has been selected, this decision is final and no correspondence will be

entered into.

18.Citylife in Lichfield Ltd accepts no responsibility for the prize being lost, damaged or delayed in transit. When the prize

is provided by a third party, Citylife in Lichfield Ltd accepts no responsibility for any change to the prize, or for the quality

of the prize provided.

19.Competitions may be amended or withdrawn at any time.

20.By entering the competition or prize draw, you agree to having your name, (photograph, where stated) and city or

county of residence published in any of Citylife in Lichfield's publications and online.

21.Unless otherwise stated, the promoter is Citylife in Lichfield Ltd, PO Box 7126, Lichfield, WS14 4JS.

22. Citylife in Lichfield Ltd do not express any warranty or endorsement of any competition prize, information, service or

product provided in connection with a competition by printing or otherwise publicising any competition.

23.To the full extent of the law, Citylife in Lichfield Ltd shall not be liable for any loss, claim, punitive, indirect, incidental or

consequential damages of any kind incurred as a result of entering this prize draw or competition.

24.By submitting photos, text or artworks as part of competition/prize draw entries you agree that you own these photos

text or artworks, that it is your original work to which you own all rights to distribute, and that your entry is accurate, moral

and legal.