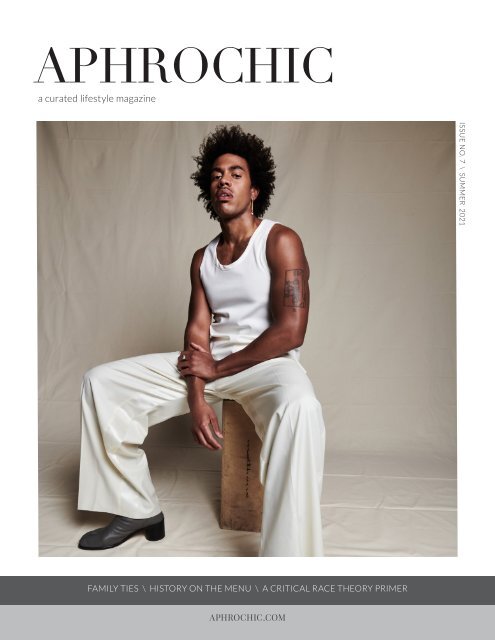 APHROCHIC MAGAZINE: ISSUE NO. 7
For our Summer 2021 issue, we have an issue full of color, life and all of the things that make our Diaspora beautiful. For our cover story, we are thrilled to sit down with one of our favorite folks in fashion, the amazing Charles Harbison. After a 5-year hiatus and a cross-country jump from New York to Los Angeles, Charles is back with the much-anticipated return of his eponymous fashion line, HARBISON. We also sit down with the iconic Dyana Williams. A legend of the Philadelphia radio scene that we grew up on, she's better known outside the city as the mother of Black Music Month. We sat down with Dyana to talk about Black music, the newly opened National Museum of African American Music and the artists on her playlist that she feels are doing the most for the culture. In our Hot Topic, AphroChic contributor Ruby Brown takes an incisive look at Pride, all that the LGBTQIA+ community has accomplished and all that's left to do. And in response to the growing debate over Critical Race Theory, which in the last months has taken over news feeds and legislative floors alike, we take a break from our ongoing discussion of the African Diaspora to offer a brief exploration of CRT, it's origins, it's concepts and why it seems to have everyone so upset. Throw in some amazing art from THE CONSTANT NOW gallery in Antwerp, inspirational words from author Alexandra Elle, and the latest updates from the outdoor spaces at the AphroFarmhouse and we think this issue will have you ready for the summer season.
For our Summer 2021 issue, we have an issue full of color, life and all of the things that make our Diaspora beautiful. For our cover story, we are thrilled to sit down with one of our favorite folks in fashion, the amazing Charles Harbison. After a 5-year hiatus and a cross-country jump from New York to Los Angeles, Charles is back with the much-anticipated return of his eponymous fashion line, HARBISON. We also sit down with the iconic Dyana Williams. A legend of the Philadelphia radio scene that we grew up on, she's better known outside the city as the mother of Black Music Month. We sat down with Dyana to talk about Black music, the newly opened National Museum of African American Music and the artists on her playlist that she feels are doing the most for the culture.

In our Hot Topic, AphroChic contributor Ruby Brown takes an incisive look at Pride, all that the LGBTQIA+ community has accomplished and all that's left to do. And in response to the growing debate over Critical Race Theory, which in the last months has taken over news feeds and legislative floors alike, we take a break from our ongoing discussion of the African Diaspora to offer a brief exploration of CRT, it's origins, it's concepts and why it seems to have everyone so upset.

Throw in some amazing art from THE CONSTANT NOW gallery in Antwerp, inspirational words from author Alexandra Elle, and the latest updates from the outdoor spaces at the AphroFarmhouse and we think this issue will have you ready for the summer season.
SHOW MORE
SHOW LESS
Create successful ePaper yourself
Turn your PDF publications into a flip-book with our unique Google optimized e-Paper software.
APHROCHIC

a curated lifestyle magazine

ISSUE NO. 7 \ SUMMER 2021

FAMILY TIES \ HISTORY ON THE MENU \ A CRITICAL RACE THEORY PRIMER

APHROCHIC.COM
---
SLEEP ORGANIC

Avocado organic certified mattresses are handmade in sunny Los Angeles using the finest natural

latex, wool and cotton from our own farms. With trusted organic, non-toxic, ethical and ecological

certifications, our products are as good for the planet as they are for you. Shop online for fast

contact-free delivery. Start your organic mattress trial at AvocadoGreenMattress.com
---
Summer is here and we are ready! After more than a year inside, we are vaccinated

(hopefully you are, too) and ready to get some sun. We're especially happy to

celebrate the return of AphroChic founder and creative director Jeanine Hays to the

editor's desk. The road to recovery post-COVID has been long, and while we're still

on it, she's getting stronger day by day.

To celebrate, we have an issue full of color, life, and all of the things that make our Diaspora beautiful. In this

issue, we are thrilled to sit down with one of our favorite folks in fashion, the amazing Charles Harbison. After

a five-year hiatus and a cross-country jump from New York to Los Angeles, Charles is back with the much-anticipated

return of his eponymous fashion line, HARBISON. We also sit down with the iconic Dyana Williams. A

legend of the Philadelphia radio scene that we grew up on, she's better known outside the city as the mother of

Black Music Month. We sat down with Dyana to talk about Black music, the newly opened National Museum of

African American Music, and the artists on her playlist that she feels are doing the most for the culture.

In our Hot Topic, AphroChic contributor Ruby Brown takes an incisive look at Pride, all that the LGBTQIA+

community has accomplished, and all that's left to do. And in response to the growing debate over Critical Race

Theory, which in the last few months has taken over news feeds and legislative floors alike, we take a break from

our ongoing discussion of the African Diaspora to offer a brief exploration of CRT, its origins, its concepts, and

why it seems to have everyone so upset.

Throw in some amazing art from THE CONSTANT NOW gallery in Antwerp, inspirational words from author

Alexandra Elle, and the latest updates from the outdoor spaces at the AphroFarmhouse and we think this issue

will have you ready for the summer season. So find a sunny spot, put on some Black music that you appreciate,

and welcome to lucky issue #7!

Jeanine Hays and Bryan Mason

Founders, AphroChic

Instagram: @aphrochic

editors' letter
---
SUMMER 2021

DEPARTMENTS

Read This 10

Watch List 12

The Black Family Home 14

Mood 20

FEATURES

Fashion // Transformation, Rebirth, and Re-Emergence 26

Interior Design // Family Ties 40

Culture // Lit! 52

Food // History on the Menu 56

Travel // The Goodtime Hotel 64

Entertaining // Brunch with Purpose 80

Reference // Talking Points 86

Sounds // Celebrating Our Sound 92

PINPOINT

Artists & Artisans 102

Hot Topic 106

Who Are You? 112
---
CONTRIBUTORS

Cover photo: Charles Harbison

Photographer: Lee Morgan

Publishers/Editors: Jeanine Hays and Bryan Mason

Creative Director: Cheminne Taylor-Smith

Editorial/Product Contact:

AphroChic

AphroChic.com

magazine@aphrochic.com

Sales Contact:

Ruby Brown

ruby@aphrochic.com

Contributors (left to right below):

Ruby Brown

Patrick Cline

Chinasa Cooper

issue seven 9
---
READ THIS

The poet Gwendolyn Brooks — the first African American to win a Pulitzer Prize — wrote in a poem

dedicated to the actor Paul Robeson: "We are each other's harvest, we are each other's business, we are

each other's magnitude and bond." Her quote was a call to every person, to remind them that we are all

part of a larger community, responsible for each other. Our book selections in this issue all have that

"call to action" as their common theme — they each shine a spotlight on communities within the larger

Diaspora. The first takes its name directly from Brooks' poem, showcasing the Black farming communities

that were once thriving and are now being regrown by a group of young farmers. Queer Love in Color gives

an inclusive look at what it means to love and live at the intersections of queer and POC identities. And

AfroSurf highlights the unique surf culture of 18 coastal countries in Africa while also supporting the

critical need for suf tourism in local economies.

Queer Love in color

by Jamal Jordan

Publisher: Ten Speed Press. $23.99

We Are Each Other's Harvest

by Natalie Baszile

Publisher: Amistad. $19.99

AfroSurf

by Mami Wata

Publisher: Ten Speed

Press. $32

10 aphrochic

Well-traveled home goods, from the rug up.

REVIVALRUGS.COM
---
WATCH LIST

Public art is perfect for summer days, and an outdoor digital exhibit in Atlanta is celebrating artists

and the South. The South Got Something to Say, curated by Karen Comer Lowe, showcases artwork by 10

Atlanta-based artists on four A&E Atlanta digital signs throughout downtown Atlanta. Running through

July 31, the title of the exhibit comes from something Atlanta-based rapper Andre 3000 said at the Source

Awards in 1995. Lowe says, "That phrase [about the South] issued a proclamation about the rising impact

of Atlanta as a city. Since that time, the city has risen as an influential force in music, film, and politics.

This digital exhibition is a recognition of the visual culture of Atlanta and the people who contribute

to that culture. The works, while variant in medium, address a reckoning with the intersectional

inequities of our being." The featured artists include Sheila Pree Bright, Jurell Cayetano, Alfred Conteh,

Ariel Dannielle, Shanequa Gay, Kojo Griffin, Gerald Lovell, Yanique Norman, Fahamu Pecou, and Jamele

Wright. Interestingly, the works are mostly filled with color and joy, offering a post-pandemic form of

celebration in the great outdoors.

Flat Splat, Just Like That

by Jamele Wright

Mixed Media on a Found Canvas

12 aphrochic

serenaandlily.com
---
THE BLACK FAMILY HOME

Navigating Outdoor Space

As a child I loved being outdoors. I was born in the summer and it always felt like the most natural time

to me. Feet bare, I would spend hours in the sunshine, playing, picking flowers, dreaming of the life

I would one day have. Back then my dream house was surrounded by apple trees. It had a giant front

porch and lots of space to stretch out in out back. Looking around today, I see that my dream has largely

materialized (give or take some apple trees). But the road here was long and hard. I spent a lot of last year,

and this year, extremely ill. I watched a summer of police violence turn into a winter of insurrection and

now a not-at-all-subtle attempt to silence our voices and our votes.

Looking at all my newfound yard

space for the first time in the summer sun,

I found myself wondering: Now that I had

it, did I still want it? I started thinking a

lot about the child that I was and the home

that she dreamt of — how it feels; if it's safe;

and how my husband and I, as Black people

in America, can navigate our very own

outdoors.

Moving into a 1930s farmhouse, one

thing that grabbed us immediately was the

front porch. If you're from the Philadelphia

area, you know that front porch culture is

a very big thing. My nana and porgie used

to sit out on their front porch all summer

long. They would say hi to the passersby,

greet us on the porch when we visited,

and they also knew all of the comings and

goings of the block, clocking everything

that went on from their front porch vista.

The porch at the AphroFarmhouse

reminded me a lot of their home in the

suburbs of Philly. I wanted to recreate

what it felt like sitting out with them on

warm summer nights, gathered with

aunts, uncles, cousins and friends. I

wanted to bring to our home that feeling

of security. Working with our friends at

Serena & Lily, we started on the journey

to make our front porch more than just

a couple of rocking chairs looking out on

our street, but instead, a communal space

fit for gathering together.

We imagined the porch as a living

area, bringing in a Moroccan-inspired

outdoor rug, seagrass pillows and a

Bamileke table that can withstand weather

conditions. Creating a floor plan that

allows guests to sit and chat around the

table, or sit to the side and enjoy views of

the garden, we created a space where we

can gather with family and friends and talk

all night, until even the fireflies go to bed.

As we moved to designing the back

of the home, that feeling of security

became more and more of a factor. Those

summers as a child, I had no cares. I was

free and unencumbered by the world. But,

The Black Family Home is an

ongoing series focusing on the

history and future of what home

means for Black families.

Stay tuned for the upcoming book

from Penguin Random House.

Words by Jeanine Hays

Jeanine in the

Celeste Kaftan,

see page 23

14 aphrochic
---
THE BLACK FAMILY HOME

I've realized that the summer of 2020 left

me feeling uneasy, particularly about

going outside. While we loved seeing the

BLM protests march by our apartment in

Brooklyn, and we chanted and whistled

support from our windows, a summer of

seeing protestors be attacked by police;

of hearing NYPD helicopters fly over our

neighborhood for weeks; of late night firecrackers

that sounded so close I thought

the building would catch fire, I had become

traumatized and outside didn't feel so

free anymore. I was constantly worried

that we would do something "wrong"

outside of the apartment and encounter

an officer who might shoot us. I worried

about walking down the street with my

husband and that he might be mistaken for

someone and be shot by the police. I was

constantly worried that we would be the

next victims of state-sanctioned violence.

And that worry was also impacting how I

thought about living in my own space.

Reflecting on those feelings of uneasiness,

and with the porch being a space for

community, it felt important that the back

of the home be designed as a place of solace

— a place to be quiet; to rest and to heal.

Again, we worked in partnership with

Serena & Lily to find the right pieces to

create that healing space.

A cushy sectional was chosen to

take center stage on the deck. Plump

with pillows, it became the perfect place

to sit and read a book at any time of day.

Hurricane lanterns filled with citronella

incense sticks were brought in to keep

the bugs at bay and add a touch of indoor-style

to the outdoor space. For the

outdoor dining area we wanted something

throwback and chose a 1970s-style wicker

set. A collection of wood serving ware and

chargers completed the aesthetic.

Coming out of a year defined by the

twin epidemics of COVID-19 and police

violence, it's been hard for me to feel completely

safe outside. But, as we've worked

on completing our outdoor space at our

new house, I've realized how important it

is to take up space, to be unafraid in doing

so and to craft spaces that support and

nurture us. Coming back outdoors has

been so healing. I'm starting to feel like

that kid again — loving the sunshine. And

even though life may not be as carefree, I

choose to make my own space where I can

be free and soak up some rays. AC

Outdoor Dining Area

Pieces from Serena & Lily: Catalina Dining Chair $498, Pacifica Dining Table $2298, Cayman

Glasses (set of 4) $48, Cayman Seagrass-Wrapped Pitcher $48, Kokkari Placemat $28, Salento

Image of Jeanine and her best friend, age 4.

Linen Napkins (set of 4) $48, Wood and Marble Serving Set $68, Rhinebeck Bowls $98, Woodbury

Serving Board $128, Rhinebeck Serving Board $78, Millerton Footed Fruit Bowl $198

16 aphrochic issue seven 17
---
THE BLACK FAMILY HOME

Front Porch

Pieces from Serena & Lily: Capistrano Tete-A-Tete $3298, Bamileke

Outdoor Coffee Table $1998, Palisades Outdoor Chair $498, Whitehaven

Rug $2298, South Seas Side Cart $498, Salerno Pillow Cover $88, Madrona

Pillow Cover $158, Venice Rattan Chair $498, Natural Blue Woven Fan from

Reflektion Design $30

Back Deck

Pieces from Serena & Lily: Sundial Outdoor Slipcovered Sectional

$9498, Bamileke Outdoor Side Table $798, Del Mar Cotton Throw

$168, Montecito Floor Pillow $228, Verano Tray $58, Summerland

Lantern $178

18 aphrochic issue seven 19
---
MOOD

SOULFUL SUMMER

It's summertime and we're embracing all that is simply

beautiful. Easy silhouettes for lounging in. Handcrafted

items that are perfect for alfresco entertaining. A

restful palette of greenish-blues and lush corals that

reflect both the water and the sun. Here are our musthave

pieces that will help you create the most stunning

retreat at home this season.

KIDA Hanging Lounge

Chair by Stephen Burks,

inquire for pricing

dedon.de

Curve Mug in Rosewater $42

tellefsenatelier.com

Hand Dipped Beeswax Taper Candle

Half Dozen $36

alysiamazzella.com

100% Linen Sheet Set in Sage $269

linoto.com

Natural Blue Woven Fan $35

reflektiondesign.com

20 aphrochic issue seven 21
---
MOOD

Amur Wall Sconce in

Copper $750

perigold.com

rayo & honey canvas

pennants $75

rayoandhoney.com

Goodee Teal Pillow $149

goodeeworld.com

Caribe Plis Kann Wallpaper $72

ze-haus.com

Celeste Kaftan in Shell $225

sanctuairelife.com

22 aphrochic issue seven 23
---
FEATURES

Transformation, Rebirth, and Re-Emergence | Family Ties | Lit! |

History on the Menu | The Goodtime Hotel | Brunch with Purpose |

Talking Points | Celebrating Our Sound
---
Fashion

Transformation

Rebirth, and

Re-Emergence

HARBISON is reborn

2021 has been the story of our comeback as a society,

our re-entry into the world, and for many, embracing

a whole new way of being. We have gone through this

collectively as individuals and there are even some

brands that have also taken a breath and transitioned

during this time. HARBISON is one of those brands.

Interview by Jeanine Hays

Photos by Dan Dealy and Lee Morgan

26 aphrochic
---
Fashion

Five years ago, Charles Harbison was

everywhere. He was a favorite designer

of Beyoncé, Solange, and Michelle. He

had been featured by coveted fashion

magazines and was in the spotlight

at New York Fashion Week. And then

suddenly, he was gone, relocated from

New York to Los Angeles, and placing the

brand on an indefinite hiatus.

In late 2020 came an announcement

on his Instagram, he would be designing

a sustainable line for Banana Republic in

partnership with Harlem's Fashion Row.

HARBISON was back on the scene and

fashion-lovers were thrilled. Since that

announcement, HARBISON has been

preparing to launch an A/W21 collection,

is expanding its capsule with Banana

Republic, and was honored by the CFDA.

AphroChic Magazine editor, Jeanine

Hays, sat down with Charles to talk

about lessons learned in absence, the

importance of valuing ourselves, and

honoring the "her" in us all.

JH: Congratulations on the relaunch

of HARBISON! Why is now the

right time to start this new chapter?

CH: Damn, this is a good question. I

think now is the right time because I have

the right perspective. It's been, what, five

years? Which is funny, because it's longer

than HARBISON actually existed in New

York. But it's taken that amount of time

for me to get my footing in a new place, to

reconfigure my perspective into one that

is more honoring of myself, that is more

self-protective. And then I think there

are some ideas that I was navigating

in the beginning stages of HARBISON

that needed some maturation. And then

these years "away," have had me working

for brands at different levels, working

abroad in Europe, and working across

different product categories. So all of

this expansion has refined my design

perspective and I think the years away,

reminding and refining my self-sustaining

nature, has renewed my personal

perspective. It's coming together in a

way that I think aligns with a time where

people are willing to listen to ideas that

I was navigating back then, but in a way

that is a bit more primed now, through

product and through fashion.

JH: Fashion can feel really forced a

lot of the time. As if everyone's always

30 aphrochic
---
Fashion

32 aphrochic
---
Fashion

forcing it to be cool, whether or not it actually is. But when I

saw you start putting out the first images of the new line on

Instagram, it felt really magical. It felt organic and very unforced.

And a lot of it surrounded this concept of "her" that seems to be

very much at the center of it all. So who is "her" in this collection?

How are you defining that and how does it work as connection

point for your audience?

CH: The great thing about that pronoun is that, as we are

navigating a world that is less binary, less gendered in general,

the ideas around pronouns are just far more expansive. So there

are a few different answers. My primary "her" is always my

mom and those matriarchs that taught me about beauty, who

showed me its complexity and evolution, and how to use it as a

tool. Also, because the "her" in me is reflective of their "her,"

the years of understanding and nurturing those places in me

that are softer, more nurturing, and more feminine, have really

helped round out my design perspective and my experience

as a human in the world. And when I do that for myself, I'm

much better at doing that for my customer base. Beyond that,

the "hers" in my life, the women, the people, peers, I find so

inspiring just watching them live, watching how they navigate

oppression in such a beautiful way. Seeing them be women in

the world, navigating misogyny and sexism, without sacrificing

those parts of themselves that the oppression targets. And then

the earth, which is kind of this newer priority for me. Coming

to Cali really helped remind me of who I am as a country boy

and loving the earth and seeing the earth as my first canvas,

my first playground. It's wonderful to remember the earth as

the first and primary resource that we have and prioritizing

it. It is not just cute, it is imperative. So it's all of those "hers"

collectively. And I think I just noticed I was habitually aligning

myself with the feminine. So I just made it a concrete decision,

one that's to the benefit of every customer.

JH: You studied architecture and textile design. How does

that fit in to your fashion aesthetic and what you're creating now?

CH: Studying architecture was one of the most important

foundational things that I did. I didn't complete my degree in

it because midway through I found that the tactile nature of

textiles gave me a sense of joy and immediacy in the process

of design that I adore, and the long lead of architecture was

just something that wasn't quite right for me then. But what

architecture represents is just my love of building things, of

constructing things or configuring things. And that's how

I approach fashion. It is building. I love the challenges of

construction. I love when I have an aesthetic idea, and then

working backward to figure out how do we actually build this

thing? That really excites me and it shows up in my work, in

construction but also in textile design, and everything. Textiles

and fibers become the bricks I use to build dresses or suits or

whatever it is. And I love all of it. That's why I comprehensively

adore the process of fashion design.

JH: We've spoken at a number of schools and met with Black

students who were studying architecture, and they were having

a really tough time. In many cases we found that the school was
---
Fashion

telling them that there was no such thing

as a Black architectural perspective,

really trying to beat into them that their

perspective was irrelevant to "real"

architecture. What was it like for you

studying architecture as a Black man? Was

it also constraining? And is fashion less so?

CH: One-hundred percent. That

was it in a nutshell. It did feel early on

as if architecture required some sort

of removal of identity and personal

aesthetic. I didn't feel that when I began

painting and then moving into fiber arts.

For one of the first projects I took on

when I transitioned from architecture

to textile science, I was on the loom for

17 to 20 hours a day, weaving yards of

fabric. And when I took this fabric, and

started creating forms on the body I felt

I was really trying to work through my

indigenous heritage, trying to find some

way to connect to that age-old process

of weaving on a loom, and applying those

textiles to the body in ways that were

reflective of me. So it's interesting to see

that the freedom of those curriculums

showed up immediately in ways that

affirmed my cultural identity in a way

that I never was able to remotely process

early in architecture.

JH: Congrats on winning Banana

Republic's design competition. It sounds

really exciting. How did the collaboration

between Banana Republic and Harlem's

Fashion Row come together? And what

are the goals for you in terms of this

collaboration with them?

CH: So I think Harlem's Fashion

Row and Gap Inc. had been working to

establish a greater partnership. And

then with Banana Republic, they decided

to hold a competition, looking for a

designer with whom to create a capsule

collection of sustainably-thoughtful

pieces. And it's hilarious, because it all

happened in such a weird way. I don't do

competitions because I have lost a lot

of them. And my perspective on losing

them unfairly isn't based on ego, it's

based on judges coming to me, telling

me about backroom deals and loyalties,

people on the judging panel pulling

rank and all kinds of stuff. So one of

the things I decided when I decided to

leave New York was that I would never

compete again. But this felt different. It

was being led by Harlem's Fashion Row,

and I have so much respect for Brandice,

who has been an advocate for us for

years. So I knew that that piece of trauma

that I experienced for years wouldn't

be present. And Banana Republic is an

entity that I relate to. I worked there

for a while in undergrad. The idea of

attainable luxury is something that I

adore and Banana does it in a way that

gets into people's hands quickly. And

sustainability was a central component.

So I submitted my application and

I didn't think anything else of it. I was

happy that I had decided to do it, and for

me, it felt like I was getting my muscle

back, as if doing this was taking the step

forward and HARBISON would be in

the near future. And then I got a couple

callbacks. And I didn't say anything

different from what I've always said.

And I didn't really even prepare. It was

incredibly authentic, incredibly organic.

And I stuck to the things that I love, and

our approach to sustainability, which is

not just environmental sustainability,

but also personal sustainability, and

cultural sustainability, and needing all

three of those components to be present.

And they loved it. The collection was

supposed to be 3-5 pieces when it was

announced in Vogue in November 2020.

Now we're up to 20 pieces and the size

range has expanded to go from zero

up to 22. It is a capsule of pieces that I

just find really, really comfortable and

fun and desirable and thoughtful. And

it's a really nice way to reintroduce

myself to the industry, because it does a

thing that I couldn't do before, which is

make pieces more democratic and more

accessible. I'm happy about it and the

Banana team is great.

JH: So on top of everything else

you've just been honored by the CFDA,

which is like the ultimate moment of

36 aphrochic issue seven 37
---
Fashion

recognition for a designer. How are you

processing this moment?

CH: For the four years that we were

doing collections, made Fashion Week, had

incredible celebrity endorsements and press

articles, print, digital, everything, I had no

relationship with that entity, which was in

essence the mother of fashion in New York.

Then all of a sudden all these years later, they

just show up. And for us, we just wanted to

know why. And when I talked to Lisa Smilor, it

was really an amazing conversation because

she acknowledged all of those things. And

even after that conversation, I was honestly

prepared to walk away. I let them know that

if this comes with strings attached, I don't

want it. I would rather navigate life with a

tight budget and our agency intact rather

than take on a grant that would force us to

have to defer to an entity that my trust in had

waned. But the response was that this is for

you to spend in the way that you find most

profitable for your business. So it feels right.

And I'm grateful. And I'm excited. And it's

coming at a time where we all need it. But it's

also nice to know that we genuinely deserve

it. And being able to say that and know that

it's coming from a place of humility, but also

from a place of knowing your value, which

is central to the experience of Black people

in every industry. It's very, very important

for Black creatives, because we do navigate

systems and dynamics that are inherently

racist. And so in order to persist, and to be

tenacious, you have to go back to that mirror,

you have to go back to your drawing board,

and look at your work daily, and know that

it is better than what they are trying to tell

you it is. If we stay true to our crafts and the

reasons why we do them, eventually they

catch up. AC

38 aphrochic
---
FAMILY

TIES
---
Interior Design

A Brooklyn Brownstone Where

Family Is The Heart of the Story

A Brooklyn brownstone with good bones, a family of seven in need of a space

that promotes togetherness, and a blending of cultural heritages. These are

the elements that were in the brief when we began working with our clients,

Jodi Querbach and Kemis Lawrence, on the design of their home. The couple

led a busy life. Jodi, an executive for one of Brooklyn's oldest non-profits, and

Kemis, a development chef for some of the city's hottest new restaurants. Their

five children, three of whom were very energetic young boys, also had a lot of

activities as well. This was a family in need good design that offered relaxation

and togetherness.

Interior Design by AphroChic

Photos by Patrick Cline

Styling Assistant Tanika Goudeau

Photography Assistant Chinasa Cooper

Words by Bryan Mason and Jeanine Hays

42 aphrochic
---
Interior Design
---
Interior Design

Sometimes it feels cliché to say that design matters. But

good design has the ability to accomplish so much. It can meet

your needs, it can help reshape your environment, and it can

serve a purpose. For Jodi and Kemis, we wanted this space to be

a retreat for them. Immediately calming when they walked in

the front door, and relaxing for the kids as well. A place where

they could gather around the TV or eat dinner as a family after

some very long days in the city.

We began with color. Kemis is an unabashed fan of his

Jamaican heritage. When we first entered the home, a Jamaican

flag was hung on the living room wall. And while we love Jamaica

too (we got married on the cliffs in Negril), we wanted to find

a way to bring the island home without being too literal. We

reflected on our own time in the country, and what we loved

most about Jamaica. One of the best moments for us was

watching the sunsets on the island. Watching the sun go down,

it looked as if it was falling into the ocean. Some nights there

would be a lilac hue in the sky that was magical. We brought

that lilac feeling in, working with a full-spectrum paint that was

gray in the morning light, but as the sun went down in Brooklyn,

became more lilac at night, echoing those magical sunsets. The

effect was immediately relaxing.

To keep with the island theme, woven pieces were brought

in to the home. Beneath the dining table, that now could easily

seat the whole family for dinner, a seagrass rug was brought

in. On the built-in bookshelves, woven baskets were placed as

storage for each boy's toys and accessories. Among the mix of

island-inspired pieces, we brought in a collection of artisan

pottery and metallic sculptures, a nod to Jodi's love of contemporary

farmhouse style.

We had also met our objective. The living room could

easily seat 6-8 people, with a new sectional sofa and leather

swan chairs that the kids immediately loved. We designed a new

fireplace surround with our contractor, Will Johnson, and it

became the perfect entertaining unit for when the boys want to

watch TV or play video games.

No home is complete without art, and we brought two

special pieces into the space. A limited edition print from

Tappan Collective, Palm Shadow 2 by David Kitz, was a nod to

Jamaica. And in the dining room, we worked with the Jenn

Singer Gallery to secure Gold #2 by local artist, Valincy-Jean

Patelli. Valincy lived just around the corner, and was able to

bring the piece over and meet the family. A thrill for everyone!

Good design matters. It can bring a family joy. It can

promote togetherness. It can help a family tell their story. As

one of the kids said when he stepped into the finished project,

"this is paradise on world tour!" We are thrilled we could create

a paradise that they can enjoy for years to come. AC

46 aphrochic
---
Interior Design

48 aphrochic
---
Interior Design

"Good design matters. It

can bring a family joy. It can

promote togetherness. It can

help a family tell their story."

50 aphrochic
---
Culture

Lit!

An Excerpt from After The Rain: Gentle

Reminders for Healing, Courage and Self-Love

by Alexandra Elle

In her latest book, After The Rain, author and poet, Alexandra Elle takes us on a

journey. It is all at once her journey and ours, as Alexandra shares her personal

stories of love, loss, acceptance, and healing, delivering lessons that can help you

move from self-doubt to self-love. The book, divided into 15 life lessons on change,

identity, learning to breathe, soothing suffering and so much more, is filled with

meditations that you'll find yourself coming back to again and again as you chart

your own path to self-discovery and self-care. After The Rain also has a beautiful

companion piece, the In Courage Journal, that offers daily practice in self-care.

Photos by Erika Layne

52 aphrochic
---
Culture

Loving yourself isn't always

a beautiful process.

It's hard.

It can break you open.

It can wear you down.

Self-love is birthed in the

trenches of our darkest moments —

that's why the light feels so good

when we finally find it.

Learn more about Alexandra's work, her upcoming workshops and books at alexelle.com

54 aphrochic issue seven 55
---
Food

History on

the Menu

The Magnolia House Serves Up

the Past to Preserve Its Future

On Feb. 1, 1960, four students from North Carolina

Agricultural and Technical State University

sat down at a Woolworths' "whites only" lunch

counter and began a movement that spread

around the country. That one history-changing

act also put Greensboro, N.C., on the map.

But for decades before that sit-in, Greensboro

was already "on the map" for many Black artists,

entertainers, and families who consulted the

iconic Green Book for a safe harbor for the night.

Words by Cheminne Taylor-Smith

Photos from Magnolia House

56 aphrochic
---
Food

Built in 1889 and listed in

the National Register of Historic

Places, the Historic Magolia

House was originally a family

home in the South Greensboro

Historic District. Around WWII,

the Gist family purchased the

home and opened it in 1949 as an

inn for Black travelers who were

not allowed to stay in other segregated

hotels and motels.

The Historic Magnolia

House was listed in the famous

Green Book, named for founder

Victor Hugo Green. The Green

Book listed establishments

across the country that were safe

for African Americans to sleep

and to eat as they traveled.

Magnolia House was

included in the Green Book as

late as 1968, and played host

to famous guests like James

Baldwin, Carter G. Woodson,

Satchel Paige, Jackie Robinson,

Ray Charles, Duke Ellington's

Band, Ike and Tina Turner, and

Louis Armstrong. It is one of

only six Green Book inns still in

operation in North Carolina.

After the '70s, the house fell

into disrepair and in 1995 Samuel

Pass bought the house from the

Gist family with a plan to restore

it and create a museum to honor

its past. His daughter Natalie

Pass Miller is now the owner and

manager of the historic property.

And to fund that restoration,

Natalie Pass Miller has

created another way to use

history to create a future for The

Magnolia House with a Shoebox

Lunch.

"With the Pandemic, much

like other museums and organizations,

we had to close our doors

to the community. The Magnolia

Shoebox Lunch was created as a

way to bring Black history and

education to the community's

doorstep," she says.

"Everything we do is intentional

to replicate the Green Book

and history of the Negro Traveler.

All of the services we offer are

that of what the Gist family

offered during the '50s and '60s.

The Shoebox Lunch was a critical

survival tool of Negro Travelers

during Jim Crow that provided

a meal in the event there was no

Green Book stop on their route.

With that being an important part

of history, we created the box

and programming to honor the

tradition, provide education, and

a tool that fosters dialogue within

our community," she explains.

The Shoebox Lunch is in

an actual shoebox that's been

adapted to deliver delicious food.

Popular items inside the box

include Fried Chicken, Bombay

Toast, and Fish N Grits, as well

as a classic Shoebox pound cake

slice.

But Pass Miller says she also

serves up a side of history. "We

deem Magnolia's Shoebox Lunch

as 'history in a box,' because we

provide Black history education

on the box as a way to support and

foster family and school dialogue,

while at the lunch table."

In addition, the Magnolia

House is offering brunches

during the week. "Music and the

Arts are an important part of

our programming as it is part of

rich history within the walls of

Magnolia and the historical guest

list," Pass Miller says. "When

guests such as Louis Armstrong

would stay with us for three

weeks at a time, of course Mama

Gist would provide meals for

them. In honor of that we offer a

Smooth Jazz Brunch."

The House also operates as

a museum with both permanent

and temporary exhibits, as well

as meeting spaces and other programming.

The focus of both food-centric

programs and business programming

is to raise funds to

help in The Historic Magnolia

House's transformation. The

goal is to create a boutique hotel

that is a "100% replica of the 1949

Green Book Hotel both structurally

and operationally," Pass

Miller says.

To learn more about its

history, or to make a donation, go to

thehistoricmagnoliahouse.org.

58 aphrochic issue seven 59
---
Food

Cooking to Connect to Memories

Natalie Pass Miller's Aunt Linda has been a staple to Magnolia's Black

culinary experience. Known to the rest of the world as Linda Aamal Kite, she is a

chef, food scientist, and seasonal fruit specialist. Here is her take on why food is

so critical to the African American story, why you should never trust 15-minute

collards, and three recipes she swears by.

"Food has always been celebratory for Black people because we didn't

have a whole lot to celebrate. But we found a way. There's this whole back story

before it gets to the plate. A lot of these foods were considered trash. What we

had to do is make do with what we could find and put together.

"For example, collards are very nutritious and very filling. But you have to

be very patient with them because it takes a long time to cook. My mother would

say that we eat collards after the first frost. And I would say: 'Mama, why is that?'

And she said, 'Well, they're more tender.'

"Well, lo and behold, the collard plants produce a natural enzyme when

it's cold and, consequently, it's a natural tenderizer! You can't overcook a

collard green. So how do you know it's ready? When it's really tender and it

almost melts in your mouth, that's when you know it's ready.

"Anytime that someone tries to convince you that you can cook collard

greens in 15 minutes….run. It takes time and a lot of patience.

"In the end, cooking anything brings me closer to my family, because with

these hands (her hands)...my mama is still here. So it's a spiritual experience for

me. I'm standing on my grandmother's shoulders. I'm standing on my mama's

shoulders.

"When you think about where we've come from…but we still have a long

way to go. The difficulties that we've had as a people, somehow we could always

use food as a distraction. No matter how hard things were, you come together

around a plate of food that has been soulfully and lovingly prepared for you, it

would make everything ok. No matter what."

Natalie Pass Miller on the front porch of The Historic Magnolia House in Greensboro, N.C.

Hoppin' John

Cook 3 slices of bacon (traditional, beef, or

turkey) until crispy and drain on paper towel.

Sauté onion with chopped red and green

peppers. Then add 2 cans of black eyed peas

and heat thoroughly. Stir in about 2 cups of

rice and crumbled bacon.

Garnish with the tops of green onions for

serving.

Sweet Potatoes

Bake sweet potatoes in a 400-degree preheated

oven for approximately 45 minutes, depending

on size. Sweet potatoes should be thoroughly

washed, dried, and oiled prior to baking.

Once cooked, slice sweet potatoes diagonally

and set aside.

For the sauce, heat 1 cup orange juice. Once

heated, add ½ cup light or dark brown sugar

mixing with butter or preferred fat, (i.e., olive or

coconut oil). Stir in cinnamon, vanilla, and rum

extract at the end. Heat until just boiling, simmer

to reduce a little bit.

Toss sweet potatoes in sauce and coat thoroughly.

Collard Greens

Stem collards. Stack, roll, and cut collards to your

liking. Wash collards 6-8 times, or until water

runs clear (to rinse off any grit).

In a stock pot add oil, enough to cover the

bottom of the pot. Sauté some onions until translucent.

Add chopped garlic and sauté.

Add collards, stirring down until all the greens

are added to the pot. You will see liquid from the

greens as they reduce in the pot. This is when

you add whatever stock of choice or water, just

enough to cover the greens about 2 inches, along

with your seasonings.

Be patient as collards take quite a while to cook.

Depending on the amount of greens, start with

45 minutes to an hour over medium-high heat.

Cooking time should be adjusted for gas. Gas

cooks quicker!

62 aphrochic issue seven 63
---
The Goodtime Hotel
---
Travel

A Feel-Good

Destination in Miami

Pharrell Williams and Partner David Grutman

Open A Pastel Paradise in South Beach

It's no question that pink is a smile-inducing color, and Miami's

new The Goodtime Hotel will have you smiling from the moment

you enter. Everything from the blushing pink-and-peach Library,

where you can enjoy coffee, cocktails and casual meet-and-greets,

to the private cabanas that extend the color palette, have been

designed with happy pursuits and relaxed escapism in mind.

Words by Jeanine Hays and Bryan Mason

Images from The Goodtime Hotel

66 aphrochic
---
Travel
---
Travel
---
Travel

From the moment you step into this tropical oasis that blends

mid-century Caribbean style, with Miami's Art Deco past and today's

modern pastel palette, you are ready to relax and enjoy.

"We want The Goodtime Hotel to impart a feeling of both revitalization

and that rare, exciting thrill that takes over when you discover

something special," says Williams of his new hotspot that just opened

this spring in South Beach. Overlooking Biscayne Bay on one side and

the Atlantic Ocean on the other, it's the kind of place built with Instagram-worthy

views in mind, and a host of cool furnishings that

will help you capture that perfect shot. "It's that adrenaline-fueled

sensation of entering a whole new setting and a whole new mindset.

This place will provide a natural good time, for all who come through."

Williams, who has always known how to bring his audience joy

through songs like Happy and his books Places and Spaces I've Been

and A Fish Doesn't Know When It's Wet, has worked in partnership with

Grutman to bring sunshine-seekers into a beautifully curated oasis

where everyone can experience a good time. You can enjoy beautiful

appointed rooms where the bathrooms feature that oh-so-trendy

pink brick tile, cozy upholstered beds and cool leopard print benches.

And when venturing further into the hotel, experience cocktails at the

stylish pool bar or just hang in the lobby that looks like the living room

of many of our dreams.

With so much fun to be hand inside the hotel, decorated by the

iconic Ken Fulk, you can't forget that you're also in Miami, where everywhere

you venture there's something fun to experience. Enjoy the

nightlife, or take in an artistic tour of the Wynwood Walls to complete

your trip to Florida's newest destination. AC

You can book your stay at thegoodtimehotel.com.

72 aphrochic
---
Travel
---
Travel

76 aphrochic issue seven 77
---
Travel

78 aphrochic
---
Entertaining

Brunch With

Purpose

Estelle Colored Glass Hosts A Stunning Fête To

Support Local Food Purveyors in Charleston

Stephanie Summerson Hall is the founder of Estelle Colored Glass, a luxury

brand of colored glassware that's handmade by artisans in Poland. Jewel-tone

stemware, decanters and cake stands are all part of Stephanie's collection

that has a cult following. Oprah, Hoda and Martha are fans.

To celebrate the launch of her new line of mint green martini glasses,

Stephanie had an idea. She would host a casual brunch showcasing her new

collection, and would include local bakeries and restaurants. "I like living in

a community that is unique and so much of that uniqueness comes from the

local restaurant and food purveyors in the community."

Words by Jeanine Hays

Photos from Estelle Colored Glass

80 aphrochic
---
Entertaining

The timing of such an event could not have been more perfect,

as restaurants around the country are beginning to reopen, but

are struggling with business due to the slow-down caused by the

pandemic. A casual brunch was arranged at the Dewberry Hotel in

Charleston, South Carolina. Glassware, cake stands and decanters

from Estelle were used to create a fresh green and yellow color

palette. Foods from the local community complemented the theme.

"The pastries and croissants came from my neighborhood

bakery, the Rustic Muffin," Stephanie explains. "The pound cake was

made by my neighbor three doors down. I love supporting her homebased

bakery, Sunny Park Cakes. The dozen assortment of handmade

biscuits came from Callie's Hot Little Biscuit which has an eatery on

King Street in Charleston and happened to be around the corner

from our brunch location at the Dewberry Hotel. And expertly crafted

offerings from Red Hot Clay Sauce - another Charleston-based

brand - were added to our condiments table."

The launch of a new collection became the celebration of

local community. What could be more beautiful? "I support [local

purveyors] every time I get a chance and encourage you to do likewise

in your own communities. These businesses thrive with our dollars

and we need the authentic feel and goodness they add to our quality

of life." AC

84 aphrochic
---
Reference

Talking Points

A Critical Race Theory Primer

When it comes to starting a fire in this country, it seems

all it takes is three words. If the words acknowledge the

existence of white supremacy, the oppression of Black

people, or propose meaningful steps towards a world in

Photo by "cottonbro" from Pexels

which neither exist, the reaction is immediate, visceral and

widespread. In the last few years, words like Black Lives

Matter, I Can't Breathe, or Know Your Rights, have been at

the center of firestorms of white outrage that have erupted

from every right-wing outlet, spilling from the mouths of

every conservative pundit to be repeated ad nauseam, often

becoming larger and less accurate with every telling. The

most recent triptych of words to be used by conservative

media and lawmakers to stoke the ire of their constituencies

is Critical Race Theory, or CRT.

Words by Bryan Mason

Chances are you've seen it in the news

recently as nearly a dozen states have either

passed laws banning its teaching or are poised

to do so. As the controversy rages on and the

conversation becomes more about education,

history, and the danger of harming white children's

sense of self-worth with an accurate recounting

of American history, it's becoming

clear that there are many on both sides who

aren't entirely clear on what CRT is, where it

comes from, or what it's trying to do. So here is

a very brief primer on Critical Race Theory and

resources to help you be better informed.

What Is Critical Race Theory?

One of the main problems surrounding

the current conversation on CRT is that

many people seem to have it confused with a

number of other things that it is not. Contrary to

recent popular belief, CRT is not an approach to

teaching, a version of history, or the 1619 project.

It's not a form of inclusivity, diversity, or sensitivity

training. It's not even a singular theory,

as numerous scholars, authors, and academics

have contributed to its development with

varying points of emphasis.

Though it has since spread to a number

of other fields of study, CRT was originally a

series of legal critiques viewing the American

system of laws as the means by which racist

power structures are codified, normalized, and

enforced. It refutes the idea of colorblind laws,

demonstrating that even laws ostensibly written

to be race-neutral, such as sentencing laws

for drug possession, can be applied in racially

biased ways, resulting in disproportionate punishment

for people of color and the reification of

predetermined racial stereotypes.

In this, CRT borrows from the older

Critical Legal Studies, which is one of its main

influences. This school of thought, which also

focuses on the law as the codification of social

biases, holds that the law and its applications

are determined as much or more by political

or ideological positions as they are by logic and

legal reasoning. While this may seem obvious,

for decades prevailing legal doctrine held that

law and logic were the only pertinent factors in

legal decision making.

In arguing that American laws and the

mechanisms through which those laws are

enforced (e.g. police, courts, prisons) are

primary support structures of systematic

racism, CRT views the structures themselves as

being inherently racist and in need of reform.

At the same time, it advocates for the rule of law

and acknowledges the great role that judicial

and legislative progress has played in improving

the lives of people of color. Yet it eschews Liberalism

as a wholesale answer to the problems

that it outlines, highlighting the frequency and

facility with which liberal agendas co-opt or

slow progressive racial movements, either redirecting

their efforts for the benefit of white

interests or allowing opportunities for conservative

challenges and backsliding.

The specific arguments and proofs offered

within the confines of Critical Race Theory are

far too numerous to list here. However some of

86 aphrochic issue seven 87
---
Reference

Photo by Darlene Alderson from Pexels

its basic principles are:

1. That racism is not a biological fact but a

socially constructed set of categories designed

to codify a specific set of power relationships.

Therefore race is not real, but racism is.

2. That racism is normal in American

society. It is not an aberration, the exception to

the rule or restricted to the thoughts and actions

of a marginalized few. It is the daily lived experience

of most, if not all, people of color in this

country.

3. The establishment and protection

of racist power differentials is encoded into

American society, enforced by its laws and

expressed in its public policy. These structures

normalize the habitually racist perspectives and

processes of the country making them invisible

or at least deniable.

4. The process of legislative racial progress

and regression in America — such as affirmative

action or legalizing marijuana — is often manipulated

to serve white interests. Simultaneously,

actions designed to benefit whites are often

branded as progress for people of color.

5. Accurate and adequate representation

is crucial. The same mechanisms of control

which are used to ascribe negative stereotypes

to people of color are used to deny our ability to

speak accurately and meaningfully to our own

experiences of racism in legal, political, and

social settings.

6. That humanity is intersectional and no

one person can be fully described by their membership

in a single group. Every person has a

race, gender identity, ethnicity, sexual preference,

etc., and their experience of society will

be determined largely by the groups that they

belong to.

Where Did It Come From?

Even though a lot of the controversy and

anger around CRT seems very new, the idea

itself started back in the 1970s and has roots

that go back even further. Initially CRT grew

in the aftermath of the Civil Rights Movement

as scholars of color sought to understand why

the gains of the movement were not resulting

in the level of change they had anticipated and

why many of those gains seemed under constant

threat of being rolled back. Continued disparities

in education following the Brown v. Board

of Education case were of particular interest to

Derrick A. Bell Jr., a legal scholar and the first

tenured African American professor at Harvard

Law School. Professor Bell's analysis of postcivil-rights

era America laid much of the foundation

for what would become CRT. Equally

impactful was his career which saw him lead

several protests in response to student demands

for more diverse faculty and leave several

notable posts in protest over refusals to hire or

promote qualified women of color as professors.

In 1981, the year after Bell resigned his

position at Harvard for the second time, then

incoming student, now noted scholar, Kimberlé

Crenshaw, organized with other students

to arrange for 12 scholars to hold talks at the

school around Bell's work, "Race, Racism, and

American Law." In 1989, Crenshaw held the first

workshop on the topic, calling it "New Developments

in Critical Race Theory," and is therefore

credited with giving the discipline its name.

Further, she is the architect and first

positor of intersectionality, now an extremely

widespread and influential concept. Since then,

the field has both grown and diversified with

additional scholars not only adding to the canon

of what could now be termed core CRT, while

others have created group specific interpretations

including LatCrit (Latino-critical) and

TribCrit (Tribal Critical) along with Queer-critical

and Asian-critical approaches. Other

highly notable founders of CRT include Richard

Delgado, who was one of the scholars invited by

Kimberlé Crenshaw to speak at Harvard, Mari

Matsuda, a highly influential legal scholar and

the first Asian American female law professor

to gain tenure in the United States, and Patricia

J. Williams, a noted scholar and professor

who writes the column "Diary of a Mad Law

Professor" for the Nation.

Why They Scared?

At its core, CRT is simply the realization

that American laws and legal structures

are deeply impacted by race in ways that shape

every aspect of American life while obscuring

the presence and effect of race as a determining

factor. For anyone familiar with American

history, the formation of early laws to enforce

the rule of slavery, the crucial impact discussions

over slavery had on the writing and ratification

of the constitution, and the importance

of equality movements at every stage in

this nation's development from abolition to

suffrage to LGBTQIA+ rights and BLM, this is

not an earth-shaking revelation. So why are

there those who find it so terrifying that they

are currently doing so much to criminalize even

the discussion of what is in fact just a set of legal

theories?

This is a very good question, and one that

is unfortunately beyond the scope of this article

to answer. Better answers than any we might

provide here are expectedly to be found in any

Photo by Darina Belonogova from Pexels

88 aphrochic issue seven 89
---
Reference

of the books on CRT this article lists. We might

also suggest the works of Patricia Hill Collins,

Robert L. Allen, and any number of other Black

sociologists who have dedicated themselves to

this question. It's a difficult question to answer

because it's both subjective and suppositional.

As Black people we can't truly know what

motivates those who work tirelessly to ensure

that we remain marginalized and disadvantaged

in this society.

What we do know is this: they are scared.

Because after 2020 and a whole year of marches

and BLM protests, people are listening and

there's a real opportunity for things to change.

This fear is evident in any number of very visible

ways. First, and most obvious is the whole idea

of attempting to illegalize CRT in the first place.

Using America's laws to criminalize the conversation

on how America uses its laws to criminalize

Black people is the perfect example of the

exact problem that CRT was created to address.

Then there is the haphazard way in which CRT

is being posited as a threat. As mentioned at the

beginning of this piece, most of what's being

called CRT in conservative attacks against

it, is not. Suddenly finding itself used as a

euphemism for diversity, inclusivity training,

gender sensitivity and inclusive history and

pedagogy, CRT has seemingly become the repository

for all of their fears, making it at once

a bigger target and a way to kill many birds

with one law. As usual, there is method to this

madness. For a base driven by slogans and

sound bites rather than facts, CRT is the perfect

scary-sounding three-word antagonist to use

to create exactly the groundswell of fear and

loathing that has been seen and used to push

through a series of vaguely worded, constitutionally-questionable

laws.

What's At Stake?

Still, however sloppy these moves on the

part of conservatives might appear, they are incredibly

calculated and extremely dangerous.

You might find it ridiculous that these attempts

at censorship are coming from the same people

who have openly argued that hate speech is

free speech, but it's no more hypocritical than

a cadre of slave owners listing liberty and the

pursuit of happiness among humanity's inalienable

rights. And they never batted an eye. Just

because a law should be challenged and struck

down on constitutional grounds doesn't mean

that it will be. And vaguely worded laws can

be used to enforce restrictions against a wide

number of things not specifically outlined in the

law itself. As the Atlantic's Adam Harris reports,

"The New Hampshire House of Representatives,

introduced a bill that would bar schools [and]

organizations that have entered into a contract

or subcontract with the state from endorsing

"divisive concepts," [such as] "race or sex scapegoating,"

questioning the value of meritocracy,

and suggesting that New Hampshire — or

the United States — is "fundamentally racist."

Citing the "fuzzy" language of other such bills,

Harris cautions that these laws, while open to

constitutional challenge as violations of the

first amendment, will likely be used to censure a

wide range of progressive educational and professional

conversations on intersectionality,

structural racism and diversity.

What's at stake here then, is ultimately

our legal ability to openly take this society to

task over issues of marginalization and disenfranchisement

on the basis of race, gender,

religion or any number of other grounds. What it

requires of us is that we educate ourselves and,

where possible, others; that we make ourselves

heard through our votes and by using every

platform at our disposal to make it clear that we

will not be silent, complacent or placated; that

we resist any and all attempts to steal from us

the joy of legitimate victories like Juneteenth

and Black Music Month which were not given

to us but fought for and won; and that we keep

the perspective that an honest and inclusive

view of American history gives us: that we have

never been what they say we are or been what

they wanted us to be, that we have never given

an inch in this fight and we see no reason to start

now. AC

A Critical Race Theory Book List

Where is Your Body?,

Mari J. Matsuda

Words That Wound: Critical Race

Theory, Assaultive Speech, And

The First Amendment, Mari J.

Matsuda, Kimberlé Crenshaw,

Richard Delgado, Charles R.

Lawrence III

The Derrick Bell Reader, Richard

Delgado & Jean Stephancic

Faces at the Bottom of the Well,

Derrick Bell

Critical Race Theory: The

Key Writings That Formed

the Movement, Kimberlé

Crenshaw, Neil Gotanda, Gary

Peller, Kendall Thomas

Critical Race Theory (Third

Edition): An Introduction,

Richard Delgado, Jean

Stephancic & Angela Harris

90 aphrochic issue seven 91
---
Sounds

Celebrating

Our Sound

Music Icon Dyana Williams and the Importance

of Recognizing the History of Black Music

Dyana Williams is a Philly music legend. Actually, she's a music

legend everywhere, but if you're from Philly (and we are), you not

only know the name, you know the vibes. Arriving in Philadelphia

after deejaying in her native New York and Washington D.C.,

where she was known for a time as "Ebony Moonbeams," Williams

established the popular radio show "Love on the Menu" for radio

station WDAS and later Soulful Sundays for Classix 107.9. The latter

show lasting for 12 years before signing off for the last time in 2020.

Interview by Bryan Mason and Jeanine Hays

Vintage photos from Dyana Williams

Photos of Dyana Williams by Caliph Gamble

92 aphrochic
---
Sounds

Even with her luminous on-air career,

Dyana's contributions behind the scenes have

been even more impactful. Formerly married

to music producer Kenny Gamble (Gamble &

Huff), Williams has long been associated with

the "Sound of Philadelphia" (Patti LaBelle,

McFadden & Whitehead, Teddy Pendergrass,

etc.) and has produced documentaries, founded

and led organizations, and mentored countless

emerging artists, a passion that she continues to

pursue.

But perhaps her most lasting gift to us is

her role in the founding of Black Music Month.

Its initial recognition in 1979 was the beginning

of a process that Dyana would shepherd until

it was written into law by congress and proclaimed

first by President Bill Clinton in 2000

and again by President Barack Obama in 2009

and 2016.

We were delighted to sit down with this

icon of Philadelphia radio and tireless advocate

for Black music culture to talk about the creation

of Black Music Month, why it still matters, and in

light of all that our community has endured in

the past year, who she feels is making the music

we need to keep us going right now.

America just celebrated it's 42nd Black

Music Month this past June! We're so excited to

speak with you about the history of Black Music

Month and how it came together because it's

such an amazing story and so important for us

today. To start with, tell us about the Black Music

Association. How did the organization come

together and what was its purpose?

DW: The Black Music Association

was created by Kenny Gamble after a visit

to Nashville Music City, which is known as

a country music capital. And he felt that

something could be done similarly in terms

of organizing members of the music industry

community to come together to show, not only

our cultural contributions to America's indigenous

music, but the economic impact of African

American music throughout the world. And so

the Black Music Association was established. It

was a wonderful aggregation of radio personalities,

artists, everybody from Stevie Wonder,

Bob Marley, Dionne Warwick, Teddy Pendergrass,

all of the artists of the day as well as the

songwriters, producers, retailers, educators…It

was just a wonderful entity of people who were

like-minded and coming out of the creative

culture of producing Black music.

So that was the birth of the Black Music

Association in 1978. Credit to Kenny Gamble,

and a group of other people. I was a member.

We were a couple at that time. We have three

children and a six-and-a-half-year-old

grandson now, but we, much like the two of

you working together, Gamble and I did the

same thing because we were committed to

letting the world know that Black music isn't

just to feel-good. It permeates every aspect

of our culture — language, fashion dance…

Black music is the flavor of the planet, not to

discount other genres of music. But that was

the beginning. And Gamble and I were proud

parents. It was the birth of hours of discussion,

of dreaming, planning and wanting to see a

coalition of togetherness and unity in the Black

music industry. And for a period, it was a very

powerful entity that did a lot with the Black

music and various record companies and in

communities around the United States.

AC: When was the first recognition of

Black Music Month, and what was it like?

DW: On June 7, 1979, President Jimmy

Carter, at the request of the Black Music Association,

hosted a grand picnic on the South Lawn

of the White House, with performances by Billy

Eckstine, Chuck Berry, Evelyn Champagne

King, and others. Clarence Avant, known as The

Godfather in the music industry, was very instrumental

in getting us into the White House.

He was very politically connected and made the

initial call. Obviously, they were receptive, they

held a reception on the grounds of the South

Lawn for over 200 people and invited members

of the Black Music Association to attend. I had

the honor of sitting with the President and

Mrs. Carter. And as we know, President Carter

grew up in the South, and he loved Black music.

Initially he was sitting at the picnic table with

us. Then he went and sat on the ground with his

wife and daughter. But before the performance

ended, he was sitting on the stage, clapping his

hands and nodding his head. Then he stood up,

and he was clapping and getting in the spirit

of the gospel music. It was a great event. It was

warm, down to earth, and very much in the

style of President Jimmy Carter. If you go to my

Twitter timeline, I've posted the only existing

footage from that day. And I'm working with an

editor to form it into a short film of that day and

the origins of Black Music Month.

AC: A lot of people know that you were

instrumental in the creation of Black Music

Month, but may not know that "instrumental"

went as far as you going door-to-door, lobbying

members of Congress, or that you wrote the

original draft of the bill that passed in 2000.

What compelled you to stay the course from

1979 to 2000, because it must have been an unimaginable

amount of work?

DW: Very good question. And very true.

I started a non-membership organization

called the International Association of African

American Music at the advice of some of the

leaders of the Black Music Association. We

produced music conferences for 16 consecutive

years. And at one point, we decided to go

to Washington D.C. and hold our annual June

Black Music Month celebration there. I wrote

President Clinton in the White House asking

them to host a similar reception as Jimmy and

Rosalynn Carter had in 1979. So the White House

comes back to me and says, "Well, we see where

President Carter did say June is Black Music

Month. But he didn't sign a presidential proclamation."

So the White House told me get some

legislation passed. They said, "Come back to us

with that and we'll set up a meeting with you

and the President in the Oval Office." I was like,

"Wow, really?

Yeah, I grew up in the Bronx, in Harlem.

What do I know about lobbying?" I didn't know

anything. But I knew a lot about being passionate

about our culture and Black folks and our

music. So my little passionate, letter writing

self reached out to local congressman Chaka

Fattah; I reached out to Republican senator

Arlen Specter; and I had meetings with them.

And I told them, "I need you to write a letter on

my behalf for Black music to be recognized by

Dyana Williams on the White

House Lawn with President

Jimmy Carter and First Lady

Rosalynn Carter.

Nelson George, Al B. Sure,

Dyana Williams, and

Marcus Miller

94 aphrochic issue seven 95
---
Sounds

Dyana Williams with Patti

LaBelle and Teddy Pendergrass

Dyana Williams in the

White House Oval Office

the president and in Congress." And so it took several years of

me, literally going door-to-door, not even making appointments,

just walking into people's offices. I didn't know anything about

the process of lobbying. All I knew was that I needed to garner

support. So congressman Chaka Fattah, the democratic congressman

in Philadelphia at that time, was super helpful. And he

is the person who introduced the actual draft that I had written

and submitted to his people.

The legislation essentially identified that Black music is

America's own, created here, primarily by Black folks, and that it

was a multibillion dollar business. And that is what is important

to me and to us, in the Black music community, to have it recognized

that, yeah, you tap your toes, and dance and clap and

snap your fingers to our music, but at the end of the day, this is

something created out of the anguish, the suffering, and the joy

and love that Black people experience. It is the cries of the field

hollers. It's the gospel music in the churches where we congregated

together to celebrate God and pray for deliverance from

the oppression of enslavement. It's Muddy Waters, it's BB King.

And it's all of the great artists who are, were and are expressing

—Frankie Beverly and Maze say it so well — the joy and pain of

being Black in America. And it continues to this day. So in 2000,

I get a phone call, saying the congressman is introducing the

legislation and then a few hours later, they called and said that

it had passed unanimously in the House. And at that point, the

White House called and invited me to a private meeting in the

Oval Office with Bill Clinton. And I actually had two meetings in

the Oval Office with the President. And from that point on every

American president has acknowledged it as well.

AC: So what can people do to keep the legacy of Black Music

Month alive?

DW: People — and I want to go on the record: this is not just

for Black people — can do a lot. People can sit with their elders

and their family and talk to them about the music they grew up

listening to. They can read books. My grandson's coming over

tomorrow to spend the weekend. I have a whole library of books

for him — many of them about Black people, and he's six-and-ahalf.

Buy the music of the Black artists that you love and support.

Streaming is now the way many young people are consuming

their music. Go to any of the the streaming services and listen to

the music because that is revenue for the songwriters and artists.

Now with COVID dying down and people getting vaccinated, live

concerts are coming back, go — safely — to a live show, support

the writers, musicians, producers, and people that create this

music. So there are many ways that one can engage. Write your

child's teacher and say, "You know, it's Black Music Month. What

can we do to engage around that?" [Black Music Month] is an opportunity

for us during the days in the month of June to celebrate

the contributions of past generations. The foundation mothers

and fathers of Black music as well as celebrating this generation

of artists, and music-makers and creatives that are still doing it

with great success.

AC: There's been so much coming out in movies and documentaries

about Black music. We have documentaries on Nina

Simone and Sam Cooke, movies on Billie Holliday, Aretha Franklin

and Mahalia Jackson, etc. We've seen so much about iconic Black

musicians and the price that they paid for their honesty. Do you

see that same bravery, the willingness to tell the truth for the sake

of the people, in today's artists? And who if anyone stands out to

you for the statements that they're making with their music right

now?

DW: Those are all courageous artists. Back in the day,

there was Harry Belafonte. I mean, the list is long of creatives

and artists who used their platform. Even Sammy Davis, who

was later criticized for his support of Richard Nixon, he was

very active before he made those statements. You do have a

group of people, of artists, who are vocal about consciousness

and our community solidarity. The first one who comes to

mind is Beyoncé. She is Blackity Black, Black. You saw her performance

at the Super Bowl when she came out with the Black

Panther outfit. Beyoncé has used her platform as has her sister

Solange, singing, "Don't Touch My Hair," and so on. They clearly

indicate the racism and the divide in our American society. Jay

Cole, Nas — the list is long of artists who are conscious, who use

their platforms as highly visible and audible individuals to bring

messages of struggle, perseverance, and love.

ACM: Since the founding of the Black Music Association

and then Black Music Month, is there anything you think our

96 aphrochic issue seven 97
---
Sounds

music has lost or gained? What message would you like to give to

those who are coming up in music now about why their work is

important to the community?

DW: Black music is a constantly evolving energy entity.

First, because Black people are not monolithic. There are some

people who are critical of Hip Hop and some of its imagery. That

has always existed. When Chuck Berry and Little Richard came

out, Sister Rosetta Tharpe, a Black woman coming out of the

church in Philadelphia, playing rock and roll and the electric

guitar — parents were clutching their pearls. Now a lot of people

are saying that R&B is dead. It's not dead. It's being reimagined

by young people of this time. And we shouldn't be so critical and

negative about it because it's not what we are accustomed to.

Instead, the question is how do we celebrate these young artists,

how do we applaud them and support them? I love this generation

of artists. I love the creativity that exists. Some people are

really super talented. And then you've got those that are not so

much but still get hit records because they have their finger on

the pulse of dance or styling or some of those other elements that

people are attracted to.

I'll say one more thing. I'm on the board of the National

Museum of African American Music in Nashville, Tennessee. It's a

museum 22 years in the making. It's 56,000-square-feet of seven

galleries that take us from the 1600s all the way up to right now.

It is incredible, and I want to encourage people to come, visit and

become members (we have all levels of membership). This is a

museum for us, by us and it is an amazing, beautiful institution

that celebrates music and culture, America's indigenous music,

our soundtrack to our lives. You can learn more about us at

blackmusicmuseum.com or nmaam.org. AC

AphroChic Black Music Now Playlist

Curated by Dyana Williams

Pick Up Your Feelings, Jazmine Sullivan

Leave the Door Open, Silk Sonic: R&B duo composed of Bruno Mars and Anderson.Paak.

Mystery Lady, Masego

Overgrown , Joyce Wrice

Don't Keep Me Waiting, Kwesi Arthur (featuring Kidi)

Damage, H.E.R.

Sementes, Rael, Negra Li

Hold Me Close, Kelontae Gavin

Sorry Don't Work No More, Brittney Spencer

Write Your Own Bible, Idia Gamble

Listen to the full playlist on AphroChic's Spotify

98 aphrochic issue seven 99
---
PINPOINT

Artists & Artisans | Hot Topic | Who Are You
---
ARTISTS & ARTISANS

THE CONSTANT NOW: In Antwerp A Husband-And-Wife

Team Are Working To Diversify The Art World

Magali Elali and her husband and creative partner Bart Kiggen have been working

together on creative pursuits for over a decade. The two were the creative force behind

Coffeeklatch, a blog dedicated to seeing creative entrepreneurs at home. Through their

bright and inviting imagery and keen storytelling, readers were introduced to a host

of inspirational creatives. In 2013, they launched an online magazine, All Items Loaded,

another space where readers were introduced to creatives from around the globe

through interviews, editorials, photography and video produced by the couple.

Words by Jeanine Hays

102 aphrochic issue seven 103
---
ARTISTS & ARTISANS

Since then, they have established

KEEN Antwerp, a creative studio that brings

together the couple's worlds of photography,

graphic design and storytelling. In

March, KEEN launched a new project - THE

CONSTANT NOW.

For Magali and Bart, who are getting

ready for the birth of their second child, THE

CONSTANT NOW is aiming to showcase art

in a way that reflects our diverse world, and

that mission is no small feat.

A multi-billion dollar global industry,

the world of paintings, sculpture, photography

and other fine art is overwhelmingly

white and overwhelming male across

the globe. In every sector, from auctioneers

to gallerists, diversity is an issue. And

it leads to a lack of representation in what

gets shown, what works gain traction, and

who can build a career. But in the last year,

something has been percolating. In some of

the world's largest art markets, like New York

City, Black-owned galleries are beginning

to pop up and for Magali (who is of African

descent) and Bart, they are working to create

a more diverse art community in their home

of Antwerp.

The gallery's first show, THE KIDS ARE

ALRIGHT PT1, opened this past spring. "Our

new gallery aims to start a conversation

about diversity, color, and multiple perspectives

within the art world. By curating and

bringing together a fantastic cast of young,

diverse artists, we did just that," wrote

Magali on social media during the final days

of the exhibition. "I'm very pleased about the

big turnout, the positive reactions, and the

smooth collaboration with Kevin Botongo

Kotahunyi of Please Add Color. This first

group show was a hit on so many levels!"

Over 13 days, the gallery hosted

hundreds of visitors who came to support the

work of local artists, many who were of color.

Showcasing an experimental mix of disciplines,

including paintings, installations,

drawings, and textiles, there was not only

racial diversity present, but artistic diversity

as well. Hosted in the couple's gallery space,

gallerists, curators, museum directors and

members of the local community flocked

to come see the new work. "Reactions were

highly positive, which we didn't expect,"

Magali confessed.

This fall, THE CONSTANT NOW will

launch its second exhibition, THE KIDS ARE

ALRIGHT PT2. We're sure Antwerp and the

rest of the art world will be watching to see

what this blossoming gallery does next as

they continue to make the case that diversity

in the arts matters. AC

Magali Elali and her husband

and creative partner, Bart

Kiggen. Learn more about

upcoming exhibitions at

theconstantnow.com

104 aphrochic issue seven 105
---
HOT TOPIC

Pride and Protest: What should Pride Look Like?

Pride marks the anniversary of the Stonewall Uprising, multiple demonstrations as

a result of police violence at the Stonewall Inn, a gay bar in Greenwich Village. In the

early hours of June 28, 1969, Stonewall patrons and community members clashed with

police after officers stormed the bar, arresting, violating, and beating people as part

of their routine raids on queer establishments. The escalation turned into two days

of rebellion and protest, and what is considered to be one of the greatest movements

in queer liberation.

As a result we have Pride, a month of

parades across the world that celebrate

LGBTQIA2S+ history, identity, and progress.

Today, Pride looks vastly different from the

early demonstrations. Pride Parades are

sponsored events, with police presence and

celebrity guests. In America, Pride season

has become a mainstream and commodified

time, a revisionist history of what has been a

difficult half century. It is a premature party

during a very precarious moment.

Surprisingly (to myself at least), I have

only been to one Pride Parade. While the

Dykes on Bikes got me misty-eyed, I was

disappointed by the corporations skipping

by, offering stickers and merch in hopes of

gaining my attention, trust, and ultimately

my patronage. Many companies change

their logo to rainbow for Pride month,

and stores start stocking Pride gear. From

ugly T-shirts, to Pride ads, to sponsoring

parades, the June market is saturated

by companies vying for approval and

influence. When I first came out, this development

was exciting. I used a rainbow

logo as a measure of progression, representation,

and safety. But this pink or

rainbow washing starts June 1st and ends

on the 30th. These corporations brush their

actively discriminatory histories under the

rainbow rug and continue to support homophobic

causes and politicians the rest

of the year. The LGBTQ+ community is only

another identity to exploit profit off of.

Rainbow capitalism is just one example

of the way Pride is devalued. In the US, pride

celebrates markers of "progress" including

marriage equality, the repeal of Don't Ask,

Don't Tell, and other legislation. These

moments should be recognized, however

they do less to mark queer liberation and

point more to an assimilation into heteronormative

establishments and their respectability.

This progress is only relevant to

a small portion of the queer community. Is it

time to celebrate when the history of criminalization

and the AIDS crisis is so recent?

When 44 trans people were murdered

in 2020 and 29+ already this year; where

20%-40% of homeless youth identify as

LGBTQ+; where transwomen of color are

subject to high levels of police violence; and

where queer people are more likely to be

assaulted or take their own lives? We have

more work to do.

One thing that the Stonewall Uprising

and current Pride parades have in common

Words by Ruby Brown

Photos by Leandro Justen

106 aphrochic issue seven 107
---
HOT TOPIC

is the presence of cops. During that fateful

night in Greenwich, the police fought

against the community, but now they patrol

the parade and even march along. Law enforcement

has a long history of abusing

the queer community. The violence queer

people faced at the hands of the cops during

bar raids like Stonewall throughout the 20th

century was horrific.

When considered with the constant

brutality towards Black people, the overpolicing

of trans people in the street, and the

higher arrest rates for queer people ,there

is no room in a queer community space

for potential violence. Cops at Pride don't

make it any safer. They're a reminder of a

vicious past and a presence that is discomforting

at best, dangerous at worst.

All this criticism to say, in short, that

Pride shouldn't be a policed progress party

for the privileged. They called Stonewall a

riot, a rebellion, an uprising. And that's what

we need more of.

In 1997, Cathy Cohen, political

scientist and activist, published Punks,

Bulldaggers, and Welfare Queens: The

Radical Potential of Queer Politics?. In this

essay, which received a follow-up reflection

in 2019 (The Radical Potential of Queer?

Twenty Years Later), Cohen proposes, "I

am interested in examining the concept

of 'queer' in order to think about how we

might construct a new political identity

that is truly liberating, transformative,

and inclusive of all those who stand on the

outside of the dominant constructed norm

of state-sanctioned white middle- and upper-class

heterosexuality." In Cohen's conception,

the new "queers," comprised of all

marginalized groups (LGBTQ+, people of

color, women, working class and disabled

people, etc.) could strategically band

together to uproot heteronormativity.

Cohen argues for an intersectional

approach to queer liberation. And this

is what I propose we need for Pride. Pride

should be a continued rebellion against oppression.

Pride should be accessible, a BLM

rally, a Women's march, a labor movement.

The oppression faced for being Black or

gay or poor comes from the same source.

108 aphrochic issue seven 109
---
HOT TOPIC

The violence that we march against in BLM

demonstrations is the violence that victimizes

trans and disabled people. That power is

supported by capitalism and corporations,

homonationalist dogma, and police. These

are the things we don't need at Pride and what

we should unite against.

This idea isn't new. People have been

rebelling against the commodification of Pride

for ages now. Fortunately, there are some

examples of what an intersectional, radical

Pride looks like.

The Queer Liberation March, hosted by

the Reclaim Pride Coalition in NYC is an alternative

demonstration whose tag line is "No

corps, no cops, no bs!". Their mission is to

remember Stonewall and the people of color

that were so instrumental in the movement

and keep them at the heart of their cause.

In 2020, the March was canceled due to the

pandemic. After the death of George Floyd, it

was rescheduled and reframed as the Queer

Liberation March for Black Lives and Against

Police Brutality. Year round they do programming

for BLM and abolition and are a platform

for artists of color.

The Reclaim Pride Coalition is one

of many organizations seeking progress

and justice across intersectional identities.

Demonstrations like these make a better,

prouder Pride. With even NYC Pride decreasing

police presence, the Prides they are

a-changin' for sure. 52 years after Stonewall,

it's time to return to Pride as a protest that

liberates us all. AC

110 aphrochic issue seven 111
---
WHO ARE YOU

Name:

Naomi Abrams

Based In:

Brooklyn

Occupation:

Recruiting Analyst at Accenture and

owner of The Vintage Trixie

Currently:

Exploring my passion for contemporary

art. I love art, and Black history, vintage

Black photography and Caribbean

history. My goal is to bring it out

through vibrant freehand illustrations.

Mostly powerful images of Black women

as we deserve to be represented in

colorful vibrant art.

Black Culture Is:

Integral to my very essence. It reflects

the varied experiences of the Diaspora

in its writing, art, music, food and

vernacular, unalterably shaped by

its historic and geographic roots. It's

African beginnings are evident in music,

for instance throughout the Caribbean

and Latin America. And as someone

whose provenance is Caribbean, and

who also lived in Africa, it holds special

significance for me. As an immigrant

from Guyana, living in America, I am

inescapably immersed in Black culture

which has evolved out of its tumultuous

history into a phenomenon that is

dynamic, influential and much copied.

Self-portrait

by Naomi

112 aphrochic
---
APHROCHIC INTERIORS

BOOK A PERSONAL DESIGN CONSULTATION

@APHROCHIC ON FACEBOOK