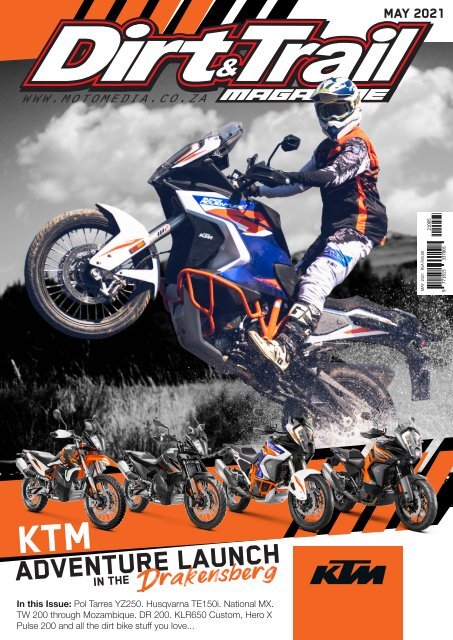 You also want an ePaper? Increase the reach of your titles
YUMPU automatically turns print PDFs into web optimized ePapers that Google loves.
MAY 2021

MAY 2021 RSA R35.00

9 771815 337001

21005

KTM

ADVENTURE LAUNCH

In this Issue: Pol Tarres YZ250. Husqvarna TE150i. National MX.

TW 200 through Mozambique. DR 200. KLR650 Custom, Hero X

Pulse 200 and all the dirt bike stuff you love...
---
THE ADVENTURE AWAITS

ROAD VR1 ,, MX TRACK V ,, ADVENTURE

ADVENTURE

FREE

DARK VISOR

REMOVEABLE WASHABLE LINERS

DOUBLE VISOR LOCK

CLOSABLE CHIN CLOSABLE VEN

VEN

CHIN VEN

VEN

T

T

DOUBLE D D RING CHIN STRAP

DOUBLE D RING CHIN STRAP

R1895

INC VAT

TOPLITE

is OEM

PBA DEALER LISTING

PBA DEALER LISTING

PBA DEALER LISTING

PBA

GAUTENG

AVAILABLE FROM YOUR NEAREST PBA PBA DEALER

GAUTENG ZEEMANS MOTORCYCLES 011 011 435 435 7177 7177

NORTHWEST

RIDE RIDE HIGH HIGH WITH WITH YAMAHA 035 035 789 789 1851 1851

BIKING ZEEMANS BIKING ACCESSORIES MOTORCYCLES 011 012011 435 342435 7177 7474 7177 7474

BIKERS NORTHWEST

BIKERS PARADISE 018 018 297 297 4700 4700 RIDE RIDE PERRY'S GAUTENG HIGH HIGH WITH M/CYCLES WITH YAMAHA UMHLANGA 035 031035 566789 1851 7411 1851 7411

CAPE BIKING BIKING GAUTENG FACTORY PROVINCE

ACCESSORIES RACING 012 011012 867342 7474 0092 7474 0092

BIKERS GAUTENG

INSANE BIKERS INSANE BIKERS PARADISE BIKERS 018 014018 594297 4700 2111 4700 2111

KZN

KZN

PERRY'S ZEEMANS M/CYCLES MOTORCYCLES UMHLANGA HILLCREST 031 011 011 566 765 435566 765 7411 2560 7177 7411 2560 7177 NORTHWE

CRAIGS GAME FACTORY ZEEMANS GAME RACING MOTORCYCLES SERVICES NEVES

021 011 021 867 939 435 849 867 939 435 849 0092 7177 7000

8916 0092 7177 7000

8916

INSANE BIKERS INSANE NORTHWEST

MOTORS BIKERS @ WAREHOUSE

BIKERS @ KLERKSDORP 014 018 011 014 018 011 594 468 795 594 468 2111

1800 795 4122 2111 1800

4122

RIDE BIKING PERRY'S RIDE BIKING HIGH HIGH ACCESSORIES MOTORCYCLES WITH M/CYCLES WITH YAMAHA HILLCREST CC

CC 031 035 012 031 035 012 765 789 342 031 765 789 342 566 2560 1851 7474

566 2560 1851 7474

7411

7411 BIKERS BIKERS PA

GAME BIKING 012849 3427000

7474

BIKERS @ 2971800

4700

031 011 566 867 7411 0092 INSANE B

BIKING ACCESSORIES 021 011012 930 234342 5275

5917 7474

WATER BIKERS RITE PARADISE 018 012 771 342 5050

7474 4700

RBS CAPE PERRY'S FACTORY M/CYCLES RACING UMHLANGA 031 011 566 867

7017411

0092 INSANE

MOTORCYCLE GAME MOTO-MATE RIVONIA WORLD SERVICES 021 849 930 2347000

5275

5917

BIKING MOTORS WATER ACCESSORIES

RITE @ KLERKSDORP MOTORCYCLES 018 012468 771 342 1800 5050

7474

RBS CAPE YAMAHA PROVINCE

031 1311

1311

FACTORY MOTO-MATE RACING RIVONIA STONERIDGE 011 011 867 609234 867 5275 0092 0944 5275 0092 0944 WATER INSANE WATER INSANE RITE BIKERS RITE BIKERS MOTORCYCLES 018 014018 594771 5050 2111 5050 2111 CAPE GAME CAPE PERRY'S CRAIGS GAME MOTOR PROVINCE

MOTOR M/CYCLES SERVICES FITMENT HILLCREST 031 021 011031 021 939 849765 939 2560 8944 7000 2560 8944 7000 MOTORS @

TRAC GAME JUST MAC BIKING MOTOR 021

011 016 945

609 849 7000 1153

3725

FAST KTM@ 018 011468 867 1800

0092

RIDE HIGH 021 011 035

939 945 234 789

8944 3724 5275

1581

MOTO-MATE GAME JUST MAC BIKING MOTOR BELLVILLE SERVICES 021

STONERIDGE 011 016 945

609 849 4210944

7000 1153

3725

FAST MOTORS LIMPOPO

KTM@ KLERKSDORP 018 011468 867 1800

0092

RIDE

CRAIGS TRAC-MAC MOTO-MATE HIGH

M/CYCLE BELVILLE WITH RIVONIA YAMAHA

FITMENT 021 011 035

939 945 234 789

8944 3724 5275

1581 WATER WATER RI

TRAC JUST KCR MAC JUST MOTO-MATE KCR BIKING MAC MOTORCYCLE BIKING PAARDEN RIVONIA FANATIX EILAND

021 016 011 021 016 011 421 510 234 975 421 510 234 975 1153 5275 5405

2258 1153 5275 5405

2258

FIRE FIRE WATER LIMPOPO

WATER IT K.R.MOTORCYCLES UP IT RITE UP RITE MOTORCYCLES 018 015 011 018 015 011 771 297 467 771 297 5050

3291 467 0737 5050 3291

0737

CAPE ROCKET CAPE TRAC-MAC MOTO-MATE PROVINCE

RACING BELVILLE PAARDEN-EILAND STONERIDGE PMB

PMB

021 011 033 021 011 945 510 609 033 945 510 609 264 3724 2258 0944

264 3724 2258 0944

3240

3240

TRAC KCR MAC KCR MOTO-MATE OFF-ROAD MAC MOTORCYCLE WYNBURG

CYCLES STONERIDGE FANATIX 021 011 012 021 011 012 975 761 609 333 975 761 609 333 5405 0944 6443

4220 5405 0944 6443

4220

GAME K.R.MOTORCYCLES SERVICES

015 011 015 011 297 425 297 3291

425 1081 3291

1081

JUST ROCKET CRAIGS TRAC-MAC JUST BIKING BIKING M/CYCLE RACING PAARDEN-EILAND WYNBURG FITMENT PINETOWN

021 016 031 021 016 510 939 761 421 031 510 939 761 421 702 2258 8944 4220 1153

702 2258 8944 4220 1153

2606

2606 LIMPOPO

JUST OFF-ROAD JUST PRIMROSE BIKING BIKING MOTORCYCLES 012 016 011012 016 828 421333 828 6443 9091 1153 6443 9091 1153

LIMPOPO

MIKE KCR BELVILLE 021 011 945 461 975945 3724 5167 5405 3724 K.R.MOTO

KCR 011 027 0545

TRAC-MAC MIKE KCR MOTORCYCLE HOPKINS WYNBURG MOTORCYCLES FANATIX

031 021 011761 461 3034220

5167 5405

FREE 8323

PRIMROSE KCR RANDBURG STATE

MOTO MATE EDENVALE

011 027 0545

UMPLEBY SUZUKI

031 8323

MOTORCYCLES FANATIX 011 975 792828 975 9091 5405 6829 9091 5405 6829

K.R.MOTORCYCLES 015 015 297 297 3291 3291 MIKE NEVES MIKE TRAC-MAC NEVES OFF-ROAD HOPKINS PAARDEN-EILAND MOTORCYCLES WORLD WORLD CC CC 021 012 021 012 510 930 333461 510 930 5167 2258 5917 6443 5167 2258 5917 6443

WAYNE 012 011792 955 3336829

5960

KZN

RANDBURG OFF-ROAD WAYNE HEASMAN MOTORCYCLES RACING 051 012 430792 955 6443

3326 6829 5960 6443

KZN

SALLEYS YAMAHA

051 3326

MOTO MATE RIVONIA

011 011 234 234 5275

5275

NEVES LIMPOPO

NEVES TRAC-MAC PRIMROSE WYNBURG MOTORCYCLES WORLD WORLD CC CC 021 011021 761 828930 761 5917 4220 9091 5917 4220 9091

WAYNE WAYNE PRIMROSE HEASMAN MOTORCYCLES RACING 011 011 828955 5960 9091 5960 9091

KZN PRIMROSE KZN PERRY'S M/CYCLES MOTORCYCLES

BALITO BALITO 084 011 084 011 353 828 353 2713 828 9091 2713

9091 MIKE CAPE

021 011 461 792 6829

KR MIKE EASTERN RANDBURG HOPKINS CAPE MOTORCYCLES 015 021 461 792

2975167

6829

KR MOTORCYCLES

015 3291

3291

011 792 6829

NEVES WAYNE WORLD CC 021 011 930 955 5917 5960

KZN

RANDBURG MOTORCYCLES 011 792 6829

BALITO 084 031353 2606

IMOLA CAPE

043 722 1157

WAYNE 011 5960

KZN

011 792 6829 NEVES WAYNE MOTORCYCLE HEASMAN RACING WORLD CC 021 011 930 955 5917 5960

KZN

NORTHWEST

MPUMALANGA

RANDBURG PERRY'S ROCKET M/CYCLES RACING PINETOWN BALITO 084 031353 7022713

2606 EASTERN CAPE

BIKE WAYNE CITY HEASMAN RACING 013011 244955 2143 5960

KZN

MOTORCYCLES

011 792 6829 IMOLA MOTORSPORT 043 722 1157

MPUMALANGA

BIKE CITY 2143

ROCKET RACING PINETOWN MARITZBURG 031 033031 264702 2606 3240 2606 3240 IMOLA IMOLA MOTORSPORT 043 043 722 722 1157 1157 PERRY'S M

BIKERS PARADISE

018 018 297 297 4700

4700

SILVERTON

BIKE CITY 013 244 2143

RBS BALITO 033 084 031 012

264 353 701 804

3240 2713 1311

8888

PERRY'S M/CYCLES BALITO 084 353 2713

EASTERN MPUMALANGA CAPE CAPE

ROCKET R

BIKE

FREESTATE

CITY 013 244 2143 ROCKET RBS YAMAHA MIDAS

RACING MARITZBURG 033 031 012

264 701 804

3240 1311

8888

MPUMALANGA

MOTOS MPUMALANGA

KLERKSDORP

018 018 468 468 1800

1800

RBS ZEEMANS ROCKET RACING PINETOWN 031 011 702 435 702 1311 2606

7177 2606

BIKE IMOLA IMOLA CITY

MOTORSPORT 043 013 043 013 722 244 722 244 1157 2143 1157 2143

2143 ROCKET R

051 430 3326

RBS YAMAHA MOTORCYCLES 031 011701 435 1311

7177

BIKE CITY

013 244 2143

BIKE

FREESTATE

SALLEYS YAMAHA 051 430 3326

WATERITE BIKE CITY CITY MOTORCYCLES

018 013 018 013 771 244 771 244 2143

5050 2143

5050

LEKKA ROCKET RACING

MARITZBURG 033 084 033 084 264 080 264 3240

080 8237 3240

8237

RBS RBS YAMA

SALLEYS YAMAHA 051 051 430 430 3326 3326

FREESTATE

RBS RBS YAMAHA 031 031 701 701 1311 1311

FREESTATE

SALLEYS YAMAHA 051 051 430 430 3326 3326
---
Intro. Keeping the wheels turning...

Snow Ploughing in Dublin

On a bitterly cold winter morning a husband and

wife in Dublin were listening to the radio during

breakfast.

They heard the announcer say, "We are going to

have 8 to 10 inches of snow today.

You must park your vehicle on the evennumbered

side of the street, so the Snow ploughs

can get through".

So the good husband went out and moved his

GS.

A week later while they are eating breakfast

again, the radio announcer said, "We are

expecting 10 to 12 inches of snow today.

You must park your vehicle on the odd-numbered

side of the street, so the snow ploughs can get

through".

The good Husband went out and moved his bike

again.

The next week they are again having breakfast,

when the radio announcer says, "We are

expecting 12 to 14 inches of snow today.

You must park...."

Then the electric power went out.

The Husband was very upset, and with a worried

look on his face she said, "I don't know what to

do. Which side of the street do I need to park on

so the snow ploughs can get through?"

Then with the love and understanding in her voice

that all ladies who are married to Irishmen exhibit,

the wife replied,

"Why don't you just leave the bloody bike in the

garage this time?"

May Issue 2021

PUBLISHER:

Glenn Foley

foleyg@mweb.co.za

ADVERTISING AND EDITORIAL:

Sean Hendley

sean@motomedia.co.za

071 684 4546

OFFICE &

SUBSCRIPTIONS:

Anette

anette.acc@ mweb.co.za

011 979 5035

ONLINE &

DESIGN LAYOUT:

Kyle Lawrenson

kyle@motomedia.co.za

011 979 5035

Cape Town Sales and News:

Lorna Darrol

lornad48@yahoo.com

074 122 4874

PHOTOGRAPHY

Stefan van der Riet

CONTRIBUTORS

Shado Alston

Donovan Fourie

Tristan Foley

Kurt Beine

Mike Wessels

Mizz B

Kyle Foley

Africa '

s

Widest range of Motorcycle parts

RACETECH Caters for MX, ENDURO, TRAIL RIDING, SUPERMOTO, FREESTYLE, SPORT & RECREATIONAL

ATVS, ROAD RACING, SPORTS BIKES, TOURERS, VINTAGE BIKES, CRUISERS AND HARLEYS

Spring Kits Available

WISECO PISTON KITS Wiseco leads the aftermarket performance kits by producing the

highest quality pistons on the highest quality forgings.

HOTRODS CRANKS AND RODS HOT RODS HAS BEEN MAKING THE BEST AFTERMARKET

CRANKSHAFTS AND CONNECTING RODS SINCE 1993.

Have a great riding month!

Videos and more

available online...

KPMI® PRODUCT BRAND COVERAGE INCLUDE:

HARLEY DAVIDSON'S, SPORT BIKES, DIRT BIKES,

ATV/UTV'S, TOURERS, CRUISERS, CUSTOMS AND

CLASSICS

PIVOT WORKS BEARING KITS FOR MX,

ENDURO, ATV AND STREET BIKES. WHEEL BEARINGS,

SWING ARM BEARINGS AND LINKAGE.

Copyright © Dirt And Trail Magazine: All rights reserved. No part of this publication may be reproduced,

distributed, or transmitted in any form or by any means, including photocopying, articles, or other methods,

without ASking nicelly...

WWW.MOTOMEDIA.CO.ZA

no 4 Fifth avenue

Northmead Benoni

Email:G124@mweb.co.za 011 425 1081/4

www.gameservices.co.za
---
Ducati 'looking carefully at

synthetic fuel' for future models:

DUCATI announced a while ago that they are looking

at electrifying their motorcycle range, whilst also

keenly searching for their future customer base of

younger riders. It has recently emerged that electric

propulsion may not be the direction they want to

head in, for now.

CEO Francesco Milicia spoke with MCN to

discuss plans for the future of the Italian brand,

and it seems that for now, electric power isn't their

priority.

Ducati is no ordinary manufacturer. With an

incredibly restrictive lockdown in Italy, Ducati

managed to stay in profit and actually grew their

sales in certain countries around the world. The

key, according to Ducati's VP of Sales, is care and

passion.

"It's been a complex and difficult year," says

Francesco Milicia. "At first we thought maybe the

pandemic would only affect some countries but by

March [2020] we could see how serious it was. In

Italy we had the highest death rate in that first wave

and it was a very serious situation, especially in the

north [where Ducati and 90% of their supply chain

are based]."

The speed with which the pandemic took hold

surprised Ducati and caused real headaches for

their factory.

"We had a meeting on Friday afternoon telling us

the factory had to be shut down by Monday morning,

with all shipments blocked just as we were

getting ready to distribute the Streetfighter," adds

Milicia.

"Our first estimate was that we would lose 30% of

our sales for the year but we've been impressed

by the recovery. The Streetfighter is selling more

in the second year than it did in the first and the

Fasthouse Scrambler will be sold out in a matter of

days."

Interestingly for Ducati, who's biggest sales market

remains their home nation of Italy, their biggest

competition comes not from other high-performance

European manufacturers but from emerging

budget brands.

"In Italy the market has changed a little bit as we

have a lot of competition on price but we don't

want to go into competition with cheap manufacturers,"

says Milicia. "We have to protect our brand.

We have a brand that's been alive almost 100 years

and we have to respect that.

"But attracting younger customers is important

and, as for a product for young customers,

this is something we are working on. Even with

smaller displacements for young people however,

we can still build in the style, sophistication and

performance of a Ducati."

With the world moving towards zero-emissions,

could what the company needs to attract young

people be electric bikes?

Milicia thinks not – at least not yet...

"We are thinking and working on electric," adds

Milicia. "We are part of a group that's going quickly

towards electrification and it's a good opportunity

for Ducati.

"Will we produce an electric Ducati soon? No.

We think that for the kind of machine we produce

now, an electric motorcycle cannot guarantee the

pleasure, the range, the weight etc that Ducati

riders expect."

"We are also looking carefully at other solutions for

zero or minimal emissions, such as synthetic fuel.

Other brands in our group such as Porsche are

looking at it and it's something we are looking at in

the medium term."

What are synthetic fuels?

Exactly what they say they are, a man-made

fuel that can be used in petrol or diesel internal

combustion engines. That means not just cars and

trucks, but planes, trains, ships, and generators

could all switch over to it.

It is made by producing hydrogen from water

using renewable energy. Carbon is then added to

this to produce a liquified fuel. The carbon used

for this process can be either captured from other

industrial processes or even captured from the

atmosphere. The CO₂ and H₂ are then combined to

create the synthetic fuel that can be either petrol,

diesel, or kerosene. Once plants are fully operational,

synthetic fuel is estimated to cost somewhere

between 1 and 2 Euro a litre.

Aside from keeping petrol engines running, what

are the other benefits?

The biggest thumbs up on synthetic fuel is that

other than electricity, you don't need much else to

produce it. Batteries need rare minerals that are

mined from the earth by sometimes questionable

means, they also have a finite lifespan and in time

will need replacing. If renewable energy if utilised

for the production process of synthetic fuels, the

manufacturing procedure itself could also be carbon

neutral. And because synthetic fuel perfectly

mimics the dynamics of petrol, we have normal refill

times and no need to adapt or change the way we

use our vehicles.

Watch this space…

WHEREVER THAT IS.

ALL NEW

CRF300L

R84 999

The essence of what makes a true dual-purpose

motorcycle has long been in Honda's DNA. The new

CRF300L takes the stage for 2021 – lighter, more powerful

and with an array of detail improvements. Find a dealer

and book a test ride now!

BE THERE.

6 DIRT AND TRAIL MAGAZINE MAY 2021

www.honda.co.za

DIRT AND TRAIL MAGAZINE MAY 2021 7
---
INTRODUCING THE ALL-NEW

BMW Fourways top Motorrad dealer

for 2020.

BMW West Top car dealer for 2020.

We do lots of stuff with this lot so we are not too surprised

– they are certainly one of the more Pro active

BMW dealers around… A nicer and more proactive

bunch are hard to find, we regularly pick up demo

bikes from them to review in the magazines and they

are forever inviting us to join them for breakfast runs,

night time adventure rides and all sorts of interesting

jols. The showroom is always stocked to the rafters

with the latest and greatest BMW has to offer and

more well looked after pre-loved machines than you

can shake a stick at. Incidentally, their sister dealership

BMW West took overall top spot for the car side, third

year running – Nice!

Dunlop: On a Mission to keep you

ahead of the game…

The good folk from Dunlop and Henderson Racing

Products keep finding new and interesting ways to

reward their

customers for buying their Dunlop Trailmax

Mission tyres. Besides the fact that they are really

good adventure tyres (We got some on our bike),

with a decent life span and seriously good grip

in just about every condition, which is more than

a good enough reason to put a set on your bike,

they are now giving their customers caps, buffs

and cooler bags with the purchase of your next

set of rubber.

Chat to your tyre dealer – or, to find out more

about the giveaways or to find your nearest participating

stockist get onto Facebook and look up @

Hendersonracingproducts

R146 950.00

INCL VAT

Bike Tyre Warehouse opening a West

Rand store…

Yup! The giants in the motorcycle tyre game are

expanding again and opening a new store in the West

Rand, see the announcement in this fine magazine.

The grand opening carnival is scheduled for Saturday

the 5th of June and we will be in attendance. There

will be the usual fare of good food, cold beverages,

excellent entertainment and much, much more. Swing

past our stand a pick up a copy of Dirt & Trail and

Ridefast magazine, and grab a free Ridefast or Dirt &

Trail magazine festival mug - and get your pic taken for

the magazine, maybe we make you famous!.

8 DIRT AND TRAIL MAGAZINE MAY 2021

Good Byes and Hello's at Honda

Wing Centurion

After many, many years managing the parts division

for Honda Wing Centurion, Alex de Castro is

off to enjoy the fruits of a lifetime of hard work with

the gratitude and well wishes from Jacques and

the team on his well-deserved retirement.

Into said big shoes steps Quinton Bushby. Quinton

initially joined the team as a technician in the

workshop for a number of years before being led

astray by a VW dealership for a couple of months

where he quickly learned that cars aren't quite as

lekker as bikes. He re joins the team. With this

technical knowledge from his time on the bench,

Quinton is sure to be a real asset to the dealership

and a great help to their customers. If you are in

the area and are in need of parts for your Honda

give them a call on 012 663 8718 or drop in at the

corner of Heuwel and Lenchen in Centurion, they

are upstairs from the Mahindra guys and are going

great guns.

THE ICON.

BETTER THAN EVER.

567CC

ONE TOUCH

1 SEATER

44 HORSEPOWER

ON-DEMAND AWD/2WD

220 KG PAYLOAD CAPACITY

TWIN CYLINDER ENGINE

AUTOMATIC PVT P/R/N/L/H

17 L FUEL CAPACITY

VISIT WWW.POLARISSA.CO.ZA FOR MORE INFO

E&OE / PRICE IS SUBJECT TO CHANGE WITHOUT PRIOR NOTICE / PLEASE RIDE RESPONSIBILY

PROUDLY DISTRIBUTED BY

DIRT AND TRAIL MAGAZINE MAY 2021 9
---
The new WORX WX092.9 20V 2-in-1

Cordless Inflator & Flashlight

A fully portable and cordless tyre inflator that is faster

and more efficient than most inflators on the market

today. You can inflate all the tyres on a car and then

some more this one. It inflates around 4.5 tyres on a

single charge and it goes from 0 to 2.5 Bar (0-36) psi

in about 4 minutes per tyre.

The flexible 0.9m hose lets you reach nozzles and

stems that are hard to get at, and it comes with 3

adaptors: 1 sports ball needle, 1 Presta and bike

valve adaptor, 1 tapered adaptor for small inflatables

like soccer balls.

The best part being that you do not have to plug

it into your car's DC port With the powerful 20V

FUCHS Silkolene now from Autocycle Centre

The well-known British lubricants manufacturer first saw the light

of day around 1908 and has become a global brand that is now

sold in over 50 countries worldwide. The products are approved

and used by leading professional race teams in Moto GP, World

Superbikes, British Superbikes, Moto Cross, Speedway and

even karting. Developed using the latest

lubricant technology they offer their users measurable

performance improvement. Over the last few years their

products have developed into a comprehensive 100%

dedicated motorcycle range which are now available in South

Africa from Autocycle Centre and include a full range of 4T oils,

2T oils, Fork Oils, Coolants and Consumables as well as the

new Silkoline LUBE CUBE 4 litre Cube of oil.

For more information and for your nearest stockist go to

www.autocyclecentre.co.za

battery (that is the same one used on the WORX leaf

blowers, cordless chainsaws and the cordless WORX

HydroShot we reviewed a few months ago), you just

bring the inflator wherever it needs to go.

The LED lamp outputs 100-200 Lumens. Great for

a load shedding back up light, even an emergency

beacon to alert other motorists that you need assistance.

The POWERSHARE 20V battery is interchangeable

with other WORX tools. To view the full range of

WORX products, and view the videos go to www.

vermontsales.co.za and click on WORX. WORX is

a new brand at Vermont Sales and is available from

all leading outlets countrywide, for more information

contact, Vermont Sales on 011 314 7711 Trade

enquiries are welcome!

OXFORD AQUA T-30 ROLL BAG –

WHITE/BLUE

A lekker bag that straps easily onto the seat of any bike

with a unique attachment system for motorcycles with

under seat security strap andwith compression straps,

(bungee cords), for maximum stability. It holds up to 30

litres of whatever you want to put in it.

It has an easy grab/carry handle on top for when you

need to lug it to your digs as well as a padded shoulder

strap for added comfort if said digs are a bit of a trek

from the parking, (honestly, if they don't allow you to

park your bike in the room then find a spot that will).

It also has a waterproof roll top closure for when you

get caught in the rain or moer over during a water

crossing. It even has convenient external and internal

pockets for such niceties as cell phones and chargers,

wallets, passports, smokes and lighters. The Aqua

T-30 is constructed of a easy to wipe-clean, waterproof

material with welded seams and water-resistant zips

and has a front mesh pocket for storing damp items like

your sweaty jocks and socks and towels and the like.

There is also reflective detailing for improved visibility so

your myopic maaitjie can see you in the dark. The whole

lot is only around 50cm in width and about 28cm deep.

For pricing and to find your local stockist go to www.

dmd.co.za

MV Agusta 950 adventure triple for 2023?

MV Agusta has confirmed that they are developing a new

950cc triple for 2023, ready to power an adventure

machine.

"Our closest [to market] product is a 950. It's a brand-new

platform, with a brand-new engine that is already in testing

and will arrive in the last quarter of next year, with a model

year of 2023."

"We're working on a smaller engine platform and working

on one engine in particular that has a very different propulsion

approach. We have three working technological

platforms currently in development."

But how is a relatively small Italian company like MV

managing to devise so many new models in the midst of a

global pandemic? Sardarov explains.

"MV Agusta is a company used to crisis management, so

for us one crisis, another crisis is not a problem. That's

actually one of the advantages of MV Agusta because it's

quite flexible in terms of adjusting to the reality."

He continued: "The pandemic actually played in favour of

MV Agusta because it put everyone else in crisis and the

bigger the company, the less flexible it is in what it can and

cannot do. So, for a small company it's a small problem

and for a big company there are big problems.

"We basically grew close to 80% from 2019 to 2020 with

very good retail numbers. This year, we're going to grow

another 60%."

MV is imported to SA by Fire It Up !

Leatt 1.0 shoe

This is a casual all day, every day synthetic suede

sneaker with the heart of a riding shoe. The Leatt

1.0 shoe is a casual everyday sneaker with great

pedal compatibility and comfort. It features a

durable upper synthetic suede material with a

softer sole than most riding shoes, which makes

them

comfortable all day shoes.

Key features are as follows:

•Comfortable sneaker sole with great pedal

compatibility: Dual compound sole with stiffened

insert for pedal support

•Durable shoe upper: Synthetic Suede with

perforations for breathability

•Solid Midsole: Anti-compression midsole for

comfort

•RideGrip Compound delivers amazing riding

feel in all weather conditions: Sticky Leatt Lab

compound sole for ultimate bike control

•Active Carbon moisture wicking, quick dry,

anti-bacteria, anti-odour material

•Weight: From 760g

•Size: US 6-12, UK 5.5-11.5, EU 38.5-47, CM

24-30

At your dealer or - for more information or to find

your local stockist go to www.leatt.com

10 DIRT AND TRAIL MAGAZINE MAY 2021

DIRT AND TRAIL MAGAZINE MAY 2021 11
---
www.ryder-app.com

launches:

The Ryder App is made for motor

sport enthusiasts, it makes it easy

to find tracks and events in your

area, along with the ability to accept

Indemnities, pay for your entries and

memberships and be part of the

community. With the safety features

you can scan another rider's code

and quickly and effectively help him

to get the relevant assistance through

notifying the club or host and by

alerting emergency contacts. Although

motorsports are a dangerous

sport, it has been evident that some

sort of additional safety feature would

be a massive help to the community.

Ryder Launch Event

Ryder hosted its first inaugural event

on the 13th of March 2021, and what

a successful day it was. Everyone

had fun with live wheelie competitions

held by Keep it on 1 Wheel with

Duncan de Beer winning the prize

sponsored by Bike Tyre Warehouse

for the longest slow wheelie. Kyle

Flanagan taking first place followed

by Tristan Hedgcock in the fun

Knock-Out style Time Trails hosted

by Trail Freedom Commission and

G Tech Enduro. In addition to this

there were to 37 lucky prize winners

who received prizes sponsored by

Ryder, Cape Dirt, G Tech Enduro,

Eddy2Race, KTM Paarl, Dirt Rider,

Leatt, TBR Suspension Bike Tyre

Warehouse, Racepace Sportware,

Bykleyn Bike Graphics, Whiskey

Throttle, 7th Psychopath coffee,

Keep it on 1 wheel and One Up

Wheelie. The Ryder team would like

to thank all the sponsors for making

the day so successful and also thank

all the riders and spectators for the

outstanding day.

The purpose of the launch event was

evident and successful in showcasing

that Ryder is a community app that

brings together dealerships, stores,

service providers, clubs, organisations

and riders for the benefit and

growth of the sport, whether you are

a weekend warrior or a professional

the passion remains as motorsport

enthusiast no matter what.

Here we would strive for complete

transparency and bring the community

together along with aiding the

growth and future of the sport…

Go and have a looksee. We might

look at this for some of our events

too.

12 DIRT AND TRAIL MAGAZINE MAY 2021

1 2 3

LUCID GOGGLE FEATURES

• Rugged DYAD frame, double-injected to our race proven POLYFLEX face-forming inner frame

• FLOAIR ventilation system with moisture channel • 20mm thick, 3D molded, multi-stage face foam

• FORCEFIT outrigger system • 45mm ultra-wide woven strap with silicone traction control

• XDO injection molded lens • WAVELATCH quick-change lens locking system • XDO lens features hard coat & anti-fog treatment

• Integrated tear-off posts • Ultra-wide field of view accepts 45mm Zip-Off film system • Detachable vented nose shield

1

2

3

– XDO LENS MOLDED INJECTION QUICK~CHANGE WAVELATCH – LENS LOCKING SYSTEM

1 2 3

Henderson Racing Products - 011 708 5905

www.facebook.com/Hendersonracingproducts

Available at selected dealers nationwide

DIRT AND TRAIL MAGAZINE MAY 2021 13
---
KISKA.COM Photo: R. Schedl

THE MOST EPIC

ROADS ARE

OFFROAD

Triumph's new King of Cool: Steve Mc-

Queen edition Scrambler 1200 unveiled

alongside updates

Triumph has released a limited-edition Steve McQueen

model Scrambler 1200 and updated their retro scramblers

to meet the latest emissions standards.

Minor updates have been made to make the engine meet

Euro5 witha new exhaust that improves heat dissipation.

The big news is saved for fans of the Mr McQueen.

To celebrate one of Hollywood's most famous actors,

stunt riders, motorcyclists and all-round icons, Triumph

has partnered with the McQueen family to produce the

Scrambler 1200 'Steve McQueen Edition'.

The new bike is inspired by the original competition-spec

TR6, which was made famous when a modified version

was used by McQueen in The Great Escape. McQueen

was a big fan of the TR6, requesting they use it in the film

and competing on one at the International Six-Day Trial.

It's his love of British twins that Triumph are celebrating

with this bike.

As the name suggests, the McQueen edition is based on

one of our favorite bikes, the Scrambler 1200 XE – the

long travel, off-road focused version of the two 1200

models.

The special edition comes with a Competition Green

tank with brushed foil kneepads, hand painted gold

pinstripes, gold heritage logos, a brushed aluminium fuel

cap, brushed stainless steel tank strap and a neat Steve

McQueen graphic.

The McQueen edition also comes with a high-level mudguard,

which like the rear mudguard, has been painted to

match the tank. There are a few other optional accessories

too including engine bars, radiator guard and a brown

bench seat.

No special edition is complete without some proof, so

each of the 1000 bikes is numbered on the handlebar

clamp where you'll also find McQueen's signature laser

etched.

Each bike will also come with a certificate of authenticity

stating the bike's VIN and signed by Triumph's CEO, Nick

Bloor, plus McQueen's son Chad.

14 DIRT AND TRAIL MAGAZINE MAY 2021

Take aim at the horizon and choose the more adventurous way to get there.

Featuring reworked ergonomics, updated electronics, and a refined powerplant

that all enhance the ride, the new KTM 1290 SUPER ADVENTURE R reaffirms

its status as the ultimate all-terrain powerhouse.

SEE MORE AT KTM.COM

Please make no attempt to imitate the illustrated riding scenes, always wear protective clothing and observe the applicable provisions of the road traffic regulations!

The illustrated vehicles may vary in selected details from the production models and some illustrations feature optional equipment available at additional cost.

DIRT AND TRAIL MAGAZINE MAY 2021 15
---
husqvarna-m

husqvarna-motorcycles.com

husqvarna-motorcycles.com

The FE 350 is known for its

versatility in all types of terrain.

With a lightweight chassis and

enhanced all-round performance, it

possesses 450-rivalling power-toweight

ratio, while keeping the light

and agile feel of a 250. Already a

preferred choice for those wanting a

perfect balance of weight and power,

the motorcycle combines premium WP

suspension, innovative electronics

and comfortable ergonomics, along

with a host of other innovative

refinements that make the FE 350

second to none when the going gets

tough.

Husqvarna Norden 901 creeps closer:

New bike spotted testing in two different guises

We've known about the Norden for a while now but it was

always assumed there would be just one model. However,

new spyshots emerging suggest there might be two models:

an off-road focused machine and an on-road focused

variant, just like the KTM 890 models it shares DNA with.

If you're not familiar with Husky's current methods, they

take the bare bones of a model from sister company

KTM's range and they give it their own blue and white

twist. They've done it with the smaller capacity Vitpilen

and Svartpilens, so now their attention has turned to the

bigger bikes in the company's range.

The Norden 901 is based on the new KTM 890 Adventure,

sharing the same engine, mainframe, suspension, wheels

and fuel tanks. Husqvarna have then added different bodywork,

and likely tweaked many of the settings under the

slightly retro looking fairings.

Until now we've only seen models with the low front

mudguard and road orientated tyres, as seen on the 890

Adventure.

However, in these pictures you can clearly see the high

mudguard and off-road tyres from the 890 Adventure R

fitted. There are also two different types of pannier rack

fitted, suggesting there will be both hard and soft luggage

available from the outset.

There's been no word from Husqvarna since they confirmed

the 901 was going into production but we expect

the finished bike to be unveiled later this year and to arrive

in dealers by early 2022…

Good times for Husqvarna dealers!

Please make no attempt to imitate the illustrated riding scene. Always wear protective safety gear and observe the applicable provisions of the road traffic regulations.

The illustrated vehicle may vary in selected details from the production models and may feature optional equipment available at additional cost.

Please make no attempt to imitate the illustrated riding scene. Always wear protective safety gear and observe the applicable provisions of the road traffic regulations.

The illustrated vehicle may vary in selected details from the production models and may feature optional equipment available at additional cost.

Please make no attempt to imitate the illustrated riding scene. Always wear protective safety gear and observe the applicable provisions of the road traffic regulations.

The illustrated vehicle may vary in selected details from the production models and may feature optional equipment available at additional cost.

Enduro

Precision

FE

350

Composite carbon subframe

CNC machined triple clamps

WP Xact Rear Shock

Magura Braking System

16 DIRT AND TRAIL MAGAZINE MAY 2021

DIRT AND TRAIL MAGAZINE MAY 2021 17
---
KTM Adventure Launch

KTM

Adventure

Local Launch

Some popular definitions:

An unusual and exciting or daring experience. An undertaking

usually involving danger and unknown risks. The

encountering of risks, the spirit of adventure. An exciting or

remarkable experience. Adventure Bike sounds so much better

than Dual purpose doesn't it?

It's the promise of happy times and new horizons…

18 DIRT AND TRAIL MAGAZINE MAY 2021

DIRT AND TRAIL MAGAZINE MAY 2021 19
---
KTM Adventure Launch

KTM agrees with us – and as such they proudly emblazon

ADVENTURE across many of their bikes.

And there have been plenty of those to date, from the venerable

640 Adventure all those years ago right up to the current batch.

And over those years, we've had hundreds of happy adventures

on board – and watched the progression and injection of

technology into this Orange family arsenal.

The progression and rate at which they build new bikes is simply

astonishing.

This is good – and bad. Good because they are always

delivering new, exciting tech – and bad, because it feels like you

have just bought the latest and greatest – and you blink…. And

there's a new bike out.

It's not like some of the other bikes out there who take years to

develop something – or give the bike BNG'S (Bold New

Graphics) and market them as new models.

Every two years, KTM brings out virtually brand new dirtbikes.

Every 3 odd years, the Adventures undergo major changes with

new machines following every four to five years. Except in the

case of the 790, which was launched just 2 short years ago and

has just been supplanted by the new 890.

And this in a period that has been severely buggered around by

the COVID pandemic.

So Adventure R – more aggressive. Adventure

more sensible.

All of the bikes that we were introduced to had

all of the electronics, quick shifters and modes

unlocked. It's all pretty complicated but please

chat to your dealer.

KTM partners with Bosch with the electronics

package inside these beasts which hosts stuff

like a new six-axis lean angle sensor that filters

information on the exact pitch and position of

the bikes and their behaviour.

In turn, this affects the degree of Motorcycle

Traction Control, Motor Slip Regulation, Motorcycle

Stability Control and the forces of Off

road ABS applied. As usual, all rider assists can

be tweaked or disengaged depending on your

needs or the terrain.

Alongside the standard Rain, Street, Sport and

Offroad ride modes, the optional Rally mode

permits riders to adjust the throttle response to

a more aggressive setting and select one of nine

different levels of wheel spin.

You have to doff your hat to them – and it's easy to understand

why this manufacturer is such a major force in the world of

motorcycles.

But enough of that. This story is about the local launch of KTM's

four new Adventure Models. We have decided not to bore you

with all the tech blurb – you can look all of that up in our previous

issues, but we will tell you how the new bikes stack up against

their predecessors.

To this end, KTM invited a cross section of like-minded bike guys

to a get-together in the Drakensberg to try the bikes out in the

terrain for which they are built. It really was a great couple of

days of riding. Motorcycles are the great equalizer – if you like

em, we like you – it's a recipe for success.

We were hosted at the beautiful Champagne Castle resort just

outside Winterton. It's a great hotel with the beautiful Drakensberg

as a backdrop. Oh- and it has a big pool, putt putt and

golf course with sweeping berms, lekker jumps and some sand

holes. We saw more than one or two riders looking longingly in

that direction. But it was not to be.

We had four bikes to ride over two days and the KTM Crew

made sure that we were kept busy with four great routes laid out

for us.

The Bikes:

It might seem complicated but it's actually quite simple.

Two new 890's were introduced:

The 890R.

(R239-999.00) More suspension. More off-road oriented adventure

bike.

The 890 Adventure,

(R219-999.00) is designed to be great off-road but with a bit

more street bias.

The bikes are distinctly different.

Two new 1290's were introduced and they read the same as the

890's.

The 1290R

(From R314 999.00) is made for the hardcore crowd who need

to look the part and head up the most unbeaten paths. More

suspension. More off-road.

The 1290 Adventure

(From R299999.00) is designed for people who want to explore

SA with forays off into those long Karoo roads in absolute

comfort. More technology.

And the bikes are distinctly different.

20 DIRT AND TRAIL MAGAZINE MAY 2021

The 890 Adventure R

The 890 Adventure

The 1290 Super

Adventure R

The 1290 Super

Adventure

An all-new and more user-friendly 7'' TFT dashboard

– which sits like a tablet in front your face

– displaying which settings you're using and

much more. Pair it with the new Connectivity

Unit and you get a larger view with quicker and

more practical menus that display turn-by-turn

directions indicated via the KTM MY RIDE app.

You can also opt for the upgraded "Rally Pack"

from your KTM dealer which means Rally riding

mode is added and further adjustability for the

rider including MTC slip adjuster and the adjustable

throttle response. The all-in-one Tech Pack

includes a Quickshifter, Motor Slip Regulation,

Hill Hold Control and an adaptive brake light.

Go and get it all unlocked. We would not have

them any other way.

Day 1:

The morning session saw us climbing aboard

the 890 adventure R.

The evening before, we all attended a pretty in

depth introduction to the 890's.

The biggest single update made to the bike

from the 790 is in the engine department. They

have bumped up the bore a bit and they have

pretty much beefed up everything from the

crank to the valves and cylinder head. They

have improved the lubrication of all the moving

parts - and they have managed to lose a bit of

weight in the process.

It's all pretty on paper and on graphs and all that

- but how does that relate to the ride?

We departed from the hotel down a short length

of tar and off into the gravel. Soon we were

climbing fire roads and heading into slippery

forests that included some lekker mud monsters.

We were all warned about this gnarly hill

that we were s'posed to climb for a quick photo

op – and then the plan was to get us back to

the hotel.

One problem.

Even the died-in-the-wool, tar road only riders

arrived at the top of that hill far too quickly.

DIRT AND TRAIL MAGAZINE MAY 2021 21
---
KTM Adventure Launch

It wasn't even tea time yet – so we all told them we wanted to ride

some more. So, as they do KTM made a plan. GPS's were pored

over and they found us some more playground. And as expected it

was all very cool. And the bikes had an awful lot to do with that.

They have the same compact, familiar, comfortable seating and feel

that the 790 gives you. Suspension and handling is just the way

we like it – easy to ride, light and nimble. But the new bike has a

far more grunty engine. Sure it's only 10HP up on the 790, but the

whole thing is about how it makes that power. The bikes just make

more useable torque from the bottom all the way up to the top and

from the 6000RPM mark they get quite frisky all the way up to the

top.

In the gravel and even on the tougher stuff, this bike makes stuff

easy and she won't stall on you. We spent about 60 kilometres just

playing, with the more dirt oriented mob playing silly buggers on

step-ups and the like - and we all agreed that this new bike is quite

something. The additional power just makes it that much more

responsive and torquey than the 790.

We look forward to riding it again soon.

The afternoon was spent in the saddle of the 890 Adventure.

What a cool route they selected. We headed out along some really

badly rutted gravel roads – 60 odd kilometres again – all the way

out to the Spionkop War memorial and back via a few lekker tar

twisties.

You'll read a lot of conflicting reports on this bike – and one of the

questions asked will be – with the 890R being so damn good – why

did KTM feel the need to bother with an Adventure.

Well it's quite simple – and before we go further this oake needs to

tell you that he really enjoyed this one.

It's really good in the dirt – and would easily have handled the trickier

route that we rode that morning. This route gave us the

opportunity to test out the new engine on more open roads and

enjoy some flowing saddle time.

Although it's a 900, it feels like a smaller bike, nippy and compact

and the shorter suspension means that your feet are closer to the

ground. Many riders will appreciate that. When you are in a hurry,

22 DIRT AND TRAIL MAGAZINE MAY 2021

DIRT AND TRAIL MAGAZINE MAY 2021 23
---
KTM Adventure Launch

she short-shifts through the gears in a hurry – at

6000 RPM you are cruising along at well over 120.

Open the throttle in top gear and she zips up to the

200 plus KPH mark effortlessly This bike is a lot of

fun to ride and the perfect companion for everyday

use and that lekker weekend away on the road less

travelled.

It's comfortable, precise and very nippy.

The only trouble is that the 890R is also really, really

good on the road – and it's that much better in the

dirt.

Yup it's just like that.

The Adventure is, however a bit lower from a seating

point of view and it pips the R just a bit for more aggressive

tar riding. It a road machine that is excellent

in the dirt

Ride both and you'll see what we mean, but either

way the bikes are both really lekker. It's a case, once

again where KTM has built a bike for everyone.

The 1290 Adventures:

Once again, the evening before the ride was spent in

a briefing about the bikes and what we could expect.

Without going into massive detail – we told you

about them in our last issue so go and play catchup

@ www.motomedia.co.za.

The changes have really resulted in some big

changes in the ride experience. But the one stand

out feature is that the new split radiators has virtually

eliminated the heat build-up that riders experience on

the previous models.

These are basically two new bikes. And despite the

fact that they might look similar to the 2020's, they

are definitely different.

The 129R. Our morning session was spent in the

saddle of the 1290R:

Once again the orange peeps worked a route that

was perfectly designed for this bike – a blend of tar,

bad gravel and lots of places where we could mess

about. The routes were a bit longer than what we

spent on the 890 lineup – so that was cool!

Damn that's pretty! The new styling and colour

schemes were greeted by more than just a couple

of comments like this. Stand it next to the previous

model and we guarantee that it will pull more

attention.

Despite the fact that this big girl has a 21 inch front

wheel – it's not overly tall. Even the shorter riders

had no problem getting foot to ground. The previous

model was taller.

Play was delayed by some giant potholes that managed

to eat their way into our Donovan Fouries front

rim, but the boys who could, took the waiting time to

showcase the bikes tremendous power and wheelie

capabilities to the local populace. Once Fourie had

been extricated from his pothole, we meandered

up into the mountains, through verdant forests and

down into the valleys where rivers and mudholes

turned into KTM 1290R playgrounds.

To be quite frank – this one might intimidate a lot of

riders – she's like that high school bully. She pushes

huge horsepower and is far more capable than the

average rider out there. But the chassis and top of

the line suspension makes mincemeat of it all.

24 DIRT AND TRAIL MAGAZINE MAY 2021

DIRT AND TRAIL MAGAZINE MAY 2021 25
---
KTM Adventure Launch

This is one hell of a lot of motorcycle. And it is just so

enormously capable in all conditions even with the less dirt

biased tyres.

But we'll tell you this.

Dirtbike aficionados who are moving into the big adventure

market will be in awe. It is tremendous fun and plush and all of

the good things that they want. Our Kyle intentionally aimed the

bike at every hill and gnarly piece that he could find and arrived

back grinning like a fool.

"It's Great!" he gushed. " How many mags do we need to sell to

get one."

Fortunately, this publisher is very hard of hearing.

The 1290 Adventure:

So here's the skinny. The 1290 Adventure is priced lower than

the 1290R and yet it has more electronic bits like the

suspension and the radar operated cruise control system.

Yup, you read that correctly. RADAR. But more on that shortly.

Unlike the 890 lineup, it is perfectly clear why KTM has built two

different 1290 models – and we'll explain:

If you are a died-in-the wool Dirtbiker or racer, then chances are

good that the R is for you and nobody will ever convince you

otherwise.

However.

If you are someone who has moved to the adventure world

from road bikes or who is an more mature rider who needs

something just a little bit more relaxed – then the Adventure is

absolutely worth a look. And please note that we use the word

relaxed very liberally.

And at this here magazine this was proved with the younger,

Lawrenson, (who thinks he's faster) gravitating towards the R –

and the more mature (he says slower) rider loving the Adventure.

Few normal people want to take bikes like this off into any serious

dirt – that's why we have dirtbikes and smaller Adventure

machines!

But for those normal people who don't want to hop boulders

and will stick to slightly better gravel roads and trails, the Adventure

is a fantastic option. There is nothing slow about it – it

shares that beautiful V-Twin 1290 engine that you can ride as

slowly or as quickly as you like – and, where your spouse might

get grumpy on the back of the R, you get the added bonus of a

bike that you can pop your nearest and dearest onto the back

and hit those long roads that explorers love in absolute comfort.

KTM spent lots of time explaining how all of the electronic

goodies worked and all that – especially in the electronic

suspension department. We asked where the auto button is and

left it there – and let the bike figure out what kind of roads we

were riding. It is absolutely seamless and worked perfectly for

the duration.

They also forced us to test the new Adaptive Cruise control.

Now we've never been true believers in cruise control on a bike

but it is a thing. And this system just makes it so much safer.

You can see the vid we posted about the adaptive cruise control

system up on our social media pages. https://www.facebook.

com/dirtandtrail/videos/2828048570857289

Guys this is a great innovation and it really makes sense.

Set your speed as per a normal cruise control system – and

then, set the distance at which you would like the system to

react. Then relax. Say you are cruising at around 150 and not

concentrating and there is a slower vehicle in front of you,

the system detects the slower vehicle and slows you down

to match that speed. It is seamless and worked perfectly for

the duration of our ride. Also cool – if you are sitting in cruise

control behind the slower vehicle and indicate to overtake – the

bike speeds up automatically until you are safely past and then

resumes your cruise at your set speed.

26 DIRT AND TRAIL MAGAZINE MAY 2021

DIRT AND TRAIL MAGAZINE MAY 2021 27
---
KTM Adventure Launch

The system disengages the moment you

touch brakes. It's a bit unnerving at first –

especially if you set your distance to short

– but it is quite an innovation and it really

makes sense.

You need to check it out for yourself. Where

is tech going? Who knows? But slowly,

slowly we are all being converted.

Conclusion:

The bikes are – once again pretty flippen

impressive. They run really well and have a

quality feel about them.

In a nutshell Adventure R is more dirt

focussed but is still fantastic on the road.

Adventure is a bit like your luxury division.

Great on the road and so capable in the

dirt.

Amongst our lot, there is dissent on the

1290 model, one opting for the R, the other

for the Adventure.

We all agree that the 890R should be

parked in our garage.

If we all agreed on everything – life would

sure get boring!

The electronics packages are just so high

tech. What's next? A bike that will run you

home automatically after a lunch at the

pub? Don't write that off just yet.

You need to get to your local KTM dealer

and ride them for yourself. There is a bike

for everyone.

28 DIRT AND TRAIL MAGAZINE MAY 2021

DIRT AND TRAIL MAGAZINE MAY 2021 29
---
HERO x Pulse 200

The Hero X-Pulse 200

Entry Level

Adventure Machine.

PRICE R40 900.00

You'll probably be hearing more and more

about Hero's range of motorcycles. Imported

by Hero Motorcycles South africa based in

Kyalami. Hero SA is busy rolling out a dealer

network over the next little while.

30 DIRT AND TRAIL MAGAZINE MAY 2021

DIRT AND TRAIL MAGAZINE MAY 2021 31
---
HERO x Pulse 200

Hero is a massive brand. The largest two wheel

manufacturers on the planet. They produce

nearly 9,500 two-wheelers a day with 7

motorcycles rolling off the production line every

minute. In 2017, Hero MotoCorp surpassed the

landmark seven million units in cumulative sales

in a calendar year. The company sold a record

7,207,363 units of two-wheelers in the calendar

year in 2017. That's a crapload of bikes!

Hero MotoCorp continues to be the world's

largest manufacturer of two-wheelers, in terms

of unit volumes sold by a single company in a

calendar year, for 19 years in a row. Earlier this

year they hit the 100-million landmark in Hero

MotoCorp's production record comes with the

last 50-million units being sold in the last seven

years.

All in, this bike delivers a very impressive ride for its class. Pretty

soon we needed to head for home, the sun was setting and it was

getting quite cold.

We found the nearest road, hooked our phone via Bluetooth to

the X-Pulses nav system punched in our address and followed the

directional arrows home again with the headlamp cutting a swathe

into the surrounding darkness. Incidentally, the Xpulse also has a

secure cubby under the seat with a USB charging port for your

smart phone. Turn by turn navigation on a bike in this price bracket

is unheard of and industry leading, we can't understand why all

bikes don't come out standard with this feature.

What a cool way to spend a sunny autumn day!

A really great little adventure bike at a price that really makes sense,

and it comes standard with a 5 Year / 100 000 km warranty.

And the bikes are making their way to SA.

They asked us to take the X-Pulse 200 for a li'l

ride and to share our thoughts, so that's what

we did… The good looking little bike made its

way to our offices and each of us took a turn at

a quick flip around the dirt track out the back

here. Impressive! Everyone came back nodding

and looking wise.

It actually feels very good! Quality. No shakes,

rattles and rolls. "How much did you say?"

We popped a friend out back and took off

to see what this little bike could do. The bike

is comfortable and quite roomy. Whilst the

passenger was tiny, the pilot is something of

a big oaf and they fitted quite comfortably on

the well-padded seat. Pointing the bike out

on the streets, the power through the smooth

gearbox is good, she's no slouch at all. Out

on the longer road we saw a top speed of 115

KPH 2-up quite happily and the bike wasn't

revving its brains out. Not too bad for a little

fuel injected 200.

We soon turned off onto the dirt and crossed a

little stream, no problem, the ground clearance

is good and we barely got our feet wet. Stefan

our Photog shouted from the other bike "Do

you reckon it'll make it over that koppie?" Well

if you don't try you'll never know… we scouted

about for a footpath, found one, turned the

bike and headed up and over. The bottom

end torque is smooth, constant and very user

friendly, which is exactly what you need when

the trail is strewn with loose rocks and pebbles.

To be fair there were a few moments when our

passenger was quite convinced that we'd end

up sprawled unceremoniously on the side of

the trail with Stefan laughing his ass off, but

the little Hero was … well really forgiving and

just so easy to ride. Any squirly moments were

saved by a quick dab from the rider. Kudo's to

the low saddle height!

We soon trickled our way out along the footpaths

and into the farmlands. Quite comfortable

with the suspension offering a smooth ride.

Only when we hit giant unexpected lurkers

did we feel the rear shock letting us know

that it's there. To be absolutely fair the combined

weight of the passenger and rider sits

at around 155KG's so there was absolutely no

cause for complaint.

32 DIRT AND TRAIL MAGAZINE MAY 2021

WHATSAPP 078 182 7101

012 342 8571 - GERALDINE.TEAMCIT@GMAIL.COM

1222 PRETORIOUS STREET DIRT AND TRAIL HATFIELD MAGAZINE MAY 2021 PTA. 33
---
HERO x Pulse 200

All in, this bike delivers a very impressive ride for its class. Pretty

soon we needed to head for home, the sun was setting and it was

getting quite cold.

We found the nearest road, hooked our phone via Bluetooth to

the X-Pulses nav system punched in our address and followed the

directional arrows home again with the headlamp cutting a swathe

into the surrounding darkness. Incidentally, the Xpulse also has a

secure cubby under the seat with a USB charging port for your

smart phone. Turn by turn navigation on a bike in this price bracket

is unheard of and industry leading, we can't understand why all

bikes don't come out standard with this feature.

What a cool way to spend a sunny autumn day!

A really great little adventure bike at a price that really makes sense,

and it comes standard with a 5 year / 100 000 km warranty.

Contact info@heromotorcycles.co.za

34 DIRT AND TRAIL MAGAZINE MAY 2021

DIRT AND TRAIL MAGAZINE MAY 2021 35
---
2021 Team Honda HRC USA
---
Shop Visit: Cytech

The family did their first Cape to Cairo and back again

trip in 1993 on lightly adapted BMW K100 road bikes.

Son, Donovan was at the time the youngest person

ever to ride the full trip. With customer expeditions into

Africa, the need arose to start adapting, modifying and

customising bikes to suit the purpose.

New products were sourced and then tried and tested

under the harshest conditions and only the best

products were kept. Custom, alternate and re-invented

parts and products were produced in-house after a lot

of research and development and made as needed for

customers bikes.

Cytech: Where professionalism, passion and perfection meet.

That is the family business that started out in

1976 as South End Wheels in LaRochelle in the

south of Jo'burg that became the very well-known

and extremely popular Cycle

Technologies in 1978, these days better known as

CYTECH. The bike was started by Mr Ray Muller

and later joined by wife Gina in 1988. The shop

developed a reputation for outstanding

craftmanship, quality workmanship and excellent

customer service, and became the biggest

independent BMW Motorrrad dealership in the

Southern Hemisphere supplying the SANDF and

SAPS with motorcycles, back up and mechanical

service.

Andrew, Kerry-Lee, Donovan, Gina, Jonas, Doreen, Sam

"45 years later

and getting

stronger every

day."

Donovan then joined the company in 1998 learning

all the ins and outs of the business from dad Ray.

Donovan is a bike builder and restoration experts with

more than 20 years experience. His first custom build,

a 1974 BMW R90/6 he named 'Hustler' achieved

international acclaim in 2013, winning the 'Windblown'

Bike of the Year award. In 2015 a 1971 "Black &

White" R50/5 took top honours and the accolades just

keep coming with each new build.

Although a purist at heart with a passion for restoration,

Donovan designs some absolutely original and

unique beauties. Just go and have a mosey around

their showroom floor and you will see what we mean.

Mom, Gina, looks after the finances, helps with the

admin and customer service and keeps everybody's

spirits up. Sister, Kerry-Lee joined the family business

in 2011, (you may have seen the feature we did on

hubby, Kevins VSR 800 Streetfighter in last months

edition of Ridefast), and looks after the accessories

division, all imports and exports, helps customers with

correct technical advice on their product line up and

generally handles all the enquiries as well as doing all

the practical demonstrations and customer education

on all of their products.

Cytech is a BMW specialist workshop, parts and

accessories supplier and fitment centre with a keen

focus on the adventure market. They have a

seriously professional workshop handling anything

from a puncture repair, to a general service, accident

repairs, engine rebuilds, full once- off custom design

and builds to full nuts and bolts restorations of any

BMW motorcycle, be it road, adventure or classic.

They carry a formidable range of new parts as well as

a staggering amount of classic BMW used parts and a

vast variety of accessories for most adventure

motorcycles on the market from BMW's to KTM's,

Africa Twin (old & new), KLR's and etc.

Cytech are the official importers and distributors of

brands like Hepco & Becker (all bikes), Corbin Seats

(all bikes), Wunderlich (BMW only), STOP & GO

puncture kits & tubeless conversion kits (all bikes) and

Castrol classic motorcycle oil.

If you are an adventure enthusiast or looking to build

your dream custom bike – or if you are in the market

for some high end adventure accessories and luggage

systems, then give Cytech a shout.

If you are looking to restore a classic BMW or want

your current model to receive a perfectionists

attention, skill and workmanship then give them a call

61 Port Road, Robertsham, Johannesburg or go

to www.cytechmotorcycles.co.za or call them on

011 433 8850, you can also mail them on

info@cytechmotorcycles.co.za

36 DIRT AND TRAIL MAGAZINE MAY 2021

DIRT AND TRAIL MAGAZINE MAY 2021 37
---
The specialist store in Benoni:

Game Services Suspension. Performance parts.

Valves. Pistons. Cranks. Spokes. Gaskets. Tubes. Welding.

Ironing. Knitting…

Ken Somerville, boss man at Game Services Racing in Benoni

has been around the block a few times and has seen it all and

done it all. With over 40 years in the motorcycle industry he

has come across just about every problem in the book and has

worked out a solution for every one of them.

With a background in mechanical engineering, experience as

a tool and die maker as well as a fitter and turner there is very

little that he cannot sort out. We went for a visit and a chat and

found him at his work bench sorting out various shocks and

forks. His considerable skill has saved many customers a lot

of money over the years. Ken is able to take a shock absorber

that is considered by most to be irreparable or unserviceable

and put it through his engineering workshop and repaired the

unit and modified it into a 'serviceable' unit, which means that

the oil, gas and etc can be replaced or topped up as needed.

This is particularly good news for owners of older and classic

bikes whose shocks would have to be replaced with new units

at the end of their lifespan.

And as we all know, parts for older bike are becoming exceedingly

more difficult to find and expensive if and when you do

happen to find them.

Game Services is also stocking agent and a service and repair

centre any and all Ohlins products, be it for dirt bikes, adventure

bikes, superbikes or cruisers. They are also the local importer

and distributor for all Racetech suspension parts and shocks,

Gold Valve, Pivot Works and various other bits and bobs such

as fork seals, suspension linkages, linkage bearings and bush

kits …

The suspension services on offer include Racetech valves and

cartridges fitted to street, road racing and dirt bikes. All makes

of rear shock absorbers fitted, re-valved and serviced. This

covers WP, Ohlins, Bitubo, Kayaba, Sachs, Paioli and Showa as

well as all makes of steering dampers.

Tech Feature

Anything you might need for your suspension, they will have it in

stock, get it for you within a couple of days or failing any of that

will modify or make you a part to fit, the only limit would be your

budget.

They tell us that whether you are on a dirt bike or a superbike they

will find you the seconds that you need. There is no point in having

200Bhp if you can't put the power to the ground. Ken will assist

you in improving your lap times with state of the art parts and

setup expertise. They have the right tools, from a "Shock Dyno" to

"Spring Testers" which enables your shock to be correctly built to

your specific riding setup requirements.

Then, once you have your suspension all sorted and still need more

power, Game Services undertakes complete motor rebuilds, generally

with every part already in stock as they import most of their

own parts and stock plenty of them.

The retail floor is stacked to the rafters with just about anything

you could want or imagine for your motorcycle, going in behind the

counter is stock room after stock room all packed to the ceiling

with everything from an 'O-ring', to cables, gaskets, pistons, rings,

tyres, nuts & bolts, clutch plates, tubes, linkages, bearings, rings,

con rods, cranks, barrels, brake pads, brake rotors, sprockets,

electrical components … you get the idea … absolutely everything

you could need to keep just about any bike running for an eternity.

If you are looking for that hard to find or impossible to find part, give

them a call.

Other services on offer are a full professional workshop and fitment

centre, Aluminium welding, magnesium welding, MiG & tig welding,

full mechanical engineering services, race preparations, suspension

set ups, chassis/swingarm straightening and repairs, crankcase

repairs and welding and, and, and, and …

Give them a call on 011 425 1081/4 or go to their website at

www.gameservices.co.za

No.4 5th Avenue, Benoni just off the N12 at Snake Road.

Ready for

a new

ADVENTURE

WHITE/BLUE/RED

TOURMAX

XTRACE

MATT GUN METAL/ORANGE/WHITE

TOURMAX IS THE FIRST FLIP UP ADVENTURE ON THE MARKET CONCEIVED FOR ALL THE

ENDURO AND MAXI ENDURO MOTORCYCLES OWNERS.

ORANGE/BLACK/ANTHRACITE

WHITE/RED/BLUE

XTRACE CONCEIVED FOR RIDERS WHO ARE PASSIONATE ABOUT STREET ENDURO

MOTORBIKES, BUT ALSO IDEAL FOR OFF-ROAD ROUTES.

TO FIND YOUR NEAREST CABERG DEALER,

CONTACT 011 792 7691 OR VISIT

WWW.DMD.CO.ZA

38 DIRT AND TRAIL MAGAZINE MAY 2021

DIRT AND TRAIL MAGAZINE MAY 2021 39
---
Husqvarna TE150i

Husqvarna TE150i

Prepped

for Enduro

To be quite frank there has been something of a drought when

it comes to demo dirtbikes at the moment. In a flash of

brilliance – we remembered that Husqvarna's Heinrich Aust has

two of them. We asked if we could meet up with him to take a

spin. By Kyle Lawrenson

40 DIRT AND TRAIL MAGAZINE MAY 2021 DIRT AND TRAIL MAGAZINE MAY 2021 41
---
Light Weight. Controllable Power.

Interestingly, the last time I rode a 150 was when they were still

carbureted – a TE 150 – so it's been a while. I was keen to see how

the TPI differed – because even back then, we were

incredibly impressed by the performance delivered by a small

capacity 2-stroke. Glenn and Mike went along to the launch of the

new 2020 TPI models in Lesotho and they came back raving about

how good they are.

BMW Motorrad

Rider Equipment.

Over the years this specific model has changed quite a lot with the

biggest changes and the introduction of electronic fueling. It's no

wonder that they enjoyed – there is no need to play with jetting!

The 150i engine is the latest Husqvarna two-stroke design, and it's

sophisticated, just like on the bigger two-stroke machines.

It's not new tech – but here's a quick re-cap.

Fuel is injected into the transfer ports via two injectors at the rear of

the cylinder. The fuel joins the air-oil mixture as it moves to the

combustion chamber. The air and oil are mixed at the 39mm

Dell'Orto throttle body. The delivery of the oil is controlled by the

Continental EMS, using engine speed and load to determine the

amount of oil needed. The oil tank holds almost 24 ounces, and is

good for several tanks of fuel. There are low-level warning lights for

the fuel and oil tanks. The engine will shut off if the oil tank goes dry

to prevent damage. It's all hassle free.

This system is exclusive to the Austrian manufacturer and we often

wonder why other manufacturers have followed suit.

Just as a side, in 2020, the bike also received a new frame and all

the goodies that the 250i and 300i received. The WP suspension

recieved new internals and settings. No budget entry-level enduro

motorcycle here, it also received the shock linkage from the

motocrossers.

New plastics and ergonomics came with the upgrade – so it's very

different to the old model that I rode.

RALLYEPRO

RALLYEPRO

JACKET

JACKET

TRIPLE

TRIPLE

BLACK

BLACK –

R18,649.00

R18,649.00

PACEDRY

PACEDRY

ADVENTURE

ADVENTURE

JACKET

JACKET –

R9,238.88

R9,238.88

The

The

RallyePro

RallyePro

jacket

jacket

has

has

built-in

built-in

off-roading

off-roading

capability,

capability,

so

so

it

it

High

High

wear

wear

comfort

comfort

is

is

characteristic

characteristic

of

of

the

the

PaceDry

PaceDry

is

is

the

the

right

right

choice

choice

for

for

enduro

enduro

fans

fans

and

and

globetrotters

globetrotters

who

who

set

set

Adventure

Adventure

jacket.

jacket.

The

The

outer

outer

material

material

is

is

CORDURA

CORDURA

great

great

store

store

by

by

the

the

robustness

robustness

of

of

their

their

equipment.

equipment.

The

The

jacket

jacket

500D.

500D.

The

The

Z-liner

Z-liner

design

design

makes

makes

it

it

waterproof

waterproof

and

and

is

is

made

made

of

of

ProTechWool,

ProTechWool, a

functional

functional

blend

blend

of

of

polyamide

polyamide

breathable.

breathable.

Additionally,

Additionally,

innovative

innovative

ventilation

ventilation

zip

zip

and

and

technical

technical

wool.

wool.

Because

Because

it

it

incorporates

incorporates

NP

NP

protectors,

protectors,

fasteners

fasteners

ensure

ensure

more

more

air

air

circulation.

circulation.

Stretch

Stretch

inserts

inserts

the

the

jacket

jacket

offers

offers a

high

high

level

level

of

of

freedom

freedom

of

of

movement,

movement,

combined

combined

permit

permit

for

for

freedom

freedom

of

of

movement

movement

and

and

improve

improve

the

the

fi

fi

t.

t.

with

with

optimum

optimum

protection.

protection.

Numerous

Numerous

pockets

pockets

and

and

ventilation

ventilation

possibilities

possibilities

ensure

ensure

maximum

maximum

functionality.

functionality.

GS

GS

CARBON

CARBON

EVO

EVO

HELMET

HELMET –

R12,115.91

R12,115.91

Modern

Modern

safety

safety

technology

technology

meets

meets

sporty

sporty

off-road

off-road

looks:

looks:

The

The

GS

GS

Carbon

Carbon

Evo

Evo

helmet

helmet

is

is

the

the

fi

fi

rst

rst

of

of

its

its

kind

kind

to

to

feature

feature

the

the

Multi-directional

Multi-directional

Impact

Impact

Protection

Protection

System

System

(MIPS).

(MIPS).

In

In a

collision,

collision,

the

the

innovative

innovative

system

system

reduces

reduces

the

the

rotational

rotational

movement

movement

of

of

the

the

head,

head,

helping

helping

to

to

reduce

reduce

the

the

risk

risk

of

of

injury

injury

to

to

the

the

brain.

brain.

BMW MOTORRAD

EAST RAND

www.bmw-motorrad.co.za/autoalpina-boksburg

BMW Financial Services

Cnr North Rand and Pond Road.

Bardene, Boksburg

Tel: (011) 418-3300

Facsimile : (011) 823-4576

GS

GS

COMPETITION

COMPETITION

BOOTS

BOOTS –

R7014.78

R7014.78

No-compromises

No-compromises

offroading

offroading

capability:

capability:

The

The

GS

GS

Competition

Competition

boot

boot

has

has

everything

everything a

rider

rider

needs

needs

for

for

adventuring

adventuring

far

far

from

from

ordinary

ordinary

surfaced

surfaced

roads.

roads.

The

The

sturdy

sturdy

build

build

with

with

polyurethane

polyurethane

frame,

frame,

adjustable

adjustable

shinbone

shinbone

plate

plate

and

and

large

large

plastic

plastic

elements

elements

offers

offers

optimum

optimum

protection

protection

for

for

riding

riding

in

in

extreme

extreme

conditions.

conditions.

GS

GS

ENDURO

ENDURO

GOGGLES

GOGGLES –

R1828.07

R1828.07

These

These

goggles

goggles

are

are a

perfect

perfect

match

match

for

for

the

the

GS

GS

carbon

carbon

helmet,

helmet,

and

and

offer

offer

excellent

excellent

ventilation

ventilation

for

for

off-road

off-road

use.

use.

Naturally,

Naturally,

they

they

also

also

comply

comply

with

with

the

the

EN

EN

1938:1998

1938:1998

safety

safety

standard.

standard.

The

The

adjustable

adjustable

strap

strap

and

and

comfortable

comfortable

padding

padding

make

make

them

them a

pleasure

pleasure

to

to

wear.

wear.

Also

Also

available

available

are

are

the

the

easy

easy

change,

change,

double

double

glazed

glazed

tinted

tinted

lens.

lens.

Yolandi Diamond

Lifestyle and Rider Gear Sales Executive

yolandi.diamond@bmweastrand.co.za

EMAIL

EMAIL

US

US

Chatting to Heinrich he told us that his practice bike (Which has

lots of hours on it already) is almost standard. Because he is such

a hard rider, he opted to update the fork internals with cone valves.

Out back, he has spent some time setting up the X-Act rear shock.

He is a Hard Enduro rider – so to give the bike just a bit more

Chug-A-Lug he has fitted a traction disc to the clutch. It's

basically the same as a weighted flywheel and gives the bike a bit

more rolling inertia and helps to prevent stalling.

A red powervalve spring (Red equals strong) is fitted – and the bike

has an Akarapovic tail piece.

Other than that the engine is untouched. Naturally, the bike needs a

bit of protection from the rocks, so he has fitted a carbon fibre pipe

guard, stronger Renthal Twinwall bars and some other protective

goodies. Out back he's gone 1 tooth up to 51 teeth.

I tickled the happy button and she started up and purred from idle.

The Hydraulic clutch is really soft (and it coped with lots of abuse

through the day), snick her into gear and away we went.

MAN! I love small two strokes! The last time I had this much fun

was when we borrowed a YZ125X from the boys in blue. You need

to ride them hard and they simply love to sing!

But the 150 was a surprise. Whether you ride slowly, or open the

throttle it handles everything. Looking back on Glenns feature a

while back, he talked about how surprised he was at the torque

on the standard bike for riding up steep hills and mountains. And

I reckon that that is the single feature that TPI has brought to the

Two-stroke lineup. It feels so smooth and controllable.

Closer to a lightweight four-stroke than ever before.

Without having ridden a standard bike I need to say that this little

one blew me away. It climbs so easily – and even though I have put

on a few kilograms over my years with the magazine (I'm not 18

anymore), I was impressed that it never broke into a sweat.

42 DIRT AND TRAIL MAGAZINE MAY 2021

DIRT AND TRAIL MAGAZINE MAY 2021 43
---
BEAUTIFUL PRE-LOVED BARGAINS!

CRF 250L Rally, 2020, 1,100km

R74,000

Africa Twin DCT ADV Sport, 2020, NEW

R278,900

CBR 1000 RR-R 2021, NEW

R360,000

KTM 390 Duke, 2015, 25,000km

R50,000

BMW S1000 R, 2020, 1,900km

R169,900

CBR 1000 RR, 2010, 39,000km

R99,000

CRF110, 2021, NEW

R37,600

NEW & USED BIKE SALES / SERVICE / SPARES

Honda Wing Westrand

011 675 3222

NC750x, 2014, 38,000km

R59,900

BMW K1300 GT, 2010, 23,000km

R105,000

cnr Hendrik Potgieter and Jim Fouche Rd

1735 Roodepoort, Gauteng

QUALITY BIKE GRAPHICS

This bike is geared for enduro – it's so

light torquey and nimble that it makes

things easy. But at the same time –

buzzing around the track at Legends MX

park – it's really crisp and fast too – and

that's what you need – a bike that's

exciting, but that can also climb without

stalling everywhere. It has an

extremely smooth power delivery and is

so good at putting power to the ground,

just drop a single gear to get back into

the meat of the powerband.

Although he is lighter than me, Heinrichs

suspension setup felt good. The braking

was progressive and predictable. It's

easy to lock-up the rear wheel and s

tall a small-bore -2-stroke yet the TE

150i did not. Tat EFI probably helps a bit.

The front brake is spot-on.

In my opinion a bike like this should be

what every young rider should look at.

It's unintimidating enough to learn to ride

properly, but in the right hands it can be

a really lethal contender.

Too much fun. So capable.

The Husqvarna TE 150i at your

Husqvarna dealer.

44 DIRT AND TRAIL MAGAZINE MAY 2021

BIKE GRAPHICS

robertco.co.za

Justin 082 855 0952 justin@robertco.co.za www.robertco.co.za

@robertcobranding

MX SHIRTS - BIKE GRAPHICS

APPAREL - BRANDING

#robertcobranding

7 Liebenberg Str, DIRT AND Alrode, TRAIL MAGAZINE MAY Alberton

2021 45
---
Tristan Purdon MX1.

In the MX 3 class, Grant Frerichs took the double with the for the

overall ahead of Dwayne Kleynhans in 2nd and Ian Topliss in 3rd.

1st Grant Frerichs

2nd Dwayne Kleynhans

3rd Ian Topliss

4th Ryan Frerichs

5th Jaco Smit

PURDON ON FIRE!

2021 SA Motocross Nationals Rover Race Report:

Pics by the Zygster: Brodalka Photography.

Round 2 of the 2021 South African National Motocross Championship

took place over the long weekend at the Rover Raceway

in Gqeberha.

Yup you read that correctly.

Try and say it. We dare you! It used to be Port Elizabeth. At least

we can still say Rover…

Anyway – the famous sand track provided challenging and exciting

racing.

In MX 1, Tristan Purdon was untouchable, racing to a double

victory over David Goosen who finished in 2nd with two second

place finishes and Anthony Raynard who rounded off the podium

in 3rd with two third place finishes.

Royce Griffin and Seth van den Abeele had a mid-pack dice to

finish 4th and 5th respectively. Jesse Wright was also in the mix

to finish 6th.

1st Tristan Purdon

2nd David Goosen

3rd Anthony Raynard

4th Royce Griffin

5th Seth van den Abeele

MX 2 saw Camden McLellan who is back in, put pressure on

the competitive Tristan Purdon to finish 1-2 for seconds overall.

Purdon went 2-1 to take the day's overall and extend his championship

advantage. Cameron Durow went 3-3 for 3rd ahead of

David Goosen and Anthony Raynard.

1st Tristan Purdon

2nd Camden McLellan

3rd Cameron Durow

4th David Goosen

5th Anthony Raynard

Dalton Venter MX2.

Ethan Hofmann 125 High School.

The 125 High School class saw Stav Orland's 3-2 finish was

enough to take the overall for the day. Barend du Toit went 2-4 to

secure 2nd place and Miguel de Waal went 6-3 for 3rd overall. This

after Jonathan Mlimi was excluded from Heat 1 on a yellow flag

transgression, but went on to win Heat 2, and Heat 1 winner Ethan

Hoffman retired from Heat 2. Luke Grundy and Kyle Townsend

fought it out for 4th and 5th.

1st Stav Orland

2nd Barend du Toit

3rd Miguel de Waal

4th Luke Grundy

5th Kyle Townsend

Ladies:

Kayla Raaff and Leah Heygate shared out the 1st and 2nd places

between the two heats with Raaff taking the overall and Heygate

the 2nd place. Both are now tied in championship points. Jadene

de Lima finished in 3rd ahead of her sister, Cheyenne de Lima in

4th.

1st Kayla Raaff

2nd Leah Heygate

3rd Jadene de Lima

85cc pro Mini:

Jordan van Wyk took the overall with a 1-3 finish. Emmanuel Bako

secured 2nd overall for the day with Trey Cox finishing in 3rd.

1st Jordan van Wyk

2nd Emmanuel Bako

3rd Trey Cox

85cc Junior:

Andrea Mynhardt took a double for the overall ahead of Tyler Petersen

and Matthew Correia.

1st Andrea Mynhardt

2nd Tyler Petersen

3rd Matthew Correia

Heat 1 was once again controversial as a number of riders including

top three Jack Pullen, Blake Frost and Aiden Henley were excluded

from the race. Jake van Schoor capitalised to take the day's win

from Nicol Smit and Alex Cooper.

1st Jake van Schoor

2nd Nicol Smit

3rd Alex Cooper

50cc

Trenton Kretzmann and Aiden Retief each took a win with Retief

scoring the overall ahead of Kretzmann. Brody Bircher rounded off

the podium in 3rd.

1st Aiden Retief

2nd Trenton Kretzmann

3rd Brody Bircher

2021 Race Calendar

22-May @ Welkom – Freestate

03-July @ Legends MX – Gauteng

18-September @ Zone 7 – Cape Town

23-October @ BORC – Freestate

20-November @ Thunder valley – KZN

Jaydon Proctor MX1.

Kayla Raaff MX4.

Nicol Smit 65cc.

Seth van Den Abeele MX1.

Ethan Hofmann 125 High School.
---
TRIALS in P.E

R18, First Edition 2020

4,000km E X Demo

R290 000

S1000 RR, 2010

45,000km

R119 000

S1000 XR, 2020

2 200km

R280 000

R 1200 R, 2015

25,000km Panniers

R115 000

R1250RT, 2019

18 000km

R235 000

C400 X 2020

1,300km

R109 000

Trials

In Port

KTM 990 DUKE, 2012

KTM 1190R, 2015

R1250 GS Adventure 2013

5,700km

33, 000km

34,000km

R95 000

R130 000

R245 000

BMW Motorrad Fourways

Cnr Witkoppen and Cedar Road.

Fourways, Gauteng.

Tel: (011) 367-1600

Email: rodney.serfontein@cedarisle.co.za

Elizabeth.

By Ian Meaker

Hi Dirt And Trail Magazine.

We started the PE Trials club going about a year ago. We approached the

Council just before lockdown and secured a nice piece of ground in a valley

for a practice area.

We then secured a nice farm just outside Uitenhage to hold competitions,

we attract riders from the garden route as well as East London.

The idea is to grow the sport here and take part in local competitions as well

nationals for those who are brave enough.

Last year at the JHB nationals in November 2020, Tony Orrey, his daughter

Jessica and I went all the way up to JHB to compete.

The aim is to have fun and improve our riding skills.

We recently held our first Trials competition in Port Elizabeth, had 14 Riders

competing so not too bad for the first one.

Thanks giving Trials some attention in your Mag.

If anyone in PE and surrounds wants to get involved in this lekker sport, they

can call me. 0845665920

48 DIRT AND TRAIL MAGAZINE MAY 2021

DIRT AND TRAIL MAGAZINE MAY 2021 49
---
Ten hours

on a TW200…

Gunnar Salyer Lives in Namuno, Cabo Delgado,

Mozambique.

He sent us a feature about an adventure he had on a trusty

Yamaha TW 200.

The world turned sideways, and then everything went black

At 5:45AM, I wake up to the sounds of preparations being

made, and I slowly remember what we're doing today. I jump

up and get dressed, asking if there's any specific

preparations I need to make. But they've already got

everything ready, and they're just waiting for me. I round up

my helmet, goggles, gloves, and hydration pack, and after a

final check of our luggage, we head out.

One year earlier:

My dad is delivering bibles to Ntola, a remote gold mining town

in the far north. Several times during the drive he lost focus and

felt light headed, but managed to push through it. Then, when he

was very near to the village, the world turned sideways and then

everything went black. When he woke up, he discovered that

he had hit a tree, spraining his wrist and ankle, and breaking his

kneecap (which he found out about later) he also was trapped

under his bike, and couldn't get up.

He managed to get the attention of a couple of passing

motorcyclists who lent him a hand in getting the bike up, and

getting him on it and rolling again. He made it into town, where

one of his friends was able to ride him out to a location where

there's cell signal. He was able to make a call, and a couple of

other

missionaries were able to come and get him by car.

Today:

We are now going about the same mission he was then.

Delivering audio bibles in the local language to remote villages in

the far north, with our final stop being Ntola.

This time, there's three of us making the trip; myself, my dad, and

our friend Andrew. The first 20km is on fairly good dirt roads, and

went without event, until we got to a village, where my goggles

exploded. Fortunately I had brought an extra pair, which were

really smoky, but functional, and we were rolling again without

delay.

We rode about two minutes apart to keep the dust down.

The next section was decent tweespoor, and we made good time

to the first village where we were stopping to drop off bibles.

The bibles are loaded onto SD cards, along with 150 gospel

songs, all in Makua Meeto. These cards can be played through

the radios that so many people out there have.

We left a few cards and then went on to the next town, Messalo,

which is built along the river of the same name. It's mostly dry this

time of year, so we had no problems crossing it, except for Andy,

who tried to go through at a steep part, ran into a donga on the

way down, and went over the bars. He was uninjured, and made

it out of the river slightly more gracefully.

We left a card with a hunter there who we normally buy honey

from, and went on. Up to this point, the road had been easily

wide enough for a car to pass. Now it became a tight single

track requiring much more skill to navigate. Also, it is tsetse fly

country. Through much rocky ground, deep sand, several dry

river crossings, and some low hanging bamboo that we had to

duck.

We arrived in Lusaka, the first village north of the river. The

village is split into the east and the west, with a low area in the

middle where the villagers will not go at night because of the

buffalo who roam there. (Pictures 1) We dropped off a couple of

cards in the east side, which is larger, and continued onwards.

From Lusaka, the road widened again to a two track, accessible

by car, that simultaneously turned into very deep sand. I had little

trouble with the sand, as I was riding a TW200, with extremely

wide tyres, but my dad and Andy were all over the place trying

to keep wheels on the ground. We took a short break in a dry

riverbed halfway between Lusaka and Ntola, where there was a

large stone bridge that had been destroyed in the civil war.

It is truly amazing to see such an architectural monolith in the

geometric middle of nowhere, a stalwart monument to what

used to be.The roads became extremely rocky for a time and

then deep sand again, and as we got closer to our final destination,

we began to see many excavations in search of the elusive

shiny metal.

We arrived in Ntola with no further incident, a ride totalling five

hours, and went straight to the pub owned by the king's son.

(Pics here3) He was very glad to see us, (he's been friends with

my dad for years) and over a cold Coke and a plate of rice and

beans, we caught up on general news of the town.

From there we went to the king's house, only to discover that he

was away that day, but his wife was there. So we chatted with

her for a little while, and gave her a bible card.

My dad went to distribute the rest of the cards, while Andy traded

cookies to the kids for mangoes (which he proceeded to eat

with great speed) and tell stories of the snakes he likes to play

with. (Pics here4) My dad finished distributing the cards very

quickly, as once people realized that he had the bible in their

own language, and for free, they came running with radios as

fast as they could.
---
Cycle Technology ccT/A

When he ran out of cards there were several people who were

quite disappointed that they didn't get one, and further saddened

that it will be next year before we are able to return with

more.

When we left, the king's wife had her radio playing the music

and all of the kids were singing and dancing to it.

I bought a litre and a half of fuel for my bike, and we set about

the return journey. They struggled through the same sand and

rocks, while I struggled to not crash into them, because their

paths zigzagged haphazardly and mine was fairly straight. We

made good time, stopping a couple times for pictures, through

Lusaka, and stopped outside the abandoned village. (Pics

here5)

Some people tried to settle there, built a few houses and started

a village, but they were run off by wildlife, and eventually so

overrun that they all left. There's still two houses with tin roofs

standing empty, giving it an eerie, ghost town vibe.

From there we rode and didn't stop until past Messalo, there is

a place where the people have set up a shrine under a tree, and

they leave food for the monkeys, which supposedly brings them

a good harvest. We stopped there, and Andy pulled out some

cookies to lure the monkeys who stay close because of the

frequent free food they are given.

He started out tossing the cookies a few meters away from us,

but as the monkeys got more comfortable, they threw them

closer and closer, until a few were taking them right out of his

hands. Interestingly, the monkeys were all very skittish and

reluctant to come close except for the mothers with babies on

them. The moms were very bold, and quickly were directly approaching

to grab the cookies. We stayed there taking pictures

and video up close of the monkeys for a few more minutes

before we moved on.

Our ride was fairly uneventful from there, despite the rapidly

falling darkness. We made good time, and arrived at home only

four hours after leaving Ntola, and just after dark.

We were all tired, but in comparatively good condition, although

Andy got bitten by so many tsetse that he had a slight bout of

sleeping sickness the next day.

The bikes

I was riding a 1996 Yamaha TW200 that we recently acquired,

my dad was riding a 2011 Honda Bushlander AG that he bought

new, and Andy was riding a Lifo XY49-10 that he has souped up

and tinkered with. (Pics here7)

My TW used 6.4 liters of gas, and my dad's Bushlander drank a

paltry 4.4 liters.

Having spent ten hours aboard the TW200, I thought I'd lend

some impressions of the ride.

First off, it's a very upright riding position, with a relatively small

rider triangle. This bike is amazing for shorter riders, or for short

commute type rides with taller riders. The gearing is very short,

and it gets up to its cruising speed of 60 km/h very quickly. Ours

has had a pipe fitted, so it's got a nice deep growl like an angry

bullfrog. The bike has a ton of torque, and can lug out of almost

anything in any gear.

The fat tyres make the ride fairly smooth, and sand a non-event.

The suspension does its job fairly well, and I had no complaints

about it.

For longer, open sections of road, the low gearing is somewhat

frustrating, as you'll reach for sixth gear, but it isn't there.

This bike could pull a sixth, and even a seventh gear with ease,

although the wind would make that unpleasant, as you get buffeted

a good deal over 60kph. The seat is wide and plush, and

comfortable enough, although after 8 hours you will find yourself

standing more, which brings me to my one main dislike about

this bike; because the handlebar is so low above the seat, when

you stand up you almost have to bend down to reach it, and it is

not a position that gives you much control.

If you are looking for a good bike for bushwhacking, social rides,

new or short riders, or cruising around town, this bike will do

all of that in style. It is perfectly suited for everything from farm

work to logging roads to beach and dune rides.

As long as you aren't trying to set any speed records, this bike

will take you anywhere, and when you finally do stop for fuel,

you will be pleasantly surprised by how little it drinks.

This is a great bike, and as it hasn't been updated since 2001,

and is quite bulletproof, you can confidently shop them on the

used market.

Looking for motorcycle parts or accessories

Phone 011 395 2553 - 082 756 1008

Email : info@nickscycles.co.za

082 756 1008

Mon - Tues 8am to 5pm Wed 10am to 5pm

Thurs - Fri 8am to 5pm

Closed Saturdays/Sundays & Public Holidays

Accessorising of all

makes of Adventure

Motorcycles

EST. 1978

Adventure, Classic and

Custom Motorcycle and

Accessory Specialists

Battling to find BMW

Motorcycle Parts?

Exclusive stockists of a

comprehensive range

of New, Aftermarket,

Reconditioned and

Used Parts from 1950

to current Models.

Professional Restoration, Custom

Building, Servicing and Repairs

of all BMW Motorcycles

Stockists & Fitment of

proven Adventure

Motorcycle Equipment

& Accessories

Prepare & Equip all types of Adventure

Motorcycles

Service & Maintaining of BMW Classic,

Touring and Adventure Motorcycles

Tyre Stockists, Recommendation,

Fitment & Electronic Wheel Balancing

Manufacture & Design Parts to Specific

Requirements

Customisation Consultancy

Repairs, Trueing and Lacing of Wheels

Tubeless Conversion

Puncture Repair Kits

Officially Appointed

Distributors for

Motorcycle Equipment,

Accessories and more

PUNCTURE REPAIR KITS

(011) 433 8850 info@cytechmotorcycles.co.za

61 Port Road, Robertsham, Johannesburg

www.cytechmotorcycles.co.za
---
Suzuki DR200

The Suzuki DR 200

Farmers Friend

What do you do when Homologation

laws prevent you from importing bikes

that are perfect for the South African

market? You bring them in as off-road

vehicles.

56 DIRT AND TRAIL MAGAZINE MAY 2021

DIRT AND TRAIL MAGAZINE MAY 2021 57
---
Suzuki DR200

Homologation is the process of certifying that a particular vehicle

is roadworthy and matches certain specified criteria laid out by the

government for all vehicles made or imported into that country. A few

years ago, the car industry got the homologation standards changed

in SA. Everything automotive was affected by this. We subscribe to

European standards – and when their homologation laws changed

with emission control rules, South Africa lost quite a few entry level

models.

This bike is not homologated and cannot be registered or financed

in the traditional vehicle finance way – but farmers can still utilize this

utility motorcycle.

Suzuki tells us that these bikes are so incredibly popular with the

farming community – and after a good couple of hours in the saddle,

we understand exactly why…

"Please guys – this is a farm bike you may not take it on public roads"

was the cry from Suzuki SA. We nodded sagely and promised to

behave until we realised that it was the only bike available one sunny

Sunday.

As luck would have it, I had to get my little guy Kyle to his soccer

match – and the Mrs was out with the keys for the garages wherein

all the other modes of transport are locked.

The DR was locked in our office with the key at hand – so we had no

choice but to take a gap and race down Great North road at 80KPH

(that's as fast as this bike goes)… we would probably opt for a

slightly smaller rear sprocket for a bit more top speed.

As luck would have it, we were pulled over by the local constabulary

at one of those annoying road blocks. Visions of explaining to Suzuki

why this bike was impounded ensued suddenly flood your brain.

"Hello Sir. Where is your numberplate and licence disc?"

"Well." I mumbled.

And I launched into the tale about homologation and the fact that this

bike cannot be roadworthied or even registered… despite the fact

that it has indicators and lights and all that – to be frank it was all lost

on the poor guy. I ended the speech with something like - "Im really

sorry officer, I should not be on the road, but my wife has the car and

I have to get my boy to his soccer match."

That did it. "Ah soccer! Hello my boy – what team do you support?"

Kaiser Chiefs of course!

"Ok guys you'd better get going – but don't let me catch you again!"

You have to love it – sometimes the cards just fall your way.

This little bike is perfect for commercial use. Comfortable, small and

actually quite torquey.

With a seat height of only 845mm, you can firmly plant both feet on

the ground, which is great for a beginner. The bike is easy to get going

on the button - there's also a kickstarter in case… and the 199cc,

SOHC engine is smooth off the mark. The carb fed, air-cooled mill is

quite willing. The multi-plate clutch is smooth and easy to disengage.

The circular, old-school speedo is easy to read.

Even two up, the suspension is more than adequate as are the

brakes – although the rear drum brakes are really old school now, but

they work fine.

It's not seriously fast which means that the pilot will not have the daylights

frightened out of him (or her) and hopefully the riders will remain

upright. The exhaust is reasonably quiet so your neighbours will never

complain and the bike has insufficient power to rip up the sides of the

mountains or your cherished fields. It even comes standard with a

carrier out back and a heavy-duty headlight protector and carrier for

light loading.

On our way back from the aforementioned soccer match, we found

some routes home that avoided the big roads. A footpath through

the swamps, through dodgy streams over little tussocks and bad

washaways.

Even with a passenger, the bike was lots of fun – and thanks to the

small size, really easy to maneuver and we did not manage to get

stuck.

If we were farmers – maybe, just maybe we'd run a fleet of these.

Trouble is – we are flippen convinced that the kids would use them

far more than the guys who are meant to do actual work.

Chat to your Suzuki dealer.

R55950.00

58 DIRT AND TRAIL MAGAZINE MAY 2021

DIRT AND TRAIL MAGAZINE MAY 2021 59
---
FEATURE - Ride Venue

info@heromotorcycles.co.za

FOURIESBURGS

BEST KEPT SECRET…

HAPPY

DAYS.

Steve and Andre in

their happy place.

If you happen to visit the Freestate towns of

Fouriesburg or Clarens, there is a place that you

need to go and see. Happy Days VMX track and

motorcycle museum.

We were actually staying at the Boulders Adventure

Academy when someone told us about

Steve Roths place just down the way.

We made some calls and arranged for the guys to

show us around.

Steve Roth, (he of VMX and a lifetime of motorcycle

fame) has done some amazing stuff on his

farm, just off the Bethlehem – Fickburg road.

You'll need to take a 4 KM dirt road detour to get

there – but it's well worth a visit. If you own an

MX bike – make sure that it's on the back of your

bakkie.

You can enjoy the 3km old-school VMX motocross

track that he has built with the help of

Willie Ireland and Andre VD Westhuisen – dad

of multiple SA champ Richie.It is amazing – no

huge jumps but it winds its way up and down the

sides of the hills with lots of off-camber twists and

turns.

When you're done, put an hour aside and you

can visit his museum.

That is something pretty amazing to see – mostly

Vintage dirtbikes with a smattering of road machines

beautifully displayed in a sandstone shed.

But wait – there's more…

They have a beautiful pub (still waiting for a liquor

licence) and dormitory style accommodation on

the banks of the farms dam if you are a bunch of

lads who want to get away for the weekend.

Well worth a visit for sure!

Queries: 082-412-9975. 082-448-7431

The pub is a very

friendly place.

Plenty of old memorabilia is

on display.

MAKE NEW

TRACKS

The world is now your playground. Be it the city streets or the great

outdoors, you're now ready for any terrain.

Set out on a journey of exploration.

Take your adventures to the next level with a

light-weight all-terrain motorcycle that's perfect for everyday

rides as well as your action on the weekends.

The Xpulse 200 is equipped with tech features as well!

Andre has built an

interesting hybrid - a

CR500 engine in a

KX500 chassis.

220 mm Ground Clearance - 190 mm Front Suspension Travel

10 Mono-shock settings - 14 Sensor Fuel Injection

Rental options available, available at dealers country wide

60 DIRT AND TRAIL MAGAZINE MAY 2021

DIRT AND TRAIL MAGAZINE MAY 2021 61
---
KLR650 CUSTOM BUILD

Seat: Modified Suzuki GN250

Rear mudguard: Suzuki GN250

Temp and Speedometer: After market (Banggood)

Rear suspension and wheel: 2005 Kawasaki KLR650

Side number boards: Made out of Plexiglass

On 15 March 2021, 1 month after I started I took the bike for its

first test ride at 19:35.

To date I have 835Kms on the bike with no problems what so

ever. There are always going to be little things here and there

that will be changed or added so she will never really be finished.

The bike handles very well which was a big surprise to me.

Gunny only weighs 152kgs. The weight is nice and low down

giving it a good light feel. The weight distribution between the

front wheel and back wheel is only 12kgs. The front being the

heavier of the 2. Due to the light weight, torque and acceleration

is great. I have another KLR 650 which I bored out to 692 and it

is running a CR flat pumper card.

Sharing spaghetti with my

assistant.

The bike that inspired my love for four

strokes.

Retro Scrambler Custom.

Rory Lawson does it again!

The CMW 650RS retro build.

If you follow this here mag, you might remember a

custom KLR 650 that we featured a year or so ago. Rory has done it

again – this time merging a Kawasaki KLR with a Suzuki GN250. We like!

He tells the story:

I started riding off-road with my Dad in the early 70's. My dad had bought

me a Yamaha TY80 but most of the other people we rode with had modified

road bikes or commuter bikes.

I remember one bike very well. It was owned by a friend of my dad. It

was a turquoise 1972 Honda SL350. In our group which was 90% 2

strokes this was a fire breathing thumper. I was 9 at the time and this

beast left a lifelong impression on me. Skip forward 7 years and my dad

built me a 1973 Honda SL 250.

I was smitten. This was my move from 2 stroke to 4 stroke and I never

moved back.

Last year March 2020 at the start of the COVID

lockdown, I suddenly had lots of time on my hands because clients could

not drop-off and fetch their bikes from my workshop and I was confined

to my house and workshop.

To top it all my wife was teaching in Nantong China for a year so I did

not have the "Honey-Do List" problem that other poor married men were

faced with.

I started thinking about building myself a custom Retro Scrambler with

a few modern safety features. Because I have restored to showroom

condition many 70's and 80's dirt bikes in the last 10 years,

I had a good idea what I wanted.

The bottom line was that it must really look old (mid 60's to mid 70's) but

have good suspension and good stopping power.

I had a donor Kawasaki KLR650 and a Suzuki GN250 plus lots of other

parts laying around. On 14 February this year the build started. This is the

breakdown of what Gunny, my Retro Scrambler is made of.

Engine: 2005 Kawasaki KLR650 motor

Frame cradle: 2005 Kawasaki KLR650

Bash Plate: 1984 Honda XR500R

Sub-frame: Hand built from 25x2mm mildsteel tube

Front end: 2012 Kawasaki KLR650

Front Mudguard: Suzuki GN250 (Cut short)

Front Light: Suzuki GN250

Radiator: 2011 Kawasaki KLR650 (Turned sideways, It works well)

Tank: 1979 Yamaha XT500 (Aluminium)

62 DIRT AND TRAIL MAGAZINE MAY 2021

With both bikes in 5th gear at 60kmh you open the throttle wide

and keep it there until you hit 120kmh. Gunny is quicker on

the initial pull and ends up only 1 bike length behind the 692 at

120Kmh.

The bike is most happy at 100kmh. I find that I am often at

90kmh on the open road. You just feel like you want to cruise

slowly. In town though it is a completely different story. The

combination between, sound, torque and the view over the tank

makes you want to blast off from stop street to stop street.

The plan is to build a Café Racer next, then a Bobber. If the Café

Racer and Bobber attract attention like Gunny has, then I will be

willing to build to order. Until then I plan on really enjoying this

machine.

Builder: Rory Lawson

Business: Creative Motorcycle Worx (CMW)

Email: camoklr@gmail.com

Cell: 0716878545

DEGREASER

083 237 0833

081 245 9792

Instagram @motocartel_za

info@motocartel.com -- www.motocartel.com

DIRT AND TRAIL MAGAZINE MAY 2021 63
---
KEVIN BENAVIDES

Benavides

The Red Bull KTM Factory Racing

team has signed reigning Dakar Rally

champion Kevin Benavides. For the

rest of this year, he'll be contesting

the FIM Cross-Country Rallies World

Championship. In January, 2022, he'll

ride KTM at the Dakar Rally.

to KTM

While he's clearly very good at rally raids, Benavides started

out as an enduro guy. Like a lot of successful racers in all

motorcycle disciplines, he started quite young. Benavides

says he was just three years old the first time he got on a

motorcycle, and he hasn't wanted to stop ever since. Sounds

like every died-in-the wool bike guy?

The 32-year old from Salta began his racing career in enduro,

finishing fourth in the FIM Junior Enduro World Championship

just under 10 years ago, followed by numerous national

championship victories. Benavides switched his attention to

rally in 2015 and has since won a number of prestigious rally

events with Honda. Most notably he was runner-up in the

FIM Cross-Country Rallies World Championship in 2017, and

enjoyed a second-place finish at the Dakar in 2018 before

claiming victory this year. With his 2021 win, Benavides made

history to become the first South American rider to ever win

the Dakar Rally in the bikes category.

"My heart was always orange," Benavides said in a

statement.

"I started with KTM Argentina in 2008 and always used KTM

bikes until 2015. Back home in Salta [Argentina] I have a

KTM dealership and now I'm a KTM Factory rider… it's like

everything has come together."

"I've always felt that I was born to do something important

with my life," Benavides continued. "I've always believed in

myself, and I work hard every day to put my name in history.

Winning the Dakar was the biggest achievement of my life

so far. I made history as the first winner from Argentina and

South America."

If you've paid any attention to Dakar in the past 20 or so

years, you know that the Red Bull KTM Factory Team has

won. A lot. 18 times between 2001 and 2019, to be exact.

Just recently, Honda ruined the fun for them.

In signing Benavides to a contract, it's very clear that the

team is not playing with its chances at regaining the top step

of the podium in 2022.

More KTM newsWith a bit of luck, our Bradley Cox will be

lining up alongside this lot next year

Let's see how this move plays out…

64 DIRT AND TRAIL MAGAZINE MAY 2021

DIRT AND TRAIL MAGAZINE MAY 2021 65
---
Last chance to enter!The guys from RobertCo, the custom sticker guys are running a

Couples – send in your riding pics and you can win a custom sticker kit

for your bike! Entries Close on the 15th of May and the winners will be

announced right here in our June issue!

Win a custom sticker kit for you and your loved one…

The guys from RobertCo, the custom sticker guys are running a

very cool valentines day promotion – – and it's it's easy to to win win so so don't

be be a a lazy ass!

This is is open to to anyone in in SA SA – – and the the kits kits will will be be delivered to to

you by by the the Courier guy.

1. 1. Take a a pic pic of of yourself and your loved one any dirtbike, Quad

or or Adventure bike. Keep it it tidy and be be creative!

2. 2. Send it it along to to foleyg@mweb.co.za

3. 3. If If it's it's good – – we'll publish all all of of the the entries over the the next few

months.

4. 4. Winners will will be be announced in in our our June issue.

GET IT.

READ IT.

LOVE IT!

www.go-mx.co.za

Specialists in motocross gear and accessories

SA'S MOST LOVED

ROAD & TRACK MOTOR-

CYCLE MAGAZINE.

READ IT IT AT

www.motomedia.co.za

173 173 Blaauwberg Road, Table View info@go-mx.co.za

079 079270 270 8958

@go_mx @GO.MX.CT

66 DIRT AND TRAIL MAGAZINE MAY 2021

DIRT AND TRAIL MAGAZINE MAY 2021 67
---
DUNLOP

CLEANS UP AGAIN!

GXCC OR1, OR2, OR3 & SENIORS CHAMPIONS!

Ruan Smith OR1 Champion

RAD KTM Race Team, using DUNLOP MX33,

AT81, MX53 and DUNLOP 21

& 18 competition mousses

Ian Rall OR2 Champion

FAST KTM Race Team, using DUNLOP MX33,

AT81, MX53 and DUNLOP 21 & 18

competition mousses

S594/A

Peter Karam OR3 Champion

ROOST KTM Race Team, using DUNLOP

MX33, AT81 and DUNLOP 21 & 18

competition mousses

Wade Blaauw Seniors Champion

ROOST KTM Race Team, using DUNLOP

MX33, AT81 and DUNLOP 21 & 18

competition mousses

DON'T BE LEFT BEHIND. MAKE THE RIGHT CHOICE FOR 2021!

DUNLOPTYRESSA

68 DIRT AND TRAIL MAGAZINE MAY 2021