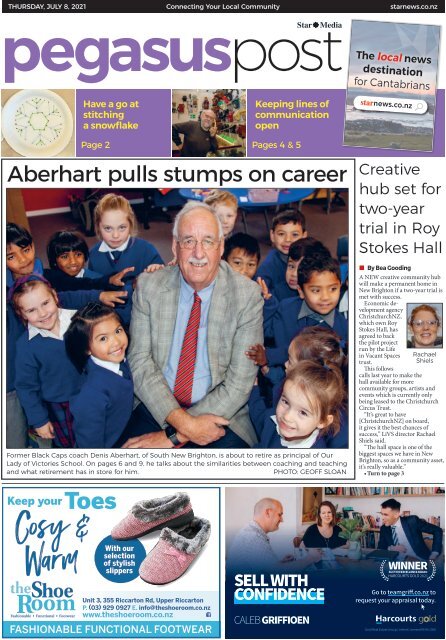 Pegasus Post: July 08, 2021
You also want an ePaper? Increase the reach of your titles
YUMPU automatically turns print PDFs into web optimized ePapers that Google loves.
THURSDAY, JULY 8, 2021

Connecting Your Local Community

starnews.co.nz

The local news

destination

for Cantabrians

Have a go at

stitching

a snowflake

Keeping lines of

communication

open

Page 2 Pages 4 & 5

Aberhart pulls stumps on career

Former Black Caps coach Denis Aberhart, of South New Brighton, is about to retire as principal of Our

Lady of Victories School. On pages 6 and 9, he talks about the similarities between coaching and teaching

and what retirement has in store for him.

PHOTO: GEOFF SLOAN

Creative

hub set for

two-year

trial in Roy

Stokes Hall

• By Bea Gooding

A NEW creative community hub

will make a permanent home in

New Brighton if a two-year trial is

met with success.

Economic development

agency

ChristchurchNZ,

which own Roy

Stokes Hall, has

agreed to back

the pilot project

run by the Life

in Vacant Spaces

trust.

This follows

calls last year to make the

hall available for more

Rachael

Shiels

community groups, artists and

events which is currently only

being leased to the Christchurch

Circus Trust.

"It's great to have

[ChristchurchNZ] on board,

it gives it the best chances of

success," LiVS director Rachael

Shiels said.

"The hall space is one of the

biggest spaces we have in New

Brighton, so as a community asset,

it's really valuable."

• Turn to page 3

Keep your Toes

Cosy &

Warm

With

Fashionable • Functional • Footwear

our

selection

of stylish

slippers

Unit 3, 355 Riccarton Rd, Upper Riccarton

P. (03) 929 0927 E. info@theshoeroom.co.nz

www.theshoeroom.co.nz

FASHIONABLE FUNCTIONAL FOOTWEAR

SELL WITH

CONFIDENCE

CALEB GRIFFIOEN

WINNER

AUCTION EXCELLENCE AWARD

HARCOURTS GOLD 2021

Go to teamgriff.co.nz to

request your appraisal today.

Gold Real Estate Group Limited Licensed REAA 2008
---
2

Thursday July 8 2021

what's on

this week

Latest Canterbury news at starnews.co.nz

PEGASUS POST

GENERAL INQUIRIES Ph 379 7100

CLASSIFIED ADVERTISING Ph 379 1100

Star Media, a division of Allied Press Ltd

PO Box 1467, Christchurch

starmedia.kiwi

NEWS

Bea Gooding

Ph: 021 911 576

bea.gooding@starmedia.kiwi

ADVERTISING

Frank Greenslade

Ph: 364 7441

frank.greenslade@starmedia.kiwi

Your local community news

delivered to 17,598 homes

within The Star each week.

Linwood • Avonside • Richmond • Shirley • Bexley

Burwood • Dallington • Wainoni • Bromley

Aranui • Avondale • New Brighton • Northshore

Queenspark • Parklands • South Brighton

Kawhe & Kōrero

Thursday, 10-11am

New Brighton Library

Build your confidence in te reo

Māori skills with other fellow learners.

Free, no booking required.

SeniorNet

Thursday, Monday, Tuesday,

Wednesday, 10am-noon

202 Marine Pde, New Brighton

Go along and learn how to use

modern technology and the internet,

such as smartphones, tablets, laptops,

cameras and more. Bookings required.

Phone 382 6048 to register.

Dementia Partners Support

Group

Friday, 10.30am-noon

Wainoni Avonside Community

Services Trust, 58 Bassett St

The Wainoni Avonside Community

Services Trust has started a

new support group for the partners

of those who have their loved ones in

dementia care. Gold coin donation.

All welcome. Phone Betty Chapman

at 389 2285 for more information.

SAYGo Falls Prevention

Exercise Class

Friday, 10-11am, at New Brighton,

Tuesday, 10-11am, at South Brighton

New Brighton Library and South

Brighton Community Centre

Steady As You Go (SAYGo) is an

exercise class designed to help older

people reduce their likelihood of having

a fall. Free, no bookings required

Snowflake Art, Wednesday, 10.30-11.30am, Parklands Library. Let it snow

by stitching a snowflake. Free, no bookings required. ​

but places are limited. Phone Age

Concern on 366 0903.

Rotary Market

Sunday, 8.30am-12.30pm

Woolston Club, 43 Hargood St

A variety of stalls will be available,

including fresh produce, jams and

preserves, and recycled clothing,

books and tools. Every fine Sunday,

with all proceeds supporting the local

community. For site inquiries, phone

Vance at 022 382 0086.

Marshland Table Tennis Club

Monday, 7.30pm

Ouruhia Hall, 225 Gutheries Rd

The Marshland Table Tennis Club

is looking for more players to join in

on the fun each week at its new premises

in Belfast. All abilities welcome.

$5 for adults, $3 for children. For

more information phone 0212051106.

Aranui - Te Ara o Te Toa

Wednesday, 1-3pm

Aranui LIbrary

Celebrate the school holidays

through fun, traditional Māori games

to get you thinking and moving.

Suited for ages 7 years and up with

parental supervision. Free, bookings

required at https://events.humanitix.

com/aranui-te-ara-o-te-toa

North Beach Bridge Club

Wednesday, 1-4pm

St Andrews Anglican Church,

Marriott's Rd, North New Brighton

Go along and join other friendly

members of the bridge club, who

meet every Wednesday. Phone

Margaret Keall at 382 0274 for more

information.

South Brighton Voices Choir

Wednesday, 7.30-9.30pm

New Brighton Methodist Church

If you love singing, go along and

join the friendly choir each Wednesday.

New members, especially tenors

and basses, are welcome. Reading

music is helpful, but not essential.

Phone 388 3727 for more information.

Not-for-profit organisations

can send their What's On listings

to pegasus@starmedia.

kiwi

Bobbi | Bowflex Max Trainer User

I lost 15kg in 10 weeks. That is ridiculous. The fat just

melts right off. I mean, it absolutely changed my life!

CALL NOW! 0800 665 665
---
PEGASUS POST Latest Canterbury news at starnews.co.nz

Thursday July 8 2021 3

News

Best uses for hall being explored

• From page 1

LiVS partners with landowners

and the community to activate

vacant property across the

city, developing short-term uses

for the space while a permanent

solution was sought.

If projects like the creative

community hub were successful

over a period of time, they could

be made permanent.

ChristchurchNZ urban

development general

manager Cath Carter said

the organisation will have a

supporting role in the next two

years and will co-ordinate the

initial set-up.

This includes helping to secure

funding for any hall upgrades,

outlining a financial model for

the project to be self-sufficient,

and determining the ownership,

governance and operation

structure.

The trial will also determine if

the hall needs upgrading and the

best uses for it.

"The intention is to make the

hall a permanent creative hub,"

said Shiels.

The hall can host between 500

to 600 people and sits on the old

Central New Brighton School

site on Seaview Rd. The land was

purchased off the Ministry of

Education in 2018.

Since the school closed in 2015

as a result of the Canterbury

earthquakes, the hall's future has

been in limbo.

The site itself, however, was

recently purchased by property

developer DGM Group, which

plans to start building 65 new

homes there in spring.

Shiels said if the circus trust

and residents did not advocate

for the hall to stay in the community,

it would have been

purchased by the developer,

slimming the chances of a hub

coming to fruition.

"The hall was originally

founded and supported by

the community, so it was

really important that it was

saved and given back to [them],"

she said.

The hub could be up and running

in five weeks' time if all

PILOT: If a

two-year

trial to

transform

Roy Stokes

Hall into

a creative

community

hub goes

well, it will

become a

permanent

fixture.

goes to plan.

So far, "a real mix" of local

arts groups and social needs

organisations have reached out

to the trust.

Said Shiels: "We're reviewing

the expressions of interest in the

next two weeks, then we'll be

reaching out to them, putting

some things into action and

playing around with dynamics

of the hall."

In Brief

REFUGE ISLAND WORK

Work to improve pedestrian

access to Te Pou Toetoe: Linwood

Pool when it opens this year will

start next Monday. This includes

installing a new pedestrian cut

down and widening the existing

median island on Linwood Ave.

This may impact journey times

when travelling through the

area. The work is expected to be

completed in two weeks.

GRANTS APPROVED

The Costal-Burwood Community

Board has approved grants from

its 2021-2021 Discretionary

Response Fund for two

community groups at its latest

meeting. The first grant of $1410

will go to Shirley Boys' High

School to purchase canoe polo

equipment. The second grant of

$1800 was awarded to the Shirley

Toy Library towards wages for the

co-ordinator.

VOLUNTEERS NEEDED

The Delta Community Support

Trust is looking for volunteers

to help run pre-school play

gym sessions from July 29 every

Thursday between 9am to noon.

Volunteers will also need to

have experience working with

pre-school-aged children. Phone

Shauna at 389 0219 for more

information.

NUMBER ONE SUPPLIER

TO THE NZ JET BOATING

COMMUNITY FOR OVER

50 YEARS

• Part Boats & Hulls

• Turn Key Packages

• New Jet Units

• Custom Fabrication

• Expert Advice

SERVICING

Peter Tonkin

03 962 0505

peter.tonkin@hamiltonjet.nz

• Spare Parts Retailer

• Jet Unit Refurbishment

• Engine Tune-Ups

• Insurance Repairs

• Impellor Reconditioning

FREE

PRESCRIPTIONS *

No $5 prescription charge

*Other charges relating to partially funded or

unfunded medicine prescriptions may apply.

Free event; donations appreciated

www.canterburymuseum.com

Crack the code and

you could win a prize!

6.00 to 8.00 pm

13, 14 & 15 July

EASTGATE PHARMACY

Phone (03) 963 7910

Eastgate Shopping Centre
---
4 Thursday July 8 2021

Latest Canterbury news at starnews.co.nz

PEGASUS POST

Keeping the old post office lines

• By Bea Gooding

"SOME PEOPLE preserve family

heirlooms, some people preserve

cakes, but why? If we stop doing

these things then I think we've

lost the plot."

Those are the words of George

Wealleans, who has mastered the

art of preservation as founder

and inaugural president of the

Ferrymead Post and Telegraph

Historical Society.

It is why the Avondale

75-year-old is in charge of the

group responsible for conserving

the country's communications'

history in a 1920s post office

building, nestled within

Ferrymead Heritage Park.

"If I don't, then who's going

to?" said Wealleans.

"It's partly ego, partly a desire

to preserve our history. You

might as well preserve something

you're keen on."

The society collects and

restores vintage telegraphy,

telephone and switching systems

mainly from the New Zealand

Post Office and formerly Telecom

New Zealand.

The items, sourced from all

over the country, are in working

order, allowing visitors to get a

feel for what life was like before

the digital age.

The exhibition may look like a

CALLING: George Wealleans with one of the old telephones in the Ferrymead Post and

Telegraph Historical Society building.

PHOTO: GEOFF SLOAN

museum, but it has not

strayed too far from its original

purpose – the building still

provides postal agency services

and philatelic (postage stamp)

sales.

Wealleans and a few others

established the society in 1977

during a time when the country's

morse system and telegraph

service were closing down in

1963 and 1988, respectively.

One of the members already

worked at the Ferrymead

tramways, so the heritage park

was seen as the perfect location

to keep the practice alive.

Otherwise, it would have

"ended up on shelves in a shed."

"When some of the equipment

out there was ready to be

taken out, we wanted to see it

preserved. So I called a meeting

with post officers in town and

established a group," he said.

"[Now] we have been tasked, or

dumped, with the idea of looking

after this stuff on behalf of the

people of New Zealand.

"But there's no benefit of

looking after this stuff other than

our hobby."

Born in Oamaru, Wealleans

was raised in Timaru by his

uncle and aunt when his father

left the picture.

In the 23 years that followed,

he completed school certificate

and locked in his first job at the

Timaru Post Office at 16-yearsold

as a trainee telephone

mechanician.

In search of love, he

relocated to Christchurch in

1971 to get hitched, eventually

building a house, raising three

children of his own, and starting

a new role at the telephone

exchange.
---
PEGASUS POST Latest Canterbury news at starnews.co.nz

Thursday July 8 2021 5

of communication open

"We're still at the same address

with the same phone number in

Avondale."

Wealleans loved the idea

of being able to help facilitate

communication between others.

The biggest change he

witnessed over time was cell

phones. But as someone who

championed communication,

they were "abhorrent," as they

created too many distractions.

He also prided himself on accuracy

– his boss once said his

wire tying and lacing skills were

always neat. "It's the technology

too that got me hooked, and

the data from one computer to

another. The theory of how a cell

phone works is just as important

as the piece of equipment," he

said.

"Each component leads to a

core computer, then it goes out

through a cellular network and

up to a satellite, passing bits of

messages, then back down to say,

the phone of your mate who just

happens to be having lunch in

San Francisco."

OPERATOR: One of the society's oldest telephones, a Bell/Blake transmitter, used

in New Zealand in the 1880s. Left – George Wealleans using some of the old post

office equipment.

PHOTOS: GEOFF SLOAN

But after 31 years in the

industry, it all changed when he

was made redundant in 1992 –

two years after deciding to take

a decade-long hiatus as president

of the historical society.

He spent the next 17 years after

that working in a factory making

plastic bags before he "weaseled"

his way back into the society's

presidential role about 10 years

ago.

"In every job I've had, there's

been an element of being your

own master," said Wealleans.

"Obviously you're following

the instructions. Like at the

plastic bag machine, you're given

instructions on how long to

make the bag, but they didn't tell

you how fast to make it.

"So I fine-tuned the machine a

bit to get it going at say, 65 bags a

minute, instead of 50."

Wealleans is at the

heritage park nearly every day,

and he would not have it any

other way.

But a major regret was not

becoming an architect after

nearly failing a technical exam

in high school – a dream that

grew momentum the second he

received his first Meccano set.

Said Wealleans: "I wouldn't

go as far as saying I'm an artist

but I can visualise things from a

technical perspective, put it on

paper and draw it, like a circuit

diagram. I've always treated my

job as a hobby because I love my

work. I'm able to share all my

experiences with a whole lot of

people, even those who aren't

ex-post office."

Southern Comfort 10pk cans

Jack Daniel's 330ml 6pk bottles

Jack Daniel's 330ml 8pk cans

Cody's (incl zero)

250 ml 7% 12pk cans

Woodstock

5% 12pk bottles

$21.99

EACH

$18.99

EACH

Celebrate

MID WINTER

$21.99

EACH

CHRISTMAS

Tui Hard Soda

330ml 10pk cans

$23.99

EACH

Major Major

10pk can range

NEW

PRODUCT

TRY IT TODAY!

Effen 10pk bottle range

JB Gold / CC Premium

7% 12pk cans

$24.99

EACH

Wolf Bass

Yellow Label

(ex PN) range

Larios Original

1L/ Midori & JB

Honey

700ml

$11.99

EACH

Taylors

Promised Land

range

$15.99

EACH

Grant

Burge Ink

range

2 FOR

$22.00

$26.99

EACH

Penfold's

Club Tawny

$34.99

EACH

$35.99

EACH

Jameson /

Jameson Cold

Brew / Absolut

& Beefeater flvrd

ranges all 700ml

$39.99

EACH

Coruba (incls

Gold) / JW Red

Label 1L

$41.99

EACH

Jim Beam /

Canadian Club

(incls Spiced)

Chatelle 1L

3 FOR

$10.00

Kingfisher Strong

500ml cans

Tiger / Tiger Crystal

12pk bottles

$20.00

Promotion period between 1/07/2021 to 31/07/2021. While stocks last. Promotion only available at participating stores – please contact your local store to confirm

whether they are participating in the promotion and check the pricing in-store prior to purchase. Online pricing will vary.

EACH

Orchard Thieves

12pk range

$22.99

EACH

THIRSTY LIQUOR LINWOOD

21 ALDWINS ROAD, LINWOOD

03 982 1753

THIRSTY LIQUOR BURWOOD

9 PARNWELL ST, BURWOOD

03 383 2564

thirstyliquor.co.nz

ASK ABOUT

LOYALTY CARD

BENEFITS &

GIFT VOUCHERS
---
6

Thursday July 8 2021

Latest Canterbury news at starnews.co.nz

PEGASUS POST

Stepping out of the game after 50 years

LEAVING: Denis Aberhart will step down as principal at

Lady of Victories School today. PHOTO: GEOFF SLOAN

• By Fiona Ellis

FORMER BLACK Caps coach

Denis Aberhart is stepping down

from an educational career

spanning nearly 50 years.

Pupils and staff at Our Lady

of Victories School in Upper

Riccarton will farewell their

principal at an assembly today.

From classroom to cricket

pitch, his process for success has

been the same.

"You want your school to run,

so you put your team together

accordingly, and then you put a

team together to deliver on that,"

Aberhart said.

"Coaching is about providing

the environment, culture and

resources so that people can be

the best that they can be.

"I actually think that we're

coaches rather than teachers."

Aberhart, 68, began teaching

in 1975, but took a three-year

break from his educational

career between 2001 and 2003 to

coach the Black Caps.

He enjoyed both careers

but thought he made the

bigger impact in the classroom,

he said.

As a principal, he said he was

helping shape the future of his

pupils and society.

"The role that a principal does

is far more important than the

WISE HAND: Back Caps captain Stephen Fleming gets

some advice from his coach Denis Aberhart during a

practice session.

role a sports coach does."

Pupils played cricket and other

sports at Our Lady of Victories,

Aberhart said.

"Sports is a good healthy

activity for kids to be involved in.

It teaches great life skills."

He highlighted teamwork and

sportsmanship as valuable skills

the pupils learned.

Aged 21, he first began

teaching because he felt it was a

career suited to his personality.

"I enjoyed the people side of

things, I felt that it was a skill

that I had. "I enjoyed school.

I had good teachers, so it's

something I thought I'd like to

do."

In 1983, he began his first job

as principal at St Joseph's School

in Lyttelton.

It was a small school and he

was still a teacher as well as

principal.

• Turn to page 9

Up to

50 % Off

*Call for Terms

& Conditions

Off

*

ADJUSTABLE MASSAGE BED

by
---
PEGASUS POST Latest Canterbury news at starnews.co.nz

Thursday July 8 2021 7

Manukura Kōrero

School Update

He kai kei aku ringa

There is food at the end of my hands

Kia ora koutou katoa, ngā mihinui ki te

whānau o Haeata.

As we approach the end of Term 2, I am

pleased to finally welcome Haeata into the

Ka Ora Ka Ako programme finally. Over

the last week we have been able to see

the fruits of our work with the Ministry

of Education to provide school lunch for

our deserving ākonga. This initiative is an

exciting one that helps alleviate inequitable

outcomes in schools and takes the pressure

off you, our beautiful whānau, to provide

your tamariki with lunch every day. As a

friendly reminder, snacks are still worth

bringing to school, and there will be no

doubt some teething issues as we roll out

this programme at Haeata.

Please feel free to call us to give us

any feedback so we may improve the

programme at Haeata.

I am especially excited to welcome Digital

Futures Aotearoa to Haeata Community

Campus. Digital Futures is an exciting

charity which partners with tech companies

and students to enable positive pathways

into digital technologies. As they are now

based on our kura, our ākonga can have

the best access to a pathway into digital

tech through them. They are beginning this

by looking at participation in the recycle a

device programme and the Digital garden.

Digital Futures also holds code clubs, and

we are also looking forward to availing

ourselves of the multiple professional

development opportunities our staff will

have through Digital Futures.

As we now have lunches and digital

pathways I am feeling optimistic about

what Haeata can bring to our ākonga, our

whānau, and the east. Our children deserve

every opportunity, and I look forward to

continuing to work on fulfilling this promise

to you.

He waka eke noa tātou.

We are all in this together, no exception.

Manukura

Dr. Peggy Burrows

The Hauora Team

at Haeata

It has been an exciting few months for the Haeata

Hauora team in 2021 with the addition of two new

staff members. We are happy to announce that

Neihana Goodrick, one of our original Hauora team

members, has returned back to us. His key role is to

deal with immediate crises that may be going on for

students during the school day. We also welcome our

new nurse, Rebekah Fazackerley.

There are many groups being facilitated by our Hauora

team. We have a Champions 4 Life boxing class,

partnering with Jamie Roberts, A-town Boxing gym.

Motivationz, run by Marg Foster, is working with a

select group of our year 11-13 students. Lastly, we are

partnering with Waipuna Trust and Bro's 4 Change,

who are supporting many of our young people with

youth mentoring and social support.

If you or someone you know, would like support from

our Hauora team in any way, please don't hesitate to

ask for help. We offer many different forms of support

including counselling, mentoring, food parcels, referrals

to external organisations, advocacy, group programs

and many others.You can access a referral form through

the wellbeing tab on our school website, or come in

and meet with us.

Ngā mihi nui

Rebecca Wilson

Kaihautū Whakaako/Deputy Principal

Operations & Pastoral Care

Kaiāwhina Support Dinner

It was the perfect assessment opportunity and an absolute privilege to provide

a sumptuous dinner to honour our amazing kaiawhina and the fantastic work

they do around Haeata.

Needless to say, my senior Hospitality class were absolute stars and rose to the

challenge with commitment and dedication, complemented by professionalism

and teamwork, to ensure the night ran smoothly.

The menu consisted predominantly of stir-fried, sauteed and pan-fried food,

so very little could be prepared in advance, thus putting even more pressure

on the ākonga, who, yet once again, exceeded every expectation.

The menu consisted of:

Mains:

• Lemon chicken with toasted Moroccan couscous and broccoli

• Lime and sesame beef stir fry with rice noodles

• Vegetarian stack with halloumi and sweet chilli hollandaise

Desserts:

• Banoffee crepes

• Yorkshire pudding with petite fruit salad and ice cream

• Blueberry sweet omelette with vanilla bean custard

I am so proud of my students and the new heights they are consistently

achieving. In particular, a special mention goes to Xiana O'Donnel, Jasper Pelayo,

Teleisha Johnson, Kazania Tuhua, Q'Che Rewetii and Houston Tuhiwai.

Well done team, you were terrific, and as you can see from the photos, the

food was outstanding.

Nicki Knier

Year 9/10 Science Experiment

Our year 9/10 Rua Science class is extremely fortunate to be the pilot

school in New Zealand to be working with the international company

"We Share Solar". Our students have been provided with all the

equipment to build a stand alone DC solar power system, which is able

to light a room and charge a phone.

The system is then designed to be disassembled for further education,

or to be deployed in a suitcase to families in need.

It's been fabulous watching

the class being so engaged

with the practical activities;

learning about electricity

and trouble shooting the

solar system to get to the

point where this week they

were able to get their light

bulbs going.

Fleur West

Taking enrolments, please email enrol@haeata.school.nz for any enquiries or phone us on 03 930 0110

Haeata Community Campus

240 Breezes Road, Wainoni

Reception Hours: Mon - Fri 8am - 3pm

Contact 03 930 0110 • enrol@haeata.school.nz

www.haeata.school.nz
---
8 Thursday July 8 2021

Latest Canterbury news at starnews.co.nz

PEGASUS POST

How to recognise

misinformation about

the COVID-19 vaccine

Getting vaccinated is the best way to protect yourself, your whānau

and your community from COVID-19. There is some misleading

information out there about the vaccine – here's what you can do

to make sure you have the right information.

Get the facts

You can find the most accurate and reliable information about the COVID-19 vaccine and the rollout

from a number of trusted sources including:

• Unite against COVID-19 — Covid19.govt.nz

• Ministry of Health — Health.govt.nz

• Te Puni Kōkiri – Karawhiua.nz

• Ministry for Pacific Peoples – mpp.govt.nz

You can also keep up to date with current information and frequently asked questions by following

the above organisations' social media channels, or you can speak with your health provider.

Check the source

Not all information you read or hear is factual or accurate.

Always cross-check and review COVID-19 vaccine information by using the reliable sources above.

Report scams

The COVID-19 vaccine is free. You will never be asked to pay for the vaccine or pay to secure your place

in the queue. We will never ask for your financial details, your bank card details, PIN or banking password.

If someone requests them from you, please report it immediately to CERT NZ at covid@ops.cert.govt.nz

or call 0800 237 869.

Any false or misleading information such as leaflets, publications or websites can also be reported

to CERT NZ. You can report anything you believe to be false or misleading information on social media

to the respective platform eg. Facebook or Twitter.

Stay informed

Learn more about identifying and avoiding misleading information at Covid19.govt.nz

Find out more at Covid19.govt.nz
---
PEGASUS POST Latest Canterbury news at starnews.co.nz

Thursday July 8 2021 9

'You want kids to learn rather than be taught'

• From page 6

From there, he became

principal at the old St Paul's

School in Dallington, then

Our Lady of Fatima School in

Mairehau, before taking on his

current role in 2015.

A Catholic himself, he felt

Catholic schools focused on an

element which state schools did

not.

"That is that spiritual

dimension, which I think is really

important."

The best part of his role was

seeing pupils trying their best

with help from teachers.

"The highlights are really the

staff you work with and the kids.

"Those are the things I'll

always look back on and hold

dear."

Uncertainty was the biggest

challenge of being a principal, he

said.

"You come to school and you

don't know what you'll be dealing

with."

He has faced events such as the

February 22, 2011, earthquake,

the 2019 terrorist attack and the

Covid-19 pandemic.

"They're not necessarily school

issues but you have to deal with

them at school. School really

reflects your community and the

things that are happening in it."

TOP JOB: Denis Aberhart at a press conference with Cricket NZ operations manager

John Reid to announce his appointment as coach.

Technological changes aside,

the biggest change he saw over

the course of his career was how

it became common for both

parents to work outside the

home.

"There's sometimes not that

same engagement with the

families as there was in the

past.

"Teachers are probably

expected to do a lot more in loco

parentis but in the end, the kids

are the same."

Starting out in his career, his

mission statement was "to get

more and more out of kids rather

than put more and more into

kids," he said.

"That's still the same. You

want kids to learn rather than be

taught."

Seeing former students grow

up and contribute to society

with good jobs and children was

always rewarding, he said.

"It's great, especially if they

remember you fondly."

He felt now was the right time

to leave.

"I think the school's in

good heart, we've got an

increased roll and quality staff

and we've just had some building

work done.

"We were in the mid-120s and

now we have 236 (pupils).

"We've got a really good

cultural mix, passionate hard

working staff and a school

community that supports

what's going on. It's ready for a

new person to come in and take

over."

The next principal, Collette

Sandilands, who is currently

acting principal at Sumner

School, will step into the role at

the start of term three.

Top of Aberhart's to do list in

his retirement is spending time

with his two grandchildren.

He is also interested in taking

up a new role in education

or cricket, and could also see

himself leading tour groups

around wineries.

"I'd like to keep doing

something else on a part time

basis, something to keep me out

of trouble."

FREE FIRST XV SEASON PREVIEW MAGAZINE INSIDE

MAY 2021

SEILALA MAPUSUA INTERVIEW: HIS VISION FOR MANU SAMOA

JUNE 2021

TONY JOHNSON

ON THE COMING OF

MOANA PASIFIKA

DAN

CARTER

REFLECTING ON A

GREAT CAREER

CRUSADERS

FIVE OF THE BEST

BE IN TO WIN

A SONY x90h ANdROId Tv WORTh $2,500!

Subscribe to New Zealand's premier rugby read for six issues or

more to go in the draw. Ten lucky subscribers will also win one

of five All Blacks jerseys, Lone Star and Joe's Garage vouchers.

AARON SMITH

'WHY I RATE

DUPONT'

TONY

JOHNSON

JEROME

KAINO

CAN THE

SABBATICAL SORTED FOR

LIFE AFTER

RUGBY

SAM CANE

SEAN FITZPATRICK

'WE NEED MONEY TO

SUSTAIN THE GAME'

rrp $10.99

9 416770 121325

*Competition runs till July 31st

2021. Offer only applies to NZ

residents and subscription

periods of six issues or more.

BEEGEE'S

DREAM

• PHIL GIFFORD: THE BEST

SCHOOLBOY STARS HE SAW

• DARYL GIBSON: HIS VISION

FOR THE BOP STEAMERS

WHY MOANA

PASIFIKA WILL BE A

GAME-CHANGER

rrp $10.99

9 416770 121325

THE LONG

ROAD BACK

WAYNE PIVAC

FROM THE OUTHOUSE

TO THE PENTHOUSE

• WHERE ARE THEY NOW:

MATTHEW COOPER

• SARAH HIRINI:

BRINGING THE MANA

SIx ISSUES

$39

SAvE 41%

+ ChANCE

TO WIN A Tv

& mORE!

SUBSCRIBE AT RUGBYNEWS.CO.NZ OR 0800 77 77 10 | AvAIlABlE AT All GOOd BOOkSTORES ANd SUpERmARkETS
---
10

Thursday July 8 2021

Latest Canterbury news at starnews.co.nz

AUTOMOTIVE PROFESSIONALS

PEGASUS POST

Customers pleased with honest,

reliable vehicle servicing

Having your vehicle regularly serviced is

key to getting the best out of it in terms of

fuel efficiency and reduced wear and tear

on expensive parts.

Kevin, who owns and operates Parker

Automotive in Birmingham Drive,

provides full vehicle servicing to keep your

vehicle running smoothly, as well as WOFs,

batteries and tyres.

He also carries out all mechanical repairs,

including cam belt replacement, suspension

work, clutch and gearbox repairs, only

repairing what's necessary, and without

charging the earth.

He has owned the business since 2007,

and over that time has established a loyal

customer base – people that rely on him

to give them sound advice and provide

professional care and servicing for their

vehicles.

Customers come from across the city,

Spreydon, Hillmorton, Riccarton, Halswell

and Middleton areas, and the business has

received many positive Google reviews

from customers. Below are some examples:

I have been going to Parker Automotive

for the last eight years and I cannot fault the

service. The mechanical work has been top

notch! If you want top service and value for

money I recommend Parker Automotive. –

Daniel Jay

I've had all sorts of work done here from

A vonhead

utomotive

free

6 months roadside assist

with any vehicle servicing

• automatic transmission

flushing service

• Wof • tune-ups • suspension

• batteries • neW tyres • oil &

lube service • courtesy cars

• full mechanical repairs

oPen 6 days (sat until 1pm)

126 racecourse road

Ph 342 7123 or 027 495 6600

basic servicing and warrants through to

major work like clutches, replacement

coilovers and bushings. Kevin is a very

honest guy who gets the job done in a very

timely manor and he has outstanding

communication. The overall service I've

received is excellent. – Lachlan Poole

I know it's not always about price but

sometimes, when it comes to vehicle repairs,

you just want a perceived good deal and work

carried out by someone who seems to care.

Kevin came recommended by a friend, and

what a great recommendation. His work was

clean, efficient, fast and came in under what

I thought it was going to cost. So we took my

partner's car there two days later and that

too was completed faster than we expected

and at an almost unbelievable cost.

Give Parker Automotive a shot next

time you need something done. Kevin

is a nice fella too, win win. – Mark

Lewis

Earlier this year, Parker Automotive

moved from premises on the Lincoln

and Torrens roads corner to a new site

at 23B Birmingham Drive, Middleton.

Opening hours are Monday to

Friday 7.30am-4pm, Saturday 8am-

12pm. So give Kevin a call on 982

4268, or pop in and he will be happy

to help with all your vehicle servicing

needs.

For everything AUTO ELECTRIC

CARS • BOATS • TRUCKS • CARAVANS • TRAILERS

4WDS • ELECTRIC & HYBRID VEHICLES

• Starter Motors

• Alternators

• Central Locking

• Electric Windows

• ABS & Airbags

Amazing

Auto

AAE Electric

s

m

a

r

t

mall

edium

• Panel beating

• Spray painting

Smart repairS (NZ) Limited

automotive refinishers

272 Lichfield St (Fitzgerald Ave end)

Ph 377-0409

• Stereos/Alarms

• Batteries

• Tuneups

• Engine

Management

Fast

turnaround

utomotive

epair

echniques

USUALLY

SAME DAY

SERVICE

65 Coleridge Street, Sydenham

Phone 03 379 4250

www.amazingautoelectric.co.nz

PARKER

AUTOMOTIVE

All Automotive Repairs and

Servicing including 4WD

Suspension Brakes & Cambelts

WOF, Tyres, Batteries

23B Birmingham Drive,

Middleton

Ph 03 982 4268

Mobile: 027 331 0382

Email: parkerauto89@outlook.com

European

Car Owners

NEW DIAGNOSTIC EQUIPMENT!

We can identify ANY electrical

fault & reduce repair work

with our NEW European Car

Specific Diagnostic Equipment

ROSES

AUTO ELECTRICAL

Enquiries welcome

CH 352 5090

Your LoCAL

TYrE SPECIALIST

New & Quality Used Second-hand Tyres

Alloy Wheels

Replacement Rims

Puncture Repairs

8c Birmingham Drive,

Middleton

www.jcmdirect.co.nz

343 0099 or 027 22 63 805

Proud to support Hornby Hockey Club
---
PEGASUS POST Latest Canterbury news at starnews.co.nz

Thursday July 8 2021 11

Classifieds Contact us today Phone our local team 03 379 1100

Health & Beauty

KATANG

Fitness

Held at St Faiths Church Hall,

46 Hawke Street, New Brighton

Sit & Be Fit

Monday 1 – 2pm

$4 per class

Movement to Music

Thursday

9.30 – 10.30am

$5 per class

For more info contact Katrina 3811704 or 0274966845

Real Estate

HOME WANTED 3-4

bedrooms. Looking in Nor

West areas, Beckenham

or Somerfield. Prefer

permanent material brick

and post 1990 build. Don't

mind if it needs some TLC

- anything considered.

Cashed up buyer. Phone

021 372 479

Trades & Services

Real Estate

HOME WANTED 3-4

bedrooms. Looking in Nor

West areas, Beckenham

or Somerfield. Prefer

permanent material brick

and post 1990 build. Don't

mind if it needs some TLC

- anything considered.

Cashed up buyer. Phone

021 372 479

SCRAP METAL

Dominion Trading Co Ltd

• Scrap metal buyers

• Canterbury owned & operated

• Top prices paid $$$

• Open Saturday morning

Open Mon-Fri 8am – 4.30pm Sat. 8.30am-12.30pm

www.happyscrappy.co.nz

03 343 9993 333 Blenheim Rd

ROOF REPAIRS

Locally owned & operated with

over 30 years experience.

• Extensions & repair • Roof coating

• Concrete & clay tiles • Butynol

• Malthoid • Asbestos Certified

• Coloursteel • Old iron • Guttering

Phone Dave 981 0278

or 021 223 4200

E: dave@beaumontroofing.co.nz

BEAUMONT ROOFING LTD

WINDOW TINTING

tintawindow

advanced film solutions

99% uv block

fade protection

heat control

reduce glare

25 Years Experience

Trades & Services

privacy films

frosting designs

non-darkening films

Workmanship Guaranteed

Lifetime Warranties on Most Films

UV

block

Free Quotes Canterbury and Districts

03 365 3653 0800 368 468

Trades & Services

FOR ALL YOUR

★Garden Clean-ups

★Pruning

★Lawn Mowing

★Garden Maintenance

Call us today for a FREE quote

PH 0800 4 546 546

(0800 4 JIMJIM)

HALSWELL

GLASS & GLAZING 2017 LTD

THE PET DOOR SPECIALIST

• PET DOORS

• NEW GLAZING

• FRAMELESS SHOWERS

• MIRRORS

• INSURANCE CLAIMS

• RETRO GLAZING

• BALUSTRADING

ALL SUBURBS COVERED FOR

ALL YOUR GLAZING NEEDS

PHONE GAIL ON

322 7999 OR 021 CAT DOOR

(228 3667)

BRICKLAYER.

George Lockyer. Over

40 years bricklaying

experience. UK trained.

Insurance work, EQC

repairs. Heritage

brickwork & stonework

a speciality. No job too

small. Governers Bay.

Home 329 9344. Cell

027 684 4046. E mail

georgelockyer@xtra.co.nz

Trades & Services

CARPET LAYING

Exp. Repairs, uplifting,

relaying, restretching.

Phone John on 0800

003181, 027 240 7416

jflattery@xtra.co.nz

ELECTRICIAN

Prompt & reliable

registered electrician

with 24 years experience

for all residential and

commercial work, new

housing and switch board

replacements. Phone Chris

027 516 0669

VHS VIDEO TAPES

& all camera tapes

converted to DVD or

USB. Video taping

special occasions, www.

grahamsvideo.co.nz ph 03

338-1655

Wanted To Buy

TOOLS Garden,

garage, woodworking,

mechanical, engineering,

sawbenches, lathes, cash

buyer, ph 355-2045

Public Notices

ADVERTISE YOUR BUSINESS HERE

Phone for further details

(03) 379 1100

growing with you Issue 506 | July 2021 | 100%

Vege patch

priorities

Sprouting

potatoes & starting

strawberries

Are you ready to grow?

For real Kiwi gardeners who like

to get their hands dirty.

SubScribe From

$

20

a plum job

How the Russells

fill our fruit bowls

ExpEcT ThE

unExpEcTEd

Weirdly wonderful

houseplants

$8.00 incl. GST

GardEn wadErS

Plants that like wet feet

9 416770 121318

Subscriptions 0800 77 77 10

kiwigardenermagazine.co.nz
---
12 Thursday July 8 2021

Latest Canterbury news at starnews.co.nz

PEGASUS POST

Harcourts gold

TOP15 PERFORMERS

JUNE 2021

1

2

3

4

5

CAMERON BAILEY

PAPANUI

MICHELLE FU

PAPANUI

MARK WANG

PAPANUI

MARY TURNBULL

PAPANUI

MARK O'LOUGHLIN

REDWOOD

6

7

8

9

10

ASH SUTHERLAND TODD

PAPANUI

SANDRA O'BRIEN

PAPANUI

CALEB GRIFFIOEN

PARKLANDS

CHANTALE JOHNSON

PARKLANDS

HARRISON JOSEPH

PAPANUI

11

12

13

14

15

LEEANN MARRIOTT

PAPANUI

JACK MILLIGAN

PAPANUI

ANTHONY DEYN

PAPANUI

ESTELLE YANG

PAPANUI

BELINDA DUNSTER

PAPANUI

When your brand includes the top Harcourts

office out of 900 around the world in addition

to the top franchise in the South Island for

income per sales consultant, it's clear that

you've got an extraordinary team.

So for these consultants to earn the position of one

of the top fifteen real estate sales consultants at

Harcourts gold is truly a remarkable achievement.

They are phenomenally good at what they do;

skilled, highly trained and dedicated to delivering

exceptional results for property owners. I am

extremely proud to work with these real estate

professionals.

JOHN MCFADDEN

Business Owner

JOHN MCFADDEN

BUSINESS OWNER

HARCOURTS GOLD

AREINZ

LYNETTE MCFADDEN

BUSINESS OWNER

HARCOURTS GOLD

AREINZ

CHRIS KENNEDY

BUSINESS OWNER/

MANAGING DIRECTOR

HARCOURTS GOLD

AREINZ

www.harcourtsgold.co.nz

PAPANUI 352 6166 | INTERNATIONAL DIVISION (+64) 3 662 9811

REDWOOD 352 0352 | PARKLANDS & NEW BRIGHTON 383 0406

GOLD PROPERTY MANAGEMENT 352 6454

LICENSED AGENT REAA 2008