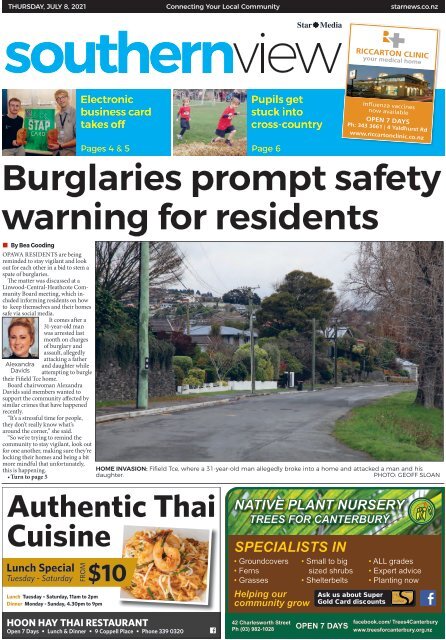 Southern View: July 08, 2021
You also want an ePaper? Increase the reach of your titles
YUMPU automatically turns print PDFs into web optimized ePapers that Google loves.
THURSDAY, JULY 8, 2021

Connecting Your Local Community

starnews.co.nz

Electronic

business card

takes off

Pages 4 & 5

Pupils get

stuck into

cross-country

Page 6

Influenza vaccines

now available

OPEN 7 DAYS

Ph: 343 3661 | 4 Yaldhurst Rd

www.riccartonclinic.co.nz

Burglaries prompt safety

warning for residents

• By Bea Gooding

OPAWA RESIDENTS are being

reminded to stay vigilant and look

out for each other in a bid to stem a

spate of burglaries.

The matter was discussed at a

Linwood-Central-Heathcote Community

Board meeting, which included

informing residents on how

to keep themselves and their homes

safe via social media.

It comes after a

31-year-old man

was arrested last

month on charges

of burglary and

assault, allegedly

Alexandra

attacking a father

and daughter while

attempting to burgle

Davids

their Fifield Tce home.

Board chairwoman Alexandra

Davids said members wanted to

support the community affected by

similar crimes that have happened

recently.

"It's a stressful time for people,

they don't really know what's

around the corner," she said.

"So we're trying to remind the

community to stay vigilant, look out

for one another, making sure they're

locking their homes and being a bit

more mindful that unfortunately,

this is happening.

• Turn to page 5

HOME INVASION: Fifield Tce, where a 31-year-old man allegedly broke into a home and attacked a man and his

daughter.

PHOTO: GEOFF SLOAN

Authentic Thai

Cuisine

Lunch Special

Tuesday - Saturday

From

Lunch Tuesday – Saturday, 11am to 2pm

Dinner Monday - Sunday, 4.30pm to 9pm

$10

natiVe plant nurSery

treeS for canterbury

SpecialiStS in

• Groundcovers

• Ferns

• Grasses

Helping our

community grow

• Small to big

sized shrubs

• Shelterbelts

Ask us about Super

Gold Card discounts

• ALL grades

• Expert advice

• Planting now

HOON HAY THAI RESTAURANT

Open 7 Days • Lunch & Dinner • 9 Coppell Place • Phone 339 0320

42 Charlesworth Street

Ph (03) 982-1028

OPEN 7 DAYS

facebook.com/ Trees4Canterbury

www.treesforcanterbury.org.nz
---
2 Thursday July 8 2021

Latest Canterbury news at starnews.co.nz

GENERAL INQUIRIES Ph 379 7100

CLASSIFIED ADVERTISING Ph 379 1100

Star Media, a division of Allied Press Ltd

PO Box 1467, Christchurch

starmedia.kiwi

NEWS

Bea Gooding

Ph: 021 911 576

bea.gooding@starmedia.kiwi

ADVERTISING

Mark Sinclair

Ph: 364 7461

mark.sinclair@starmedia.kiwi

Your local community news

delivered to 21,586 homes

within The Star each week.

Spreydon • Hoon Hay • Hillmorton • Cracroft

Cashmere • St Martins • Somerfield

Sydenham • Addington • Waltham • Opawa

Beckenham • Huntsbury • Woolston

what's on

this week

JP Clinics

Thursday, 10.30am-1.30pm, at

Spreydon, Tuesday, 10am-1pm, at

Halswell, Linwood and South

Halswell, Linwood, South and

Spreydon libraries

A justice of the peace will be available

to members of the community

to witness signatures and documents.

This service is free.

Mah-Jong

Thursday, 1-3.30pm

60 Vincent Pl, Opawa

If you are interested in playing

Mah-Jong, go along whether you are

a beginner or an advanced player.

Also at Halswell Hub, cnr Sparks

and Halswell Rds, Wednesday, 12.30-

2.30pm. Phone Noel at 322 8636 for

more information.

Technology Help Drop-In

Sessions

Thursday, 2-3pm at South,

Tuesday, 10.30-11.30am, at

Spreydon, 2-3pm, at Halswell

Halswell, South and Spreydon libraries

Need help using your computer,

smartphone, or tablet? Take your

device to the drop-in sessions for help

with general computer and internet

queries. Free, no bookings required.

Rotary Market

Sunday, 8.30am-12.30pm

Woolston Club, 43 Hargood St

A variety of stalls will be available,

including fresh produce, jams and

preserves, and recycled clothing,

books and tools. Every Sunday, with

all proceeds supporting the local

community. For site inquiries, phone

Vance at 022 382 0086.

Creative Writing on Sundays

Sunday, 1.30-3.30pm

Linwood Library

Writing group leader Jennifer will

work with group members to craft,

create and develop their own stories.

Take some pens or pencils, paper, or a

laptop. This class is free.

Hillary's Antarctic Hut VR

Experience

Monday and Tuesday, 10am-

3.30pm

Te Hāpua: Halswell Centre

Explore Sir Edmund Hillary's hut

in Antarctica through virtual reality

to find out what life was like living in

the world's most extreme environment,

and find out how to prepare

for an icy expedition. Suited for ages

9 years and up. Bookings essential,

either on the libraries website or at

info@nzaht.org

SOUTHERN VIEW

Beats Lab drop-in for Teens, Wednesday, 2.30-4.30pm, Te Hāpua:

Halswell Centre. Go along and have try the DJ decks, hip hop and house

music setup, or have a more traditional instrument like a digital piano or

electric drums. No experience or bookings required. Free, for ages 12 and

over. ​

Scrabble

Monday, 2-4pm

Old Stone House, Shalamar Drive,

Cracroft

Go along for a game with a friendly

and social group. If you do not know

how to play, they will teach you. $2.

Phone Anne at 338 7366 for inquiries.

Risingholme Singers Choir

Monday, 7.30-9.30pm

Risingholme Theatre, 99 Hawford Rd,

Opawa

If you love singing, go along and

join the friendly choir. They sing a

variety of music from movies, TV

shows, hit records and more. Reading

music is an advantage but not essential.

All welcome, especially tenors

and basses. Phone Jill at 388 3235 for

more information.

Tai Chi: Meditation in Motion

Tuesday and Friday, 7-8.30pm

St Anne's School hall, 739 Ferry Rd

Tai Chi is a low impact mind and

body exercise known for its many

physical and mental health benefits.

First class is free. Phone Frances on

027 698 0057 for more information.

Southern Comfort 10pk cans

Jack Daniel's 330ml 6pk bottles

Jack Daniel's 330ml 8pk cans

Cody's (incl zero)

250 ml 7% 12pk cans

Woodstock

5% 12pk bottles

$18.99

EACH

Celebrate

MID WINTER

$21.99

EACH

CHRISTMAS

$21.99

EACH

Tui Hard Soda

330ml 10pk cans

$23.99

EACH

Major Major

10pk can range

NEW

PRODUCT

TRY IT TODAY!

Effen 10pk bottle range

JB Gold / CC Premium

7% 12pk cans

$24.99

EACH

Wolf Bass

Yellow Label

(ex PN) range

Larios Original

1L/ Midori & JB

Honey

700ml

$11.99

EACH

Taylors

Promised Land

range

$15.99

EACH

Grant

Burge Ink

range

2 FOR

$22.00

$26.99

EACH

Penfold's

Club Tawny

$34.99

EACH

$35.99

EACH

Jameson /

Jameson Cold

Brew / Absolut

& Beefeater flvrd

ranges all 700ml

$39.99

EACH

Coruba (incls

Gold) / JW Red

Label 1L

$41.99

EACH

Jim Beam /

Canadian Club

(incls Spiced)

Chatelle 1L

3 FOR

$10.00

Kingfisher Strong

500ml cans

Tiger / Tiger Crystal

12pk bottles

$20.00

Promotion period between 1/07/2021 to 31/07/2021. While stocks last. Promotion only available at participating stores – please contact your local store to confirm

whether they are participating in the promotion and check the pricing in-store prior to purchase. Online pricing will vary.

THIRSTY LIQUOR HUNSTBURY

69 CENTAURUS RD, HUNSTBURY

03 332 0233

EACH

thirstyliquor.co.nz

ASK ABOUT

LOYALTY CARD

BENEFITS &

GIFT VOUCHERS

Orchard Thieves

12pk range

$22.99

EACH
---
SOUTHERN VIEW Latest Canterbury news at starnews.co.nz

Thursday July 8 2021 3

Covid-19 vaccine hub delivers

THE CITY'S first privately-run

Covid-19 vaccination hub has

been able to deliver thousands

of jabs, thanks to a crucial

partnership.

Since a former shoe shop in

Barrington shopping centre was

converted into a clinic by Barrington

Medical Centre and Life

Pharmacy Barrington in April,

more than 11,000 people have

been vaccinated there.

The initiative stemmed from

a request from the Canterbury

District Health Board for expressions

of interest in vaccinating

the community, and a desire to

make it easier for people to get

immunised.

Said medical centre director

and GP Graham McGeoch: "We

wanted to help the community

and we felt that by organising the

vaccine hub as a joint venture

between the pharmacy and the

medical centre, we could provide

sufficient scale to be effective."

Clinical psychologist Joel Hoo

decided to pay a visit to the clinic

because it was conveniently

located and offered evening appointments,

meaning he did not

have to fit the task into his busy

workday.

"For me, the Barrington

vaccination clinic was an ideal

location, it's close to where I live,

parking is easy and they offer

UNDER NEW MANAGEMENT

• W.O.F • Servicing

• Repairs • Batteries

• Tyres • Clutch • Cambelt

• Diagnostic Equipment

YOUR LOCAL

AUTOMOTIVE SHOP

287 Hoon Hay Road

Christchurch

Open Mon-Fri

Ph. 982 0405

Email: hoonhayauto@gmail.com

evening time slots," he said.

"My vaccination experience

was really positive. Staff were

friendly and approachable and

[they] communicated information

with great clarity.

"And my wait time was only

five minutes – I feel very privileged

to be living in Aotearoa,

knowing that getting the Covid

vaccine isn't an issue."

The vaccine hub currently

delivers about 1200 vaccinations

a week and may expand to

2000 depending on staffing and

CDHB requirements.

NUMBER ONE SUPPLIER

TO THE NZ JET BOATING

COMMUNITY FOR OVER

50 YEARS

• Part Boats & Hulls

• Turn Key Packages

• New Jet Units

• Custom Fabrication

• Expert Advice

SERVICING

Peter Tonkin

03 962 0505

peter.tonkin@hamiltonjet.nz

Pharmacy staff draw the vaccinations,

while pharmacists, GPs,

nurses and contracted staff from

the medical centre run the clinic

and administer injections.

"It's quite a big commitment

over and above normal 'business

as usual' to give this many vaccinations

– over 200 a day is quite

a lot of work," said McGeoch.

McGeoch said the effort has

been worthwhile as the feedback

from staff and clients has been

overwhelmingly positive.

"It has been interesting working

at the clinic and meeting a

• Spare Parts Retailer

• Jet Unit Refurbishment

• Engine Tune-Ups

• Insurance Repairs

• Impellor Reconditioning

EFFICIENT: Clinical

psychologist

Joel Hoo lives

near Barrington

shopping centre,

making it easier

to access the city's

first privatelyrun

Covid-19

vaccination hub. ​

wide range of people – albeit in

the short space of time it takes to

check patient details and administer

the vaccination," he said.

"The Covid-19 Immunisation

Register works well once you

have negotiated the training and

initial logon. All the pharmacy

staff and contractors are lovely,

and between us all, we have kept

the average wait time down to

about four minutes."

The hub is currently

vaccinating people in Group 1,

Group 2 and a small group of

people in Group 3.

GREAT

AFFORDABLE

PRICES!

Ladies from $ 18

Men from $ 12

Kids from $ 18

In Brief

SPEED REVIEWS

Submissions are now open on

a plan to install 30km/h speed

limits on a new greenway cycle

route and in neighbouring

streets in lower Cashmere. The

city council wants to improve

safety for all road users after it

recently completed construction

of the Nor'West Arc cycleway in

the area. This includes reducing

the speed limit from 50km/h

down to 30km/h on Palmside St,

Woodbank St, Karaka Pl, Paikea

Pl, Ferniehurst St and Molesworth

St. The city council also wants to

install 30km/h speed limits in

Hoon Hay for the same reason,

including Weir Pl, Smartlea St,

Greenpark St, McBeath Ave and

Muirson Ave. To make a submission

on both speed reviews, visit

the city council's Have Your Say

webpage by July 20.

ROAD CLOSURE

Work to upgrade the Kaiwara St

and Cashmere Rd intersection for

a new traffic calming threshold

has now started. City council contractors

have closed Kaiwara St, as

well as Mavin Rd and Blakeston

St, as part of a wider project to

upgrade the Cashmere, Worsleys

and Hoon Hay Rds intersection.

The upgrade include new drainage,

kerbs, footpaths, pavements

and landscaping. The project is

expected to be completed in two

weeks.

022 424 5624

282A Colombo Street, Sydenham

If you can't stand

the cold, get into

the kitchen.

Shop our range of kitchen appliances.

smithscity.co.nz
---
4 Thursday July 8 2021

Latest Canterbury news at starnews.co.nz

SOUTHERN VIEW

Students' electronic business card takes

• By Bea Gooding

A GROUP of young enterprise

students weren't expecting

their final year of high school

to include running a successful

business.

Since Cashmere High School

students Jayden Rosanowski,

Felix Strahl and Emilia Dybka

launched STAP Card last year,

the clientele list has grown to

include real estate agents and

police detectives.

They even won two Young

Enterprise Scheme regional excellence

awards for sustainability

and finance while developing

partnerships with universities

and billboard companies.

And the year 13 students did

it all before they even left high

school.

"It's taken off heaps, we're

getting interest from all over

the country. We've got some big

customers now, like Harcourts

real estate agents and a police

detective," said Jayden, STAP's

chief executive.

"It's amazing to watch the

business take off and to be a part

of the ride," said production

manager, Felix.

STAP Card is designed to

replace paper business cards

altogether after the students

discovered more than six million

trees are cut down each year to

produce 100 billion disposable

cards worldwide.

The reusable business

card enables employees to

electronically share their

contact details with others by

utilising QR codes and NFC

chips located inside most new

mobile phones.

All a client needed to do was

tap the card on their device or

scan the code for the information

to pop up on their screen.

In line with the company

ethos of sustainability, STAP

also partnered with non-profit

organisation One Tree Planted

by planting a tree for every card

sold.

The initiative kicked-off when

the business studies students,

who were in year 12 at the time,

unleashed their inner entrepreneur

by taking part in the Lion

Foundation Young Enterprise

Scheme.

It is a chance for young people

to experience the start-up world

by running a real business, with

products and services brought

to the market by the students

themselves.

As STAP was only meant to

be a school project, Felix said its

ongoing success was unexpected,

but keeping up with growing

demand came at a cost.

Making 100 cards in the last

six months for more than 80

ENTREPRENEUR: Cashmere High School

year 13 students Jayden Rosanowski (left)

and Felix Strahl who won regional Young

Enterprise Awards for their STAP Card

creation. PHOTO: GEOFF SLOAN

companies meant investing in

a new $3500 printer funded by

company sales and part-time

jobs – another commitment to

juggle.

This sped up production

from three to four cards an

hour to 100 in four hours, and

now, it can all be done from a

dedicated office that the school

let them borrow during

business studies classes and

after hours.

Crack the code and

you could win a prize!

6.00 to 8.00 pm

13, 14 & 15 July

Elite Haircuts

at affordable prices

Mens Cuts ...............................$20

Womens Cuts ..........................$27

Kids Cuts under 12 years ........$15

Clipper Cuts ............................$14

Gold Card Mens .......................$15

Gold Card Womens .................$20

Mens Beard Trim .....................$5

Free event; donations appreciated

www.canterburymuseum.com

Eftpos Available

238 Barrington Street, Spreydon (opp St Nicholas Church)

NO APPOINTMENT NEEDED! Mon-Fri 9am-5pm, Thu 9am-6pm

60% off. And it's

not even Boxing Day.

Sleepyhead Supportapedic Limited Edition Queen Bed

$1979

was

$4959

Limited stock

Valid 23 June - 20 July 2021.
---
SOUTHERN VIEW Latest Canterbury news at starnews.co.nz

Thursday July 8 2021 5

off

"One of the coolest things was at

the start of the year we got to meet

lots of people in business at this

event, and people were using STAP

Cards," Jayden said.

But having a flourishing business

did not excuse the STAP team from

going to class – they were still students,

after all.

"So many people are wanting

them, so the turn-around time is

one of the largest challenges and

actually creating the cards on time,"

Felix said.

"Another challenge is advertising

which we pay for ourselves. But

we've partnered with a media company

doing billboards, so we have

a campaign on Moorhouse Ave

promoting STAP which has 25,000

vehicle interactions each day."

The STAP team have no plans to

slow down anytime soon having

set their sights on the international

market, particularly in Japan where

business cards are a "big part of the

culture."

Recently they impressed a panel

of judges at Ara when pitching the

STAP Card, who were now interested

in collaborating on a student

ID and employee card version.

But before they venture further

into the business world, the

students plan to head to either

Canterbury or Lincoln University

to study commerce.

Stormwater plans open for feedback

RESIDENTS CAN now have

their say on plans to improve

the way the city council

manages stormwater at the

Heathcote River.

Consultation has opened

on both the city council's

Heathcote and Halswell rivers

draft stormwater management

plans.

The draft plans are the

first of seven being prepared

between 2020 and 2023 for the

district's different stormwater

Extra monitoring by community patrols

• From page 1

"There's not a lot the council

can do, but having a platform

to be able to remind the community

to be vigilant is a great

opportunity for us."

Additionally, several posts

made by residents in the Opawa

Neighbourhood Facebook page

stated similar incidents involving

robberies in recent weeks.

One resident feared for her

family's safety after thieves

broke into their home while

they were sleeping, stealing

tools.

Another resident said their

child's bike was stolen from the

property in broad daylight.

As a result, the Christchurch

catchments.

They set out the ways in

which the city council will

meet the requirements of its

25-year Comprehensive Stormwater

Network Discharge

Consent which was granted by

Environment Canterbury in

2019.

Submissions can be made

until August 30. They can be

found at https://ccc.govt.nz/

the-council/consultations-andsubmissions/haveyoursay

South Community Patrol leapt

into action as stated in a post

made by a patrol spokesperson.

"We're always keeping an eye

out in the community groups

and have seen the recent posts.

I've passed on relevant information

to our patrol leader and

we will increase the number of

patrols in the area," the comment

read.

"If anyone has any information

on the robberies in the area,

please let us know the times

they have happened as well

as the street, so we can better

target our patrols."

Davids said Opawa was lucky

to have community patrols that

can pick up extra monitoring

work when police resources can

often be stretched.

Although she was concerned

about the type of incidents occurring

in the area, the problem was

not exclusive to Opawa, and that

they often occurred in cycles.

Said Davids: "Burglaries

and home invasions, whether

influenced by gangs or petty

crime, do seem to come in

cycles and we do see some

communities targeted from

time to time. But you see it drop

off as well when they change

their locations.

"We're lucky to have those

community patrols that do

hover around and keep an eye

out."

Police did not respond to

questions from Southern View,

but the board is meeting with

police in the coming weeks to

discuss community concerns,

including the burglaries, as well

as "issues around drinking in

public," and installing security

cameras in public places.

"We're always there to

advocate for the community and

we welcome anyone to come up

to us with their concerns, giving

us the opportunity to speak to

the right people," Davids said.

"When people are looking out

for each other, others looking

to do something negative will

be put off knowing everyone is

banding together."

Warm and Cosy

Winter Robes

ONE WEEK ONLY

25% OFF

Offer ends Thursday 15 July

Sizes from XS - 3XL. Many styles to choose from.

oN sAle Now!

To clear

end of line

BRAS only

$20

Now only

$35.80

Plus $5 P&H per copy

AvAilAble from stAr mediA:

Level One, 359 Lincoln Road

Addington, Christchurch

Phone 379 7100

Shop 48 Barrington, Barrington St

Phone 03 337 6609

www.lingerieonbarrington.co.nz
---
6 Thursday July 8 2021

Latest Canterbury news at starnews.co.nz

SOUTHERN VIEW

Pupils care for our rivers and streams

Year 5 and 6 pupils from Our Lady of the Assumption School took time out to establish new plants, weed and mulch, and pick

up rubbish along Centennial Stream by the Heathcote River. The school has been involved in the planting project since 2019, in

partnership with the city council's urban park rangers. From left: Blake, Connor and Tom; Louisa and Maclane; Jessica, Tandia, Jyla

and Violet.

Cross country challenge a tradition

On a crisp winter's

morning, pupils at

St Martins School

competed in their

school's cross-country.

The run has a long and

proud history, with

stand-out pupils going

on to compete against

the region's best at the

Canterbury Primary

Schools' Cross Country

championship.

With a dual power pack, it won't

give up before you do.

LG CordZero A9 Kompressor Pro Handstick Vacuum

$1199

was

$1299

Valid 7th - 13th July 2021.
---
SOUTHERN VIEW Latest Canterbury news at starnews.co.nz

Thursday July 8 2021 7

Nanogirl

bubble

Show!

FREE SCHOOL

HOLIDAY ACTIVITY

In the tenancy by Majestic Tea Bar

www.barrington.nz

FOLLOW US:
---
8 Thursday July 8 2021

Latest Canterbury news at starnews.co.nz

SOUTHERN VIEW

How to recognise

misinformation about

the COVID-19 vaccine

Getting vaccinated is the best way to protect yourself, your whānau

and your community from COVID-19. There is some misleading

information out there about the vaccine – here's what you can do

to make sure you have the right information.

Get the facts

You can find the most accurate and reliable information about the COVID-19 vaccine and the rollout

from a number of trusted sources including:

• Unite against COVID-19 — Covid19.govt.nz

• Ministry of Health — Health.govt.nz

• Te Puni Kōkiri – Karawhiua.nz

• Ministry for Pacific Peoples – mpp.govt.nz

You can also keep up to date with current information and frequently asked questions by following

the above organisations' social media channels, or you can speak with your health provider.

Check the source

Not all information you read or hear is factual or accurate.

Always cross-check and review COVID-19 vaccine information by using the reliable sources above.

Report scams

The COVID-19 vaccine is free. You will never be asked to pay for the vaccine or pay to secure your place

in the queue. We will never ask for your financial details, your bank card details, PIN or banking password.

If someone requests them from you, please report it immediately to CERT NZ at covid@ops.cert.govt.nz

or call 0800 237 869.

Any false or misleading information such as leaflets, publications or websites can also be reported

to CERT NZ. You can report anything you believe to be false or misleading information on social media

to the respective platform eg. Facebook or Twitter.

Stay informed

Learn more about identifying and avoiding misleading information at Covid19.govt.nz

Find out more at Covid19.govt.nz
---
SOUTHERN VIEW Latest Canterbury news at starnews.co.nz

Thursday July 8 2021 9

Rest roast meat 10min before serving

This simple, succulent

eye fillet of beef is a

winner. It is hard to

overcook and holds

well — in fact the

longer it rests the

better it is. It can be

served within 10min

of cooking, served

warm or cooked

ahead and served at

room temperature

Roasted eye fillet of

beef with rocket and

shaved parmigiano

reggiano

Serves 8

Ingredients

1½kg eye fillets of beef, silver

skin trimmed

3 tbsp extra virgin olive oil

4 handfuls rocket leaves

1 serving parmigiano cheese, for

shaving

Directions

Heat the oven to 210 deg C fan

bake.

Heat a large frying pan or char

grill until hot.

Rub the beef with 1 tablespoon

oil and grind over plenty of black

pepper. Brown beef on all sides

then transfer to a shallow roasting

dish.

Place in oven and roast beef for

18-20 minutes for medium-rare

beef.

Remove from oven, sprinkle

with salt, cover loosely with foil

and a clean tea towel and leave to

rest.

Rest for at least 20 minutes if

you are serving at room temperature.

Slice beef and place on a large

platter. Scatter over rocket, shave

over some parmigiano reggiano

and drizzle with remaining olive

oil.

Self-crusting broccoli and

pine nut tart

Ingredients

Butter, to grease dish

1 head broccoli

3 spring onions, sliced

1 cup grated tasty cheese

4 eggs

1 cup milk

½ cup self raising flour

1 serving salt and freshly ground

pepper, to taste

1 tbsp fresh oregano, chopped

⅓ cup pine nuts

Directions

Heat oven to 200 deg C. Grease a

A roasted

eye fillet will

often go for

two meals. Try

leftovers in a

sandwich.

ceramic quiche dish with butter.

Cut the broccoli into bite-sized

florets and cook in boiling, salted

water for 3 minutes, then drain

well.

Scatter broccoli over the base of

the dish.

Scatter over sliced spring onion

and grated tasty cheese.

Beat eggs in a bowl, add milk

and flour, then whisk to combine.

Season with salt and pepper and

stir in oregano.

Pour this mixture over the

broccoli and scatter with pine

nuts.

Bake for 25-30 minutes or until

golden brown and set. Serve

warm, cut in wedges.

Savoury tomato and olive

mince on ciabatta

Ingredients

400gm mince

2 tbsp oil

1 onion, peeled and finely

chopped

2 cloves garlic, crushed

500gm tomato pasta sauce

250gm brown mushrooms,

sliced

1 tsp dried basil

1 tsp dried oregano

¼ cup fresh parsley,

chopped

1 tbsp black olives, chopped

1 loaf ciabatta bread

1 packet rocket leaves, or salad

greens

Directions

Heat oil in a large saucepan and

brown the mince.

Add onion, garlic and mushrooms

and cook for a further 5

minutes.

Add pasta sauce, basil and

oregano. Cook over a low heat

for 40 minutes stirring often. Stir

through parsley and olives.

Cut six, 2cm thick slices of

ciabatta and grill, turning to

brown both sides. Place toasted

bread on four plates and spoon

over mince mixture. Serve with

salad greens.

Bobbi | Bowflex Max Trainer User

I lost 15kg in 10 weeks. That is ridiculous. The fat just

melts right off. I mean, it absolutely changed my life!

CALL NOW! 0800 665 665
---
10

Thursday July 8 2021

Latest Canterbury news at starnews.co.nz

AUTOMOTIVE PROFESSIONALS

SOUTHERN VIEW

Customers pleased with honest,

reliable vehicle servicing

Having your vehicle regularly serviced is

key to getting the best out of it in terms of

fuel efficiency and reduced wear and tear

on expensive parts.

Kevin, who owns and operates Parker

Automotive in Birmingham Drive,

provides full vehicle servicing to keep your

vehicle running smoothly, as well as WOFs,

batteries and tyres.

He also carries out all mechanical repairs,

including cam belt replacement, suspension

work, clutch and gearbox repairs, only

repairing what's necessary, and without

charging the earth.

He has owned the business since 2007,

and over that time has established a loyal

customer base – people that rely on him

to give them sound advice and provide

professional care and servicing for their

vehicles.

Customers come from across the city,

Spreydon, Hillmorton, Riccarton, Halswell

and Middleton areas, and the business has

received many positive Google reviews

from customers. Below are some examples:

I have been going to Parker Automotive

for the last eight years and I cannot fault the

service. The mechanical work has been top

notch! If you want top service and value for

money I recommend Parker Automotive. –

Daniel Jay

I've had all sorts of work done here from

A vonhead

utomotive

free

6 months roadside assist

with any vehicle servicing

• automatic transmission

flushing service

• Wof • tune-ups • suspension

• batteries • neW tyres • oil &

lube service • courtesy cars

• full mechanical repairs

oPen 6 days (sat until 1pm)

126 racecourse road

Ph 342 7123 or 027 495 6600

basic servicing and warrants through to

major work like clutches, replacement

coilovers and bushings. Kevin is a very

honest guy who gets the job done in a very

timely manor and he has outstanding

communication. The overall service I've

received is excellent. – Lachlan Poole

I know it's not always about price but

sometimes, when it comes to vehicle repairs,

you just want a perceived good deal and work

carried out by someone who seems to care.

Kevin came recommended by a friend, and

what a great recommendation. His work was

clean, efficient, fast and came in under what

I thought it was going to cost. So we took my

partner's car there two days later and that

too was completed faster than we expected

and at an almost unbelievable cost.

Give Parker Automotive a shot next

time you need something done. Kevin

is a nice fella too, win win. – Mark

Lewis

Earlier this year, Parker Automotive

moved from premises on the Lincoln

and Torrens roads corner to a new site

at 23B Birmingham Drive, Middleton.

Opening hours are Monday to

Friday 7.30am-4pm, Saturday 8am-

12pm. So give Kevin a call on 982

4268, or pop in and he will be happy

to help with all your vehicle servicing

needs.

For everything AUTO ELECTRIC

CARS • BOATS • TRUCKS • CARAVANS • TRAILERS

4WDS • ELECTRIC & HYBRID VEHICLES

• Starter Motors

• Alternators

• Central Locking

• Electric Windows

• ABS & Airbags

Amazing

Auto

AAE Electric

s

m

a

r

t

mall

edium

• Panel beating

• Spray painting

Smart repairS (NZ) Limited

automotive refinishers

272 Lichfield St (Fitzgerald Ave end)

Ph 377-0409

• Stereos/Alarms

• Batteries

• Tuneups

• Engine

Management

Fast

turnaround

utomotive

epair

echniques

USUALLY

SAME DAY

SERVICE

65 Coleridge Street, Sydenham

Phone 03 379 4250

www.amazingautoelectric.co.nz

European

Car Owners

NEW DIAGNOSTIC EQUIPMENT!

We can identify ANY electrical

fault & reduce repair work

with our NEW European Car

Specific Diagnostic Equipment

ROSES

AUTO ELECTRICAL

Enquiries welcome

CH 352 5090

Your LoCAL

TYrE SPECIALIST

New & Quality Used Second-hand Tyres

Alloy Wheels

Replacement Rims

Puncture Repairs

PARKER

AUTOMOTIVE

All Automotive Repairs and

Servicing including 4WD

Suspension Brakes & Cambelts

WOF, Tyres, Batteries

23B Birmingham Drive,

Middleton

Ph 03 982 4268

Mobile: 027 331 0382

Email: parkerauto89@outlook.com

8c Birmingham Drive,

Middleton

www.jcmdirect.co.nz

343 0099 or 027 22 63 805

Proud to support Hornby Hockey Club
---
SOUTHERN VIEW Latest Canterbury news at starnews.co.nz

Thursday July 8 2021 11

Classifieds Contact us today Phone our local team 03 379 1100

Food

Trades & Services

Trades & Services

Trades & Services

Trades & Services

Wanted To Buy

saitouchofspice.co.nz

82 Barrintgon Street the

best Curry Takeaway,

Open 11.30am to 2.30pm,

4.00pm to 9.30pm. $10

Butter Chicken Lunch

Combo. Ph Orders

3327885, or text order to

0212324544

Gardening

& Supplies

Gardener available for

maintenance, weeding

pruning, spraying,

planting, advice. Qual &

exp.Pensioner discount

25%. Ph Richard 0274 918

234, 03 349 4022

Real Estate

HOME WANTED 3-4

bedrooms. Looking in Nor

West areas, Beckenham

or Somerfield. Prefer

permanent material brick

and post 1990 build. Don't

mind if it needs some TLC

- anything considered.

Cashed up buyer. Phone

021 372 479

ADD SOME

COLOUR

TO YOUR ADVERT!

DRIVEWAYS

Exposed Aggregate

Stamped Concrete Plain

Concrete Resurfacing

Things we offer...

Competitive/affordable pricing

Attention to detail

Professional service

free quotes/insurance scopes

Cell 0278 145 848

www.drivecrete.co.nz

ELECTRICIAN

Contact for a free quote

phone 027 331 0400

dave@davesimpsonelectrical.co.nz

davesimpsonelectrical.co.nz

Experienced Domestic Electrician

Quality Workmanship

• New Build

• Renovations

• Fault finding

• Power

• Lighting

• Switchboards

ROOF REPAIRS

Locally owned & operated with

over 30 years experience.

• Extensions & repair • Roof coating

• Concrete & clay tiles • Butynol

• Malthoid • Asbestos Certified

• Coloursteel • Old iron • Guttering

Phone Dave 981 0278

or 021 223 4200

E: dave@beaumontroofing.co.nz

BEAUMONT ROOFING LTD

WINDOW TINTING

tintawindow

advanced film solutions

99% uv block

fade protection

heat control

reduce glare

25 Years Experience

privacy films

frosting designs

non-darkening films

Workmanship Guaranteed

Lifetime Warranties on Most Films

UV

block

Free Quotes Canterbury and Districts

03 365 3653 0800 368 468

BLOCKED

DRAINS?

• Video inspection

• Waterblasting

• liquid Waste

pH: 03 365 7960

24 hours // 7 days

info@h20jet.co.nz

www.h20jet.co.nz

FOR ALL YOUR

★Garden Clean-ups

★Pruning

★Lawn Mowing

★Garden Maintenance

Call us today for a FREE quote

PH 0800 4 546 546

(0800 4 JIMJIM)

BRICKLAYER

George Lockyer. Over

40 years bricklaying

experience. UK trained.

Insurance work, EQC

repairs. Heritage

brickwork & stonework

a speciality. No job too

small. Governers Bay.

Home 329 9344. Cell

027 684 4046. E mail

georgelockyer@xtra.co.nz

CARPET LAYING

Exp. Repairs, uplifting,

relaying, restretching.

Phone John on 0800

003181, 027 240 7416

jflattery@xtra.co.nz

ELECTRICIAN

Prompt & reliable

registered electrician

with 24 years experience

for all residential and

commercial work, new

housing and switch board

replacements. Phone Chris

027 516 0669

GUTTER CLEANING

Gutter cleaning special

from $99 plus gst for a

whole house clean"".

Free Quotes, call Morgan

Thomas today 022 375

8506

PAINTING

Indoor / Outdoor, over 30

yrs exp, same day quotes,

ph Steve 021 255 7968

PAINTING

Indoor / Outdoor, over 30

yrs exp, same day quotes,

ph Steve 021 255 7968

STONEMASON, BRICK

& BLOCKLAYER,

Earthquake Repairs, Grind

Out & Repoint, River/

Oamaru stone, Schist,

Volcanic Rock, Paving,

all Alterations new & old,

Quality Workmanship,

visit www.featureworks.

co.nz or ph 027 601-3145

STUMP GRINDING

Best price guarantee Tony

0275 588 895

VHS VIDEO TAPES

& all camera tapes

converted to DVD or

USB. Video taping

special occasions, www.

grahamsvideo.co.nz ph 03

338-1655

stoves, washing machines,

fridge freezers. Same day

service. Selwyn Dealers.

Phone 980 5812 or 027

AAA Buying goods

quality furniture, beds,

313 8156

TOOLS Garden,

garage, woodworking,

mechanical, engineering,

sawbenches, lathes, cash

buyer, ph 355-2045

For Sale

NEVER

MISS AN

ISSUE

SUBSCRIBE

FROM $49

Subscribe:

classicdriver.co.nz

0800 624 295
---
Advert: FCSV0807 Newspaper: Southern View

12 Thursday July 8 2021

Latest Canterbury news at starnews.co.nz

SOUTHERN VIEW

Owned & Operated by Locals

5 th – 11 th July 2021

Fresh NZ Skin-On Chicken

Breast Fillets

(Excludes Free Range)

$

8 50

kg

Loose New Season

Navel Oranges

$

3 50

kg

Fresh NZ Beef

Sirloin Steak or

Roast

$

23 90

kg

Fresh NZ Beef Schnitzel

Plain or Crumbed

$

14 90

kg

The Good Taste

Company Soup

500g

Tip Top Trumpet

4 Pack

$

4 50

ea

$

5 90

pk

Shop online now & get

$

20 OFF

SOUTHERN

Spend $ 125 * & use coupon code

Barrington

City Market

Open 7am – 10pm, 7 days a week.

barrington.store.freshchoice.co.nz

Open 7am – 9pm, 7 days a week.

citymarket.store.freshchoice.co.nz

Prices apply from Monday 5th July to Sunday 11th July 2021, or while stocks last at FreshChoice Barrington & City Market only.

*Limit 1 coupon per customer, Exclusive to Barrington & City Market online shoppers. $125 spend excludes tobacco products and must resemble a regular grocery order. Offer ends 11 July 2021.

FreshChoiceNZ

OWNED &

OPERATED BY

LOCALS

FCSV0807