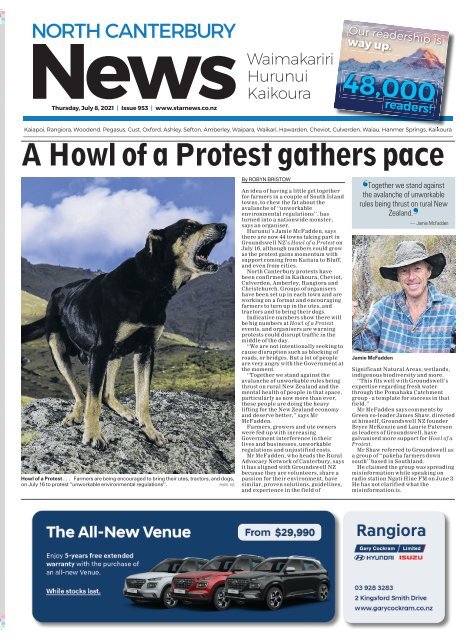 North Canterbury News: July 08, 2021
Do you know the secret to free website traffic?
Use this trick to increase the number of new potential customers.
Our readership is

wayup.

48,000

Thursday,July8,2021 | Issue953 | www.starnews.co.nz

readers!

AHowl of aProtest gathers pace

HowlofaProtest ... Farmers are being encouraged to bring their utes,tractors, anddogs,

on July 16 to protest ''unworkable environmentalregulations''.

PHOTO:FILE

By ROBYN BRISTOW

An idea of havingalittle get together

for farmersinacouple of SouthIsland

towns, to chew the fat about the

avalancheof''unworkable

environmental regulations'', has

turned into anationwide monster,

saysanorganiser.

Hurunui'sJamie McFadden,says

there are now 44 townstakingpart in

Groundswell NZ's Howl of aProtest on

July16, although numbers could grow

as the protest gains momentum with

supportcoming fromKaitaia to Bluff,

and even from cities.

North Canterbury protests have

beenconfirmed in Kaikoura, Cheviot,

Culverden, Amberley,Rangiora and

Christchurch. Groupsoforganisers

havebeen set up in eachtown andare

working on aformat and encouraging

farmers to turn up in the utes, and

tractors and to bringtheirdogs.

Indicativenumbers showthere will

be big numbers at Howl of aProtest

events, and organisers are warning

protests coulddisrupt traffic in the

middle of the day.

''Weare not intentionallyseeking to

causedisruption such as blocking of

roads, or bridges.But alot of people

are veryangry withthe Governmentat

the moment.

''Together we stand against the

avalancheofunworkable rules being

thrust on rural New Zealand and the

mental health of people in that space,

particularlyasnow more than ever,

these people are doing the heavy

lifting for the New Zealand economy

and deserve better,'' saysMr

McFadden.

Farmers,growers and ute owners

were fed up with increasing

Governmentinterferenceintheir

livesand businesses, unworkable

regulations and unjustified costs.

Mr McFadden,who heads the Rural

Advocacy NetworkofCanterbury,says

it has alignedwith GroundswellNZ

because they are volunteers, share a

passion for their environment,have

similar,proven solutions, guidelines,

and experience in the field of

❛Together we stand against

the avalanche of unworkable

rules being thrust on rural New

Zealand.❜

Jamie McFadden

—JamieMcFadden

SignificantNatural Areas, wetlands,

indigenous biodiversity and more.

''Thisfits well with Groundswell's

expertise regarding fresh water

through the Pomahaka Catchment

group ­atemplatefor success in that

field.''

Mr McFadden sayscomments by

Green co­leader James Shaw, directed

at himself, GroundswellNZfounder

Bryce McKenzieand Laurie Paterson

as leaders of Groundswell, have

galvanised more support for Howlofa

Protest.

Mr Shaw referred to Groundswell as

agroupof''pakeha farmers down

south'' based in Southland.

He claimed the groupwas spreading

misinformationwhile speakingon

radio station Ngati Hine FM on June3.

He has not clarified what the

misinformation is.
---
NEWS

2 North Canterbury News, July 8, 2021

Grow

customers,

salesand

profits

with North

Canterbury's

bestread

newspaper

Readership: 47,000 weekly

Circulation: 30,150copiesdelivered

to EVERY farm, RD, lifestyle block

and home inWaimakariri, Hurunui

&Kaikoura every Thursday.

news

RobynBristow

Managing Editor

027 312 1581

robyn.bristow

@ncnews.co.nz

Reporters

David Hill, Shelley Topp.

advertising

DaynaBurton

Sales Co-ordinator

027 312 0089

dayna.burton

@ncnews.co.nz

Amanda Keys

Advertising

027 536 6224

amanda.keys

@ncnews.co.nz

Kerryn Clark

Advertising

021 586 138

kerryn.clark

@ncnews.co.nz

getintouch

Editorial

info@ncnews.co.nz

Advertising

sales@ncnews.co.nz

Graphic Design

heather.hood@ncnews.co.nz

Distribution/Deliveries

03 314 8335

Rangiora: 03 313 2840 /03314 8335

14 Ashley St, Rangiora

Christchurch: 03 364 7460

www.starnews.co.nz

Oscar'sloss leaves ahuge gap

By SHELLEY TOPP

OxfordBirdRescue owners Traceyand

Scott Bowman havebeenoverwhelmedby

an outpouring of condolences aftertheir

littleowl Oscar died.

``We have been humbled and

overwhelmed by theamount of kind

words, support and messages of

condolences we have received,'' Scott

says.

``To knowhow much Oscar's advocacy

andeducationvisits meant to so many

peopleistruly heartwarmingand

reinforces howimportant thatoutreach is

as partofour bird rescuejourney.

''However,Scott andTracey now face

thedifficult task of finding areplacement

bird to continue the educational work

that Oscar pioneered.

Theraptor, which wasblindinboth

eyes, died on June18after surgery to

repaireye problems.

``He madeitthrough thesurgery

procedure, butcrashedduringrecovery,''

Scott says.

As the rehabilitation centre's avian

advocateOscargenerated enormous

interest in the world of birds viaTracey's

popular raptoreducation programme

with visits to schools, retirementhomes,

clubsand community groups duringthe

last fourand ahalfyears.

``He openeddoors to theworldofbirds

formany people, young andold,'' Scott

says.

``That is his legacy.''

Oscar arrived at Oxford Bird Rescuein

2016 after being found abandonedina

chickencoop as ayoung, blind owlet

whichhad yettofledge.

Thevet whoexamined Oscar at that

time saidhehad been bornblind in one

eyeand the other eye hadbeen blindedby

We're your local hearing experts.

The team has grown to include an

independent ear nurse and anew audiologist.

Aone-stop shop for all your hearing health

and healthy hearing requirements.

Call 03 423 3158 •Amberley /Rangiora /Cheviot /Hanmer •verasetzaudiology.co.nz

Sad loss ... Scott and Tracey Bowman, owners of the Oxford Bird Rescue with Oscar the

rehabilitation facility's much loved little owl who died late last month.

PHOTO:SHELLEY TOPP.

wireinthe coop.

However, from dayone Scott and

Tracey recognised Oscar as aspecialsoul.

``Inthe 10 years we have had the Bird

Rescuecentre we wouldhave cared for

thousandsofbirds but we have never

found anotherone like Oscar,''Scott says.

``People werejustdrawntohim. He

was so calm, so gentleand very trusting.

He didn't behavelikeanormal wildowl

in anyway. Oscar was areal character. He

loved peopleand they loved him.''

Oscar's death has left ahuge gap at the

centrebecauseunlikeany of the other

raptors in their care, he wasaresidentin

theirhome.

``Basically allthe otherwild birds in

ourcare arehandled as littleaspossible

butitwas the opposite with Oscar,being

an advocacy bird, he lived in our lounge,

andwas definitely abig partofour

family.''

Slow down in icy conditions

Some driversare notgetting themessage

to reducespeed when temperaturesare

lowand iceislikely to bepresent on the

roads.

Policeand Fire andEmergency New

Zealand have attended several crashes

over theweekend wheredrivershavenot

been driving to the conditions resulting in

crashes.

Sergeant Colin Stewart says drivers

need to reduce their speedwhen

temperaturesare low.

''Regardlessofwhetheryou think there

is iceornot,the bestway to reduce the

risk of acrashistoslow down.''

While somedriversarepaying

attentiontothe weather forecasts and

takingextracare, othersare not andit

puts everyoneatrisk, he says.

WaimakaririDistrictCouncil road

safetyco­ordinatorKathy Graham says

thereisamisconception thatgritting

roadsmakes it safetodrive at your

normalspeed.

Grit only improves friction by about15

percent so youonly havearound 40% of

dry road skidresistance.

While contractors check roads early in

the morning, theywillalsorespond at

other times where required.

Icecanformvery quicklyatany timeof

the day, so whentemperatures arelow

assumethe road will be slippery and

reduce your speed,MsGraham says.

Black icecannotbeseensoyou will not

knowuntil youhit it.

''We allhaveaparttoplayinkeeping

ourselves andotherssafeonthe roads.

Those withyoungornew drivers in their

family, pleasetalktothemabout driving

to theconditions ­they aremore at risk

when newtodrivingorinexperienced.''

Reducingspeed when driving in icy

conditionsdoes notmean youwill not

slide offthe road, butataslowerspeed

the impact will be less.

It is recommended to driveslower than

normal in wetoricy conditions as it only

takes asplitsecond to losecontrol.

Avoid suddenbraking or turning

movementsthatcouldcause youtoskid.

Acceleratesmoothly andbrakegently.

Use your highest gear whentravelling

uphilland your lowest downhill.

For vehicleswithout anti­skid braking

systems, to avoid skidding or sliding pump

thebrake pedal in shortrapidbursts

rather thanpressinglongand hard.

Drive at asafetravellingdistance

because ittakes longer to stop on slippery

roads.Inwinter, especially in poor

weather, double thetwo­second rule and

leaveasafedistance between youand the

caryou're following.

When travellinginfog, rain orsnow,

drivewithyour lights dipped for

increasedsafety. Ensure your

windscreen, windowsand mirrorsare

clearofice andmoisturebefore driving.

HILUX, HIACEAND

EVERYTHINGIN

BETWEEN

68 FalsgraveStreet,Woolston

W: nzvanspares.co.nz

E: nzvanspares@hotmail.com

Ph: 03 3793932/0508 698267

100% Canterbury Owned

NZ's favourite home for

Recycled Hilux &Hiace Parts
---
Water reform concerns remain

By ROBYN BRISTOW

The Government's latest release on its

3Waters Reforms have failed to water

down concerns.

North Canterbury Mayors continue

to worry aboutbeing forced into the

reforms, the costs, how they havebeen

calculated and the hastetopush the

reforms through.

All three North Canterbury councils

will be part of aSouthIsland

organisation, apart from Nelson­

Marlborough.

WaimakaririMayor Dan Gordon

questions how the Government

workedout the huge efficiencies

available ''given the proposalsays it's

going to increase staffing by thousands

of people''.

''Our own financialsand modelling

doesn't supporttheir underlying

argument and we are still waitingto

see the detailed financial modelling

and assumptions (beyond a

dashboard) that they've used,'' he says.

Mr Gordon says until they receive

this, he and councillors can not have

an honestconversationwith

communitiesonthe proposals to make

an informed decision.

''I remainextremely concerned

about the pace and urgency of this

reformand hope thisremains achoice

for our community to make.

''Thisisapoint Istrongly made to

the Minister of Local Government

when we met two weeks agoand have

reiteratedsince.''

Hurunui Mayor MarieBlack saysthe

Hurunui District Council chose to

engagewith the Governmentonthe

reforms to be betterinformed about

what the futurecostsof3Waters

Reforms mightbeinits district, in

order for thepeople of the districtto

be well informed aboutfuture

decision making.

''Our decision to engage withthe

Governmentonthis issue,was based

on assurancesgiven by the

Government that the people of this

district would have the opportunityto

make the decision about opting intoa

new model or staying with the status

quo.

''Forced nationalisation of the 3

Waters assets, which belong to the

Marie Black

ratepayers of this district does not

form partofour agreement with the

Government to engage,and if this was

to be the path takenbythe

Government it would be strongly

resisted by this council on behalf of

our ratepayers,'' saysMrs Black.

Mr Gordonand Mrs Black are also

critical of the 3Waters advertising

campaign by the Government. Mr

Gordonsays it trivialises avery

importantmatterand doesn't fairly

represent the realities of water

services and quality in New Zealand.

''We found out recently the cost of

this campaignis$3.5 million which is

an outrageous waste of taxpayer

money,'' says Mr Gordon.

Mrs Black says the Government

believes it has built acompelling case

nationallyfor 3WatersReform.''It has

launched anationwide campaignto

sway the public sentimenttosupport

this reform.''

At the sametime it released the

analysis conducted by the Water

InfrastructureCommission of

Scotland (WICS)ofthe data supplied

by localgovernmentregarding 3

Watersassets. Adetailed look at the

numbers suggests that for the Hurunui

districtthe caseisnot as compelling

as it appears.

''Theanalysis is largely based on

extrapolation of Scottish conditions to

New Zealand,and theapproximations

Dan Gordon

fromlargelyurban areas in Scotland

do not necessarily hold true in the

rural Hurunui district.The analysis

alsoincludes someinteresting

underlying assumptions that do not

appear to be supported by our own

information.

''Weare now working our own

Hurunui specific data into the WICS

modelling and this is starting to

presentaless compelling picture than

has been presented by the initial

modelling,''says Mrs Black.

WaimakaririMPMatt Dooceysays

while there is need for reform, there is

areal riskthat the voiceofdistricts

likeWaimakariri will be lost in the

proposedmodel of four regional

entities,''MrDoocey says.

''How will the water assets of

communities like Waimakaririand

Bluff, some 600km apart, be

practically networked and merged

intoone entity? The result will be

large service organisations thatwon't

worktogether or create any savings.

The lastthing Cantabriansneed is

morebloated bureaucracies.

Waimakaririrate payers face losing

local control of their assets that

they'vepaidfor overgenerations,

while being asked to footthe bill for

poorer­performing councils but

getting no guarantee waterstandards

will materially improve,'' Mr Doocey

says.

Innovation Waste Kaikoura wins contract

Innovation Waste Kaikoura (IWK) has

been confirmedasKaikoura's waste

contractor for the next five years.

The Kaikoura District Council approved

the awardingofanew contract for solid

wasteservices (refuse, recycling, and

otherwaste management activities) at its

meeting on June 30.

The decision means IWK willoversee

the closure of the Kaikoura landfill and

the transition to disposal of refuse outside

of the district,which has been brought

forward from 2024 to 2022.

It is intended that construction of the

transfer station required for this out­ofdistrict

disposal will be funded through a

component of user pays chargesfor refuse

disposal.

The council and IWK will be working

together over the nextfew monthsto

implement the changes to services

required by the new contract, including

providing the community with further

information on these changes.

The new contracttakeseffect on

October1and is for aterm of fouryears

and nine months.

NEWS

North Canterbury News, July 8, 2021

2095268

3

Kaiapoi Lodge

Residential Care

Nursing Home, Hospital and

Respite

Person Centred Care,

Care that's built

around you

6CassStreet,Kaiapoi

Ph 03 327 7235

NOW

HALF PRICE

Womans shoe $129 Now $64.50

N $74 50

Womans boot $149 Now$74.50

Limited time

Offer applies to full price Skinside Out range only

While stocks last

Kaiapoi Mill, Ranfurly Street, Kaiapoi

Monday –Friday 9am –5pm

Saturday 10am –1pm

Closed on Public Holidays

Ph 03 327 0576

2393292

Thinking of selling

your ruralproperty?

Iwelcome your call.

PeterCrean

Ruraland Lifestyle Sales

NZ No 1RuralSalesperson

NZ No 1Unit Sales

PGG WRIGHTSON REALESTATEAWARDS2020

M 027 4344002

pcrean@pggwrightson.co.nz

www.pggwre.co.nz

PGG WrightsonReal EstateLimited, licensed under the REAA2008

Helping grow the country
---
NEWS

4 North Canterbury News, July 8, 2021

Jobs flush in water industry

By DAVID HILL

Ever thought about where your waste

water goes when you flush the toilet?

Amid the 3Waters Reforms is a

growing industry tasked with building

and maintaining agrowing

infrastructure and the Waimakariri

District Council's water unit is keen to

attract young people before knowledge

and experience is lost.

''The industry is an ageing industry, so

we're always looking to recruit,'' water

unit manager Joshua McIndoe says.

''You can get asense of pride with

providing an essential service to the

community. We provide the most basic

service requirements for life ­providing

water and removing waste water.

''No two days are ever the same. One

day you could be fixing aleak in the back

blocks of Oxford and the next day you

could be installing anew toby in

Kaiapoi.''

The water unit is recruiting now to

add to its water reticulation team and

while it is looking for experienced

personnel, the unit has approval to take

on up to four apprentices later in the

year.

''We have two positions open at the

moment and while ideally we need

people qualified and trained, we are

always willing to train people up,'' Mr

McIndoe says.

''For our apprentices, our basic

criteria is someone new to the industry

who is keen to learn and to have ajob

that's got some security.''

The water unit provides an essential

service, responding to weather events

such as the recent flood event,

responding to service requests and

completing contracts such as building

infrastructure in new sub­divisions.

Mr McIndoe entered the industry 11

years ago as an apprentice with the

Growing industry ... Waimakariri District Council water unit manager Joshua McIndoe is

keen to recruit young people to support agrowing industry.

PHOTO: DAVID HILL

Palmerston North City Council.

''It's not something you naturally

aspire to when you're at school, but it's

agreat opportunity and there are plenty

of career pathways. There will be no

shortage of work.

''For many people you turn on the tap,

flush the toilet, use the washing

machine or have ashower and you don't

think anything more of it until

something goes wrong. But it's got to go

somewhere.''

The benefit of being an apprentice in

the water industry is you learn on the

job, while getting paid and you can work

towards qualifications without

incurring astudent loan.

Apprentices with the council's water

unit begin working towards alevel 4

New Zealand Certificate in

Reticulation, which takes about 18

months to two years to complete.

When that is completed, there is the

option of working towards the level 4

New Zealand Certificate in Treatment,

which allows you to work with both

water and waste water.

''Once you get over the fact you're

working with poos you realise there's a

lot of science behind it,'' Mr McIndoe

says.

Different equipment and clothing is

used for reticulation and treatment

work to ensure there is no crosscontamination,

he says.

At present the water unit includes

around 25 staff, including reticulation

and water treatment teams and

administration staff, and it will soon be

increasing to around 30.

Plan of

action

An emergency responseplan is

underthe spotlightinLeithfield.

Work hasstartedonthe plan

following the revision and

discussion around tsunami

evacuation zones.

The discussionstriggered the

need for an overall community

responseplan in the area, created

alongside aworkinggroup of

communityrepresentatives.

Last week HurunuiDistrict

Council's Emergency Management

Officer Allan Griggmet witha

groupofLeithfield Village

residents to helpdevelop their

CommunityResponse Plan; aplan

of action if anatural disaster

occurs.

''Communities fare much better

before, during,and after

emergency events if theyare

connected and have aplan,''says

Mr Grigg.

The working groupintendsto

have adraftplan outtoLeithfield

Village residents by the end of

August for consultation,before it is

formally adopted by the

community.

''These plansare much more

effective whendeveloped with a

community, ratherthan donefor a

community''

In recentyears, theseplans have

been established for Waiau,

Cheviot, Amberley Beach and

Hanmer. ''Our goalistocontinue

to develop and review these plans

with communities throughout the

district,''MrGrigg says.

Smoke-free burning

means acosynest…

Learn clean burning

techniques, fora

healthier region at

warmercheaper.co.nz

Lowpollutiondaysand nights

require everyone with firesto

burn smoke-free.

You'll get awarmerhome,

useless firewoodAND help

improve Canterbury'sair quality.

…and better

breathing for

our tamariki.

LE22551-V4
---
Clydesdales star attraction

By SHELLEY TOPP

NEWS

North Canterbury News, July 8, 2021

MASTER BUILDER

5

2021055

Two Clydesdale teams were the star

attractions on day one of two ploughing

contests held in North Canterbury last

weekend.

Saturday's event was hosted by the

Oxford Working Men's Club's ploughing

section and Sunday's event was hosted

by the North Canterbury Ploughing

Match Association.

Both events were held at Allen

Winter's farm in Swannanoa.

''The events were held with the help of

along list of sponsors for which were

very grateful,'' he said.

The two Clydesdale teams in the

limelight on Saturday included this

year's recent Horse Ploughing

Championship winners John and

Sharon Chynoweth competing with their

Clydesdales Blue and Flash.

Their opposing team at Saturday's

event included John Booth, owner of the

Dayboo Clydesdale Stud, in Ashburton,

and Bruce Johnson, also of Ashburton,

with Clydesdales, Sam and Anja.

The two ploughmen chosen during the

two days to compete at the New Zealand

Ploughing Championships, in Blenheim,

next May were Simon Reed, who will

represent the Oxford Workingmen's

Club and Ken Readman, of

Christchurch, who will represent the

North Canterbury Ploughing Match

Association.

Ken, who is also secretary/treasurer

for the North Canterbury Ploughing

Match Association said the organisers of

both events were happy that the heavy

rain earlier in the week had stayed away

for the weekend events and conditions

for ploughing were good on both days

after the heavy frosts had thawed.

Working hard ... John and Sharon

Chynoweth, of Oxford, ploughing with their

Clydesdales Blue and Flash.

Lining up ... Robert Weavers, of Geraldine, ploughing on his David Brown tractor during

the first day of the two­day ploughing match at Allen Winter's farm in Swannanoa last

Saturday afternoon.

PHOTOS: SHELLEY TOPP

LocaltoNorth Canterbury.

CALL ARTHUR 027 2451601

arthur@robertsonbuilding.co.nz

www.robertsonbuilding.co.nz

BARNS/FARM BULDINGS•RIB RAFT FLOOR SYSTEM INSTALLATION

PROJECTMANAGEMENT•ADDITIONS•NEW HOMES

HOME MAINTENANCE•EQC REPAIRS•ALTERATIONS

FREE QUOTES

AVOID THE SPRING RUSH

GET YOUR MOWER

SERVICED NOW

WE ALSO SERVICE

2STROKE EQUIPMENT

AND SHARPEN

HAND TOOLS

PICKUP SERVICE

AVAILABLE (COSTS APPLY)

360 FlaxtonRoad,Rangiora

Ph 03 313 5563

www.kingsmowersheating.co.nz

welcomes Wendy Withell

to the team

2397833

Standing out .. Merv Armstrong, of

Oxford, ploughing on his David Brown

tractor during the first day of the two­day

ploughing match at Allen Winter's farm in

Swannanoa last Saturday afternoon.

✯ New client specials

✯ Free treatment with every service

✯ Rebook for 25% OFF next service

✯ Humm Payment Option Available

✯ Book online

Conway Lane, 172 High Street,

Rangiora Ph 423 3148

WOF | Servicing | Repairs

Tyres | Punctures

State-of-the-art

Wheel Alignment

Suspension | Exhausts

Wipers | InsuranceRepairs

All Makesand Models

2249138

83 Beach Road,

Kaikoura

Ph 03 319-6009

office@kaikouraautocentre.co.nz

South Island Wide Recovery

Dean Counsell

M:027 577 8555

E:dcarecovery@gmail.com

Free event; donations appreciated

www.canterburymuseum.com

Crack the code and

you could win aprize!

6.00 to 8.00 pm

13,14&15 July
---
OPINION

6 North Canterbury News, July 8, 2021

Water and local govt

reforms under way

The 3WatersReform that central

government has in it's focuscontinues to

consume asignificant amount of time and

energy.

The Department of InternalAffairs, on

behalf of thegovernment, has releasedthe

proposed entities, with four across the

country.

Hurunui is part of aSouth Island entity

excluding Nelson/Marlborough, and is

determined by the Ngai Tahu taikawaor

region.

Our council entered this process in good

faith, with the understanding thatthe

proposal will be evaluated againstthe

status quo.Our council and executiveteam

need to absorbthe information received

and carefully consider the impactfor our

communities and district.

We needtounderstand how the

government arrived at the proposed cost to

deliver water,and whatisthe logicor

rationalbehindthem.

Our ratepayershave invested heavily

and proactively in water schemes over

several generations, and it remains our

undertakingtoensure we considerthis

district in any decisionmaking. The

current advertising campaign is

misleading and an insult to the current

status within the Hurunui District, along

with many other districtsinNew Zealand.

It is my understanding that the decision

to 'opt out' is still on the table,however

confidence in the integrityofthe

government position is not 100 percent

guaranteed. Withmany of the large metro

councils declaring theirposition to opt out

of the proposal early, it changes the

aggregation model significantly. We will

keep you informedaswereceive further

information.

Local Governmentreform is under way

with aseriesofworkshops beingheld

acrossthe country –collectively it is clear

that thestrength of the local council is the

ability to be responsivetocommunity

needs,beinnovative, connected and agile.

The opportunity exists to lead thelink

between education,health, employment

and job training at the localised level.

There is agreatfuture for local

governorsatalocal level –weneed to

continuetobeastrongvoiceinthe future.

Our localroads formasignificant part of

ourcritical infrastructure and to hearthat

Waka Kotahi (formallyNZTA) slashed our

funding by $1million was acruelblow, as

we all deserve safe and structurallysound

roads to deliverour stock to market and get

our kids safe to school.Covid­19 lockdown

in 2020 proved the advantage our district

has of having the ability to feedthe nation.

Our farmers will be joining the

nationwide The Howl of aProtest in

Amberley, Cheviotand Culverden on

Friday, July 16 at midday. Thisisan

opportunity for our districttocome

together in solidarity to support our

farmers and growers.

Joanne Gumbrell

Chair, Waimakariri Age-friendly

Advisory Group

E-scooters will be a

hazard on footpaths

It was boundtohappen.

E­scooters may be comingto

Waimakariri.

The council is lookingatwhether

to accept aproposed trial, we were

told by at our Age­friendly Advisory

Groupmeetingrecently.

This news certainly prompted a

lively discussion.

E­scooters couldjoinother

scooters, skateboards and cycles

whichalready frequent the

footpaths, including in the CBDs.

They may be allowed to travelup

to 10 or 15 km per hour (walking

speedis5kmper hour).

On the roadsthey can travel up to

30 km per hour,but not use the cycle

lanes.

WaimakaririAge­friendly

Advisory Groupalong with

WaimakaririAccess Grouphave

provided feedback on anumber of

concerns for thosewerepresent.

Iavoid going to townafter school

when scooters and cycles are on the

footpaths.

Idon't know whetherthe riders

have seenme.

Youngridershave no ideawhat it

is like for older people seeing these

vehiclesracingtowards them. I

completely understand that.

How can Iexpect them to; they are

young.Grey Powerjoin me in

opposing the proposal to trial

e­scooters in the town centres.

While I'm writing about footpaths

in the mainstreetIwonder what

readers think about displays on the

footpath: advertising stands, bins of

goods,hangingclothes, tablesand

chairs. Our footpaths are already a

hazarddue to the style of the

verandas which are heldupbypoles.

This is unavoidable as we are an

older district and the style of

architecture reflects that,giving us

an attractive character.

This leaveslittleroom for

commuters.

Footpaths in main streets in our

towns need to be safe for

pedestrians and those who need

walking framesand mobility

scooters. Other footpaths may be

quite OK for cyclesand scooters, but

not in the CBD.

Another radical changeolder

peoplefind scary is the change to

internet banking, and the

disappearanceofcheques.

SeniorNet are holding sessions to

help people with internet banking.

Phone Bob on 03 3128933.

Nga mihi nui.

Puppy assistance

DearEditor

Ireallywant to commend

the guy in the whiteute

who stopped to help an

injureddog in among alot

of traffic at Silverstream

5.30thisevening(30/6).

The puppywas obviously

badly injured, and in real

danger, and this chap

stoppedtoassist.

Idon't know what the

McALPINES MITRE 10 MEGA RANGIORA -OCEAN WATCH

This

Week

Sun

Fishing

Guide

Moon

Wind

outcomewas, andIreally

feel for the family who

may have lost alovedpet,

but he did agreat job

trying to helpitwhen

others hadsimply driven

past.

I'd like to believein

karma, and you wenthome

to adeserved winning

lotto ticket, and even

moreimportantly that the

pup wasOk.

Yours,John Crawley.

Thursday Friday Saturday Sunday Monday Tuesday Wednesday

Jul 8 Jul 9 Jul 10 Jul 11 Jul 12 Jul 13 Jul 14

Rise 7:59am

Rise 7:59am

Rise 7:59am

Set 5:08pm

Set 5:09pm

Set 5:09pm

Fair

Best 10:51am

Best 11:42am

Best 12:08am

Fair

Fair

Times 11:16pm

Times

Times 12:34pm

Rise 6:21am

Rise 7:19am

Rise 8:12am

Set 3:17pm

Set 4:04pm

Set 4:58pm

Moderate SW turning

S Moderate S Moderate S

Landmarks by Grahame Sydney, Brian Turner and Owen

Marshall

The work of three of our literary and artistic heavyweightswas

firstbroughttogether in the hugelysuccessful Timeless Land in

1995.Twenty­five years later, this lavish newvolume from these

threelong­time friends showcases arich selectionoftheir

subsequent work.

ThinklikeaMonk by Jay Shetty

Jay Shetty, social mediasuperstar and hostofthe #1 podcast On

Purpose,distills the timeless wisdom he learnedasamonk into

practical steps anyone cantake every day to live aless anxious,

more meaningful life.

Like father, like sonbyMichael Parkinson

Alook at the life and times of the man SirMichael most looked

up to.

These titles are available in both Waimakariri and Hurunui libraries.Findout more

about library collection by going to the library catalogue at waimakariri.kotui.org.nzorhurunui.kotui.org.nz.

Fair

Rise 7:58am

Set 5:10pm

Best

Times

1:00am

1:27pm

Rise 8:58am

Set 5:59pm

Gentle Sturning

SE

Good

Rise 7:58am

Set 5:11pm

Best

Times

1:52am

2:18pm

Rise 9:37am

Set 7:05pm

Moderate Sturning

SE

Good

Rise 7:57am

Set 5:12pm

Best

Times

2:43am

3:08pm

Rise 10:10am

Set 8:14pm

Moderate Wturning

S

Good

Rise 7:56am

Set 5:12pm

Best

Times

3:32am

3:56pm

Rise 10:38am

Set 9:23pm

Moderate SW turning

S

Swell

Pegasus Bay

Tide Chart

3

2

E0.9 m SE 0.8 m SE 1.3 m SE 1.4 m SE 1.3 m SE 1.0 m E0.9 m

3 6 9 NOON 3 6 9 3 6 9 NOON 3 6 9 3 6 9 NOON 3 6 9 3 6 9 NOON 3 6 9 3 6 9 NOON 3 6 9 3 6 9 NOON 3 6 9 3 6 9 NOON 3 6 9

1

0

Highs Lows Highs Lows Highs Lows Highs Lows Highs Lows Highs Lows Highs Lows

Waimakariri 3:19am 2.1 9:28am 0.7 4:02am 2.1 10:12am 0.7 4:45am 2.1 10:56am 0.7 5:28am 2.1 11:38am 0.7 6:12am 2.1 12:09am 0.6 6:58am 2.1 12:51am 0.6 7:45am 2.2 1:35am 0.6

Mouth

3:46pm 2.2 10:03pm 0.7 4:28pm 2.2 10:46pm 0.7 5:08pm 2.3 11:28pm 0.7 5:50pm 2.3

6:32pm 2.3 12:21pm 0.6 7:17pm 2.3 1:05pm 0.6 8:03pm 2.3 1:49pm 0.6

Amberley 3:19am 2.1 9:28am 0.7 4:02am 2.1 10:12am 0.7 4:45am 2.1 10:56am 0.7 5:28am 2.1 11:38am 0.7 6:12am 2.1 12:09am 0.6 6:58am 2.1 12:51am 0.6 7:45am 2.2 1:35am 0.6

Beach

3:46pm 2.2 10:03pm 0.7 4:28pm 2.2 10:46pm 0.7 5:08pm 2.3 11:28pm 0.7 5:50pm 2.3

6:32pm 2.3 12:21pm 0.6 7:17pm 2.3 1:05pm 0.6 8:03pm 2.3 1:49pm 0.6

3:28am 2.1 9:37am 0.7 4:11am 2.1 10:21am 0.7 4:54am 2.1 11:05am 0.7 5:37am 2.1 11:47am 0.7 6:21am 2.1 12:18am 0.6 7:07am 2.1 1:00am 0.6 7:54am 2.2 1:44am 0.6

Motunau 3:55pm 2.2 10:12pm 0.7 4:37pm 2.2 10:55pm 0.7 5:17pm 2.3 11:37pm 0.7 5:59pm 2.3

6:41pm 2.3 12:30pm 0.6 7:26pm 2.3 1:14pm 0.6 8:12pm 2.3 1:58pm 0.6

3:30am 2.1 9:39am 0.7 4:13am 2.1 10:23am 0.7 4:56am 2.1 11:07am 0.7 5:39am 2.1 11:49am 0.7 6:23am 2.1 12:20am 0.6 7:09am 2.1 1:02am 0.6 7:56am 2.2 1:46am 0.6

Gore Bay 3:57pm 2.2 10:14pm 0.7 4:39pm 2.2 10:57pm 0.7 5:19pm 2.3 11:39pm 0.7 6:01pm 2.3

6:43pm 2.3 12:32pm 0.6 7:28pm 2.3 1:16pm 0.6 8:14pm 2.3 2:00pm 0.6

3:27am 1.6 9:31am 0.5 4:10am 1.6 10:14am 0.5 4:54am 1.6 10:57am 0.5 5:37am 1.6 11:40am 0.5 6:21am 1.6 12:15am 0.5 7:06am 1.6 12:59am 0.5 7:52am 1.6 1:44am 0.5

Kaikoura 3:51pm 1.7 10:08pm 0.6 4:33pm 1.7 10:51pm 0.5 5:15pm 1.8 11:33pm 0.5 5:56pm 1.8

6:39pm 1.8 12:23pm 0.5 7:23pm 1.8 1:08pm 0.5 8:09pm 1.8 1:54pm 0.5

*Not for navigational purposes. Wind and swell are based on apoint off Gore Bay. Maori Fishing Guide by Bill Hohepa. www.ofu.co.nz www.tidespy.com Graphic supplied by OceanFun Publishing Ltd.

2118223
---
STADIUM

JOIN NOWTOSAVE!

ONLY

$18 .50

perweek

OPENING 9th AUGUST

PRAMA, REVL GT & MUCH MORE...

Over 80 classes each week - including Silver Fitness. Latest Life Fitness & Blue Fitness equipment.

Juice Bar for Barista coffee, smoothies and food. Active Zen Yoga. Children's Sports Programmes

2

WEEK FREE TRIAL

WWW.MAIN

NPOWERSTADIUM.NZ

foundation memberships just $18.50

price increases to $21.50 on 9th Aug

GY

M

FOR 1-8YEAR OLDS

Build theirconfidence, coordination,balance, body

awarenessand control, and setthemupfor an active life.

In these classeschildren exploremovement and

developkey motor&social skillsrelevant to their age.

Gymnastics Classes @RangioraFitness Centre

Baby Steps forunder 2year olds

Tue10:45am

Classes are

lling FAST!

Classes are

lling FAST!

First Steps for5-8year olds

Mon3:45pm •Wed3:45pm

NA TIC

MN

Ts &Csapply. Classesare 45 minuteslong. BabySteps &Toddler Steps classes include aFREEdrink forcaregiver.

Caregiver is required to participate with child in BabySteps &Toddler Stepsclasses.

To find out moreortobookyour placeinany of these classesvisit...

www.sportstrust.org.nz

T

$

85

ALL

CLASSES

JUST per term

Baby StepsPLUSfor 2-3year olds

Tuesday11:45am

Toddler Steps for3to5year olds

Tue1:00pm • Tue 2:00pm

S

AS S

First Steps PLUS for5-8year olds

Mon4:30pm •Wed 4:30pm

Classes areheldatRangiora Fitness Centre, 345 FlaxtonRoad,Rangiora.

Forany questions email: gymnastics@sportstrust.org.nz

It's a SCHOOLHOLIDAY

19th -23rd July2021

Time: 9am - 3pm

Age: 7-13yearolds

$40 Monday,Wednesday&Friday / $45 Tuesday&Thursday

($5 discount perchild per dayifbooking 3-4 children from the same family.)

Mon-Archery Tag, UltimateFrisbee,Handball

Tue - Basketball, Trampoline/Gymnastics,Dodgeball

Wed-Archery Tag, Basketball,Cricket

Thur - Football, Trampoline/Gymnastics, Rounders,Fat MatSplat

Fri -Stone-Age Rugby, Hunger Games, FrisbeeGolf,Fat MatSplat,Mafia

RunbytheNorth

Cante terbury Primary School Sport Coaches

www.sportstrust.org.nz/holiday-programme

Ph: 03 975 5560

O

SPORT

Book On-line NOW!*

Registrations close 5pmonday beforeeach session.

* Payment required to confirm booking. Inthe event your

child is withdrawnafull refund will only be given if the

organisers are notified beforeFriday 16th July.

-ACULAR

Join the North Canterbury Sport&Recreation Trust's

School HolidayProgramme

at the RangioraBorough School Gymnasium.

SO

MUCH

SPORTY

FUN!

SO

MUCH

SPORTY

FUN!

mainpowercoaches@sportstrust.org.nz
---
NEWS

8 North Canterbury News, July 8, 2021

Mirror reflection life-changing

By SHELLEY TOPP

Areflection in the mirror during last

year's lockdown has proved alifechanging

moment for Loburn's Alex

Witt.

Alex, who was then aged 19, was

unhappy with what he saw in the mirror

and decided that day to do something

about it. He began running to lose

weight and now, fifteen months later, he

is fit, trim and 30kg lighter.

''Looking back at what Ilooked like

before Istarted and comparing it to now,

it is quite cool to see and Iamreally

stoked with what Ihave achieved,'' he

said.

The weight loss has improved his

physical and mental health, and given

him the motivation and confidence to

compete in ironman events and halfmarathons.

He is also giving motivational talks in

schools, has appeared on television, is

planning to study sports and physical

education at Otago University next year

and has attracted sponsorship from The

Sport Shop in Rangiora for his running,

which was ahuge surprise.

''I never saw myself getting any type of

sponsor, let alone for running,'' Alex

said.

'They have continued to help me out

heaps and Iamstoked to be able to

represent an awesome local shop and a

great team of people.''

The Sport Shop owner, Nigel

Lavender, said he decided to help Alex

because he has achieved alot in ashort

time.

''We just want to help him achieve a

bit more,''. With that in mind Alex has

recently been provided with apair of the

latest, high tech, New Balance carbonplated

running shoes. ``They are the

Formula One of running shoes,'' Nigel

said.

New life ... Alex Witt, of Loburn, changed his life after losing 30kg during the Covid­19

pandemic lockdown last year.

PHOTO:SHELLEY TOPP

Alex found losing 30kg relatively easy

and attributes this to his mindset of

really wanting to make achange.

''All it took was achange in my diet

and some regular exercise to start with.

That progressed into racing and

competing.''

He became interested in competitive

running to give himself additional

motivation for his weight­loss training

and has found he really enjoys running

half marathons because of the

satisfaction he feels after completing

each event and receiving the medal is a

bonus. He has done the Cromwell,

Queenstown, Canterbury, Christchurch

Motorway, and Christchurch halfmarathons

and has Tekapo, Wellington,

and Queenstown half marathons coming

up in the next few months. Then it will

be back into triathlons during the

summer.

Show closer

AMidsummer Night's DreamRewritten has

edged closer to opening, with the large cast

and crew packingintothe Rangiora Town

Hall last weekend.

The HartleySchool of PerformingArts'

(HSPA) latest productionisscheduled to

open in the town hall on Wednesday, July

14.

Last Sunday the cast of 130 intermediate

and senior pupilsfrom the school had their

first rehearsal for the musical on stage in

the hall.

''We have areally wide range of people

performinginthis show,'' the HSPA

founder Dale Hartley­Brown says.

''Theatre is good for givingpeople the

opportunity to be themselves and express

themselvesonstage.''

The musical version of William

Shakespeare's 16th century comedy, A

Midsummer Night's Dream,has been

rewritten and adapted by Dale, along with

aformer HSPA pupil, Robert Vincentand A

Midsummer Night's Dream Rewritten show's

director, Paul Johnson.

''Shakespeare can be atough sell in

theatre at times because people thinkthey

won't understand the script, written in

unfamiliarlanguage from so many years

ago,'' Dale says. However, the rewritehas

transformed the famous writer's original

work into abright,modernfamily­friendly

musical with 130 costume changes and 22

musical numbers.

''It is colourful, exciting, funny,written in

amodern language, and includes songs

''with amessagethat you can have fun

with,'' Dale says.

AMidsummer Night's Dream Rewritten

will be performed from WednesdayJuly 14

untilSaturday, July 17 daily at 2pm, plus

Thursday July 15 and Friday July 16 at

7.30pm. The show is part of the two­week

KidsFest seriesofeventsinCanterbury

during the schoolholidays. Ticketscan be

purchasedatRangiora Town Hall Cinema,

under Live Shows, or in the theatre at the

ticket counter.

washpen falls

It's right here in Selwyn!

Only an hour's drive from Christchurch,the Washpen Falls track

takes you through an ancient volcanic canyon covered

in native bush that'sfilled with birdsong.

Agreat twohour walk for moderate fitness levels, with stairs and

boardwalks. Privately owned, the trackiswell-maintained yearround.$10

per adult and $5 per child (under 15).

Packsome warm clothes, grab abite to eat at acafé along the

wayand head to the spectacularviews of Washpen Falls.

Share your Kura Tāwhiti photos

and tag us selwyn.nz

Visit selwyn.nz
---
Come along and see HSPA's modern language,

musical adaption ofShakespeare's tale of magic

and mayhem in the forest. Complete with Fairies,

magic, song, dance, lots ofdrama and even

someskateboardtricks!!

The Story begins with four people eloping into

the forest toescape anarranged marriage, only

to experience the strangest nightoftheir lives!

It's all because Oberon, the Fairy King, &Titania,

the Fairy Queen, are currently at odds and

CaseyMontgomery

Helena

After being thrown into

the role of Mrs Beaver

last year, Iwas excited

to experience more of

the stage than just singing.

I'm looking forward

to the challenge of

seeing how cute (& a

little crazy) Ican make

my character

FelixHorwarth

Demetrius

The best thing about

being involved in this,

is everyone working

together to create such

agreat show!

MeaStevens

Titania'sFairy

This is my second HSPA

production and I love

performing onstage. I

made so many new

friends last year, the

social side isanadded

bonus for me. I can't

wait to put my costumes

on and bepart

of another exciting

show

Abigail Chessum

Quince

Participating at HSPA

has given me many

great opportunities to

sing &act, while developingconfidence

&skills

along theway.

Ilook forward to once

again making great

memories with my HSPA

friendsinthisshow.

Oberon has been sending his sidekick, Puck the

naughty fairy, to play tricks on Titania. This royal

fairy unrest causes much hilarity when the fairies

decide toalso play some tricks on the human beings

in the forest This includes aband of hapless

performers who are there torehearse aplay for

their nobleleader'sup-coming wedding.

Misunderstandings, mistaken identities and mischief

all have their part toplay, so come into the

forest at Midsummer and find out if the Fairy

King&Queen mend their ways.

Musical Theatre entertainment for the whole

family.

July 14 –17 (First week of SchoolHols)

Ticketsonly$15.Available at Town Hall Cinemas

both over thecounter andonlineunder

'Live Shows'.

Groupdiscounts areavailable.

Don'tmiss outonthisentertainingfamily show!!

Thankyou to Kidsfest &our sponsors below.

MaddyDouglas

Cobwebthe Fairy

Beingapart of HSPA

hasalwaysbrought me

comfort&happiness, &

the showsamplify

thosefeelings,which is

why I'msoexcited for

this show. Ialsocan't

wait foreveryoneto

see it,asthe hard work

is definitely goingto

payoff.

Azaria Westeneng

Dust theFairy

I'm really looking forward

to this year's

show. Iloved getting to

develop my Character

'Dust' during rehearsals.

I'm excited about

performing my dance

as there are lots of lifts.

Anabel &Rueben

Bester

Fairy&Athenian

Rueben- This year Iam

in Drama&Gleeclasses

so I'mlooking forward

to lotsoftime on stage.

Anabel-Wehavebeen

at HSPA for6yrs. &

have enjoyedeach

show,hanging outwith

friendsand making new

ones.

Olivia Wyatt

Titania's Fairy

Ihave loved rehearsing

for this show and

watching the seniors

rehearse their roles.

Ican't wait to get back

onto the stage in front

of an audience!

Daniel Lees

Oberon

Ilike expressing myself

on stage, this production

is an opportunity

for people toshow off

their talents. I've been

practicingevery night. I

can't wait to be on

stage again, it's gonna

be exciting. Hope you

guys can handle this

adventureoffantasy!

Currentlytakingenrolments

forTermThree2021!

Hannah Thompson

Hermia

This is my last show

with HSPA &Ihave enjoyed

every second of

it! Ihave loved going to

rehearsals every week

&working with the talented

cast & crew. I

have made so many

great memories &Iam

so excited to perform

with everyone !
---
WELCOME TO...

ZOOO WORLD

&

GIRAFFES

TIGERS

GORILLAS

LIONS

See the Good Sports.

$111.34

PER WEEK

$72.16

PER WEEK

$247.00

PER WEEK

$124.57

PER WEEK

Clean Car

Discount

2017 Nissan LEAF 30X Aero Style

Thanks Edition Electric, Aero Body Kit, ESC,

21,237kms, Alloys, Auto Lights, CD Player, Cruise,

Dual Airbags, Heated Steering Wheel, ISOFIX, Multi

Functional Steering Wheel,

Reverse Camera, Smart Key,

Traction Control.

$21,990

2016 Toyota Corolla Fielder 1.5X

1500cc with 65,122kms, Auto, 8Airbags, Air Con,

CD Player, Chain Driven, Electric Mirrors, Electric

Windows, Lane Departure Warning, Idling Stop,

ISOFIX, Power Steering,

Remote Central Locking,

ESC, Traction Control. $13,990

2018 Nissan Pathfinder Ti 4WD

3498cc with 41,382kms, Auto, 6Airbags, Alloy

Wheels, Auto Lights, AUX/Bluetooth/CD, ISOFIX,

Dual Zone Climate Control, Heated Leather Seats,

ESC, Factory Privacy Glass,

Rev. Camera, Smart Key,

Touch Screen Media.

$49,990

2018 Suzuki Swift Sport Turbo

1373cc with 22,586kms, Manual, 5Star ANCAP,

6Airbags, Adaptive Cruise, Aero Body Kit, Alloys,

Android Auto, Apple CarPlay, Bluetooth, Emergency

Brake Assist, NZ Sat Nav,

Lane Departure Warning,

Rev. Camera, Smart Key.

$24,990

$101.55

PER WEEK

$144.16

PER WEEK

$60.90

PER WEEK

$188.23

PER WEEK

2014 Subaru XV 2.0i-L Eyesight

2000cc with 72,907kms, Auto, Alloys, CD Player,

Dual Zone Climate Control, Electric Seats, Factory

Privacy Glass, Fog Lights, ISOFIX, Radar Cruise,

Multi Functional Steering

Wheel, Remote Central

Locking, Smart Key. $19,990

2015 Hyundai Tucson Elite 2.0

1999cc with 90,041kms, Auto Tiptronic, 5Star

ANCAP, 6Airbags, ABS, Alloys, Auto Air Con, AUX/

USB/Bluetooth, Blind Spot Monitoring, Cruise,

Heated Leather Seats, ESC,

Immobiliser, ISOFIX,

Smart Key, Towbar.

2009 Toyota Wish 1.8S

1790cc with 63,562kms, Auto Tiptronic, Aero Body

Kit, Alloys, Auto, Air Con, CD Player, Chain Driven

Dual Airbags, Electric Mirrors, Electric Windows,

ESC, Factory Privacy Glass,

2014 Toyota Highlander GXL

4WD 3456cc with 77.020kms, Auto Tiptronic,

5Star ANCAP, 9Airbags, Alloys, Auto Lights, AUX/

Bluetooth/CD, Climate Air Con, Cruise, Electric

Driver's Seat, Fog Lights,

ISOFIX, Paddle Shift,

$28,990 $37,990

Remote Central Locking $11,990

Heated Seats, Hill Descent

Control, ISOFIX, Smart Key.

$116.24

PER WEEK

$72.16

PER WEEK

$212.72

PER WEEK

$129.47

PER WEEK

2015 MazdaAxela Hybrid S

2000cc with 29,077kms, Auto, Alloys, Auto Lights,

CD Player, Chain Driven, Cruise, Dual Zone Climate

Control, ESC, Electric Mirrors, High Grade 4.5,

ISOFIX, Smart Key with

Push Button Start, Traction

Control, Trip Computer.

2014 Honda FitHybridFPackage

1500cc with 38,548kms, Auto, CD, Centre Shoulder

Belt in Rear, Chain Driven, Dual Airbags, Electric

Windows, ESC, Factory Privacy Glass, ISOFIX,

Monsoon Shields, Parking

Sensors, Remote Central

$22,990 $13,990

Locking, Smart Key.

2019 Holden Acadia LTZ4WD

3649cc with 62,735kms, Auto Tiptronic, 7Airbags,

Android Auto, Apple CarPlay, AUX/Bluetooth/USB,

Blind Spot Monitoring, Climate Air Con,Cruise, ESC,

Heated &Cooling Seats,

Lane Keep, Smart Key.

$42,990

Balance of New Car Warranty!

2018 Holden Commodore LT

Blackout 2.0T 1998cc with 56,550kms, Auto

Tiptronic, 5Star ANCAP, 6Airbags, Alloys, Android

Auto, Apple CarPlay, AUX/Bluetooth/USB, Cruise,

Auto Lights, ESC, ISOFIX,

Lane Keep, Rev. Camera,

Smart Key, Turbo.

$25,990

$106.45

PER WEEK

$81.96

PER WEEK

$100.08

PER WEEK

$72.16

PER WEEK

2012 Ford Kuga Titanium 4WD

2500cc with 36,042kms, Auto Tiptronic, 6Airbags,

Alloys, CD, Cruise, Dual Zone Climate Control,

Electric Driver's Seat, ESC, Factory Privacy Glass,

Heated Seats, ISOFIX,

High Grade 4.5, Leather,

Smart Key,Turbo.

$20,990

2012 Mazda Axela Sport 20S

SkyActiv 2000cc with 47,490kms, Auto

Tiptronic, 6Airbags, Aero Body Kit, Alloys, Auto

Lights, CD Player, Chain Driven, Cruise, I-Stop,

Dual Zone Climate Control,

ESC, Fog Lights, ISOFIX,

Paddle Shift, Smart Key.

$15,990

2014 Honda Vezel Hybrid

1490cc with 84,422kms, Auto, Alloys, CD Player,

Centre Shoulder Belt in Rear, Chain Driven, ESC,

Climate Air Con, Cruise, Factory Privacy Glass, High

Seating Position, ISOFIX,

Push Button Start, Spoiler,

Remote Central Locking. $19,990

2011 Subaru Legacy 2.5i Eyesight

2500cc with 68,201kms, 4WD, 8Airbags, Auto, Alloys,

CD Player, Dual Zone Climate Control, Electric Mirrors,

ESC, Factory Privacy Glass, Hill Start Assist, ISOFIX,

Paddle Shift, Radar Cruise

Control, Smart Key with

Push Button Start. $13,990

Stadium Cars Rangiora 03 310 7940 | stadiumcars.co.nz

609 Lineside Road, Waimakariri, Rangiora OPEN 6DAYS

*Conditions apply. Not available with any other offer. Finance offer subject to credit and lending criteria.

Finance calculation based on 60 month term. No deposit with an annual fixed interest rate of9.95%,

includes an establishment fee of$445. See our website for full disclosure.

*On road costs may apply to some vehicles
---
NEWS

North Canterbury News, July 8, 2021

Flood prompts community clean up day

By DAVID HILL

11

The prospect of rubbish buildingupatthe

AshleyRakahuri River estuaryfollowing

the recentfloodhas prompted a

community clean up.

Various community groups have joined

forces to plan ariver clear­up between

the Okuku junctionand the estuaryon

Sunday,July 25.

Concernedatthe prospect of abuild up

of rubbish on the beach and grass berms

along the river banks, Ashley Rakahuri

RivercareGroup (ARRG) secretaryJoan

Miles visited theWaimakariri District

Council community team to enquirewhat

the council wasgoing to do aboutit.

Her conversationwithcommunity

developmentfacilitatorMartin Pugh

quicklyexpanded to includethe Rangiora

RotaryClub, theCombined 4­Wheel Drive

Clubs,the RangioraTrampingClub,Eco

Educate and theWaimakariri Youth

Council.

The council's community teamand

solid waste unitwillbeinvolvedin

disposing of the collectedrubbishand

EnvironmentCanterbury (ECan)staff will

alsobeprovidingsupport.

While thefloodeventhas prompted the

groups to come together forthe clean up,

ARRGmember Grant Davey says

dumpingofrubbish has long beena

problem at theriver.

''Some of it is justlitter­people

throwing out KFCboxesand other

takeaways, beer bottles, generalrubbish,

old furniture and plastics, and youget

hunters andlifestylers throwing awaythe

remains of dead animals.

''People justuse the river as adumping

ground and ECan is lefttodo it,but it

needs morehelp.The flood has actually

washed some of it away, butit's starting to

build up again.''

Mrs Milessaysshe would likethe

community to takebetter careoftheir

Dumping ground ... Dumping of rubbish is amajor issue at the Ashley Rakahuri River.

localrivers.

''It's timelytoremind people that we've

got this beautiful braided river and the

OkukuRiverisbraided too.

''These rivers belong to the

Waimakaririand we'vegot to lookafter

them.''

The cleanupwill take place on Sunday,

July25, from 10am to 1pmand thepublic

is encouraged to getinvolved.There will

be threeclean up teams on theday.

Thefirst team, led by PaulDelisfrom

theCombined 4­WheelDriveClubs, will

tackle the north sideofthe riverbetween

State Highway 1and the estuary and will

comprisemembersofthe 4WDclubs, the

Waimakariri Youth Council andstudents.

TheRangiora RotaryClub, ledby

Paddy Quinlan, willtackle theRakahuri

Trail andpicnicground,whilethe ARRG

PHOTOS:GRANT DAVEY

and Rangiora TrampingClubwill do a

clean up on the south side betweenthe

Okuku junctionand the RangioraAirport,

led by ECan rangerSimon Woods.

''It's onlyhalf theriver, so this is just the

first stage. We willneedtodoanother one

later in theyear,''Mrs Miles says.

For moreinformation contact Martinat

martin.pugh@wmk.govt.nz or phone

021­567544.

Online shopping

nowavailable

at Rangiora

Choose delivery to your

door or Click &Collect.
---
NEWS

12 North Canterbury News, July 8, 2021

By SHELLEY TOPP

Rangiora crossfit gym celebrating

ARangiora crossfit gym is

celebrating the success of two

members in anationwide competition

held in Auckland.

Plus64 Fitness NorthCanterbury coownerJamesLowe,

of Swannanoa,

says the success is an awesome result

for the gym, whichonly opened in

November 2019,and for Fernside

builder,Arthur Robertson and

Monique Rouxel, apeak performance

mindset and hypnosisconsultant, of

Pegasus.

''Ourhead coach, Kendall Peterson

is super proud of them,'' Jamessays.

The Masters LeagueRegional Cup

competition washeld in Auckland late

last month(on June 26 and 27)where

Arthur won the intermediate men's

gradecompetition and Monique

finishedsecond in the women's40­44

gradecompetition.

Arthur says he enjoyscrossfit

training because it develops an allroundfitness

covering everything,

from running, rowing, and bikingto

weightlifting.

He alsolikes the competitive nature

of the sport andthe way everyone

supports and encourageseach other.

Monique, who hasbeen crossfit

training for nine months, alsoenjoys

the functionalfitness aspect and

competitivenessofthe sport.

She saysitwas excitingtodosowell

in her first competition and she is

looking forward to takingpart in more

competition events.

Crossfit is arelativelynew sport

whichoriginated in the United States

and involves exercisesthat mimic

everydaylife movements, which can

help improve agility, balance and

flexibility.

''It is an ever evolving sport where

Successful competitors ... Arthur Robertson and Monique Rouxel, members of the 64 Fitness North Canterbury Gym in Rangiora, after

their success at the crossfit Masters League Regional Cup competition in Auckland recently.

PHOTO:SUPPLIED

you get to pushboundaries and really

tap into your mental and physical

fitness,'' James says.

The gym at 14 Cone Street in

Rangiora offers a14­dayfree trial and

can be contacted by emailing

64fitnessnc@gmail.com or by phoning

co­owner Annalis Lewison021 320

242.

We'reheretohelp youunderstand, manageand preparefor morechanges Canterbury is likelytofaceinthe future.

Because as well as takingactiontoreduce the impacts of climatechange, we needtoready ourselvestoadapt to them.

itstimecanterbury.co.nz

Brought to youby:

It's time to talk

about climate change,

Canterbury.

It's time, Canterbury is climatefriendly-learn more on our website. P61506-PLATO-CP-C
---
RANGIORA

100%LOCALLY

OWNED&OPERATED.

RANGIORA

If youfind alower priceonanidentical stocked productlocally, we will beatitby15%

If youfind thesame productfromanother Mitre10store or Mitre10website, we'll matchthatprice.Excludes trade and special

quotes,stock liquidations and commercial quantities.The in-storeprice maybelower than thatadvertised.
---
RANGIORA

12

MONTHS

INTEREST FREE

on purchases $299 -$798

FINANCE OPTIONS

AVAILABLE

20% deposit

Paycash price only

No booking or insurancecharge

or 24 MONTHS INTEREST FREE on purchases $799&over

Terms,Conditions &Credit Criteria apply
---
100%LOCALLY

OWNED&OPERATED.

RANGIORA

If youfind alower priceonanidentical stocked productlocally, we will beatitby15%

If youfind thesame productfromanother Mitre10store or Mitre10website, we'll matchthatprice.Excludes trade and special

quotes,stock liquidations and commercial quantities.The in-storeprice maybelower than thatadvertised.
---
NEWS

16 North Canterbury News, July 8, 2021

Truffle 'price war' divides growers

The harvest of Perigord black truffles has started and a''price war''

continues as values remain athird of historical prices. Allied Press'

Shawn McAvinue investigates the factors impacting the price of the

''black gold'' and the state of the industry.

Ablack truffle''price war'' is ragingin

New Zealand.

LimestoneHillsowner Gareth

Renowden, of Waipara Valley, grows

Perigord blacktruffles in his truffiereof

about 220 trees in NorthCanterbury.

The truffle species was the first type to

be planted in New Zealand, had the most

growers devoted to it and fetched the

highest prices,hesaid.

The average market price for a

premium Perigordtruffle in New Zealand

had been about $3 agram for the past 20

years,hesaid.

In the past two years, more growers in

New Zealandhad beensupplying

Perigord truffles to the domestic market.

Demandfor truffles dropped lastyear,

after restaurants closeddue to the

financial impact of Covid­19.

Consequently, some''newcomers''tothe

sectorbegansellingPerigord truffles fora

''ridiculously low price''last year.

ANorth Island truffle co­operative

''triggered the price war'' by workingwith

Bidfresh—adivision of foodwholesaler

Bidfood —bymarketing truffles for $1 a

gram.

Bidfreshused lowprices as a''weapon'',

ratherthan creating aclient base by

building relationships,like truffle growers

had over several years.

George'sTruffles owner and New

Zealand Truffle Associationacting

presidentGeorge Wilkinson,ofTasman,

sold his Perigord truffles from $1 agram ­

''undercutting'' the market,MrRenowden

said.

Many growers were''ropeable''bythe

price being ''hammered'' down.

''There was alot of ill­feeling about how

the markethad been devastated by these

veryrash and ill­considered short­term

plans.''

Asteadyprice was important, as

growers created abusinessplan on a

forecast financial return,sowhen the

price dropped it had aseriousimpactona

truffiereoperation, he said.

As Mr Wilkinson had ''ledthe price war''

he was in no positiontoadvocate for the

sectorand to get growers co­operating to

create exportopportunities, or to make

efforts to rebuild grower returns.

''Dumping truffleinthe market is not a

verynice thing to do to your colleagues.''

The sharpfall in pricing was an ''eyeopener''

for growers.

''No­one expected the pricing in the

market to collapse quite as dramatically.''

The drop had resulted in him losing ''a

few sales'' but most of his clientsstayed

withhim because he had built ''close

relationships'' withthem overthe past 15

years.

Mr Wilkinsonsaid he grew Perigord

truffles among the 2200 treesofhis

commercialtruffiereinMotueka.

He beganselling in 2016 and was now

selling a''high volume''oftruffles ­

offeringthree grades exclusively to chefs

in New Zealand.

The lowest grade soldfor $1 agram.

He sold truffles at pricesheconsidered

to be fair, ratherthanworkingtoa''price

point'', like some other growers.

The aim was nevertopoachclients from

other growers but to offer aproduct at a

price and let the chefs decide on the best

deal.

Truffle scuffle ... Limestone Hills owner Gareth Renowden, of Waipara Valley, smells a

truffle in North Canterbury.

PHOTO: PAUL THOMPSON

''It'ssimple business. Idon't see it as a

price war.''

Bidfresh Hamilton generalmanager

Gus Tissink said he rejectedMr

Renowden's claim Bidfresh had triggered

aprice warbyreducing prices.

About 30 percentofBidfreshtruffle

supplylast season —about 15kg —was

offered at $1 agram to specific clients.

The remaining 70% of truffle was

offered to the market at the normal price

of $2.50 agram.

Bidfresh was selling all its truffle at

$2.50 agram this season and the produce

was ''moving'' at that price.

He expectedanoversupplyoftruffle to

be an ongoing issue as there were more

than 250 truffieres in New Zealand

producing up to 400kg of produce.

''The marketisnot goingtobeable to

holdthat value domestically.''

Mr Renowden doubtedtruffleprices

would recover to the $3 agram price but

expected it to settlebetween $2 and $2.50

agram if the sector beganexporting.

An association member and former

president, Mr Renownden saidexporting

was asolutiontothe issue of oversupply

on the domestic market.

Truffles had a10­day shelf­life and

would need to be airfreighted to

international markets.

He agreed international markets would

wantmuch more than individual growers

could supply, so the industry neededto

''pool their crop'' to meet the demand.

Need Heat Fast?

The Fastest, Warmest Indoor/Outdoor HeaterYou Will Ever Own!

Buy One Get One Free! *

+Plus

Free

Floor

Stand!*

worth

$199.99

• Heats UpInstantly

• Suitable for Indoors orOutdoors

–InRain, Fog, Wind or Snow

• Carbon-Fibre Bulb Technology

*Call forTerms

&Conditions

• Multi-Directional Stand

• Includes Remote Control &

Built-In Timer

• Motion Detection Function

1.8m High

• Commercial Grade

• Multi-Directional

• Easy Install

• Portable

• Indoors &Outdoors

CALL NOW! 0800 665 665
---
Howtorecognise

misinformation about

theCOVID-19vaccine

Getting vaccinated is thebest waytoprotect yourself,your whānau

andyour communityfromCOVID-19. There is some misleading

informationout there aboutthe vaccine–here's what youcan do

to make sure youhavethe rightinformation.

Get the facts

Youcan find themostaccurate andreliableinformationabout theCOVID-19vaccine andthe rollout

from anumberoftrusted sourcesincluding:

• Uniteagainst COVID-19 — Covid19.govt.nz

• MinistryofHealth—Health.govt.nz

• TePuniKōkiri–Karawhiua.nz

• Ministryfor PacificPeoples – mpp.govt.nz

Youcan also keep up to date with currentinformation andfrequentlyasked questions by following

theabove organisations'socialmedia channels, or youcan speakwithyour healthprovider.

Check the source

Notall informationyou read or hear is factualoraccurate.

Always cross-checkand review COVID-19 vaccineinformationby using thereliablesourcesabove.

Reportscams

The COVID-19 vaccineisfree. Youwill neverbeasked to payfor thevaccine or paytosecureyourplace

in thequeue.Wewillnever askfor your financial details, your bankcarddetails,PIN or banking password.

If someonerequests them from you, please reportitimmediately to CERT NZ at covid@ops.cert.govt.nz

or call 0800237 869.

Anyfalse or misleading informationsuchasleaflets,publications or websites canalso be reported

to CERT NZ.You canreport anything youbelieve to be false or misleadinginformationonsocialmedia

to therespectiveplatform eg. FacebookorTwitter.

Stay informed

Learnmoreabout identifyingand avoiding misleading informationatCovid19.govt.nz

Findout more at Covid19.govt.nz
---
STYLE & QUALITY

FOR LESS

WWW.AFFORDABLEFURNITURE.NZ

SUPER

SPECIAL

CHRISTCHURCH'SMOSTAFFORDABLE

NZ MADE LOUNGE SUITES

CUSTOMISE TO YOUR REQUIREMENTS

WAS $2229

$

2069

Valley Corner

Storm

Raisin

SUPER

SPECIAL

SUPER

SPECIAL

SUPER

SPECIAL

SUPER

SPECIAL

Black

Blue

Gray

Rust

Blue

Grey

Blue

WAS $ 349

$

319

Ashley Chair

WA S $ 4 9 9

$

469

Ellery

Chair

WAS $339

$

319

Medow

Chair

WAS $1249

$

1159

Alani

Lifter Chair

Franz

Bedroom

Collection

NZ Made

SUPER

SPECIAL

Maple

Bunk Bed

SUPER

SPECIAL

Headboard from $395

Bed from $889

Bedside Two Drawers $289 $269

Under bed Storage $219 $199

Dresser Eight Drawers $1089 $1059

Slimboy Six Drawers $649 $629

Lowboy Five Drawers $699 $659

WAS $899

$

799

WAS $799

$

699

Mega Queen Bed

Comet

Mattress

FROM

Single $229 $219

King Single $249 $229

Double $279 $259

Queen $319 $299

Melody

Mattress

FROM

Single $299 $279

King Single $349 $329

Double $399 $369

Riviera

Mattress

$

219 $ F R OM

279

$

349

$

459

Queen $439 $399

King $469 $439

FROM

Single $369 $349

King Single $419 $389

Double $499 $469

Queen $549 $509

King $599 $549

California King $709 $659

Chateau

Mattress

Single $499 $459

King Single $589 $549

Double $709 $649

Queen $759 $709

King $839 $779

California King $1009 $939

Chiro

Mattress

Cloud Rest

Mattress

Indulgence

Mattress

F R O M

$

489

Queen $519 $489

King $579 $539

FROM

$

499

King Single $539 $499

Double $679 $629

Queen $759 $709

FROM

$

519

King $839 $779

Super King $899 $839 King Single $559 $519

Queen $809 $749

King $869 $809

Super King $879 $819

FREE

CARPARKING

SOUTHCITY

BATH ST

WE ARE

HERE

255MOORHOUSE AVE

REBEL SPORT

COLOMBOST

MON-FRI 9:30AM–5:30PM

SAT-SUN 10AM–5:30PM

0800 268 264

www.affordablefurniture.nz
---
NEWS

North Canterbury News, July 8, 2021

19

Bec |Perfect FitBed Customer

This bed is amazing! Iused to wake up with alot of pain. Now Ispring

"out of bed and my day begins! …The best purchase I've ever made!"

Snuggling up ... Jenan Dark Side of the Moon (left), also known as Red and astuffed toy

guinea pig.

PHOTO: SHELLEY TOPP

Red adual winner

By SHELLEY TOPP

Amale guinea pig named Jenan Dark

Side of the Moon won two awards at the

North Canterbury Guinea Pigs' Double

Winter Show last Sunday.

The two North Island judges for the

dual­show event, which was held in

Woodend, both voted the glossy little

cavvy ''Best Satin'' at the show.

Satin guinea pigs are recognised for

the high sheen on their coats which is

unlike the normal shine seen on other

cavvies.

Jenan Dark Side of the Moon, or Red,

as he is known by his owner Joan Clack,

of Rangiora, was one of 50 guinea pigs

entered for the show.

He was bred by North Canterbury

Guinea Pigs president Jenny Barker.

SPCA Cupcake Day

The SPCA is encouraging animal loversto

''bake adifference'' for thousands of

animals again this year by supporting the

charity's13th annual Cupcake Day on

Monday,August2.

SPCA's Cupcake Day fundraiser

suffered the effectsofthe Covid­19

pandemic restrictions.Asaresult, just half

the number of usual participants took part

in the fundraiser,resulting in asignificant

funding shortfall. SPCA is the only animal

welfare charity in New Zealand that is

mandated by Government to enforce the

Animal Welfare Act, but it receivesa

fractionofthe funding required to run its

Inspectorate.This year the SPCA requires

additional funding more than ever,due to

the Covid shortfall and Government

decliningthe Inspectorate's request for

additional financial help.

Funds raised will be used across New

Zealand to aid the charity's Inspectorate in

rescuing animals and investigating welfare

complaints, and to help rehabilitation and

rehome animals. People wanting to take

part can register to bake and sell as an

individual, team or school at www.

spcacupcakeday.co.nz.

ADJUSTABLE MASSAGE BED

by

DOORS OPEN SATURDAY 9AM

Theone show NZ explorers

do notwant to miss!

New Zealand Motor Caravan Association

Up to

50 % Off

*Call for Terms

&Conditions

Off

*

ENTRY

ONLY

$12

CHRISTCHURCH ARENA

Sat 10July 9am-5pm Sun 11 July 9am-4pm

Habit Health Forté

Level 1, Forté 2

132 Peterborough St

0800 800 288

Habit Health Byron St

29 Byron St

Sydenham

0800 800 288

Habit Health Travis Road

Travis Medical Centre

225 Travis Rd North,

New Brighton

0800 800 288

Habit Health Rolleston

9Masefield Drive

Rolleston

0800 800 288
---
NEWS

20 North Canterbury News, July 8, 2021

Visitor spend reveals Aussies hesitant

Kaikoura has been revealed as the

region with thelargest visitorspend.

Wellington researchfirmDot Loves

Data has delved into the eftpos and

credit cardspendsince the opening up

of theTranstasman bubbletounearth

some huge changesinwhere andhow

travellersare spendingtheir holidays.

It foundthat almost 66 cents in every

$1 spentcame fromvisitors.

In the three monthssincethe return

of quarantine­free travelwith

Australia,spending data shows thatit

is stilllargely New Zealandersfrom

urban centres driving local spend

rather thanAustralian visitors,who

remain cautious of overseas travel.

BetweenMarch25and June 25 the

coastal town of Kaikoura was foundto

have the highest proportion of visitor

spend (65.88 percent)followed by the

Mackenzie District (64.76%) andSouth

Wairarapa(62.50%).

Kaikoura's relatively small

population of under4000means there

is an outsizedrepresentation of visitor

spend,but thefigures show that the

coastal charm continues to draw

visitors.

On the other end of thescale,

Gisborne andthe East Cape seejust

6.5% of their spend fromvisitors to the

region.

Theremay be adouble edge to the

strongtourismspend says DotLoves

Data'sgovernment director Justin

Lester.

''It shows how heavily tourism

destinations relyonvisitors and

businessesare not sustainablewithout

them,''hesays.

Visitors from nearbyChristchurch

made up the largestshare of spend

(31%)followedbyneighbouring

Visitor spend ... Eftpos spend shows Kaikoura continues to be reliant on Kiwi visitors.

Marlborough (15%).

Auckland makes up just undera

tenth of Kaikoura's visitorspend,

which is atrendthroughout muchof

the country.

The importanceofbeingclosetoa

local urban hub is avitalfactor in high

visitorspend, suchaChristchurch or

Wellington in thecaseofSouth

Wairarapa's vineyards.

Whenitcomestolong­distance

travel, it is Aucklandersnot Aussies

which account forthe largest overall

travellerspend.

The local economieswhichwere

reliant on travelprior to 2020,remain

largely dependent on Kiwi tourists

ratherthan overseas travellers.

Diversificationinto other sectors is

either slow, or notanoption.

Thereare somepositive takeaways.

With less disruption to this year's

travelcomparedto2020, overallspend

forthe periodisuponlast year.

Australiansremain hesitant to visit

NewZealand, andthe quarantine free

travelisprone to disruption.

As apartial travelcorridor resumes

following regionalCovid flare­ups in

NewSouthWales, aslow returnto2019

PHOTO: FILE

levelsispredicted.

''An Auckland lockdown hasamuch

more significantimpact on tourism

spendingthan Australian visitors and

is thekey market formostregional

tourism destinations,'' Mr Lestersays.

Queenstownhas seen athirdofits

visitor spendfrom Auckland (35%),

well ahead of touristsfrom

Christchurch (11%) andWellington

(7.5%).

Eftposaccountsfor around 40

percent of consumer transactionsin

NewZealand, givingitsignificant

weightasametric for overallspend.

Say hello

to an actual

human.

LIGHT SPEED

EMPATHY

REAL-TIME

INTUITION

REAL

VOICE

Our local insurance brokers are here tohelp.

Talk to areal human about your insurance.

WAVE2630NC

Christchurch 03 345 9800

Rangiora 03 310 8940

or visit aon.co.nz

Proudly local. Proudly human.
---
Area School's Sport Tournament

The NewZealandAreaSchool's Associationnationaltournamenthas

been an important part of the life for area school pupils since 1994

when therewas an informalget-togetheratMercury BayAreaSchool.

The first official New Zealand Area School's tournament was held in

Dunedin in 1995, thebrainchildofRon Morgan from MercuryBay.

This year itisbeing held back inDunedin from July 18 to 21, at the

EdgarCentre, with around 300 students expectedtoattend.

The contributing schools are grouped into four regions: Northland,

Central (the North Island south ofAuckland), Topofthe South

(South Island north of Oamaru) and South ofthe South (Otago and

Southland).

With area schools, whichcater forstudents from Year 1to13, tending

to be rural, Ron was keen to introduce atournament toprovide

students with high level sporting opportunities. The tournament is

aspecial concept for many of the students, also providing asocial

aspect, which is just as important asproviding the students with a

competitive sporting event.

It is amulti-code event which includes rugby, netball, basketball,

football, volleyball and Ki oRahi, aMaori ball game. Ineach code

Amuri

Area School

thereisaround robin competitionfollowedbyaNorthIslandvSouth

Island game, from whichtournamentteams areselected.

Before the tournament, each of the four regions has aregional

tournament which usually lasts three or four days ataschool in

their region. Pupils are selected from the regionals for the national

tournament.

With thesize of theschools involved, pupils usually play in more than

onecodeevery day.

Oxford

Area School

Team Sponsors:

Oxford Lions, Oxford Club,

Oxford Area School BOT

Sponsoredby

Abby Taylor

Football

Luke Chisnall

Sponsoredby

Herewini

Rata-McLeod

Sponsoredby

Hurunui

College

Rugby

UNITED RUGBY CLUB

Rugby, KioRahi

Mateo Jamieson

Cailey Hollard

Josh Gunn

Sponsoredby

Rugby, KioRahi

Sponsored

by

Netball

Rugby, Ki oRahi,

Basketball

Sponsored by

Rugby, Ki oRahi,

Basketball

Sponsoredby

Sponsored

by

Nathan Kay

Arie Newall

Rugby, Basketball

Ashleigh Lawler

Sponsoredby

Netball

Ashley Riley

Netball, Basketball

Sponsoredby

Sean Hassall

Volleyball, Football

Sponsoredby

HanleyFarming

Ebony Varnam

Sponsoredby

Netball

MG HARRIS

Jonny Charlwood

Sponsored by

Sponsoredby

Rugby

Will Neill

Rugby

Alexander Sillars

Sponsoredby

Sponsoredby

Football

Oxford and

Districts

Lions Club

Shaugn Kilgour

Football

Sponsoredby

Tahlia Beck

Ella Ferguson

Sponsoredby

Basketball

Netball, Ki oRahi

Team Sponsors

CraigKeanContracting Ltd

Amuri

Helicopters

NorthCanterburyTyres

Rugby, Basketball,

Football

Sponsoredby

Earl Cacho

Sponsoredby

Josh Evans

Rugby

2207839
---
$10.50

$8.00 incl. GST

NEWS

North Canterbury News, July 8, 2021

Waimak library fines have been erased

Anyonewith asecretstash of

overdue library books can

breathe asigh of relief, with

Waimakariri Libraries

permanentlyremovinglate

finesfor all members.

All outstanding fines for

returned books have alsobeen

wipedfrom library cards.

District librarian Paula

Eskett says by erasing

overdue fines, library staff

hope to welcomeback many

hibernating librarymembers.

''Research shows thatthese

charges thatare designed to

help manage overdue items

are actually deterring people

from using libraries,''she

says.

''As librarians, our valueis

providing great service and

opportunities for our

communitytoconnect, not

chasing andprocessing

fines.''

Paulasays that messagewas

driven homeduring the Covid­

19 lockdown, whenstaff

discovered that morethan

1000 children under the age of

16 wereunabletoaccessthe

library'sresources due to

overdue fees.

''Often the bookshad

already been returned and

relatively smallfines were

blocking the library cardfrom

beingused in the library and

online.

''It was heart­breaking that

kids under lockdowncouldn't

access our resourcesand it

went against everything we

Changing times ... Today's libraries have avariety of uses. PHOTOS:FILE Open for business ... Library staff, including Waimakariri Libraries

manager Paula Eskett (left), Richard Shepherd, Jeanette Busch, Amy

Hallmark and Sally O'Connell were hard at work during last year's

lockdown to ensure people had access to the library's services.

believe alibrary should be.''

Mostlibraries in New

Zealand have dropped late

fines for under­18s.

WaimakaririLibraries has

morethan 13,500 active users,

which is justunder 22% of the

district's residents.

Thatfigurecompares well

withsimilar­sized districts in

New Zealand, but Paula hopes

to see membershipgrow.

She says going fines free

gives Waimakariri Libraries a

chance to showcase new

servicesthat people may not

knowabout such as online

motor manuals, computer

learning classes and Kanopy,

aNetflix­styledfree movie

service for libraries.

''We have games for grownups,

movie mornings, Lego

and craft groups and an ever

changing menuofauthortalks

and night events.

''Librariesare alot

different from what you

experienced 5to10years ago.

Books mayline our walls,but

peoplefill our spaces.''

Paula saysthe total value of

the outstanding charges was

significant,but given the

historical nature of the fines

it was unlikelythat many

would have everbeen paid.

''When we looked at the staff

time taken to process charges

we found that in alot of cases,

the cost of dealing withfines

and takingpayment was as

much or more than the fine

was actuallyworth.''

Library staffwill be ringing

members who still have

overdue or lost books on loan,

with the goodnews that

23

charges will be waivedonce

itemsare returned. Some

charges and fees willremain

in place for permanentlylost

or damaged items, as well as

DVDs,music CDs and new

release books for adults.

The finesfree schemewas

introduced on July 1, after

beingapproved in the

council's Long Term Plan.

Go to libraries.waimkariri.

govt.nz to find out more about

Waimakariri libraries.

SOMETHING FOR EVERYONE

Available in all good bookstores and supermarkets, orsubscribe from aslittle as $20.

ISSUE 94

GENTLEMAN JIM RICHARDS &THE WILLMENT ESCORT

MARCH-APRIL 2021

FREE FIRST XVSEASON PREVIEW MAGAZINE INSIDE

MAY 2021

AUTUMN 2021

The ShrubHub

GROWINGWITHYOU Issue 504 | May 2021 | 100%

SOUTHERN

SOJOURN

THE CLASSICALPINE TOUR

TONY JOHNSON

ON THE COMING OF

MOANA PASIFIKA

DAN

CARTER

REFLECTING ON A

GREAT CAREER

Meet 20 of ourKiwi garden favourites

ATROPICAL

FLOCK

GROWYOUR OWN

BIRD OF PARADISE

SPACEISSUES?

Trygardening

like the French

THELOWDOWN ON

COVERCROPS

Why, when &how

AARON SMITH

'WHY IRATE

DUPONT'

JEROME

KAINO

SORTED FOR

LIFE AFTER

RUGBY

CAPITALISING

ON CACTI

FaranGillbanks

on asucculent

movement

THE MOTORSPORT

COME ON, FEEL THE

RARA AVIS:

PHOTOGRAPHY OF

NOISE: CLASSIC

PELLAND COUPÉ

TERRYMARSHALL

RACING ENGINES

ASHORTTIME IN FRONT: RICHARD BROCKLEHURST

50TH ANNIVERSARY OF THE VAUXHALL FIRENZA

SOUTHERN MEN AND TALES OF THE SOUTH

SEAN FITZPATRICK

'WE NEED MONEY TO

SUSTAIN THE GAME'

RRP $10.99

PHIL GIFFORD: THE BEST

SCHOOLBOY STARS HE SAW

DARYL GIBSON: HIS VISION

FOR THE BOP STEAMERS

$9.25 incl. GST

ISSN 2423-0626

From abelia to

viburnum

&all the varieties

in between

Whywe

like them

&wherethey

liketogrow

Howtokeepyour

shrubinshape

&propagate more

of those youlove

ROSES ON THE WISHLIST

HOTNEW RELEASES FOR2021

GROWING WITH YOU 100%

alliedpressmagazines.co.nz

RugbyNews &Kiwi Gardener: 0800 77 77 10 Classic Driver &General: 0800 624 295
---
Love the

Community

Image is indicativeonly.

SummersetatAvonheadare hostingamorningtea andtour

andwe'dlovefor youtojoinus!

Ourvillageisgrowingquicklyand laterthisyearour village

centrewill open,which means ourresidents will have access

to arange of resort-stylefacilities,includingour very own

Divine Café, bar, pool,spa,gym andcinema.

Once ourvillagecentreisopen, ourfullrange of living

options will also be available. From independentliving in

ourvillasand cottages, to assisted livinginour serviced

apartments andcareinour care centre. We'llalsooffer

apartments in ourindustry-leadingmemorycarecentre

forthose living with dementia.

Come alongtoour morningtea andtour, 10am Thursday 8

July,and take atourofour beautiful village andshowhomes,

includingour brand-newservicedapartments.Wehave

plansand pricingavailable to view andwe're sure you'llmeet

some of ourwonderful residentsalong theway!*

Morning Tea

and Tour

10am, Thursday8July

SummersetatAvonhead

120Hawthornden Road,Avonhead

Give Anne or Graceacallon

03 3573202 to find outmore

*Licence to occupy.

Servicedapartmentspre-selling now!*

SUM3182_37x8
---
Motoring

Guide

Your local motoring professionals

2318749v8

Best Brands

-Best Prices

5Star Service

ROTATION /BALANCE

AND WHEEL ALIGNMENTS

FREE

Pressure check on

Cars, Utes, 4WD &

Trailers

FROM $69

Bookings recommended, ts&cs apply.

346a Flaxton Road

Phone 03 310 6666

0800 226 324 for 24/7 Service

COLLISION REPAIRS RANGIORA

Support Local

Businesses

Recommendusfor Paint&Panel

requirements

Make an insurance claim and choose North

Canterbury Collision Repairs Rangioraas

your repairer. Your Car,Your Choice.

Crash repairs, bumps &scrapes to major

smash work

Commercial&fleet repairs,Buses,Caravans &

Motorhomes, Trucks,Trailers, Buses &Boats

Quality

workmanship &

fastest

turnaround

Fleet of courtesy cars available

Contact John 3136966

639LinesideRoad, Southbrook | www.nccrc.co.nz

WE ARE THE

SERVICINGEXPERTS!

No Need To Commute To Christchurch –

We Can Do It All! We canuse genuine parts,

so yourvehicleisstillcoveredunderwarranty.

We have the latest Diagnostic Computer

Systems that arecompatible with most vehicles.

Wheelalignments &tyres at

very

competitive prices.

CALL US NOW TO BOOK YOUR SERVICE

Discounts to Superannuates

77 Ivory Street,RangioraPh313-5802

Mon-Fri8am-5.30pm•Sat 8.30am-12.30pm

2318082v7

Friendly service ... Peter and Nikki Burbidge have been serving North Canterbury for

nearly two decades.

Mechanics ready to service

PeterBurbidgehas beenamechanic for

as longashecan remember.

The Rangiora mechanic beganhis

apprenticeshipsoon after leaving school

and has workedinthe industry ever since.

The drive to be his own boss led Peter to

establish Burbidge Automotive in Lineside

Road in Southbrook, in January 2003 with

his fatherGerry and his wifeNikki.

''It was just the threeofus, but we quickly

outgrew the site, so we moved next door

and then we outgrewthat site too,'' Peter

says.

Burbidge Automotive moved to its

present, purpose built site with plenty of

parking, at 325 Flaxton Road in Southbrook

13 yearsago and now employs five full­time

mechanics.

GerryBurbidge workedalongside his son

untilhedied just before themove to

Flaxton Road,Peter says.

Todaythe five mechanics are fully

qualified across all areas of the business,

including warrant of fitness (WOF),

servicingand repairs.

Over the years,the Burbidges haveseen

plenty of changes in theindustry,

particularly in car technologyasvehicles

have become more computerised.

We Do It All!

Your One Stop Mechanical Shop

''We've got amodern,fully equipped with

mechanics who are well­trainedtocope

with all the changes coming along,'' Peter

says.

''Today'scars are more complicated ­we

call them'modernproblems'.Computers

pointyou in the right direction,but we still

have to sort them out ourselves.''

For customer convenience,Burbidge

Automotive has afleet of MazdaDemios as

loaner cars,aswellasavan for thetradies

and an eight­seater peoplemover for large

families.

All of the loanervehicles are automatics,

asidefrom one of the vans. ''When we first

started we had all manuals and then we

realisedno­one liked them.Now we hardly

see any manuals.''

Burbidge Automotive is open Monday to

Thursday from7.30am to 5.30pm and

Fridays from 7.30amto5pm, while aWOF

service is offered on Saturday mornings

from 9am to 12pm.

To book or to find out moreaboutthe

services on offer, visit 325 FlaxtonRoad,

Southbrook, phone (03)3133344,email

office@burbidgeautomotive.co.nz or go to

burbidgeautomotive.co.nz. You can also

follow Burbidge Automotive on Facebook.

One Stop WOF Shop

All MechanicalRepairs and Servicing, Tyres,

Exhausts, Automatic TransmissionService

Burbidge Automotive

325 Flaxton Rd |Ph03313 3344

Ample carparking! Courtesy Cars, Van, Automatics Available

2387427v1

FOR ALL YOUR LIGHT

AND HEAVY

TRANSPORT REPAIRS

Breakdown &

After Hours

Service

Available

Phone 03 313 6361

0275 200 711

307 Flaxton Road,

RANGIORA

brooktrucks@xtra.co.nz

Petrol &Diesel

COMPLETE AUTO REPAIR SERVICE

WOF

Light Engineering

Tune-ups

Repairs

Lube-Oil changes Ride-on Mowers

Full Diesel Service Pick up &Delivery

Brakes &Clutches

Sell &Sharpen

Motor Work

Horse Clippers &

Warranty Work

Sheep Shears

Oils &Automotive Accessories, Postal

Services, Hot Pies, Sandwiches, Rolls,

Groceries and Sweet Treats

For your convenience

Sefton Garage

571 Upper SeftonRoad, Sefton

North Canterbury.Ph03312-9713

NEED TYRES?

• Punctures

• Balancing

• New tyres

• ATV tyres

• Motorbike tyres

(on and off road)

• Barrow tyres

• Mobility scooter tyres

• Bicycle tyres

Give usacall or come

and see us in store!

ARTHUR BURKE LTD

Markham St, Amberley

03 314 0137

2324381

Use your SuperGold card or

supermarket docket for 12

cents off Petrol &Diesel only
---
NEWS

26 North Canterbury News, July 8, 2021

The Widest Music Variety

Tune in nowtolistenon104.9 North Canterbury

and103.7 Hanmer Springs andKaikoura

Our readership is

wayup

Reach morepeople than any other

media choice inNorth Canterbury with us.

Source: Nielsen National readership survey y/e Q3 2020 -y/e Q1 2021

Readership of people 15+ in North Canterbury is:

Up 11.6% in

thelast 6months

Just ONE AD placed in the North Canterbury News isread by:

48,000 people

Reach more customers and growyour profits with us. For professional

advice contact Dayna today, 027 312 0089 or dayna.burton@ncnews.co.nz

www.ncnews.co.nz

Forward thinking ... Kaikoura residents are set for an average rates rise of 5.9%.

PHOTO: FILE

Council commits to

funding road works

Kaikoura's Long Term Plan is on trackto

be signed off at the end of the month.

Councillorsmet last weektoconsider

273 matters raised in submissions from

71 people, whichwere received during

consultation on the 2021/31Long Term

Plan (LTP), with 21 people speaking on

theirsubmissions.

The council was due to meet again

yesterday to finalise the draft LTP, which

will be sent to Audit New Zealand before

beingadopted on July 28.

Five keyproposals were consulted on

as partofthe LTP,including an

increasedinvestmentinroadsand

footpaths, areview of the outdated

District Plan, afortnightlyurban rubbish

collection and tourism/business support

for Destination Kaikoura.

The majority of the submissions

agreed with the proposals, ranging from

64 percent support for tourism/business

support through to 73% supportfor

urbanrubbishcollection.

''It's great to see that allofthe

proposed options werewell supported. It

showsweare on tracktodeliverchanges

and improvementsinline withwhat the

majority of the community want,'' Mayor

CraigMacklesays.

The council did not receive the full

amount requestedfromWaka Kotahi

New Zealand Transport Agency (NZTA)

to help fund the roading programme,

resulting in ashortfallof$2,293,000 over

the three­yearperiod from 2021 to 2023.

Rather than postponingthe work, the

council has resolved to reduce the

operatingprogramme budget to 90%, and

to fund the shortfall of NZTA subsidy for

operations through the roadingrate and

continue with the capitalprogramme as

originally proposed with the capital

works subsidy shortfall loanfundedover

15 years.

''Weall use roads, thisishow we get

around the district and roading is one of

the main activities of the council,

contributing significantly to total annual

costs,''MrMacklesays.

''Wehave decided we needtodothe

worknow, as any delays to the roading

programme could result in much greater

costs in the future.''

The footpath subsidy from NZTAwas

alsoconsiderably less than expected.

''Wehave heard from the community

overanumber of years about the state of

our footpaths,'' Mr Macklesays.

''Whilewedonot have the full subsidy

thatweexpected, the councilagreesthat

we need to up our gameand continue

withthe original proposal to maintain

and upgrade our footpaths.''

Thishas resulted in an overall average

rateincrease of 5.9% for the 2021/2022

financial year and a10­year average

increaseof3.36%.

Borrowing is forecast to reachnomore

than$11.05million at its peakinthe 2026

financial year.

Other submissions requestedfinancial

support for the Mayfair Theatre, the

Kaikoura CyclingClub and Te Korowai.

The council has responded with

proposals to allow for aone­off grantof

$15,000each to the Mayfair Theatre and

thecycling club, withboth grantstobe

paid from unspent economic

developmentfunds, while a$10,000 grant

will be made to Te Korowai from

unspent environmentalplanning.

How Marvel Health delivers advanced diagnostics

and science-based natural medicine

At Marvel Health,our focusison regenerative andpreventivehealthcare.

The wholebodyscanweperformprovides ourdoctors with acomprehensive

report of apatient'sstate of health.Itreveals hidden diseases andtheir causes

andour recommendationsare basedonthe detailedinformation from the

scan.Thescansearchesfor theunderlyingcausesofhealth problems, whether

infectionscausedbyviruses andbacteriaorheavy metalcontaminationsuch

as lead toxicityorfoodallergies. Furthermore,itsearchesfor thecausesof

organdamagesuchasnarrowing of thearteries, auto-immuneconditions

or nutrient deficiencies. After studying thescanreports,our doctorsmake

personalised andtargeted recommendations. During your30-minuteteleconsultation

with thedoctortheyrecommend only the3mostessential

medicines that youneedtokick-start your healingand stoppainand

discomfort.

We only recommendscience-based naturalremedies that aresupportedby

publishedmedical journals andtrialled clinical studies. The Marvel Health

scan is unique becauseitrecognisesand searches for harmful environmental

factors that promotediseases. It checks thebodyfor nutrientlevels,

environmental toxins, harmful electromagneticinfluences,food sensitivities

andpredisposition to geneticdisorders.

OurMarvelHealth LifestyleSpecialists spend30minutes with youexploring

in detailyourlifestyle,nutrition andother environmental influences on your

health andtheyprepare adetailedreportwithpersonalisedrecommendations

of thesteps youneed to taketopreserveyourhealth.

However, your healthcare continues even after consultationswiththe doctor

andlifestyle specialist.Wefollow-uponyourhealth andare theretoassistyou

alongthe wayuntil youfeelbetter.

Unit 13/6 Cone Street, Rangiora | 293 Durham Street, Awly Building, Christchurch

CALL TODAY 03 669 5410 www.marvel.health

Disclaimer: The inspection from the scan is not asubstitute for medical inspections. It is not designed to state the final diagnosis

ADVERTISEMENT
---
Socially-minded running group

By SHELLEY TOPP

Asocially­minded evening running

group with afondness for craft beer is

provingpopular in Rangiora.

The Good Trotrunningclub assembles

at the GoodDrop in Durham St every

Thursday evening at 6pm.

They don high­visibilityvestsand

head lamps before setting off on agroup

run along the pavements around

Rangiora township beforereturning to

the craft beer and cider fillery for abeer

and aburger from the ALT Kitchen next

door.

''The goal of the club is to improveour

runninginasocial and friendly

environment.Everyone is welcome,''

organiser Jo Ramsay, who is also the

North CanterburyAthleticClub's coach,

says.

The idea for the clubcame fromJo's

partner, Chris Van Rensburg, who is new

to running and wanted to see a''fun

runninggroup'' established in Rangiora.

Jo set about designing agood training

module thatwould be suitable for

runnersofall fitness levels.

She came up with an hour­long run

done in four segments, which enables

each runner to run as fast or as slow as

they want to and it is not competitive.

The emphasisisonsociabilityand

everyone in the clubsupports each

other.

One of the regular runners, Fernside's

NatashaMitchell, who has run in the

New York City Marathontwice,says the

Good Trot clubconsists of a''really great

group of people'' at all fitness levels, but

anyone consideringjoiningdoes not

have to feel intimidated because

everyone is helpful, friendly and

supportive.

AGood Trot Facebook pagehas been

established to promotethe run, which

Fun run ... Members of ''The Good Trot'' running group before setting off from the Good

Drop Craft Beer Fillery in Rangiora for their Thursday evening run recently.

PHOTO: SUPPLIED

began 10 weeks ago, and the number of

runnerscontinues to grow as word

spreadsabout the initiative.

The Good Drop's ownerDave Wilmott,

who is also akeen runner and has taken

part in the Thursday night social run,

says everyone is awinner in the group.

''It is all about staying healthy,

achieving awork/lifebalance, making

new friends, socialising and supporting

each other,''hesays.

Cheers ... Natasha Mitchell, of Fernside,

enjoying aglass of beer at the Good Drop

Craft Beer Fillery, in Rangiora, after an

evening run with ''The Good Trot'' running

group on Thursday evening last week.

PHOTO: SHELLEY TOPP

27

School teams

for Coast race

NEWS

North Canterbury News, July 8, 2021

High schools around New Zealand have

one last chance to enter the sold­out

Kathmandu Coast to Coast, with entries

to the Kathmandu Coast to Coast

Academy now open until July 30.

The academy, which is in its 5th year,

aims to support young people in their

quest to compete in New Zealand's

longest running multisport event and

potentially spark alove for the outdoors.

Along with aschools' team entry into

the 2022 event, academy winners will

also receive Kathmandu gear up to the

value of $1000, Coast to Coast branded

team kit, coaching from an elite

multisport athlete, assistance towards a

grade two kayak certificate and the use of

aBarracuda enigma kayak.

The three­person team entry is made

up of one cyclist, who has the honour of

starting the race in Kumara on the

rugged West Coast as well as the final

ride into the finish line at New Brighton

Beach, one mountain runner, who

tackles the challenging 32km Goat Pass,

and one kayaker, who paddles 70km of

the Waimakariri River.

''This part of the event is really exciting

for us,'' race director Glen Currie says.

''Gaining an entry into the Kathmandu

Academy can often be the catalyst to

young people starting areal love affair

with adventure and the outdoors and

we're really delighted to be able to be

part of that journey with them.''

Local North Canterbury student teams

have entered the iconic race in recent

years.

The prize is also available to schools

that have already gained entry to the

sold­out event, Mr Currie says.

''The more creative entry the better.''

To enter, go to: https://www.

coasttocoast.co.nz/kathmandu­academy.

ALL TIPAZ

ON SALE

ALL PARIS

ON SALE

Dining Chair

NOW $

150

Dining Table – W190

NOW $

799

SCANQRTOSHOPALl

SUPERDEALSOnLINE!

Caribbean Queen

Sleepset

WAS $ 849

NOW

$

649

Zara Playhouse

Single Bunk

WAS $

999

NOW

$

699

Riley Sofa Chaise –Grey

WAS $ 1699

NOW

$

1299

Britta 3Seater

WAS $

999

NOW

$

599

NOW ON! SELECT ITEMS +SUPER DEALS.

ENDS 12.7.21.

Scantofindstore

250 Moorhouse Ave, Christchurch

0800 TARGET (0800 827438)

targetfurniture.co.nz

Offers and product prices advertised here expire

12/07/21. Sale Excludes Accessories.
---
NEWS

28 North Canterbury News, July 8, 2021

Local schools come together for Matariki

By DAVID HILL

Localchildrengathered in

Rangioralastweekto

celebrate Matariki.

Twopupils were selected

from eachofthe 18 schools in

thePuketarakiKahui Ako to

participate in aMatariki

celebrationatRangiora

Library on Wednesday, June

30,which included making

Matarikistarsfromharakeke

(flax), reading to children from

Swannanoa Pre­School and

learning the kahui ako waiata.

After sharing some kai

(food), thechildren ventured

outinto the streetstoperform

thewaiata andtogive away

theirMatarikistars.

''Maori tikanga says that the

firstthingyou makeout of

harakeke you giveaway,'' says

Bridie Gray,anacross school

Harakeke stars ... Bridie Gray, an across school teacher based at

Swannanoa School, teaches children how to make astar from harakeke

(flax).

PHOTO: SIMON GREEN

teacherbasedatSwannanoa

School.

The waiatawas taughttothe

childrenbyMark Abraham, of

RangioraHigh School.

''We've hadacouple of

outingswhere we'veinvolved

all of the schoolsinthe kahui

ako,sowethought it wasa

goodideatoget them together

New friends ... Ashley Rakahuri

School pupil Jorja Parker (13)

reads to Pippa Coakley (4) of

Swannanoa Pre­School.

PHOTO: DAVID HILL

to celebrate Matariki,'' he

says.

The Puketaraki Kahui Ako

comprises18schools and11

pre­schools in theRangiora

HighSchooland Oxford Area

School zones, aside from

Oxford Area School and

Rangiora New Life School,

which are partofthe area

schoolsnetwork.

Tikanga .. . Mark Abraham, of

Rangiora High School, teaches the

Puketaraki Kahui Ako waiata to

local children.

PHOTO: DAVID HILL

Storytime ... Swannanoa School pupils Ruby Anink (12, third from

left) and Jessica Howe (12, right) read to children from Swannanoa Pre­

School.

PHOTO:DAVID HILL

Southern Comfort 10pk cans

Jack Daniel's 330ml 6pk bottles

Jack Daniel's 330ml 8pk cans

Cody's (incl zero)

250 ml 7% 12pk cans

Woodstock

5% 12pk bottles

$18.99

EACH

Celebrate

MID WINTER

$21.99

EACH

CHRISTMAS

$21.99

EACH

TuiHard Soda

330ml 10pk cans

$23.99

EACH

MajorMajor

r

10pk can range

NEW

PRODUCT

TRY IT TODAY!

Effen 10pk bottle range

JB Gold /CCPremium

7% 12pk cans

$24.99

EACH

Wolf Bass

Yellow Label

(ex PN) range

Larios Original

1L/Midori & JB

Honey

700ml

$11.99

EACH

Taylors

Promised Land

range

$15.99

EACH

Grant

BurgeInk

range

2FOR

$22.00

$26.99

EACH

Penfold's

Club Tawny

$34.99

EACH

$35.99

EACH

Jameson /

Jameson Cold

Brew / Absolut

& Beefeater flvrd

ranges all 700ml

$39.99

EACH

Coruba (incls

Gold) / JW Red

Label 1L

$41.99

EACH

3FOR

$10.00

$20.00

Jim Beam /

EACH

Canadian Club

(incls Spiced)

Chatelle 1L Kingfisher Strong

500ml cans

Tiger / Tiger Crystal

12pk bottles

Promotion period between1/07/2021 to 31/07/2021. While stocks last.Promotion only available at participating stores –please contact your local store to confirm

whether theyare participating in the promotion and checkthe pricing in-storeprior to purchase. Online pricing will vary.

$22.99

EACH

Orchard Thieves

12pk range

THIRSTYLIQUOR RANGIORA

398 HIGH STREET,RANGIORA

03 313 7207

THIRSTYLIQUOR BRIDGEND

1275 MAIN NORTH ROAD, BRIDGEND

03 323 8833

thirstyliquor.co.nz

ASK ABOUT

LOYALTY CARD

BENEFITS &

GIFT VOUCHERS
---
RURAL LIFE

30 North Canterbury News, July 8, 2021

Oxford'sfuture farmers put to the test

By DAVID HILL

ShaugnKilgour was thrilled to be named

this year'sOxfordFuture Farmer

competition winner.

The annualOxford Area School

competition, which is similartothe

Young Farmer of the Year contest,

returned on June 22 for the sixth edition

of the event afteritwas acasualtyof

Covid­19 last year.

Shaugndidn'thave to look far for

inspirationashis older brotherJeremy is

apast winner and competed in this year's

Young Farmer of the Year Tasman

regional final.

The nine finalistswere put through

their pacesintractor driving, building a

beehive, identifying differentseeds, first

aid, setting up irrigation,velvet grading,

an ''amazing race'' and in the evening

gave aspeech and competed in aquiz in

the Oxford Town Hall.

Shaugnlives on apig farmand is aiming

to be an agricultural engineer.

The year 13 pupiland head studentis

hopingtofind an engineering

apprenticeship or work for an

agricultural contractorwhen he finishes

schoolatthe end of this year.

''I'vealways beenkeen on farm

machinery. We've got two two front­end

loaders at homeand Istudied agriculture

in year 11 and we went on quite afew

sheep and deer farms and we got

experience from that withdrenching and

everything else relatedtofarming.''

In the lead up to the final Shaugn says

he watched afew videos to improvehis

general knowledge and to get some tips on

what foods animalseat, differentseeds

and the climate.

Actingprincipal Sharyn Varcoe says the

competition is open to year 11 to 13

students at the schooland is keenly

contested, with qualifying sessions held

in the leaduptothe big day to choose the

Shaugn Kilgour

finalists.

''We are arural school so farming is a

huge part of our community.Itgoes back

to our schoolvision, whichisto'grow

together, learn together, shinetogether'

and this competition embodies all of

those things.''

The competition is builtaround

community support, with localfarmer

AndrewStokesworking alongside the

school's head of science, Joseph Burston,

to run the competition.

''We have local businesseswho come

along and providestaff, run sections and

donateprizes,'' Ms Varcoe says.

''It'savery authentic, future focused

competition and when we get comments

from localcontractorsthat 'the quality is

getting better and better every year' and

that 'these competitors are goingtobe

running theirown farms one day', we are

very proud of them.

''It was ahotly contested competition

and very close.''

Each of the finalists wereasked to make

Busy in their work ... Building abeehive was one of the challenges in the Oxford Future

Farmer competition.

PHOTOS: SUPPLIED

aspeech on ''wherecan agriculturetake

me?''

While Shaugn talkedabout his dream of

being an agricultural engineer, others

spoke about agricultural contracting,

veterinary science, artificial

insemination and bee keeping, Ms Varcoe

says.

''It was great to see the variety that

agriculture encompasses represented in

the speeches and what it means for the

community and to our country as a

whole.''

Year 13 pupil Cameron Rowe placed

second, whileyear 11 pupil Hillary

Cooperwas third. Elise Whitwell (year 11)

won the prize for besteffort on the day.

While the firstsix winnershave been

boys, Ms Varcoesays judgingbythis year's

final it may not be longbeforethe girls

finally come out on top.

Tractor skills ... Finalists were tested on

their tractor skills.

LOVED BY

GENERATIONS

Published more frequently and

giving you better value for money

than any other rugby read

SUBSCRIBE

FROM AS

LITTLE AS

$20

rugbynews.co.nz

0800 77 77 10

ALSO AVAILABLE ATALL GOOD BOOKSTORES AND SUPERMARKETS
---
CELEBRATING

EXCELLENCE IN

WATER MANAGEMENT

TED AND SUE ROLLINSON ALONGSIDE TOM AND LEANNE HENEGHAN

2020 New Zealand Trailblazer Winners (Left: TomHeneghan Right: TedRollinson)

The Awards acknowledge the world-class

leadership of New Zealand farmers in regards

to irrigation management.

With over $16,000 worth of agricultural services

and products up for grabs and achance

to celebrate your role towards sustainable

irrigation management, waterway protection

and environmental stewardship then consider

entering today.

"ALL OF US ON THE

FARM ARE VERY

CONSCIOUS OF OUR

ENVIRONMENT."

BROCK AND GEMMA HAMILTON

2020 New Zealand Trailblazer Finalists

"WEWANT TO PUT

WATER IN THE

RIGHT PLACE FOR

MAXIMUM BENEFIT."

NICK AND KATE WEBSTER

2020 New Zealand Trailblazer Finalists

BEN AND ANNA GILLESPIE

2020 New Zealand Trailblazer Finalists

ENTRIES AND NOMINATIONS ARE CLOSING SOON

Visit irrigationtrailblazer.com to find out more.

THE TRAILBLAZER SUSTAINABLE IRRIGATION AWARDS ARE BROUGHTTOYOU BY

Nominations close 2August. Entries close 9August.

For eligibility details refer to www.irrigationtrailblazer.com.

Zimmatic ® is aregistered trademark ofthe Lindsay Corporation.

©2021 Lindsay. All Rights Reserved.
---
RURAL LIFE

32 North Canterbury News, July 8, 2021

Waikari AgriKids best dressed in parade

By DAVID HILL

North Island finalists

dominated the FMG Young

Farmer of the Year grand final

in Christchurch last weekend,

taking out the top three places.

But it was adifferent story in

the junior ranks, with Mid­

Canterbury's Mount Hutt

College winning the Junior

Young Farmers' final and West

Otago's Blue Mountain College

taking out the AgriKids title.

North Canterbury's teams,

Karetu Kids (North Loburn

School), and Kool Keas and

Klassic Keas (both of Waikari

School), representing the

Tasman region, enjoyed their

big day but were not among the

major winners in the AgriKids

final.

The Kool Keas team of Jack

Philp (11), Finn Fricker (12)

and Harry Glasson (11) did

manage to win best dressed for

their costume in the

competition's parade on

Thursday afternoon.

''We made them ourselves,

which was pretty cool. We had a

bit of an advantage because

we're locals, so we had bigger

props,'' Finn says.

Jake Jarman, an ANZ

relationship associate

representing the Taranaki /

Manawatu region, became the

53rd Young Farmer of the Year

winner, with East Coast's

Joseph Watts second and the

Northern region's Calvin Ball

third.

''Feeling overwhelmed,

excited and relieved that it's

over,'' was Mr Jarman's

reaction.

''I'm just also so incredibly

thankful to so many people, far

too many to name but it's ahuge

team of people to pull together

this event and abig team

behind me to get me here too.''

Mr Jarman also won the agribusiness,

agri sports and agri

knowledge challenges, while

Mr Watts won the agri skills

challenge and Mr Ball won the

community footprint prize.

Mount Hutt College's Sophie

Adkins and Eddie Millichamp

were thrilled to win the Junior

Young Farmer title.

''Getting to be here and

having this experience has

been awesome,'' Sophie said.

Teams from Rathkeale

College (Masterton) and a

composite team from St Paul's

Kool Keas .. . One of Waikari School's teams, Jack Philp (11, left), Finn

Fricker (12) and Harry Glasson (11), representing Tasman, complete a

module during the AgriKids competition.

PHOTOS: DAVID HILL

Collegiate and Hamilton Boys'

High School placed third.

Blue Mountain College's

West Otago Young Guns team of

Ben Hartshorne, Dustin Young

and Henry Chittock came out

on top, out of 21 finalists from

throughout the country in the

AgriKids competition.

''We've just really enjoyed

coming here and having agreat

time, we've done alot of

studying and learning to get

here,'' Henry said.

RESULTS

FMG Young Farmer of the

Year:

Winner: Jake Jarman,

Taranaki/Manawatu Region.

Runner­up: Joseph Watts,

East Coast Region.

Third place: Calvin Ball,

Northern Region.

FMG Junior Young Farmer of

the Year

Winners: Eddie Millichamp

and Sophie Adkins from Mount

Hutt College, Aorangi Region.

Runner­up: Alex Wyeth and

Jono Harris from Rathkeale

College. East Coast Region.

Third Place: Tayla Hansen

and Tim Lumsden from

Hamilton Boys' High School

and St Paul's Collegiate,

Waikato/Bay of Plenty Region.

Exam winners: Amelia

Ridgen and Erin Humm from

Christchurch Girls' High

school, Tasman Region.

AgriKidsNZ

Baggage boy ... Darren Woods

was doing his bit to support his

wife, Tasman region finalist

Roshean Woods.

Winners: West Otago Young

Guns, Ben Hartshorne, Dustin

Young, Henry Chittock.

Runner­up: Hereworth

Hounds, Baxter Twist, Chalkie

Williams and Rupert Smith.

Third Place:The Tractor

Trio, George Cunliffe, Jordyn

Taylor and Felicity Olney.

''Ewe go girl!'' ... Supporters of

home town finalist Roshean

Woods, representing Tasman,

were visible and vocal in their

support.

Karetu Kids ... North Loburn School's Regan Herlihy (12, left), Cate

Ambury (13) and John Lundy (12), representing Tasman, line­up in an

AgriKids race­off.

Welding along ... Tasman region finalist Roshean Woods tries her

hand at welding.

Do youservice the Ruralsectorand want

help to reach your customers?

Contact us today to find out howwecan help you.

Email info@ncnews.co.nz or phone 03 314 8335

2377

969
---
IT'S TIMETOSTEP UP

FROM 5IN1TO

COGLAVAX8 VACCINE

The health and welfare of our

animals is really important to

us, so we use products that

achieve results

Hayden Ashby

Livestock Operations Manager,

Brownrigg Agriculture

STEP UP TO 8 IN 1 PROTECTION

When you're running big numbers of sheep and cattle… there's one number you want

to keep really low. And that's unnecessary losses from Clostridial disease.

That's why Brownrigg Agriculture have stepped up from 5 in 1 to Coglavax8

vaccine to protect against 8 Clostridial diseases present in New Zealand.

ONLY AVAILABLE FROM YOUR VET

CEV0001 APFP

coglavax8.co.nz

Ceva Animal Health (NZ) Limited. P: 09 972 2853 ACVM No. 7528 References: 1. JS Munday, HBentall, DAberdein, MNavarro, FAUzal &S Brown, Death of aneonatal lamb due to Clostridium perfringens type B

in New Zealand, New Zealand Veterinary Journal 2020. 2.West, Dave M., Bruere, A. Neil and Ridley, Anne L.The Sheep, Health, Disease and Production. Auckland: Massey University Press, 4th ed., 2018. Print.
---
RURAL LIFE

34 North Canterbury News, July 8, 2021

Dry season delays truffles

By DAVID HILL

North Canterbury's dry summer has

had an impact on aseasonal delicacy.

Truffle growers say this season's

crop is not as abundant as previous

years due to the region's drought, but

Waipara grower Gareth Renowden

says consumers shouldn't notice any

difference.

''The season usually starts at the

beginning of June and runs to the end

of August. It was such ahot, dry

summer the crops have been abit later.

Iwas irrigating my trees all summer,

but it's not the same as the rain.

''There's still amarket for truffles

and the restaurants have them, so

there's still plenty to buy. There's more

people producing truffles now, so if

anything there's an over supply for the

domestic market and we haven't really

established exporting yet.

''Canterbury growers are probably

the closest to exporting, but with Covid

it's very difficult to find new markets.

Hopefully when things pick up again

we will be able to tap into some of the

larger markets.''

The challenge with exporting

truffles is that it is afresh product, so

it needs to find its way on to restaurant

menus within days of harvesting, he

says.

The annual Canterbury Truffle

Festival is held throughout July, with

local wineries hosting truffle events ­

though must have sold out well in

advance.

Truffle growers usually display their

wares at the region's farmers' markets

during the festival, though it is

dependent on the supplies of local

growers, Mr Renowden says.

''There's usually apresence at the

Riccarton (Christchurch) and Ohoka

farmers' markets and Iusually go to

the Amberley farmers' market, but it

depends on how much truffle I've got.''

Fellow Waikari truffle grower Anne

Hulley says her crop is taking longer to

mature due to the dry conditions and

the recent rain hasn't helped.

''We normally go to the farmers'

Mixed season ... Waikari truffle grower

Jax Lee is not expecting any record

breakers, like this whopper from three

years ago, after this year's dry summer.

PHOTO: FILE

markets in Christchurch, but we are in

that limbo phase, so we haven't been to

the farmers' markets yet.''

Truffle grower Jax Lee, also of

Waikari, produced atruffle which

weighed awhopping 137­grams three

years ago, but says there are no

''record­breakers'' this season.

''The spring and the start of the

summer was fantastic with afew big

rainfalls, so we got off to agood start.

We irrigate on our property, so the dry

wasn't too bad for us.

''Overall it's been agood growing

season for us and I'm enjoying these

frosts, which are very important for

bringing out the aroma and the taste.''

She says there is more to growing

good truffles than people realise.

''If it was easy, everyone would be

doing it. It takes abit of science and a

bit of luck.''

For more information go to

canterburytrufflefestival.nz/ or like

Canterbury Truffle Festival on

Facebook.

Apply now to MPI's

flood recovery fund

Applications have opened for funds from

the $4 million Canterbury flood recovery

fund.

The Ministry for Primary Industries

(MPI) is encouraging all farmers and

growers affected by flooding in

Canterbury to apply for support from a

new $4 million fund.

Applications have opened week for the

expanded Canterbury Flood Recovery

Fund, which was set up to support the

region's recovery from aone in 200­year

rainfall event.

MPI's Deputy Director­General of

Agriculture and Investment Services

Karen Adair says the financial support

will help flood­affected farmers and

growers across Canterbury to get back on

their feet as quickly as possible.

''The clean­up task ahead of primary

producers is massive, and some are

facing significant costs not covered by

insurance.''

Almost 100 of the worst­affected

farmers have already been offered grants

from the initial $350,000 fund established

shortly after the flood last month.

"Should those farmers require extra

support, they are encouraged to submit a

new application to this larger fund," says

Ms Adair.

''We have been working with

Federated Farmers, DairyNZ, Beef +

Lamb New Zealand, Deer Industry New

Zealand and councils, to determine how

this financial support can have the

greatest impact.''

Grants will assist farmers to clear flood

debris, enabling pasture and fodder

crops to be resown.

''Our highest priority is the clean­up of

debris such as shingle, boulders, trees

and silt, to return paddocks to a

productive state,'' says Ms Adair.

"Applications can be made

retrospectively for clean­up work

already undertaken. The size and

allocation of grants will be determined

once all the applications have been

received.

Grant applications will be assessed by

Flood relief ... Afunding boost will help to

pay for uninsurable land damage from the

recent flood event.

PHOTO: FILE

an independent panel, selected by MPI

and sector groups.

''The panel will consist of people with

astrong understanding of farming

businesses and rural communities in

Canterbury,'' says Ms Adair.

''They will confirm that grants meet the

eligibility criteria and that the allocation

process is fair, consistent, and

transparent. MPI will contribute up to

half of the clean­up cost for uninsurable

works.''

Applications close on July 30.

Afull list of criteria, an application

form and details of how to apply are

available on MPI's website mpi.govt.nz/

funding­rural­support/adverse­events/

dealing­with­floods/.

RangioraToyota

2016 HiluxSR5 4x4

•2.8L Turbo Diesel Auto

•Sat Nav

•Cruise &ClimateControl

$

46,995

2017 LandCruiser PradoVX

•2.8L Turbo Diesel, Leather

•NZ-new,Sat Nav

•Only 43,500km

$

71,995

2006 Hilux SR5 4X4

•3.0L TurboDiesel Auto

•Canopy&Liner

• Cruise Control

$

22,995

2018 HiluxSR5 4x4

•2.8L Turbo Diesel Auto

•Lift, New SR5Alloys

• Only 24,800km

$

51,995

2018 Nissan Navara RX

•2.3LTurbo Diesel Manual 2WD

•Camera, Tonneau

•Only 13,600kms

$

35,995

2013Toyota AlphardSC

•2.4LPetrolAuto, 7-Seater

•DualElectricDoors

•25,250kms

$

36,995

Percival Street,Rangiora • Ph (03) 313-8186any time • www.rangiora.toyota.co.nz

Signature

CLASS

2014 Ford Ranger XLT

•3.2LTurbo Diesel 4WD

•Bluetooth

•ParkingSensors

$

33,995

2018 Nissan Navara RX4x4

•2.3LTurbo Diesel Manual

•Alloys, Bluetooth

•Only 58,100kms

$

41,995

2018 Landcruiser PradoTZ-G

•2.8L turbodieselauto

•KDSSsuspension, 7-seater

•40,250km

$

71,995

2016 LandCruiser PradoTZ-G

•2.8L Turbo Diesel

•ReverseCamera, Bluetooth

•Sat Nav

$

57,995

FINANCE &INSURANCE AVAILABLE

2389989
---
Online tool to calculate emissions

Anew free calculatortohelpsheep,

beefand deerfarmers calculatetheir

greenhousegas emissionsand

sequestration is now available.

Beef+LambNew Zealand(BLNZ)

has developed thecalculator withinput

fromfarmersand meat processing

companies,aspartofthe redmeat

sector'scontribution to helping meet

New Zealand's climatechange

commitments.

''We're committed to equipping

farmers to know theirnumbersand

haveawrittenplan to manage

emissions,'' BLNZ chiefexecutive Sam

McIvor says.

''This willhelpfarmersbuild

resilient, future­proofedbusinesses,

provide evidence to tellour farmer

story andproduct story,and giveour

customers,and thepublic, confidence

thatwe'retaking responsibleaction on

climate change.''

The BLNZgreenhousegas calculator

is freeand easy to use,hesays.

It takes information about afarm and

stock numbersand applies scienceand

dataabout average emissions at

national, regional and farm system

level to calculateon­farm emissions

and sequestration.

There'sadetailed user guide online,

and BLNZ will be helping farmers do

their calculationsaspart of BLNZ

workshops.

BLNZisalsoworkingwithmeat

processors, farm advisors,accountants

and otherstoshare information about

the calculatorand how to useit.

Mr McIvorsays supporting farmers to

knowtheir numbers is partofthe He

WakaEke Noaprogramme, which is

developing apractical framework to

measure and manageemissionsatfarm

level andrecognise sequestration.

''Farmers mustberecognised forthe

goodwork theyare doingonfarm.''

MeatIndustryAssociationchief

RURAL LIFE

North Canterbury News, July 8, 2021

TURN THE DARKEST DAY INTO NIGHT WITH KRAMP LIGHTS

LED BEACONS

36W -

Pole Mount

$71 95

+GST

KR-LA20020

Environment benefits ... Anew online tool has been offered by Beef +Lamb New Zealand

to help farmers calculate greenhouse gas emissions.

PHOTO:FILE

executive Sirma Karapeevaisstrongly

encouragingfarmers to use the

calculator.

''Wesupportthe He Waka EkeNoa

programmebecausewebelievethat

farmers arebestplaced to measureand

managetheir emissions–knowing and

managingfarmgreenhouse gas

emissions is critical for our futureasa

trustedprovider of sustainablefood.

''Wehavetofront­foot thisand show

the New Zealandpublic andour

customersthatweare serious about

managing our impact on the climate.''

The calculator hasbeen

independentlyassessedasmeetingthe

requirements for calculating emissions

under theHeWaka Eke Noa

programme. Mr McIvorsays thatwhile

farmers canchoosefromanumber of

greenhousegas calculators, the

advantages of theBLNZ toolisthatit's

Poultry shows in full swing

North Canterbury chook breeders joined

the stars of Pecking Order,asthey

returned to the Christchurch Table

Tennis Stadium last month for the

Christchurch Poultry, Pigeon and

Bantam Club's annual show.

Poultry shows have been back around

the South Island this season, after last

year's shows were cancelled due to

Covid­19.

Poultry breeders have been riding a

wave of fanfare since the release of the

2017 feature film Peaking Order,which

was based on members of the

Christchurch club as they prepared for

the 2015 national poultry show which was

held in Oamaru that year.

Christchurch had its turn to host the

national poultry show in in 2017, to

celebrate its 150th annual show.

This year's Christchurch poultry show

attracted more than 900 entries, making

it the second largest show in the South

Island this winter, with Dunedin hosting

the national poultry show in May.

There was achange in format for this

year's Christchurch show, with the show

held on Saturday and Sunday, instead of

South Island champion ... Oxford fancier

Rodger Heaven won two South Island

championships with his colombian

wyandotte bantams.

PHOTO: DAVID HILL

the usual Friday and Saturday.

The national poultry show returns to

Canterbury in 2023, when the North

Canterbury Poultry and Pigeon Club will

host the prestigious event in Rangiora as

part of the club's 125th jubilee

celebrations.

9W -

Pole Mount

$149 95

+GST

KR-LA20001

freeand easytouse.

The calculatorhas been funded by the

Red Meat Profit Partnership andis

availablethrough theBLNZwebsite

beeflambnz.com/ghg­calculator­info.

Farmers canlog in so that their data is

securelysaved, and they can add

information over time.

BLNZwillreportonthe number of

farmers usingthe calculatoraspartof

its industrycommitmentsbut will not

reportonany individual farm's

greenhouse gasemissionstotal. The

calculator is endorsed by the Meat

Industry Association,AFFCONew

Zealand, AllianceGroup, ANZCO

Foods, Blue Sky Meats,Greenlea

Premier Meats,Ovation New Zealand,

Progressive Meats,Silver Fern Farms,

TaylorPreston,TeKuiti Meats,

UniversalBeefPackers, and Wilson

HellabyNZ.

27W -

Pole Mount

$120 95

+GST

KR-LA20005

LED WORK LIGHTS

24W - ⊘110mm

flood beam

$68 50

+GST

KR-LA10025

35

Less Stress for you and your Livestock!

- Competent stock handling by professional

drivers.

- Modern fleet of code compliant trucks and crates

-Competitive pricing, planning and logistics.

Livestock -stock@amuritransport.co.nz

56 St Leonards Rd, Culverden

Fertiliser -fert@amuritransport.co.nz

Ph 03 315 3033 -Fax 03 315 8413

Freight -freight@amuritransport.co.nz

Bulk Grain –Shingle –Coal –Golden Bay Cement -Daily Freight Services

2164342

STOP LEAVES

birds, snow, hail &vermin

from blocking up your spouting

Quality materials: BHP Colorbond steel mesh with unique patented

louvre which will even keep out pine needles. Will not rust or sag with

age or load. 10 year warranty,range of colours.

Proven in Australia &New Zealand over the last 15 years

FOR SAFE, PURE DRINKING WATER

FROM YOUR ROOF.

NOW AVAILABLE: STAINLESS STEEL MICRO MESH

Call Rohan anytime Mon-Sat for

ano-obligation assessment &quote

0800 486532 03 982 8850 www.gumleaf.co.nz

2354936

FARMBIKE SPECIALISTS

Servicing North Canterbury for over 25yrs!

•Sales, Servicing &

Parts

•All Makes &Models

•Qualified Motorcycle

Engineers

(NCME, TRADECERT)

•Electrical &Mechanical

fault testing

•Quality 2nd Hand Bikes

&UTV's

•Repairs &Dismantling

•Insurance Repairs

2177981

QUALITY

FENCING

...FOR ALL

SITUATIONS!

DAIRY -CONVENTIONAL

DEER FENCING -HILL FENCING

RESIDENTIAL -LIFESTYLE

STOCKYARDS -POST DRIVING

WAIAU

Jason 027 497 4811

jdkcmorganfencing@gmail.com

2250957

MEAT2U.NZ

HOME KILL

&WILD GAME

MEAT PROCESSING

313 0022

163 Stokes Road, Balcairn

Ph (03) 312 9844 or 027 205 5724 (AH)

farmbikesnc@orcon.net.nz

www.farmbikeservices.co.nz

INCL. 7

REPLACEABLE

COLOURS 18W -81mm

sq flood beam

$56 95

+GST

KR-LA10092

2374545

Roger Hunter

Parts Manager

0275 071 022

1George Holmes Road, Rolleston

03 349 5975

Canterbury
---
RANGIORA MITSUBISHI

321 High Street, Rangiora | 03941 3175 | rangioramitsubishi.co.nz

10 year /160,000km Powertrain Warranty(whichevercomes

first)(nontransferable). 5year/130,000kmNew Vehicle

Warranty(whichevercomesfirst)(nontransferable).

FROM

$

33,990+ORC*

ST

ST-L

MIDNIGHT EDITION

Ti

$33,990 +orc* $41,990 +orc* $42,500 +orc* $46,990 +orc*

Stock available for immediate delivery

*Prices shown are available while stock lasts plus on road costs.. Nissan reserves the right to vary, extend or withdraw this offer. Not available in conjunction with any other offer.

RANGIORA NISSAN, 321 High Street,Rangiora

Ph: 03 941 3175

www.rangioranissan.co.nz

NISSAN 150,000 KM'S

5YR FACTORY

WARRANTY

rangioranissan.co.nz
---
Best Brands -Best Prices

FREE Pressure

check on Cars, Utes,

4WD &Trailers

5Star Service

346a Flaxton Road |Phone 03 310 6666

0800 226 324 for 24/7 Service

SPORT

North Canterbury News, July 8, 2021

37

Seven teams chase semi-finals

RUGBY

By LINDSAY KERR,

PETER WILLIAMS,

AND DAYLE SUTHERLAND

The mid tablejam in the

LuisettiSeedsNorth

Canterbury division one rugby

championshipintensified

following Saturday'sgames.

With semi­final berths

beckoning, only four points

separate five teams who are

looking to fill the final two

positions behind Kaiapoi and

Saracens.

Leading thisgroupisOxford,

whichcame from behind to beat

Ashley, and Glenmark­Cheviot,

which took onleadersKaiapoi.

Afterfive rounds, the

championshiptableis:

Kaiapoi 24, Saracens 22,

Oxford 14, Ashley 11, Hurunui

10, Glenmark­Cheviot 10,Ohoka

10, Woodend1.

Rising high ... Logan Telfer gains some quality lineout ball for

Oxford. He came on at half­time and considerably stiffened Oxford's

performance, particularly in the set pieces.

PHOTO: LINDSAYKERR

Game of two halves

Oxford and Ashley foughtout

the classicgame of two halves.

Ashley completelydominated

the first half, with Korbyn Gray

landingtwo penalties and

converting an excellent try by

LouisJames.

Ashley could havehad a20

pointlead at half­time,but halfback

BlakeWalesby had atry

ruledout as his footwas

adjudged to be on the dead ball

line before he grounded the

ball.

Oxford thencame to life,

reducing Ashley's leadtojust

six points at half­time with atry

to Danny Brooker.

Prop JoshDuckworthand

five­eighth LeonHingston

impressed for Ashley,

especially in thisfirst half.

The secondhalfwas a

differentstory.

Oxford madesomepersonnel

changes,injectingthe fresh legs

of Jesse Bowring at centre and

LoganTelfer in the forwards,

with both making an immediate

impact.

AMatt Roberts penalty closed

the game rightup, but Ashley

fullback Luke Goldsnaredan

intercept try.

From thatpoint on it was all

Oxford.

Roberts at half­back

mastermindedplay with

ruthless efficiency, putting fiveeighth

Gus Mowat into agap for

athe blind sidetry, before

another bit of Brooker

brilliance splitthe defence for a

try underthe posts.

Achip kick by Roberts, which

regathered and drewthe last

line of defence before offloading

to winger, Luke

Nabulagi who scoredthe try

that not only sealedthis match

but also earnedOxford an

invaluable bonus point.

Scoreboard: Oxford32

(Danny Brooker2,Gus Mowat

and Luke Nabulagi tries.Matt

Roberts 2penalties, 3

conversions) beat Ashley18

(Louis James and Luke Gold

tries. Korbyn Gray 2penalties, 1

conversion).

Hurunuifalters

Hurunui had Saracens in its

sights goinginto the final

quarter, only to falter in the

closing stages.With Saracens

ahead11­7 approaching halftime,fullbackHarryMurray

entered the lineand ripped

through several defenders in a

brilliant forty­metre dash to

score.

RickyAllin extended

Saracens' lead to 14 points with

apenalty earlyinthe secondhalf,but

Hurunui stormed back,

with first­fiveDigby Heard

scoring atry from 10 metersout.

Heardfollowed this up 10

minutes laterwith apenalty and

the gap was only fourpoints.

But Saracens dominatedthe

finalquarter withits backs

running with freedom, scoring

two more tries.

Murray was the standout for

Saracens, withsolid

performances from second five

KeranJenkins and centre

Hadrian Jackson.

BrettHancox and Nathan

Goodwin didtheir job in the

loosepreventing Hurunui from

gaining control in this area.

Former Crusadershooker

Ben Funnel and the evergreen

BrianAndersonwere stand out

playersinthe Hurunui pack,

whileDigbyHeard often made

many yards when he choseto

run and kicked with accuracy.

Scoreboard: Saracens 36

(MattFreeman, HarryMurray,

BrettHancox, Nathan Goodwin

tries. Ricky Allin 2conversions,

4penalties) beat Hurunui 17

(Hunter Jackson, DigbyHeard

tries. Heard 2conversions,1

penalty).

DeansShield

It seemsalong time ago that

Glenmark­Cheviotwas proudly

defendinganunbeaten run that

wentback to 2018.

But thingshave changed

dramatically this season. A

largelynew look sidehas

weatheredastorm andfought

its way back.

While beaten23­18athome

by competition leaders Kaiapoi,

the comebackwas clearly

evident.

Kaiapoi scored four tries to

two,but the result was no

certainty until the finalwhistle.

Retaining the Deans Shieldat

its spiritualhome was

especially satisfying for

Kaiapoi.

Kaiapoi was quickout of the

blocks, scoring its first try

before the hometeam rallied

scoring two tries.

But it was Kaiapoi which

wenttothe break ahead 18­12.

Brook Retallick bought

Glenmark­Cheviot level with

two penalties,before Jacob

Hurring scored after a

sustained Kaiapoi period on

attack.

In the finalmoments a

tigerishKaiapoi defence

managed to withstand a

Glenmarkonslaught.

Lance Taylor, playing his 50th

premier gamefor Kaiapoi, and

Logan Bell wereits players of

the day, while Glenmark­

Cheviot lost theservices of

inspirationalcaptainBen

Anderson to aleg injury.

Scoreboard:Kaiapoi 23 (Shak

Bassi 2, Nacanieli Namati,

Jacob Hurringtries. Taine

Jacobs Lawson 1penalty) beat

Glenmark12(Max Murray,

Henry Cruickshanktries. Brook

Retallick 1conversion,2

penalties).

Ohoka claims points

Ohoka keptagutsy Woodend

sidescoreless to record a45­0

winatMandeville.

CelebratingTobias Pulley's

100th game,Ohoka applied the

early pressure and was

rewarded with tries to Scott

Allin and Cameron Brown.

Woodendwas fieldingan

under­strengthside, but showed

plenty of grit in defence and was

unlucky not to score mid­way

through the firsthalf.

Woodend'sopenside Mike

McCoy was ahandful at the

breakdown, while five­eighth

Keynan Smithused his

educatedboot to claimterritory.

Scoreboard:Ohoka 45 (Scott

Allin, Cameron Brown,James

Marr, Ryan McCullam, Ben

Gold, Sam Grundytries.Scott

Allin 1penalty, 6conversions)

beatWoodend0.

WHEEL

ALIGNMENTS

FROM $59

Bookings recommended, terms &conditions apply

2314312

NORTH CANTERBURY

RUGBYSUB UNION DRAW

10 th July 2021

Luisetti SeedsCombined Div 1

Ashley VGlenmark Cheviot, 02:45 PM, LobLr1. Hurunui VOhoka,

02:45 PM,Cul 1. Oxford VWoodend,02:45PM, OxOval. Kaiapoi V

Saracens Div 1, 02:45PM, KaiOv.

Ellesmere &North CanterburyDiv 2(Section A)

Hurunui VSaracens, 01:00PM, Cul 1. Kaiapoi GOLDS VGlenmark

Cheviot, 01:00 PM, KaiOv. KaikouraBYE.

Ellesmere &North CanterburyDiv 2(Section B)

Ashley VWoodend, 01:00 PM, Lob 4.Ohoka VAmberley Seniors,

02:00 PM, Mand 1. OxfordBYE.

Combined Colts(SectionA)

West Melton VGlenmark Cheviot, 01:00 PM, Wmelt 1.Ashley V

Methven, 01:00 PM, LobLr1.

Canstaff Womens 2nd round

Kaiapoi VLincoln UniversityHoggets, 02:45 PM, Kai 1.

1st XV Round Robin

RHS 1st XV VStBede's 1st XV,02:45PM, RHS1.

Under 18

09/07/2021 Prebbleton VHurunui,07:00 PM, Prebb 1. 10/07/2021

Kaiapoi VSouthbridge/ Dunsandel Combined, 01:00 PM, Kai 1.

Hornby Vikings VOxford, 01:00PM, Dent F1. Waihora VRHS 2nd

XV,01:30 PM,TT3.

Under 17 Girls

HSOB/Marist Albion White VKaiapoi,09:45AM, BobDe3

Under 16

West Melton V RHS Green, 12:30 PM, RolCol. RHS Gold V

Rolleston, 01:00 PM,RHS 2.

Under 15

RHS Green VOxford,11:15 AM, RHS 2. Hurunui VRHS Gold, 12:15

PM, Cul2.Woodend PegasusBay BYE.

U12 -U13 -North Canterbury Only

SectionA

Amberley Black VAshley, 11:00 AM, Amb 1. Glenmark Cheviot V

Saracens, 11:00AM, Omi 1. Hurunui Blue VOxford,11:00 AM, Cul

1. WoodendVKaiapoi Gold,11:00AM, Wood 2. Kaikoura Blue BYE.

SectionB

09/07/2021 Oxford VAshley,06:30 PM, Ox 2. 10/07/2021 Hurunui

Black VOhoka Black, 11:00AM, Cul 2. WoodendVSaracens, 11:00

AM, Wood 3. KaiapoiBlue BYE.

Under 11

Woodend VGlenmark Cheviot, Team1 Default Win. Ohoka Black

VSaracens Blue, 10:55 AM, Mand 2a. Hurunui Black VOhoka

Red, 11:00 AM, Cul3b. Ashley GreenVOxford,11:00 AM, Lob 4a.

Ashley Blue VAmberley Black, 11:00AM, Lob 4b.Saracens RedV

KaikouraA,11:05 AM, SBJnr7. KaiapoiBYE.

Under 10

08/07/2021 Amberley Black VOhoka Red, 06:10 PM, Amb 1a.

10/07/2021 Kaiapoi VAshley, 12:10 PM, Kai 3. Hurunui Black V

Glenmark Cheviot, 12:10 PM, Cul4a. Ohoka Black VWoodend,

12:10 PM, Mandj6. Saracens Blue VOxford, 12:10 PM, SBJnr7.

Saracens RedBYE.

Under 9

Kaiapoi GOLD VOxford, 10:00 AM, Kai 2a. Hurunui Black V

Woodend, 10:00 AM, Cul3c. Amberley Black VGlenmark Cheviot,

10:00AM, Amb 3a. OhokaBlack VKaikoura, 10:00AM, Mandj5a.

Ashley Green VAshley Blue, 10:00 AM, Lob 5a. Saracens Blue V

Kaiapoi BLUE, 10:00AM, SBJnr7. Ohoka RedBYE.

Under 8

Hurunui Black VAshley Green, 10:55 AM, Cul4a. Kaikoura V

Saracens Red, 11:05 AM, Kaik1a. Amberley Black VOhoka Red,

11:05 AM, Amb 2b. Ohoka Black VAshley Blue, 11:05 AM,

Mandj4a. Oxford VKaiapoi, 11:05 AM, Oxjn5a. Saracens Blue V

GlenmarkCheviot,11:05 AM, SBJnr6. WoodendBYE.

Under 7

Ohoka RedVSaracensRed, 10:45AM, Mand3a. Glenmark Cheviot

Blue VAshley Green, 10:50 AM, Omi2a. Saracens Blue VOhoka

Black, 10:50 AM, Sbk3a. Saracens Orange VKaiapoi, 10:50 AM,

Sbk3b. WoodendBlack VOxford, 10:50AM, WoodJ4a. Ashley Blue

VGlenmark CheviotBlack, 10:50 AM, LOB: Jnr2.Hurunui Black V

AmberleyBlack, 11:00 AM, Cul3d.

Under6

SectionA

Glenmark Cheviot Black VAmberley Black, 10:00 AM, Omi 1a.

Woodend Black VWoodend Green, 10:00 AM, Wood 2b. Hurunui

BlackVWoodend White,10:00 AM, Cul3a. Kaiapoi GOLDVKaiapoi

BLUE, 10:00 AM, KaiOva. Hurunui Blue VGlenmark Cheviot Blue,

10:00AM, Cul5.

SectionB

Saracens Red VAshley Blue, 10:00 AM, Sbk3a. Saracens Blue V

Ashley Gold, 10:00 AM,Sbk3b.AshleyGreen VOhokaBlack,10:00

AM, Lob 4a. Oxford RedVKaiapoi WHITE,10:00 AM,Ox4a. Ohoka

GreenVSaracens Orange,10:00 AM, Mandj6. Ohoka RedVAshley

White, 10:00AM, Mandj7.

Printed draw proudly supported by

Four SeasonsRealty

Your home forlocal property

0800 789 1011

Four Seasons Realty 2017 Ltd|Licensed Agent REAA 2008

For all draw information and updates

please keep up to date with

North Canterbury Rugby

2364200
---
Rangiora Toyota

Percival St, Rangiora

(03) 313-8186

www.rangiora.toyota.co.nz

Proudly supportingsport

in North Canterbury

Rga mid-week hares snare division 1lead

HOCKEY

Astring of good results has seen the

Rangiora Hurunui Haresclimbtheir way

back to the top of the mid­week open

women's division1table.

Awin overUCPersians last week along

with an upset lossbytheir nearest rivals

HSOB/Burnside has giventhe Hares a

small bit of breathing room headinginto

the last month of roundrobin

competition.

The Rangiora Hurunui Hawkschalked

up their third win of the season in the

mid­week open division 3competition,

movingthem up to 5th place and within

striking distance of the top 4.

In other match ups both Rangiora

HockeyClub's division 1teams were

soundly beatenbyCarlton­Redcliffs,

while the Rangiora Oddfellows pulled off

amuch neededwin overthe Hornby

Vampires.

Rangiora Korimako and Piwakawaka

clashed for the first time this season after

the former was demoted to the Sunday

championship competition, and as

expected the younger team was too fast

for the more experienced side.

The mid­week open men's teams

achieved oppositeresults, with the Aside

too strong from Marist Mooses,whilethe

Allsorts will be disappointed with their

loss to Harewood.

Anumber of new playershave joined

the Allsortsinrecentweeks as

replacement for injuries and absences,

but the team will need to gel again quickly

if they are to keep their hopes alive for a

top four finishindivision 2.

Rangiora's platinum women'sAteam

had its firstwin of the season, being the

SPORTS RESULTS

Rangiora GolfClub

9Hole Competition: Stroke /Putting:

Ladies:ColeenWhite 14 c/b,DianeSinclair

14 c/b, Rita Moore 14, Annie Cameron15

c/b. Men: John Gregan14, Howard Thomas

15 c/b, Robert Madden 15 c/b.

Rangiora Bridge Club

OxfordPairs:North/South: Jeanette

Chatterton/Gaynor Hurford 1, Rosa

Crighton/Sarah Waldron2,David Rainey/

Liz Duke 3. East/West: Pat Green/Selwyn

Green1,Margaret Fraser/David McRae 2,

LynneStephenson/Janelle Crawley 3.

Presidents: N/S: Robyn Dawson/Jenny

Shore 1, Lindsay Sigglekow/Derek Wilson

2. E/W NoelineGoodgame/Noreen

Thompson 1, LynneJohn/HilaryLakeman

On attack ... Petra Lamont in action for the Rangiora Raiders Kiwi Sticks Girls team against

Southern United at Dudley Park.

PHOTO:SUPPLIED

only platinum team from the club to earn

competition pointsthrough the weekend.

Results

Division 1: Men ­Rangiora CBK 3

(LoganBenson2,Tom Flavell 1) lost to

Carlton­Redcliffs 6. Women­Rangiora

CBK 0lost to Carlton­Redcliffs 5. MVP:

Mikayla Goodman.

SundaySuper League Championship:

Men ­Rangiora Oddfellows 2(Rik Roberts

1, Mike Roberts 1) beat Hornby Vampires

1. MVP: Graeme Ferreira.Women ­

Rangiora Korimako 9beat Rangiora

2,Peter Whitehead/Richard Luisetti3.

Junior: N/S:MarkApperley/Stuart

Atkinson 1, KK/Lynne John 2, Lorraine

Barnett/Wayne Hutchings 3. E/W: Kerryn

Lange/KarenManson 1, DesleySimpson/

Judith Robinson 2, LindseySigglekow/Liz

Calder 3.

Premier Pairs: N/S: BarrySmart/Lynda

Cameron 1, Lynda Grierson/Joy Hayward 2,

Om VanDer Mespel/William Van Der

Mespel 3. E/W: Ken Johns/Jack Lyon 1,

ColinDick/ElizabethAlabaster 2, Alison

Price/Derek Wilson 3.

Waimakariri Gorge Women's Golf

1st Championship Qualifying: 18 holes:

Silver: NWeavers, 88,1.Intermediate:J

Blatch92, 1; LPatton 96, 2; LSmith 97, 3,

LSteele 100, WMehrtens100 equal 4.

Junior: SMardon 105, 1; SGillespie108,2;

IBeets­Huchshorn 110, 3; MRobertson111,

4;KBush 113, 5.

9Holes:RRoy56, 1.

Piwakawaka 0. MVP: Hannah Nelson

(Korimako), Jackie Plimmer

(Piwakawaka).

Mid­Week Open: Men ­Rangiora A7

beat Marist Mooses2.Rangiora Allsorts2

(JasonHigham 1, Marty Woods1)lost to

HarewoodRed 6. Women ­Rangiora

Hurunui Hares 2(Anna Armstrong 1,

Rachelle Crause 1) beat University

Persians 0. MVP: Emma Kelley, Cassidy

New. Rangiora Hurunui Hawks 3(Anneke

Cameron1,Maddi Plimmer 1, Laura

Forbes1)defeated Marist 0. MVP: Laura

Forbes.

Platinum Grades: Men ­Rangiora A0

Amberley Golf Club

Men :M.Grover68, GSmith 72,R

Hornblow 72, PCumming 72, GWilliams

72,TNatapu73. Women: LSchwaiger 71, L

Robertson 72,KRowell 73,BPettigrew76.

Twos:GSmith,SThomas,RMcPail, M

Grover, IHolding, WVan Zuylen.Excel

Design LongestPutt: RClifton.

AmberleySmallbore Rifle Club

DQuigley100.8,KQuigley99.8, KBrown

98.6,CKelland 96.2,CRhodes95.4, A

Roxburgh 91.3, GHeaven 90.1, IFrazer

88.1,AMcLean 85.1,WParker79.0, B

Parker 78.1, ARoxburgh78.0,GJennings

51.0.

Wrestlingresults

ResultsfromUnified Championship

Wrestling's''Livin' TheDream'', held at the

Kaiapoiclublast month:

Rhys Gibson defeated ''Stuart the

Druid''.Bryant and''Grace Lightning''

defeatedthe ''Eccentric'' ElliotSamuels in

lost to Avon Blue 7. MVP: Mica Wilson.

Rangiora B1(Matt Corey 1) lost to Hornby

Dragons 2. MVP: Liam Robinson. Women

­Rangiora A3(MaddiFoster1,Brooke

Cooper1,Amelia Green 1) beat Avon 1.

MVP: Pema Woods. Rangiora B0lost to

HSOB/Burnside 7.

Kwik Sticks 11­a­side: Girls ­Rangiora

Rascals 2defeatedHarewood White 0.

Kwik Sticks 7­a­side: Boys ­Rangiora

Rampage 1lost to Southern United Sand

Lizards 5. Rangiora Rangers 5(Seth

Anders2,Jamie Ryan2,Bram Vermeulen

1) beat Hornby Vipers3.MVP: Ruby

Wilson. Girls ­RangioraRebels0lost to St

Margaret's College 1. MVP: Sienna

Watson. Rangiora Rainbows 3(Ruby

Taylor1,Brooklin Glass 1, Angie Mones­

Cazon 1) drew withHSOB/Burnside 3.

MVP: Jessica Bowler. Rangiora Rubies 1

(Imogen Abernethy1)lost to Harewood

Cobras4.MVP: Katie Lunn.

Kiwi Sticks: Boys ­Rangiora Rogues1

(Hunter Tapp 1) lost to Marist7.MVP:

HunterTapp. Girls ­Rangiora Rabbits 9

(Catherine McKellow 5, Emma McKellow

3, Ashlee Harkess1)beat Southern

United0.MVP: Erika Zwick. Rangiora

Raiders 5(EliseJackson 2, Zara

Cartwright 1, Lily George 1, Ana White 1)

beat Southern United Stingrays 2. MVP:

Cassidy Wilson. RangioraRoad Runners

7beat Southern United Seahorses 0.

Mini Sticks:Boys ­Rangiora Roadsters

6(AidanFerguson3,HarryPullar 2,

XanderMoore 1) drew with Medbury

School6.MVP: FergusWebb.Girls ­

Rangiora Rockets 11 (Aimee Dunlop 4,

Adele Ferguson 4, ShayleeEastmond 1,

Ruby Hutchison 1, Hazel O'Steen 1) beat

Harewood Chasers 1. MVP: Aimee

Dunlop. Rangiora RockStars won by

default over Hinemoa Kaiapoi.

amixed tagmatch. DamianKnightand

RayGunn fought to ano­contest against

''Dirty Deeds'' after bothteamswere

countedout.

The ''Superhero'' Jay Marshall defeated

Corey Cutter to retainthe''Aftershock''

championship. ''K9'' defeatedMarc

Moralestoqualifyfor theUnifiedworld

heavyweightchampionship match.

Unifiedworldheavyweightchampion

KawaKupa defeated''K9'' and ''T­Rex''.

Kawa Kupathen lost Robbo the ''Aussie

Dreamboat''inarecord 11 seconds. John

Henry retained hisUnifiedworld light

heavyweighttitleagainst''WaterHazard''.

''The MegaPowers'' retainedthe

Unifiedworldtag team championships

against[REDACTED], ''InThe Zone''and

''Circus of Tragedy''.

Check out thewebsite

championshipwrestling.co.nzfordetails

on the nextshow ''Southern Stampede 2''.

WANT AFREE PAIR

OF ICEBREAKER SOCKS?

FREE

Buy two pairs of

icebreaker socks,

getathird pair on us.

www.thesportshop.co.nz |345a FLAXTON RD, RANGIORA |03313 7983

Promotion ends 19th July,

T's and C's apply.
---
North CanterburyNews

PROPERTY

Family Living at its Best!

7Bloomfield Street, Leithfield

Don't just buy ahouse, take this opportunity to invest in aproperty that your family will enjoy for decades to come. Sittingupon 2033m² of

established grounds, this home offers an idyllic environment in which you can create memories to cherish.

This warm and inviting home has spacious open plan living and awell-appointed kitchen which reaps the benefits of the morning sun. The

master bedroom has awalk-in robe, updated ensuite and own patio area. Arange of heating solutions including awood burner,heat pump

and an HRV system which ensures year-round comfort. Other highlights include aseparate laundry, excellent indoor/outdoor flow and a

covered patio area -perfect for entertaining.

Needing somewhere to put that growing teenager? Looking to work from home? The self-contained sleepout attached to the garage is the

ideal solution. Fully fenced and secure, this large section is ideal for pets and children and allows for plenty of off-street parking. Additional

outdoor features include two woodsheds, dedicated vegetable garden, carportand ample space to kick aball.

Leithfield village is awonderful community to be apartofand perfect for those wanting arelaxed lifestyle in closeproximity to Amberley's

amenities and an easy commute to Christchurch City.

Our owners have cherished their time here but with the next stage of their lives calling, they are determined to achieve asale as swiftly as

possible. Make no mistake -homes of this calibre, in aquiet/peaceful community are always in demand and prospective purchasers are

advised to proceed with genuine urgency.

Do not delay -call now for further information.

Auction

Wednesday 21 st July

at Russley Golf Club (Memorial Ave)

at 2.00 pm (unless sold prior)

4 1 2 3 1 2

Open: Saturday & Sunday 2.00 - 2.30pm

Karen Ward

021 221 7027

03 313 6158

karen.ward@harcourts.co.nz

View online @harcourtsfourseasons.co.nz

ID# RG9481

Four Seasons Realty 2017 Ltd

Licensed Agent REAA 2008

Four SeasonsRealty

2397217
---
Four SeasonsRealty
---
North Canterbury

Rangiora 31 Melford Close

So much space -ahidden gem!

Hidden in asoughtafter cul-de-sac, this five bedroom brickhome has enough space for two families! Built in the2000s,it

combinesmodern materials with the comfort of beinglocatedinaquiet established street handy to all Rangiora amenities.

Enjoyall daysun in the large openplan family room, diningand breakfastbar area,orretreattothe spacioussecondlounge

for relaxation.Apelletfire, heat pumps and double glazing ensure absolute comfort. All five bedroomsare large with double

wardrobes, withthe master bedroom featuring an ensuite with shower, toiletand large bath. There arethreetoilets for

comfort and aseparate laundry withlots of storage. Theinternal accessdouble garageishugeand givesahome

handyperson lots of space for projects. Currently operated as ahome-basedbusiness, the property features extraoff street

parking, trailer areaand agardenshedall on ahuge 967 sqmsection-plentyofroomfor everyone. Comeoninand discover

the possibilities-roomto move!

5 2 2 2

Auction 4.00pm, Fri 30th Jul, 2021, (unless sold prior)

View Sat 10 Jul 1.00 -1.45pm

Sun 11 Jul 1.00 -1.45pm

Web pb.co.nz/RU87554

Kirstyn Barnett

M 021 312 230

E kirstyn.barnett@pb.co.nz

Waikuku Beach 75 ParkTerrace

Make your move, and make your mark!

Boasting plenty of potential, this homeholds massive appeal for families, first home buyers andinvestors alike. And,with the

property alreadyvacant, it's readytobelivedin straight away! Accommodationisprovided by three bedroomsand is

complemented by awell-appointed kitchen and bathroom space, while the open-plan living area is afforded winter comfort

thanks to the presence of awood fire. Outside, the groundsare largeenough to offer flexibility without necessitating endless

hoursofmaintenance,while the sun-drencheddeck is the ideal spot to relax and unwind with friends and loved ones. The

double garagewith an attached sleepout (including bathroomwith toilet and shower) adds to the appealofthis character

home. The lifestyle opportunitieson offer in Waikuku Beach are abundant, to say the least.While it's just ashort commute to

Rangiora thereare plenty of walks,cycleways, and beach activities to keepyou activeonthe weekends. Thereisstill plenty of

potential to enhance thiswarmand inviting home,increasing its valueinthe process. Ourvendorsare determinedtosell, and

achange of ownership is inevitable. Immediateaction is recommended -contact m

Property Brokers Ltd Licensed REAA 2008 |pb.co.nz

4 2 2

Auction 1.00pm, Fri 16th Jul, 2021

View Sun 11 Jul 1.00 -1.30pm

Wed 14 Jul 2.00 -2.30pm

Web pb.co.nz/RU91260

SallyDavies

M 027 359 5509

E sally.davies@pb.co.nz

Proudtobehere
---
North Canterbury

Rangiora 50 Charles Upham Drive

Brand new and ready for you!

Be the firsttolive in this brand-newhomeinpopular northwest Rangiora.Owners have had achange in circumstances, so it is

readyfor you to moveright in!Themodernopenplansun-drenched living room opens to alargepatio just waiting for you to

add yourown style. Thekitchen features abutler'spantry, quality SMEGappliancesand abreakfast counter for lazy brunches.

Wander down the hall to view fourbedrooms, all with double wardrobes, bathroom with allthe modcons as wellas aseparate

toilet. The largemaster bedroomhas its ownheat pump andpatio, plus awalk-inwardrobe to alarge ensuitewith shower,

toilet andextended vanity. The internal access double garage has compatibility forEVcharging, with the laundry arealeading

to the sunny fully fenced rear yard.Takethis opportunity to buy new in an excellent locationamongstquality homes, handy to

OakwoodPark, Arlington Shopping Centre and within walkingdistance to cafes and bus services.

4 2 1 2

Auction 3.00pm, Fri 23rd Jul, 2021, (unless sold prior), Onsite

View Thu 8Jul 3.30 -4.15pm

Sun 11 Jul 2.00 -2.45pm

Web pb.co.nz/RU90706

Dayan Muntz

M 021 432 926

E dayan.muntz@pb.co.nz

Coopers Creek 160 Sladdens Bush Road

The search ends here!

This beautifulfour-bedroom homefeatures acountry-style kitchen,

stunning macrocarpabenchtop, open-planlivingand wood burner

with wetback. The home hastwo ensuites and family bathroom,great

for guests, extendedfamily,orAir BnB business. The 50ha block

running from flat land to steeperhill has approximately ten main

paddocksand the soilisquiteproductive(predominately Claremont

ModeratelyDeep Silt on the hill, Mairaki and Pahau soil on thelower

land) with excellentgrass production. Infrastructureincludes

cattleyards, loading ramp,two-bay,and three-bay sheds.Deadline

Sale

closes14th July at 4:00pm.

4 3 1 3

Deadline Sale closes Wednesday 14th

July, 2021 at 4.00pm, (unless sold

prior)

View By appointment

Web pb.co.nz/RL87464

Maurice Newell

M 027 240 1718

Hamish Anderson

M 027 678 8888

Hanmer Springs

Propertyowners

Want to know what your propertyisworth?

Requestyour obligation free appraisal now.

Janice Clyma AREINZ

Residential/Lifestyle Sales Consultant

PropertyBrokers Real EstateHanmer Springs

M 027 434 7090 P 03 313 8022 E janice.clyma@pb.co.nz

Property Brokers Ltd Licensed REAA 2008 |PB050326

Property Brokers Ltd Licensed REAA 2008 |pb.co.nz

Proudtobehere
---
Club marks milestones

NEWS

North Canterbury News, July 8, 2021

43

The Waimakariri UnitedFootball Club

celebratedsignificant milestones

achievedbyfive of its players with abig

win in front of alarge crowdatKendall

ParkinKaiapoi on June 26.

It has been abig seasonfor Brad

Stewart and Kane Fraser, withboth

players notchinguptheir 200th gamefor

the club, while MitchellQuigley,Luke

Fraser and LucasClark have all played

their100th game.

The club's senior men's firstteam,

playing in MainlandFootball's

Canterbury ChampionshipLeague

competition honoured their achievement

last Saturdaybywinning their game

against ParklandsUnited 6­0,with all

goalsscored by DannyLoney.

At arecognition ceremony after

Saturday's gamethe club'sgeneral

manager, AmyPawson,said the game

was acelebration match for the five

players.

''Congratulations to Brad and Kane for

reachingtheir 200th milestone and

Mitchell, Luke and Lucasonreaching

their100th milestone,'' she said.

''Thesenior men's first team played a

fantastic gameinfrontofalarge home

crowdatKendall Park.

''They haveput in atremendous effort

this season to get themselves to where

they arenow,sitting at the top of the

Canterbury Championshipleaguetable.

We are extremely proudofthe whole

team and wish them all the best for the

rest of the season.''

Clubvice­chairperson Sabrina Ilett

thanked the players for providing great

role models for youngerclub members.

'' Thisisnot just about talent but

creating aclub culturethatjuniorand

youthplayers are proud and passionate

about playing forour senior teams, both

at social and competitive level,'' she said.

Bradjoined the clubasateenager,

after his familyemigratedfrom the

United Kingdomand by the age of 15 he

wasplaying seniorfootball.

He played for manyseasonsbefore

taking asix­yearbreak and rejoined the

teamthis season.

He canplay in midfield and defence,

hasahigh workrate andhas been agreat

voice of experience for the squad this

year.

Kanebeganplaying football as afouryear­oldwith

RangioraAFC,beforethe

mergerofthe formerthreeWaimakariri

football clubs to formthe Waimakariri

United Football Club in 2008.

Apart frombriefstints away, Kane has

playedseniorfootball for the clubsince

he was 15 and is awell respectedsenior

player.

Mitchell alsobeganhis football career

withRangiora AFC, and apart fromone

season off,hehas only everplayed for the

Waimakariri UnitedFootball Club.

He is ano­nonsense defender, with

tremendous aerialability.

Lucasisanother one­clubman,having

started with Rangiora AFC,before the

merger.

He is ahard running left­sidedefender

whohas developed hisattacking game

during recent seasonsand has scored

somespectacular goals.

Lukebeganplaying football with

Kaiapoi TownAFC at age four.

Apart from ashort stintinthe

Mainland PremierLeague with FC

Twenty, Luke has played senior football

for theWaimakariri United Football

Clubsincehewas 16. He is an attacking

midfielder.

Splash for Cash champion

Raewyn Bishop, of Total Realty

Rangiora, has been named the ''Splash

for Cash'' champion trophy winner from

the Charles Upham Rangiora Big Splash

held last month.

She raised awhopping $3,502 for the

Rangiora Stroke Club for the Big Splash

held at the Rangiora RSA.

''Raewyn took fundraising to the next

level and blew us away with her

fundraising ideas and the amount she

raised for the Rangiora Stroke Club,''

Rangiora Promotions says.

For her efforts, a$250 donation will be

made to Raewyn's chosen charity,

Conductive Education Canterbury.

In second place in the ''Splash for

Cash'' was Scott Murray, of ANZ, who

raised $3,214. Adonation will be made to

his chosen charity, Learning Needs

Library Inc. (aka Christchurch Special

Needs Library).

Marea McLennan, of Unichem Medical

Corner Pharmacy Rangiora, raised $2100

to take third place, with adonation to be

Splash for Cash ... Raewyn Bishop (left) is

presented with the ''Splash for Cash''

champion trophy by Rangiora Promotions

business liaison officer Karen Dugdale.

PHOTO: RANGIORA PROMOTIONS

made to her chosen charity, St John

Rangiora.

The Widest Music Variety

Our readership is

wayup

Reach morepeople than any other

media choice inNorth Canterbury with us.

Source: Nielsen National readership survey y/e Q3 2020 -y/e Q1 2021

Readership of people 15+ in North Canterbury is:

Up 11.6% in

thelast 6months

Just ONE AD placed in the North Canterbury News isread by:

48,000 people

Reach more customers and growyour profits with us. For professional

advice contact Dayna today, 027 312 0089 or dayna.burton@ncnews.co.nz

Tune in nowtolistenon104.9 North Canterbury

and103.7 Hanmer Springs andKaikoura

www.ncnews.co.nz
---
What's happening in your

community…

Mayoral Update -

Three Waters Reform Proposals

The release of new information from the

Government about Three Waters Reform proposals

means we now have anidea of the shape and

ownership models of the proposed entities.

There are alot of broad statements being made

and questions that need to be answered. I'm

concerned the information provided only paints

part of the picture.

Like all Councils we recognise the need to invest

more in Three Waters. This isn't anything new.

We take great pride in providing our communities

with safe and reliable drinking water.

Over the last 20 years we've invested over $100m

in water infrastructure which is high quality and

have aplanned programme to ensure it stays this

way. Wehave a100 year strategy to fund these

assets for our community.

The advertising campaign the Government are

using trivialises avery important matter and

doesn't fairly represent the realities ofwater

services and quality in New Zealand. We recently

found out the cost of this campaign is$3.5m

which is an outrageous waste of taxpayer money.

Iquestion how they've worked out the huge

efficiencies available given the proposal says it's

going to increase staffing by thousands of people.

Ourown financials andmodelling doesn'tsupport

their underlying argumentand we are still waiting to

seethedetailedfinancial modelling andassumptions

(beyondadashboard) that they'veused.

Until we receivethis, myself and Councillors can'thave

an honest conversation with ourcommunitiesonthese

proposals so they canmake an informed decision.

Iremain extremely concerned aboutthe paceand

urgency of thisreformand hope this remains achoice

forour community to make. This is apointIstrongly

madetothe Minister of LocalGovernment when we

met twoweeks ago and havereiterated since.

-Mayor Dan Gordon

Icy Roads Catching Drivers Out

Some drivers are not getting the message to

reduce speed when temperatures are low and ice

is likely to be present on the roads.

Police and Fire and Emergency New Zealand have

attended several crashes over the weekend where

drivers have not been driving to the conditions

resulting incrashes.

Sergeant Colin Stewart says drivers need to

reduce their speed when temperatures are low.

"Regardless of whether you think there is ice or

not, the best way to reduce the risk of acrash is to

slow down," he says.

It's clear that while some drivers are paying

attention tothe weather forecasts and taking extra

care, others aren't and it puts everyone at risk.

Road Safety Co-ordinator Kathy Graham says

there is amisconception that gritting roads makes

it safe todrive atyour normal speed. However, grit

only improves friction by about 15% so you only

have around 40% of dry road skid resistance.

While contractors check roads very early in the

morning they will also respond at other times

where required. Ice can form very quickly atany

time of the day however, so when temperatures

are low assume the road will be slippery and

reduce your speed. Black ice can't be seen so you

won'tknow until you hit it.

Reducing speed when driving in icy conditions

doesn't mean you won't slide off the road, but at a

slower speed the impact will be less.

Applications Open Soon for $4m

Canterbury Flood Recovery Fund

TheMinistry forPrimary Industries is encouraging

all farmers and growers affected by flooding in

Canterbury to applyfor support from anew $4m fund.

The expanded Canterbury Flood Recovery Fund

was set up to support the region's recovery from a

one in 200-year rainfall event.

Applications can be made retrospectively for

clean-up work already undertaken. The size and

distribution ofgrants will be determined once all

the applications have been received.

Applications for the fund open on 9July 2021 and

close on 30 July 2021. Forms will be available on

www.mpi.govt.nz from 9July 2021.

Your chance to

talk to the Mayor

1.30– 4pm

Thursday 8July

Woodend Community Centre

Massive BookSaleat

Waimakariri Libraries

Stock up on your winter reading

material with greatbooks at

special prices foreveryone!

KaiapoiLibrary

176Williams Street, Kaiapoi

› Saturday10July 2021•10am to 2pm

› Sunday11July2021•1pm to 4pm

Find out more

libraries.waimakariri.govt.nz

03 311 8901

The Great

At Kaiapoi Domainand

Pearson Park, Oxford

For more information go to:

www.kidsfest.co.nz/event/the-great-fairy-huntnt/the

*Facepainting subject to weather.

Check the Beyond The Faerie Tree

Facebook page for updates.

Saturday 10 July -

Sunday 25 July 2021

Free

Face Pa inting

Free

Face Pa inting

with Snowdrop at

the Kaiapoi Domain

Friday 16 July

11.00 am -1.00 pm

Friday 23 July

11.00 am -1.00 pm
---
NEWS &CLASSIFIED

North Canterbury News, July 8, 2021

45

Give usyour

feedback

ABOUT AN

AQUA PLAY PARK

Should the Council support aproposal to

install anAqua Play Park inKaiapoi?

The WHoW Trust are proposing to createa

temporary water park on the lake within

NCF Reserve.

It wouldinclude floatingbouncy castles, pontoons

and supporting facilities and would operateduring

peak summer months.

Before adecision ismade, we'd like to know

what you think. Share your feedback before

5pm on Wednesday 14 July 2021.

Have your say waimakariri.govt.nz/letstalk

NEED FUNDING FOR A

LOCAL ARTS PROJECT?

Assistance is available for groups and

individuals who are keen to provide arts

and cultural activities in the Waimakariri

District from the Creative Communities

New Zealand Scheme.

The next CreativeCommunities round will close

Monday23August 2021,foreventsoractivities

thattakeplace between1October2021 and

1October2022.

The Application Form and Guide for Applicants is

available from Council Service Centres and Libraries or

from the Council website at waimakariri.govt.nz

If youhaveany questionsplease contact

the administrator,Ben Eldridge

Phone03311 8901or0800965 468

Email ben.eldridge@wmk.govt.nz

Community Op Shop

The new Op shop opens in the WaikariChurchHall at 10am, Monday,July 5. Come and Bishop Peter

and HurunuiMayor Marie Black. You are most welcome to stay and join us for acuppa and please

bring aplate of food to sharefor morning tea.Afirewood request has beenmet. Thank you for your

offers.

Rangiora Community Patrol

Afundraisingsausage sizzle willbeheld for the patrol, who are the eyes an dears for the Police,

on Saturday ,July 17, 10amto2pm outside PAK'nSAVE, Southbrook.

Patrolmilestone

The Rangiora CommunityPatrol will celebrate 25, plus one yearonSunday,July 25 at 2pm at

MainPower Oval, Coldstream Road.Anyonefrom the Patrol (car or cameras) since 1995 is invited

to an afternoontea to celebrateour anniversary. RSVP to Anne Palmer0274258317.

annepalmer52@gmail.com. Be quick­limit100.

PsychologicalFirst Aid

Two pyschological first aid courses willbeheld at the John Knox Centreatthe corner of King and

High Streets,RangioraonFriday, July 23, and Saturday,August 14. The Loburn branch of Red Cross

invites people of the Waimakaririand beyond to take partinthe courses which includebecoming

familiar withdistress reactions. The coursesare afull, sevenhour day. To registeremail

wellbeing@redcross.org.nz.

Rangiora Players

How does yourGarden Grow will be stagedbythe Rangiora Players from July 10 to July24. This play

is nothing aboutgardens, or how they grow. Nathan Pond: Once a

mega rockstar, now ashadow of his former self, (mostly) off the drugsand boozeafter (several) spells

in rehab, but on the comeback trail. Tickets $25 per person.

Fire &Ice festival

The BlackwellDepartment Storecarparkwill hostthe free day on July 24, which will kickoff with

ice artist Victor Cagayat fromAuckland sculptingice surprises from 12.30pmto3.30pm. At 5pm the

festive fun beginswith hot food, mulled wine,live music and market stalls.

Kaiapoi Art Expo

The Kaiapoi Art expo will be held on July24and 25, 10amto5pm, in the Kaiapoi Club, Raven Quay,

Kaiapoi. Check out over 800 artworks,from 125 artists, all underone roof including painting,

photography,ceramics, woodwork and more. Take part in the 'have agoday' on Saturday. Entryby

gold coin.

AMPLIFY

YOUR

BUSINESS

AND BE THE

NAME THEY

REMEMBER

FIRST

Advertise with

us and get

noticed

today!

Phone us today on 03 314 8335

or email sales@ncnews.co.nz to

find out how we can help!

Read astory that you

want to comment on?

Send us a

Letter to the Editor!

Letters must be under

250 words and may

be abridged.

Email robyn.bristow@ncnews.co.nz

Public Notices

Kaiapoi Christadelphians

"The Key of knowledge..." (Luke 11:52)

THE BIBLE'S

SOLUTION TO FEAR

If we have looked about us and observed the World's

events, we could understandably be perplexed and

fearful, thinking where is it all going to end? There

are amultitude ofsuggestions, but all from ahuman

viewpoint. There is only one place where the answers

to all the troubles in the world can be found. THE

BIBLE. The Bible (the only place of true wisdom) gives

hope and direction for todayand the future.All it takes

is for us to make amove to seek the answers. There

is no need for despair and fear. God is going tobring

anew world, where evil will be restrained, and peace

and equity will prevail under arighteous ruler.

All welcome. DVD presentation

Sunday 11th July,7.30pm

Kaiapoi Community Centre, Sewell Street

Forinformation phone 03 352 5453

website -bibletruthandprophecy

HANMER SPRINGS FLYRIDE

Publicly Notified Resource Consent

Application: RC210098

Hanmer Springs Thermal Pools &Spa (the applicant)

has made changes to the resourceconsent application

(RC210029)to installand operateaflyride at:

Conical Hill Reserve –ConicalHill Road and54Lucas

Lane,Hanmer Springs.

The changes are outlined inan addendum and are

considered tobe outofscope of the original application.

Therefore, the resource consent application must be

notifiedand processedasanew application.

Submissions onthis resource consent application

close: 5pm Thursday5August2021

Available online: The full application including the

addendum,public notice and information on how to

make asubmission are available online at:

www.hurunui.govt.nz/flyride

If youhaveany questions, please contact

KelseyBewley,03314 0048 or

kelsey.bewley@hurunui.govt.nz

2398383

2397991
---
CLASSIFIED

46 North Canterbury News, July 8, 2021

PUBLIC NOTICE OF

APPLICATION FOR

OFF LICENCE

SECTION 101, SALE

AND SUPPLY OF

ALCOHOL ACT 2012

Daniel Stapleforth of

Forthluck Ltd, 201 Davis Rd,

Cust has made application

to the District Licensing

Committee at Rangiora for

the issue of an Off Licence

in respect of the premises

situated at 201 Davis Road,

Cust known as Forthluck

Ltd.

The general nature of the

business conducted (or to

be conducted) under the

licence is Remote Sales of

Alcohol -Online Sales.

The days on which and the

hours during which alcohol

is (or is intended to be)

sold under the licence are

7am to 11pm, Monday to

Sunday.

The application may be

inspected during ordinary

office hours at the office

of the Waimakariri District

Licensing Committee at 215

High Street, Rangiora.

Any person who is entitled

to object and who wishes

to object to the issue of

the licence may, not later

than 15 working days after

the date of the publication

of this notice, file anotice

in writing of the objection

with the Secretary of

the Waimakariri District

Licensing Committee at

Private Bag 1005, Rangiora.

No objection to the issue

of alicence may be made

in relation to amatter other

than amatter specified is

section 105 (1) of the Sale

and Supply of Alcohol Act

2012.

This is the second

publication of this notice.

This notice was first

published on 1July 2021.

2394993v2

Cars Wanted

ANY old cars, anything pre

1990, unfinished Hot Rods,

Classic Cars. Please call

027 258 8366.

CASH 4CARS

and 4WD'S

Phone

Automotive

Parts

03 313 7216

For Sale

HONEY 4kg bucket

cooking honey, $30 special.

Available at Gracebrook,

Amberley. Telephone 03

314 7076.

Gardening

A+ GARDEN hedges cut

to perfection. Tree &arbor

work. Also spraying. Free

quotes. Ph 03 312 0668 or

021 111 4322.

Public Notices Situations Vacant Trade &Services

Wanted To Rent

PUBLICNOTICEOF

APPLICATION FOR ON

AND OFF-LICENCES

SECTION 101,SALE

ANDSUPPLYOF

ALCOHOL ACT 2012

Scott Management

Services Ltd t/as New

World Kaiapoi has made

application to the District

Licensing Committee

at Rangiora for the

renewal of an On and Off

Licence in respect of the

premises situated at 52

Charles St, Kaiapoi or the

Supermarket known as

New World Kaiapoi.

The general nature of the

business conducted (or to

be conducted) under the

licence is Supermarket.

The days on which and

the hours during which

alcohol is (or is intended to

be) sold under the licence

are 7am to 10pm, 7days

aweek.

The application may be

inspected during ordinary

office hours at the office

of the Waimakariri District

Licensing Committee at

215 High Street, Rangiora.

Any person who is entitled

to object and who wishes

to object to the issue of

the licence may, not later

than 15 working days after

the date of the publication

of this notice, file anotice

in writing ofthe objection

with the Secretary of

the Waimakariri District

Licensing Committee

at Private Bag 1005,

Rangiora.

No objection to the renewal

of alicence may be made

in relation to amatter other

than amatter specified in

section 131 of the Sale and

Supply of Alcohol Act 2012.

This is the first publication

of this notice.

2397237v1

Cars Wanted

CARS, vans, 4WD's

wanted for dismantling or

repair. Phone 027 258

8366.

WANTED to buy Ford,

Holden, Chrysler or

Chev's, Classic cars. Any

other types considered, any

condition. Please phone

Tony 027 313 5000.

Firewood

SPLIT Old Man Pine 3.7m

@$260, Split Hardwood

Mix 3.7m @$360. Mobile

021 993 497 Paul.

DRY WATTLE two years

old, $700 6m2. Dry old

man pine, $550 6m2. Phone

03 312 8726 Rangiora.

FIREWOOD logged ready

to saw up, 7km from Rangiora,

$10m3. Please text 027

435 4023.

FREE firewood from trees

that are felled in Rangiora

area. Suit retired men with

chainsaw. Ph 021 358 593.

URGENTLY REQUIRED

Farm cottage or similar,

2-3 bedroom, by responsible,

mature, professional female

with clean, tidy habits.

Long term and not prepared to

share. Also require 3-4 acres

for grazing sensible horses.

Ph 027 472 6391.

2395366

rural reporter

CentralRural Life

Canterbury(flexiblelocation)

Do you know your Herefords fromyour Holsteins?

Areyou ajournalist with apassionfor ruralnews?

Central Rural Lifehas an excitingopportunityfor a

professional and enthusiasticreportertojoin itsteam

in Canterbury.The ideal applicant willhavesoundrural

knowledgeand journalism skills.

CentralRural LifeisanAllied Press Ltdcommunity

newspaper deliveredfortnightlytomorethan

17,500rural addresses between NorthOtago, North

Canterburyand the West Coast.

The role will requireyou to cover localrural issues,

eventsand human intereststories. Some advertising

featureworkmay also be required.

The successful candidate willbeaself-starter,ableto

juggletasks and meet deadlines,and haveapassion

for theruralsector.

Strong photography skillsare required andvideoand

website skillsare desirable. Afull driver's licence is

required.

If youthinkthis is for you, pleasesendyour CV

withacoveringletter to recruitment@alliedpress.co.nz

or apply via Seek.Informalinquiriesabout the role are

welcomeand should be directedtoSallyRae,

AlliedPress Rural Editor(sally.rae@alliedpress.co.nz,

or phone 027 529 6040).

Applications forthe role close on Friday 16 July 2021.

Please noteyou musthavethe right to workin

New Zealand to applyfor this role.

Disclaimer:Allied Pressdoesnot acceptunsolicited

agency resumes. AlliedPress is not responsible for

any feesrelatedtounsolicited resumes.

Motorcycles

SouthPacific Motorcycle

Services (Mandeville)

Repairs, service, tyres etc

for all motorcycles.

Greatservice -great rates!

03 312 0066

office@motorbiketours.co.nz

www.motorbiketours.co.nz

Wanted To Buy

BUYING estate type old

china, crystal, collectables,

vases. Phone 027 350 3963,

or 313 1878.

$$$

Amalgamated Scrap Metal

Ltd. Specialists in farm

machineryand farm clean

ups, old vehicles etc.

100% locally owned.

Ph 0800 030 712 or

027 695 0480.

2312759

Property Wanted

WANTED TO BUY: lifestyle

block, any size house,

anywhere considered, privacy

is key, preferably won't

have to sell akidney for.

Text/leave amessage with

details to 027 787 9648 and

will call back.

Educational

TUITION available. Primary

and secondary up to

NCEA level 3. In centre

(Rangiora) or interactive

online from your home.

Each student on an individually

tailored programme.

Kip McGrath Rangiora has

been serving the local community

for 30 +years. Give

us acall (03 313 3638) or

book your free assessment

online https://www.kipmcgrath.

co.nz/rangiora

2378088v2

PUT YOUR

HAND UP

VOLUNTEER FOR

CITIZENSADVICE BUREAU

NORTH CANTERBURY

2393749

Being aCAB volunteer is challenging and rewarding.

If you're:

• agood listener

• willing to learn

• confident using acomputer

• happy to research client enquiries

then you are apotential CAB volunteer

We provide our volunteers with extensive and

ongoing training, and amentorship programme.

Formore information phone us on 03 313 8822,

email northcanterbury@cab.org.nz or visit our

website www.cab.nz/location/cab-north-canterbury

Applications close on 26 July 2021

North Canterbury

Positions Available

Dry Stock Assistant

•Feeding of livestock

•Administering Animal health

•Assisting rearing Beef and Dairycalves

Machinery Operator

•Full cultivation and direct drilling set up

•Baling and harvesting of grains

•H4licence for cartage between both

properties

Both positions are based in Waikari and can be

full time or part time for key seasonal tasks, to

enquire further phone Ben 027 699 6660

2398837

2398062

ACCOUNTING SUPER-

STAR Intermediate

Chartered Accountant must

have at least 3years experience.

Contact Donna 03

310 7285 or 027 636 6960.

Send your CV to

info@elevatetalent.co.nz.

Elevate Recruitment, 113A

High Street, Rangiora.

JOBS JOBS JOBS. Want

local work? We service all

industries, Administration,

Construction, Manufacturing,

Labouring Roles and

more. Register with us.

Phone Tina 03 310 7285.

Elevate Recruitment, 113A

High Street, Rangiora.

Pets

BICHON HOMESTAY

for smaller dogs. We look

after your dog in our home.

"No kennels". Phone today

03 314 6110.

Personal

ALL TREE SERVICES,

arbour work, pruning, tree

removal. Affordable &

friendly service. Telephone

021 111 4322.

ARBORIST

Copper Beech Tree

Services. Tree removal,

pruning, height reduction,

hedge trimming, shaping,

tree planting, firewood.

Free quotes. Contact Angus

Edwards 027 259 6741

copperbeechtreeservices@gmail.com

BRIAN'S Tree Services.

Tree felling, topping,

shaping, firewood cut, rubbish

removed, stump grinding,

branch chipping.

Affordable rates. Phone 03

327 5505 or 021 124 4894.

DRESSMAKING Bev's

Sew Good Services. For all

your alterations, repairs,

dressmaking, curtains.

Phone 327 5535.

Log Fires

Pellet Fires

Heat Pumps

Sales

Service

Installations

Free Quotes

03 343 1651

472 Blenheim Rd

www.heatstore.co.nz

BUILDERS Father &Son

team. Amac Builders are

available to help you with

your building needs. High

standards, low overheads.

No job too small. Check us

out on fb. Amac Builders

Ltd. Ph 027 318 4400.

DIRTY TILES &Grout?

Professional tile cleaning,

tiled shower restoration,

mouldy silcone, shower

glass & we can even

recolour your old grout!

For all your tile and grout

issues call Grout Pro for a

free, no obligation quote.

Ph Darryl 0800 882 772.

METAL WORX. Flashing,

Sheetmetal Fabrication,

Wrought Iron,

Welding, Custom Trailers,

General Metalwork. No job

too big or too small. Ph 021

265 5428 or 03 314 6908.

Find us on facebook/

Glenmark Metal Worx.

glenmarkmetalworx.ltd@gmail.com.

PAINT & wallpaper

services. Wayne Bryant,

SEMI RETIRED kind, exterior, interior. Qualified

caring man looking for a tradesman. Free quotes. Ph

loving relationship. 313 5337 or 027 654 4568.

Seeking agenuine, caring

woman in her 70's, light PAINTER. Qualified local

drinker. Ph 020 4129 5331. professional, Int / Ext,

roofs, wallpaper. Call or

Livestock

text Corban 027 846 5035.

POWER TOOLS repairs,

parts &sales for over 40

years. All main brands serviced.

Grossman Trade

HOMEKILL

&Wild Game Tools, 23 Watts Road,

Christchurch. Ph 389 9230.

Meat Processing

RANGIORA Rubbish

Removal and RRR skips.

313 0022 Wheelie bins any frequency

and skips from 1.5 cube to

2309602MEAT2U.NZ 9cube. Skips and wheelie

bins for any use, rubbish,

Trade&Services

greenwaste, building sites

or just cleanups. Give us a

phone call 313 6957 or for

ABEL &Prestige Chimney skips 021 313 255.

Cleaning. Nth Cant owned

& operated. Covering all

areas from Waimak to Hanmer.

ROOFER. All roof repairs,

roof painting, water blastteed,

Professional, guaraning,

moss treatment,

service. Firebox repointing, gutter cleans &

repairs, carry most parts. Ph snow straps. And more.

0800 661 244.

AFFORDABLE concrete

Free quotes. Phone Nathan

027 516 6609.

cutting with quality and SCREEN PRINTING.

removal work. Free quotes. For all your printing

No job too small. Ph 027 requirements. T-shirts,

442 2219, Fax 03 359 6052

or A/H 03 359 4605.

Hoodies, Hi-Vis vests and

polos, Overalls, Caps etc.

Please phone Heather 03

313 0261 or email heather.

norstar@gmail.com.

STONEMASON, Brick

and Blocklayer. Earthquake

qualified.

repairs,

repoint,

grind out and

River/Oamaru

stone, Schist, Volcanic

Rock, paving, all alterations

new and old. Quality

workmanship. Visit

featureworks.co.nz or ph

027 601 3145.

WINDOW TINTING

tintawindow

advanced film solutions

99% uv block

fade protection

heat control

reduce glare

25 Years Experience

privacy films

frosting designs

non-darkening films

Workmanship Guaranteed

Lifetime Warranties on Most Films

UV

block

SUMMERFIELD

FENCING

IN YOUR AREA NOW.

Lifestyle or farm, sheep, cattle,

horse, all types of animals.

Fences, yards, sheds, arenas,

shelters, runs.

30+ years contract fencing.

Steve is available to help with

your design &planning.

Ph office03312 4747

ANTHONY SYMONDS

Forall your painting &

plastering requirements

Local with 30 years

experience

All workmanship

Guaranteed.

Phone 021 344 023

Pride &Quality Painting

&Decorating Services

20 yrs exp, fast and friendly

service. For all your painting

needs, phone: Martin 310

6187 or 021 128 9867

SEPTIC TANK

CLEANING

Bill's Liquid

Waste

Blair Tavendale

Ph 03 314 9371

0275 379-694

REMOVALISTS

Movemen Ltd

2Men &agood sized truck.

From $150 plus GST per

hour.Kaiapoi based.

Call Gerard

027 668 3636

VALUATION -

Specialising in North Canterbury.

Contact Geoff at

Maxwell Valuation. Phone

03 310 8541 or email

geoff@maxval.co.nz.

•Interiorand exterior

painting

•Small-medium size/

repaints

•Minorplasterrepairs

•Timberwindowrepairs

Ph: 0800 462 758 Ph/txt: 021314 319 Mark Taylor

Email: jackiemarktaylor@yahoo.co.nz

Long established local company

www.taylorbuildingmaintenance.co.nz

Free Quotes Canterbury and Districts

03 365 3653 0800 368 468

2091848

SHEARER. Hap's Farm &

Lifestyle Services. Shearing,

crutching, drenching,

tailing, feet trimming &

health check. — Ph. 03-

423-3713 or 021-267-4025.

2220615

2362002

2343272

You dump it...

Blair pumps it...

027 216 0000

2225862
---
Trusted Trades &

Professional Services

Guide

To book your spaceinthis guide,phoneAmanda Keys 313 2840 or email amanda.keys@ncnews.co.nz

Appliance Repairs

Builder Builder Butchery

•REGISTERED TECHNICIAN

•AUTHORISEDLOCAL SERVICE

F&P, Bosch, Smeg,

ASKO,Ariston, LG,Classique,

Haier, Samsung and more....

"For best resultsbesuretouseauthorised service"

NORTHCANTERBURY APPLIANCE SERVICES

Rangiora: 03 313 4420 Kaiapoi: 03 327 3810

1913020

• New Builds

• Light Commercial /Re-strengthening

• Renovations

• Bathrooms

• Farm Buildings

• House Lifting Re-piling

• Shop Fit Outs

2397995

40+ years experience

027 222 5078

markw.hills@xtra.co.nz

OxfordButchery

Shane and Leanne Frahm

We cankill&process yourstock

FourGenerations of Frahms

since 1957

Ph 312 4205

Oxford

1680439

Number one

old-fashioned bacon

&ham curing.

A/H 312 4709

Chiropractic Services

Construction &Concrete

Digger Hire and Construction

Dr Jess Ross

ACC RegisteredDrChiropractic

Monday &Thursday |03313 0350

Injury, accidents and maintenance

Libi McKinnon Physiotherapy

privatephysio@xtra.co.nz

027 868 2574

ACC Registered Provider | Tuesday &Friday

Select Health

Phone 03 313 7144

027 432 1534

Fax 03 313 2144

rgrantelectrical@gmail.com

PO Box 69, Rangiora

51 Ashley Street, Rangiora

Electrician

Allan Pethig

For all your electrical needs. Residential &Commercial

2344089v2

All Construction & Concrete Work

•Driveways, patios &paths

•Bridges and Culverts

•Floors, foundations

•Sheds and buildings

•Dairy Sheds, Herd homes

•Silage pits, effluent ponds

•Excavation and cartage

•Precast concrete

•Insulated panels

Daryl Power

027 230 9401

concretepower@scorch.co.nz

www.concretepower.co.nz

YOU

COULD

BE

HERE

2273277

ECOM Digger Hire

and Construction

•9 ton Komatsu with rubber pads.

•Excavotor can be dry hired or with

one of our expert operators.

•Attachments available:

•Post driver

•Concrete/rock breaker

•Grab bucket

•Tilt bucket

•Rock bucket

No job

too big

–Nojob

too small

admin@ecomconstruction

www.ecomconstruction.co.nz

2384249

2089195v2-4/4-S

2269236

Engineering

For your Engineering needs

187d Ohoka Road, Kaiapoi

Phone 03 327 5246 |027 495 2821

toppeng@xtra.co.nz

Glass &Windscreens

Scrap Metal

CASH PAID FOR SCRAP

•Car Bodies •Scrap Steel•Specialists in Farm

Machinery•All non Ferrous

MAINLAND

METALS LTD

Ph (03)338 7000

Mike0274 818544 •Robbie 0274 818 027

Locally owned and operated

1902273

If it stands still

long enough we

will paint it

•17metre spray

booth

•FullPaint &Panel

Service

•Insurance Work

Panel Beater

Advertise

your business

in our Trades

and Services

Phone

Amanda Keys

on

03 313 2840

•Fullcoachbuilding service, fabricating

doors,lockers, windows, tanks

•Painting Motorhomes, Caravans, Boats,

Trucks,Tractors&Cars

Now moved to 8Seven Mile Drive, Belfast

Phone (03) 323 4115

www.autobodyrepairs.co.nz

2354024

2364105

Heating

Air to Water Heat Pump for Heating and Cooling

Wood Fired Central Heating

Thursday,August 2, 2018 | Issue 808 | www.ncnews.co.nz

HAVE YOU BEEN TO

OUR WEBSITE LATELY?

www.ncnews.co.nz

Visit now toview the paper online &more!

For all your landscaping needs

All Landscaping, Retaining Walls (Engineered and

Non-Engineered), Timber Fences, Landscape Structures

and more...Lifestyle Block, Rural and Residential.

Phone Jeremy 021 169 9394

www.blackhill.co.nz

www.facebook.com/blackhillltd

2372616v2

CAP 65

CAP 40

CAP 20

Shingle

SHINGLE SUPPLIES

Quarry Prices

DRAINAGE CHIP

from $40 per cube

Landscaping

from $23 per cube

from $25 per cube

from $30 per cube

all +gst

Plus all excavation and truck hire

house excavations, driveways, subdivisions

CONTRACTING

Ph: KEN 027 201 3302

Email: stress@xtra.co.nz

2009594

To book your spaceinthis guide,phone Amanda Keys 313 2840 or email amanda.keys@ncnews.co.nz