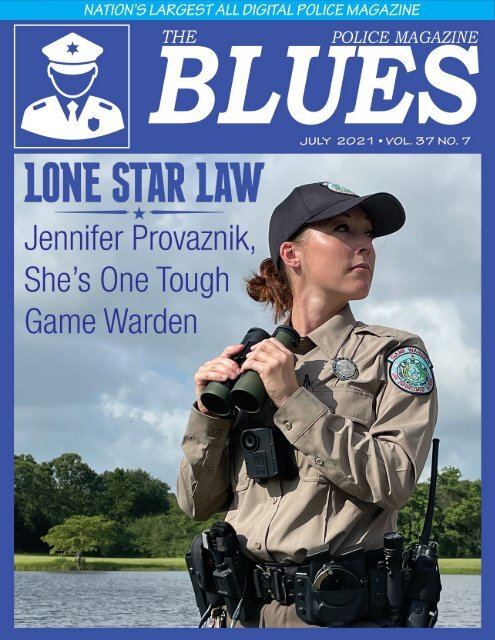 JULY 2021 Blues Vol 37 No. 7
• Lone Star Law's - Game Warden Jennifer Provaznik • The History of Game Wardens in Texas • July 4th Warstories • Outdoors with Rusty Barron • Healing our Heroes with Retired NYPD Detective John Salerno • Daryl Lott talks about Janus of Rome • Dr. Tina Jaeckle talks with One Tribe Foundation CEO Jacob Schick • HPOU President Douglas Griffith talks about public's attitude toward officers
• Lone Star Law's - Game Warden Jennifer Provaznik
• The History of Game Wardens in Texas
• July 4th Warstories
• Outdoors with Rusty Barron
• Healing our Heroes with Retired NYPD Detective John Salerno
• Daryl Lott talks about Janus of Rome
• Dr. Tina Jaeckle talks with One Tribe Foundation CEO Jacob Schick
• HPOU President Douglas Griffith talks about public's attitude toward officers
SHOW MORE
SHOW LESS
You also want an ePaper? Increase the reach of your titles
YUMPU automatically turns print PDFs into web optimized ePapers that Google loves.
The BLUES POLICE MAGAZINE 1
---
JULY 2021

FEATURES

46 JENNIFER PROVAZNIK, GAME WARDEN & TV STAR

52 TEXAS GAME WARDENS - OFF THE PAVEMENT.

FROM THE FRONTIER TO THE FRONT LINE

68 50TH ANNIVERSARY VIDEO

70 HOW TO BECOME A GAME WARDEN

OUR TEAM

OUR CONTRIBUTORS

On the Cover

Jennifer Provaznik is a Texas

Game Warden, one of the

stars of 'Lone Star Law" and

one tough cop. The BLUES rides

along with Provaznik as she

recounts how she got here and

why she loves being a Game

Warden.

42

44

DEPARTMENTS

4 Publisher's Thoughts

6 Editor's Thoughts

10 Guest Editorial - Line of Duty Injuries

12 Your Thoughts

14 News Around the State

24 News Around the Country

74 Island Time - Galveston

80 Healing our Heroes - John Salerno, Sam Horwitz

84 Light Bulb Award

86 Blue Mental Health with Dr. Tina Jaeckle

88 HPOU - A Message from Douglas Griffith

90 Running 4 Heroes

92 Remembering My Hero

96 Honoring our Fallen Heroes

102 Outdoors with Rusty Barron

104 Marketplace - Discounts for LEOs

110 Parting Shots

112 Now Hiring - L.E.O. Positions Open in Texas

82

86

MICHAEL BARRON

founder & publisher

MICHAEL BARRON

editor-n-chief

REX EVANS

contributing editor

DIANE TRYKOWSKI

creative editor

RUSTY BARRON

outdoor editor

TINA JAECKLE

contributing editor

DARYL LOTT

contributing editor

SAM HORWITZ & JOHN SALERNO

contributing editors

DOUGLAS GRIFFITH

HPOU contributing editor

JANICE VANZURA

sales mgr / austin

CHRISTINA FRASER

sales mgr / national

contributing writer / light bulb

T. EDISON

contributing writer

RICHARD SANDOMIR

contributing writer

AMY FORLITI

contributing writer

SUZIE ZIEGLER

contributing writer

TERRY SPENCER

contributing writer

ROSS BYNUM

contributing writer

KARI HOLLOWAY

contributing writer

STEVE KARNOWSKI

contributing writer / COPS

DON EGDORF

PHOTOGRAPHY

MICHAEL BARRON

cover

78

DARYL'S DELIBERATIONS

by DARYL LOTT

BLUE MENTAL HEALTH by TINA JAECKLE

The BLUES Police Magazine is published monthly by Kress-Barr, LLC, P.O. Box 2733, League City Texas 77574. The opinions

expressed in articles, op-eds and editorials are those of each individual author and do not reflect the opinion of

The BLUES or its parent company. Rebuttals or submission of news articles and editorials may be submitted to:

The BLUES Police Magazine - bluespdmag@gmail.com. The entire contents of The BLUES is copyrighted© and may not be

reproduced or reprinted without the express permission of the publisher. The BLUES logo is a Trademark of Kress-Barr, LLC.

2 The BLUES POLICE MAGAZINE The BLUES POLICE MAGAZINE 3
---
Finally, a Role Model

for Young Girls

With the march of progress for

women in America still going

strong, there are some women

(a few former men now choosing

to identify as women) that

think they are role models for

young women and in my mind,

they are wrong. Some got into

the limelight by being scourges

to society, or at least drains on

it. A few advanced bad causes

that left dead bodies in their

wake, treated their underlings

terribly, stole vast of money and

in short were just shitty people.

Many agree that Megan Rapinoe,

soccer player turned Subway

spokesperson, is a bad role

model for girls because, "They

look up to her and see not a

disciplined, respectful sports

icon, but a groundlessly bitter,

petulant celebrity who is totally

ungrateful for the opportunities

she's had." Not to mention she

kneels for the National Anthem.

Others are judged, not by their

abilities, but rather how many

followers they have on social

media or how much of an 'influencer'

they are. Oftentimes, it's

just their good looks and lack

of clothing that earn them this

'superstar' status.

Regardless of how they rose to

fame, they are not role models.

At least not the type I want my

daughter to aspire to be. There

are however REAL role models

out there and one is on our cover

this month. Jennifer Provaznik

is not only a celebrity on a

reality show on Animal Planet,

but she's also one bad ass game

warden. On TV she goes about

her job of enforcing Texas'

hunting and fishing laws with a

veracity that makes her one of

the most popular game wardens

on the show.

On the show, she's a 'take no

bullshit' kind of cop. In real life,

which by the way, is the same

as the show, she's a 'take no

bullshit' kind of cop." In other

words, there's no special

performance for the cameras.

Provaznik loves what she does,

and it shows both on and off the

camera.

Her "job" is way more than

writing tickets for fishing without

a license and keeping undersized

fish. On any given day,

she might be saving people on a

sinking boat, recovering bodies

of children who went missing

the day before, arresting murder

suspects with open warrants,

stopping a fight in progress

on the Texas City Dike and yes,

writing a few tickets. And sometimes,

all in the same day.

While she is no doubt one of

MICHAEL BARRON

the favorites on Lone Star Law,

it wasn't something she volunteered

for. Her bosses announced

one day back in 2016, "Oh, by the

way, a TV crew is filming a new

series and they will be riding

with you." Uh, OK. But despite 5

years under her belt as a "Reality

TV Star," Provaznik's number

one priority is doing her job to

the best of her ability. A job she

gives 110% every day.

I caught up with Provaznik

at Moody Gardens last month

during the TSDCA (police chiefs)

conference. Ironically the hotel

was filled with young girls and

their moms checking in for a

cheer conference. From the minute

she walked in, people began

to recognize her and of course

most wanted a selfie. As she

graciously interacted with the

public, I couldn't help thinking,

what a great role model she was

to all these young girls running

around the hotel. A larger-thanlife

TV star that is one hell of

a game warden who's also a

woman.

Born in West Virginia, the

daughter of Tim and Gwen

Provaznik, Jennifer graduated

with a degree in Marine Science

from Coastal Carolina University

in 2007. Shortly after her degree,

she joined the research institute

Bimini Biological Field Station,

in the Bahamas and researched

sharks. During this time, she

also worked as a contractor

fisheries biologist for NOAA (National

Oceanic and Atmospheric

Administration). Jennifer eventually

transferred to the NOAA

labs in Pascagoula, MI where she

conducted research on Bluefin

tuna, plankton, and red snapper.

In 2013 she applied and was

accepted into the 58th academy

class of Texas Game Wardens in

Hamilton Texas. After graduating,

she was assigned to the Galveston

area and has been here ever

since.

To read the entire story of this

amazing woman, turn to page

46. If you have a son or daughter

considering a career as a Texas

Game Warden, our feature story

begins on page 52.

Role models for young girls

and women are hard to come by

these days. But Jennifer Provaznik

is one perfect example of

what a TRUE role model can be.

We thank you for your service

and your dedication to your job

protecting our states valuable

resources.

4 The BLUES POLICE MAGAZINE The BLUES POLICE MAGAZINE 5
---
Let's take a walk down memory

lane for a moment. Back in,

let's say the 80's and 90's, Law

Enforcement and the "technology"

available to us was well,

not what it is today. And in some

respects, that's awesome!

For example, you could, comfortably

fit two six-foot-tall

grown men in fill gear, in the

front seat of a just about any patrol

unit. "Gremlins" and "Dodge

Diplomats" excluded. Oh, and the

Plymouth Grand Fury. In the late

80's and 90's there was this "Midsize"

police vehicle craze. It kind

of worked and it kind of didn't.

The radios we had, they

worked! Now, they didn't have

5 million channels in them but,

you never got a "busy signal"

from an old MX 350!!! We had

something called a "Convertacom"

too. This allowed the Operator

to take his/her handheld off,

insert it into the Convertacom

and it powered as a "car radio"

while charging said handheld at

the same time.

We had Channel 3 or "Car to

Car" and Channel 4

"Inner-City" which was

universal. That's right,

nationwide, bro. You

could tell anyone "Look

out on Channel 3 or

Inner-City" and invariably,

someone would

answer. And there were

no computers running

that little technological

wonder. Nowadays,

you've got to be on the

right regional system

REX EVANS

with the right bank, trunk, and

channels to talk to the officer

right next to you, let alone, miles

ahead on the highway.

The lights were incandescent

bulbs with rotating mirrors and

flash points. If a rotator stopped

working, you just had to give

the light "tap" and WHALA!!! The

light worked again. Absolutely

unlike the emergency lights

of today which are brilliantly

bright but, inconveniently complex.

Somewhere along the

line, there were these things

called "strobes". Now, we totally

thought we had reached the

pinnacle of emergency lighting

when those came around.

However, a few years later there

were these things called LED.

Kind of makes you wonder…

What's going to be next?

As for computers in the cars….

well, they've been around a

while, true enough. About 25

years or so, in the Houston/Harris

County area. At first, they were

bulky and not very bright. No,

not that kind of bright. Like brilliancy,

I mean……… Wait. I guess

comparatively, they weren't all

that bright either, back then,

compared to what we

are running around with

today.

Our body armor, firearms,

flashlights, radios,

and all kinds of other

"bat-belt gadgets" have

also changed over the

years. Some for the better.

Some, not so much.

We used to carry a

revolver with two speed

loaders, flashlight/nightstick

ring, handcuffs,

6 The BLUES POLICE MAGAZINE The BLUES POLICE MAGAZINE 7
---
and a handheld radio. That was

about it. Now, lookout. We're

adding all kinds of fun stuff for

an officer to carry and their hips,

shoulders and back to ache with.

While modern technology

has improved our profession in

many ways, there remains one

constant which has not, nor will

it ever change. We still must

get up, saddle up and go out to

catch the "bad guys." Doesn't

matter what gear, gadgets, or

gizmos we have, we still must

do the fundamental task of being

a good cop.

The irony of all this is, the

picture of the inside of the "old

patrol car" looked totally modern

and cool back in "its day"

and the one just taken, well it

looks modern and cool for "its

day-today." Time and technology

will show us in a few years,

RED MARK USA

Rescuing the Innocent

what was super cool today, is

super old tomorrow.

Guaranteed.

Houston Police officers, Harris County Sheriff's deputies and deputy constables

are imprisoned by a corrupt district attorney on trumped up charges. A

progressive police chief investigates and fires officers by the dozens on spurious

complaints.

The USA is under the control of a leftist government. Anyone found in contempt

of the new ideology has their bank accounts closed and locked. That's

the Red Mark.

Left wing rioters burn and destroy churches, synagogues, mosques and temples.

The First and Second amendments to the Constitution are declared null

and void. Right wing insurrectionists plot to kidnap the mayor and city council.

Corrupt and inept Department of Human Relations police abuse citizens and

act like a new Gestapo.

Dozens of police officers, sheriff's deputies and constables are scheduled

for execution by public hanging in front of an angry mob. It's up to a group of

officers and deputies to rescue them before they're killed. Working in strictest

secrecy, knowing that the discovery of their plot will mean prison and death,

they work against time to rescue the innocent.

Deacon Blue is a retired Houston Police Officer.

Available on Amazon Kindle or paperback. $9.95

CLICK HERE TO PURCHASE

Ready To Serve You

For information contact:

Jim Rodriguez • Law Enforcement Sales Professional • 915-422-6446

FT. WORTH

6201 NE Loop 820

HOUSTON

10310 Wortham Center Dr.

Shoot Point Blank Law Enforcement is a division of Shoot Point

Blank and is committed to providing exclusive law enforcement

products & services to our agency partners & individual officers.

• Special indoor range pricing for agency training & qualifications

• Group range memberships for agencies

• Expansive offerings of firearms, ammunition, duty gear,

& accessoreies from top manufacturers

• Offer individual officer purchase programs from several

manufacturers

ARLINGTON

5661 S. Cooper St.

HOUSTON

9245 FM 1960 Bypass Rd.

DALLAS

1915 S. Stemmons Fwy

HOUSTON

350 E Nasa Pkwy

AUSTIN

1775 Warner Ranch Dr.

SAN ANTONIO

722 SW Loop 410

8 The BLUES POLICE MAGAZINE The BLUES POLICE MAGAZINE 9

Sun - Thurs: 10am – 7pm • Fri & Sat: 10am - 8pm | ShootPointBlank.com
---
This editorial will be rather

difficult to write. I'm quite sure

you'll find it rather difficult to digest.

But this needs to be talked

about. It needs to be brought out

into the light, from the darkness

of hidden truth.

When a law enforcement officer

dies in the line of duty, he or

she is provided a state funeral.

21-gun salute, TAPS, bag pipes,

everything. And that's rightfully

so. What I call your attention to

is those officers who are seriously

injured and survive their

grievous injuries. Whether by

gunfire, a blade, a violent and

relentless assault or motor vehicle

car crash.

Those officers and their families

are taxed with the steady

influx of their "regular" bills,

compounded by the arrival of all

the medical bills. Then to add

insult to injury, workers comp

denies tests and medications

time and time again, citing, not

within their responsibility.

Department heads defer to

their city or county officials

for "guidance" in such circumstances

and are subsequently,

released from all blame. Or are

who were shot, stabbed, beaten

or in some other manner, injured

in the line of duty. We collectively

owe this to those brave men and

women and their families. We just

do. To make private organizations,

such as the 100 Club or private citizens

organize private fundraisers

just so the injured officer's family

can put food on the table is fundamentally

WRONG. Yes, I know

the age old saying, "That's just the

way it is." Well, maybe so. That

certainly doesn't make it right. In

fact, it's just plain wrong.

For example, when Deputy

Sheriff Whitten at Liberty County

Sheriff's Office selflessly stood between

an active shooter and more

potential innocent victims, he sustained

a catastrophic injury due to

gunfire, which left him paralyzed

from the chest down. Workers

comp didn't give a damn about his

life, his bravery, his sacrifice, or his

family. They wouldn't help with a

ramp for his home. They wouldn't

help with a wheelchair accessible

van, for transport to and from all

the numerous doctor's appointments

he had to endure.

The men and women of the

LCSO built that ramp for him and

him paralyzed and unable to provide

for his family. His family has

endured years of struggles and

failures by those who were supposed

to be there for them, when

they were needed the most.

It would seem our state legislators

could find the funds in

their huge budget to lend a hand.

I mean, there are some smaller,

more rural agencies who absolutely

do not have the resources

even if they wanted to help. We

are fortunate here in the greater

Houston area to have departments

with multimillion budgets. To

abandon these men and women

who are injured, and suffering

is morally wrong. It is a terrible

injustice and a blight on our profession

which needs to not only be

addressed but resolved.

This is Texas. We should be

doing better. We need to be doing

better. Texas has shown the nation

and the world just how we get

things done for over two hundred

years. This is another opportunity

for Texas to show everyone else

how it's done. To show Texans

truly do Back the Blue and care

enough to not just honor our fallen

but to honor those who were

they? As a department, how can his family. The 100 Club of Houston

purchased the van and had it duty.

also seriously injured in the line of

any of you just stand by and

KeyWarden is the Texas distributor of Morse Watchmans industry-leading key and asset management systems. We are actively involved

watch a member of your team, all outfitted for him. Unfortunately,

Deputy Whitten passed prior compassion from workers comp

Police Chiefs Association, the East Texas Police Chiefs Association, the High Plains Police Chiefs Association, and the Central Texas Police

The lack of understanding and

in the Texas Law Enforcement community as a founding member of the East Texas 100 club, and corporate members of the North Texas

your family lay there, severely

injured, doing exactly what you to ever getting to use that vehicle. when it comes to injured law

Chiefs Association. We are proud to participate in the TEXAS SCHOOL DISTRICT POLICE CHIEFS ASSOCIATION CONFERENCE.

asked of them, watch their loved All the while, workers comp cared enforcement officers is a tremendous

blight upon our state. We

THE KEYWATCHER TOUCH SYSTEM is deployed in the law enforcement environment to:

ones suffer with the trauma of less. They weren't going to do a

• Securely dispense track and audit the use of keys to: vehicles, facilities, lockers and

their new "reality" and loss of thing they absolutely didn't have need to not just talk about it but

other high-value assets.

income and do nothing?

to do.

fix it. We're Texans, and correcting

• Prevent unauthorized staff from driving specialist vehicles, or racking up miles on the

I respectfully submit, perhaps Another local example of an injured

injustices is what we're famous

newer fleet while older units sit idle.

the state of Texas should step

hero denied help by workers for.

• Allow management to compel the use of vehicle pools rather than staff controlling the

in and say "ENOUGH!" We need comp, Houston Police Officer John And to all those injured in the

keys to particular units.

to be taking care of our injured Cortez. He was ambushed and Line of Duty, please know that you

• Quicker and more efficient shift changes.

• Control the keys to facilities and mandate accountability.

law enforcement officers. Those shot multiple times, also leaving

19015 Gentle Knoll

are not forgotten.

• Managing and controlling access to assets stored in lockers.

San Antonio, Texas 78258

10 The BLUES POLICE MAGAZINE As a Texas-based company, we provide on site evaluation, implementation, training and support of the

KeyWatcher System. We are also a member of BuyBoard and offer discounted pricing and ease of purchase.

Office: The BLUES 830-214-0867 POLICE MAGAZINE Fax: 775-898-1807 11

www.keywarden.com - click here to email us
---
THE OATH MADE ME A COP

I wore uniform and a badge, did

so with pride and thought I did a

good job. Lots of turmoil today, lots

of comments from cops and people

in general. To serve, I was required

to take an oath. Honestly, I do not

remember the exact oath words from

those days.

Sure, I applied the oath as best as

I could. But memory fades. Today I

looked up the oath as required by the

Texas Secretary of State.

"I, Bobby Welborn, do solemnly

swear (or affirm), that I will faithfully

execute the duties of the office of

police officer of the State of Texas,

and will to the best of my ability preserve,

protect, and defend the Constitution

and laws of the United States

and of this State, so help me God."

Short and to the point. No allowance

for murder of a citizen by law

enforcement, a clear duty to interfere

if you see anyone committing

such an assault, a clear duty to

protect those who peacefully protest

and petition, duty to enforce all laws,

always, against all law breakers including

police officers.

You see, the First Amendment

clearly protects free speech and a

free press.

The Preamble provides for justice

and domestic tranquility.

Texas clearly cites what is legal

and illegal use of force, when deadly

force can be used, and defines criminal

homicide.

No cop can deny what an officer's

duty is, especially in the use of force.

And no officer should advocate an

exemption for brothers in blue who

violate the Constitutions and laws.

I began this by confessing the Oath

of Office faded in my memory. Boy,

do we hear a lot about saying the

Pledge of Allegiance. How about every

police meeting, -every public and

private gathering we open with the

Oath of Office? We think prayer and

pledges are important reminders, I

think the Oath of Office is also.

Consider the George Floyd case. Did

you see officers honoring the oath

they took? I did not.

Cops and citizens, quit supporting

illegal actions from police. You are

ruining the value of the Oath of Office

they took. You blemish my badge.

If they cannot live the oath, they

can get out.

I thought the oath made me a cop.

BOBBY WELBORN

SHERIFF JOE

For those not familiar with Joe

Arpaio, he is the County Sheriff of

Maricopa County, Arizona. He keeps

getting re-elected repeatedly.

These are some of the reasons why:

Sheriff Joe Arpaio created the

"tent city jail" to save Arizona from

spending tens of millions of dollars

on another expensive prison complex.

Inmates sleep in tents! He has jail

meals down to 20 cents a serving

and charges the inmates for them.

He banned smoking and pornographic

magazines in the jails, and

took away their weightlifting equipment

and cut off all but "G" movies.

He says: "They're in jail to pay a debt

to society, not to build muscles so

they can assault innocent people

when they leave."

He started chain gangs to use the

inmates to do free work on county

and city projects and save taxpayer's

money. Men work in pink "Clean and

Sober" shirts. Their underwear is also

pink! Then he started chain gangs for

women so he wouldn't get sued for

discrimination.

He took away cable TV until he

found out there was a federal court

order that required cable TV for jails.

So, he hooked up the cable TV again

but only allows the Disney channel

and the weather channel.

When asked why the weather

channel, he replied: "So these morons

will know how hot it's going to be

while they are working on my chain

gangs."

He cut off coffee because it has

zero nutritional value and is therefore

a waste of taxpayer money. When

the inmates complained, he told

them, "This isn't the Ritz Carlton. If

you don't like it, don't come back."

He also bought the Newt Gingrich

lecture series on US history that he

pipes into the jails. When asked by a

reporter if he had any lecture series

by a Democrat, he replied that a

democratic lecture series that tells

the truth for a change would be welcome

and that it might even explain

why 95% of the inmates were in his

jails in the first place.

With temperatures being even

hotter than usual in Phoenix (116

degrees just set a new record for

June 2, 2009), the Associated Press

reported: About 2,000 inmates living

in a barbed wire surrounded tent

encampment at the Maricopa County

Jail have been given permission to

strip down to their government-issued

pink boxer shorts.

On that Wednesday, hundreds

of men wearing pink boxer shorts

were overheard chatting in the tents,

where temperatures reached 128

degrees. "This is hell. It feels like we

live in a furnace," said Ernesto Gonzales,

an inmate for 2 years with 10

more to go. "It's inhumane."

Joe Arpaio, who makes his prisoners

wear pink, and eat bologna

sandwiches, is not one bit sympathetic.

"Criminals should be punished

for their crimes - not live-in luxury

until it's time for parole, only to go

out and commit more crimes so they

can come back in to live on taxpayer's

money and enjoy things many

taxpayers can't afford to have for

themselves."

The same day he told all the inmates

who were complaining of the

heat in the tents: "It's between 120

to 130 degrees in Iraq and our soldiers

are living in tents there too, and

they have to walk all day in that sun,

wearing full battle gear and getting

shot at, and THEY have not committed

any crimes, so shut your damned

mouths!"

Sheriff Joe was just re-elected for

the fourteenth time as Sheriff in Maricopa

County, Arizona

A FAN OF SHERIFF JOE

SHERIFF D. CLARKE SAYS IT BEST!

It's not the police who need to be

retrained, it's the public. We have

grown into a mouthy, mobile phone

wielding, vulgar, uncivil society

with no personal responsibility and

the attitude of 'it's the other person's

fault', 'you owe me'. A society where

children grow up with no boundaries

LE AGENCIES

FN 15

PROMOTION ENDS 7/31/21

or knowledge or concern for civil

society and personal responsibility.

When an officer says "Put your

hands up," then put your hands up!

Don't reach for something in your

pocket, your lap, your seat. There's

plenty of reason for a police officer

to feel threatened, there have been

multiple assaults and ambushes on

police officers lately. Comply with

requests from the officer, have your

day in court. Don't mouth off, or fight,

or refuse to comply... that escalates

the situation.

Police officers are our sons and

daughters, fathers and mothers,

brothers and sisters. They're black,

white, brown, all colours, all ethnicities,

all faiths, male and female,

they are us. They see the worst side

of humanity... the raped children, the

bloody mangled bodies of traffic

victims, the bruised and battered victims

of domestic violence, homicide

victims, body parts... day after day.

They work holidays while we have

festive meals with our families. They

CALL FOR

PRICING

Supplying Law Enforcement

Equipment for the State of TEXAS!

11713

M4

TACTICAL

SHOTGUN

36-100579

SRP G2

CARBINE

CALIBER: 12GA

CAPACITY: 7+1

SIGHTS: GHOST RING

BARREL LENGTH: 18.5"

STOCK: TACTICAL PISTOL GRIP

SBR

AGENCY ONLY

CALIBER: 5.56 NATO

CAPACITY: 30+1

SIGHTS: FLIP UP

BARREL LENGTH: 11.5"

STOCK: ADJUSTABLE

SBR

AGENCY ONLY

LE M4

CARBINE EPR

12660

M&P M2.0

9MM

OPTIC READY

CALIBER: 5.56 NATO

CAPACITY: 30+1

SIGHTS: ADJUSTABLE

BARREL LENGTH: 11.5"

STOCK: ADJUSTABLE

CALIBER: 9MM

CAPACITY: 17+1

SIGHTS: NIGHT SIGHTS

BARREL LENGTH: 4.25"

Tel: 800-367-5855

www.proforceonline.com

SBR

CR6933-EPR AGENCY ONLY

02-128-07344-047

DDM4 V7 S

AR15

W320F-9-BXR3-PRO-RXP

P320 DDM4 RXP V7 S

XFULL-SIZE

CALL OR EMAIL US FOR PRICING OR ASK US ABOUT DEMO'S OR TRADE-INS

miss school events with their kids,

birthdays, anniversaries, all those

special occasions that we take for

granted. They work in all types of

weather, under dangerous conditions,

for relatively low pay.

They have extensive training, but

they are human. When there are

numerous attacks on them, they

become hyper vigilant for a reason,

they have become targets. When a

police officer encounters any person...

any person, whether at a traffic

stop, a street confrontation, an arrest,

whatever... that situation has the

potential to become life threatening.

You, Mr & Mrs/Miss Civilian, also have

the responsibility of keeping the situation

from getting out of control.

Many law enforcement officers are

Veterans. They've been in service to

this nation most of their lives, whether

on the battlefield or protecting us

here at home. They are the only thing

that stands between us and anarchy

in the streets. If you want to protect

your child, teach them respect.

CALIBER: 5.56 NATO

CAPACITY: 30+1

SIGHTS: SOLD SEPARATELY

BARREL LENGTH: 11.5"

STOCK: ADJUSTABLE

Comes with

ROMEO 1PRO

red dot sights

CALIBER: 9MM

CAPACITY: 17+1

SIGHTS: XRAY3 | ROMEO 1PRO

BARREL LENGTH: 4.7"

Gear & accessories for law

enforcement AGENCIES

CHECK OUT THESE GREAT

MANUFACTURERS

AIMPOINT • BERETTA • COLT

H&K • BIANCHI • TASER

SMITH & WESSON • CZ USA

DANIEL DEFENSE • EOTECH

SIG SAUER • SHADOW SYSTEMS

DEFENSE TECHNOLOGY • AGUILA

SPETZ GEAR • BURRIS • UTM

MOSSBERG • PROTECH • RUGER

STREAMLIGHT • MAGPUL

SAFARILAND • SPRINGFIELD

BLACKHAWK • OSS • HOLOSUN

TRIJICON • SUREFIRE

US PEACEKEEPER • OTIS

NIGHTSTICK • FNH USA

NOTE: TERRITORY RESTRICTIONS MAY APPLY

Visit our website today for up to date

information pricing and products!

Support Center: 2625 Stearman Road, Prescott AZ, 86301 Tel: (800) 367-5855 Fax: (928) 445-3468

e-mail: sales@proforceonline.com | www.proforceonline.com

12 The BLUES POLICE MAGAZINE The BLUES POLICE MAGAZINE 13
---
Governor signs bill that lets citizens carry handguns with LTC or any

handgun training. Most LE agencies are opposed to the new law.

Constitutional Carry Becomes Law September 1

AUSTIN – Texans will soon be

able to carry a handgun without

a license after Gov. Greg Abbott

signed a bill allowing for the

permitless carry of firearms.

The new law, which goes into

effect September 1, allows those

who are 21 and older and not

otherwise prohibited from having

a gun to carry a handgun

without a license. Abbott signed

House Bill 1927 on Wednesday

and held a ceremonial signing

for the legislation and other new

gun laws on Thursday. He was

joined by members of the legislature

and representatives from

the National Rifle Association,

as well as Jack Wilson, who

stopped a gunman at a While

Settlement church in 2019.

"Constitutional Carry is now

law in Texas," Abbott said after

adding his signature to the bill at

Alamo Hall in San Antonio.

The law prohibits permitless

carry for people convicted of

certain misdemeanors in the

past five years and increases

penalties for felons who illegally

carry a gun. It also requires

the Texas Department of Public

Safety to develop a free online

course on firearm safety and

training.

Texans wanting to carry a

handgun have been required to

get a license, a process that includes

submitting fingerprints to

the Texas Department of Public

Safety, a criminal history background

check and an LTC course

with components education on

Texas firearm laws.

"I believe that the right to

defend yourself and your family

is given to us by God," said Rep.

Matt Schaefer, the bill's author

and a Tyler Republican, in a

Wednesday statement. "The Second

Amendment stands to ensure

that right can be exercised,

and infringements contrary to

that right must be removed. Laws

only constrain law-abiding citizens.

Fools and criminals don't

care what laws we pass. My faith

is with law-abiding Texans."

The law applies to both Texas

residents and people from out

of state, according to Schaefer's

office. Handguns can be carried

openly in a holster or concealed.

The legislative session that

ended May 31 was the first since

the 2019 mass shootings at an El

Paso Walmart and in the Midland-Odessa

area. El Paso lawmakers

and gun safety advocates

have expressed disappointment

that more wasn't done to address

gun violence.

Texas Gun Sense in a statement

said that the bill is irresponsible

and will endanger Texans.

"No one with any credibility

believes that allowing more

untrained people to wield guns

will make any of us safer," said

Texas Democratic Party Chair

Gilberto Hinojosa in a statement.

Former U.S. Rep. Beto O'Rourke

of El Paso agreed that the new

law will make Texas less safe.

He said communities that have

experienced mass shootings

"understand all too well what

happens when we don't prioritize

gun safety in this state."

"I hope we as a state come to

our sense on this one," O'Rourke

said.

The legislation has received

opposition from the Texas Police

Chiefs Association. The Sheriffs'

Association of Texas previously

said it supports the bill as

amended by the Senate. Chambers

County Sheriff Brian Hawthorne,

who serves as the sheriff

association's legislative chairman,

said most of the changes

they wanted stayed in the final

version of the legislation and

that the new law has the group's

support.

"We feel like it is still a good

bill that is capable of being

managed, and we don't think

that the average citizen in the

state of Texas will even feel or

see a difference," he said.

A spokesperson for Tarrant

County Sheriff Bill Waybourn did

not immediately return a request

for comment. Fort Worth Police

Chief Neil Noakes expressed

opposition to the proposal in an

April letter where he said the

department doesn't support any

legislation that would allow a

handgun to be carried without a

license.

"At the FWPD we respect the

right of Texas to responsibly own

and use firearms," Nokaes said in

a previous statement that was

provided to the Star-Telegram

Thursday after it requested an

interview. "We also know that

doing so is a great responsibility.

Having measures in place to

ensure the safety of all Texans

is paramount. It comes down to

responsibility and safety, not an

infringement on Texan's rights."

The Arlington Police Department

declined to comment on

the bill.

Abbott signed several other

bills related to firearms while in

San Antonio.

Among them is House Bill

2622, which makes Texas a

"Second Amendment Sanctuary

State," one of Abbott's priorities.

The law, which goes into effect

September 1, bars the state and

local law enforcement from

contracting with or assist in the

enforcement of certain federal

firearm laws that didn't already

exist under state law.

Abbott also signed a bill that

prohibits hotels from adopting

a policy that bars guests from

carrying or storing a firearm or

ammunition in their rooms and

another that allows Texans to

carry a handgun in the holster

style of their choice.

"Politicians from the federal

level to the local level have

threatened to take guns from

law-abiding citizens — but we

will not let that happen in Texas,"

Abbott said in a statement.

"Texas will always be the leader

in defending the Second Amendment,

which is why we built a

barrier around gun rights this

session.

Help us reach our goal

of 100,000 subscribers.

Click BELOW for your

FREE SUBSCRIPTION.

14 The BLUES POLICE MAGAZINE The BLUES POLICE MAGAZINE 15
---
Laredo PD Improves Officer Safety with

Mobileye Collision Avoidance System

LAREDO – Police officers are

distracted drivers. Between

scanning the environment and

interacting with their radio and

computer, driving is just another

part of their duties, according

to Uri Tamir, general manager

of Mobileye North America. That

means safety behind the wheel

is an even bigger concern, especially

since vehicle-related

incidents are a leading cause of

officer death.

Emanuel Diaz, public information

officer for the Laredo

(TX) Police Department, agrees.

Officers are often checking information

or updating notes in

their mobile data terminals, and

the department wanted to ensure

an extra safety measure

was available for their drivers.

The department began installing

the Mobileye collision avoidance

system several years ago on all

new vehicles.

The system works like advanced

driver assistance systems

(ADAS) that provide lane departure

and collision warnings

but has police-specific features

such as the ability to turn the

alerts off, Tamir said. This allows

officers in pursuit mode to have

full control of their vehicle when

needed.

"It allows an extra safety feature

or warning system. In the

off chance we may be doing

something within our computers,

checking a note or something

like that on a hot call, and we're

coming close to another vehicle,

we hear that distinct beep.

We know something's about to

happen, so we start applying

our brakes and taking an evasive

maneuver if we need to," Diaz

said. "It's essentially an added

security feature for our officers

that helps in their everyday job

duties."

Mobileye is installed in most

of the PD's fleet of 200 vehicles,

which consists of mostly Ford

Police Interceptor Utility SUVs

but also includes Dodge Chargers,

F-150 pickups, Crown Vic's,

and Chevrolet Caprices. The goal

is to have all patrol vehicles

installed with the technology,

which will be complete once all

the older vehicles are cycled out.

Diaz said at first, officers

were confused by the beep that

sounded when they, for example,

changed lanes without signaling.

However, they got used to it and

"it has saved them from actually

rear-ending other motorists,"

Diaz said.

Help us reach our goal

of 100,000 subscribers.

CLICK BELOW for your

FREE SUBSCRIPTION.

Please share with

all your friends and

co-workers.

CLICK OR SCAN HERE

16 The BLUES POLICE MAGAZINE The BLUES POLICE MAGAZINE 17
---
18 The BLUES POLICE MAGAZINE The BLUES POLICE MAGAZINE 19
---
"Truckin' for a Cause"

Event on the 17th of July to raise money for ATO - Assist the Officer – Houston

HOUSTON – Leaders of a local

Houston diesel truck group

called "Dirty South Diesels" have

created an event on the 17th

of July to raise money for ATO

(Assist the Officer – Houston).

The event "Truckin' for a Cause"

in Kemah at Jackie's Brickhouse

will consist of diesel truck enthusiasts,

and those who continue

to show support for officers.

The DSD group president Chris

Gehring, VP Jonathan Calhoun,

financial handler Katlyn Calhoun,

Shane Hetzler, and event

planner Michael Gregory are

looking to raise more than $10K

through donations (monetary/

items), and a truck/car show

that is expected to draw hundreds

of supporters.

Event coordinator Michael

Gregory says, "Our group has al-

ready received a lot of response

by having a total of $4,000

before the event has even started,

even though our goal was

set at $10,000, we will continue

to push to the end in hopes that

our final number exceeds that!"

The event will consist of raffle/

auction items, and lots of spectacular

vehicles that are made

and designed for the "show

industry." Some of the raffle/

auction items include: Astros

tickets, sports memorabilia,

truck light bars, custom ordered

challenge coins, a Gen 3 Glock

17 9mm, and a semi auto shotgun.

The truck/car show portion

will consist of lifted/modified

trucks, sports/classic cars, SXS,

Jeeps, kids power wheels, and

more! "If you're looking for a

great event designed to give

back to our officers, great food,

drinks, DJ, and even a K9 demo,

this event will be perfect for the

whole family to enjoy! The venue

will be Jackie's Brickhouse at

1053 Marina Bay Drive in Kemah,

TX. The group consists of

almost 1,700 diesel members,

and will be supported by several

other local truck/car groups

across Texas. The event slogan

is "It's our turn to be a hero for

our heroes!"

"We want our officers to know

that we are here to fully support

them through any tough times

they may encounter, especially

in our current society. We look

forward to doing more events

like this soon, but also for all

first responders across the

board! Officers, we have your 6!"

per Michael G.

20 The BLUES POLICE MAGAZINE The BLUES POLICE MAGAZINE 21
---
Supreme Court rules police can NOT enter a home without a warrant even

if they are in 'hot pursuit' of a misdemeanor suspect.

Court Limits Warrantless Entry Even in Pursuit

WASHINGTON — The Supreme

Court on Wednesday put limits

on when police officers pursuing

a fleeing suspect can enter a

home without a warrant.

The high court ruled that when

officers are pursuing someone

suspected of a misdemeanor, a

less serious crime, they cannot

always enter a home without a

warrant if a suspect enters.

The court had previously said

that police in "hot pursuit" of a

suspect believed to have committed

a more serious crime, a

felony, can enter a home without

a warrant.

The case the justices decided

Wednesday is important both to

law enforcement and to groups

concerned about privacy.

"The flight of a suspected

misdemeanant does not always

justify a warrantless entry into a

home. An officer must consider

all the circumstances in a pursuit

case to determine whether there

is a law enforcement emergency.

On many occasions, the officer

will have good reason to enter

— to prevent imminent harms of

violence, destruction of evidence,

or escape from the home.

But when the officer has time to

get a warrant, he must do so —

even though the misdemeanant

fled," Justice Elena Kagan wrote

for most of the court.

The case before the justices

involved California resident

Arthur Lange. One evening in

2016, an officer saw Lange driving

his station wagon in Sonoma

County, playing music loudly and

honking his horn several times.

The officer believed those were

noise violations punishable by

small fines and followed Lange.

The officer later turned on his

car's lights to get Lange to stop.

But Lange continued driving for

about four seconds, turned into

his driveway and entered his

garage without stopping.

The officer got out of his car

and, as Lange's garage door was

closing, stuck his foot under the

door so it would re-open. Lange

was ultimately arrested after the

officer smelled alcohol on his

breath, and he was charged with

driving under the influence as

well as an excessive noise offense.

Lange argued that the officer's

entry into the garage without

a warrant violated his Fourth

Amendment right to be free of

"unreasonable searches and

seizures."

The case is Lange v. California,

20-18.

Help us reach our goal

of 100,000 subscribers.

Click BELOW for your

FREE SUBSCRIPTION.

CLICK OR SCAN HERE

22 The BLUES POLICE MAGAZINE The BLUES POLICE MAGAZINE 23
---
"BAD BOYS, BAD BOYS, WHAT YA GONNA DO ..."

Creator of COPS, John Langley Passes Away

at age 78.

By Richard Sandomir

John Langley, a creator of

"COPS," the stark-looking reality

television crime series that

followed police officers on drug

busts, domestic disputes, and

high-speed chases for more than

30 years, died on Saturday in

Baja, Mexico. He was 78.

Mr. Langley apparently had a

heart attack while driving with

a navigator in the Ensenada San

Felipe 250 Coast to Coast offroad

race, said Pam Golum, the

spokeswoman for Langley Productions.

"COPS," which made its debut

on Fox in 1989 and ran until last

year, documented misdemeanors

and felonies through the lenses

of hand-held video cameras. Its

stories told without narration or

music except for its reggae theme

song, "Bad Boys."

The show, created with Malcolm

Barbour, was supposed to

be an unbiased look at law enforcement,

and Mr. Langley later

saw it as a truer expression of reality

TV than series that followed

it, like "Survivor."

"You can be entertained by it,

you can be disgusted, but it is

what happened," he told The New

York Times in 2007. "It wasn't

staged, it wasn't scripted. I didn't

put anyone on an island and tell

them what to do."

Each episode told a different

story shot by a crew embedded

with one of various police departments.

A drug sting at a pain

management clinic. A taser used

to subdue a man called Lion. A

woman found in a car with warrants

for terroristic threats. A car

pursuit into the woods. A man

arrested in a car with fake license

plates while holding 20 grams of

crystal meth.

Reviewing the first episode

for The Times, John J. O'Connor

wrote: "For purposes of the show,

however, the court of law is the

video camera, which is kept running

even when the trapped suspect

protests its presence. We are

reminded several times that 'this

program shows an unpleasant

reality' and that 'viewer discretion

is advised.' That should keep them

from switching to another channel."

"COPPS" began in Broward

County, Fla., where in 1986 Mr.

Langley and Mr. Barbour got the

local police to cooperate in a nationally

syndicated documentary,

"American Vice: The Doping of a

Nation," hosted by Geraldo Rivera,

who was also the executive

producer.

Mr. Langley recalled in a television

Academy interview in 2009

that the Broward County episodes

became part of his successful

pitch to other police departments.

"We're not the news," he said

he told them. "We're not here to

expose your department or look

A scene from a 1998 episode of "Cops." "We're not the news," Mr. Langley said he would tell local police departments.

"We're not here to expose your department or look for dirt, but to show how difficult your job is on an everyday basis."

for dirt, but to show how difficult

your job is on an everyday basis."

Nick Navarro, the former sheriff

of Broward County, said "COPS"

had helped make police departments

more transparent by combating

negative stereotypes about

officers.

"I was sick and tired of seeing

police officers portrayed in TV

shows and movies as Dirty Harry

and Miami Vice, and just out

there killing and maiming and

doing extravagant things," Mr.

Navarro told The Miami Herald in

1999.

In 2013, after Fox had aired

several hundred episodes, a civil

rights group, Color of Change,

mounted a campaign to cancel

"COPS." The group said that the

show's producers and advertisers

had built "a model around distorted

and dehumanizing portrayals

of Black Americans and

the criminal justice system" and

had created a reality "where the

police are always competent,

crime-solving heroes and where

the bad boys always get caught."

In the Academy interview four

years earlier, Mr. Langley addressed

criticism about race in

"COPS" by saying that while 60 to

70 percent of street crime was

"caused by people of color," he

had made sure that most of the

criminals seen on the show were

white, to avoid "negative stereotyping,"

he said, and because

most of the show's audience was

white.

Fox did cancel "COPS," but it

was swiftly resuscitated by Spike

TV (now the Paramount Network).

Last year, however, amid

protests over the police murder

of George Floyd in Minneapolis

and calls for criminal justice

reform and police accountability,

Paramount dropped the show.

John Russell Langley Jr. was

born on June 1, 1943, in Oklahoma

City and moved to Los Angeles

with his family when he was a

baby. His father was an oil wildcatter.

His mother, Lurleen (Fox)

Langley, was a homemaker.

After serving in Army intelligence

in the early 1960s — he

was in Panama during the Cuban

missile crisis — Mr. Langley

earned his bachelor's and mas-

24 The BLUES POLICE MAGAZINE The BLUES POLICE MAGAZINE 25
---
ter's degrees in English literature

from California State University,

Dominguez Hills, and studied for

a Ph.D. in the philosophy of aesthetics

at the University of California,

Irvine, but did not complete

his degree.

He worked in marketing for

Northwest Airlines, wrote short

stories and a screenplay, and had

a job with a company — where

he met Mr. Barbour — that produced

press kits and posters for

movies. Forming their own company,

the two men directed "Cocaine

Blues" (1983), a documentary

about the perils of cocaine

abuse, which led them to make

an antidrug music video, "Stop

the Madness," for Ronald Reagan's

White House in 1985. (Mr. Barbour

retired from producing in 1994.)

Mr. Langley produced several

other documentaries, some with

Mr. Rivera, while trying to pitch

"COPS" to NBC, CBS, and ABC, all

of which rejected the idea. But

Fox ordered a pilot.

"Barry Diller watched it and

said: 'God, that's powerful, too

powerful,'" Mr. Langley said in the

Academy interview, referring to a

meeting with the Fox chairman at

the time. Another executive worried

that Fox's stations would not

accept such a raw program. (Mr.

Langley had left in a lot of blood

and guts, he said, knowing he

could cut it.) But Rupert Murdoch,

whose company controls Fox,

said, "Order four episodes."

"COPS" spawned several other

unscripted crime series by Mr.

Langley, including "Las Vegas

Jailhouse," "Jail," "Street Patrol,"

"Undercover Stings" and "Vegas

Strip," which he produced with

his son Morgan, the executive

vice president of development at

Langley Productions.

In addition to his son, Mr. Langley

is survived by his wife, Maggie

(Foster) Langley; their daughter,

Sarah Langley Dews; another

son, Zak, who is the senior vice

president of music at Langley

Productions; a daughter, Jennifer

Blair, from a previous marriage to

Judith Knudson, which ended in

divorce, and seven grandchildren.

Mr. Langley understood the

power of a police department's

cooperation when, while shooting

"American Vice," he asked the

Broward police if he could shoot

a drug raid live.

"I said, 'If you're going to do this

bust anyway, can you do it on this

date, and maybe do it in this twohour

window?'" he told the Television

Academy. "They said, 'Yeah,

sure,' and that's how we did it."

Richard Sandomir is an obituaries

writer. He previously wrote

about sports media and sports

business. He is also the author

of several books, including "The

Pride of the Yankees: Lou Gehrig,

Gary Cooper and the Making of a

Classic." @RichSandomir

26 The BLUES POLICE MAGAZINE The BLUES POLICE MAGAZINE 27
---
Chauvin Sentenced to 22 1/2 Years

Former Minneapolis police

officer Derek Chauvin was

sentenced last month to 270

months in prison on Jun 25,

2021.

By Amy Forliti and

Steve Karnowski, AP

MINNEAPOLIS — The punishment

— which fell short of the

30 years that prosecutors had

requested — came after Chauvin

broke his more than yearlong

silence in court to offer condolences

to the Floyd family and

say he hopes more information

coming out will eventually give

them "some peace of mind."

With good behavior, Chauvin,

45, could be paroled after serving

two-thirds of his sentence,

or about 15 years.

In imposing the punishment,

Judge Peter Cahill went beyond

the 12 1/2-year sentence prescribed

under state guidelines,

citing "your abuse of a position

of trust and authority and also

the particular cruelty" shown to

Floyd.

Chauvin was immediately

led back to prison. As with the

verdicts in April, he showed

little emotion when the judge

pronounced the sentence. His

eyes moved rapidly around the

courtroom, his COVID-19 mask

obscuring much of his face.

The fired white officer was

convicted of second-degree

unintentional murder, third-degree

murder and second-degree

manslaughter for pressing his

knee against Floyd's neck for up

to 9 1/2 minutes as the 46-yearold

Black man gasped that he

couldn't breathe and went limp

on May 25, 2020.

Chauvin, who did not testify at

his trial, removed his mask and

turned toward the Floyd family,

speaking only briefly because of

what he called "some additional

legal matters at hand" — an apparent

reference to the federal

civil rights trial he still faces.

"But very briefly, though, I do

want to give my condolences to

the Floyd family. There's going to

be some other information in the

future that would be of interest.

And I hope things will give you

some peace of mind," he said,

without elaborating.

In asking that Chauvin be left

off on probation, defense attorney

Eric Nelson called Floyd's

death "tragic" and said that

Chauvin's "brain is littered with

what-ifs" from that day: "What

if I just did not agree to go in

that day? What if things had

gone differently? What if I never

responded to that call? What if,

what if, what if?"

Floyd's family members took

the stand and expressed sorrow

about his death. They asked for

the maximum penalty.

"We don't want to see no more

slaps on the wrist. We've been

through that already," said a

tearful Terrence Floyd, one of

Floyd's brothers.

28 The BLUES POLICE MAGAZINE The BLUES POLICE MAGAZINE 29
---
Photography

Professional

Video

Professional

- 3D Walk Through

Matterport

Showing

Virtual

Houses

Open

Tips

Staging

media marketing for

Social

extra Ah Ha!

the

Axon Launches New In-Car Video System

Axon's AI-powered ALPR automatic license plate recognition delivers

up to 8x more plate reads for the same price as traditional systems.

By Suzie Ziegler

SCOTTSDALE, Ariz. — On

Wednesday, public safety technologies

manufacturer Axon announced

that its new generation

of in-car video systems in now

shipping to customers.

The Fleet 3 in-car video system

features Axon's AI-powered automatic

license plate recognition

service along with real-time situational

awareness through Axon

Respond for Devices, according

to the release. The integration

with Axon Respond brings live

video streaming, alerts, and

location updates enabled by 5G

connectivity, thereby providing

real-time visibility and location

mapping of vehicles in the field.

"This breakthrough technology

is a game changer for in-car

cameras," said Blake Bullock,

Director of Axon Fleet, in a

statement. "We've substantially

elevated the simple in-car dash

camera to one that can automatically

and simultaneously scan

plates across multiple lanes of

traffic at closing speeds up to

140 mph. We've designed the

system to be disruptively affordable

to allow for ALPR deployment

across an agency's entire

fleet of police vehicles instead of

just in a small number of designated

vehicles."

CLICK TO WATCH THE VIDEO

An officer sits in a patrol car mounted with an Axon Fleet 3 in-car video system.

According to the release, the

company consulted Axon's AI

Ethics Board report on ALPR to

balance effectiveness with privacy

and accountability.

"We are proud of the connected

capabilities of the Fleet 3

in-car video solution," said Axon

CEO and founder Rick Smith in a

statement. "With seamless connection

and integration into our

real-time situational awareness

platform, Respond for Devices,

agencies will have better visibility

into what's happening in the

field."

Axon partnered with Flock

Safety, Cradlepoint, and Airgain

as part of the Fleet 3 project,

according to the company.

Have news about your

department? Send it to:

bluespdmag@gmail.com

heelllloo nneeiighboor

H I N K I N G S E L L I N G ?

about

____________________________________________________________

T

NOW IS A

T I M E

T O S E L L

great

YOUR PROPERTY VALUE WENT UP

Kriistiinna Martiinnak

KMartinak@TheJamieMcMartinGroup.com

___________________

WHY USE THE

JAMIE MCMARTIN GROUP?

____________________________________________________________

call or text

281.505.4747

Concierge Service

30 The BLUES POLICE MAGAZINE The BLUES POLICE MAGAZINE 31
---
Every PD is Hiring, Salaries Vary

from High to Barely Getting By

Average police officer salaries across US range from $19K to

$131K, depending on location, statistics show. Bureau of Labor

Statistics data shows a mean hourly wage of $33.66 and average

yearly salary of $70K

Dr. John DeCarlo

American police or sheriff's

patrol officers make anywhere

from just under $19,000 up to

$131,000, with salaries varying

significantly by region and the

department level, statistics analyzed

by Fox news show.

A police or sheriff's patrol officer

makes a mean hourly wage

of $33.66 and an average yearly

salary of $70,000, but their

annual pay varies significantly

by region and jurisdiction, the

Bureau of Labor Statistics' (BLS)

most recent data for May 2020

shows.

Broken down by state, officers

in California make the highest

yearly salary, with $107,440,

while those in Mississippi make

the lowest, at $37,210 per year,

statistics show.

Meanwhile, looking at the more

local level by examining the

salaries of officers employed in

metropolitan and non-metropolitan

areas, BLS data shows mean

yearly pay ranges from under

$19,000 in some places and more

than $131,000 in others.

"We have tens of thousands

of police departments across

the nation, which is probably

the most inefficient and ineffective

policing model in the free

world," said Miami Police Chief

Art Acevedo, who also serves

as president of the Major Cities

Chiefs Association.

"Consequently, what happens

[is] you have departments where

officers are fairly compensated

and you have departments

where officers across the country,

they don't qualify for [Aid

to Families with Dependent

Children], AFDC, food stamps.

They're close to it, and they have

to work more than one job to

actually make ends meet."

Officers in Aguadilla-Isabela,

Puerto Rico, for example, make

$18,980 on average per year.

In Guayama, Puerto Rico, they

make a mean salary of $21,370,

to name two areas in the commonwealth,

according to data.

Other areas of the country

where officers make an average

annual salary of under $40,000

include parts of Arkansas and

Mississippi, as well as Central

Louisiana, Macon, Georgia, East

Georgia's nonmetropolitan area,

Northeast South Carolina and

South-Central Kentucky, figures

show.

"You look across the country,

there are a lot of departments

where officers are underpaid,

which is a recruitment issue, a

retention issue, and not to mention

a quality of the candidate

you're going to get in the firstplace

issue," Acevedo told Fox

News.

Meanwhile, officers in Sunnyvale,

San Jose and Santa Clara,

California, are paid, on average,

$131,090 per year, marking the

highest mean annual salary of

the country's metropolitan areas.

Second highest are the San

Francisco, Oakland and Hayward,

California, areas, with a

mean annual salary of $122,570,

BLS figures show. All 10 of the

top-paid police departments

in metropolitan regions are in

California.

Top-paying non-metropolitan

areas include the North Valley,

Eastern Sierra and North Coast

regions of California, which

range in mean annual pay from

$82,740 to $93,570, as well as

Hawaii and its Kauai area, with

$84,370, and Alaska's non-metropolitan

jurisdiction, with

$79,230, BLS statistics show.

Retired police Sgt. Betsy Brantner-Smith,

National Police Association

spokesperson, noted

how much police compensation

varied so regionally, such as in

Mississippi, where, looking at the

state, the average hourly wage

for officers is $17.89, according to

BLS numbers.

"I made a lot more than that

in the Chicago metro area," she

told Fox News. "There is no real

standard -- it has to reflect

where you live. So, I was a cop

in the Chicago suburbs. It's expensive

to live there, but not as

expensive as Los Angeles. And so,

it does need to reflect the area."

In Illinois, it's $37.72, and in

California, it's $51.65, statewide

BLA stats show.

Brantner-Smith highlighted the

range of training and "specialty"

information officers need to have

to respond to the litany of police

calls.

"As a police officer for 29

years, I did everything from dealt

with mentally ill people, negotiating

people into letting their

hostages go, talking to people

out of killing themselves, delivering

a baby, tasering somebody

30 years younger than me

through a neighborhood who

just committed a burglary, and

everything in between," she said.

"In today's atmosphere, [there

is] the expectation that police officers

are going to have so much

more specialty training, especially

when we're talking about

mental illness and utilization of

various different kinds of weapons

and making sure that we're

always exactly within policy and

things like that."

As of May 2020, the Bureau of

Labor Statistics estimated there

were 654,000 police and sheriff's

patrol officers employed

throughout the country at the

non-executive or non-supervisor

levels.

Dr. John DeCarlo, an associate

professor at the University of

New Haven's Henry C. Lee College

of Criminal Justice and Forensic

Sciences, estimated that about

$304 dollars are spent on police

protection per person in the United

States. DeCarlo told Fox News

there are approximately 18,500

police departments throughout

the country, which are funded by

local tax dollars.

32 The BLUES POLICE MAGAZINE The BLUES POLICE MAGAZINE 33
---
Miami Condo Collapses, 54 Dead, 94 Missing

Video shows moment Fla. condo collapses: Responders still hope to find people

alive as they comb through the rubble.

By Terry Spencer and Adriana

Gomez Licon, Associated Press

SURFSIDE, FL. — About 94 people

were still unaccounted for as

of July 7th, two-weeks after an

oceanside condominium building

collapsed into a pile of rubble,

and searchers combing through

a twisted, shifting pile of concrete

and metal feared the death

toll of at least 54 could go much

higher.

With scores of firefighters

working overnight to reach any

possible survivors both from under

and atop the remains of the

building, hopes rested on how

quickly crews using dogs and

microphones to sift through the

wreckage could complete their

grim, yet delicate task.

Workers ride in a lift as smoke

rises off the rubble where a wing

of a 12-story beachfront condo

building collapsed, late on

Thursday, June 24, 2021, in the

Surfside area of Miami.

"Every time we hear a sound,

we concentrate on those areas,"

said Assistant Miami-Dade Fire

Chief Raide Jadallah.

Three more bodies were

removed overnight, and Miami-Dade

Police Director Freddy

Ramirez said authorities were

working with the medical examiner's

office to identify the

victims. Eleven injuries were re-

ported, with four people treated

at hospitals.

Miami-Dade Mayor Daniella

Levine Cava said rescuers were

at "extreme risk" going through

the rubble.

"Debris is falling on them as

they do their work. We have

structural engineers on site

to ensure that they will not be

injured, but they are proceeding

because they are so motivated

and they are taking extraordinary

risk on the site every day," she

said.

With searchers using saws and

jackhammers to look for pockets

large enough to hold a person,

Levine Cava said there was still

hope of finding people alive.

The missing at what was left

of the 12-story Champlain Towers

South included people from

around the world: A beloved

retired Miami-area teacher and

his wife. Orthodox Jews from

Russia. Israelis. The sister of

Paraguay's first lady. Others from

South America.

State Sen. Jason Pizzo of Miami

Beach told the Miami Herald he

watched as tactical teams of

six worked early Friday to sift

through the debris. He said he

saw one body taken in a yellow

body bag and another that was

marked. They were taken to a

homicide unit tent that was set

up along the beach.

Many people remained at the

reunification center set up near

the collapse site early Friday

morning, awaiting results of DNA

swabs that could help identify

victims.

Officials said no cause for the

collapse has been determined.

Video of the collapse showed

the center of the building appearing

to tumble down first and

a section nearest to the ocean

teetering and coming down seconds

later, as a huge dust cloud

swallowed the neighborhood.

About half the building's

roughly 130 units were affected,

and rescuers pulled at least 35

people from the wreckage in the

first hours after the collapse. But

with 147 still unaccounted for,

work could go on for days.

Television video early Friday

showed crews still fighting flareups

of fires on the rubble piles.

Intermittent rain over South

Florida is also hampering the

search.

Jadallah said that while listening

devices placed on and in the

wreckage had picked up no voices,

they had detected possible

banging noises, giving rescuers

hope some are alive. Rescuers

were tunneling into the wreckage

from below, going through

the building's underground parking

garage.

Personal belongings were

evidence of shattered lives amid

the wreckage of the Champlain,

which was built in 1981 in Surfside,

a small suburb north of Miami

Beach. A children's bunk bed

perched precariously on a top

floor, bent but intact and apparently

inches from falling into the

rubble. A comforter lay on the

edge of a lower floor. Televisions.

Computers. Chairs.

Argentines Dr. Andres Galfrascoli,

his husband, Fabian Nuñez,

and their 6-year-old daughter,

Sofia, had spent Wednesday night

there at an apartment belonging

to a friend, Nicolas Fernandez.

Galfrascoli, a Buenos Aires

plastic surgeon, and Nuñez, a

theater producer and accountant,

had come to Florida to get away

from a COVID-19 resurgence in

Argentina and its strict lockdowns.

They had worked hard to

adopt Sofia, Fernandez said.

"Of all days, they chose the

worst to stay there," Fernandez

said. "I hope it's not the case, but

if they die like this, that would be

so unfair."

34 The BLUES POLICE MAGAZINE The BLUES POLICE MAGAZINE 35
---
At Surfside, Volunteers Shower First Responders

& Rescue Workers with Food

Firefighters, police officers and others working 12-hour shifts at the site have

been plied with everything from pizza and energy drinks to deep-fried Oreos

By Russ Bynum

Associated Press

SURFSIDE, Fla. — Nicolette

Daniel pulled a wheeled cart

packed with takeout boxes of

chicken tenders, French fries

and deep-fried Oreos to the intersection

where police officers

stood by their cars Tuesday, directing

traffic a block from the

collapsed condominium tower

in Surfside, Florida.

"They can't leave their spot,"

said Daniel. Determined to offer

first responders a hot meal,

she and her husband hired a

food truck to cook 350 meals

that are being distributed in a

parking lot of a nearby church.

Robert Martinez talks with a

law enforcement officer after

handing him a hot meal from

his food truck in Surfside, Fla.,

Tuesday, June 29, 2021. (AP

Photo/Russ Bynum)

One of the officers Daniel

approached, Sgt. Patricia

Vazquez, thanked her for the

offered meal, but graciously

declined.

"So many people have been

coming by with food," Vazquez

said, patting her stomach.

"Somebody just came by here

with 50 Big Macs."

Since a huge section of the

Champlain Towers South building

fell to the ground early

Thursday, an ever-growing

virtual army of volunteers has

been offering everything from

water and energy drinks to

pizza and deep-fried Oreos to

firefighters, police officers and

other rescue workers working

12-hour shifts at the site.

At Casa Church near the disaster

site, Pastor Ezequiel Fattore

got to work handing out

refreshments to first responders

within hours of the building

collapse Thursday, beginning

with a few bottles of water and

Gatorade.

"We had them in the fridge,

and we started with those,"

said Fattore, whose congregation

soon started pitching in to

help. "A couple of hours later, I

was at Costco spending $600.

Those were the first donations."

In a side room at Fattore's

church on Tuesday, cases of

water were stacked four high,

along with a large assortment

of energy drinks, bottled iced

coffees and bags of chips and

other snacks. As volunteers

packed coolers to distribute

among police and emergency

crews in the area, a van pulled

up to offload more refreshments.

"They're coming from another

church," Fattore said. "I have no

idea what they're bringing."

In the church's parking lot,

Robert Martinez and his crew

of three busied themselves frying

chicken tenders and Oreos

in Martinez's circus-themed

food truck.

Martinez said they'd brought

enough to feed 350 people.

"Once we got the call to

come help out and do whatever

we can, there was no decision

to make," Martinez said. "It was

like, `Let's go!'"

The call came from Daniel

and her husband, Patrick

Daniel, who have a law firm in

Houston. Nicolette Daniel said

they traveled from Texas to

Florida to offer whatever assistance

they could to victims'

families and emergency workers.

Daniel said she felt compelled

to give back after the

outpouring of support she

received when her mother died

suddenly a year ago.

"It was the doorbell that kept

ringing and the people who

kept calling that kept me going,"

she said.

36 The BLUES POLICE MAGAZINE The BLUES POLICE MAGAZINE 37
---
Biden Announces Anti-Crime Measures,

Provides Money to Police from COVID

Relief Fund

President Biden in remarks

Wednesday said his crime prevention

strategy would focus

on boosting community policing,

strengthening background

checks on gun purchases,

banning "assault weapons," and

banning high-capacity magazines.

Biden boasted of "historic

funding for crime prevention"

in the $350 billion for state

and local governments, from

the $1.9 trillion COVID-19 relief

package, that can be used by

cities to hire law enforcement

officers, pay overtime, invest

in technology to make law

enforcement more efficient,

and prosecute gun traffickers.

Officials said the Biden administration

hoped cities would

choose to use the money for alternatives

to policing, too, and

to invest in community policing

models, Fox News reports.

Both Biden and Attorney General

Merrick Garland, who spoke

before him, pointed to a historic

rise in crime in the summertime,

and said that rise "may be more

pronounced" as the nation comes

out of the COVID-19 pandemic.

The White House has insisted

curbing gun violence is key to

tamping down a "staggering"

surge of crime across the U.S.

The president said the DOJ has

created five new "strike forces"

to crack down on illegal gun

trafficking cartels and called

on the Senate to reauthorize the

Violence Against Women Act,

thereby closing the "boyfriend

loophole" to keep guns out of

the hands of domestic abusers.

get your

FREE SUBSCRIPTION

to The BLUES, scan the

QR code or click here.

38 The BLUES POLICE MAGAZINE The BLUES POLICE MAGAZINE 39
---
Groups Ask, Where's the Money Nat?

Nat Silvester went viral for all the wrong reasons, and lost his job.

Now he's raking it in, while promising to use the cash for a series

of ambitious—and yet to launch—projects.

By Kali Holloway

In a video released in early June,

just days after his firing from the

Bellevue Marshal's Office, former

Idaho police officer Nate Silvester—who

got internet famous in

April with a viral TikTok mocking

LeBron James' tweet calling for accountability

for the cop who killed

16-year-old Ma'Khia Bryant — stated

that the teen girl's "death was

tragic, but it was also justified." He

also chastised his critics' "radical

woke ideologies," and issued a declaration,

or perhaps a warning, that

"because I'm not wearing a badge

anymore, you're going to be hearing

a lot more from me, so buckle up."

Now Silvester seems to be delivering

on that promise, by launching

a police-boosting podcast,

writing a book about being a cop

that's slated for release later this

year, and founding a nonprofit to

give financial aid to police officers

who have been unfairly "mistreated."

He's also expanding his social

media footprint to defend law

enforcement agents from what he

described to me as the "anti-police

sentiment… of the left."

All this is made possible not only

by the free time of unemployment,

but also because of a GoFundMe

campaign for Silvester that has seen

the donations roll in. The campaign,

launched by Silvester's friend Gannon

Ward on April 28, initially had a

goal of just $10,000—money meant

to supplement "at least a week's

worth of pay for suspension" from

the Marshal's Office after Silvester's

TikTok went viral and officials put

out a statement declaring "this is

NOT how we expect our Deputies to

act on duty or use city time." Three

days later, the GoFundMe had over

$200,000 in donations; less than

a week after that, funds topped

$460,000. As the pot has climbed,

and the organizer has repeatedly

increased the target monetary goal,

Silvester has thanked donors via

short talking-head videos posted

on the campaign page. "We're not

going to tolerate being attacked

or bullied or vilified in the media

anymore," he told followers in an

early clip.

There were also new beneficiaries

named as the Go Fund Me

donation pile grew. After the campaign

surpassed its goal within

hours of launching, an update from

organizer Ward informed donors

that then-officer Silvester "has

decided to donate a portion to the

charity The First Responders Children's

Foundation, a charity for

the families of fallen officers and

first responders. Therefore," Ward

added, "I'm upping the goal." A day

later, as funds continued to accrue

and the target goal was again

raised, a video update from Silvester

noted "the additional funds

that are coming in…they're going to

be used to make more content to

shed positive light on law enforcement."

The next day, a new Silvester

clip announced plans to found "a

nonprofit organization that's going

to benefit officers" who are "being

vilified and demonized constantly

by Hollywood, by the media, and

we can't stand for it anymore." (In a

lengthier text update, Silvester indicated

that "I will be the CEO of this

organization.") On May 6, Silvester

posted footage of himself touting

recent TV appearances he'd made

since going viral, and declared he'd

just signed a book deal to produce

a work that would "help educate

people like LeBron James and others

who have a very limited understanding

of police officers."

Silvester's Go Fund Me goal has

now been raised to $1,000,000, and

the campaign has taken in more

than $540,000—and climbing. The

header on the page was long ago

changed from "Please help Officer

Nate Silvester recover his pay"

to "Please Help Officer Silvester &

Other Families." No doubt, his indications

that he plans to spread the

wealth, so to speak, have helped the

flow of donations continue. When

I spoke with Silvester earlier this

week, I asked whether he had yet

given the promised donation to the

First Responders Children's Foundation

(FRCF).

"Well, no," he told me. "For some

reason, they're very hard to get

ahold of, and they initially reached

out to me when they found out that

I was going to be donating a portion

of that GoFundMe campaign

to them. And then, there was some

brief correspondence between me

and the foundation, but I haven't

heard from them since. I'm still

waiting to reconnect with the staff

at that foundation so that we can

discuss that. But that still hasn't

changed. And I'm still going to

donate to them, but just waiting to

hear back essentially."

I got a hold of staff from FRCF in

a few hours and with relative ease,

and talked via phone and via email

with spokesperson Dan DeMello. In

a written message, DeMello told

me that after Silvester "declared the

proposed donation via the media,"

an FRCF staff member reached out

to him, and an "enthusiastic" exchange

occurred. However, recently,

the agency has been awaiting

Silver's next move.

"Last contact the foundation

actually had with him was in late

April. We reached out on May 3 and

then again later in May (on Go Fund

Me) in the hopes of confirming an

exact amount, but haven't heard

back yet," DeMello wrote to me.

"We're hoping he'll come through

on the donation because the funds

would mean a lot to these children

whose parents were lost in the line

of duty."

One of the things keeping Silvester

busy is likely Never Off Duty, the

book he has in the works. Silvester

told me that while it won't be a

traditional memoir, the book will

"definitely cover my experience as

a police officer, but then the larger

focus will be on what many police

officers experience over the course

of their careers."

40 The BLUES POLICE MAGAZINE The BLUES POLICE MAGAZINE 41
---
July 4th War-Stories

And suddenly the sky was

filled with fireworks.

I hadn't been assigned

to patrol very long and in fact

it was just before the July 4th

weekend that my FTO cut me

loose and I was on my own. The

4th was on a Saturday, and it

would be the first Saturday night

I would be riding by myself. I

was assigned to the 11pm-7am

shift, so my girlfriend and I

went down to Memorial Park to

watch the fireworks and as soon

as it was over, I headed over to

the station, picked up my car

and went right to work. And like

any Saturday night, the calls

just poured in.

The calls were non-stop until

like 4am and then it was just

dead. I guess everyone had

enough partying and decided

to call it a day. About 4:30am,

my FTO had me got to the back

channel and said to meet him

on the west side of the district.

When I pulled up next to him,

he said to follow him to another

location. After 5 minutes of

following him, I honestly had no

damn idea where we were. Suddenly

he turns right into what I

could swear was a ditch. Come

to find out, it was a dirt road that

crossed a deep ditch and just on

the other side was a thick row of

weeds and bushes, but damn if

we didn't just drive right through

them like batman entering the

bat cave. One the other side was

an open clearing in the woods

and about six or seven other

units all parked in a semi-circle.

As I got out of my car, I glanced

over and saw another rookie I

knew that had just hit the streets

as well. I walked over and saw

pizza boxes and beer all scattered

over the truck of another

patrol car and helped myself to

the pizza. "Hey bud what's up?

What's with the beer?" He said

he was thinking the same thing

but hey we were rookies and far

be it from us to say shit about

anything. As we were catching

up on what happened since the

academy, one of the older officers

walked over and said, "Hey

you two come on, you're going to

miss the show." We both looked

at each other, shrugged our

shoulders and followed him. Everyone

was sitting on the backs

of cars looking towards the

south. I thought, what the hell

are they looking at? Suddenly the

sky was filled with bottle rockets

and fireworks by the hundreds.

Like a fireworks finale only it just

didn't stop. This went on for like

25 minutes until you hear fire

trucks in the background. Then

I heard, "Well guys, I guess the

show is about over, we'd better

go help the FD."

Everyone got back into their

cars and just like that the party

was over. The rookie and I

looked at each other and both

said "what the fuck" at the same

time while laughing our butts

off. We jump in our cars, turned

on lights and sirens and followed

the pack. Sure enough,

just a couple miles away the fire

department was on the scene

of a fire ---wait for it---of yes,

a FIREWORKS stand. Go figure.

Now I wonder how all these cops

knew that THIS fireworks stand

would suddenly catch fire thus

creating a fireworks show in the

middle of the night. I didn't want

to know. I just got out and directed

traffic and never talked

about it again…until now. LOL

The night all hell broke

loose.

I hated working July 4th. People

either like fireworks or they

hate them and those that hate

them call every five minutes to

report someone shooting fireworks

in their neighborhood. Seriously,

get a damn life. And our

town is like most others, in that

our city puts on a professional

fireworks show down by our city

lake. They launch a barge from

the park and anchor it in the

middle of the lake. Thousands

of families pack every inch of

the park to watch the 30-minute

show. It's about the most exciting

thing that every happens here in

Smallville USA.

Our department is small too

at only 30 officers and the fire

department is all volunteer. It's

just a sleepy little town stuck in

the middle of nowhere. The closest

town is over 30 miles away

and the big city is almost an

hour away. But my wife wanted

to return to the area her family

was from, so I retired from

Kansas City PD and moved the

family here. For the most part

it was pretty damn quiet and

after working in the big city for

20 years, I was ready for some

peace and quiet.

The 4th of July celebration is

a daylong event here. The park

is packed all day with concerts,

food, games for the kids, carnival

rides. You know typical

country fair stuff. So, by 9pm,

there isn't a lot of traffic coming

into the park, most of the town is

already here. The fireworks were

scheduled to begin at 9:20pm.

I remember looking down at

my watch and it was 9:19 and I

thought, OK this is about to start

and about that time the first

rocket launched and burst into

a huge star about the crowd.

Everyone cheered and clapped

and waited for the next one.

But for about 2 minutes nothing

happened. At 9:25 another rocket

went up and suddenly you could

hear what sounded like a freight

train coming from the lake.

At 9:26 the entire sky light up

with thousands of rockets going

off in every direction. They

weren't going straight up; they

were literally going in every

direction. Sideways, left, right,

straight towards the park. Something

obviously had gone wrong

on the barge and the entire damn

thing blew up. Suddenly I was

back in Iraq and taking fire. It

was suddenly a PTSD flashback.

I looked around and people were

getting hit with mortar fire all

around me and small fires were

starting in the grassy areas of

the park. People were running

in all directions, and it was just

pure chaos. All I could do was

help the injured and get people

running the right direction

- away from the lake. The explosions

only lasted about 4 minutes,

but it seemed like an hour.

When it finally stopped, over 200

people were injured and laying

all over the park. I had only seen

something like this once before

in my life and it was after a IED

went off back in Iraq.

I was on the radio trying to

get EMS directed to the severely

injured, but it was clear we were

undermanned and unprepared

for the sheer number of injured

we had. Our chief put out an

all channel 911 assist as did the

fire department and we have

departments from every neighboring

towns headed our way.

Over 100 ambulances eventually

responded and had to transport

victims to hospitals all over the

state. The national guard arrived

with Blackhawks and medics

and set up triage tents to treat

the wounded until they could be

transported. The last patient was

airlifted at 3am and by 6am the

park was empty except for first

responders. As daylight broke

and you could see what was left

of the barge. Just a smoldering

hulk of metal partially sunk in

the middle of the lake.

Over 500 people were injured

that day and only by God's good

graces no one was killed. They

determined that static electricity

had caused the spark that shorted

out the control board on the

barge causing the entire display

to be launched at the same time.

The explosion caused the barge

to rock thus sending the rockets

in all directions. So much for us

being a sleepy little town. The

next day we were worldwide

news.

Have a unique story you'd

like to share with the

BLUES readers?

Send it to: bluespdmag@

gmail.com. Please change

all the names to protect the

innocent and to avoid prosecution

in the event that

the statute of limitations

hasn't expired.

42 The 42 BLUES The BLUES POLICE POLICE MAGAZINE MAGAZINE The BLUES POLICE MAGAZINE 43
---
WORDS BY MICHAEL BARRON

these difficult times. The answer

unfortunately was that there are

none. At least not for emotional

support as opposed to financial

help. We both agreed this needs

to change. Therefore, The BLUES

will begin exploring all options

to create such a group or find an

existing group that will assist

these officers and their families.

Every day, a first responder

gets injured on the job in Texas.

When it happens, especially if

the officer is shot or critically

injured, we all respond immediately.

We create a rolling roadblock

to get the officer to the

hospital as quickly as possible.

Someone is sent to the officer's

house to get their spouse to the

hospital and to their side as soon

as possible. Hundreds of fellow

officers crowd every square inch

of the hospital waiting on word

from the docs that they will be

OK.

The next day, some of the officers

stay behind to make sure

the hospital is secure and to take

care of the family members. But

as hours, turn into days, then

weeks and months, the flow of

officers turns to a trickle. Soon

only family and maybe the officer's

closet friends come to

visit. The wounded officer has

months and maybe years of

physical therapy ahead of them.

Many times, they have numerous

surgeries and more and more

recovery rooms. Every day is just

a fight to stay alive and get back

to some sort of normalcy.

As the days, weeks and months

wear on, officers feel more and

more alone and forgotten. Of

course, they realize that cops

have their shift to work, extra

jobs, family; their own lives to

deal with. And then there's the

fallen officers that take precedence

over the wounded. Their

families need support and attention

as well. It's a never-ending

chain of events that take place

all over the US every single day.

I'm just as guilty as everyone

else when it comes to reaching

out to friends and officers still

recovering from gunshots, accidents,

assaults, fires and yes

even aircraft crashes. We get

all wrapped up in our daily lives

and while you mean to call or

visit your buddies, you just forget.

Well, we need to do better.

All of us need to take time to at

least call or text our brothers

and sisters in blue and tell them

we are thinking about them and

ask how they're doing. We owe

them that and more.

Chase Cormier is one friend I

try and stay in touch with. I know

he was a wonderful wife and

tons of friends, but when you're

injured and it's a long road back

to leading a normal life, you can

never have too many friends.

Chase still faces many challenges

but has an incredible mental

attitude. He has this "I will not

fail, and I will get back to normal

one way or another" outlook

on life. But no matter how positive

he may be, he still needs

reassurance from all of us that

we have his back. That we love

him and his wife Brooke and that

we will always, always be there

for them.

Unfortunately, not all injured

officers have this positive attitude

and feel lost and abandoned

by their peers and their

department. Sure, everybody

was there when they were

injured, but as time went by,

it seemed they were forgotten

and written off. Some are still

hospitalized while others are

recovering at home. Many live

with permanent disabilities.

Some stuck in wheelchairs for

life, and others even bedridden.

It's a terrible way of life for those

that sacrificed so much for their

department. Not to mention the

strain it places on their family,

both emotionally as well as

financially.

As I wrote this, I reached out to

our editor Rex Evans to see what

programs or support groups

exist to help officers through

Have a unique story you'd

like to share with the

BLUES readers?

Send it to: bluespdmag@

gmail.com. Please change

all the names to protect the

innocent and to avoid prosecution

in the event that

the statute of limitations

hasn't expired.

44 The BLUES POLICE MAGAZINE The BLUES POLICE MAGAZINE 45
---
TEXAS GAME WARDENS

Jennifer Provaznik,

Game Warden, TV Star

WORDS & PHOTO, BY MICHAEL BARRON

As we continue our summer series on law enforcement in the

Galveston area, this month's issue features Texas game wardens

and the role they play not only as law enforcement

officers, but also protecting Texas' natural resources.

And if you're going to highlight Game Wardens in Galveston,

you can't help noticing one officer that has been in the spotlight

since 2016. Game Warden Jennifer Provaznik, featured

on this month's cover, is also a cast member and one of the

co-stars of Animal Planet's, Lone Star Law reality TV series.

46 The BLUES POLICE MAGAZINE The BLUES POLICE MAGAZINE 47

46 The BLUES POLICE MAGAZINE The BLUES POLICE MAGAZINE 47
---
TEXAS GAME WARDENS

Jennifer Provaznik grew

up along the Ohio River in

Huntington, West Virginia,

with her parents Gwen &

Tim Provaznik. She spent

time hiking, camping and

fishing alongside her father,

who held three different

jobs simultaneously while

she was growing up. Her

work ethic to this day stems

from watching him work as

a firefighter, paramedic and

911 dispatcher. In 2009, her

dad was promoted to fire

chief of Huntington.

She graduated from Spring

Valley High School and enrolled

at Coastal Carolina

University in Myrtle Beach,

majoring in marine science.

And like her father, she

worked several jobs simultaneously

while attending

school. Countless times, she

slept in her truck in between

jobs and classes.

Shortly after graduation

in 2007, she went to

the Bimini Biological Field

Station in the Bahamas to

research sharks and found

herself working alongside

scientists from around the

world. While working at

the station, she was hired

by the National Oceanic and

Atmospheric Administration

(NOAA) to work offshore on

commercial fishing vessels

as a fisheries observer. She

worked on multiple styles

of fishing vessels collecting

data on targeted and

bycatch species. The boats

consisted of tuna long line

vessels, shrimp boats, and

bandit boats (boats that

catch snapper and grouper).

While at NOAA, Jennifer

also had the role of doing

statistical analysis on information

collected in the

field and writing scientific

papers.

Eventually, she transferred

to the NOAA lab in Pascagoula,

Mississippi, where

her research expanded to

bluefin tuna, plankton and

red snapper.

While working offshore,

she noticed some things on

the vessels that just didn't

seem right and thought

to herself that there must

be rules and regulations

and someone to enforce

them. Never on shore long

enough to research who

that was, Jennifer called an

old co-worker and asked

what he was up to. He stated

he was a game warden

cadet in Texas. Jennifer

said what's that and franticly

started Googling Texas

Game Warden and while

she was reading what game

wardens do, she thought to

herself, that sounds just like

me! When does the application

process end? Wait,

it's tomorrow?? She sent her

application over immediately

and was amazed she got

in on her first attempt.

Provaznik entered the

Game Warden's 58th Cadet

Class in 2013. When I asked

her what the academy was

like she said, "The Academy

is almost 8 months long

and you stay on academy

grounds in Hamilton, TX.

It's a large facility and to

describe the ruralness of it,

the closest cheeseburger

is about 30 mins away. It's

a full day of learning and

physical exercise every day.

You learn fast, take all the

PHOTO COURTESY OF TEXAS PARKS & WILDLIFE DEPT. & THE TEXAS GAME WARDENS

48 The BLUES POLICE MAGAZINE The BLUES POLICE MAGAZINE 49

48 The BLUES POLICE MAGAZINE The BLUES POLICE MAGAZINE 49
---
TEXAS GAME WARDENS

PHOTO COURTESY OF TEXAS PARKS & WILDLIFE DEPT. & THE TEXAS GAME WARDENS

information a state trooper

learns, then add all the rules

and regulations for Parks

and Wildlife. Also, while

you are there, you will learn

how to back trailers, drive

boats, ride four wheelers,

and anything else you can

think of a game warden

might use. It's an unforgettable

experience for sure.

After graduation, Provaznik

was assigned to the

Galveston district (a natural

place for someone with

her marine background)

and she's been there ever

since. In early 2016, her boss

approached her about the

opportunity for her and her

work partner, Mack Chambers,

to participate in a reality

show for Animal Planet

that chronicles their adventures

as Game Wardens.

"Lone Star Law" premiered

on June 2, 2016, and Provaznik

has become one of the

most popular 'stars' of the

show.

But Provaznik will tell you

that fame, notoriety, whatever

you want to call it, may

sound cool, but there's a

downside as well. Like people

following you down the

highway because they want

a selfie. Trying to arrest

someone while people are

asking for autographs. And

don't think for a minute that

friendly Texas attitude and

pretty face is going to go

light on you if you're breaking

the law. Provaznik is as

tough as her male counterparts,

and she doesn't back

down from anyone.

Like all law enforcement

officers, Provaznik has her

share of war-stories. When

asked what's the funniest

thing she's experienced

since the academy, she said,

"One of the funniest things I

ever saw was during flounder

season. I was checking

bank fishermen and looking

into coolers and almost

everyone had a limit. I get

to one cooler and the gentleman

said "Aren't they big!

I got my two" and as I look

at him, I saw the crotch of

his pants move. And I look

him straight in the face

and asked "Um, excuse me

sir, but do you have a fish

in your pants?" he stated

"Nope," and the pants

flopped again. Now dying

laughing on the inside, I call

my partner over the radio

to see if he will search this

man's pants for a fish. And

you know what he did, he

stuck a live flounder into his

boxers. It may had been my

first time seeing someone

put fish in their pants, but it

was definitely not my last."

And your worst day?

"Some of my worst days

involve water fatalities, especially

when most of them

could have been prevented

by wearing a life jacket. It's

my opinion that EVERYONE

should wear a life jacket

while underway, it'll dramatically

improve your

chances of survival in an

accident."

Finally, I asked her what

her advice to someone

thinking about becoming a

game warden.

"My advice to anyone

looking to be a game warden

is, first, make sure you

love the outdoors, and you

want to be a police officer.

Yes, we work in the outdoors

enforcing wildlife and

boating rules and regulations,

but we also are Texas

Peace officers, you never

know when you will stop an

armed bank robber (trust

me, I checked that box).

Second, make sure you are

willing to go anywhere in

the state of Texas and know

you may be stationed in a

one warden county. Volunteer

in your community,

choose your friends wisely,

and don't be afraid of hard

work.

And last, but not least.

Train. Train like your life depends

on it because it just

might one day. Hit the gym,

swim, and run. Not only

will it make you a healthier

person, but it will also keep

you strong mentally and

physically for the demands

of this job."

50 The BLUES POLICE MAGAZINE The BLUES POLICE MAGAZINE 51
---
TEXAS GAME WARDENS

OFF THE PAVEMENT

From the frontier to the front line, Texas game wardens

have answered the call for 125 years.

BY STEPHANIE SALINAS GARCIA,

TEXAS PARKS & WILDLIFE DEPT.

PHOTOS COURTESY OF TEXAS PARKS & WILDLIFE DEPT.

& THE TEXAS GAME WARDENS

For 125 years, "Law Enforcement Off the Pavement"

has been more than a motto for Texas game wardens

— it's the core of what they do day and night to protect

Texans and the state's natural resources.

In a state this size, it's a massive, coordinated operation.

More than 550 game wardens (stationed in all

254 counties) patrol about 11 million miles of roads

and coastline and everything in between.

"Our game wardens have a long and storied history

of conservation law enforcement in our state, beginning

with the first wardens hired to stop the overexploitation

of oysters in Galveston Bay," says Carter

Smith, Texas Parks and Wildlife Department executive

director. "I am proud to say that our game wardens are

still working to protect oysters in Galveston Bay, plus

a whole lot more, 125 years later."

52 The BLUES POLICE MAGAZINE The BLUES POLICE MAGAZINE 53
---
TEXAS GAME WARDENS

THE FRONTIER YEARS

Utilizing a variety of new techniques,

teams and technology, the game wardens

we know today have evolved dramatically

since the first ones were commissioned in

1895.

During Texas' frontier days, most people

lived in rural areas and spent their days

ranching and farming; Texas became a leading

producer of cotton and cattle at the

time. Major oil deposits were discovered in

Texas in 1894, and oil became a profitable

industry.

During this boom, Texans enjoyed the

state's bounty of game animals without

limit. The resulting overharvesting caused

pressure on the fish and wildlife populations,

so the Texas Legislature established

new regulations to help manage these resources.

The state's first game law in 1861 established

a two-year closed season for quail.

Thirteen years later, state fishing regulations

were adopted on coastal seining and

netting. There was an immense amount of

local pushback — in 1883, 130 Texas counties

claimed exemption from all game laws.

The Texas Legislature stepped in to create

a regulatory office, the Fish and Oyster

Commission, in 1895. I.P. Kibbe was appointed

commissioner by the governor; a handful

of deputies became law enforcement agents

to help regulate the harvesting of shrimp,

fish and oysters in the Gulf of Mexico.

54 The BLUES POLICE MAGAZINE The BLUES POLICE MAGAZINE 55

54 The BLUES POLICE MAGAZINE The BLUES POLICE MAGAZINE 55

54 The BLUES POLICE MAGAZINE The BLUES POLICE MAGAZINE 55
---
TEXAS GAME WARDENS

The legislature expanded the oversight of

the Fish and Oyster Commission to include

the responsibility of managing game animals

and laws in 1907, and the agency morphed

into the Game, Fish and Oyster Commission.

By 1919, six game wardens enforced the

regulations protecting fish and game in Texas;

in the next decade, the number grew to

80.

Radios were introduced in the 1930s, a

revolutionary way for wardens to communicate

and conduct law enforcement. Most

game wardens patrolled on horseback or in

personal vehicles. They were outfitted with

their first official uniforms in 1938.

In 1946, the first game warden cadet class

graduated from a school held at Texas A&M

University. The class consisted of 17 cadets,

who studied wildlife law and more. By the

end of the 1950s, 210 game wardens were

patrolling the state.

As the commission became the Texas Parks

and Wildlife Department in 1963, life as a

game warden evolved as well. Game wardens

were assigned state patrol cars with

the comforts of automatic transmission and

air conditioning, along with firearms and

other equipment.

The 1970s ushered in a new era for game

wardens as they received peace officer

status. This new designation allowed game

wardens to enforce not only game laws, but

all state laws. They also began patrolling

56 The BLUES POLICE MAGAZINE The BLUES POLICE MAGAZINE 57
---
TEXAS GAME WARDENS

for violations of the Water Safety Act, helping

Texans safely recreate on the water.

MODERN TECHNIQUES

Through the remaining decades of the

century, the Texas game wardens not only

grew in numbers, but also in patrol techniques.

They began using new methods (like

using deer decoys to catch poachers), new

defensive tactics and new handcuffing procedures.

New patrol vessels enhanced their

presence on waterways, and game wardens

were equipped and trained to use new firearms

for the first time.

The new training and equipment came just

in time, as modern game wardens face new

and increasingly complicated duties. Although

wardens continue to focus on conservation

law enforcement, they have adapted

to stay at the forefront of all modern law

enforcement strategies.

Game wardens are now "The Texas Navy,"

designated as the primary enforcement

agency in Texas public waters, enforcing resource

violations, promoting boating safety

and investigating boating accidents.

The Special Investigations Unit focuses

on conducting web-based investigations

of illegal wildlife trafficking. Through the

Operation Game Thief program, people who

notice illegal wildlife activity online can

submit tips for investigation.

Game wardens have always assisted in

search-and-rescue efforts across the state,

58 The BLUES POLICE MAGAZINE The BLUES POLICE MAGAZINE 59
---
TEXAS GAME WARDENS

but new technology and techniques increase

their effectiveness.

TPWD incorporated a new K9 team in

2013 to assist in search and rescue, cadaver

search, narcotics enforcement and detection

of illegally taken or smuggled game and

fish.

The new game warden helicopter, added

in 2014, has a rescue hoist, thermal imager,

searchlight, public address system, satellite

communication and night vision. In 2018,

game wardens expanded their arsenal further

with a new search-and-rescue drone.

WHEN DISASTER STRIKES

New training techniques focusing on swift

water have enabled wardens to respond

during floods and natural disasters.

These skills were instrumental when

wardens responded to some of the most

destructive natural disasters to strike the

Gulf Coast, including hurricanes Katrina and

Harvey.

On August 29, 2005, Hurricane Katrina

struck New Orleans. For several days, the

powerful storm flooded the city. On August

30, wardens crossed the Louisiana state line

to help, marking the first time Texas game

wardens were deployed for disaster relief

out of state. Game warden Chris Davis was

part of that first wave.

"We really didn't know exactly where we

were going, where we would stay or what

the conditions would be like," Davis recalls.

60 The BLUES POLICE MAGAZINE The BLUES POLICE MAGAZINE 61

60 The BLUES POLICE MAGAZINE The BLUES POLICE MAGAZINE 61

60 The BLUES POLICE MAGAZINE The BLUES POLICE MAGAZINE 61
---
TEXAS GAME WARDENS

The wardens used 4X4 trucks and shallow-water

vessels to reach and evacuate

residents in the hardest-hit areas of New Orleans.

By the end, more than 100 Texas game

wardens rescued more than 5,000 people

from their homes.

"We witnessed the devastation of a historic

city and how it brought out the best and

worst of human behavior," he says.

Davis says the wardens hold on to personal

stories about the people they met, and still

think about the people rescued and the ones

who didn't make it.

"I'll never forget the dedication and tireless

efforts of each and every game warden who

answered the call," Davis says. "They persevered

through unimaginable challenges and

made a difference when it counted the most."

Twelve years later, it was Texas' turn to feel

the wrath of Gulf weather. Hurricane Harvey

hit the Texas coast near Rockport, causing

widespread flooding across most of the

state's coastline. Game wardens leapt into

action to help with search-and-rescue efforts

throughout Texas. When it was over, 368

wardens had rescued more than 12,000 from

floodwaters.

"Harvey was originally set to hit my hometown

of Corpus Christi," says game warden

Carmen Rickel. "I had spent the day before

preparing my own home, and helping my

neighbors board up their houses. I worried

about getting my husband to a safe place and

making sure our extended family was prepared."

62 The BLUES POLICE MAGAZINE The BLUES POLICE MAGAZINE 63
---
TEXAS GAME WARDENS

Rickel's unit was deployed first as part of

the Incident Response Assessment Team, assigned

to the hardest-hit areas to report the

immediate needs of that community to the

State Emergency Operation Center.

"We drove into Rockport, and it was still

dark and raining," says Rickel. "As the daylight

started to creep up on us, so did the

magnitude of the devastation. We worked

all day into the night in Rockport and by

then, Houston was literally drowning."

Her unit left for the Houston area the following

morning.

"We arrived in Fort Bend County to never-ending

rain and thousands of people

needing help and evacuation," she says.

Rickel says the wardens never stopped until

every person was safe.

"I drove home at the end of the week in

awe of my partners and with a new respect

for the resiliency of our people in this great

state," Rickel says. "The most important

lesson learned is not about responses and

tactics but that when we are hit the hardest,

the police and the people come together as

one."

64 The BLUES POLICE MAGAZINE The BLUES POLICE MAGAZINE 65
---
TEXAS GAME WARDENS

WOMEN JOIN THE RANKS

Thirty-nine women are Texas game wardens today,

serving in counties across the state.

In the 1920s, Cordelia Jane Sloan Duke became the first

(appointed) female Texas game warden. The land around

her homestead was designated as a wildlife sanctuary

that annually hosted thousands of wild ducks.

In 1979, Stacy Bishop Lawrence became the first female

game warden to graduate from the Texas Game Warden

Academy. This was one of the first years the academy

was held in Austin.

"The first time I applied I was rejected, because I would

not have been 21 by graduation," Bishop Lawrence says.

"I had to wait almost four years for the next application

process. Back then, TPWD received approximately 3,000

applications for 30 to 40 positions. Competition was

brutal. Somehow, someway, I made it through the application

process."

In September 1978, Bishop Lawrence began her study

with the 33rd Game Warden Academy; only three of the

38 cadets were female.

"The training was tough," Bishop Lawrence says. "Unfortunately,

one of the females quit soon after training

began; the second left about a third of the way through."

Alone in a class full of guys, she says she was "too

stubborn" to try to be friends.

"It took one of my classmates to break the ice, and the

door was opened," she says. "To this day, I deeply appreciate

the friendships and the camaraderie that evolved."

66 The BLUES POLICE MAGAZINE The BLUES POLICE MAGAZINE 67

66 The BLUES POLICE MAGAZINE The BLUES POLICE MAGAZINE 67

66 The BLUES POLICE MAGAZINE The BLUES POLICE MAGAZINE 67
---
TEXAS GAME WARDENS

In July of 2013, the

Texas Parks and

Wildlife Department

celebrated its 50th

Year Anniversary. In

1963, the Texas Parks

and Wildlife Department

was created

by the merger of the

Texas Game and Fish

Commission and the

State Parks Board.

Since then, their

mission has been to

make "life better outside"

in Texas. This

video was created to

celebrate that occasion.

68 The BLUES POLICE MAGAZINE The BLUES POLICE MAGAZINE 69
---
TEXAS GAME WARDENS

HOW TO BECOME

A Texas Game Warden.

The Minimum requirements to be

a game warden are:

AGE: An applicant must have

reached the age of 21 years on or

before the date of entry into the

Game Warden Training Academy.

There is no maximum age limit for

employment.

EDUCATION: Applicants must

have successfully completed and

have conferred a bachelor's level

degree from an accredited college

or university in any field of study.

Prior military or law enforcement

experience is not a substitute for

the education requirements.

CITIZENSHIP: Must be a citizen of

the United States.

WORK ELIGIBILITY: Federal law

requires that all new employees

present original documents that

establish identity and U.S. employment

eligibility. These documents

must be presented at the time of

employment.

LICENSE: The applicant must

possess a valid driver's license

*From any state in the US

PEACE OFFICER LICENSE: The

applicant must not have had a

commission license:

• denied by final order

• revoked

• have a voluntary surrender of a

license currently in effect.

MILITARY SERVICE: The applicant

must not have been discharged

from any military service under

less than honorable conditions.

BACKGROUND: Applicants will be

subjected to, and must successfully

pass, a thorough and comprehensive

background investigation

prior to appointment to a cadet

position. The applicant must be

of good moral character and not

have any of the following incidents

in their criminal history:

• a conviction for any Felony or

Class A Misdemeanor offense at

any time.

• a conviction for any Class B

Misdemeanor offense within 10

years prior to the date of application,

which includes convictions

for DWI (driving while intoxicated),

DUID (driving under the influence

of drugs) and BWI (boating

while intoxicated), never have been

convicted of any family violence

offense, currently on court-ordered

community supervision, and/or

probation or parole for any criminal

offense above the grade of

Class C Misdemeanor.

SALARY (SCHEDULE C): Applicants

currently holding Schedule C positions

with another state agency

in Texas, who meet all minimum

qualifications, are selected and

complete the Game Warden Academy,

will return to their current

Schedule C salary position after 1

year of satisfactory performance

in the field. This applies only to the

similar rank of Game Warden VI or

below.

DRUG USE: Applicant must have

no current illegal drug use, within

the past 2 years from the start

date of the application process.

Illegal drug use is the use of a drug

that is considered illegal in Texas.

For example: Marijuana use in

some states is legal, but illegal in

Texas. So, if you used marijuana in

those states, TPWD will consider

that as illegal drug use. This also

includes the use of prescribed

drugs used in an illegal manner.

PSYCHOLOGICAL CONDITION: The

applicant must be examined by a

licensed psychologist and be declared

to be in satisfactory psychological

and emotional health

for law enforcement duty prior to

employment and the issuance of a

peace officer license.

PHYSICAL CONDITION: The applicant

must be examined by a

licensed physician and be declared

to be able to physically perform

the duties of a game warden cadet

prior to employment.

HEARING: The applicant must

meet the minimal standard with or

without hearing aids of 35 decibels

or better in each of the following

four frequencies: 500, 1000, 2000

and 3000 Hz; to include long distance,

directional and voice conversation

hearing.

VISION:

• Uncorrected visual acuity must

be at least 20/100 (both eyes) for

those who wear glasses or hard

contact lenses.

• Wearers of soft contact lenses

are exempt from uncorrected

visual acuity. If you wear contact

lenses, you must wear them during

the medical exam

• Corrected visual acuity should

be at least 20/20 (both eyes) and

20/40 (each eye).

• Applicant must have uninterrupted

peripheral vision of 140

degrees or better, have night vision

and be able to distinguish red and

green colors.

Physical Readiness Test

The applicant must successfully

complete a physical readiness

test, which includes the following

activities:

• Handgun stability

• 2,000-meter row

• Swim

70 The BLUES POLICE MAGAZINE The BLUES POLICE MAGAZINE 71
---
TEXAS GAME WARDENS

*NOTE: Before being allowed to

take the physical readiness tests the

applicant will be required to provide

a description of the test to a physician

and obtain a written medical

clearance.

The application process to become

a Texas Game Warden is very competitive,

and only the top qualified

applicants will be selected to attend

the Texas Game Warden Academy.

All Game Warden Cadets accepted

to attend the academy must pass

the entrance physical readiness test

at the minimum 70 percentile on

the first day of the academy. Game

Warden Cadets not passing the entrance

physical readiness test at the

minimum requirement will have their

conditional job offer rescinded and

will be sent home. Cadets sent home

due to not passing the entrance

physical readiness test or who resign

from the game warden academy will

be required to reapply and complete

the application process again if the

applicant wishes to attend a future

game warden academy.

HANDGUN STABILITY *DRY FIRE

• Complete five consecutive dry

fire trigger pulls with the index

finger in the standing position, with

both the left and right hand, holding

the barrel within a 5-inch ring without

touching the sides of the ring.

• While holding the handgun with

both hands, the applicant must

transition to the kneeling position

and dry fire the pistol five times

while holding the barrel inside a

5-inch ring without touching the

sides of the ring.

• After the exercise is complete,

the applicant is required to return

to the standing position and using

both hands pull the slide to the rear

locked position therefore displaying

a safe weapon.

2,000 METER ROW

*This test will be conducted on a

Concept 2 Rower

• Applicants must achieve, at minimum,

the 70th percentile VO2 max

• Time limits will be individualized

and calculated based upon, age,

weight, and gender.

• Each rower will be set at 2000

meters with the damper set on level

5.

SWIM

• Applicants must fall backwards

into the pool and tread water or

float for 1 minute without touching

the sides or the bottom of the pool.

• After the 1-minute water tread,

applicants will be required to swim

100m within 4 minutes.

• Any stroke may be used.

• Applicants will be allowed to

push off the vertical part of the

wall under the water line on each

end of the pool or use a flip turn.

• Applicants will not be allowed to

do the following: (any of the following

will result in a failure)

• Touch or hold the horizontal

edge of the pool

• Touch the bottom of the pool

• Hold onto any pool lane markers

72 The BLUES POLICE MAGAZINE The BLUES POLICE MAGAZINE 73
---
What to Do?

Making the Most

of Island Time

Attractions

Galveston Island is home to some of the

best attractions Texas has to offer, including

Moody Gardens, Schlitterbahn Waterpark,

the Historic Pleasure Pier, unique

museums, dazzling Victorian architecture,

and 32 miles of sun-kissed beaches.

Galveston Beaches

With 32 miles of shoreline and a variety of

parks, Galveston Island offers something for

every kind of beachgoer.

Sandcastle Building Lessons

My name is Emerson and I've been a professional

sandcastle builder for over 10 years. Join me every

Saturday this summer at Stewart Beach and learn

the fundamentals of sand sculpture (Yes, it's sculpture!)

We'll cover the basics of making strong structures

and how to carve them.

Free sandcastle lessons are available at Stewart

Beach on Saturdays at 11 a.m., 1 p.m., and 3 p.m.

No reservation necessary. You can find me by the

water's edge, straight down from the pavilion. Private

lessons are also available by appointment

throughout the week at the beach of your choice.

For more information, click here. Join me and learn

how to have more fun at the beach forever!

74 The BLUES POLICE MAGAZINE The BLUES POLICE MAGAZINE 75
---
Katie's Seafood House

2000 Wharf Rd. (409) 763-65688

Where to Stay?

Casa Del Mar Beachfront Suites

Be the hero of your family vacation! With

a relaxed vibe, beautiful views of the Gulf

of Mexico and steps from the beach,

Casa del Mar is ideal for a family vacation

or weekend getaway. Each suite offers a

private balcony, a small living room with a

queen sleeper sofa, a studio kitchen, private

bedroom, and junior bunks for small

kids.

Famous as the Galveston restaurant

industry's busiest fresh-fish supplier,

Katie's Seafood Market is now providing

stock for its own new establishment,

Katie's Seafood House. This

brand-new "boat to table" restaurant

is located at Pier 19, steps from The

Strand Historic District, Pier 21, and

the Galveston Cruise Ship Terminals.

Owner Buddy Guindon, a local leader

of the fishing business, has operated

that family-owned wholesaler

for roughly 40 years, and is thrilled

to enter the burgeoning Galveston

restaurant scene.

Queen's Bar-B-Que

3428 Avenue S, Galveston, TX |

Phone: (409)762-3151

Tours & Sightseeing

Whether you prefer to stroll down quaint

alleyways by foot or trot through the streets

in a carriage, all paths can lead you on an

unforgettable journey back in time. You'll

be entertained and enlightened by knowledgeable

guides giving tours on foot,

carriage, shuttle or even boat. If you prefer

to do you own thing, we've assemble

self-guided tours of popular sights with

maps designed for mobile devices.

Explore the Ocean's Depths

MOODY GARDENS

Dive into the oceans of the world in

a 1.5-million-gallon aquarium teeming

with creatures from tuxedo-clad

penguins to seals, stingrays, sharks

and more!

Queen's is family-owned and operated,

and has been serving up oak and

pecan-smoked favorites since 1966.

The Island mainstay offers delicious

barbequed beef, ribs, links, smoked

turkey and ham, seasonal brisket Texas-style

chili, and mouth-watering,

finger-lickin' sides and daily specials.

Gaido's Famous Seafood

Restaurant 3828 Seawall Blvd,|

Phone: (409)761-5500

Gaido first opened his doors to the

public in 1911, the same year air conditioning

was invented. With an

unwavering commitment to serving

the freshest Gulf seafood, Gaido's is

a cherished tradition for thousands

of both locals and visitors – offering

only the freshest seafood prepared by

hand and the some of very best service

you'll find anywhere.

76 The BLUES POLICE MAGAZINE The BLUES POLICE MAGAZINE 77
---
THE OPEN ROAD

by Michael Barron

Ford's F-150 Police Responder

Quickest Vehicle at MSP, LASD Testing

The all-new 2021 Ford F-150

Police Responder has scored the

best acceleration of any pursuit-rated

police vehicle tested

at the Los Angeles County Sheriff's

Department testing and the

Michigan State Police testing.

America's only pursuit-rated

pickup truck had the fastest

0-60 mph, 0-100 mph and

quarter-mile times of any law

enforcement vehicle, including

SUVs and sedans.

"Vehicle acceleration and

speed contribute to how quickly

first responders can safely arrive

at an emergency scene," said

Greg Ebel, Ford police vehicle

brand manager. "Shaving even

a few seconds off response

times can make a big difference.

Whether responding to an accident

on the highway or a distress

call from somewhere off-road,

law enforcement officers can

count on 2021 F-150 Police Responder

to get them there fast."

In Michigan State Police tests,

preliminary results show 2021

F-150 Police Responder clocked

a 0-60 mph time of 5.4 seconds.

That's 1.2 seconds faster than the

outgoing model and at least 0.4

seconds faster than any other

vehicle tested. Its 0-100 mph

time was 3.7 seconds faster than

the 2020 model at 13.1 seconds

and 0.8 seconds faster than the

runner up. The agency also confirmed

the new truck's 120 mph

top speed, a 15 mph increase

over the previous model.

Los Angeles County Sheriff's

Department tests showed 2021

F-150 Police Responder hitting

the quarter mile in just 14.4 seconds,

a full second faster than

the 2020 model and 0.4 seconds

faster than the closest competitor.

The main drivers of the acceleration

improvements are the

truck's increased torque and new

torque-on-demand 4x4 transfer

case. The F-150 Police Responder

standard police-tuned 3.5-liter

EcoBoost engine produces

500 pound-feet of torque, more

than any other pursuit-rated

police vehicle. Its automatic

four-wheel-drive mode and

torque-on-demand transfer case

constantly adjust torque to front

or rear wheels as needed. This

contributes to faster starts because

it provides instant traction

to all four wheels regardless of

road—or off-road—conditions.

The torque-on-demand transfer

case also plays a role in the

truck's overall performance,

since it facilitates carrying faster

speeds when cornering. This

was showcased during the 32-

lap vehicle dynamics tests run

by both the Michigan State Police

and Los Angeles Sheriff's Department.

The 2021 F-150 Police Responder

showed dramatic improvements

over the original,

cutting 5.8 seconds off its average

lap time during the Michigan

tests, and 3.6 seconds per

lap during the Los Angeles tests.

(Los Angeles testing protocols

add 400 pounds of payload to

police trucks and SUVs to simulate

cargo). Laps in the dynamic

tests are run on winding, curving

tracks, as well as a tight city

course, to simulate real-world

pursuit driving conditions.

"The vehicle dynamics course

is where the entire vehicle is put

to the test," explained Allen Magolan,

Ford police vehicles integration

manager. "It shows how

well the vehicle's systems work

together to deliver the performance

an officer relies on in an

unpredictable high-speed situation—its

acceleration, straightline

speed, cornering and overall

performance."

Introduced in 2017 as a powerful

and capable all-terrain law

enforcement tool, F-150 Police

Responder is part of America's

best-selling police vehicle

lineup. The truck is built on

the all-new 2021 F-150 Super

Crew platform and engineered

to meet a wide range of agency

needs from allowing officers

to travel with an assortment

of emergency response gear to

transporting mobile command

centers. It offers the most towing

capacity, payload capacity, and

interior passenger volume of any

pursuit-rated law enforcement

vehicle.

F-150 Police Responder is assembled

at Kansas City Assembly

Plant in Claycomo, MO, and will

arrive in fleets this fall.

78 The BLUES POLICE MAGAZINE The BLUES POLICE MAGAZINE 79
---
When the Music Ends

BY Retired NYPD Detective

John Salerno

Everyone has a favorite song,

and we all hate it when the song

comes to an end. We want to rewind

it and listen to it again. We

know every word; we can even

remember when we first heard

it, and how it made us feel.

Just like the day we raised our

right hand and took the oath to

protect and serve our communities.

That day changed our lives

forever.

It was a proud moment for

us, our friends, and our families.

We spoke the words of

honor, respect, and community.

We vowed to protect and serve.

These words were not said halfhearted

or taken lightly.

Many call Law Enforcement

a career; but when you think

about it, what every officer goes

through, it is more of a calling.

Matthew 5.9

Blessed are the peacemakers,

for they will be called children

of God.

There are very few careers

where a person will leave his

or her family and go into work

willing to lay down their own life

for the life of stranger, there is

no other line of work where you

place yourself in grave danger,

just to catch a thief that will

soon beat the system and be

back on the streets in just a few

short hours.

That music gets old, just like

rewinding and listening to

your favorite song repeatedly,

the song loses its feeling. It

loses its meaning.

But your song can regain its

meaning. All it takes is a little

time.

Retirement is one of the most

bittersweet days of our lives.

We have spent most of our

time giving back to strangers

and placing our family on hold.

Now, how do we adjust to a

semi-normal routine?

It is going to take time. We

must be prepared.

Retirement can weigh heavy on

us. Our emotional preparedness

for what is ahead is never really

laid out. For most, retirement is

a command party with our work

family, a cheap Walmart cake,

lots of drinks, war stories and

remember when's. Then toss in

a few "You made it! Enjoy your

days fishing on the lake." Then,

30 years of risking your life

comes to a screeching halt.

We clean out our desks and

lockers usually finding a lost memento

or trinket that reminds us

of a lifetime ago. We pack it all

in a cardboard box and head out

the door.

The sounds of radio runs, typing

and orders being given, fill

your ears as you leave. You walk

through the parking lot and see

patrol cars coming and going.

You get to the car, slam the door

and SILENCE. It is over. My time is

complete.

At this point you begin to either

feel joy, sadness, loneliness,

anger, or all the above. Retirement

affects each of us differently.

What are we going home

to? What is life going to be like

out of the bag? This can be the

beginning of a downward spiral

if we are not properly prepared.

Transitioning back into civilian

life can be the hardest part. We

usually do not think of the effects

until it is too late. We are

never fully prepared on how our

minds will react.

The things we do make sure

of is our medical insurance,

pensions, and 401K. Oh, and

depending on which state, our

carry permit. We never ask what

retirement will be like. What are

some of the emotions my family

and I will experience? Even if

those questions were asked, I am

sure many would not even know

how to answer them. So how do

we prepare? When do we prepare?

Well, it all goes back to the

day we raised our right hand and

swore that oath.

The time to prepare for retirement

is not 1 year, 5 years or

even 10 years before. The time to

mentally prepare yourself is before

you hit the streets. The day

you raised that right hand.

We took an oath to protect and

serve, we upheld that oath for 20

plus years.

We need to have our officers

take an oath to protect and serve

themselves as well. To uphold

that oath throughout their career

and into retirement.

Cops follow order and train

hard. The training we learn over

the years sticks with us even after

retirement. Think about it…...

you go grocery shopping, and

you are constantly scanning for

threats, you go out to eat, you

sit with your back to the wall.

Training! Always scanning for a

threat. We never train to scan for

the mental health threat. What

to do if it becomes dark, how to

handle the spiral down.

Some of us even teach our

spouses how to react if a threat

is encountered.

Why are we not teaching our

spouses to recognize the mental

health threat?

STIGMA…. poor department

programs, budgets, time, resources

etc. etc.

All these things can be fixed,

altered, and reinvested to heal

the wounds before they begin.

We wear a bullet resistant vest

to protect us from injury, now

if you get shot in the vest it is

going to hurt, your will have a

bruise but you most likely will

not DIE. Mental health vests

should be given out as well,

stacked trauma will hurt, it will

leave a bruise but most likely you

will not DIE.

Starting to sink in, getting the

picture?

It is no secret we will be exposed

to trauma during our time

in the streets, but the streets are

what keeps our traumas down,

hidden, locked up. Why? Because

we go onto the next trauma

without decompression.

Many traumas are not felt or

even remembered until after

retirement. That is when we have

the time to think… two words a

cop hates "Time" and "Thinking."

Let's face it, during a confrontation

we have neither. Sometimes

a split second is all we

have.

However, retirement gives us

both. The time to reflect in our

own thoughts. The ability to

think about things. A place that

many are scared to go.

Why are we not preparing

ourselves mentally? This is the

100,000-dollar question.

How do we mentally prepare

for Traumas we have never even

encountered?

Well historically, law enforcement

has only provided a knee

jerk reaction to traumas. When

a shooting occurs, or a major

incident happens we bring in the

crisis intervention team. When

an officer falls into the rabbit

hole, we take their gun and send

them to the couch! This is not

preparing us; this is setting us up

to fail. It also puts the mindset

that a person is weak or incomplete.

That there is something

wrong with them. We are validating

the negative stigma about

mental health which will push

officers to just place band-aides

on bullet holes or just patching

a tire which one day is going to

blow.

Maintenance is key to a healthy

retirement; like changing the oil

in your car.

We get a warning light when

we are at 20%. Well officers

need a warning light. Officers

need to be conditioned that after

a certain amount of time in the

field they need to come in for a

tune-up. A trauma oil change!

Sometimes we may only need

to change the oil, but on occasions

we may need to take the

time to get a front-end alignment,

have the tires rotated or

change out the squeaky brake

pads, all normal routine maintenance

procedures. It all depends

on how the car was driven.

But when we pull the car out

of the shop, we can immediately

feel the difference.

We immediately feel a change

in the performance.

It just took a little extra time.

So, now when you turn on your

favorite song it will again have

the meaning it had when you

first heard it.

John Salerno and Sam host MAD

(Making a Difference) Radio each

Wednesday 7pm central live on FB

@Makingadifferencetx.

Help us reach our goal

of 100,000 subscribers.

CLICK BELOW for your

FREE SUBSCRIPTION.

Please share with

all your friends and

co-workers.

CLICK OR SCAN HERE

80 The BLUES POLICE MAGAZINE The BLUES POLICE MAGAZINE 81
---
Janus of Rome

In the pantheon of Roman mythology

there is a god that is not

borrowed from the Greeks. The

Romans were brilliant people

who did not like reinventing the

wheel. Therefore, they shamelessly

took the inventions and

discoveries of others and made

them their own. Many times, they

improved on the original models

and our world is still receiving

the benefits. Today, we can still

see their aqueducts, roads, concrete,

and even bound books. In

their religious mythology most

all their gods are Greek gods

who have

been renamed.

For example,

Zeus is the

chief god in

Greek myths,

but in the

Latin myths

his name is

Jupiter. Same

god, different

name.

Janus, however,

is pure

Roman. Janus

is a god with

two faces. He

has eyes in

the back of his

head as well as the front. Romans

had a concept that beginnings

and endings were important

components of the same

event. Janus was the god that

started war and ended peace.

Janus also started peace and

ended war. Apollo governed the

war itself, but Janus started and

ended it. Janus is also concerned

with journeys as they begin and

end. When one journey is ended,

another starts. Therefore,

Janus guards the doorways and

passageways of a building as

these are important starting and

ending points of a journey. We

get our word "janitor" from this

function of Janus' mission. The

most important of all the duties

of Janus was guarding the

gateways of the city of Rome.

The very security of the Roman

people was

in the hands

of Janus as

he was the

gatekeeper of

the city. With

his unique

ability to see

from multiple

points of

view, he could

maintain the

gates and

protect the

people.

On September

4, 476

AD, Janus no

longer kept

the gates. The Romans squandered

their birthrights with

riotous overspending and political

corruption. They could no

longer manage their far-flung

affairs in an efficient manner,

so mismanagement became the

norm. They no longer superintended

their borders, and they allowed

their enemies to come in and serve in

their once mighty legions. They quite

literally trained foreigners in their

military tactics and technology. They

did this because the average Roman

no longer had the intrinsic loyalty

and patriotism to perform their civic

responsibilities in an organized society.

The new segment of their society

called Christians was extremely

disgusted by the collective sexual

depravity that injured children and

vulnerable women. They also saw the

reliance on slave labor to be peculiarly

depraved.

Despite Rome's glorious history

with her stupendous accomplishments,

the society could not stand. In

a geographical area that went from

the Atlantic Ocean to the Euphrates

River, the once mighty empire crumbled.

Edward Gibbon's book concerning

the rise and decline of Rome

indicated that the most surprising

characteristic of the fall was that

the Romans did not know it was

in decline!

On September 4, 476 AD, Janus

failed to protect the Roman

people and their once dominant

gates. "Barbarians" entered the

phenomenal city. They marveled

at the architecture and engineering

involved in creating this

dazzling metropolis. The "Barbarians"

could neither read nor

write, but they could fight as

their one-time masters trained

them.

Upon further reflection, I wonder

if Janus did do his duty.

Perhaps he wasn't the negligent

deity the now conquered Romans

thought he was. Conceivably, he

may have executed his obligations

perfectly. Janus, with his

powers of multiple viewpoints,

apparently believed that the

citizens of Rome were no longer

worthy of the sacrifices that

the centurion gatekeepers were

asked to make on their behalf.

The centurions enforced the

greatest written law code ever

produced up until that time - the

"Corpus Juris Civilis." The once

illustrious force that patrolled

the roads of the empire and the

gates of Rome herself now protected

an ungrateful and dishonorable

population. The Romans

exhausted the honor, loyalty, and

Congratulations to

Alan Helfman

on your

Lifetime

Achievement Award

PROUD SUPPORTER OF THE BLUES

FOR OVER 36 YEARS

courage of the centurions who

had sworn an oath to protect

them. Janus didn't need four

eyes to see this detestable behavior.

On September 4, 476 AD, Rome

fell. The journey was over. The

ungrateful and despicable Romans

had new masters as any

conquered people does.

On September 4, 476 AD, Janus

started a new journey on history's

timeline. It was one in which

the new masters were illiterate

barbarians with tribal names like

Goths, Vandals, Celts, Angles,

Saxons, Franks, and Visigoths.

The new journey had a name:

The Dark Ages.

HELFMAN'S

RIVER OAKS CHRYSLER

JEEP • DODGE • RAM • CHRYSLER • FORD

FIAT • ALFA ROMEO • MASERATI

82 The BLUES POLICE MAGAZINE The BLUES POLICE MAGAZINE 83
---
NBC's Lester Holt

Fails to tell the entire truth, so help him God!

With regards to this months

"Lightbulb Award" Mr. Lester Holt

wins! If you're not familiar with

NBC's Nightly News, Mr. Holt is the

host, or anchor, of the nearly half a

century old show. There's a section

of the show entitled "Truth Be Told"

in which, I will certainly concede,

Mr. Holt and the Nightly News staff,

do in fact present the truth. However,

the problem is they do not

include the whole truth!

You can tell a part of a story and

well, leave it at that, right? But then,

at the end of the story, you're wondering,

where's the whole story?

Where are the key, critical, fair, and

impartial facts which are pertinent

to telling the whole truth? ESPE-

CIALLY when it comes to speaking

with regards to America's men and

women in law enforcement.

In recent years, men and women

in law enforcement have come

under intense scrutiny for the media

and the public. And I'll certainly

concede rightfully so. However, NOT

SO FAST, Mr. Holt and Co. You're only

speaking to specific incidents and

circumstances which DO NOT, and

I mean ABSOLUTELY DO NOT fairly

or accurately represent the entire

profession of law enforcement.

Yes, there have been some officers

who have crossed the line and done

wrong. That has been clearly seen,

brought to light and dealt with. And

yet, for some unknown reason, the

many law enforcement officers who

every single day, go out and give

everything they've got, some even

losing their lives, rarely if ever, are

mentioned on NBC's Nightly News or

referenced by Mr. Holt and his staff.

"Why?" some would ask. Like

I said, Mr. Holt hasn't lied to the

American people. He has in fact,

told the truth in his Truth Be Told

section. Unfortunately, he has NOT

told the WHOLE TRUTH. For you

see, in the same time frame of

the critical series of stories with

regards to America's law enforcement

officers, Mr. Holt has declined

to tell the WHOLE STORY. In that

same time frame, hundreds of law

enforcement officers have lost their

lives, in the line of duty. HUNDREDS.

Many more, have been grievously

assaulted, injured and maimed.

Many a widow, mother, father,

daughter, son, brother, and sister

have grieved and endured the loss

of a loved one who, proudly, honorably

and with distinguished service,

lost their lives, in the service of the

communities where they so gallantly

served.

I understand, the WHOLE TRUTH

doesn't always "sell." At the same

time, I would imagine from all I

have studied of men such as the

late, Mr. Walter Cronkite, they

would tremble and shake with

furious anger where the WHOLE

TRUTH had NOT been told. Such

men arguably were not always liked

for their reporting. However, one

thing they did have going for them

was this, no one doubted their word

because, they knew no matter what,

they were going to tell the truth,

the whole truth and nothing but the

truth, so help them by God!!

Today's newscasters and producers…NOT

SO MUCH. Oh, they'll tell a

part of or a portion of the truth. The

segment they want you to know

about and then, they'll sacrifice the

remaining facts of the story. No

matter who it hurts or how misinformed

viewers will be, at the end

of their presentation.

In closing, I would challenge Mr.

Holt to a bit of the Telling of the

Truth. Tell the WHOLE story!! Not

just whatever happens to fit anyone's

narrative. The truth demands

to be told. To restrain the truth is to

deny justice to all those who seek

and deserve to know the truth.

84 The BLUES POLICE MAGAZINE The BLUES POLICE MAGAZINE 85
---
One Tribe Foundation:

Restoring the Value of Life

Through Empowerment

"Human beings need three basic

things in order to be content:

they need to feel competent at

what they do; they need to feel

authentic in their lives; and they

need to feel connected to others.

These values are considered "intrinsic"

to human happiness and

far outweigh "extrinsic" values

such as beauty, money and status,"

Sebastian Junger, Tribe: On

Homecoming and Belonging.

In continuing to highlight the

wonderful missions of Texas

based organizations that focus

on the mental health needs

of first responders, I contacted

Jacob Schick, Chief Executive

Officer with the One Tribe Foundation.

Based in Dallas, Texas,

the One Tribe Foundation was

created (originally as 22KILL)

when the push up challenge

went viral as a response to the

VA study findings that 22 veterans

a day were dying by suicide.

Since that time, the foundation

has grown into a HIPAA-compliant

mental and emotional wellness

organization that provides

both traditional and non-traditional

therapies for veterans, first

responders, law enforcement officers,

frontline medical workers,

and their families. They serve

those who run toward the fight.

Jacob Schick is a third-generation

combat Marine, motivational

speaker and actor who

epitomizes service and sacrifice.

Jake helps individuals and teams

maximize their potential by using

his experience and the effects

of being severely wounded

in Iraq. His story is one of recovery

and resilience and motivates

individuals to live well and is a

staunch advocate of mental and

emotional wellness of the human

tribe as a whole.

After a triple-stacked tank

mine detonated below his vehicle

in the Al Anbar Province, Iraq

in 2004, Jake suffered compound

fractures in his left leg and left

arm; multiple skin, ligament,

and bone losses; varying burns;

partial loss of his left hand and

arm; amputation below the knee

of his right leg, traumatic brain

injury (TBI) and post-traumatic

stress disorder (PTSD). Jake

has undergone over 50 operations,

23 blood transfusions,

and countless hours of rehabilitation.

He will tell you his

physical injuries were not the

worst that happened to him.

DR. TINA JAECKLE

For years, he dreaded his TBI

and PTSD diagnosis, a common

mindset amongst warriors and

people alike. Jake has appeared

on James Gandolfini's HBO special

"Alive Day Memories: Home

from Iraq," as well as "60 Minute

Sports" and various other

local and national mediums.

Jake has been featured in roles

in Clint Eastwood's productions

of "American Sniper" and "The

Mule", and appeared in Bradley

Cooper's production of "A Star is

Born."

One Tribe Foundation is fully

aware of the struggles and

demands of the work police

officers do and advocate through

traditional and non-traditional

therapy and social media

campaigns to bring awareness

as well as science-based solutions

to these struggles and the

need for tools to combat mental

health issues. They have over 30

therapists on staff that serve the

tribe through our Stay the Course

program and four non-traditional

programs

to include WATCH

(We Are the Children

of Heroes),

Wind Therapy, and

Forge & White Star

Families. They also

provide peer-topeer

conversations

through their Tribal

Council. Another

significant goal is

to break the stigma

and influence leadership

to encourage

their officers to ask

for help. Law enforcement

officers

should not have to

be concerned with

losing their gun and

badge to better

their mental and

emotional state, in

fact, it would only

better equip them

as public servants.

One Tribe Foundation

focuses

first on prevention

and begins with

awareness. This

means educating

themselves and the

public, opening

the conversation, and learning

to become comfortable with

the fear of being vulnerable. By

doing this, they can identify the

often avoided or unaddressed

issues that can lead someone to

thoughts of suicide, and confront

those issues as they come, rather

than letting them accumulate

into something much worse.

The next step is empowerment.

One of the biggest challenges

veterans and first responders

face is finding a sense of purpose

after service. 22KILL has

successfully built a vast network

of organizations and resources

across the country, and whether

through its own programs, or

through external sources, veterans,

first responders, and family

members can locate services

to help them find or rediscover

that sense of purpose. The other

side and of equal importance

is engagement. Often one may

come to realize that all they

really needed was the brotherhood

and camaraderie that may

have been absent from their lives

86 The BLUES POLICE MAGAZINE The BLUES POLICE MAGAZINE 87

To

since leaving service. The 22KILL

"Tribe" allows service members

to connect with like-minded

individuals and gives them the

opportunity to get involved with

community events and projects,

and be a part of something

great.

Our deepest gratitude to you

Jake for choosing to pay it forward

and all at One Tribe Foundation

for your life saving mission.

More information on all can be

found at: 1tribefoundation.org.
---
Attitudes toward officers makes

proactive policing very difficult, yet

we HPD officers have more support

than officers in most big cities.

I came onto the Houston

Police Department in 1990 in

class No. 142. During my entire

career I have been incredibly

proud of the department and

consider it one of the best police

departments in the nation.

I can recall times when other

departments would look

to Houston and ask us to help

train other departments. We

have led the nation with our innovative

homeless outreach and

mental health response teams

(CIRT). I have always considered

myself a proactive officer

being in the Gang Task Force,

Divisional Gang Unit, and the

Tact Team at Southeast.

I know firsthand that proactive

policing is necessary to

keep crime rates down and

the community safe. If it were

not for great proactive patrol

officers and line level Tac and

Gang units, the City of Houston

would have been crime ridden

years ago.

Now, with all the calls for police

reform, proactive policing

is slowly dying. Cities across

the country have pulled back

their proactive units or enacted

DOUGLAS GRIFFITH

policies that greatly reduce the

effectiveness of actual police

work. From very restrictive

use-of-force policies to nochase

policies, many cities are

changing the way in which

police officers are allowed to

do their jobs.

Between the defunding of

departments to restrictive policies,

it is no surprise that crime

rates are quickly going up in

every major city in America.

This had led to increased retirements

and low recruiting levels

across the nation as officers

feel disrespected and undervalued.

We are truly blessed here

in Houston, as we have been

spared from these ridiculous

calls to defund or "reimagine"

our department. In fact,

the mayor has allocated more

money for the department for

an extra academy class and for

overtime to help with the crime

spikes. Just like some other

cities, crime in Houston can be

directly linked to the courts and

judges not doing their jobs, not

the officers.

But this also brings into question

our ability to do proactive

policing. Proactive policing in

our department has slowed

and I believe this is a combination

of issues, the first being

that we do not want to get

into trouble for just doing our

jobs. This is directly related to

our current issues regarding

"accountability" and the departments'

investigation of IAD

complaints.

When the department is more

concerned over how we talk to

a criminal or whether we are

taking our seatbelt off too early

than the fundamental aspects

of a use-of-force complaint,

then we will continue to have

an erosion of proactive policing

in our department. This also

has a big impact on morale

around the department.

The next – and probably the

biggest detriment to policing

– is the combination of bail

reform and the criminal court

judges. When we have violent

offenders constantly released

back onto the streets time and

time again, it emboldens these

offenders.

Our last four shootings have

involved officers being fired

upon and I truly believe that

they feel that offenders are not

being held accountable for their

actions.

I believe that we will continue

to see a slowing of proactive

policing and an erosion of our

profession for the near future.

I pray that we will again see

the day that criminals are held

accountable, and officers are

allowed to do their jobs without

fear of IAD or the courts!

Help us reach our goal

of 100,000 subscribers.

CLICK BELOW for your

FREE SUBSCRIPTION.

Please share with

all your friends and

co-workers.

CLICK OR SCAN HERE

Your Package, Your Choice

Additional Products & Services:

• Packaging Supplies • Office Supplies

• Postage

• Fax & Scan

• Passport Photos • Copy & Lamination

Located in Kroger Shopping Center

16516 El Camino Real

Houston, TX 77062

Printing • Mail Box Rental • Notary

10% OFF

FedEx, UPS, or DHL Shipping

Valid at this Postal Annex+ location only. Not valid with any other coupon or discount. Additional restrictions

may apply. Each Postal Annex+ location is independently owned and operated. ©2021 Annex Brands, Inc.

(281) 480-6245

1 Month FREE

With 6 Month Mailbox Rental

• Shredding

• Key Cutting

• Gifts & Greeting Cards

Coupon Code: BluesShipping2021 Offer Ends: 7/30/21 Coupon Code: BluesMailBox2021

Offer Ends: 7/30/21

Valid at this Postal Annex+ location only. Not valid with any other coupon or discount. Additional restrictions

may apply. Each Postal Annex+ location is independently owned and operated. ©2021 Annex Brands, Inc.

(281) 480-6245 • pa414@postalannex.com • www.postalannex.com/414

Store hours: Mon-Fri 9am-6pm, Sat 10am-3pm

©2021 Annex Brands Inc. Not all services offered at all locations. Each location is independently owned and operated. For franchise information call 866.964.3142 or visit www.PostalAnnexFranchise.com.

88 The BLUES POLICE MAGAZINE The BLUES POLICE MAGAZINE 89
---
unning 4 heroes

Total Miles Run in 2021: (as of 6/29/21): 167

Total Miles Run in 2020: 401

Total Miles Run in 2019: 376

Overall Miles Run: 944

2021 Run Stats:

Total Miles Run for 2021 fallen LEO's (Non COVID-19): 83

Total Miles Run for 2021 fallen Firefighters (Non COVID-19): 30

Total Miles Run for 2021 fallen COVID-19 Heroes: 15

Total Miles Run for 2021 fallen Canada LEO's: 1

Total Miles Run for 2021 Non Line of Duty Deaths: 0

Total Miles Run for 2020 Fallen LEO's: 24

Total Miles Run for 2020 Fallen Firefighters: 6

Total Miles Run for 2020/2021 Fallen K9's: 0

Total Tribute Runs by State for 2021: 8

- - - - - - - - - -

Zechariah

Cartledge:

a True American Hero

States/Cities Zechariah has run in:

Florida - Winter Springs, Lake Mary, Clearwater, Atlantic Beach, Neptune Beach, Orlando,

Temple Terrace, Blountstown, Cocoa, Lakeland, Daytona Beach, West Palm Beach

New York - New York City. Georgia - Cumming, Augusta. South Carolina - North Myrtle Beach,

Charleston, Sumter. Pennsylvania - Monaca, Illinois - Springfield, Naperville, Glen Ellyn

Texas - Houston (2), Fort Worth, Midland, New Braunfels, Freeport, Madisonville

Kentucky - Nicholasville . Arkansas - Bryant, Nevada - Henderson

California - Mt. Vernon, Arizona - Mesa. North Carolina - Concord, Tennessee - Bristol

Delaware - Milford, Minnesota - Arden Hills, Indiana - Sullivan, Spencer

Missouri - Springfield, Iowa - Independence

90 The BLUES POLICE MAGAZINE The BLUES POLICE MAGAZINE 91
---
emembering my hero ...

... HPD Officer Kevin Will

Concerns of Police Survivors is an organization whose mission is to help rebuild the

shattered lives of those family members and co-workers of law enforcement officers

that are killed in the line of duty. Sergeant Don Egdorf is a 20-year Veteran of the

Houston Police Department who has spent his career working with the DWI Task

Force. He has spoken about DWI, Line of Duty Death cases and Peer Support all

over the country. Now he tells us about his father and his motivation to work DWI

Cases and become involved with MADD.

HPD Sgt. Don Egdorf

When I graduated from the

Houston Police Academy in May

of 2001, I never knew how much

my life was going to change or

how quickly it would happen.

Within just a few days of graduation,

Officer Albert Vasquez

was killed in the same patrol

beat where I had just been assigned

to train. Even though I

had grown up in a police family,

and was now a third-generation

officer, I had no idea how quickly

things would turn. Seeing the

aftermath of a line of duty death

so quickly changed my perspective

a little, and I had no idea

how many more changes would

be coming.

Like most people that have

joined, I did not really have a set

path that would guide what I did

within the department. I knew I

was a patrol officer and expected

to be doing that for a number

of years until I had enough

time on the department to get

a "more exciting" spot, such as

Homicide or K9 (Canine Unit).

To say that my father was a big

influence on my career would be

a gross understatement. While

I wanted to follow in his footsteps,

I also wanted to forge my

own path and experiences. After

I had about a year in patrol, I

started gravitating to more and

more DWI cases. It really wasn't

hard to find DWI's since I was

working in the Richmond Strip

area in the Westside Division;

and on weekend nights it seems

like all I could ever find were

drunk drivers. I was able to join

the Westside DWI Task Force

and worked very hard to try and

be the best DWI officer that I

could be. DWI Task Force has

never really been a position that

people looked at as a fun or exciting

place to work, but for me,

that's exactly what it became. I

soon discovered that over the

years, many of the officers that

worked in the DWI Task Force,

and remained for a lengthy time,

had been personally affected by

an intoxicated driver - and for

me, it was no different. In 1984,

when my father was a Beechnut

K9 officer, he was hit by an

intoxicated driver while assisting

with a crash investigation on the

Southwest Freeway. His crash

changed our lives in more ways

that we could have ever imagined,

and is really what ended up

shaping my career. Fortunately,

he survived and recovered, and

subsequently, was able to return

to work before finally retiring in

1999.

In the following years, I transferred

to the Traffic Enforcement

Division, and did the one thing

that no officer ever hopes to become,

an expert in working Line

of Duty death cases. I have been

involved in working hundreds

of fatal crash cases; however,

the seven on duty police officer

fatal crashes are the ones that

will never go away. The crash

that has stuck with me the most

was in May of 2011 when Officer

Kevin Will was killed by a drunk

driver. Oddly enough, the crash

that killed Kevin was very similar

to my dad's crash, and even happened

at about the same time –

in the early morning hours.

Even though there are so many

negatives that come from working

these cases, there has also

been quite a bit of good to come

from them. My work with the

DWI Task Force has led to a

relationship with MADD, Mothers

Against Drunk Driving, that

started with looking for help on

a DWI Awareness Campaign,

whereas now, I am the Vice-

Chair of the National Board of

Directors. I have been chosen to

speak on behalf of the Houston

Police Department

at National

Conferences/

Trainings

all over

the country,

and

continue

to assist

as one

of the

"subject

matter

experts"

for The

National

Highway Traffic Safety Administration

(NHTSA) and International

Association for Chiefs of

Police (IACP).

The hardest

part over the

years, has not

been working

the cases

themselves,

or even the

trials; it has

been everything

that goes

along with

these things,

yet more

importantly,

what happens

once the case

is over. After

the funeral,

trials, memorials,

ceremonies

and other

events, life

has to go on -

and that is the hardest thing to

grasp, at times. How do we get

past the emotional trauma that

comes with seeing and dealing

with these cases? Well, that

answer is a little different for everyone,

but I can share what has

worked for me. As officers, we

really do a terrible job of dealing

with emotional trauma, and for

many years, we had been told

to "suck it up" or just "deal with

it", while we struggle internally.

The reality is that we need to

spend more time on our mental

health, and a big part is getting

rid of the stigma that there is

something wrong with us when

we ask for help. We have to ask

for help. As officers working line

of duty cases, we have so many

resources at our disposal, but the

first step is that you have to ask

for help. I was one of the people

that refused to ask for help,

and was finally confronted by a

friend that pled with me to talk

92 The BLUES POLICE MAGAZINE

The BLUES POLICE MAGAZINE 93
---
to someone. I started out with

our department's Psychological

Services Unit, and I have nothing

but great things to say about

how I was treated by Dr. Tate and

his staff, but what really turned

things around for me, has been

my relationship with C.O.P.S or

Concerns of Police Survivors. I

attended a class called Traumas

of Law Enforcement, and the

amazing part of the class, is that

most of the people that were

there had also been involved in a

Line of Duty Death (LODD) case;

therefore, we all had a common

bond where we all learned

that it was easy to talk to each

other and tell our stories. Later

that year I attended the C.O.P.S,

Co-Workers Retreat. The retreat

is held each year in Missouri, and

there is no cost to attend. I have

been back every year and plan

to continue going. This retreat

is only open to officers (current,

former or retired) that have been

affected by a LODD, and because

of this requirement, we know

that we are with others that are

suffering the same way, and for

many - the same reasons. The

co-worker's group is 100% confidential,

and agencies are never

told about your attendance if

you don't want them to know. I

have taken a different approach

and I want to tell everyone about

C.O.P.S. and the Co-Workers

Retreat. I have friends that I can

call at any time, and they are

always willing to help when I

need it. We are all human, and

sometimes we need to reach out

for a helping hand. The first time

I spoke in public about what I

had gone through, I was the keynote

speaker at a Traffic Safety

Conference, out of state. It was

one of the most difficult presentations

I had ever done, and

when it ended, I really wondered

if anyone "got it" or did they

just think I was someone that

couldn't handle the job? Those

questions were answered soon

after when I was approached

by someone that told me he had

been afraid to talk to anyone

and ask for help. He was on the

edge of making a fatal decision.

We talked for quite a while and

I was able get him in touch with

someone to get the help he needed.

That one day, that one talk,

made everything worthwhile. I

don't think there is anything better

than using our experiences to help

someone that has been suffering

and searching for answers. To be

able to reassure him that he isn't

the only one that has those feelings,

and that we don't have to be

emotionally shut off to survive

was such a great feeling. I truly

think It might be the greatest

accomplishment of my life, way

better than any award or commendation.

We owe it to each other to

help each other. When you know

someone is suffering, help them

get to the right people. I wish

someone had told me years ago

that it's okay to ask for help, that

you aren't a weak officer when

the horrible things that we see

every day bother you.

It's been 10 years since Officer

Kevin Will was killed. Each time

we talk about it, there are a flood

of emotions; but now more than

ever. It's a sense of pride knowing

that we pulled together and did

everything that we could to help

achieve justice for Kevin's family.

Looking back, eighteen Houston

Police Officers have died in the

line of duty in the 20 years that I

have served in the Houston Police

Department. Many of those eighteen

were friends of mine. I don't

know how many more years I will

serve, but I know that there will

be more officers that we will lose.

I also know that more officers will

need help, and more of us will

need to step up and be the help

those officers are looking for.

94 The BLUES POLICE MAGAZINE The BLUES POLICE MAGAZINE 95
---
Police Officer

Ginarro New

Phoenix Police Department, Arizona

End of Watch Monday, May 31, 2021

Age 27 Tour 2 Years Badge # N/A

Police Officer Ginarro New was killed in an automobile crash at the intersection

of Cave Creek Road and E Greenway Parkway at about 10:30 pm.

His patrol car was struck by another vehicle that ran a red light at a high

rate of speed. The impact knocked Officer New's patrol car through a brick

wall and caused it to overturn. Responding rescue crews extricated him

from the vehicle and transported him to a local hospital where he succumbed

to his injuries. The driver of the other vehicle was also killed in the

collision.

Officer New had served with the Phoenix Police Department for two years

and was assigned to the Black Mountain Precinct. He is survived by his

wife, mother, brother, and grandmother.

Detective

Jamie Huntley-Park

San Diego Police Department, California

End of Watch Friday, June 4, 2021

Age 33 Tour 9 Years Badge # N/A

Detective Ryan Park and his wife, Detective Jamie Huntley-Park, were killed

when their department vehicle was struck head-on by a wrong-way driver

on I-5 near Route 905 in San Ysidro. They were conducting follow-up

investigations when the crash occurred at about 10:25 am. The driver of

the other vehicle was also killed in the collision.

Detective Park and Detective Huntley-Park were in the same academy

class and later married. Both were promoted to the rank of Detective on

the same day.

Detective

Ryan Park

San Diego Police Department, California

End of Watch Friday, June 4, 2021

Age 32 Tour 9 Years Badge # N/A

Detective Ryan Park and his wife, Detective Jamie Huntley-Park, were killed

when their department vehicle was struck head-on by a wrong-way driver on I-5

near Route 905 in San Ysidro. They were conducting follow-up investigations

when the crash occurred at about 10:25 am. The driver of the other vehicle

was also killed in the collision.

Detective Park and Detective Huntley-Park were in the same academy class

and later married. Both were promoted to the rank of Detective on the same

day.

Police Officer

Emmanuel Familia

Worcester Police Department, Massachusetts

End of Watch Friday, June 4, 2021

Age 38 Tour 5 Years

Badge # N/A

Police Officer Manny Familia drowned while attempting to rescue a juvenile

who had gone underwater in a small pond in Green Hill Park at about 1:35

pm. Three juveniles who had gone into the water became distressed. One

of the juveniles went underwater and failed to surface. Officer Familia and

several other officers responded to the pond and entered the water in an

effort to save all three. Officers were able to bring the other two juveniles

to shore, however, Officer Familia failed to surface while trying to save

the third juvenile. Officer Familia was recovered from the water approximately

one hour later and transported to a local hospital where he was

pronounced dead.

Officer Familia had served with the Worcester Police Department for five

years. He is survived by his wife, son, and daughter.

96 The BLUES POLICE MAGAZINE

The BLUES POLICE MAGAZINE 97
---
Deputy Sheriff

William H. Smith

Baldwin County Sheriff's Office, Alabama

End of Watch Sunday, June 6, 2021

Age 57 Tour 7 Years Badge n/A

Sergeant

Erasmo García-Torres

Puerto Rico Police Department, Puerto Rico

End of Watch Thursday, June 10, 2021

Age 50 Tour 29 Years 11 Months, Badge # N/A

Deputy Sheriff Bill Smith drowned while attempting a water rescue of

three distressed swimmers in the Gulf of Mexico off of Fort Morgan

Road. He and another deputy entered the water in an attempt to rescue

the three swimmers. Deputy Smith also became distressed during the

rescue. Deputy Smith was taken to a nearby medical facility where he

was pronounced dead. The other deputy and all three swimmers were also

treated at local facilities.

Deputy Smith had served with the Baldwin County Sheriff's Office for

seven years. He had previously served with the Calhoun County Sheriff's

Office and had served as a firefighter for 30 years.

Sergeant Erasmo García-Torres was shot and killed while conducting a

traffic stop at the intersection of Calle Villa and Calle Venus in Ponce,

Puerto Rico. The driver started to walk away during the stop and Sergeant

García-Torres began to follow him. The man suddenly turned around

and opened fire on Sergeant García-Torres, striking him in the head.

Sergeant García-Torres was transported to a local hospital where he was

pronounced dead.

Sergeant García-Torres had served with the Puerto Rico Police Department

for 30 years and was assigned to the Ponce East Precinct. He was

posthumously promoted to the rank of Sergeant. He is survived by his

four sons.

Police Officer

Alexandra Brenneman Harris

Seattle Police Department, Washington

End of Watch Sunday, June 13, 2021

Age 38 Tour 5 years Badge #N/A

Police Officer Lexi Harris was struck and killed by a vehicle while checking

on the welfare of several drivers who had just been involved in a vehicle

crash on I-5 near Spokane Street. Officer Harris had just completed her

shift and was en route home when she encountered the crash at about

1:15 am. She had exited her vehicle to check on the drivers when she was

struck by another passing vehicle. After being struck, one of the drivers

from the original crash stole her POV and fled the area. The driver who

struck her remained at the scene and cooperated with investigating

officers.

Officer Harris had served with the Seattle Police Department for five

years.

Police Officer

Joseph William Burson

Holly Springs Police Department, Georgia

End of Watch Wednesday, June 16, 2021

Age 25 Tour 1 Year 6 Months Badge 235

Police Officer Joe Burson succumbed to injuries sustained when he was

dragged by a vehicle during a traffic stop of a speeding vehicle at about

11:00 pm. He had stopped the vehicle on Hickory Road between Little

Road and Hickory Hills Drive. At some point during the stop, the driver

attempted to flee in the car and dragged Officer Burson alongside it. Officer

Burson was able to fatally shoot the subject while being dragged but

suffered severe injuries when he fell to the pavement.

Officer Burson had served with the Holly Springs Police Department for

18 months. He is survived by his wife, parents, and brother.

98 The BLUES POLICE MAGAZINE

The BLUES POLICE MAGAZINE 99
---
Police Officer

Gordon Beesley

Arvada Police Department, Colorado

End of Watch Monday, June 21, 2021

Age N/A Tour 19 Years Badge # N/A

Police Officer Gordon Beesley was shot and killed at about 1:30 pm after

having responded to a suspicious event call near the Arvada Library in the

7500 block of W 57th Avenue. While Officer Beesley was checking the

area a subject who had expressed a hatred for police arrived and saw him.

The subject retrieved a 12-gauge shotgun from his vehicle, approached

Officer Beesley from behind, and opened fire, killing Officer Beesley. A

Good Samaritan, Mr. Johnny Hurley, heard the shots, rushed to the area,

and fatally shot the subject prior to the arrival of backup officers. Mr.

Hurley picked up the subject's rifle to secure it but was mistaken for the

original shooter and was fatally shot by responding officers.

Officer Beesley had served with the Arvada Police Department for 19

years. He was the SRO at Oberon Middle School but was assigned to

patrol during the summer break.

Deputy Sheriff

Anthony Redondo

Imperial County Sheriff's Office, California

End of Watch Saturday, June 26, 2021

Age 25 Tour 9 Months Badge # 623

Deputy Sheriff Anthony Redondo was killed in a vehicle crash at the intersection

of Aten Road and Forrester Road while responding to a call for

service.

His patrol SUV collided with another vehicle in the intersection.

Deputy Redondo had served with the Imperial County Sheriff's Office for

only nine months. He is survived by his parents and siblings.

Police Officer

Kevin Apple

Pea Ridge Police Department, Arkansas

End of Watch Saturday, June 26, 2021

Age 53 Tour 23 Years Badge # 1212

Police Officer Kevin Apple was struck and killed by a vehicle in the parking

lot of a gas station at the intersection of Slack Street and N Curtis Avenue.

The vehicle had fled from officers in Rogers, Arkansas, earlier after

they attempted to stop it for a property-related crime. Officer Apple and

another officer spotted the vehicle parked in the gas station parking lot

and attempted to contact the driver. The driver accelerated and struck a

police car before fatally striking Officer Apple. Officers pursued the vehicle

into Bella Vista where she and another occupant were arrested.

Officer Apple had served with the Pea Ridge Police Department for three

years and had previously served with the Lowell Police Department and

Farmington Police Department.

"When a police officer is killed,

it's not an agency that loses an officer,

it's an entire nation."

Chris Cosgriff, ODMP Founder

100 The BLUES POLICE MAGAZINE

The BLUES POLICE MAGAZINE 101
---
Now is Time to Plan for

September Dove Season

I know that for most of us July

is about hot summer days, family

cookouts, and trips to the beach and

the lake. However, can you believe

that hunting season is less than 60

days away? The North and Central

zones of Texas Dove Seasons begin

September 1stand that means you

need to make your plans now if

you want to participate in opening

day. As readers of my column have

learned, I am a big fan of Texas

Dove hunting and they are usually

my favorite hunting trips of the

year. This is also true for many

other hunters so spots at the best

outfitters fill up fast, therefore you

must plan early. There are many

great outfitters in Texas, but in my

opinion no one does it better than

Sammy

Nooner and

his Valdina

Ranch staff.

Once referred

to as

the "Duke of

Dove", Sammy

knows

what it takes

to make his

customers

have a great

experience,

both on and

off the dove

field. I can

personally

attest you

will not

find better

accommodations

than this farm and horse

ranch from the 1930s turned into

a state-of-the-art 23 room Texas

hunting lodge. All combined, it has

a cool history, great accommodations,

excellent food, and by far the

best dove hunting fields and guides

in the state. Check out their website

http://www.valdinaranch.com , follow

them on Facebook, or just call

them (830) 741-9211.

In addition to finding your hunting

outfitter that will guide you to

plenty of birds, it is not too early

to pull out the shotguns and make

a trip to the gun range. This time

of year, the skeet fields tend to

be less crowded and thus much

more enjoyable. Carter's Country

in Spring off Treaschwig Road has

been one of my favorite places to

take a small group and shoot skeet

and trap to prepare for dove season.

(281) 443-8393. If you want more

variety in your target shooting, then

I recommend heading over American

Shooting Centers on the West

side of Houston

at 16500

Westheimer

in the beautiful

George

Bush Park

(281) 556-

8199. If you

live on the

North side of

Houston, try

Blackwood

Sporting

Company

located in

Montgomery

County

at 11400 FM

2854, Conroe,

TX. (936)

441-4040.

If you live

outside of Houston, a quick google

search for "sporting clays course

near me" will show you how popular

this sport has become and

how many locations are now open

around the state.

Lastly, check out your snake

boots for wear and comfort now

because as it gets closer to the

season, you will find retailers running

out of the most popular sizes

leaving you with only a backorder

situation. I have had great luck

with snake boots from Bass Pro

Shops for many years, but recently

upgraded to Chippawa Boots. Like

most other footwear, you must try

own different brands and find a pair

that feels good on your feet. I know

some of might even say that snake

boots are not required, but you will

become a believer as soon as you

go into the heavy brush of Texas,

where everything either sticks,

pricks, or bites you. I personally like

locking my eyes on a down bird's

location and walking right to it, not

looking down at where I am walking

to steer around thorny bushes.

So continue to enjoy your beach

and lake time with family and

friends this month, but maybe

when you have some downtime,

know that it is not too early to start

planning for your September dove

hunting trips.

102 The BLUES POLICE MAGAZINE The BLUES POLICE MAGAZINE 103
---
MARKET PLACE - DISCOUNTS FOR FIRST RESPONDERS

HR Blue Line Classic

Regular Price $54.99

Show your Honor and Respect

in style. These shoes feature

a fly-knit outer material with a

supportive foam sole.

HR Red Line Classic

Regular Price $54.99

Show your Honor and Respect in style.

These shoes feature a fly-knit outer

material with a supportive foam sole.

BUY NOW

BUY NOW

LIMITED EDITION:

HR Military Shoe

Regular Price $59.99

LIMITED EDITION:

HR USA SHOE

Regular Price $59.99

BUY NOW

IN STOCK - ORDER NOW

BEFORE THEY ARE GONE.

These shoes feature a flyknit

outer material with a

supportive foam sole.

IN STOCK - ORDER NOW

BEFORE THEY ARE GONE.

These shoes feature a flyknit

outer material with a

supportive foam sole.

BUY NOW

BUY NOW

ALL NEW EDITION:

HR Blue Line II

Regular Price $59.99

IN STOCK - ORDER NOW

MOST SIZES AVAILABLE.

These shoes feature a flyknit

outer material with a

supportive foam sole.

HR Hooded Sweatshirt

Regular Price $22.99

50% cotton, 50% polyester

Machine wash, Soft and durable fleece

made for comfort

BUY NOW

Patriotic Back The Blues - Front & Back Design

BUY NOW

Back The Blue Texas

Front Design

BUY NOW

Gildan Ultra Cotton

$18.00

Bella Triblend

$20.00

Gildan Ultra Cotton - $18.00

Bella Triblend - $20.00

Back The Blue Patriotic

Front Design

BUY NOW

Back The Blue Patriotic US

Front Design

BUY NOW

Gildan Ultra Cotton - $18.00

Bella Triblend - $20.00

Gildan Ultra Cotton - $18.00

Bella Triblend - $20.00

104 104 The The BLUES BLUES POLICE POLICE MAGAZINE

The BLUES POLICE MAGAZINE 105
---
MARKET PLACE - DISCOUNTS FOR FIRST RESPONDERS

MARKET PLACE - DISCOUNTS FOR FIRST RESPONDERS

The Battle of Houston-Hezbollah

Attacks $ 10.99

What would happen if a terrorist force numbering

almost one thousand attacked a major

American city and conducted a series of coordinated

terror attacks that lasted nearly a month?

This book will show the reader what could

happen in the event of a major terror attack on

a large U.S. city and the effects of the terror

on the population and the men and women of

the police departments who must fight them to

the death. BUY NOW - AMAZON

The Battle of Houston-

The Evil That Men Do $9.99

The Battle of Houston continues to its final

devastating end when a malevolent country

sends its best fighters to Texas to cripple the

petrochemical industry in the United States.

Three oil tankers bearing not crude oil but Quds

Force fighters, attack helicopters and combat

drones are sent against the Texas gulf coast oil

refineries and chemical plants for a knock out

blow.

BUY NOW - AMAZON

CENTRAL POLICE SUPPLY

GLOCK

43X Black

(Blues Label)

PRICE: $358.00

713-225-4392 • 1410 WASHINGTON • HOUSTON

CENTRAL POLICE SUPPLY

Full Line

of On & Off

Duty Holsters

713-225-4392 • 1410 WASHINGTON • HOUSTON

The Battle of Houston-

Mouton's Revenge $9.99

The Battle of Houston continues as the Houston

Police Department is joined by the Harris County

Sheriff's Department, the National Guard and the

Texas Rangers to fight the hundreds of terrorists

unleashed on the city by a malevolent country.

Outgunned in every fight, the men and women

of law enforcement must overcome the forces

sent to destroy their city. As each terrorist attack

is fought to the death, another attack explodes

in another part of Houston. BUY NOW

Red Mark USA

Rescuing the Innocent

Houston Police officers, Harris County Sheriff's deputies

and deputy constables are imprisoned by a corrupt

district attorney on trumped up charges. A progressive

police chief investigates and fires officers by the dozens

on spurious complaints. The USA is under the control

of a leftist government. Anyone found in contempt of

the new ideology has their bank accounts closed and

locked. That's the Red Mark. Available on Amazon

Kindle or paperback. Deacon

STORE

Blue is a

LOGO

retired Houston

Police Officer.

CENTRAL POLICE SUPPLY

PERFECT FIT BIFOLD

WALLET WITH SINGLE ID

(ID SIZE 2-1/2" X

3-3/4")

PRICE: $32.95

713-225-4392 • 1410 WASHINGTON • HOUSTON

CENTRAL POLICE SUPPLY

HOUSTON POLICE

DEPARTMENT

FAMILY BADGE

PRICE: $34.95

713-225-4392 • 1410 WASHINGTON • HOUSTON

Back The Blue

Vinyl Bumper Sticker

7" x 6"

$5.00

Back The Blue

Adams Cap

$20.00

CENTRAL POLICE SUPPLY

STREAMLIGHT

STINGER 2020 W/ "Y"

USB CORD (78100)

PRICE $134.95

CENTRAL POLICE SUPPLY

STRONGSUIT ARMOR 3

TOUCHSCREEN GLOVES

PRICE: $24.95

CLICK HERE TO PURCHASE

CLICK HERE TO PURCHASE

713-225-4392 • 1410 WASHINGTON • HOUSTON

713-225-4392 • 1410 WASHINGTON • HOUSTON

Back The Blue

Reuseable

Face Mask

$8.00

Back The Blue

Reuseable

Face Mask

$8.00

CLICK HERE TO PURCHASE

CLICK HERE TO PURCHASE

Back The Blue

Bella+Canvas Women's

Relaxed V-Neck TX Flag

$20.00

Back The Blue

Bella+Canvas Unisex

V-Neck - TX Flag

$20.00

CLICK HERE TO PURCHASE

CLICK HERE TO PURCHASE

106 106 The The BLUES POLICE MAGAZINE

The BLUES POLICE MAGAZINE 107
---
ADS BACK IN THE DAY

108 The BLUES POLICE MAGAZINE The BLUES POLICE MAGAZINE 109
---
110 The BLUES POLICE MAGAZINE

The BLUES POLICE MAGAZINE 111
---
City of Bryan Get Info Deputy City Marshal 08/08/2021 - 5pm

Ingram Police Department Get Info Peace Officer 08/08/2021 - 5pm

Plano Police Department Get Info Peace Officer 07/30/2021 - 5pm

TSTC Get Info Peace Officer 08/07/2021 - 5pm

Eastland Police Department Get Info Peace Officer 08/07/2021 - 5pm

New Braunfels Police Department Get Info Peace Officer 07/14/2021 - 5pm

Fair Oaks Ranch Police Department Get Info Peace Officer 10/10/2021 - 5pm

Walker County Sheriff's Office Get Info Peace Officer 08/09/2021 - 5pm

McLennan Community College Police Dept. Get Info Peace Officer 07/30/2021 - 5pm

Naples Police Department Get Info Chief of Police 08/09/2021 - 5pm

City of Onalaska Get Info Peace Officer 07/07/2021 - 5pm

City of Texas City Fire Department Get Info Fire Marshal 08/05/2021 - 5pm

Hamilton County Sheriff's Office Get Info Peace Officer (Reserve) 07/05/2021 - 5pm

Sterling County Sheriff's Office Get Info Peace Officer 08/10/2021 - 5pm

Southwestern Baptist Department Get Info Peace Officer 07/02/2021 - 5pm

North Central Texas College Get Info Peace Officer 08/11/2021 - 5pm

City of Austin Get Info Chief of Police 07/05/2021 - 5pm

City of Katy Get Info Peace Officer 07/02/2021 - 5pm

Kaufman Police Department Get Info Peace Officer 07/05/2021 - 5pm

Loving County Sheriffs Office Get Info School Resource Officer 08/11/2021 - 5pm

Frisco Police Department Get Info Peace Officer 08/07/2021 - 5pm

Hearne Police Department Get Info Peace Officer 07/31/2021 - 5pm

Merkel Police Department Get Info Peace Officer 07/07/2021 - 5pm

Daingerfield Police Department Get Info Peace Officer 08/14/2021 - 5pm

Rollingwood Police Department Get Info Peace Officer 07/09/2021 - 5pm

Montgomery Police Department Get Info Peace Officer 07/14/2021 - 5pm

Bruceville-Eddy Police Department Get Info Peace Officer 07/09/2021 - 5pm

Salado Police Department Get Info Peace Officer 08/06/2021 - 5pm

Poth Police Department Get Info Peace Officer 07/10/2021 - 5pm

Hamilton County Sheriff's Office Get Info Peace Officer 09/15/2021 - 5pm

Bexar County Sheriff's Office Get Info Peace Officer 07/12/2021 - 5pm

Clute Police Department Get Info Peace Officer 07/31/2021 - 5pm

Anderson County Sheriff's Office Get Info Peace Officer 07/11/2021 - 5pm

Bryan Police Department Get Info Peace Officer 07/23/2021 - 5pm

Hays County Sheriff's Ofice Get Info School Resource Officer 06/10/2021 - 5pm

Memorial Villages Police Department Get Info Peace Officer 08/16/2021 - 5pm

City of Roanoke & the Roanoke Police Dept. Get Info Peace Officer 07/12/2021 - 9am

Cleveland ISD PD Get Info Peace Officer 08/16/2021 - 5pm

Mustang Ridge Police Department Get Info Peace Officer 07/11/2021 - 5pm

Alief ISD Police Department Get Info Peace Officer 08/13/2021 - 5pm

Pewitt CISD Police Department Get Info Peace Officer 07/18/2021 - 5pm

Ingleside Police Department Get Info Patrol Captain 08/15/2021 - 5pm

UT at Tyler Get Info Peace Officer 07/13/2021 - 5pm

Ingleside Police Department Get Info School Resource Officer 08/15/2021 - 5pm

Town of Enchanted Oaks Get Info Chief of Police 07/16/2021 - 5pm

Ingleside Police Department Get Info Peace Officer 08/15/2021 - 5pm

Austin College Police Department Get Info Peace Officer 07/18/2021 - 5pm

Ingleside Police Department Get Info Peace Officer (Motor) 08/15/2021 - 5pm

Kleberg County Sheriff's Office Get Info School Resource Officer 07/11/2021 - 5pm

Clifton Police Department Get Info Peace Officer 07/31/2021 - 5pm

Kleberg County Sheriff's Office Get Info Peace Officer 07/11/2021 - 5pm

Killeen Police Department Get Info Peace Officer 08/22/2021 - 11pm

Kleberg County Sheriff's Office Get Info Court Security Officer 07/11/2021 - 5pm

Dallas County Sheriff's Office Get Info Peace Officer 07/06/2021 - 5pm

Schleicher County Sheriff's Office Get Info Peace Officer 07/30/2021 - 5pm

Sherman ISD PD Get Info Chief of Police 07/16/2021 - 5pm

City of Baytown Get Info Chief of Police 07/30/2021 - 5pm

Dalworthington Gardens DPS Get Info Peace Officer (Reserve) 07/12/2021 - 5pm

City of Center Get Info Peace Officer 07/21/2021 - 5pm

Dalworthington Gardens DPS Get Info Public Safety Officer 07/12/2021 - 3pm

Texas A&M University-Commerce PD Get Info Peace Officer 07/26/2021 - 5pm

San Jacinto College Police Department Get Info Peace Officer 07/30/2021 - 5pm

Waco Police Department Get Info Peace Officer 08/31/2021 - 5pm

Forest Hills Police Department Get Info Chief of Police 09/18/2021 - 5pm

Anna ISD Police Department Get Info Peace Officer 07/23/2021 - 5pm

City of Spur Get Info Chief of Police 07/16/2021 - 5pm

Argyle Police Department Get Info Peace Officer 07/25/2021 - 5pm

Lockhart Police Department Get Info Peace Officer 07/21/2021 - 5pm

Flower Mound Police Department Get Info Peace Officer 07/28/2021 - 5pm

City of Denton Get Info Telecommunicator 08/22/2021 - 5pm

Seagraves Police Department Get Info Chief of Police 08/27/2021 - 5pm

Horseshoe Bay Police Department Get Info Peace Officer 10/01/2021 - 5pm

Victoria Police Department Get Info Peace Officer 07/27/2021 - 5pm

Brazos River Authority Get Info Peace Officer 08/31/2021 - 5pm

Nassau Bay Police Department Get Info Peace Officer 07/31/2021 - 5pm

Stinnett Police Department Get Info Peace Officer 08/31/2021 - 5pm

Bryan Police Department Get Info Peace Officer 07/23/2021 - 5pm

Manvel Police Department Get Info Peace Officer 07/27/2021 - 5pm

UT Southwestern Medical Center Get Info Peace Officer 07/04/2021 - 5pm

South San Antonio ISD Get Info Peace Officer 08/30/2021 - 5pm

Keller Police Department Get Info Peace Officer 07/09/2021 - 5pm

Swisher County Sheriff's Department Get Info Peace Officer 08/30/2021 - 5pm

Carrollton Police Department Get Info Baliff 07/05/2021 - 5pm

Stratford Police Department Get Info Peace Officer 08/30/2021 - 5pm

Carrollton Police Department Get Info Deputy Marshall 07/05/2021 - 5pm

College of the Mainland Police Department Get Info Peace Officer 08/26/2021 - 5pm

Hawley Police Department Get Info Peace Officer 07/04/2021 - 5pm

Travis County Fire Marshal's Office Get Info Deputy Fire Marshal II 08/30/2021 - 5pm

Spearman Police Department Get Info Chief of Police 07/05/2021 - 5pm

Travis County Fire Marshal's Office Get Info Deputy Fire Marshal III 08/30/2021 - 5pm

Ochiltree County Sheriff's Office Get Info Peace Officer 07/16/2021 - 5pm

Dalhart Police Department Get Info Peace Officer 08/30/2021 - 5pm

Goliad County Sheriff's Office Get Info Peace Officer 07/04/2021 - 5pm

Polk County Sheriff's Office Get Info Deputy Sheriff Patrol 08/27/2021 - 5pm

Highland Village Police Department Get Info Peace Officer 08/08/2021 - 5pm

Smith County Fire Marshal's Office Get Info Fire Marshal 08/03/2021 - 5pm

Milam County Sheriff's Office Get Info Peace Officer 07/04/2021 - 5pm

112 The BLUES POLICE MAGAZINE The BLUES POLICE MAGAZINE 113
---
WASHINGTON COUNTY SHERIFF'S OFFICE

is accepting applications for

Correctional Officers

(Starting Salary: $16.48 per hour – After Certification: $18.24 per hour)

JOIN OUR TEAM

WALKER COUNTY

SHERIFF'S DEPT.

The Washington County Sheriff's Office is a progressive agency located

in Brenham and is currently seeking career minded men and women for

these positions.

Benefits include:

▪ Employee Health Insurance

▪ Sick Pay ▪ Holiday Pay

▪ Longevity Pay ▪ Retirement Plan

▪ Vacation Days

▪ Certification Pay

Application and TCOLE Personal History Statement (both required)

are available online at washingtoncosheriff.org

(click Employment Opportunities)

Open until positions are filled.

The Walker County Sheriff's Department is now accepting applications for the position of Patrol Deputy. We are a family based department that is dedicated to

preserving the lives and property of the citizens of Walker County which is currently around 73,000 residents. As a Patrol Deputy within our department, you would

be patrolling over 800 square miles of small towns, national forest and East Texas countryside. Our county seat is the town of Huntsville, Texas which has many of

the comforts and amenities of larger city while still providing a small town atmosphere.

Mail or deliver applications to:

Washington County Sheriff's Office

Attn: Recruiting Division

1206 Old Independence Road

Brenham, TX 77833

Office: (979) 277-6251

EOE

Perks:

• Starting Salary: $55,160.00

• Retirement: Vested after 8 years in TCDRS. Every $1 invested in retirement is matched 210%.

• Insurance provider: Blue Cross Blue Shield

• Equipment: Uniforms & Patrol Equipment Provided. Currently issuing Glock 22's and Colt SBR Rifles.

• Vehicles: Take home Chevy Tahoe • Schedule: 12 hour shifts, every other weekend off.

• Time Off: Paid Vacation / Holidays on a yearly basis. • Patrol Style: Proactive /Community Based Policing

Requirements: Must be TCLOE Certified; Must have a valid Texas Drivers License;

Must pass a written & physical test; Must complete a rigorous Field Training Program in a timely manner.

114 The BLUES POLICE MAGAZINE The BLUES POLICE MAGAZINE 115

APPLICATIONS CAN BE SUBMITTED ON THE WALKER COUNTY WEBSITE (WWW.CO.WALKER.TX.US) OR BY CONTACTING PATROL LT. JASON SULLIVAN (936) 435-2400.
---
ALDINE ISD POLICE DEPT.

now accepting applications for

Dispatch Supervisor

Salary starting at $47,211

Dispatchers

Salary starting at $32,373

EMPLOYMENT BENEFITS

• Paid Vacation

• Sick Leave

• Paid Holidays

• Personal Days

• Compensatory Days

• Certification Pay

TO APPLY VISIT

WWW.ALDINEISD.ORG

OR

Contact the Personnel

Department at

281-985-7571

OR

Contact Sergeant R. Hall at

281-442-4923

HIRING PROCESS

• Oral Board Panel Interview

• Complete Personal History Statement

• Psychological Evaluation

• Medical Examination

• Interview with the Chief of Police

Memorial Villages Police Department

Bunker Hill • Piney Point• Hunters Creek

Police Officer

EOE/M/F/D

5+ Years Patrol Experience Required

The Memorial Villages Police Department (Located on the West Side of Houston) currently has

openings for experienced officers who are self- motivated and enthusiastic about community

policing. We have overwhelming support of our communities and encourage our officers to be

proactive and innovative.

$1500 Sign on Bonus

Starting Salary Range

$71,179 – $82,808 (DOQ)

• Healthcare Insurance, DHMO Dental, Vision – 100% paid for employee, 50% for

spouse/dependents.

• Paid long-term disability and life insurance for employee, with additional life insurance

available for spouse/dependents.

• Health Savings Account with departmental contributions up to $4200 annually

• TMRS Retirement 2 to 1 match, 7% Employee ,14% Employer Contribution.

• 457 Plan with employer contribution of 2% of annual salary

• Bi-Lingual Pay (2.5% of Base salary)

• Shift Differential Pay $3600 annually

• Tuition reimbursement

• Longevity Pay up to a max of $2400 annually at 10 years of service.

• College Education incentive up to $3000 for a master's degree

• LEMIT or FBI NA pay $1200 annually.

• ECA (Emergency Care Assistant) $1300 Annually, training provided to each employee.

• 12 hour shifts with every other Friday, Saturday, and Sunday off.

• Officer certification pay, Intermediate, Advanced, and Master up to 7.5% of Salary.

To learn more or apply, visit our website at www.mvpdtx.org

Or contact Sgt. Owens 713-365-3711 or lowens@mvpdtx.org

Or Commander E. Jones 713-365-3706 ejones@mvpdtx.org

11981 Memorial Dr. Houston, Texas 77024

116 The BLUES POLICE MAGAZINE The BLUES POLICE MAGAZINE 117
---
MAKE A

DIFFERENCE

IN YOUR

COMMUNITY

We are looking for outstanding individuals to

join our team! As a Pearland Police Officer your

mission will be to prevent crime and disorder, build

partnerships within the community, and positively

impact the quality of life for all our residents.

CITY OF PEARLAND, TEXAS

• Competitive Salary • Outstanding Training

• Career Advancement • Exceptional Benefits

The City of Pearland is one of the fastest growing

communities within the region. Pearland is located

approximately 20 minutes south of Downtown Houston

and the current population is approximately 130,000

residents.

JOIN OUR TEAM

HIRING POLICE OFFICERS AND CADETS

$5,000 Hiring Incentive for T.C.O.L.E Certified Police

Officers who qualify with at least 2 years of experience.

TEST DATE:

SATURDAY, APRIL 24, 8:30 A.M.

Register by: April 12.

Pearland Recreation Center & Natatorium

4141 Bailey Road, Pearland, TX 77584.

Doors Open: 7:15 a.m. No admittance after 7:45 a.m.

Candidates must park in the north parking lot.

SOCIAL DISTANCING MEASURES WILL APPLY

• Attendance limited to first 150 arrivals

• Mandatory temperature checks

• Masks required, hand sanitizer available

• Candidates seated 6 feet apart

•Be a citizen of the nited tates able to read,

write, and speak the English language

• Have a high school diploma or equivalency certificate .E.. certified by

the issuing agency with:

0 credit hours with a cumulative PA of 2.0 or higher on a .0 scale from an accredited

institute of higher learning or

- Minimum 24 months of active duty service with an honorable discharge authenticated by

a Member 2 or Member orm 21 or

15 credit hours with a cumulative PA of 2.0 or higher on a .0 scale in addition to Basic

Peace Officer Certification from TCOLE or

An Intermediate Peace Officer Certification from TCOLE

• Valid driver's license with acceptable driving record

• Must meet all legal requirements necessary to become a licensed Peace Officer by the Texas

Commission on Law Enforcement TCOLE.

• Be between 21 and 5 years of age at the time of the examination or

• Be between 18 and 21 years of age if the applicant has received an associate's degree or 60

semester hours of credit from an accredited college or university or has received an honorable

discharge from the armed forces of the nited tates after at least two years of active service.

: Cadet $1. hourly Police Officer $2. hourly.

April 12, 2021. Applications will not be accepted after this date.

Submit applications online by visiting pearlandtx.gov/careers.

THE CITY OF PEARLAND IS AN EQUAL OPPORTUNITY EMPLOYER

pecial accommodations are available when necessary to aord equal opportunity to participate

in testing. Please make request in writing, five business days prior to the test date to City of

Pearland, HR Department, 3519 Liberty Drive, Pearland, TX 77581.

or questions regarding the application process please contact Terene uddsohnson at

281.652.1617 or hr@pearlandtx.gov.

List will remain in eect for one 1 year or until exhausted, whichever is sooner.

118 The For BLUES additional POLICE information MAGAZINE and to register for an upcoming Civil Service Exam, visit

The BLUES POLICE MAGAZINE 119

pearlandtx.gov/PDCareers
---
Montgomery

County Pct. 4

Constable's

Office

full-time

&

reserve

COME JOIN US!

great retirement &

great insurance

Advancement Opportunities: Criminal

Investigations - Special Response Team - Honor

Guard - Special Response Group - Swift Water

Rescue Team - K9 - Mounted Patrol - Drone team

overtime opportunities: step - dwi

enforcement - special teams - evidence - jp

security

Stipend Pay: k9 - specialist - fto deputy

paid time off: holiday - vacation - comp time -

personal - paid training

salary - step pay slotted based on tcole full-time years of

service:

Under 2 yrs - $48,755.20 9 Yrs - $59,508.80

2 Yrs - $51,188.80 12 Yrs - $61,150.40

4 Yrs - $53,726.40 15 Yrs - $65,270.40

6 Yrs - $56,368.00 16+ Yrs - $68,536.0

license certification (up to $3599) and longevity pay

civil service protected

MORE INFO:

Constable Kenneth "Rowdy" Hayden

Pickup and complete applicant in 1.

person.

questionnaire

Pct. 4 Constable, Montgomery County, TX

assessment, 2.

written exam

Firearms qualification, fitness

21130 personality Hwy assessment 59 scheduled.

Ste. C New Caney, TX and 77357

www.mcco4.org - 281.577.8985 -

candidates 3.

passing Successfully personal

receive will

@mcconstablepct4

book.

history

120 The BLUES POLICE MAGAZINE The BLUES POLICE MAGAZINE 121

board.

4. Oral
---
Come join the Plano Police Department

Plano Police Department currently employs over 414 peace officers, who are dedicated individuals that

work with the community to create and maintain a safe, secure environment for our residents and visitors.

We are a diverse department, which is a reflection of the various cultures within the community, and offering

many different opportunities to promote the safety of the citizens which we serve.

Registration Deadline:

Friday, July 30, 2021

Register at:

https://www.plano.gov/1183/Employment

The Plano Police Department will conduct

a Civil Service Examination in order to

establish an eligibility list for the position

of Entry-level Police Officer. The eligibility

list is created as a result of this examination

and application process will remain in effect

for a period of (6) months (beginning

on date of test) or until the list has been

exhausted, whichever occurs first.

For more information:

Contact the Plano Police recruiter

Officer Andrae Smith at:

andraes@plano.gov

or go to our website at:

ppdrecruiting@plano.gov

122 The BLUES POLICE MAGAZINE The BLUES POLICE MAGAZINE 123
---
Ingram Police Department

NOW HIRING

FULL-TIME POLICE OFFICERS

LATERAL DEPUTY

A PROFESSION THAT MAKES YOU PROUD

Ingram Police Department

226 Hwy 39

Ingram, Texas 78025

(830) 367-2636

Starting Salary $46,720

Vacation, Holiday, and Sick Pay Provided

Health Insurance, Life Insurance, 2-1 Retirement

match, take home vehicle within service area.

Minimum of basic police certification required

124 The BLUES POLICE MAGAZINE The BLUES POLICE MAGAZINE 125
---
MILAM COUNTY SHERIFF'S OFFICE

WE'RE HIRING!

Starting Salary

$44,995

────

Vacation, Holiday,

and Sick Pay

Provided

PAY

Patrol Deputy: $49,220/yr

Sergeant:

$51,360/yr

CID Lieutenant: $56,705/yr

CID Captain:

$58,845/yr

BENEFITS:

PATROL DEPUTY OPENING!

It's not just a job

It's a Career

Health Insurance: 100% of premium paid ($9,193.20/yr).

County Retirement benefits provided.

Vacation, Holiday, Sick Leave.

Longevity pay begins after 4 years.

Vehicle: Take-home vehicle.

Cell phone: County-provided cell phone

APPLY IN PERSON OR AT WWW.MILAMCOUNTYTX.ORG

Q U E S T I O N S ? C A L L: 254.697.7033

MUSTANG

RIDGE POLICE

DEPARTMENT

NOW HIRING

CERTIFIED

OFFICERS

Join Our Team Today!

The City of Mustang Ridge is situated along US Hwy 183 and is

located primarily in Travis County with portions in Caldwell and

Bastrop County. We are minutes away from Circuit of the

Americas and ABIA. Officers work rotating 12 hour shifts and we

utilize the Travis County Sheriff's Office for Dispatch.

126 The BLUES POLICE MAGAZINE The BLUES POLICE MAGAZINE 127

────

12 Hour Shifts

────

401K Provided

────

Angel Armor Load

Bearing Vest

Provided

SUBMIT COMPLETED

PERSONAL HISTORY

STATEMENTS TO:

lcantu@mustangridgetx.gov

clerk@mustangridgetx.gov

PHS Forms can be obtained

at the following link:

https://www.tcole.texas.gov/

content/forms-andapplications
---
JASON CHATHAM

SHERIFF

SCHLEICHER COUNTY

Open Position:

The Schleicher County Sheriff's Office is currently seeking qualified applicants for the position of

Deputy Sheriff. All applicants must hold a current Texas Peace Officer License. Qualified applicants

will be subject to an extensive criminal history and background investigation. Applicants must have

good communication skills and good organizational skills. Applicants must be self-motivated and

able to work with little supervision. Applicants must be of high moral and ethical character, highly

motivated, and trustworthy.

Benefits:

Hourly rate of $21.00 / Annual Average of $46,000.00 Plus, Overtime and Holiday Pay

Group Health and Life Insurance with no charge to the employee

*25 K Life Insurance

*25 K Accidental Death or Dismemberment

*1 Year Salary paid to Beneficiary

Retirement Plan through Texas County and District Retirement System

*Employee / County Match at 7%

* Fully vested after 8 years

Sick Leave accrues upon employment at one day per month

Two weeks of vacation after the first year of employment.

Paid Holidays

Take-home vehicle

Uniforms provided (excluding footwear)

Body Armor provided

Duty Weapons and Equipment Issuance

Paid Training

If you are interested, contact us by telephone at (325) 853-2737 or in person at 4 S. Divide in Eldorado.

__________________________________________________________________________________________

4 S. Divide Street | Eldorado, Texas 76936 | Phone (325) 853-2737 | Fax (325) 853-2713

Email: sheriff@co.schleicher.tx.us

128 The BLUES POLICE MAGAZINE The BLUES POLICE MAGAZINE 129
---
Kendall County Sheriff's Office

The City of Victoria

invites applications for the position of:

Police Officer or Senior Police Officer

Position Title: Criminal Investigator

Position Type: Criminal Investigation Division

Closing Date: June 30, 2021

Job Description:

Salary Information:

Benefits Include:

Job Requirements: Age 21

Contact:

Under general supervision, the purpose of the position is to conduct thorough investigations on

misdemeanor and felony crimes, collect and preserve evidence, interrogate offenders, question

witnesses and victims, prepare case files for testimony in Grand Jury and trials, establish and

maintain liaison with local, county, state, federal and public officials, and abide by all lawful

policies and procedures, orders, and instructions issued by the Kendall County Sheriff's Office.

$57,685 – $60,730 (depending on experience)

Annual Salary Increases

Health Benefits

Life/Disability Insurance

Texas District and County Retirement System (TDCRS)

Vacation, Holiday, Sick & Bereavement Leave

County Paid Uniforms and Vehicle

High School diploma or equivalent required supplemented by two (2) to three (3) years previous

experience or training that includes law enforcement, knowledge of criminal laws and codes, and

investigations; some college preferred

Experience Preferred

Applicants must possess a current T.C.O.L.E. license as a Peace Officer

Knowledge of the English language, spelling and grammar. General knowledge of Microsoft

Word and Power Point are encouraged.

Bilingual preferred

Lt. Butch Matjeka, Operations Commander

Kendall County Sheriff's Office

6 Staudt St.

Boerne, TX. 78006

830-249-9721

On-Line Application: https://www.kendallcountysheriff.com/employment

Salary

$48,045 - $68,500 Annually DOQ

Location

Victoria, TX

Job Type

Full-Time

JOB SUMMARY

The Victoria Police Department is hiring qualified police officer candidates to join our

team and to help enhance the livability of our community. VPD sets the bar for

professionalism, innovation and a progressive approach to our policing strategies. Our

workforce of more than 115 officers and 32 civilian support personnel are a dedicated,

enthusiastic group of professionals who proudly serve over 65,000 Victoria residents.

The Victoria Police Department offers a competitive salary and retirement structure,

great health benefits, and many other incentives such as paid time off and departmentissued

uniforms and equipment.

Officers have lateral and promotional opportunities. Regardless of the assignment, you

will work in an environment that fosters leadership, teamwork and courteous service to

our community.

No prior law enforcement experience is required but must be certified as a TCOLE

Peace Officer. Upon employment, you will participate in the City of Victoria Police

Department Field Training Program. You will receive specialized training from some of

the finest officers in law enforcement.

Salary amount offered will depend on qualifications. Lateral pay scale recognized for

Senior Police Officers. This is a non-exempt position.

Applicants currently attending a TCOLE Academy are encouraged to apply.

Employment eligibility will require successful completion of the Academy courses and

certification as a TCOLE Peace Officer.

To learn more about this exciting opportunity and to apply, visit

www.victoriatx.gov

130 The BLUES POLICE MAGAZINE The BLUES POLICE MAGAZINE 131
---
CITY OF CARROLLTON

Firefighters' and Police Officers'

Civil Service Commission

Announces

MORE INFO: Visit WWW.CITYOFSACHSE.COM

or call (972) 495-2271

POLICE DEPARTMENT

Entrance Examination Test Date: April 10, 2021

REGISTRATION ENDS ON:

April 10, 2021 at 9:00 a.m.

Examination Date: Saturday, April 10, 2021 at

9:00a.m. - Written Exam

To register go to: www.cityofcarrollton.com/police

Complete the online registration to be submitted electronically to:

Carrollton Police Department

2025 East Jackson Road

Carrollton, Texas 75006

Phone: 972 466 3028

Website: www.cityofcarrollton.com/police

Email: policedevelopment@cityofcarrollton.com

City of Carrollton is an Equal Opportunity Employer

132 The BLUES POLICE MAGAZINE The BLUES POLICE MAGAZINE 133
---
ALIEF I.S.D. POLICE

DEPARTMENT

STARTING SALARY $58,469+

BENEFITS

• Supportive leadership and community

• Civil Service

• 12-hour shifts

• Take-home vehicles

• Tattoos permitted

• Longevity Pay – $4/month for each year of service; maximum of $1,200/year

• Certification Pay – Up to $375/month, depending on certification(s)

• Sick Leave – 15 days (7 ½, 24‐hour shifts) per year; unlimited accumulation

• Vacation – 15 days/year

• Holidays – 10 paid and 2 additional floating holidays/year

• Certification pay

• Group health insurance with deductible, flexible spending accounts, and

Section 125 options

• Life insurance, long‐term disability and workers' compensation. Optional life

insurance and deferred plans are also available.

• Retirement plan with the Texas Municipal Retirement System. Employees

contributes 7%, city matches 2:1. Retirement with 20 years of service any

age, or at age 60 with 5 years of service.

• Opportunity to attend training schools

• Equipment and uniforms are furnished

• Employee Assistance Program

Scan QR Code to view City of Bryan

Police Entrance Exam Information

City of Bryan Police Department

(979) 209-5300 / bryantx.gov/police

City of Bryan Human Resources

(979) 209-5064

Important

Information

Position:

Police Officer (Certified)

Application Deadline:

Friday, July 23, 2021

Written Exam Date & Time:

Friday, July 30, 2021 at 9:00am

(check in time is from 8:30am-8:45am)

Note: For those who successfully pass

the written exam, the Physical Agility

Test will be immediately following.

Location:

City of Bryan Justice Center

Bryan Police Department

303 E. 29th Street, Bryan, TX 77803

Required Certification:

For this exam, applicants must be

currently certified as a Peace Officer

by the Texas Commission on Law

Enforcement (TCOLE) or hold an Outof-State

Peace Officer Certification

with the ability to meet minimum

standards for Texas licensure (TCOLE

RULE §217.1). Applicants with Outof-State

Certification must be able

to obtain TCOLE Certification by the

date of job offer.

Now accepting applications

for

Patrol Police Officer &

Campus Police Officer

Education/Certification:

• High school diploma or GED

• Texas Peace Officer License issued by TCOLE

• Clear and valid Texas driver's license

Special Knowledge/Skills:

• General knowledge of criminal investigation, police report writing,

and criminal laws

• Training and ability to subdue offenders, including use of

firearms and handcuffs

• Bonded as required by Texas Education Code §37.081(h)

• Ability to pass required physical, psychological, and drug tests

• Ability to work well with youth and adults

• Good human relations and communication skills

Experience:

• Background in law enforcement or related work experience

Hiring administrators review applications, interview, and recommend for hire.

To start an exciting new career with the AISD PD visit us

at https://www.aliefisd.net/ and go to career opportunities .

134 The BLUES POLICE MAGAZINE The BLUES POLICE MAGAZINE 135
---
College of Mainland Police Department

Full-Time Police Officers Needed

Salary Range: $42,712- $52,715

Part-Time Police Officer Needed

Salary: $20.00 hr.

College of Mainland (COM) police officers provide safety and

security for staff, students, and visitors. They will perform law

enforcement duties including providing emergency medical

response, patrolling college campus, conducting routine traffic

enforcement, and performing other duties assigned.

Must have Basic Peace Officer Certification with TCOLE, have at

least two years of full time law enforcement experience with High

School Diploma or GED

Applicant must also have valid driver's license, valid peace

officer's license, and current on TCOLE training units.

Apply at https://jobs.com.edu

136 The BLUES POLICE MAGAZINE The BLUES POLICE MAGAZINE 137
---
138 The BLUES POLICE MAGAZINE The BLUES POLICE MAGAZINE 139
---
STINNETT POLICE DEPARTMENT

NOW HIRING FULL-TIME CERTIFIED

POLICE OFFICER

Stinnett is a wonderful small-town

community (Population 1,881) that is the

county seat of Hutchinson County.

STARTING SALARY

$40,500

We are very proud of our PSPCISD school

district.

Lake Meredith is a short 15-minute drive!

Vacation, Holiday,

and Sick Pay!

Free Health, Dental

and Vision Benefits!

Life Insurance

Available!

2-1 Retirement match

(TMRS)

Take home vehicle for

those that live in the

city limits!

And Amarillo is only an hour drive away to

unlimited shopping and entertainment!

Job Description and link to apply can be found at the link

below:

http://www.cityofstinnett.com/explore_stinnett/job_opportuniti

es.php

For questions, contact Corisa Earls, Chief of Police, at:

806-878-2422 ext. 401 or email

CEarls@cityofstinnett.com

140 The BLUES POLICE MAGAZINE The BLUES POLICE MAGAZINE 141
---
142 The BLUES POLICE MAGAZINE