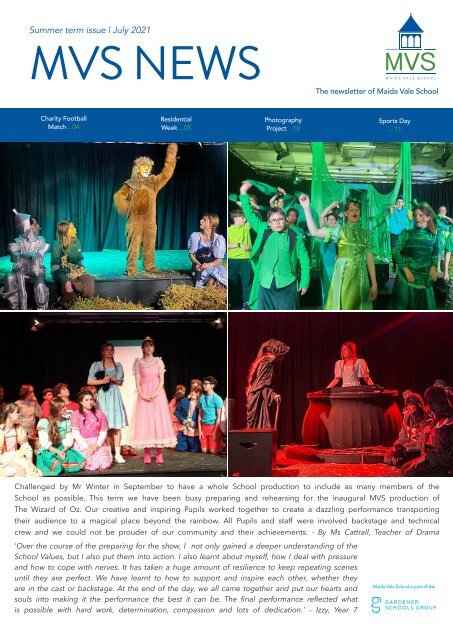 Maida Vale School Newsletter July 2021
Summer newsletter for MVS, Independent senior school in Maida Vale
Summer newsletter for MVS, Independent senior school in Maida Vale
SHOW MORE
SHOW LESS
Create successful ePaper yourself
Turn your PDF publications into a flip-book with our unique Google optimized e-Paper software.
Summer term issue | July 2021

MVS NEWS

The newsletter of Maida Vale School

Charity Football

Match…04

Residential

Week…05

Photography

Project…10

Sports Day

…11

Challenged by Mr Winter in September to have a whole School production to include as many members of the

School as possible. This term we have been busy preparing and rehearsing for the inaugural MVS production of

The Wizard of Oz. Our creative and inspiring Pupils worked together to create a dazzling performance transporting

their audience to a magical place beyond the rainbow. All Pupils and staff were involved backstage and technical

crew and we could not be prouder of our community and their achievements. - By Ms Cattrall, Teacher of Drama

'Over the course of the preparing for the show, I not only gained a deeper understanding of the

School Values, but I also put them into action. I also learnt about myself, how I deal with pressure

and how to cope with nerves. It has taken a huge amount of resilience to keep repeating scenes

until they are perfect. We have learnt to how to support and inspire each other, whether they

are in the cast or backstage. At the end of the day, we all came together and put our hearts and

souls into making it the performance the best it can be. The final performance reflected what

is possible with hard work, determination, compassion and lots of dedication.' - Izzy, Year 7

Maida Vale School is part of the
---
JULY 2021

WELCOME

TO OUR

NEWSLETTER

The first academic year is complete!

Welcome to our Summer Term Newsletter. It has been a very

busy term as we have tried to maximise the slow releasing

of Covid restrictions. It has also been full of achievements.

Some of them have been very public especially those involved

in The Wizard of Oz but many have been less public but no

less significant. I hope that you can see in this newsletter the

values of our School community encapsulated and that all Pupil

achievement at Maida Vale School is valued.

Wishing you all a restful summer holiday.

Mr Steven Winter

Headmaster, Maida Vale School

Part of the
---
FEATURES

SUMMER TERM HIGHLIGHTS

Languages Charity Football Match - by Ms Trafford, Head of Modern Languages

Modern Languages Pupils in Year 9 have had a fun time learning about sports and fitness in the

Summer term. Pupils worked towards being able to write a match report, after having played in a

charity football match as France vs Spain. The match was to celebrate the kick-off of the Euros and

also to raise money for our partner charity Sparkle Malawi. The football match was tough and both

teams played well, but France took the lead and won with a final score of 3-2. The bake sale was a

huge success, with some fantastic football themed cakes raising just under £250 for a great cause. All

Pupils who participated should be proud of themselves and we are looking forward to the next event!

Special guest Mike Ryland talks to Year 8 about WWII

by Ms Begum, Head of Humanities

In History, it was an honour to have Mike Ryland deliver

an informative and interesting talk to Year 8 Pupils

about the history, role, and importance of Bletchley

Park in WWII. He spoke about how development

in technology, namely the invention of radio led

to a change in the nature of espionage in modern

warfare. Pupils listened as Mike used diagrams and

photographs to describe how the Enigma machine

worked and explained the work of the various huts

at Bletchley Park where code breakers and linguists

worked tirelessly to decode the Nazis' encrypted

message in the war. An inspiring message to all

young girls is that three quarters of those employed at

Bletchley were women, and their role included riding

motorbikes in all weather conditions from Cheshire to

Buckinghamshire carrying confidential information.

3
---
FEATURES

Surviving in the wild! Bushcraft residential trip - by Mr Fisher, Deputy Head

Despite the wet weather and some challenging conditions to contend with upon arrival, we had an

excellent week in the Oxfordshire countryside and were able to live and breathe our School values.

Lottie, Year 7

'We learned all sorts of survival tips and tricks and had many

exciting adventures and experiences that we would never have

had in London! I specifically liked when we built our own shelters

and learned how to make fires out of different materials. I was

really pleased to share a tent with my friends and my favourite

activity was the archery. There were many challenges throughout

the stay, but I feel we all showed a lot of resilience throughout

the trip'.

Kiki, Year 7

'Bushcraft was fun and interesting despite being so far away

from home. I learned new things such as making bracelets,

shelters and making a fire. Upon arrival, the mud was thick and

sticky, but we persevered and arrived at camp head to toe covered

in mud. The nights were cold, but we survived supporting

one another when we missed home.

The second day was a wild experience full of camp games and

stories by the fire. On the third day we took a long adventure

walk through the beautiful forest and learned survival skills

including how to make a fire and learned how to make different

traps. We cooked our own burgers and ate them by the fire and

then roasted delicious marshmallows for dessert.

The following day we learned some basic first aid skills in the

forest and took part in a role play exercise which involved a

crashed airplane and fake blood. We had fish for lunch and

some of the Pupils even ate a fish eye! Overall, I think this trip is

something I will remember forever and I learned many things

using the school values'.

4

Alfie, Year 7

'We took part in many different tasks and challenges including

archery, fire lighting, shelter building and cooking our own food.

We all showed resilience but most importantly we worked well

together, and we inspired each other to keep going to get the

most out of this trip. My favourite part of the trip was when we

learned how to skin a whole salmon'.shelters and learned how to

make fires out of different materials. I was really pleased to share

a tent with my friends and my favourite activity was the archery.

There were many challenges throughout the stay, but I feel we

all showed a lot of resilience throughout the trip'.
---
FEATURES

Meanwhile... back at MVS - by Ms Grant-Stevenson, Head of Support For Learning

For various reasons, not every Pupil was able to participate in the Bushcraft Week. They were

provided with an exciting and challenging programme of activities both in and out of school instead.

During the week Pupils were actively engaged in an array of activities. They worked on designing and creating

props, scenery and other items for the school production. Paint and papier maché abounded, and the creative

spirit was infectious. They took part in a treasure hunt around Hampstead Heath and had a lot of fun solving most

of the fiendish clues! They spend a day focused on making. Preparing and cooking their own delicious lunch –

pizza, potato wedges and salad and using the fantastic CADCAM resources in Design and Technology to make

laser-cut photo frames, inscribed with motivational messages. Creating "Pop Art" pieces inspired by the COVID

pandemic. They also explored a range of hypotheses in Science, around varying the proportions of bubble mixture.

All the activities were designed to build valuable skills, and for the Pupils to learn to work together as a Team.

They accomplished both of those goals and had a lot of fun in the process – it was a joy to work with them.

by Ms Begum, Head of

Humanities

Year 9 cook up a storm! - by Ms Jordan, Teacher of Food Preparation & Nutrition

Year 9 Pupils completed a practical examination at the start of term to demonstrate the skills and techniques

they have been learning all year. Dishes cooked by Pupils included Fish Pie, Pasties, Carbonara and

Homemade Pasta, Scones and Jam, Spinach Pesto pasta and Mushroom Risotto.

Photos (clockwise) Year 9 Pupils in

action during their practical examination.

// May's spinach pesto

pasta // Coco's caramelised onion

and goats cheese pizza.

(Below) Violet's mushroom risotto.

5
---
FEATURES

MUSIC NEWS

by Mr Fisher, Deputy Head and Teacher of Music

Musical Futures!

Our Year 7 Pupils have been performing in small ensemble groups following the Musical

Futures programme. Pupils have developed their instrumental and ensemble skills by

learning to perform 'Stand by Me' by Ben E. King for their end of term assessment.

Watch the video!

Each ensemble is made up of a drummer, guitarist, bass player, pianist and some bands

have had a vocalist. Pupils have been refining their performance skills over the past

few weeks and have been focusing on their ability to communicate effectively using

signals, gestures, eye contact and body language so that they can improve their timing.

Pachelbel's Canon

This term, Year 8 have been learning to play Pachelbel's

Canon, on the piano with two hands. Pupils started

learning about the origins of Ground Bass and have

been learning the different variations each week.

Pupils have been working in pairs and have embodied

our value of supporting and inspiring others as well

as demonstrating resilience when they have found

the learning challenging. Every Pupil in the class has

performed in front of their peers at least once this term,

developing confidence performing in front of an audience.

Pupils have also refined their ability to give effective

feedback to one another, using the success criteria to

share mature and appropriate responses to their peers.

National Song Writing Competition

In 'Music Technology Club', Pupils have been

working on their own compositions and are

working towards entering the 'Achievement for

All' (AFA) National Song Writing Competition.

Rock and Pop Club

In Rock and Pop Club, Diarmaid, Edoardo

and Joseph have worked hard all year

learning a variety of Rock and Pop classics,

including '20th Century Boy' by T Rex,

'Smoke on the Water' by Deep Purple

and 'Seven Nation Army' by The White

Stripes. For the past few weeks they have

turned their attention to composing

their own song, entitled 'I Want to Know'.

Watch the video!

We are delighted that Greg Monk from Haberdashers Aske will join MVS as Lead teacher

of Music in September. We are looking forward to an expanded range of ensembles

and opportunities for Pupils to perform including an orchestra, choirs and a jazz band.

6
---
FEATURES

Collaboration, Creativity & Caecilius! - By Mrs Christou, Teacher of Latin

On their introductory Latin journey, Year 7 Pupils

learned much Latin vocabulary and many English

derivations, as well as new grammatical features.

Pupils also got to know Caecilius and his family via

collaborative work on the story translations and

they learned about how the Romans used to live

via creative projects on a variety of cultural topics.

"During this term, we have been learning Latin and

about how it is still useful today. I've personally

enjoyed the prep because Mrs. Christou always has

a fun idea up her sleeve for us to learn about the

Romans and be creative; researching and making a

visitor's guide to Pompeii was my favourite." Lottie, Y7

"In Latin, we have followed an ancient family who lived

in Pompeii thousands of years ago. The household

consists of: Caecilius, Metella and Quintus with their

slaves and their dog, Cerberus. Along the way, we

have learned about the Latin grammar and vocabulary.

I can't wait for what the next lesson holds!" Hetty, Y7

- - - - - - - -

In Classics Club, Pupils have enjoyed working

together to build an Ancient Greek Trireme

replica (thanks to Playmobil!), as well as learning

about Greek mythology and its depiction in film.

"At the start of the term, we each worked on an

Ancient Greek Mythology Project, where we got to

know a myth, such as King Midas, Daedalus & Icarus,

Arachne & Athena etc. We researched these stories

and presented them in our own way. We then watched

some Classics films and wrote reviews on them. I

have really enjoyed this term of Classics Club and

would recommend it for anyone who enjoys learning

about the Ancient Greeks in a really fun way!" Alex, Y7

- - - - - - - - -

Finally, Congratulations to the following

Pupils who were awarded competition

certificates and prizes for the Summer Term

Classics Book/Film Review Competition.

Ella R, Y8 (Winner), Alex N, Y7 (Runner-Up) & Emma

B, Y8 (Runner-Up)

Photos from top: A Visitor's Guide to Pompeii //

Classics club teamwork in action // One of the Book

and Film Review Competition Runners-up.

7
---
FEATURES

Drugs Awareness Talk

by Mr Fisher, Deputy Head

We were delighted to welcome

Dave Parvin from Drugs Sense

UK in June. He delivered two

seminars, one to our Pupils

and another to our Parents

on the dangers of drugs and

alcohol. Dave's open and honest

approach when discussing

these mature themes has raised

awareness about the potential

risks surrounding the use and

misuse of drugs and alcohol.

What did our Pupils think?

'It was interesting. It has made me think about how important it is to have the confidence to say 'no'.

It's brought up lots of discussion in our lessons this week'.

'I took away all of Dave's information and recognise that it was a clear warning about the dangers of

drug experimentation'.

'Dave's presentation was interesting because it was a very visual one, which meant we could understand

what he was talking about straight away'.

'When I heard there was going to be a presentation on the topic of drugs, I just thought it would be

meaningless and repetitive. However, Dave's talk included individuals who we could relate to. For

example, there was a girl who died because of taking ecstasy and it stood out and opened my eyes

because she is just like us – she had birthdays and Christmases and went to School. Our eyes have

been opened to the issue of drugs'.

Sound and Light in Science by Mr Forman, Head of Science

We have spent time studying waves, with Year 7 looking into sound

and light waves and Year 8 investigating the Electromagnetic spectrum.

Year 9 Pupils have studied Energy and how we calculated the movement of Energy through different scenarios

and uses, onto the Chemistry of the Atmosphere (including the impact of pollution) and more recently,

the highly topical Infectious Diseases. Unsurprisingly, we have discussed Covid19 many times in this unit!

8
---
FEATURES

Design time! From bridge structures, a coin drop challenge, LED lighting units to making

stage scenery! - by Ms Banks, Teacher of DT

Since the return to School of Pupils in March the Design Technology workshop

has been abuzz with activity and learning. Pupils have been designing and

making outcomes using a variety of materials, processes, and equipment.

Pupils in Year 7 completed the crane design challenge learning about structures

and loading. There were some amazing feats of engineering with Misha and

Arthur's design winning the test to destruction competition being able to

hold an impressive 6.8kg. Previous winning entries had only managed 4.5kg.

Year 8 have learnt how to exploit the properties of the materials provided to achieve

a superior winning time in the coin drop challenge. The most elegant solution was

provided by Jonah and Lucia. They have also made personal electronic fans, gaining

confidence and familiarity with a wide range of workshop tools and equipment on the

way and have also produced mechanical toys based on characters from children's' books.

GCSE Pupils have been challenged to design and manufacture LED lighting units for Miss Ridley's

office. To achieve this, they have learnt to use Computer Aided Design and our fantastic laser

cutter which allowed them to cut and etch acrylic and other thin sheet materials to excellent effect.

They are now using our 3D printer to develop the design and construction of their laser cut clocks.

9
---
FEATURES

Computer Science Highlights

by Ms Mahdi, Teacher of Computing

Understanding Cyberbulling

Our Year 7 and 8 Pupils learnt about the impact that

Cyberbulling has on people and what solutions can

be offered to help tackle the problem.

Social Engineering and Malware

GCSE Computer Science Pupils worked on

consolidating their knowledge gained since the

beginning of the year and preparing them for

the end of year Examination. Pupils developed

their understanding of topics such as Hardware,

Secondary Storage, Von Neumann Architecture,

CPU (Fetch, Decode, Execute), RAM, ROM,

Network topologies, Flowcharts and Cybersecurity.

Art

by Ms Akinci, Teacher of Art

Year 9 Pupils have learnt

design software skills using

Adobe Photoshop and have

also contributed to ISA Digital

Art Competitions. They

have studied the following

artists' and created their own

personal response: Irma

Boom, Stefan Sagmeister,

Barbara Kruger, Man Ray

and Roy Lichtenstein.

Art club Pupils have also been

preparing for their ISA Digital

Art Competitions. Emma

created digital Art of her

friend (left) and Hetty created

her own video at home.

All year groups came together and

collaboratively created Props for the Drama

production for the Wizard of Oz. This was

a team effort and every Pupil has shown

commitment, dedication and teamwork.

Play it here:

10
---
SPORTS

SPORT UPDATE

by Mr Marriott, Director of Sport

The Summer term has brought a term of firsts for sport at MVS. We have had our first set of competitive fixtures

against other schools, National School Sports Week, and the inaugural sports day. It has been fantastic to see

the Pupils proudly represent the school and do so with passion in their own and teammate's performances.

Pupils competed against Kew House School, Eaton Square and Wetherby across cricket and

tennis. The highlight of the term was without a doubt the U14 cricket performance against Eaton

Square. It was a team batting performance where everyone chipped in to accumulate a total

of 78 runs. They then rallied with a great bowling performance to restrict Eaton Square to 62

runs. Isaac, Rudi, Lyndon and Alexey regularly picked up wickets to keep their batsmen at bay.

National School Sports Week was a huge opportunity to celebrate Sport at MVS and challenge Pupils to get

involved in different way than they may typically do so. Over the week Pupils took part in PT sports challenges,

sports quizzes and the week finished with Sports Day. Pupils should be commended on engagement and

enthusiasm across the whole week. Sports day proved to be a great occasion for Pupils, Parents, and Teachers

alike. It was great to see Pupils competing hard and the huge support for all the athletes on show from the

stands. Pupils competed to set the school records for years to come, as well as contributing to their tutor group

in the inter-PT group competition. Well done to Ms Proctor's tutor group who just pipped Ms Begum to the win.

11
---
During Art workshops, our Pupils created A3 paintings inspired by Pop Art linking to current

matters of Covid-19. n

Maida Vale School, 18 Saltram Crescent, London W9 3HR

A co-educational, independent senior school for 11-18 year olds

W: www.maidavaleschool.com T: 020 3196 1860 E: admissions@maidavaleschool.com

Follow our story...

www.maidavaleschool.com/media

@MaidaValeSchool