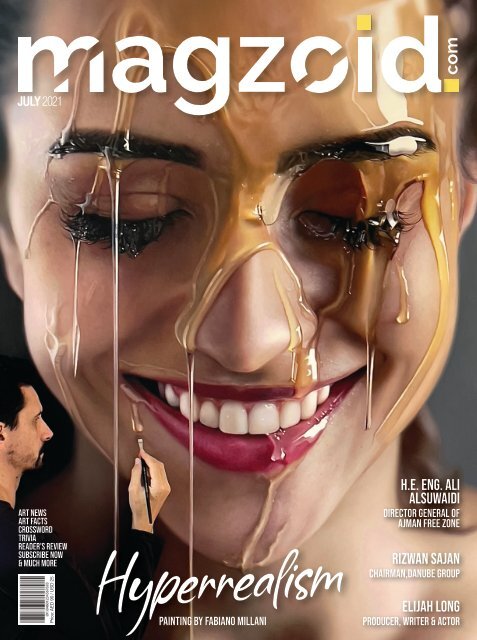 MAGZOID - A Luxury Magazine in the Creative Space | July 2021
The extraordinary cover artwork is a depiction of Hyperrealism by Fabiano Millani, an exceptional painter born in São Paulo, Brazil. This issue contains featured interviews and insights from industry veterans like, H.E. Eng. ALi AlSuwaidi, Rizwan Sajan, ELijah Long. It also comprises of, Inspiring stories from amazing artists like Ben Treat, Sophie Green, Fateme Shahidi, Alexandra Ozerova, Elena Zernova, Ken Kung that empowers the community, Hotel review of Radisson Blu, Dubai Waterfront. Event Showcase: Jewels of Emirates Show. Product Review of Feel Good Tea. Highlights from Expo 2020. Al Quoz Creative Zone. Featured Artworks of kids and professional artists. Art of Calligraphy. Role of Public Art in Society. Art Facts and Art News.
The extraordinary cover artwork is a depiction of Hyperrealism by Fabiano Millani, an exceptional painter born in São Paulo, Brazil. This issue contains featured interviews and insights from industry veterans like, H.E. Eng. ALi AlSuwaidi, Rizwan Sajan, ELijah Long. It also comprises of, Inspiring stories from amazing artists like Ben Treat, Sophie Green, Fateme Shahidi, Alexandra Ozerova, Elena Zernova, Ken Kung that empowers the community, Hotel review of Radisson Blu, Dubai Waterfront. Event Showcase: Jewels of Emirates Show. Product Review of Feel Good Tea. Highlights from Expo 2020. Al Quoz Creative Zone. Featured Artworks of kids and professional artists. Art of Calligraphy. Role of Public Art in Society. Art Facts and Art News.
SHOW MORE
SHOW LESS
You also want an ePaper? Increase the reach of your titles
YUMPU automatically turns print PDFs into web optimized ePapers that Google loves.
JULY 2021

Art NEWS

ART FACTS

crossword

trivia

REAder's review

subscribe now

& much more

Price: AED 90 / USD 25

Hyperrealism

PAINTING BY Fabiano Millani

H.E. ENG. ALI

ALSUWAIDI

DIRECTOR GENERAL OF

AJMAN FREE ZONE

RIZWAN SAJAN

CHAIRMAN,DANUBE GROUP

ELIJAH LONG

PRODUCER, WRITER & ACTOR
---
At Ajman Free Zone we believe in converting every

situation into an opportunity and offer these opportunities

to our business partners to help them flourish.

The 3 pillars of AFZ are industry, infrastructure and

regulation. We take constant efforts to understand the

problems faced by our partners and take immediate

actions thereby creating a collaborative ecosystem in AFZ

where businesses help each other grow. Whenever they

need help, our doors are always open.

H.E. Eng. Ali AlSuwaidi

Director General of Ajman Free Zone

2 July 2021

www.magzoid.com
---
www.magzoid.com July 2021 3
---
Price: AED 90 / USD 25

Price: AED 90 / USD 25

JULY 2021

Art NEWS

ART FACTS

crossword

trivia

REAder's review

subscribe now

& much more

Hyperrealism

PAINTING BY Fabiano Millani

H.E. ENG. ALI

ALSUWAIDI

DIRECTOR GENERAL OF

AJMAN FREE ZONE

RIZWAN SAJAN

CHAIRMAN,DANUBE GROUP

ELIJAH LONG

PRODUCER, WRITER & ACTOR

JULY 2021 JUNE 2021 MAY 2021

APRIL 2021

MARCH 2021

WWW.MAGZOID.COM

FEBRUARY 2021

Connecting Minds,

Creating the Future

ART DUBAI

DIFC ART NIGHT

DUBAI INTERNATIONAL

HORSE FAIR

WORLD ART DUBAI

$62 MILLION

is what the World's

Largest Canvas Painting

by Sacha Jafri got sold for

INSPIRE AND

EMPOWER

Tessa Nicole

Lesya Guseva

Murat Yildirim

Lucy Wu

Raj Shahani

Sebastian Merk

Vera Jochum

ART NEWS

14-year-old Dubai Boy

appreciated by Indian PM

Mr. Narendra Modi

Even after 18,000 years,

Ancient Shell Horn Can

Still Play a Tune

UAE

TOUR

THE ONE AND ONLY

WORLD TOUR

BICYCLE RACE IN THE

MIDDLE EAST

21-27 FEB 2021

ART FACTS

CROSSWORD

ART DUBAI

WORLD ART DUBAI

and much more...

EMIRATE'S

CIVILISATIONAL

HERITAGE

Iconic photo of His Late

Grandfather Sheikh Rashid

Recreated by Sheikh Hamdan

PAINTING

MUSEUM

Painting Museum Opens

its Doors to Visitors With

More Than 3,000 Works

INTERVIEW

KEN KUNG

Hongkong

Price: AED 90 / USD 25

ARTIST STORIES

ART FACTS

CROSSWORD

FEATURED ARTWORKS

FEATURED ARTIST

TRIVIA

and much more...

Chaos is a blink of an eye

NASSIM

Price: AED 90 / USD 25

SACHA JAFRI

HIGHLIGHTS

ART EXHIBITION

FEATURED ARTWORKS

and much more...

UAE'S MARS

MISSION

UAE's Mission to Mars

(HOPE) will enter into orbit on

9th Feb, 2020

Cover Picture Courtesy

Carla Grace Original Painting

© Carla Grace Art

APRIL 2021

MAR 2021

FEB 2021 JAN 2021

subscribe@magzoid.com

www.magzoid.com

magzoid.global

magzoid

magzoid

magzoid
---
WELCOME

NOTE

ART THAT MATTERS

"Don't think about making art, just get it done. Let everyone

else decide if it's good or bad, whether they love it or hate it.

While they are deciding, make even more art."– Andy Warhol.

Advertisers advertised in this guide are included on a sponsored basis. Details are correct at the time of going to press, but offers and prices may change.

Contact:

Get your story featured:

artist@magzoid.com

Order a printed copy:

print@magzoid.com

Advertisement queries

advertise@magzoid.com

Art gallery promotion

gallery@magzoid.com

Editorial:

editor@magzoid.com

Press Release

press@magzoid.com

For Art News

news@magzoid.com

Published By:

MCFILL MEDIA &

PUBLISHING GROUP

Approved and Licensed By:

National Media Council,UAE

Magzoid has taken constant efforts to make sure that

content is accurate as on the date of publication. The

published articles, editorials, material, adverts and all

other content is published in a good faith and opinions

and views are not necessarily those of the publishers.

We regret that we cannot guarantee and accept no

liability for any loss or damage of any kind caused by

this magazine and errors and for the accuracy of claims

in any forms by any advertisers or readers. We advise

the readers to seek the advice of specialists before

acting on information published in the magazine. The

trademarks, logos, pictures, domain names and service

marks (collectively the "Trademarks") displayed on this

magazine are registered and unregistered Trademarks

of Magzoid and its content providers. All rights

reserved and nothing can be partially or in whole be

reprinted or reproduced or stored in a retrieval system

or transmitted in any form without a written consent.

The Creative Buds

Please recycle the magazine once you've finished reading it

International Art Exhibition

Art is everywhere, influencing us daily whether or not we realize

it. The art that we are encircled by, whether a painting, music,

or perhaps a video can have an oversized impact on our mood

and emotions. Every kind of art will have a control on us,

making us feel happier, calmer, and sometimes inspire us to do something.

Everywhere we go, art surrounds us; sculptures in public places, posters

on walls offering information, music playing on the radio. Without realizing

it we tend to discover that we are immersed at intervals in the ability of art

most of the times!

We are excited to bring this edition of the magazine to you. We have artist

stories from all across the globe along with a solo exhibition by Ken Kung

in this edition. There is 'Leadership Talks' featuring H.E. Eng. Ali Abdulla

Bin Towaih Al Suwaidi, Director General of Ajman Free Zone and 'Art of

Business' featuring Mr. Rizwan Sajan, Founder and Chairman of Danube

Group along with an exclusive interview with Elijah Long, a producer, writer

and actor. There is a showcase of photographs taken by our readers in

addition to art news, art facts, crossword, competitions, trivia and games for

our readers to engage themselves and win amazing gifts.

We look forward to our readers joining us in our passion for art. Let art

feed your soul and bring joy to your world! Eid Mubarak to you and your

loved ones!

INSIDE THE MAGAZINE...

mergeteam

BOOSTING TEAM PRODUCTIVITY

Artworks from Around the World

www.magzoid.com July 2021 7

Simple yet powerful employee productivity boosting and work

tracking with screenshots, timesheets, billing, in-depth reports,
---
JULY 2021

WWW.MAGZOID.COM

ROLE OF PUBLIC ART

34 IN SOCIETY

INSPIRE & EMPOWER

featured artist Andrea Ehret, Jason Anderson,

Jenny Nguyen, Juca Máximo, McKenna Ely

10

24

40

72

78

18

Arabic

Calligraphy

RADISSON BLU

EXPERIENCE

46

From the,

Script

to the

BIG

SCREEN

Elijah Long

Jewel

of Emirates

22

8 July 2021

www.magzoid.com
---
JULY 2021

WWW.MAGZOID.COM

CONTENTS

43

28

COVER STORY

Fabiano Milani

Hyperrealism

World

Population

Day

50

64

ART OF BUSINESS

14 Mr. Rizwan Sajan

H.E. Eng. Ali AlSuwaidi

Founder and Chairman

of Danube Group

Director General of Ajman Free Zone

LEADERSHIP TALKS

27

WORLD EMOJI

DAY 2021

GONE WITH

THE WIND

KEN KUNG SOLO

EXHIBITION

62

SUBSCRIBE NOW 06

ART NEWS 32|33|38|39|44|

ART NEWS 45|54|55|56|58|59

ART FACTS 60|61|70

TRIVIA 69

LETTERS FROM OUR READERS 70

READER'S PHOTOGRAPHS 76

FEEL GOOD TEA - REVIEW 81

FEATURED ARTWORKS 82|84

GAMES 83

CROSSWORD 85

www.magzoid.com July 2021 9
---
INSPIRE & EMPOWER

featured artist

Ben Treat

"Other artist's works are the door to your

inspiration, for making your own!", says Ben Treat

- Exclusive to Magzoid

10 July 2021

www.magzoid.com
---
Ben Treat is an American

stop motion animator

following the trends of 3D

digital art, Anime style

animation, NFT market,

and Indie Animation techniques. Stop

motion animation is an animation

that captures one frame at a time,

with physical objects that are affected

between frames. It is a technique

utilized in animation to bring static

objects to life on screen. After you

play back the sequence of pictures

rapidly, it creates the illusion of

movement. Clay figures, puppets,

and mini-figures are typically utilized

in stop motion animation as they can

be handled and repositioned easily.

In today's times, to receive

recognition, the best way to

showcase one's talents is through

social media as it helps the creators

be their own boss and create without

inhibitions. Ben worked with plenty

of content creators and followed the

social media trends to gain a huge

following on his Instagram page

@franticframes which helped him

develop a career as an animator. He

takes pride in being a self-taught artist

and seeing his work evolve with time

and the appreciation he receives has

given him the confidence to do more.

During the pandemic, he became

more focused on his artistries and

initiated more ambitious projects and

worked on his skills with frame by

frame animation.

When asked what his artworks

aim to say he says that everybody

has their perception and therefore

everybody perceives different pieces

of art in their own way. An admirer of

art tries to find a piece of themselves

when they see a particular artistry.

www.magzoid.com July 2021 11
---
Whatever we do stays

exciting only if we take

a break and get back

stronger. To improve

and be the best at what

we do, we need to take

some time off work and

get back with better

and amazing ideas.

They have their own message; be it

pain or happiness.

The message he wants to convey

to his fellow artisans is, "Do what you

love but make sure to take the time

you need to step back". He conveys

such a powerful message in such

short words. Whatever we do stays

exciting only if we take a break and

get back stronger. To improve and be

the best at what we do, we need to

take some time off work and get back

with better and amazing ideas.

His greatest inspiration is the

works of Andaman Animations and

many talented independent artists.

His favorite artists are Lord Victor

Hagelin and Alexander Unger, both

stop motion animation creators. Ben

believes that other artist's works

are the door to your inspiration, for

making your own. Getting inspired by

someone else's works only helps in

the improvement and keeps one's art

interesting.

- feature@magzoid.com

12 July 2021

www.magzoid.com
---
YOUR

BUSINESS

DESERVES TO

BE KNOWN

One Stop

Marketing & PR Solution

info@qfastmarketing.com

www.qfastmarketing.com
---
LEADERSHIP TALKS

14 July 2021

www.magzoid.com
---
LEADERSHIP TALKS

H. E. Eng. Ali AlSuwaidi

Director General of Ajman Free Zone

holds a Bachelor of Science degree in Electrical and Electronics Engineering from

the Wentworth Institute of Technology (WIT) in Boston. Throughout his career

that spans more than 25 years, he has worked with government departments,

economic authorities, and local and international entities, and has held leadership

positions across various vital sectors. Having effectively contributed to the overall

performance and improvement of work environments within various entities and

organizations, here is what he has to say about his work so far and the upcoming

initiatives by the Ajman Free Zone (AFZ).

- Exclusive to Magzoid

You have prominently

established yourself as

a successful executive.

We would like to know

about your very first

step in the corporate world.

I can say that it's something that runs

within the family. When you have been

raised and taught to value and make

a difference in life and the country, it

automatically gets ingrained in you.

Seeing how hard our leaders have

been working for our country has also

inspired me to make a difference. If

you have the passion and drive to do

or achieve something, that is all that is

required to lead you to success.

Would you like to talk a bit about

your educational background

and how does that influence your

growth and actions now?

My education has helped me for

sure. Studying abroad has given me

broader perspectives on how life is

and allowed me to experience the

different cultures around the world.

Working with multicultural people in

the same company gives you more

exposure, makes you open-minded

and changes the way you act and

behave. That belief has helped me.

My father has taught me that all

you need is to rely on yourself. He

always said to me, "Wherever you

work, always leave your footprint!"

So, it has always stuck with me that

whenever I do something, I'll make

it noticeable, I'll make it perfect; and

that's exactly what I advise my team.

People refrain from taking risks,

but that is something that defines

me. I'm always open to challenges

and ready to convert them into

opportunities.

What kind of companies do you

plan of hosting in AFZ and how do

you feel that being in AFZ would be

a great choice for them?

I've worked in Dubai and Abu Dhabi

but I must say, Ajman is a place with a

very good business environment with

its own unique propositions. As I try

to add value, we have come up with

different strategies for every sector

and type of company available here.

The new strategies are focused on

how to enhance our roles and be a

true business partner. This is why I

don't call the people I work with as

clients; I call them business partners.

Their business is our business. Our

salespeople are solution providers.

They see how we can help solve

problems regarding the budget of our

partners. This is a true partnership!

Through understanding each other,

we work together and grow and

develop the clusters. The clusters

comprise three pillars: industry,

infrastructure and regulation.

www.magzoid.com July 2021 15
---
LEADERSHIP TALKS

The competition is growing, but

there are opportunities all around

us. We are always trying to help and

support each industry. Whenever

we have an opportunity, we always

share it with the people and whenever

they need help, our door is always

open. I'm very happy about the team

and our development. The more

we encourage them, the more they

grow. This is our contribution to the

economies of Ajman and the UAE.

I strongly believe that Ajman is now

growing, and, while we are facing

expansion challenges, we will strive

to come up with the best solutions.

AFZ has seen amazing growth in

the number of new companies,

which is a great thing to exemplify

that UAE is back. But we would like

to know about the lockdown times

at AFZ. What measures did you

take and how did you overcome it?

For me, I would say it was both a

FIRSTLY, WE WANTED

TO INTRODUCE AJMAN

FREE ZONE AND THE

OPPORTUNITIES.

SECONDLY, WE WANTED

TO TAKE ADVICE FROM

THEIR EXPERIENCES

AND WHAT THEY WOULD

LOVE TO SEE FOR AJMAN

FREE ZONE. THERE IS A

DRIVE AND OBJECTIVE

TOWARDS SUSTAINABLE

DEVELOPMENT SO

WE HAVE DEVELOPED

CERTAIN STRATEGIES FOR

THAT AS AN INITIATIVE.

challenge and an opportunity. AFZ

was equipped with the technology

to handle the situation, but it wasn't

feasible for all. We tried to see how

we could use these measures for

business continuity. We had so many

challenges with payment and health

measures. But our leadership in Ajman

has continuously been supportive

of the business sector. Many online

companies have been able to expand

despite trying market conditions.

Across the free zone, amid difficult

circumstances, 1,717 new companies

from more than 150 countries had setup

their operations in our community

in 2020 – which represented a 23

per cent increase from the previous

period. Furthermore, 40 new retail

stores opened in the Chinese Market

in Ajman, registering a four per cent

growth. Out of all the companies

across sectors, the segment of

education providers, including training,

educational consulting and liberal

professions, was the most active

last year with a 26 per cent growth

rate compared to 2019. Investments

and other activities in the technology

sector rose 20 per cent.

We also registered an uptick

during the first quarter of 2021. We

experienced a 33 per cent surge

in the number of newly registered

companies engaged in vital sectors

during the first three months of

this year compared to Q1 2020.

The percentage is equivalent to

492 new business organizations.

By sector, education, including

training academies, counselling and

freelancing, witnessed a 39 per cent

increase; technology, 23 per cent; and

health, 34 per cent.

However difficult the situations

may be, we don't need to panic; we

need to remain calm and see how we

can contribute to the business. The

pandemic has fast-tracked technology

development and evolution. We must

train ourselves to be our best and

make use of these technologies. If we

don't think ahead, someone else will.

What are the new initiatives and

opportunities coming from AFZ

to boost the incoming wave of

entrepreneurship?

In every business, we look at its

challenges and see how we can

launch the initiative to explore relevant

opportunities. In some of the initiatives

that we launched, we've noticed the

local community's involvement. Firstly,

we wanted to introduce Ajman Free

Zone and its offered opportunities.

Secondly, we wanted to take advice

from their experiences and what

they would love to see in AFZ. There

is a drive and objective towards

sustainable development so we have

developed certain strategies related to

that as part of our initiatives. We want

to set the trend for people as well as

take available opportunities and bring

them here for our partners.

What challenges do you feel is the

current SME segment facing and

how is AFZ committed towards

facilitating them?

At AFZ, 56 per cent of AFZ's total

purchases during the first quarter of

this year went to the needs of the SME

sector (31%) and other enterprises

licensed in the zone (25%). The figures

indicate our commitment to help in

their expansion coupled with our

mission to attract more investments to

Ajman and advance the diversification

of the national economy.

Please take note, however, that

we treat all businesses in AFZ as

our partners, and we love to take

active participation in the same. Out

of the other challenges that we have

come across from different genres of

businesses, the one that we found

16 July 2021

www.magzoid.com
---
LEADERSHIP TALKS

quite alarming was the financial

issues facing businesses.Hence,

we have collaborated with leading

banks such as Mashreq and RAK

Banks to provide them with exclusive

and preferential services. We're

always inclined towards technology,

and introducing the best ones to our

partners has been one of our constant

efforts.

AFZ has taken some prompt

measures to move towards

sustainable energy sources. Would

you like to share some details and

statistics about the same?

When we talk about sustainable

energy sources, since we are on

the consumption side, we have

taken measures to reduce water

consumption using new technology.

Currently, we are the ones in control of

how much resources are being used. It

is also more important to introduce the

new suppliers to the market so that we

can make more sustainable policies

and deploy relevant technologies. The

sustainable development reports will

be coming soon, in which we have

explained the initiatives. The major

challenge is committing even though

we have so many countries interested

in this project.

How does AFZ facilitate and plan of

promoting the creative industries

of arts, culture, music, filming and

other?

Arts and culture are very important

aspects of our lives. I believe that

everything we do has an artistic touch

to it. We have been targeting certain

entrepreneurs who are into arts. I have

visited an artist who makes sculptures

and faces. We attract these people

and cater to their different needs.

Currently, there are a variety of cultural

art festivals, as such, we've introduced

these opportunities to the department.

Would you like to comment on the

technological infrastructure and

AFZ's involvement in promoting

innovation in technology?

AFZ has been investing heavily

in technology and strongly believed

in the potential of tech and the kind

of opportunities that it can bring us.

As I mentioned earlier, one of the

main pillars of cluster development

is infrastructure, and technological

infrastructure is extremely important.

We are focusing on technology as

one of our target sectors. Many

services can be developed through

it like how robots are being used in

restaurants. Today, that attracts a lot

of attention. At AFZ, we have rolled

out the Robotic Process Automation

(RPA) System to automate 44 of our

services and reduce the waiting time.

The RPA System is designed to help

attract global investors to Ajman and

advance the emirate's economic

growth and development.

You need to keep track and closely

monitor the improvements that can

be made using modern technological

tools. These tools can be used as

a platform to efficiently make the

company grow. Technology makes

things more efficient and easier.

Services can even be accessed

through mobile apps. So, this is

something we're investigating and

planning to leverage.

A major strength of UAE is its

vivid and diversified form of

partnerships that it holds both

locally and internationally. Would

you like to comment on a few

of your remarkable business

partnerships?

I can't pick one, I have to praise

them all! The reason being that there

is an objective behind helping every

one of them. There are two bodies: the

government and the private sector.

TECHNOLOGY IS ONE

OF THE MAIN SECTORS

WE ARE FOCUSING ON.

MANY SERVICES CAN BE

DEVELOPED THROUGH

IT LIKE IN RESTAURANTS

HOW ROBOTS ARE

BEING USED.

Each has its own requirements. This

is where we come in. We try to cater

to their needs and see what can be

done. Our partnerships with them are

very important to us, so we enhance

the different aspects of our ties with

them. We know from the expected

footfall that it is a huge opportunity

to show our work and achievements

and we need to contribute to what the

government is doing.

Some of our strategic public and

private partners, apart from the

previously mentioned RAK and

Mashreq Banks, include Ajman Bank,

Saudi German Hospital, Emirates Post

Group, I-insured company, Abu Dhabi

National Insurance Company, the

Ministry of Economy, the Economic

Development Department- Ajman,

Ajman Police, Ajman Chamber, and

Digital Government- Ajman, among

others.

Do you have any message to our

readers?

My message is that Ajman is a very

good place. The UAE is a very nice

place as well and I think we need to

contribute to the environment. It's more

than our duty. It's our responsibility to

this country to feel and live together

and figure out how to be supportive of

each other.

- feature@magzoid.com

www.magzoid.com July 2021 17
---
ART OF CALLIGRAPHY

18 July 2021

www.magzoid.com
---
ART OF CALLIGRAPHY

Arabic

Calligraphy

Calligraphy is a visual art related to writing. It is the design and execution

of lettering with a pen, ink brush, or other writing instrument. Modern

calligraphy ranges from functional inscriptions and designs to fine-art piece.

Being one of the world's most ancient and respected art forms, calligraphy has

diminished in many parts of the world. But in Arabic culture, the more than

2,000-year-old tradition remains as vibrant and revered as ever.

www.magzoid.com July 2021 19
---
ART OF CALLIGRAPHY

A

rabic

calligraphy is

the artistic

practice

of writing and

calligraphy based on

the Arabic alphabet

It is known in Arabic as 'khatt' derived

from the word 'line', 'design', or

'construction'. Arabic calligraphy has

been known and appreciated for

its diversity and great potential for

development. In fact, it has been linked

in the Arabic civilization to various fields

such as religion, art, architecture,

education and craftsmanship, which in

return have played an important role in

its advancement.

Arabic calligraphy's early

development was not a linear process.

A wide variety of scripts rose and fell

in popularity in regions as far-flung as

Damascus, Baghdad, Morocco, and

Spain. Kufic, named from the city of

Kufah in Iraq, was the first universal

script, and it dominated Arabic

calligraphy from the 7th to the 11th

century.

Another Arabic calligraphy script,

widely known was Naskh script, was

developed in the 10th century. Used to

copy books, especially the Holy Quran,

Naskh, which means "copy," was later

refined by Islamic calligraphy master

Seyh Hamdullah. The Naskh Script

was traditionally used for long texts

and inscriptions and its use continues

till today in the design of printed arabic

books, due to its modern look and

cursive letters.

20 July 2021

www.magzoid.com
---
ART OF CALLIGRAPHY

Arabic calligraphy

is still today one

of the most widely

acknowledged arts

and continues to

develop both in

traditional methods

as well as in digital

and computergenerated

arts.

The traditional instrument

of the Islamic calligrapher is

the kalam, a pen normally made

of dried reed or bamboo. The ink is

often in colour and chosen so that

its intensity can vary greatly, creating

dynamism and movement in the letter

forms. Some styles are often written

using a metallic-tip pen.

While Arabic calligraphy is heavily

grounded in tradition, it serves as

inspiration for modern art. In fact,

many contemporary artists have

developed their own style and

techniques for Arabic calligraphy.

Modern artists may put their own

spin on traditional letterforms and

mediums, incorporating calligraphy

into jewelry and digital designs, or

using paint on canvas, rather than ink

on paper.

Arabic calligraphy is still today one

of the most widely acknowledged

arts and continues to develop both in

traditional methods as well as in digital

and computer-generated arts. Arabic

calligraphers from around the world

continue to develop their own styles

and artwork based on existing scripts

and their own letters and scripts.

- feature@magzoid.com

www.magzoid.com July 2021 21
---
EXPERIENCE

The 5-star Radisson Blu

Hotel, Dubai Waterfront is

located in front of Dubai

Water Canal, providing

a stunning view and

glorified with amazing ambience. The

hotel features 432 rooms for business

or leisure travelers, complete with

free Wi-Fi and in-room coffee and tea

facilities. The meeting or conference

facilities cover 1,150 square

meters and include a spacious

outdoor terrace overlooking the

Burj Khalifa.

For Whom?

The hotel is very welcoming to

families as well as couples and

individuals.

Beautiful

Memories

and an

unforgettable

experience

at Radisson Blu Hotel, Dubai Waterfront

Ambience and Room

My reservation was in a business

class suite. As I walked through the

entrance, I was taken into another

dimension full of sensory experience

of comfort and relaxation offering an

exquisite experience. After a warm

welcome by the team at the reception,

I was guided for my overnight stay

at the hotel, with all the necessary

information about the timings of the

pool, services and restaurants.

I checked in to my room late in the

afternoon. It was absolutely clean and

comfy with a king-sized bed. Adding

to it was the heart-wrenching view

of the waterfront. The living room

had a grand view of the Burj Khalifa

and hence I decided to spend some

time inside and ordered our food. I

received a sweet surprise which was

a fresh fruit salad. The food arrived

on time and was a generous portion

and we enjoyed every bit of it. After

the delicious meal I decided to go for

a walk near the pool where everyone

seemed to be enjoying their day and

the staff was extremely kind and

helpful.

22 July 2021

www.magzoid.com
---
For dinner we moved to FireLake

grill restaurant. The view from

the restaurant was absolutely

breathtaking at night.

The staff were extremely

patient with us and helped us

order food and served

us shortly.

Restaurants and

Eateries:

The Hotel

offers a total of

four restaurants

and cafés to

indulge in original

experiences any time

of day. Making your

mornings memorable with

the vibrant breakfast spread

served at The Larder, look forward

to evenings of open-flame cooking

inspired by hearty Midwestern flavors

at FireLake Grill House & Cocktail Bar.

Stop by the lobby-side hangout, Abraj,

for a caffeine kick and wholesome

snacks. I was extremely impressed

by the succulent options they had for

everyone.

For dinner we moved to FireLake

grill restaurant. The view from the

restaurant was breathtaking at night.

The staff was extremely patient with

us and helped us order food and

served us shortly.

For the afterdinner

elegance,

the Scottish-style

lounge Makar is a

must for whisky and

cigar aficionados.

Post dinner we

headed back to our

room. The morning

breakfast buffet is amazing

with a lot of options and even vegan

options. After taking some strolls

across the place, it was time to say

goodbye and we checked out of

the room with a lot of unforgettable

experience, beautiful memories and

a satisfied gut.

Radisson Blu Dubai Waterfront

undoubtedly offers a budget friendly,

very pleasing, kind and friendly stay.

A good option for your weekend's

rejuvenation, business meets and

family get-outs.

- feature@magzoid.com

www.magzoid.com July 2021 23
---
INSPIRE & EMPOWER

featured artist

Sophie Green

"Keep painting, drawing, and sculpting. Even if nobody is buying your art,

remain true to your mission and remind yourself why you are doing it every

day", says Sophie Green

- Exclusive to Magzoid

24 July 2021

www.magzoid.com
---
Sophie Green is a British

artist residing currently

in England following the

trends of conservation

and wildlife art. Nature

is something close to her heart as

she believes that nature's brilliant

glories enchant individuals and wake

up a special bond that has been

established way back by the creator.

Nature stirs one's mind with its

mystery and makes us reflect on the

ability that created it all.

She is an artist specialized in

Photorealism, also referred to as

superrealism. It is a genre established

by American author and art dealer

Louis K. Meisel in 1969. Artists usually

project pictures onto canvas to permit

the photographs to be captured with

preciseness and accuracy.

Being a self-taught artist, she

spent many years developing her

skills, before embarking on a fulltime

career as a fine artist. Sophie's

art aims to raise awareness and

money for important conservational

causes and endangered species, a

very innovative and thoughtful way

to save lives of endangered species

and spread awareness.

When asked what is the one thing

that makes her feel proud, she adds

that she donates 10% of all her profits

and the profits of her company, Art

Basket, to conservation and wildlife

charities. She is a proud member of

the Artists for Conservation group

and regularly donates artwork and

money to help conservational efforts.

Sophie takes her inspiration from

mother earth which is so beautiful

and yet so vulnerable and is often

taken for granted every day. She

draws inspiration from the natural

world, and aims to make a difference

before it is too late.

She idolizes Joel Sartore and

Cristina Mittermeier since they are

advocates for the world conservation.

She feels that it is interesting to study

the styles and techniques of other

artists. However, it would still be

authentic for people to discover and

develop their own style and passion

while they are still in a safe and nonjudgmental

environment.

Sophie was able to thrive during

the recent pandemic, as during this

time she was able to hone her skills

and create a name for herself as she

started to paint more. She displays

her works on her Instagram page

www.magzoid.com July 2021 25
---
When asked what is the

one thing that makes

her feel proud, she

adds that she donates

10% of all her profits

and the profits of her

company, Art Basket,

to conservation and

wildlife charities.

@sophiegreenfineart.

She was also shortlisted for several

awards and won the People's Choice

award in 2020, which she takes great

pride in. Her message to the fellow

artisans is, "Keep painting, drawing,

and sculpting. Even if nobody is

buying your art, remain true to your

mission and your passion and remind

yourself why you are doing it every

day. Once you are in alignment in this

way, everything else will flow."

- feature@magzoid.com

26 July 2021

www.magzoid.com
---
WORLD EMOJI DAY

The first emoji ever

was created by

Shigetaka Kurita in

1999 when he worked

as an engineer at the

Japanese Mobile

Operator, NTT

Docomo.

World Emoji Day is

an annual unofficial

holiday occurring

on 17 July, intended

to celebrate emojis.

It is a global celebration of the digital

icon that has helped people around

the world express their emotions better.

When you are at a loss of words or

Emoji

WORLD

DAY

World Emoji Day is an

annual unofficial holiday

occurring on 17 July, intended

to celebrate emojis.

simply too lazy to type, you can convey

a wide range of emotions through just

a tap of your finger.

World Emoji Day, created by Jeremy

Burge celebrated on July 17 is also the

date on the calendar emoji on iPhone.

He is also known as the founder of

Emojipedia. Emojipedia is an emoji

reference website which documents

the meaning and common usage

of emoji characters in the Unicode

Standard. This event also marks the

day that Apple announces all upcoming

expansions to its emoji packs.

The main purpose of the day is to

promote the use of emojis and spread

the emoji for the enjoyment that they

bring to all of those around us. Emojis,

though being a small digital icon,

has become an integral part of our

conversation. For every feeling, there

is an emoji now. When we feel lazy

or when we are at a loss of

words, we simply use emojis

to express what we want.

The first emoji ever was

created by Shigetaka Kurita

in 1999 when he worked

as an engineer at the

Japanese Mobile

Operator, NTT

Docomo. It was

in the year 2010

that these emojis

gained

popularity

and came

to be

widely

used by

people

over the

world. The

origins of the word

emoji, also come from

Japanese – e (picture) and

moji (character).

The current creators of

emojis have released more

options that include gender-neutral

alternatives, skin tones all over the

spectrum and even representation of

accessibility like mechanical limbs,

hearing aids, etc. to make this form of

communication completely accessible.

The usage of emojis has become such

a common practice in popular culture

that it is hard to imagine not using them

now in our day-to-day lives.

www.magzoid.com July 2021 27
---
COVER ARTIST

28 July 2021

www.magzoid.com
---
COVER ARTIST

Hyperrealism

"Work everyday and produce a lot.

Good art promotes itself",

says Fabiano Millani

Exclusive to Magzoid

Fabiano Millani is a painter

born in São Paulo, Brazil.

He began his career at the

age of 17 when he took

up an artistic course with

Edegar Cavalheiro. This experience

made him realize his interest in

realism and propelled him to start

his artistic journey.

He then started his career as a

visual artist and administered a

drawing course in the municipality

of Santo Ângelo. "My interest in art

arose through observation. I always

enjoyed scribbling while waiting for

something or even during classes.

It was something intuitive which

emerged little by little and ended up

becoming indispensable in my daily

life", says Millani.

In 2004, he broadened his

horizons and expanded his drawing

course to other cities in the region.

Simultaneously, he taught at

the 7th Academic Week of Arts,

Communication and Music at the

University of Passo Fundo. Millani

believes he is still at the beginning

of his work as the desire to learn

is still the same. In search of new

challenges, in 2005, he started his

first work on figurative style, painting

several canvases inspired by the

day to day life and experiences.

When asked about his style of

art, Millani says he doesn't have

any fixed style. "I think I'm still

experimenting. Since I receive

several commissioned works, I end

up with a mix between abstract,

realism and hyperrealism." He

believes that everything that is within

our eyes' reach can be transformed

to art. Developing pieces brings

out a satisfaction that allows one

to always be open and explore new

styles.

The style of art he mainly focuses

on currently is Hyperrealism.

Hyperrealism is an art style that

uses photographic techniques

to simulate a real photograph.

Photographic slide projections or

multi-media projectors are used to

project images onto canvases and

rudimentary techniques such as

gridding may also be used to ensure

accuracy. The perception of the

human eye makes it impossible to

distinguish them from a real photo.

The majority of Millani's hyperrealist

art are made from oil paints on

www.magzoid.com

July 2021 29
---
COVER ARTIST

30 July 2021

www.magzoid.com
---
COVER ARTIST

For his artistic visual works, Millani has won

the top spots in several painting contests,

such as the one in Depósito de Subsistência

de Santo Ângelo, Batalhão de Comunicações

de Santo Ângelo, SESI's Descobrindo Talentos

and Dessiner WordPress National Contest on

Realistic Drawings.

canvases.

In 2009, he built his own studio

where he works exclusively as a

visual artist and teaches painting

for around 60 students in person per

month. For his artistic visual works,

Millani has won the top spots in

several painting contests, such as

the one in Depósito de Subsistência

de Santo Ângelo, Batalhão de

Comunicações de Santo Ângelo,

SESI's Descobrindo Talentos and

Dessiner WordPress National

Contest on Realistic Drawings.

Two of his paintings were even

published in the book 'Bienal Cristal

de Talentos' and one of his works

was published in ACRILEX Annual

Calendar.

From 2016 onwards Millani has

been conducting workshops, taking

the technique he developed to

several countries around the world,

such as Italy, Mexico, Argentina,

Qatar, Uruguay, Turkey, Brazil,

among others. Most of his works

are acquired by foreign clients from

various countries around the world.

Millani's works are popular online

and, as of now, his viewership on

his Instagram handle @fabiano_

millani is a whopping 431,000 and

counting!

The secret of Millani's success

is his hard work and dedication to

his craft. His message to readers

is "Work everyday and produce a

lot. Good art promotes itself." Doing

what we love gives us a sense of

accomplishment as people and as

professionals.

For those who are starting in the

art industry, he has one tip. Place

your artwork in front of the mirror

and look at it in the perspective

of the viewer. This will make you

realize the mistakes that you may

have not had noticed because you

were too attached to what you are

developing. This will contribute to

your perception and will help to

improve on your works..

- feature@magzoid.com

www.magzoid.com July 2021 31
---
Read more at

www.magzoid.com

French Artist JR's new art installation leaves Effiel

Tower perched over ravine

An art installation has

created the optical

illusion that the French

capital's Eiffel Tower is

perched precariously

over a rocky ravine. The artwork, by

the artist who uses the pseudonym

JR, is located at Place du Trocadéro

near the Palais de Chaillot.

The new work tricks the eye to

believe that Effiel Tower is perched

on a pair of cliffs. When a visitor

stands in the right spot, the artwork

in the foreground and the tower in

the background line up with each

Large queues of

people keen to take

pictures jumping

over the wouldbe

chasm have

formed near the

black-and-white

photomontage.

other, and the illusion is created.

Large queues of people keen to take

pictures jumping over the would-be

chasm have formed near the blackand-white

photomontage.

The Paris piece launches on the

eve of the mid-career survey, JR

Chronicles, billed as the largest solo

museum exhibition to date of the

artist's works, which is due to launch

at the Saatchi Gallery in London

from June 4 to October 3.

The survey is an expanded

version of an exhibition shown at

the Brooklyn Museum in New York

in 2019. The show is due to include

Tehachapi (2019) which charts a

collaborative project co-created with

the inmates of a maximum-security

prison in California (JR pasted

338 strips of paper on the prison

yard floor, creating a vast mural of

prisoners and staff that is visible

from above).

In March, JR unveiled a work on

the façade of the Palazzo Strozzi in

Florence which created an illusion of

a 28m tall crack in the building which

shows the gallery in half. The art

installation was titled La Ferita.

Other notable works by the artist

include The Secret of the Great

Pyramid (2019), a large-scale illusory

collaborative piece created to mark

the 30th anniversary of the Louvre

Pyramid. JR also helped coordinate

the "Art and Image" project at the

École Kourtrajmé, a cinema school

founded by his longtime collaborator

and film director Ladj Ly.

-news@magzoid.com

32 July 2021

www.magzoid.com
---
Read more at

www.magzoid.com

200-metre-long artwork displayed on a

hoarding in Jumeirah

Brand Dubai is the creative

arm of the Government

of Dubai Media Office

(GDMO) and they

collaborated with Dubai

Holding to bring us a 200-metre-long

fantastic work of art. The artwork is

launched under the Jumeirah Project.

The Jumeirah Project is an initiative

introduced in 2018 to raise the

area's profile as a social and cultural

destination. With this artworks,

Brand Dubai intends to infuse a new

creative energy into the prominent

neighbourhood.

The artwork, created by 3D

international artist Juandres Vera,

measures 236×12 metre and displays

an image of a painting brush creating

long strokes of sea waves ridden by

surfers on a hoarding. The immersive

artwork, inspired by surfers on

Jumeira beach, allows viewers to be

part of a 3D illusion of them creating

the waves with a brush.

"Our partnership with Brand

Dubai will enable us to further drive

public engagement with art and

creativity across the city to help

enhance peoples' happiness and

quality of life. We truly believe in the

positive, powerful impact of creative

expression on society. In line with

our mission to operate 'For the

Good of Tomorrow', we are proud to

continue playing a role in promoting

appreciation for art and artists and

enhancing the experience for the

community in all our destinations,"

Khalid Al Malik, Managing Director of

Dubai Holding, said.

The project is among several of

Dubai Holding's ongoing initiatives

aimed at empowering the emirate's

creative community as part of its

mandate to operate 'For the Good of

Tomorrow'. Since the inauguration of

its Dubai Walls initiative in 2016, Dubai

Holding has rolled out various public

art projects across its destinations,

attractions and communities, allowing

the public to explore the works of

unique world-class artists.

Nehal Badri, Director of Brand

Dubai, said: "Brand Dubai is pleased

to partner with Dubai Holding to offer

We are proud to

continue playing a

role in promoting

appreciation for

art and artists and

enhancing the

experience for the

community in all our

destinations.

an exciting new public art experience

in the city that will help enhance

Dubai's urban environment and

highlight the city's thriving creative

culture. This project is in line with

the vision of His Highness Sheikh

Mohammed bin Rashid Al Maktoum,

Vice-President and Prime Minister

of the UAE and Ruler of Dubai, to

transform Dubai into an open-air

museum."

-news@magzoid.com

www.magzoid.com July 2021 33
---
ART

ROLE OF

PUBLIC ART

IN SOCIETY

Art has the ability to express

the emotions and struggles of

the society and helps to cope

and overcome. It can inspire

and supply a less complicated

viewpoint providing people

with a clearer point of view on

concerning issues happening.

34 July 2021

www.magzoid.com
---
ART

www.magzoid.com July 2021 35
---
ART

Art has the ability to

express the emotions

and struggles of the

society and helps to

cope and overcome.

It can inspire and supply a less

complicated viewpoint providing

people with a clearer point of view on

concerning issues happening. Art can

be an avenue designed to generate

impact, to alter somebody's mindset,

make a change for the better and to

create a difference.

Public art adds huge worth to the

cultural, aesthetic, and economic

vitality of a community. It is a wellaccepted

principle that public art

contributes to a community's identity,

fosters community pride and a way

of belonging, and enhances the

standard of life for its residents and

visitors.

Art often explores broad ideas or

themes, some more obvious than

others, and often reflects on the

time period in which it was created,

whether as a statement of support or

a reaction against something. This is

best portrayed in public art, especially

since everyone has access to it. Being

directly in the public sphere and not

confined to galleries or museum, art

enriches one's physical atmosphere,

plazas, city buildings and colleges

to life. Creating collateral learning

environments opens eyes and minds,

raising public awareness regarding

vital community issues.

Cities with a vigorous and dynamic

cultural scene are a lot more engaging

to people and businesses. So, in a way,

cities gain real value through public

art. When done well, a public artwork

engages people in conversation that

can help in understanding historical

and cultural backgrounds. In a world

struggling with new ways to connect,

public art can make public spaces

more approachable and help with

public interaction.

ART CAN INSPIRE, RAISE

QUESTIONS, PROVOKE AND

EMPOWER – JUST WHAT IS

NEEDED TO ENACT SOCIAL

CHANGE. PAINTINGS,

SCULPTURES, TEXTILES

ALL HAVE SYMBOLIC

MEANINGS EMBEDDED

WITHIN THEM AND OFTEN

PLAY A ROLE IN BELIEFS

AND RITUALS.

Artists have made drawings,

paintings, sculptures and many other

objects to challenge assumptions,

to support causes, and to explore

deep personal questions. Throughout

history, art has been used for many

purposes, including permiting

individuals from different cultures

and backgrounds to communicate

with each other. Art can inspire, raise

questions, provoke and empower –

36 July 2021

www.magzoid.com
---
ART

just what is needed to enact social

change. Paintings, sculptures,

textiles all have symbolic meanings

embedded within them and often play

a role in beliefs and rituals.

Public art directly influences how

people see and connect with a

place, providing access to aesthetics

that support its identity and making

residents feel appreciated and

valued. Providing skilled opportunities

for artists, public art cultivates an

environment with which the artistic

class thrives. It also creates an

ecosystem that supports the artists

and other creatives by validating

them as important contributors to

the community. Public art not only

enhances the value of the community,

but also sends a message to its

people and to the visitors about what

the community stands for and what

they believe in.

- editor@magzoid.com

www.magzoid.com July 2021 37
---
Read more at

www.magzoid.com

In honor of the UAE's 50th anniversary, New York State

has declared December 2, 2021 as Emirati Day

New York State has named

December 2, 2021 as

Emirati Day in recognition

of the country's upcoming

50th Anniversary. Dubaiborn

New York state Senator Kevin

Thomas made the announcement of

the resolution in a televised speech

in the state senate.

The legislator said that from

business and trade to fashion to

education, New York has strong ties

with the Emirates. New York is among

the most popular destinations for

Emirati students attending university,

and one of the top five US states in

terms of exports to the UAE.

Born in Dubai, Kevin Thomas

moved to New York in 1995 when

"I'm honoured to

stand and introduce

this legislative

resolution to

commemorate the

50th Independence

Day of the UAE by

declaring December

2, 2021, as Emirati

Day in New York

State,"

he was 10. "I'm honoured to stand

and introduce this legislative

resolution to commemorate the

50th Independence Day of the UAE

by declaring December 2, 2021,

as Emirati Day in New York State,"

Thomas said while addressing the

Senate.

"Their National Day, which is

celebrated on December 2 each

year, commemorates the founding

of the UAE. But this year, it's a very

different type of celebration because

the country will be celebrating its

50th. President Sheikh Khalifa bin

Zayed Al Nahyan proclaimed 2021

as the 50th year, which represents

a defining moment in the country's

history." Thomas added.

Abdalla Shaheen, consul general

of the UAE in New York thanked

the senator for the honour. "This

December, the UAE will not only

celebrate its 50th anniversary –

we will also celebrate 50 years of

friendship with the State of New

York," he wrote on Instagram.

"Strong business and trade ties,

coupled with a range of partnerships

through the arts, sports, and

education, are the foundation of this

close relationship. I thank Senator

Thomas for introducing a resolution

commemorating the UAE's 50th

anniversary in New York State, which

reflects our shared understanding

that the friendship between the

UAE and New York is set to grow

from strength to strength in the

years ahead."

-news@magzoid.com

38 July 2021

www.magzoid.com
---
Read more at

www.magzoid.com

$200M renovation unveiled by Philadelphia

Museum of Art

The four-year renovation

and expansion of the

Philadelphia Museum of

Art has completed and

the museum unveiled its

results to the public. The expansion

plan was executed under the

architect Frank Gehry.

The museum was first designed by

Horace Trumbauer and Julian Abele

in 1928 and has massive columns

which resembles Greek Temples.

Gehry focused on buildings center,

leaving the façade of the landmark

Beaux Arts structure largely

untouched. The total budget of the

renovation was $233 Million which

was approved by the museum's

board in 2004.

The renovation created a ninety

thousand square feet of gallery

space in the museum. An auditorium

which was introduced in the building

in 1959 was demolished replacing it

with Williams Forum which will serve

as an open public space boasting

forty-foot-high ceilings. Connecting

the museum's ground floor to its

upper levels via two new sets of

staircases, the multistory forum will

host a wide range of activities. The

new space also provides an ideal

setting for large-scale artworks, with

installations by Teresita Fernández,

The museum was first designed by

Horace Trumbauer and Julian Abele in

1928 and has massive columns which

resembles Greek Temples.

El Anatsui, and Do Ho Suh planned.

Additional changes include the

rebuilding of the museum's West

Terrace, which features integrated

ramps improving accessibility;

the restoration of a tiled walkway

spanning the breadth of the

museum; and the renovation of

Lenfest Hall, which connects with the

new forum, allowing for better visitor

circulation throughout the building.

Areas formerly housing offices, a

restaurant, and a shop have been

converted into the Robert L. McNeil

Jr. Galleries, which will focus on early

American art of Philadelphia, and

the Daniel W. Dietrich II Galleries,

which will host contemporary work

by the city's artists.

The next phase of the museum's

restoration is slated to take place

following a future round of fundraising,

and will include an eighty-thousandsquare-foot

expansion beneath the

museum's East Terrace.

-news@magzoid.com

www.magzoid.com July 2021 39
---
40 July 2021

www.magzoid.com
---
INSPIRE & EMPOWER

featured artist

Fateme Shahidi

"Reinforce your self-confidence and believe that your art looks like your

finger print. Don't compare yourself with others!", says Fateme Shahidi.

- Exclusive to Magzoid

Fateme Shahidi is an artist

from Iran specializing in

color pencil drawing and

sketching. An analogy says

that the art of sketching

is to the picturesque traveler, what

the art of writing is to the scholar.

Sketches are either taken from the

imagination, or from nature. When the

imaginary sketch proceeds from the

hands of a master, it is very valuable.

The imagination of an artist or a

painter, is filled with all the elegant

forms and striking effects. These, like

a magician, are at pleasure with a

wave of a hand; bringing before the

eye, something magical.

Shahidi follows the trends of

hyperrealism in her artworks.

Hyperrealism is an art that includes

the real world's extremely realistic

surroundings in an unusual, different,

and appealing manner that creates a

false reality for the audience.

Her art mainly focuses on the

sense of minute details. She is this

meticulous because she was able

to grow her career on her own. She

developed her career by reading

articles and watching tutorials, which

are the best way to help people

learn on their own. After quite some

time, while focusing on building her

artistic career, she also started to

share her talents and creativity with

www.magzoid.com July 2021 41
---
She believes that

the pandemic was a

golden time for her,

because it was during

the pandemic that

she started focusing

on art professionally

and concentrated

on improving her

technique and

styles.

other people by teaching them her

techniques. This helps her keep up

with the trends in the arts industry.

She takes great pride when most

people tell her that the expressions

and feeling through the portraits

she creates, especially the eyes

of the portrait, look extremely real

and lifelike. She believes that the

pandemic was a golden time for her,

because it was during the pandemic

that she started focusing on art

professionally and concentrated on

improving her technique and styles.

She promotes her works on her

Instagram page @_moonartgallery_.

Her message to the fellow artists is,

"Reinforce your self-confidence and

believe that your art looks like your

finger print. Don't compare yourself

with others! Try to be impressive and

express your attitude through your

artworks."

Sheila Giovanni is Fateme's color

pencil idol in hyperrealism, but the

greatest inspiration she believes,

is the future version of herself. The

futures is what everyone should

believe in and look forward to because

it will be able to help us be better than

who we were yesterday and try to find

new ways to love ourselves more.

Shahidi is an aspiring artist who was

able to believe in herself by investing

time and effort in specializing her craft.

She believes that art is important

especially during these days because

art helps people to improve their

creativity. The time spent making

art gives you inner peace and

calms you.

- feature@magzoid.com

42 July 2021

www.magzoid.com
---
SPECIAL DAY

World

Population Day

World Population Day is observed on July 11 every year.

The day which is being

celebrated for over three

decades, is meant to

raise awareness about

solutions related to the

issues of a growing population. It

is aimed to shift the focus towards

the urgency and the significance of

issues related to population.

The World Population Day was

established by the Governing Council

of the United Nations Development

Programme in 1989. By resolution

45/216 of December

1990, the UN

General Assembly decided to

continue observing World Population

Day to enhance awareness of

population issues, including their

relations to the environment and

development.

It was first marked on 11 July 1990 in

more than 90 countries. Since then, a

number of United Nations Population

Fund (UNFPA) country offices and

other organizations and institutions

commemorate World Population Day,

in partnership with governments and

civil society.

The day is

significant because it highlights the

problems of overpopulation, raises

awareness about the effects of

overpopulation on the environment

and development. It also talks about

the health problems faced by child

bearing women and the importance

of family planning, gender equality,

poverty, maternal health and human

rights.

The day was inspired by the public

interest in Five Billion Day on July 11,

1987, the approximate date on which

the world's population reached five

billion people. The world has come

a long way since then. As of June

2021, according to the worldmeters

website, the world population has

hit an all-time high at 7.9 billion

people.

-news@magzoid.com

www.magzoid.com July 2021 43
---
Read more at

www.magzoid.com

Expo 2020 Dubai unveils the Women's Pavilion in

collaboration with Cartier

Celebrating

the significant

contributions of

women, the pavilion

will demonstrate an

important principle:

when women thrive,

all of humanity

thrives.

Expo 2020 Dubai has

reaffirmed its commitment

to gender equality and

female empowerment,

unveiling creative content

and programming for the Women's

Pavilion in collaboration with Cartier.

Taking place in Dubai from 1

October 2021 to 31 March 2022 next

year, the Women's Pavilion will host

an array of events, programming

and meaningful dialogues that will

not only enhance knowledge and

understanding of gender equality

and women's empowerment, but

also invites visitors from around the

world to join the making of a new

world.

Celebrating the significant

contributions of women, the pavilion

will demonstrate an important

principle: when women thrive, all

of humanity thrives. It will highlight

important contributions women have

made in advancing societies, as well

as the challenges women still face,

especially as the world navigates

through the COVID-19 pandemic

and works toward a more sustainable

future.

Breaking stereotypes and

deconstructing misconceptions on

women's roles, the pavilion will raise

awareness by showcasing both

female and male contributors to

women's empowerment and gender

equality, inspiring visitors of all ages

to become change-makers within

their own communities and beyond.

Reem Al Hashimy, director general

of Expo 2020 Dubai, and Cyrille

Vigneron, chief executive of Cartier

International, discussed Expo 2020's

role in offering a global platform to

empower women and girls and to

drive awareness of the Sustainable

Development Goal of gender

equality and women's empowerment

during a conversation with Becky

Anderson, anchor for CNN.

Across the six months of Expo, the

Women's Pavilion will host an array of

events, programming and meaningful

dialogues that will not only enhance

knowledge and understanding

of gender equality and women's

empowerment, but also drive

tangible, collaborative action that can

be shared with the world.

-news@magzoid.com

44 July 2021

www.magzoid.com
---
Read more at

www.magzoid.com

Gucci sells its first NFT for $25,000 in an online

auction hosted by Christie's

As the former sales

have been presented

in collaboration with

artists and estates,

Christie's collaboration

with the luxury brand

Gucci marks a new

kind of offering in the

crypto-art space at

auction.

Aria" was

launched in honor

of the Italian

brand's 100-

"Gucci

year anniversary.

The 15-and-a-half minute video

that inspired the NFT features a

dream-like, post-COVID clubbing

experience. The show features the

many aspects and layers of Gucci's

legacy, establishing it as a perfect

basis for Gucci's first NFT.

Multiple luxury brands have turned

to non-fungible tokens (NFTs). The

new, buzzy tech creates a noninterchangeable

receipt for any digital

artwork, video, piece of music or

rendering, marking each digital asset

as unique and verifiable. NFTs allow

other forms of creative digital work

to be fused into the world of fashion,

surpassing the limitations of the

physical world by existing in a digital

space.

Christie's has been a pioneer

auction house to facilitate NFTs

sales. The house's sale of Beeple's

Everydays: the First 5000 Days

(2008–21) for $69 million in March

was an unprecedented landmark

that made Beeple the third-mostexpensive

living artist.

Since then, Christie's has rolled out

other NFT sales to attract an emerging

class of crypto-wealthy buyers. As the

former sales have been presented

in collaboration with artists and

estates, Christie's collaboration with

the luxury brand Gucci marks a new

kind of offering in the crypto-art

space at auction.

The "Proof of Sovereignty" sale,

which is curated by anonymous

digital artist Lady PheOnix with

Christie's contemporary art specialist

Noah Davis, also includes digital

offerings by formidable media artists

such as Jenny Holzer, Urs Fischer,

Gerald Laing, and Nam June Paik.

For this sale, Davis is placing stock

in the potential for NFTs to further

disrupt the art world. In a statement,

Davis said, "It's going to change the

way artists make art, and the way

every creative industry operates, by

democratizing access to information,

diminishing opacity in favor of

transparency, and empowering

creative people everywhere."

-news@magzoid.com

www.magzoid.com July 2021 45
---
EVENTS

46 July 2021

www.magzoid.com
---
EVENTS

Jewels of

Emirates

Show

The second edition of

'Jewels of Emirates'

show under the theme

"Glamour of Beauty" was

held from June 30, 2021

to July 3, 2021. The four-day event

was organized by the Expo Centre

Sharjah with the support of the

Sharjah Chamber of Commerce and

Industry (SCCI).

Jewels of Emirates Show is the

first Emirati exhibition specialising

in diamond jewellery, gold jewellery,

silver jewellery, pearl and gemstones,

luxury watches, perfumes, and

fragrances. The event provided a

unique platform for showcasing

traditional and modern gold and silver

sets and the latest designs of watches,

diamonds, and gemstones. It also

included a special section for famous

local brands of perfumes, fragrances,

and Arab and International scents.

The show witnessed a heavy

turnout of visitors flocking to the event

to take advantage of the exciting

www.magzoid.com July 2021 47
---
EVENTS

Visitors of the show have also had the

opportunity to view the latest fashion designs

and collections of jewelry, watches and goldware

showcased by the most prestigious local brands.

They were also able to take part in raffle draws

to win valuable prizes and gifts.

48 July 2021

www.magzoid.com
---
EVENTS

deals and attractive offers by over

100 exhibiting companies along with

the most well-known jewelry and gold

designers both locally and globally.

Visitors of the show have also had

the opportunity to view the latest

fashion designs and collections

of jewelry, watches and goldware

showcased by the most prestigious

local brands. They were also able

to take part in raffle draws to win

valuable prizes and gifts.

The four-day event has effectively

stimulated the gold and jewellery

trade and resulted in several worthy

deals, as confirmed by the majority

of the exhibitors, who emphasized

that the show helped them achieve

rewarding returns and great sales

exceeding their expectations.

Saif Mohammed Al Midfa, CEO of

Expo Centre Sharjah, emphasised

that the number of exhibitors in

the latest edition of the show has

exceeded 100, adding that the centre

experienced a noticeable growth in

the number of visitors and exhibitors

compared to the first edition. These

are positive signs that reflect the

distinction and importance of the

show within the industry, he said.

Lauding the distinguished public

turnout witnessed by the show,

Sultan Shattaf, Director of Sales and

Marketing Department, Expo centre

Sharjah stated that the incentives

provided by the centre to support

companies contributed greatly to

motivating the public to visit the show

and avail of the exciting deals and

attractive offers available.

- event@magzoid.com

www.magzoid.com July 2021 49
---
ART OF BUSINESS

Rizwan Sajan

Founder and Chairman of Danube Group

started it as a small trading firm in 1993 which has evolved and expanded, over the last

25 years, into a multi-billion-dollar conglomerate. Danube Group's operation is dominated

by two main segments- Building Materials FZCO and Danube Home (Home Interior/

Décor Solutions), which brings together a variety of state-of-the-art products available

at showrooms strewn across the MENA region. Under Sajan's leadership, the company

has charted a path that transformed from being just one shop with one employee to an

employee strength of over 3,600 people in 50+ locations spread across 10 countries. From

struggling to get a monthly job of $100 to a founder of a multi-billion-dollar venture, here is

an excerpt of Sajan's interaction with Magzoid.

Exclusive to Magzoid

You have prominently

established yourself

as a seasoned

entrepreneur and

businessman. We

would like to know about your

very first step in the world of

entrepreneurship.

My life story is of an ordinary man

whose experience has been full of

adversities and hardships, which

has molded me into what I am today.

In my opinion, the thing that turned

my goals of running my business

into reality was that I never let the

challenges deter me from pursuing

what I desired. On the contrary,

they have always intensified my

willingness to achieve them. I started

as an entrepreneur when I was 13

when my parents could only afford to

pay for my schooling but didn't have

the money for the bus or to have food

from the canteen. So, to make that

extra buck, I started selling books to

my friends, crackers during Diwali,

rakhi during Raksha Bandhan and

what not. Possibly those would be

my early stepping stones which did

mold me to thrive for setting up my

own business. My true step towards

entrepreneurship started when I

raised my business empire from a

two-member (me and my wife) team

to the place where you can see it

now. It's a dream come true for me in

every sense.

How did you choose the industry

that you want to cater to and grow

up to where you are now?

I started my career at a building

materials trading organization in

Kuwait back in the 1980s. I was hired

to help the management in their

50 July 2021

www.magzoid.com
---
ART OF BUSINESS

www.magzoid.com July 2021 51
---
ART OF BUSINESS

day-to-day sales activities. Being a

quick learner, I learnt the tricks of

the trade very fast, so much, that

the management started to trust me

with additional responsibilities. Soon

after, I started to run the business on

a daily basis with the guidance of the

owner. The business continued to

grow and I played a crucial role in the

company's growth.

However, the Iraq-Kuwait war in

1990-1991 changed everything. We

had to leave the business and Kuwait

forever in 1991, and relocated back

to Mumbai. Then about a year later, I

decided to try my luck in the UAE – a

land of opportunities.

Here, I joined a building materials

company as a sales person and

quickly started to obtain so many

orders that the company did not have

the means to handle them. But I did

not want to lose the orders. So, I

started sourcing supplies from other

bigger companies and supplied to

the buyers. This way, I accumulated

some capital, which I invested in, to

establish Danube Building Materials

– as a small shop.

With the kind of experience

that you have, I'm sure you must

have come across a lot. But, would

you like to talk about any specific

challenging situation that you

had faced and how did you

overcome it?

I have faced all the typical

challenges that all entrepreneurs

face in general. However, the initial

success in selling products and

collecting cheques had made it

relatively easy for me. One of the

key challenges was to cope with the

rising demand in building materials

due to the unprecedented boom in

real estate and construction. You

need to have a very efficient team in

order to manage the growth. Luckily,

I am blessed with a very agile and

efficient team that managed the

growth year after year, as well as

managed challenging situation when

the economy slowed down.

You have been dealing with many

businesses simultaneously and

have successfully managed every

one of them paving the path

towards immense growth. What

according to you were the most

important things to make this

possible?

I strongly believe that, in order to

make any business turn profitable,

you must be able to evaluate the

failures you might encounter. I have

seen many failures, but that has

never deterred me from not pushing

through. If you want to grow, you

need to trust people. Many times,

I have seen that when you start

looking out for the people, you find

them working better than you. It's

just that you need to make sure the

process is controlled and the vision

you have is conveyed to them and

they resonate it well. For me figuring

out the right people and delegating

them, empowering them and training

them has worked like wonders. I

credit my group's success to my team

who has been my biggest strength to

help me scale new heights.

I HAVE FACED ALL THE

TYPICAL CHALLENGES THAT

ALL ENTREPRENEURS FACE

IN GENERAL. HOWEVER,

THE INITIAL SUCCESS IN

SELLING PRODUCTS AND

COLLECTING CHEQUES HAD

MADE IT RELATIVELY EASY

FOR ME.

As a visionary, how do you foresee

the hospitality and real estate

industries?

Both these industries are going to

see a new dawn of light very shortly.

Dubai, in specific has been marketed

so well across the globe, to instantiate,

the current handling of the pandemic

by the government, a lot of people are

looking forward to relocate to the UAE.

This will definitely boost the economy

which will in turn see a rise in the

commercial activity across the board.

Hotels and commercial establishments

would need to scale their operations

and refurbish their existing venues to

match the inflow of demand. We, as

a brand, saw this gap in the market

3 years back and launched Danube

Hospitality Solutions, which will cater

to the hospitality industry. As for real

estate, we are budget players and our

offerings are now being tapped by 1st

time buyers and even investors who

are looking for a well-known budget

proposition to invest into.

Pandemic has been a major

setback for many. What is your

take on that?

We have navigated through a

number of crises in the past. Having

an inherent culture of managing

business more pragmatically, I

believe there are opportunities within

every challenge and you need to

have the foresight to understand that.

In a crisis, one door might close,

but multiple doors open. Besides,

we are financially a conservative

organization with almost zero

leverage. We do not bite more than

we can chew – so the risks remain

manageable.

However, COVID-19 was like no

other. It has a different magnitude.

It changed the way we operate.

We were quick to take a hold of

the situation – our inventory, order

52 July 2021

www.magzoid.com
---
ART OF BUSINESS

backlogs – and above all, employees

health, safety and well-being.

To sustain business, we temporarily

reduced their salary, and then started

paying full salary as soon as the

businesses reopened in July 2020.

In fact, we repaid the 30 percent

as soon as the income flow had

resumed. Now, we are back again,

growing.

With Expo 2020 nearing, there's

a lot of momentum gaining all

across. How's Danube planning

for it?

Expo is going to be a big boon for

the UAE's economy. The estimate

for the number of people coming to

the UAE was around 25 million; but

because of the crisis, I still feel 15+

million will definitely come. Imagine

15-25 million people coming over

here and around 10 percent of the

people decide to buy a property,

which is around 2 million people.

Even if only 1 percent of the 15-25

million actually buy a property, we

are talking about 150,000 to 200,000

apartments or villas being bought

after the expo, which is a big boon.

As the real estate market in Dubai

matures, developers are faced with

making choices on the portfolio

and their ability to sell them, based

on the market dynamics and the

demand-supply situation. There used

to be a limited range of choice for

the developers in the olden days.

However, as market matures, the

option also widens.

Real estate is a long-term business.

It is important to plan, build, market

and sell the properties accordingly.

We have launched more than 6,100

residential units in the affordable

homes since the launch of Danube

Properties seven years ago and

sold all of them due to these four

factors. Some of these projects were

launched during long, hot summer

time and around the holy month

of Ramadan – not the ideal time to

launch properties. However, we were

able to sell it successfully.

So, as a developer, I will continue

to bet on affordable homes.

According to you, what are the

probable impacts and outcomes

of Expo 2020?

Expo 2020 will definitely work well

to raise the investor confidence and

the demand for real estate, hospitality,

trade and tourism in the region. It is a

big opportunity for UAE to bring in a

lot of value and touristic attractions

which will provide the biggest boost

to the UAE's economy, which is way

ahead of other economies in terms

of the post pandemic recovery. The

hospitality, real estate, restaurants,

rental cars industries will benefit

massively from it and will bring

everything back to the pre-covid level.

What advice do you have for young

and budding entrepreneurs?

Believe in yourself. Make sure

your business fulfills a need or a

gap in the society – and build the

business around it. Be honest, be

truthful and face situations boldly.

Don't be afraid of failure. Let failure

not define you. You should be defined

by your integrity. Work for a cause,

not money. Success will come and

money will flow.

What according to you are the new

areas of business where you see

potential in?

As an entrepreneur, I always

look for business opportunities

and wherever I can contribute to

the UAE economy. We are always

on the lookout for new business

opportunities. We only engage when

we are sure about the opportunities

BELIEVE IN YOURSELF.

MAKE SURE YOUR

BUSINESS FULFILLS

A NEED OR A GAP IN

THE SOCIETY – AND

BUILD THE BUSINESS

AROUND IT. BE HONEST,

BE TRUTHFUL AND FACE

SITUATIONS BOLDLY.

and our ability to steer that business

into a profitable venture.

As I have mentioned, we recently

launched and expanded our

hospitality division and we would like

that division to stabilize and mature

before we look into any new industry.

I sense the service, entertainment,

hospitality and leisure industries

will see a new lease of life with the

relaxing of the Covid-19 protocols

and we are looking at these industries

with a microscope and are already

making a headway into each of them.

What are the other things that you

get involved in during your leisure

hours?

I am at a phase of life where by I

believe health is wealth. I make sure

I clock in a swim to get my daily dose

of endorphins for the day. Also, in my

leisure I enjoy entertaining friends

and socializing which keeps my

calendar pretty full.

What message do you have for

our readers?

Life is a curveball. You do not find

the happy life, you make it. So, follow

your dreams, do your thing with as

much love and integrity as possible

and leave the rest in the hands of the

creator.

- feature@magzoid.com

www.magzoid.com July 2021 53
---
Read more at

www.magzoid.com

Italian artist Salvatore Garau sells invisible art

for $18,300

Lo Sono went up for sale in May at the

Italian auction house Art-Rite. The pre-sale

estimate valued the piece between €6,000-

9,000, but competing bidders pushed the

price tag to €15,000.

Italian artist Salvatore Garau sold

an "immaterial sculpture"—which

is to say that it doesn't exist for

€15,000 ($18,300). The artwork

titled Io Sono, or "I am", can be

described as invisible or simply

as nothing. It does not exist in any

material form. Though Garau did not

describe it as such and explained

the concept behind the piece to

publication Diario AS.

"The vacuum is nothing more than

a space full of energy, and even

if we empty it and there is nothing

left, according to the Heisenberg

uncertainty principle, that nothing

has a weight," he said. "Therefore,

it has energy that is condensed and

transformed into particles, that is,

into us."

Lo Sono went up for sale in May

at the Italian auction house Art-Rite.

The pre-sale estimate valued the

piece between €6,000-9,000, but

competing bidders pushed the price

tag to €15,000.

The buyer received a certificate

of authenticity signed and stamped

by Garau, along with instructions on

how to display the work, specifically,

to exhibit in a space measuring fiveby-five-feet,

unobstructed by other

objects.

While the artwork and its price

may raise some eyebrows or induce

a chuckle, the artist insists on his

ideas, explaining that exhibiting the

sculpture in a space concentrates

a "density of thoughts at a precise

point".

Lo Sono isn't the only artwork of its

kind in Garau's oeuvre. In February of

this year, at the Piazza Della Scala in

Milan, the artist exhibited BUDDHA

IN CONTEMPLATION, a similarly

invisible sculpture demarcated by a

square of tape on a cobble-stoned

walkway. Meanwhile, this week, he

installed AFRODITE CRIES in front

of the New York City stock exchange.

The effort, evidenced by an empty

white circle, was supported by the

Italian Cultural Institute.

-news@magzoid.com

54 July 2021

www.magzoid.com
---
Read more at

www.magzoid.com

Iconic "Doge" meme NFT sold for $4M at an

auction at Zora

An NFT (non-fungible

token) of "Doge,"

the Shiba Inu image

that's been one of the

internet's most famous

memes, made history after it sold

for more than $4 million, making it

the most expensive meme NFT of

all time. A portion of the proceeds

from the sale of the NFT will go

toward several charities, including

the Japanese Red Cross Society

and the World Food Programme.

A bidder named @pleasrdao

claimed the NFT with a final bid of

1,696.9 Ethereum, a cryptocurrency

worth approximately $4 million,

according to the Doge auction site.

"We're so happy to be a part of

this milestone in internet history. If

The Doge meme

which is one

of the most

iconic memes in

internet history,

had previously

won Know Your

Meme's 'Meme

of the Decade'

award in

December 2019.

any meme deserved to be the new

meme NFT record holder, it's Doge,"

said Don Caldwell, editor-in-chief of

the internet meme database Know

Your Meme, which certified Doge

ahead of the auction to ensure that

the meme was being sold by its

rightful owner.

The Doge meme which is one of

the most iconic memes in internet

history, had previously won Know

Your Meme's 'Meme of the Decade'

award in December 2019.

The meme was offered by Atsuko

Sato, the owner of Kabosu, the

dog from the image. The auction

ran for three days before being

sold to @pleasrdao. @pleasrdao

had a bidding war against @

twodollahotdoge for the meme at

the auction at Zora which raised the

price of the meme.

Doge's popularity has had a

recent resurgence due to Dogecoin,

the cryptocurrency branded after

the meme. Although Dogecoin has

been around for several years, it

spiked in popularity after Tesla CEO

Elon Musk endorsed it on social

media this year.

Other memes that rival Doge

include "Disaster Girl," which sold

for 180 of Ethereum, worth roughly

$430,000 at the time of sale, and

"Overly Attached Girlfriend," which

sold for 200 Ethereum, worth roughly

$482,000 at the time, according

to the auction site Foundation. An

NFT of "Pepe the Frog" sold for

roughly $1 million, according to The

Washington Post.

-news@magzoid.com

www.magzoid.com July 2021 55
---
Read more at

www.magzoid.com

Expo 2020's first permanent public

artwork unveiled

A

large iridescent, oil

drill-shaped sculpture

by Kuwaiti artist

Monira Al Qadiri has

launched Expo 2020

Dubai's Public Art Programme,

which brings together 11 leading

artists from the UAE and around

the world. Alongside Al Qadiri, the

commissioned artists are Hamra

Abbas, Afra Al Dhaheri, Shaikha Al

Mazrou, Abdullah Al Saadi, Asma

Belhamar, Olafur Eliasson, Nadia

Kaabi-Linke, Khalil Rabah, Yinka

Shonibare and Haegue Yang.

The 11 contemporary artworks

The 11

contemporary

artworks will form

a creative journey

around Expo 2020's

public spaces and

will live on as part

of the future city of

District 2020.

will form a creative journey around

Expo 2020's public spaces and

will live on as part of the future

city of District 2020. The Public Art

Programme of Expo 2020 Dubai

takes inspiration from the famous

Arab mathematician, astronomer,

and physicist Ibn Al Haytham's

seminal work, Book of Optics (c.

11th century).

Tarek Abou El Fetouh, Public Art

Curator, Expo 2020 Dubai, said:

"We are thrilled to be launching the

Public Art Programme with Chimera

by artist Monira Al Qadiri. Her bold

sculpture with its magnified size

and reflective colour makes it seem

like a futuristic creature from outer

space. Through this sculpture, the

artist attempts to merge the preand

post-oil eras into one body.

She creates aesthetic connections

between pearls and oil, through

their colour, materiality, symbolism,

ecology and economy in order to

reimagine the past, present and

future of the wider Gulf region".

Monira Al Qadiri, Artist, said: "I am

very proud to be among the 11 artists

from around the world selected to be

part of this programme that invites

visitors to access new perspectives

through art in public space."

Located across the Opportunity,

Mobility and Sustainability districts

and Expo 2020's two parks, the

artworks will form landmarks

on-site and become a permanent

part of District 2020, a model global

community for the future that will

evolve from Expo 2020.

-news@magzoid.com

56 July 2021

www.magzoid.com
---
Read more at

www.magzoid.com

The 100-day plan to develop Al Quoz Creative

Zone approved

"This is a pioneering

project with

ambitious goals,

and we want it to be

the best model for a

creative ecosystem

locally and globally.

Dubai has approved a

proposal to develop the

Al Quoz Creative Zone

into a global creative hub

for creative professionals

and entrepreneurs. The 100-day

plan consists of comprehensive

development to make Dubai the

world's best city for artists and

creative talent to work and live.

Her Highness Sheikha Latifa bint

Mohammed, chairperson of the

Dubai Culture and Arts Authority

(Dubai Culture), expressed her

confidence in the ability of committee

and executive team members of

the Al Quoz Creative Zone to work

together effectively to develop the

project in accordance with the high

standards outlined in its project plan.

"This is a pioneering project with

ambitious goals, and we want it

to be the best model for a creative

ecosystem locally and globally. We

have a clear vision to accomplish this

unique national project in line with

the vision of His Highness Sheikh

Mohammed bin Rashid Al Maktoum,

who continues to inspire us with

his leadership and unique forwardthinking

philosophy in shaping the

future," Sheikha Latifa said.

Her Highness Sheikha Latifa

emphasized Dubai's commitment

to implement this unique national

project in the best possible way in

line with the vision of His Highness

Sheikh Mohammed bin Rashid Al

Maktoum, Vice President, Prime

Minister and Ruler of Dubai, to make

Dubai a global capital of the creative

economy by 2025.

Within 100 days, studies will be

done; a multi-use space model

will be developed; activities will be

identified; mobility will be planned;

and recommendations will be made,

among other priorities.

The infrastructure development

project team will be headed by

Hussain Al Banna from the emirate's

Roads and Transport Authority (RTA)

and includes representatives from

the Dubai Municipality, Wasl Asset

Management Group and Dubai

Culture.

The RTA is ready to support

the Al Quoz Creative Zone with a

series of projects that aim to ease

people's movement within the area,

said Mattar Mohammed Al Tayer,

director-general of the RTA and vicechairman

of the zone's committee.

-news@magzoid.com

58 July 2021

www.magzoid.com
---
Read more at

www.magzoid.com

el Seed unveiled new 'Love' sculpture that

appeared at Italy's Duomo of Milan

A

new sculpture by eL

Seed appeared in front

of Italy's landmark

Duomo of Milan. The

artwork read "hob", which

is Arabic for "love".

eL Seed is a French-Tunisian

street artist whose works incorporate

traditional Arabic calligraphy, a style

he calls calligraffiti. Since the 2011

Tunisian revolution, eL Seed has

consciously used his art as a tool of

political expression

"That's the essence of my work

– that it's ephemeral," says the

Tunisian-French artist, who works

in Dubai. "It's there for one week,

one day, one hour. And after that a

souvenir stays in your mind."

The work was a part of El Seed's

exhibition titled Templates of Love

which closed in April, at the city's

Galleria Patricia Armocida, but he

shared it for the first time with the

public on social media last week.

The exhibition featured the artist's

abstracted, open approach to

calligraphy portraying 50 ways of

saying Love in Arabic Language. The

blue sculpture, made in fibreglass

and depicting the Arabic letters for

"h" and "b" in a winding teardrop

shape, was the centrepiece of the

room.

"Love is such a universal thing

and we wanted to see how it could

be expressed in different cultures,

like in Senegal, Japan, Panama and

Italy," eL Seed recalls. "But because

of Covid restrictions, we couldn't do

it."

The sculpture, also called

Template of Love, was sold to a

"Love is such a universal thing and we wanted

to see how it could be expressed in different

cultures, like in Senegal, Japan, Panama and

Italy," eL Seed recalls. "But because of Covid

restrictions, we couldn't do it."

private collector, but eL Seed and his

team arranged for it to be installed in

front of the majestic Duomo for one

last outing.

"The cathedral took six centuries to

build – it's really a labour of love. This

was a tribute to that," he explains.

"And the conversation between

the Duomo's Gothic architecture

features and the modern calligraphy

worked really well."

-news@magzoid.com

www.magzoid.com July 2021 59
---
Edgar Degas was so fascinated with ballet dancers that he became obsessed

with representing them in his art. It is estimated Degas made approximately 1500

paintings, pastels, prints and drawings of dancers.

The famous human-like Halloween pumpkins were

created by Ray Villafane (b. 1969). He is called the Picasso

of Pumpkin Carving.

60 July 2021

www.magzoid.com
---
Even though he was nominated for an Oscar in 2011,

was named Person of the Year in 2014 and won many

awards, no-one knows the real name of the world's most

famous graffiti artist, Banksy.

The Mona Lisa has no eyebrows; it was the fashion in

Renaissance Florence to shave them off.

www.magzoid.com July 2021 61
---
ARTIST FEATURE

Gone With the Wind

KEN KUNG solo exhibition

Ken Kung is a photographer

based in Hong Kong, a

multicultural city globally

known for its mixture

of West and East. This

mix gave him a special vision while

growing up. Starting photography at

the age of 8 after receiving a camera

from his father, Ken followed his

intuition to capture every valuable

moment of society and then gradually

developed a spiritual minimalist art

style.

Ken's solo exhibition 'Gone with

the wind' took place from 11 June,

2021 - 3 July, 2021 at MUSE Art and

Books in Hong Kong.

"I started exploring the new

meaning of the Hong Kong landscape

in the contemporary spiritual aspect,

and re-examining life in another

dimension. I retrieved the memories

from the past in this TinyHongKong

Collection and represented my love

to the old Hong Kong. The artworks

exhibited combines images with

AI algorithms and highlights the

meaning of the art world from my

eyes", Ken says.

Without any formal education in

Art, Ken studied Philosophy and

Art by himself. He believes that the

essence of art can drive people's

mindset and inspire their soul, and it

is a channel for expressing creativity

and emotions.

Each artwork has a special story,

just like human's life. Through these

stories, we can create a better

world.

- feature@magzoid.com

62 July 2021

www.magzoid.com
---
www.artoze.com | Page 41

AD SPACE
---
64 July 2021

www.magzoid.com

Photo Courtesy: NAS RAUF
---
INTERVIEW

"From the

Scriptto the

BIG SCREEN,

a producer's angle of the entire journey

of a movie, with Elijah Long"

Elijah Long, an American film actor turned

producer and writer has produced blockbusters

like Rambo, Tesla and many others. Born and

brought up in Chicago, Elijah became the first

African American to join Rambo as an executive

producer. Starting his journey in front of the

camera, he got to a place where he is today

when he learned about his career inclination

as he felt more at home when he was behind

the cameras. Long's strong belief in teamwork

and in creating something different has earned

him the success that he desires for. Here's a

small and very interesting discussion with Elijah

where he throws light on the producer's view of

a film from a script to the big screen. As you read

it, you'd know that it's not just putting in money

but an innumerable number of hidden elements

that stays off the screen.

Exclusive to Magzoid

How did your journey as a

producer begin?

My journey as a

producer began with a

thought that clicked me

while being in front of the camera as

an actor. When you are on the set, you

see groups of people working so hard

and doing their jobs relentlessly. This

made me realize the importance of

all the other elements in order for me

to do my job as an actor. It made me

more interested to find out a deeper

level of filmmaking so I decided to

write a script. I wrote one and to my

surprise, people started liking it.

That marked the turning point within

me. I wanted to see the script on the

screen. And that's how it all began.

Among the movies that you have

made, which one is your personal

favorite and why?

I will have to say, it's Rambo with

Sylvester Stallone. I'm glad to be

a part of that project. I remember

watching that movie as a kid with my

father, from there to become the first

black producer to be on the franchise

of the Rambo, it was a history made. I

brought my partner Dorman Radcliffe,

along as well. We were the first black

producers to be a part of the franchise

of Rambo.

We would like to know the process

of movie-making in the view of a

producer.

Well, there are so many different

ways. One of the ways is the producer

knowing a highly popular actor. The

main thing the producer needs to

do is have relationships, because

if you don't know anybody you can't

get anything to produce. I always

tell people to not burn bridges. The

people that may be on the lowest

level when you come in, within no

time, could be at the top. So, nobody

is big or small; everyone is equal.

Everybody is a part of the movie.

Everybody is needed. Only after all

these efforts can we see a movie like,

Rambo!

The discussion all begins from

the endless pages of the black

and white script. This script then

undergoes countless modifications

www.magzoid.com July 2021 65
---
INTERVIEW

Photo Courtesy: NAS RAUF

at every single step, it might be by

the producer, director or even the

actors. Every one adds their element

to it until a polished version of the

script starts taking its shape. In parallel

we have the complete planning of

venue, team, timings, execution and

all going on.

All right, so the planning of the

movie is done and the blueprint is

ready. Is your role done or are you

still involved?

I wish the role of a producer was

that easy! Haha! So, after the film

is put together, we raise the money

for the film which could be an

independent film or we get a studio

behind us to help with the production.

All the logistics, locations, hiring

talent, scheduling is then decided.

There are various problems one can

have while shooting a movie. For

instance, if two actors are required

to shoot a scene together, we have

to schedule it in such a way that both

actors are available at the same time

and there is no clash with their other

commitments. During the filming

process, if the caterer comes and

delivers the food for the crew late,

that's an hour more, that I have to pay

the crew. If while shooting one day it

starts raining which wasn't expected,

we lose half a day or more. The shoot

might have cost me 100,000 USD

but I have to shoot it again; so now

I have 100,000 USD of loss. Once

you film the movie, then you move to

the steps of selling the movie. If it's

an independent movie like the one

that I am making now, you have to

get the distribution. The right amount

of distribution is required so that you

can pay back your financiers. So, it's

a constant effort and a producer has

to be involved throughout.

Wow that's mind-boggling! Well,

a producer is one among the few

who is going to put in money. What

are the thoughts that you have

before doing that? How do you

plan the budgets and expected

returns from a movie?

Once the script is finalized, you

typically go to a sales agent with the

script to decide on the budget. But it's

an evaluation of a script with no actors

or directors. Adding bankable actors

can increase the value of the script.

Imagine you bring in actors like Jamie

Foxx or Brad Pitt. That script now has

more value. A $5 million movie can

be made for $8 million if you have the

right stars in it. To make sure I can

get my investors the money back, I

won't make it go over $6 million. You

then have product placement which

can generate money which you don't

have to return. It also goes back to

66 July 2021

www.magzoid.com
---
INTERVIEW

relationships. You can make a call

and create an avenue for your project,

thereby bringing awareness to your

film and getting it sold.

What do producers see when they

are finalizing the star cast?

Life! From a piece of paper, it takes

an actor to bring the script to life and

turn it into something magical. One

moment you are looking at the actor

deliver the master performance and

then you're looking at their box office

numbers thinking if this particular

actor is going to bring us certain

demographics or not. A lot of times

you get an actor and you fall in love

with their acting and then the actor

drops out. So now you're trying to

re-fall in love all over again. It's a

vicious process. There are cases

where the directors are replaced in

the middle of a movie or when an

actor is forced to drop out of a project

because he/she decided to go skiing

a week before production and gets

injured. Prepare for the unexpected.

Producing in a nutshell is managing

people and money.

Would you like to talk a bit about

your educational background and

does that influence your growth

and actions now?

You know, I had the typical high

school education. I may be part of

the film industry now, but I didn't

go to a film school. You can go to a

school and learn the technical aspect

especially if you like to learn about

cameras and the technicalities but

when it comes to certain elements,

there are things that can't be learned

like the stuff that you learn on the set.

I have been on the lowest level of a

set; I have been a coordinator, I have

been the junior producer and the best

learning happens in that stage. So,

that's how I learned; by doing it, not

just talking about it!

I was homeless in New York City

for almost 6 months I literally slept

on 34th Street train station. Once it

Photo Courtesy: NAS RAUF

I WAS HOMELESS IN NEW YORK CITY FOR

ALMOST 6 MONTHS I LITERALLY SLEPT

ON 34TH STREET TRAIN STATION. ONCE IT

HAPPENED THAT I HAD SPENT THE LAST

FIVE DOLLARS ON A PIZZA AND I WAS

SLEEPING ON A STREET.

www.magzoid.com July 2021 67
---
INTERVIEW

Photo Courtesy: NAS RAUF

SO EOE (A SURPRISE!)

IS MY NEW VENTURE

THAT I AM GOING

TO DO WITH DUBAI

GOVERNMENT WHICH

IS A COMBINATION

OF EDUCATION AND

ENTERTAINMENT AT THE

SAME TIME.

happened that I had spent the last

five dollars on a pizza and I was

sleeping on a street. When I woke up

in the middle of the night, the sight

I saw was my pizza being eaten by

one of the biggest New York City rats.

I somehow shooed it away but I had

to throw the half that it had eaten. At

that moment I said to God, "This is

the absolute lowest I've ever been.

So, anything else from here is just up".

I have put in my thousands of hours

and I have reached where I am now.

Is there any movie that makes you

feel, "I wish I would have made

this" whenever you see it or hear

about it?

Oh man, there are a plethora of

movies that I wished I had made. Right

now, if you ask me, the movie that

pops up in my mind would me be the

one me and my wife were watching

the other day named 'As Good As It

Gets' starring Jack Nicholson. I wish

I had made that one. Jack Nicholson

was brilliant in that movie and it won

an Oscar. Another one would be The

Dark Knight by Christopher Nolan or

Pulp Fiction or The Departed. Man,

the list is endless. I would also like to

make something in Bollywood maybe

with Shah Rukh Khan!

You have been exploring different

parts of the world and now you're in

UAE. Some exciting stuff cooking

in your mind?

So EOE (a surprise!) is my new

venture that I am going to do with Dubai

government which is a combination

of education and entertainment at the

same time. I want one week in Dubai

a year to feel like it's Oscar weekend.

I want the brilliant minds of this region

to use Dubai as their playground,

feeling the electrifying energy and

excitement of Art. They will learn the

craft of filmmaking from the stars,

and collaborate for a magical week of

sharing ideas, interacting at amazing

events, lavish parties, and learning

all things film & television. You have

the best actors, writers, producers

and directors coming and sharing the

experiences and giving the creativity

to the younger generation. I'll bring

a lot of my friends to teach the next

generation their skills and empower

their knowledge. I just want to bring in

that experience in person surrounded

by the great people. Most importantly,

it will be a great event of creation and

collaboration as many cultures come

together here.

As you said, you do it as you enjoy

doing it. What according to you is

the most exciting part of being a

producer?

If you ask me, discovering young

talent is the most interesting part of

being a producer. I mean imagine

you were the person who discovered

Leonardo DiCaprio. How proud would

you be right now because you found

him as a young actor who was waiting

for a chance to be seen. You see a

twinkle in the eye and feel like they

are the one. You watch them bringing

the character to life which makes you

so happy. So, it's a creative process.

It's nerve-racking because of so

many different pieces and things that

could go wrong but it's just so exciting

to watch it all come together.

Would you like to talk about your

upcoming movie? We are super

excited about the preparations and

after hearing all the hard work that

goes behind, we are even more

excited and waiting for the same?

My upcoming movie is North of the

10. While keeping the suspense

intact, I'd just like to say that there

are a lot of great people in this film

and that is why I'm super excited

about it. Everybody is going to see

the collaboration of UAE stars and

American stars coming together to

make the magic happen. It's coming

with a very unique storyline. You just

have you Stay Tuned with us.

What message do you have for our

readers?

I strongly believe in one word,

"CREATE". When you are doubtful

about something, just create. When

in fear, create. There are a lot of

beautiful creations that might come

out of your fear, it comes out of

the things that traumatize you or it

comes out during your happy times.

Sometimes just writing it down or just

drawing that picture in your head can

be therapeutic.

- feature@magzoid.com

68 July 2021

www.magzoid.com
---
t r i v i a

1. What does Ben Treat specialize in?

2. Who created the first emoji?

3. Where does Fateme Shahidi reside?

4. How much was the NFT of Doge meme sold for?

5. Which movie is Elijah Long currently producing?

6. When is World Population day celebrated?

7. What date has New York State declared as Emirati Day?

8. Where is Alexandra Ozerova from?

9. Who was the first living person to have art displayed in Louvre?

10. What trend does Elena Zernova follow in Resin Art?

June

Edition

Winner

Victor King

WIN

AMAZING

HEADPHONES

1. Zao Wou Ki

2. Majesty 175

3. Abstract Impressionism

4. Congo

5. Kintsugi

6. USA

7. Museum of fine arts and

archaeology of besançon

8. Michelangelo

9. Ras Al Khaimah

10. Redefining Hospitality

Answers of June Edition Trivia:

RULES:

FIND THE ANSWERS FOR THE ABOVE QUESTIONS WITHIN THE JULY EDITION

OF MAGZOID AND STAND A CHANCE TO WIN AMAZING HEADPHONES!

ALL YOU HAVE TO DO IS WRITE DOWN THE ANSWERS, TAKE A PICTURE, POST IT

AS A STORY ON INSTAGRAM AND TAG @MAGZOID.GLOBAL

WINNER WILL BE ANNOUNCED IN THE AUGUST EDITION OF MAGZOID

Subject to terms and conditions

www.magzoid.com July 2021 69
---
Andy Brown, an

English artist,

stitched together

1000 used tea bags,

to create a portrait of

Queen Elizabeth II.

Georges Braque was the first living person to have art

displayed in Louvre.

Tim Knowles, a British artist, attaches pens to trees and

lets the wind do the rest of the work. They produce some

interesting results, too.

Letters from our

READERS

ART MAKES

EVERYTHING

COLOURFUL

By Rashida Aliasgar

Instagram: rashu_foodie52

Art makes everything colourful & joyful

around us...!! Just came across an art

magazine which depicted artist artworks &

their achievement in a beautiful way along

with highlighting different global topics

too. Well done Magzoid for acknowledging

& giving artists a platform to showcase

their talent!

GROW YOUR

CREATIVITY

By Gemini Chauhan

Instagram: @i_m_kashish

Magzoid magazine plays a great role in

the world of Art in the MENA Region!

They also provide a space to grow your

creativity through the columns. It's a great

platform to know many hidden talents

through the magazine & I wish Magzoid to

grow immensely and give recognition to all

the talents.

Share your views with us at review@magzoid.com

70 July 2021

www.magzoid.com
---
mergeteam

BOOSTING TEAM PRODUCTIVITY

Simple yet powerful employee productivity boosting and work

tracking with screenshots, timesheets, billing, in-depth reports,

attendance, project and task management and more.

Register for you Priority Access now at

www.mergeteam.com

TAKE YOU BUSINESS

AD SPACE

TO NEXT LEVEL
---
INSPIRE & EMPOWER

featured artist

Alexandra Ozerova

"Listen to yourself, create the coolest things and let the

world see your creation", says Alexandra Ozerova

- Exclusive to Magzoid

72 July 2021

www.magzoid.com
---
"I want the contact

between the viewer

and my art to be

like meditation,

a deeper contact

with nature

and therefore

with myself, so I

depict plants in

great detail, in an

enlarged form"

Alexandra Ozerova

is a Russian painter

specializing in Oil

painting. Oils are used

on linen, burlap, cotton,

wood, hide, rock, stone, concrete,

paper, cardboard, aluminum, copper,

plywood, and processed boards,

corresponding to masonite, ironed

wood, and hardboard.

She has an intimate passion for

flowers ever since she was a child.

An image that contains flowers fuels

her creativity which influences her

artworks as she gets to portray them

with great details in her paintings. "I

want the contact between the viewer

and my art to be like meditation,

a deeper contact with nature and

therefore with myself, so I depict

plants in great detail, in an enlarged

form", she says.

With the current trends and issues

the world is facing; like equality of

nationalities, equality of gender

and environmental concerns being

depicted in artworks, Ozerova is

delighted because these movements

help in creating change for the

greater good of society. This also

creates an avenue for her to express

herself freely through the artworks.

"I am proud that I listen to myself

and try to be myself no matter what.

For instance, being an artist in our

country is not considered prestigious.

But I still chose this profession despite

the fact that I had a very poor family",

she says.

Listening to oneself and respecting

our own choices and opinions is

very important. It is very easy to get

influenced by someone else's opinions

and suggestions, but following one's

own passion and dreams despite so

many people pulling you down is a

task. Ozerova followed her passion

and developed her career by using

www.magzoid.com July 2021 73
---
Her message to the

other struggling and

passionate artists is,

"Listen to yourself,

create the coolest

things, and let the

world see your

creation."

the power of social media to tell the

world about her art. In her opinion,

social media is the most convenient

opportunity for artists. She blogs on

her Instagram page @a.ozerova.art

and has also collaborated with online

galleries which has helped her reach

out to a large audience.

Ozerova continues to work and

perfect her craft despite many

struggles. Her message to the other

struggling and passionate artists

is, "Listen to yourself, create the

coolest things, and let the world see

your creation." She believes that art

is important because it reflects the

change in this world and is always

inventing something new. With just

a few words Alexandra gives such

a strong and inspiring message.

The art of Paul Klee, Dimitra Milan,

and Claire Basler is close to her and

she idolizes them. When asked what

her greatest inspiration is, she says,

"The nature inspires me the most. It

is much deeper than it seems, it is

incomprehensible."

- feature@magzoid.com

74 July 2021

www.magzoid.com
---
GO

DIGITAL

THAT'S WHERE THE WORLD IS

REACH OUT FOR DIGITAL MEDIA AND WEBSITE DESIGN

www.zdegreetech.com

customercare@zdegreetech.com
---
Photographs by our Readers

Amna Henna

Let your dreams

set sail

READERS

PHOTOGRAPHS

"Photography is a

way of feeling, of

touching, of loving.

What you have

caught on film is

captured forever…

It remembers little

things, long after

you have forgotten

everything."

— Aaron Siskind

Sakshi Narang

Share your photos on your instagram

and tag @magzoid.global

Every sunset is an

opportunity to reset

76 July 2021

www.magzoid.com
---
Niki

Sky high

Photographs by our Readers

Saima Naveed

Spread your

wings and fly

READERS

PHOTOGRAPHS

"It is an illusion

that photos are

made with the

camera… they are

made with the eye,

heart, and head."

— Henri Cartier-Bresson

Share your photos on your instagram

and tag @magzoid.global

www.magzoid.com July 2021 77
---
INSPIRE & EMPOWER

featured artist

Elena Zernova

"Art develops the ability to see and feel the world and broadens

the horizons", says Elena Zernova

- Exclusive to Magzoid

78 July 2021

www.magzoid.com
---
Elena Zernova is a Ukrainian

artist specializing in resin

art. Being a resin artist is

a lot different from being

a regular painter since

the materials you create your art

with, are completely different. Art

resin is a recently fashioned style of

resin which contains chemical less

toxicant, specially created to be used

for creative purposes.

In the way a painter is educated

about how to use their acrylic or

oil paints, a resin artist's true skill

lies in how they choreograph the

free-flowing resin on a canvas. The

resin is coalesced with regular paint

to make a fantastically chaotic but

somehow synchronized array of

colors and textures. As a result,

you get a unique and duplicateproof

design, since the complex

effect makes it nearly impossible to

duplicate a particular resin painting.

Elena follows the trends of

Seascape in her resin works. The

technique to create beautiful and

realistic ocean art involves pouring

layers of resin in various shades

of blue and then finishing with a

layer of white. This mixture gets

pushed around with a hairdryer to

create a lacing effect reminiscent

of sea foam. Resin is essential to

create realistic ocean art. Its clarity,

consistency and gloss replicate the

look of water in a way you simply

can't get with any other medium.

www.magzoid.com July 2021 79
---
Elena follows the

trends of Seascape in

her resin works. The

technique to create

beautiful and realistic

ocean art involves

pouring layers of resin

in various shades of

blue and then finishing

with a layer of white.

Making a painting with clear resin

is quite a learning experience. Every

piece is different and has a different

story to tell. Layering various shades

of tinted resin creates a feeling of

motion and depth. Beautiful, deep

ocean blues contrast with white wave

crests against a sandy shore and the

resin's irresistibly shiny finish makes

you want to dive right in.

Art is something to be reacted

to and interacted with. It develops

the ability to see and feel the world

and broadens one's horizons. Elena

took her career slowly and steadily

and says resting well helped her

develop a career as it is important

to rest and have a free mind in

order to be creative and work

efficiently. She is proud of the fact

that she is at the top of her game

when making realistic seabed with

resins. Her greatest inspiration is

Lilia Nilova. She publishes

her art on social media and

during the pandemic she gained

more than 20,000 followers on the

Instagram page @zernovaart.

- feature@magzoid.com

80 July 2021

www.magzoid.com
---
PRODUCT REVIEW

MYTH

BUSTER!

HERBAL TEA DOES NOT

TASTE THAT GREAT?

WELL, YOU MUST TRY

As your curious eye

balls roll over these

captivating tiny tubes

from Feel Good Tea,

doing justice to that is

the exotic packaging bundled with

a diverse plethora of flavors to tickle

your taste buds and rejuvenate every

mood of yours.

The products not only focus on the

distinctive blends and flavors, but

also on the unique tea experience to

supercharge your drink.

The box contains a wide variety

of flavors ranging from Lemonade

Twist, Apple Pie to Skinny Tea,

Candy Cane, Ocean Blue and

numerous others. The tea leaves

can be poured into an infuser and

added to hot or cold water to brew

the perfect tea according to one's

personal preference.

Every tube holds enough to make

approximately 2-3 cups of tea. It has

a lasting aroma and you can elevate

the taste by adding some fresh lemon

or honey. The herbal tea has done

justice to everyone's taste buds and

could be an ideal gifting option for

your loved ones. The cherry on the

cake is the touch of personalization

that they add to it. Give it a try and

write back to us about how you felt

about it.

- Christina Pilavaki, Fitness Expert

- review@magzoid.com

www.magzoid.com July 2021 81
---
FEATURED

ARTWORKS

Nature's Beauty

- Josephine Gines

Oil on canvas and mixed media

- Josephine Gines

Art and colours have its

transformative effect on a space

and can bring happiness and

hope into many lives. When

everything has become digital,I

still have a whole heap of love

for traditional art with simply

threads and a needle. This helps me to play with

textures and uplift a flat canvas.

- Sahar Akbar

"Love is in the air".

Medium - Acrylic

Size - 60cm x 70cm

- Roopali Bodhmage

Lights Over Dark

(Night, viewers can see some

glow from this painting)

- Fathima Aafreen

To get featured send your artworks

to artworks@magzoid.com

82 July 2021

www.magzoid.com
---
GAMES

SPOT THE DIFFERENCE

FIND ME OUT

Easy Sudoku Puzzles 1

www.printablesudoku99.com

SUDOKU

Sudoku

Puzzle

1

1 4 2 9 5

7 4 8 9

8 5 2 4

2 4 8

3 1 2 6

8 7 2 9 4 1

5 2 6

2 8 9 4 1

7 9 1 8 5 3

Sudoku

Puzzle

2

1 9 4 7 5

5 7 3 1 2

4 5 3 1 8

8 1 5 6 7 3 4

www.magzoid.com July 2021 83
---
FEATURED

ARTWORKS

kids

View Of The Burj Khalifa

- Roanak Bambarawana

First attempt of making a scenery on a paper

- Aarav Maskara

Mother nature

- Jiya Desai

My first work is imagination

Artwork, it means nothing can

stop any one to fulfil his dream,

and dreams come true.

- Layal Adil AbdElrahman Balla

To get featured send your artworks

to kids@magzoid.com

84 July 2021

www.magzoid.com
---
C R O S S

W O R D

ACROSS

3. Orange, purple and green are this

type of color

6. A style of painting, music, or drama

in which the artist or writer seeks

to express emotional experience

rather than impressions of the

external world

8. The main visual element in

Impressionist painting

9. Term for the technique of allowing

tones and colors to shade gradually

into one another

DOWN

1. Term for reproducing a texture by

laying paper over it and rubbing it with

a pencil or crayon

2. Term for visible traces of an earlier

painting beneath newer artwork on

canvas

4. Frame used to support a canvas

5. Containing or using only one color

7. Quality associated with peaches in

Chinese art

10. Number of versions of 'The Scream'

Edvard Munch created

ANSWERS

1. Frottage

2. Pentimento

3. Secondary

4. Easel

5. Monochromatic

6. Expressionism

7. Immortality

8. Color

9. Sfumato

10.Four

www.magzoid.com July 2021 85
---
Unite

PLUG INTO

Listen us on: