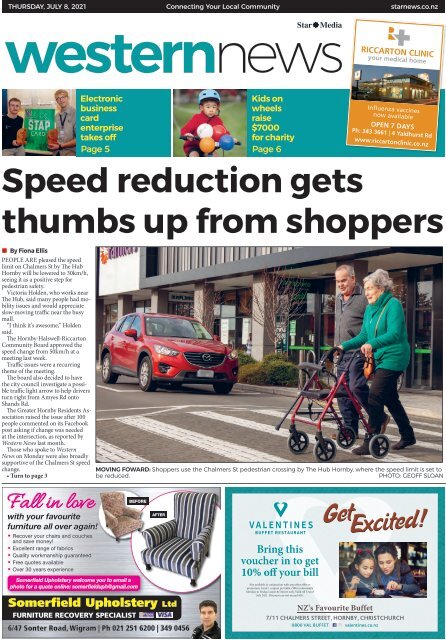 Western News: July 08, 2021
Create successful ePaper yourself
Turn your PDF publications into a flip-book with our unique Google optimized e-Paper software.
THURSDAY, JULY 8, 2021

Connecting Your Local Community

starnews.co.nz

Electronic

Kids on

business

wheels

card

raise

enterprise

$7000

takes off

for charity

Page 5 Page 6

Influenza vaccines

now available

OPEN 7 DAYS

Ph: 343 3661 | 4 Yaldhurst Rd

www.riccartonclinic.co.nz

Speed reduction gets

thumbs up from shoppers

• By Fiona Ellis

PEOPLE ARE pleased the speed

limit on Chalmers St by The Hub

Hornby will be lowered to 30km/h,

seeing it as a positive step for

pedestrian safety.

Victoria Holden, who works near

The Hub, said many people had mobility

issues and would appreciate

slow-moving traffic near the busy

mall.

"I think it's awesome," Holden

said.

The Hornby-Halswell-Riccarton

Community Board approved the

speed change from 50km/h at a

meeting last week.

Traffic issues were a recurring

theme of the meeting.

The board also decided to have

the city council investigate a possible

traffic light arrow to help drivers

turn right from Amyes Rd onto

Shands Rd.

The Greater Hornby Residents Association

raised the issue after 100

people commented on its Facebook

post asking if change was needed

at the intersection, as reported by

Western News last month.

Those who spoke to Western

News on Monday were also broadly

supportive of the Chalmers St speed

change.

• Turn to page 3

MOVING FOWARD: Shoppers use the Chalmers St pedestrian crossing by The Hub Hornby, where the speed limit is set to

be reduced.

PHOTO: GEOFF SLOAN ​

Fall in love

before

with your favourite

furniture all over again!

• Recover your chairs and couches

and save money!

• Excellent range of fabrics

• Quality workmanship guaranteed

• Free quotes available

• Over 30 years experience

Somerfield Upholstery welcome you to email a

photo for a quote online: somerfielduph@gmail.com

after

Somerfield Upholstery Ltd

FURNITURE RECOVERY SPECIALIST

6/47 Sonter Road, Wigram | Ph 021 251 6200 | 349 0456

Bring this

voucher in to get

10% off your bill

Not available in conjunction with any other offer or

promotion. Limit 1 coupon per table. Offers redeemable

Monday to Friday, Lunch & Dinner only. Valid till 31st of

July 2021. Discount can not exceed $50.
---
$15,999

32 Moorhouse Ave | P: (03) 366 7768 | www.valuecarswarehouse.co.nz

h tp: /kaywa.me/8aVdQ

download the Kaywa QR Code Reader (A p Store &Android market) and scan your code!

my Kaywa QR-Code

w.valuecarswarehouse.co.nz

www.gRCAudIO.CO.Nz

Ce l 021 8 5 84

Incorporating

ISSUE 652 | FrIday 7 aUgUSt 2020

2016 NIssAN LeAf 24s

$17,990 FACELIFT MODEL

LEd headlights, heated seats &

steering wheel, Bluetooth/USB

$11,999

1996 toyota Landcruiser

Prado $8,990

• Talk to us about finance for your next

motor vehicle purchase

Specialising in Finance for Private Purchases

Very quick approvals, sensational interest rates

• From no deposit (terms & conditions may a ply)

Cnr Main South Rd and Epsom Rd, Christchurch

Ph: 03 348 4129 | avoncityford.com

best motorbuys

See inside for this week's

h tp: /kaywa.me/8aVdQ

download the Kaywa Qr Code reader (a p Store &android Market) and scan your code!

151, 0kms, black leather interior, very

economical, reliable vehicle, in exce lent

condition. Exce lent buying at only

$11,999

INCLudINg ORC

Ce l 021 8 5 84

CAR AUDIO CAR SECURITY REVERSE CAMERAS

AUDIO VISUAL CELLULAR RADAR DETECTORS

My Kaywa Qr-Code

w.valuecarswarehouse.co.nz

$19,999

See page 5

for more info!

GET THAT

FROM

ONLY:

www.drivesouth.co.nz

Incorporating

h tp: /kaywa.me/8aVDQ

Download the Kaywa QR Code Reader (A p Store &Android Market) and scan your code!

My Kaywa QR-Code

w.valuecarswarehouse.co.nz

DASH CAMERAS

GPS/TRACKING

See our ad on page 2

Ce l 021 8 5 84

0800 400 040

• www.kickthetyres.co.nz

2

Thursday July 8 2021

GENERAL INQUIRIES Ph 379 7100

CLASSIFIED ADVERTISING Ph 379 1100

Star Media, a division of Allied Press Ltd

PO Box 1467, Christchurch

starmedia.kiwi

NEWS

Fiona Ellis

Ph: 021 914 407

fiona.ellis@starmedia.kiwi

ADVERTISING

Alana Powell

Ph: 962 8753

alana.powell@starmedia.kiwi

Your local community news

delivered to 24,894 homes

within The Star each week.

Templeton • Islington • Hei Hei • Broomfield

Halswell • Oaklands • Westlake • Hornby • Ilam

Wigram • Sockburn • Church Corner • Avonhead

Hyde Park • Russley • Riccarton Park • Riccarton

Latest Canterbury news at starnews.co.nz

what's on

this week

Wā Kōrero-Storytimes

Thursday, 11.-11.30am, at Halswell,

Monday, 10-10.30, at Upper

Riccarton, Tuesday, 10.30-11am,

at Fendalton, Wednesday, 10.15-

10.45am, at Hornby

Fendalton, Halswell, Hornby and

Upper Riccarton libraries

Go along to an interactive programme

including books, songs,

rhymes and play. Recommended

for children 2-years-old and up. No

bookings required.

JP Clinic

Thursday, 9.30am-12.30pm, at

Hornby, Saturday, 10am-noon, at

Fendalton, Tuesday, 10am-1pm, at

Halswell and Upper Riccarton

Fendalton, Hornby, Halswell and

Upper Riccarton libraries

A justice of the peace will be available

to members of the community

to witness signatures and documents,

certify document copies, hear oaths,

declarations, affidavits or affirmations

as well as sign citizenship, sponsorship

or rates rebates applications. This

service is free.

Citizens Advice Bureau

Thursday, Friday, Monday,

Tuesday, Wednesday, 9am-5pm, at

Hornby, Thursday, Friday, Monday,

Wednesday 11am-5pm, Tuesday

2-5pm, Fendalton.

Hornby and Fendalton Libraries

Citizen's Advice Bureau provides

Hillary's Antarctic Hut VR Experience, Monday and Tuesday,

10am-3.30pm, Te Hāpua: Halswell Centre. Go along and explore Sir

Edmund Hillary's Hut in Antarctica through virtual reality. Suitable for

ages 9 years and over. Bookings essential, book online or send your inquiry

to info@nzaht.org ​

free, confidential advice to everyone.

They take the time to listen and equip

you with information, options and

support that fit your needs. Free,

phone 349 5236 for more information.

Free Legal Advice

Thursday, 6.15-8.15pm

Hornby Library

A lawyer will be available to answer

your legal questions. Take relevant

documents. Free. No bookings required.

Knit 'n' Yarn

Thursday, 10.30am-2.30pm,

Tuesday, 1-3pm, at Upper

Riccarton, Thursday, 2-3.30pm, at

Fendalton, Thursday 1-3, Saturday,

1-3pm, at Halswell, Tuesday, 10amnoon,

at Hornby

Fendalton, Halswell, Hornby and

Upper Riccarton libraries

Take your knitting, crochet, stitching

or any other handcraft and enjoy

the company of others. Share skills

and be inspired.

WESTERN NEWS

Afternoon Euchre

Friday, 1.15-3.30pm

Halswell Bowling Club, Halswell

Domain

Join in for an afternoon of playing

Euchre with other like-minded people.

Hot beverages on offer. $3 entry,

$2 raffle. Phone Noel on 322 8636 for

more information.

Family History

Wednesday, 11am-1pm

Upper Riccarton Library

A volunteer from the Riccarton

branch of the New Zealand Society of

Genealogists will be available to help

you with finding your family history

online. Meet at the family history

computer.

Mah-Jong Group

Wednesday, 1-3 pm

Upper Riccarton Library

If you are interested in playing

Mah-Jong, go along whether you are

a beginner or an advanced player.

Not-for-profit organisations can

send their What's On listings to

western@starmedia.kiwi

PICK IT UP...

DRIVE AWAY

free

Incorporating

ISSUE 651 | FrIday 31 JUly 2020

best motorbuys

www.drivesouth.co.nz

7 seater, 3.0 litre diesel,

very rare find!

free

261 stanmore road, Christchurch For more, see their advert on page 25

audio, 21,000km with Japanese

service history. Includes New

NZ charging cable & OrC.

4WD feature!

The biggest range of vehicles in one location

2015 mazda demio

See page 4

for more info!

40 Years Finance

Experience

Cannot be Beaten!

free

ISSUE 653 | FrIday 14 aUgUSt 2020

Dyna spares

PH 03 web

C h r i stC h u rCh

Now Available @ NZ Van Spares

See inside for this week's

motorcycle feature!

see inside for this week's

Hybrid & electric feature!

331 blenheim road, Christchurch For more, see their advert on page 25

best motorbuys

www.drivesouth.co.nz

The biggest range of vehicles in one location

GET THAT

PEACE OF MIND

VEHICLE INSPECTIONS

$149

FROM

ONLY:

2006 mitsubishi outlander

location: 68 Falsgrave Street, Woolston, Christchurch

email: nzvanspares@hotmail.com | phone: 03 379 3932 / 0508 698 267

See page 5

for more info!

32 Moorhouse Ave | P: (03) 366 7768 | www.valuecarswarehouse.co.nz

2004 BMw 530d Nz NEw

41 Sandyford Street

0800 400 040

• www.kickthetyres.co.nz

CHRISTCHURCH

MOTORCYCLES LTd

PH 03 web

40 Years Finance

Experience

Cannot be Beaten!

• Talk to us about finance for your next

motor vehicle purchase

Specialising in Finance for Private Purchases

Very quick approvals, sensational interest rates

• From no deposit (terms & conditions may a ply)

Cnr Main South Rd and Epsom Rd, Christchurch

Ph: 03 348 4129 | avoncityford.com

2008 Victory Vegas

Customised x USa

arlan Ness themed

$12,999

A fordable new parts available for BMW / MERCEDES BENZ / AUDI

The biggest range of vehicles in one location

Hilux, Hiace &

everytHing in between

2013 peugeot 4008

454 St Asaph Street, 03 378 1818 or 021 480 201

For more, see their advert on page 22

68 Falsgrave Street, Woolston W: nzvanspares.co.nz

40 Years Finance

Experience

E: nzvanspares@hotmail.com Ph: 03 379 3932 / 0508 698 267

32 Moorhouse Ave | P: (03) 366 7768 | www.valuecarswarehouse.co.nz

MOBILE INSTALLATION SERVICE 0800 212 777

PARKING SENSORS

AERIALS

Cannot be Beaten!

• Talk to us about finance for your next

motor vehicle purchase

Specialising in Finance for Private Purchases

• Very quick approvals, sensational interest rates

• From no deposit (terms & conditions may a ply)

PH 03 web

Cnr Main South Rd and Epsom Rd, Christchurch

Ph: 03 348 4129 | avoncityford.com

PEACE OF MIND

VEHICLE INSPECTIONS

$149

Hilux, Hiace &

everytHing in between

68 Falsgrave Street, Woolston W: nzvanspares.co.nz

E: nzvanspares@hotmail.com Ph: 03 379 3932 / 0508 698 267

• 41 Sandyford Street

Read local

USED CARS | TRUCKS | VANS

COMMERCIAL VEHICLES | SUVS

MOTORCYCLES | CARAVANS

BOATS | AUTOMOTIVE SERVICES

Available for FREE every

Friday at convenient

pick up points near you!

PLUS check out this week's

edition, plus past issues

online now at

bestmotorbuys.co.nz

INCORPORATING besT mOTORbuys

www.drivesouth.co.nz

03 322 4548 | Easy Parking

17 Lillian Street, Halswell

www.maxwellfashion.co.nz

Open Mon-Fri 9.30am - 5.00pm

Saturday 10.00am - 1.00pm

LAYBY WELCOME
---
WESTERN NEWS Latest Canterbury news at starnews.co.nz

Thursday July 8 2021 3

Report will look into right turn arrow at intersection

• From page 1

Heather Jackson thought the

speed reduction was a positive

move as Hornby became busier.

"There's so much traffic here,

and kids running around," Jackson

said.

Kyle Williams thought the

change was "probably a good

thing" although traffic was

already quite slow on Chalmers

St, he said.

Stewart Henderson

said he

had been going

to the area for

22 years and

never perceived

Chalmers St as

Stewart

Henderson

dangerous.

However, he

was fine with the

speed reduction,

he said.

A person who did not want to

be named said although drivers

were good at stopping at the

pedestrian crossing, the reduced

speed limit was still a good idea.

Another said drivers should

still be allowed to drive faster

than 30km/h in situations where

the road was empty, such as at

night.

A report to the board by city

council traffic engineer Barry

Hayes recommending the change

said it was intended to make the

street safer.

"A do nothing approach is

unlikely to achieve this, in

particular as traffic volumes and

the number of active road users

increase."

Within the last 10 years, 15

crashes were recorded on Chalmers

St, the report stated.

Two of these were serious

crashes, and another four resulted

in minor injury.

Speed data showed the average

vehicle speed along the street was

32km/h, although this was expected

to increase in the evenings

when traffic was lighter.

Public consultation on the issue

closed on April 26.

Of 38 submitters, 21 were in

favour of the change.

A signalled pedestrian crossing

was suggested by 11 submitters

but city council staff thought this

unnecessary, the report said.

"Staff have observed the delays

and queues do not extend to an

extent that blocks other accesses

or affects the operation of the local

road network."

The Hub centre manager Jason

Marsden said Chalmers St was

not considered a high hazard

area.

"The traffic is self regulating.

•HAVE YOUR

SAY: What are

your views on the

Chalmers St speed

reduction. Email

fiona.ellis@

starmedia.kiwi

CHANGE

WANTED: Greater

Hornby Residents

Association

members Ross

Houliston and

Marc Duff at

the intersection

of Amyes and

Shands Rds.

PHOTO: GEOFF

SLOAN

I don't think it'll change too

much," Marsden said.

He was more concerned with

the difficulty crossing the Main

South Rd and Carmen Rd posed

to pedestrians.

However, anything to improve

pedestrian safety was fantastic,

he said.

The speed limit change will

take effect when the necessary

signs are in place, within the

financial year.

Community board member

Mark Peters said he expected the

council report on the possibility

of a right turn arrow to be ready

about one month after the board

meeting.

Greater Hornby Residents Association

chairman Marc Duff

was satisfied with the board's

response.

"We couldn't have asked for

more than that," Duff said.

After the Facebook feedback,

the issue was discussed at the

association's monthly meeting,

in which members decided to

progress the issue.

During the community board

meeting, association member

Ross Houliston spoke about the

need for changes to the intersection.

Peters recommended that the

issue be referred to council staff

for a report, which fellow board

members agreed to.

"[The traffic department] will

do a report on whether it's feasible

or not, and a costing," Duff

said.

He hoped the report would

prove the need for improvements.

This was not the only dubious

right-turn on the association's

radar.

Also discussed during its

monthly meeting was the intersection

of Waterloo Rd and

Carmen Rd, and of Buchanans

Rd and Carmen Rd.

"We'll just work through them

gradually, one by one."

For everything

AUTO ELECTRIC

CARS • BOATS • TRUCKS

CARAVANS • TRAILERS • 4WDS

ELECTRIC & HYBRID VEHICLES

• Starter Motors

• Alternators

• Central

Locking

• electric

Windows

• ABS & Airbags

• Stereos/

Alarms

• Batteries

• tuneups

• engine

Management

Amazing

Auto USUALLy

AAE Electric SAMe DAy

ServiCe

65 Coleridge St, Sydenham

Phone 03 379 4250

www.amazingautoelectric.co.nz

Crack the code and

you could win a prize!

6.00 to 8.00 pm

13, 14 & 15 July

Free event; donations appreciated

www.canterburymuseum.com
---
4 Thursday July 8 2021

Latest Canterbury news at starnews.co.nz

WESTERN NEWS

Nanogirl

bubble

Show!

FREE SCHOOL

HOLIDAY ACTIVITY

In the tenancy by Majestic Tea Bar

www.barrington.nz

FOLLOW US:
---
WESTERN NEWS Latest Canterbury news at starnews.co.nz

Thursday July 8 2021 5

Electronic business card takes off

• By Bea Gooding

A GROUP of young enterprise

students weren't expecting

their final year of high school

to include running a successful

business.

Halswell local Jayden Rosanowski

is among three Cashmere

High School students who

launched the STAP Card last

year. Jayden, along with Felix

Strahl and Emilia Dybka, came

up with the initiative.

They now have a clientele list

that includes real estate agents

and police detectives.

They even won two Young

Enterprise Scheme regional excellence

awards for sustainability

and finance while developing

partnerships with universities

and billboard companies.

And the year 13 students did

it all before they even left high

school.

"It's taken off heaps, we're

getting interest from all over

the country. We've got some big

customers now, like Harcourts

real estate agents and a police

detective," said Jayden, STAP's

chief executive.

"It's amazing to watch the

business take off and to be a part

of the ride," said production

manager, Felix.

STAP Card is designed to

replace paper business cards

altogether after the students

discovered more than six million

trees are cut down each year to

produce 100 billion disposable

cards worldwide.

The reusable business

card enables employees to

electronically share their

contact details with others by

utilising QR codes and NFC

chips located inside most new

mobile phones.

All a client needed to do was

tap the card on their device or

scan the code for the information

to pop up on their screen.

In line with the company ethos

of sustainability, STAP also partnered

with non-profit organisation

One Tree Planted by planting

a tree for every card sold.

The initiative kicked-off when

the business studies students, who

were in year 12 at the time, unleashed

their inner entrepreneur

by taking part in the Lion Foundation

Young Enterprise Scheme.

It is a chance for young people

to experience the start-up world

by running a real business, with

products and services brought

to the market by the students

themselves.

As STAP was only meant to

be a school project, Felix said its

ENTREPRENEUR:

Cashmere High School

year 13 students Jayden

Rosanowski (left) and Felix

Strahl won regional Young

Enterprise Awards for

their STAP Card creation.

PHOTO: GEOFF SLOAN

ongoing success was unexpected,

but keeping up with growing

demand came at a cost.

Making 100 cards in the last

six months for more than 80

companies meant investing in

a new $3500 printer funded by

company sales and part-time

jobs.

This sped up production

from three to four cards an

hour to 100 in four hours, and

now, it can all be done from a

dedicated office that the school

let them borrow during

business studies classes and

after hours.

Mural design

wanted by

Templeton RSA

• By Fiona Ellis

THE TEMPLETON RSA is on

the hunt for someone to design

a mural to brighten its main

entrance wall.

President Brendan Muir said

the 2.5m x 4.5m wall was currently

"blank, boring and uninviting."

The RSA was running a

competition to find a winning

design, with entries due by mid

September.

"Hopefully, we'll get locals to

get involved, so they can take

ownership of it," Muir said.

"We know there is someone

who has a great idea to fill in this

space for us.

"We'll stick [the entries] up and

have a vote as a club on what's

suitable."

The winner would receive a

$100 prize, and plenty of people

would see their design.

Traffic passing by the Kirk Rd

building included parents making

school runs and the bus from

Rolleston to Christchurch, he

said.

The RSA occupied the building

since 1964, but the entrance wall

had always been plain.

Some colour would make it

more welcoming, he said.

The design should also pay

tribute to those who had served in

the armed forces.
---
6

Thursday July 8 2021

Latest Canterbury news at starnews.co.nz

WESTERN NEWS

Community board

grants approved

TOY LIBRARIES are set to benefit

from grants made by the Haswell-

Horny-Riccarton Community

Board.

Hornby Toy Library and Halswell

Toy Library each received $2400 at

the board's meeting last week.

Church Corner Toy Library also

received $2000.

All three grants would go towards

funding wages for librarians.

During the meeting the board also

approved a further eight grants.

Halswell Playcentre received $3000

towards its rent project.

Halswell Hall Inc received $6485

towards its annual insurance and

detailed engineer evaluation.

The Canterbury Tamil Society received

$5000 towards operation costs

of the Academy of Tamil Language

and Arts.

The Christchurch Zhonghua Chinese

Society received $4000 towards

its youth project.

The Revathi Cultural Association

received $1600 towards its annual

show.

St Marks Retired Peoples Fellowship

received $1000 towards monthly

outings.

SHARP Trust received $1500

towards volunteer expenses.

The Lions Club of Halswell District

Inc received $2700 towards costs of

Carols in the Quarry 2021.

All grants were made using the

board's 2020-21 Discretionary Response

Fund.

Kids on wheels

raise more

than $7000

for charity

Harry Blakely powers through the

course.

THE CYCLE for Sub-Sahara, a

40-hour famine event was held

recently at Medbury School.

Wheels of all shapes and

sizes dominated the grounds

of Medbury School recently as

pupils on bikes, scooters and

skateboards navigated their way

around a course to raise money

Middle school team leader and

teacher Scott Johnson decided

four wheels were better than

two. (Above right) – Charles Wu

puts the pace on. (Right) – Archie

Robinson ran a lap carrying his

scooter. (Far right) – James Hunter

is all concentration as he enters a

corner.

PHOTOS: KEN BAKER

and awareness for Sub-Saharan

Africa. Pupils were sponsored

by friends and family for the

World Vision event, raising

more than $7000 for the charity.

Assistant principal Amos

Pilgrim, Medbury's head of

community service, together

with the support of the student

head of community service,

Nisal Pathirana, and four year 8

house leaders, Drew Edmundson,

Jack Wyllie, Otis Wheeler

and Jack Howard, were instrumental

in planning the event for

all boys from years 1 to 8 and

their teachers.

The fall-out from Covid-19

is compounding the damage

that extreme poverty, climate

change and decades of conflict

have already done to children's

lives and futures in sub-Saharan

Africa.

The current amount raised

is more than $7000 and

climbing.

Bobbi | Bowflex Max Trainer User

I lost 15kg in 10 weeks. That is ridiculous. The fat just

melts right off. I mean, it absolutely changed my life!

CALL NOW! 0800 665 665
---
WESTERN NEWS Latest Canterbury news at starnews.co.nz

Thursday July 8 2021 7

We are lifelong learners who

aspire to excellence

Term 2 Update

37 Cunningham Pl, Halswell | Ph. 03 322 8735

E. admin@oaklands.school.nz | www.oaklands.school.nz

Year 6 camp was held at Waipara on 19th - 21st May

Year 5 Camp was held 13/14th May at Woodend

We were lucky enough to have all of the Kōmingo

team teachers present with some amazing whānau

members volunteering their time to help.

Ehara koe i a ia!

Students participated in a variety of activities

including orienteering, rifle shooting, archery, gokarts,

team building, and the climbing wall. The water

slide was opened Thursday evening for those brave

enough ... and many were. The Kōmingo teachers

were so impressed by the yr 5 students and their

ability to show their CARE values throughout the

whole experience. With many pushing themselves

out of their comfort zone trying new things.

Laisa: On camp, something new I did was

Abseiling, it was REALLY scary and I kept

thinking if I should go or not and in the end

I did it and it was really FUN! Another thing

that I have never done before and is new

to me was the Faulty towers it was really

wobbly and scary as I got higher and higher

but the very kind instructor reassured me

and I felt better. This is now my FAVOURITE

activity at camp.

Milayna: On camp, I was first really excited

about kayaking and archery. On the first

day, I was able to do crate stacking,

Water sliding and the confidence course.

My favourite activity was crate stacking

because I was able to stack it up to around

15. My second favourite activity was going

on the confidence course because we had

Miss Booth guiding us. My third favourite

was the water slide because although I

did not want to do it once I tried it I really

enjoyed it

South West Zone Basketball Tournament - Year 5/6 & 7/8

1st place: Year 7/8 Girls

A very strong team right throughout

the 8 members, the girls put on a

bit of a display of teamwork as they

combined well together to shut out

the other teams. Now we just need

to work on getting the ball through

the hoop a little more regularly.

2nd place: Year 7/8 Boys &

Year 5/6 Girls

Our year 5/6 girls are a mixture of

Wednesday and Thursday teams

but combined very effectively as a

team to secure 2nd place and a trip

to the Canterbury event. Well done,

girls. We are very proud of your

efforts.

4th place: Year 5/6 boys

This group of boys have a heap of talent and

so much potential. Finishing 2nd in their

section play, they just missed out on making

the final, going down in their 3rd/4th playoff.

The boys bring an energy and keenness

to their basketball which will reap rewards

as their core dribbling and shooting skills

develop. A team to definitely watch out for

in the next couple of years.

Year 7/8 Boys

Semi-final, the boys fight back against St Theresa to draw

level at 12/12 at full-time. A result is needed so the game

goes into 'golden point' where the first team to score wins.

St Theresa drives to the basket and put up a number of

shots, all bouncing off the rim. A quick Oaklands pick

up and throw to Cody who drives to half-way. A perfect

pass to Kade who drives to the hoop and puts in a layup.

It hits the backboard ... and drops into the net. Victory to

Oaklands!, and a spot in the final. The win also guaranteed

a place in the Canterbury event.

Canterbury Cross Country

On Wednesday 23rd of July we had

our top runners competing against

other children from all around

Canterbury.

This year the event was combined

with primary and intermediate

schools. That meant that all races

from Year 5-8 were made up of

approximately 200 children.

The Halswell Quarry was nice and

muddy and most children had a

positive experience.

We had some great results with lots

of the children finishing in the top half

of their field.

Our most notable result came from

Lily Wilson who placed 16th in the

Year 7 Girls race.

Well done to our athletes, and thank

you to the parents who helped on

the day.

Bully Free Week

At Te Kura ō Owaka our

school had a Bully Free

week, and with the help of

the Student Leaders we were

able to make it a fantastic

week for everyone involved.

Our school had heaps of

awesome activities that our

tamariki had the opportunity

to participate in. We had

activities ranging from Arts

and Crafts to Wheels Days, we

had 5 year olds participating

and 13 year olds.
---
8 Thursday July 8 2021

Latest Canterbury news at starnews.co.nz

WESTERN NEWS

HORNBY

Your super local open 7 days

Drive through and undercover parking

SuPeR Deals

SuPeR Range

SuPeR Chiller Trailer

$

24 99 $

19 99

$

42 99

heineken

steinLager

15pk BottLes

330ml

Becks

Lager

12pk

BottLes

330ml

24pk

BottLes

330ml

$

39 99

each

johnnie

waLker

red

1 Ltr

$

22 99

cruiser's

12pk cans

250ml

$

21 99

woodstock

12pk

BottLes

330ml

Super

every day deaL

$

37 99

each

smirnoff &

gordon

1 Ltr

Super

every day deaL

$

44 99

each

jim Beam

1125ml

ShandS Road

Main South Road

aMyeS Road

hoRnby

toweR StReet

bRynley StReet

toweR StReet

Gift

baskets

made to

order

SHOP

LATeST DeALS at WWW.SuPeRLIQuOR.CO.NZ

CLICK ON YOuR LOCAL STORe HORNBY OR ILAM

NATIONWIDe PICKuP & DeLIVeRY NOW AVAILABLe

Super Liquor Hornby

8 Tower Street

Ph 03 344 2044

Super Liquor Ilam

213 Waimairi Road

Ph 03 358 5487

Offers valid Monday 5th July to Sunday 18th July while stocks last. Limits may apply. Trade not supplied. Only available at Super Liquor Hornby & Ilam.

ilaM

waiMaRi Road

MaidStone Road
---
WESTERN NEWS Latest Canterbury news at starnews.co.nz

Thursday July 8 2021 9

Keeping lines of communication open

• By Bea Gooding

"SOME PEOPLE preserve family

heirlooms, some people preserve

cakes, but why? If we stop doing

these things then I think we've

lost the plot."

Those are the words of George

Wealleans, who has mastered the

art of preservation as founder

and inaugural president of the

Ferrymead Post and Telegraph

Historical Society.

It is why the 75-year-old is in

charge of the group responsible

for conserving the country's

communications' history in

a 1920s post office building,

nestled within Ferrymead

Heritage Park.

"If I don't, then who's going

to?" said Wealleans.

"It's partly ego, partly a desire

to preserve our history. You

might as well preserve something

you're keen on."

The society collects and

restores vintage telegraphy,

telephone and switching systems

mainly from the New Zealand

Post Office and formerly Telecom

New Zealand.

The items, sourced from all

over the country, are in working

order, allowing visitors to get a

feel for what life was like before

the digital age.

The exhibition may look like a

CALLING: George Wealleans with one of the old telephones in the Ferrymead Post and

Telegraph Historical Society building.

PHOTO: GEOFF SLOAN

museum, but it has not

strayed too far from its original

purpose – the building still

provides postal agency services

and philatelic (postage stamp)

sales.

Wealleans and a few others

established the society in 1977

during a time when the country's

morse system and telegraph

service were closing down in

1963 and 1988, respectively.

One of the members already

worked at the Ferrymead

tramways, so the heritage park

was seen as the perfect location

to keep the practice alive.

Otherwise, it would have

"ended up on shelves in a shed."

"When some of the equipment

out there was ready to be

taken out, we wanted to see it

preserved. So I called a meeting

with post officers in town and

established a group," he said.

"[Now] we have been tasked, or

dumped, with the idea of looking

after this stuff on behalf of the

people of New Zealand.

"But there's no benefit of

looking after this stuff other than

our hobby."

Born in Oamaru, Wealleans

was raised in Timaru by his

uncle and aunt when his father

left the picture.

In the 23 years that followed,

he completed school certificate

and locked in his first job at the

Timaru Post Office at 16-yearsold

as a trainee telephone

mechanician.

In search of love, he

relocated to Christchurch in

1971 to get hitched, eventually

building a house, raising three

children of his own, and starting

a new role at the telephone

exchange.

the reassurance of quality

The Russley Village is known for premium design, layout and extensive facilities that deliver an

uncompromised lifestyle during retirement. The reassurance of quality is built into everything we

do. At the Russley, you will live in a safe and supportive community, with freedom and independence,

while knowing that the Ashley Suites care facility is on-site to provide care up to hospital level.

Offering a blend of crafted independent villas, terraced houses, apartments and care, The Russley

is a complete and comprehensive community.

you simply have to see to fully appreciate
---
10 Thursday July 8 2021

Latest Canterbury news at starnews.co.nz

WESTERN NEWS

'It's the technology too that got me hooked'

"We're still at the same address

with the same phone number."

Wealleans loved the idea

of being able to help facilitate

communication between others.

The biggest change he

witnessed over time was cell

phones. But as someone who

championed communication,

they were "abhorrent," as they

created too many distractions.

He also prided himself on accuracy

– his boss once said his

wire tying and lacing skills were

always neat. "It's the technology

too that got me hooked, and

the data from one computer to

another. The theory of how a cell

phone works is just as important

as the piece of equipment," he

said.

"Each component leads to a

core computer, then it goes out

through a cellular network and

up to a satellite, passing bits of

messages, then back down to say,

the phone of your mate who just

happens to be having lunch in

San Francisco."

But after 31 years in the

OPERATOR: One of the society's oldest telephones, a Bell/Blake transmitter, used

in New Zealand in the 1880s. Left – George Wealleans using some of the old post

office equipment.

PHOTOS: GEOFF SLOAN

industry, it all changed when he

was made redundant in 1992 –

two years after deciding to take

a decade-long hiatus as president

of the historical society.

He spent the next 17 years after

that working in a factory making

plastic bags before he "weaseled"

his way back into the society's

presidential role about 10 years

ago.

"In every job I've had, there's

been an element of being your

own master," said Wealleans.

"Obviously you're following

the instructions. Like at the

plastic bag machine, you're given

instructions on how long to

make the bag, but they didn't tell

you how fast to make it.

"So I fine-tuned the machine a

bit to get it going at say, 65 bags a

minute, instead of 50."

Wealleans is at the

heritage park nearly every day,

and he would not have it any

other way.

But a major regret was not

becoming an architect after

nearly failing a technical exam in

high school – a dream that

grew momentum the second

he received his first Meccano

set.

Said Wealleans: "I wouldn't

go as far as saying I'm an artist

but I can visualise things from a

technical perspective, put it on

paper and draw it, like a circuit

diagram. I've always treated my

job as a hobby because I love my

work. I'm able to share all my

experiences with a whole lot of

people, even those who aren't

ex-post office."

Southern Comfort 10pk cans

Jack Daniel's 330ml 6pk bottles

Jack Daniel's 330ml 8pk cans

Cody's (incl zero)

250 ml 7% 12pk cans

Woodstock

5% 12pk bottles

$21.99

EACH

$18.99

EACH

Celebrate

MID WINTER

$21.99

EACH

CHRISTMAS

Tui Hard Soda

330ml 10pk cans

$23.99

EACH

Major Major

10pk can range

NEW

PRODUCT

TRY IT TODAY!

Effen 10pk bottle range

JB Gold / CC Premium

7% 12pk cans

$24.99

EACH

Wolf Bass

Yellow Label

(ex PN) range

Larios Original

1L/ Midori & JB

Honey

700ml

$11.99

EACH

Taylors

Promised Land

range

$15.99

EACH

Grant

Burge Ink

range

2 FOR

$22.00

$26.99

EACH

Penfold's

Club Tawny

$34.99

EACH

$35.99

EACH

Jameson /

Jameson Cold

Brew / Absolut

& Beefeater flvrd

ranges all 700ml

$39.99

EACH

Coruba (incls

Gold) / JW Red

Label 1L

$41.99

EACH

Jim Beam /

Canadian Club

(incls Spiced)

Chatelle 1L

3 FOR

$10.00

Kingfisher Strong

500ml cans

Tiger / Tiger Crystal

12pk bottles

$20.00

Promotion period between 1/07/2021 to 31/07/2021. While stocks last. Promotion only available at participating stores – please contact your local store to confirm

whether they are participating in the promotion and check the pricing in-store prior to purchase. Online pricing will vary.

DENNYS THIRSTY LIQUOR

670 MAIN SOUTH RD, ISLINGTON

03 349 7337

BLACK BULL LIQUOR WIGRAM

3/187 WIGRAM RD, HALSWELL

03 322 4000

EACH

thirstyliquor.co.nz

ASK ABOUT

LOYALTY CARD

BENEFITS &

GIFT VOUCHERS

Orchard Thieves

12pk range

$22.99

EACH
---
WESTERN NEWS Latest Canterbury news at starnews.co.nz

Thursday July 8 2021 11

A cinema that isn't

just a big telly.

Parkstone. The space to be yourself.

Come and see a retirement village where the communal garden is

big enough to feed the community, where a lap of the pool isn't the

same as a width, and where the cinema is not just a big telly.

Come to Bupa Parkstone where you have the space to be yourself.

Situated in Ilam this new development is ready to move in now.

Call Debbs to book a tour, and see if Bupa Parkstone is right for you.

Call Debbs on (03) 974 1952 to book a tour.

2 Athol Terrace, Ilam

bupa.co.nz/parkstone
---
12 Thursday July 8 2021

Latest Canterbury news at starnews.co.nz

WESTERN NEWS

How to recognise

misinformation about

the COVID-19 vaccine

Getting vaccinated is the best way to protect yourself, your whānau

and your community from COVID-19. There is some misleading

information out there about the vaccine – here's what you can do

to make sure you have the right information.

Get the facts

You can find the most accurate and reliable information about the COVID-19 vaccine and the rollout

from a number of trusted sources including:

• Unite against COVID-19 — Covid19.govt.nz

• Ministry of Health — Health.govt.nz

• Te Puni Kōkiri – Karawhiua.nz

• Ministry for Pacific Peoples – mpp.govt.nz

You can also keep up to date with current information and frequently asked questions by following

the above organisations' social media channels, or you can speak with your health provider.

Check the source

Not all information you read or hear is factual or accurate.

Always cross-check and review COVID-19 vaccine information by using the reliable sources above.

Report scams

The COVID-19 vaccine is free. You will never be asked to pay for the vaccine or pay to secure your place

in the queue. We will never ask for your financial details, your bank card details, PIN or banking password.

If someone requests them from you, please report it immediately to CERT NZ at covid@ops.cert.govt.nz

or call 0800 237 869.

Any false or misleading information such as leaflets, publications or websites can also be reported

to CERT NZ. You can report anything you believe to be false or misleading information on social media

to the respective platform eg. Facebook or Twitter.

Stay informed

Learn more about identifying and avoiding misleading information at Covid19.govt.nz

Find out more at Covid19.govt.nz
---
WESTERN NEWS Latest Canterbury news at starnews.co.nz

Thursday July 8 2021 13

Rest roast meat 10min before serving

This simple, succulent

eye fillet of beef is a

winner. It is hard to

overcook and holds

well — in fact the

longer it rests the

better it is. It can be

served within 10min

of cooking, served

warm or cooked

ahead and served at

room temperature

Roasted eye fillet of

beef with rocket and

shaved parmigiano

reggiano

Serves 8

Ingredients

1½kg eye fillets of beef, silver

skin trimmed

3 tbsp extra virgin olive oil

4 handfuls rocket leaves

1 serving parmigiano cheese, for

shaving

Directions

Heat the oven to 210 deg C fan

bake.

Heat a large frying pan or char

grill until hot.

Rub the beef with 1 tablespoon

oil and grind over plenty of black

pepper. Brown beef on all sides

then transfer to a shallow roasting

dish.

Place in oven and roast beef for

18-20 minutes for medium-rare

beef.

Remove from oven, sprinkle

with salt, cover loosely with foil

and a clean tea towel and leave to

rest.

Rest for at least 20 minutes if

you are serving at room temperature.

Slice beef and place on a large

platter. Scatter over rocket, shave

over some parmigiano reggiano

and drizzle with remaining olive

oil.

Self-crusting broccoli and

pine nut tart

Ingredients

Butter, to grease dish

1 head broccoli

3 spring onions, sliced

1 cup grated tasty cheese

4 eggs

1 cup milk

½ cup self raising flour

1 serving salt and freshly ground

pepper, to taste

1 tbsp fresh oregano, chopped

⅓ cup pine nuts

Directions

Heat oven to 200 deg C. Grease a

A roasted

eye fillet will

often go for

two meals. Try

leftovers in a

sandwich.

ceramic quiche dish with butter.

Cut the broccoli into bite-sized

florets and cook in boiling, salted

water for 3 minutes, then drain

well.

Scatter broccoli over the base of

the dish.

Scatter over sliced spring onion

and grated tasty cheese.

Beat eggs in a bowl, add milk

and flour, then whisk to combine.

Season with salt and pepper and

stir in oregano.

Pour this mixture over the

broccoli and scatter with pine

nuts.

Bake for 25-30 minutes or until

golden brown and set. Serve

warm, cut in wedges.

Savoury tomato and olive

mince on ciabatta

Ingredients

400gm mince

2 tbsp oil

1 onion, peeled and finely

chopped

2 cloves garlic, crushed

500gm tomato pasta sauce

250gm brown mushrooms,

sliced

1 tsp dried basil

1 tsp dried oregano

¼ cup fresh parsley,

chopped

1 tbsp black olives, chopped

1 loaf ciabatta bread

1 packet rocket leaves, or salad

greens

Directions

Heat oil in a large saucepan and

brown the mince.

Add onion, garlic and mushrooms

and cook for a further 5

minutes.

Add pasta sauce, basil and

oregano. Cook over a low heat

for 40 minutes stirring often. Stir

through parsley and olives.

Cut six, 2cm thick slices of

ciabatta and grill, turning to

brown both sides. Place toasted

bread on four plates and spoon

over mince mixture. Serve with

salad greens.

Up to

50 % Off

*Call for Terms

& Conditions

Off

*

ADJUSTABLE MASSAGE BED

by
---
14

Thursday July 8 2021

Latest Canterbury news at starnews.co.nz

AUTOMOTIVE PROFESSIONALS

WESTERN NEWS

Customers pleased with honest,

reliable vehicle servicing

Having your vehicle regularly serviced is

key to getting the best out of it in terms of

fuel efficiency and reduced wear and tear

on expensive parts.

Kevin, who owns and operates Parker

Automotive in Birmingham Drive,

provides full vehicle servicing to keep your

vehicle running smoothly, as well as WOFs,

batteries and tyres.

He also carries out all mechanical repairs,

including cam belt replacement, suspension

work, clutch and gearbox repairs, only

repairing what's necessary, and without

charging the earth.

He has owned the business since 2007,

and over that time has established a loyal

customer base – people that rely on him

to give them sound advice and provide

professional care and servicing for their

vehicles.

Customers come from across the city,

Spreydon, Hillmorton, Riccarton, Halswell

and Middleton areas, and the business has

received many positive Google reviews

from customers. Below are some examples:

I have been going to Parker Automotive

for the last eight years and I cannot fault the

service. The mechanical work has been top

notch! If you want top service and value for

money I recommend Parker Automotive. –

Daniel Jay

I've had all sorts of work done here from

A vonhead

utomotive

free

6 months roadside assist

with any vehicle servicing

• automatic transmission

flushing service

• Wof • tune-ups • suspension

• batteries • neW tyres • oil &

lube service • courtesy cars

• full mechanical repairs

oPen 6 days (sat until 1pm)

126 racecourse road

Ph 342 7123 or 027 495 6600

basic servicing and warrants through to

major work like clutches, replacement

coilovers and bushings. Kevin is a very

honest guy who gets the job done in a very

timely manor and he has outstanding

communication. The overall service I've

received is excellent. – Lachlan Poole

I know it's not always about price but

sometimes, when it comes to vehicle repairs,

you just want a perceived good deal and work

carried out by someone who seems to care.

Kevin came recommended by a friend, and

what a great recommendation. His work was

clean, efficient, fast and came in under what

I thought it was going to cost. So we took my

partner's car there two days later and that

too was completed faster than we expected

and at an almost unbelievable cost.

Give Parker Automotive a shot next

time you need something done. Kevin

is a nice fella too, win win. – Mark

Lewis

Earlier this year, Parker Automotive

moved from premises on the Lincoln

and Torrens roads corner to a new site

at 23B Birmingham Drive, Middleton.

Opening hours are Monday to

Friday 7.30am-4pm, Saturday 8am-

12pm. So give Kevin a call on 982

4268, or pop in and he will be happy

to help with all your vehicle servicing

needs.

For everything AUTO ELECTRIC

CARS • BOATS • TRUCKS • CARAVANS • TRAILERS

4WDS • ELECTRIC & HYBRID VEHICLES

• Starter Motors

• Alternators

• Central Locking

• Electric Windows

• ABS & Airbags

Amazing

Auto

AAE Electric

s

m

a

r

t

mall

edium

• Panel beating

• Spray painting

Smart repairS (NZ) Limited

automotive refinishers

272 Lichfield St (Fitzgerald Ave end)

Ph 377-0409

• Stereos/Alarms

• Batteries

• Tuneups

• Engine

Management

Fast

turnaround

utomotive

epair

echniques

USUALLY

SAME DAY

SERVICE

65 Coleridge Street, Sydenham

Phone 03 379 4250

www.amazingautoelectric.co.nz

European

Car Owners

NEW DIAGNOSTIC EQUIPMENT!

We can identify ANY electrical

fault & reduce repair work

with our NEW European Car

Specific Diagnostic Equipment

ROSES

AUTO ELECTRICAL

Enquiries welcome

CH 352 5090

Your LoCAL

TYrE SPECIALIST

New & Quality Used Second-hand Tyres

Alloy Wheels

Replacement Rims

Puncture Repairs

PARKER

AUTOMOTIVE

All Automotive Repairs and

Servicing including 4WD

Suspension Brakes & Cambelts

WOF, Tyres, Batteries

23B Birmingham Drive,

Middleton

Ph 03 982 4268

Mobile: 027 331 0382

Email: parkerauto89@outlook.com

8c Birmingham Drive,

Middleton

www.jcmdirect.co.nz

343 0099 or 027 22 63 805

Proud to support Hornby Hockey Club
---
WESTERN NEWS Latest Canterbury news at starnews.co.nz

Thursday July 8 2021 15

Gardening

& Supplies

Gardener available for

maintenance, weeding

pruning, spraying,

planting, advice. Qual &

exp.Pensioner discount

25%. Ph Richard 0274 918

234, 03 349 4022

Real Estate

HOME WANTED 3-4

bedrooms. Looking in Nor

West areas, Beckenham

or Somerfield. Prefer

permanent material brick

and post 1990 build. Don't

mind if it needs some TLC

- anything considered.

Cashed up buyer. Phone

021 372 479

Wanted To Buy

AAA Buying goods

quality furniture, beds,

stoves, washing machines,

fridge freezers. Same day

service. Selwyn Dealers.

Phone 980 5812 or 027

313 8156

TOOLS Garden,

garage, woodworking,

mechanical, engineering,

sawbenches, lathes, cash

buyer, ph 355-2045

ADD SOME

COLOUR

TO YOUR ADVERT!

Classifieds Contact us today Phone our local team 03 379 1100

Trades & Services

landscaping

Landscape

Construction and

Garden Maintenance

You can have your gardens, trees,

shrubs, plants and lawns maintained to look their best

all year round, for a great price.

Residential & Commercial Landscaping

• Maintenance • Pruning • Reconstruction & Rejuvenation

• Rental Property and Commercial Maintenance

• Pre-Sale Tidy-Ups

New Home Landscaping

Lawns • Gardens • Decks • Paving • Water Features

• Quality • Value for money • Experienced • Punctual

• Professional • Flexible • Knowledgeable • Reliable

Call Ross Legg - 027 222 0388

Email ross@revivelandscaping.co.nz

www.revivelandscaping.co.nz

ROOF REPAIRS

Locally owned & operated with

over 30 years experience.

• Extensions & repair • Roof coating

• Concrete & clay tiles • Butynol

• Malthoid • Asbestos Certified

• Coloursteel • Old iron • Guttering

Phone Dave 981 0278

or 021 223 4200

E: dave@beaumontroofing.co.nz

BEAUMONT ROOFING LTD

SCRAP METAL

Dominion Trading Co Ltd

• Scrap metal buyers

• Canterbury owned & operated

• Top prices paid $$$

• Open Saturday morning

Open Mon-Fri 8am – 4.30pm Sat. 8.30am-12.30pm

www.happyscrappy.co.nz

03 343 9993 333 Blenheim Rd

WINDOW TINTING

tintawindow

advanced film solutions

99% uv block

fade protection

heat control

reduce glare

25 Years Experience

Trades & Services

privacy films

frosting designs

non-darkening films

Workmanship Guaranteed

Lifetime Warranties on Most Films

UV

block

Free Quotes Canterbury and Districts

03 365 3653 0800 368 468

Trades & Services

BATHROOM

Renovations, complete

service from start to finish,

free quotes, ph Dave 027

334 4125

BRICKLAYER.

George Lockyer. Over

40 years bricklaying

experience. UK trained.

Insurance work, EQC

repairs. Heritage

brickwork & stonework

a speciality. No job too

small. Governers Bay.

Home 329 9344. Cell

027 684 4046. E mail

georgelockyer@xtra.co.nz

CARPET LAYING

Exp. Repairs, uplifting,

relaying, restretching.

Phone John on 0800

003181, 027 240 7416

jflattery@xtra.co.nz

GUTTER CLEANING

Gutter cleaning special

from $99 plus gst for a

whole house clean"".

Free Quotes, call Morgan

Thomas today 022 375

8506

PAINTING

Indoor / Outdoor, over 30

yrs exp, same day quotes,

ph Steve 021 255 7968

STUMP GRINDING

Best price guarantee Tony

0275 588 895

TILING

Flooring - Splashbacks

- Wall incl tile removal,

reg master tiler, ph

Dave 027 334 4125

TILING

Flooring - Splashbacks -

Wall incl tile removal, reg

master tiler, ph Dave 027

334 4125

Trades & Services

VHS VIDEO TAPES

& all camera tapes

converted to DVD or

USB. Video taping

special occasions, www.

grahamsvideo.co.nz ph 03

338-1655

ADVERTISE YOUR

BUSINESS HERE

Phone for further details

Trades & Services

VHS VIDEO TAPES

& all camera tapes

converted to DVD or

USB. Video taping

special occasions, www.

grahamsvideo.co.nz ph 03

338-1655

(03) 379 1100

NEVER

MISS AN

ISSUE

SUBSCRIBE

FROM $49

Subscribe:

classicdriver.co.nz

0800 624 295
---
16 Thursday July 8 2021

Latest Canterbury news at starnews.co.nz

WESTERN NEWS

PASSION FUELS

Success

Congratulations to our Top 20

Consultants for June 2021

It's an unquestionable truth – the success of our

clients is directly tied to the success of our people.

We are inspired every day by our clients' stories

and it's why we love doing what we do.

Congratulations to our top performers for their

passion and dedication, their unique expertise and

exemplary service.

TOP

2

3

4

PAUL NICHOLS

Fendalton

TIM HARRIS

Merivale

ZANI POLSON

Ilam 2

MICKY LIMMER

St Albans

5

6

7

8

JENNI ROLTON

St Albans

EMMA LUXTON

Ilam 2

PETER FITZHARDINGE

Ilam 2

JAN MORLEY

Fendalton

9

10

11

12

RICHARD DAWSON

Ilam 2

KATHRYN PICTON-WARLOW

Fendalton

CORINA GREY

Ilam

CINDY-LEE SINCLAIR

Merivale

13

14

15

16

DEAN CATIONS

St Albans

ALAN SKEHILL

Ilam

LUCY ZHOU

Ilam 2

CHRIS CAMPBELL

Merivale

17

18

19

20

LIMO SONG

Ilam 2

MATT DAWSON

Merivale

SIMON WATSON

Ilam 2

MICHAEL FISHER

Ilam 2

Contact one of our top performers today:

FENDALTON

03 355 6116

ILAM

03 351 6556

ILAM 2

03 351 3002

MERIVALE

03 355 6677

ST ALBANS

03 377 0377

holmwood.co.nz